Rick Rack Braid
Source: cutegirlshairstyles via Instagram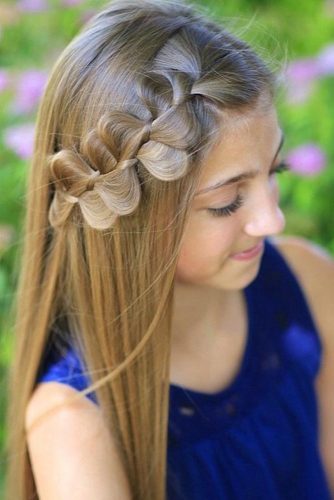 The rick rack braid is so simple even dads can do it! Obtain a section of hair about the size of the thickness of a pencil. Divide the hair into three sections, one small section, and two larger sections. Then proceed to complete a loose braid with the three sections, leaving a section of length to help with the pancake effect. Once the braid has been completed, inspect your braid for the larger sections that you will pancake by pulling them out to form a large swoop. Continue this process and make each larger section as even as possible. Pin the braid in place and blend with the length of her hair. This is by far one of the simplest little girl hairstyles braids.
Rope Twisted Heart
Source: cutegirlshairstyles via Instagram

For the rope twisted heart braid, it is easiest to work with damp or wet hair. Begin with parting your hair into two sections. At the top of the part where you plan to start your braid, use the end of a comb to make a heart shape on one side and repeat its mirror image on the other side. Once your heart is formed, secure the hair with a hair band. Using the hair length on top, on either side, begin making rope twists adding hair and braiding/twisting away from the heart, so its design is not obscured. Once your twist reaches the bottom of the apex of the heart, use half of the hair from the ponytail and incorporate it into the twist. Repeat on the opposite side and then decide which end effect you would like to add to the hairstyle. In the above pic, the hair inside the heart has been braided and finished into a fancy bun. This is a classic among the hairstyles for girls.
Dragon Braid
Source: abellasbraids via Instagram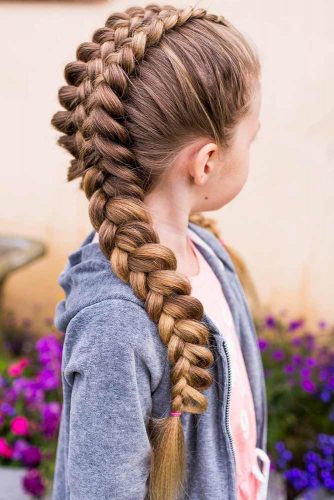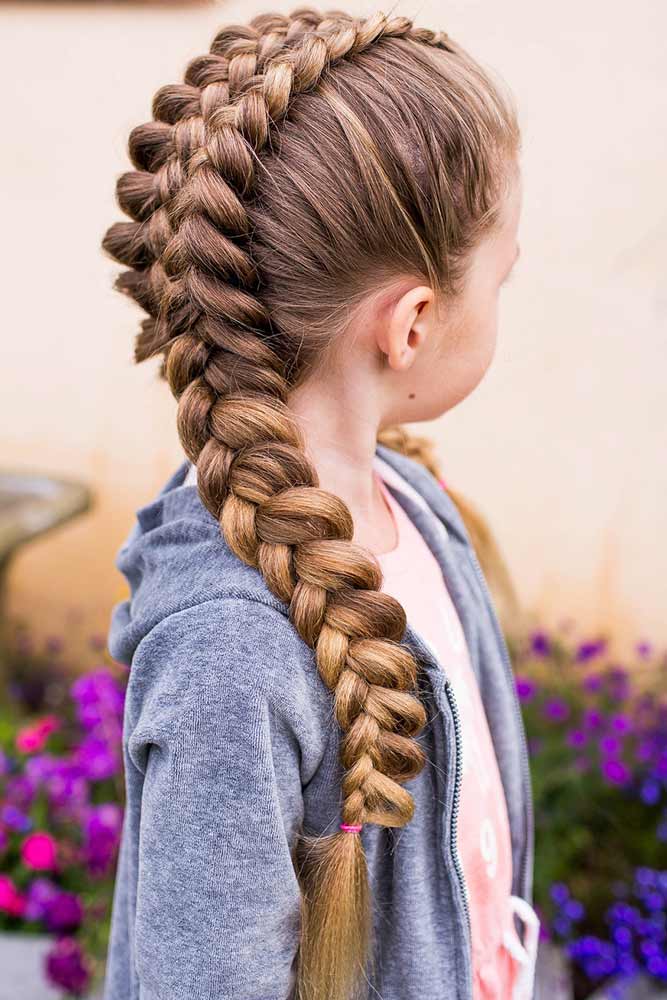 The dragon braid is an exotic looking braid that resembles a faux hawk. This braid begins with an ordinary braid on one side of the part line. Once it reaches the nape of the neck, pull out the pieces on the inside edge of the braid out so that they pancake. Repeat the process on the opposite side, addressing the part line to cover it. Once that side has been pancaked, lift and push both sides of the braid together and secure them with bobby pins. The more you emphasize the pancake effect, it gives a more defined look, adding dimension to it, as well. This is a great kids hairstyle for school and sports events alike.