Hairdos Have Never Been Easier
There is something you should know about hairdos for medium hair. Just take a minute and think of how often you would like to get your hair done, but your warm blanket was so tempting in the morning that you couldn't resist. Yes, that's life. But we will all get fed up with a total mess in our hair sooner or later. What if we tell you that you don't have to wake up earlier to get a decent hairstyle?
ADVERTISEMENT ‧ CONTINUE READING BELOW
The truth is that there are so many hairdos for medium hair that can be done in just a few minutes. So we are here to ruin the myth about updos for medium hair: they really can be done with ease, you just have to know where to search for ideas. Fortunately, we've already collected the nicest quick and easy ways to get a perfect casual hairstyle. Hair updos, half-up half-downs, braids, and ponytails: all these cuties are waiting for you to adorn your mornings. Let's discover them!
Updo Hairstyles For Medium Hair
Source: chrisjones_hair via Instagram, alex_haircraft via Instagram, kykhair via Instagram
Just remember it once and for all: easy updos for medium length hair do exist! Of course, most updos are meant to be done on long hair, but it doesn't mean that your shoulder length can't provide you with them. There are lots of updos for medium hair that you would like to try. How do you like a bit messy high bun? It doesn't look basic and that's what every woman needs for her daily look. Just twist your hair around your crown and secure it with some bobby pins. Girls with curly hair can have very lovely updos too: the messier the better, that's the rule. Your gorgeous curls will do the talking, so don't forget to leave some locks to frame your face. Some easy hair updos can be in handy for formal occasions: a twisted bun with braided elements on the top of your head can create a flawless and very neat evening look.
ADVERTISEMENT ‧ CONTINUE READING BELOW
Braided Hairstyles
Source: kimberlynicolehair via Instagram, jbraidsandbows via Instagram, alex_haircraft via Instagram
Girls have always loved doing braids: since the very childhood till now. And there's nothing surprising about that, as braids will never go out of style. And even though your hair isn't too long, you still can adorn your hair with many variations of cute braided hairdos for medium hair. How about you to see in the mirror a beautiful side-swept fishtail braid? Believe it or not, but a new haircut can add some freshness to your busy morning: it's so important to feel that you're being a beauty. If you want to keep your face as open as possible, look at these pics: the combination of buns and braids around your hair is something breathtaking. It may appear to be not as easy as a simple braid, but this hairstyle is really worth spending some more time. Give these hairstyles a try and you will be amazed: after a couple of days, you will do them with your eyes closed.
ADVERTISEMENT ‧ CONTINUE READING BELOW
Ponytails For Medium Length Hair
Source: nyane via Instagram, presleypoe via Instagram, kirstyannehair via Instagram
If you come across a hairstyle easier than ponytails, promise to let us know! A ponytail is literally one of the best decision among all the easy hairdos for medium hair. Simplicity is genius, and these pictures are here to prove it: the ponytail with hidden band looks just gorgeous, especially with pastel rose hair color. The only thing you need is an elastic band. Gather your hair, tight it off with a band and take a small section of your hair to twist it around. Yes, ponytails know how to reach success in time management. If you are about to add something new to your ponytail, you can twist it a bit around the base and tight it like a bun right on the top. And, finally, here comes a ponytail for those who want to challenge themselves: high braided ponytail will take more time. But it will make your morning bright in turn.
ADVERTISEMENT ‧ CONTINUE READING BELOW
Half-Up Half-Down Hairstyles
Source: presleypoe via Instagram, kimberlynicolehair via Instagram, stevietheo via Instagram
Half-up half-downs were made for those who want to both show off their beautiful hair and create a neat look. And if you are looking for some easy hairdos for medium hair can provide, half-up half-downs is the right choice. To understand what we are talking about, follow this scheme: wake up, brush your hair, braid the top section of the hair and..enjoy! The hairstyles you see above literally take seconds to get them done. And if your hair is as colorful as the hair of these girls, you're the luckiest person in the world: you don't need to get yourself a complicated hairstyle, as your beautiful hair color knows how to attract attention without any help. These ideas just leave you no choice but to look amazing every single morning.
ADVERTISEMENT ‧ CONTINUE READING BELOW
Hawk Hairstyles For A Special Day
Source: theconfessionsofahairstylist via Instagram, theconfessionsofahairstylist via Instagram, deathbycouture via Instagram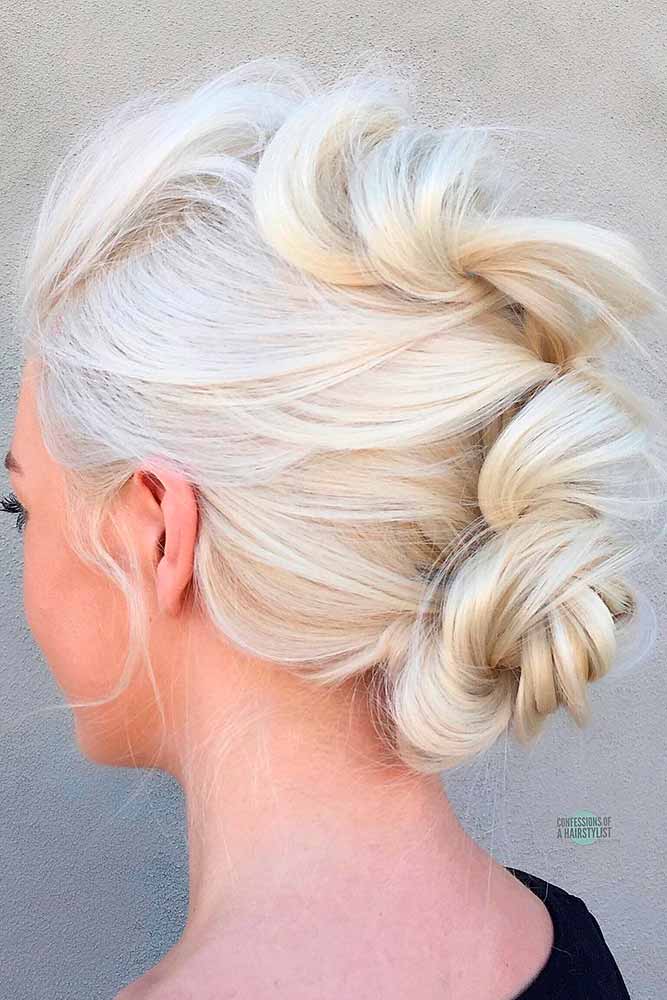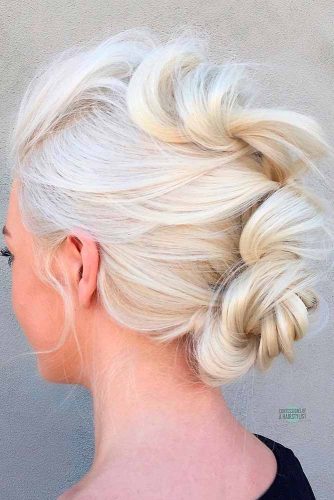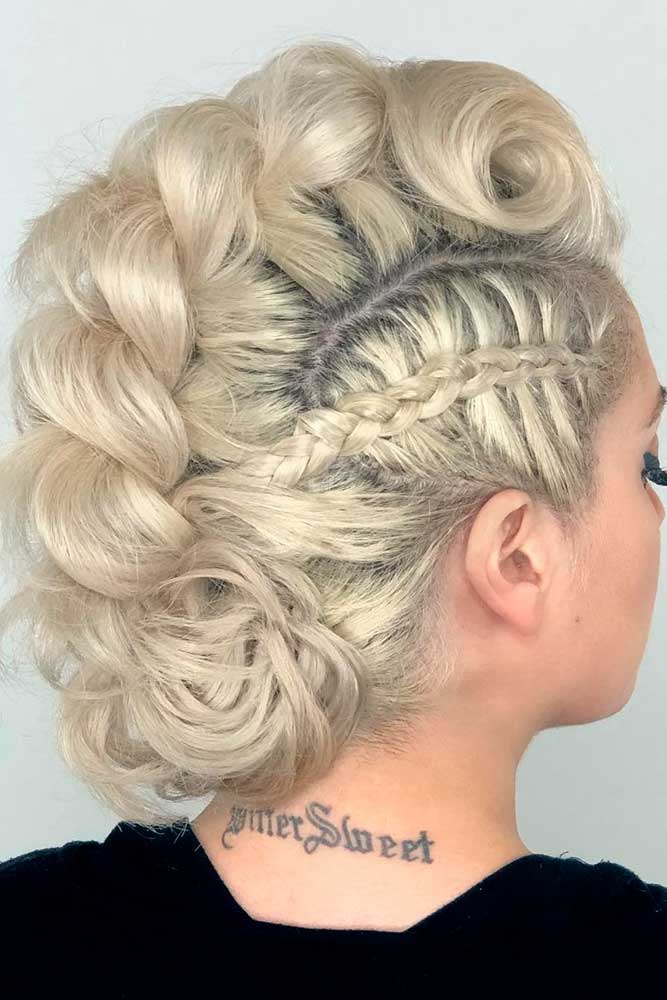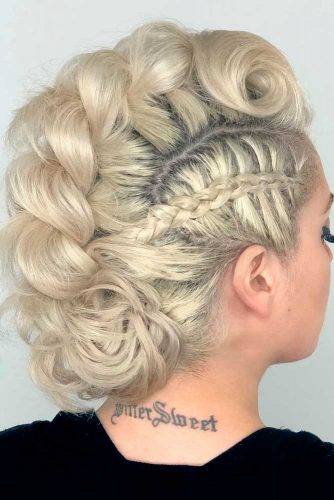 Special occasions are a good opportunity for you to be noticed. So let's talk about formal hairdos for medium hair. If you are about to emphasize all your charming beauty it's better to open your face: be ready to face the compliments from people. Though these hawk hairstyles don't seem to be easy, there is nothing complicated about them. Isn't that the goal you want your hair to achieve? Everyone will wonder how such a busy woman finds the time to look that perfect. And there's no need to tell them about the secrets of quick and wonderful hairstyles. All you need to do to get one of these messy faux hawk updos is to take a small section of your hair on each side and secure it with a band. Then just split your hair above the band, create a ponytail and pull it through. These steps are base for you to start, you can finish this hairstyle in any way you want: delight your imagination.
Top Knots
Source: pastelbalayage via Instagram, nyane via Instagram, alexisbutterflyloft via Instagram
Top knots are something that every woman tried in her life, but let's be honest, we usually do them when we are too lazy to do something with hair and we have to leave home immediately. Let's take the best out of this girly habit. A top knot can be actually a very stylish addition to your look, you just have to do that neatly so that not to look as if you've just woken up. This hairdo gets on well with any hair color, look at these photos: such amazing pastel colors make the top knots look as stunning as never before. Maybe it's time for you to get a good-looking soft blue or purple hair? There's no need to teach you how to do a top knot, it's just in every girl's genes. But here is a little tip for you: bangs and top knots form the best duo ever.
Cute Buns
Source: presleypoe via Instagram, josecorella via Instagram, josecorella via Instagram
Girls love buns because they associate with femininity. And with ease, of course! So we recommend you not to pass by these hairdos for medium hair. They are quite minimalistic, yet very delicate, isn't that a nice way to embellish your casual look? There are so many cute things to do with your medium hair: it can be a low bun with side-swept bangs and framing locks, or a tight high bun accessorized with a stylish band. Combine your bun with pretty earrings to create a summer-inspired look.
We are so excited to share with you the easiest ideas on how to style your hair. And now we want you to know that it's time to add some positive vibes to your hair in the morning. Remember: a perfect hairstyle is your key to having a perfect day.
ADVERTISEMENT ‧ CONTINUE READING BELOW