Once upon a time, a girl who couldn't help but experiment with her overworked hair heard about henna hair dye. She found out that, unlike drugstore hair dyes, this one had health benefits while giving a natural, bright look. And when she went on to search for the dye, she got lost: the variety of such dyes, as well as ways of using it, were too great to handle.
Getting back to the present times, many women can conclude that they've walked in her shoes. That's why we're here! This post is your ultimate guide on choosing, using, and getting to know henna. Alongside the basics, the answers to all your henna-questions are waiting for you, too!
Henna Hair Dye: What Is It Made Of?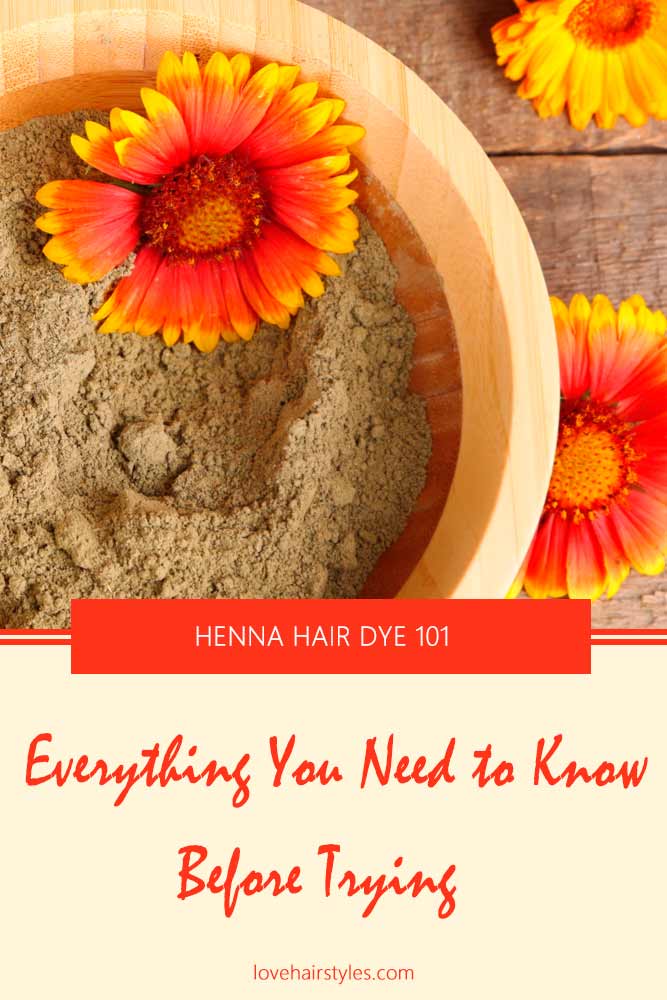 "What is henna hair dye and where does it come from?" is the top question bothering all ladies on the way to working with the dye. That's why we'd like to start the rising action of this henna story with the answers.
First of all, henna is a plant. Growing in hot, dry climates, it produces leaves that soon get harvested and dried, resulting in a powder. As many ladies know, the powder transforms in a paste which is suitable for dyeing hair, skin, and even nails.
In contrast to regular dyes, henna is an all-natural hair dye that contains no chemicals or sulfates that can damage or lighten your locks.
The Variety of Henna Dye Colors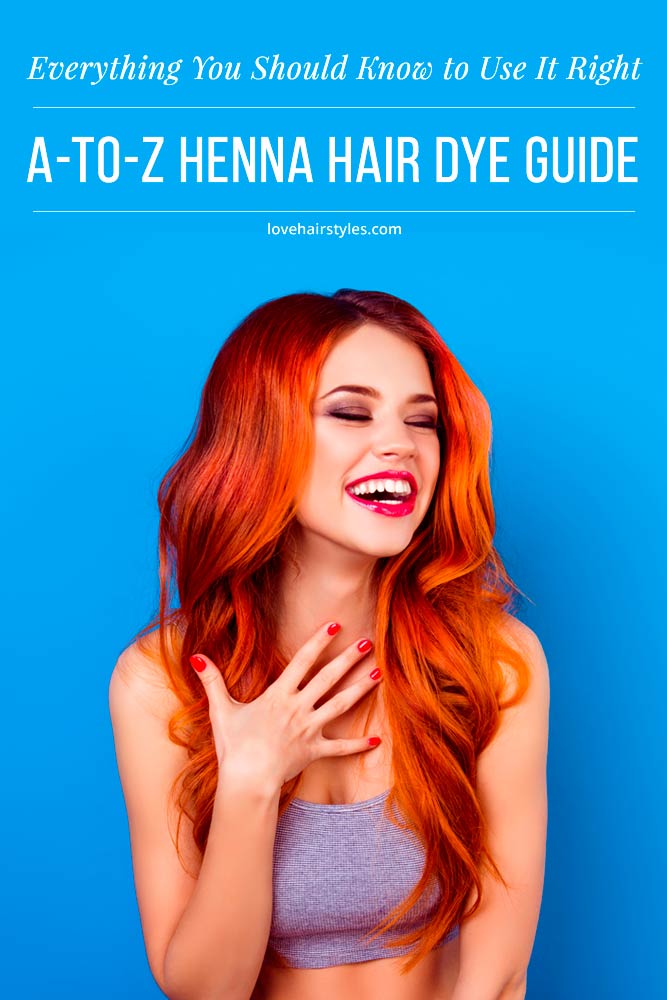 Henna is a chemically-free all natural hair dye. It doesn't contain chemicals, or bleaching ingredients that would lighten your hair
When looking for henna, ladies often come across a wide variety of henna hair dye colors. The truth is, as we've mentioned before, henna is a plant; it has nothing to do with ink or chemicals. Since plants don't give more than one color, the only natural tone this plant gives is orange-reddish.
Natural henna hair dye gives only reddish-orange tones. Pay attention to ingredients of 'colorful' henna boxes you may come across so as not to damage your mane.
Still, henna powder hair dye isn't the only natural-based option. There is a couple of more similar plant extracts that can work as dyes designed for specific color needs. Make sure to get familiar with them when choosing what pigment to achieve.
Neutral henna. Also known as Cassia obovata, the plant has a slight yellow dye molecule that can work for light and grey hair. When used on dark hair, the herb doesn't produce any color. In this way, brunettes can soak henna hair dye benefits yet without going for a new hue.
Black henna. This plant is often referred to as indigo henna hair dye, and it's mainly used to dye the hair dark tones such as brown and grey. But keep in mind that to achieve the result, you should mix black henna hair dye with regular henna. Otherwise, the color won't show up.
Does Henna Hair Dye Work Well for All Hair Types?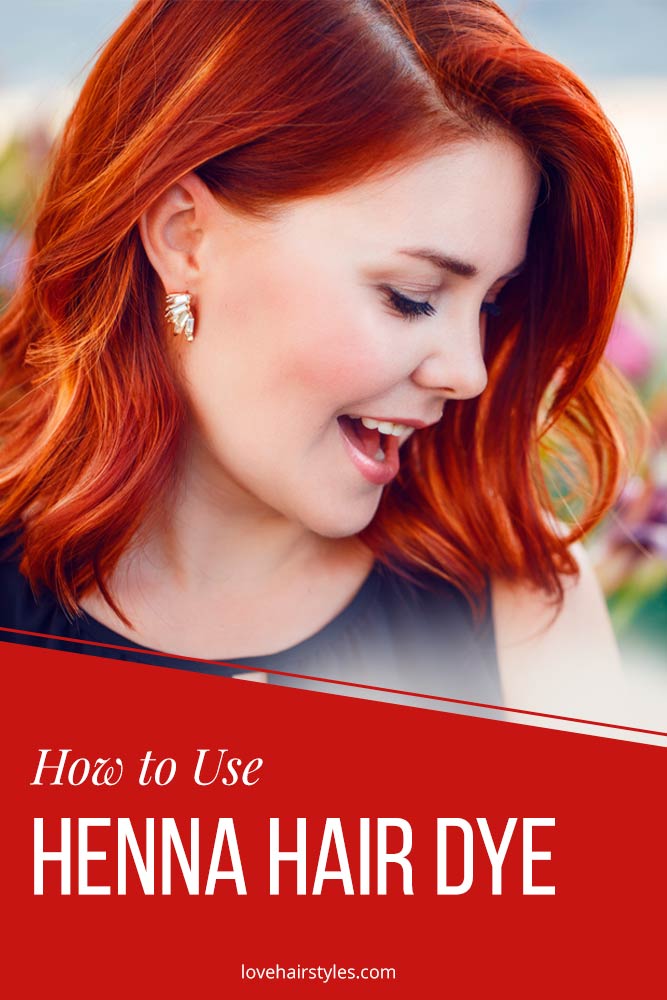 "How does henna hair dye work for my hair type?" is another question that, sooner or later, will pop in your head. Luckily for all ladies, it works universally well for straight and curly, thick and thin hair types. Due to its natural composition, it works as a deep conditioner, leaving the hair smooth and silky. For coarse and fragile hair types, it's a crucial benefit.
Henna can nicely soften your hair, which might be a problem for curly-haired girls. To keep up with your curl pattern, add some amla powder in your henna recipe.
Apart from softening the hair, red henna hair dye has some more health benefits to offer. Ladies with weak or thinning hair find it to be an irreplaceable hair-loss treatment. Henna can contribute to a stronger scalp and stimulate hair growth. So, in simple words, it can bring natural volume and fullness to your locks.
How to Use Henna Hair Dye
Since the market offers several types of henna, your task is to focus on 100% natural ones. As you know, it's important to check the list of ingredients. You should seek Lawsonia Inermis - the Latin name of henna. Once you get equipped with the right, organic pack, you'll be ready to follow our guide on how to use henna hair dye. Let's go!
Tools You Will Need
When you are about to spice up your color with henna, don't forget to have these tools at your fingertips:
A hair-dyeing brush to apply henna;
A wide-toothed comb to prevent your hair from breakage;
A pair of gloves to keep your skin away from herbal pigments;
A plastic, wooden or ceramic spoon to mix the dye;
A disposable shower cap to keep your hair in a high humidity rate;
A wool hat, as the color releases best when humidity and heat work as one;
A glass or ceramic bowl to mix henna.
Don't use plastic bowls! Plastic is a porous material, so the herbs may stain the bowl.
How to Mix Henna Hair Dye
For many different reasons, there are lots of ways on how to mix henna hair dye. Some of them advise adding essential oils to the mix, and others say to incorporate coffee or vinegar. Even though they all may have convincing explanations, things just don't work this way.
In fact, for a better henna effect, water is the only thing you should add. Other ingredients will simply interfere with the color and thus block its release.
To turn your henna powder into a dye, add warm water to it and mix it until it reaches yogurt consistency. Remember that the application should be easy, so the texture of your dye must be not too dense nor too liquid.
To make the henna paste smoother, you can add some sugar to the recipe. It won't affect the color release but will give the needed texture.
As for the amount of dye, it might be tricky to find out yourself. Usually, henna dye boxes include such information, alongside with recommendations on the use.
In general, 100 grams of powder is enough for shoulder-length hair. Bra strap length requires about 200-250 grams. And hip length will need 300-350 grams, etc.
Preparing for Application
To make the color come out right, you need to prepare for application. Follow these steps:
Start with clean hair. Before applying henna, shampooing your hair is essential to wash out the dirt, oil, and styling products. But don't use conditioner! It may prevent henna to penetrate into your roots. Once your hair is clean, blow dry it.
Protect your hairline. In order to avoid stains on your skin, you need to create a barrier with the help of oil. Apply it to your hairline, neck, forehead, and ears.
Comb and part your hair. Brush your hair thoroughly with a wide-toothed comb and part it to the center.
Protect your skin. You'd better coat yourself with old clothes or towels so as not to end up stripping off the dye from your skin.
How to Apply the Henna Paste
Now, it's time for the key step on getting that pleasant reddish hue. With these tips, you will not just learn how to apply henna hair dye. You will learn how to do it correctly:
Apply the paste to small sections, working with generous amounts. Take a 2-inch-wide section from the middle back of your head. Then, comb it away. After separating the section from the rest of your hair, apply 2 teaspoons of henna to the roots. Spread it towards the tips to distribute henna evenly.
When the section is ready, twist it and wrap into a bun, placing it on top. Though henna is quite sticky, ladies with shorter hair will need to pin the bun.
Now, take another thin section right near the first one. Repeat the same steps, but don't create a new bun.
Wrap the second twisted section over the first bun. Go on applying henna to the hair near the twist and keep incorporating new sections into it.
When all of your hair is wrapped and twisted into a bun, go around the hairline and give it some touch-ups. Pay close attention to the roots, too.
Now, it's time to give your henna some time to come out. Put on the shower cap and wait for 2-4 hours.
The longer you leave henna on, the more vibrant color you will get. For the best result, you can give it two more hours.
When the henna has had enough time, put on the gloves and remove the cap. It's better to rinse off the dye with conditioner. Go on rinsing and conditioning until the water runs clear.
Wash your henna out really well, using great amounts of conditioner to enhance the process. That will protect your scalp from itching.
And last but not least, there's one thing you should be ready for. Don't wait for instant results as henna plays by its own rules.
Henna may take up to 48 hours to develop. In two days, the color will become less orange and get deeper.
Henna Hair Dye FAQ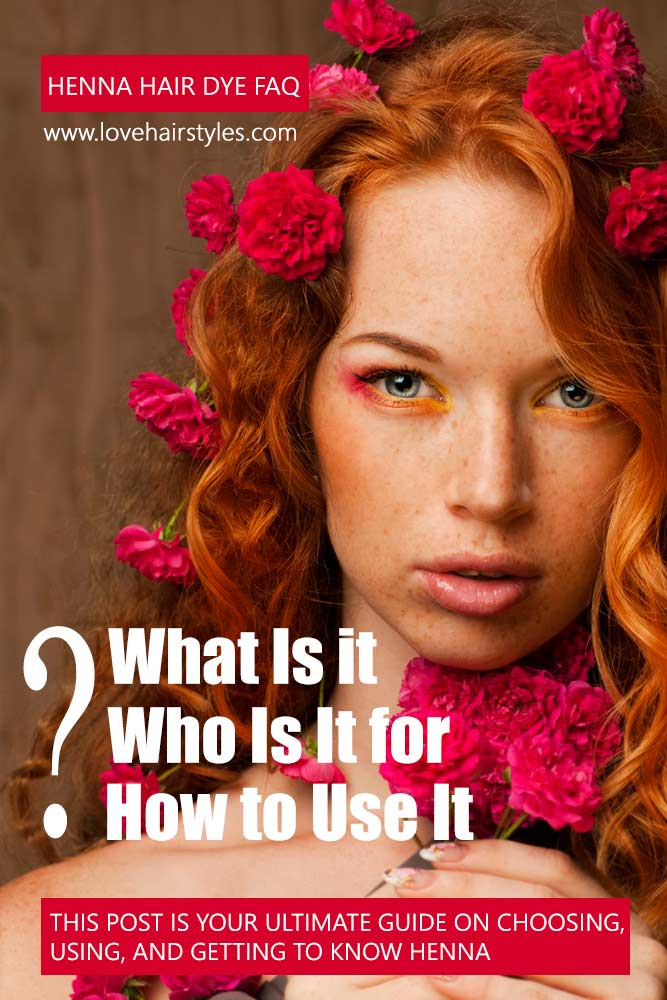 Based on the most common questions accompanying popular henna hair dye reviews, we've created an FAQ to help you navigate through the topic. Henna is all about questions, and we're about to answer them all.
Can henna damage my hair?
Henna doesn't penetrate into the cortex of the hair. That means it doesn't bring harm to the moisture balance and proteins. It covers only the surface of the hair, so getting damage from it is impossible. Unless you are using henna with synthetic elements. Take into account that henna with natural composition is the best henna hair dye.
Is henna a permanent hair dye?
Having discovered the pleasant sides of henna, no wonder if you come up with the question "is henna hair dye permanent?". Similar to regular hair dyes, henna gives a long-lasting effect, fading with the time. Yet, unlike drugstore dyes, the plant-based dye is free of ammonia that ruins hair cuticle and makes the color appear dull when it's totally faded. Bottom line? Even when henna leaves you, your hair still looks fresh.
How long does it last?
The color brought by henna lasts from 4 to 6 weeks. The good new is, it fades off smoothly, gradually getting back to your base.
Can I use chemical dyes/treatments on my hair after dyeing it with henna?
Yes, you can, but only if you use 100% pure henna. Just don't forget to give your hair a regular weekly break in between the treatment sessions.
Can henna and herbs dry up my hair?
Yes, especially if you already have dry scalp. Incorporate a moisturizing conditioner into the rinsing process to sort things out.
Does henna lock out moisture?
Some believe it does, but that's actually a myth. You can surely oil and condition your hair as you usually do.
Body Art Quality: What does that mean?
It's another marketing name for 100% natural henna. That is to say, if it's safe to use pure henna for body art, then it won't bring harm to your scalp.
Why indigo/katam dye didn't work for me?
One of the common mistakes is using indigo or katam without adding henna. Before combining them, you should prepare a separate bowl for the indigo and katam mixture. Also, consider the individual time each ingredient takes to develop.
Discovering the info on how to dye your hair with henna on your own is pretty tough, huh? The facts, tips, and recommendations you've seen today are your helping hands to making your hair better. Now that you know everything you need to work with henna, we're are ready to let you go. Go for experiments and your own henna hair dye before and after pics!