By:

Glaminati Media

| Updated:

03/14/2019
Dark Rainbow Hair With Tropical Sunset Colors
If you are looking for a truly unique look for dark rainbow hair, this blend of dark shades is reminiscent of a tropical sunset. Keep your roots dark and then blend in a stunning shade of dark bright blue, periwinkle purple, lilac, bright yellow, dark orange, cherry red and fuchsia pink for a stunning blend of color that is one-of-a-kind and will certainly set you apart from any crowd.
This look is not for the faint of heart, but it is perfect for those who love vibrant colors and aren't afraid of having all eyes on them. Curl just the bottom section of your hair into big waves to add more depth to this avant-garde look for dark bright rainbow hair.
Pastel Rainbow Hair Color for a Wavy Short Inverted Bob
If you prefer a softer and subtle look for rainbow hair, why not try this pretty pastel rainbow hair? Blend in soft shades of pastel pink, green, blue and purple for a look that is very feminine and chic.
If you still want a bit of an edge without being too dramatic, this inverted wavy bob will add even more depth to your short rainbow hair. Style your hair in soft beachy waves to give it some volume and movement. Pastel colors are more demure, if you are not a fan of bright or dark rainbow shades.
Holographic Rainbow Colored Hair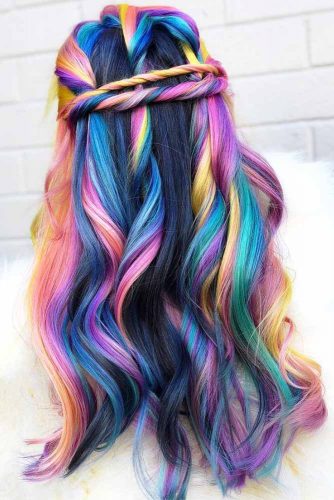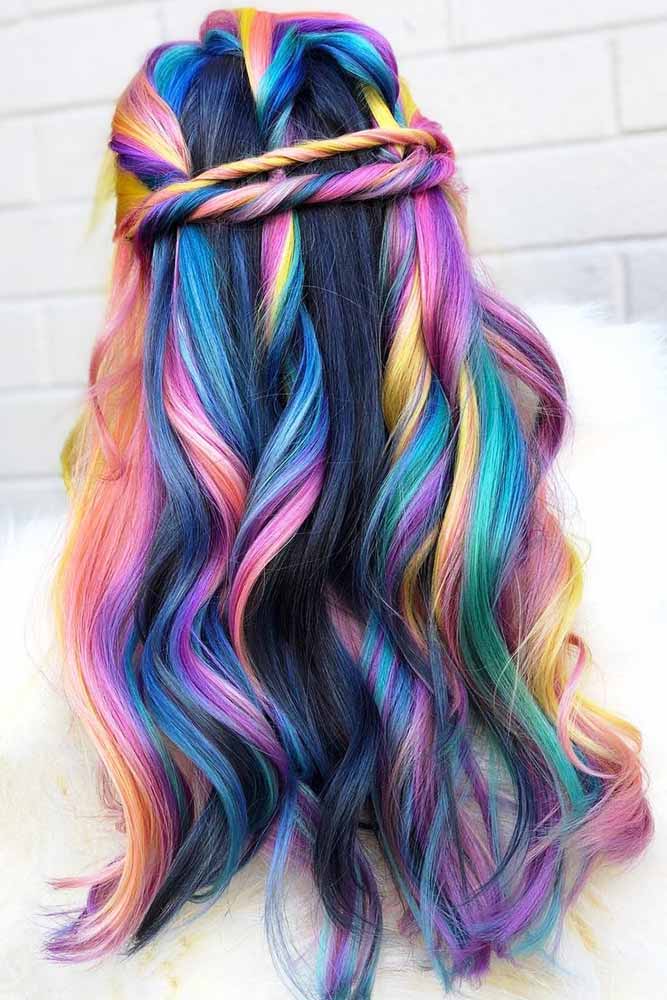 Holographic hair? Yes, you read that correctly! 2019 is the year of 'anything goes when it comes to a hair color.' And there is no end to the ways you can color your hair nowadays. And with rainbow colored hair, the possibilities are numerous!
Ask for varying shades of blue mixed with pinks, yellows, greens, and purples like the ones shown here. Metallic shades work best if you are going for a holographic look. And it's even prettier if you style your long rainbow colored tresses in twists and braids. Show off the multi-dimensional metallic shades that will set you apart from the rest of your friends.