Layered bob hairstyles flatter every face shape, work well for all hair textures, and look sensational, be it with athleisure wear, jeans, and even with a sparkling, full-length gown.
A bob haircut has been around for nearly a century. As with all fashion trends, it adapted along with the needs and tastes of the changing times. Almost every woman has had one. Today's bobs are sophisticated and chic and are designed to work precisely for the woman's hair type and style preferences.
Generally, longer bobs work well for oval and round faces, shorter bobs for triangular and oblong faces.
*We may earn money from affiliate links on this page. Please check out our disclosure policy for more details.
Textured Bob VS Layered Bob
Discovering the dissimilarity between a textured bob and a layered bob has become a burning inquiry.
As Chris Jones, an American haircutting specialist, says, both textured bobs and layered bobs have their merits, but they shine on the right individuals.
Credit photo: instagram.com/chrisjones_hair
i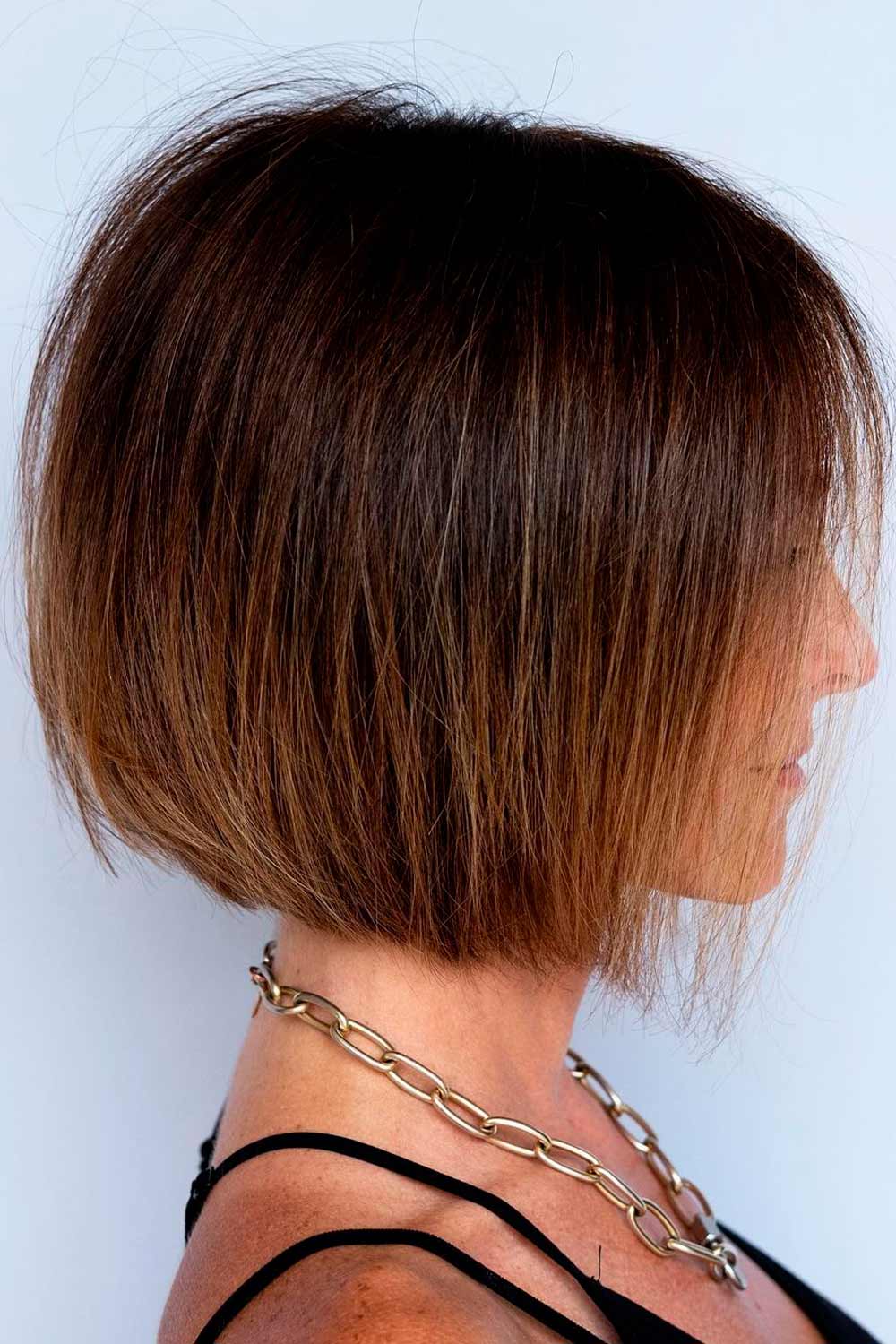 Credit photo: instagram.com/chrisjones_hair
i
/
Textured bobs offer a subtly shaped look with lower maintenance requirements. On the other hand, layered bobs can be stunning if you have the right hair type, although they may demand more styling effort unless you possess natural texture or waves.
Credit photo: instagram.com/chrisjones_hair
i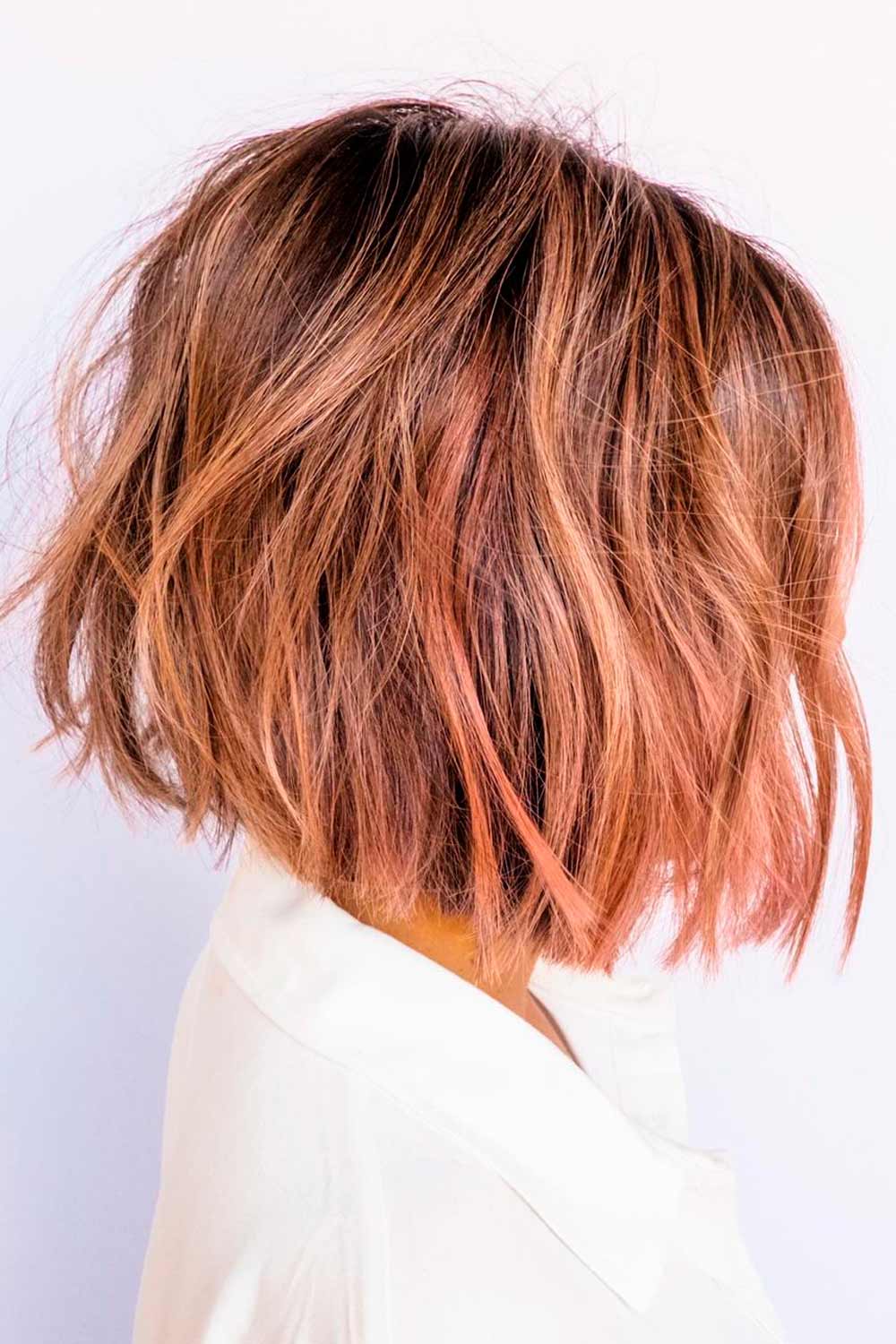 Credit photo: instagram.com/chrisjones_hair
i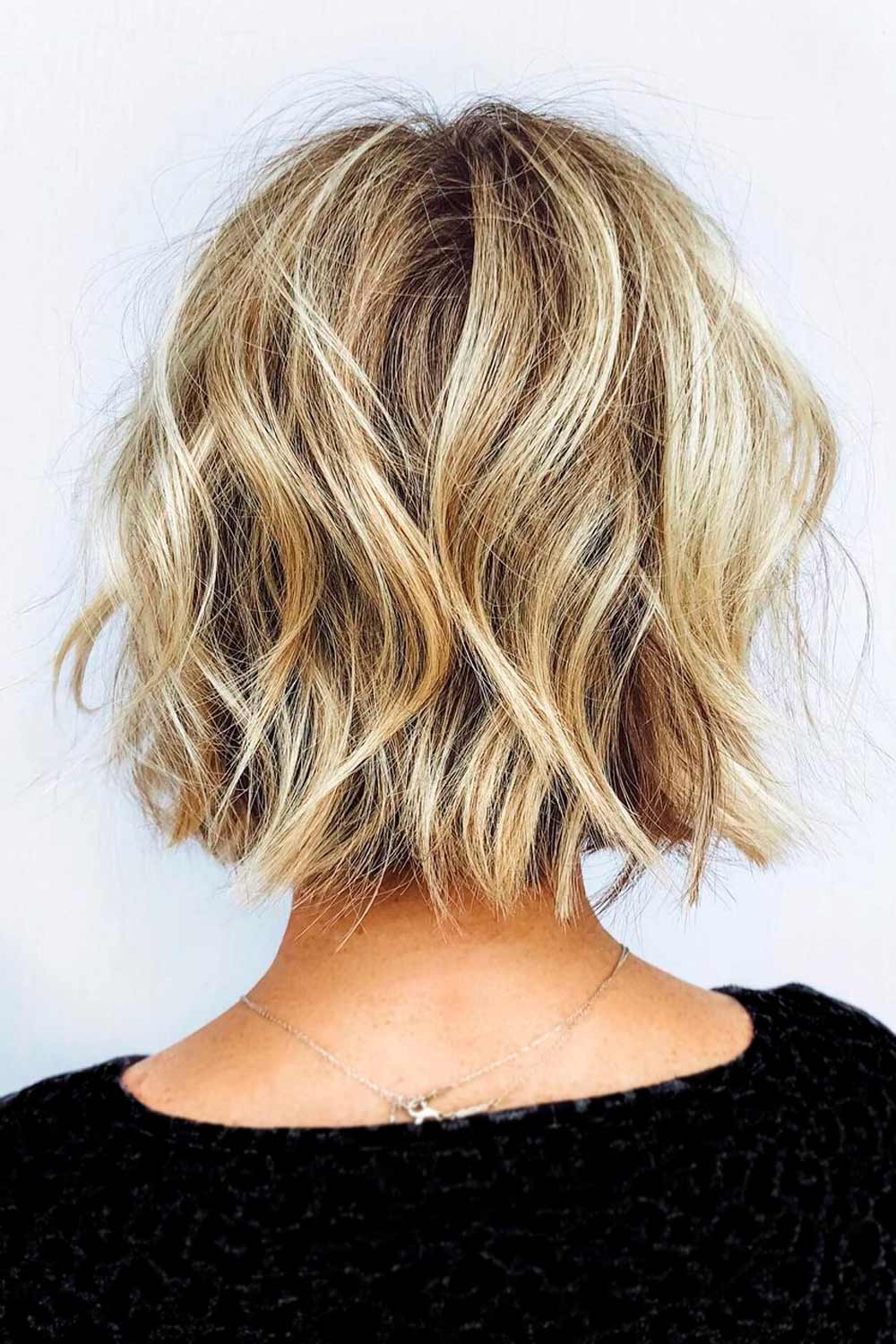 /
Wavy Layered Bob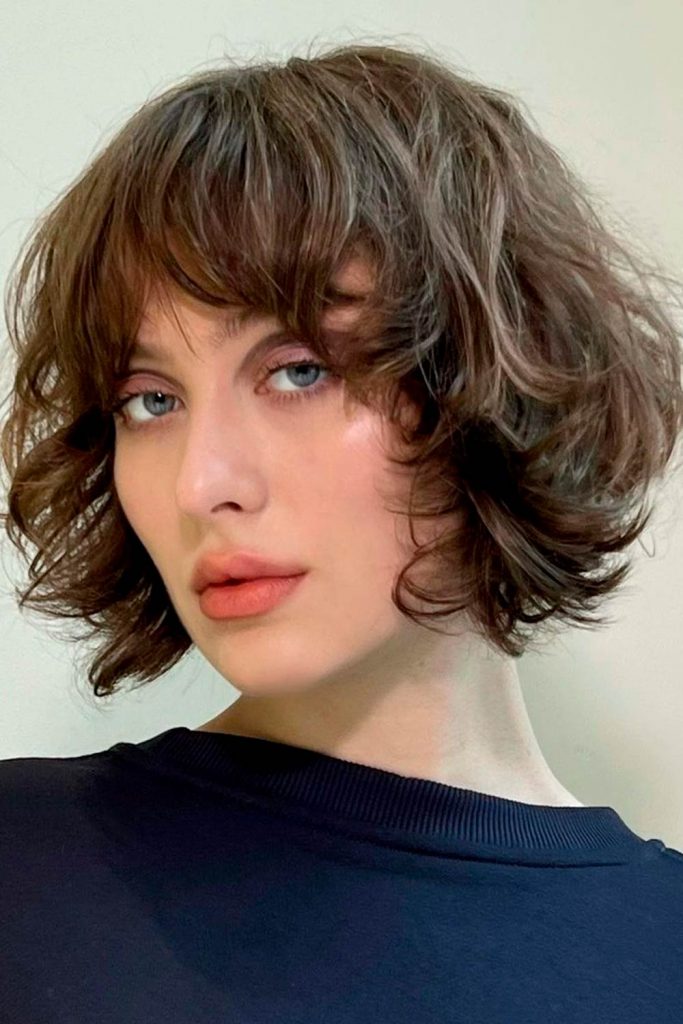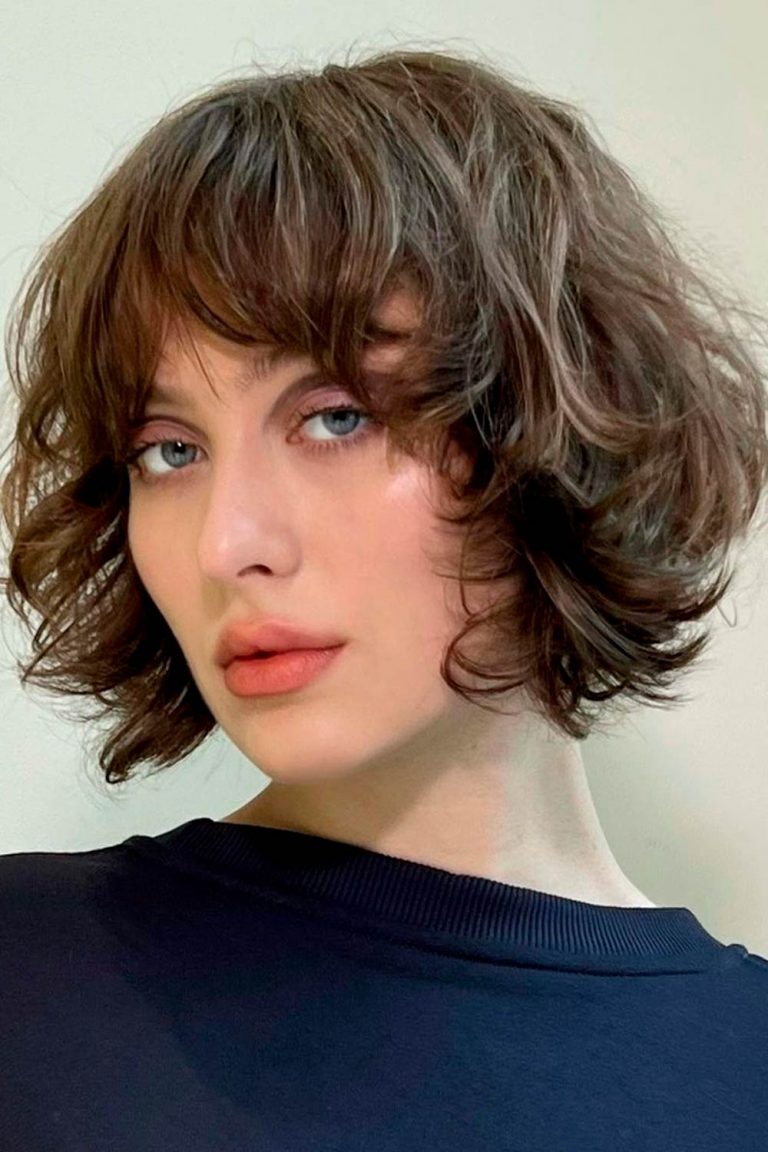 Credit photo: instagram.com/cut_and_color
This chin-length blunt wavy bob is both sexy and elegant. It looks great with a dynamic color such as a radiant red or platinum blonde. And some balayage tones can add texture and warmth.
By the way, if your hair is naturally curly or wavy, all you have to do is simply add your favorite scrunching product and blow-dry with a diffuser. However, if you have straight hair, you should make a slightly off-center part and blow-dry with your fingers. Then use a larger curling iron to curl your hair in sections. Next, use your fingers to gently break up the waves. Finally, use a flat iron to flick out the bottom pieces and create a flip. Finish with a medium hold spray to create movement.
Smooth, but Edgy
Credit photo: @cut_and_color
i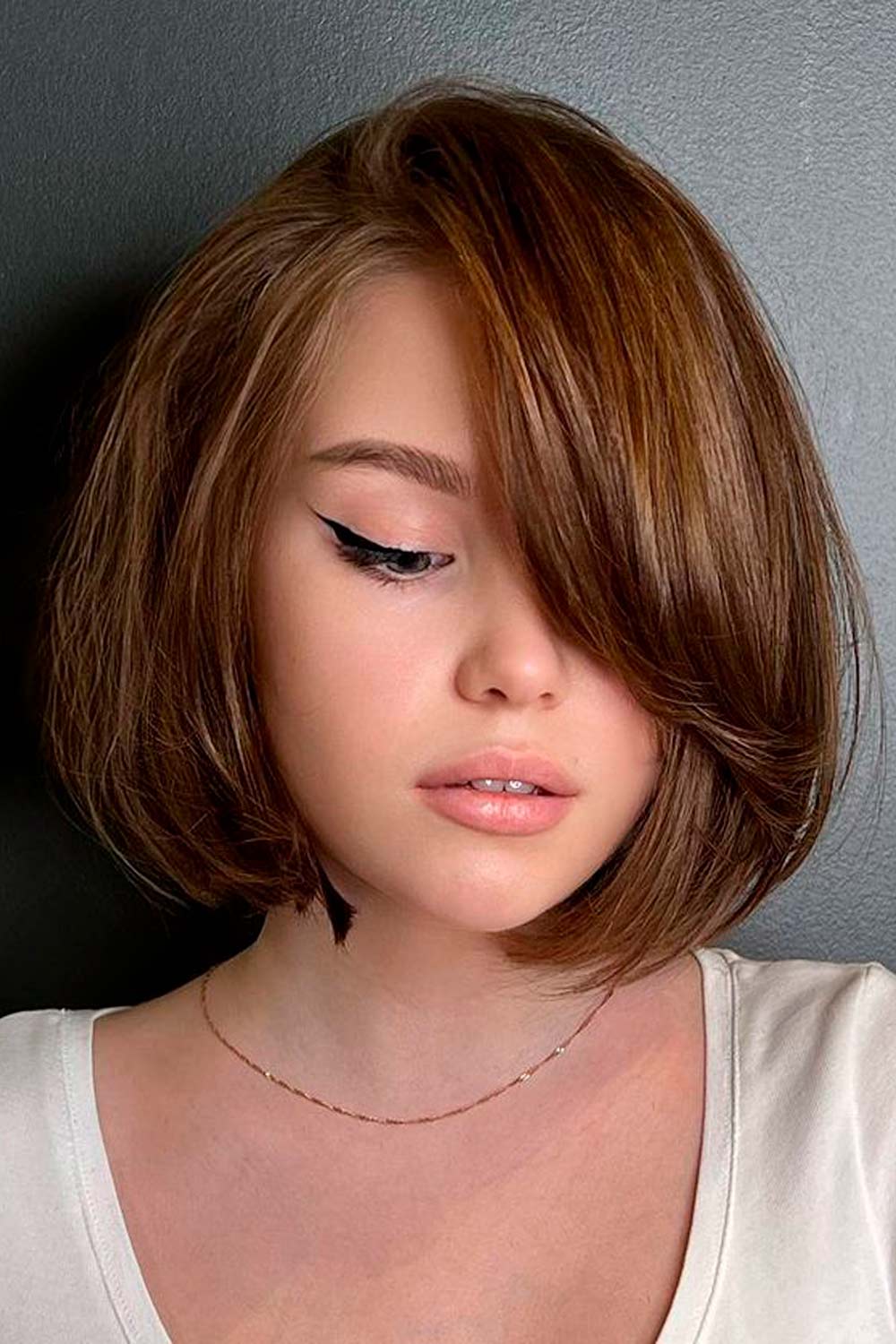 Credit photo: @cut_and_color
i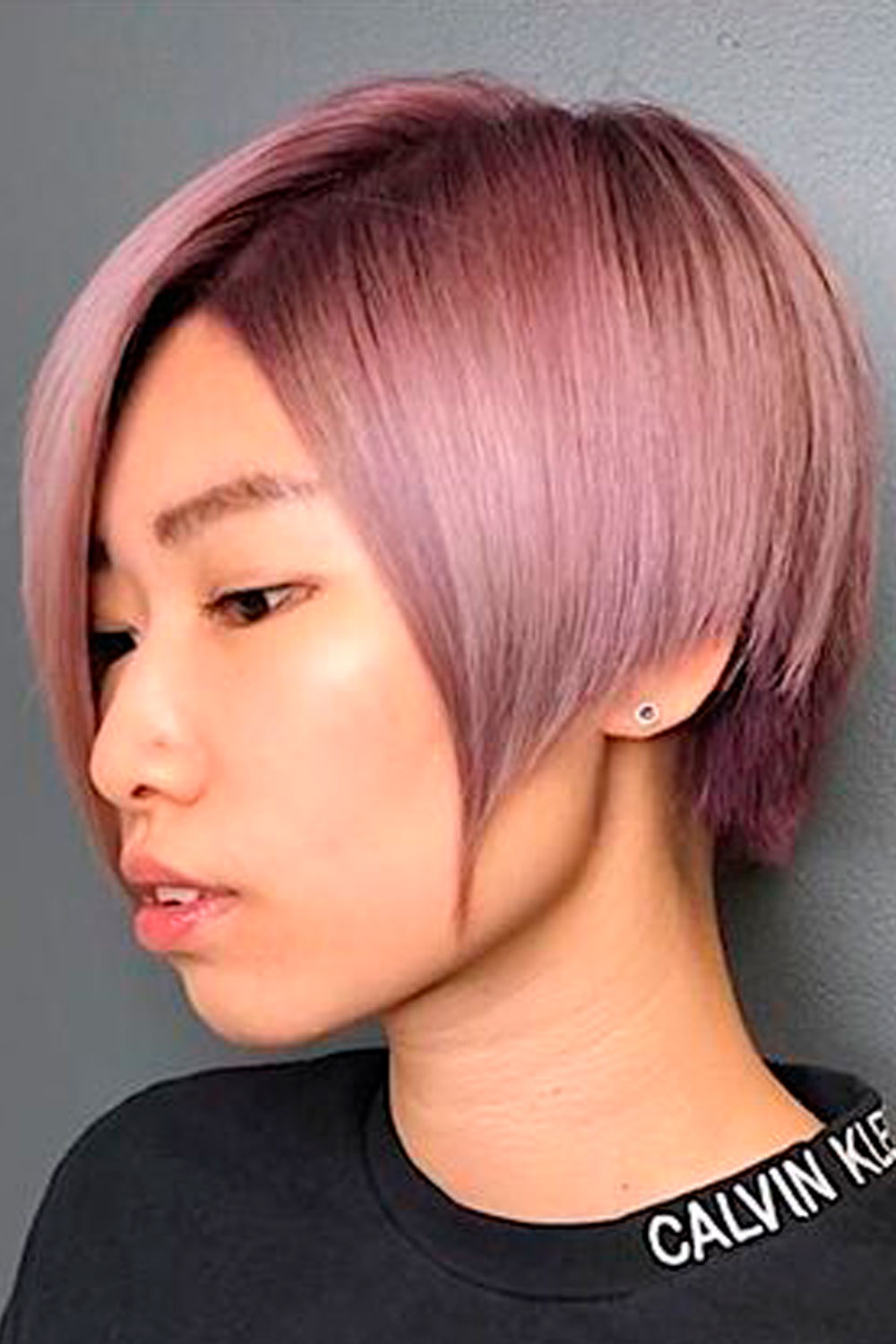 /
This short, tapered bob is irresistibly sexy, haircut just below the chin and framing the face to accentuate your features. Basically, this cut works best for those with straight to wavy hair and round or square-shaped faces.
Vampy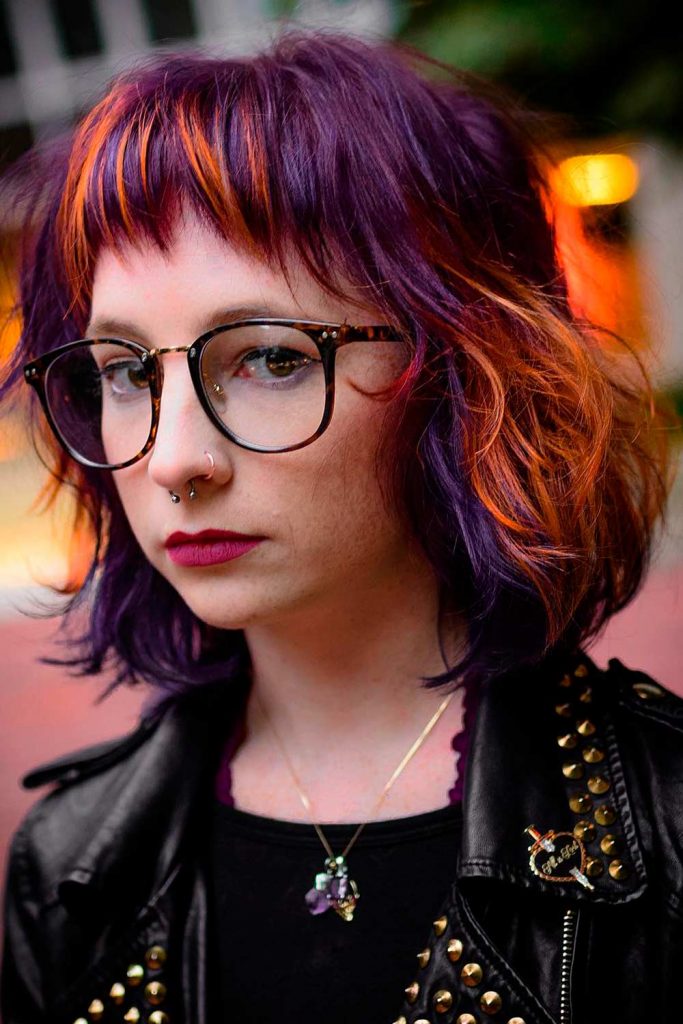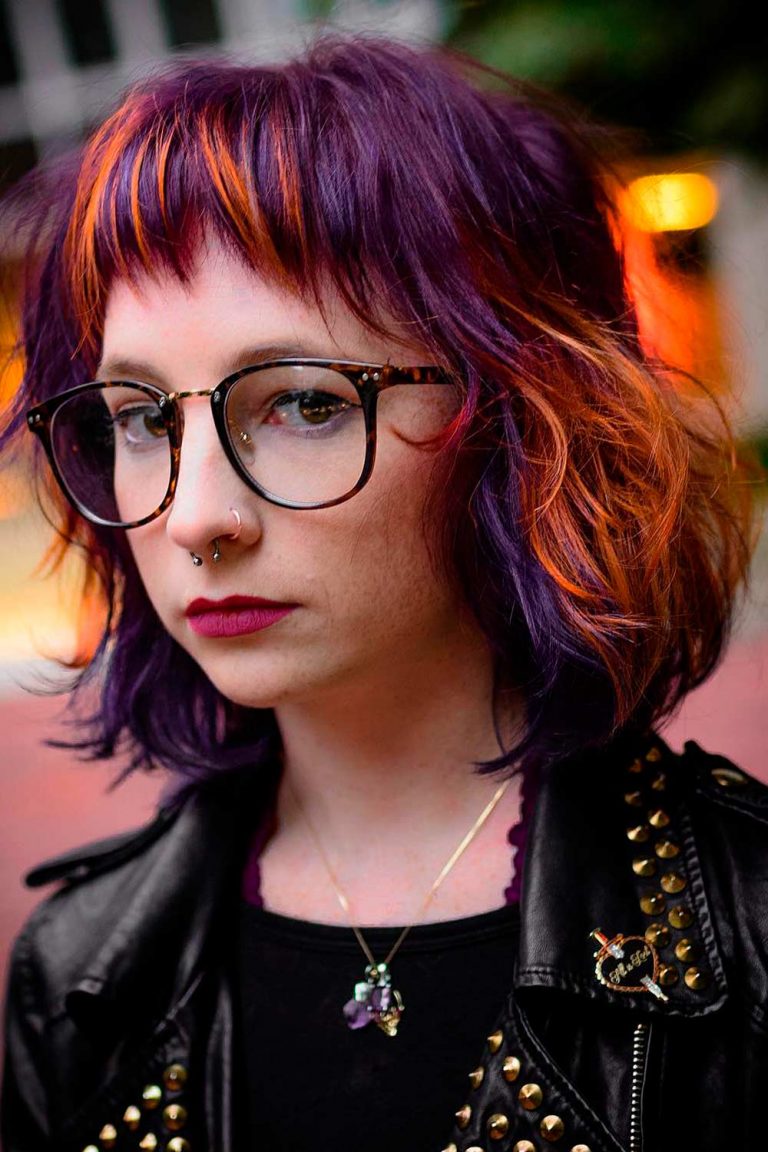 Credit photo: instagram.com/cutyourhair
This sleek and sexy look will turn heads everywhere you go, especially if you dye your hair vampy red or blue-black to add the dramatic flair. Cut just above the shoulders, this seductive look works best for those with straight hair and square or round faces.
To style, part your damp hair and then comb through to remove any tangles. Then, blow-dry, using a paddle brush to remove excess moisture and smooth out your hair. When your hair is nearly dry, drop-down sections and dry with a round brush to curl the ends under. If needed, use a flat iron to finish smoothing and flipping. Finally, apply a shine serum.
Rocker Chic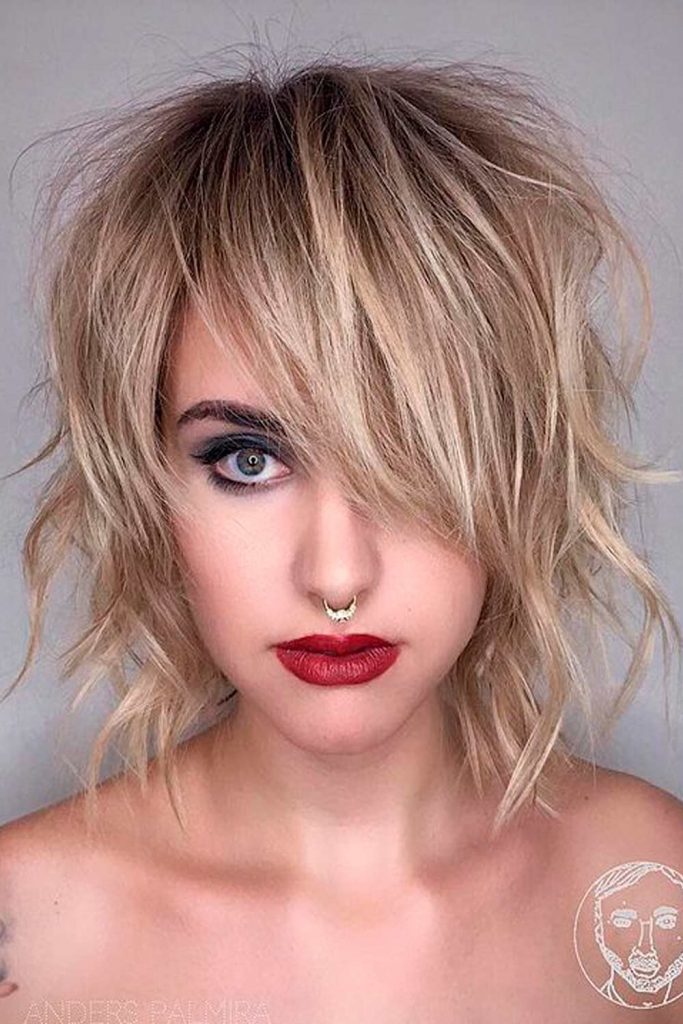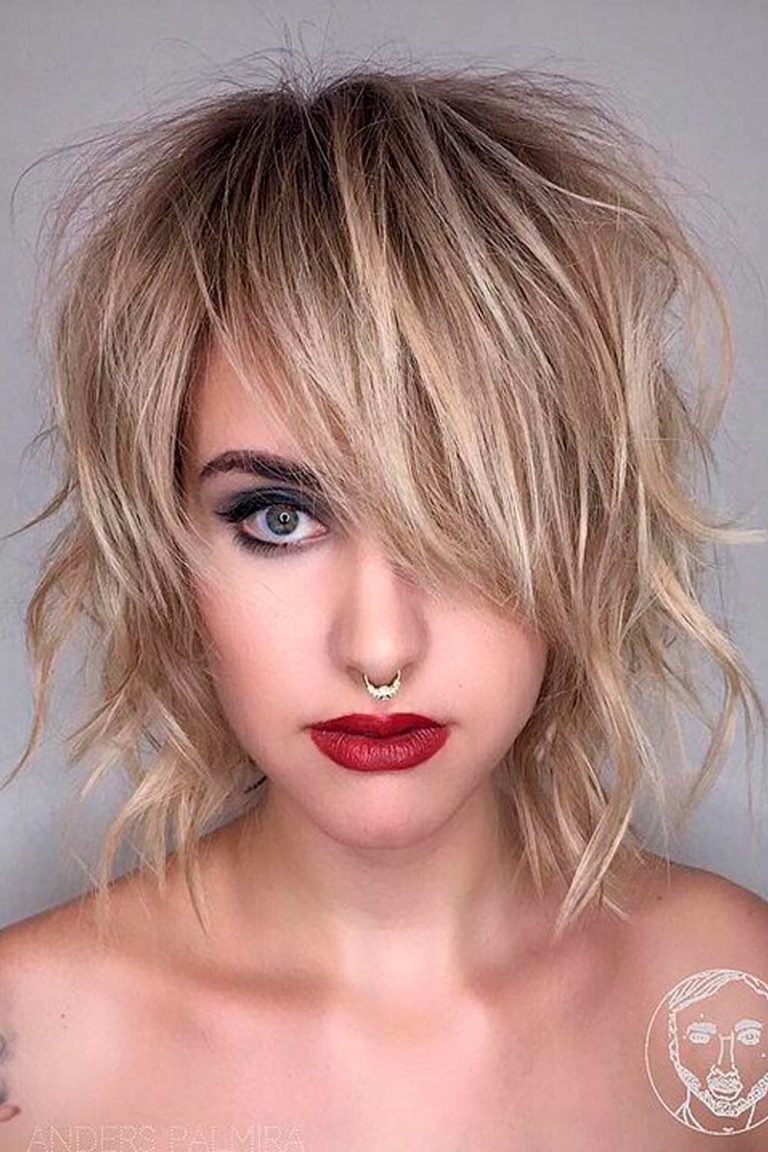 Credit photo: instagram.com/cutyourhair
With its short, razored edges, this layered shaggy bob in 2022 will capture the rock and roll party girl within. You can really rock out by adding some streaks for a funky pop of color to all layered bob hairstyles. Apparently, this style works best for those with heart-shaped or round faces and medium to thick hair.
To style, add your favorite texturizing mousse evenly throughout your damp hair. Blow-dry, using a paddle brush, and style it towards your face. Next, use a flat iron to smooth out any frizzed sections, and use pomade to fully piece out the layers so you can totally rock this sexy, shaggy vibe!
Sexy Ringlets For Layered Bob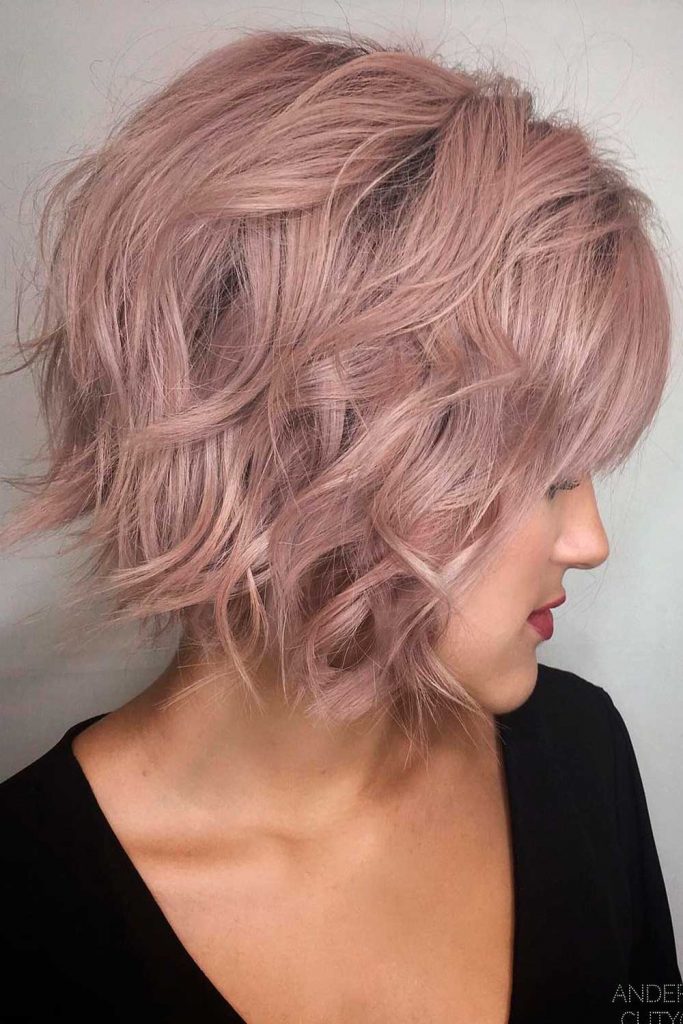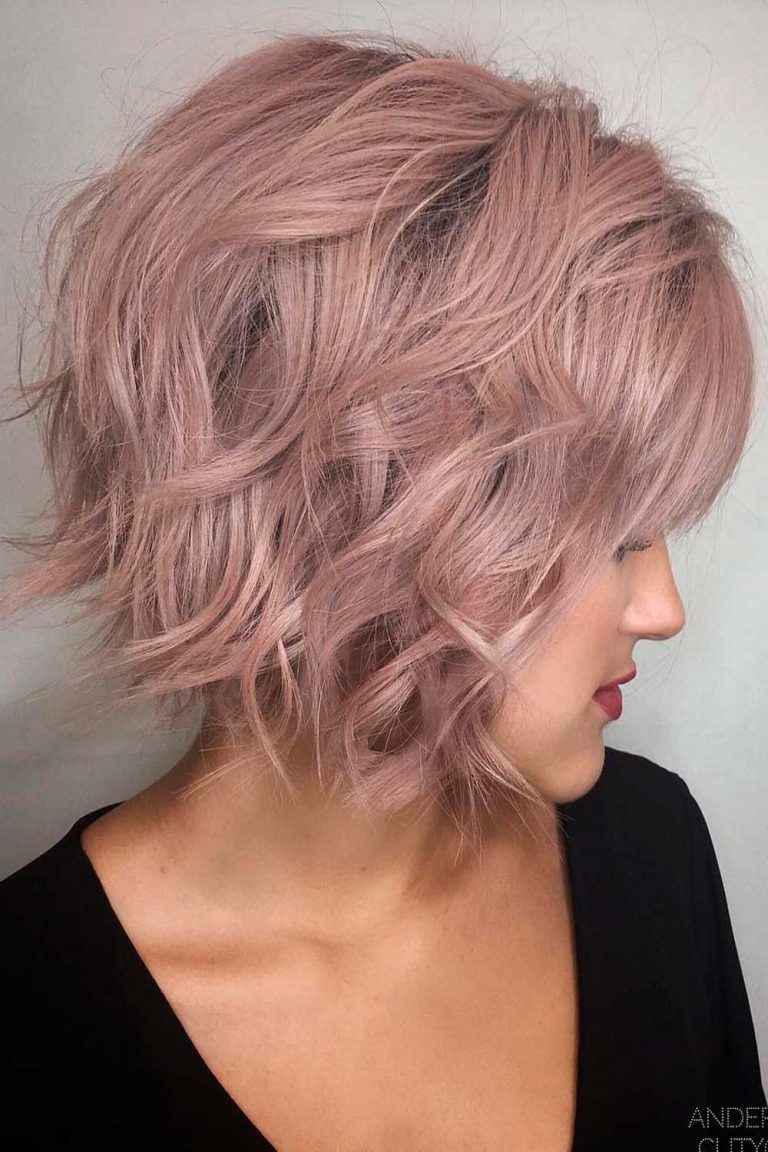 Credit photo: instagram.com/cutyourhair
These short, playful ringlets give this sophisticated style a bit of mystery and sex appeal. On top of that, the two-toned color effect will really play up this super feminine haircut. If you have a heart-shaped face, you can totally show off this chic, girly style.
To style, make a deep part on one side of your hair. Then, leaving one section dropped down, secure the remainder of your hair so it's out of the way. After that, start with the dropped-down section and use a 1-inch curling iron to make small ringlets. Drop down each section one at a time and continue making small, soft ringlets until your hair is completely curled. Then loosely shake out the curls and spray with a medium-hold finishing spray to allow movement.
Multi-Dimensional
Credit photo: @sofiya.bravo
i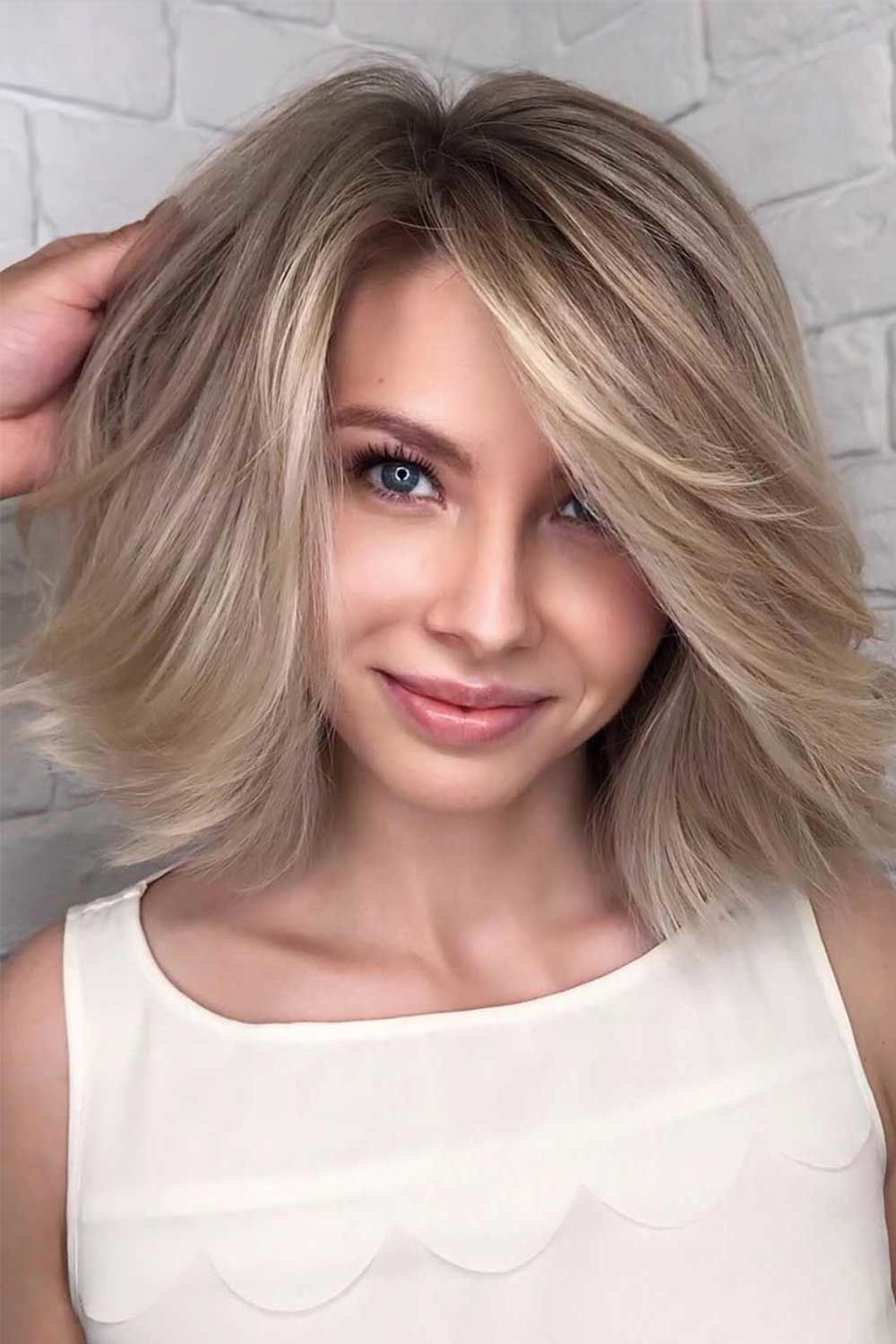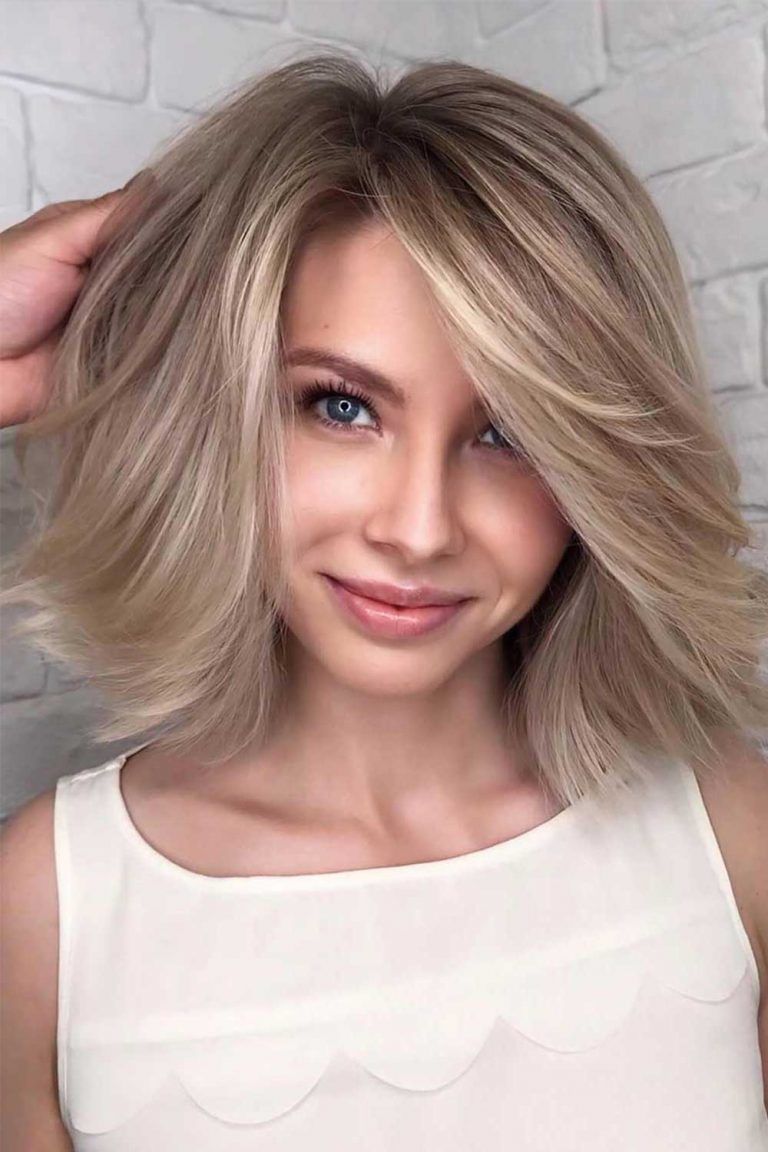 Credit photo: @sofiya.bravo
i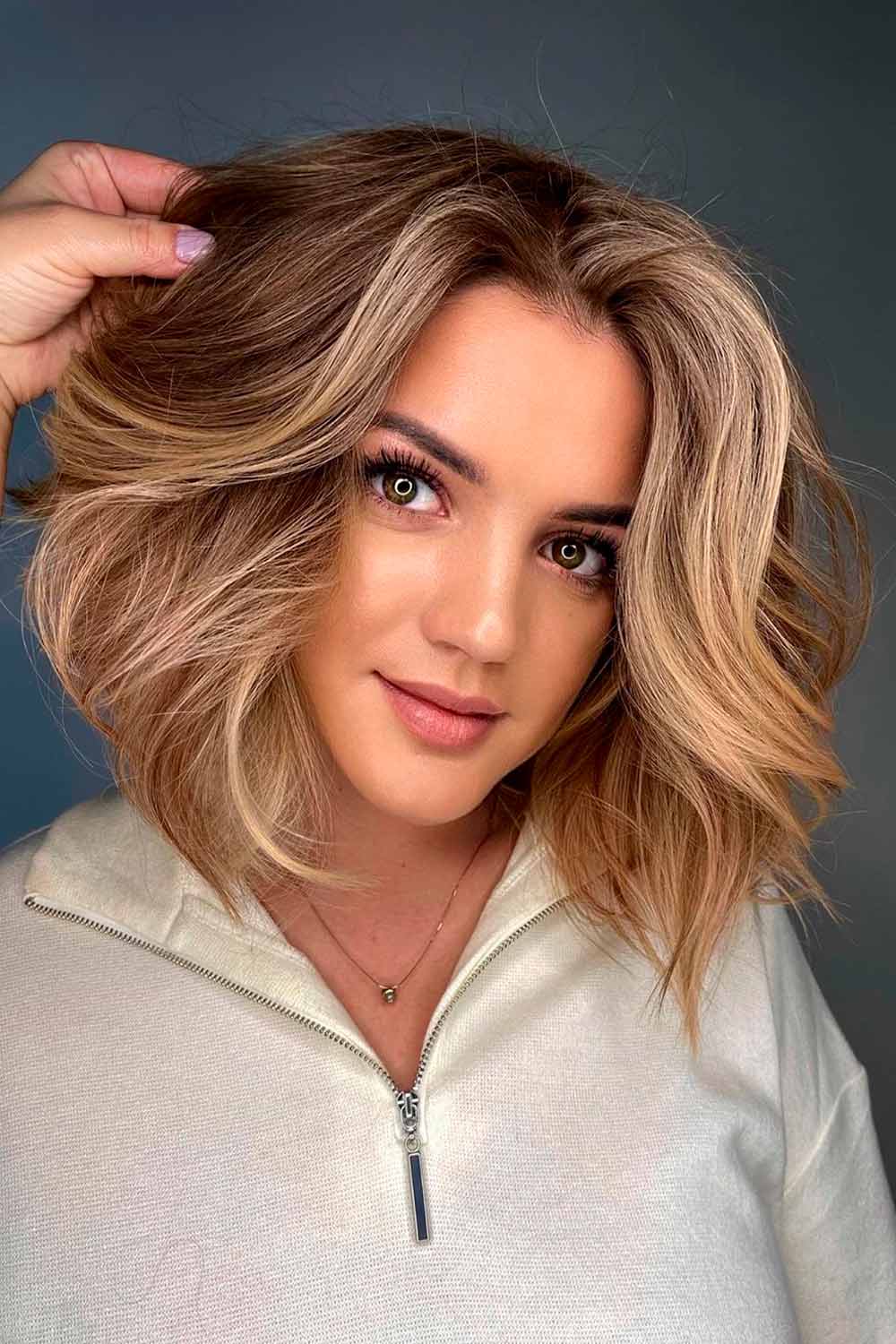 /
This multi-toned cut is designed for those with fine hair who want their new layered bob hairstyles to add volume and texture. With its multi-dimensional shades of color, it is soft yet sleek for a completely young and girlish appeal. This look works best for those with oval or heart-shaped faces.
To style, apply a quality texturizing product, and blow-dry with either a paddle brush for a sleek effect or a round brush if you want to really pump up the volume. Also, if you are going for the sleek look, use a flat iron for the final touches.
Dramatic Attitude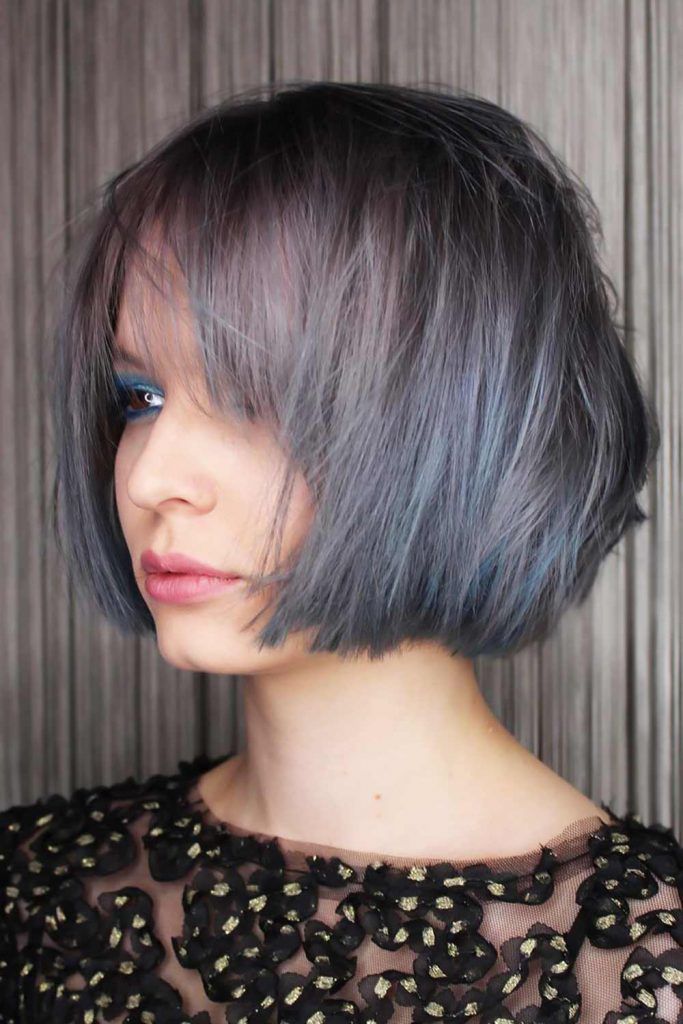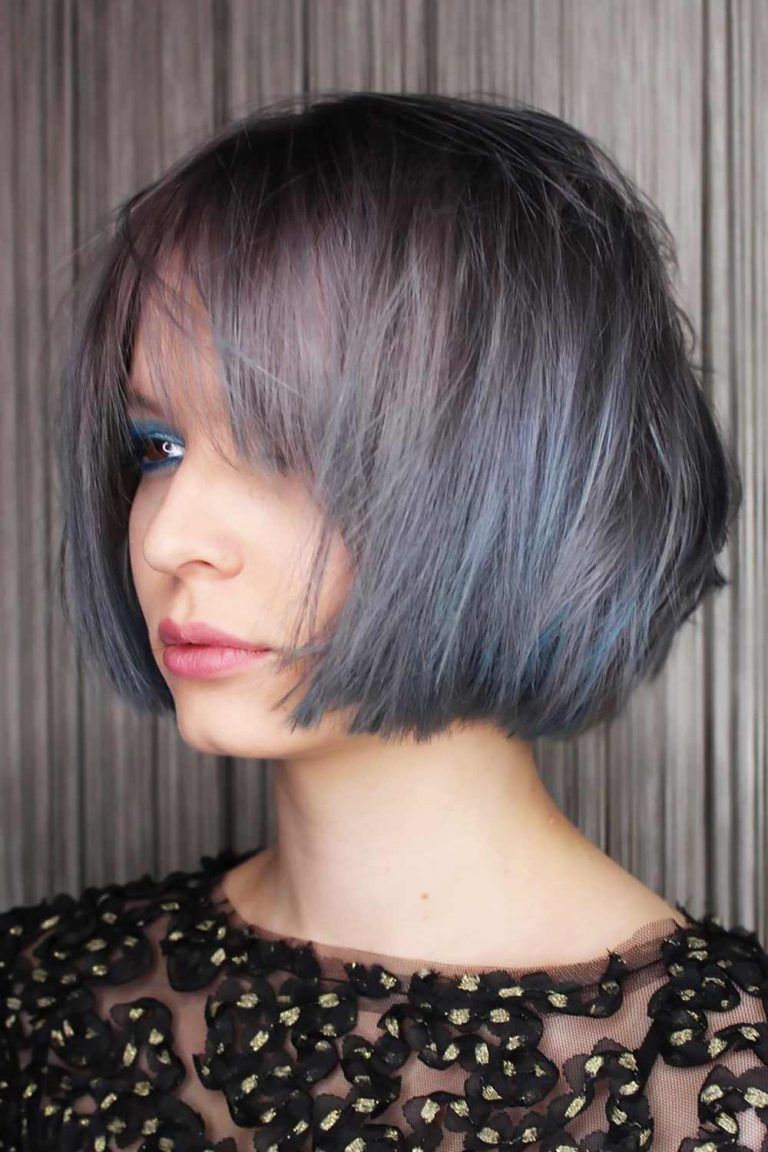 Credit photo: instagram.com/nurzh8n
This stylish layered bob looks great with thick bangs to add attitude and a bit of sass. It is really flattering with bold, dark colors and you can play it up with fun highs or lowlights or even some colorful streaks throughout, focusing on the full bangs. This look works best for those with thick hair and elongated faces.
To style, treat your slightly damp hair with Moroccan oil and then blow dry till smooth, drying the bangs to the front. Finish with a flat iron for maximum sleekness.
Silky Layered Bob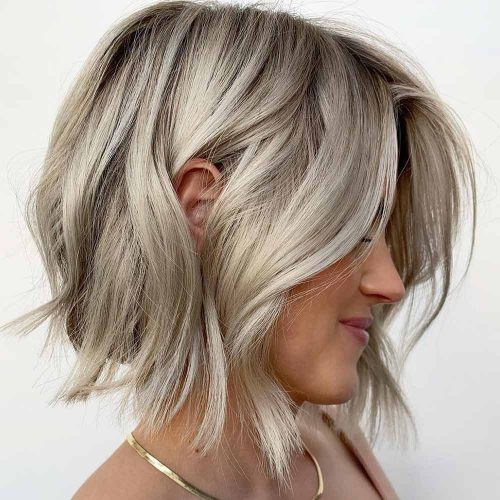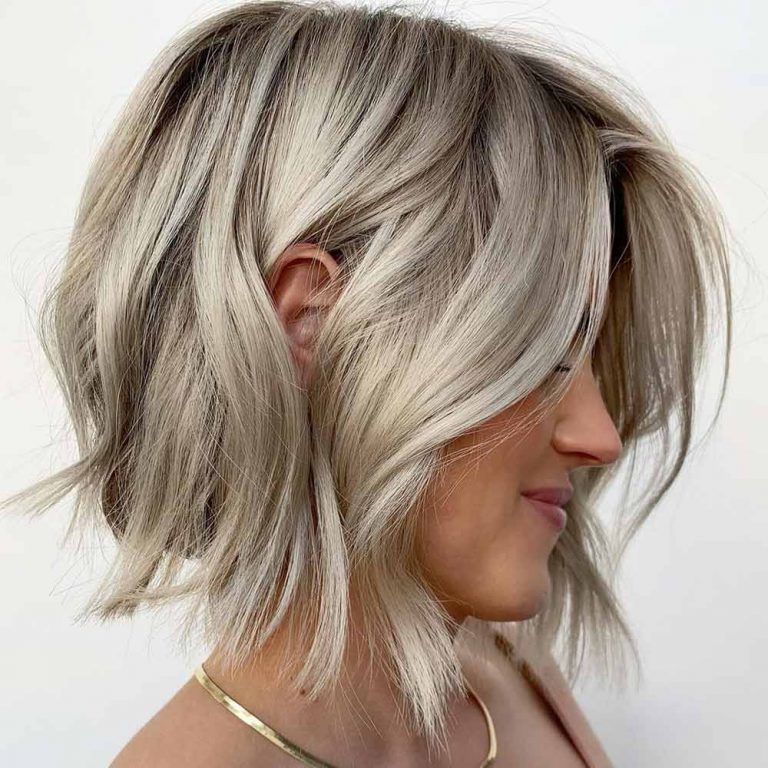 Credit photo: instagram.com/styled_by_carolynn
This silky and precise idea looks so refined, sophisticated, and modern that one won't be able to take the eyes off it. Ladies who want their looks to scream about their uniqueness and modern sense of style will undoubtedly copy this one!
To style, prepare your wet hair with a soft mousse and consider using heat protectants, as you'll need to use a flat iron. Straighten your hair layer by layer to get an even silhouette and spritz your hair with an oily product just to add some shine.
Stacked And Layered Bob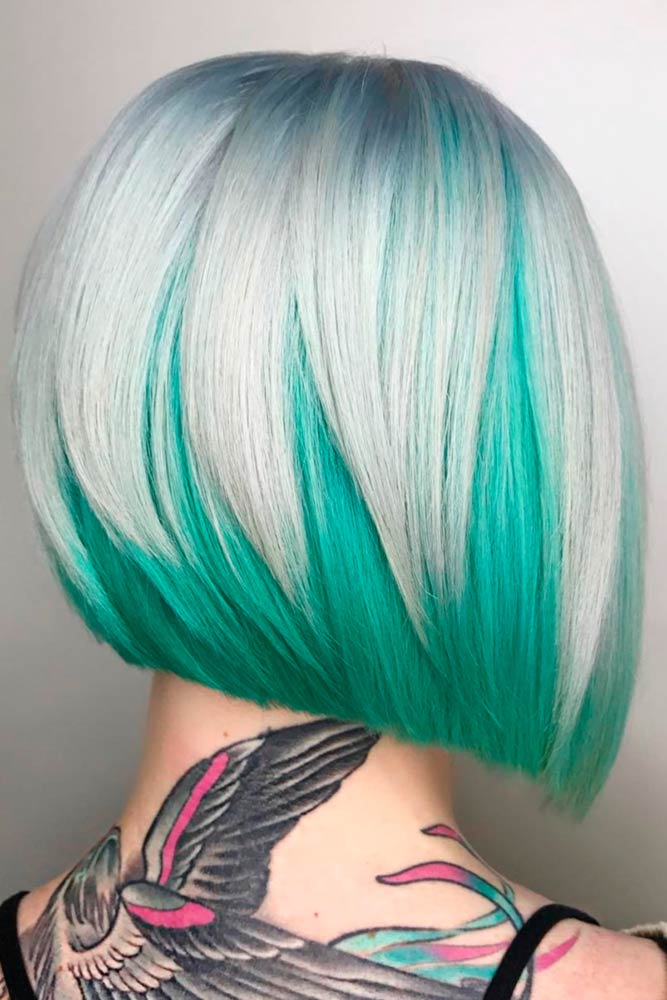 Credit photo: instagram.com/presleypoe
Layered bob hairstyles can be as different as you want: they may differ in the number of layers, in their thickness, and the ways of styling. If we're talking about a stacked bob, it looks ravishing win any hair texture, from sleek to curly.
To get a stylish result like this, conditioner your hair with sulfate-free, straightening care products, and make sure that you put a nozzle on your hair dryer when you style it. P.S. Coloring the lower layers will add more dimension.
Bold Side Parted Inverted Bob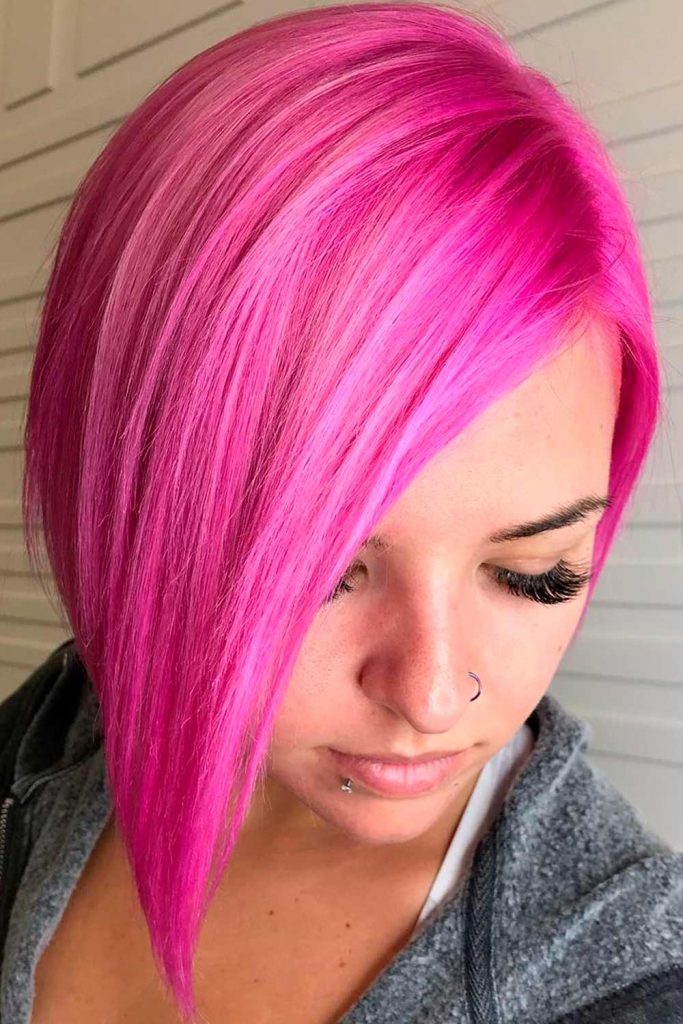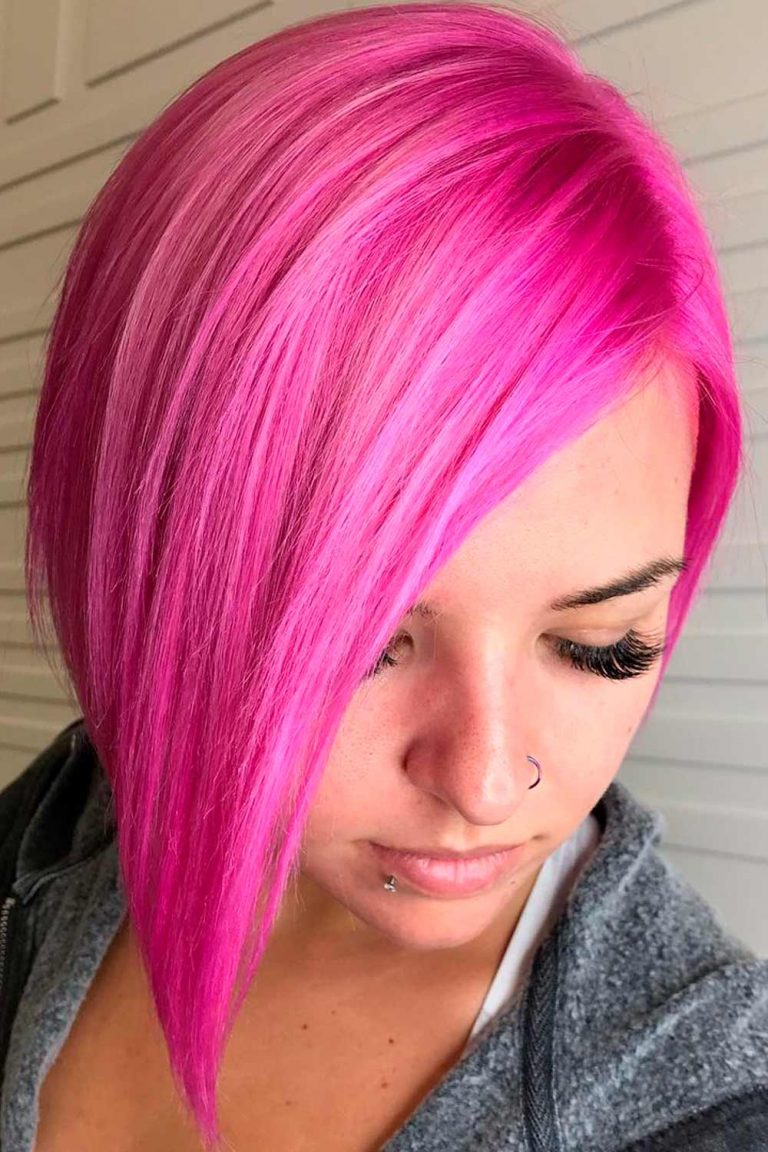 Credit photo: instagram.com/isaac4mayor
An inverted bob, also known as the nowadays' trend, is something that every lady should try in her life. The play of layers, where the front tresses are extremely long, and the hair on the back of the head is cut relatively short, creates a stunning elongating silhouette that can perfectly deal with your face shape insecurities. And with a touch of bright color, you can create one of the most attractive layered bob hairstyles!
Finely Chopped Tousled Layered Bob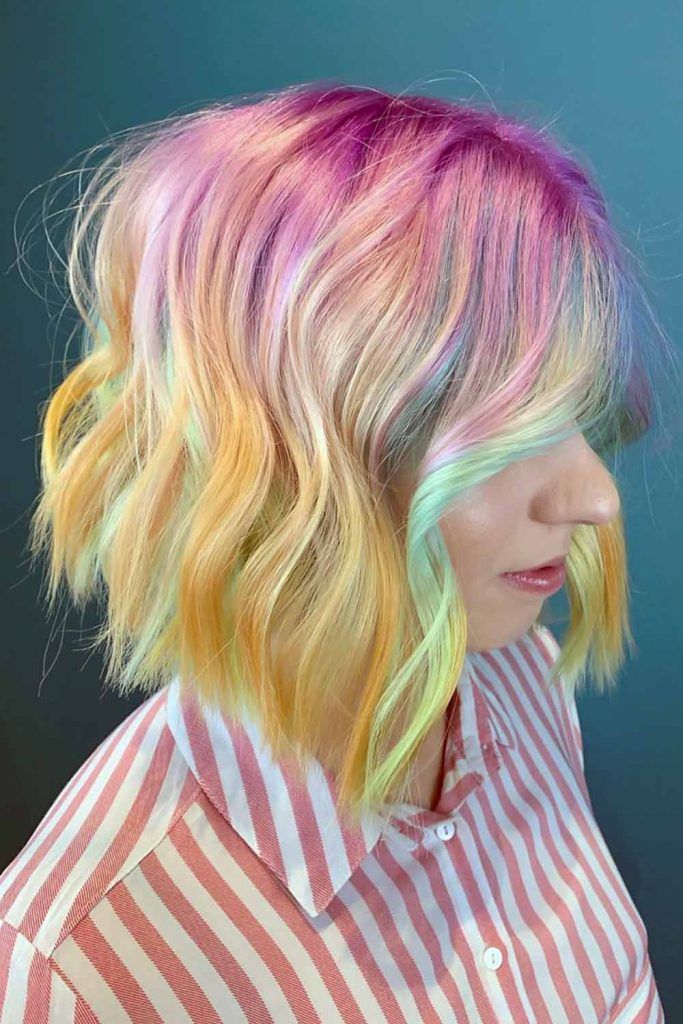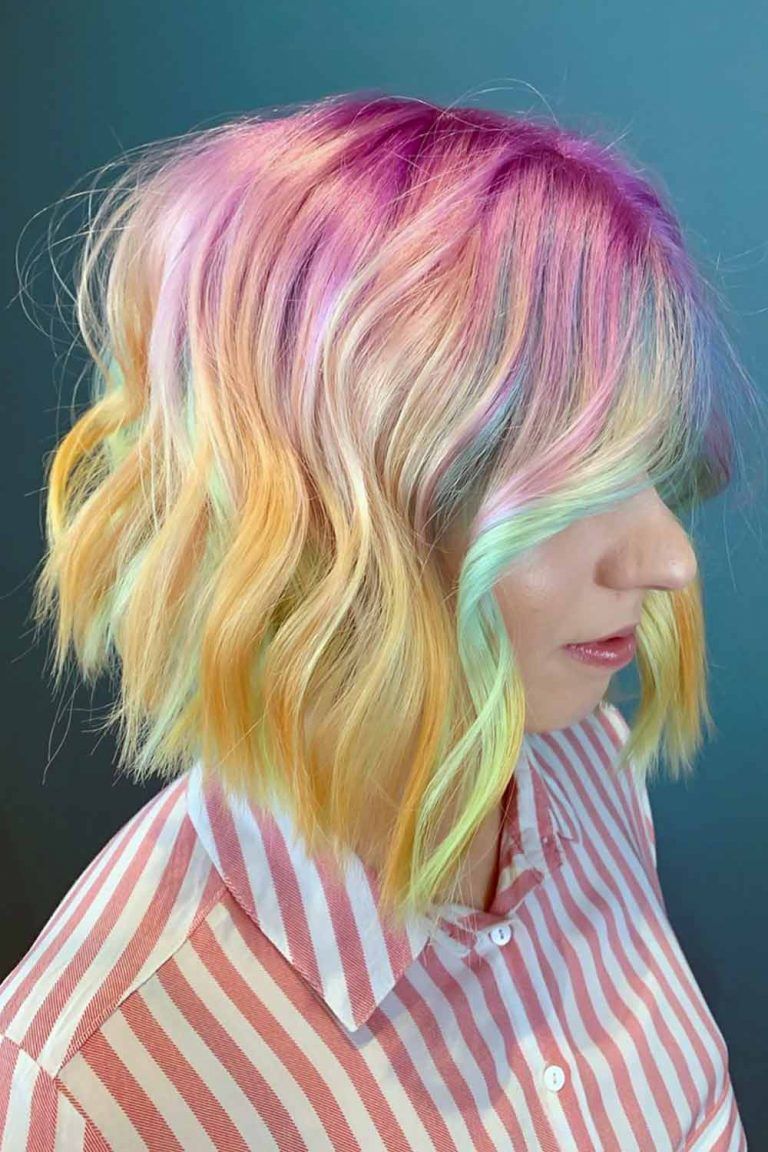 Credit photo: instagram.com/nurzh8n
The term "choppy" means uneven, so it often gets a bad rap. Choppy water, choppy sentences, choppy sounds, etc. But, when a hairstylist creates choppy layers for layered bob hairstyles, the tousled result is truly stunning. When the hair is fine, it builds volume. When it's heavy and thick, it decreases the weight, which also builds volume. You just can't go wrong. Add highlights, and you'll look like you've been on the beach.
Rounded Layered Bob With Long Wispy Bangs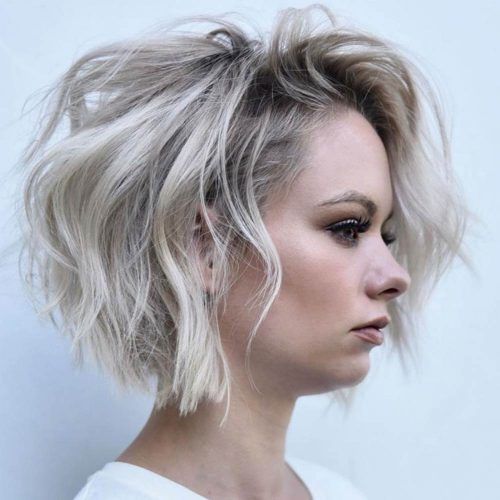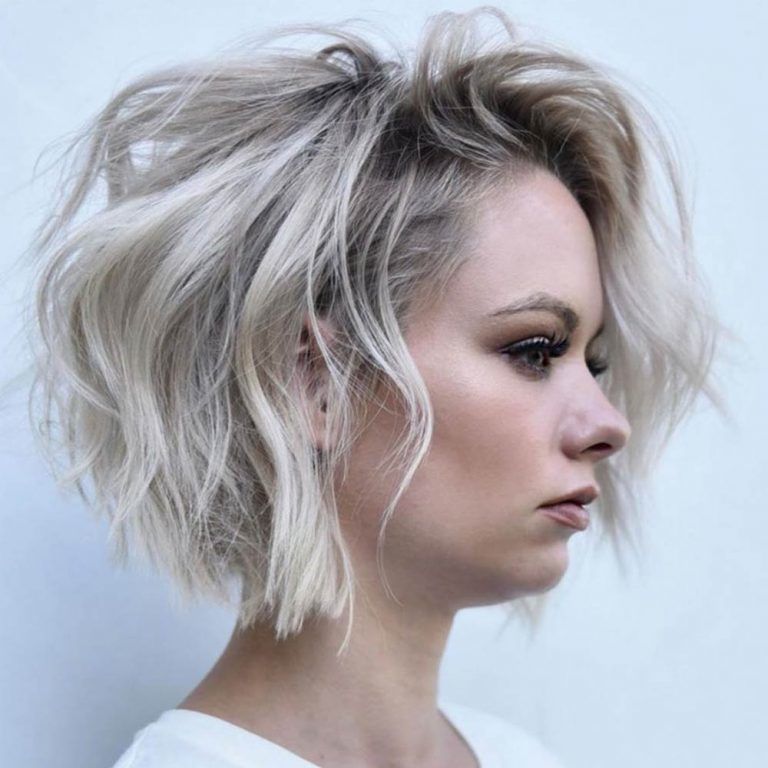 Credit photo: instagram.com/styled_by_carolynn
If you'd rather prefer a clean, neat look, go for a rounded layered lob. As the name suggests, the hair is long and full from the crown on down to the ends, where it's fringed and layered to equal out the shape. Long wispy bangs add some class. Put in highlights and you'll up the sophistication even further.
Inverted Layered Bob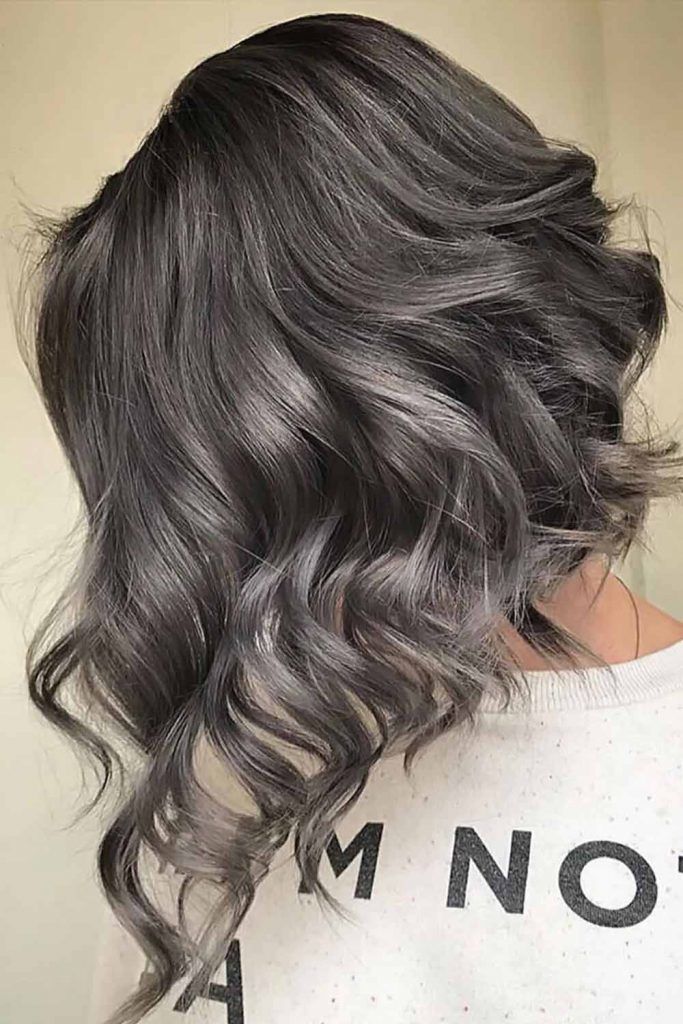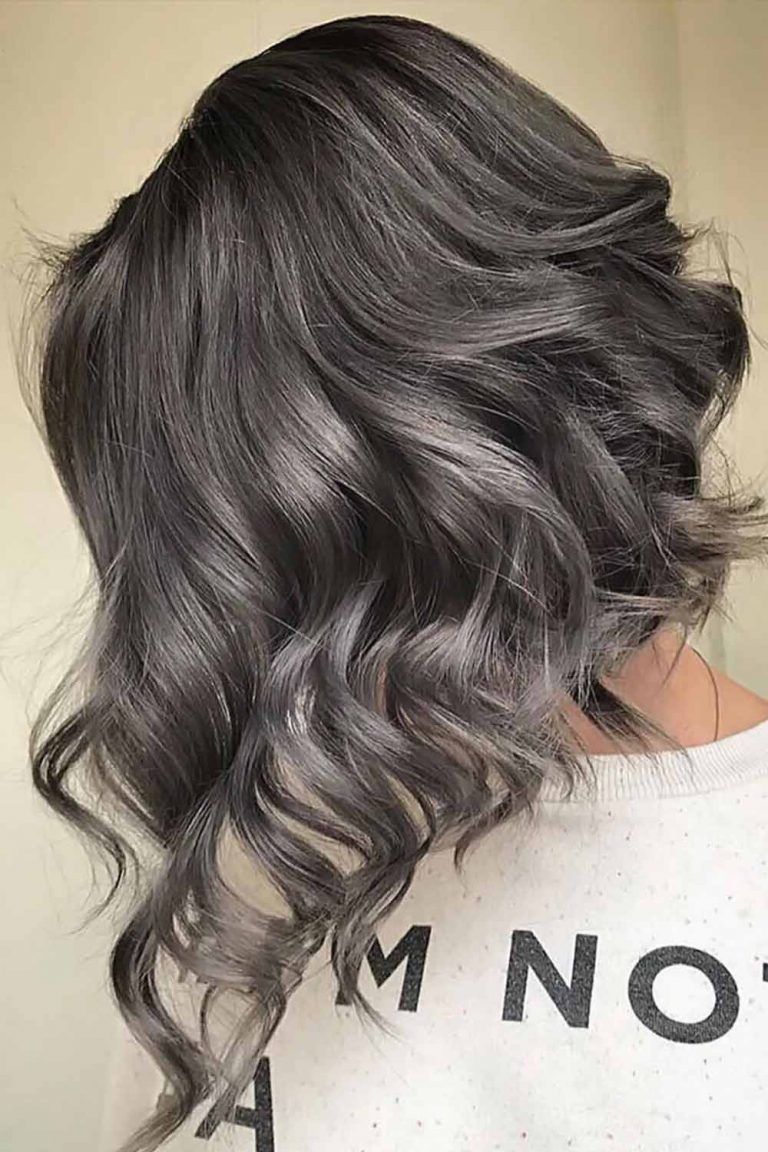 Credit photo: instagram.com/sofiya.bravo
The hairstylist leaves this layered bob long in the front, tapers it toward the back, and shaves it up the nape of the neck. It's ideal for the summer and for those who have cool tattoos, they wish to show off. It's pure rock 'n' roll (or punk, if you'd prefer so).
Layered Bob With A Feathery Finish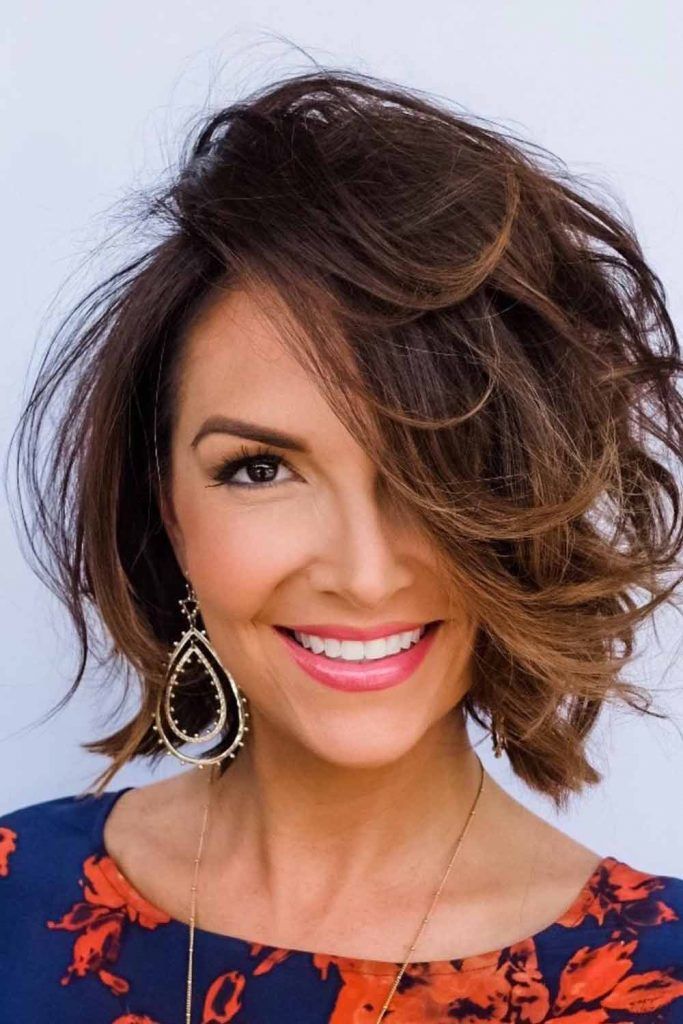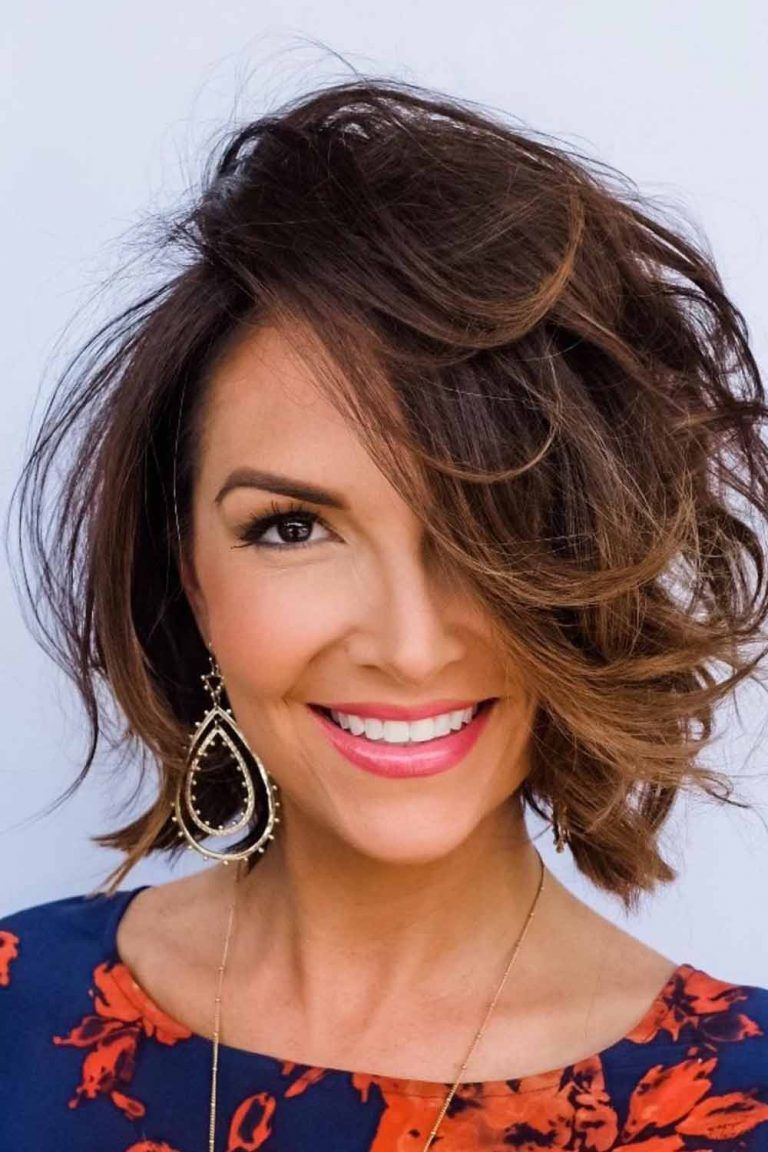 Credit photo: instagram.com/chrisjones_hair
Hairstylists can also use razors to wisp or feather the edges either toward or from the face. It offers plenty of freedom in styling. You can part it down the middle or on the side. Arrange bangs along your forehead, push them to the side, or brush them completely off your face. Change your mind from day to day, morning to night, or even hour to hour. The fun is endless.
Asymmetrical Layered Bobs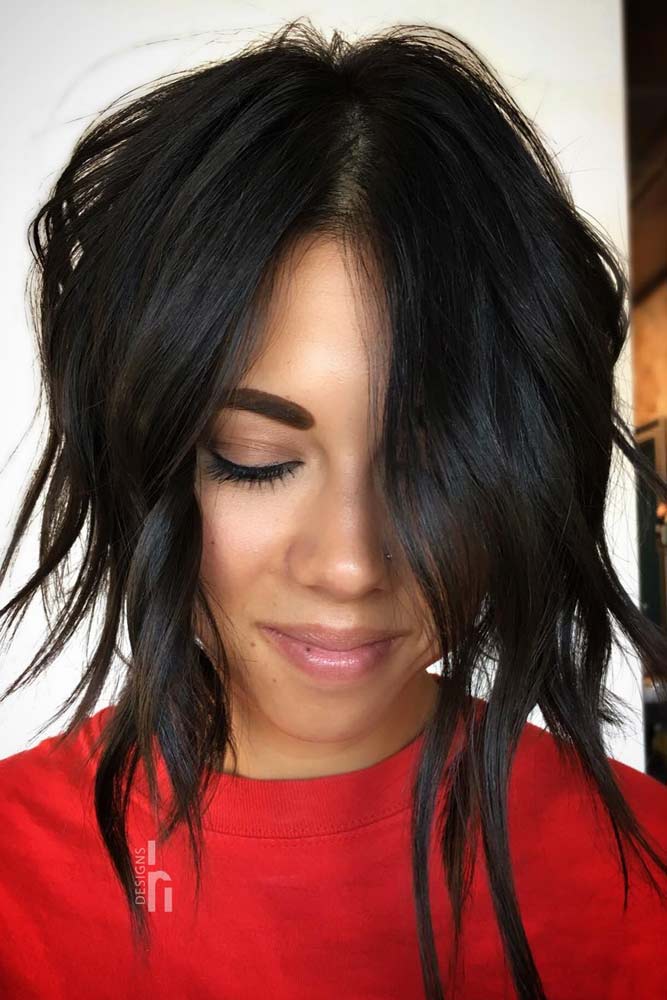 Credit photo: instagram.com/headrushdesigns
This layered bob is longer on one side. It comes in long, short, and every length in between. It can be straight, wavy, or curly. The edges are often pointed and, sometimes, one edge curls playfully under the chin. No matter how a woman chooses to wear it, it's always sexy.
Shaggy Layered Bob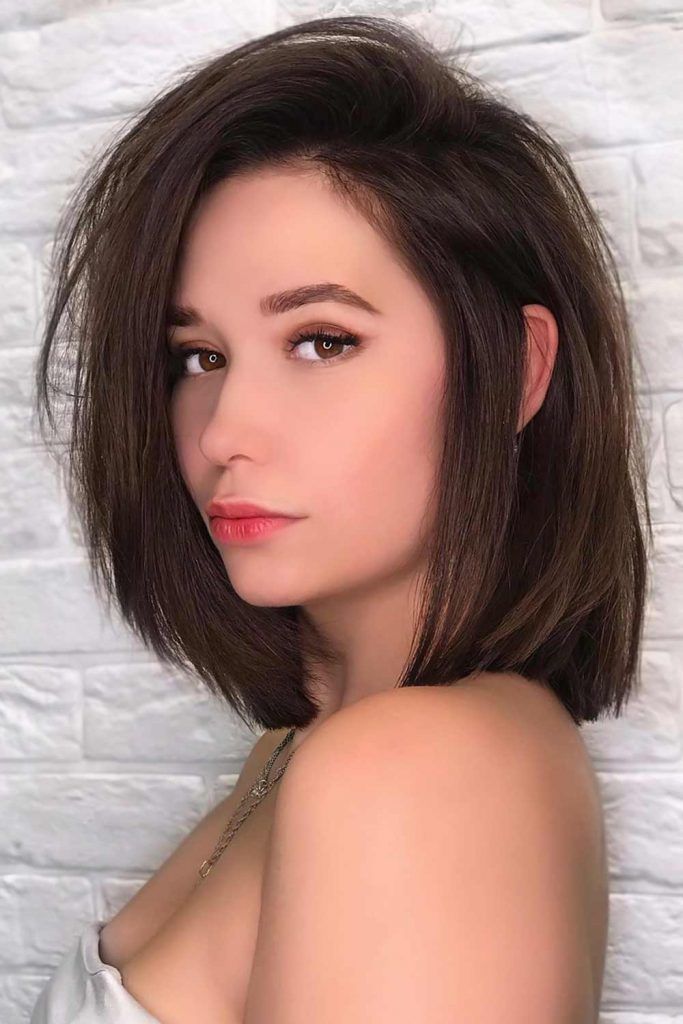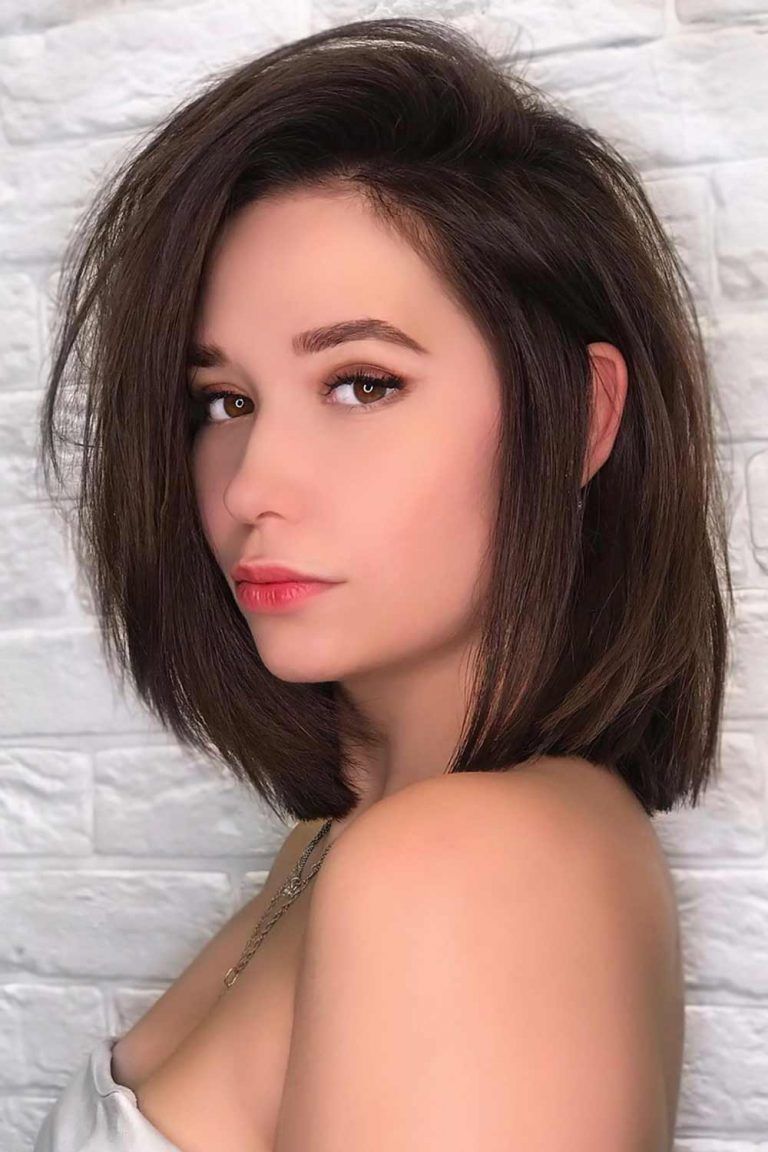 Credit photo: instagram.com/sofiya.bravo
The shaggy layered bob takes choppy layers and tousles to a whole new level. It's avant-garde, gritty, feminine, charming, and still just right for the red carpet. It's even better with curls and waves. No worries if you don't have natural waves. Rollers or heat-styling tools will do the trick nicely.
Peek-A-Boo Layered Bob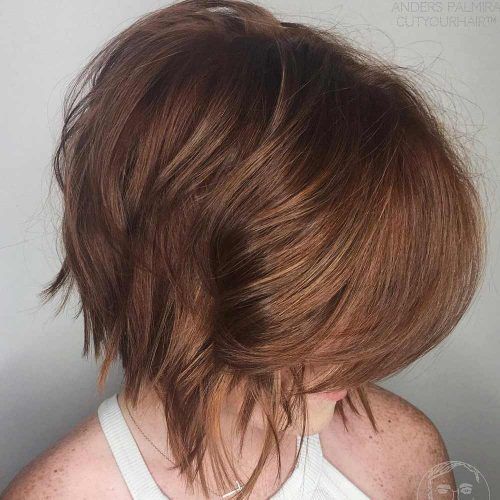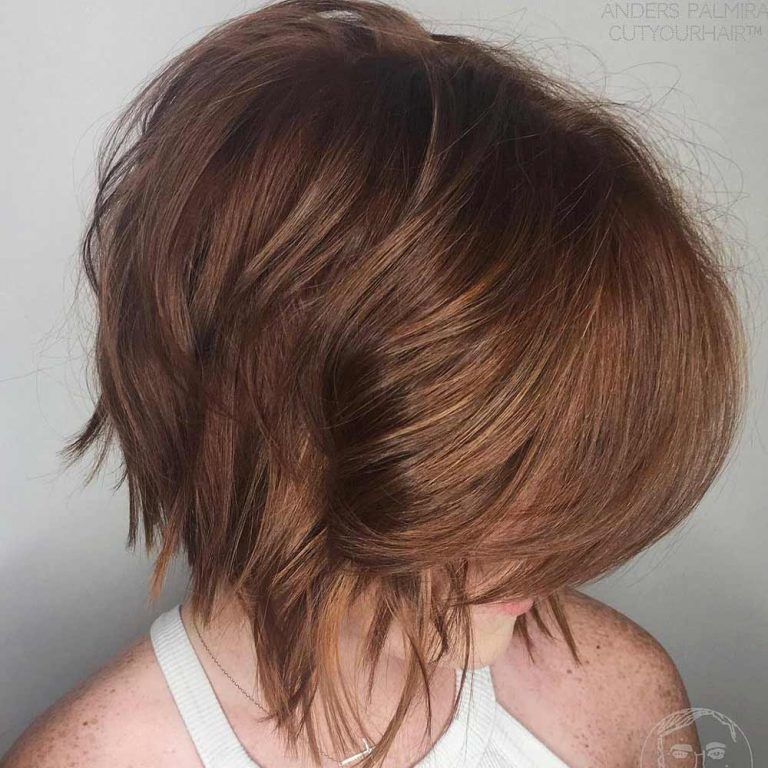 Credit photo: instagram.com/cutyourhair
In the Golden Age of Cinema, glamorous women copied the hairstyle of sexy starlets and covered one eye with long tresses. It brought out a woman's sensuality and made her eyes and lips stand out. Yes, peek-a-boo layered bob hairstyles are definitely worth a try.
Shaggy Layered Bob With Balayage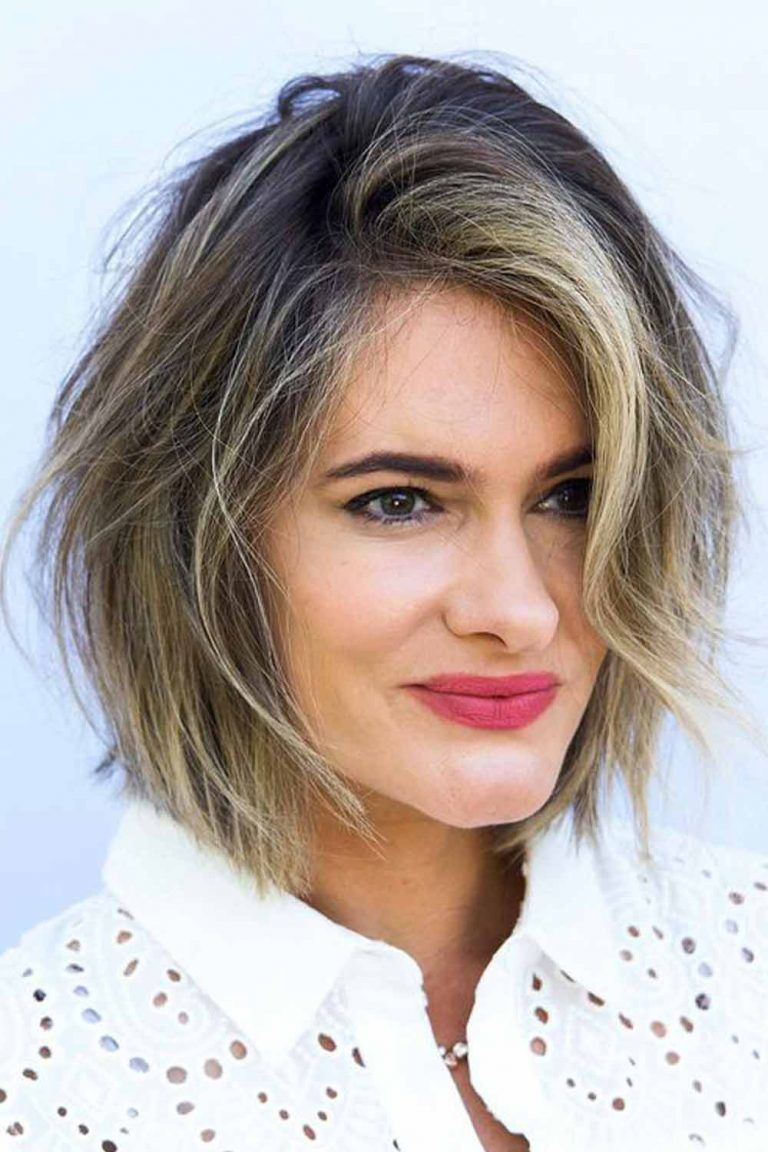 Credit photo: instagram.com/chrisjones_hair
Balayage is the French word for "paint" or "sweep." When hairstylists perform a balayage technique, they do just that. They sweep or paint the color, be it a natural or unnatural color, into the hair. The look blends the color or colors together so that they blend seamlessly. When such a technique is applied to a shaggy layered bob, it elevates the hairstyle to another level.
Jagged Edged Layered Bob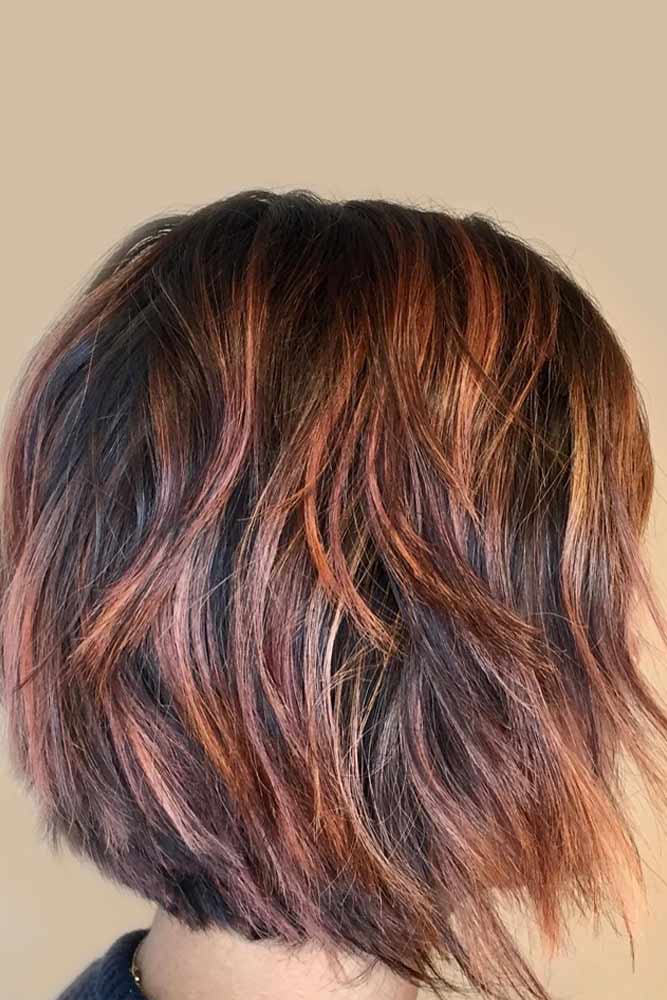 Credit photo: instagram.com/marysutcolor
The standard bob requires precision and perfect edges. No offense, but who wants perfection? That sounds too much like following the rules. If you're the type that likes coloring outside the lines, then jagged edges are for you. Tousle them, gel them in a specific direction, curl them, smooth them, color them pink and/or purple, or do whatever you want. Make your own rules.
Layered Bob With Disconnected Ends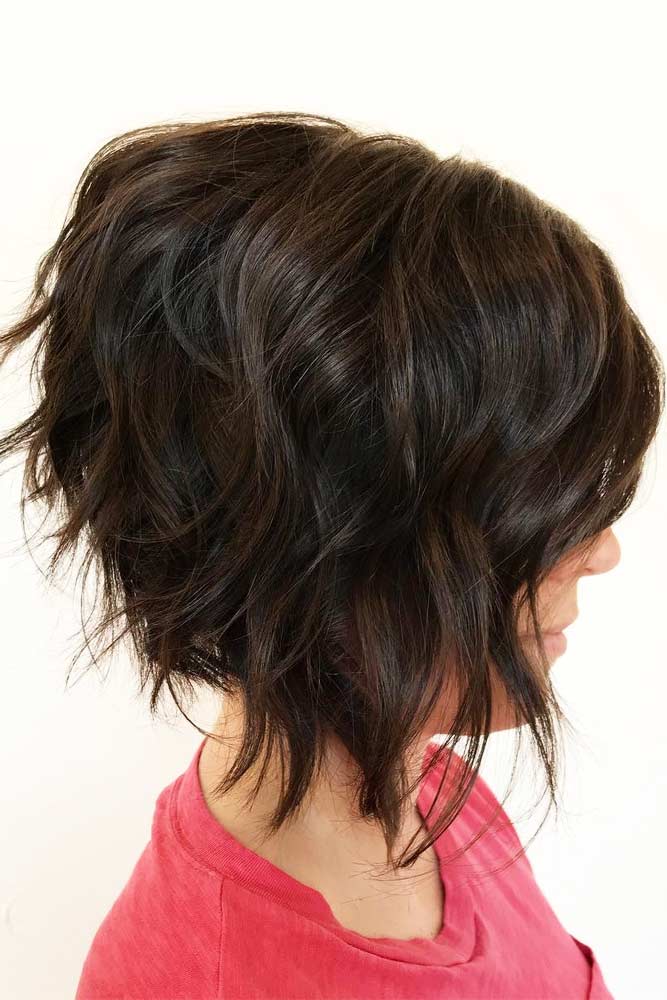 Credit photo: instagram.com/styled_by_carolynn
This kind of layered bob combines the choppy layered bob with the asymmetrical layered bob but in a controlled, subtler manner. Refined tousles and gentle waves softly frame the face and accentuate facial beauty. Don't worry, though, it still offers plenty of personality, punch, and uniqueness.
Voluminous Layered A-line Bob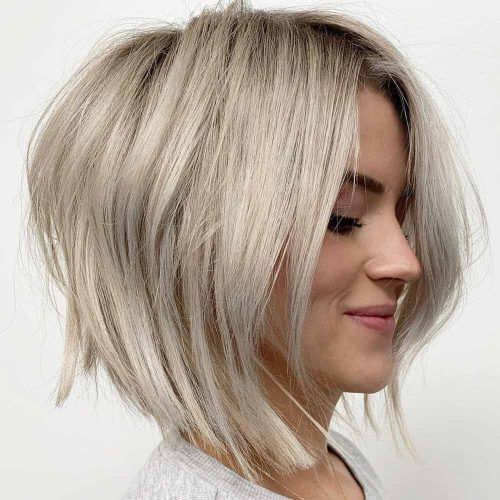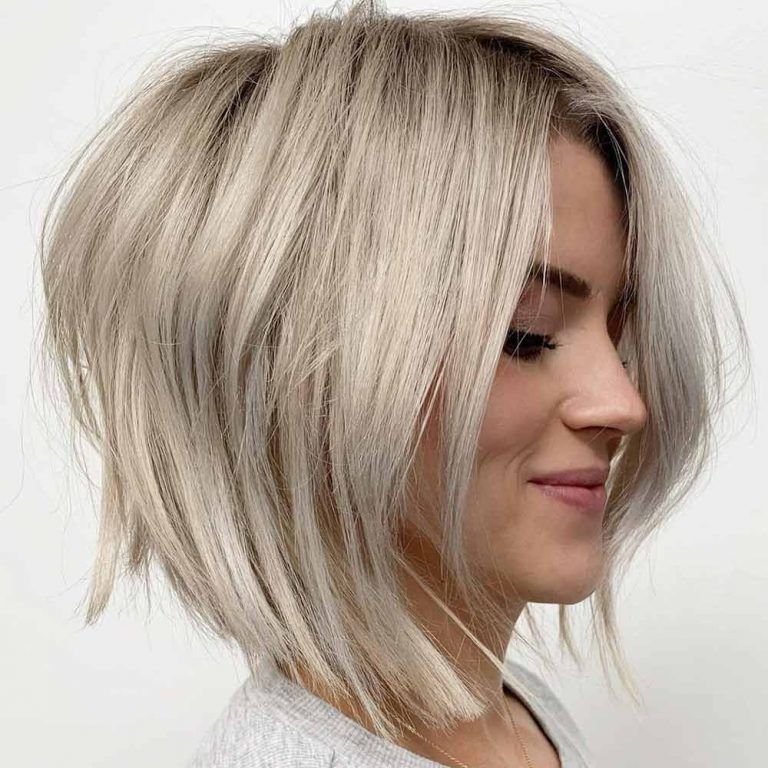 Credit photo: instagram.com/styled_by_carolynn
First of all, let us introduce the beautifying features of layers. The layering technique implies slight texturizing that takes place right at your ends and mid-length to make the texture of your hair more airy and manageable for styling. And the best thing is, whatever haircut you choose, they can lift it up, giving it a volumetric body.
Do you know how beneficial the A-line cut can be? Not only does its sharp and well-groomed structure provide a lot of volume to the top but also gives a nice framing silhouette for all face shapes.
As for styling the layered short bob, nothing is easier! Just make sure you've got a big round brush and a nozzle for your hair dryer.
Long Layered Straight Bob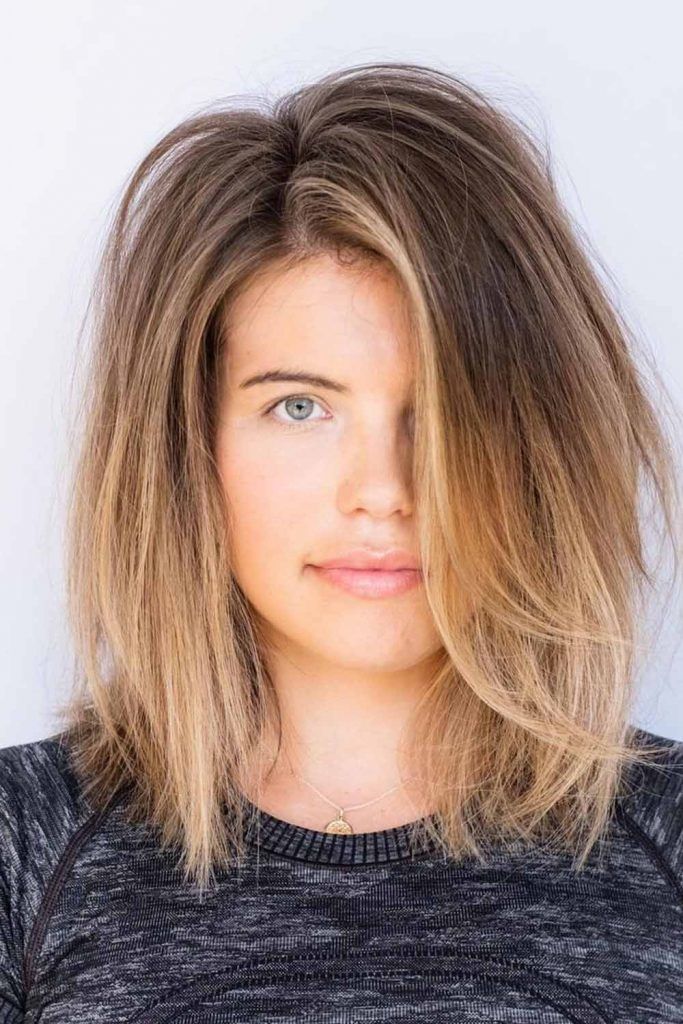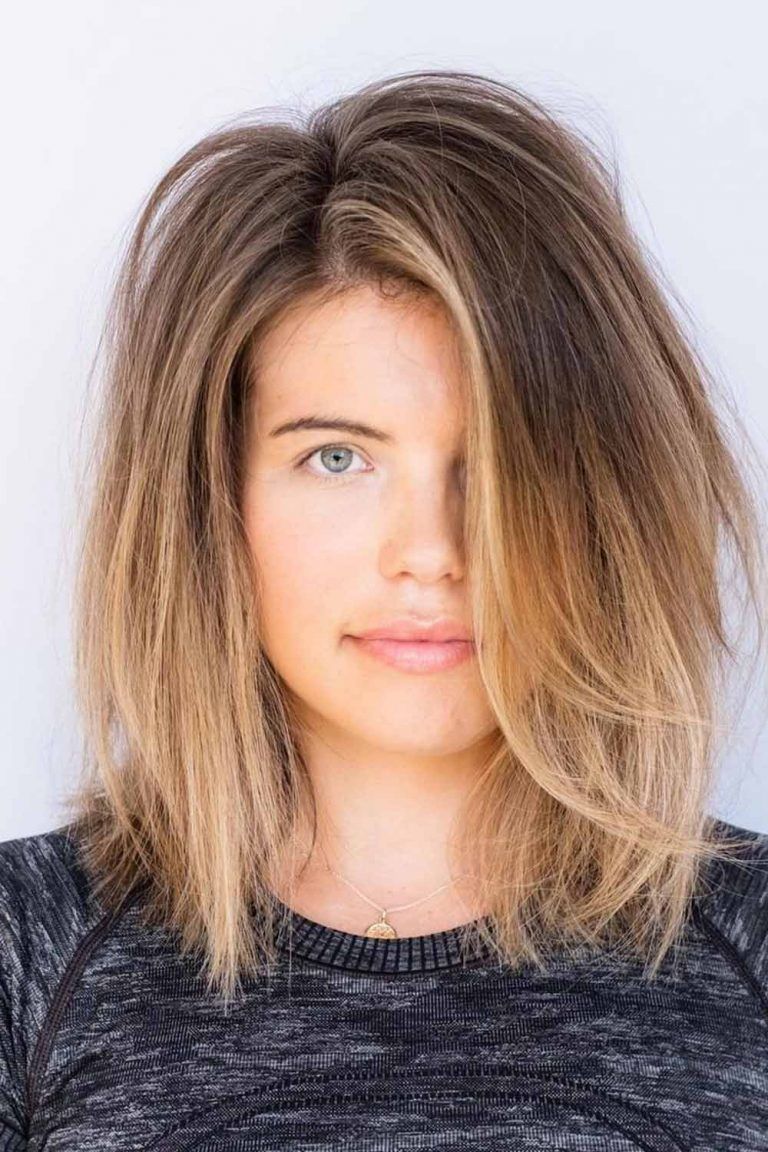 Credit photo: instagram.com/chrisjones_hair
Of course, all those loud words about the magic of layers are so sweet, but how do they work? Well, we weren't joking around: this pic is living proof. This is how different bob looks can be with and without layering. Though it refers to ladies with fine hair, all ladies should take this long layered bob idea into account.
A simple straight cut involves no movement and falls flat at some point, whereas the layered idea enhances the lift of every single strand, turning a simple cut into a piece of hairstyling art.
To make the effect even bigger, modern colorists recommend going for highlights or balayage, as they can add more depth to your locks.
Messy Layered Lob
Credit photo: @chrisjones_hair
i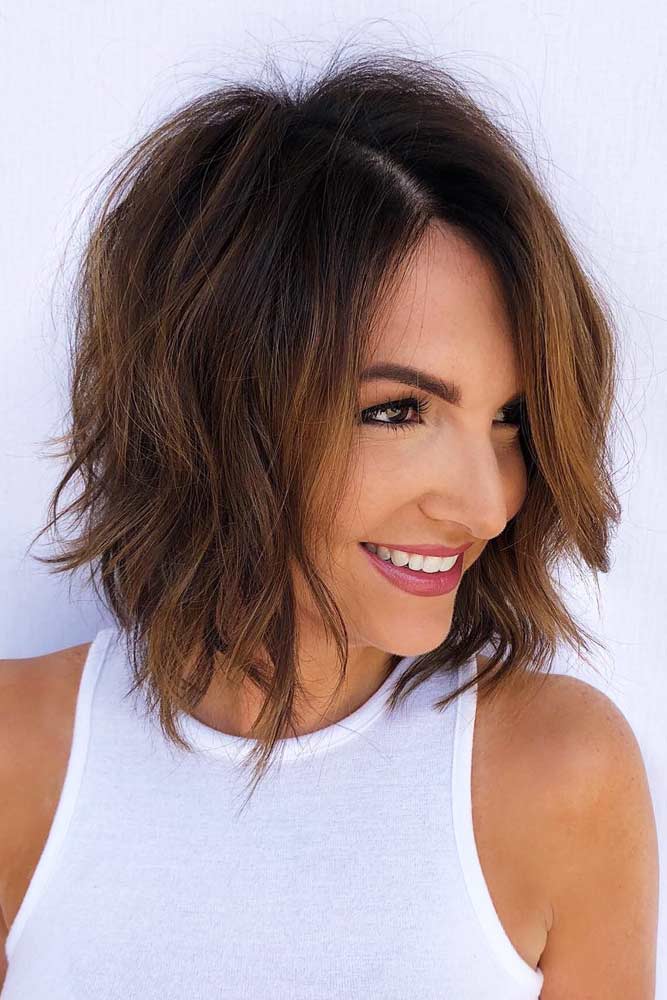 Credit photo: @marysutcolor
i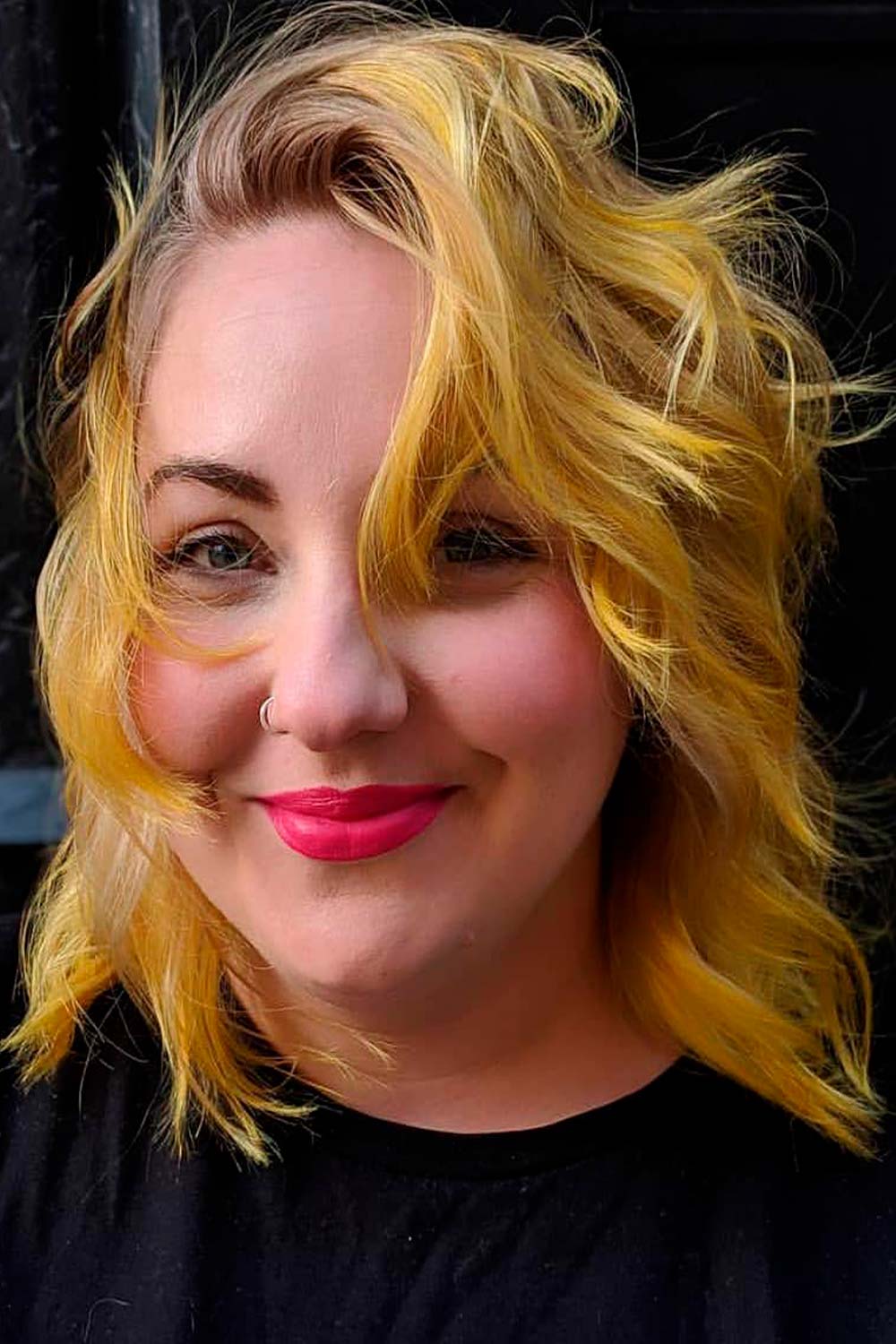 /
Messy layered bob hairstyles are worth everyone's attention. It doesn't matter if you strive for volume with your weak and thin locks or if you desire your thick chevelure to behave and become softer. Messy styling is the salvation for all girls!
If you want your medium bob to work on your thin hair, your hairstylist will add some feathers, which is an edgy version of layers that makes your ends more precise. In this way, your weak locks will show up in a new light. To maintain the messy look, spritz your hair with salt sprays every time you style it.
When working with thick hair, layers are also full of good surprises. Even though they change the thickness of your chevelure, they don't cause it to fall flat. On the contrary, this technique gets the most out of your texture and makes your hair more manageable. For your hair type, salt sprays are a crucial messy weapon, too.
Layered Chin Length Messy Bob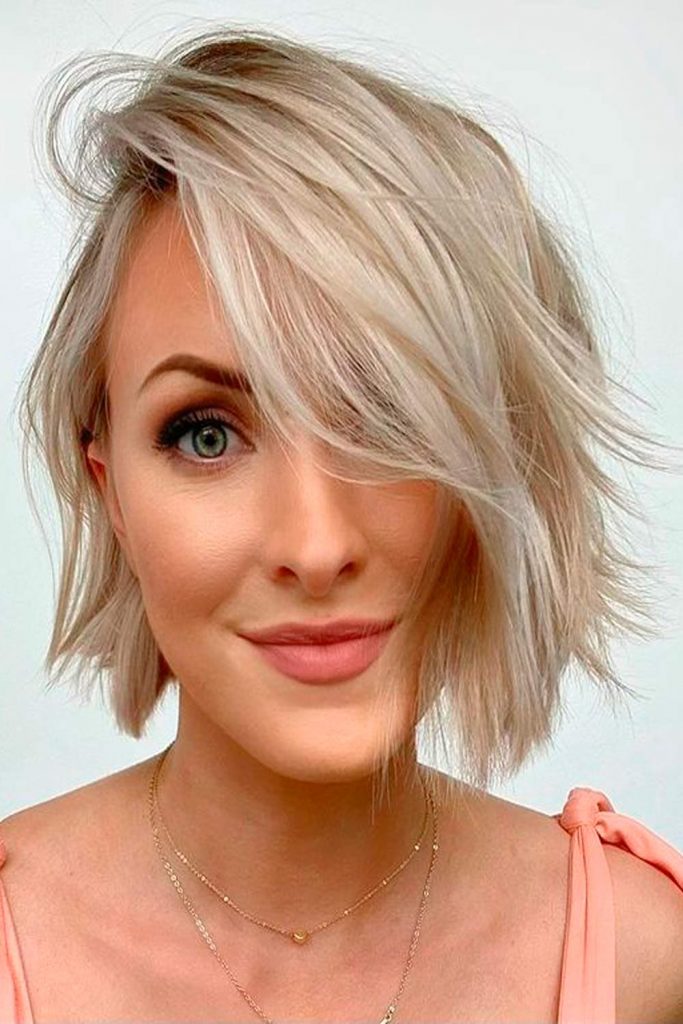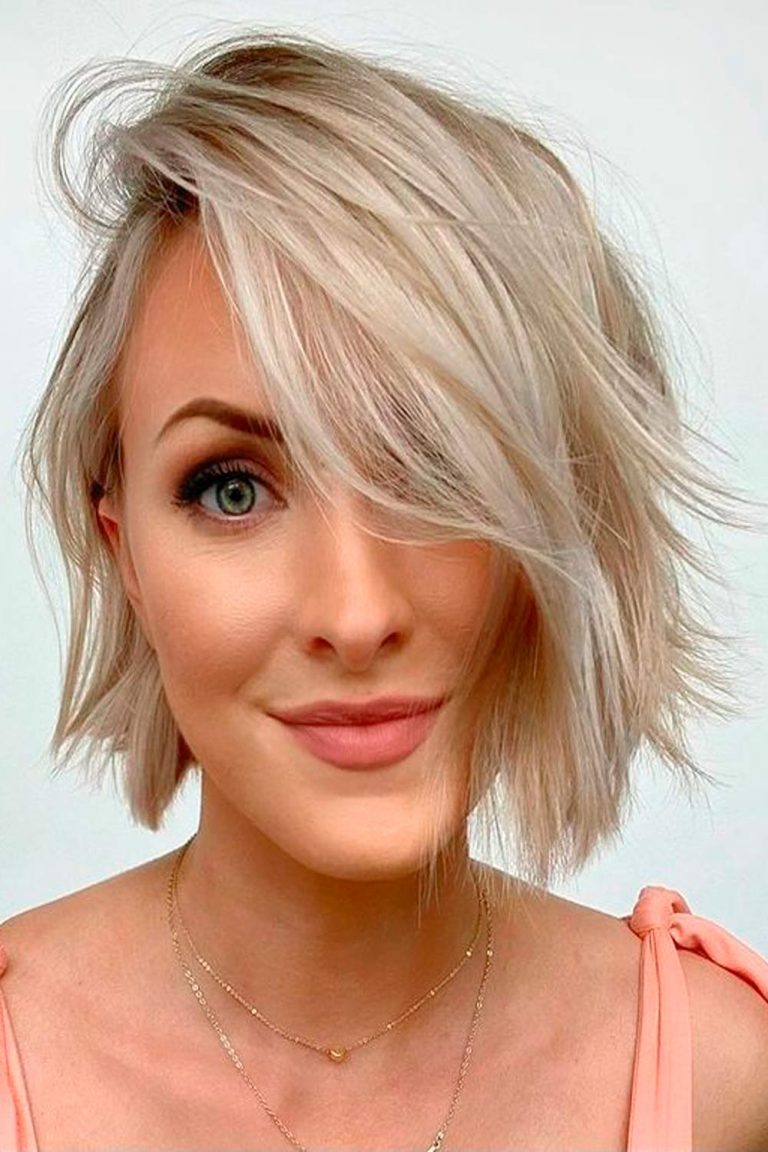 Credit photo: instagram.com/styled_by_carolynn
The same cutting technique from a new perspective! The chin-length layered bob shows how the length affects the look of popular cuts and styles. As you can see, it's another messy bob. Yet, this time it's cut to chin length, and its movement is even more seeable and alive.
It's a versatile hairstyle that can fit any occasion, especially if you style it in a bit tousled manner. Also, it's pretty convenient to wear in the summertime, as it barely hits your neck. If you're wondering what face shape will go well with the style, it will form a stunning duo with oval and round faces.
For casual styling, you can simply apply some lightweight mousses that enhance the movement. And if some special day is coming, you can ask a curling iron for help.
Short Layered A-line Bob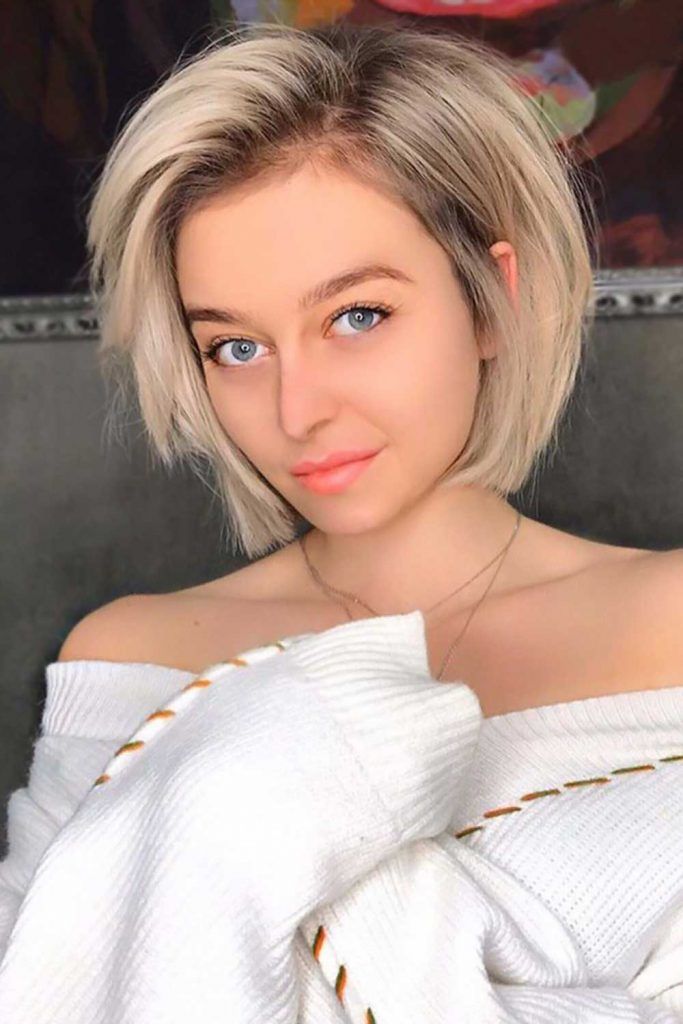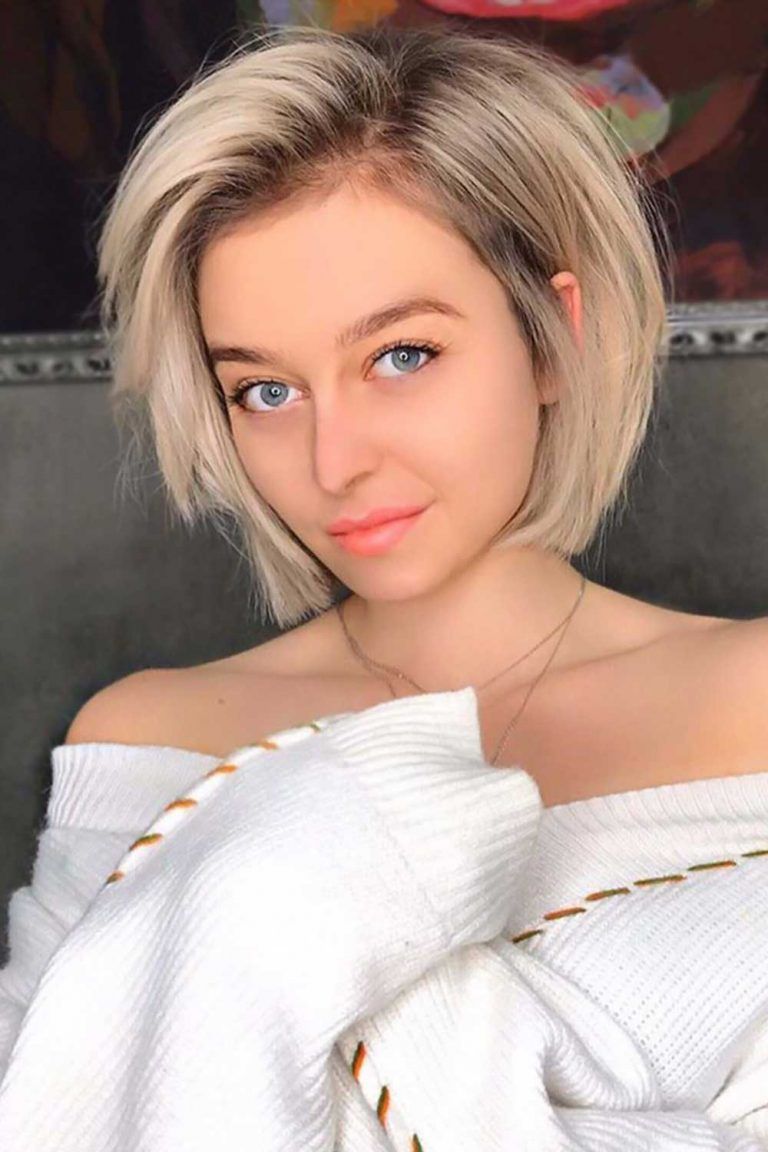 Credit photo: instagram.com/sofiya.bravo
When it comes to short layered bob haircuts, the A-line idea is always the very first choice of women who need some changes. Not for nothing! It's pretty easy to take care of such a cut, and despite its short length, it still can offer great styling flexibility. Anything from braids to faux hawks is possible to achieve with it.
The way neatly cropped top graduates to an angular silhouette is the reason why women can't resist the beauty of the cut. Plus, it's absolutely universal in terms of hair types and lengths, so if you want a well-balanced body, look no further than this idea.
Inverted Wavy Lob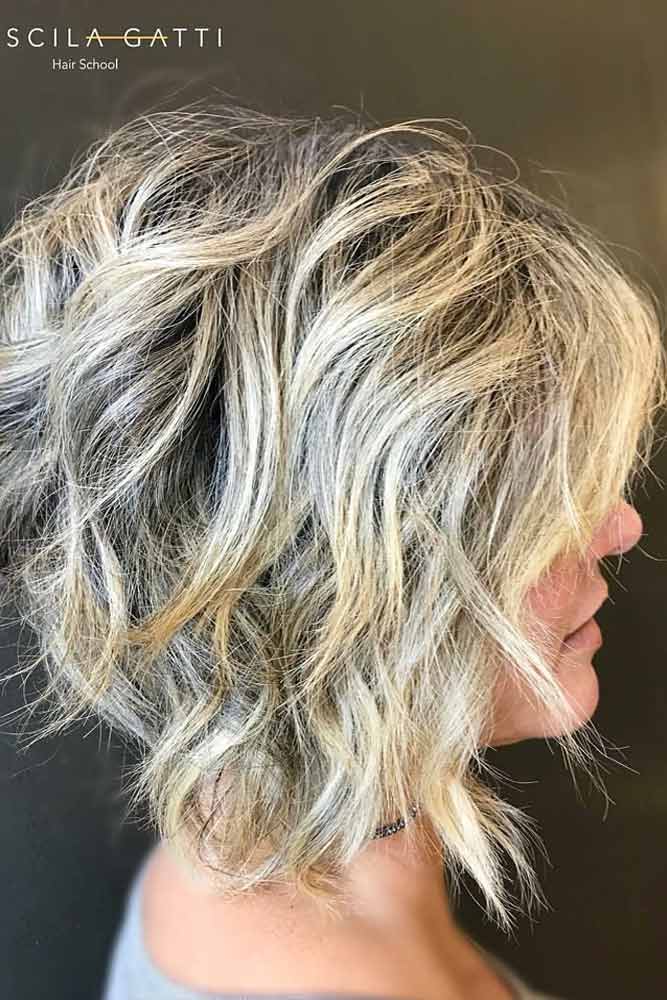 Credit photo: instagram.com/priscilagattihair
The idea of a layered inverted bob has always appealed to women who appreciates creative styling approaches. Its structure features a voluminous crown that gets angled to the ends. Who would've thought that once we change the familiar direction and add some imbalance to the common cuts, we would get a brand new trend? Inverted bobs look ravishing on both straight and wavy textures, and that's another reason to go for it.
If you plan to sport it straight, a flat iron and hairdryer nozzle are the musts of your styling routine. And if you'd like to recreate the magnificent look above, use the same flat iron to create a lot of little waves.
Long Bob With Flipped Ends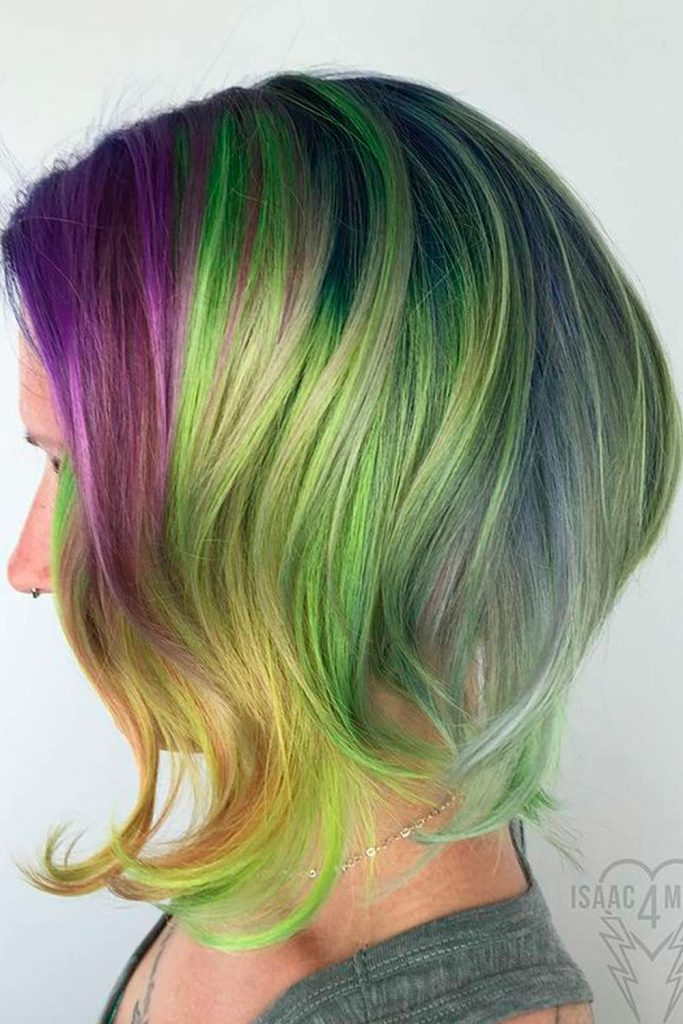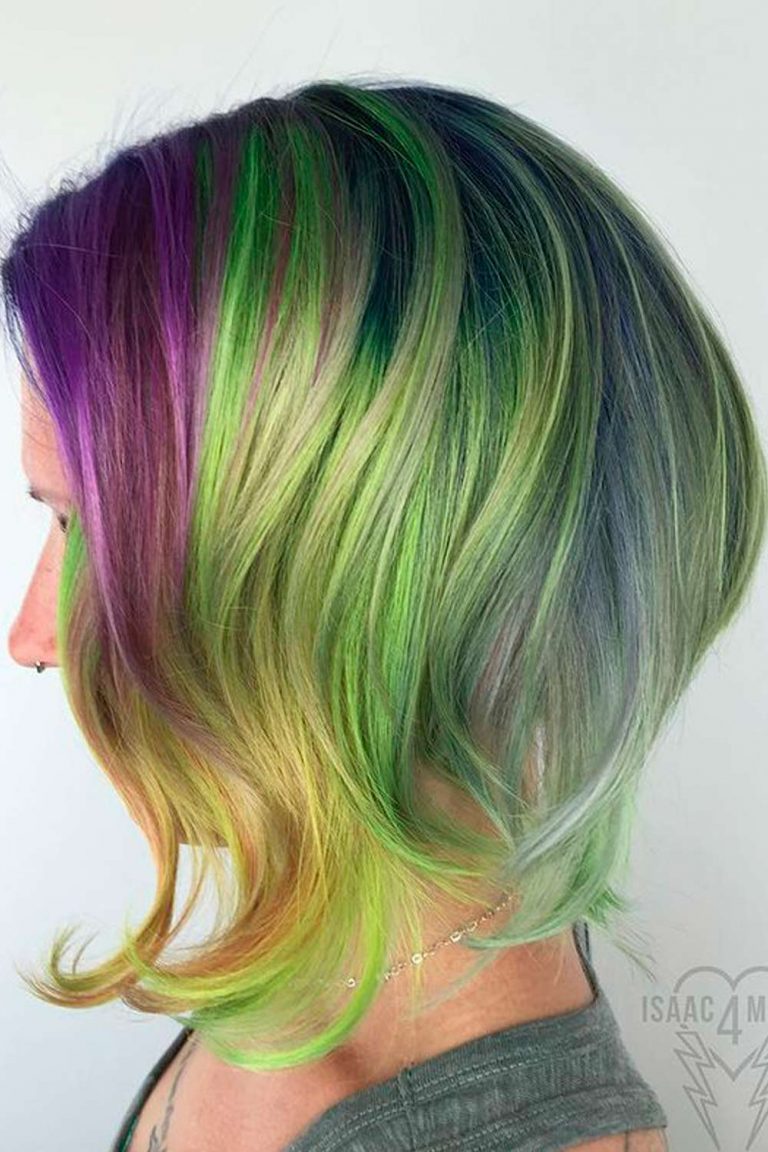 Credit photo: instagram.com/isaac4mayor
The diversity of layers seems to be infinite: while giving a fresh take at the familiar cuts, they can come in many different variations. Classic layering, feathers, flipped ends; and that's only the beginning!
This long layered bob with bangs is here to show you the cute, airy power of ends flipping. Actually, you can get the flips throughout your hair; it's another way of texturizing that involves thinning hair in order to give it a "flying" silhouette. As for ends flipping, they create a halo of softly sticky ends that visually volume up the whole body.
To style this cutie, remember always to pay close attention to the ends, working with your blow dryer.
Short Choppy Bob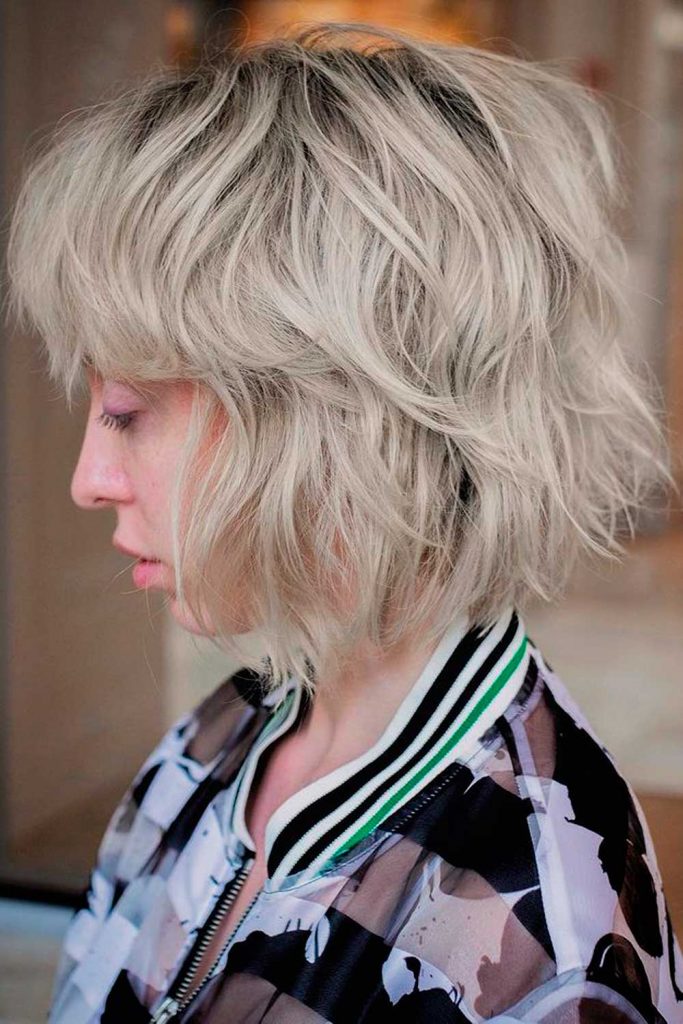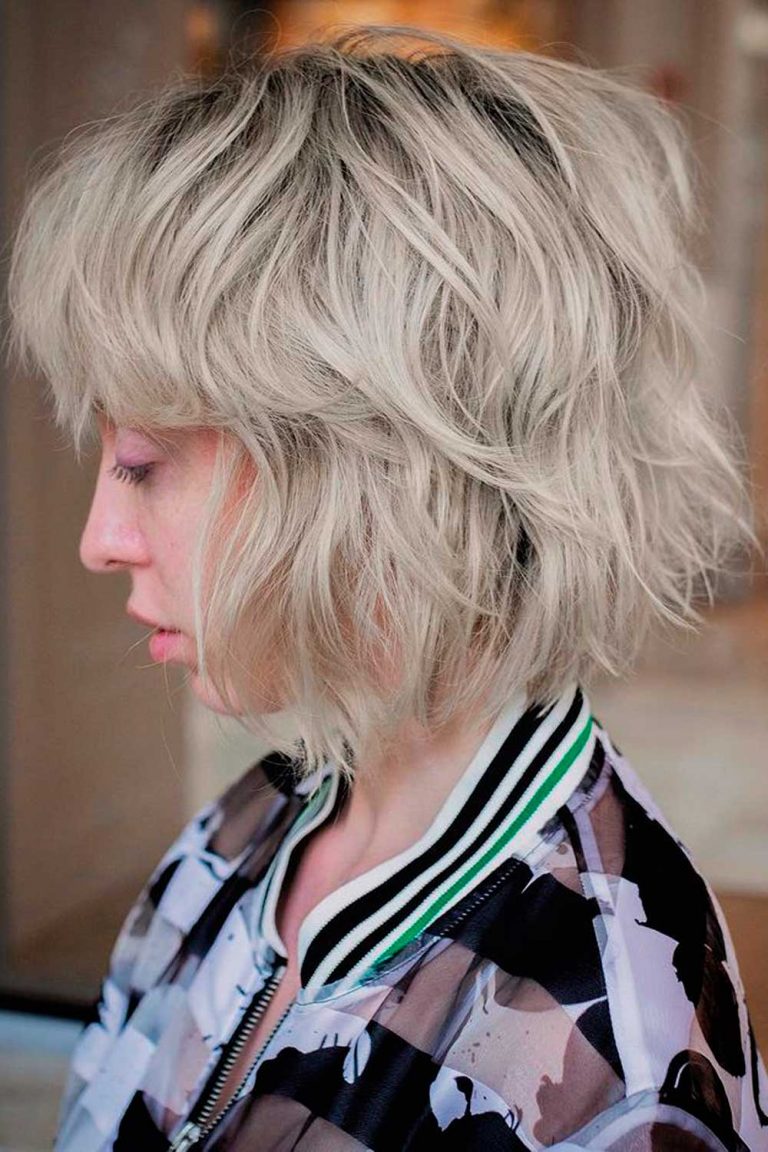 Credit photo: instagram.com/cutyourhair
Yes, there's a plethora of different cutting ideas that radically change the structure of haircuts. When giving you a choppy cut, your hairstylist will gradually cut the edges of your ends, holding the scissors at an angle. As a result, you will achieve something in the middle between feathers and flipping layers.
This choppy layered bob is a perfect option for girls with triangular and diamond face shapes: its silhouette can curve up the prominent angles of your face. And if you think that your thick hair won't let you sport a bob, choppy layers will prove you otherwise.
To give this cut a decent look that reveals the potential of its texture, prep your hair with a softening conditioner before styling. After you blow dry your hair, add some definition to the layers.
Long Stacked Bob With Layers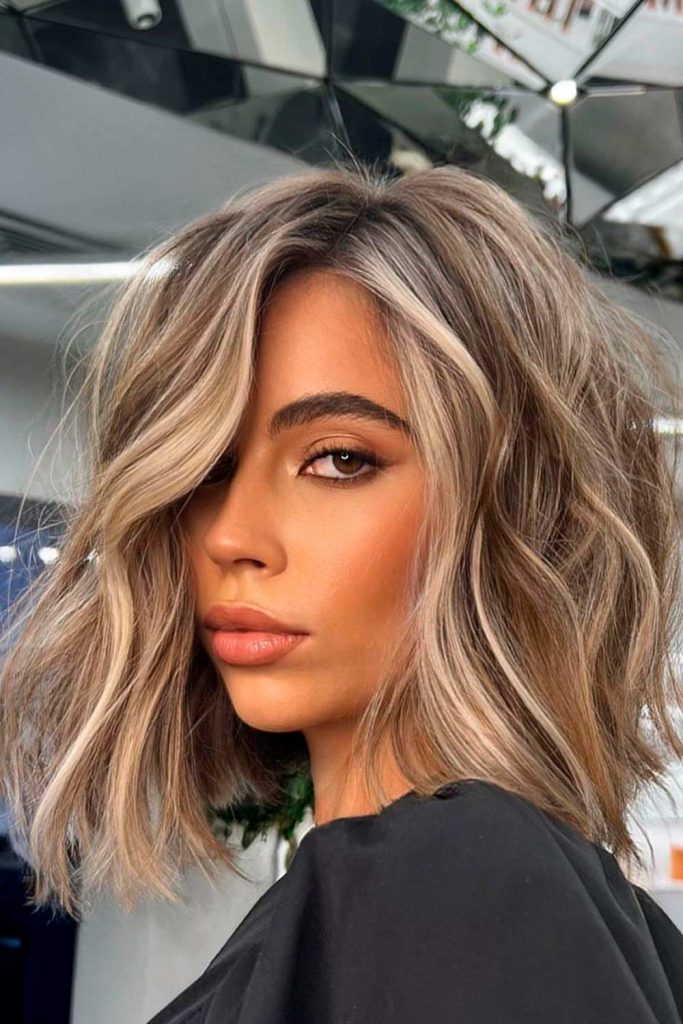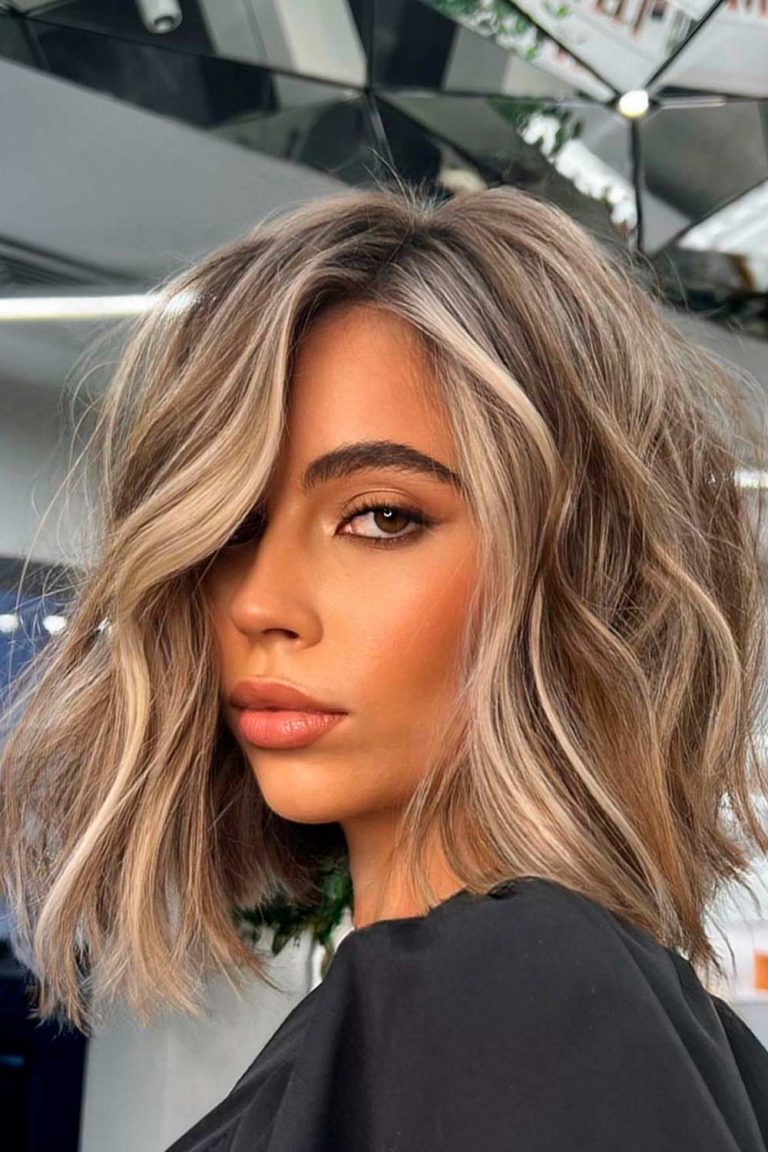 Credit photo: instagram.com/julia.vorontsova.blond.expert
If your soul always requires image changes and you want to leave the hairdresser's with something comfy and unique at once, you will love the stacked layered bob. This type of bob haircut gives a nice fresh take at its classic version, stacking in the back. To be more exact, the hair is longer in the front, and then it gets shorter and rounder at the back portion. Usually, this cut is finished with layers, as they add more dimension to its body.
Waves always make our hair look better, but for a stacked bob, they're a real gift sent from above. So when you are about to impress, let waves do the talking.
Straight Layered Bob With Side Swept Bangs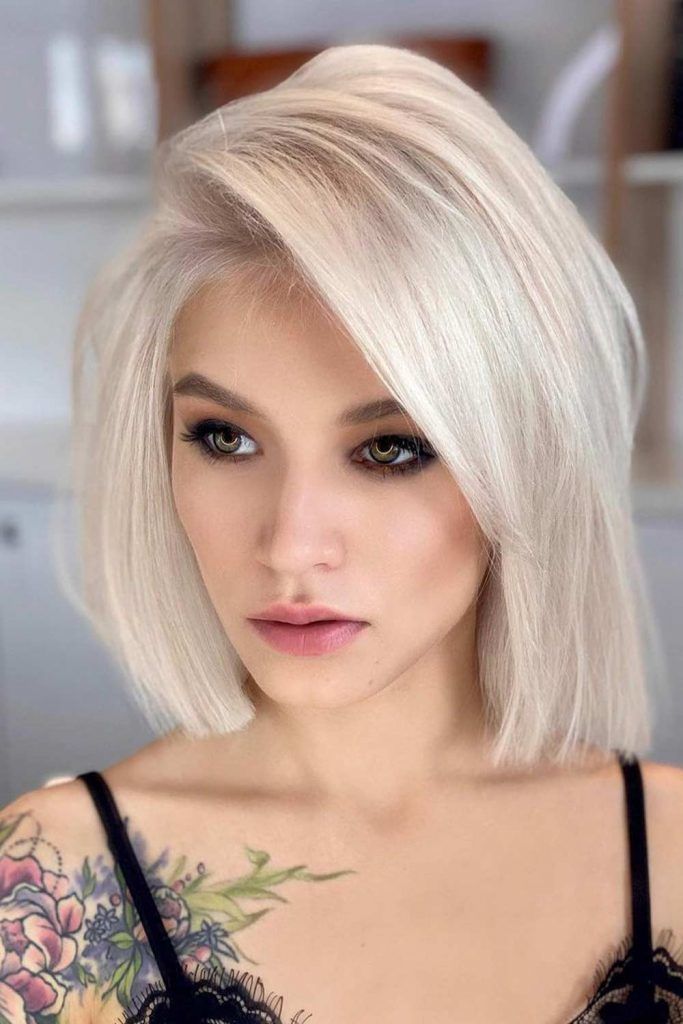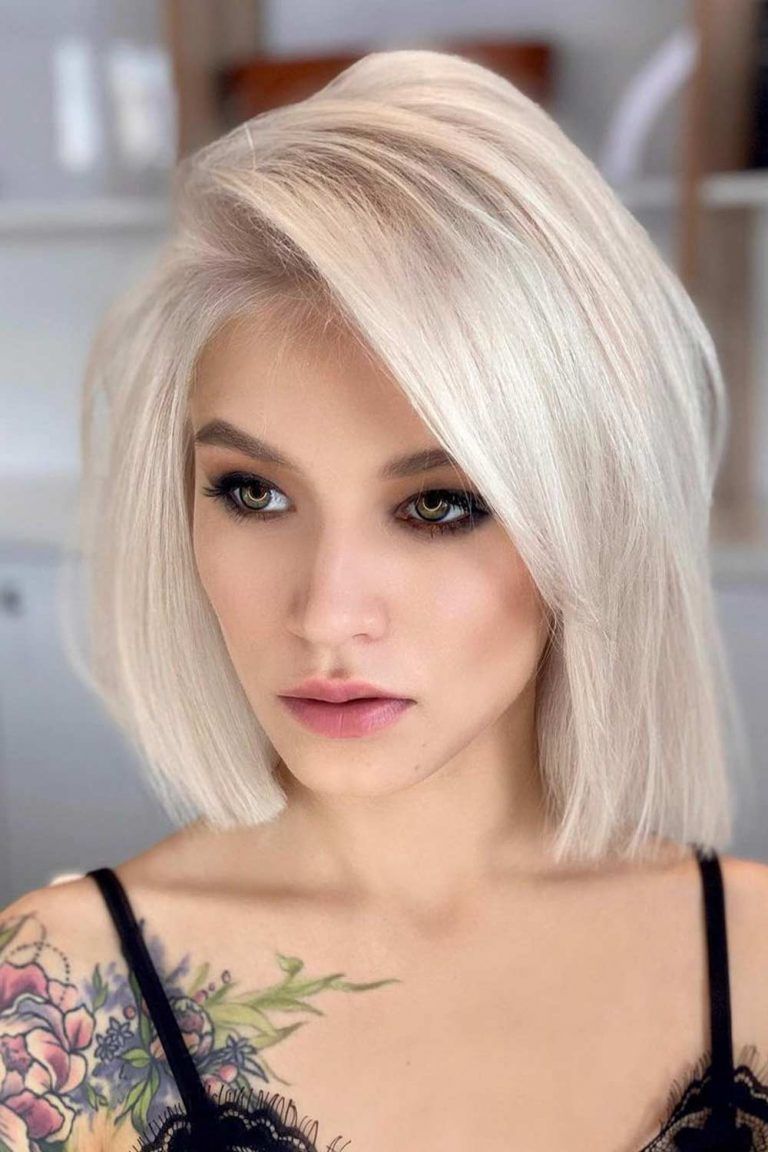 Credit photo: instagram.com/julia.vorontsova.blond.expert
Do you know that there's something that can take layers to the next level? We can't have too much of a good thing, so it would be amazing if we enhance the charm of layered cuts. And there's no better way to do it than to get bangs.
Bangs can not only frame your face and make it appear sexier but also individualize a hairdo, adding some more volume. This short layered bob with bangs, where the fringe is slightly longer than the overall length gives a gorgeous finish to the side.
To add more oomph to the style, try waving the bangs. The play of texture is always a lot of fun!
Side Parted Wavy Lob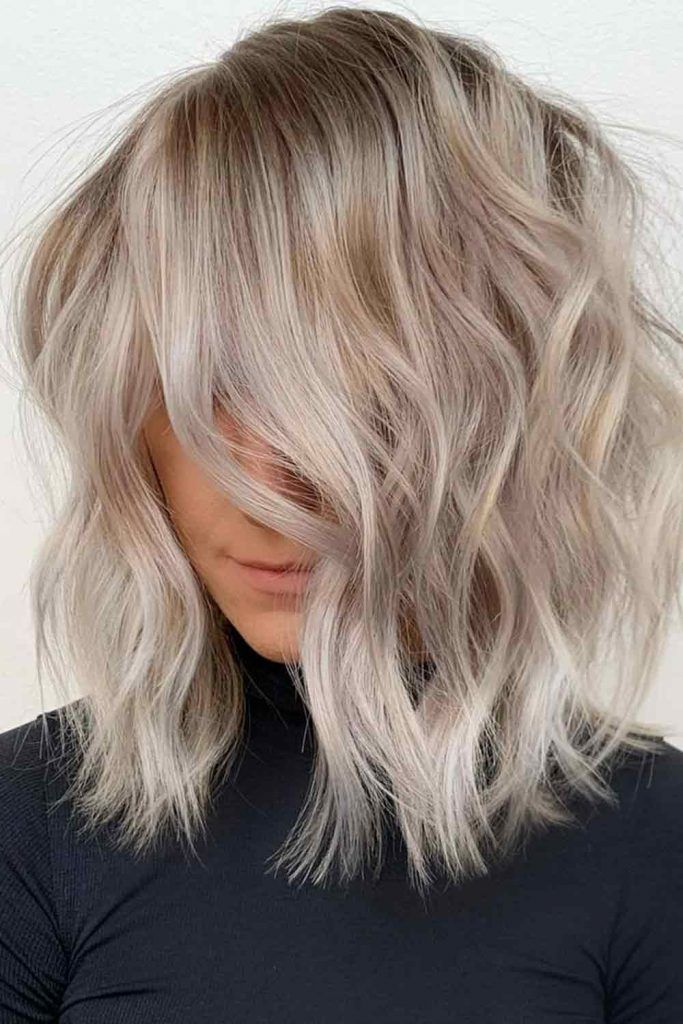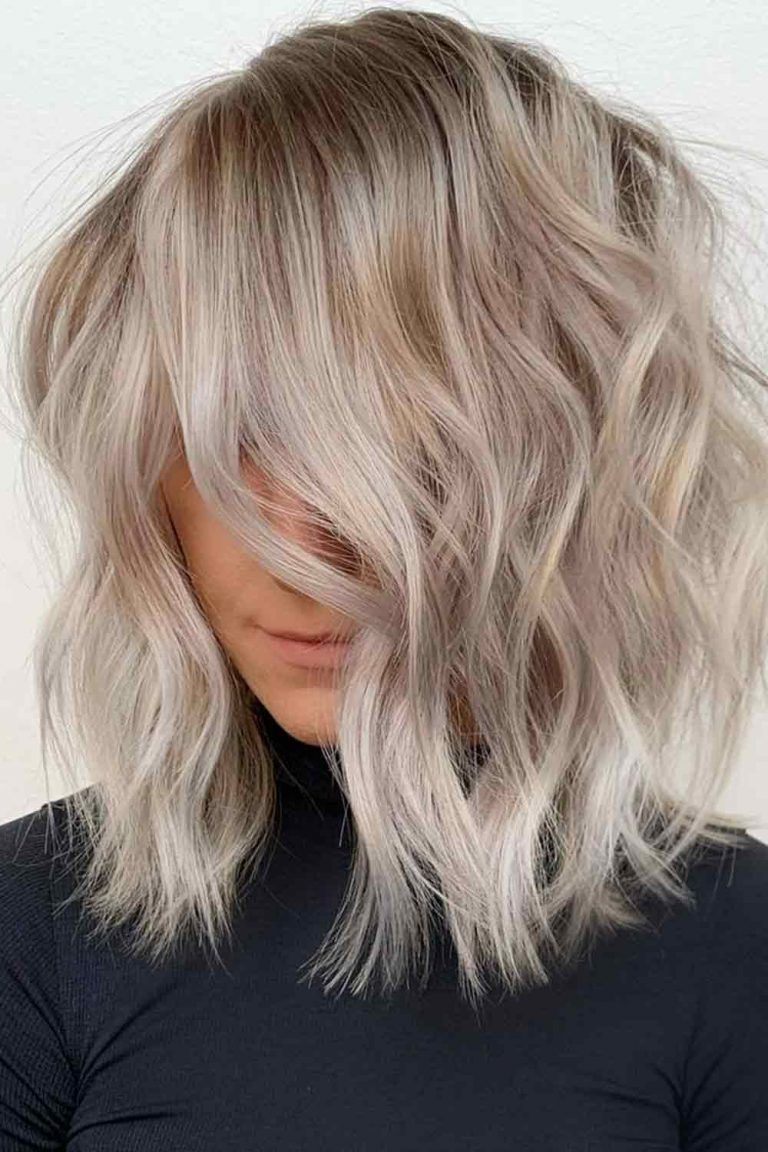 Credit photo: instagram.com/styled_by_carolynn
No wonder many ladies prefer a lob to a bob. In most cases, wearing a stable, one-length medium haircut is far more convenient than sporting a graduated cut that needs a regular update. But if you feel that you are getting tired of your lob, let waves and layers sort things out.
If you want to freshen things up, don't forget about the parting! Whether you rock a layered long bob or a simple lob, once you part it to the side, you will see the difference you've been dreaming about.
Messy Angled Bob With Waves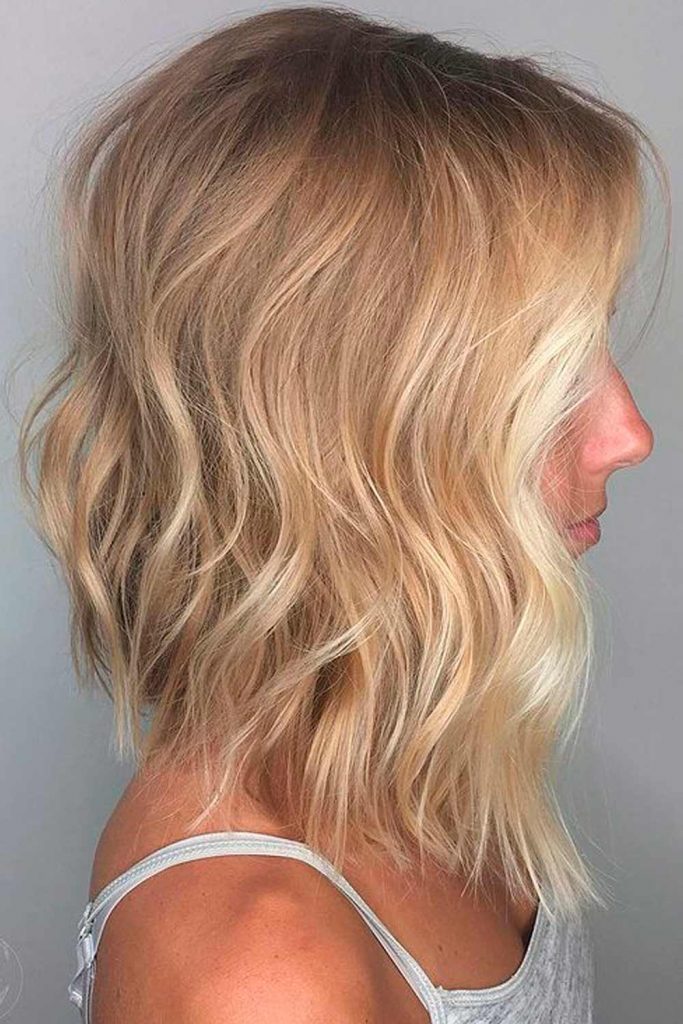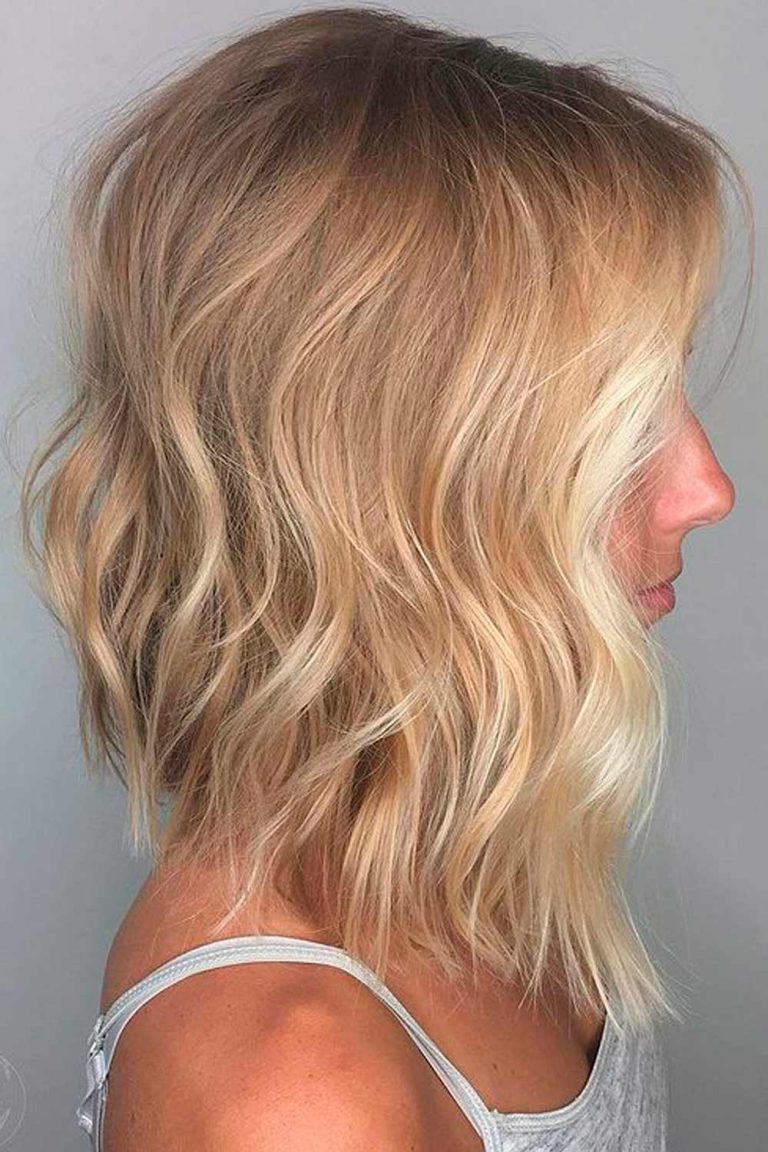 Credit photo: instagram.com/cutyourhair
What can be better than a chic, angled silhouette finished with a touch of messiness? Everything a modern woman needs is present in this layered medium bob: a lot of lively movement, a burst of volume, and a great sense of stylishness. Since layers usually come in different lengths, the longer ones add some fullness, while short locks work for volume.
To give some modern vibes to your style, consider highlighting the top layers: it will nicely complement the messy look.
Straight Lob With Side Bangs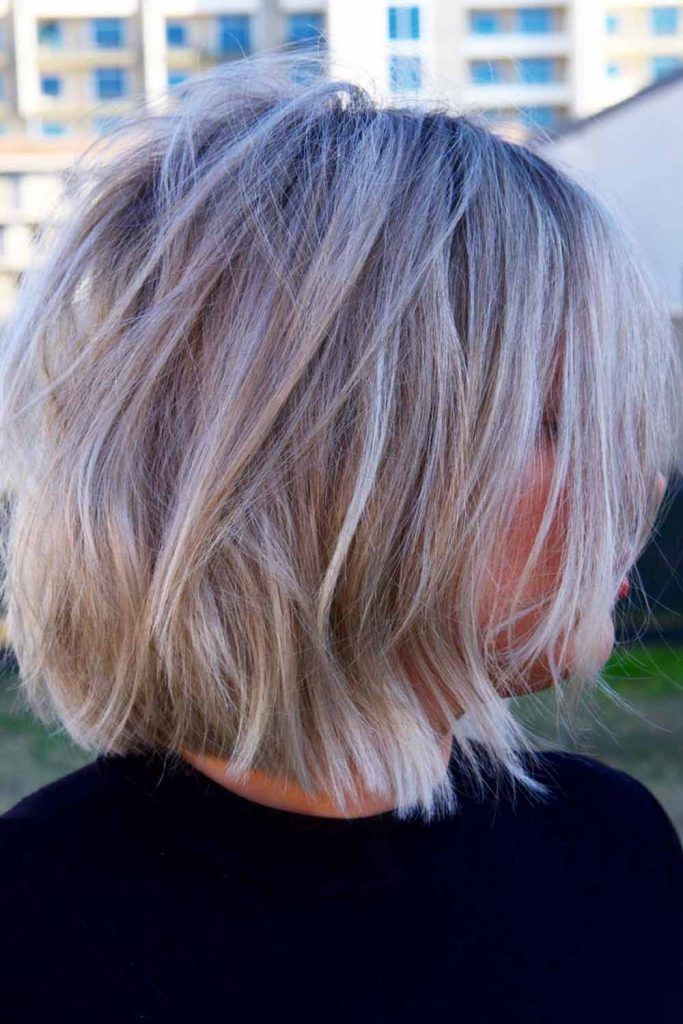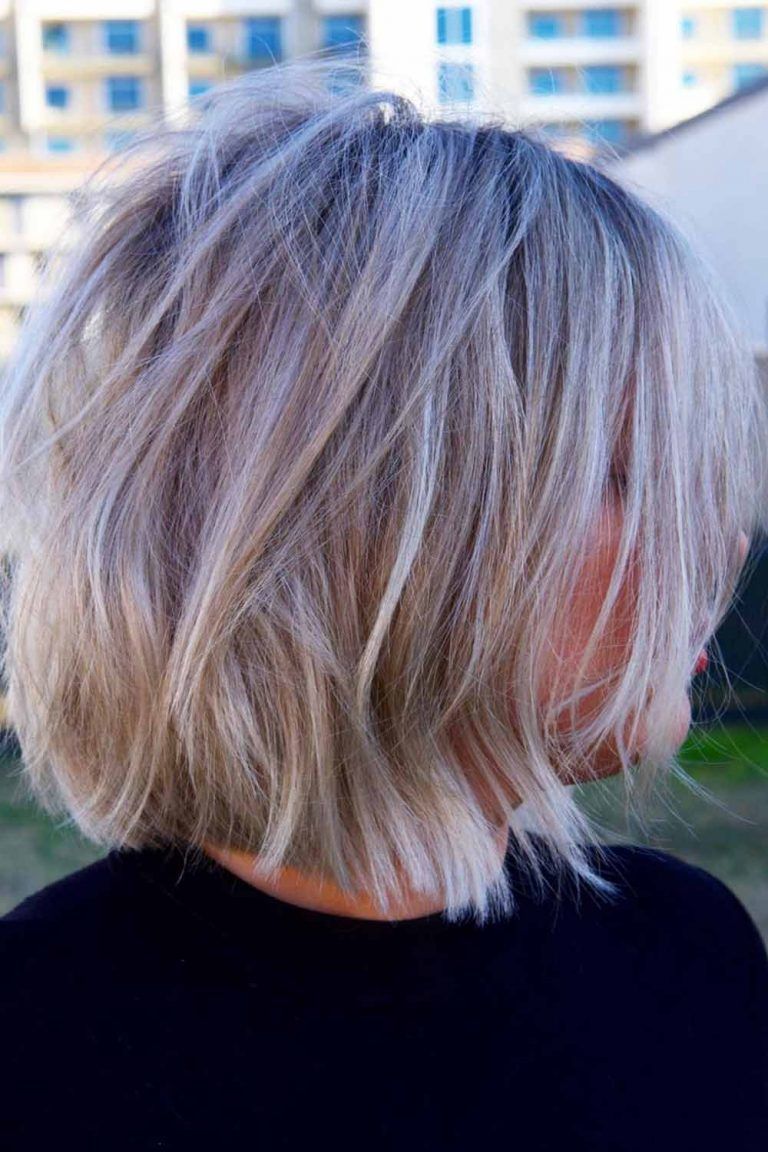 Credit photo: instagram.com/chrisjones_hair
Ladies who are into longer versions of bob haircuts will love this lob idea. We want you to have a look at the top portion of hair in the pic: have you ever seen a lob hairstyle with that voluminous crown? Yes, this is how layered bob with bangs works.
If you love the idea of side bangs, don't forget to incorporate them into your hairstyle so that all hair is blended evenly. Your fringe is a part of your style that is meant to flatter your face and give a boost for your hair texture, so keeping everything harmonic is crucial.
Wavy Lob For Thin Hair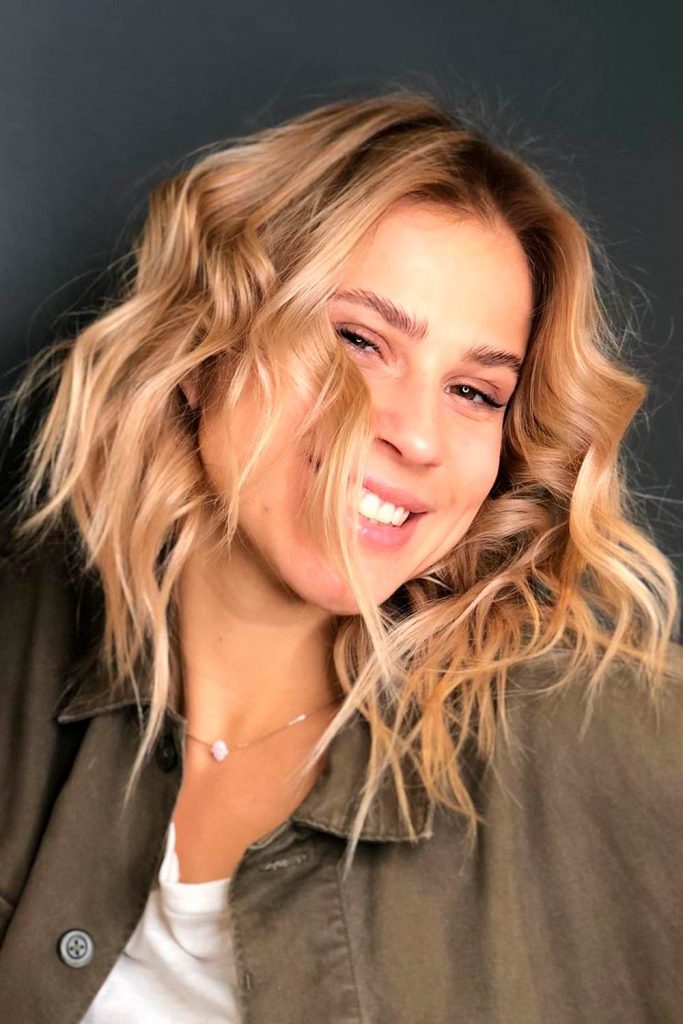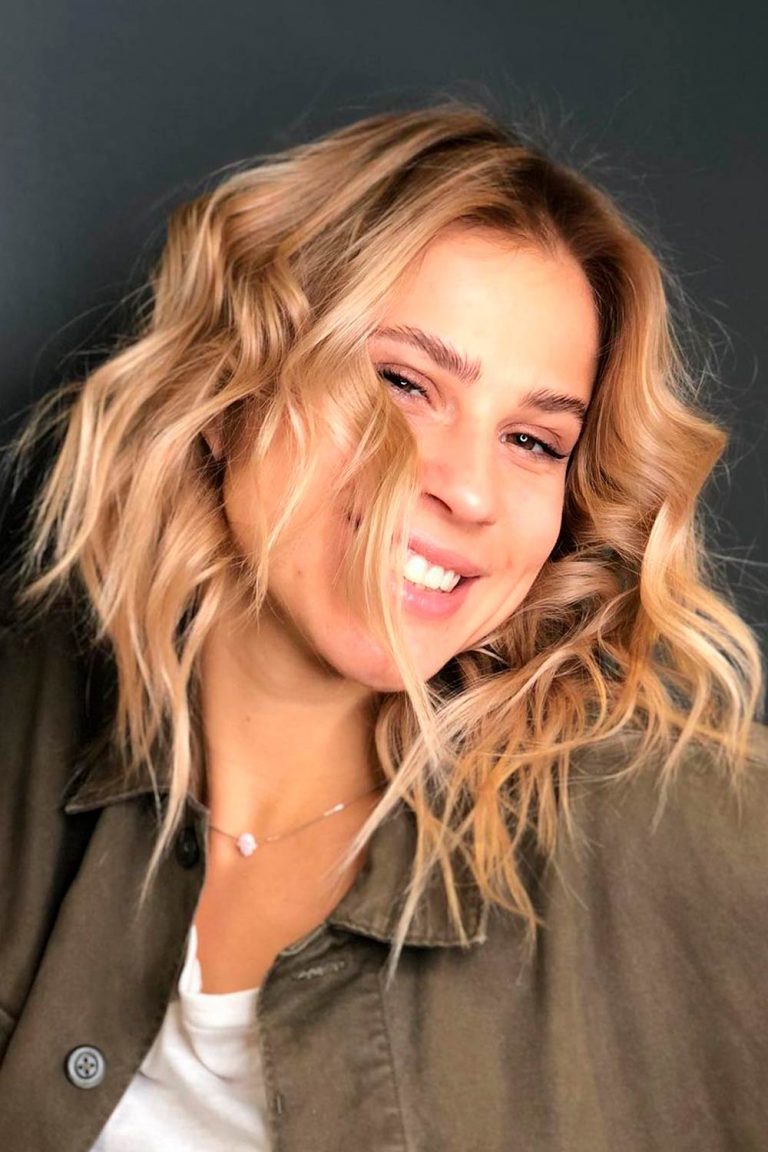 Credit photo: instagram.com/cut_and_color
As you know already, one of the main aims of layered bob haircuts is to add volume to weaker locks. Therefore, if you spend hours styling thin hair every single morning, it's time to put an end to this struggle and call your stylist.
Waves are also a wonderful way to make thin locks appear fuller. And the best way to do that is to mix waves and layers! To get what we mean, look at this unbelievable wavy lob.
Medium Bob With Feathered Layers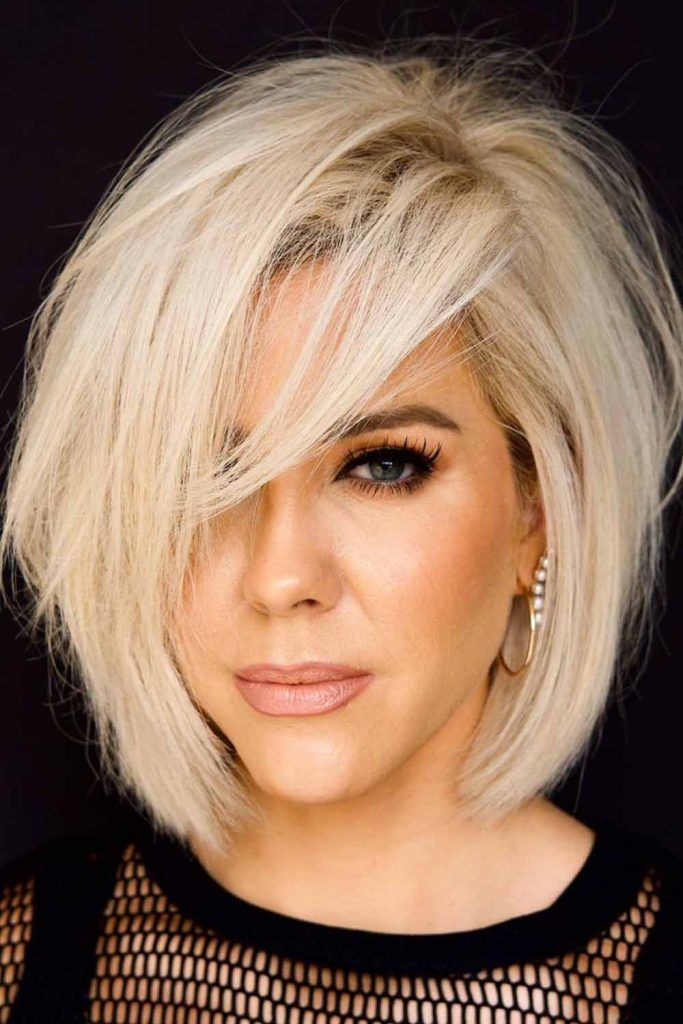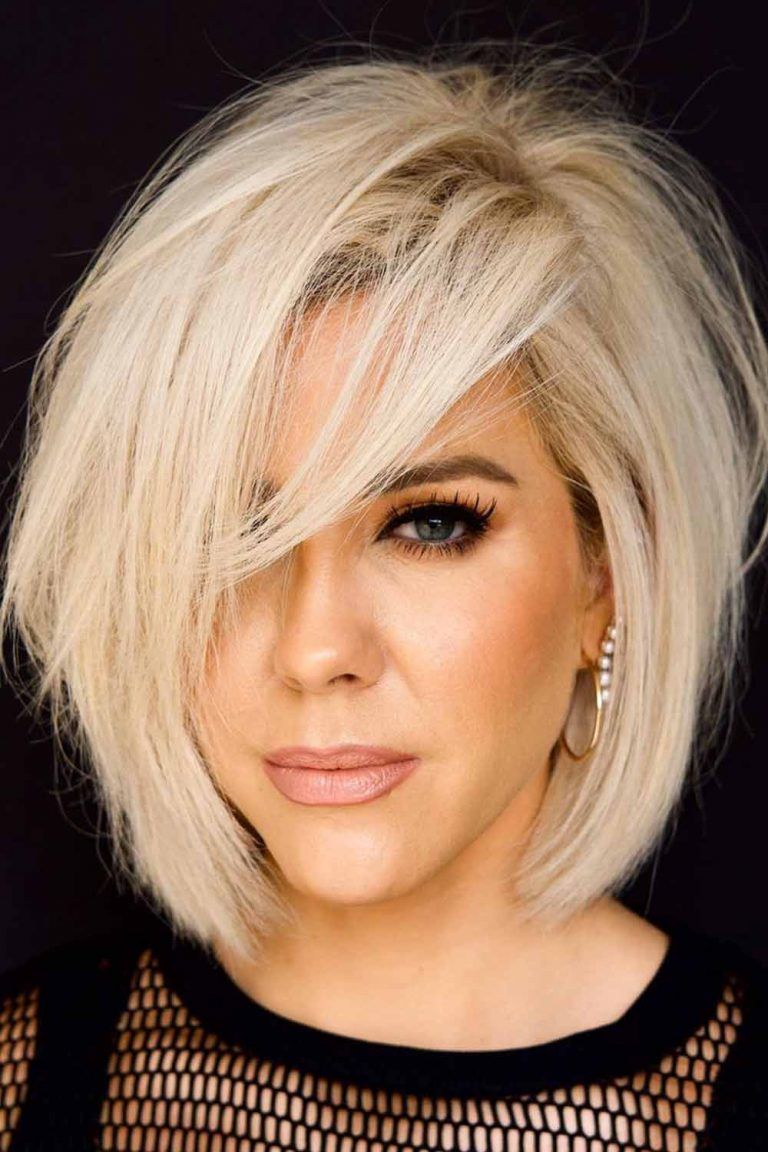 Credit photo: instagram.com/chrisjones_hair
How about you to combine two layered techniques and get the most out of your texture? The truth is, your medium-layered bob can be anything you want it to be, so if you want to embrace two textures at once, nothing can stop you!
The bob above is full of layers, and each of them is defined with feathering. Such a combo gives an immaculate, precise look to your hair.
You will love the easy styling of this cut: the only thing you need to do is to brush your hair backward while blow-drying it.
Inverted Wavy Lob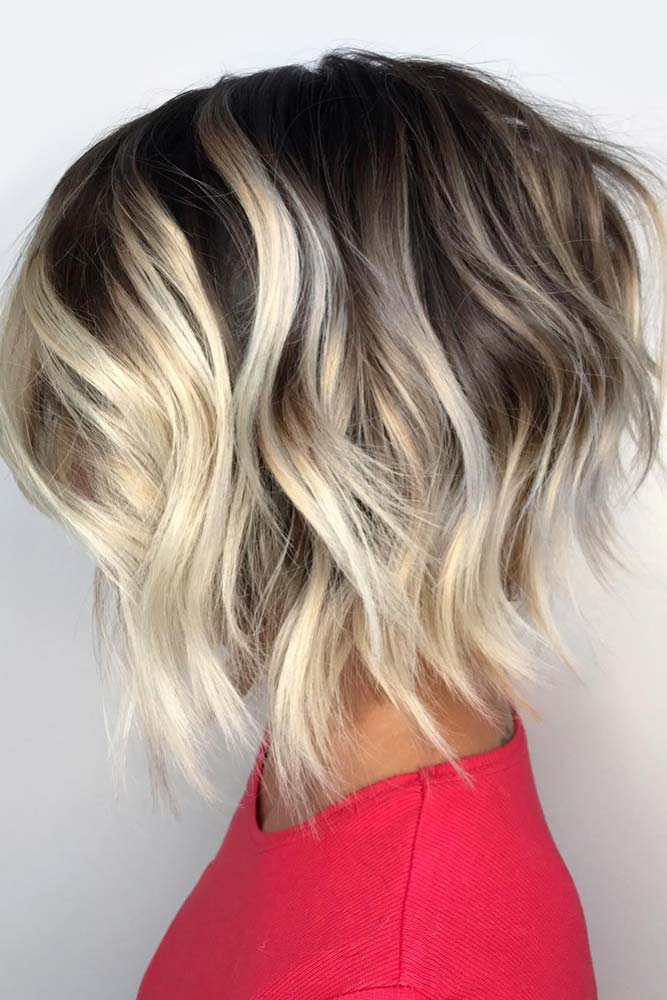 Credit photo: instagram.com/styled_by_carolynn
Here's another idea of pulling off a lob or a medium-length layered bob, if you please. Although this idea goes against the classic crop of a lob, girls who want their blunt silhouettes to get more interesting will appreciate such an angular move. And if you're a lady with a round face, you will find the cut to be even more advantageous than you think.
To make the inverted body appear less sharp and drastic, you can spice it up with soft beachy waves. With the help of waving sprays and a curling iron, the youthful look above will be yours.
Medium Messy Bob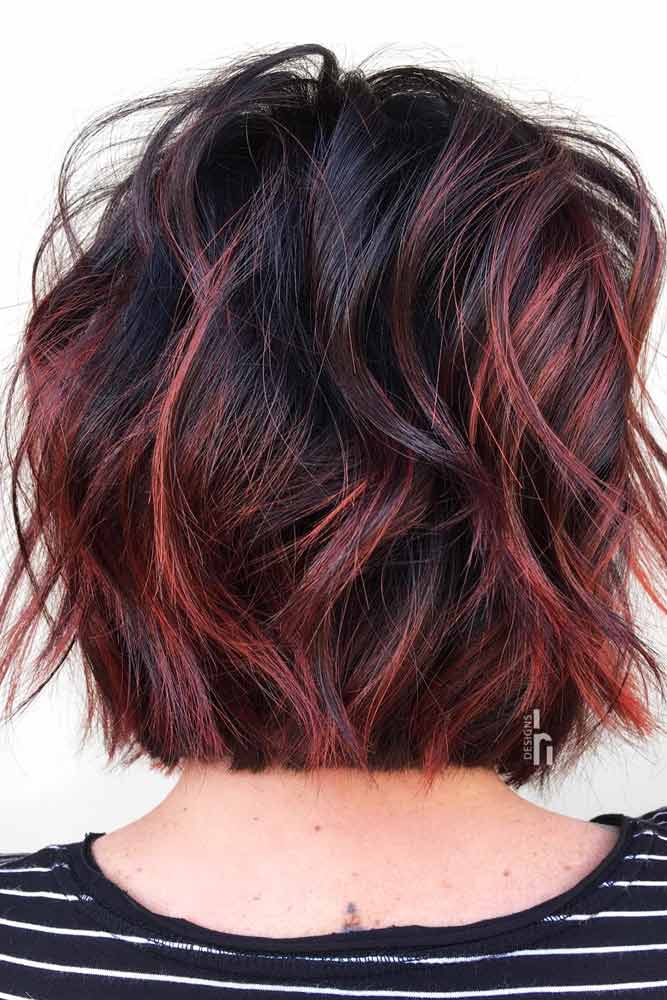 Credit photo: instagram.com/headrushdesigns
Layers can also be added strategically. That means you can go for texturizing in specific areas of your hair, and the most popular ones are front tresses and the crown area. For example, the bob above is layered only on the top, but that's enough to get an enviable look.
It's no secret that messy short layered bob hairstyles are the most requested ones. So here's a little tip to make yours distinctive: add some bright color to the layers to make the messy look stand out.
Middle Parted Layered Long Bob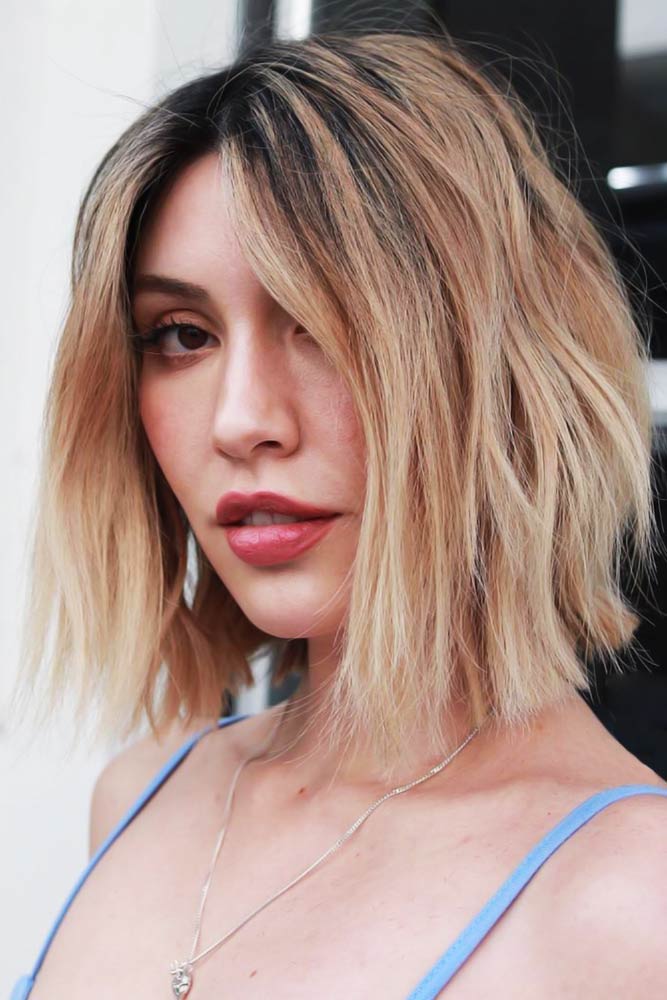 Credit photo: instagram.com/salsalhair
Don't ever underestimate the importance of parting! Some ladies don't even know that the way they part their hair really affects their appearance.
For face shapes that are known for their prominent angles, nothing works better than side parting. And to flatter faces with curvy features, a middle part will do the right job. Needless to say, a middle part + slightly waved layers = a hairstyle to remember.
Middle Parted Lob For Thick Hair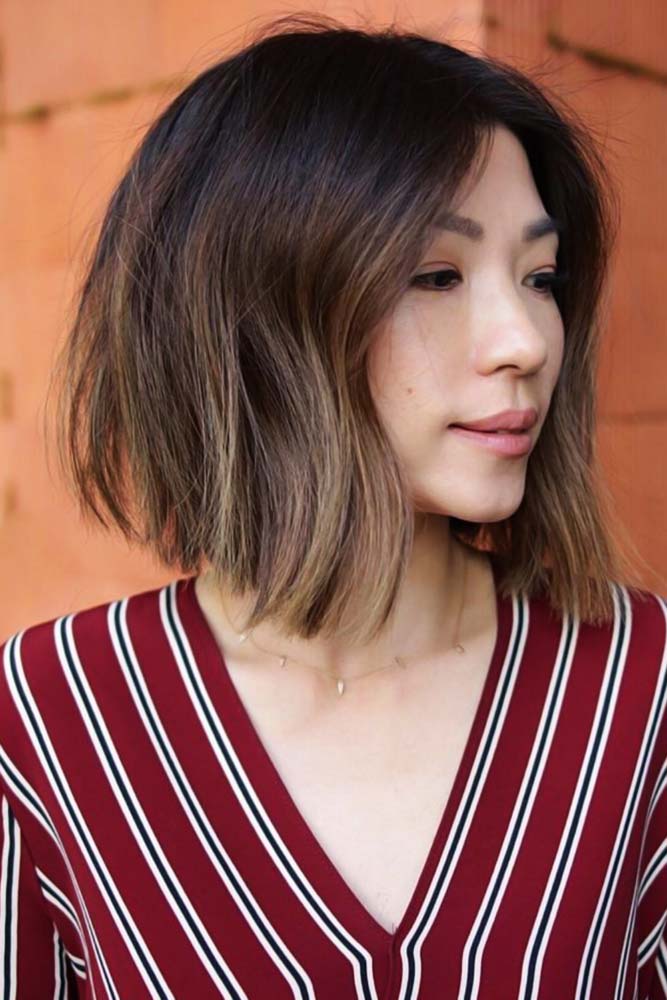 Credit photo: instagram.com/salsalhair
Here comes a layered bob for thick hair, the lifeline for ladies who gave up the dream of comfy styling and a harmonic look. There's nothing bad about having a thick chevelure because when it's styled right, it looks unbearably full and sophisticated. But can it be easily tamed on a daily basis? Let this cut answer this question.
Layers will make your thick strands airier and softer to the touch which will finally make the styling routine pleasant. If your hair tends to get heavy on the scalp, a middle part will be the best parting choice.
Messy Layered Lob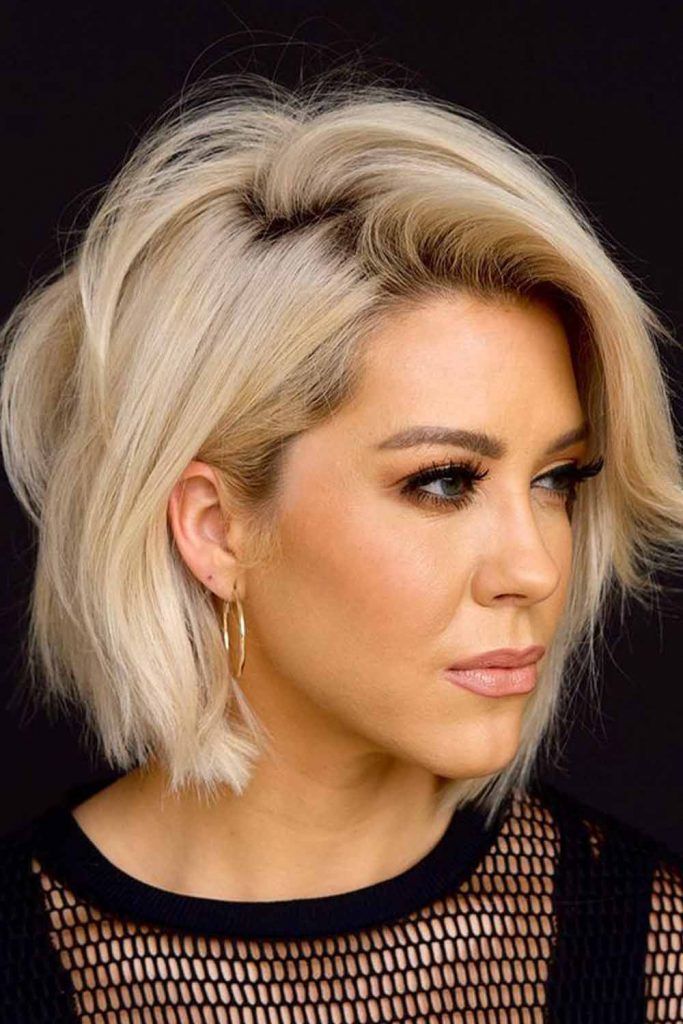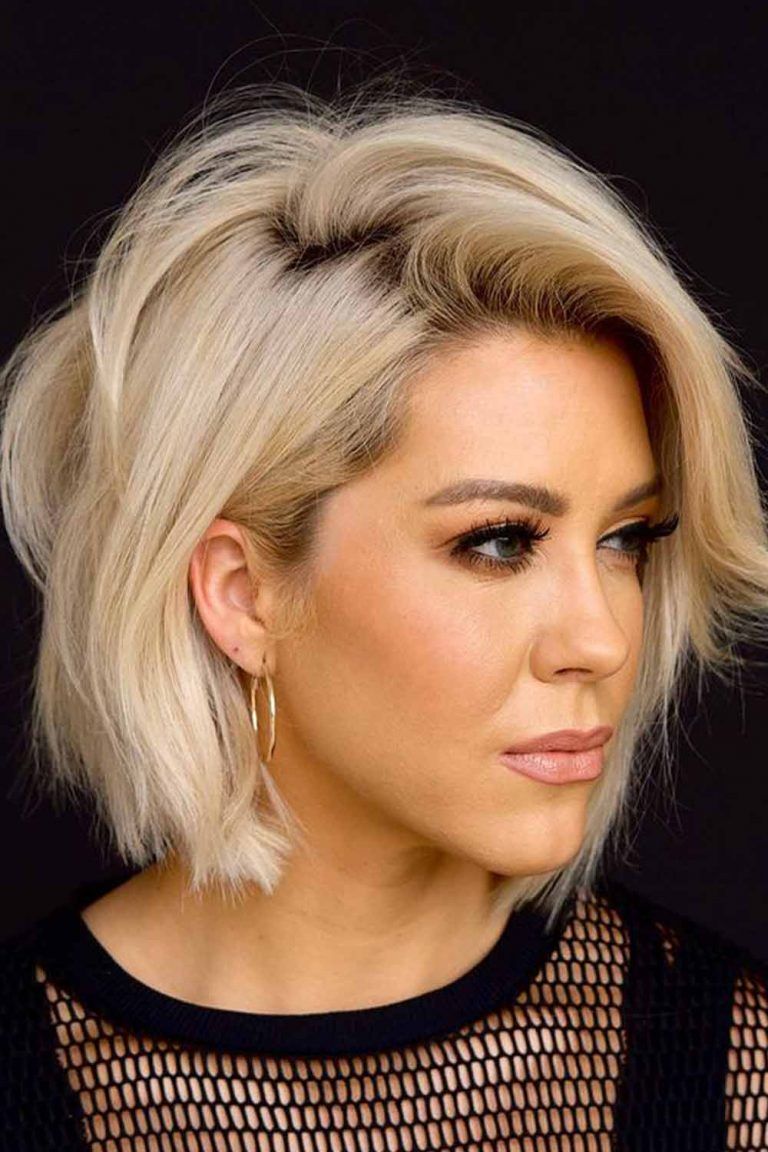 Credit photo: instagram.com/chrisjones_hair
Teased layered looks seem never to lose their popularity. It can be a long wavy chevelure with a hint of messy oomph or a super short pixie with a textured, sassy top. The point is that messiness always makes things better, and this layered lob isn't an exemption.
To keep up with a style like this, we recommend you wave the top portion of your hair, changing the direction of the curling iron by every lock.
Bronde Bob With Long Feathered Layers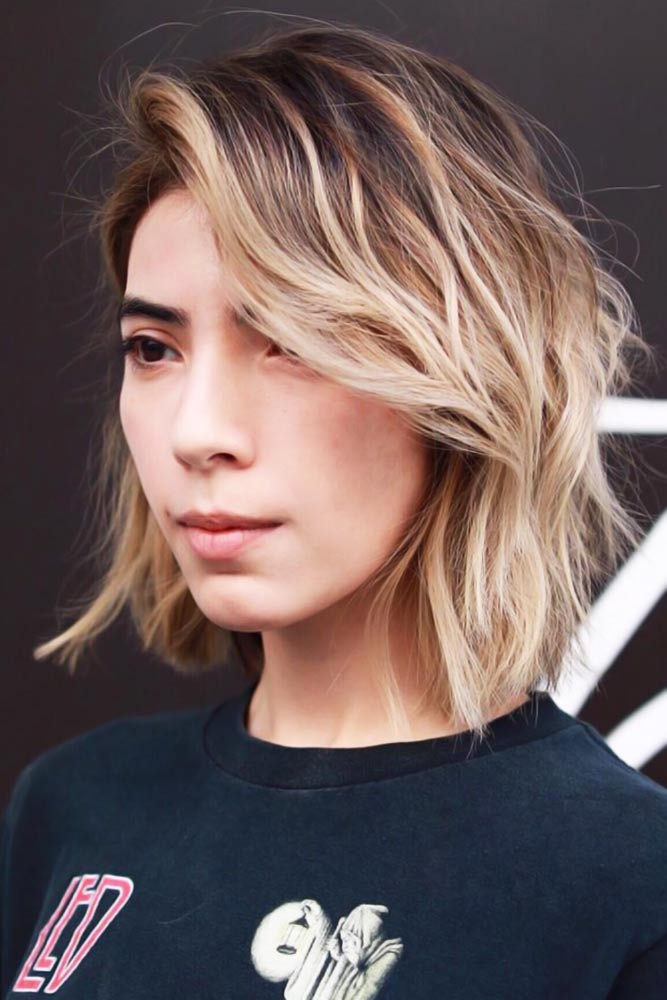 Credit photo: instagram.com/salsalhair
Instead of spending hours trying to figure out what plunge to take - blonde or brunette, you can simply find the golden ratio between the two forces. Bronde hair color is a fantastic blend of blonde and brown hues, where both colors are added equally to form the perfect balance.
And it goes without saying that such a color combination will be complementary to layered bob hairstyles. Since it features two contrastive shades, you can benefit from it by putting the lighter tone to longer front tresses and creating dimension with brown on the rest of your locks. To make the look big, ask your stylist for feathering, and you will see your bob amp up.
Bronde Bob With Thin Layers Throughout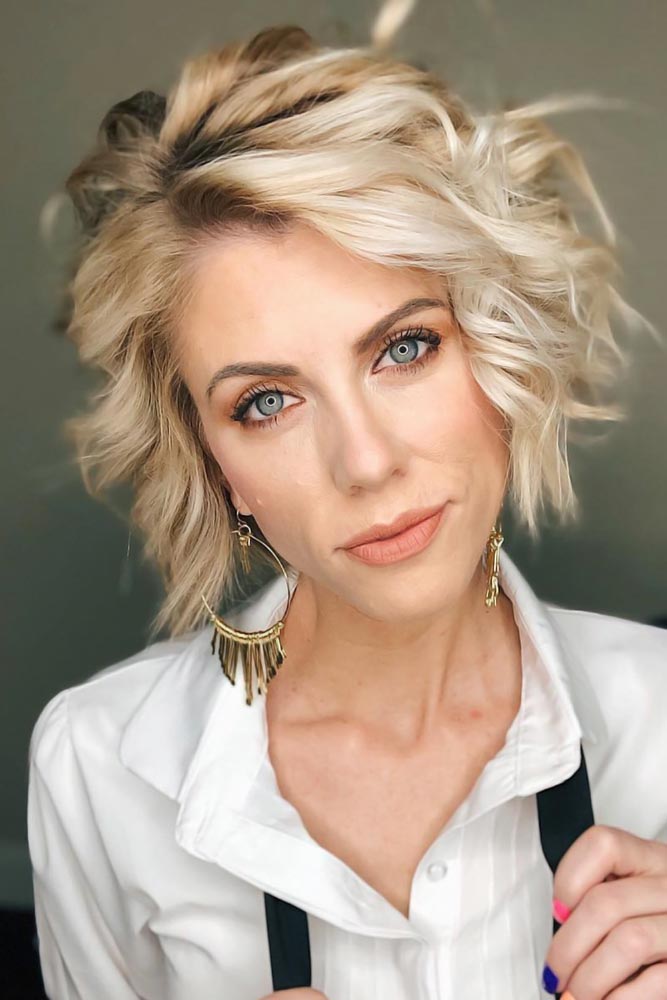 Credit photo: instagram.com/jocelyn.mcclellan
Now, meet another side of bronde bob. Here, the new approach is taken not only to the play of shades but also to the play of layers. The lighter tone prevails on the front, whereas the brunette portion hides under the strands, making the color more organic.
As for the haircut, it consists of lots of thin layers running throughout the length, which makes every single lock so distinctive. Therefore, if you're really into waves, make sure to steal the cut.
Finely Chopped Tousled Bob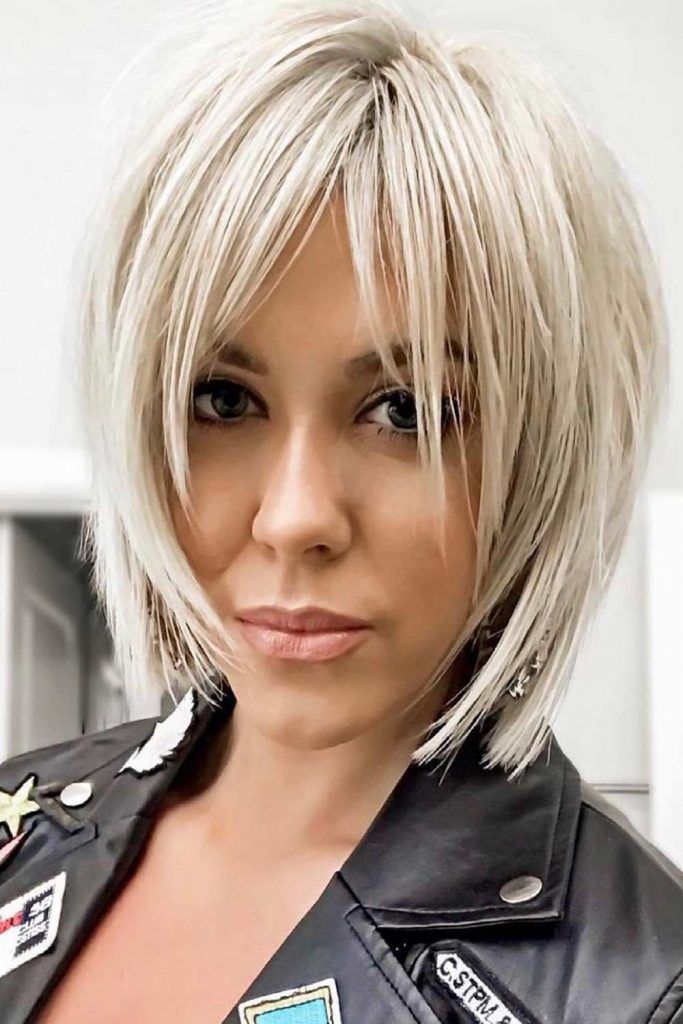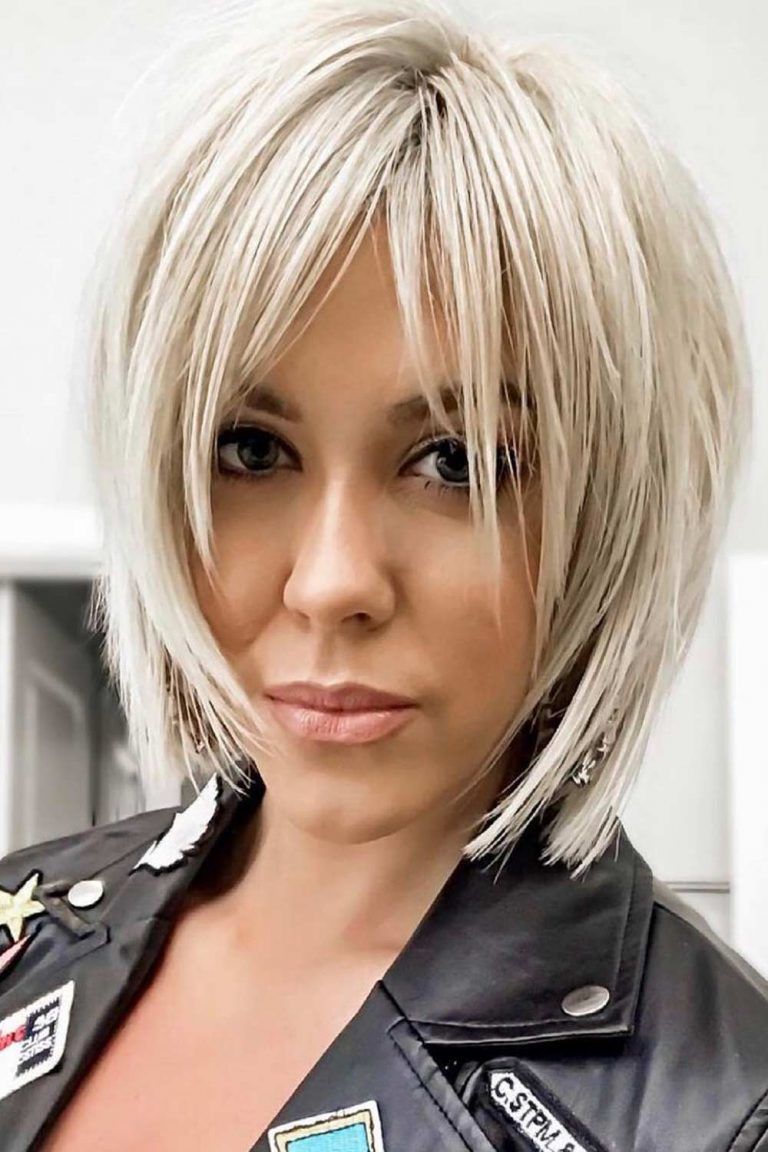 Credit photo: instagram.com/chrisjones_hair
As it turns out, tousled silhouettes are not all about crazy messy looks with various layers doing their own thing. In fact, they can be well-shaped and well-groomed cuts with a slight hint of tousling that adds more interest to the whole look. Of course, it requires a properly cut bob and close attention to the edges, so finding a skilled stylist is a must. Once you get a look, your hair type and face shape won't ever matter: this cut will take all matters in its hands.
Deep Side Part Bob With Waves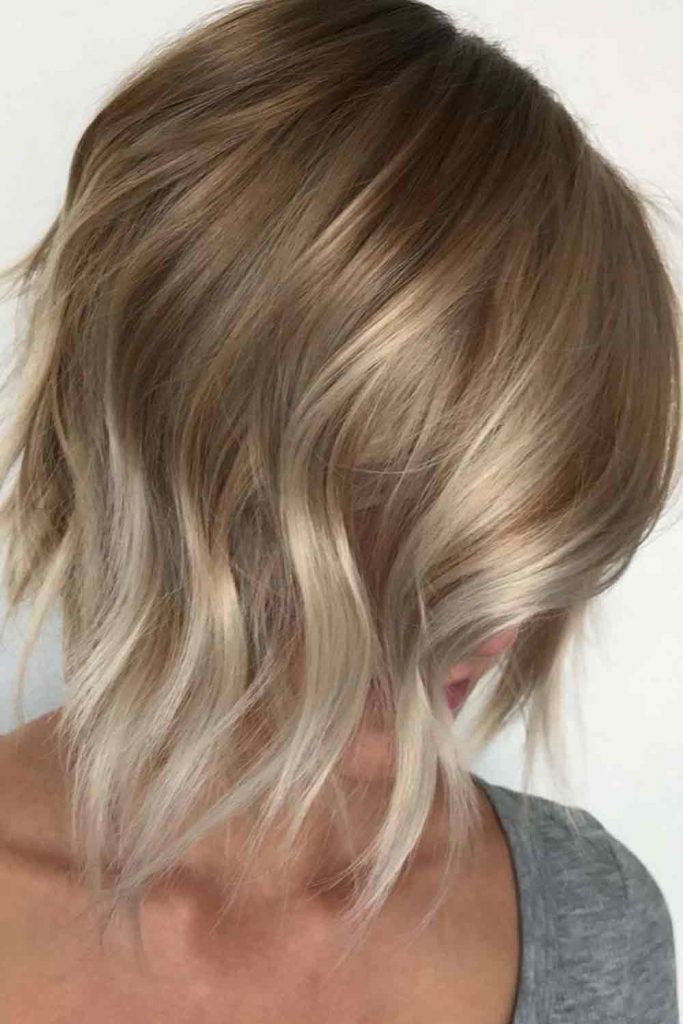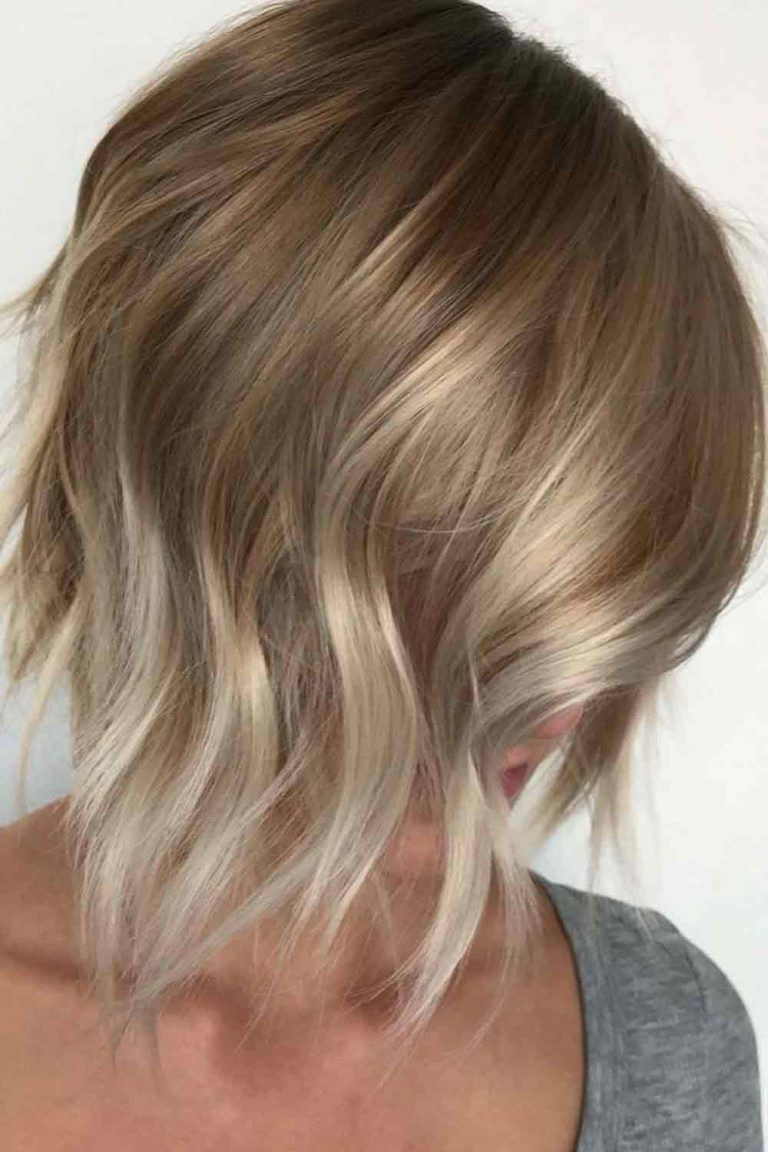 Credit photo: instagram.com/styled_by_carolynn
With the styling tools, a deep side part can showcase the natural hair you never think you had. A round brush and a nozzle attachment on your blow dryer are the two fundamentals for a perfectly styled side-parted bob. To recreate this indescribable wavy bob, you need to start drying your side-parted hair from the very roots, holding the tool at an angle so that it gives a fuller shape. Then, use a cool shot button to lock the volumized roots in place and go on to create waves. Needless to say, they will look their best if you do them on layered hair.
Messy Bob With Stacked V-Cut Layers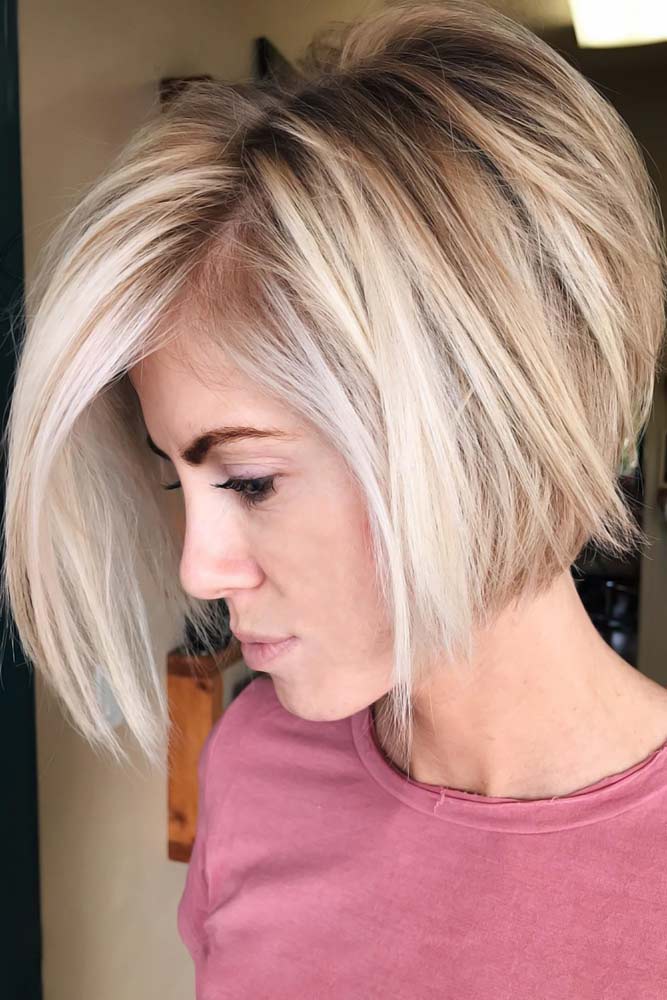 Credit photo: instagram.com/jocelyn.mcclellan
Although V-cut layers are more famous for their longer version, they actually work wonders when done on short bob haircuts. And while many women who need a volumetric haircut simply go for a stacked bob, you can go a slightly different way and opt for stacked layers on a classic bob. They will create a lot of movement and dynamics in your hair while giving a sharp and, most importantly, voluminous appearance. A tip: a touch of messiness will set the charm of the look into motion.
Dishwater Blonde Bob With Layers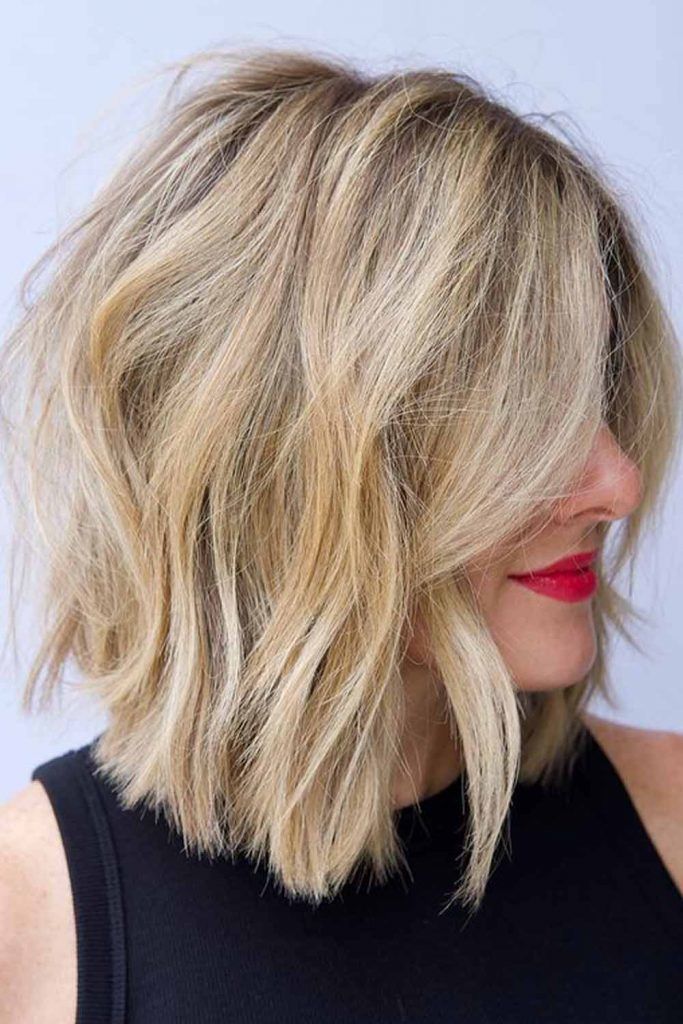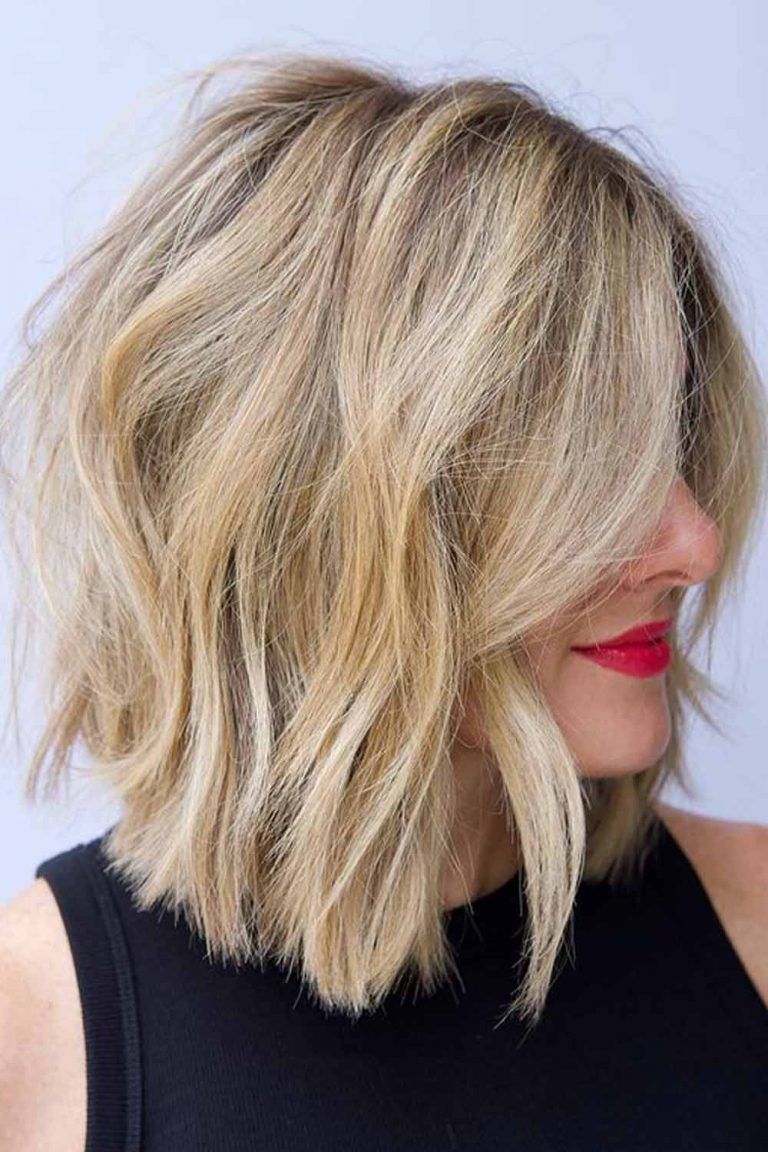 Credit photo: instagram.com/chrisjones_hair
Dishwater blonde is another stunning match to layered bob hairstyles whatever they are. In general, this color is a blend of neutral blonde and dark brown hues that from a harmonic dark blonde ensemble. And should we mention how awesomely this color can reveal the beauty of layers? The words, indeed, are not enough to describe how youthful and modern your look can be, so we'd better let this pic do the talking.
Sophisticated Bob With Subtle Layers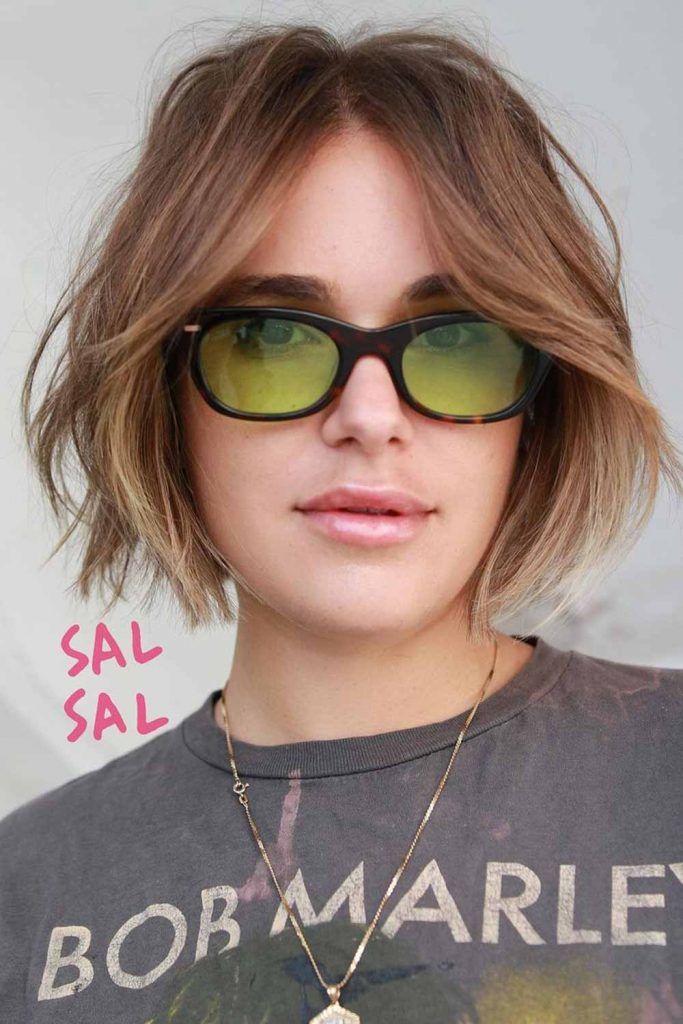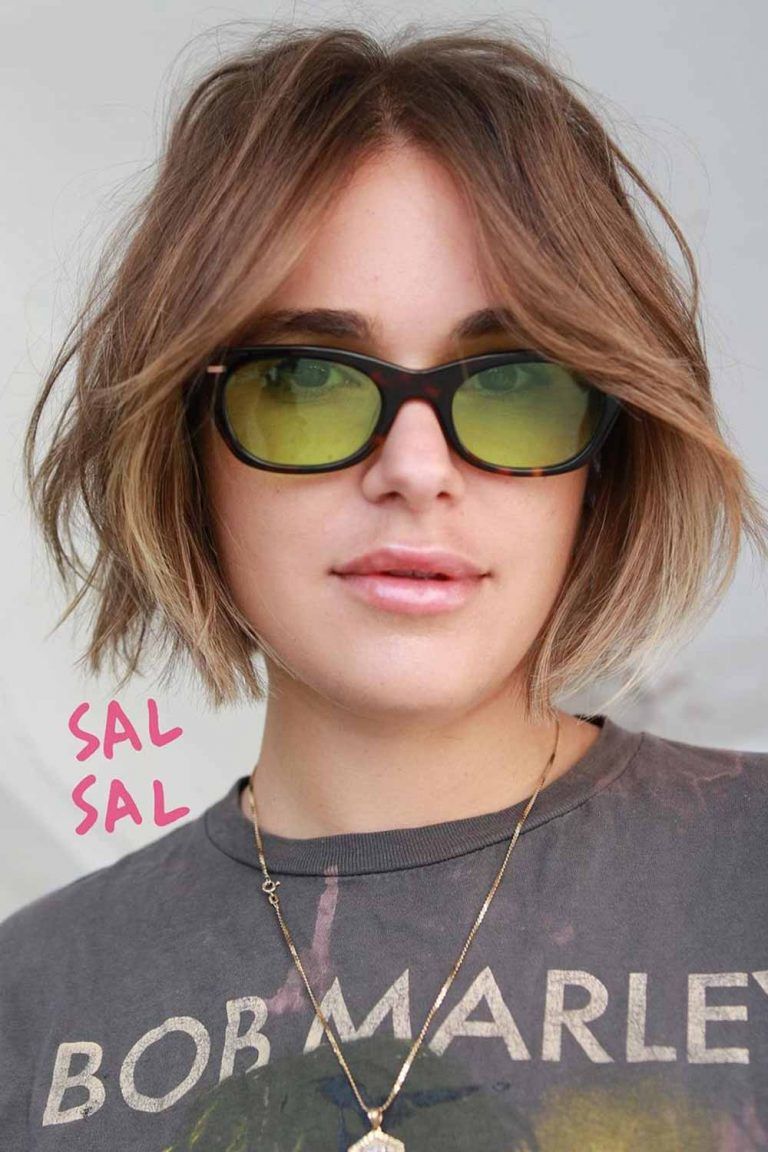 Credit photo: instagram.com/salsalhair
If you don't want to go too much with edge and definition, subtle layers will do just great for your delicate and moderate image. They will spruce up your hair with some natural movement and give your bob a balanced shape, without creating a super-defined, drastic, and sharp finish. Besides, you can turn your bob into an amazing wash-and-go in this way.
Touchable Easy Wear Bob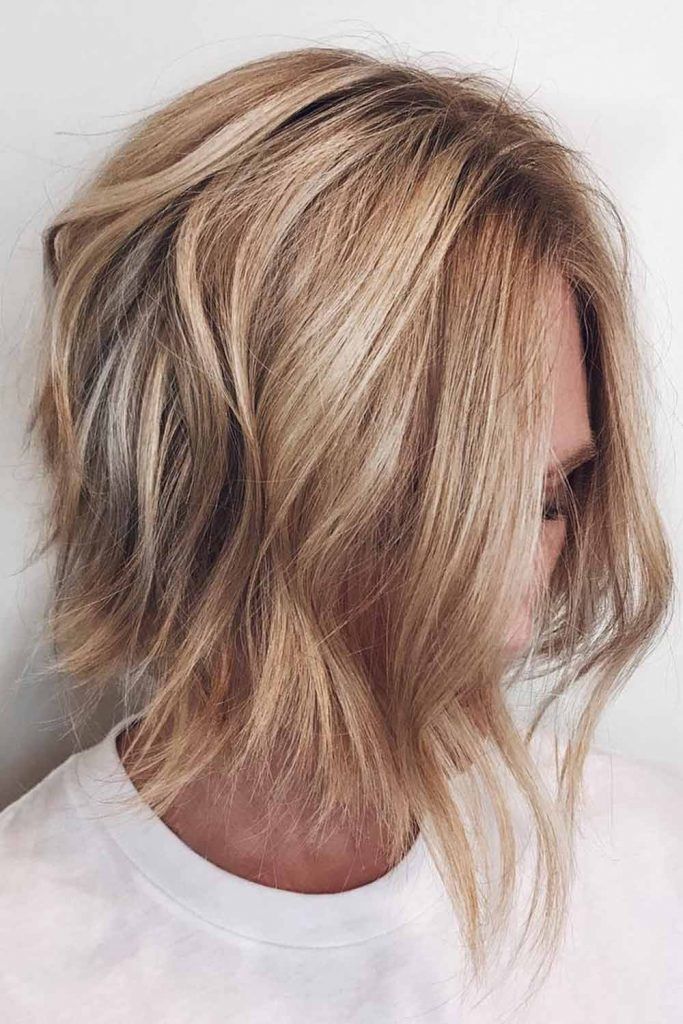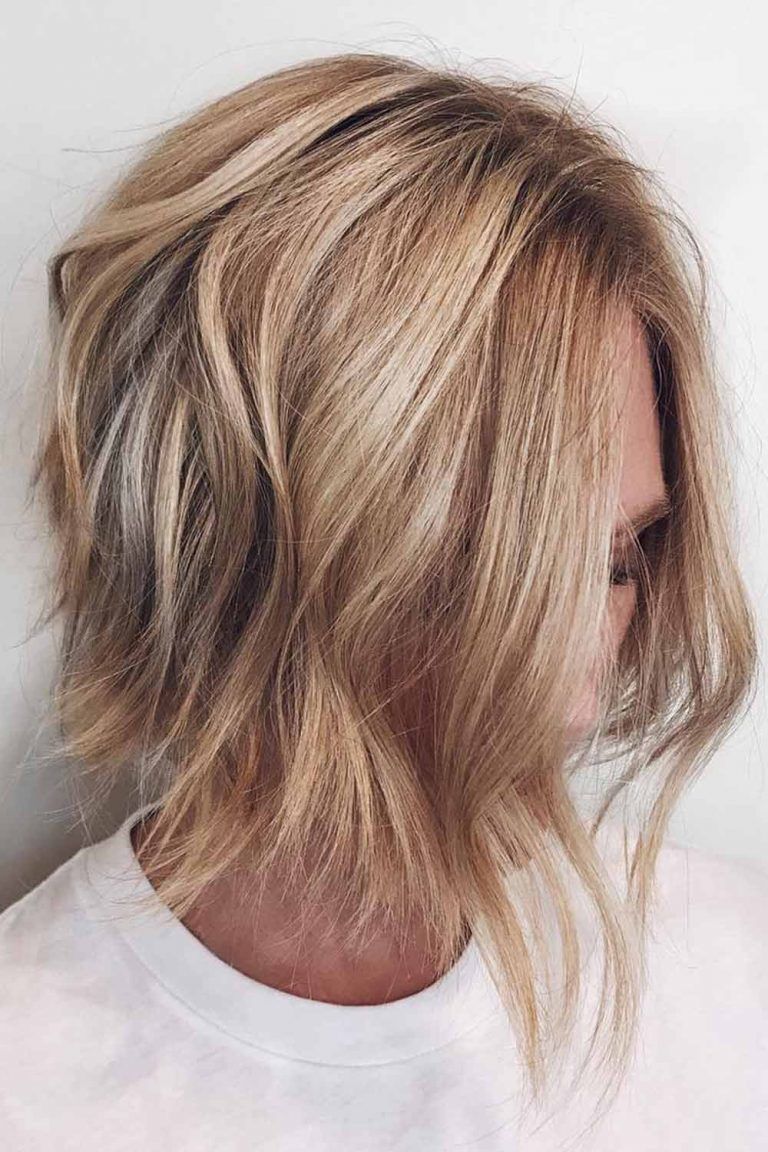 Credit photo: instagram.com/chrisjones_hair
On properly layered bob hairstyles, waves can stay in place all day long without fear of weighing down or splitting up. In other words, you can shake your head, touch those waves, and do whatever you please if your natural hair pattern is slightly wavy by default.
When you get the edges layered and unlock the wavy charm, let styling products come in. Wash your hair, apply some softening mousse for wave definition on your damp hair, lock the style with a hairdryer, and look in the mirror to get amazed.
Angled Greyish Bob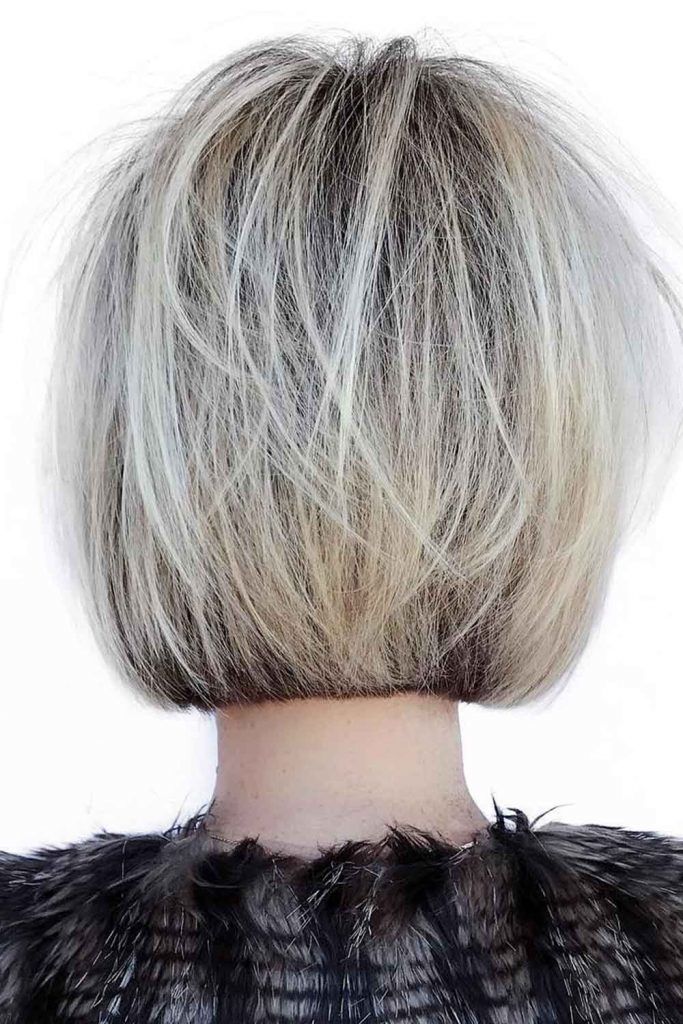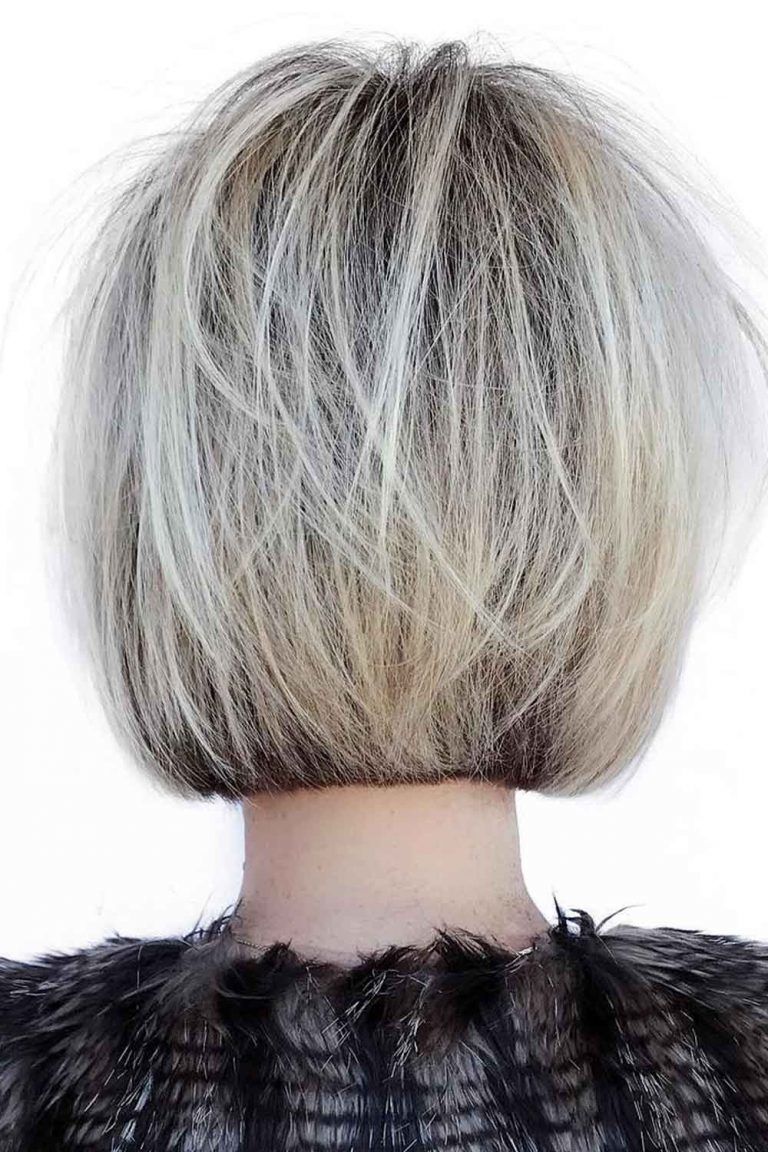 Credit photo: instagram.com/chrisjones_hair
If not a strikingly structured bob, what can make the gray hair trend complete? Colors and cuts have always gone hand in hand, don't forget about it. Grey and platinum hair colors, for instance, look their best on sleek and straight hair, as such texture enhances their shiny and glossy tones.
This idea seems to have perfected the sleek grey hair look with its creative angled twist. By the way, the lower layers are a bit lighter than the rest of the hair in order to make the color transition more dynamic.
Brown Bob With Jagged Ends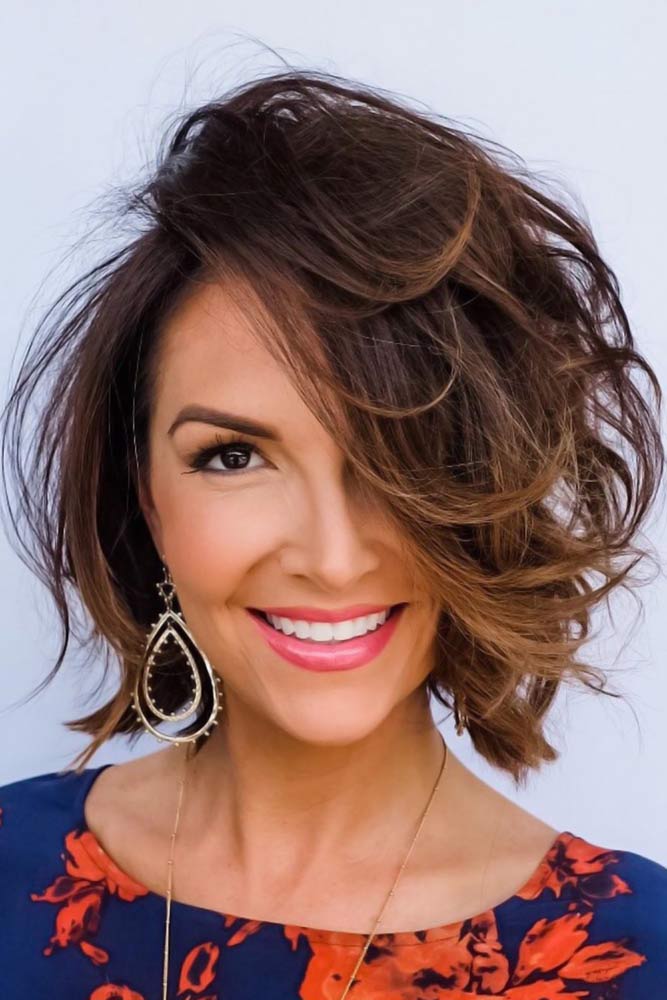 Credit photo: instagram.com/chrisjones_hair
How about some bulky twists that hit your bob and make it absolutely noticeable? Jagged ends are actually the privilege of those sporting short hair: on longer locks, the effect comes out rather textured yet not volumizing. They involve texturizing that changes the density of the ends only, hence making them curve and twist. If you are tired of applying tons of styling foams to get some volumetric waves, this cutting technique is your fresh breath of air.
Auburn Angled Short Bob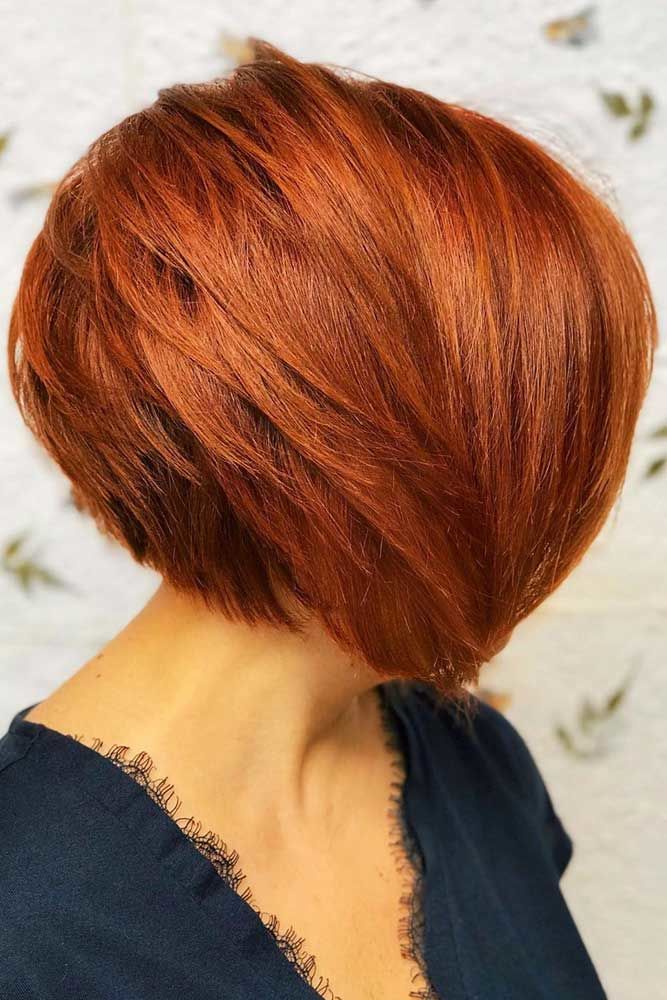 Credit photo: instagram.com/jeanclaudeelmoughayar
An angled haircut can enhance your sharp facial features, add a bit of an edge to the whole look, and express your creative personality. But have you ever wondered what can enhance angled haircuts? As it turns out, layers are keys to not just getting the most of those dramatic edgy cuts but to take them to a whole new level. As you can see, the layers follow the basic pattern in which an angled haircut has been cut. In this way, they provide dynamic movement throughout the whole mane, making the angled body even sharper and more accentuated. And you know what? There's something that can intensify the power of angled layered bob hairstyles. Of course, it's dramatic color! You won't go wrong going red, by the way.
Blonde Shaggy Layers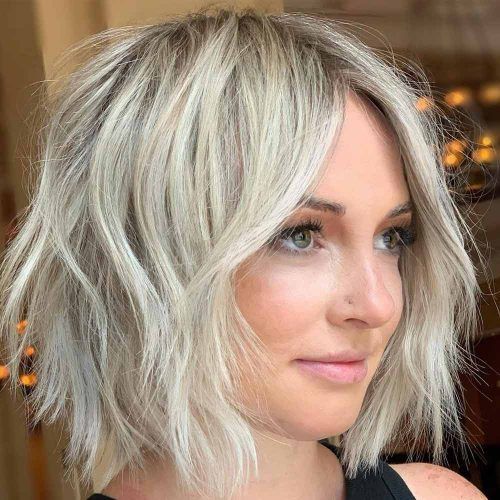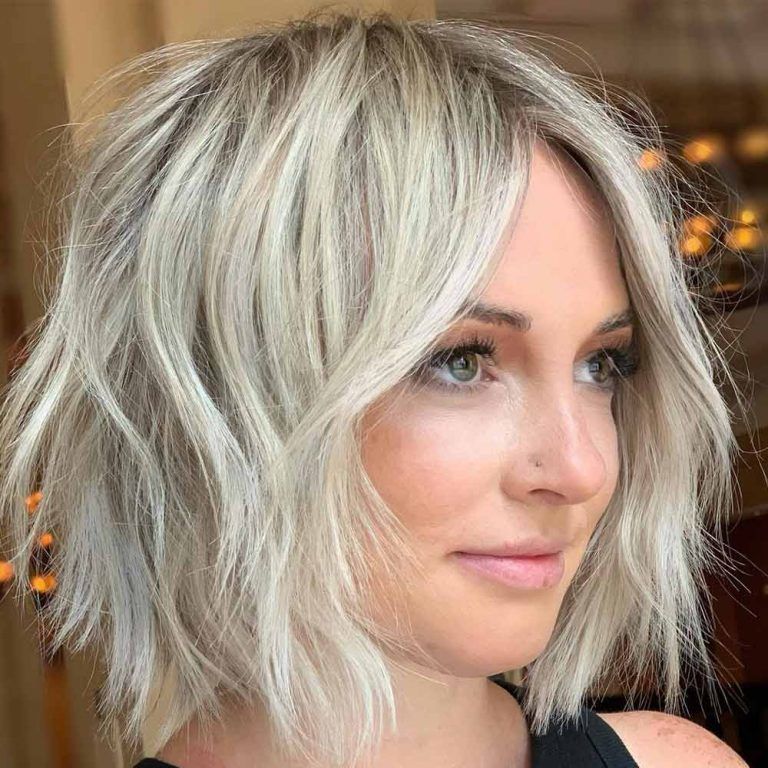 Credit photo: instagram.com/styled_by_carolynn
Layers have come to this world to open you the doors into another world, the world of endless experiments. They split into many different cutting techniques with which you can build a flattering look that will make you stand out in the crowd. This time, the layers are horizontal and gradual. Short layers on the top work for volume and movement while long cascading layers at the bottom create a fantastic round shape. Yes, shaggy layered bob hairstyles are full of surprises. To make them work for your face shape, you can also spice them up with bangs. But, make sure to ask your stylist for a seamless blend between the fringe and your layers.
Curly Bob With Bangs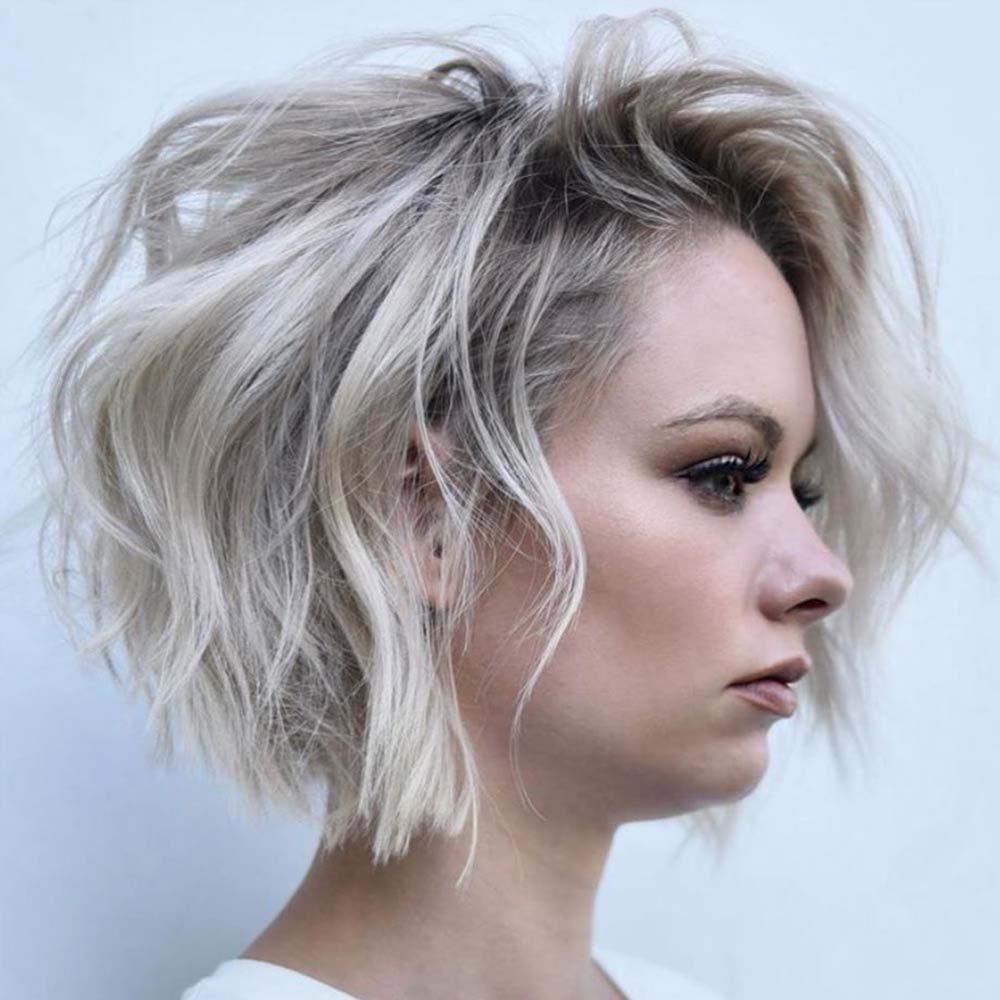 Credit photo: instagram.com/styled_by_carolynn
Although bangs don't really look like a fringe on curly hair, it doesn't mean that they don't work for curly textures. On the contrary, curly bangs reveal the whole new level or bangs, as they give a fantastic framing touch, while nicely blending with the rest of the locks. The fun fact is, the same goes for layers on curly hair: you can't really see them, but you can feel the presence. Getting your curly hair layered is crucial if you want your curls to be defined and distinctive, and this pic is proof. Every single curl is perfectly outlined and defined, thanks to the texturizing at the ends. Needless to say, the way the bangs graduate into a curly bob is just to die for.
Inverted Straight Red Bob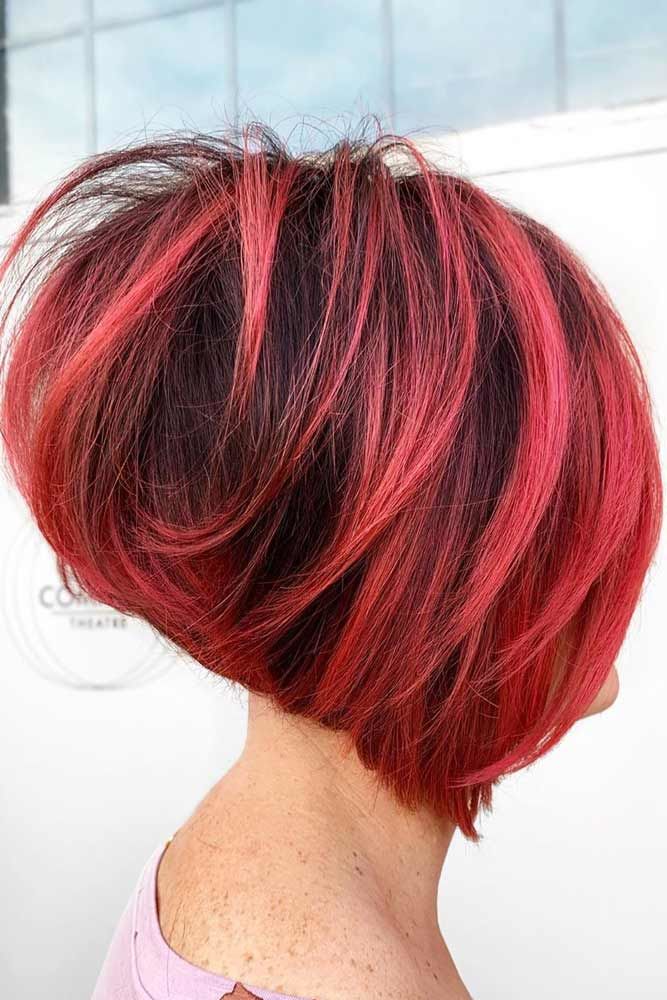 Credit photo: instagram.com/headrushdesigns
Well, that's a mood for a bob! It seems like we have just found the limit to perfection in this inverted bob haircut. Tons of volume, a perfectly leveled cascading body, dramatic texture, and exceptional color are only the tip of the iceberg. Apart from giving such a jaw-dropping appearance, this haircut is super easy to style while allowing for various styling ideas. As you might have guessed already, if it wasn't for layers throughout the cut, it wouldn't look that spectacular. A tip for a look to remember: when coloring your bob, add the color only to the top. In this way, you will intensify your hair with a sense of depth.
Classic Silky Sleek Inverted Bob
Credit photo: @isaac4mayor
i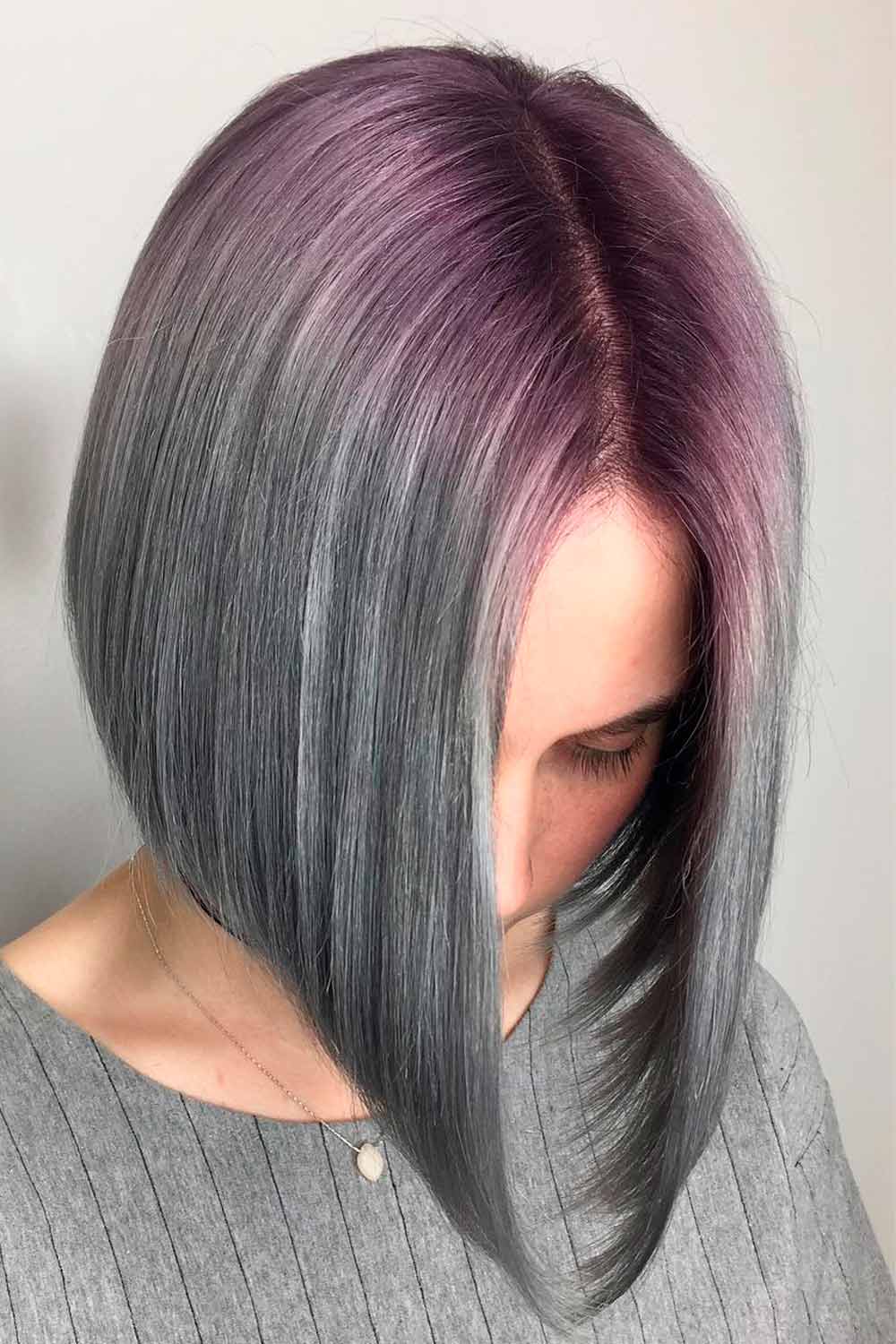 Credit photo: @isaac4mayor
i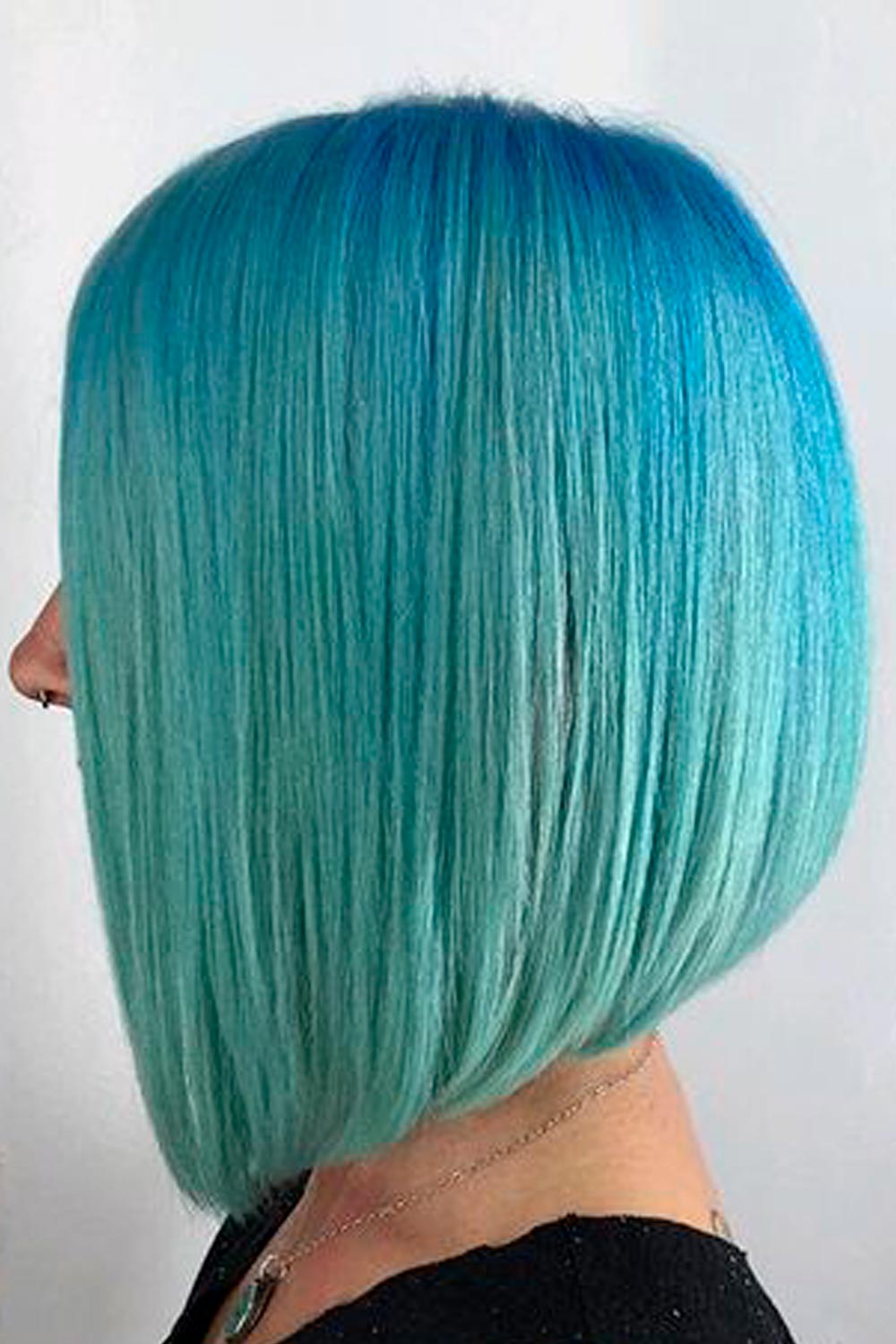 /
Messy Layered Short Bob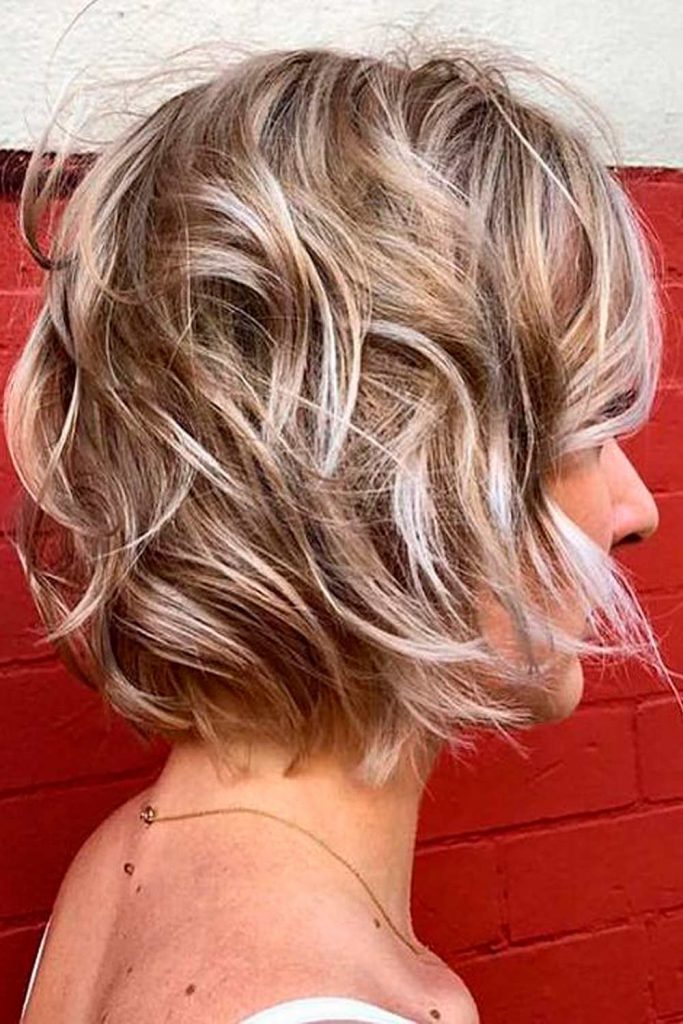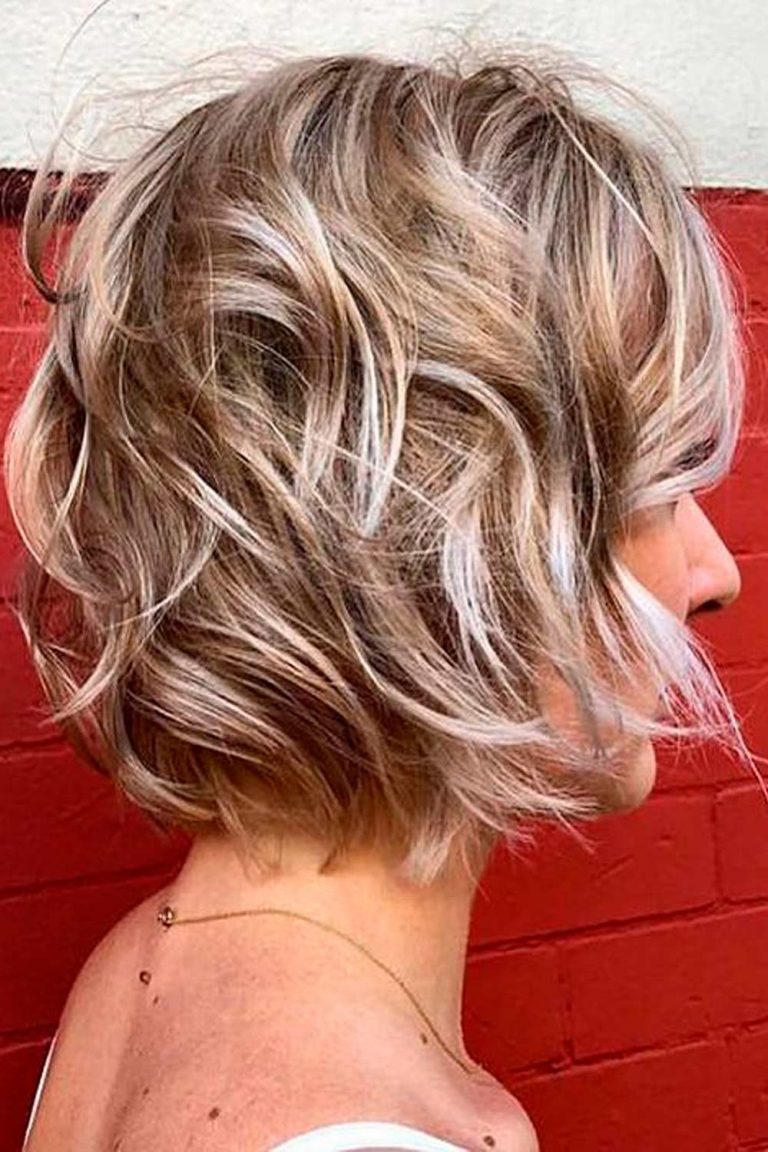 Credit photo: instagram.com/marysutcolor
Messiness has turned out to be the key to building perfect balance in hair. It just so happens that the hair looks its best only when it looks natural. And if not a messy touch that lifts up the body, what can add this sense of naturalness to your look? If you still think that everyone's favorite messy hairstyle is better to leave up to a professional, you've never been so wrong. As a matter of fact, all you need to get in a salon is layers, and you're all set for creating a messy hairstyle. To tell you the truth, non-layered hair is the major reason why some women can't achieve the desired messy look. Just get your hair layered, stock on texturizing products, and experiment to your heart's content!
With a standard bob, a hairstylist cuts the hair straight across the head, usually at a chin level, and creates bangs, also straight across. A bob is easy to style. That is why it's withstood time. There are several variations. A bob with layers modifies the standard form, with layers, of course, but also with various angles, which provide distinctive shapes and movement. It works for every type of hair, even thick, curly hair (the graduated layers help maintain a flattering shape). And, with so many color choices and techniques, you can easily create a one-of-a-kind look.
If you decide to get a bob with layers, you should think about your beauty routine and desires (such is important with any hairstyle, really). Do you mind spending a lot of time on your hair? Do you blow dry? Use heat styling tools? Or, do you loathe the thought? Whatever you decide, it's not a problem, a bob with layers offers a wide range of options.
FAQ: Layered Bob Hairstyles
Does a choppy bob have layers?
In fact, a short choppy bob can have glossy and well-ordered layers, as well as volumetric layers. So, make branched layers if you want a smooth, silky haircut.
How do you style a short layered messy bob?
When dealing with short layered bob, it is important that the hair remains voluminous and does not stick together. You can apply mousse to wet hair. Just spread it over the entire hair length with a wooden comb and dry the hair gently stripping the curls with your fingers.
Why does my bob look like a triangle?
If you are a lucky owner of strong thick hair, forthright hairstyles can make it look like a triangle. In order to "frame" the face, try some diagonal layers that will make the curls lie on each other. Also, you can texturize your hair when you cut it wet.
REFERENCES:
How to Cut Hair: here are some principles, based on professional cosmetology training, to help you get. Source
Get each month s beauty it list , find out what beauty products your favorite celebrities use, and see which celebs underwent this year s biggest beauty makeovers. Source
If you re a self proclaimed beauty junkie and a shop a holic, Cosmo is your one stop shop for all things fashion and beauty. Source
Was this article helpful?