Layered Thin Bang For Heart Shaped Face
Heart shaped faces need some face framing-haircuts! Layers will add some body and movement, while waved front locks will make your wide cheekbones look not too obvious. To beautify your wide forehead, ask your hairstylist for a lively thin bang.
Source: romeufelipe via Instagram
Medium Wavy Hairstyle For Wide Chin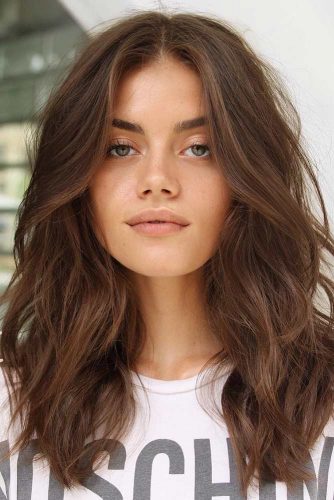 Your wide chin and jawline won't ever bother you once you wave your hair! The shorter it is, the fuller your waves are, so you can see that medium hair length is the key. To get the most out of your face shape, pay attention to the front locks: they actually do the framing.
Source: salsalhair via Instagram
Long Wavy Layers For Round Face
Wavy layered hairstyles can easily draw attention from your round face, bringing the focus to your eyes and brows. They add fullness where it's needed, without outweighing the silhouette. If you want your round face to look as sexy as possible, avoid flat and sleek hairstyles.
Source: brittsully via Instagram
Main photo by
Ryabchik.moscow