When the fear of commitment stops you from getting a fringe, fake bangs come in. Although the are fake bangs clip pieces designed to be incorporated into real hair, we'd like to show you some effortless tutorials on how to create a fringe look with your own hair. Without cutting an inch!
How many times did you feel like changing something in your look but were afraid the change won't suit you? Getting bangs is the first thing that comes to women's minds, as it can drastically change one's appearance. Whether you'd like to see if bangs will work for you or want to try something new, you will love these ravishing ways on how to make fake bangs without cutting your hair.
Fake Bangs With A Bun Method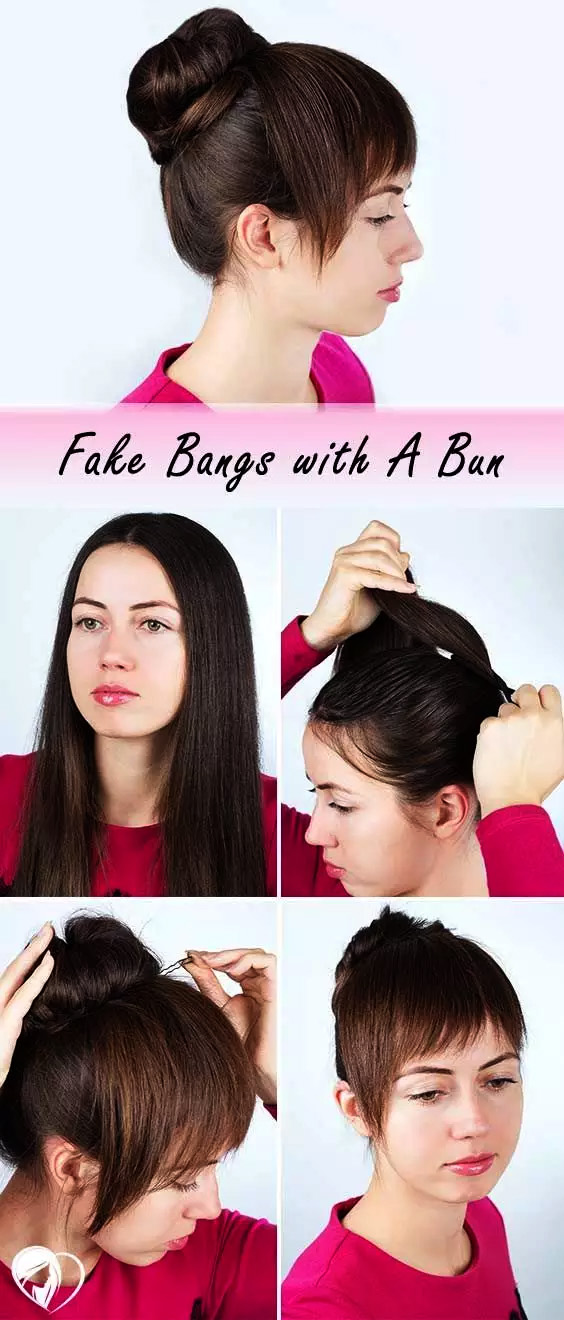 Editor tip: If you have curly hair, make sure to straighten it first, as it will add some length.
Getting fake bangs with bun hairstyles are probably the easiest and most accessible way to achieve natural results. However, it's not that versatile. All in all, your hairstyle should fit the occasion to make the fringe appear natural, so make sure to use this method when an updo would really complement your look.
Step 1: Mind your hair length. Before following how to fake bangs tutorials, you should assess the length of your hair, especially for this one. First off, check if your hair is long enough for a bun: put your hair into a ponytail and pull it over to your eyes. If it can reach your eyebrows, it's long enough to be styled into bangs.
Step 2: Create a high ponytail. Gather all your hair together and put it up, slipping a hair tie over your other wrist. Then, place a ponytail high and secure it with the elastic, wrapping it around the base for a couple of times.
Step 3: Section off the bangs. Divide off a thin section of hair from your ponytail, and pull it to the front - that will be your fringe. The ends should fall over your forehead.
Step 4: Pin the fake bangs. Now, you should secure your bangs. A couple of bobby pins on either side of the ponytail, as well as one more elastic over the bun, will do just great.
Step 5: Turn the ponytail into a bun. To create a balanced and natural-looking hairstyle for your fringe, create a bun. Split the pony into two equal sections and wrap each one around the base. Of course, you can't do without bobby pins here.
Step 6: Give your bangs a curve. Using a flat or large curling iron, curve the edges of your bangs. In this way, you will make them look harmonic against your hairstyle, and ensure that shorter hairs won't stick out.
Step 7: Set the style. Finish the look with a coat of hairspray.
Editor tip: Apply a heat protectant and brush your hair thoroughly to make the strands look more natural and even.
Q: What face shapes go with bangs?
A: For round faces, side bangs work best, while for square face shapes nothing will do better than a wispy fringe. Straight-across bangs go flattering for long and diamond faces, and women with rectangular faces look their best with brow-grazing fringe. Mind this when styling your fake bangs!
Editor tip: You can secure the bun with a fancy hair scarf to get both stylish and absolutely natural look.
A Beanie Method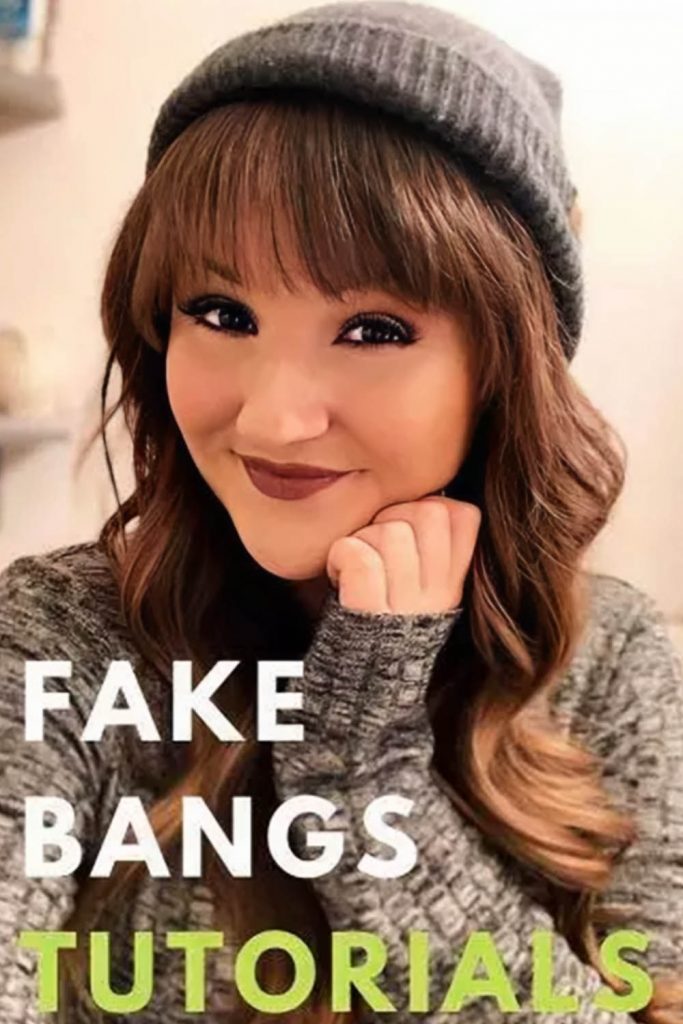 by @beautybymaryh
How about you to get the most of the cold season by learning how to do fake bangs with a hat? In general, it can be any headdress, but such options as loose-fitting beanies are something you can't go wrong with.
Step 1: Make sure your hair is long enough. You will need to pull your hair into a half-up, then turn it into a half-down ponytail, and flip it over your forehead. If the ends reach your eyebrows, you have a perfect length for this fake bangs tutorial.
Step 2: Create a half-up. Separate off the top layer of hair and put it into a half-up. Next, grab an elastic, and tie a half-down ponytail with this section.
Step 3: Flip the half-down pony over your forehead. When draping the ponytail, adjust the ends so that they fall over your eyebrows.
Step 4: Pin the bangs close to the base. Adjust the bangs at the desired length, and pin them right at the base of the ponytail. Then, spread the bangs evenly; they will form a triangular shape. Since you need the fringe to be wider across your brows and narrower at the top of the head, put a bobby pin to each side of your fake bangs.
Step 5: Style your bangs. This step is totally up to you: you can curl or straighten the fringe in any way you like. To make it look more natural, pull the strands with your fingers so that it lays nice on your forehead.
Step 6: Put on a beanie. In fact, it can be any hat you want; the point is to wear a loose-fitting hat that will secure your style nicely and won't give away your half-down style.
Q: How do I style my fringe?
A: It's always better to choose styling ideas for your fringe based on your face shape. You can always brush your fringe to the side to hide your big forehead or split it into two for a face-framing effect to flatter round and oval faces. As a good rule of thumb, you should always prep your bangs with a heat protectant and give it a pass of a flat iron to make it manageable.
Clip-In Bangs Method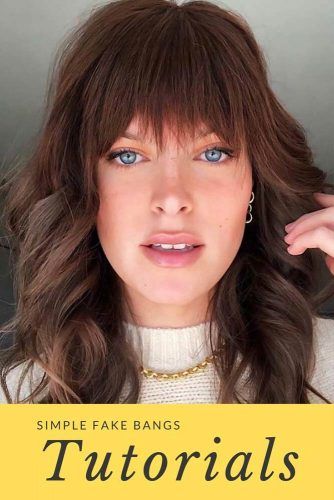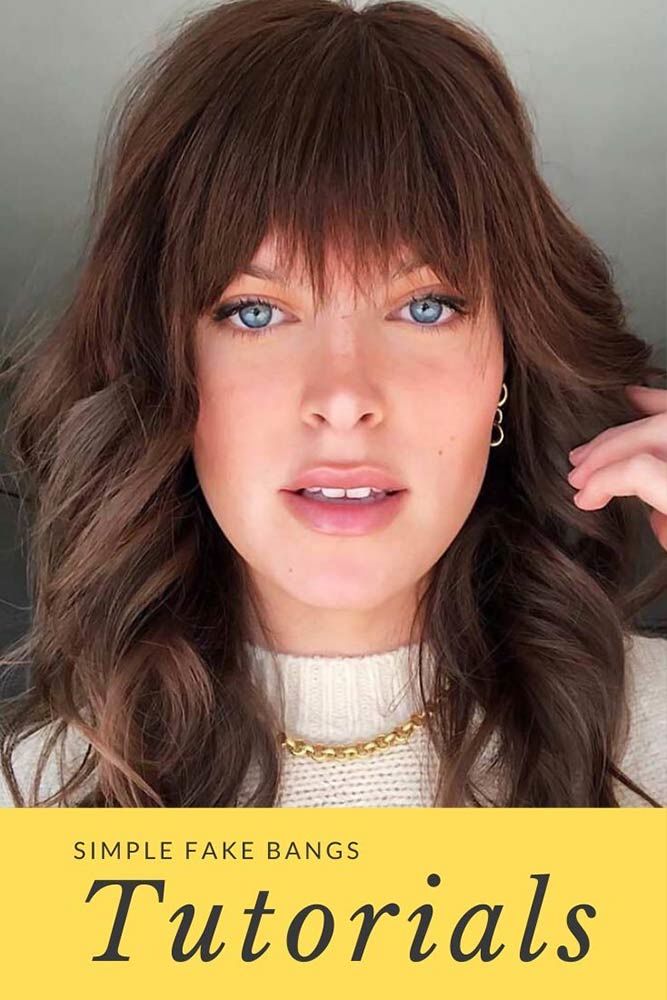 by @maggie_mccormack
You may be wondering how to make fake bangs look natural when it comes to clip-ins, as, you know, it's always easier to wear extensions. The reason why women stay away from wearing fake bangs is that they don't know how to install them properly. Here's how you can make it right.
Step 1: Pick a clip-in to your shade. There are lots of synthetic bangs available both online and at physical shops, so you will never end up with the wrong shade. Of course, it's better to see with your own eyes the shade, material, and the way it blends with your hair.
Step 2: Create a middle part. Faux bangs should lie flat against the head, so you need to part your hair down the center to move your hair out of the way.
Step 3: Give your bangs a coat of dry shampoo. Remember the sheen that makes fake hair appear really-really unnatural? You can get rid of it with the help of dry shampoo.
Step 4: Move the clip-in fringe back toward the crown. Go on moving the fringe back along your part until the ends fall along your brows. It will make the seam of fake bangs less noticeable.
Step 5: Secure the clips from the underside on your hair. To make your faux fringe seamlessly blend with the rest of your hair, brush it with your own hair and secure them as a single whole.
Q: How can I hide my bangs?
A: Just follow the last step of our tutorial, where you should secure all three clips onto your natural hair.
Bobby Pins Method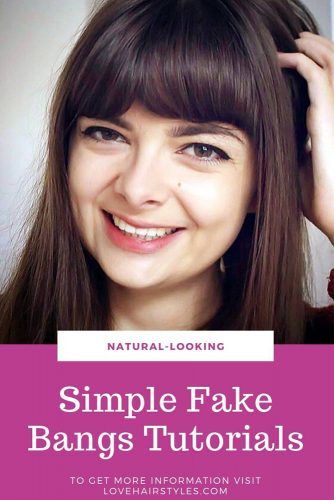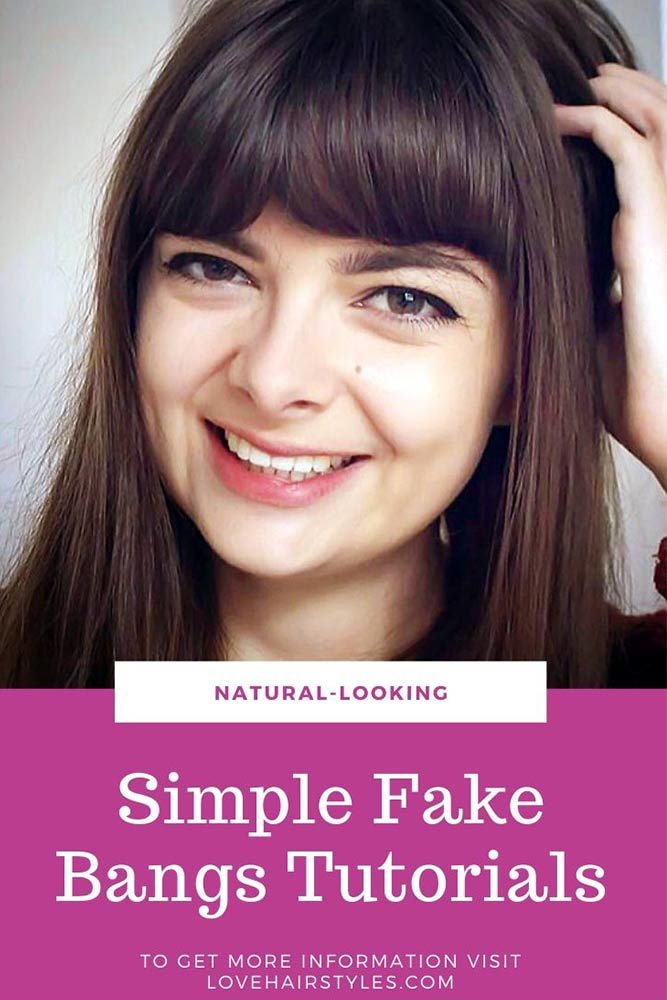 by @loepsies
Creating fake bangs hairstyle with bobby pins is another fantastic way to give yourself a little framing touch without commitment. Find out how versatile good old bobby pins can be!
Step 1: Create a center part. Here, precision is the first thing you should keep in mind, so brush your hair thoroughly before you start.
Step 2: Divide off the front left section. The section you need to take off should have an angular shape that hits from the center part down to the left temple. Also, note that this part should start two-three fingers behind your hairline. Then, tuck the rest of your hair behind your ears.
Step 3: Hold this section right where you want the bangs to end. Pull this section to the front to make your bangs lay directly on the center of the forehead. After that, place your index and middle fingers so that they form a V-shape, and close them across where you want the fringe to end. Mark this spot with a duckbill clip.
Step 4: Twist the section below the clip, forming a thin rope. Twist the hair that is under the clip, twisting it under and toward the face. Ensure that the hair above the clip is vertical and that the twisted portion is horizontal.
Step 5: Pin the twist behind your ear. Remove the clip and pull the rope back behind your ear, securing the section with bobby pins.
Step 6: Repeat the process on the other side of the head. Divide off a section that is the same length as the first section, performing all the previous steps.
Step 7: Make the bangs look natural. Pull the edges of your fake bangs, spreading them. Also, un-tuck the rest of the hair: it will make your bangs look more realistic.
Q: Will bangs be popular in 2023?
A: You tell us! More and more celebrities like Zendaya and Emilia Clarke go for whispy and side-swept fringe for their amazing face-flattering power. As told by modern hair stylists, bangs are more popular than ever, and they aren't going to stop.
No one can stay away from the question "What would I look like with bangs, though?". The good news is, instead of keeping this question unanswered for ages, you can easily experiment with a faux fringe. Here, we've shared the most fail-proof fake bangs DIY tutorials that give absolutely natural results. Yes, there's no need for cutting your hair to try something new!
Sources:
FAQ: Fake Bangs
Do clip in bangs really work?
Clip-in bangs are a quick and easy solution to make bangs without having to cut your hair short. Full blunt bangs, curtain bangs and choppy bangs can all be made with clip-in bangs. It only takes seconds to clip your bangs in and blend them once they've been cut and shaped to your liking.
Is there a bangs app?
If you've ever wondered how you would look with bangs, the Hairstyles for Your Face Shape app by Gregorio Bello is for you. Despite the obnoxious five-second advertisements that crop up now and then, it does a good job of analyzing your face shape and offering you a variety of haircuts, among which are bangs.
Do bangs make you look younger?
Bangs can give your face a more youthful appearance by making it look smaller. However, avoid wearing bangs that are excessively short. Your bangs should be long enough to fall over your brow and not highlight any tiny lines around your eyes.
Was this article helpful?