A Pixie Cut Can Really Wow You
Are you thinking of a versatile pixie cut for any mood, occasion, and image? Pixie haircuts always seem to be in style, and there are dozens of cute pixie styles to choose from. If you are tired of your long locks and want to cut your hair short for a funky new hairstyle, a pixie is a great option as it is both stylish and flexible.
There are plenty of adorable short haircuts for those who are thinking of a new daily look. Short hair is easy to maintain in any season and is great for those who always want to feel comfy and be on point at once.
A pixie haircut is trendy, feminine, and chic. We have put together a list of our top pixie haircut looks for the unforgettable 2019. To take it up a notch, you can add some bright undertones, subtle balayage or neon streaks. Go for a bold new hairdo next year!
What Is a Pixie Cut?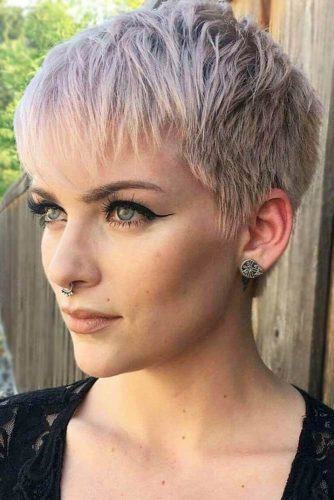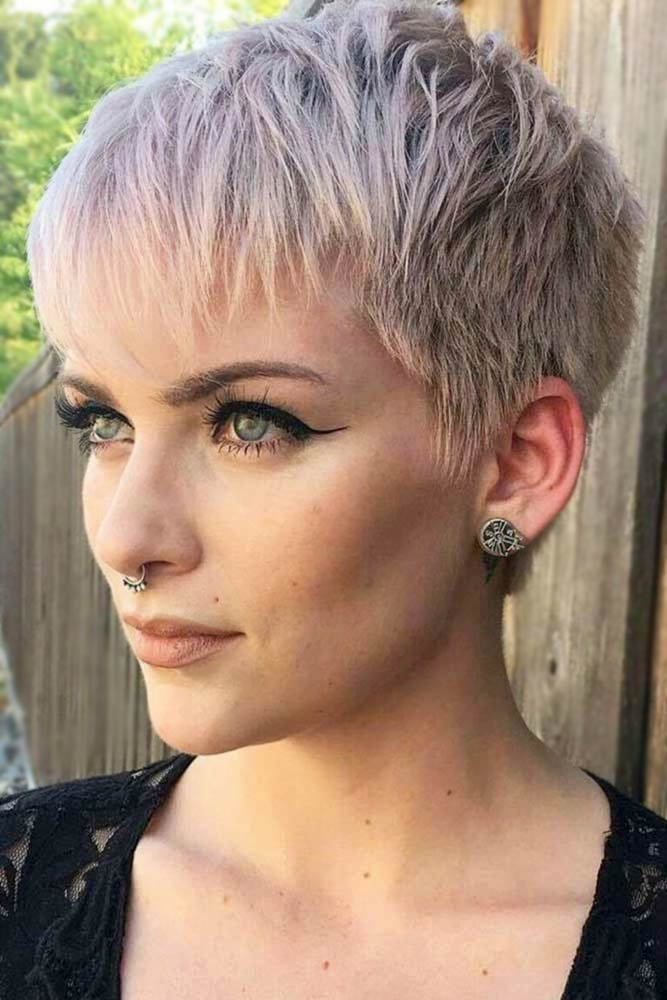 Source: kaitlinfugler via Instagram
Let's finally find out what the so much desirable pixie haircut is! It's a modern short crop that varies in length from half an inch to three inches. The structure of this cut isn't uniform; it can be customized based on a woman's preferences: it can be a one-length cut or involve different graduations like short-on-sides-long-on-top cuts.
First, it was a calling card of the iconic actresses from the stylish 50's. Then, all the models from the 60's magazine covers started to pull it off. Now, this cut is famous among all women of all images and ages, making the most out of our hair and changing our styles for the better.
Pixie Haircut Benefits
[Read:  Pixie Hairstyles Will Suit Any Girl]
Besides the fascinating appearance, wearing a pixie offers you far more advantages. And once you face them, nothing will be able to stop you from going for the crop!
Comfy Styling & Low Maintenance Routine
This is one of the cuts that takes minutes to get it styled. Also, it's a budget-friendly option for ladies; it's a well-structured short cut, after all.
Beautifying Power
Based on the feature of your face, your stylist can create a pixie that can emphasize your best sides and work on your flaws, framing your face perfectly.
Carefree Color Experiments
The less hair you have, the less risk for damage there is! You can play around with colors without a fear of bleaching, as your hair will quickly grow out and regenerate.
Source: laisdelagnese_ via Instagram

Shaggy Pixie Haircut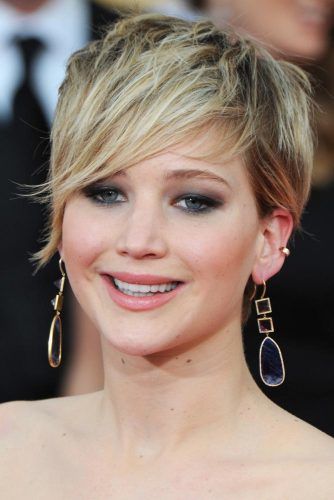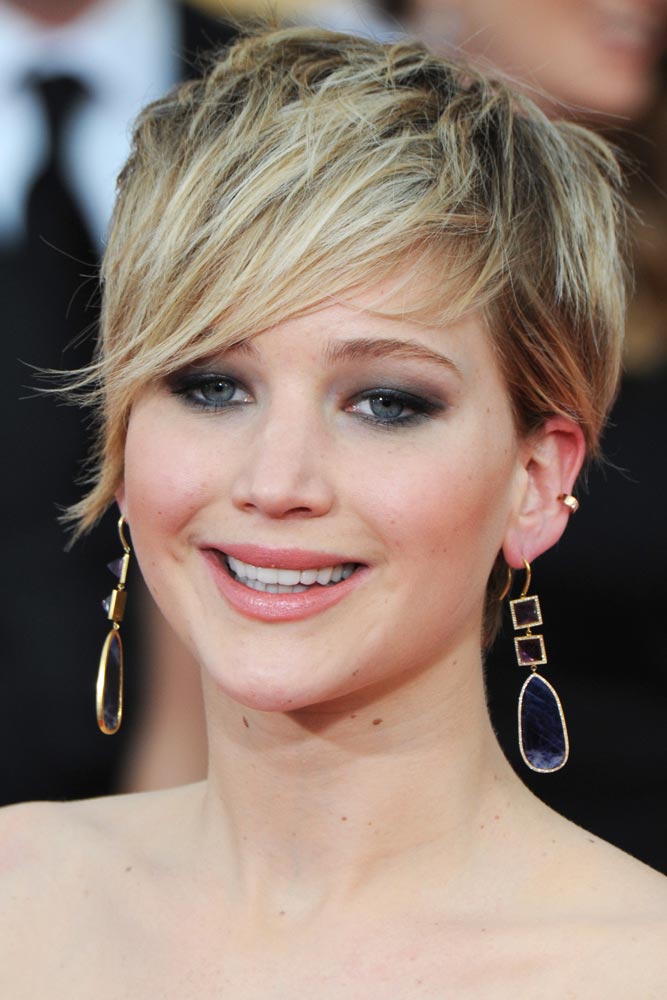 Source: Featureflash Photo Agency/Shutterstock
Who can impress us better than our favorite actresses? The transformation brought by Jennifer Lawrence is here to prove that pixies are worth giving a try. While most of her looks are primarily all about medium-to-long hairstyles, this bold move shows that short doesn't mean limitations.
Short, Sleek & Side Parted Pixie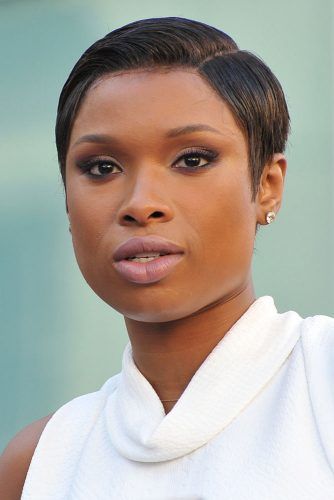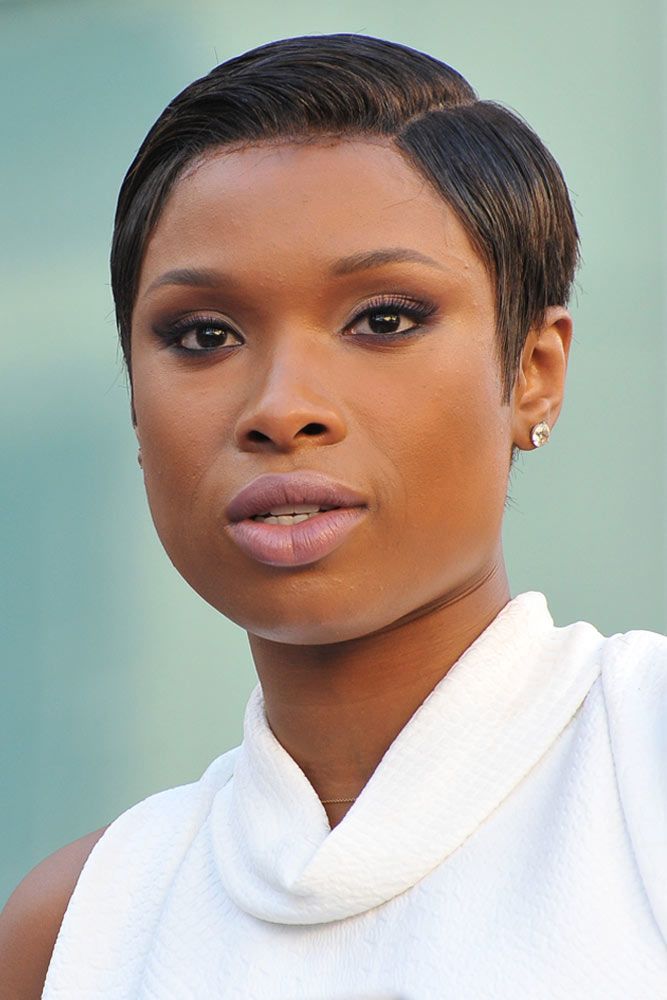 Source: Featureflash Photo Agency/Shutterstock
Even such a creative person like Jennifer Hudson decided to replace her posh and dramatic natural looks with a practical, minimalist pixie. Everything in this look is super easy and comfortable, yet, it gives a very refined and elegant character to her appearance.
Very Short And Edgy Pixie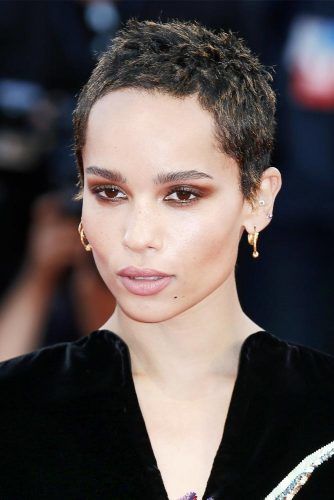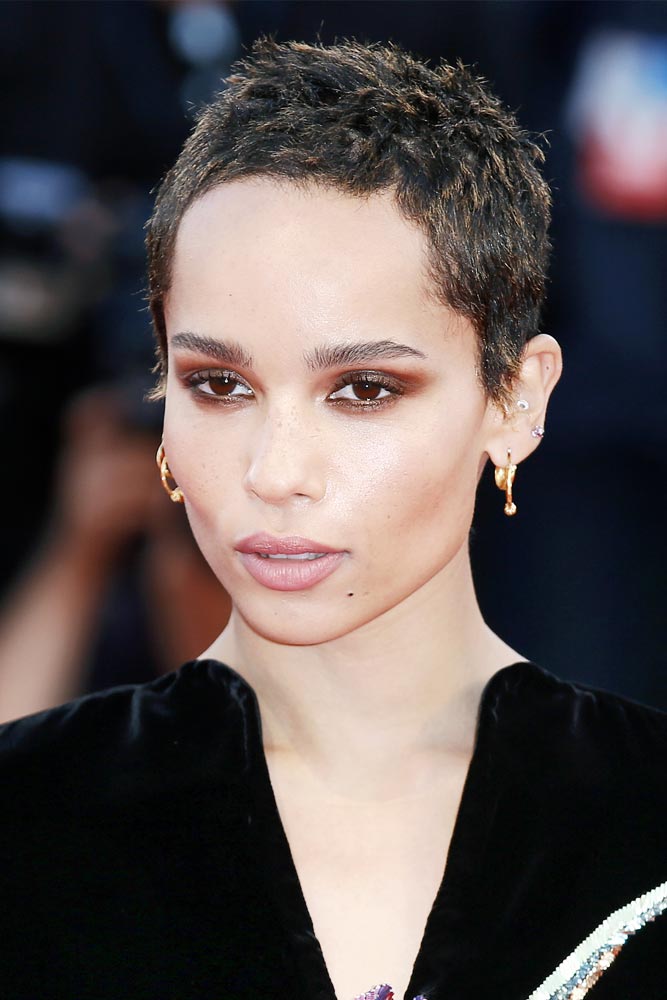 Source: Andrea Raffin/Shutterstock
Zoe Kravitz is never afraid of experiments, and this time she decided to reveal her beauty through the charm of simplicity. She chose a classic variation of the pixie cut and spiced it up with a lively texture to give a bit of an edge.
Long Straight Side Parted Pixie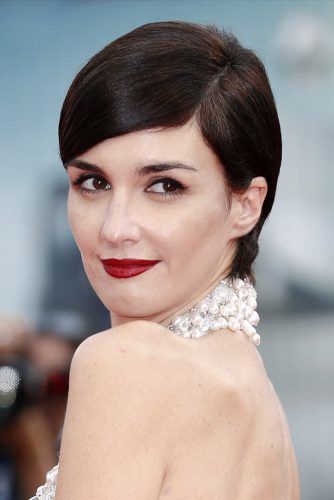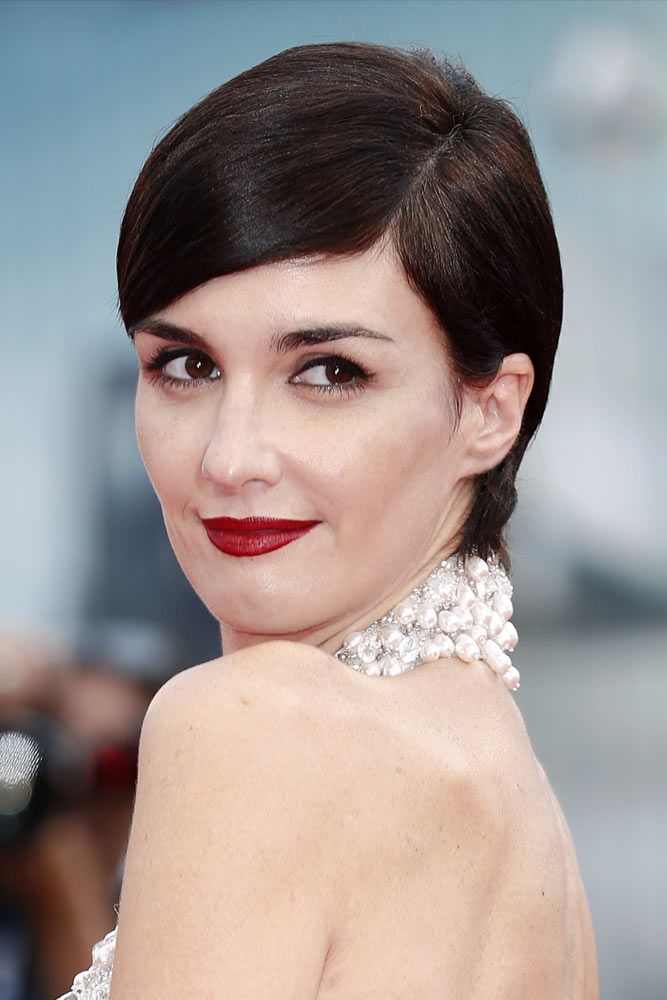 [Read:  Long Pixie Cut Ideas For A Creativity Look]
Who would've thought that Paz Vega would look that gorgeous without her enviable long mane? Yes, nothing can hide the real woman's charm. On the contrary, a pixie haircut opens up the best features while slightly hiding the flaws: her long, side-parted haircut nicely accentuates her face shape, giving it a little framing touch.
Punky Pixie With Undercut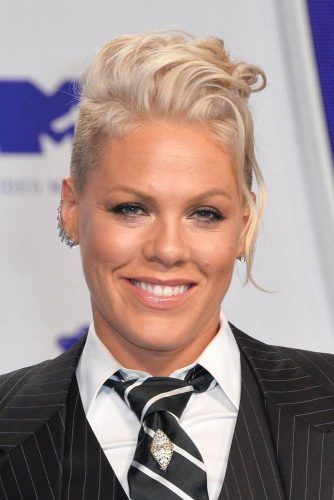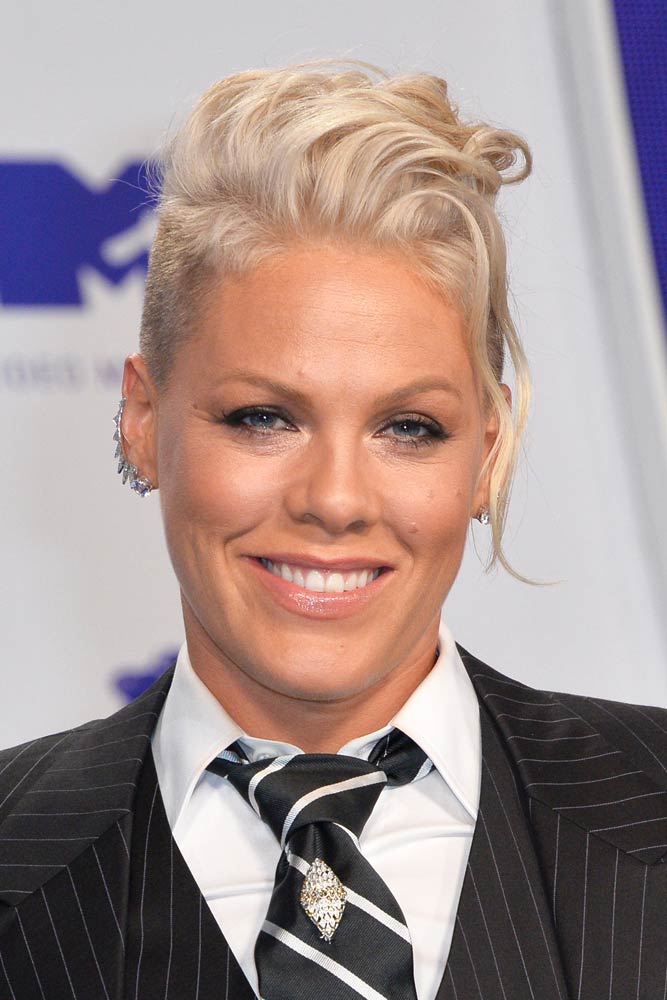 [Read:  Bold And Classy Undercut Pixie Ideas That Make Heads Turn]
When it comes to punky celebrities, Pink is the very first and probably the brightest person that comes to our minds. Her I-don't-care pixie with a very high top really expresses her personality, and the undercut helps the style to keep up with the 'rebel' shape.
Short Layered Pixie With Baby Bangs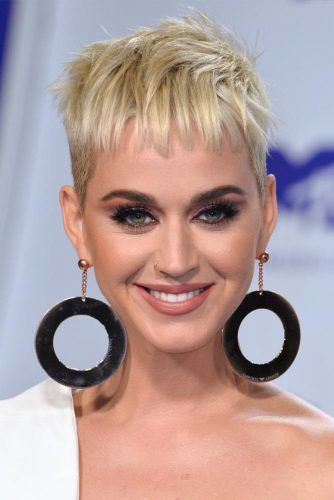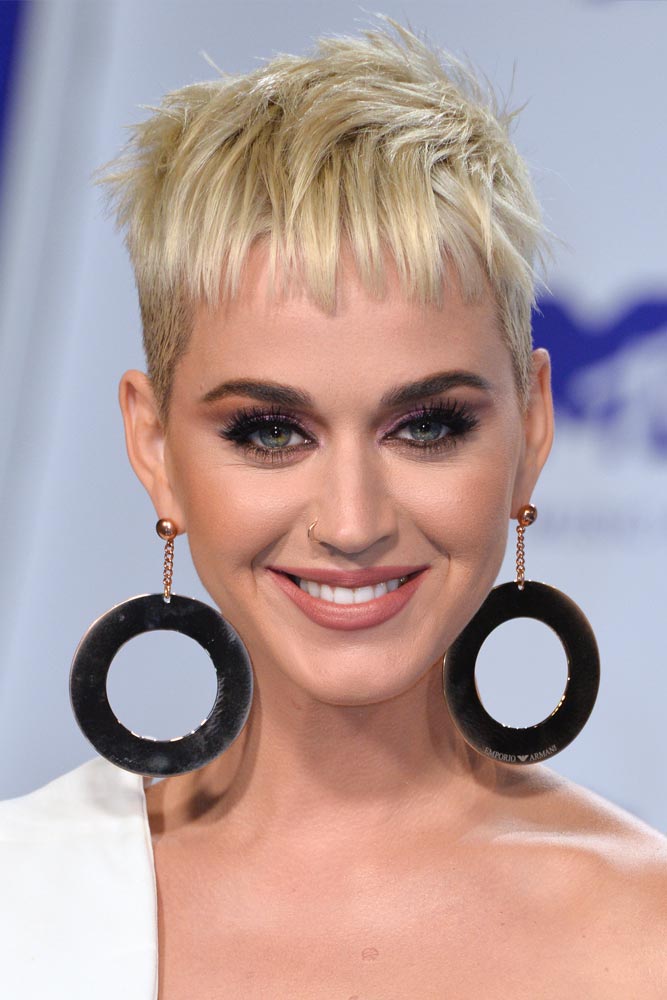 Source: Featureflash Photo Agency/Shutterstock
One day her hair is black and long, and the next day she turns the opposite direction. Katy Perry is unpredictable, and that's why we love her. And this daring but feminine pixie that fascinates with its layers and baby bangs are here to show that those who play around never lose.
Short Dramatic Pixie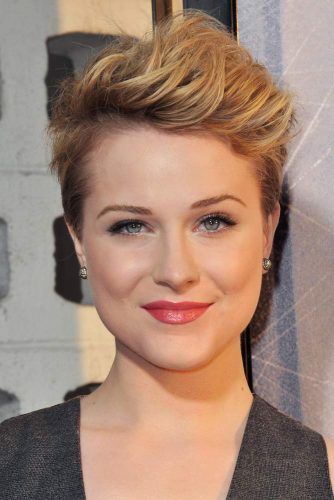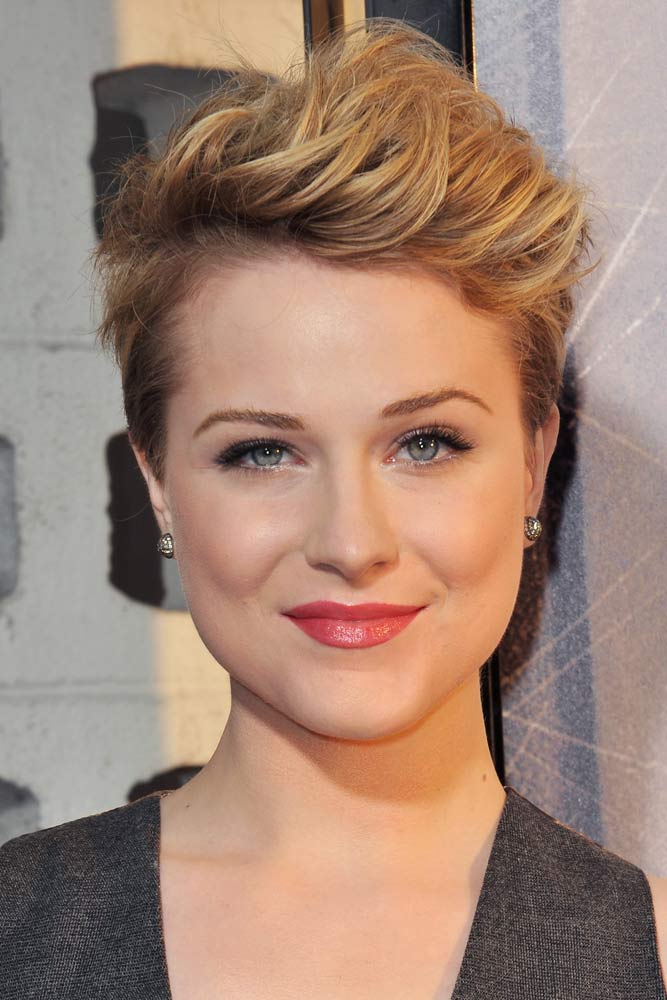 Source: Featureflash Photo Agency/Shutterstock
Evan Rachel Wood is also known for her style transformations. It's hard to tell which of her sides prevail: the punky or elegant. But the thing we can tell for sure is that this volumetric, sassy pixie is the best cut to emphasize the playful mood.
Long, Choppy & Side Parted Pixie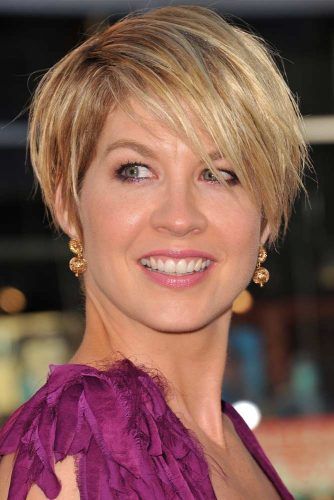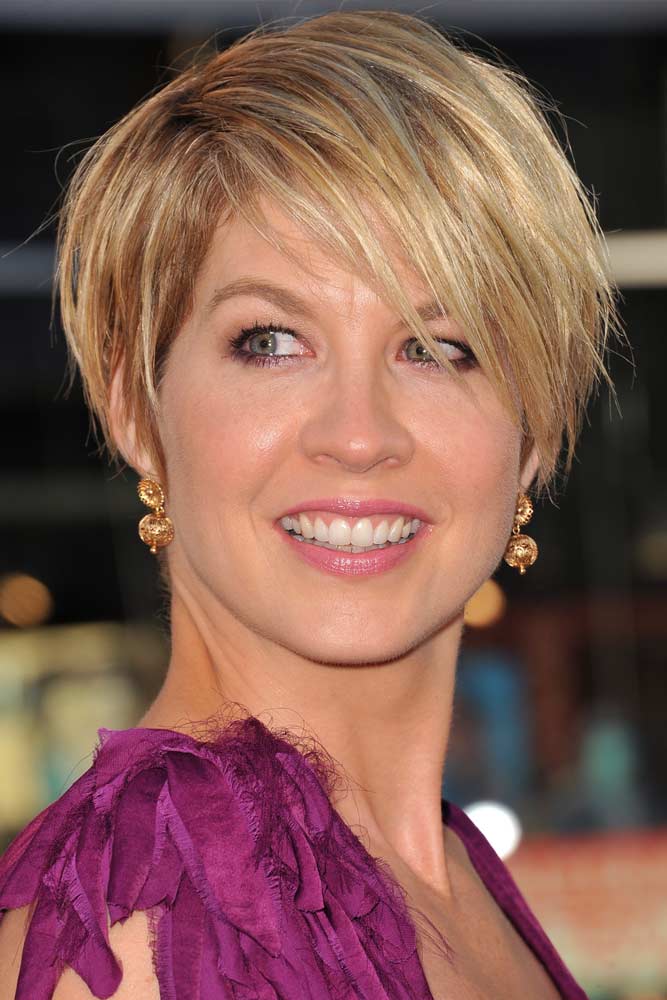 Source: Featureflash Photo Agency/Shutterstock
Jenna Elfman has been staying loyal to layers throughout her whole career. So no wonder her premiere pixie look features them! The slight front layers give more freedom for framing, enhancing the beautifying power of side parting.
Short Layered Pixie
Pixie With Long Bang
Stylish Ideas With Different Pixie Types
Short Pixie Cut
Classic Pixie Cut
Very Short Pixie With Side Bangs
Chic Textured Short Pixie
Daring Shaggy Short Cut
Asymmetrical Short Pixie Cut
Punky & Spiky Pixie
Pixie Cut For Curly Hair
Short Edgy Pixie With Undercut
Soft Textured Pixie Cut
Very Short & Spiky Pixie
Very Short Side Parted Pixie
Short Pixie With Long Layered Bang
Short Straight Pixie Hairstyle With Asymmetrical Bangs
Wavy Pixie Hairstyle With Layered Bangs
Straight Short Pixie With Side Bangs
Volumizing Short Layered Pixie With Long Bangs
Long Pixie
Long Pixie With Thin Fringe
Volumetric Long Layered Pixie
Long Pixie Bob With Side Swept Bang
Tapered Long Pixie with An Elongated Fringe
Layered Choppy Pixie
Shaggy & Layered Pixie
Retro-Inspired Long Pixie Cut
Long Wispy Pixie with A Deep Side Fringe
Curly Long Pixie With Shaved Side
Long Straight Pixie With Side Undercut
Chic Undercut Line Design
Long Shaggy Pixie
Wavy Long Asymmetrical Pixie
Inspiring Pixie Color Ideas To Try
Let's don't forget that not only scissors can help us achieve voluminous hair full of life and natural movement: coloring techniques also take part.
Two-Toned Pixie With Soft Balayage
Fireball Layered Pixie
Deep Brown Pixie
Layered Grey Balayage
Pink Punky Pixie
Cool-Tone Rainbow For Pixie
Sweet & Deep Cherry Tones
Copper Short Layers
Side Swept Platinum Blonde Pixie
Straight Sandy Pixie
Side-Parted Pixie With Blonde Highlights
Short Layered Pixie With Undercut
Messy Layered Pixie
Black Straight Pixie With Blunt Bangs
Blonde Messy Short Pixie
Punky Silver Pixie
Long Messy Shaggy Pixie
Brown Layered Pixie
Side Swept Long Pixie
Long Wavy Pixie
Messy Straight Pixie With Golden Highlights
Asymmetrical Lilac Straight Pixie
Ice Blonde Side Swept Pixie
Asymmetrical Pixie With Highlights
Grey Pixie With Undercut
Edgy Pixie With Long Bangs
Long Side-Parted Messy Pixie
Feathered Pixie With Baby Bangs
Side Swept Layered Pixie
Grown-Out Straight Golden Pixie
Ice Blonde Punky Pixie With Undercut
Asymmetrical Brown Pixie
Side-Swept Black Pixie