Are you looking for ideas on how to style a pixie cut? Then we are here to help you out with some. Most people doubt about getting a pixie haircut because of everyday styling myths that surround this haircut. We would like to break them for you with our best tips, tricks, and ideas that will make you look gorgeous every day. Creativity, beauty, and comfort - these are three words that describe a well-styled pixie cut and we would be glad to help you with that.
Make Your Bangs Look Soft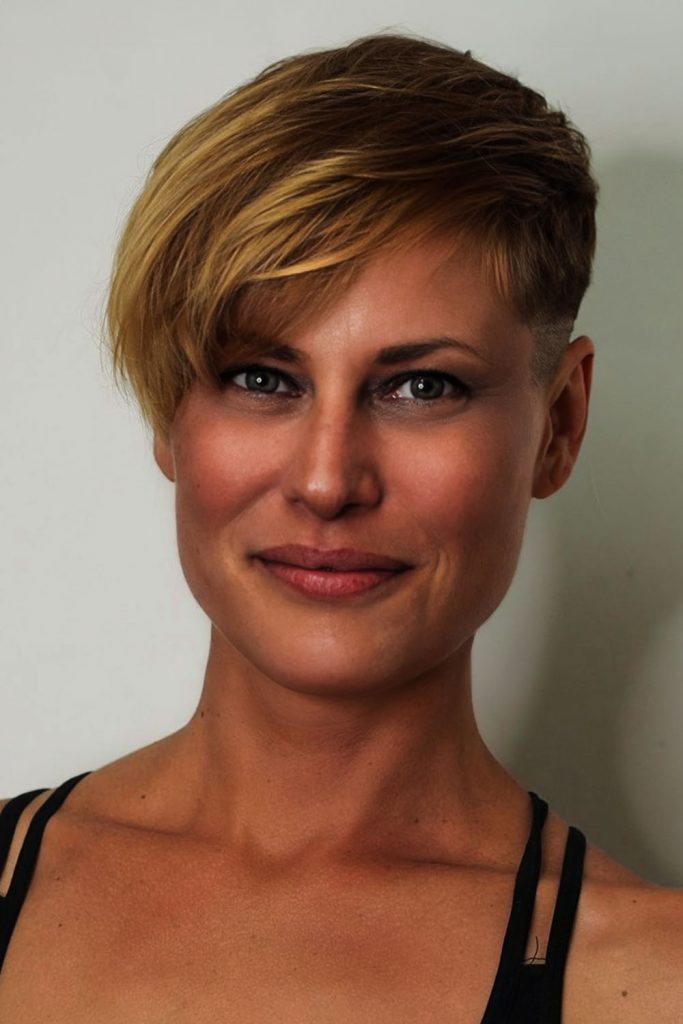 Source: shorthair.losangeles via Instagram
Don`t you think that making your hair look soft is the best way how to style a pixie cut? You may wonder how to get the soft effect? Easily! Carefully style your pixie haircut with a brush and a hairdryer to get a bit of volume. Be careful with your bangs as they are the most important part of your hairstyle. To get the desired effect for them, use a flat iron on some parts and separate them using your fingers to get a piecey effect.
Use Your Flat Iron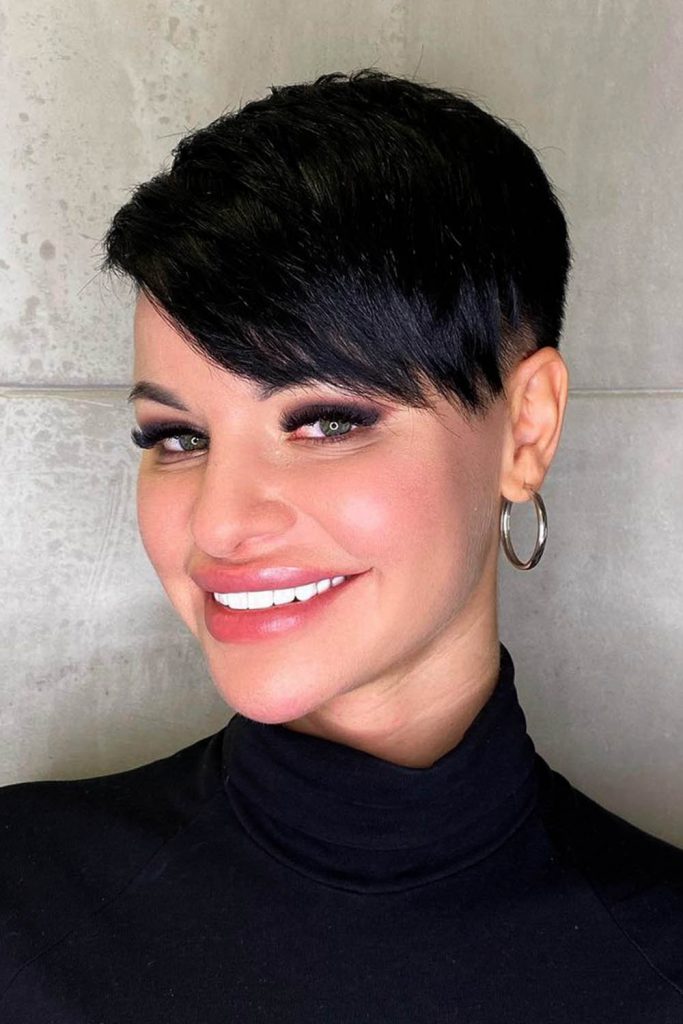 Source: kristinakatsabina via Instagram
If you still don`t have a flat iron, then get one immediately! A great tool that will help you create beautiful-looking hairstyles. We believe that if you have short hair, this tool is essential for you. Straightening your bangs that are usually longer in pixie cuts, curling some strands to get a messy effect, just anything you would like to try will be possible with its help!
Add Texture With Styling Products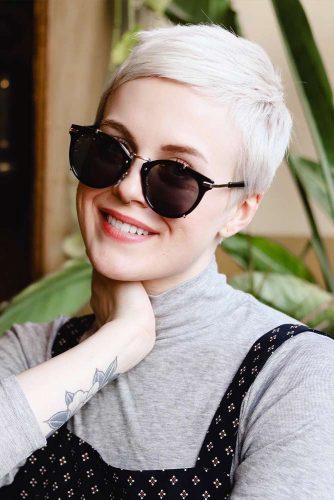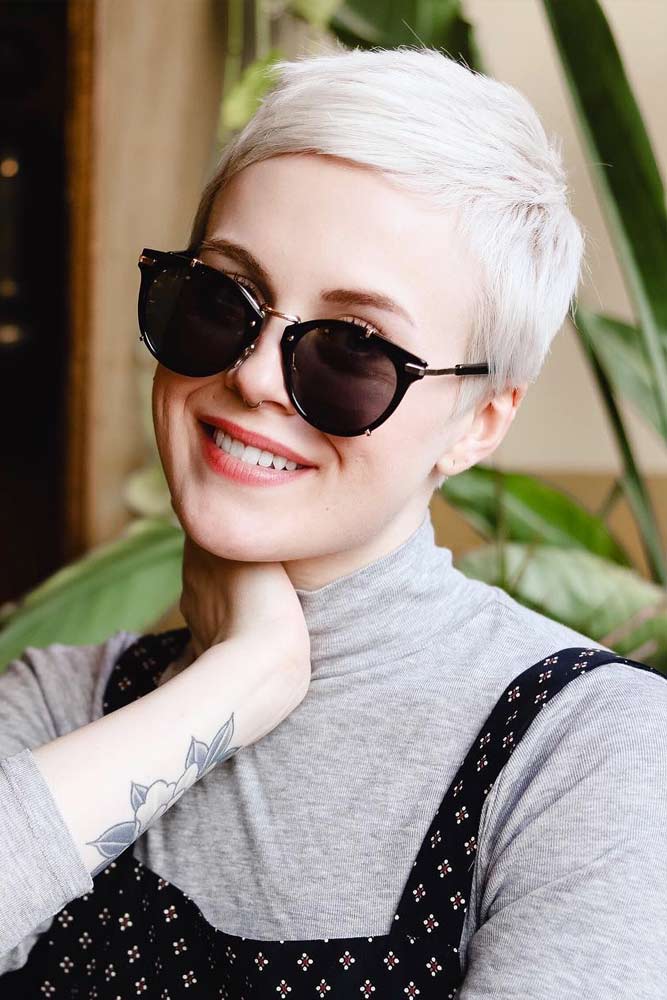 Source: sarahb.h via Instagram
The key thing you need to understand is that sometimes styling short haircut is impossible without products that will add texture. This applies to frizzy or curly hair especially. That is why don`t be afraid to use some styling products, even though you should be careful about not applying too much. There is such a great variety of products on the market now (fixing sprays, waxes or creams), so choose the one you prefer the most and be sure to look gorgeous any time!
Only Not Too Much Wax!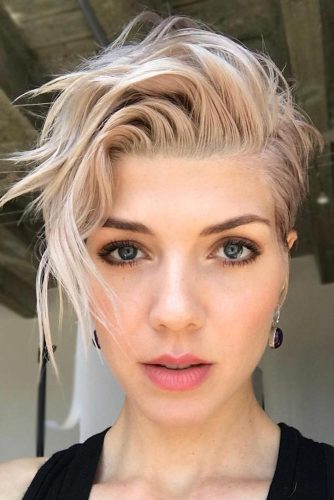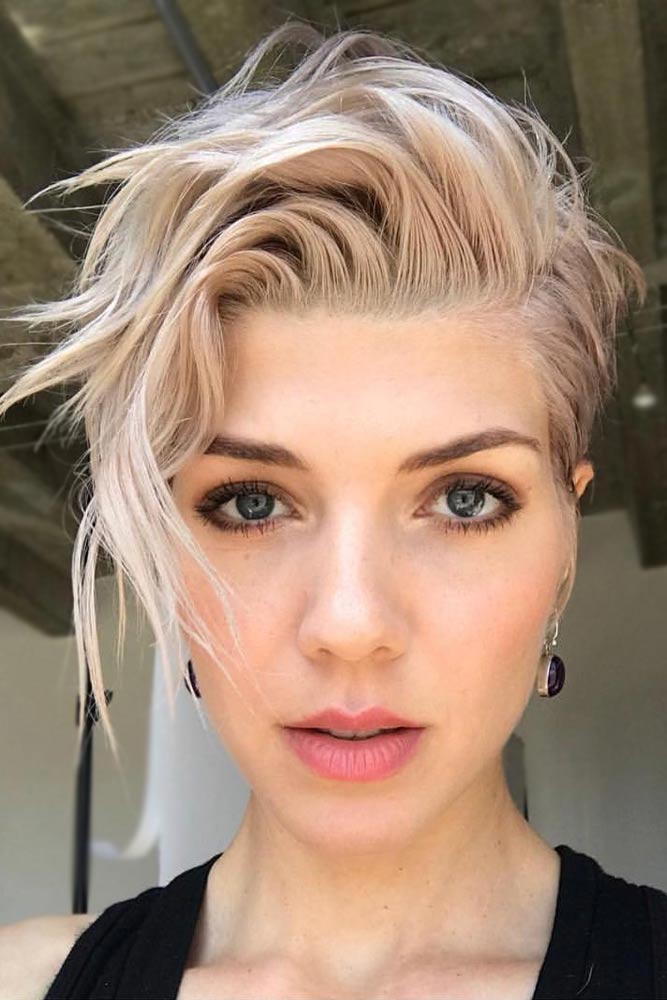 Source: marykolende via Instagram
As we have already said, styling products can be a great problem solver when it comes to messy hair that doesn`t want to be styled. However, if you prefer wax, be careful about not putting too much of it! Short hair can easily become greasy and too sleek-looking if you take too much product.
Try A Different Parting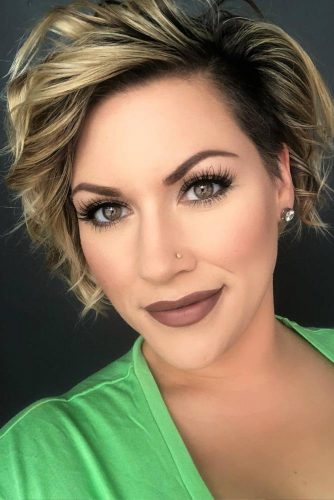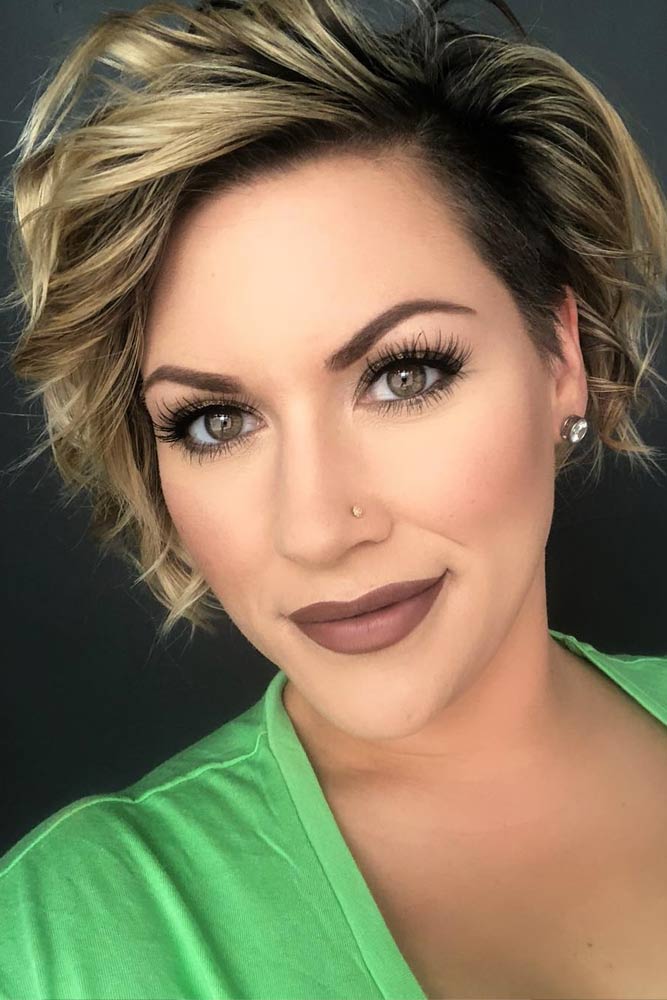 Source: carmenjayelove via Instagram
Are you looking for some ideas on how to style a pixie cut? Then this one is perfect! If one day you wake up and understand that you want something more creative, it is just fine. Appropriate for a daily basis as well as night partying, this side part hairstyle idea is great! It will definitely make you look different, bringing in something new but not making you look too much!
Add Some Volume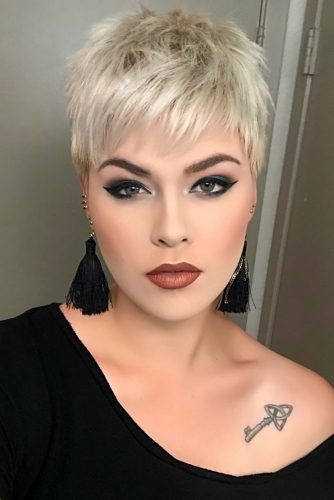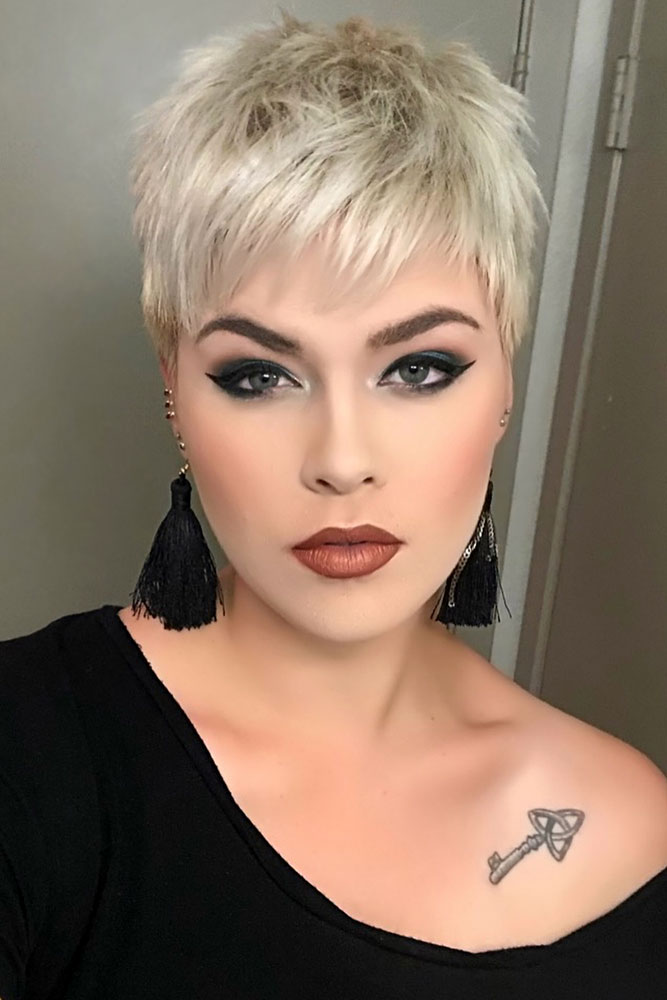 Source: strength.n.dignity_31 via Instagram
Volume is your best friend after you get a pixie haircut. Don`t you agree? Use a blow-dryer and with the help of a brush or just your fingers create a bit of volume. Fix it with some styling products and your voluminous hair will look perfect throughout the day!
Curl Your Hair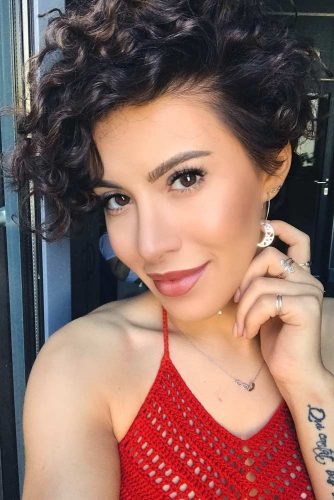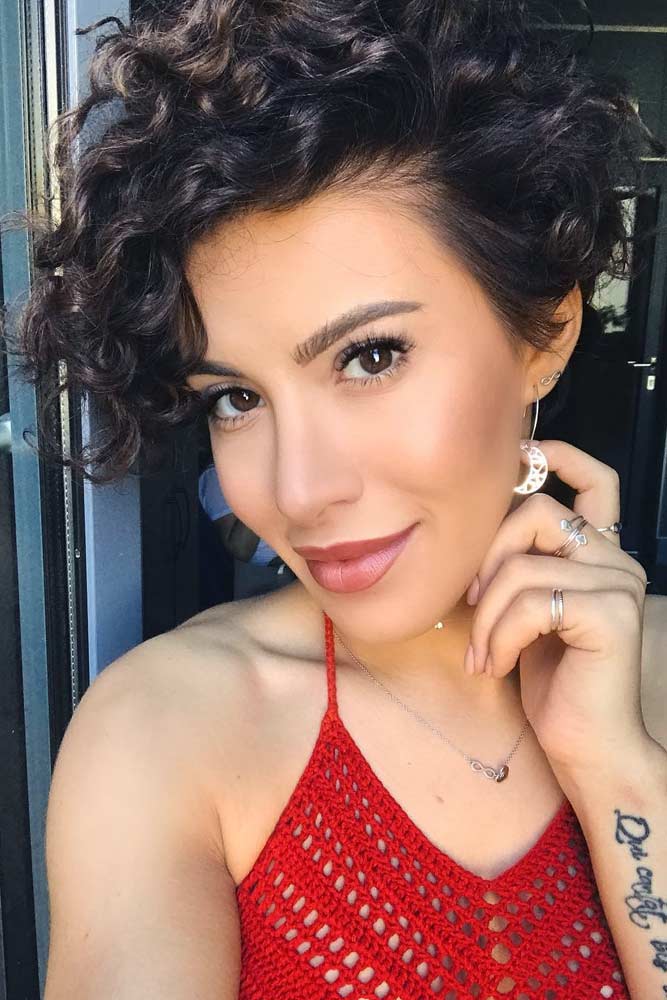 Source: nicoletanuca via Instagram
Do you have naturally curly hair? Good for you! For those who are dreaming of it, we have a styling idea. Don`t think that getting a pixie haircut means having only straight hair. There are so many tools that will help your short hair turn curly, so get creative!
Use Bobby Pins For A Party Look
Переглянути цей допис в Instagram
Source: embed.js via Instagram
Bobby pins are such a great option for those who don`t only want comfort that they bring but also something more interesting. Different ways of putting them in your hair may make you look super creative and interesting. Fix your hair with some or just use them as accessories; great, as for us!
Jewelry Headband For A Special Day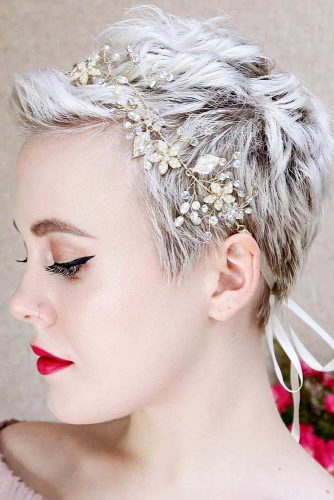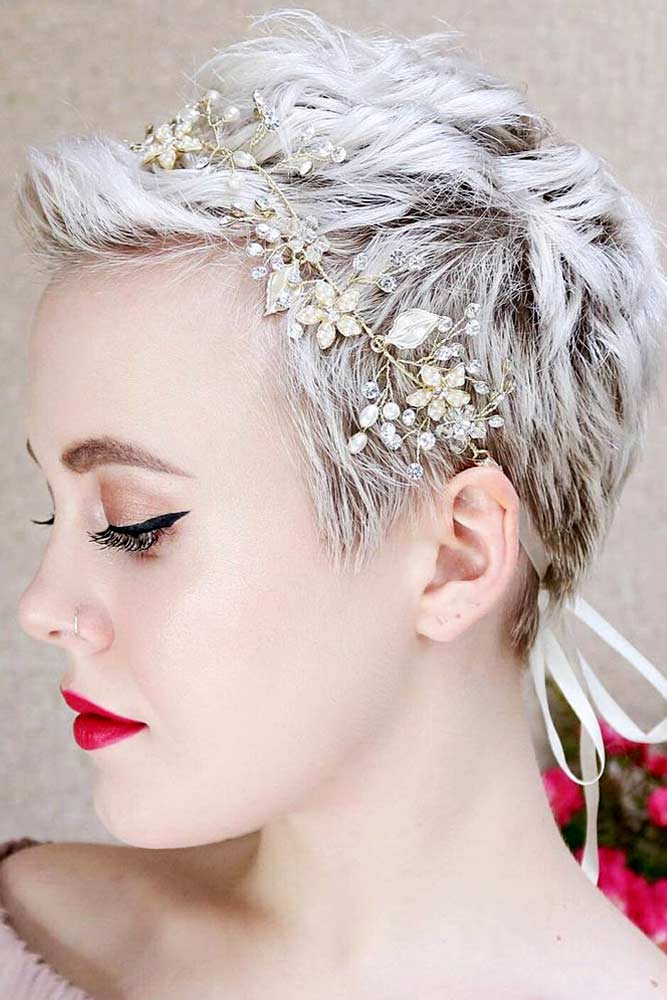 Source: sarahb.h via Instagram
Are you planning a special occasion but still have no idea how to style your hair differently for it? We believe just adding a gorgeous accessory will work so well. There are so many different options nowadays that will make you look stunning and even more beautiful. A jewelry headband will work for any hair texture, hair color or length, so try it out.
Embellish Your Hair With Flowers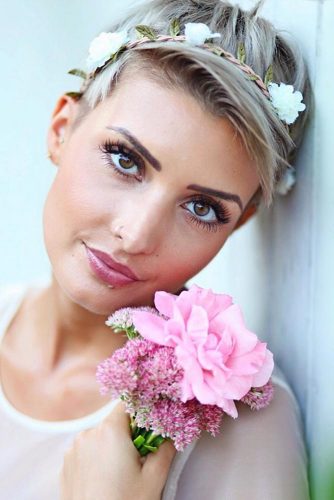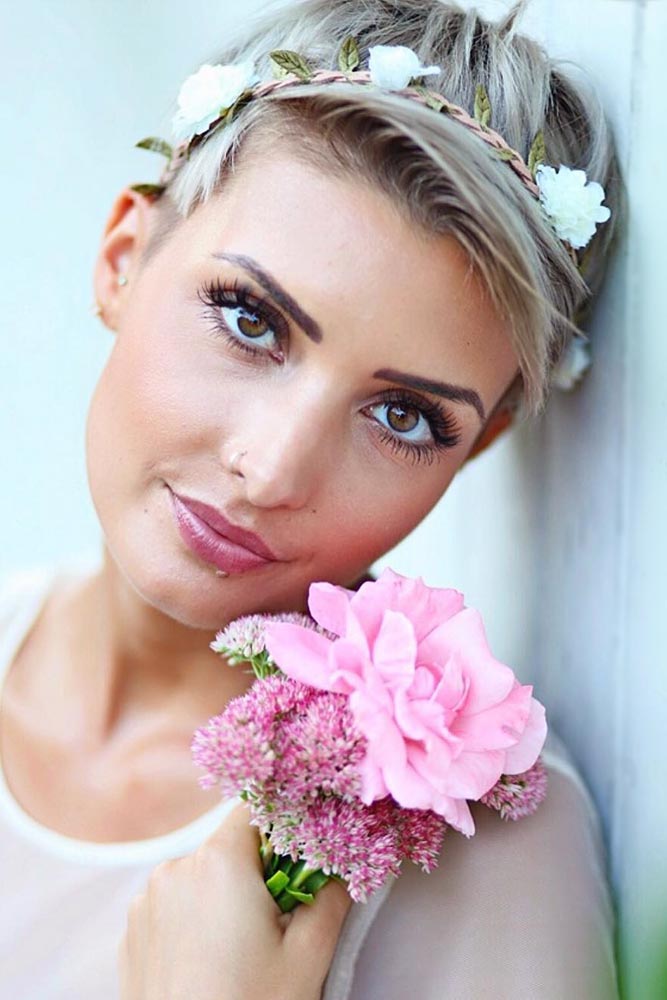 Source: jejojejo87 via Instagram
Romantic, flirty and innocent-looking idea that will make any of your desired looks appear ideal. Add flowers to your short hairstyle and, believe us, you will look fantastic! Creative and super simple at the same time, it will bring so much style to your appearance.
Braid Your Hair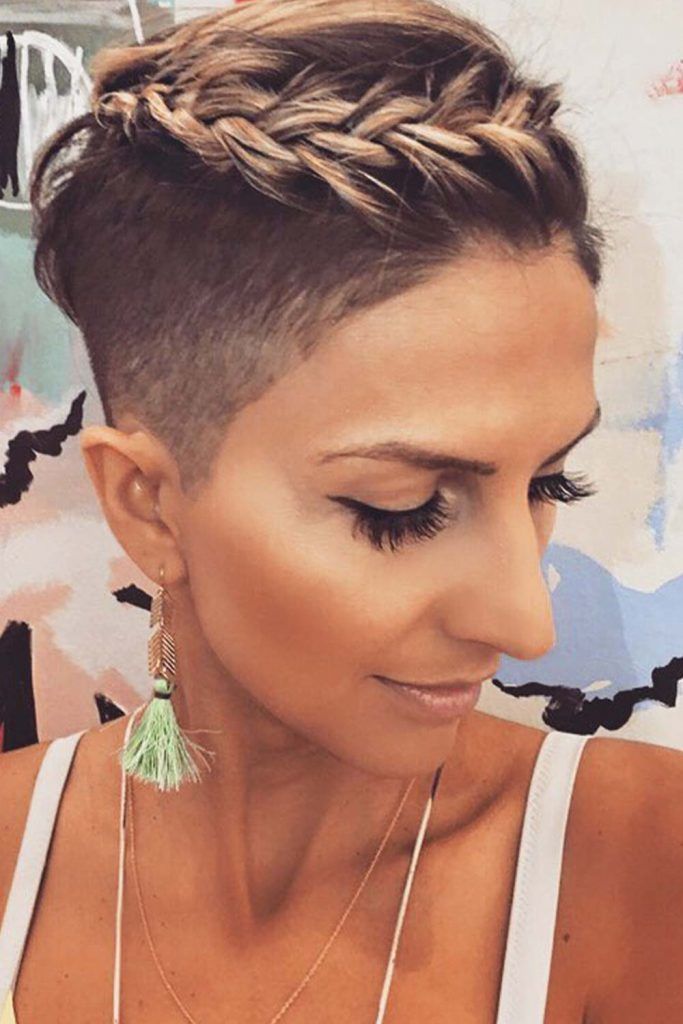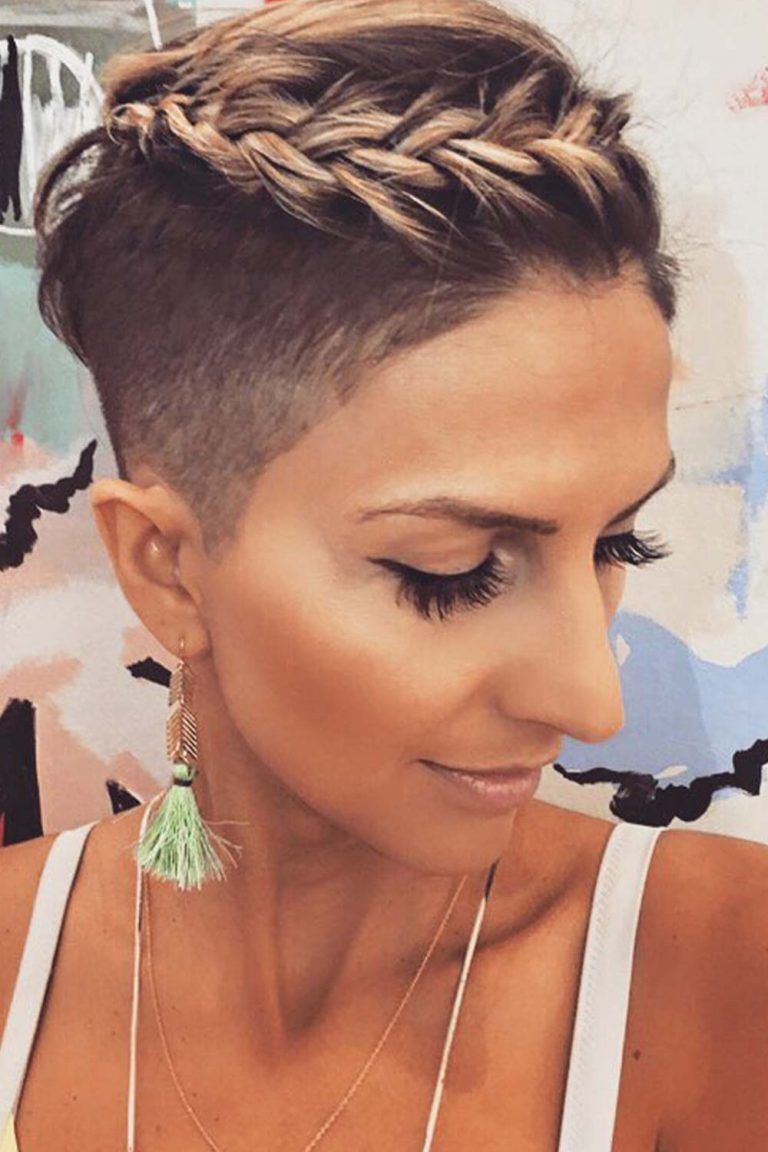 Source: alineh_a via Instagram
Don`t think than braids time is over as soon as you get a pixie haircut. Actually, braiding a few strands of hair with such a hairstyle will look even better than a regular braid. Don`t you agree? Braid your bangs or pick a few strands for it and enjoy a beautiful style.
Accessorize Your Hair With A Headscarf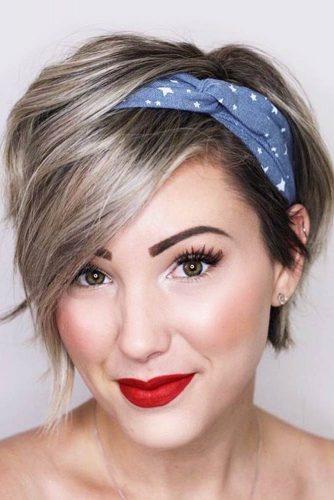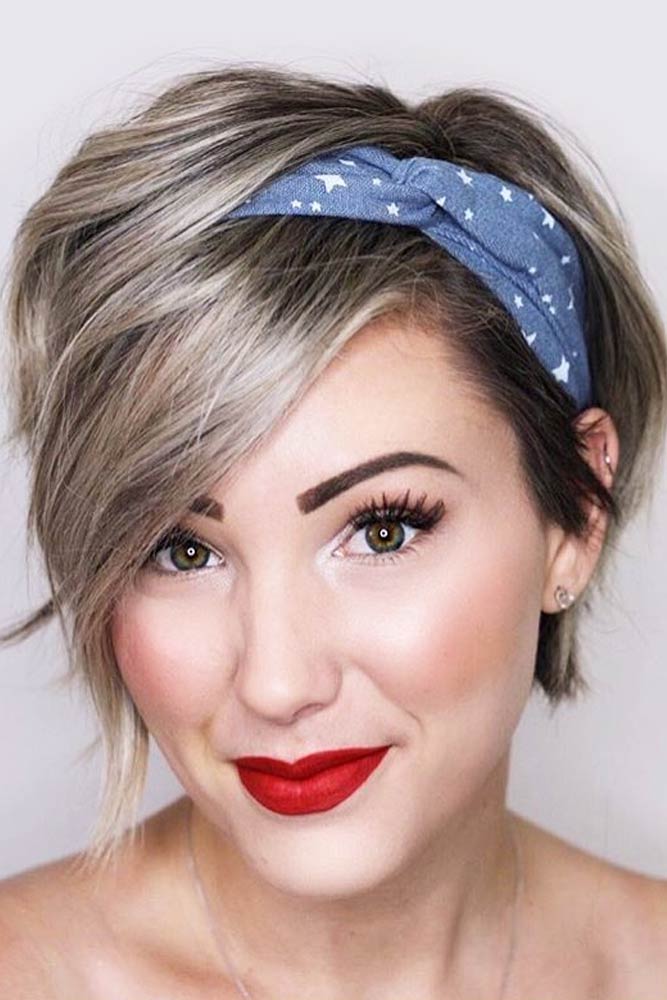 Source: chloenbrown via Instagram
Another way of adding interesting details is so simple that you will be shocked! Take your favorite headscarf and put it carefully in your hair. For it not to fall, fix it with a few bobby pins and cover it with a few strands of hair. Super stylish and creative, it is perfect for every day and night outs.
Tousle Your Hair To Have A Punky Look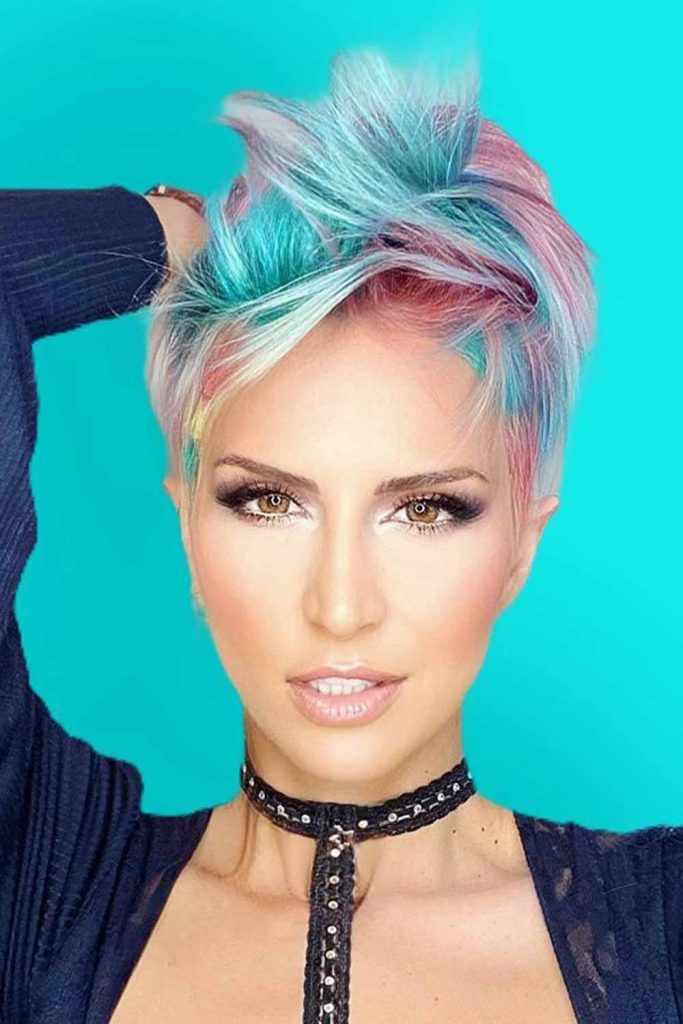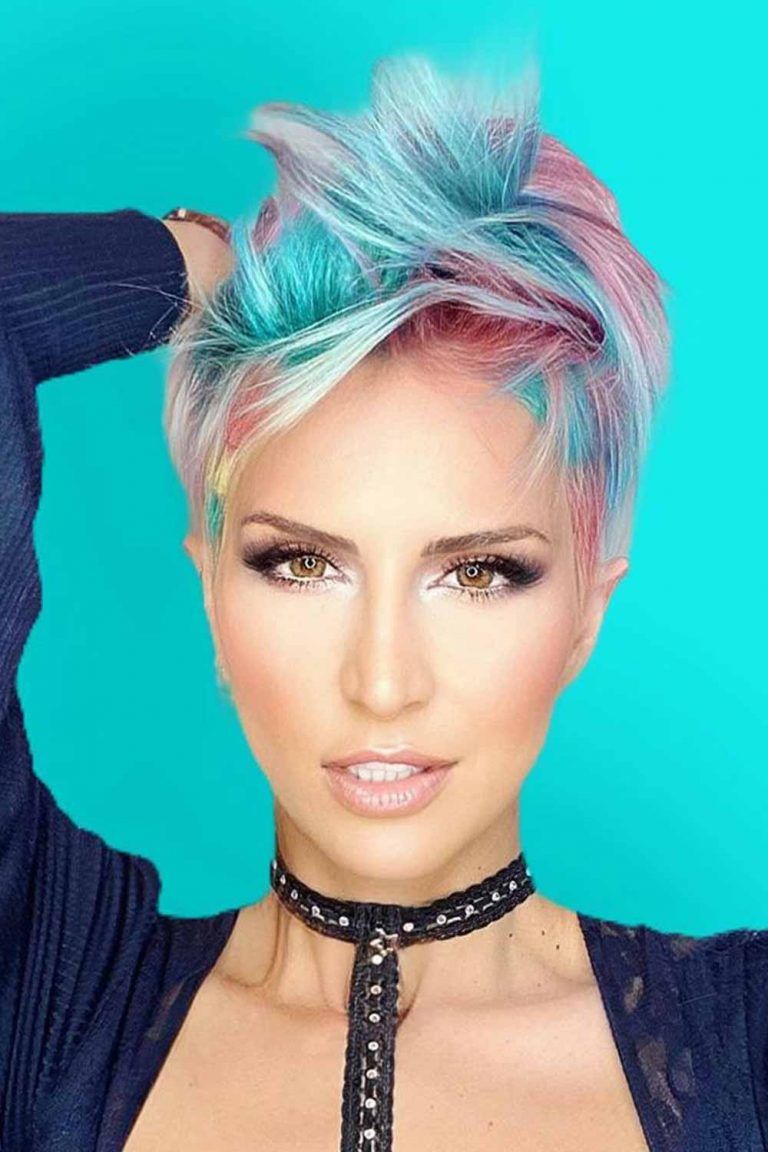 Source: hairgod_zito via Instagram
Messy hair is also a hairstyle, don`t you agree? Add a bit of messiness to your dry hair with your fingers, while styling it with a hair-dryer and the results will impress you. Fix it with hairspray or add a bit of wax while tousling it and enjoy a punky look for the whole day.
Pompadour To Really Rock It!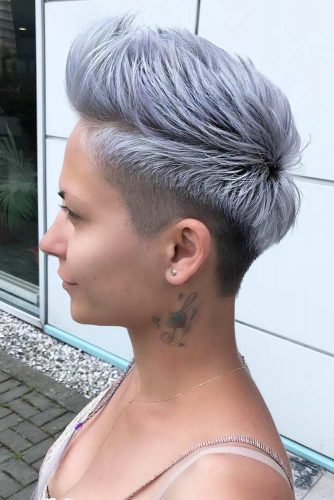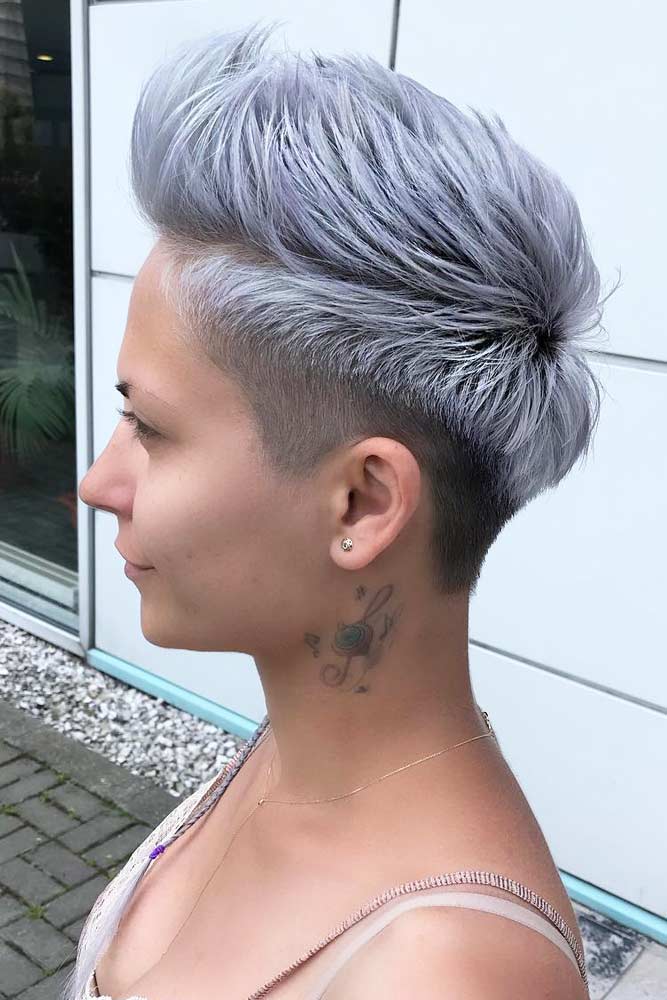 Source: anamariatilibanhair via Instagram
Are you a fan of rocky options when the question how to style a pixie cut pops? Then this one will become your favorite. Looking super dramatic and neat at the same time, this pompadour haircut will make you rock any look, bringing a cool vibe to your appearance. Style your hair backward with a hairbrush and a hairdryer, fixing it with hairspray afterward!
How To Style A Pixie Cut For Every Day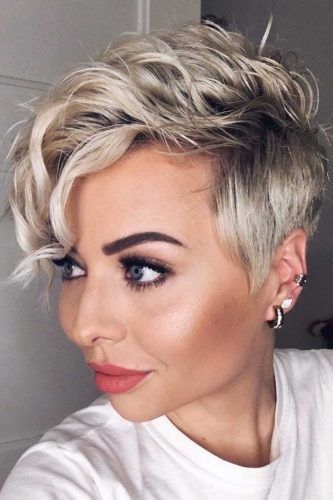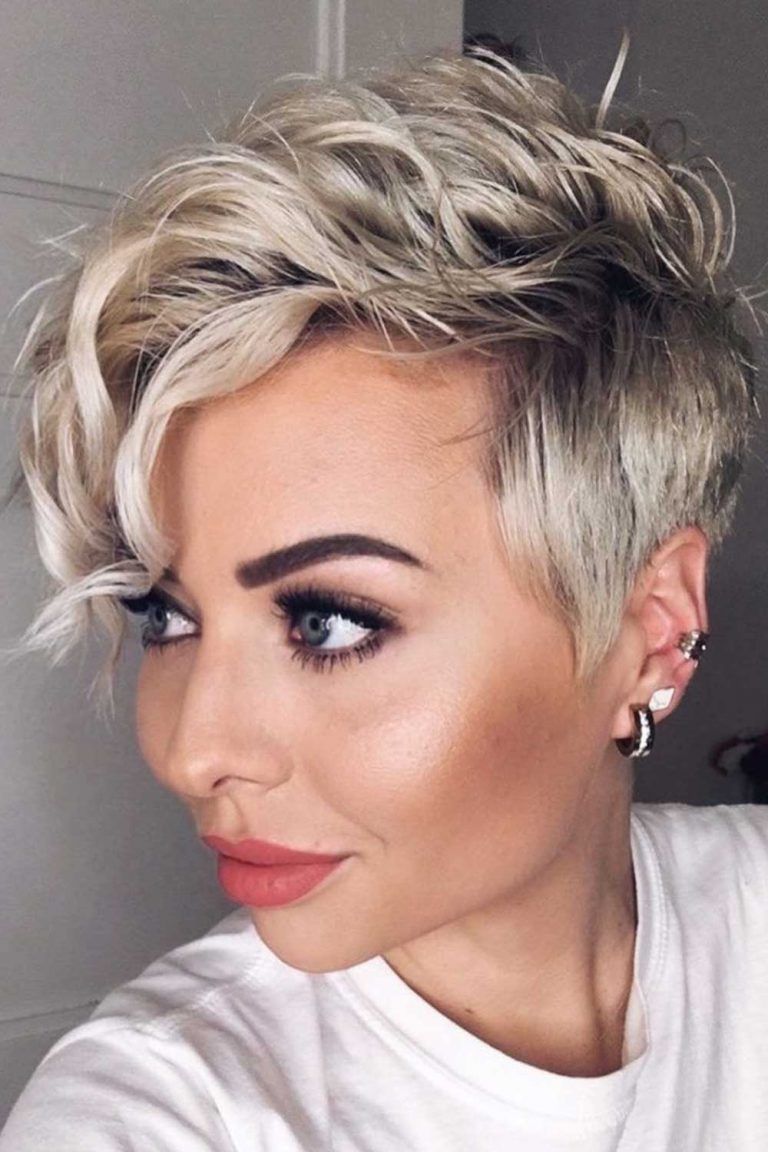 Source: alicia_wunderbar via Instagram
Styling a pixie haircut every day is much easier than it may seem to you. It will only take a few minutes and tools that you use every day. Brush your hair carefully, add a bit of volume with a hair-dryer and fix it with a styling hair product. Voila, gorgeous looking hair!
Voluminous Long Pixie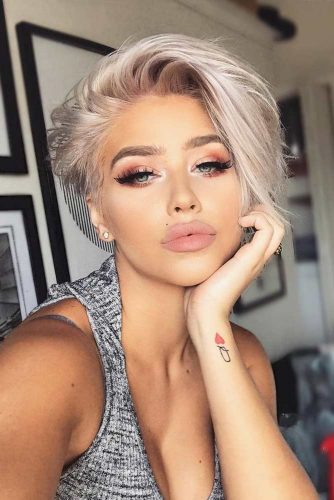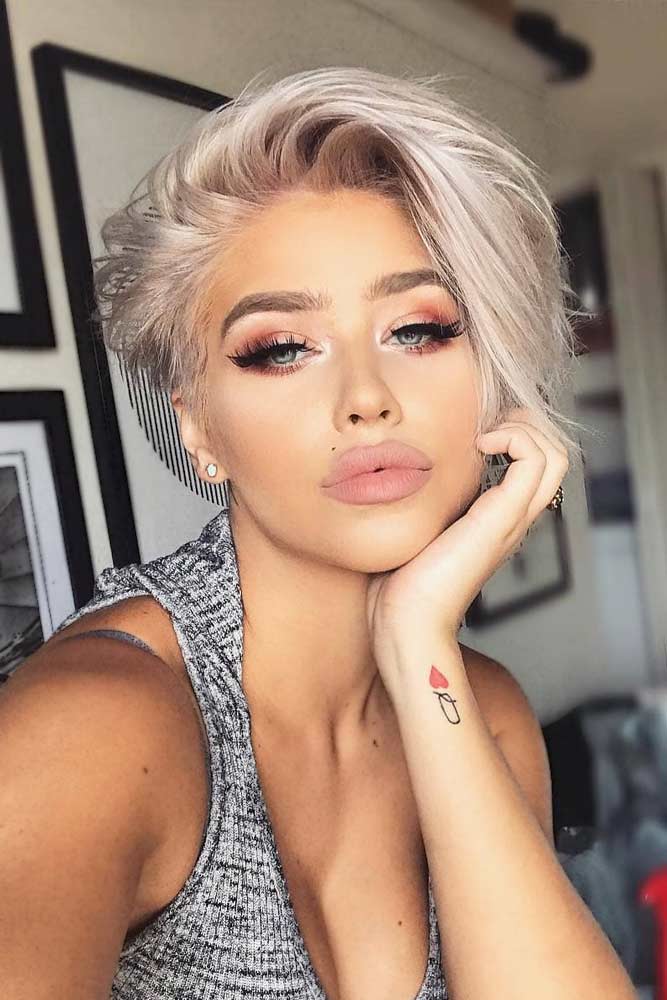 Source: autumnhartt via Instagram
The long versions of the funky short pixie are the elegance and sexiness rolled into one! It's hard to take eyes off the volumetric, dramatic silhouette created with the disheveled longer side. Yes, length contrasts are gorgeous!
Short Pixie With Punky Bangs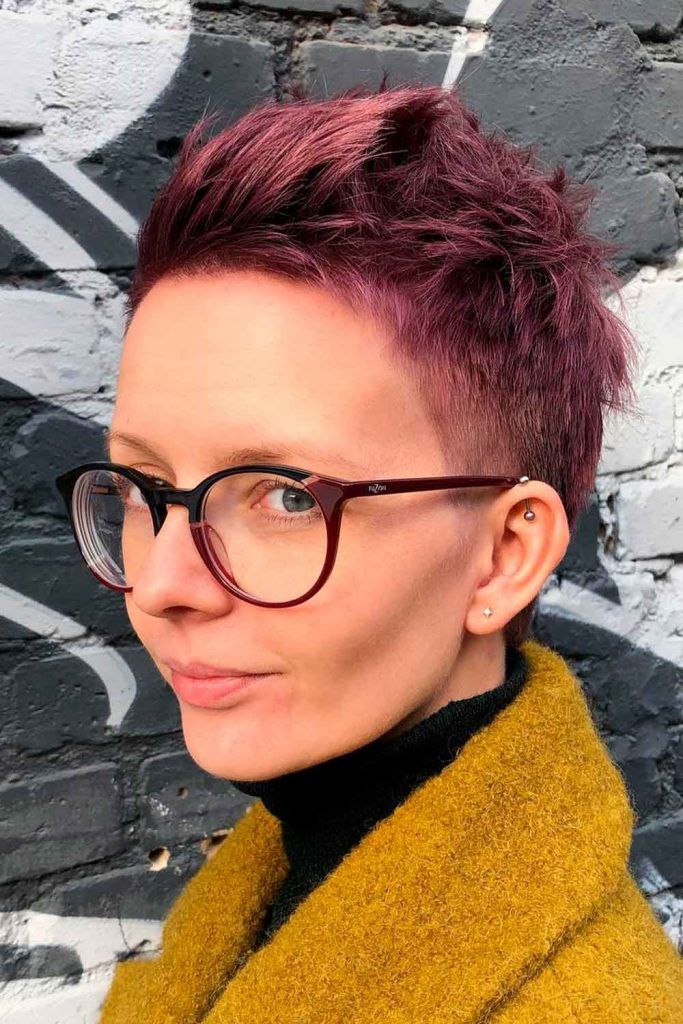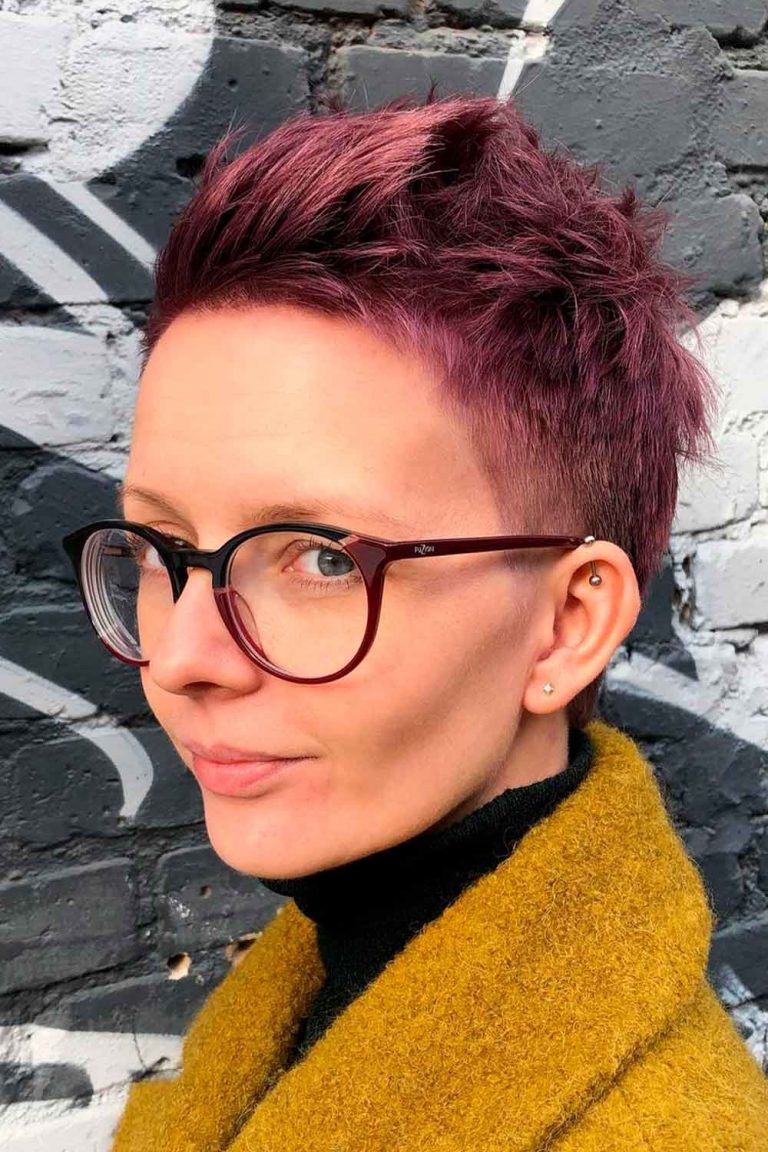 Source: cut_and_color via Instagram
How about a short, carefree pixie that screams about your relaxed nature? Wearing a hairstyle with short sides that smoothly transit to wavy, tousled top is a perfect way to provide yourself with a sassy look and simple styling routine at once.
Deep Side Parted Pixie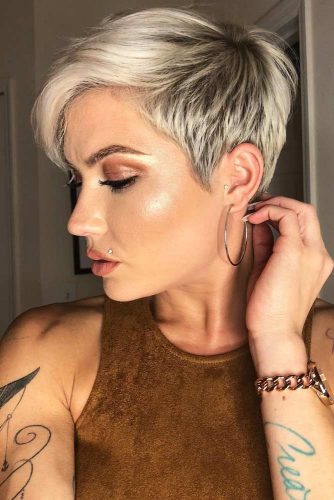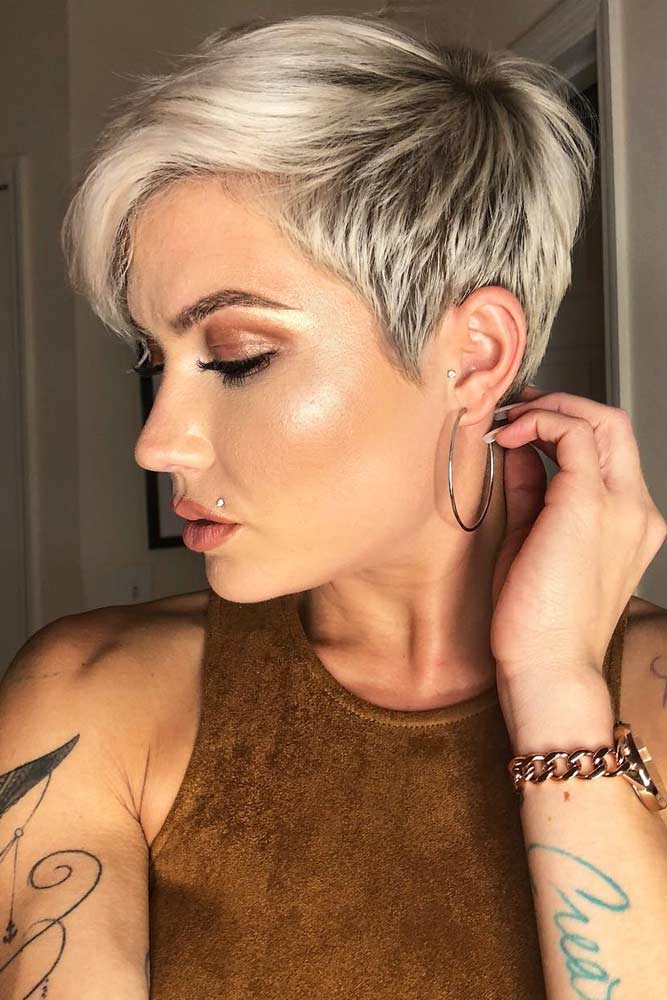 Source: sky_eyes_ via Instagram
A deep side part that enhances the texture of you pixie, creating a bit outweighed look, is one of the most popular and trendy pixie styles. Some girls also opt for side texturizing to diversify the overall texture and add a contrastive charm to it.
Sleek Short Pixie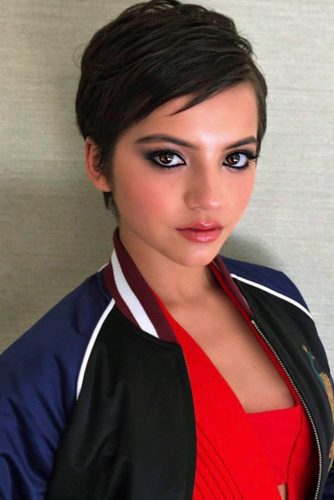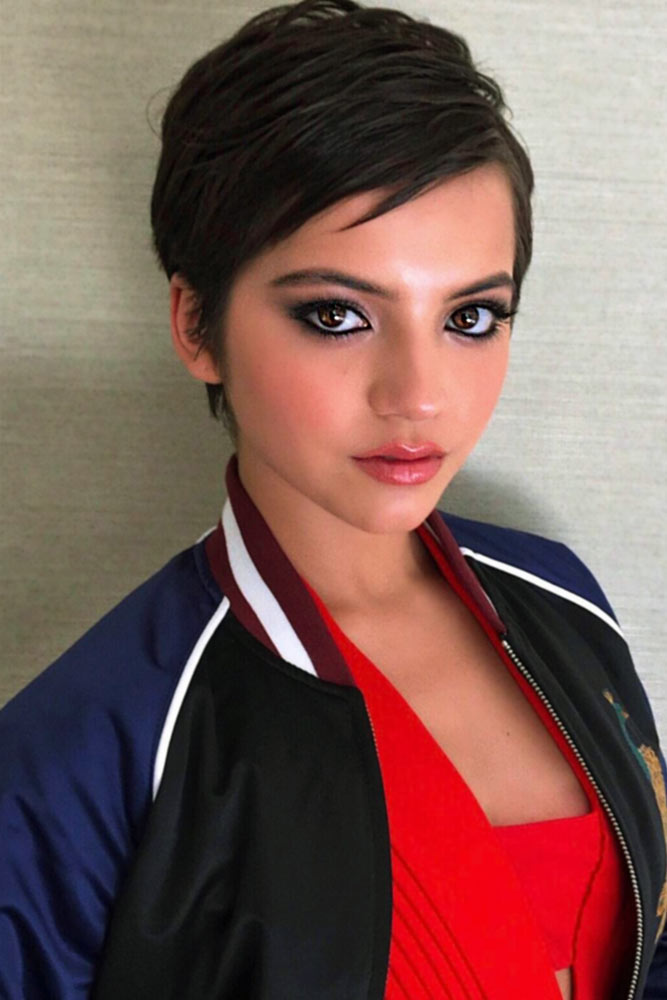 Source: isabelamoner via Instagram
Love minimalistic hairstyles? Don't look any further than sleek styling for your short pixie! Such hairstyles can show off the beauty of your hair, while the soft, clean silhouette emphasizes your best facial features.
Asymmetrical Pixie With Undercut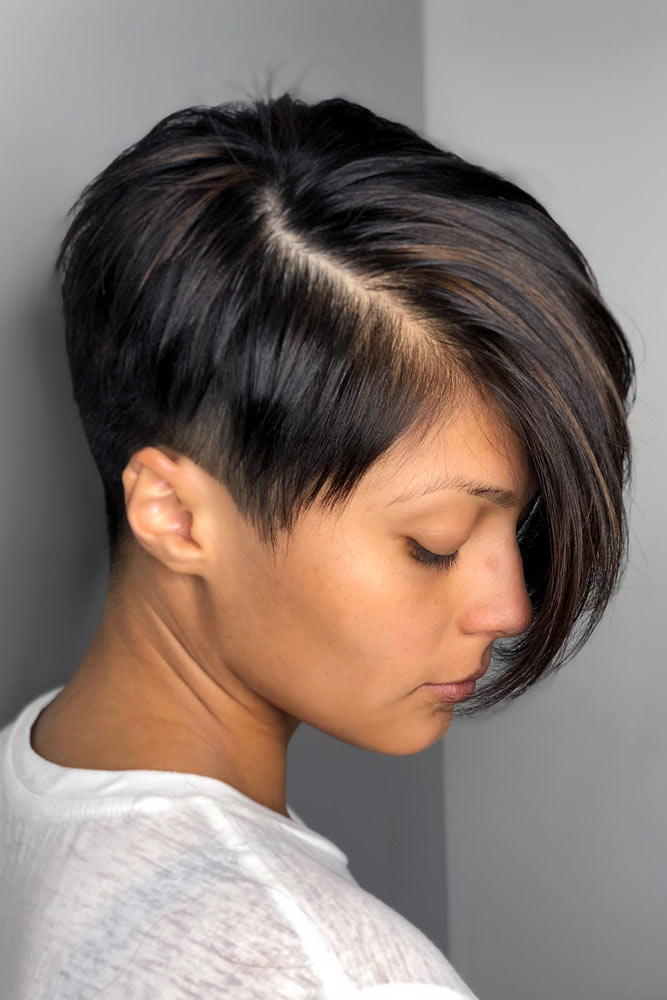 Source: jeswarhair via Instagram
Here comes probably the most daring idea ever: the asymmetrical pixie with a bold undercut. There's no better way to stand out than to wear a style where sides and back are tapered short, transiting to the longer, imbalanced top.
Wavy Shaggy Pixie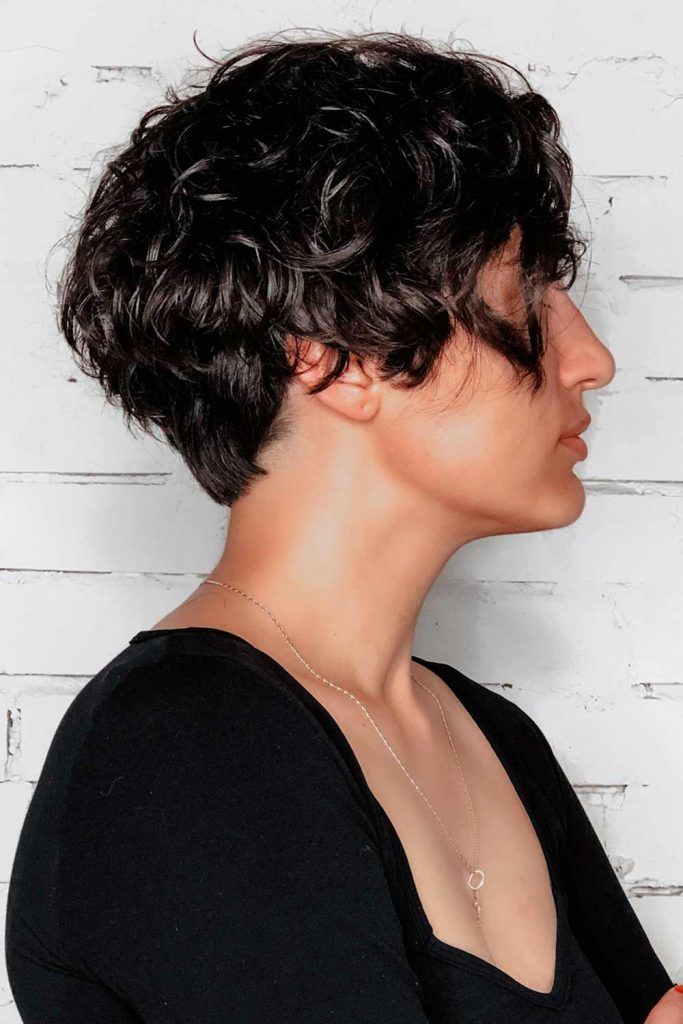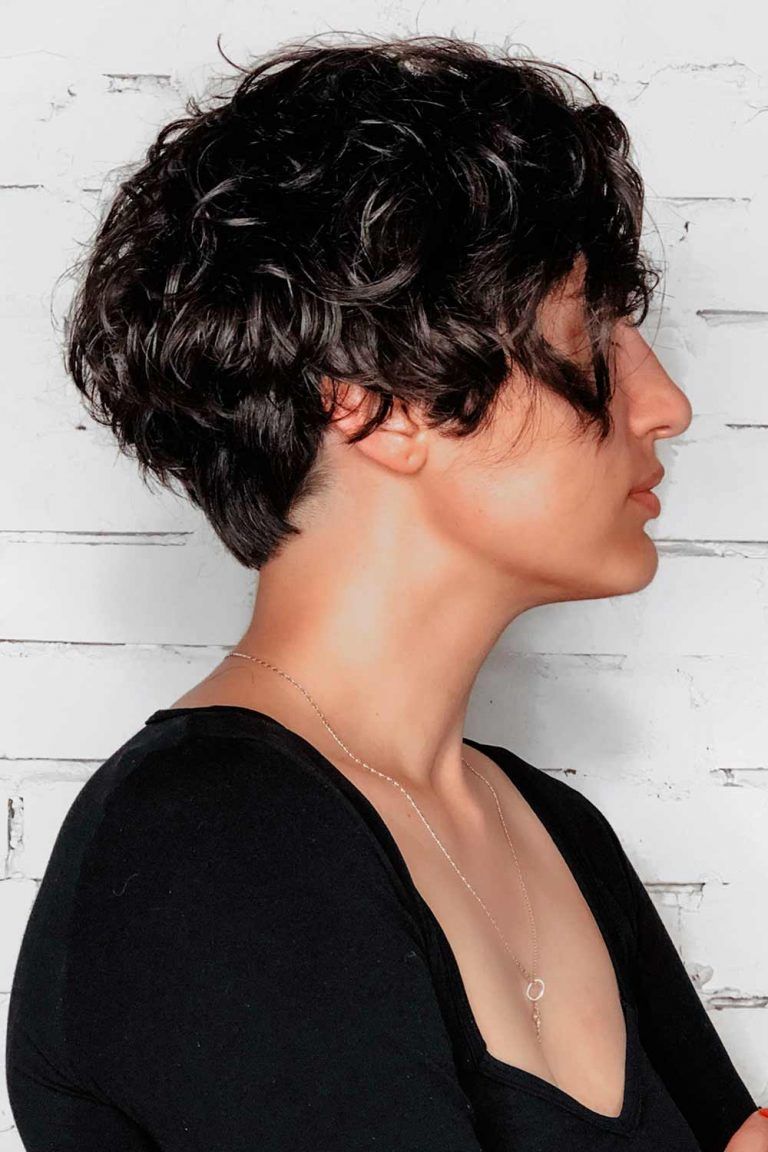 Source: cut_and_color via Instagram
Shag hairstyles are all about flirty, volumetric layers that can put an end to flat looks once and for all. This modern, tousled hairstyle is a wonderful choice for women of all ages and tastes, so don't hesitate to try it; there's no way it won't suit you!
How To Style A Pixie Cut With Voluminous Waves

Source: Chloe Brown
Would you like to get a tutorial on how to get voluminous waves easily for every day? Here it is:
Prime your hair with some hair oil or serum to get a bit of texture and shine.
Add a bit of volumizing spray that will make your hair bouncy after blow-drying it.
Blow-dry your hair, using your fingers to give it a bit of form.
Comb through the completely dry hair and part your hair into two sections: upper and bottom ones.
Take a flat iron and straighten the hair from the bottom section down.
Section the upper part into two and curl the strands of hair down away from your face with a straightening iron by twirling it around.
Straighten the strands of hair that are closer to your face.
Spritz with some texture spray.
Take the upper section of your hair and part it as you usually wear it.
Then curl your hair in different ways. One strand towards, another away from your face.
A great tip for those who want more volume would be to add a bit of dry shampoo.
Undercut Pixie For A Festival

Source: Sali Rasa
Are you looking for a great styling idea for a festival look? We have the one that will be great for your undercut pixie:
Section your hair into two parts and spray it with some heat protectant.
With a thin curling iron, start curling your hair from the back and go up to your face.
Run your fingers through your hair to separate the curls.
Take a few thin elastic bands and fix the curls together with their help all through the upper section not tying them up too much. This will help your hair to stay in one place during the day.
Spread the tied hair a bit so that the elastic bands are unnoticeable.
How To Style A Long Pixie


Source: Dominique Sachse
Have you been intimidated by the question how to style a pixie cut? Then don`t ever be again, cause we have some great instruction for your styling routine.
Blow-dry your wet hair from the back to the front with running your fingers through it.
Add a bit of volume with lifting your hair at the roots while blow-drying.
When your hair gets medium dry, take a big hairbrush and start pulling through your hair forward and up repeatedly while continuing to blow dry it.
At the bottom section, do the same action as in the front but pull the hair down and to the back.
Style the dry hair with your fingers and put any fixing hair product you prefer to make sure your hair stays in place for the whole day.
How do you feel about getting a pixie hairstyle now? As you can see, there are so many options how to style a pixie cut that it won`t be a problem for you. Whether you are just getting ready in the morning, for a special occasion or for a night out, there are always some styles that will look gorgeous on your hair. Try them out and look beautiful, stylish and creative any time with your gorgeous pixie haircut!
FAQ: How To Style A Pixie Cut
Is it easy to style a pixie cut?
Pixie cuts are quite versatile. You can style them in a variety of ways, depending on whether you want to go for a classic, edgy or retro appearance. Start with just washed hair for a wet-looking pixie. Part in the direction you want and apply some shine inducing oil to strands. After that, apply a mild gel to the entire head. To avoid a helmet look, use a gentle hand and go with the grain to keep the hair flat.
Do pixie cuts make you look younger?
Since a pixie is a short haircut with longer hair at the top, which can sometimes be long enough to create bangs, it shows off your ears and earrings. A pixie haircut can refresh your look and make you appear younger by emphasizing your features, particularly your eyes and cheekbones.
Was this article helpful?