Short haircuts for women can be a huge dilemma, especially for the owners of long and thick hair. To tell the truth, do not be afraid to experiment a little. If you won't like your short cut, you can return to your long hair in a couple of months. By the way, short haircuts for curls look even better. Thick curly hair is extremely difficult to style because of its texture. Short hair will be perfect for this type of curly texture, and any other textures as well. Now, let's check out how short hair can help you take it up a notch for your look!
Hot and Spicy Ideas for Short Haircuts for 2024
To stay ahead of the curve on the latest short hair trends for the upcoming season, we enlisted the help of professional hairstylist Olga Markuse, and here's what she had to share:
Expert about Short Hair Trends
The 2024 short hair trends are all about lived-in layers, face-framing and embracing your natural texture. We see a strong resurgence of the '90s trends with piecey bangs and Hailey Bieber's inspired contoured bob. Deep side parts, along with side-swept bangs, are bringing us another nostalgic breeze. A bixie cut, the hybrid of a bob and a pixie haircut, has retained its popularity and going to be big in 2024. Talking of bobs, a bottleneck bob is one of the hottest short hair trends this spring. Finally, androgynous haircuts– from a buzz cut to a mullet, are experiencing a steep rise in popularity.
Short Mullet Style
Sure thing, we could not leave you without a dose of inspiration. So, we have picked out the most attractive and bold short haircut ideas that are going to be all the rage in 2024. Now the only thing you need is to choose the style that resonates with you most and ask your hair stylist for a fresh hair look.
The Wolf Cut
If you cannot decide between two trendiest haircuts, namely a shag and a mullet, there is no need to. Why choose when you can have them both? The wolf hair cut borrowed the best features from both – a shag's layered top and a mullet's elongated back, resulting in an extremely daring and fashionable look. And do not forget to complement the wolf cut with bangs, which help to pull everything together.
Bixie Haircut
Credit photo: shutterstock
i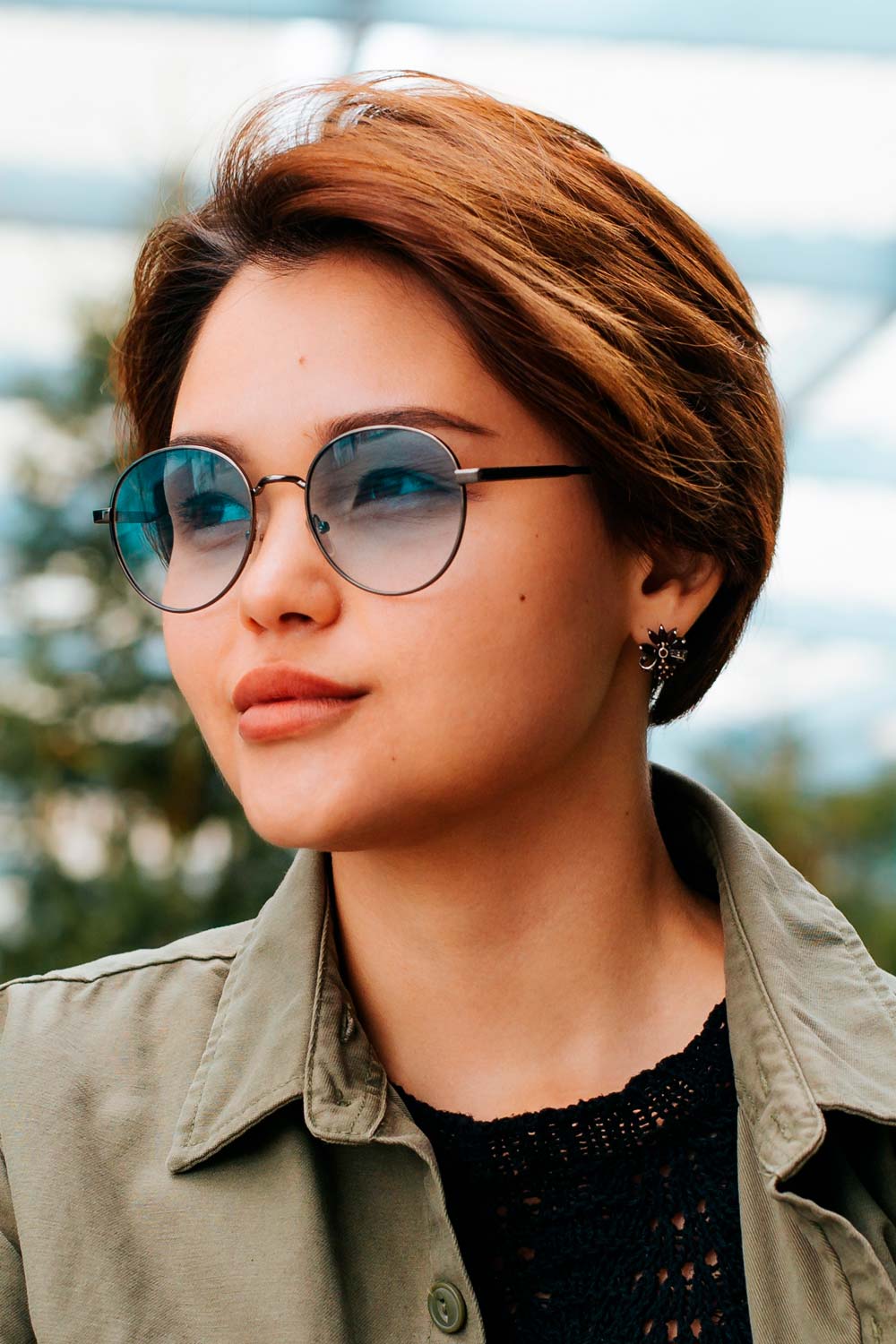 /
A bixie haircut is a perfect option for those who want to upgrade their traditional bob but are not ready to commit to a pixie cut yet. It is still pretty short, thus low maintenance, but the length is moderate enough to suit any ambiance and look flattering no matter your face shape. What is more, a pixie bob, aka bixie, pairs nicely with side bangs.
Stacked Bob with Long Tresses
One of the best things about a stacked bob is that it works wonders for any hair type. If you have thin locks, stacked layers in the back will help you to create an illusion of a full head of hair. Women with thick hair will feel much relief after getting their locks thinned out. To accompany your wispy bangs, leave the strands that frame your face longer than you normally would.
Shaggy Cut with Bottleneck Bangs
Credit photo: instagram.com/tomsmithhd
i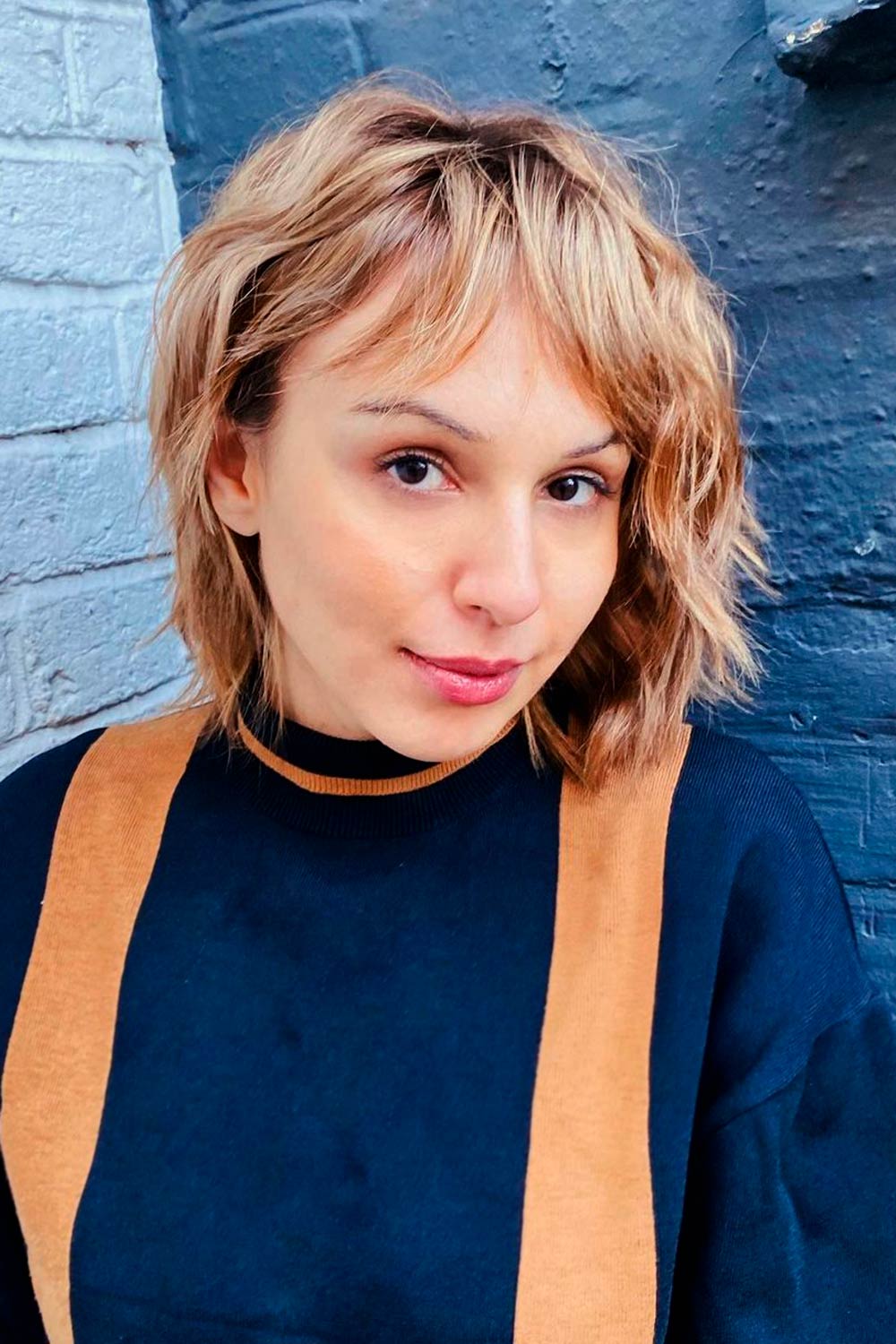 Credit photo: instagram.com/kawaicat_white
i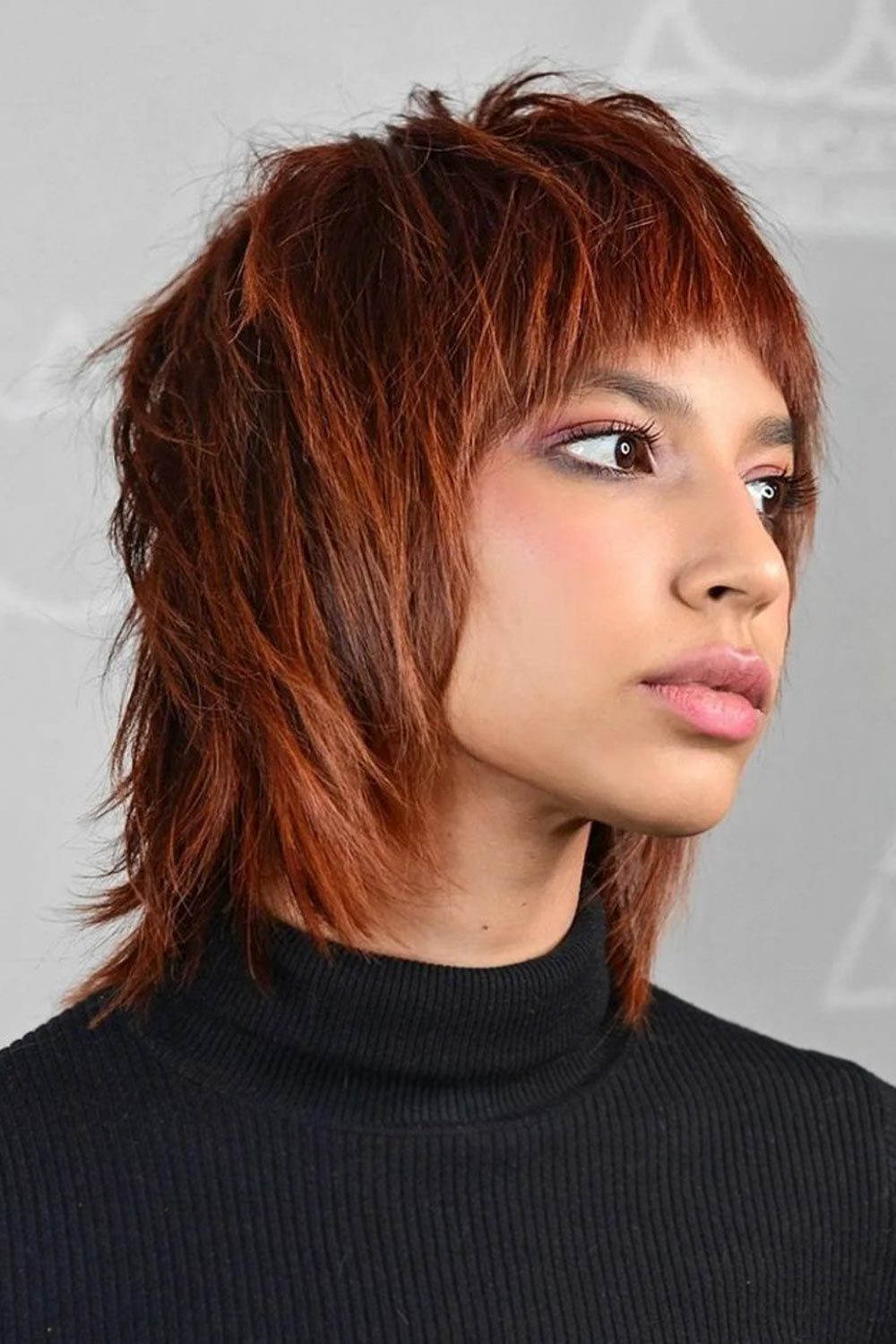 /
Curtains bangs, which were all the rage not so long ago, have to move over, giving way to a new trendy haircut – bottleneck bangs. One of the coolest things about them is that they skim your eyebrows, thus keeping the focus on your eyes, while the wispy strands on the sides create a perfect face framing effect. You are free to team the cut with any hairstyle you like but to pull off a really fashionable look, get a shag.
Ultra Modern Buzz Cut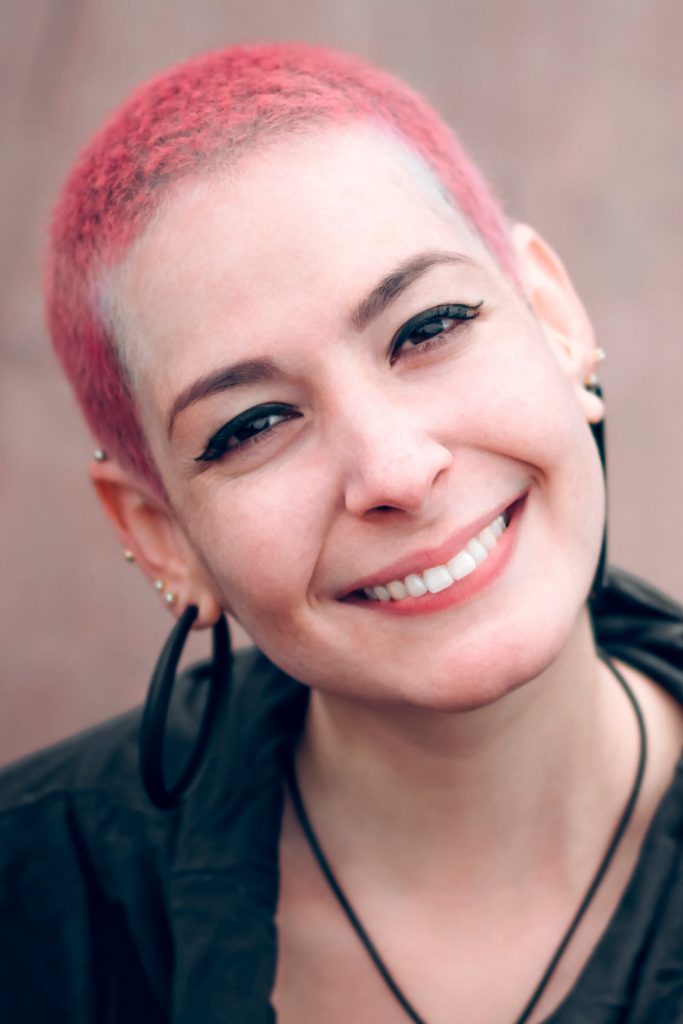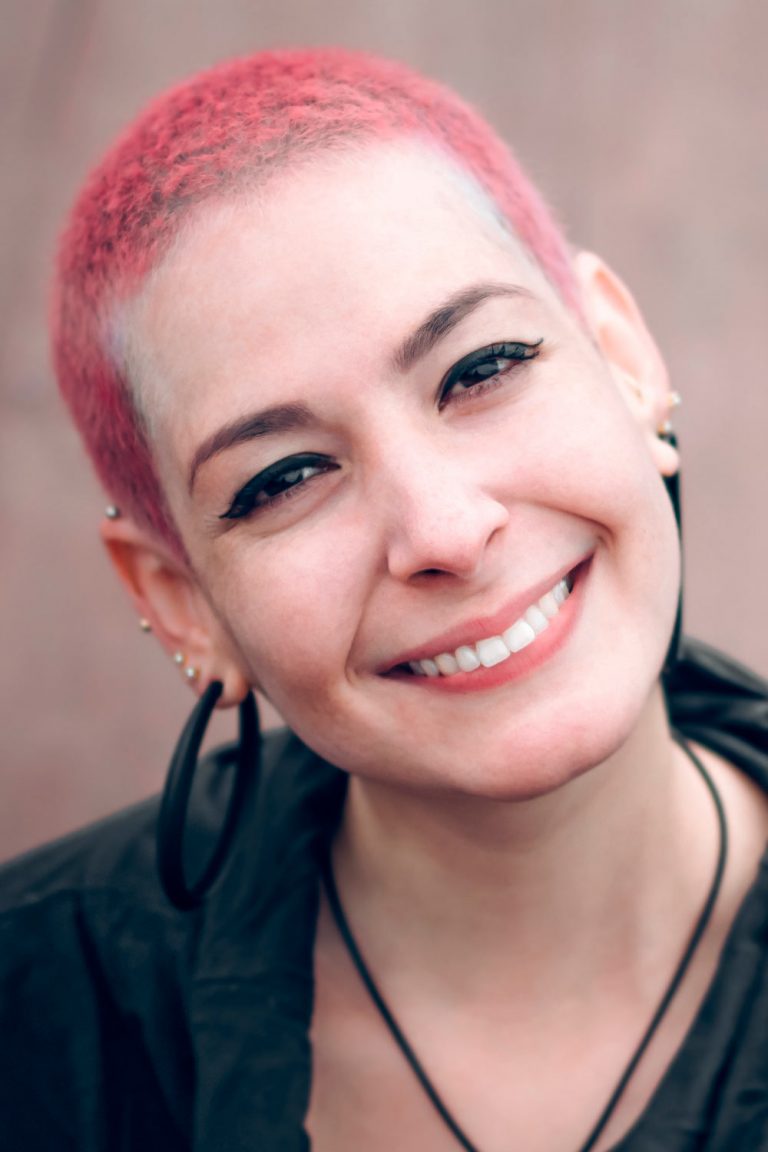 Credit photo: instagram.com/snejana_sam
Some girls don't even have the guts to imagine themselves rocking a buzz cut, so we can officially add this haircut to the dictionary as the synonym of true daring!
As it turned out, if you buzz off the whole length and leave just an inch of it, you will still look gorgeous: nothing can hide the femininity that bursts inside you. In fact, such a modern cut suits women who are absolutely comfortable with their face shapes and are not afraid to show them without framing details.
With a good shade on the top, the right makeup on the face, and fancy earrings, you simply will nail modernity! Needless to say, it's a fun rest from the tiresome styling routine.
Deep Red Crop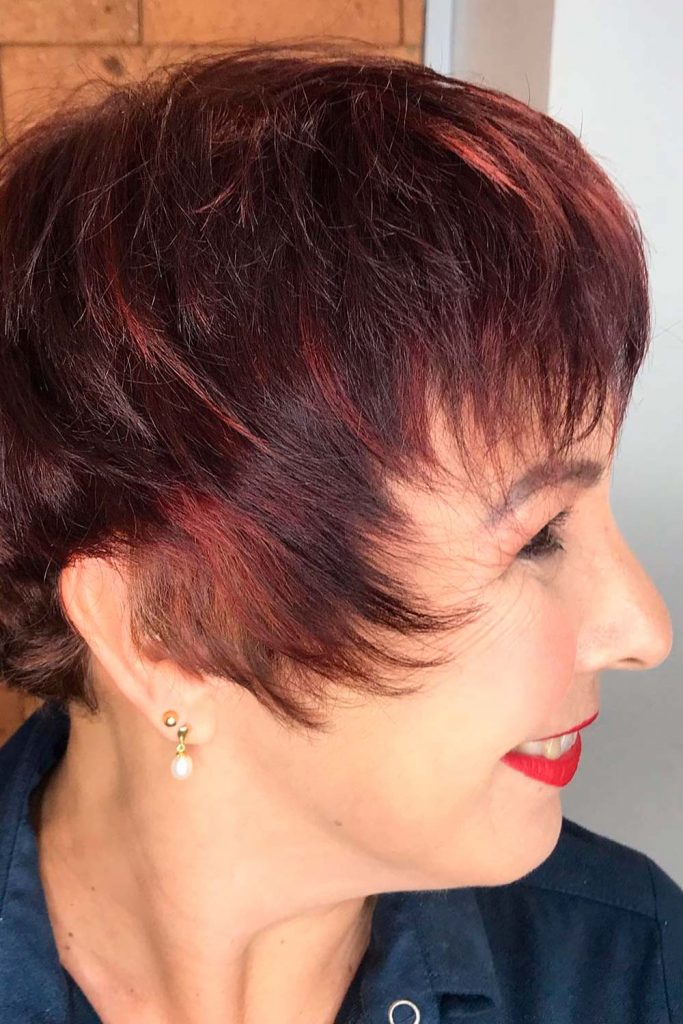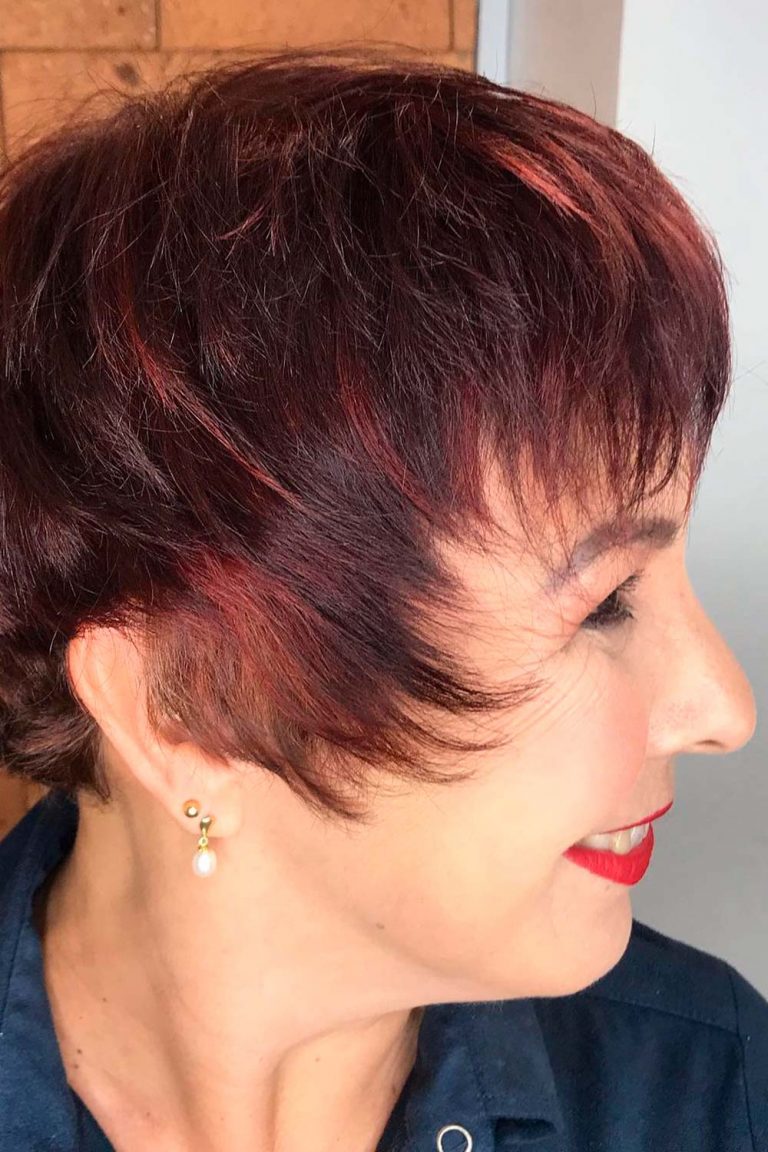 Credit photo: instagram.com/lucia.beauty88
If you prefer relatively simple short haircuts for women, such as a crop, you can play it up with the help of a bold hair color. Deep red looks fantastic on a cropped cut with layered bangs. It does not require intricate styling or anything, as the color does the job for you.
Tapered Haircut With Shaved Side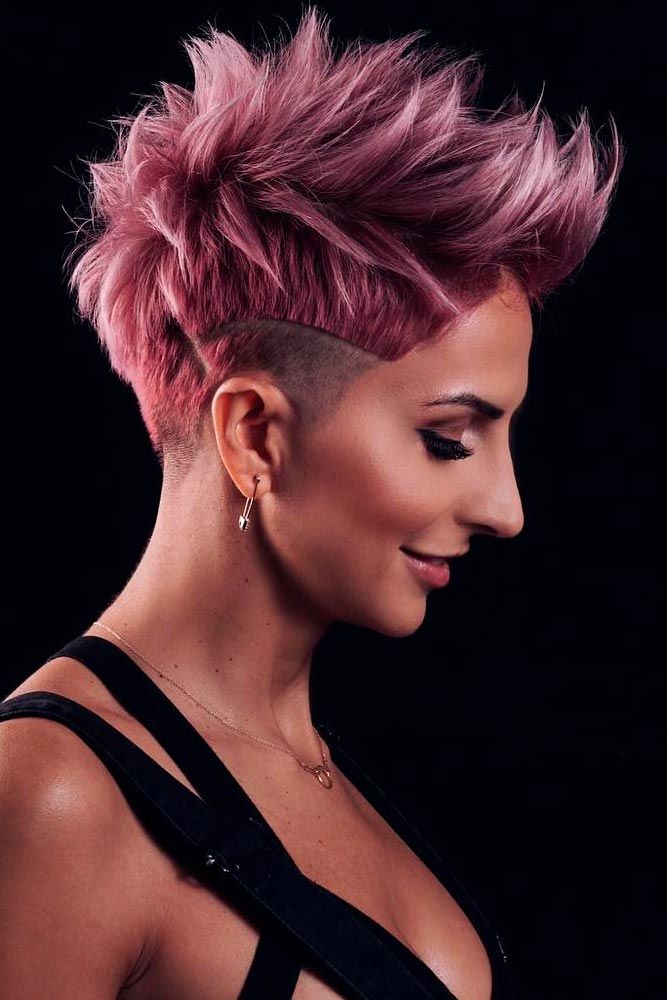 Credit photo: instagram.com/alineh_a
This particular style is a very bold and daring one. The seeming unicorn look has a classic taper hair cut with a poufy top. What is more, this side shaved and lined color palate is the epitome of one who is not concerned with others' opinions of them. While this style would not be widely accepted on the corporate scene it is a fun style for a more relaxed work environment. The use of multiple hair colors and lined out sections on this cut make it even more thought-provoking.
Brave Short Haircut With Shaved Sides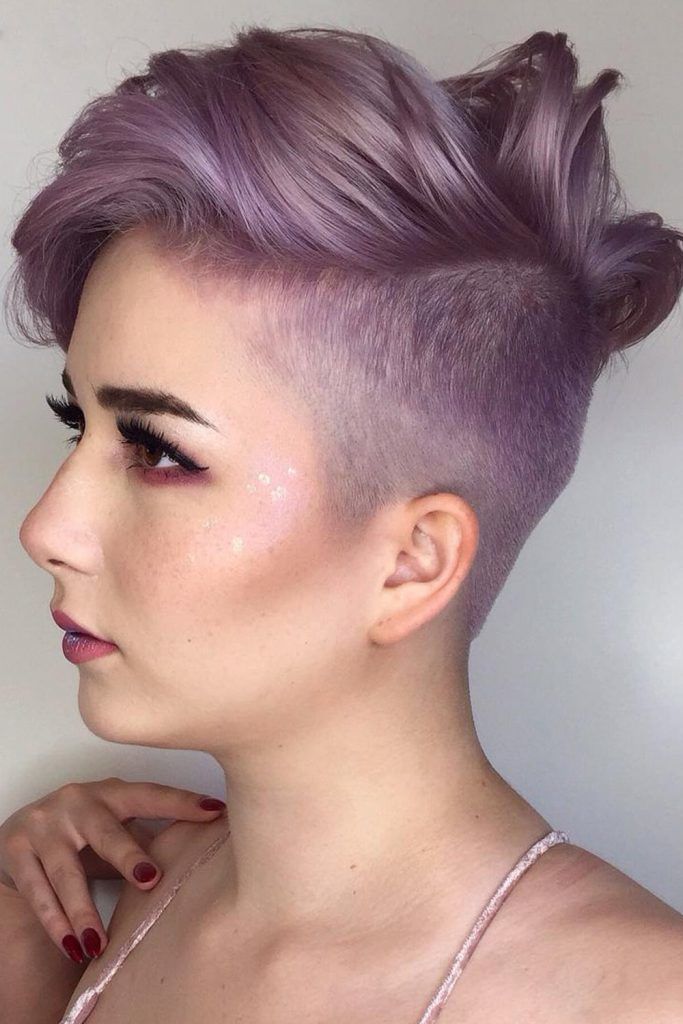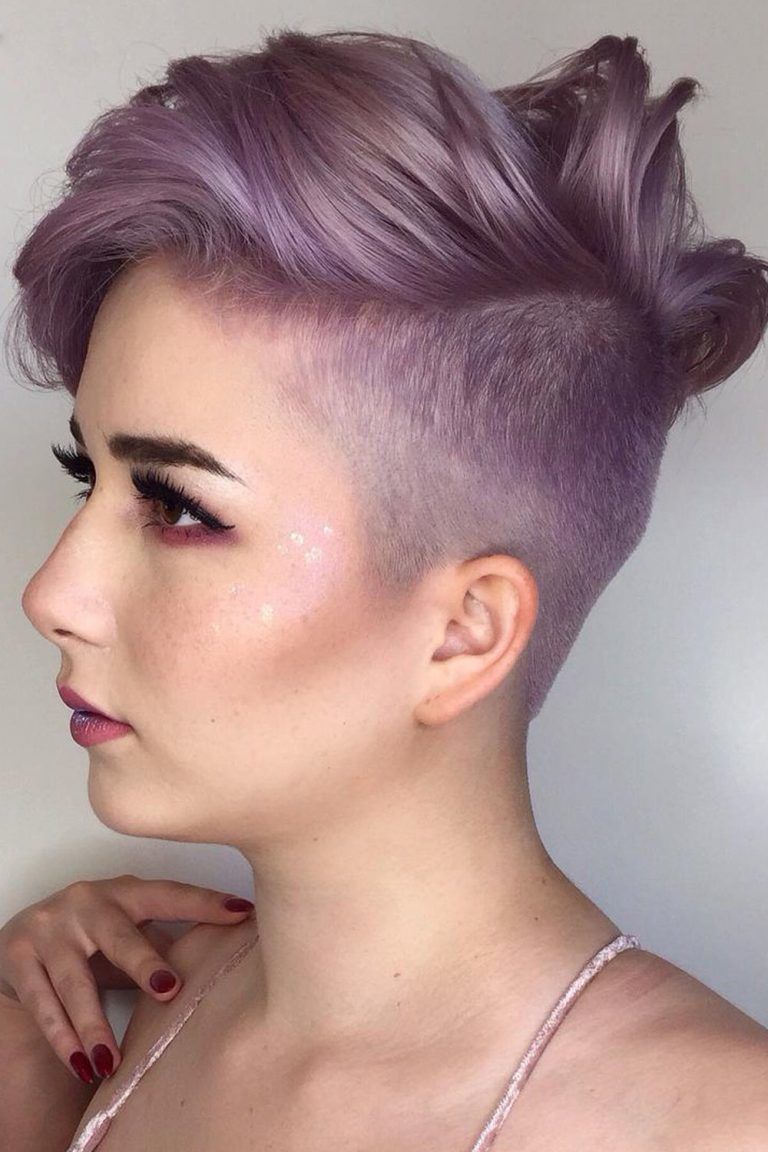 Credit photo: instagram.com/janine_ker_hair
Another haircut that only brave-hearted ladies can recreate! Well, that's what actually makes it so unique; you won't see it on every single girl passing you by.
Shaved sides can reveal the rebel that you've been keeping inside for too long, and the long, well-shaped, and textured top will show that you're a sophisticated, stylish woman. Besides, you will not just make a statement with your hair; you will get the most comfortable haircut for the hot summer days.
Pixie Short Haircuts For Women
By getting short hair in 2024, you don't limit yourself; you open new horizons of the modern fashion world, as well as take a chance to see your beauty from a new perspective. Pixie haircuts stand on the top of the world's most requested short haircuts. Below you're going to see how far you can go with them.
Classic Short Pixie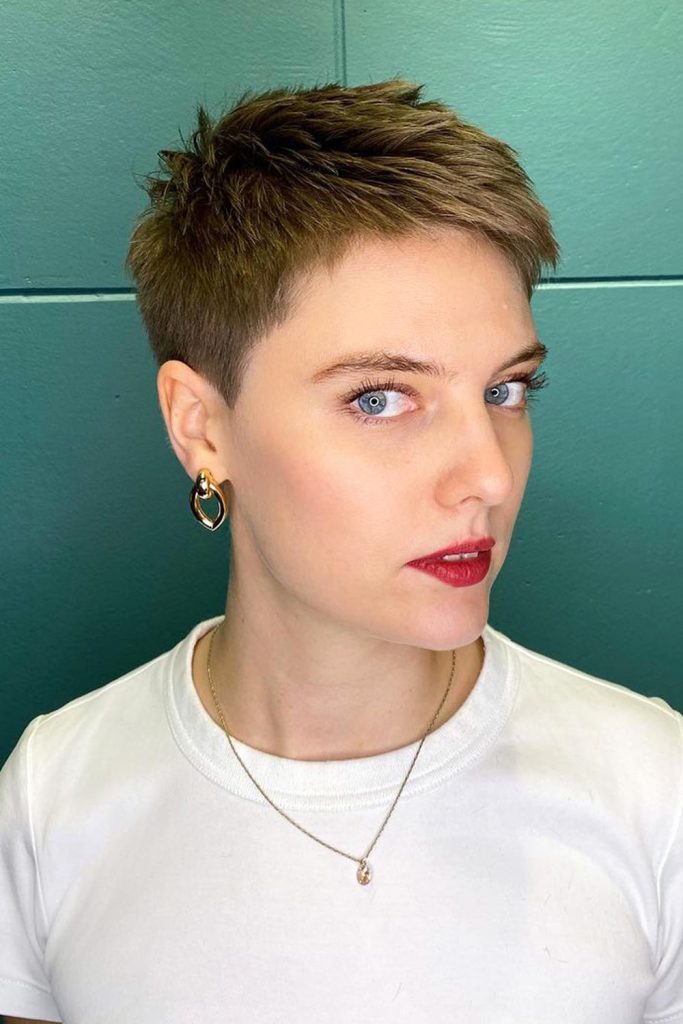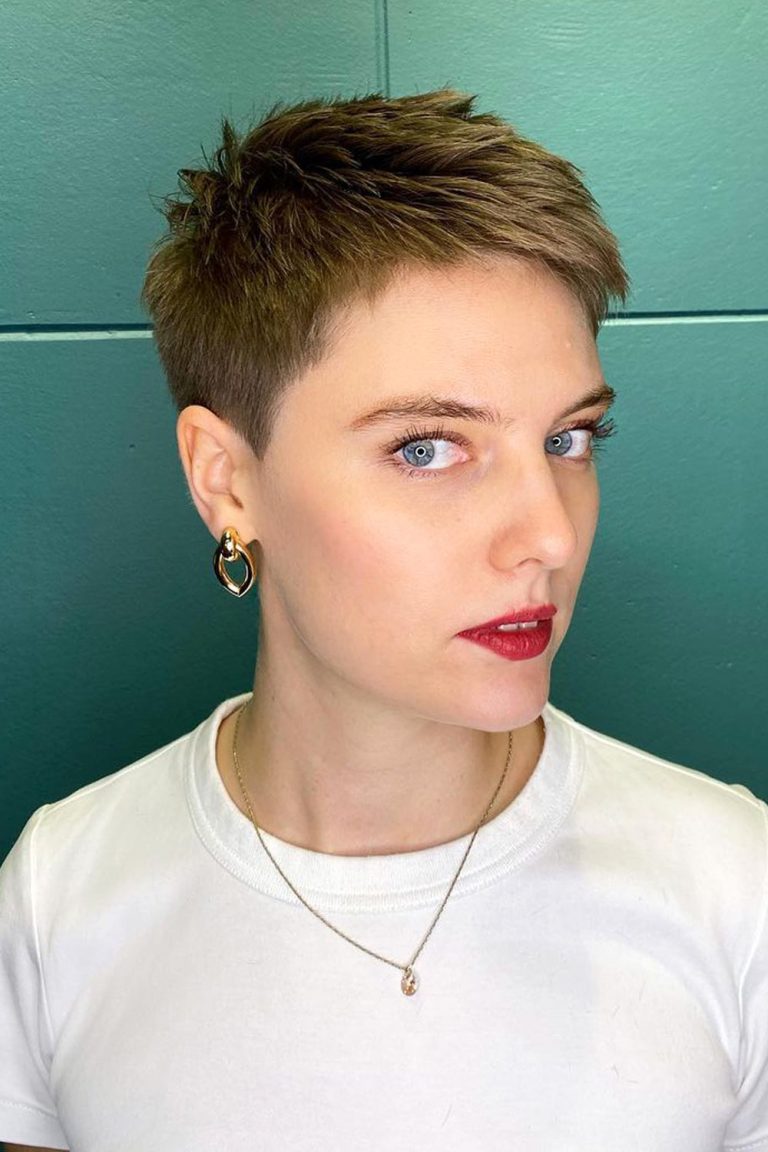 Credit photo: instagram.com/kristinakatsabina
A shorter pixie looks pretty cool, and that is why many women, including fashion icons, choose such cuts. Plus, you won't have any difficulty in styling it in the morning. If to think about it, really, what can be less maintenance than a shorter pixie? These choppy best short haircuts appear fun, bold, and cool. Just pair this haircut with the most flattering color, and you will get the look that is the maximum effect and minimum effort.
Sweet Pixie With Bangs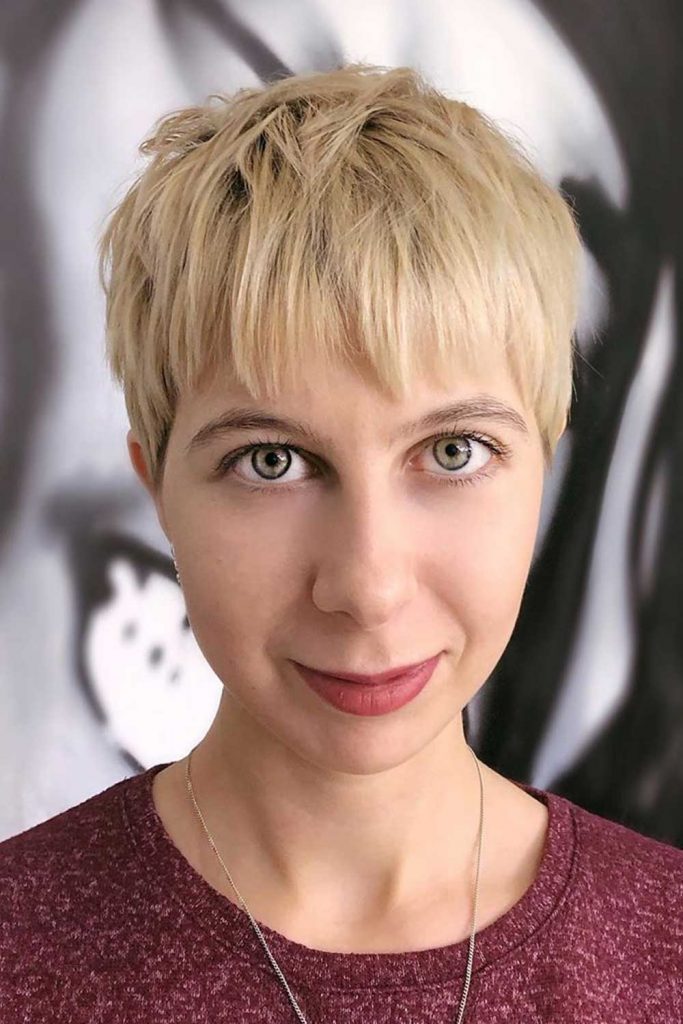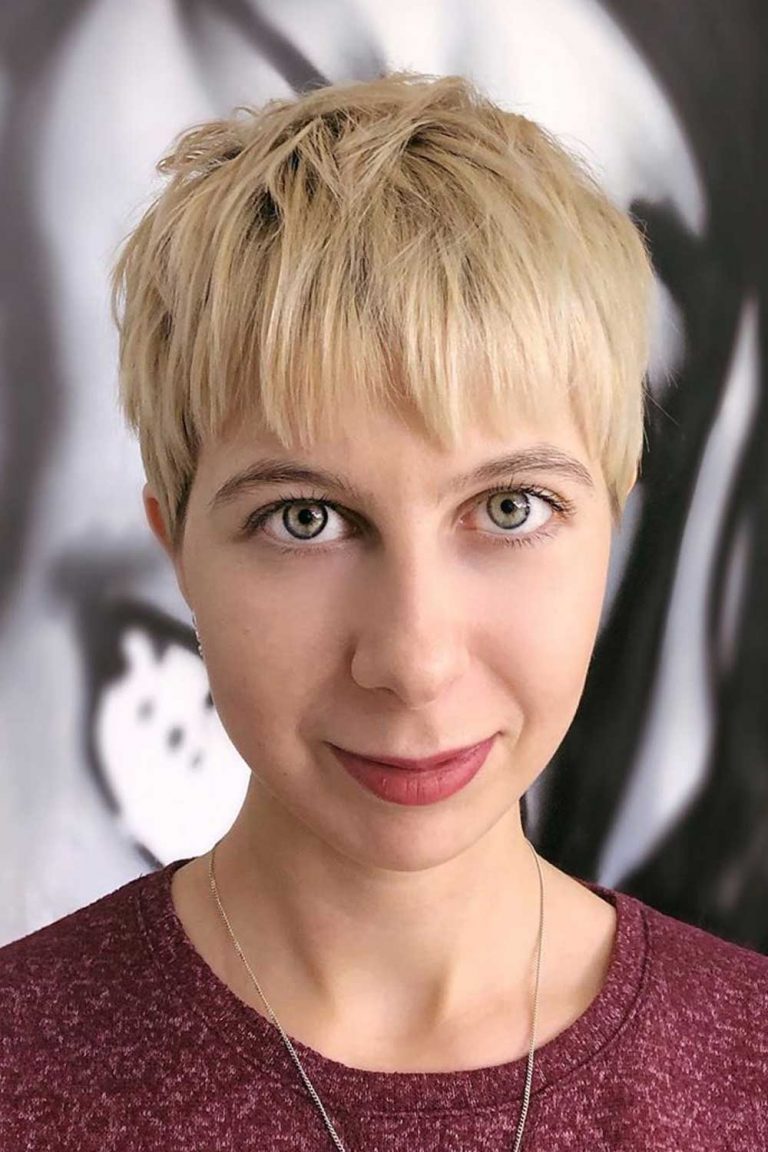 Credit photo: instagram.com/kristinakatsabina
For short hair fans, this sweet pixie haircut with bangs is a must-try! Trimmed and tapered ends that do not reach the nape of the neck emphasize your neck and shoulders.
With longer bangs, this pixie cut suits face shapes that have a broad forehead. These bangs will highlight the other features of your face like your eyes. With no complications in styling, all you need to do is use a hair straightener to help the bangs fall easily.
Shattered Pixie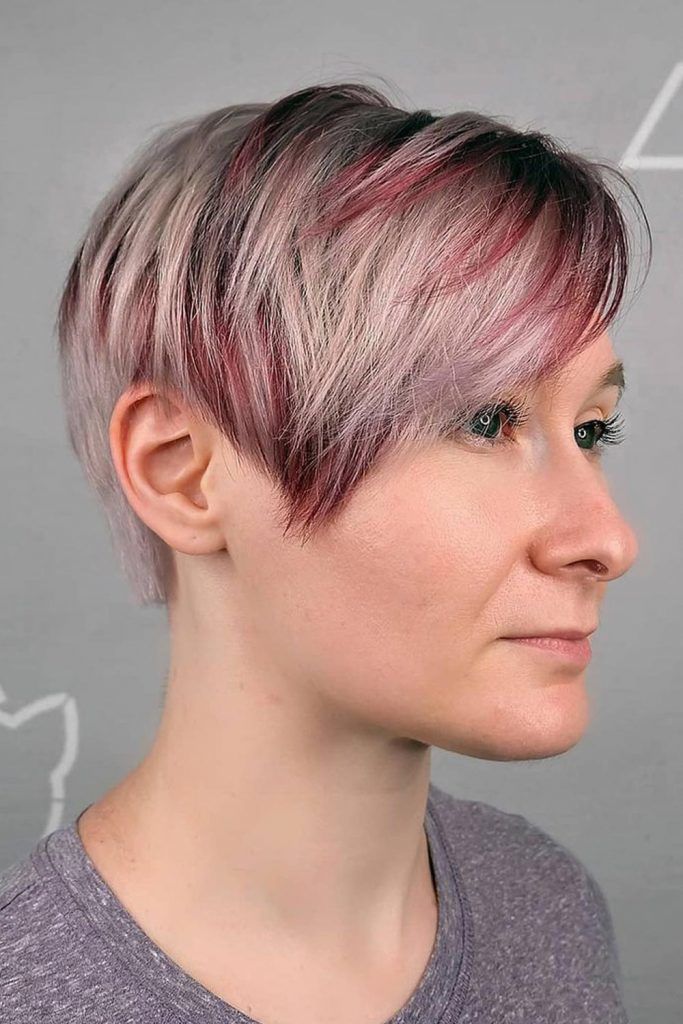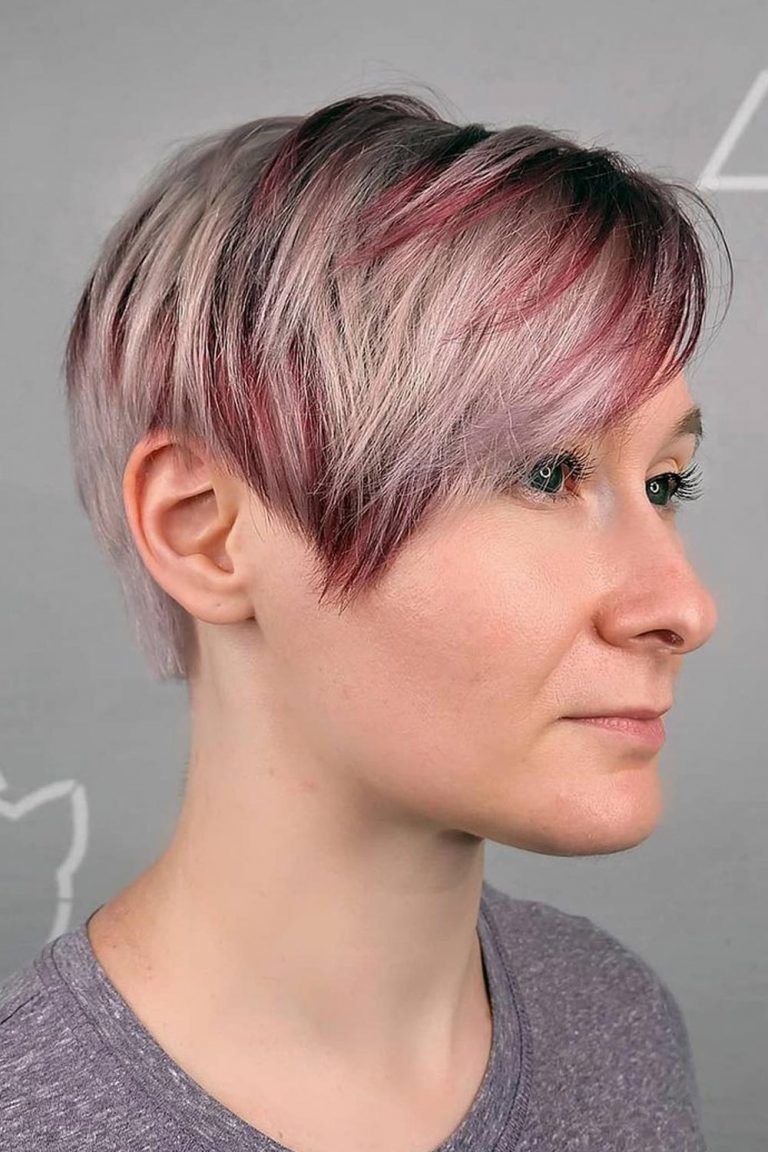 Credit photo: instagram.com/kawaicat_white
For those who want to take their short hairstyle to the next level, add some color to your pixie cut. The purple with the hints of blue creates a mesmerizing combination among the different layers of this haircut.
This pixie cut for thick hair includes adding bangs in the front. For women who have a stronger face cut like a square face or a diamond face shape, the long pixie cut with bangs can soften your features.
Cool Long Pixie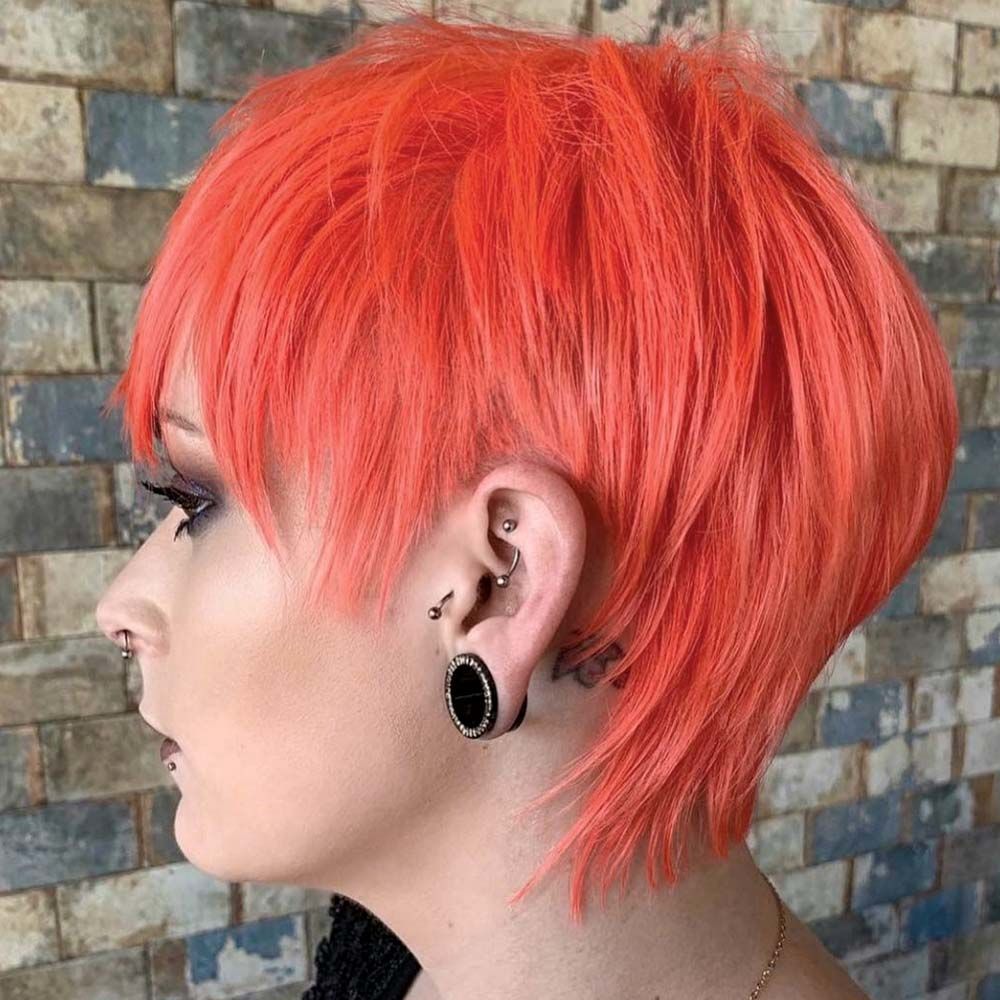 Credit photo: instagram.com/xostylistxo
If you have fine hair you should explore the joy that awaits the world of the long pixie cut. As women age, their hair tends to become more fine and harder to style. Thin layers and lots of them will boost fine hair into looking full and thick. Among short hairstyles, this long pixie is a very popular choice. It also appeals to those who are in search of their gray hair revolution. Whether they are seeking it as a fashion statement or accepting of mother nature's ability to strip us even of our natural hair color. The long pixie is an avenue worth walking down.
Layered Long Pixie Hairstyle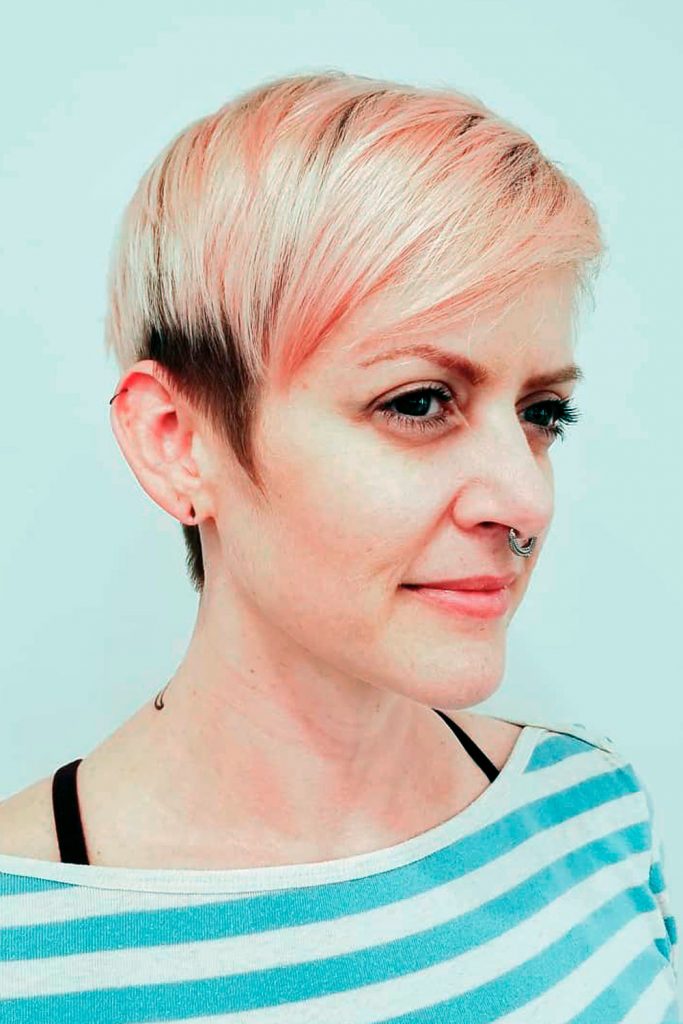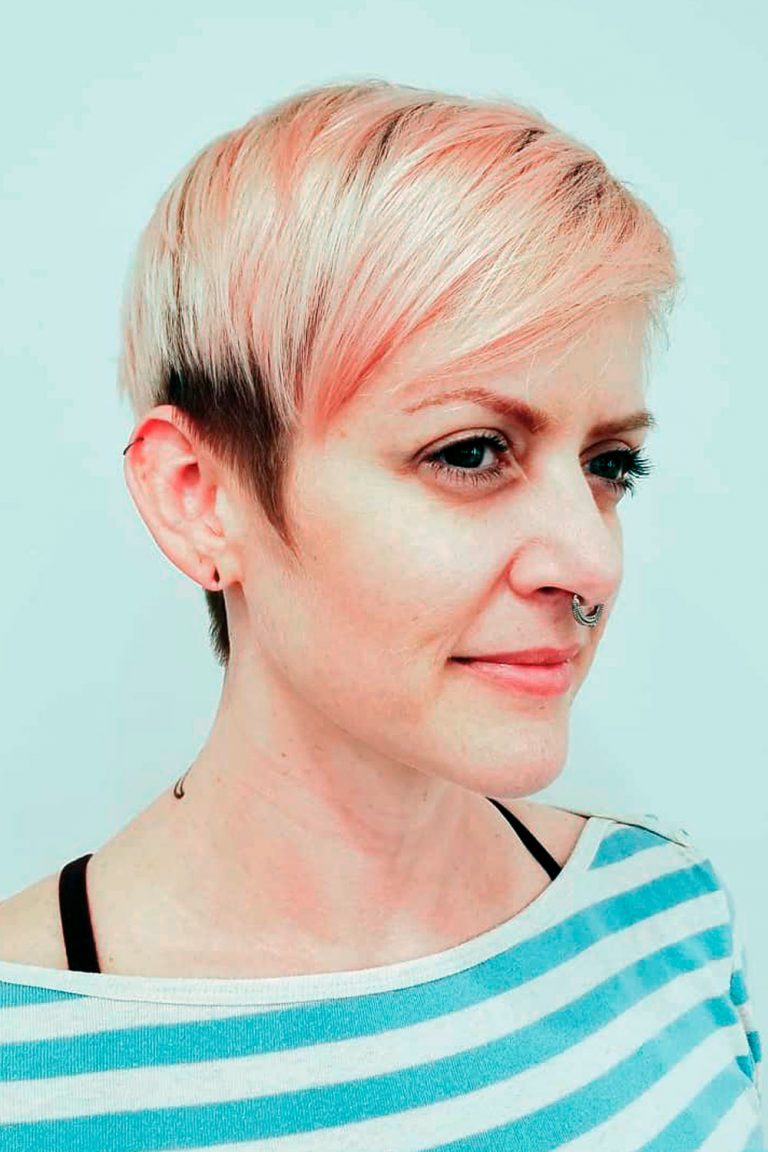 Credit photo: instagram.com/zoesimonecohen
Short layered hairstyles are all the rage in the hairstyle industry today. Whether you are going for the sweet, sassy or sultry look, it can be obtained with the layered cut. Short layers to long layers, either can be adjusted to suit any age, young or old. There are also styles that range from messy to sleek to work for any occasion. If you wish to add texture to your hairstyle, then short layers are the answer for you. Diversity is certainly an option with this chic hairstyle.
Glamour Blonde Pixie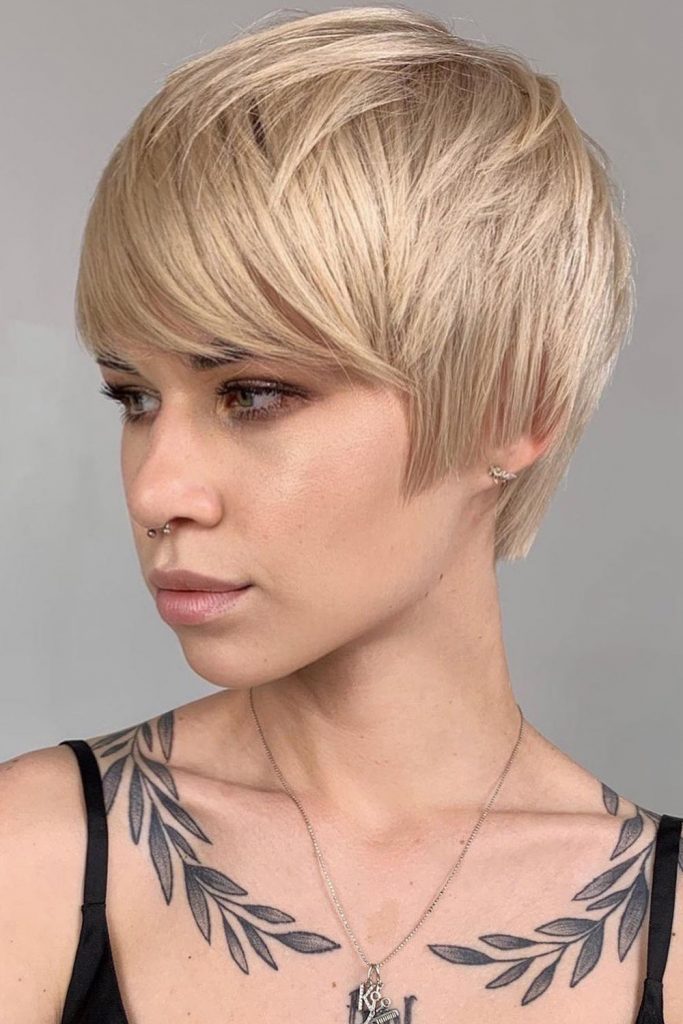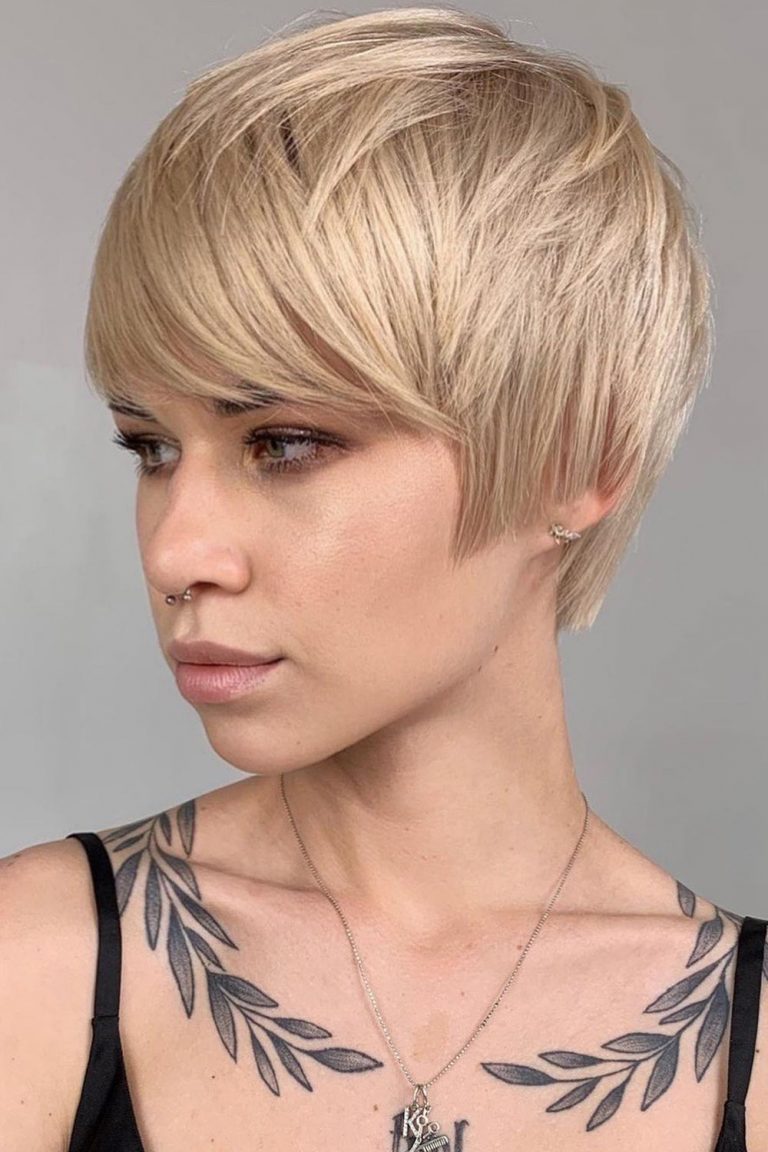 Credit photo: instagram.com/sergeyshapochka
It is often said blonde is more fun. It is also said that they have more fun If you have blonde hair you, whether it is natural or not, you can attest to these statements. The long pixie cut above is strangely close to a bob with a longer top. The long bangs do tend to give it this effect however, it is a pixie none the less. The deep side part accentuates the client's darker roots, allowing for some contrast to the style.
Textured Pixie With Balayage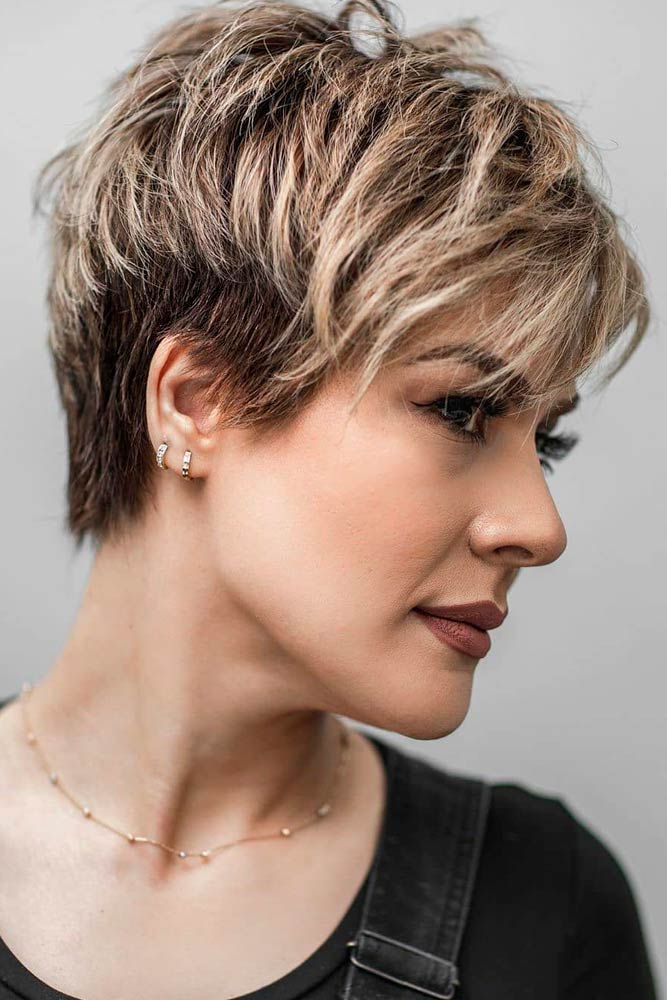 Credit photo: instagram.com/andrewdoeshair
When one is in search of a textured haircut one must pursue the idea of multitudes of layers being present in their cut. The model above is sporting a fine example of a pixie balayage hair. The multiple layers included in this style has the appearance of a difficult styling procedure. However, that is not the case since the layers are cut in such a way as to make styling hassle-free. The clean sides and back have a very professional air making this the perfect power haircut.
Asymmetrical Black Straight Pixie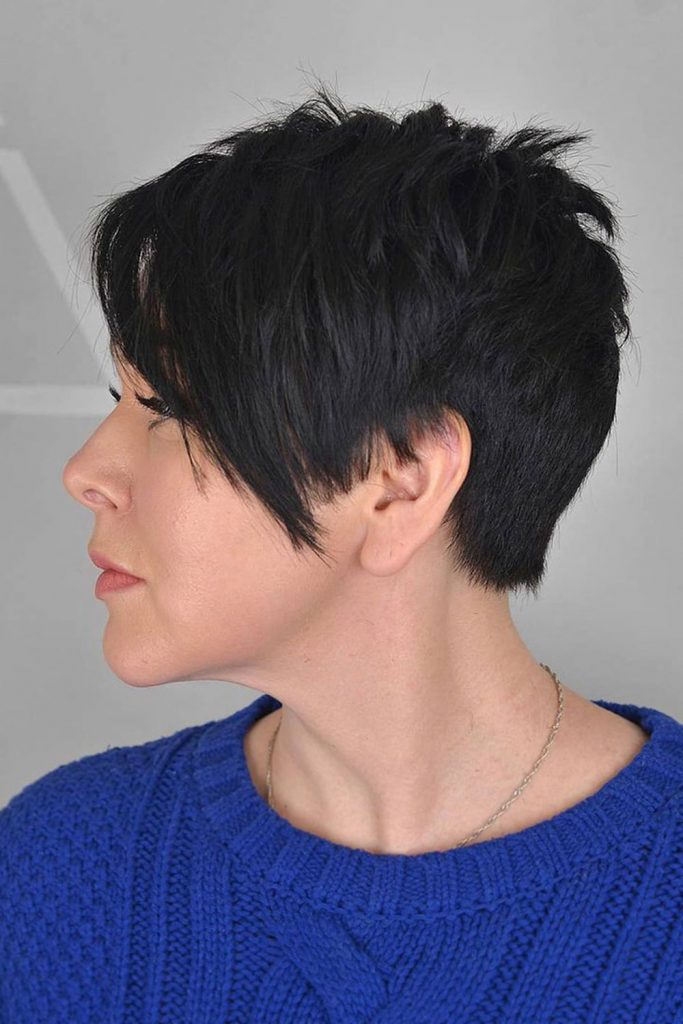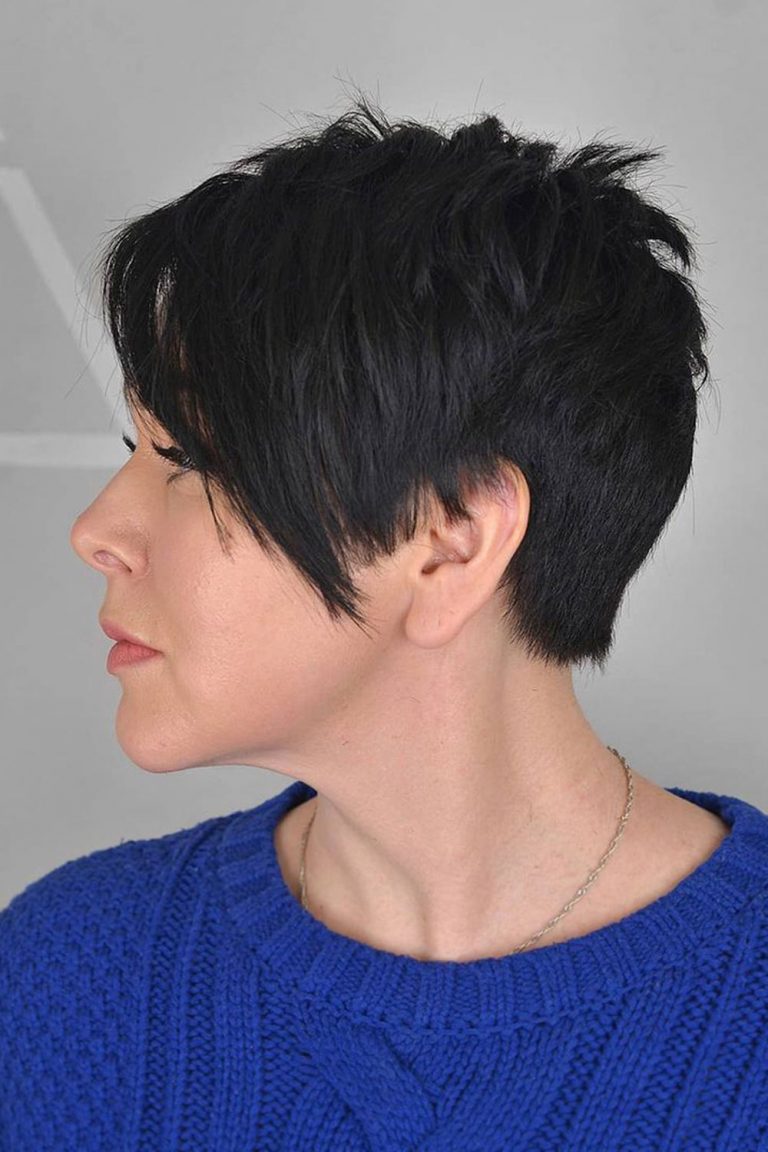 Credit photo: instagram.com/kawaicat_white
Another amazing stylish trick you can do with your pixie is to let asymmetry into your look. Besides a different and unusual appearance, such a haircut will build the needed balance for ladies with square and round face shapes, drawing attention from the prominent features of their faces. On top of that, with an asymmetrical pixie, you will always have tons of volume on the top, as this haircut is super flexible, especially in terms of volumetric styling.
Undercut Pixie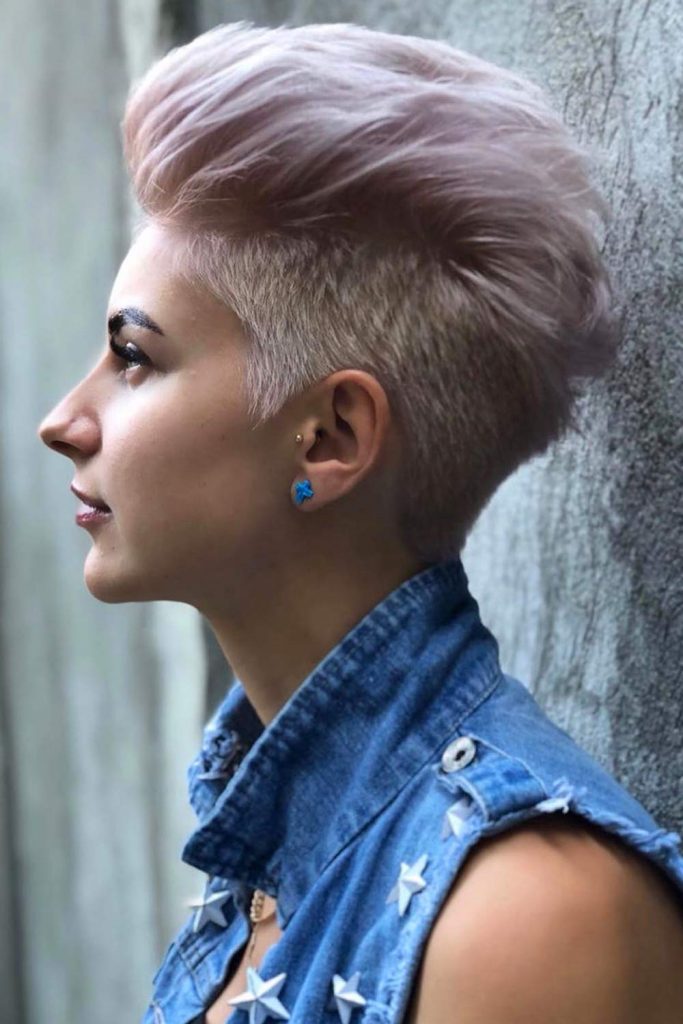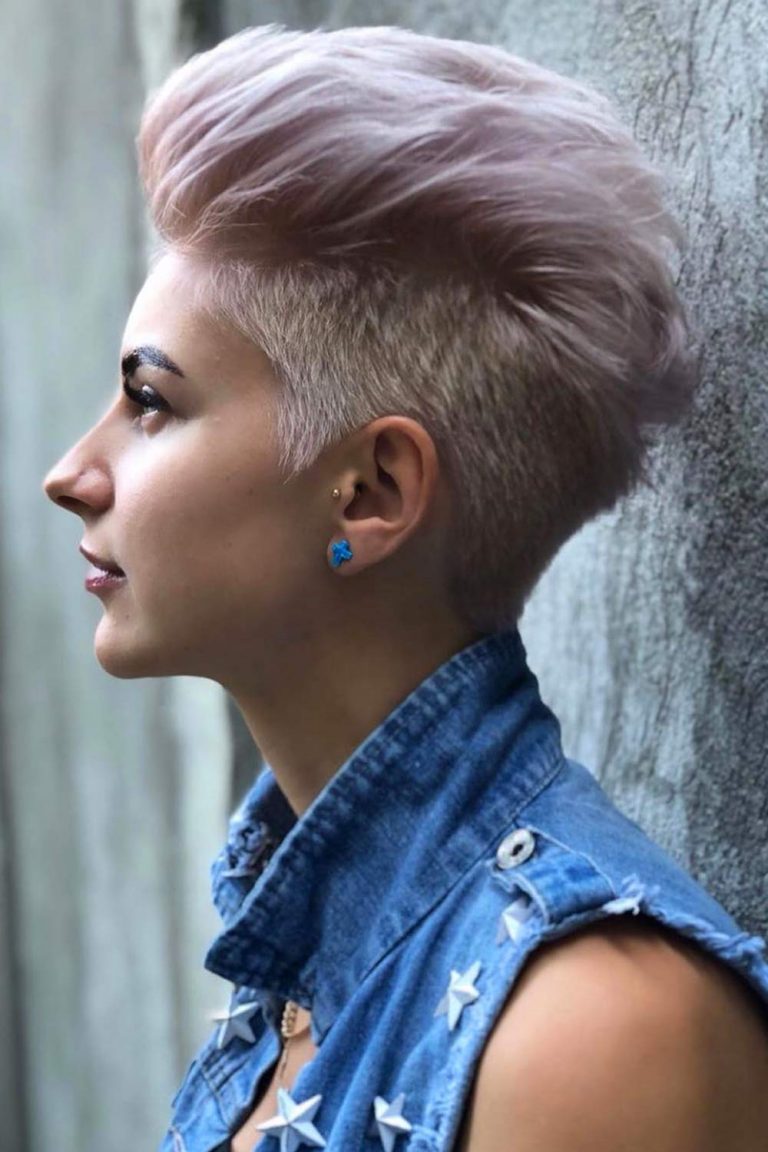 Credit photo: instagram.com/colorist_sochi
A pixie is a perfect choice for women who do not lack self-confidence. But an undercut pixie will work for the most daring only. Show 'em all how wild you are! Plus, in case you hate spending much time on styling your tresses every morning, one of these haircuts will work great for you. Just wake up, wash, and then go! Your hair already looks perfect. And as you can see, pixie haircuts are quite versatile when it comes to the color choice. You can look awesome whether you opt for a more natural or a super vivid hair shade.
Side Parted Wavy Pixie With An Undercut
Credit photo: instagram.com/carmenjayelove
This idea is meant for bold women who are not shy to be different. It shows that pixies not only open up your face, but they can also create a very dramatic and wavy look. How do you like the contrasts of lengths? The clean shorter sides that are partly hidden by the messy waves of your side-parted pixie. If you show up with such a hairdo, be ready for the most flattering compliments.
Straight Layered Blonde Pixie-Bob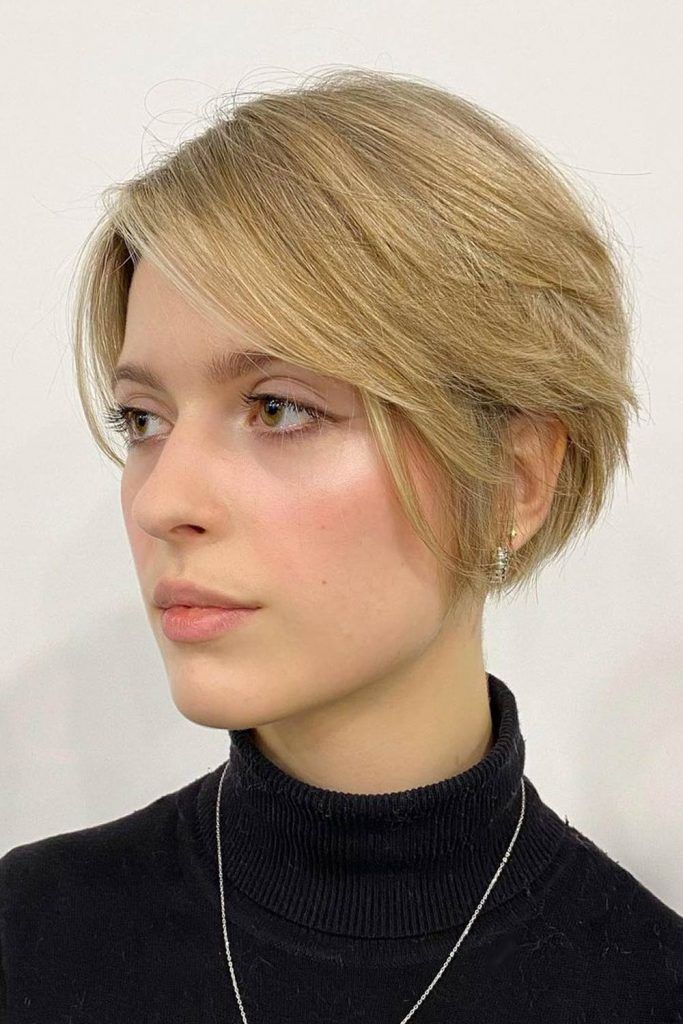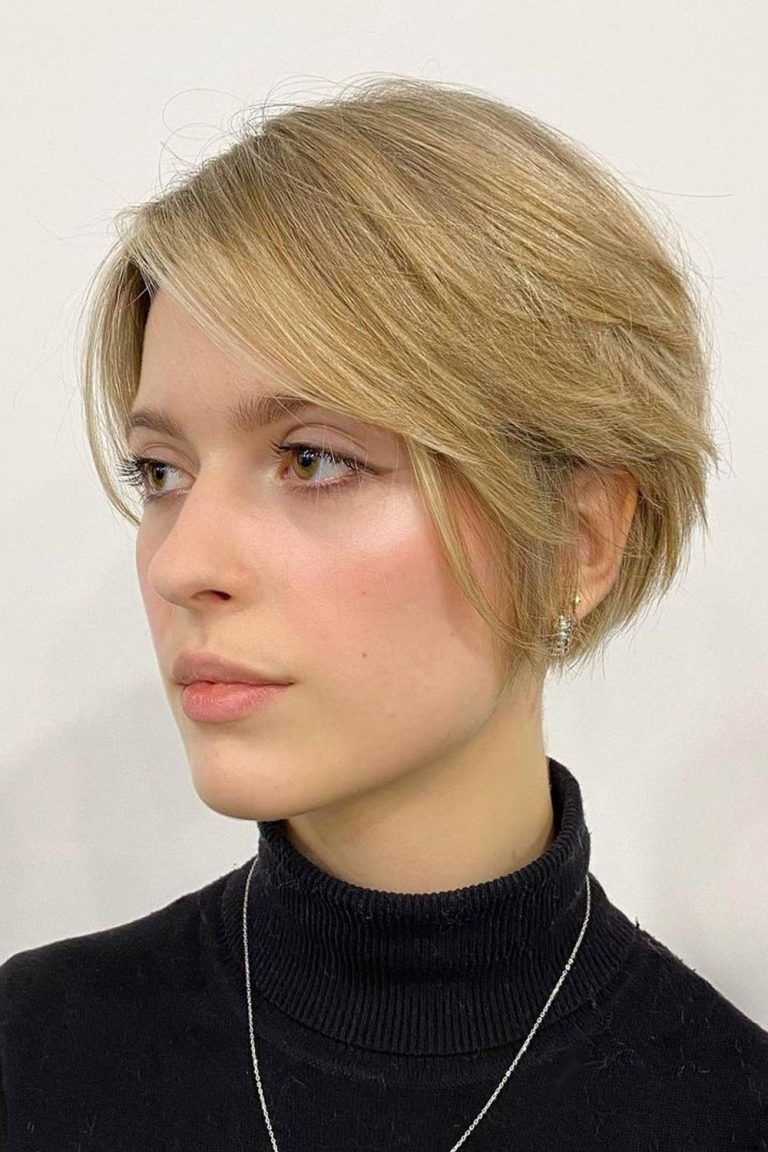 Credit photo: instagram.com/kristinakatsabina
Do you know the main advantage of rocking short hair? This length has an approach to any hair type while long hair may look dull and lifeless on some textures. If you struggle with fine hair that tends to fall flat or you have to deal with thin hair that looks too sparse, properly cut short hair can be your saving grace.
You can ask your stylist for a pixie bob with layers throughout the length and forget about styling troubles once and for all. First, the length of pixie won't weight down your locks, always keeping it pretty voluminous. Second, layers will make your silhouette even fuller, enhancing the voluminous crown of the cut.
Dark Blonde Straight Long Pixie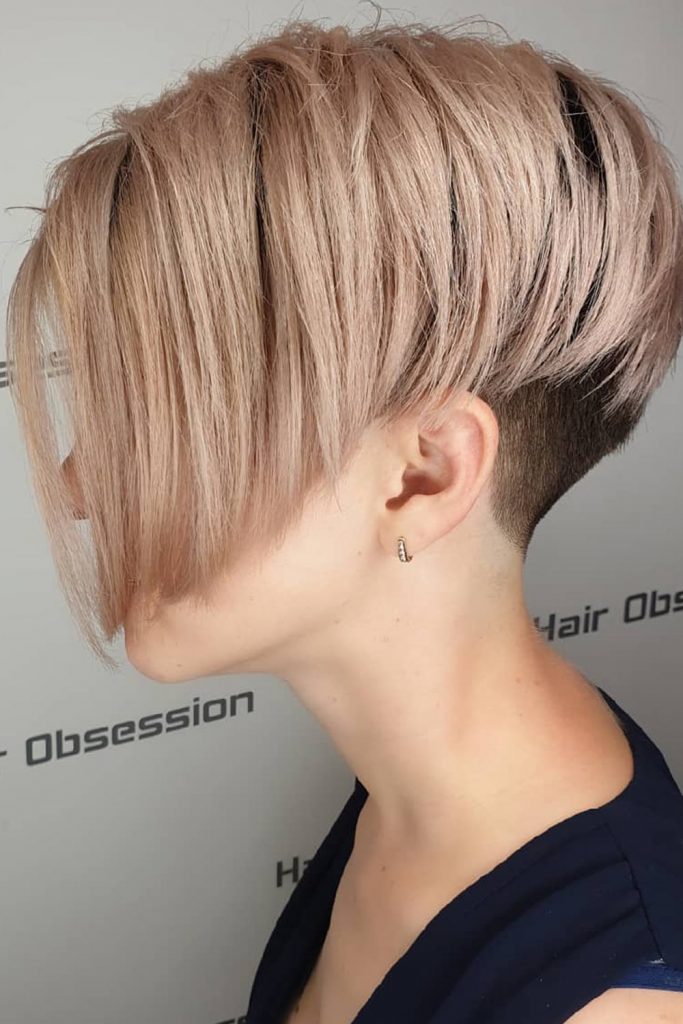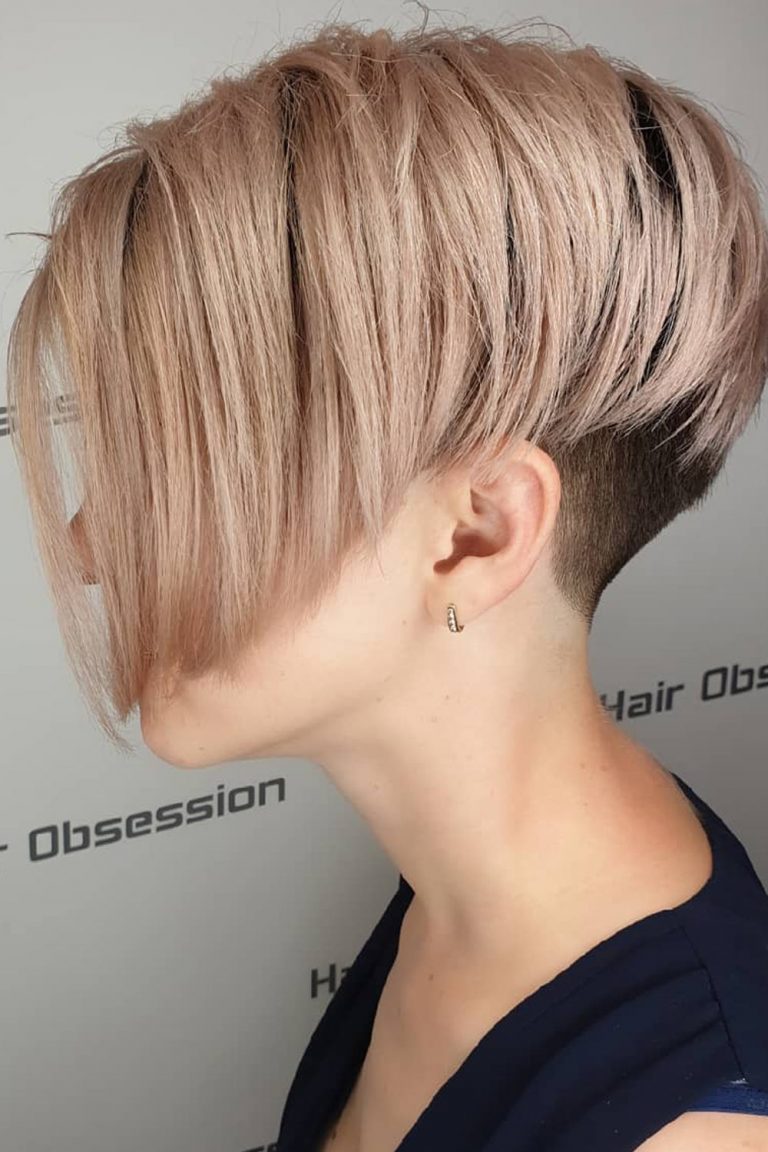 Credit photo: instagram.com/apostoldiana
We know that we should discuss the latest short haircuts for women here, but, let us take a moment to appreciate dark blonde, please! As a matter of fact, a perfect look consists not only of a properly chosen haircut but also of a correctly picked shade. For that reason, we'd like to mention that such a compromise between brunette and blonde hair colors is something that goes well with any complexion. Plus, it looks fab on pixies!
This time, the pixie is side-parted and precisely chopped at the edges. What makes it so special apart from the color is that it's actually cut to be styled to the side. In other words, you can ask your stylist to shape the cut so that it always lies in the direction you like. In this way, styling will take literally minutes.
Short Pixie-Bob With Balayage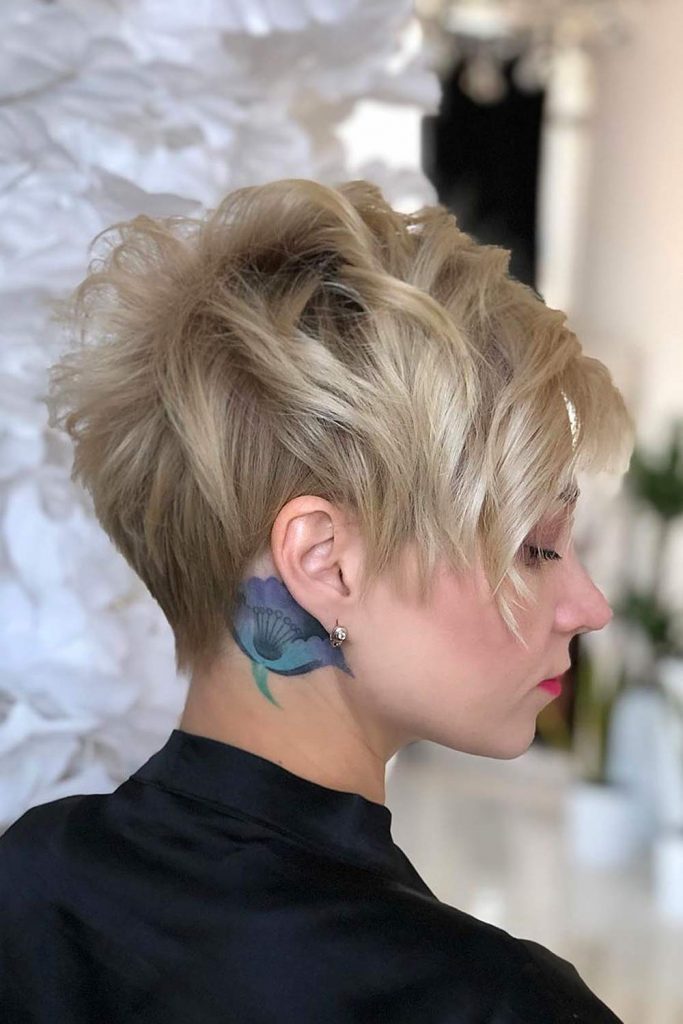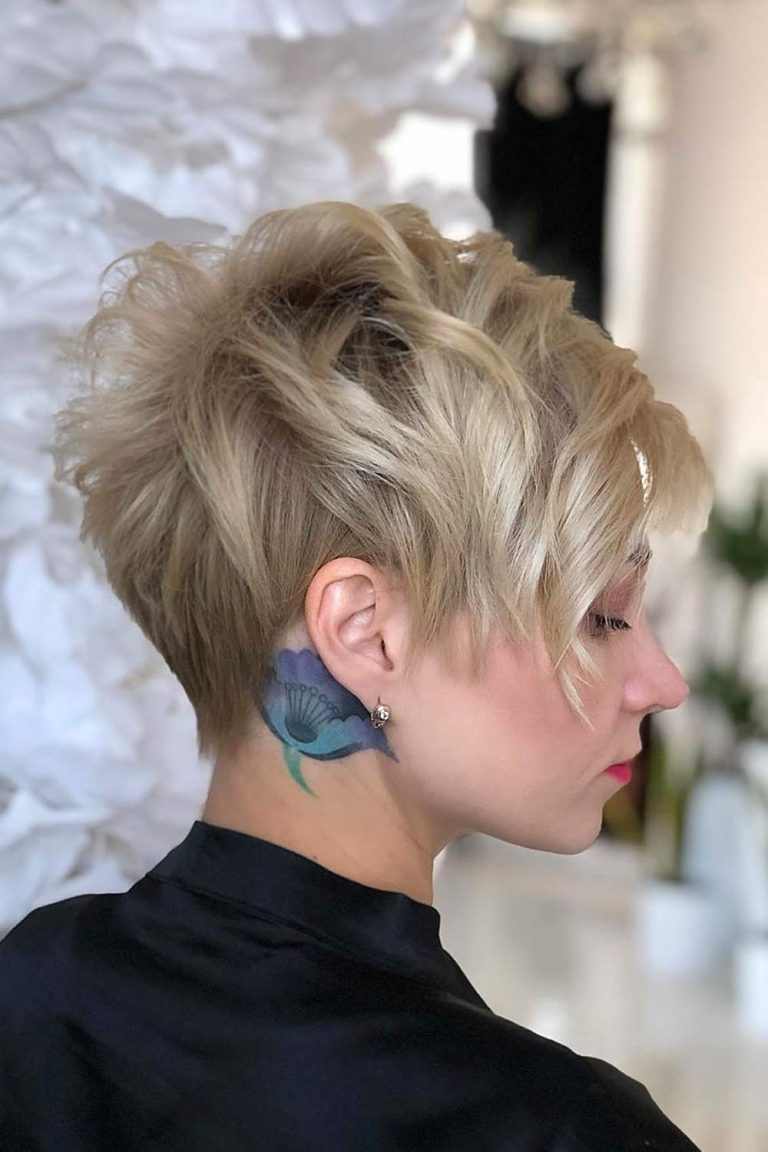 Credit photo: instagram.com/mila_kryshchykhina
There's a haircut that embraces the best features of the most popular short haircuts for women, giving birth to another ageless trend. Yes, we're talking about the fascinating, daring, and cute pixie bob. Here, it's accentuated with balayage and individualized with a textured crop on the top.
The best thing about this haircut is that even though it's too short for braids or updos, you can always change something in the look with some texturizing product or a creative crop. There airy, messy layers nicely deal with thick hair, giving it a modern and hip appearance, while balayage makes each layer more profound.
Wavy Long Pixie With Blonde Highlights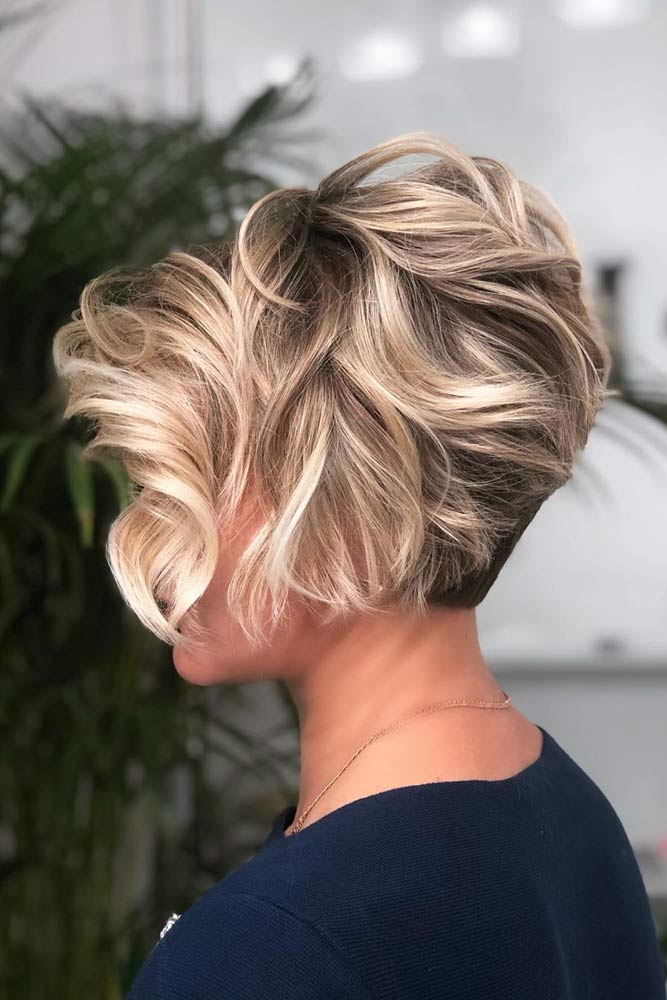 Credit photo: instagram.com/mila_kryshchykhina
Nothing can beat wavy texture when it comes to styling a long pixie! Waves can add tons of life and movement to the hair, taking fine and thin hair types to a whole new level. When choosing a new haircut, modern hairstylists recommend women considering new hair colors as well. As a matter of fact, the right haircut goes hand in hand when you're about to create a totally fabulous transformation. Just look how nicely blonde highlights complement this brunette pixie! Light layers stand out from the dark shade, thus bringing out the top.
Thick Bowl Long Pixie Cut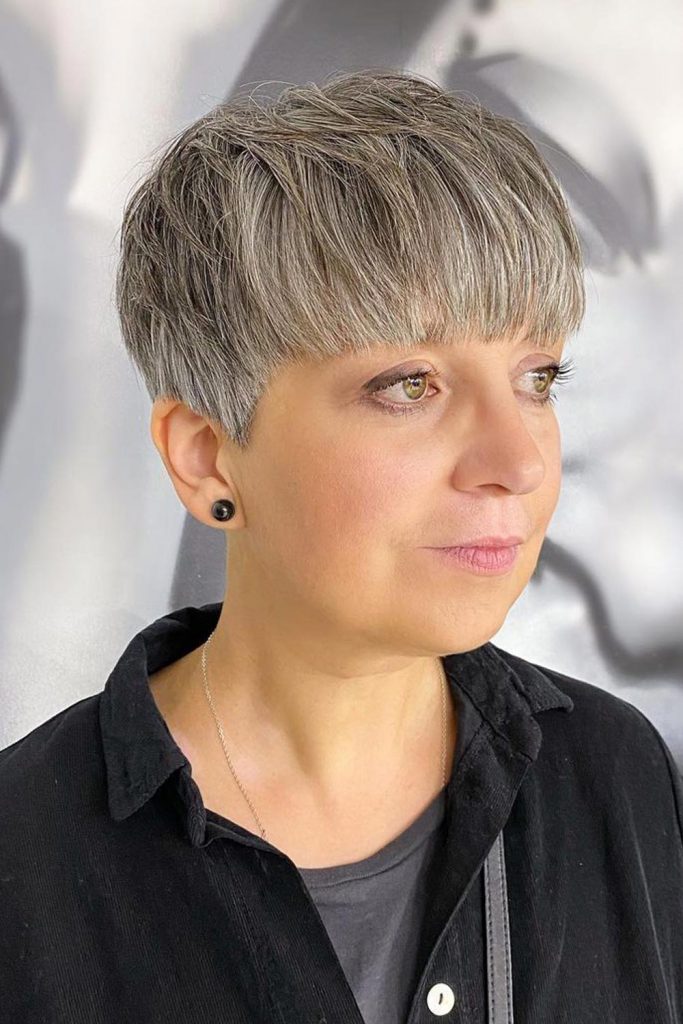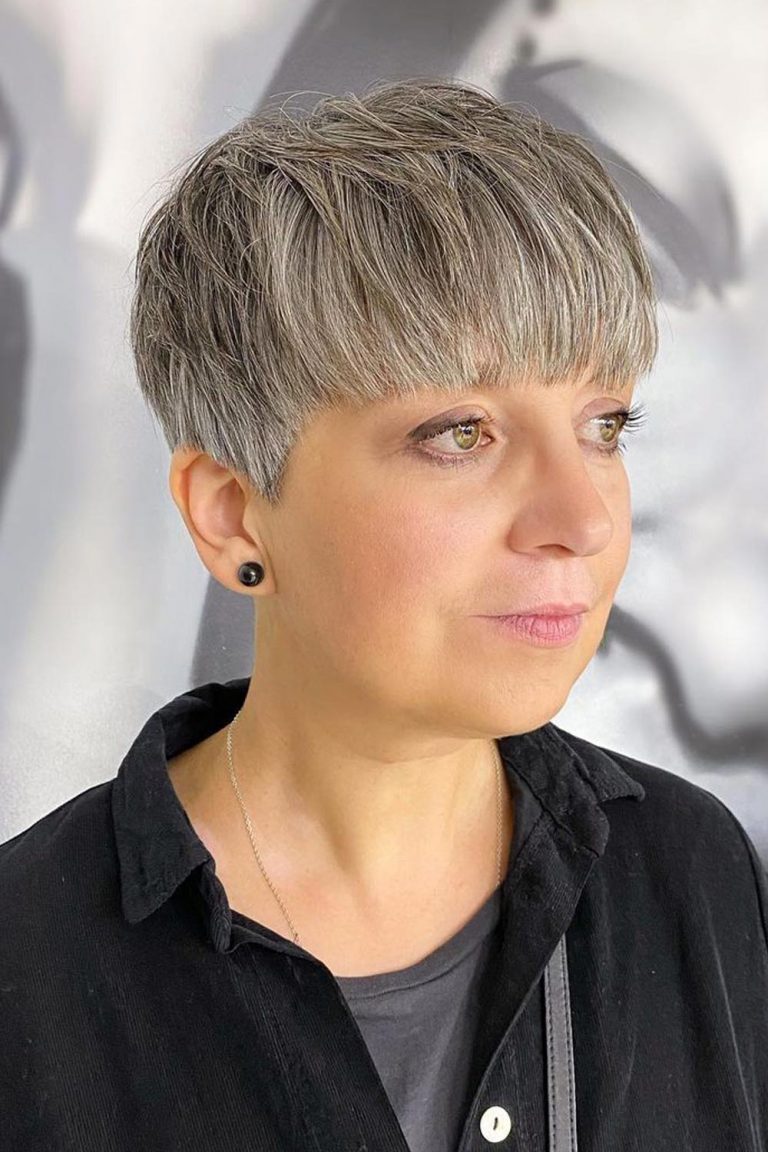 Credit photo: instagram.com/kristinakatsabina
The bowl that was running all the beauty charts in the 90s' is officially back in town! Of course, it has changed a little to fit the modern fashion, and now, it's become a stunning playground for hair experiments. When you'd like to make your pixie a bit rounder, fuller, and more face-framing, you can get yourself one of the most sought-after short haircuts of now - the bowl haircut. Not only will it nicely blend with a pixie but it will also give you an immaculate and well-shaped top. Girls with thick hair, that's something you don't want to miss!
Faux Hawk Short Pixie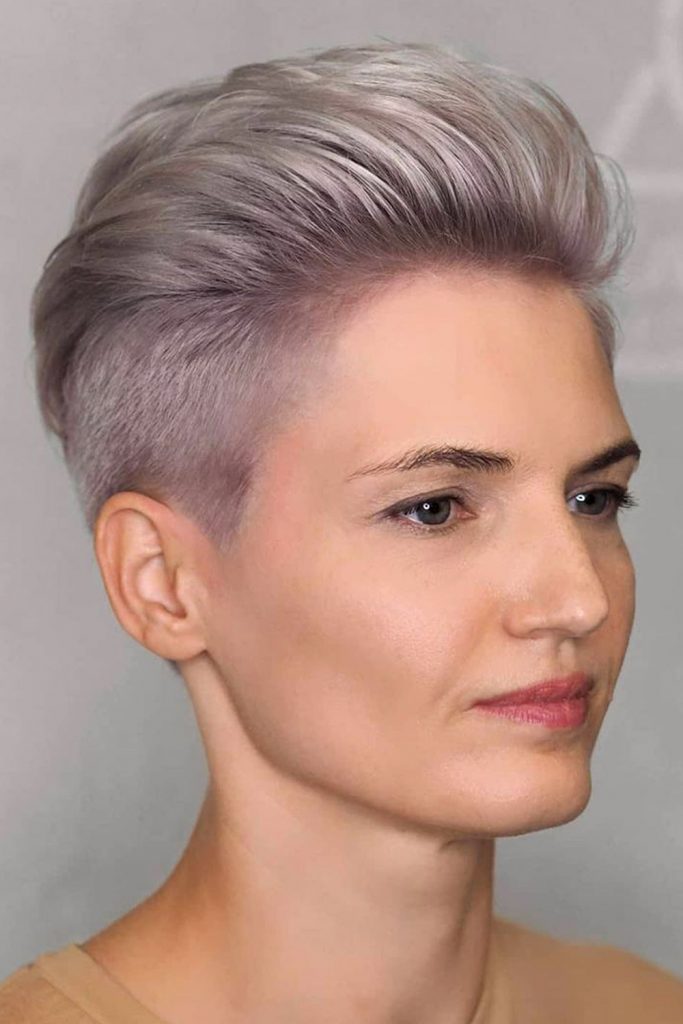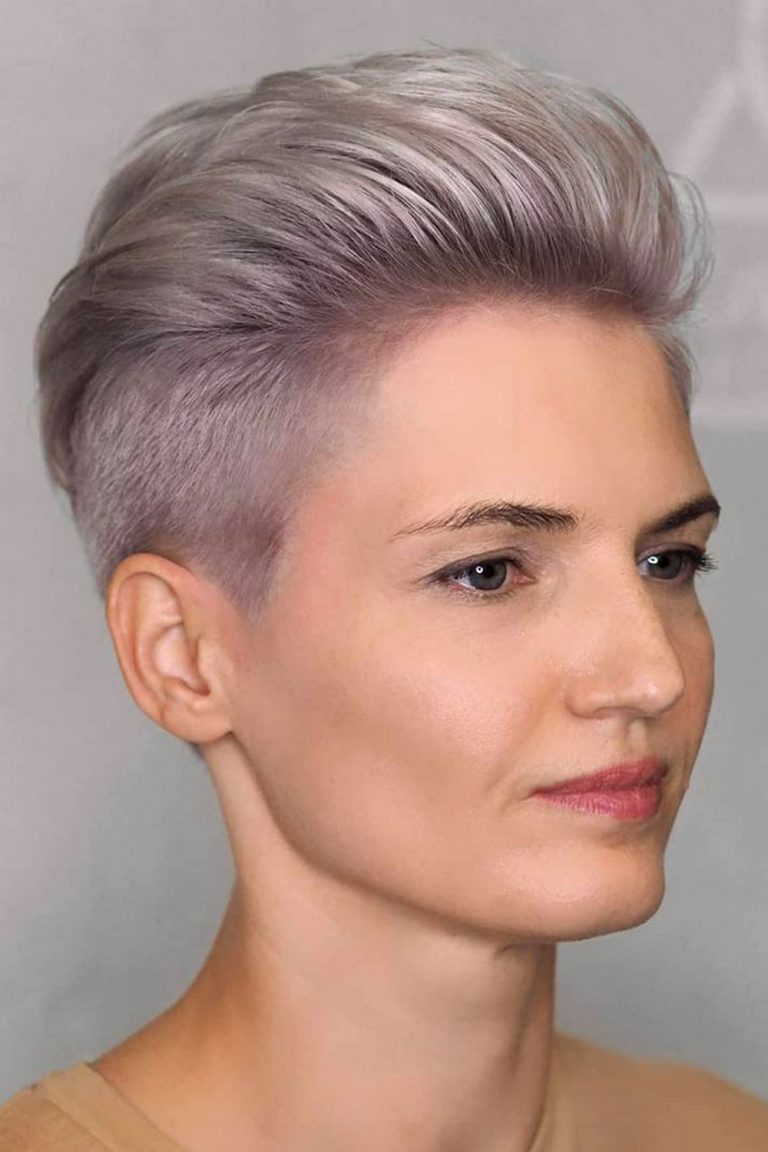 Credit photo: instagram.com/kawaicat_white
There's nothing like an edgy short finish with a hip classy color accentuating a pixie! And before you think that wearing such a daring pixie is a commitment to, let us tell you something. First of all, it's short hair! And that means only one thing: you are free to experiment with colors as much as you want, as your precious roots will re-grow soon. As for the cut and style, you only need to get your hair tapered once a month, styling it up when it's damp. That's it. Yep, that's all you need to create that sultry image of a daring lady!
Side Short Bangs Pixie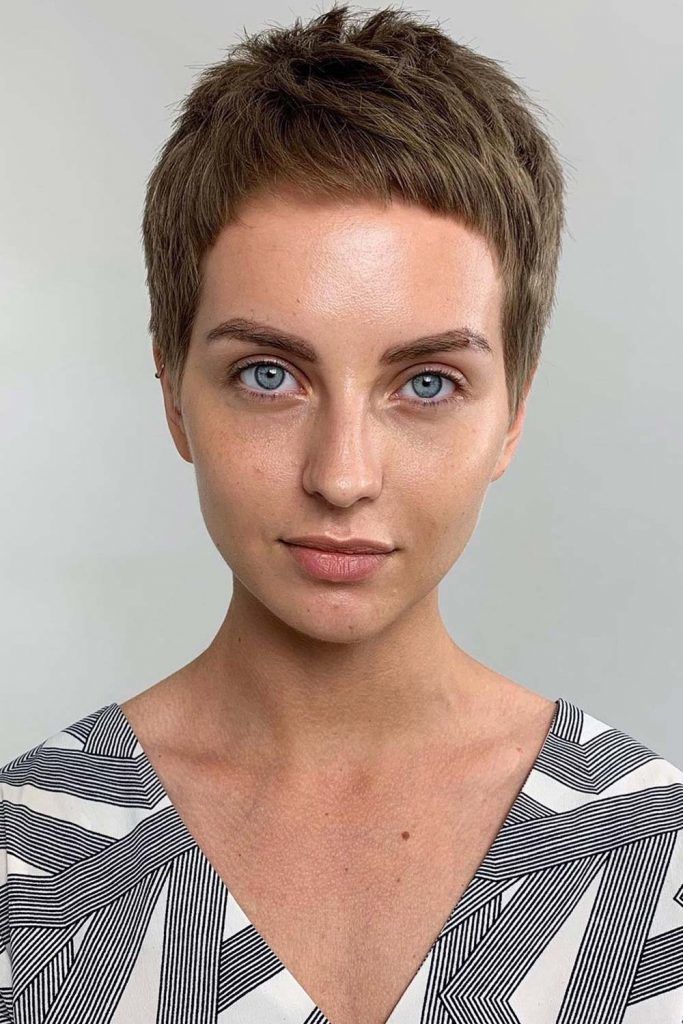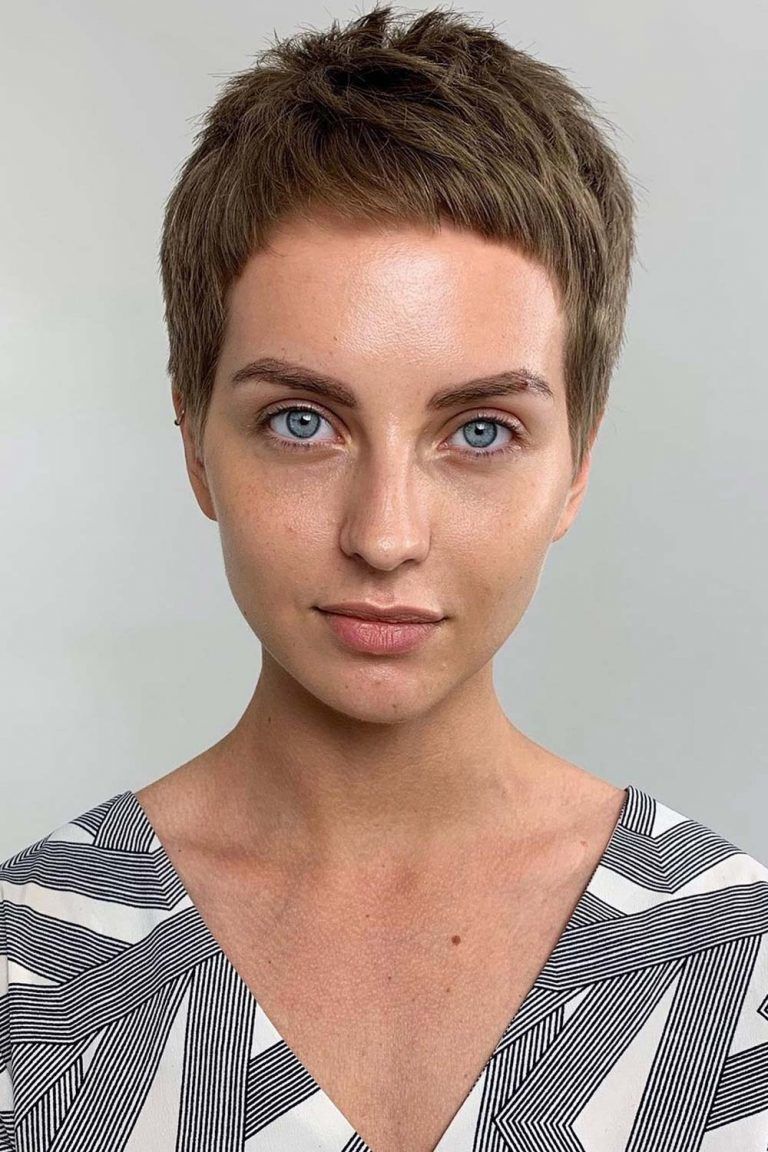 Credit photo: instagram.com/sergeyshapochka
Even when going extremely short, there must be a highlight that will make your simple cut stand out in the crowd. A soft fringe or baby bangs won't be a screaming attention-grabbing element, but, that would be enough to add some character to a super short cut. Besides, you can add some choppy texture to the bangs and upper layer of the hair to add some visual movement and volume. Now, just close your eyes and imagine that stress-free styling and care routine! Such a pixie is nothing but a hair vacation.
Long Top Pixie Undercut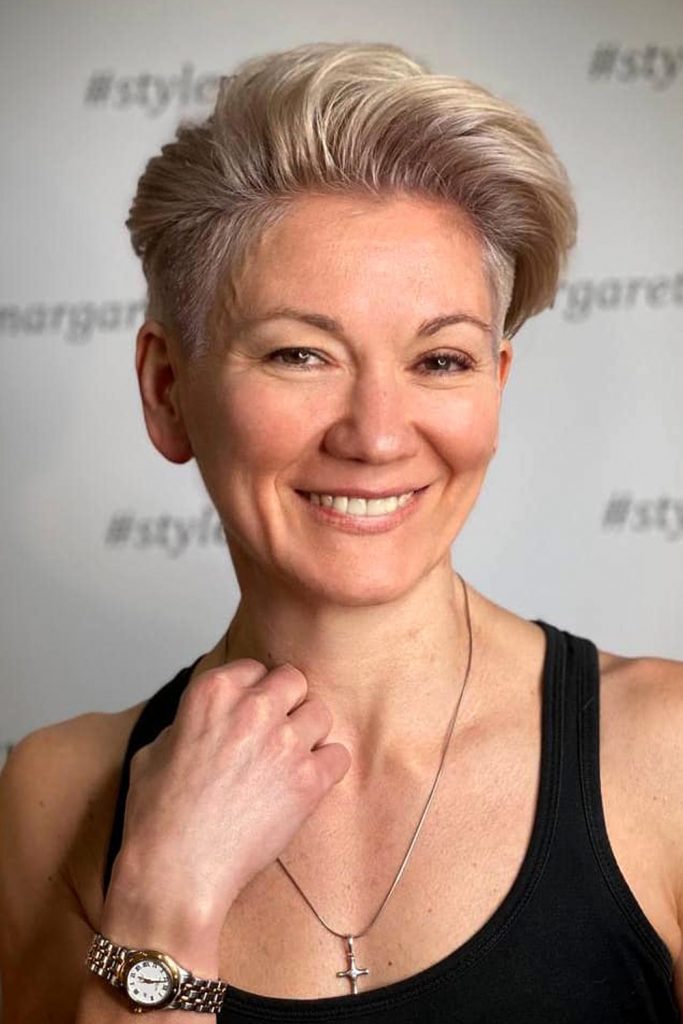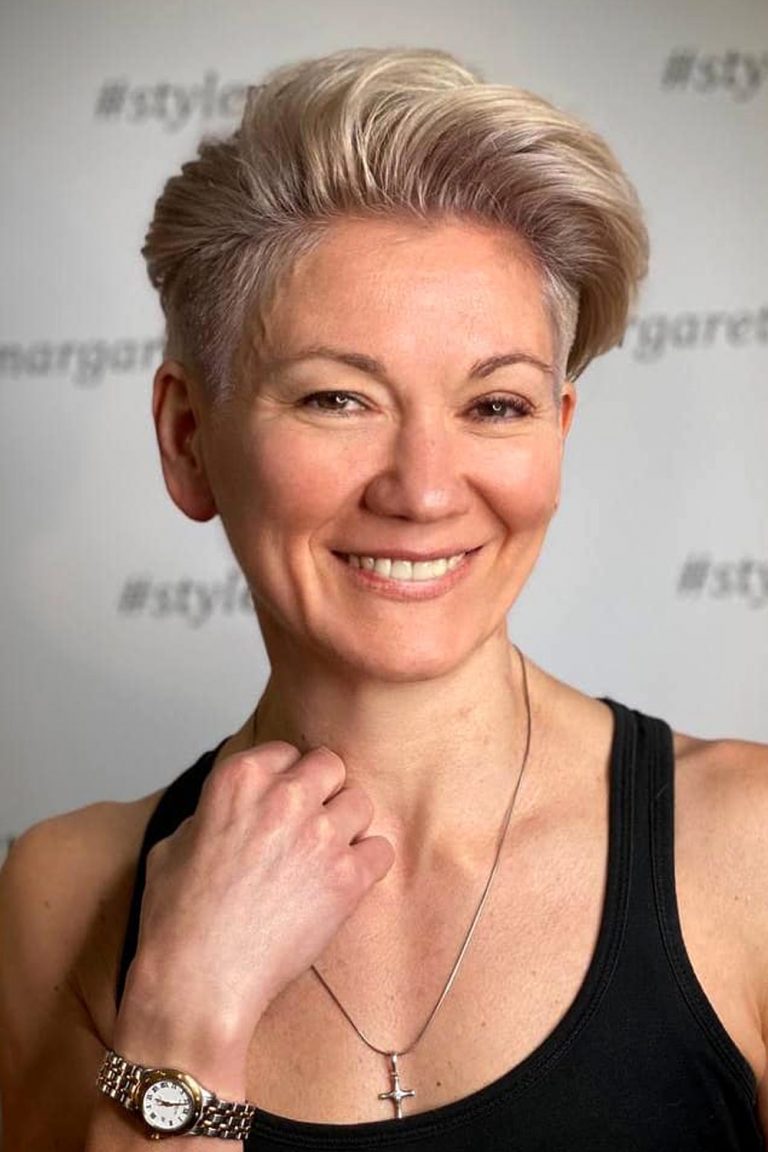 Credit photo: instagram.com/stylemargaret
We love how modern women adopt masculine hairstyles to create a sexy and smart image! A long layered pixie with an undercut is the perfect combination of a practical yet feminine haircut and that sophisticated fancy feel. If you prefer a more balanced fusion, it's better to go with a soft tapered undercut that gradually transits to a longer top. As for styling, a bit of pomade will be enough to hold your back-swept or side-swept hairstyles. In fact, this haircut allows for various styling experiments; you can even do braids with it to add more girliness.
Wispy Layered Pixie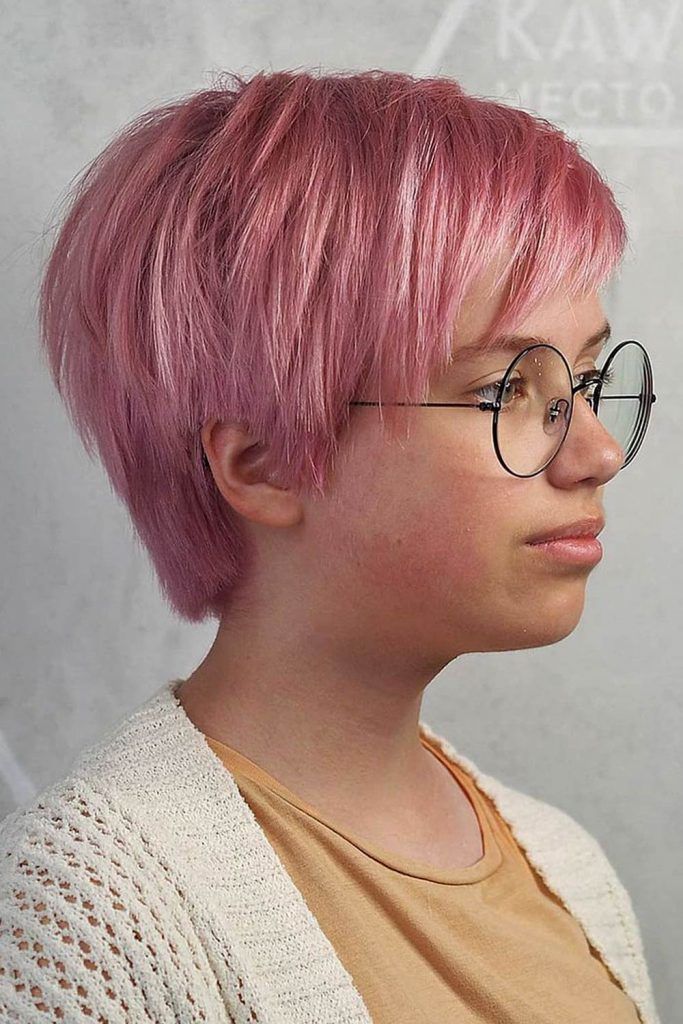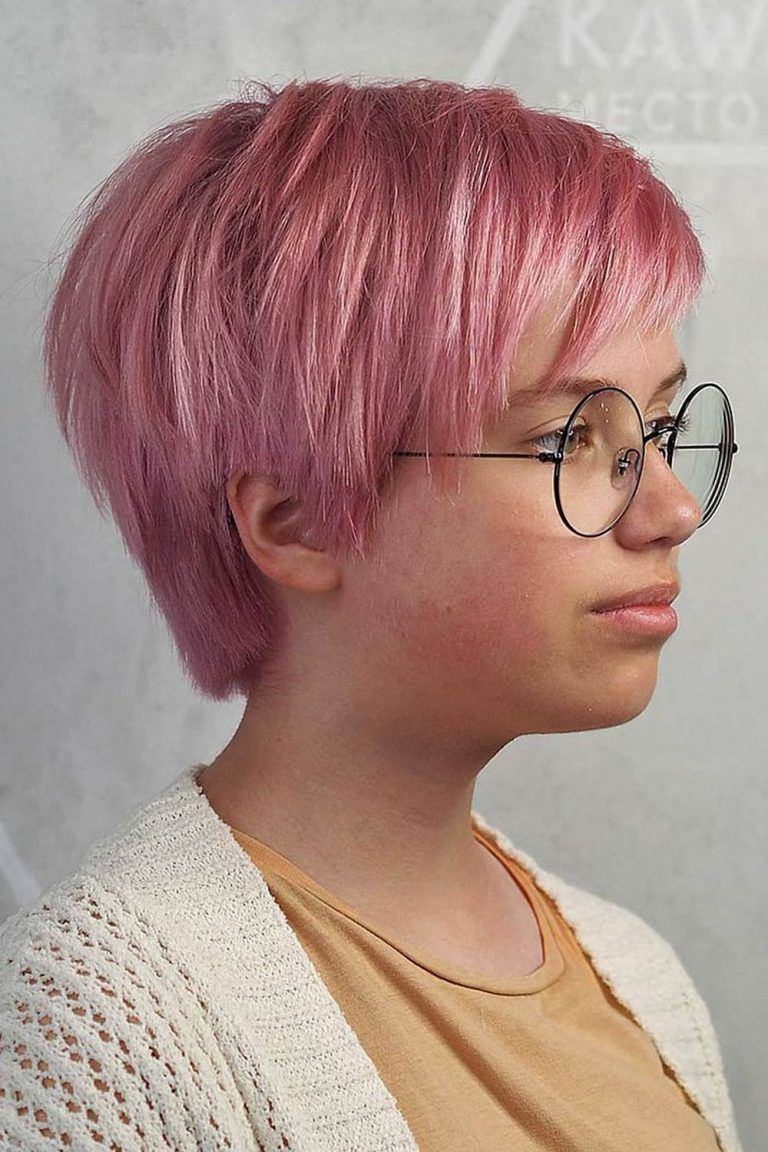 Credit photo: instagram.com/kawaicat_white
Whether your hair is thick and dense or fine and thin, layers and pixie will always be the most iconic duo! It's another simple but impressive haircut that you can style in a variety of ways. When you want to have tons of wispy movement and volume in your hair, blow-dry it as you usually do it. If you'd like to add some sexy beachy definition, spritz your hair with a texturizing salt spray. And in the times when you want your hair to be as polished and neat as never before, apply some clay to your wet hair and brush it back.
Brushed Back Long Pixie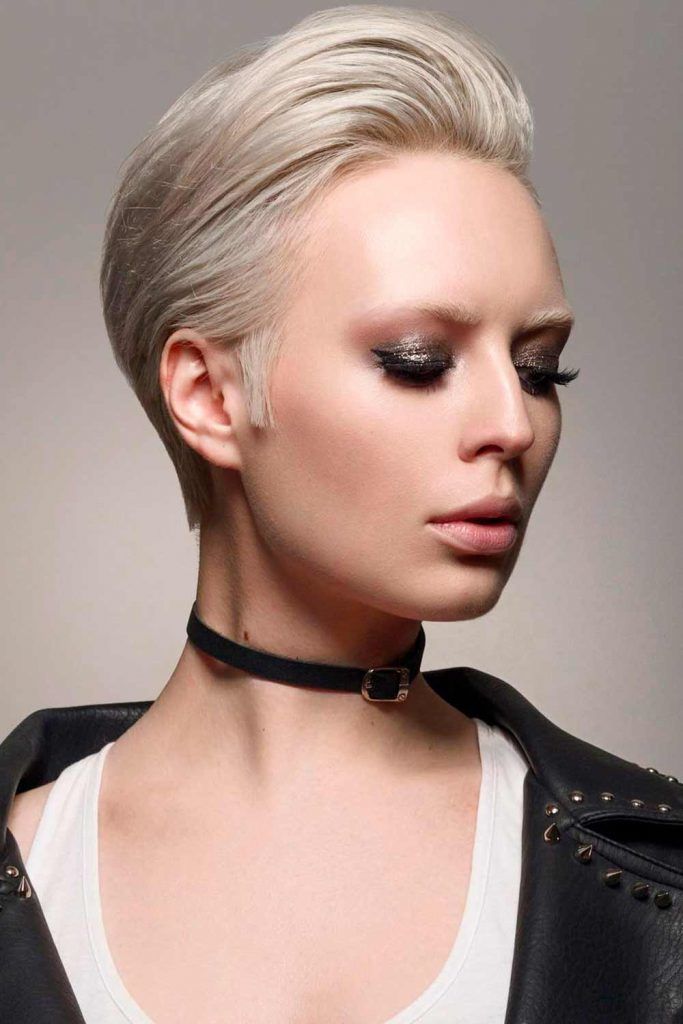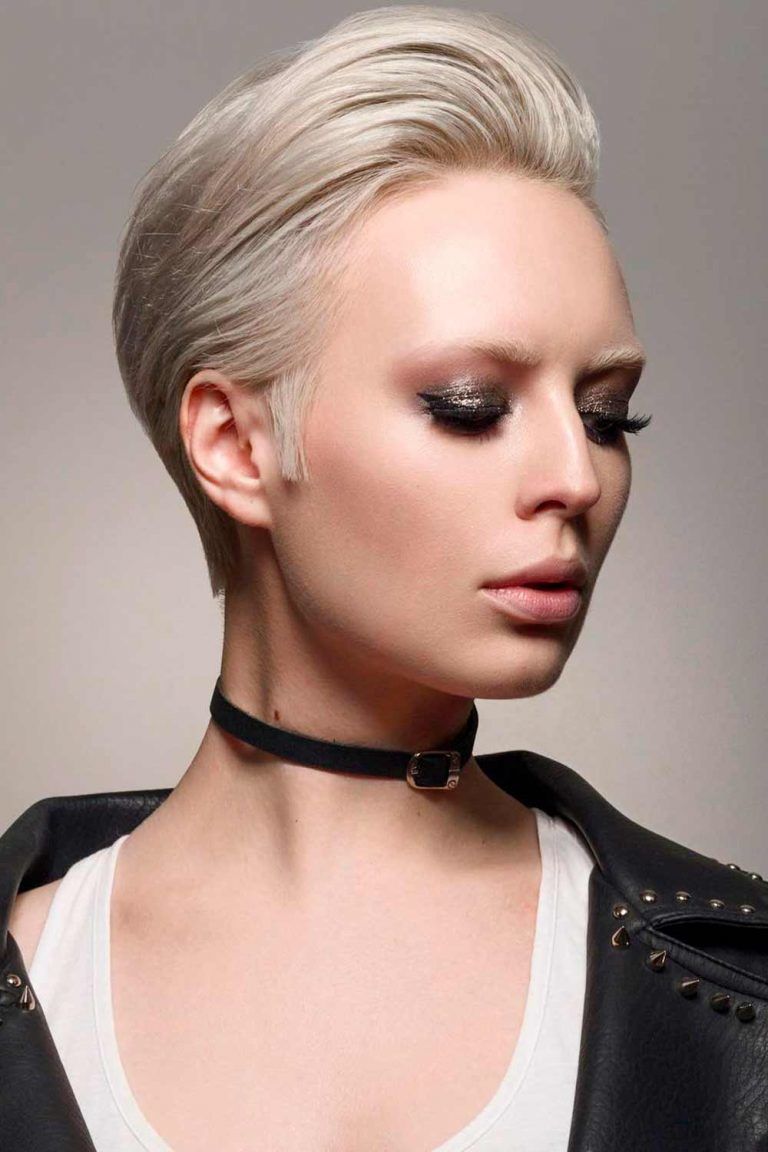 Credit photo: instagram.com/aliyousha
Cannot decide how to style an elongated pixie so that it looks trendy and elegant at the same time? We have a great idea for you. Brush your long bangs back and apply a generous amount of stronghold hair spray to secure everything in place. The sides can feature a taper or a fade for added emphasis or be brushed back as well.
Wavy Pixie with Dyed Bangs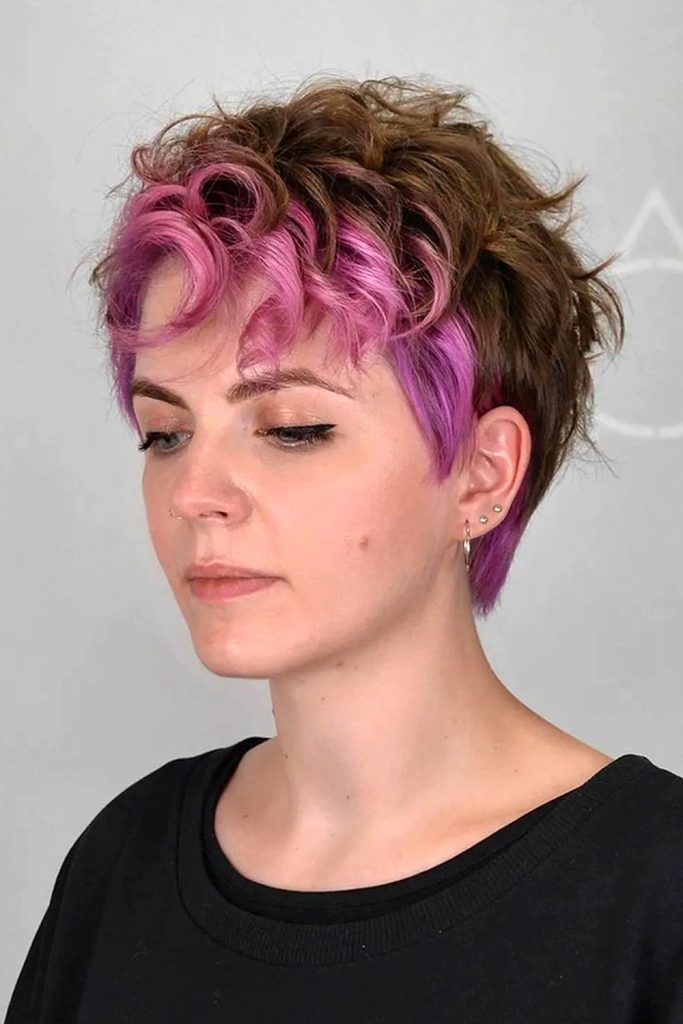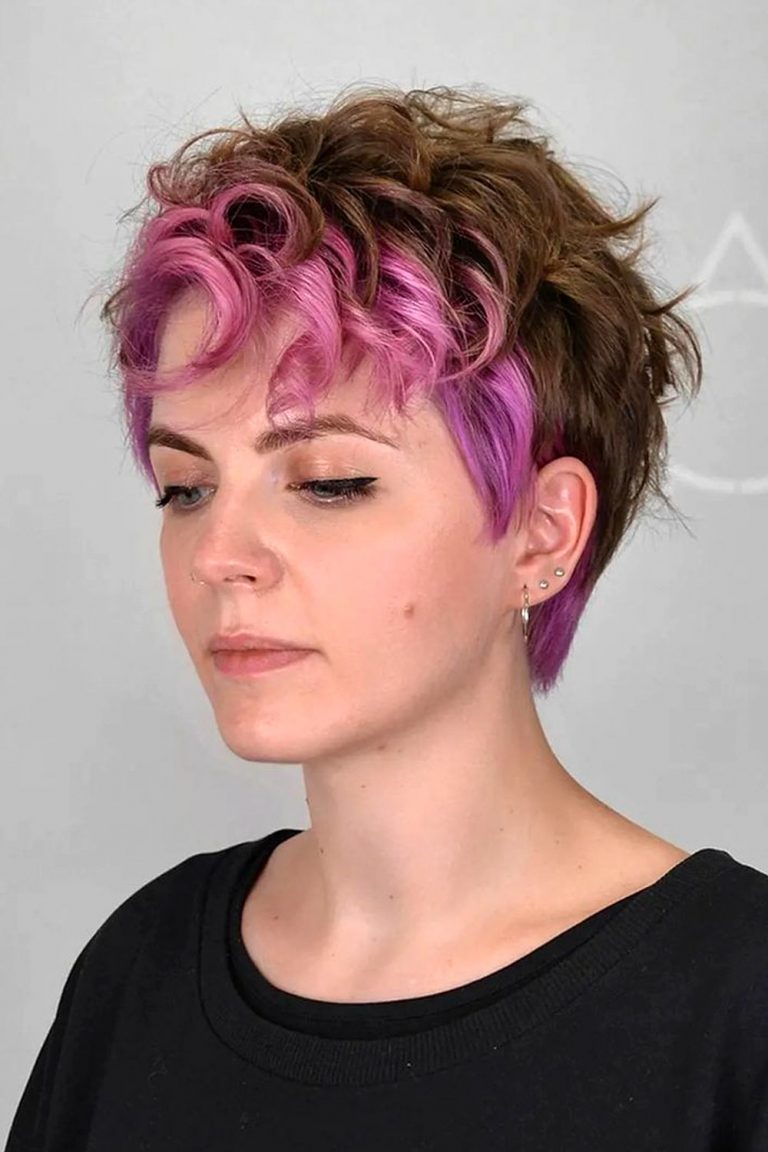 Credit photo: instagram.com/kawaicat_white
There are plenty of ways to accentuate your short cut, starting from defined textures and ending with a pop of color. End the best part? You do not have to choose, as you can incorporate everything in one look. As such, a wavy pixie can be enhanced with dyed bangs. The shade is up to you. Yet, make sure it looks striking against your main color.
Bob Short Hair Cuts
Bobs are classic and classy for many reasons. In fact, the reasons why every woman should go for it at least once in her life are simply countless. And now, you're going to see with your own eyes what you're missing if you still haven't given this cut a shot!
Middle-Parted Blunt Bob
Credit photo: instagram.com/kinlochsalon
i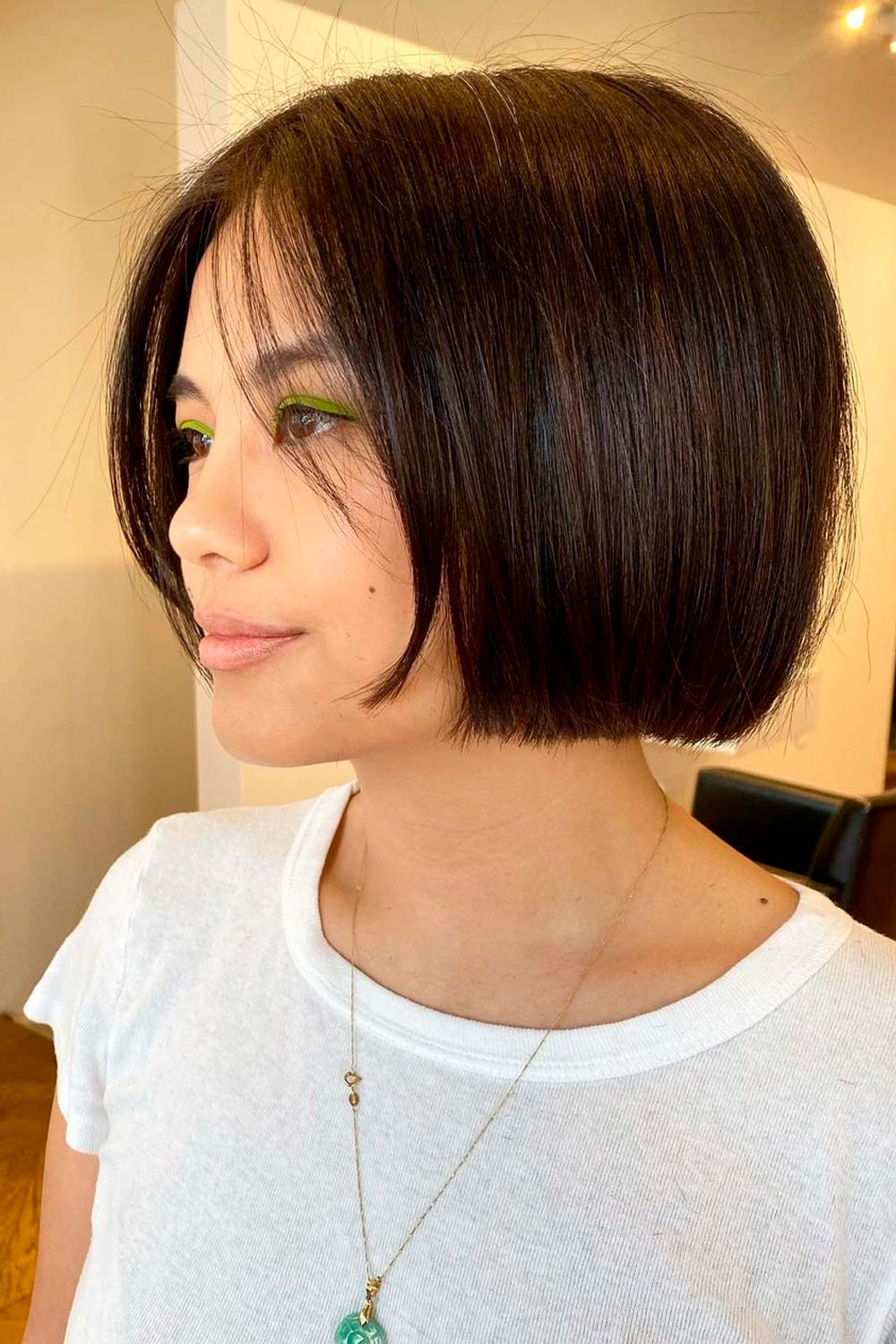 Credit photo: instagram.com/sergeyshapochka
i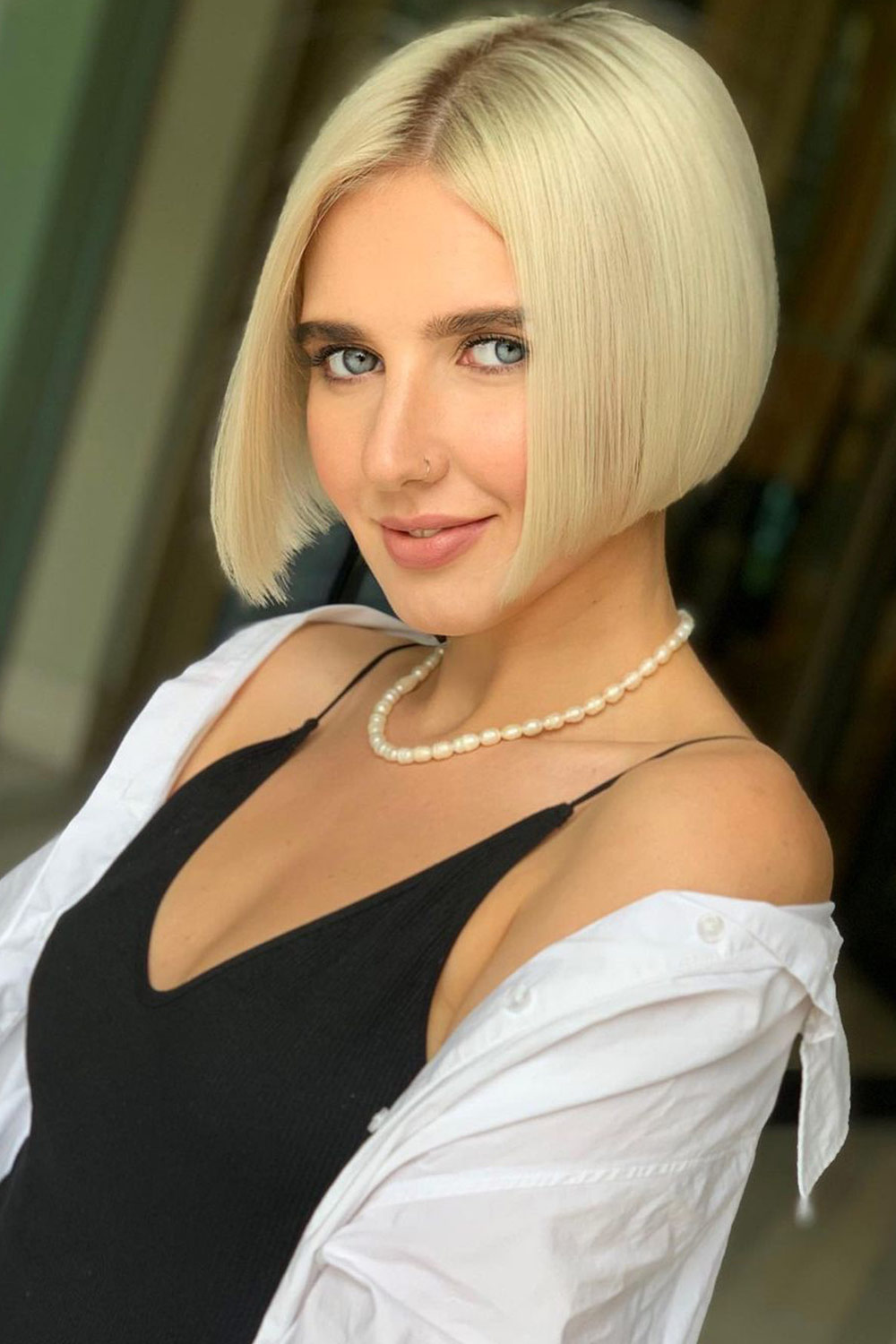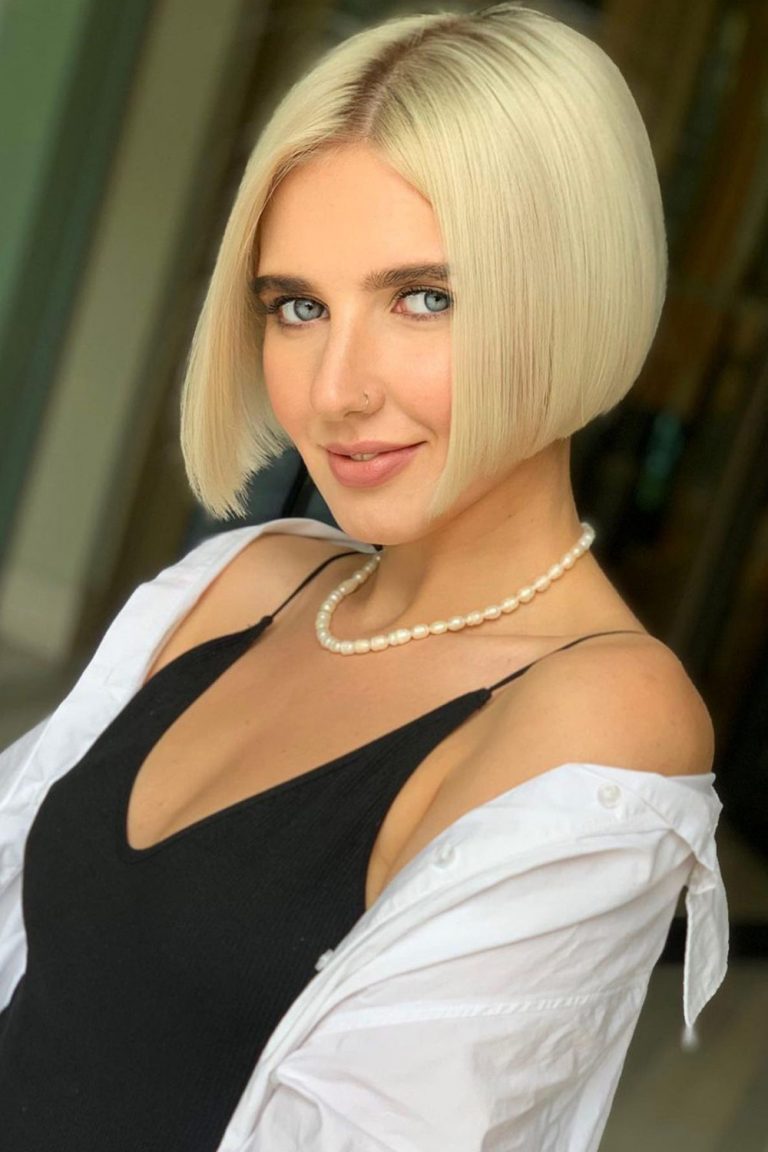 /
Although you may know a blunt bob as a one-length haircut, it still has a slight curve that adds individuality to the look. Since it's a bob, it always features those front pieces cut at an angle to softly frame the face. While it's not visible at all, you can see this face-framing magic once you style your hair to the middle. In fact, middle-parted hairstyles are the easiest and most versatile choice for most looks and occasions.
If you have naturally straight hair, don't forget to enhance the beauty of your texture with shine serums and nozzle attachments. As for those sporting lovely curls, your task is to keep every single strand defined, so a curl-enhancing foam is your must.
Classic French Bob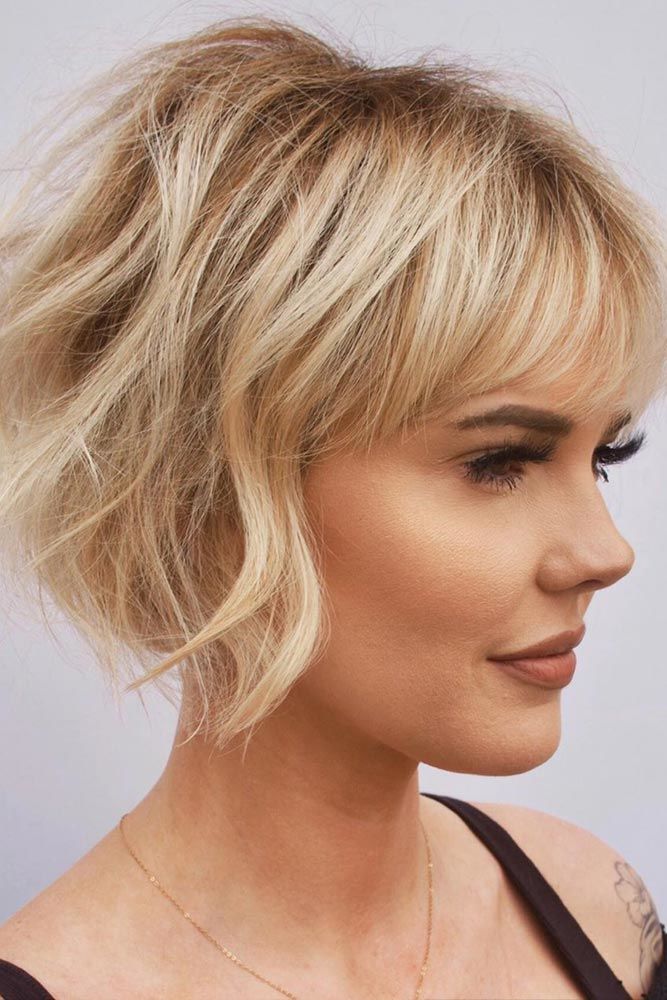 Credit photo: instagram.com/chrisjones_hair
If you ever wanted to try a concave fringe, here's its purest example. Once you have a closer look at it, you will see a smooth framing touch that softly hits the brow line and gently drops at the temples. To create such a well-graduated and seamless fringe, hairstylists cut it at its natural fall. In this way, they make the fringe a part of the whole look, not a stand-alone detail.
Apart from that, the bangs have a pleasant textured finish that nicely blends with fine hair, adding more movement to it with point-cutting. The best way to cut this fringe when it comes to fine and thin hair is to keep as much weight as possible, keeping the elevation at a minimum. As for haircuts that will look best with concave bangs, the variety knows no limits. A classic bob, however, is an ageless choice, especially if you wave it a little.
Bob and Modern Curtain Bangs
Credit photo: instagram.com/cut_and_color
i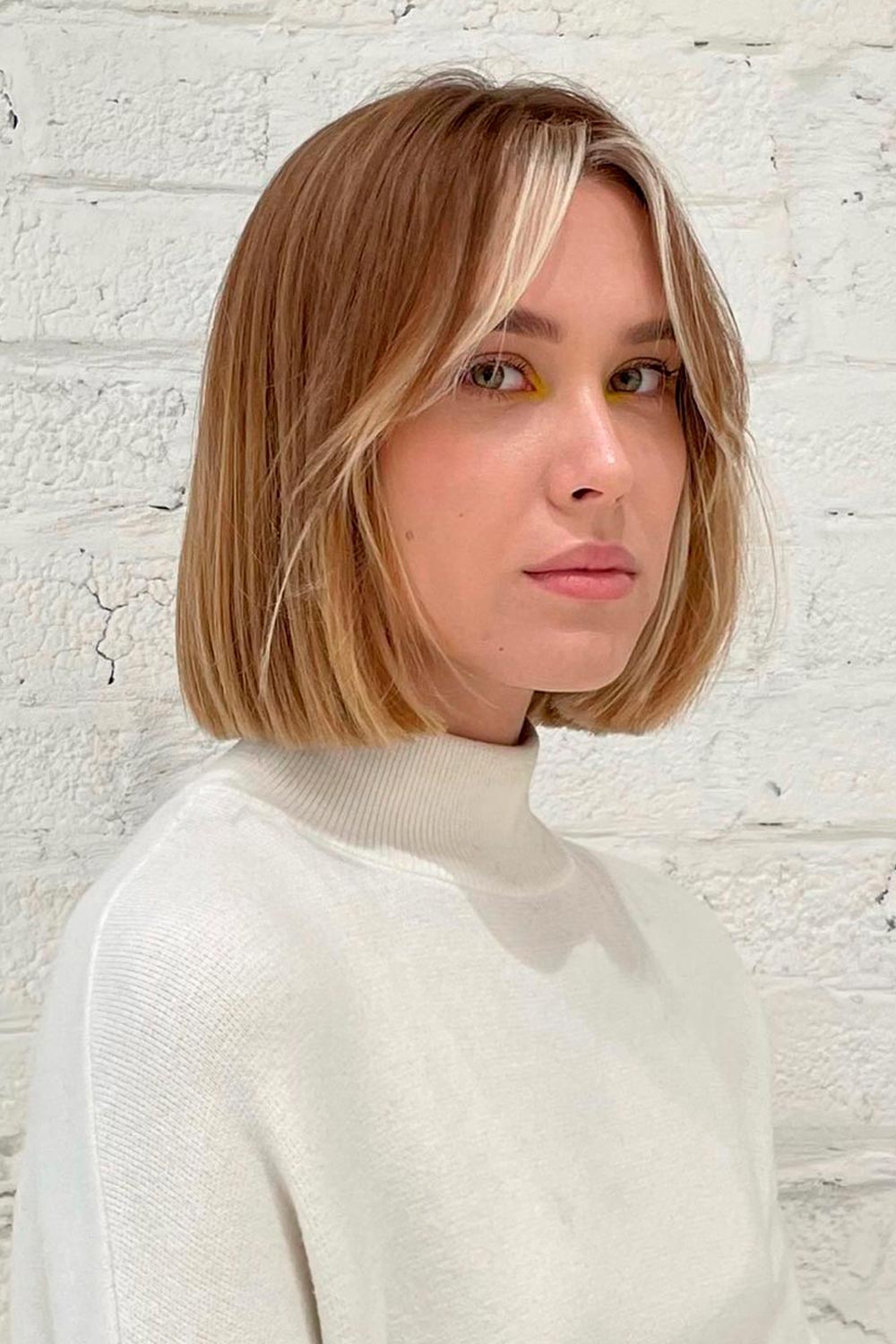 Credit photo: instagram.com/cut_and_color
i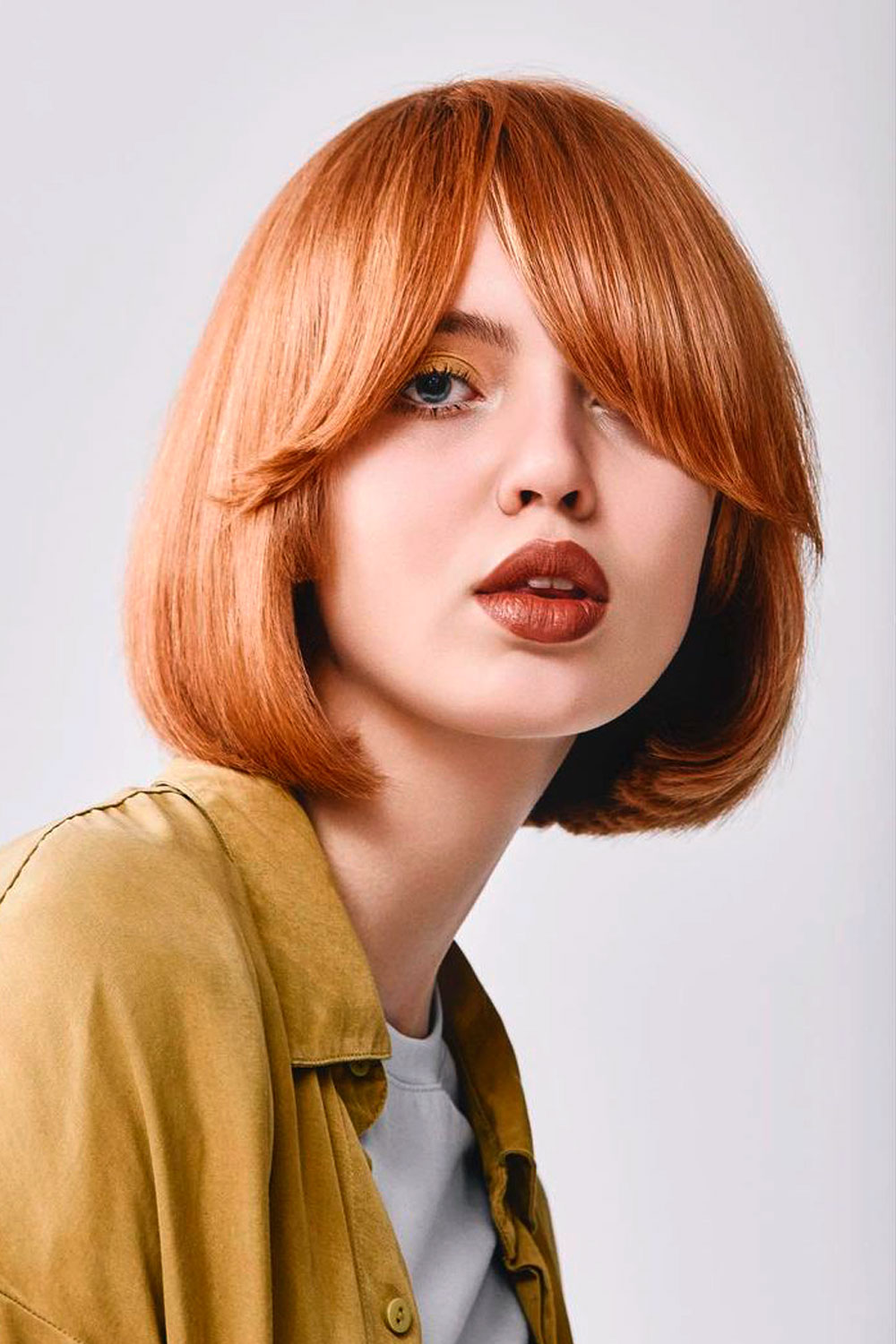 /
Curtain bangs are known for their versatility. They go well with basically any women short haircut. Looking for something practical, yet modern? Do not hesitate to match a curtain bang with a classic bob. These two popular haircuts are made for each other. Do not take our word for granted? See for yourself.
Bob With Chunky Balayage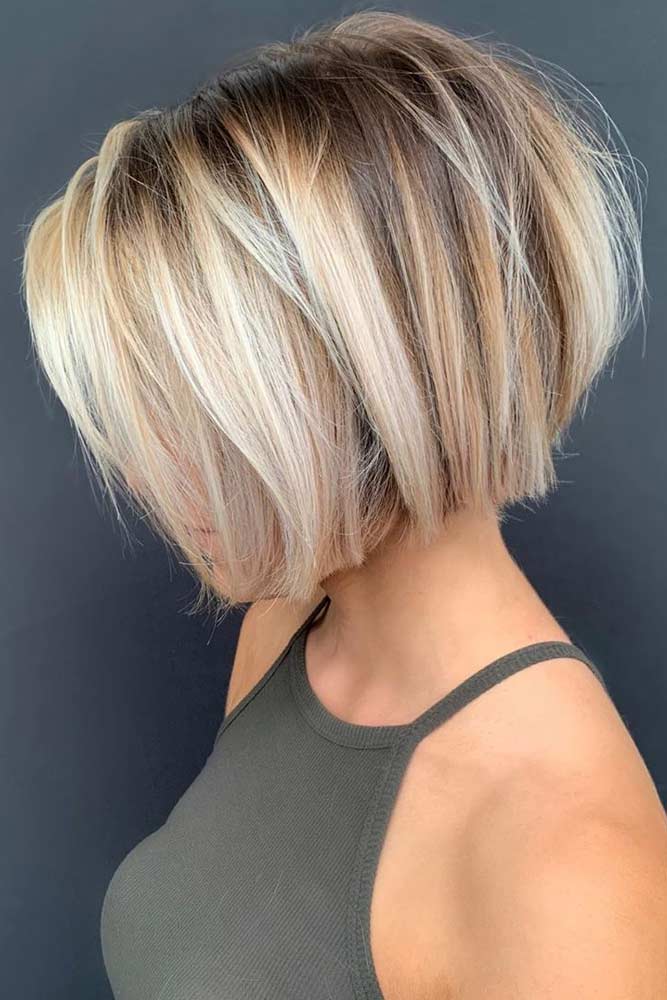 Credit photo: instagram.com/styled_by_carolynn
When planning the next hair transformation, don't limit yourself with a haircut only. All in all, haircuts and hair colors go hand in hand when it comes to big changes. And this short bob with dramatic balayage is here to show you how you can make the next hair appointment game-changing.
For example, a properly chosen color idea can make your hair fuller visually, which is a win for ladies with fine hair. Also, balayage features several matching and contrastive tones which can create a stunning dimension for your locks. As a result, you will simply take your bob to the next level.
Wavy French Bob Vibes from 1920'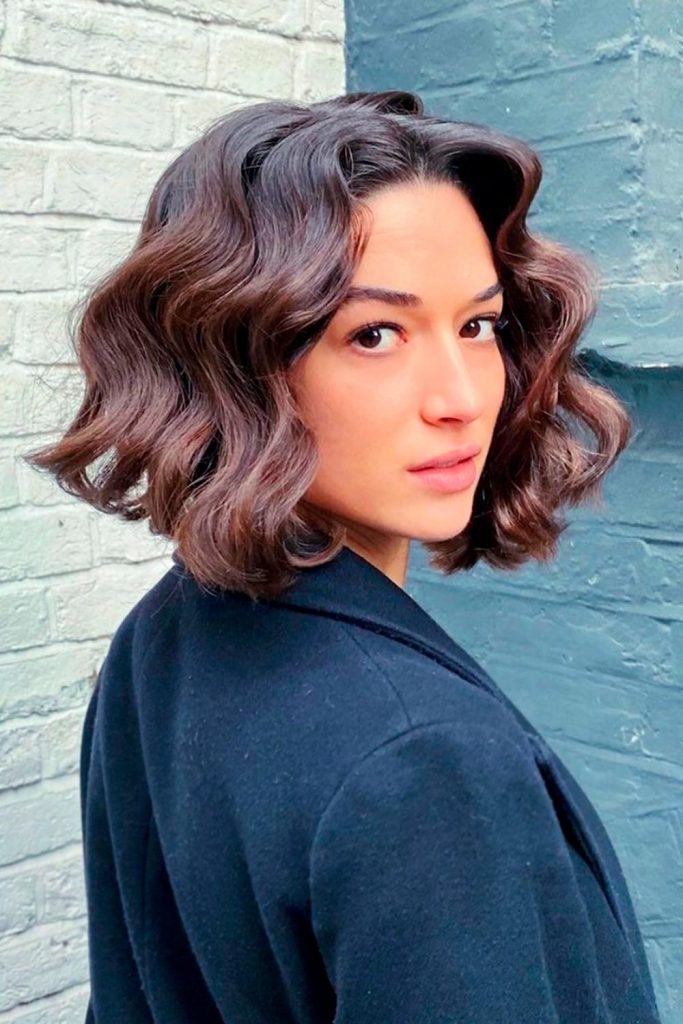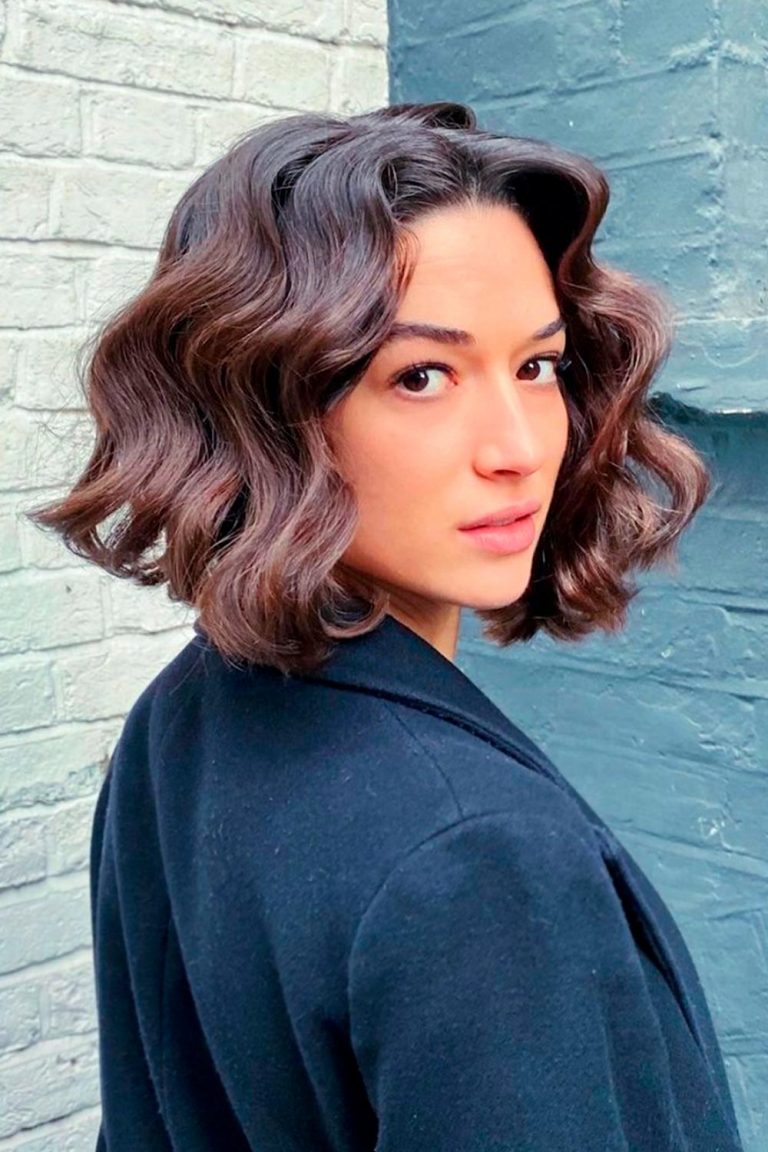 Credit photo: instagram.com/tomsmithhd
It is always a good idea to draw some inspo from retro hairstyles. The 1920s was the era of chic and sophisticated hair looks with a wavy French bob being among the most popular. So, why not recreate it with a modern touch? To shape up perfect waves, you will need a three barrel curling iron and a texturizing hair product.
Side-Parted Wavy Rose Bob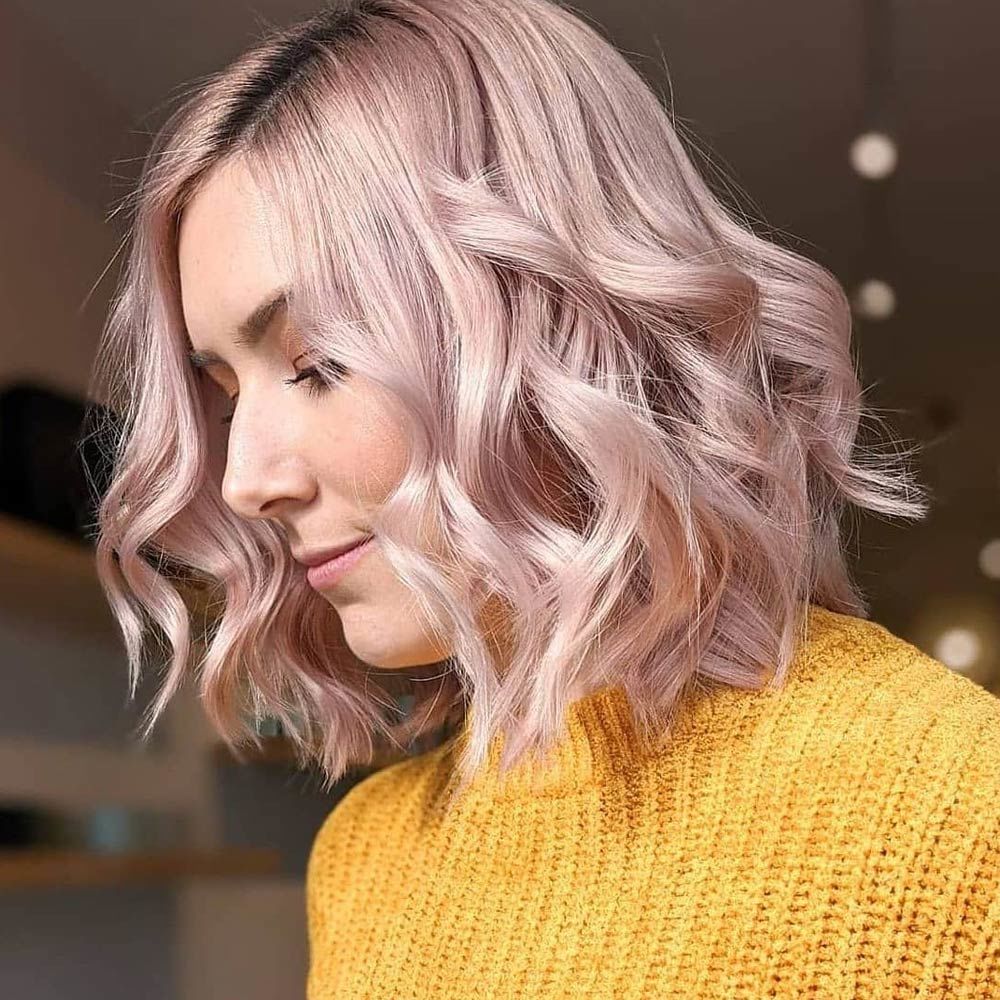 Credit photo: instagram.com/foxandjane
If you still haven't tried a bob haircut, this pic is here to regret your indecision! On short hair, it's easier to boost volume with textured hairstyles like waves and curls. Also, it doesn't take much time to wave those locks, giving you a hairstyle that you can rock the whole day. As for those who already wear a bob, don't miss this idea! A bright shade of pink, side-part that intensifies the flow of waves, and the volume of waved hair is the combo you should recreate if you want to stand out.
Straight Bob Best Short Haircuts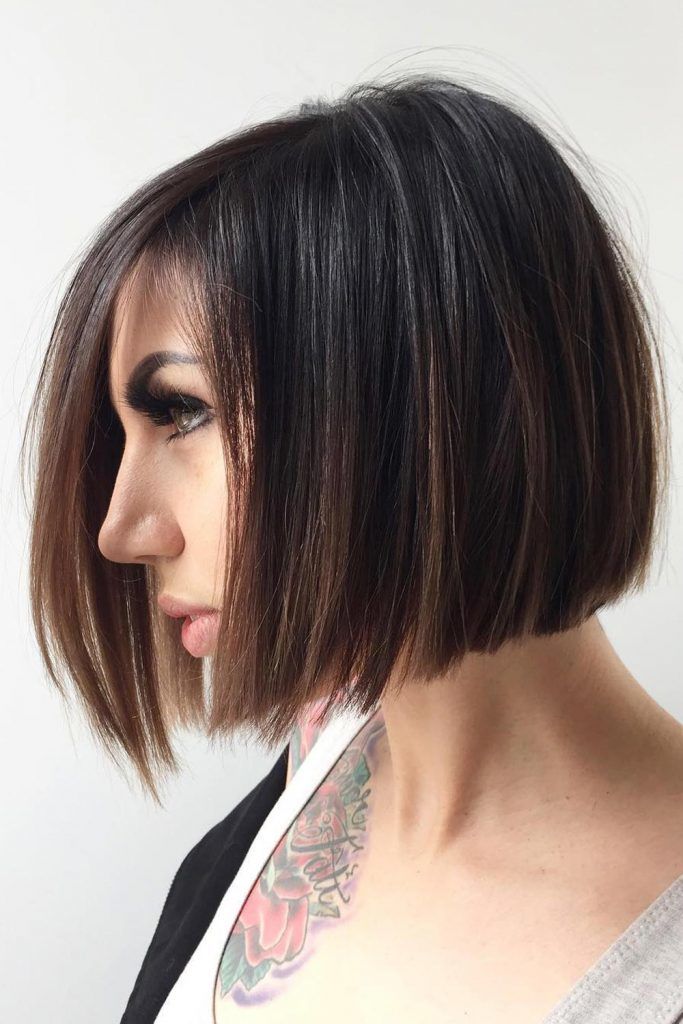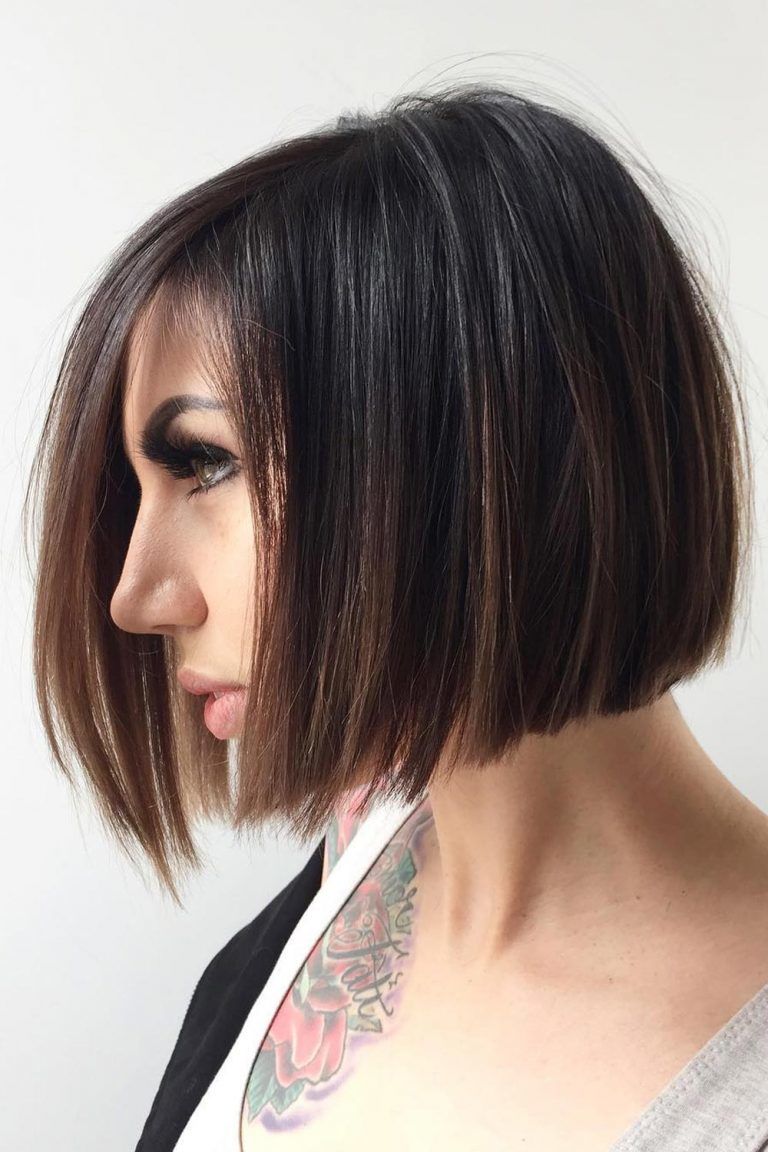 Credit photo: instagram.com/goddamneddavid
Straight bob best short haircuts are back in town! Unlike their messy compatriots - straight bobs are the ones to relieve you of the pain of time-consuming styling and such. All you need to deal with a straight bob is your naturally straight hair and a little bit of help that a hair straightener can provide. As simple as that! But the variety of choices is still huge so that there will always be something to win your heart for sure!
Classic Bob Haircut With French Fringe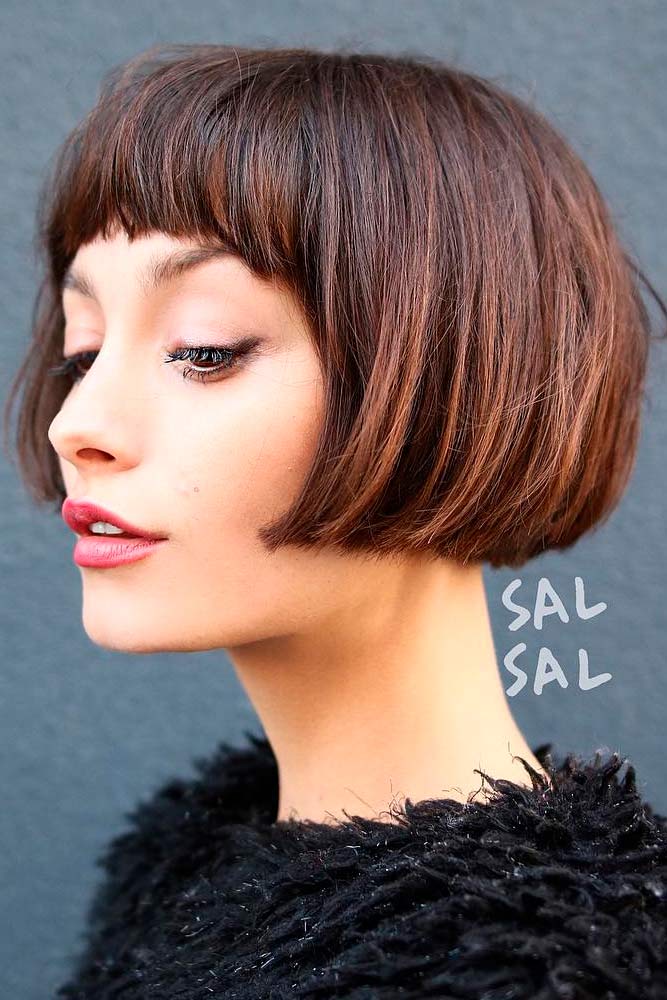 Credit photo: instagram.com/salsalhair
The French fringe cut is a cut that can go from mudding in the backwoods to a 5 star gala with little effort. Its versatility is one of its most attractive attributes. The classic bob has long been a hairstyle chosen by women worldwide for its versatility and ease of styling. A bob haircut is always in style no matter the season no matter where you are in the world. It is quite literally a global style spanning cultures and ethnicities all over the globe.
90's Look - Wavy Layered Bob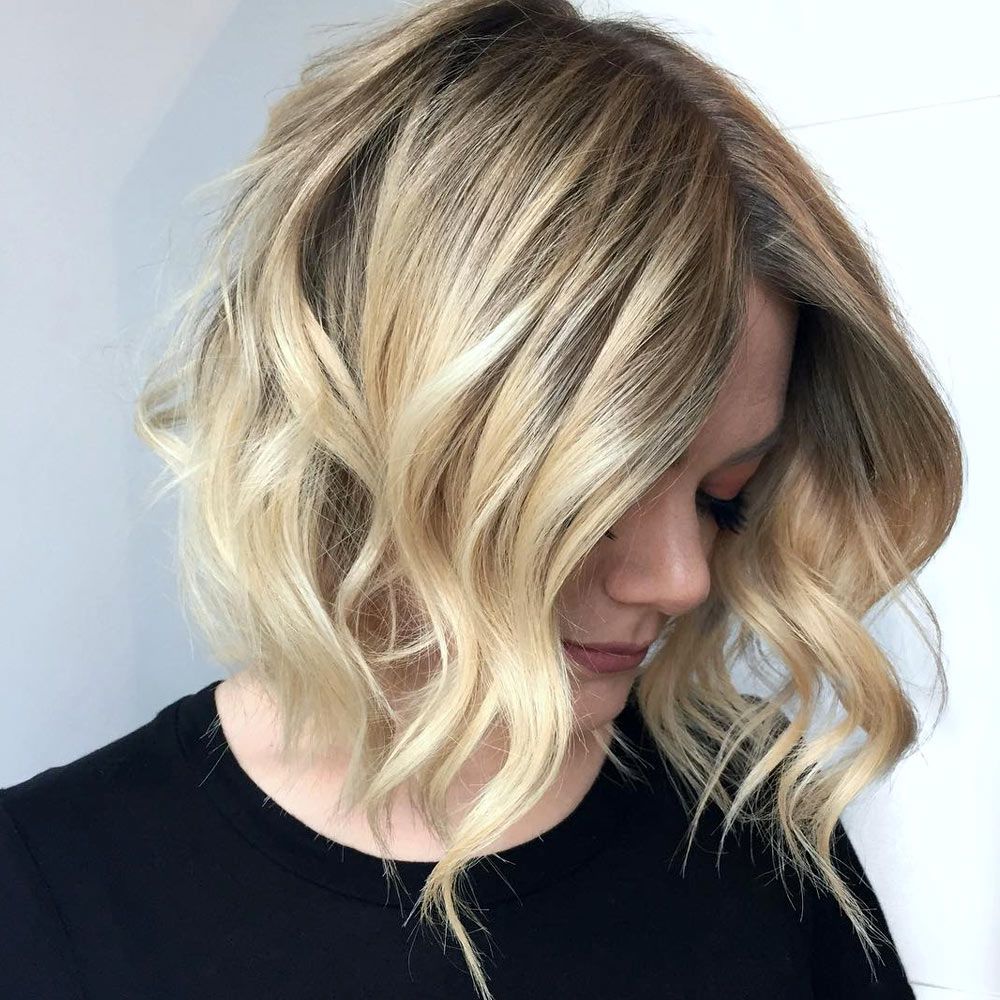 Credit photo: instagram.com/goddamneddavid
A layered bob is one of the trendiest short haircuts that suits almost every face shape. Being a safe bet, this hairstyle includes creating layers of different lengths. All of these layers end at your shoulder.
Another great aspect of this short hairstyle is that the blonde highlights in contrast to the darker hair under it will make your hair appear voluminous. By giving your locks some texture with a little bit of loose curling will enhance the look even further.
Straight Layered Bob
Credit photo: instagram.com/cutyourhair
Straight, fine hair can be made to look voluminous by adding a couple of layers to your short haircut. A layered bob that is just a little below chin length and has shorter hair in the front can accentuate your features and not make your hair look limp anymore.
Play up this short haircut for fine hair by adding some highlighter hair strands to it. Colors like lavender look great against the background of darker roots in the hues of deep brown or burgundy.
Side Parted Blunt Bob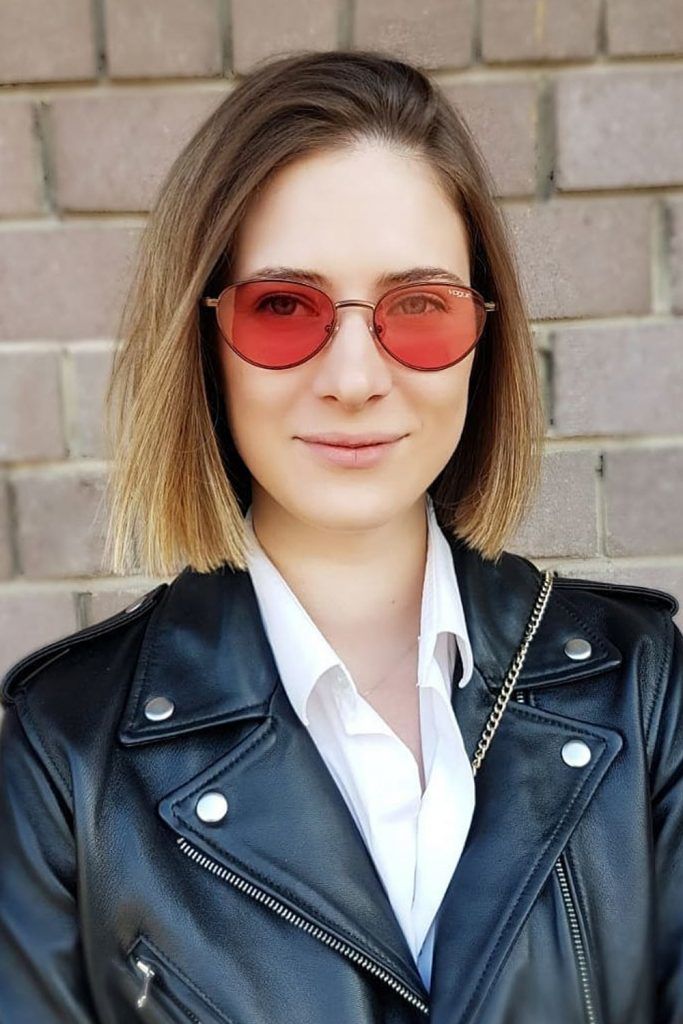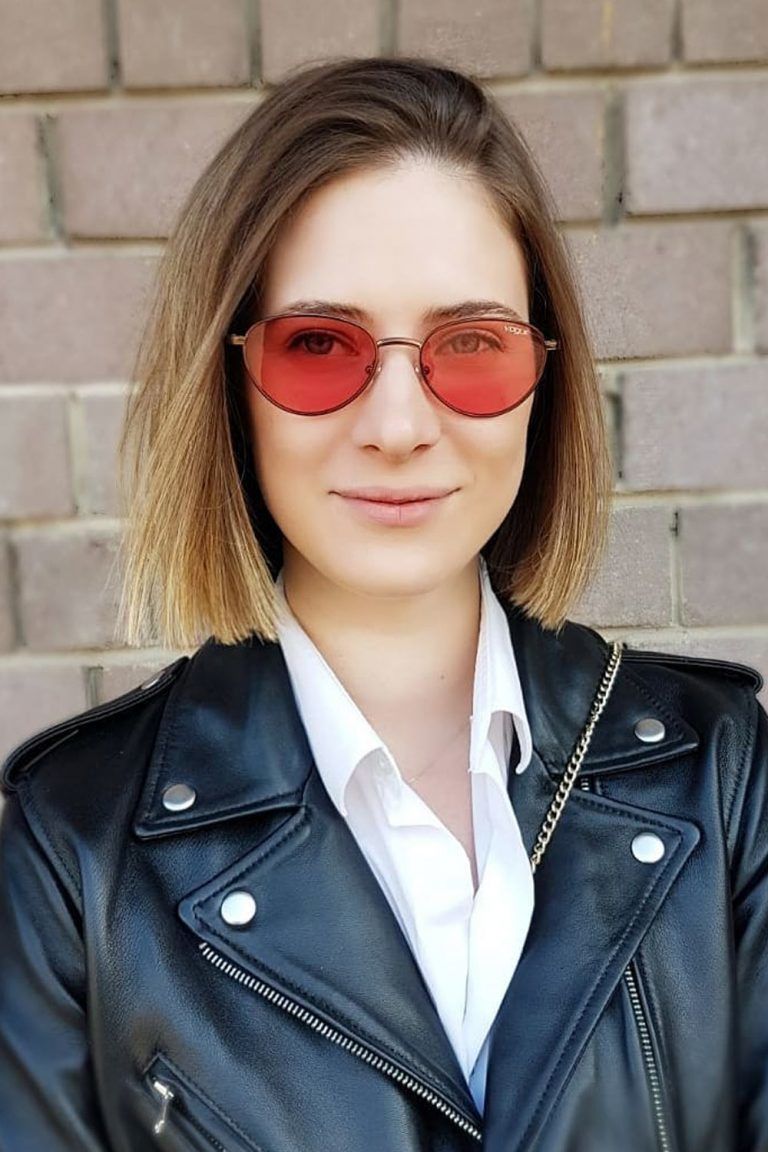 Credit photo: instagram.com/ilyashuvalov_nn
If you're looking for a wash-and-go hairstyle, then the bob with a side part is the cute short blunt cut you want to pursue. It is important to have the right hair tools, including hair products, to achieve the look. The blunt bob, also known as a straight-across cut, is an increasingly popular choice among women of all lifestyles today. Whether it is a formal or casual occasion, this hairstyle will do. You can also obtain various looks with this cut by wearing it straight or curly or anywhere in between.
Angled Short Bob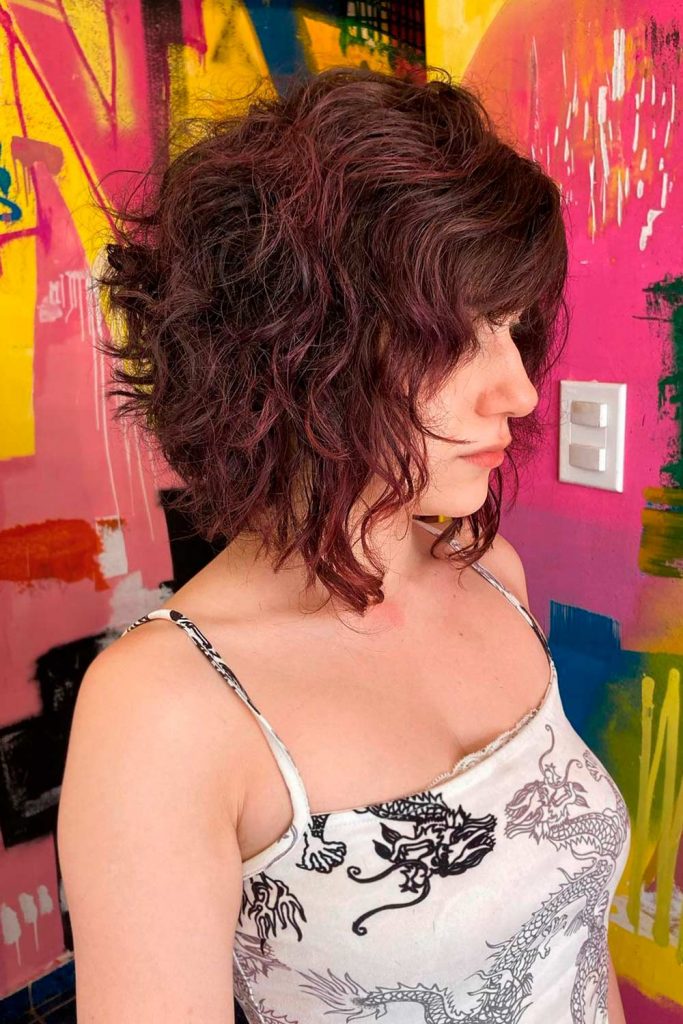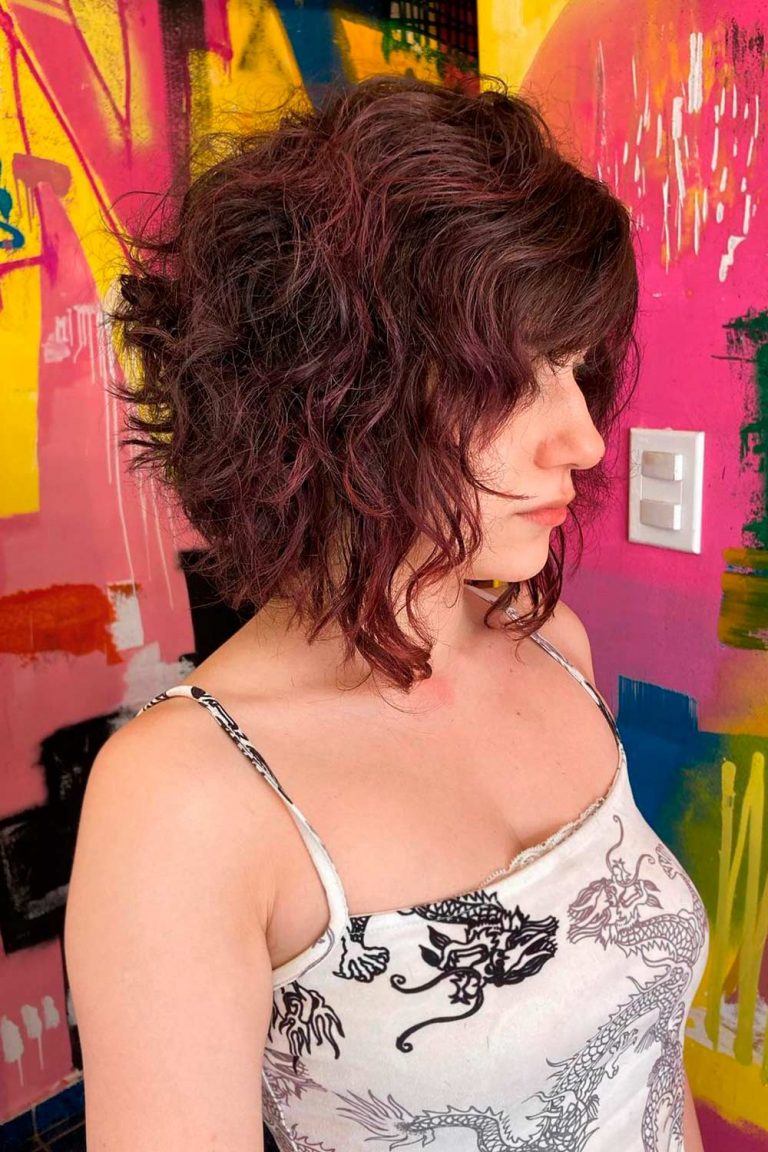 Credit photo: instagram.com/exotismos
This beautiful angled bob hairstyle is a pristine example of short, edgy haircuts. The various lengths add both volume and bounce to this hairstyle. The lifted silhouette on the back of the head and longer short tresses add a touch of class while keeping to the expectations of the modern society. This hairstyle can be wild and care-free with a messy look, or it can be tamed down and sleek. Among the short hairstyle trends, the bob is a go-to for a new hairstyle. This style can also be altered in various ways to add a more intense level of depth. Whether you choose to taper the cut or to shape the ends, it gives a fresh and stylish look to the hairstyle.
A-line Bob With An Undercut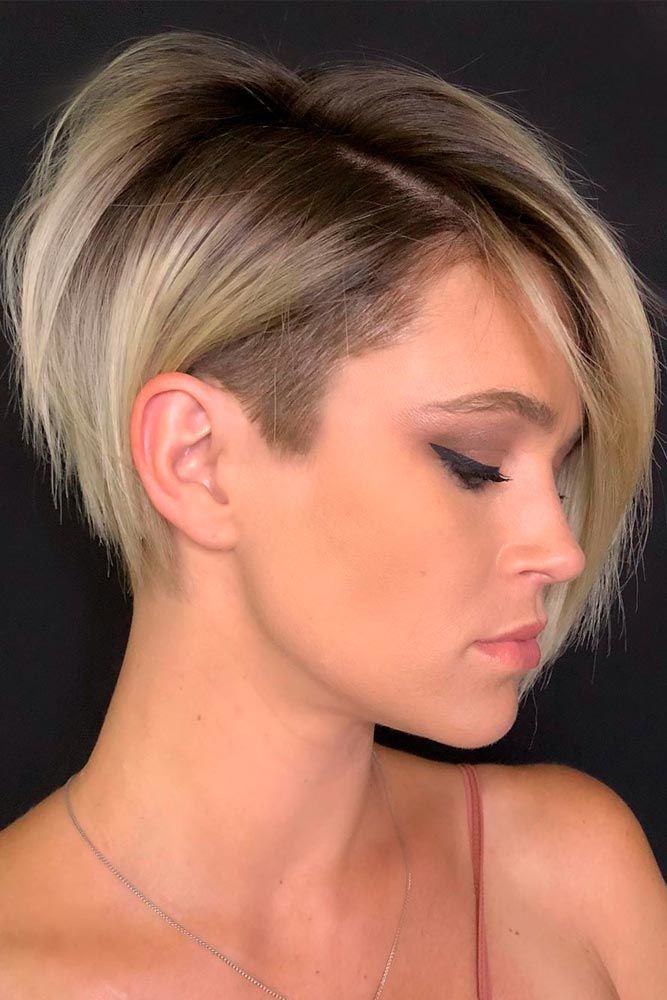 Credit photo: instagram.com/de.ja.hue
If you really want to turn heads with an edgy hairstyle, add a short undercut to your list of options to try. Even though these styles may be a little on the extreme side, they are still very feminine and stylish. If properly managed, they can still work for almost any occasion or setting. The undercut is highly popular among short hair cuts for women. And it has adapted to a broad range of options varying in levels of extreme. Your hair type can play a major role in the type of short haircut you should acquire, as well.
Chin-Length Bob With Bangs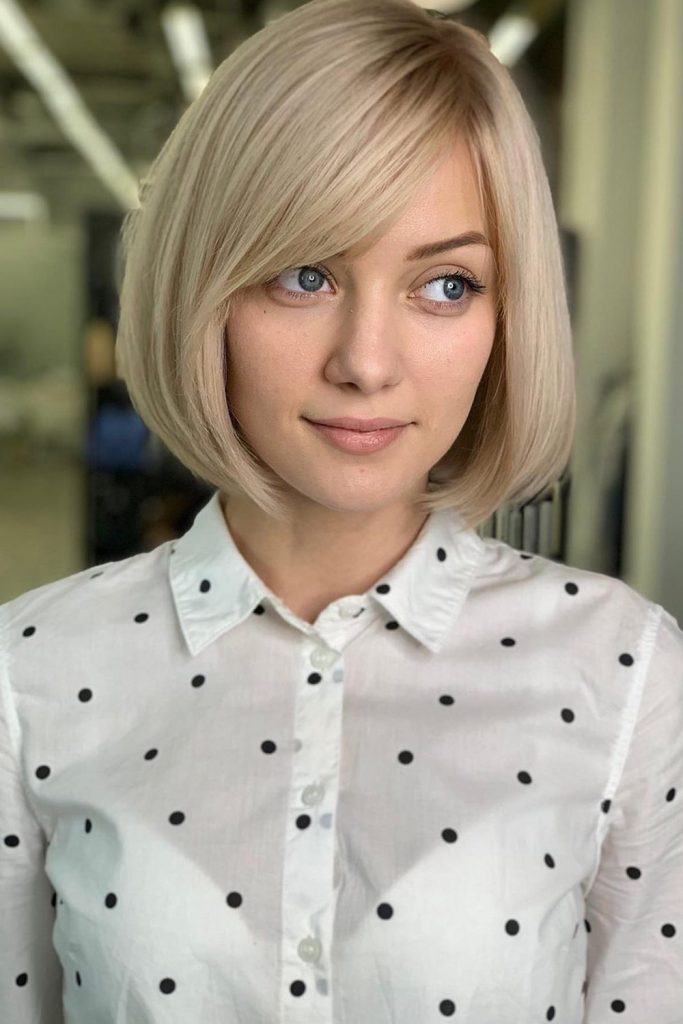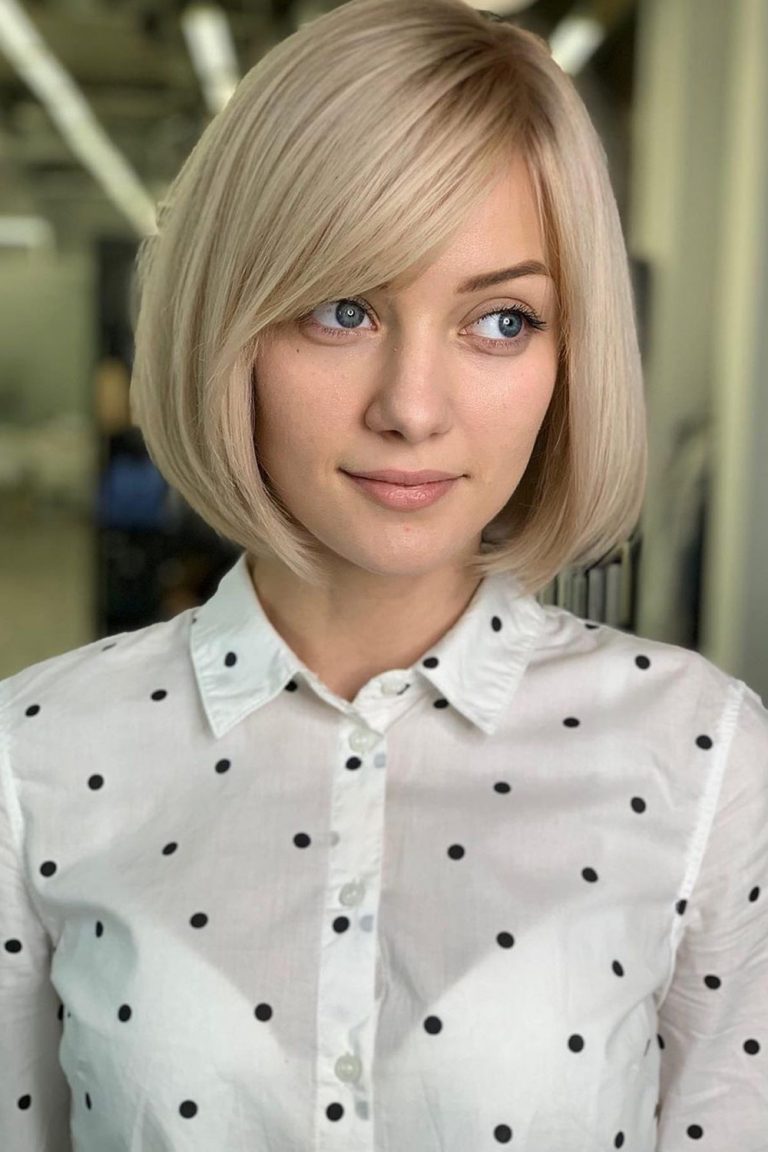 Credit photo: instagram.com/sergeyshapochka
Tell us, who doesn't love a chin-length bob with a bang? This haircut is especially flattering for those who have defined cheekbones and would like to accentuate them. Plus, this cut can grant more texture to your tresses.
You should opt for a chin-length bob in case you would like to enhance movement and add some fullness but without adding curls. Just look at these super hot hairstyles. These color variations appear especially up-to-date. These looks will be appropriate for a day at the office and also for a night out on the town.
Bob Haircut With Bold Middle Section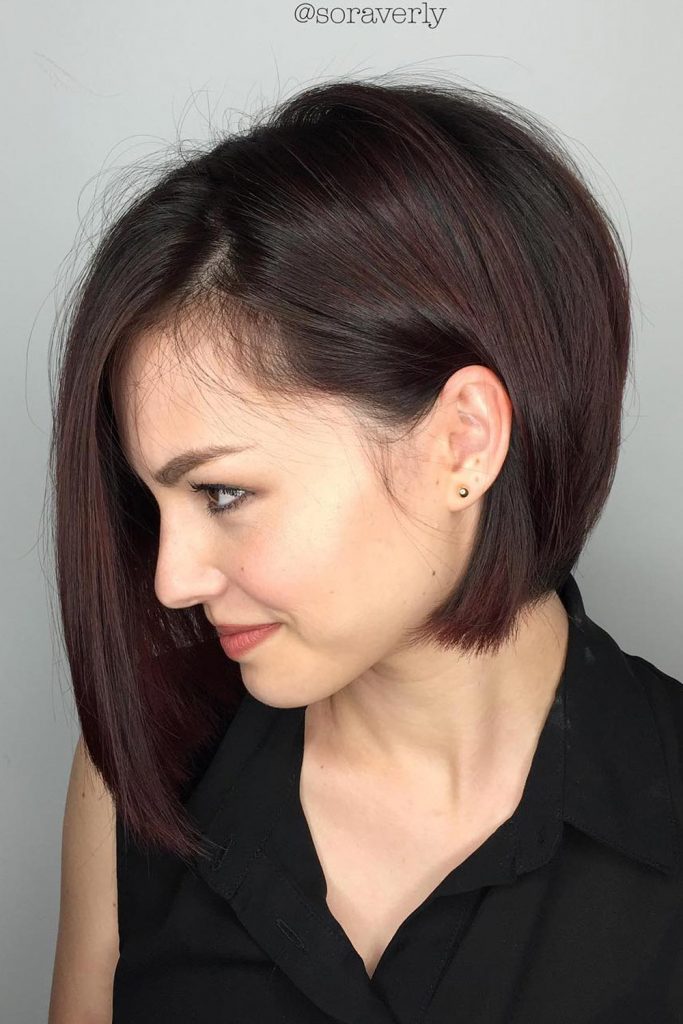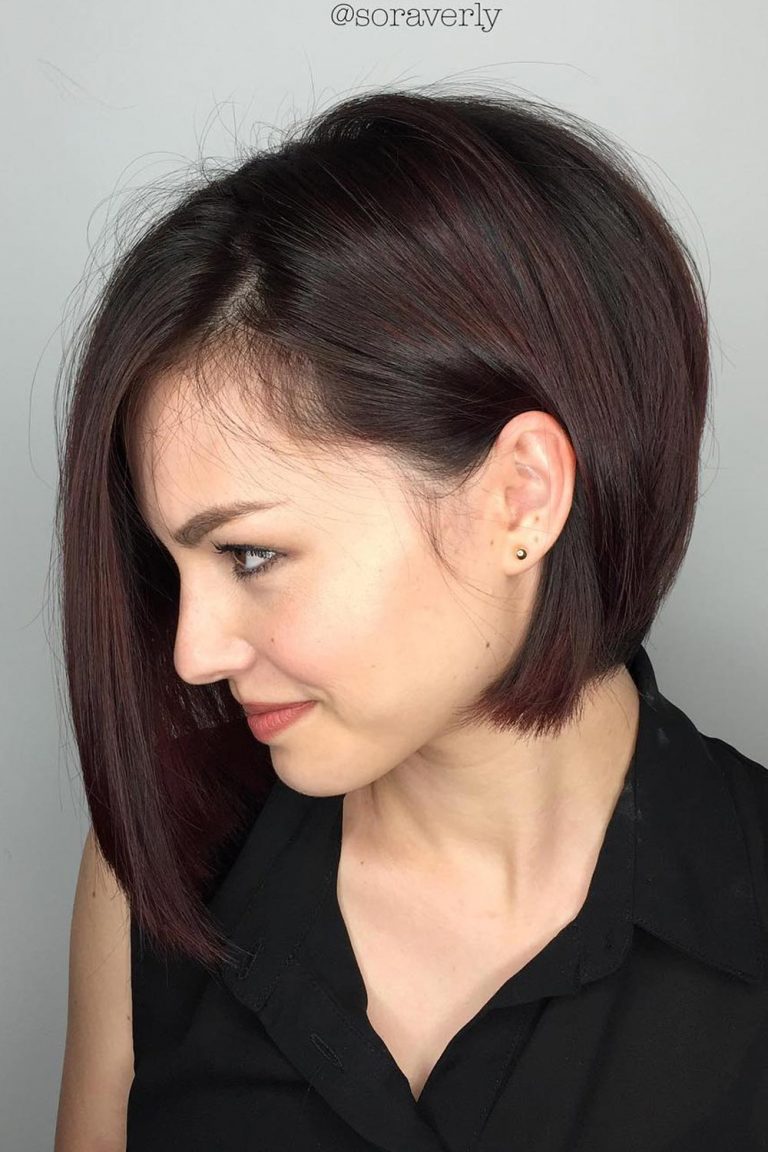 Credit photo: instagram.com/soraverly
This short haircut almost touches your shoulders and comes in the short to medium layered bobs category. Choppy ends make the hair look a little messy but stylish at the same time.
The short layers in the front make this bob haircut with bangs easy to style as flat-out bangs or side-swept bangs. To add a touch of boldness to it, ask your hairstylist to dye the middle section of your hair with vibrant color.
Shaggy Bob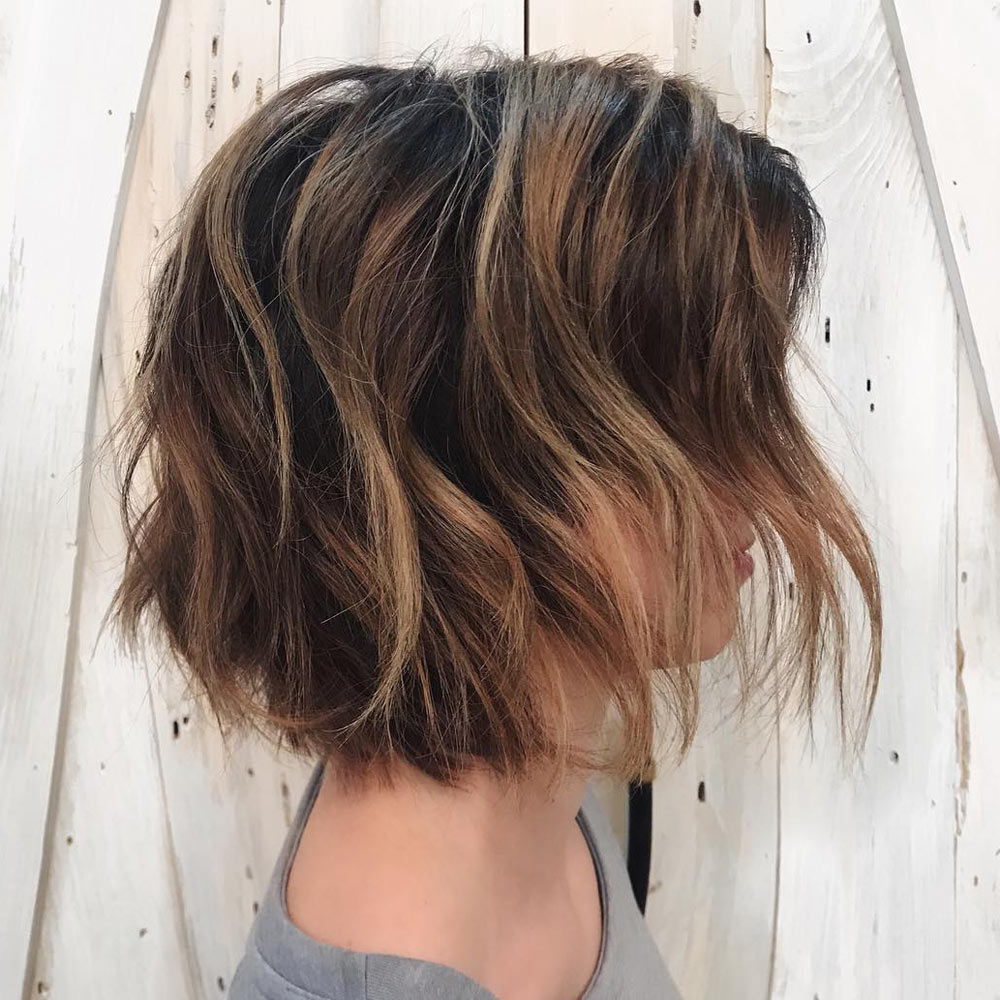 Credit photo: instagram.com/hairbymandielynn
This is the perfect choice when you want a short haircut that is easy to create and maintain. A messy, shaggy cut like this contains uneven layers of hair that can be styled with minimum effort.
This layered haircut will give you that 'bedhead' look that has been popular on the fashion show ramps for quite some time now. You can either leave the hairstyle as it is or use some styling cream to make it look more tousled. For a sophisticated look, use two to three hairpins to pin a few strands at the back of the head.
Asymmetrical Wavy Bob
Credit photo: instagram.com/soraverly
i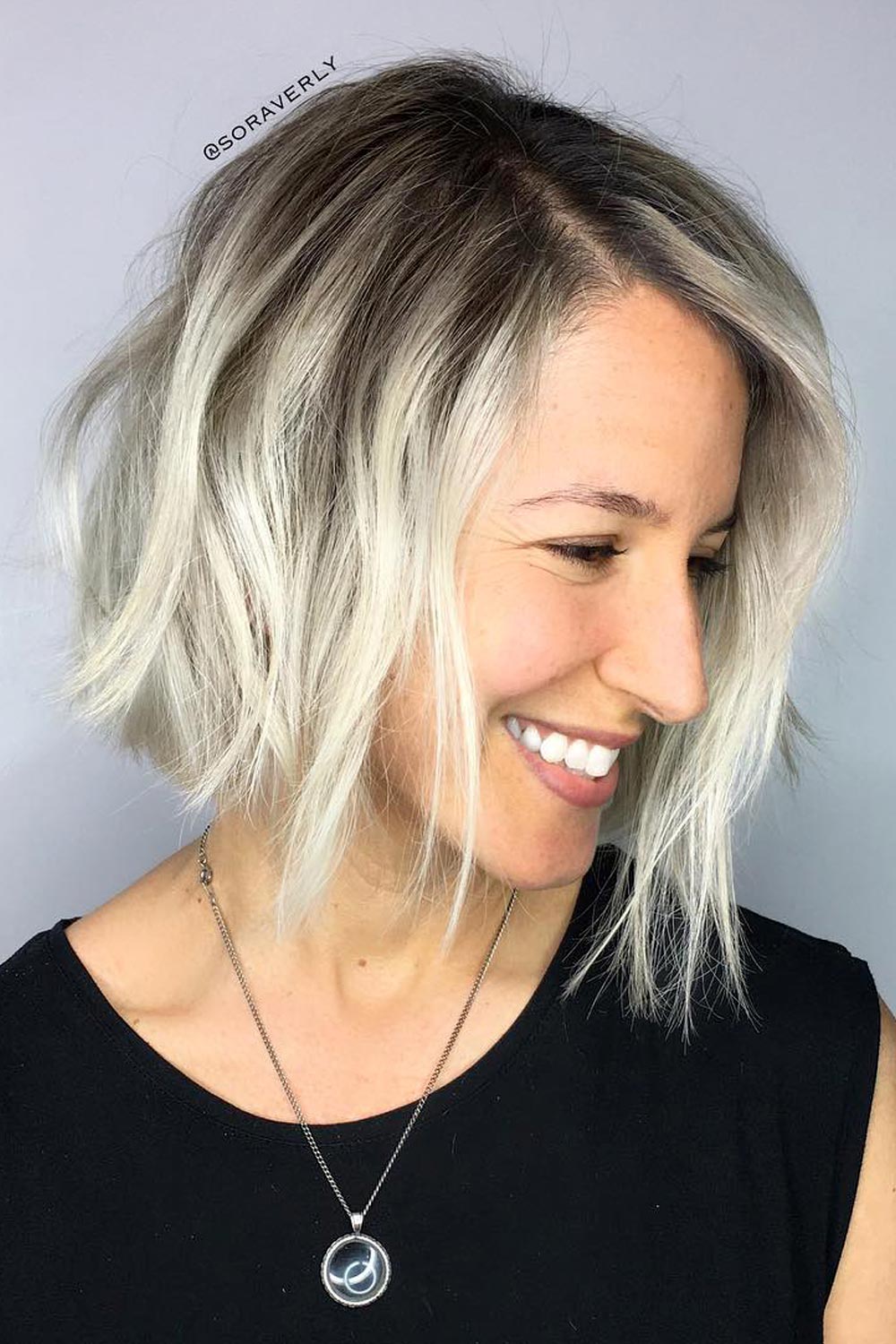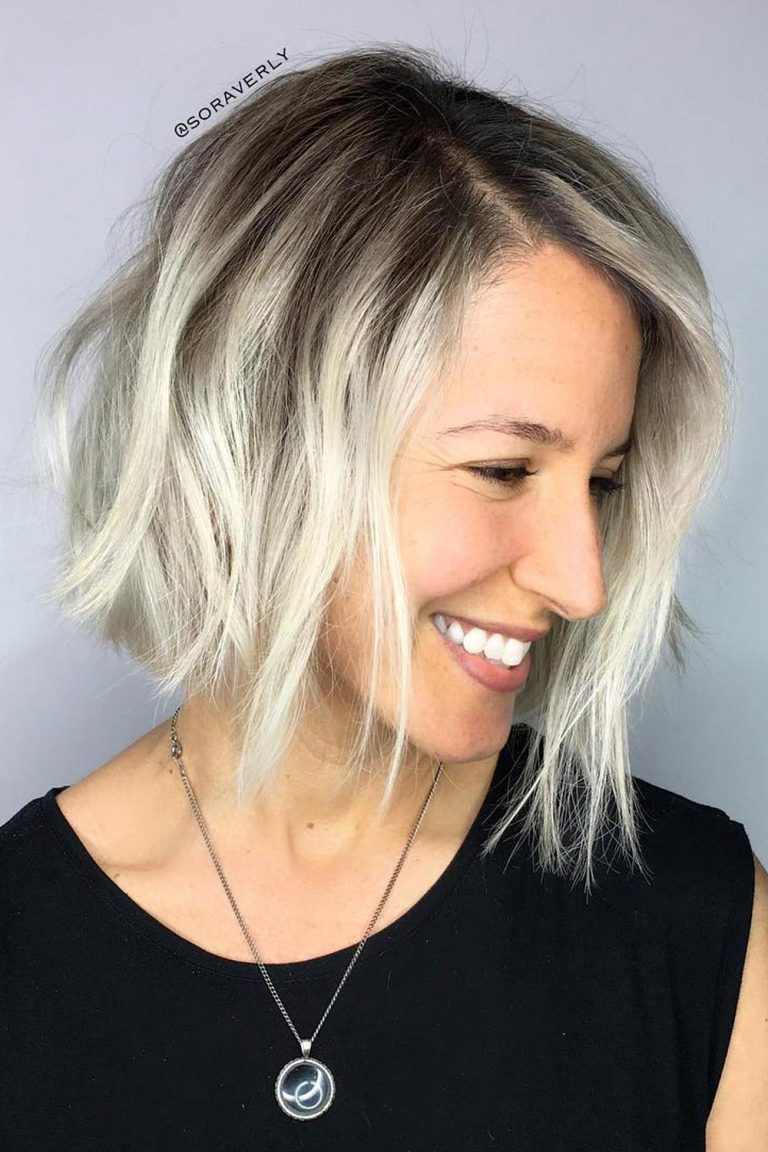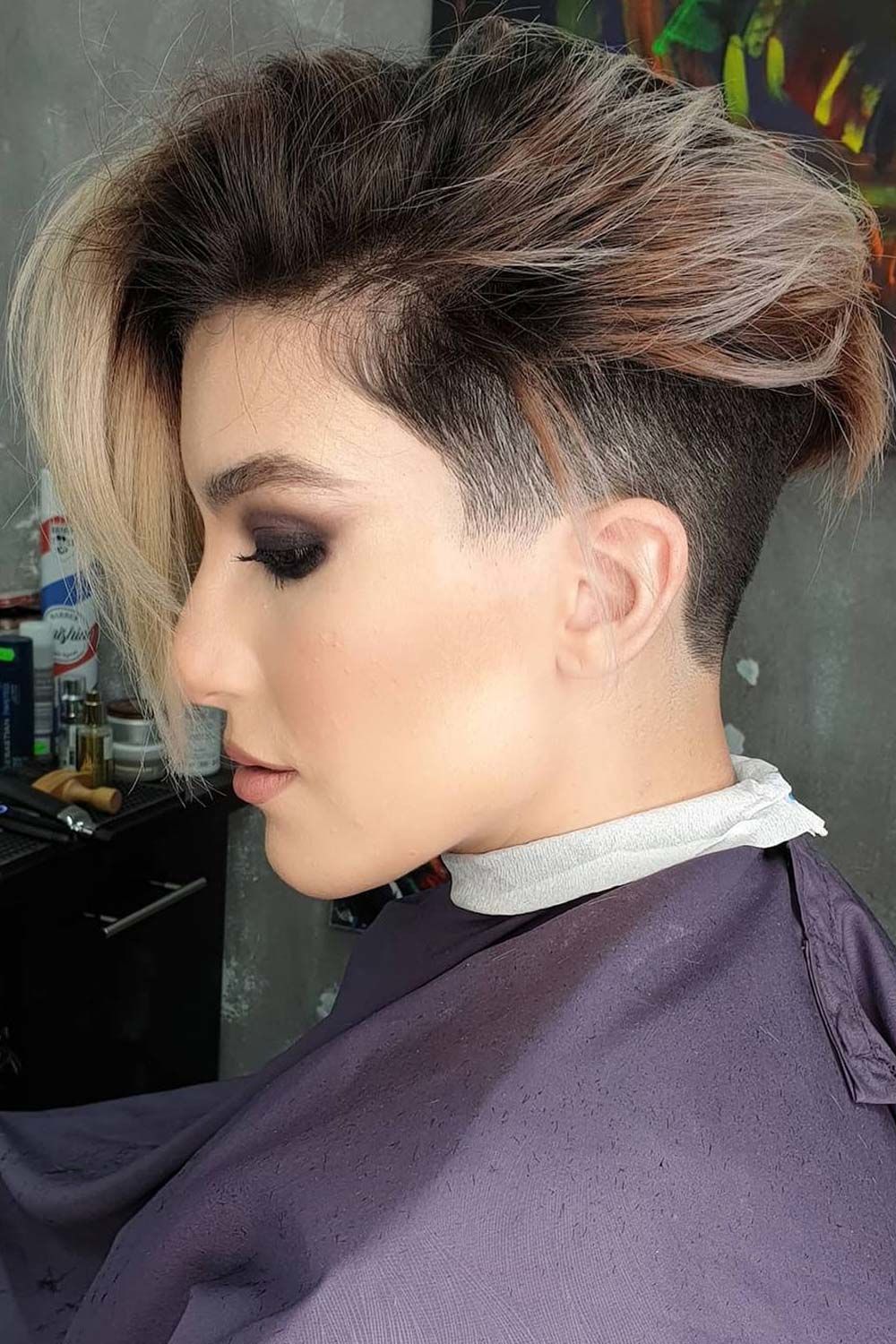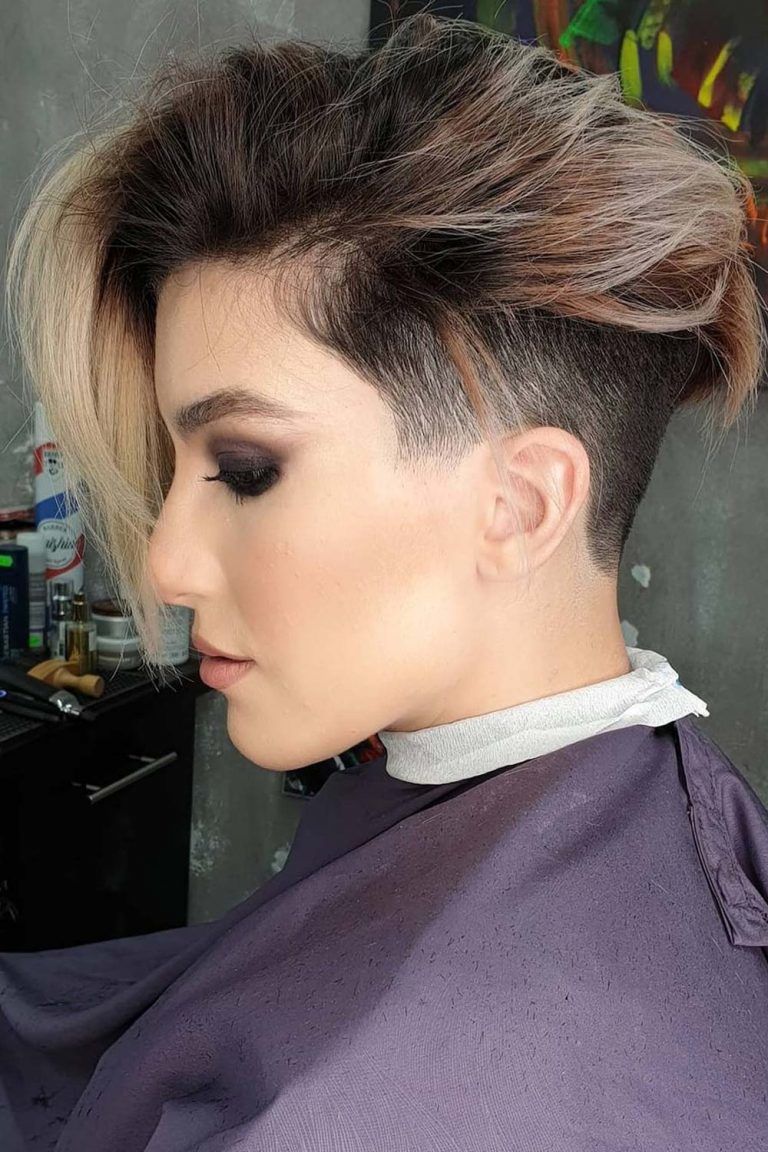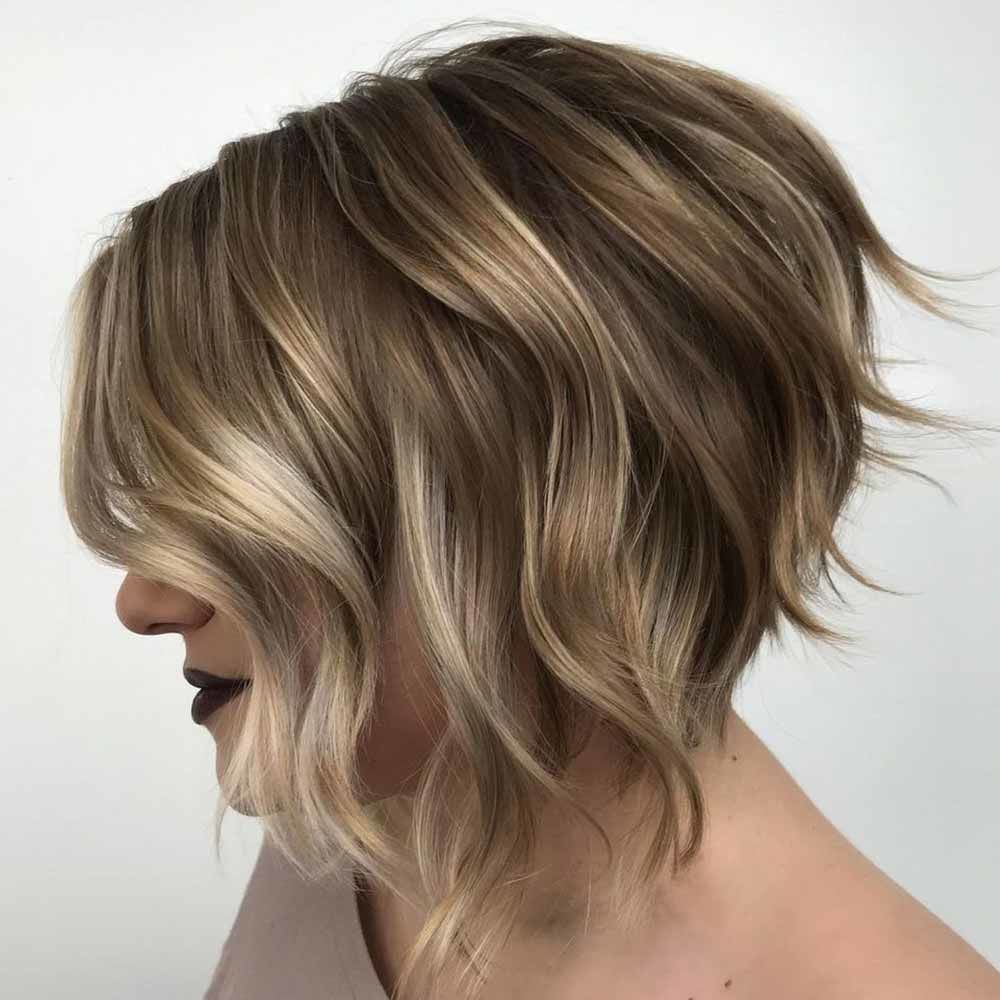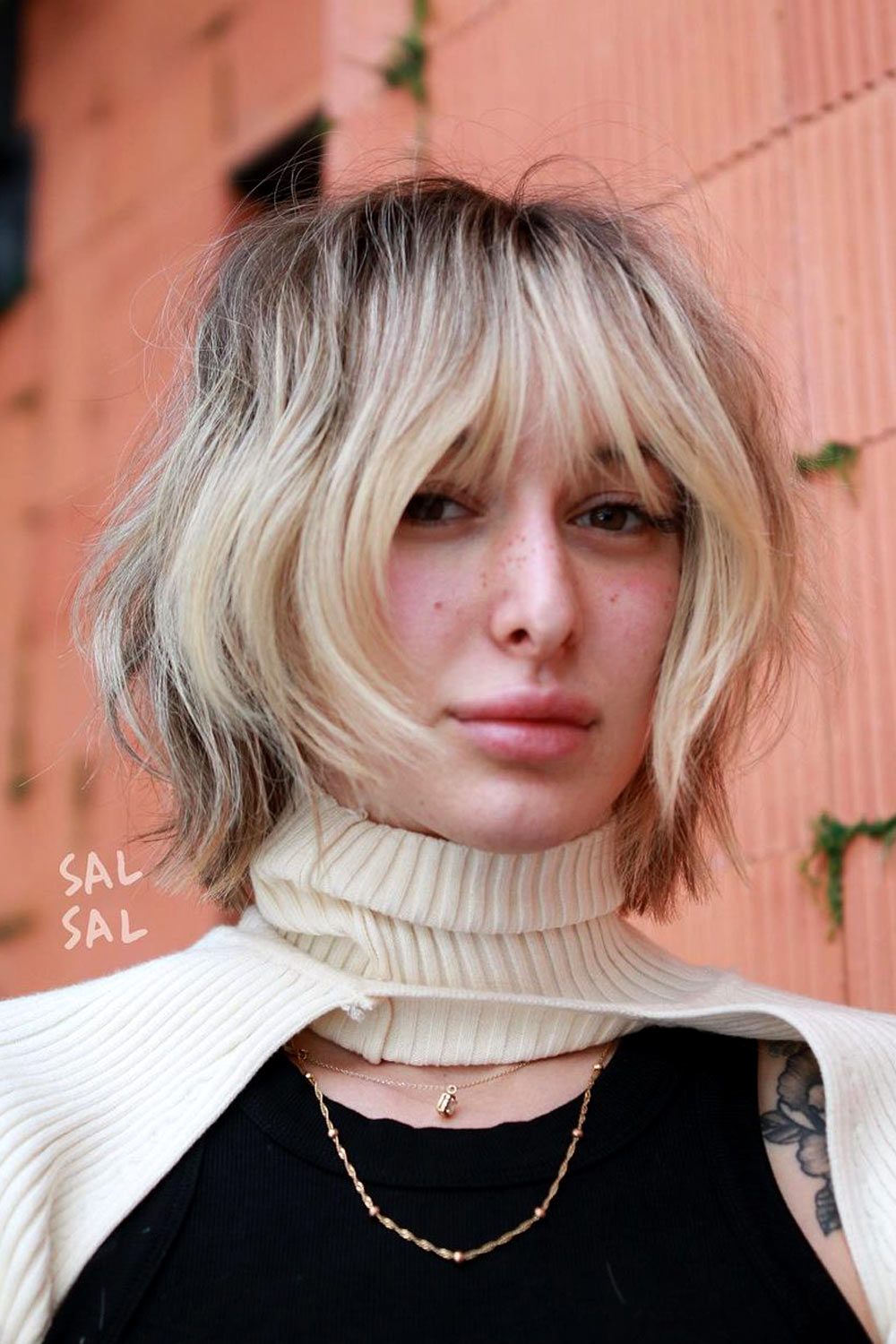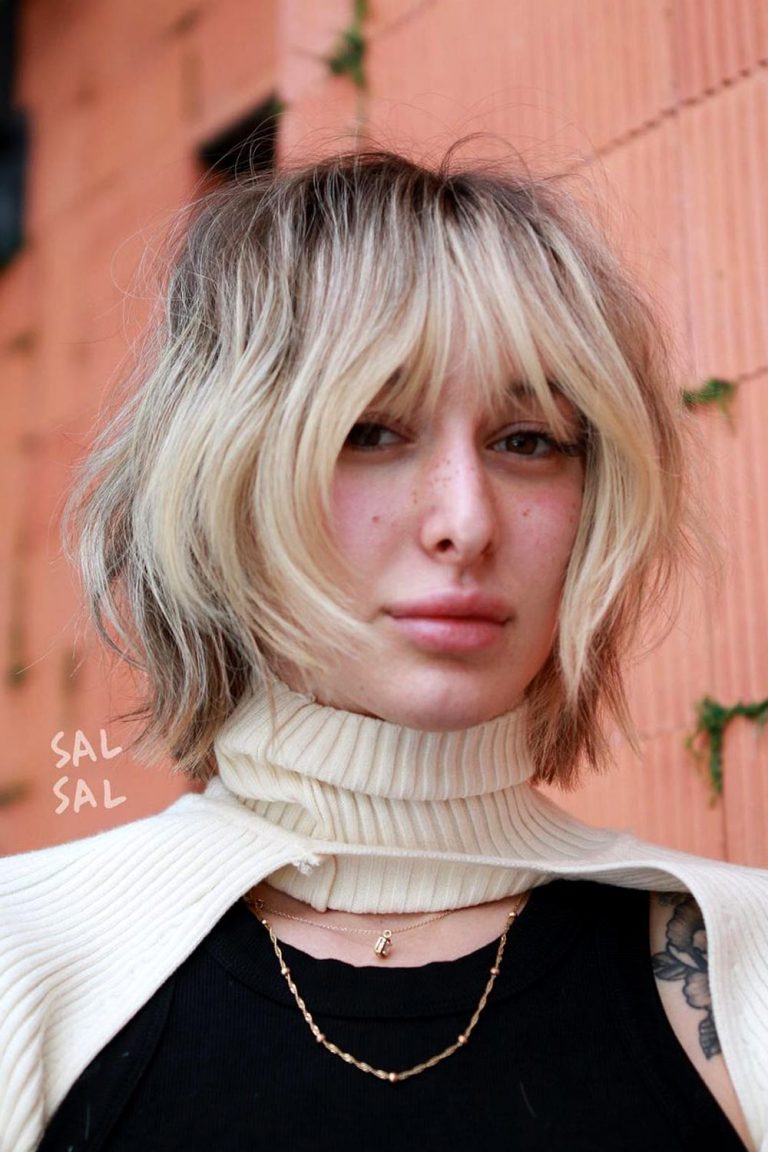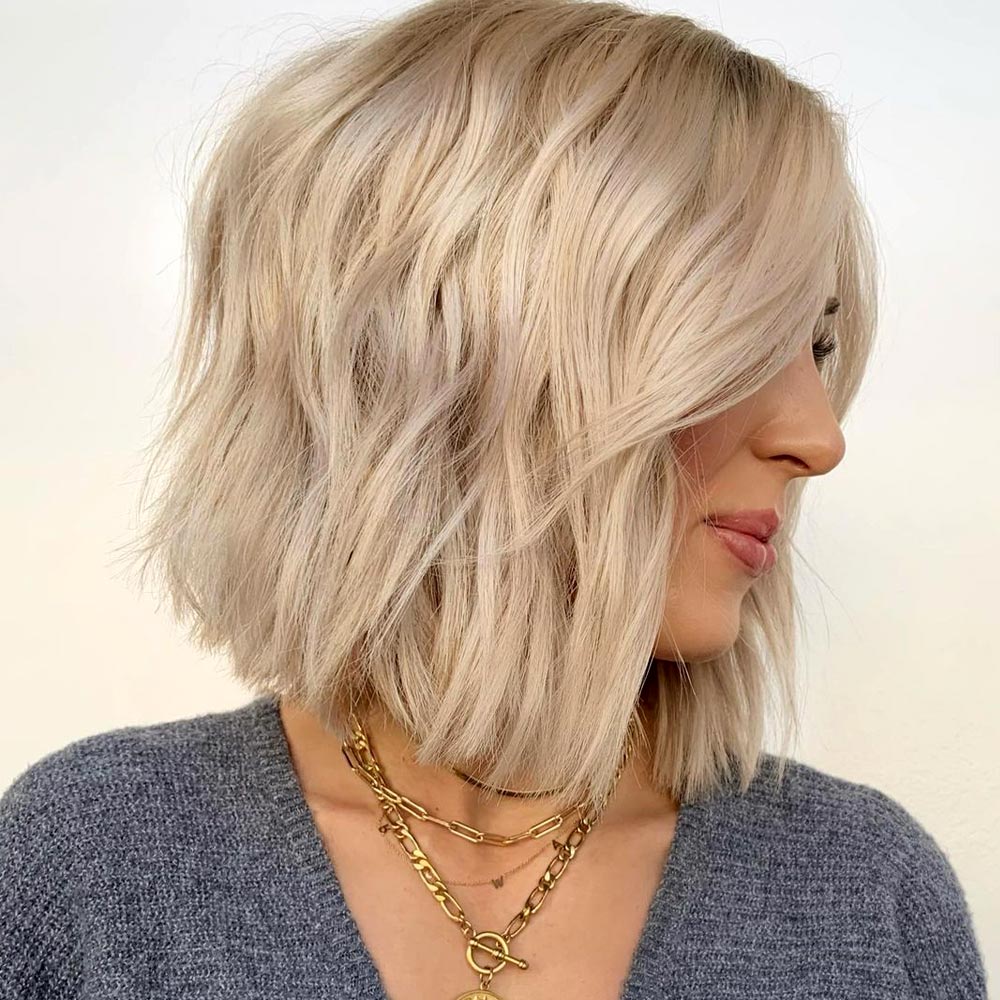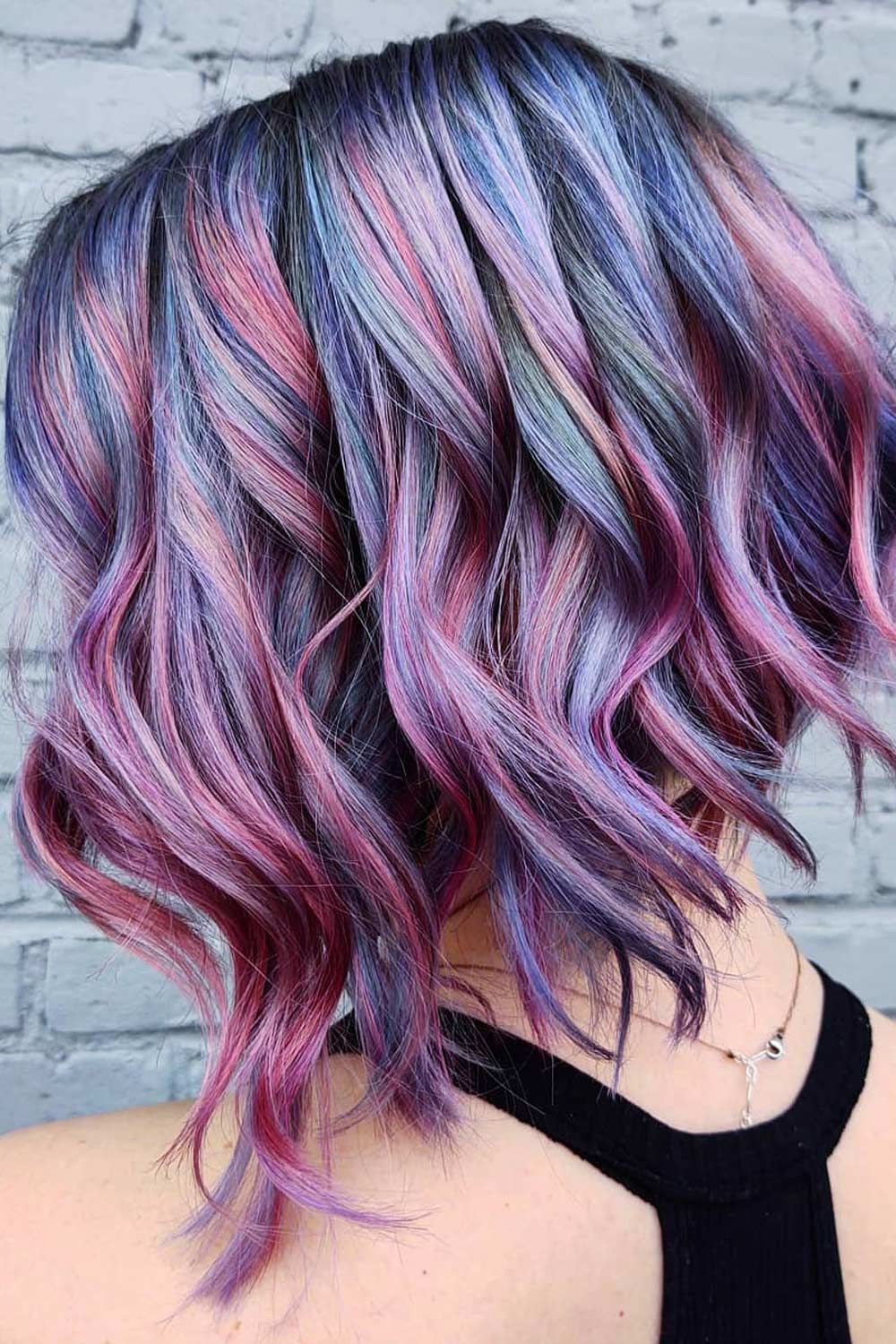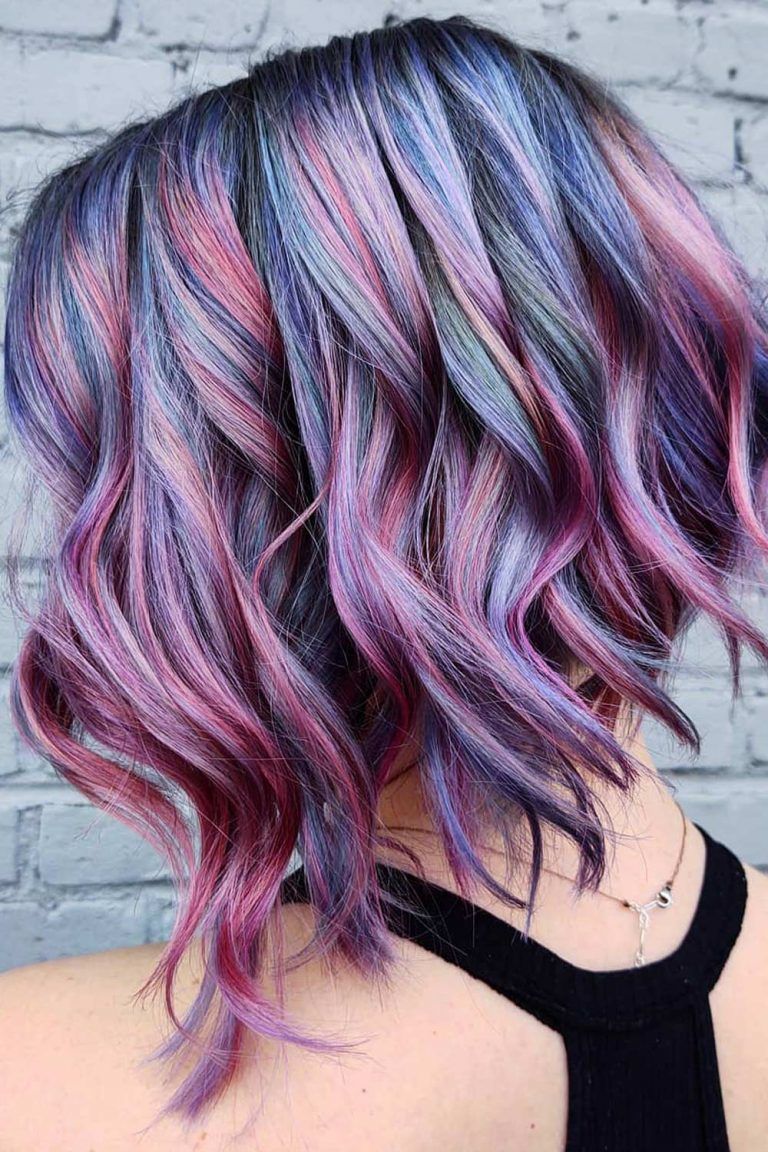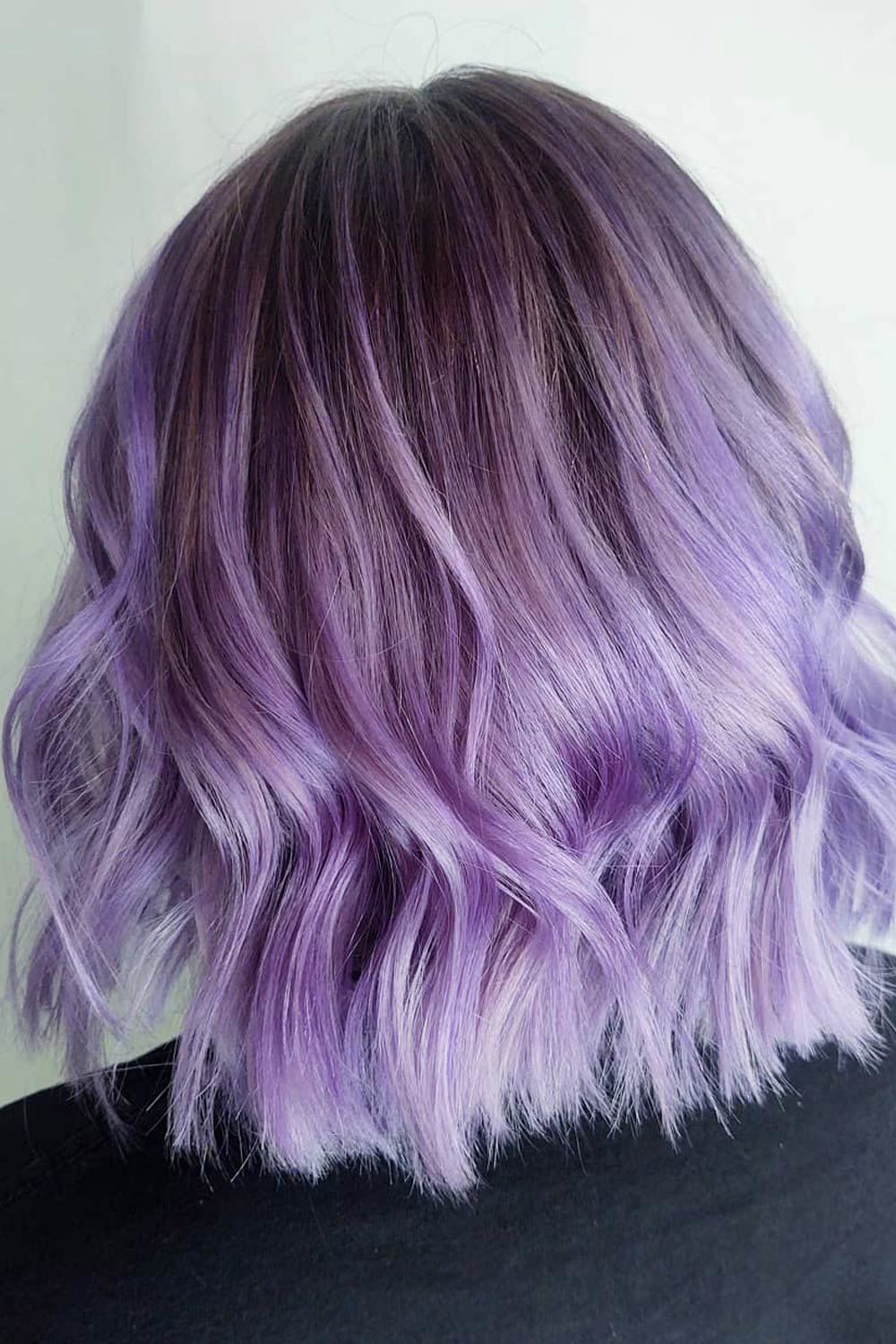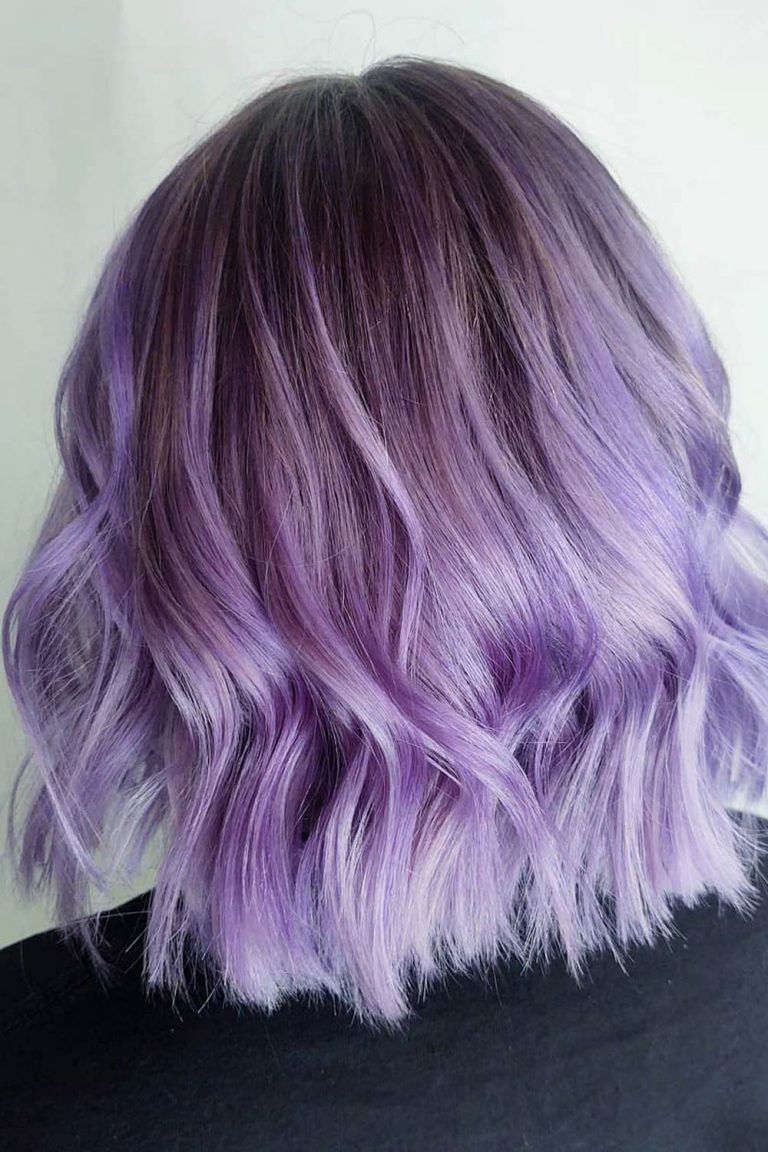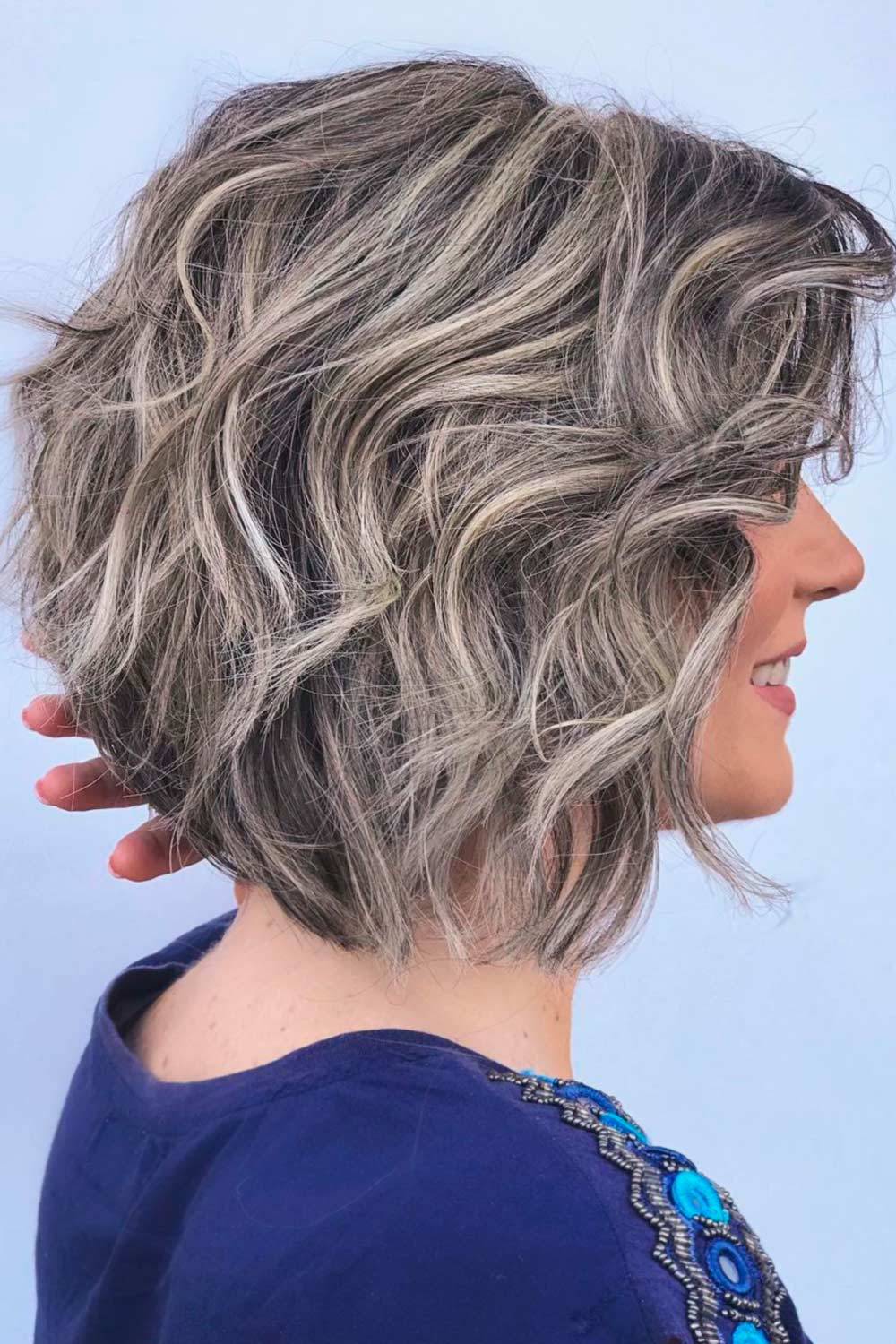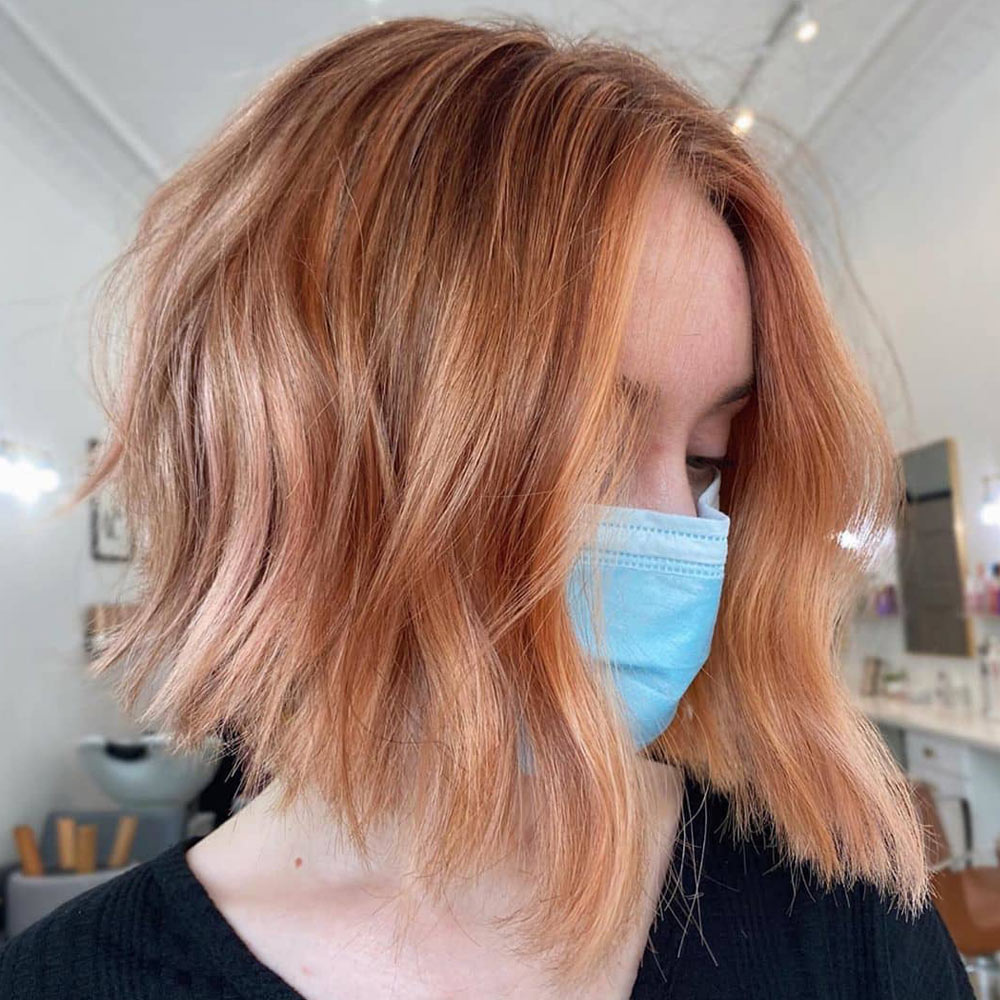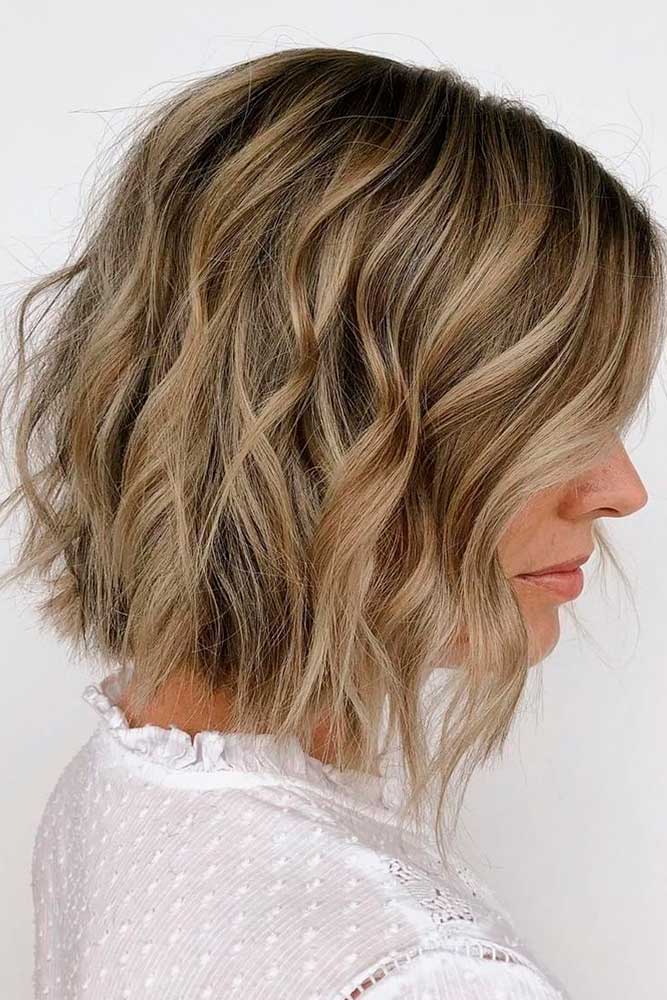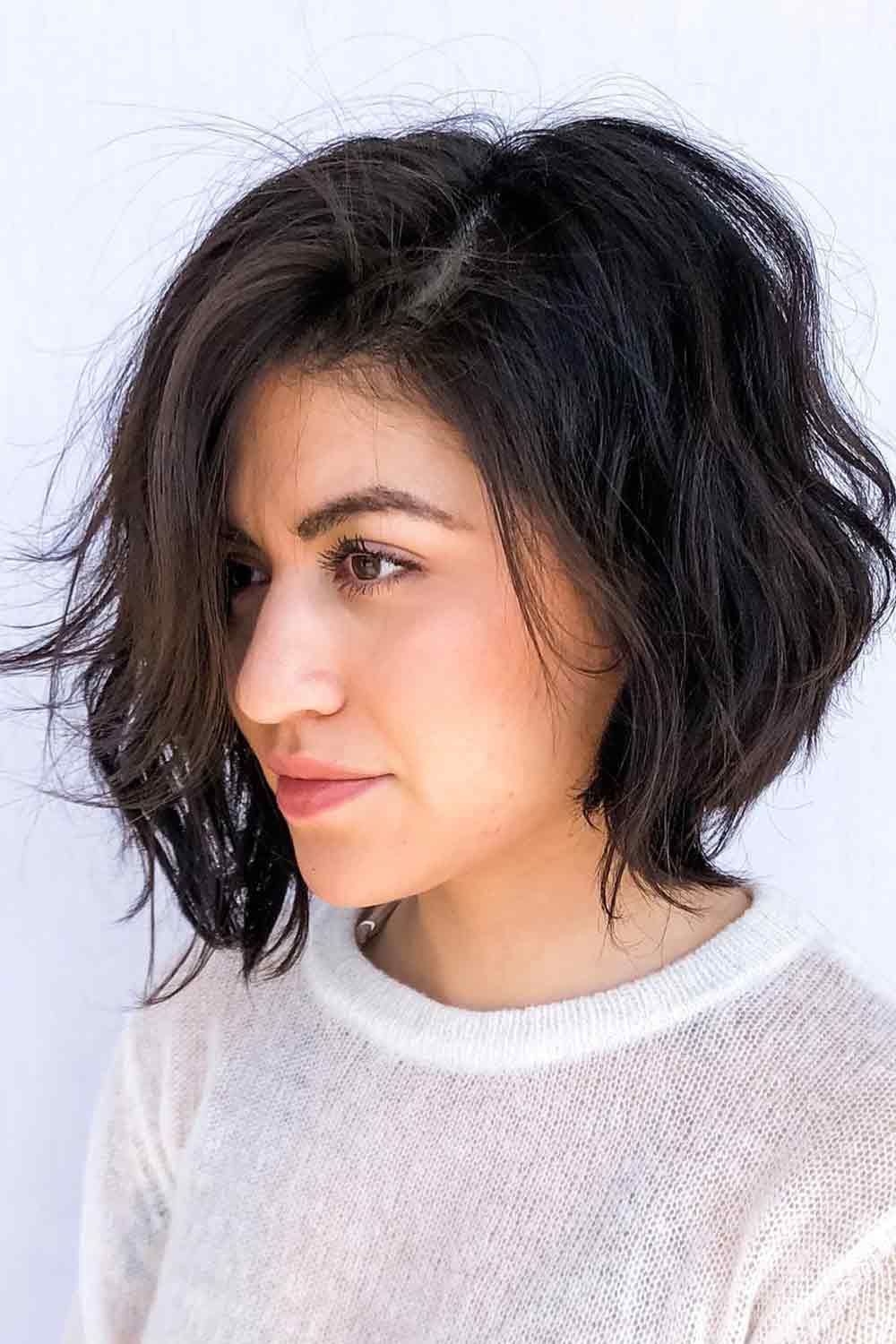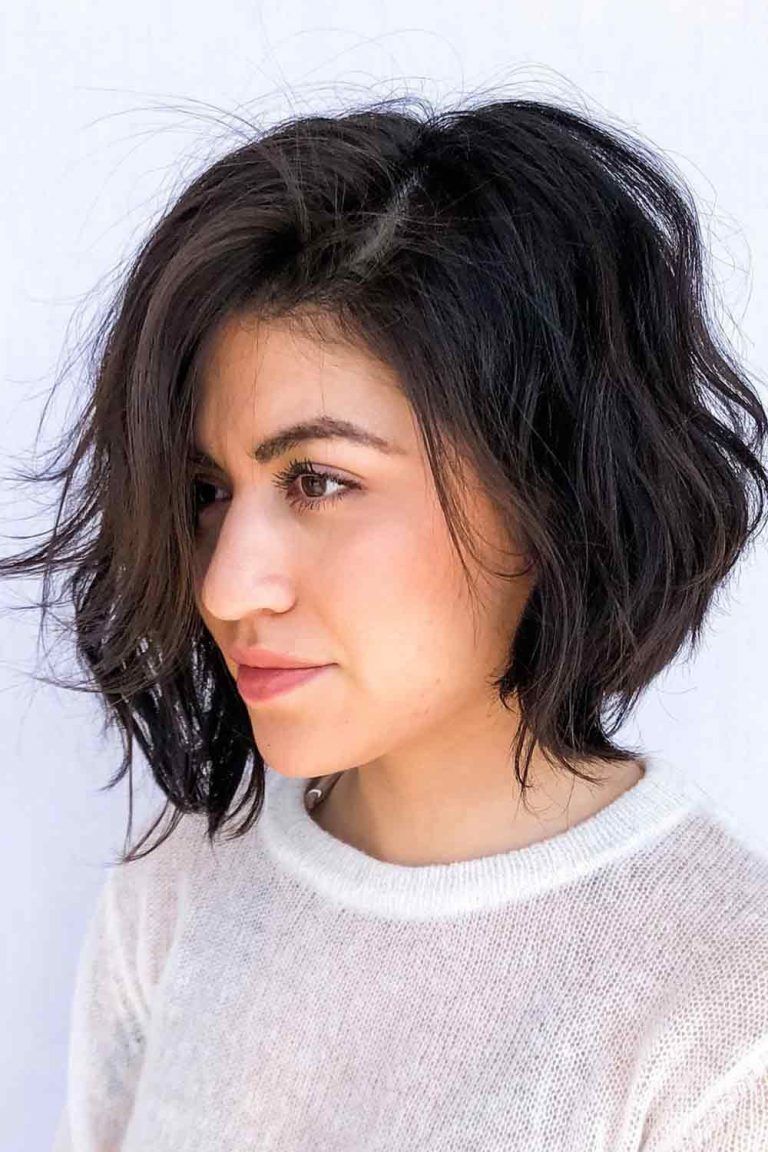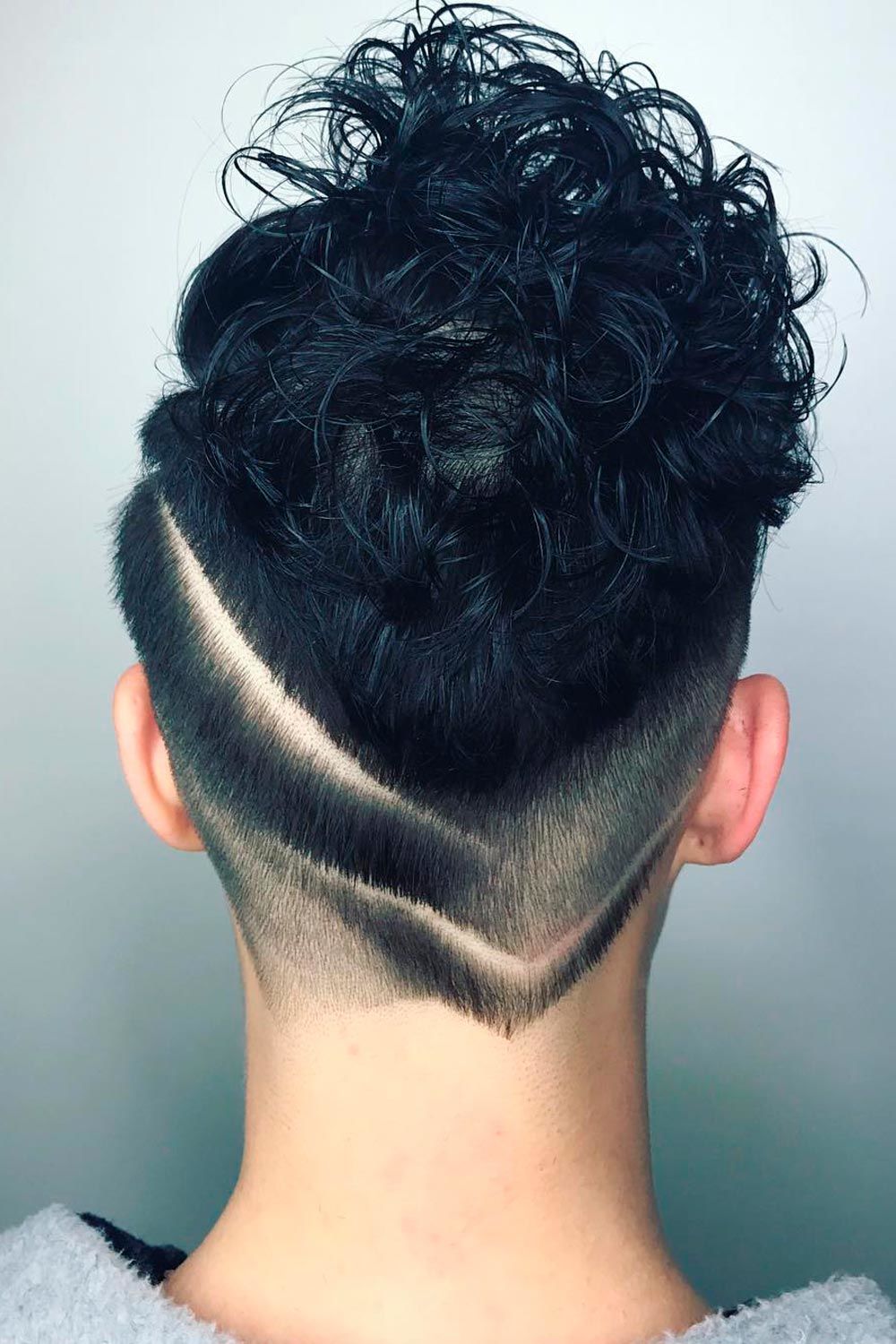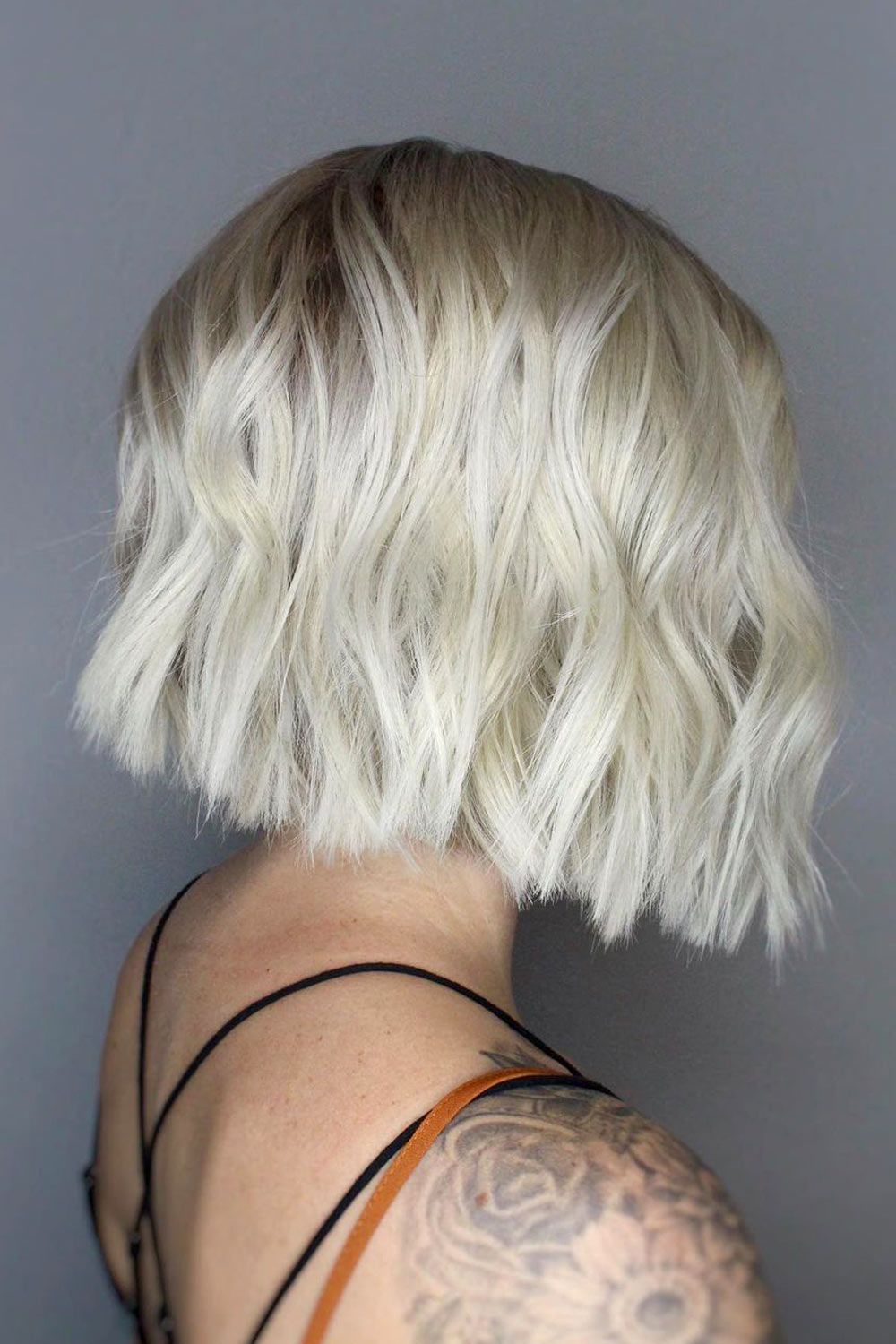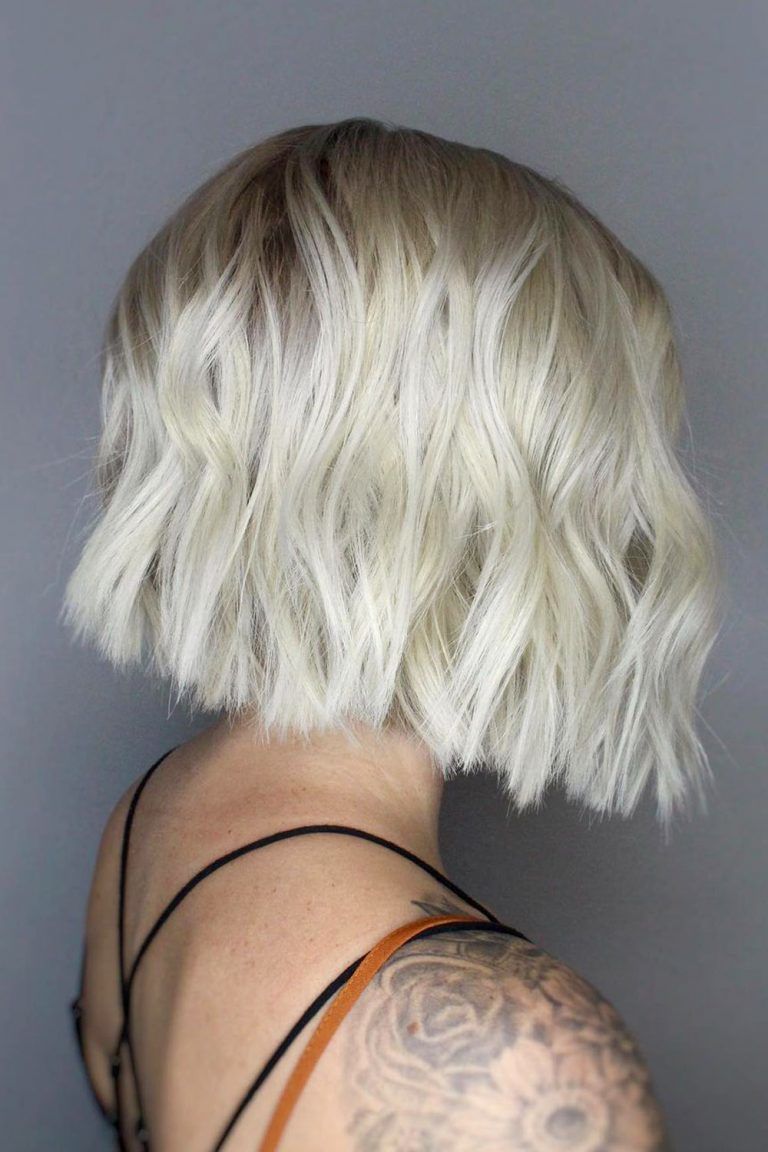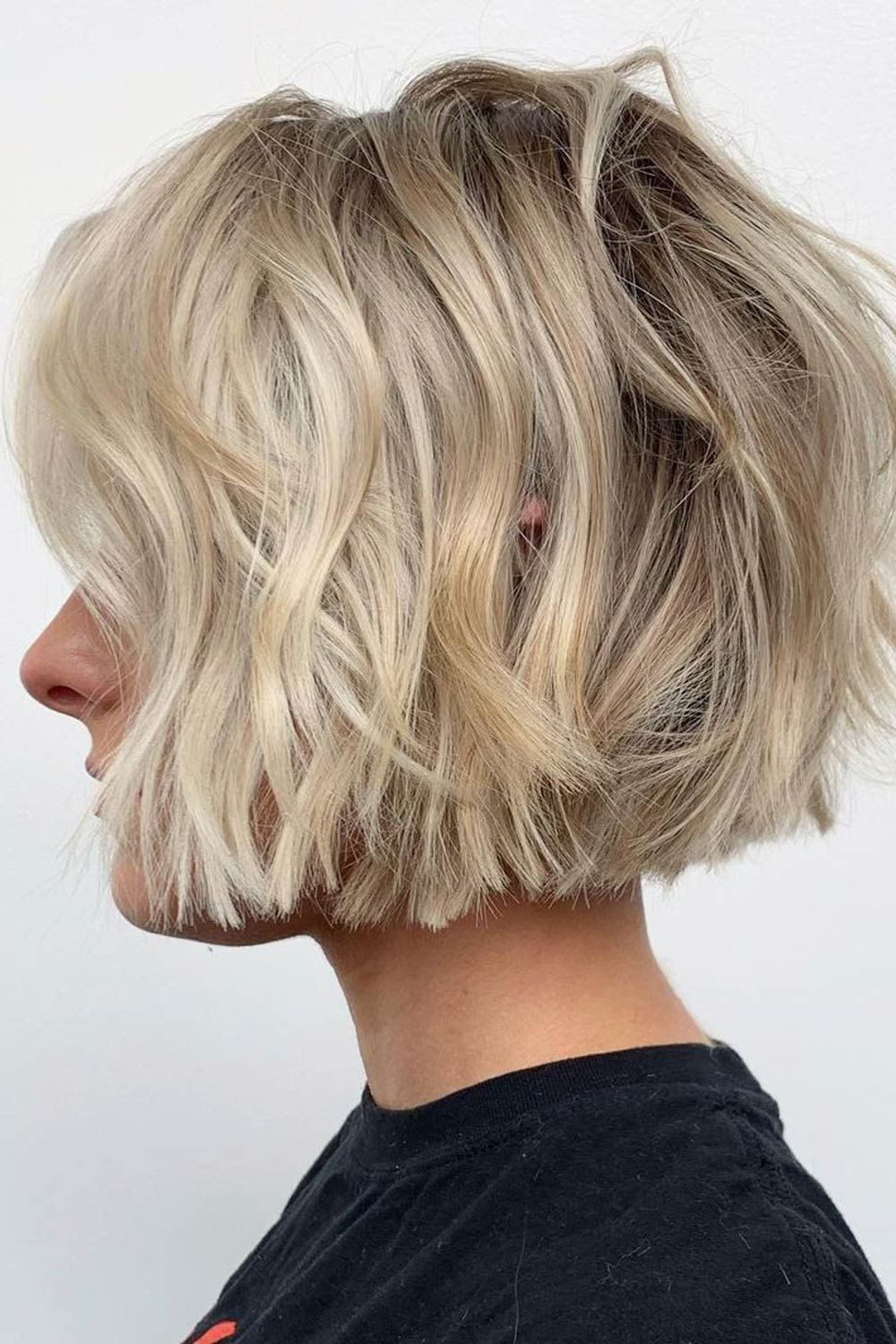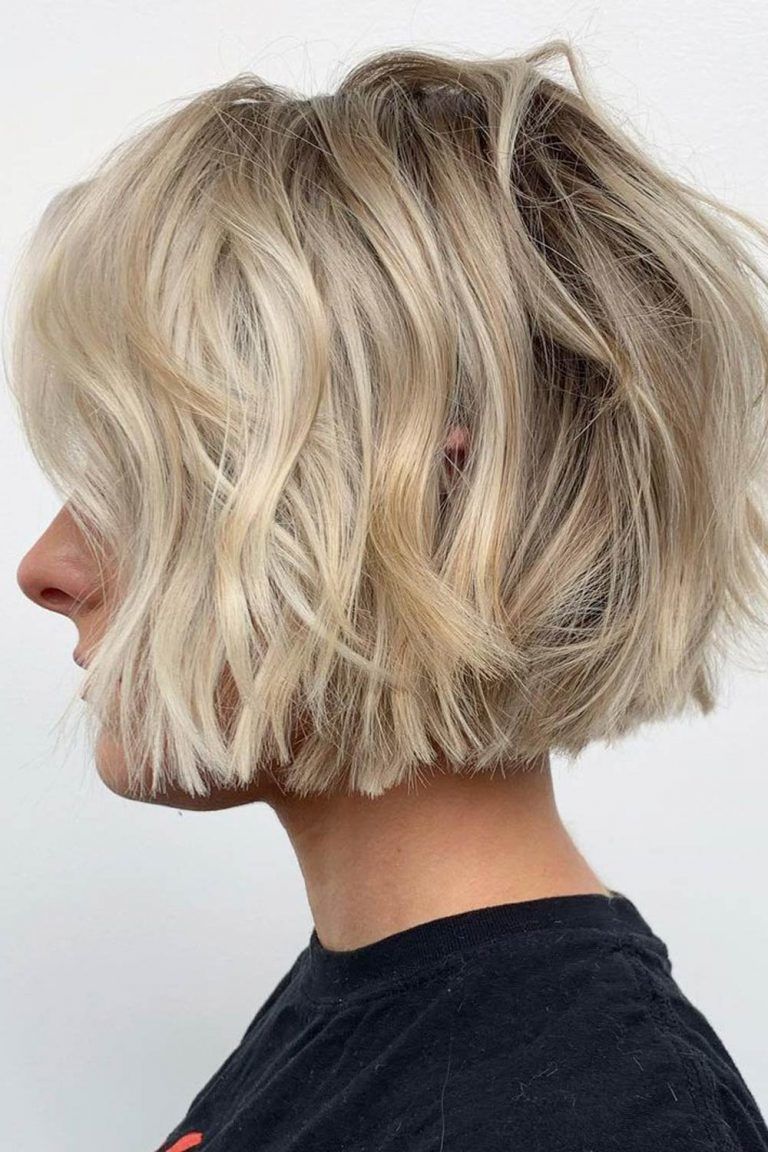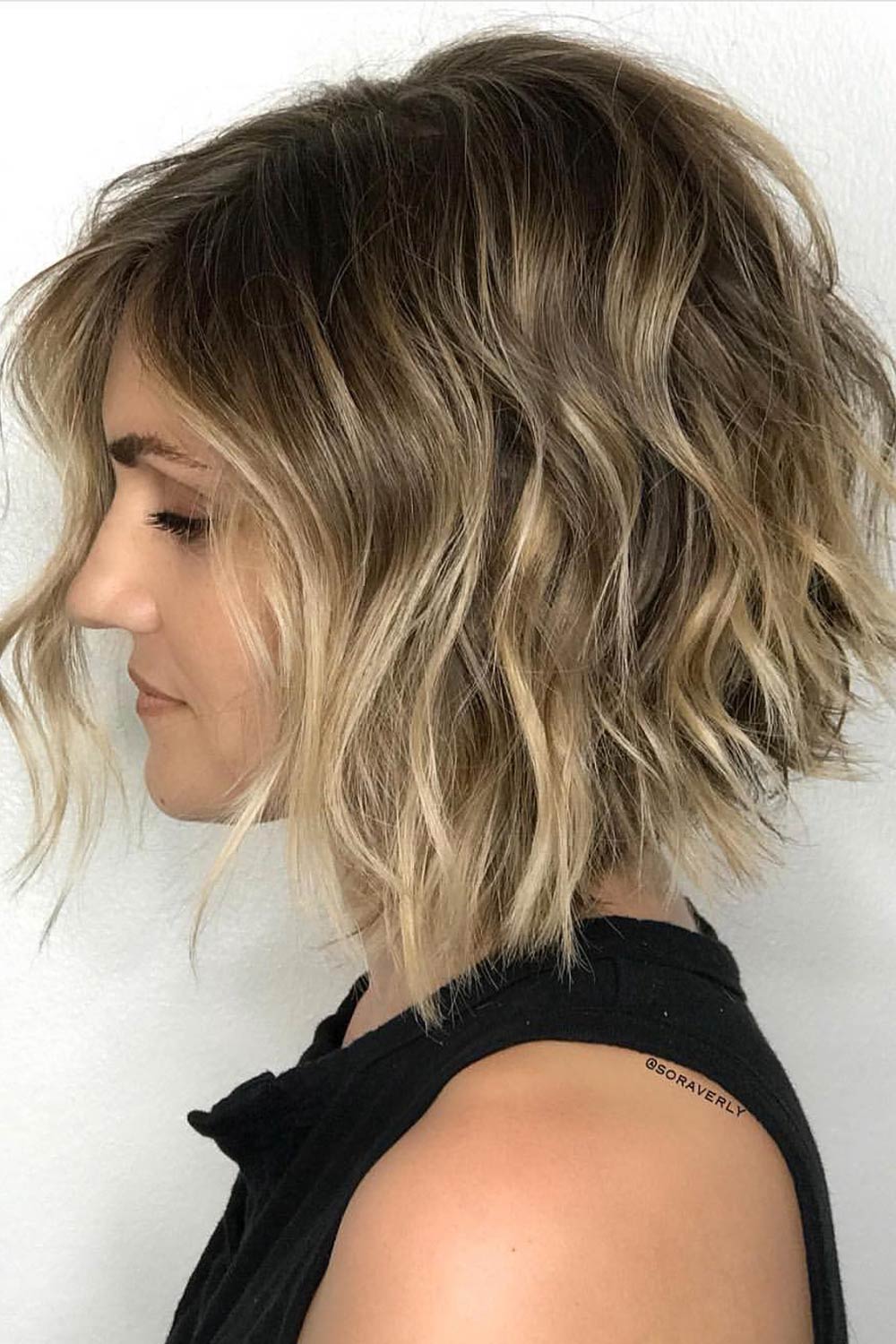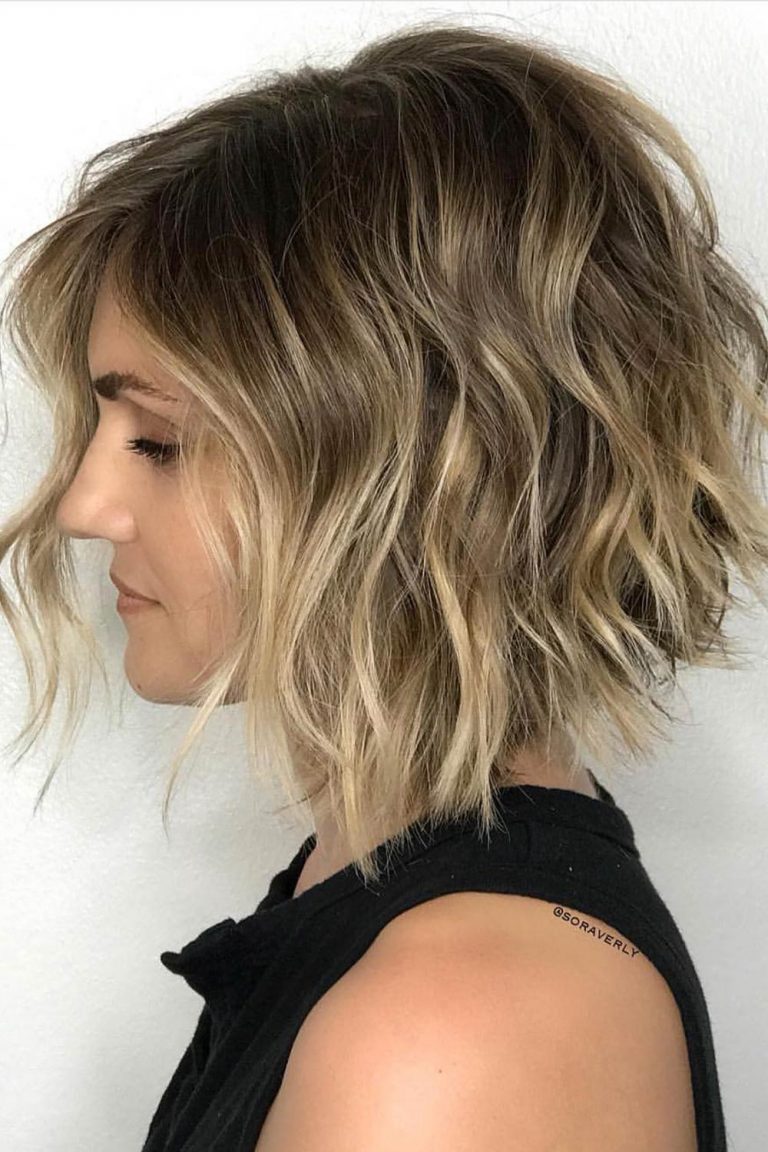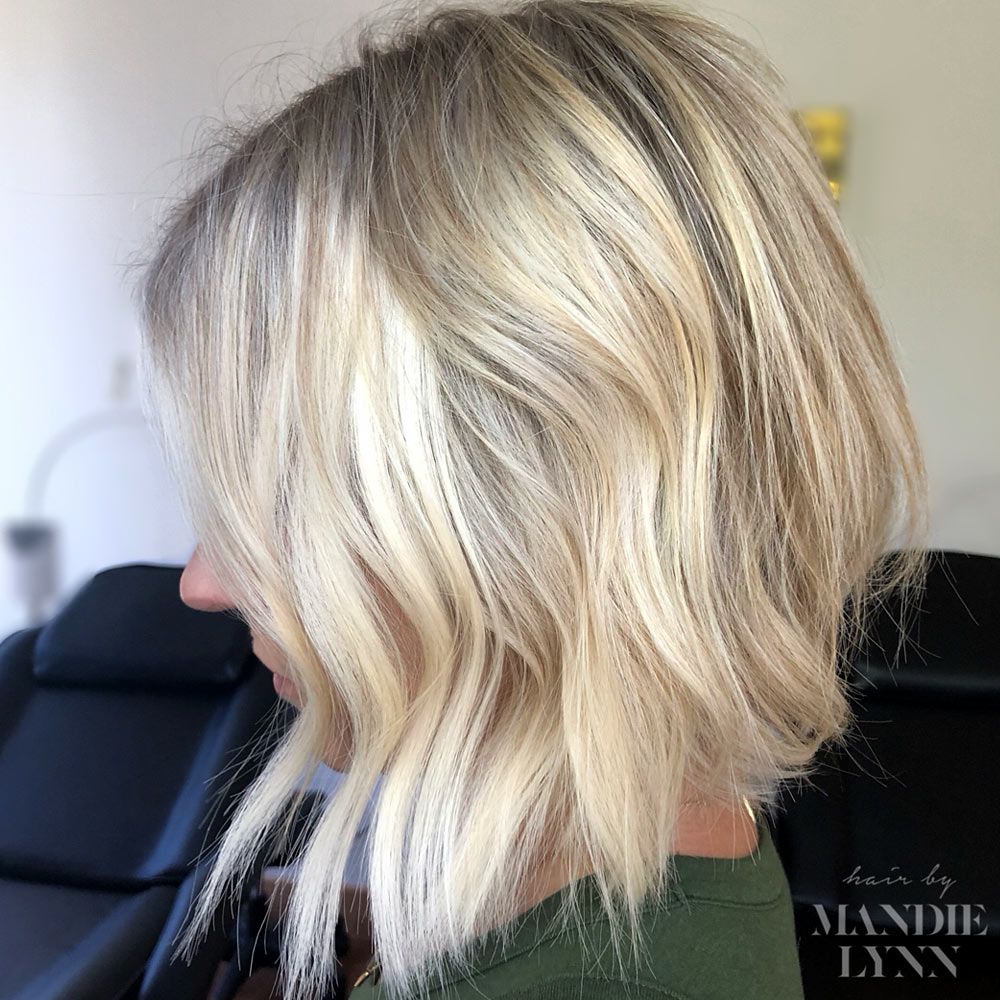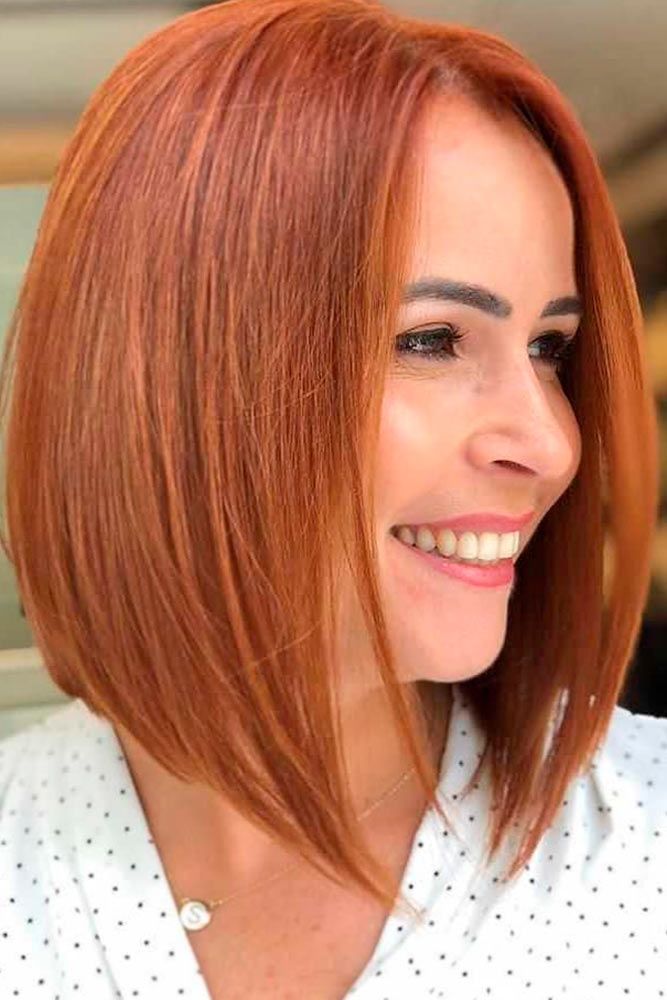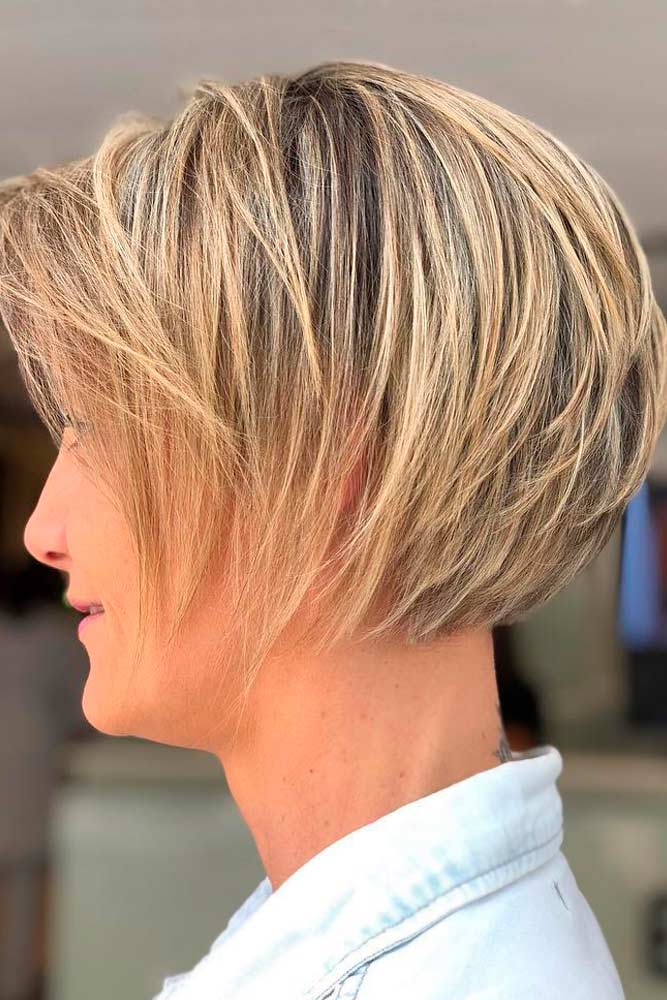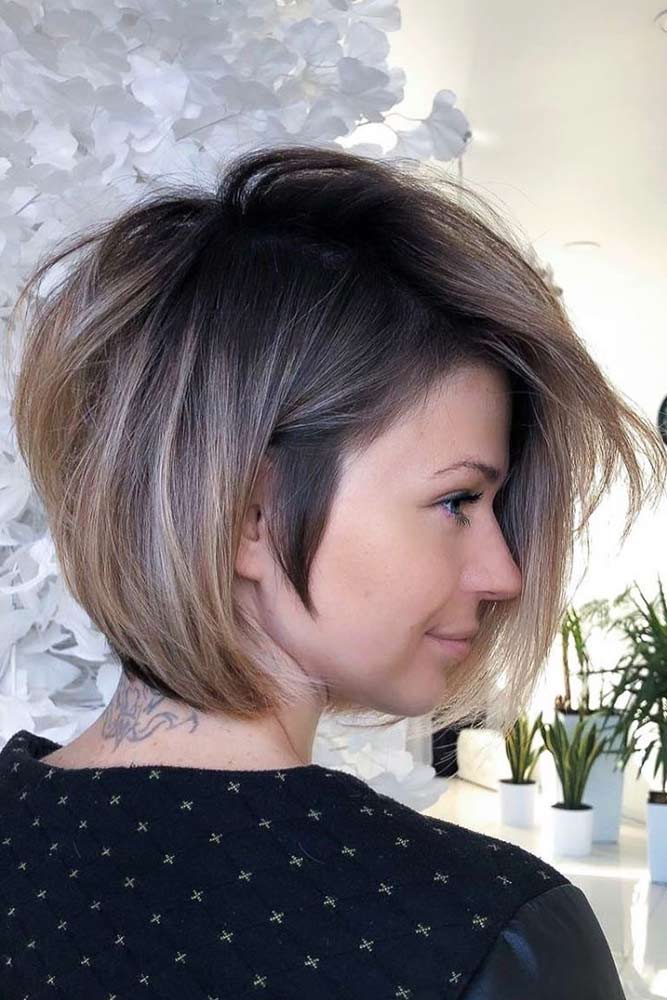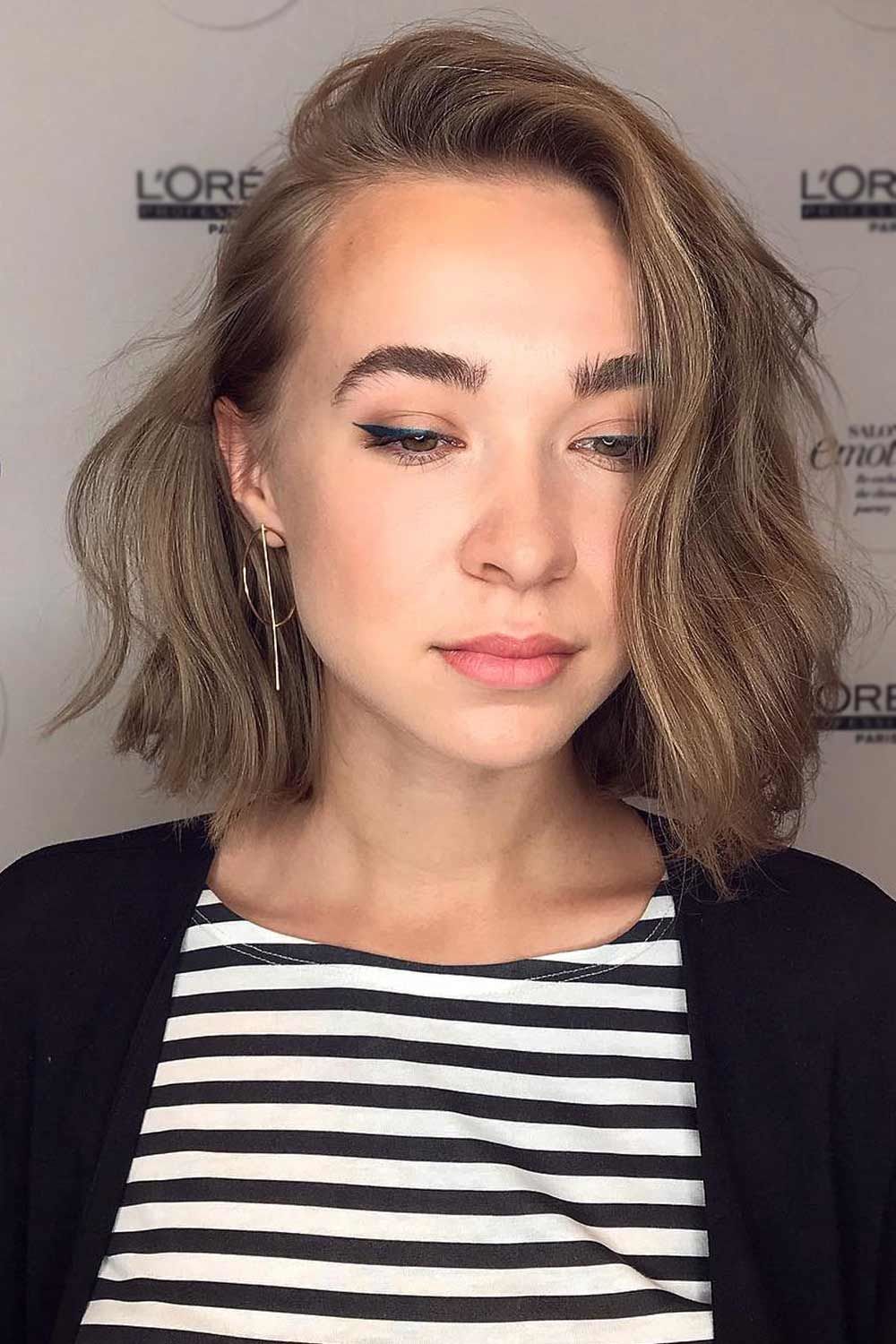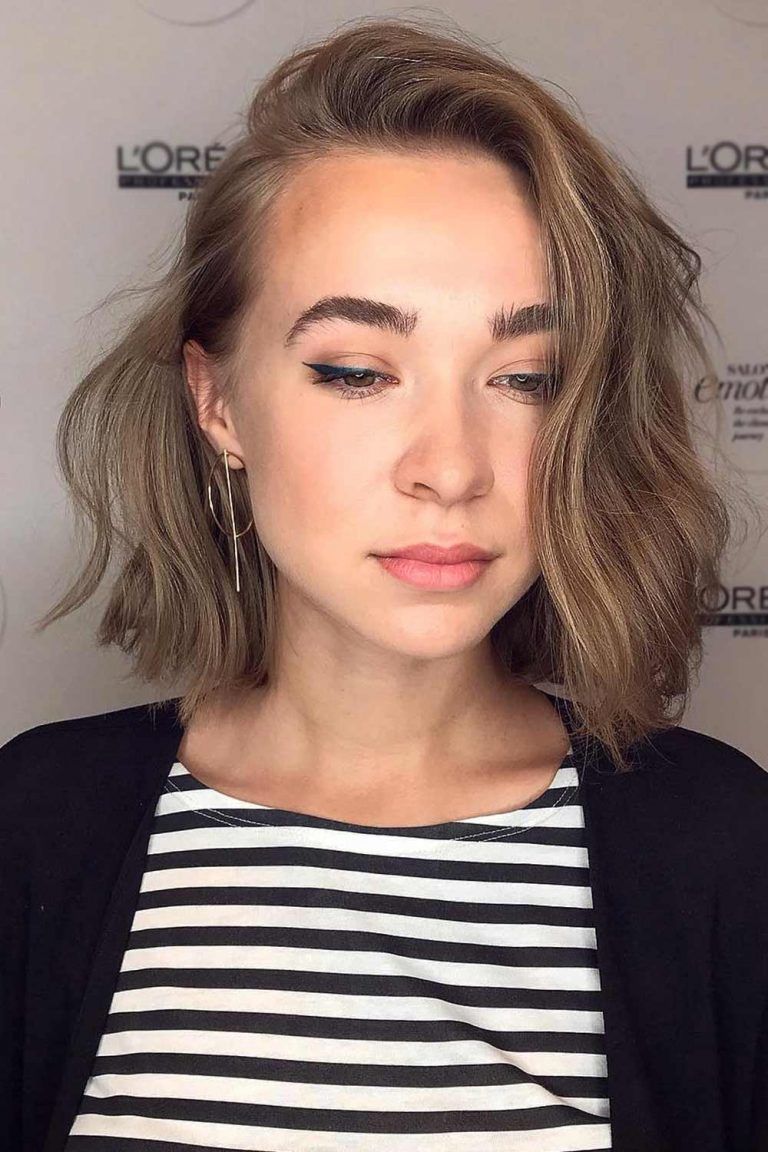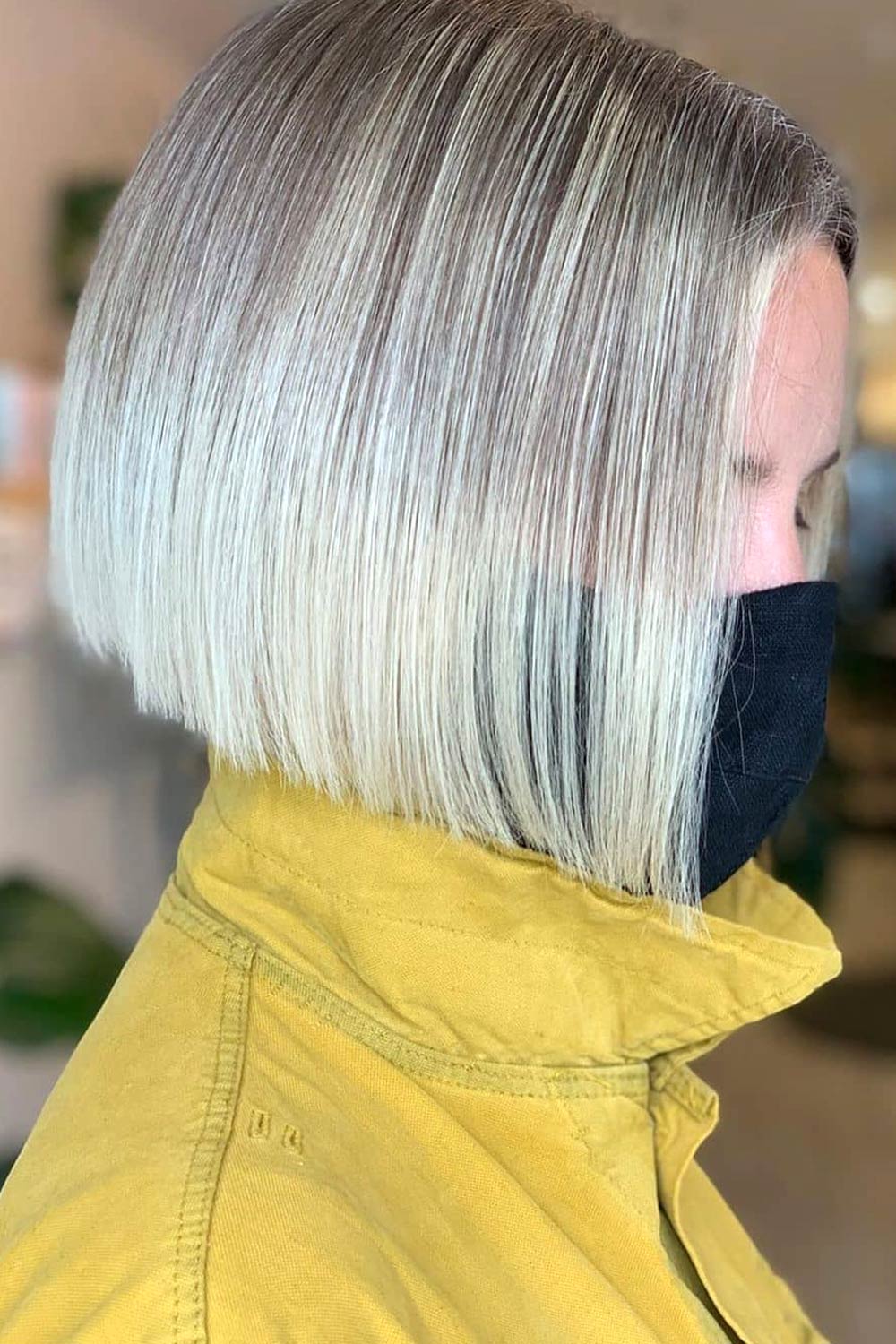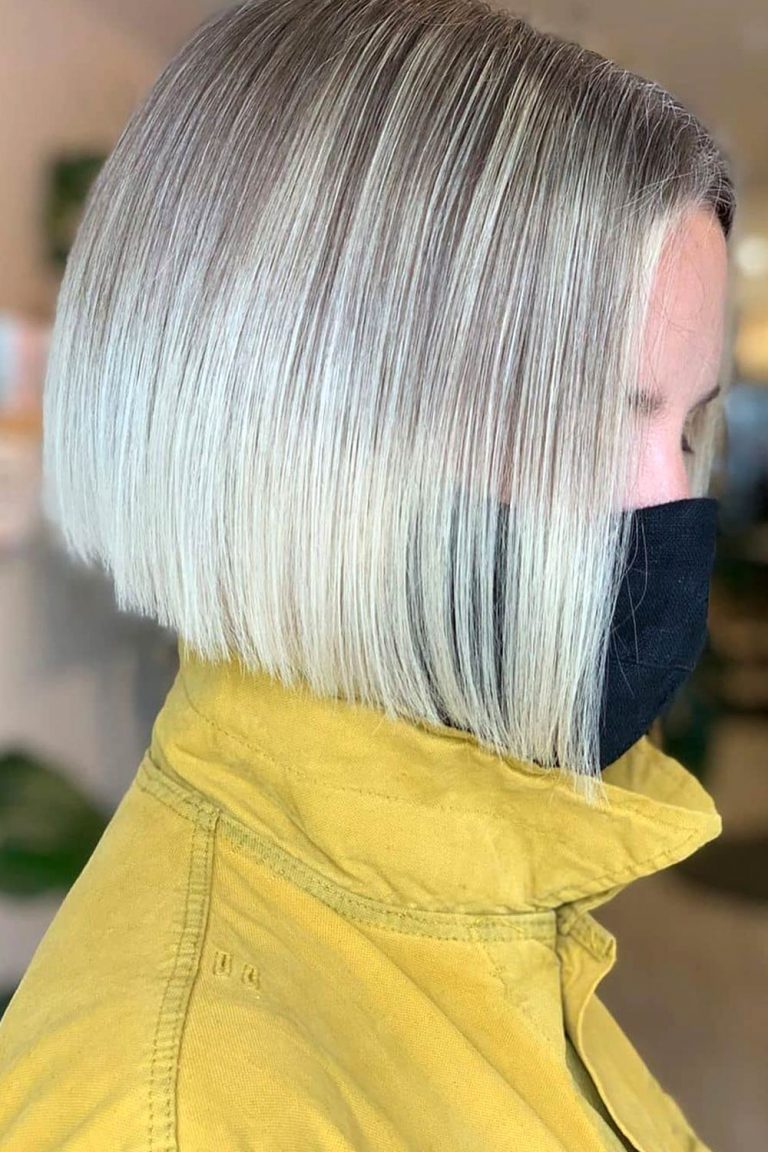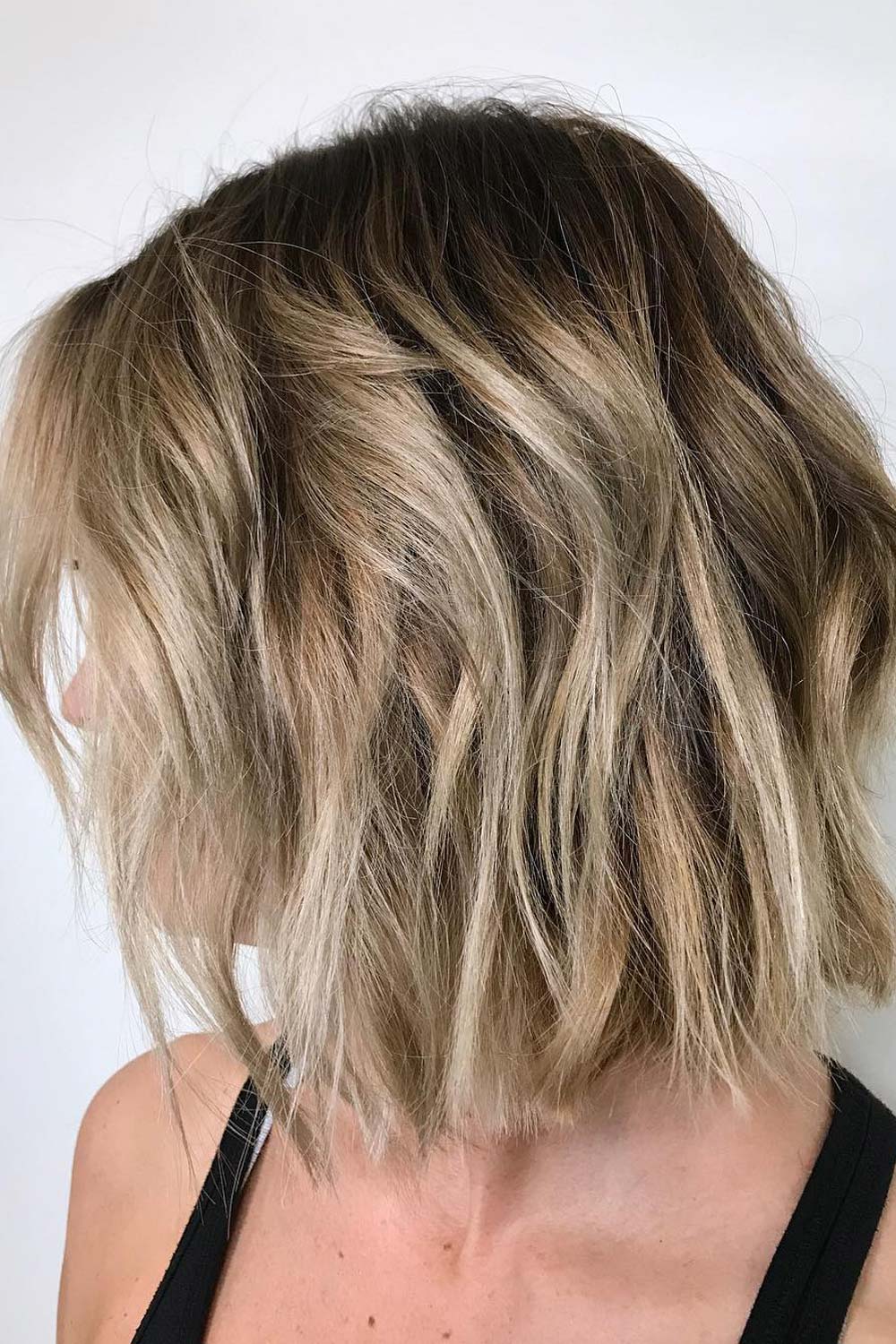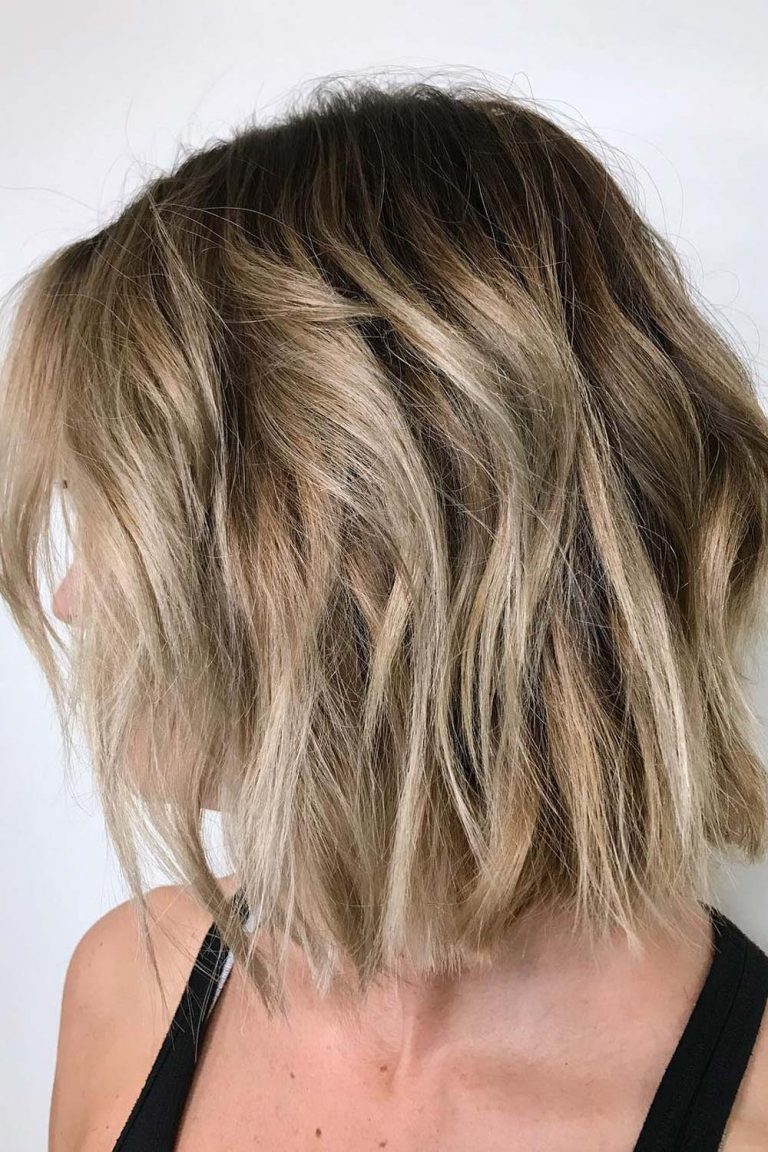 Credit photo: instagram.com/sharchang
i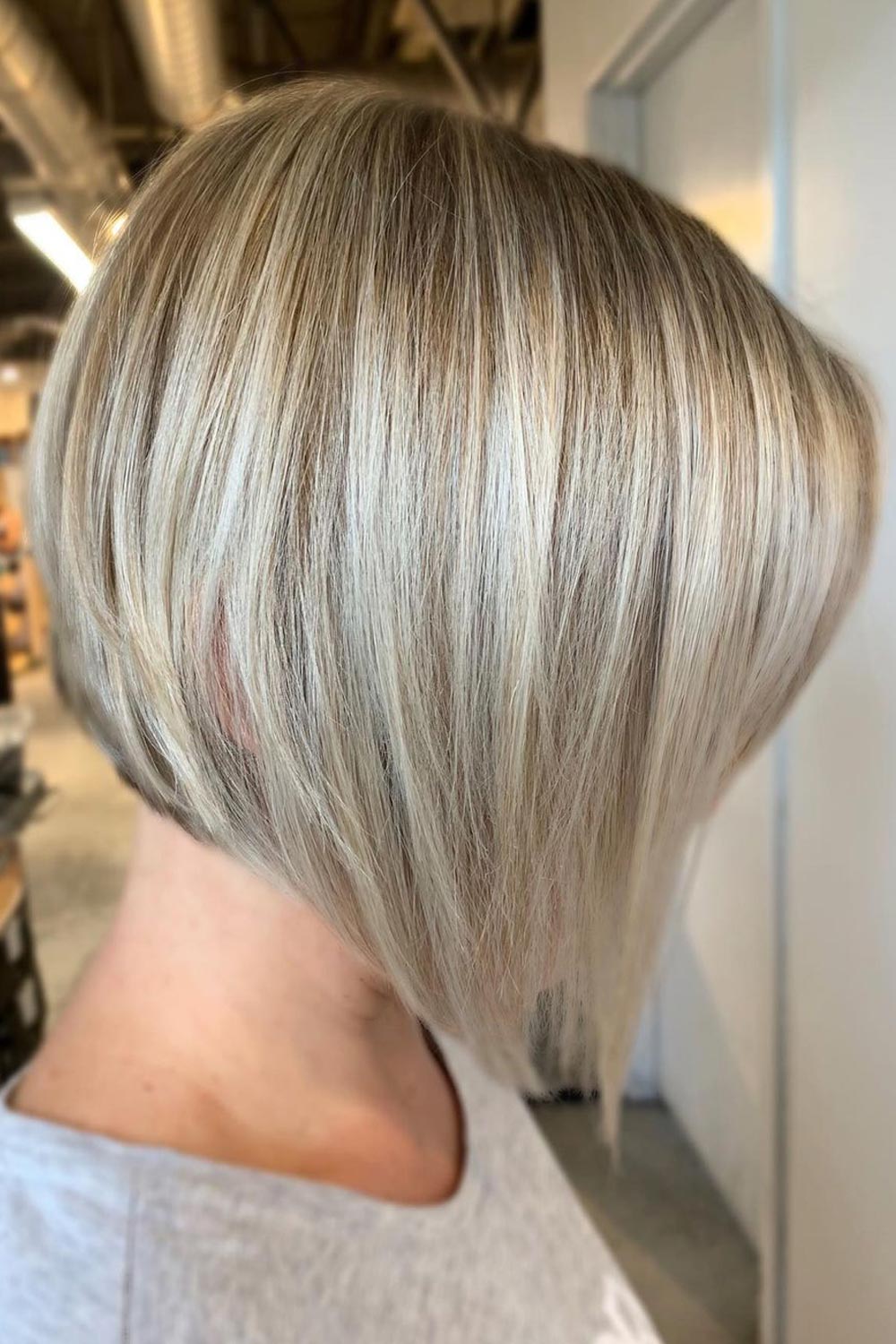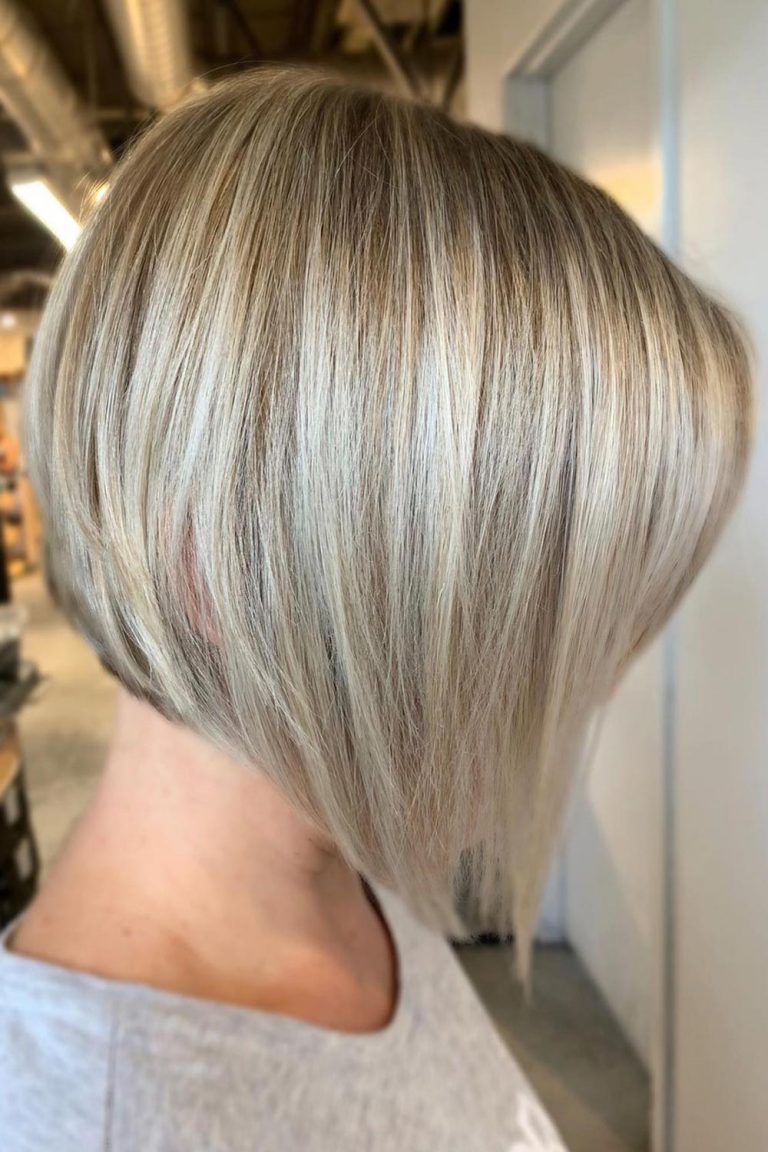 /
The reason why women go for razor cuts is the sharp and edgy pieces that enhance their thick texture as a result. It's another kind of layering, which, as the name suggests, is performed with a razor to give the hair a super sharp edge at the ends. Besides a striking visual effect, such a cutting technique lightens up thick manes without cutting off much weight. To make the visual impact bigger, finish it with asymmetry! Of course, there's no better styling idea for this cut than a straight look!
Swept Back Messy Waves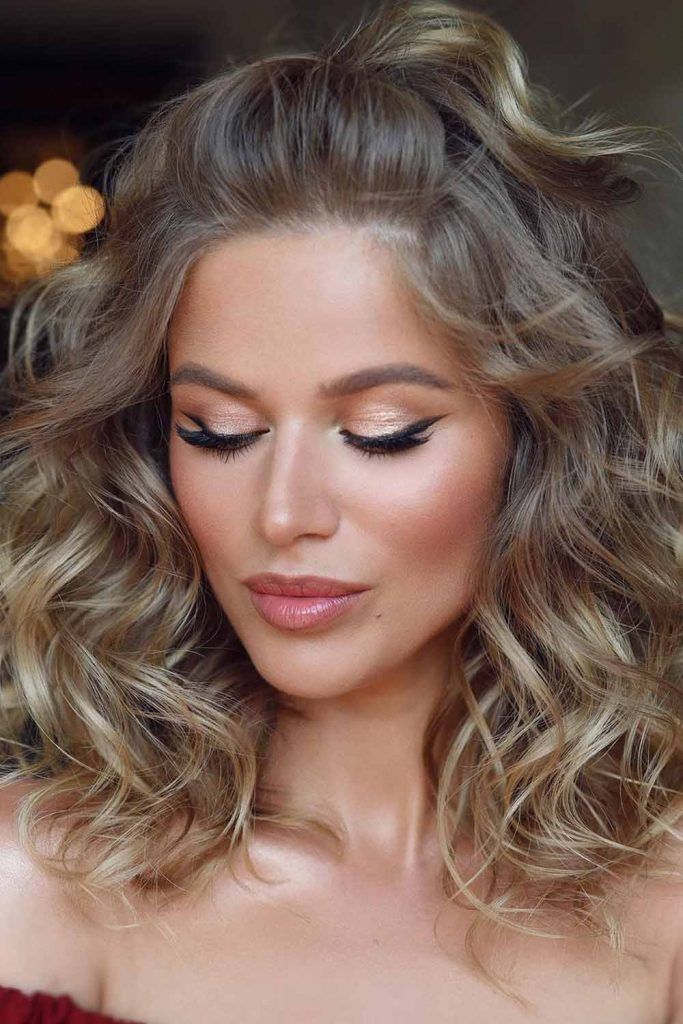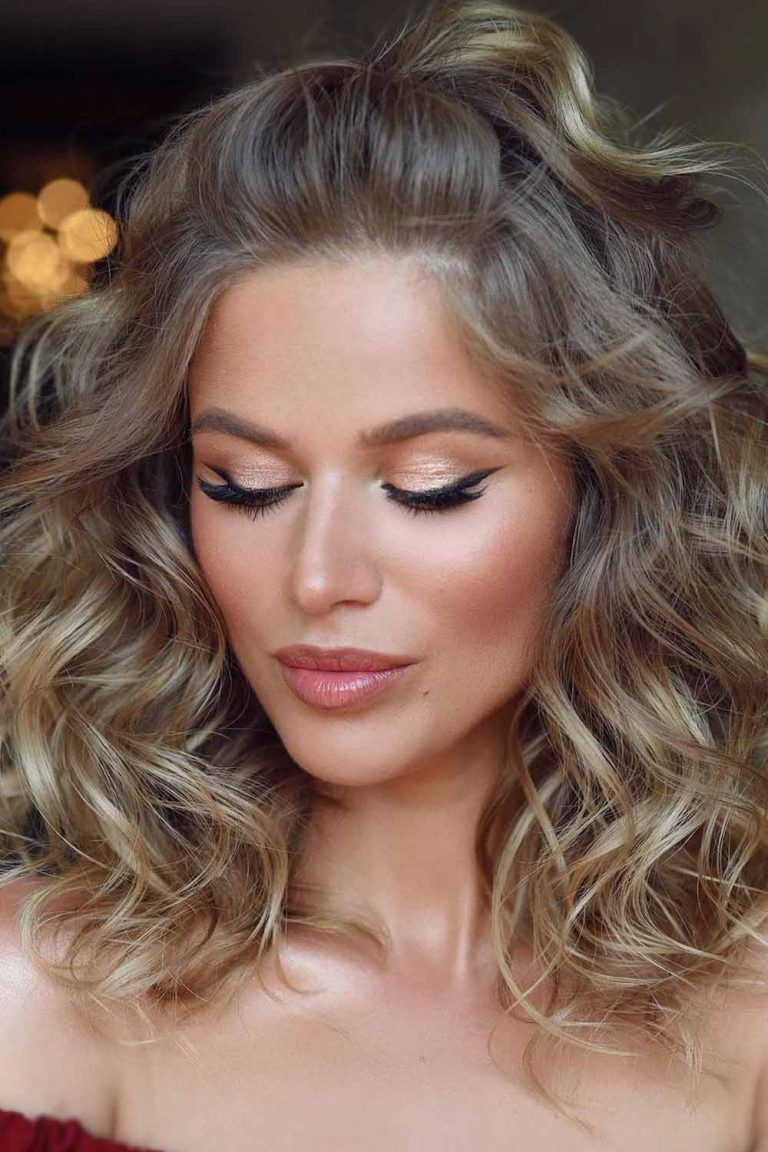 Credit photo: instagram.com/tonyastylist
Waves shouldn't always fall over your face to give it a frame or cascade to your shoulders. As it turns out, when it comes to short hairstyles for women, waves can work for volume and texture. To recreate such a dramatic bombshell look, you will need to prep your hair with conditioner, and then apply some wave-friendly products that will enhance the texture. Then, once your hair is dry, give it lots of waves facing different directions. Finally, give your hair a coat of thick gel and gently comb it back with your fingers. Secure the style with some hairspray and be ready to catch envy eyes!
Sleek Blunt Bob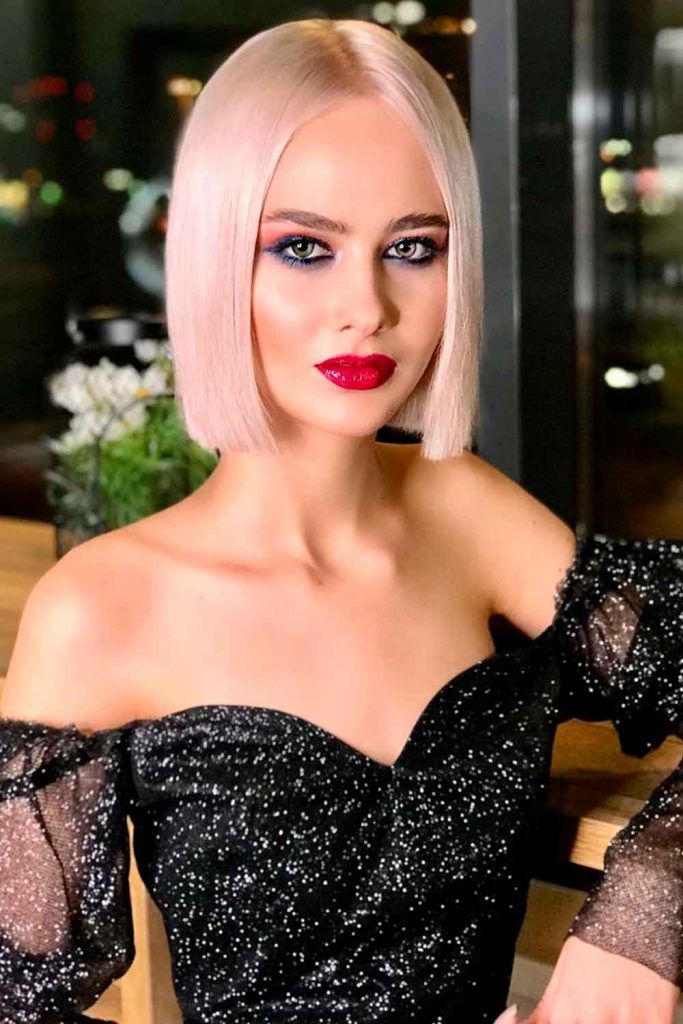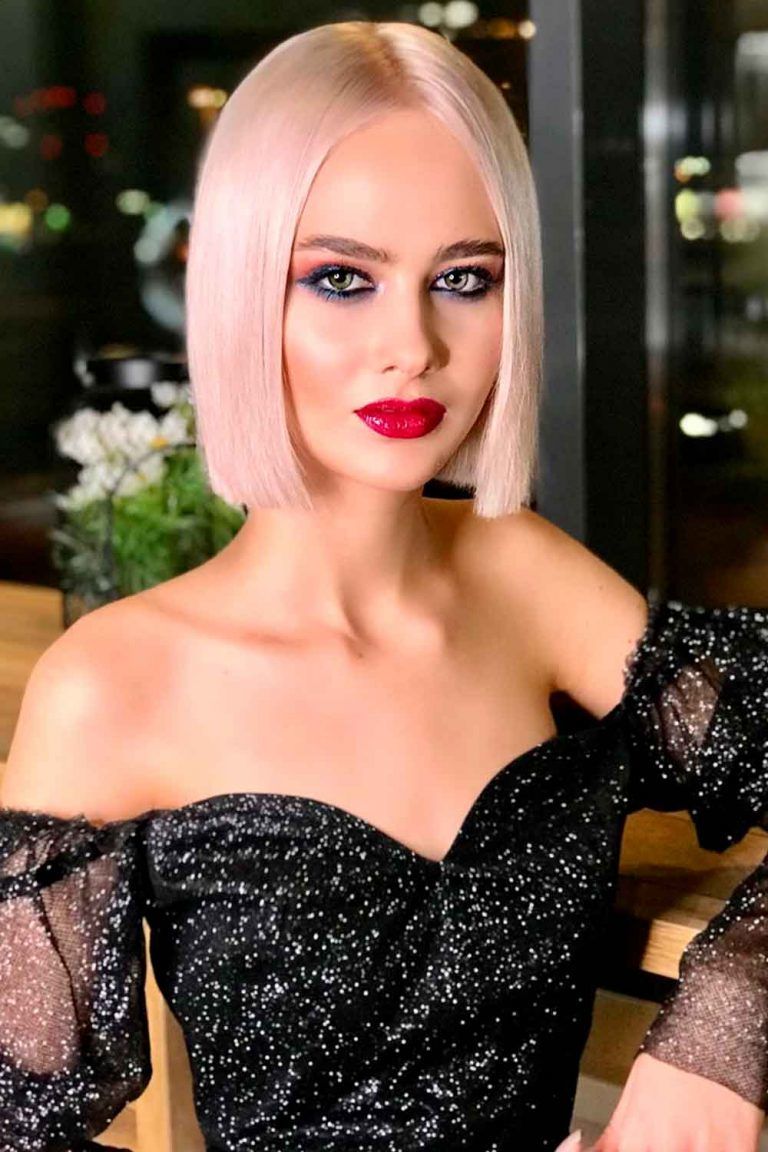 Credit photo: instagram.com/julia.vorontsova.blond.expert
While messy and tousled strands can be a surefire way to get a much needed volume, on some occasions, you may want your locks to remain smooth and polished. That is usually when you are headed to a fancy event and need to look your best. A sleek blunt bob suits this situation just right.
Pale Pink Bob With Blue Highlights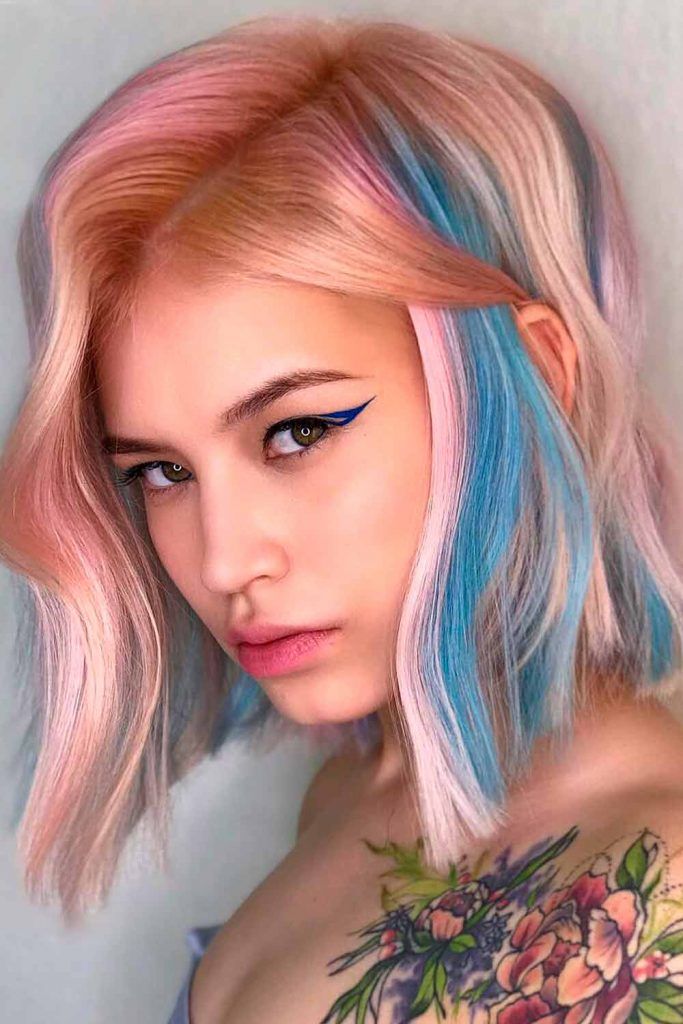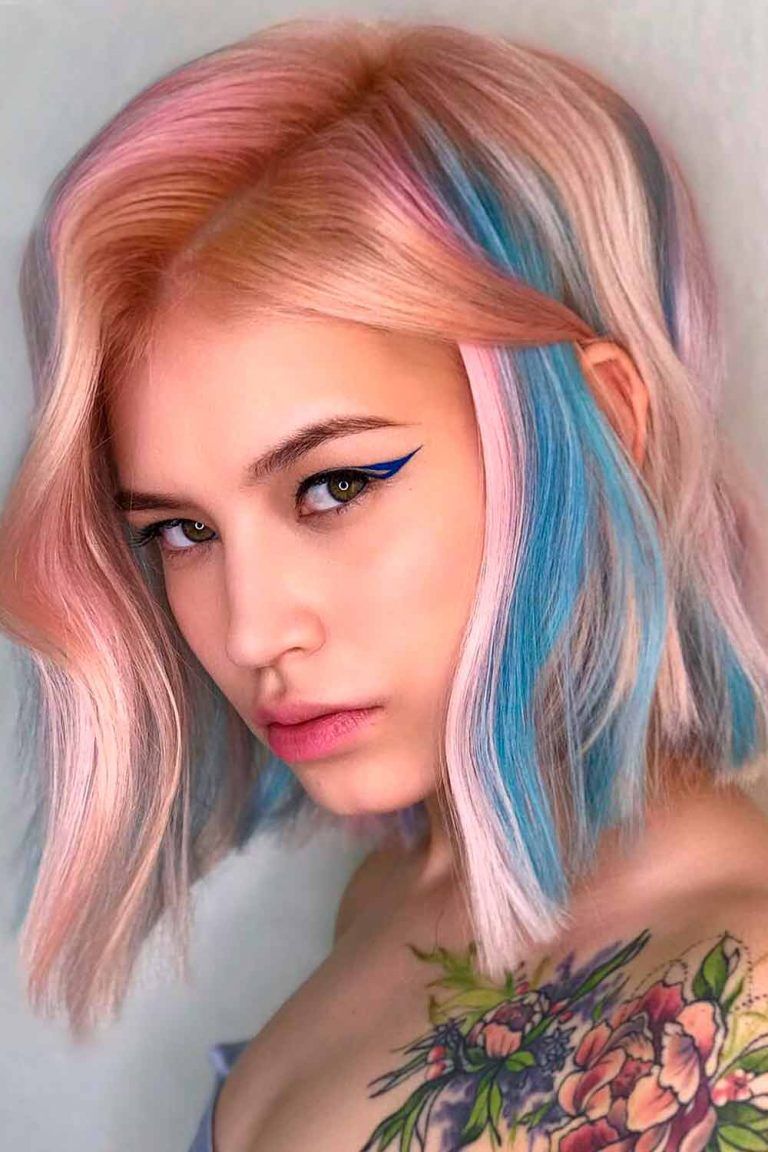 Credit photo: instagram.com/julia.vorontsova.blond.expert
Those who are not afraid to become the center of attention should consider this pastel pink bob enhanced with blue streaks. The hairstyle comes out high contrast and attention grabbing. So, you may rest assured that it will not go unnoticed wherever you are. Of course, apart from fashion bravery, your office dress code should allow it.
Classic Bob With Blonde Balayage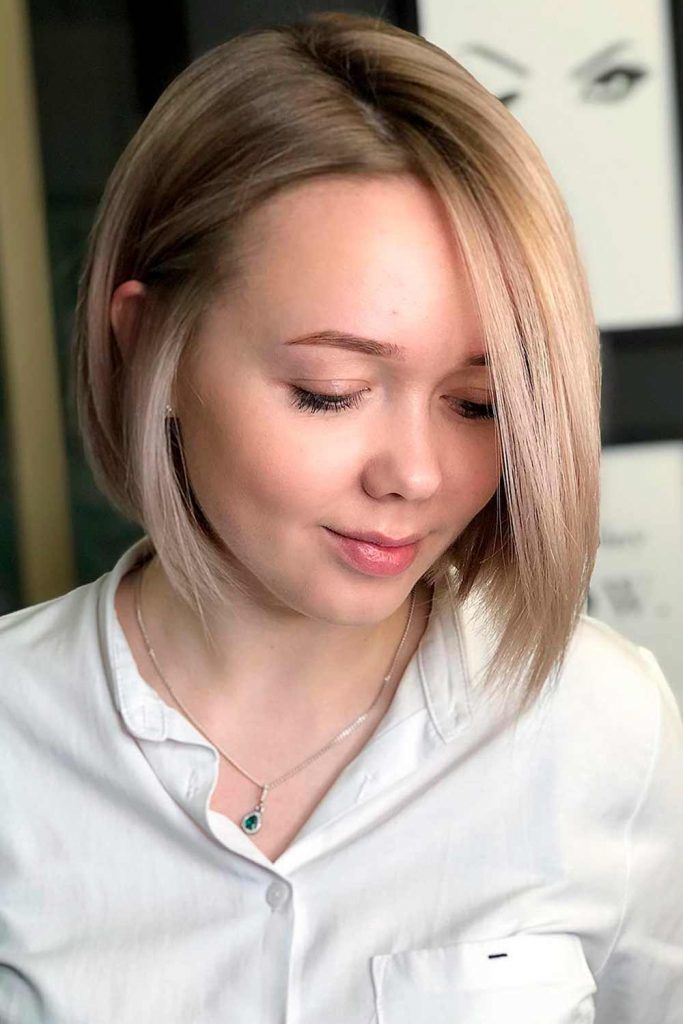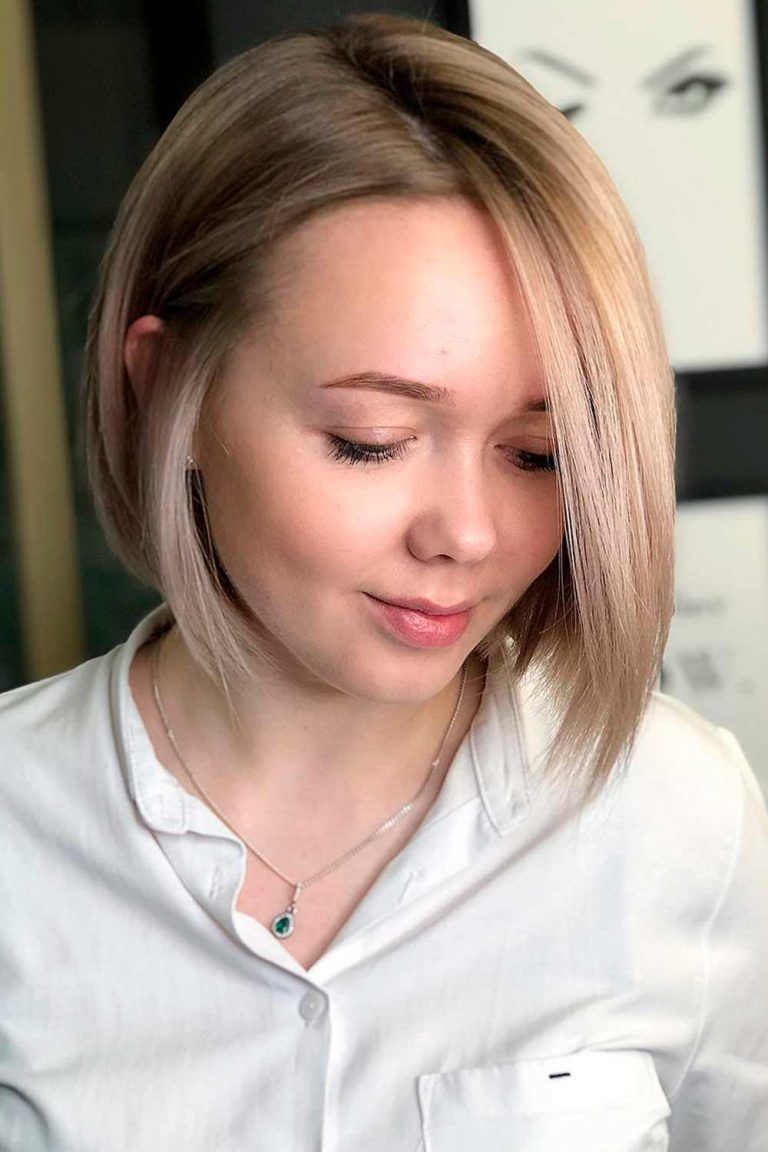 Credit photo: instagram.com/olgacolorist
What can be better than a traditional bob haircut? This is a classic that will never go out of style. Unless you would like to give it some oomph with the help of blonde balayage. This hair coloring technique can instantly refresh your look and make your features appear softer and more delicate.
Inverted Bob With Messy Layers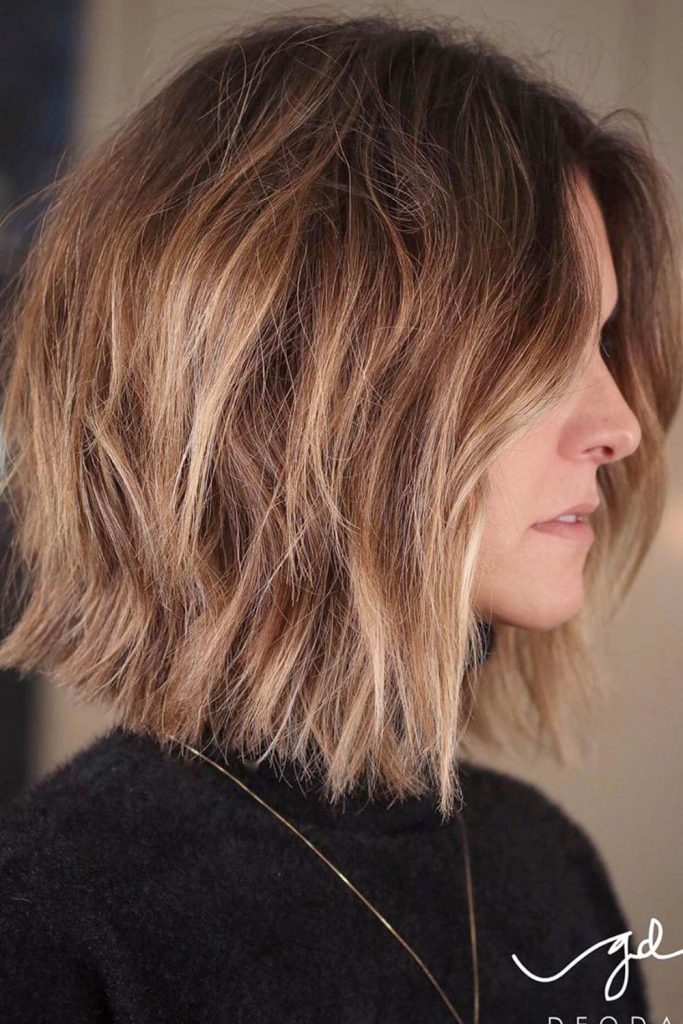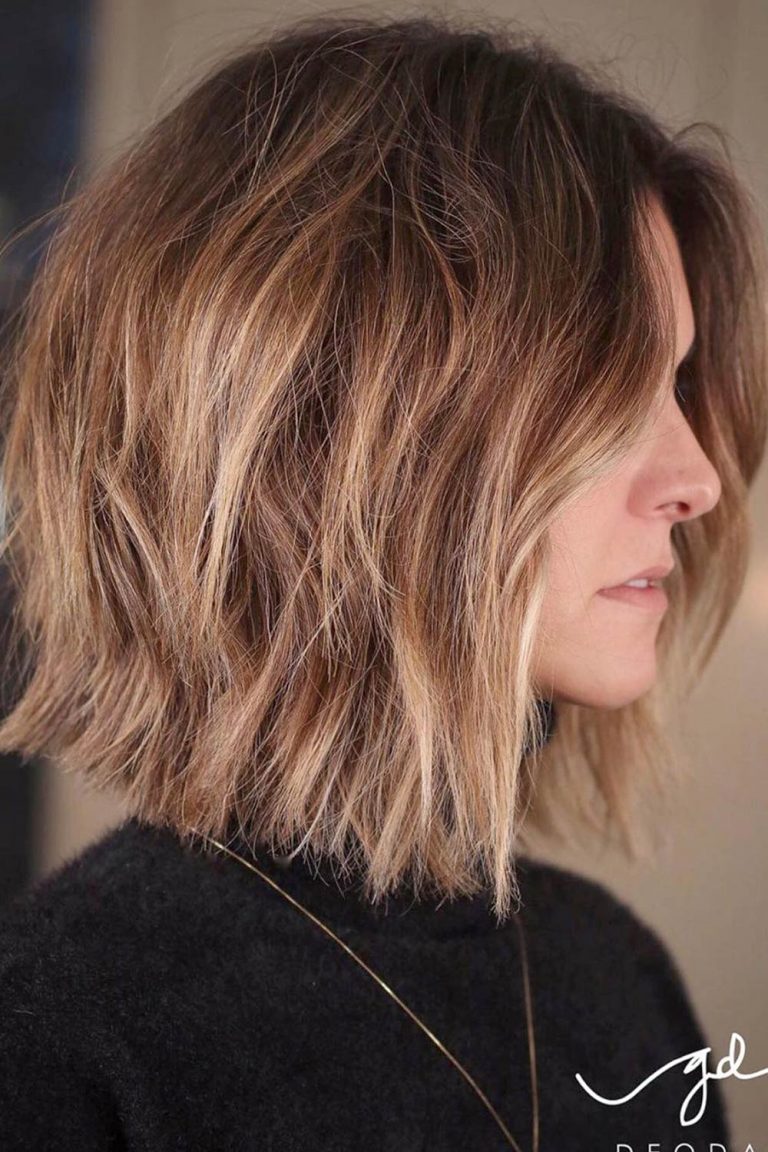 Credit photo: instagram.com/g_deodato
Inverted bobs are good at giving your facial features a more chiseled and defined look. Plus, they are low maintenance and easy to style. You can simply dishevel the strands with your hands and end up with a stylish and chic hairstyle. Face framing bangs are optional but very much recommended.
Stacked Curls in Short Bob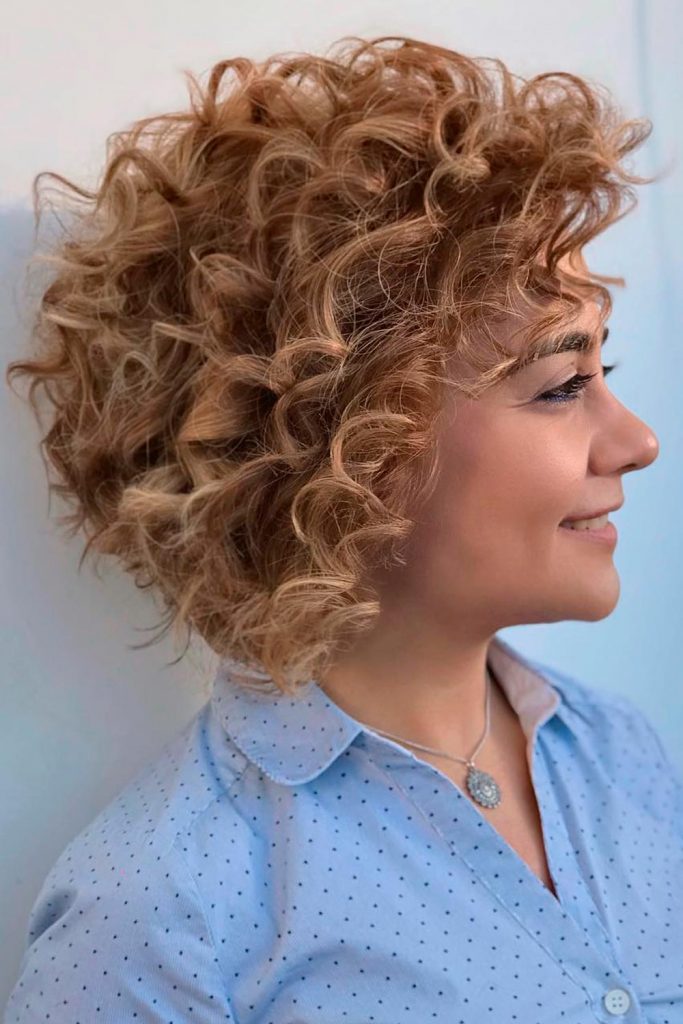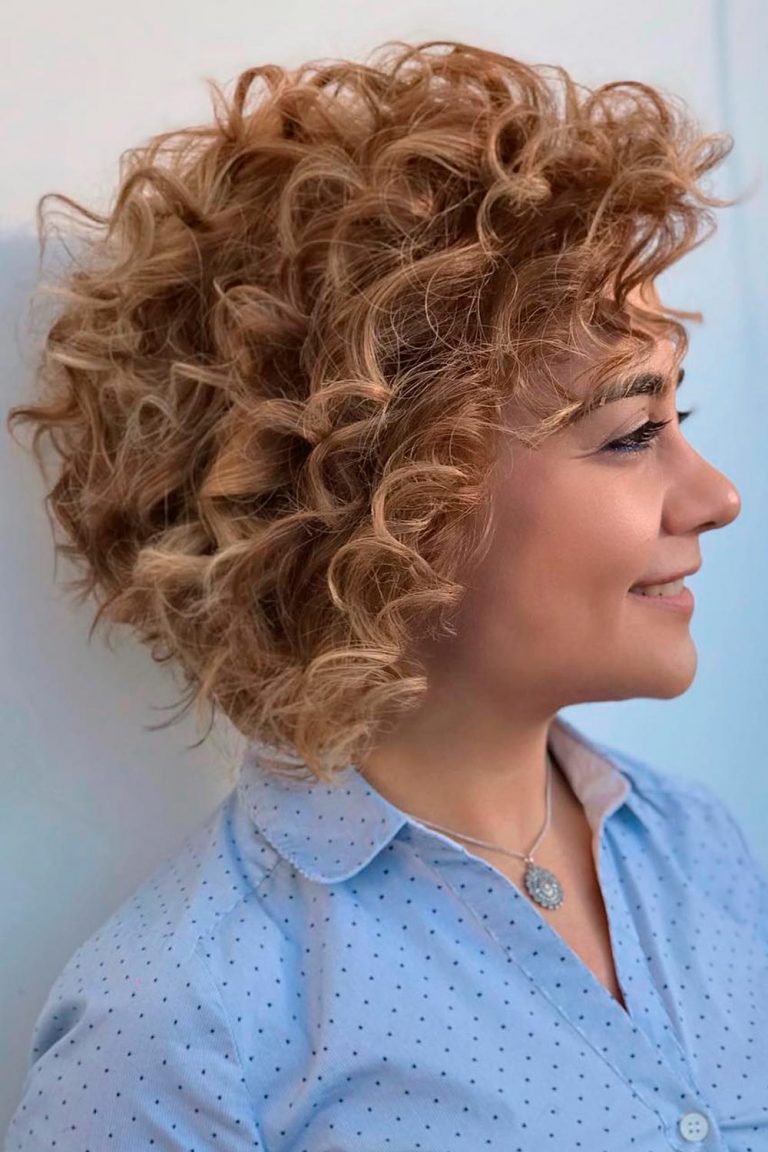 Credit photo: instagram.com/jeanclaudeelmoughayar
You may shy away from short curly haircuts for women because they are not always easy to manage. Yet, this is not the case with a stacked short bob. Thanks to a layered cut, your curls are perfectly shaped. To complete the look, team it with curly bangs, which you can then blend into the rest of the locks.
Short hair cuts: Celebrity Choices
Short hair allows women to feel the freedom of styling and sharpness of image they couldn't even dream of. As a matter of fact, wearing short haircuts in 2024 is a trend that has taken over women from all around the globe, and celebrities were the first fans on the list. Have a look at the latest iconic short cuts captured on the red carpet!
Anne Hathaway's Long Pixie Cut With Side Swept Bangs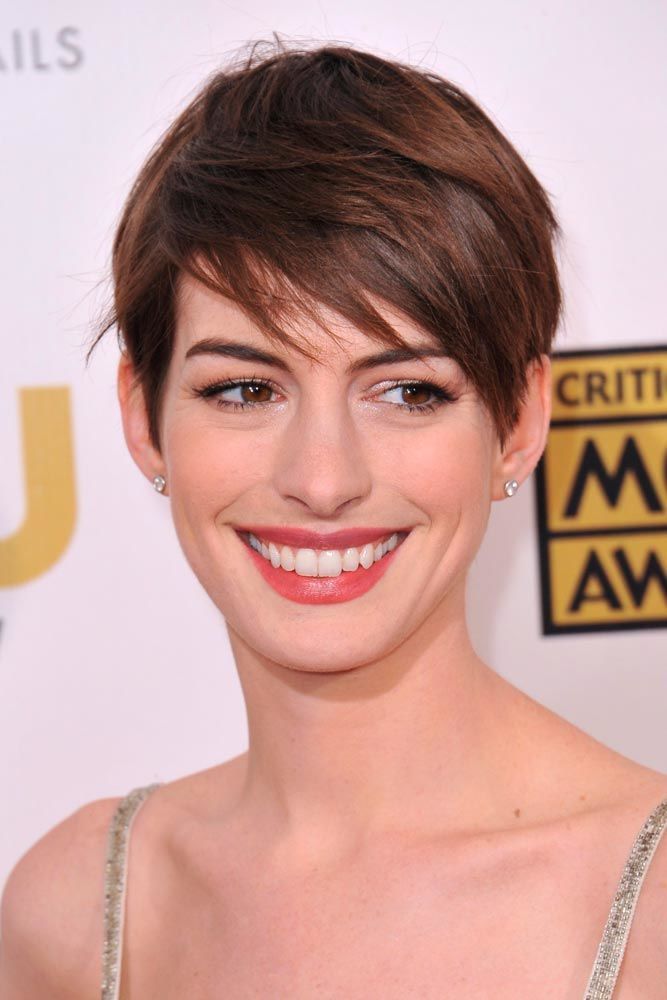 Credit photo: Jaguar PS/Shutterstock
If you are about to copy someone's look, why don't you steal it from your favorite celebrity? You've seen charming Anne Hathaway with many different lengths, and here she opts for a pixie haircut that shows off her best features while giving a slight frame to the forehead. A well-groomed long pixie accompanied by side-swept bangs is nothing but the best compliment to oval face shapes.
Karen Gillan With Pixie-Bob And Wavy Upswept Bangs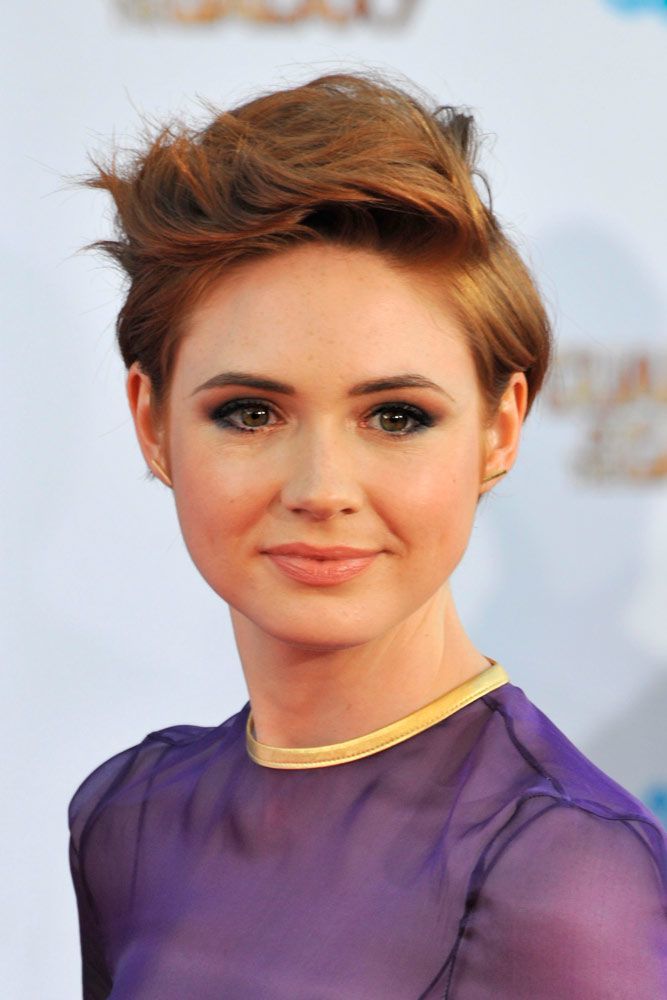 Credit photo: Featureflash Photo Agency/Shutterstock
For one of her premiere looks, Karen Gillan also decided to show up with a shorter-than-usual haircut. This short version of pixie-bob gives a lot of volume to the back portion, and to keep the perfect balance in the front, the actress chose to go for wavy upswept bangs.
Michelle Williams's Pixie Haircut With Deep Side Part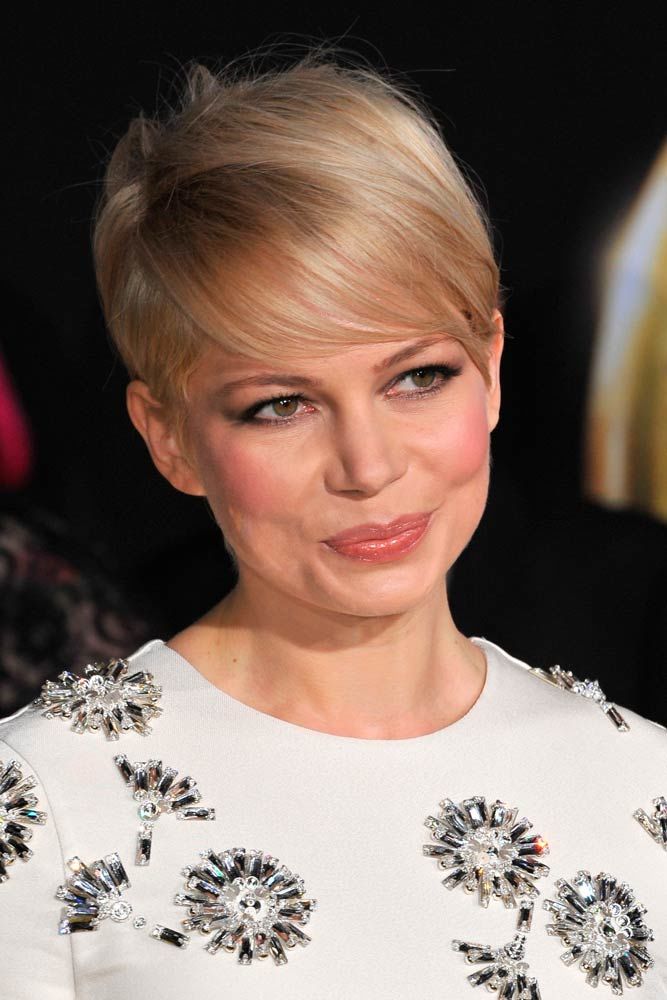 Credit photo: Jaguar PS/Shutterstock
Michelle Williams's hairstylists know that one can't go wrong with a side-parted bang and pixie. Though her audience is used to seeing her with relatively long and full chevelure, such a well balanced and immaculate silhouette did impress everyone.
Long Pixie With Undercut - Perfect Rihanna's Style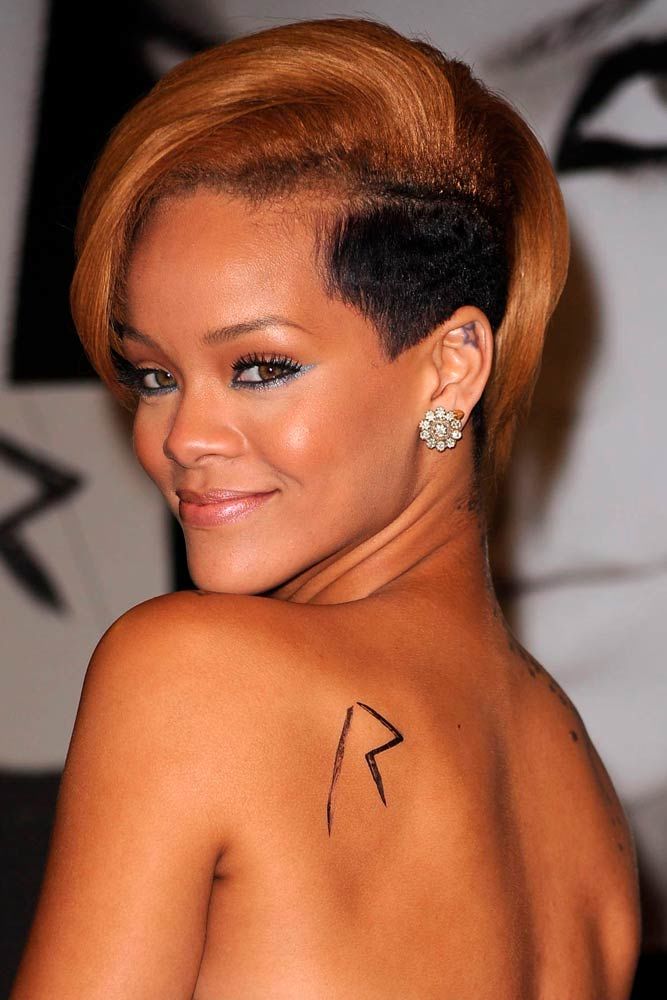 Credit photo: Everett Collection/Shutterstock
Sometimes we think that someone should write a book about Rihanna's transformation history. And this long pixie with an undercut really should be in the first chapter! The shaved sides make the dramatic top even more voluminous, and the play of colors does the attention-grabbing job.
Emma Stone's Blunt Bob With Bangs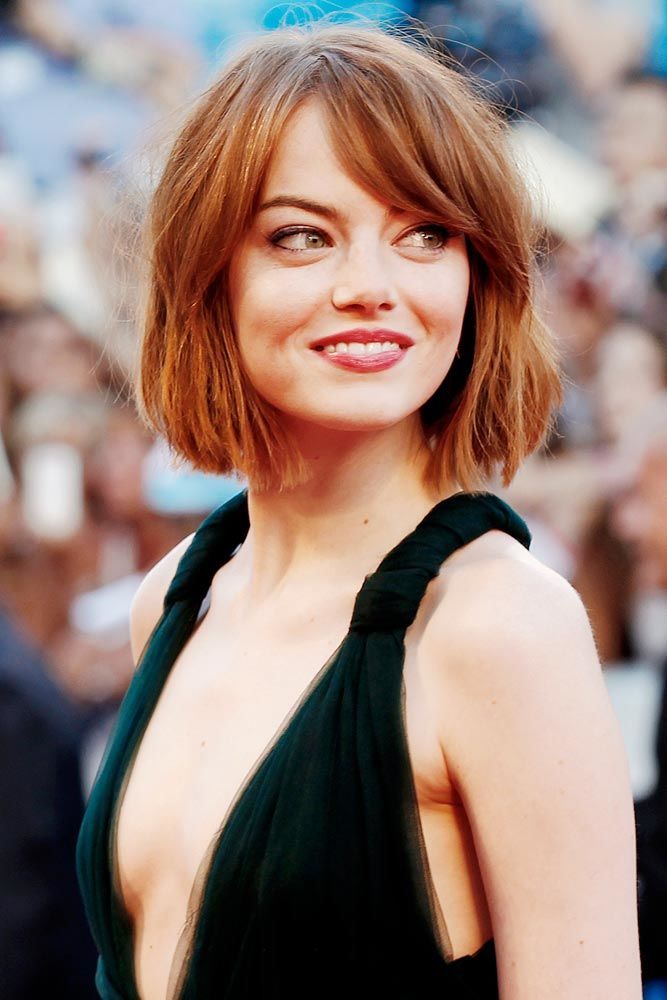 Credit photo: Andrea Raffin/Shutterstock
According to many looks of Emma Stone, a premiere look without bangs is a look wasted! Even though it's a simple blunt bob, the way everything in her appearance harmonizes is worth walking down the red carpet.
Short Layered Bob For Krysta Rodriguez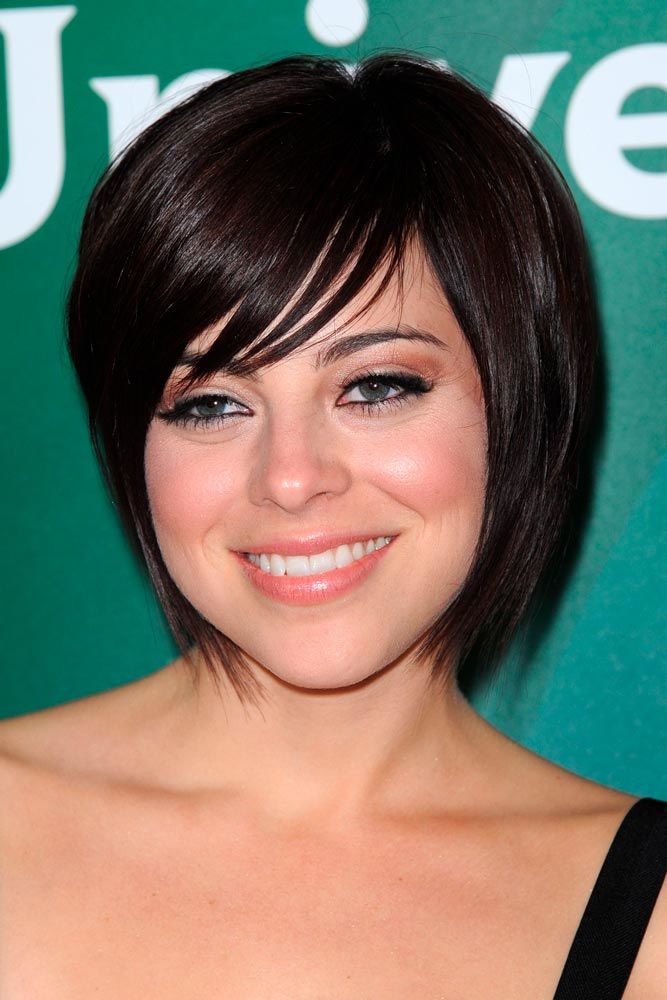 Credit photo: DFree/Shutterstock
While many women think that short haircuts come into our lives as a commitment, this opinion has nothing to do with a layered bob like the one sported by Krysta Rodriguez! Not only do the layers give a decent shape to her bob but they also create a long-lasting volumetric body that won't disappear after her hair grows out.
Jessica Stroup's Classic Chin-Length Bob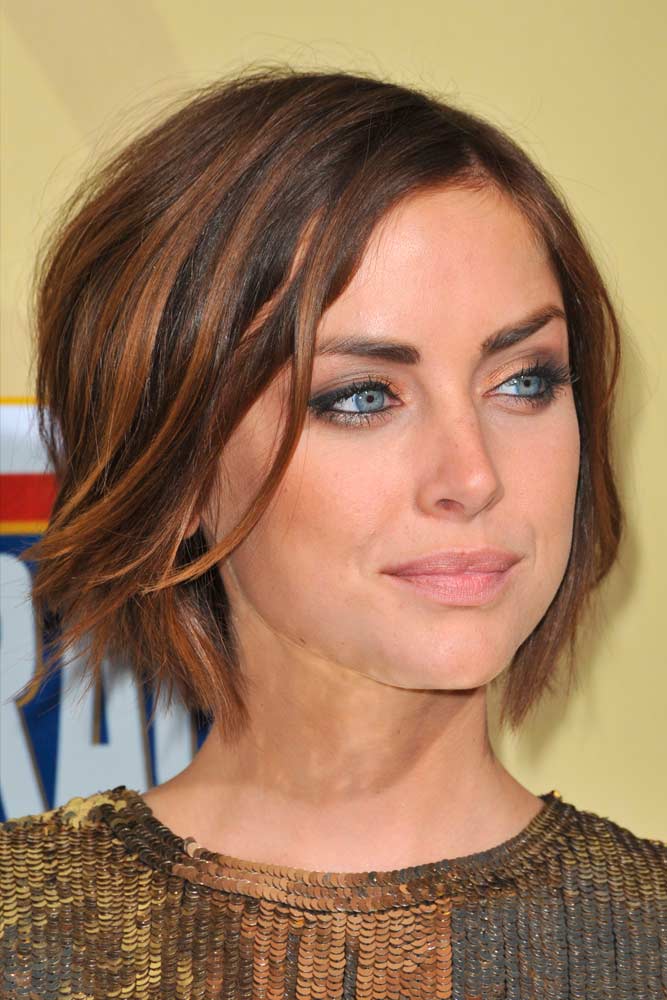 Credit photo: Featureflash Photo Agency/Shutterstock
This minimalist premiere Jessica Stroup's bob haircut is here to show all ladies with fine hair that their locks won't always fall flat. With the length that slightly hits your chin and a soft, round angle, you can forget about plain looks once and for all.
Milla's Curly Bob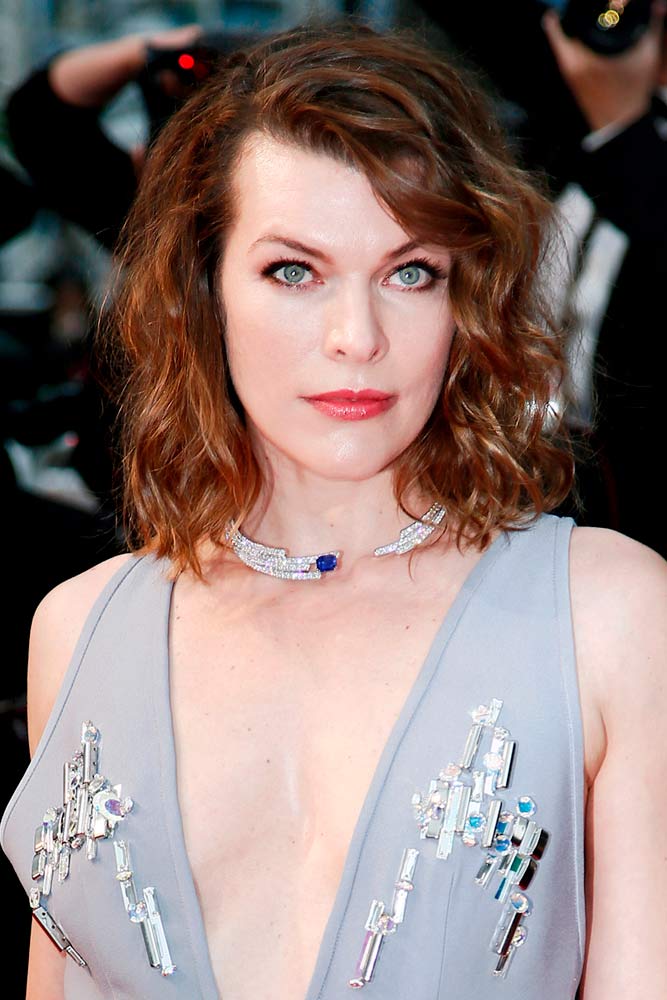 Credit photo: Andrea Raffin/Shutterstock
Milla Jovovich loves to amaze cameras with waves and curls, not for nothing. Such an effortless texture nicely softens her angled facial features while the short length keeps up with the bounce and volume.
Perfectly Sleek Bob On Kylie Jenner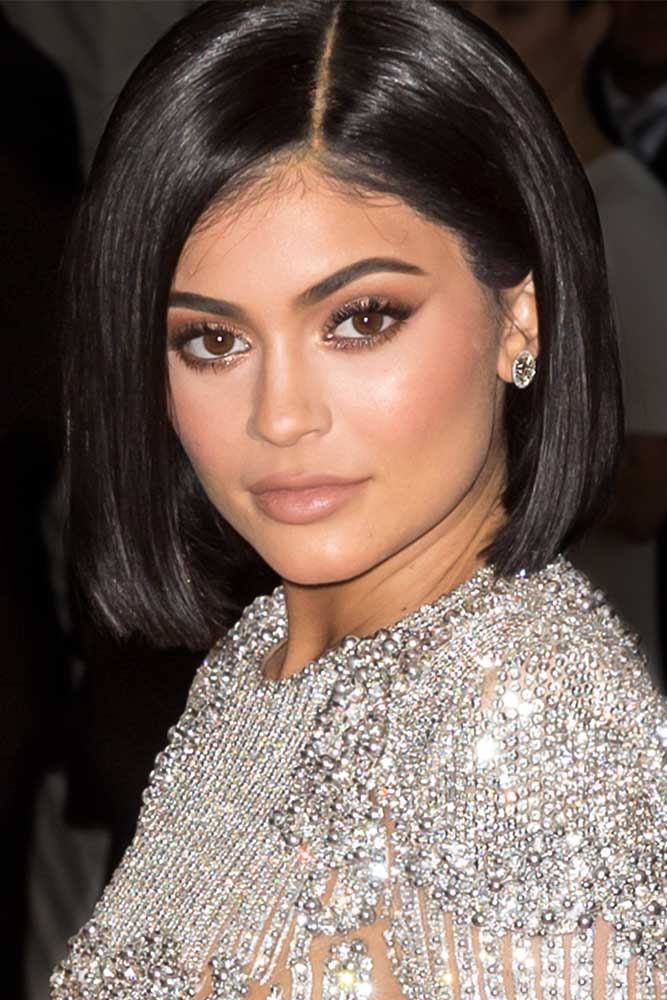 Credit photo: Ovidiu Hrubaru/Shutterstock
Everything that Kylie Jenner's stylists touch turns to gold: this fashionable look is living proof. She's tried lots of different colors and lengths, yet, this bob is still the most natural-looking idea. It's sleek and slightly asymmetrical cut, that's why it looks so refined.
Taylor Swift Style: Stacked Bob With Blunt Bangs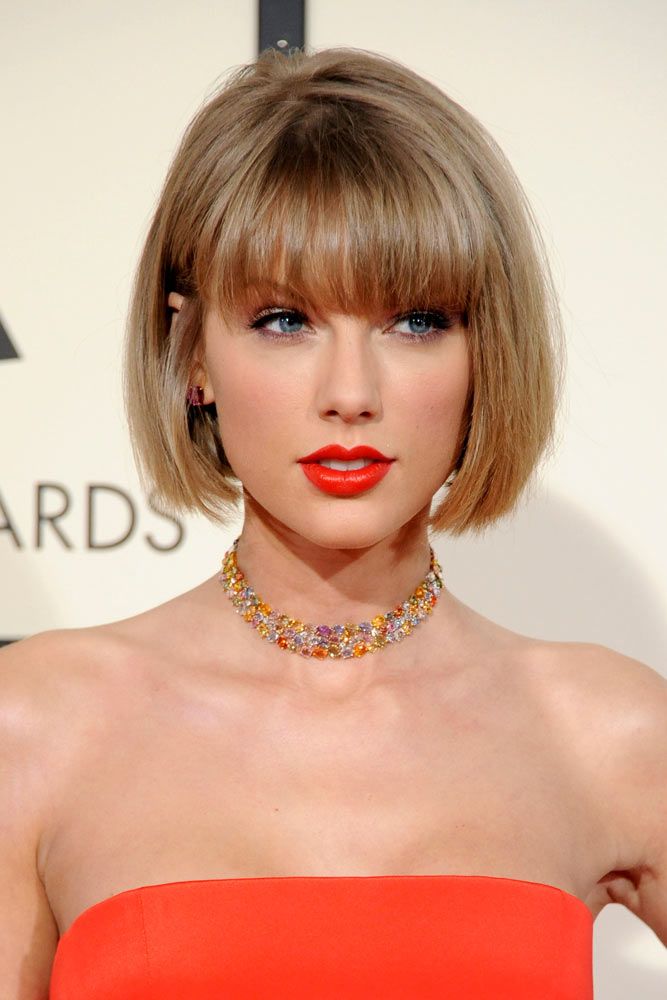 Credit photo: Tinseltown/Shutterstock
Taylor Swift seems to have personalized the idea of blunt bangs. Besides the voluminous body, her stacked bob gives a nice flaw-concealing touch, hiding up her big forehead.
Straight Bob Haircut Like Jennifer Aniston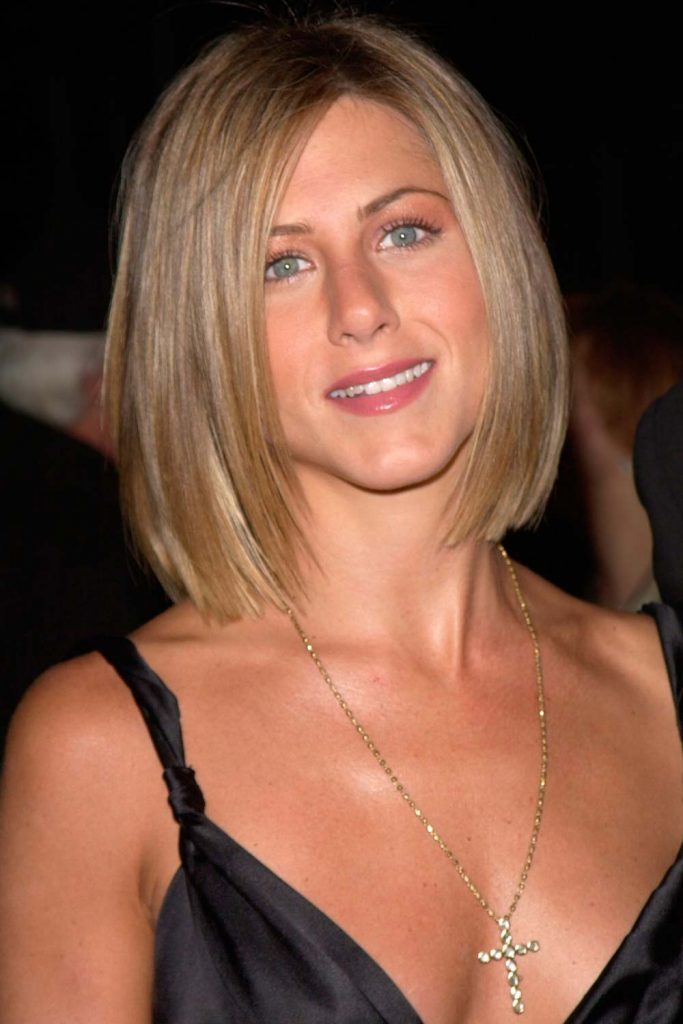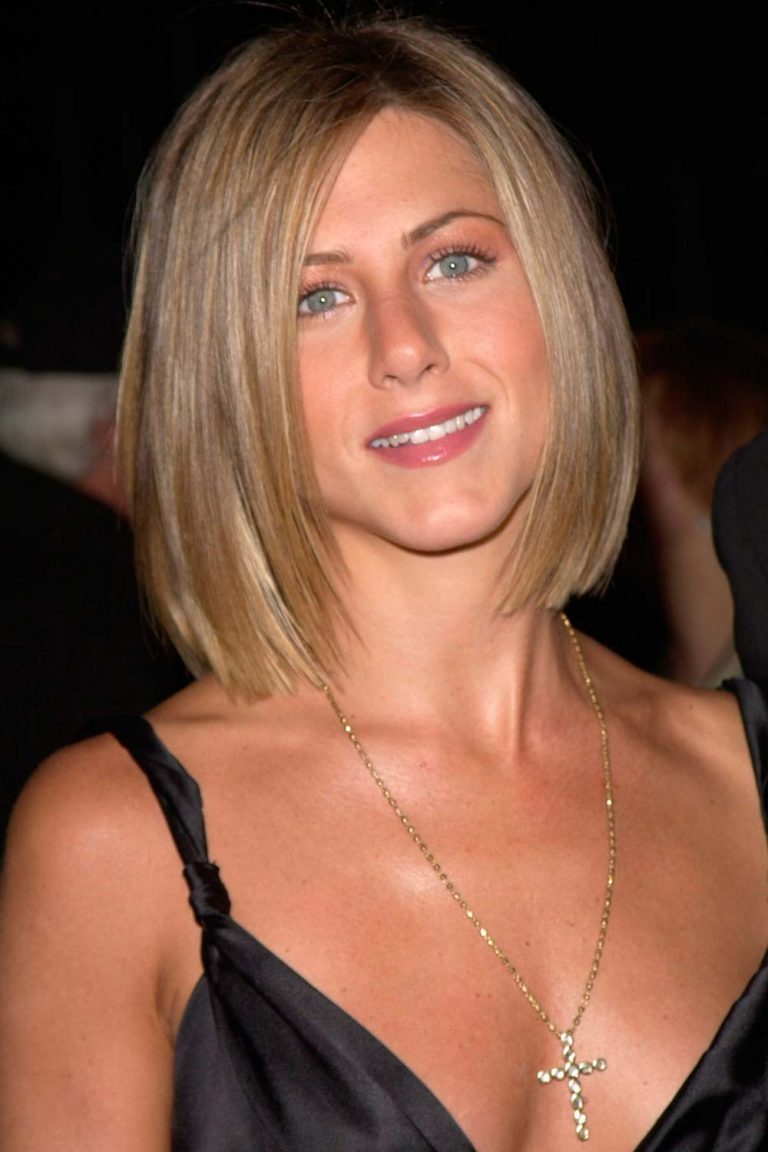 Credit photo: Tinseltown/Shutterstock
Jennifer Aniston has always been known as a trendsetter in haircuts for women. Every hair look that she introduces to the public instantly becomes iconic. And a straight bob with wispy ends is no exception. The secret to a look is in razor cut layers that give the cut an airy and effortless feel.
Scarlett Johansson`s Side Pixie Cut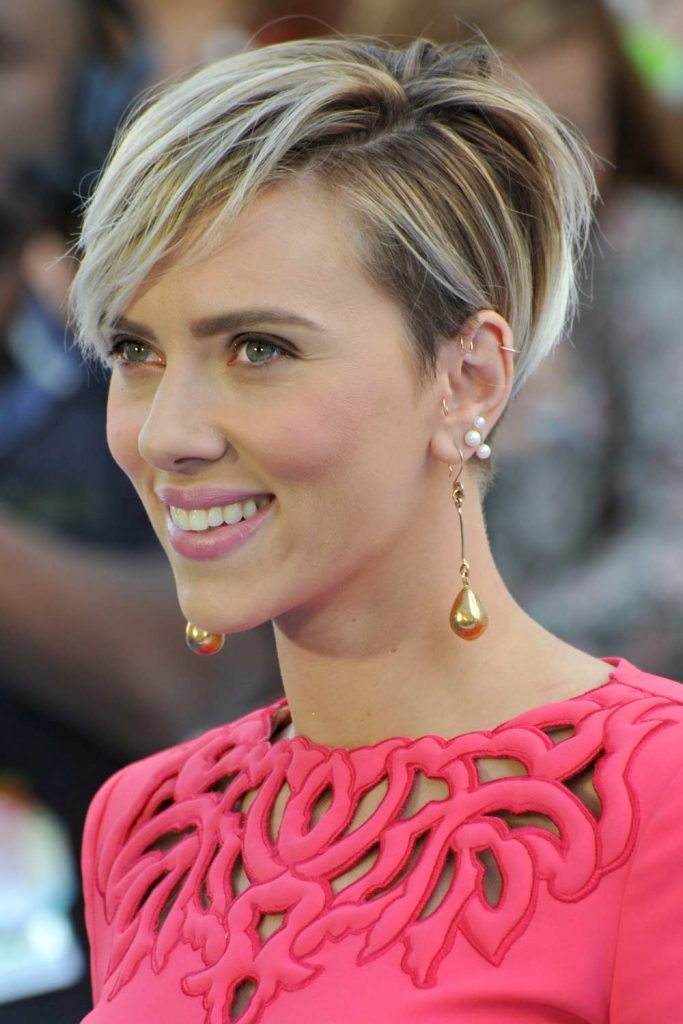 Credit photo: Tinseltown/Shutterstock
There is arguably no such haircut that would not look flattering on Scarlett Johansson. The actress can sport her mane short or long without looking off. The asymmetrical pixie she got the other day has a bit ruffian and daring feel. And with blonde highlights, the haircut is a staple of hot short women haircuts.
Lucy Liu`s Short Bob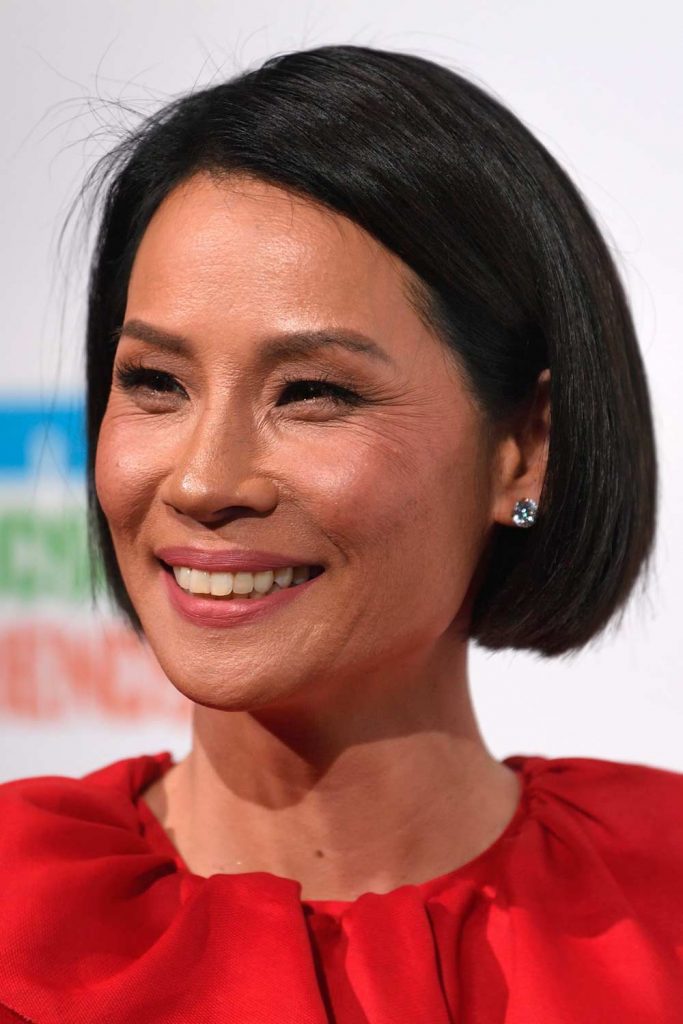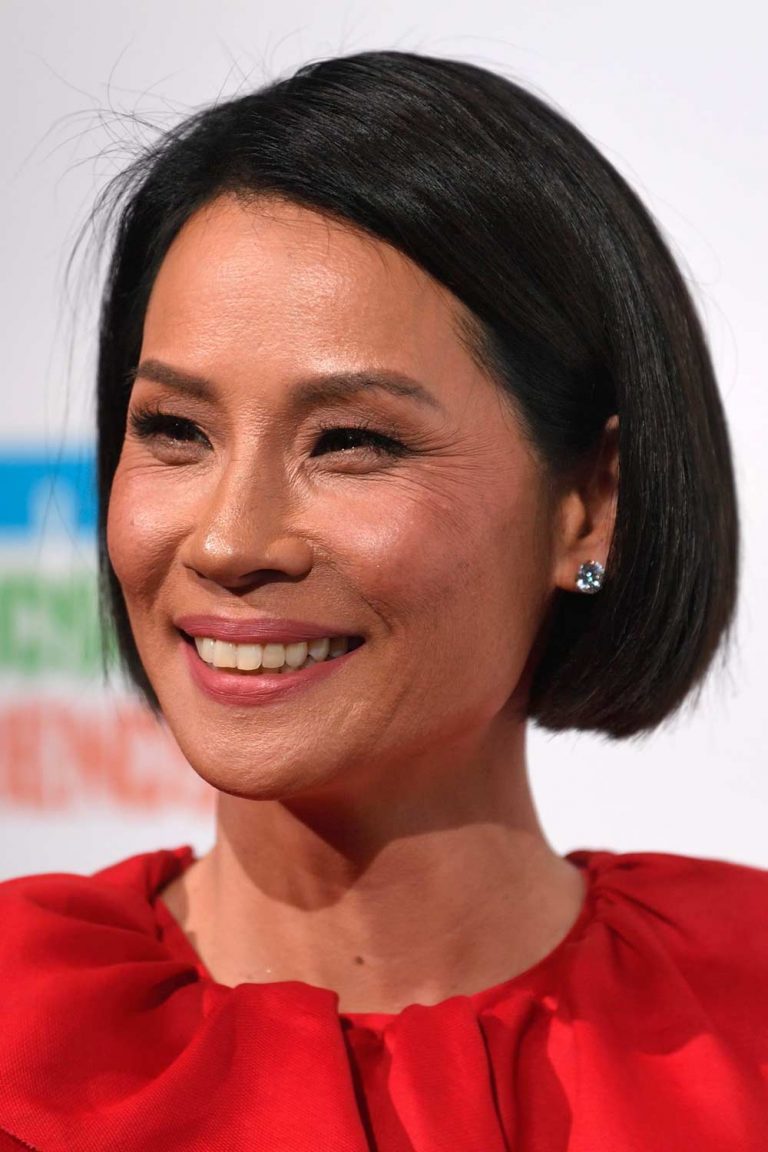 Credit photo: Tinseltown/Shutterstock
Who could have thought that a simple short bob may look so unbelievably beautiful? Meanwhile, Lucy Liu proves that you can make even the most basic haircut worth rocking on the Red Carpet. Besides, it is fuss free, as all you need to do to style it is to let your tresses dry naturally after washing them or give them a bit of volume with a round brush and a hair dryer.
Spiked Up Pixie Haircut Like Halle Berry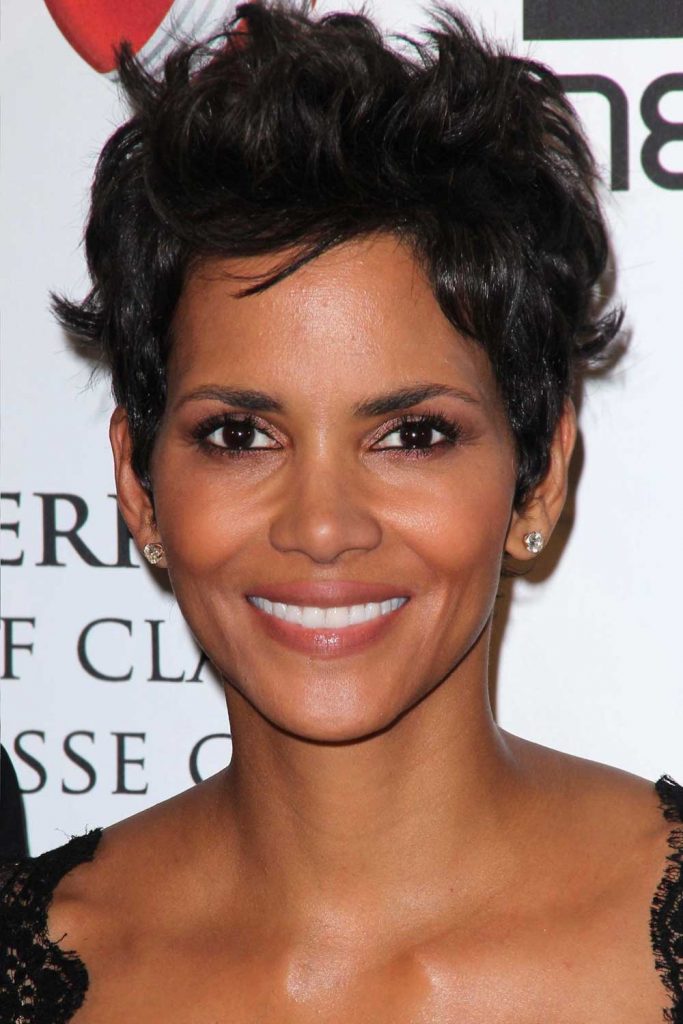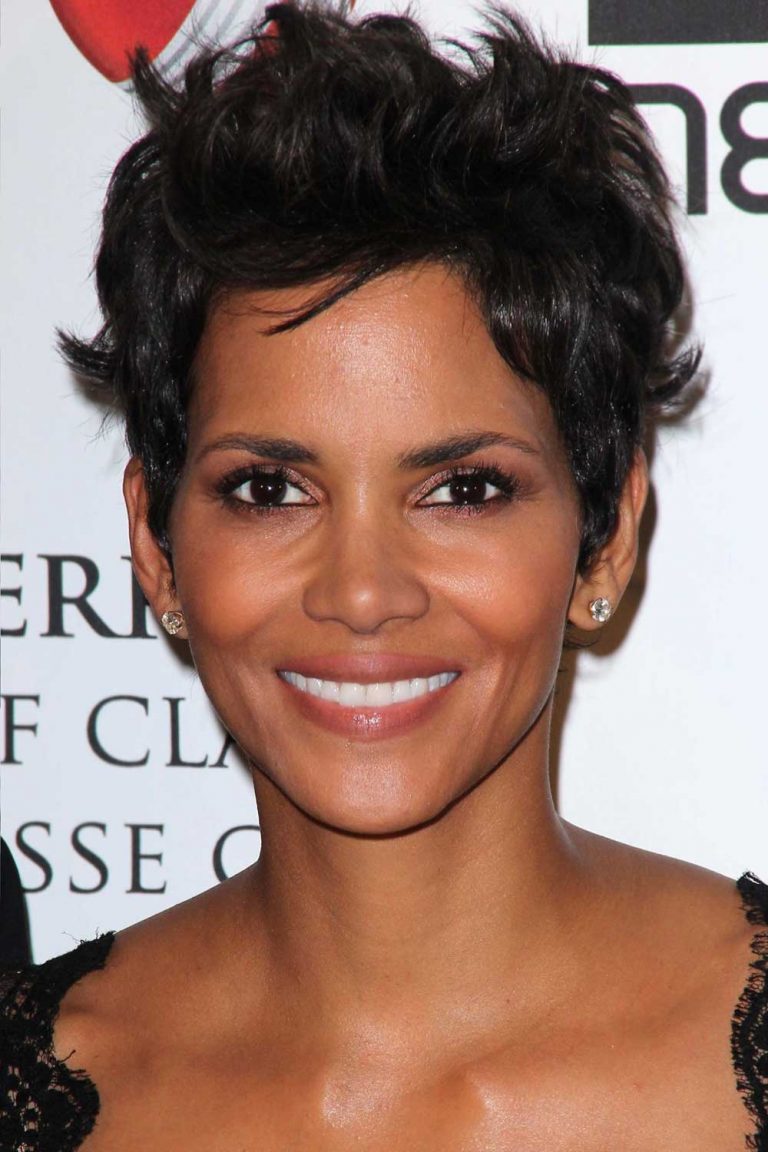 Credit photo: Tinseltown/Shutterstock
Not only does a pixie haircut allow you to show off your gorgeous facial features but it may also help you to balance them out a bit. If your get your locks spiked up like Halle Berry, it may visually elongate your face and take the cheekbones to the spotlight. A texturizing spray will help you finish off the look.
Brushed Up Long Pixie Cut With Short Sides by Miley Cyrus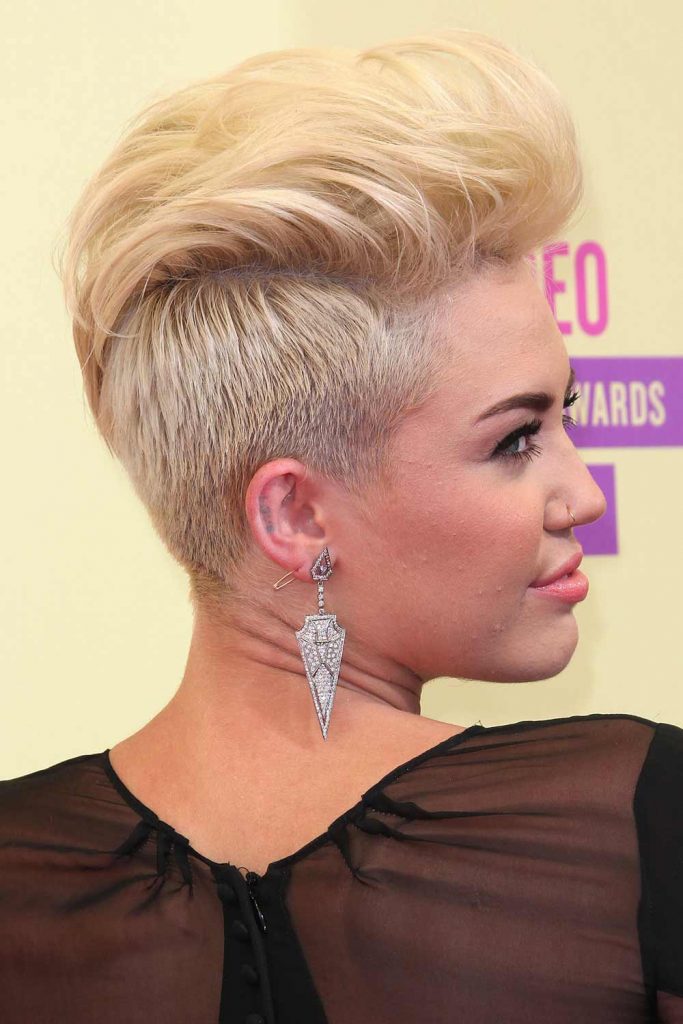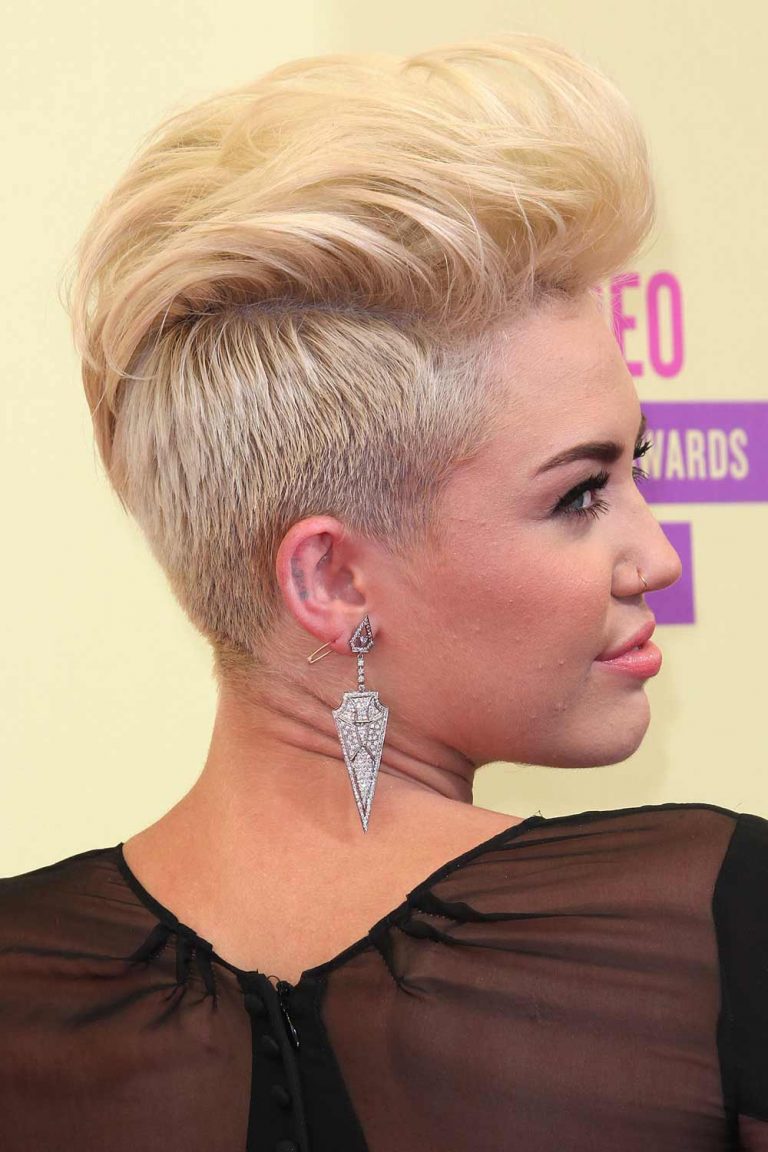 Credit photo: Tinseltown/Shutterstock
Miley Cyrus knows how to have all eyes on her and edgy haircuts are obviously one of her best weapons. This elongated pixie with short trimmed sides and brushed back top is not for faint hearted ladies, as you need to have a certain attitude to pull it off. And when you have it, you are sure to feel like a Rockstar.
How to Choose Perfect Short Haircuts To Make Facial Features More Distinctive
Unfortunately, we do not know who we should owe this trend to, but frankly speaking, these short haircuts are bomb dot com. Despite the fact that cutting your hair short has some disadvantages, the advantages are much bigger. A nice short haircut just line shag cut can make your facial features more distinctive, bring attention to your neck and shoulders, and it is easy to take care of.
Although the trendsetter of short haircuts is unknown, it does not make them any less stunning. Of course, having short hair entails certain drawbacks. Yet, the benefits it offers you outweigh all of them combined. A short shaggy cut, for instance, shifts focus to your face, making its features stand out even more. The shoulder area becomes the center of attention. And all of this with little to no effort.
Yet, to make the most out of your short cut, you need to stick to certain rules, which vary depending on your face shape. They are as follows:
Heart Shape. You should make the eyes and cheekbone area the focal point of the look. To do this, incorporate different types of bangs into your cut or style the side strands ample.

Elongated Shape. As a rule of thumb, long hair makes your face visually longer. So, in case it is already elongated, you should stick to short cuts with voluminous sides. Optionally, complete the look with a bang.

Round Shape. No matter whether you have waves, curls or straight locks, consider haircuts longer than your jawline. Otherwise, it will make your face even wider in the cheek area. Short chubby face haircuts with voluminous tops are your failsafe option.

Oval Shape. If there is one face shape that looks good with any haircut, it is an oval face shape. That is why you may want to focus on matching the cut to the texture of your hair rather than the shape of the face. However, in case the balance is shifted toward either the length or the width of the face, you should choose the haircut accordingly.

Square Shape. Women who have a heavy jawline with sharp features should get layered haircuts. Chop your locks at the ends or curl them to create extra texture.
Pushed Up Pixie Cut For Oval Face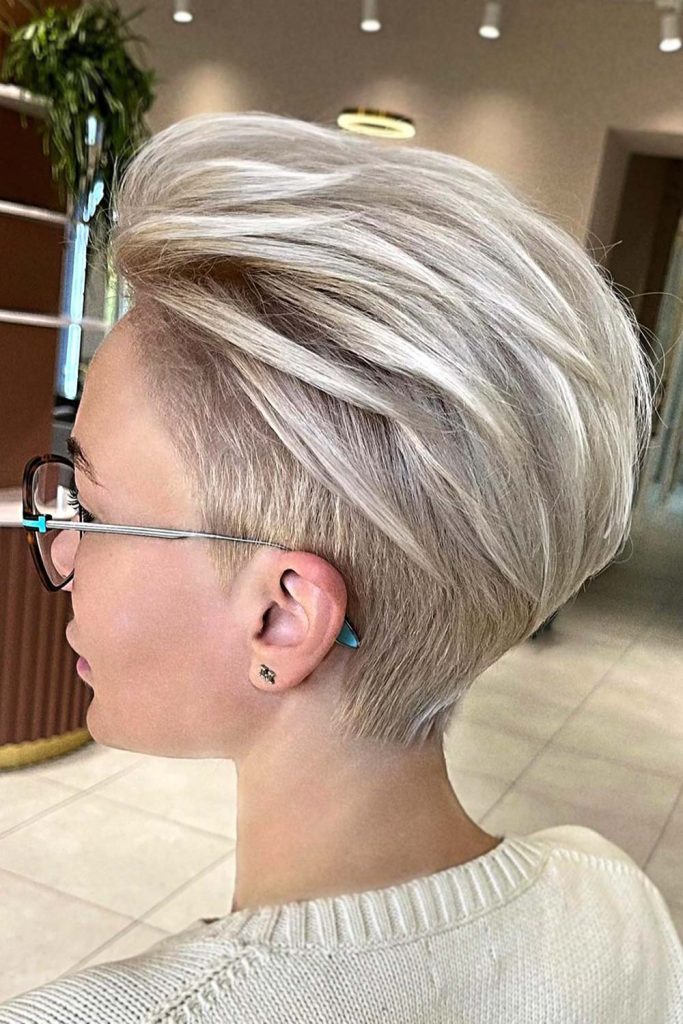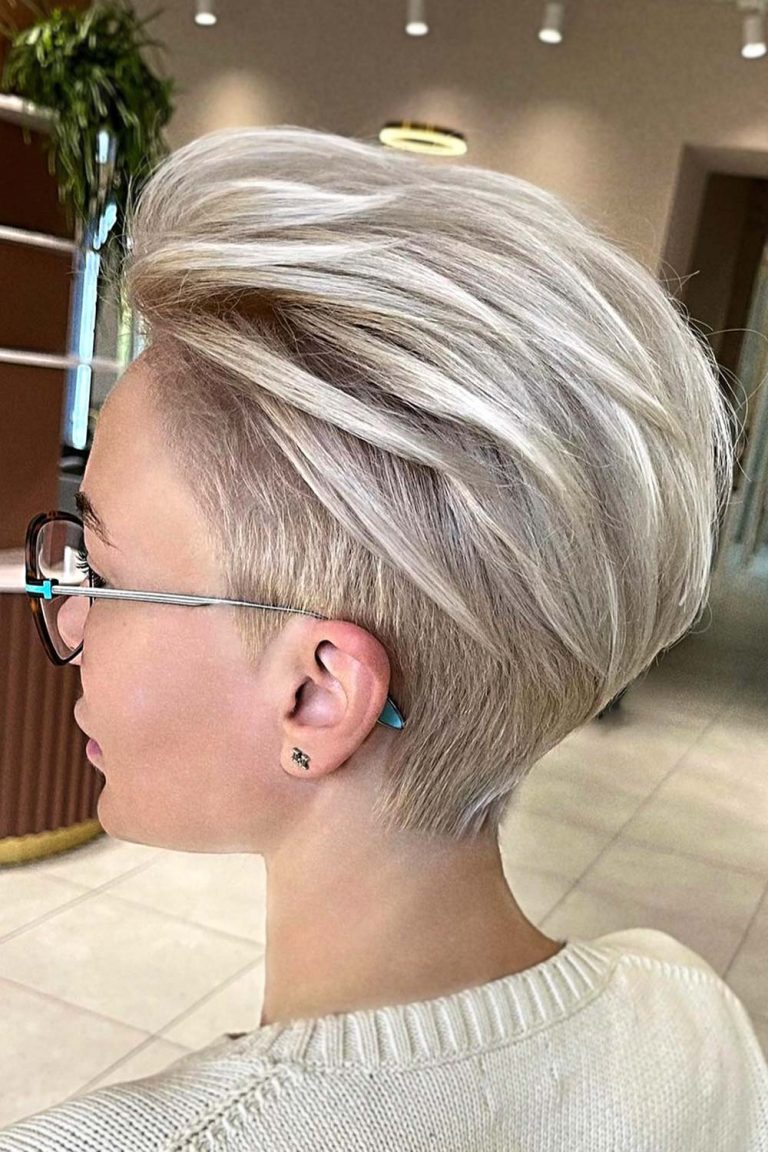 Credit photo: instagram.com/mila_kryshchykhina
This is an absolutely sexy pixie cut. With the use of your preferred hair gels or pomades, you can make this look your very own. Of all the short haircuts for oval faces, this would have to be one of my favorites. Its seductive flare makes one almost irresistible. This cut is also one of a confident woman who is not afraid to make sure that everyone knows that she is comfortable in her own skin. The smoky eye makeup only enhances the seductive attributes of this cut.
Silver Pixie Haircut For Square Face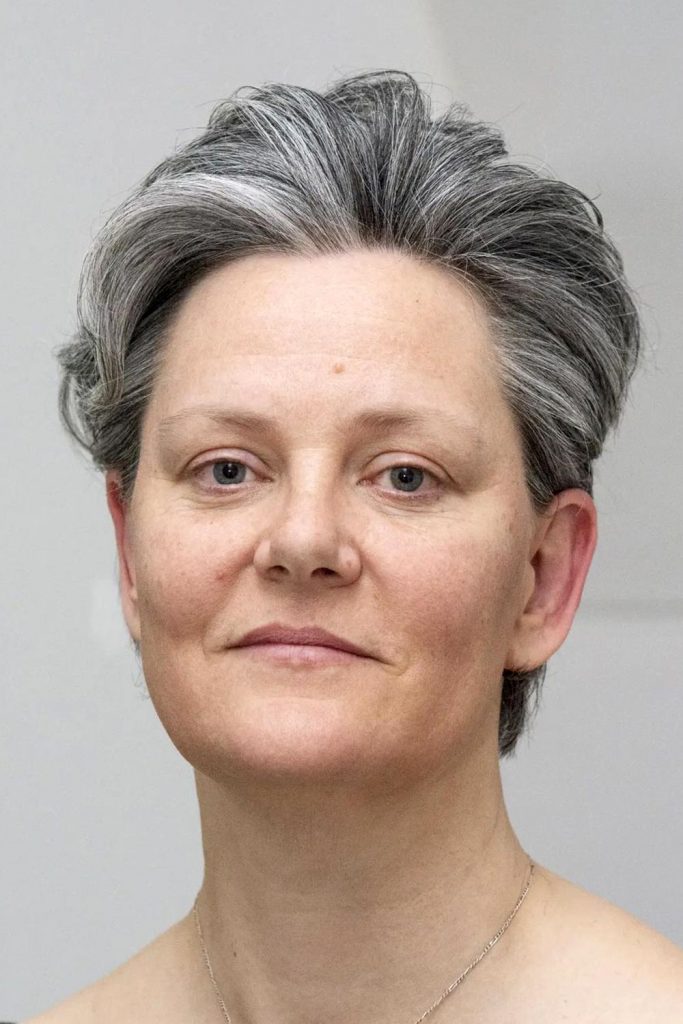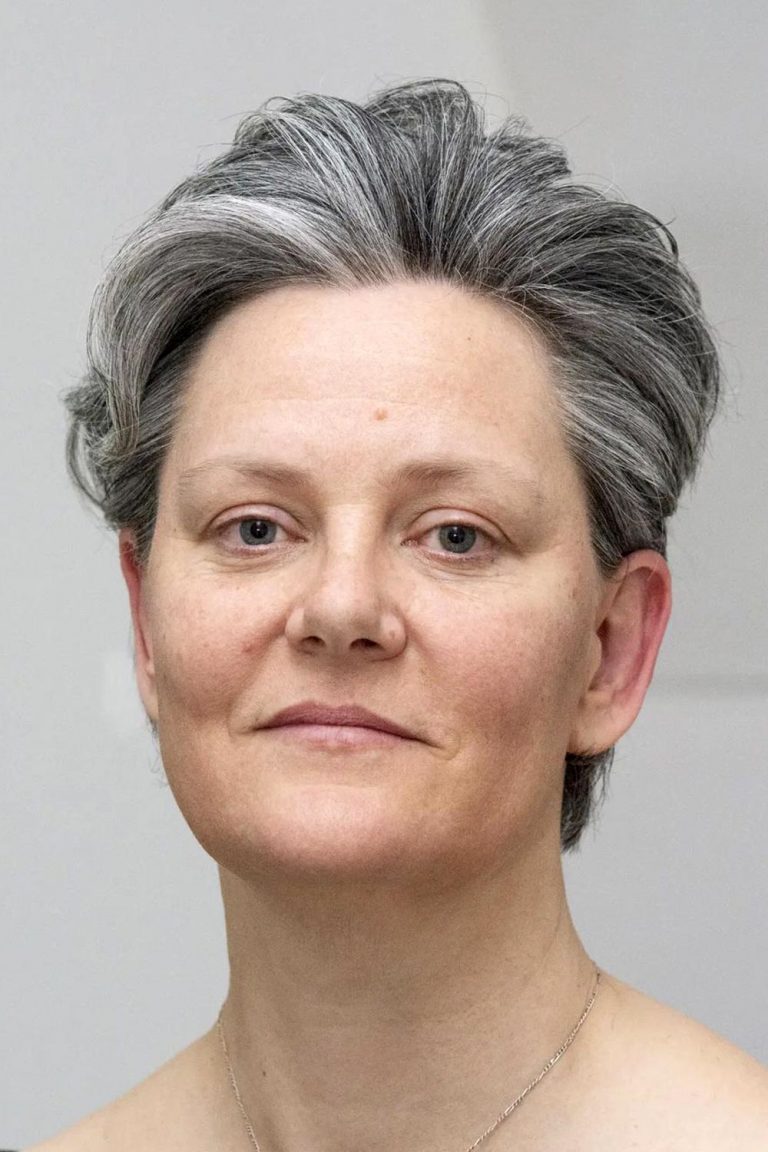 Credit photo: instagram.com/sissemarie
If you're wanting to acquire a short haircut for square faces, you'll want to look at the pixie cut. You can keep everyone intrigued if you go the route of silver hair. Feel free to explore the platinum blonde and gray hues to intrigue even the hardest of hearts. If you decide to add in some bangs that wouldn't hurt the sleek look either. Also, be sure when if you're going with a short pixie that you are certain of your choice as that these hues typically appear better on a longer pixie.
Side Swept Style For Long Face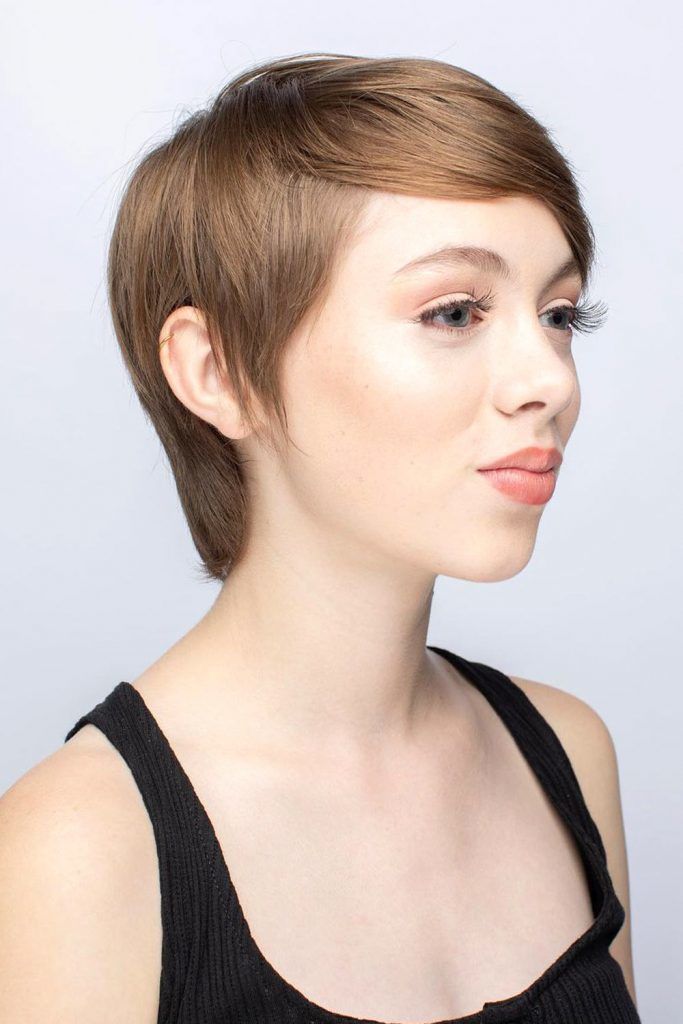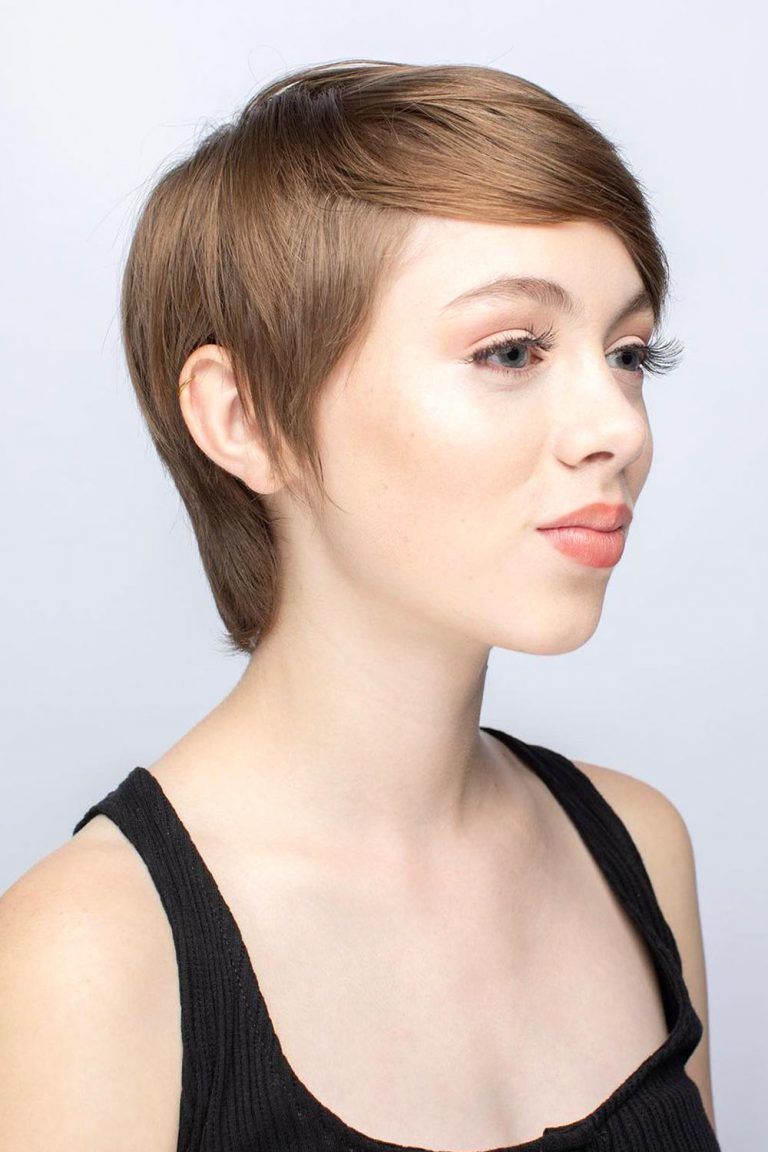 Credit photo: instagram.com/xostylistxo
The long pixie is also a long-time favorite of short hair wearers. It is one of the best short haircuts in 2024 for long faces because it complements the facial features rather than isolating them drawing undue attention. Often worn on the side-swept hairstyle it is easily maintainable and easily styled. Simply blow dry with a round brush in the desired direction and you're done. This specific style seems to be timeless with this cut.
Voluminous Pixie For Triangle Face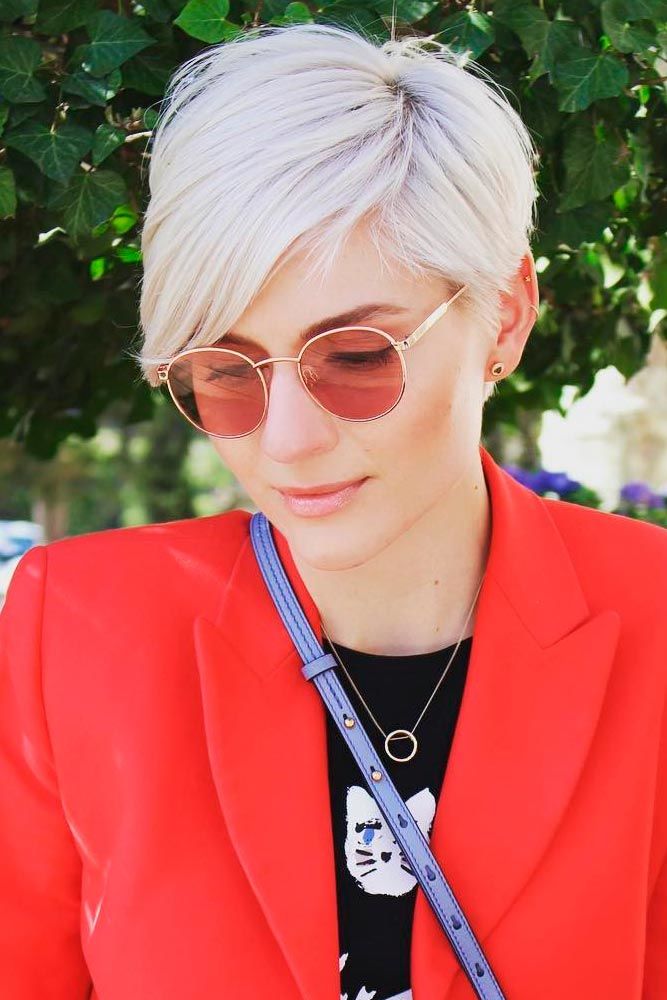 Credit photo: instagram.com/irinagamess
It was once thought that if a woman continually wore a short haircut that she was a tomboy. That is no longer the case. In modern times even the shorter pixie hairstyles are very feminine and classy. If you have dark hair you can still add some color to spice things up a bit. Although various body types wear this style length and layers complement the short haircuts for triangular faces. Be bold be daring and step outside of the box with your new, sassy, voluminous, pixie cut.
Choppy Pixie Style For Heart Shaped Face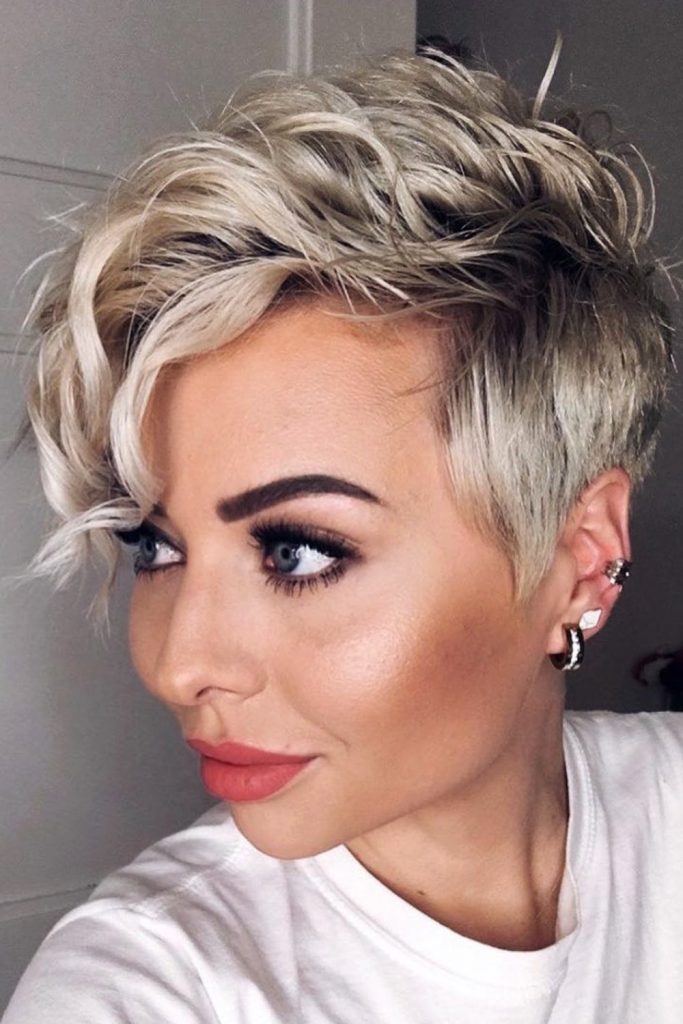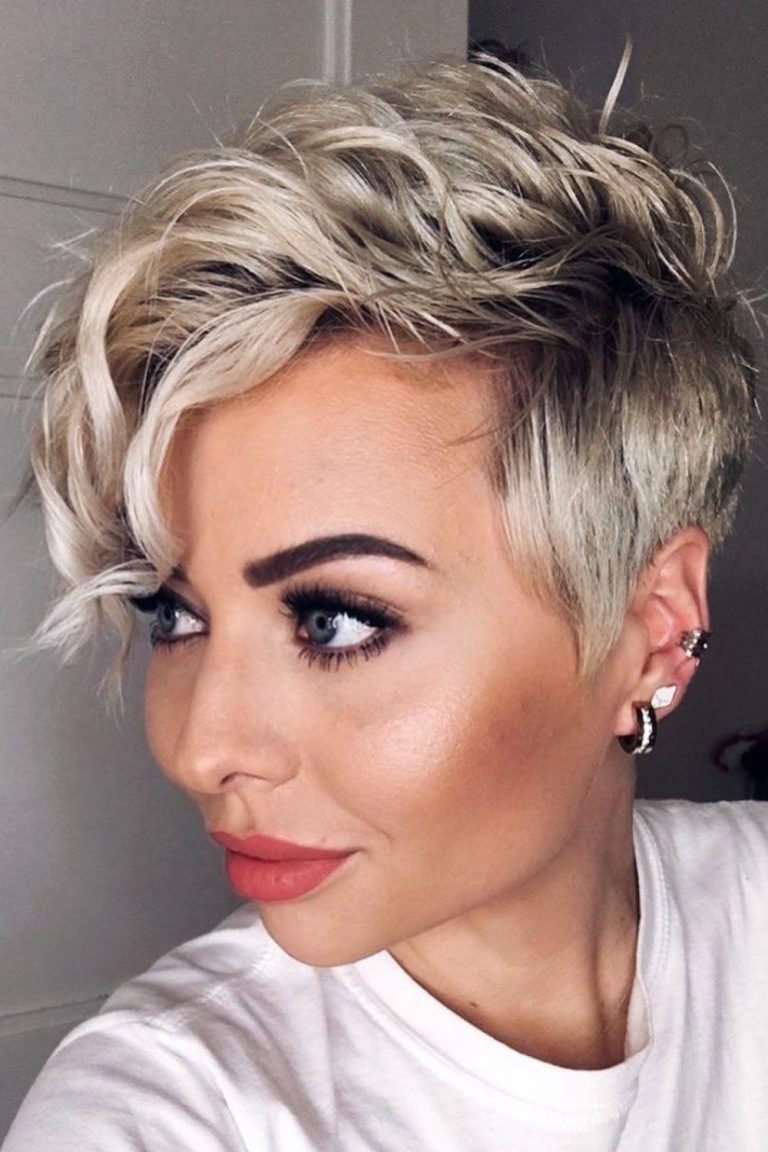 Credit photo: instagram.com/alicia_wunderbar
This pixie cut is definitely very charming with the soft wavy hair gently flowing downward. The lady's hair strands are quite thin and thus the addition of short layers creates enough volume and texture for this awesome pixie. Likewise, the short soft bangs create a lovely aura that is very innocent and charming. These so-called choppy haircuts have become increasingly popular with the messy hairstyle coming to the forefront in popularity. It performs excessively well as one of the premier short haircuts for heart-shaped faces.
How Much Do Short Haircuts Cost?
Hair Salons

Short Hair
Medium Hair
Long Hair
Haircuts Prices starts from
Best Cuts
19,99$
24,99$
29,99$
Hollywood Hairstyles Studio
25,00$
25,00$
35,00$
Fringe Hair Design
20,00$
25,00$
35,00$
The Roose Parlour & Spa
45,00$
55,00$
70,00$
Fox & Jane Salon
56,00$
77,00$
87,00$
Maxine
80,00$
100,00$
150,00$
Smith And Davis
85,00$
95,00$
110,00$
Fringe Hair Art
25,00$
40,00$
70,00$
Laboratorie
50,00$
65,00$
75,00$
Patrice Vinci Salon
60,00$
85,00$
150,00$
Trephin Hair Salon
70,00$
100,00$
125,00$
Skyline Downtown Salon
40,00$
50,00$
60,00$
Gold + Arrow
50,00$
55,00$
60,00$
KY Michaels Salon
50,00$
60,00$
70,00$
Bird's Barber Shop
30,00$
37,00$
49,00$
Short Haircuts: FAQ
Does short hair make you look older or younger?
There are some scenarios where certain short haircuts make women look older or younger. For example, very short cuts with enormously voluminous hair on the back or too defined feathers have been out of style for decades, so they instantly add some years to those sporting such options. And if you wear short hair with a soft fringe or lively texture complementing your face shape, you can take years off!
How do I know if short hair will suit me?
You can find out whether or not short hair will suit you by using a ruler and a pencil. Standing in front of the mirror, place the pencil horizontally under your chin, and then place the ruler vertically under your ear. If the distance between your ear and the pencil is less than 5.5 centimeters, you can try short hair.
How short should I cut my hair?
There are a couple of things to consider before cutting your hair and deciding how short it should be. First, you can take the 5.5 centimeters test with a ruler and a pencil. Second, decide on how much length you're ready to lose, and which one you'll feel most comfortable with. And lastly, think of your visual preferences.
REFERENCES:
Was this article helpful?