By:

Glaminati Media

| Updated:

04/24/2019
The Many Options Of Elegant Layered Haircuts To Show Off This Season
Layered haircuts? Are they really all they're cracked up to be? For years, women have debated the pros and cons of having layers. Some feel that layers add more volume and leave for options for styling, while others feel that layers are cumbersome and make styling more of a challenge. However, layered hair is quite stylish and very trendy at the moment.
First of all, one needs to understand exactly what we mean by the layered hair. To put it simply, it can be defined as having different lengths cut into your hair to add volume and texture. Most often layers are used to frame the face or add body to thinner hair. Also, layers can be of varying lengths depending on the style.
It is always recommended to have a stylist to cut haircut layers as it is definitely an acquired skill. You want your layers to be even and properly proportioned, unless, of course, you are going for a certain look!
There are literally dozens of styles and options for cute layered haircuts!
Still not convinced? Following are some reasons to get layered hair. Remember there are so many options for types of haircuts for layers that you will be able to find one to match your personality!
Advantages Of Layered Haircuts
Layered hair will flatter any facial shape.
Layers add a ton of volume to your hair! They are especially beneficial for those with thin or fine hair.
Plus, they can add more bounce to curly and wavy hair.
They will add life (and remove weight) from thicker tresses.
It's full of coloring options such as ombre and balayage hues. They add a ton of texture to your hair.
Layers allow for dozens of ways to style your hair.
Both shorter and longer hair is great with the layered haircut.
Amount of time it takes your hair to dry is reduced.
Layers are a simple way to dress up your look if you are ready for a new hairstyle!
They are a great way to remove dead ends and keep your hair healthy as well.
If we still haven't sold you on the idea of adding layers to your locks, check out the rest of our article as we will show you pictures of layered haircuts that are trending this season! We are sure you will be convinced that layers are the way to go once you have read further!
Short & Sleek Layered Pixie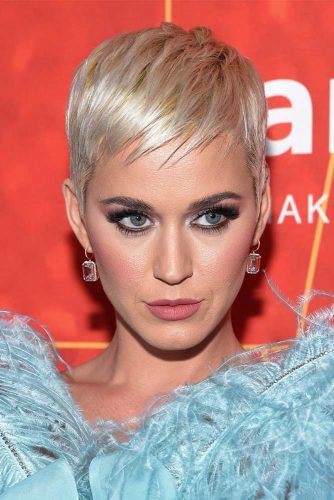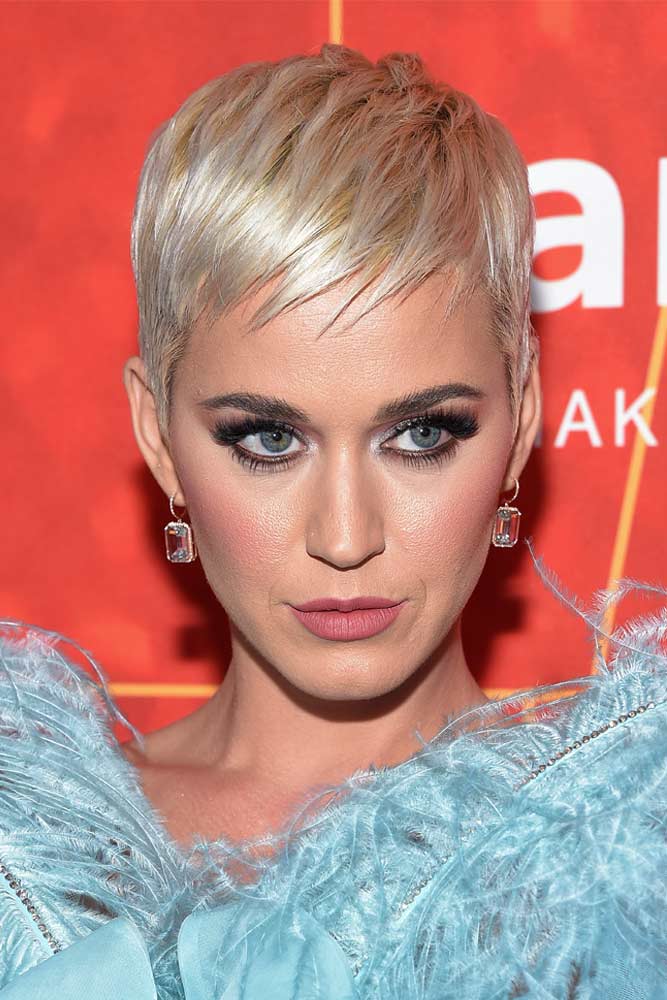 Let's don't forget that many celebrities can't even imagine their lives without layers. And
Katy Perry
is one of such popular ladies. Whether she wants to create a long, voluminous blowout or to amp her pixies, she always finishes the look with a magic touch of layers.
This time, it's a simple short pixie with a sleek finish. But the way those little layers add definition and movement to her hair is just to die for.
Source: DFree/Shutterstock
Short & Tousled Layered Pixie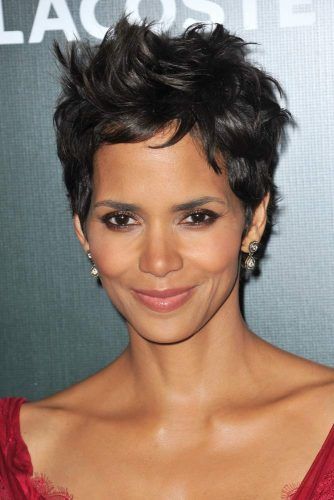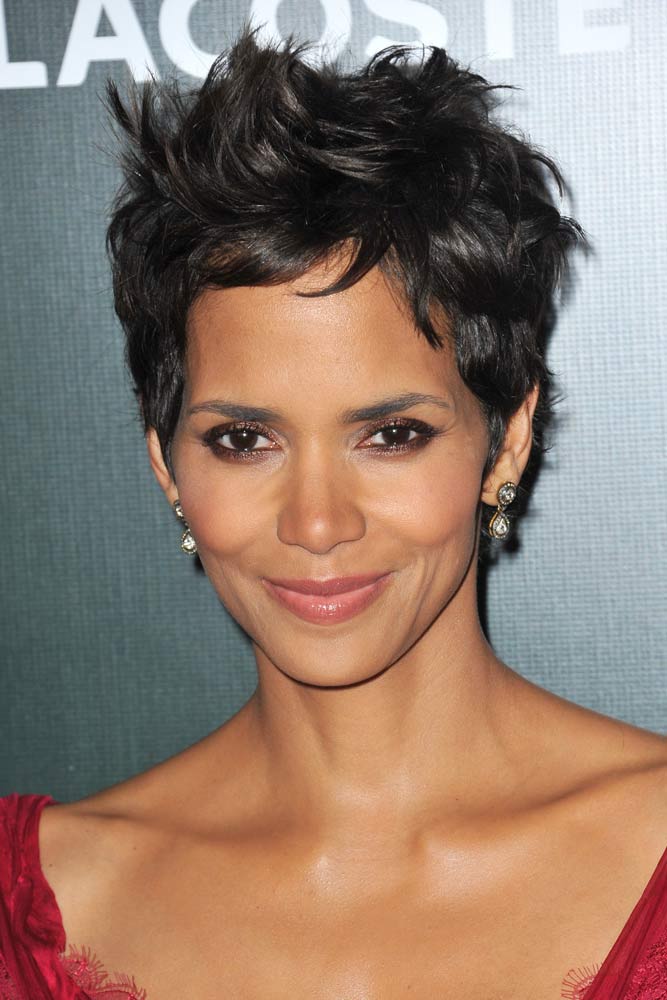 Halle Berry is another lady that doesn't like to get apart with layers. The fantastic actress has changed dozens of haircuts and hairstyles, jumping from short to long ideas. But there has always been one constant thing about her style – layers.
She knows that no styling products can compare to layers when it comes to adding some dynamics to the look. And this tousled pixie spotted on the iconic celeb is another proof.
Source: Featureflash Photo Agency/Shutterstock
Long, Side-Parted & Messy Pixie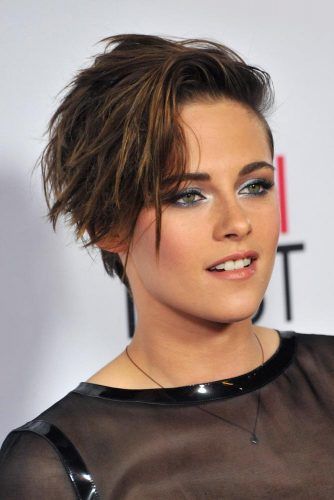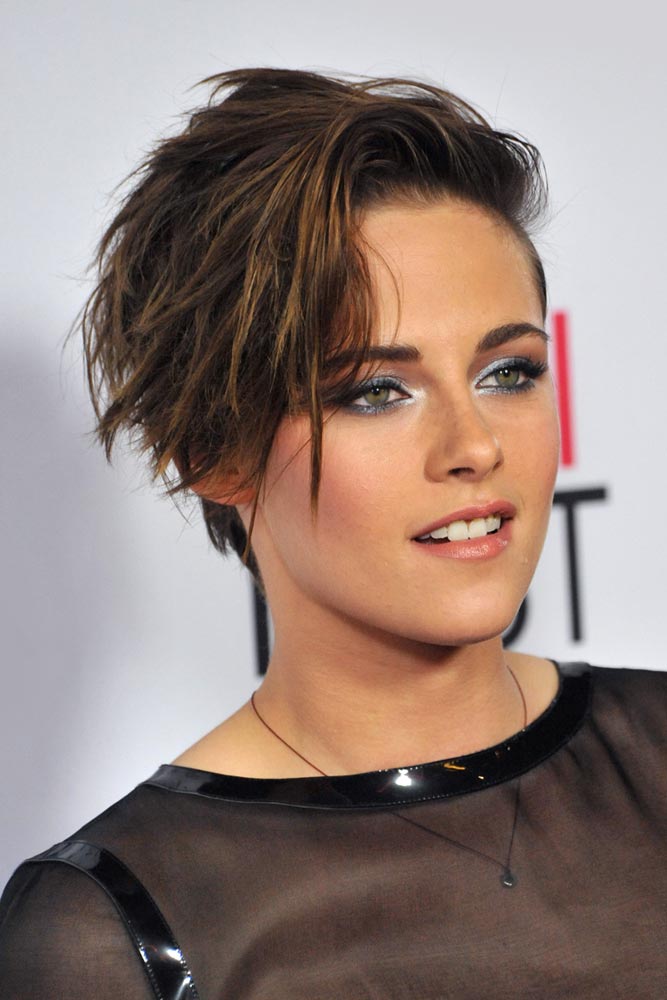 Kristen Stewart seems to have signed a permanent contract with layered haircuts. Even Bella, everyone's favorite long-haired character from Twilight, was sporting layers! In real life, the actress stays loyal to short haircuts such as bobs and pixies. To enhance her texture and add more fun to her messy styling ideas, she lets layers do the talking.
Source: Jaguar PS/Shutterstock
Side-Parted Straight Bob + Layers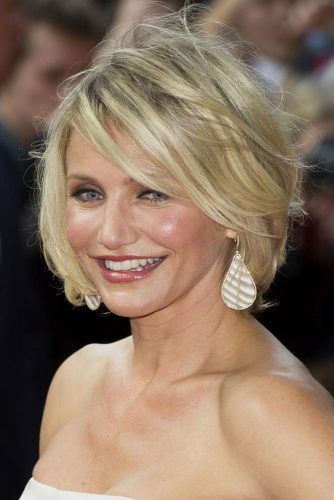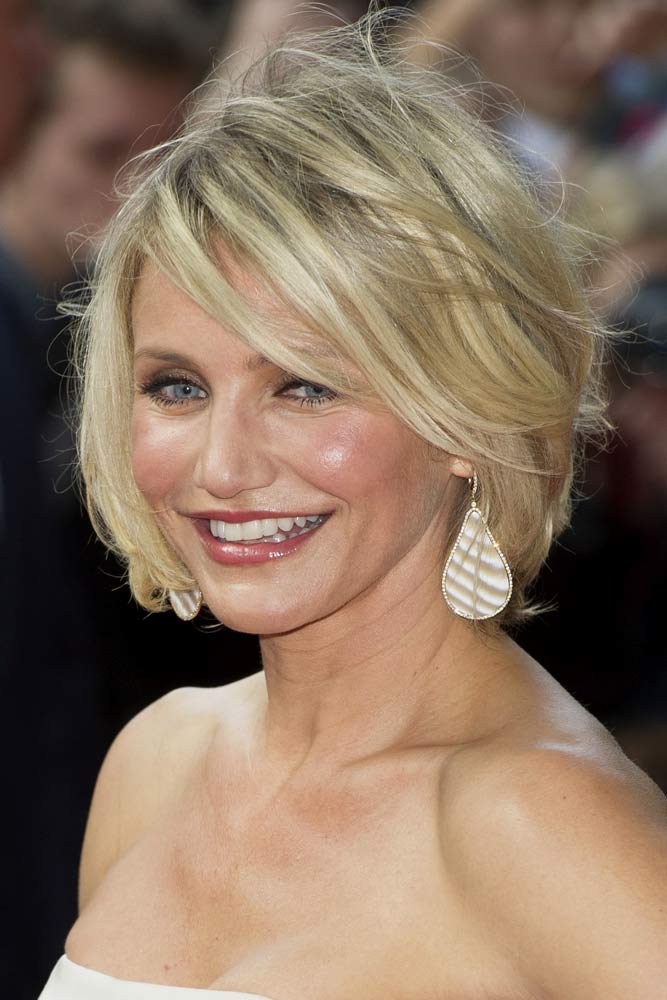 It's no secret that sexy Cameron Diaz has a pretty thin hair type. But you know what? It's never been a problem for her as she knows how to get the most out of her locks. And it goes without saying that getting a lively short bob was nothing but a win-win decision. The lightened ends add more depth to her hair while the curvy body of her bob creates a volumetric shape.
Source: Featureflash Photo Agency/Shutterstock
Short & Messy Layered Bob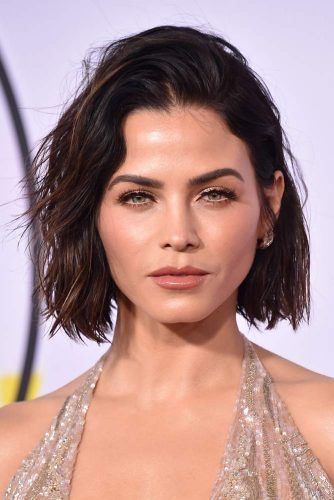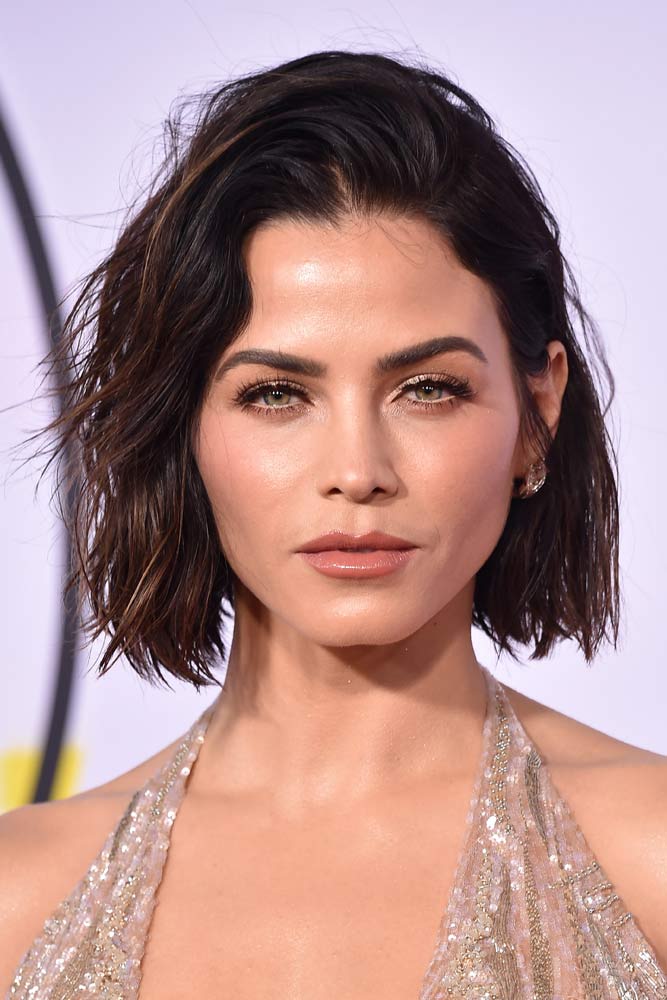 Wet-hair looks are flattering only to ladies who know how to do them right. Obviously, Jenna Dewan has revealed all the secrets about the trendy styling idea. Now, it's your turn. And layers are not just a hint; they're the key. Some layered finish to a bob is enough to create that effortless, messy but so harmonic wet hairstyle.
Source: DFree/Shutterstock
Sleek Curly Medium Layered Bob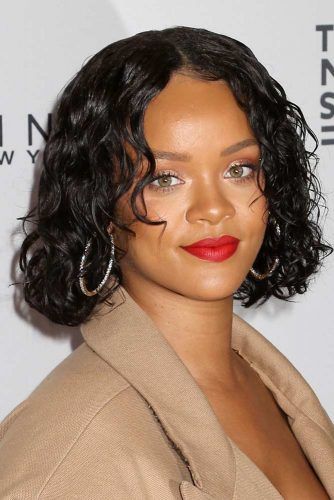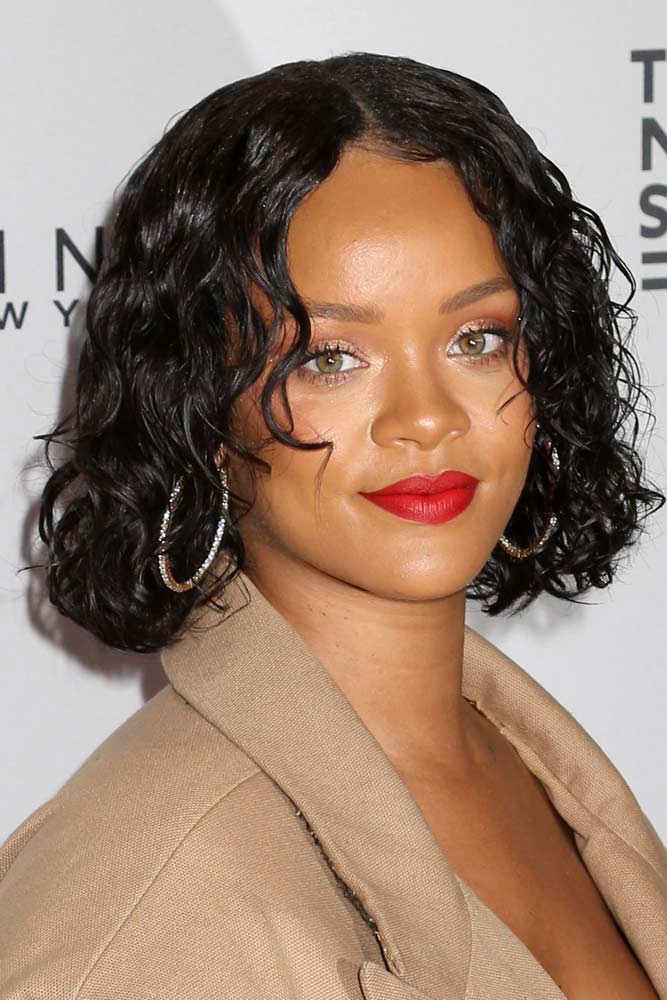 There's no need to tell how troublesome and unmanageable natural hair can be. Even though Rihanna is not the one who seeks easy ways, she knows a shortcut to reach perfection with her natural pattern. Here she wears an authentic and super distinctive bob. How does she feel so confident with the unruly locks? Layers help her to tame the texture.
Source: JStone/Shutterstock
Side-Parted Wavy Lob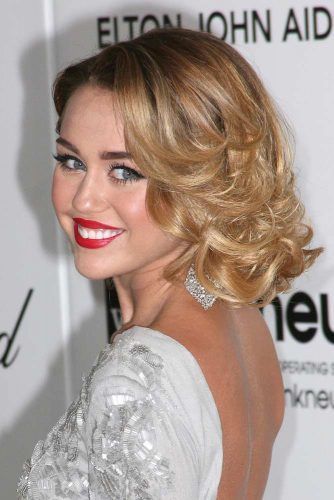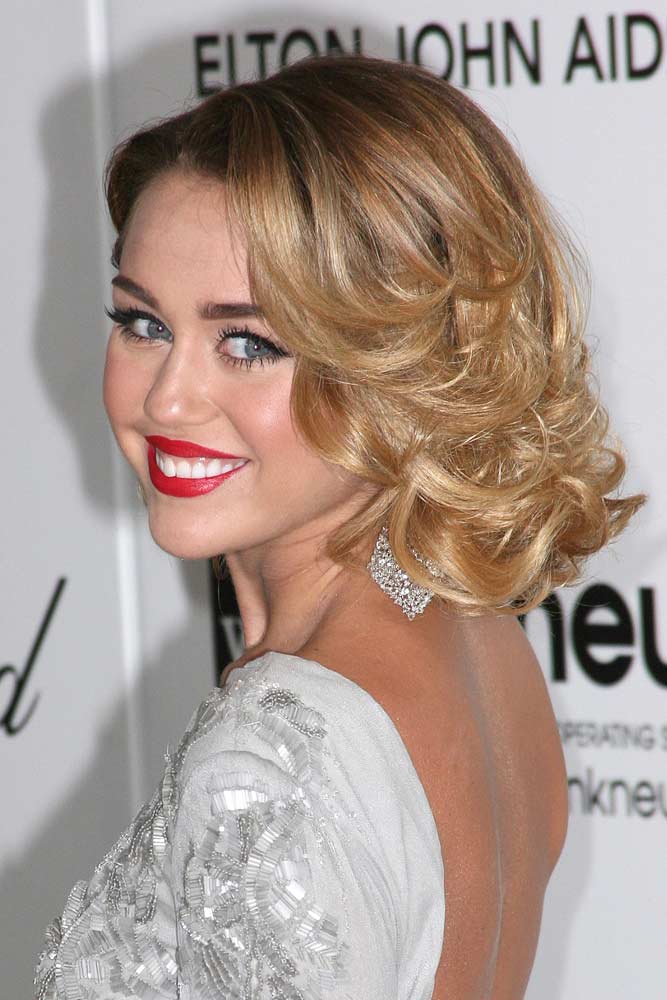 There's no better way to enhance the beauty of waves than to get layers. Well, there's no better example than this Miley Cyrus's hairstyle, as well. Horizontal layers that create a sweeping effect can make every single wave stand out. If you think that waves are simple, get yourself layers and think again.
Source: Krista Kennell/Shutterstock
Messy Layered Lob With Side Bangs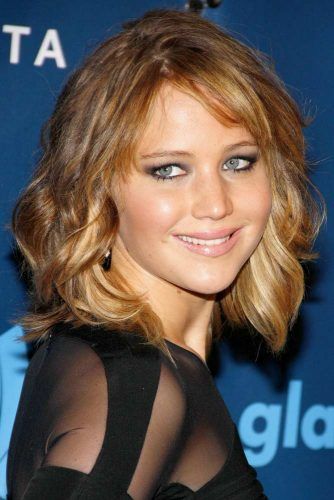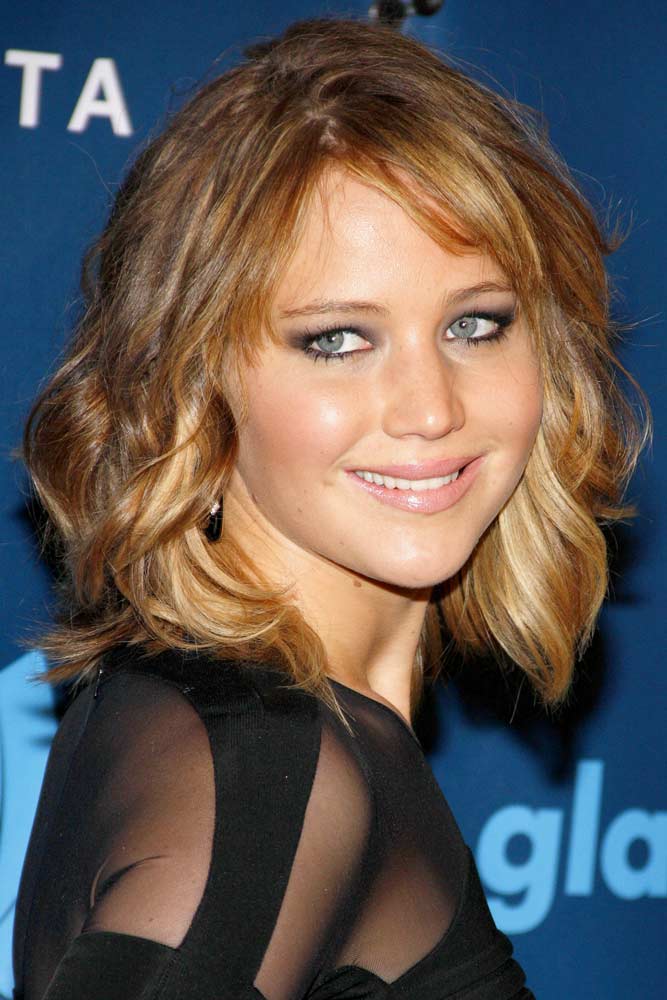 Having seen hairstyles worn by Jennifer Lawrence, it's hard to believe that this girl has thin hair. She manages to always be on point with her hair, regardless of what scene she shows up at. If this messy lob with face-framing bangs are not the proof of eternal power of layers, what is, then?
Source: Tinseltown/Shutterstock
Layered Lob With Blunt Bangs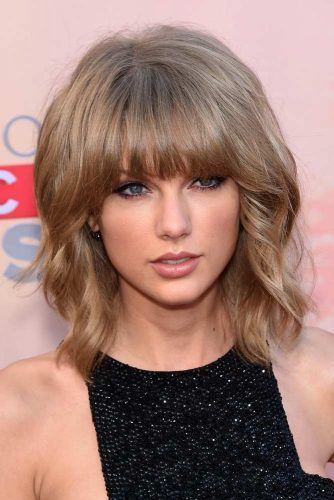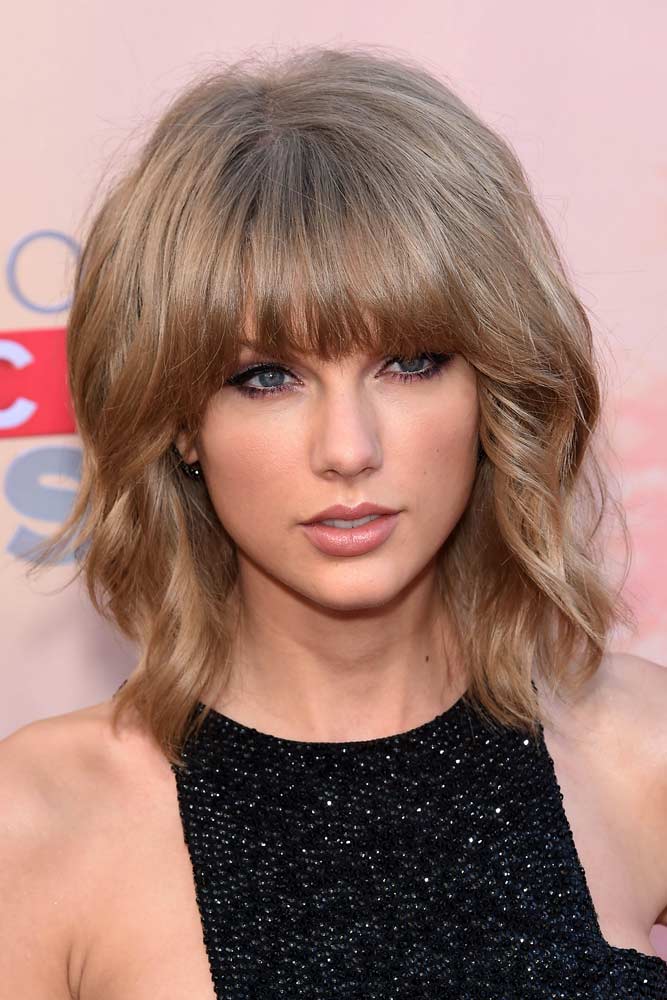 Besides lots of fringe hairstyles, there's one more passion that Taylor Swift can't resist. As a very dynamic and dramatic character, the singer loves when her hair expresses her inner mood. Of course, layers are the details that spice up her locks with dimension and movement, thus giving not just a unique but a perfect look.
Source: DFree/Shutterstock
Layered Lob With Flipped Ends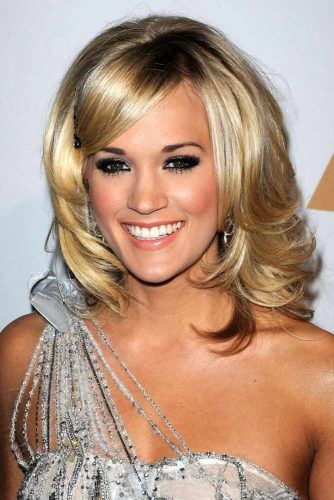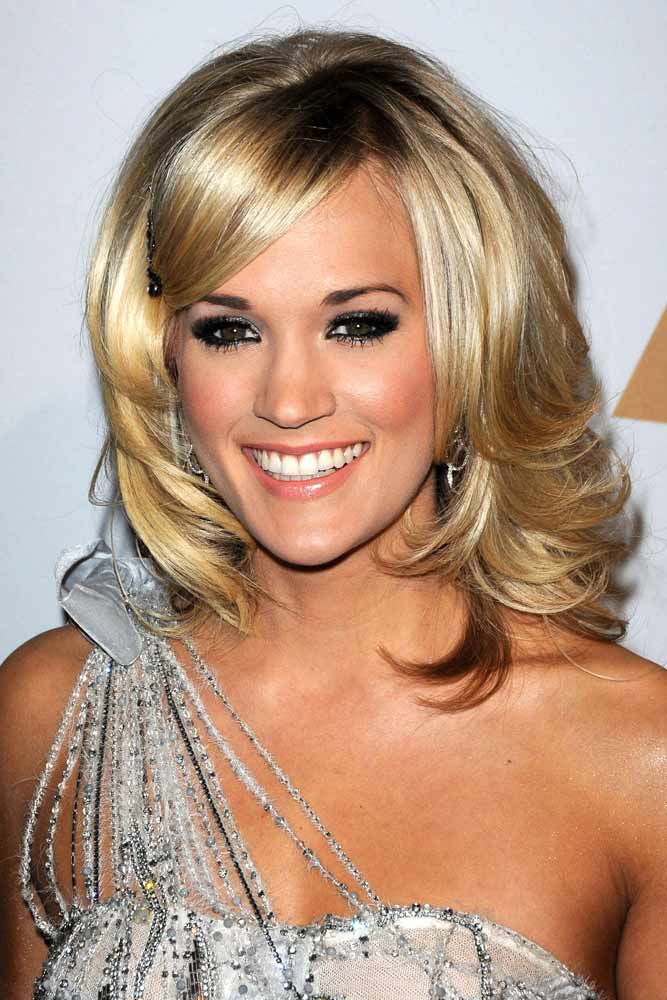 Flipped ends are the retro-inspired layering technique that can take any hair type to the next level. Although fine hair tends to fall flat,
Carrie Underwood
doesn't really care about that. Just look at her front tresses!
The volumetric layers cut at several angles give that airy, voluminous silhouette, making the front hair "jump up".
Source: s_bukley/Shutterstock
Middle-Parted Shaggy Layers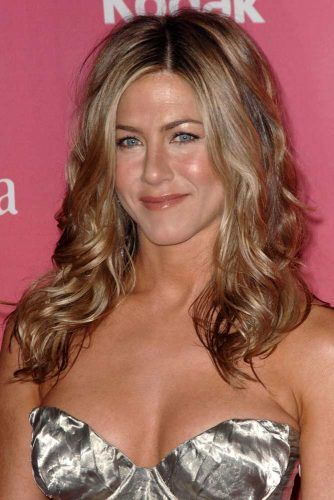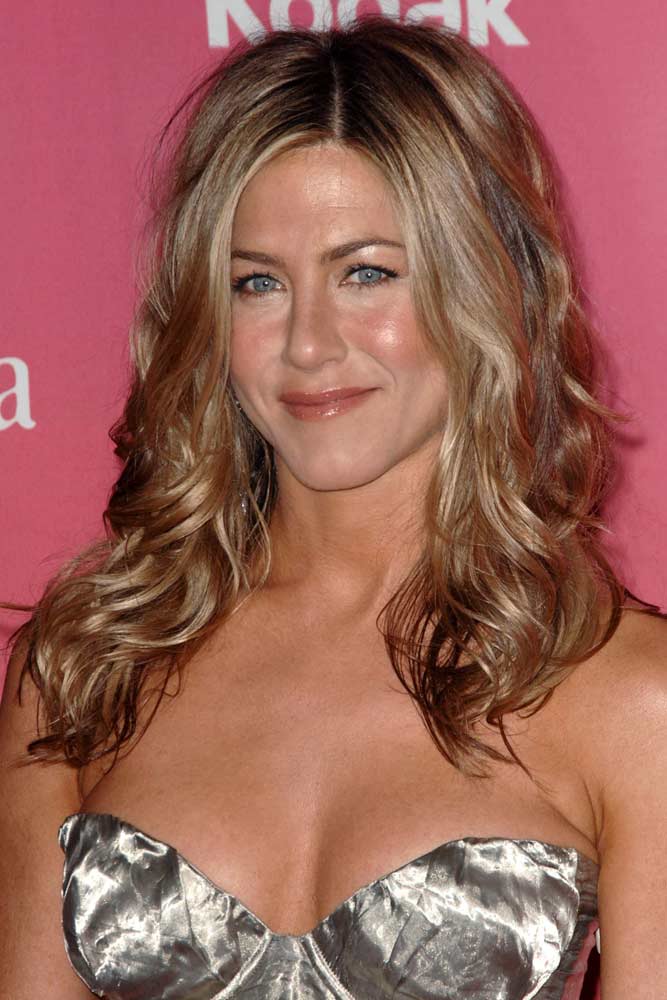 Those who think that nothing can beat the Rachel hairstyle are going to change their minds. Stylists of Jennifer Aniston did a great job introducing the power of layers, which actually turned a fine mane into a volumetric masterpiece. And the real-life look also doesn't take a back seat: the shaggy layers running through the length make her hair look incredible.
Source: Everett Collection/Shutterstock
Middle-Parted Long Layered Waves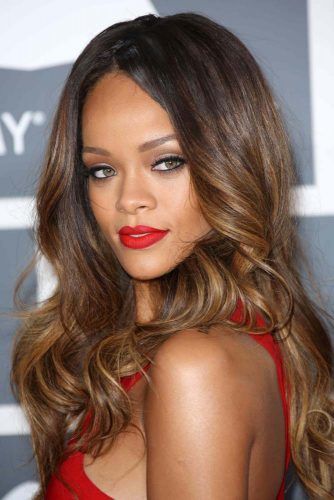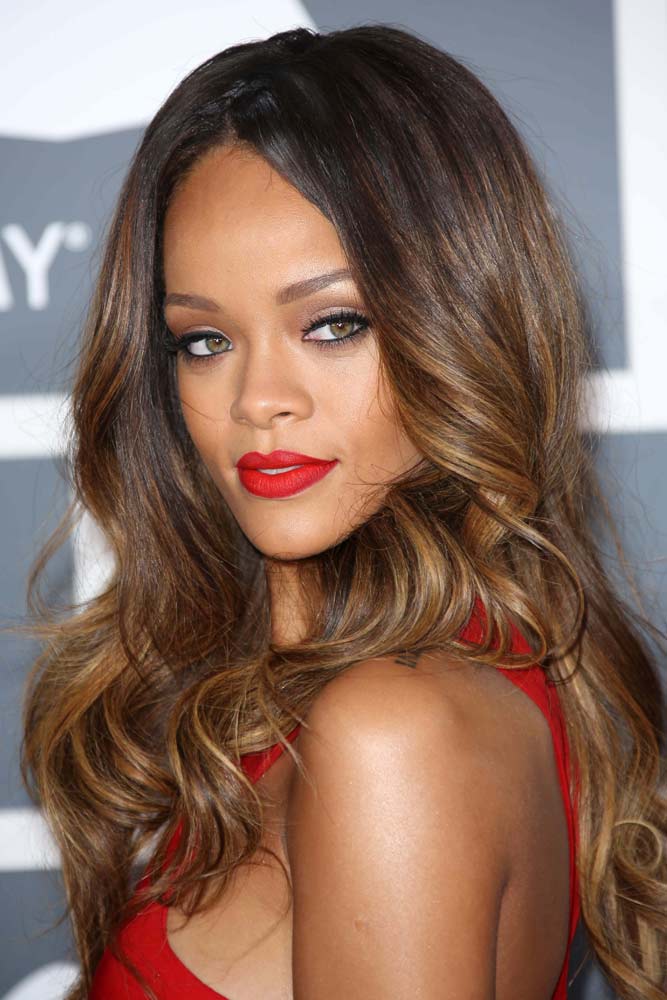 Another breathtaking hair look of Rihanna! Or, let's say it's another way to benefit from wearing layers. On long hair, they work a little bit differently: instead of volume, they balance everything out with the great dimension and movement that stretch along the mane. As a result, a simple wavy hairstyle transforms into a red-carpet look.
Source: s_bukley/Shutterstock
Long Layered Hair With Center-Parted Bangs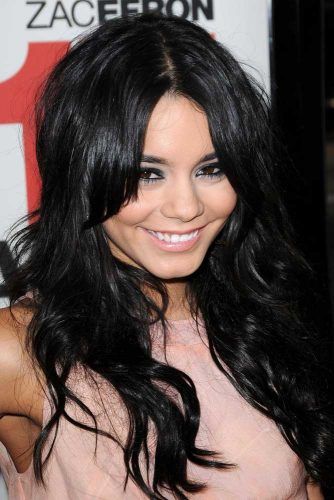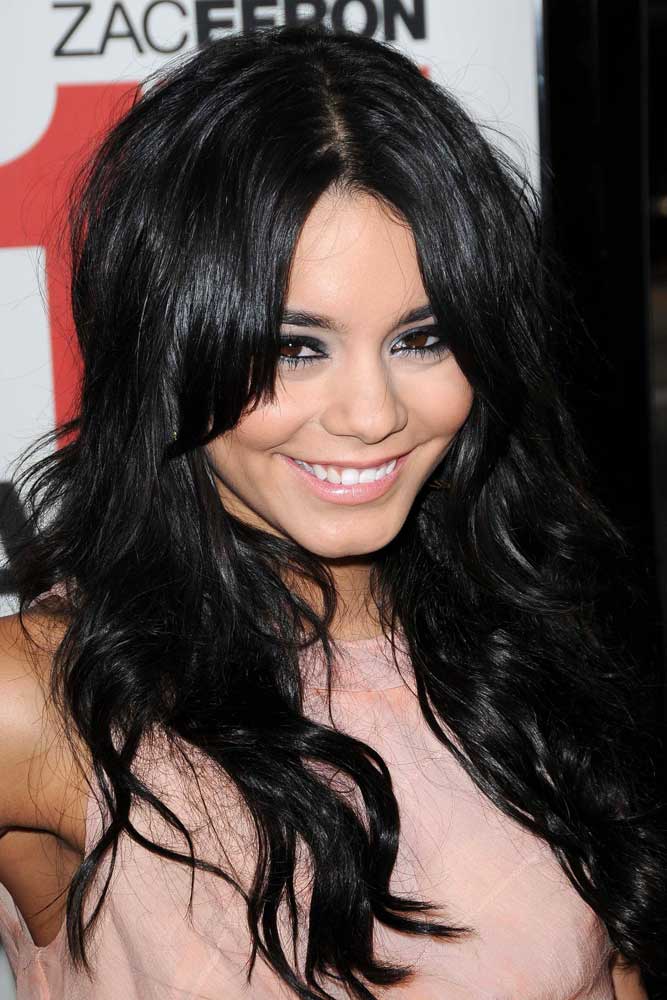 Layered haircuts are the canvas to your creativity. They can be anything you want them to be, emphasizing your best features and masking your flaws. When Vanessa Hudgens wanted to embellish her life with bangs, layers gave the green light. In other words, whatever fringe experiment you'd like to carry out, your layers will seamlessly blend with the fringe sections.
Source: s_bukley/Shutterstock
Long, Straight & Side-Parted Style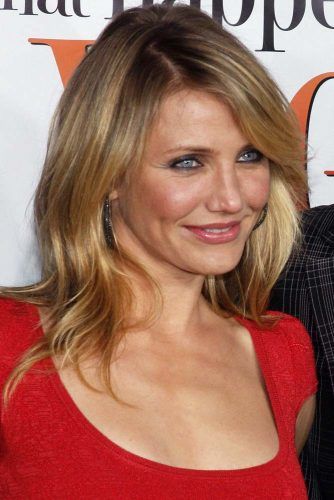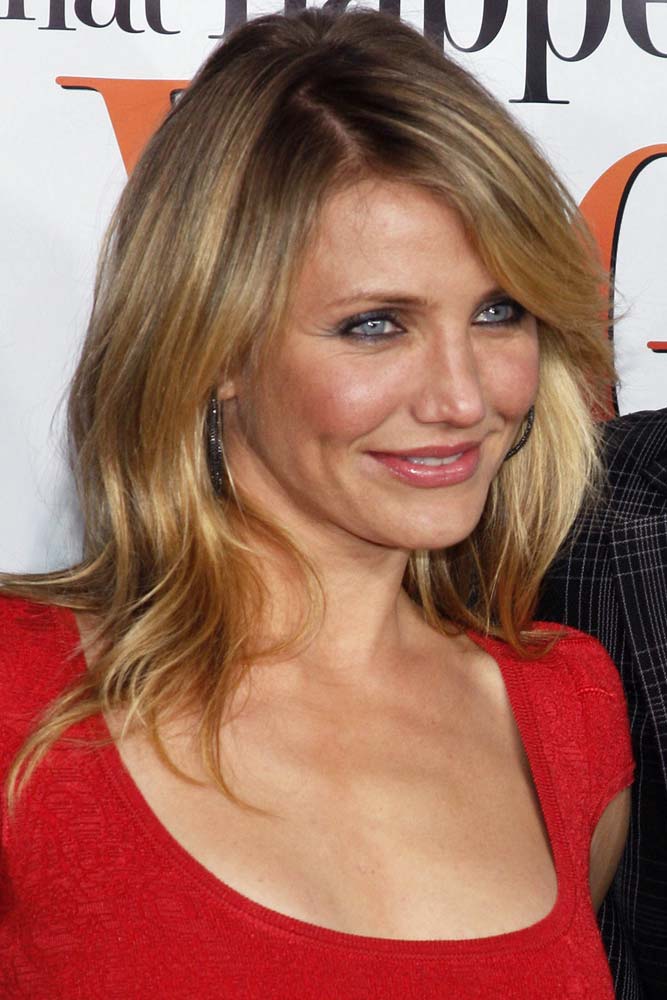 Here you can see how Cameron Diaz slays cameras with an absolutely flawless long hairstyle. Thin hair, as a matter of fact, gets even weaker as it grows long. Still, there's a way out. Some short layers at the front and some longer layers on the mid-shaft are the ingredients of a remarkably tasteful hairstyle.
Source: Tinseltown/Shutterstock
Middle-Parted Long Layers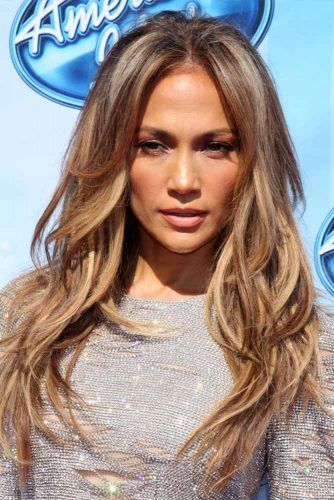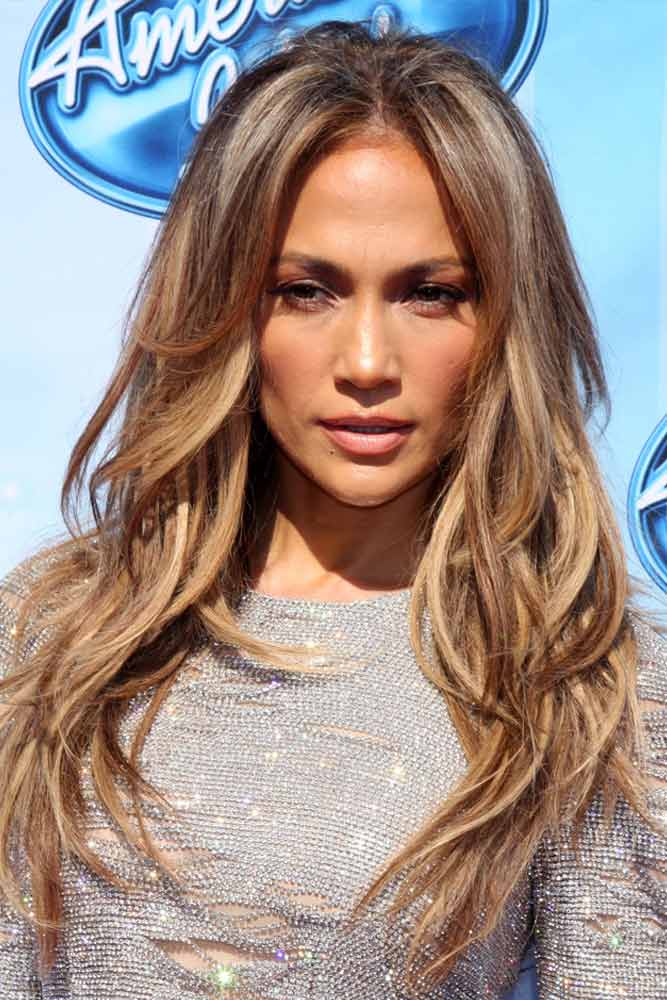 Seems like we've just found out why Jennifer Lopez is considered one of the best female style icons. Not only does she knows how to enhance the beauty of her body with the perfect outfit but also how to make her hair the highlight of her look. Every single layer dances in its own direction, giving a fresh and edgy silhouette to her hairstyle.
Source: Kathy Hutchins/Shutterstock
Short Layered Haircuts
Short layered haircuts are a great way to add volume to fine or thin hair. As well, a short haircut can make you look and feel years younger. And you can opt for bangs with your short layers! Side-swept bangs, wispy bangs, and even blunt bangs are very flattering with short layered hairstyles!
Still not sure? Check out these sassy haircuts for short layered hair! We promise you that you will love your new short layers! Go for a bold new cut such as a super cute pixie and get ready to turn heads when you enter a room!
One of the main advantages of short haircuts with layers is that they are super easy to style! As such, they require less time to blow dry or air dry. And they will save you a ton of money on hair products as you will spend much less with short hairstyles!
In addition, short haircut layers are a great way to stay cool! In the summer, your hair can feel sweaty and can make you feel even hotter in the light of the sun. Short layered tresses will make you look and feel much cooler. As well, in the winter or under windy conditions, you will not have to worry about your longer hair blowing in your eyes. Again, short hair is easier to style and won't have that windblown look we often get with longer locks!
And you can still color your hair with short layers! Short layered haircuts are actually a lot of fun when it comes to color techniques such as highlights, lowlights and balayage tones. And they even look great with ombre fades.
Pixie Layered Haircut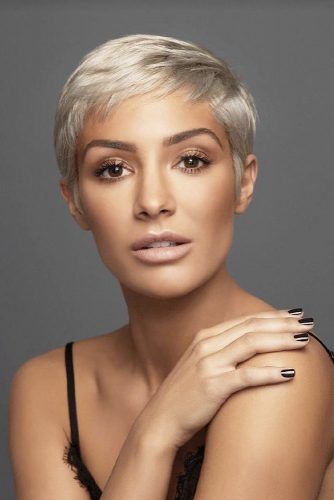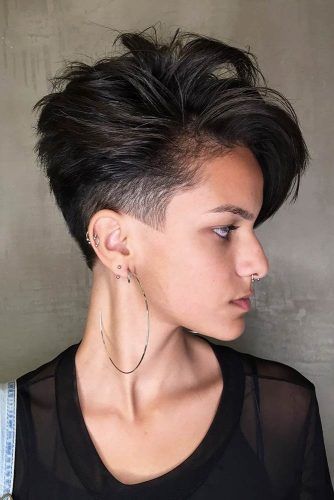 A pixie with layers looks quite sassy and daring with its shorter sides and longer top. The cut is pretty versatile when it comes to coloring options.
Bob Layered Haircut
Bob haircuts are very much in demand these days as many celebs are opting for a sexy and stylish layered bob haircut. They are sleek, sophisticated, and definitely will add volume and movement to any texture of hair. You can opt for a longer bob (or lob) or a super short style such as an adorable long pixie! And as with any layered haircuts, bob hairstyles are an incredible idea how to express yourself with brilliant bursts of color!
Medium Length Haircut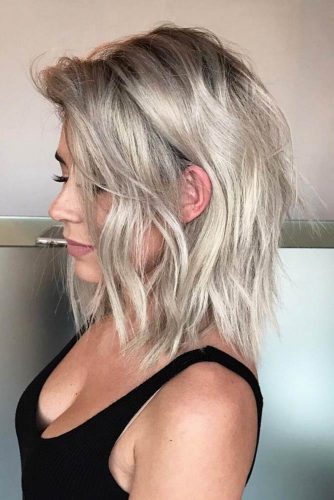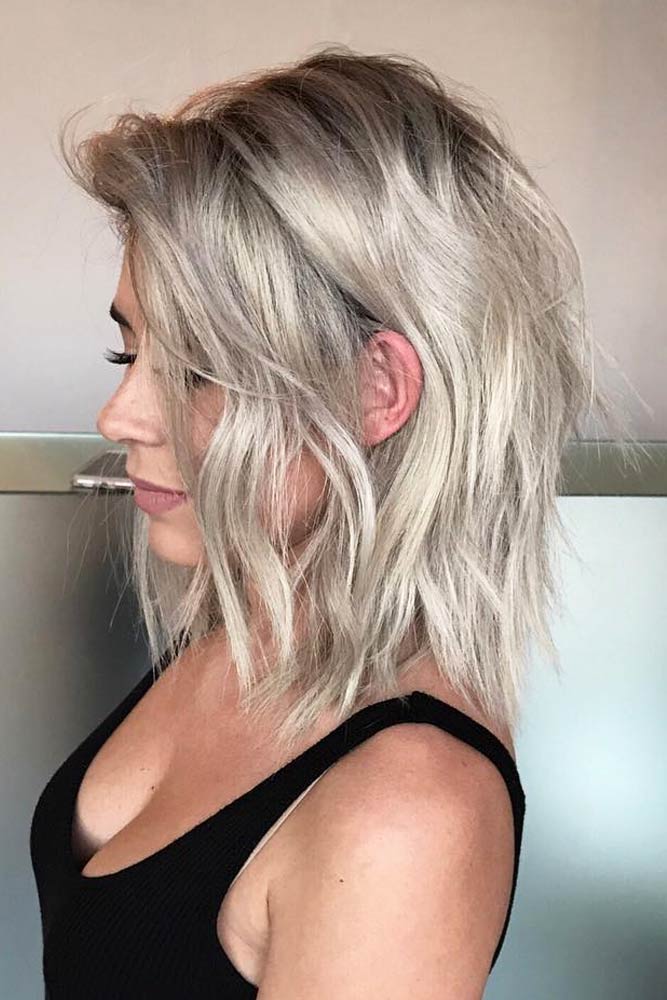 Medium layered haircuts will suit those of you who can't make up their minds whether short or long they wanna go. The thing is that the addition of layers of a different length will definitely solve the issue. Besides, if you opt for lilac highlights, then you will definitely kill two birds with one stone! Just look at that juicy haircut with layers.
Middle Parted Haircut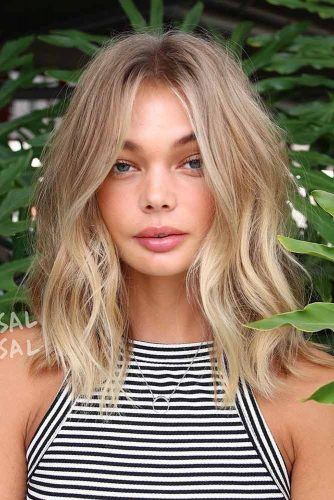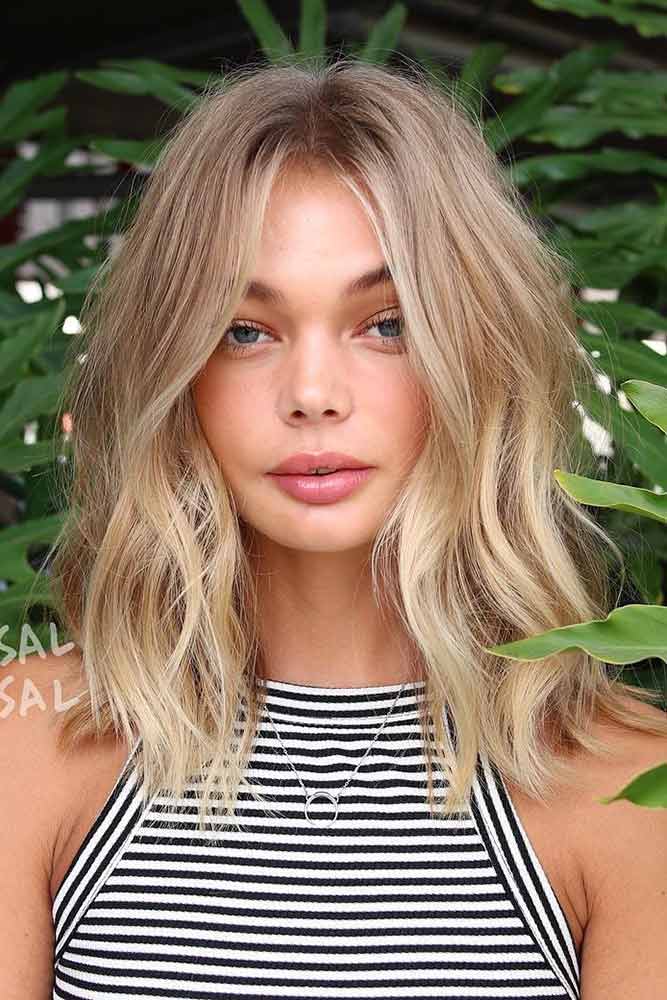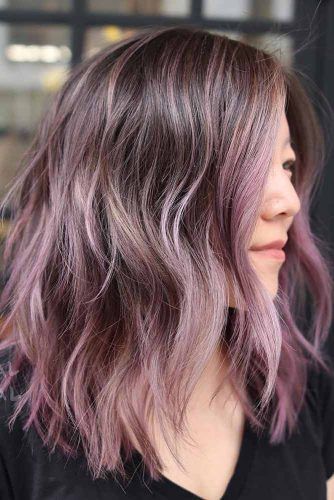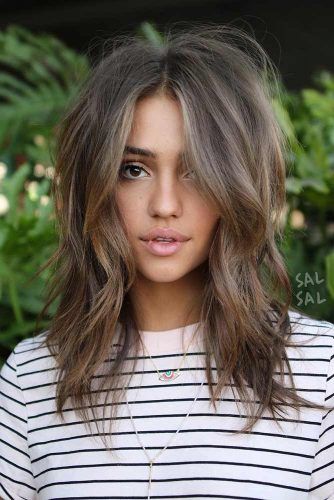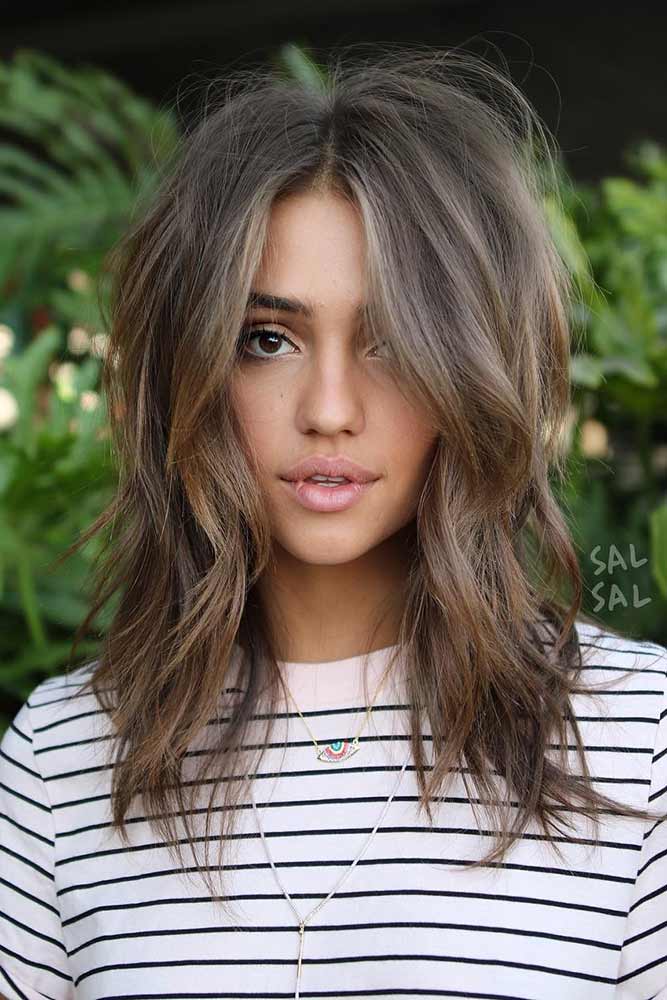 Don't ever underestimate the beautifying power of parting! Even though it's just the way you sweep your hair, it has a great visual impact. So if you have very prominent cheeks or wide jawline, bring your hair forward and part it in the center. In this way, you will have a lot of room for framing which will give your face a pleasant silhouette and make your look appear even more attractive.
Side Parted Haircut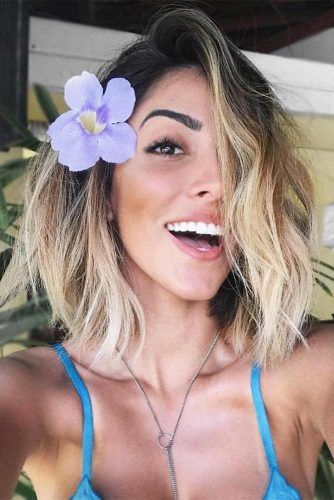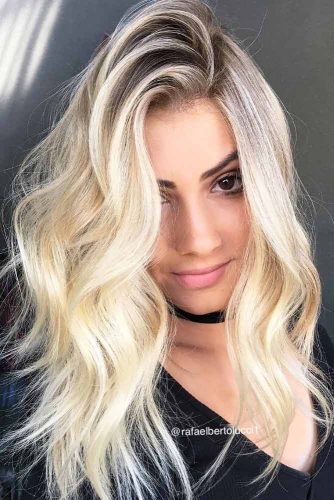 When dealing with long, slim, and pointed face shapes, nothing works better than side parting. Yes, here's another example of how the parting affects the look. Make sure that one of the sides is outweighed by the other and that the heavy side has enough volume. Whether it's wavy or straight styling, the heavy portion will draw attention from the slim body of your style, balancing everything out with a touch of asymmetry.
Sexy Stacked Layers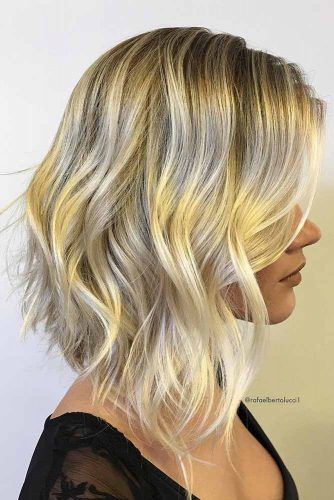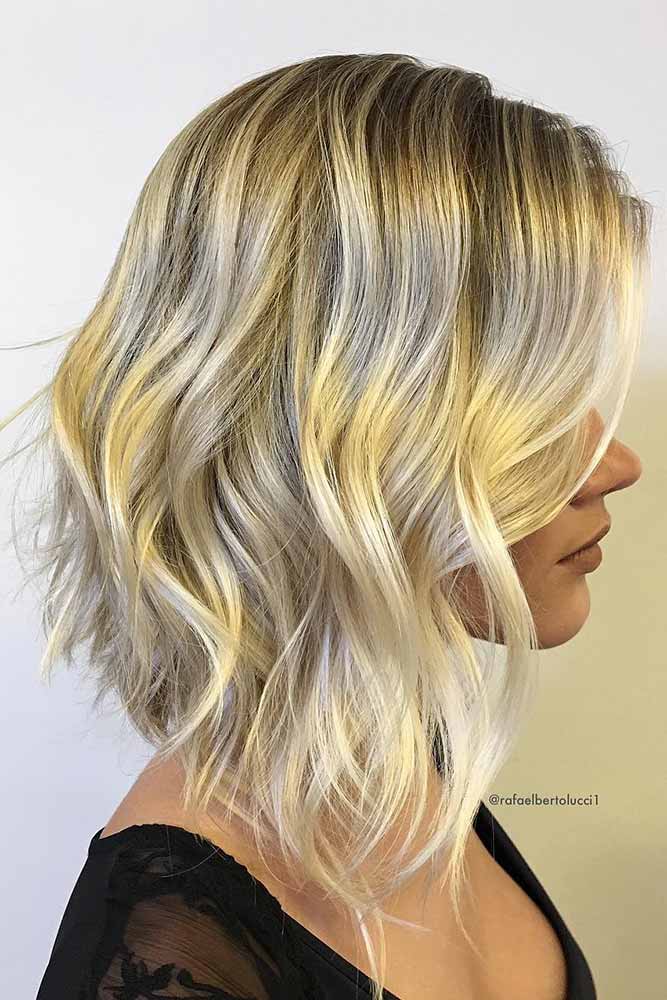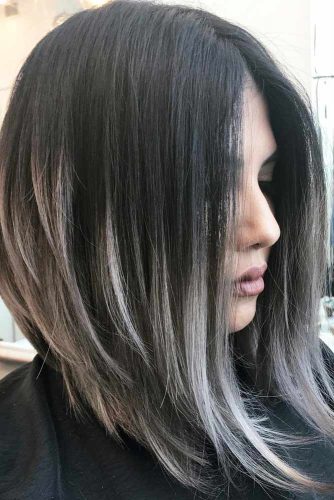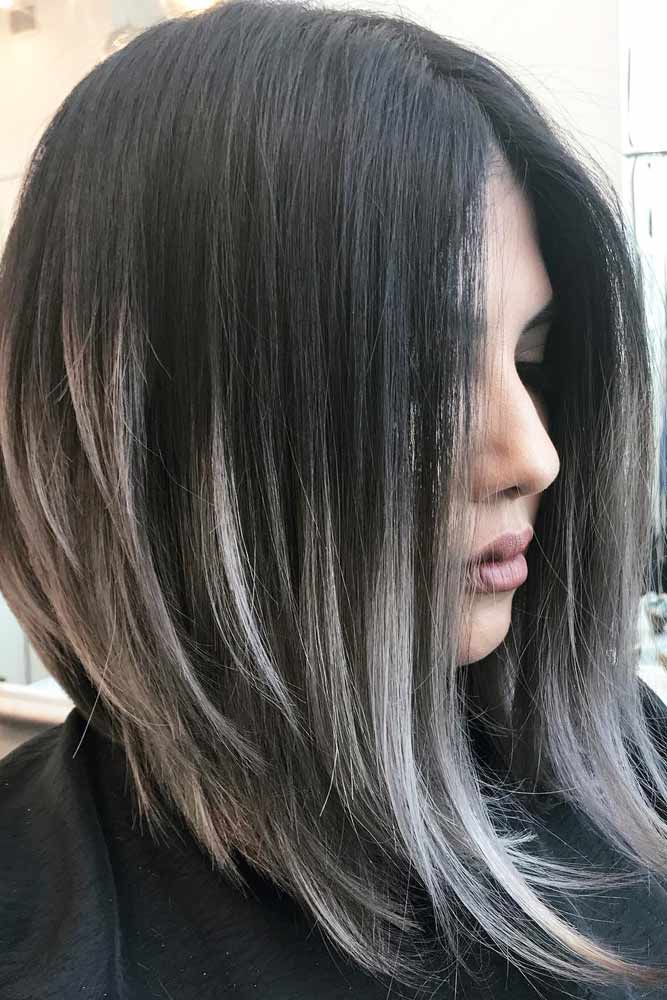 The options for layered haircuts are endless! This sultry long layered look compliments those with round, oval and heart-shaped faces and really adds volume to fine hair. To style, start with a curl-boosting product on your damp hair, and blow dry with a round brush for lighter volume. Then, using a large curling iron, make large vertical curls, alternating the direction every other curl. Shake loose and gently separate with your fingers for full volume and movement and finish with a light holding spray.
If you prefer a style is a bit retro chic which is inspired by 70's Boho Chic then for a modern touch add a burst of color or subtle balayage tones. Prep your damp hair with a smoothing cream and then blow dry using a round brush for soft volume. Next use a flat iron to straighten your hair and backcomb the crown area behind your fringe for added volume. This look is accentuated by the full fringe for a fun take on a classic Bohemian style.
A fun and bright color such as cherry red or copper blonde with side swept bangs will really make any style pop. A dramatic ombre or two-toned balayage will add depth and dimension to a more modern twist.
Long Layered Haircut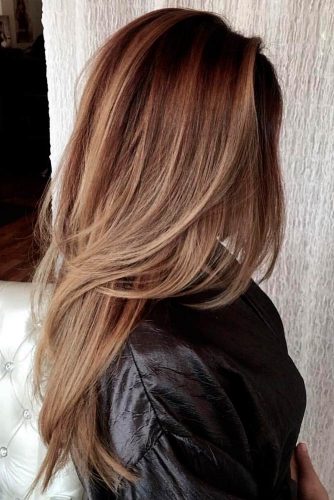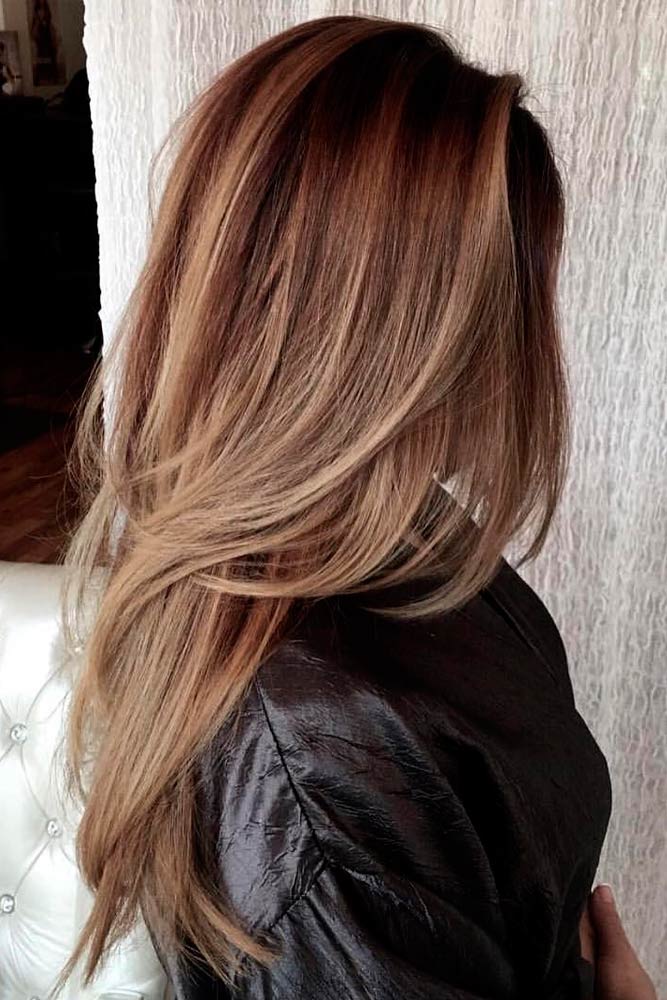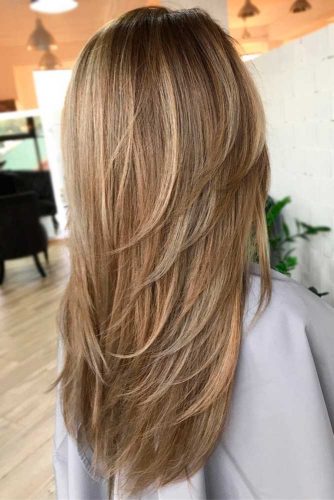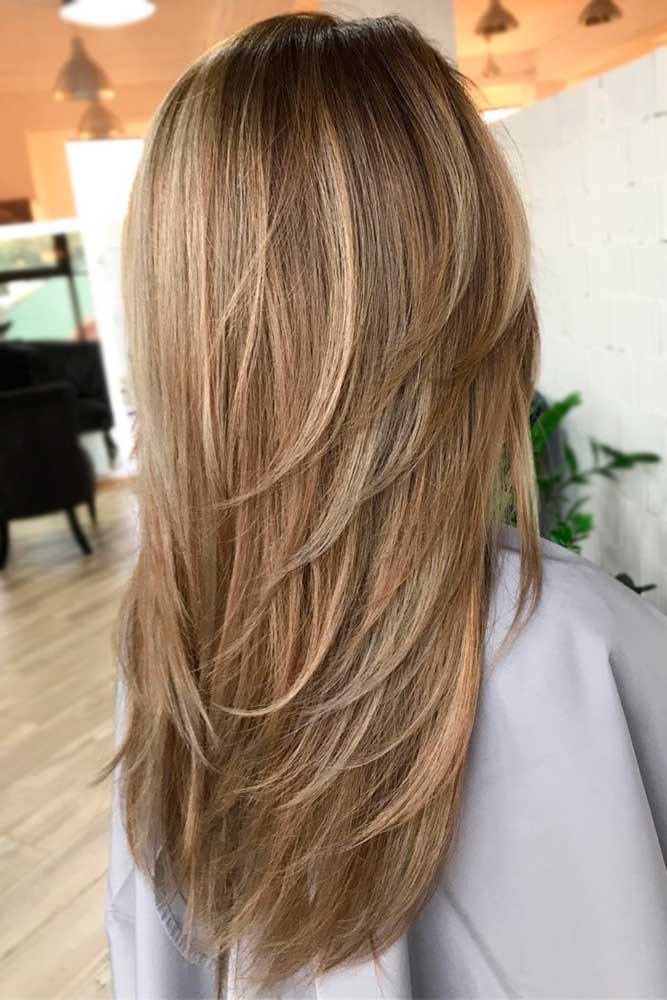 If you love your long hair and don't want to get rid of the length, but are looking for a new style, long layered haircuts are the way to go! Layers can add life to your longer hair and also help remove some of the weight for those with thicker hair. As well, if you have thin or fine hair, layers can add a ton of volume. Layered hair can make you look and feel years younger!
Check out our favorite looks for long layered haircuts if you are still unsure! We are convinced you will fall in love with one of these sexy new looks!
Long Disconnected Wavy Layers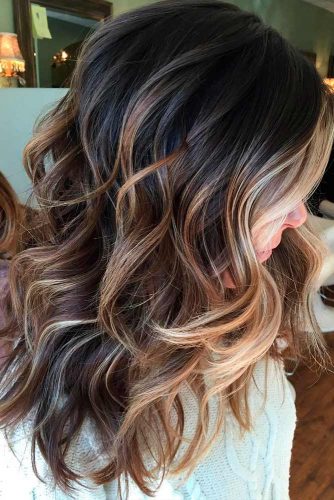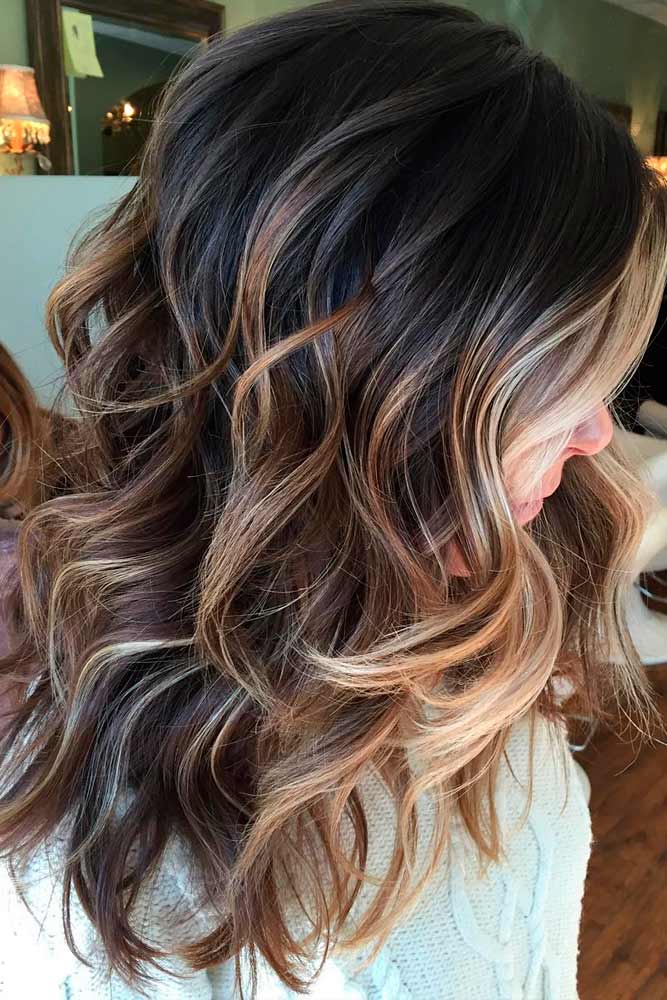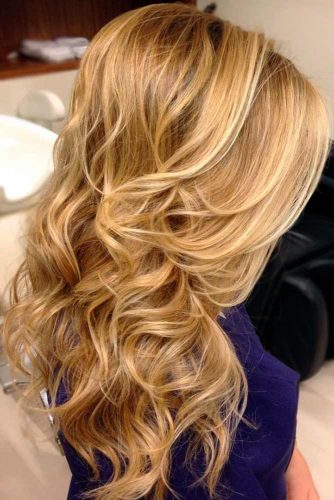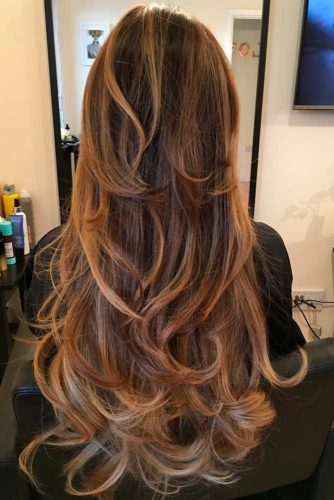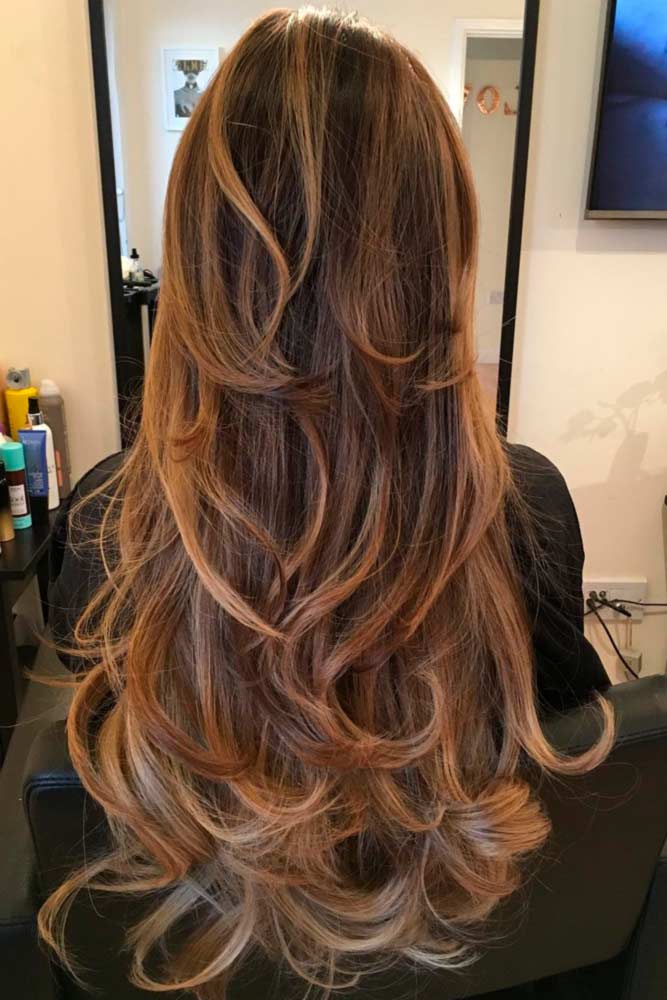 These funky, disconnected layers will add fullness and length to those with medium to long hair. You probably think that a layered haircut looks great only when you straighten it. Well, it is quite far from being true. In reality, a long layered haircut will appear super-glamorous when waved or curled. Those with rounder faces can totally rock this sassy look!
For styling, you will need a comb, a brush, a blow dryer, large hot rollers, and moulding cream to set the hairstyle. That's all you'll need to get an elegant 'do and resemble Kate Middleton as a result. To style, add volumizing mousse to damp hair, and blow dry with a round brush to boost volume. Then make vertical curls wrapping your hair away from your face with a large-barreled curling iron.
When curls are cooled, disconnect them by gently running your fingers through them to loosen and separate. Finally, spray a light holding finishing spray for extra movement. Large waves can add much movement and bounce to your hairstyle and thus make you look very sophisticated. Also, the good news is that this hairstyle will flatter practically any face shape.
Racy Razored Layers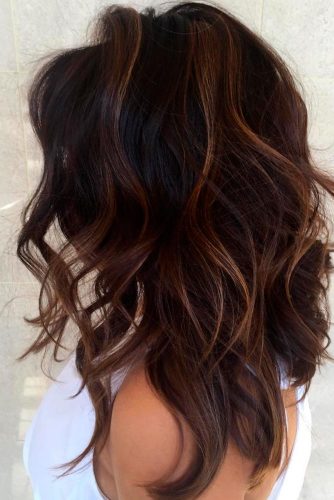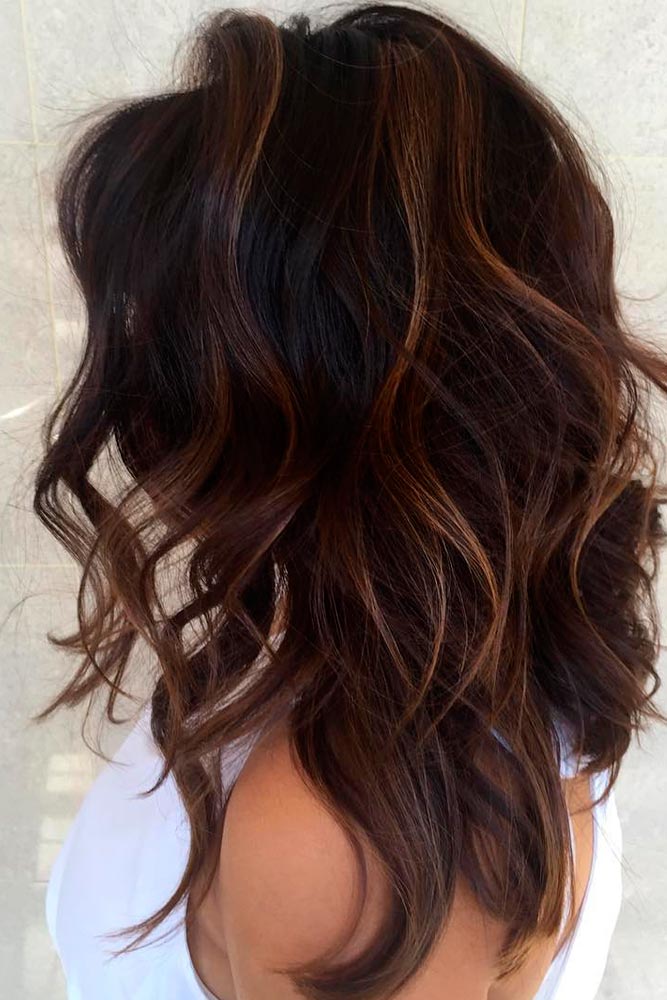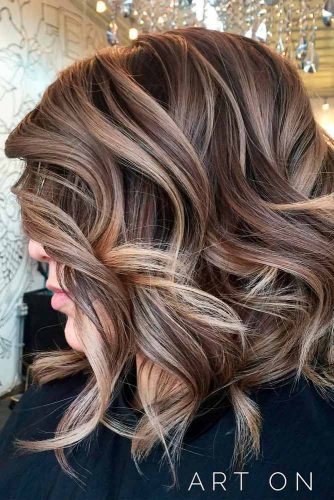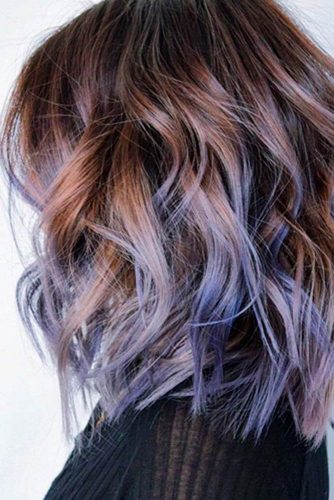 This funky layered cut with its sharply razored edges adds a great deal of texture to medium thick hair. With a longer side fringe cut in proportion with the shoulder length razored edges, this look is both natural and fun. Start off with a dramatic color such as mahogany or blue-black and add some colorful streaks to take this look to a bold new level.
To style, towel dry your hair and apply a smoothing cream starting at the ends and then detangle your hair. Part to the one side and blow dry using your fingers or a paddle brush. As you are going for a funkier look, you don't have to focus on smoothing out your hair till it's sleek. When it's dry, add some pomade and a shine serum and then use a flat iron for added twists and turns if so desired.
Cutting your hair close to your chin can add extra volume. Medium-long layers will also boost your volume. This fun and flirty cut works great with a bold color such as a platinum blonde or fiery red, or with highlighted hair. Add a volumizer and thermal protectant to your hair. Then roll your hair with 2-inch hot rollers under and then back atop your head for maximum volume and texture. Remove and allow your curls to cool before using your fingers to gently break them up and spray with a strong hold finishing spray.
With shorter and mid-length layers, this soft and chic cut adds volume and dimension to natural waves and curls. Longer side swept bangs blend beautifully with this classic shoulder length layered haircut. Apply your favorite volumizer to damp hair and then blow dry using a paddle brush to get rid of any excess moisture. When almost dry, switch to a round brush to create flips in the layers and swoop the bangs to one side. Spritz with a light spray and then scrunch your curls for beachy waves and a tousled, carefree look.
Textured And Shaggy Layers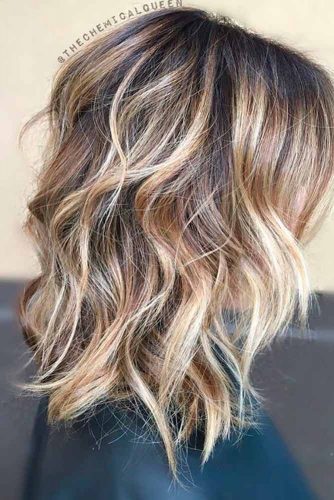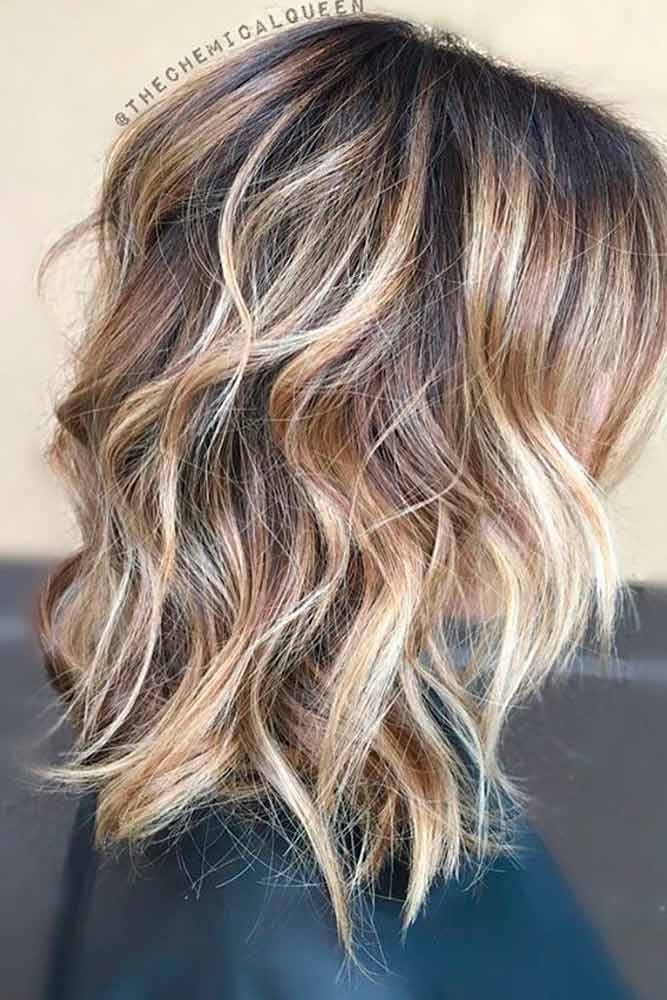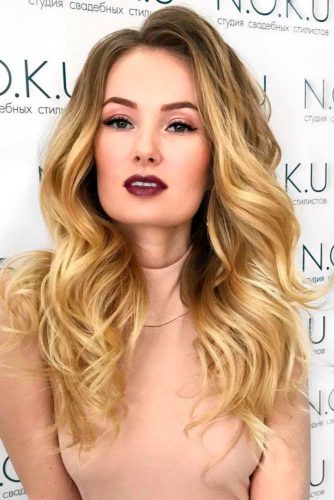 Loose waves can add bounce and some movement to a long textured bob. Consider picking this hairstyle if your face shape is triangular, oval, diamond, round, or heart. And it works great for medium hair texture. The styling process will take you about 20 minutes. Blow dry your hair and wait for several minutes till it cools completely. Next, create soft curls with the help of a large-barrel curling wand. Then tease the hair and apply wax to get the desired texture. Finish with hairspray.
Nowadays not so many ladies decide to get a one-length haircut. Shag layered haircuts appear more shapely, sharp, and modern. Plus, they are not so difficult to style comparing with one-length haircuts. Getting a long shag haircut will make your hair look gorgeous. It works great for ladies who have oblong faces as it adds the desired volume to the sides of the oblong face. Moreover, this pretty shag can offer you texture and make the everyday styling process easier. To enhance the texture even more, apply your favorite texturizing product before blow drying.
What to do if your hair is too thick and you wish to reduce its volume and prevent it from getting tangled? When feathery flicks are added to graduated, sliced layers, you get a very sophisticated hairstyle. Now let us discuss how to style this haircut that, by the way, works best for square, diamond, heart, oblong, and oval face shapes. When your hair is wet, apply some styling mousse to it and blow dry. Let it cool down and clip the ends of layers with a straightener, holding for 4-5 seconds. Finish with hairspray, and you are ready to go.
Main photo by Lisasatornhair