Rihanna hairstyles seem to be a separate creative project of her mind-blowing career. Every song of her new albums becomes a hit that plays on repeat in many headphones from all around the globe. As for her approach to hair, it's nothing but art that, undoubtedly, will never become outdated. Here, we've gathered the most striking, sexy, and fancy hairstyles rocked by badgalriri to show you the examples of perfect, flattering looks that are trendy today. See how to look unique and flawless!
Side Style With Soft Waves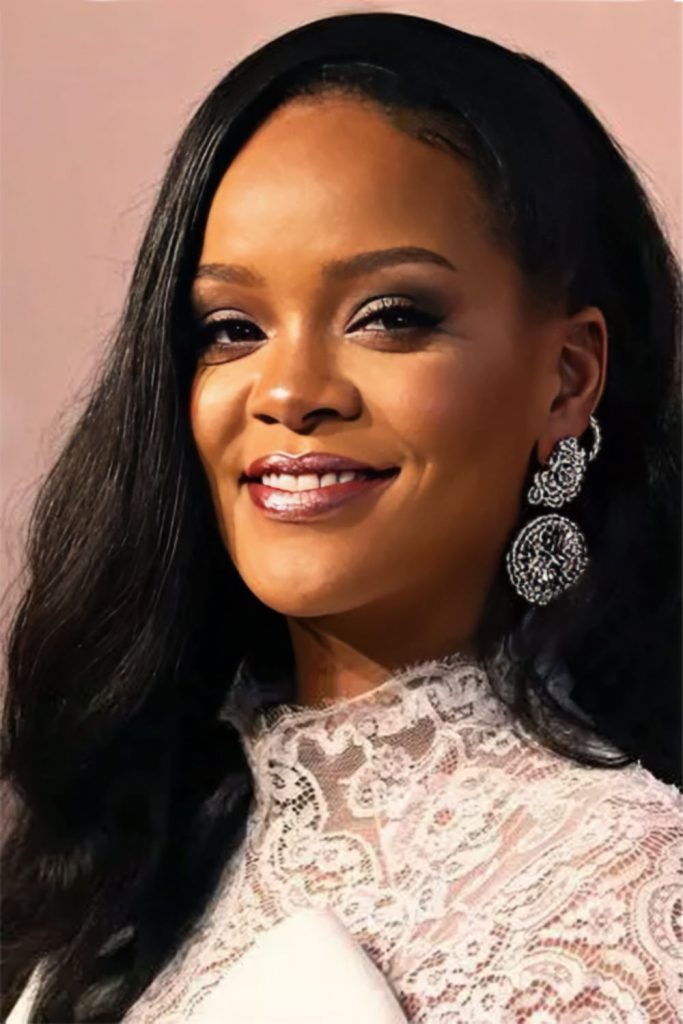 Source: JStone/Shutterstock
Rihanna is one of the few natural-haired stage queens who knows how to nail wearing this tough but posh texture. It's no secret that this lady always shows up with totally different moods: one day she's an angel, and the other she's a demon. And this look is a sophisticated, well-balanced wavy style that is meant to accentuate her no-drama, feminine look. As for the parting, it brings a ton of volume to the front, thus balancing out her prominent forehead.
Sleek Swept Back Long Hairstyle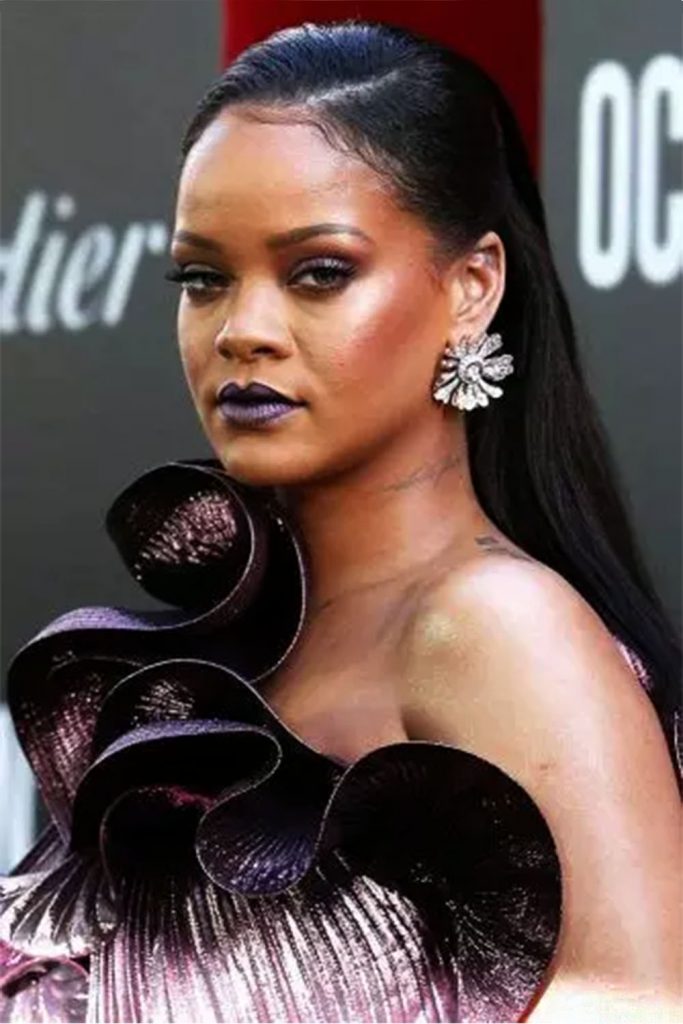 Source: JStone/Shutterstock
Rihanna long hairstyles never stop making heads turn. Giving lots of magical vibes, this syren-inspired look makes a huge visual impact while keeping up with natural colors that match RiRi's skin tone. To complement this wet ensemble, she preferred to go simple, yet significant, styling her hair back and sleek.
Chin Length Straight Bob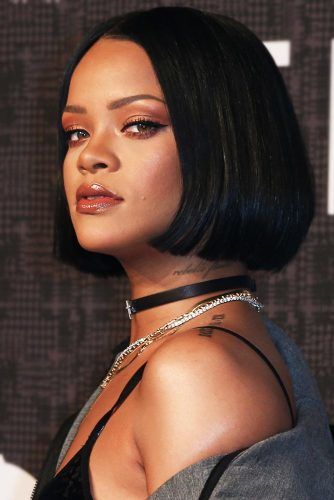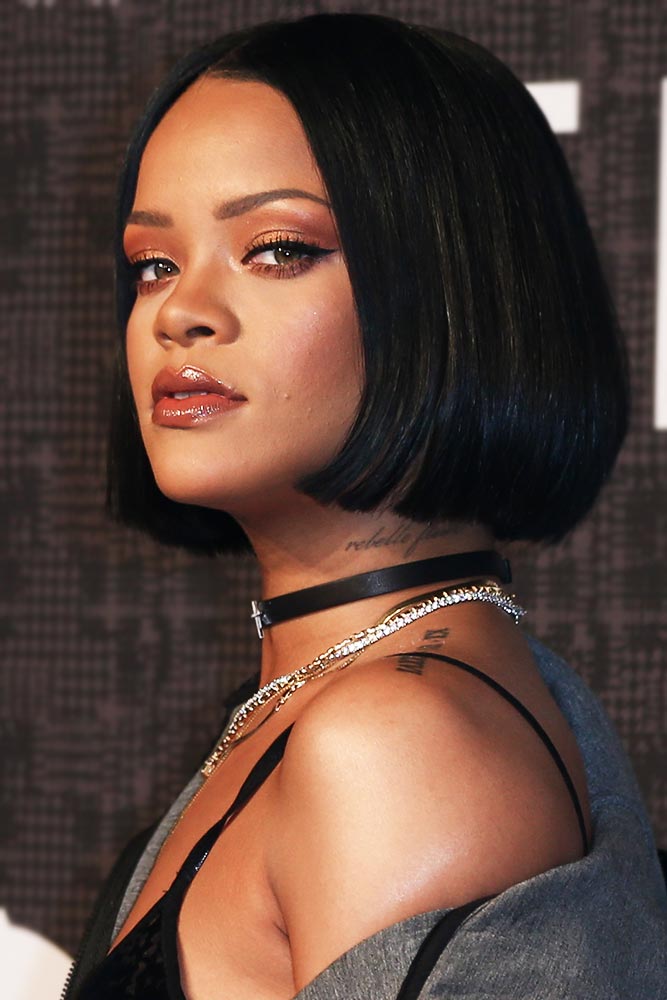 Source: Debby Wong/Shutterstock
The singer's love for short and edgy styles is so eternal that there should be a Rihanna hairstyles bob gallery. Here she slays cameras with a classic, short bob that curves at the chin. Such a cut will work for all face shapes because it gives all ladies a look as chic and hot as RiRi's, which makes it one of the most complimentary
bob hairstyles for black women
.
Curly High Pony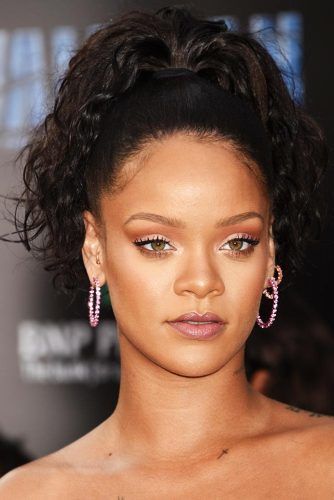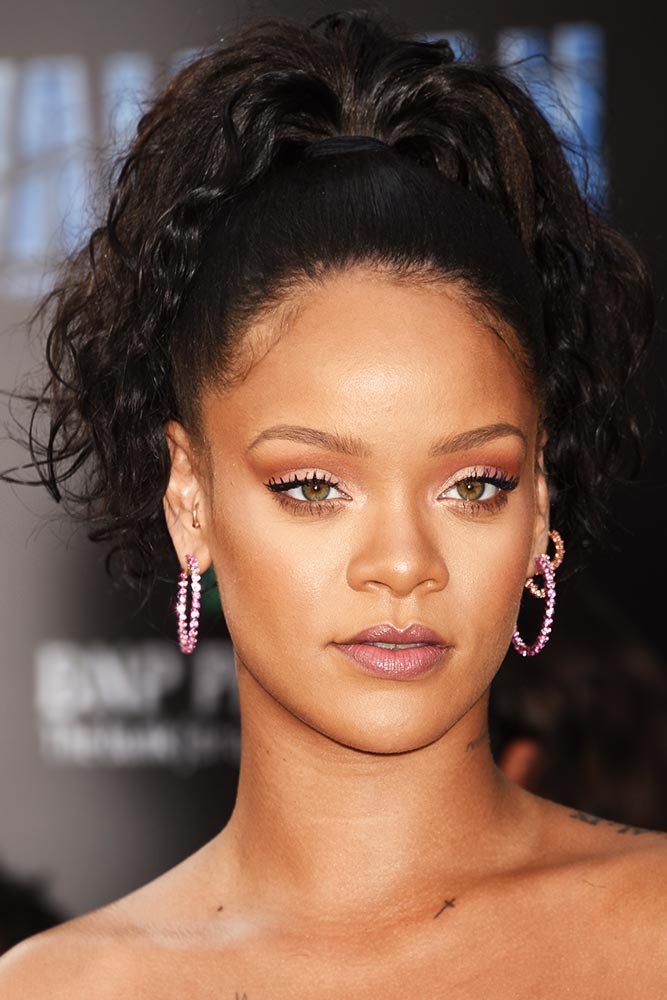 Source: Ga Fullner/Shutterstock
She loves to embrace her natural texture from time to time, so there are also a lot of awesome Rihanna
curly hairstyles
. We'd like to focus on this one because it's very simple, yet, despite its simplicity, it looks amazingly presentable. The point is to make a pony as full as possible and brush the top thoroughly so that it forms a sleek body.
Wavy Bob With Thin Bangs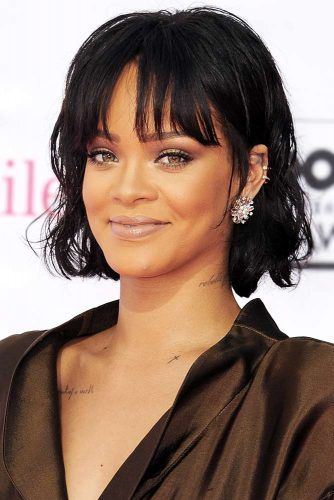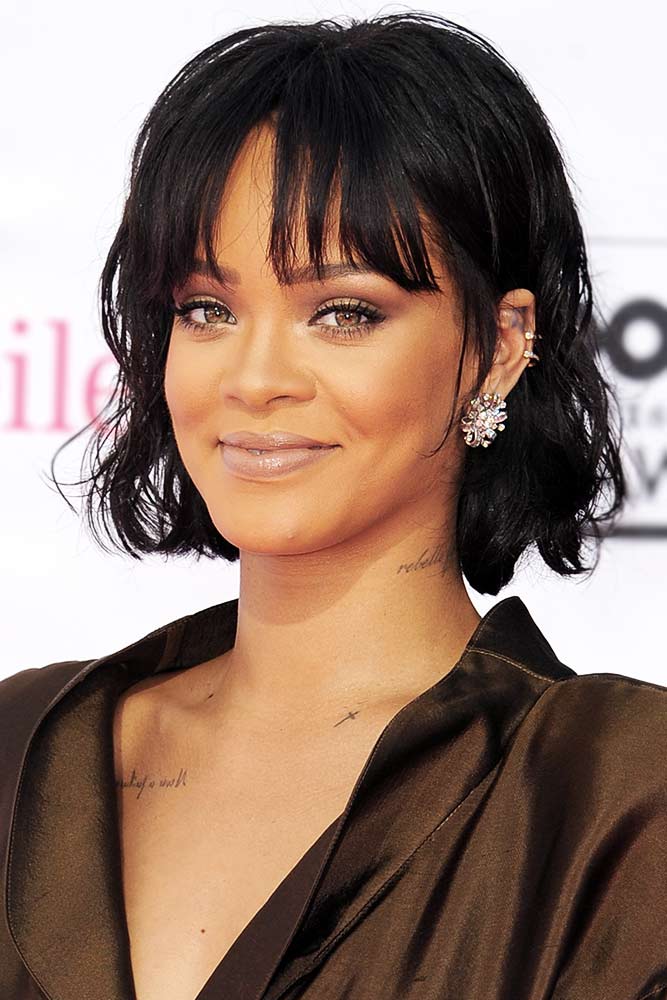 Source: Tinseltown/Shutterstock
Here comes one of the most flattering Rihanna
short hair styles
the celeb has ever sported. At first sight, it's a nice casual style. But if you have a closer look, you will notice the balance build by the bob: the slight waves keep up with the volume and thin bangs frame up the forehead. In this way, the look is full of harmony.
Curly Lob With Bangs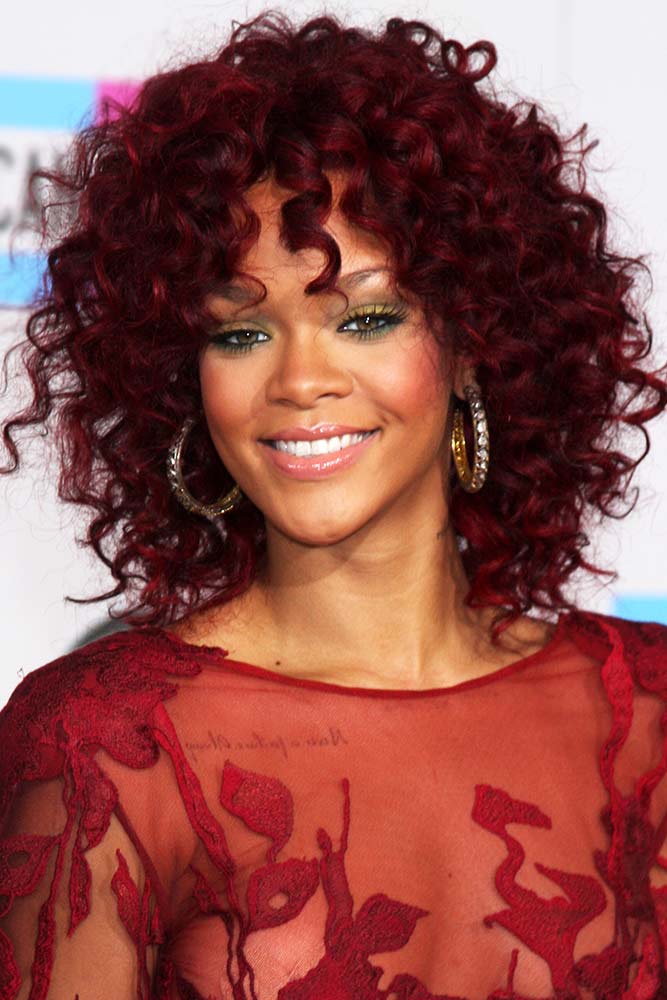 Remember those dramatic Rihanna red hairstyles? Yes, this girl knows how to stand out on the red carpet. Unlike most red styles she flaunted with, this
curly lob
with a slight bang is the most effortless and authentic one as it shows off her natural texture.
Source: Kathy Hutchins/Shutterstock
Pompadour Style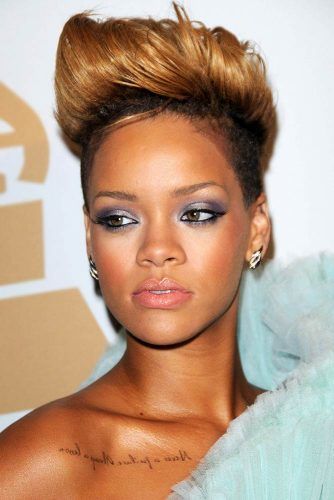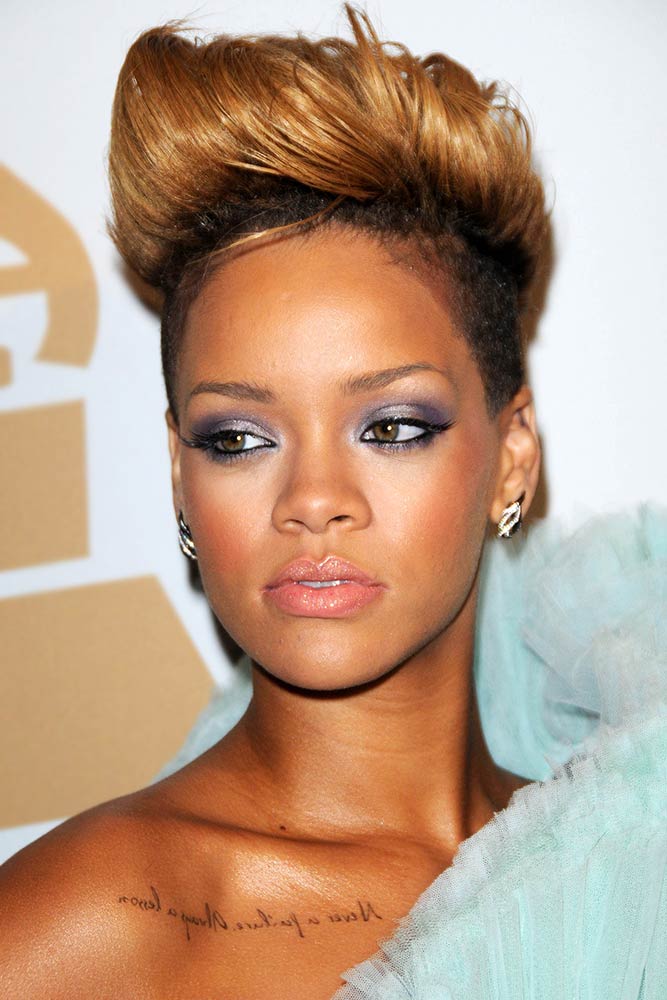 When she's about to go bold, she goes short in the first place. Needless to say, Rihanna
Mohawk hairstyles
showed girls that there are no restrictions in the fashion world and that nothing can hide their femininity. Here she styles her girly Mohawk in a pompadour-like manner, brushing the top up and giving it an immaculate shape.
Source: s_bukley/Shutterstock
Wavy Bob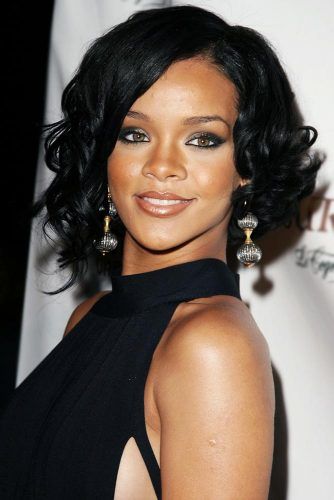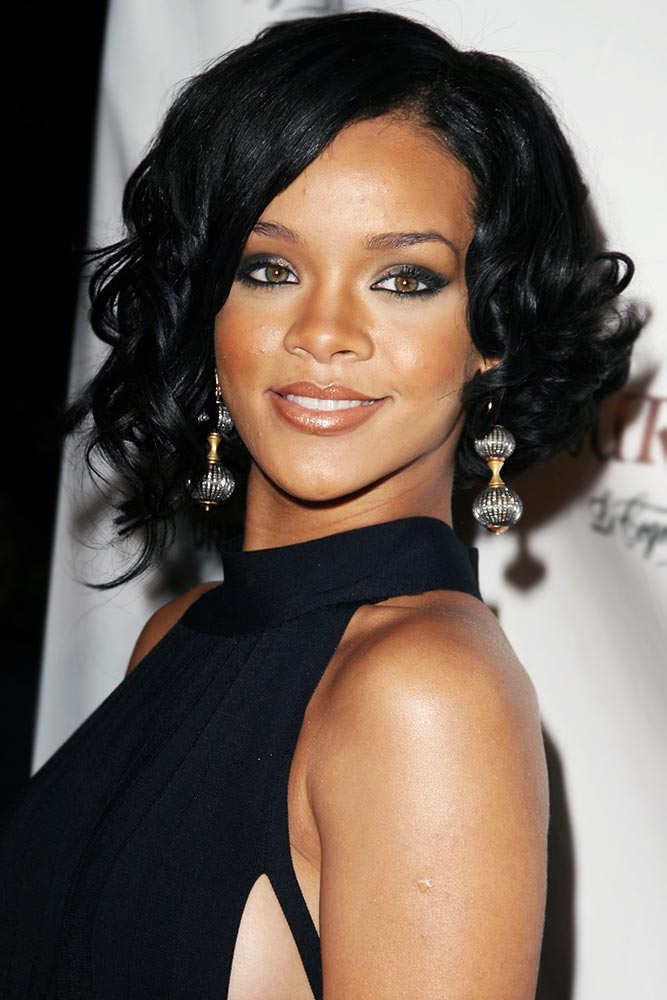 For minimalist looks, nothing works better than classic bob finished with waves. And RiRi's stylists know that like no one else! This elegant and sophisticated haircut goes well with her restrained outfit: isn't that a perfect idea for evening parties?
Source: stocklight/Shutterstock
High Messy Bun With Bangs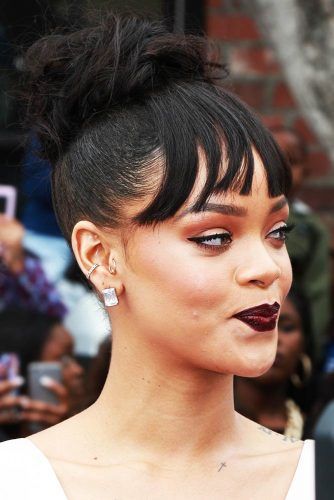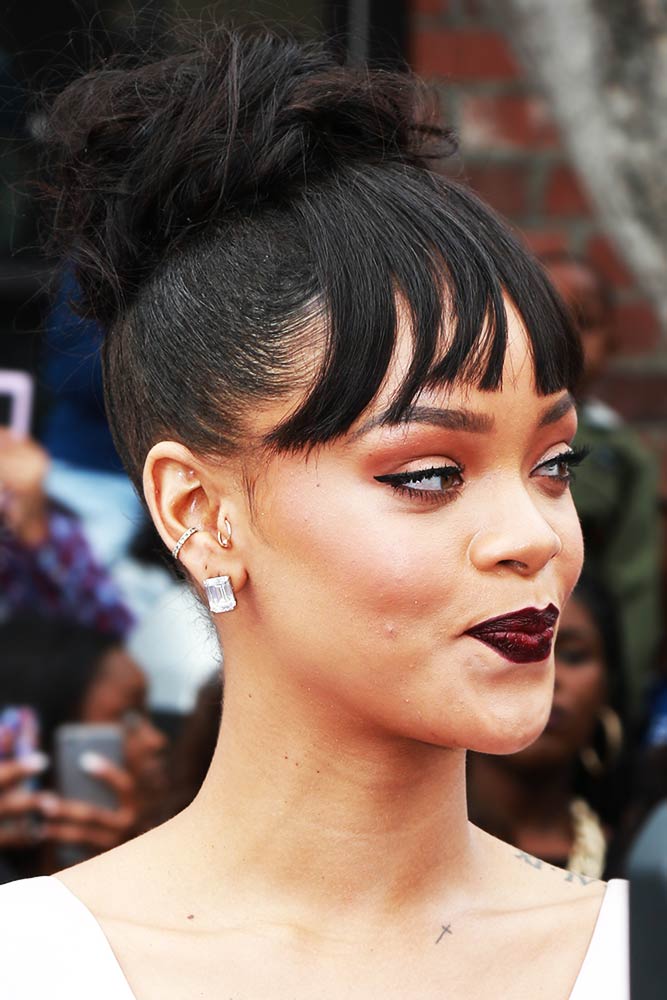 Girls love
updos
and Rihanna is no exception. Have you noticed how awesomely she individualized this high bun? Everything is super easy: a messy bun complemented with a choppy fringe. But look at this attitude: her makeup finished the look ravishingly, making it stand out.
Source: Kathy Hutchins/Shutterstock
Low Sleek Pony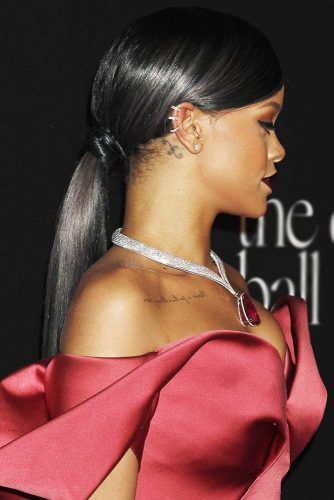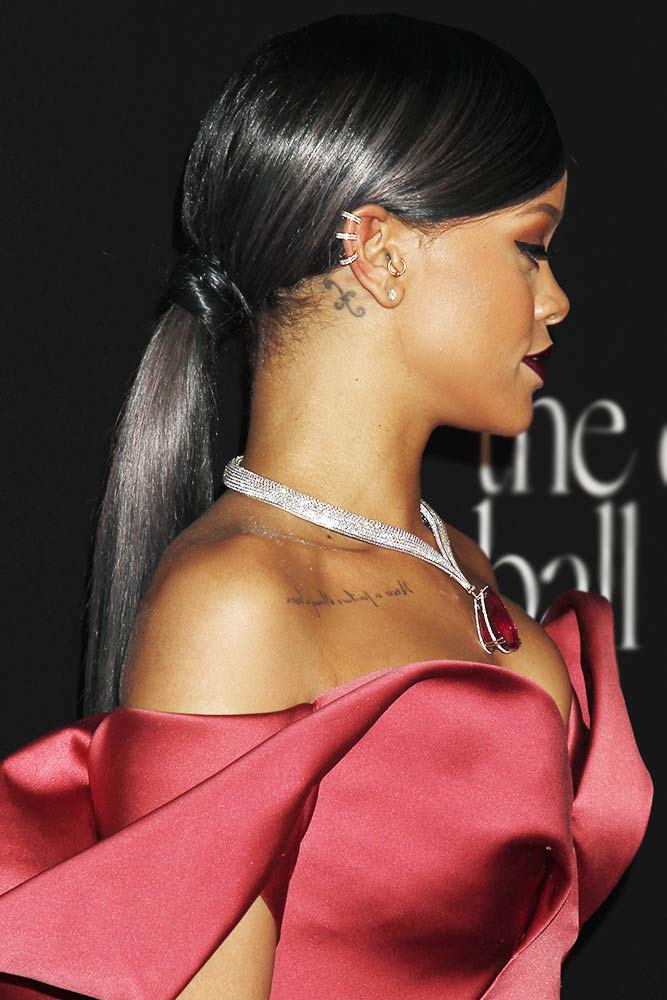 Rihanna ponytail hairstyles are all about distinctive, precise, and enchanting shine. Even when she opts for simplicity, she gets the most out of it, sticking to the beauty of details. It seems as if one can see his or her reflection in this luxuriant chevelure.
Source: Kathy Hutchins/Shutterstock
Swept Back Style With No Parting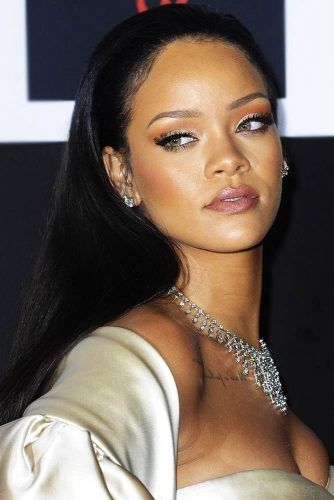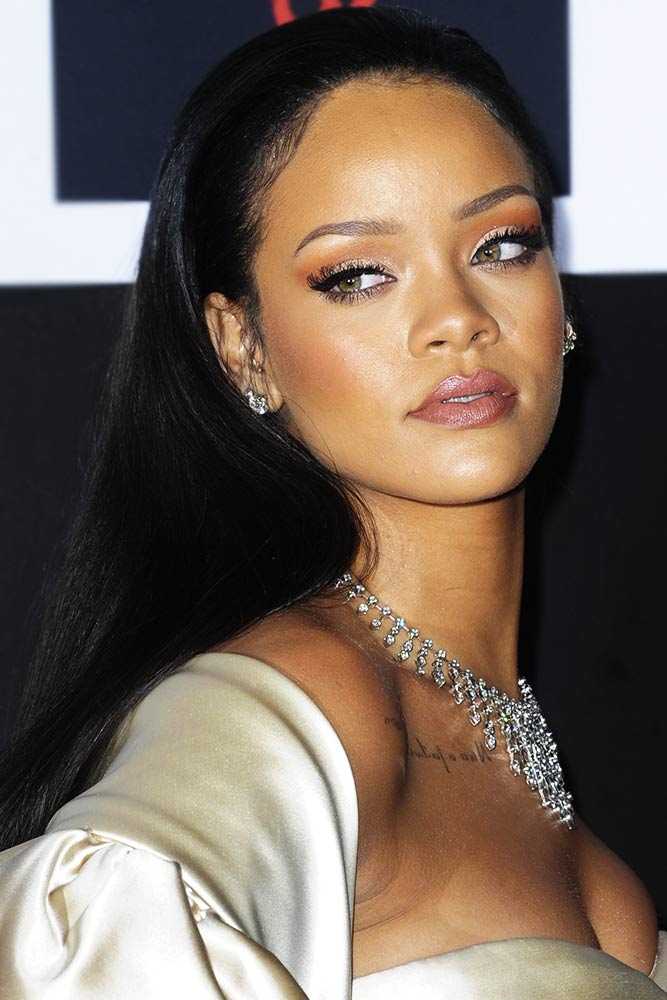 Long and straight hair that flows back and gives a polished silhouette, who could ask for more? This idea features no accessories, no distinctive texture, and no parting. And it looks so great, showcasing the charm of Rihanna's mane.
Source: Tinseltown/Shutterstock
Asymmetrical A-Line Bob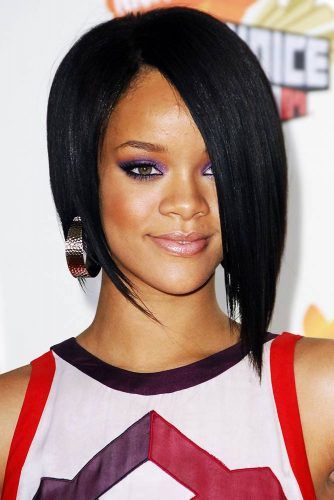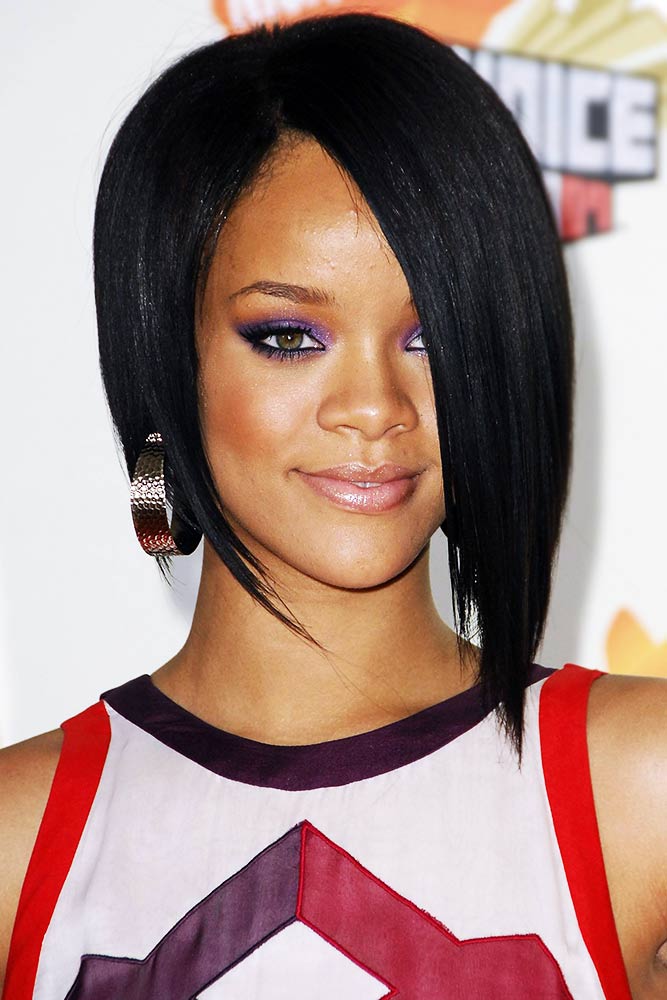 It's not one of the Rihanna new hairstyles. Yet, it's a hairstyle that showed up in a new light right after the celeb pulled it off. Many hairstylists even call asymmetrical A-line bob "Rihanna haircut" among themselves. She's simply personified it: the pointed edges work in a perfectly flattering way for her facial features.
Source: Everett Collection/Shutterstock
Side-Swept Undercut Long Pixie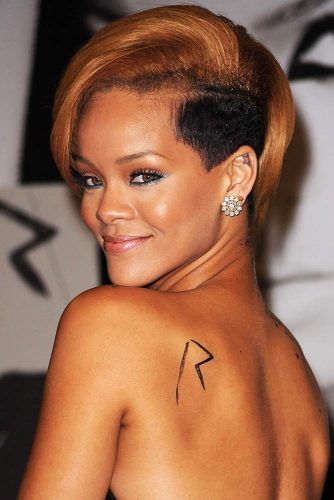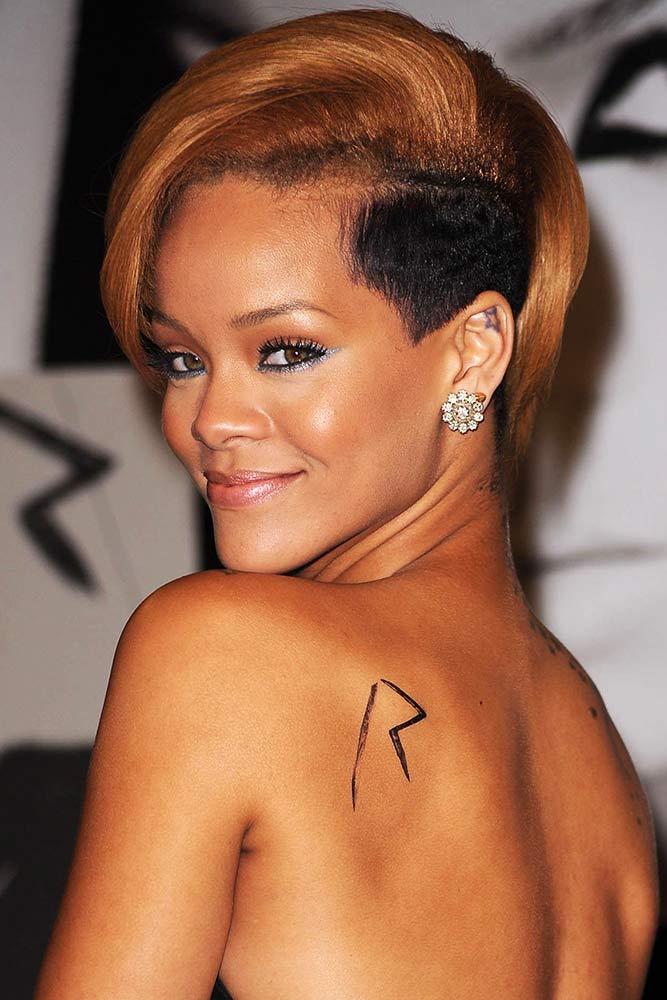 2009: new album, new haircut. We're sorry: a new fantastic haircut! Rihanna shaved hairstyles are an eye-catching mix of sassiness and sexuality that she brought to life with two colors. Though the daring cut keeps her face open, the volume on top builds a full silhouette that gives a well-balanced look.
Source: Everett Collection/Shutterstock
Sleek Side Part Style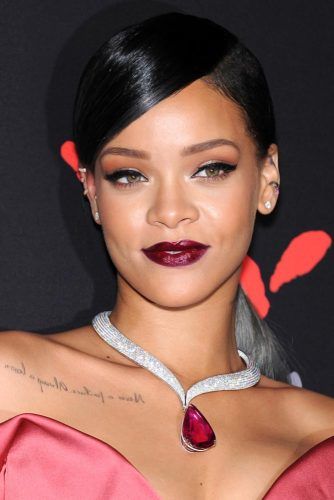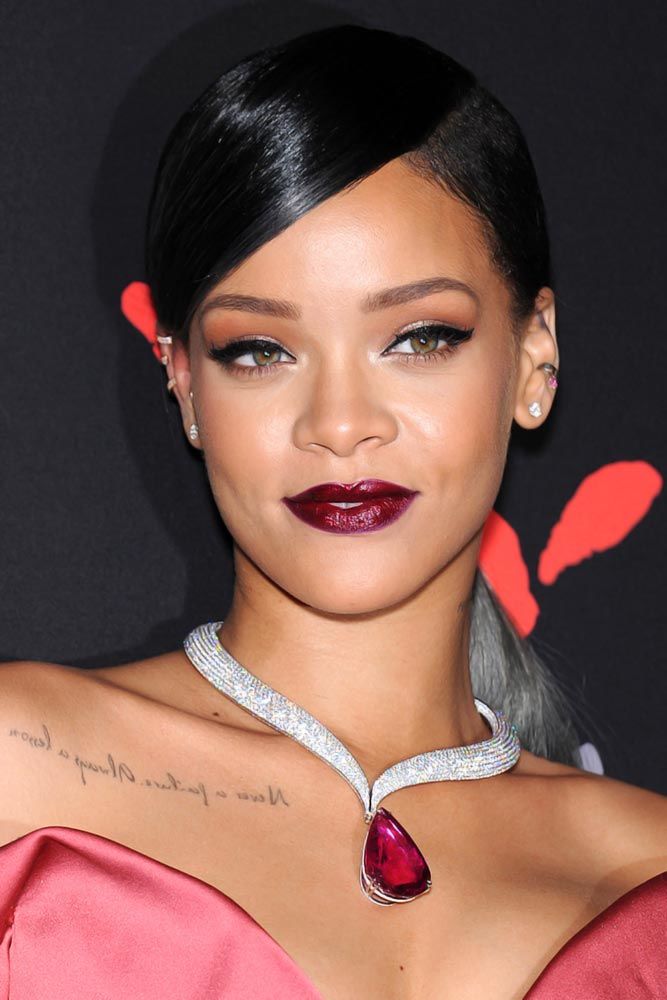 Nobody but Rihanna knows how to shine bright like a diamond, and her sleek hairstyles are a great example of it. The glare that her hair eliminates can even overshine the flashes of paparazzi cameras. To give her already bold hairstyle even more edge, RiRi decides to define it with a side part, which easily makes it her signature look.
Source: DFree/Shutterstock
Updo Curls With Free Locks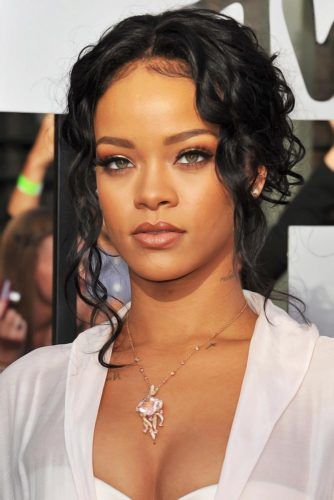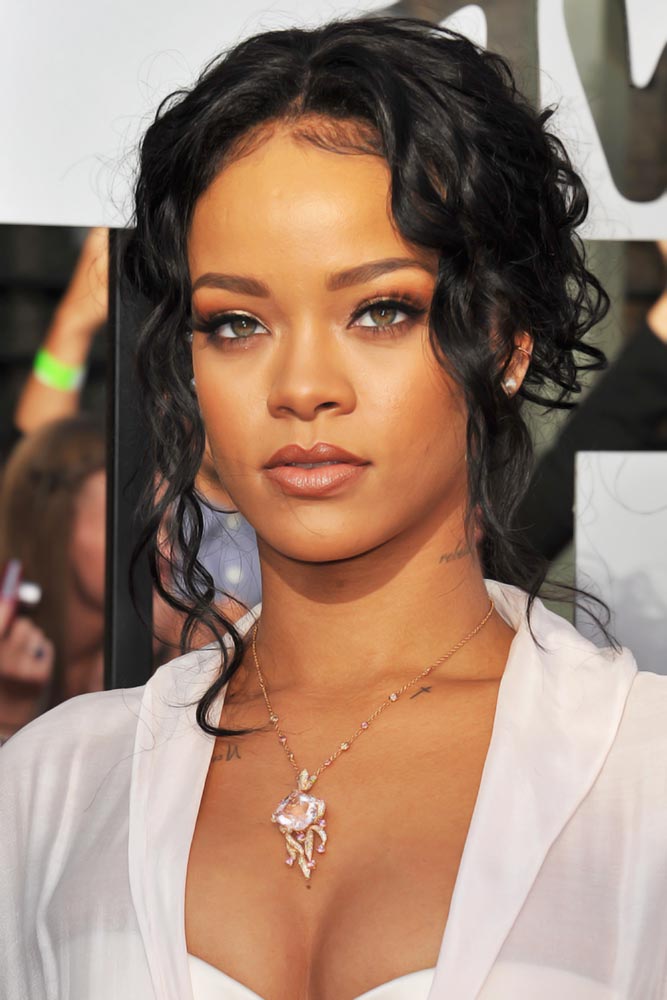 Rihanna has never shied away from her natural hair texture. Instead, she embraced it and learned how to make the most out of her bouncy curls. Here's an amazing example of how the Barbados Babe tames her unruly locks. The hair at the back is gathered in a loose updo so that the curls are prominent and defined while the front sections fall freely, framing her face perfectly.
Source: Featureflash Photo Agency/Shutterstock
Long Side Bangs Undercut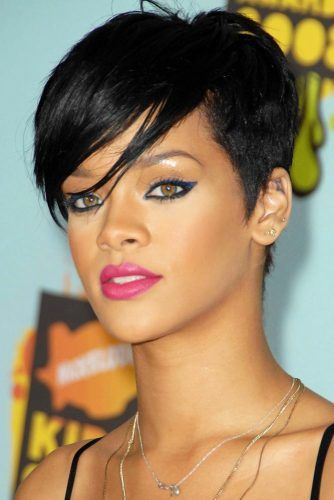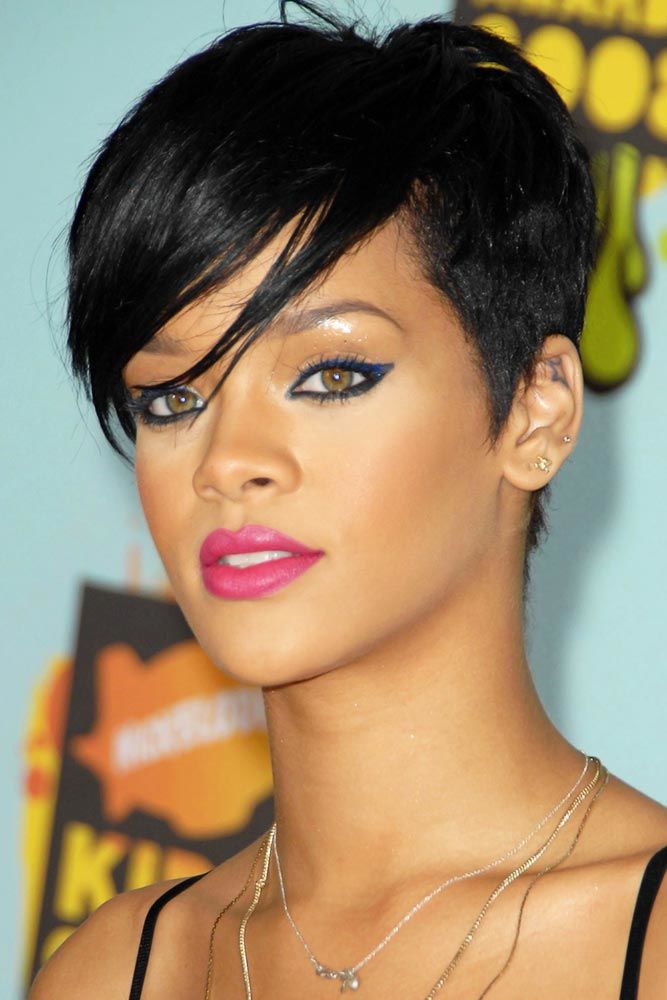 There's basically no hairstyle that Ri wouldn't be able to pull off. Even with such a short cut, which features undercut sides and back as well as long bangs, she manages to retain her femininity and sensuality, especially when she pushes the bangs to the side. When styled in this way, a strand of hair falls over her forehead, which instantly makes the entire world gasp in awe.
Source: Everett Collection/Shutterstock
Updo French Twist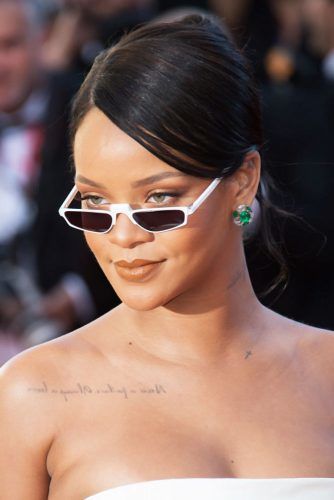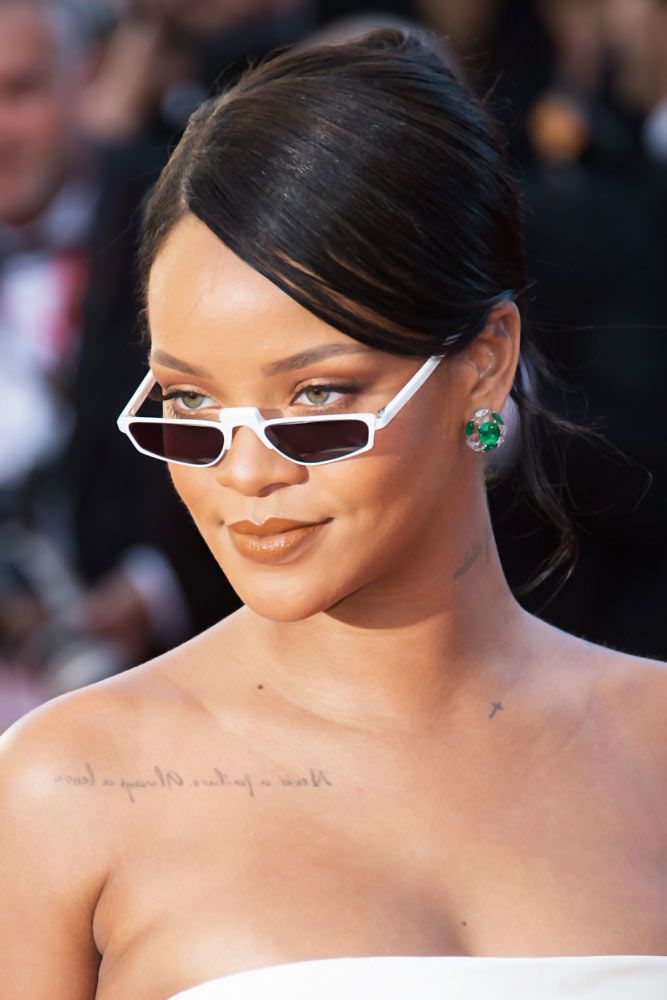 Rihanna's take on the French Twist combines traditions with modernity. She goes for a sleek side part updo yet leaves one strand of hair loose not to look overly preppy. On top of that, she accompanies a classic gown by fancy shades with the frame in the matching color, which is like dancing on the razor's edge – so close to being considered kitsch yet isn't.
Source: Jaguar PS/Shutterstock
Wet Waves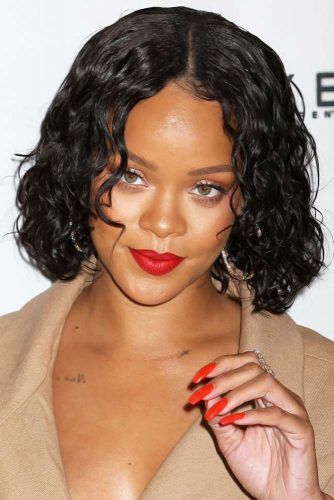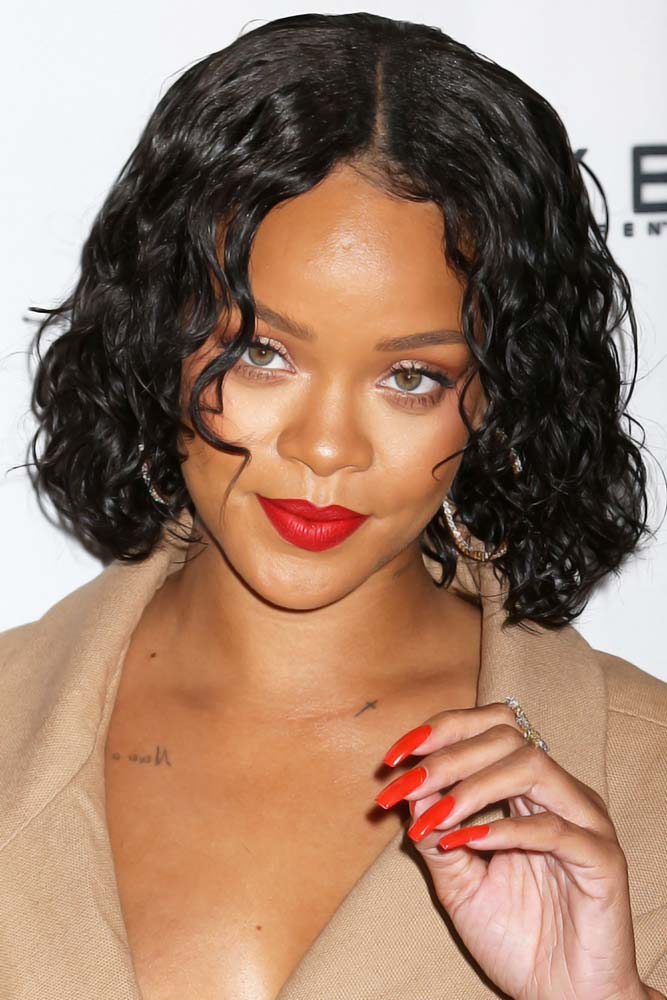 Everything old is new again. Do you remember those days when everybody flaunted the hairstyle that looked like you'd just jumped out of the shower? Ree definitely does and pulls off this look effortlessly. We can't say that it's a big surprise though, as her hair texture is just made to be taken advantage of.
Source: JStone/Shutterstock
Slick Updo With Pins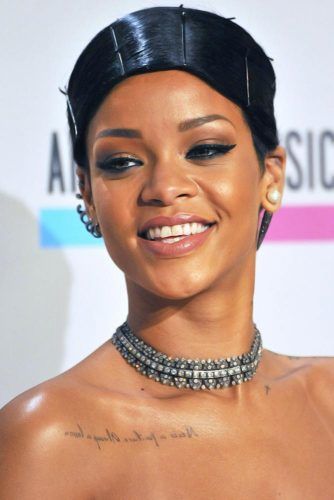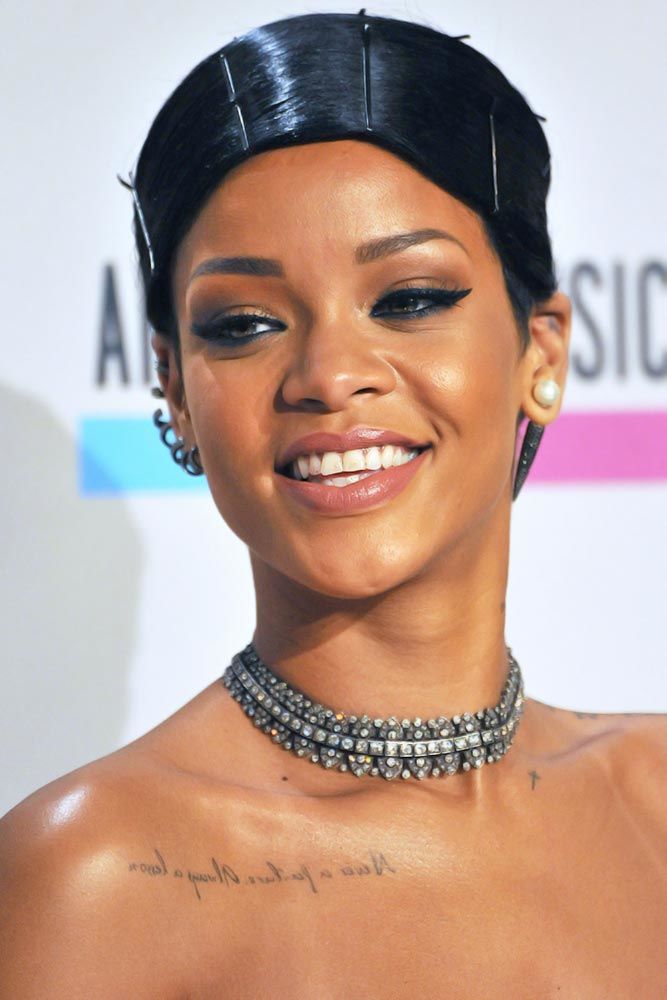 Pins have made a huge comeback recently, and it looks like they're very much here to stay. RiRi can certainly be called an early adopter, as she had rocked them long before they became mainstream. Pay heed to how she places them though. At first sight, they remind of a tiara on Rihanna's head, which would be very intrinsic to the Caribbean Queen.
Source: Featureflash Photo Agency/Shutterstock
Victory Rolls Style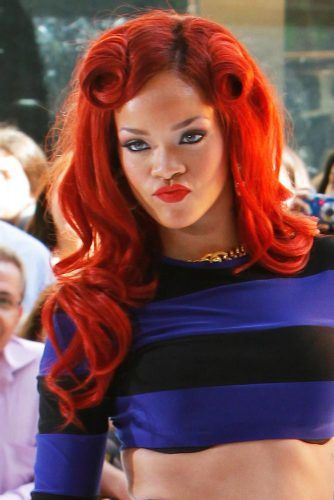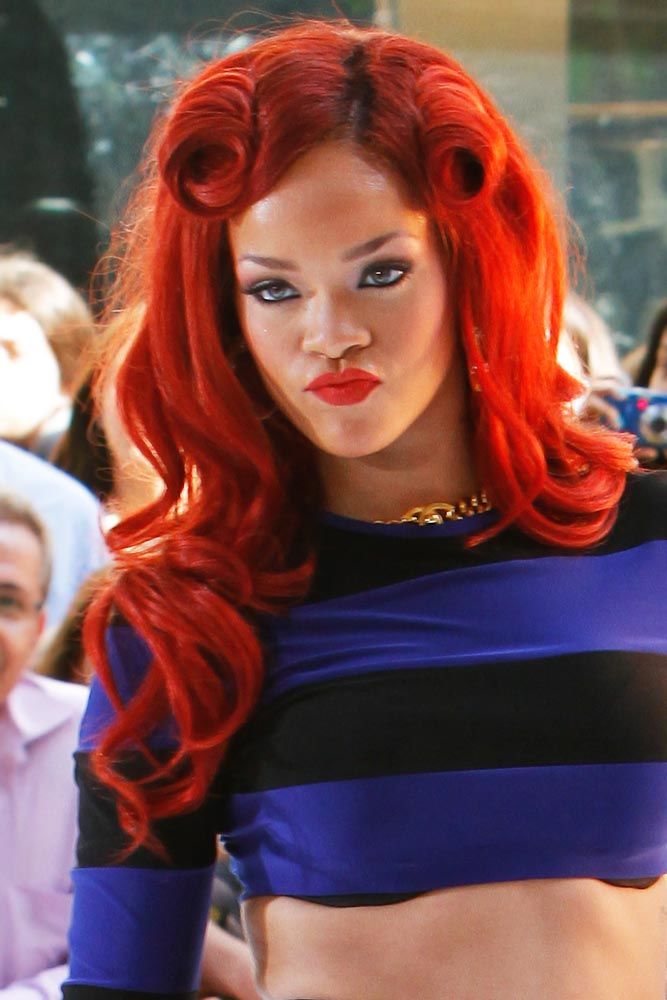 The multi-awarded recording artist is surely aware of what it's like to be a winner in life. Thus, she nails the
victory rolls hairstyle
without any ado. To enhance the look, RihRih dyes her abundant locks in flamboyant orange-red, which looks extremely flattering for her deep skin tone. Add a matching lip color to it, and she instantly becomes camera-ready.
Source: Debby Wong/Shutterstock
Rihanna has changed countless hair colors, cuts, and styles throughout her exceptional career. And the thing that hasn't changed since then is her ability to look gorgeous, regardless of the image she rocks. Got inspired? Try recreating one of her styles, then: these Rihanna hairstyles pictures will help you out.
FAQ: Rihanna Hairstyles
What does Rihanna use for her hair?
Yusuf Williams, Rihanna's hairstylist, revealed that he uses raw castor oil with hot oil treatments and ORS Olive Oil Moisturizing Hair Lotion. To keep her hair glossy and well-groomed, Williams also uses Peter Thomas Roth's conditioners and scalp treatments.
What year did Rihanna cut her hair short?
Look at what Rihanna did in 2008 if you thought her 2007 hairstyle was wild and risky. Rihanna officially joined the short hair "Idon'tcare" crew in 2008, and, by cutting her hair even shorter, Rihanna has found an edgier style for herself.
Does Rihanna have black hair?
Rihanna has naturally brown hair, rather than blonde hair. The gorgeous lady has returned to her black roots by shaving a bit of hair off the side. Judging by the number of likes Rihanna received on Facebook, you're also big admirers of her new hairstyle.
Was this article helpful?