Vivid Neon Coloring, Soft Brown Graduations, And Ashy Blonde Ombre Hair Are Here
As the most natural color combinations, brown and blonde ombre hair will be all the rage the following season. And stylists suggest that there will be a new twist – the shades will be slightly cooler this year.
ADVERTISEMENT ‧ CONTINUE READING BELOW
By "cooler", they mean not only the saturation of color; faded neon colors and soft ashy vibes will become an irreplaceable part of modern ombre hair looks!
Besides blonde ideas that will always be on top, we've selected the trendiest, head-turning color combinations that will fit all tastes. So, get ready to go to a salon and get your hair dyed in the latest shades. Pick one of the options from our fresh collection!
What Is Ombre Hair
Source: romeufelipe via Instagram
Before going for new coloring techniques, isn't that crucial to know what they are and how they differ from one another? So, what is ombre hair? The ombre hair coloring is a method of shading your hair in the area that you'd like to freshen up. Usually, the added color blends gradually to the ends, moving from the dark roots and becoming lighter at the mid-shaft area. The added color appears very saturated and contrastive compared to the base, which enlivens and spices up the initial hair color.
ADVERTISEMENT ‧ CONTINUE READING BELOW
Ombre Vs Balayage Hair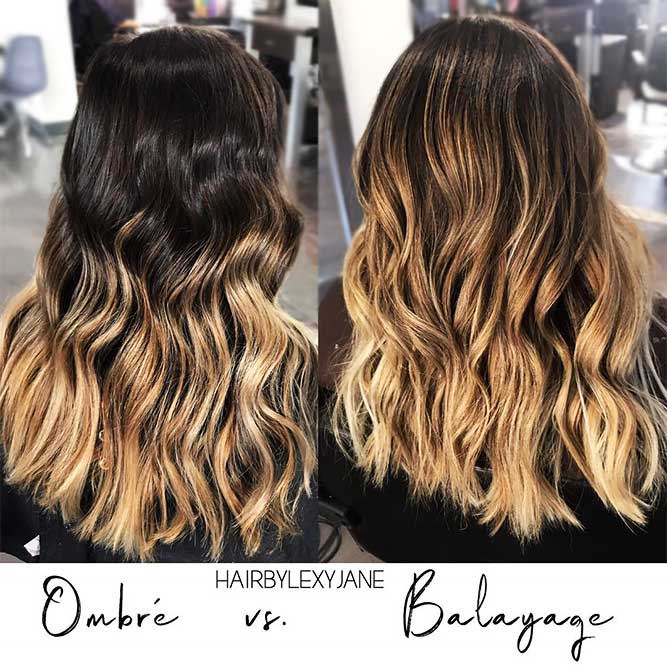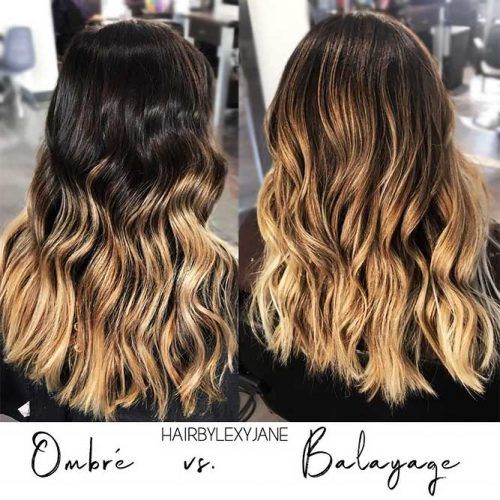 Source: forgetmenot_studio via Instagram
Now, let's sort out the balayage hair vs ombre struggle once and for all! Knowing the difference between the two popular coloring technique is important to know what to expect from both and how to achieve the desired effect.
Unlike ombre hair, balayage is achieved in a sweeping, free-hand manner, which involves painting and highlighting soft strands of hair, gradually going from the roots to the ends. It's a nice low-maintenance choice, as the blend on the roots is very smooth, so the roots regrowth won't be too noticeable.
ADVERTISEMENT ‧ CONTINUE READING BELOW
Blonde Ombre Hair
When it comes to choosing a new lighter shade, the choices are simply countless. So no wonder that many ladies like to make statements with contrasts, showing up with light-to-dark or dark-to-light transitions. How would you update your color? See some blonde ombre hair ideas that will inspire you! Don't worry this is a kind of ombre that has an approach for any base!
Honey Blonde
Sunny Blonde
Cold Brew
Natural Blonde Ombre
Reverse Blonde Ombre
Champagne Sombre
Brown To Blonde Sombre
Violet To Platinum Blonde
Blonde Ombre Hairstyle For Medium Hair
Ash Blonde Ombre Hair Style for A Long Hair Length
Brown Hair With Blonde Ombre
Wavy Strawberry Blonde Ombre Hair
Black To Blonde Ombre Hairstyle
Brown Shades Ombre Hair
Dirty Blonde Ombre Hairstyle
Blonde Ombre Hair With Slightly Cooler Shades
Hairstyles For Blonde Ombre Hair
Gorgeous Blonde Hair
Best Color Ideas For Blonde Hair
Styling Secrets For Blonde Hair Girls
Fantastic Shades Of Blonde
Popular Shades Of Blonde
Amazing Blonde Hair Balayage
Red With Blonde Streaks
Icy Blonde Balayage
Earthy Blonde Tones
Melted Balayage
Balayage Sombre
Sassy Blonde
Black To Blonde
Sun-Kissed Baby-Lights
Wind Blown Dreads
Dark Brown To Reddish Blonde Sombre
Blonde Pink Ombre
Blonde Lime
Gaga Inspired Yellow
Amethyst Tips
ADVERTISEMENT ‧ CONTINUE READING BELOW
Brown Ombre Hair
Ladies who seek naturality in its purest should make brown hair color chart their talisman. The truth is, nothing looks more authentic and effortless than a brown shade as an added color. Whether you are working with naturally brown hair or you want to spice up your blonde or black base with some rich and golden hues, brown ombre hair ideas are here for you!
Chestnut Brown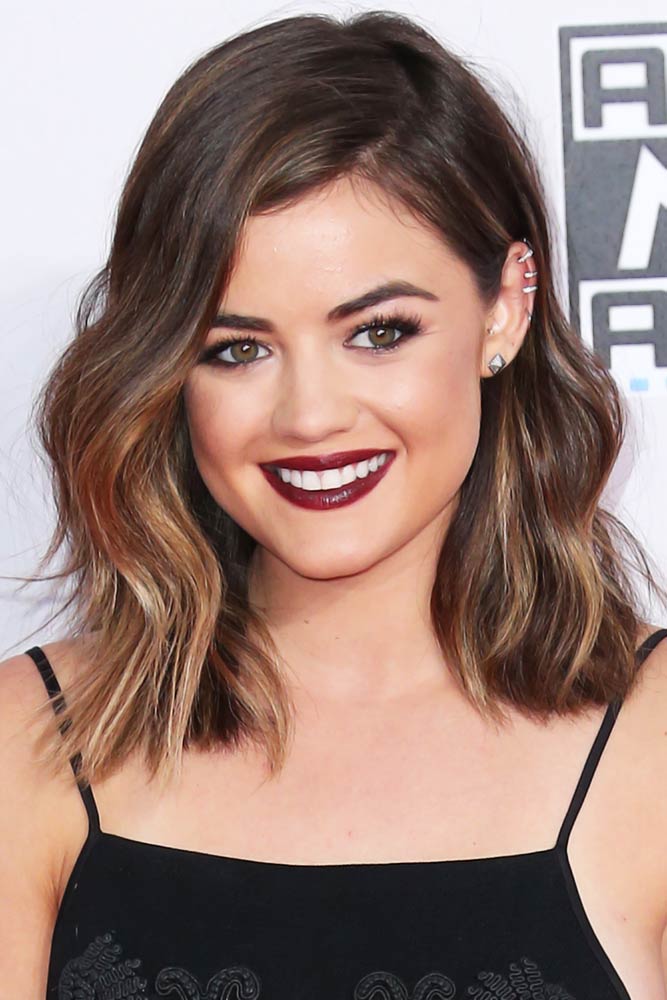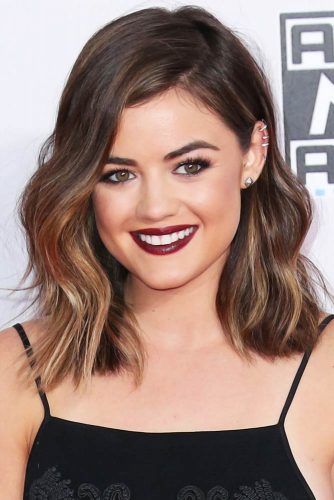 Source: Kathy Hutchins/Shutterstock
Lucy Hale's natural hair color is brown, but it doesn't mean that accents should necessarily be blonde though. A hint of light chestnut brown over her dark brunette base is a stunning way to not only freshen things up but also enhance the beauty of her natural brown shade.
Soft Caramel And Deep Brown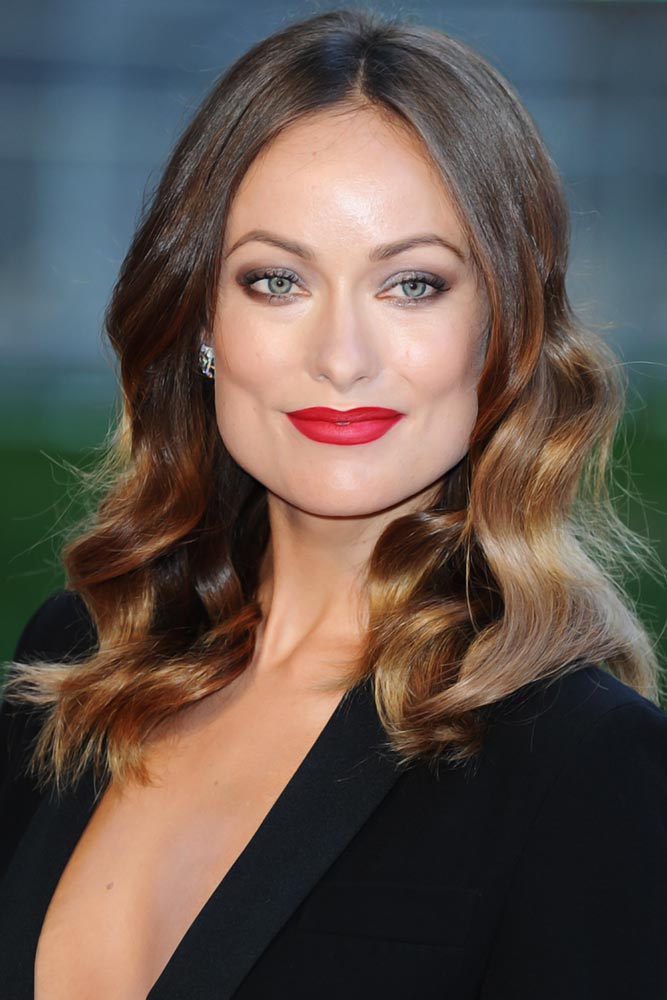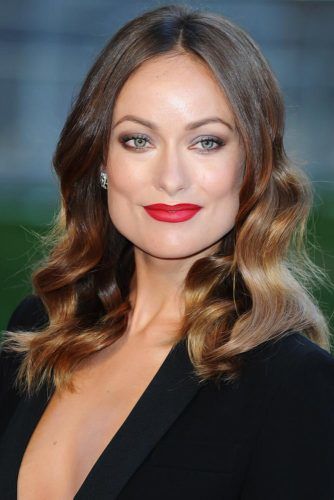 Source: Featureflash Photo Agency/Shutterstock
Olivia Wilde has already been in dozens of ombre and balayage looks, rocking anything from short to medium lengths. But this looks is something really special: the added caramel shade is applied so well that it gives more of shine rather than color to her hair. That is to say, brownies can make their hair lusher by choosing the right brown ombre hair.
Dark Caramel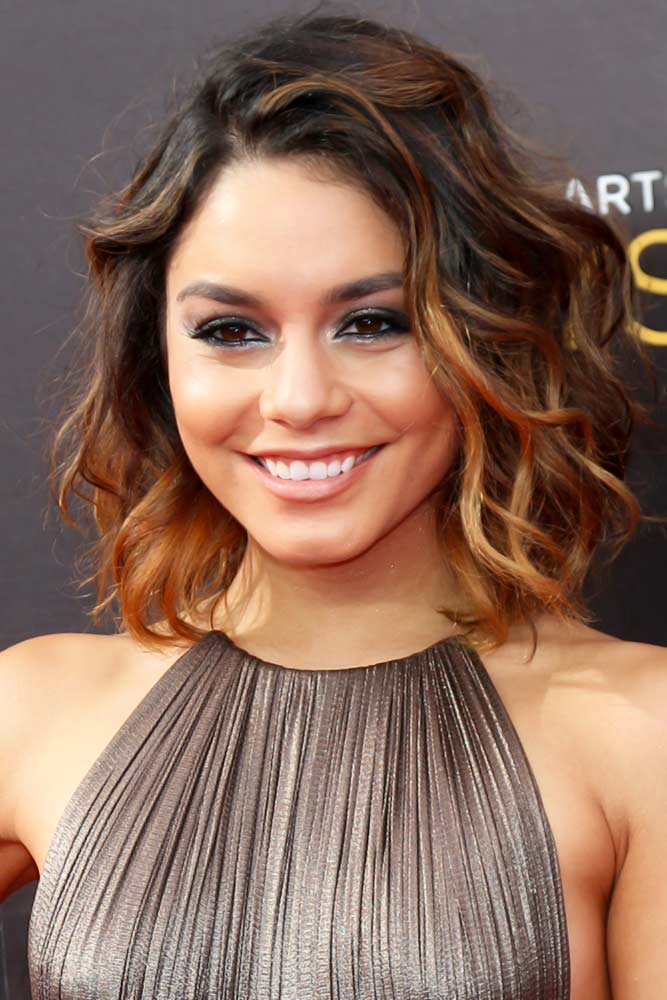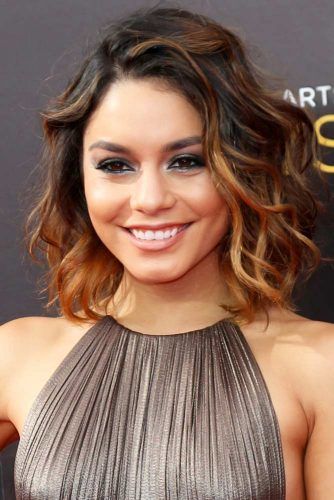 Source: Kathy Hutchins/Shutterstock
Being blessed with a seductive dark brown-to-black hair color, Vanessa Hudgens prefers to stay loyal to it. Even when it comes to the need for color changes, she never steps out of the brunette hair color palette. And she does it so right! Here, she shows up with a delicious mix of dark caramel that softly lightens up her fantastic base.
Peach Ombre
Source: lisalovesbalayage via Instagram
It is impossible not to fall in love with this hair look. This ombre features a blonde melt down with a peach undertone, which is super cute. It will also work for any skin undertone.
Subtle And Stylish
Source: rafaelbertolucci1 via Instagram
If you want to go ombre but have limited options due to your career, this subtle blend of honey and caramel tones on a darker base is still quite stylish without making a drastic statement.
Brown To Blonde
Source: rafaelbertolucci1 via Instagram
This brown to blonde shading off creates a melting effect. The blend of colors is seamless. If a blonde hair color is not for your skin tone, this blend certainly is 'cause anyone can pull it off.
Caramel Ombre Hair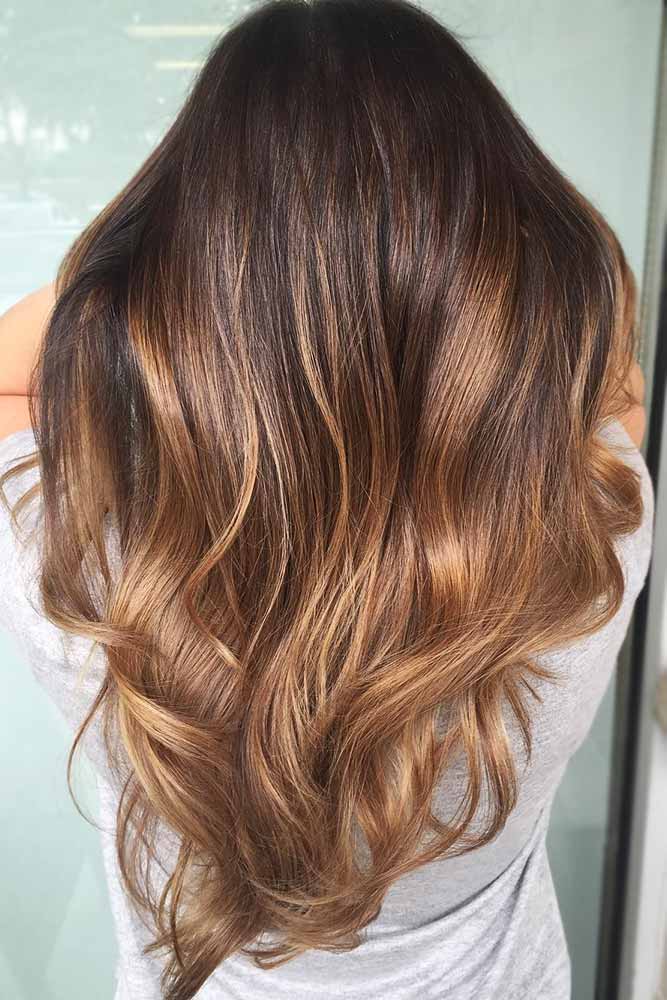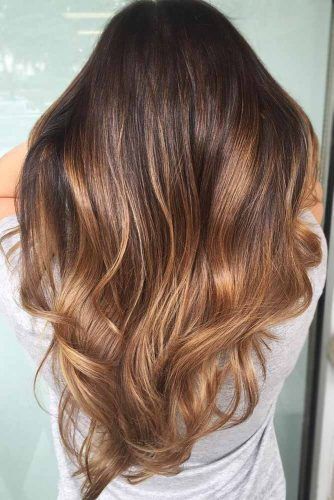 Source: cristen_smith via Instagram
When two matching colors are mixed together, they produce truly soft and authentic looks. Even though the applied ombre hair colors are always noticeable, they look organically if they come from the same color palette. Caramel ombre hair, achieved over a naturally light brownish base, is a sophisticated and rich choice for brunettes.
Electric Banana Ombre
Source: makeupbyfrances via Instagram
This electric banana shade will be great to match with natural roots, especially if you are an owner of light blonde or light warm brown hair. Once it fades out, you may go for another crazy color or for natural brown to blonde ombre.
ADVERTISEMENT ‧ CONTINUE READING BELOW
Red Ombre Hair
Want to reveal your fiery nature, but your natural hair color isn't that sexy? A flaming touch of red ombre hair is enough to show everyone who you really are. Reddish ends that look like real flames or half coloring with a seductive bloody shade? Go find yourself a perfect idea.
Deep Burnt Orange
Classic Amber
Deep Auburn
Copper Gold Ombre Hair
Burgundy Ombre Hair
Fireball Black To Red Ombre
Black Cherry Ombre
Ring Of Fire
Brunette To Ruby Rouge
Fiery Ombre
Blue Ombre Hair
Blue ombre hair ideas are designed to fascinate. The more unusual your color appears, the more unique you feel. The best thing is that you can add a bluish charm to any base possible: it can be blue ombre for brown, black, and blonde hair. See how versatile it can be!
Stormy Ombre
Teal Blue
Indigo Blue
Brunette To Blue
Navy Blue Waves
Baby Blue
Eclectic Blue Ombre
Purple Ombre Hair
Purple and lilac shades are a thing of these days. Just like bluish shades, they blend into any basic color very smoothly, and even though they don't look natural, they still can offer you a smooth and vibrant accent that will look well-balanced. Purple ombre hair is something that every girl can pull off: just make sure you are ready for trendy changes.
Plum Purple
Purple & Fuchsia
Black To Purple
Curls With Black To Purple Ombre
Pastel Purple Ombre
Black To Green Ombre
Purple To Mint Bob
Deep Violet Ombre
Lavender Ombre
ADVERTISEMENT ‧ CONTINUE READING BELOW
Pink Ombre Hair
Nowadays, women who seek modern fashion prefer to cover their light ends with baby pink colors, emphasizing their noble skin tones. So it's no secret that pink ombre hair is another trend of now. This ombre coloring is considered the best choice for ladies with light skin tones and hair colors. Yet, with the right approach, it can embellish any base. See how it works!
Barbie Pink
Pastel Haze
Orchid Pink
Naked Rose Wavy
Stained Glass Pastel Pink
Hot Pink Ombre
Fuchsia To Light Pink
Metallic Rose Ombre
Light Magenta To Platinum Blonde
Pink & Yellow
Pink Lemonade
Dark Rose Ombre
Black & Rose Gold
Colorful Ombre Hair
Tired of all these familiar hair colors? Mix them all to create a brand new rainbow that will always look fun and unique! Colorful ombre hair ideas are the synonyms for bright and vivid experiments. Let's play around with different shades!
Yellow On Brunette
Black To Lavender
Red, Pink And Purple
Holographic Unicorn
Pastel In Two Tones
Black But Bright Ombre
Galaxy Hair
Sparkling Mermaid
Rainbow Ombre
Pastel Rainbow
Lemon to Blonde Ombre
Ombre Hair Tutorial
Are you ready to hop aboard the ombre hair color train? The best part about ombre color is that you can totally make it on your own! Now get out there and rock that ombre!
ADVERTISEMENT ‧ CONTINUE READING BELOW