Any hair color chart is a helping hand for ladies who have a need for color changes. As for our post, it's something more than a chart; it's your ultimate color guide. The need for bringing new shades in the palette of your life may show up at the most unexpected time, and your task is to be ready to embrace this feeling.
Though there are so many beautiful colors, not every shade can be suitable for you. Moreover, an improperly picked shade can drastically change your appearance for the worse. Therefore, finding the right shade can be a great deal of trouble.
We're here to keep you away from the time-consuming selecting process with the trendiest shades of the most requested hair colors. Alongside inspirational ideas for your next color transformation, we will answer all the questions you may come up with on your way to finding your best shade and give you some key tips on learning which color will look best on you.
What Color Should I Dye My Hair: Fail-Proof Checklist
Apart from following your preferences, there are more details to consider. The tone and undertone of your skin, as well as your eye color, are key points that determine the right shades for you. And here, we're going to lay it all out for you.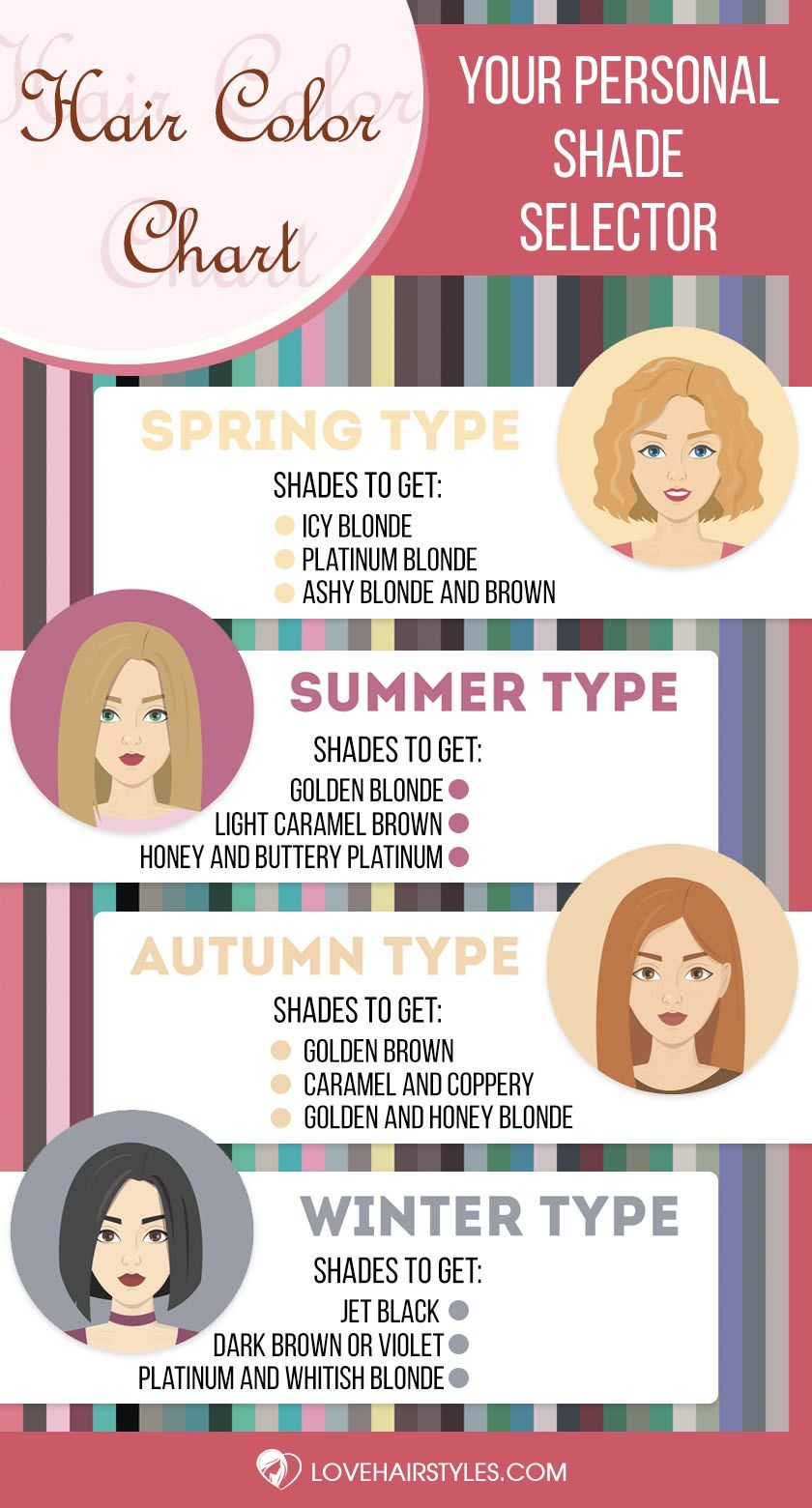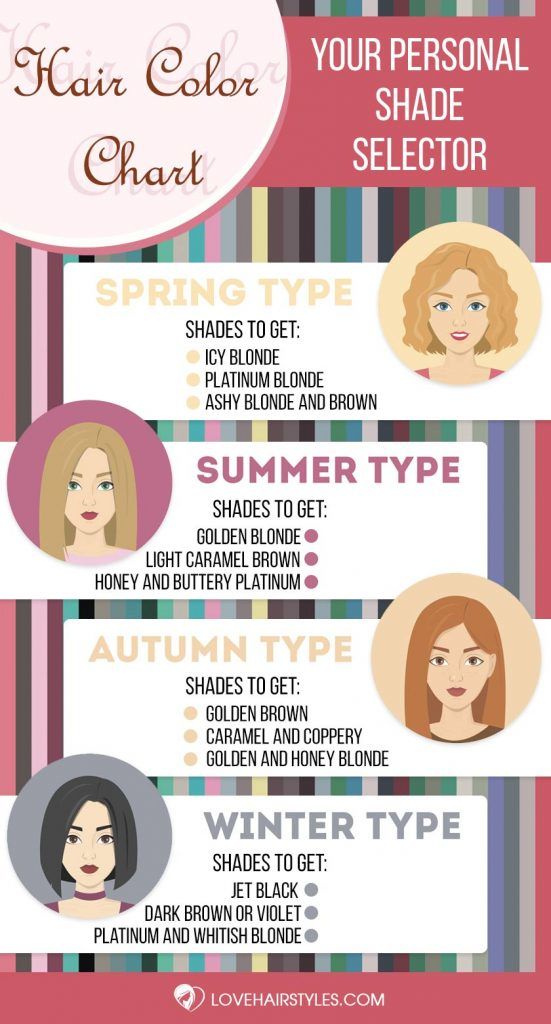 Determine Your Skin Tone
The very first step towards finding the right shade is to determine whether your complexion is warm or cool. These two overarching categories can be diverse, but, there's a simple way to navigate. Since many women love to go for color experiments every other season, it's easier to name categories after each season.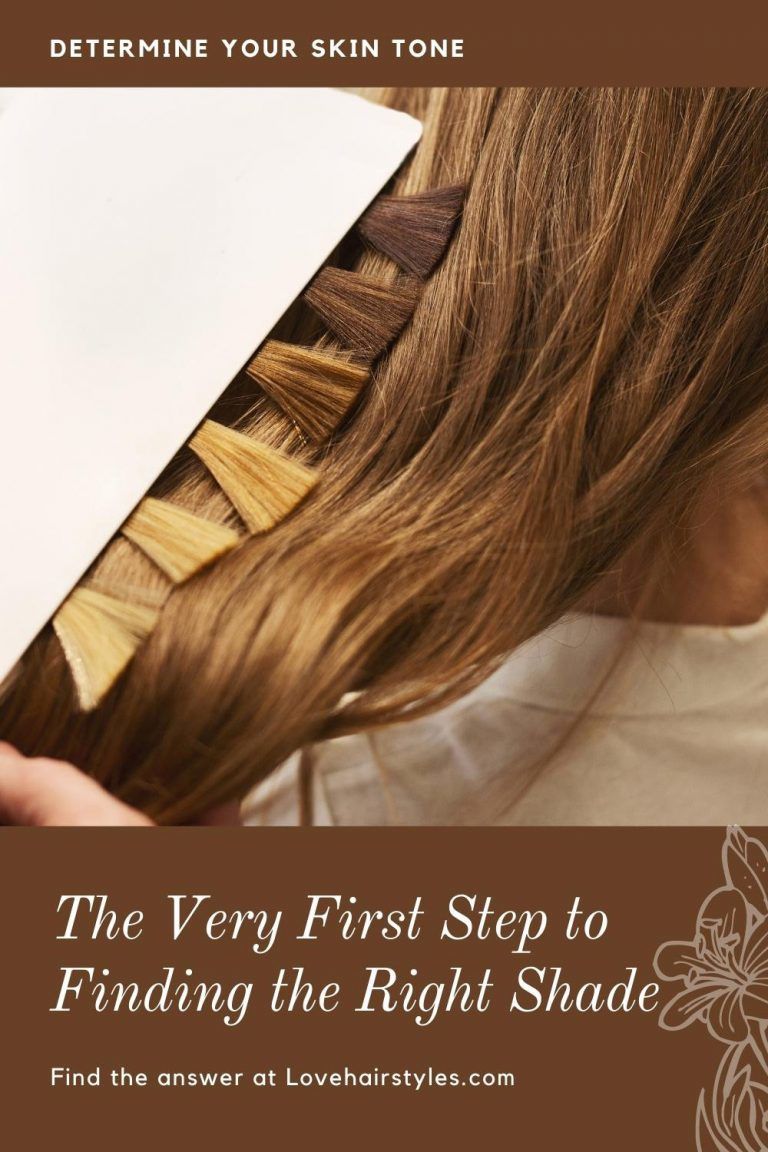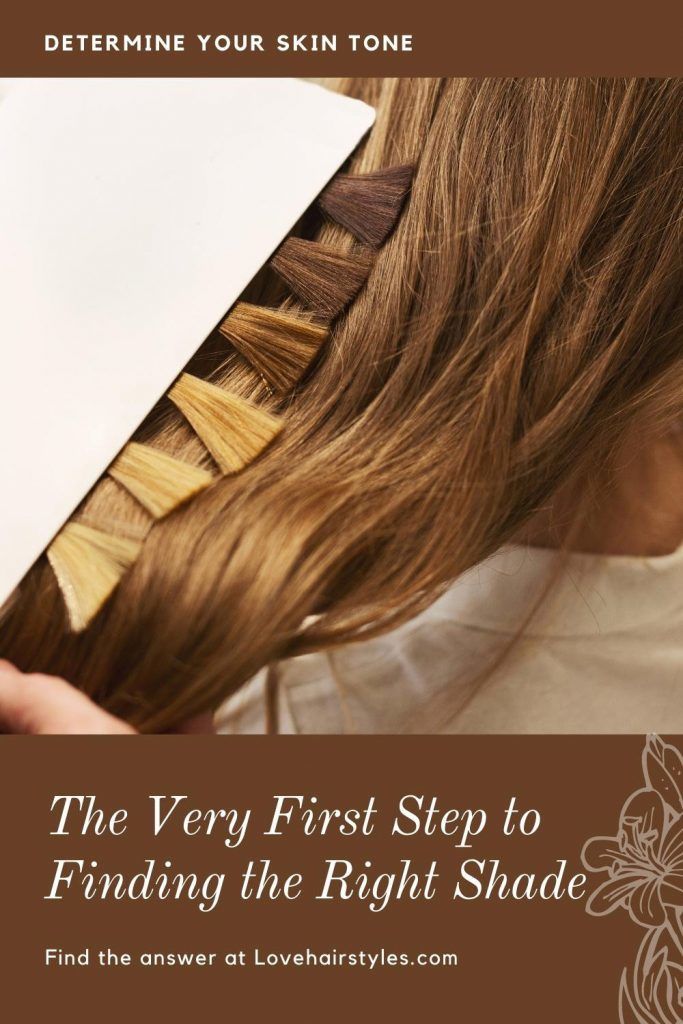 Credit photo: Shutterstock
Warm skin tones divide into two categories: fall and summer. Cool skin tones fall into two categories: winter and spring.
Warm skin tones: Fall
You have olive skin that tans easily
Your skin can be pale with an olive undertone and naturally glowy look
You have naturally dark brunette hair
Your eyes lean towards deeper colors such as golden brown, hazel green
Shades to get:
colors with reddish and orange undertones
Rich auburn
Caramel and coppery
Milk chocolate
Golden brown
Golden and honey blonde
Warm beige blonde
Shades to avoid
Colors with blue, green, and violet undertones
Ashy brown
Platinum blonde
Warm skin tones: Summer
You have a golden olive complexion that gets a bronze hue when it tans
You tan easily
Your eyes can be any color from hazel to bluish
Shades to get:
colors with a yellow or orange base
Golden blonde
Toffee and caramel
Champagne blonde
Honey and buttery platinum
Light caramel brown
Shades to avoid:
Ashy blonde and brunette
Colors with green and blue bases
Black
Cool skin tones: Winter
You have light, fair skin that doesn't tan easily
Your skin has pink undertones
You were born with dark hair color
The color of your eyes is blue, green, emerald green, dark brown
You have a contrast between your skin tone, eyes, and complexion
Shades to get:
colors with violet, blue, and violet-red base
Dark brown or black
Platinum and whitish blonde
Dark and violet shades if you want to bring out your eyes
Jet black
Shades to avoid:
Honey and caramel
Coppery
Golden blonde
Cool skin tones: Spring
You have fair skin with a yellow or pink undertone
You may have any eye color, but usually, it's something light like light brown, hazel, green or blue
You can tan, yet not as easily as a fall or summer
You probably were born with super blonde shade or dishwater shade
Shades to get:
colors with violet, green or brunette base
Icy blonde
Platinum blonde
Ashy blonde and brown
Shades to avoid:
Colors with orange or intense golden base
Golden brown
Honey blonde
Consider Your Budget: How Much Money and Time You Can Invest in Your Hair
Once you know what shades will work best for your complexion, you should decide whether you're ready for a commitment. Besides regular color maintenance sessions, you should stock up on good color-preserving and hair protective products that will keep you away from damage while preventing color fade, especially if you're going to bleach your locks.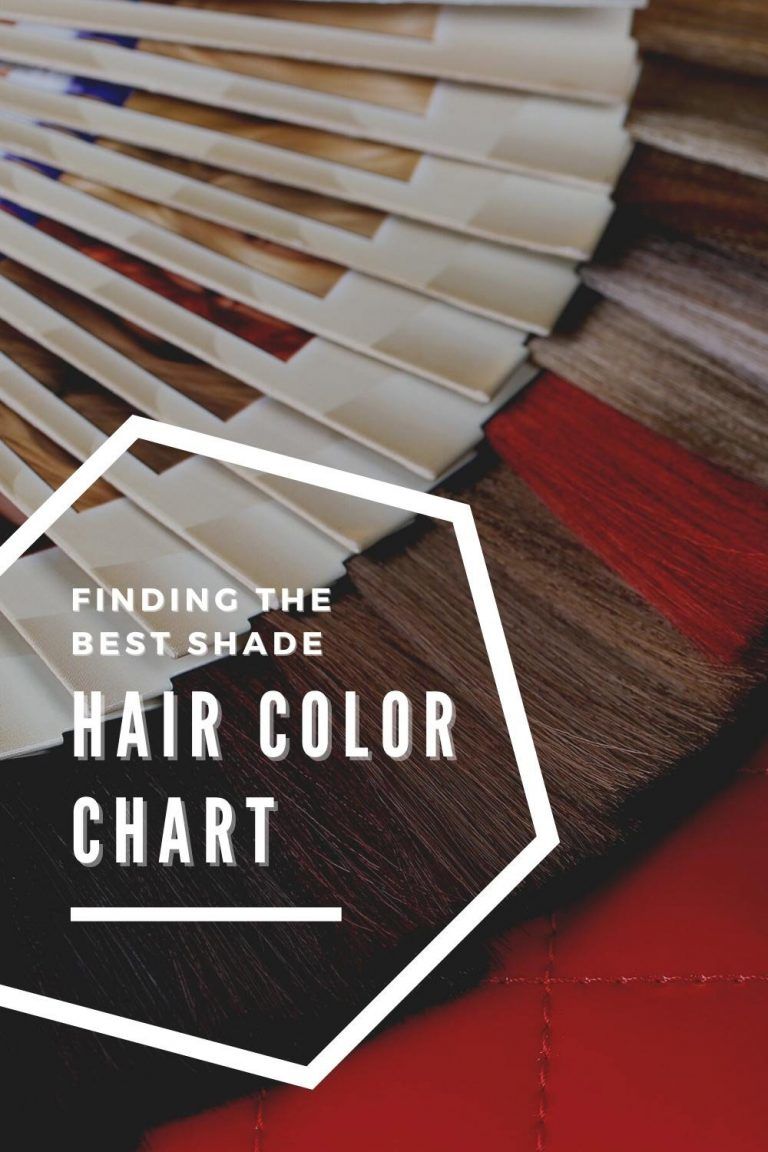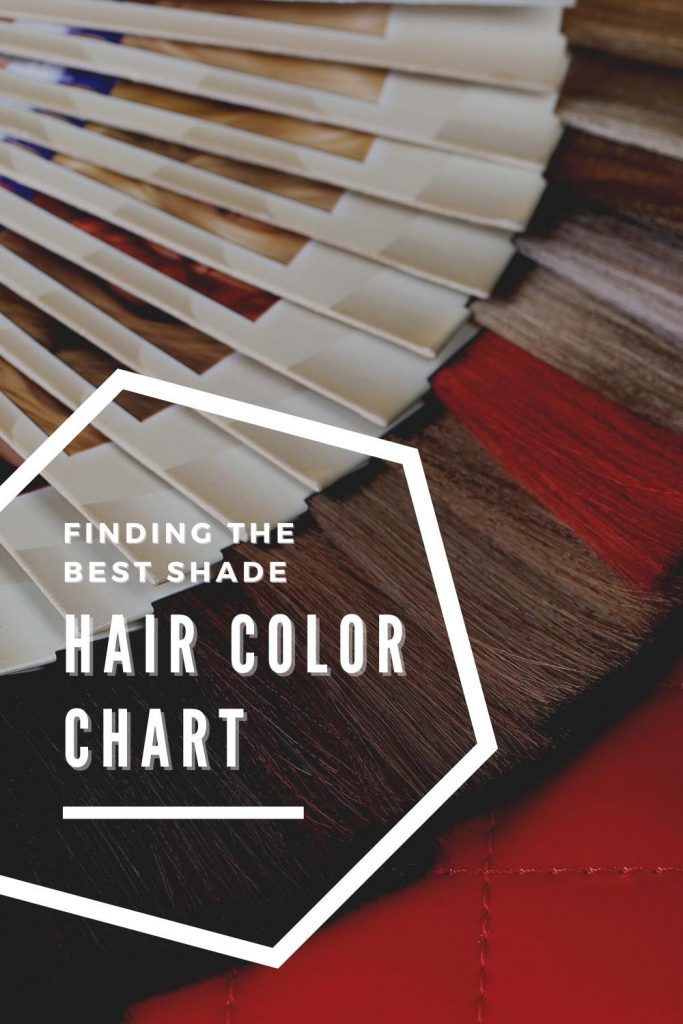 Credit photo: Shutterstock
Those who want their appointments to be more flexible can ask their stylists for ombre or highlights that don't hit the roots too drastically.
Natural or Drastic?
Another thing you should think of beforehand is the look you want to achieve. While some women desire to switch to another, yet still natural palette, others prefer to leave their colorists with a dramatic shade. Think of the character you want your look to express to make the choosing path shorter.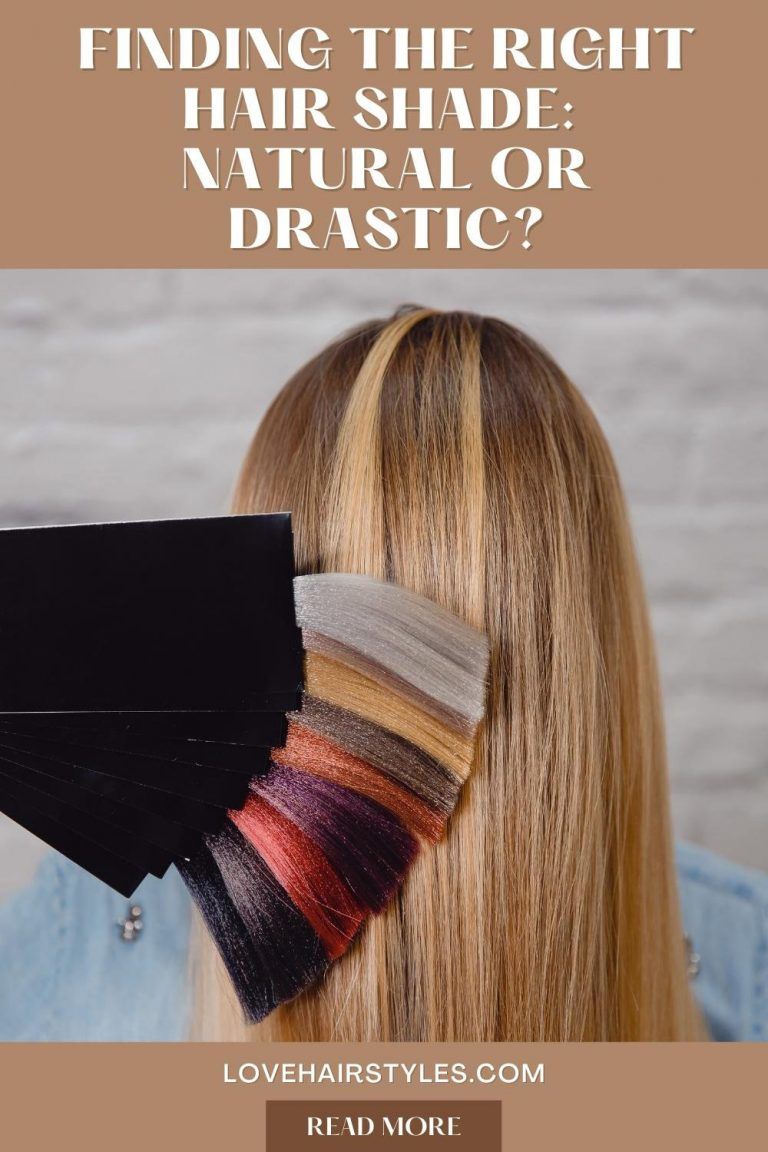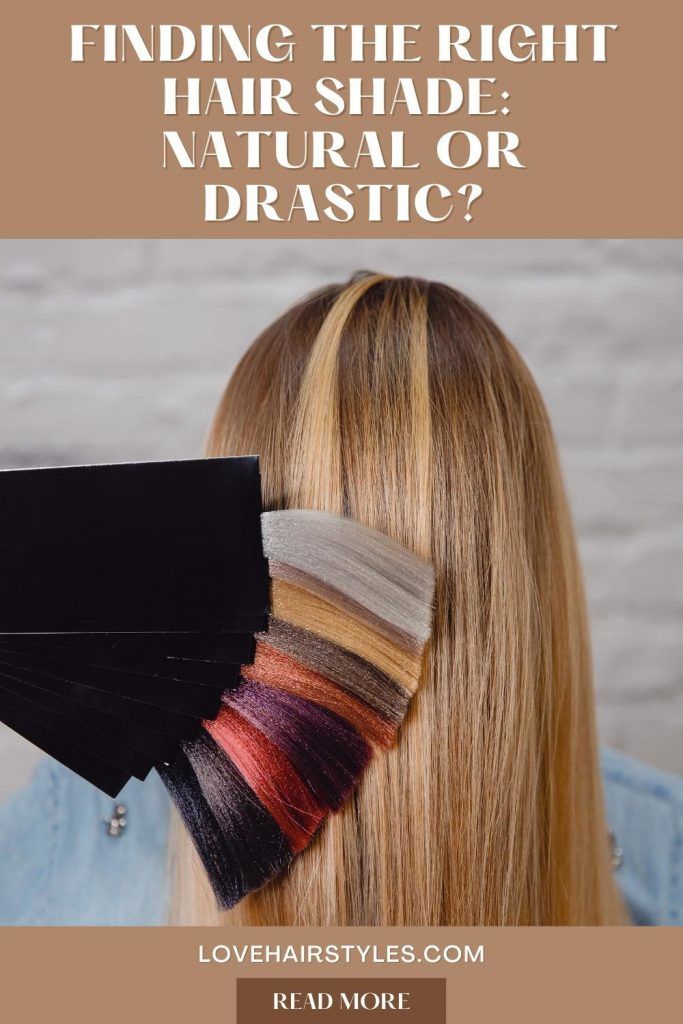 Credit photo: Shutterstock
You should keep in mind the state of your hair. If it's weak and brittle, drastic changes will only cause more damage
If your hair is damaged, consider stepping out of ideas that require bleaching
Note that natural hair colors are all about regular touchups and totally new hair care routine
Permanent or Temporary Color?
The last but surely not least thing to consider is how long you want your color changes to last.
You can try out a new color with the help of a temporary color product that goes away after the first wash
If you're not completely sure whether the chosen hair color will suit you and you want to give it some time, there are lots of semi-permanent options
Using Hair Color Wheel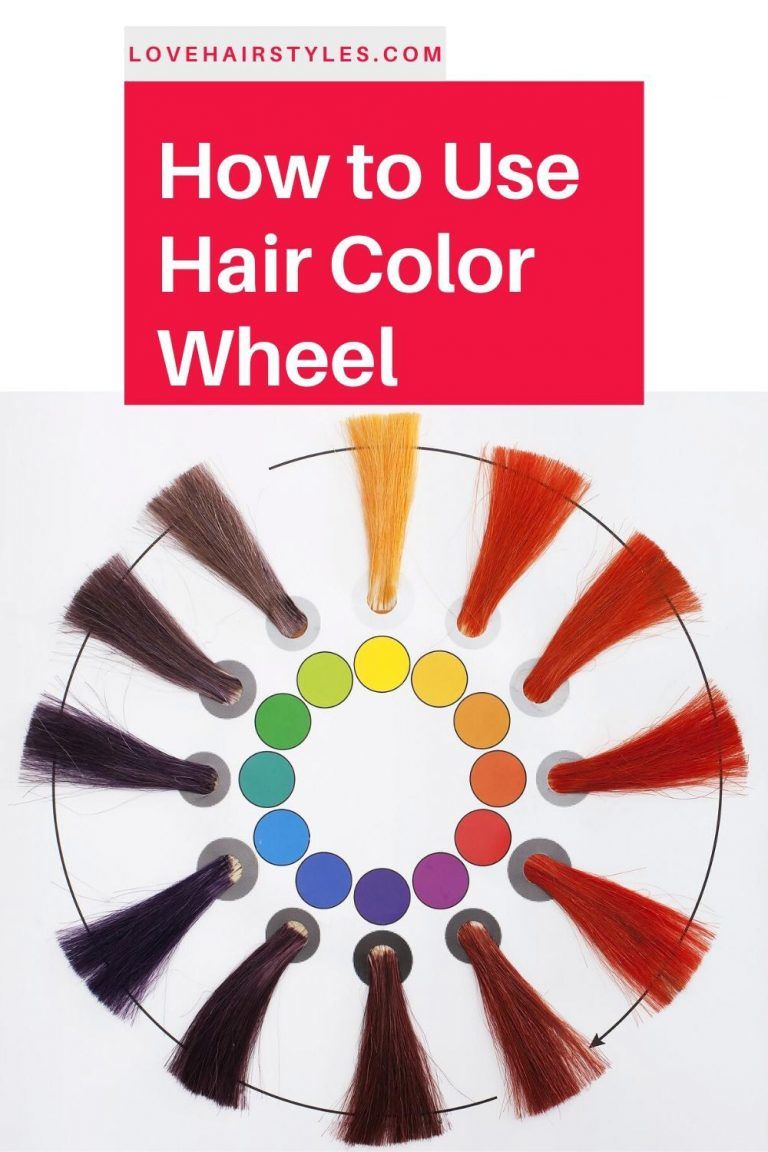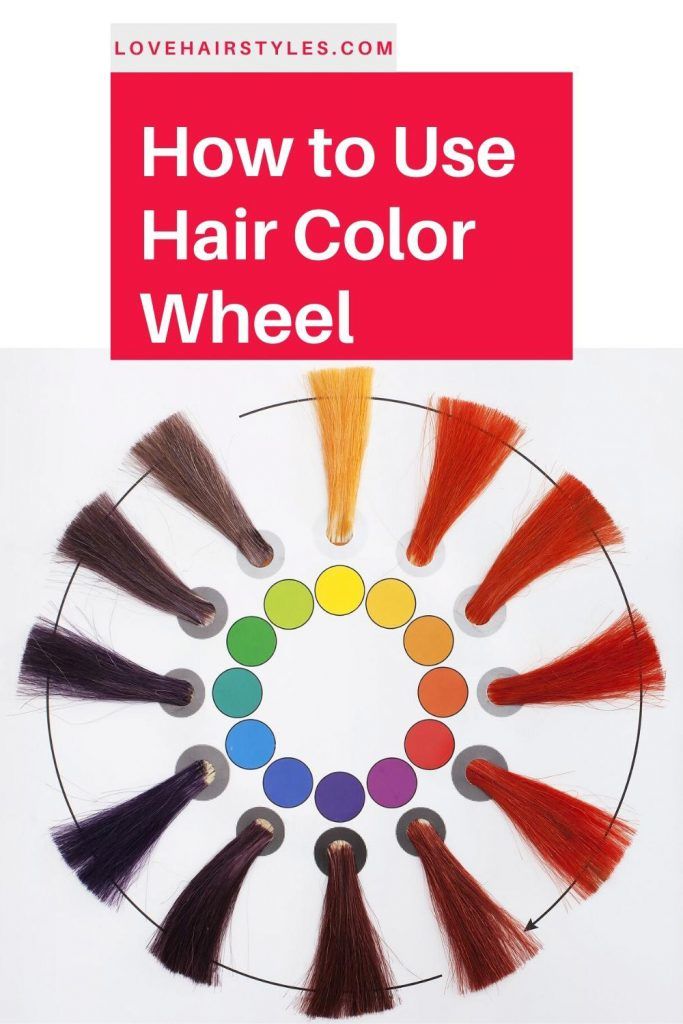 Credit photo: Shutterstock
No hair shade exists separately from the rest. All the colors are interconnected with one another. The better you understand their relations, the easier it will be to come up with the hair hue that fits your tastes and preferences. You should also know that some colors have the power to neutralize one another.
How do you use the color wheel to match your hair color?
It may be a bit confusing as to what you should do when you are looking at the color palette with all the bright tones depicted. However, before you move on to those vibrant neutralizers, you should find your level. Depending upon the current shade level, you will find the fittest color to even it out.
To bring the matter closer to you, let's discuss a simple example. You have grey roots, and the rest of the mane is washed-out brown. You have two options to choose from. You can either match the lighter tone or deepen it. In either case, you have to determine the underlying pigment. Should you decide to cover the grey base, you need to apply a neutral base.
How do you use the color wheel for neutralization?
To find the neutralizing shade, all it takes is to look at the opposite side of the wheel. For instance, purple pigments are excellent at neutralizing yellow tones, and blue-based tints will deal with brassy orange the best.
Should you aim at the opposite shade on the color wheel in all cases?
Yes, that is correct. Keep in mind that:
Purple fights off yellow.

Blue deals well with orange hues.

Green cancels red out.
How Do I Choose Hair Color: FAQ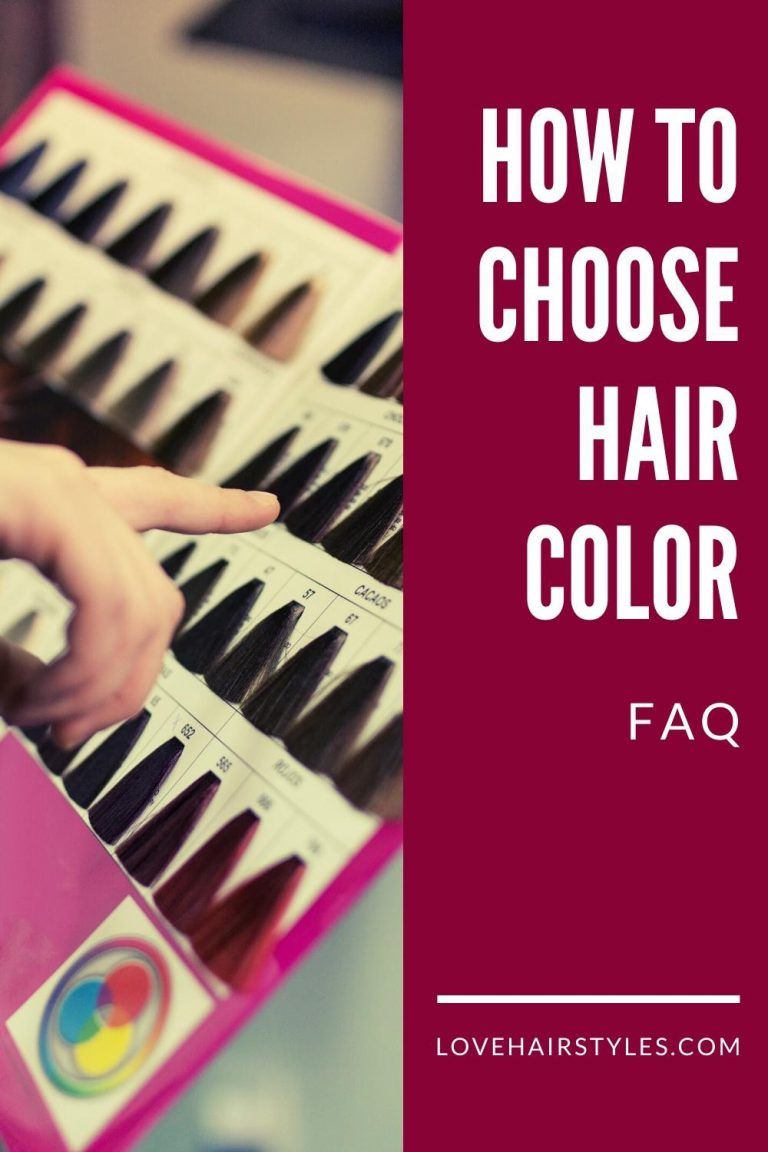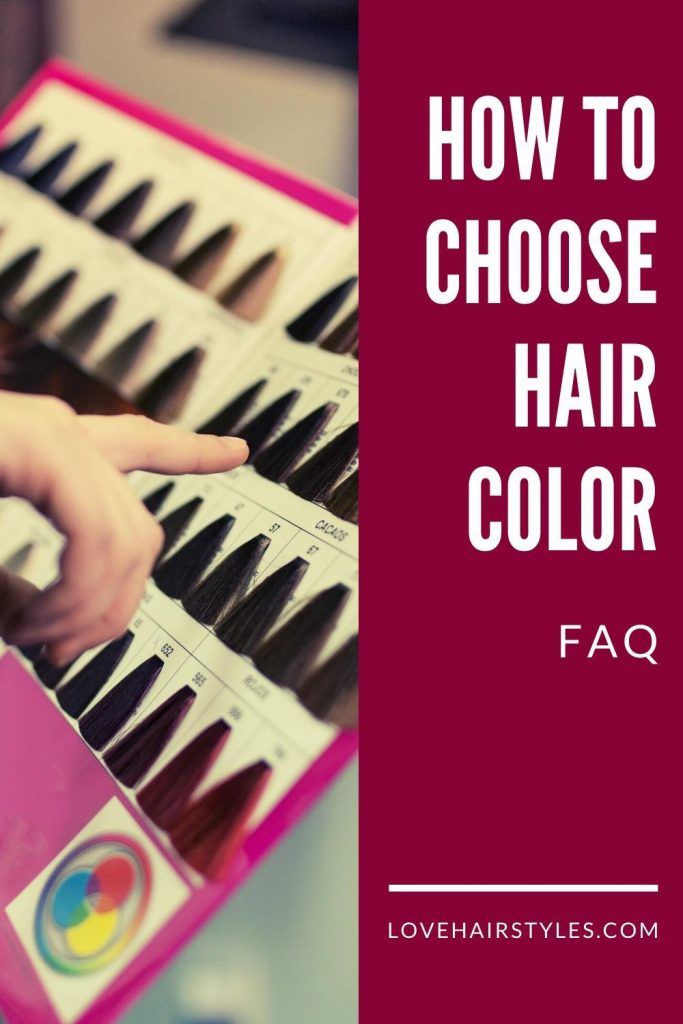 Credit photo: Shutterstock
The right approach to picking a new shade may lead to lots of questions. So before taking you to the world of color inspiration, let us make it all clear by answering FAQs and summing up the musts-to-know!
Question #1. Should I Go Darker or Lighter?
If you want to freshen things up while staying on the same color palette, look at your skin tone first. If you have a fair complexion, light eyes, and naturally blonde color, you can bring out these features by going lighter. As for girls with naturally dark hair colors and fair to medium complexions, going darker will enhance the depth of your color.
Question #2. Which Hair Color Is Best for Black Hair?
Most women who were born with naturally black hair have warm, medium-to-dark complexions with olive undertones. Keeping in mind such skin tones, summer shades like toffee, honey blonde, and caramel will be great picks for you.
Question #3. What Hair Color Is The Best for Me?
First of all, you need to determine whether you have a warm or cool skin tone. For warm complexions, rich auburn, golden honey, milk chocolate, caramel brown, and chocolate blonde will work ravishingly. For cool tones, choose something from icy blonde, jet black, ashy brown, and ashy blonde.
Question #4. What hair color looks good with brown eyes?
If you have a light skin tone and dark brown eyes, look for platinum blonde, ashy blonde or brunette, violet, and jet black shades. And if your complexion is pretty warm while having brown eyes, it's better to go for toffee, champagne blonde, and caramel shades.
Question #5. Does Going Blonde Ruin Your Hair?
When going blonde, bleach strips the pigment from your hair, thus causing damage and dryness.
Question #6. Is Black Dye Bad for Your Hair?
While every dye leads to a damaging chemical process, black dyes are most damaging due to the intensity of the pigment involved. If you want to get this color, think twice, as getting back is a long and tedious job that requires a professional.
Question #7. Does Jet Black Hair Make You Look Older?
If you pull it off the wrong way, yes. On light skin, such a contrastive shade emphasizes wrinkles and creases, making skin look older. Modern colorists advise women over 30 to go lighter than their natural shades to keep up with a youthful look.
Blonde Hair
Blonde hair color, whatever shade it is, is the color that has always been and will always be around. Every day, every person comes across lots of light-headed ladies, and it doesn't matter if they're natural blondes or they're blondes at heart who managed to dye their locks. The point is that this color is the never-ending classic for ladies with light, fair, and medium skin tones; and that's why we want to start from it. Whether you're a natural blondie who wants to freshen up her color or you are new to this color, welcome to the blonde chart!
Mind-Blowing Platinum Blonde Hair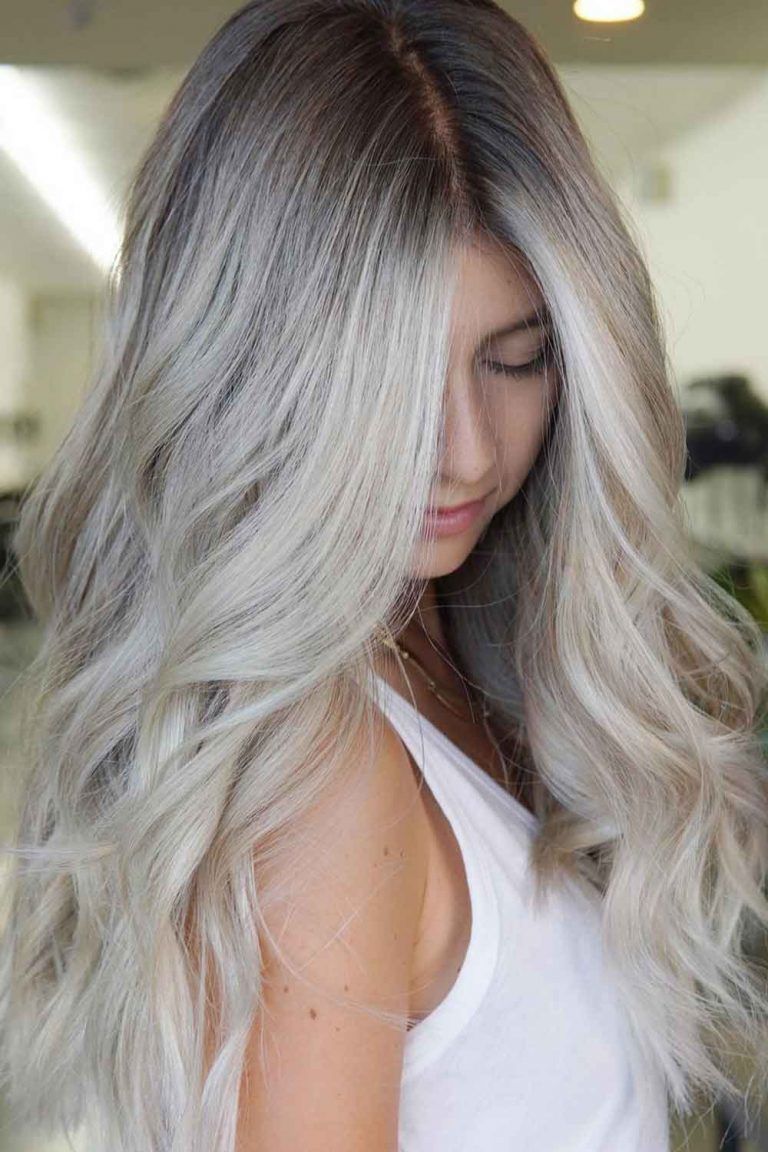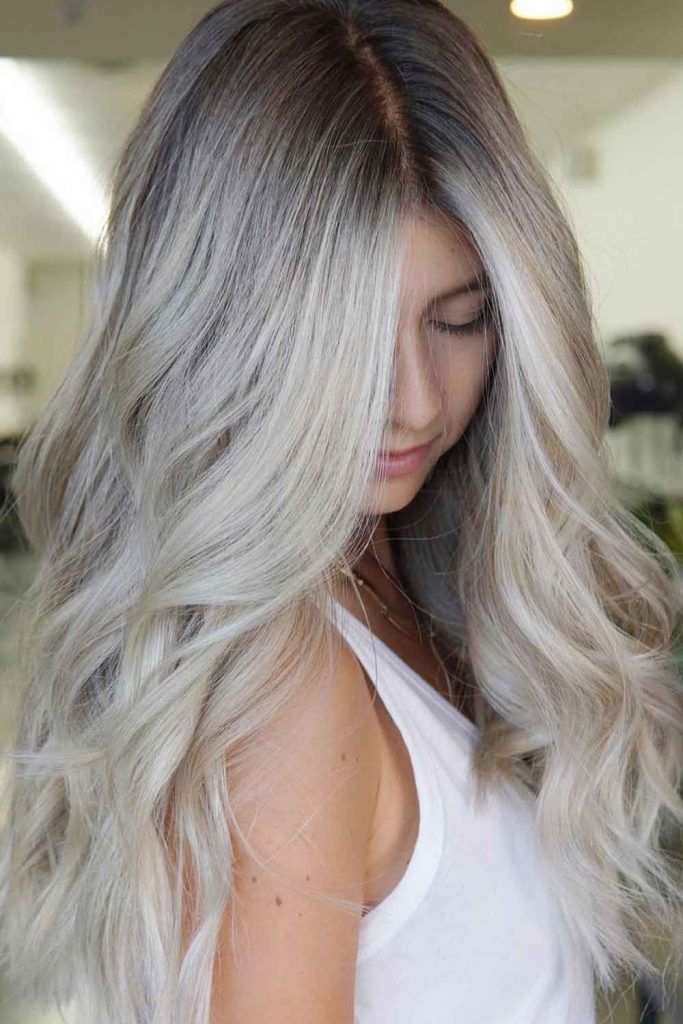 Credit photo: instagram.com/frances_hairartist
Platinum blonde shade is the trend that has literally blown people minds! No wonder that many girls all over the world felt proud of their light complexions and pale eye colors, as this shade works well only for such skin tones. It's become so viral not for nothing: it's cold and shiny at the same time, so those who pull it off won't look paler; they will look harmonically.
Cool And Chic Light Ash Blonde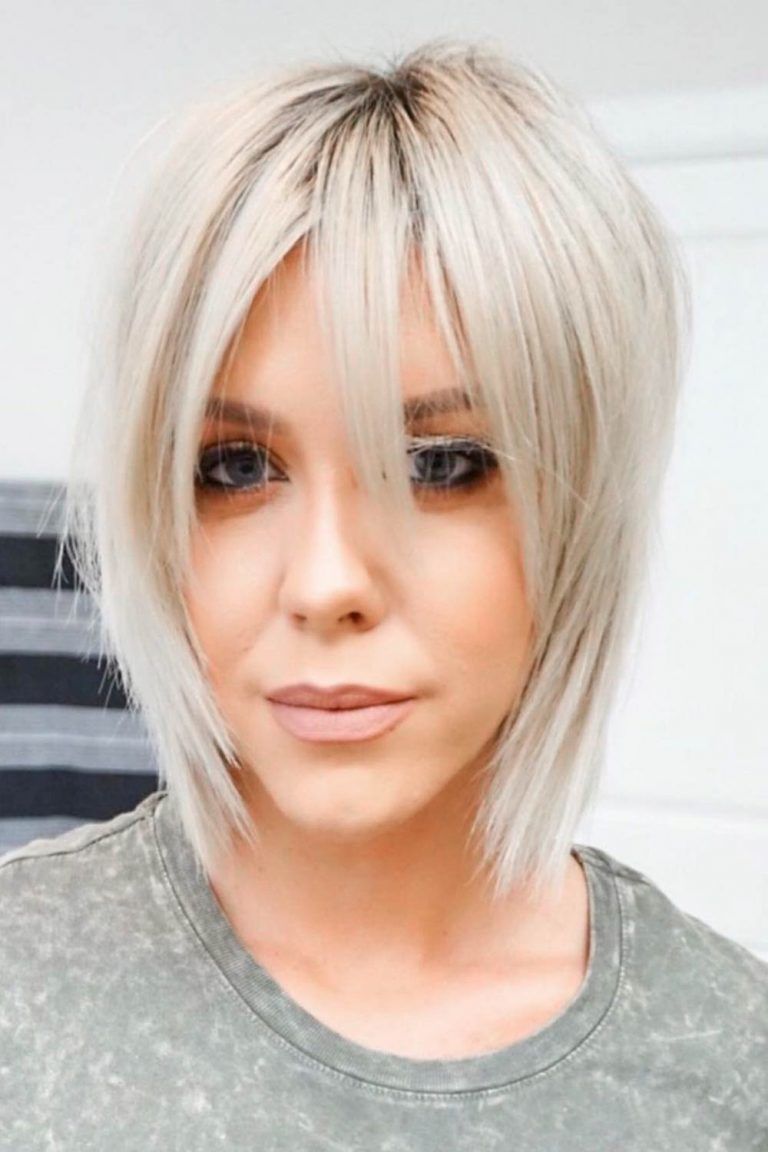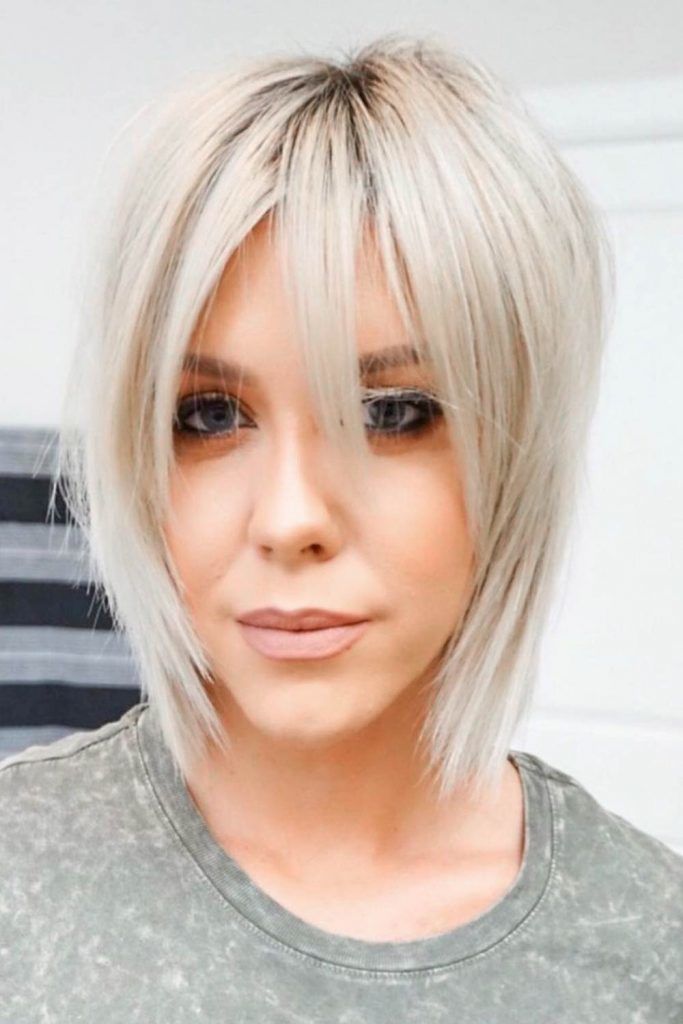 Credit photo: instagram.com/chrisjones_hair
Light ash blonde shade also stands among cool-toned shades. There are plenty of reasons to go for it, and one of them is its play of colors. It's a blonde base that has a bluish tint which you can see when light reaches your hair. If you want to opt for an all-over coloring, leave the roots darker for more dimension.
Sweet Honey Blonde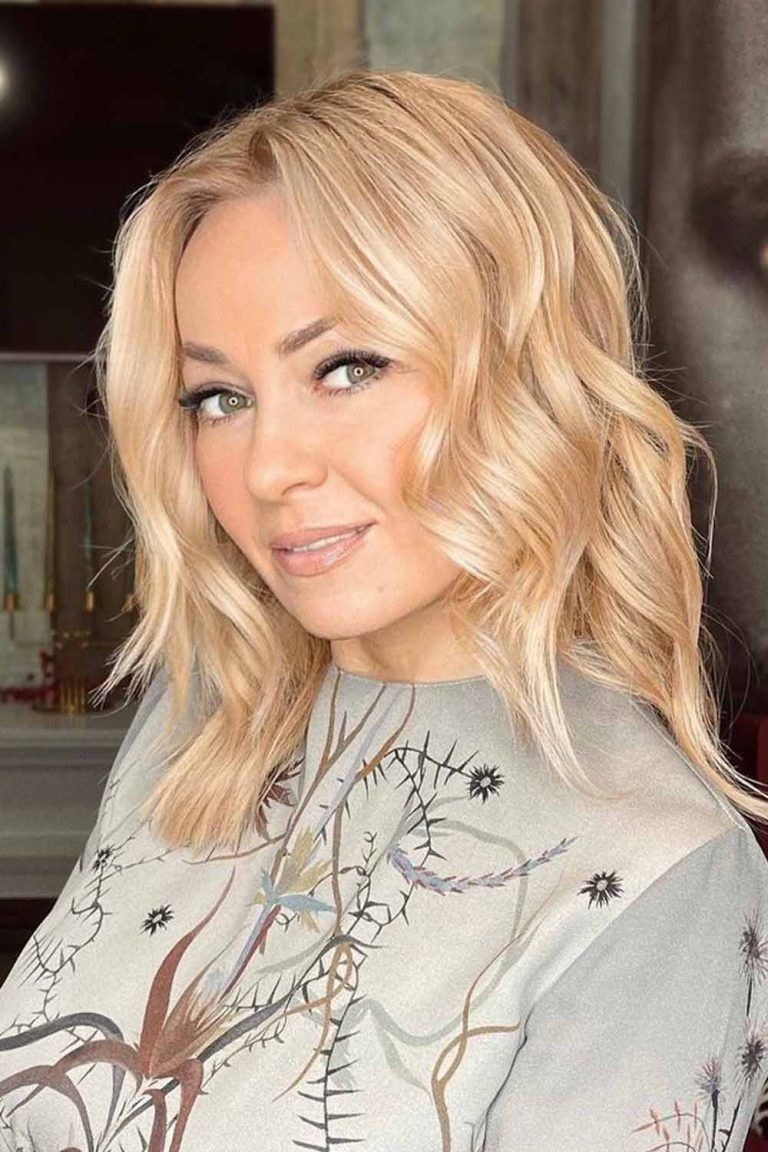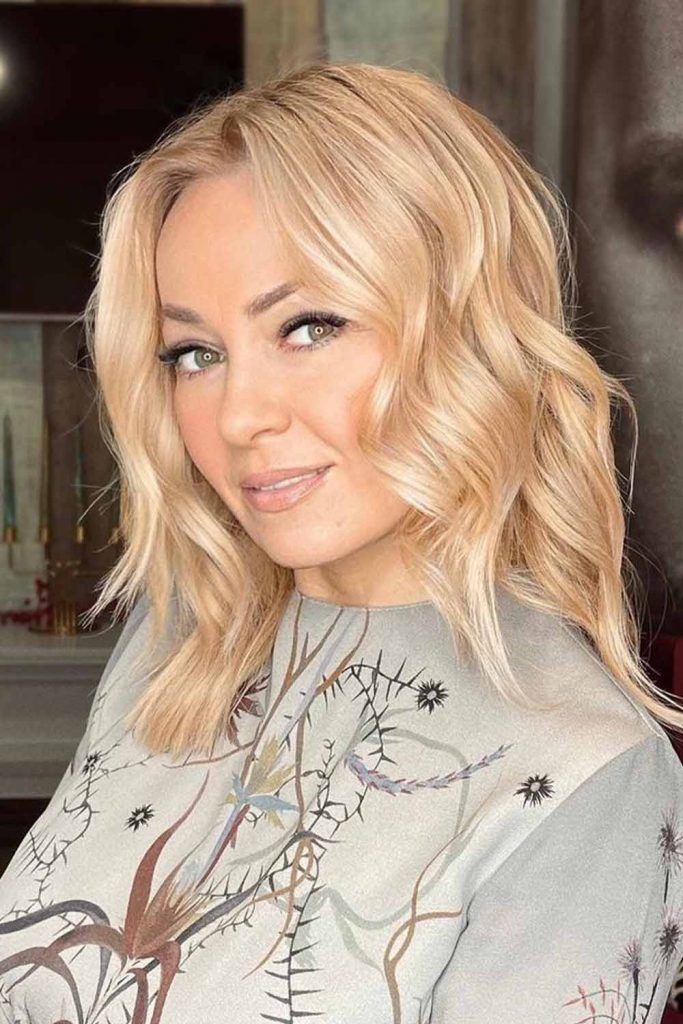 Credit photo: instagram.com/sheffpavelstylist
Now, let's move to the warm side of the blonde hair color chart. Honey blonde, or the sweetness that you can bring to your life without a fear of weight gain, is a bit warmer and shinier than the natural blonde. This color reveals its beauty best on medium skin tones, enhancing the charm of green or hazel eyes.
Rich And Elegant Golden Blonde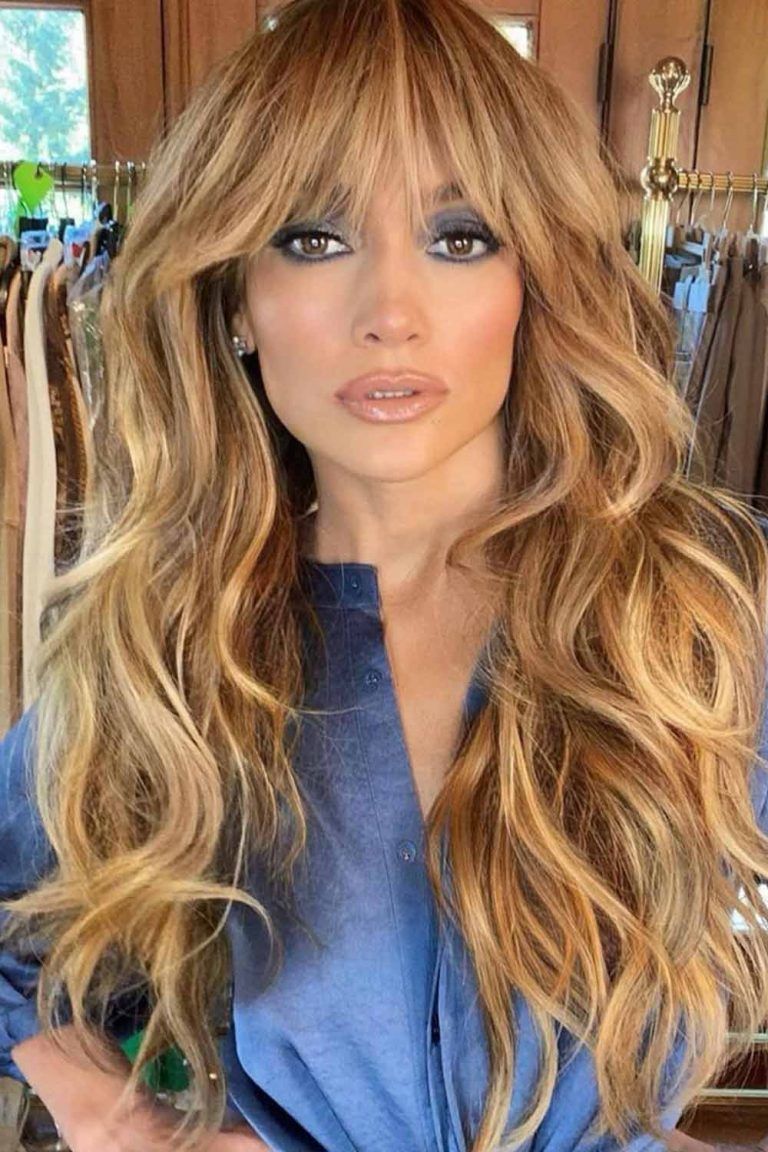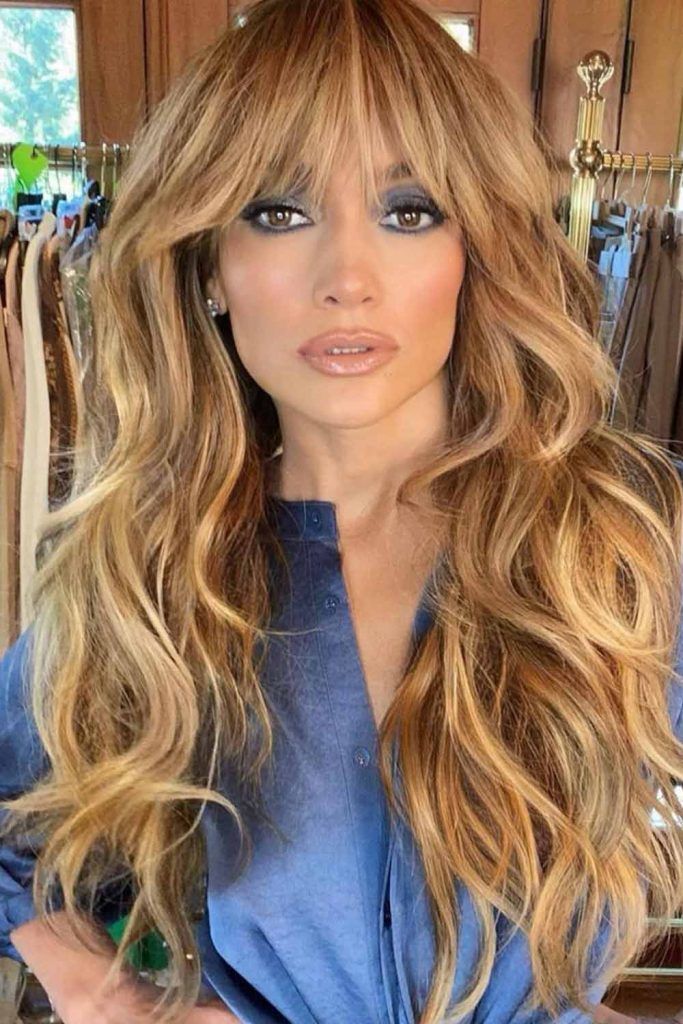 Credit photo: instagram.com/sheffpavelstylist
Golden blonde hair color is also warm enough, but it's completely different from the honey blonde. This shade is lighter, and the variety of its hues involves yellowish or golden tints. It will also suit any girl with a light complexion, but those who flaunt with very pale skin should opt for light golden blonde so as not to look bleak.
Stylishly Neutral Beige Blonde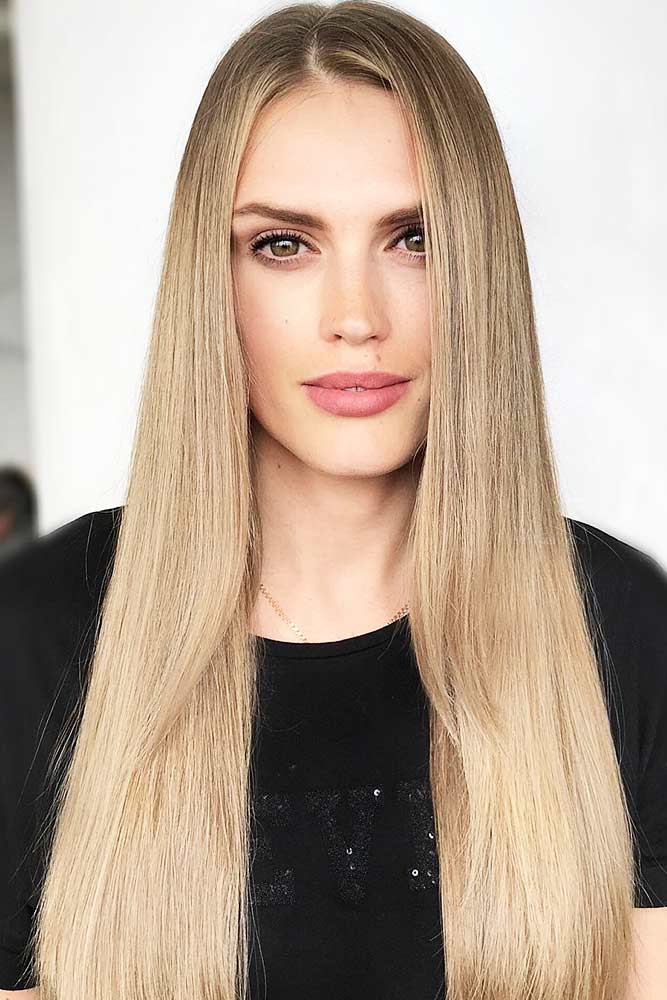 Credit photo: instagram.com/sheffpavelstylist
When it comes to coloring your hair in beige blonde, choosing the right shade is as crucial as picking the right nude lipstick. First of all, keep in mind that it's a neutral hair color, and even if you slightly go away from the color balance between your complexion and beige shade, it can be a disaster. Since it's a dark base with lighter highlights, it looks fantastic on medium skin tones. If your initial color is dark, consider having an ashy tint over your beige.
Multidimensional Dirty Blonde Hair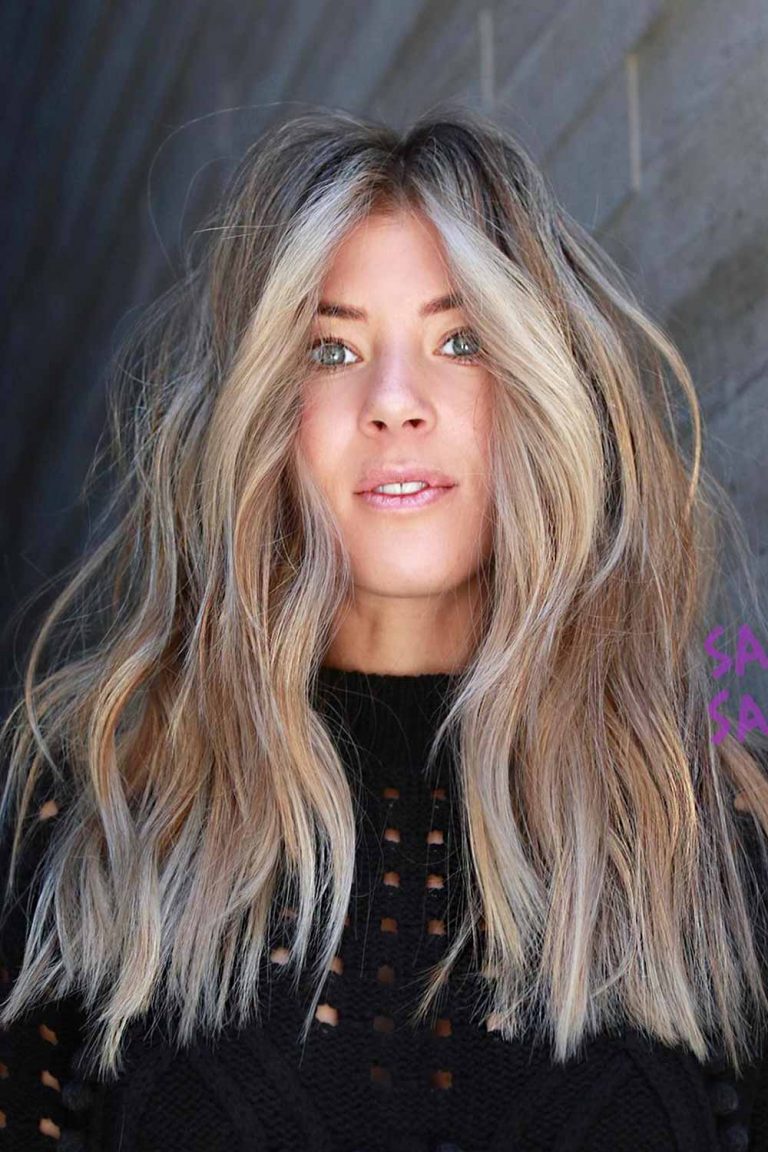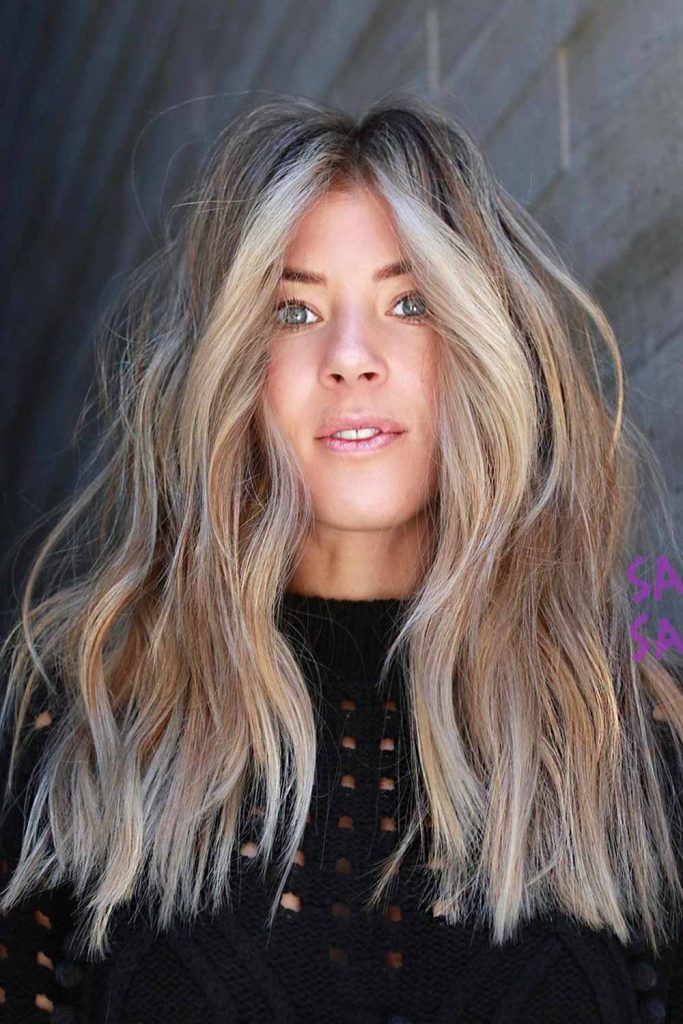 Credit photo: instagram.com/salsalhair
Here comes the last trend of blond hair color chart: the popular dirty blonde that is known for its dimension of colors. This shade is a stunning mixture of wheat, wet sand, and light blonde vibes. It embraces some contrastive colors, so it's better to achieve it with soft balayage highlights. Usually, the darker hues of this color prevail, which makes it the best shade for medium skin tones.
Icy Vanilla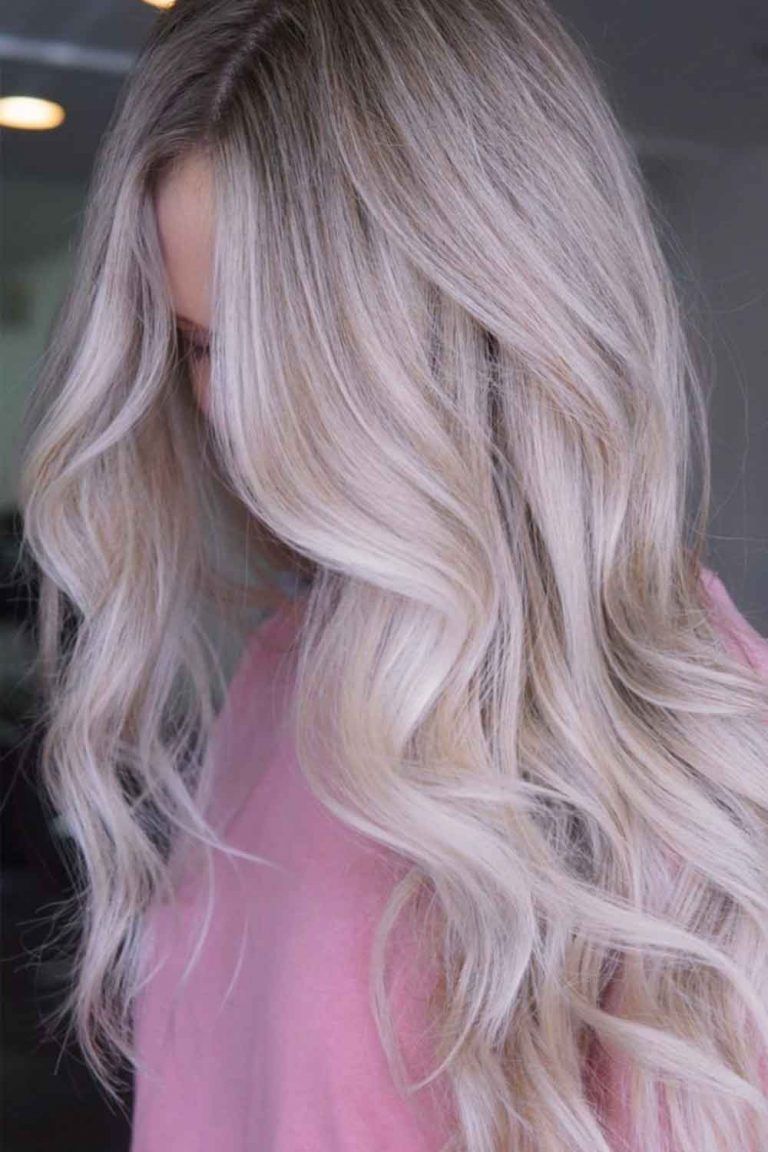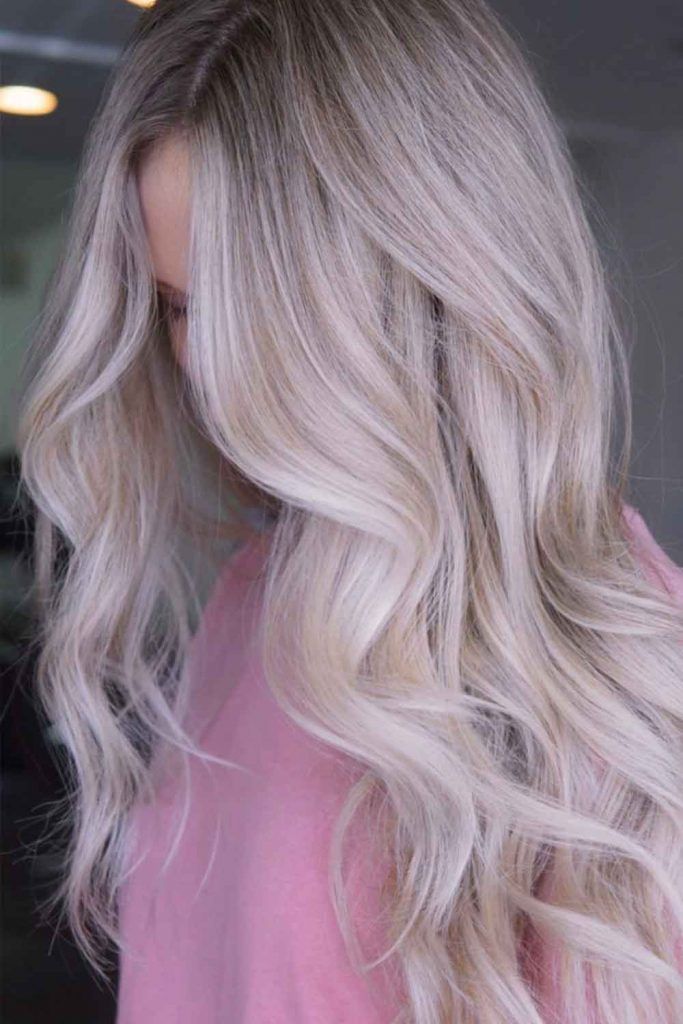 Credit photo: instagram.com/frances_hairartist
As the name of this coolish light masterpiece suggests, it's meant to adjust the temperature of your look to the lowest setting. Needless to say, the combination of pale platinum and whitish shades of blonde are nothing but the best match to pale complexions. And do you know how it works? Since the main tone is very cold, cool skin tones appear warmer with them, which is a win for pale queens who'd like to have a little blush.
Natural Blonde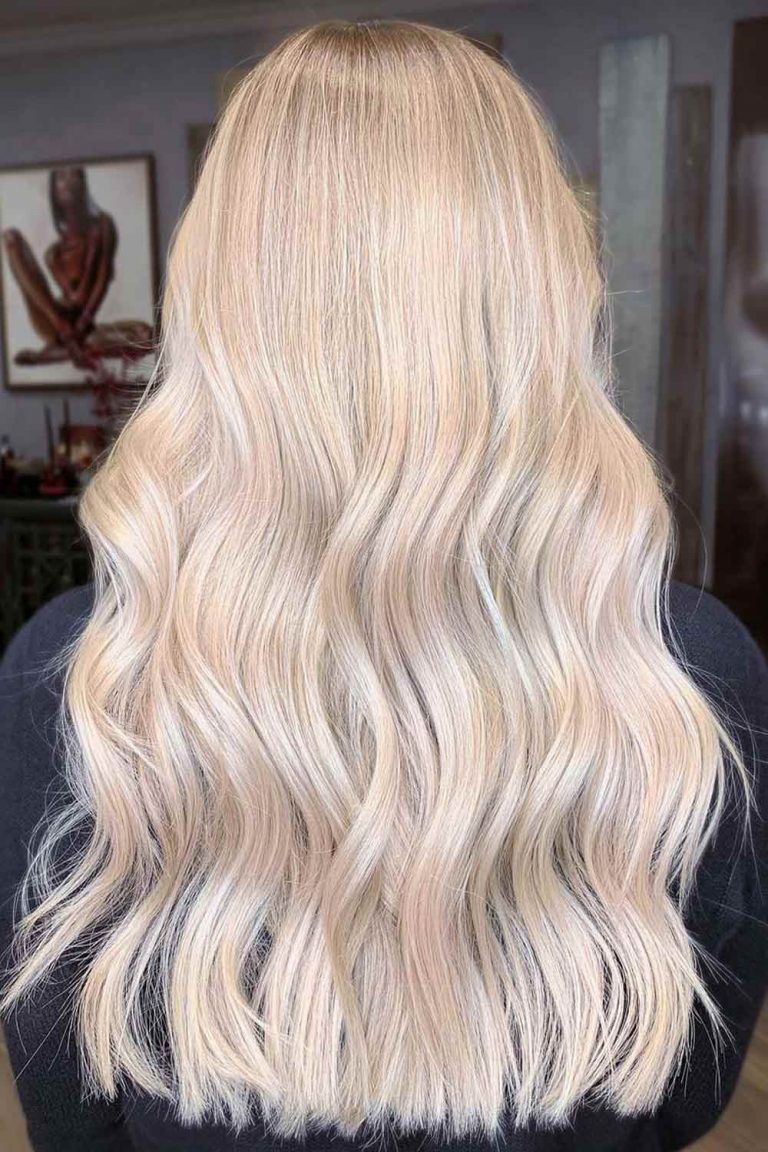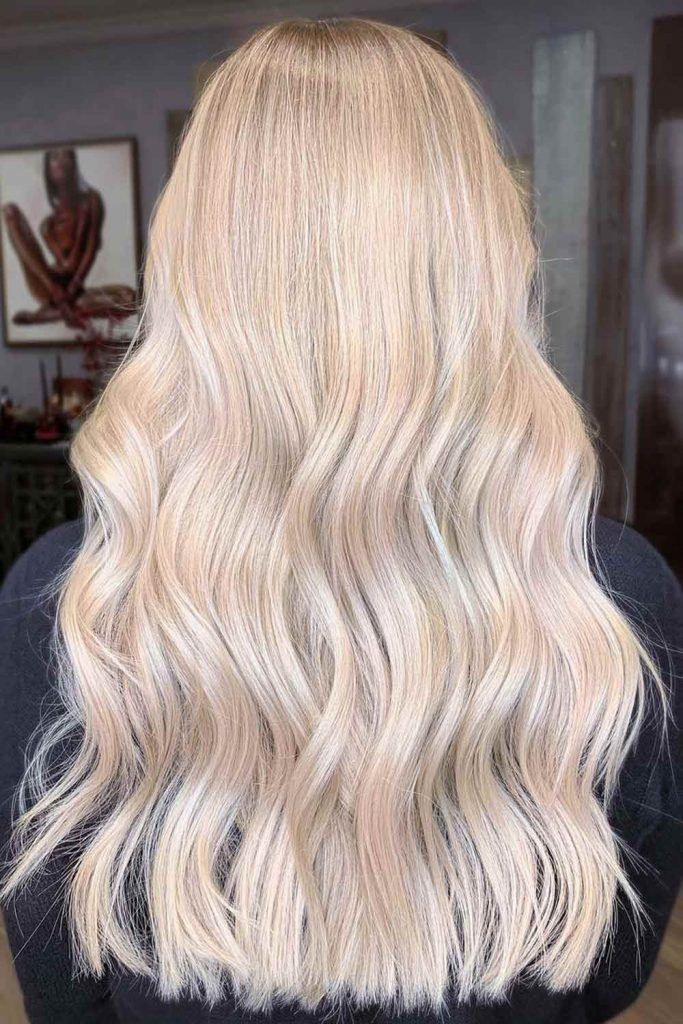 Credit photo: instagram.com/sheffpavelstylist
Though natural blonde speaks for itself, many ladies tend to define it as the purest shade of blonde. In case you're one of them, let us dispel this myth for you. In fact, natural blonde hair color is a mixture of various blonde shades. It may embrace soft caramel, neutral, and ashy hues melting together. Also, natural blonde is never the same, and it's actually possible to achieve it with a color job. This idea, for example, consists of a light caramel base and muted platinum undertone. As a result, it fits both warm and light complexions. Yes, blonde hair color chart is impressive.
Latte Blonde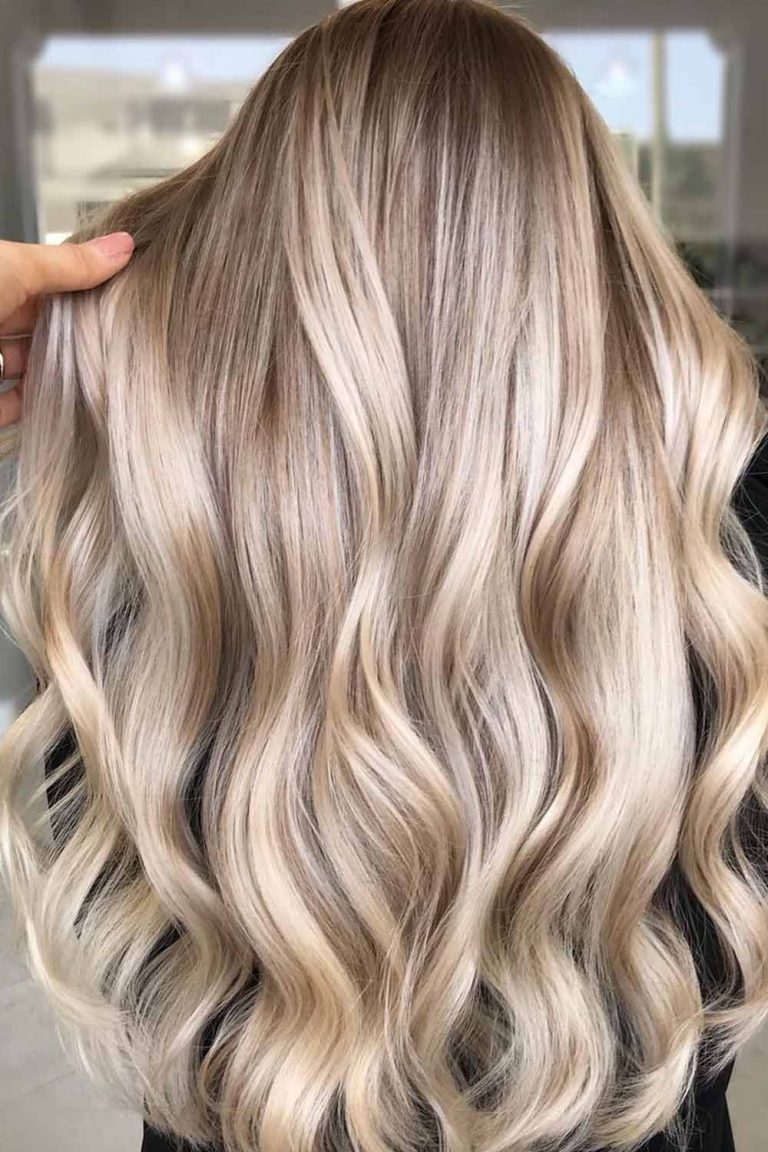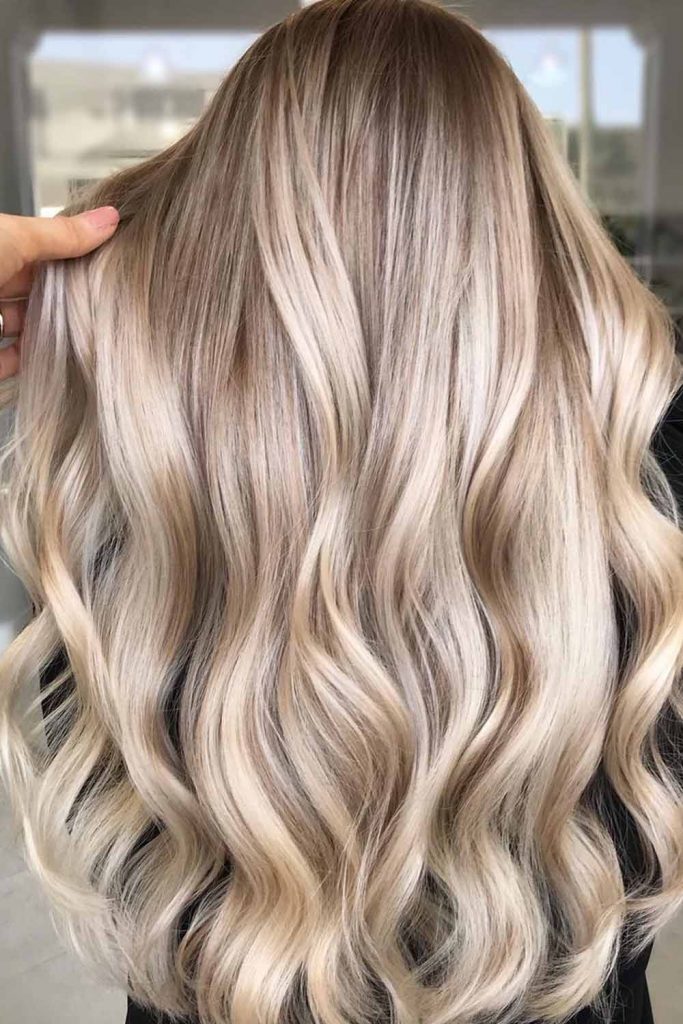 Credit photo: instagram.com/suetyrrellstylist
More milk, less coffee, please! Latte blonde seems to be the perfect compromise for those who are stuck between brunette and blonde sides. The roots are responsible for the light coffee scent, while beige blonde gives a soft, foamy appearance. Together, they will work as a tasteful dose of caffeine that will energize your every hairstyle.
Red Hair
Every woman knows that each shade of red hair color chart is to die for. It's no secret that we can't help ourselves and get envy when a pale lady with red hair passes by. And we all know that it's quite a rare thing to meet a natural redhead, which makes this color even more desirable. Taking into account all these facts, we can't leave you without the most beautiful red hair shades. Girls with light to medium skin tones, here are some more head-turning ideas!
Gentle Light Auburn Hair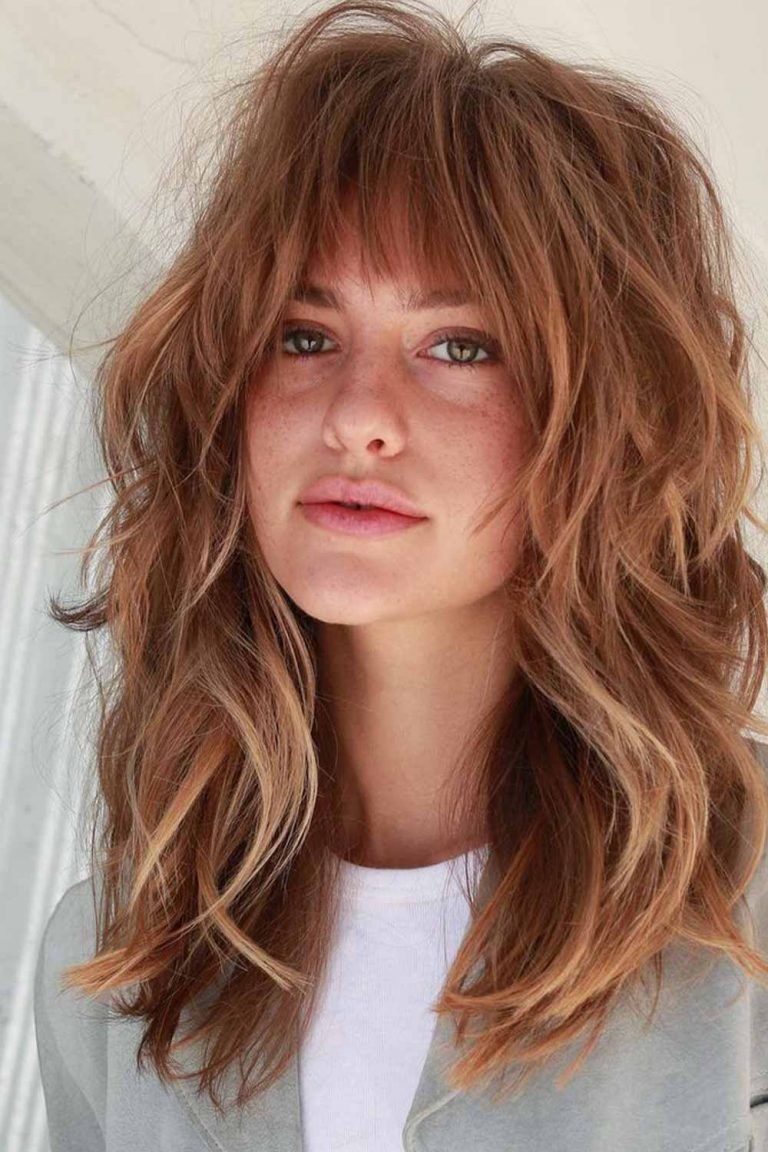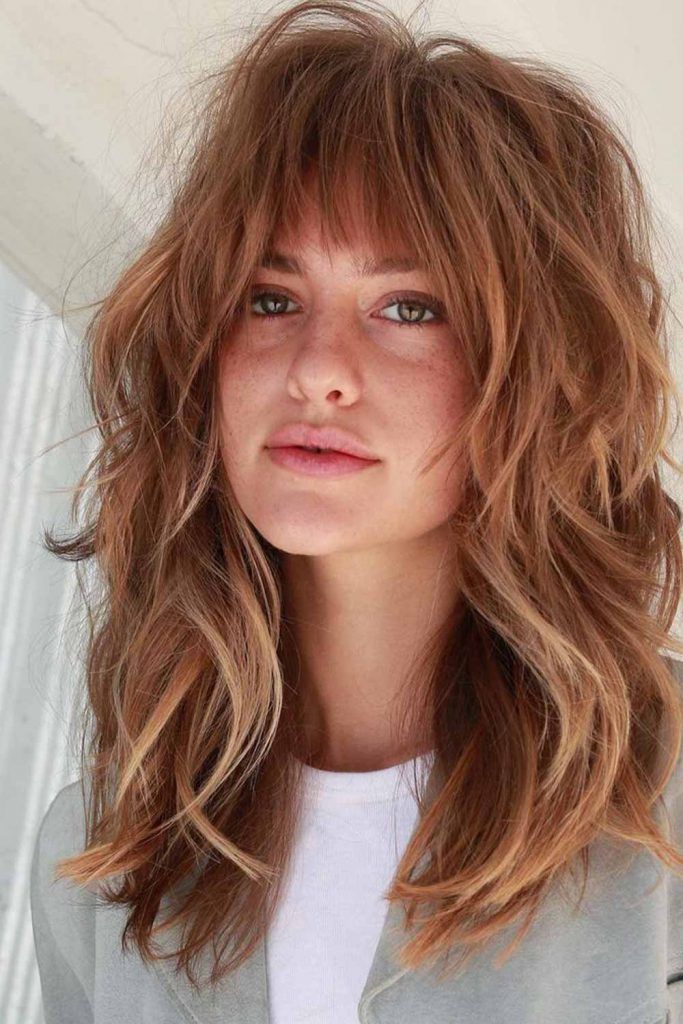 Credit photo: instagram.com/salsalhair
Light auburn hair color is a perfect step towards red hair world for those who have naturally brown hair. This shade of red blends light golden, reddish, and soft brown hues, so starting with your brown base will be an excellent idea. It's not drastic, yet the red undertones are always in the spotlight, so you can stay loyal to your color with a touch of an experiment.
Seductive Auburn Hair Color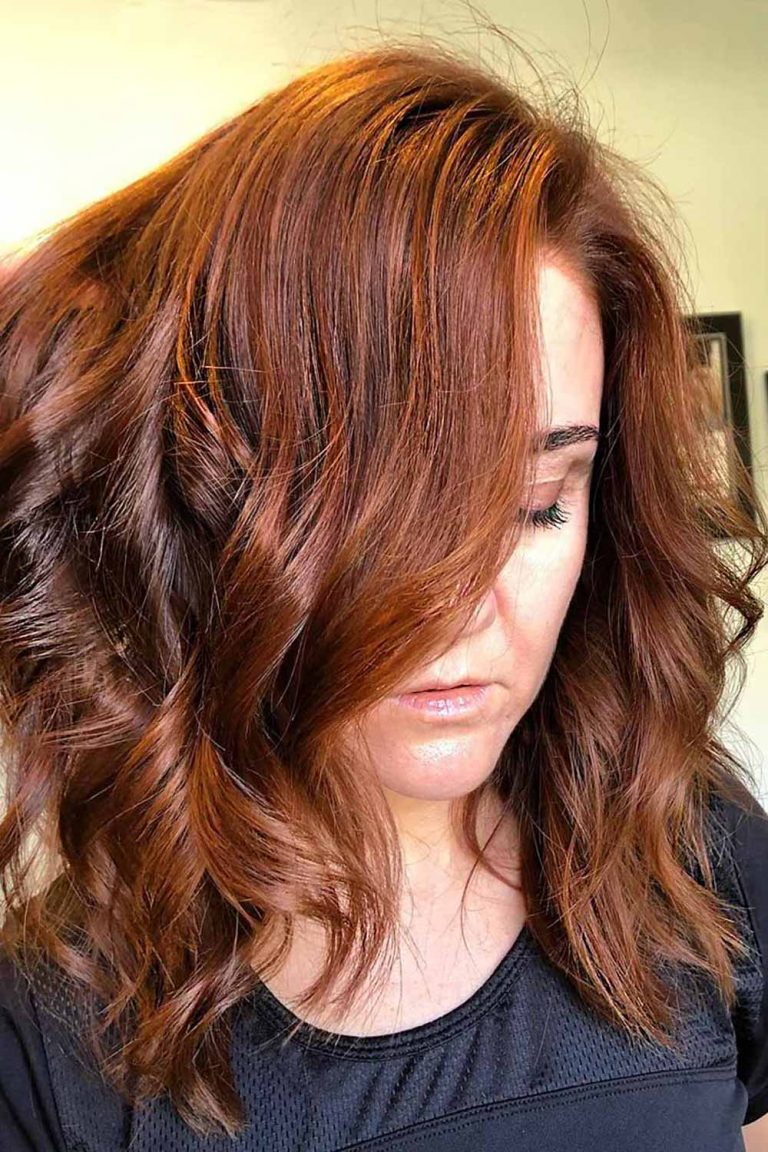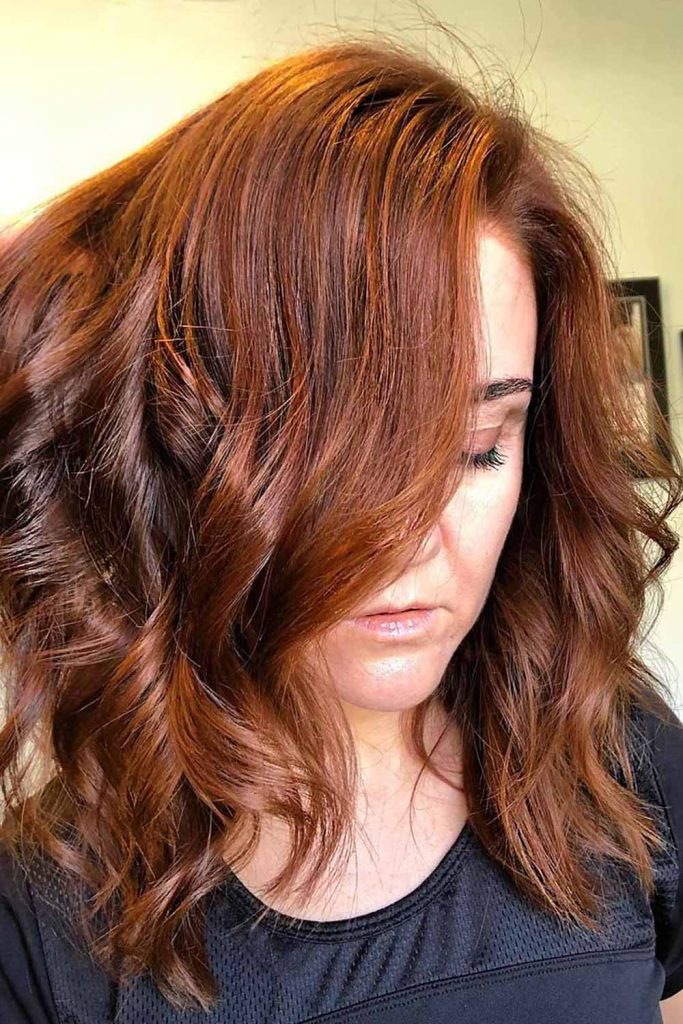 Credit photo: instagram.com/irinabilka_hairandmakeup
Indecisive ladies who dream of pulling off red colors but can't leave their brown comfort zone will love this auburn hair color. Mainly because this shade is a love child of the brownish base and vibrant warm red tint that gives very effortless looks for those who sport it. Also, this color looks ravishing on both pale and medium complexions, so girls with fair skin and light eyes can give it a try.
Sophisticated Dark Auburn Hair Color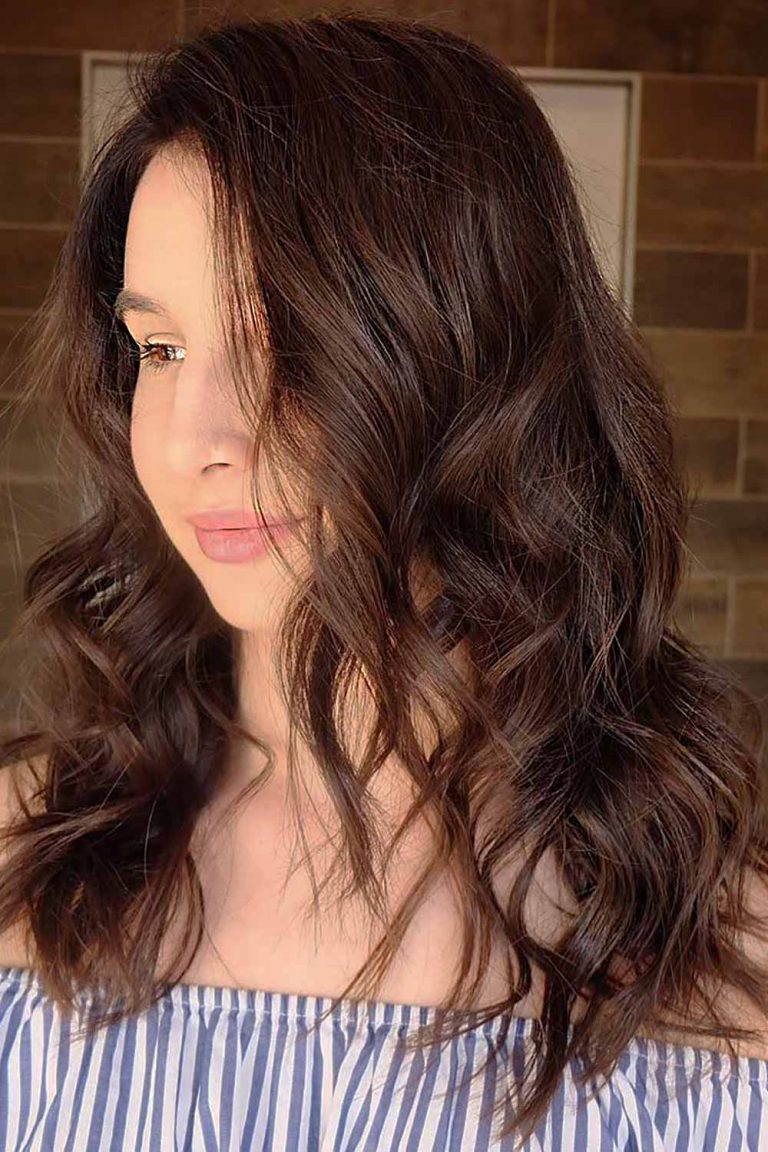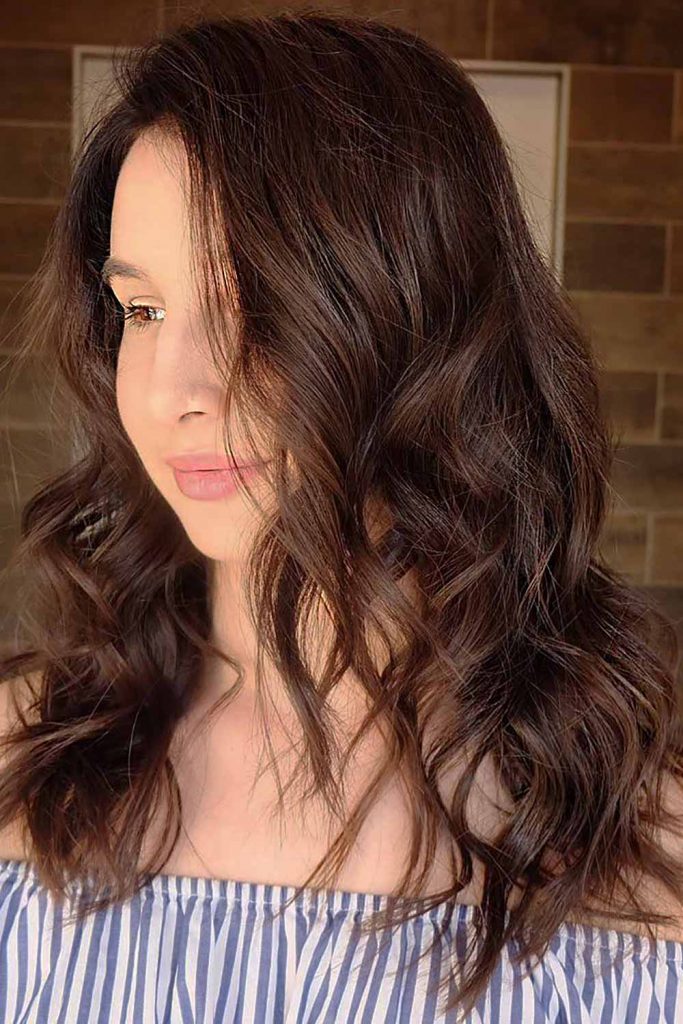 Credit photo: instagram.com/irinabilka_hairandmakeup
If you wonder what color you can achieve by mixing deep red color with golden hues and luxurious brown hair with warm chestnut tint, dark auburn hair color will show you. As you can see, it's a mix of very sophisticated and lush colors, so that's definitely not an at-home hair color. The best thing is, it can flatter girls with warm or peachy complexions, perfectly matching green, blue, and hazel eyes.
Tasteful Light Copper Hair Color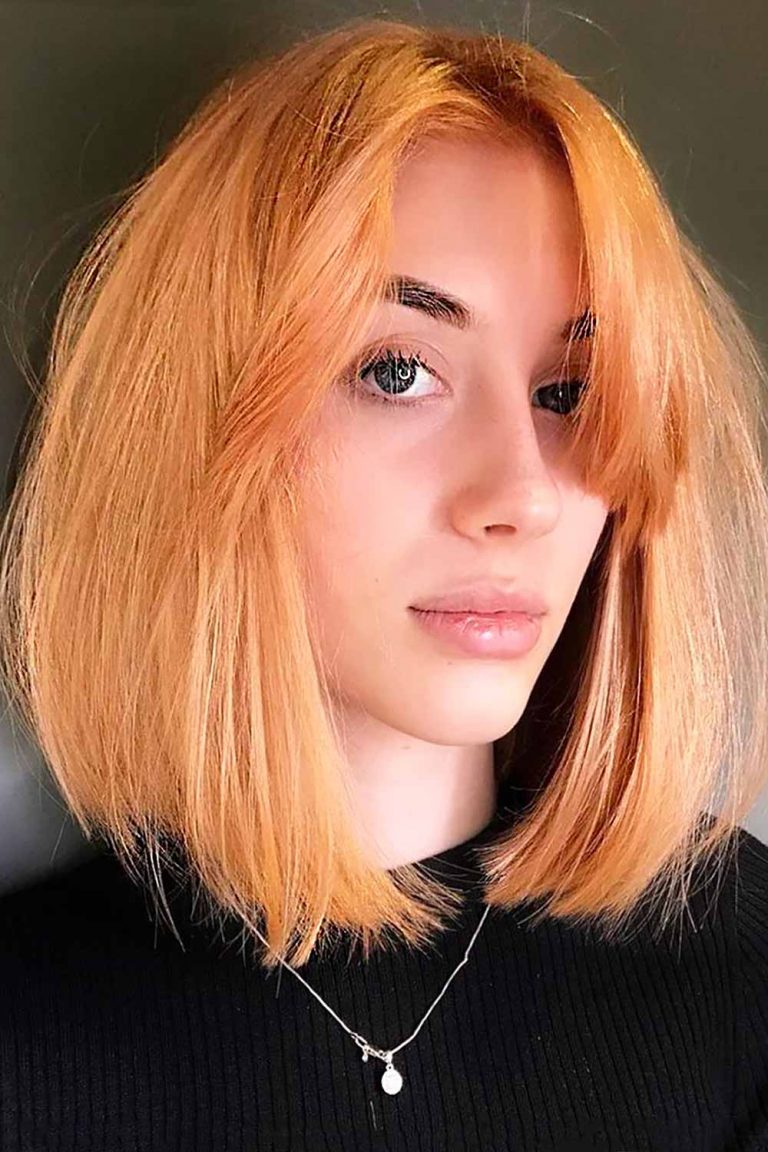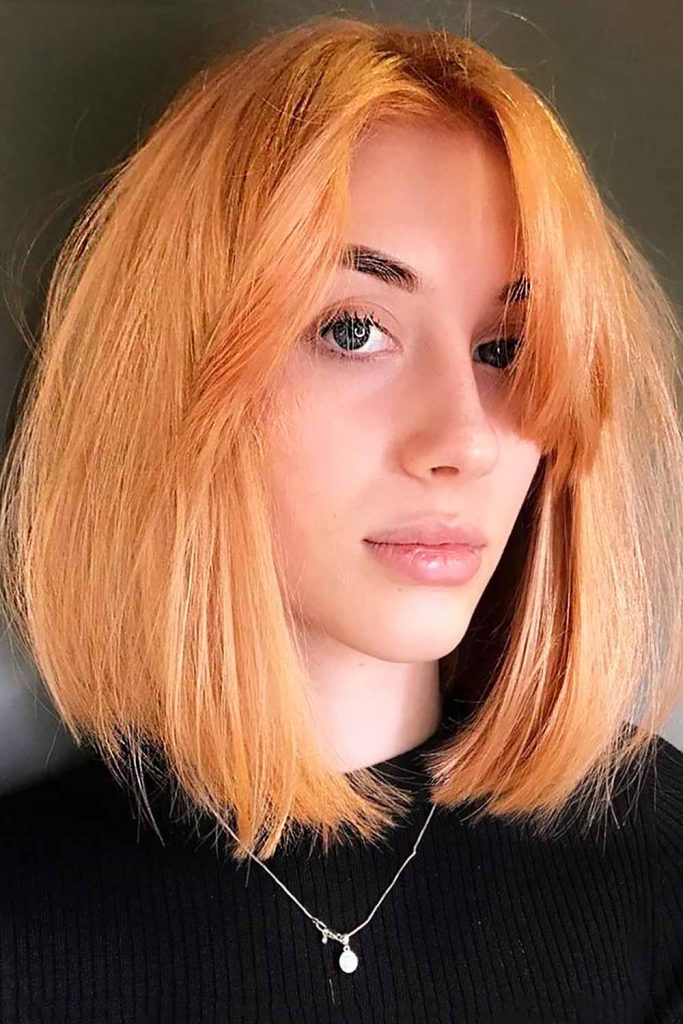 Credit photo: instagram.com/cut_and_color
Light copper hair color is the happy medium between saturated ginger and bright copper shades. The truth is, this color is so special because it's not too intense to be noticed from a mile away, yet it's quite rich and shiny, just like a new penny. Ladies with both warm and fair skin tones can flaunt with such a color, as the lightest variation is pretty versatile.
Outstanding Copper Hair Color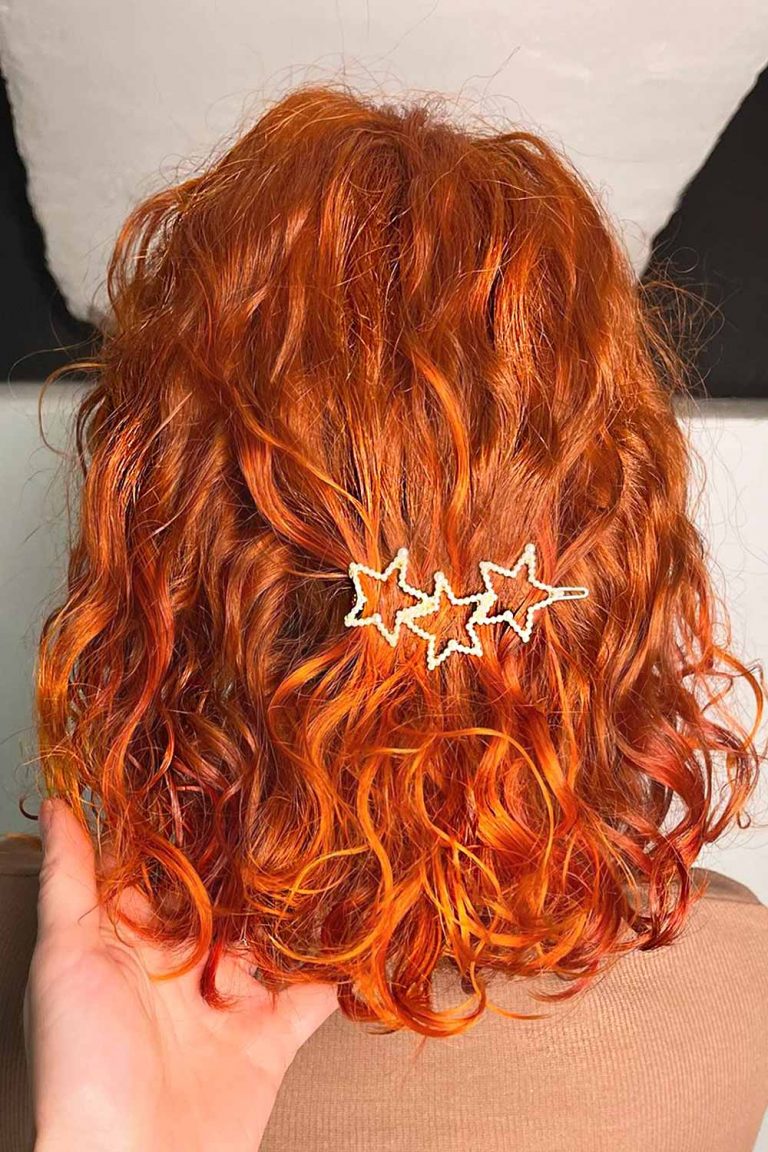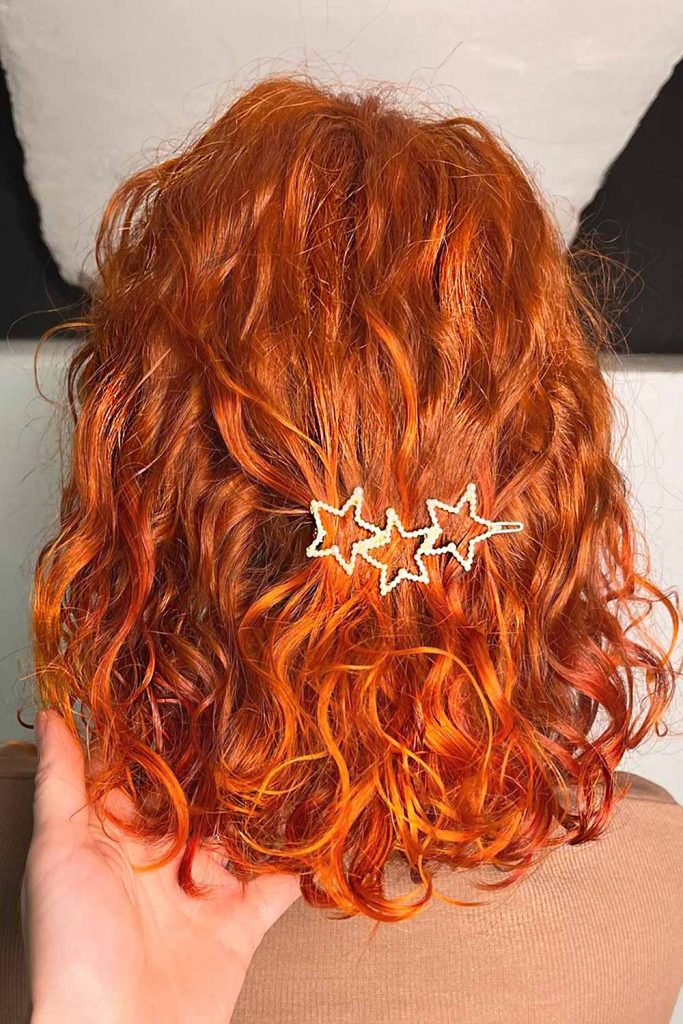 Credit photo: instagram.com/raznoglazaya_hair
How about something smoother than the popular ginger and more saturated than light copper shade? Besides its vividness of gorgeous coppery tone, the classic copper hair color doesn't really care about your eye color: it can beautify your eyes, regardless of their color. This color, as well as most red shades, is a good choice for women with pale to light complexions.
Enviable Ginger Hair Color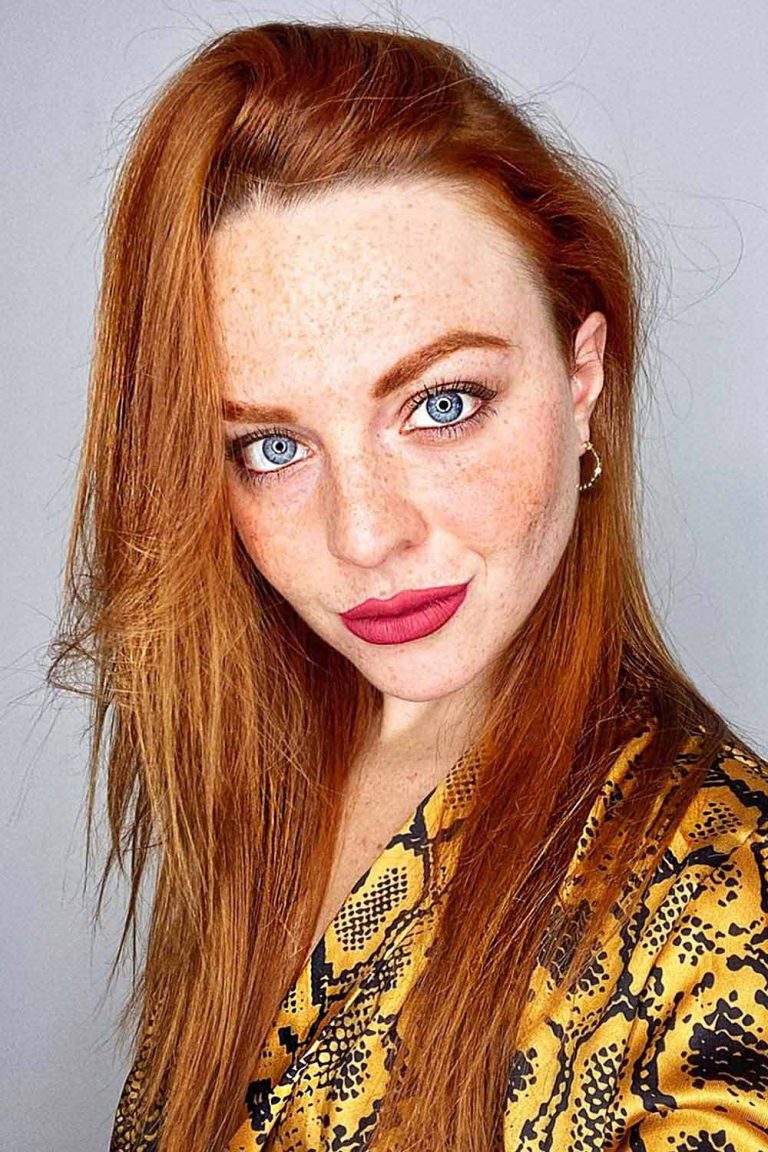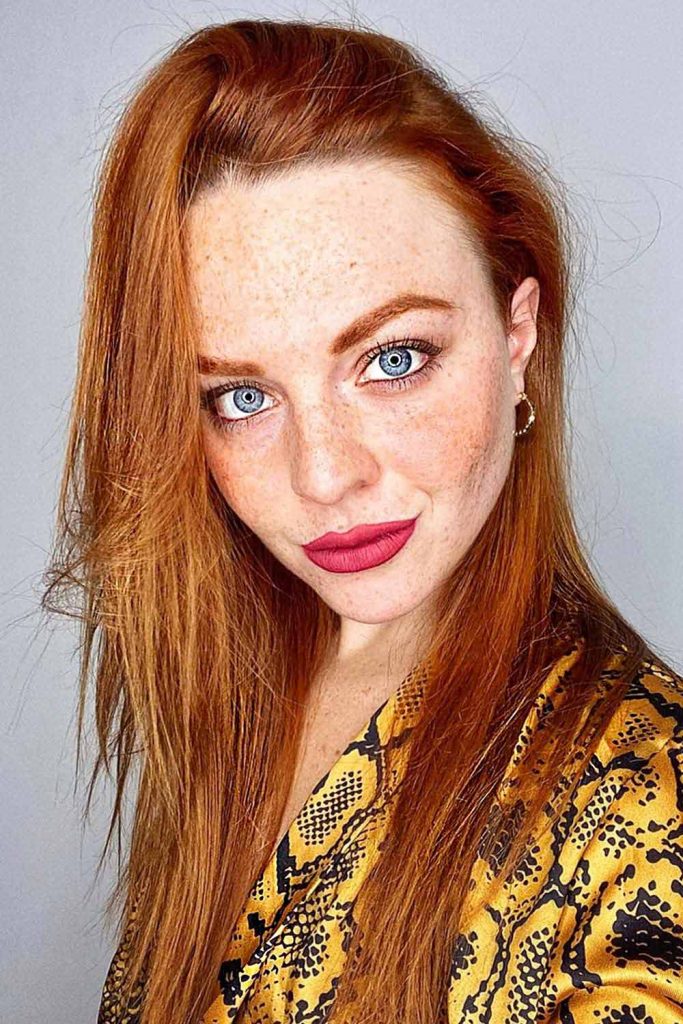 Credit photo: instagram.com/clio_._
Fair skin tone, freckles, ginger hair color. Let us guess; we've just described the beauty perfection of now? Ginger hair is probably the most tempting color that every girl would like to try. Unfortunately, it's quite demanding, so only the lucky ones with light complexions can pull it off. Yes, it's simply gorgeous.
Goldish Copper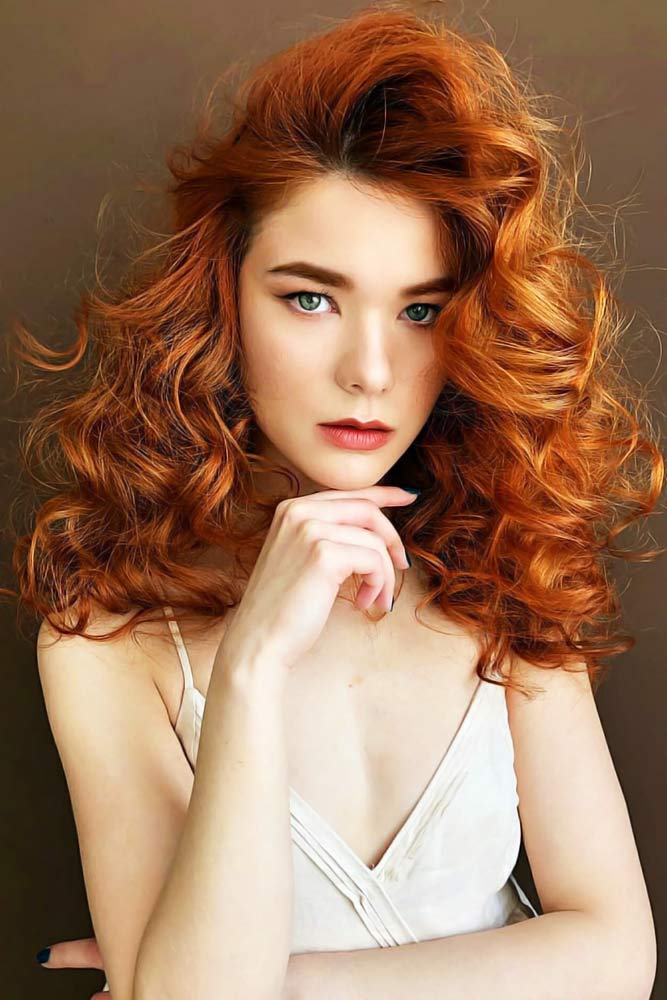 Credit photo: instagram.com/gika.kim
How about a copper hair color that crosses the line between bright coppery and saturated red shades? If you have a closer look at this idea, you will notice golden brown, bright amber, and classic ginger hair color dancing together. Well, no wonder that this color looks like a piece of art: it's made of the most desired reddish shades. Moreover, you will love the way this idea defines your noble skin tone.
Pure Copper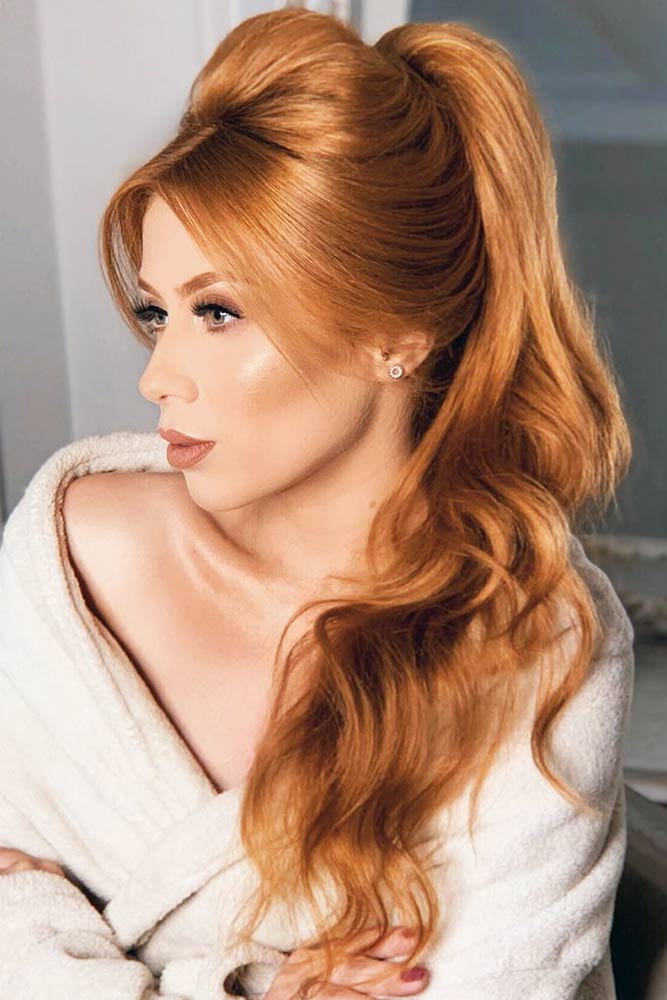 Credit photo: instagram.com/ojoaquim
If you wonder how pure copper shade looks like, you won't find a better example. Such captivating color usually comes as a seamless combo of warm brown and muted ginger shades, which is why it looks so illuminative and dimensional when the sunlight reaches it. Of course, it's mostly complementary to fine complexions.
Brunette Hair
It's time to explore the dark side of our today's post. Actually, a hair color chart without brunette hair color shades is a chart wasted, so those who want to become a brunette won't be left without their dose of inspiration. Unlike all the previous colors, these shades are absolutely versatile: there's a brunette shade for any complexion. Meet another nowadays' classic!
Subtle Light Brown Hair Color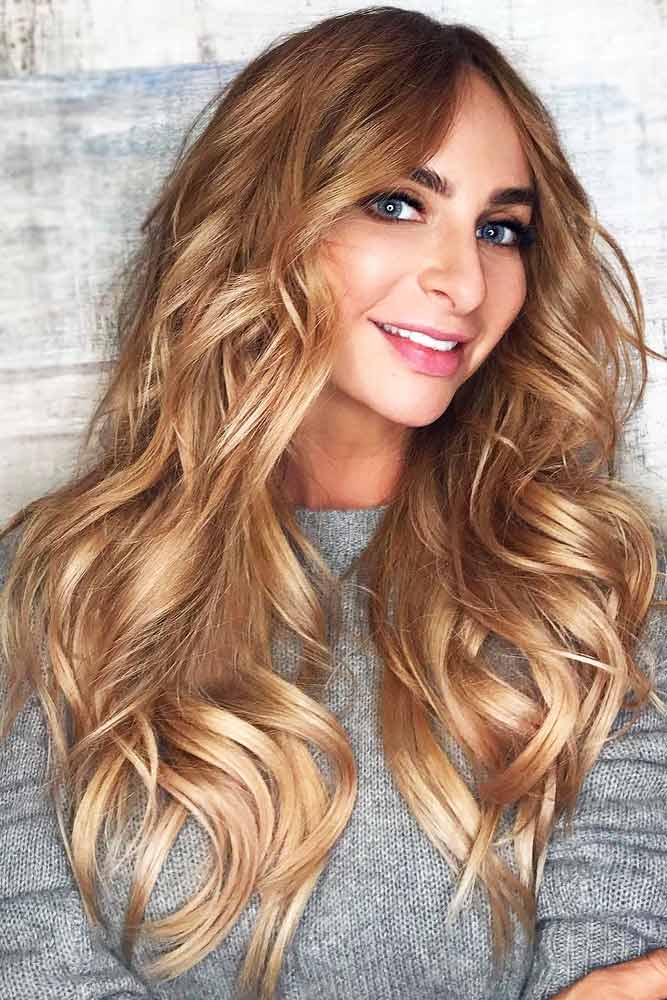 Credit photo: instagram.com/sheffpavelstylist
You may find it hard to see the definite line between dark blonde and light brown hair colors in this combination. What a nice idea to show that you can be different! This color is very soft, and even though there are some deep undertones, it's still a light variation of brunette that is meant for medium complexions with green, blue, and brown eyes.
Classic Brown Hair Color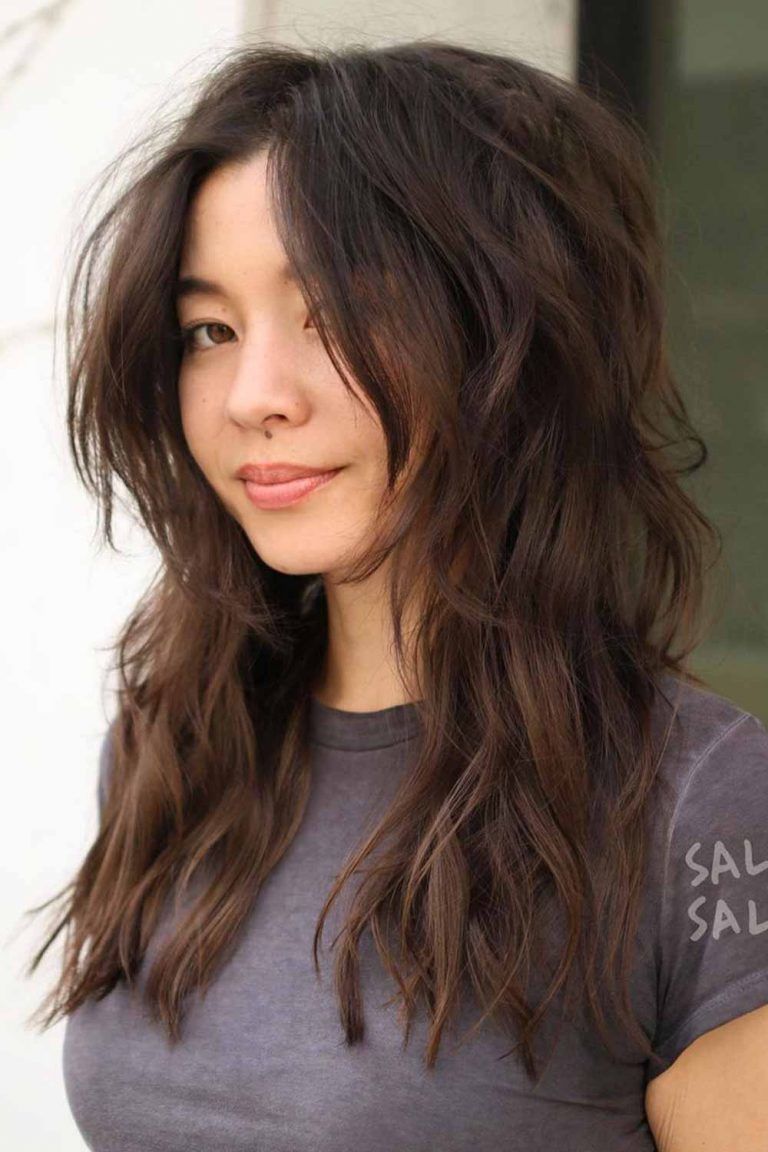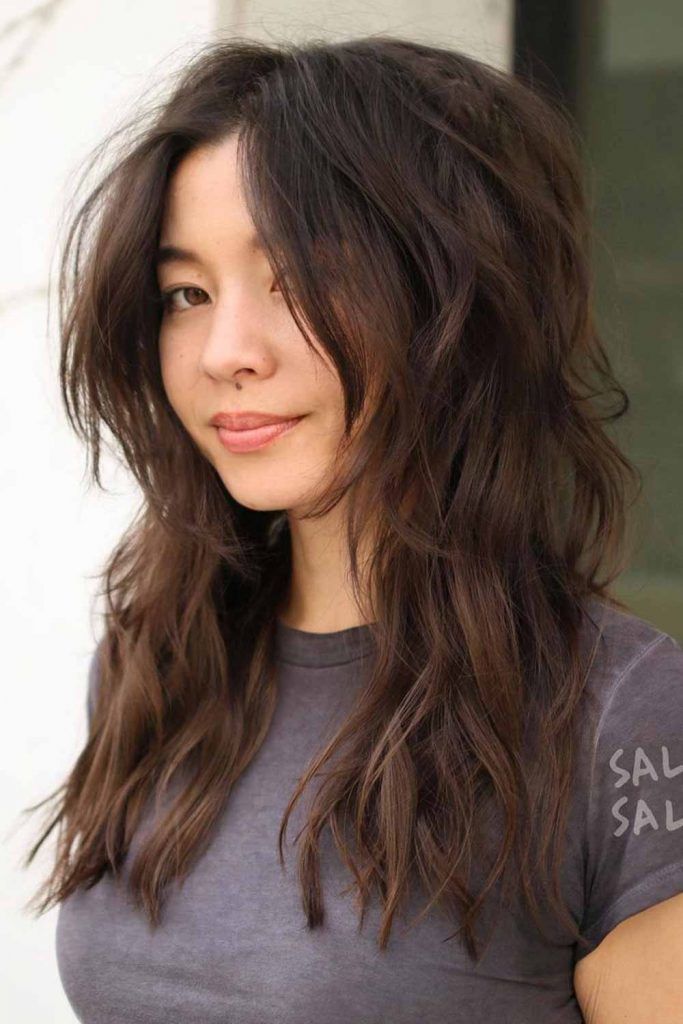 Credit photo: instagram.com/salsalhair
Despite the fact we see this color everywhere, it's anything but boring. Believe it or not, the more natural-looking color you choose, the more hues it will blend. Natural brown hair isn't just a dark shade; it's the variety of different matching hues that show up when the sun shines on them. If you want your hair to reflect sweet brownie, caramel, and toffee tinges, ask your hairstylist for an all-over brown balayage.
Posh Golden Brown Hair Color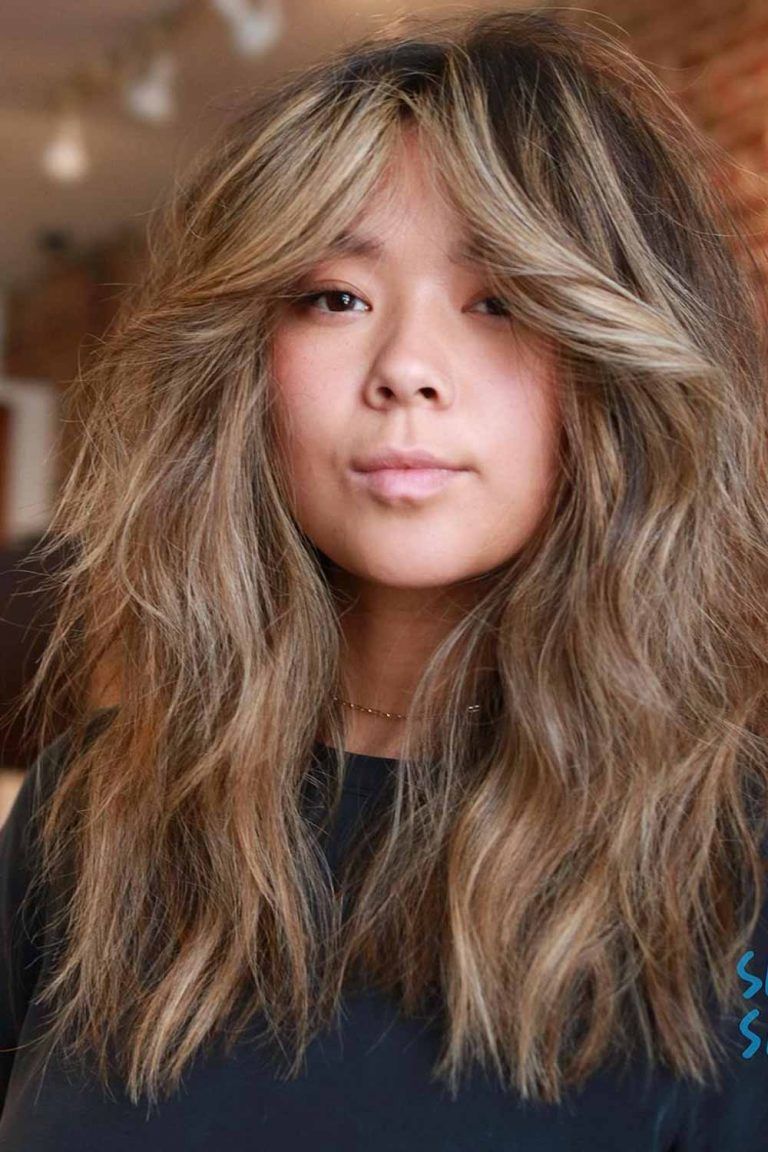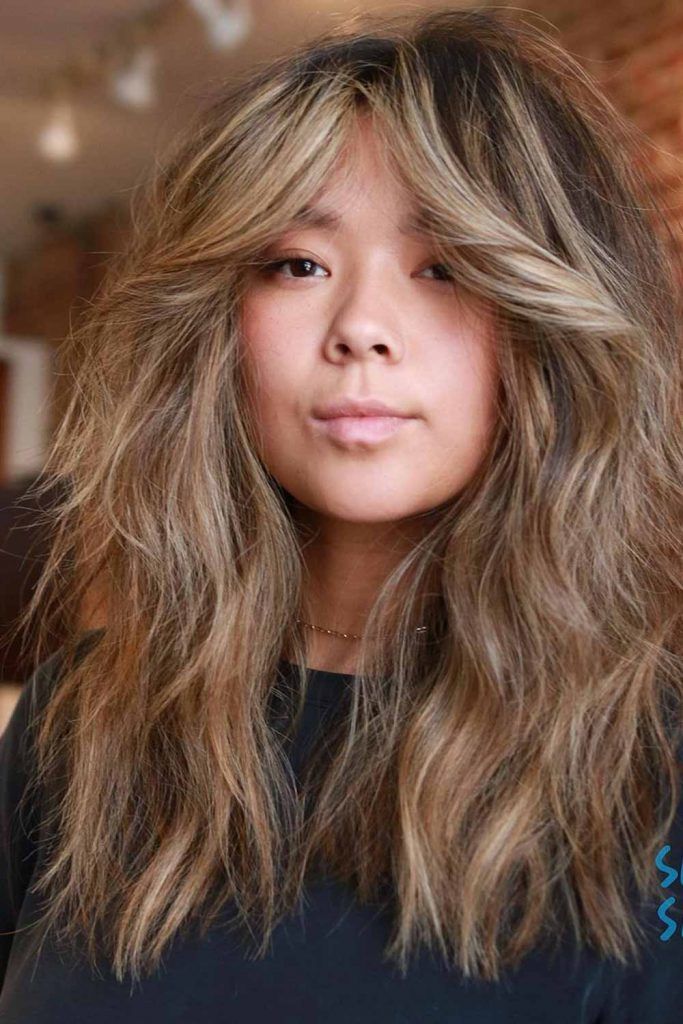 Credit photo: instagram.com/salsalhair
Golden brown hair color is something between light brown and honeyish shades that transit to golden hues. And even if this color mixes so many shades of hair color chart that you can't really meet on natural hair, it still looks totally effortless. You will love the way it accentuates your skin tone and eye color: we're turning to all of you, as this color has no limitations!
Affectionate Chocolate Brown Hair Color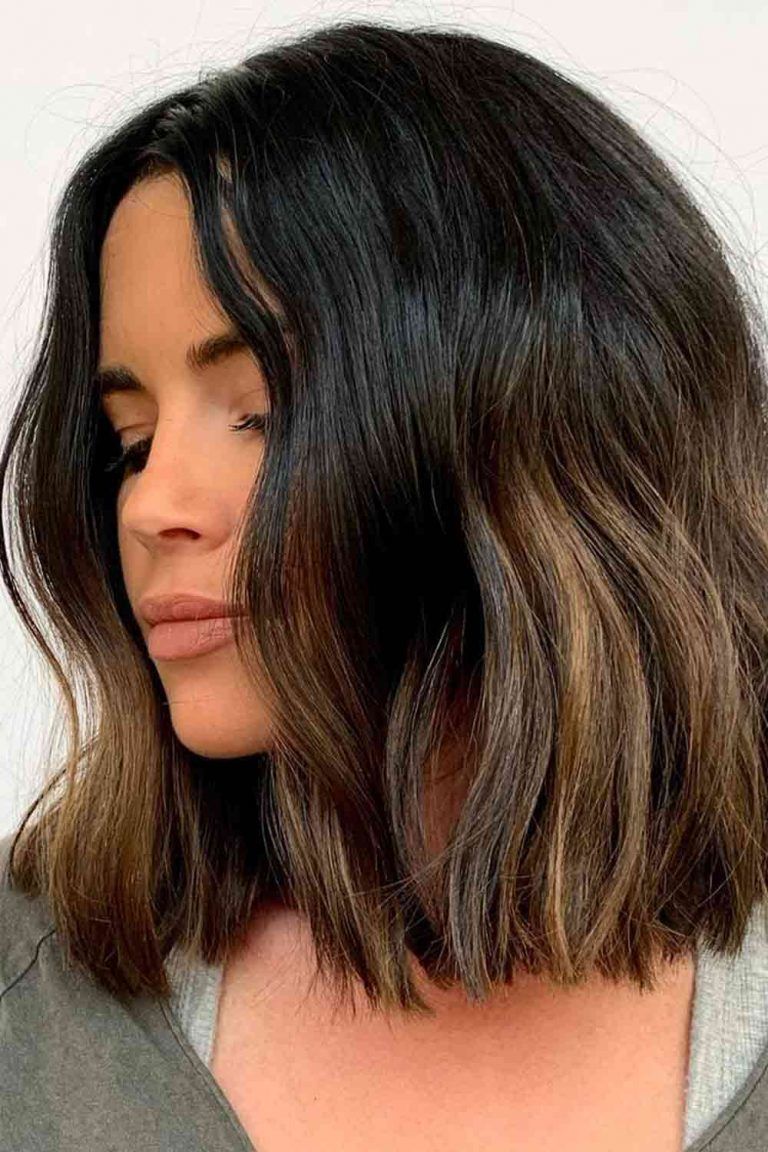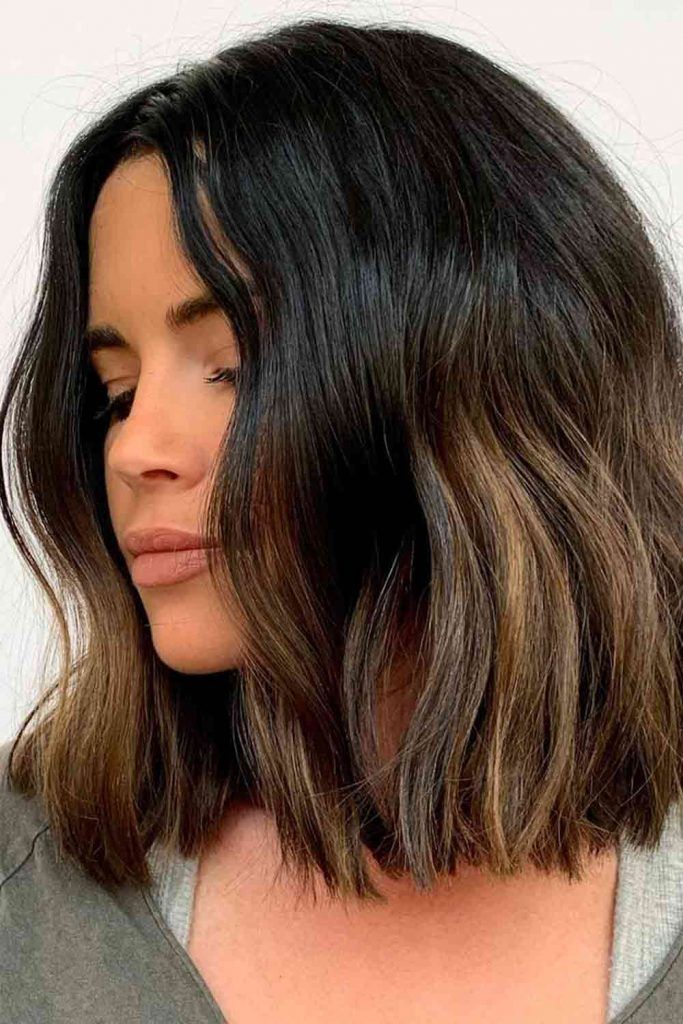 Credit photo: instagram.com/styled_by_carolynn
What if we tell you that there's a sweet that can bring no calories to your life? This sweetness is called chocolate brown hair color. Obviously, this shade is as deep, sumptuous, and tasteful as chocolate. And, this creamy beauty has an approach for every girl: from ladies with pale skin and light eyes to dark complexions, accompanied by dark eyes.
Rich Dark Brown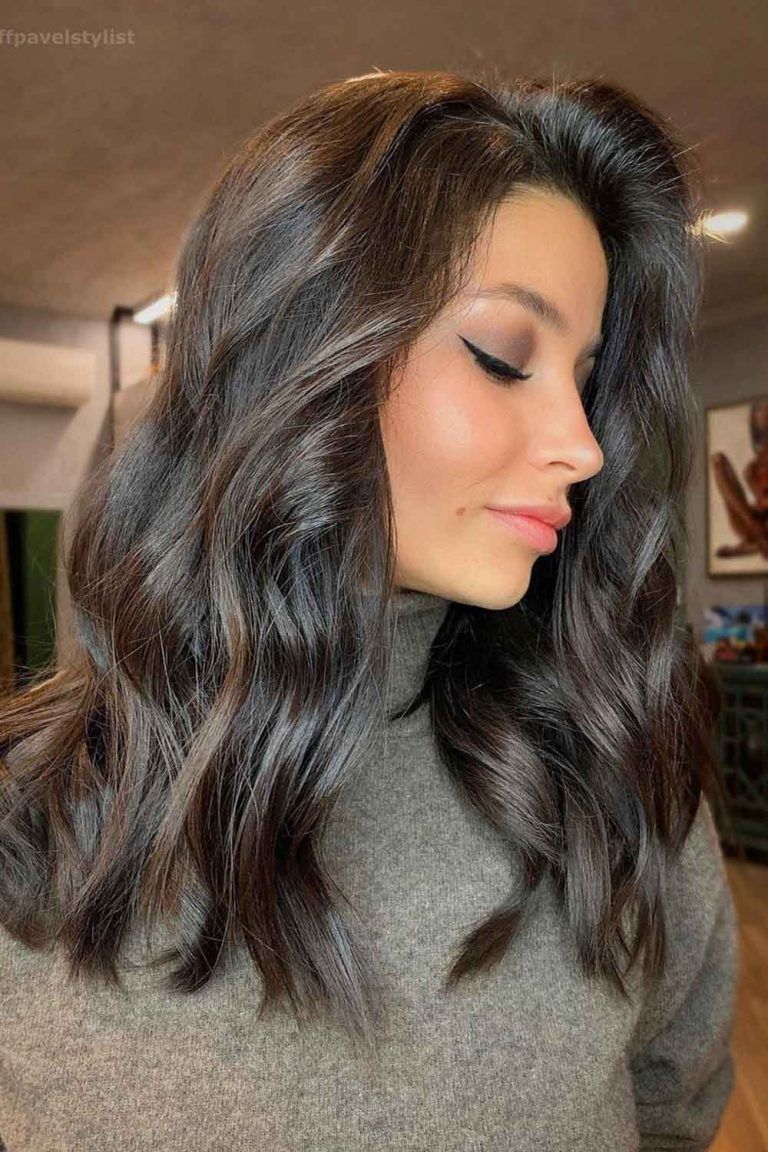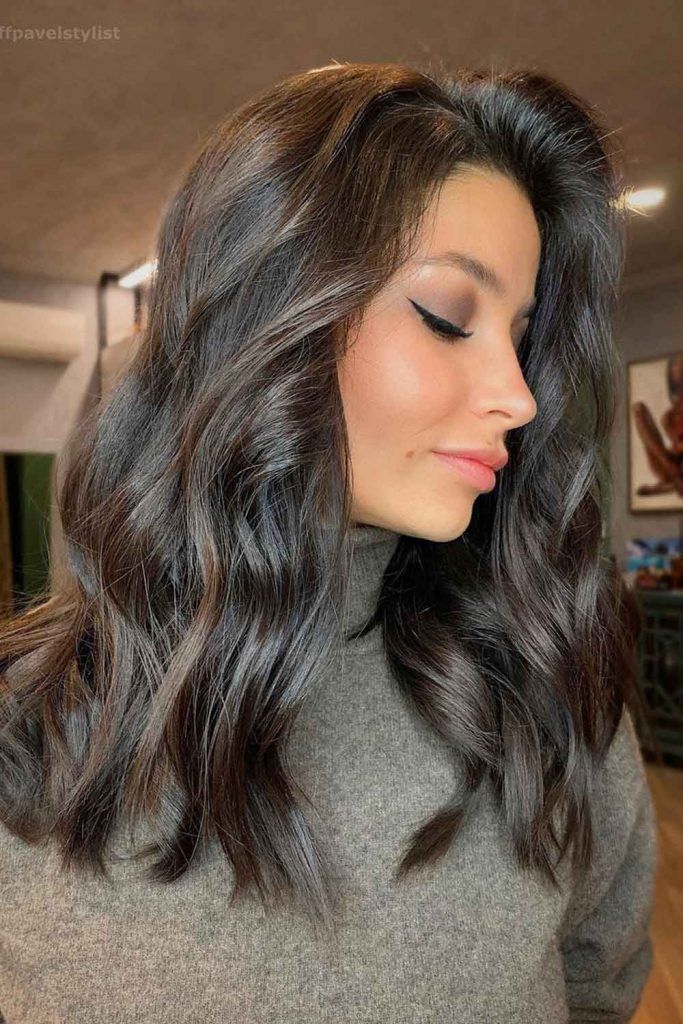 Credit photo: instagram.com/sheffpavelstylist
Dark hair color chart is unbelievably diverse: its shades also have warm and cool undertones. Despite being deep and profound, this hair idea, for instance, has a very warm appearance. To notice the hints of heat, you need to be in a well-lit place. Or, you can see the next pic below that is just the opposite to this idea.
Black Hair Color Chart
Black is the darkest of natural hues, and surprisingly, much of the human population can show off this magnetic shade. One of the most outstanding features of the hue is that it can make your prominent features pop. If you want to stand out with the slightest enhancement possible, you should consider sporting black hair. Keep in mind a properly chosen undertone ensures that ladies with cold and warm complexions can enjoy the upgrade.
Sexy Black Hair Color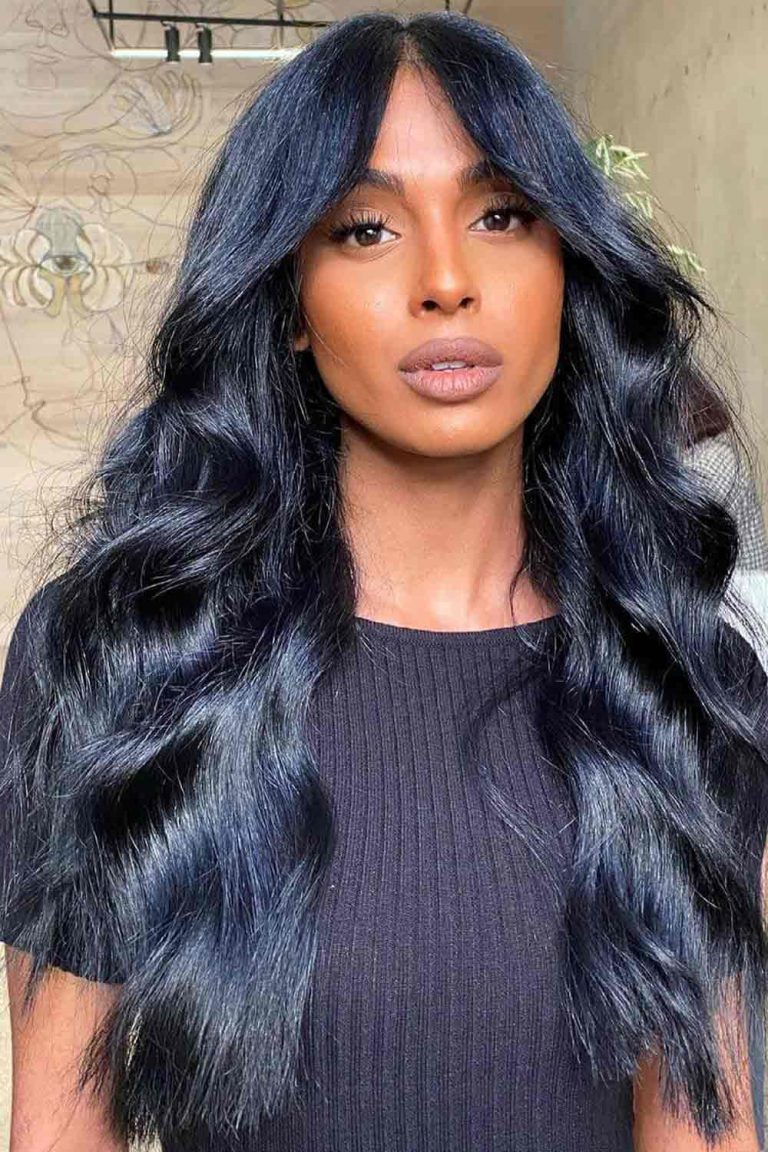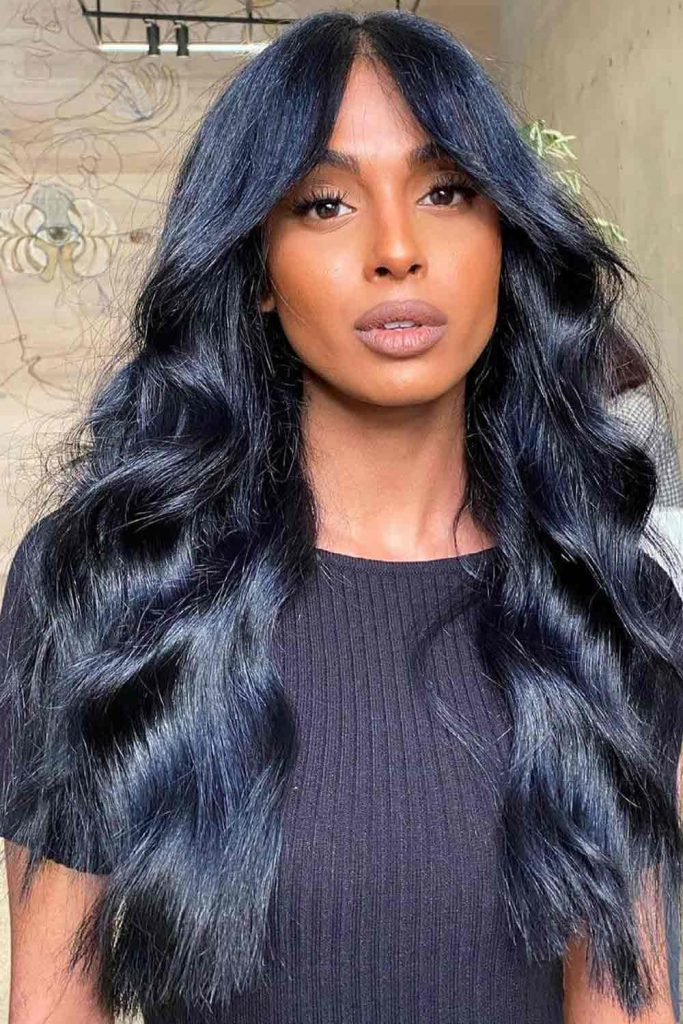 Credit photo: instagram.com/_edwardsandco
Black hair is the beauty which we can't have too much of. It's simple, dark, yet it always catches people's eyes. The simplicity of this shiny color has always been in demand, and we don't see any reasons for it to go out of style. Here's a thing you like: everyone can sport this richness.
Alluring Jet Black Hair Color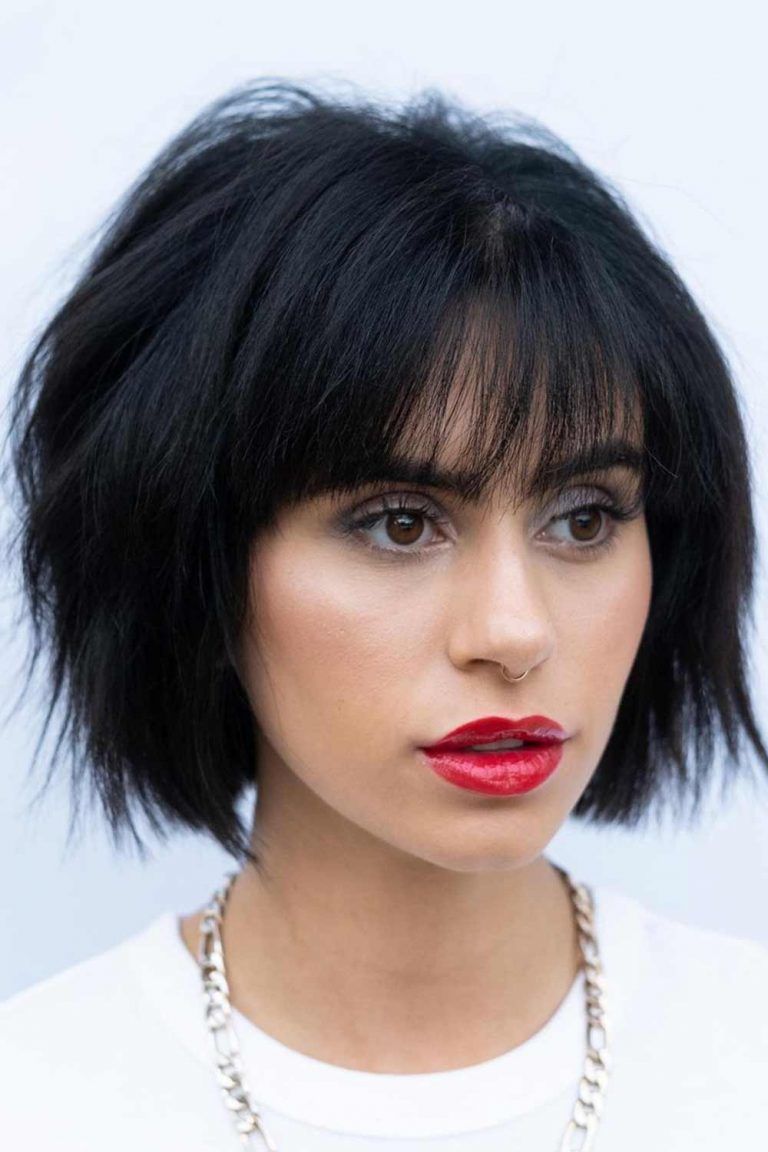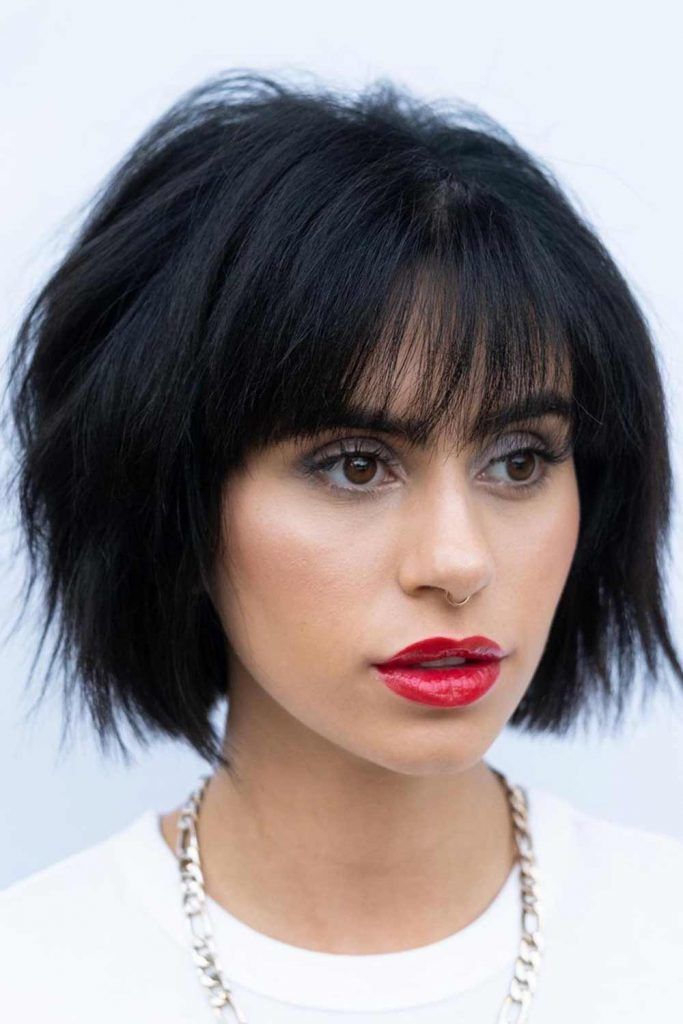 Credit photo: instagram.com/chrisjones_hair
Want your look to be as black as possible? Luckily, there's a shade that is darker than dark, so a perfect full-black look is guaranteed. Jet black hair color is another versatile idea for everyone who needs some bold changes. Just make sure that your brow color is the same, and nothing stops you from pulling it off.
Smokey Black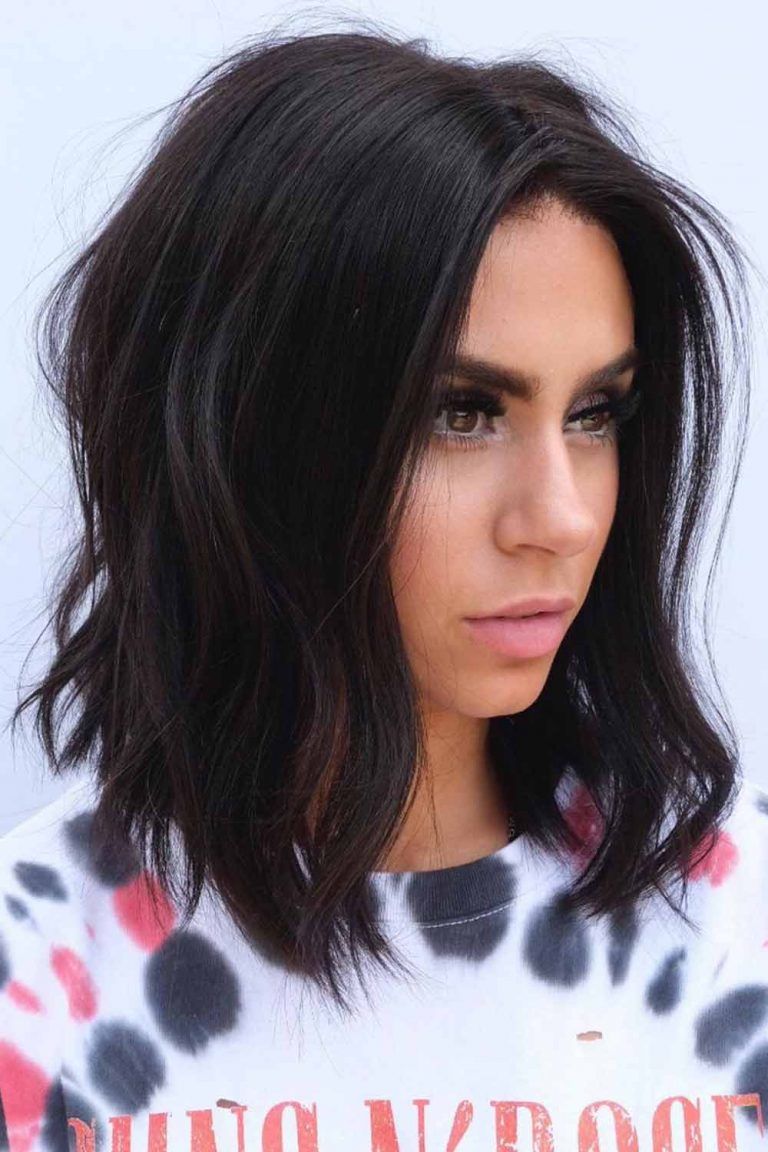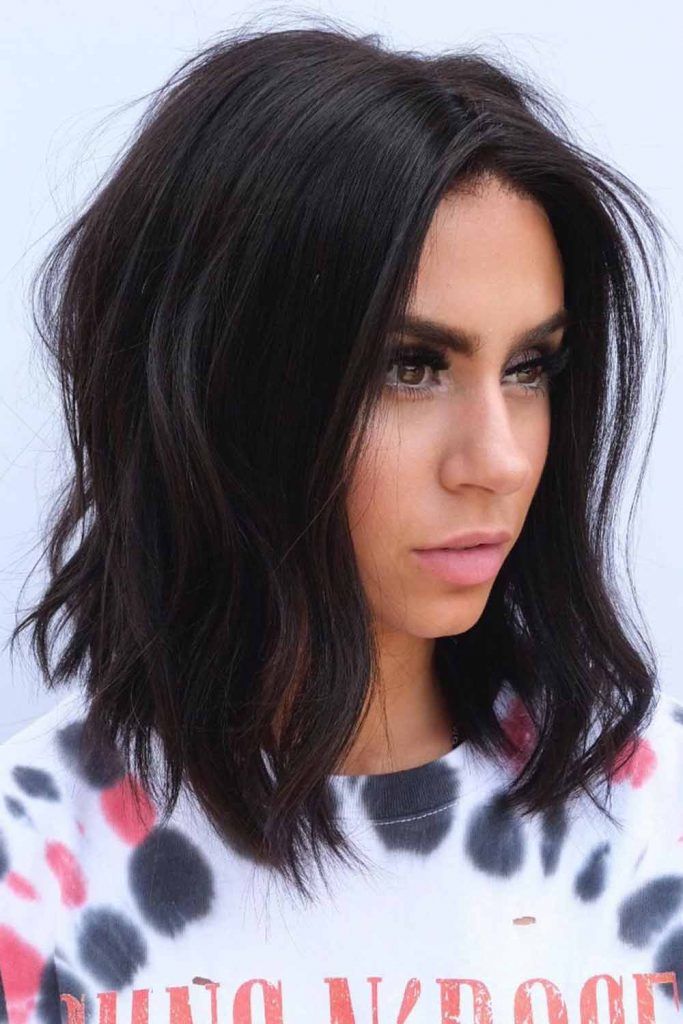 Credit photo: instagram.com/chrisjones_hair
Just look at this majestic black shade! Do you notice the blue undertone? Those who say that there's no pure black color are geniuses, and this idea is proof. Similar to the previous color job, this dark smokey look works well for all complexions. Still, unlike the rich dark brown, this color is darker, hence it makes the whole look more eye-catching. Cut long story short, they're both amazing. You just need to set your hair goals before opting for one!
You've just discovered the most popular shades of blonde, brown, and red hair colors. This hair color chart contains everything you need to create a well-balanced look that will match your appearance in the most beautiful way. It's time for new colors!
Blue Black Hair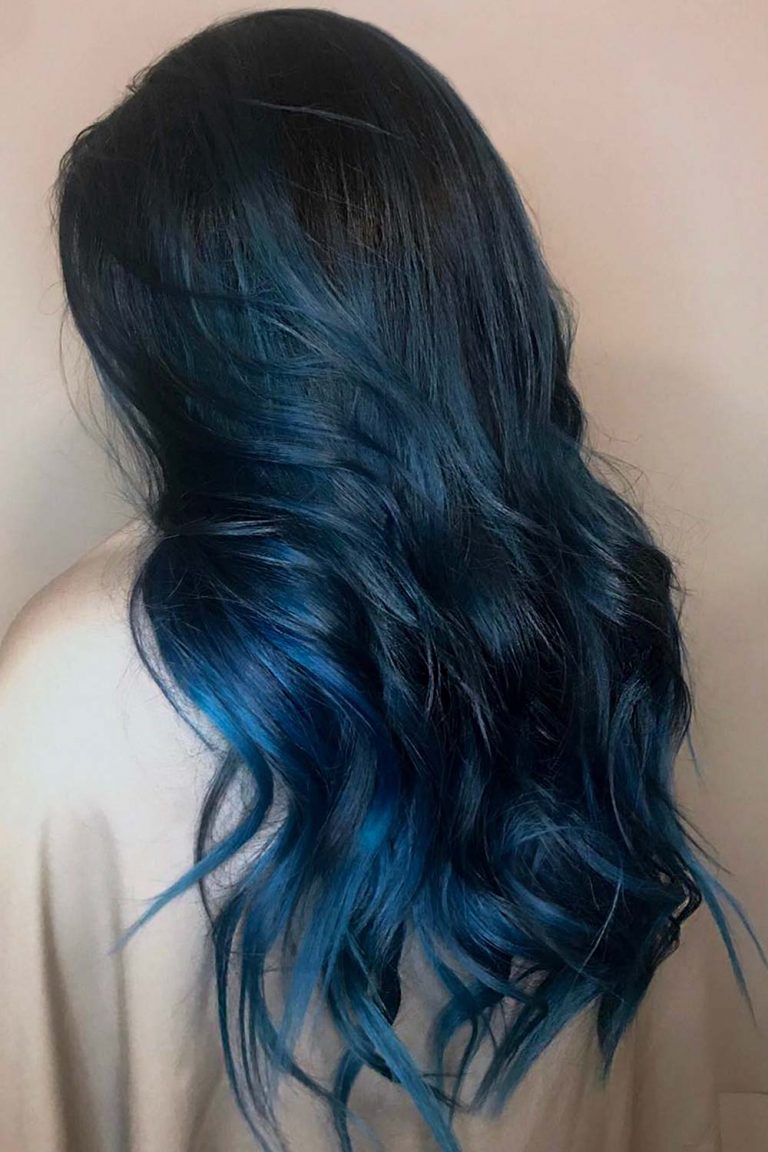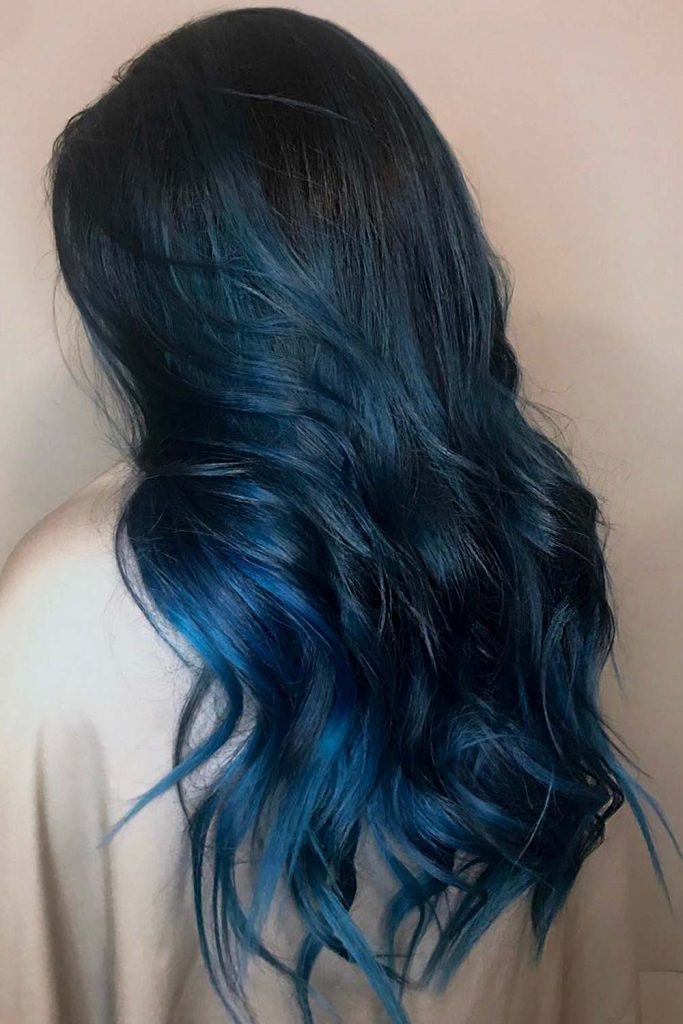 Credit photo: instagram.com/thehairygodmotherr
While classy black attracts attention to your prominent features, there is a possibility to showcase your style and attitude through black hues. All it takes is to consider implementing a rich blue-black shade into your mane. One look at this mesmerizing color, and you will daydream about a romantic trip and star-covered midnight skies.
Gray Hair Color Chart
Are you ready to consider all 50 shades of grey as a potential new hair color for this season? There is much more than silver metallic and salt-and-pepper to brood upon. The specter of shades will help you come up with the fittest option.
Dark Gray Hair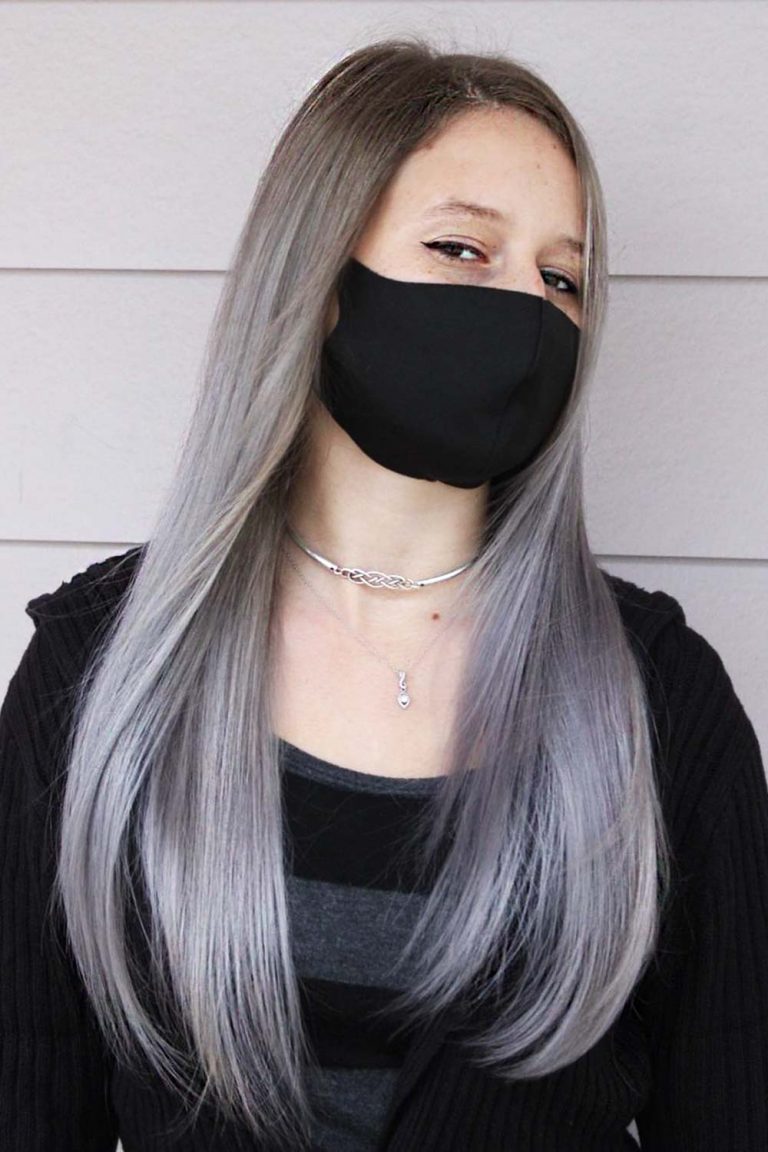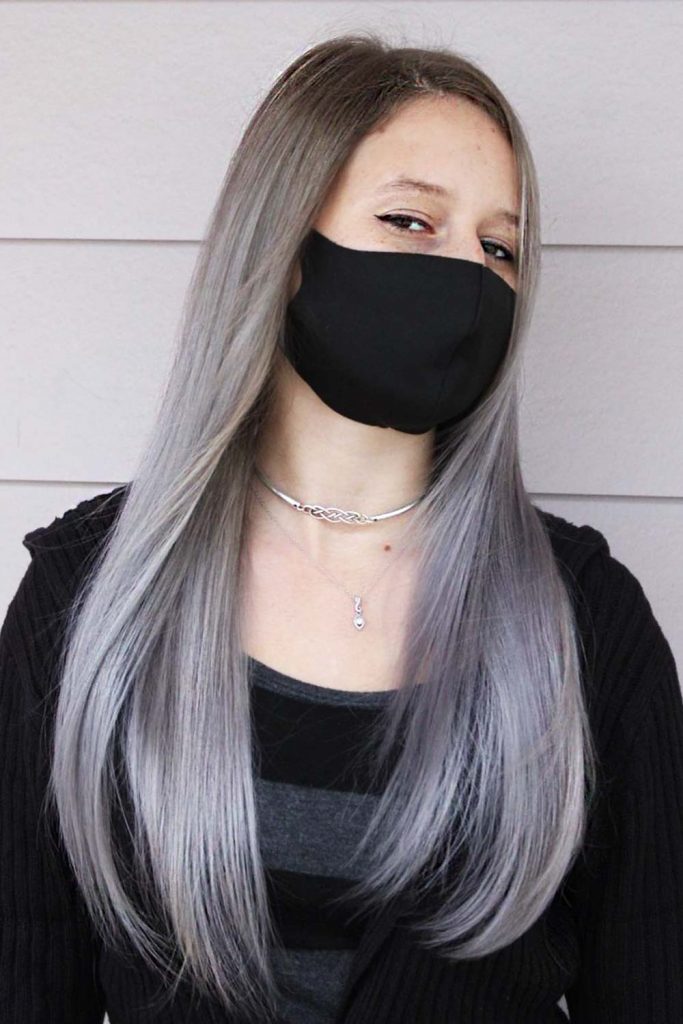 Credit photo: instagram.com/thehairygodmotherr
Dark gray is one of the most versatile hues on the palette. The truth is that the stunning color pairs well with most complexions. Yet, very pale-skinned ladies may want to reconsider the tone since it can project a slightly worn-out and tired expression on your face.
Light Gray Hair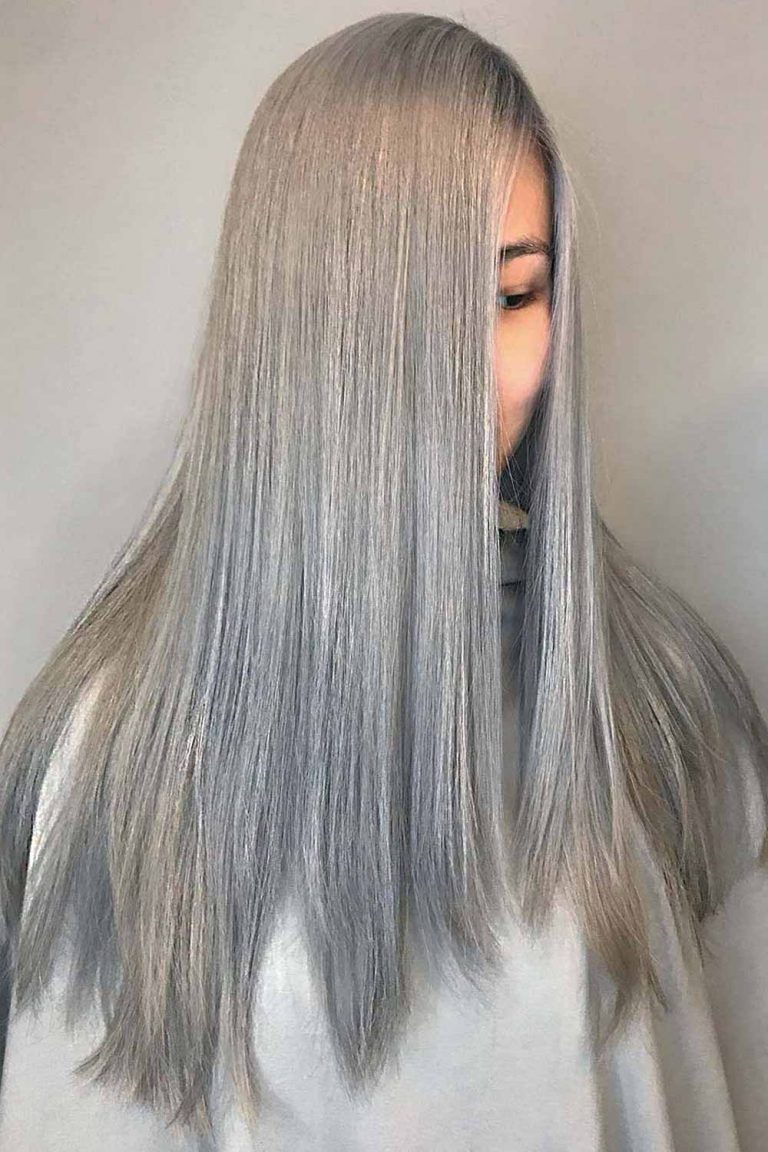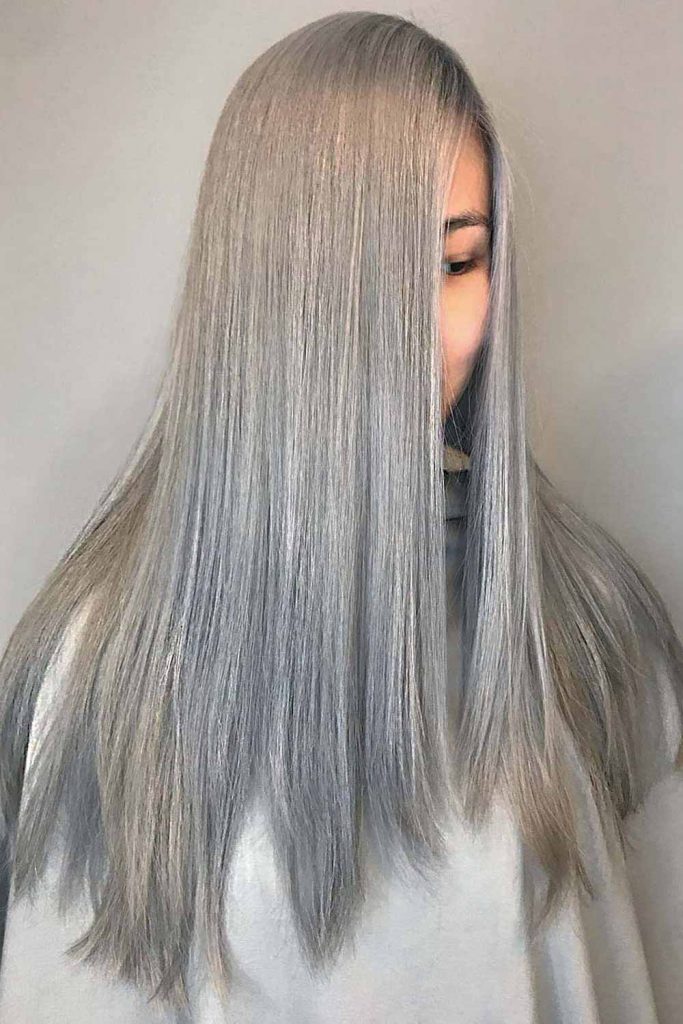 Credit photo: instagram.com/thehairygodmotherr
Going a full silver-fox mode is what many fashionistas aim at. However, despite the immense appeal and unparallel charm of light silver tones, you must remember that they tend to embrace the beauty of olive and bronze skin tones best. When paired with light complexions, the color will increase the gentleness and fragile flair of your persona.
Silver Gray Hair Color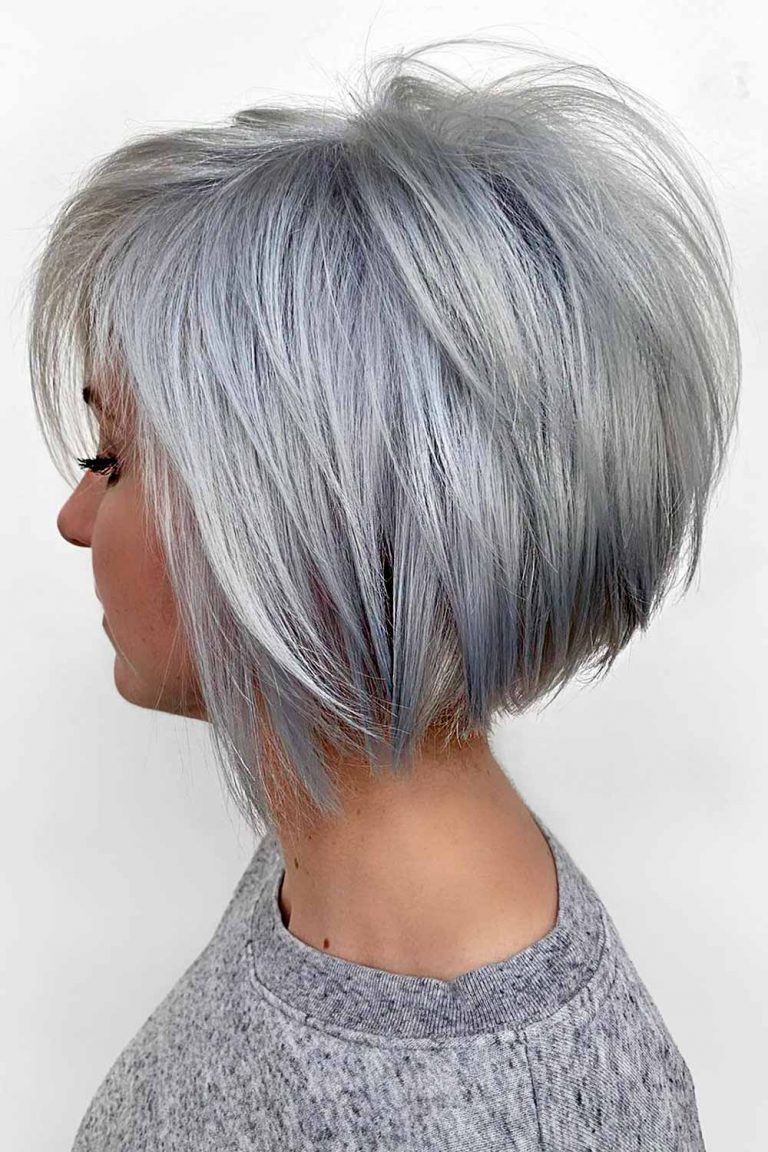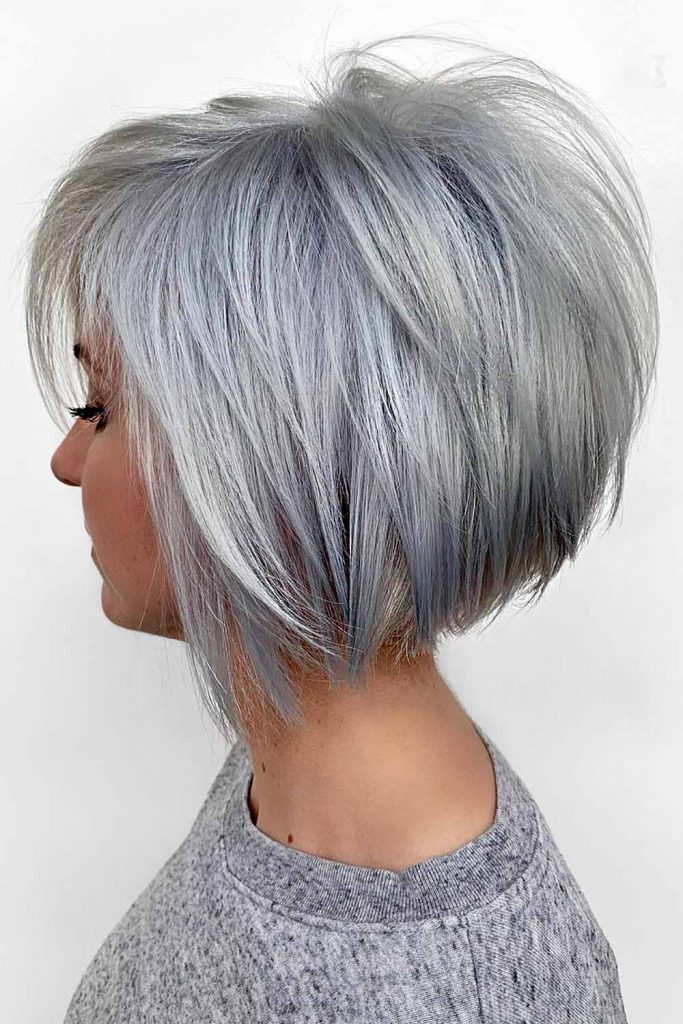 Credit photo: instagram.com/headrushdesigns
The depth and dimension of silver-gray hair may become your triumph or downfall. We are not trying to exaggerate here. No matter how much you enjoy looking at the color, you must remember that when combined with pink undertones, cool silver tones will make you look flushed or irritated most of the time. But, those with yellowish tones will pull off the shade with all the advantages it is packed with.
Salt and Pepper Hair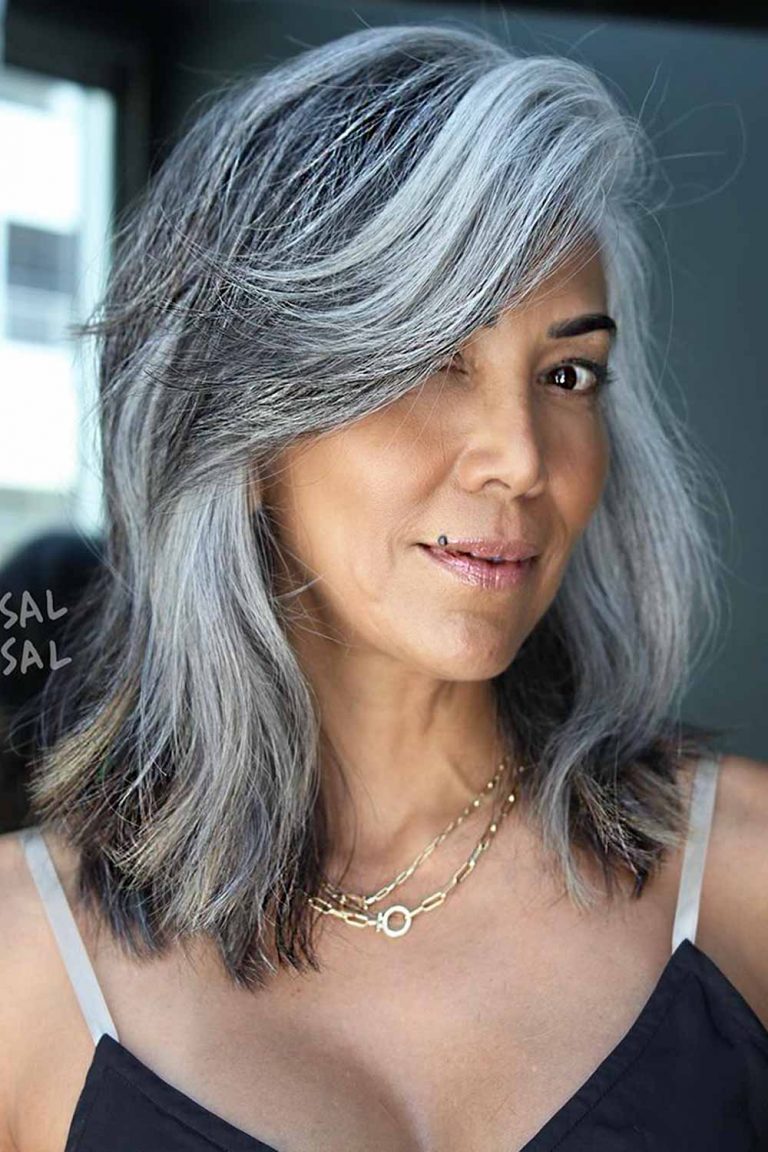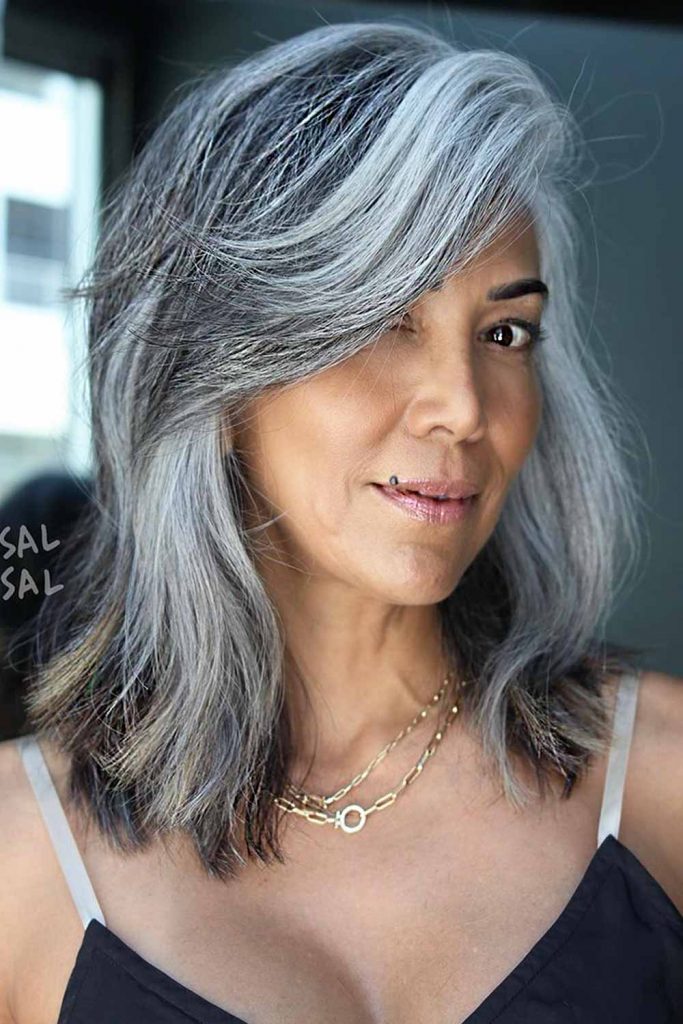 Credit photo: instagram.com/salsalhair
Salt and pepper hair tone is one of the most natural silvers out there. Going salt and pepper means embracing the natural transition your mane goes through with style. There are no skin tone preferences to consider. All that matters is that you take proper care of your tresses. An occasional purple shampoo comes of use, but on average, skilled styling and proudness are the primary means to rock the color.
Colorful Hair
When good old natural hues seem a little too mundane for you, it is time to introduce vibrant tones into your life. The variety of options available is innumerate. Rely on your needs and preferences, and wear any shade with confidence and style.
Rose Gold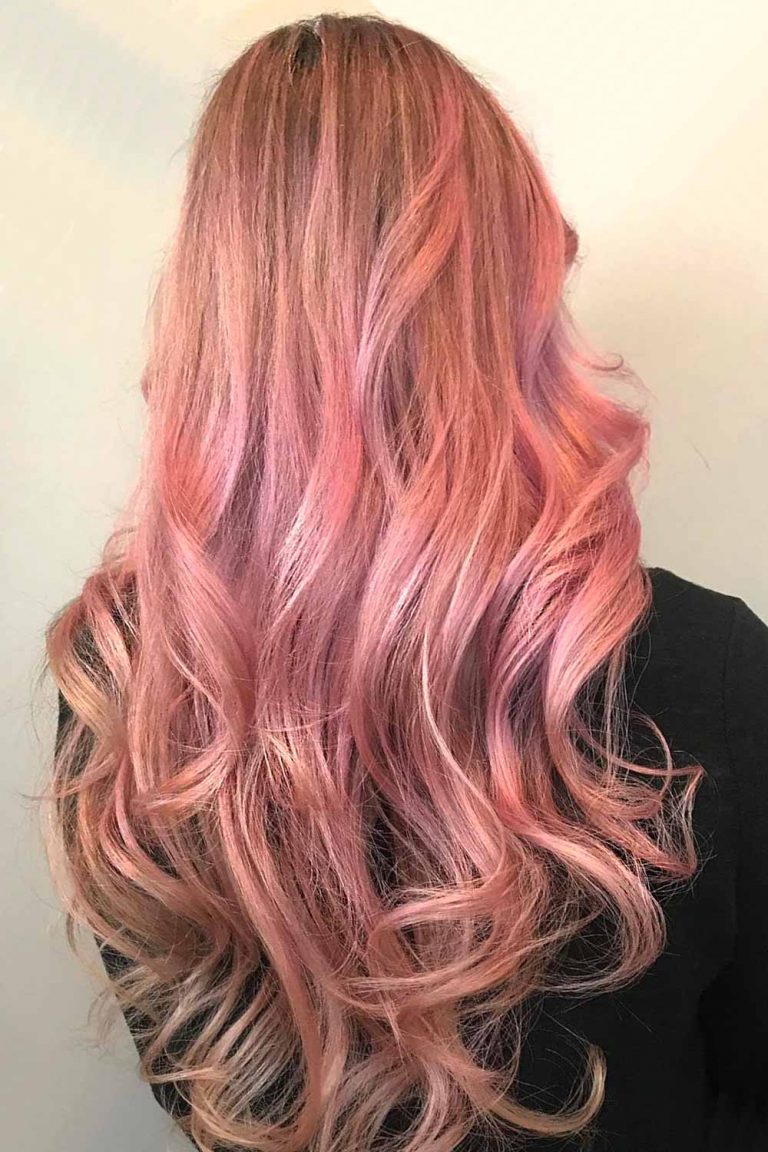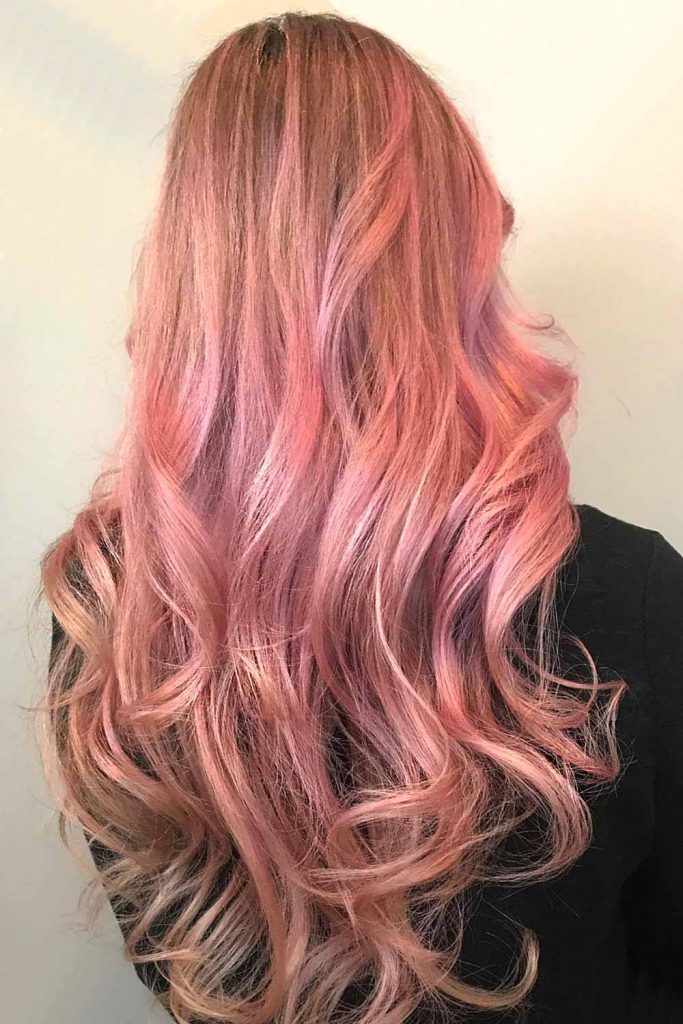 Credit photo: instagram.com/thehairygodmotherr
Cotton candy hair color is not for all, and it's understandable. However, that does not mean you can't play around with milder pink tints. In the case of rose gold, the shade is stunning and versatile. It suits various skin tones, and a professional colorist can work miracles while interweaving the color into your hair. On the one hand, it is barely there, but on the other, the vibrant tint stands out and draws attention.
Purple Hair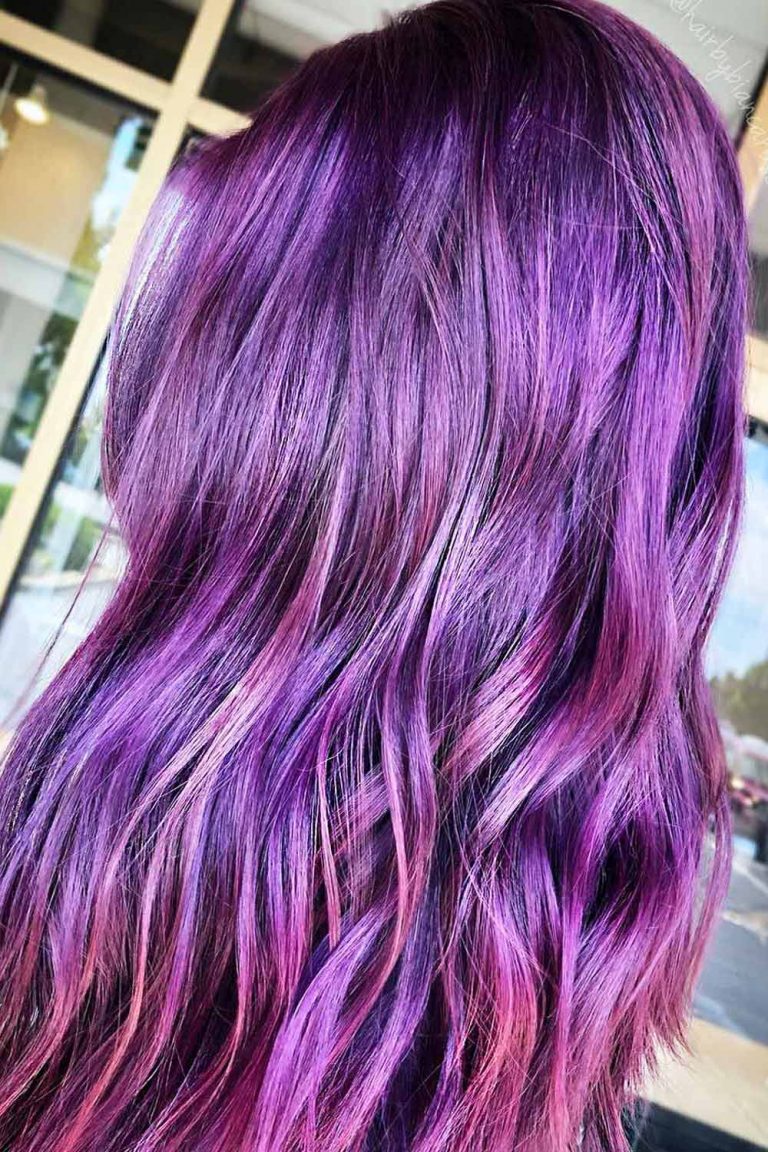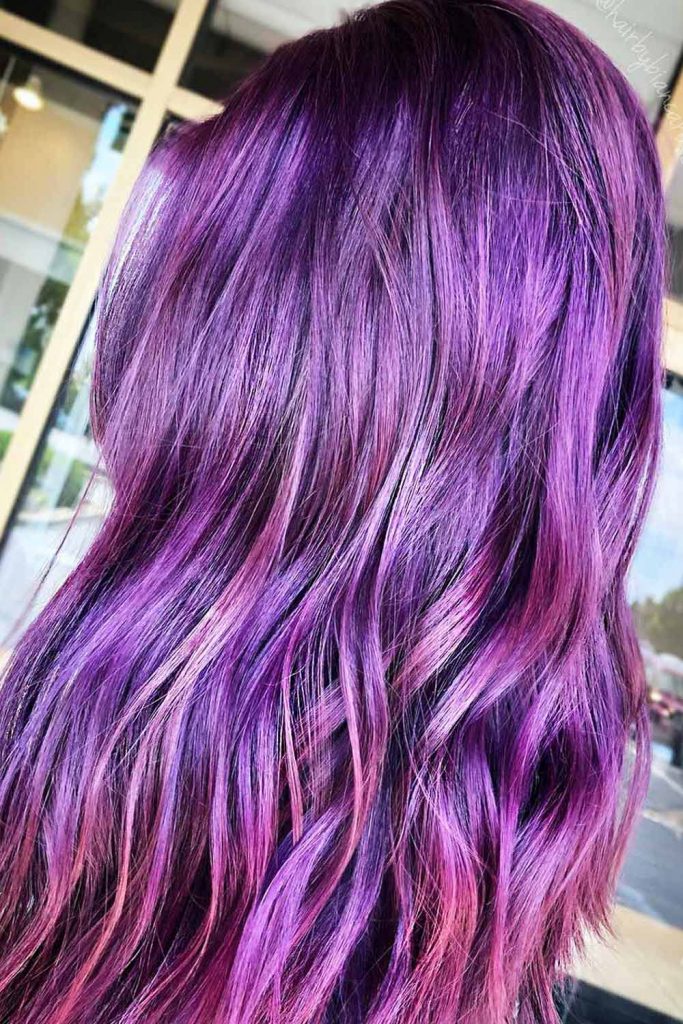 Credit photo: instagram.com/hairbybiancarose
Purple hair is another quite versatile and universal shade to play around with. No matter your tone or undertone, there is a hue for you. While paler skin tones go well with lilacs, darker tones are all up for violets and deep purples. Bring on that mystery and royal vibes that the color is known for, and wear it with confidence and pride.
Unicorn Hair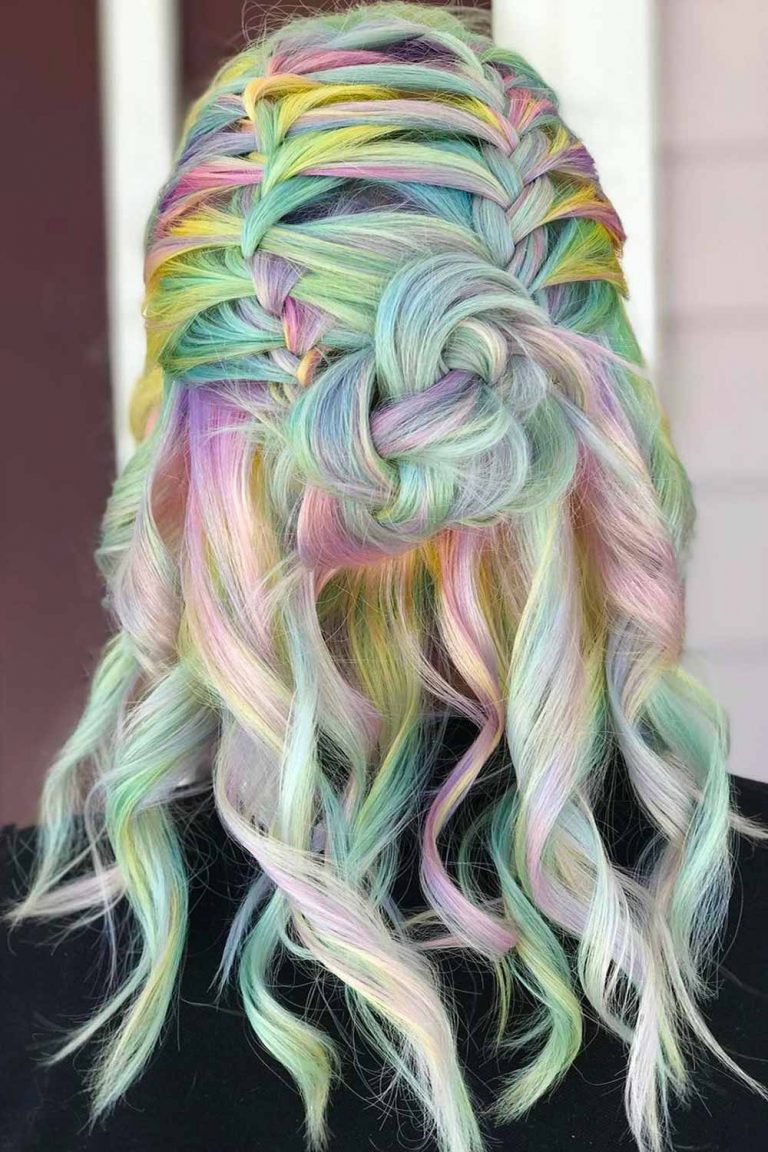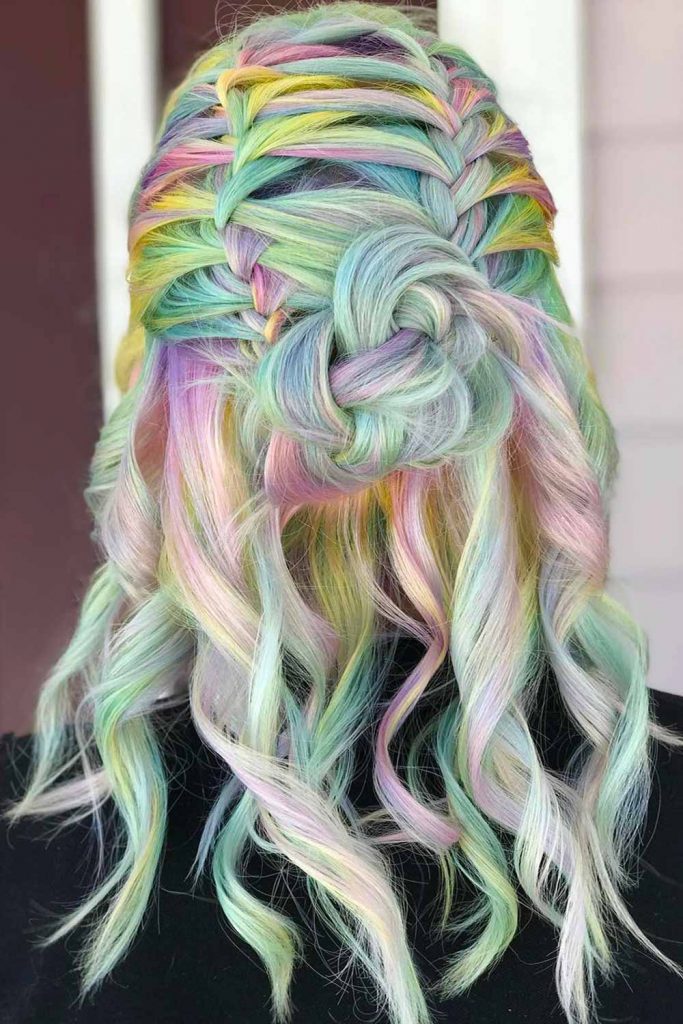 Credit photo: instagram.com/thehairygodmotherr
Cast aside all the stereotypes and bring all the pastels on. If that is your motto, then unicorn hair is what you must consider. While looking gorgeously vibrant, the end result still screams cuteness and charm. Besides, every new hairdo will bring up intricate patterns which add texture and dimension.
Dark Green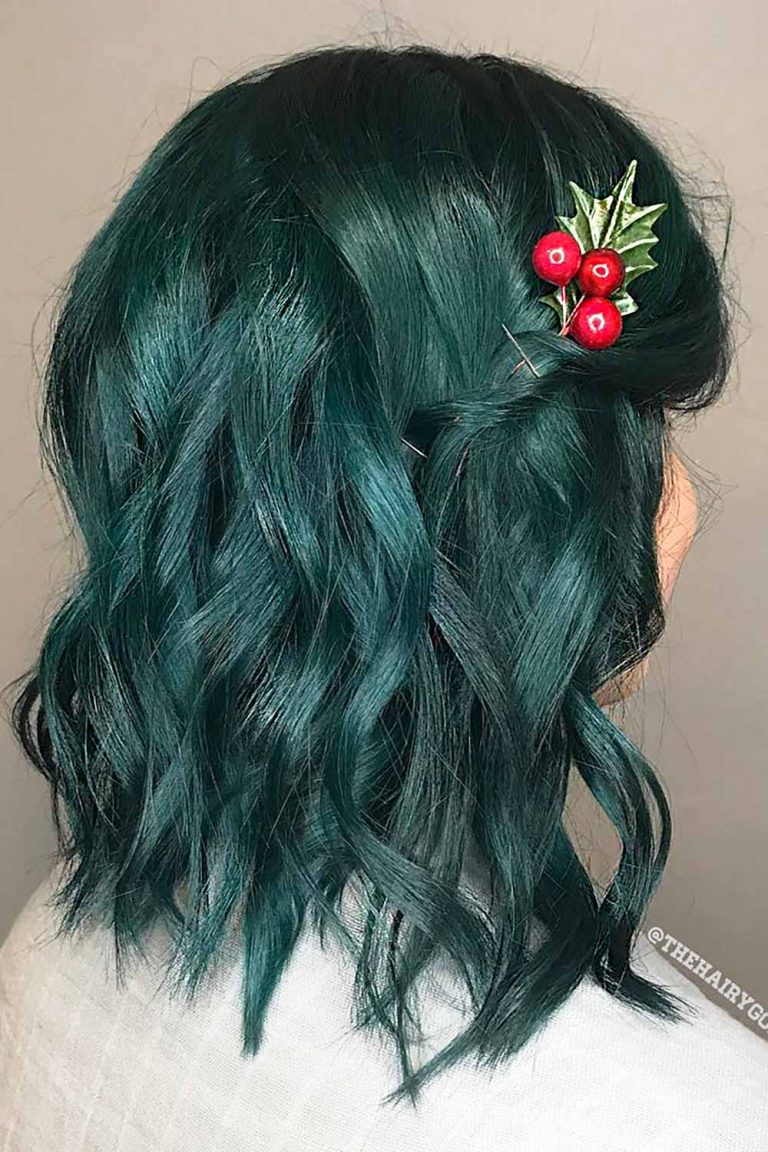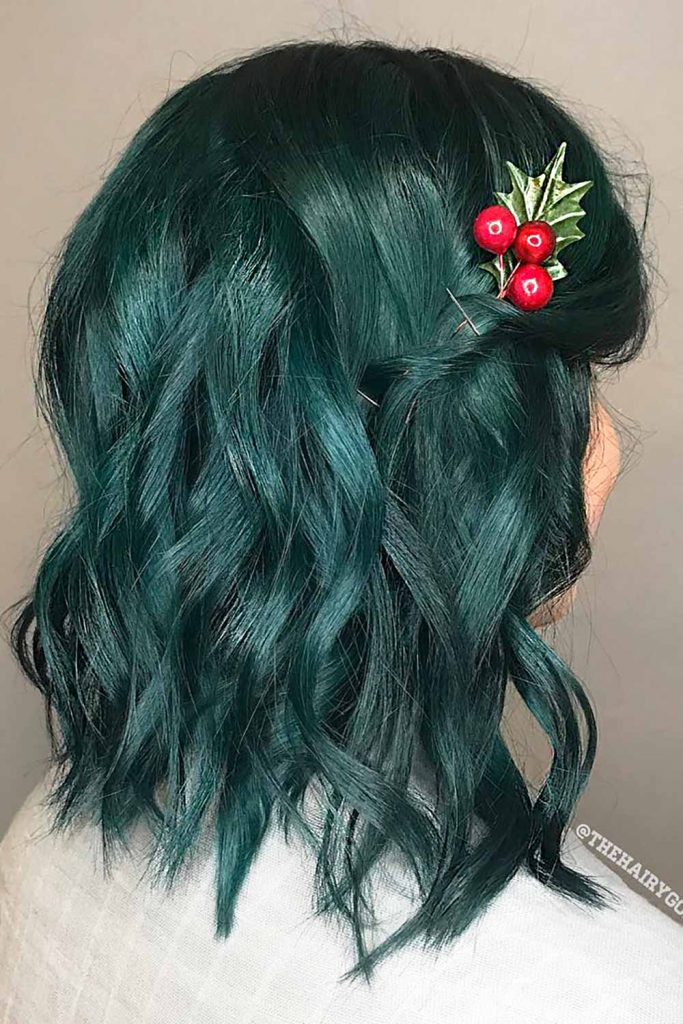 Credit photo: instagram.com/thehairygodmotherr
Green is a legitimate child of yellow and blue tones, making it suitable for all skin tones. Moreover, the depth of the shade can be easily attuned to your personal needs and preferences. If you don't want to go neon, a dusty green will help your project creativity and your individual sense of style.
Burgundy Hair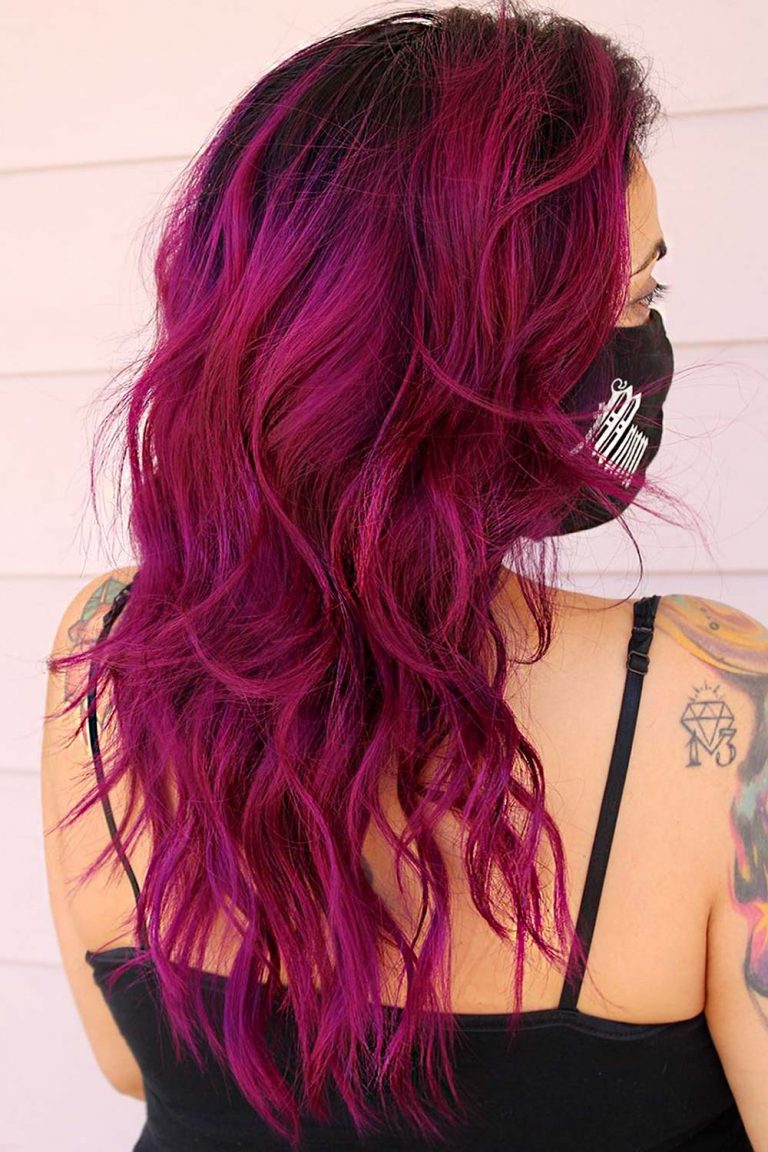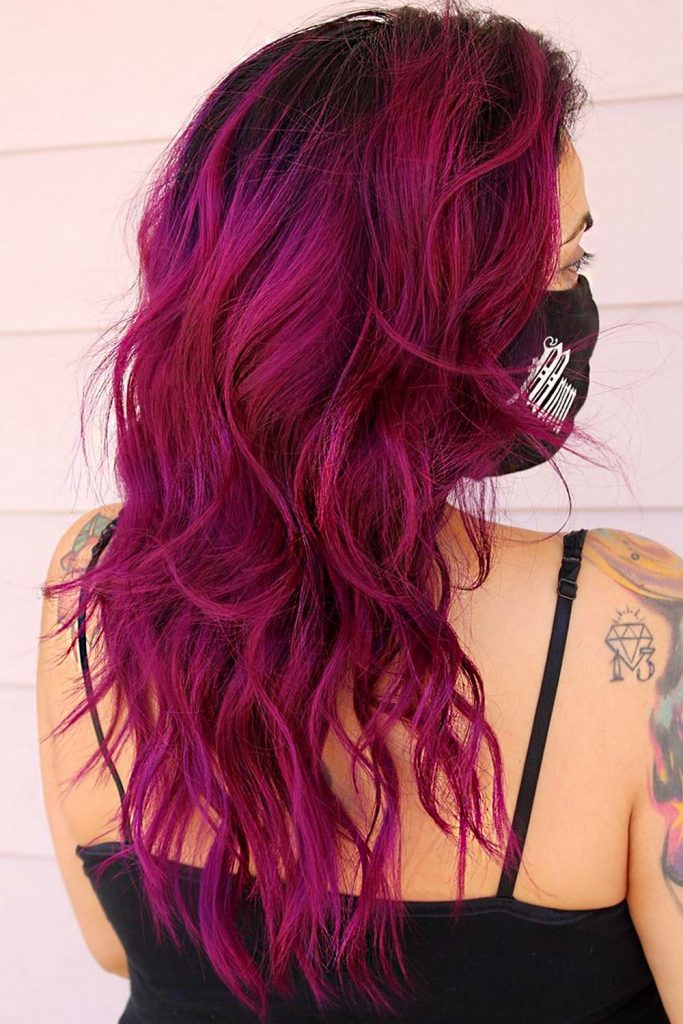 Credit photo: instagram.com/thehairygodmotherr
Sultry burgundy shades have traveled well throughout fashion history, and they are to stay for yet another round. While the shade remains impressively vibrant, it does not take a look over the edge. People with pink, ebony, and olive tones are predicted to make the most of the coloring. Besides, the hues look exceptionally great paired with outgrown dark roots. They introduce necessary dimensions into the style.
Neon Green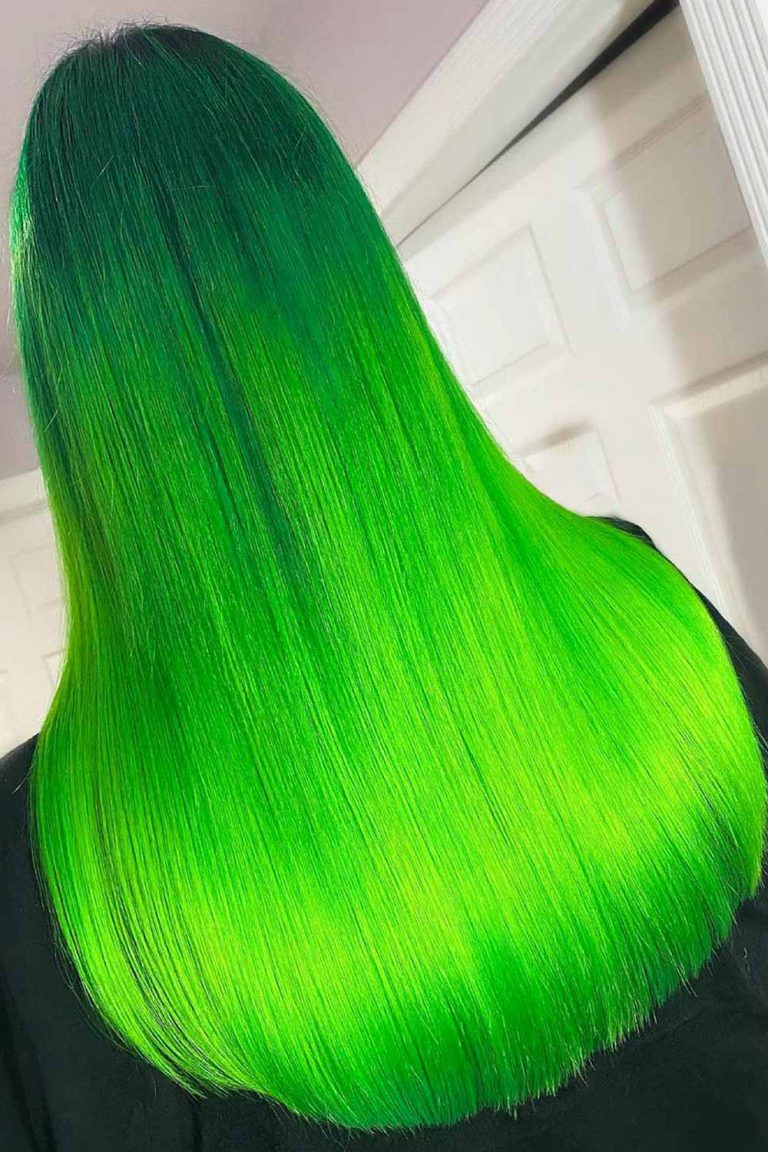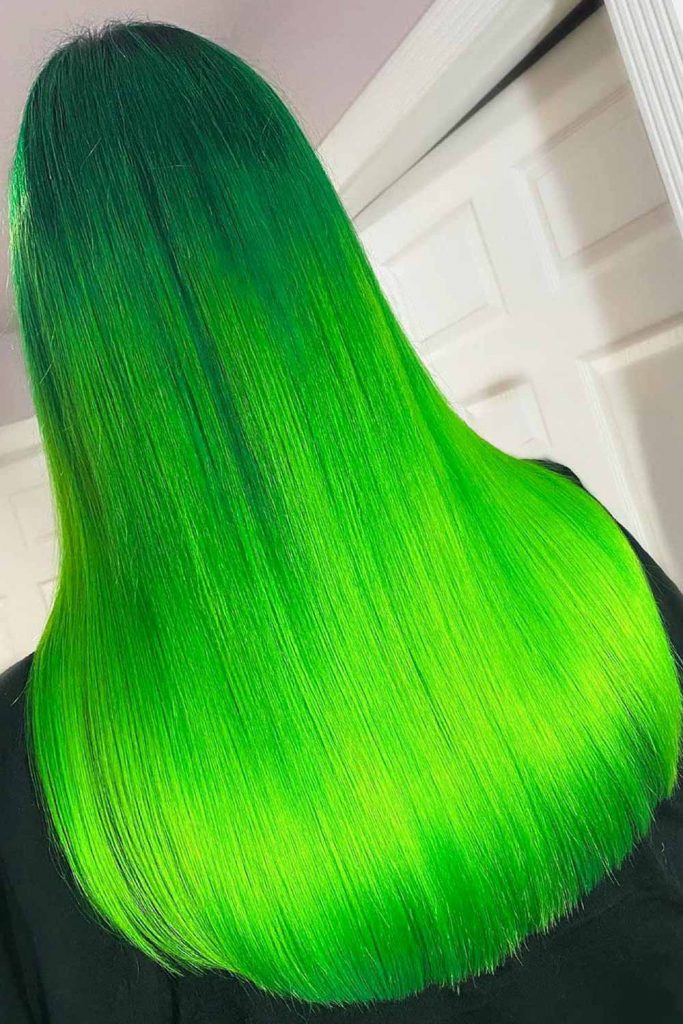 Credit photo: instagram.com/thehairygodmotherr
While neon green suits all tones and subtones, only the most daring of you will agree to pull the look off. It takes strength of character and creativity matched with curiosity to dye your mane neon. Yet, once you follow the path, you will like the journey from the beginning to the end.
Blue Hair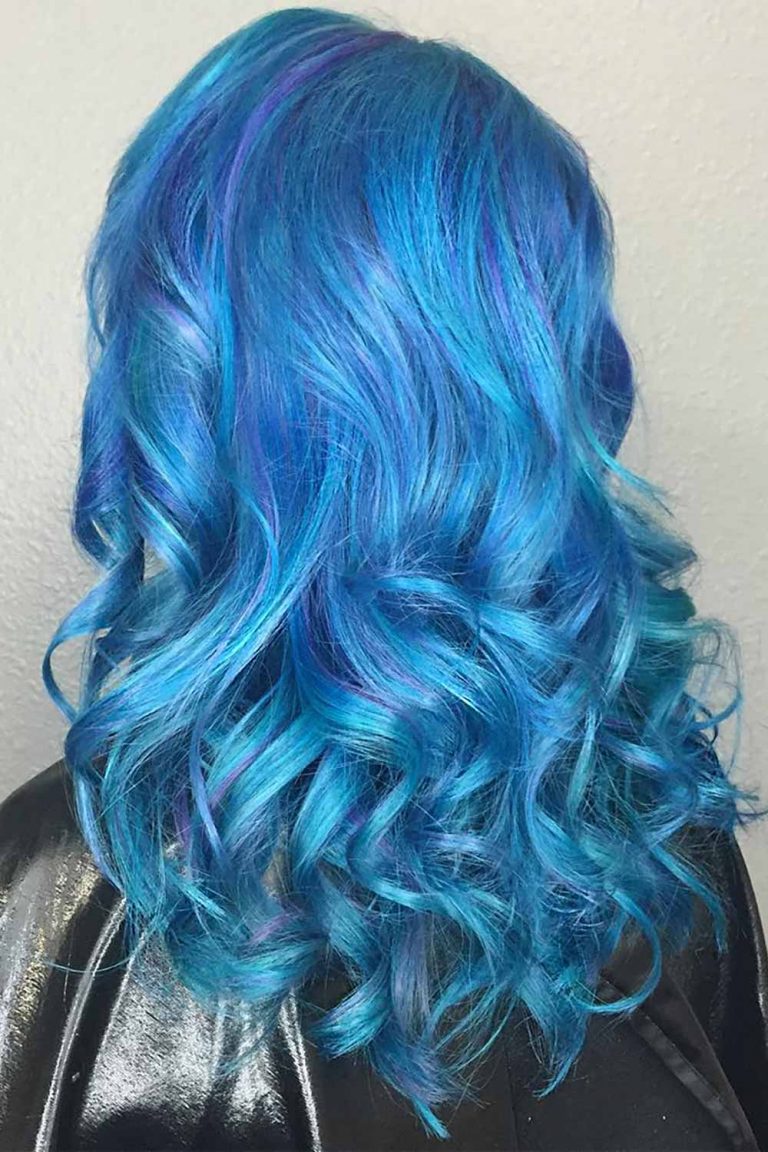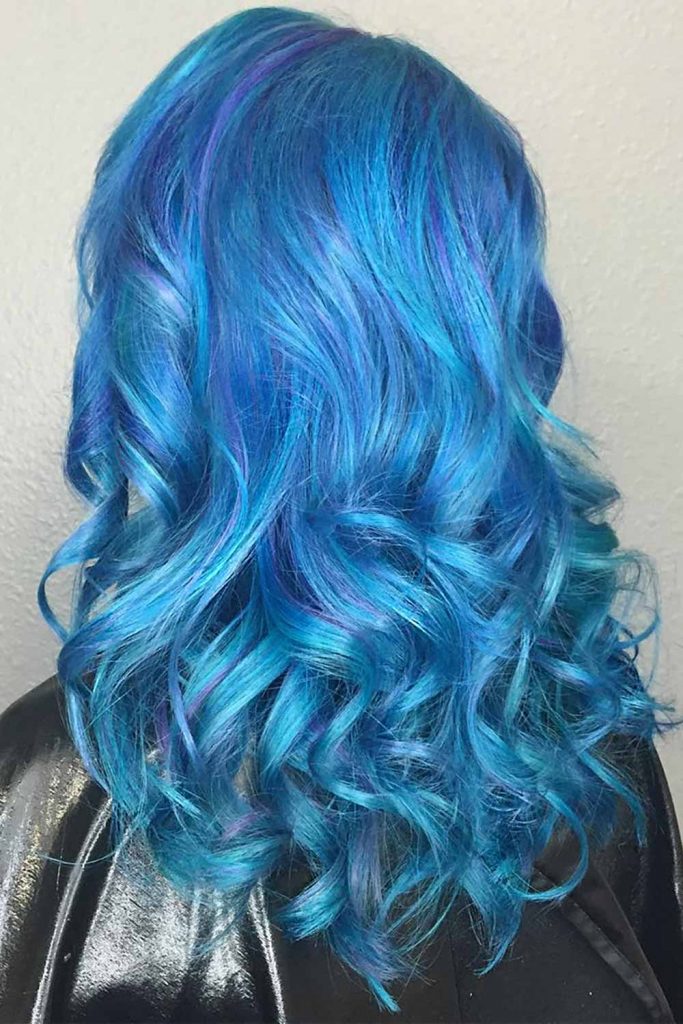 Credit photo: instagram.com/thehairygodmotherr
Considering the great variety of blue shades and tints, we rush to assure you that the color is known to fit both warm and cool complexions exceptionally. Thus, it takes your mood and individual preferences to pick the most suitable hue. In either case, the outcome will boost your confidence and prove that your reality can be much brighter than you could have anticipated.
Yellow Hair Color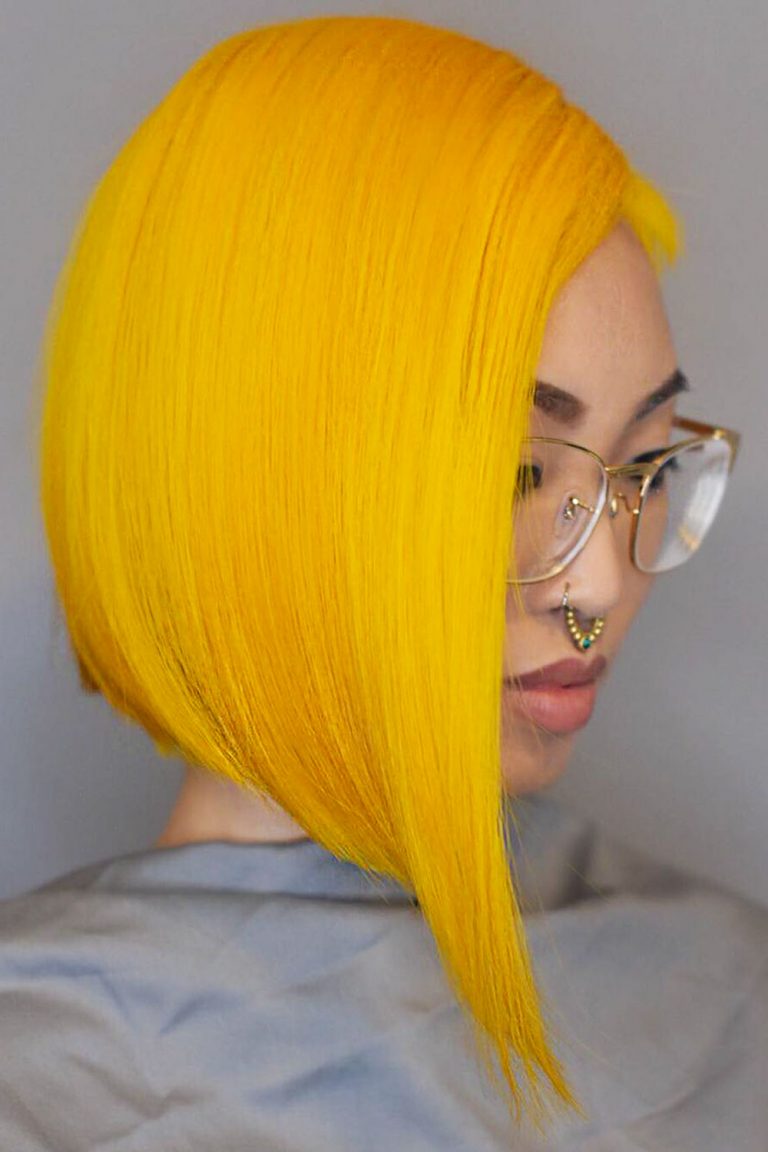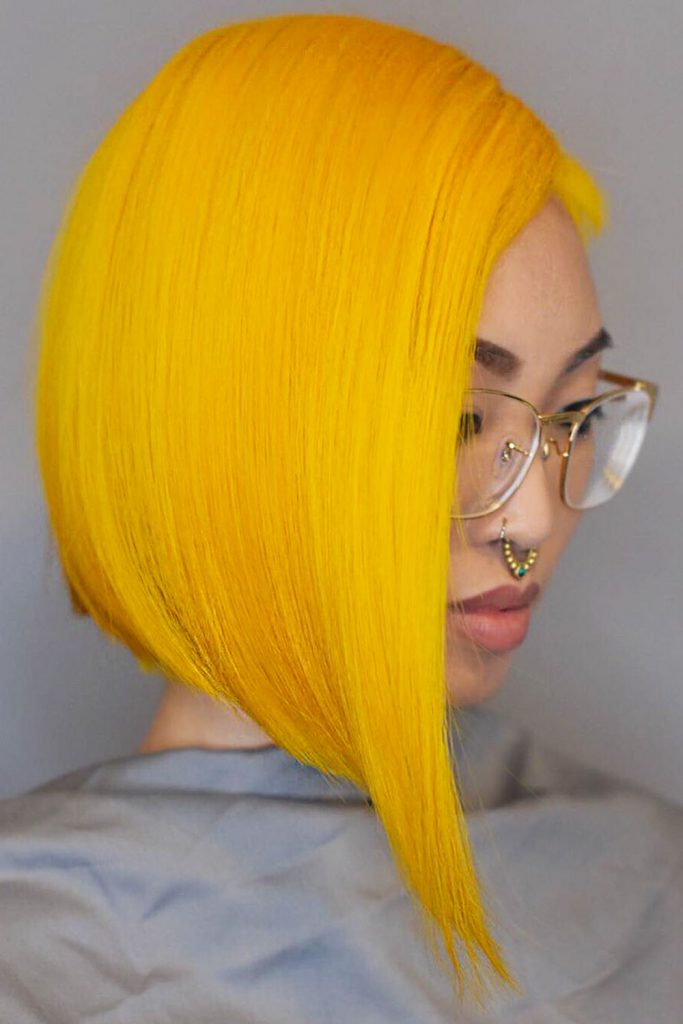 Credit photo: instagram.com/thehairygodmotherr
Of all the colorful ideas, yellow hair is somehow underestimated. Not for the lack of brightness or unique flair that the color comes with. If you want to light your world together with the world of others up, dyeing your hair sun-bright may be a good idea. Keep in mind that yellow undertones pair with the color well.
Pink Hair Color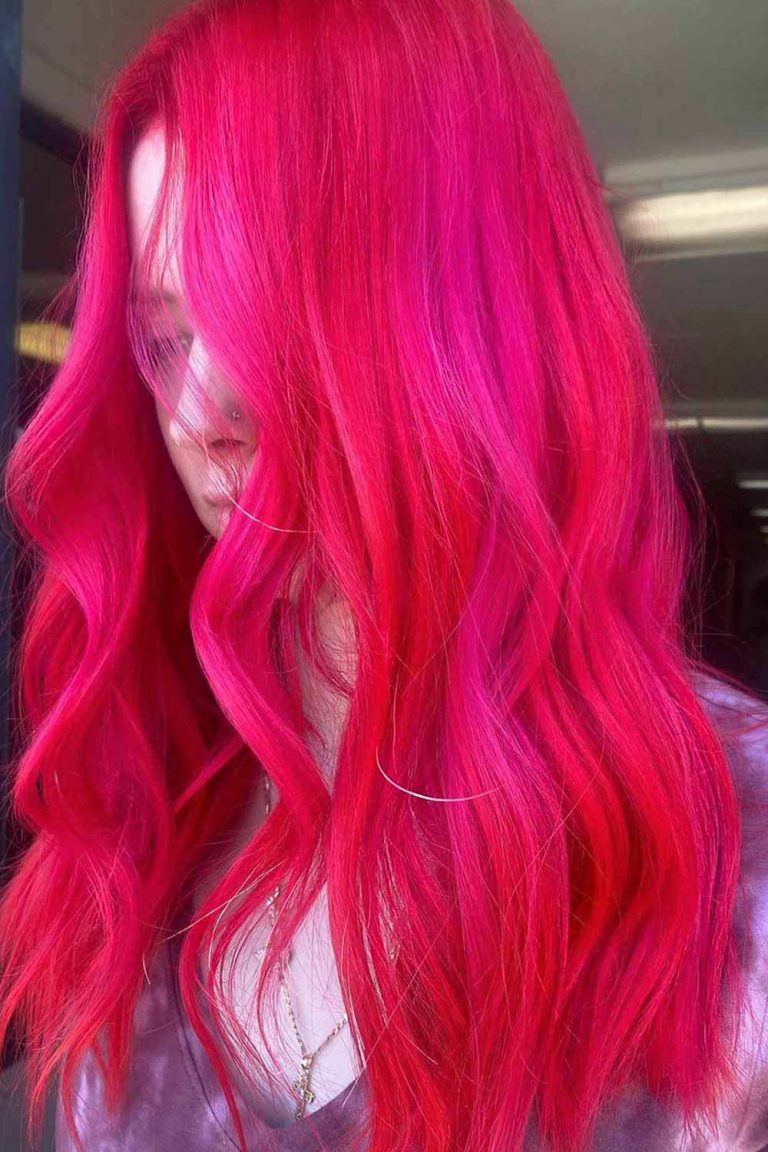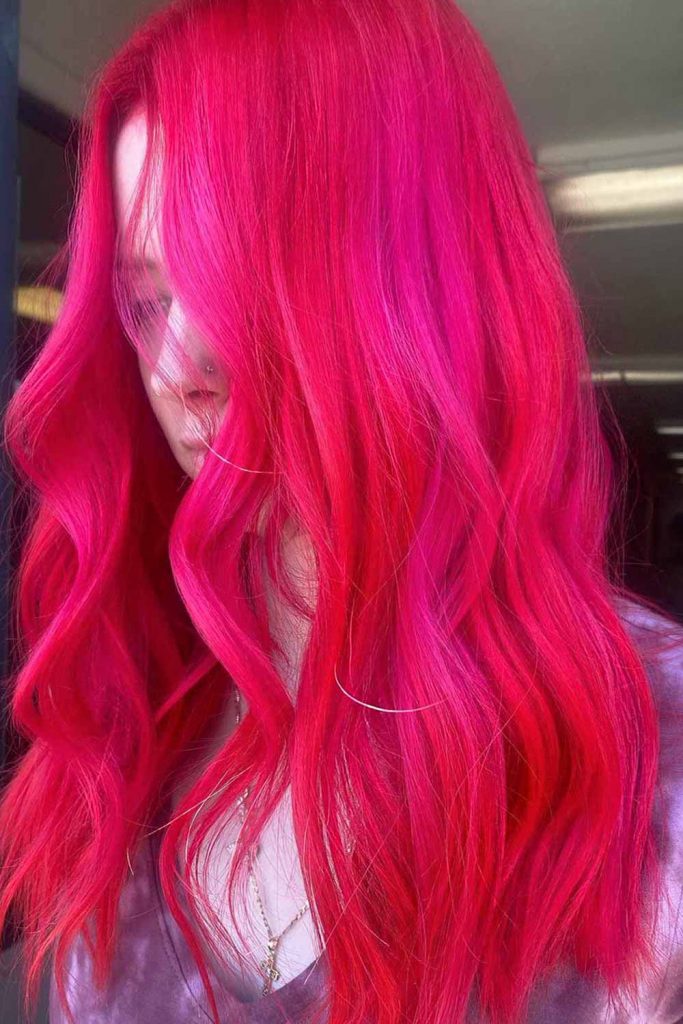 Credit photo: instagram.com/hairbyclairperez
Pink hair does not have to carry Barbie vibes solely. There's much room for experimentation with the pink palette. Darker pink hues are still playful and fun, but a hidden wealth of wisdom hides beneath. Show those around, just one side of you, and keep the other veiled only for the closest ones.
REFERENCES: