It might be prime time to experiment with different blonde hair colors to see which one works best for you. Is it really true that blondes have more fun? Well, it can't hurt to find out. Nowadays, women tend to frequently change their hairstyles and color, and it is considered to be trendy and quite acceptable. For that reason, the lovehairstyles.com team want you to check out some iconic blonde transformations you can go for today!
How To Pick The Most Flattering Shade Of Blonde Hair
Even though there are literally dozens of shades of light hair color to choose from, don't get discouraged. We will gladly help you pick the most flattering shade. From dirty blonde hair to ashy blonde, there is something for everyone! Choosing the appropriate hair color for your complexion is important because you don't want to look pale or washed out.

Following is a selection of our favorite shades of blonde hair plus some helpful tips for dying your hair blonde.
Tips On How To Choose The Best Blonde Color:
First of all, stay within 2 shades of your natural color.
Take your skin tone into serious consideration when choosing the perfect shade of blonde.
Eye color is also important when choosing the right shade of blonde. For example, some shades will look great on those with darker eyes while others will complement those with a blue, green, or hazel eye color.
If you are going from a darker shade, you will need to bleach your hair so that it doesn't turn orange or green or some other funky shade.
Protect your dyed hair when going out in the sun or swimming.
Use products for color-treated hair in order to retain your hair color.
Only shampoo a few times a week to ensure that the color will last longer.
Get your roots touched up when needed.
Choose ombres, highlights, streaks, and balayage tones that will compliment your blonde shade.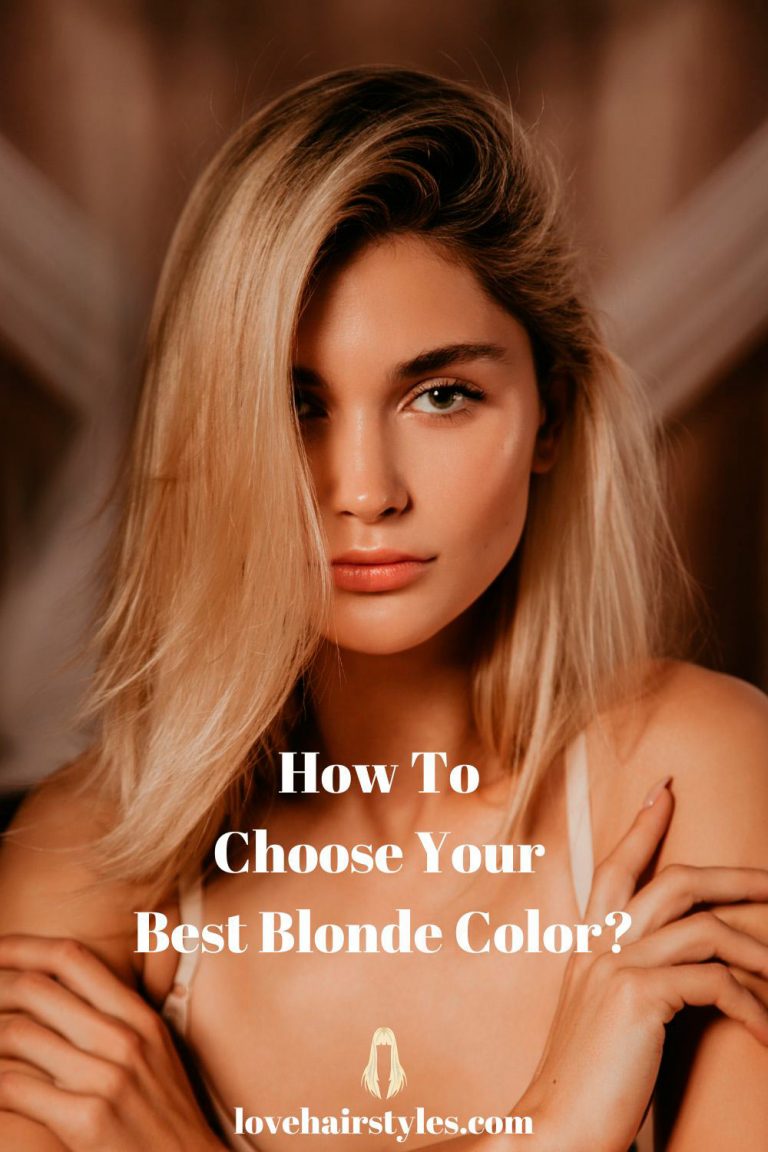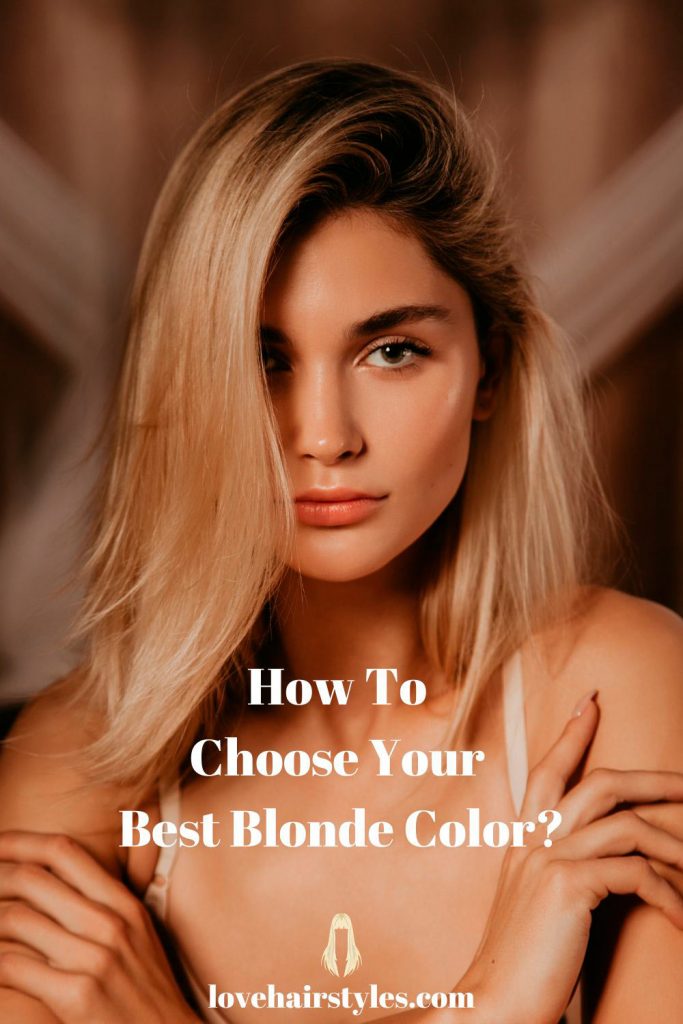 Scroll down to start browsing the gallery!
Trendy Blonde Shades in 2023
Whether we like it or not, blond hair has always been on the top of glory so that it will remain. However, with the available number of blonde hair colors, certain shades come and go as we speak. To save you from sporting anything less than the trendiest hue of the season, we've rounded up a few blonde shades that will revolutionize hair fashion in 2023.
The Classic Blonde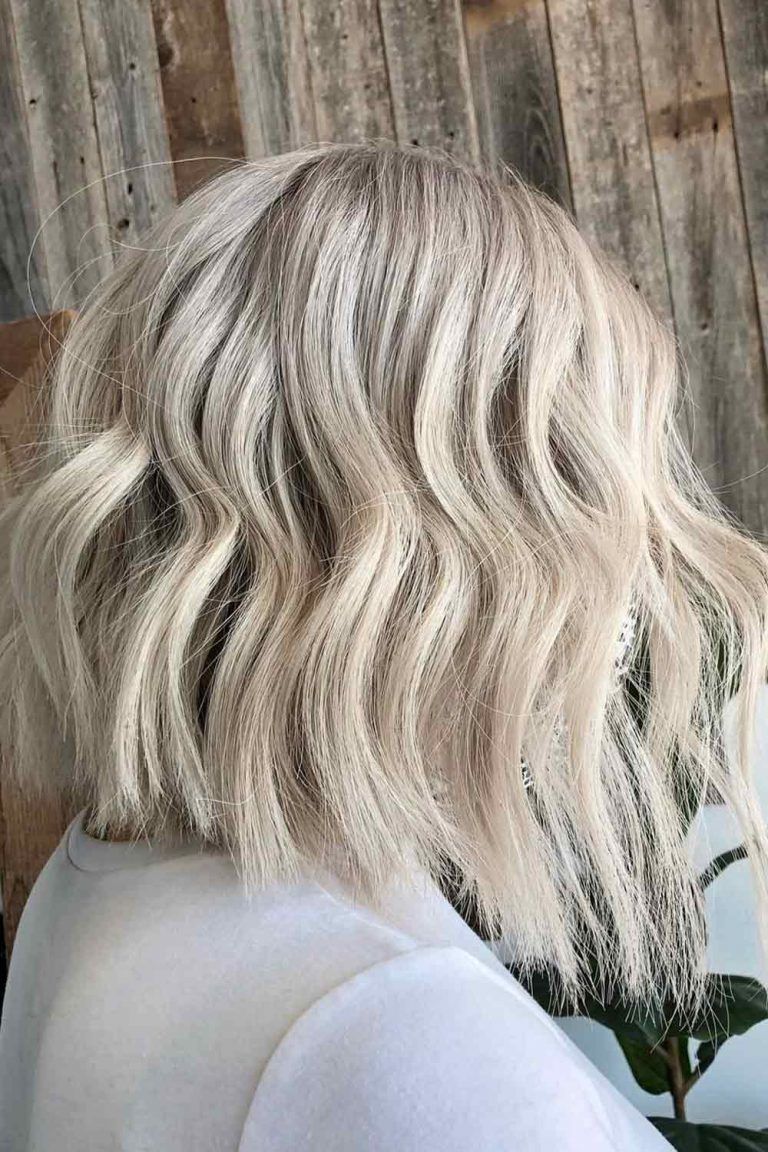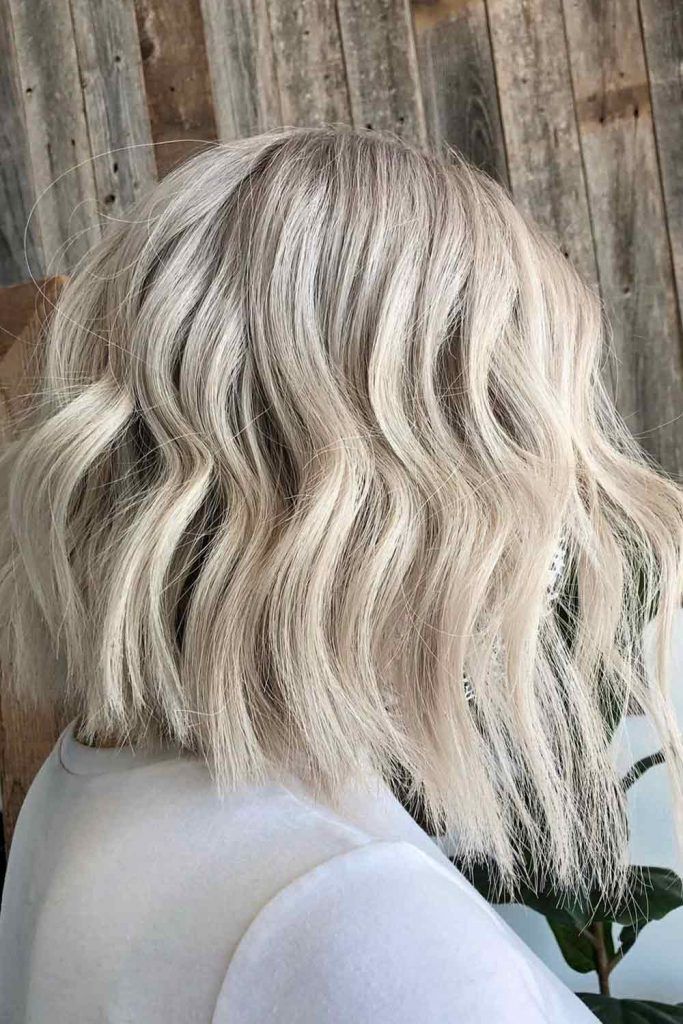 Credit photo: instagram.com/_heyhelena
Grace Kelly perfectly pulled off this mix of bright blonde and sandy tones that made hair color look natural and sexy at the same time. It works best for those with fair complexions who want a classic, sophisticated style.
Platinum Blonde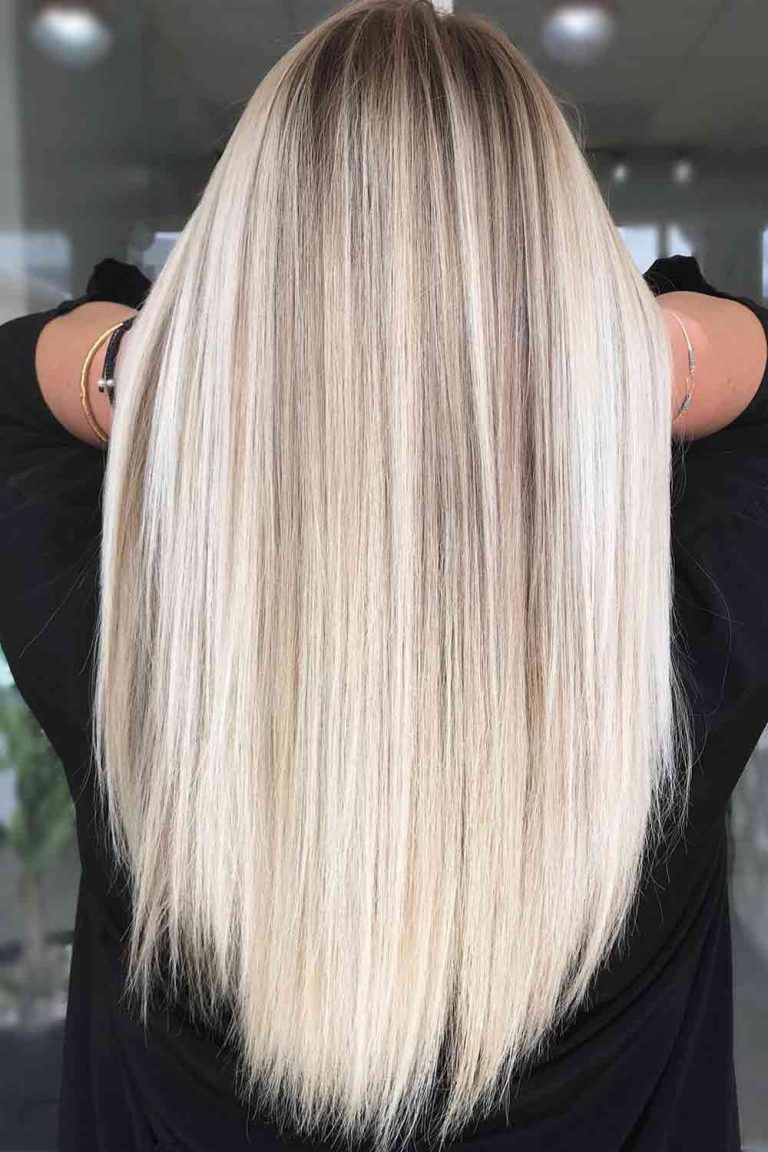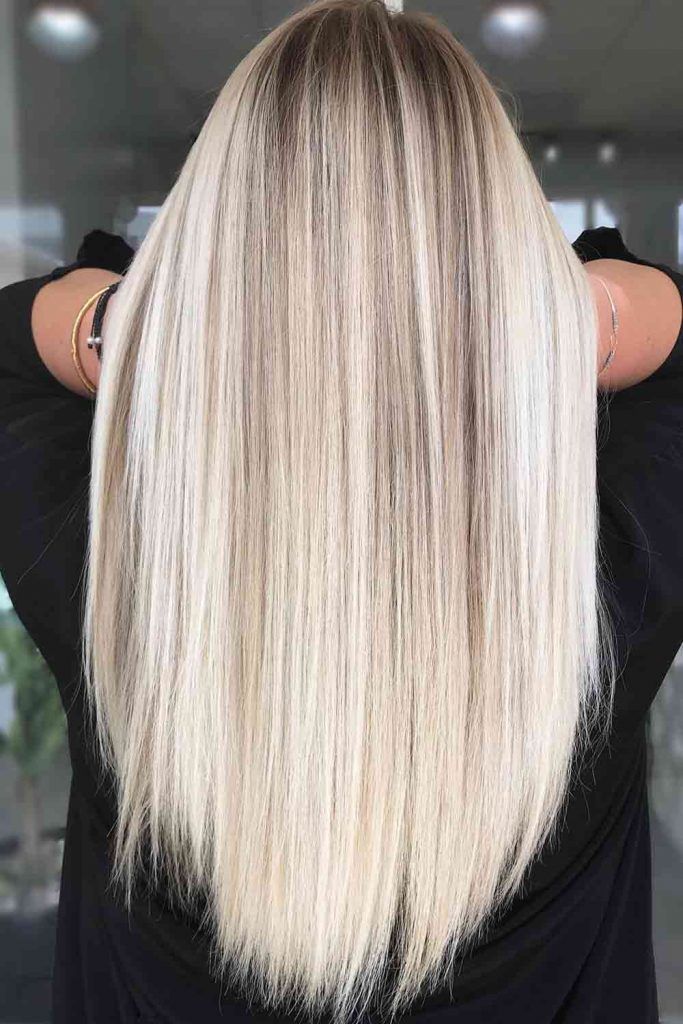 Credit photo: instagram.com/suetyrrellstylist
Blonde hair color chart is full of surprises. In the past few years, it's given life to a shade that has instantly become the most sought-after hair color colorists ever saw. Combining some traces of the grey hair color trend with cool, whitish blonde vibes, cold platinum hair color simply takes the biscuit as the hottest color in the world. Moreover, almost every celebrity and runway girl has tried it, so what's stopping you?
If you are going for the "blonde bombshell" look, then platinum blonde is your best choice. Basically, it is the lightest blonde shade. Therefore, it will look best on those with fair to medium skin tones but can nicely compliment any eye color.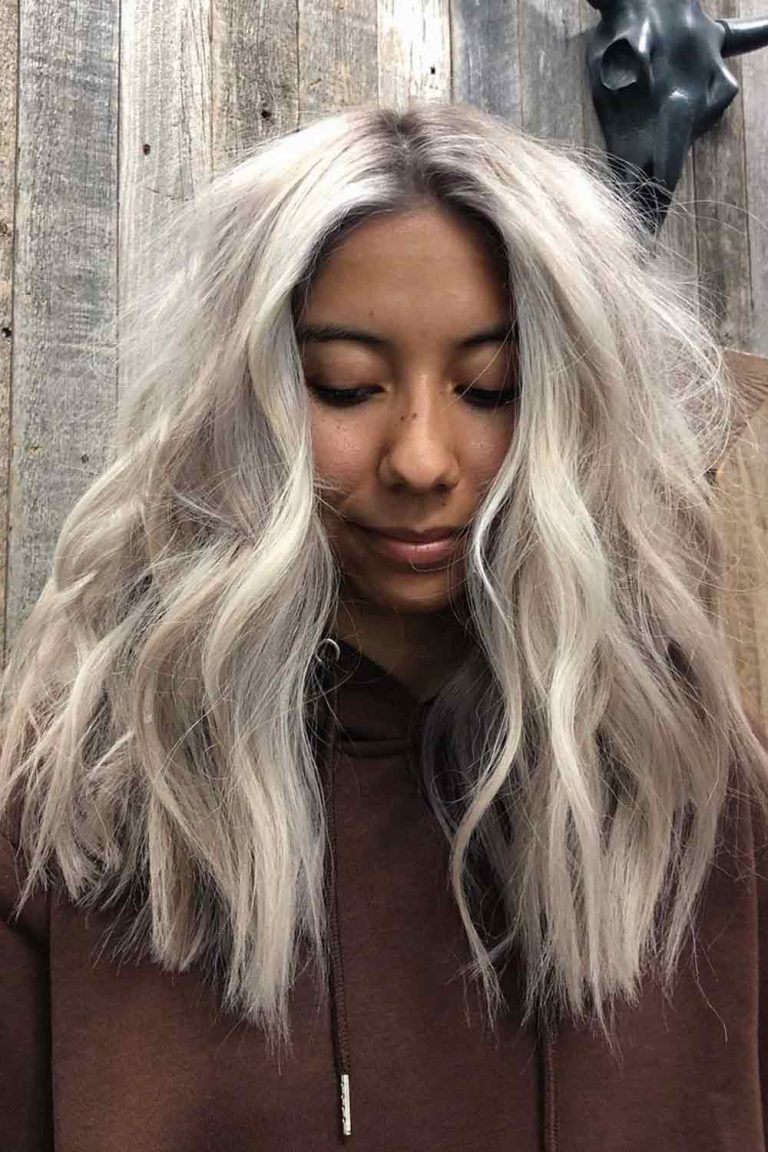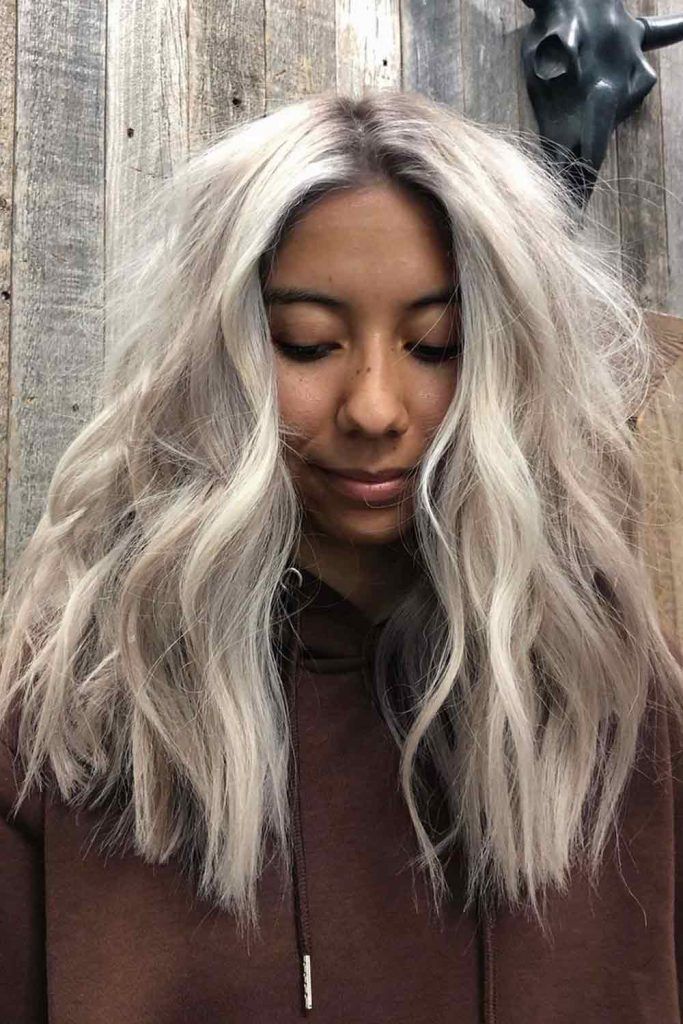 Credit photo: instagram.com/_heyhelena
From Marilyn Monroe to Miley Cyrus, platinum blonde will always be in style. However, this is a high maintenance blonde hair color as it can easily fade, especially if you have naturally darker hair. In general, it works well with pink skin tones and shorter hairstyles for a more dramatic and classic effect.
Buttery Blonde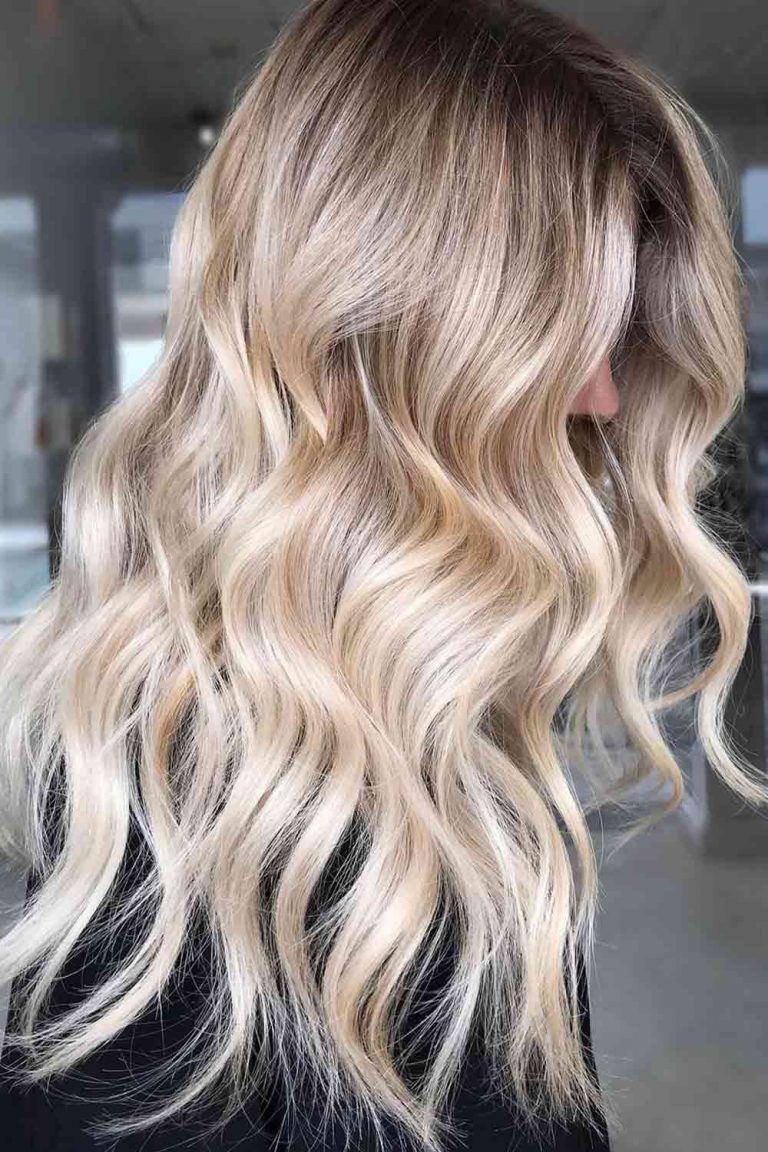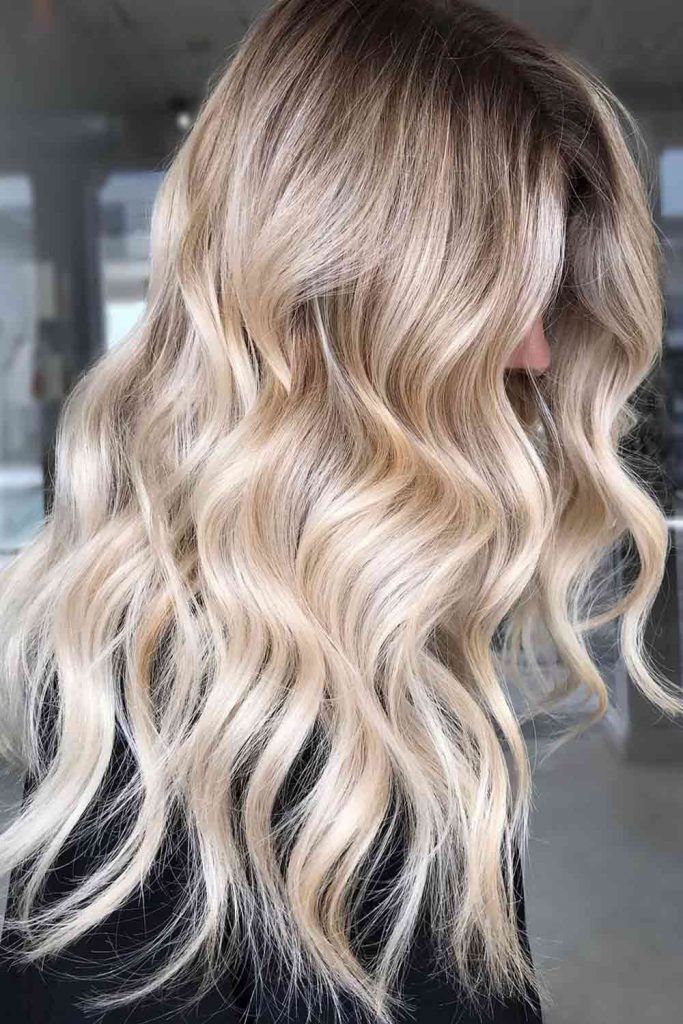 Credit photo: instagram.com/suetyrrellstylist
This shade is a gorgeous warm tone with soft touches of honey-yellow. Though this bright and sunny blonde works best for those with pearly complexion, it can flatter any eye color.
This silky blonde is the look of the "All-American Girl." Reese Witherspoon totally rocks this style with her pinkish hue. With bright highlights and buttery tones, it is perhaps one of the most popular shades of blonde for 2023 season.
Golden Blonde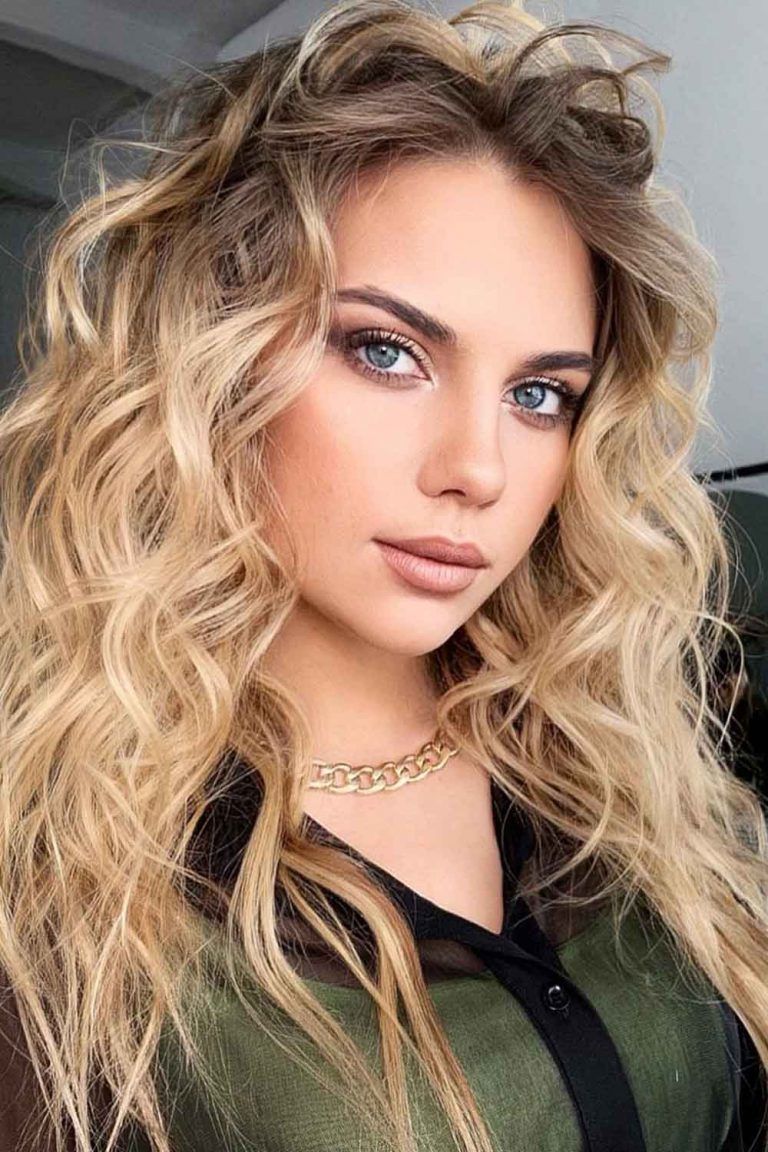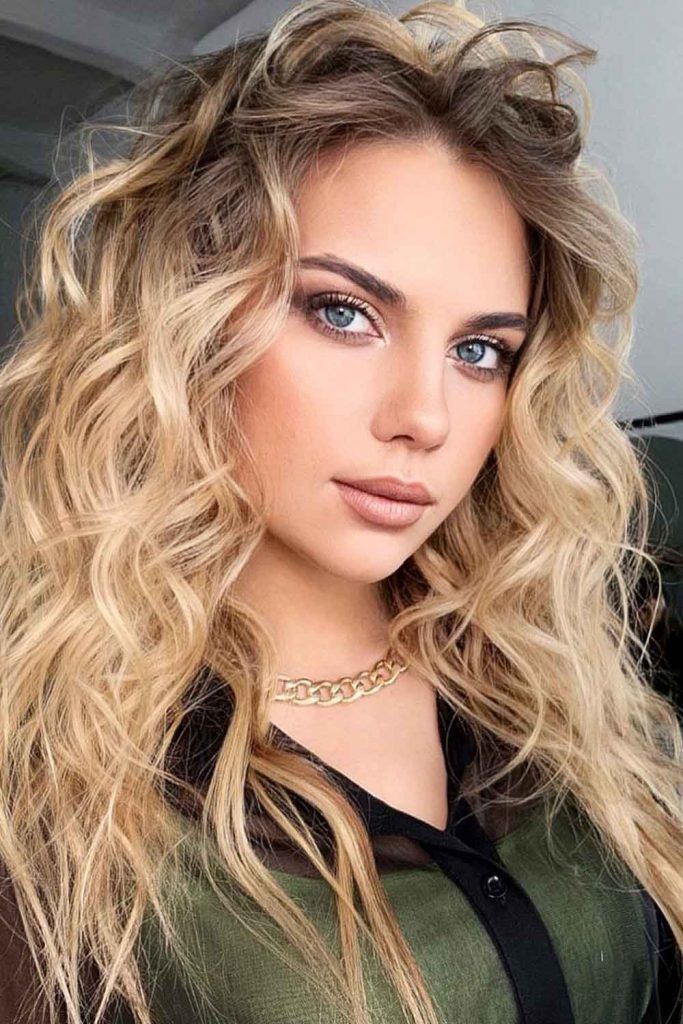 Credit photo: instagram.com/lenabogucharskaya
This multi-dimensional blend of gold, butter and honey tones works best for those with light eye colors such as hazel or baby blue. Also, it complements those with fair complexions and blends nicely with balayage tones.
Popstar Shakira totally rocks this classic blonde hair color. With its golden blonde tones and pale blonde highlights, this look encompasses youth and style at once. However, it is important to keep up with the roots to maintain this popular shade of blonde.
Cherry Blonde
Credit photo: @thehearstylist
i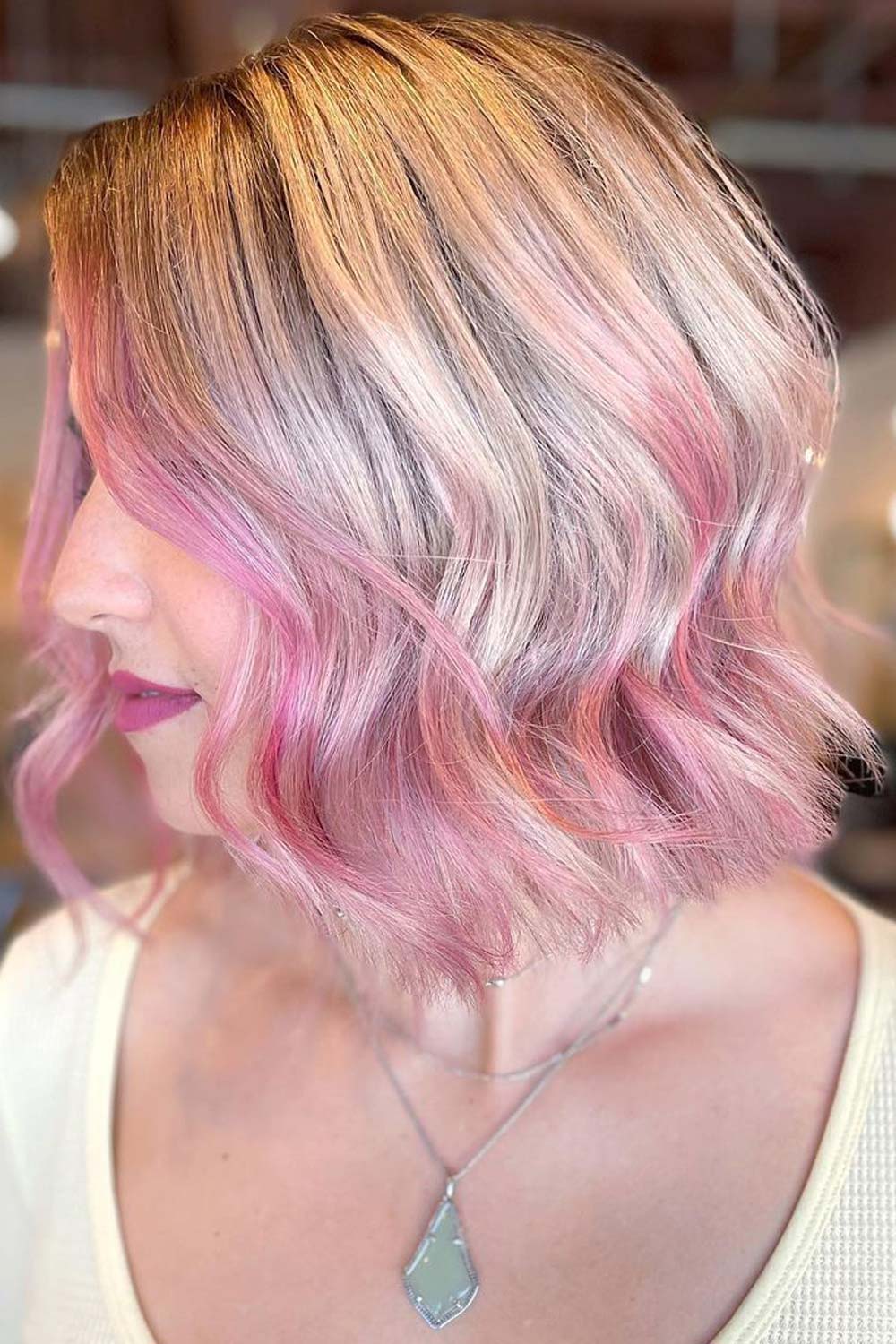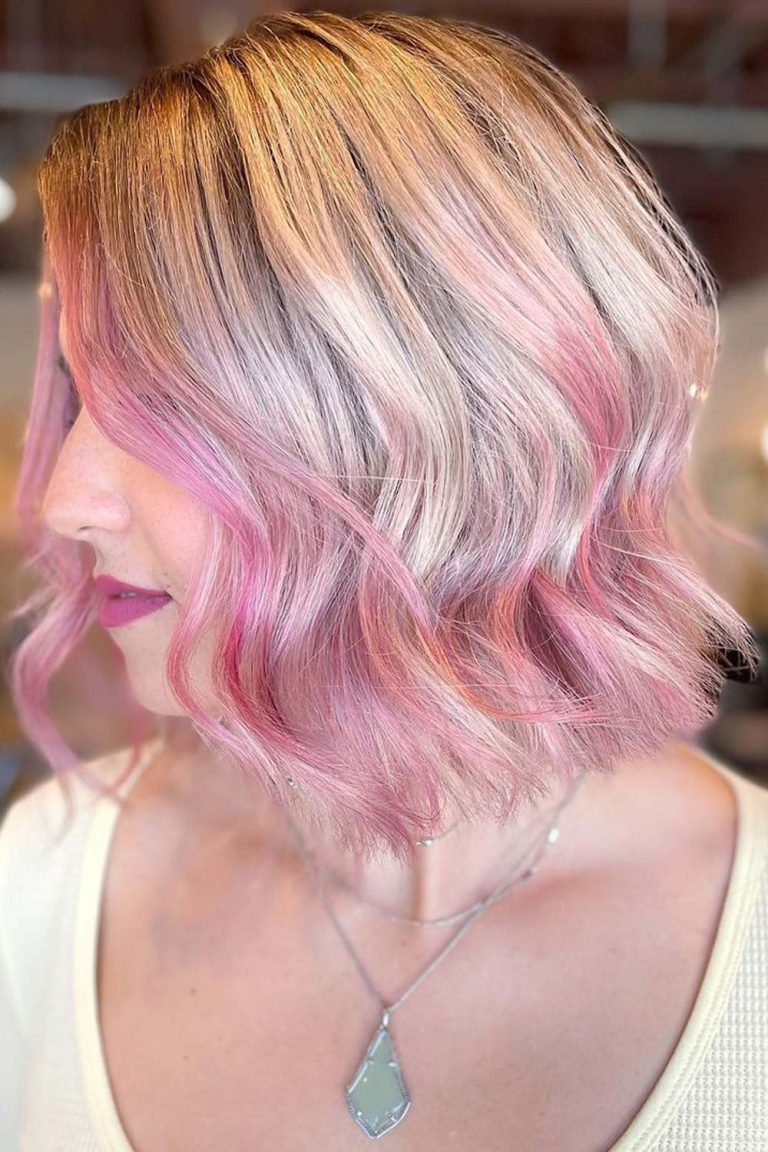 Credit photo: @thehearstylist
i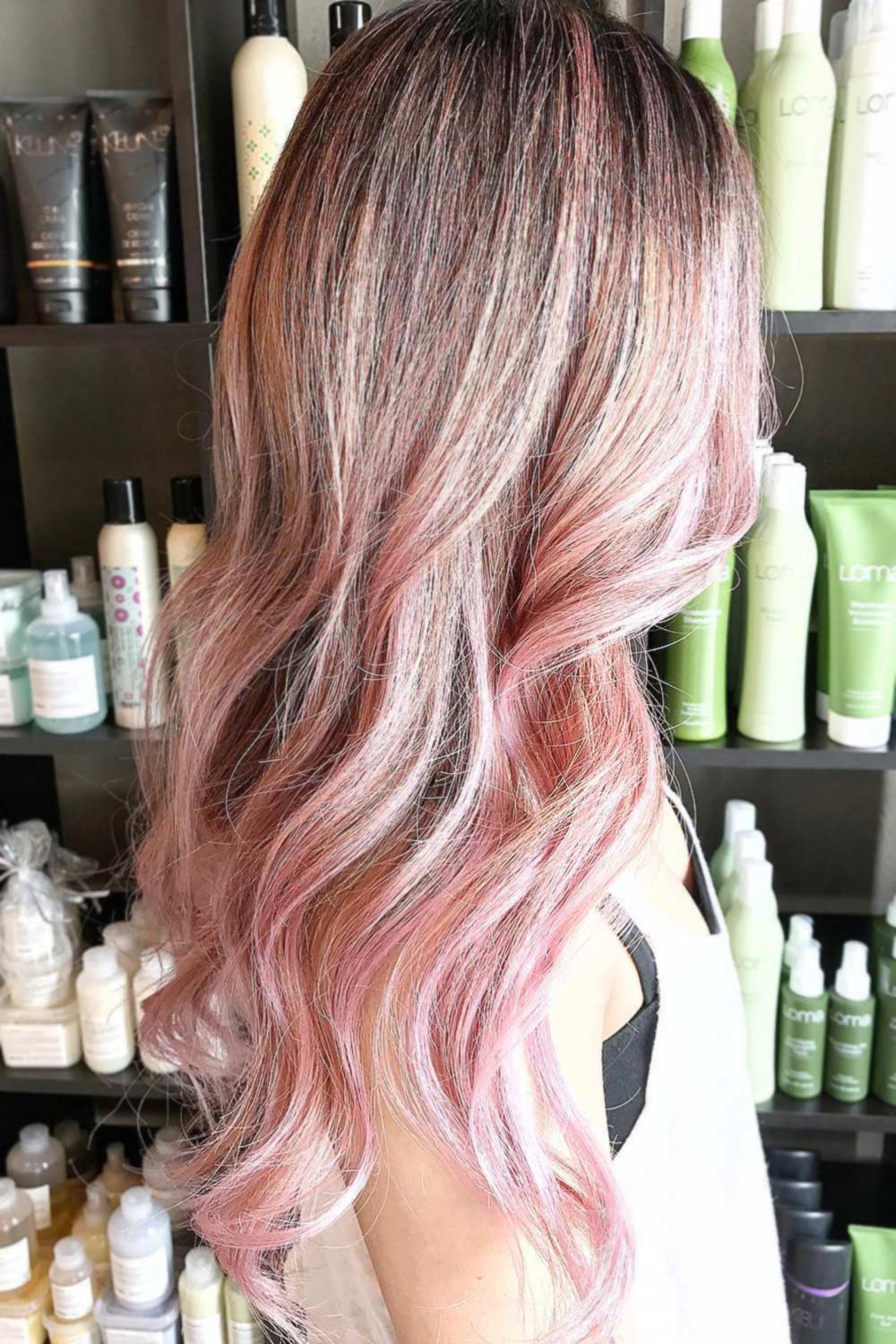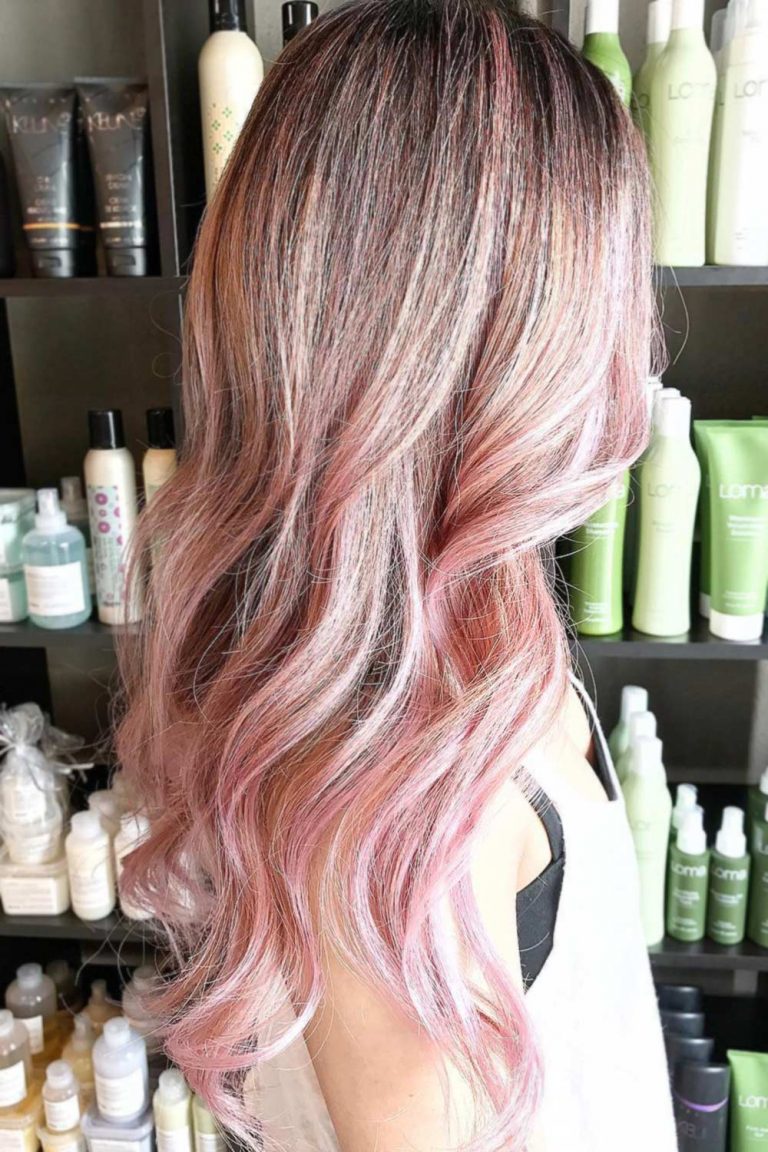 /
This berry color with its fuchsia tones is perfect for those with dark eyes and skin. It is achieved by first dying your hair blonde and then adding the cherry on top. Still, with some pastel hues, you can make it work for lighter complexions as well.
Blonde With Pastel Pink Hue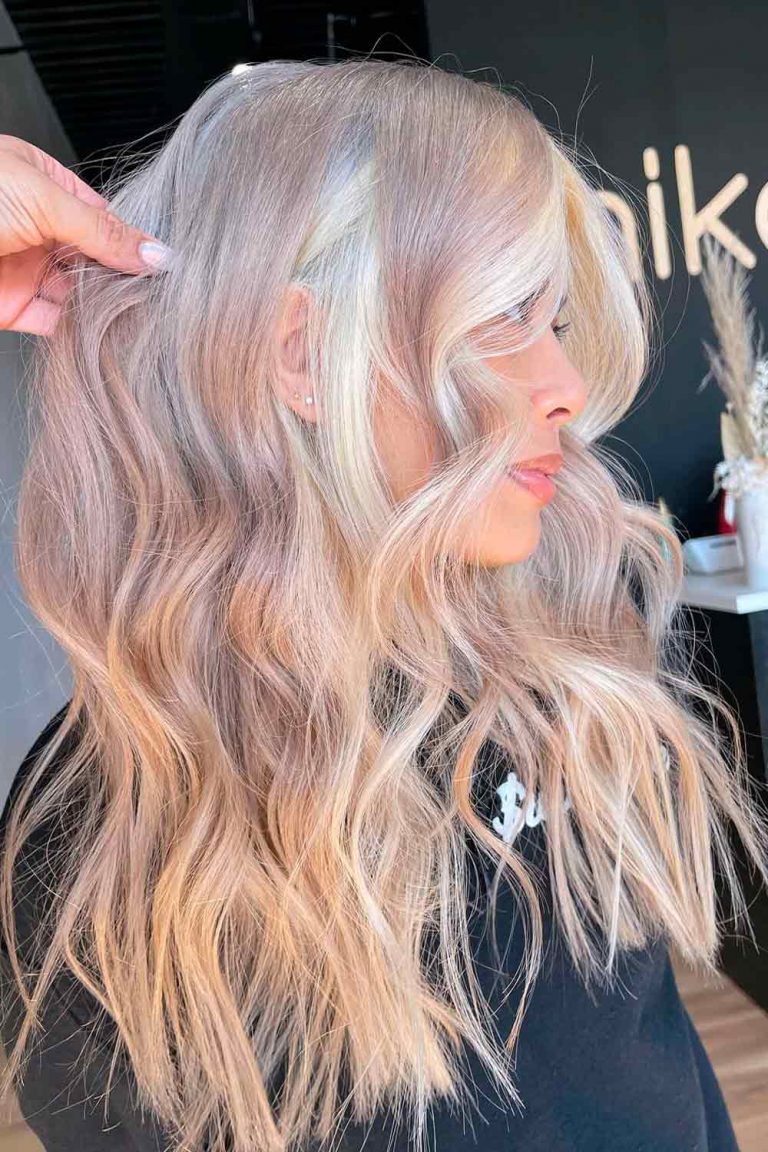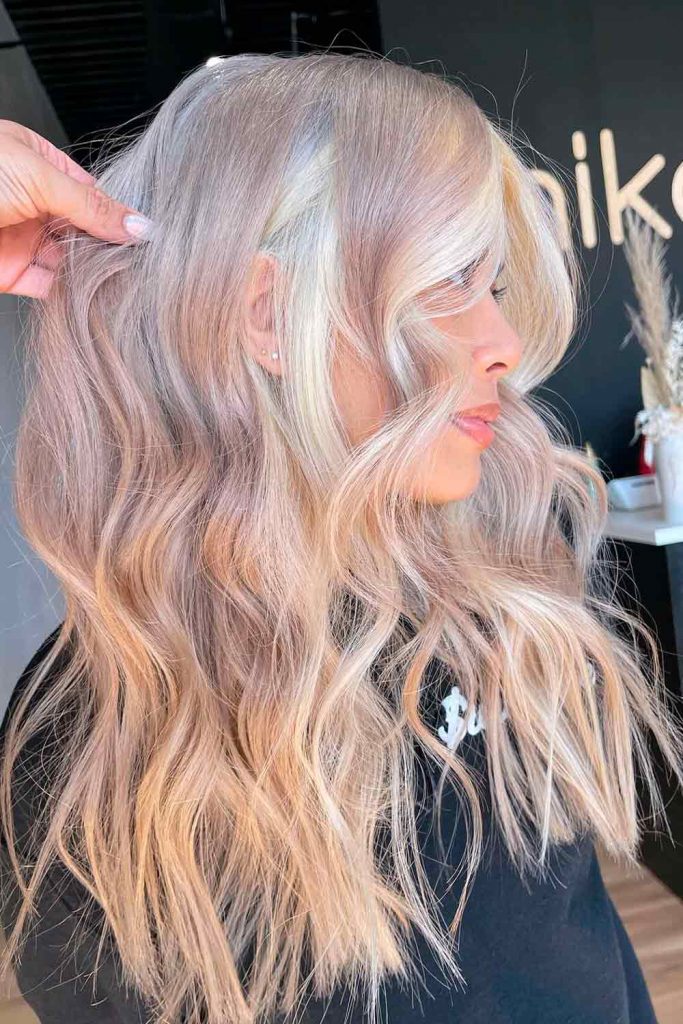 Credit photo: instagram.com/hairbyapes
Though it's hard to notice the pink hue in this idea, you can definitely feel its presence. The darker shade of blonde coated with a soft pinky tone gradually transits to lighter ends, thus creating a pink-infused blonde. The greatest part about this color is that the amazing rose vibe will reveal itself once the sun shines down on it. Basically, recreating this idea is the best way to add tons of shine to your locks.
Caramel Blonde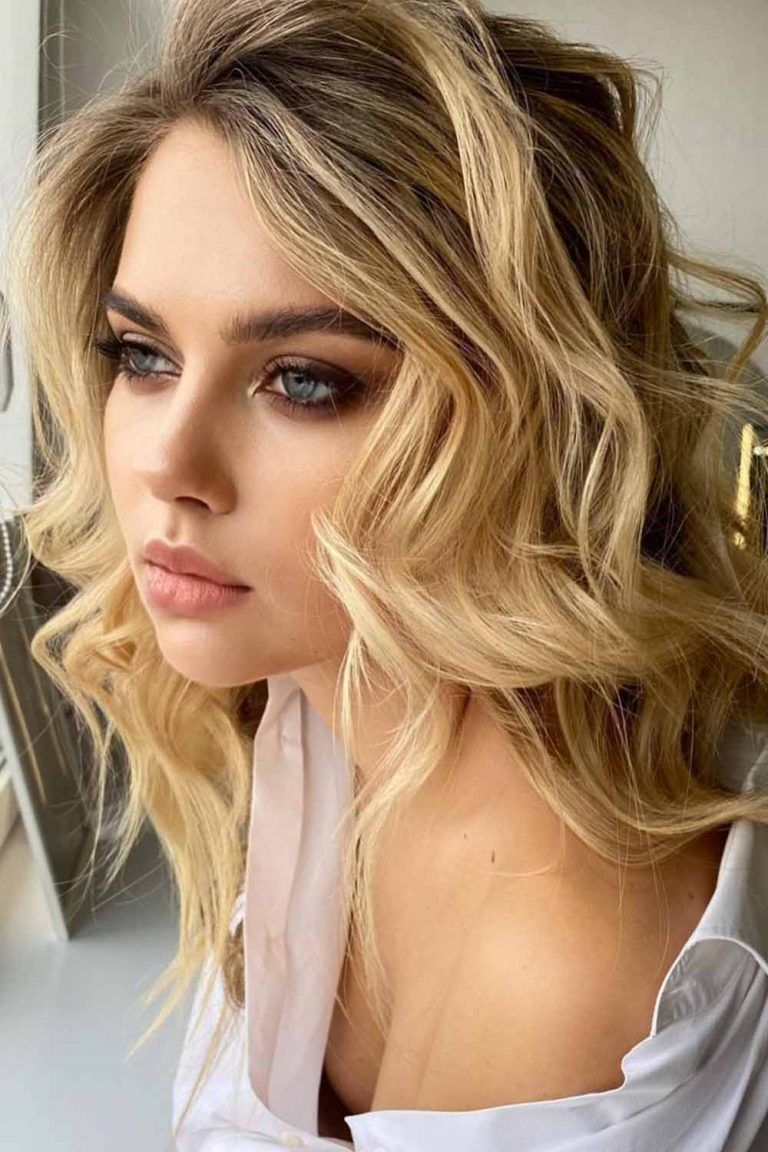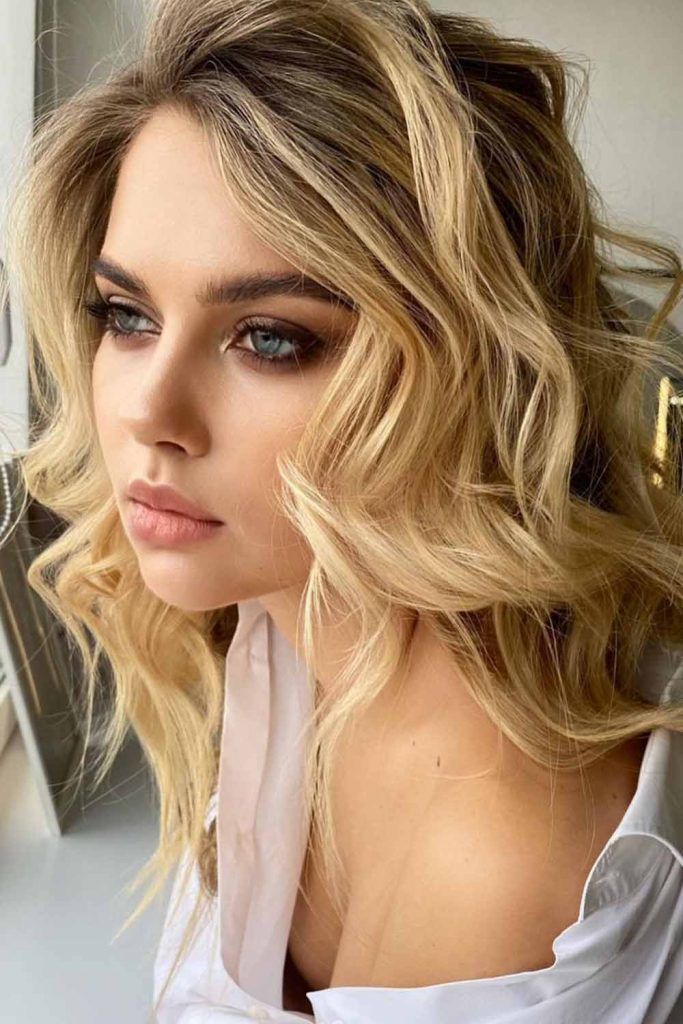 Credit photo: instagram.com/lenabogucharskaya
This shade is similar to dark iridescent blonde or light golden brown and works for any complexion. If you want this gorgeous shade of blonde to look natural, use pale highlights near your face and a dark golden blonde base in the middle of your hair length.
Chocolate Blonde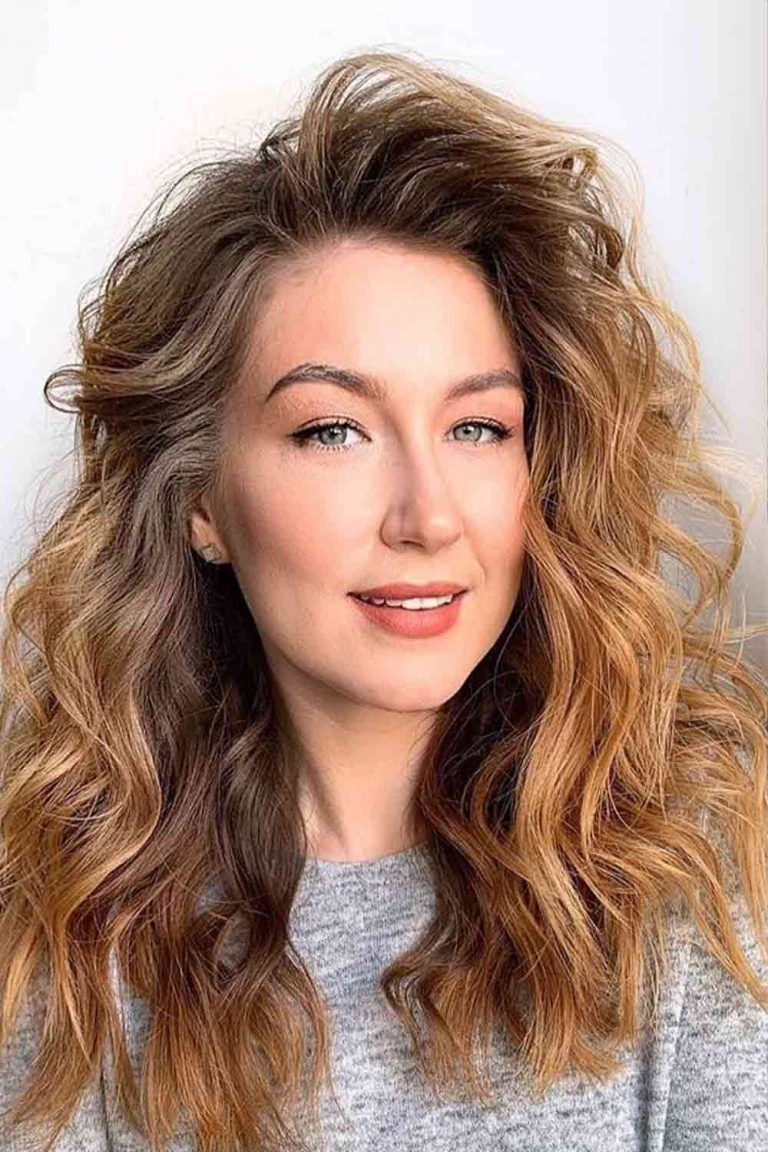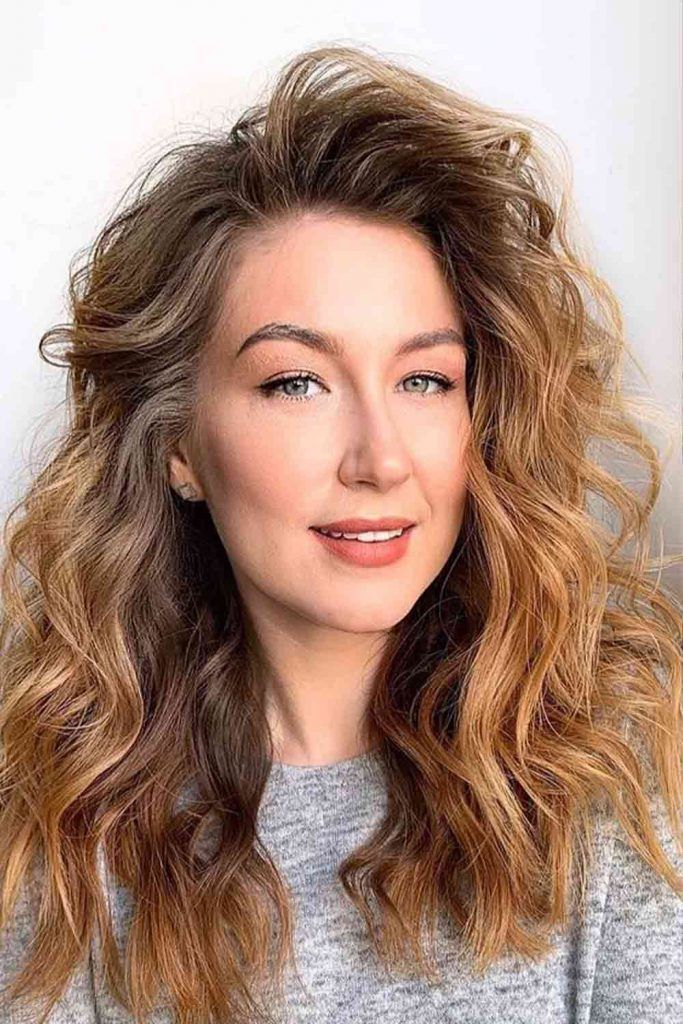 Credit photo: instagram.com/hair_by_zolotaya
This fun shade is a darker shade of caramel blonde that looks best on those with dark eyes and hair. But, you should be careful not to mix this shade with orange or platinum tones, as it will look unnatural. However, it looks stunning with soft, golden highlights.
Sandy Blonde
Credit photo: @thehearstylist
i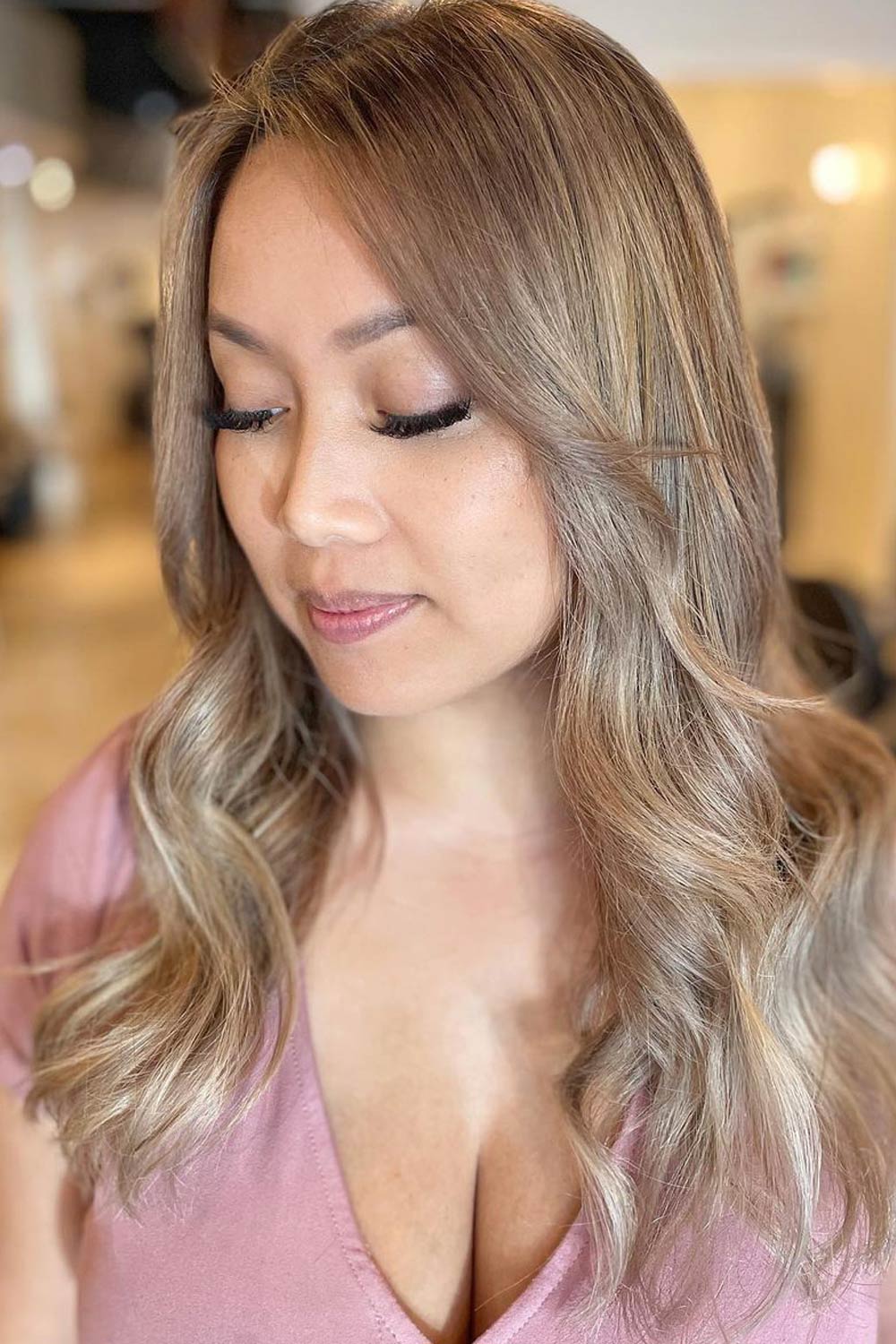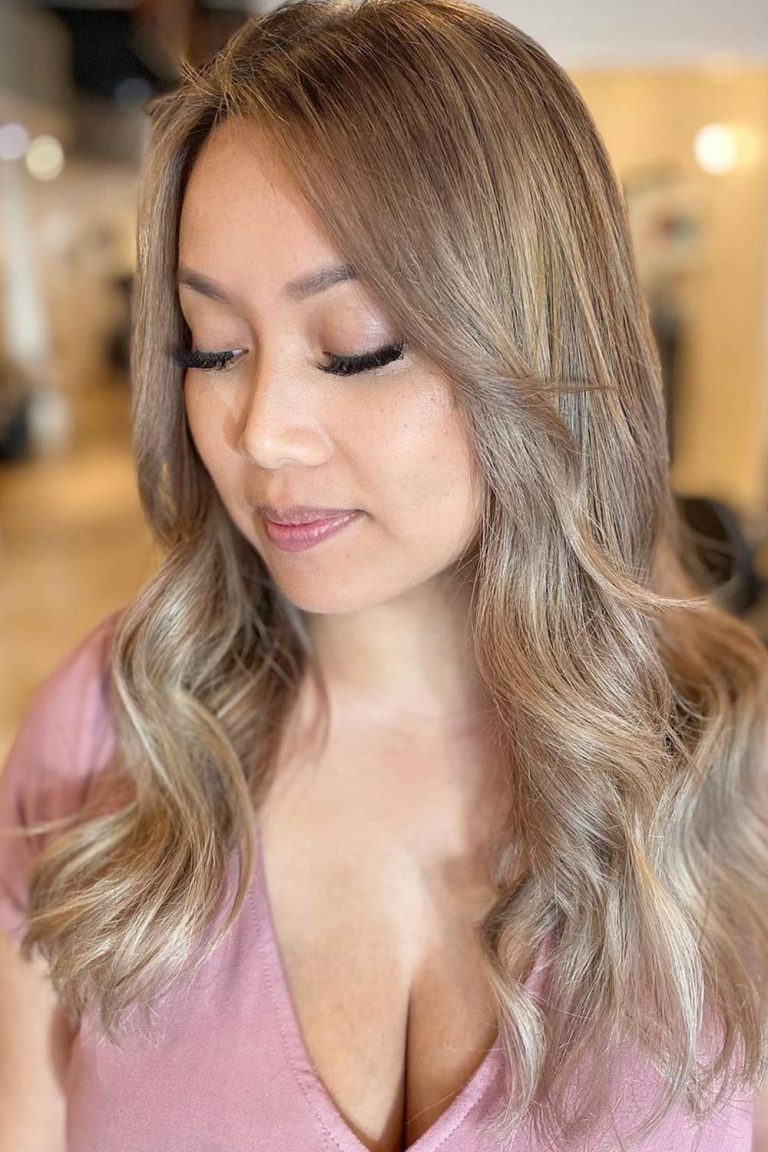 Credit photo: @mila_kryshchykhina
i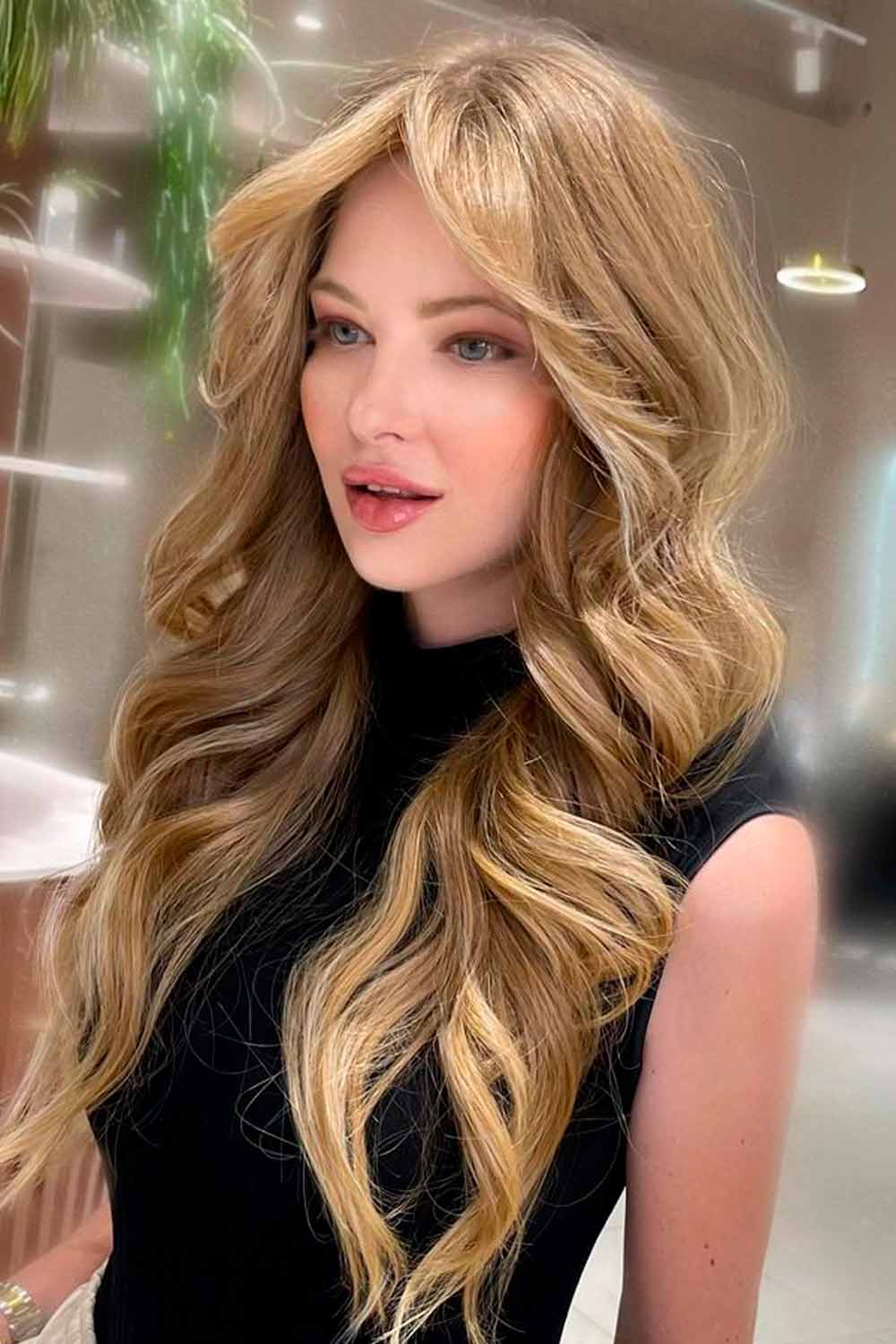 Credit photo: @thevividbrunette
i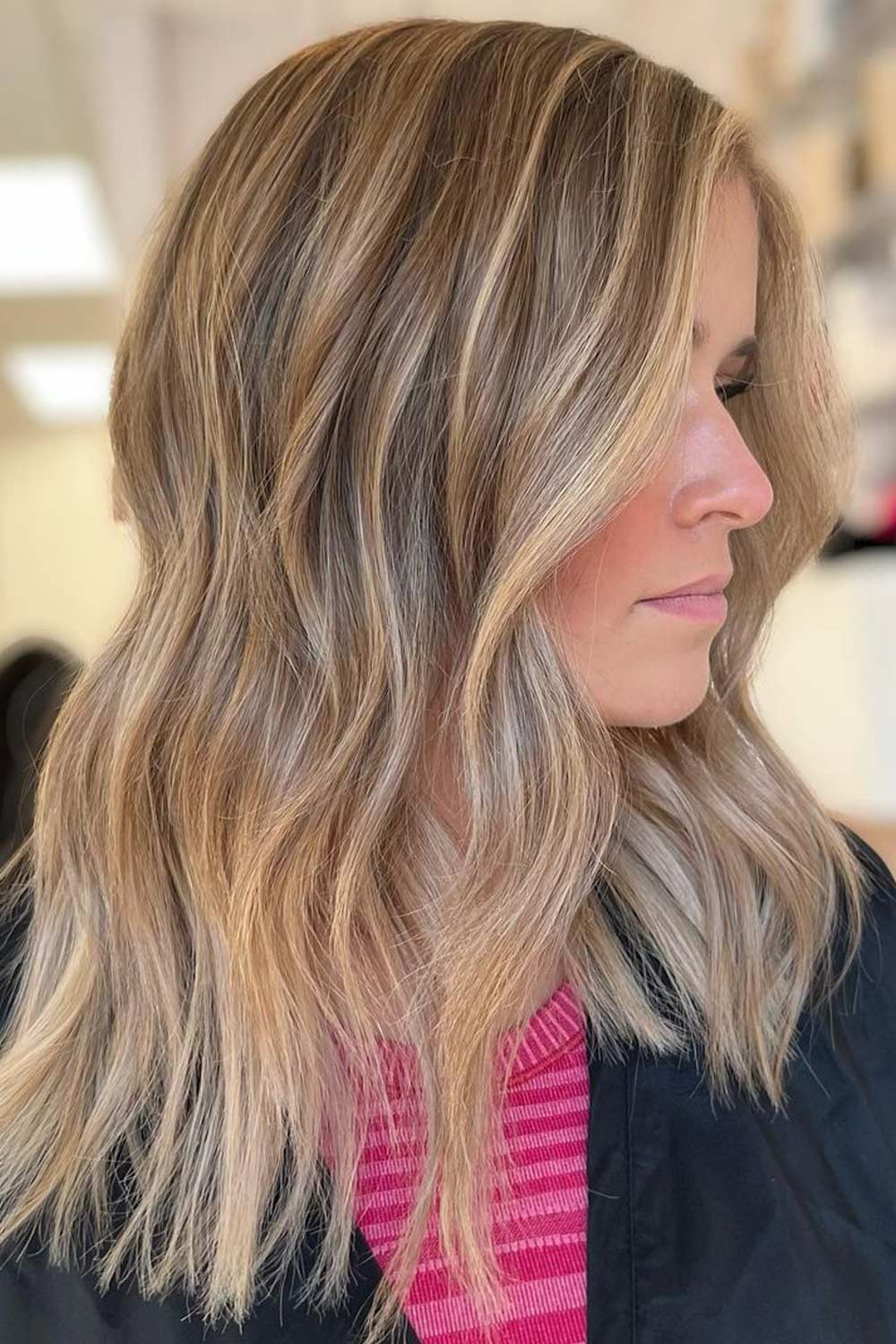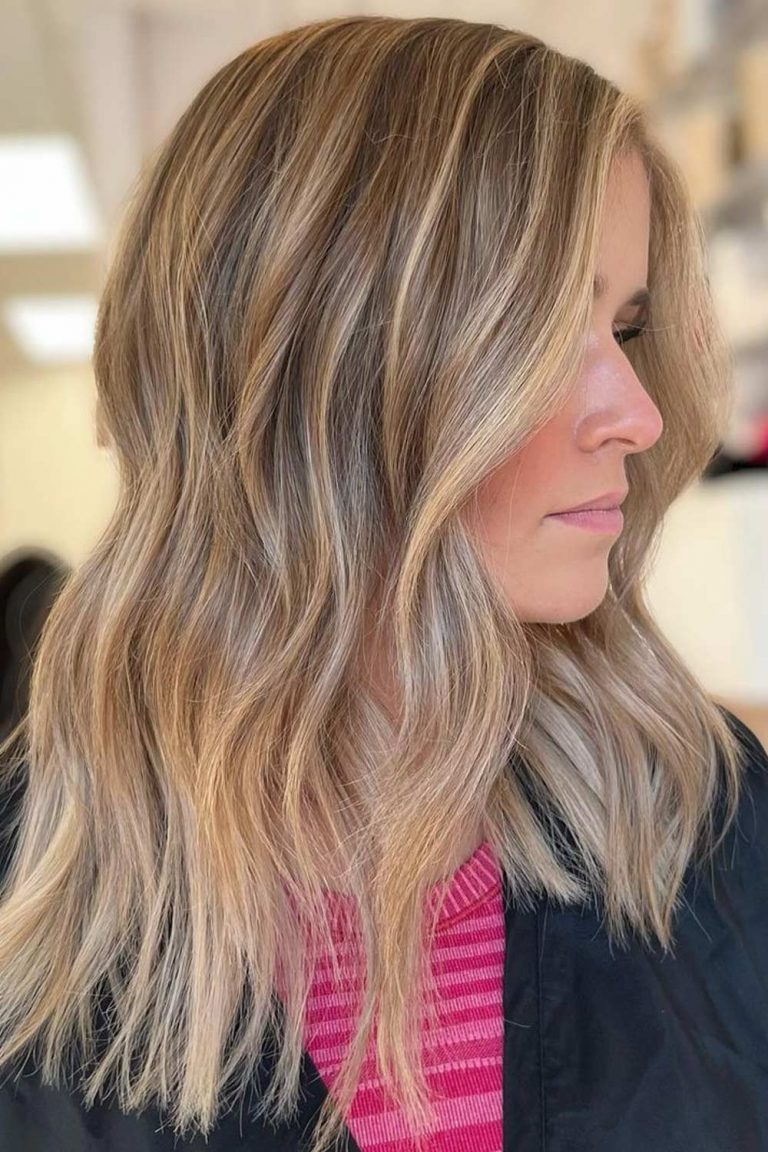 /
This shade is subtle and warm and hence works best for those with fair skin and lighter eyes. Start with a dark blonde base and add a cool beige balayage on the ends to the mid-length in order to recreate this look.
Dirty Blonde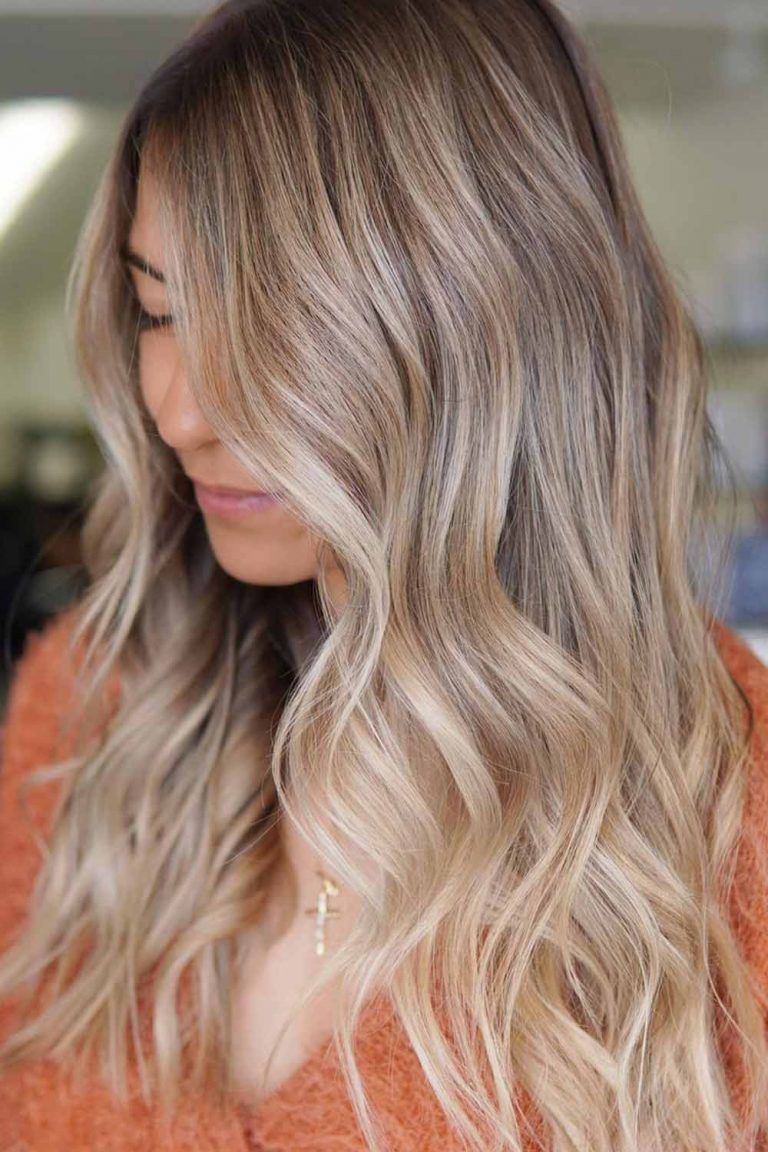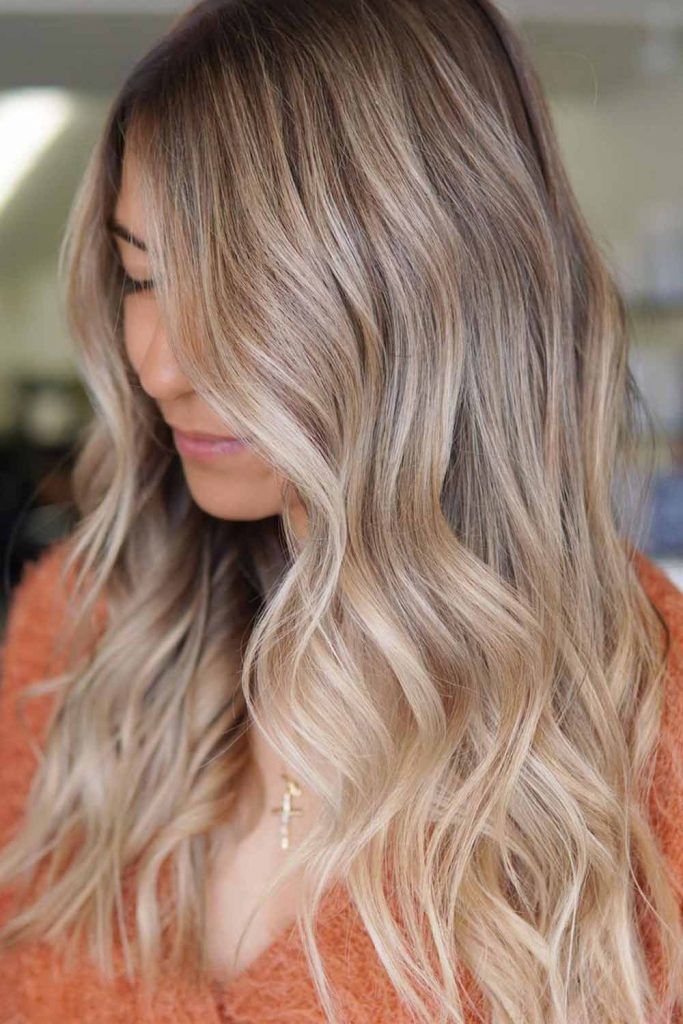 Credit photo: instagram.com/frances_hairartist
This medium shade of blonde is streaked with subtle wheat or "dirt" tones. As a matter of fact, this shade is perfect for those with brown or green eyes and a medium complexion. Still, girls with pale skin tones can also go for such an idea, mixing lighter hues.
Honey Blonde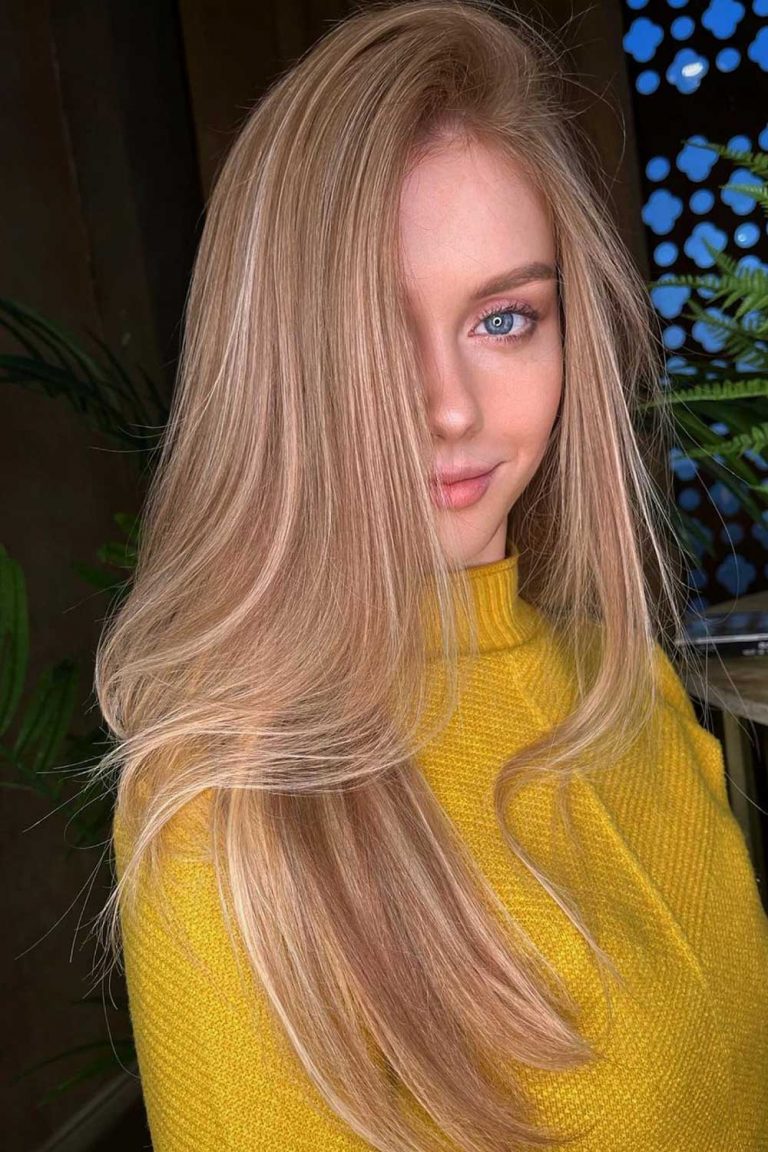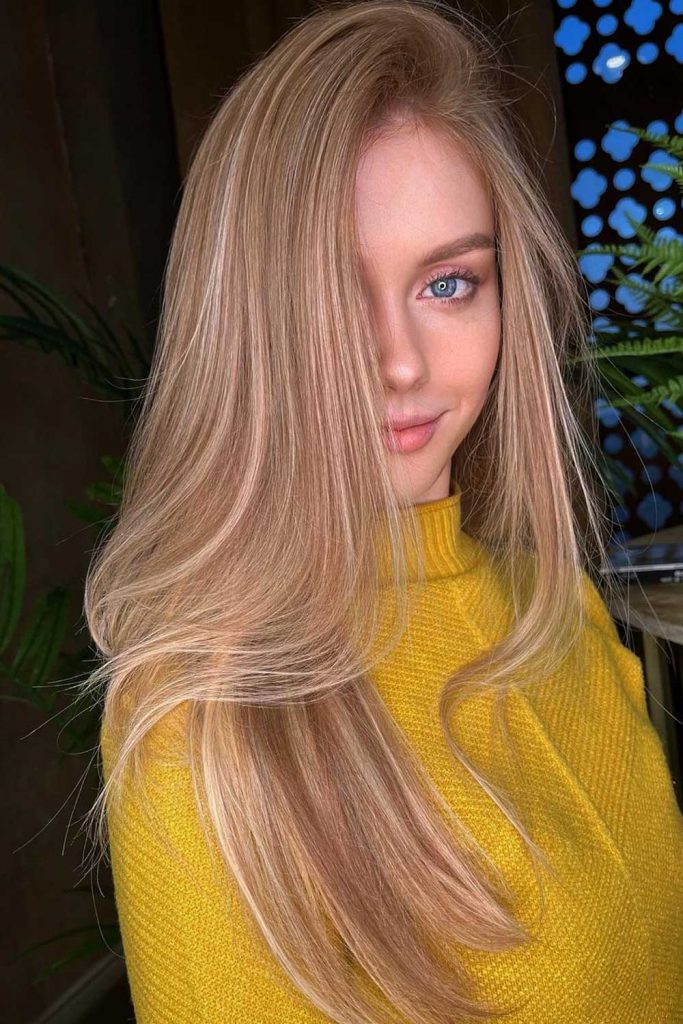 Credit photo: instagram.com/sofiya.bravo
This warm shade works best for those with medium skin tones and darker eyes. Additionally, if you want to perfect this shiny shade, keep your roots darker and add honey highlights.
Summer Blonde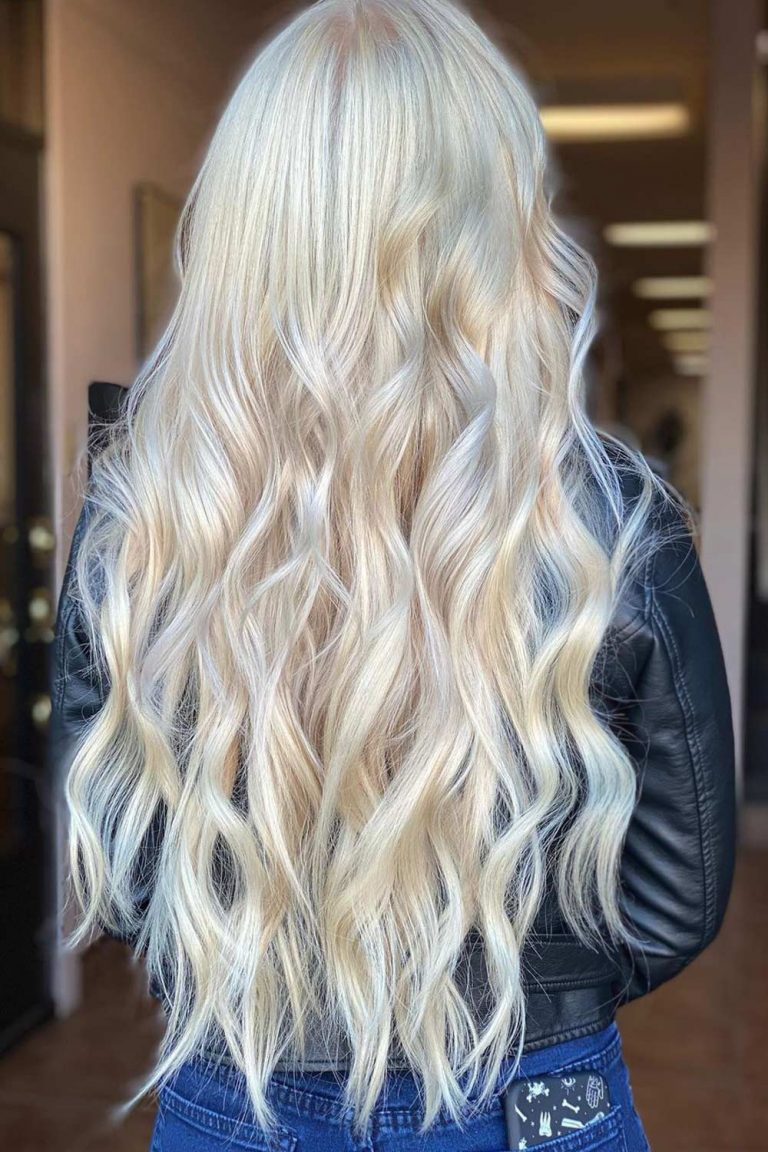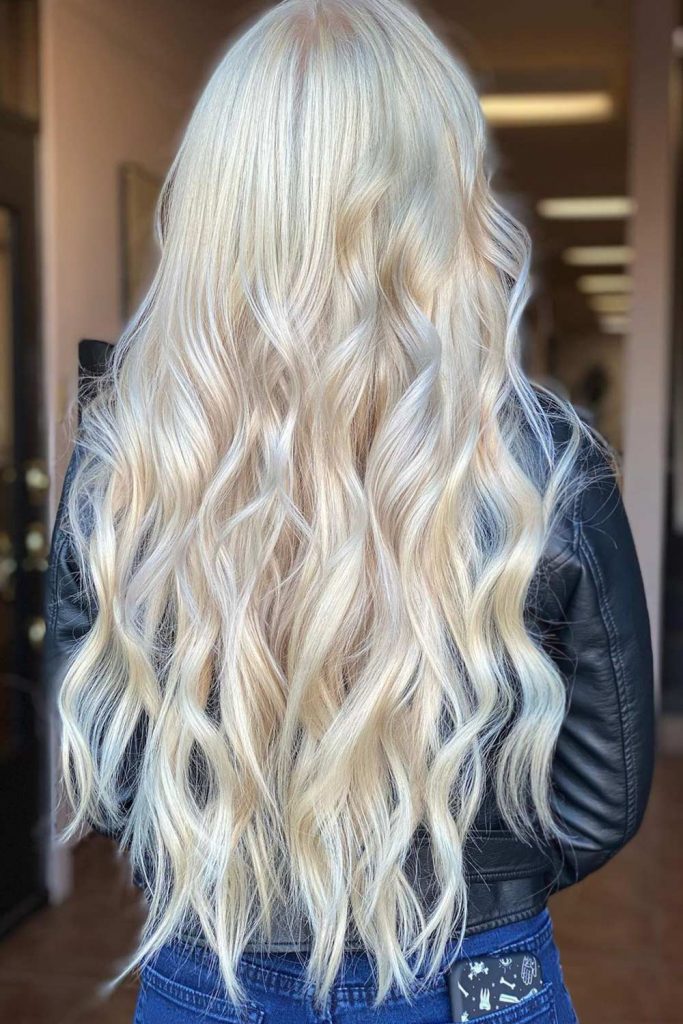 Credit photo: instagram.com/hairbyclairperez
This lavish flaxen shade of blonde is accomplished with sun-kissed highlights over a sandy base. It can be adjusted to fit any complexion and eye color at the same time. Also, it looks great with colorful ombre tips for a bit of an edge.
Ash Blonde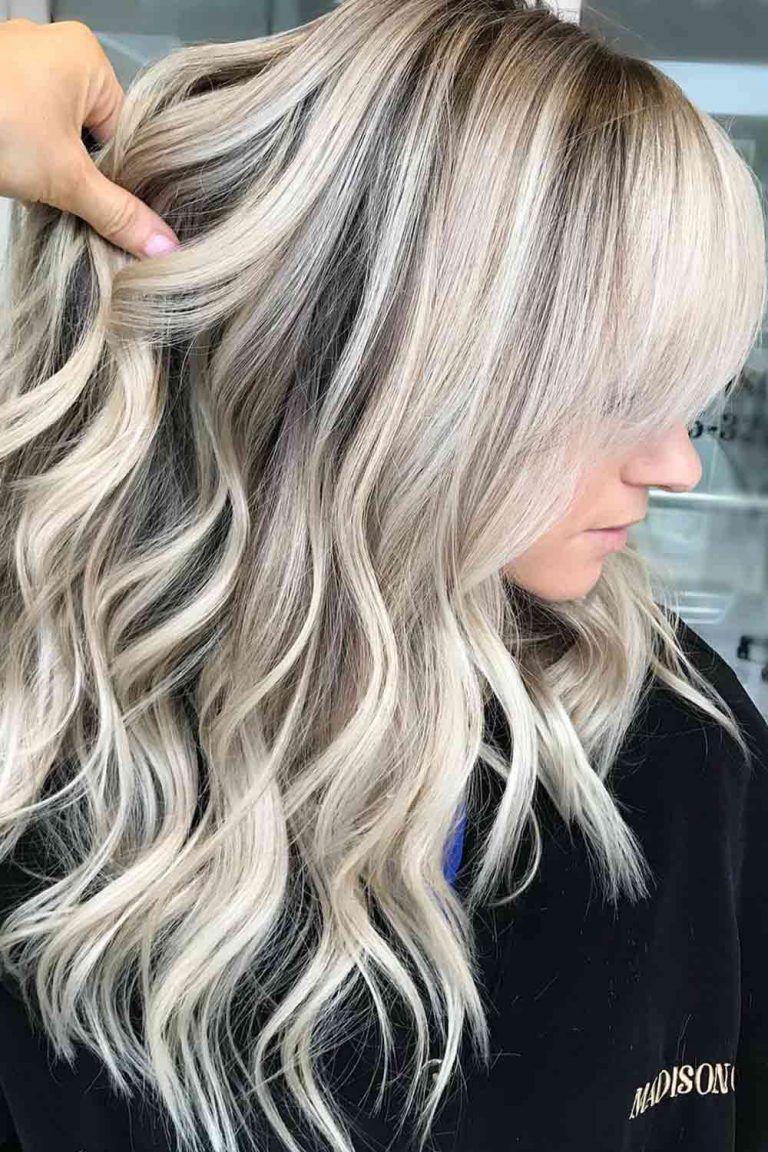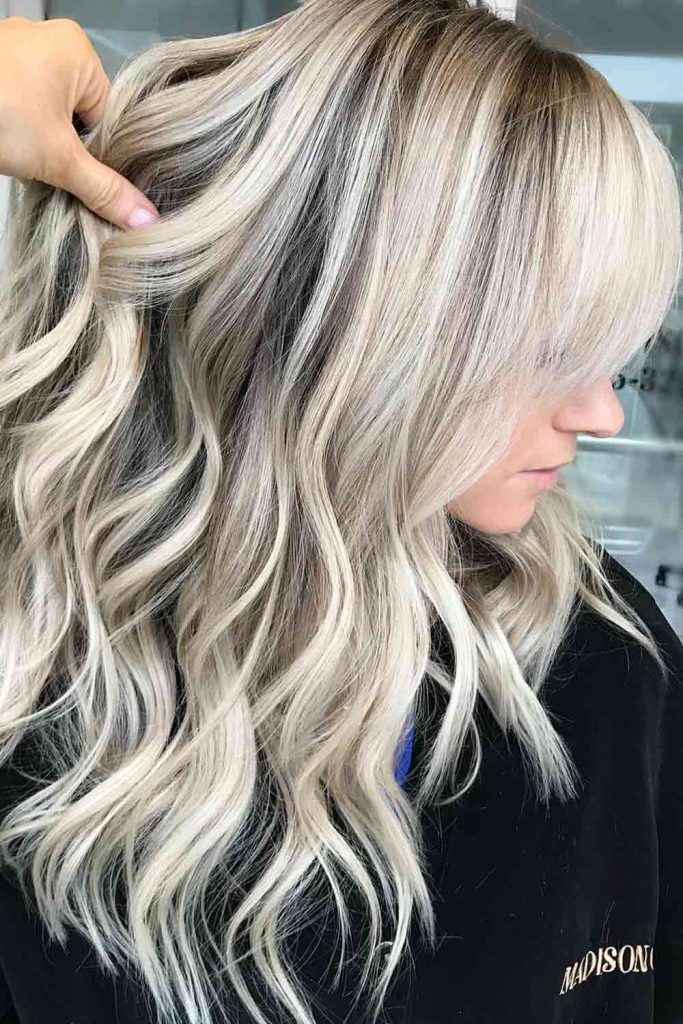 Credit photo: instagram.com/suetyrrellstylist
This soft ashy shade of blonde is a good choice for those with lighter skin and eyes due to its muted undertone. On top of that, it can be enhanced with bold dark highlights to match any skin tone. It is also recommended for hair that is starting to go gray.
Copper Blonde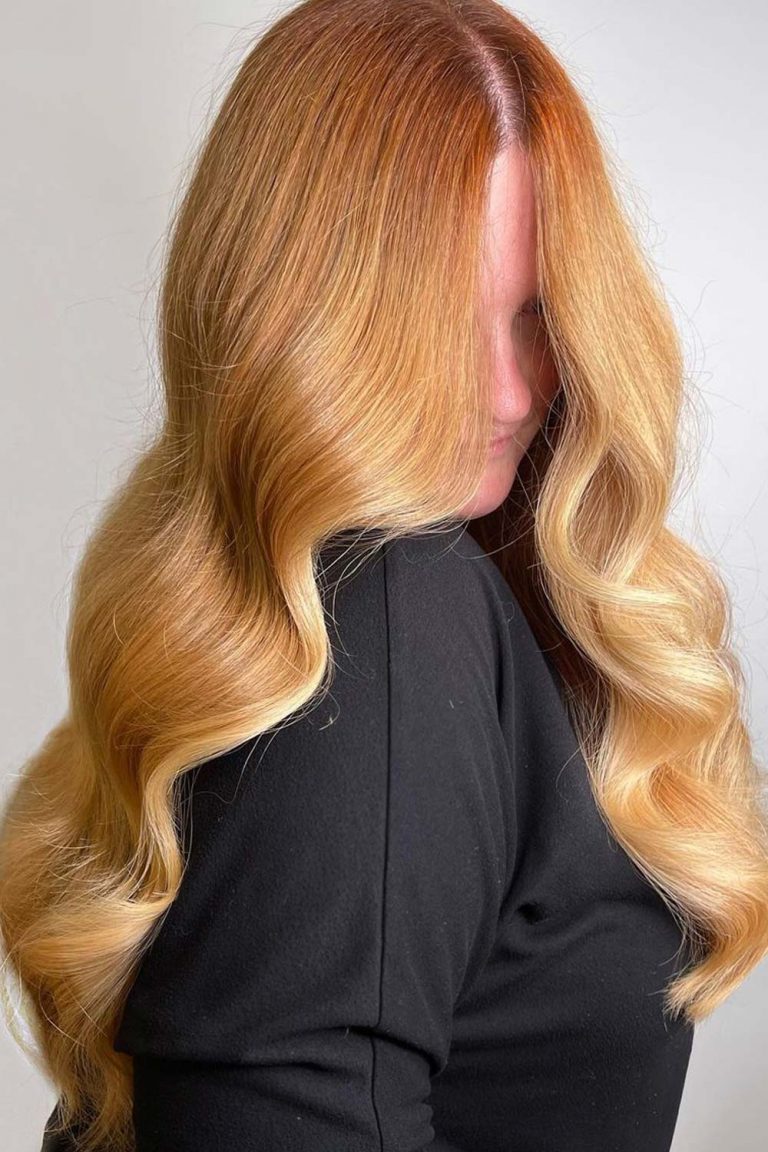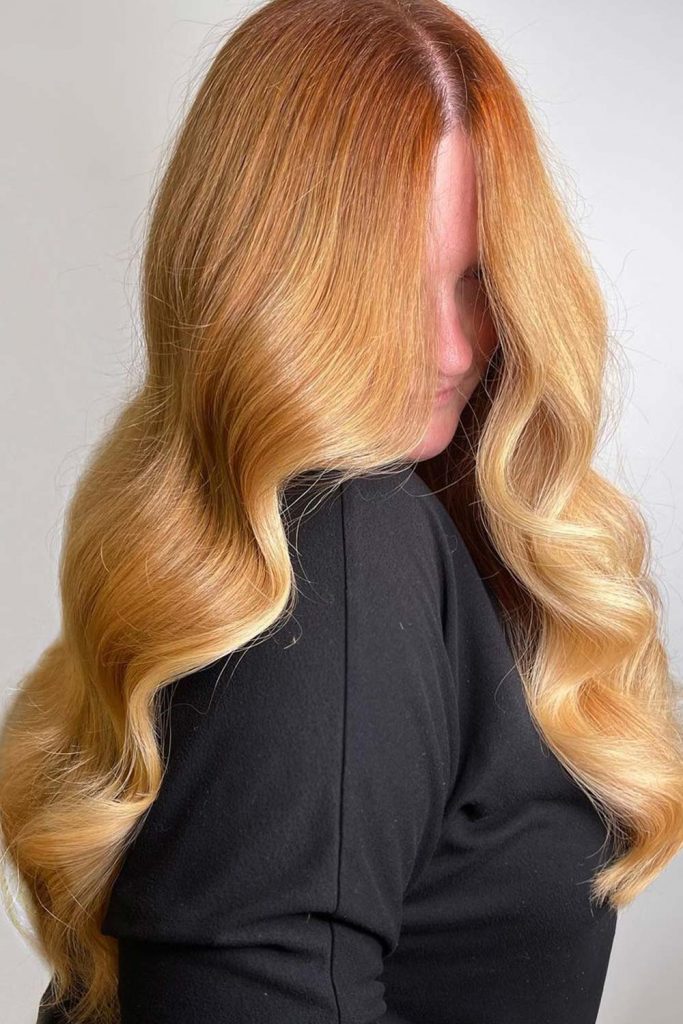 Credit photo: instagram.com/presleypoe
This stunning dark golden hue has luscious amber undertones and goes well with darker eyes and complexions. For those with naturally dark hair, this is actually the best way to go blonde without those annoying brassy tones. At the same time, you can embrace the ageless trend - red hair!
Strawberry Blonde
Credit photo: @sheffpavelstylist
i
Credit photo: @hairbyangelaalberici
i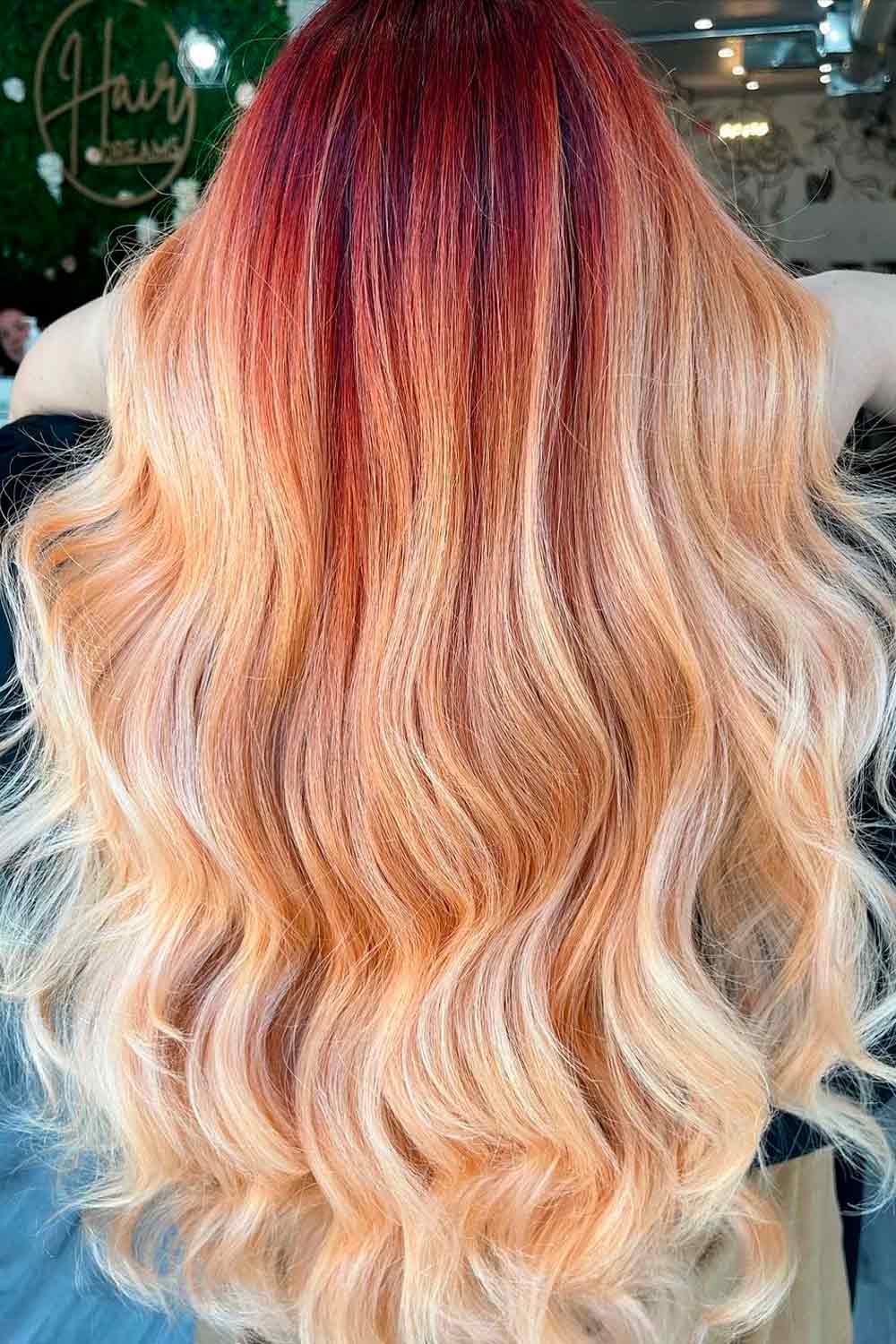 /
This popular strawberry blonde shade is soft reddish-blonde that resembles a breathtaking sunset. It flatters those with light eyes and fairer skin tones, adding a sense of warmth and harmony at once.
Silvery Blonde
This ashy shade of blonde is best on those with light skin and eye colors. It is another shade that works great for hair that is starting to gray. For those with a dark complexion, you can avoid looking pale and washed out by adding some warm honey tones, as well.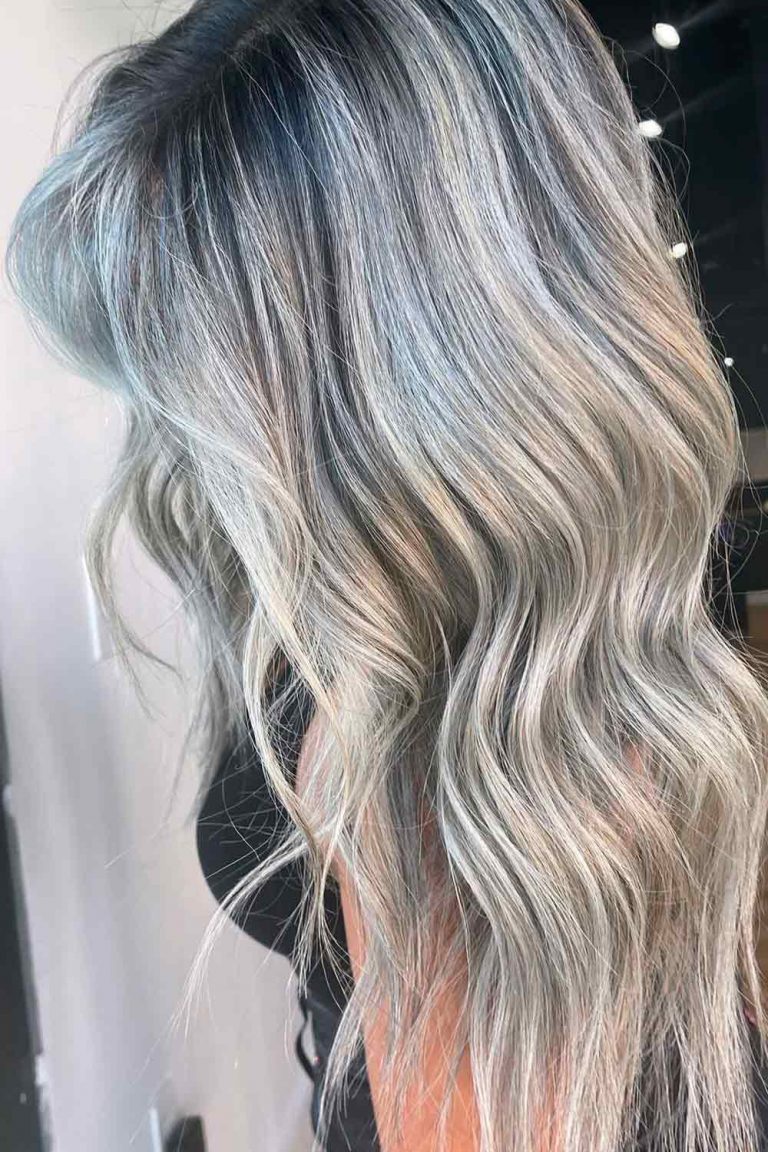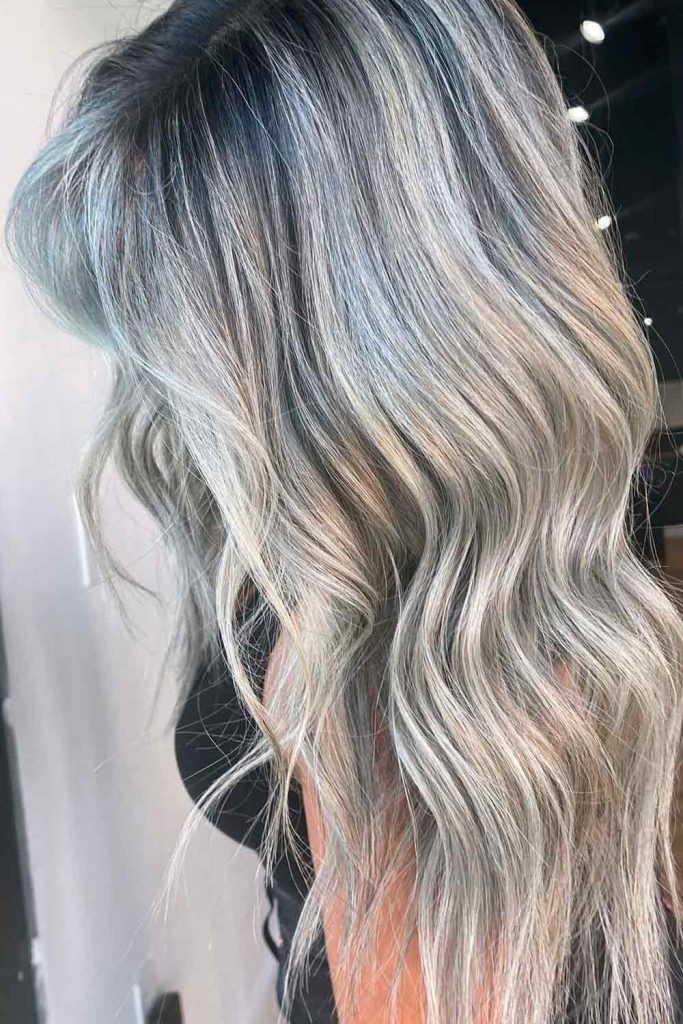 Credit photo: instagram.com/hairbyapes
In case you don't want to go platinum blonde like Marilyn Monroe, you can opt for a more classic dark blonde hair color. And you don't have to go solid blonde either. Instead, you can experiment with different hues such as highlights and lowlights or try a two or three-toned blonde balayage!
Bronde
Just as silver-gray is becoming quite trendy, so is bronde or brownish-blonde. Bronde is extremely natural-looking and goes well with medium and fair complexions, as well as medium or light eyes.
Credit photo: @danielcbeauty
i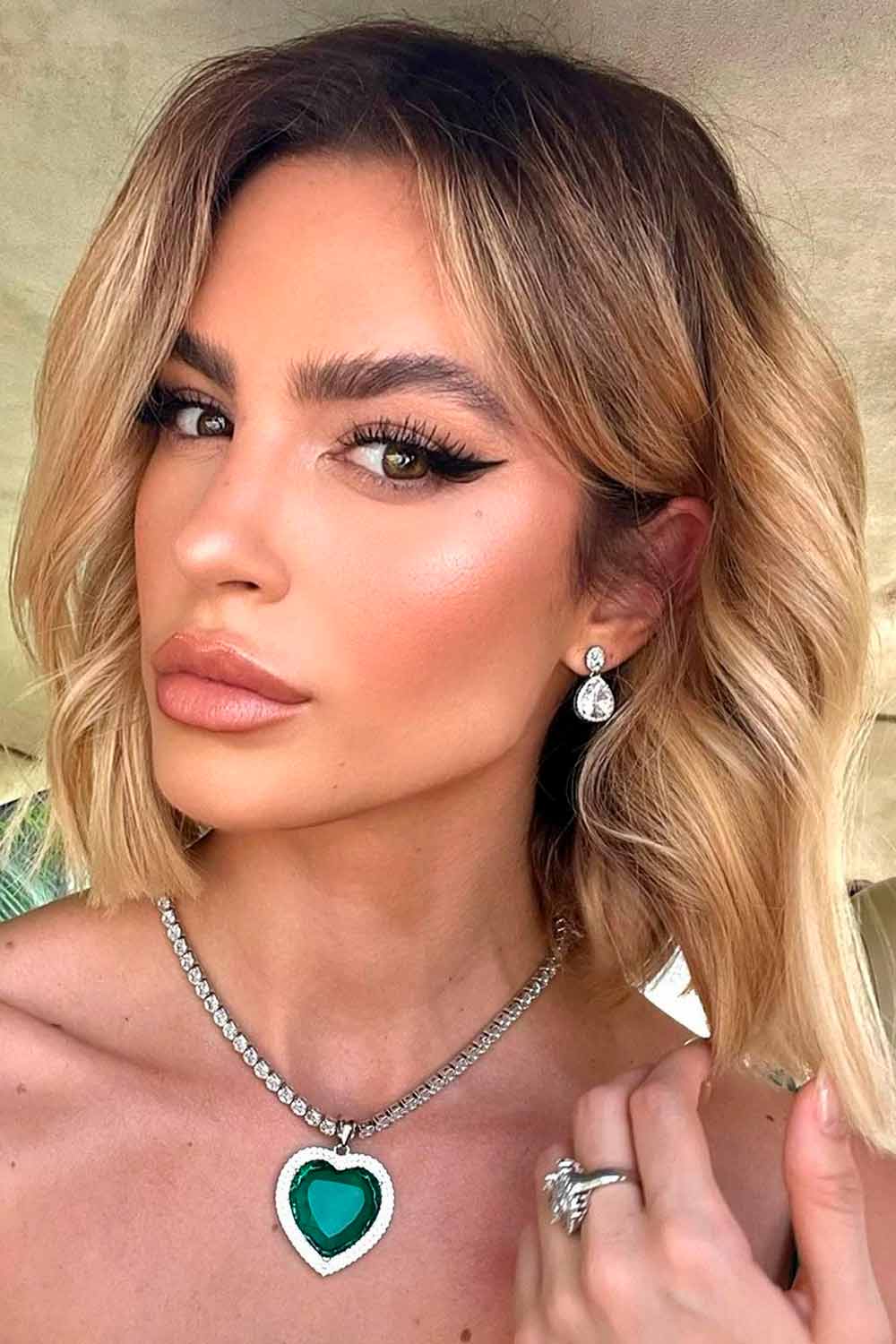 Credit photo: @hairbyapes
i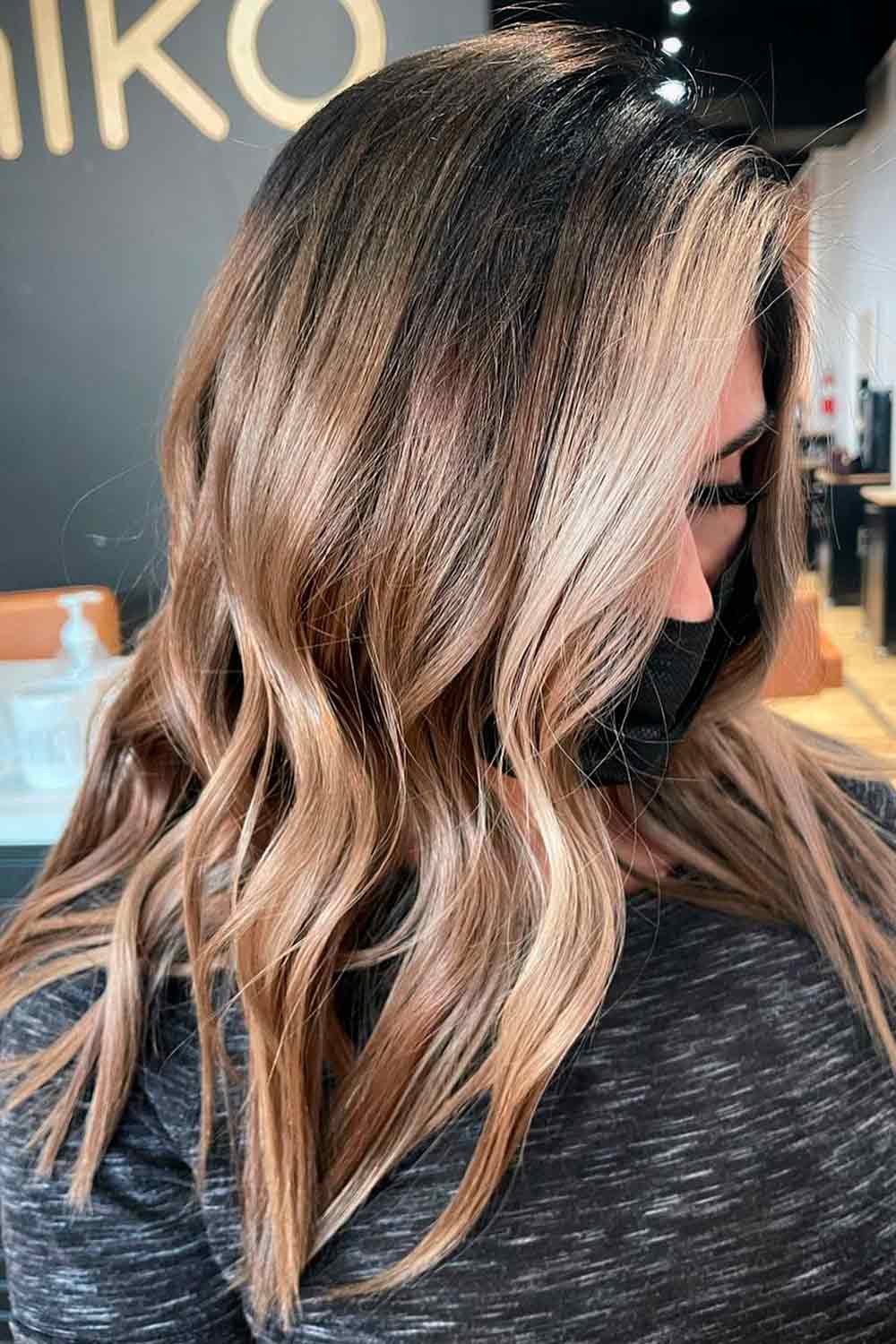 /
Chrissy Teigen's olive complexion works great with this dramatic "bronde" tone. It is also the perfect combination of warmer blonde and brown hues for a modern yet classy look that is fun and playful, and appropriate for all ages.
Eye-Catching Cool-Toned Blonde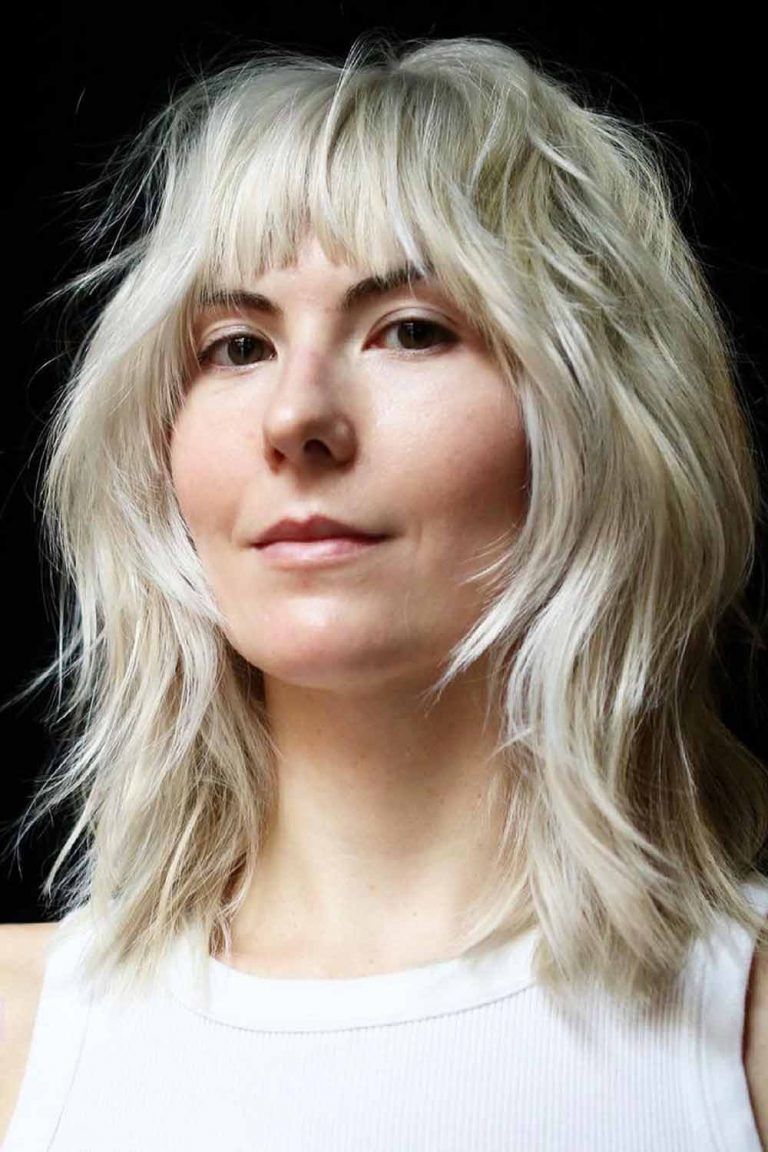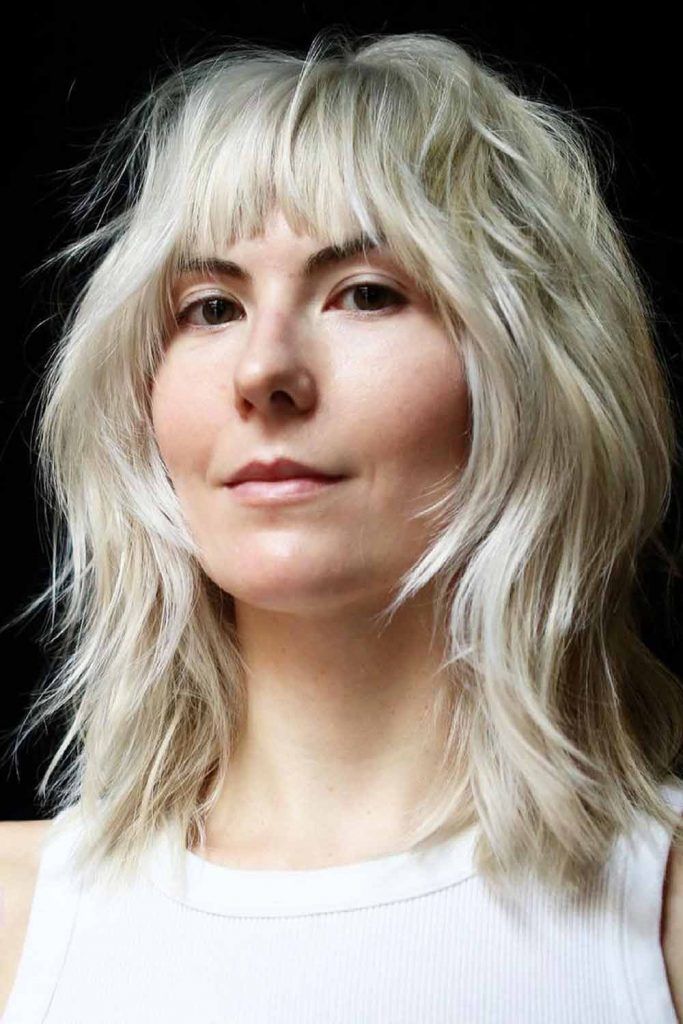 Credit photo: instagram.com/salsalhair
Cool tones were created for cool girls, that's for sure! Women with paler skin tones can't take their eyes off their own reflection in the mirror; this color is truly magnificent. Those who prefer to stay away from saturated colors will love the cool pale effect that this color gives to their hair.
Soft Creamy Blonde Balayage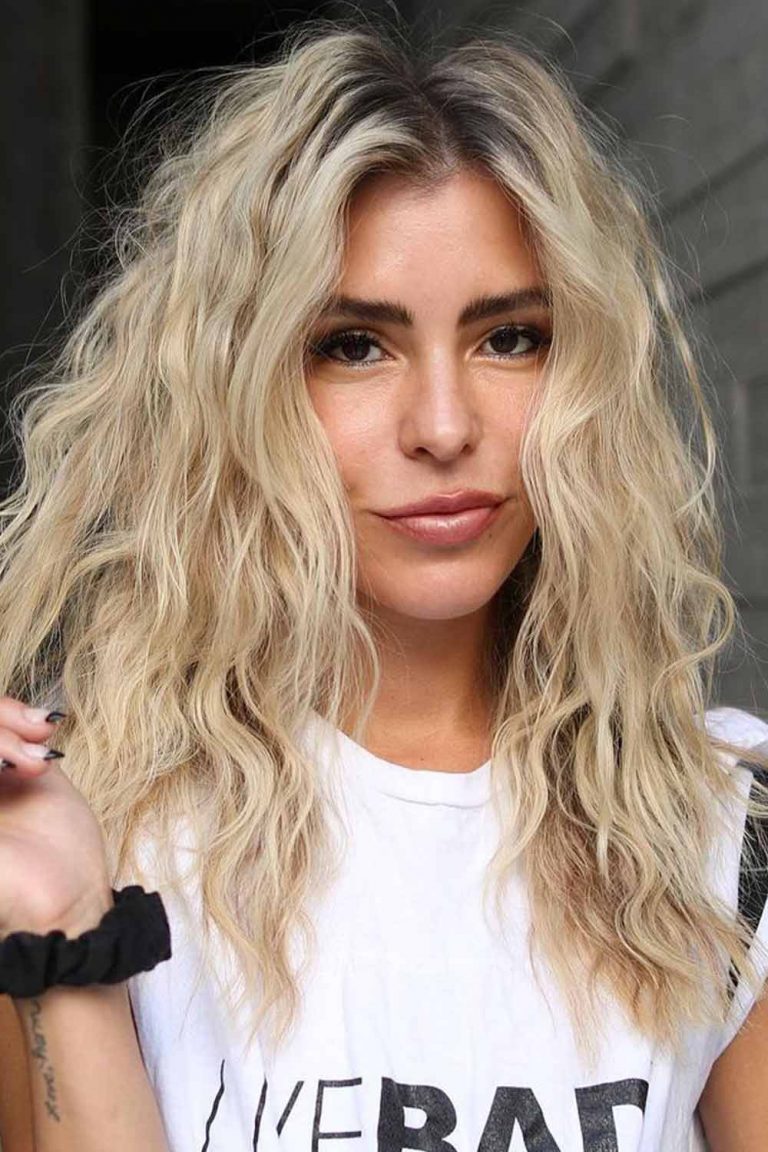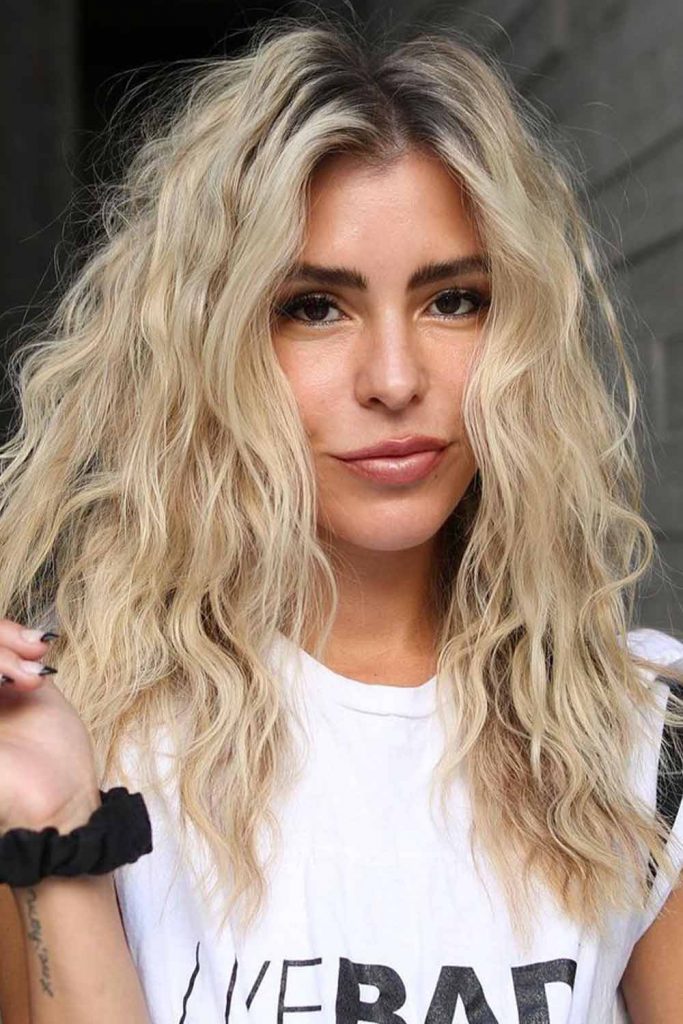 Credit photo: instagram.com/salsalhair
Some soft girly hues won't hurt! Furthermore, such a hair color will look good at any time of year, just make sure that it looks authentically with your skin tone. It works best for fair complexions, but there is an option for medium complexions, too. Women with warm skin tones can add some dark blonde highlights to the creamy blonde, for example.
Although it's hard to notice where one shade of blonde ends and another begins, this balayage looks unbelievably dynamic and multidimensional. Actually, that's how perfectly blended colors work: they're unnoticeable while giving a very balanced look. Here, faded dirty blonde seamlessly transits to soft creamy hue, becoming a glamorous single whole.
Blonde Bombshell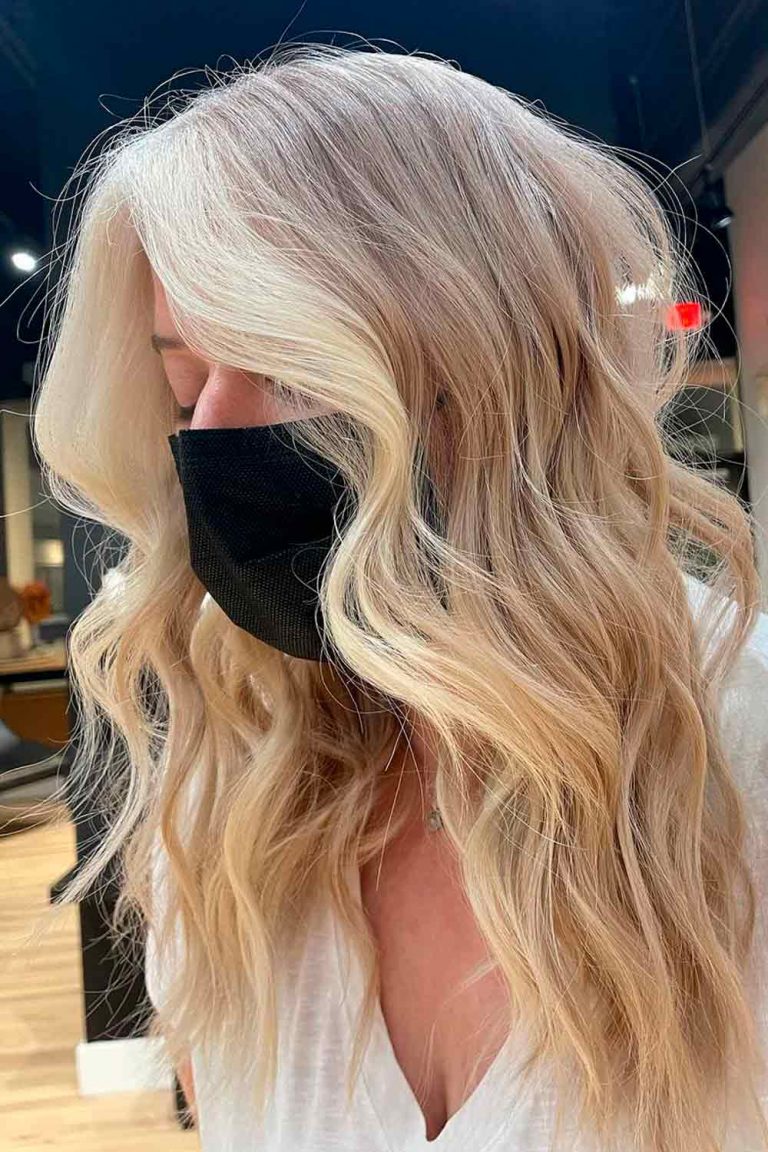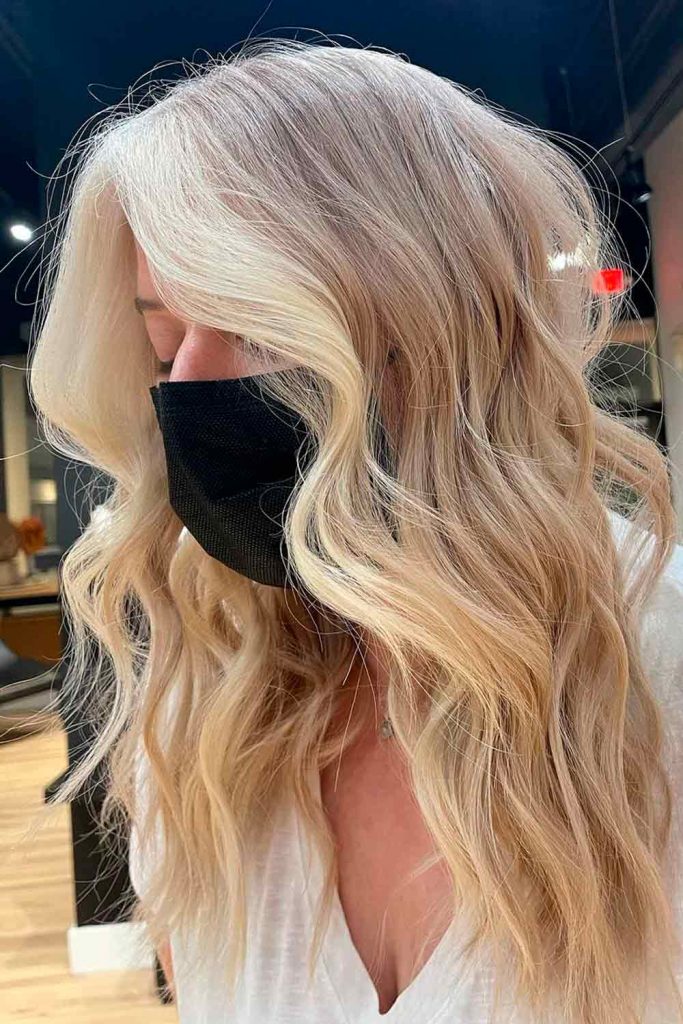 Credit photo: instagram.com/hairbyapes
There's no doubt that Charlize Theron is one of the sexiest superstars in Hollywood. With her warmer blonde and vibrant undertones, Charlize rocks this sexy style that also compliments her skin tone.
Claudia Schiffer embraces the role of a blonde bombshell with this perfect blend of honey and golden blonde tones. With its dramatic highlights, this look works best for those with full and voluminous hair.
Faux Blonde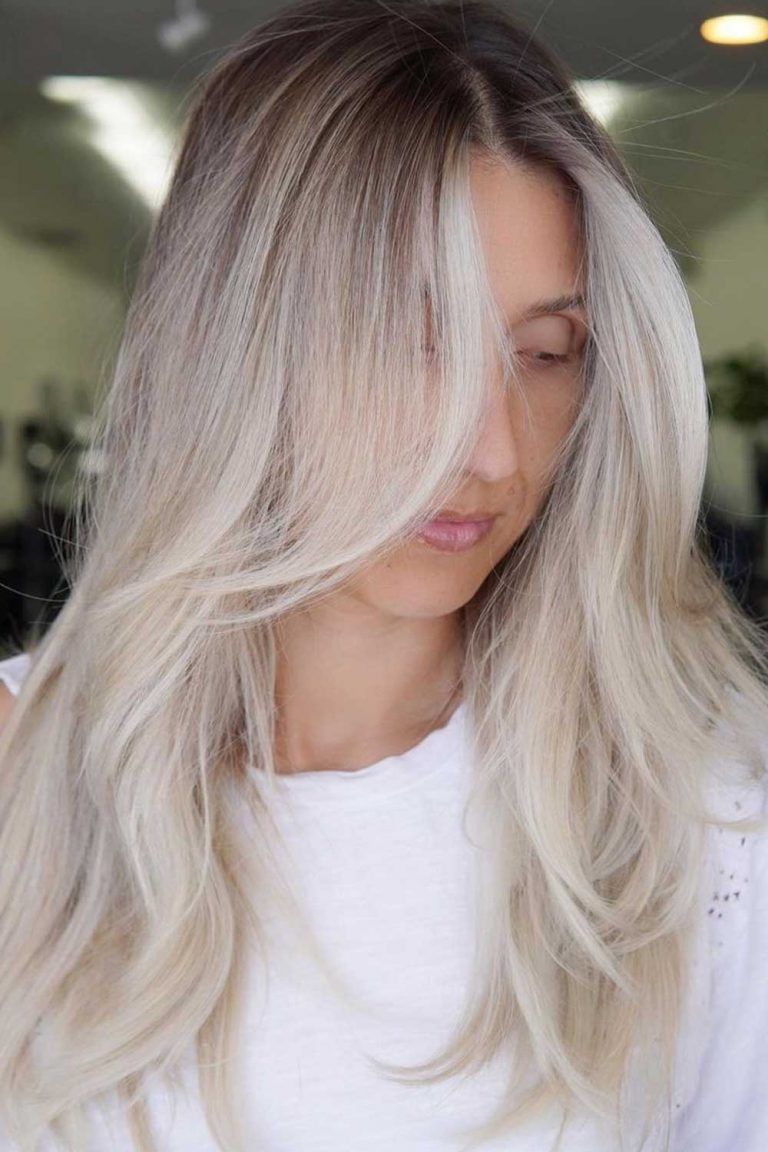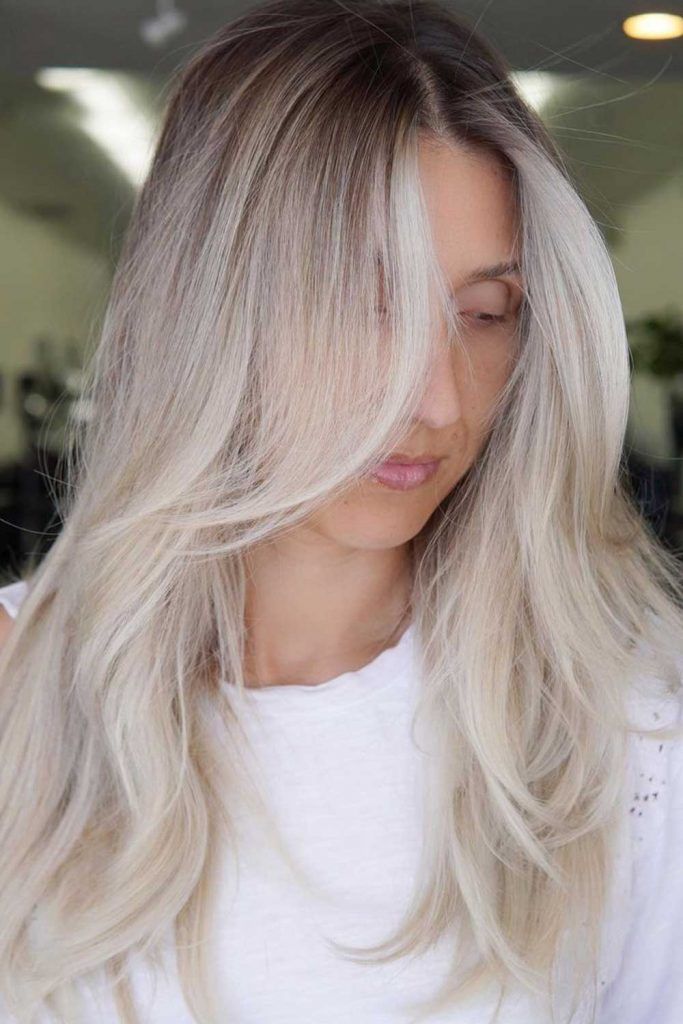 Credit photo: instagram.com/frances_hairartist
Jennifer Aniston can totally pull off this sexy faux blonde color. It works best for those with olive skin tones, especially if you have darker hair and want to opt for a warmer gold or honey blonde. And those with lighter tones can pull off paler blonde tones.
Blonde With Depth And Definition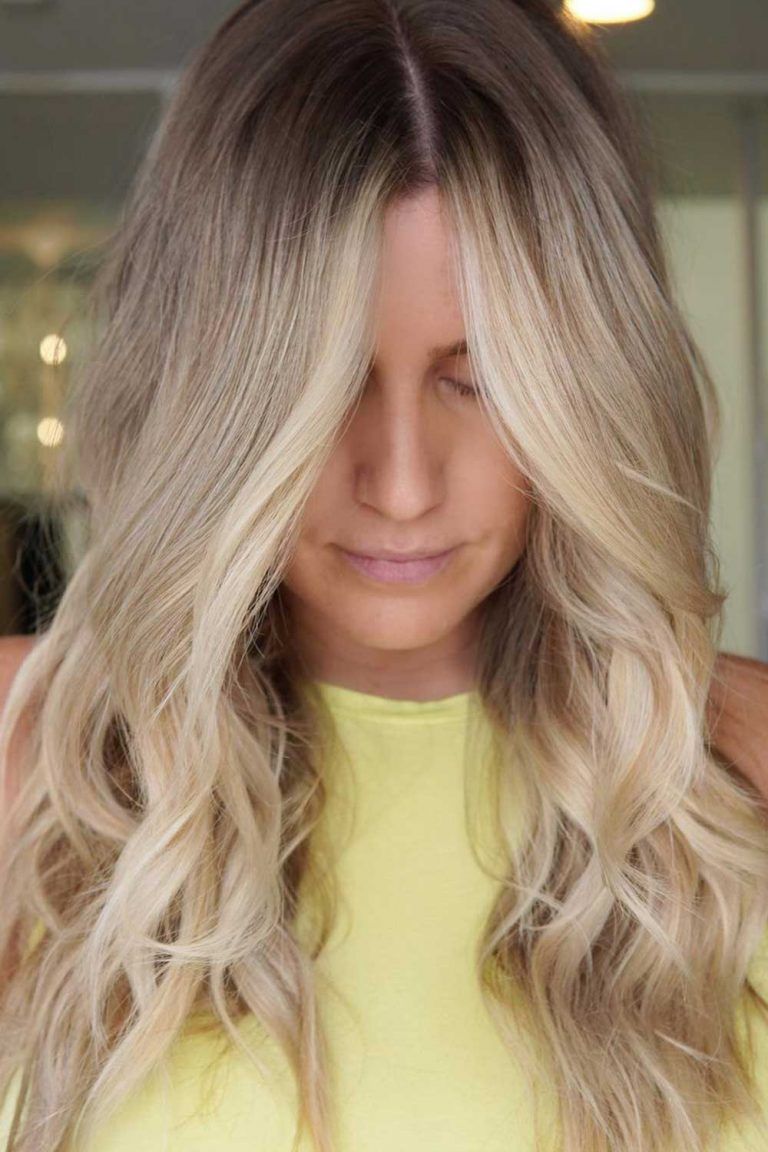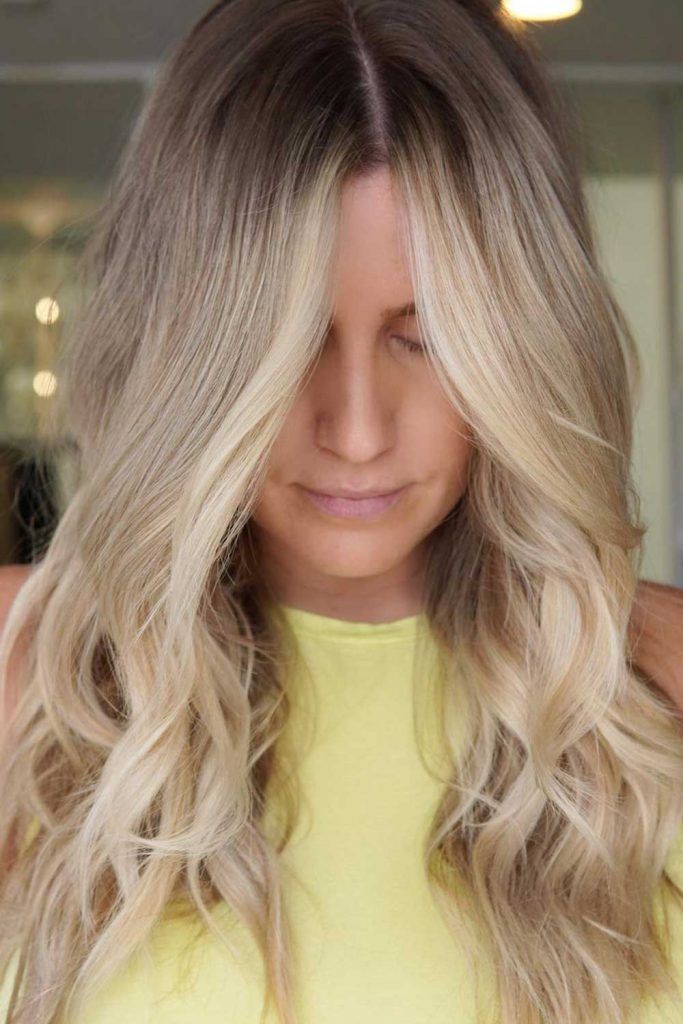 Credit photo: instagram.com/frances_hairartist
Beyonce's honey blonde tone with its mixture of high and lowlights is the perfect combination for those with a medium to darker skin tone. Besides adding subtle depth and dimension to the look, this color idea is super stylish.
Cool Brown With Blonde Highlights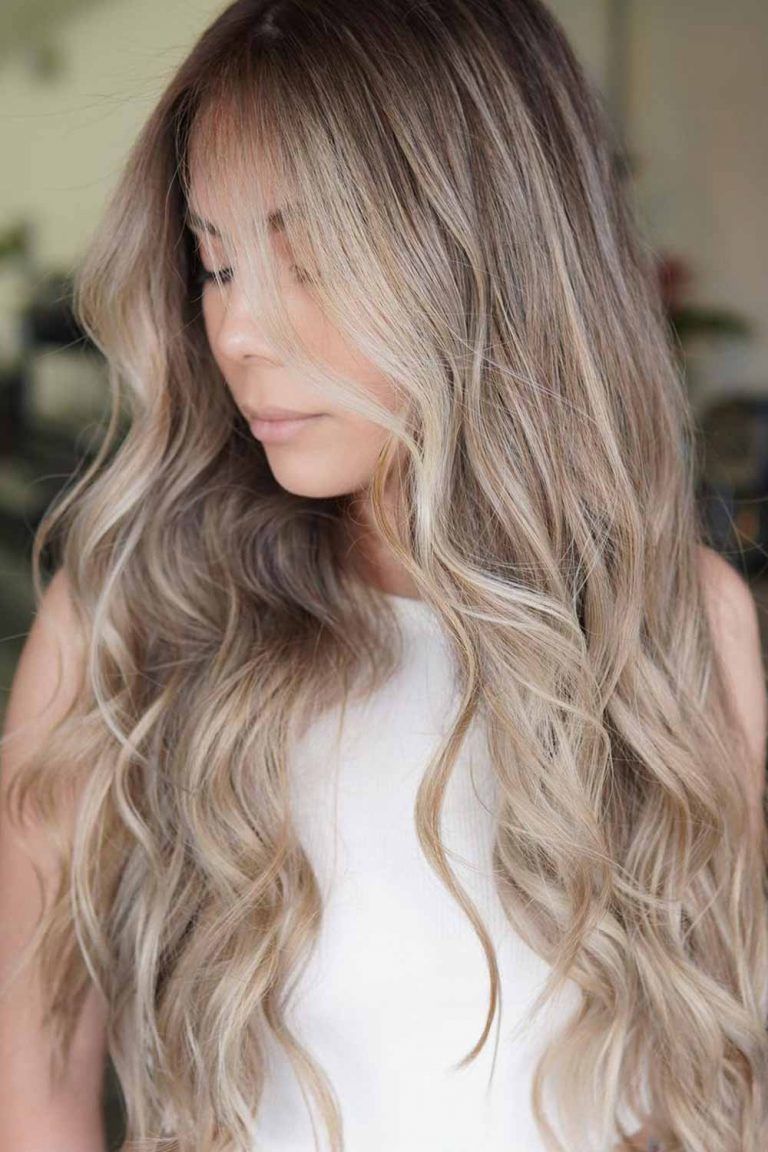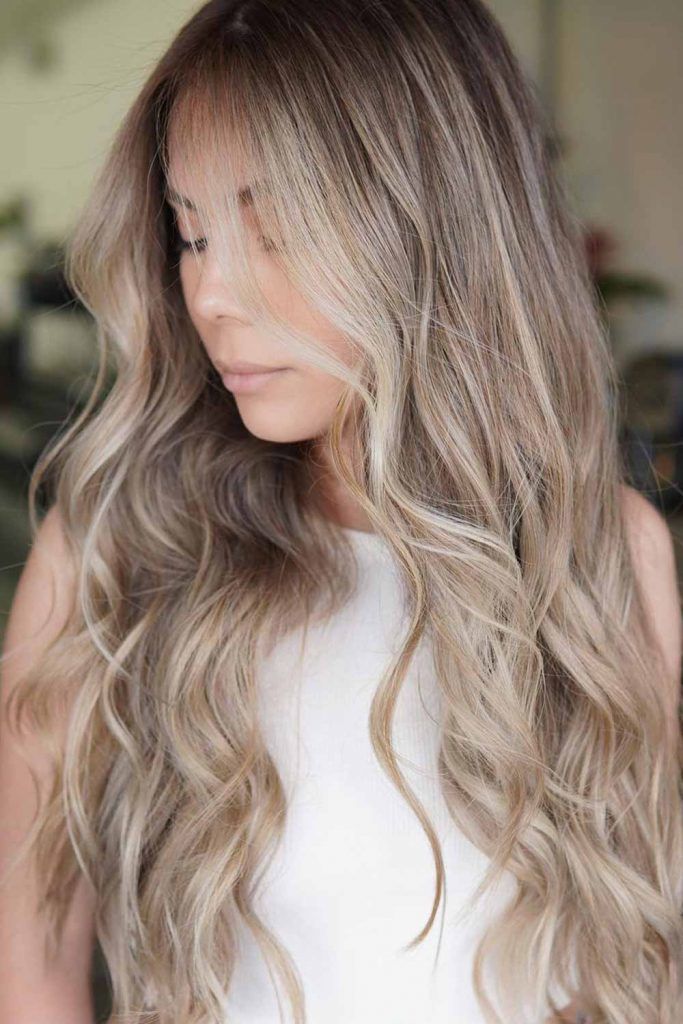 Credit photo: instagram.com/frances_hairartist
While some hair trends break into our world with huge popularity, there are classic options that have established constant positions in the fashion world. Of course, brown-to-brunette hair colors are the timeless classic that will never fade away. And here's one of the latest variations on this idea. Ask your stylist to adjust the temperature to a cooler mode when applying blonde highlights over your brownish locks.
Naked Blonde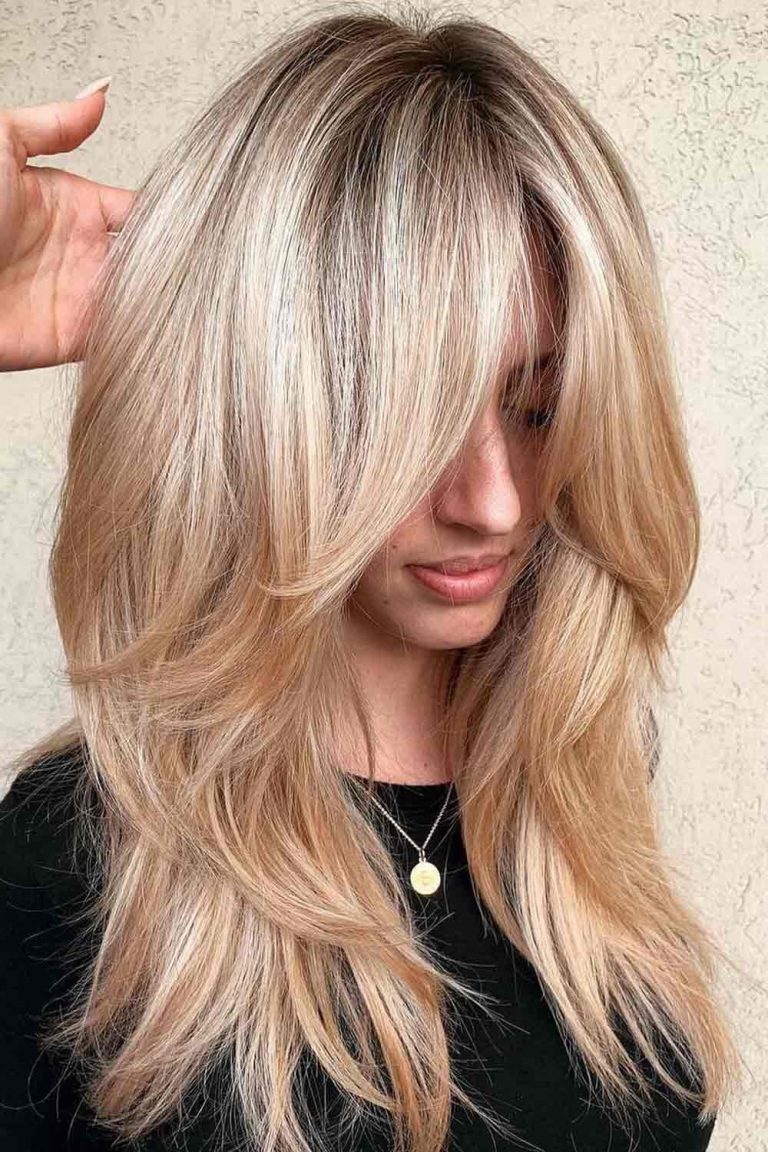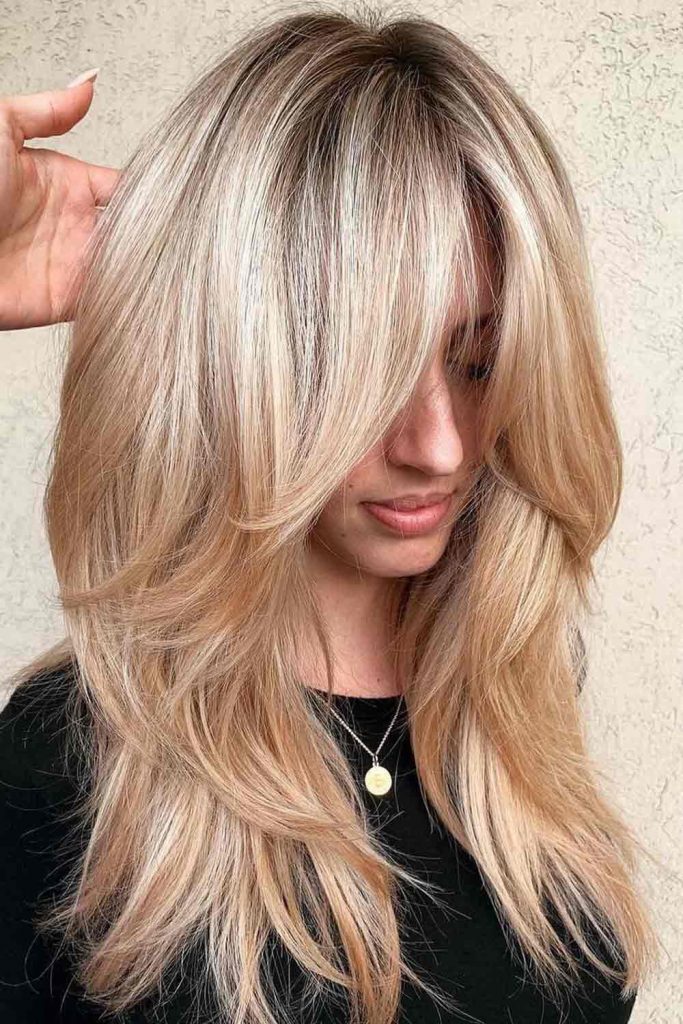 Credit photo: instagram.com/balayageombre
What would happen if the most effortless and natural blonde shades blended together? They would give life to naked blonde hair color - color that embraces pure naturalness and attractiveness. To achieve this shade, you will need to mix light brown, neutral blonde, light caramel, and honey blonde shades. For a more dynamic effect, it's better to mix these colors through balayage, as it will provide a well-blended finish at the roots.
Dishwater Blonde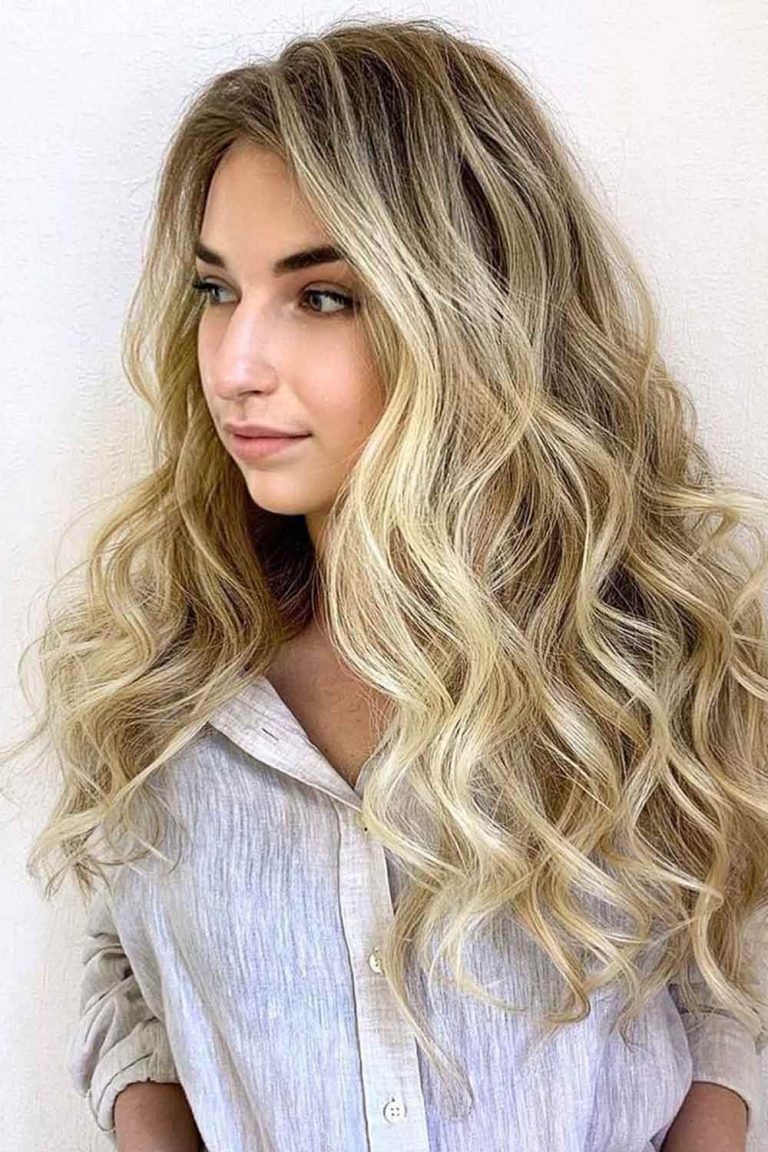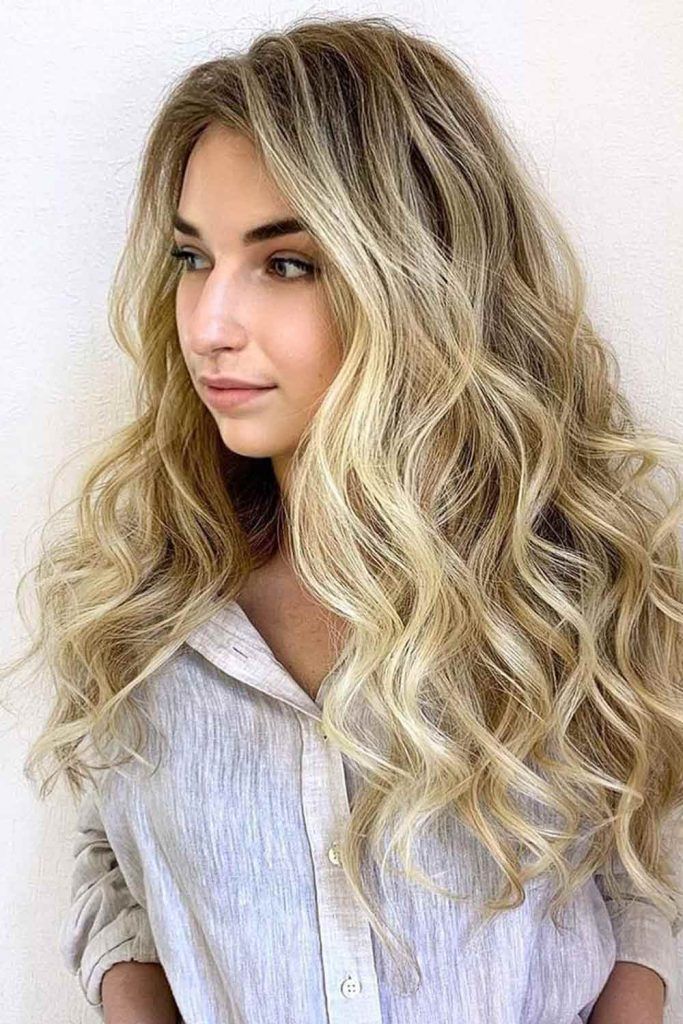 Credit photo: instagram.com/hair_by_zolotaya
Although you may know this shade as dirty blonde hair, it has many names and hence many facets. Since this shade features various cool blonde and light or faded brunette hues, you can create a natural, yet outstanding look. Despite being contrastive, blonde and brown shades you choose will form a harmonic duo that will look dimensional and modern.
Warm Toned Blonde On Dark Brown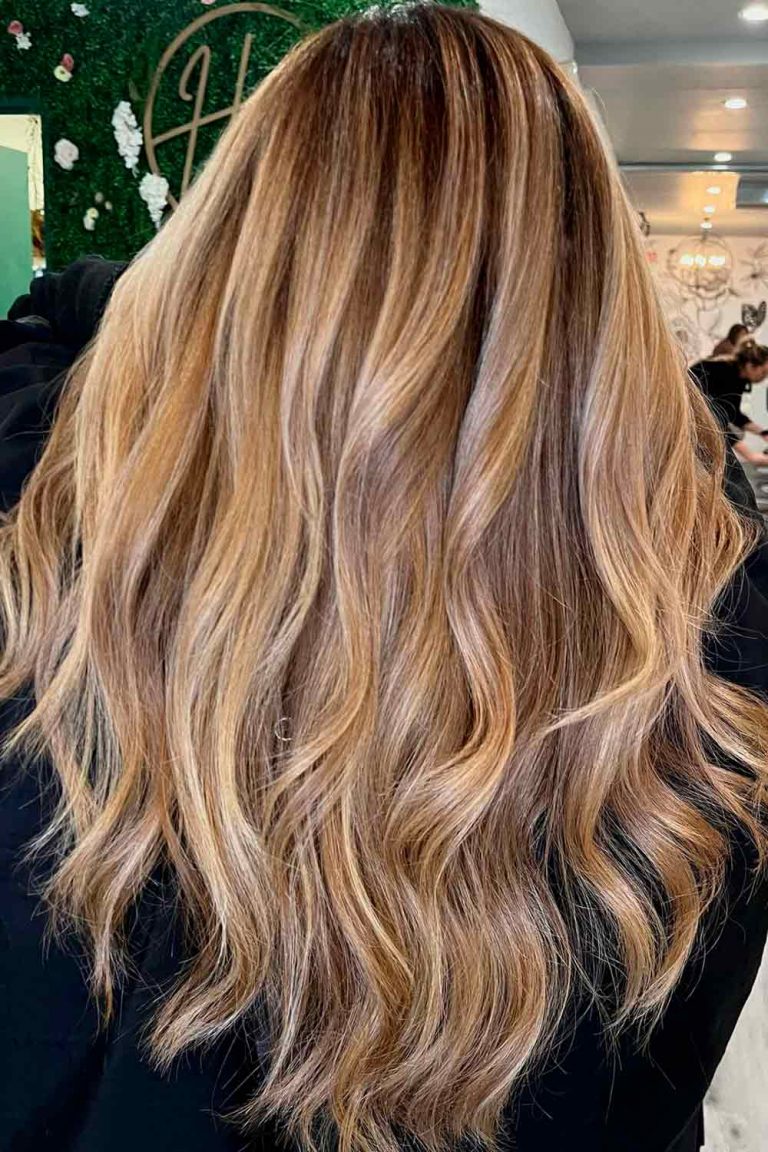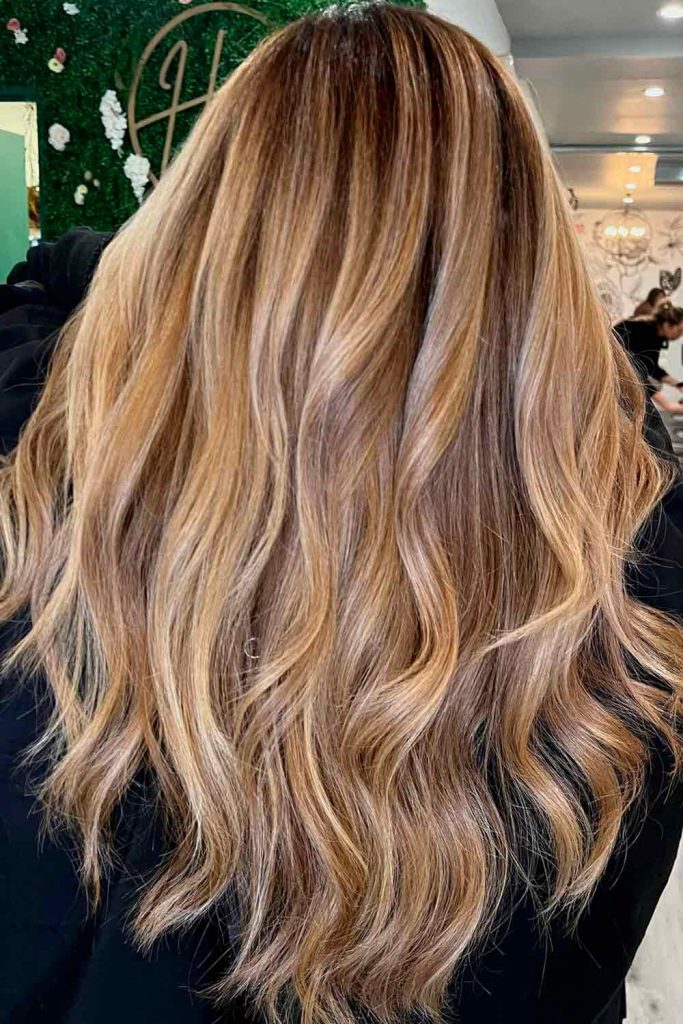 Credit photo: instagram.com/hairbyangelaalberici
Instead of choosing between two iconic shades, why not mix them both? As a matter of fact, there's no better color match than blonde and brunette. Not only are these shades full of different variations but they also look natural, which is a win for modern girls. Let the top be darker, and then gradually transit to the lighter shade you choose. In case you're looking for a fail-proof option, this is the idea.
Champagne Blonde
Credit photo: @ellendevinehair
i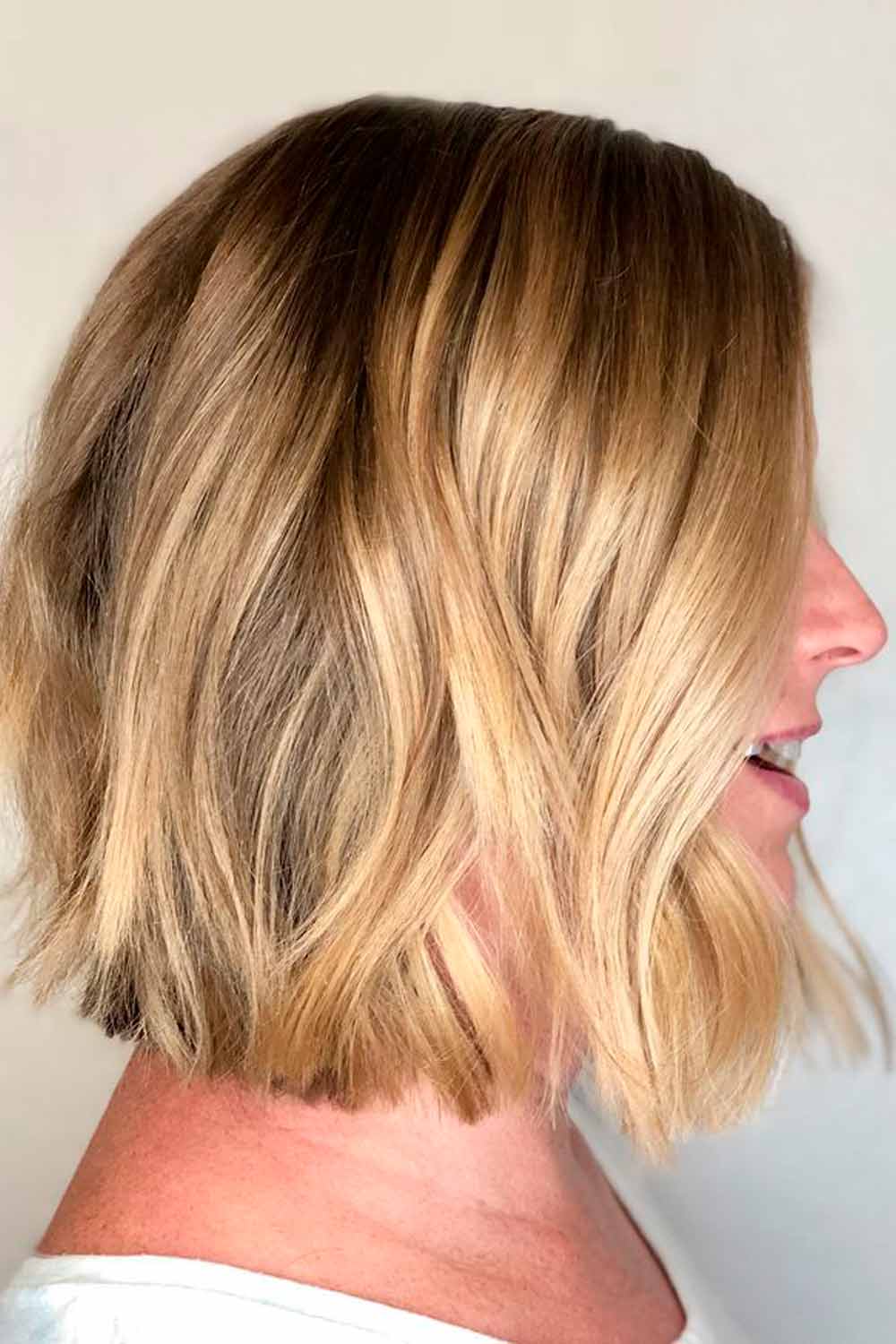 Credit photo: @ellendevinehair
i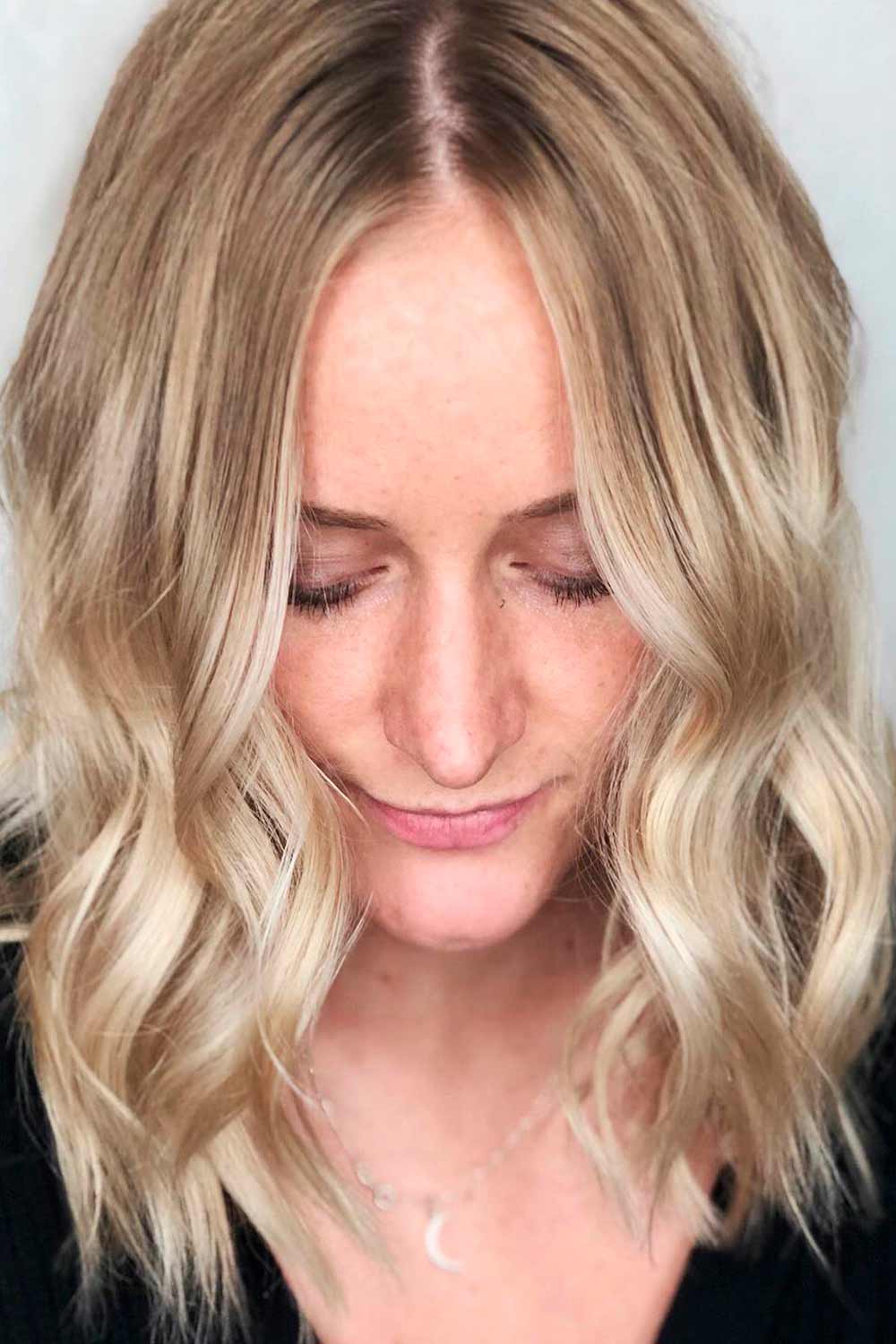 /
The primary advantage of champagne blonde is its translucence and captivating dimension. As you pair the color with blonde bangs or a longer mane, the shade will keep transitioning in the light as you move your tresses around. If you don't want to go over with the upkeep and bleaching, the hue is worth your consideration.
Caramel Honey Blonde Hair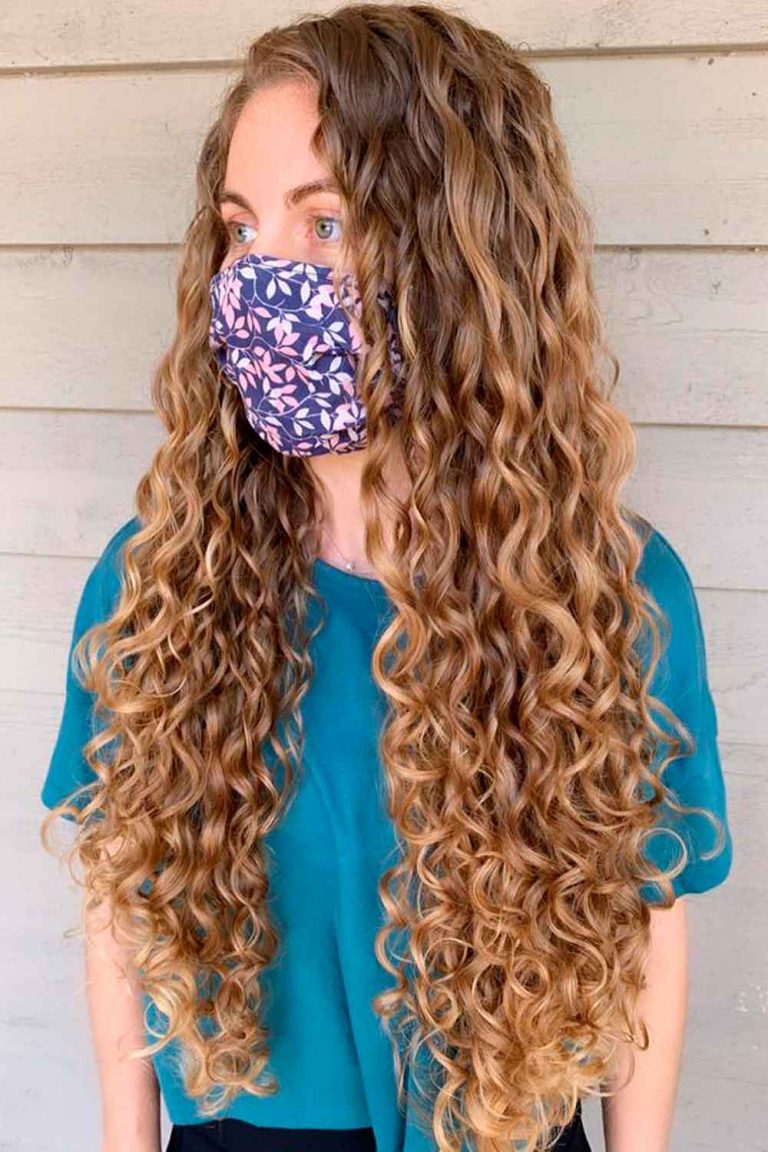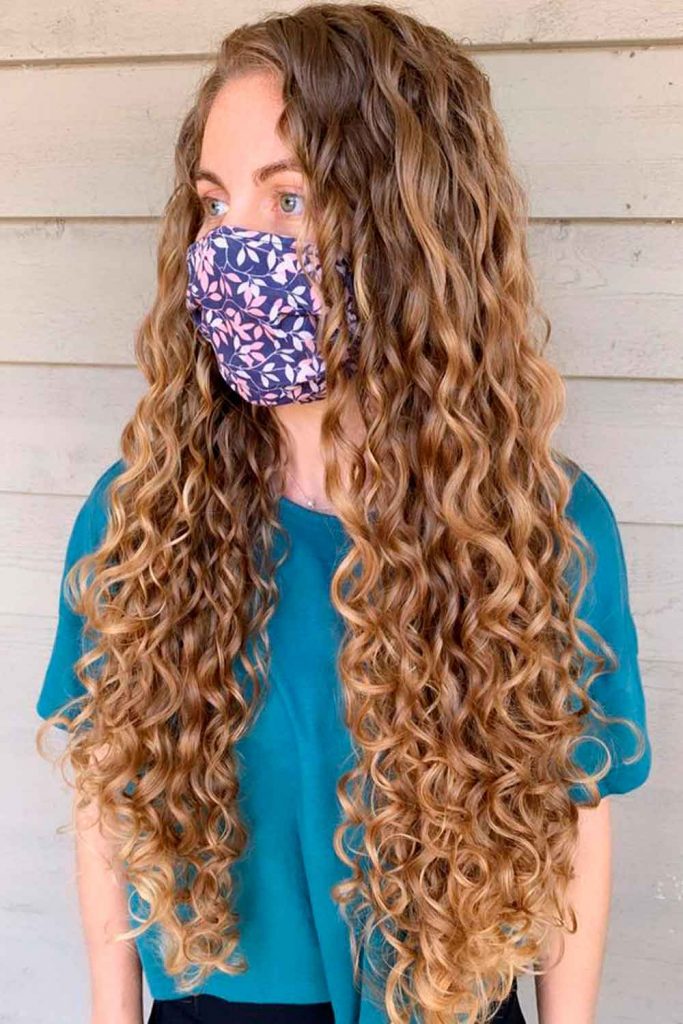 Credit photo: instagram.com/faithincurls
If there is a reason why anyone would underestimate caramel honey blonde hair – we know little about it. Should you be willing to embrace your natural hair color and texture, caramel blonde is there for you!
Mushroom Blonde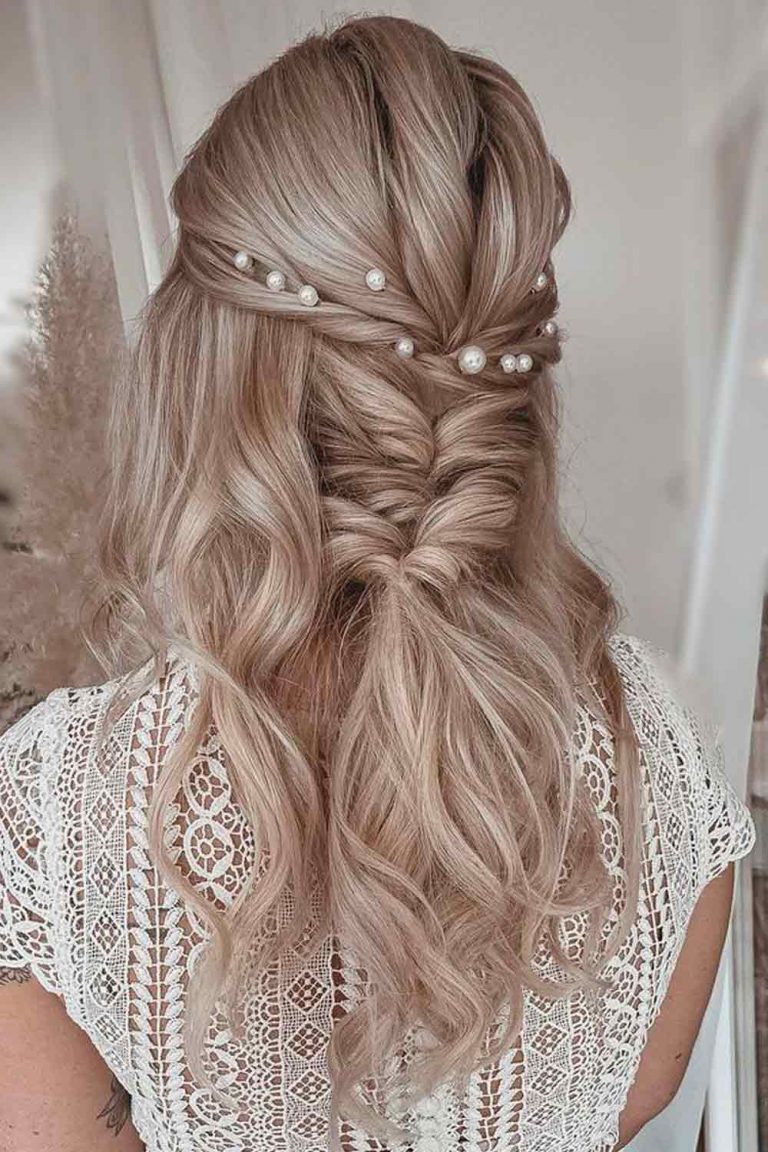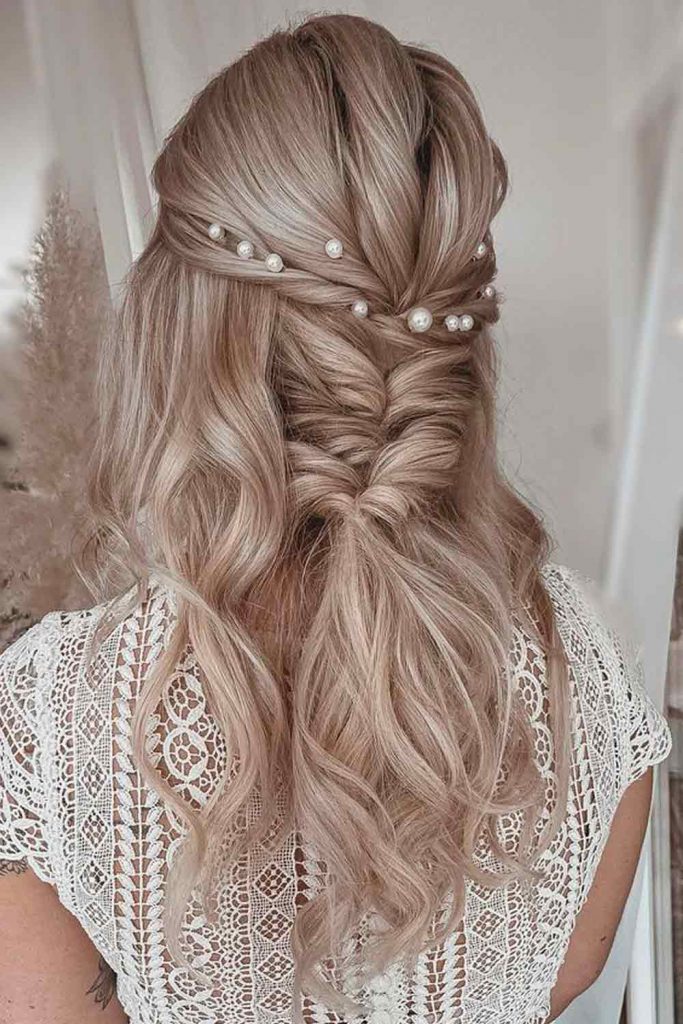 Credit photo: instagram.com/giulia_capizzi_stylist
Among the variety of blonde hair ideas, it's easy to let something slip. In case you haven't heard about the magnetic vibes of mushroom blonde, we'll gladly introduce the magical color to you. Bordering with metallic and silver shades, the mushroom tint has its own flair and palette that can't be compared to anything else. Basically, if you are looking for grey hair with a warmer undertone, this is a trendy suggestion to brood upon.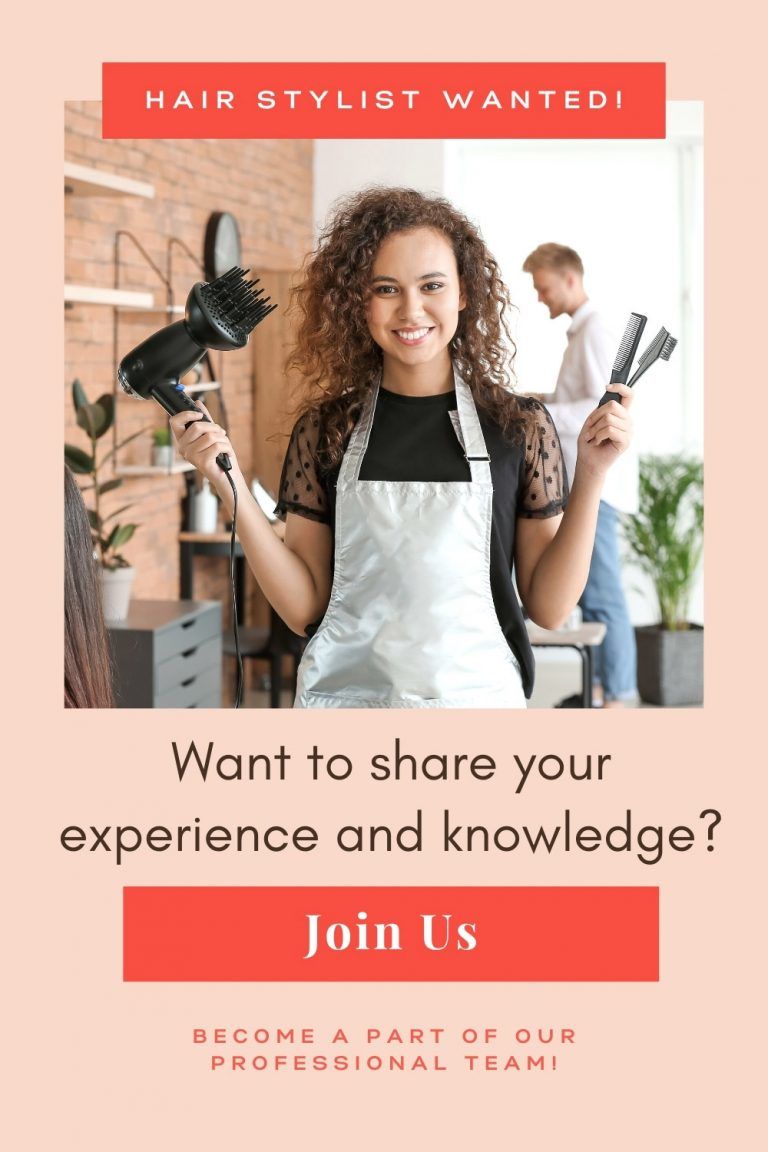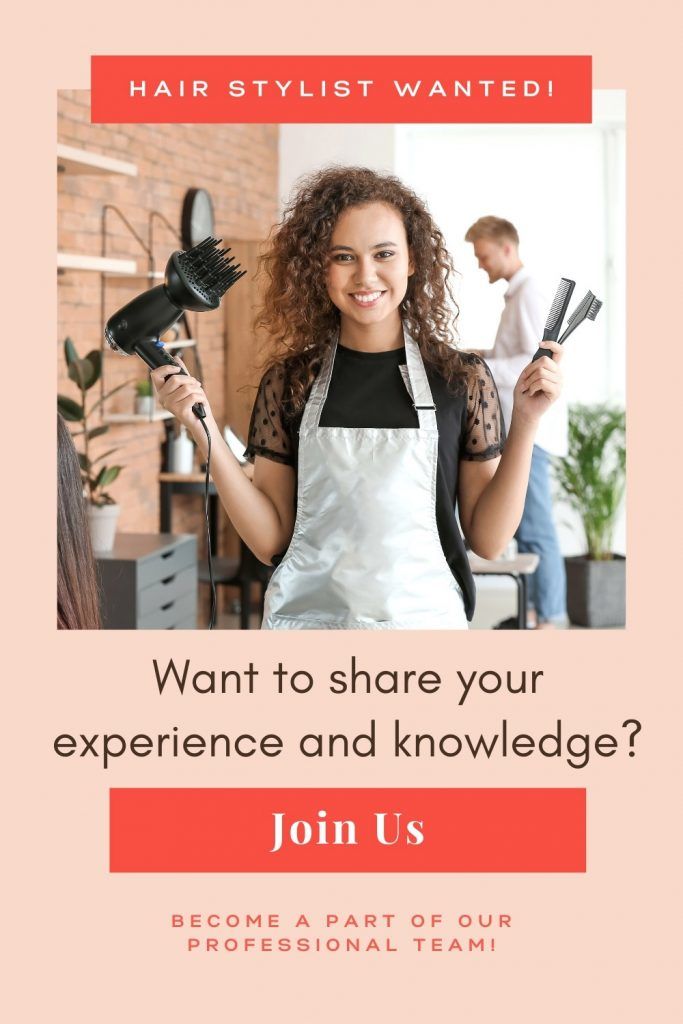 If you are ready to share your experience and knowledge with our broad audience, join us today, and millions of our readers will have a chance to see your success!
White Blonde For Ladies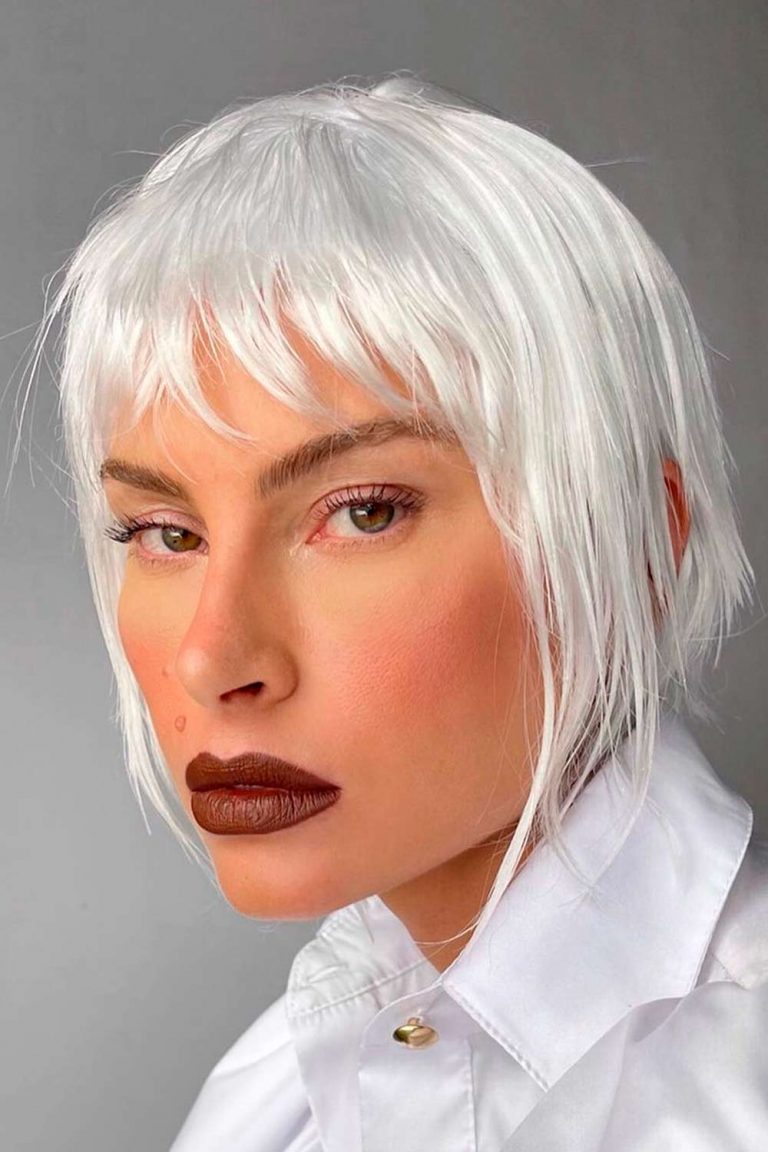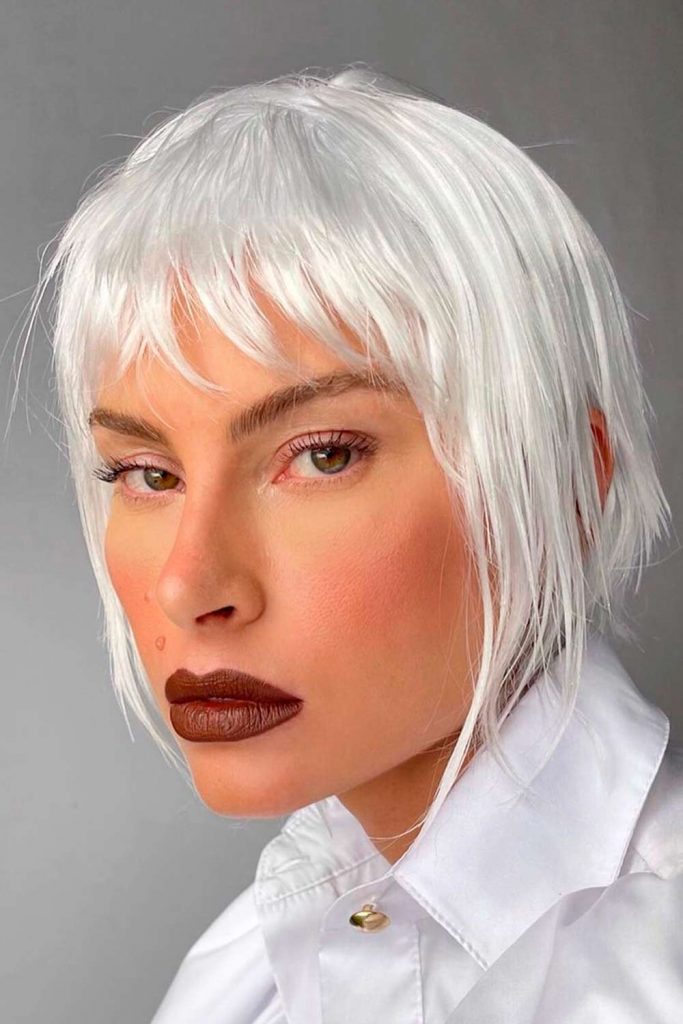 Credit photo: instagram.com/danielcbeauty
There you have it, the trendiest blonde hair colors for 2023. Now, take a hint from these sexy blondes and embrace your inner blonde goddess! Although some of the blonde shades require much upkeep, they're all are totally worth it.
Styles For Blonde Looks
Short Textured Blonde Pixie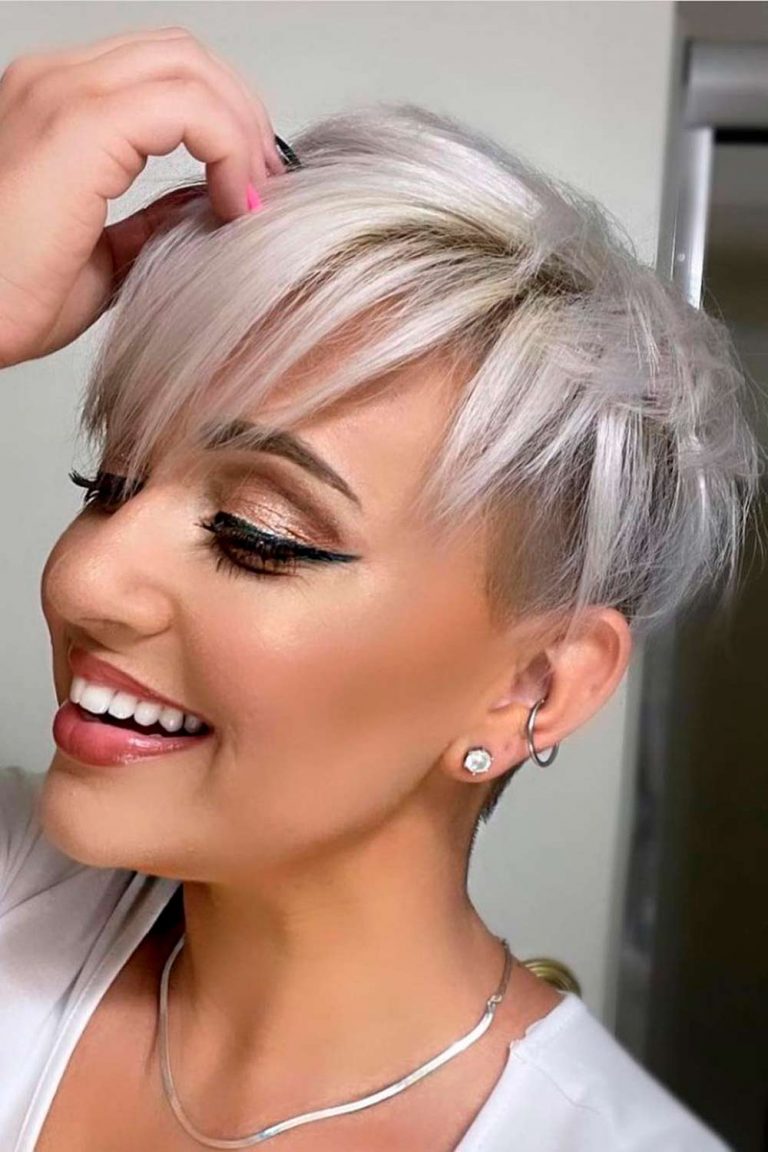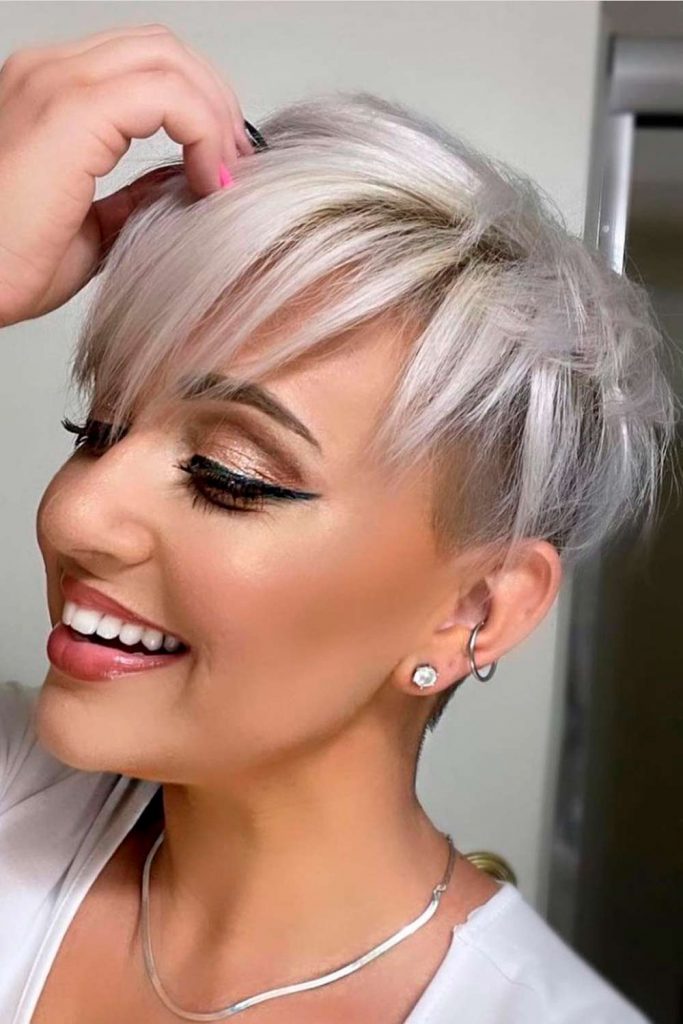 Credit photo: instagram.com/shorthair_love
Pixes will always be women's best friends, as their beauty is just eternal. The haircut you see in this pic is the shortest variant of the classic pixie. Of course, not every woman has the courage to sport it, as it keeps your face as open as possible. And brave girls know that wheat blonde pixie is the most attractive pixie ever.
Wavy Ashy Blonde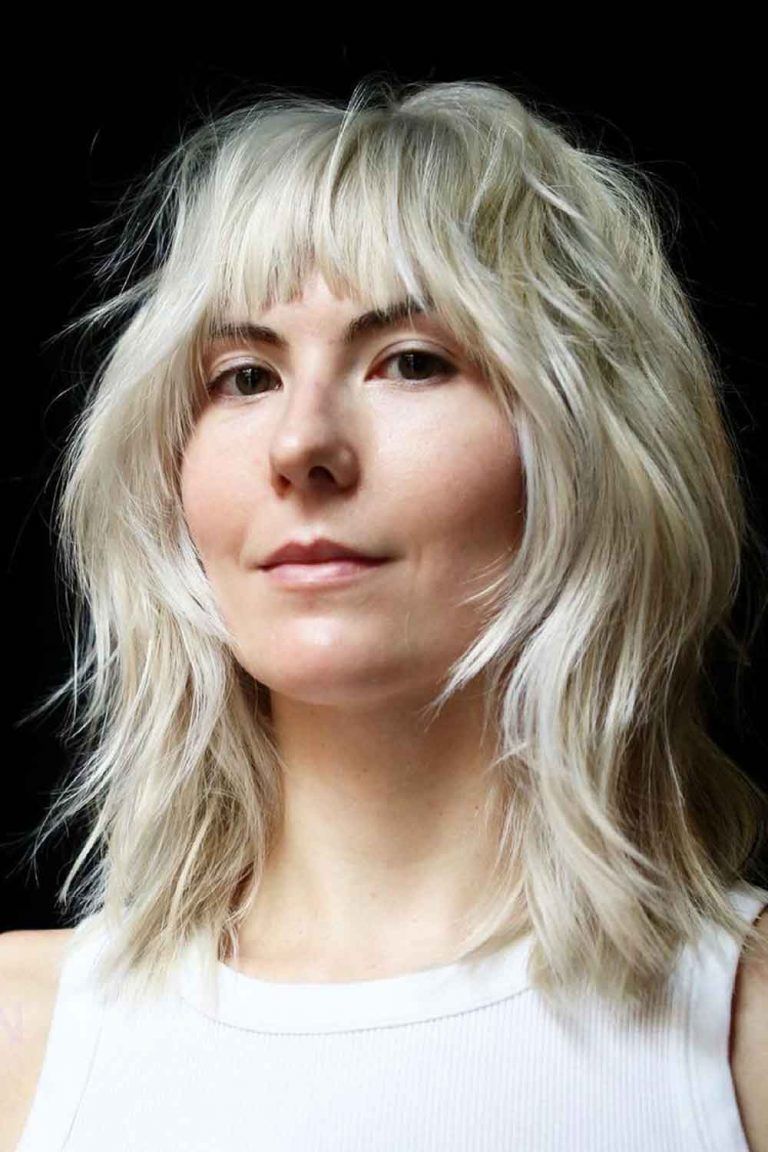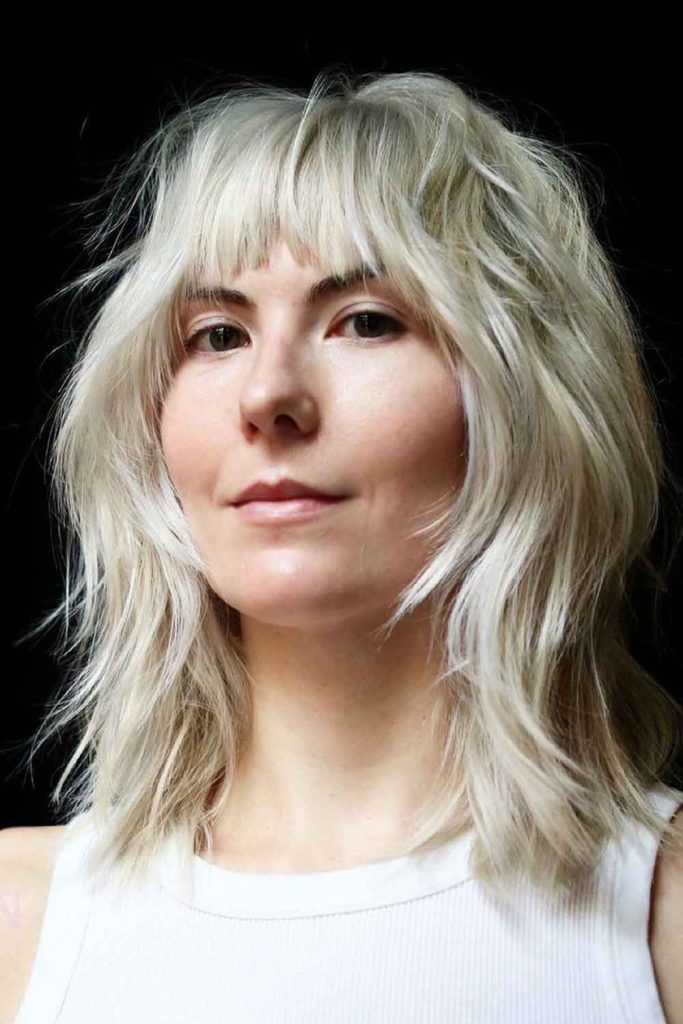 Credit photo: instagram.com/salsalhair
Women who don't feel like sporting bright colors and can't decide between cool and warm blonde tones, ash blonde hair color will be there for you. It's a cool shade of blonde with a warmish tint that, in fact, looks awesome on girls with lighter skin tones and light eye colors.
Blunt Lob With Highlights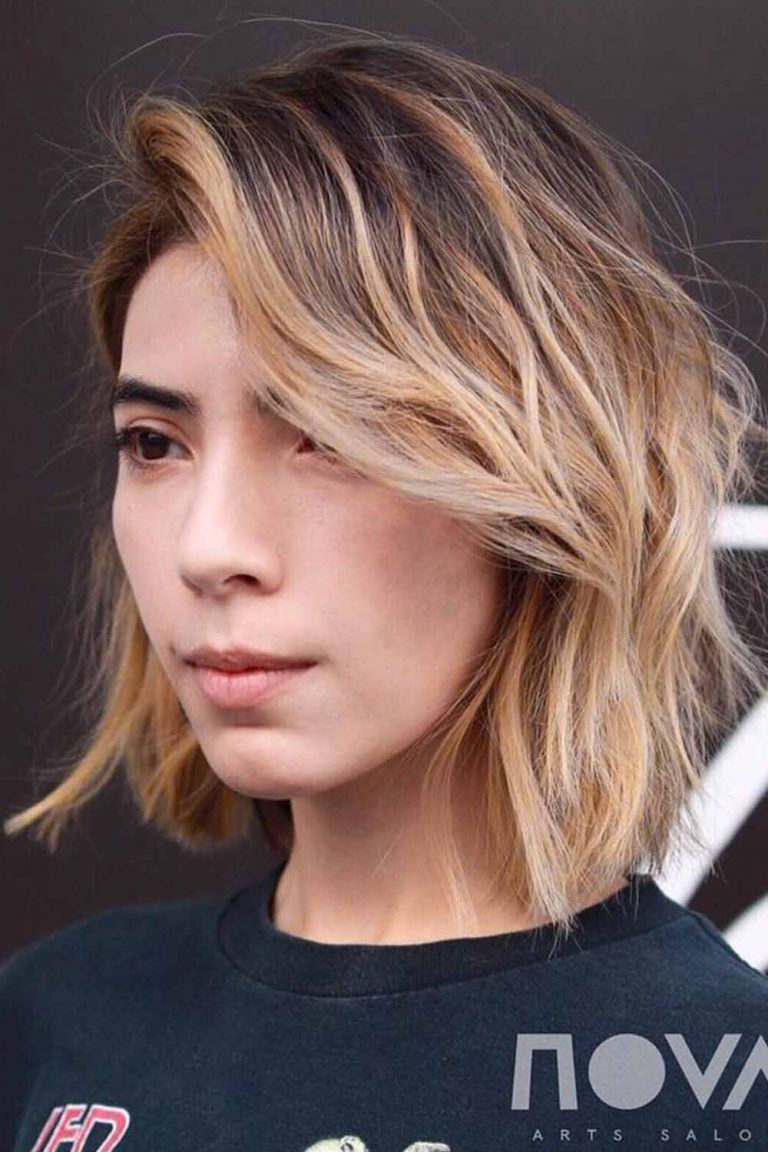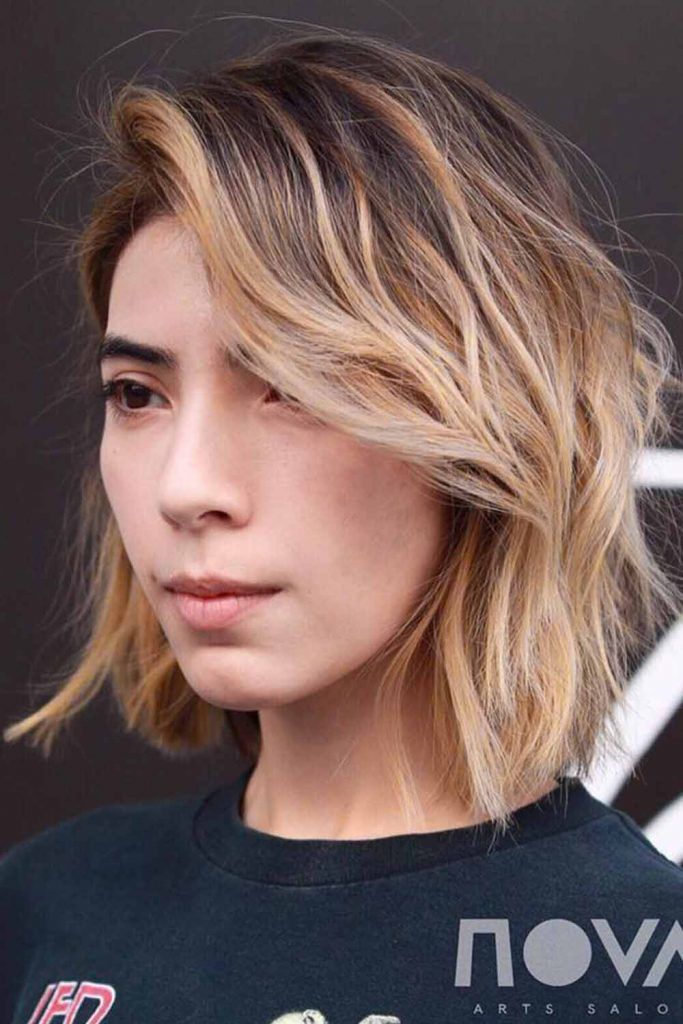 Credit photo: instagram.com/salsalhair
When we need to go for something versatile, we opt for a blunt lob. It's probably the easiest cut to maintain, but we all want to diversify out haircuts from time to time. Dark blonde highlights will come in handy for those who are about to freshen up their daily hairstyle.
Light Sandy Blonde With Waves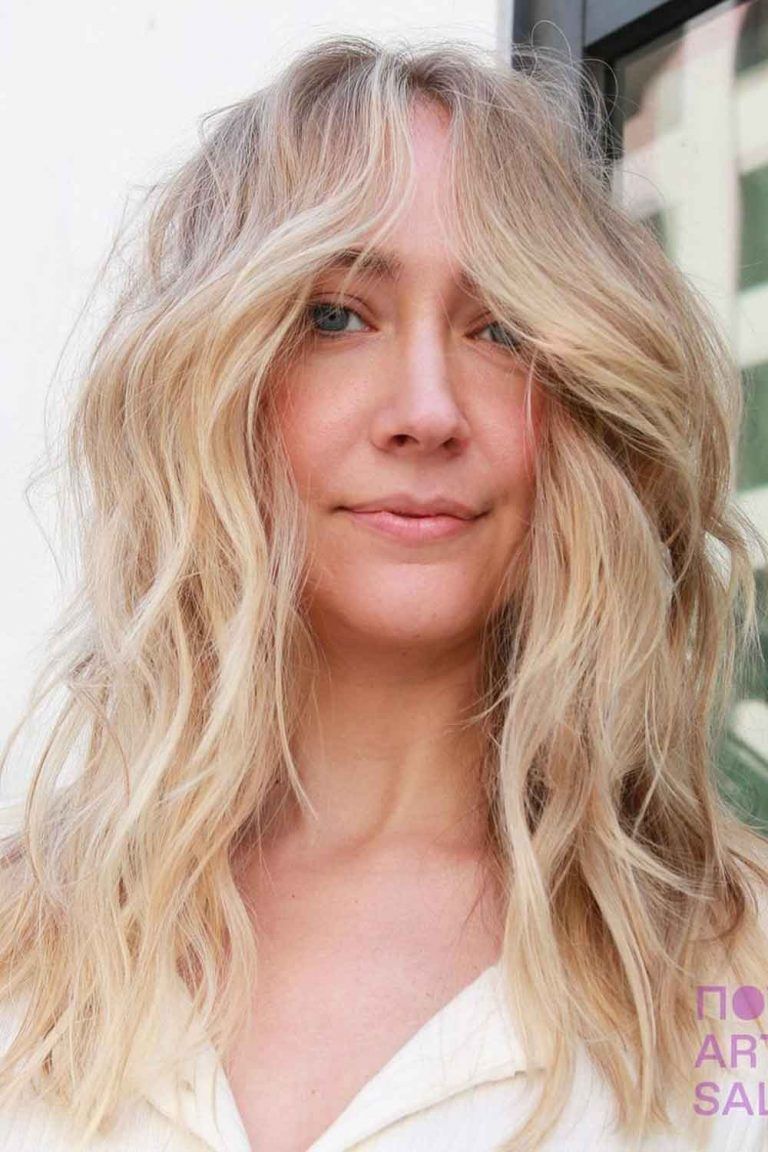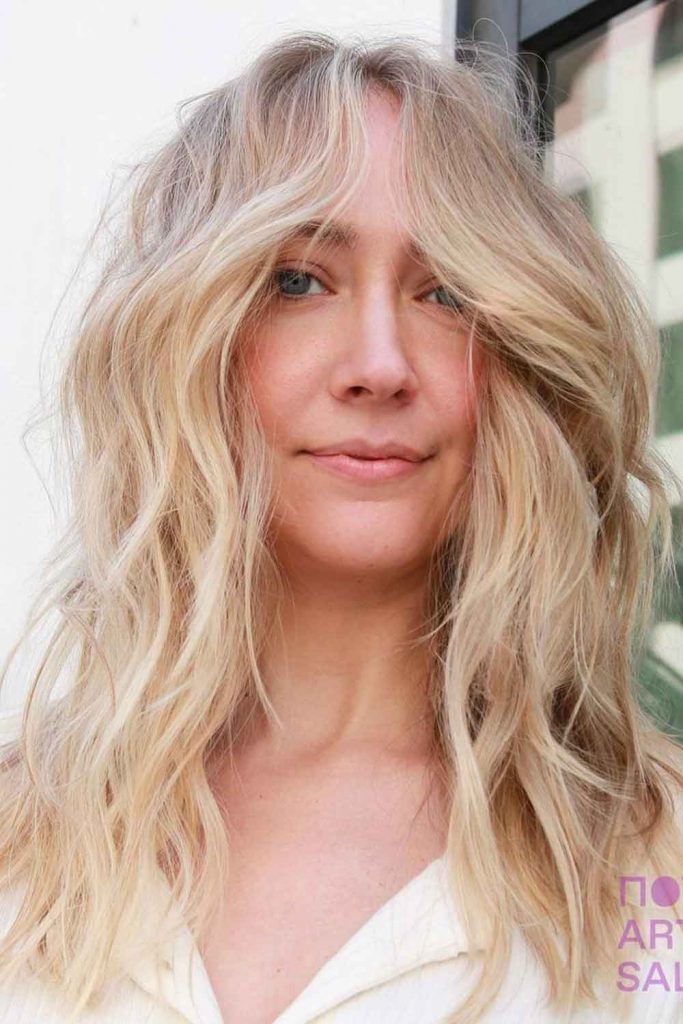 Credit photo: instagram.com/salsalhair
Sandy blonde hair color will bring some summer vibes to your life. And if you want to create a dimensional blonde look, you can also combine some honey hues with a sandy shade. For a livelier look, wave your hair. All in all, waves always know how to reveal the beauty of your hair color.
Platinum Wavy Blonde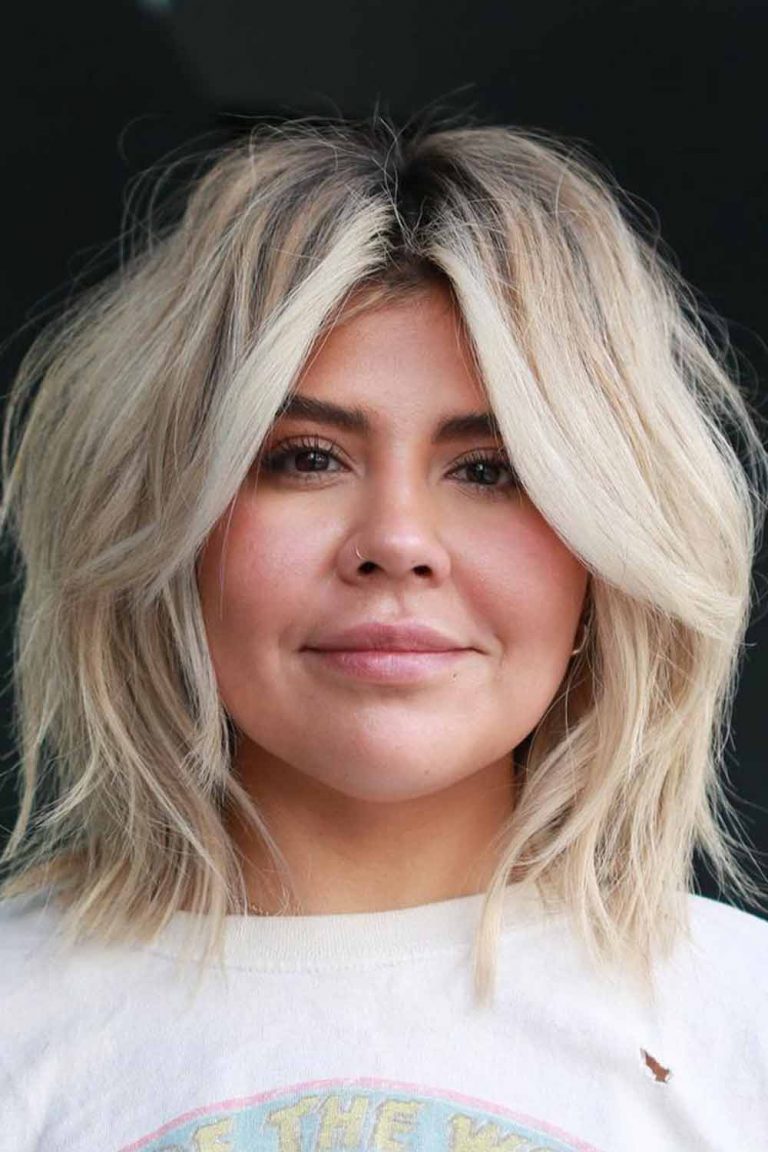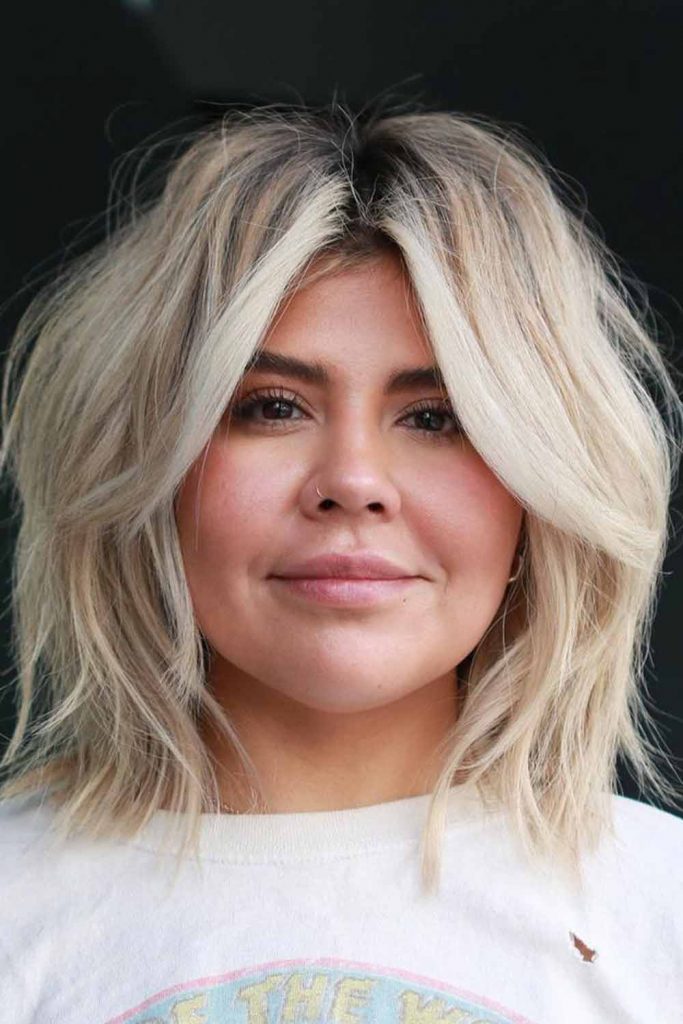 Credit photo: instagram.com/salsalhair
How about noble hair color? Platinum blonde is the richest shade of blonde with pale, yet very shiny tint. Since this color is absolutely versatile, nothing can stop you from wearing it. To add some movement to this fantastic shade, wave your hair so that each lock is waved in a different direction: it creates a very lively look.
Creamy Blonde With Dark Roots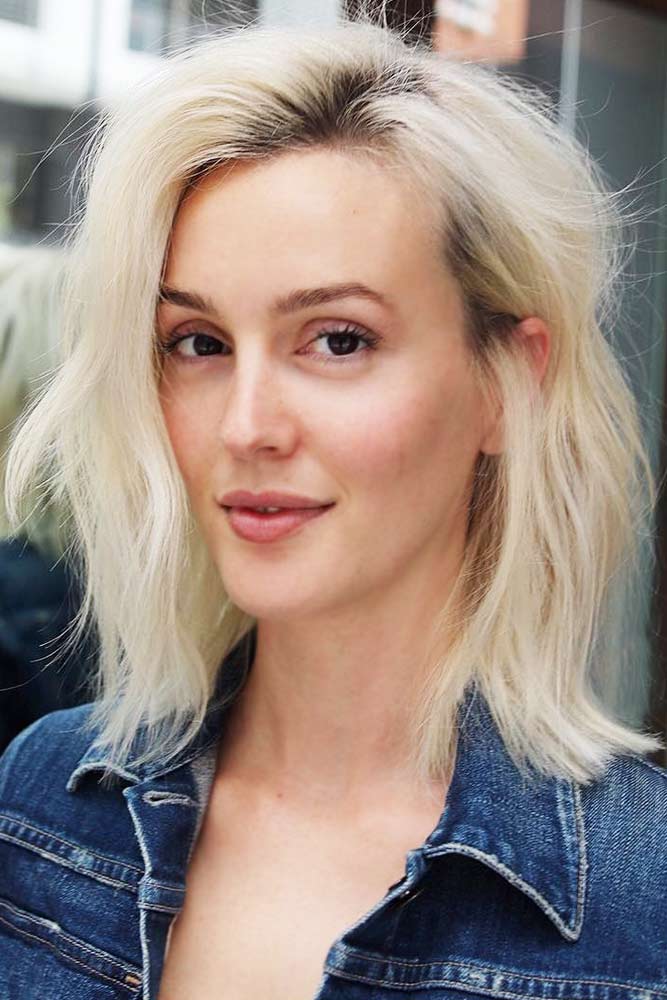 Credit photo: instagram.com/salsalhair
Some people call it a flaw, but we call it a stylish element. Dark roots are not necessarily about to spoil your look; they can actually accentuate your blonde hair. If you opt for creamy blonde, ask your hairstylist for balayage in order to make your roots less obvious when they grow.
Silvery Balayage On A-line Bob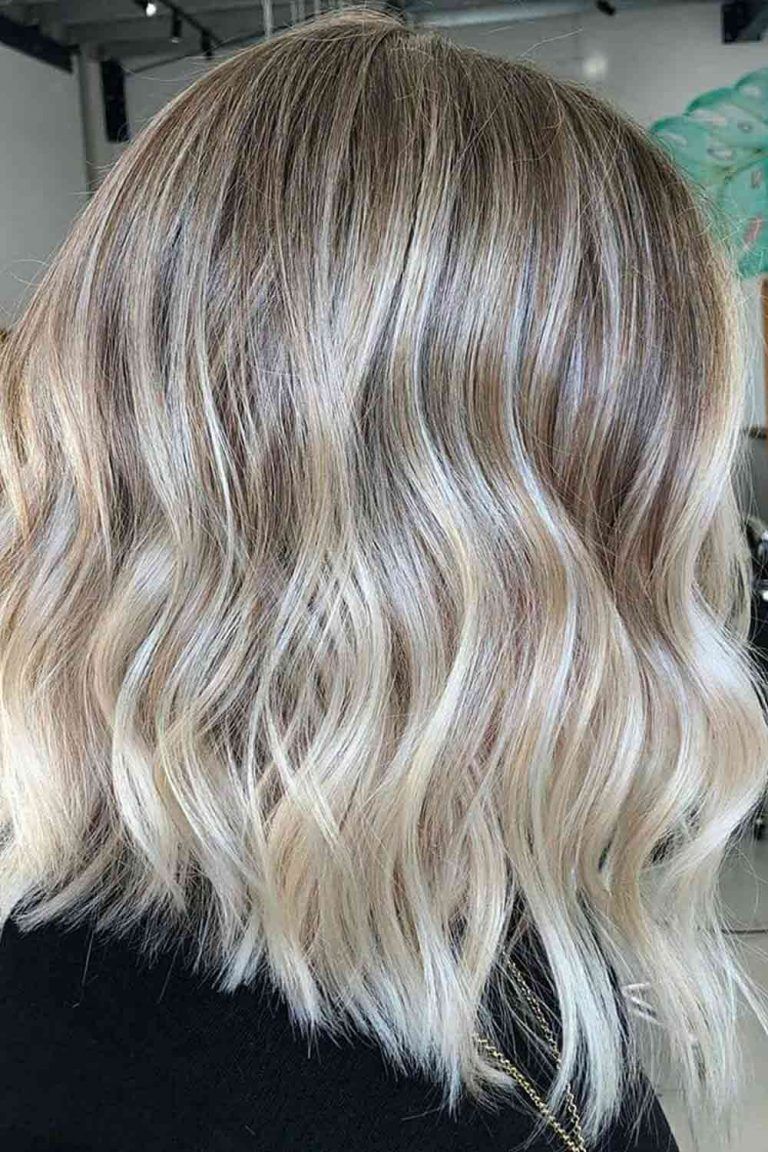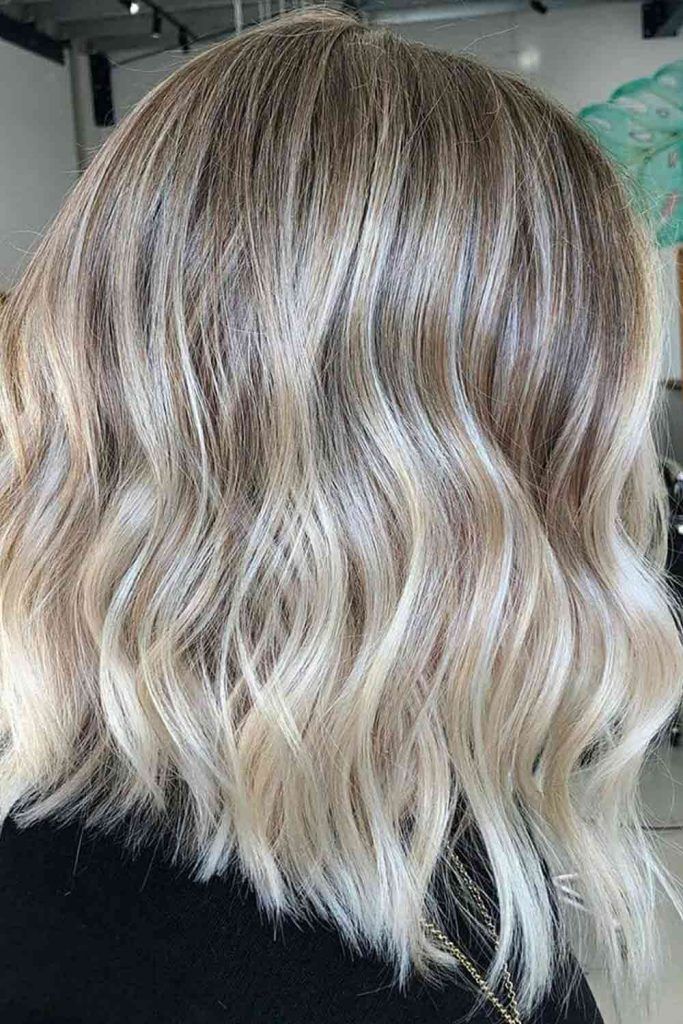 Credit photo: instagram.com/_edwardsandco
A-line bob is a haircut that will never go out of style. It can frame your face, make your thin hair appear fuller, and just looks stunning. But we can't have too much of a good thing, right? Let's make it even more adorable: silvery balayage will make your cut look even more dramatic.
Previously, it was said that those with darker hair colors or skin tones should not go blonde. However, celebrities are proving that this is no longer the case.
The possibilities are endless, so why not find out which blonde hair colors work best for you? We have compiled a list of the most popular blonde shades for 2023. Celebrities love blonde shades, from pop stars like Shakira and Madonna to Hollywood babes like Charlize Theron and Jennifer Aniston. Find which blonde works best for you and go for a bold new look and start the new year with a completely different style!
Messy Layered Blonde Bob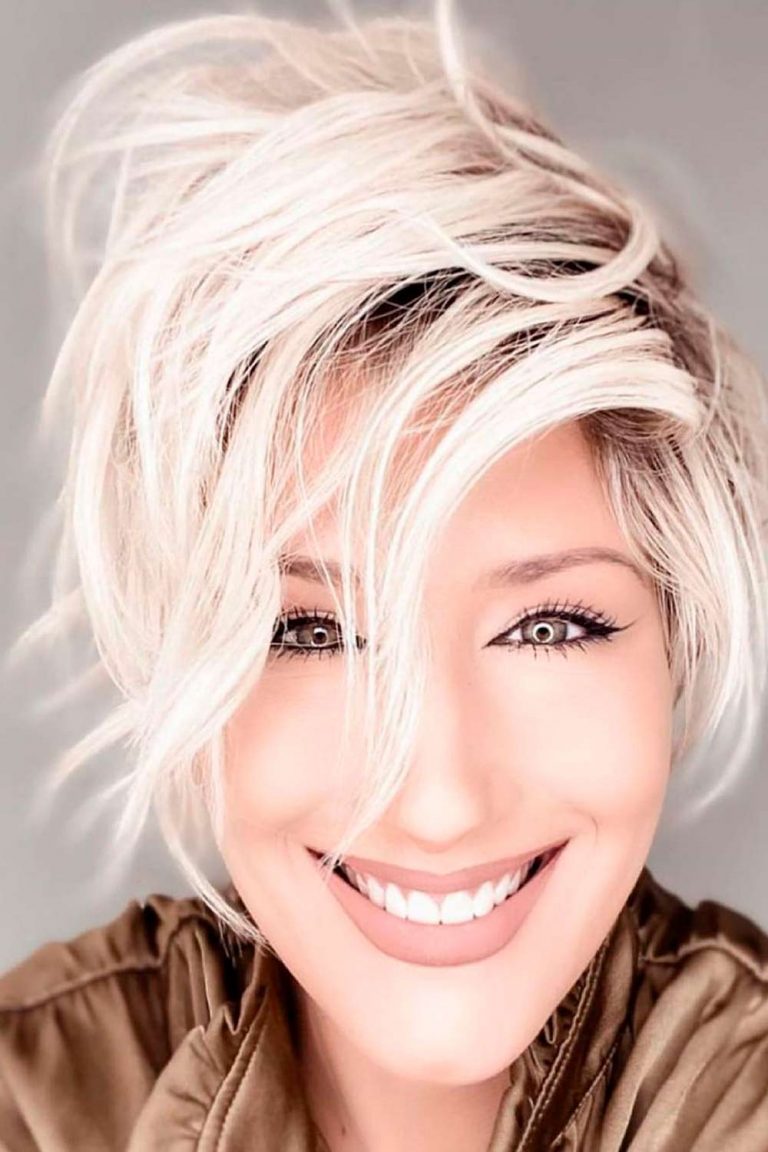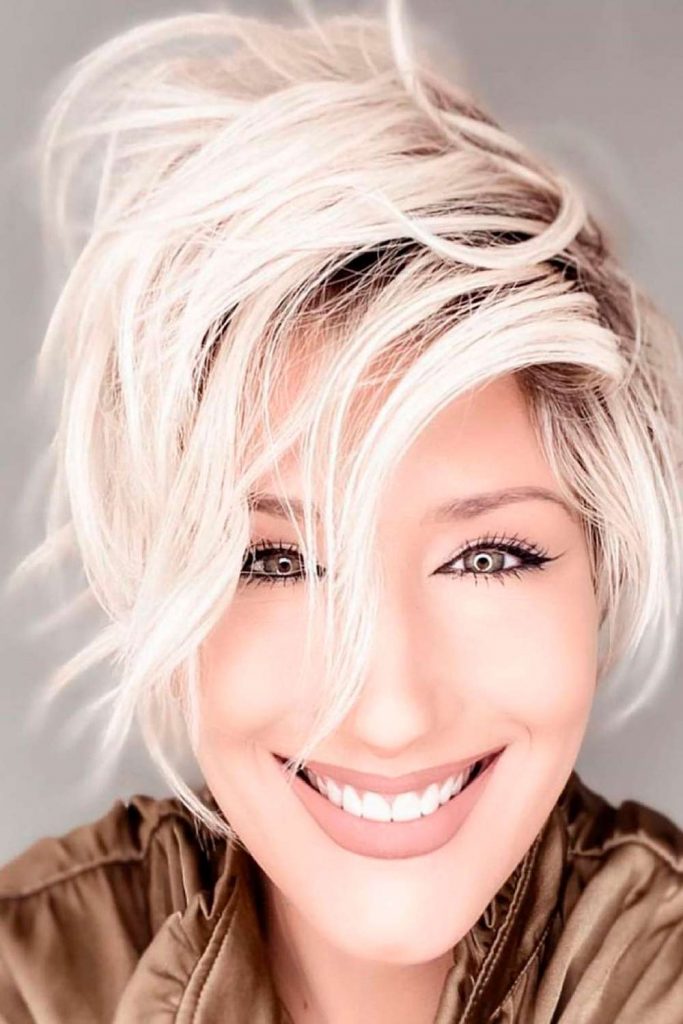 Credit photo: instagram.com/shorthair_love
Do you have thinner tresses? Have you considered blonde bob hairstyles for fine hair? A short layered bob like the one pictured here is a great way to add volume to fine hair. Once you add some light blonde hues and shaggy layers for a cut that's fun and flirty, it will make you look and feel years younger!
Blonde Balayage Blunt Bob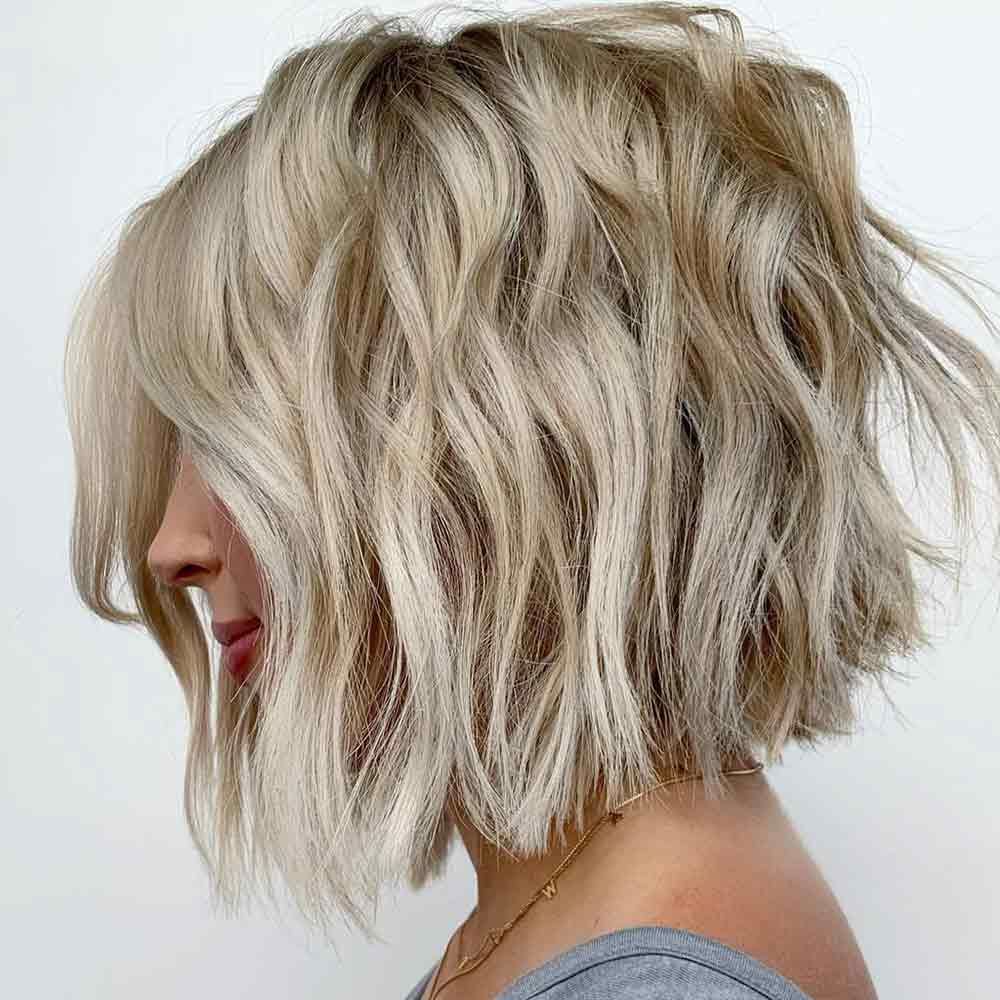 Credit photo: instagram.com/styled_by_carolynn
Another cute short hairstyle is this adorable bob haircut. It's a great way to add volume and depth to thin hair or remove some weight from thicker tresses. This blunt wavy bob is very stylish. And if you love balayage hair, this combo of soft blonde tunes is so feminine and chic.
Layered Platinum Blonde Bob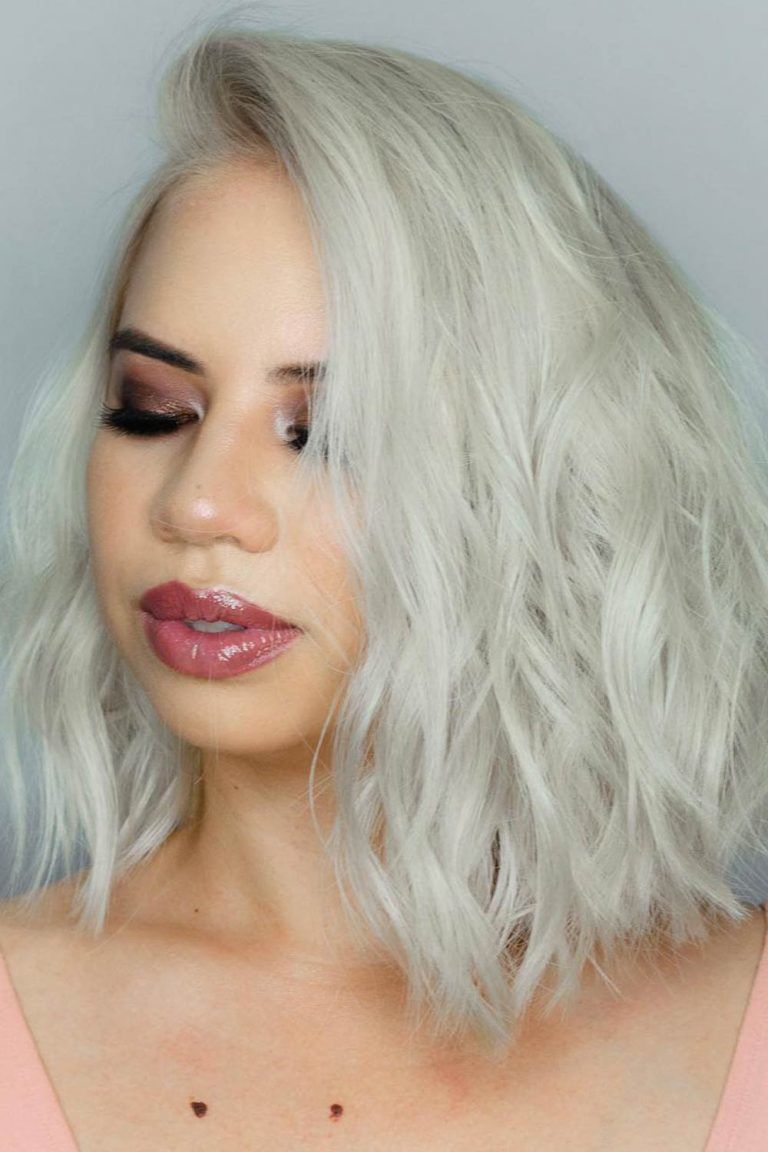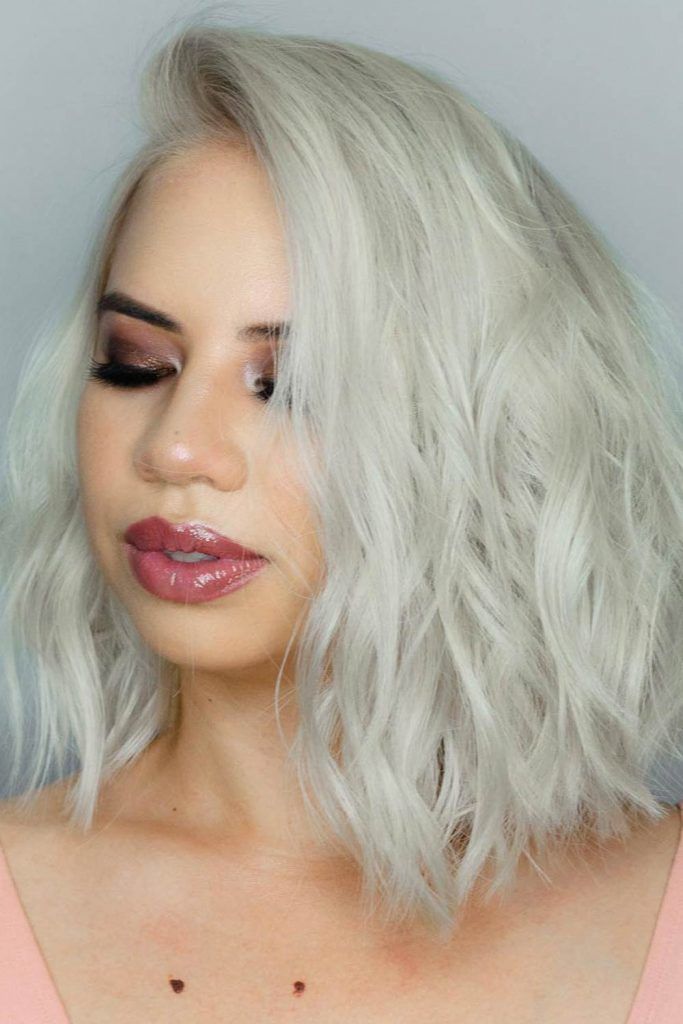 Credit photo: instagram.com/theniksters
Short blonde bob hairstyles are very much in demand these days. And this wavy light blonde bob is no exception! Platinum hair is super sexy and will drive men wild with passion! The tousled waves in this messy bob will show that you have a fun and playful side to match your sassy personality!
Blonde Bob With A Bang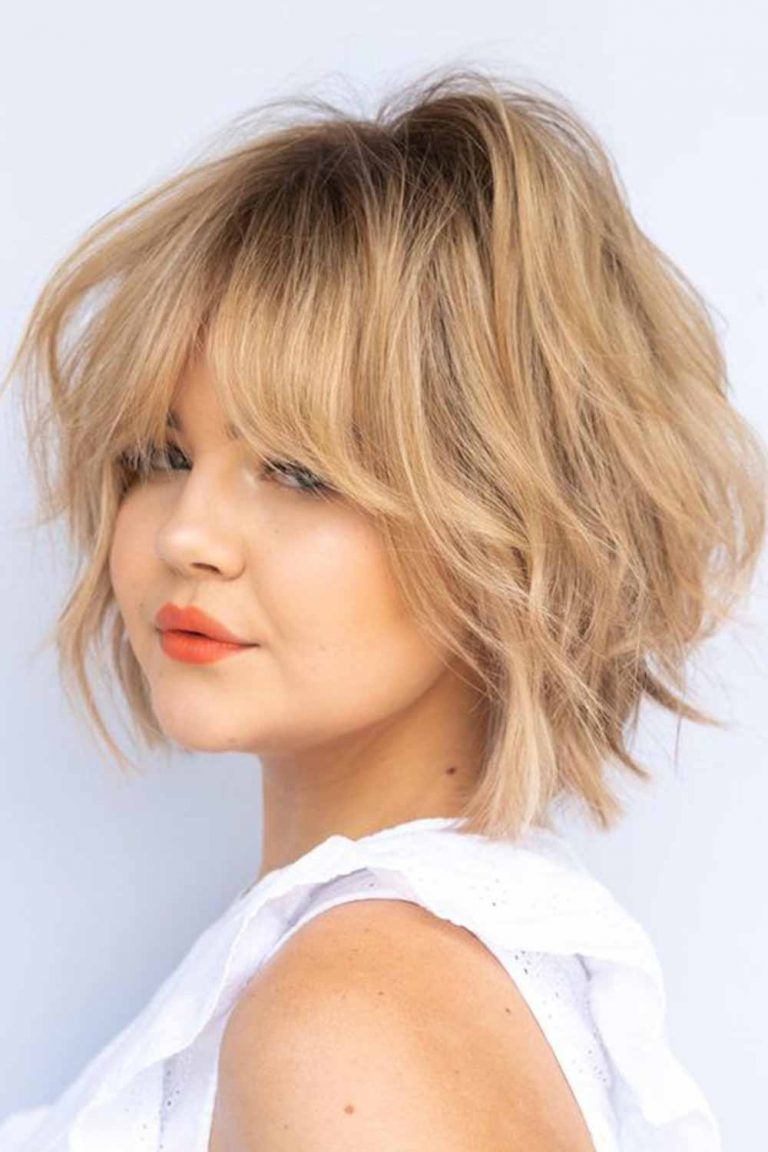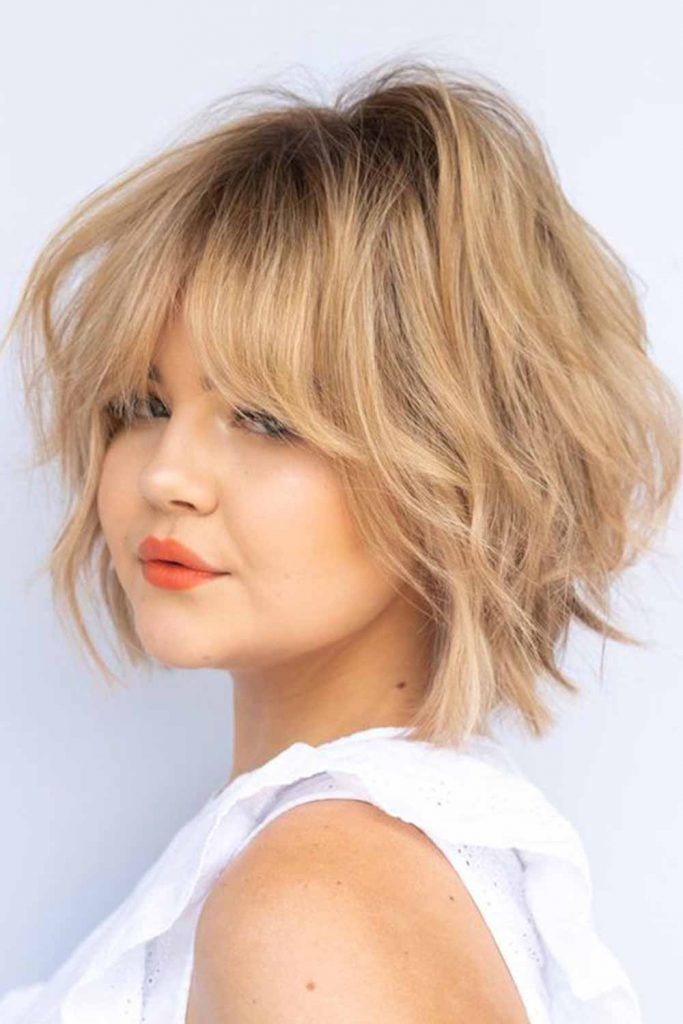 Credit photo: instagram.com/salsalhair
Fringe is making a huge comeback, especially with short bob hairstyles. This angled bob with platinum blonde tones is very chic and sophisticated at the same time. Ask your stylist for a short blonde bob with bangs and soft layers that nicely frame your face. Slightly darker roots will also add some depth to this sexy short cut.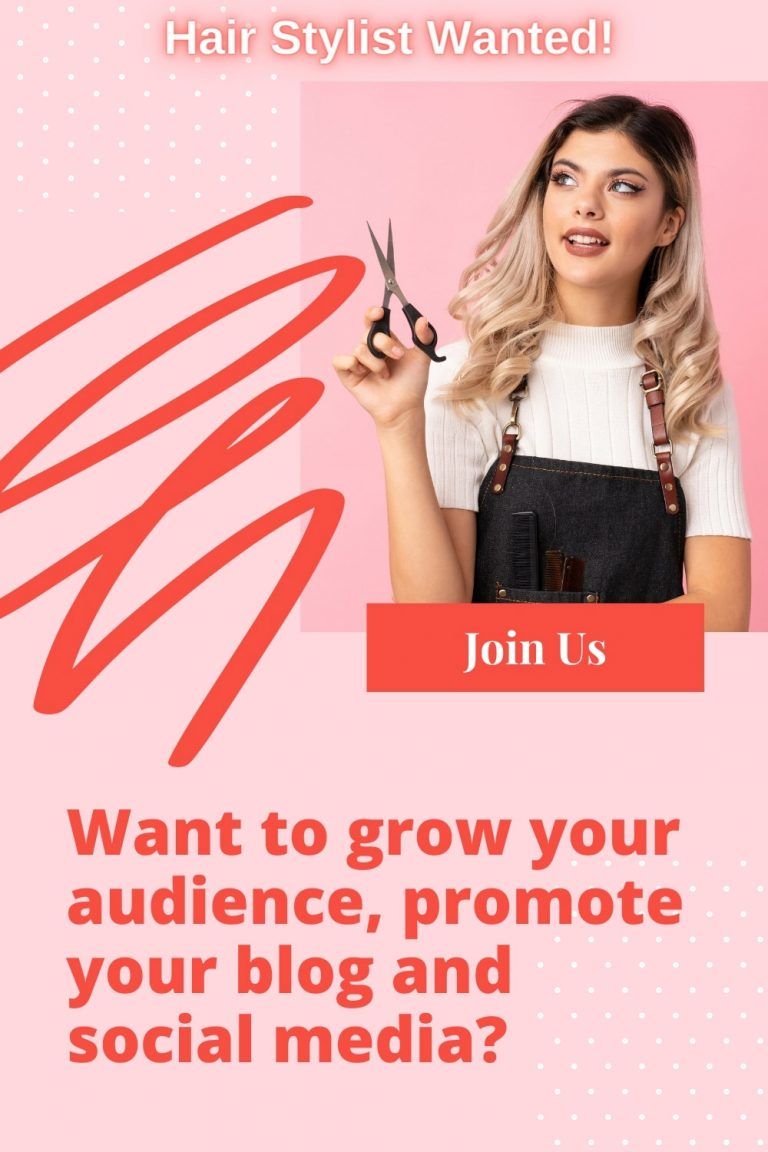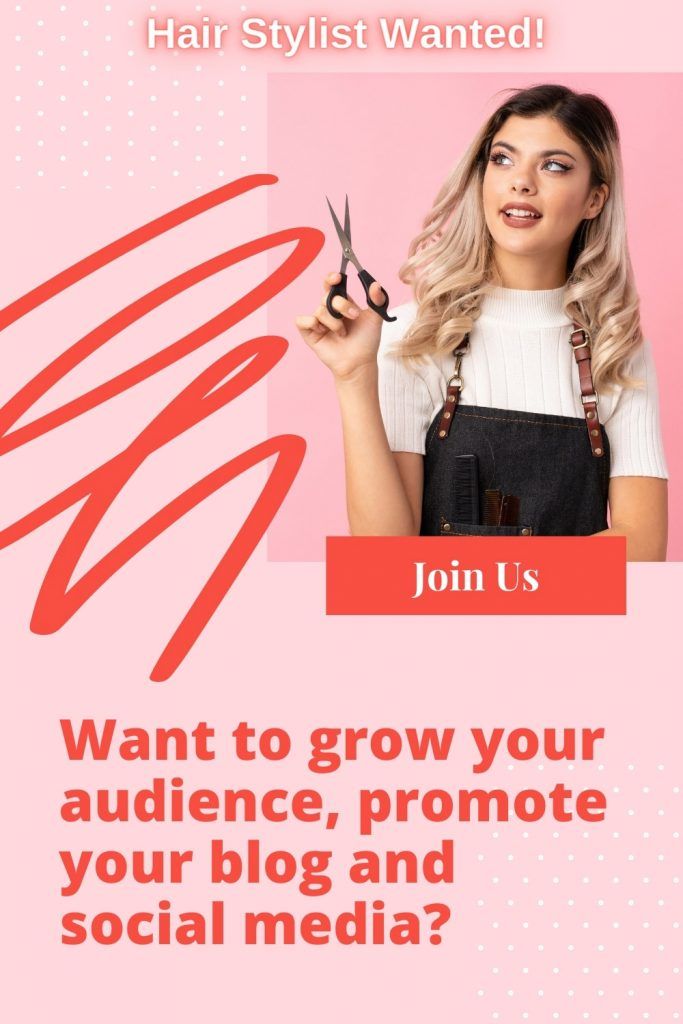 Blonde Undercut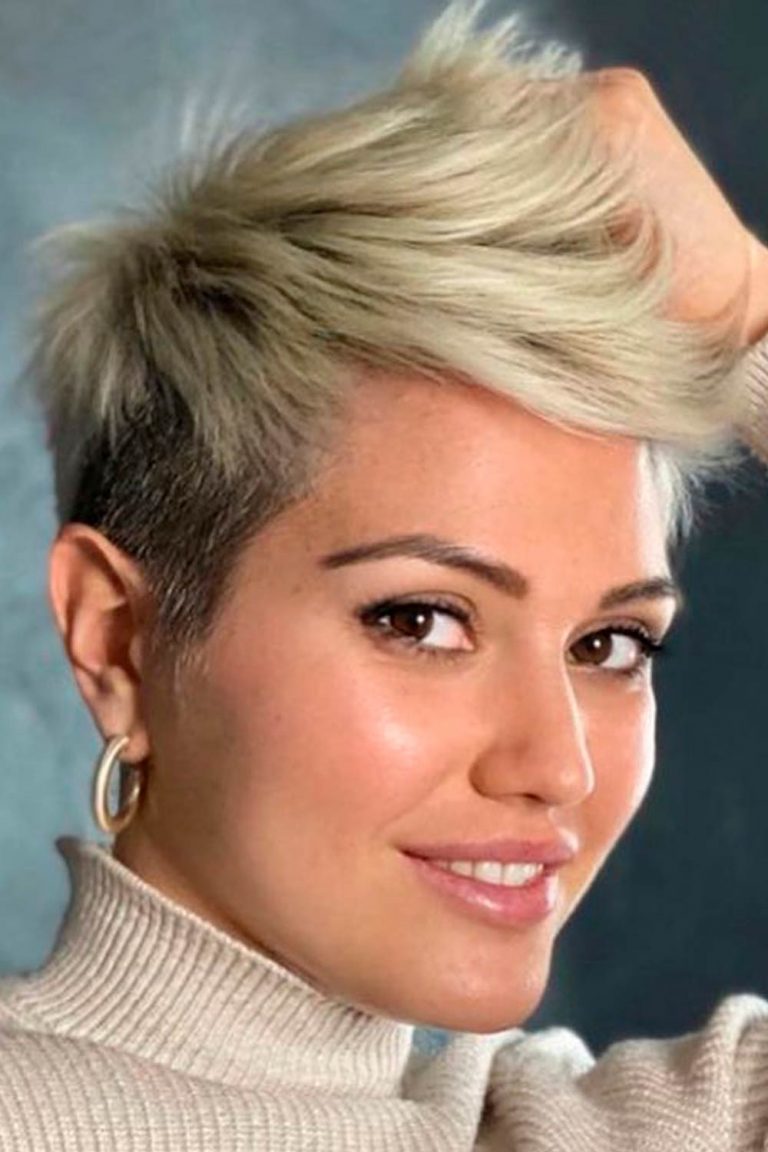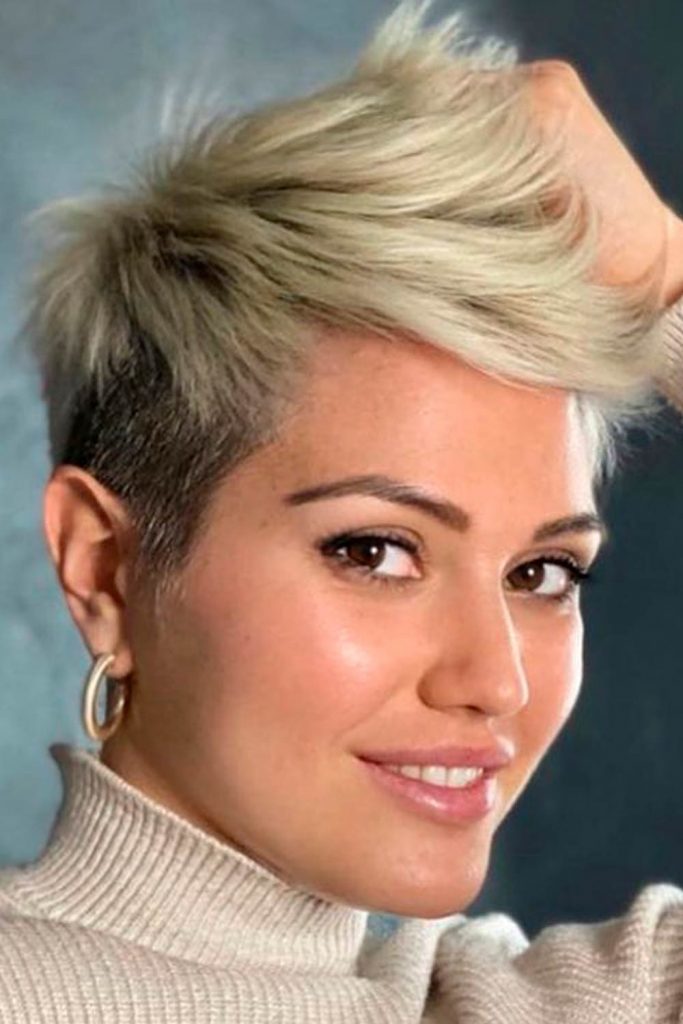 Credit photo: instagram.com/shorthair_love
If you want a look that has a bit of an edge and don't mind very short blonde hair, this undercut could be just what you are looking for. The shaved sides with dark brown tones are the perfect contract for the trendy light blonde tapered cut. Apart from that, this look is very avant-grade and perfect if you are looking for a short haircut for those hot summer days.
Messy Blonde Long Pixie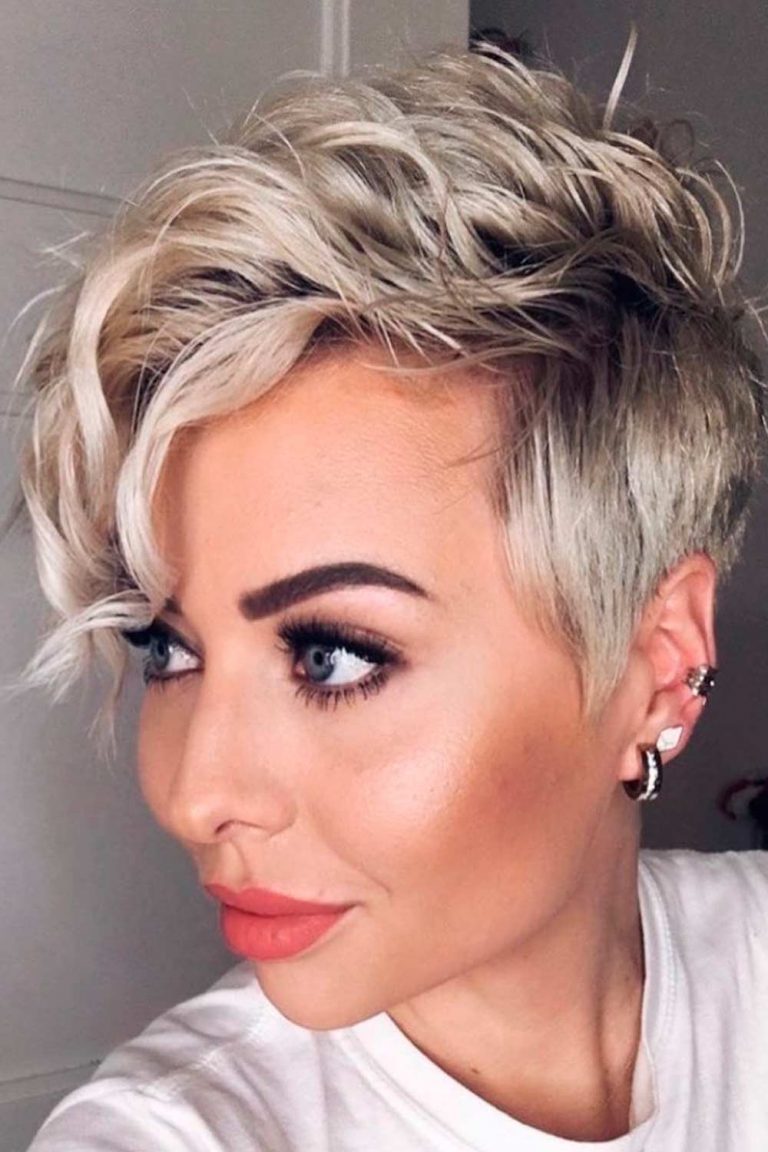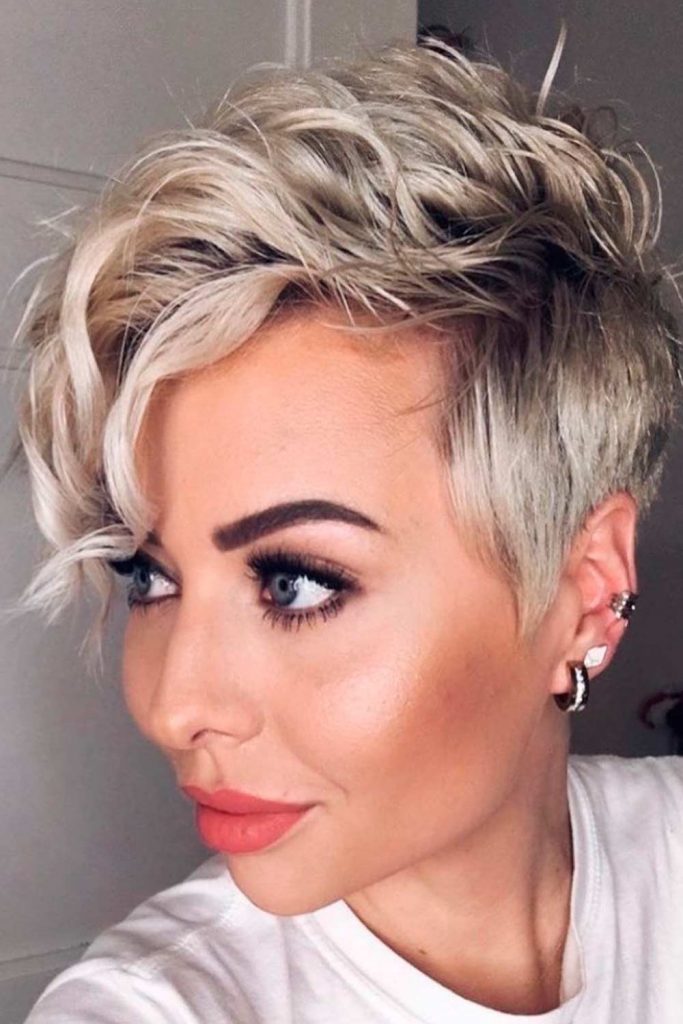 Credit photo: instagram.com/shorthair_love
Another trendy look is this super cute blonde pixie cut. Pixie cuts are taking the world by storm as they are oh-so-chic! Shorter sides and long bangs that fall seductively over one eye give this look a sassy vibe. This long pixie haircut is even more alluring with platinum blonde tones for a look that's sultry, yet sweet.
Side Shaved Pixie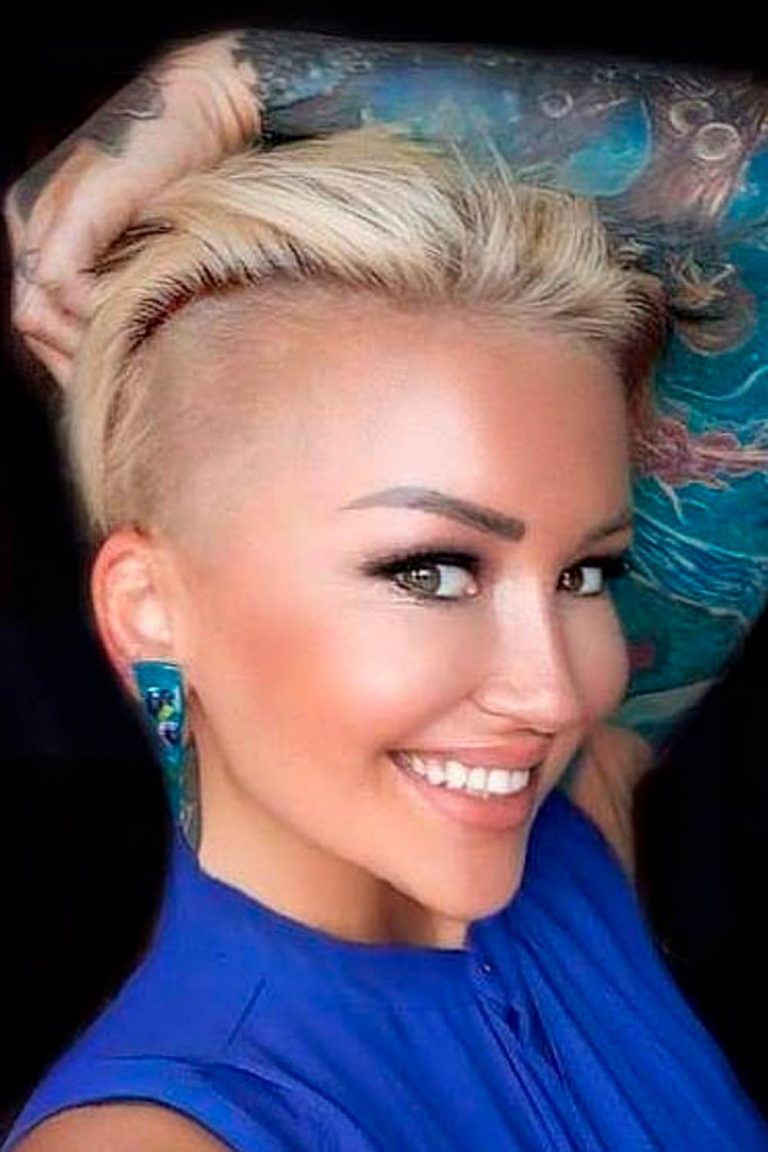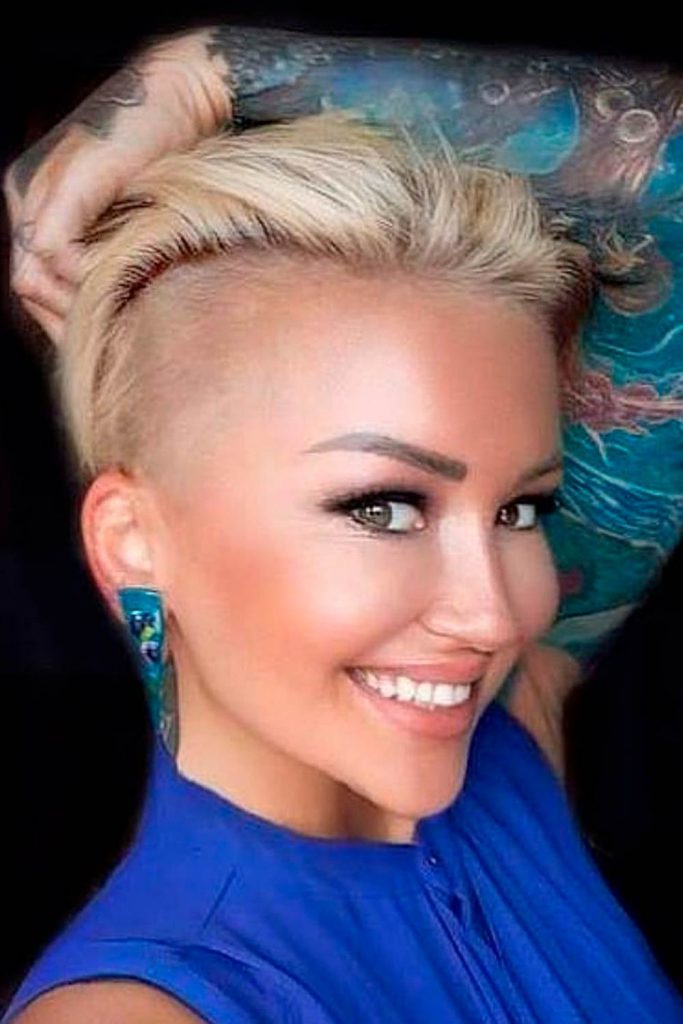 Credit photo: instagram.com/shorthair_love
Even more daring is this blonde long pixie cut with a side shave. The golden blonde shade is super pretty but the side shaved hair is what really makes this look stand out. Ask to have one side shaved and then slick the rest of your hair over to one side for a look that's too hot to handle!
Caramel Blonde Bob With Short Bang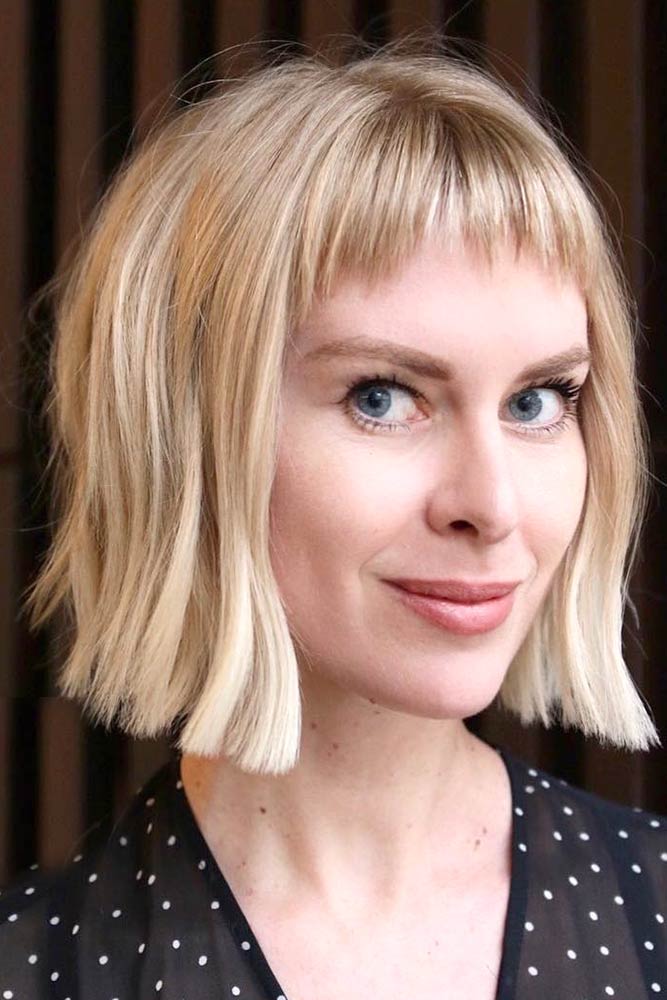 Credit photo: instagram.com/salsalhair
Shaggy hairstyles are very stylish as they are so carefree. IA short bob haircut with choppy, jagged layers is indeed a great way to add some fullness to thin hair. Ask for a choppy fringe as well for a look that's playful and chic. And blonde ombre is just stunning with its darker roots that fade to a shiny golden blonde.
Blunt Platinum Blonde Bob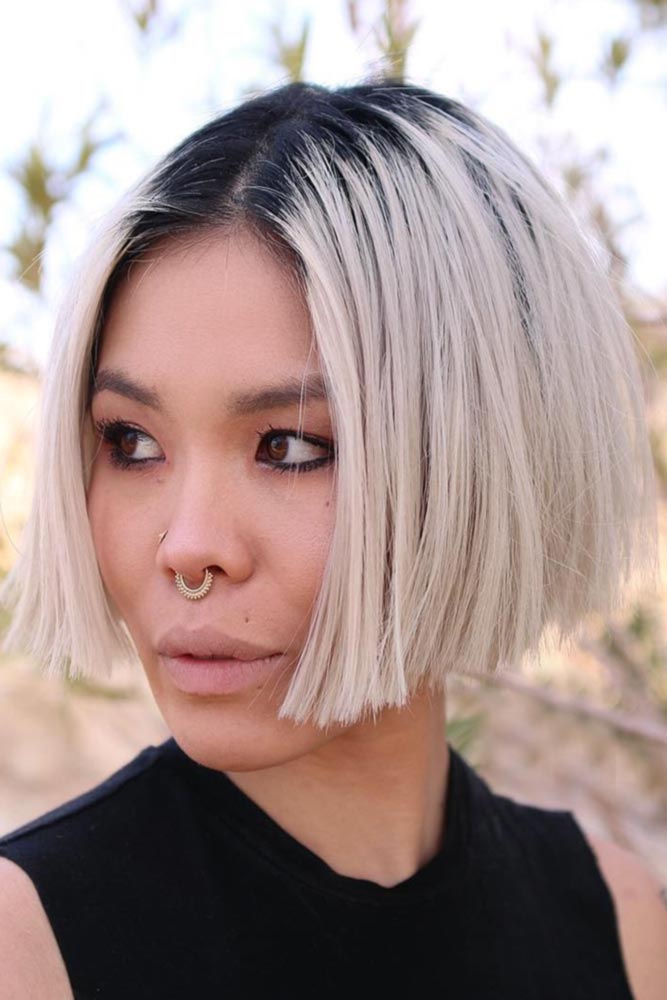 Credit photo: instagram.com/salsalhair
Another great look for shorter hair is this blunt bob haircut. The sleek style is not only chic but also glamorous. And the dark roots that fade into a shiny platinum blonde gives it a somewhat playful vibe that shows you have a bit of a sassy side and are not afraid to show it.
Party Girl Blonde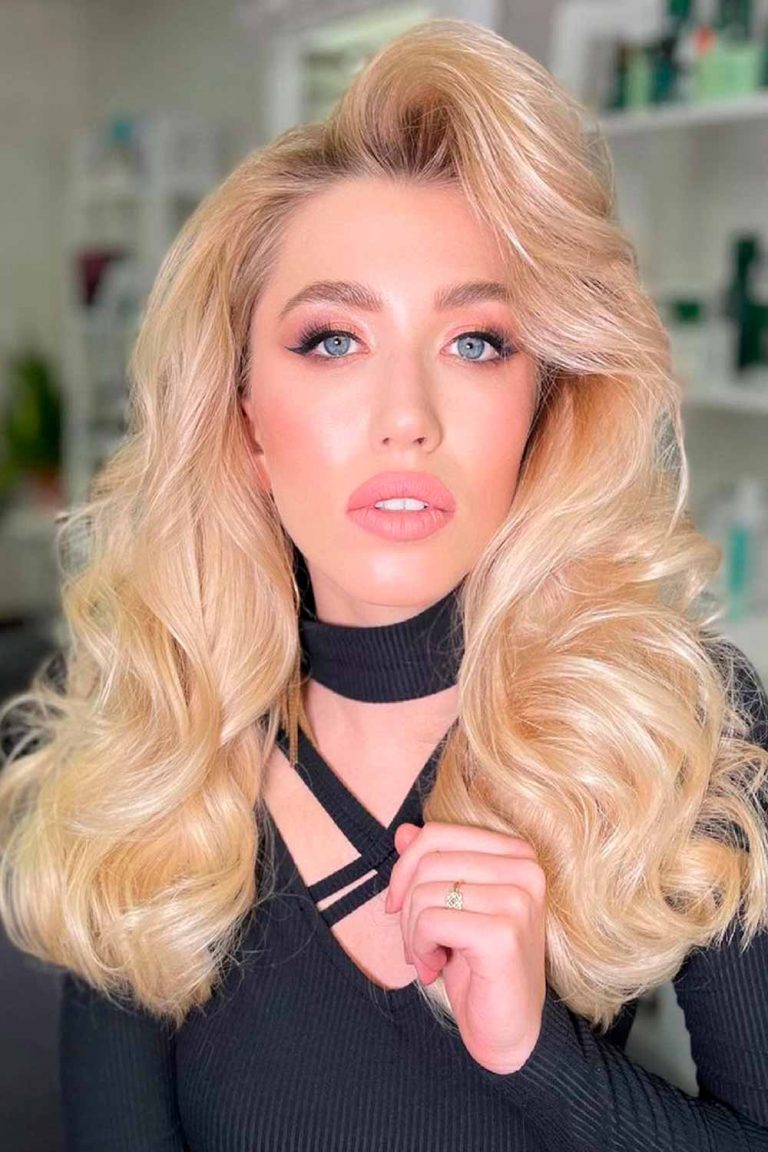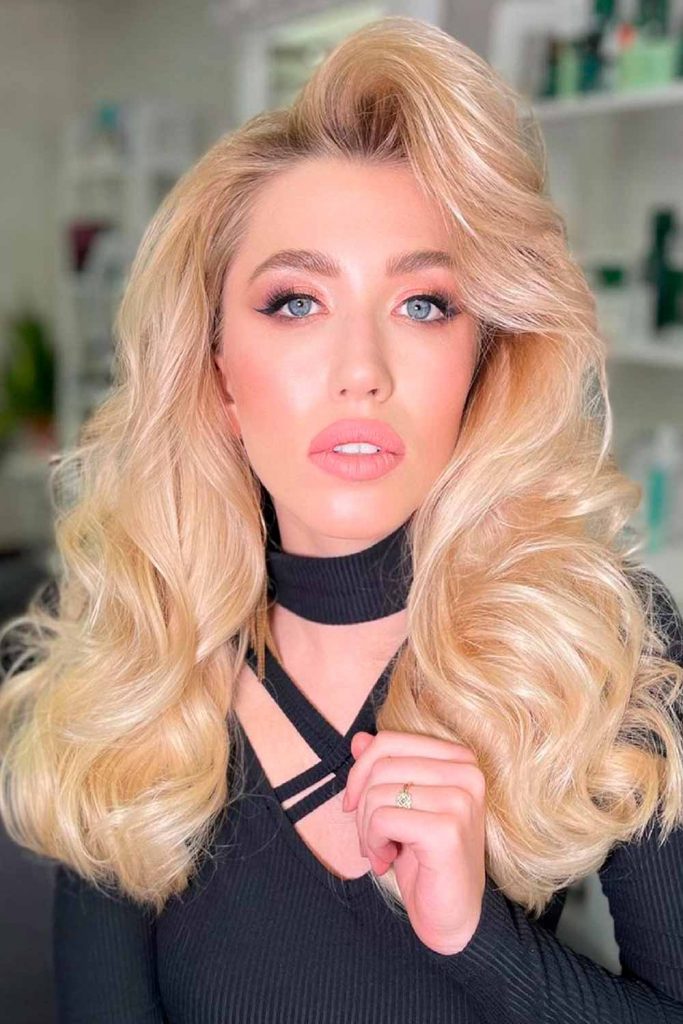 Credit photo: instagram.com/hair_by_zolotaya
As you may know, Kate Hudson perfectly pulls off the party girl shade of yellow blonde. This color works best for those with a darker skin tone (or tan) and for outgoing personalities. So, if you are feeling especially bold this year, why not try this shade and embrace your inner party girl?
Socialite Blonde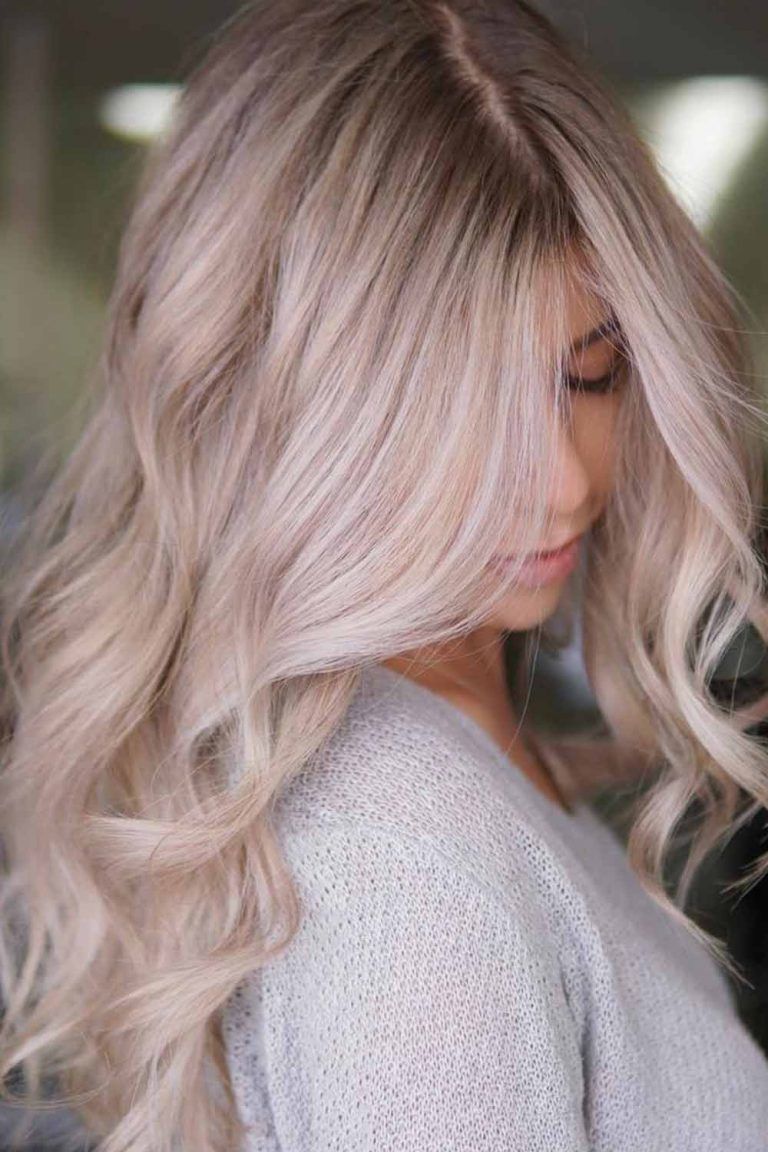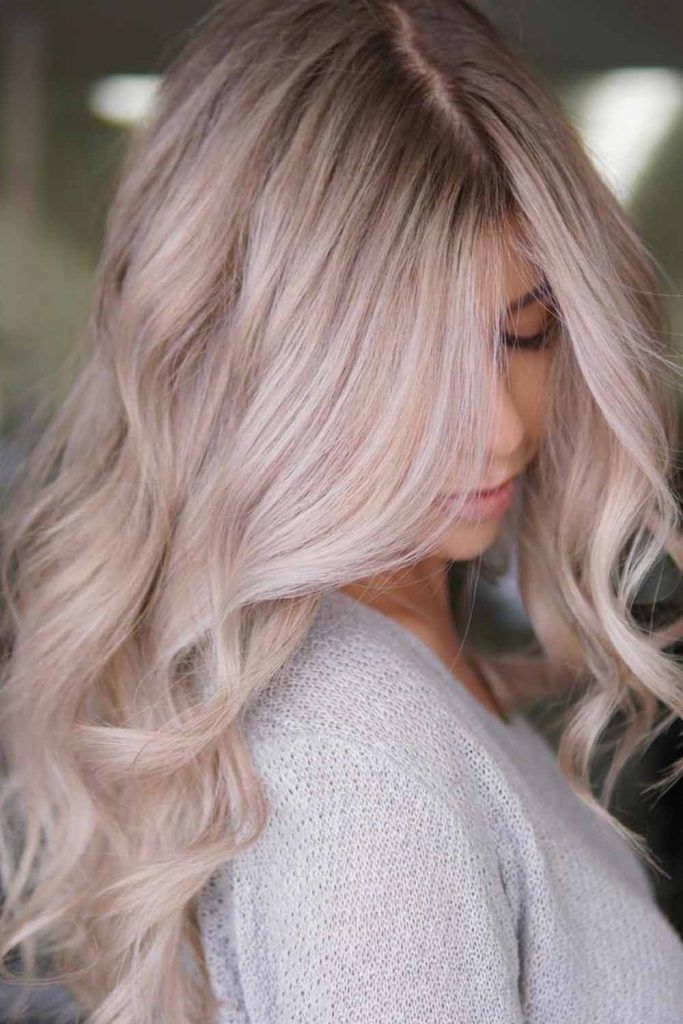 Credit photo: instagram.com/frances_hairartist
If you have a lighter natural hair color and don't mind the upkeep, then embrace the socialite style of Gwyneth Paltrow. This color screams money and style! It's similar to platinum blonde but not quite as light and adds a bit more dimension.
Blonde Ambition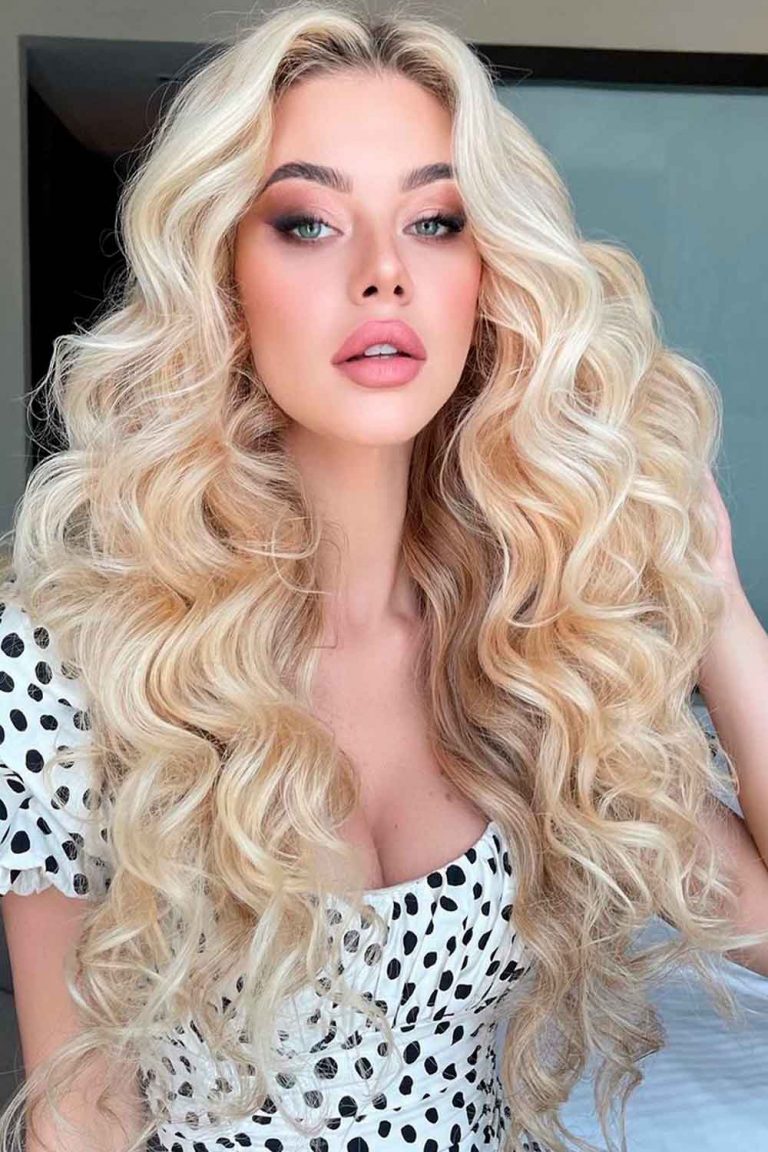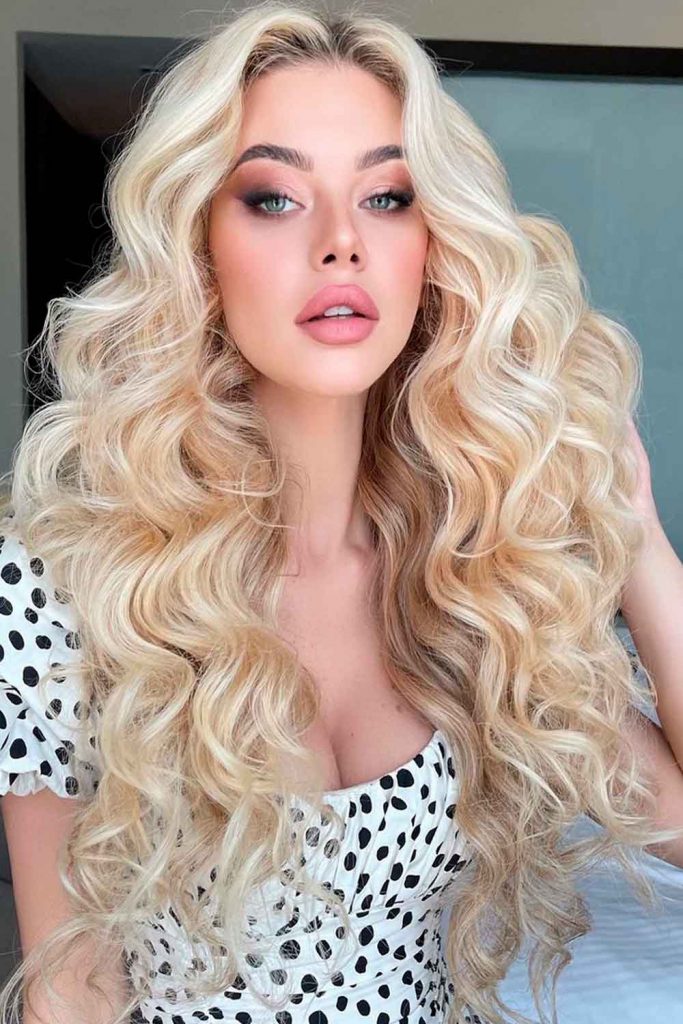 Credit photo: instagram.com/hair_by_zolotaya
If Courtney Love and Madonna have taught us anything, it's that blonde does not have to be high maintenance. Both Courtney and Madonna have rocked darker roots with a bold blonde proving that blondes don't always need constant upkeep to look super sexy.
Rocker Chic Blonde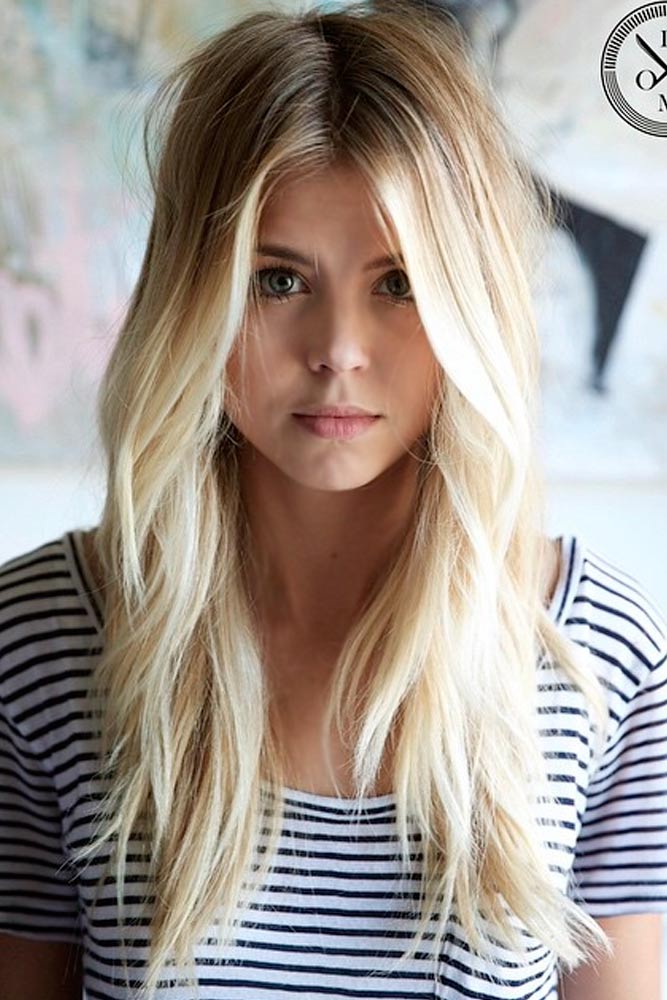 Credit photo: instagram.com/Donovanmillshair
Kate Moss, for example, has taken the rocker chic blonde to the new heights. Leaving some contrast in the blonde, Moss pulls off a natural blonde look that doesn't require a lot of upkeep between color applications.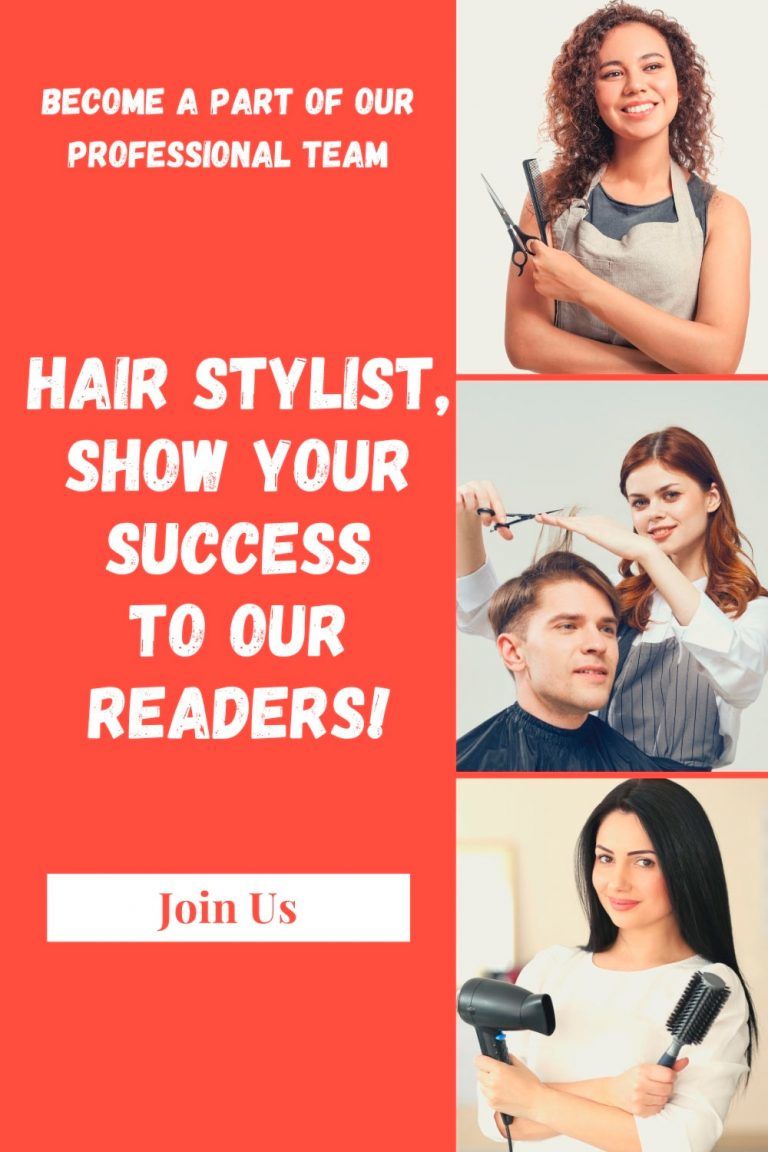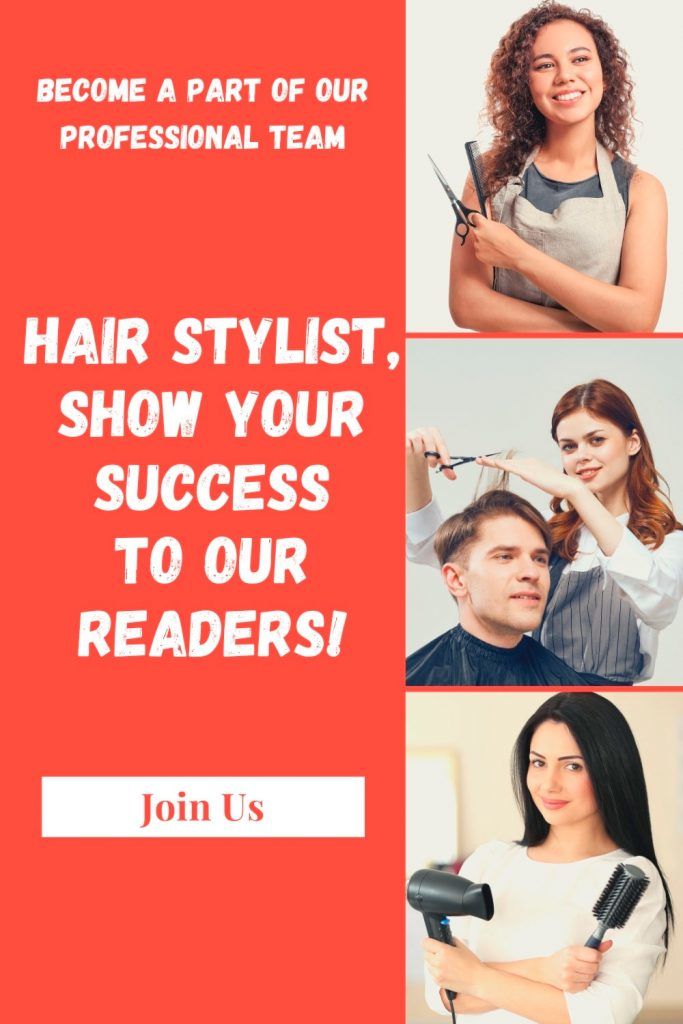 Natural Blonde With Dark Roots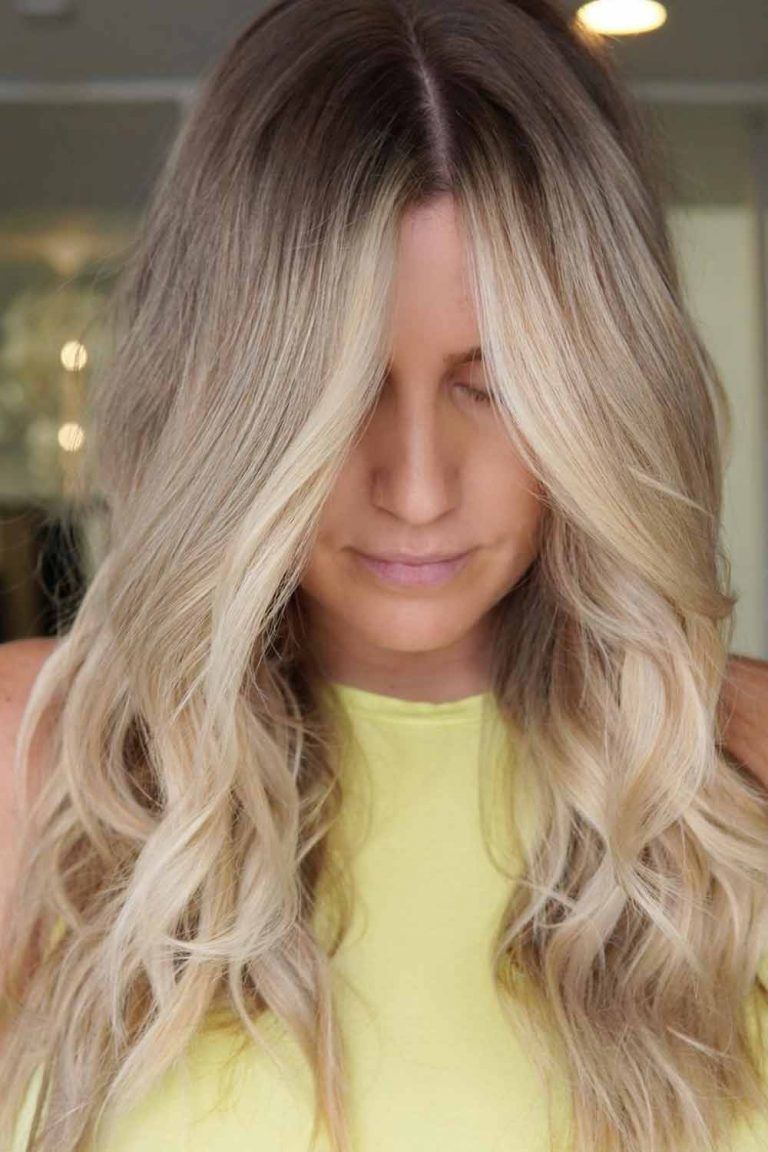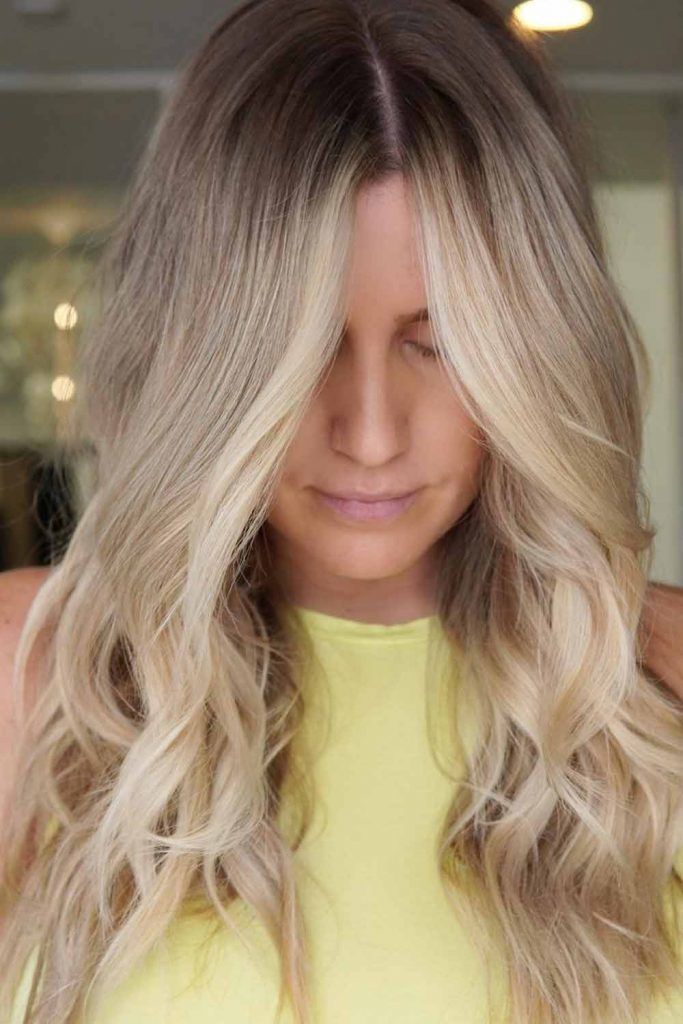 Credit photo: instagram.com/frances_hairartist
Do you know that you can always transit to natural blonde, regardless of your hair color? First of all, natural blonde is a combination of several shades of blonde that blend and produce an ultimately effortless hue. Therefore, there's no way this shade won't match your roots. Still, you need to ensure a smooth, a bit shadowed blend with them to keep the look as natural-looking as possible. This idea, for example, nicely connects dark ashy brown roots with a natural blonde with the help of a blurred finish.
Rooted Blonde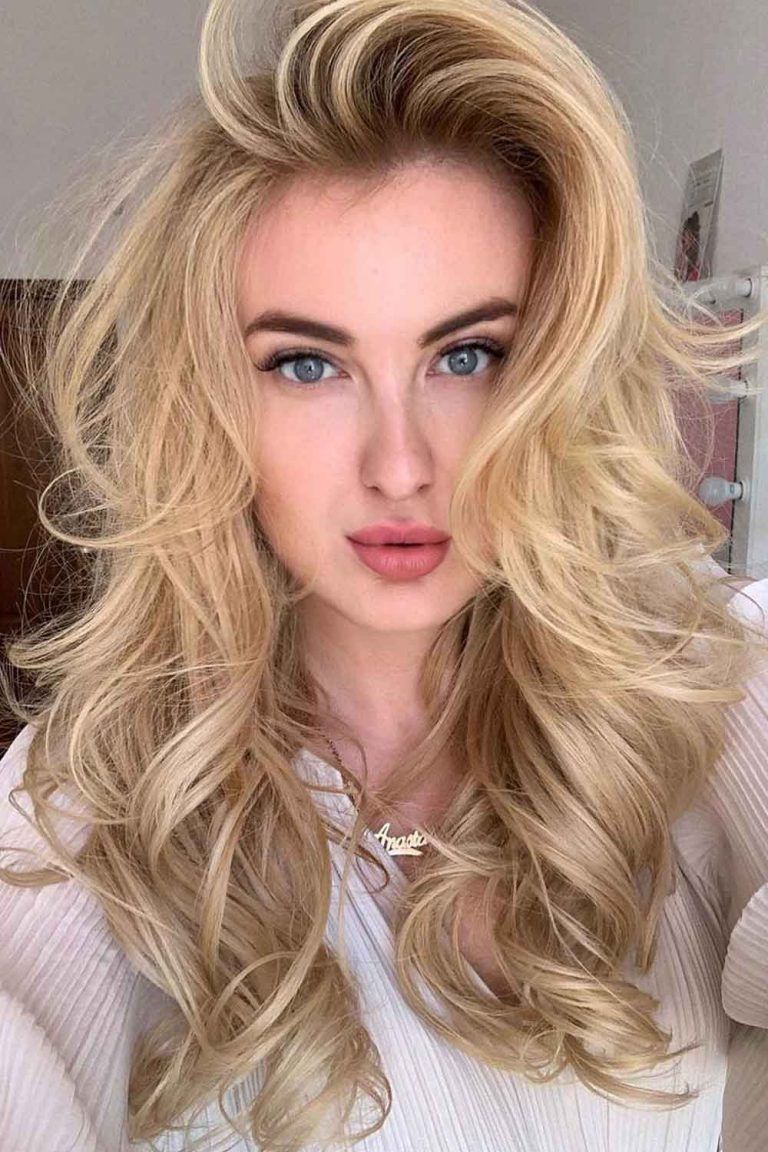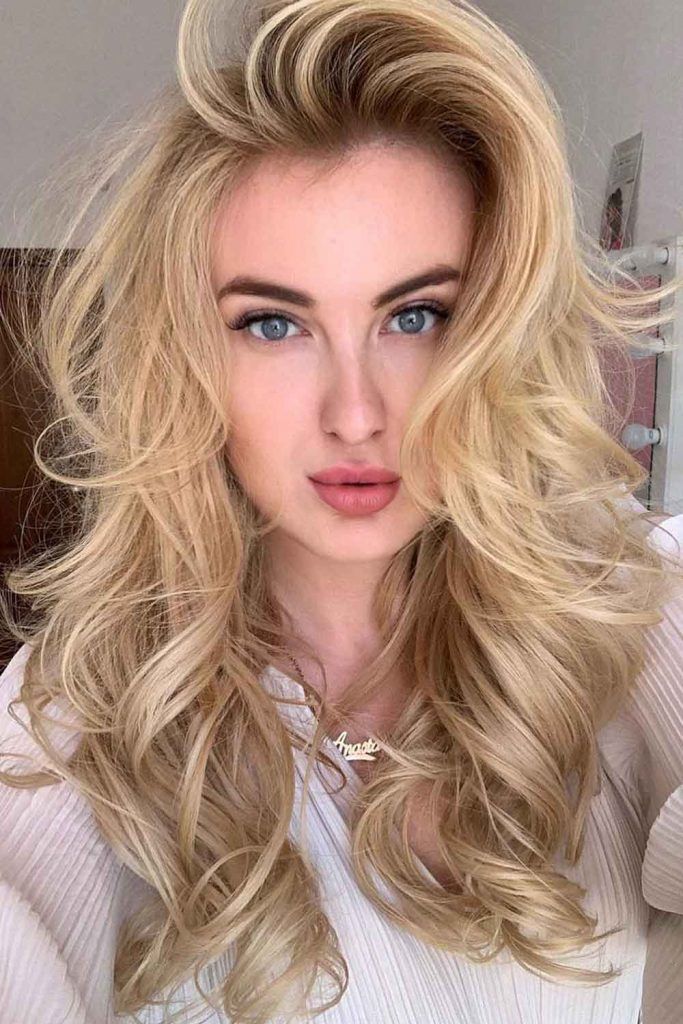 Credit photo: instagram.com/hair_by_zolotaya
In fact, color contrasts don't have to be big to steal the show. Moreover, a hint of a darker shade that softly blends with your lighter base is enough to freshen up your look. Besides, it's no secret how trendy the shadow-root technique looks on blonde hair. Blondes can go for painted roots, and brunettes, conversely, can leave their roots as they are.
All-Over Platinum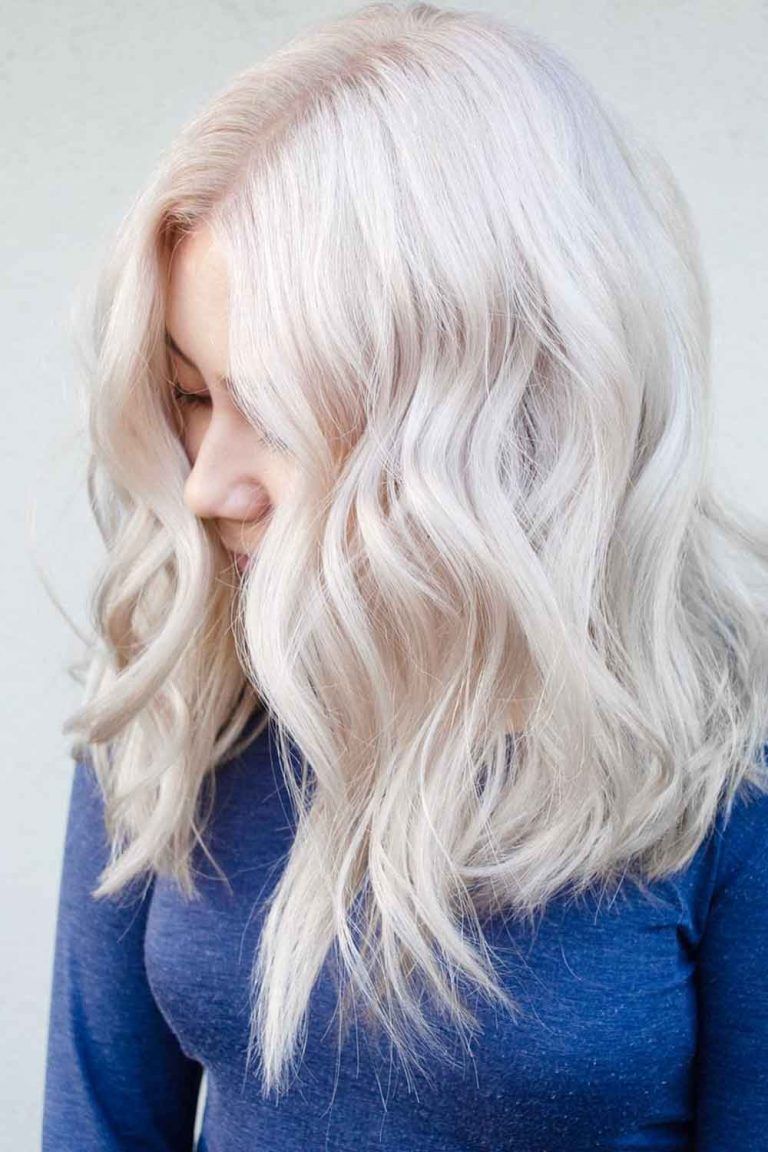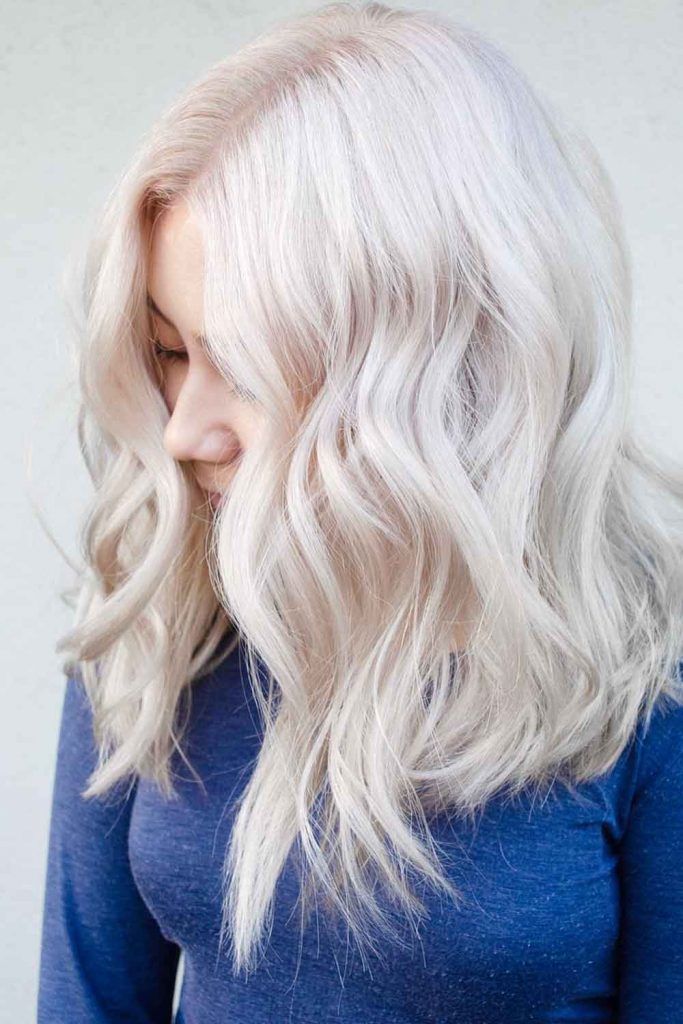 Credit photo: instagram.com/theniksters
As much as we love long hair, it's hard to take eyes from this curvy and sleek platinum bob. Some women don't like going all-over platinum because they think the hair won't look naturally shiny and full. But, in reality, if you switch to a new styling routine with products designed for light blondes, your hair will always look as if it's just from the salon. By the way, it's a fantastic color for those wearing bobs: just look how nicely this color accentuates the edges of the cut.
When entering the world of blonde hair color palette, you'd better watch out: it's easy to fall in love with colors. Even if you think that the choice is too vast, we've selected the hottest ideas in this gallery so that you can find a trend to your taste. Now that you know how differently you can pull off blonde, as well as create your own mix of colors, it's time to give it a shot! Whenever you feel the need for inspiration, we will be there for you, adding more fresh ideas to this post.
FAQ: Blonde Hair Colors
What shade of blonde is right for me?
Cool, soft blondes look best with paler or pinkish skin tones, such as baby-blonde or beige, whereas golden or honey hues suit darker or more golden-toned skins.
Does blonde hair make you look older?
Choosing the most attractive hair color is an easy way to seem years younger. If your hair lacks volume, no matter what color it is — reddish, blonde, gray or blonde —you will surely appear older.
Do blonde highlights age you?
Many people face premature gray hair as they get older. This can make blondes look ashy and age their skin. Instead of keeping your hair platinum or white, try to add some gold highlights to your haircolor. This will lighten your skin tone, making it look softer.
REFERENCES: