The galaxy hair trend is so cool that we cannot wait to try it, and you? This astronomical approach to hair dying results from all those fascinating astronomy news, planet discoveries, and space trips we have recently observed. The cosmos is quite inspirational with its exciting nebulas and Northern Lights and other intergalactic phenomena, and galaxy ombre hair is definitely reminiscent of these.
And now we can mimic that vibrant beauty by getting pink-blue-lilac-purple hair. Are you ready to discover the whole universe in your hair? Read on to learn how to dye your tresses like that and see the most inspirational images.
Galaxy Hair Tutorial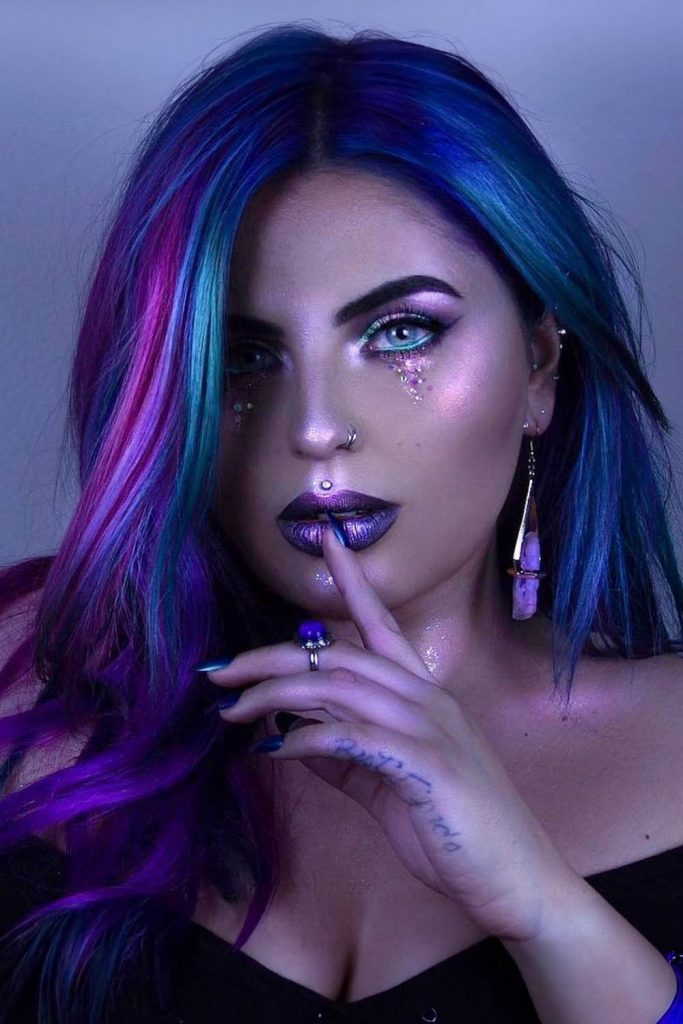 by @hairgod_zito
So, how to do galaxy hair at home? It will require some patience, effort, and time, but it is worth it! This galaxy hair dye tutorial is not complicated. You'll need to have the following things at hand: a hair brush, brushes for every dye shade, several packs of hair dye in the colors you prefer, hair clips, a comb, mixing bowls, a blow-dryer, and plastic wrap. Now let's see how to dye your tresses.
Preparation for dying includes shampooing and conditioning, then air- or blow-drying and then combing. It is preferable to undye your tresses beforehand.
The next thing to do is to section your tresses and hold them with clips. It will facilitate the process of applying various colors and wrapping sections individually to prevent any bleeding.
Now dye every section individually, using alternating colors like purple, then blue, then green, then purple again, etc. And plastic wrap can help you separate the sections you do not wish to bleed. Keep repeating this process until you get that saturated, rich finish.
And finally, let the color dry for 45 minutes up to one hour (depending on the instructions mentioned on the galaxy hair dye kit). Then rinse your tresses with lukewarm water and dry them. Congrats to the miraculous color!
Galaxy Hair Ombre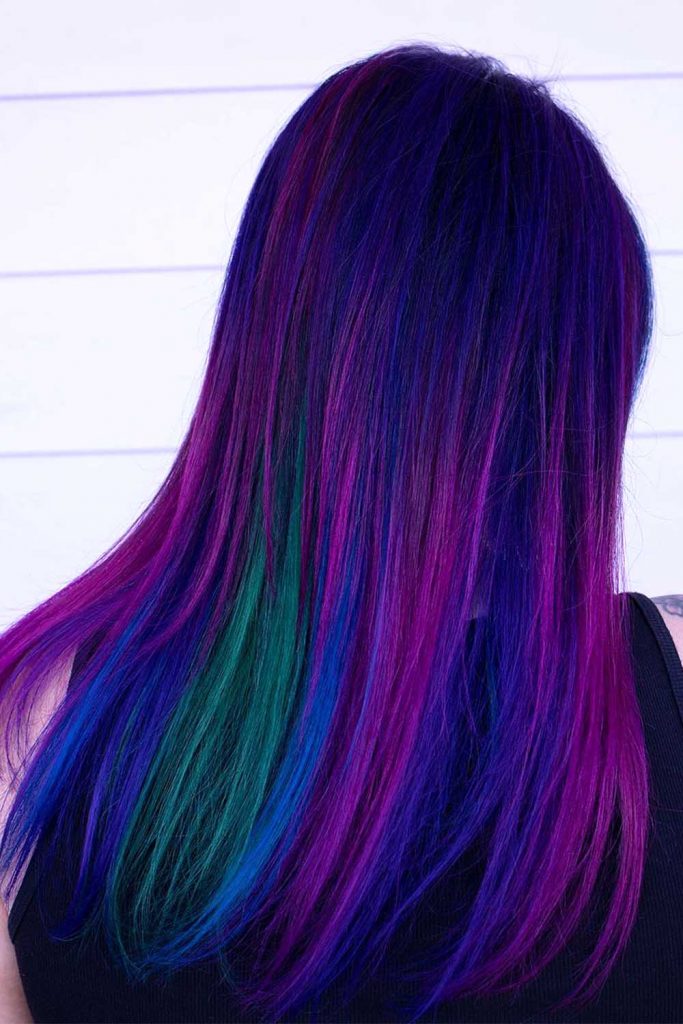 by @thehairygodmotherr
Galaxy hair ombre is otherworldly gorgeous. We really like the delicateness with which these colors melt with each other towards the ends. A woman who loves attention might find one of these ombre variations perfect.
Highlighted Galaxy Hair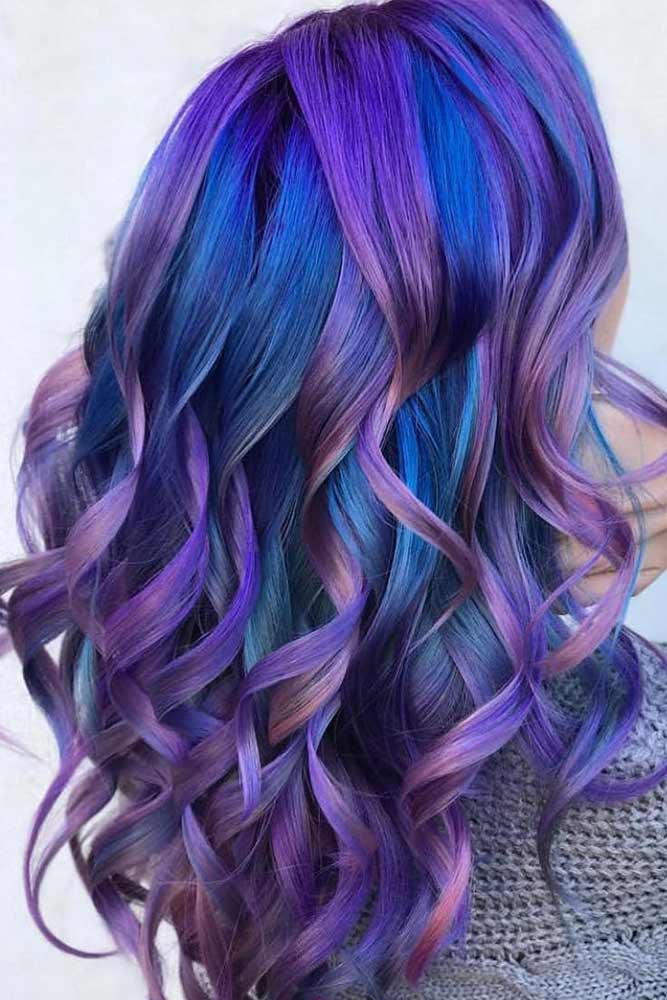 by @cadencecolorist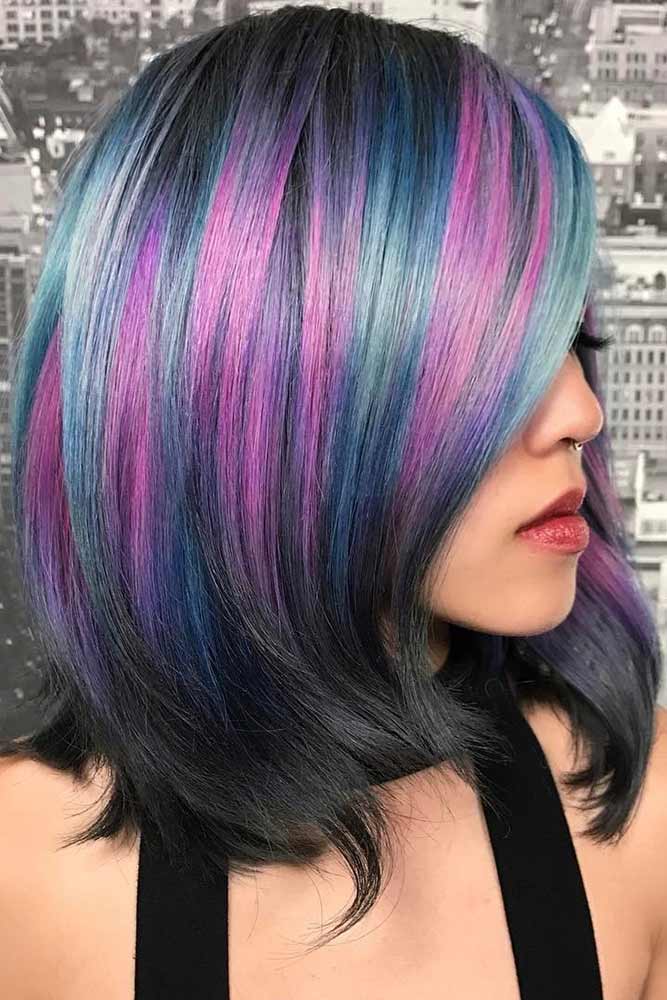 by @hairbybiancarose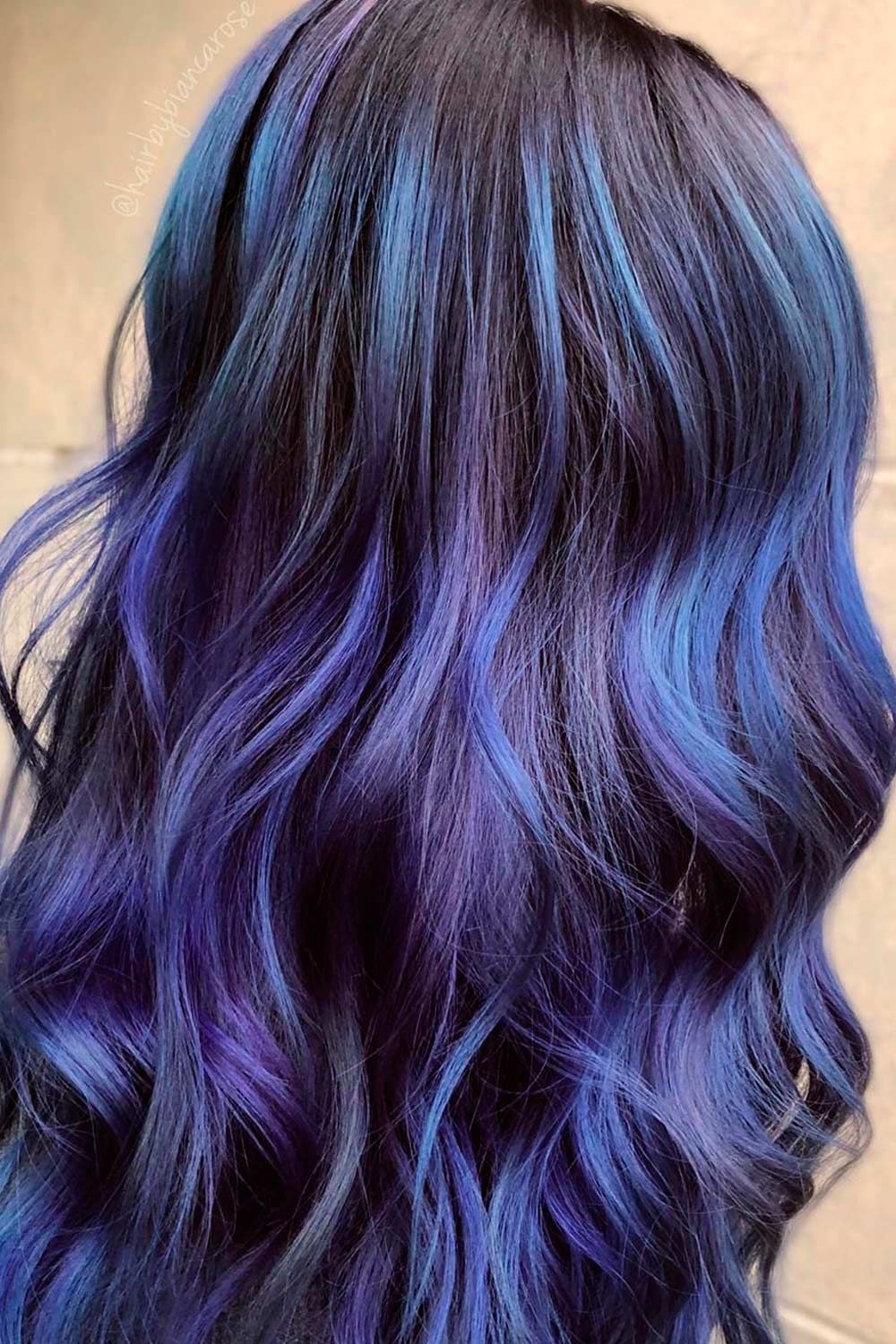 by @hairbybiancarose
Multidimensional highlights or chunky highlights, what would you choose for your galaxy color? And hair stylists point out that highlights are easier to get at home, comparing to other techniques.
Galaxy Hair Balayage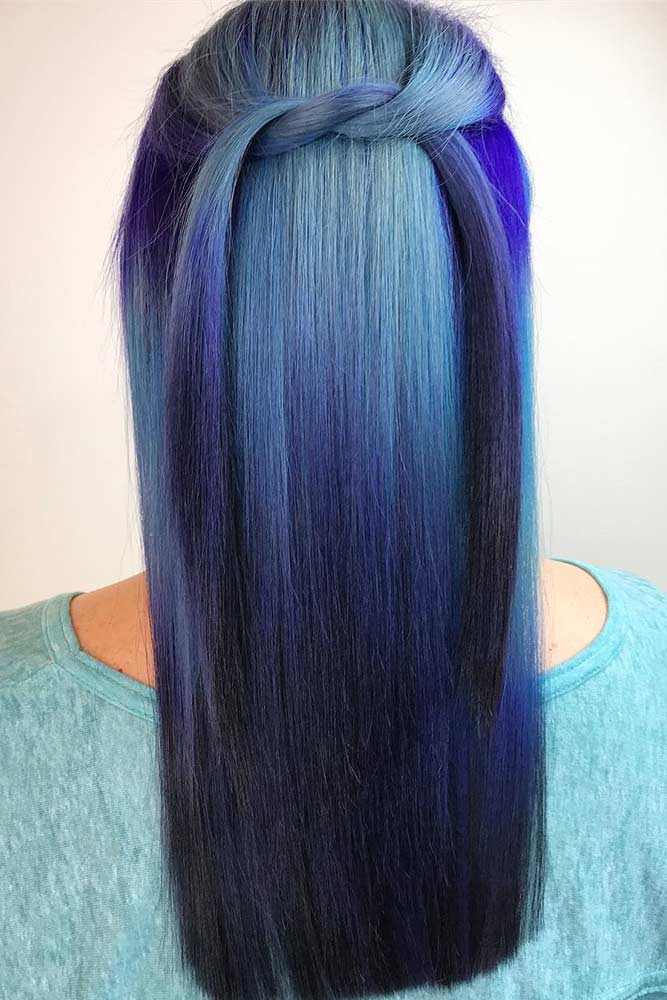 by @presleypoe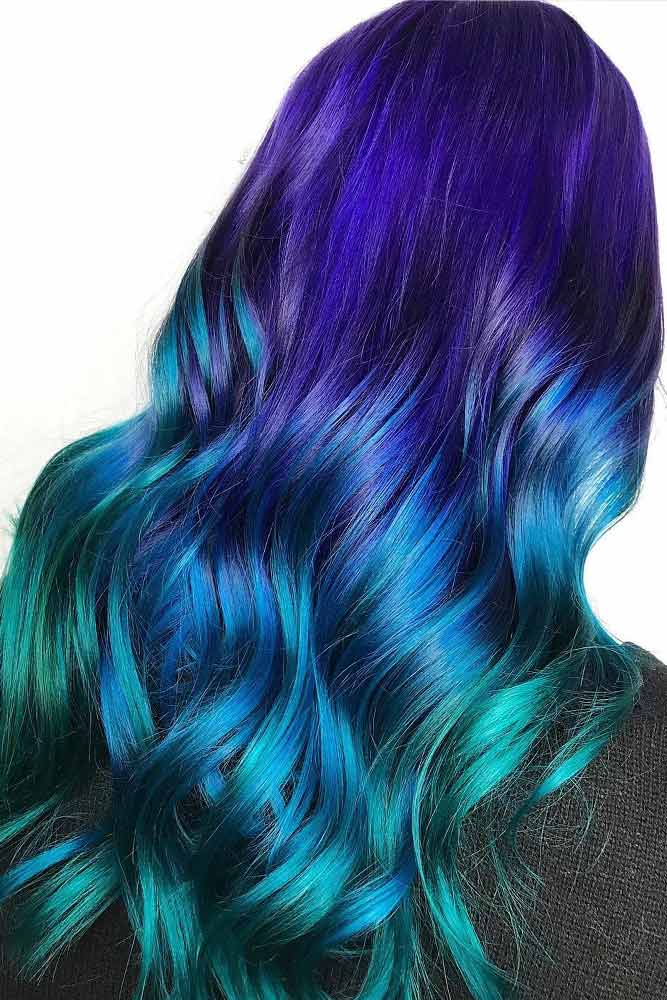 by @presleypoe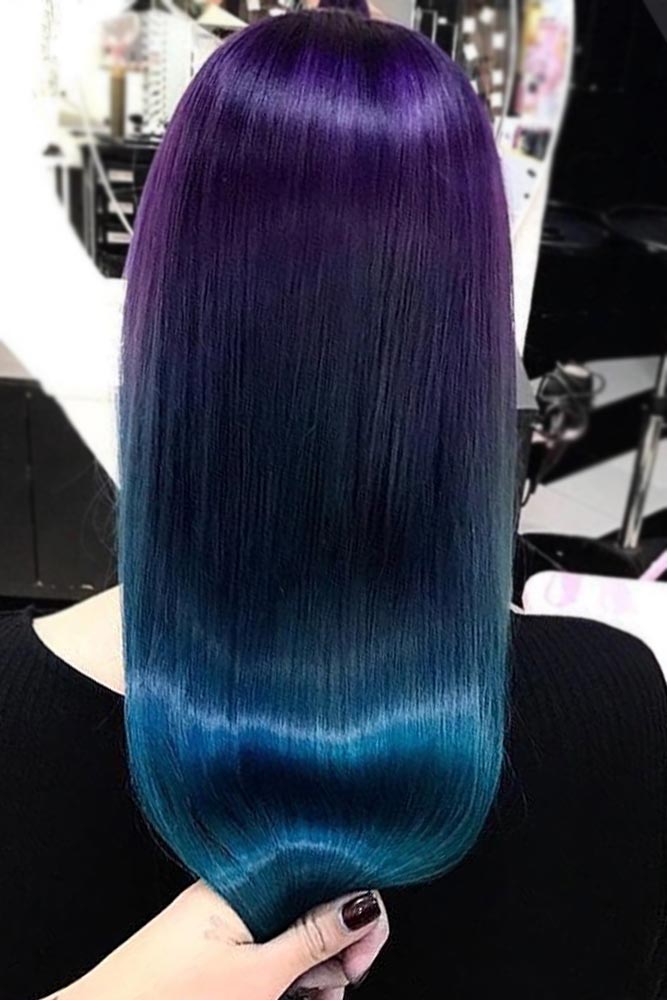 by @spookyruno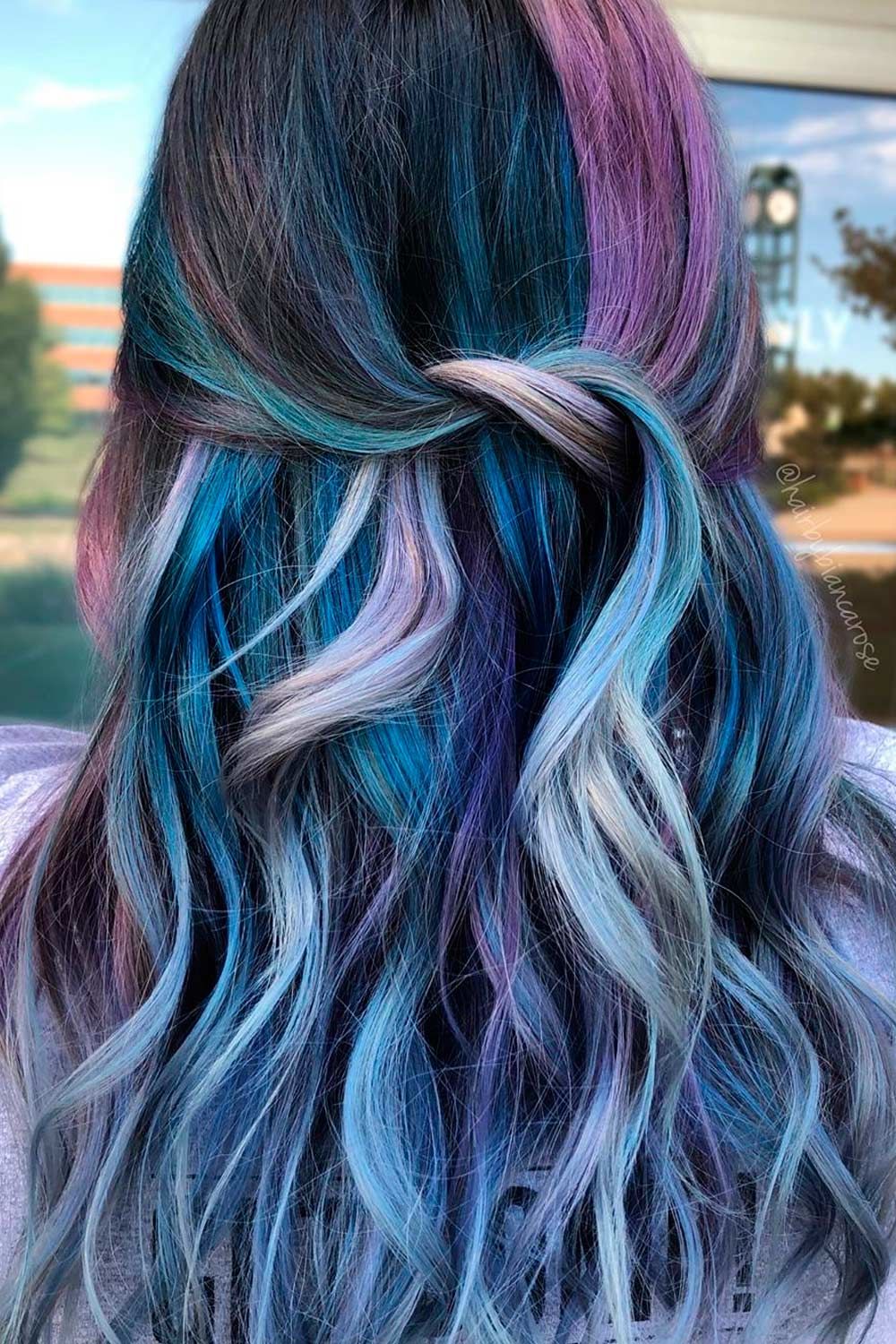 by @hairbybiancarose
We really adore how galaxy hair styles with balayage appear. And the great news is that galaxy balayage looks outstanding whether your tresses are curly or straight. How do you think?
Short to Medium Galaxy Hair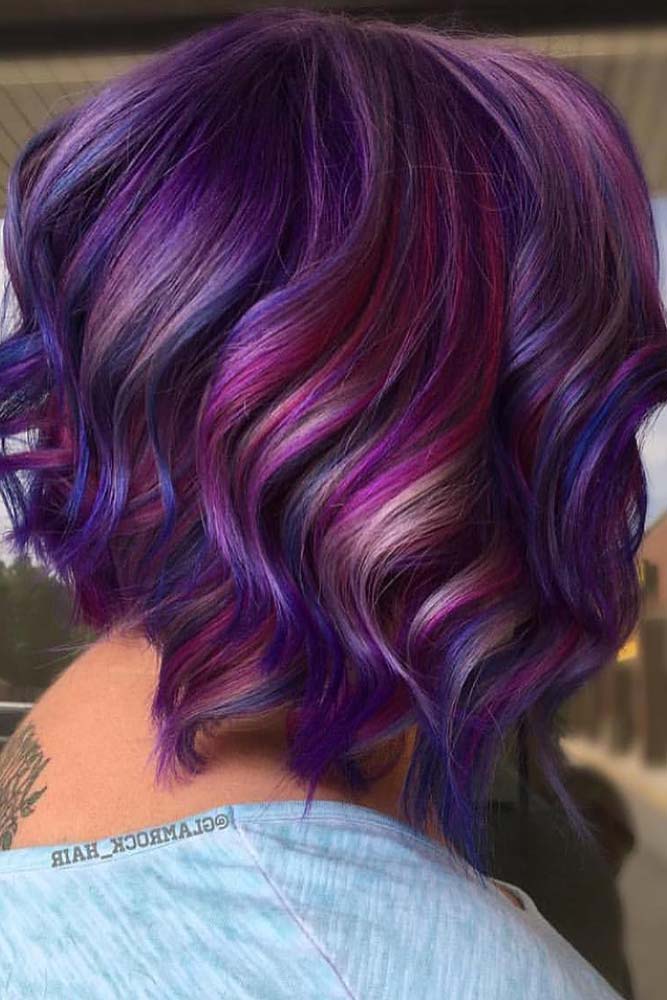 by @glamrock_hair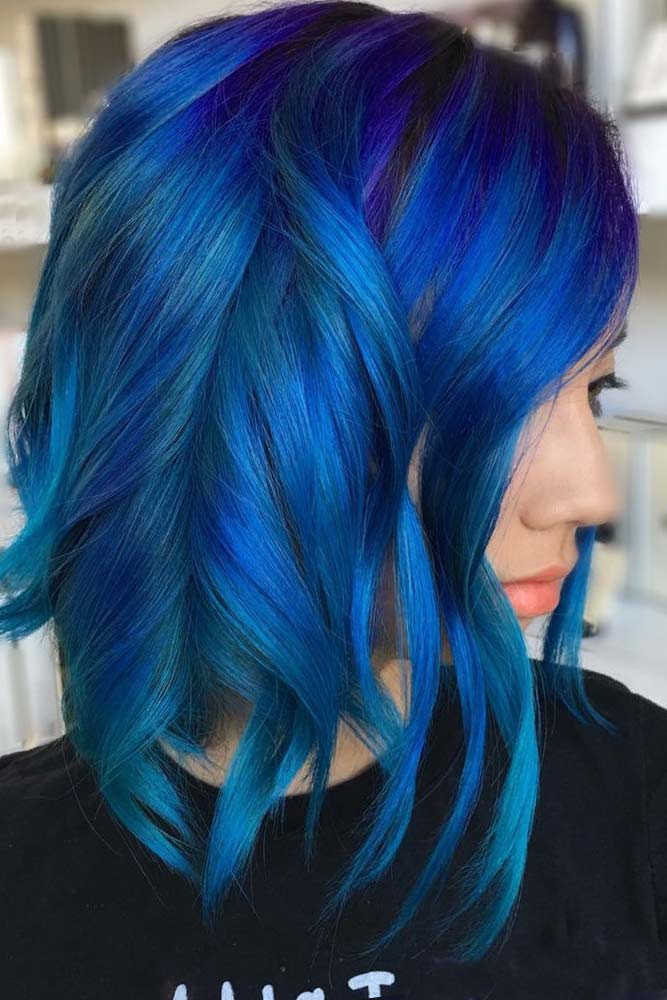 by @hairbyfranco
Galaxy hair short or medium appears not less amazing, as you can see here in these pictures. Purples and pinks with hints of blue or blues with hints of purples and pinks will appear fantastic on wavy as well as straight tresses.
Long Galaxy Hair Ideas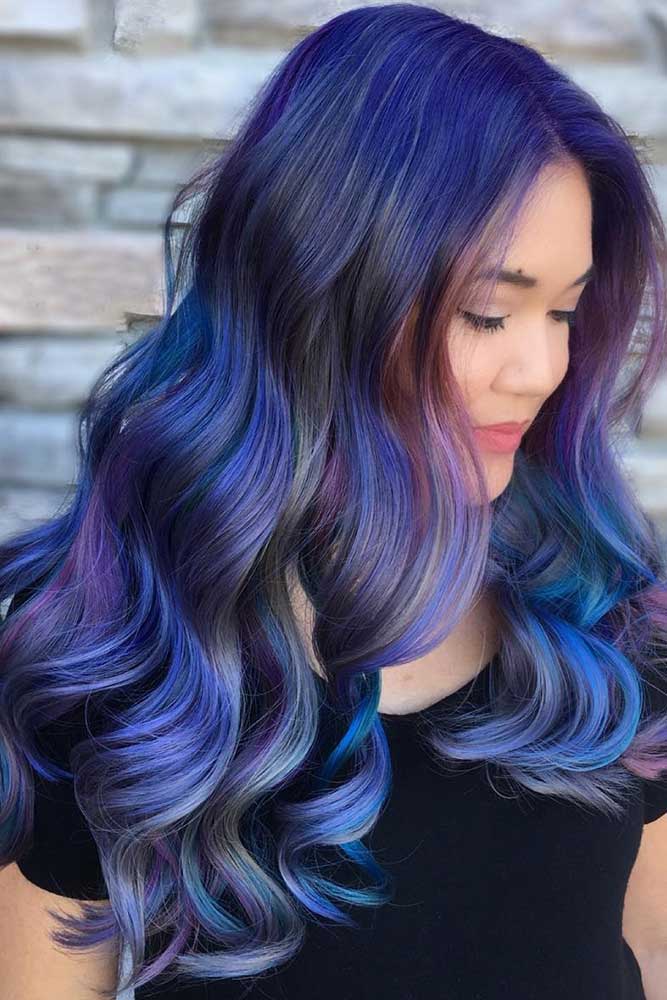 by @hairbyfranco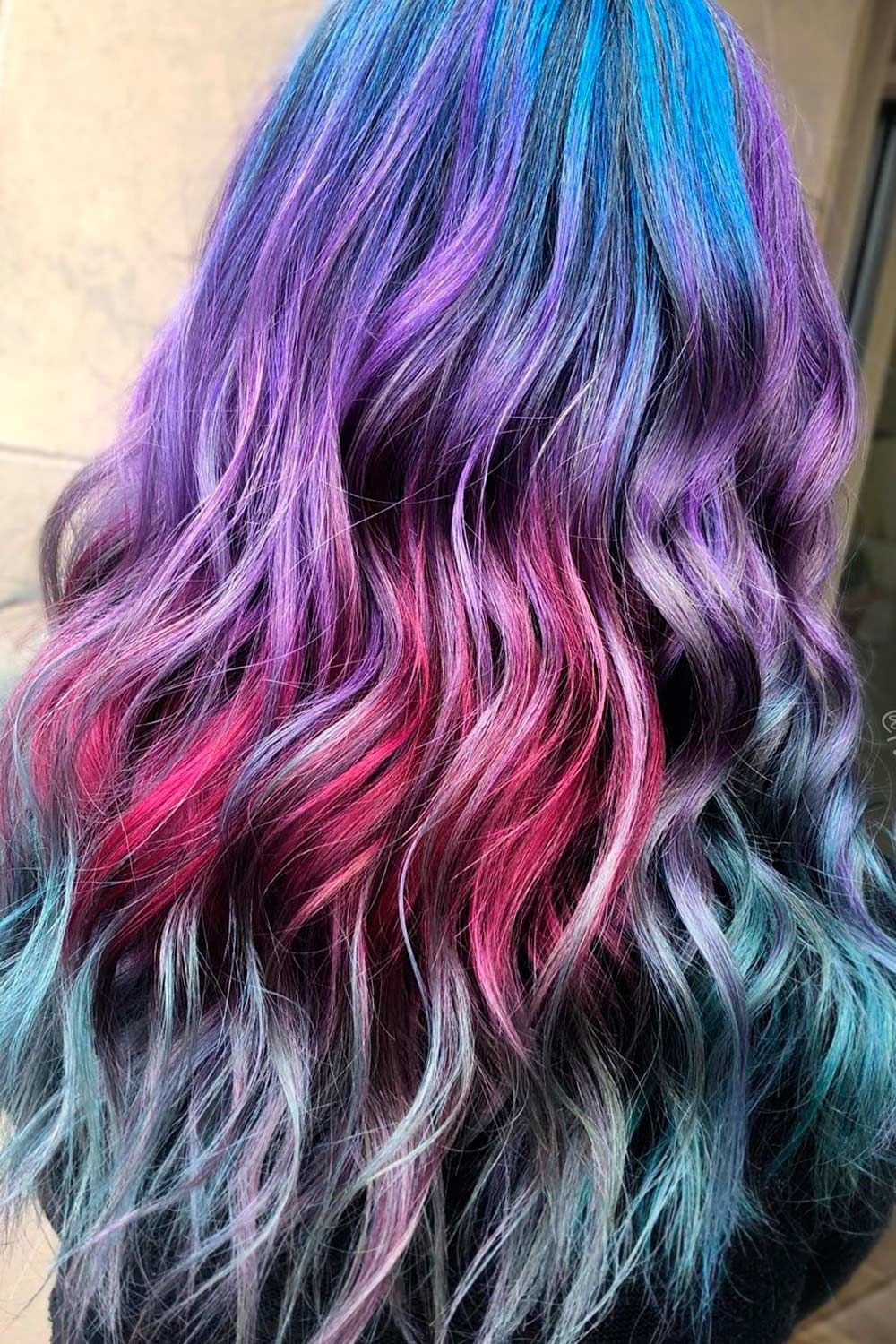 by @hairbybiancarose
These tones will appear super cool on longer locks. And plus you will be able to show off each of these hues if your locks are longer. Both vivid and subtle variations look quite intriguing.
Galaxy Hair Styles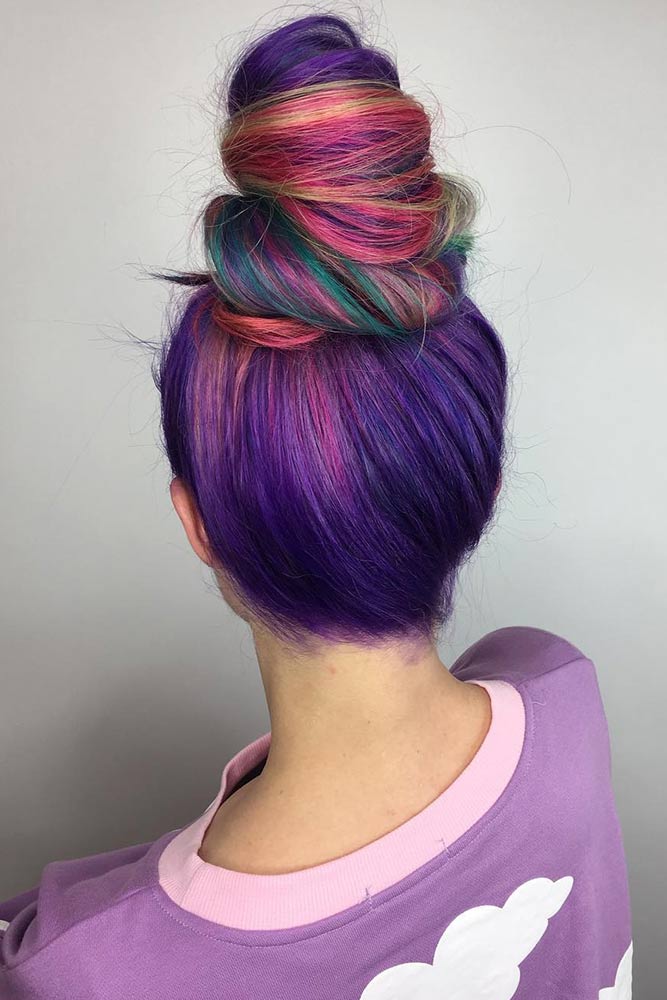 by @elissawolfe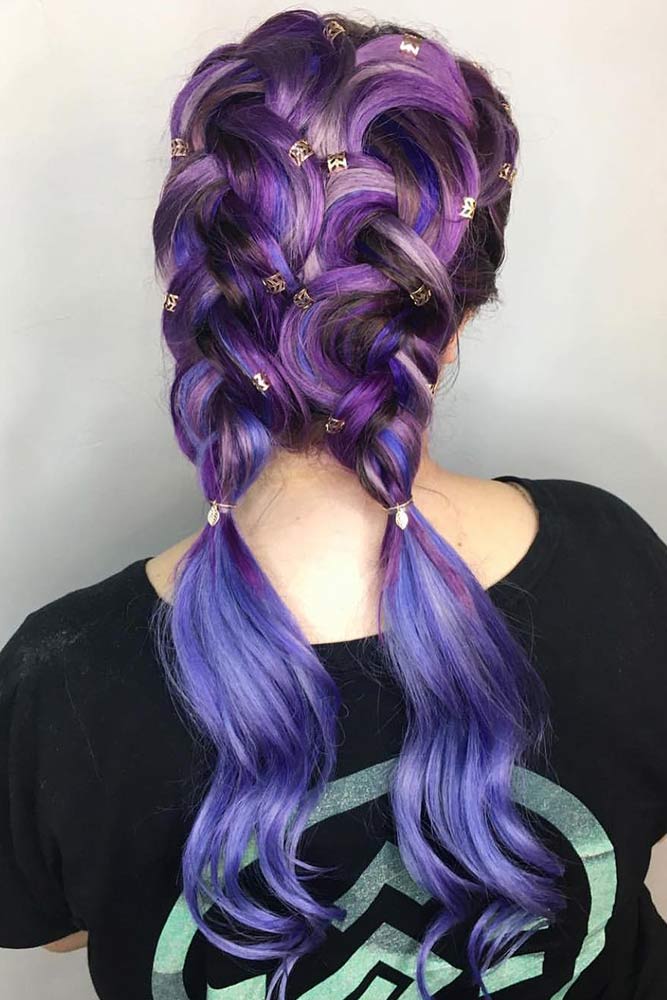 by @hairbyfranco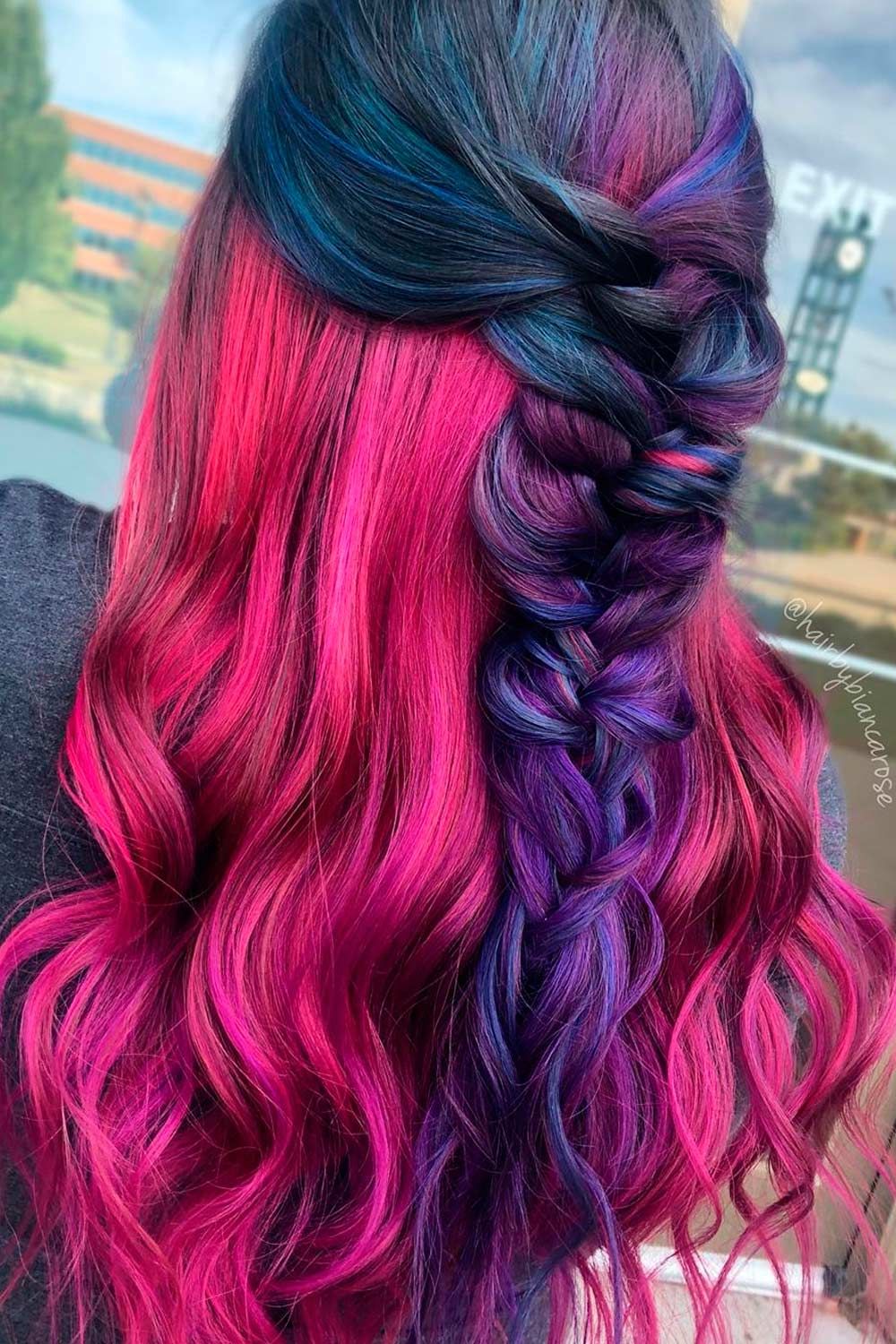 by @hairbybiancarose
Sometimes your tresses lack shape and movement even if dyed like a masterpiece. In this particular case, we would suggest that you go for one of these cute hairstyles. Plus, braids, buns, and twists will help the color play.
So, now you are more familiar with our galaxy! We hope we lure you into dyeing your tresses the same way. Visit us every time you need some inspo.
Galaxy Warm Tones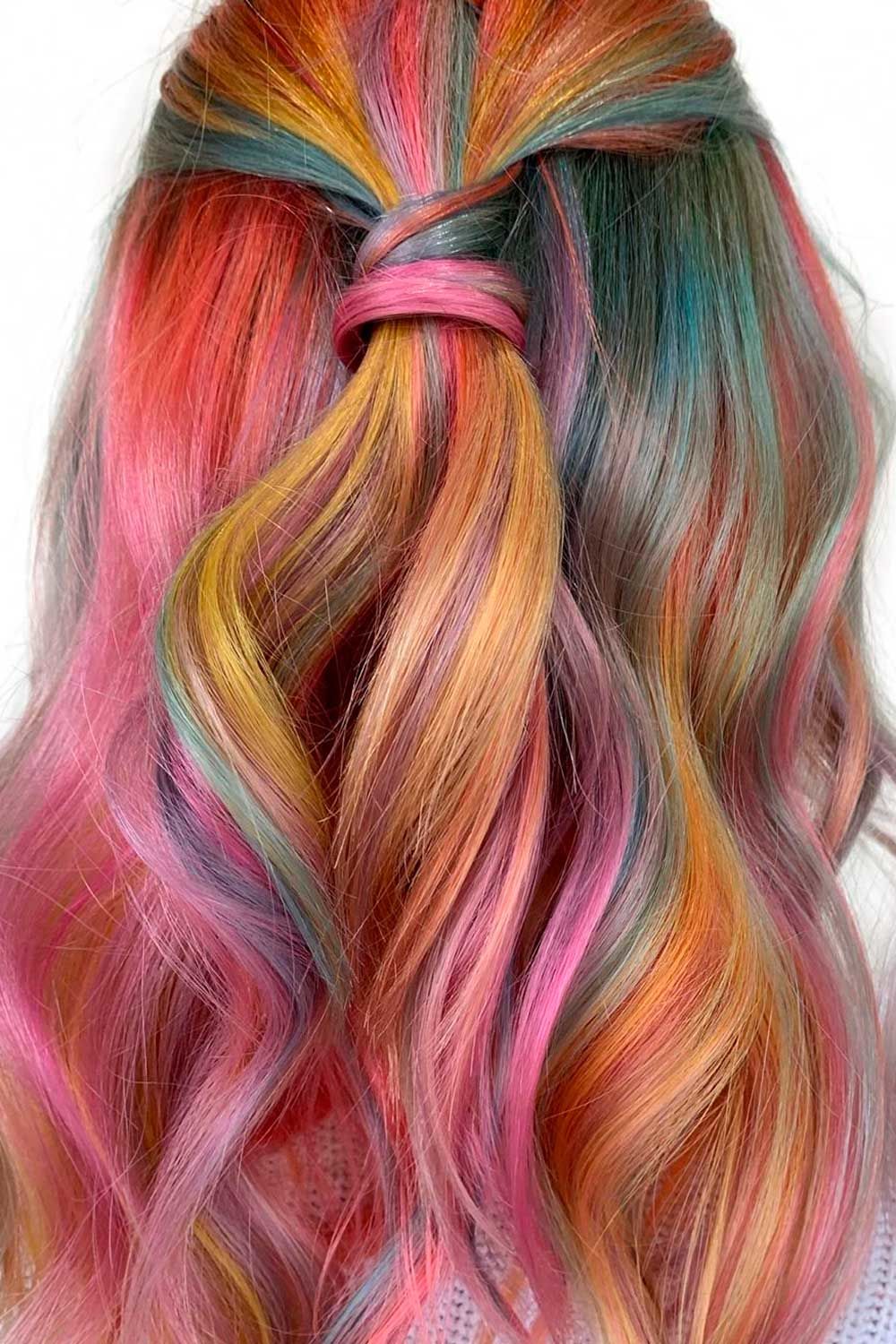 by @cadencecolorist
When exploring beautiful colors of galaxy hair, let pastel shades head your way! Scientists have proved that warm colors exist in space, so you can freely opt for any, or even mix them together. Do you want to be the first to see the rainbow in space? If so, prepare your hair for colorful changes: straight hair, loose waves, braids they all look so cosmic! What will you choose for your space travel?
Rainbow Galaxy Colors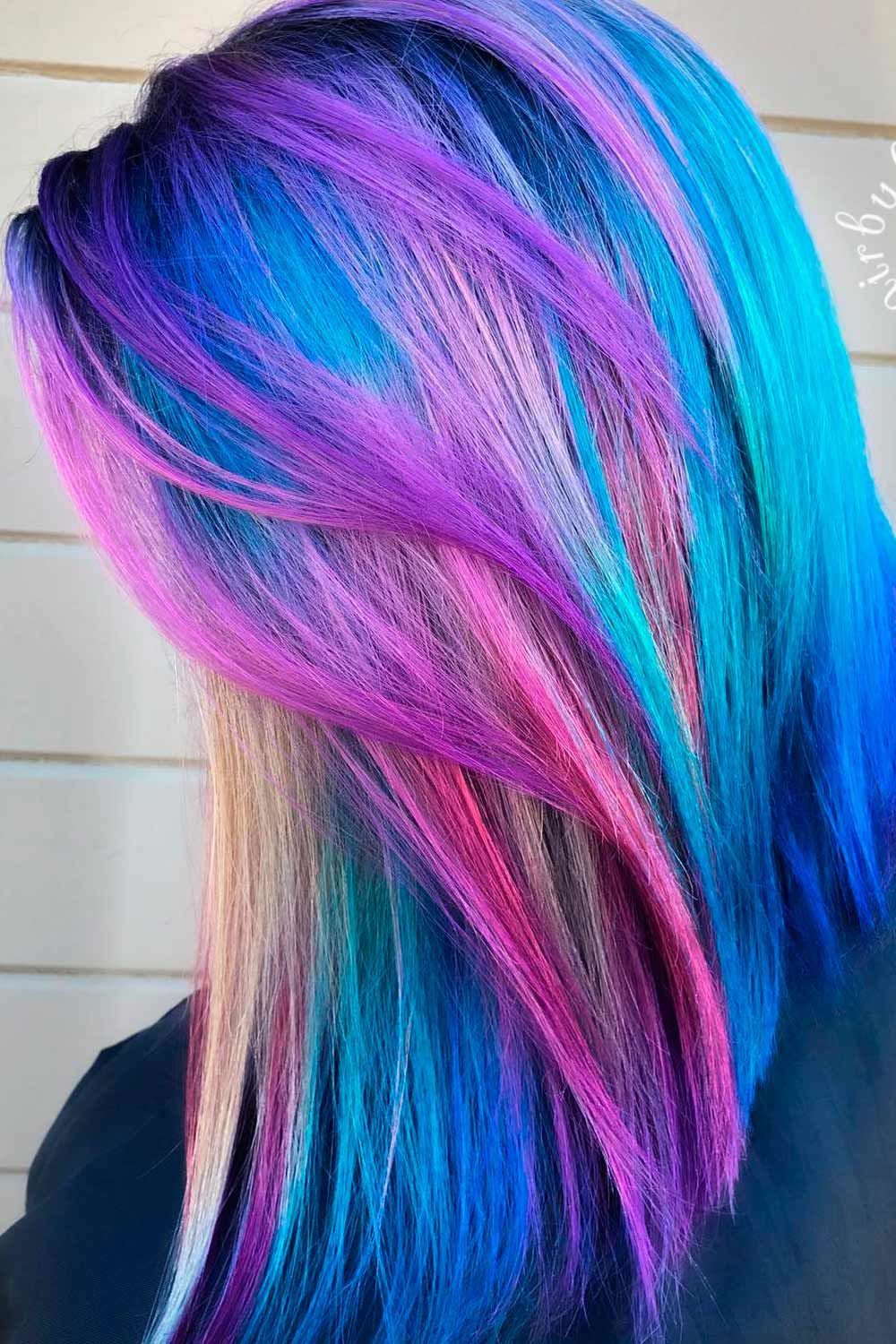 by @hairbybiancarose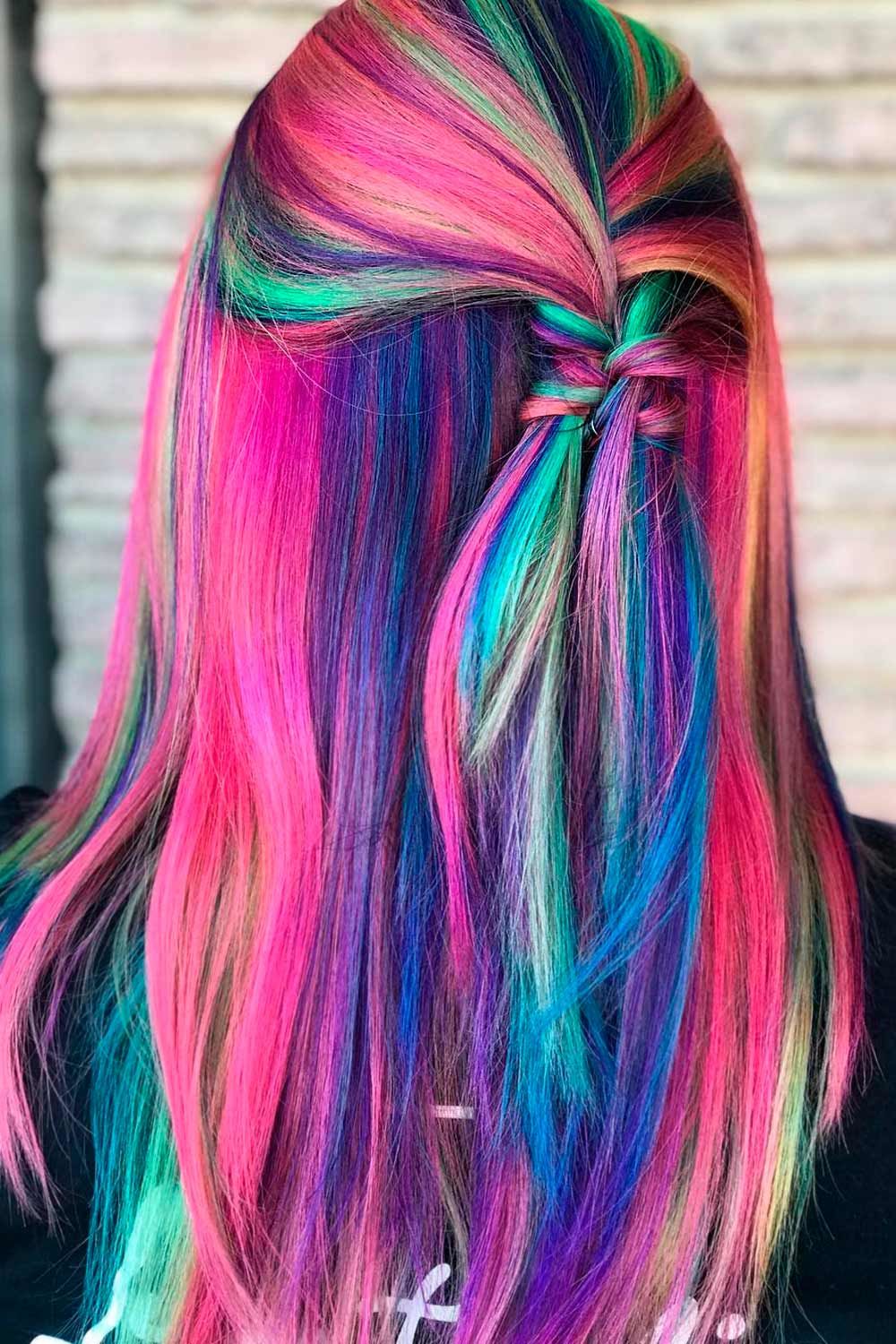 by @hairbyclairperez
We all know that nothing can compare to the breathtaking rainbow and galaxy hair colors that have become very popular these days. But you know what? You can create your own rainbow of galaxy shades, and the only rule you should follow to bring this idea to life is to set your creativity into motion. Short bob with the mix of cosmic bright shades, a prominent horizontal ombre with any universe colors possible, blue coloring with a hidden rainbow underneath: here's what you can create once you set your mood for new colors, and that's only the beginning!
Purple Galaxy Tones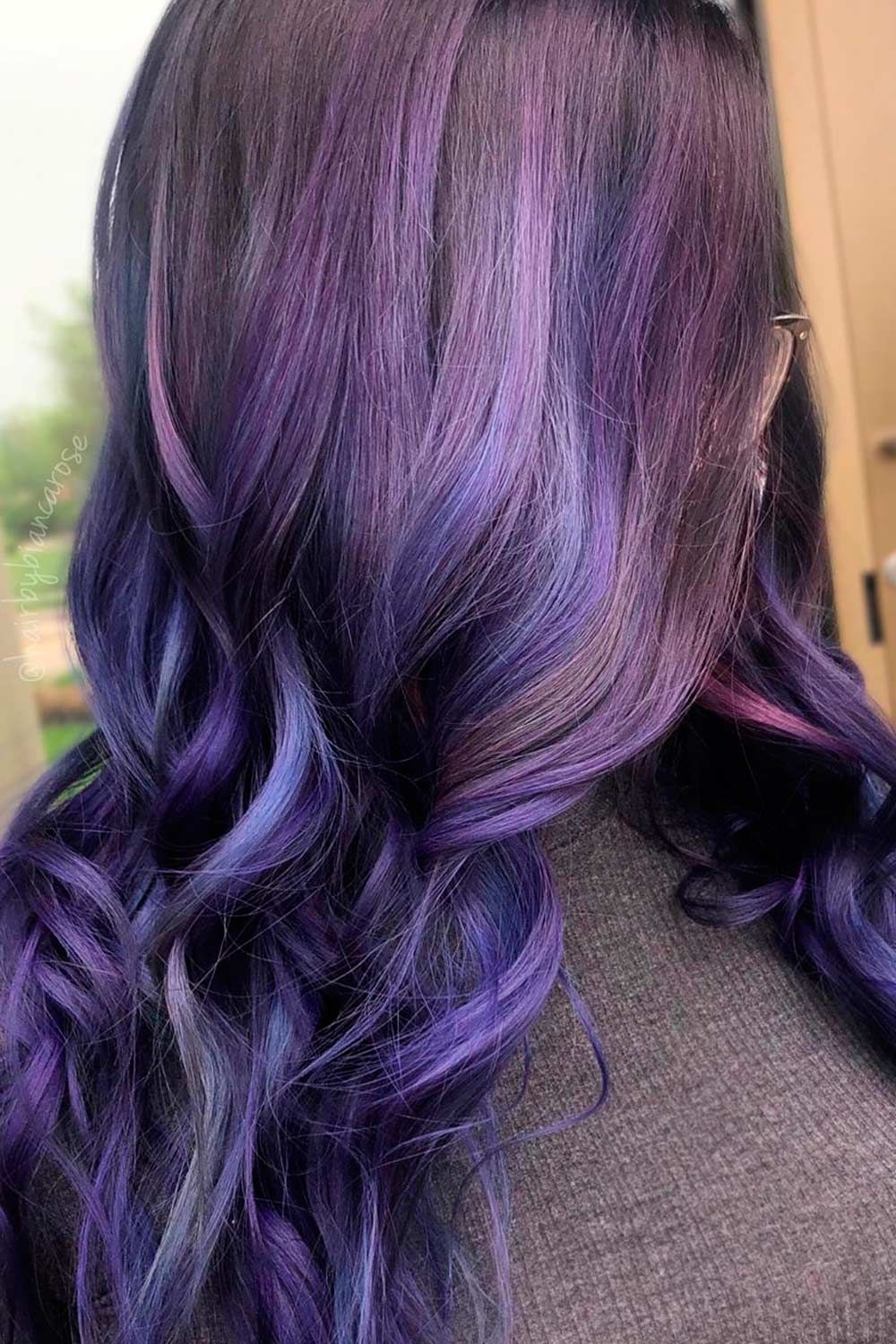 by @hairbybiancarose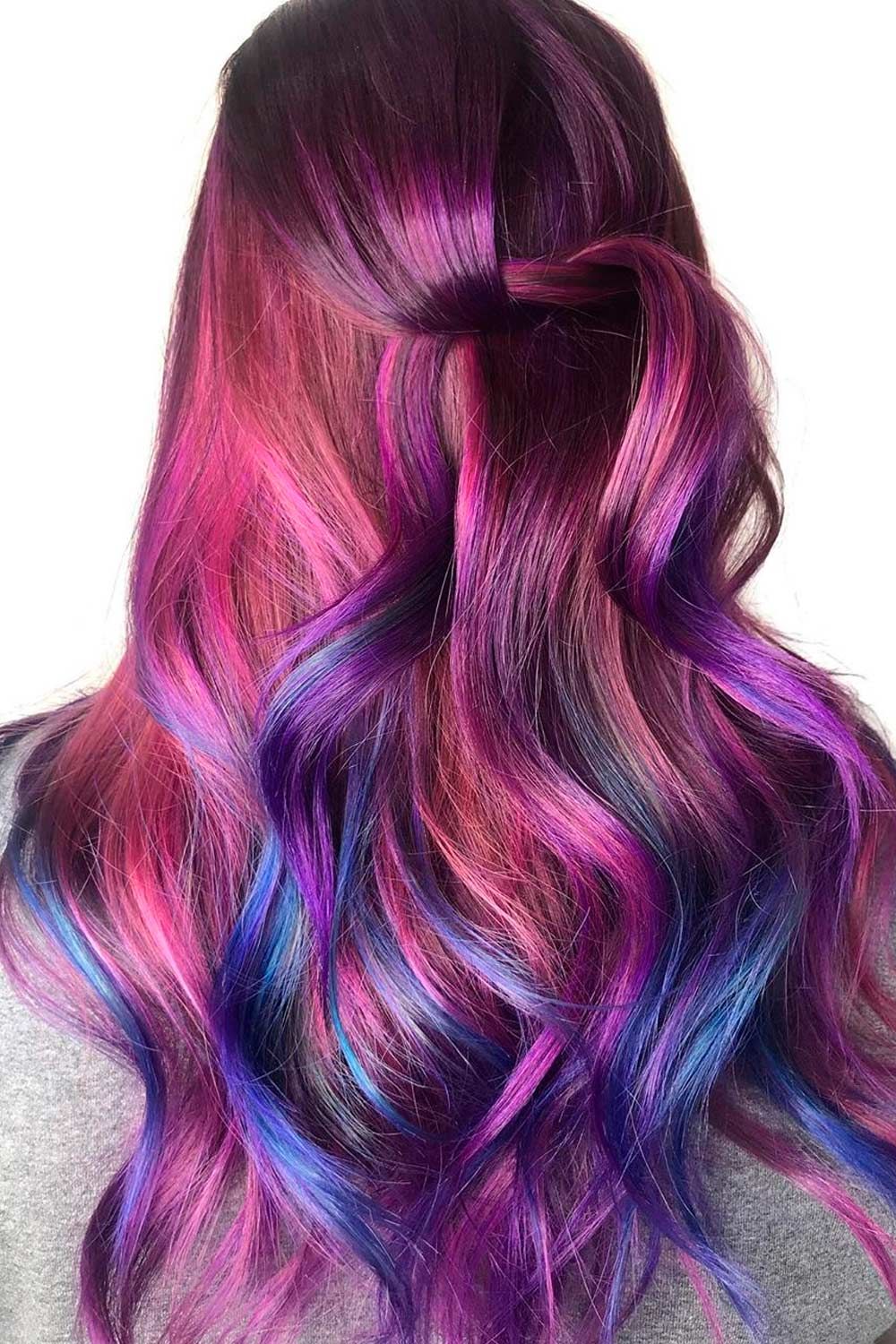 by @cadencecolorist
It's no secret that blue and purple shades have taken the fashion world with their deepness and richness. And the best thing about your galaxy hair is that you are the only one to decide what colors to choose and how to blend them. If you lose your mind when you look at blue and purple shades, why don't pull them off? It can be a rough ombre with a color line at the mid-shaft, a blue look with purple ends, a half and half hair color style or vertical lowlights: what would you choose?
Greenish Galaxy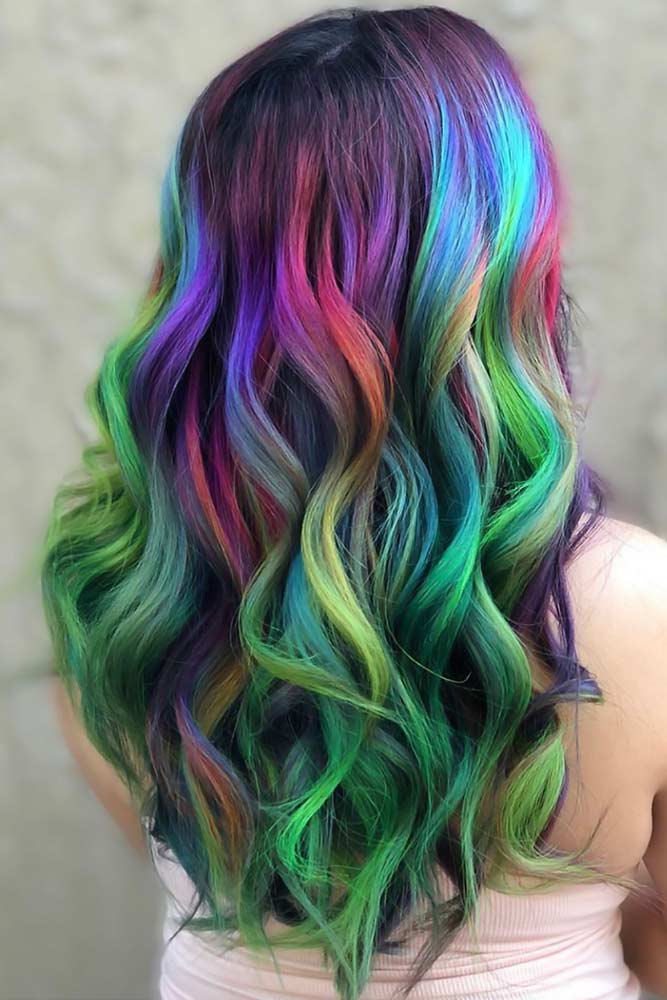 by @nealmhair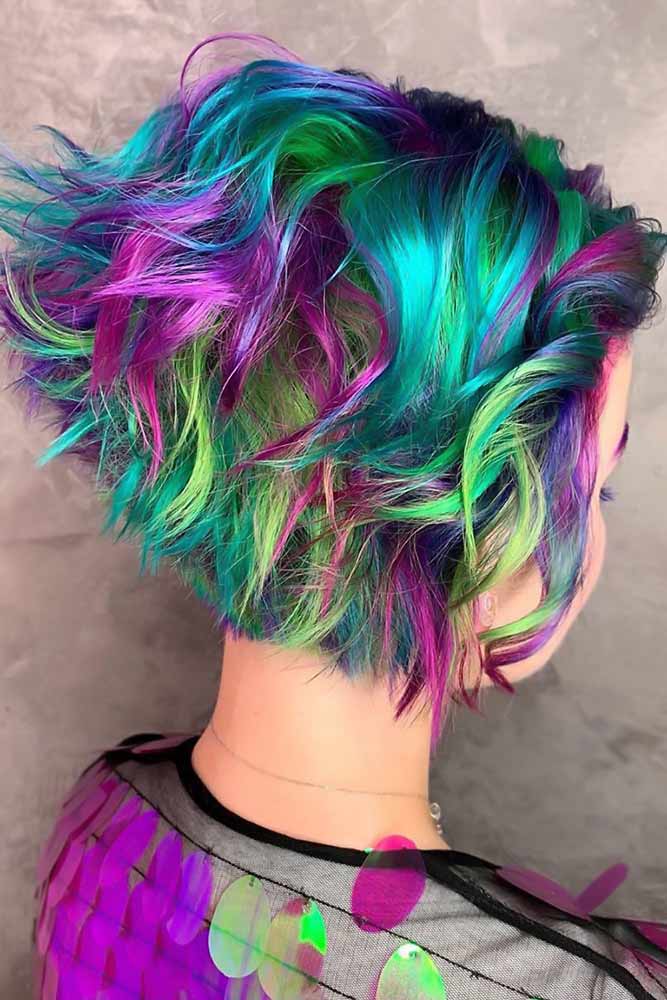 by @aliyousha
by @aliyousha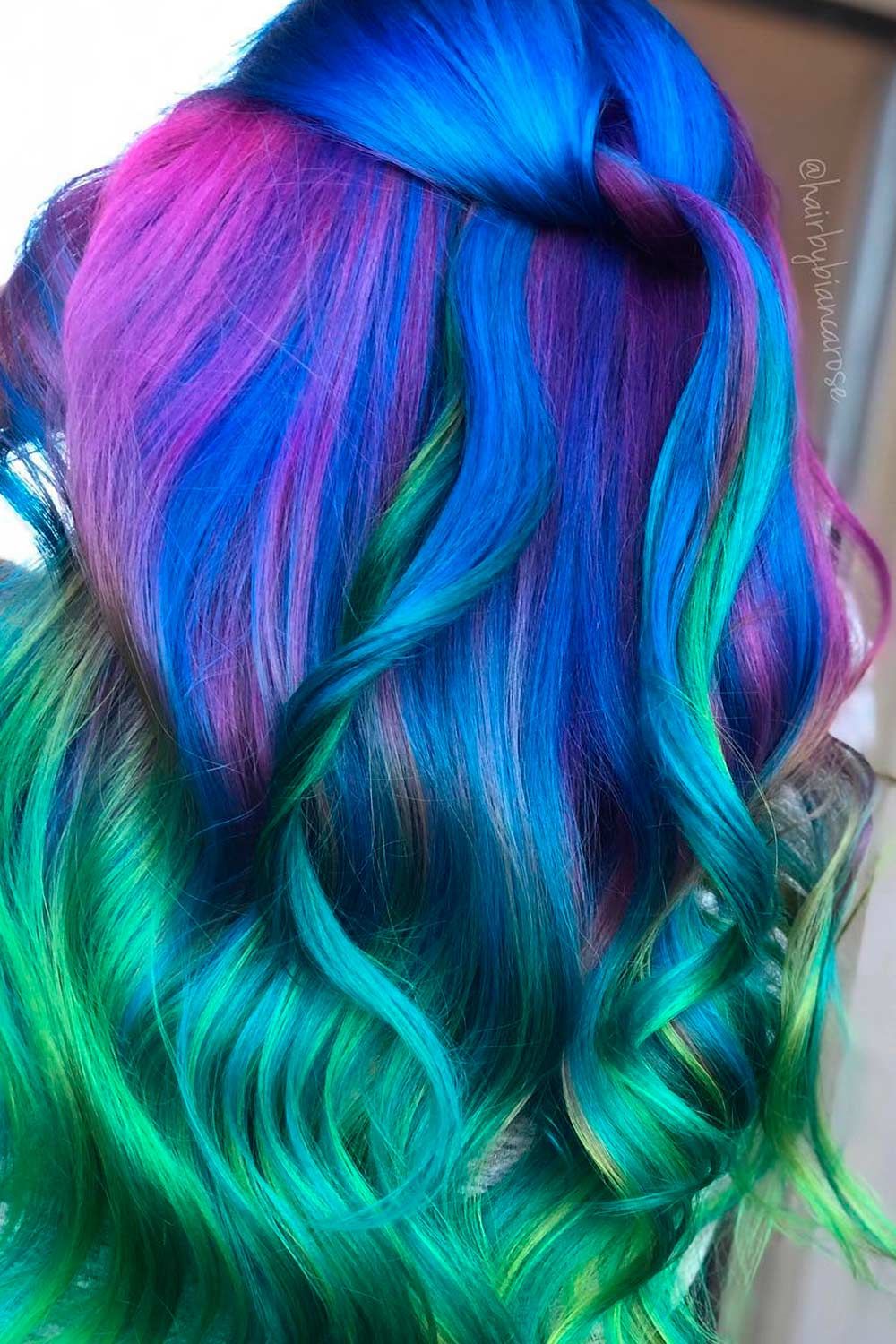 by @hairbybiancarose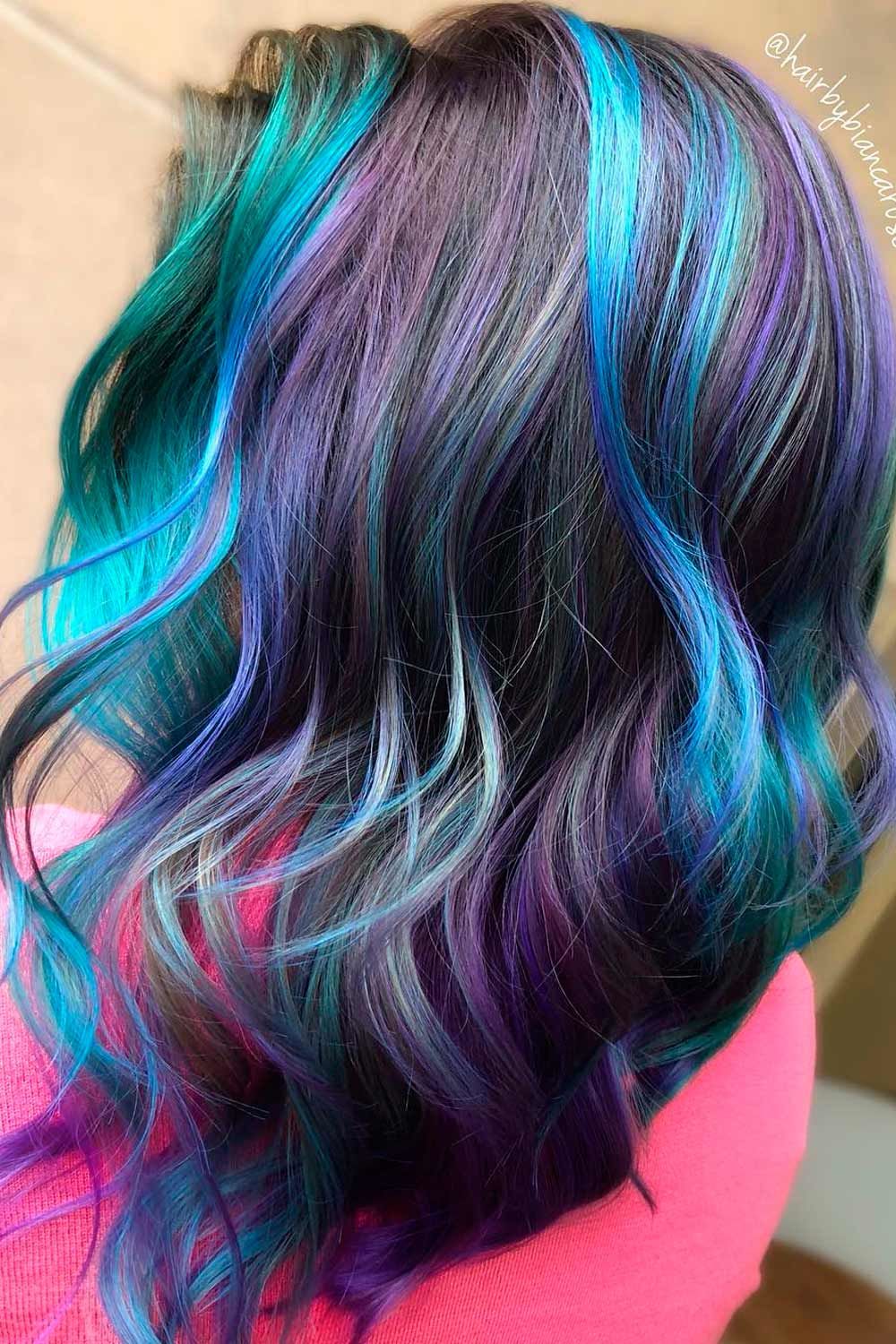 by @hairbybiancarose
Scientists have proven that truly stylish women can create their own galaxies with the power of their creativity and sense of fashion. And the latest statistics in the fashion world say that green is about to take over modern style, which means that it would be a stunning base for the most jaw-dropping galaxy in the hair universe. Choose whatever shade of green you like, add some magical bluish hues, and tie everything up with the ageless purple-to-pink graduation.
FAQ: Galaxy Hair
What hair color is galaxy?
Galaxy hair is a hair color style that incorporates magenta, purple and blue tones.
The name comes from the color melt created by these celestial colours, which resembles the galaxy. These iridescent cosmo hair colors are vibrant, bold, and gorgeous.
What is mermaid hair?
Mermaid hair is a hair color style in which two or more pastels or vibrant colors are infused into long wavy hair. Long, shiny hair with waves, as well as a rainbow of dazzling trendy colors. Aside from all the admiring glances that you will catch on yourself, these multi-toned pastels and juicy colors will make your hairstyle a lot of fun to wear.
Was this article helpful?