30 Trendy Hairstyles For Long Faces For 2020
There are plenty of fabulous hairstyles for face shapes. Every woman has both unique hair texture and facial shape and features, so not every hairstyle will work for every person. If you have an oblong face such as celebs like Liv Tyler, Hilary Swank or Sarah Jessica Parker, you can totally rock an amazing and fun hairstyle.
ADVERTISEMENT ‧ CONTINUE READING BELOW
Haircuts for long faces with bangs are a great way to help break up a longer face from side bangs to bluntly cut bangs. And various color tricks might also come in handy.
Added color tones such as multi-toned balayage, soft and subtle high or lowlights, a fun ombre or colorful streaks are always a good way to play up haircuts for long faces as well as haircuts for oval faces. But to begin with, the key is to choose a style that will flatter your facial shape and facial features.
Sexy Silhouette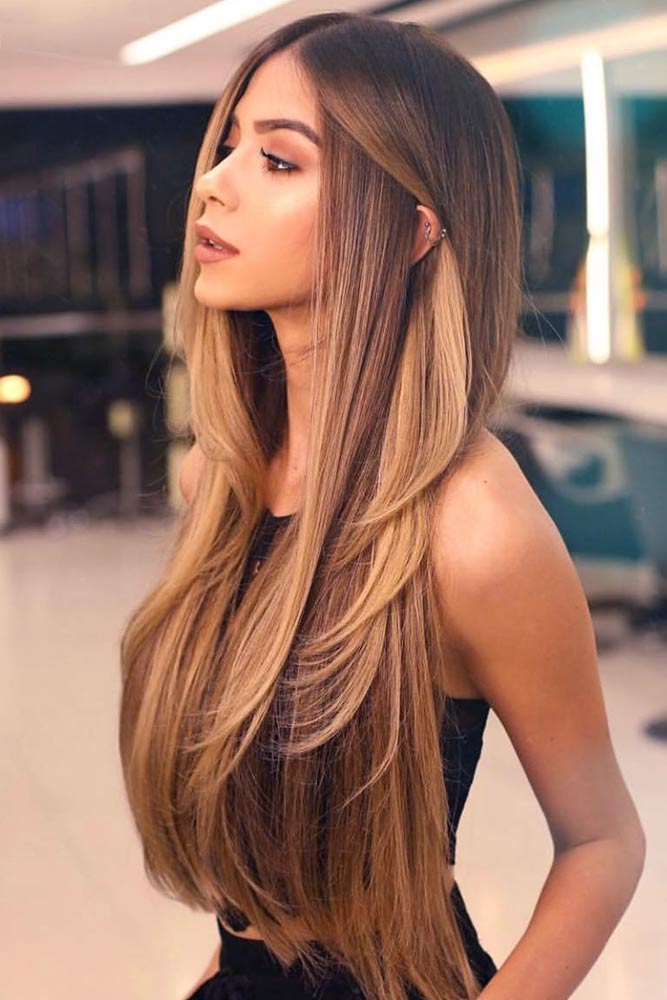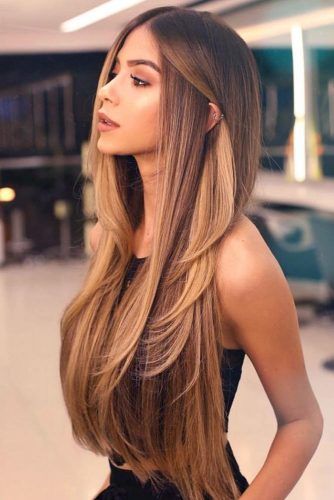 Credit photo: instagram.com/kelvelin
Being one of the trendiest hairstyles for long faces, this sophisticated style will help round out longer faces with a soft, sultry appeal. It works best for medium to full volume hair.
To style, apply your favorite styling product to just washed, still damp hair. With a round brush, lift up side sections while blow drying to create volume. Then blow dry the rest of the hair as usually. Apply shine serum and medium hold finishing spray.
ADVERTISEMENT ‧ CONTINUE READING BELOW
Flippy And Fab
Credit photo: instagram.com/uptown_stateofmind
This super-cute short style with its flipped out edges will create enough width to round out your face. It is chic and feminine.
To style, apply a quality blowout cream and use a medium round brush to flip out the ends while blow drying. Finish with a flat iron if you want even more volume and definition for your flirty flip. Add shine serum and medium hold finishing spray to allow a subtle movement.
ADVERTISEMENT ‧ CONTINUE READING BELOW
Long Layers With Choppy Bangs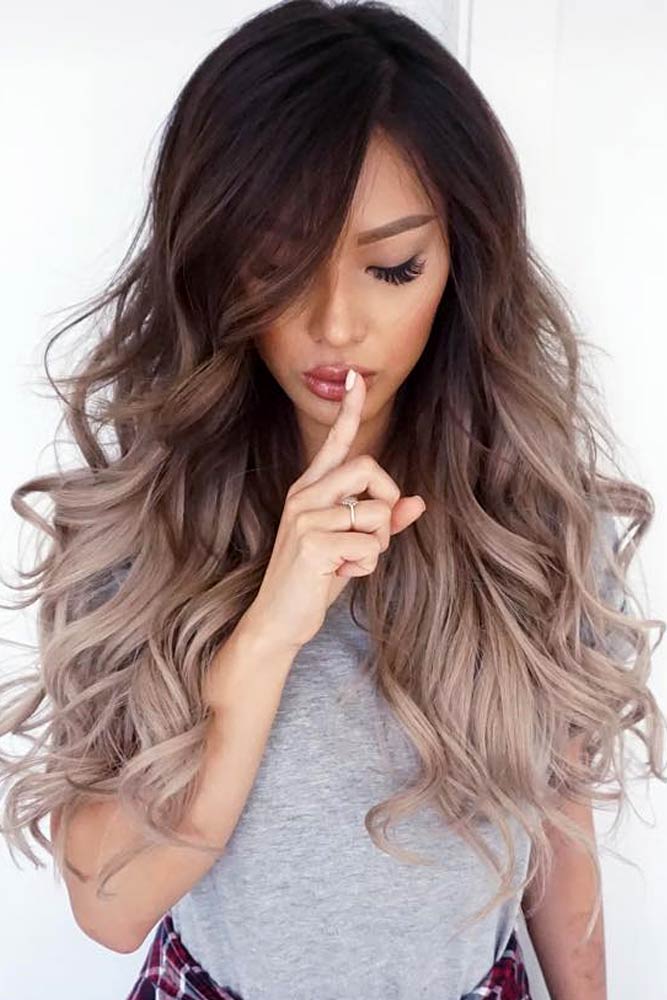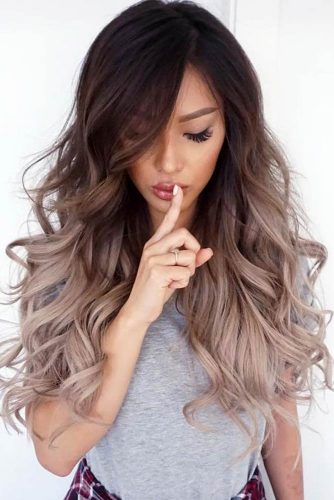 Credit photo: instagram.com/evalam_
With its longer layers at the cheekbones and eye-grazing choppy fringe, this style will really elongate your face.
To style, apply volumizing mousse only to the mid-length and roots of your hair. Use a medium round brush to blow dry and then wrap your hair in sections vertically around a large barreled curling iron. Make sure to start no higher than your cheekbones and curl away from your face. When the curls are cooled, use your fingers gently to loosen. Finish with a flexible hold spray.
ADVERTISEMENT ‧ CONTINUE READING BELOW
Powerful Pixie
Credit photo: instagram.com/athanasia_zografos
With the longer fringe in front, this slightly edgy pixie will make your face more even. A two-toned balayage or some bold streaks will give this style some added oomph.
To style, apply your favorite styling product and thermal protectant, blow dry with a styling brush and then straighten the longer sections with a flat iron. Apply a texturizing product.
ADVERTISEMENT ‧ CONTINUE READING BELOW
Layered Wavy Bob
Credit photo: instagram.com/stephygnarstagram
With short, subtle layers and plenty of volume, this look will flatter your face and enhance your cheekbones.
To style, evenly apply volumizing foam and then using your fingers only, blow dry. Make sure to flip out the sections near your cheekbones. Next, still using your fingers only, gently pull the section closest to your neck straight and down. If needed, use a medium sized curling wand to curl the ends and flip them out and under alternatively. Then use pomade to piece out the ends.
Voluminous Vixen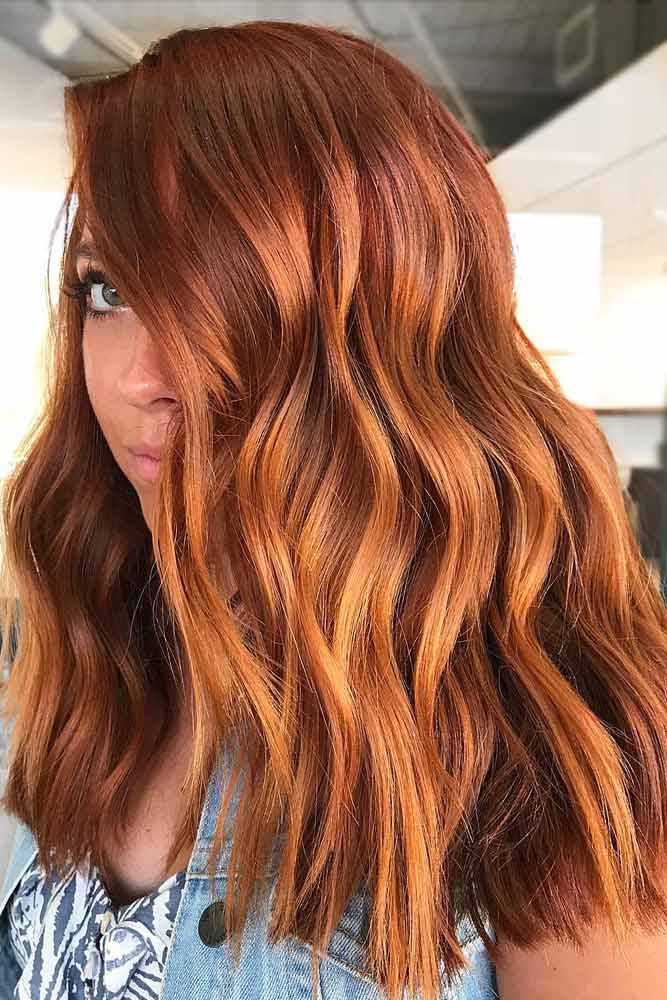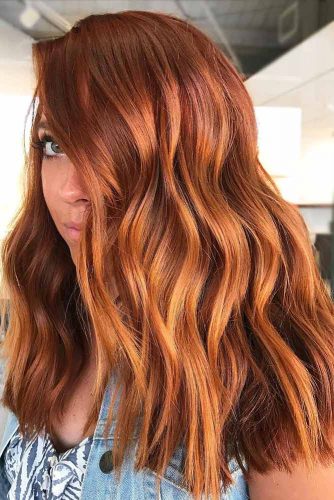 Credit photo: instagram.com/kellymassiashair
With additional volume on the side rather than the top of the head, this cut will make you look like the vixen you are. It works best for those with slightly thicker hair density.
To style, add volumizing mousse to slightly damp hair. Then blow dry your hair with a large, round brush and create extra volume on the sides of your face. Use a flat iron to smooth out the ends and apply a product for added texture.
Glam Girl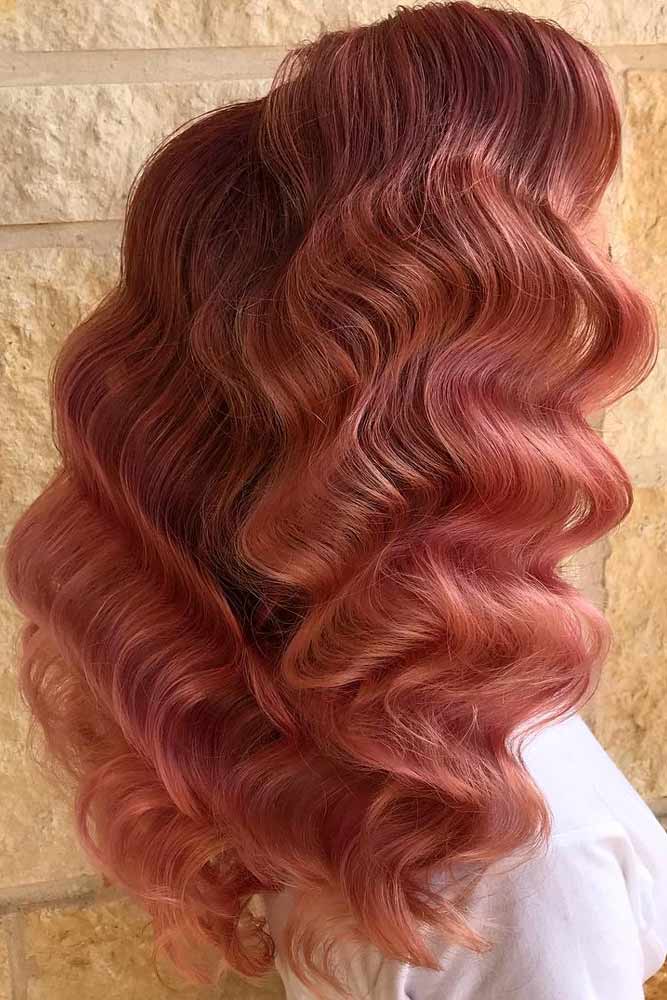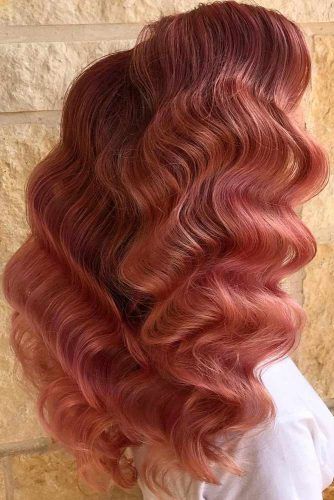 Credit photo: instagram.com/mustafaavci
This sophisticated style incorporates the old-fashioned Hollywood elegance with a modern and flirty flair. This look works great for any length longer than shoulder length and any hair texture.
To style, apply your favorite styling cream to damp, clean hair. Create a smooth look using a paddle brush to blow dry. Part your hair to the side of your preference and start curling your hair on that side, making sure to curl the hair away from your face. Curl your hair vertically with a one-inch curling wand and work around to the back of your head.
Do not touch the curls until they are cool. Next, on the opposite side of your head, curl your hair toward your face starting the curls at an eyebrow level. Once all of your curls are completely cool, use your fingers to gently break them apart to create soft, sexy waves. Lightly mist with a flexible hold spray to allow a gentle movement and flow.
ADVERTISEMENT ‧ CONTINUE READING BELOW
Big, Bouncy Curls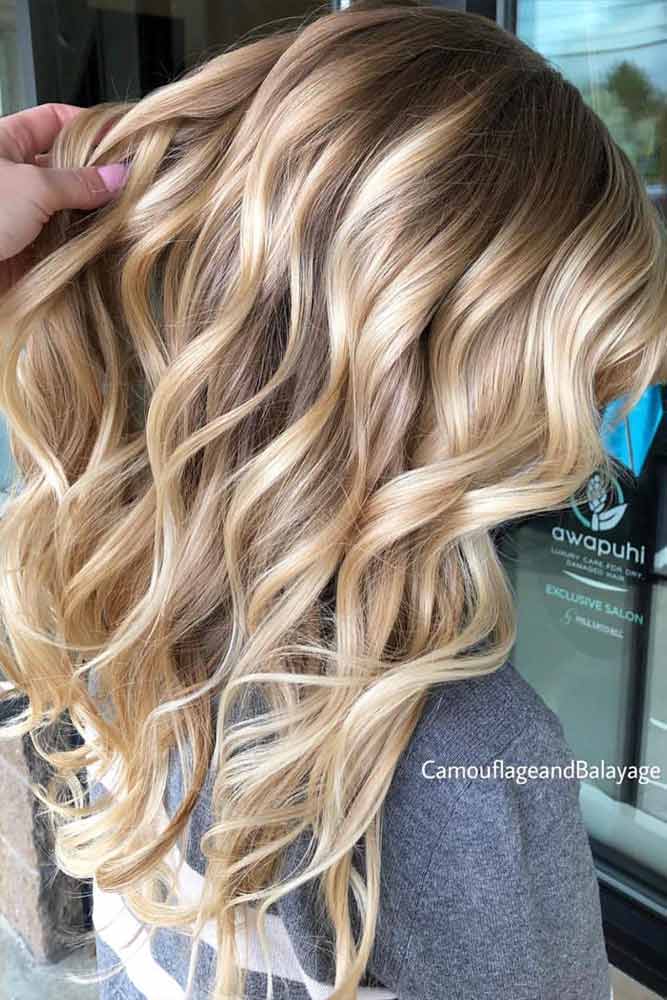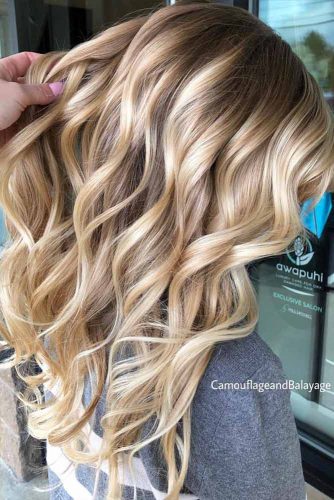 Credit photo: instagram.com/camouflageandbalayage
With a center part and voluminous long curls, this look is ultra-chic and stylish and works best for those with naturally curly or wavy locks.
To style, apply a thermal protectant to dry hair, section your hair and spray each section with a styling spray. Then wrap each section around a medium barreled curling wand. Pin each curl to the top of your head and allow it to cool before unpinning each curl and letting them fall. Form perfect ringlets using your fingers and apply a curling product for extra curl definition.
Delightfully Disconnected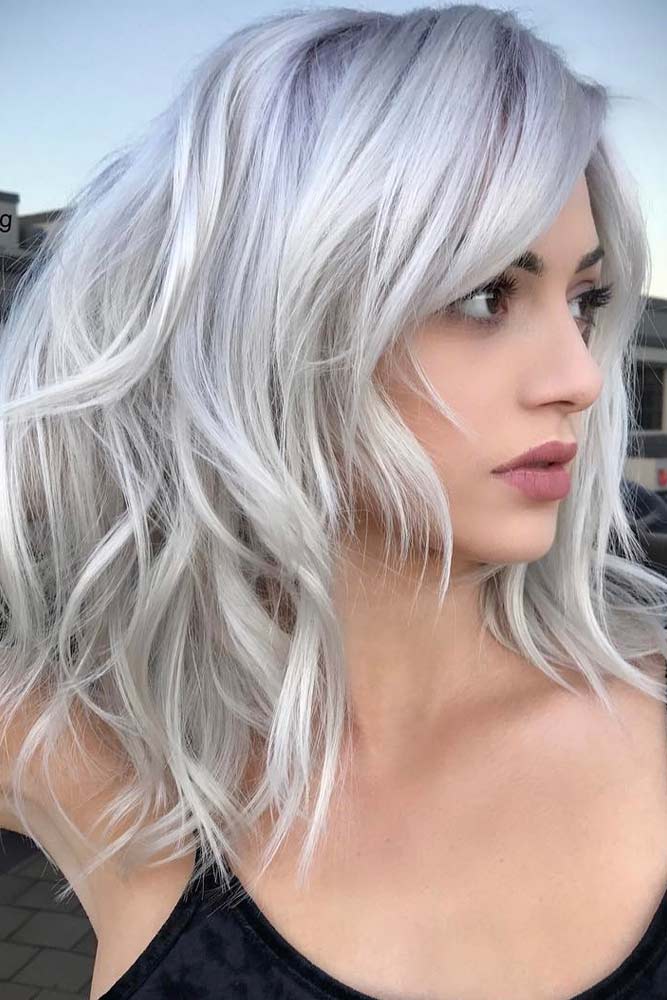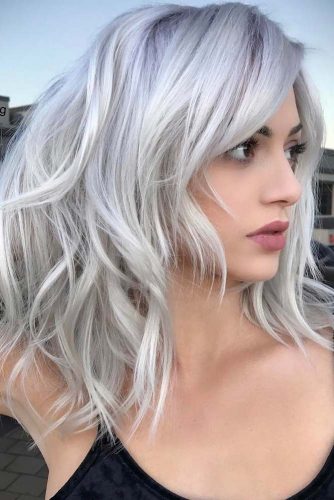 Credit photo: instagram.com/guy_tang
With long side-swept fringe and a long, disconnected piece to the side, this look will elongate your face gracefully but with a slightly edgy look. To make this look pop even more, add a bright streak to the longer side piece and some thinner matching streaks in the fringe.
To style, apply a thermal protectant to your hair and blow dry straight with a styling brush. Then complete the look with a flat iron for a smooth, sleek finish. Add shine serum and medium hold finishing spray.
Layered Rainbow Waves
Credit photo: instagram.com/demetriusschool
Rainbow hair looks breath-taking no matter what face shape you have. But if you have long and wavy hair, the effect will be doubled if not more. Set yourself free of boundaries!
ADVERTISEMENT ‧ CONTINUE READING BELOW
Elegant Bowl Cut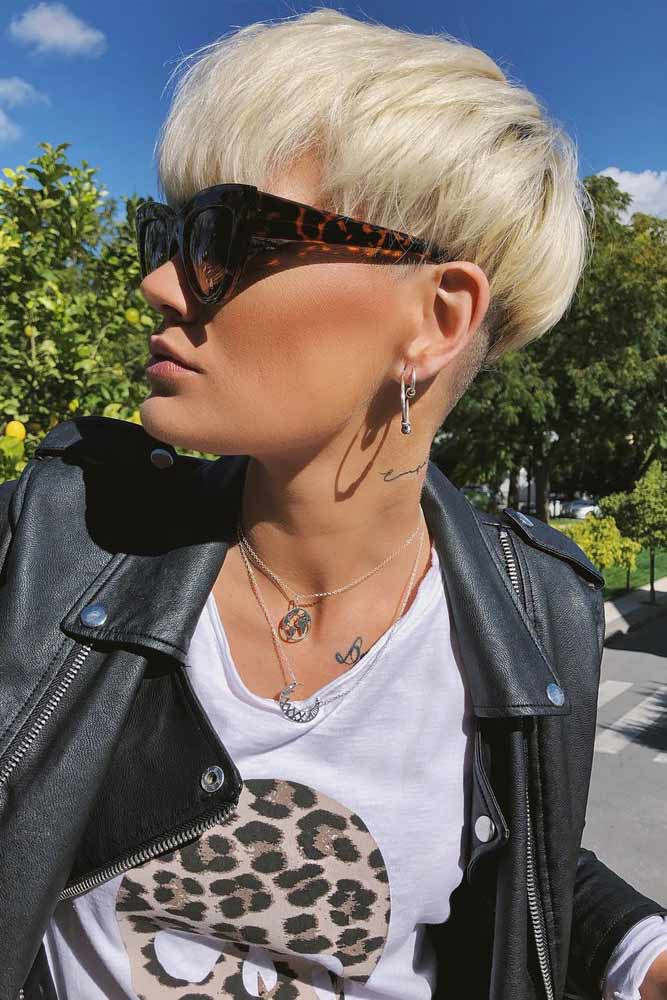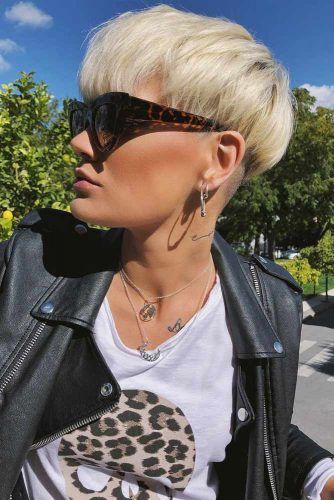 Credit photo: instagram.com/sandra_sinh
A bowl haircut can be elegant despite the edginess. To balance the shortness at the back, add some bangs of different length to the front. To completely rock this haircut, go for platinum shades, some undertone can be involved.
Sleek A-Line Bob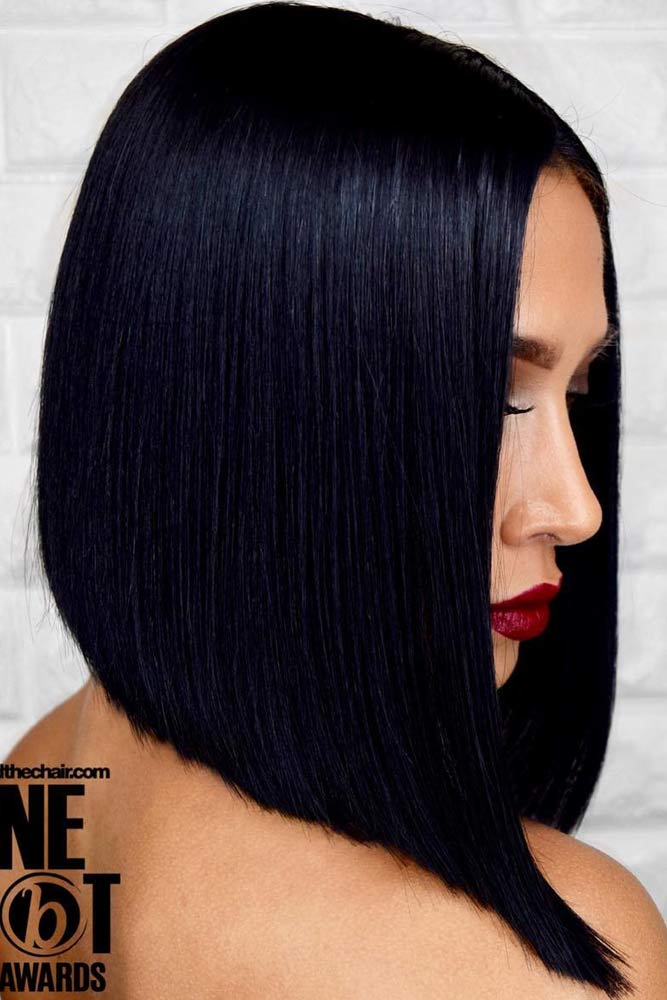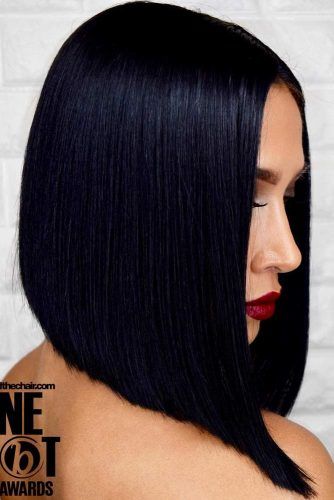 Credit photo: instagram.com/ellendevinehair
If you are looking for the ways to add some more drama to your look, then this would be the perfect suggestion for you. What is more, when straightened, your hair looks silky and nice to touch, not to mention the indescribable coloring!
Middle Part Style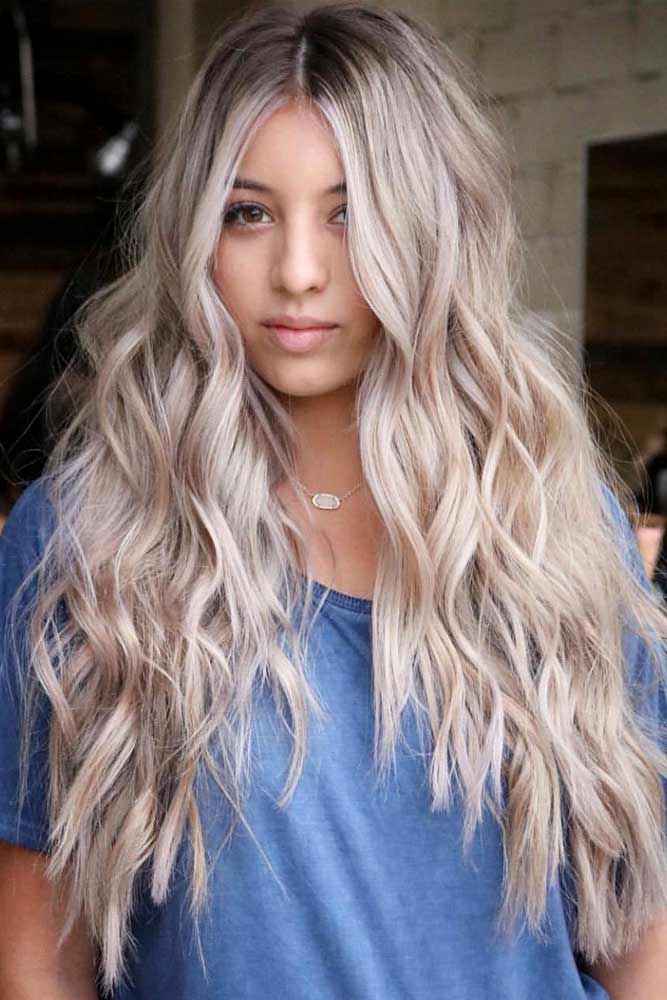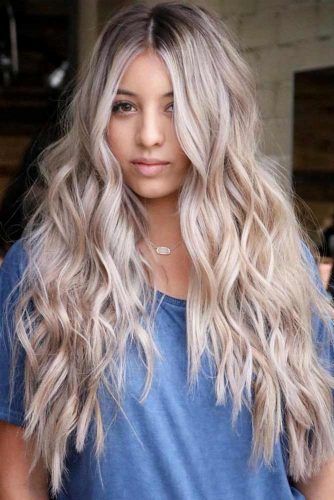 Credit photo: instagram.com/hairerik
A middle part is something that is going to save the day if you combine it with light, voluminous waves so that your hair looks shiny.
ADVERTISEMENT ‧ CONTINUE READING BELOW
Beachy Waves
Credit photo: instagram.com/johnnyramirez1
Beach waves will look extremely sassy and elegant if you complement them with some natural-looking highlights. Is there anyone who would resist this look?
Straight Bangs For Long Faces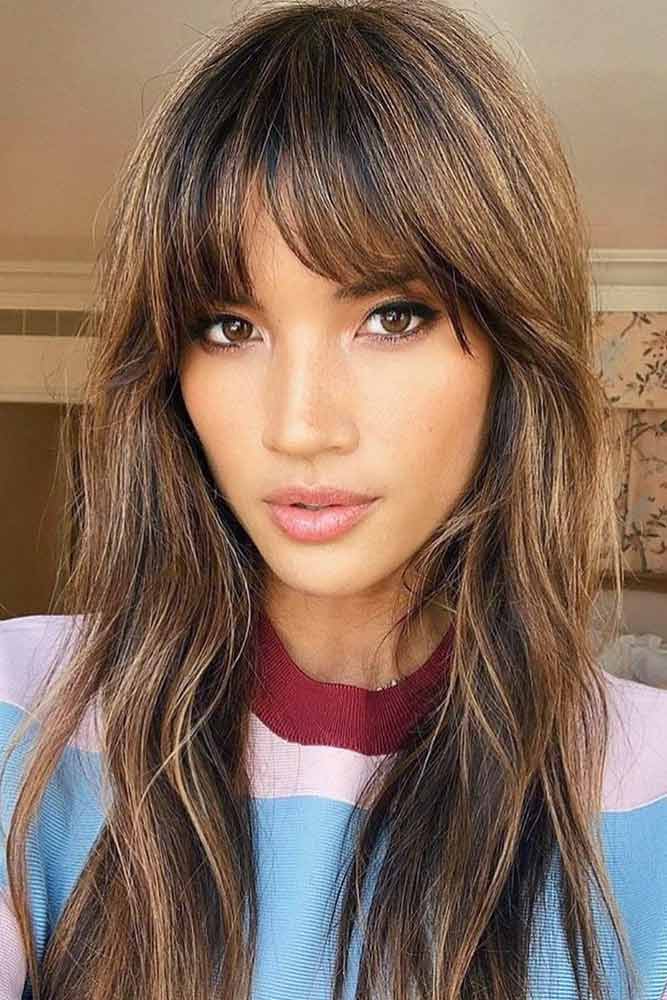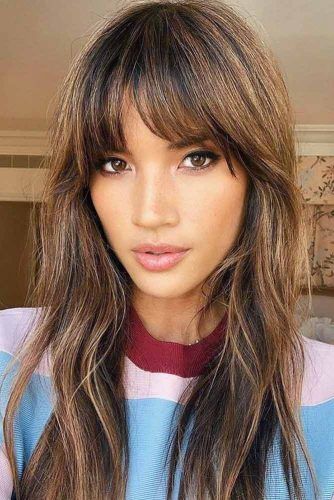 Credit photo: instagram.com/biancacolour
Those of you with long faces should at least try out blunt bangs. There is nothing else that will shorten your face better than some nice straight bangs!
Shaggy Bob With Bangs
Credit photo: instagram.com/todchukstudio
If not shaggy layers, what can add tons of volume and provide your hair with lively movement at once? The best thing is, any haircut you wear can get layered. On top of that, you can always regulate how thick and long your layers will be to customize every inch of your styling based on your needs and preferences. Here, you can see how drastically you can change the way your bob looks. If you wear bangs, make sure to get them layered too, and the voluminous distinctive silhouette will beautify your face at its best.
ADVERTISEMENT ‧ CONTINUE READING BELOW
Asymmetrical Short Bob
Credit photo: instagram.com/todchukstudio
Asymmetry in haircuts is what helps us build the needed balance. When a woman wants to draw attention from some facial features, her hairstylist insists on her getting an asymmetrical haircut. Apart from being super easy to style, such ideas can visually add the needed width to the body of your cut, thus making your hair appear fuller. In this way, your face won't ever appear too long, as the slightly imbalanced cut will do the visual trick.
Curly Lob
Credit photo: instagram.com/todchukstudio
What if we told you that a simple one-length cut could be a great canvas for beautifying styling? Of course, we're talking about a lob - the simplest and the most versatile haircut of all time. Whenever you need to give yourself a slight frame, a lob will be there for you with its endless styling options. And the curly texture is the best hairstyle you can get for your lob to make it work for your face: it will look sexy and dramatic while giving you a harmonic look.
Inverted Lob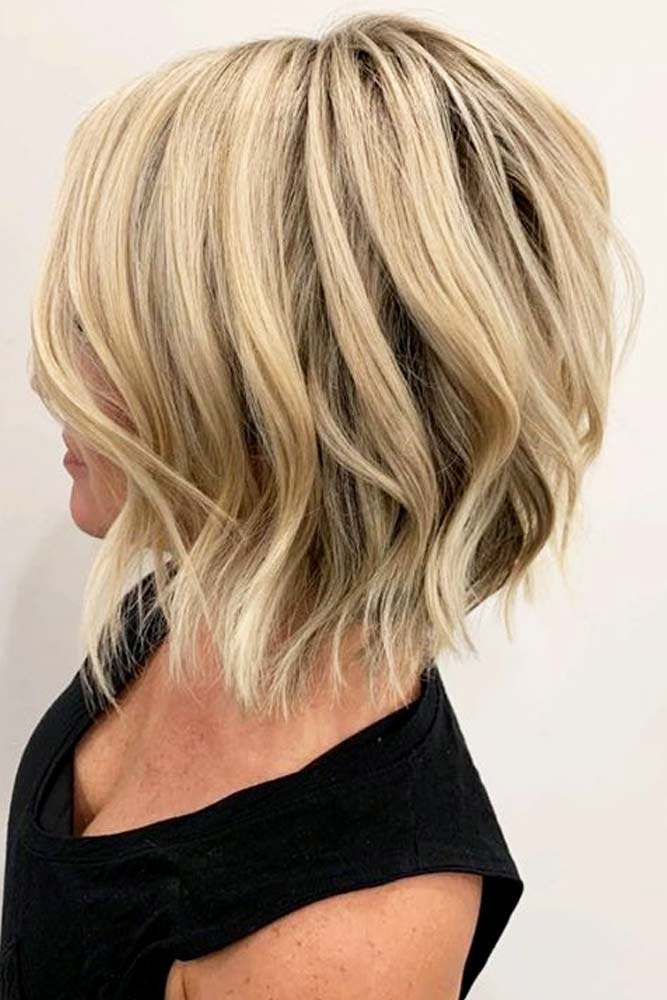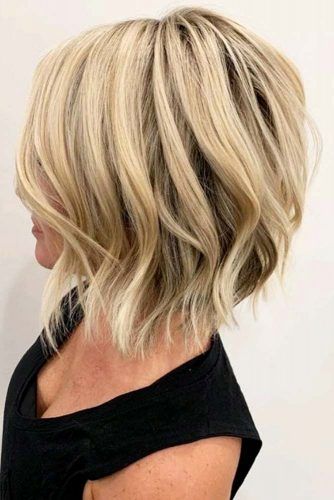 Credit photo: instagram.com/styled_by_carolynn
The right haircut and hairstyle are enough to change women's lives for the better. Just look at this inverted lob with soft waves! The once flat and unattractive silhouette has turned into a voluminous mane full of dynamics. Interestingly, both hair looks are shoulder-length. Now, imagine how confident you will feel if you go for changes like that: besides a volumetric look, you will have waves that will help you frame your face if needed.
ADVERTISEMENT ‧ CONTINUE READING BELOW
Textured Lob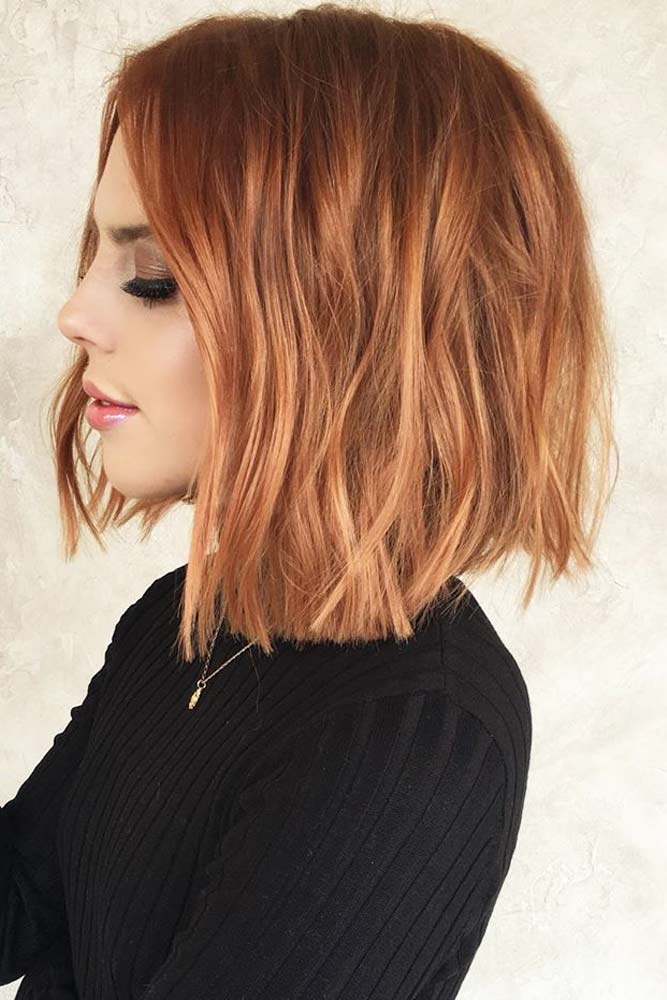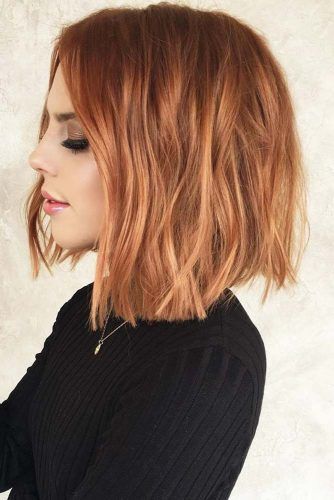 Credit photo: instagram.com/hairby_chrissy
Here comes another fantastic way to play around with a lob! What makes this simple haircut so special is that it allows for various styling, which, by the way, is simple as well. In fact, this amazing hairstyle takes minutes to get it done while giving a very pleasant look. Women with long faces will love the way one texturizing product turns their hair in real accessories. Just spritz some salt spray on your damp locks and give them a blow-dry.
Middle-Parted Angled Lob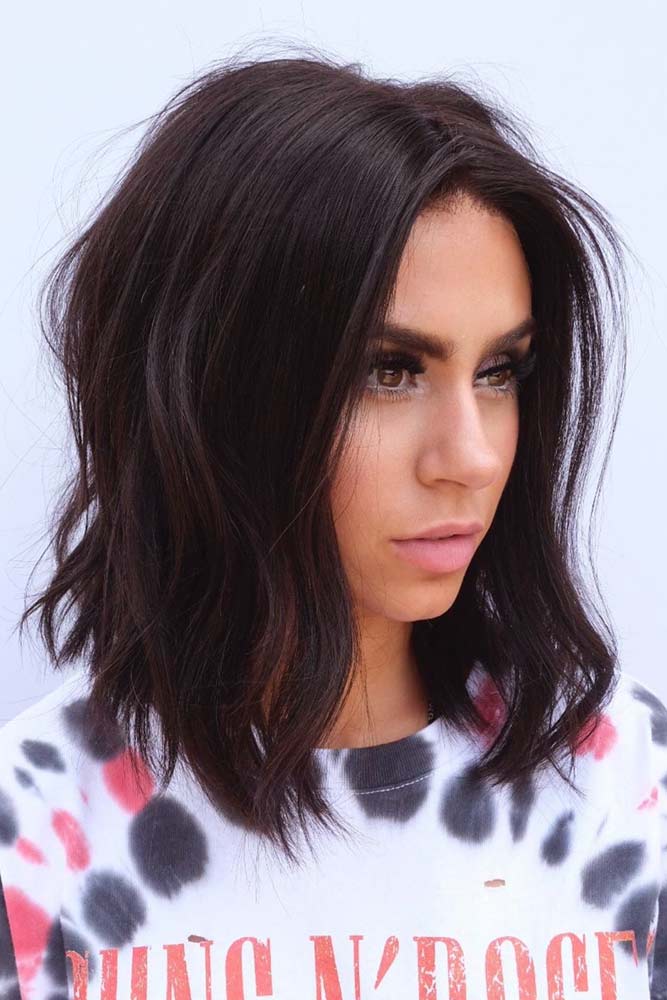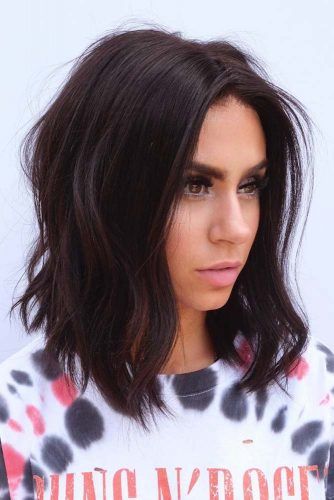 Credit photo: instagram.com/chrisjones_hair
No wonder that most hairstyles for long faces we've collected here are made on lob haircuts, as this haircut can be as different as you want. Girls who love messy carefree looks with freedom bursting on their lively locks can get themselves angled cuts. Not only does this idea add a sense of edginess and sharpness to the whole look but it also looks extremely sexy when it's waved. Part your hair to the middle to spread the locks evenly and create a balanced look for your face shape.
Asymmetrical Wavy Lob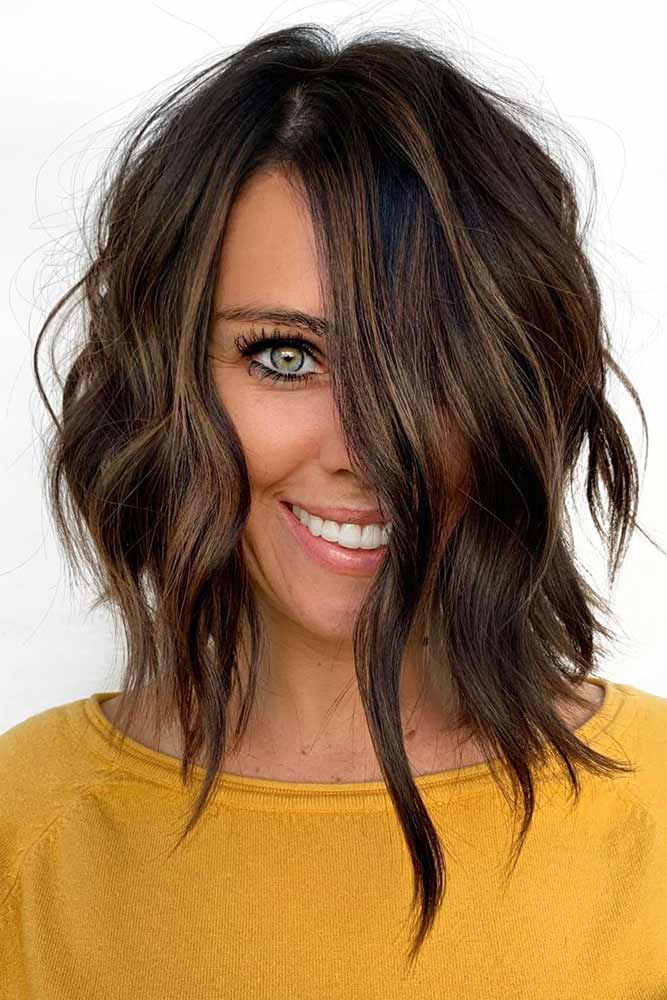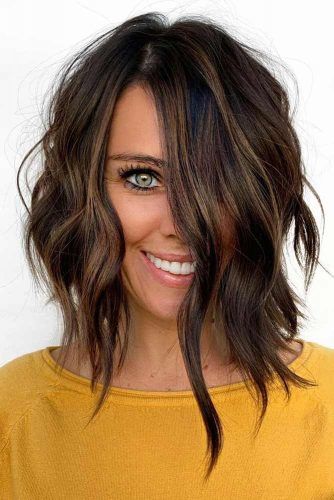 Credit photo: instagram.com/headrushdesigns
Who would've thought that a bit of asymmetry would turn out to be the key to building perfect balance? Even though one side outweighs the other, and all locks differ in length, together, they create an attractive harmonic silhouette. If you'd like to amp it up with volume, let waves do the talking. Should we mention the face-framing magic of the longer tresses?
ADVERTISEMENT ‧ CONTINUE READING BELOW
Short Layered Wavy Bob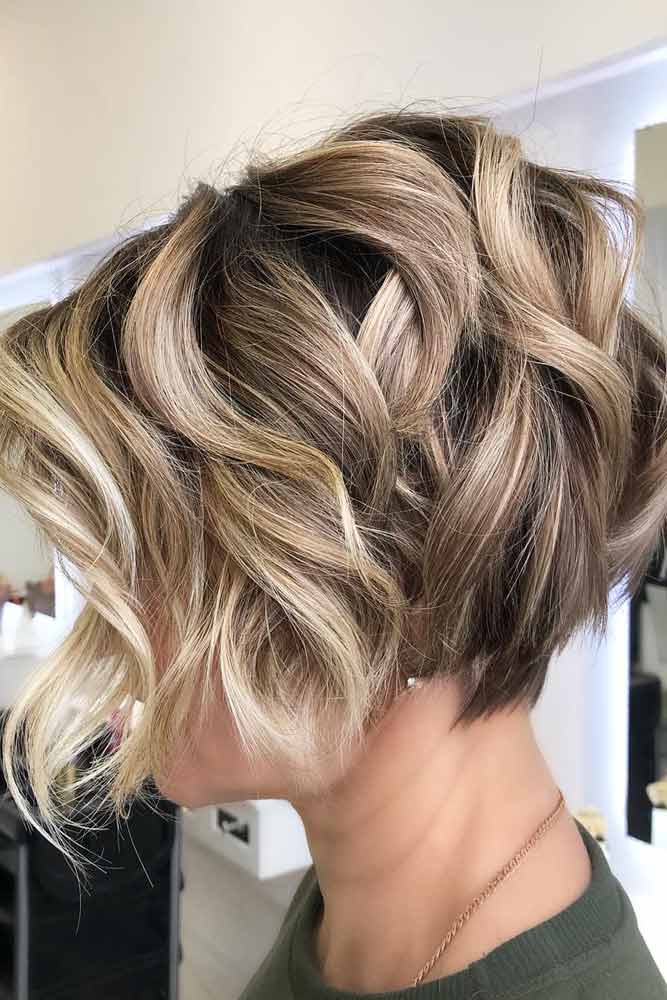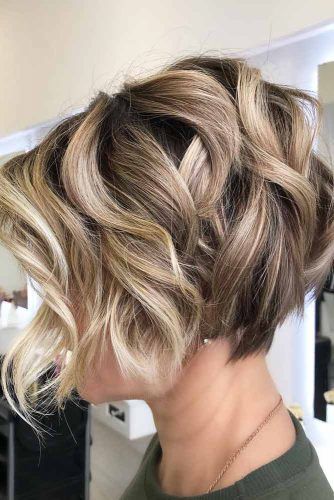 Credit photo: instagram.com/mila_kryshchykhina
Believe it or not, you don't need to have a knee-long mane to frame your face. With the right approach to your short haircut, you can rock a balanced hair look that will show off your best features and hide your flaws. This bob, for example, is a spectacular weapon to deal with a long forehead. Its wavy layers add tons of volume to the look, adding some width that makes the oblong silhouette look balanced. Also, you can always get bangs to make this look complete!
Violet Pixie With Undercut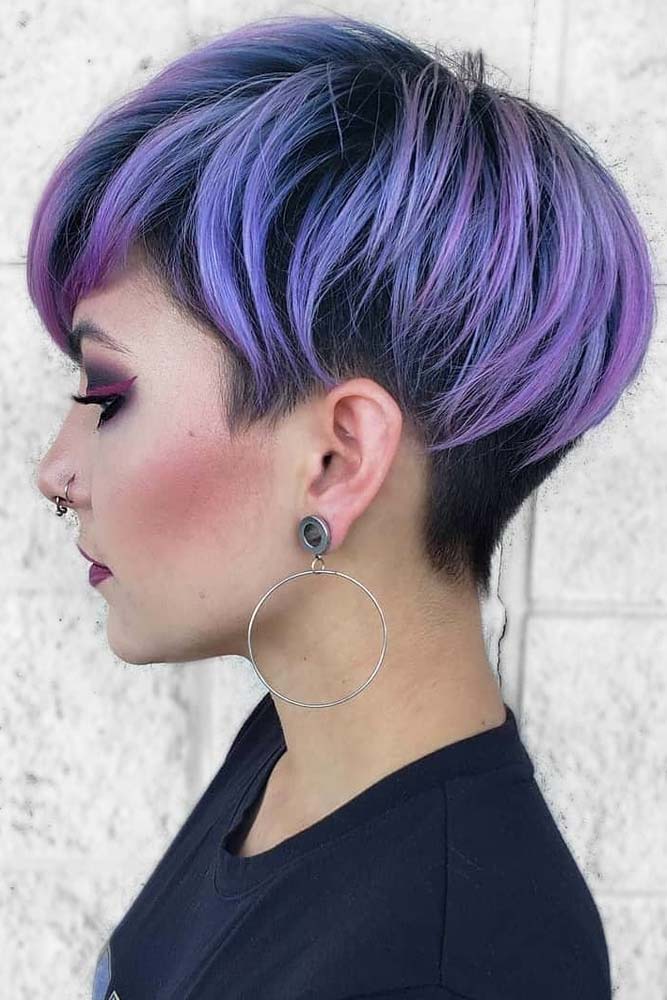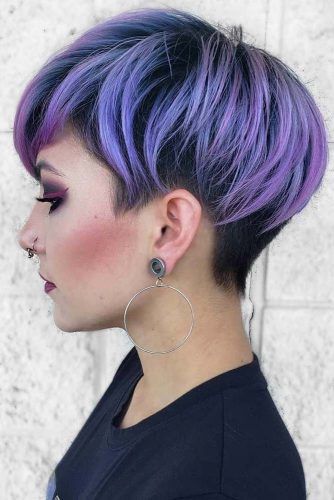 Credit photo: instagram.com/balayagedandbeachy
We just can't leave you without the latest color ideas! Let's just not forget that besides being suitable for our hair types and face shapes, our haircuts should also fit out liking. Well, this idea is meant not just for ladies with long faces: it will appeal to ladies with an exceptional sense of style and color. Although the pixie is pretty short, its well-shaped round silhouette and dimensionally highlighted crown balance out the long face. To make the top stand out, pair it with an undercut.
Edgy Red Pixie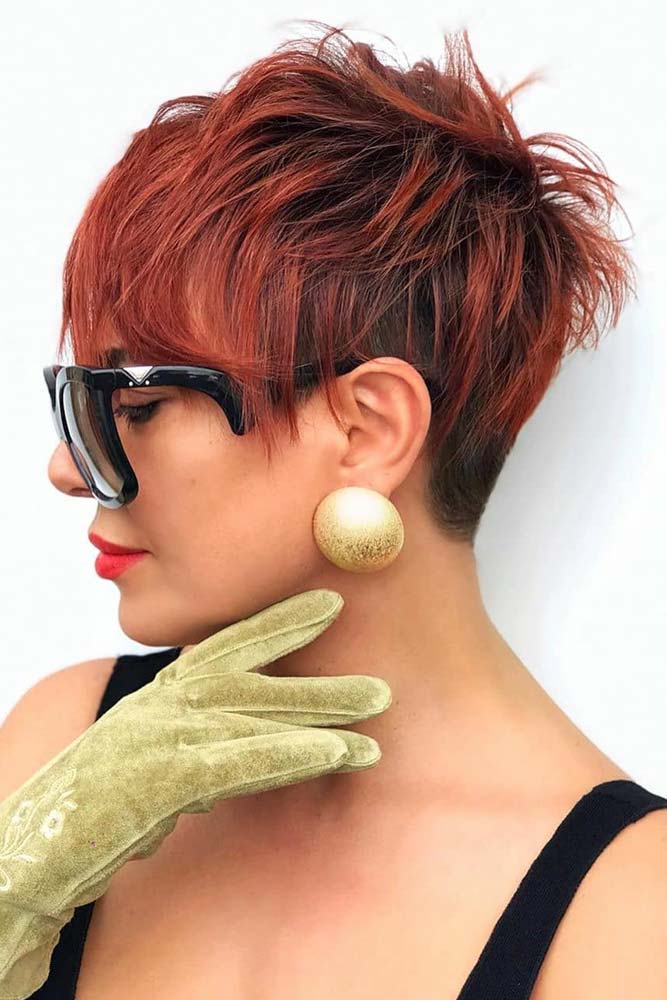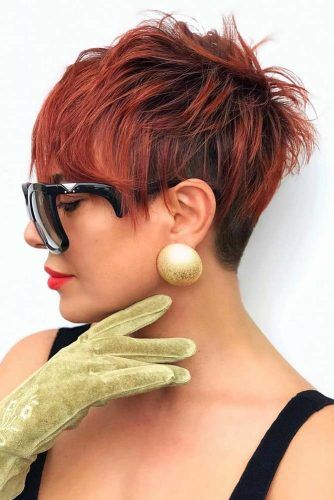 Credit photo: instagram.com/jeanclaudeelmoughayar
Don't stay away from pixies because you think they keep the face too open. Instead, let the styling diversity of pixie haircuts into your life to see how variously you can play with them. Ask your hairstylist for soft layers on the top to make it more manageable for styling. Then, use your creativity: add some fullness to the sides and some height to the top by creating spikes or tousling your locks. Softly chopped bangs will be the icing on the cake!
ADVERTISEMENT ‧ CONTINUE READING BELOW
Blunt Lob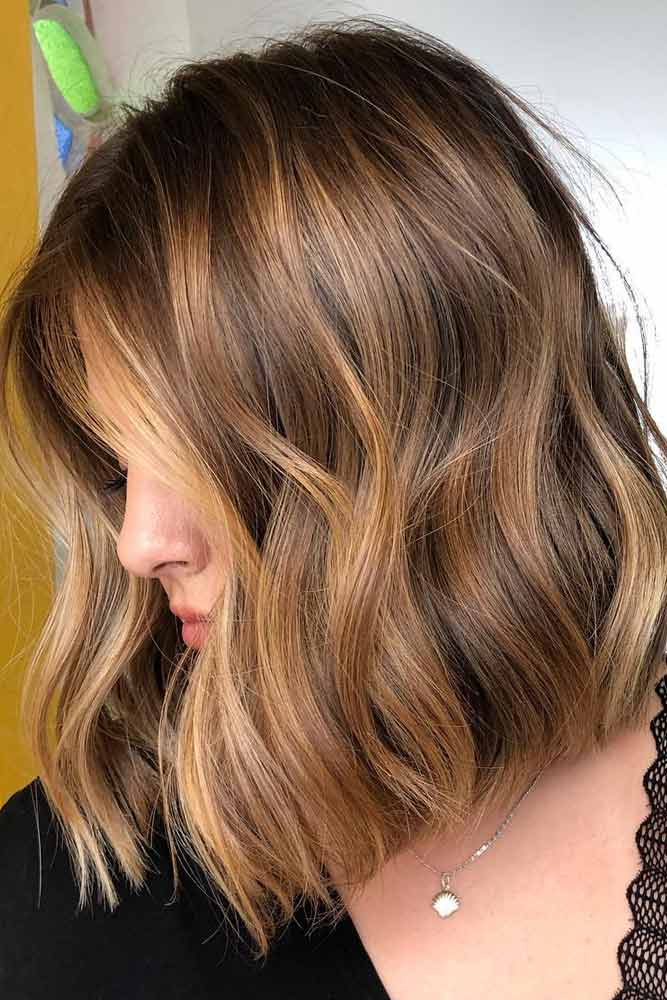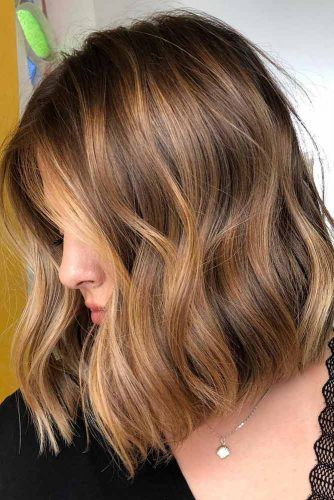 Credit photo: instagram.com/giovani_perinelli
If you like to keep your look and style simple, yet significant, a blunt lob is just what the doctor ordered. It has no extreme contrast of length and a perfectly leveled one-length body. In other words, it's simplicity in its purest form. But you can't even imagine how much styling freedom this cut can offer to you. While keeping your hair at a length that doesn't outweigh the locks, it allows for various hairstyles like waves, curls, and even braids. To flatter your face, make your waves thin: they will be more voluminous in this way.
Stacked Bob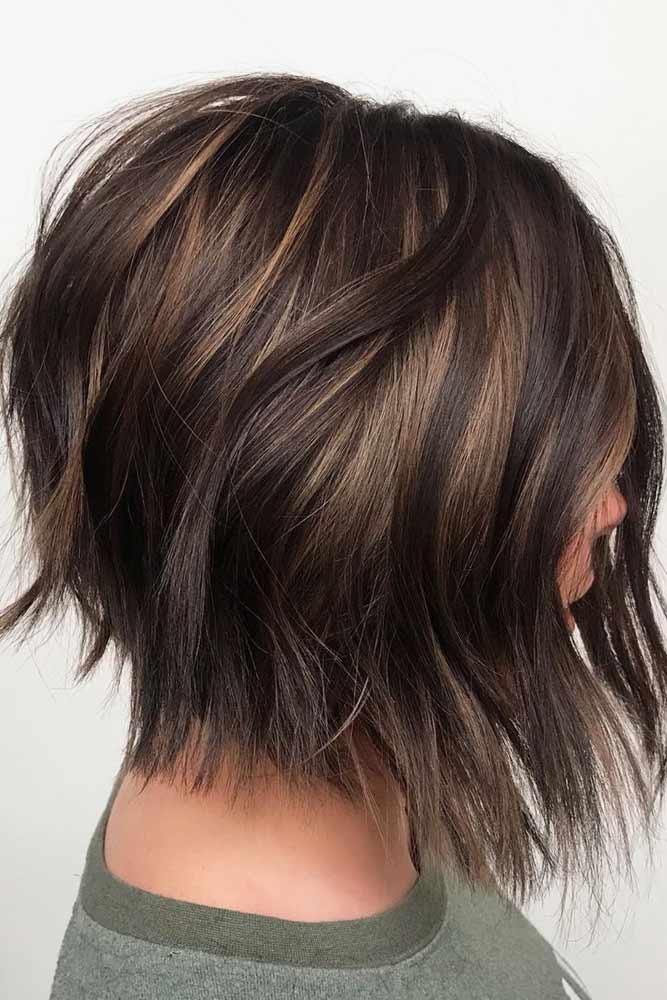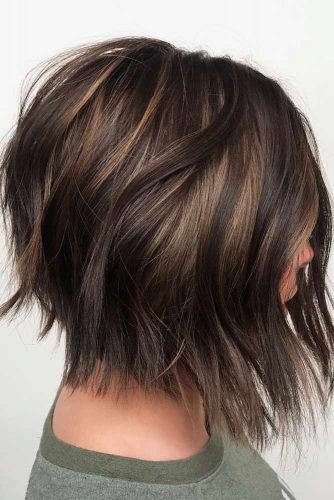 Credit photo: instagram.com/shmoakin_hair
A stacked silhouette, where the front gradually becomes shorter and forms a voluminous crown, who could ask for more? This particular bob simply takes the biscuit with its sharply cut edgy layers! To recreate the look, ask your hairdresser for layers throughout the length and feathers for the ends. With such a full and dramatically voluminous top like this, there's no way your face will ever look too long.
Side-Parted Wavy Layered Hairstyle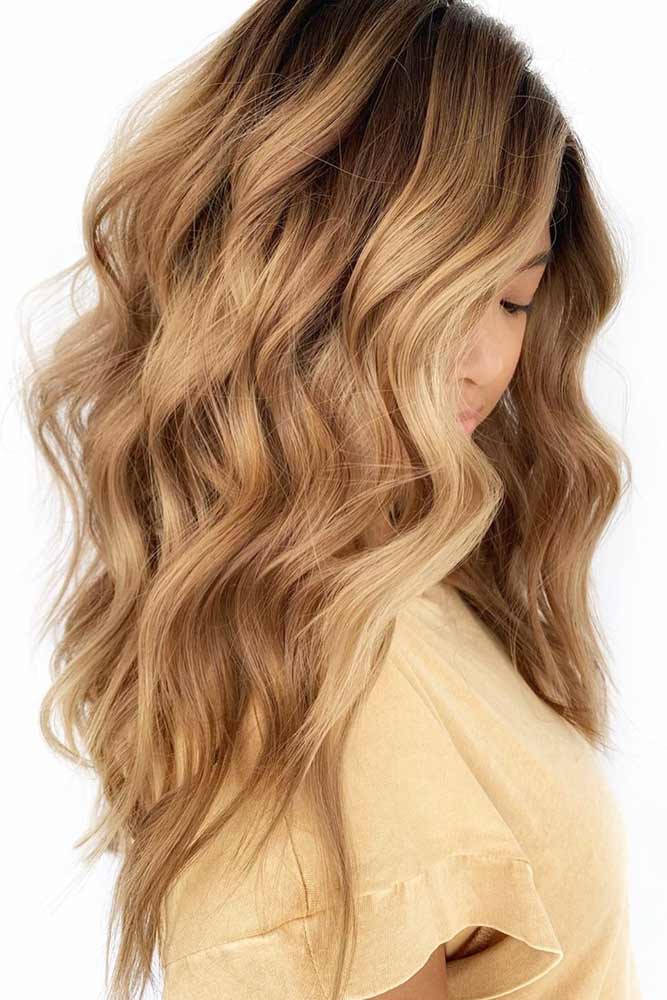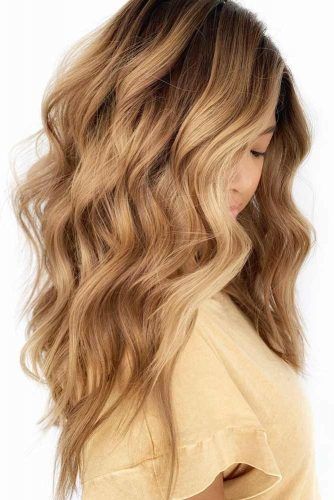 Credit photo: instagram.com/styledby_debbe
As much as we love pixies, bobs, and lobs, nothing can compare to the beauty of long hair. However, it's harder to achieve a voluminous finish with a balanced body on longer manes. As your hair gets longer, it becomes heavier, which leads to flat looks. But, with a good haircut and the right approach to styling your long locks, you will never encounter such troubles. As you might have guessed already, layers, waves, and a side part are what can help your long hair reach its highest.
ADVERTISEMENT ‧ CONTINUE READING BELOW
Long Hairstyle With Caramel Highlights
Credit photo: instagram.com/liftedbyemerald
The way you style your hair, as well as the way your hairstylist cuts your hair, aren't the only details that can enhance your best facial features. Creative dynamic color with an even blend of a couple of matching shades is one more way for you to get the needed framing touch. If you're a brunette, try caramel highlights and look in the mirror: the magic movement of sultry shades will draw attention from your long face, bringing visual balance.
Inverted Messy Long Hairstyle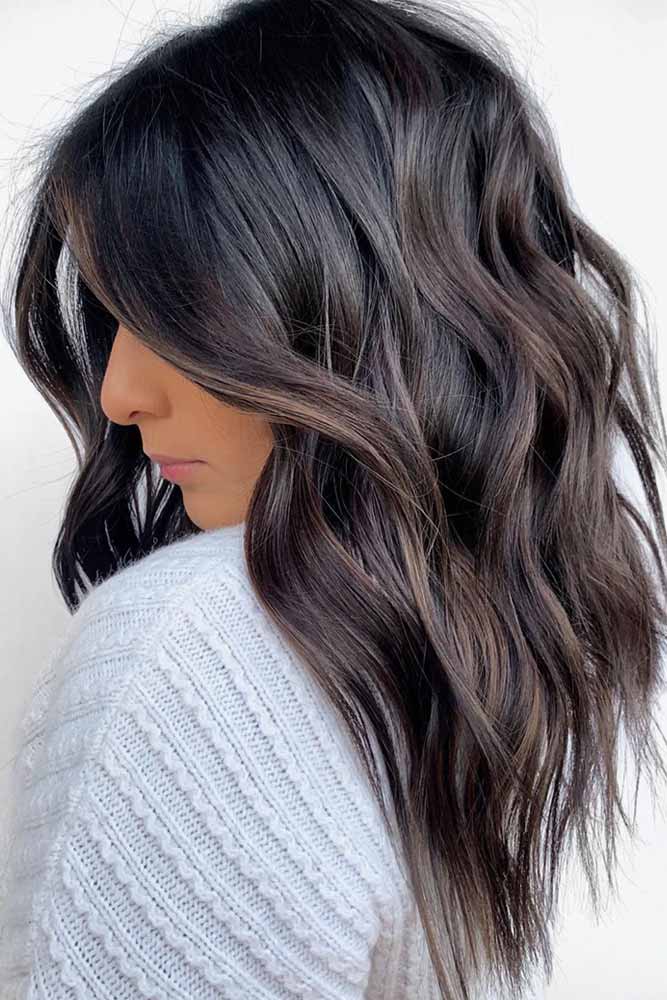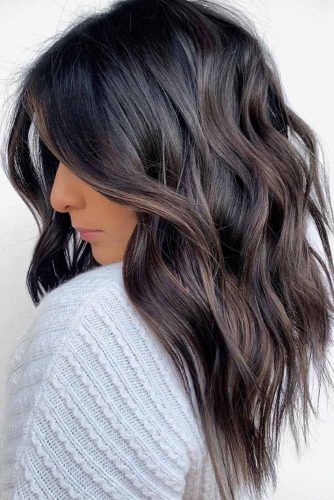 Credit photo: instagram.com/biancahdrs
On longer hair, inverted haircuts look less sharp and dramatic. Still, they add some character to the hair look! By the way, some women think that the messy hair trend works well only for those with short and medium locks. And this idea is here to prove otherwise. To make long hair this distinctive and defined, get it layered first. Then, work some texturizing product into your hair, tousling every strand. When the look is ready, spread the locks evenly to reveal their face-framing magic and give the style a coat of hair spray.
ADVERTISEMENT ‧ CONTINUE READING BELOW