These Messy Hair Ideas Will Take A Fresh Look At Any Hairstyle
Messy hair can sound a bit ridiculous to newbies. "Who needs a mess in hair?" you may ask. Well, messy styles, whatever they are, are the latest trend for ladies from all over the world, not for nothing. And that's because a little touch of messiness can turn any hairstyle into a super voluminous, effortless and airy look. So, a little mess won't hurt!
ADVERTISEMENT ‧ CONTINUE READING BELOW
Let messy hairdos be the only mess in your life, and see how it can give your hair texture a new chance: thin hair will get the desired volume, and thick hair will be more manageable. Explore our messy ideas and see how you can spice up your favorite styles with a tousled charm!
Updo Hairstyles With Messy Hair
Updos are usually very straightforward, yet elegant and pretty hairstyles that make us feel comfortable with our hair. Are you ready to see them in a new, messy light?
Low Messy Bun For Casual Looks
Ladies who think that their short locks won't let them sport updos are going to change their minds. This messy bun for short hair is all about left-out face-framing front locks and a lovely little twist on the back. Relax your hands, create a loose bun, and tousle up your hair for a stunning look like this.
Source: fakander via Instagram
Fancy Tight High Bun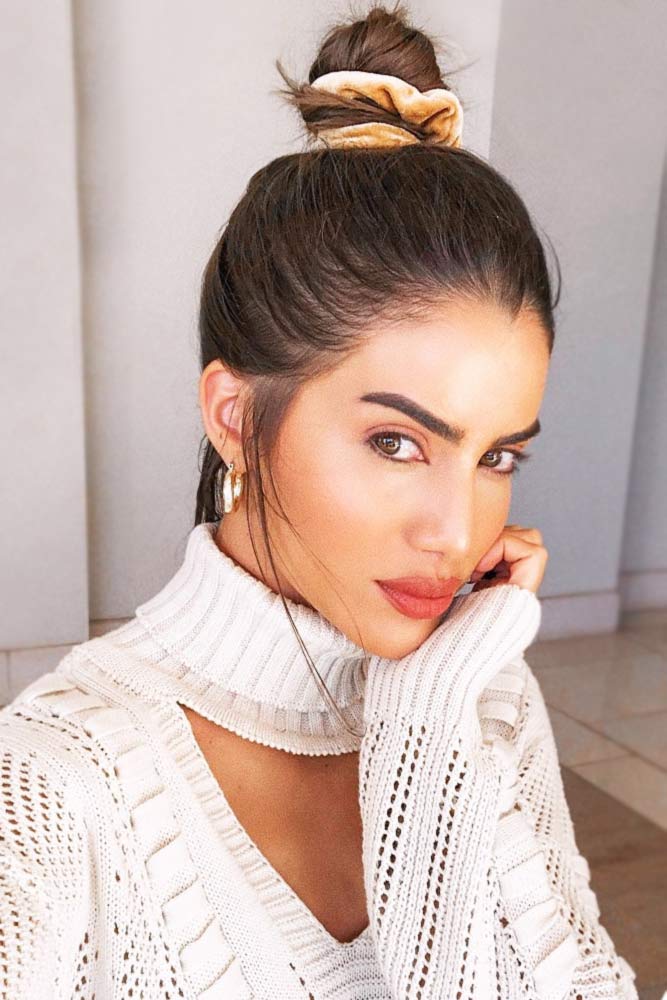 The thing any lady will like is that lots of messy hair ideas take minutes to get them done. For example, this chic and tight updo requires brushing your hair, twisting it messily, and securing it randomly. Yes, getting a messy bun for medium hair can be a morning savior!
Source: camilacoelho via Instagram
Simple Top Knot With Headband
Some hair accessories may come in handy when it comes messy buns for long hair. Believe it or not, a headband can help you with how to do a messy bun with long hair. Once you put your hair into a messy top knot and secure it with the accessory, you will love the lift that this detail will hold all day long.
Source: brittsully via Instagram
Space Buns For Short Hair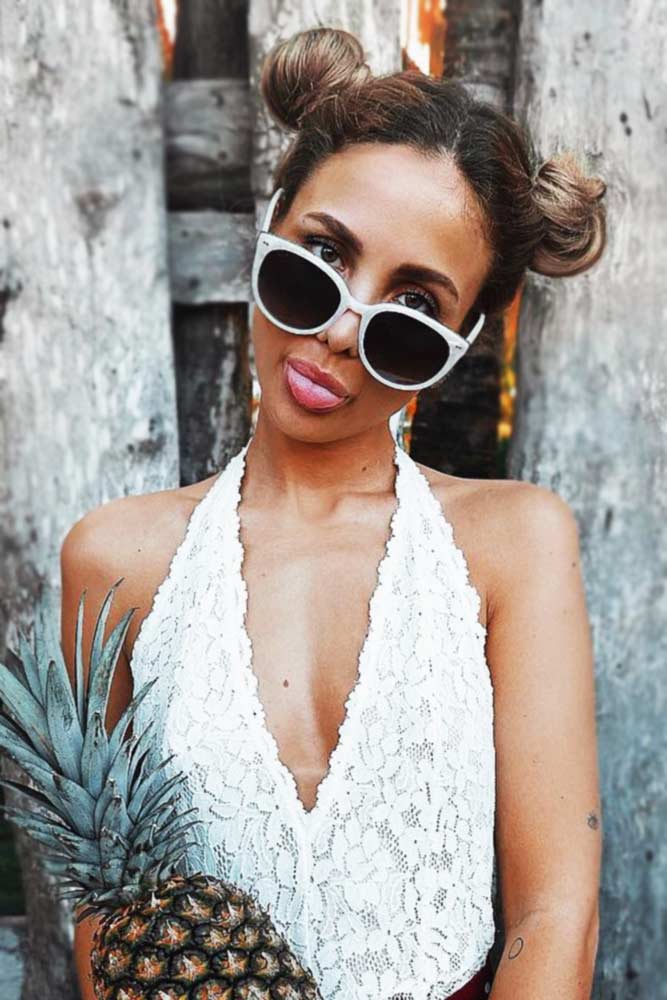 Here comes another fascinating messy short hair look. Let's double the beauty and rock our days with two cute space buns! This messy hair idea will work perfect for girls with thick hair, as such a hairstyle tames your locks in an adorable tousled way.
Source: carmushka via Instagram
High Ponytail For Medium Hair Length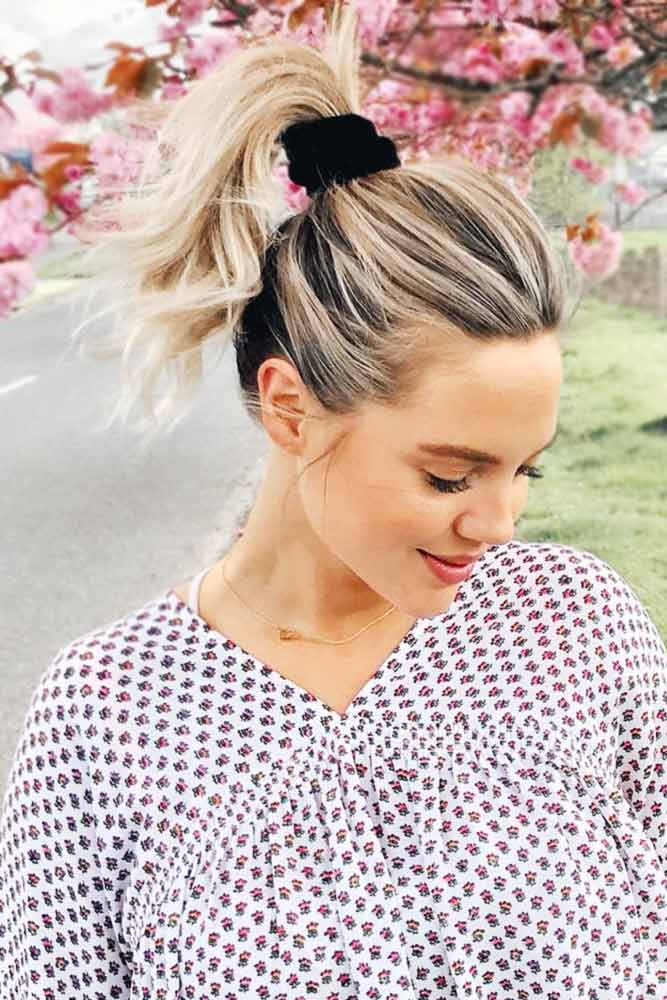 Messy hairstyles for medium hair can be different, and they often come as familiar hairstyles. A simple high ponytail can show off its charm in a new way, just set it high and pull the crown gently, giving it a lift. Who needs to learn how to do a messy bun with thin hair when an easy pony can sort things out?
Source: ellepearls via Instagram
Simple And Cute Messy Ponytail
The simpler messy updos for long hair are, the better. Simplicity in hairstyles reveals the natural beauty of your hair, so wearing a high ponytail with a voluminous crown will always be a good idea. For such an airy look, consider waving your hair before doing a pony.
Source: emmachenartistry via Instagram
Dutch Braid Into A Low Bun
Is there a girl who doesn't love braids? Well, if there is such a girl, she won't be able to resist their messy side. Tousle up the crown to add more charm and volume, pull the edges to make the style fuller, and leave some messy strands to frame your face!
Source: emmachenartistry via Instagram
Three-Strand Pull-Through Braid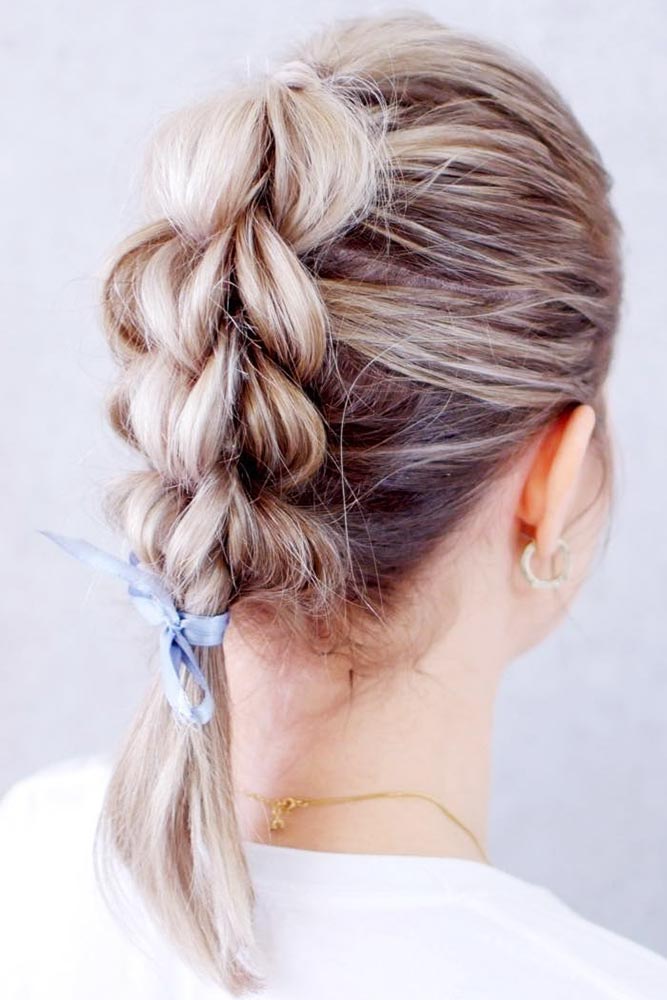 The pull-through braid, or an inverted braid if you please, is a perfect option for ladies who like to stand out. Also, this type of braid is all about lifts and movement of texture, so if you seek such features, look no further.
Source: milabu.co via Instagram
Messy Bun With Free Locks
When putting your hair up, the very first thing you should keep in mind is balance. It's no secret that updo hairstyles put the face in the spotlight. And if it's not what you aim for, you can leave some front tresses to fall on your face freely. In this way, you can build a pleasant, effortless silhouette for your messily styled bun, thus creating the perfect balance for your look.
Source: emmachenartistry via Instagram
Low Twisted Bun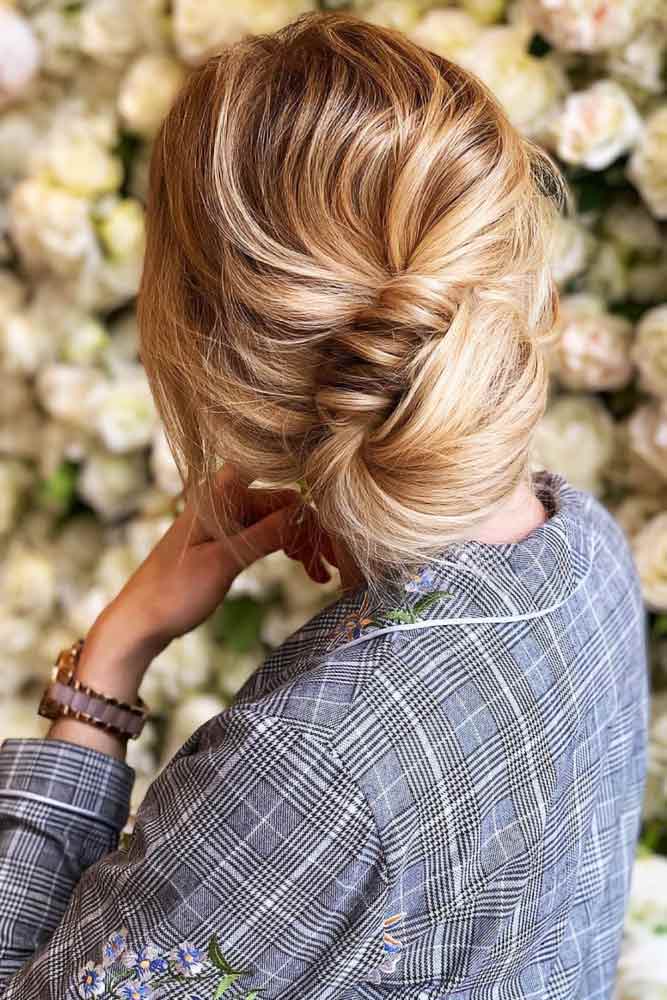 Instead of twisting your casual low bun tightly, you can try loosening the tension and give it some tousling. Wearing twisted hairstyle is a nice way to diversify your casual looks, especially during your working routine. This idea, for example, is a classy style to copy for two reasons. First, it gives your hair a light feel. Second, it makes your hair appear more voluminous. And last but not least, it's cute!
Source: hair_by_zolotaya via Instagram
Classic French Twist
Although this idea follows the classic pattern of the French twist hairstyle, it still looks pretty different. Not only does it feature a distinctive crimped texture but also look extremely alive and dynamic. Needless to say, messy hair can change the common image of classics. For the better, of course.
Source: hairandmakeupbysteph via Instagram
ADVERTISEMENT ‧ CONTINUE READING BELOW
Half-Up Hairstyles With Messy Hair
There are no limitations for messy hair; it can adorn any style. And our favorite half-ups aren't an exception! See how you can diversify them.
Half-Up Ponytail For Short Hair
This is how lovely you can wear your short hair! The only thing you need is to put your messy hair up (it can be loose, tousled waves or curls), leaving the lower layer of hair down. That's it! The charm of simplicity never fails. Source: oliviaculpo via Instagram
Half-Up Medium Messy Ponytail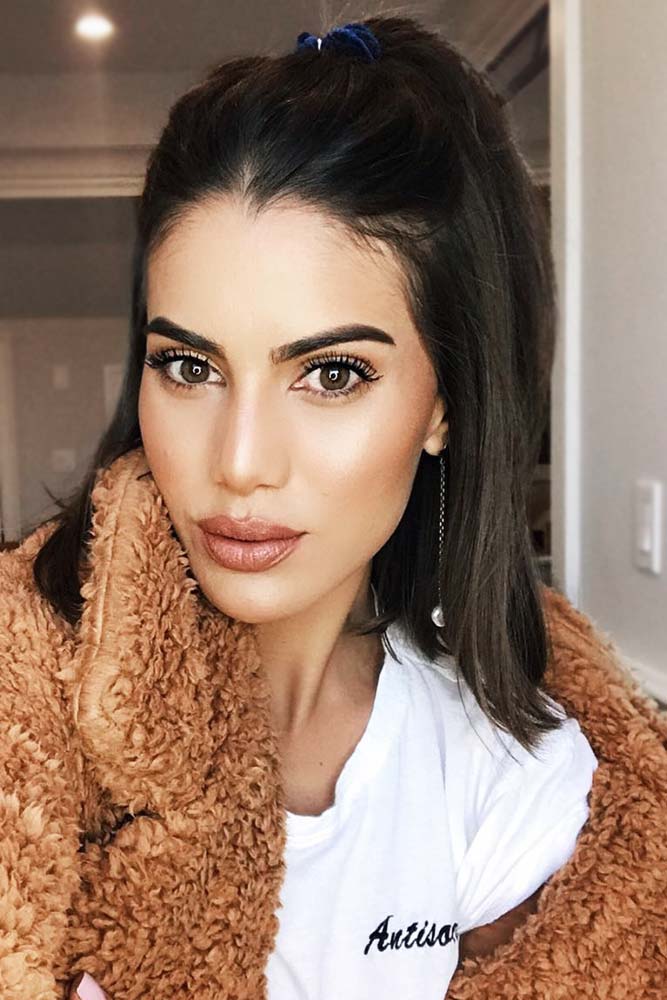 Though it's common to achieve messy hairstyles with your wavy or curly hair, they have straight hair variations too. There's nothing complicated again: separate off the top layer of hair, creating a ponytail. The point is to create an I-don't care look, not really paying attention to details.
Source: camilacoelho via Instagram
Wavy Half-Up With High Knot
If you're working with a bob, why don't go for a lovely half-up like this? You can create a messy hair bun or a high knot out of the top layer, wave your lower layer and flaunt with a stylish and full look.
Source: natalieannehair via Instagram
Medium Messy Half-Up Knot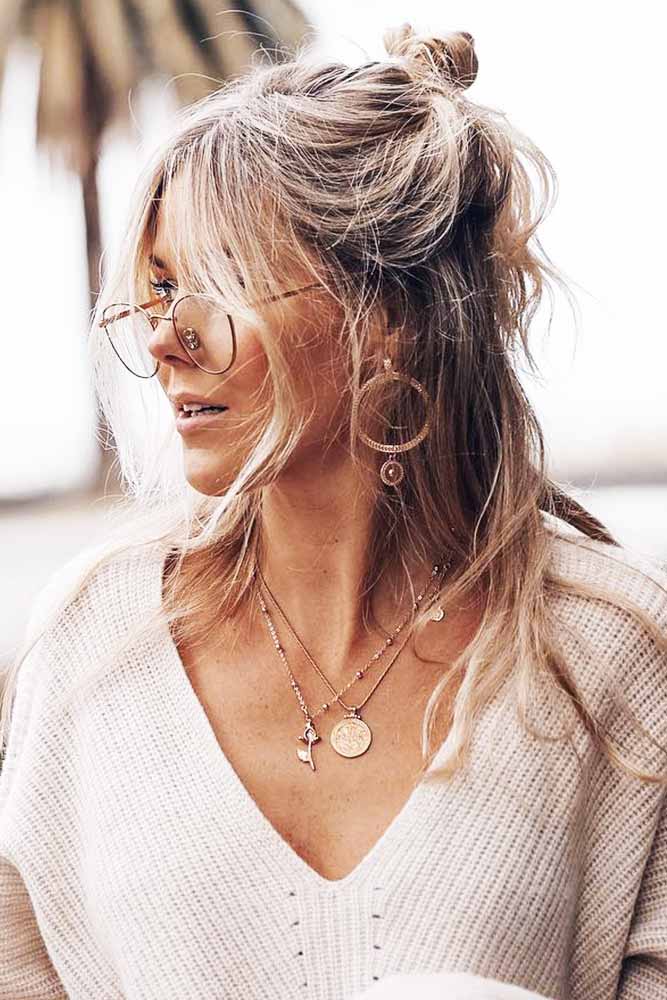 Half-ups for medium hair leave more room for imagination. Some of the strands can be straight; some can be curly or wavy; the top can be twisted or braided. It's all up to you! Girls who have shoulder length hair with bangs will love how the messiness beatifies this duo.
Source: fakander via Instagram
Simple And Gorgeous Half-Up Knot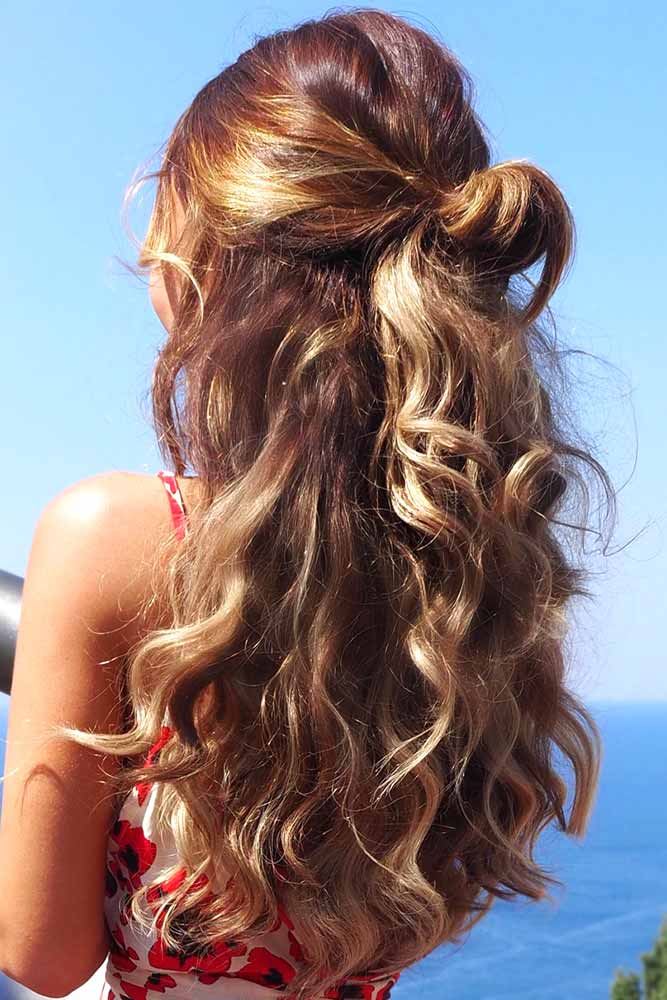 Long and messy curly hair with highlighted strands that transform into a simple half-up, who could ask for more? With this style, your hair won't only keep your beautiful face open but also will volume up the crown area. Just twist the low knot on the back!
Source: piamuehlenbeck via Instagram
Dutch Braid Into Half-Up Knot
What do you think about braided mohawk top knot as a new accessory for your long hair? The top dutch braid with messily pulled edges that turns into a girly knot seems to be the most feminine idea ever.
Source: hairby_chrissy via Instagram
High Messy Knot With Ribbon
A century ago, such a style could probably be called outrageous and inappropriate. And now, the messier your look, the better! Tie the top layer of your hair into a high, messy knot, and secure it with a simple ribbon. The effortlessness of this look is just priceless!
Source: brittsully via Instagram
Twisted Messy Half-Up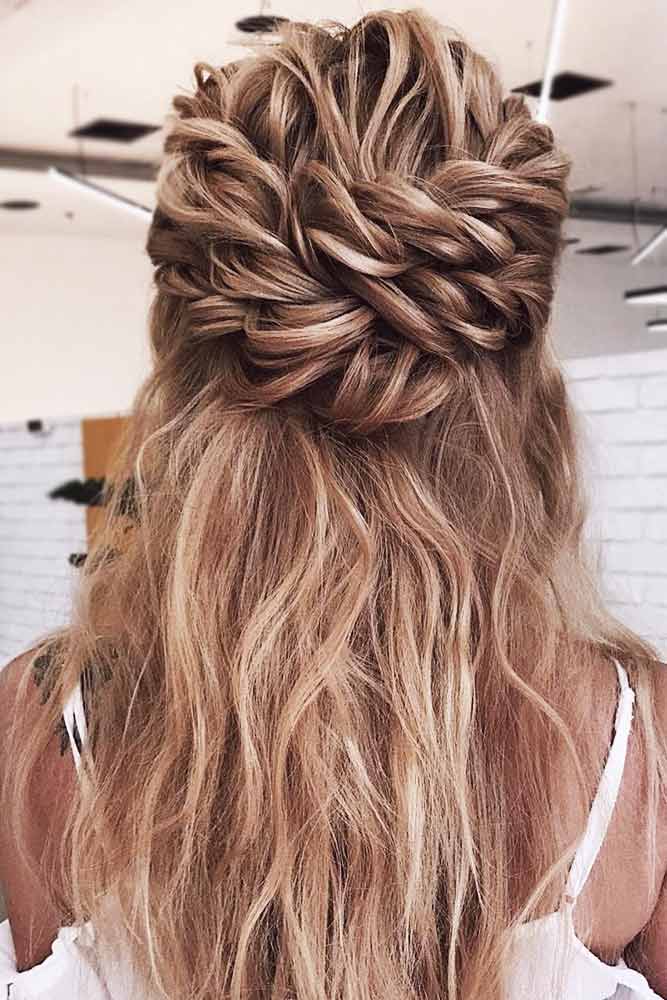 Do you like playing around with texture? If the answer is yes, this style will make you fall in love with it. The flirty top full of voluminous, tousled twists and loose waves are the textured, messy hair combo one could ever see!
Source: belaya_lyudmila via Instagram
Messy Style With Pins
Gone are the days when we used pins just to secure our 'dos! Creative girls prefer to be different and make these tiny cuties a part of their styles! Your messy, tousled waves swept to the side will show up in a new light with the help of little embellishments.
Source: brittsully via Instagram
Double Dutch Faux Hawk Braids
There's one thing you should know about Mohawks and faux hawks: they can't do without messiness. Such sassy, daring hairstyles are meant to bring wild, carefree mood, so tousling is a must. Here, double Dutch braids run along the head forming a braided faux hawk hairdo. And the feature that makes them so authentic and spicy is a messy touch.
Source: shelleygregoryhair via Instagram
Messy Three Strand Braids Half-Up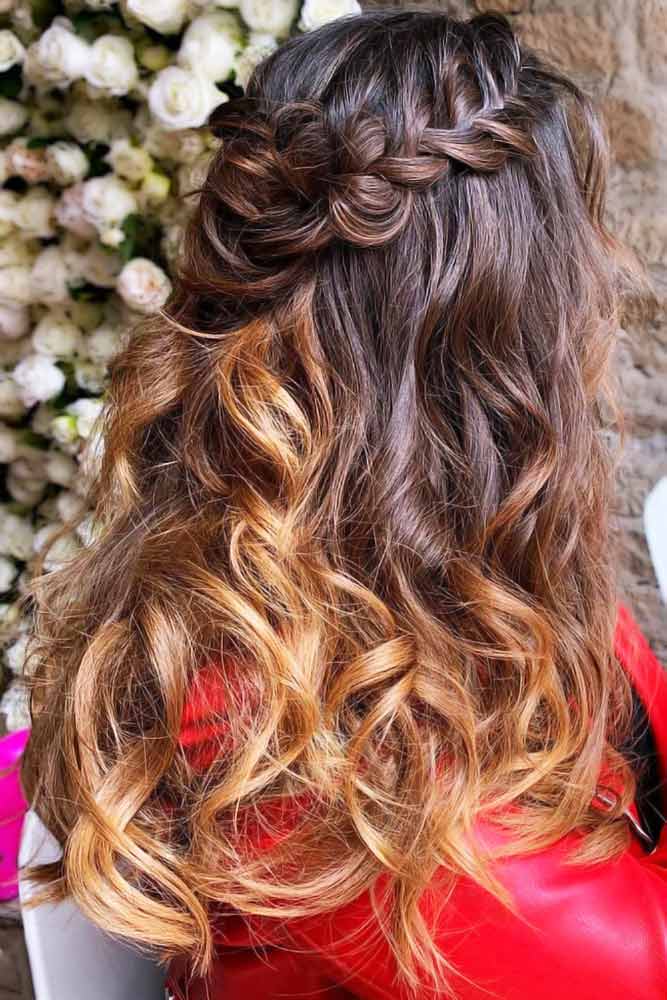 Now, you can see how messiness leads to perfection. These three-strand braids meet one another halfway to get twisted, leaving the waves falling on the shoulders to steal the show. Looks amazing, right? But there's still one step left. To finish the look harmonically, pull the edges of the braids a little and tousle up the waves. Voila! Perfection is reached.
Source: hair_by_zolotaya via Instagram
Simple Twist With Accessories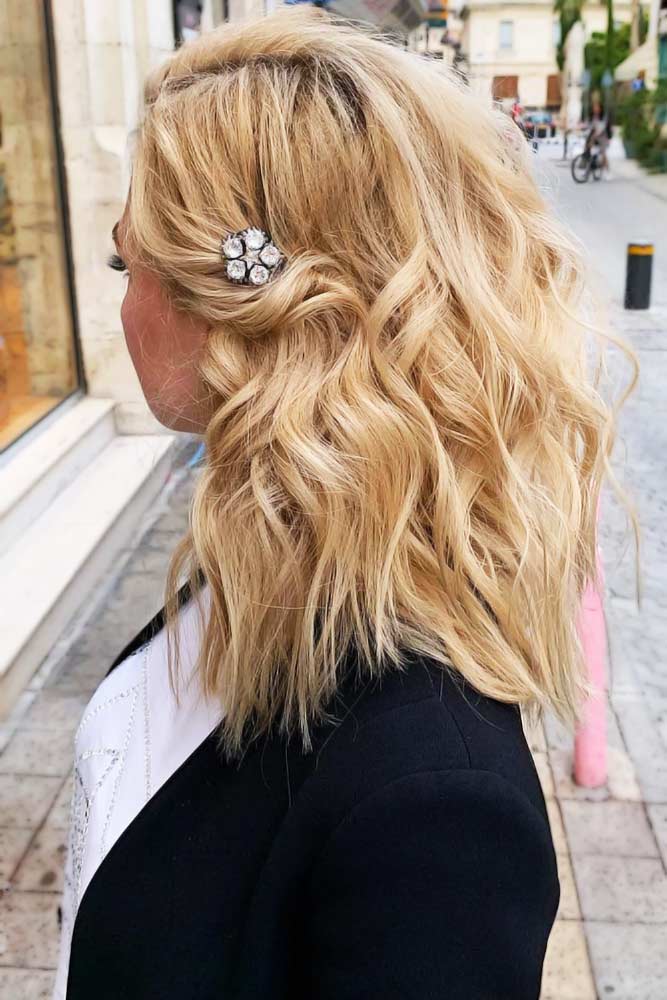 If you want to make your simple messy hair look more significant and comfortable at once, embellish it with a little accessory. Some minimalist touch won't hurt and, furthermore, will add a sophisticated, feminine twist to the look.
Source: hair_by_zolotaya via Instagram
ADVERTISEMENT ‧ CONTINUE READING BELOW
Braids
We can't have too many braids! So why don't we pull their edges to make them look bigger, sexier, and messier?
Side Dutch Braid For Short Hair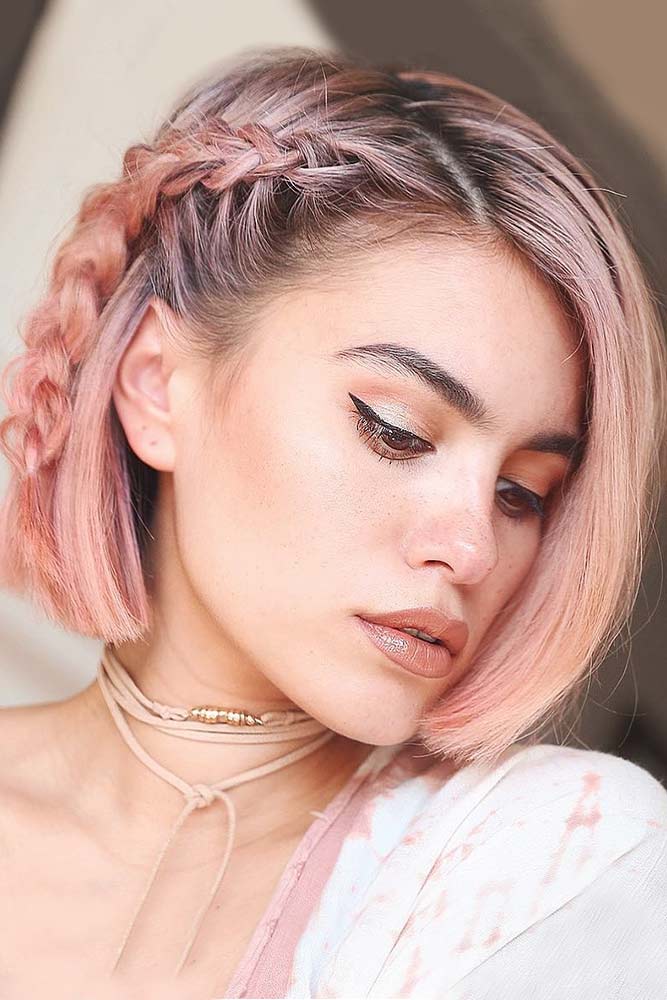 This half neat and half messy hairstyle is the real embodiment of women's nature. A side dutch braid with volumizing edges can be a nice messy element for your clean short bob. Combining different textures is an excellent way to show off your creativity!
Source: xandervintage via Instagram
Fantastic Crown Braid Updo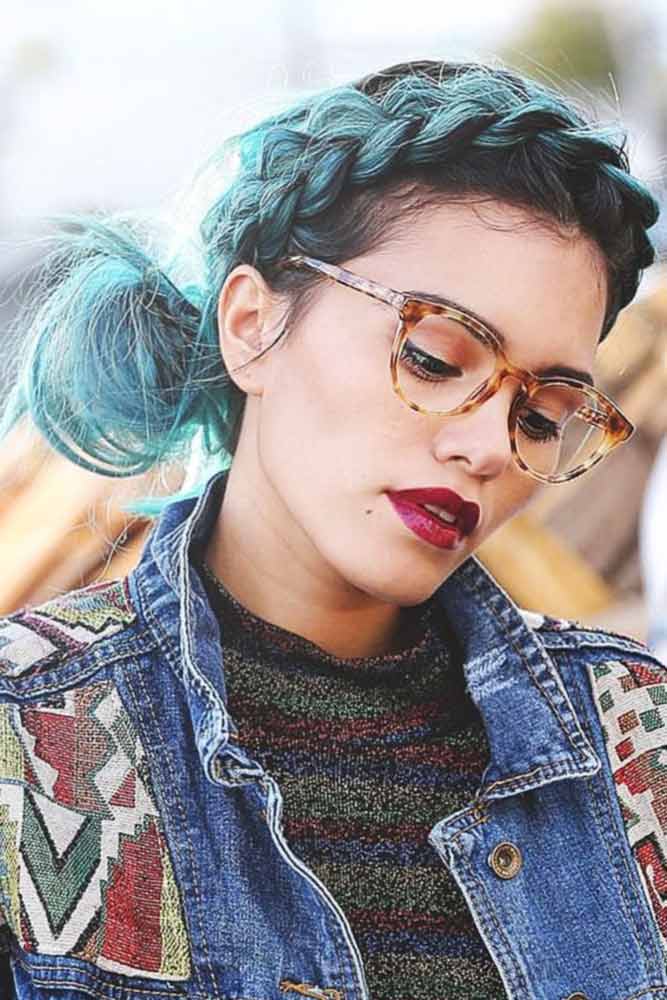 It's time to tell everyone who's the queen! And your short hair will be there for you to do that: create a crown braid all around the top and make a super messy and sticking bun out of the ends. Voila: your special messy hair style is ready to impress.
Source: xandervintage via Instagram
Messy Braids Into Top Knot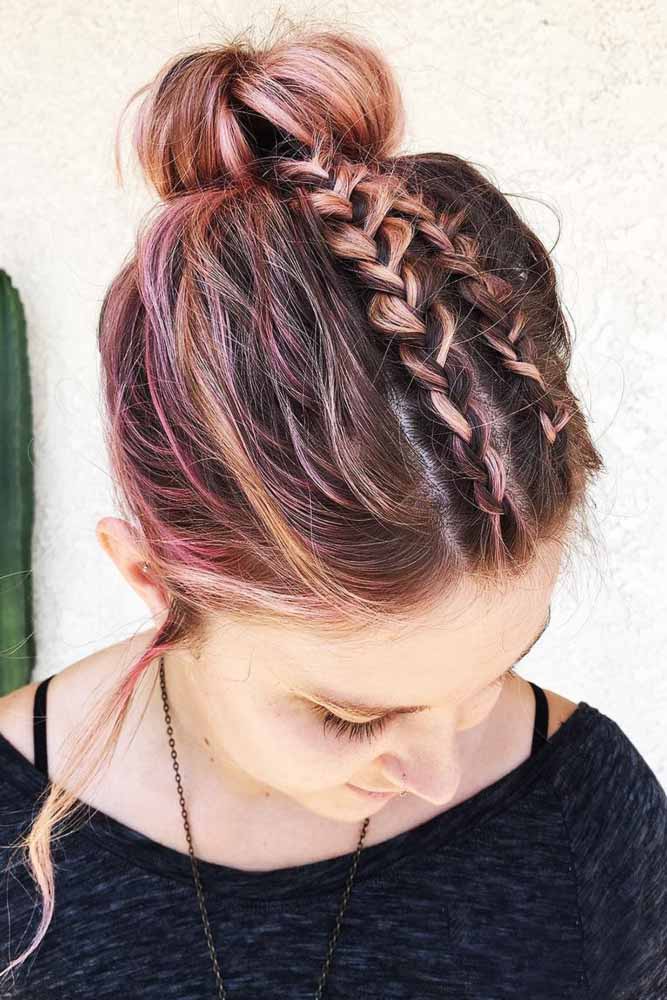 Besides the beauty of braided hairstyles, there's one more benefit: when you unbraid them, you get natural and wonderful waves. And if you combine them with a top knot, you may have one of the best curly hair styles ever. So messy braids that become a top knot is probably the cutest twofer!
Source: rootedhairstudiolq via Instagram
Flat Twists Into Feminine Bun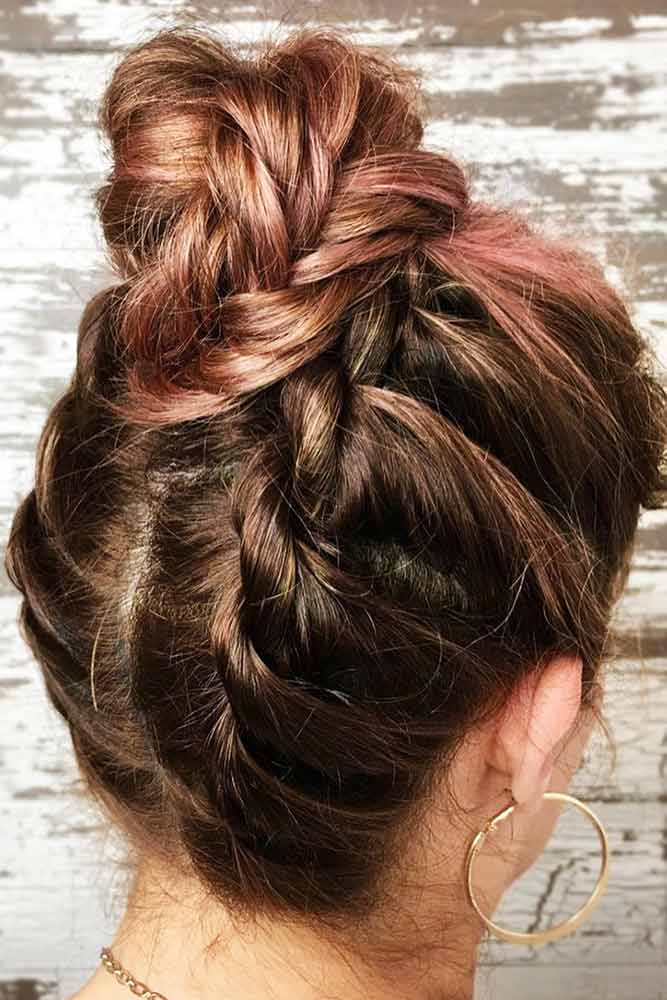 This braided updo shows how the happy medium between messiness and femininity looks like. The hair is embellished with lots of textured and tousled twists, yet it still has a gentle touch of girliness from the lovely bun.
Source: stephhstyles via Instagram
Big And Voluminous Dutch Braid
Braided long messy hair: isn't that enough to fall in love with a hairstyle? This huge and dramatic Dutch braid is here to prove that the beauty of long hair, as well as the power of braids, is simply infinite.
Source: hairby_chrissy via Instagram
Side Braid Into Messy Ponytail
A fascinating side lift created by fishtail braid is something that will leave you speechless. The variety of texture and volume make these two simple styles look as unique as never before. Yes, looking different is easy!
Source: hairby_chrissy via Instagram
Messy Side Topsy Tail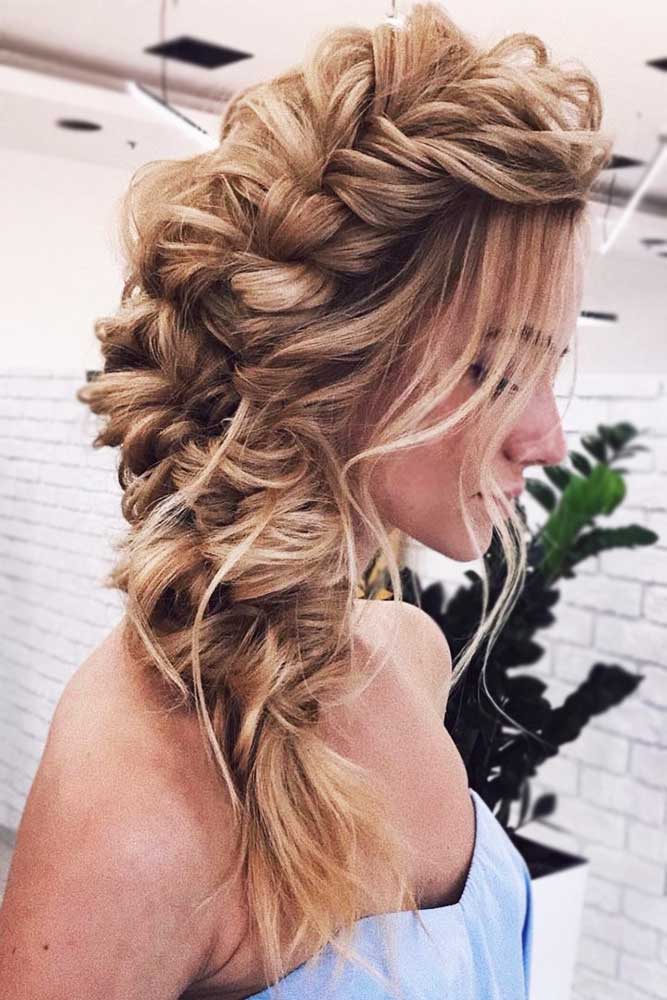 Do you like playing around with texture? If the answer is yes, this style will make you fall in love with it. The flirty top full of voluminous, tousled twists and loose waves are the textured, messy hair combo one could ever see!
Source: belaya_lyudmila via Instagram
Triple Braid Bun
Girls who want to create a hairstyle reminiscent of the stylish '90s should not dare to miss this idea. Nicely parted sections, three even braids, and a splash of messiness on the top make this style super eye-catching and desirable at the same time. If you are about to recreate it, remember: the more locks stick out, the better.
Source: brittsully via Instagram
Double Side Braids Into Low Bun
While most girls think that second-day hair is a disaster, wise ones benefit from it with a messy hairstyle. As you might have guessed already, this braided low bun is the style. With a couple of little loose braids, free locks falling on the face, and a messy bun on the back, you will turn your bad hair day into a hair day to remember.
Source: brittsully via Instagram
Half-Up & Dutch Braid
Now, let's talk about your creativity. How wild is it? Can it handle tons of volume on the crown and a crazy braid escaping through your hair? If your answer is yes, you can rock this simple, yet extremely gorgeous Dutch braid half up. And it goes without saying that if you wave your hair, you will enhance the charming messy effect.
Source: hairby_chrissy via Instagram
Beachy Braids With Shells
When you are about to go to a beach party, you can't really play around with outfits to stand out in the crowd. But, you can make your hair the highlight of the look. And beachy waves are always a good choice! Try making it different by braiding the top, and put some shells as accessories to show who's the queen.
Source: hairby_chrissy via Instagram
Faux Hawk Combo Braids
Are you ready to meet the feminine side of faux hawk hairstyles? Who would've thought that thick braids and floral accessories would be enough to make the sassy style go girly? Of course, the idea wouldn't be so volumetric and lively without a hint of messiness on the braids. Yes, messy hair is versatile; it can work ravishingly for big-day looks as well.
Source: dvir_tvik via Instagram
Since you've discovered our trendy messy hair ideas, it's time for you to create your own messy hair look. Play around with textures, take familiar hairstyles as a basis, and don't be shy to look messy. Because messy styles are the trends of now!
ADVERTISEMENT ‧ CONTINUE READING BELOW