Are you looking for medium length hairstyles that are flattering for your hair type? Your hair texture, whatever it is, can both be a blessing and a curse. One of the best ways to flaunt with your gorgeous locks lies in one of the many trendy shoulder-length hairstyles that are popular today. With some long layers or soft, angled edges around your face, you can have added volume, texture, and movement.
ADVERTISEMENT ‧ CONTINUE READING BELOW
Frisky Fringe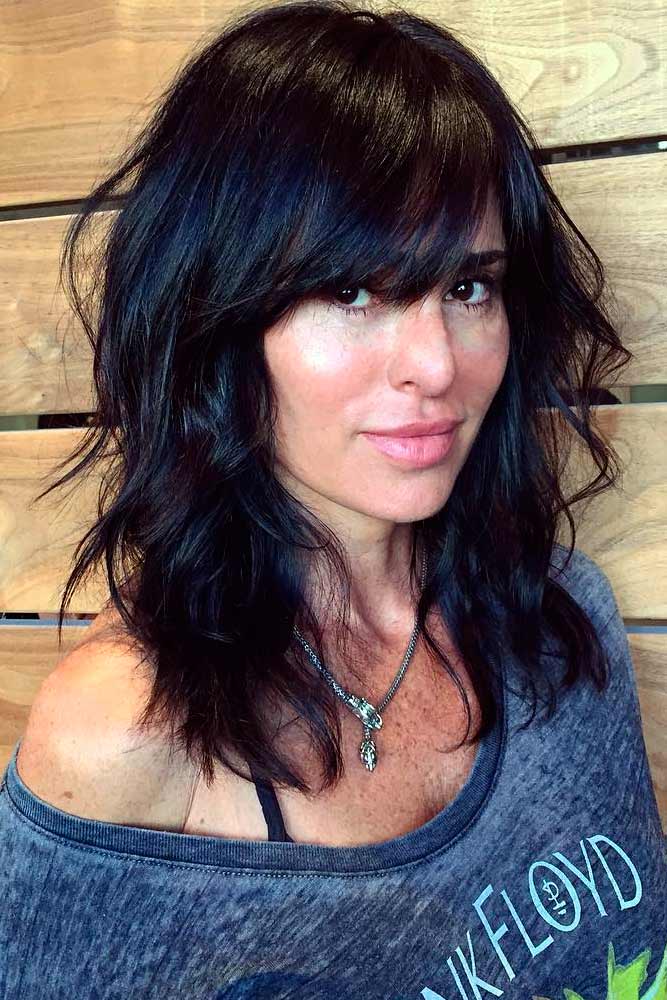 Credit photo: instagram.com/hair_byjoseph
With the hair cut just below the chin, the thick fringe and face-framing layers have a dramatic effect. This style works great with bold colorful streaks such as a combination of reds and oranges for a fiery, flirty look. To style, add a texturizing product to your hair and blow dry straight, brushing your bangs forward until they are smooth and flat. Next, flat iron your hair in small sections and add a shining serum for a sleek finish.
ADVERTISEMENT ‧ CONTINUE READING BELOW
Fancy Flipped Layers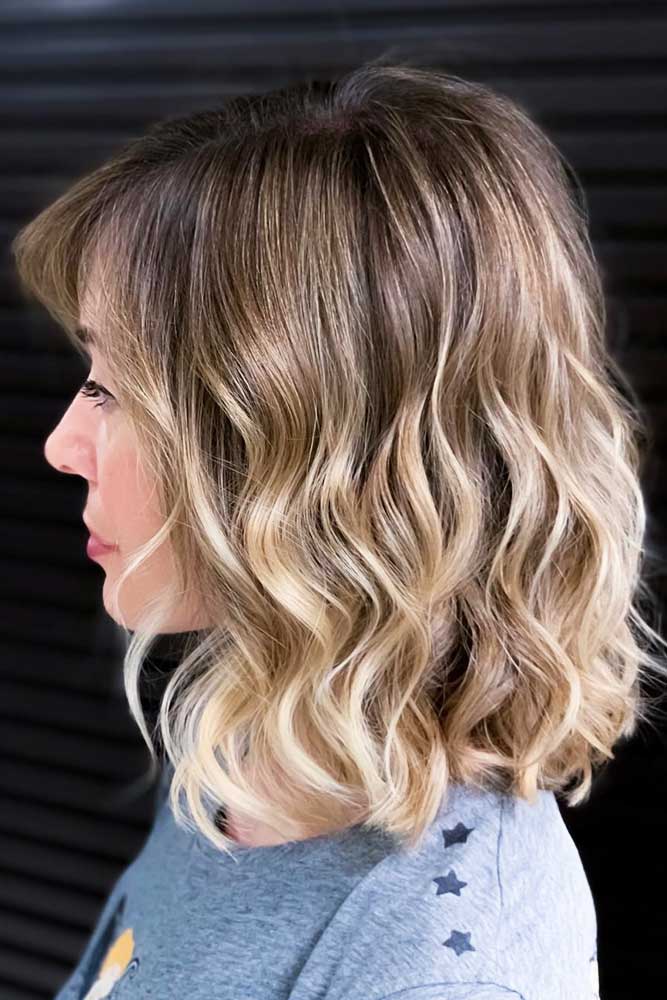 Credit photo: instagram.com/gulevich.vladimir
With feathers starting from the shortest layers just above the cheekbones and a sexy side part, this asymmetrical style is both fun and trendy. This look is best for those with oval-shaped faces and thicker, straight hair. To style, blow dry your hair smooth and then curl section by section with a medium-sized curling iron, but flip the ends straight out. If so desired, tease the crown to add more height. This style looks great with a deep two-toned balayage effect.
Delicate Curls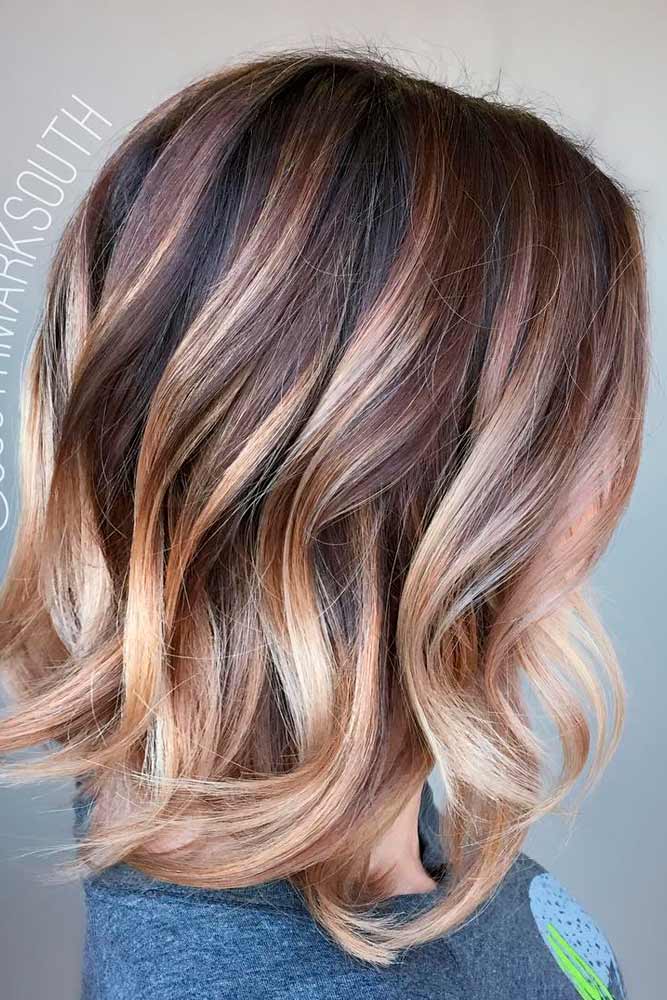 Credit photo: instagram.com/southmarksouth
These loose, delicate curls are very feminine for a soft, playful look. First, apply a high quality styling product to slightly damp hair and blow dry using a round brush. Next, add a thermal protectant and make big, bouncy, loose curls using a medium-barreled curling iron. Run your fingers gently through your hair to loosen it and then spray with a flexible hold hair spray.
ADVERTISEMENT ‧ CONTINUE READING BELOW
Boho Chic Chick
Credit photo: instagram.com/riawnacapri
These funky waves are bold and daring and the thick, multi-level bangs rock this retro-chic look with a fun Bohemian flair. Pull your hair from the far back and add a deep side part to create full, sexy bangs. Then make large and loose, bouncy, defined curls. Add a trippy hairband or another funky hair accessory to play up this carefree style.
Textured Layers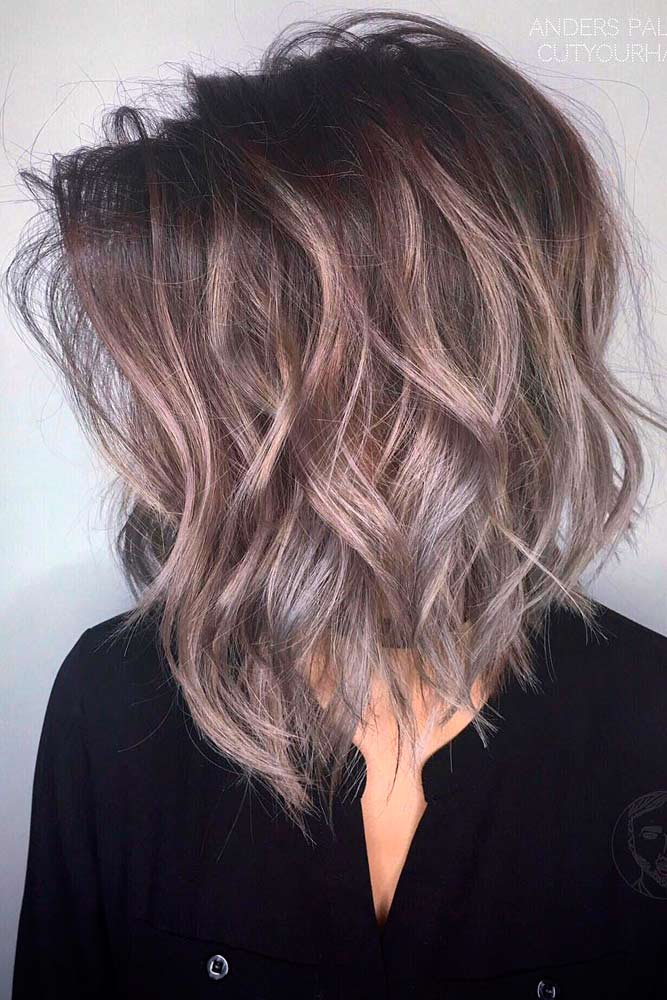 Credit photo: instagram.com/cutyourhair
These disconnected layers add a great deal of texture to your medium-length hair. With shorter layers and the crown and fun and funky flips through, you will look years younger with this stunning style. Blow dry your hair until totally dry using your fingers.
Next, flick out the ends using a flat iron. Then take random sections and bevel the ends out quickly. Gently run your fingers through to break up the flips and add a texturizing product. This is another look that works great with multi-faceted balayage or funky streaks throughout.
ADVERTISEMENT ‧ CONTINUE READING BELOW
Carefree Curls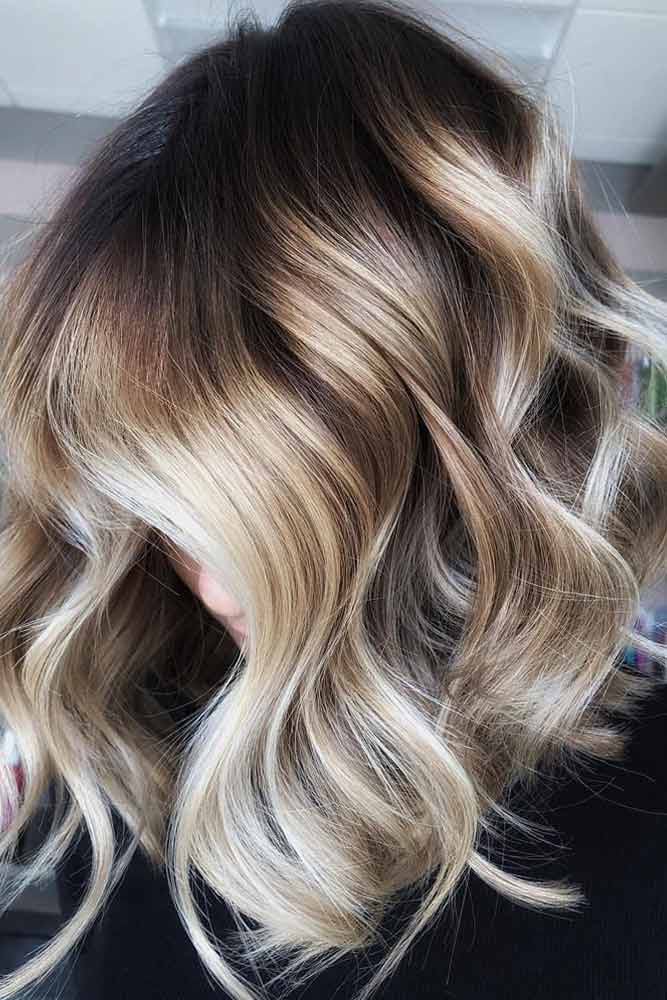 Credit photo: instagram.com/Cnyfacecandy
This light and airy look is fun and whimsical and works best on those with naturally curly or wavy hair. Wash and condition with products designed for your natural curls and then towel dry to remove moisture. Add your favorite curling mousse, gel, or other curling product and use a wide-tooth comb to remove tangles.
Next, scrunch your hair starting at the ends and working your way up for maximum curls. Using a diffuser, cradle your curls using low to medium heat while upside down for added volume. When dry, shake it loose and add a light holding spray.
Sexy And Shaggy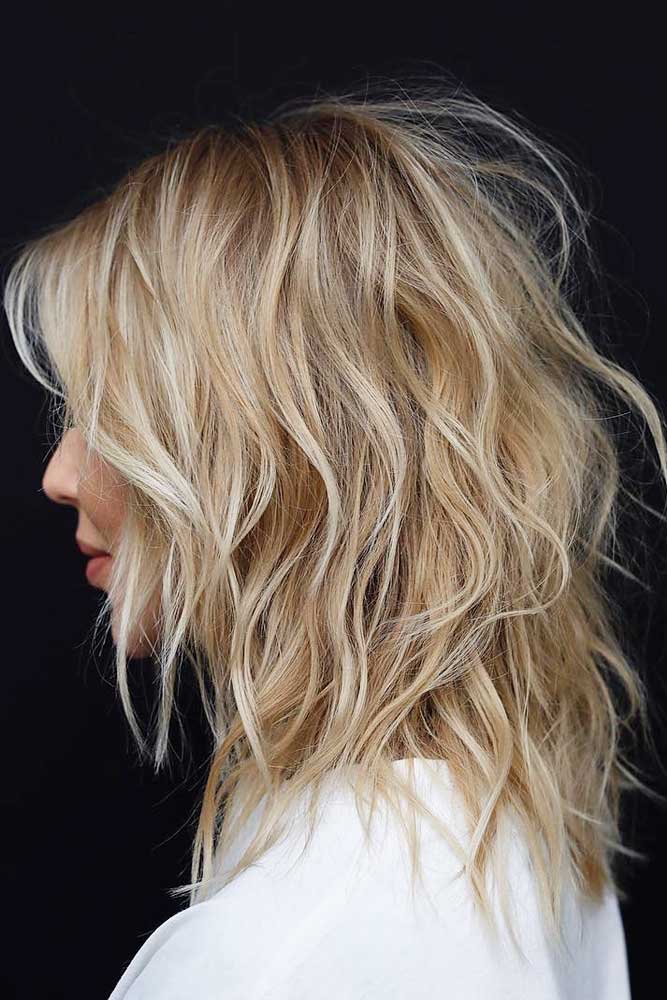 Credit photo: instagram.com/anhcotran
This cut is great for those who love the ever-trendy "rocker-chick" look. Full, thick bangs and point-cut ends give it a jagged edge. Apply a light styling foam or mousse before drying to add texture. Blow dry using a paddle brush or your fingers till your hair is completely dry and smooth. Add a texturizing product for more volume. Do not flat iron your hair as you want this look to appear edgy and gritty as opposed to sleek.
Simply Sophisticated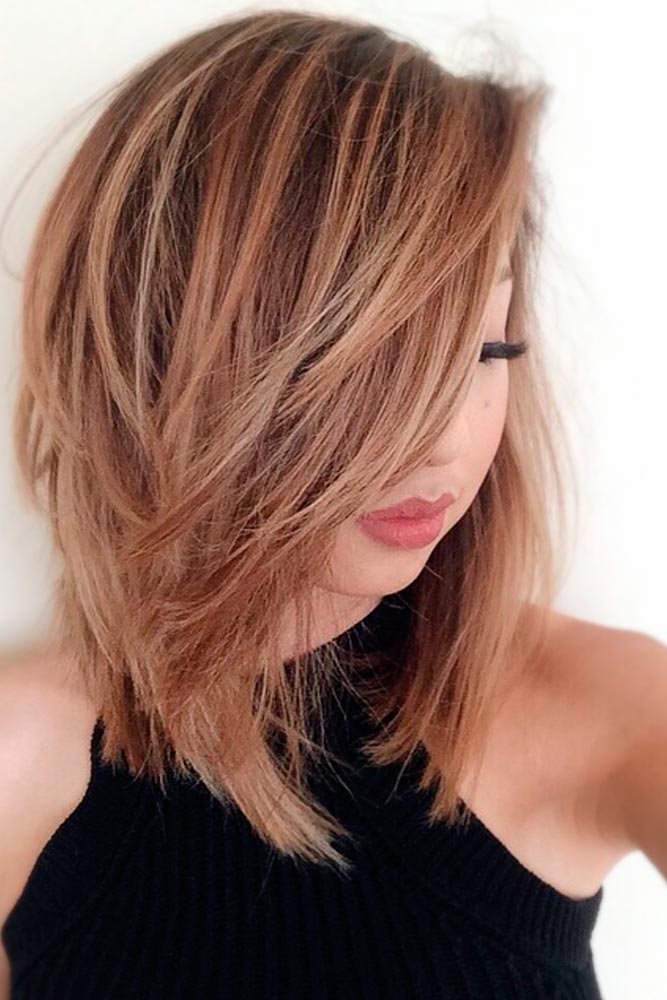 Credit photo: instagram.com/hilisaa
Subtle layers can help accentuate the shape of your head as well as your features. These slight layers give a sleek, tapered look that works best for square-shaped faces. Add a straightening product and blow dry your hair smooth. Next, add a thermal protectant and flat iron your hair in thin sections starting at the nape of your neck. Highlights or lowlights give this stunning look added depth and dimension.
ADVERTISEMENT ‧ CONTINUE READING BELOW
Haircut With Medium Length Layers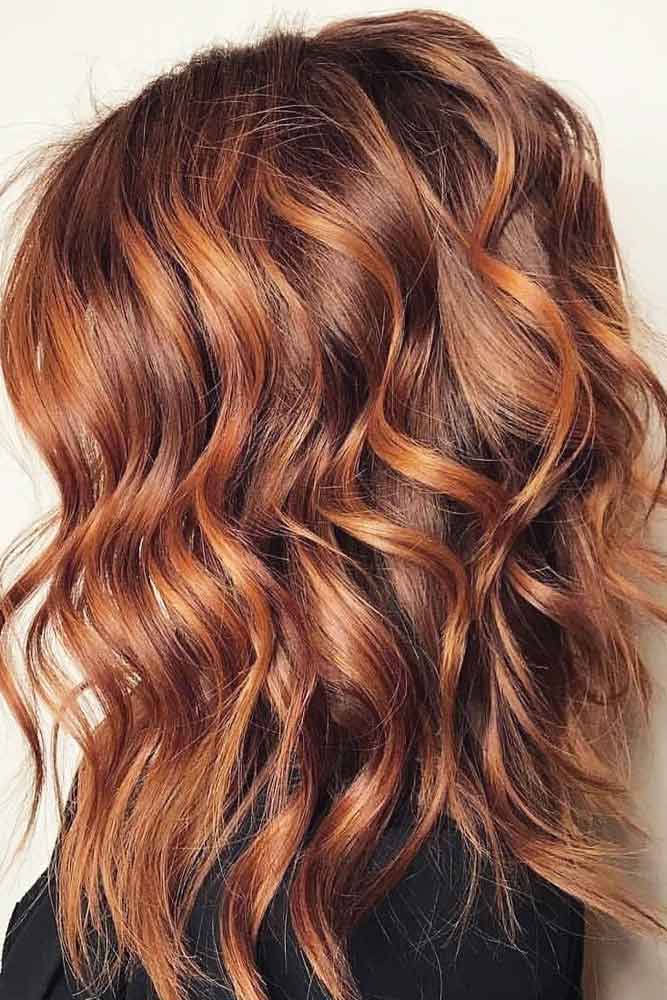 Credit photo: instagram.com/lunahairmoncolo
This hairstyle allows for a fuller top section because of its medium-length layers that surround the crown. Usually women spend much time on teasing in order to achieve this look. And you will have it naturally, due to your hair thickness and this cut. Subtle highlights will accent those layers and make them appear more texturized.
Shaggy Medium-Length Bob
Credit photo: instagram.com/anhcotran
Style the ends of those layered locks so that they could stick to various directions, and the thick tresses will seem lighter. That will make you feel as if your hair is so airy. Ladies who have thicker hair have sported shaggy hair cuts for several years already and gladly keep doing so. Such hair cuts are associated with casualness.
Medium Haircut With A Fringe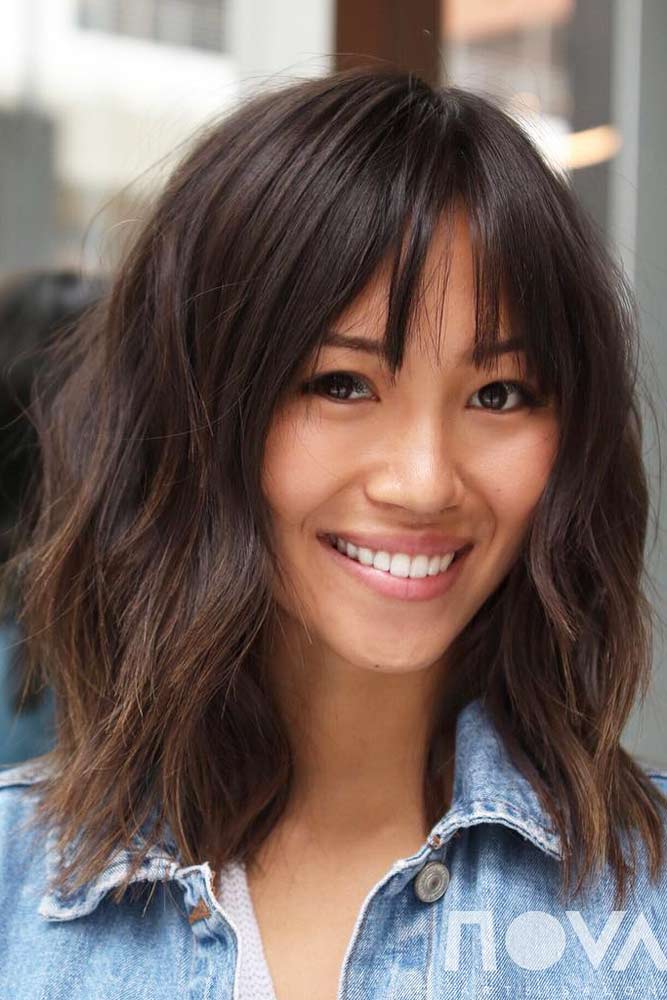 Credit photo: instagram.com/salsalhair
This haircut might seem too simple the first time you see it. However, it has one essential hidden quality – your hair stylist can tailor it specially for you. The moment you realize it, believe us, you will never give it up for the trendiest haircut. This haircut often comes with a fringe. Look for the one that blends seamlessly into those loose layers.
ADVERTISEMENT ‧ CONTINUE READING BELOW
Layered Haircut With Warm Balayage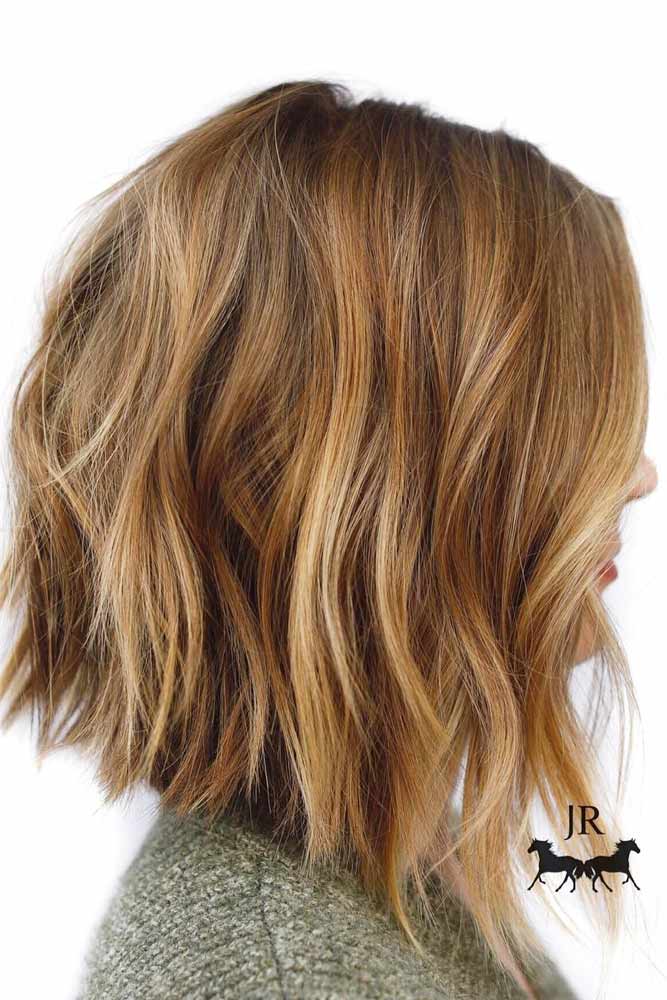 Credit photo: instagram.com/johnnyramirez
This is something you do not want to try to achieve at home. Of course, you start to wonder why now. The answer is simple – to get this stunning hair, you have to build the whole strategy on how to combine these shades of blonde with your caramel-brown hair. It may take a while to get there – but the result will leave you speechless!
Classy Medium Blonde Bob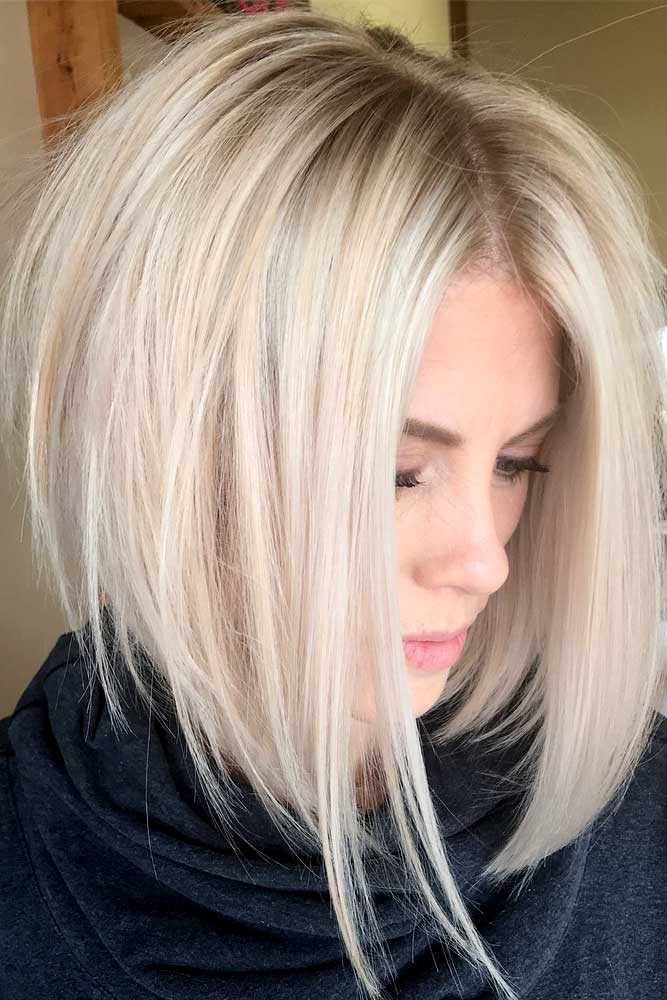 Credit photo: instagram.com/thomastimes
There is nothing wrong about staying classy, but you can always add something to make even a classy haircut look all modern and new. This is what you need to do – combine your classy medium bob with platinum blonde and blend in a few slight waves. If you follow these simple instructions, you will get an elegant, feminine, and modern look!
A-Line Bob Haircut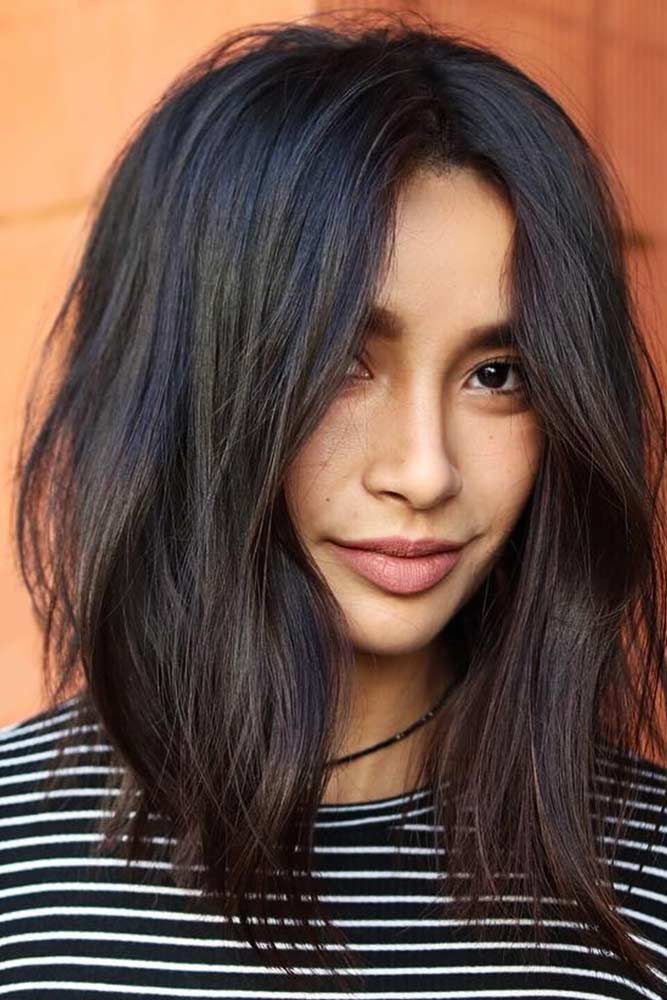 Credit photo: instagram.com/salsalhair
Brunettes indeed can have more fun! This hairstyle with matching, effortless black shades will tell everyone that you know how to take your haircut to a brand new level! With an A-line blunt bob, there is nothing that can go wrong! What is more, none of your photos will go unnoticed as you will look amazing on each and every one of them! Go creative!
ADVERTISEMENT ‧ CONTINUE READING BELOW
Long Bob With Highlights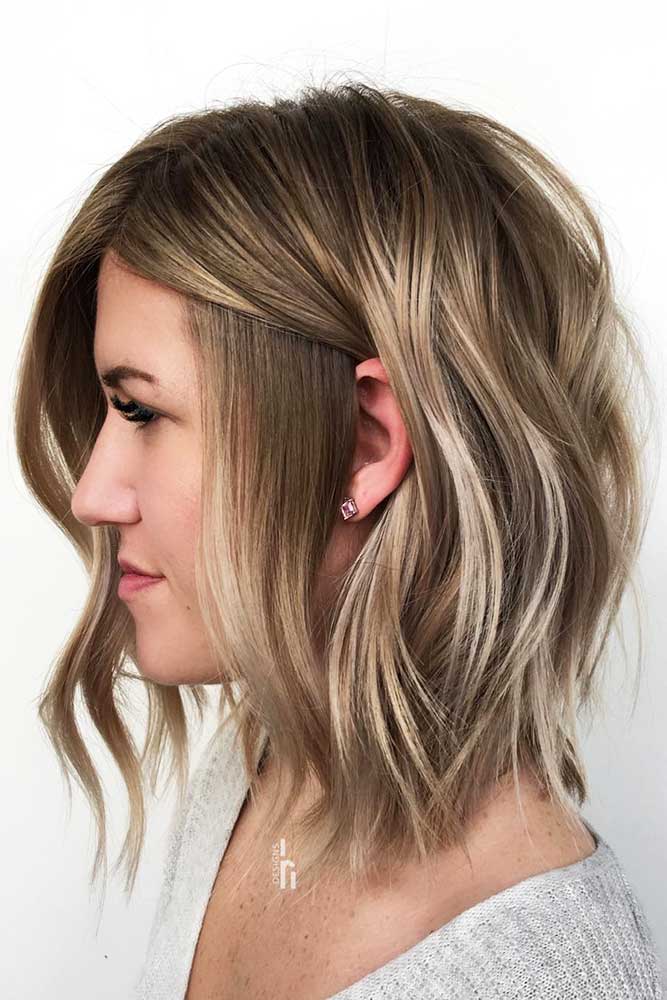 Credit photo: instagram.com/headrushdesigns
A bob is a classic cut, especially for medium hair. Color your look with your favorite shades to put your signature to it. Decide on which color technique will intensify the beauty of the chosen hues and finish the all-flattering long bob with a perfectly matching color play. And don't ever stay away from highlights! They're not only beautiful but also practical, as they have nothing to do with damage and brassiness.
Straight Thick Hair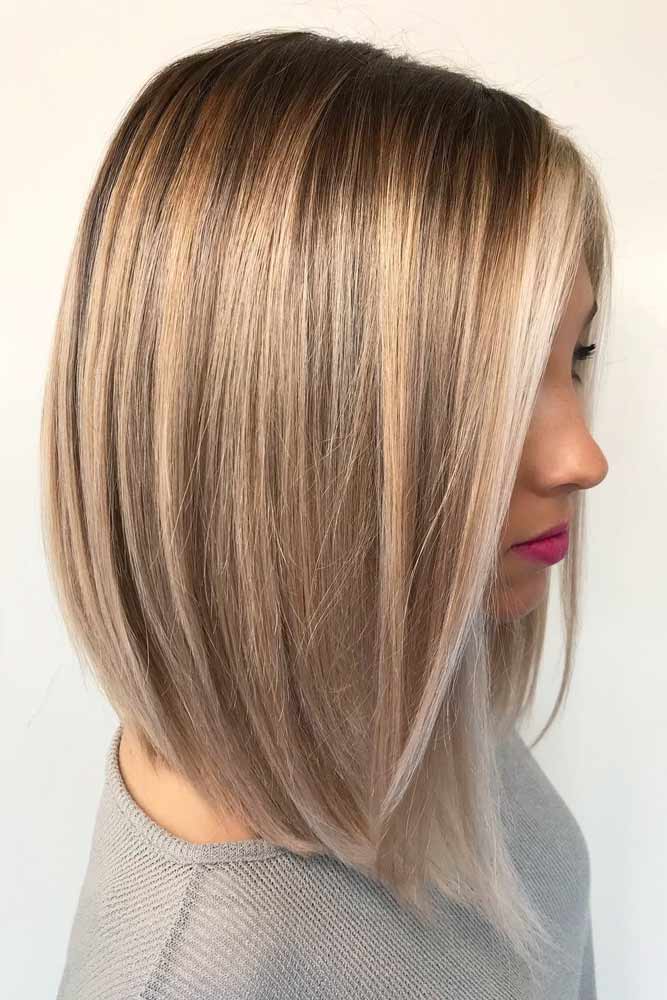 Credit photo: instagram.com/styled_by_carolynn
Thick hair will look awesome if you smooth out your hair. To do so, you can't do without a cutting technique that will make your hair more manageable and flexible for styling. Ask your stylist to sharpen the edges of your hair by taking off the extra weight from them. Once your precise haircut is done, let your blowdryer and round brush come in. To make the hair super sleek, lock the style with a cool shot button.
Angled Layers For Medium Hair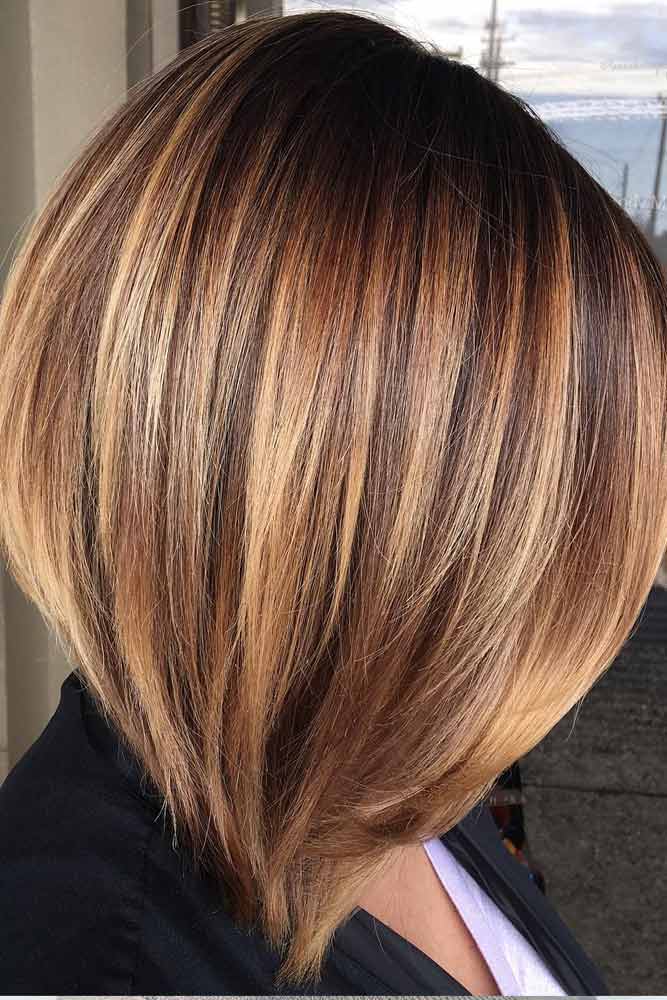 Credit photo: instagram.com/texasbalayage
Layers are a playful embellishment for every stylish girl that can fit in any image and work for every hair type. There are two common ways to get the most of your thick hair with the help of layers. The first way focuses on the fullness of your hair, slightly lightening some strands to whip them into a decent shape. And the second is meant to make the texture appear softer, making every single lock airy. This idea is a perfect implementation of the first idea: it creates an angled shape that emphasizes the richness of the thick texture.
ADVERTISEMENT ‧ CONTINUE READING BELOW
Layers Adding Shape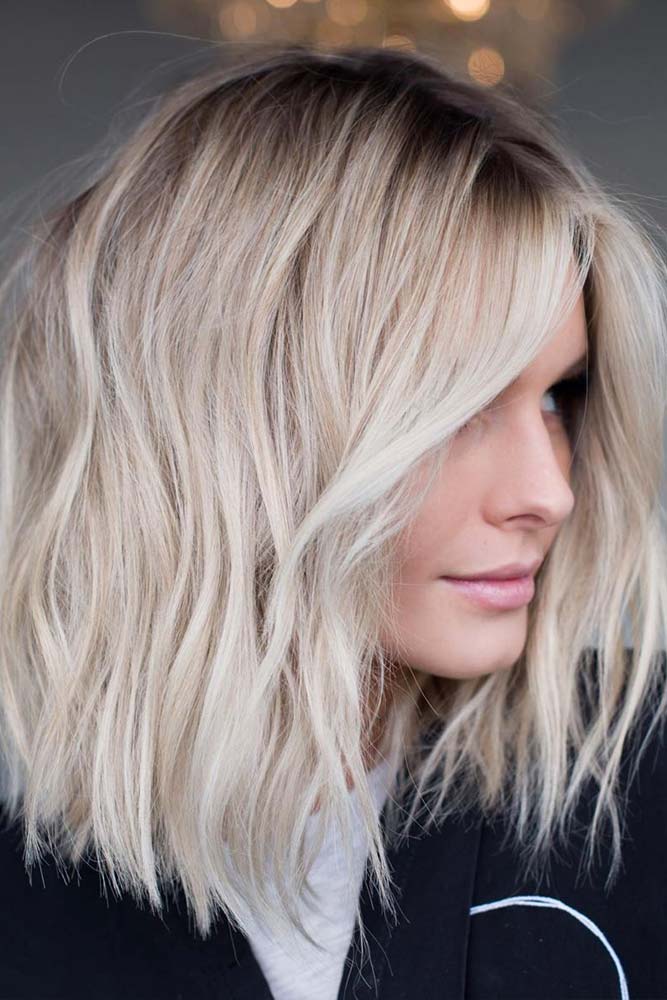 Credit photo: instagram.com/beckym_hair
Shape your hair and look eye-catching all day long. The truth is, all hairstylists love thick hair for they are the perfect base for styling experiments. You can get rid of some weight from your locks, turning them absolutely soft and gentle without fear of the thin hair look. Your hair type looks amazing with any type of layers, always preserving its natural fullness. Here, lightweight texturizing amps up the body, giving it a more alive look.
Wavy Medium Hairstyle With Middle Part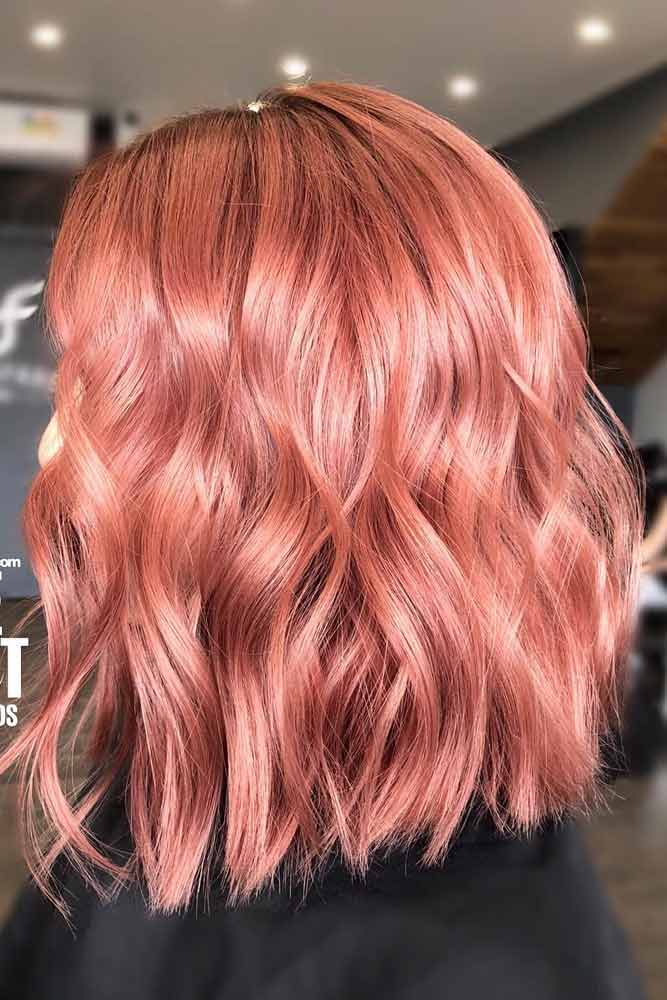 Credit photo: instagram.com/chris.styles.mai.hair
Waves and highlights form the beautiful duo we won't ever be able to resist. It doesn't matter what your natural hair color is, emphasizing its charm by highlighting some of the strands with contrastive colors will always be a good idea to get a fresh take on your hair. And waves are probably the best way to show off the dimension of colors: they enhance everything around them, especially when they're styled with a center part.
Wavy Lob Haircut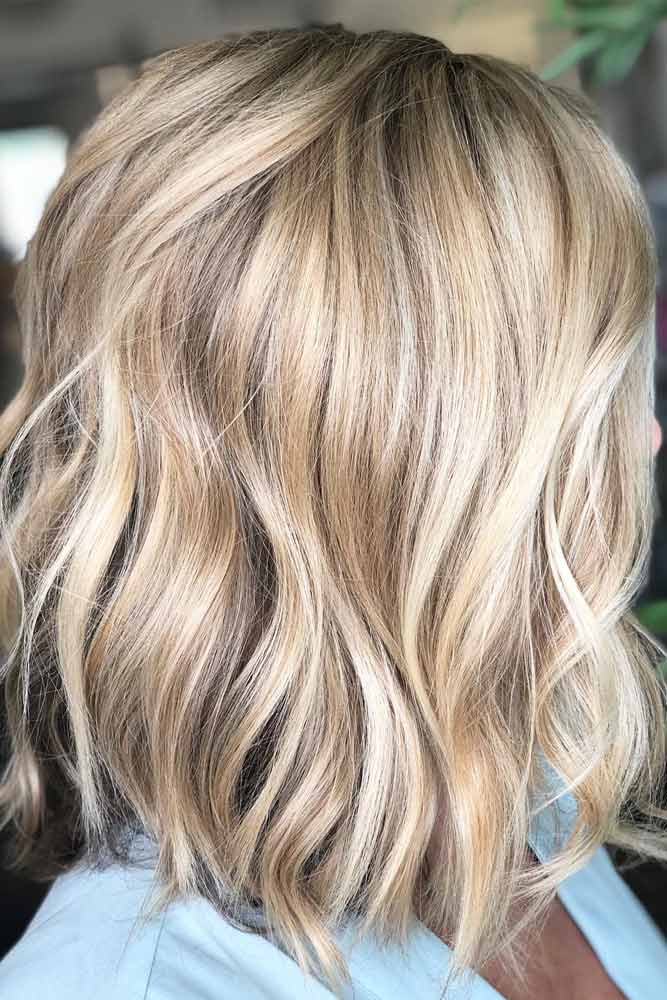 Credit photo: instagram.com/kateoasisdayspa
Lob haircut is pretty practical and versatile. Actually, we can't even imagine a girl that can't sport it: this simple cut has some approaches for every hair type, so thick hair is not an obstacle to giving it a try. Once you get yourself a lob, you'll see that taming your unruly locks is not only possible but also easy. Wave it to add more fullness and texture, and be ready to fall in love with your thick locks.
ADVERTISEMENT ‧ CONTINUE READING BELOW
A-line Wavy Medium Length Hairstyle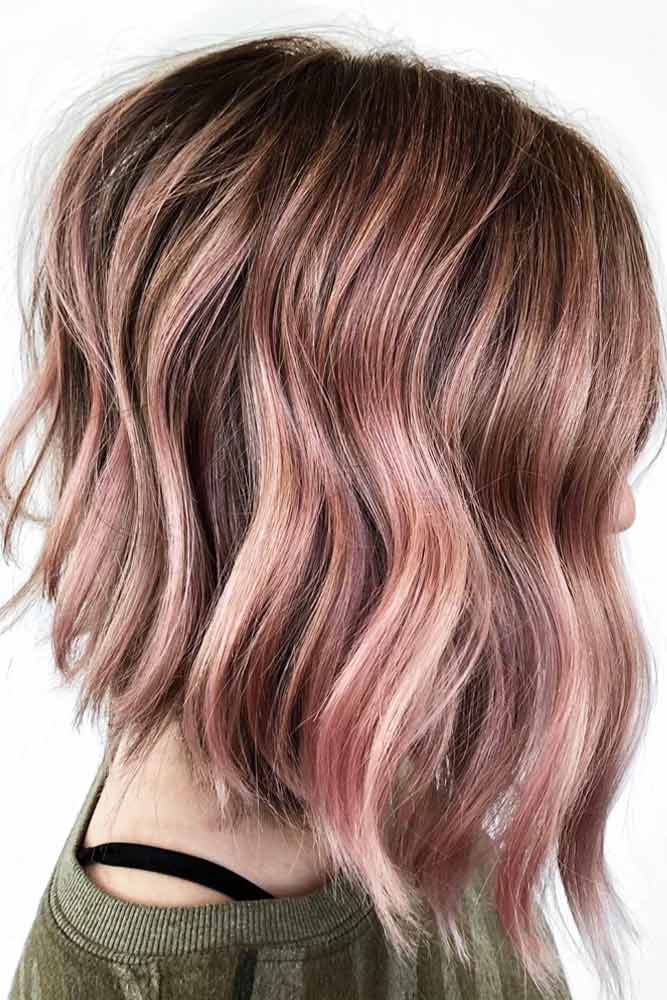 Credit photo: instagram.com/headrushdesigns
The enviable silhouette of A-line cuts is the reason to be proud of your hair. No wonder that so many girls cut their hair medium: such cuts look ravishing on this length. One of the best things is that it's so easy to style, as the length is pretty manageable. So getting voluminous and textured waves won't be a problem! Just look what a full silhouette the asymmetric A-shape haircut gets when it's waved. Just try it out.
Messy Wavy Medium Hairstyle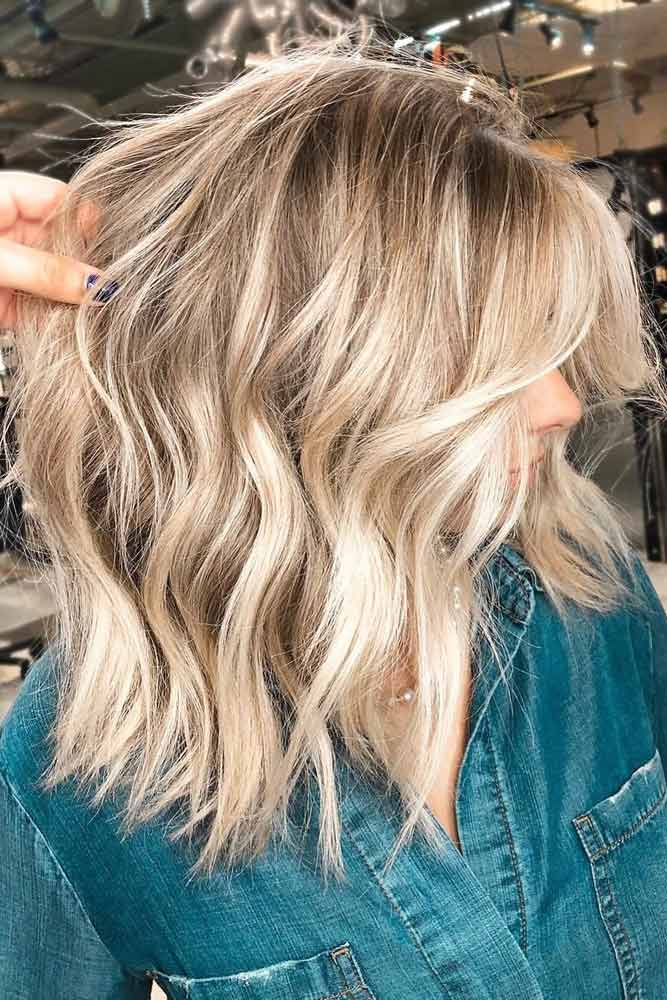 Credit photo: instagram.com/hairbykaitlynbrown
Though messy looks work awesome for thin hair, giving them a lot of body, fullness, and movement, there's a messy approach for thick hair too. The point is to wave your medium length hair as messily and randomly as possible so that each lock is styled in a different direction. In this way, you will calm down your thick locks, creating a stylish silhouette to them.
Middle Part Straight Haircut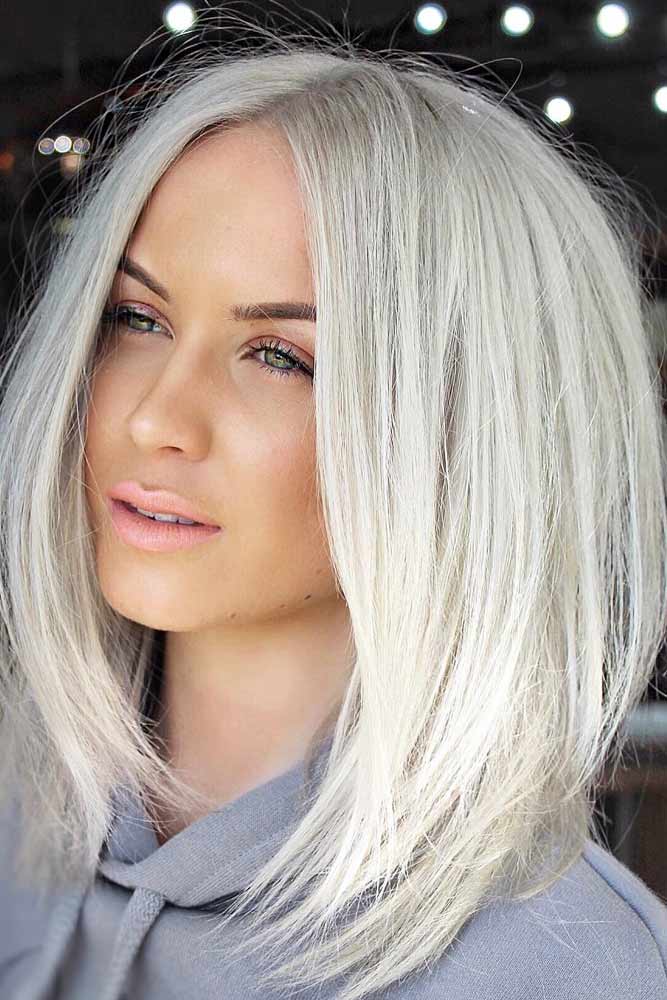 Credit photo: instagram.com/lo_wheelerdavis
Sporting straight hair can be a disaster sometimes: we all know that it looks very sexy and attractive, but once it encounters a wind blowing, everything goes so wrong. Here's a little tip to make your straight hair stay beautiful in any weather: style your hair with a deep middle part and secure it with some coats of hairspray.
ADVERTISEMENT ‧ CONTINUE READING BELOW
Asymmetrical Medium Haircut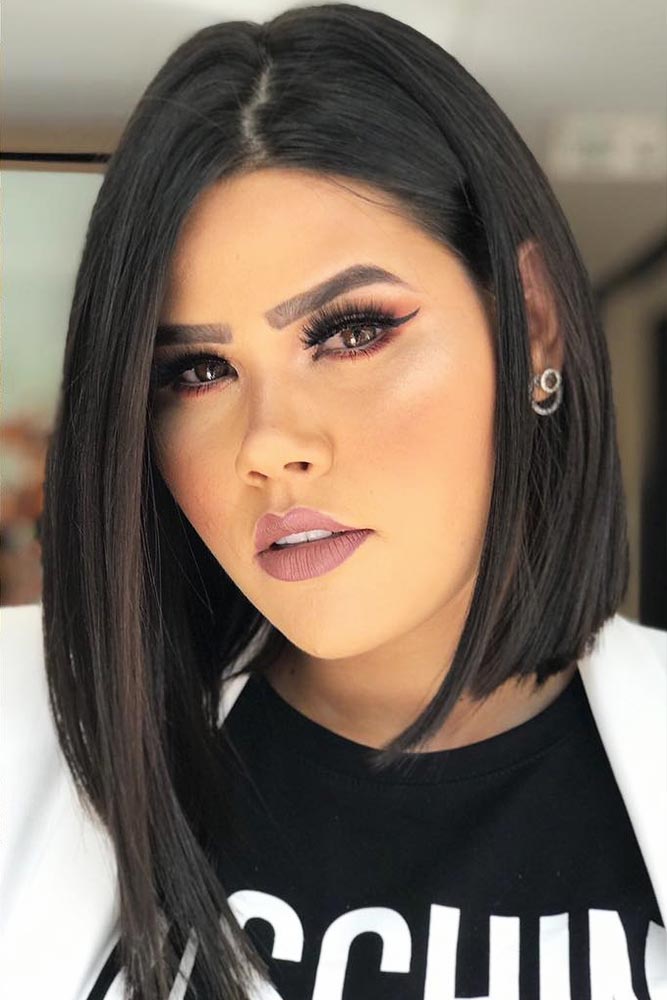 Credit photo: instagram.com/ro.hsiqueira
A touch of asymmetry in your style can give a brand new silhouette to your look. Every girl gets tired of looking ordinary from time to time, so asymmetrical haircuts are here to freshen up your style. Such cuts usually involve ends texturizing, so the texture of your thick hair will be more airy, which will make it more comfortable to style it.
Medium Hairstyle With Side Part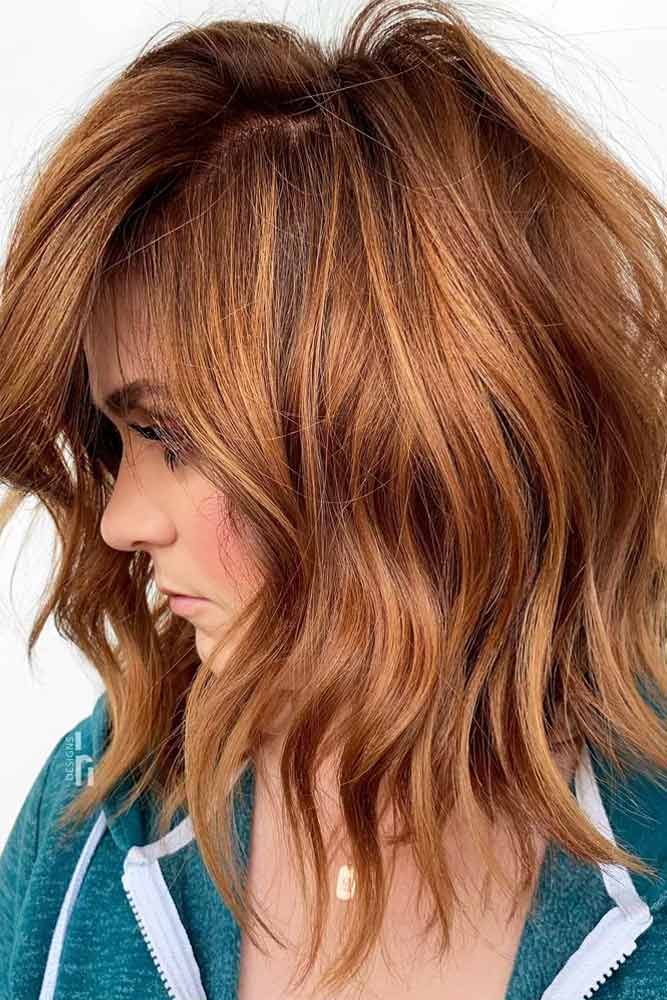 Credit photo: instagram.com/headrushdesigns
Sometimes when thick hair is styled evenly with a center part, the look gets flat and straight. If this occurs to you, don't worry: once you change the parting, you will create a spectacular lift on the top. This pic is living proof! Your thick hair will look different if you go for a side-parted silhouette, that's for sure.
Straight Lob With Feathered Ends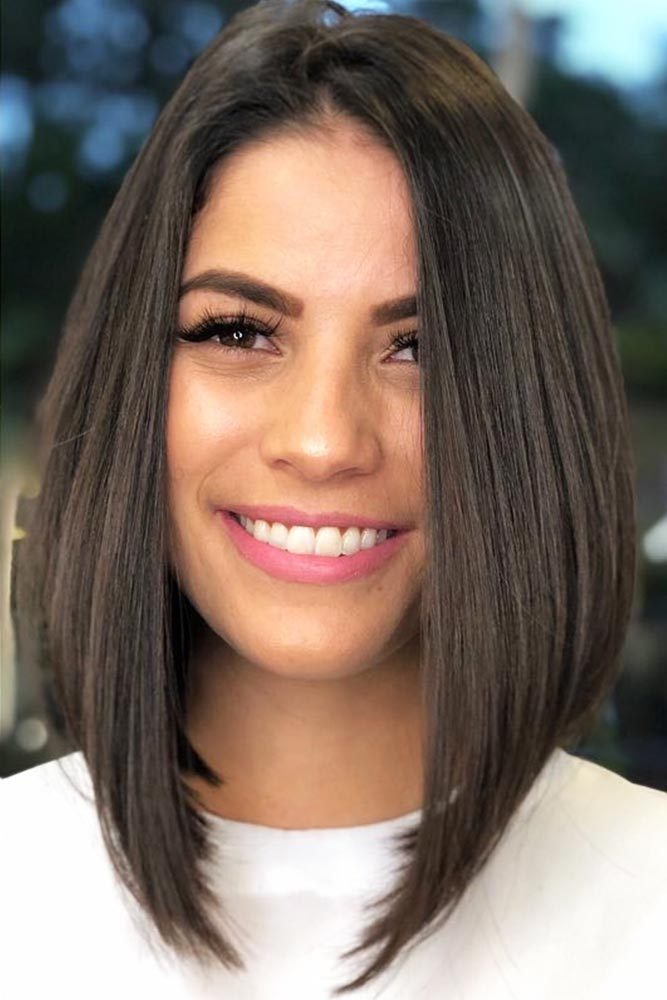 Credit photo: instagram.com/ro.hsiqueira
Feathered ends are the salvation that turns thick unruly locks into well-groomed and manageable masterpieces. This cutting technique is designed to take off some weight from heavy tresses and make them lighter. In this way, you can achieve a chic and pointed lob that will be stealing the show 24/7.
ADVERTISEMENT ‧ CONTINUE READING BELOW
Soft Angled Long Bob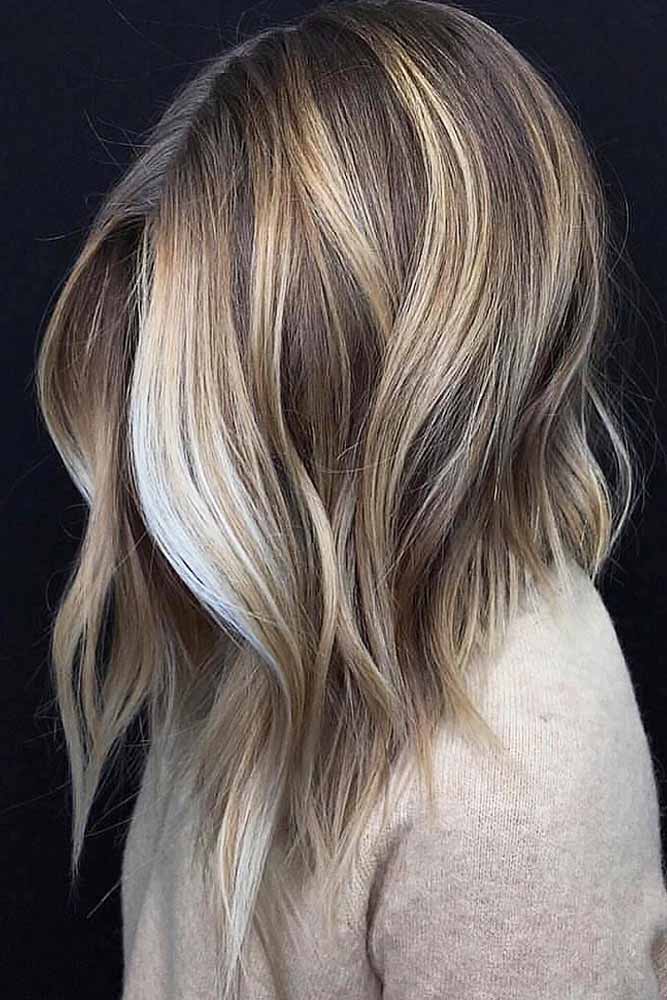 Credit photo: instagram.com/justhairobsession
Getting a decent, elegant shape for your hair is the crucial step towards style sophistication. To achieve such a sexy and presentable look, you will need to ask your stylist for slight layers that will tame the lower portion of hair. And once unmanageable, messy locks will become an embodiment of immaculacy!
Shoulder Length Lob With Layered Front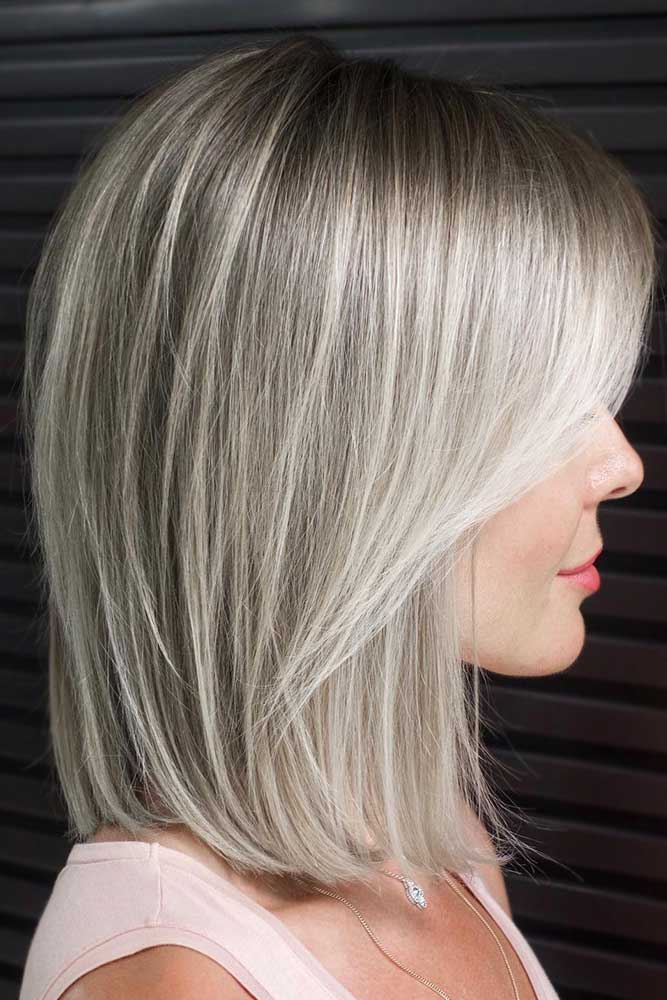 Credit photo: instagram.com/gulevich.vladimir
The layered front is a modern idea designed for ladies who want to rock dimensional looks. Such haircuts work awesomely for ombre or balayage hair as they can enhance the play of colors, accentuating the movement of each one. Plus, they're unbelievably easy to style, which is a win-win for busy girls.
Lob With Swoopy Face Framing Layers
Credit photo: instagram.com/gulevich.vladimir
Layers have many faces and advantages. And their face-framing power is probably the most desirable one! Women who want so soften up their prominent angles can get their hair fully layered: the smaller pieces of hair will fall on your face, working on the balance. As for ladies who want to add some edge, choppy layers will give the sense of sharpness to their appearance.
ADVERTISEMENT ‧ CONTINUE READING BELOW
Elongated Layered Cut With Volume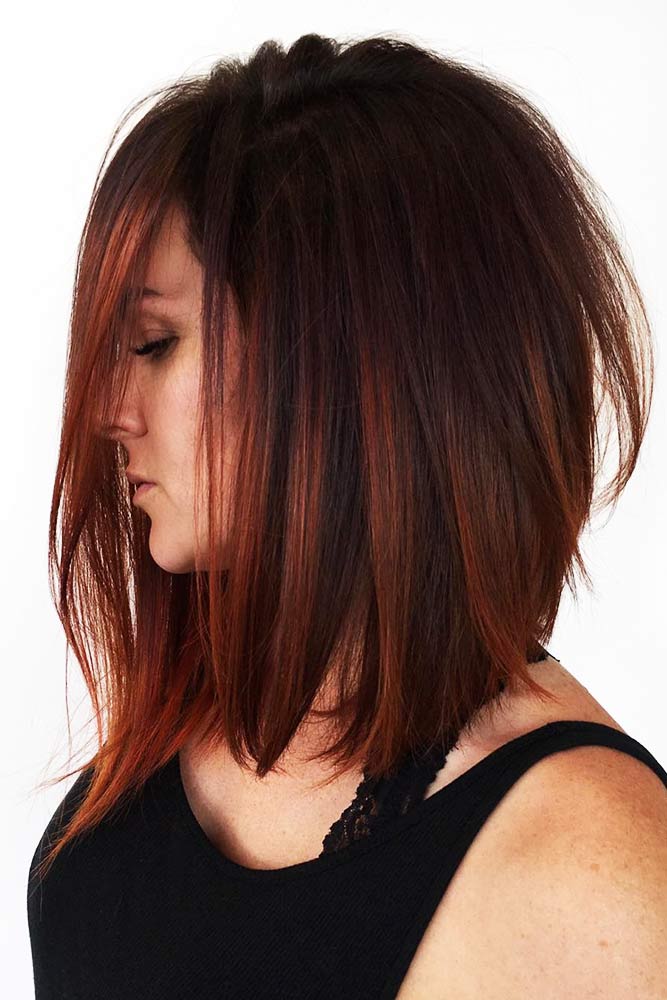 Credit photo: instagram.com/headrushdesigns
It's no secret that when our hair starts to grow out, it loses the volume. But, actually, it's not going to happen to you if you know how to ask for layers. Here you can see an elongated cut that strikes with tons of volume. How? Just go for layers that move from the back of the head to the crown.
Inverted Messy Lob With Side Bangs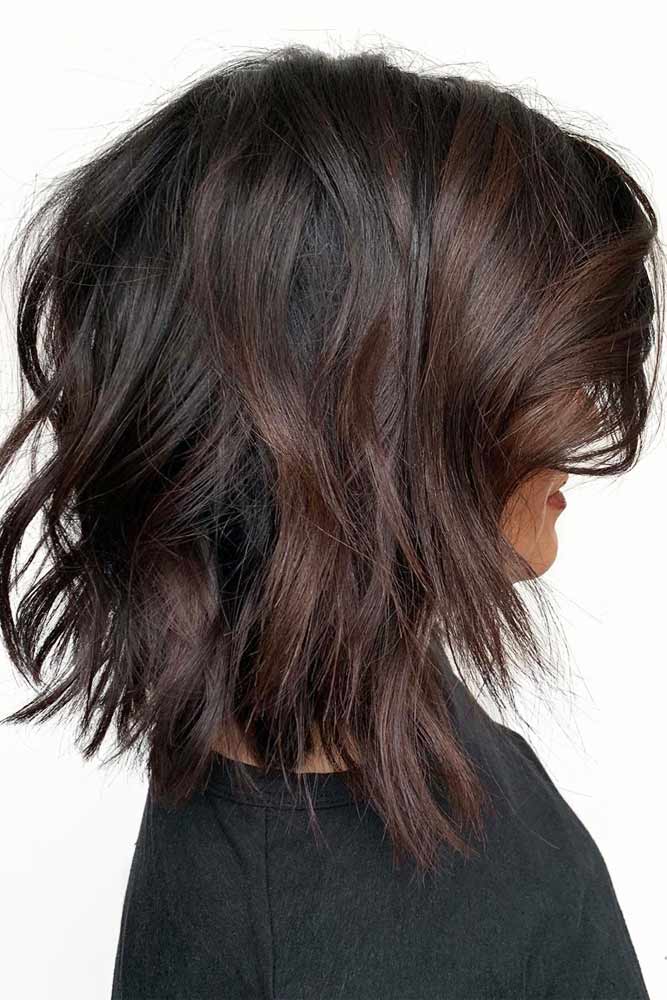 Credit photo: instagram.com/styled_by_carolynn
With the right approach, a woman who struggles with her thick, unmanageable locks can actually benefit from their texture. Since the natural structure of thick hair is quite edgy, you can make it work for you with the help of a layered haircut and a messy hairstyle. By the way, an inverted lob will add much more interest to your look, especially if you pair it with seamless side bangs. Just spritz your layers with lightweight salt spray, tousle it up, and see your look amp up in seconds.
Blonde Waves With Dark Roots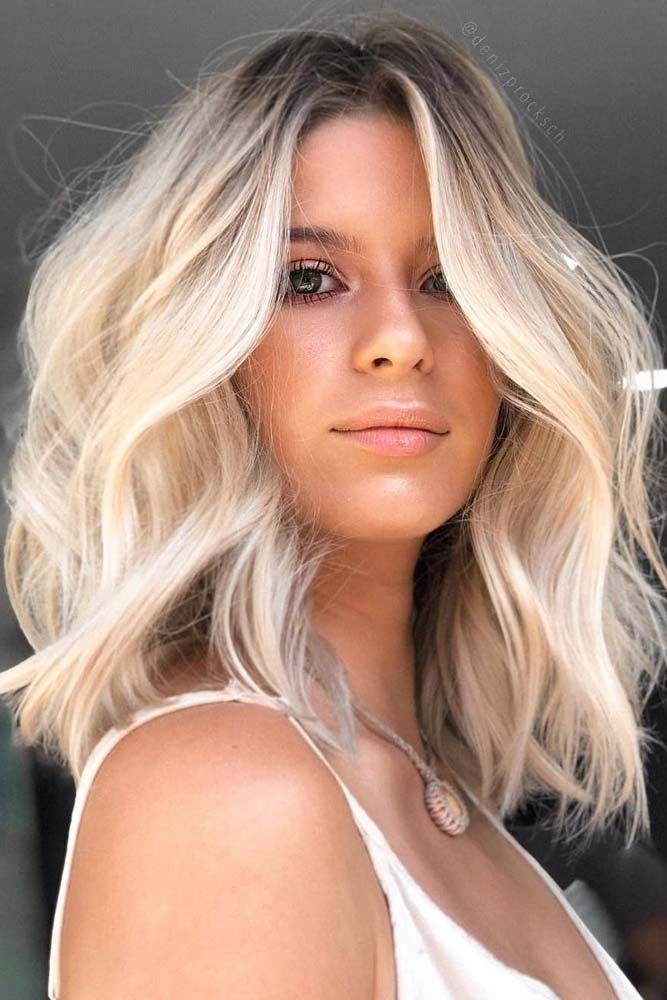 Credit photo: instagram.com/denizprocksch
Remember us telling you that the right color combination can drastically change the look of your hair? Well, we weren't lying to you. Here, you can see how pleasant transition from ashy roots to summer-kissed blonde build tons of dimension and lightness to the hair. A wavy texture on softly textured thick locks is what makes the lovely flirty look complete.
ADVERTISEMENT ‧ CONTINUE READING BELOW
Silver Loose Curls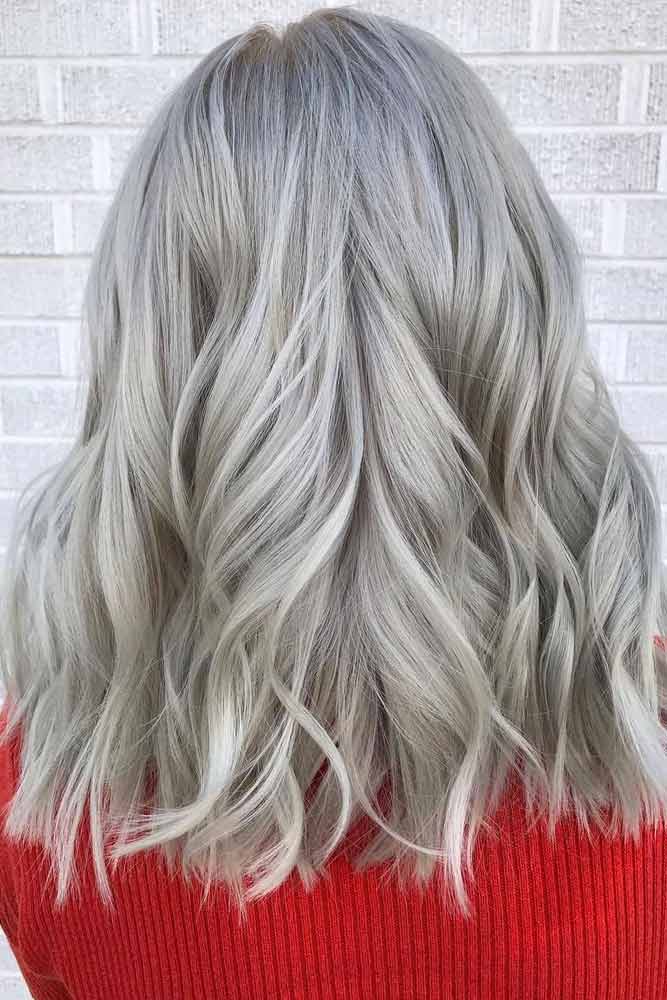 Credit photo: instagram.com/mandaharsche
There's a huge benefit of having thick hair: it never lacks dimension, whatever haircut or hairstyle you rock. But, you can always make it better with a textured style and dynamic hair color. Silvery shades, where whitish blonde melts with trendy salt and pepper hues, are an amazing way to embellish your casual wavy hairstyle. To tell you the truth, with such a color, the hairstyle will look rather regal than just casual.
Rose Gold Blunt Lob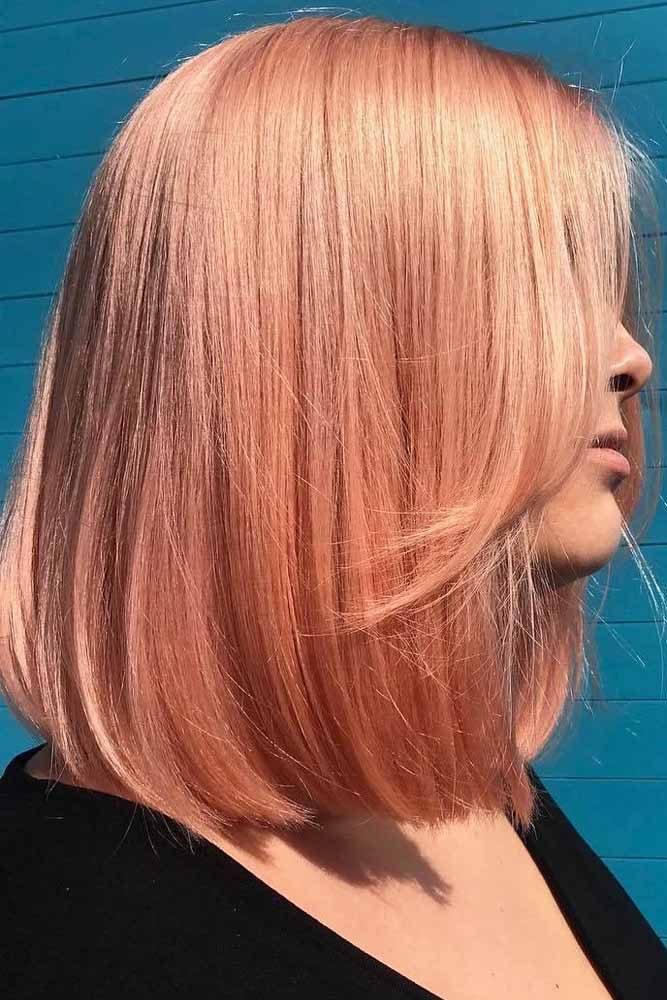 Credit photo: instagram.com/natashadallura
It is not for nothing that rose gold color has taken over the world: its soft but rich shade can perfectly fit into anything from interior to a woman's look. And if you have a light complexion, that means you can make this shade a part of your unique hairstyle. Trust us, your blunt lob will be enough to steal the show once you spruce it up with this seductive shade. Of course, don't forget about soft layers on the edges, as it will keep your haircut well-shaped.
Messy & Wavy Pinky Mid-Length Style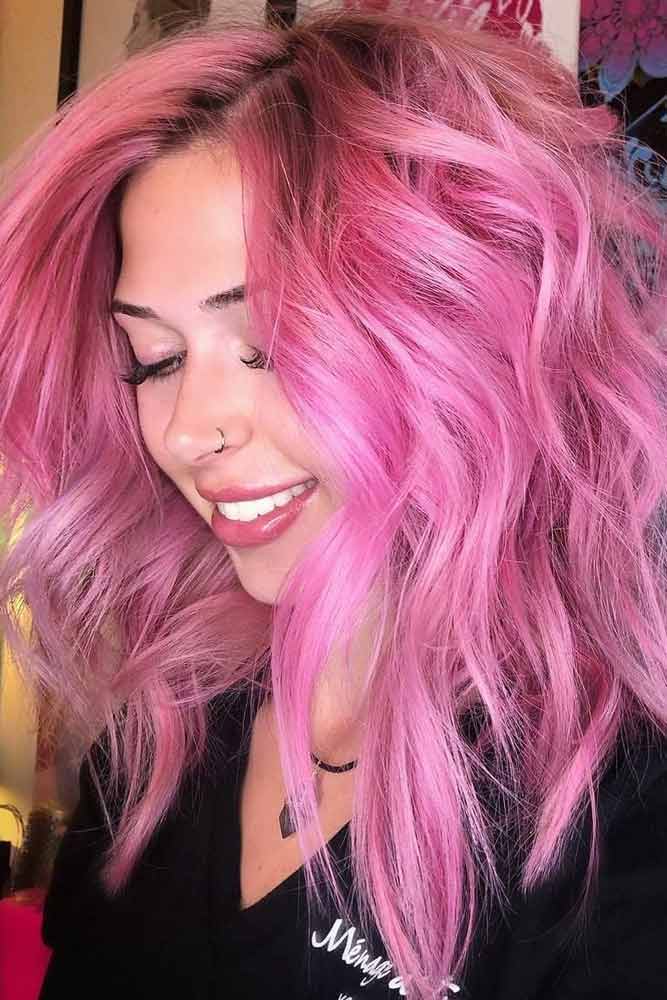 Credit photo: instagram.com/taranicolestylez
There's one strange paradox about creative girls with rich imagination: they can't imagine their lives without experiments. Well, we don't blame them! On the contrary, we've prepared a classy way to play around with your look, if you're one of those seeking bright changes. This voluminous, dramatic, and dynamic medium length hairstyle deserves stealing, no doubt! And to recreate it, you simply need to wave your pop strands, making every single lock defined with defining gel or spray.
ADVERTISEMENT ‧ CONTINUE READING BELOW
Straight Lob With Feathered Ends
Credit photo: instagram.com/jackmartincolorist
Does your hair trend to lose its natural bounce and fall flat because of the weight of your hair? If so, that's a problem. Unless you know about feathers! And if you don't trust us, try not to believe in the magic of this pic: lightweight texture at the ends changes the whole look to better. Do you have grey roots? That's a problem, too. Unless you don't let them take over your look and switch to a total grey one! The amazing gray hue on this lob is just the icing on the cake.
Big Voluminous Curls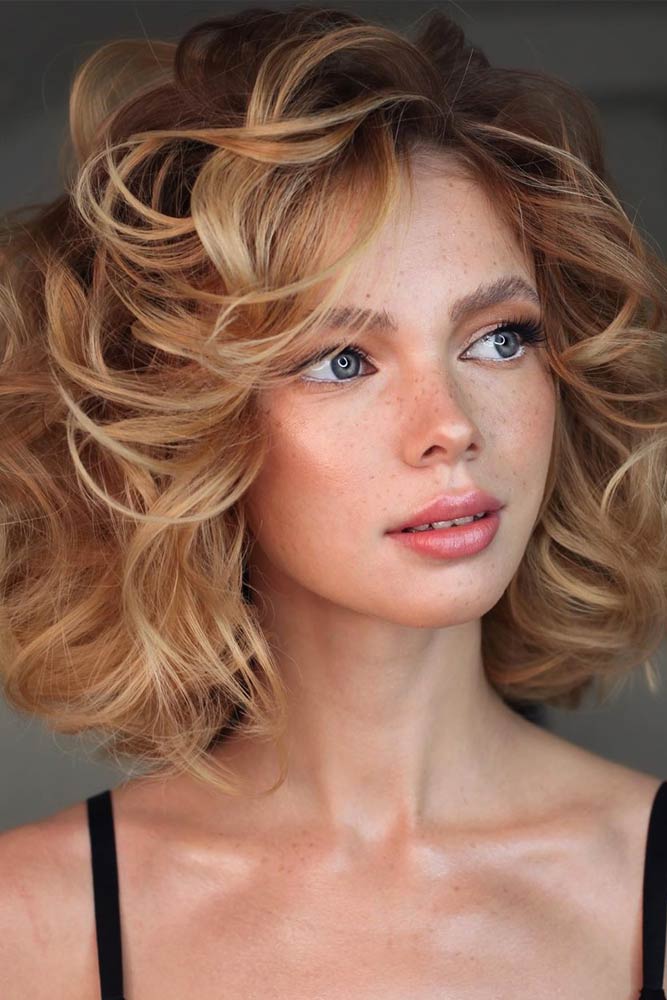 Credit photo: instagram.com/lenabogucharskaya
One of the greatest things about curly medium length hairstyles is that they work equally well for ladies with thin and thick hair. Except thin hair requires more styling products than ticker manes, but that's not a big deal. Such defined curls can become a striking finishing touch to your formal look, complementing your silhouette and framing your face with its full and voluminous twists.
Beach Waves With Lowlights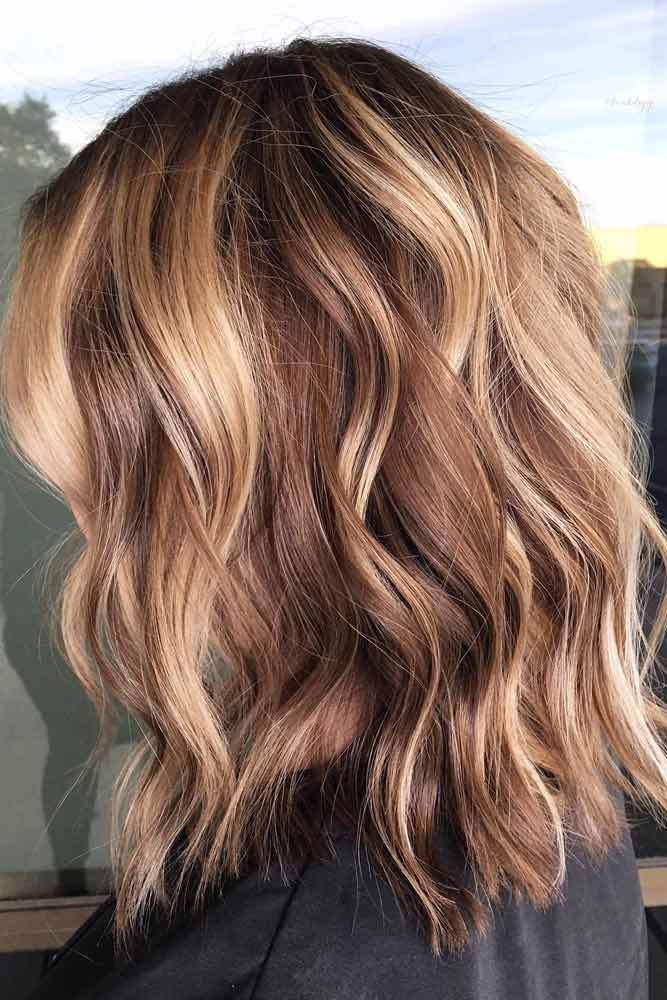 Credit photo: instagram.com/texasbalayage
There's nothing easier and more comfortable than dealing with such medium length hairstyles as lobs, so you have a lot of time for playing around with texture and colors. Unlike highlights, lowlights add more depth to the hair color, making the undertones more intense and thus adding more dimension. Isn't that an ideal way to enhance the ageless beach waves we're so crazy about?
ADVERTISEMENT ‧ CONTINUE READING BELOW
Angled Bob With Chocolate Raspberry Highlights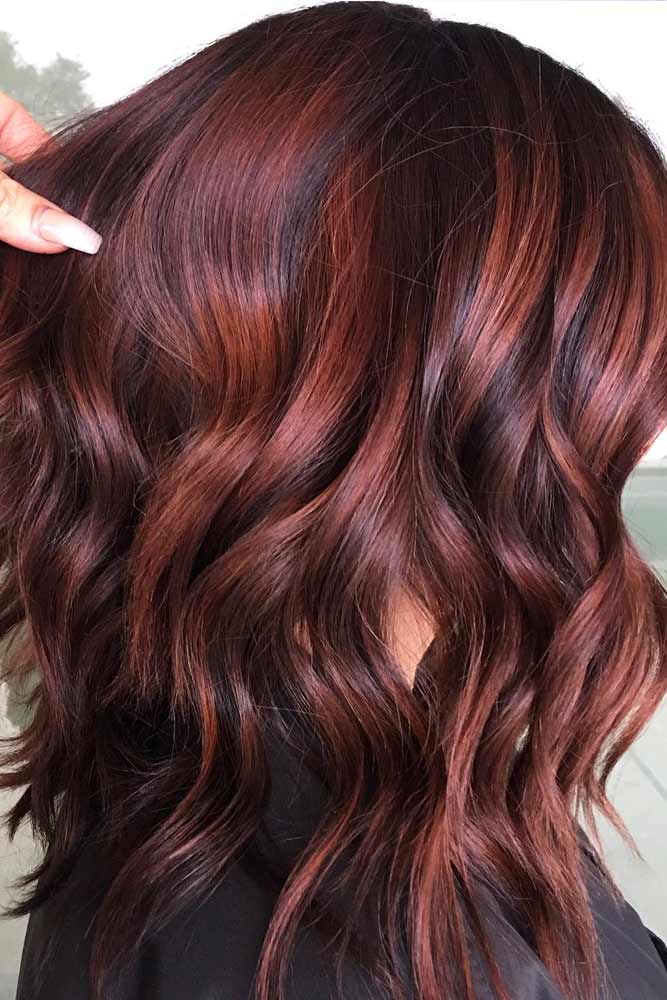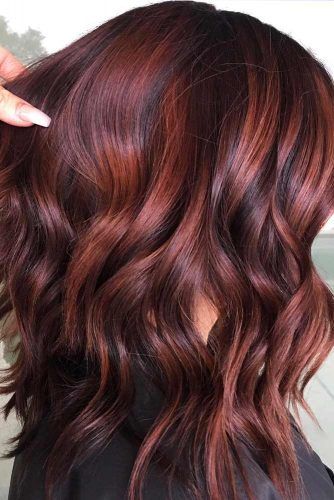 Credit photo: instagram.com/texasbalayage
If you'd like to step out of your comfort zone but don't feel like losing much length, an angled bob will be there for you. As a matter of fact, you will literally see your haircut at a new angle: it will become edgier, hence getting more interesting when styling. Just look how charming these angled waves are! It should be noted that a luxurious tint of berry chocolate color covering the dark base makes things even more alive.
Messy Auburn Waves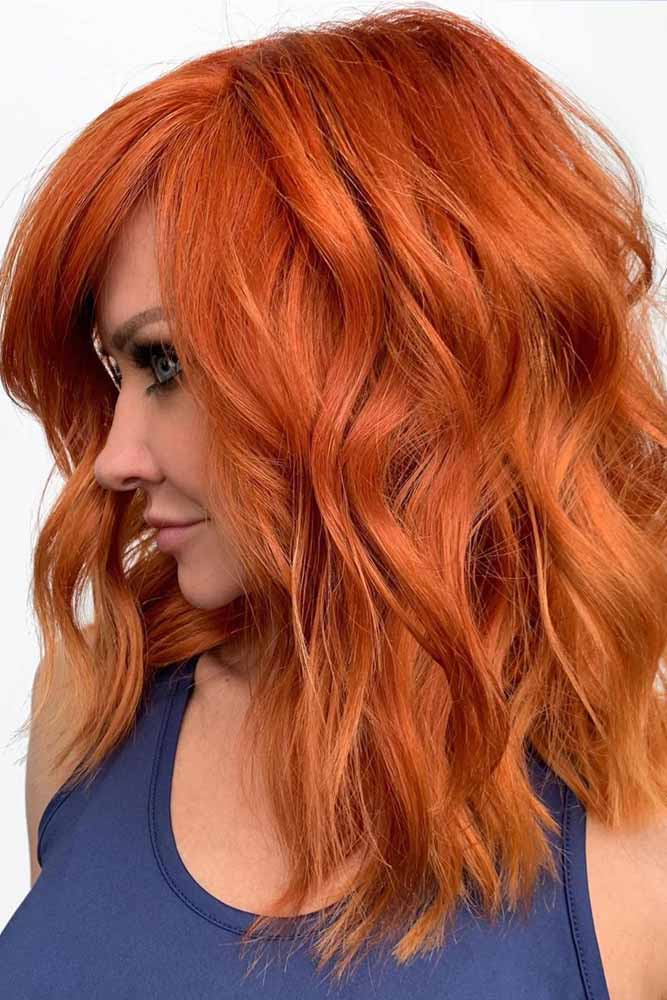 Credit photo: instagram.com/styled_by_carolynn
When you want to look natural and eye-catching at the same time, a shade of copper is something you can't go wrong with. Based on your complexion, find a brighter or deeper option to make all your medium length hairstyles fiery and enchanting. Even the good old waves will reveal their alluring sides, switching to flirty mood.
A-line Blonde Wavy Lob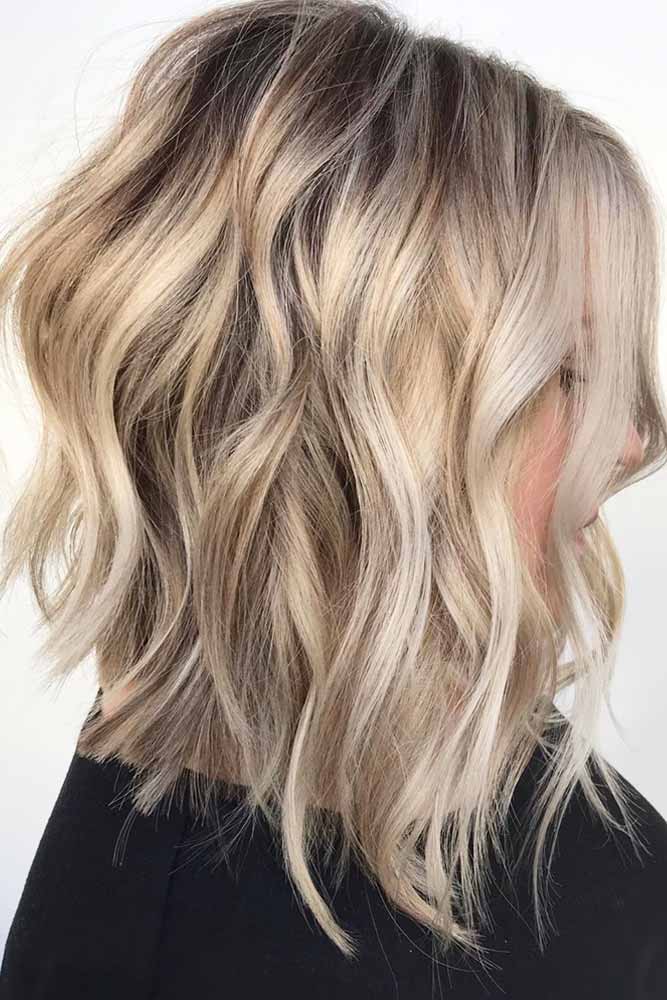 Credit photo: instagram.com/styled_by_carolynn
A-line bob haircuts, where long, face-framing tresses gradually become shorter to the back look their best on wavy textures, especially when you need some volume and movement. Every woman with thin locks should try such a look at least once in her life to finally fall in love with her hair. Want to make it even bigger? A dirty blonde shade with lowlights will do the trick.
ADVERTISEMENT ‧ CONTINUE READING BELOW
Rounded Medium Length Hairstyle
Credit photo: instagram.com/gulevich.vladimir
When styled right, straight hair texture adds a sophisticated, smart, and a bit sexy finish to a woman's look, be it her casual, night-out or a business look. What can compare to flawless sleekness that reflects light so intensively that it seems to make people blind? A rounded lob with cascading layers, regular conditioning, and oil-based styling sprays are all you need to wear a masterpiece on your head.
Blunt Lob With Straight Bangs
Credit photo: instagram.com/gulevich.vladimir
More and more fashion models are appearing with a blunt bob with straight bangs on runway shows and commercial shootings. Well, no wonder: some combinations are too perfect to ever fade away. The good news is, the look is absolutely low-maintenance and easy to style for women with all hair types. Just style your damp hair with a round brush in one hand and a dryer in the other, and the agelessly trendy style will be with you all day long.
Straight Mid-Length Chestnut Style With Long Bangs
Credit photo: instagram.com/gulevich.vladimir
Straight hair can become even more dynamic and attention-grabbing once you bless it with long bangs. It's crucial to make them fall seamlessly with the rest of your hair so as not to ruin the fascinating texture of straight locks. Don't worry; the additional layer of hair won't turn out to be a burden. Style your hair as you would style a classic lob, with a round brush and dryer. A tip: a natural shade of brown or blonde will enhance the natural shine in your light-reflecting look.
ADVERTISEMENT ‧ CONTINUE READING BELOW
Asymmetrical Lob With Waves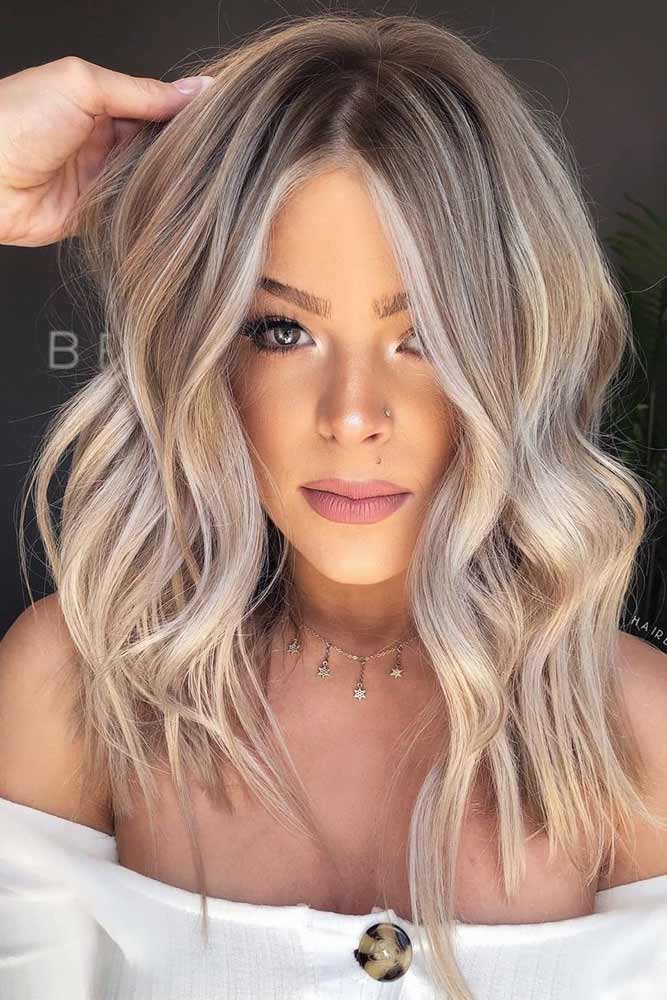 Credit photo: instagram.com/hairby.ashleypac
A subtle touch of imbalance is another way to freshen up your look, adding more individuality to it. On lob haircuts, the asymmetrical structure appears less drastic and dramatic than on shorter cuts, while still giving a nice fresh take at the hair. There's a straightforward and stylish idea to style such a haircut. Prep your hair with a heat protectant and set your curling wand into motion. For a relaxed look, work with thick, long strands, wrapping them loosely.
Icy Blonde Beach Waves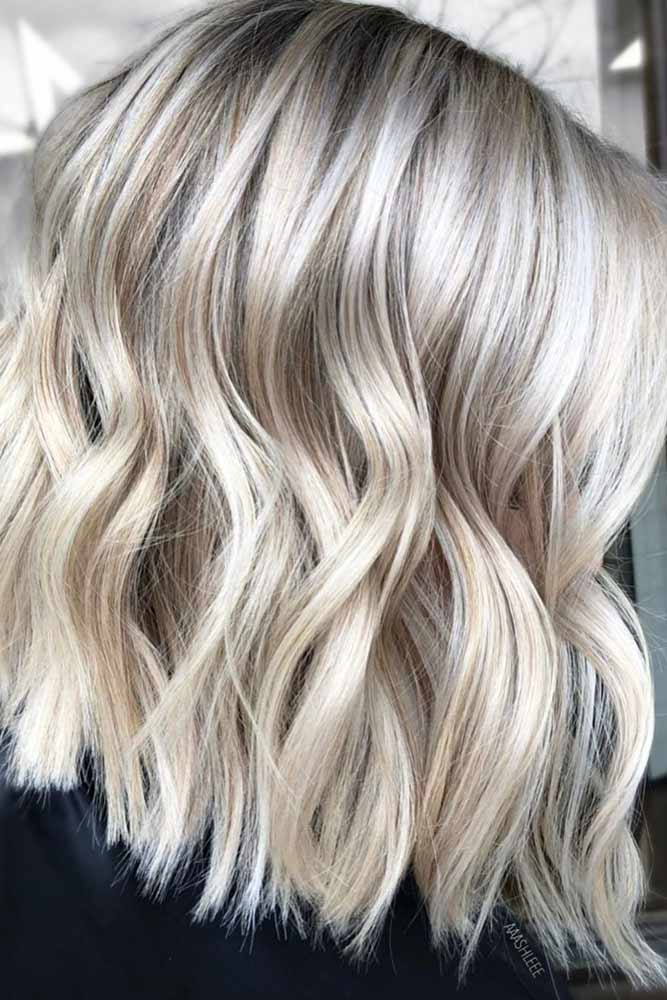 Credit photo: instagram.com/aaashleee
This hair look is an epitome of the true women's nature: they're always different. Icy blonde hair color is meant to switch a woman's look to something cooler. Beach waves are associated with hot summer days. And when these two are combined, they form an unexpectedly balanced duo built by the beauty of opposites. If you love to jump from one extreme to another, this look will be your trampoline.
Shaggy Blonde Lob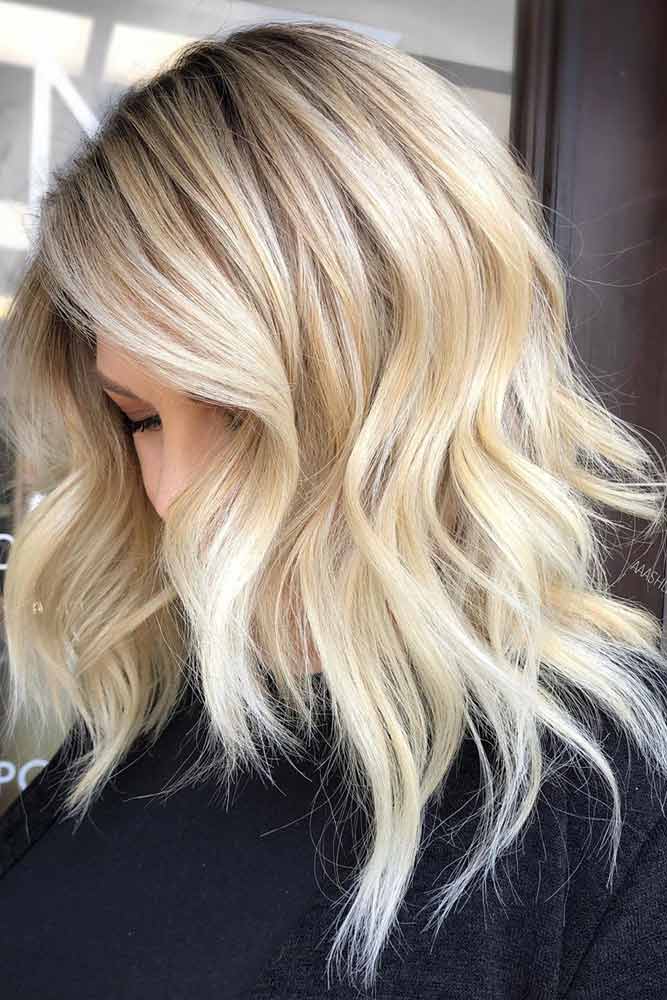 Credit photo: instagram.com/aaashleee
Shaggy medium length hairstyles are something you will want to write a book about. They are so lightweight, edgy, flexible, and versatile that there's no way you won't find a perfect option for your hair type. For thin hair, they lift up the silhouette; for thick hair, they work wonders by making the hair more manageable. As for styling options, they know no end. Still, nothing can beat a wavy medium shag with well-balanced color transition.
ADVERTISEMENT ‧ CONTINUE READING BELOW
Waves With Blonde Ombre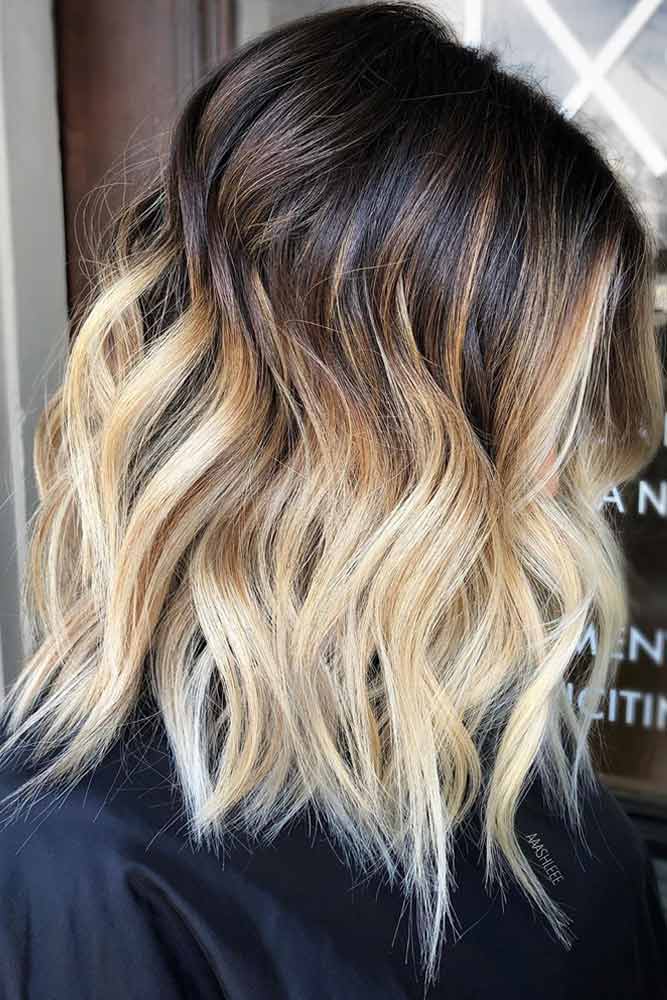 Credit photo: instagram.com/aaashleee
Wavy hairstyles seem to have been created to satisfy all women's needs possible. Whether you want to intensify the smooth flow of colors in your balayage or to boost the contrast created by your ombre, waves are the win-win choice. Even though the ombre on this pic is nothing but the common dark-to-light idea, it still looks special. As you might have guessed, it has something to do with the charm of waves.
Blunt Wavy Hairstyle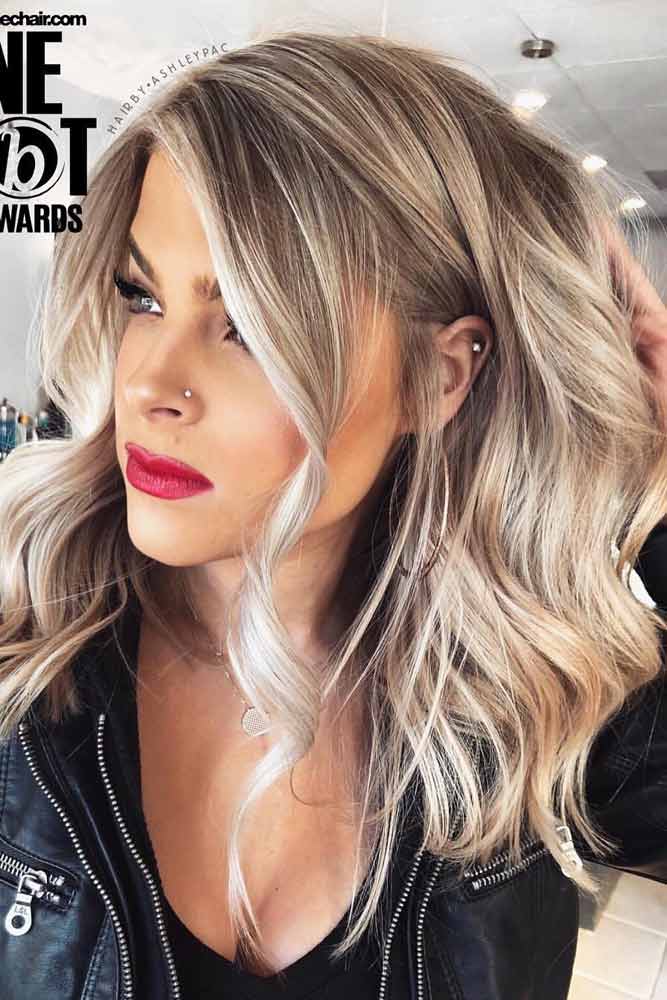 Credit photo: instagram.com/hairby.ashleypac
Once you get tired of your one-length cut, don't rush to call your hairstylist right away. Maybe the time for new styling ideas has finally come! A wavy hairdo, where thin and subtle layers blend with thick, bigger ones is a stunning way to give a fresh take at your blunt cut. By the way, such medium length hairstyles are not only easy to achieve; they will also spice up your mane with a ton of fullness.
Middle-Parted Messy Lob
Credit photo: instagram.com/romeufelipe
Middle parted lob hairstyles are not as simple as they seem to be! In fact, there's nothing complicated in parting hair to the middle and finishing it with a soft hint of messiness. But, let's not forget that perfection lies in simplicity. Also, the center part helps your hair to fall evenly, creating a sophisticated, super balanced look.
ADVERTISEMENT ‧ CONTINUE READING BELOW
Raspberry Gold Sombre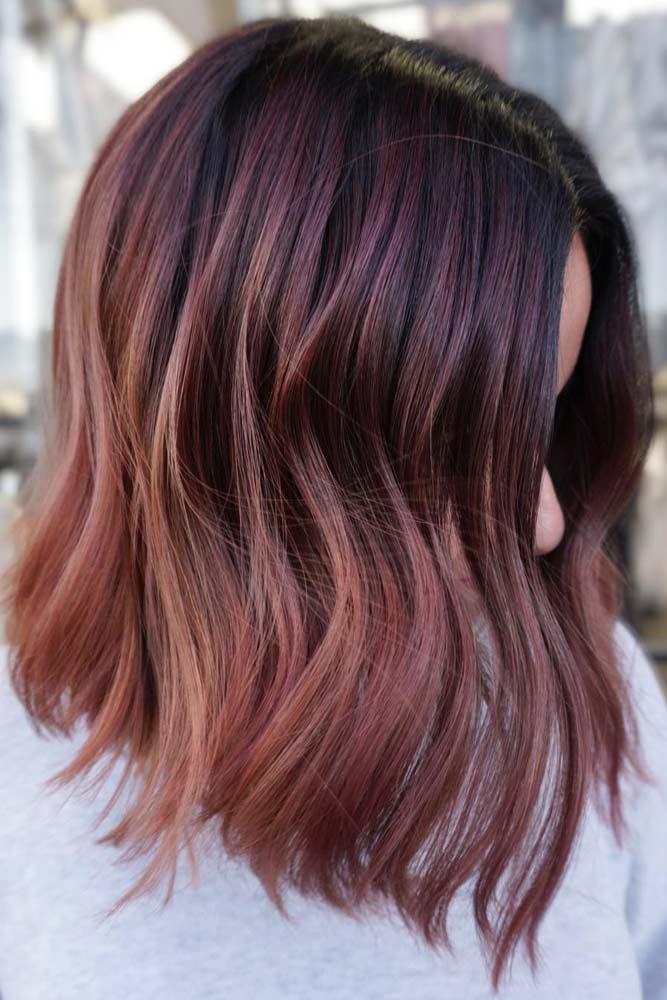 Credit photo: instagram.com/hairbykheylitristen
Here's a little riddle. Medium length hair is the happy medium between short and long length. Sombre is a nice option that stands in between a drastic ombre and flawlessly smooth balayage. What do these two have in common? To get the answer, you need to mix them together! Two colors that softly blend with one another on a disheveled mid-length cut is the award for good guessers.
Sandy Wavy Side-Parted Lob
Credit photo: instagram.com/romeufelipe
Side parted medium length hairstyles always look elegant and feminine. The heavy portion of such styles adds a whole lotta volume to the look while the other side brings a sense of harmony. Needless to say, effortless hair color and waves can turn this hairstyle into a red-carpet look.
Lob With Ash Blonde Highlights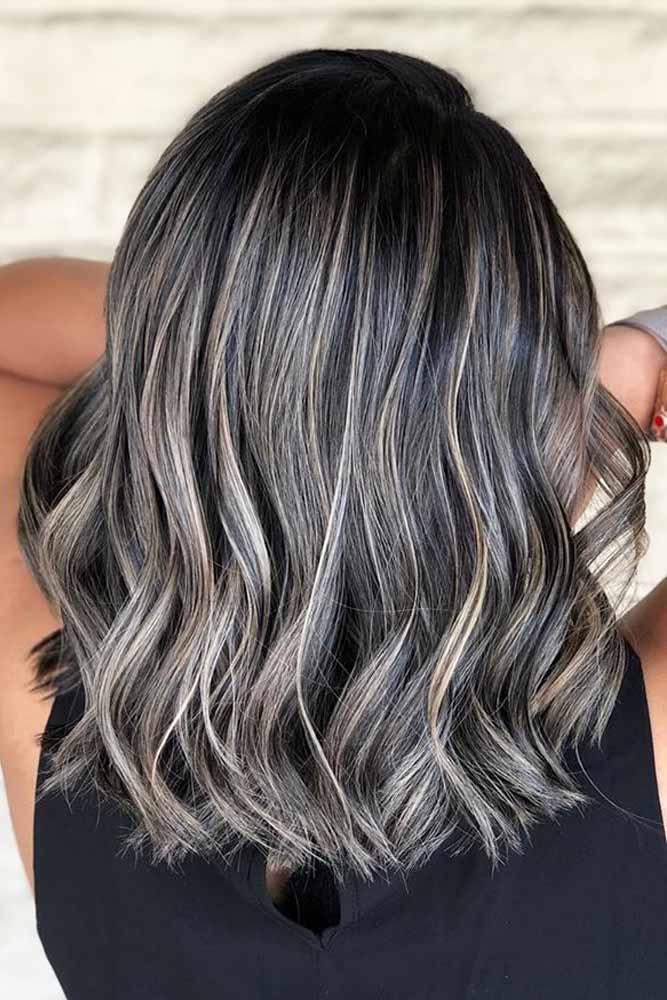 Credit photo: instagram.com/andrewlovescolor
When you feel like changing your color, keep in mind that there's a way to do it without serious damage. It's no secret that dark hair requires bleaching to achieve a brand new shade, which can lead to dryness and breakage. That's why you can go for highlights! They will freshen things up without ruining your natural cuticles. And to make the beauty of the color show up at its fullest, wave those locks subtly!
ADVERTISEMENT ‧ CONTINUE READING BELOW
Layered Curly Medium Length Hairstyle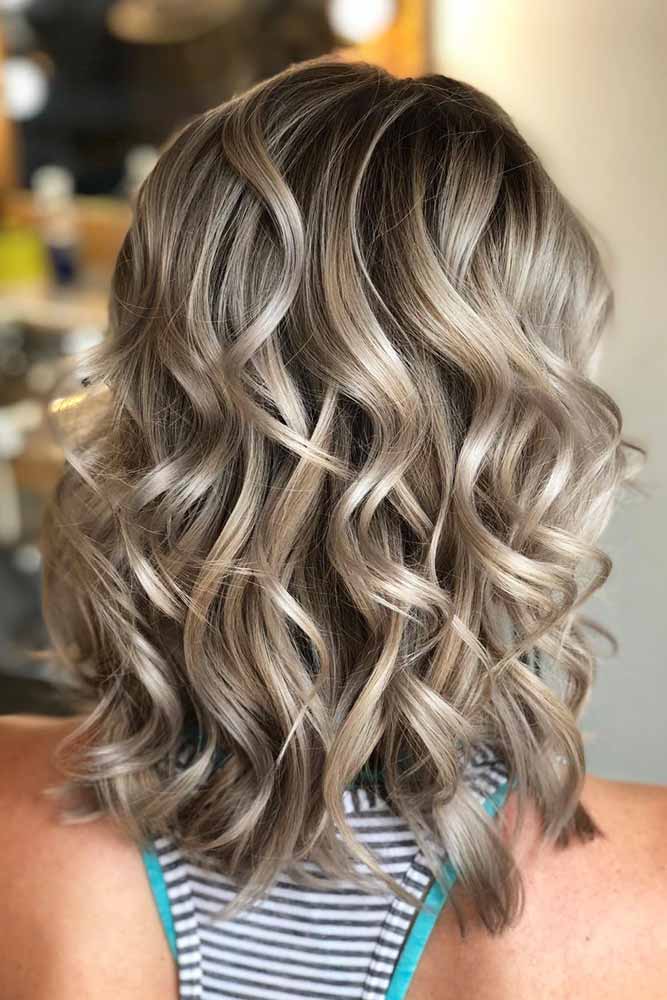 Credit photo: instagram.com/iamtiffmartin
Not quite waves and not quite curls: the golden mean has been found! This hairstyle is designed for big occasions where you want to be in the spotlight without going too much. For defined and lustrous curls like these, condition your hair and prepare it with curl defining gel before styling.
Wavy Lob With Caramel Highlights
Credit photo: instagram.com/makeupbyfrances
Another successful combination of a wavy lob with highlights! This time, the colors match ideally while still giving a hint of contrast. Such a color job provides the so much needed movement and makes the waves look more voluminous visually. If you have no idea what your next transformation should be, give it a shot with your eyes closed: you won't be mistaken.
Inverted Magenta Lob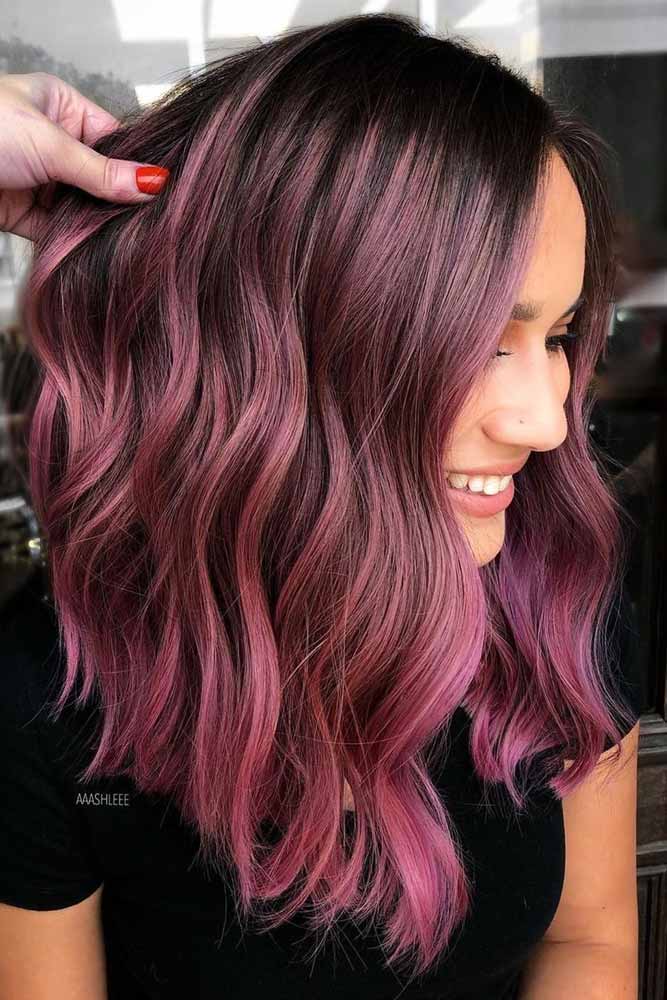 Credit photo: instagram.com/aaashleee
Another amazing way to whip your thick tresses into creative shape. Not only does this graduated structure give a lot of dynamics to the hair flow but it also adds more character to the whole look. In addition to that, an inverted silhouette works wonders, making the heavy texture more lightweight by getting rid of some length on the back and spicing up the cut with soft layers throughout.
ADVERTISEMENT ‧ CONTINUE READING BELOW
Highlighted Shag Hairstyle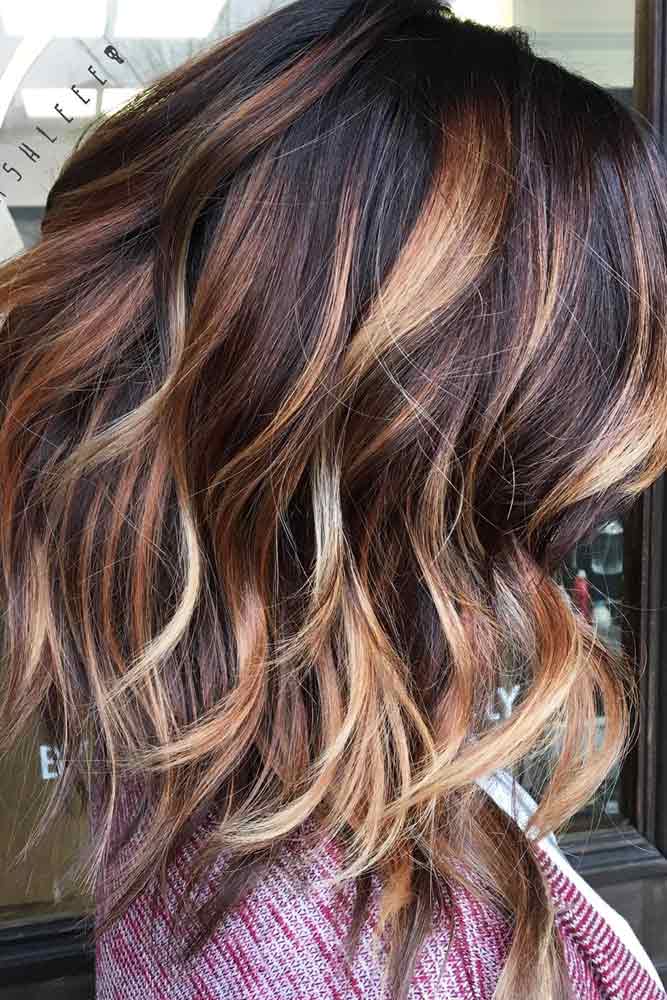 Credit photo: instagram.com/aaashleee
Now, let's talk about the role of colors in your hair. To be more exact, the role of the right color combinations. And yes, we're still on the topic of medium length hairstyles for thick hair. Most haircuts feature a layered structure, and that's where you should focus your attention when going for color experiments. Since layers stand out and add a textured finish, you can enhance their effect by highlighting those tresses. Just look at this ravishing highlighted shag! As for waves, they're just the icing on the cake.
Milk Chocolate Balayage For Long Bob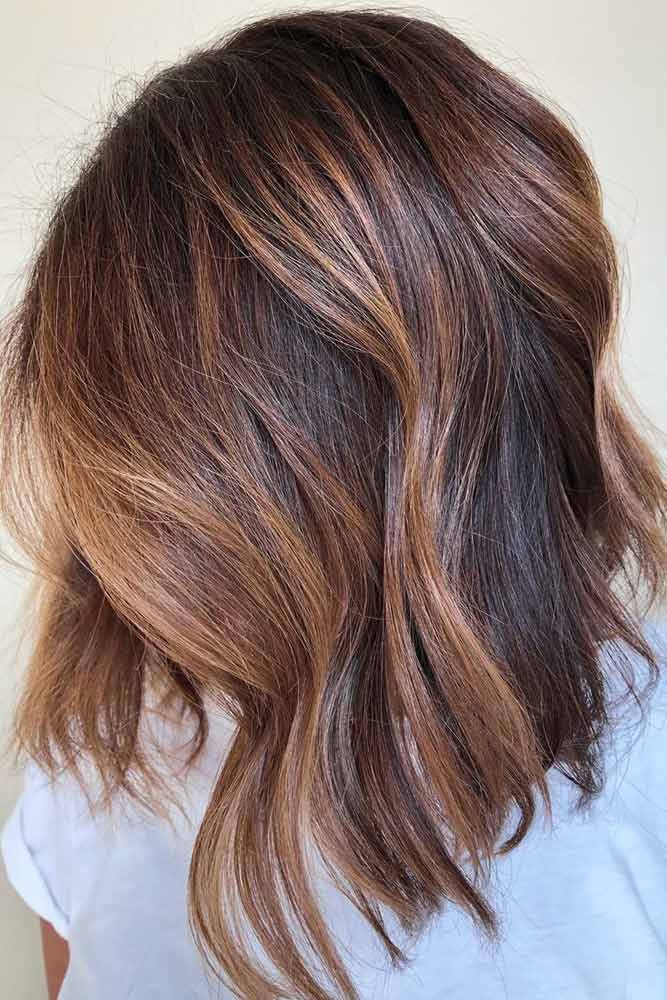 Credit photo: instagram.com/meltedbymish
Apart from accentuating your layers with a contrastive shade that stands out from your basic color, you can choose a more effortless color path. The best way to achieve a natural, yet dimensional color is to mix several shades from the same color family. For example, this milk chocolate melt simply takes the biscuit. Being a combination of medium brown, light brown, and dirty blonde hair colors, the mix looks like a harmonic single whole. Cut a long story short, nothing will work better than balayage on layered hair.
Copper Medium Length Hairstyle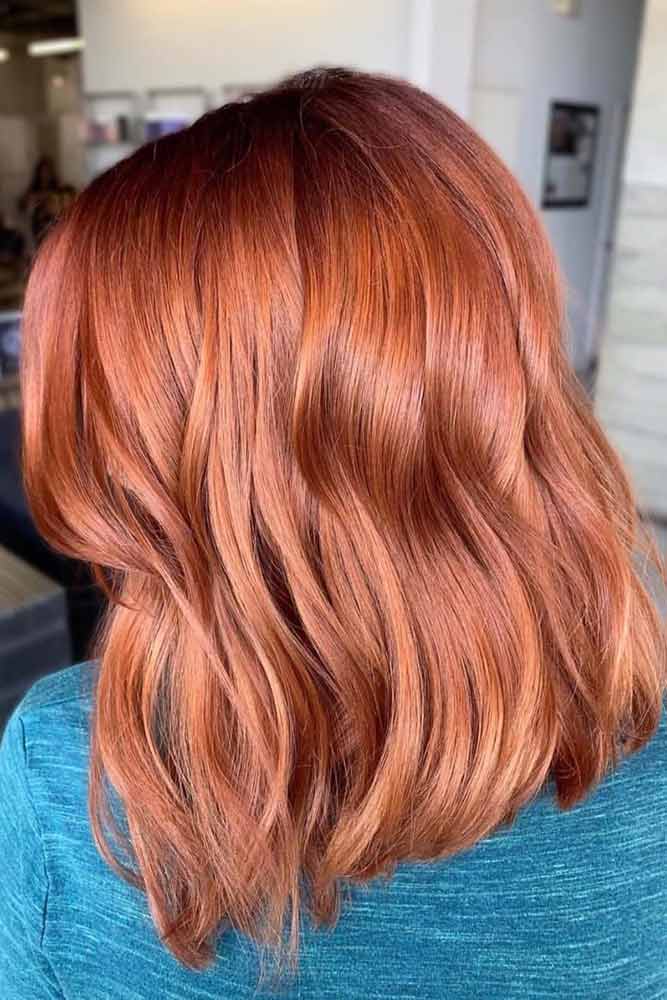 Credit photo: instagram.com/courtneygraceito
Do you know that without a well-shaped haircut, your color appointment may end up a disaster? In fact, working on a thick texture is important not only for general comfort but also for visual aesthetics. It often happens that the color looks bleak and dull because of the texture of hair, notably when it's too heavy and thick. We've just shown you the importance of color and layering from another perspective. Now, let us find the words to describe this duo. The coppery shade that stretches down the layered lob is an example of an ideal haircut and color.
ADVERTISEMENT ‧ CONTINUE READING BELOW
Side-Parted Angled Chocolate Lob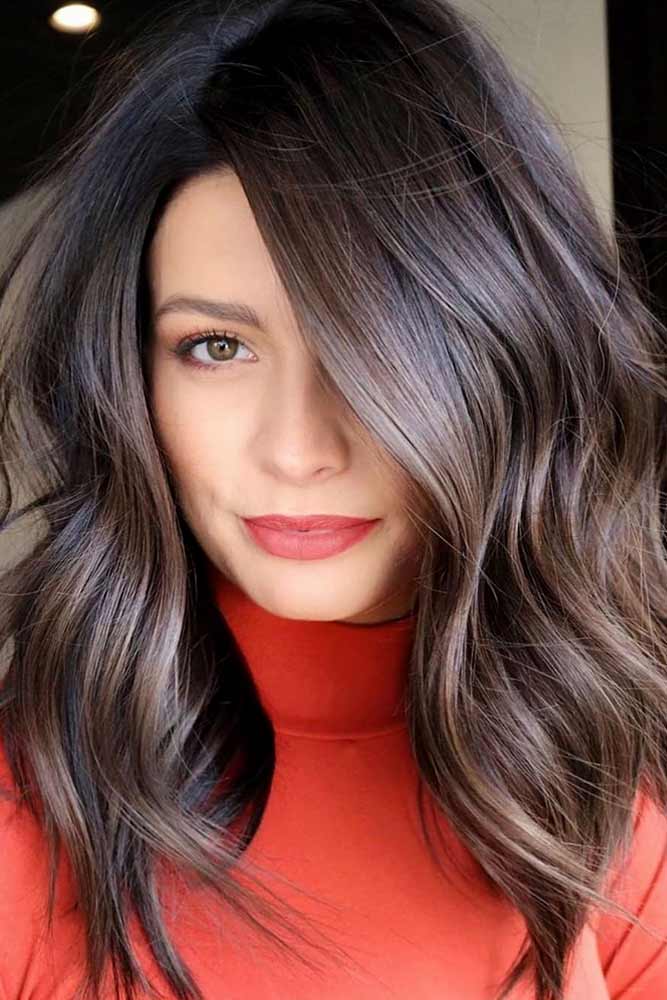 Credit photo: instagram.com/mikaatbhc
Don't ever underestimate the power of parting! As a matter of fact, parting is a little, yet significant styling detail that can drastically change your appearance, just like bangs. Here, you can see how it works as a finishing touch to layered angled cut. The cut features sharp silhouette by default, and the layers enhance the pointed tresses. What about the parting? It serves as a dramatic framing twist that not only builds perfect balance but also frames up the face. Should we mention how gorgeous the color is?
Pink Balayage For Wavy Lob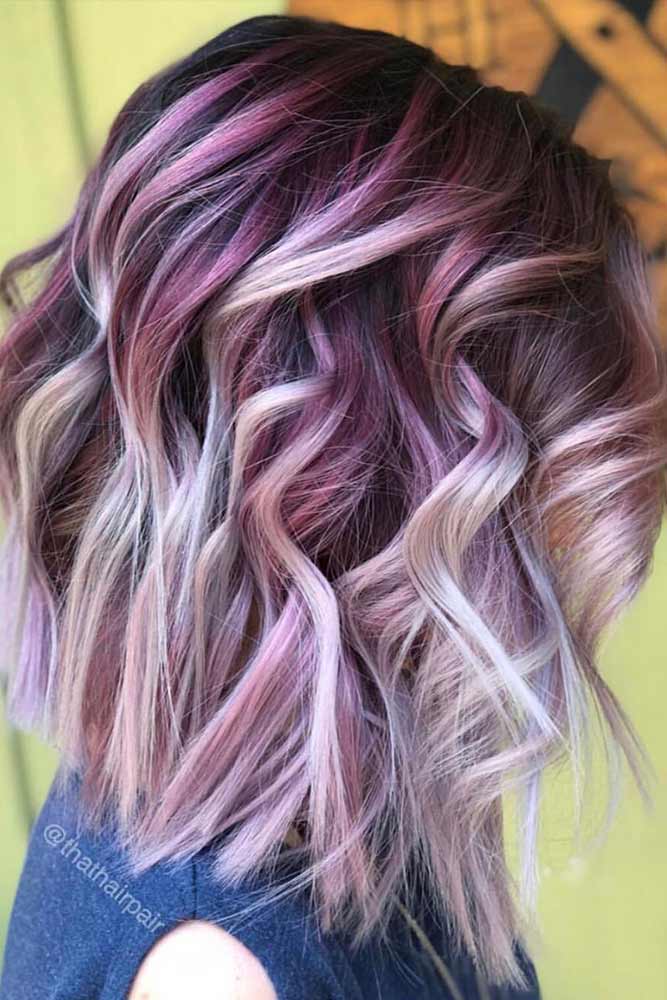 Credit photo: instagram.com/thathairpair
When you have layers on your hair and curling iron in your styling arsenal, not getting a trendy balayage is a crime! Waves make layered hair even more defined and distinctive, while the properly chosen play of colors can double this beauty. In this pic, you can see how the trendiest shades in the color world take a wavy layered lob to the next level. Remember: you won't ever go wrong with light brown, whitish, pastel pink, and violet streaks in your hair.
Brightened Brunette Messy Lob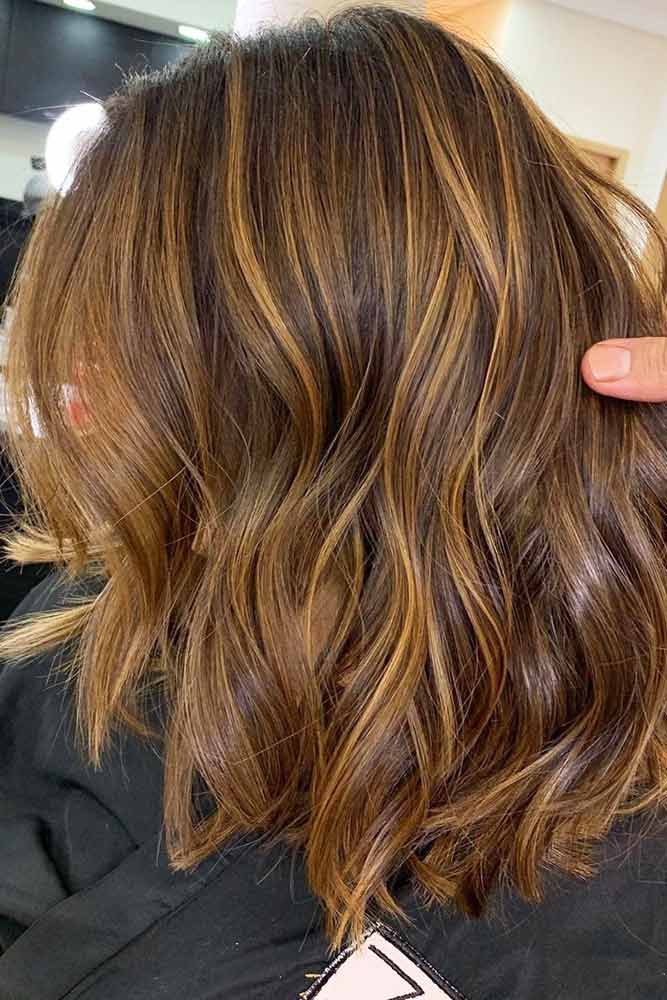 Credit photo: instagram.com/douglasgarciaoficial
A messy hairstyle + accentuating highlights = the best version of your medium length hair. There's no need to tell you how popular the messy styling is; it's everywhere from girls on Instagram to runway show icons. The good news is, you don't need to be a celeb to rock the style. Just invest in a good colorist to get well-blended highlights and get yourself some salt spray for the messy finish. With layers, creating a disheveled mane will be just a piece of cake: spritz your locks and tousle them as much as you can.
ADVERTISEMENT ‧ CONTINUE READING BELOW
Autumn Inspired Hair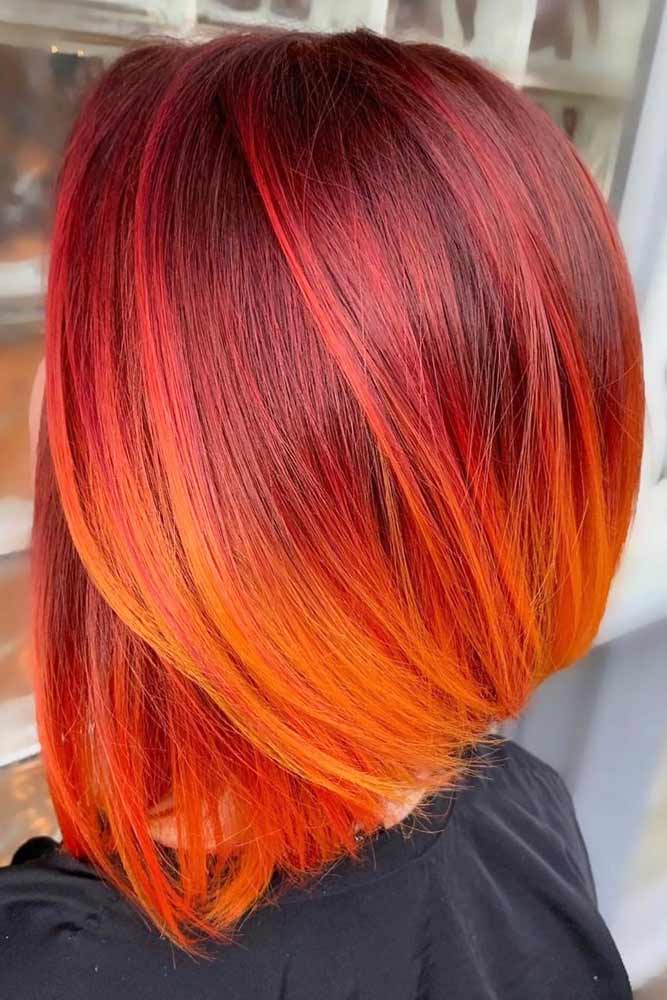 Credit photo: instagram.com/hair_bykasey
When fall is knocking at the door, all we want is to escape the melancholic mood and be ready to meet the cold season with warm clothes and bright looks. Surely, your hair is the best weapon to beat the blues vibe. Get your hair perfectly leveled and well-textured, mix warm colors like red and orange, and be ready to see this fall surrender!
Blunt Beige Blonde Lob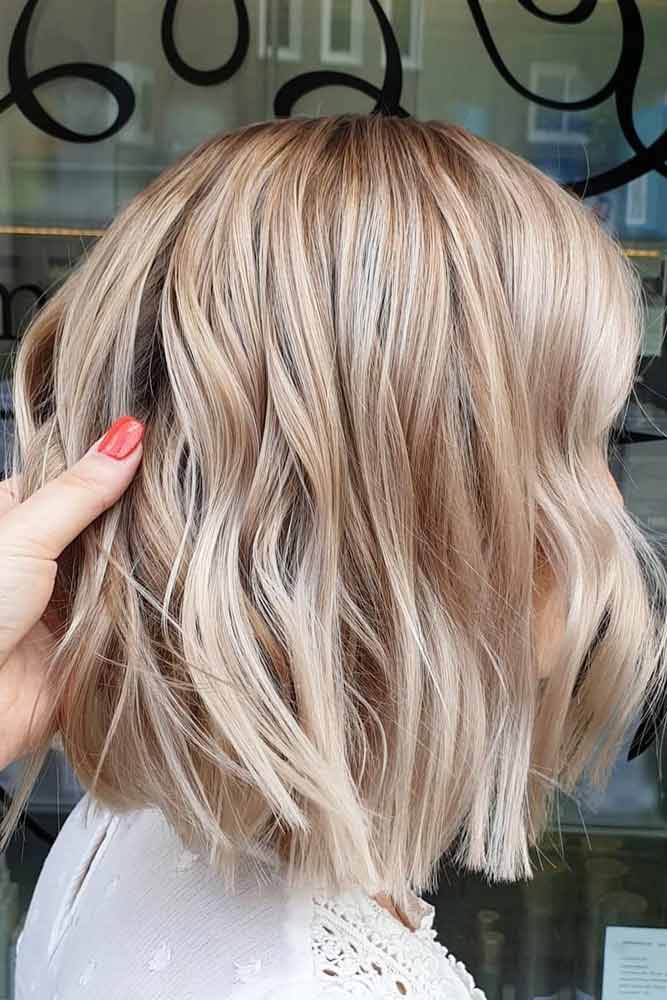 Credit photo: instagram.com/hairbyninav
If you stick to minimalism and simplicity in your life, your hair should reflect that too. For simple but gorgeous hair, nothing works better than a classic blunt lob colored beige tones of blonde. Beige hair color embraces the most natural and effortless hues, producing a very gentle and authentic color for women with light complexions. Bless your one-length cut with wavy texture from time to time and you will fall in love with your hair.
Layered Wavy Lob With Caramel Balayage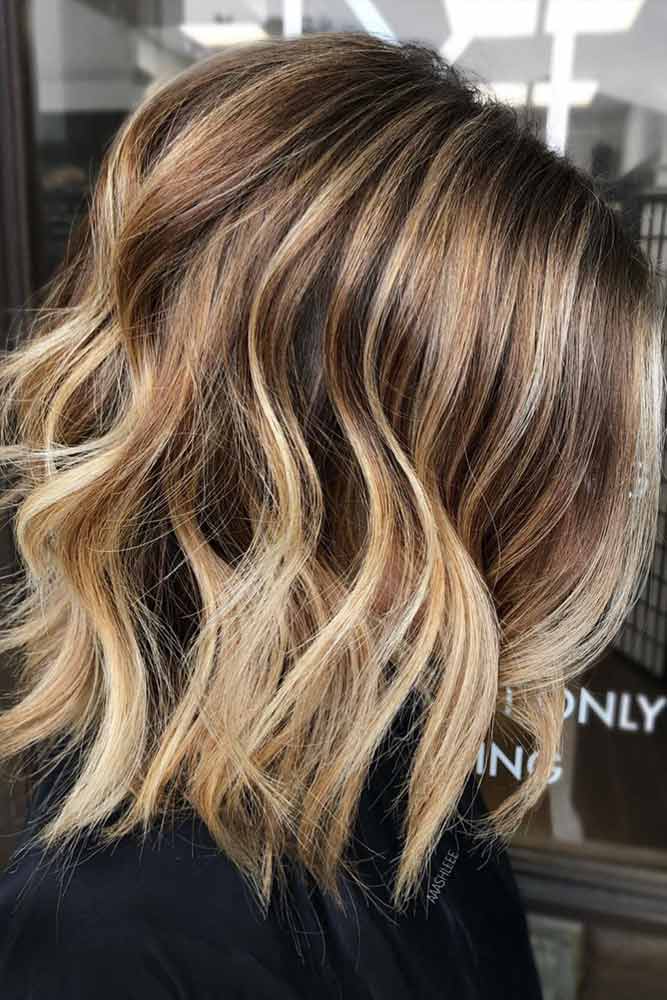 Credit photo: instagram.com/aaashleee
We can't have too much of a good thing, that's why we always have a will to experiment with our hair. Luckily for us, blonde and brown hair color charts are full of options that can be mixed in various ways, so you will never find yourself with no ideas to try. This caramel balayage that consists of sweet blonde and medium brown shades is something that will show your layered lob from a whole new angle.
ADVERTISEMENT ‧ CONTINUE READING BELOW
Middle-Parted Highlighted Long Bob
Credit photo: instagram.com/maeipaint
A middle-part is a perfect idea for those seeking ideal balance and harmony in their looks. This styling choice goes well with lots of hairstyles like waves and sleek updos while giving a pleasant framing touch to the look. Also, once you style your locks to the center, you will see the even structure of your cut, which, by the way, will look like a red-carpet hair if you spice it up with some dimensional highlights.
A-line Lob With Peach Champagne Highlights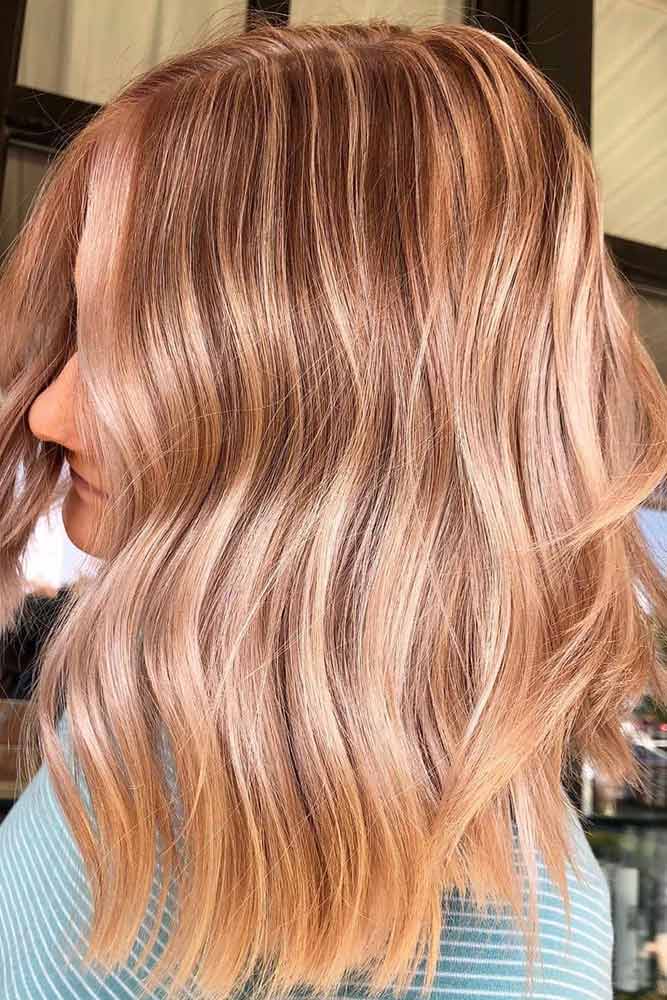 Credit photo: instagram.com/zhairgoddess
Can you imagine a visual impact brought by A-line layered hair with a champagne-inspired peachy blonde hue? Yes, everyone who sees this beauty will simply get drunk because of the endless charm of these locks. If your skin has a peachy undertone, this idea will fit you like a glove! Of course, don't forget about some lightweight texturizing to reveal the color at its best.
Wavy Chocolate Lob With Caramel Highlights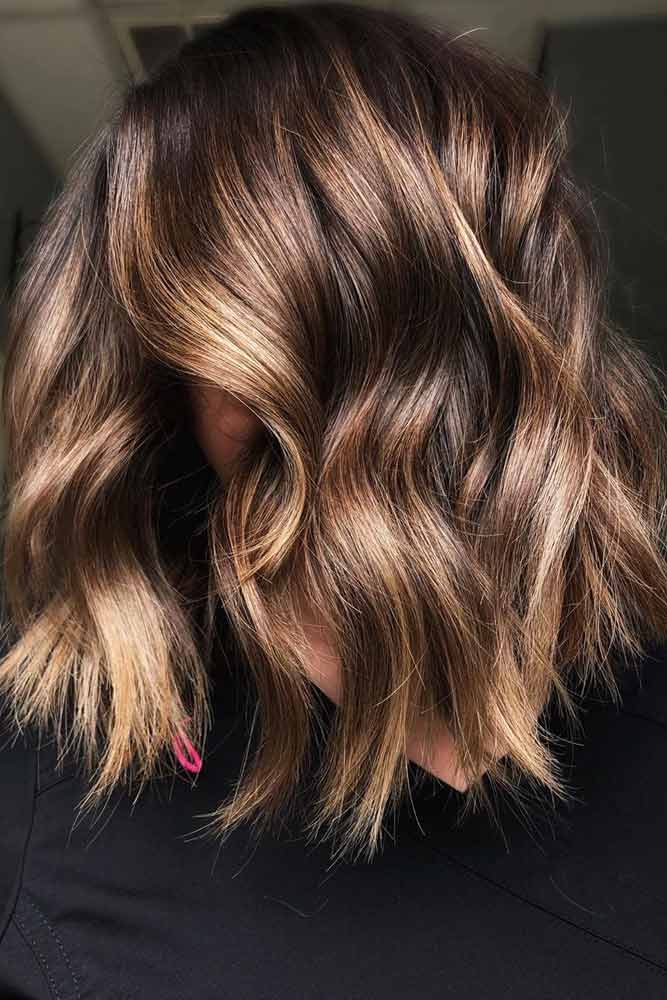 Credit photo: instagram.com/thathairmagic
A touch of seductive warmth is all your deep brown hair needs to show its new enchanting side. Paired with light feathers at the ends, this lovely combination will give you the hair look you never dreamed to have. Make sure that the caramel shade is rather brownish than blonde to make highlights seamlessly blend with your naturally dark mane.
ADVERTISEMENT ‧ CONTINUE READING BELOW
Brunette To Mauve Ombre For Long Wavy Bob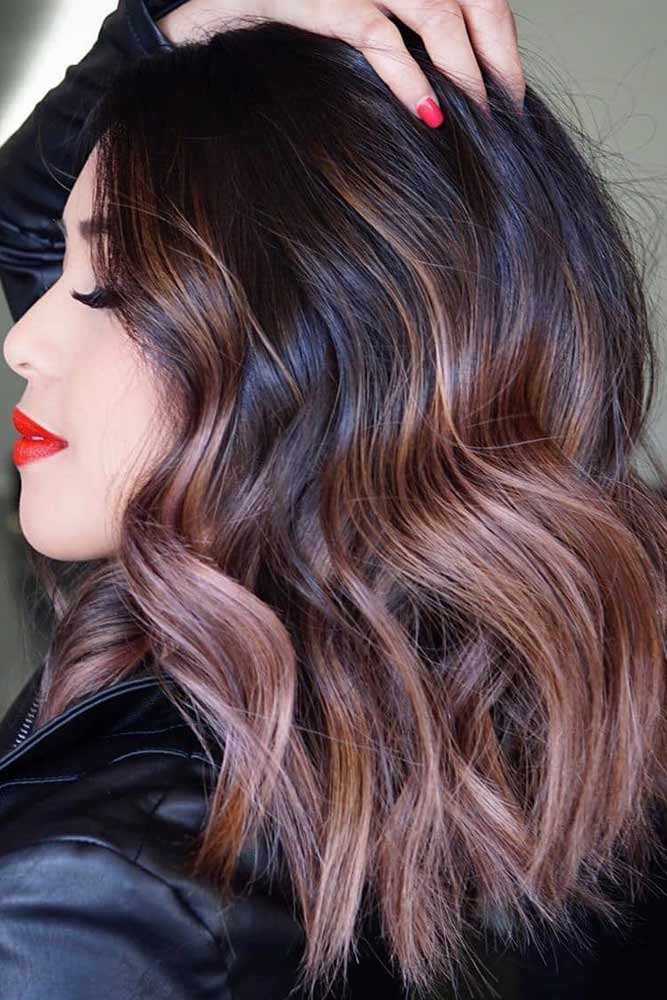 Credit photo: instagram.com/frances_hairartist
As your hair grows out, it tends to lose its natural lift and bounce. Unless you get a cut that shapes your ends and prevents them from falling flat and finishes it with color that turns dull hair into a lively mane! Although it's hard to imagine a brunette base with mauve color, setting the latter to its pastel mode will change your picture of these two shades once and for all.
Brunette Textured Medium Length Hairstyle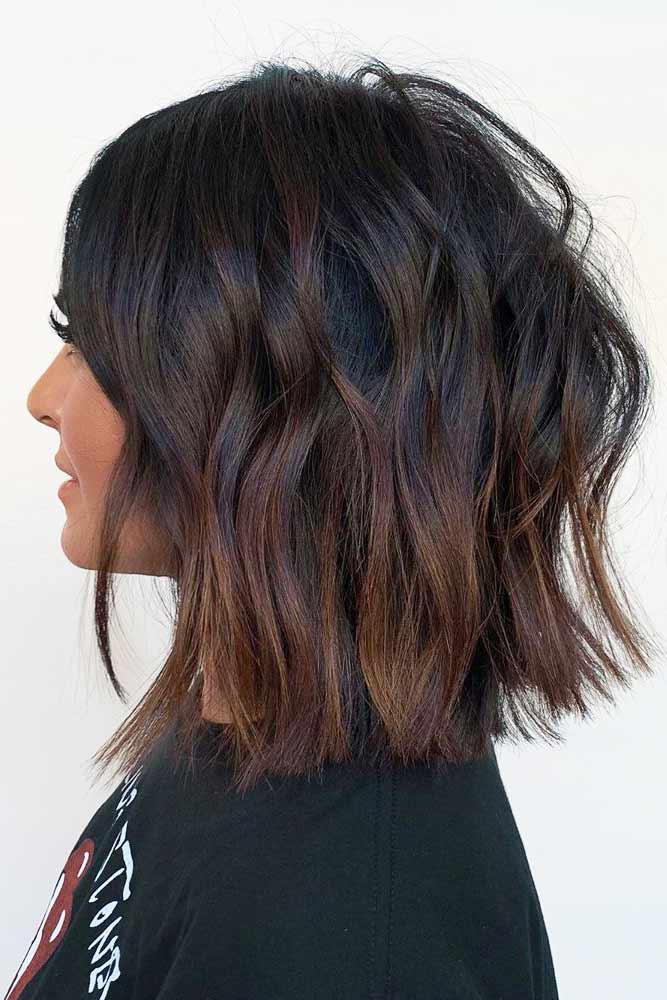 Credit photo: instagram.com/styled_by_carolynn
Show this pic to everyone who gave up fighting for a well-balanced look because they think nothing can work for their thick hair. To tell you the truth, many women spend ages complaining about their unruly locks while they can get to know layers and find a hairdresser who can nail their structure. Here, you can see how super thick and unmanageable locks have obeyed to the power of awesome layers and textured ends. Why don't you recreate this amazing hair experience?

There are a ton of great medium length hairstyles, including haircuts for oval faces. The wrong haircut can make your thick hair seem lifeless. A fun and funky shoulder-length haircut can include anything from a bob cut to a shag cut or even a bold pixie cut.
Color adds texture to ordinary haircuts for round faces. Adding a burst of color with a balayage look, ombre colors, bold colorful streaks or even a daring new color with highlights can totally spice up medium length hairstyles. And there are plenty of hairstyling options that you can easily achieve with the right tools such as curling irons, flat irons, hot rollers or the right styling products for your haircut.
REFERENCES:
Layered hair is a hairstyle that gives the illusion of length and volume using long hair for the illusion of length and short hair for volume, as an easy style to manage. Source
Get each month s beauty it list , find out what beauty products your favorite celebrities use, and see which celebs underwent this year s biggest beauty makeovers. Source
ADVERTISEMENT ‧ CONTINUE READING BELOW