Your New Asymmetrical Haircut Can Spice Up Everything!
A woman that wears an asymmetrical haircut knows how to enhance the beauty of her facial features, hide her flaws, and show off her sense of style. Can you call yourself such a woman? The truth is, no matter how long we sport our favorite bobs and pixies, adding something new to our styles is crucial, especially if it's something that can enhance our beauty. So let's talk about asymmetry!
ADVERTISEMENT ‧ CONTINUE READING BELOW
Not only it can correct your face shape, but it also creates a seductive outweighing silhouette that makes your current cut look trendier. One of the cutest things about asymmetrical cuts is that they work fantastic for any hair length and hair type: from short wavy pixies to long layered styles. It can be an asymmetric touch to your front tresses, a throughout asymmetric style or its soft element on your fringe; it's all up to your taste.
Your current cut is just a base for experiments, so let our ideas be your stylish inspiration. Let's discover them all!
Classic Short Asymmetrical Pixie Cut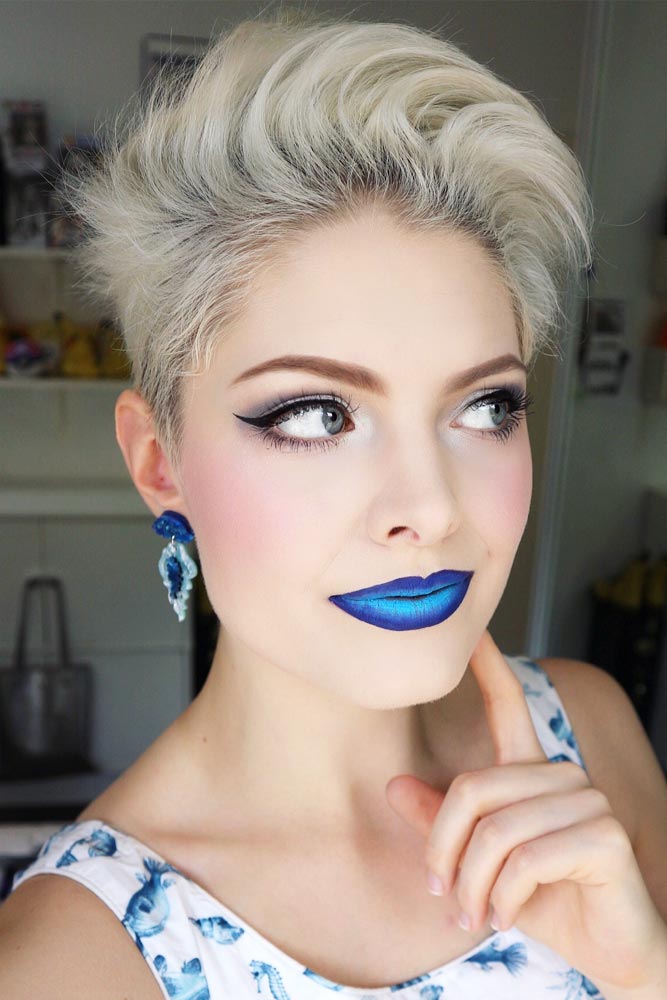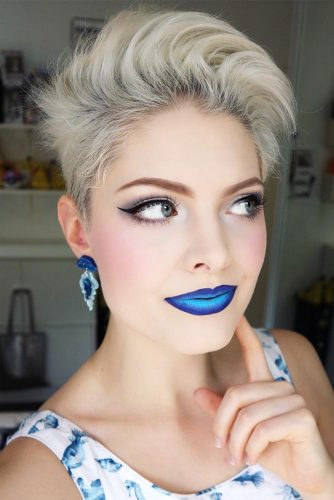 Source: lauragbert via Instagram
Pixie cuts do make ladies look younger, and their hair look well-groomed. Short haircuts, on the one hand, are meant for those who can easily show up without any insecurities. But in the case of this particular idea, those who want to feel confident about their appearance should opt for it. Though this classic short pixie opens up your face, it doesn't reveal your flaws such as round face or wrinkled forehead, as asymmetry does the talking: it elongates your face, setting the focus to your eyes.
ADVERTISEMENT ‧ CONTINUE READING BELOW
Asymmetrical Pixie Cut With Deep Side Part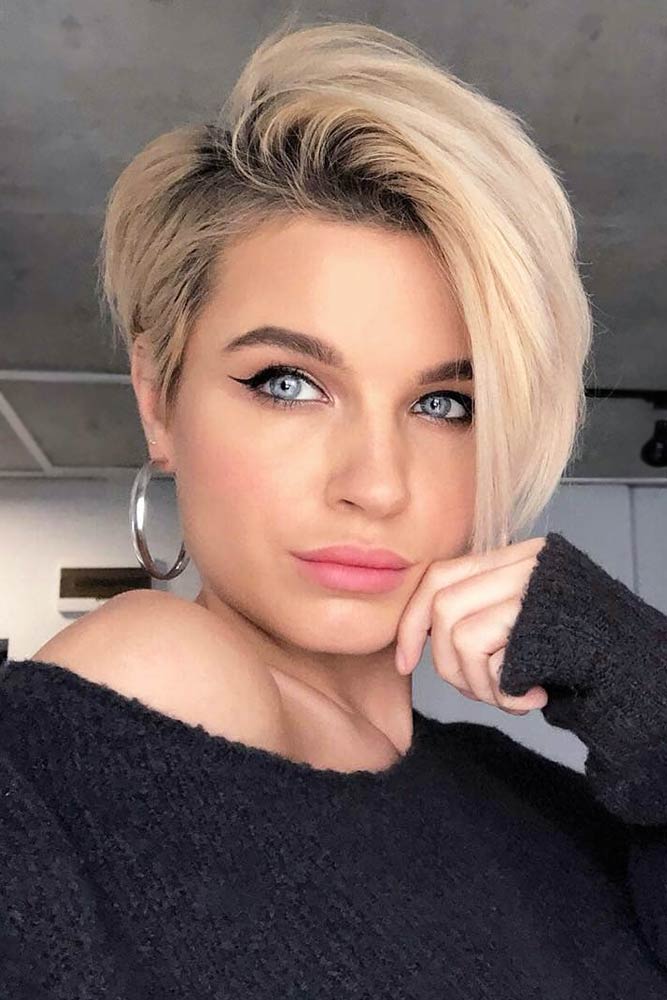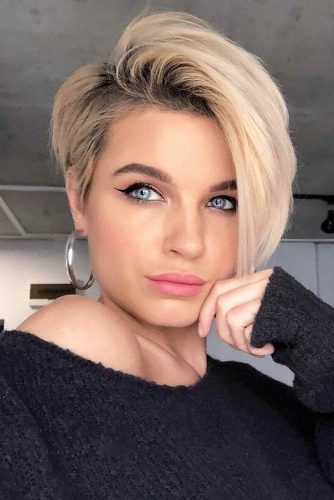 Source: juliana.key via Instagram
Since you flaunt with a pixie cut, why don't make it more eye-catching and attractive? A deep side part that lets one of the sides outweigh the other, giving it a dramatic silhouette, is something that makes everything sexier. Also, it's actually an example of a flattering asymmetrical pixie cut for round face: extraordinary body and the fullness of the heavier side make your round face look visually longer.
ADVERTISEMENT ‧ CONTINUE READING BELOW
Cute Messy Long Pixie For Thin Hair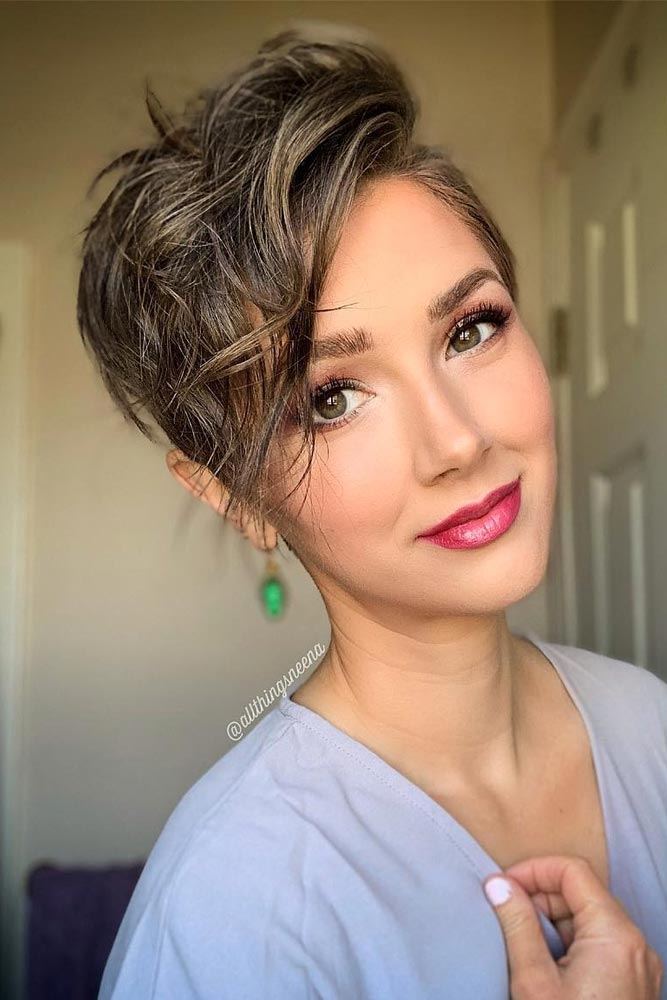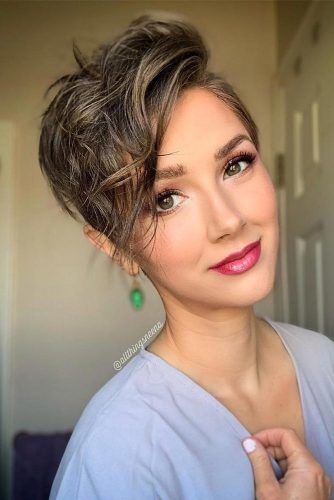 Source: allthingsneena via Instagram
Many modern hairstylists claim that for thin and straight hair, it's better to go for short haircuts and style them messily. The point is that messiness in a hairstyle makes it look more alive, more textured, and more voluminous. Nobody likes when hair falls flat, right? So here is one of the asymmetrical pixie styles for thin locks: the asymmetry makes everything more fascinating, while the messily styled top gets the most out of weak hair.
ADVERTISEMENT ‧ CONTINUE READING BELOW
Curly Pixie With Undercut For Thick Hair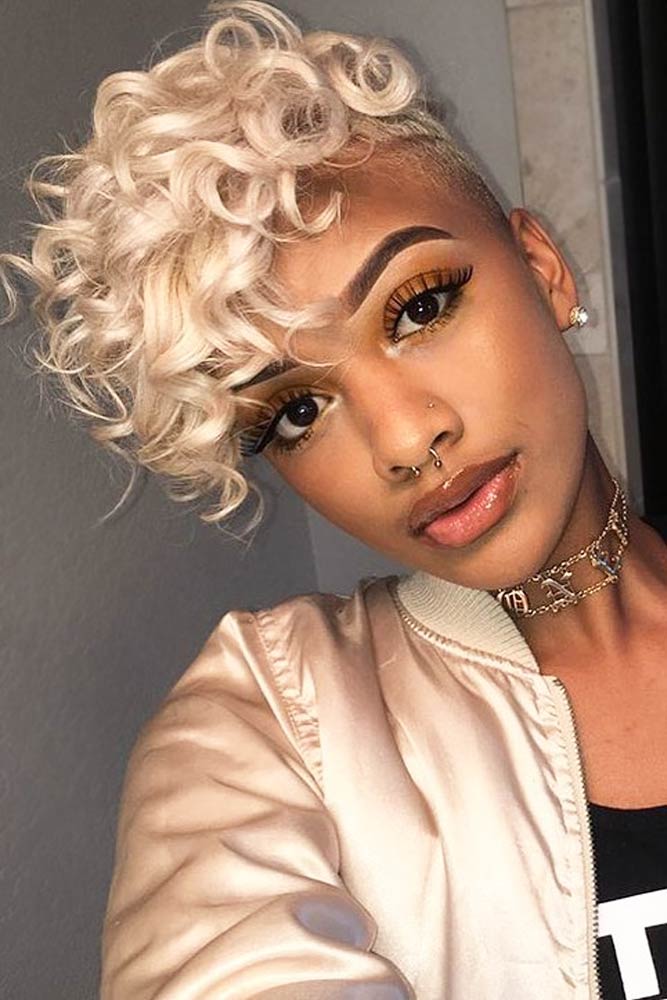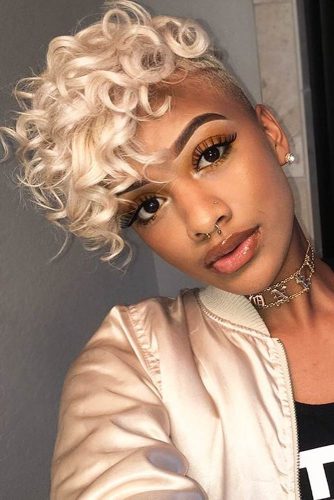 Source: tedrachonte via Instagram
Here comes the loveliest variation of the asymmetrical pixie cut for thick hair: we can't help ourselves when we see a curly chevelure, can you? All the girls with curly hair go through seven circles of styling hell every day just to tame their thick and bouncy locks. Well, this idea will make everything more manageable: the short, a bit asymmetric top will create a seductive and very comfortable look, and short sides of the undercut will give you a feeling of neatness.
ADVERTISEMENT ‧ CONTINUE READING BELOW
Asymmetrical Long Pixie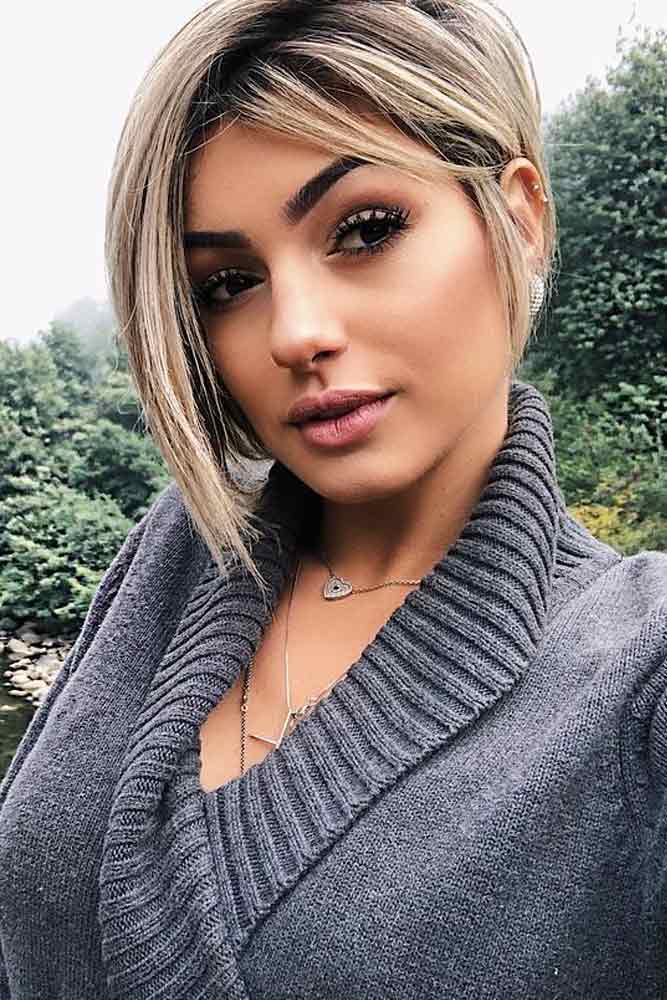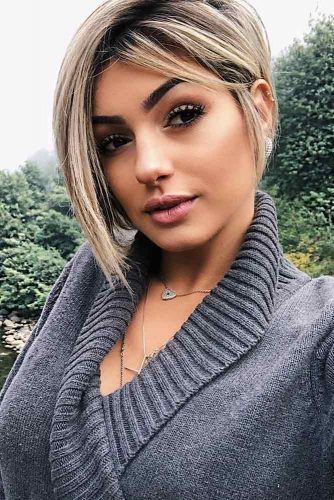 Source: lorraine_leall via Instagram
Don't feel like going too short? Pixie has many variations, and its longer style is absolutely cute! Apart from changing your haircut to an entirely new and trendy look, you can spice it up with some bold colors. In this pic, you can see how a daring, very definite asymmetry looks like, and how it changes the way you look. When this asymmetrical haircut is paired with awesome, head-turning hair color, it turns into a look to steal.
Asymmetrical Shag Haircut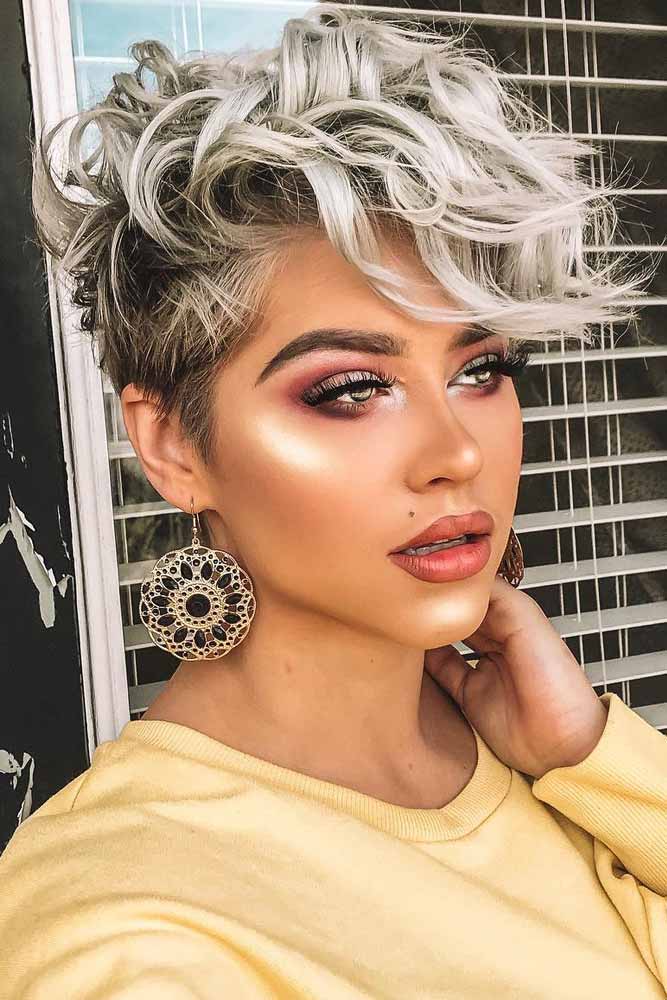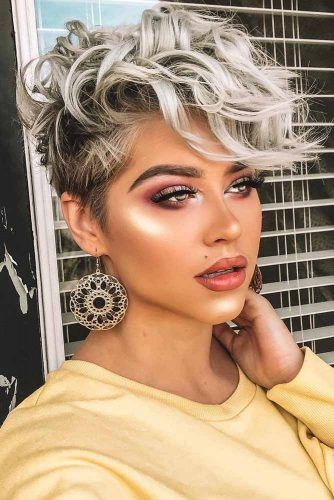 Source: autumnhartt via Instagram
This shaggy and asymmetrical hair look seems to be the mixture of two striking masterpieces. The unbelievable movement of this layered shag and the charm of the asymmetrical haircut create a very effortless an chic style. Girls with square faces will love the way this cut balances out the whole look, drawing attention from their prominent jawline.
Asymmetrical Pixie-Bob With Shaved Side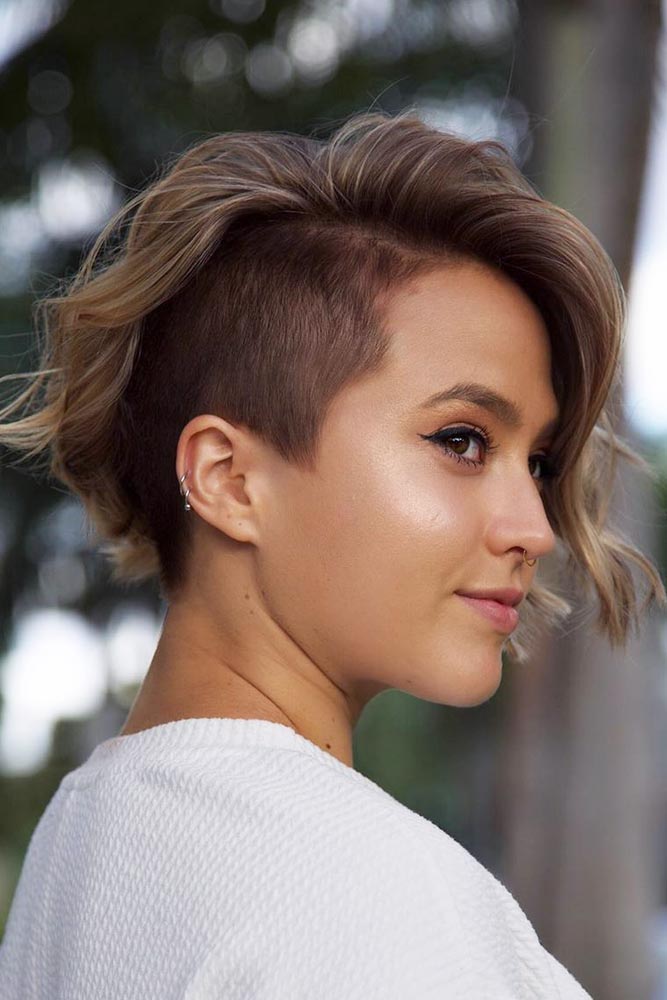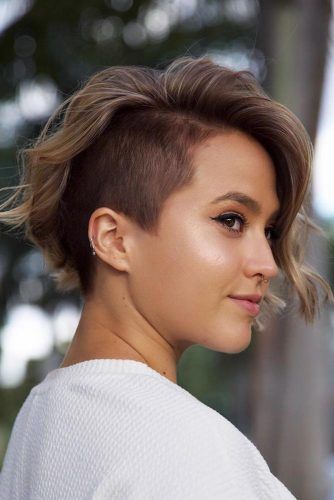 Source: lizpaintshair via Instagram
Asymmetry has come to this world to make you look different, remember? So if you plan to leave your hairdresser with a haircut that stands out in the crowd, this pixie bob will be your best friend. You may remember it as a sharp, well-balanced, and voluminous haircut rocked by sophisticated and elegant women. Still, the cut can be different, adapting to all your hair needs. You can pair it with an undercut to add some restless vibes to it and finish everything with a daring touch of asymmetry. Just let your creativity fly!
ADVERTISEMENT ‧ CONTINUE READING BELOW
Asymmetrical Straight Short Bob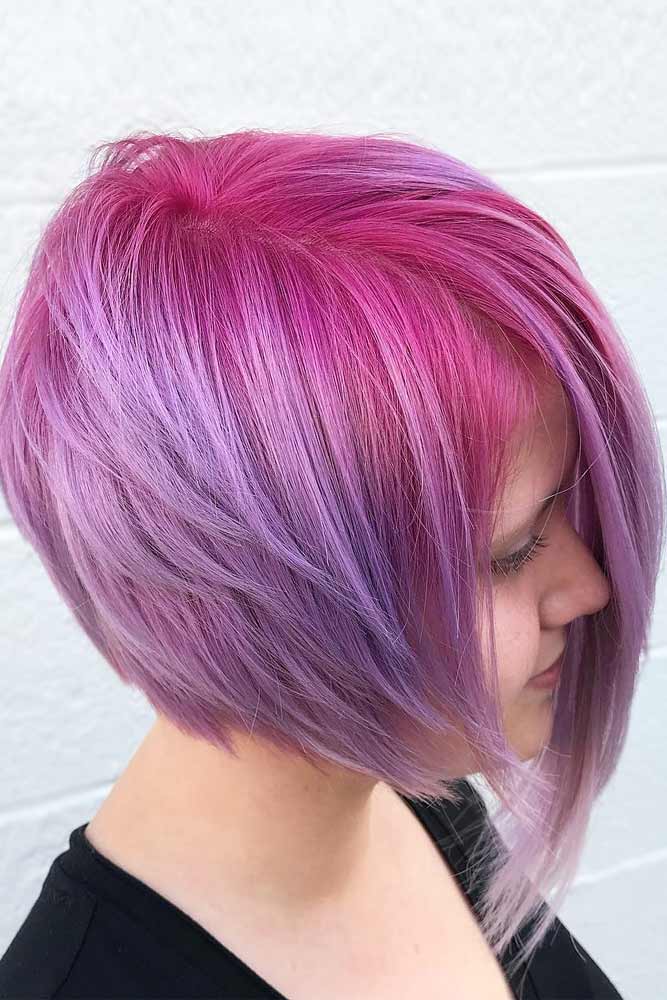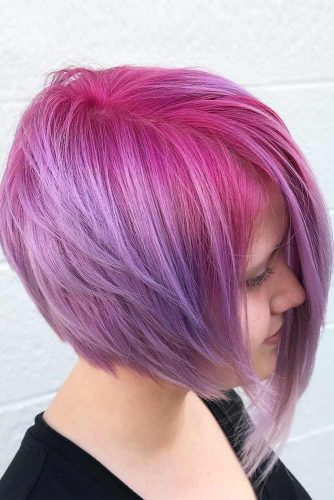 Source: cryistalchaos via Instagram
Bob hairstyles are one of the most flattering ones as they help us to freshen up our appearance and make the accent on our most beautiful features. Just have a look at this asymmetrical straight short bob. If you choose it as your hairstyle you will see how the way it is cut will change your style and how gorgeous it will be on you.
Wavy Asymmetrical Bob Haircut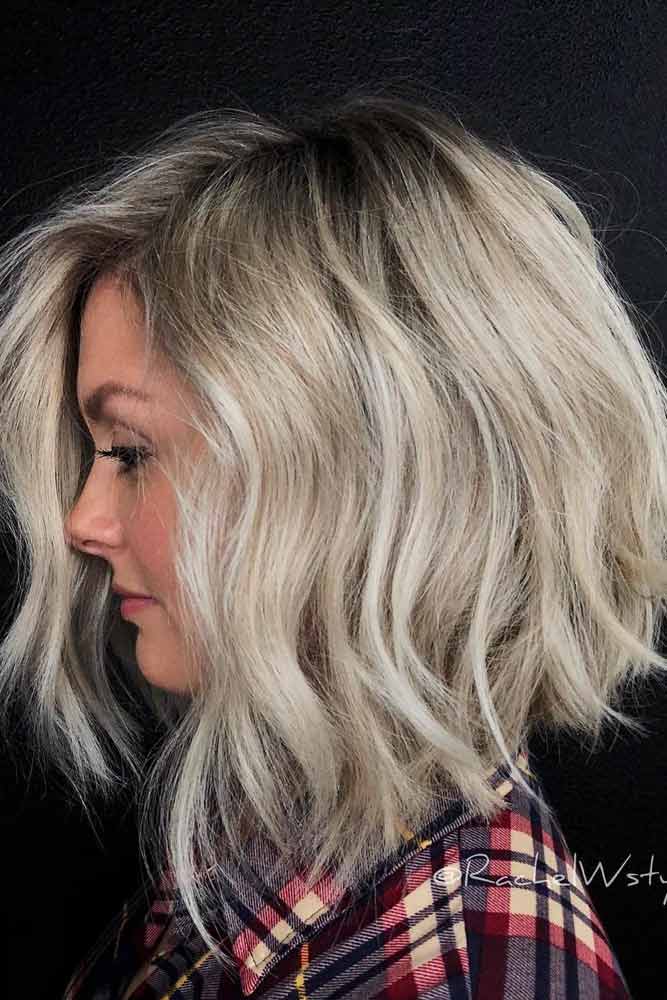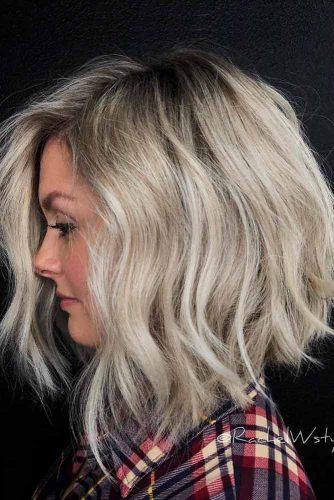 Source: rachelwstylist via Instagram
Now, it's time to talk about the asymmetric side of the popular bob haircut. This blonde asymmetrical bob is here to take a fresh look at your image of this common cut: the asymmetry that goes throughout the whole cut gives a stunning silhouette to the ends, creating a nice contrast of lengths.
Side Parted Asymmetrical Bob Haircut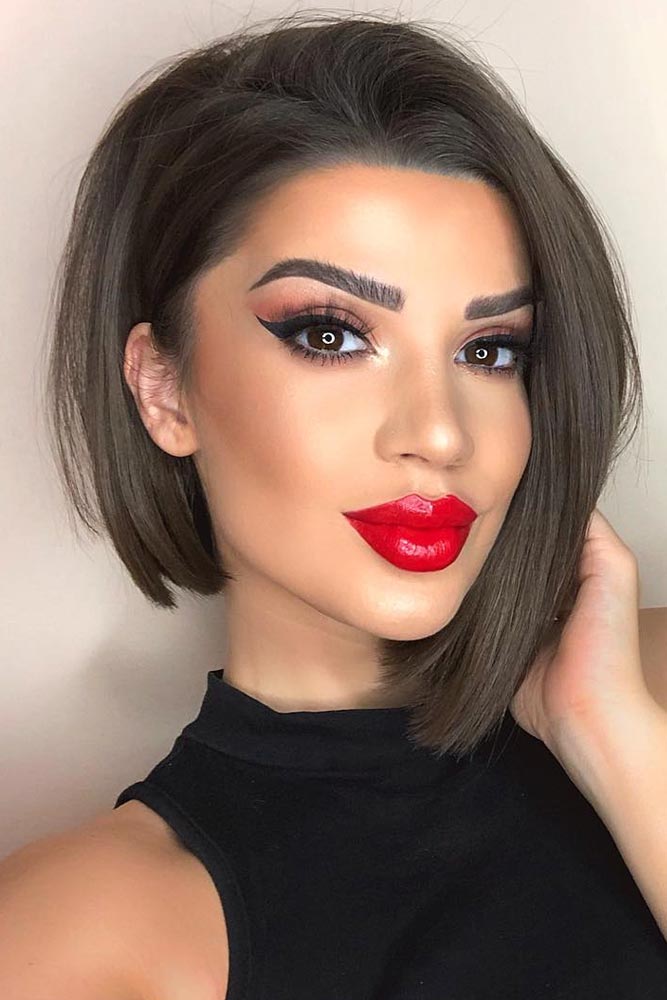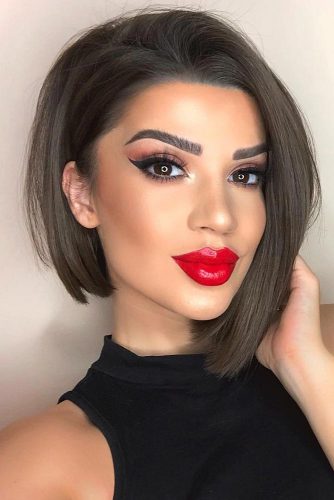 Source: exteriorglam via Instagram
Getting a side-swept bob is an excellent way to create a voluminous and balanced hairstyle. One of the sides, which is longer than the other, is swept to give a lift to the crown. In this way, hair looks full and tidy, as a little touch of overbalance breathes new life into the familiar cut.
ADVERTISEMENT ‧ CONTINUE READING BELOW
Blonde Straight Asymmetrical Bob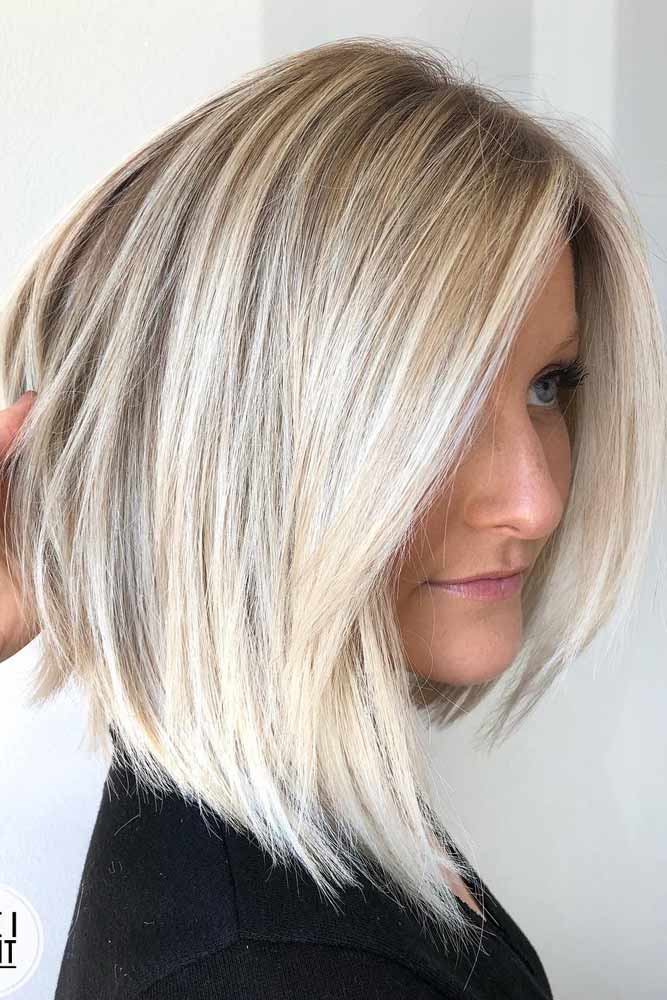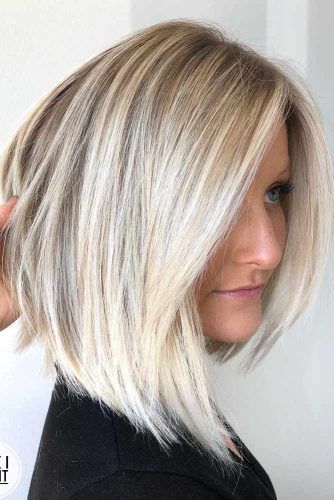 Source: maeipaint via Instagram
If you want to make the charm of asymmetry work for your straight fine hair, don't forget about sharp layers at the ends and crown. This cutting trick will make your mane more manageable and lifted, as well as intensify the asymmetrical structure of your haircut. Also, to enhance the natural movement created by layers and the imbalanced silhouette, you can finish the look with the latest combination of blonde shades. A well-blended balayage is always a win-win choice for those who want to get the most of their hair transformations.
Auburn Straight Asymmetrical Bob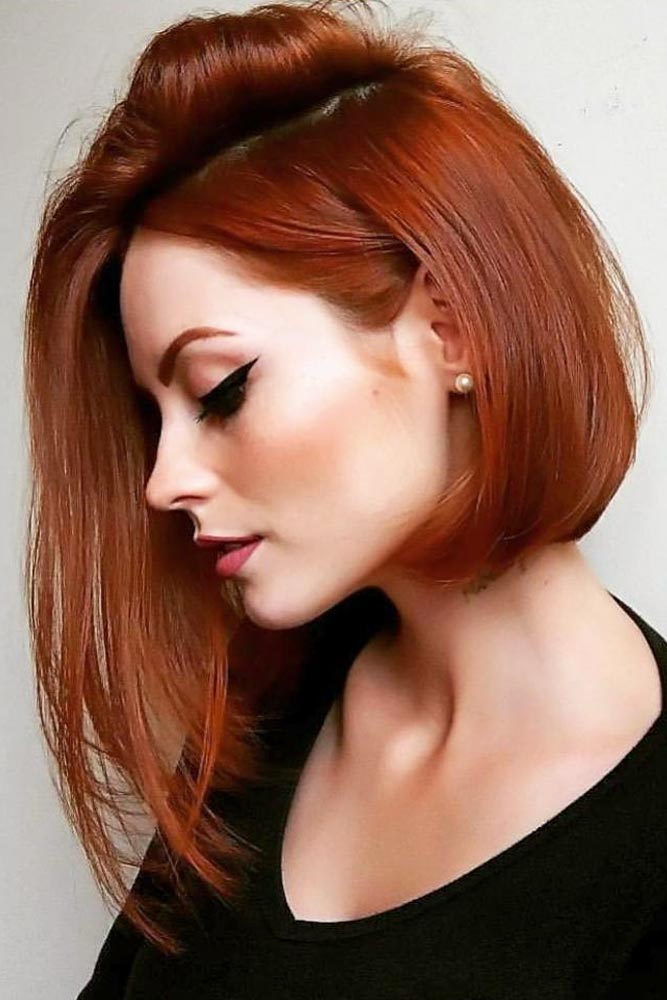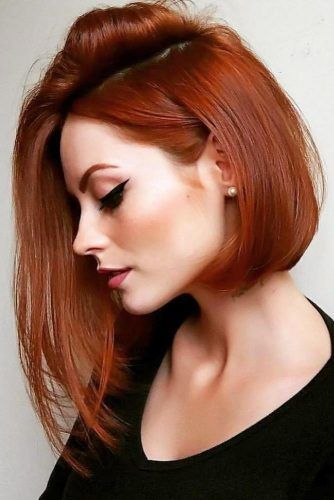 Source: raquelbugsmakeup via Instagram
Wondering how an asymmetrical haircut looks on non-layered hair? First of all, it will look different. In a good way, of course! To be more exact, the structure will be more precise, which is a wonderful idea for thick hair that needs to be whipped into good shape. Bob haircuts have always been the best weapon for thick locks, and if you want to step out of your comfort zone and rock something uncommon, asymmetry will do the trick.
Black Asymmetrical Bob With Bangs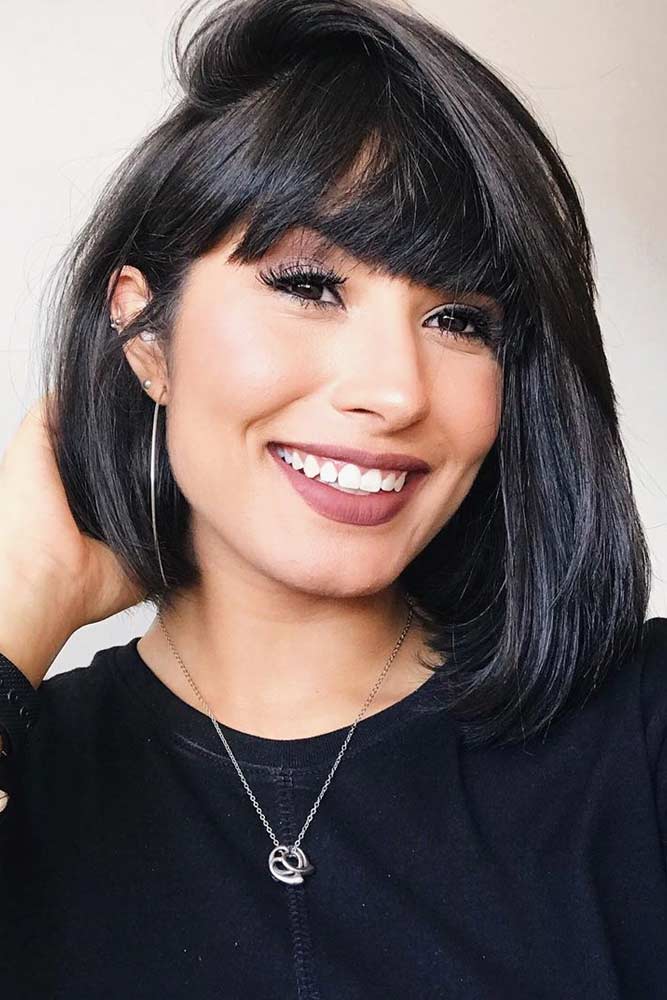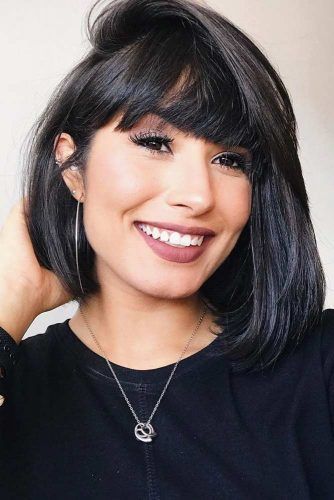 Source: kaahnunes via Instagram
In this world, the scenario where bangs are a bad idea doesn't even exist! Obviously, every girl should choose bangs based on her individual features to achieve the best results. As for this idea, it will flatter girls with broad foreheads or those who'd like to give it some frame visually. Needless to say, the way the asymmetrical haircut accentuates this cute fringe look is just to die for.
ADVERTISEMENT ‧ CONTINUE READING BELOW
Asymmetrical Lob With Bangs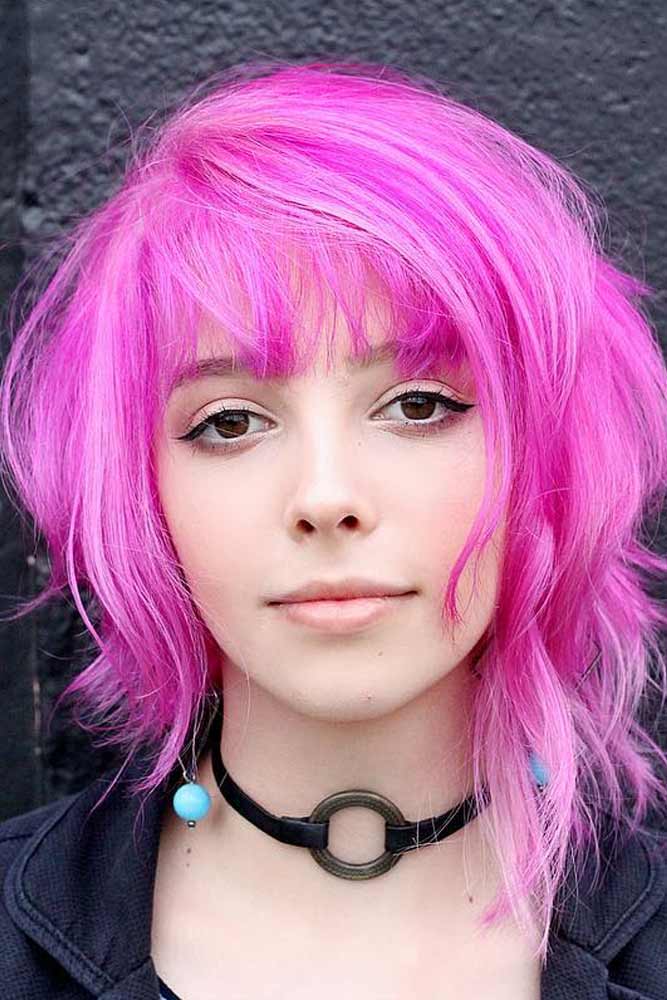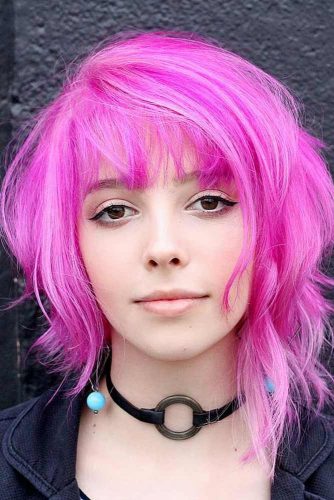 Source: _rockyourhead via Instagram
Asymmetrical cuts create an illusion of messy hair that is so popular nowadays. Would you like to look fresh and super stylish? Then this asymmetrical lob with bangs is your idea to try. Bangs bring so much charm when they are done with such cuts. Easy, romantic and charming.
Asymmetrical Curly Lob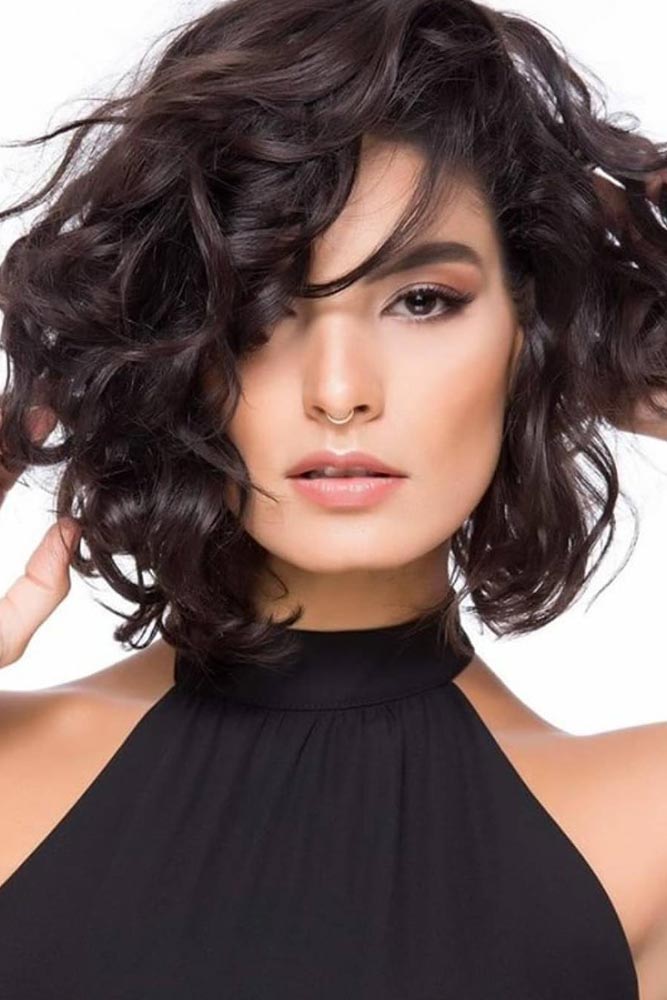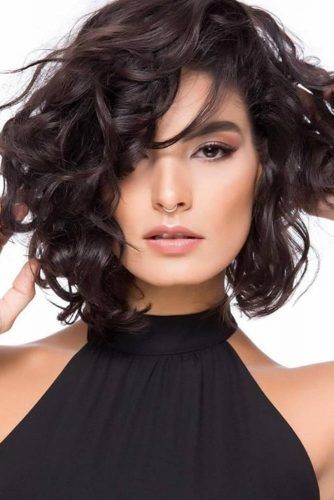 Source: talita_andrade03 via Instagram
Girls with curly hair should definitely consider trying a bob hairstyle, an asymmetrical lob in particular. The texture of curly hair will let you create such beautiful hairstyles without you putting much effort on a daily basis. Isn`t that perfect? Relaxed looking and super stylish it is.
Volumetric Asymmetrical A-line Bob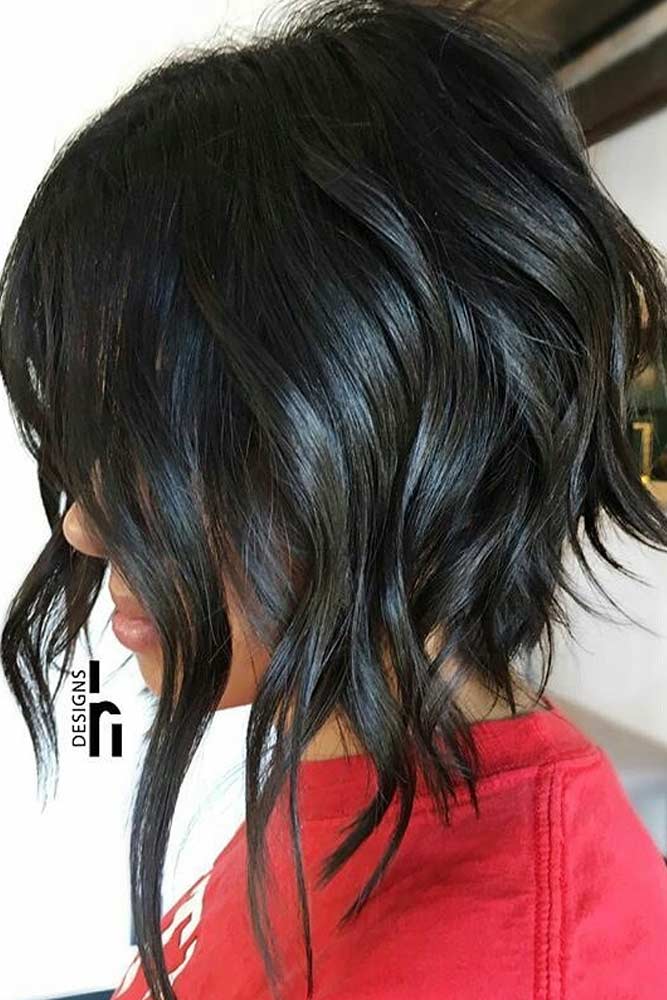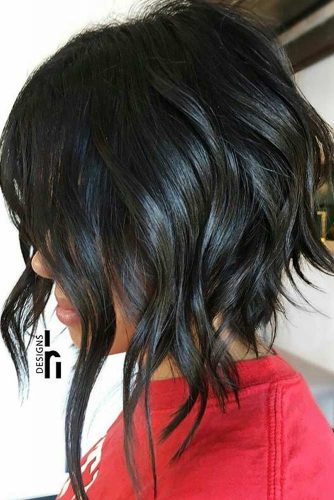 Source: headrushdesigns via Instagram
A-line bob gives a totally new definition for volume, taking your hair to the next level. It's probably the most ravishing and effective way to tame unruly fine hair and give a well-groomed look to it. The hair on the back is relatively short, which provides a great lift to the crown. As for the front locks, the length gradually becomes longer. And when it's combined with a tasteful asymmetry, it becomes one of the best short asymmetrical haircuts for round faces, as it forms a face-framing effect.
ADVERTISEMENT ‧ CONTINUE READING BELOW
Stylish Layered Asymmetrical Bob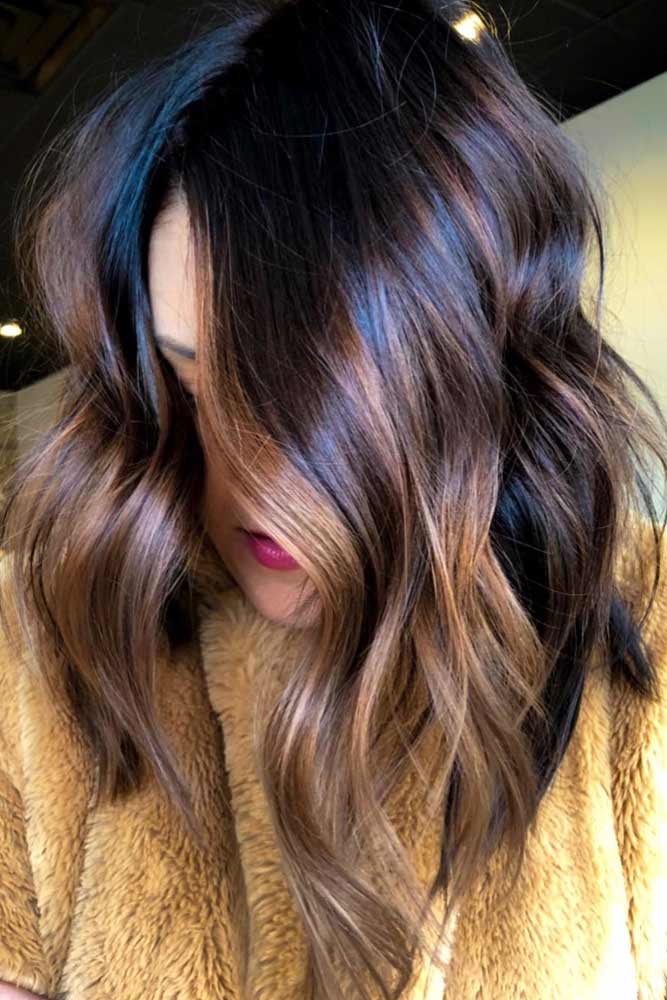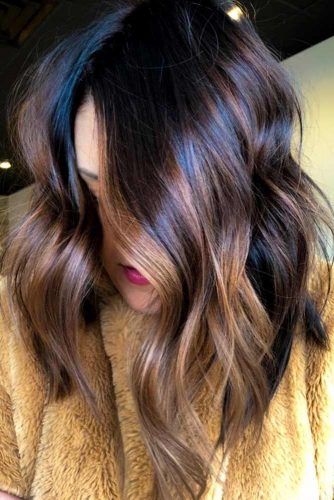 Source: mikaatbhc via Instagram
Just imagine what a fabulous look you can get with layers that form an asymmetric body. When you feel bored with your bob, it means that it needs an asymmetric detail. Look how gorgeously these lovely waves fall on one another, and how fascinating it looks with the slide of lengths. Plus, asymmetrical styles can perfectly flatter your face shape, no matter what it is: the front waves will either frame your round face or round up the prominent angles of your square face.
Choppy Asymmetrical Haircut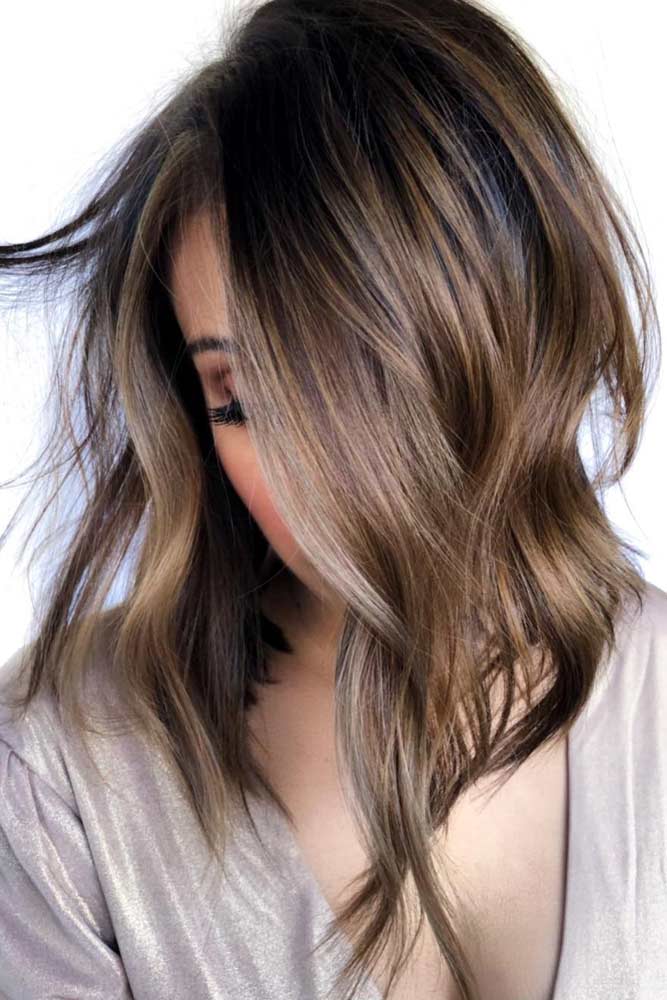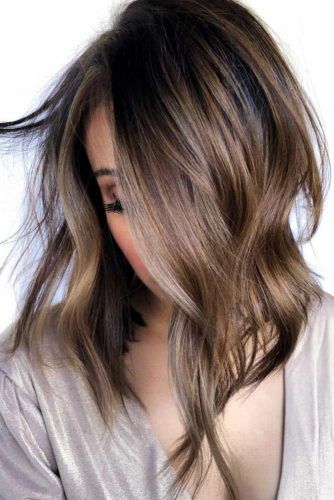 Source: mikaatbhc via Instagram
Asymmetrical bob haircuts can be as different as you want: this customized cut is the result of a stylish and creative approach. A bit messy, choppy silhouette gets more attractive when you look at its bright ends. With such a stunning cut, there's no way you won't be in the spotlight.
Asymmetrical Wavy Medium Length Haircut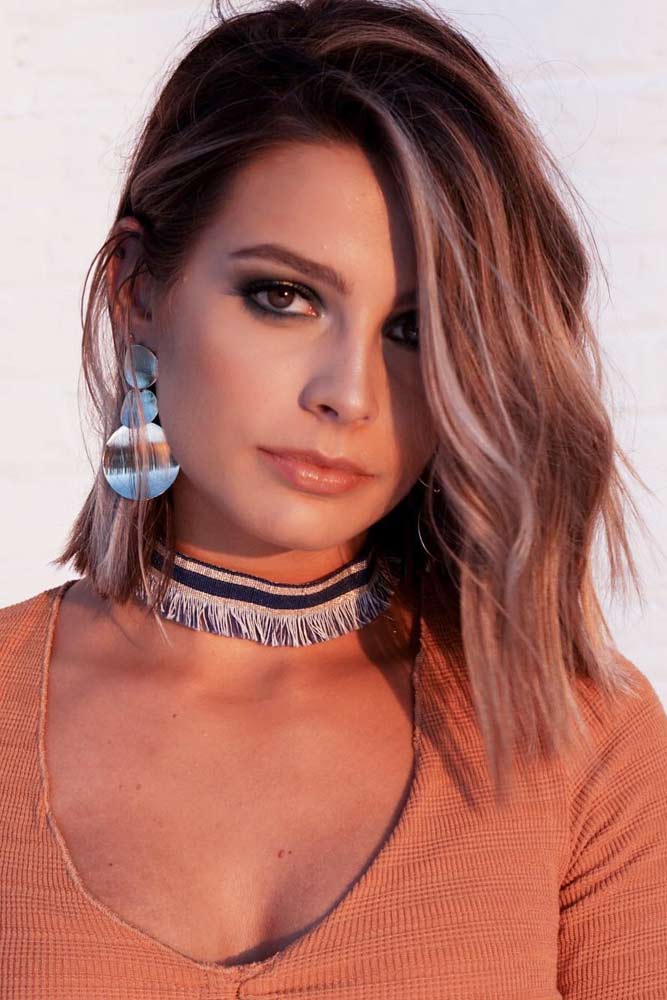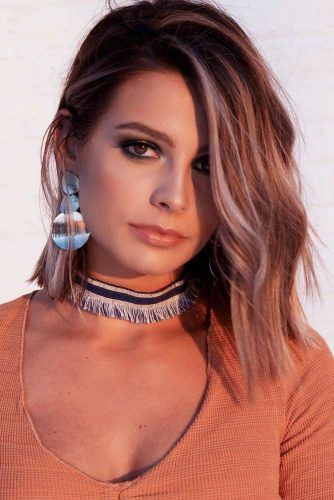 Source: mikaatbhc via Instagram
Another medium length idea that you should think of trying is an asymmetrical wavy haircut. Waves change the whole hairstyle, making it look super fresh and romantic, so imagine it on a beautifully cut asymmetrical hair? Wow!
ADVERTISEMENT ‧ CONTINUE READING BELOW
Medium Length Asymmetrical Haircut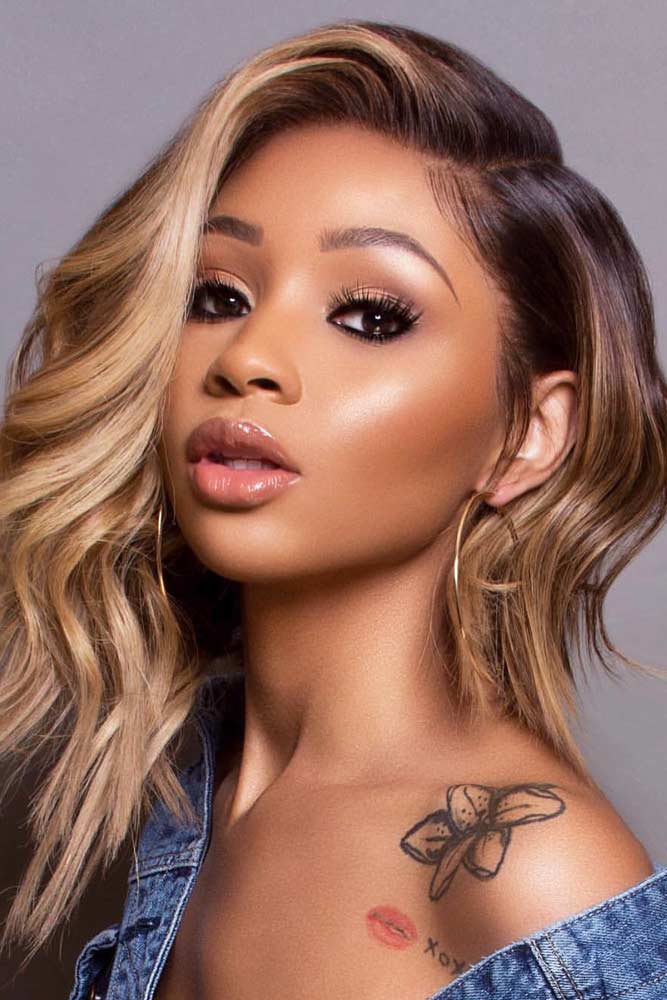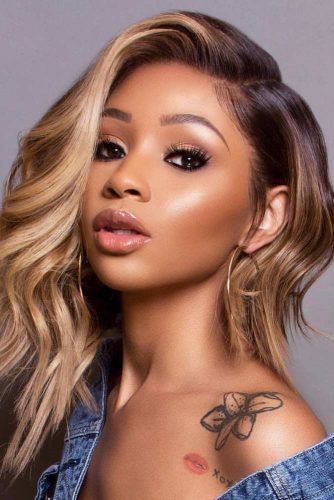 Source: ___omgihy via Instagram
How do you like this short to medium graduation? Medium haircuts express both charm and versatility. It's no secret that with such a length you can create any hairstyle you want: it's the happy medium between long and short lengths. Look at this pic: only asymmetrical haircut can give you such a dramatic lift and make waves look that attractive. If you have no idea how to style your medium hair, don't cut it: add some overbalance.
Asymmetrical Sleek Bob + Undercut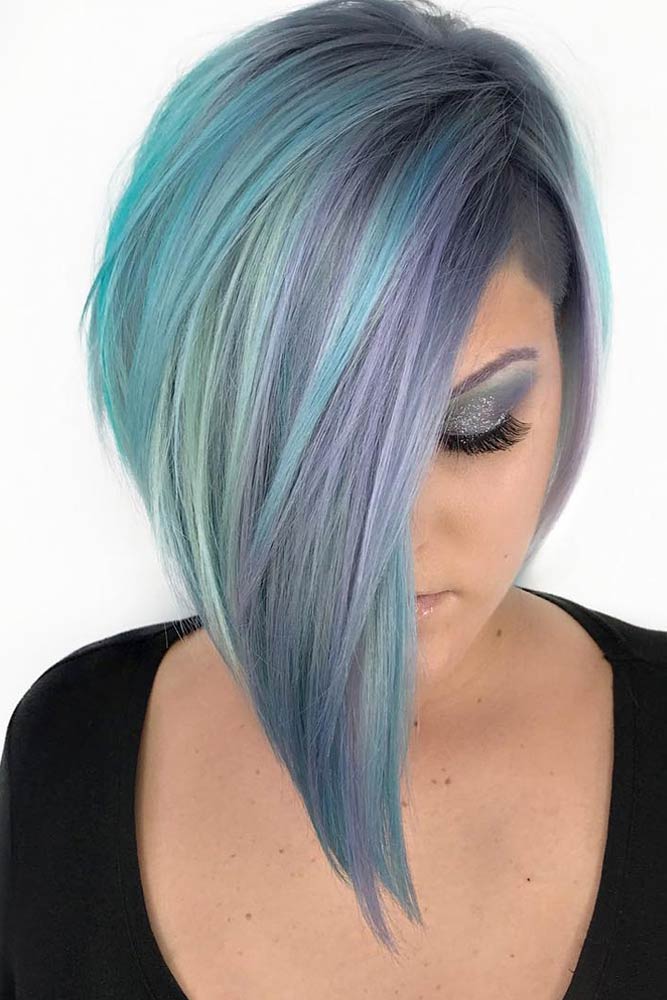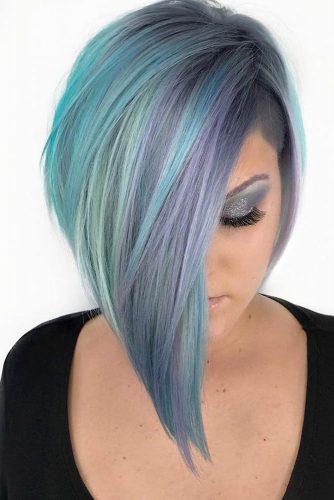 Source: athanasia_zografos via Instagram
This idea is undoubtedly the idea of now, so those who want to keep up with trends won't pass by this asymmetrical bob 2018. Everything is on point: the color, the texture, the style. The sleek look reveals each of the stylish hues of this asymmetrical cut, while the cleanly shaved sides of the undercut make a real statement. If you're bold enough for mixing trends, copy this look right now!
Chic Angled Asymmetrical Haircut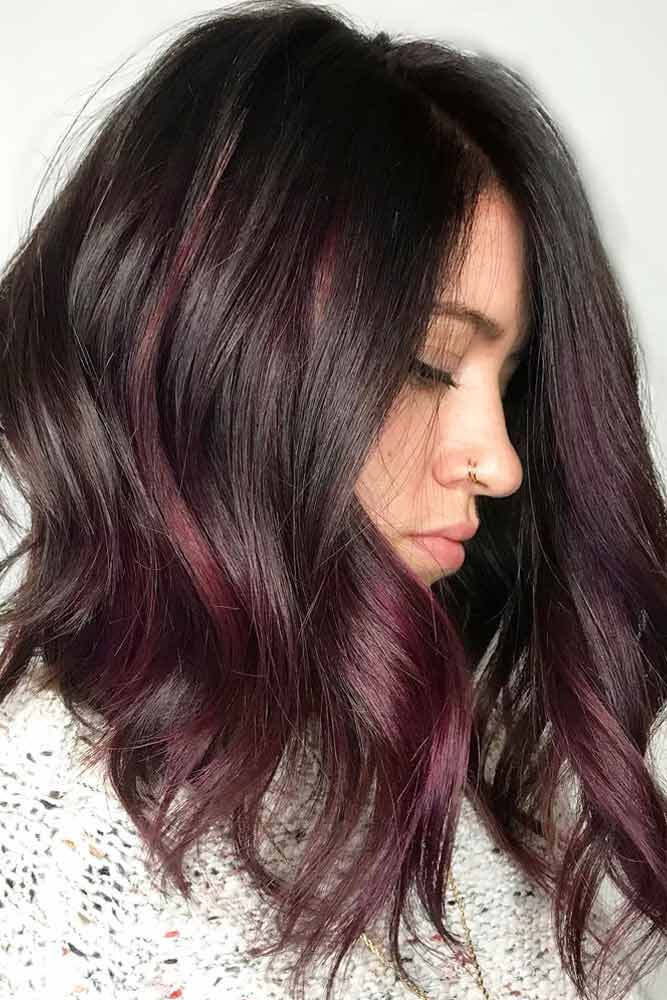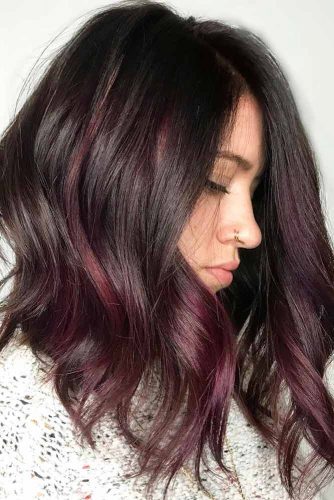 Source: hairbyac_alcorn via Instagram
Angled cuts are the never-ending trend. You saw it when you were a child on your mom's friends, and now you can see it literally on every second teen or lady. Some things just don't age, and such things are called classic. How about you to diversify the classic? Asymmetrical hairstyles will be your inspiration! Angled haircuts are initially asymmetrical, and this styling idea where waves are changing their direction by each lock is a real thing!
ADVERTISEMENT ‧ CONTINUE READING BELOW
Asymmetrical A-line Medium Length Haircut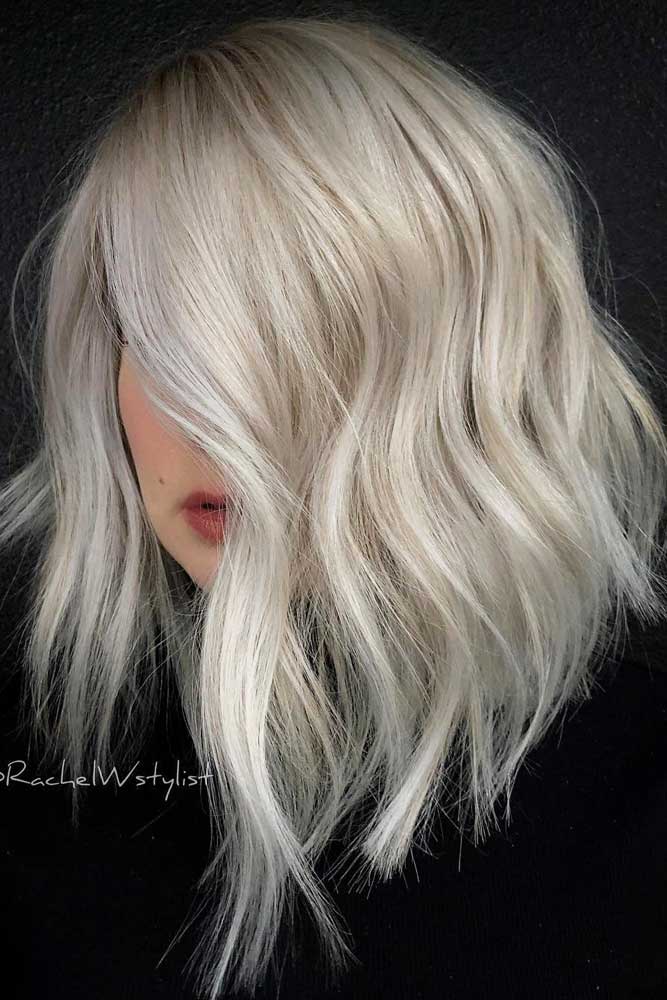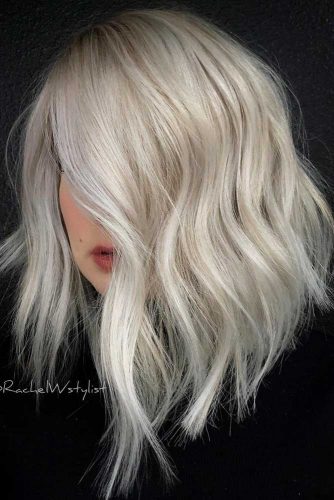 Source: rachelwstylist via Instagram
If you are not ready for dramatic changes, like cutting your hair into a super short bob, then think of getting an a-line medium length haircut. Its length will let you create a lot of different hairstyles on a daily basis, but even while let down it will look absolutely stunning with the way it is cut.
Long Layered Asymmetrical Haircut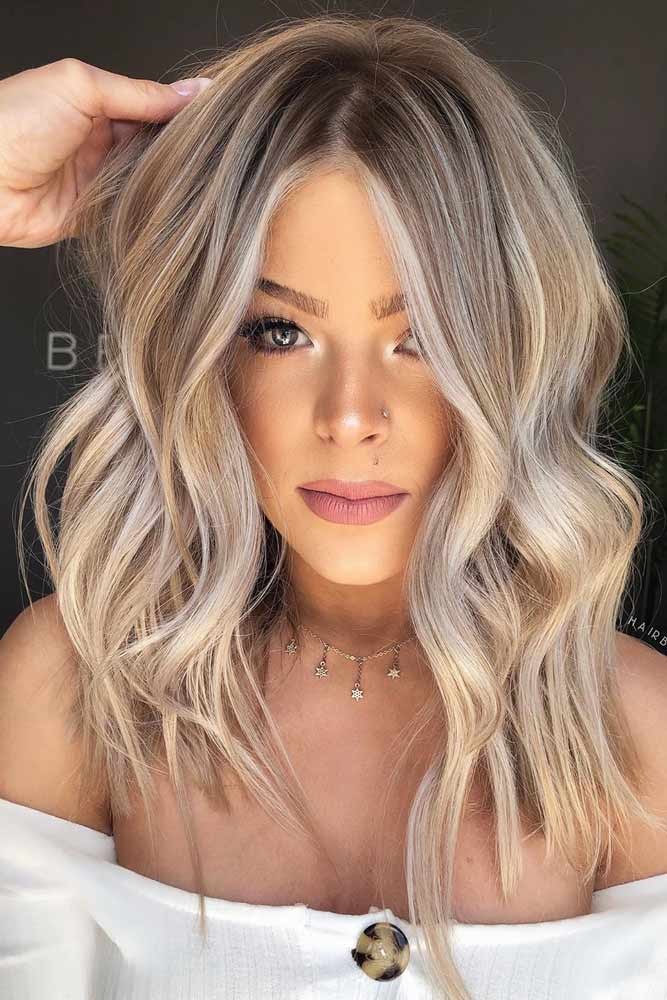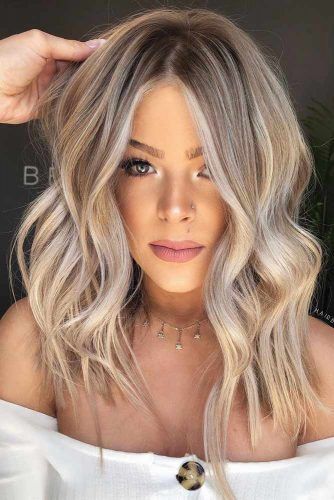 Source: hairby.ashleypac via Instagram
We won't leave girls with long hair without inspiration! There's one way that can change the look of your long locks once and for all: this layered cut. Nothing emphasizes the awesomeness of layers better than long asymmetrical haircuts, as each layer is absolutely seeable. This asymmetry also gives a beautifying framing effect, so now you know how to deal with face shape insecurities.
Asymmetrical A-line Wavy Long Haircut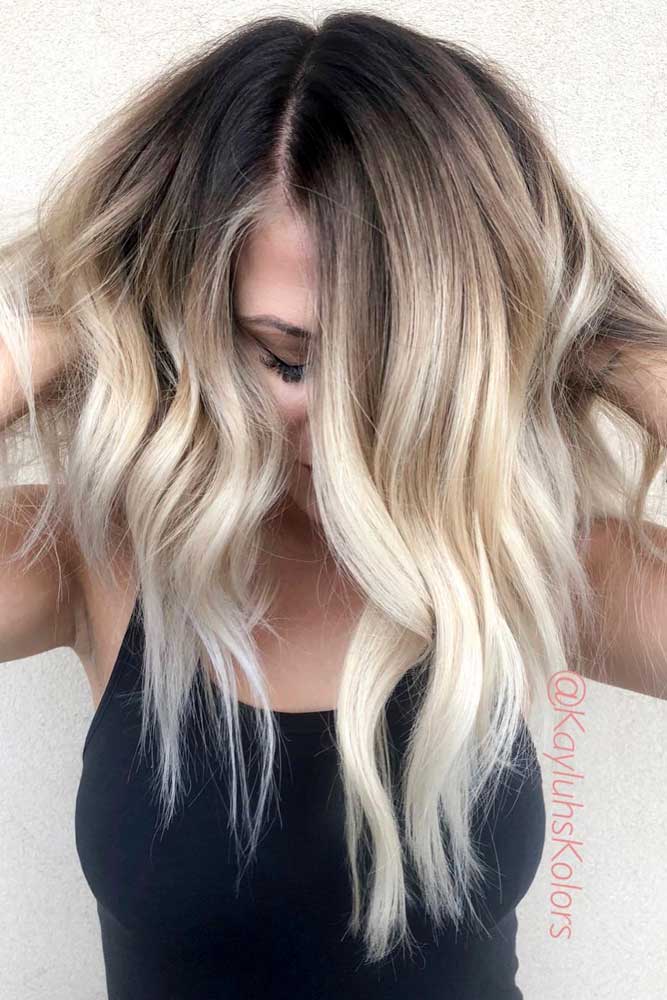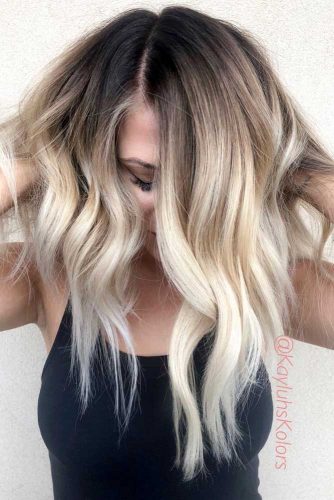 Source: kayluhskolors via Instagram
Don`t think that asymmetrical cuts are only done on short or medium hair. If you are not ready to say goodbye to your length, but would love to experiment with it a bit, this idea is perfect for you. Ask your hairdresser to cut your hair in an asymmetrical a-line and you will be shocked with how good the results will be.
Since you've just explored the world of the incredible asymmetrical haircut and got to know how beneficial it is, it's time for you to get it a try! Our ideas deserve to be real. Don't hesitate to experiment and bring one of them to life.
ADVERTISEMENT ‧ CONTINUE READING BELOW