Try Out These Stacked Bob Haircut Ideas
A stacked bob haircut will be the perfect choice in case you are looking for something sassy and trendy. A stacked bob will make your 'do more voluminous and add some texture, if you are an owner of thick hair. In order to make your bob pop even more, try some vibrant colors, for example, red hair looks terrific.
The stacked bob hairstyle is versatile and beautiful. It is amazing how a new haircut can change your entire look and style. There are various lengths of this style: from a medium length to super short. And there are many additions you can go for, from color choices to edgy elements. This is a great style to add volume and depth to fine hair because the layers are specifically created to do just that.
While the stacked cut is similar to the A-line bob, there are distinct differences. The stacked effect is from the back, and it is important that this part of the cut is done very precisely. It is crucial to choose a salon and stylist who is familiar and has experience in cutting this style since it is a style that isn't easily perfected.
There are sleek and elegant versions of the stacked bob, as well. These are more attuned to a business professional who has a certain elegance to maintain. These types of a cut are often worn by business executives who are in the fierce competition for high-end jobs.
These cuts carry a more professional and not quite as fun and playful air in them. Women who wear a style such as this demand attention the moment they step into a room and all eyes are on them. This is a very confident hairstyle that will boost one's ability to play with the big boys.
Main photo by Styled_by_carolynn
What Is A Stacked Bob?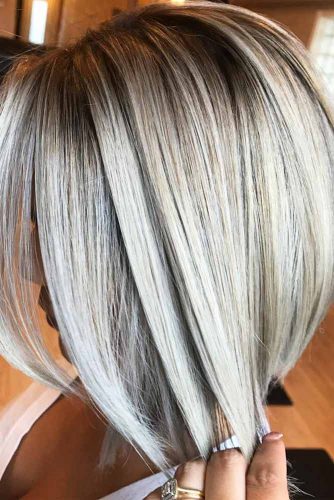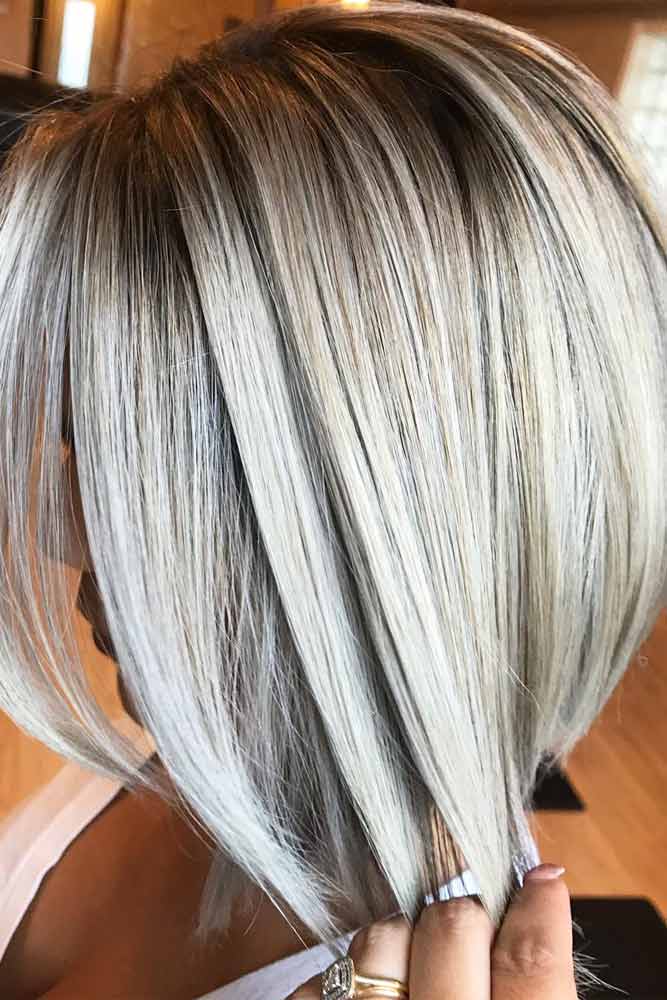 Source: hair_by_mandapanda via Instagram
What makes the stacked bob differ from the traditional one is that the latter is just jaw-length, while the former is also stacked at the nape, hence the name. Basically, you get the angled haircut with longer front and shorter and curved back. Because it's cut in gradual layers, this stacked hairstyle gains a lot of volume and texture.

Who Does A Stacked Bob Look Best On?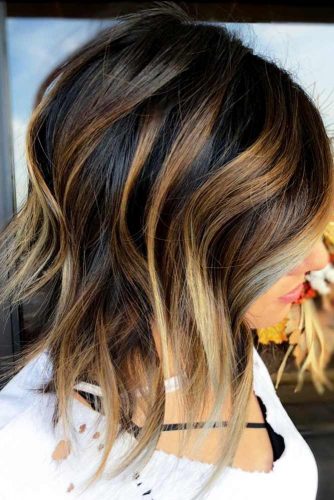 Source: mikaatbhc via Instagram
With the right attitude, meaning style, the stacked bob can be flattering for anybody. Its versatility allows women with different face shapes and hair textures to sport this trendy look. The most beneficial though it will be for women with thin hair, as the A-line cut and layers add more volume. However, ladies with kinky hair can also pull off the hairstyle without looking overly poufy. It comes out more Carrie Bradshaw-esq. What a tempting thought, isn't it?

How Do You Style A Stacked Bob?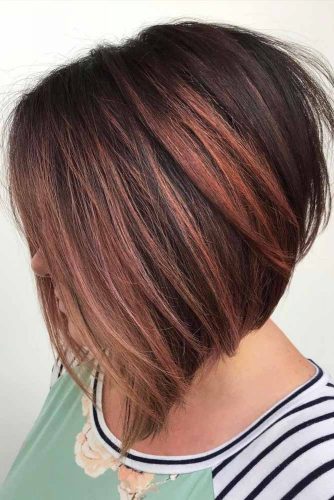 Source: styled_by_carolynn via Instagram
If you still need reasons for falling in love with a stacked bob, here's another one. It offers you a plethora of styling options. Depending on your mood, personal preference and time available, you can style it curly or straight.
A wavy stacked bob doesn't require much effort. After showering your hair with a shampoo and conditioner for curly hair, blot it with a towel or a cotton T-shirt. Apply a special curling spray and leave your locks simply air dry. Afterward, tousle your waves with fingers.
Inversely, a straight stacked bob does imply a bit of styling. Wash your hair with a shampoo and conditioner that give a smoothing effect. Use a hair serum that prevents frizziness before blow drying the hair with the help of a round brush. To complete the style, spritz the bob with a mist for satin effect.

Blonde Stacked Bob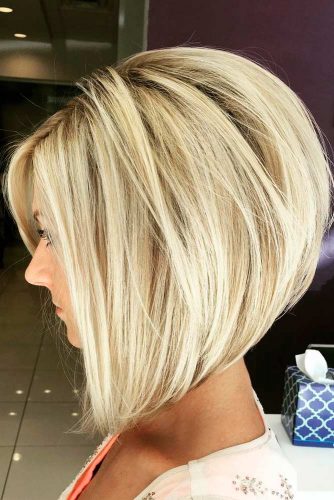 Source: _Colourgoddess via Instagram
You can wear such a hairstyle to suit just about any occasion. From a look for a fun night out on the town to a neat look for the office to a look for a formal event. Read on and see some examples to get ideas that may work for you.
In this example, our model has opted for long layers descending from the crown to the layers in the rear of the cut. This particular example has a long bang option that pairs well with the cut. The beautiful color job has gorgeous tones that add the illusion of depth and dimension to her hairstyle.

Messy Short To Medium Bob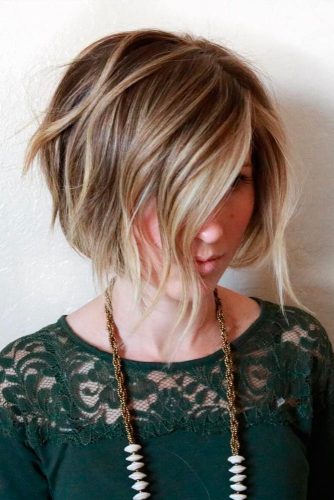 Source: Shanecraighair via Instagram
The wavy style is yet another option that gives a whole new look to the stacked bob. This cut plays to the crowd that prefers the messy look as opposed to a neater style. The waves and a slightly messy style of the stacks in the rear lean toward beach and fun air. This could also be considered a more edgy hairstyle than most.
This haircut is very versatile and suits all face shapes. It also looks good on curly hair and it is absolutely fabulous when straight. It is versatile enough for a very broad range of ages. No matter if you're 16 or over 60, this hairstyle looks great on all women. There are also ways to enhance this hairstyle, to make it compliment you in an even greater way. Deep parts, lots of layers and highlights and colors can take this style to a whole new level.

Layered Brown Bob With Highlights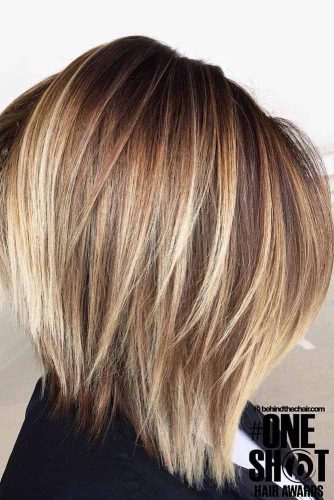 Source: texasbalayage via Instagram
Here is another option with blonde highlights on a light brown base. This style has a wispy bang that is short, allowing this stacked bob cut to meet in the middle rather than follow a simple inversion. Her layers provide this model with volume to hide the fact that she has thin hair.

Edgy Layered Bob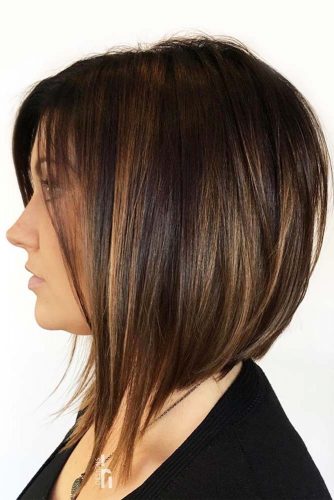 Source: headrushdesigns via Instagram
This gorgeous representation of a stacked cut is set off by the gorgeous color of the model's hair. While this style could easily be worn by a more mature woman, this model has embraced the fashion style of gray and silver hair that is all the rage. The edgy layers give this cut fun and somewhat reckless air which leads to the impression that this model is not only geared up for a busy day at the office but also ready for a fun night out on the town.
This style appears well with or without bangs. Not only do the multiple layers give the appearance of thicker, fuller hair to women with fine hair, but they also add a new level of dimension to a woman who has a thick hair type. Add some curls to those multiple layers, and you have a stunning hairstyle that will stop onlookers in their tracks.

Stylish Long Bob Haircut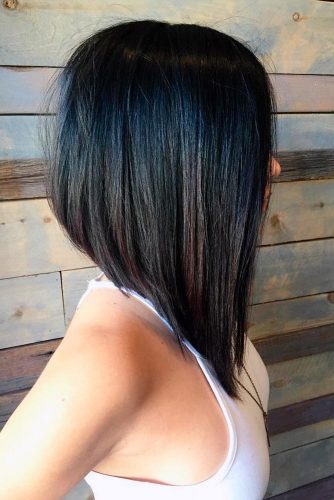 Source: Hairbyedwin via Instagram
Going short is not every woman's cup of tea, and there's absolutely nothing wrong with that. You can still bring an edge to your complete look with a long angled haircut like this one! Go bold with a single color, such as black or a blackish blue color, or add highlights to make it even sleeker.
This long stacked haircut is perfect for women who wish to keep their length while also having fun by adding short stacked layers in the back. Either way, women of all ages easily rock this haircut with the utmost of ease!

Silky Bob Hairstyle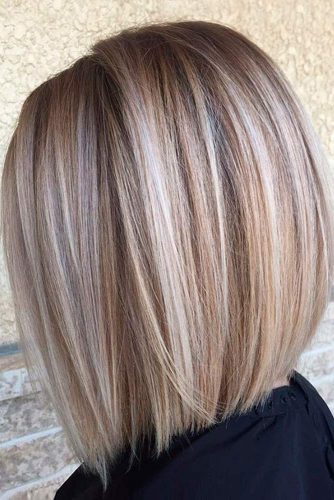 Source: Styles.by.sarah via Instagram
For women seeking a sophisticated yet sleek look without exposing the back of the neck, this medium stacked bob hairstyle does wonders. Contrary to the stacked back in other hairdos, the subtle layers on the side make this hairstyle stand out. Medium bob hairstyles are definitely on the rise in this day and age, and with the use of the correct products, you can even add that silky smooth effect. This medium stacked bob is ideal for women with thick hair.
With the short and medium length stacked bob, you will walk into an area of style that is super chic. If you hope for a hairstyle that will boost your confidence, this is the style for you. You can start anew with this new sassy style that may allow you to be a trendsetter in your social circles.
You can add various colors as highlights and play with variations of the cut, whether you choose bangs or not. You can also experiment with the level of stackedness you wish to achieve with your cut. There is a super stacked cut with lots of short to longer layers, and there is a shaggy cut style that has a longer length of layers.

Blue-Silver Stacked Bob With Side Bangs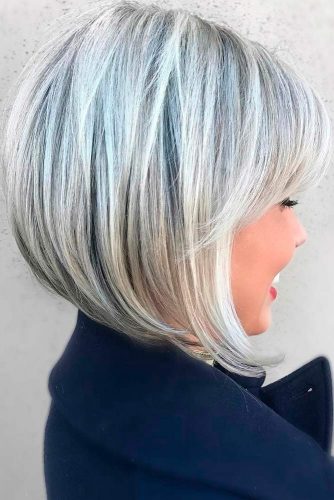 Source: Xostylistxo via Instagram
Whether you want your look to be professional, casual or just want a hint of edge in the overall result, you can't possibly go wrong with a platinum blonde bob! This hairstyle lets your style stay cool and comfortable, while also framing the face perfectly. A bob hairstyle with fringe like this one also gives you that touch of the cute and pretty girl-next-door. Perfect for women with fine or thick hair, because the subtle layers suit any hair type!

Bob Haircut For Oval Faces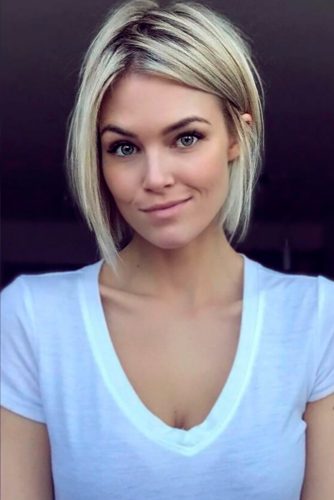 Source: Krissafowles via Instagram
Finding the perfect haircut in accordance with the shape of your face is as important as finding the perfect diet for healthy skin. When it comes to looking for haircuts for oval face shape, it seems as though short inverted bob haircuts were certainly made just for this! The haircut features subtle wispy layers all around, while the length is medium or short according to your preference. The end result is sophisticated, cool and professional from every angle!

Brown Bob With Highlights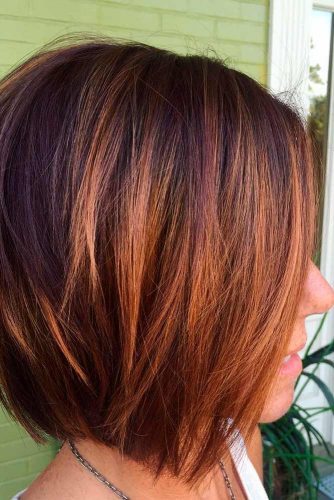 Source: Aliciaurbanhair via Instagram
Stacked bob haircuts are the go-to hairstyles for any woman looking to give her overall look a faint yet eye-catching makeover. This medium stacked bob is ideal for all hair types and face shapes, while the stacked layers make it ideal for showing off shades of brown, copper and red, and similarly dimensional colors. However, if you're transitioning from long hair to short for the first time, brace yourself for multiple visits for root touch ups because they'll be more visible.

Short Stacked Bob In Lavender Color
Source: Hairbyedwin via Instagram
Why go grey, when you can just go lavender and look a hundred times better? This short stacked bob is heart wrenchingly gorgeous, and the muted shades of grey and lavender make it perfect for women of all ages. It is also one of the best bob hairstyles for fine hair over 50, as the short stacked layers in the back make it look like it's as light as a feather! From the front, it frames any face shape perfectly.

Long In Front Asymmetric Bob Haircut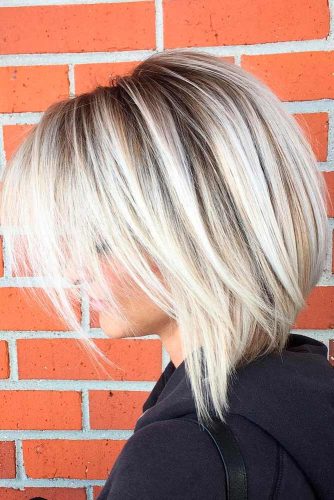 Source: Rochellegoldenhairstylist via Instagram
The beauty of asymmetric hairdos is that they are ideally the best long in front, short in back hairstyles that can be found in today's age. But many women feel that the end result is too edgy and daring for them. So why not opt for stacked bob haircuts with bangs instead, like the one pictured here?
The bangs in front help frame the shape to give the most attractive end result, while the long layers in front and short layers at the back give it a subtle hint of edge and sophistication as well.

Graduated Bob For Fine Hair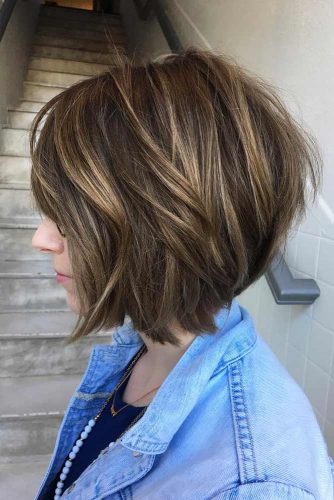 Source: Hairbypaigegoodwin via Instagram
Finding the ideal bob hairstyle for fine hair can be tricky and challenging, especially if the hair is light and oh so thin! Many women refrain from daring to color their hair different shades because they don't know what the end result would be.
But this graduated bob for fine hair is the perfect choice for women who want to show up to work without looking too edgy. A blend of professionalism and simplicity, this bob hairstyle is best paired with highlights to complement each strand and wispy layer!

Stacked Chestnut Straight Bob
Source: emilyandersonstyling via Instagram
For brunette ladies who stay loyal to their natural hair colors, a stacked bob haircut can come as a fascinating highlight. Not only does this short and fresh cut amps up the silhouette but also introduces the beauty of straight chestnut hair from a new perspective. The nicely shaped cascading tresses create a natural flow which emphasizes both the color and the texture.
Sometimes a new haircut is enough to fall in love not only with your hair type but also with your hair color.
Stacked Bob With Red Highlights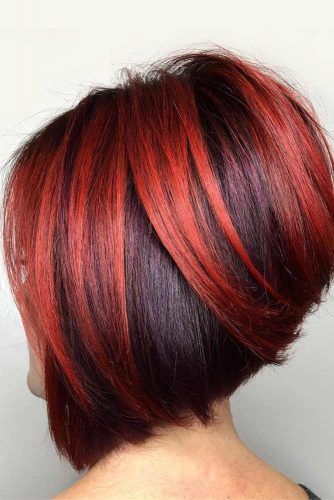 Source: headrushdesigns via Instagram
When you feel the need for adding more fuel to your casual look, don't forget to ask bright highlights for help. To add more depth to the look, ask your stylist to highlight only the top layer of your bob. In this way, coupled with the red accents, your natural color will reveal the attractive side of your bob.
Adding highlights only to the top layer of hair is a nice way to create a dimensional look while minimizing the damage.

Stacked Bob With Colored Highlights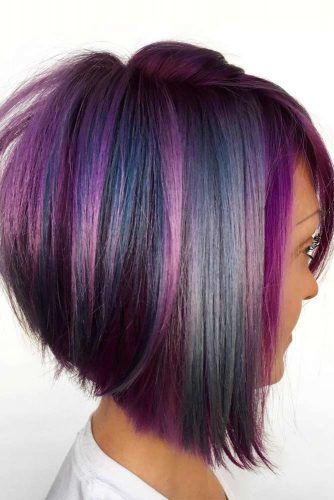 Source: headrushdesigns via Instagram
While some women go for highlights to spice up their colors by a touch of a lighter color, you can diversify yours with a bright palette. Remember: your stacked bob haircut is nothing but a canvas to your imagination. Whatever color experiment you are about to carry out, it will look great on the cut.

Messy Medium Stacked Bob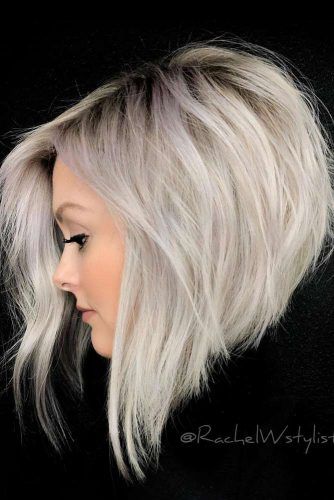 Source: rachelwstylist via Instagram
It's no secret that the good old messy styling is the timeless idea that works for women of all ages and images. But when it comes to messy stacked bobs, things are getting different. The truth is, with this cut, the charm of messiness reveals at its best: the airy stacked layers become even more alive.

Middle-Parted Purple Bob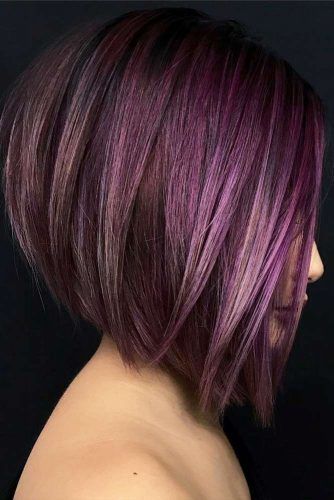 Source: styled_by_carolynn via Instagram
A posh, sleek, and sharp texture of straight hair seems to be a real magnet to the eyes when such a noble shade of purple accompanies it. A color tip: if you want every single detail of your haircut to stand out, consider highlighting the front strands. A shiny touch to a deep color is a win-win idea!

Wavy Medium Blonde Bob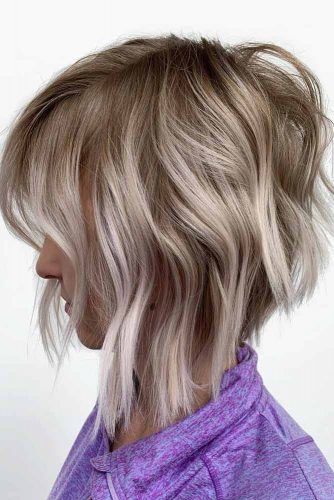 Source: styled_by_carolynn via Instagram
On stacked bobs, waves look like a real piece of art. Since the body of the haircut gets shorter to the back, it features various layers. And once these layers turn into waves, you will see your hair flow like a spectacular waterfall.

Silver & Wavy Stacked Lob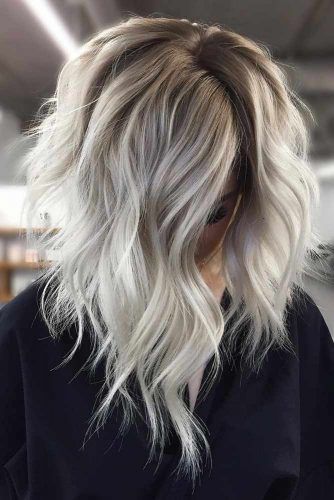 Source: kalicolourshair via Instagram
Although a decade ago ladies would hide even miserable traces of gray hair, today they dream of trying out all the shades of gray. As for silver hair, is a trend that was born in response to the greyish boom. Embracing gentle white and modern grey hues, this color pair will perfectly accentuate your long wavy bob.

Short Stacked Bob With Blonde Highlights
Source: rochellegoldenhairstylist via Instagram
Here's another example of the power of blonde highlights. Besides freshening up the whole look, this color idea enhances the movement and blend of layers created by the bob. Bottom line? If you want to enhance your bob, making most out of it, look no further than light highlights.

Wavy Short Stacked Bob With Bangs
Source: rochellegoldenhairstylist via Instagram
How about you to go a different way and thus outshine most common bob ideas? One word: bangs. Here, for example, bangs balance out the silhouette of the stacked bob, giving a fresh take at its structure. Also, it gives a framing touch, which is always an advantage.

Side Parted Short Stacked Bob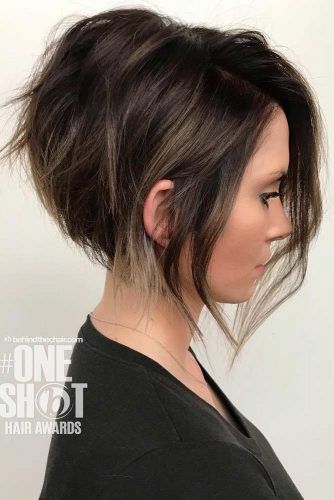 Source: shmoakin_hair via Instagram
What if we tell you that you can double the charm of your stacked bob? No, you don't need to spend extra money on it. The only thing you need is to sweep the top to one side: it will enhance the imbalanced body.
The way you part your bob can significantly change its look. For the better!
Wavy Bob With Violet Highlights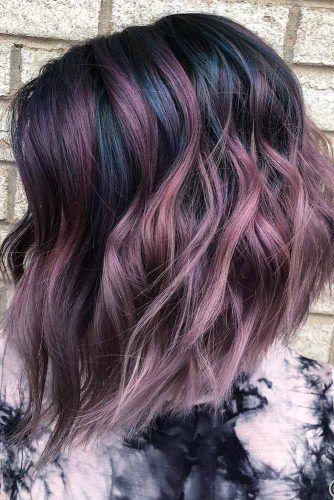 Source: samihairmagic via Instagram
Going for violet highlights on dark blue hair is always a good idea. But when it's all done on a stacked bob, it's not just good. It's perfect. It just so happens that the cascading structure works like a magic wand to all hair ideas.

Middle Parted Blonde Lob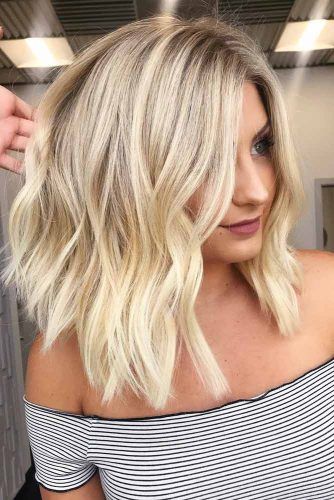 Source: breebarkerbeauty via Instagram
While side-parted hairstyles create an outweighed, a little bit imbalanced body, middle-parted ideas spread all the locks evenly, giving an absolutely balanced look. If you want to focus on the texture and keep it well-groomed, parting your bob to the center would be enough.

Wavy Lob With Sandy Highlights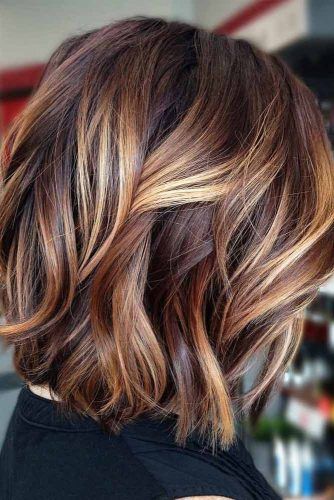 Source: hairbysaiphetkhosa via Instagram
Besides the captivating gradual structure, a stacked bob has way more benefits to offer. When paired with the right color combination, its texture reveals natural dimension and dynamics of your hair type, regardless of how thin or thick it is. Here, you can see how organically a wavy hairstyle flows throughout the length, providing tons of movement to the hair. And the secret of this amazing look lies in subtle layers and sandy highlights embellishing them.
Wavy Stacked Bob With Straight Bangs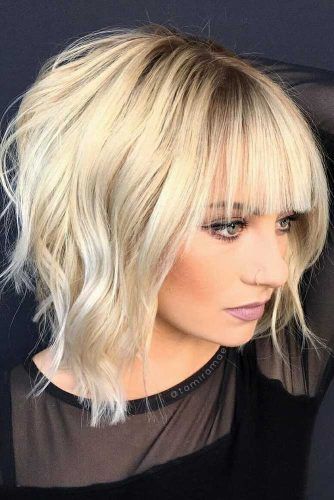 Source: tamiramae via Instagram
There are lots of different ways to show how different you are. You can color your hair a bold shade, get yourself an outrageous haircut, go for a hairstyle that no one can repeat or simply play around with your texture. If you prefer to keep things simple yet significant, a wavy stacked bob with a straight fringe is the contrast that will put you in the spotlight. To keep the balance between wavy and straight textures, ask your stylist to make your fringe light and airy.

Metallic Blue Straight Bob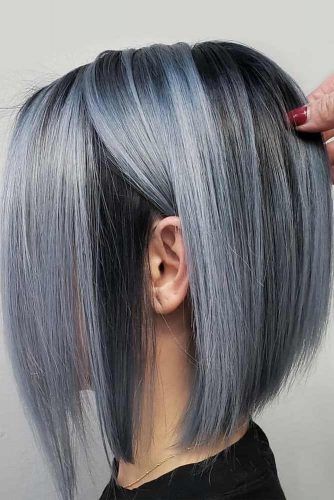 Source: sammiiwang via Instagram
And here's how you can express your bright individuality with a trendy, sophisticated shade. The truth is, this metallic blue bob changes the common image of the classic bob haircut, showing it from a whole new angle. Pale metal blue shade bursts into soft graphite base, creating so much pleasant color transition that it's hard to take eyes off. Needless to say, it enhances the beauty of the perfectly straight texture of this bob, adding even more natural shine and sleekness.
Stacked Bob With Beach Waves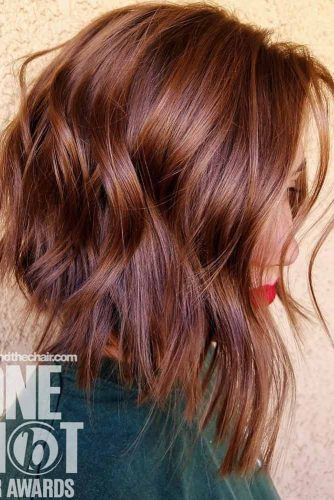 Source: theredlipstickstylist via Instagram
There's nothing more natural and effortless than sunny beach waves flowing on a naturally brunette bob. With the dramatic structure of a stacked bob, waves fall on one another in a cascading manner, thus making the silhouette full and spectacular. To make the look even cuter, tousle up the back of the head; it will intensify the carefree feel of beachy locks.
Red Wine Stacked Straight Lob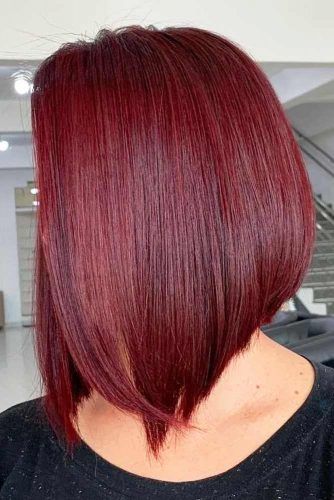 Source: douglasrogerp via Instagram
If red wine tastes best with cheese, then a stacked bob haircut is the cheese you should combine with vivid red hair color. Its curvy shape reveals the depth of this sassy, intense red, adding a whole lotta volume to the silhouette. And it goes without saying that the sleek texture of this bob is what makes the overall color so pleasant and smooth. See, bobs and trendy colors go hand in hand!
Pale Rose Gold Stacked Lob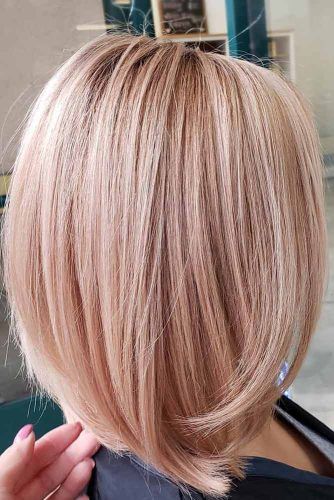 Source: sammiiwang via Instagram
As you might have noticed, the stacked silhouette looks different depending on the hair length. On short hair, it looks extremely drastic and dramatic. On medium length hair, it shows its sophisticated side, adding a sense of elegance to a woman's look. If you're looking for a hairstyle that is as easy to style as its refined, then a stacked lob is your go-to. By the way, such a simple haircut can show up at its best with the help of stylish color. And pale rose gold is the option you won't go wrong with.
Lilac Silver Wavy Lob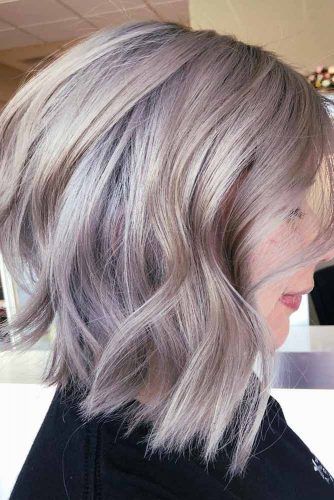 Source: karamiaaa via Instagram
Don't get surprised if your hairstylist will insist on you switching to a silver hue when giving you a stacked bob haircut. It just so happens that these two are like peanut and jelly, like heels and mini-dresses, like rose and gold; they go especially well together. Anyway, if you want it to be a little bit more different, you can spice it up with a soft lilac tint. With such a haircut, every hairstyle, from straight to wavy, will turn out to be a masterpiece.
Textured Pink Stacked Bob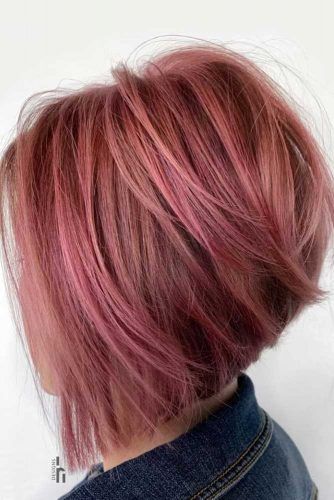 Source: headrushdesigns via Instagram
It's hard not to notice the height and attitude of this pink stacked bob! When we look at this bob variation, it gets absolutely clear who's boss there. If you want your hair to reflect who you are, showing off your vivid character, textured layers and super edgy lift on the back of your bob are the musts. Ask your stylist for super short layers on the back, and your stacked bob will become a bob to remember. Of course, it will look its best with a punky color finishing the look.
Wavy Stacked Bob With Blonde Balayage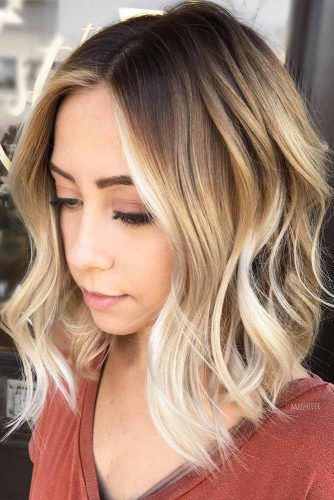 Source: aaashleee via Instagram
Now, let's take some time to appreciate the beauty of naturalness. Bold, extraordinary hair colors are undoubtedly beautiful, but such effortless combinations as brunette and blonde will always be on the top of all the charts possible. Besides, waves on stacked layers look unbelievably harmonic and well-balanced with this amazing natural balayage. Yes, some things are ageless.

Orange Stacked Bob With Bangs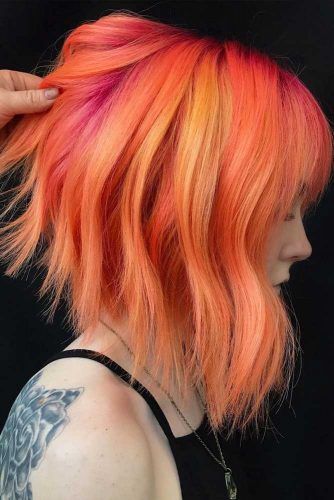 Source: shmoakin_hair via Instagram
Sometimes your inner world is so bright and vivacious that it's hard to keep it just inside. Those who feel that their natural hair color is not enough to express the creativity that blasts from the inside, this idea is a breath of fresh air you're looking for. This stacked bob with its sharp layers and the variety of orange hair colors is the idea that unique ladies shouldn't pass by, especially if you have thick hair: this haircut can make your hair manageable.
Silky Bob For The Perfect Feminine Look
Source: Colourwithbrooke via Instagram, Sarahdowlevamphairess via Instagram, Headrushdesigns via Instagram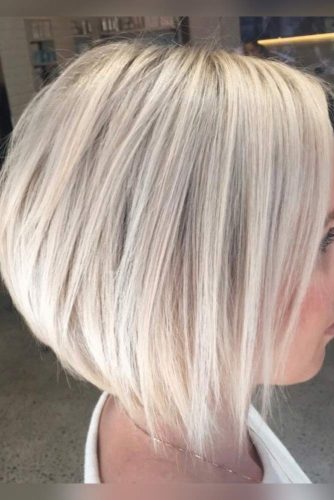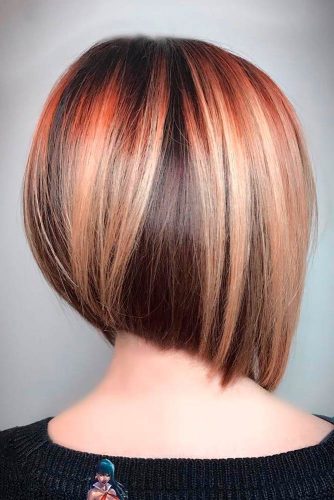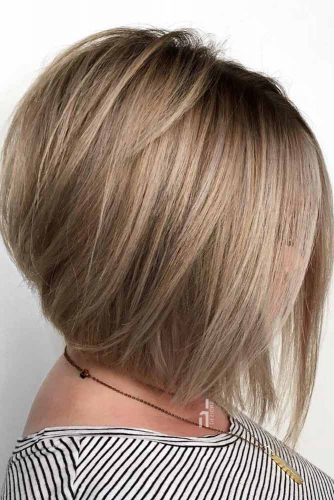 A back look is of high importance when we talk about short bob haircuts. A stacked back shows off the neck, which is considered to be one of the sexiest body parts. So, male attention is guaranteed.
Long bob haircuts became a hit recently. This variation of bob looks super edgy and stylish. You may see it on many celebrities and fashion bloggers. With the help of a curling iron, you can transform it into a romantic 'do for a formal occasion.
Messy Bob Haircut Ideas
Source: styled_by_carolynn via Instagram, styled_by_carolynn via Instagram, Lostinablackwell via Instagram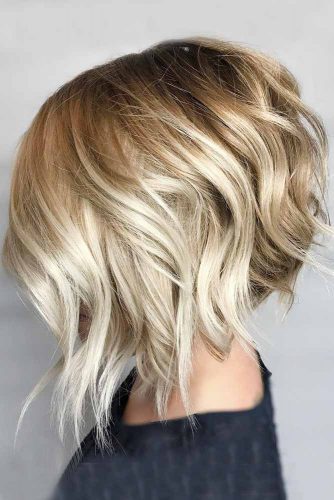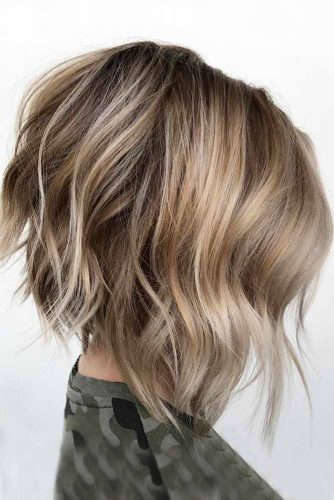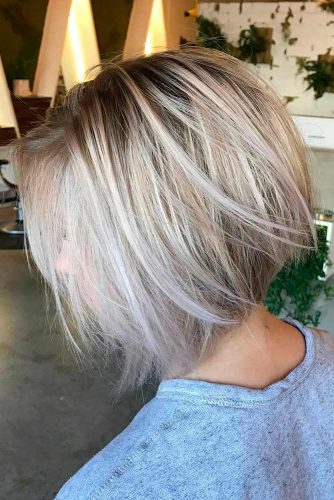 Do you have some experience in cutting your hair? Then let us see how you can create a stacked bob at home. First of all, shampoo your hair. Applying conditioner is optional.
Next, towel dry the hair. However, make sure that the hair is not completely dry as wet hair can be better maintained when cutting it. But of course, you can always spritz it with water if it gets dry.
Pretty Stacked Bobs To Impress
Source: Lizhaven via Instagram, Hairbykimtran via Instagram, Headrushdesigns via Instagram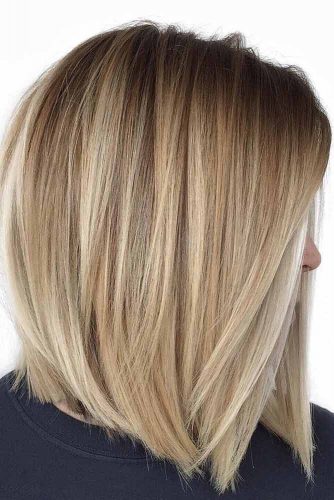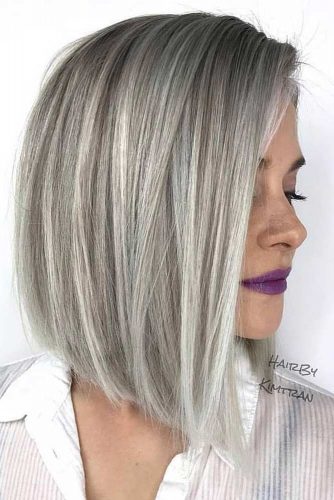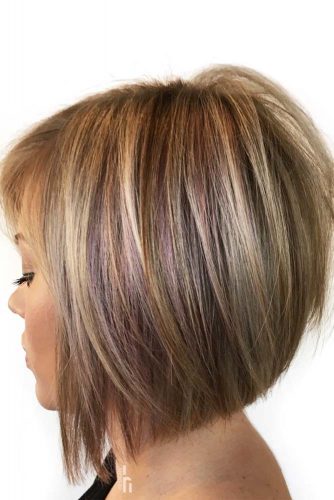 So, pour some water in a spray bottle and keep it at hand. To get a stacked bob, keep the hair at the top section the shortest and make it longer and longer with each section down.
But before you begin layering the hair at the very crown, decide on the style and length of the haircut. That is very important!
Bright Bob Haircuts For Brave Girls
Source: Ro.hsiqueira via Instagram, Styles.by.sarah via Instagram, Styled_by_carolynn via Instagram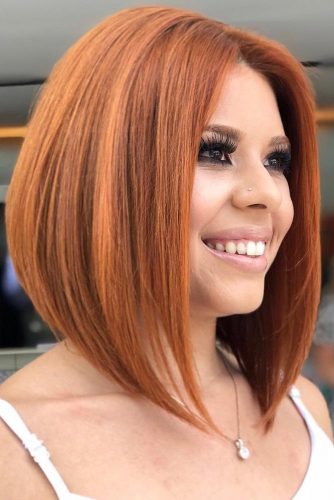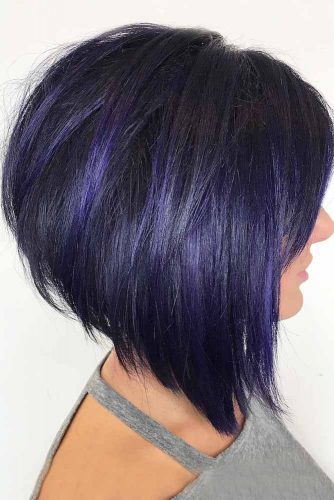 If you opt for a stacked bob, the nape hair section will be shorter, and the side hair sections will be longer. And if you wish to get a more up-to-date version of a stacked bob, let both side sections be asymmetrical.
Bob Haircut Ideas For Summer 2019
Source: Gulevich.vladimir via Instagram, Hairbyowlz via Instagram, Styled_by_carolynn via Instagram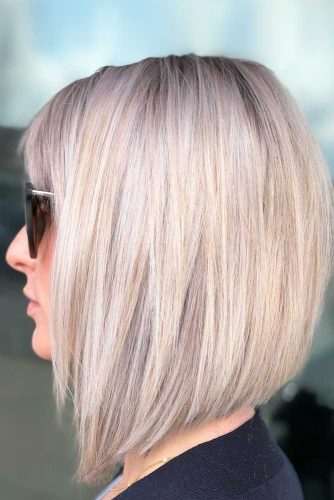 Stacked bobs come in different shapes and sizes. That is why there are no limits to your imagination. But since it is summer outside, the chocolate bob with burgundy highlights will be a great, bright option.
Popular And Stylish Cuts
Source: Gulevich.vladimir via Instagram, Styled_by_carolynn via Instagram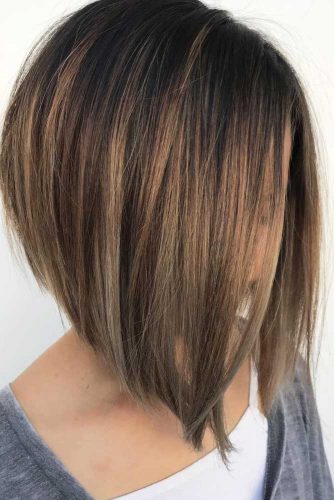 An angular bob is a good and stylish suggestion on its own. Yet, if you want to go even further, make it two-toned. A blue and platinum angular bob looks breathtaking!
Fantastic Bob Haircuts
Source: Hairbykimtran via Instagram, Hairbyksenia via Instagram, Gulevich.vladimir via Instagram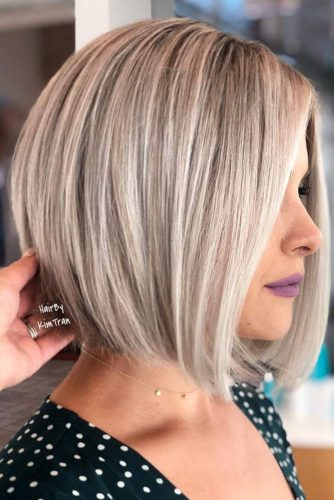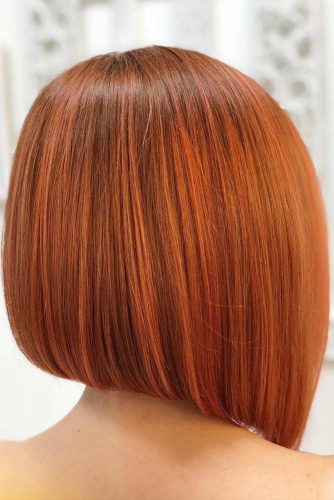 If you are looking for something fun and flirty for this season, we have a suggestion for you. A shiny brunette stacked bob looks extremely gorgeous with slight, messy waves.
Stylish Textured Wavy Long Bobs
Source: maeipaint via Instagram, texasbalayage via Instagram, mikaatbhc via Instagram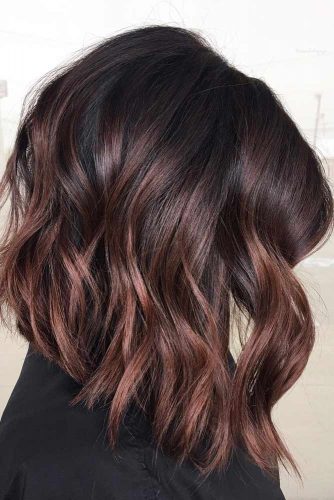 Textured bobs look fabulous with waves. Besides, the unpredictability of your waves makes the cut even more charming. Adding some extraordinary color would be a nice idea, too.
Balayage Bobs
Source: valyamiller81 via Instagram, Chloenbrown via Instagram, Dillahajhair via Instagram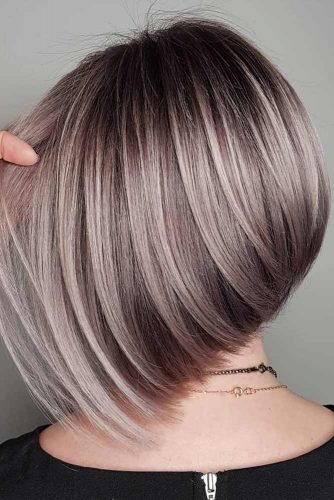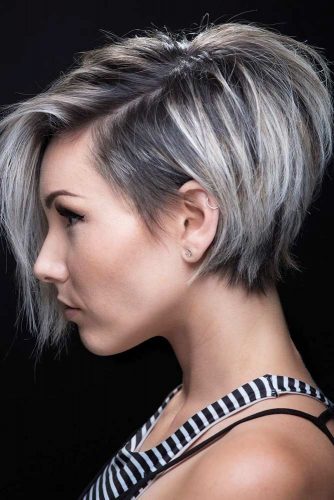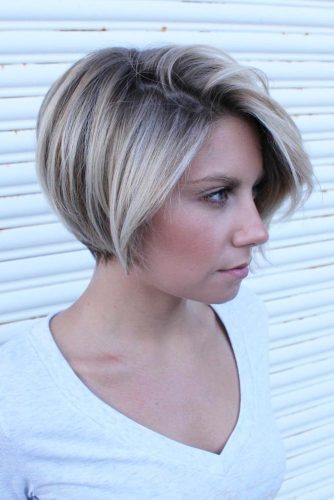 Piecey stacked bobs look extremely light and soft. But add platinum balayage over dark hair, and the angel-like look is granted, there is no doubt about that. What do you think?
Dark Stacked Bobs
Source: Dillahajhair via Instagram, Styled_by_carolynn via Instagram, Dillahajhair via Instagram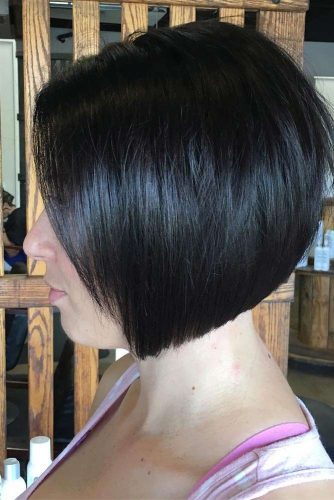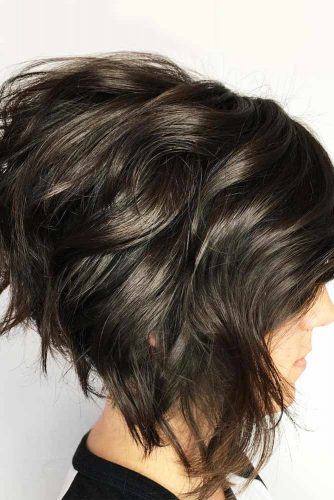 An inverted bob looks best when it replicates the natural hair lines. If it's angled towards your face, it can only soften your features. Besides, dark shades make it almost ethereal.
Blonde Stacked Bob Haircut
Source: Dillahajhair via Instagram, styled_by_carolynn via Instagram, Dillahajhair via Instagram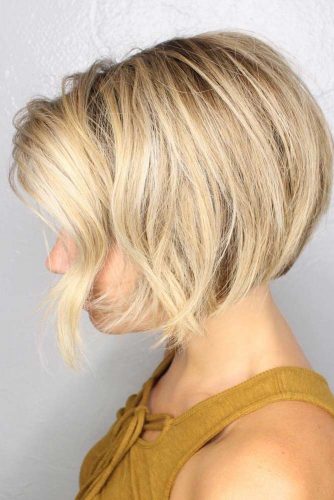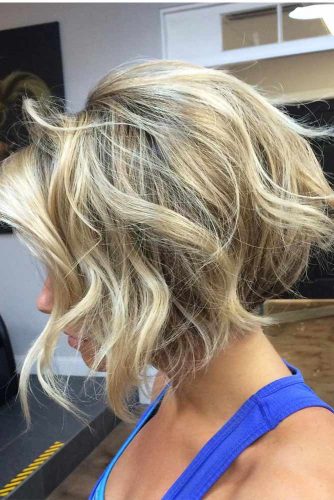 If your blonde hair is pretty thin, then there is nothing better for you than a stacked bob haircut. A layered back grants that desired volume and blonde hair, in its turn, gives you the undeniable charm.
Don't be afraid to try something new and see how much you'll love the stacked bob hairstyle. Not only will the hairstyle be cooler and lighter during the summer months, it also allows you to explore a whole new look and whole new attitude.