Women's face shapes play a crucial role in forming their styles. We all know that a woman with a good taste wears only stylish classic haircuts. But let's don't forget that a wise woman flaunts with a haircut that perfectly matches her face shape, showing off the best features of her face and hiding her flaws. Yes, knowing your shape is the key to the perfect hairstyles for face shapes; and only when you see that it suits you, it can be called stylish.
There are six different face shapes, and when it comes to finding the right haircut, each of them requires an individual approach. Let us be your guide: we've collected the latest flattering ideas that will come in handy for all the faces. Also, here you will find some tips on how to determine your face shape, which is essential before making a salon appointment. Get inspired and remember: there are no bad shapes; there are wrong cuts and styles.
Square Face Shapes
Square faces are famous for their prominent, angled jawline. This feature makes ladies look very sexy, as men find edgy silhouettes quite attractive. Such faces usually have equally wide forehead, jaws, and cheekbones, so the curve at the chin is minimal. When choosing a new haircut, it's very important to not only show off the angular proportions of your face but also to soften them a bit, so that they look harmonically. Let's see the best cuts for them!
Do I Have a Square Face?
To determine your face shape, find the widest point of your face. If your forehead, jaw, and cheekbones are of the same width, you've got a square face.
Sassy Long Pixie With Undercut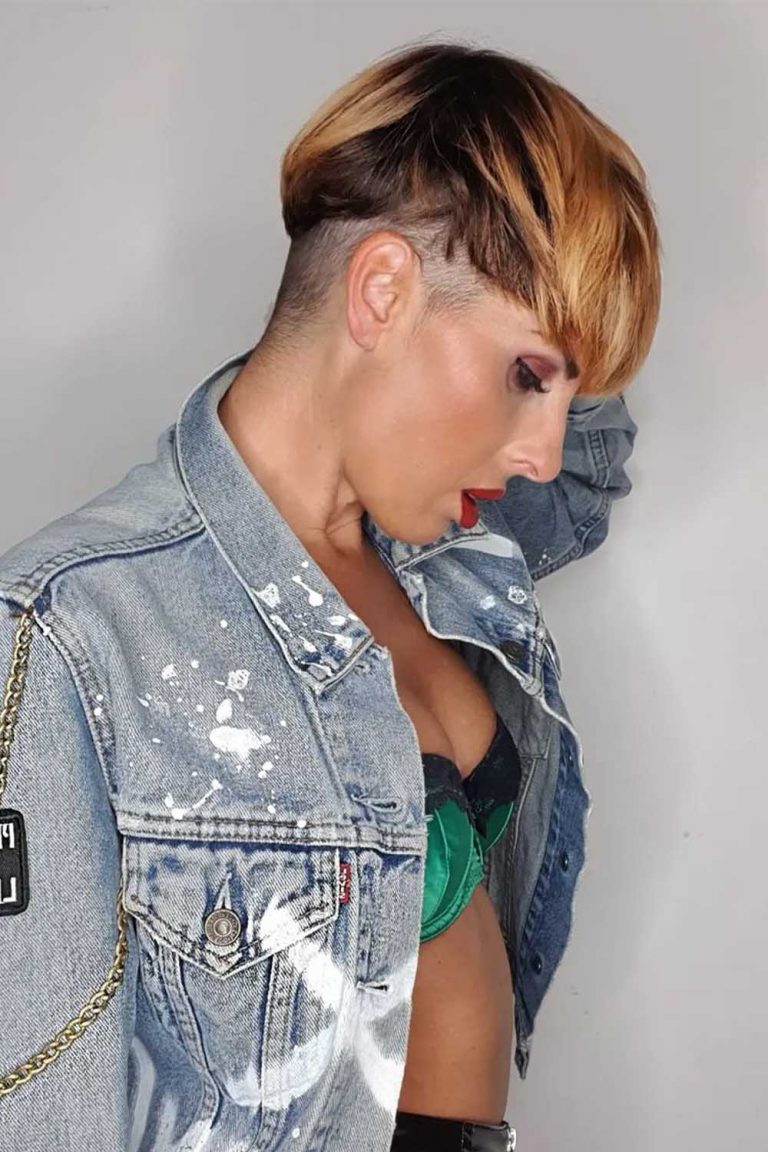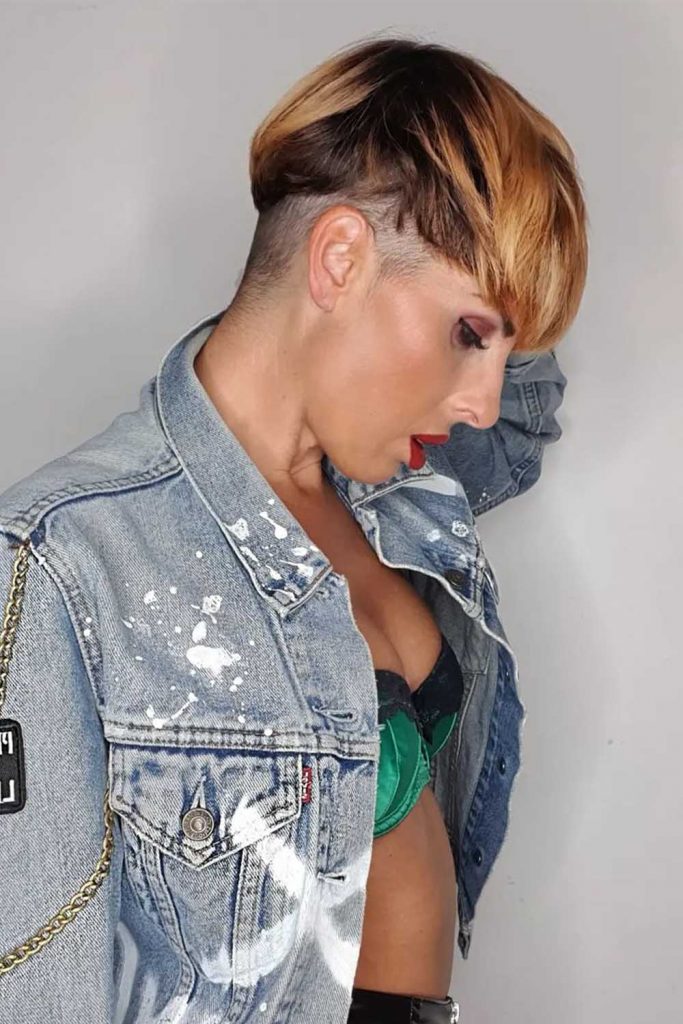 Credit photo: instagram.com/silviagullon
Long pixies are one of the best hairstyles for your face shape. First of all, they give a well-balanced effect that harmonizes everything in your look: the length keeps the silhouette of your prominent facial features soft enough, while the angled body of the front tresses enhances their beauty. Combining pixies with undercuts are always a good idea, as the clean sides make the flattering effect more seeable.
Wavy Shoulder Length Bob With Side Part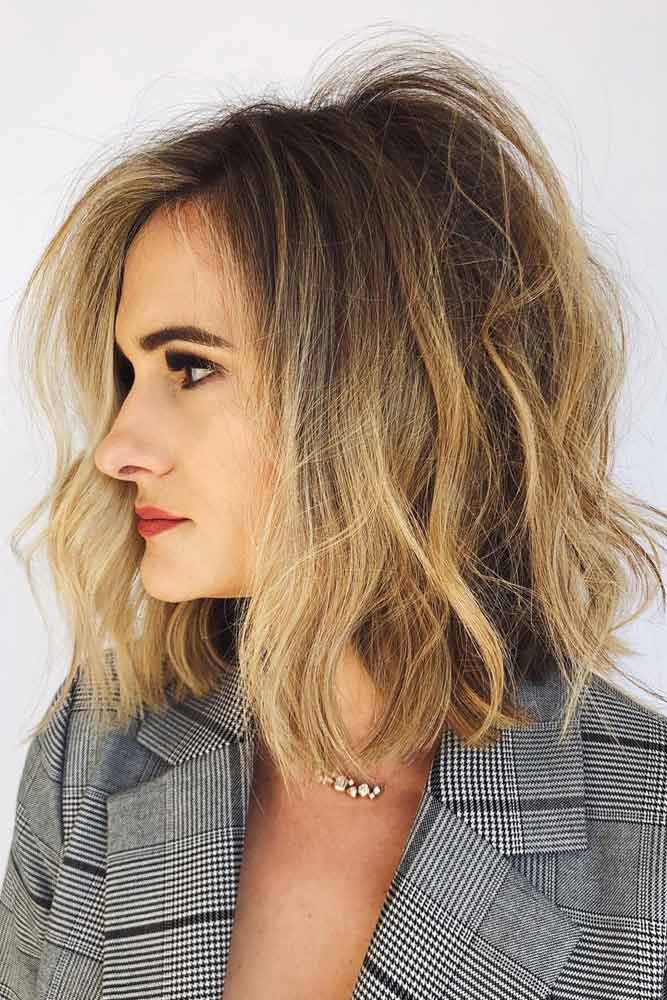 Credit photo: instagram.com/chrisjones_hair
There's a thing that always gets on well with square faces. Asymmetrical silhouettes, no matter how visible and deep they are, turn your haircut into a perfect match for your face. So the side part like the one you see on this wavy bob, and which you can easily do at any time, can make your cut suit your face shape, getting the most out of it. Once you wave it a bit, you will love how the front tresses make the body of the cut fuller, thus making everything look more balanced.
Messy Shaggy Layers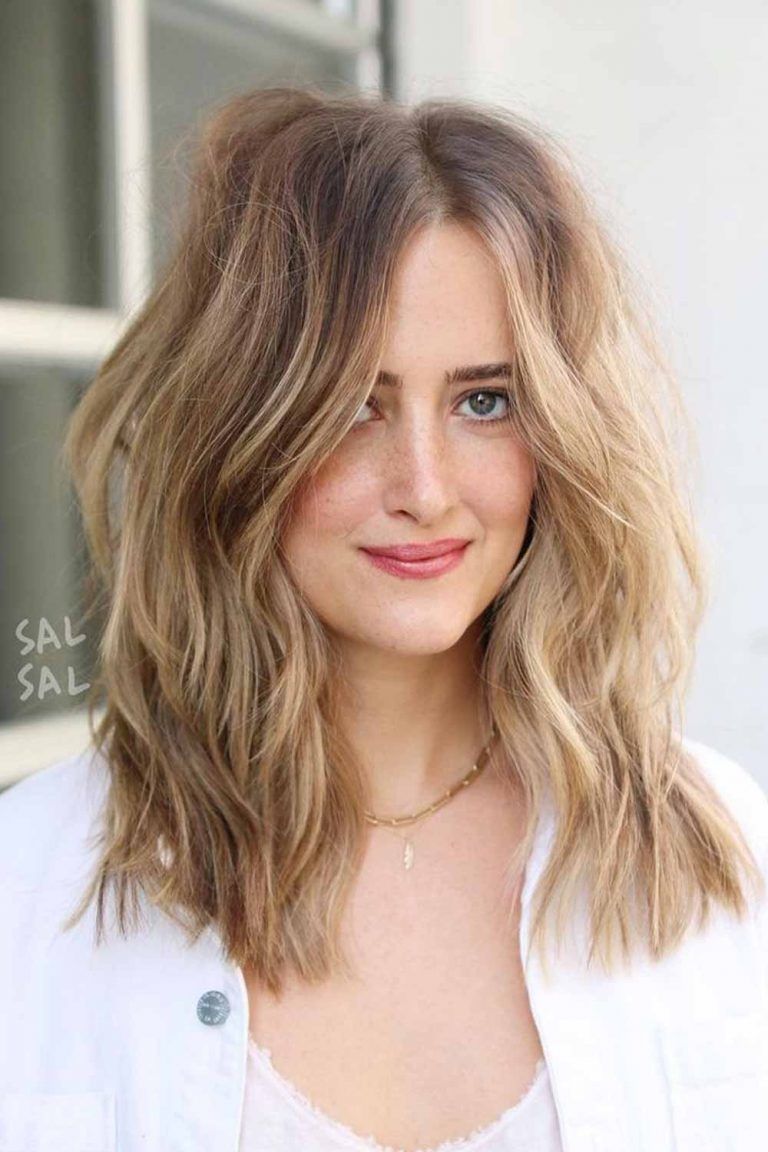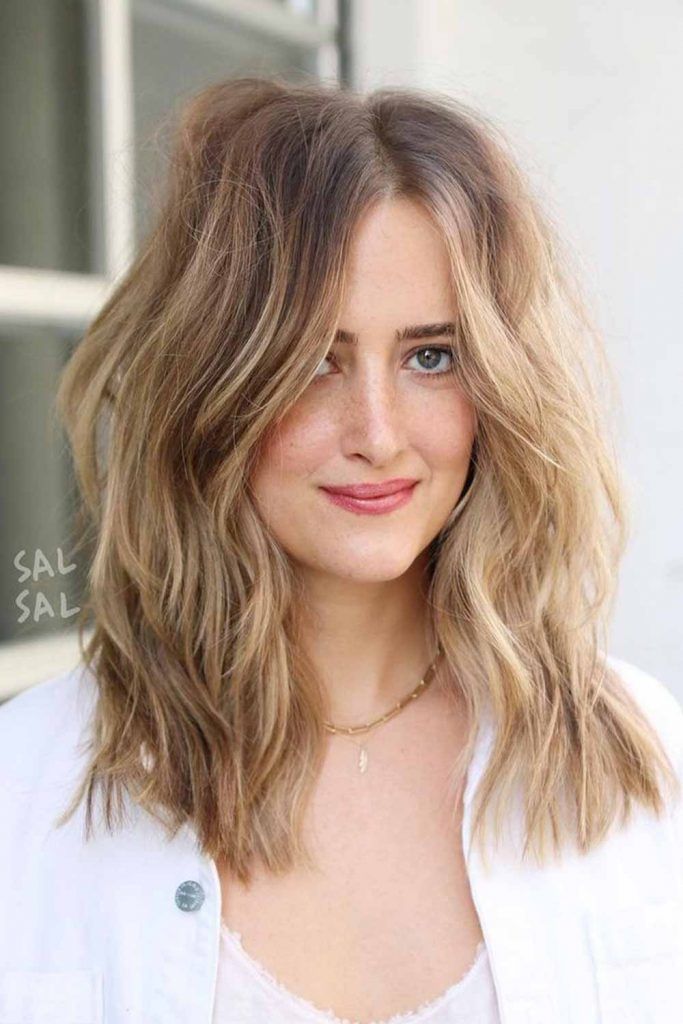 Credit photo: instagram.com/salsalhair
When you have a square face and want to sport long hair, make sure to ask layers or feathers for help. To balance out the angled silhouette of your face, your hair should have enough volume on the sides and crown. And a messy shag is key.
Long Layered Cut With Thin Bangs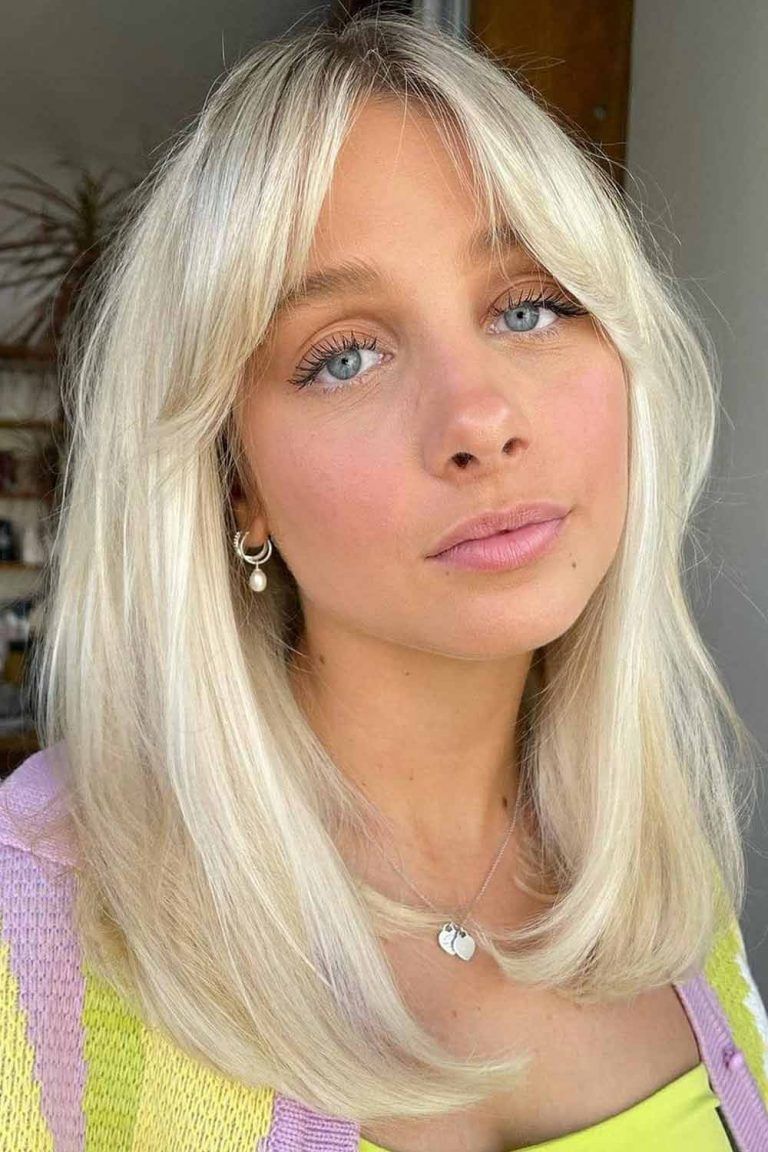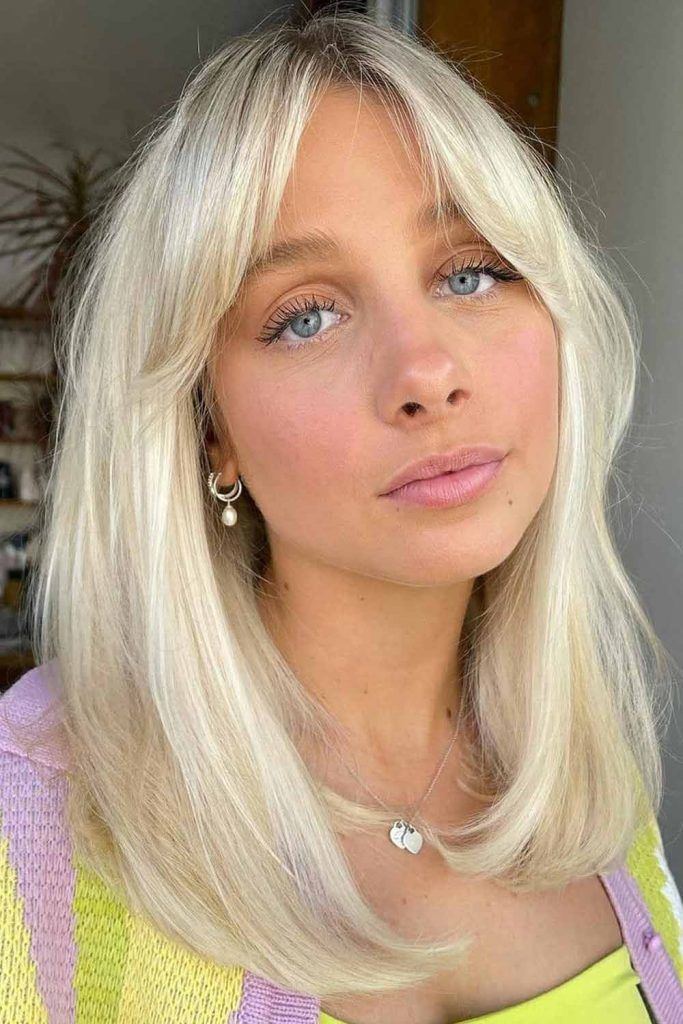 Credit photo: instagram.com/_edwardsandco
Of course, your square face isn't an obstacle for layers. Layered haircuts stand among the most versatile cuts ever, as the various lengths of the hair can satisfy many different needs of ladies with any face shapes. Look at this pic: this is how you can create a stunning duo with your sexy face and long hair. Thin bangs can visually change the shape of your forehead if you feel that it's too bold, and layers just add more movement that will never hurt.
A-line Straight Bob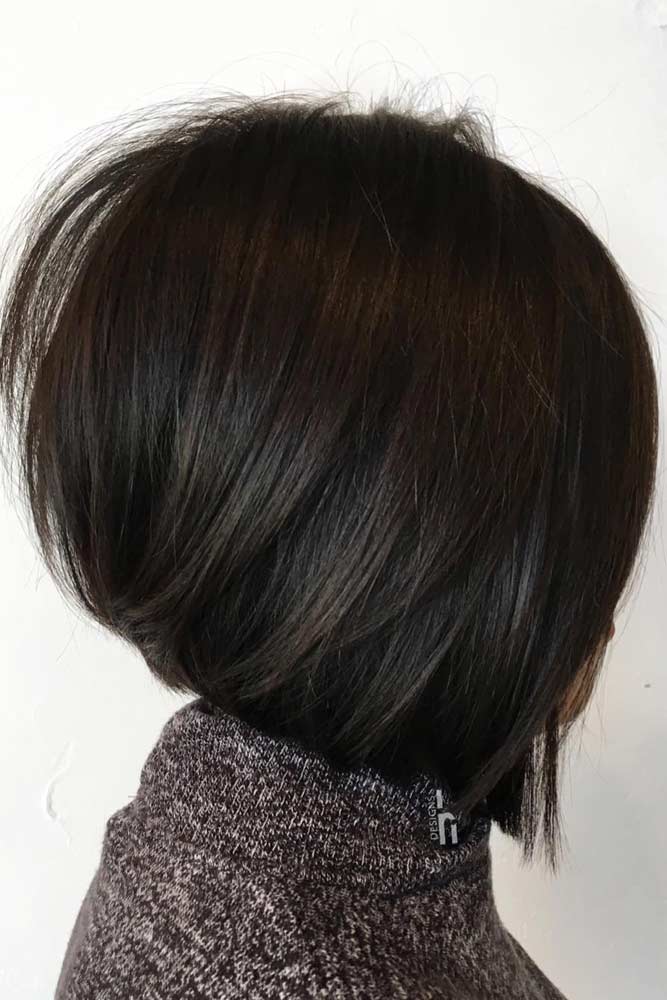 Credit photo: instagram.com/headrushdesigns
Obviously, when you have a prominent jaw-line and wide sharp angles in the cheeks area, you need to wear hairstyles with a round silhouette to balance out everything. Well, it seems like the A-line bob was made to beautify your square face shape and reflect your sense of fashion at the same time. The main advantage of this haircut lies in its easy-to-style crown, which you can always volumize and lift up with styling tools and products.
Textured Lob Hairstyle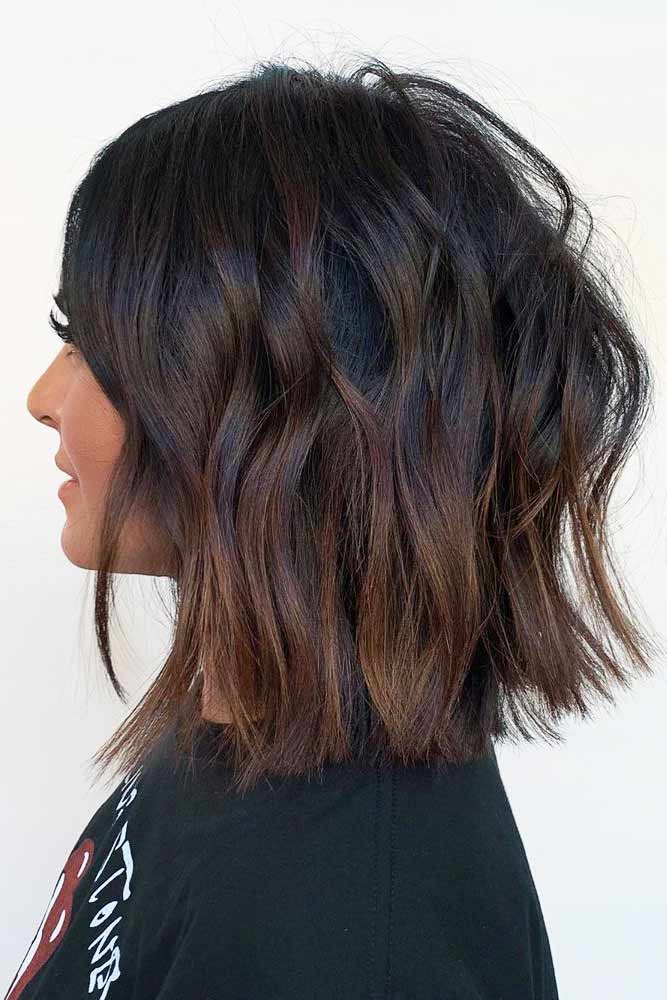 Credit photo: instagram.com/styled_by_carolynn
A bulky twist isn't the only thing that can draw attention from your wide cheeks and big forehead. As it turns out, the right approach to the texture of your hair is the key to creating a perfectly suitable haircut for women with square faces. Ask your stylist for thick and long layers throughout the length and get yourself some texturizing products. Wash your head, apply some product on your dump hair and blow dry it, running your fingers through your locks. As a result, the dynamic movement in your hair will give you the desired framing magic.
Center-Parted Bangs For Square Face Shape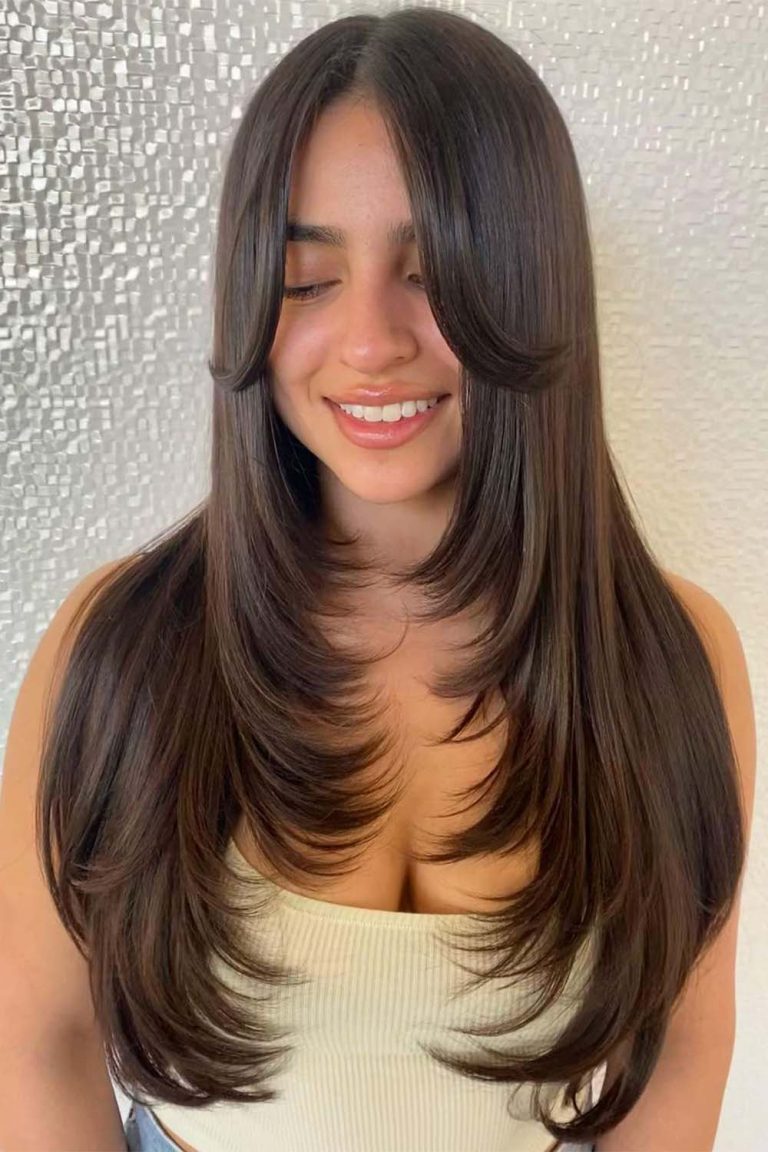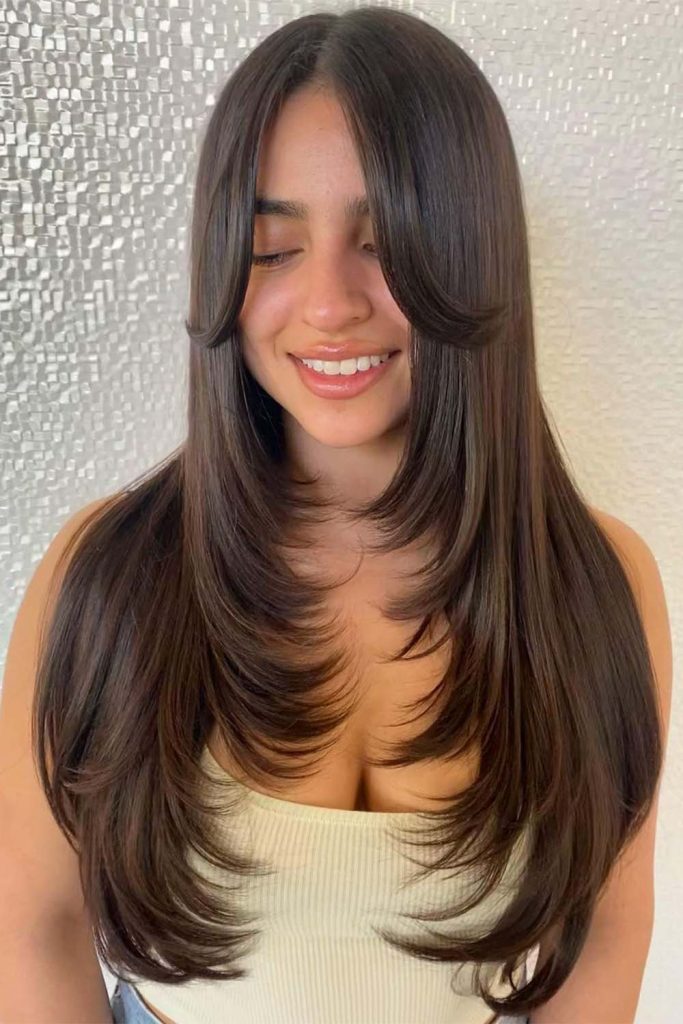 Credit photo: instagram.com/manemisfit
If your forehead and cheeks are of the same width, then you probably have a square face shape. A beautiful one that has a wide jawline, as well.
Super Stylish Wavy Long Bob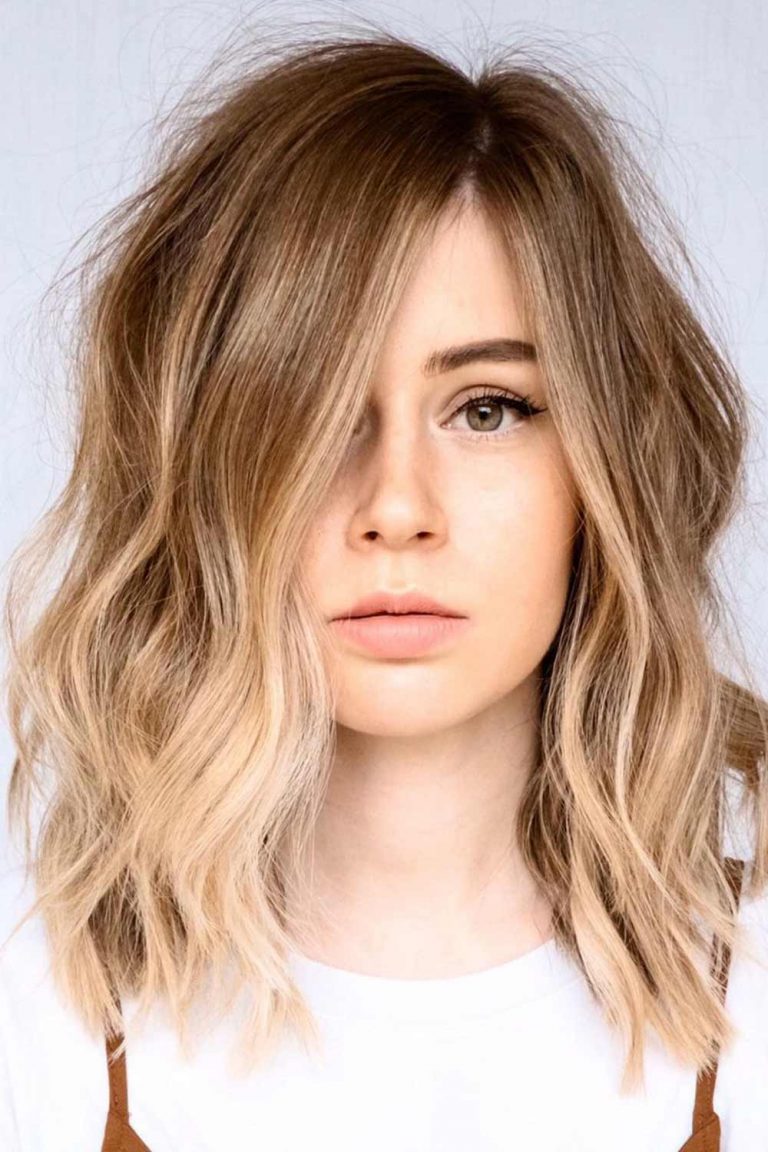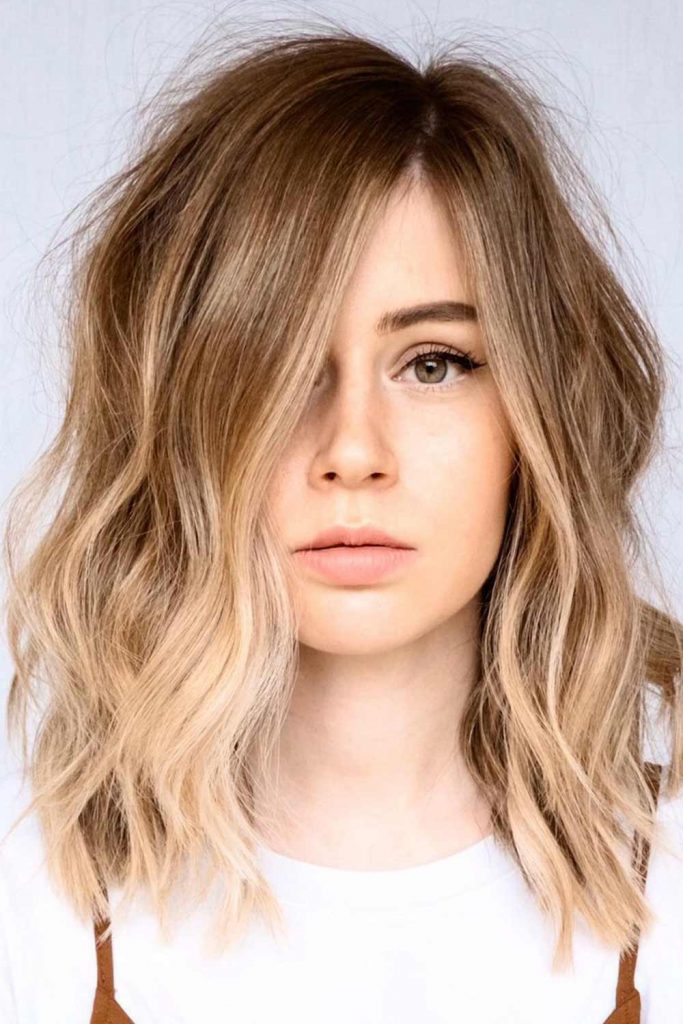 Credit photo: instagram.com/chrisjones_hair
It is not a secret that a wide jawline is what makes the shape of the face square. It may look too harsh on the face, so our biggest task while picking a haircut is to find the one that will soften this feature of the face. A gorgeous looking bob is the one that will do the work perfectly! An excellent choice that will make your face look softer.
Straight Lob For Square Face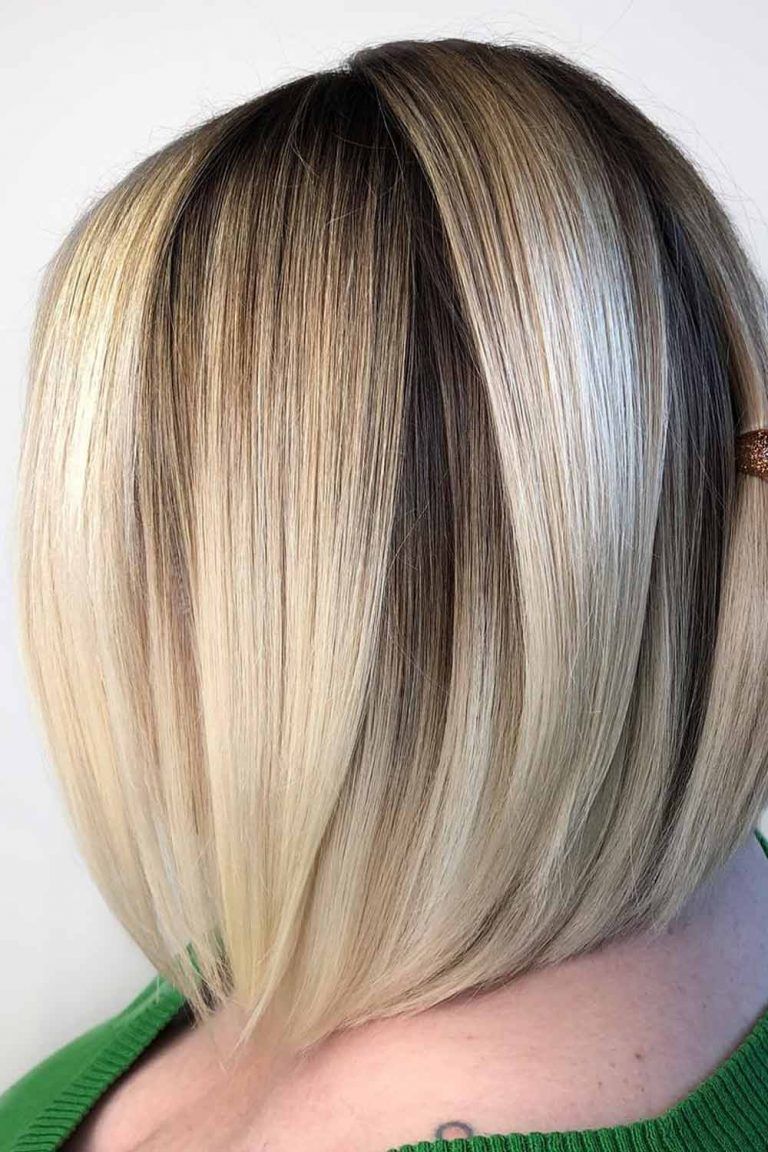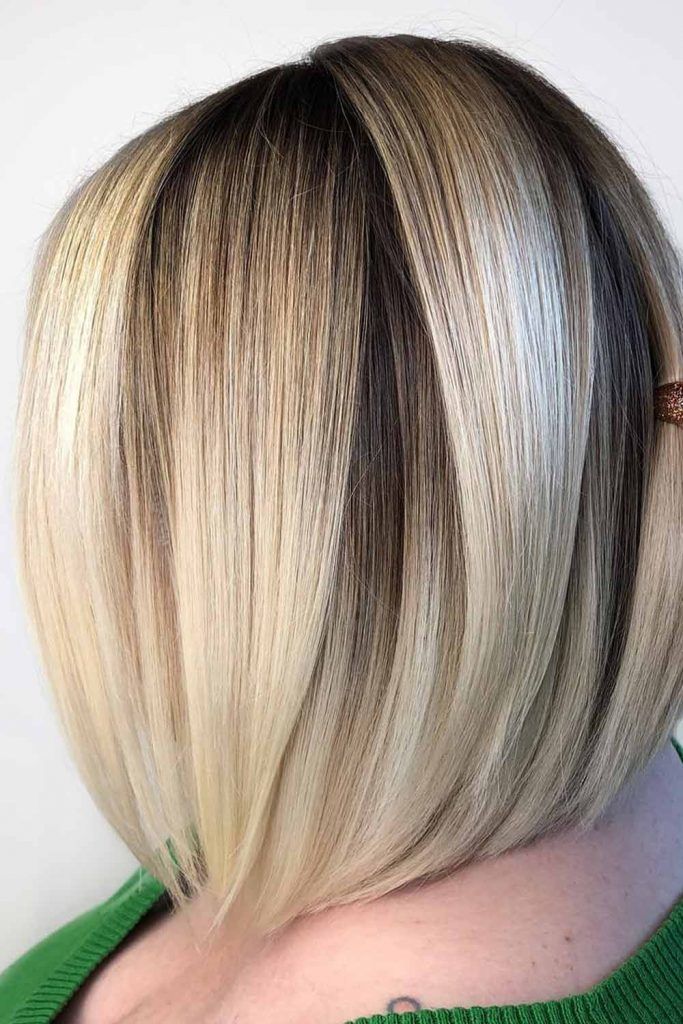 Credit photo: instagram.com/presleypoe
There's something that square faces have in common: with a wrong hairstyle, they look just huge. As for your square face, you need a bit rounder silhouette, which will sort things out. Just look at this sophisticated straight lob and square face duo!
Auburn Angled Long Bob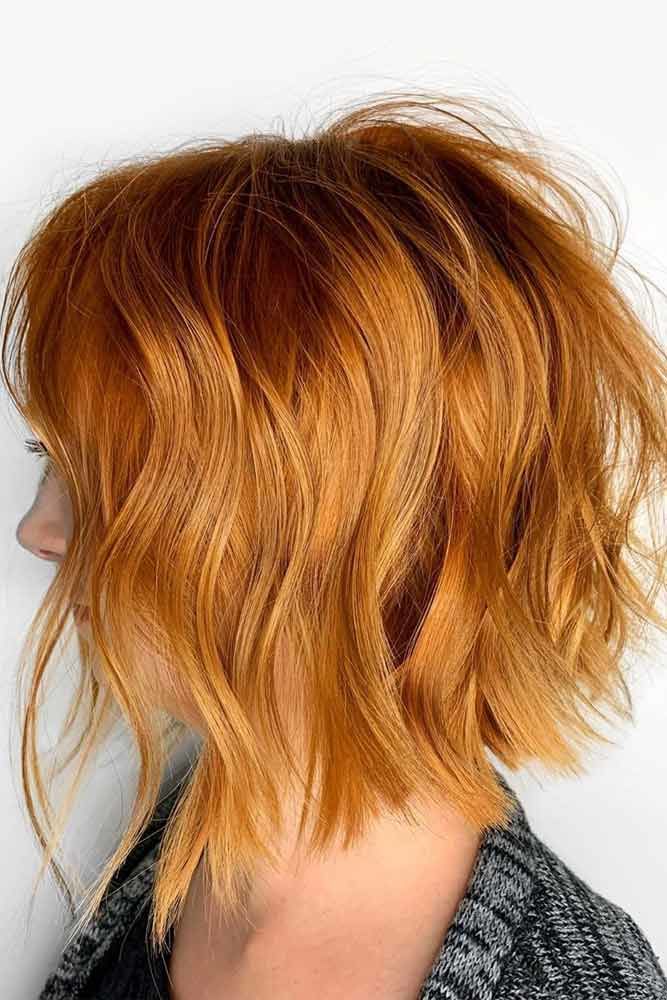 Credit photo: instagram.com/headrushdesigns
Oval Face Shapes
Oval faces are the synonyms to the absolute harmony of proportions. Such faces look very symmetrical as the length of your face is more than its width. The chin is slightly round, yet it's quite narrow compared to the jaw. Some hairstylists say that there are no wrong haircuts for this face shape, but some of them work for oval faces best. Let's discover them, then!
Do I Have an Oval Face?
If your cheekbones are the widest point of your face, and your face goes narrower at the forehead and jaw, you've got an oval face.
Classy Pixie With Baby Bangs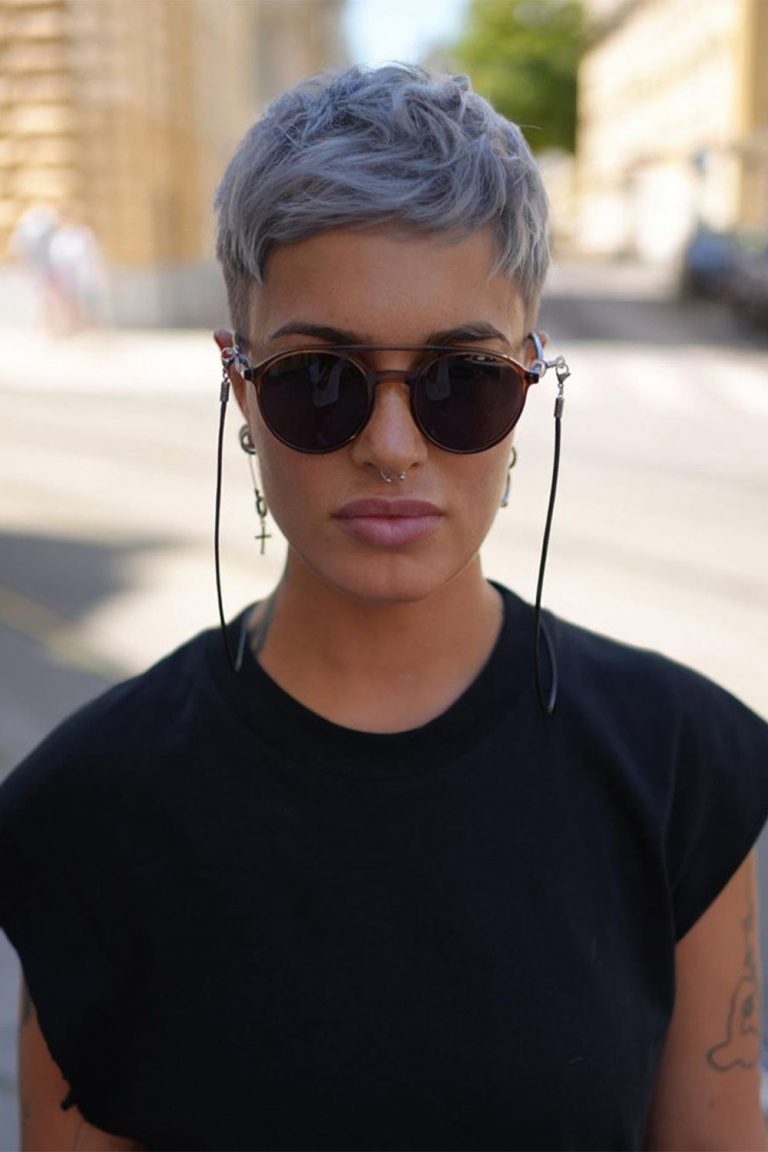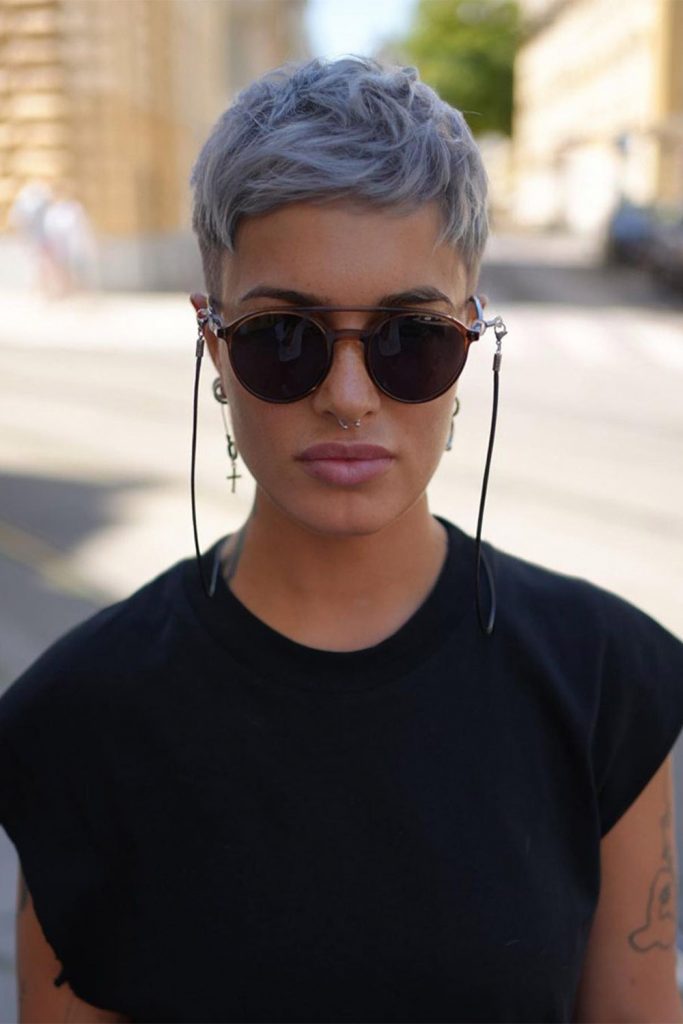 Credit photo: instagram.com/sergeyshapochka
The best way to emphasize the beauty of your facial proportions is to sport a short haircut that will keep them open. Besides highlighting your best features, this short pixie with baby bangs can also do some framing: if your face is too long that forehead seems very oblong, baby bangs will sort things out with a little, yet fancy fringe.
Short Bob Cut With Slight Waves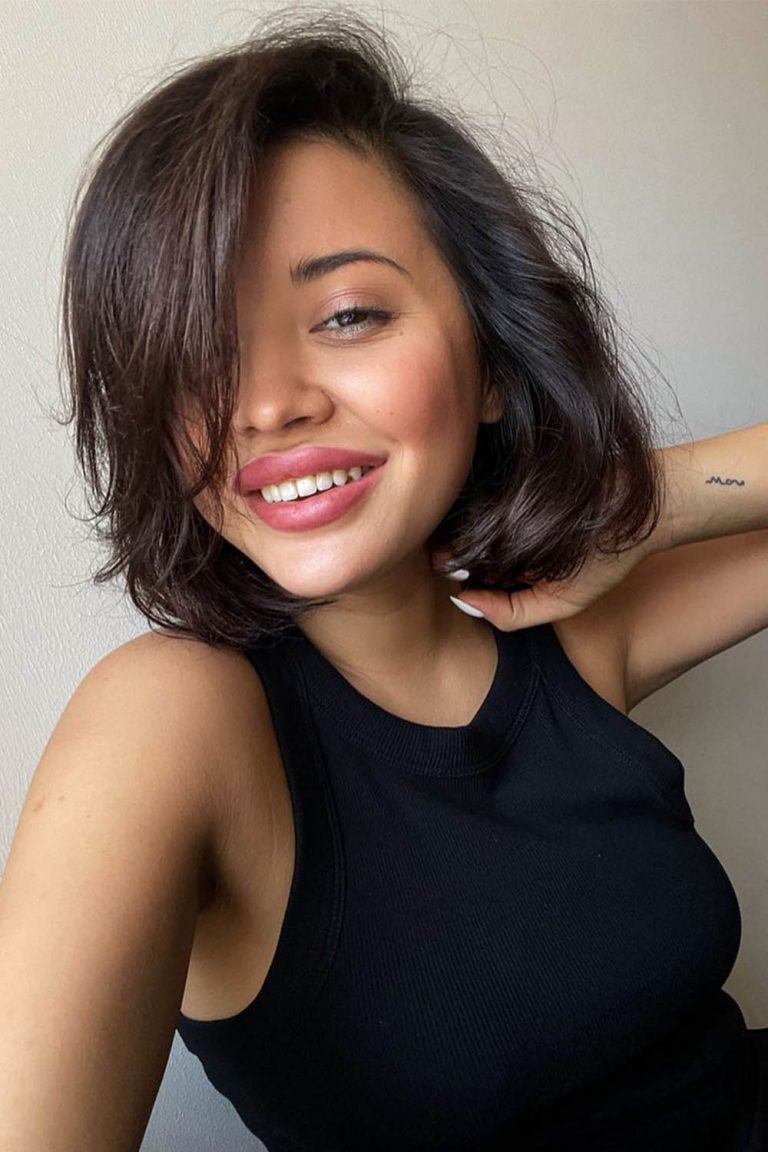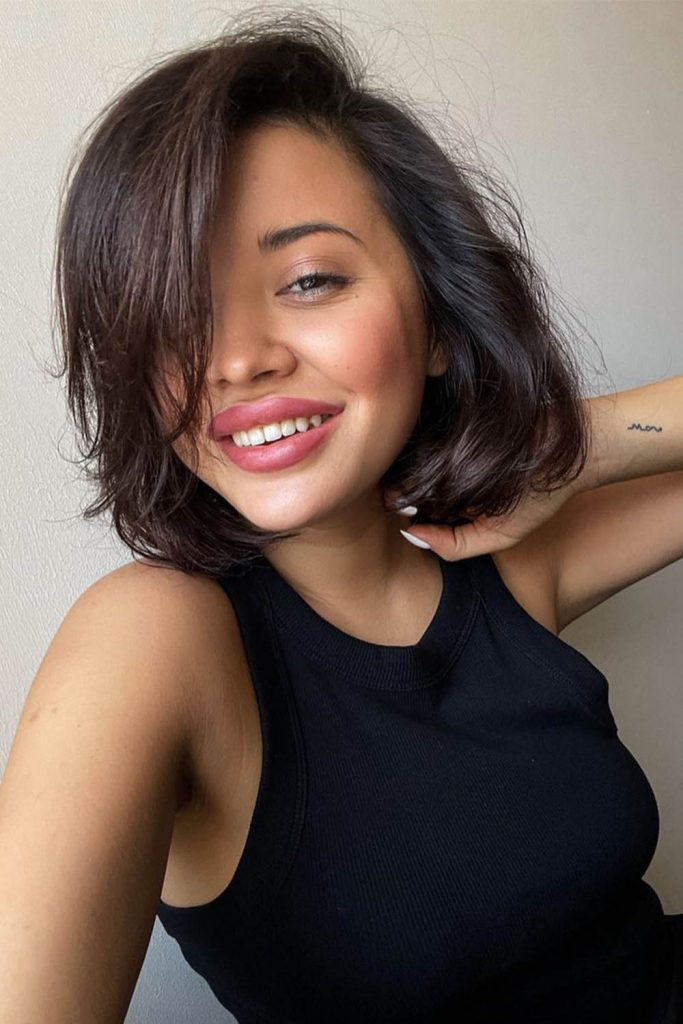 Credit photo: instagram.com/arinabatyrova
Why don't you embellish your oval face shape with some front waves? Even if you don't need to elongate the silhouette of your face visually, front framing is still a good idea. It can add more texture and fullness to your hair so as not to make your hair fall flat. A little tip for oval faces: opt for messy and textured cuts that add more volume because flat hair can make your face look too long.
Lovely Long Layered Haircut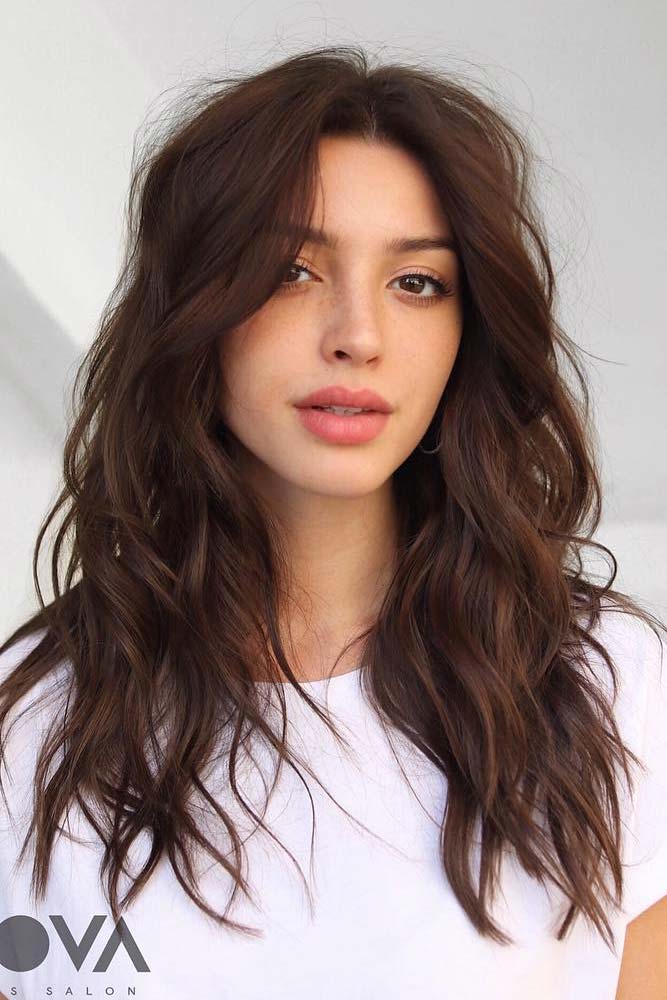 Credit photo: instagram.com/salsalhair
The magic of the front layers will help you see your face shape in a new light. Some women with oval face shapes have no idea how lucky they are, that's why modern hairstylists have invented layers: they can highlight your beauty and conceal your drawbacks. Just look what a voluminous chevelure this layered cut make out of your hair.
Long Thin Bang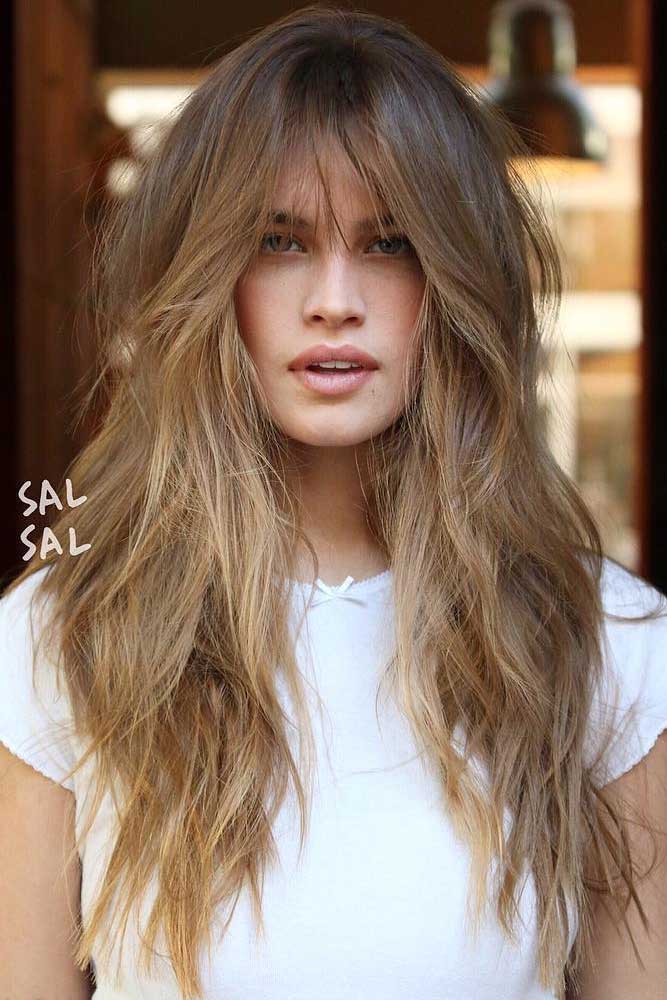 Credit photo: instagram.com/salsalhair
If your creative soul needs something fresh, a thin bang that barely hits your brows will be a cute detail. Your oval face doesn't need any cover-ups, yet, this little cutie can emphasize the balance of your look and give you some room for variability.
Side-Parted Straight Medium Length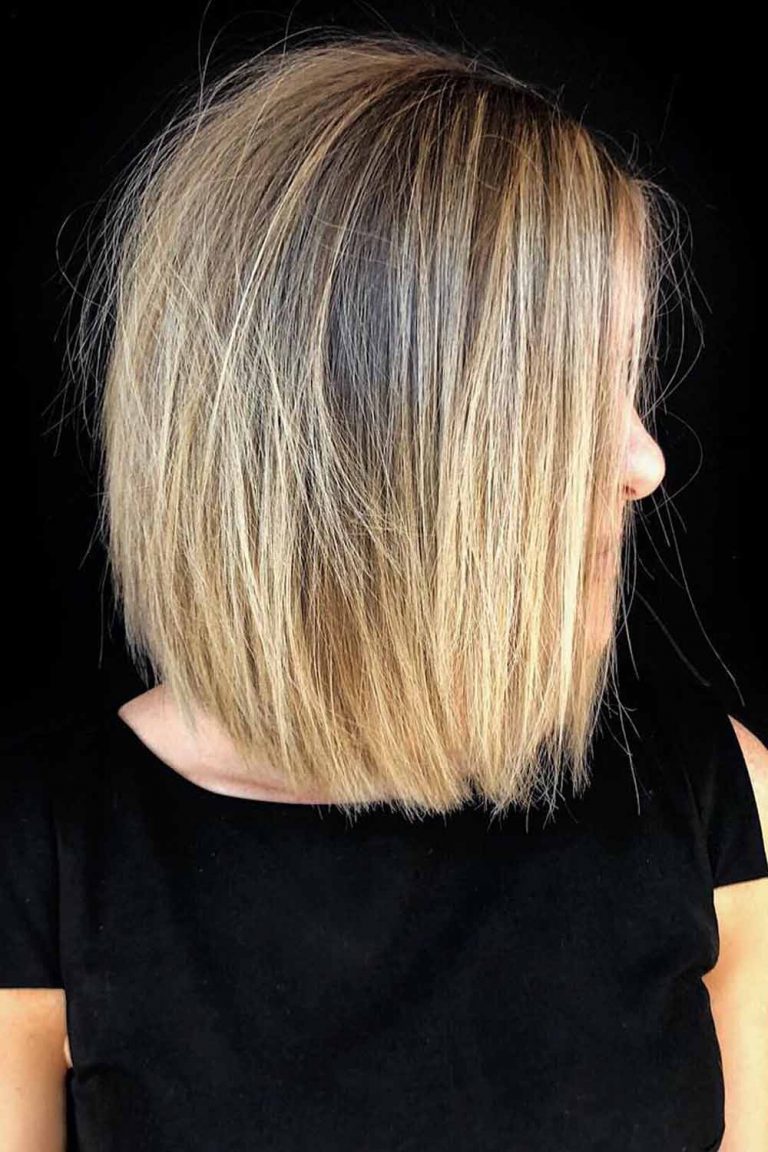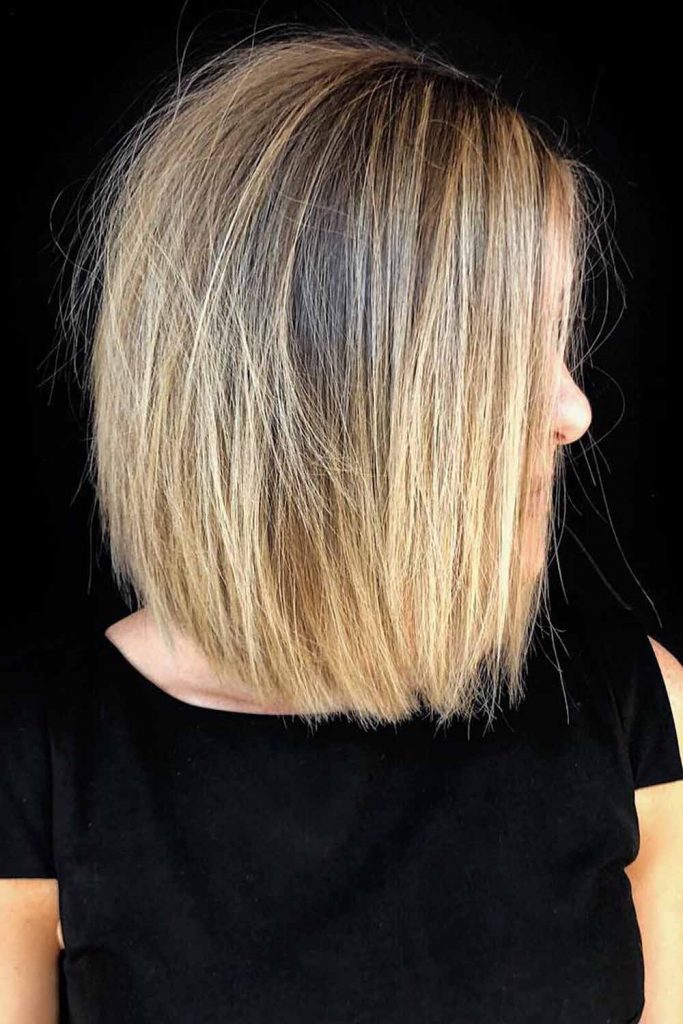 Credit photo: instagram.com/chrisjones_hair
While some angles need to be rounded, oval face shapes need some angles to accentuate their perfectly balanced silhouettes. And this is where side-parted layered haircuts should come into your life. Make sure to get distinctive layers with pointed edges so that they could build a more angled look to the cut when you sweep the hair to once side. Also, you can spice it up with a fringe to get a graduated hair look, but that's optional.
Textured Messy Lob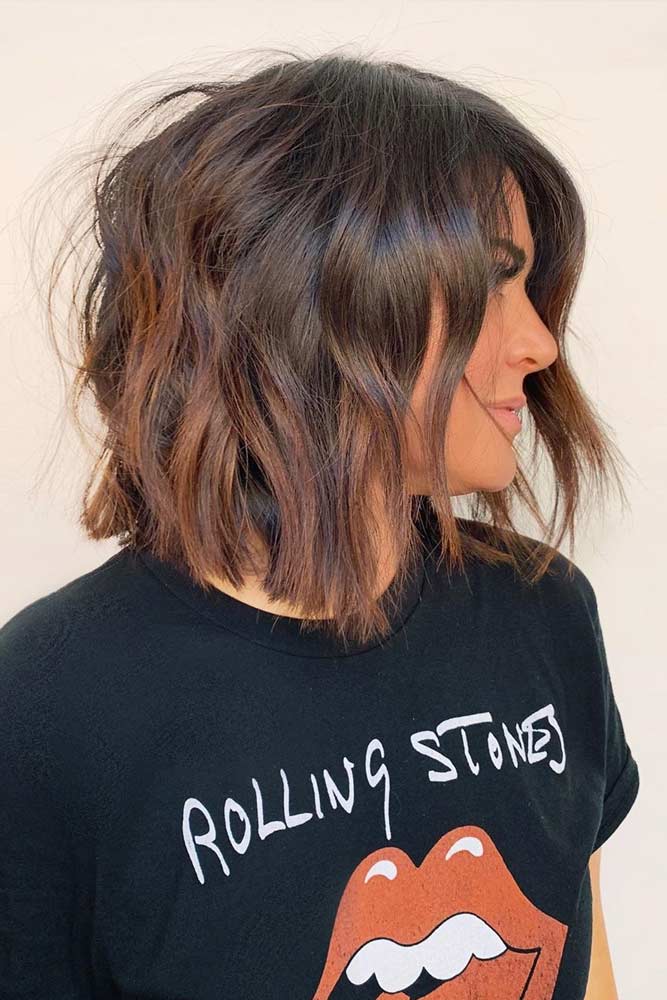 Credit photo: instagram.com/styled_by_carolynn
How about some messy texture? Apart from taking your cut to a new, modern, and fashionable level, the super-popular messy styling can also give your silhouette a bit of an edge. For the next salon appointment, don't forget to ask your hairdresser for some texturizing at the ends to make the hair more manageable for styling. Then, coat your locks with texture-building foam when drying the hair, and see your whole look amp up.
Long Side Swept Bangs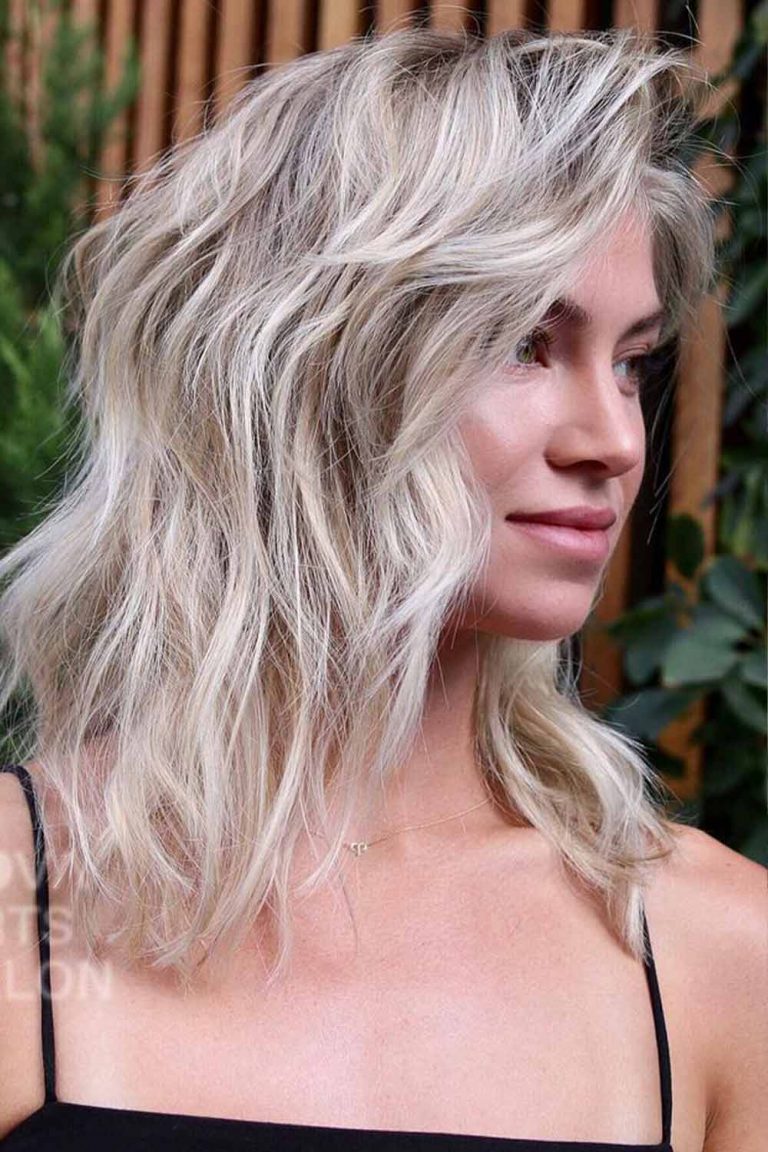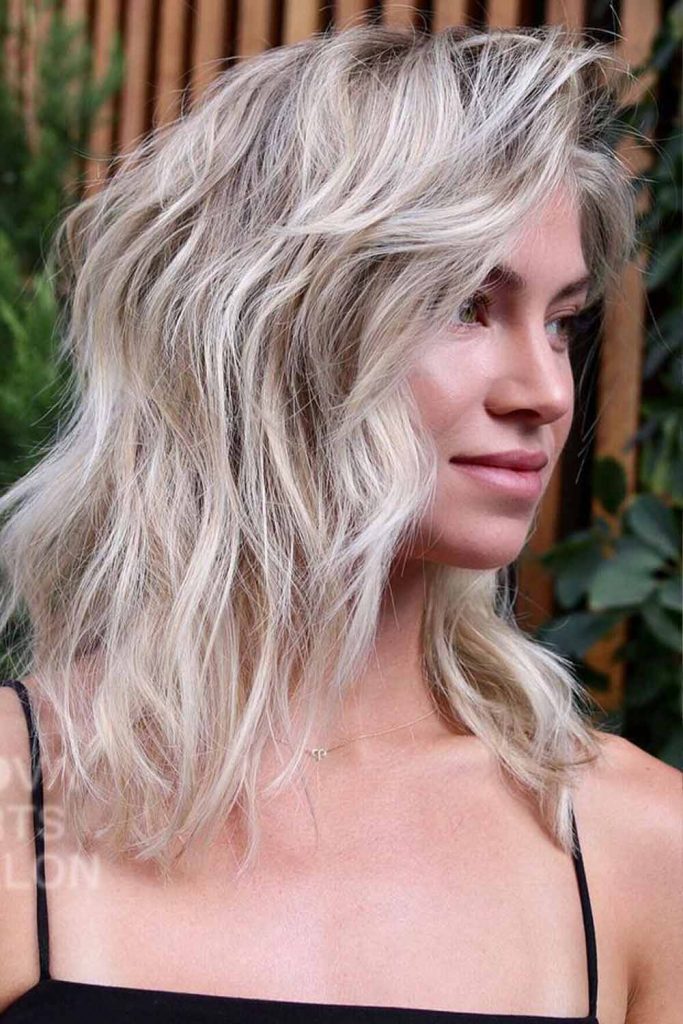 Credit photo: instagram.com/salsalhair
Perfect for an oval face shape, these super long side swept bangs are what will look so good on you. Complimenting your eyes and making your face look softer. That is what we think is a great choice for women who are not afraid to experiment!
Long Hair For Your Face Shape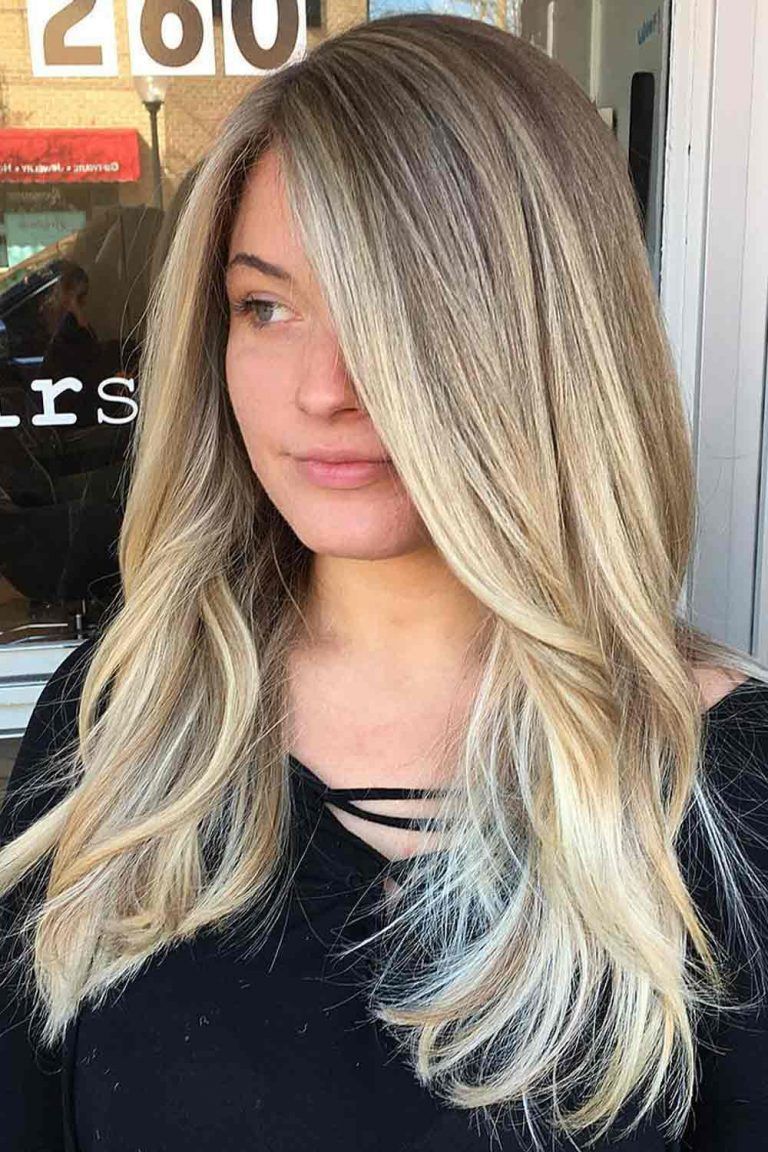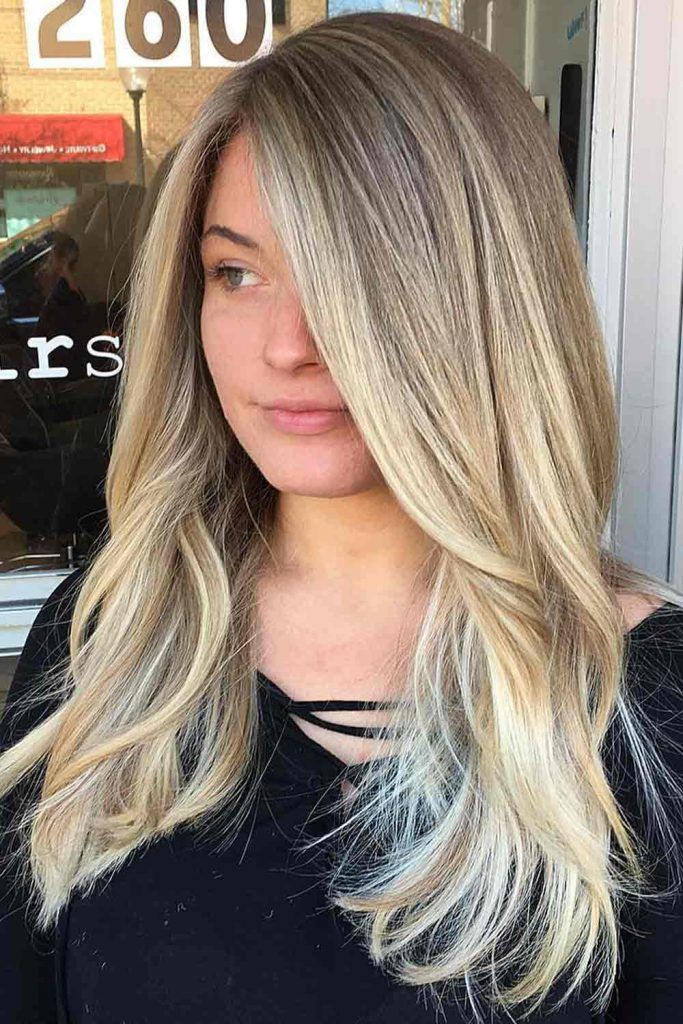 Credit photo: instagram.com/_heyhelena
Long hair is a true classic that will never go out of style. Don`t you agree? It looks super sassy, especially on women with oval face shapes. Add waves or layers to it and voila, you look perfect!
Long Pixie For Oval Face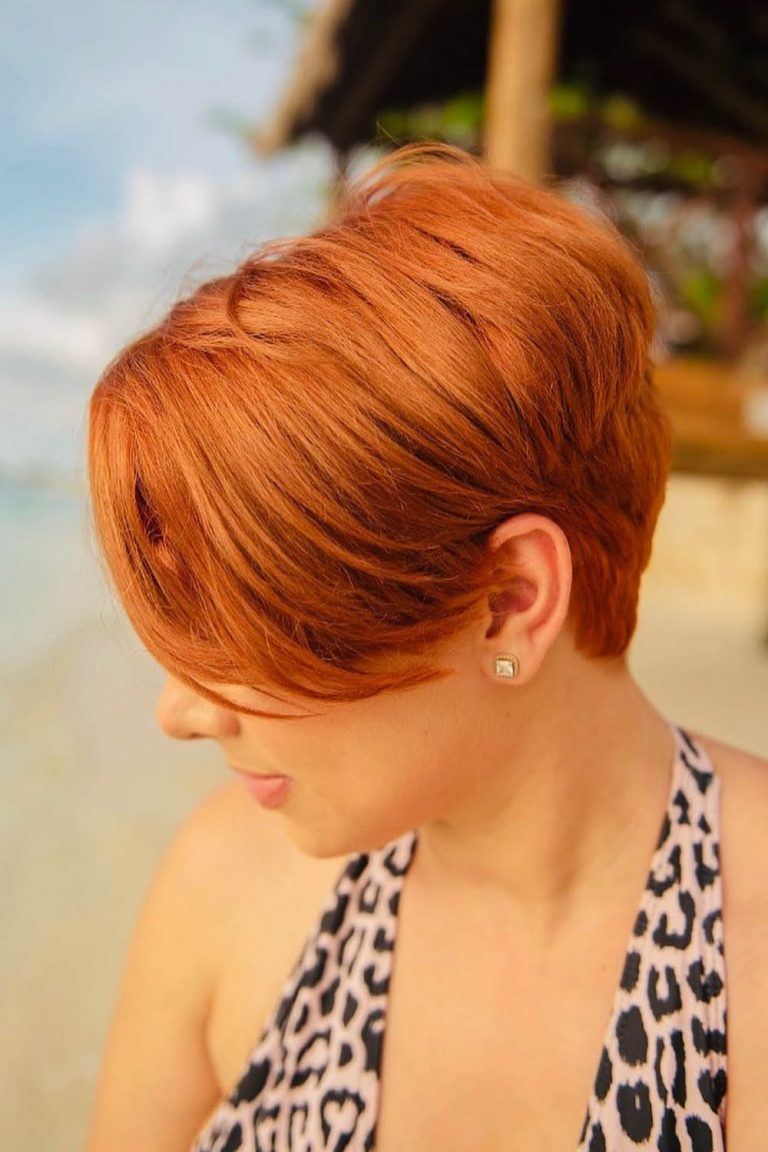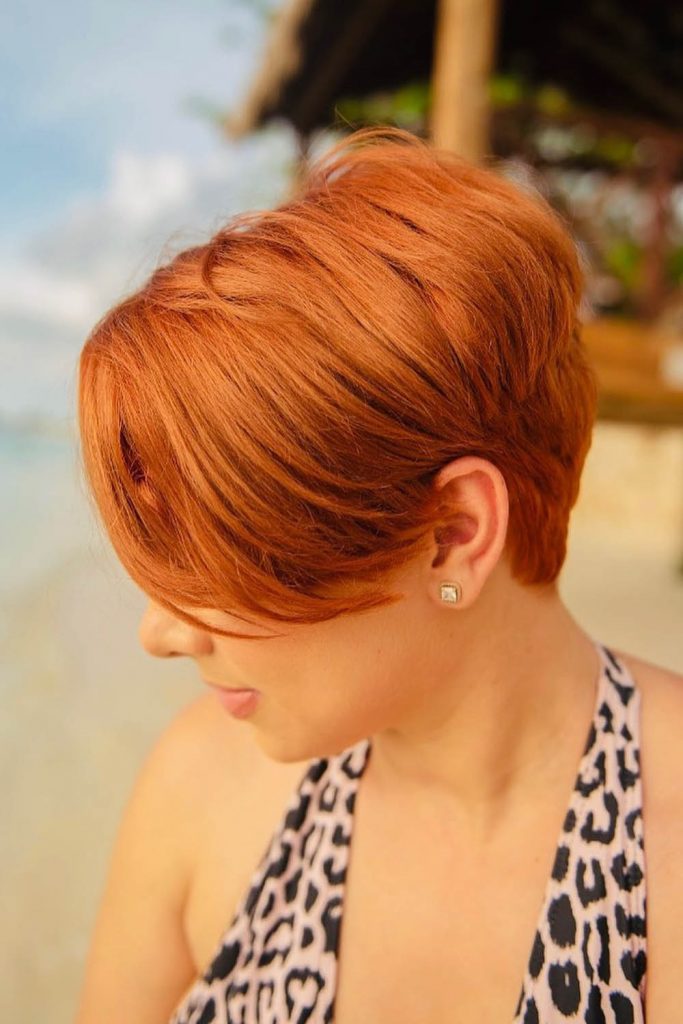 Credit photo: instagram.com/emilygodet
We all know that oval face is considered to be perfect face shape. But even though all the features are usually balanced nicely, a face can appear too slim sometimes. Such a stunning long pixie will widen the silhouette of your head, finishing the balanced look.
Burgundy Short Bob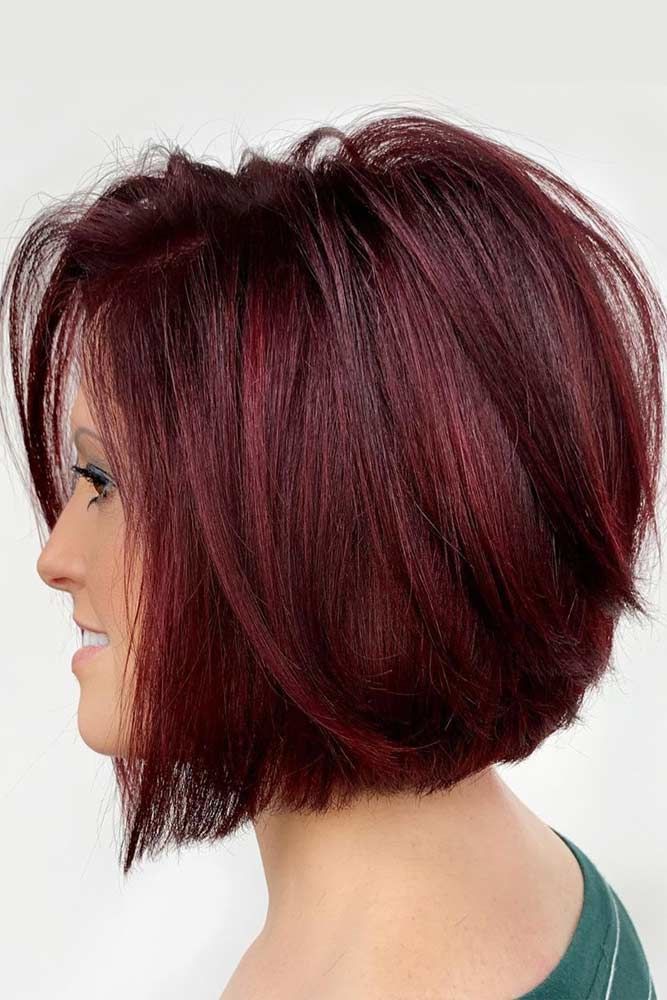 Credit photo: instagram.com/headrushdesigns
Round Face Shapes
Everything is pretty obvious with round faces: most of your facial features are round and soft. Though round faces have their own charm, if a wrong haircut accompanies them, it can be a real disaster. Girls with round face shapes flaunt with their pretty round cheeks, which are the widest point of their face. Let's see how to be proud of the shape of your face!
Do I Have a Round Face?
If your jaw and forehead are equally wide, the angles of your face are very soft, and your cheeks are too prominent, you've got a round face shape.
Minimalistic Long Blunt Bob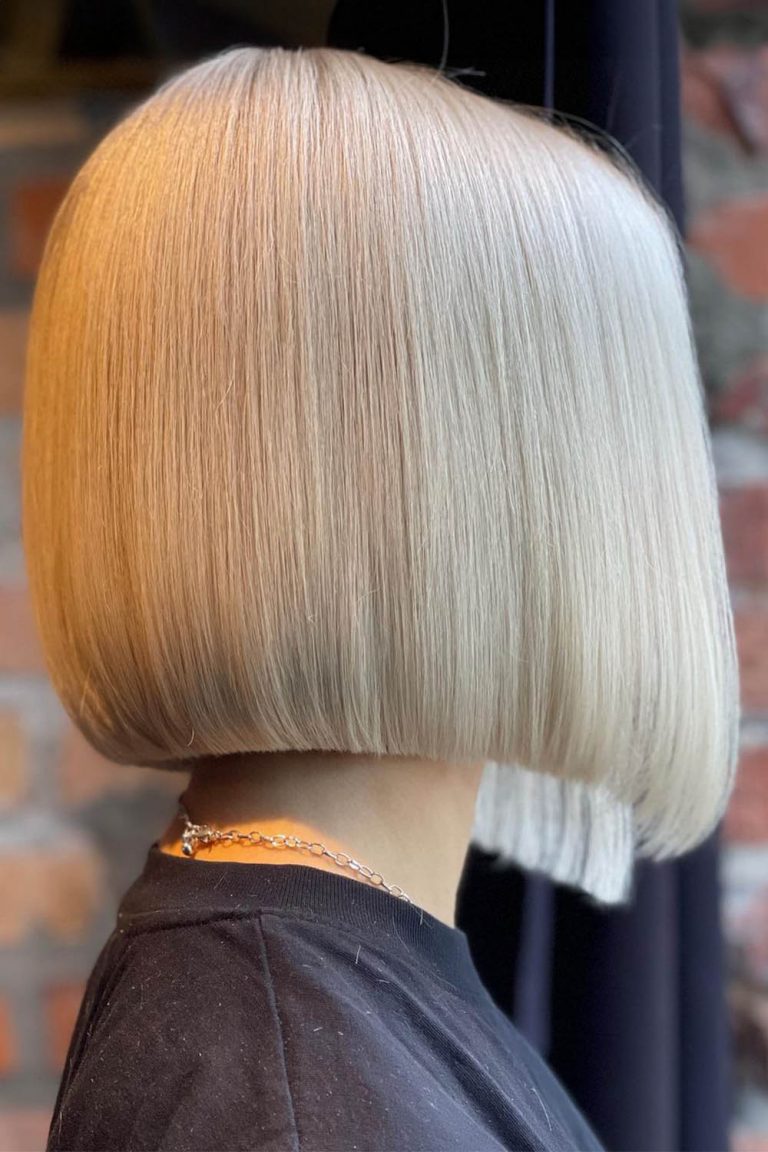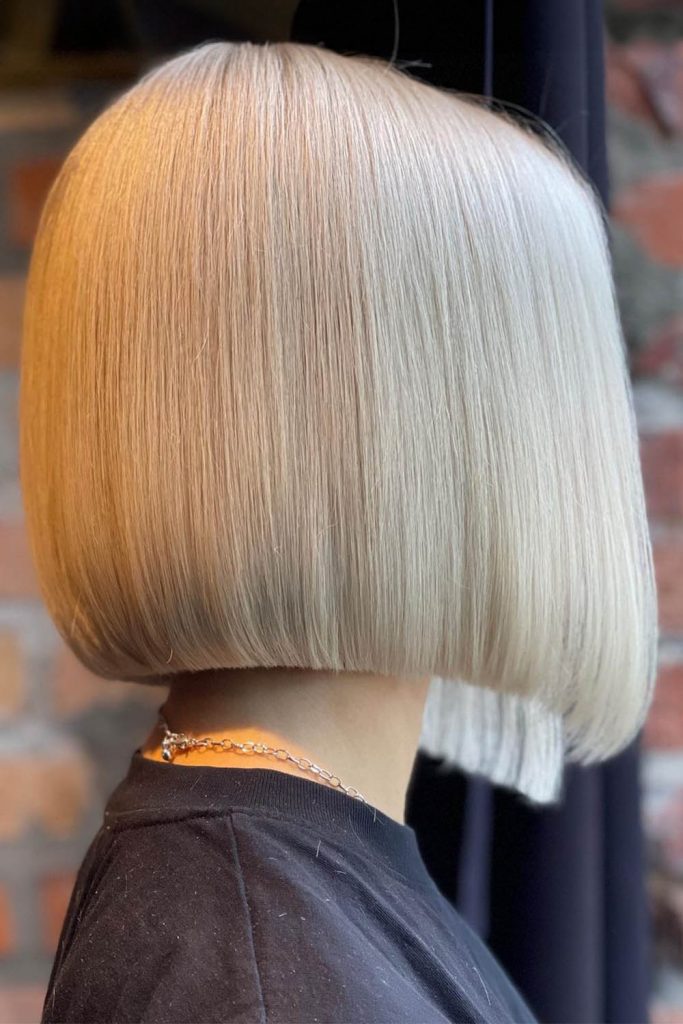 Credit photo: instagram.com/sergeyshapochka
Once you determine your face shape as round, everything in your style should be all about elongating its silhouette. Those who feel insecure because their faces appear too big should keep in mind that such a simple cut as a long blunt bob is their salvation. You can style your front locks in the way they overlap your cheeks, thus making your face look slimmer.
Seductive Angled Bob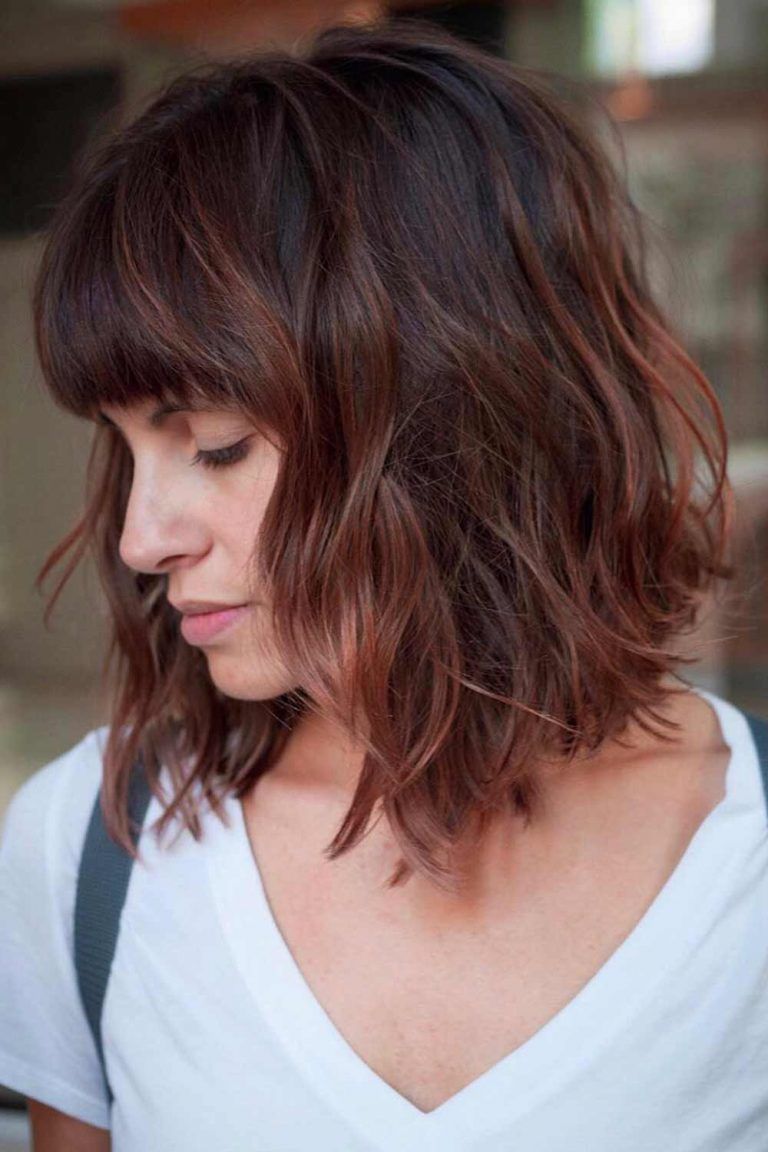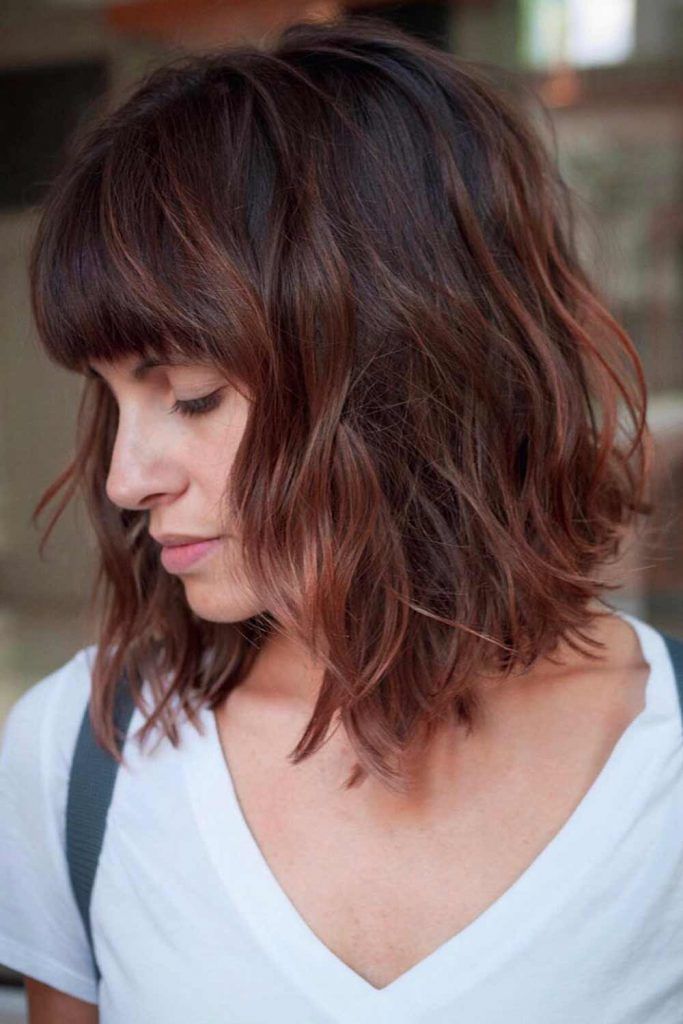 Credit photo: instagram.com/cutyourhair
Angled bob with a bit asymmetrical body, where the front tresses are longer than the hair on the back, is another stunning way to get rid of full face effect. You can wave your hair, creating a face-framing effect that will draw attention from your round angles to your eyes and brows. Feel free to change the direction of each wave: it will add more volume, which we can't have too much of.
Inverted Layered Bob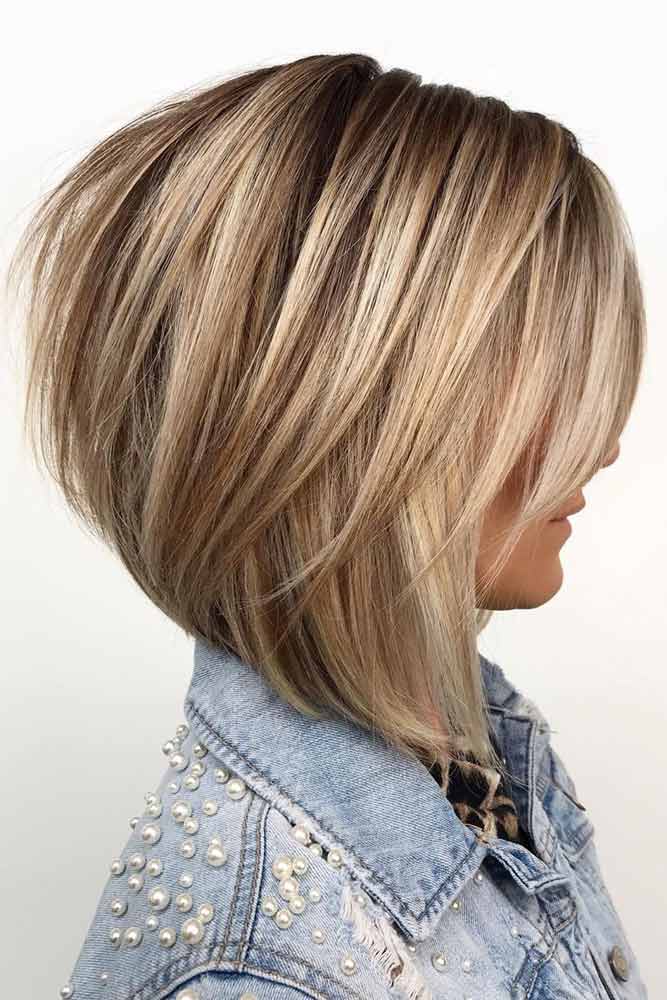 Credit photo: instagram.com/styled_by_carolynn
Everything gets obvious when we talk about round faces: your face appears very round, so it needs an edge. The structure of the inverted bob will create an angled body at the ends while layers will boost up the volume in your hair, thus visually taking your shape to the next level.
Bob With Middle Part + Layered Fringe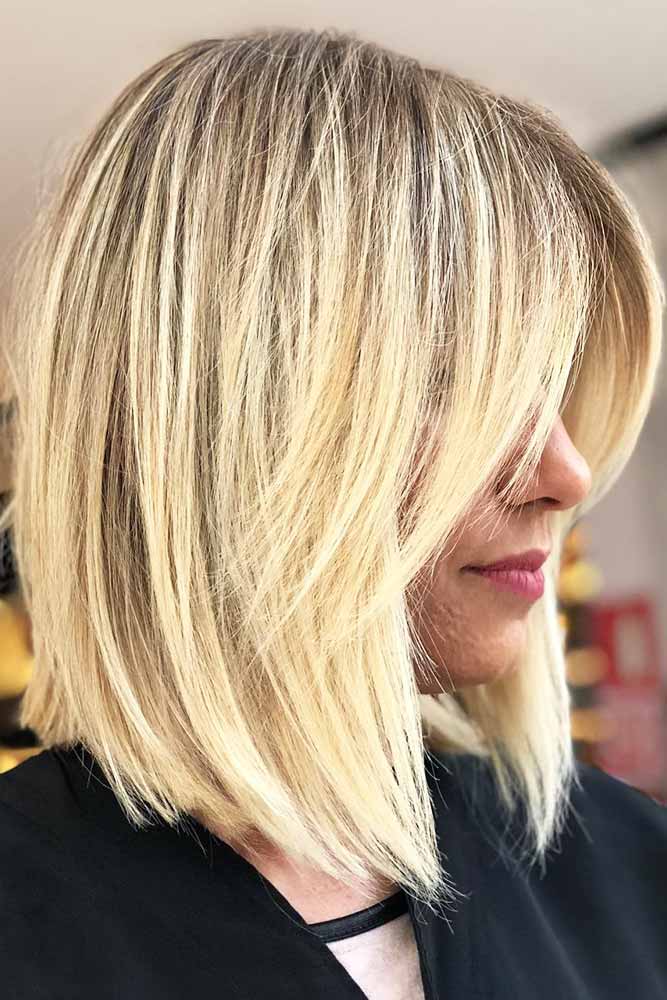 Credit photo: instagram.com/ro.hsiqueira
Center part hairstyles give you more room for face-flattering actions. When you part your hair symmetrically, you don't leave your cut any choice but to be perfect, especially if you have layered bangs. This pic is living proof: everything is so clean and proportional that it's hard to notice a round face behind this beauty.
Long Textured Pixie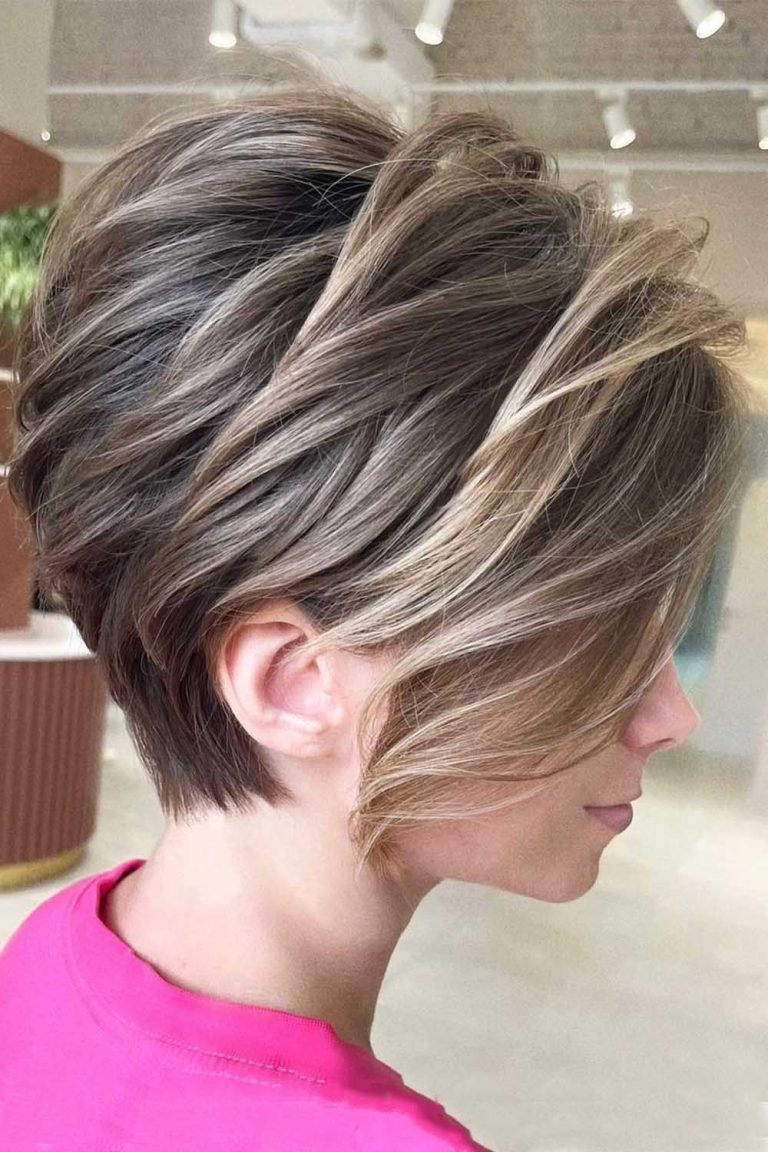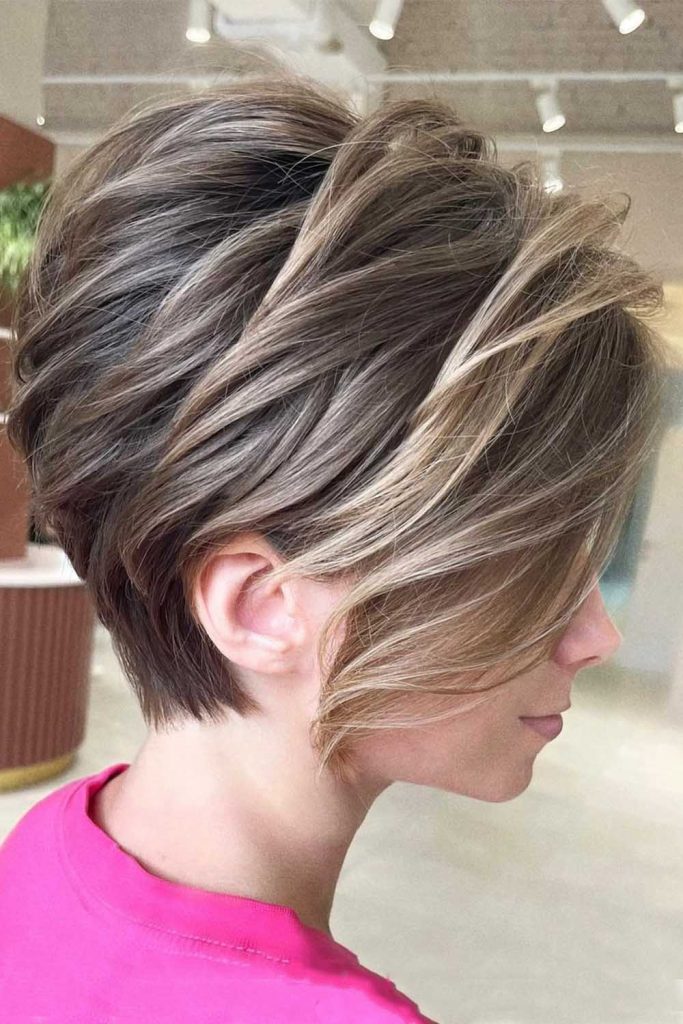 Credit photo: instagram.com/mila_kryshchykhina
There's a misconception that women with round faces should have a long mane with a lot of hair to be able to hide the front with their long tresses. Well, that's true, but not completely, as you can improve your look with any haircut if you know some visual tricks. So, meet a long pixie - a pretty short haircut that keeps the face open. But, if you get a pixie with an elongated front and keep its texture full and defined, your round face won't ever show its bad sides. Frame your face with a front portion and align the silhouette with the volume on the top to reach perfection.
Long Wavy Hairstyle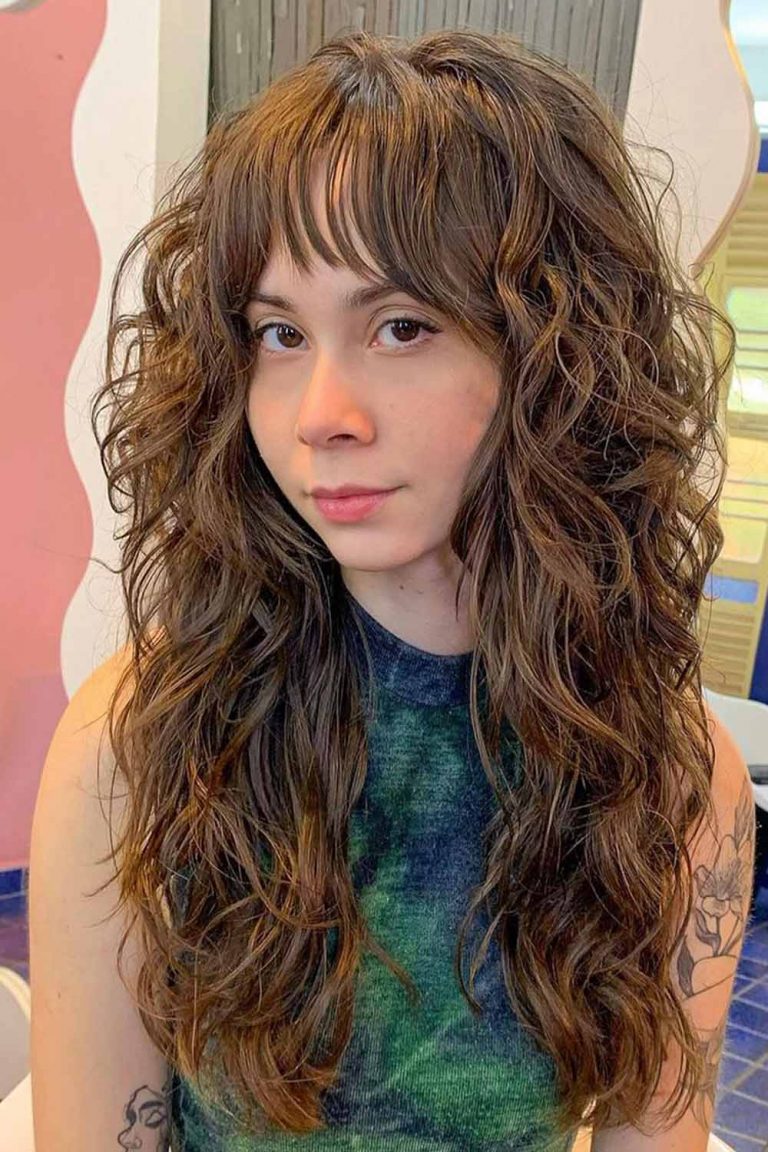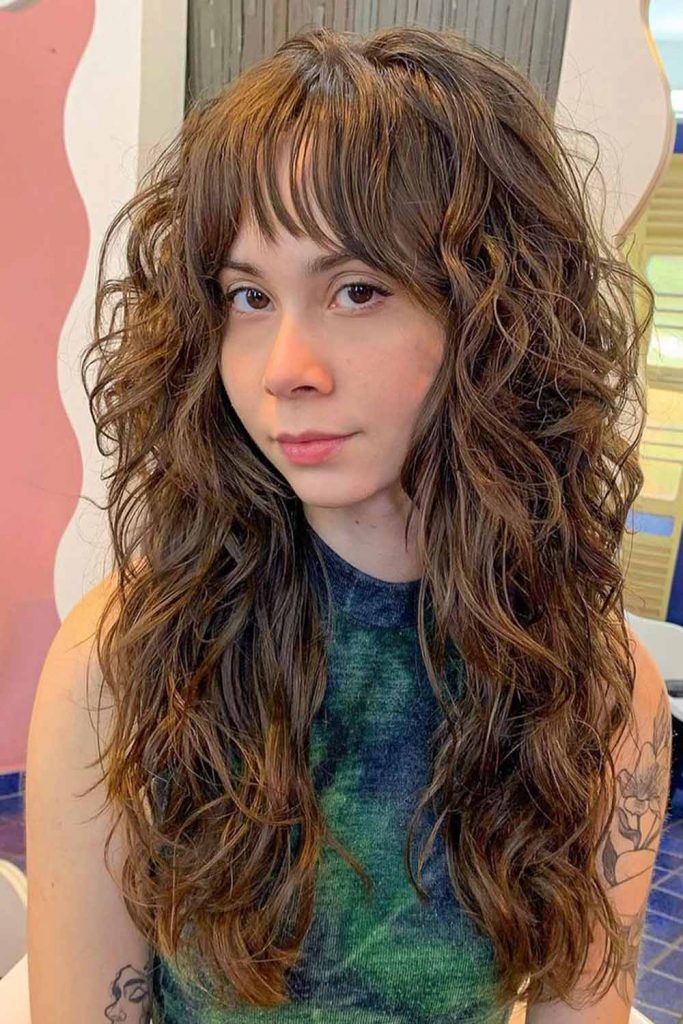 Credit photo: instagram.com/exotismos
Now, let's talk about classics. When you have a good curling iron and long hair with a well-defined front, there's no way you will feel insecure about your round face. You can pull some of your wavy locks to the front to frame your face delicately and gently. In fact, it's one of the easiest and most beautiful ways to deal with rounder cheeks. Just style your long hair with waves and you won't go wrong.
Medium Wavy Hairstyle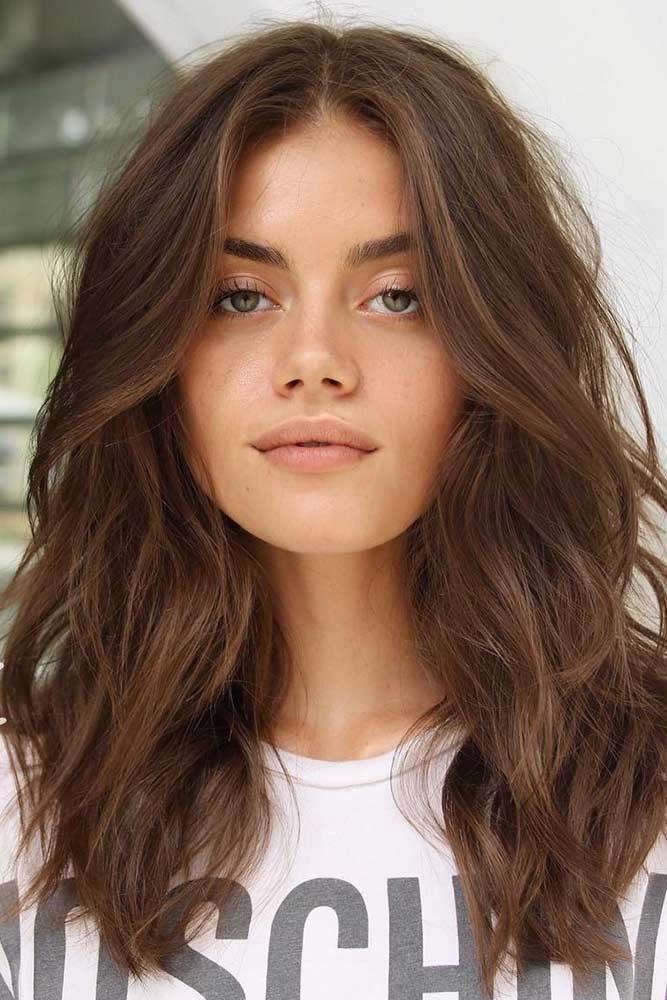 Credit photo: instagram.com/salsalhair
Your wide chin and jawline won't ever bother you once you wave your hair! The shorter it is, the fuller your waves are, so you can see that medium hair length is the key. To get the most out of your face shape, pay attention to the front locks: they actually do the framing.
Angled Bob With Caramel Highlights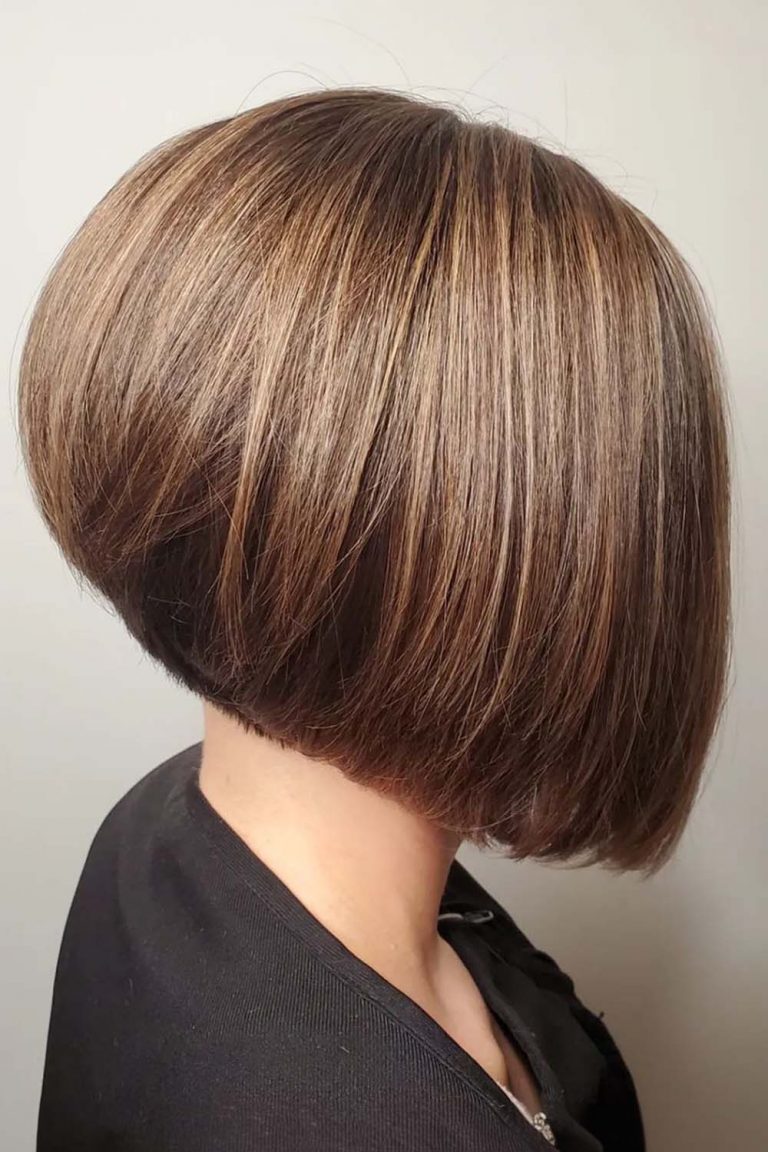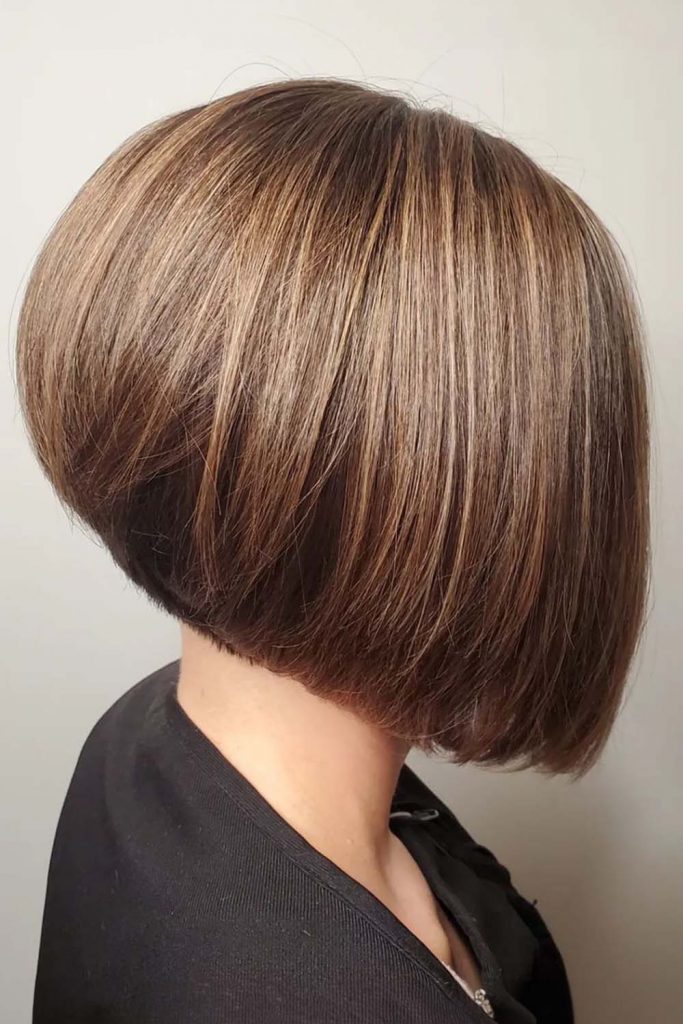 Credit photo: instagram.com/hair_by_marlo
Heart-Shaped Face
Heart-shaped faces are all about contrasts of the prominent facial features: they have a wide forehead and very pointed chin. It's probably one of the most eye-catching face shapes as the whole silhouette usually looks quite unusual and neat at the same time. See what cuts and styles will help you to keep the contrast smooth!
Do I Have a Heart-Shaped Face?
If the widest point of your face is forehead that gradually gets narrower to the jawline, you've got a heart-like face.
Long Pixie With Side Swept Bang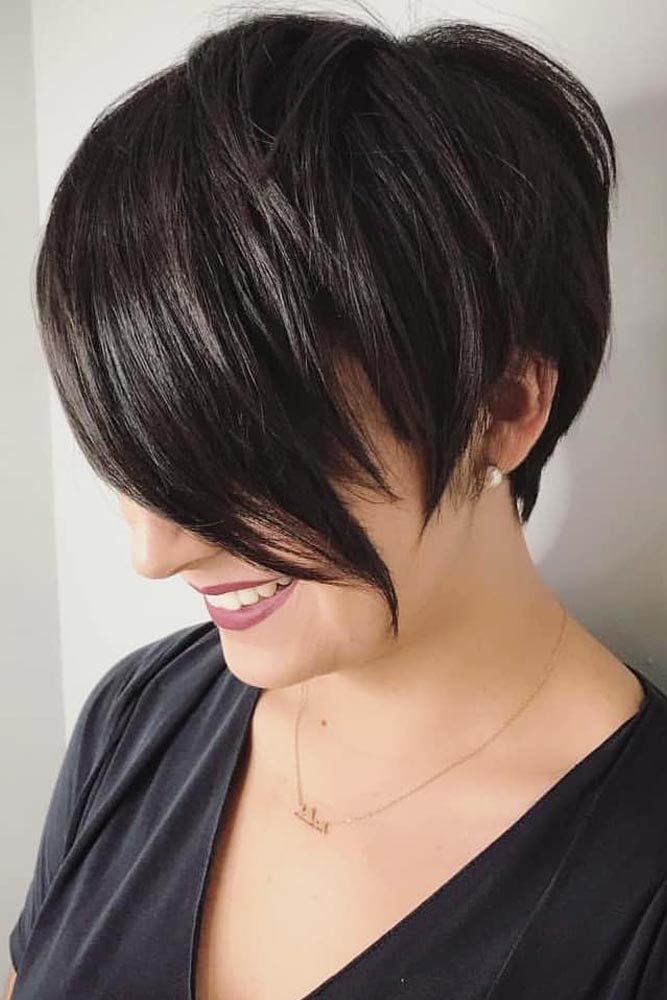 Credit photo: instagram.com/ivanaluxe
Needless to say, the balance between our haircuts and face shapes is the most desired value. But in this case, is as crucial as never before because, with a proper hairstyle, the very visible difference of widths will be smoothed out. Long pixies with side swept bangs will add more volume to the forehead and frame your cheeks a bit, making your silhouette look more oval.
Blunt Inverted Bob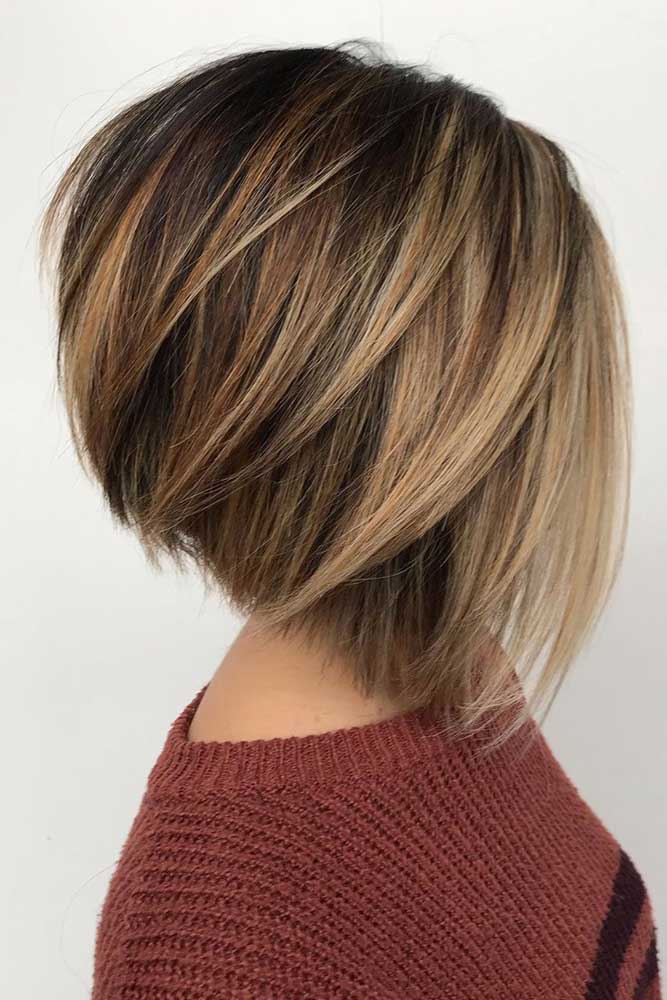 Credit photo: instagram.com/styled_by_carolynn
Who would've thought that the good-old inverted bob would offer so many solutions? The volume on top, the edge on the tips, and fullness all over the body: aren't these features enough to work on your face shape?
Shoulder Length Straight Bob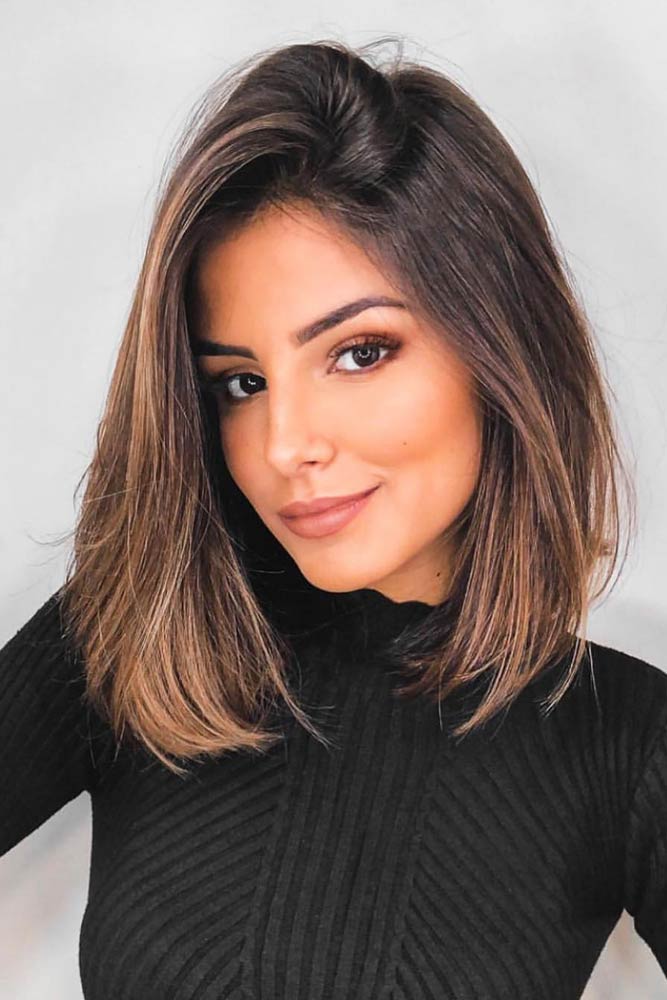 Credit photo: instagram.com/petermenezes
Believe it or not, the sleek body of this straight bob can beautify your face with its ravishing simplicity. Since you want to counterbalance the angles of your chin and the form of your forehead, it's better to go for shoulder length bob, as it makes the whole look longer. Plus, this length has lots of styling options.
Cute Medium Layered Cut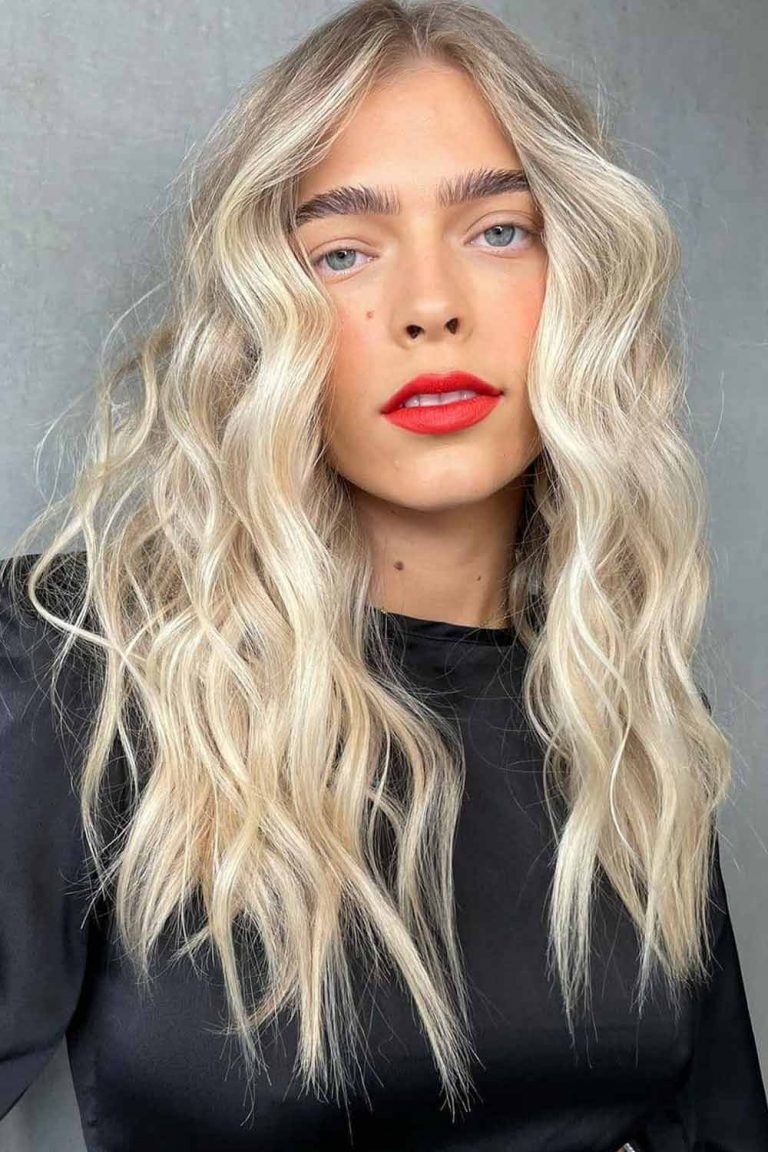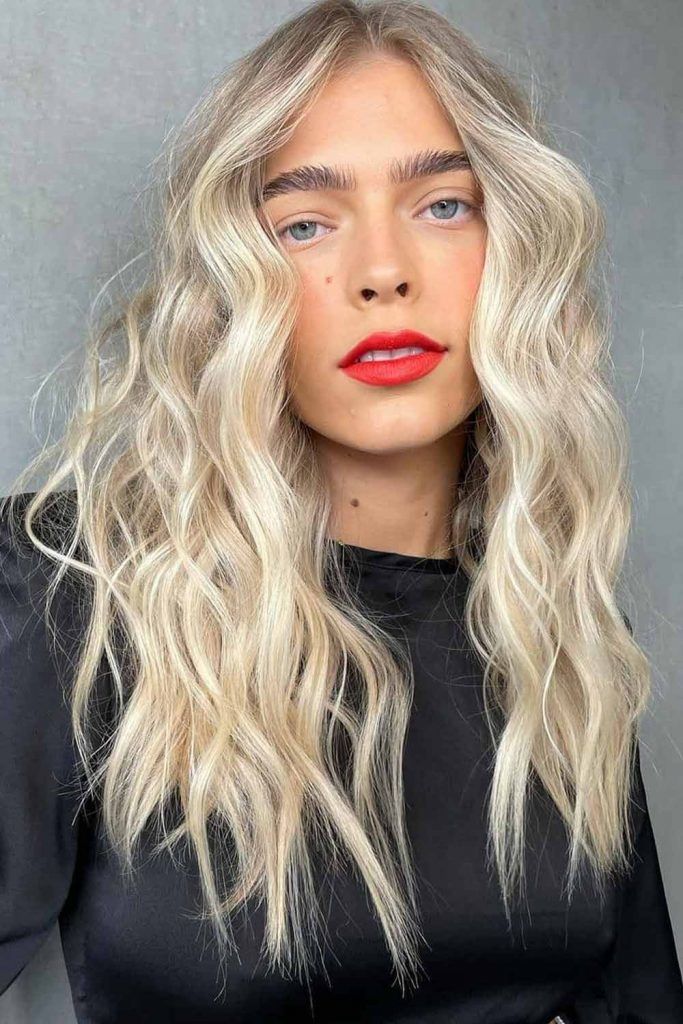 Credit photo: instagram.com/_edwardsandco
How about enhancing the beauty of your prominent jawline with loose beach waves of the layered cut? Layers will make your waves more textured, more visible, thus creating the so much needed volume. With a center part, you will create a perfectly balanced, full, and wavy chevelure that will emphasize your pretty narrow chin.
Shaggy Short Bob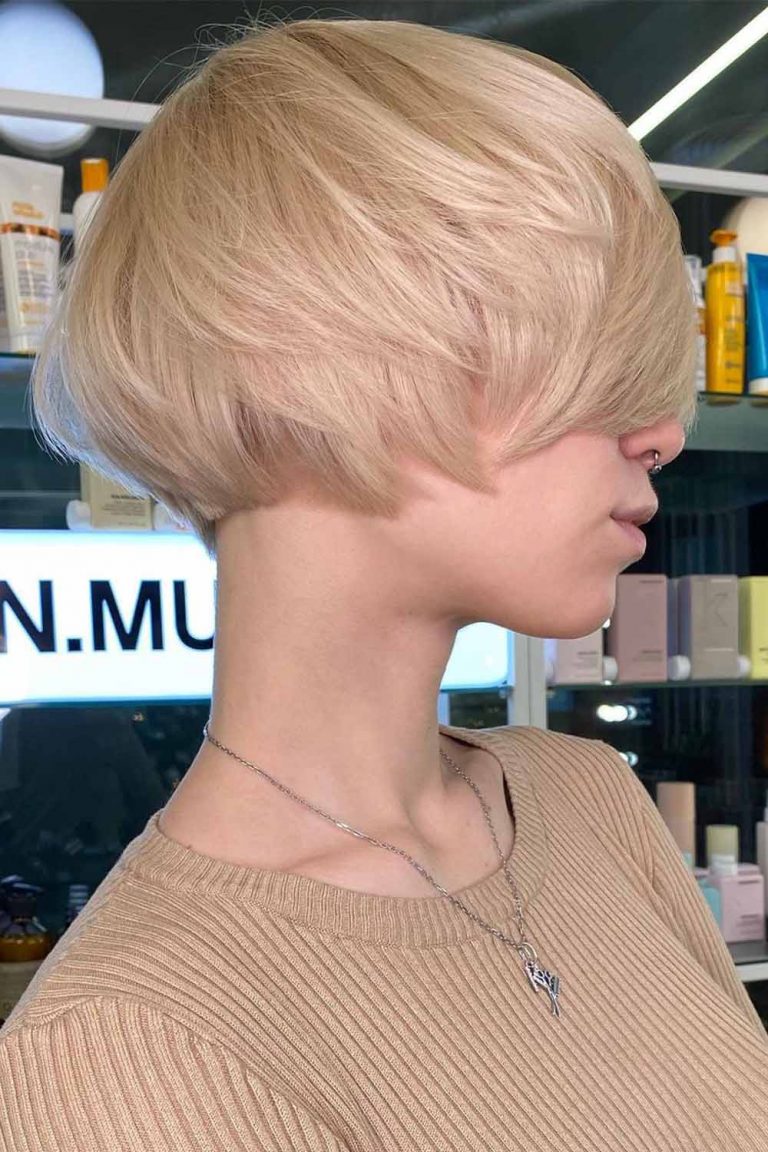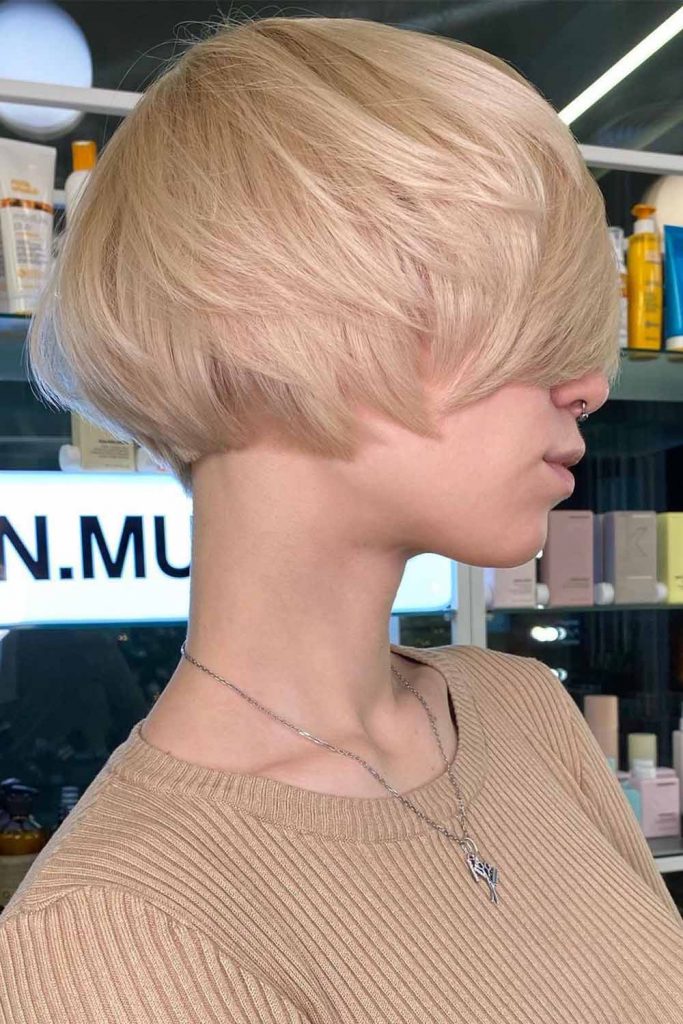 Credit photo: instagram.com/sergeyshapochka
Center-parted waves are probably the most effective and, most importantly, spectacular weapon for women with heart face shapes. Parting your hair to the center brings out all the hair, evenly spreading it to create a sense of balance. Paired with shaggy layers, you can enhance this styling trick by framing your wide forehead with front layers. In this way, you will build the harmony between the forehead and chin.
Side-Parted Long Wavy Hairstyle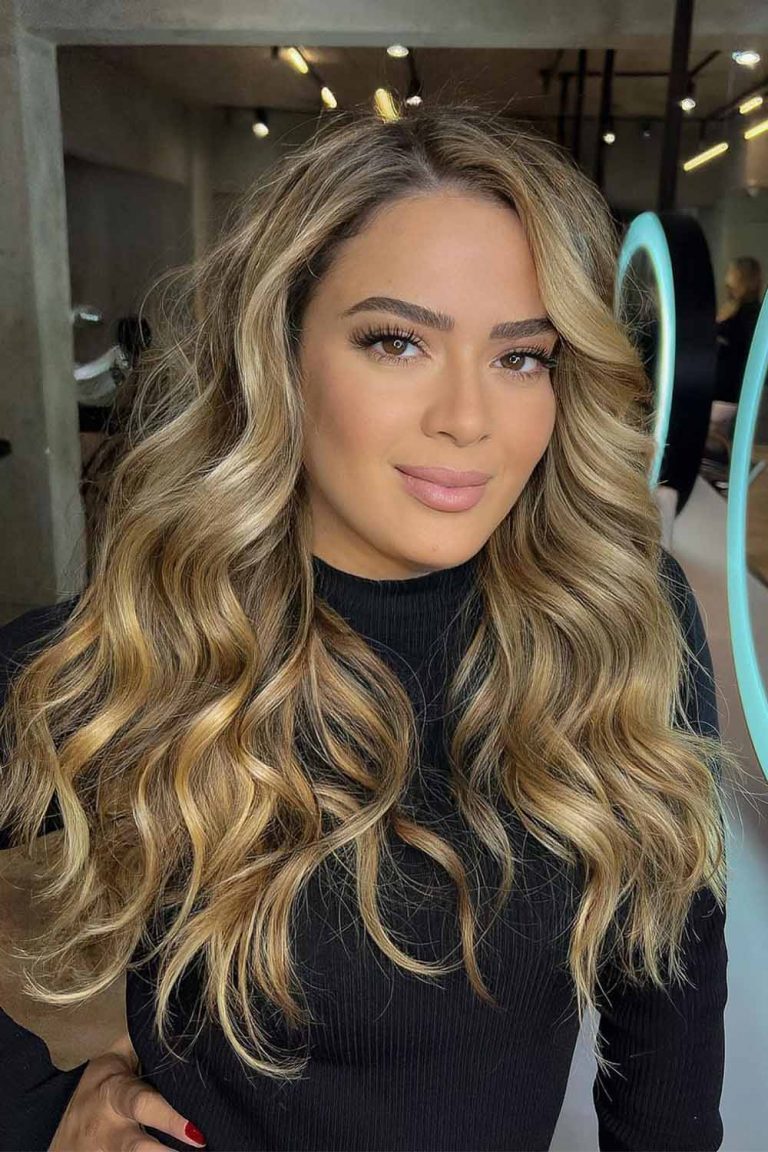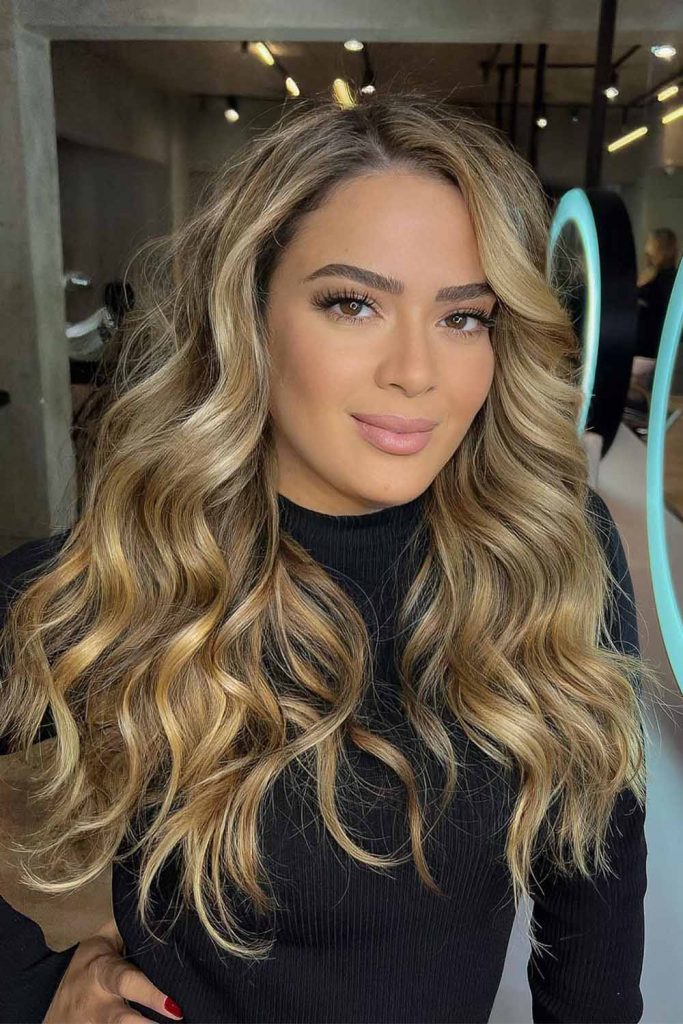 Credit photo: instagram.com/jeffersonbolina
With long hair, getting the most of your heart-shaped face will be anything but complicated. Should we mention that nothing can compare to the charm of long waves that gently flow down to the ends? What can make this look totally game-changing for your facial features, as well as add more character to your hairstyle, is a side part. Just flip your hair to one side to see the difference.
A Long Layered Bob For A Heart Face Shape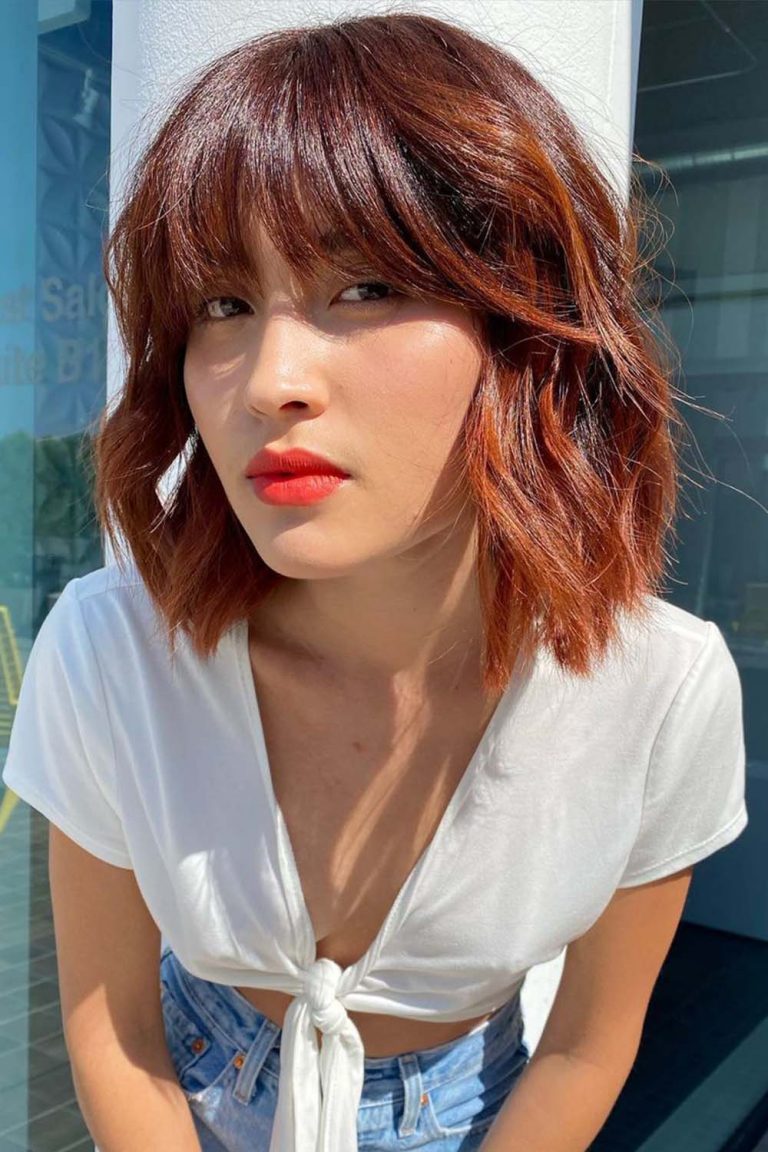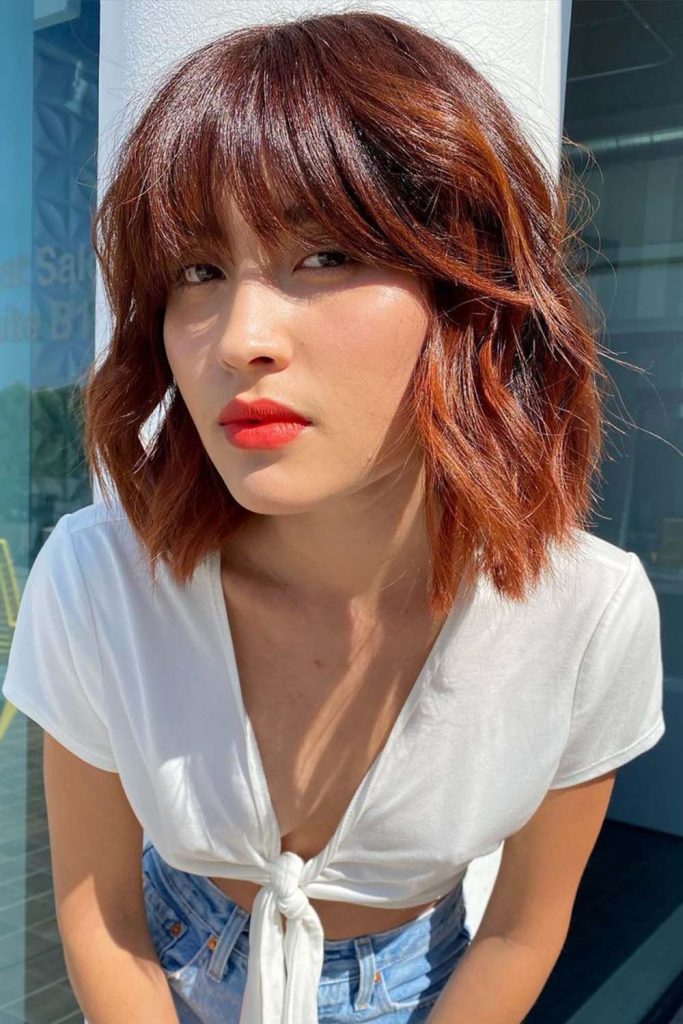 Credit photo: instagram.com/manemisfit
Yes, this is perfect for you, girls with heart faces! A long bob with layered hair will look perfect on you and will make your face look more interesting. The texture is guaranteed and a medium length is perfect for any look you prefer.
A Medium Length Structured Bob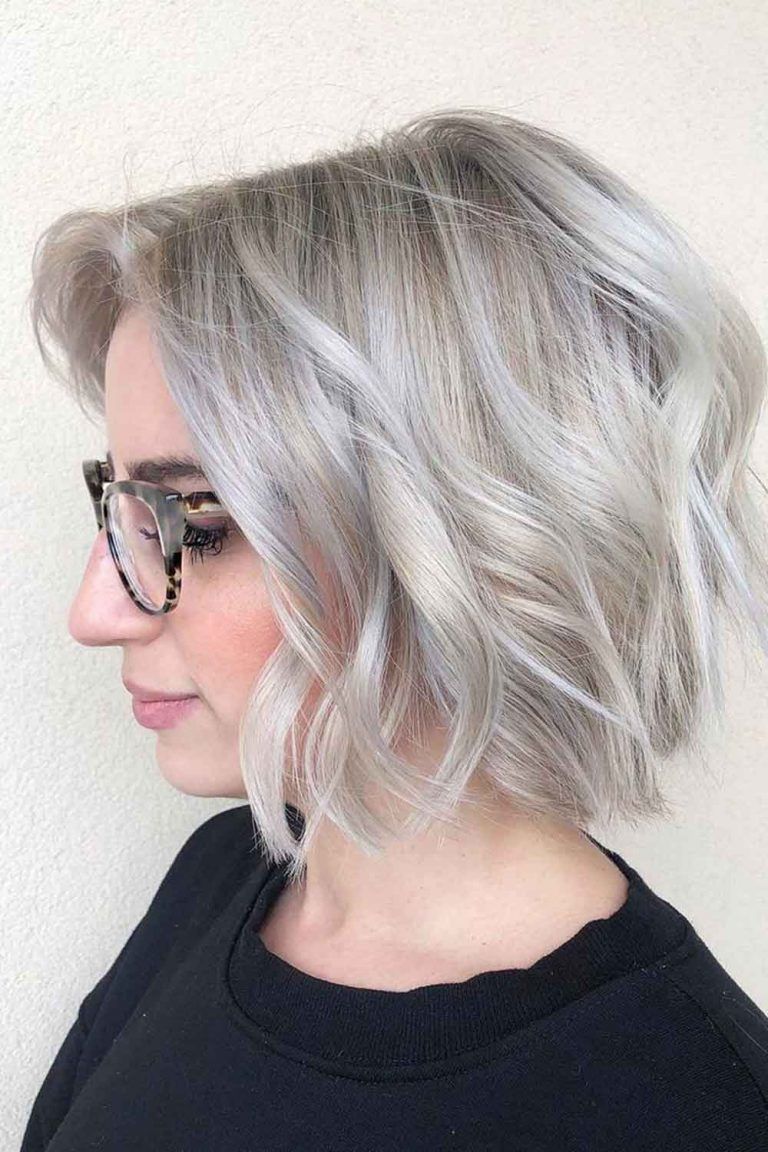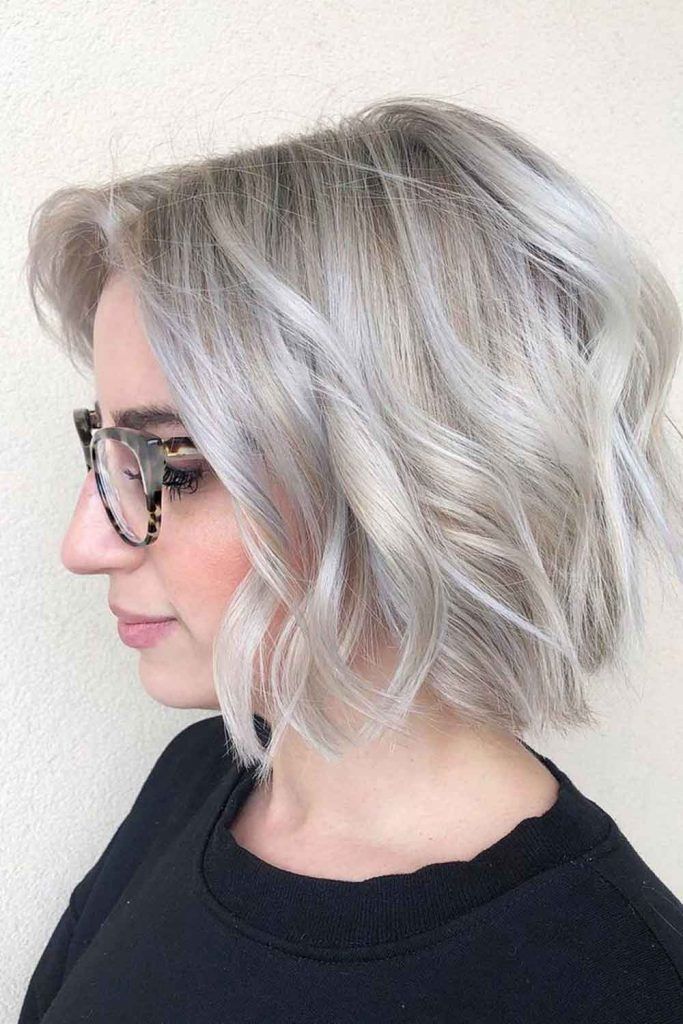 Credit photo: instagram.com/lena_piccininni
A bob is what looks super stylish on any girl. Whether you have a heart face, this medium length bob is what you should definitely consider trying, if you are bored of everything common. It will soften your facial features, making you look angelic. You can also add waves to this hairstyle to make it look even more romantic and natural.
Long Straight Pixie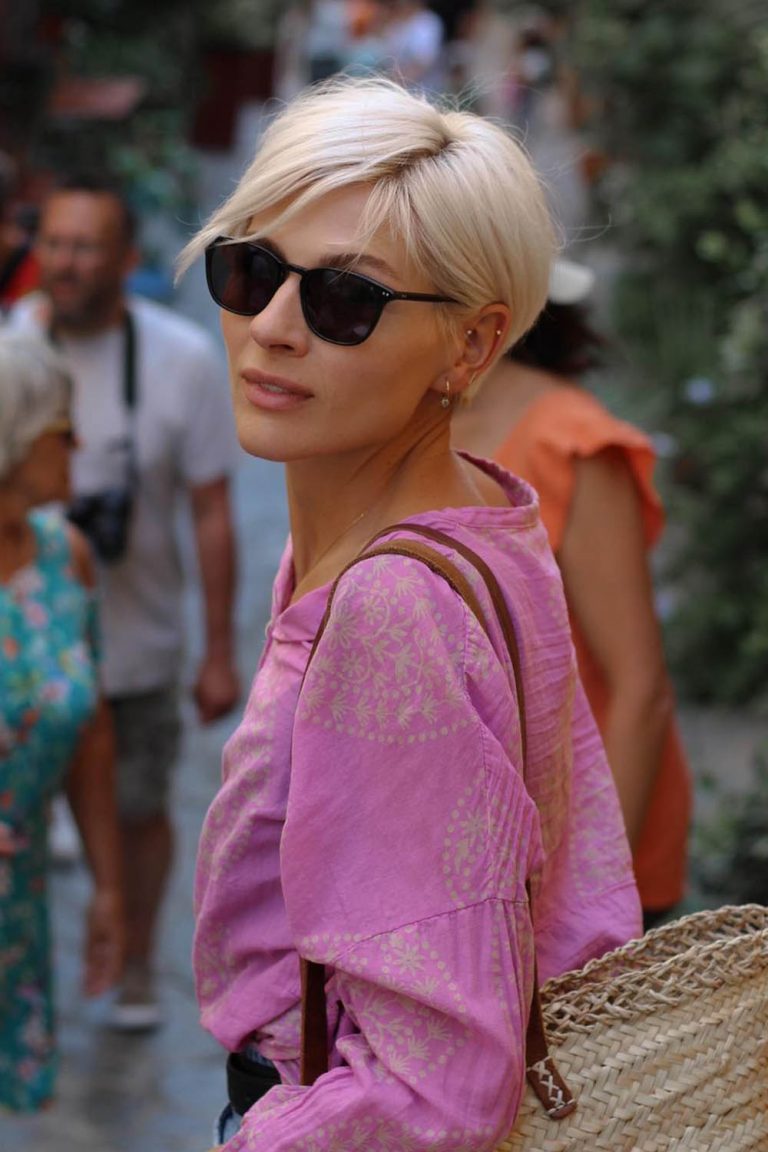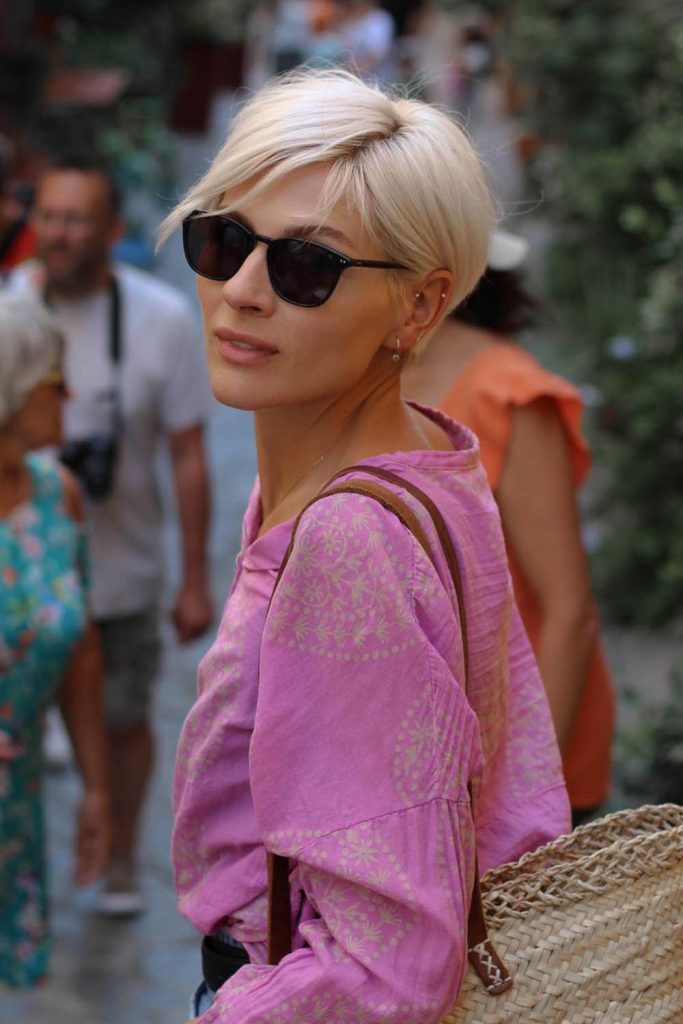 Credit photo: instagram.com/irinagamess
Long Face Shape
Long face shapes are always confused with oval ones. They may look similar from a certain perspective, but they actually have a few things in common. Long faces or somebody may call them oblong, have an elongate silhouette, where cheeks, forehead, and jawline are almost the same width. Such a face shape doesn't have any prominent points or angles, yet its length might appear too slim and long. That's why we need a proper cut!
Do I Have a Long Face?
If your chin is slightly curved, while the proportions of your forehead, cheekbones, and jawline have the same width, you've got a long face.
Side Bang Bob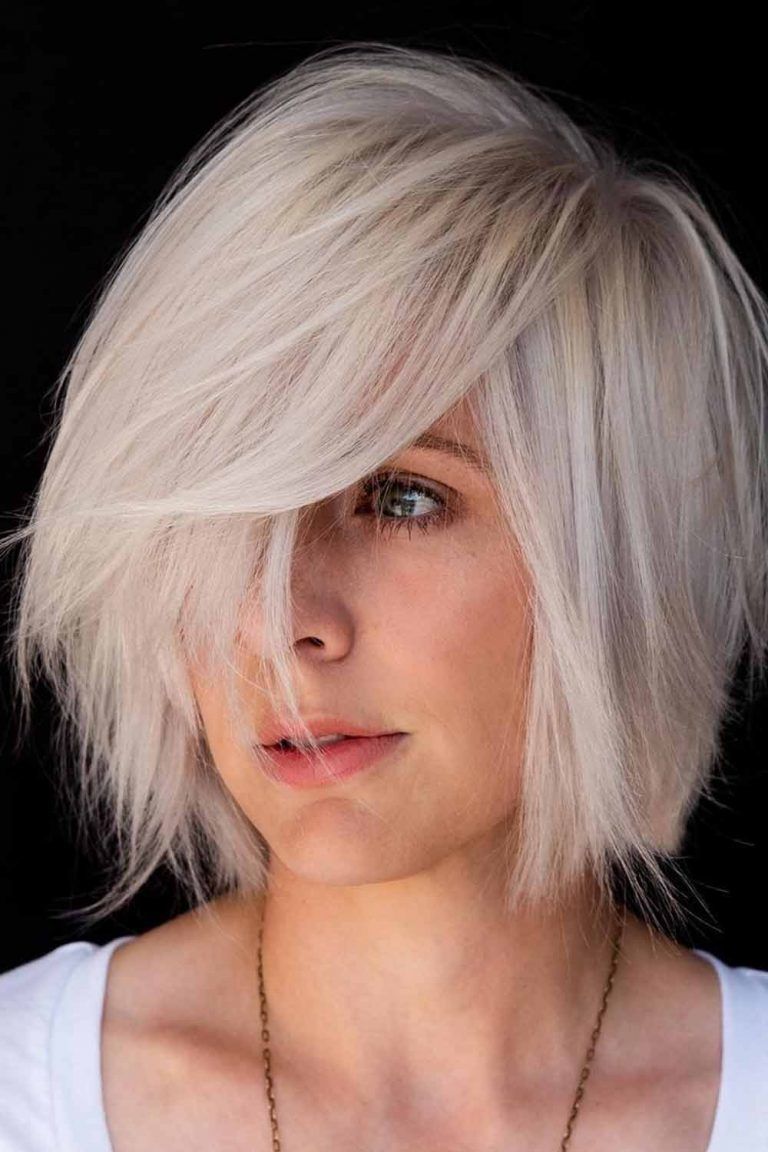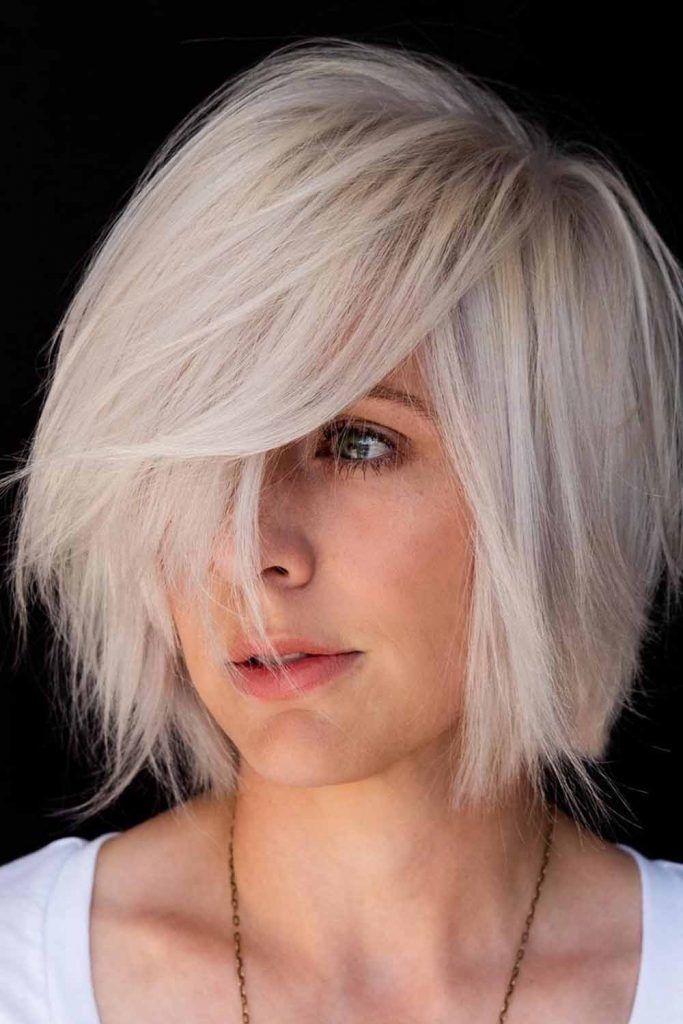 Credit photo: instagram.com/chrisjones_hair
For long face shapes, the main aim is to find the hairstyle that will angle them up. Since your facial features are primarily curvy, a side fringe haircut will give a bit edgy silhouette and build a perfectly balanced body.
Charming Layered Medium Bob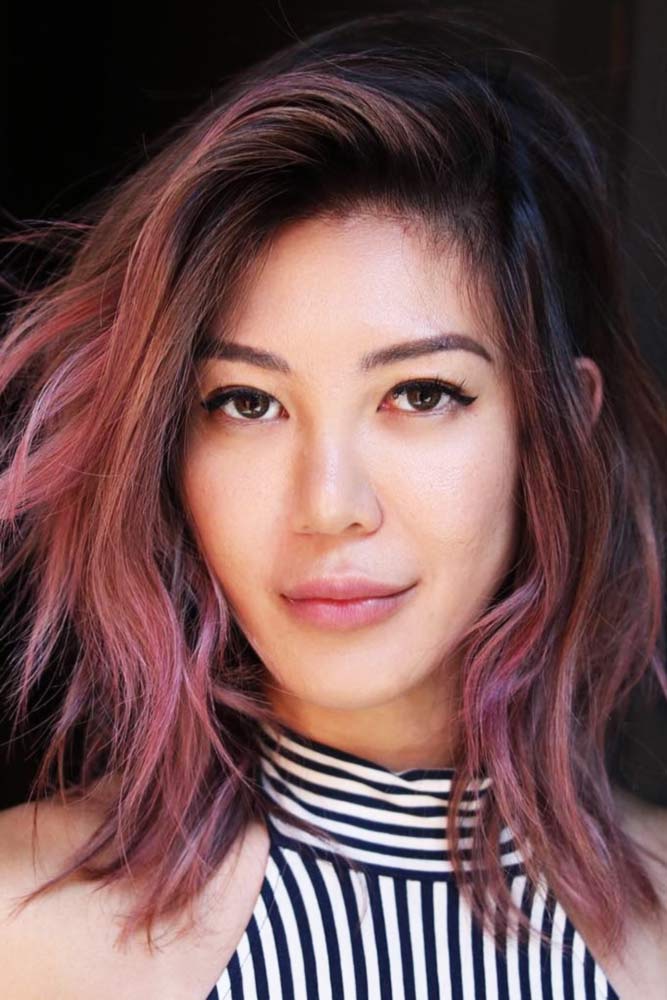 Credit photo: instagram.com/salsalhair
One of the basic styling tips for oval face shapes is that your cut should be as voluminous as possible. Ask your hairstylist for layers or feathers because such textures lift up the ends and crown, creating the needed fullness. Also, hairstyles with deep side part will be a good idea to volume up the top, as when one side outweighs the other, it gets fuller.
Cool Shaggy Cut With Thick Bang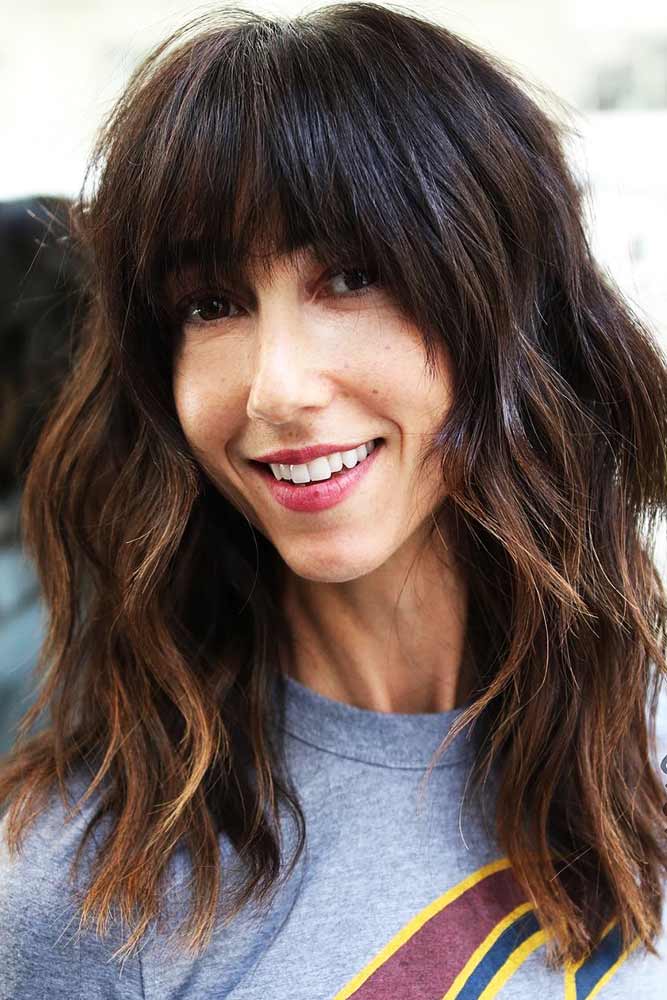 Credit photo: instagram.com/salsalhair
What can be more textured than mid-length shag haircuts? Once you look at this pic, you'll see the lively movement of each layer: the short ones make the crown fuller, and the long ones add a pleasant texture. Thick bangs can add even more volume, and, most importantly, frame your forehead. With such a sumptuous silhouette of your hair, there's no way your face will look too long.
Feminine Side-Parted Cut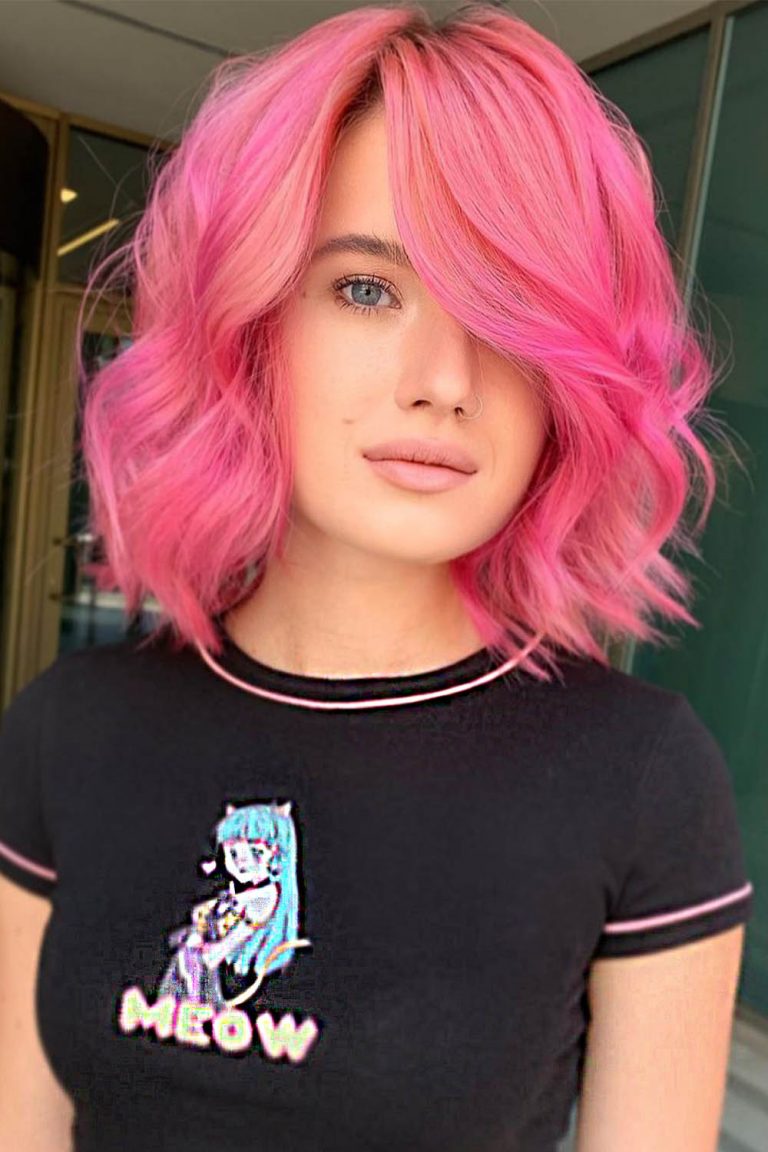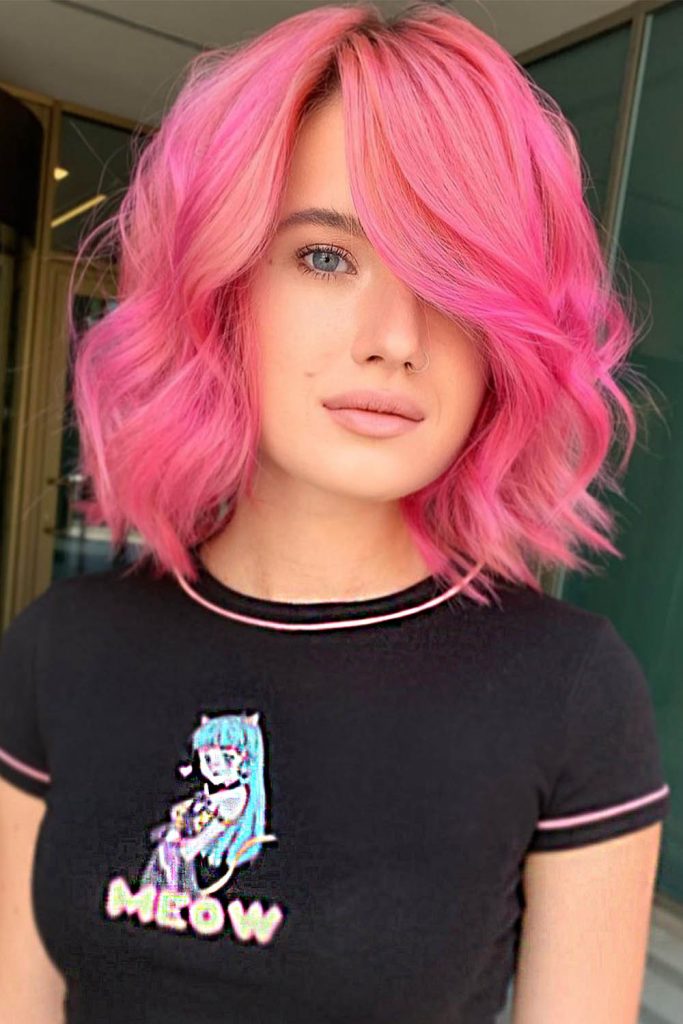 Credit photo: instagram.com/sergeyshapochka
Waves + side part = simple, yet perfect beautifying hairstyle for long faces. Little slight waves that gently fall on your shoulders will make you look feminine and girly, enhancing the beauty of your facial features. Ladies who want to draw attention from very long faces can style their hair to the side, thus setting the focus on their eyes.
Long Straight Pixie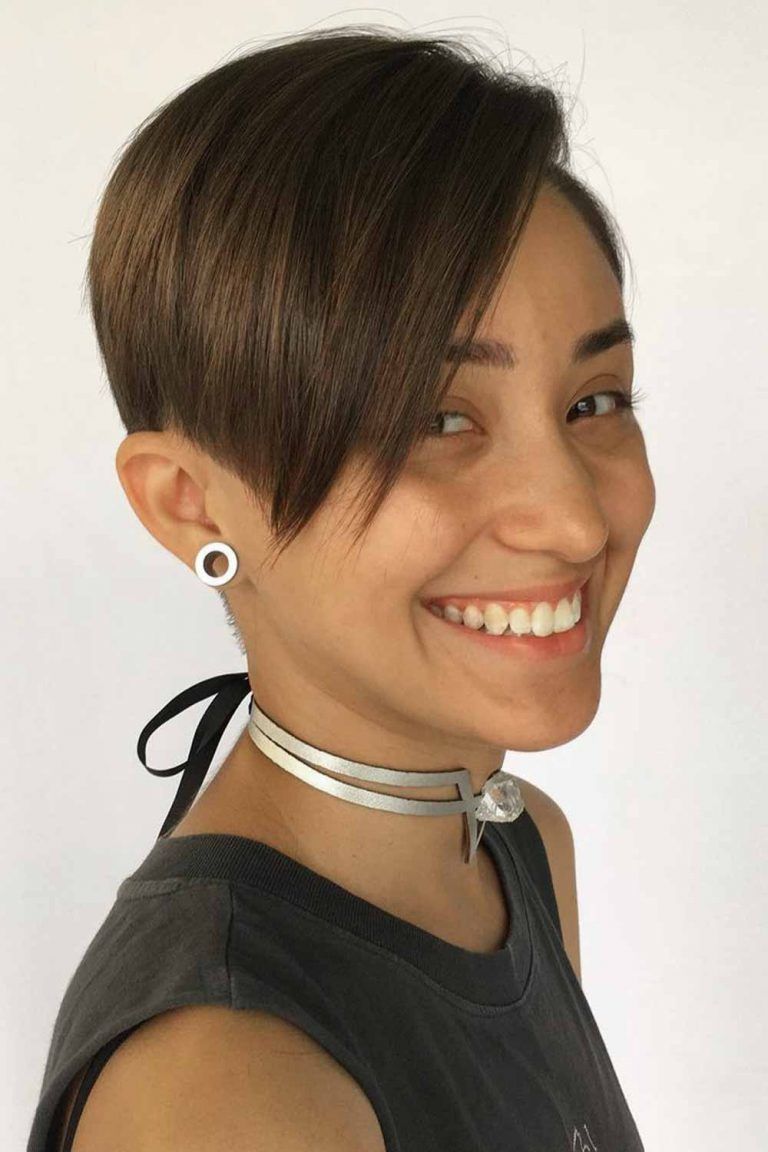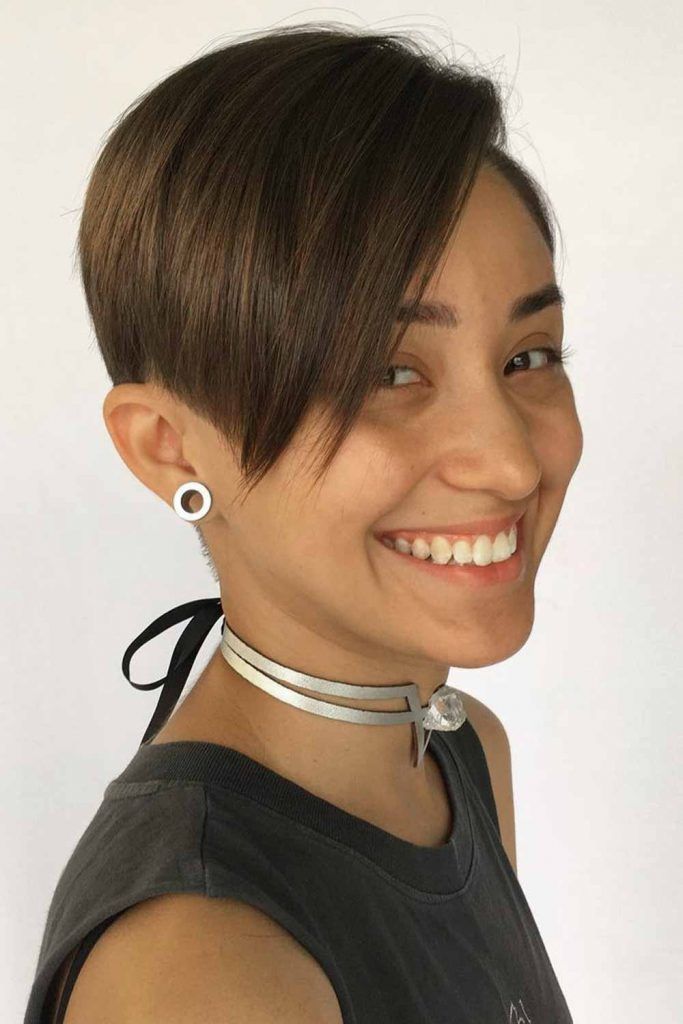 Credit photo: instagram.com/acasasilva
If not a pointed pixie with its sharp edges stealing the show, what else can give your long face the needed angle? While there's no need to get layers, you should still ask your stylist for shaping the ends in the way they appear edgy. Also, it's better to rock such a pixie styling it with a side-part to keep up with the volume throughout the hair.
Short Textured Bob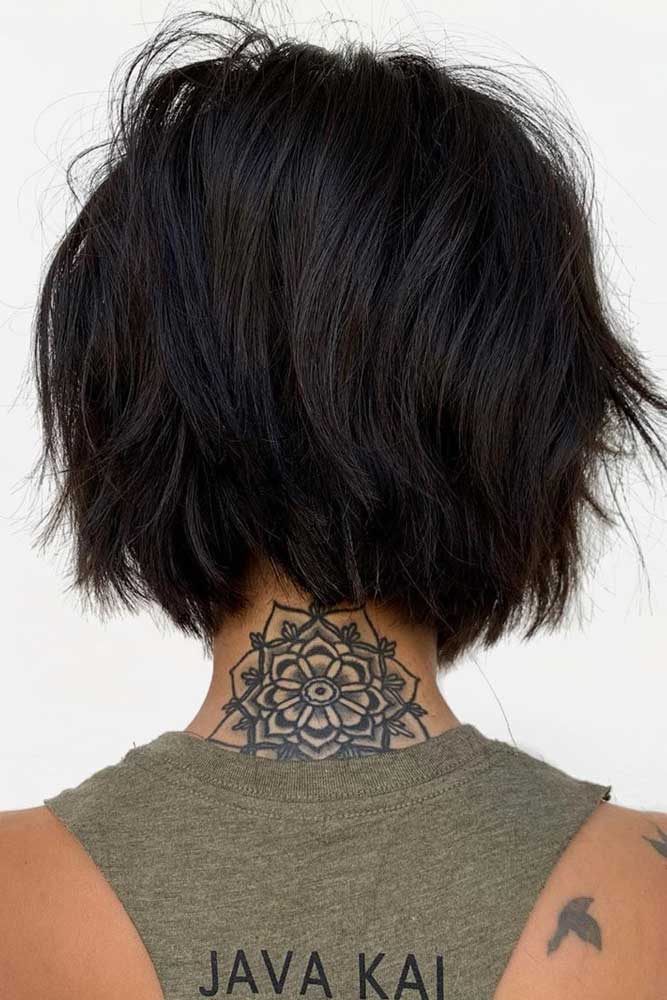 Credit photo: instagram.com/styled_by_carolynn
Some carefree and a bit messy texture would be enough to add some edgy character to your long face. As a matter of fact, all you need is to get a classic short bob with basic layering focused on the ends. Then, the styling is totally up to you: you can let it air dry or style it with texture-enhancing products.
Middle-Parted Wavy Long Hair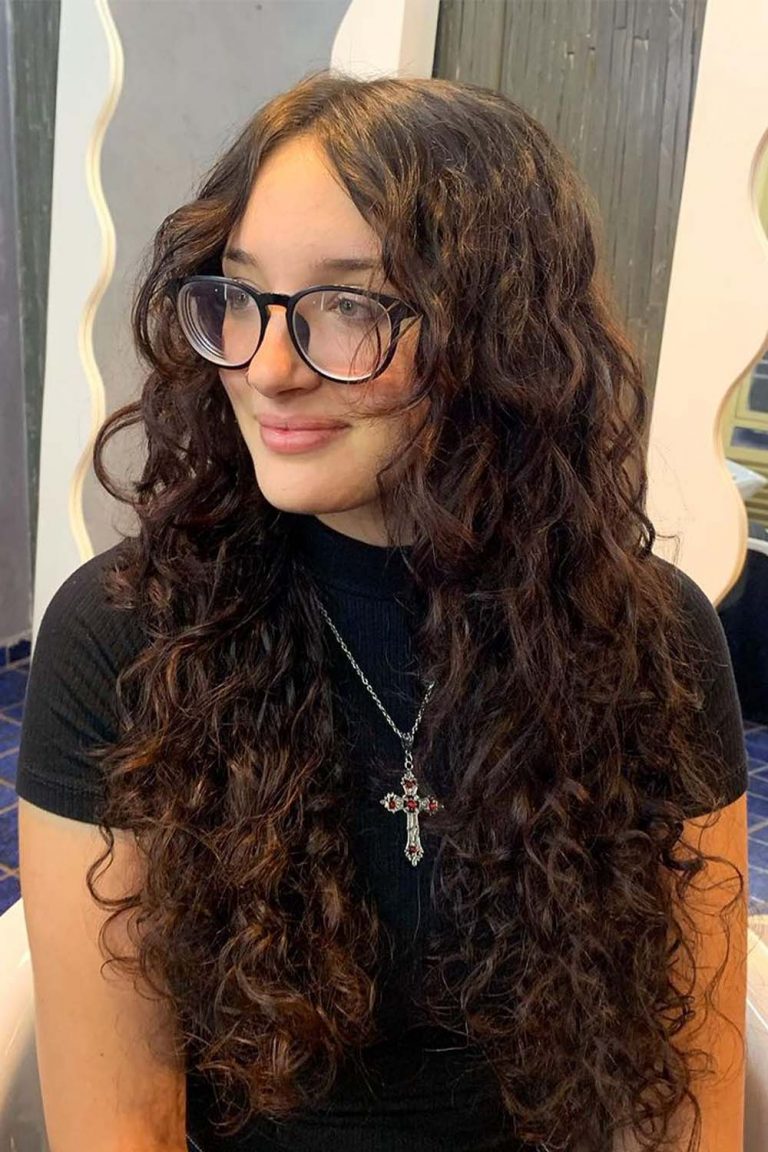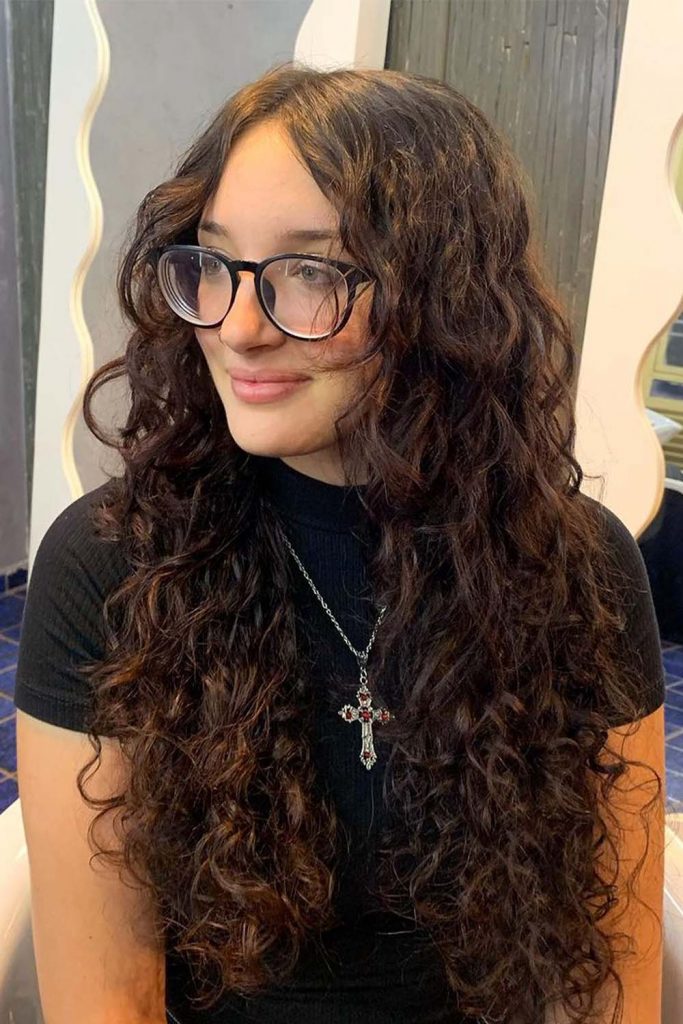 Credit photo: instagram.com/exotismos
Don`t mistake this oblong face shape with a long oval one! Of course, it is longer rather than wide, but the thing that differs is the length of a chin and forehead as they are usually long. People with oblong faces usually don`t have big cheeks and their features are of the same width.
Short Side Swept Bangs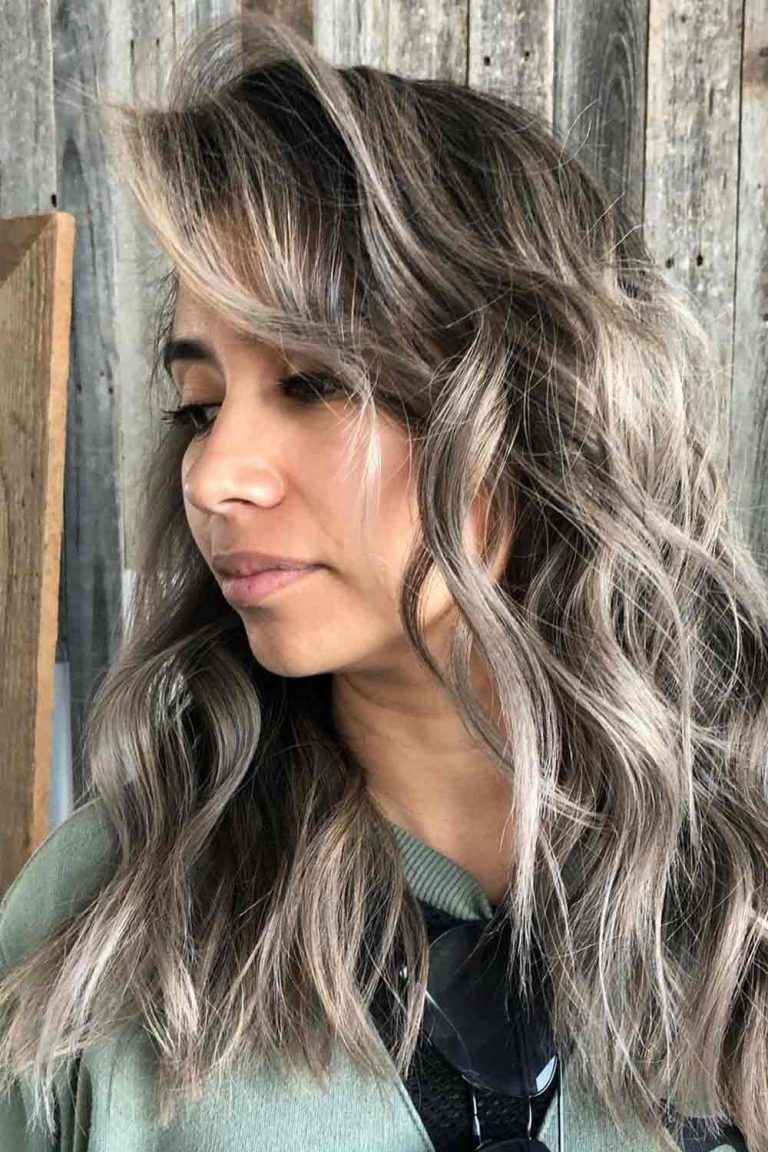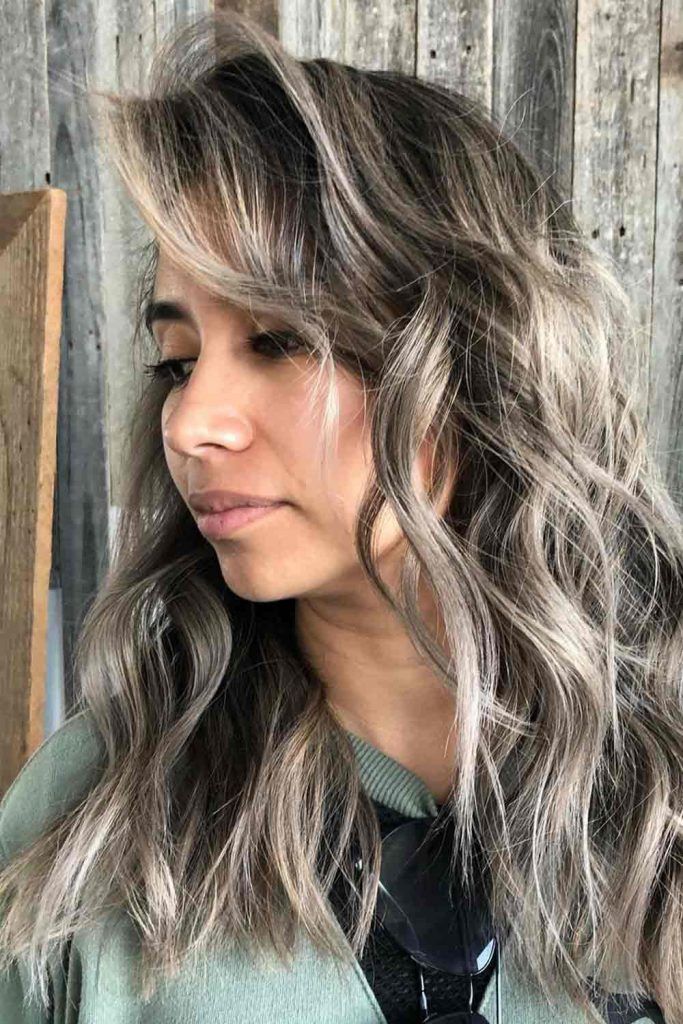 Credit photo: instagram.com/_heyhelena
Short side swept bangs are what we call beauty for a long face shape. Super stylish this season, bangs are what every girl should try. They soften the harsh features. Try combining with a long bob or wavy hair of a medium length, and you will get so many compliments for your simple but amazing look!
Softly Layered Hair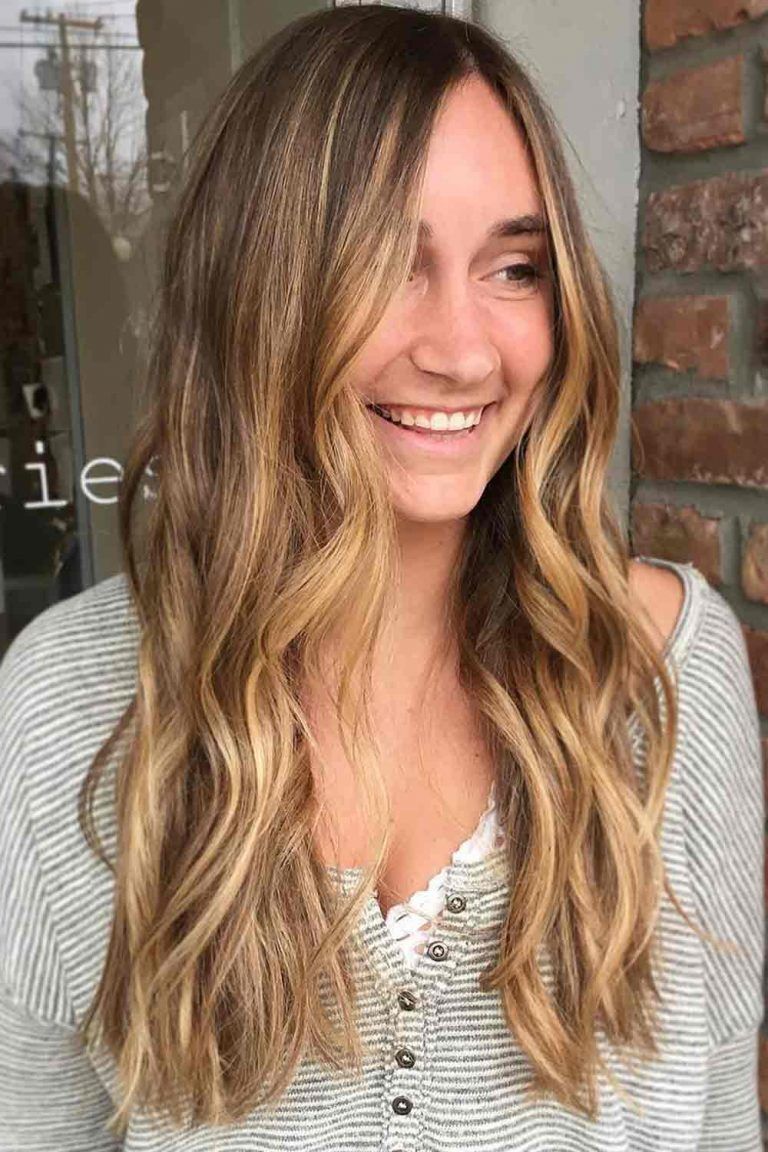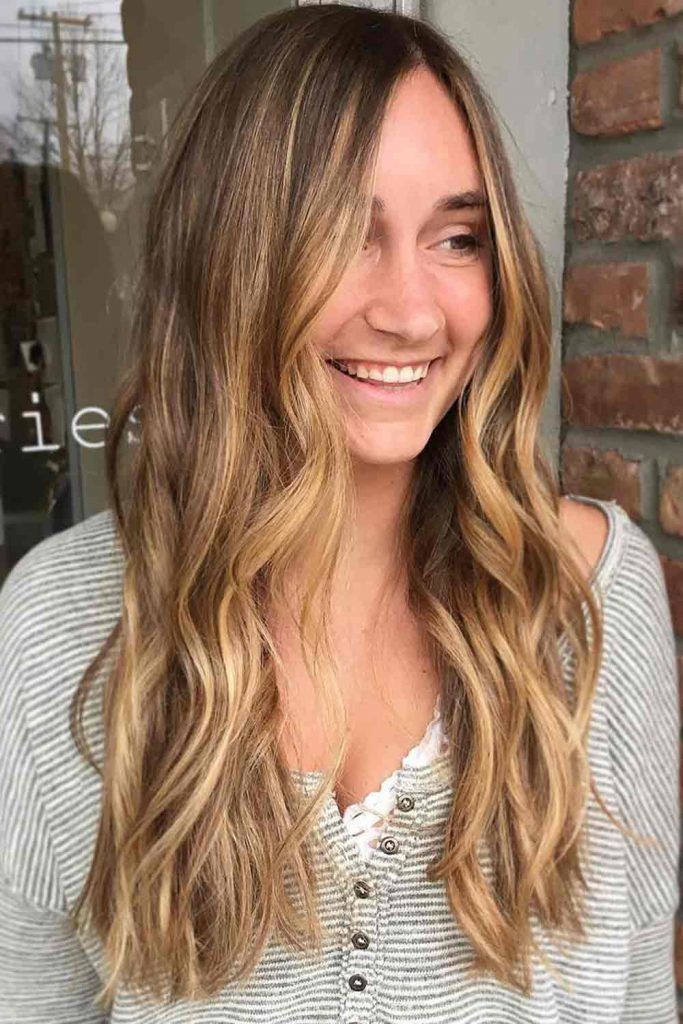 Credit photo: instagram.com/_heyhelena
Do you like simple romantic hairstyles that make you look innocent and flirty? Do you want to have a solution to the problem "what is my face shape?" Then this softly layered haircut is for you. Girls with long faces should try it as it will compliment their face shape the best way possible.
Gorgeous Medium Length Softly Layered Hair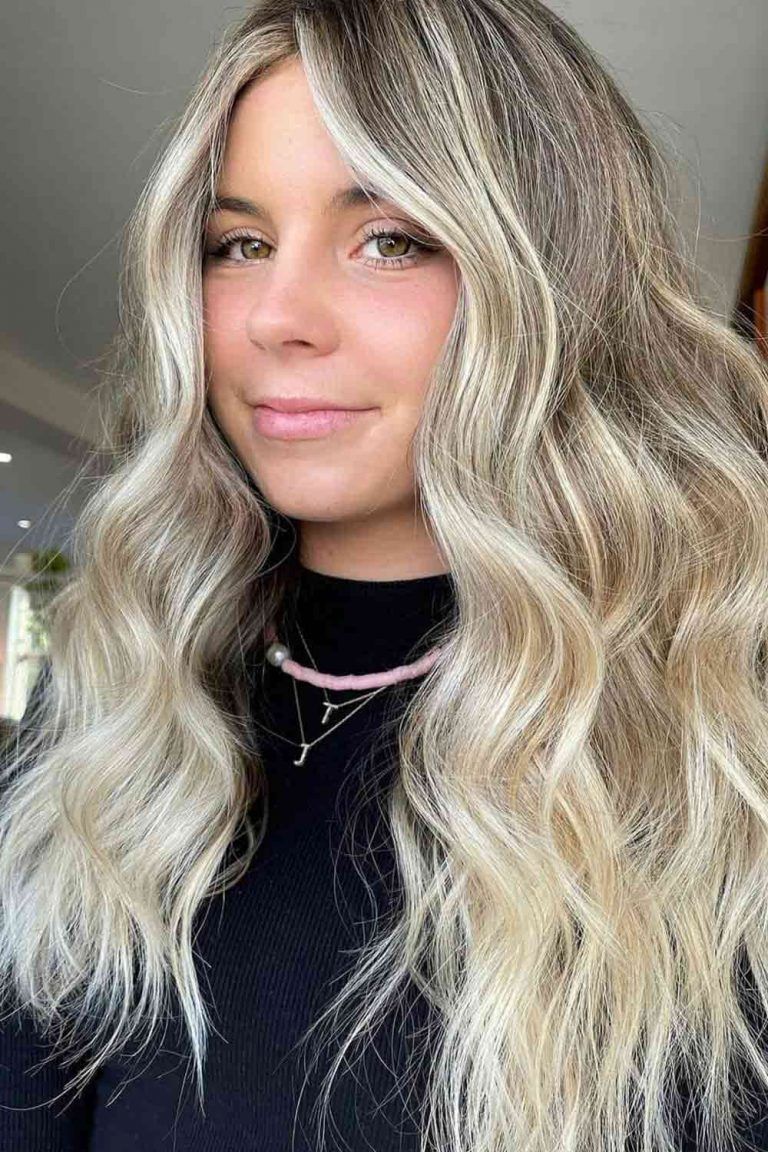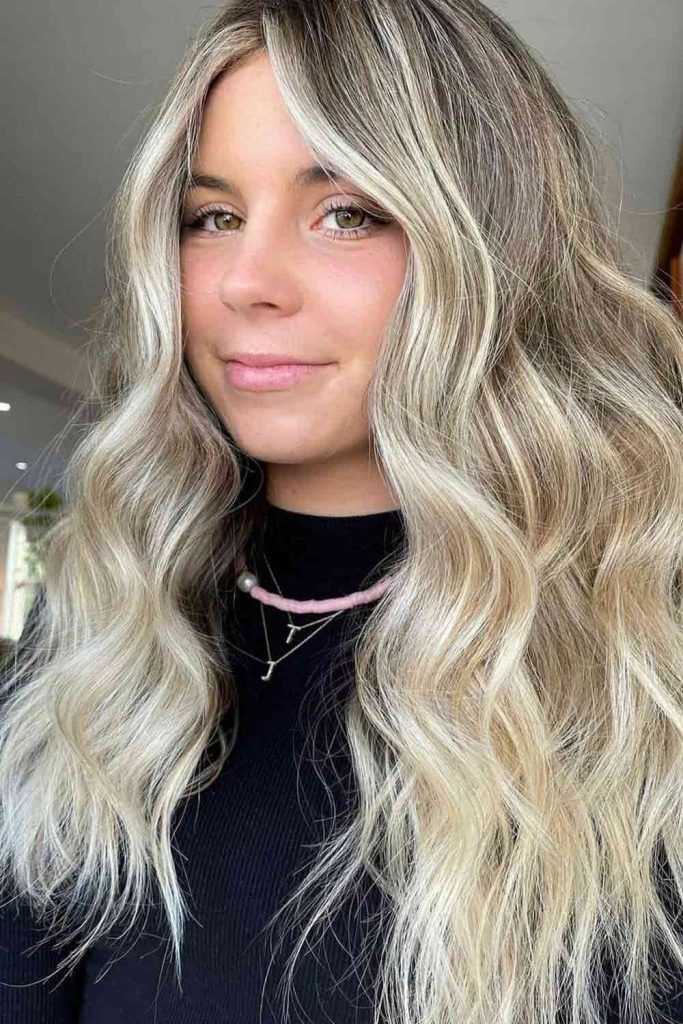 Credit photo: instagram.com/_edwardsandco
Do you prefer your hair longer than shoulder length? Did you get the right answer to the question "what is my face shape?" Then this is just for you. Girls with long faces should definitely think of trying this hairstyle. Layered, it will add great structure and volume, making your facial features look super soft and flirty. If you add big waves, your look will be even cuter.
Diamond Shaped Faces
Women with diamond-shaped faces know how sexy angles look like: their high cheekbones and prominent chins will never let them forget about that. The first thing that people notice when they see such ladies are their wide jawline, and that makes them feel uncomfortable sometimes, as they feel there's a lack of balance in their look. Obviously, they just need a new cut that will align everything.
Do I Have a Diamond-Shaped Face?
If your face is longer than it's wider, your cheekbones are the widest point of your face, the forehead is relatively narrow, and the chin has a V-shape, you've got a diamond face.
Extremely Short Layered Pixie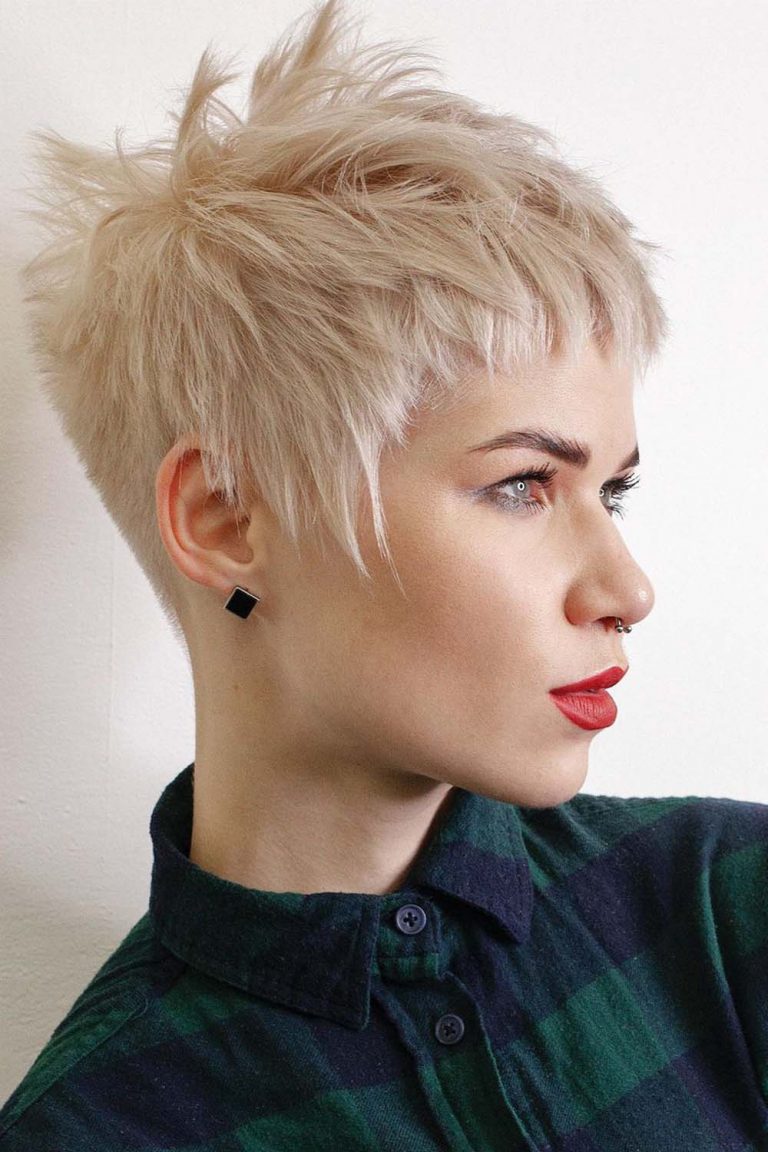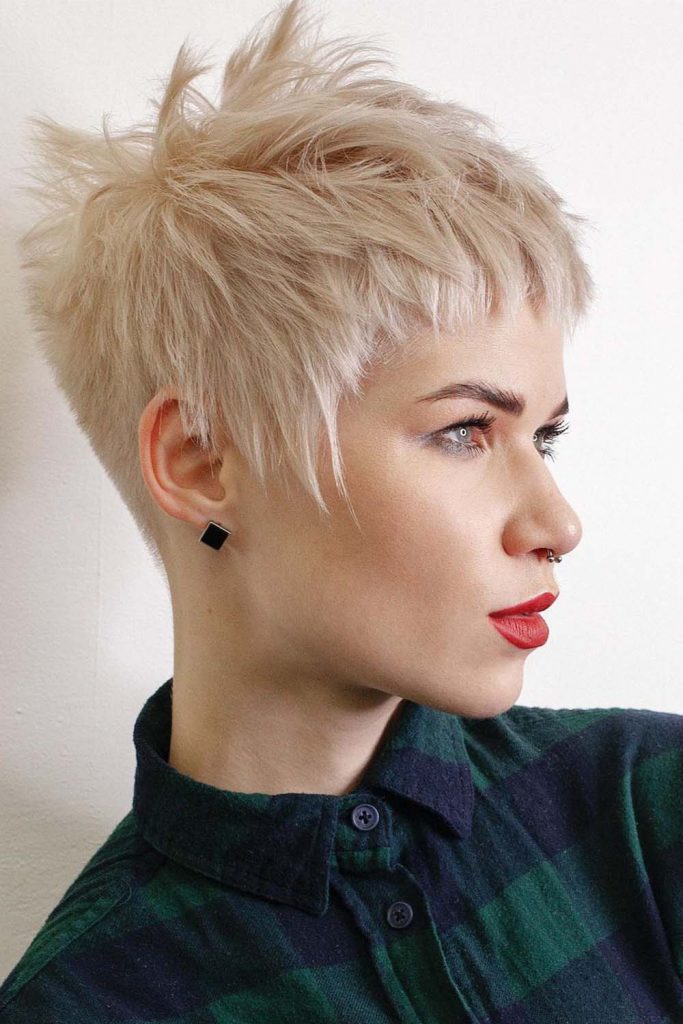 Credit photo: instagram.com/sergeyshapochka
Professional hairstylists suggest ladies with diamond-like face shapes stay loyal to short length hair. The point is not to hide some of the facial features; it's about making them look well-balanced by styling the top layer as voluminously as possible. Such a short pixie, where short layers create a lovely movement, can be a stunning idea to set the balance.
Bold Pixie With Long Bang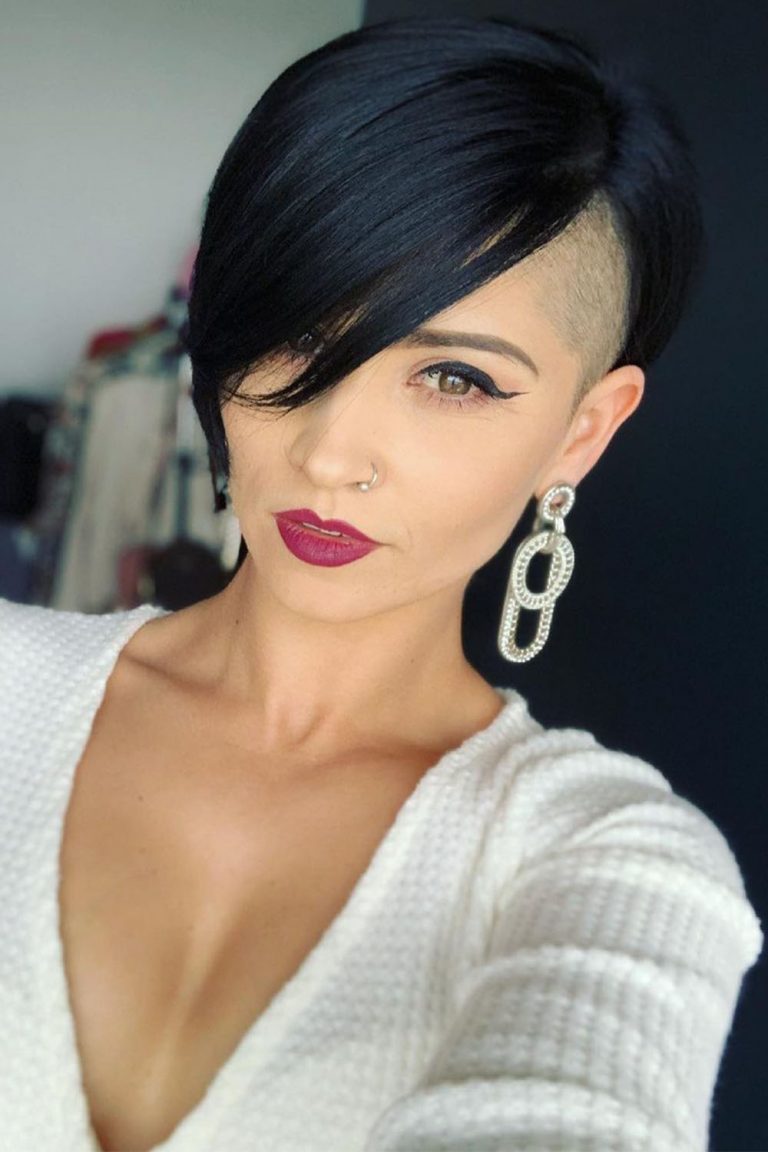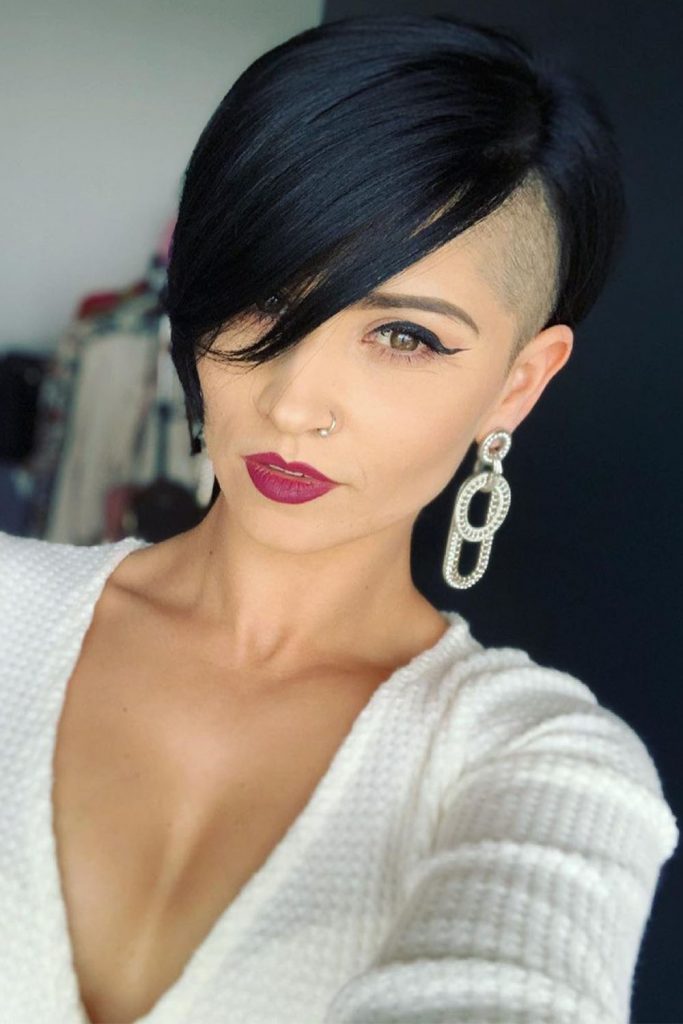 Credit photo: instagram.com/lenna_kf
Let's don't forget about the power of bangs; after all, they have approaches for every face shape. If you like the idea of a short pixie, but you're not really into spiky, messy, and edgy looks, it's better to go for longer fringe that allows flexible styling in the forehead area. Just look how this short and long duo accentuates the broad cheekbones without making them look bigger!
Long Pixie With Layered Bang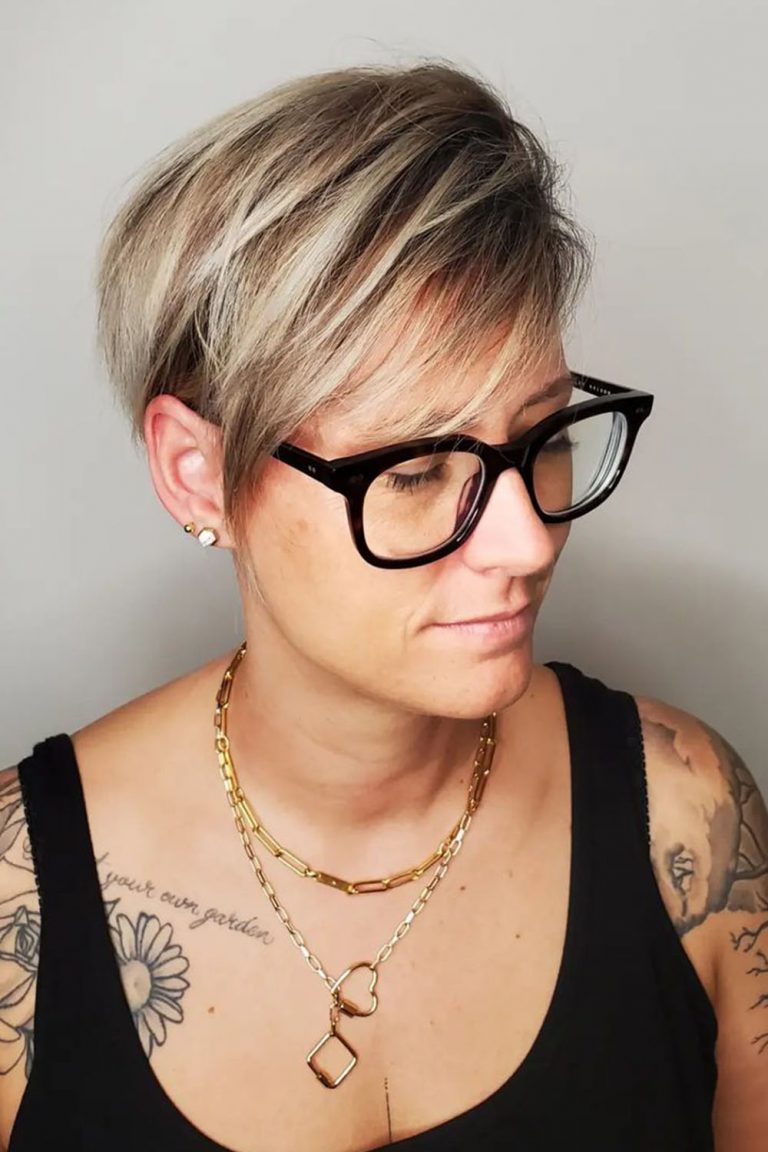 Credit photo: instagram.com/hair_by_marlo
The fringe pixie is designed for ladies who find their foreheads to be super broad. Not only does such cut hides up the flaw but also gives you a pleasant texture that can nicely complement fine and thin hair.
Simple Short Blunt Bob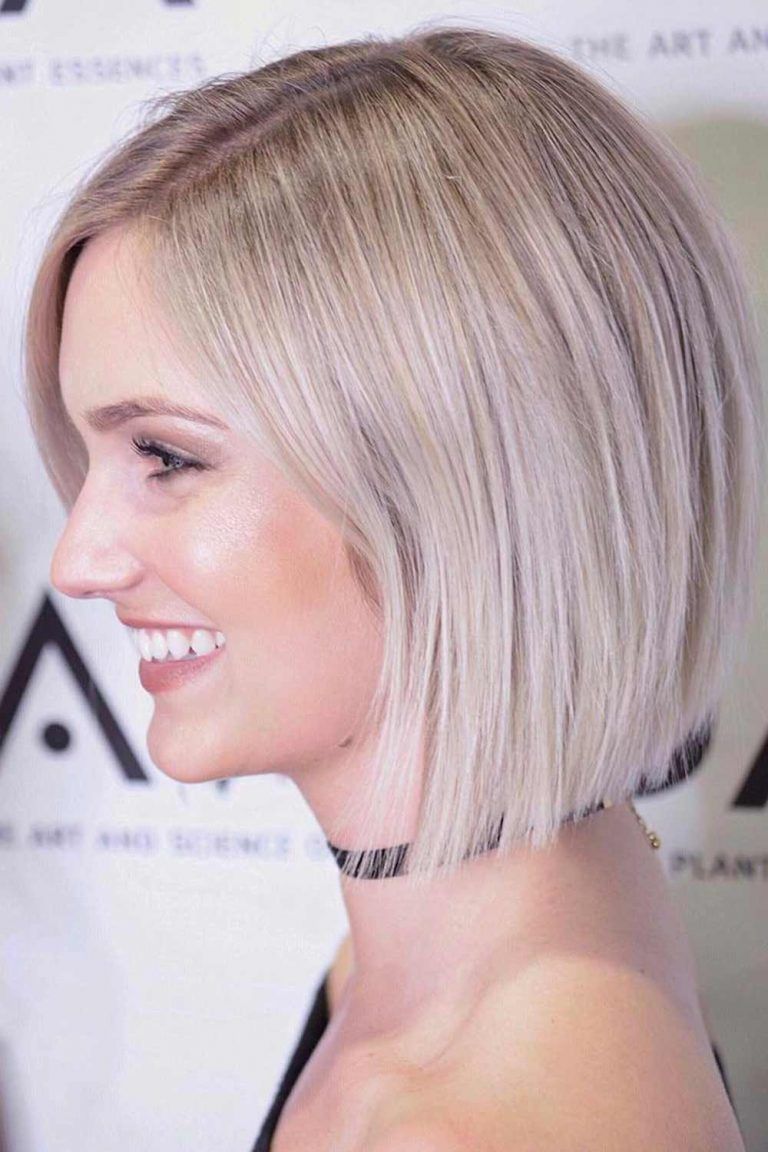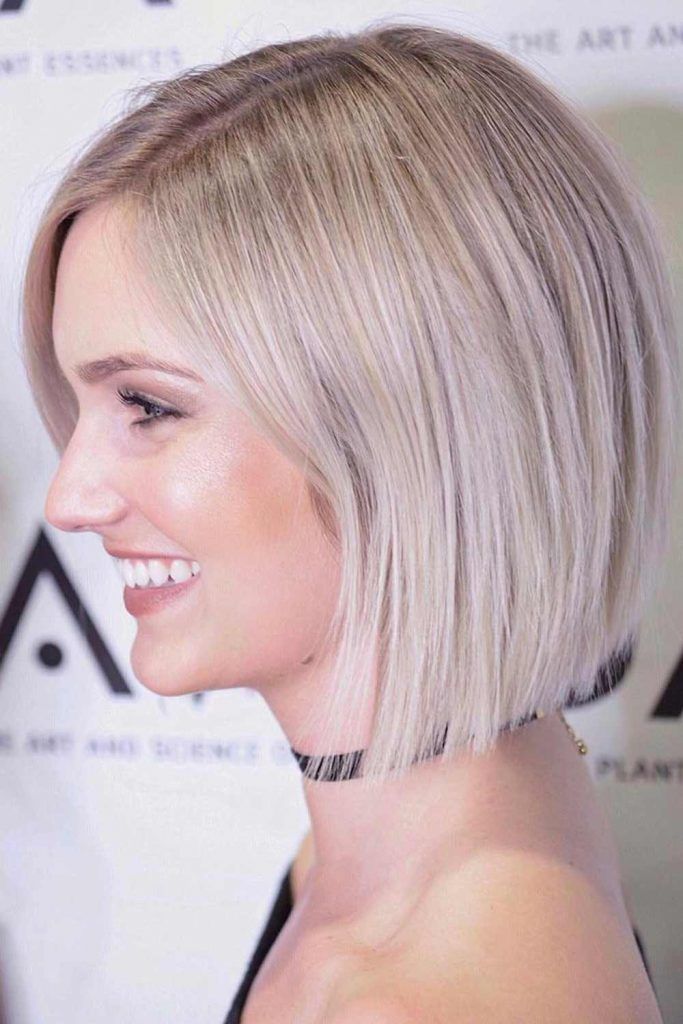 Credit photo: instagram.com/cutyourhair
Here comes a simple, yet absolutely modern idea for lucky girls with diamond-shaped face and thick hair. Yes, it's your chance to kill two birds with one stone: this short blunt bob can frame your face in the way you want to make you feel comfortable with your facial features and whip your unruly locks into shape at once, creating the illusion of absolute symmetry.
Side-Parted Wavy Lob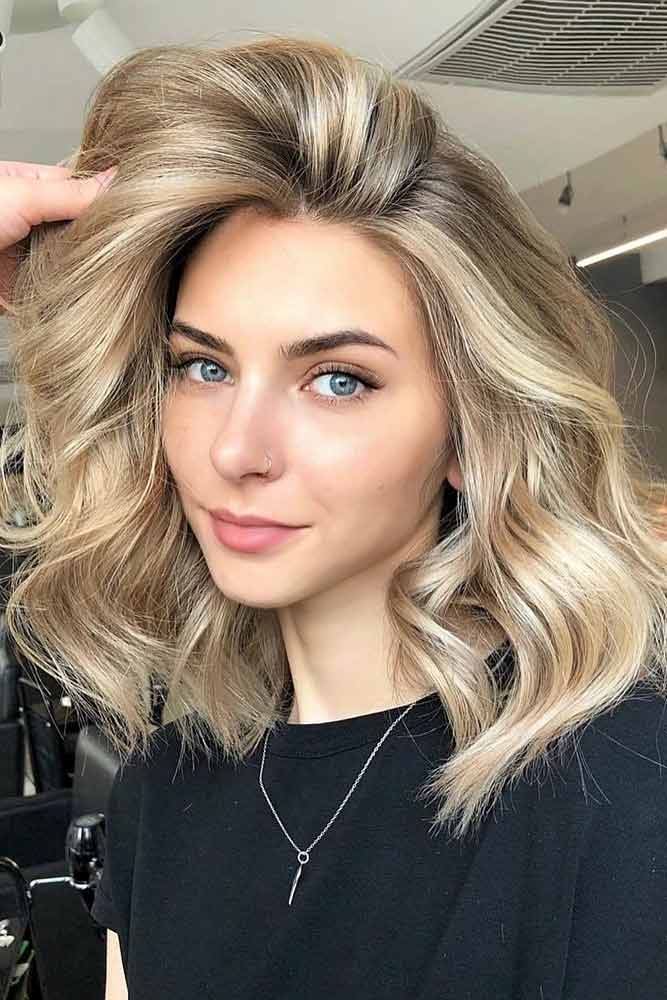 Credit photo: instagram.com/martafeschuk
No matter what hair type you have, as having a lot of volume in your hair is crucial for your diamond face shape. The imbalance of the top and bottom halves of the face are apparent due to the drastically narrowed chin, so you need to rock a haircut that allows for easy volumetric styling. A lob is a classic option that will never let you down. Its moderate length prevents the hair from outweighing the roots, thus leaving a lot of room for voluminous waves. And don't forget about a side-part for the harmony!
Long Wavy U-Cut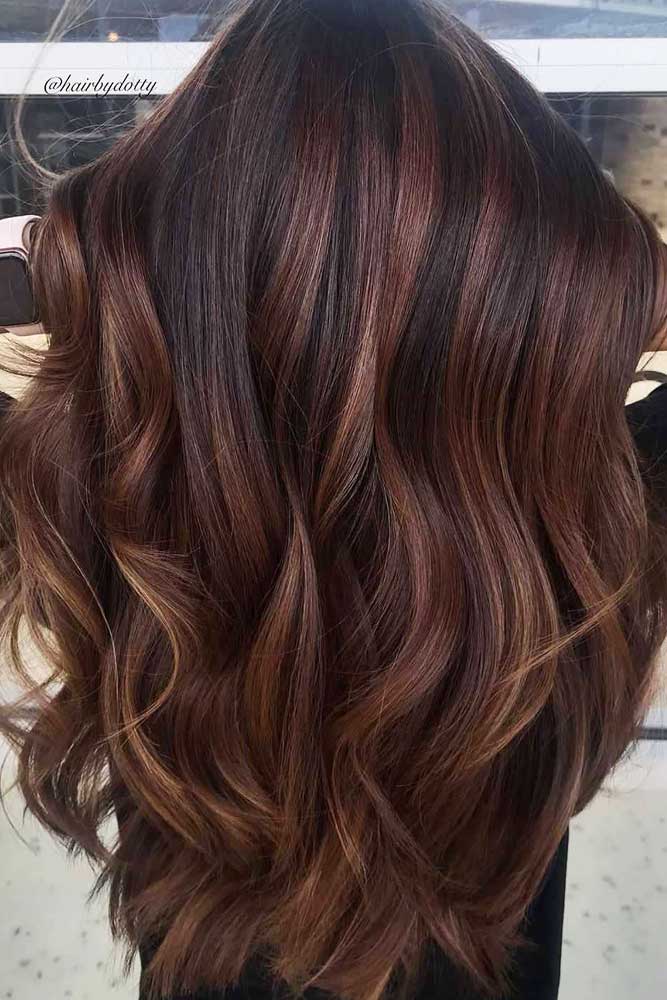 Credit photo: instagram.com/hairbydotty
In U-cuts, the front layers of hair gradually blend with the longer sections on the back of the head, forming a U-shaped silhouette. And front layers are what you should focus on, girl! The best thing is, it's not about hours of styling and tons of products. Wave your locks and bring the front ones to your face to let them do the framing.
Swept Back Pixie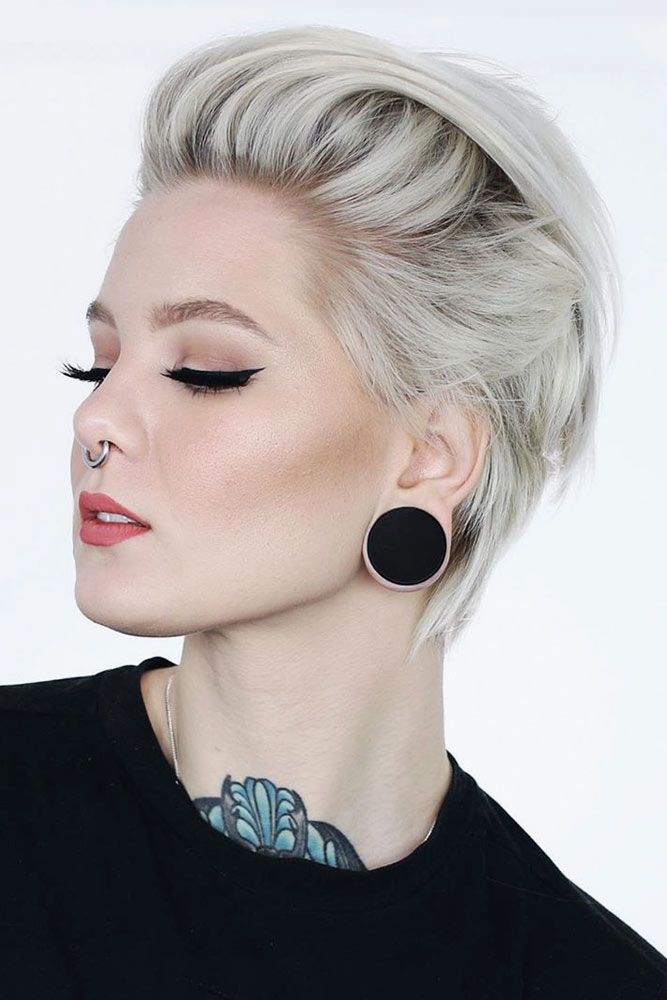 Credit photo: instagram.com/katrinberndt
All today's pics are here to show you that a few flips of sheers can change the way you look, and surgery is the last thing you should think about when you want to change something. Now you know what hairstyles will suit your particular face shape, so nothing stops you from calling your hairstylist and asking for something fresh and flattering! Always love yourself the way you are, improve your look, and don't be shy to experiment!
FAQ: Face Shapes
What are the 7 different face shapes?
The seven most widespread face forms are as follows:
Heart
Oblong
Round
Diamond
Oval
Square
Pear
How do you know your face shape?
Take a measurement from the center of your hairline to the end of your chin. Next, take a measurement from the right to the left side of your face. You may have an oval face shape if your face is rather long than wide. You may have a heart-shaped or round face if your face is rather broad than long.
What is V shaped face?
A V-shaped face has a strong jawline and prominent cheekbones. While individual outcomes may vary, most people will notice a minor improvement in their features, such as a sharper jawline and strongly defined cheekbones — the V-shaped face marks.
REFERENCES: