Ready for a drastic hair change: what about red hair? This color definitely makes a lasting impression and there are so many shades to choose from! Changing your hair color is a big decision and going for red will certainly make a bold statement.
How To Find The Perfect Shade Of Red Hair For Your Skin Tone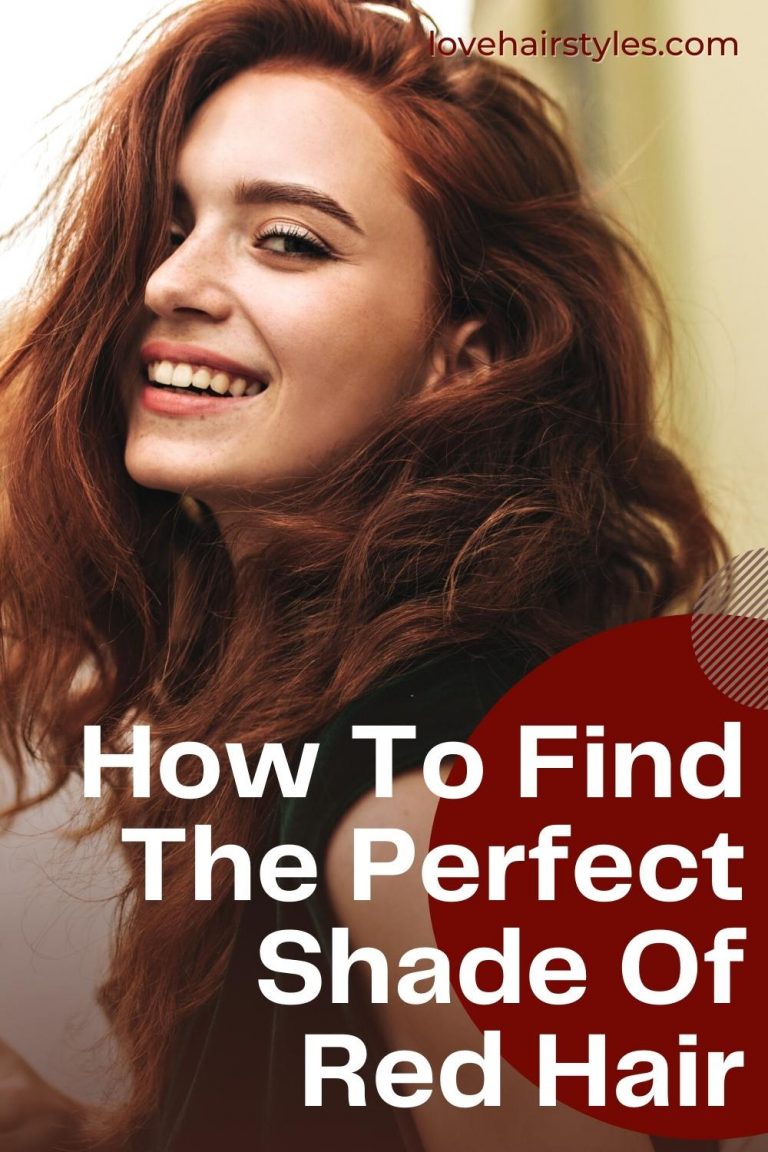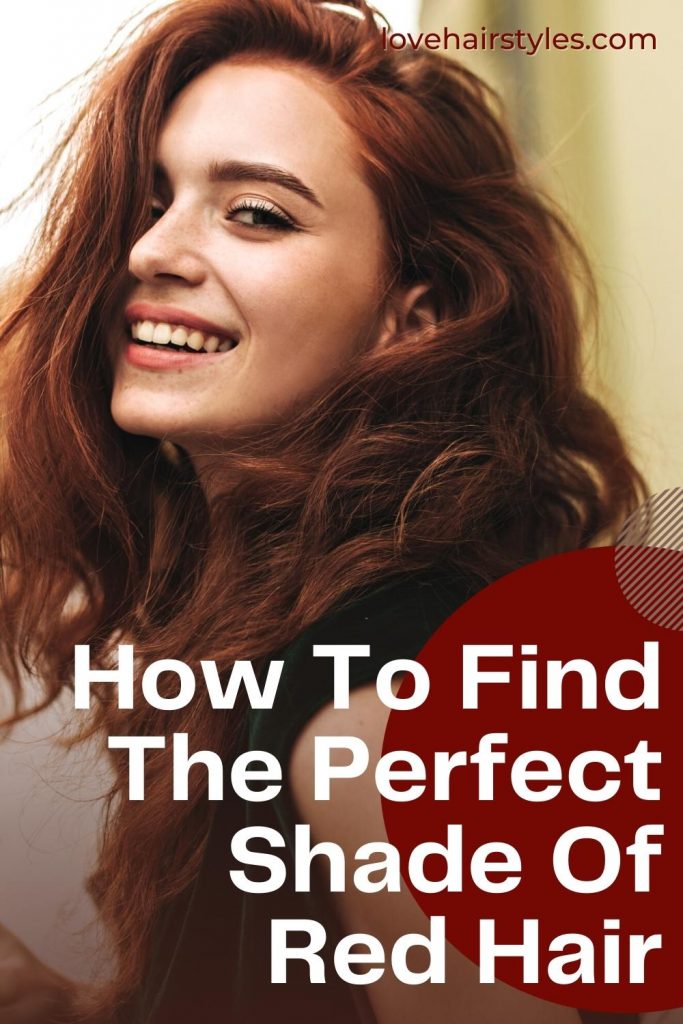 Credit photo: shutterstock.com
When choosing the most flattering red hair color for your skin tone, you need to take into account two main factors. First, it is your undertone and second, it is your complexion. There are three commonly accepted undertones – cool, warm and neutral. And when choosing the most suitable red hair color, you may opt for the shade that has an opposite or the same undertone as yours.
Cool complexions look best with peach, pink, ginger, auburn, cinnamon, cool copper and more saturated red hair colors. If you have a warm undertone, you should consider bright and bold shades of red, such as a copper, chestnut, burgundy and chocolate cherry hair color. For neutral undertones, there are no restrictions. You can go for any red shade you like or mix colors that have opposite tonality.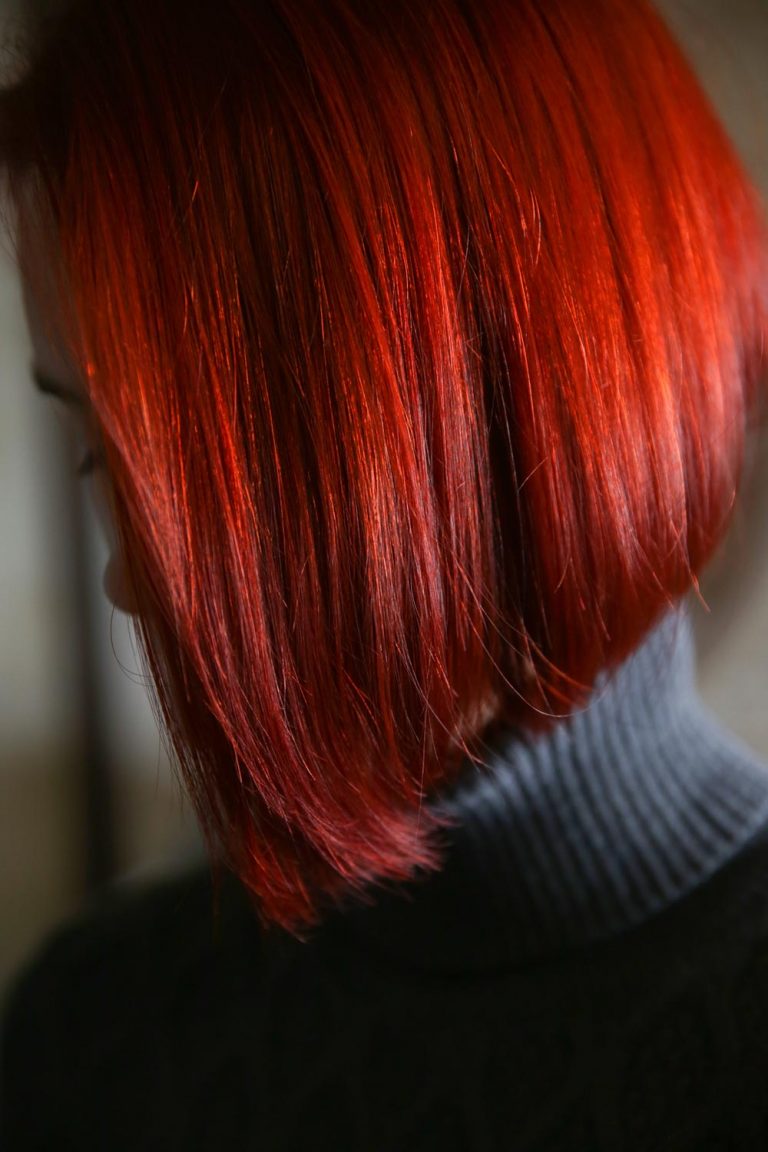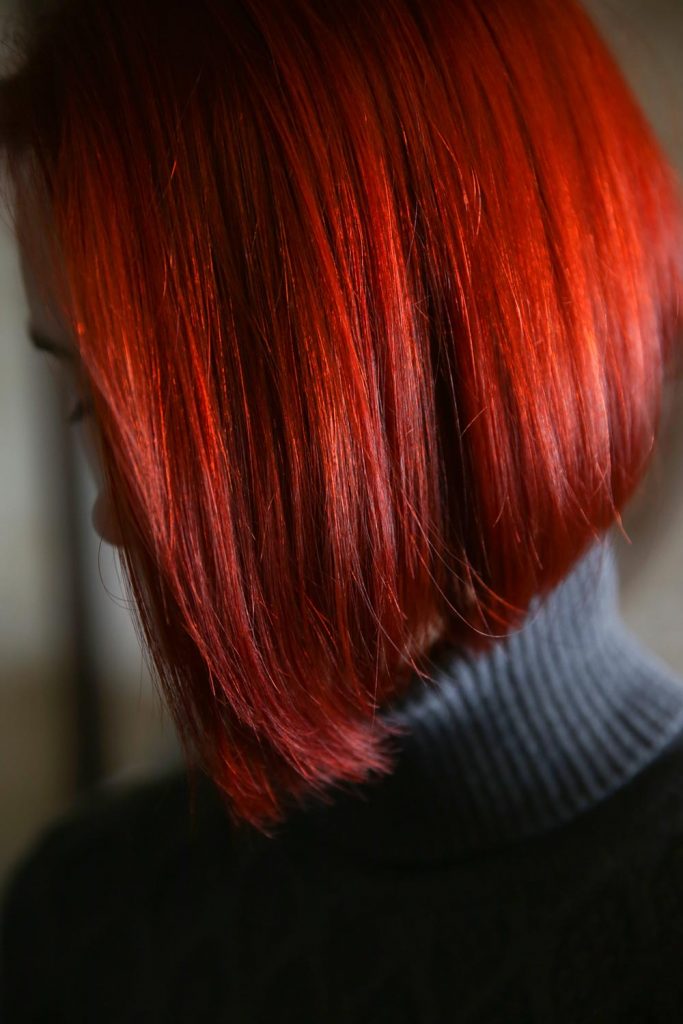 Credit photo: shutterstock.com
Now for fair skin, warm shades of red work best, as they make your face seem brighter and more radiant. So, look for copper, auburn, crimson and ginger red hair colors. Women with a medium complexion can benefit from auburn or chocolate brown shades of red. In this way, their brows, freckles and eyelashes appear more prominent. Plus, this is a great option in case you are trying a red hair color for the first time. To enhance tan skin, choose flamboyant red colors, like cherry cola, magenta, fuchsia and raspberry. For dark skin, keep an eye on rich red brown shades or experiment with violet tints in your hair. Those who have deep skin will love plum and mahogany red shades. Arguably, the most complimentary hair color for brown skin is chestnut, as it makes your complexion even more beautiful.
Tips on Dyeing Your Hair Red to Remember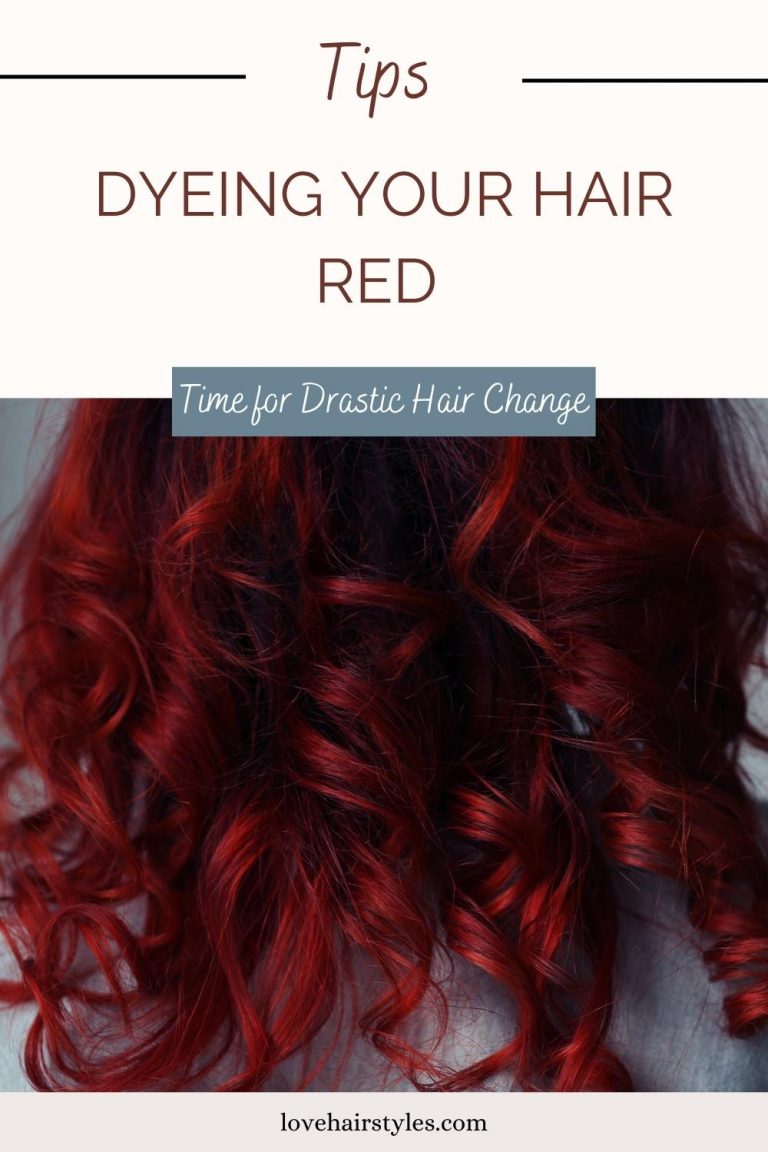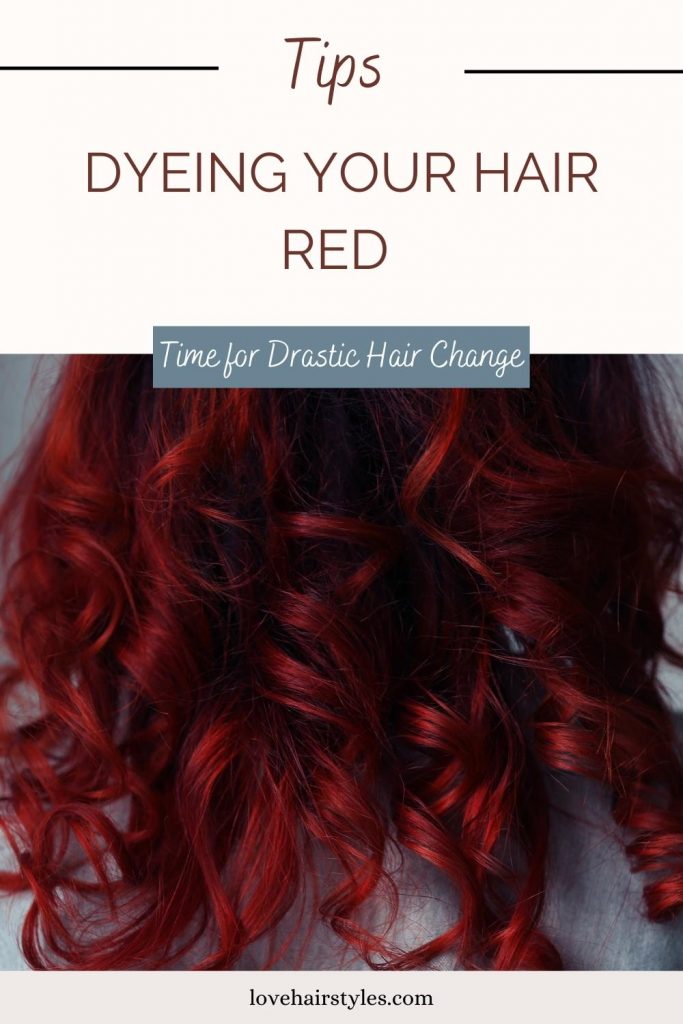 Credit photo: shutterstock.com
Red hair looks best when it's a vivid shade. You should make sure to use only shampoos, conditioners, and other hair products that are specially designed for color treated hair. Regular products will strip the color and make it become dry and brittle.
The sun will make your red color fade quickly. If you are going to be exposed to the sun for extended periods of time, you should wear a hat or scarf to protect your red tresses from sun damage. Also, you should take caution when swimming and wear a bathing cap. Chlorine can damage your hair color or even change it to orange or green.
Only shampoo your hair several times a week, as over-shampooing will make it fade. Dry shampoo is a lifesaver for those who color their hair frequently.
Maintain your roots by touching up your color at home or scheduling a touch-up with your stylist.
Choose a shade that will match your eye color and skin tone. You don't want to look washed out or pale.
This article will give you some options for red hair color. Also, you will find a lot of ideas with red hair that will much your skin.
Light Red
Sparkling Ginger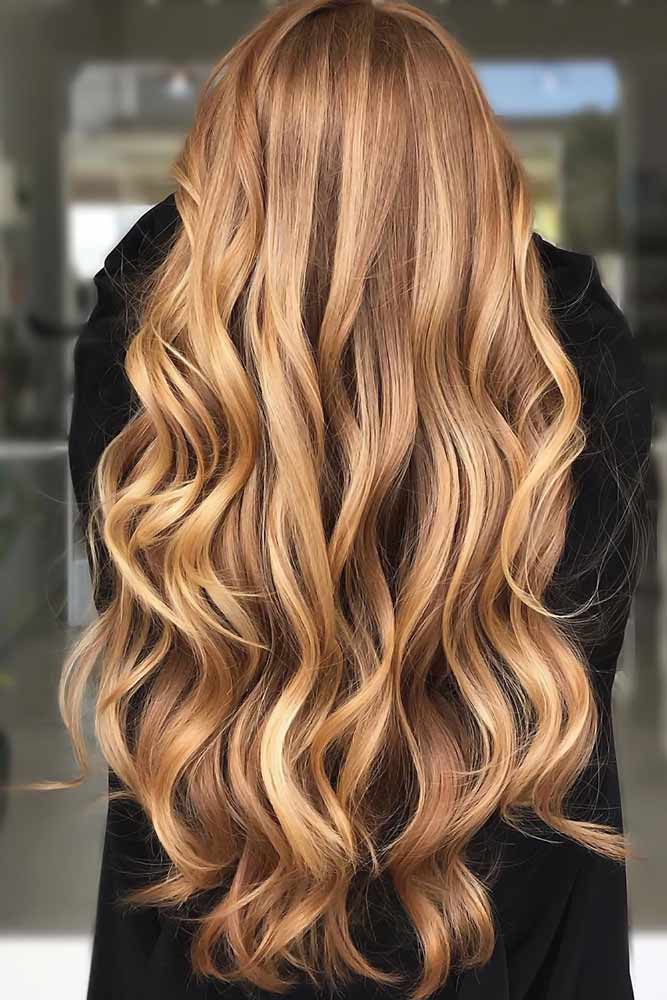 Credit photo: instagram.com/suetyrrellstylist
Remember the gentle and luxuriant hues melting in a glass of your favorite sparkling wine? Now, imagine what a beautiful shade of red hair you will get once you dip your locks into such a pleasant mixture of light and luscious colors? By the way, it's a perfect option for those who want to spice up their medium blonde or light brunette bases with a hint of reddish charm.
Rosy Copper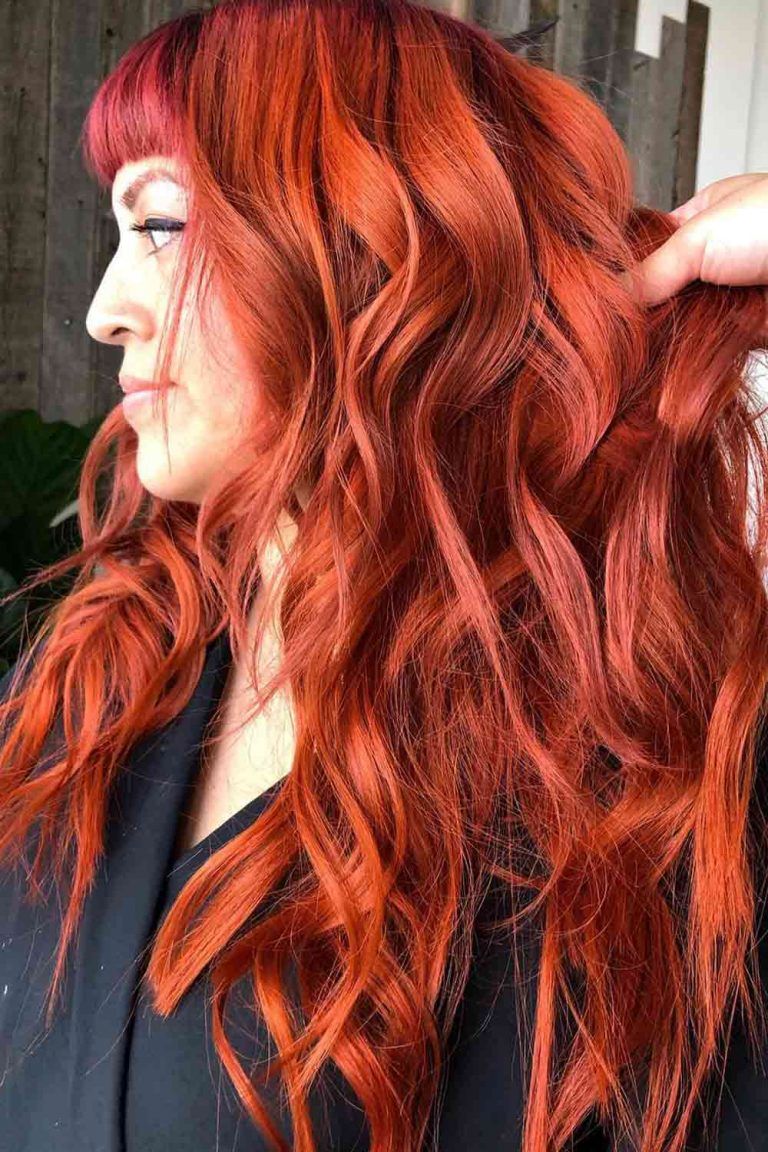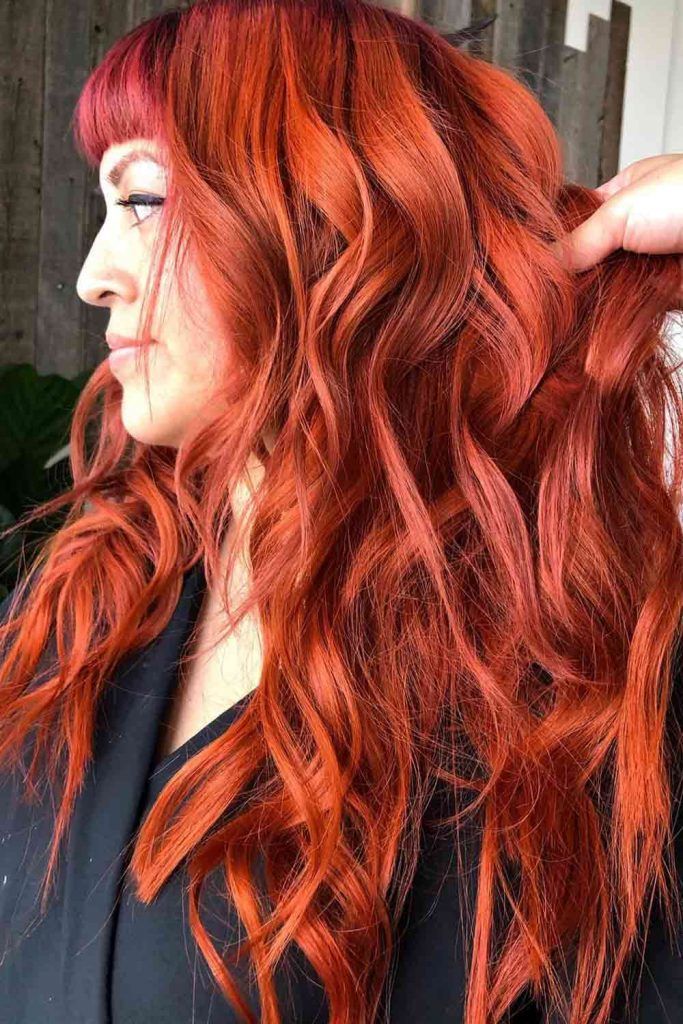 Credit photo: instagram.com/_heyhelena
If your skin has a peachy undertone, nothing will work better than a coppery shade with a rose undertone finishing the look. A properly chosen shade of red hair can balance out the way your hair goes with your skin, forming a totally harmonic look. Therefore, if you're about to add some reddish vibes to your locks, don't forget to mix it with some rose or pink hues.
Orange-Red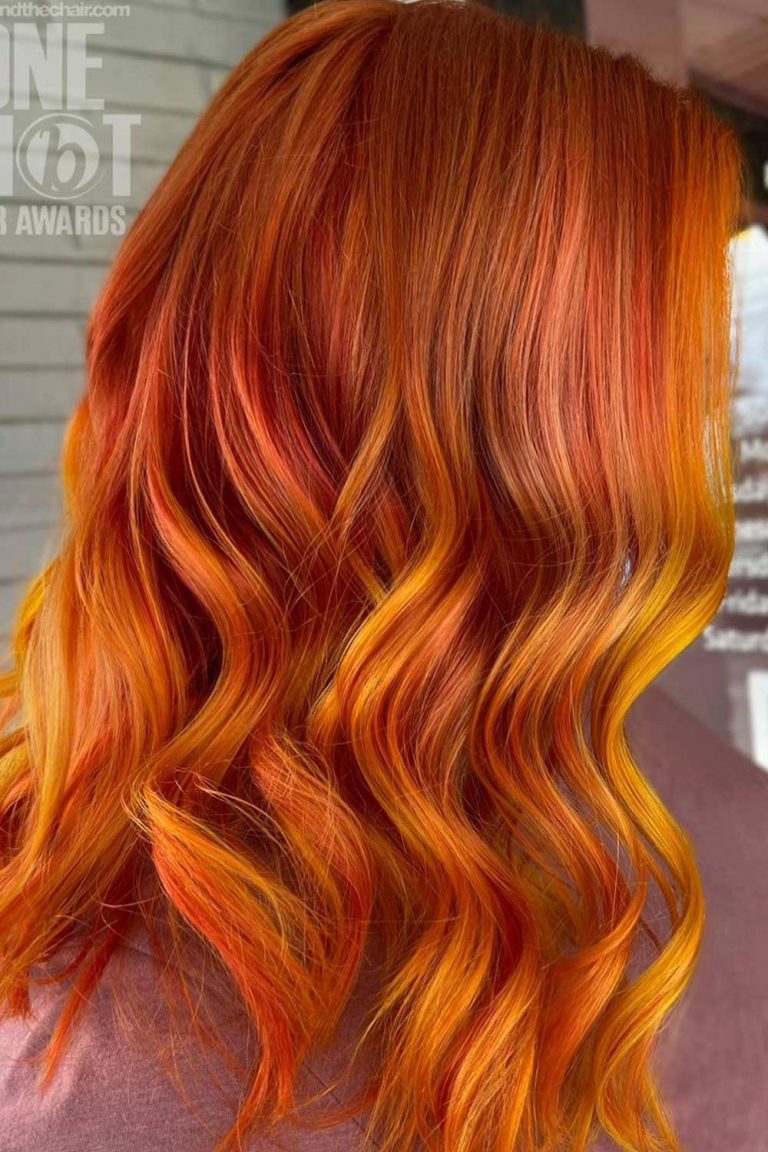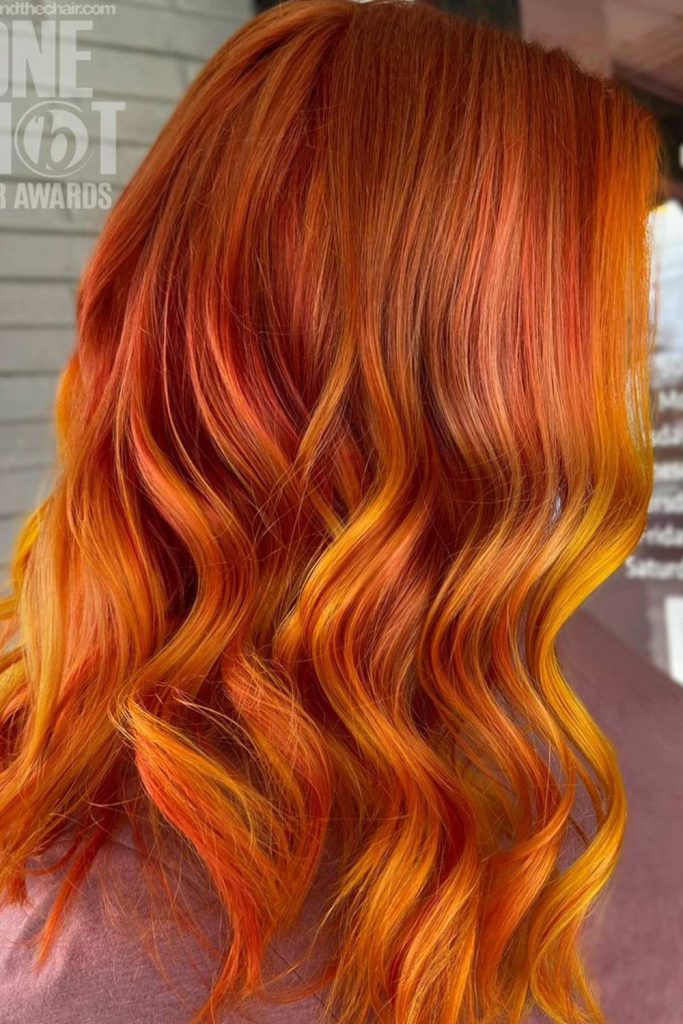 Credit photo: instagram.com/hairbybiancarose
Orange-red is probably the most desirable and effortless shade of red hair we could ever see. Although it's pretty rare, girls with pale skin tones can get perfectly authentic looks by mixing pure red hair color with bright orange primary.
Rose Gold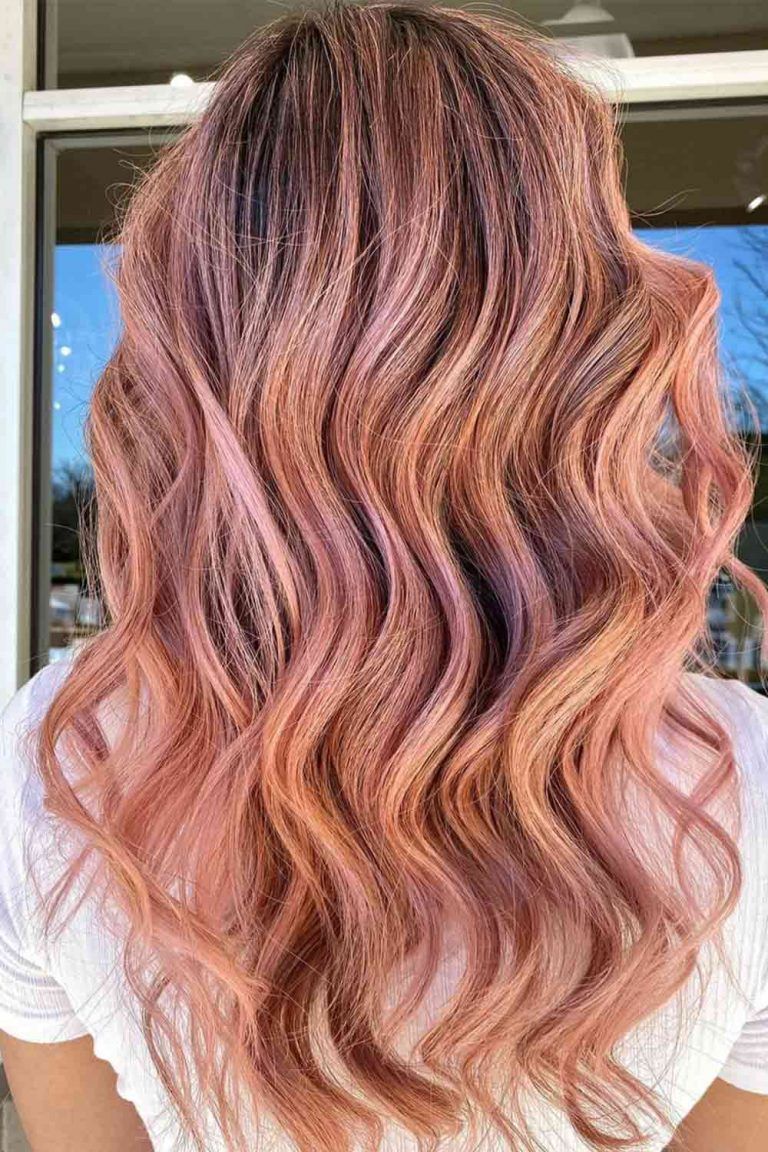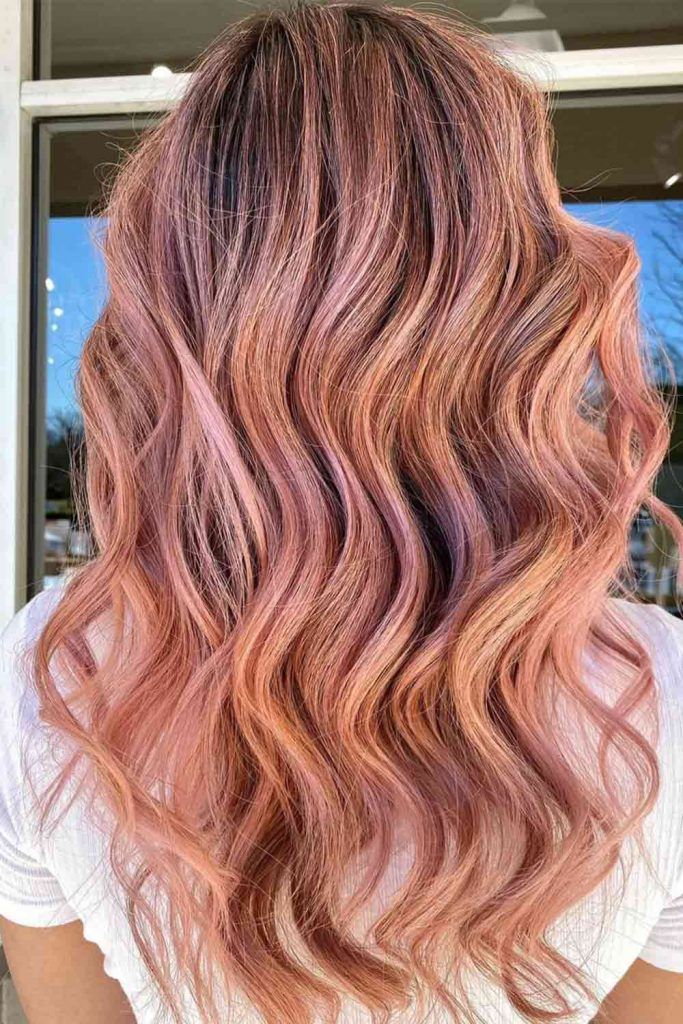 Credit photo: instagram.com/xostylistxo
Rose gold is really in right now! With its tones of coppery pink, it is best suited for those with tanned, porcelain, or olive skin tones.
Dark Auburn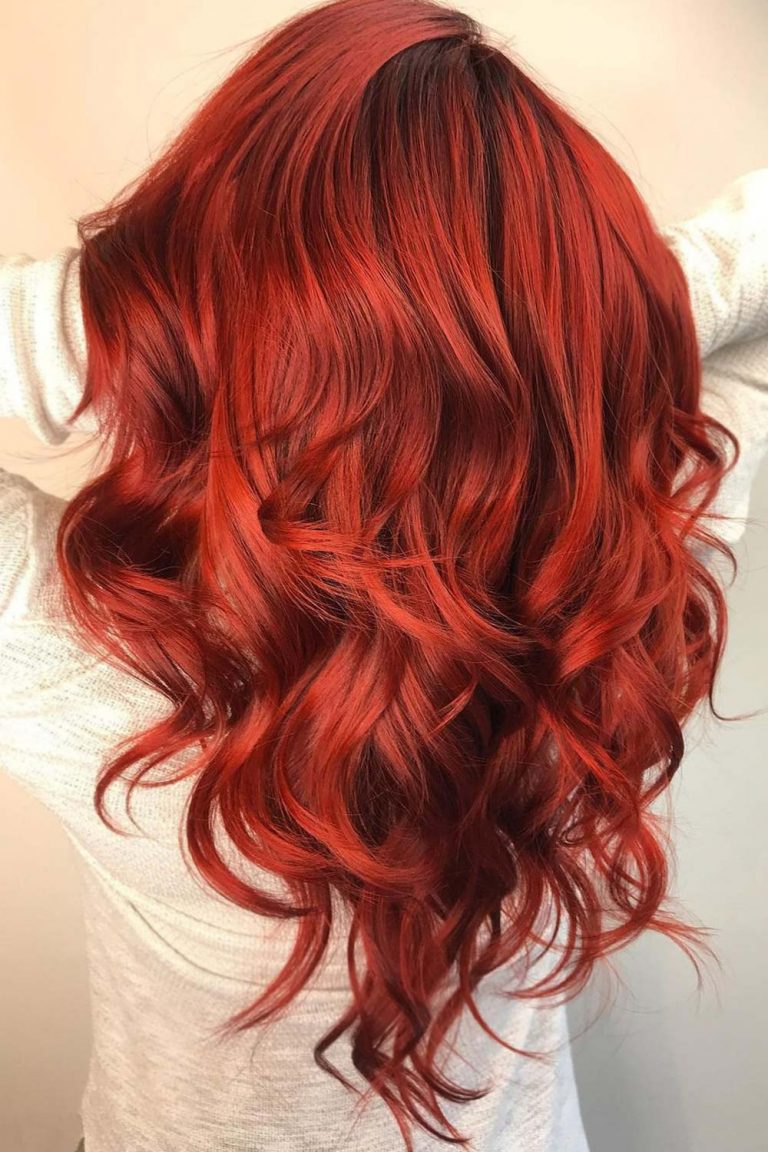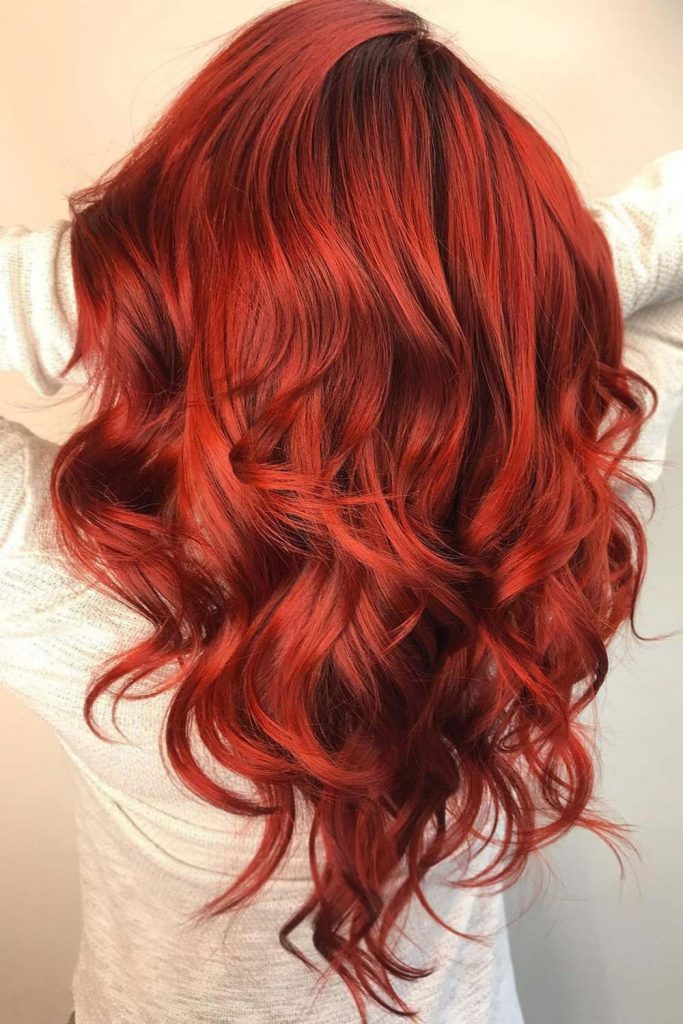 Credit photo: instagram.com/presleypoe
This elegant shade is a perfect blend of rich brown and golden red. It is great for those with a golden, bisque or "peaches and cream" complexion as well as anyone with green, blue, hazel, or brown eyes.
Copper Red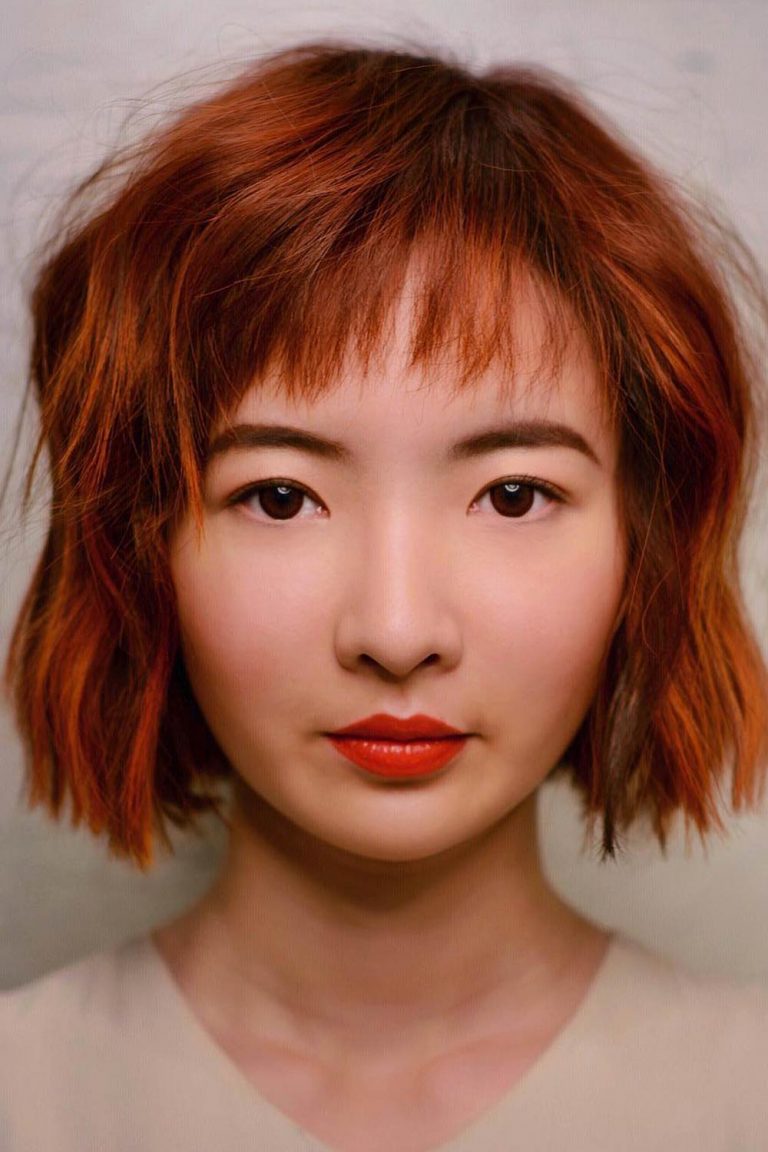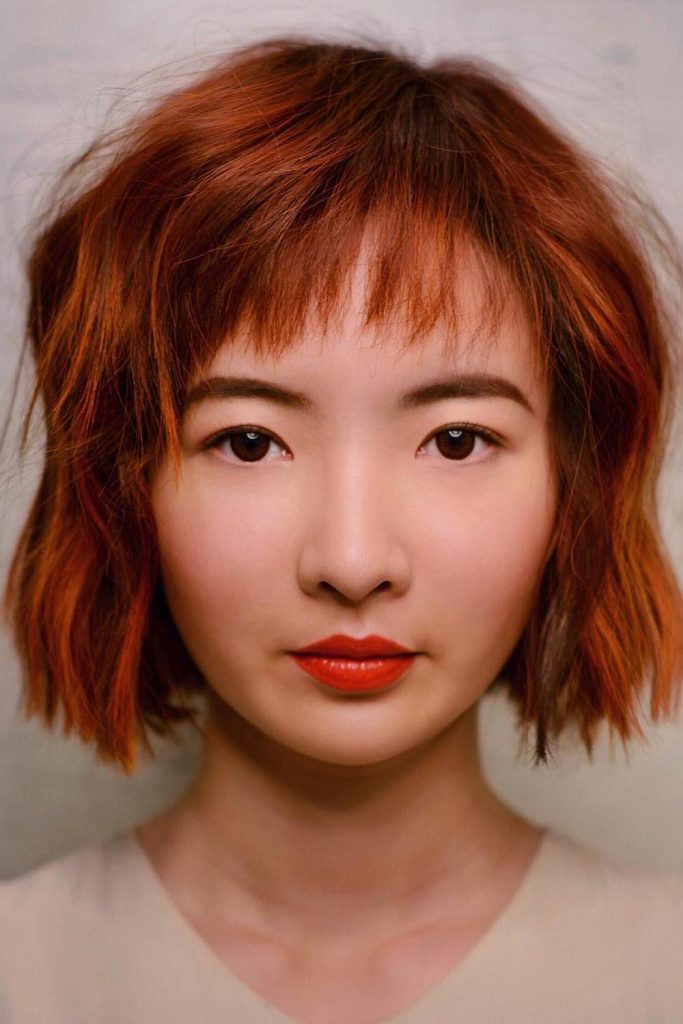 Credit photo: instagram.com/cutyourhair
This brilliant blend of orange, brown and red tones is extremely flattering to those with golden, peach, or medium complexion and hazel, green, or blue eyes.
Golden Copper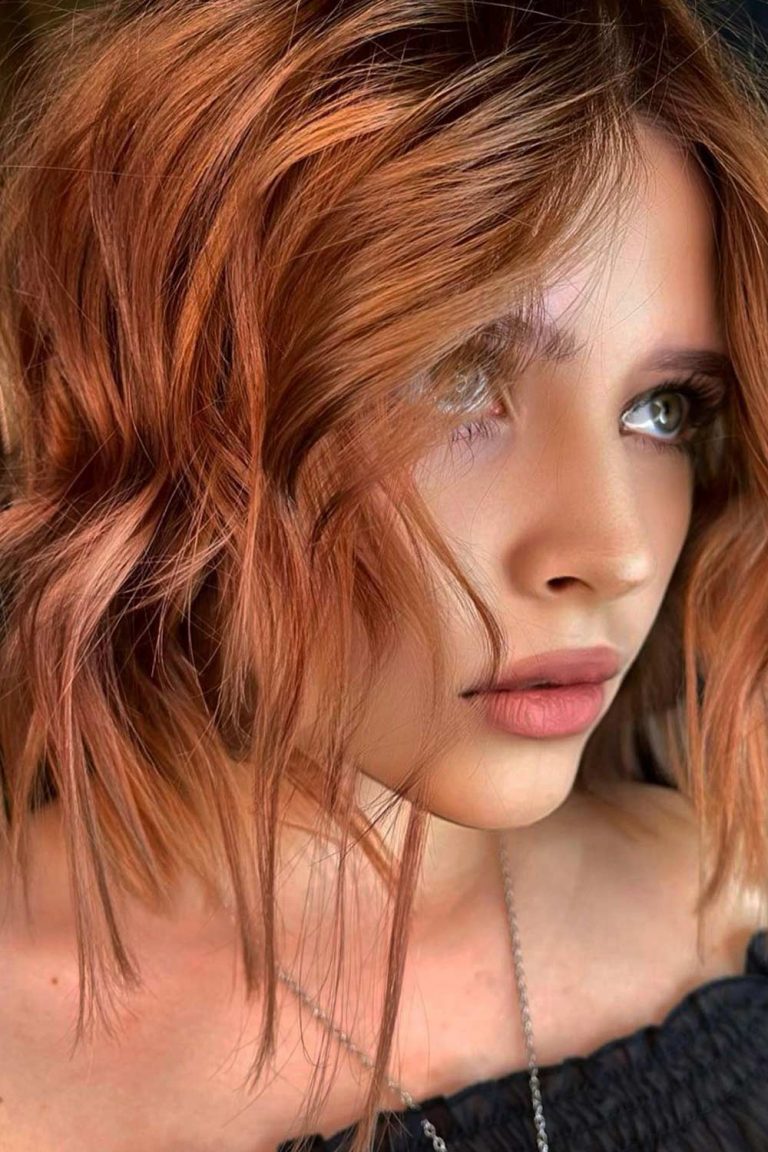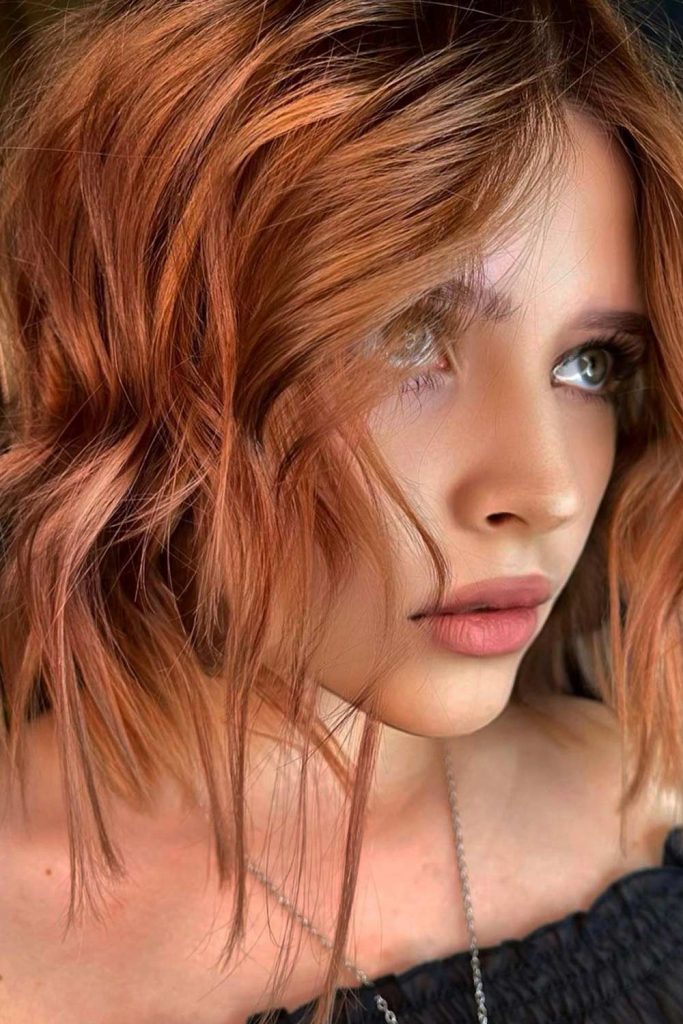 Credit photo: instagram.com/sofiya.bravo
This spicy, warm hue is the perfect blend of light red and dark golden blonde. It is suitable for ladies with brown, hazel, green, or blue eyes and a neural, golden, peach, or porcelain skin tone.
Ginger Red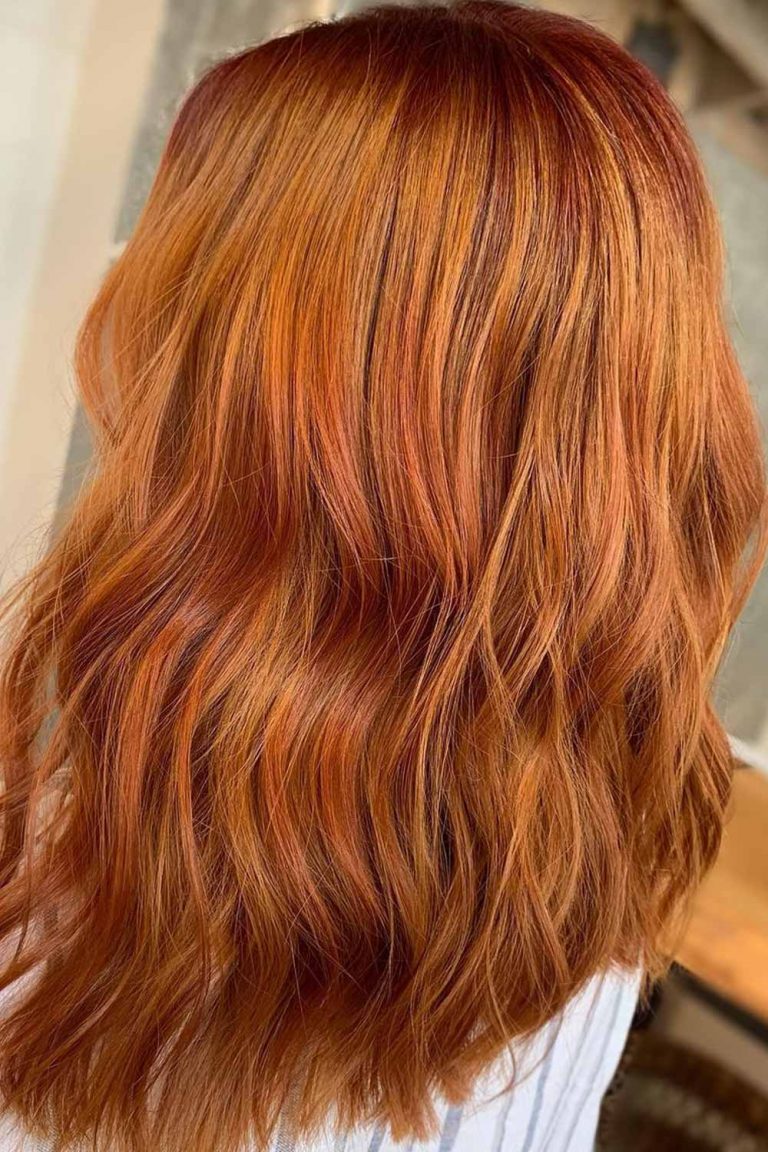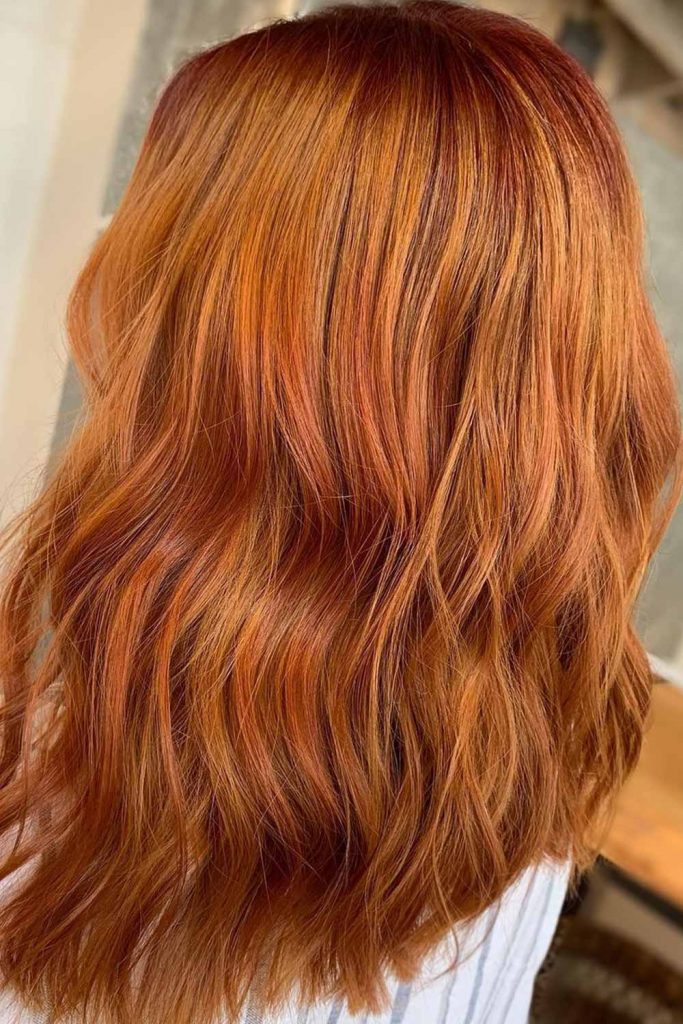 Credit photo: instagram.com/hairbykristinamarie
If you wish to go for a more natural red color, this spicy medium reddish brown shade is perfect. It was made for those with fair skin, freckles and brown or green eyes!
Screaming Red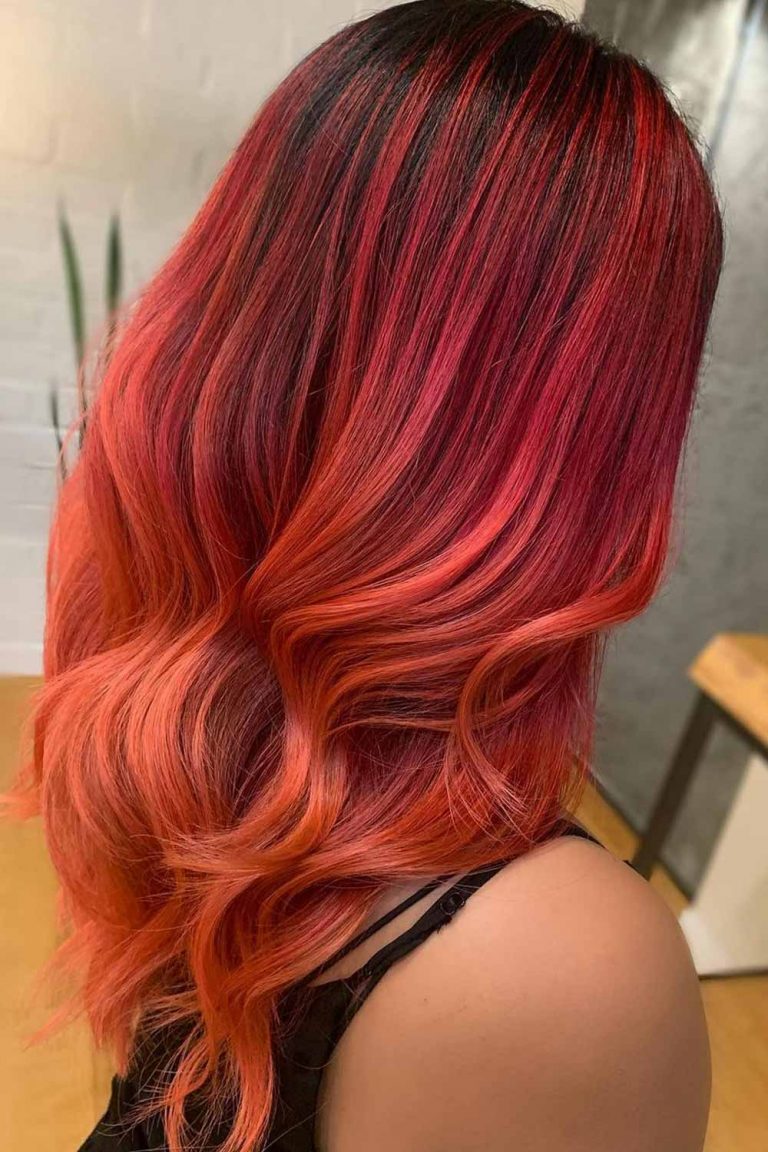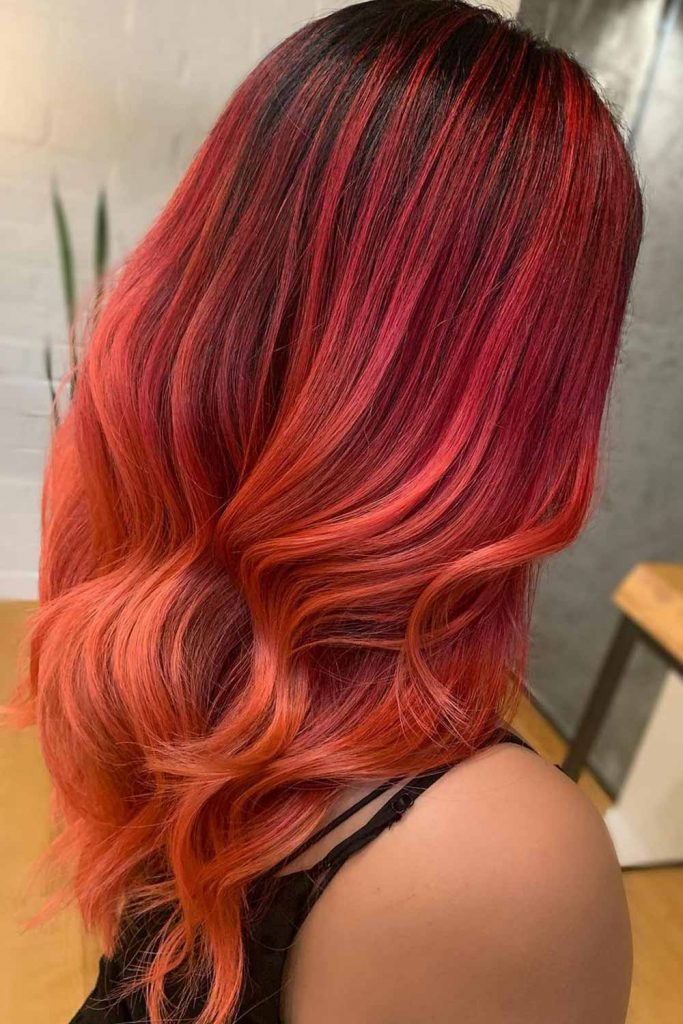 Credit photo: instagram.com/hairbykristinamarie
Screaming red with bright orange tips is something only the boldest of us will dare to try out. But if your eyes are brown and the complexion is olive, you should at least consider it.
Peach Cobbler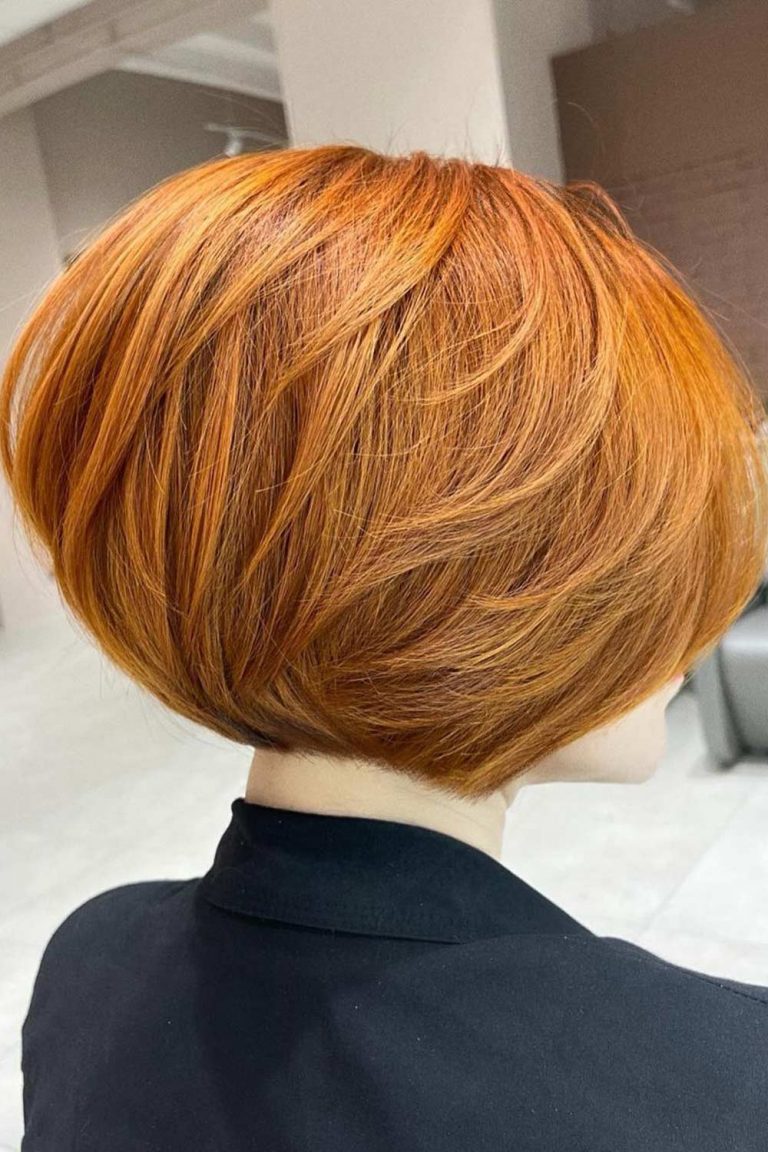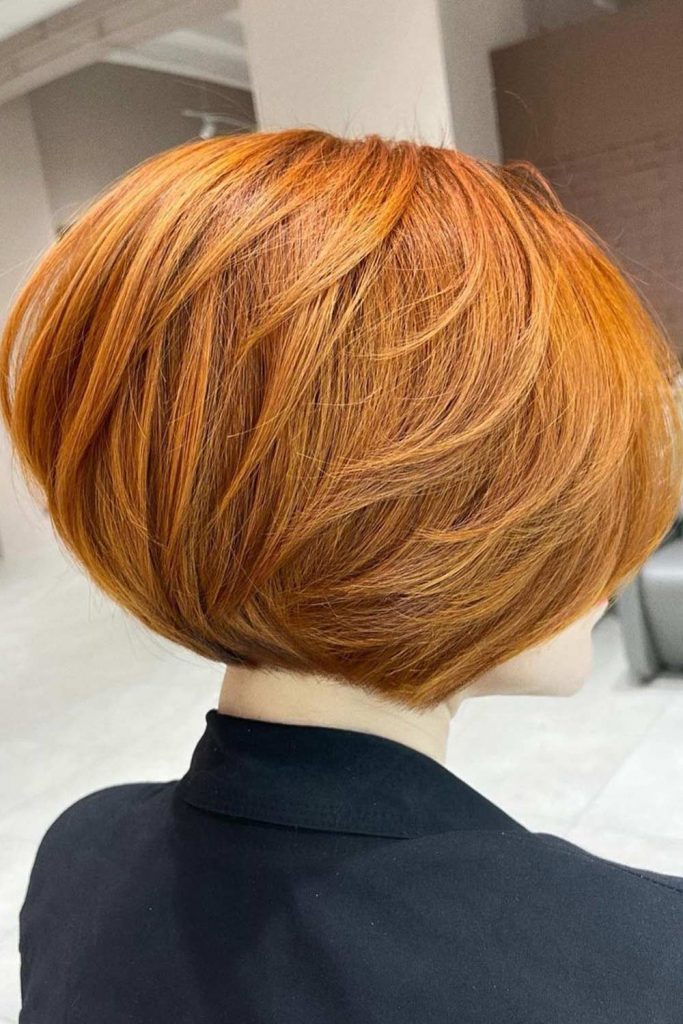 Credit photo: instagram.com/mila_kryshchykhina
Apart from playing around with intensiveness and temperature of your red hair, there's one more detail to experiment with: the undertone. Peach cobbler is a growing trend born in LA. As you know, everything viral comes from LA, and this hair color is no exception: while looking like a classic copper, it has a soft golden and peachy tones hiding underneath. Needless to say, if you have a light complexion with a peachy undertone, you've just found your perfect shade.
Coral Copper
Credit photo: instagram.com/georgepapanikolas
Another jaw-dropping facet of the good old copper! This time, the light-reflecting shade of red hair has a rather coral undertone, which instantly gives a new take at the classic copper color. Unlike many coppery hues, this idea will suit those with warm and medium skin tones, as its muted orange-ish tone is a perfect match to warm palettes.
Light Copper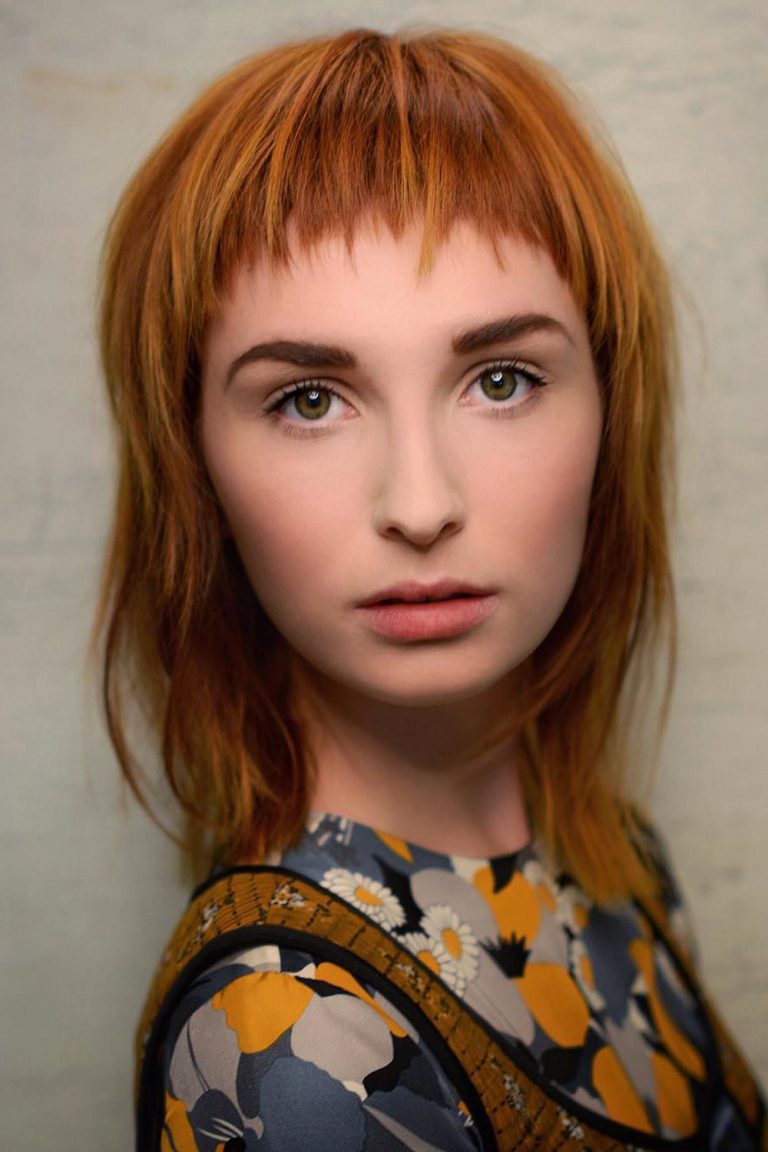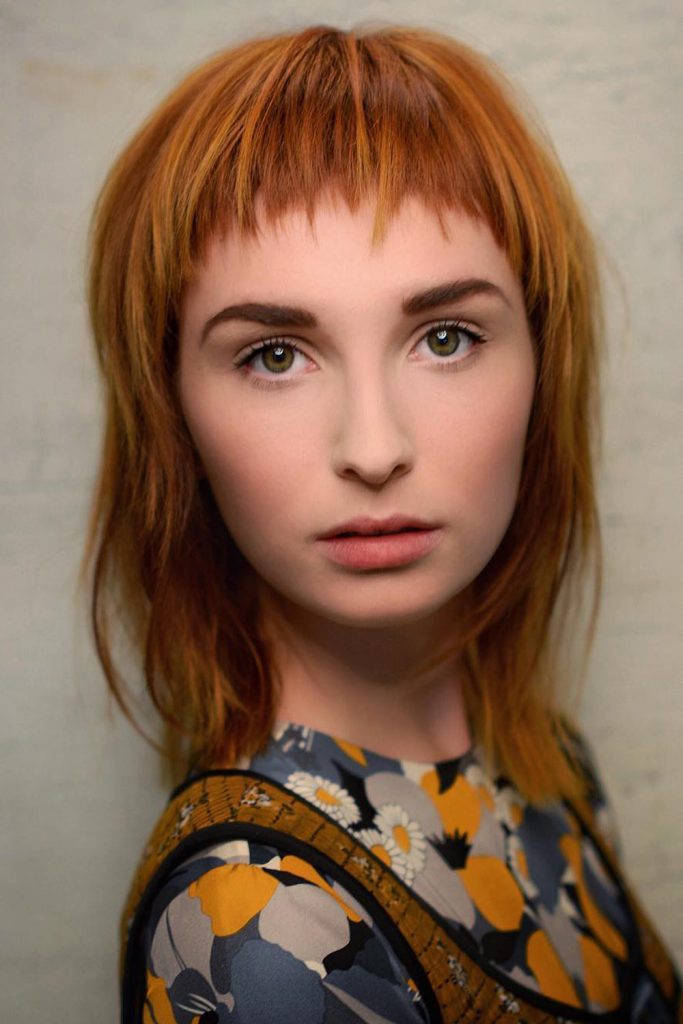 Credit photo: instagram.com/cutyourhair
While the deepest version of copper gives a more brunette finish, its lightest shade can bring you closer to the red-hair community. Light copper is meant for girls with pale or extremely light skin tones and light eye colors like green, blue, and pale hazel. That's because it has a golden hue which regulates the temperature of the whole look and builds the perfect balance, making the light complexion less drastic.
Peachy Balayage For Red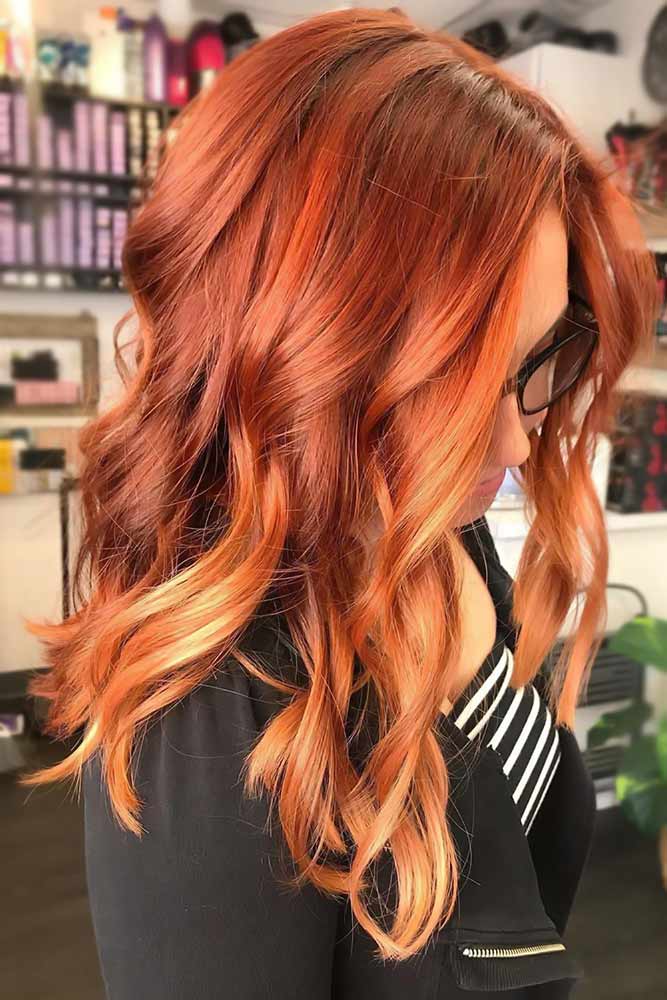 Credit photo: instagram.com/thestrawberryblonder
Don't forget to experiment with color techniques, especially when there are several shades you'd like to rock. Balayage is your ticket to embrace all your color desires and create the harmony of chosen shades. For example, you can combine peachy, coppery, and auburn hues through this technique, applying them either horizontally or vertically.
Pumpkin Spice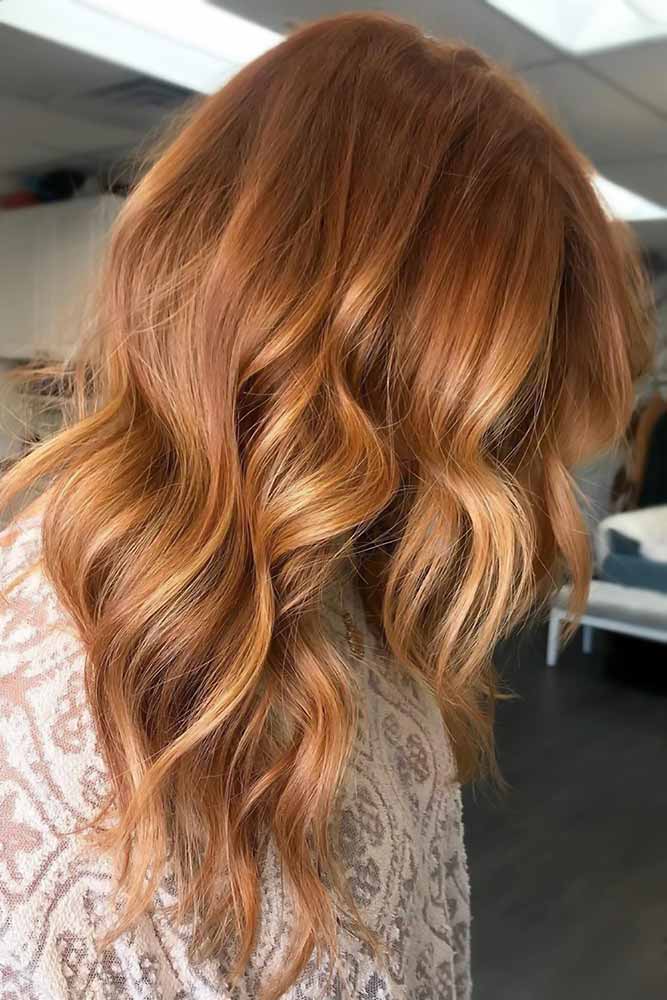 Credit photo: instagram.com/thestrawberryblonder
Seems like we've just found the most unique and effortless shade of red. Even though this color is nothing but a mix of blonde, brunette, and reddish hues, it appears too natural to believe it's a color job. Pick the deepest shade of blonde, the lightest shade of brunette, and finish the look with a transparent layer of red to achieve this pumpkin-inspired look.
Ginger & Dark Roots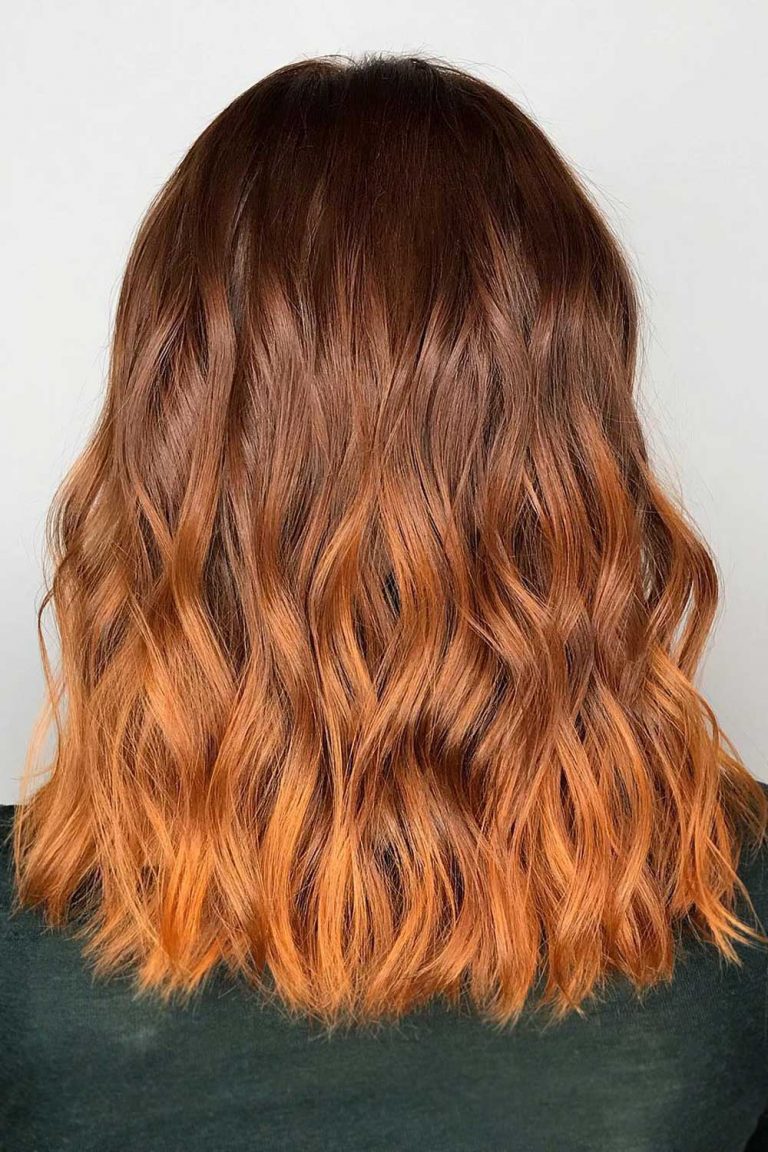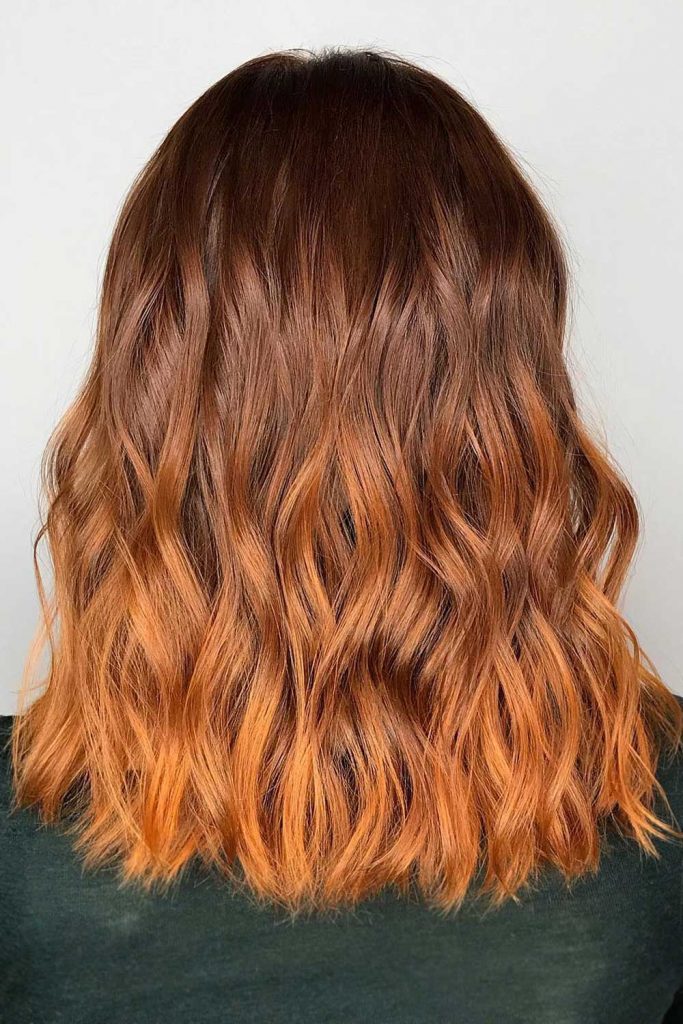 Credit photo: instagram.com/alex_nagorsky
Pairing your brand new shade of red with your dark roots is a classy idea not only because it's trendy. As a matter of fact, dark roots allow you to extend the life of your coloring. Make sure to find a professional who can apply the color so that it has a seamless transition with the roots. As a result, you will still have a decent shade when your roots start to grow out. Plus, ginger looks radiant with dark brunette roots.
Dark Red
Cherry Brown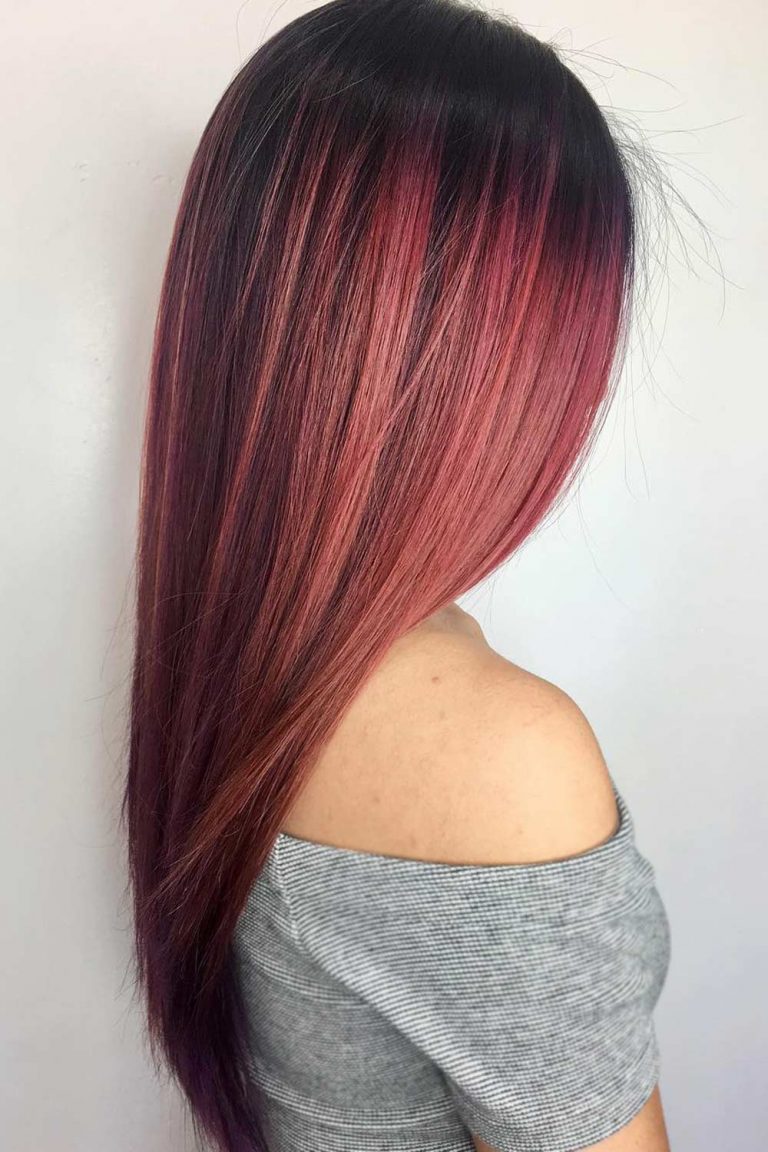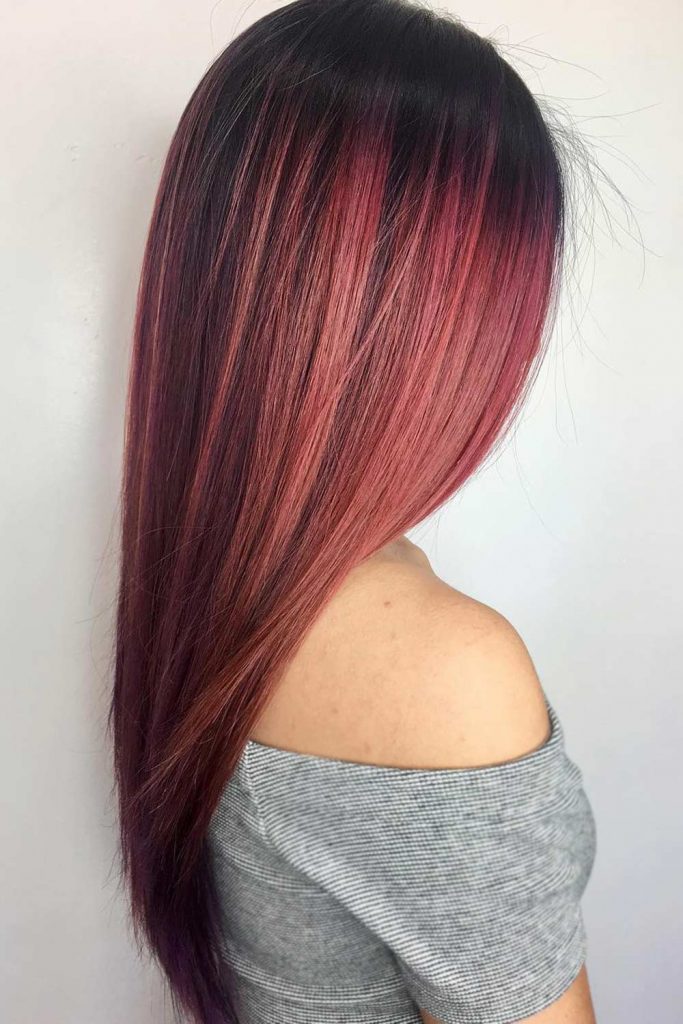 Credit photo: instagram.com/isaac4mayor
This gorgeous combo of soft brown and cherry red works best for those with cool or deep skin tones and dark eyes.
Burgundy Red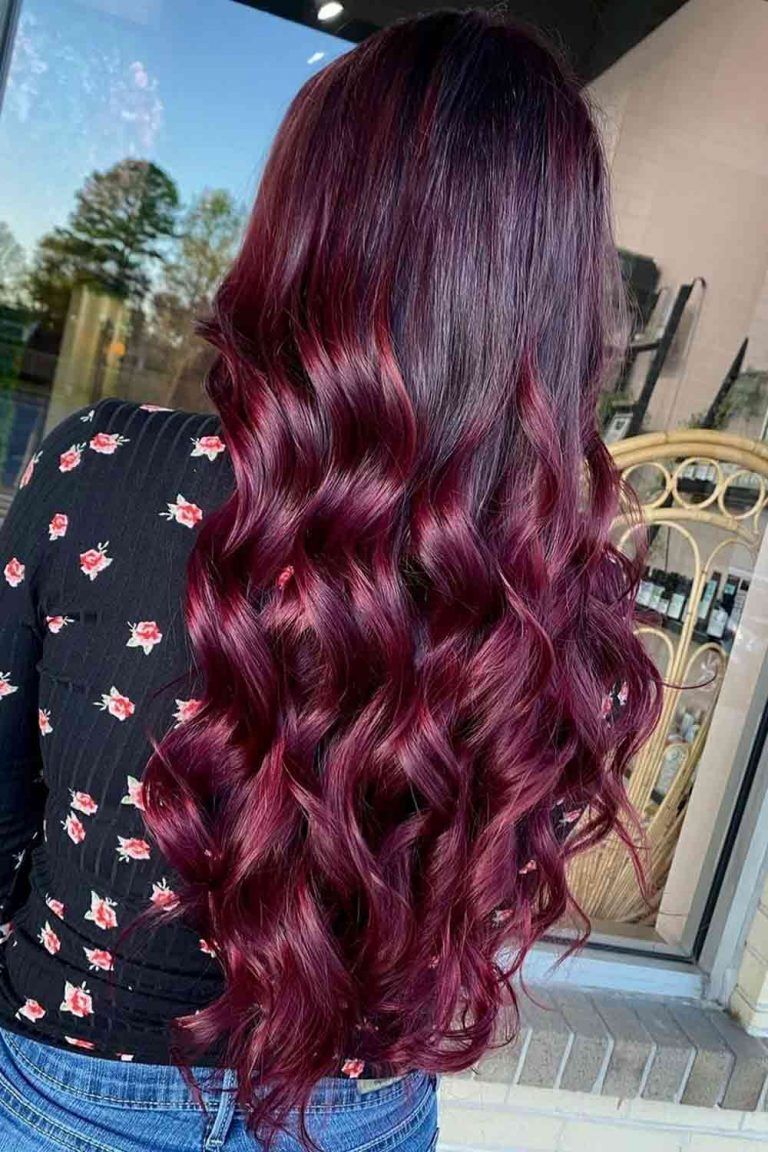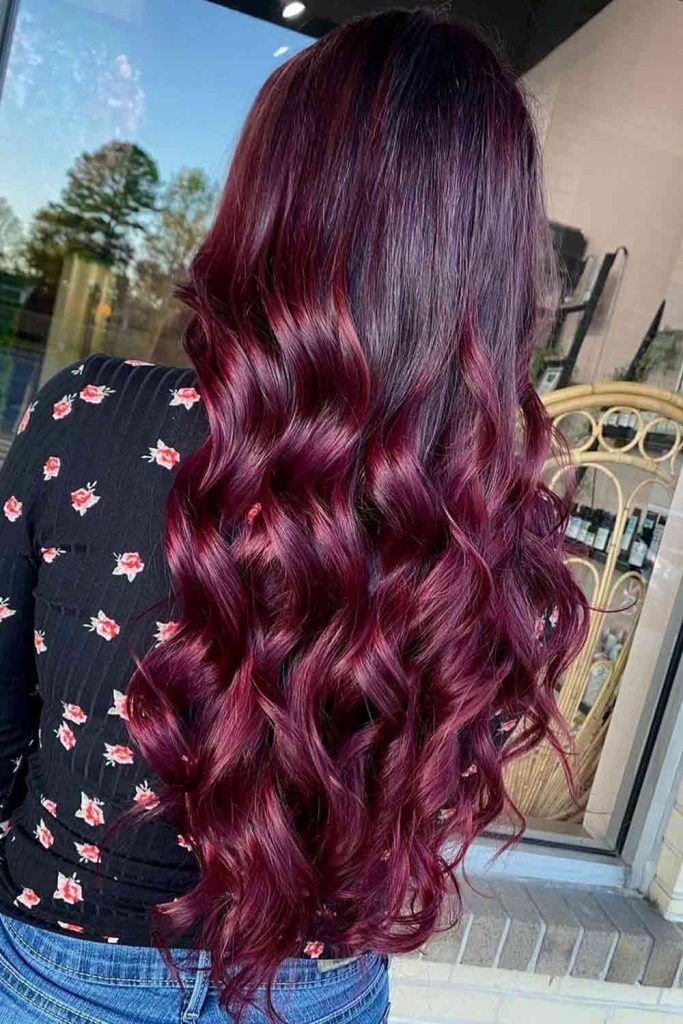 Credit photo: instagram.com/xostylistxo
This dramatic dark red-violet shade is perfect for those with olive or dark complexions and blue or brown eyes.
Aubergine Red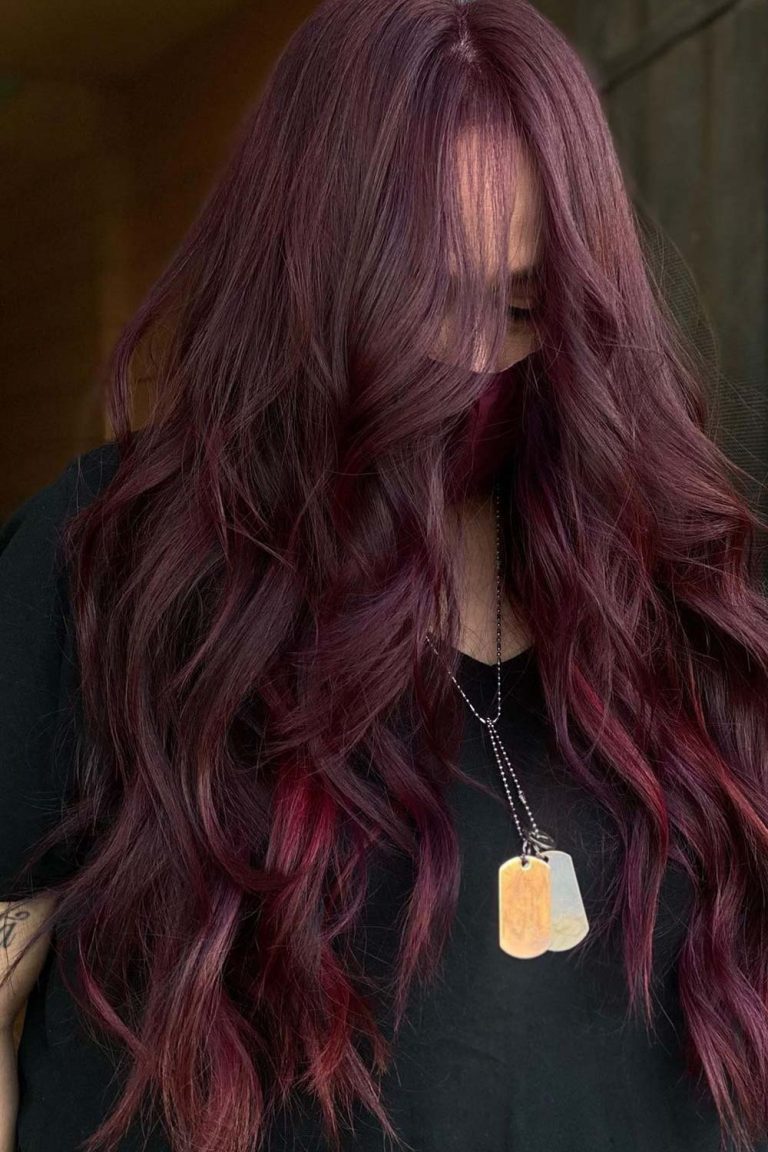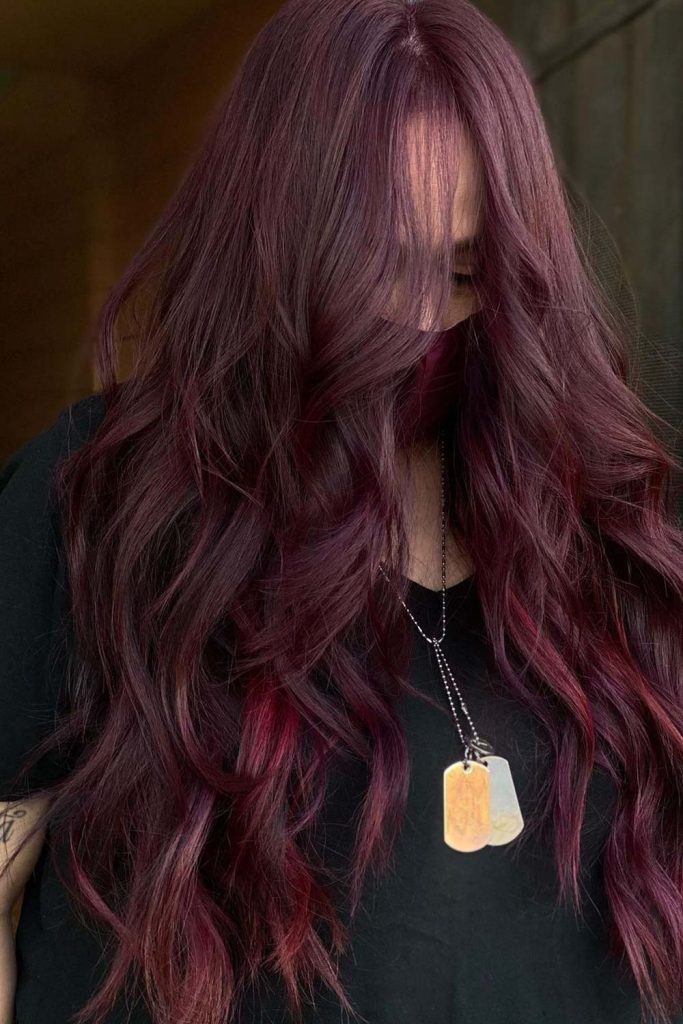 Credit photo: instagram.com/hairbyclairperez
This shade is exotic and sensual and goes well with those who have cooler skin tones. The dark eggplant tone will compliment ladies with neutral eye colors.
Magenta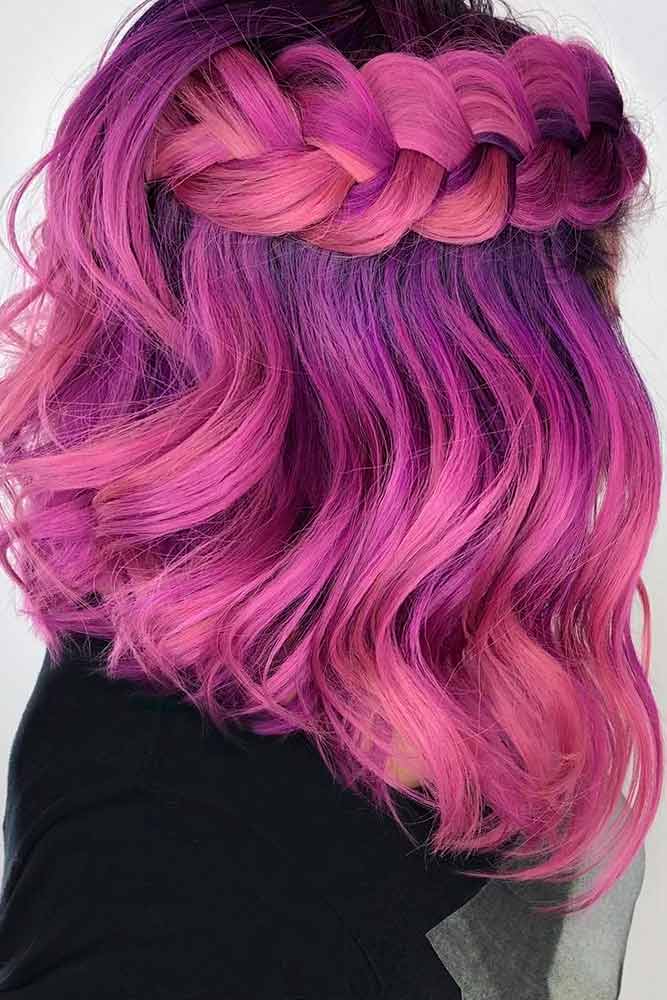 Credit photo: instagram.com/hugosalon
This shade is great for ladies who have dark eyes and a medium or dark skin tone. It also blends nicely with ombre color patterns or streaks. If you want to express your bold and artistic flair, this color was made with you in mind!
Red Velvet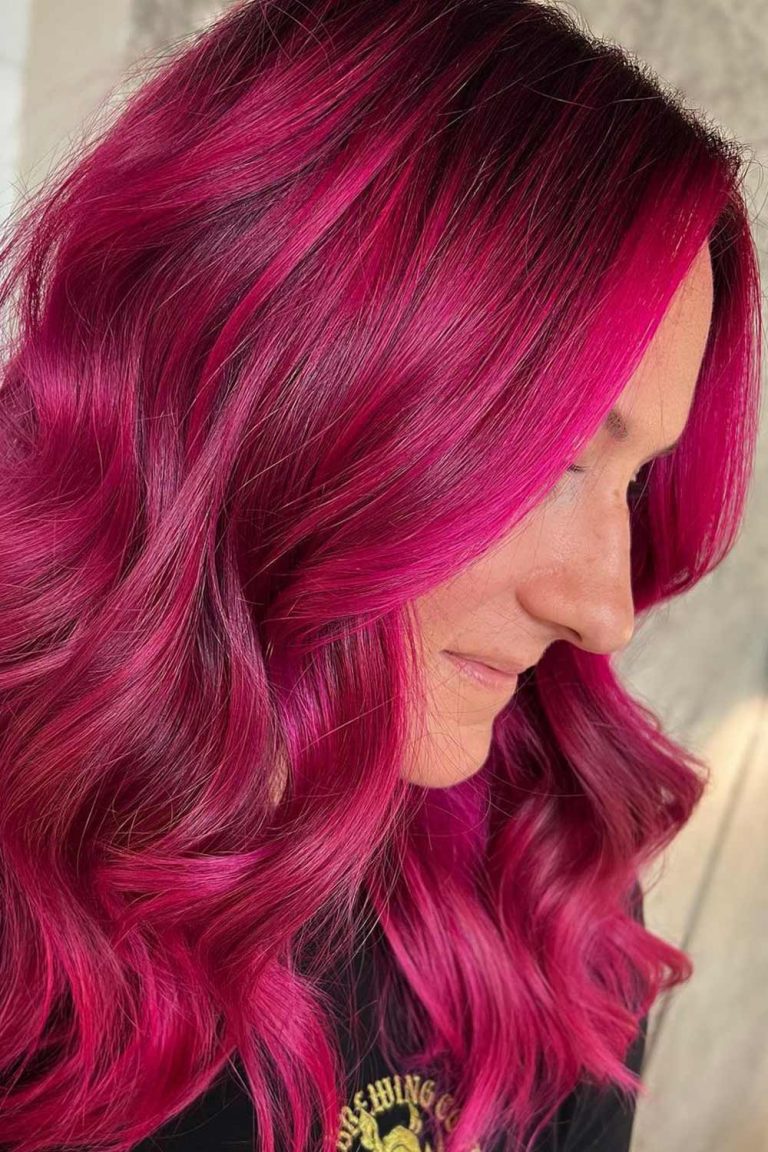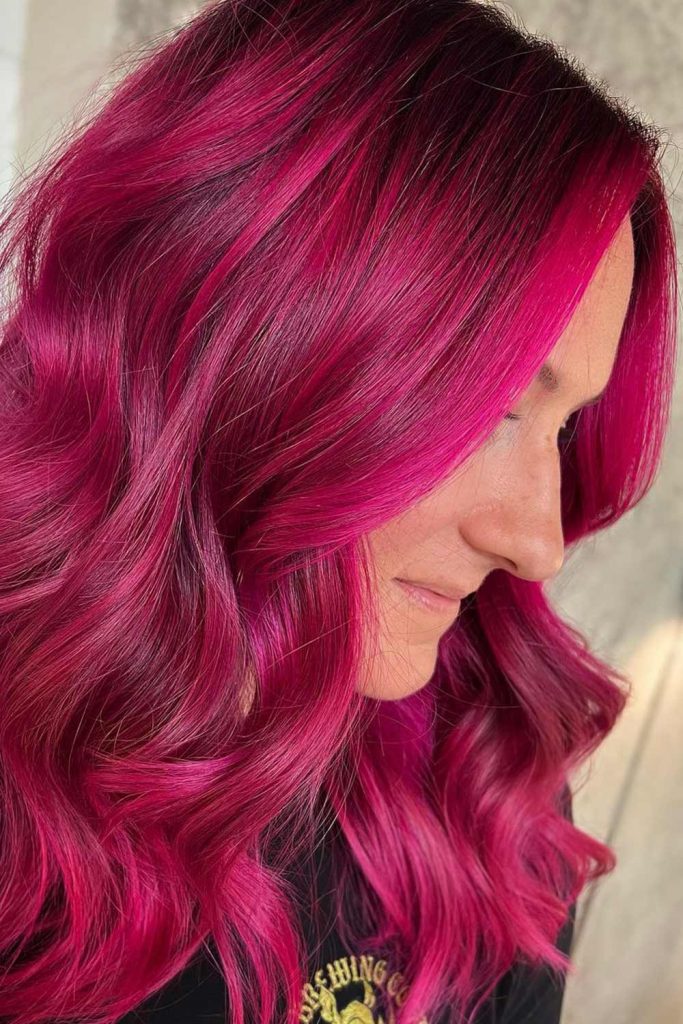 Credit photo: instagram.com/hairbykristinamarie
This deep rich red goes extremely well with those who have olive or dark complexions. It is perfect for ladies with emerald green, icy blue, or brown eyes.
Ruby Red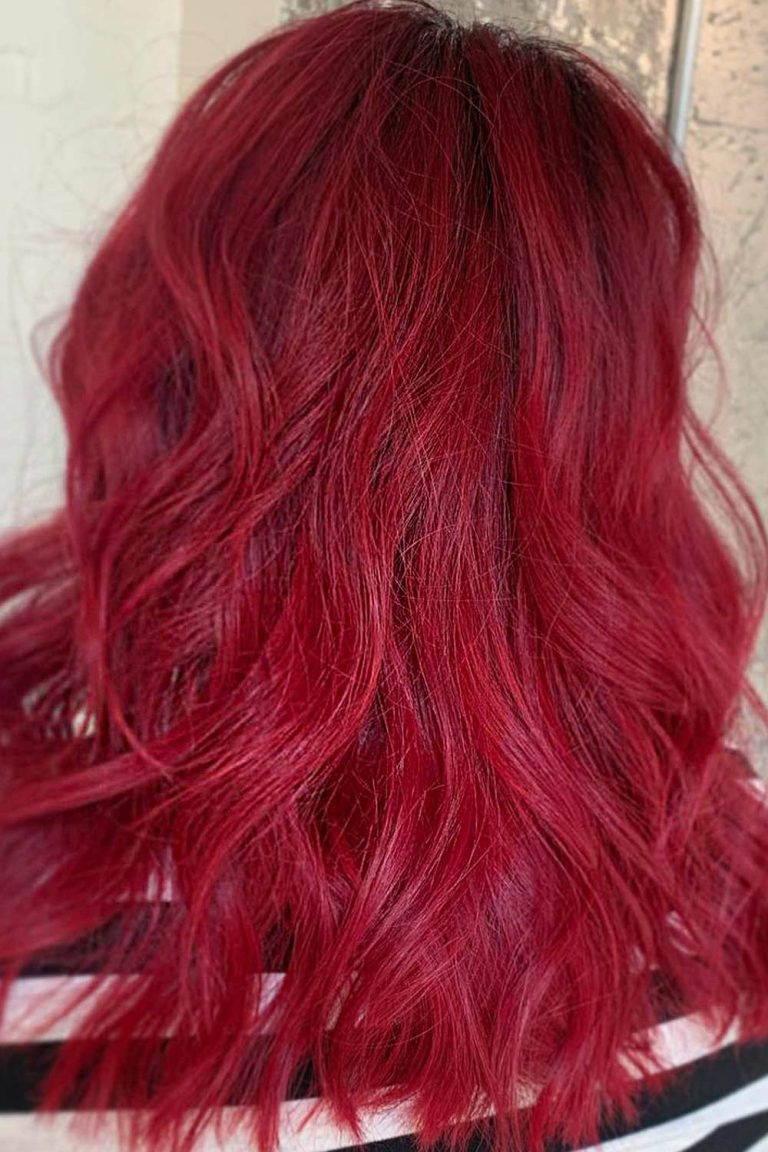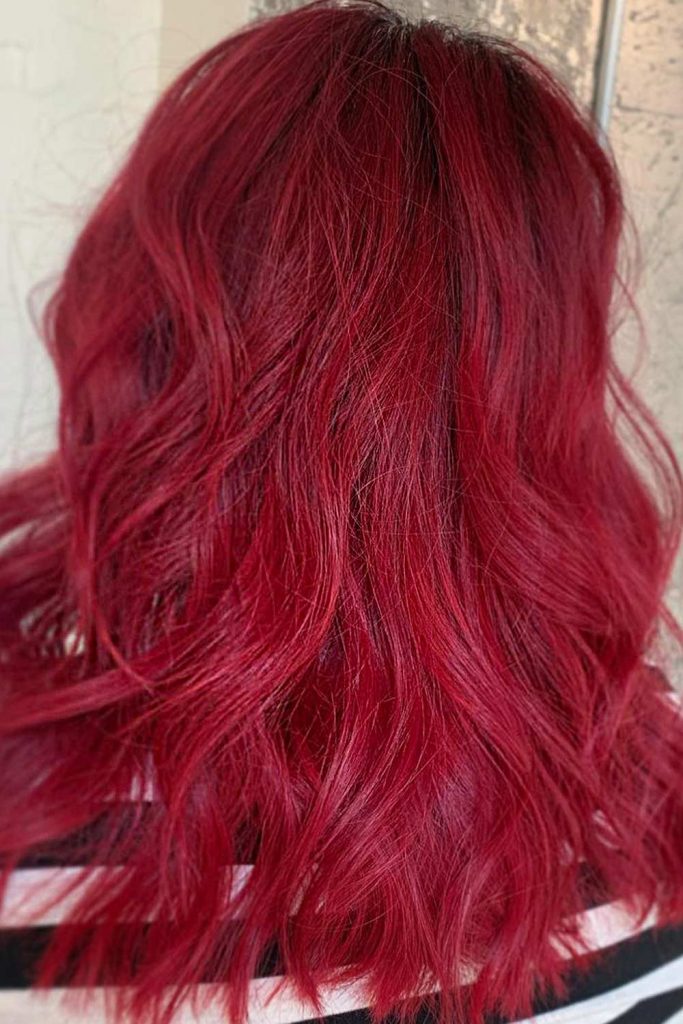 Credit photo: instagram.com/hairbykristinamarie/
This dramatic color is very intense and goes well with light blue or green eyes and a paler skin tone.
Mahogany Red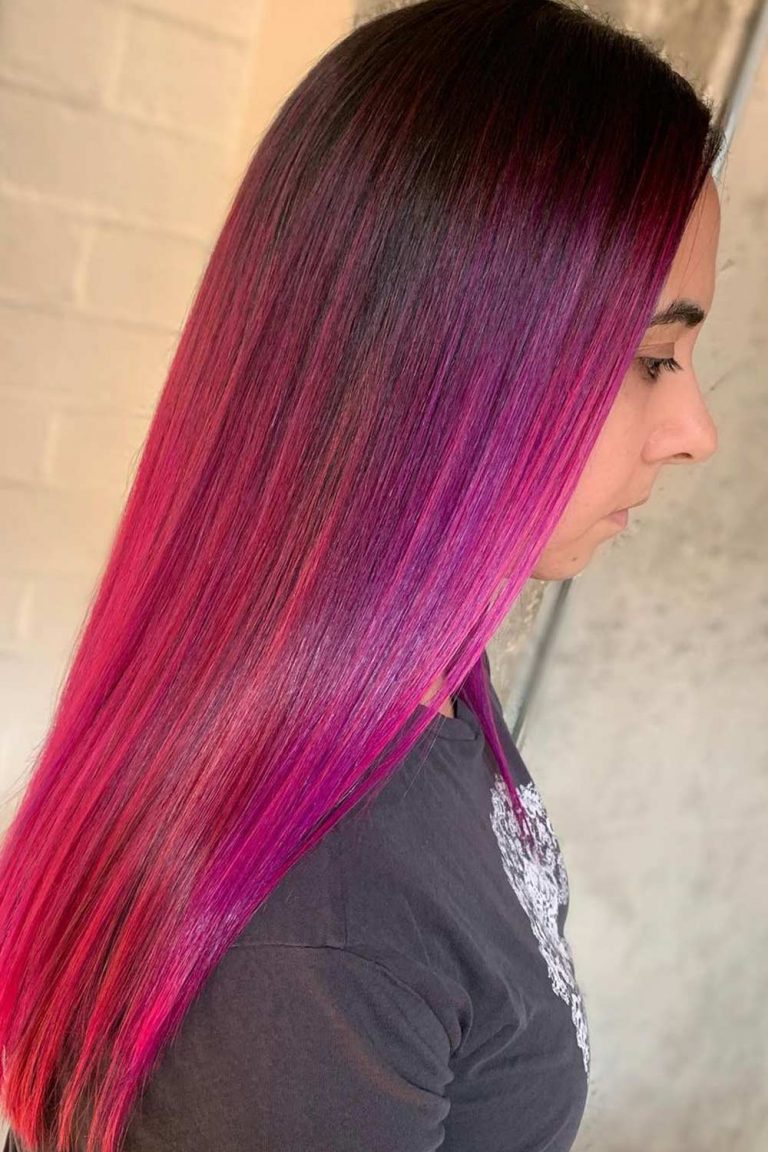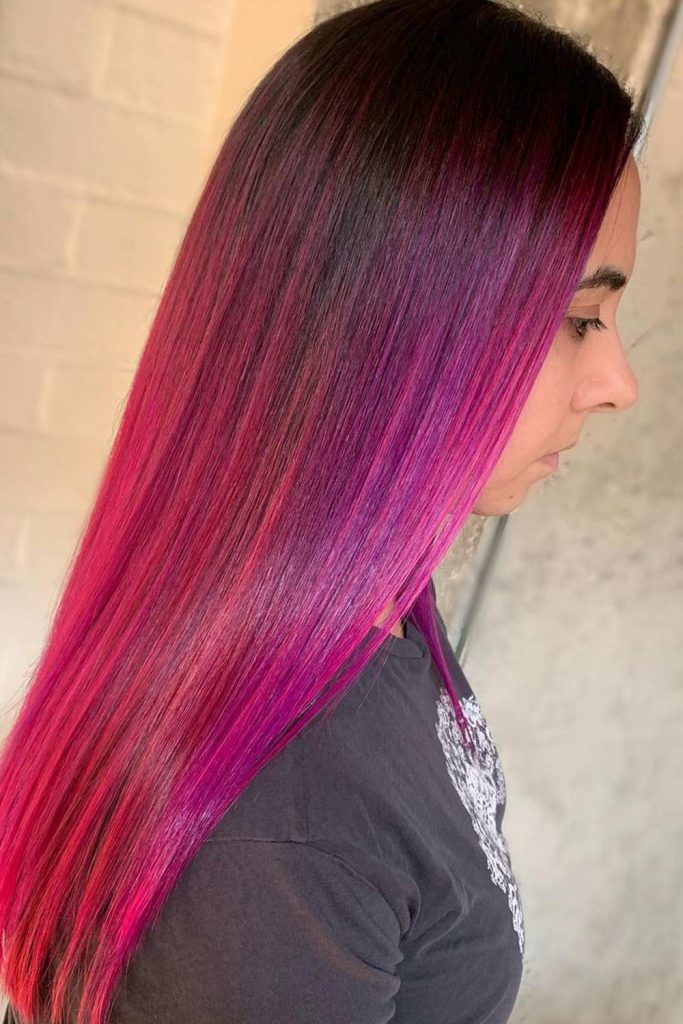 Credit photo: instagram.com/hairbykristinamarie
This deep reddish brown shade is a great choice for those with brown, blue, or green eyes and a fair or medium complexion.
Red Black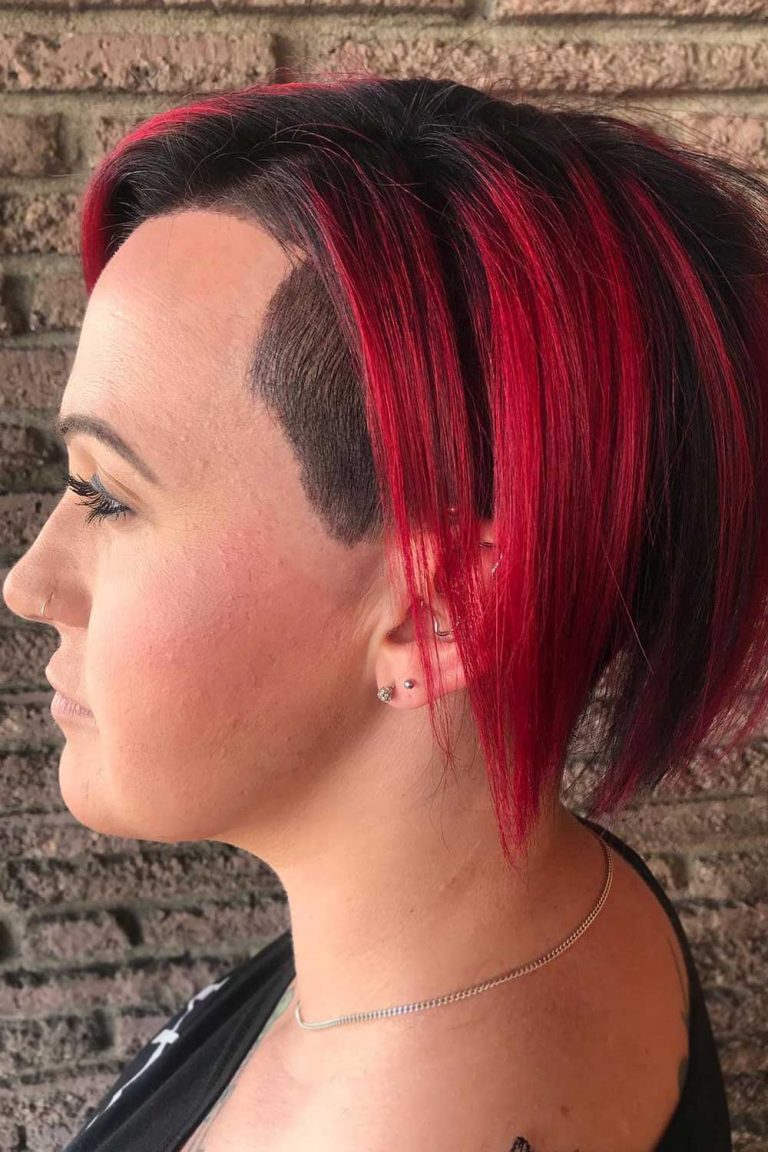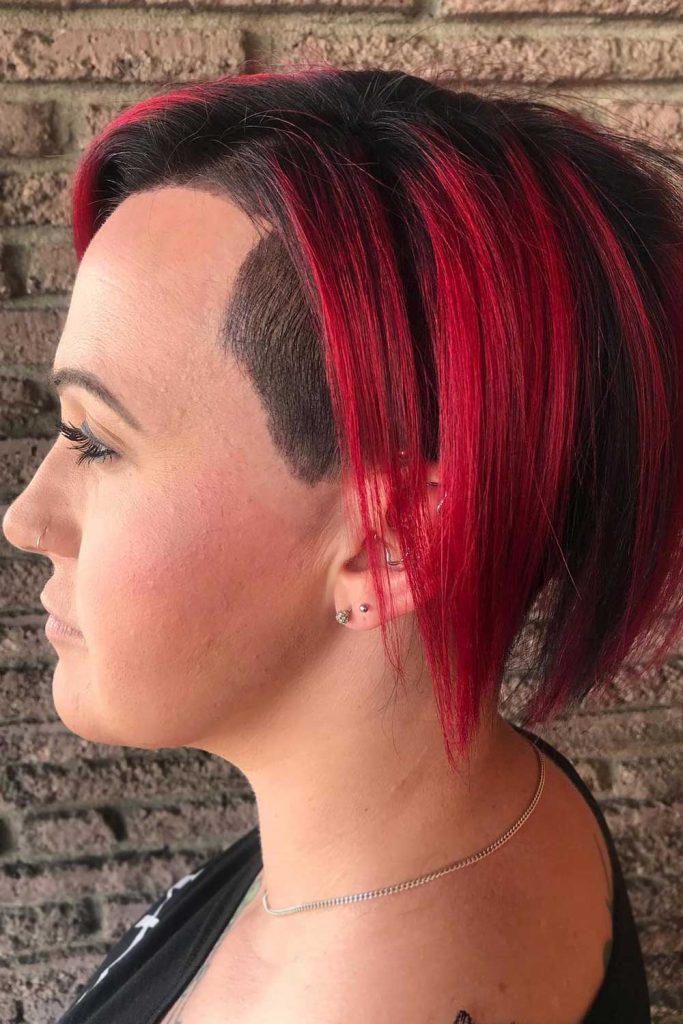 Credit photo: instagram.com/hairbyclairperez
This very dramatic shade is intensely dark with just the slightest hint of red. It looks fabulous on those with green or brown eyes and an olive or dark complexion.
Violet Red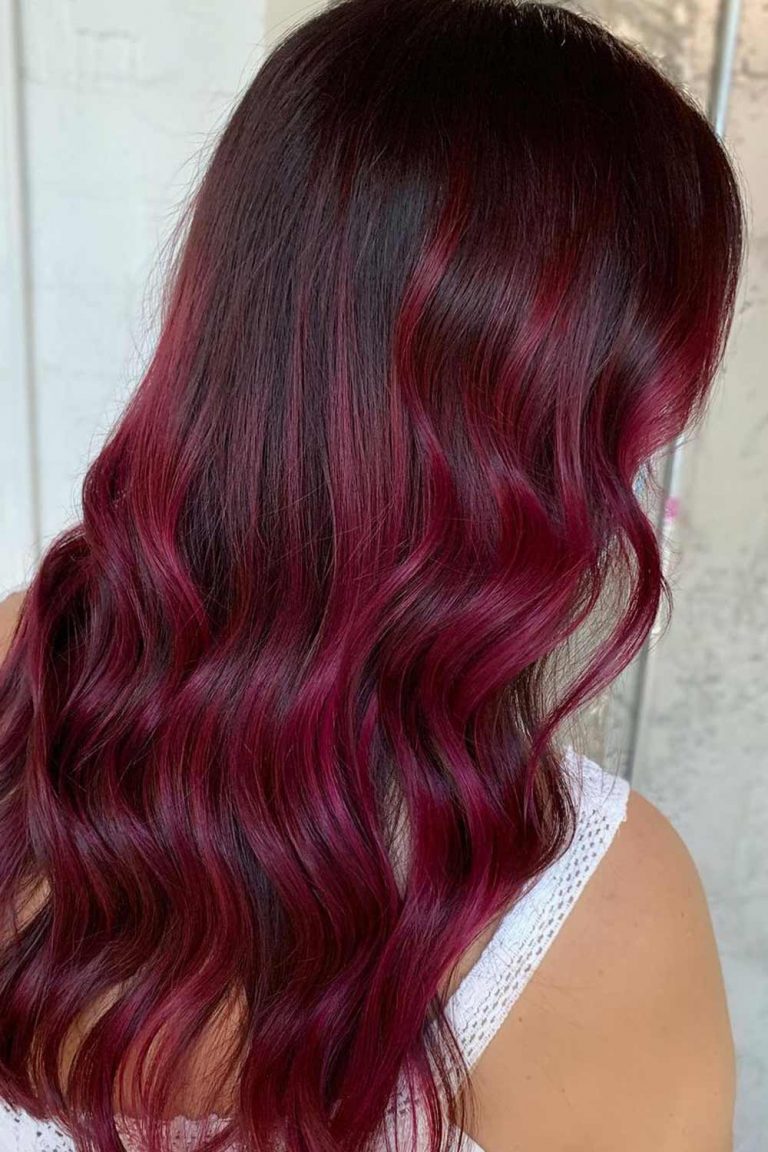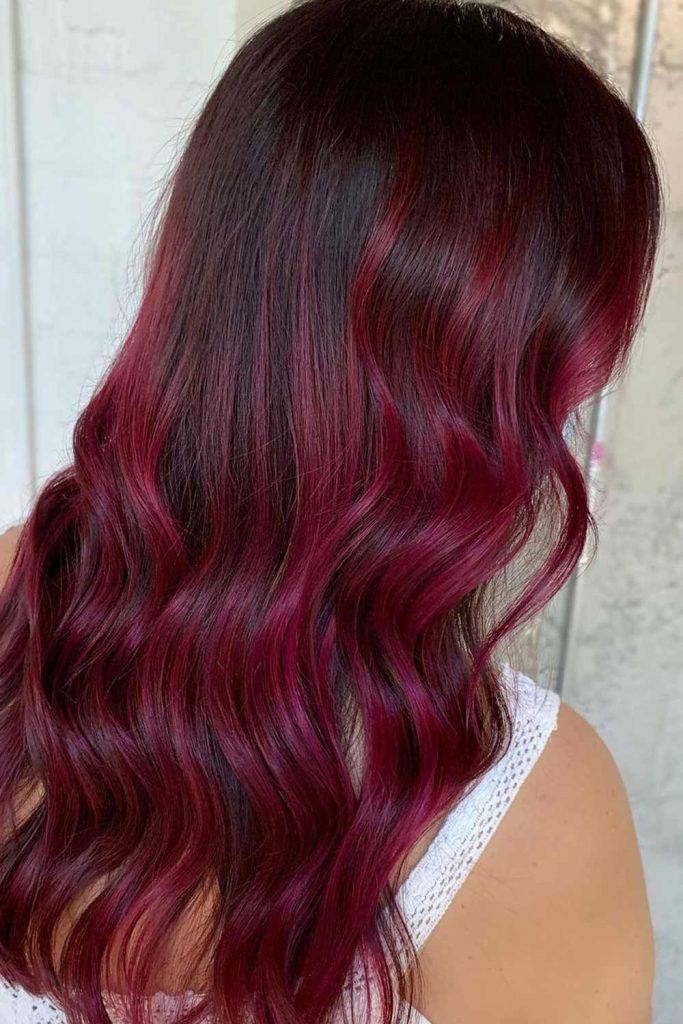 Credit photo: instagram.com/hairbykristinamarie
This exotic shade is a deep, rich match of purple and red. It is absolutely stunning on ladies with darker eyes and skin tones.
Light Auburn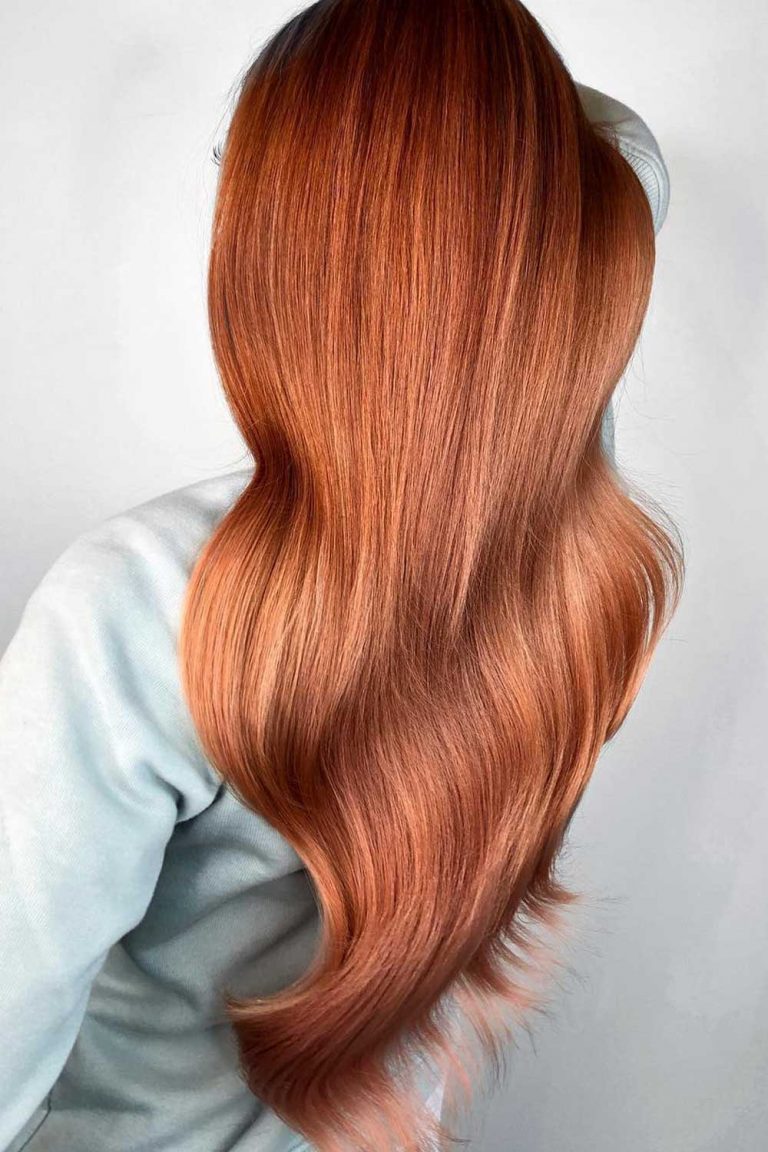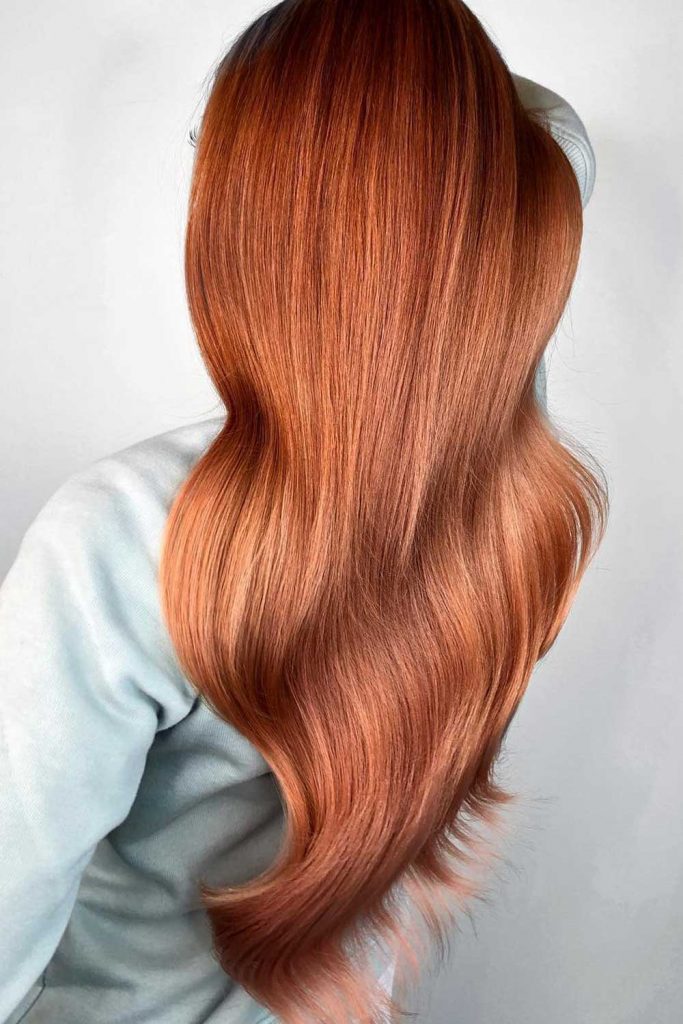 Credit photo: instagram.com/presleypoe
Another subtle shade of red. This perfect blend of light brown and golden red is perfect for ladies with brown or green eyes and golden or creamy complexions.
Wine Red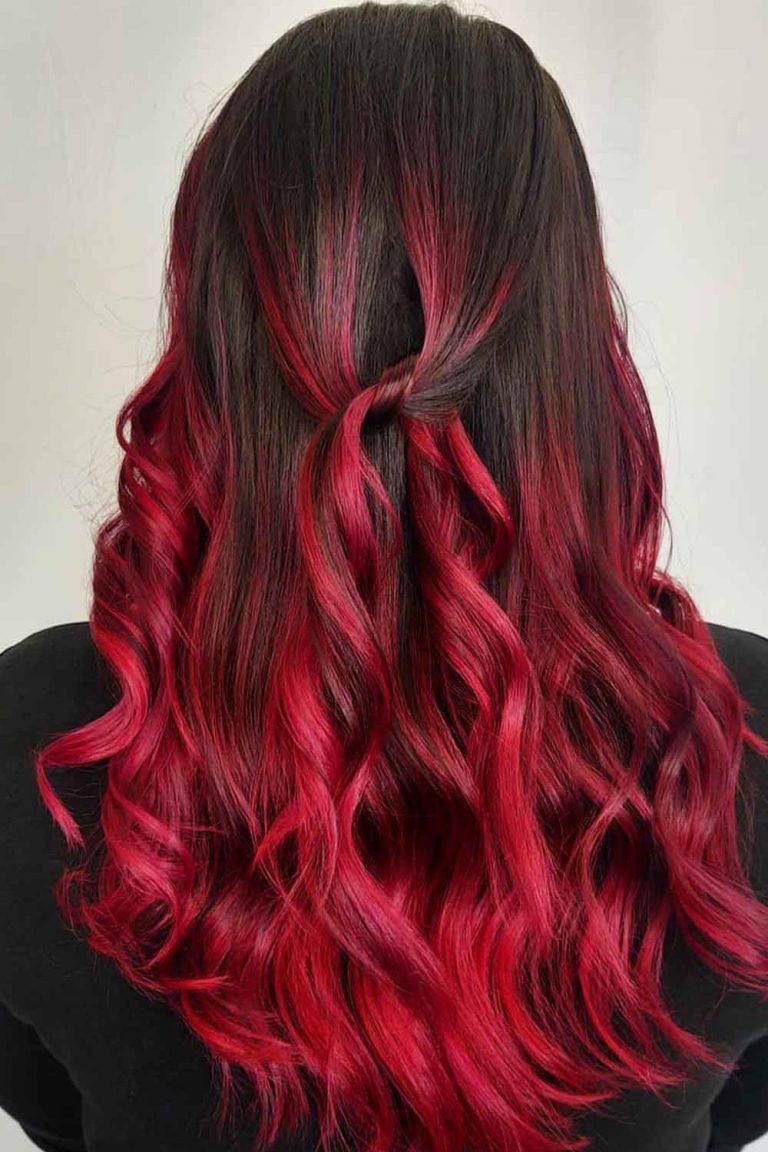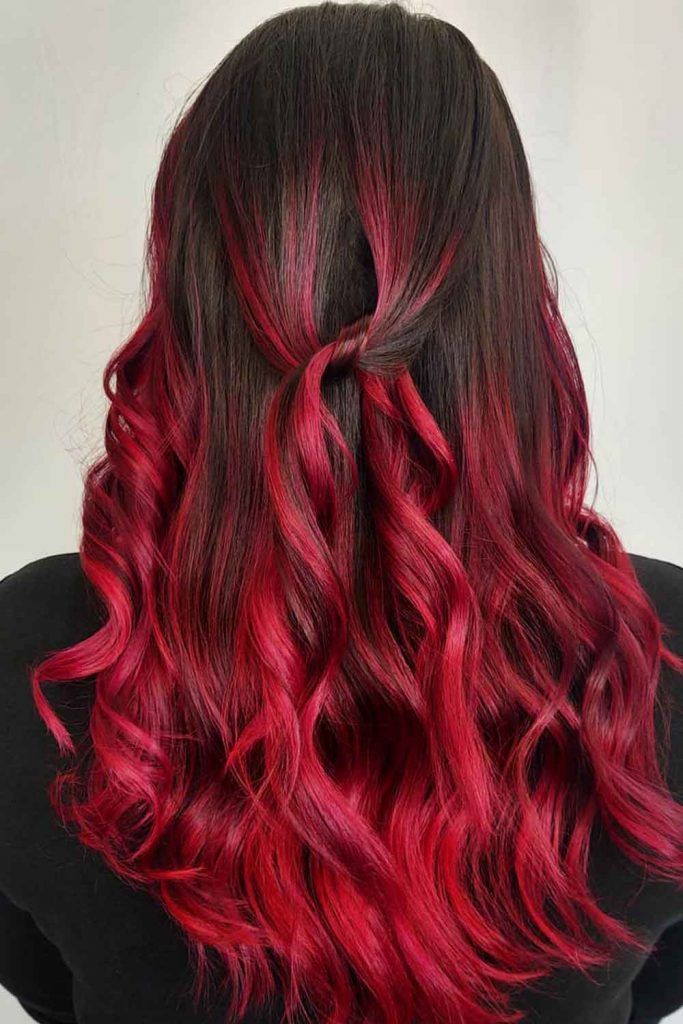 Credit photo: instagram.com/adlydesign
Red shades are extremely rich and dramatic-looking. Most fashionistas try it at least once.
Pink Red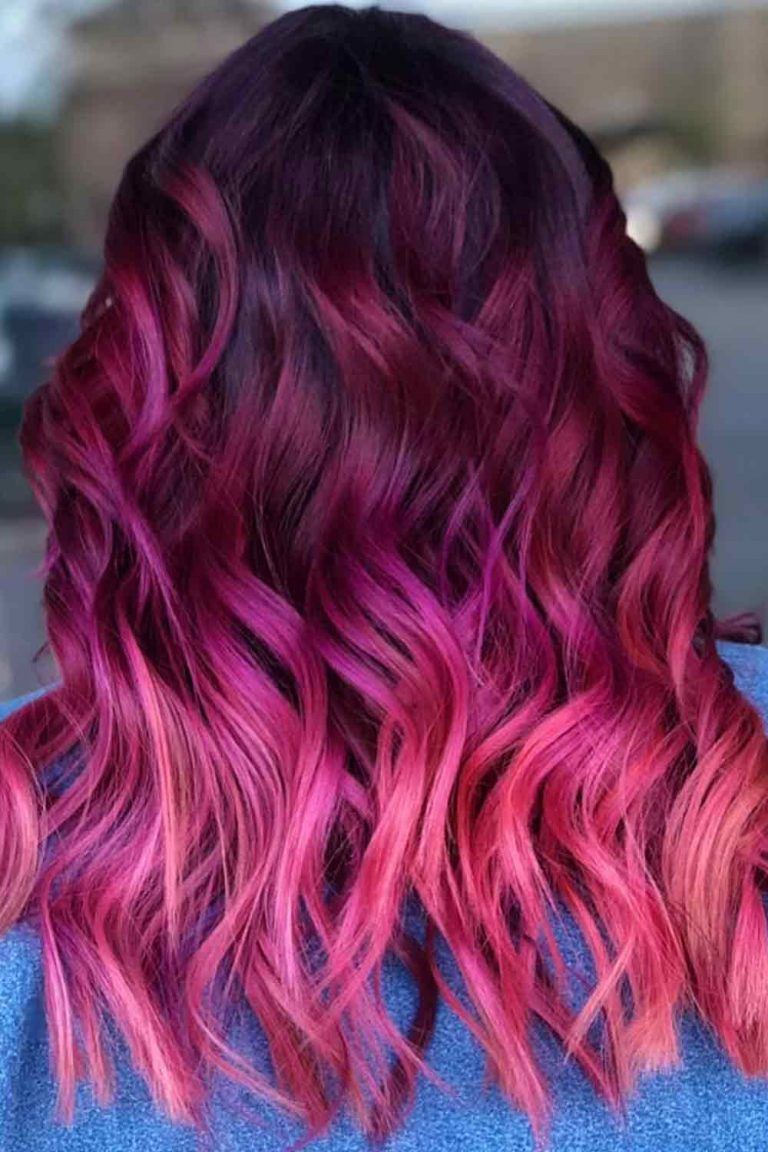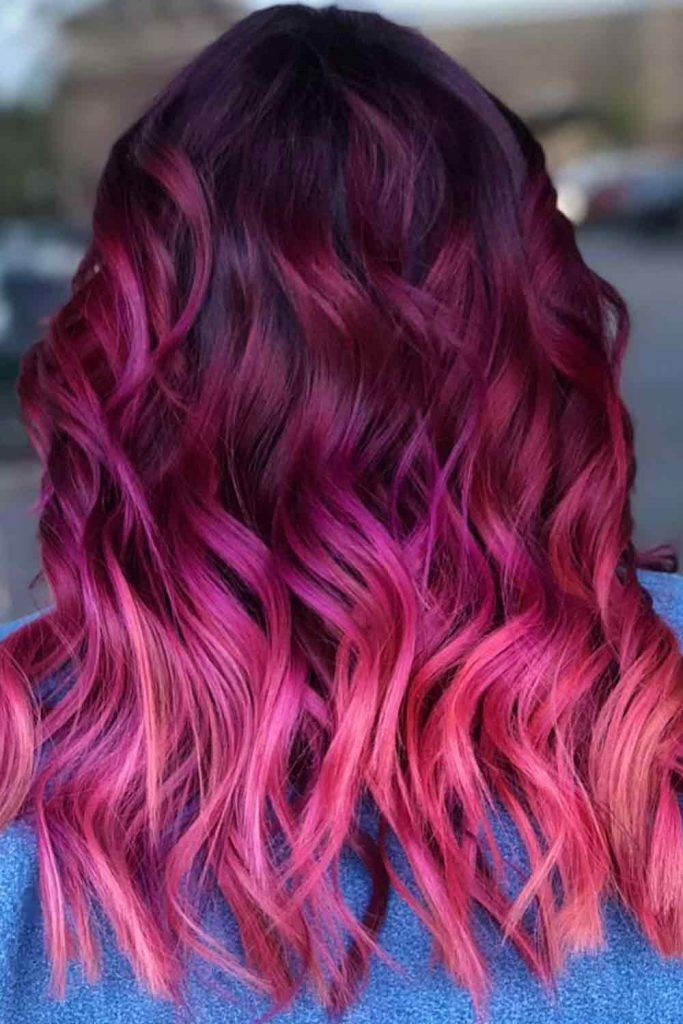 Credit photo: instagram.com/xostylistxo
A scarlet red hair color is extremely rich and vibrant on its own. If you have green eyes, go for it.
Autumn Red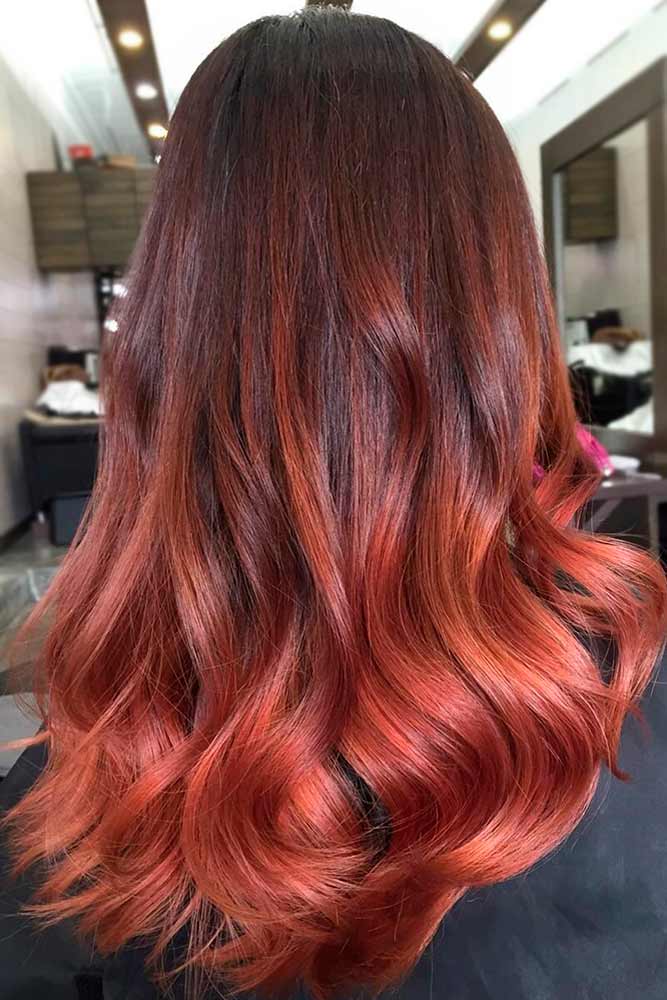 Credit photo: instagram.com/number_76
The intense brown that fades into soft reddish tones is extremely charming. Besides, soft light waves will make sure that your look won't go unnoticed.
Burgundy to Blonde Copper Ombre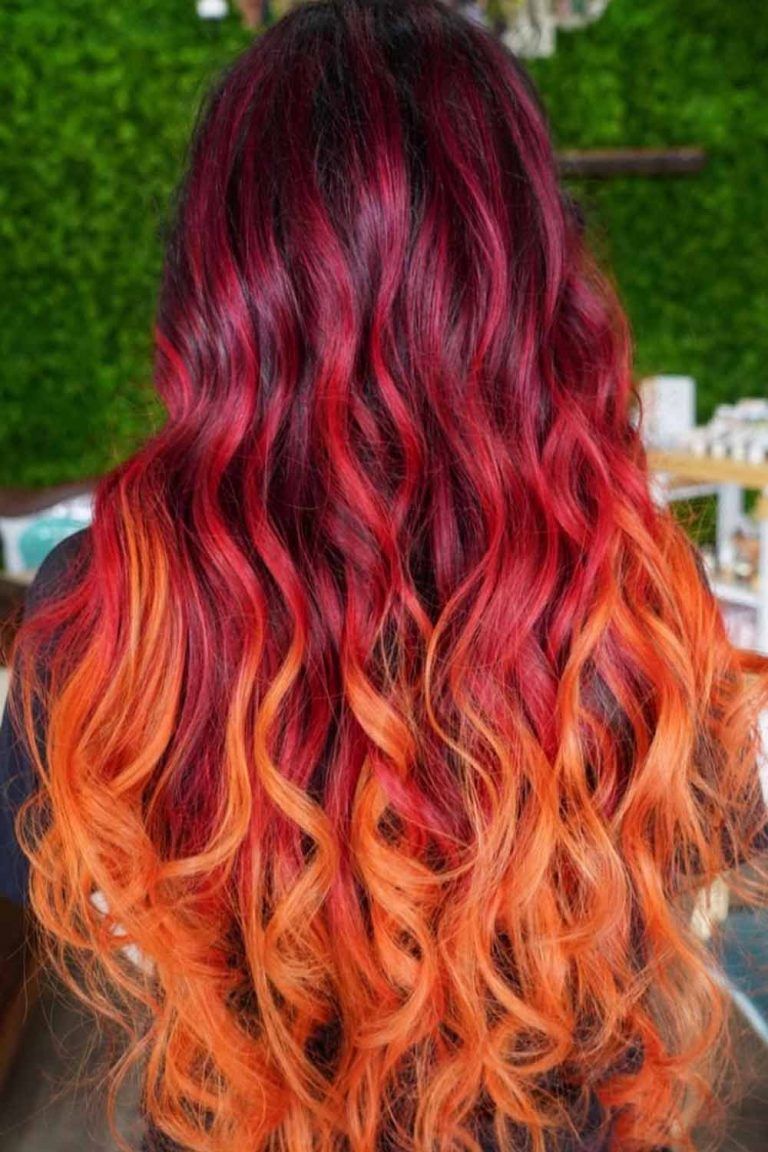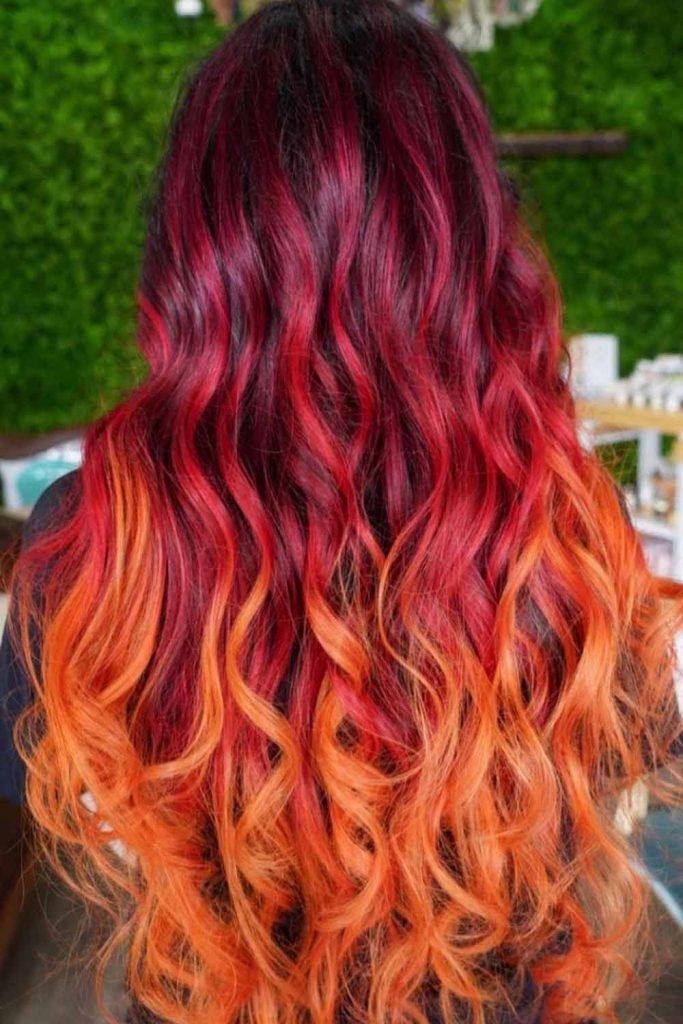 Credit photo: instagram.com/xostylistxo
If you want to use the whole autumn palette, then this is what you have been searching for! Just look at this fabulous combination of fall hues! It would go perfect with icy-blue eyes!
Candy Beet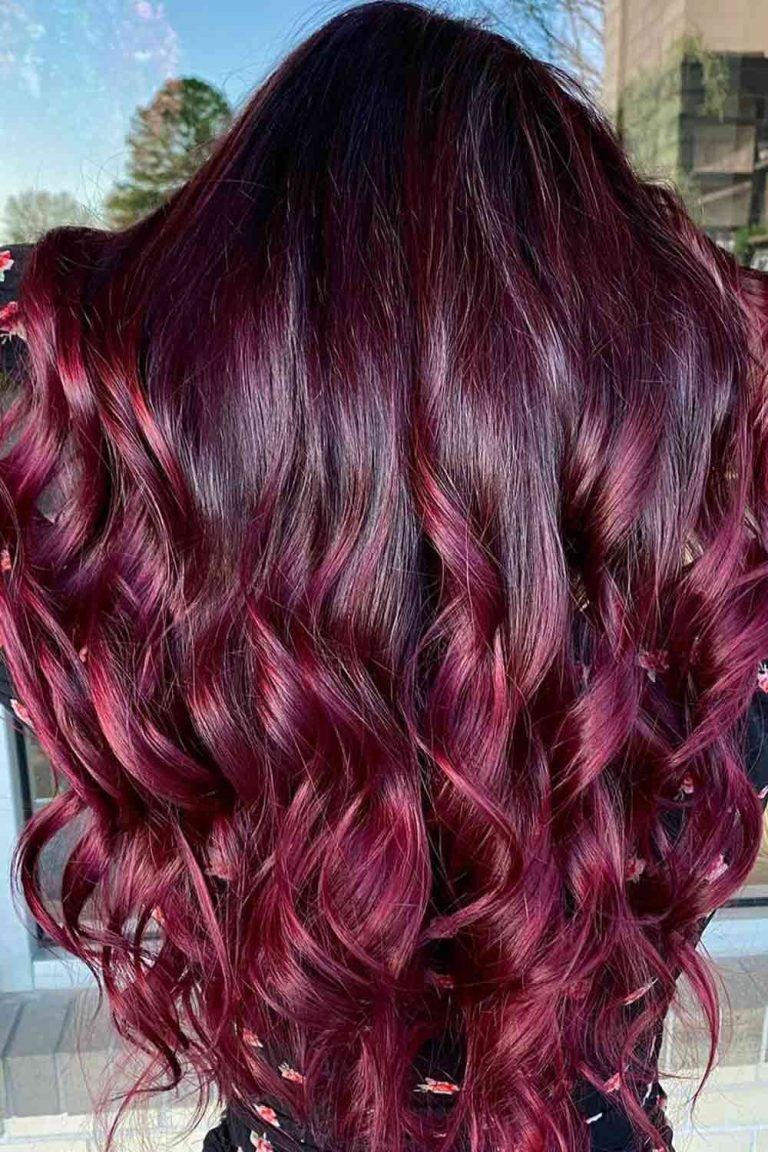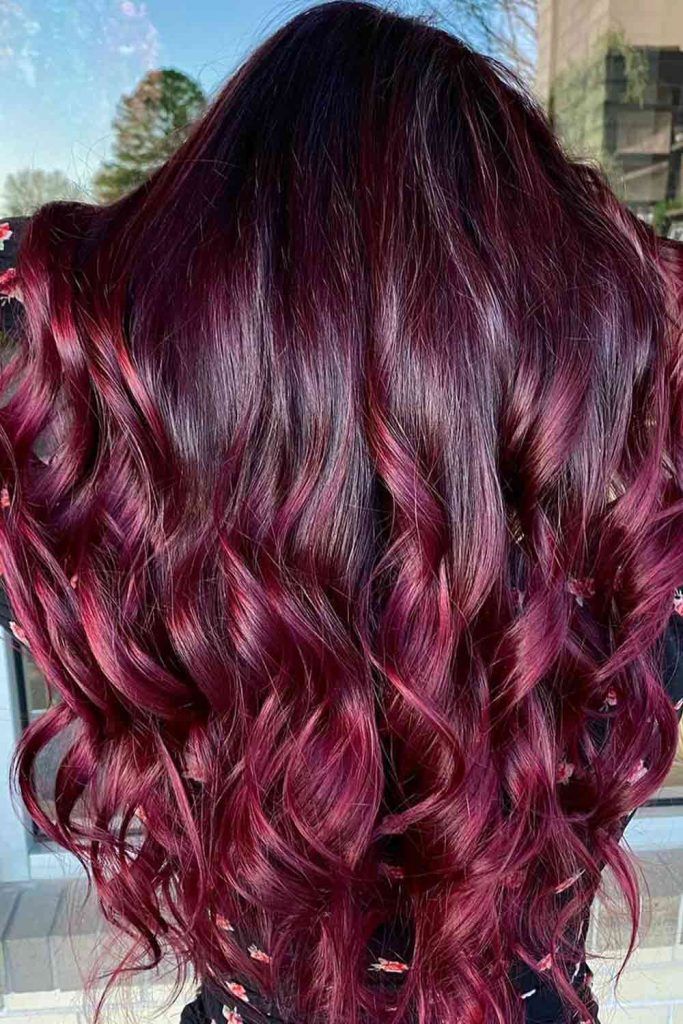 Credit photo: instagram.com/xostylistxo
Look at this stunning hair shade! This shade works great for fair complexion and deep blue eyes.
Glistening Auburn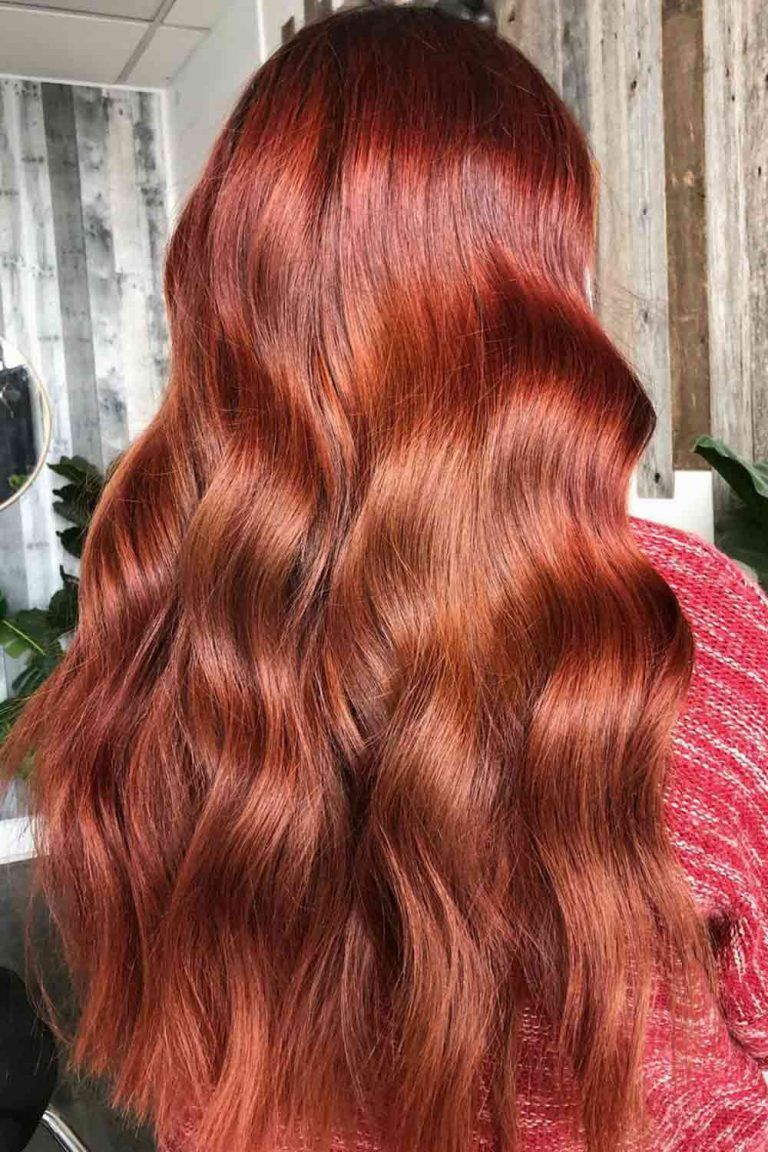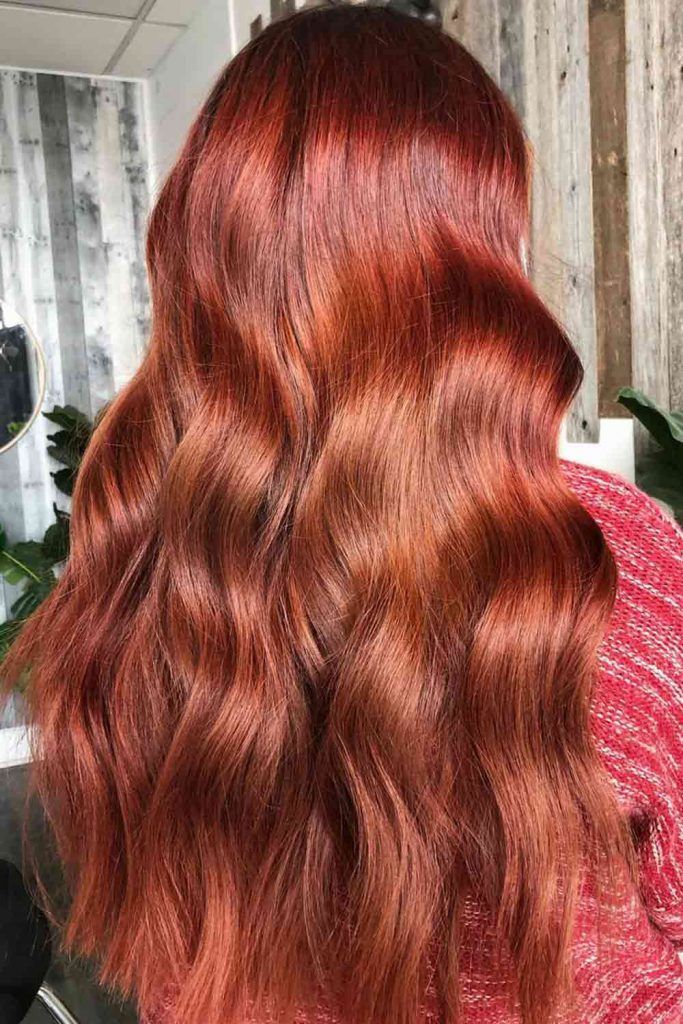 Credit photo: instagram.com/_heyhelena
Auburn can be as different as you want it to be. Since it's a combination of warm red and deep brunette hair colors, you can always make one of the shades more or less intense, thus adjusting the temperature of your hair look. As for this glistening auburn, you can achieve it by adding a light red tint over your brunette base. Of course, the idea works best on fair complexions.
Extreme Peach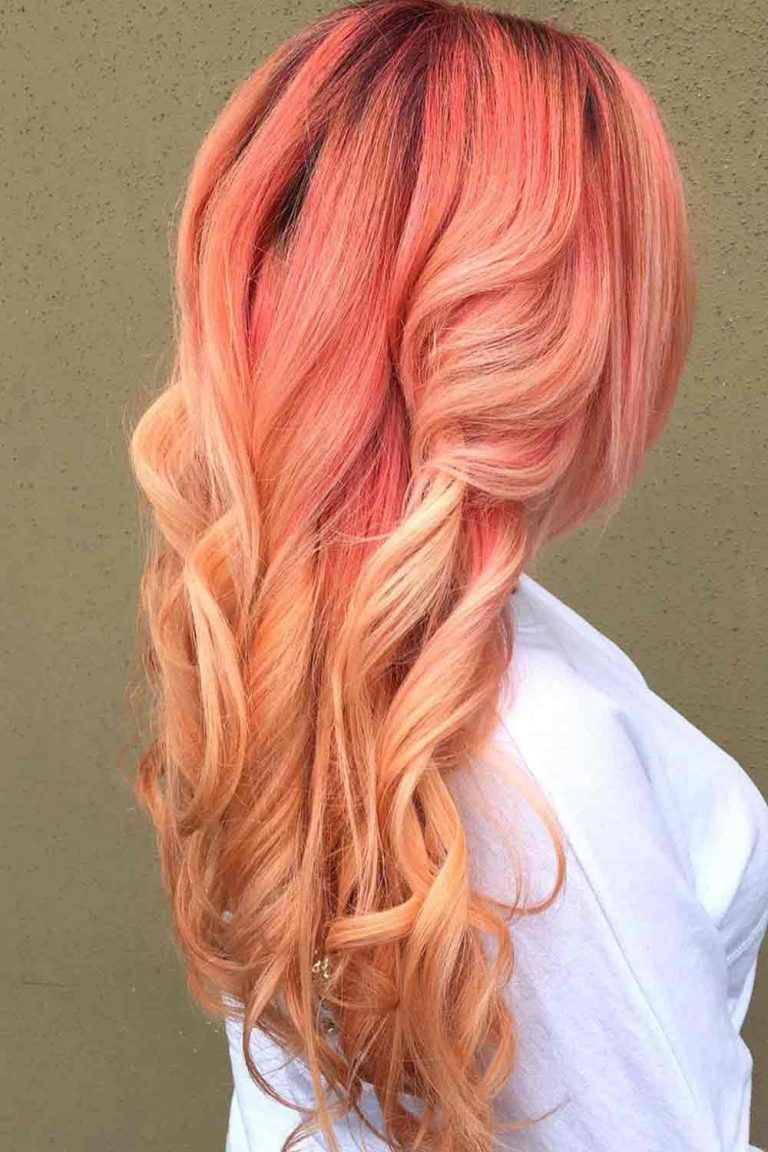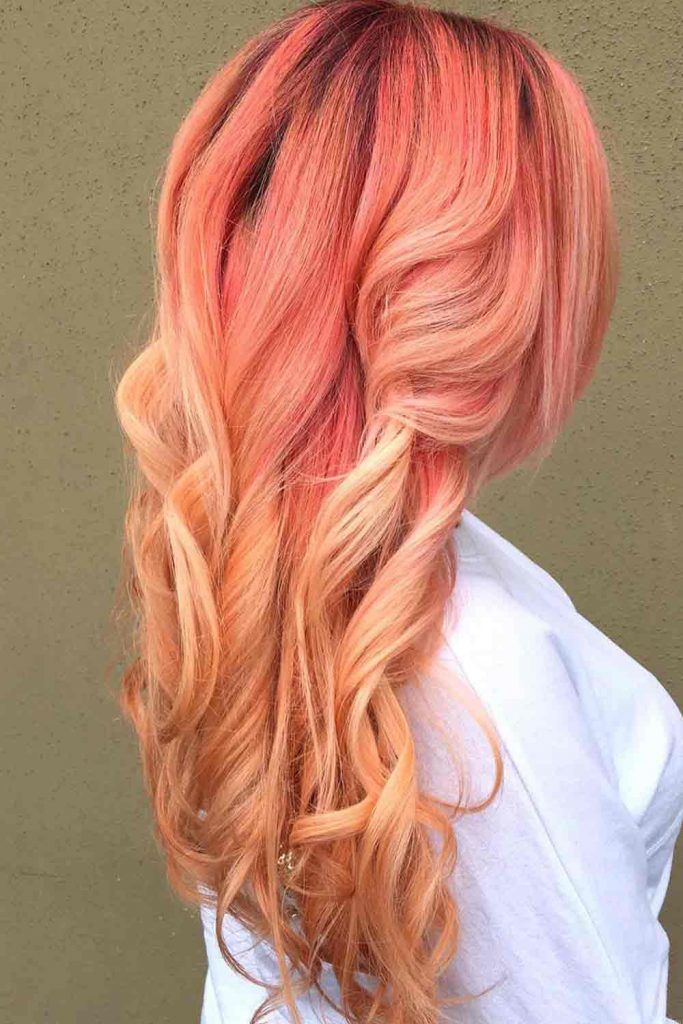 Credit photo: instagram.com/xostylistxo
While most peachy color ideas feature something soft and subtle, you can move in the opposite direction and show another side of the popular idea. Such contrastive looks can't do without red ombre, which, in its turn, should form a seamless blend with your roots. The best thing is, a dramatic shade like this will suit any complexion.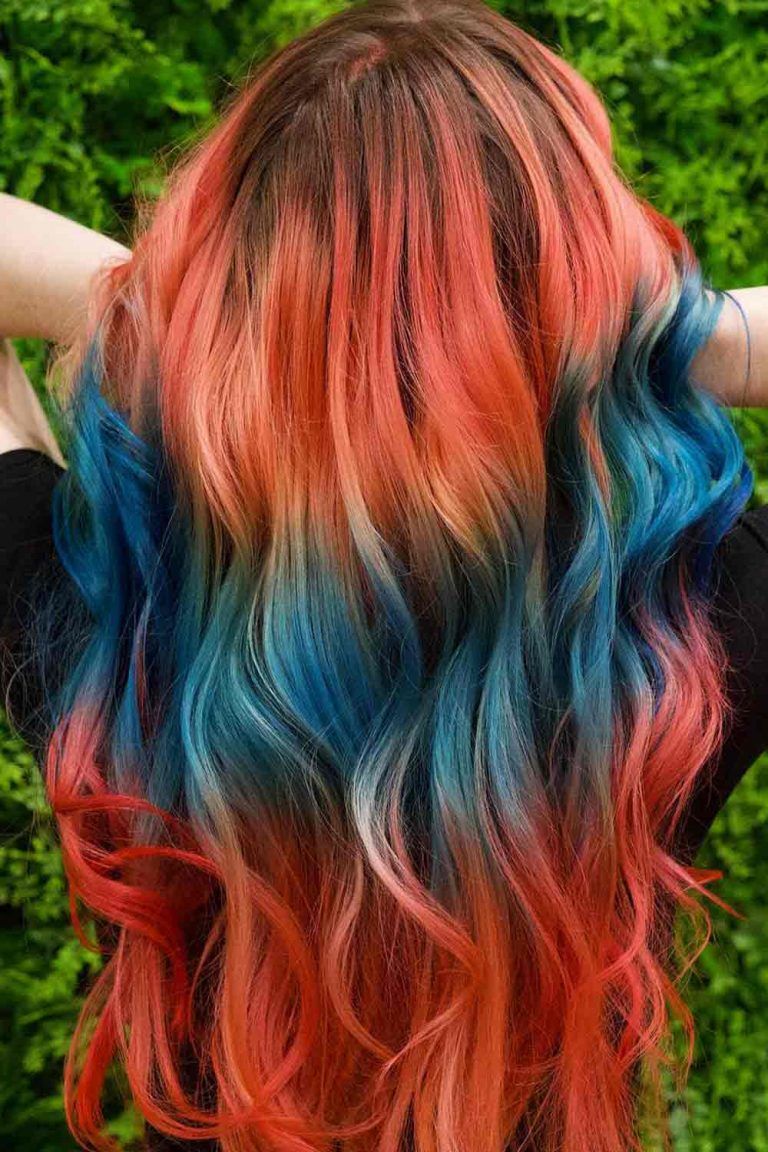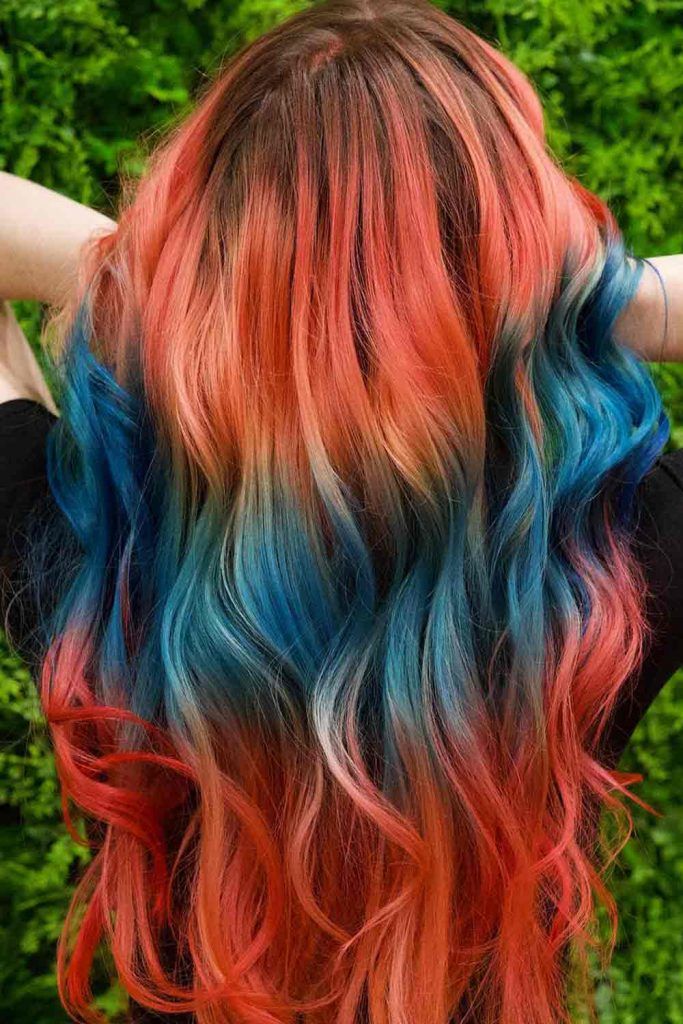 Credit photo: instagram.com/xostylistxo
Can't decide between two different colors? Don't step aside from the idea of standing out in the crowd and get them both, them! With the right color technique, even such opposite shades as blue and red will create a stunning single whole. Some hidden steaks of cold and deep color will give a totally different take at the enviable saturated ginger, putting you in the spotlight.
Bright Crimson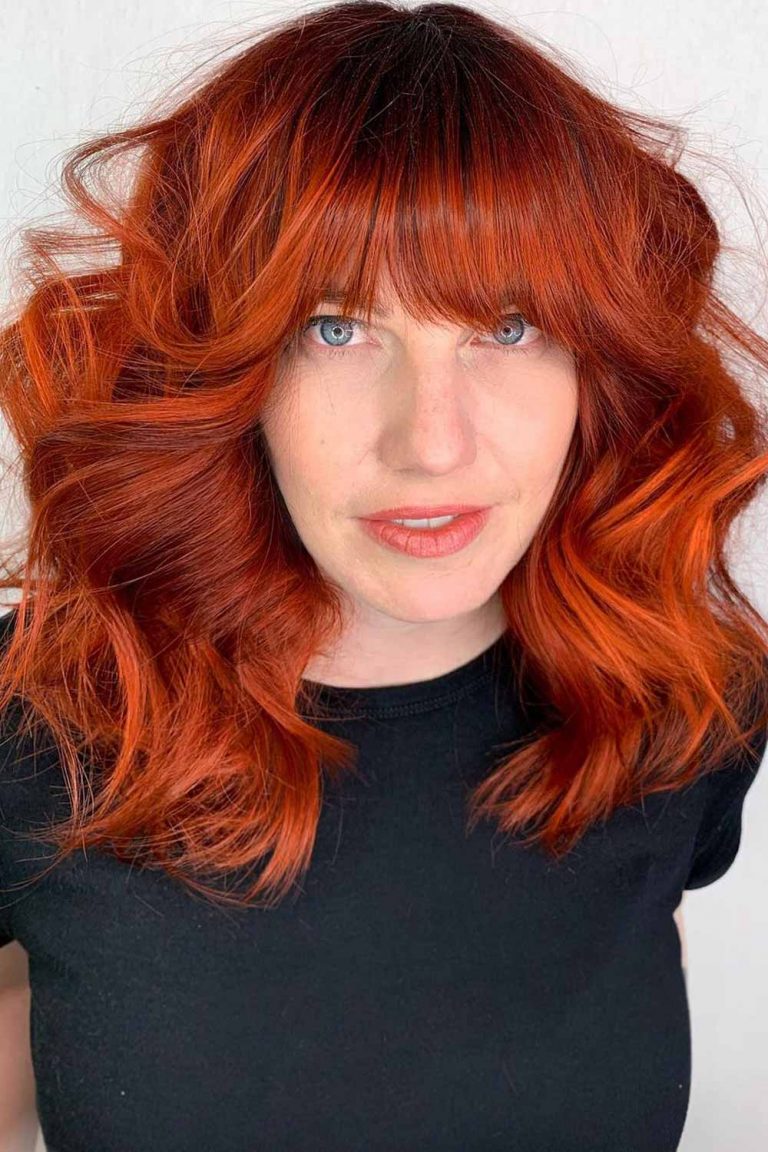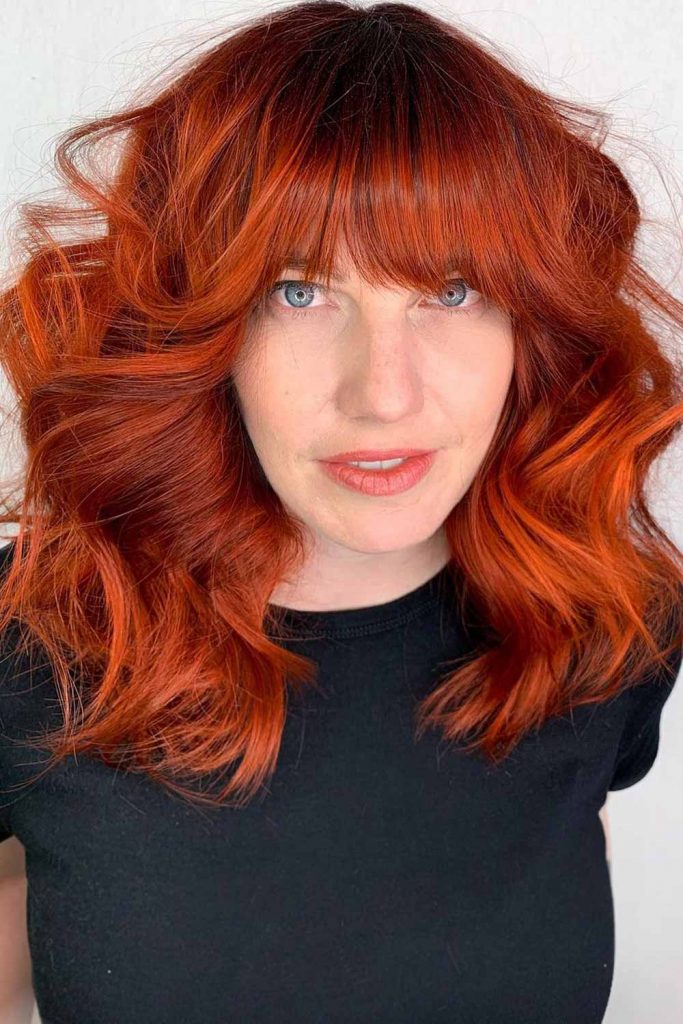 Credit photo: instagram.com/presleypoe
There's a red shade for every mood. If you want to emphasize your light complexion, creating a noble mood for your daily look, light coppery tones are what you need. And if you're one of those who want to catch people's eyes with a bright and vibrant shade of red, this bright crimson will be a gorgeous start.
Gilded Russet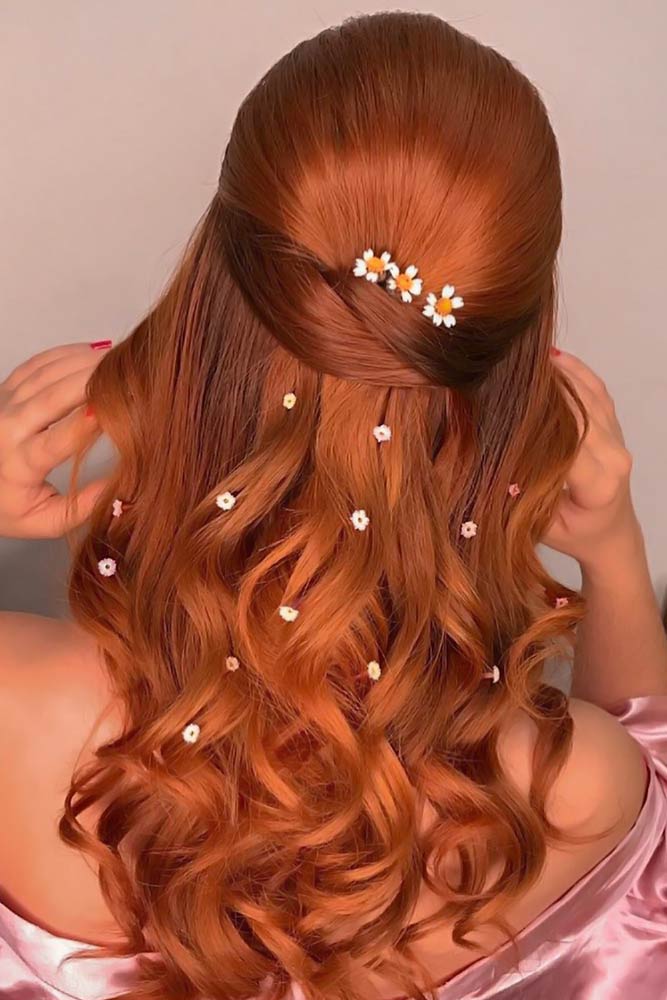 Credit photo: instagram.com/anavilaar
Another rich, illuminating, and lightweight red hair color that will leave everyone speechless. This shade will suit anything from light to medium complexions, giving a warm finish that will accentuate any outfits. Besides, if you start with a brunette base, you will have less damage, as this color consists of brown and golden-red shades.
Electric Orange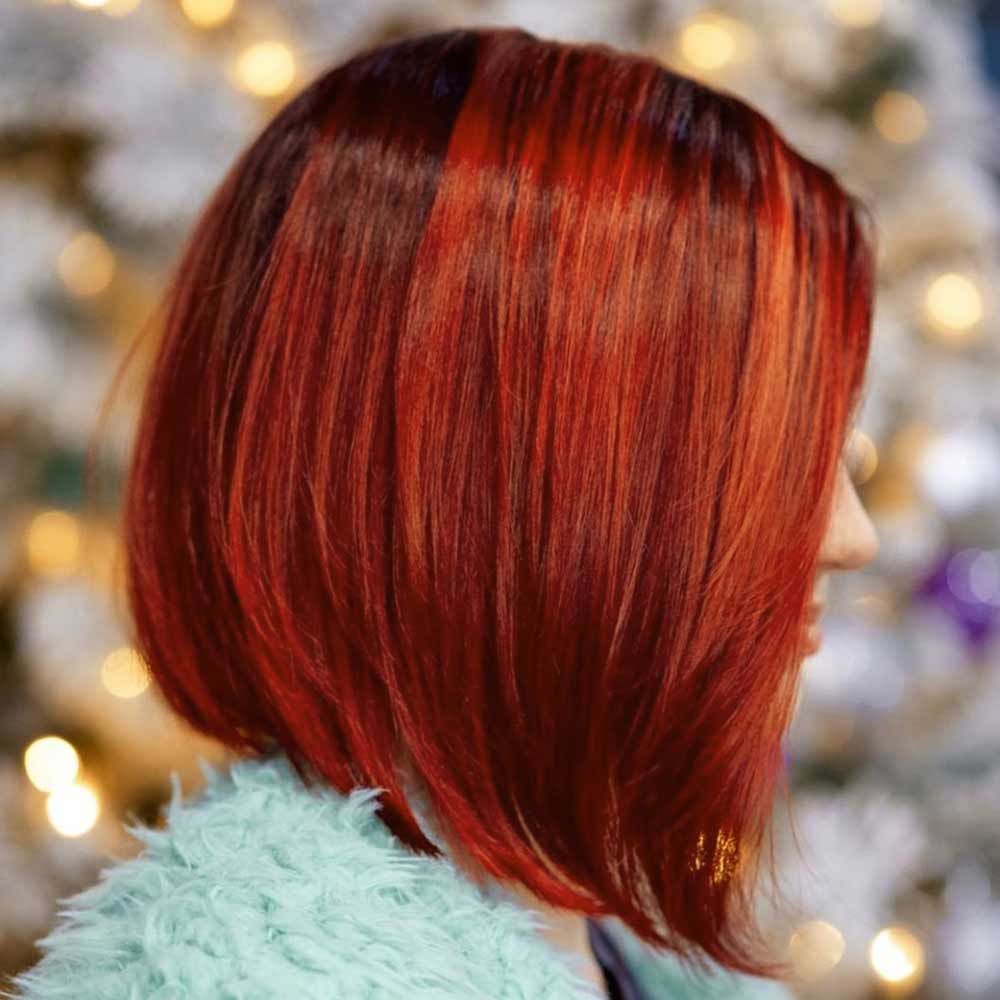 Credit photo: instagram.com/xostylistxo
When it feels like your gray life palette lacks bright colors, nothing can compare to a splash of electric colors on your hair! With such a spectacular shade, you will not only enliven your routine but also brighten up your days. To make it dimensional, ask your stylist to apply the dye as highlights, keeping the roots visible, yet well-blended.
Sangria Spice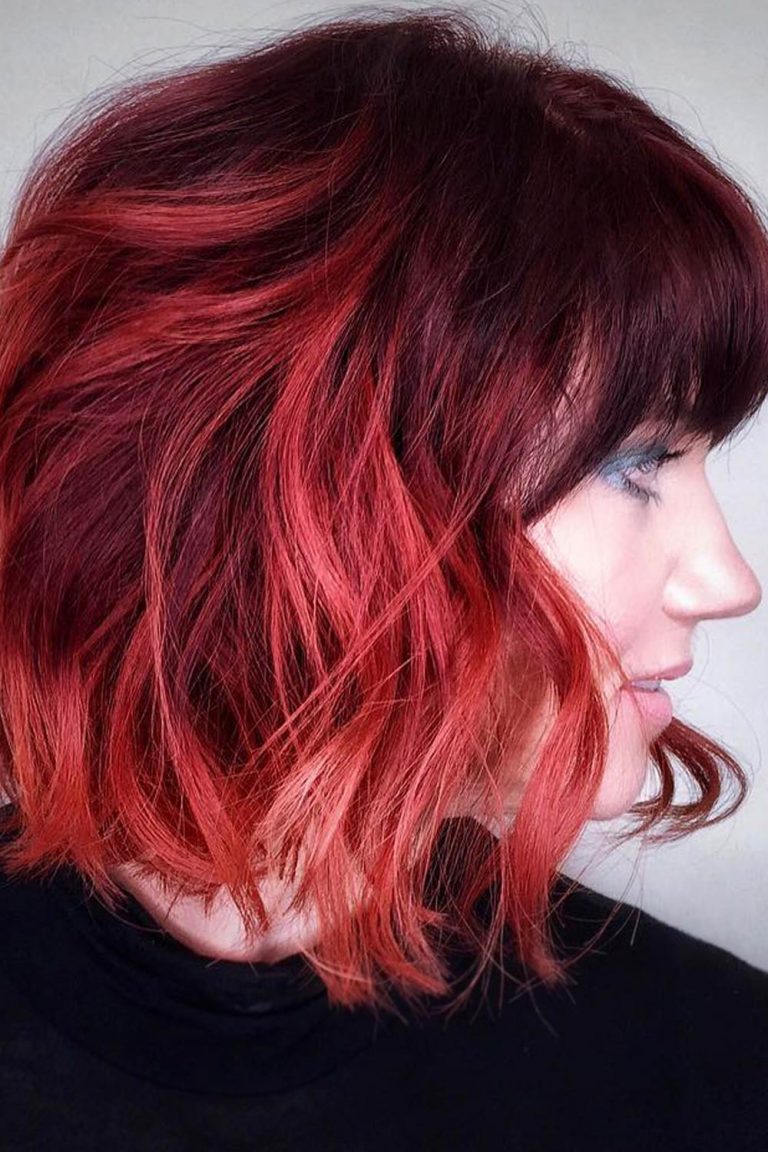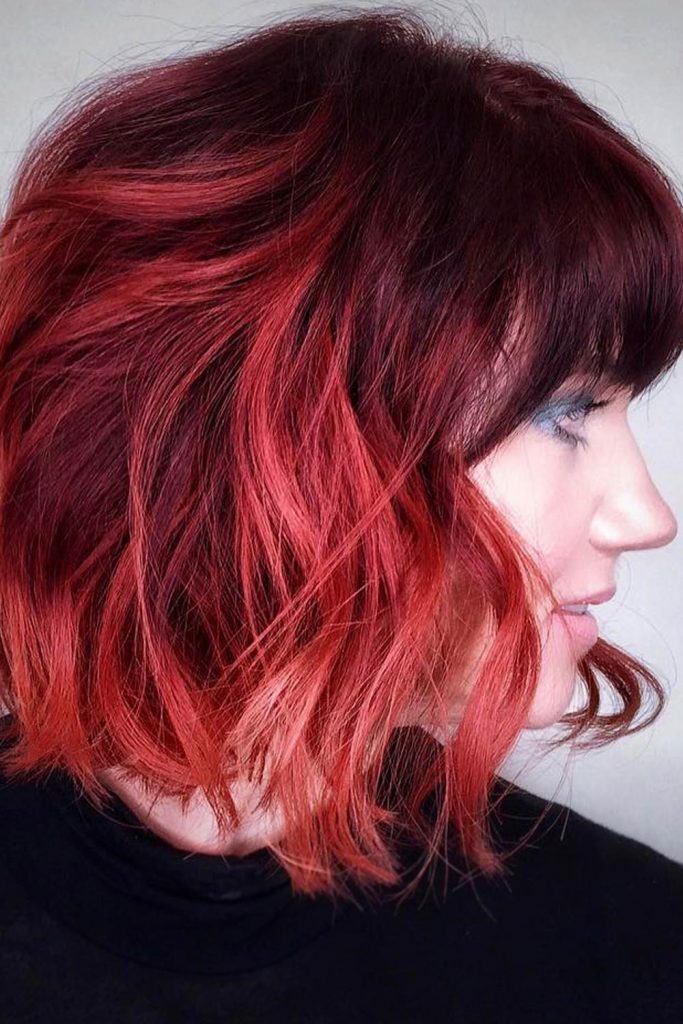 Credit photo: instagram.com/cutyourhair
How about a shade of red that can make you drunk once your eyes make a mere sip? It's hard to imagine the visual impact on those who dare to behold the dimensional beauty of dark red colors. This deep, mysterious sangria red hair color will be a fantastic exclamation point to any girl who's about to make a sexy statement. If you have a light complexion, the combination of deep dark roots and smooth transition to bloody red will bring out your noble look. As for those with medium to dark skin tones, you will love the way this burst of seduction warms up your look.
True Copper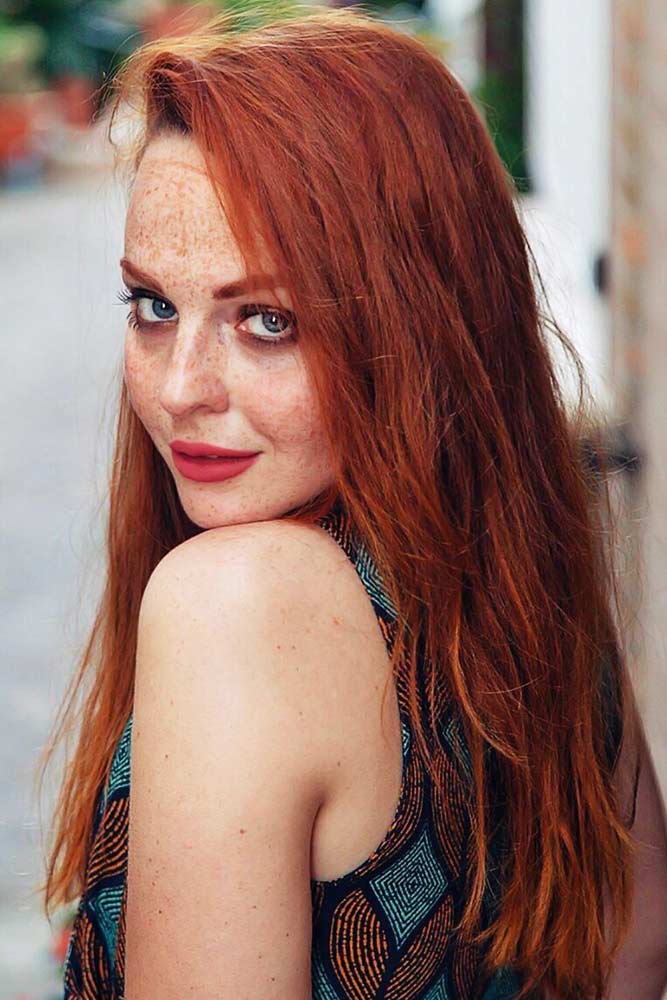 Credit photo: instagram.com/clio_._
While there is an endless variety of coppery shades, most of them look their best on fair to light complexions. In fact, such colors appear naturally only on girls with pale skin tones, so if naturalness is what you seek, keep that in mind. As for the most effortless variations of copper, nothing is more genuine than reddish-brown color with saturated redwood undertones.
Fiery Auburn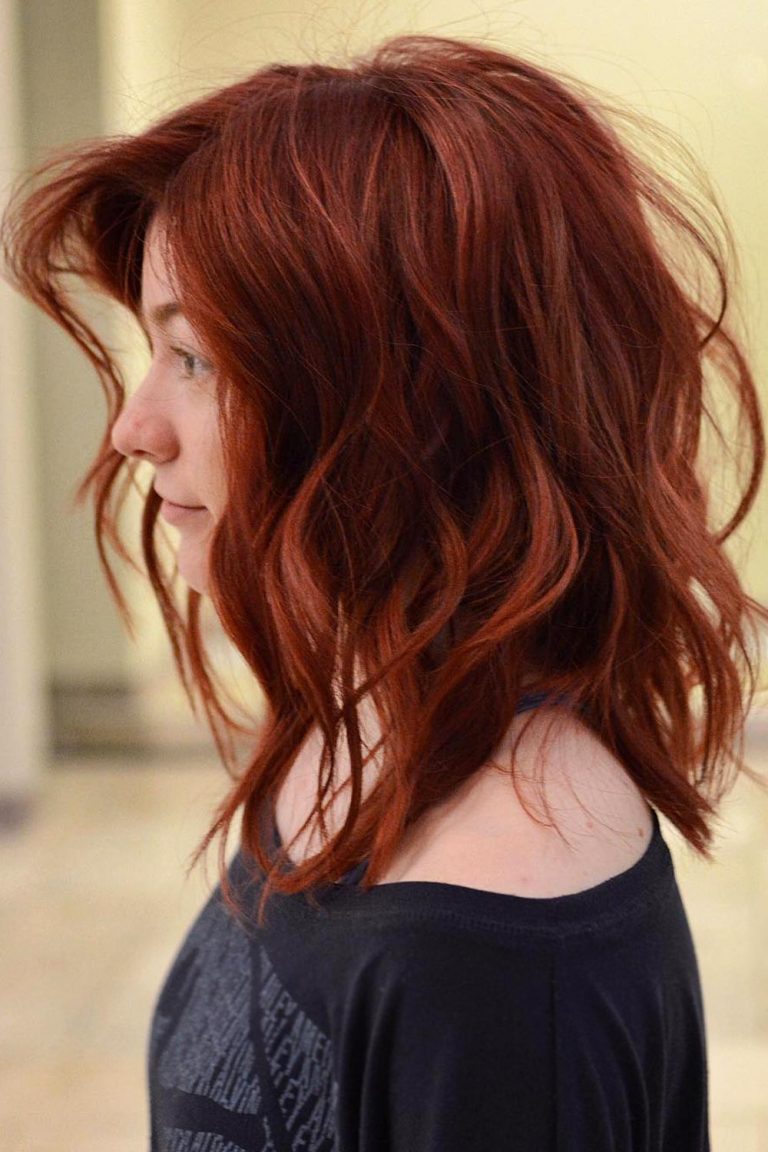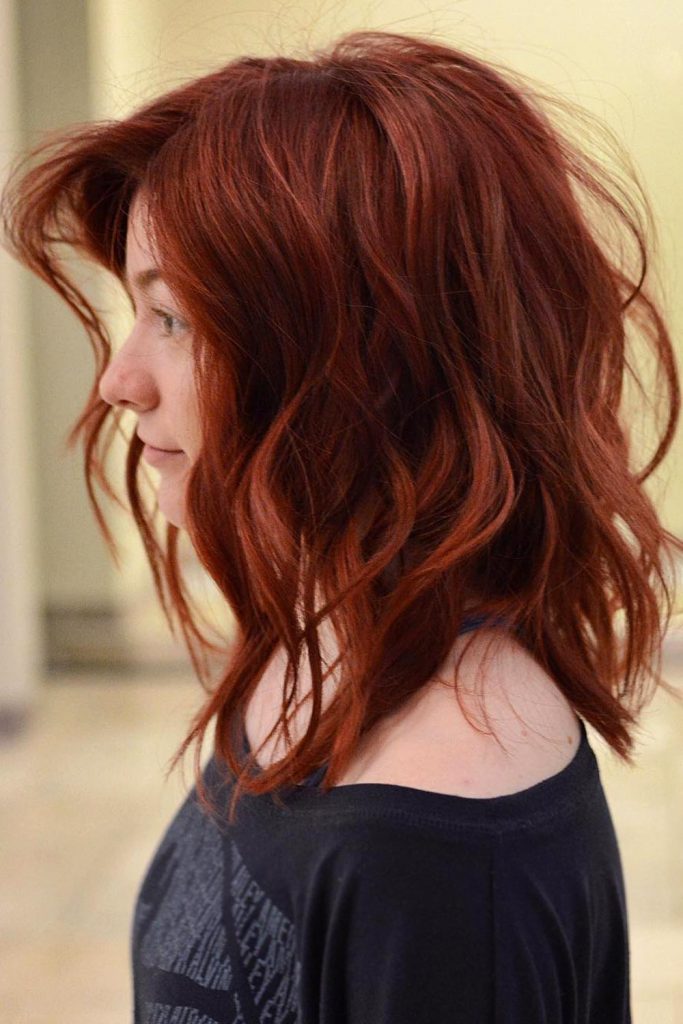 Credit photo: instagram.com/cutyourhair
Auburn is the so much desired middle ground between red and brunette hair colors. Also, it's a fantastic option for women who'd like to add a hint of reddish warmth to their brown locks without stepping out of their natural colors. Coat your brown shade, whatever it is, with a burning fiery auburn to bring out your hazel or green eyes.
Amber Glaze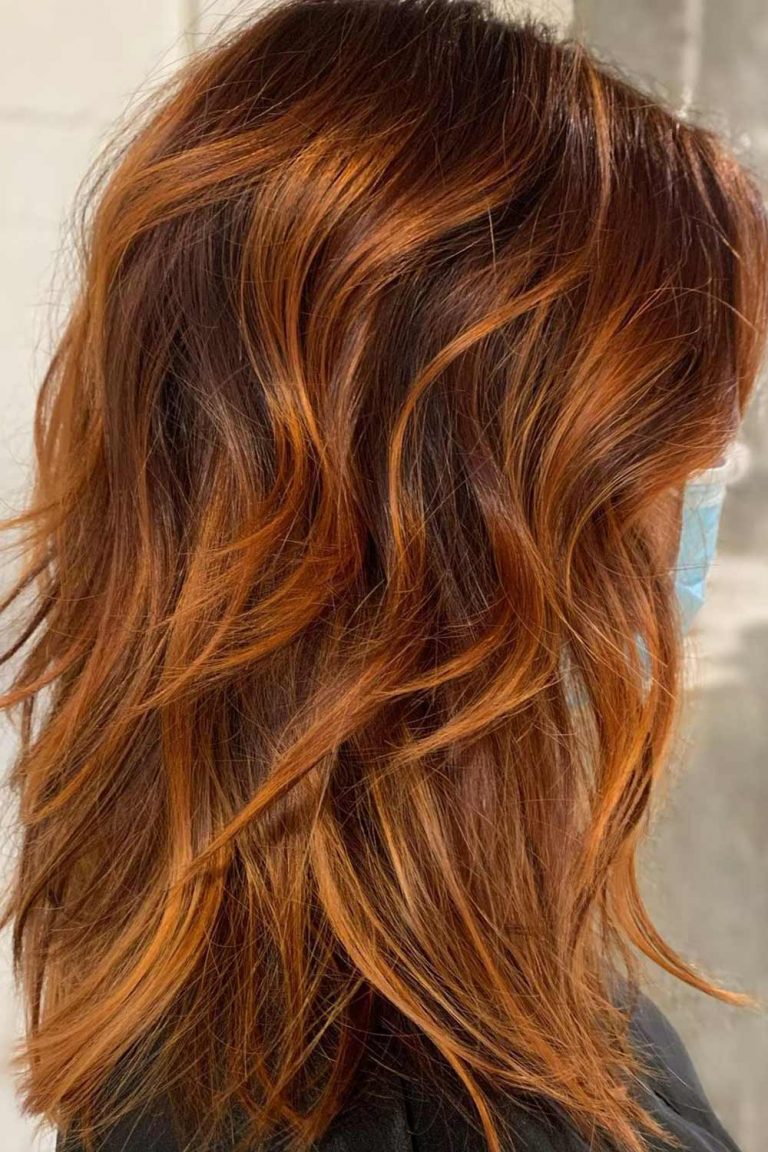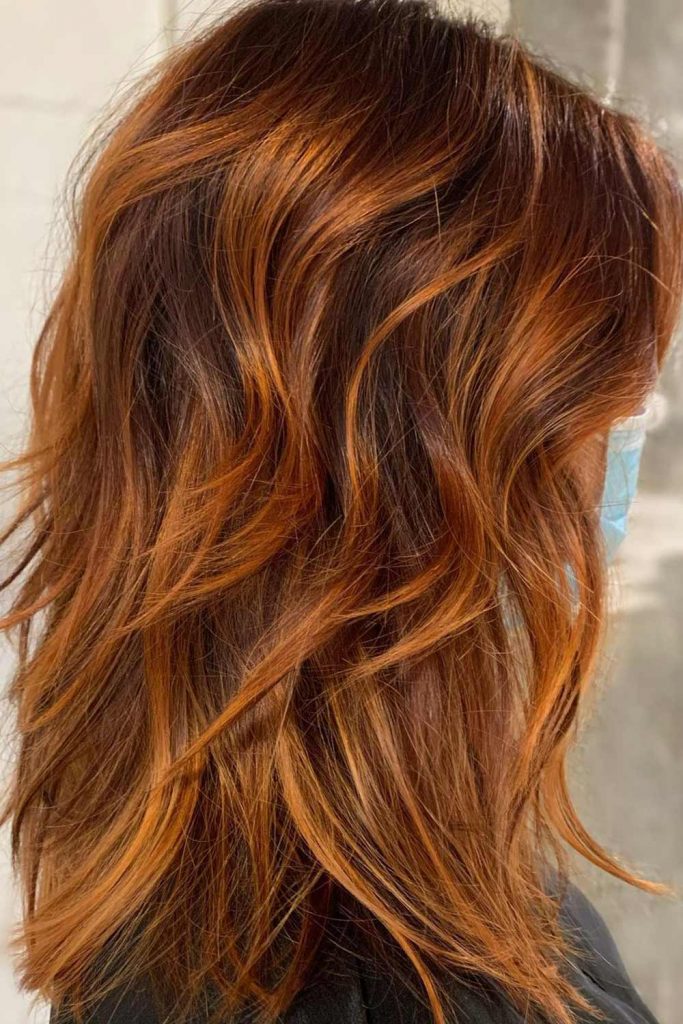 Credit photo: instagram.com/hairbykristinamarie
If a colorist thinks like an artist and takes the hair as a canvas for masterpieces, the color session results in not hair colors, but pieces of art. And this amber glaze is a perfect example of such color jobs! The way the amber is applied does look like a glaze: it covers the brunette base softly, yet saucily, providing tons of natural shine and dimension to the hair. What makes this idea so special is the color placement: it's applied strategically to leave the charm of natural locks present.
Copper Red Gloss For Brown Hair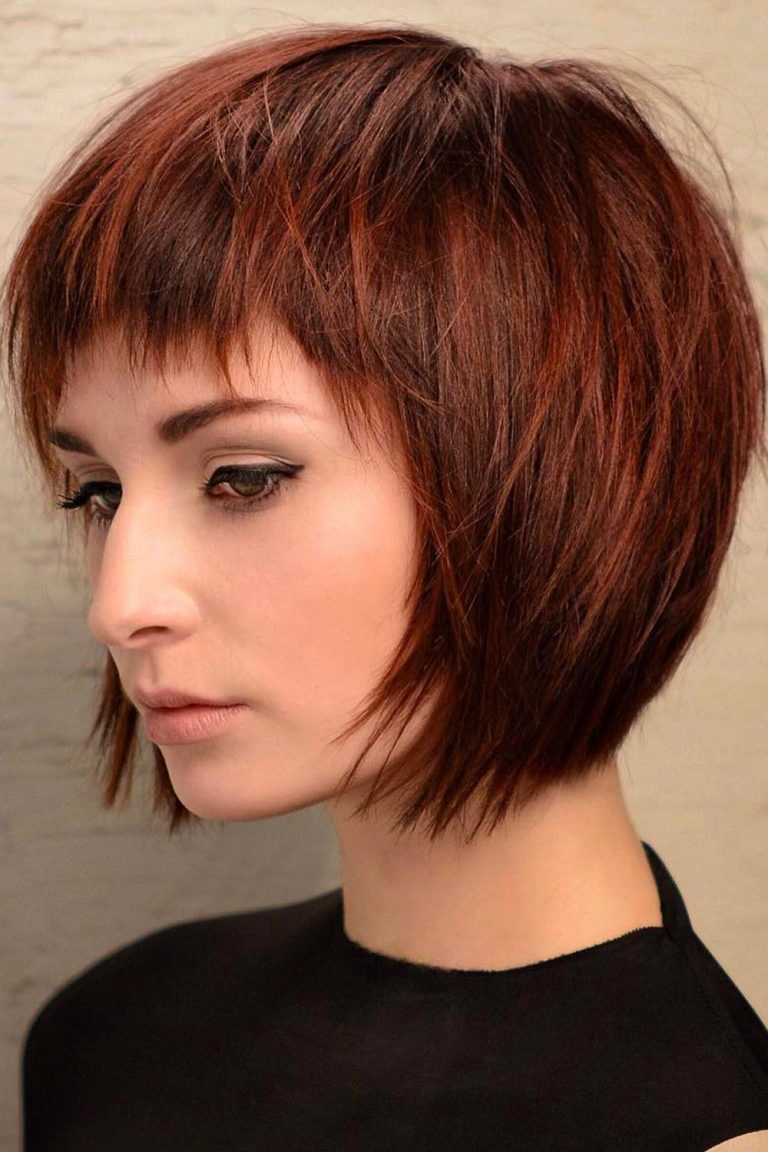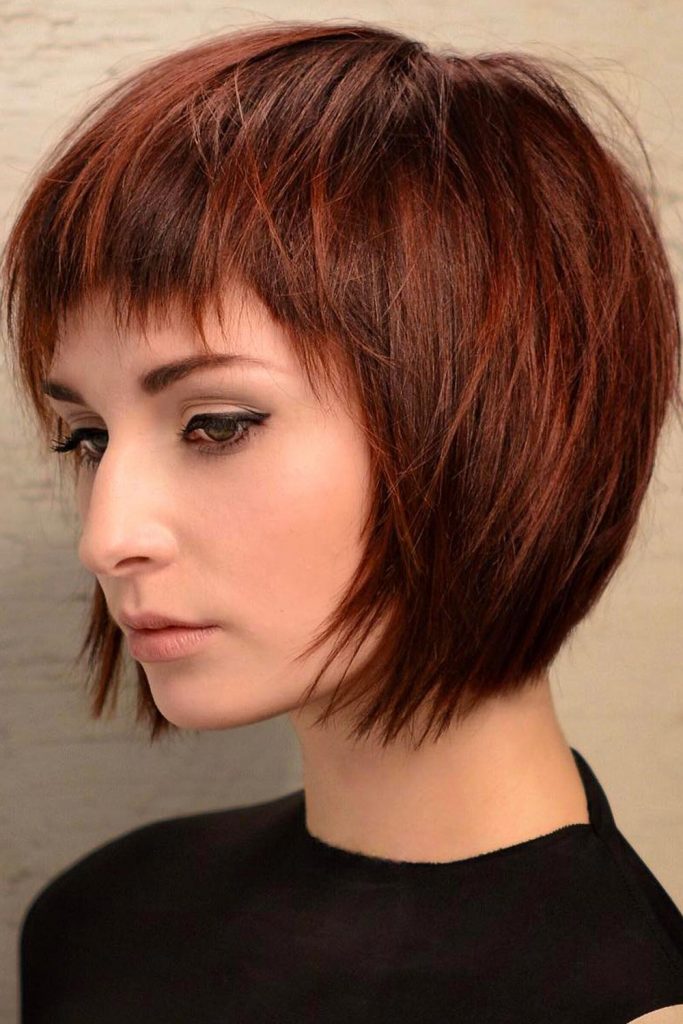 Credit photo: instagram.com/cutyourhair
Ever wondered what would happen if copper and deep red colors were mixed? Well, here's the answer that goes beyond any expectations. The color is bright, yet deep, and red, yet with brownish hints. If you have a closer look at the idea, you will see that the coppery portion works for the glossy finish, and the red color builds balance with the brown base. Together, these shades give birth to the classiest red hair color that suits all complexions.
Cranberry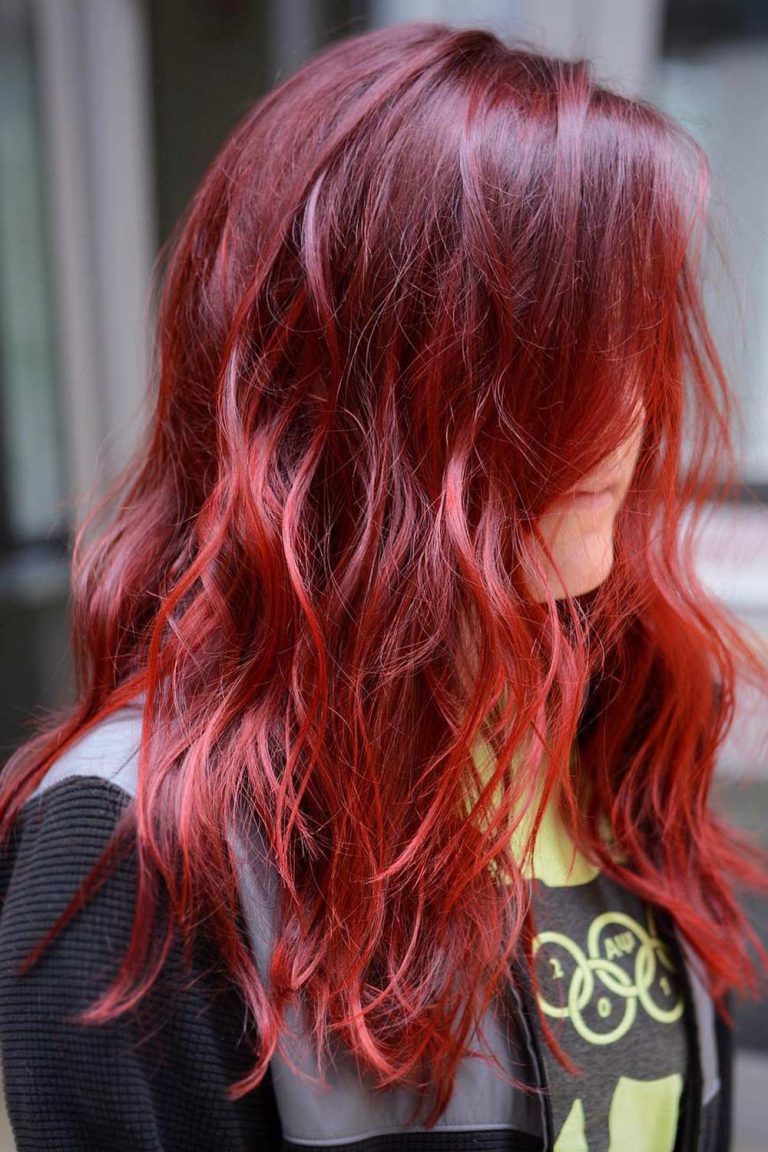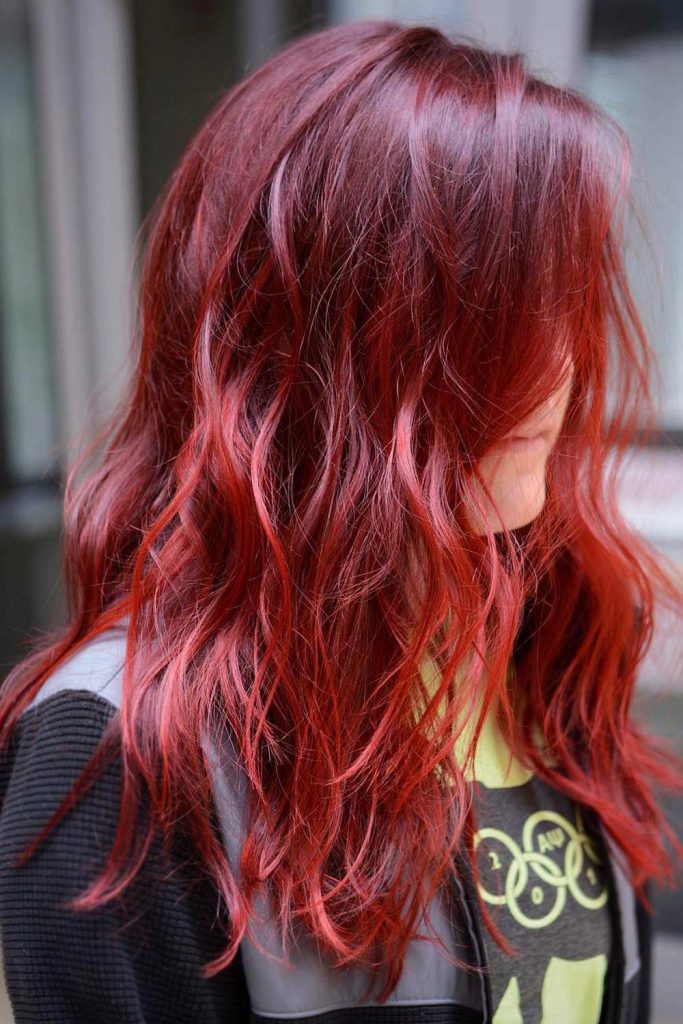 Credit photo: instagram.com/cutyourhair
Red is different, dramatic, and unexpected. In the right hands, it can be anything. Anything but basic and boring! Cranberry hair color clears the line between red and purple hair colors, forming the beautiful in-between. If you feel that you belong to the spotlight, this would be the perfect way to stand out in the crowd.
Cherry Red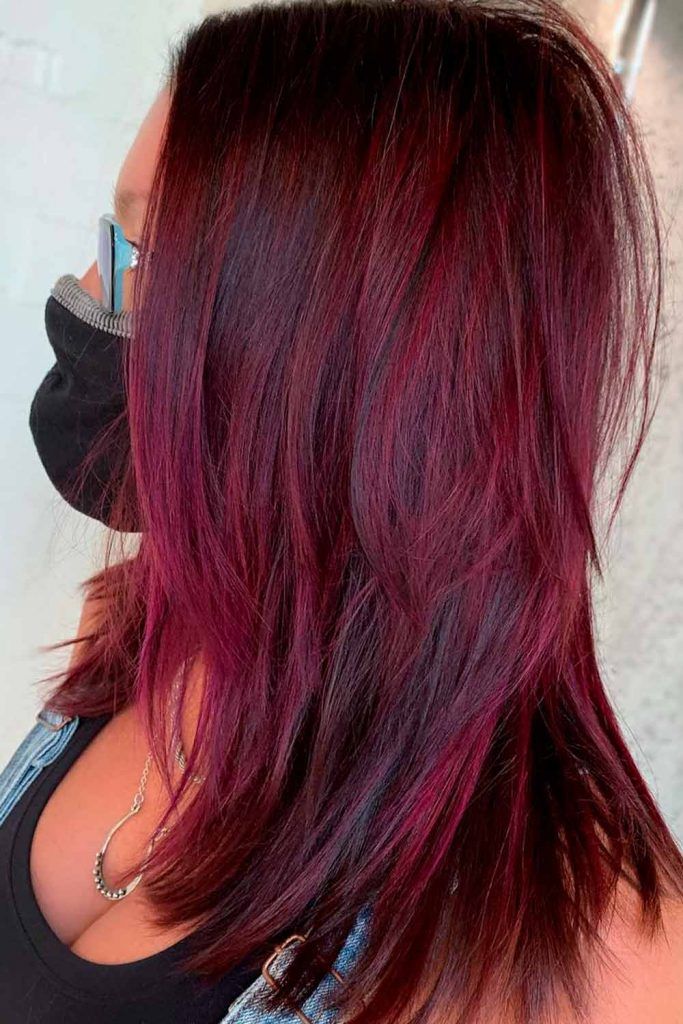 Credit photo: instagram.com/hairbykristinamarie
Cherry red is a whole new level of red hair. It has a purple undertone, yet still has a prevailing red base. From some perspective, it may reflect brunette vibes, and once the light shines on it, it will show its fiery side. In other words, if you like being different, you won't go wrong with this shade.
Bright Fiery Coral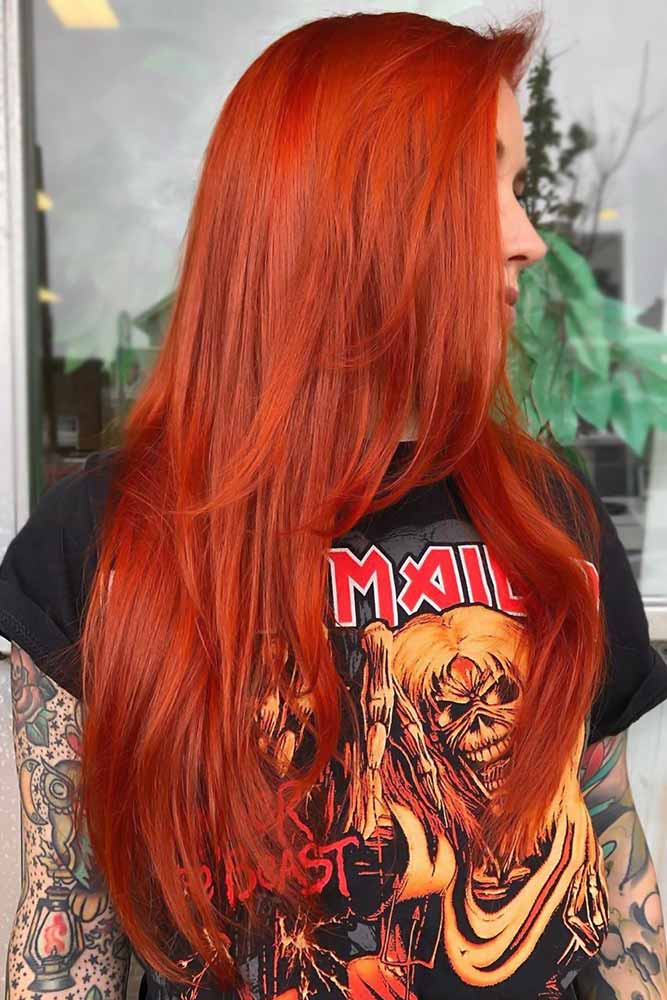 Credit photo: instagram.com/hairsoakedinbleach
How about some rock-and-rolling red colors that look just like flames? Set the temperature of your coral red to the highest setting and you will get a shade that will turn you into a rock-and-roll queen! Of course, such saturated color work best on light complexions, as the contrastive finish is what makes them look so big.
Copper To Magenta Color Melt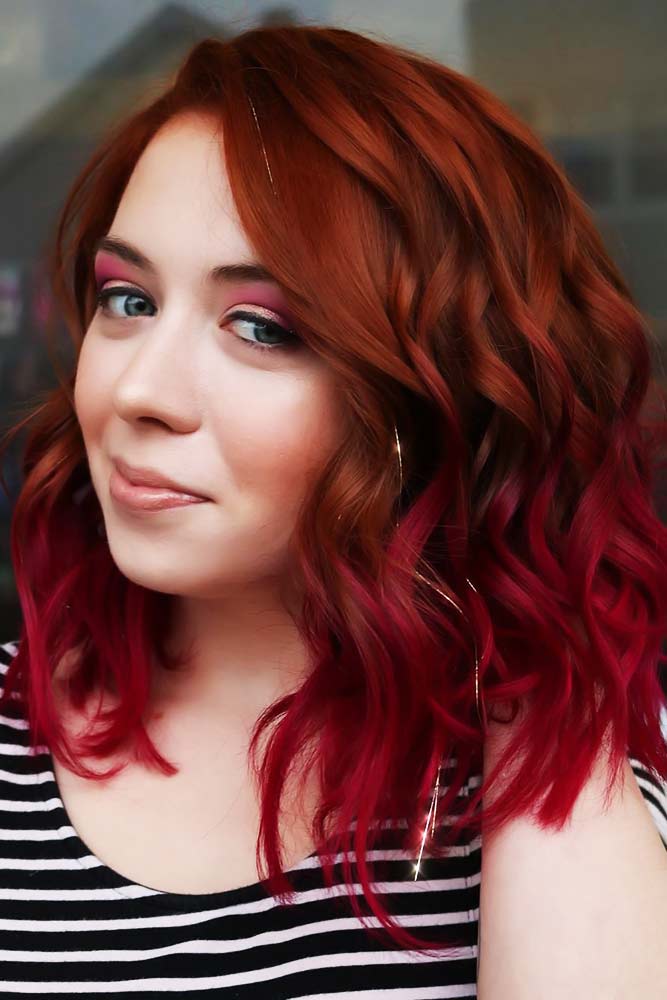 Credit photo: instagram.com/hairsoakedinbleach
As it turns out, copper and magenta can be a good team! Obviously, the secret of making these colors match lies in ombre. Let the deeper shade sit on the roots and apply the bright one to the ends. It will not only help you to create a harmonic look but will also save your hair from damage. Since brighter colors require bleaching, it's better to apply them to the ends, as it's harder to restore damaged roots.
Intense Ombre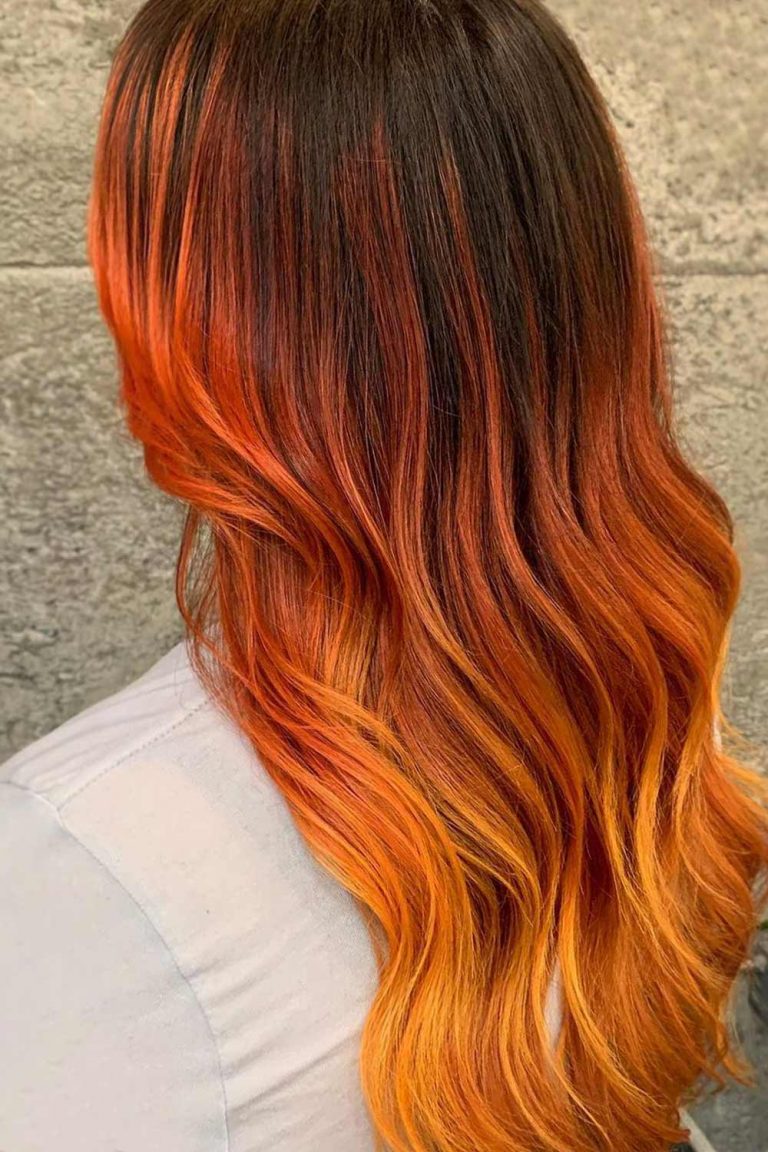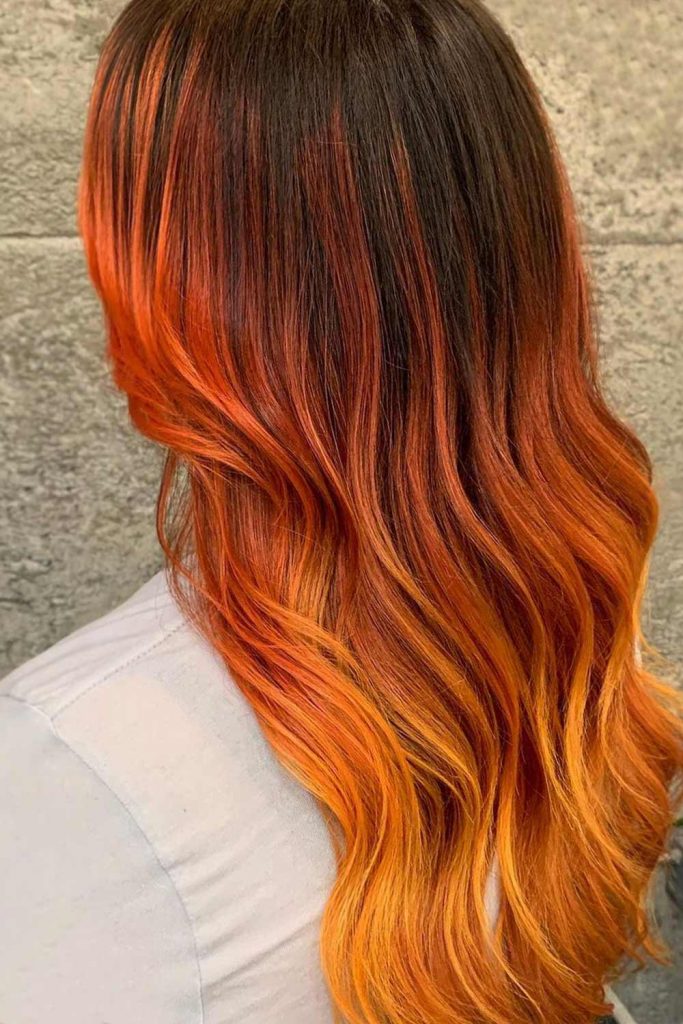 Credit photo: instagram.com/hairbykristinamarie
When such coloring technique as ombre broke through, it screamed with vivid and dramatic contrasts. Then, it started to change, evolving and becoming more and more diverse. Today, you can come across anything from subtle and airy to saturated and glaring. At the same time, you can find the middle ground of them, as this technique is versatile enough to be customized. Here, you can see gorgeous luster produced by various warm shades of red applied vertically. Well, that's only one of the endless ways to make ombre play by your rules. As for the color, it's a fabulous mix for light and warm complexions.
Scarlet Siren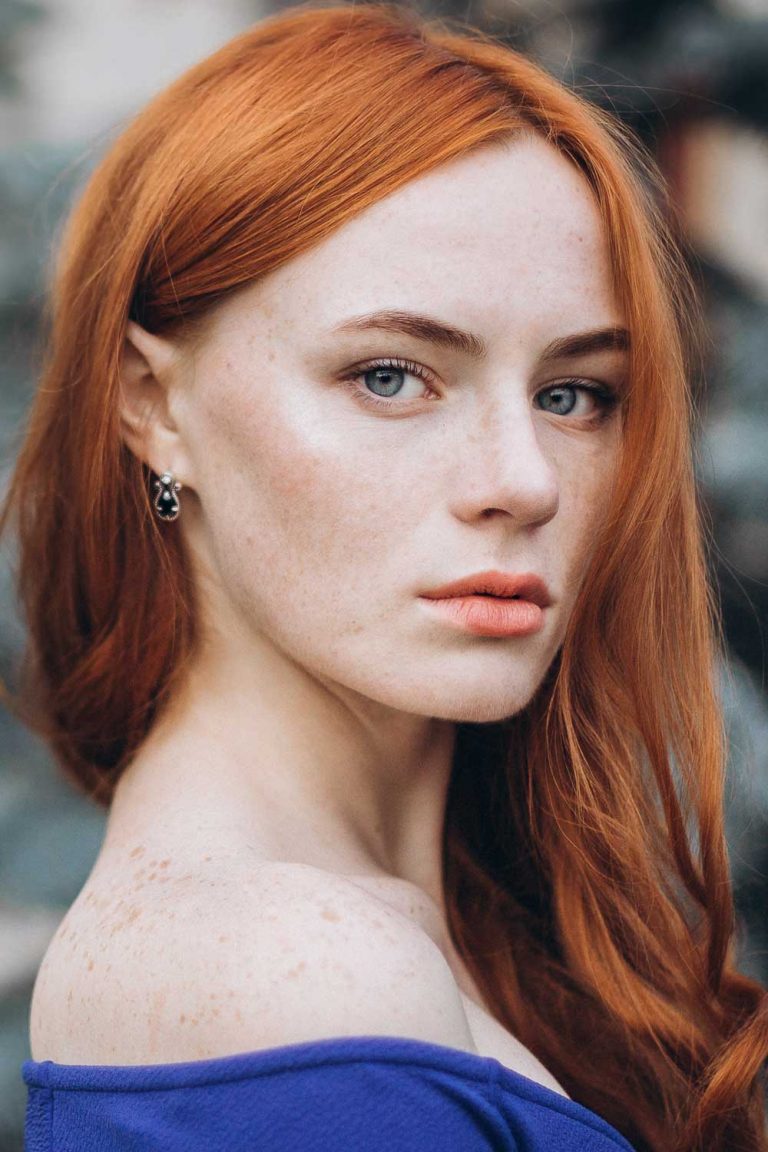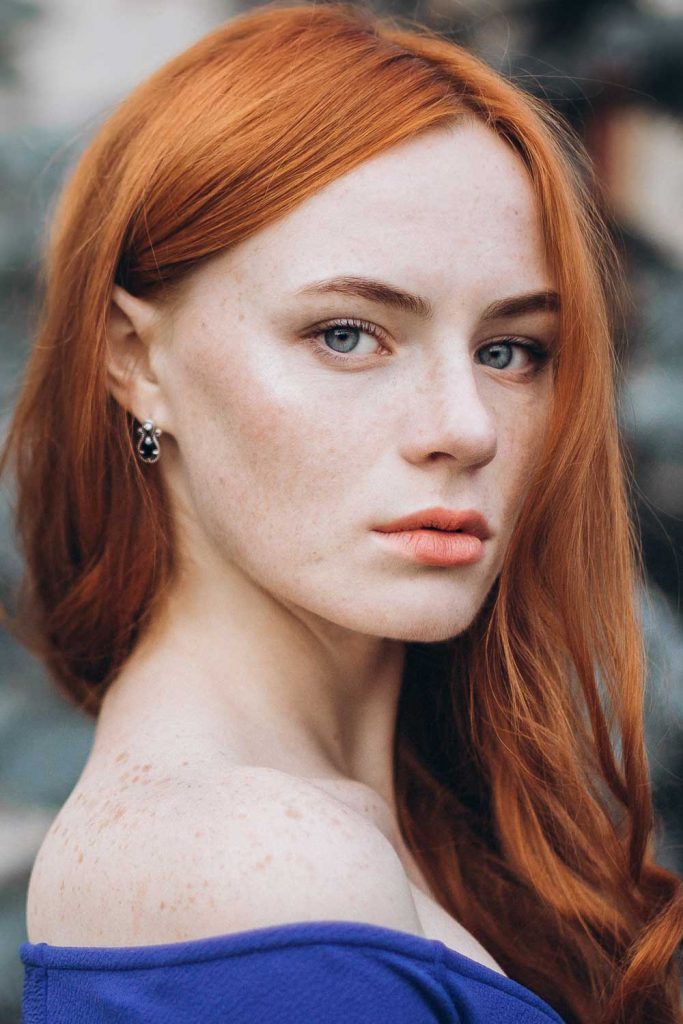 Credit photo: shutterstock.com
Everyone loves to wear trends. But, how about you to move in a slightly different direction and diversify trends? In this way, you can outsmart modern mods and create something brand new. Let's take ginger red, for example. There's no need to tell you how popular it is. Instead, we'd like to show you how you can make it your signature look. First, take ginger as a base. Then, ask your stylist for a seamless balayage, adding classic coppery and a few scarlet tones. Apart from that, you can also spice up the roots and midshafts with a bit darker bronze-ish color to make the color dimensional.
Copper-Gold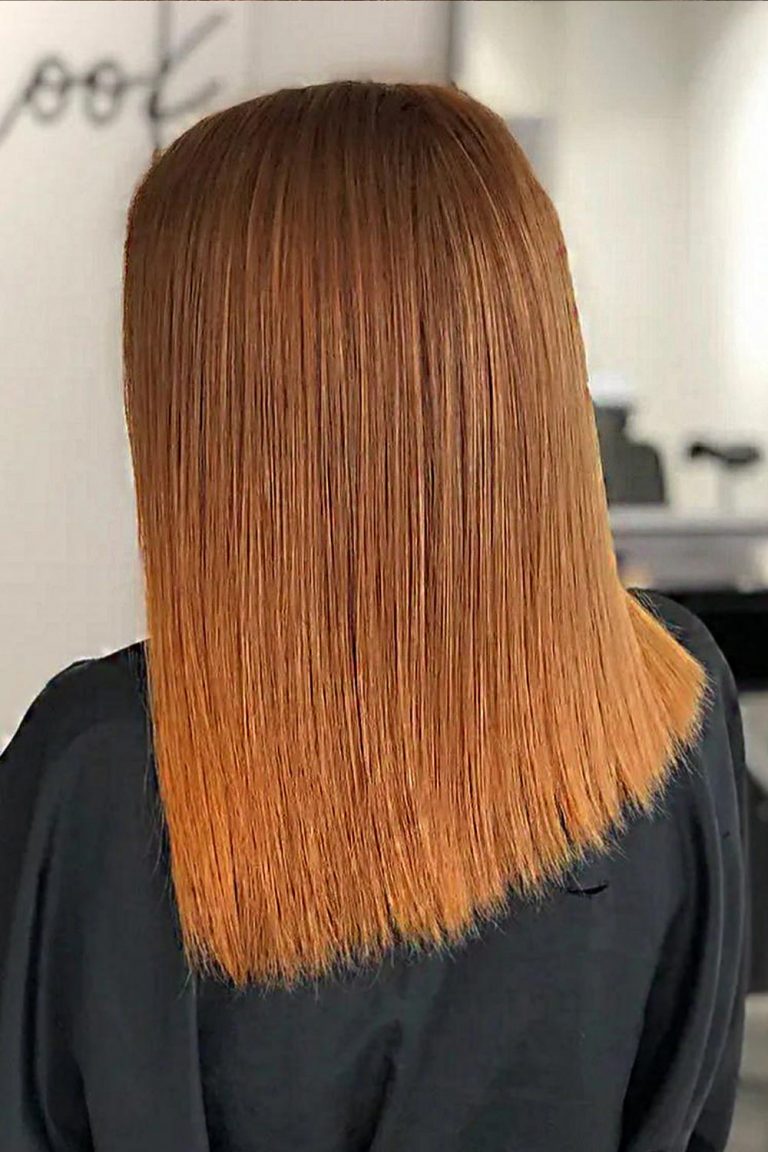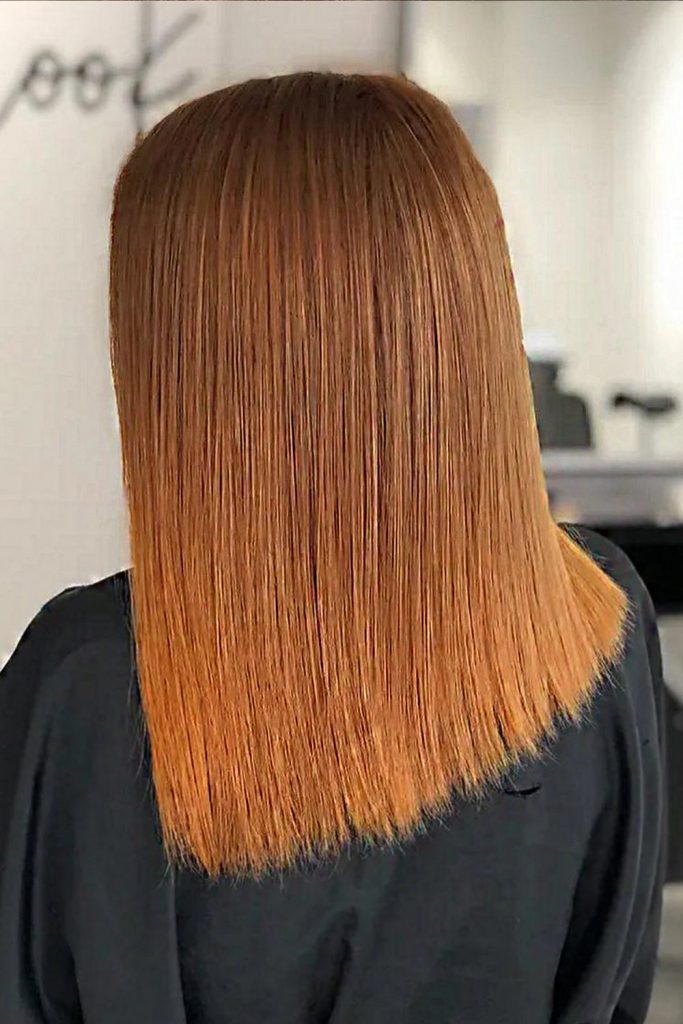 Credit photo: instagram.com/valeria_haircolor
When we are in search of new creative coppery ideas, we always know that we will not end up without a totally game-changing shade. To tell you the truth, copper hair color chart is always one step ahead of any trends, so it knows how to keep on impressing women. And here's something we've all been waiting for: a muted copper-gold shade. On medium and warm skin tones, it will literally build perfect balance and harmony for the whole look. Plus, if you pair it with nude makeup, you will look fabulous and natural at once.
Auburn Highlights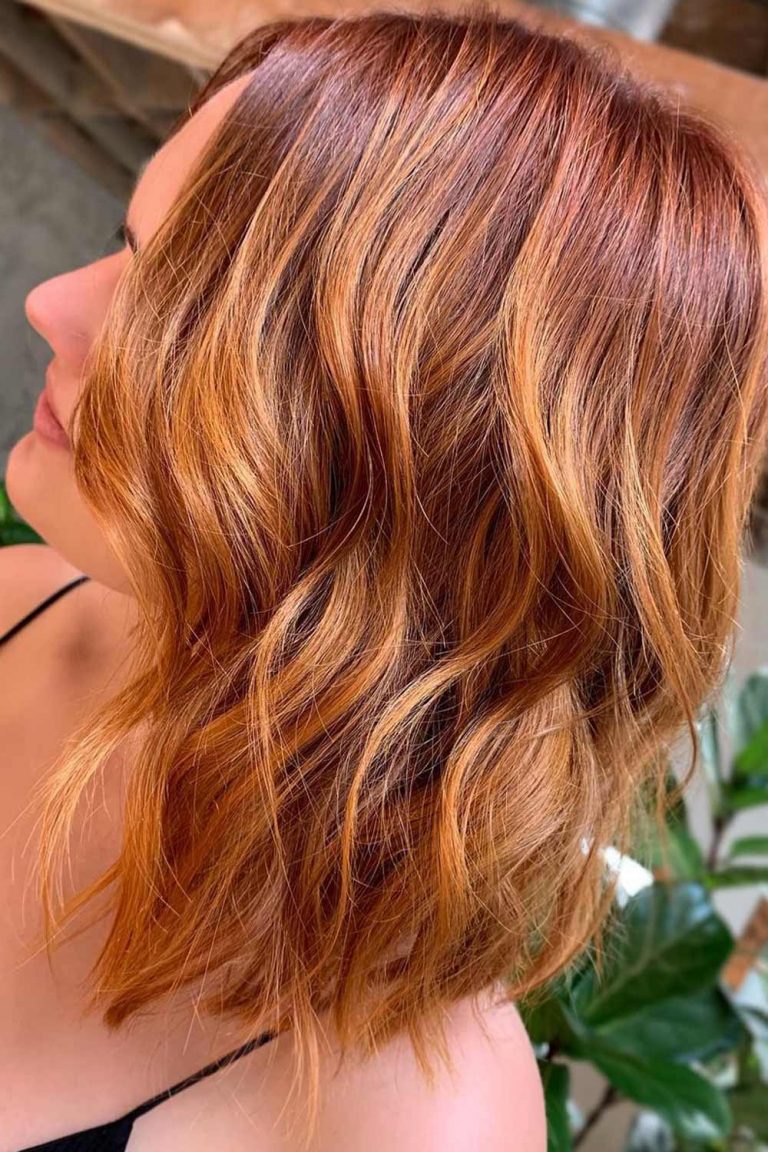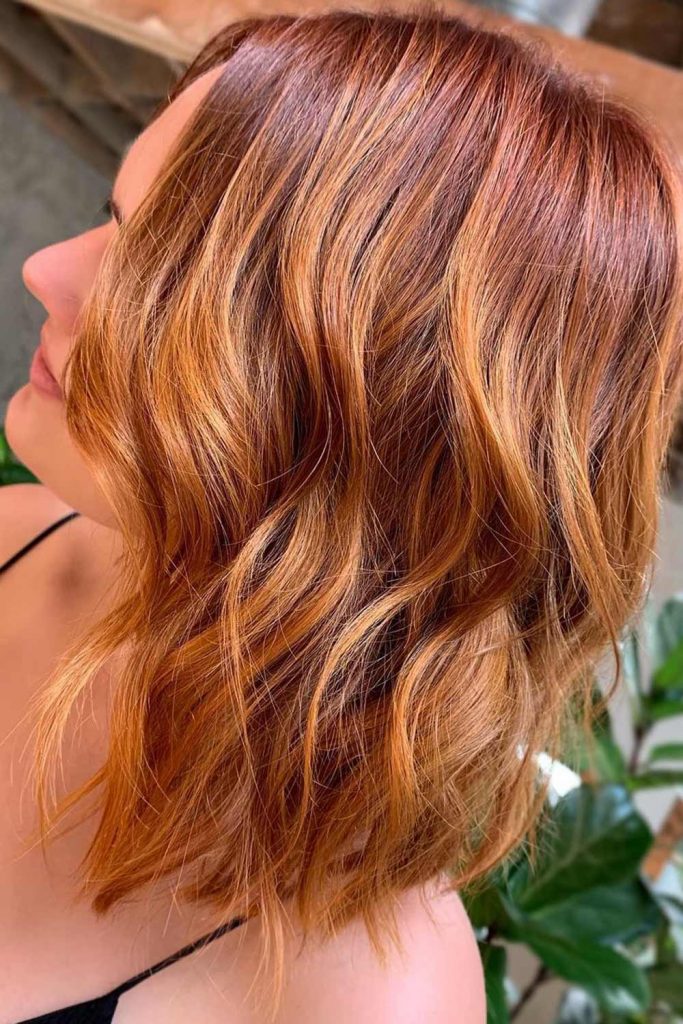 Credit photo: instagram.com/hairbykristinamarie
Highlights just never get old. There are so many ways to enhance your look with them that there's no way they will ever leave fashion. Before going for them, ask yourself what kind of look you want to achieve. You can lighten up or deepen, as well as create a contrast or harmony of colors. In this pic, for instance, highlights are almost unnoticeable. However, if you take a closer look, you will see that the light shining down on the strands is the result of perfectly chosen highlights. Combine a couple of auburn hues, go for nicely blended highlights, and bless your reflection in the mirror with an amazing reflection of warm lights!
Orangey Red Ombre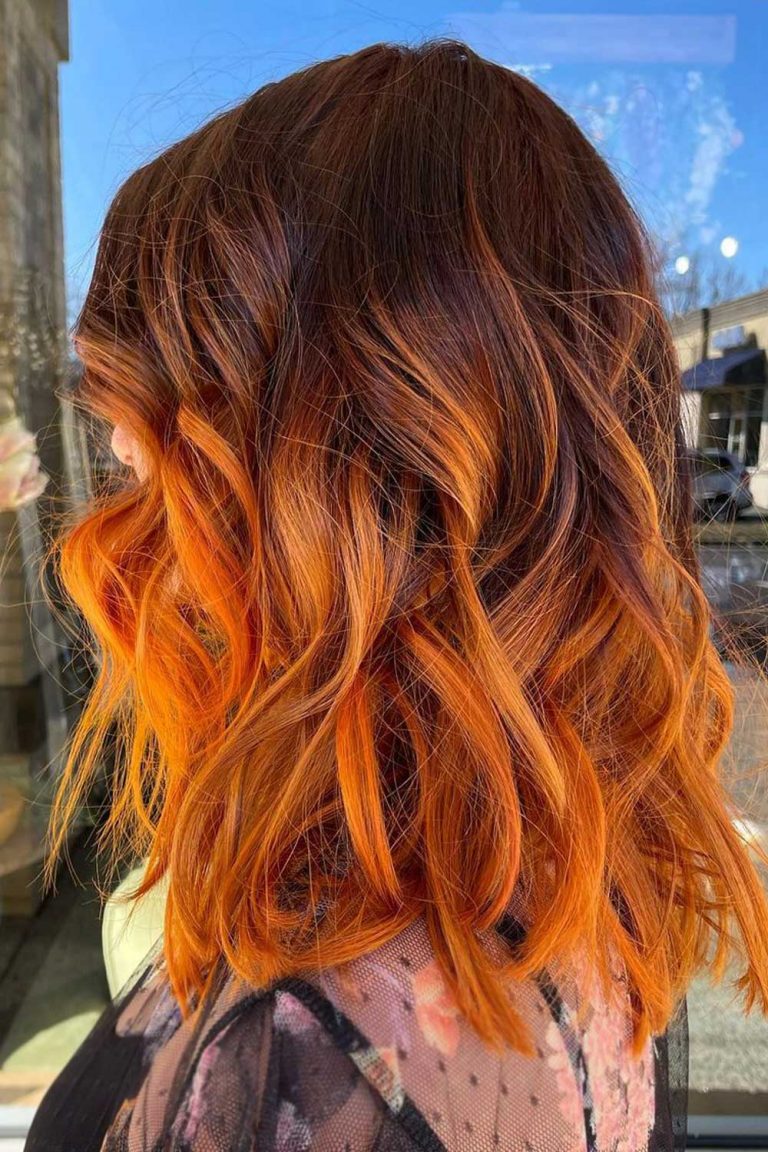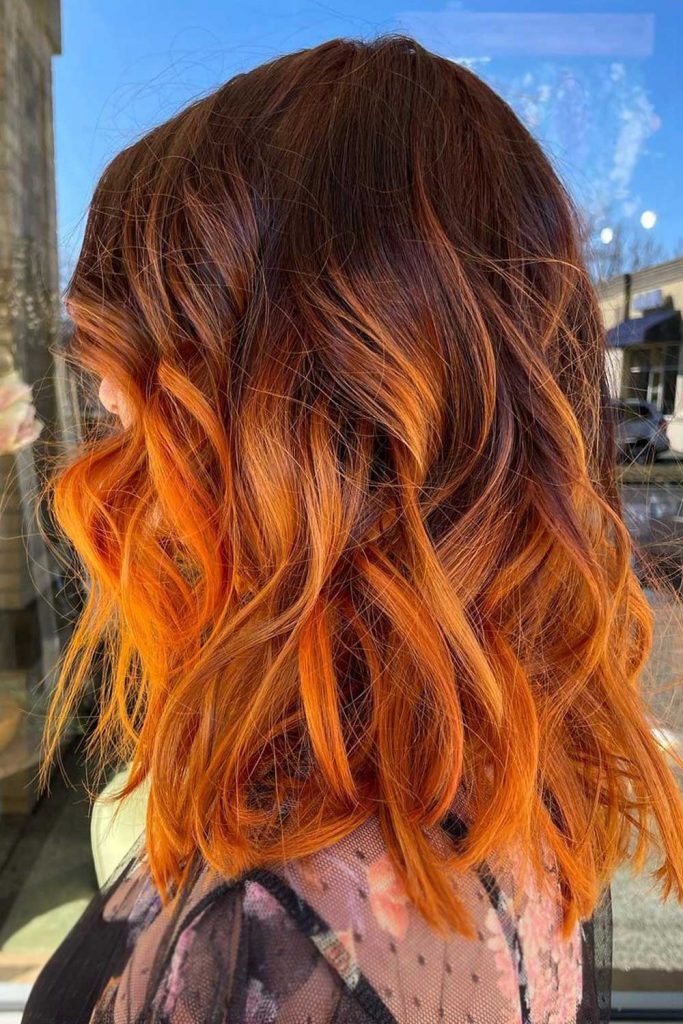 Credit photo: instagram.com/xostylistxo
How about you to amaze everyone with the purest form of ombre? Yes, we're talking about the good old dark-to-light combinations. Only this time, we'll show you this idea in the red hair context. Those who have brunette hair colors can lighten up only the midshafts, while other bases will require total bleaching. An orange hue will be a breath of fresh air to your brunette base that will show off your bright self.

FAQ: Red Hair
Why is red hair so rare?
According to the National Institutes of Health, red hair is linked to the MC1R gene,
a recessive and rare gene found in only around 3% of the people living in the world. To have a red-haired child, both parents must have a copy of the gene, and the feature frequently skips generations.
What ethnicity has red hair?
Celtic people have traditionally been connected with red hair. The Celts are often described as redheads by the Greeks and the Romans. The Romans expanded the definition to include Germanic people, those they often encountered in southern Germany.
Are redheads smarter?
Yes, according to the new research from the Intricate Mind Institute, redheads are generally smarter than other people. There are, however, some clever redheads out there who will throw you off the "brand" and make you believe they aren't bright at all.