The Most Flattering Red Hair Shades For Your Skin Tone
Ready for a drastic hair change: what about red hair? This color definitely makes a lasting impression and there are so many shades to choose from! Changing your hair color is a big decision and going for red will certainly make a bold statement.
Tips on dyeing your hair red to remember:
Red hair looks best when it's a vivid shade. You should make sure to use only shampoos, conditioners, and other hair products that are specially designed for color treated hair. Regular products will strip the color and make it become dry and brittle.
The sun will make your red color fade quickly. If you are going to be exposed to the sun for extended periods of time, you should wear a hat or scarf to protect your red tresses from sun damage. Also, you should take caution when swimming and wear a bathing cap. Chlorine can damage your hair color or even change it to orange or green.
Only shampoo your hair several times a week, as over-shampooing will make it fade. Dry shampoo is a lifesaver for those who color their hair frequently.
Maintain your roots by touching up your color at home or scheduling a touch-up with your stylist.
Choose a shade that will match your eye color and skin tone. You don't want to look washed out or pale.
This article will give you some options for red hair color. Also, you will find a lot of ideas with red hair that will much your skin.
Cherry Brown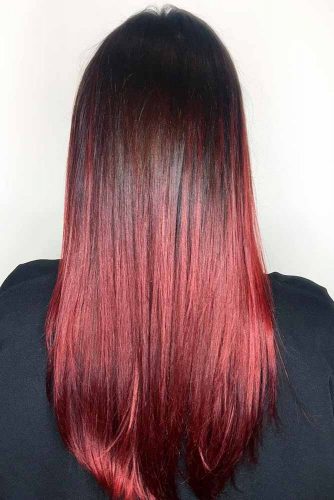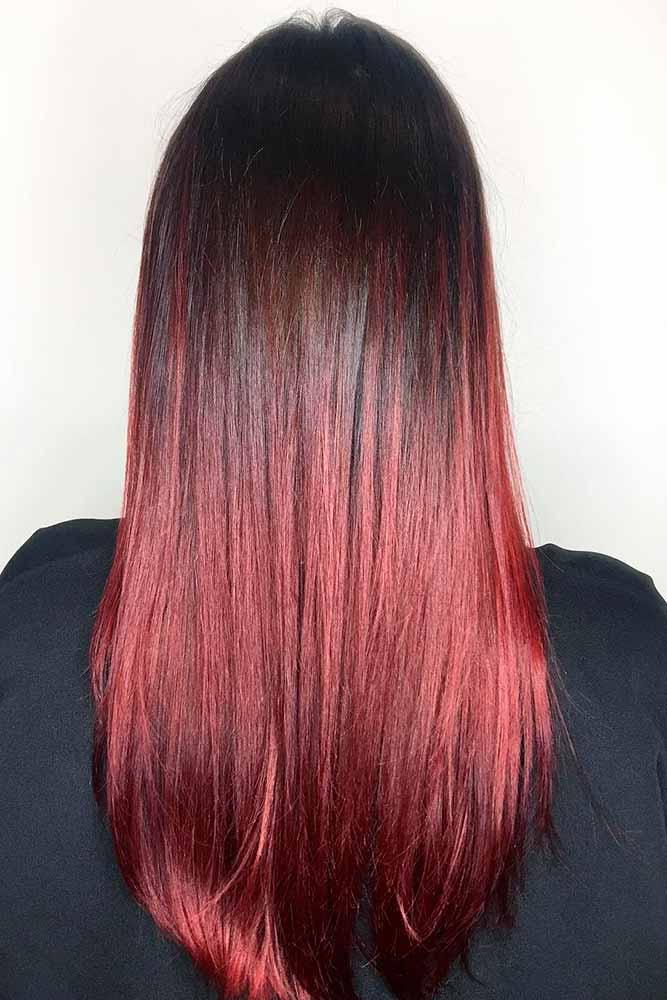 Source: toniguyusa via Instagram
This gorgeous combo of soft brown and cherry red works best for those with cool or deep skin tones and dark eyes.

Burgundy Red
Source: guy_tang via Instagram
This dramatic dark red-violet shade is perfect for those with olive or dark complexions and blue or brown eyes.

Aubergine Red
Source: julamin via Instagram
This shade is exotic and sensual and goes well with those who have cooler skin tones. The dark eggplant tone will compliment ladies with neutral eye colors.

Magenta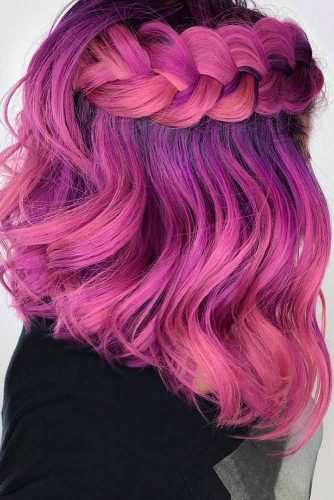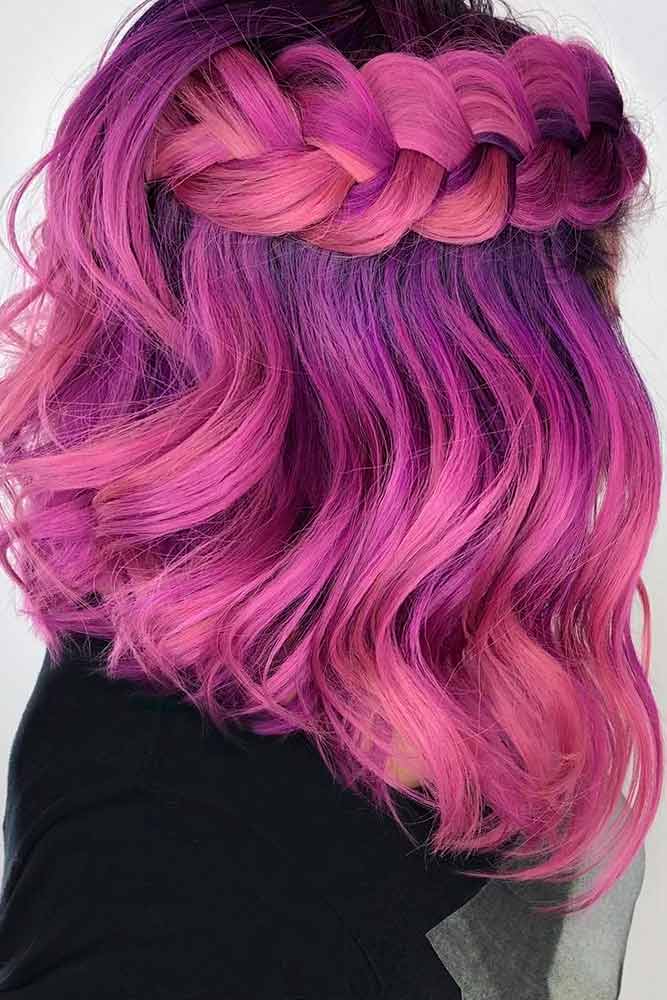 Source: hugosalon via Instagram
This shade is great for ladies who have dark eyes and a medium or dark skin tone. It also blends nicely with ombre color patterns or streaks. If you want to express your bold and artistic flair, this color was made with you in mind!

Red Velvet
Source: pulpriothair via Instagram
This deep rich red goes extremely well with those who have olive or dark complexions. It is perfect for ladies with emerald green, icy blue, or brown eyes.

Rose Gold
Source: evalam_ via Instagram
Rose gold is really in right now! With its tones of coppery pink, it is best suited for those with tanned, porcelain, or olive skin tones.

Dark Auburn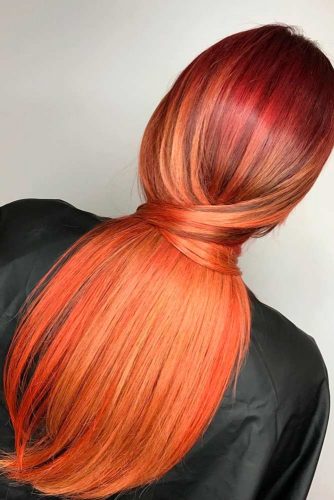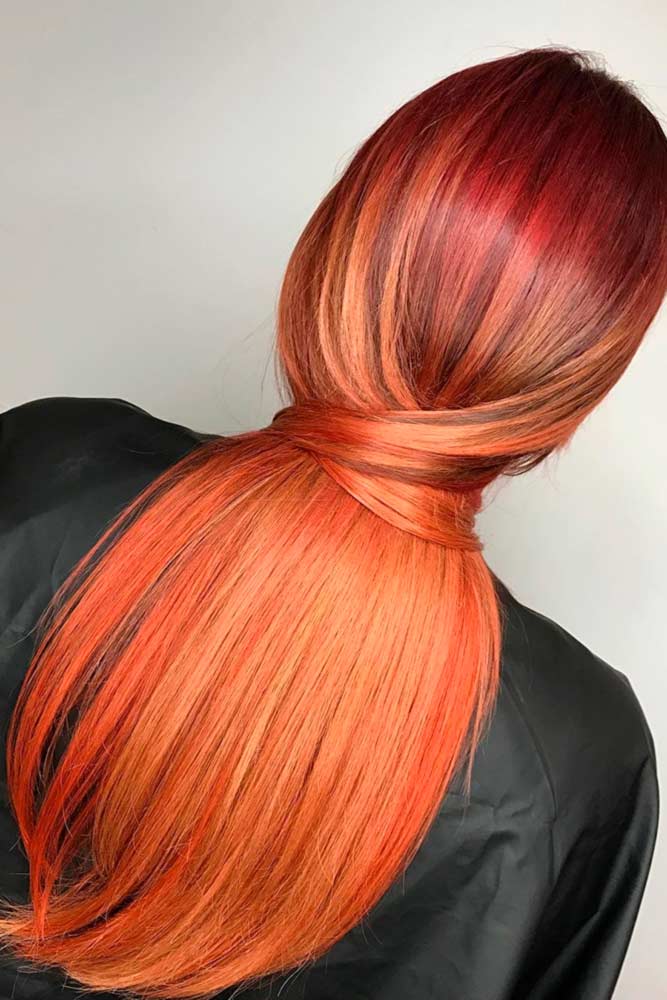 Source: mua_hairstylist_lizz via Instagram
This elegant shade is a perfect blend of rich brown and golden red. It is great for those with a golden, bisque or "peaches and cream" complexion as well as anyone with green, blue, hazel, or brown eyes.

Ruby Red
Copper Red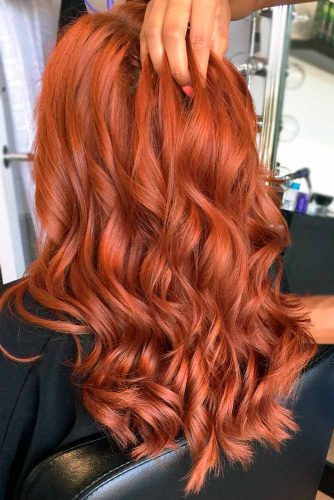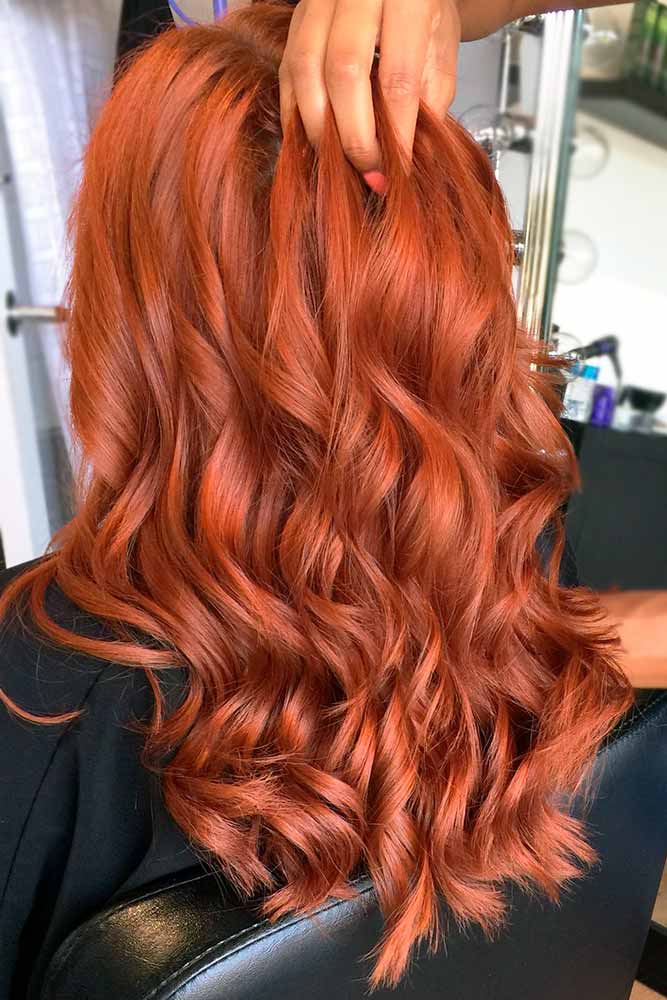 Source: hairluvbytiffany via Instagram
This brilliant blend of orange, brown and red tones is extremely flattering to those with golden, peach, or medium complexion and hazel, green, or blue eyes.

Mahogany Red
Source: irisdoeshair_ via Instagram
This deep reddish brown shade is a great choice for those with brown, blue, or green eyes and a fair or medium complexion.

Golden Copper
Source: luanna via Instagram
This spicy, warm hue is the perfect blend of light red and dark golden blonde. It is suitable for ladies with brown, hazel, green, or blue eyes and a neural, golden, peach, or porcelain skin tone.

Red Black
Source: butterflyloftsalon via Instagram
This very dramatic shade is intensely dark with just the slightest hint of red. It looks fabulous on those with green or brown eyes and an olive or dark complexion.

Violet Red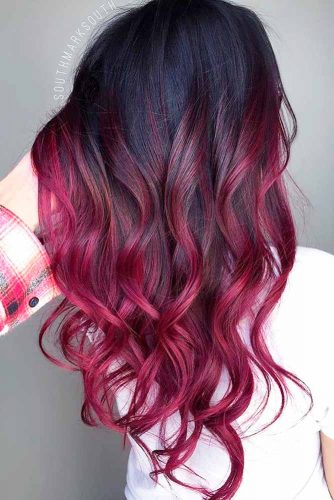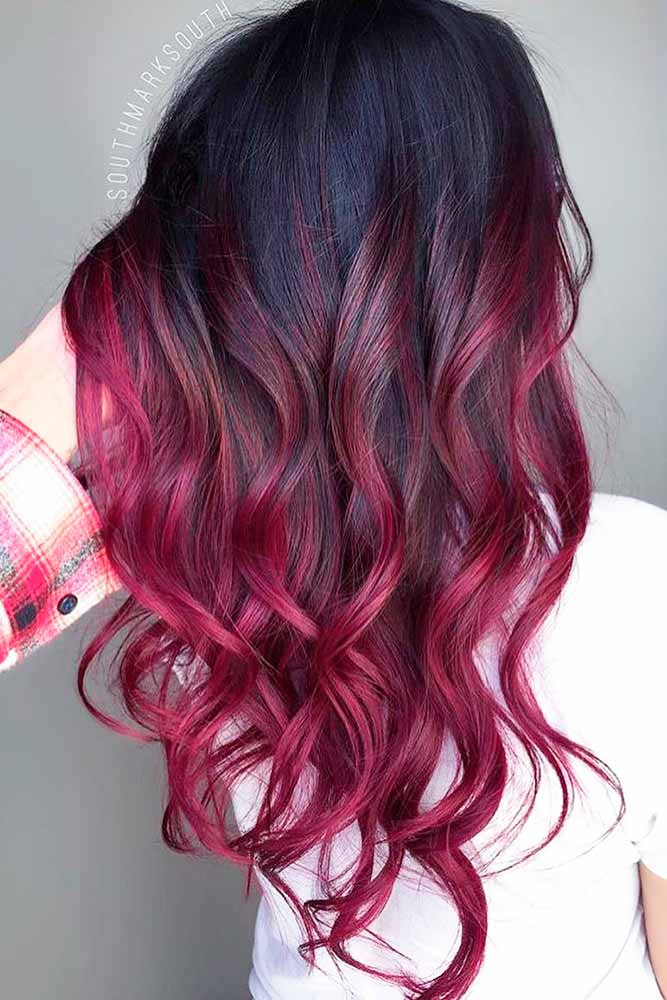 Source: southmarksouth via Instagram
This exotic shade is a deep, rich match of purple and red. It is absolutely stunning on ladies with darker eyes and skin tones.

Ginger Red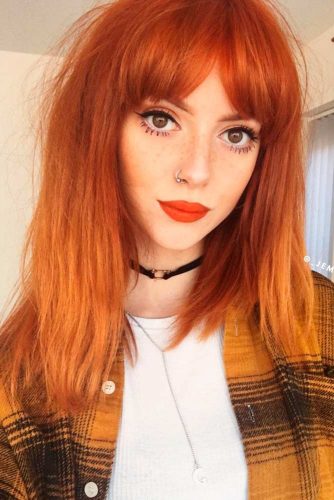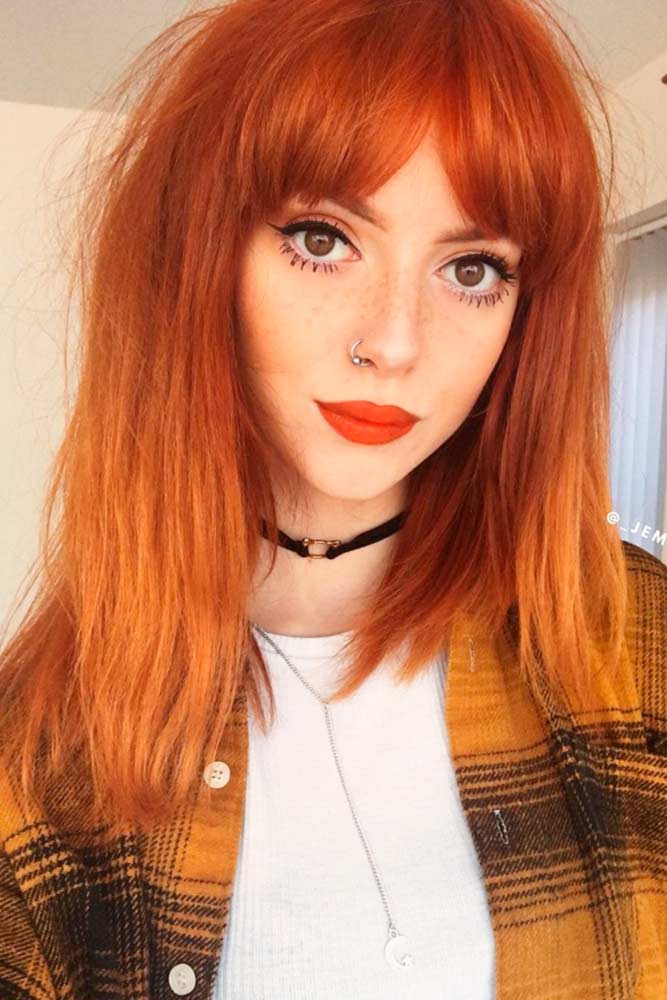 Source: _jemmawade via Instagram
If you wish to go for a more natural red color, this spicy medium reddish brown shade is perfect. It was made for those with fair skin, freckles and brown or green eyes!

Light Auburn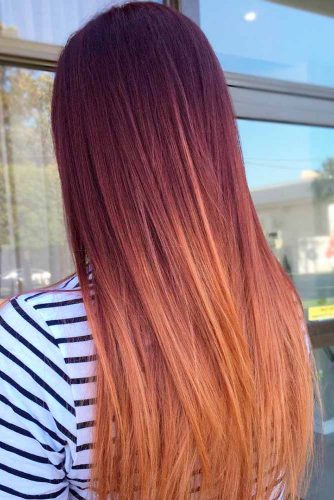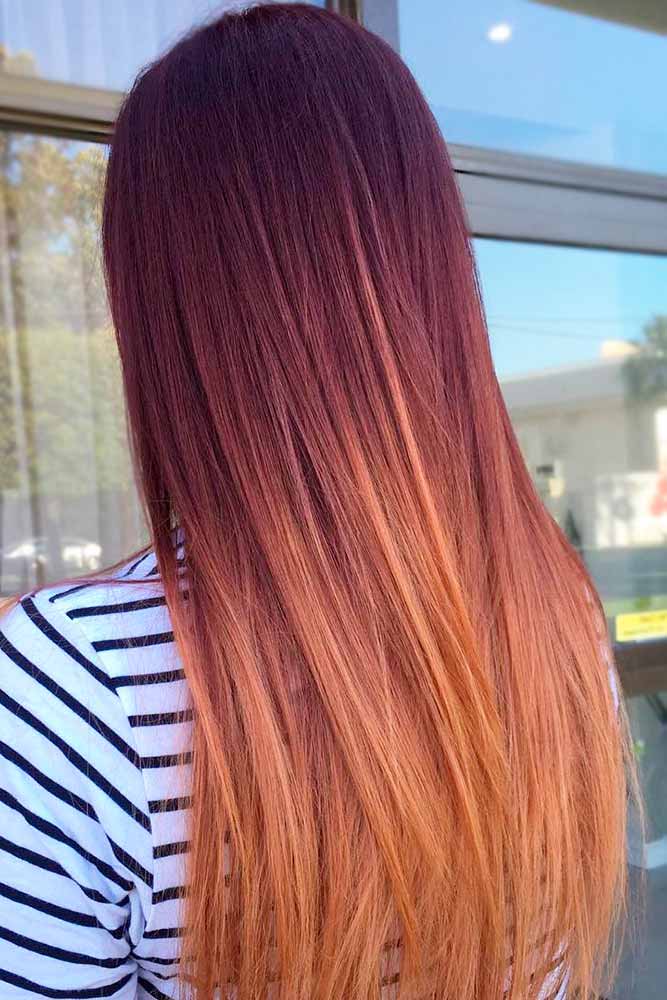 Source: stevievincenthairartistry via Instagram
Another subtle shade of red. This perfect blend of light brown and golden red is perfect for ladies with brown or green eyes and golden or creamy complexions.

Screaming Red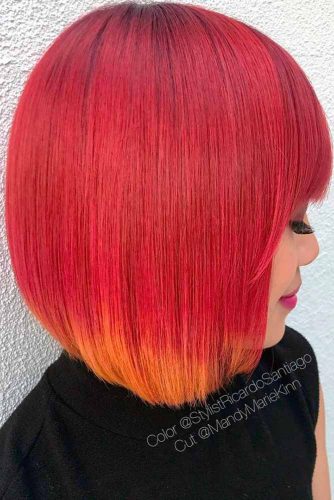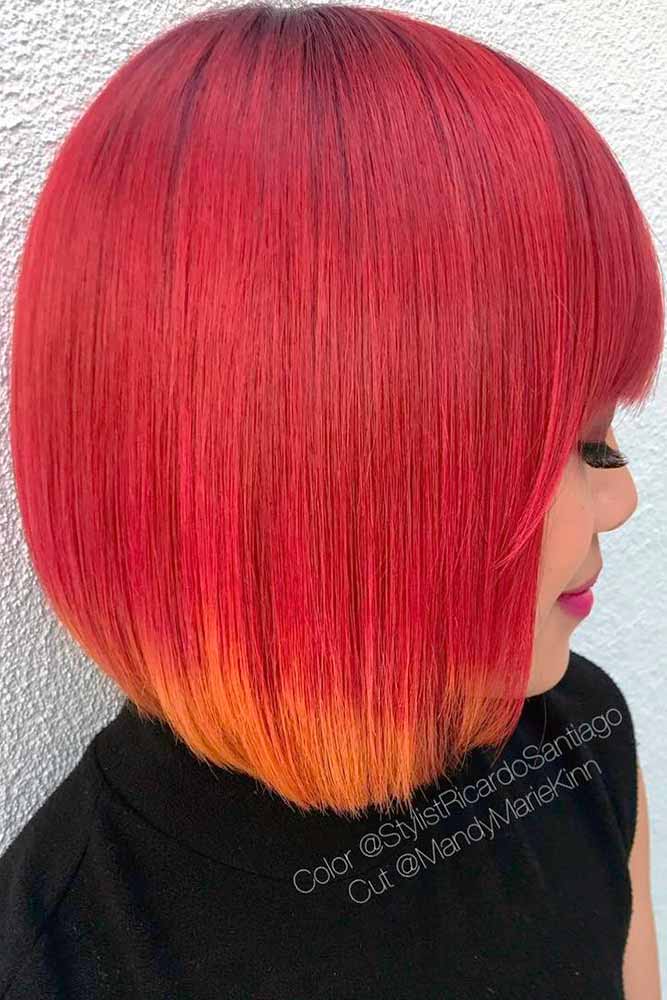 Source: stylistricardosantiago via Instagram
Screaming red with bright orange tips is something only the boldest of us will dare to try out. But if your eyes are brown and the complexion is olive, you should at least consider it.

Wine Red
Source: bellamihair via Instagram
Red shades are extremely rich and dramatic-looking. Most fashionistas try it at least once.

Pink Red
Autumn Red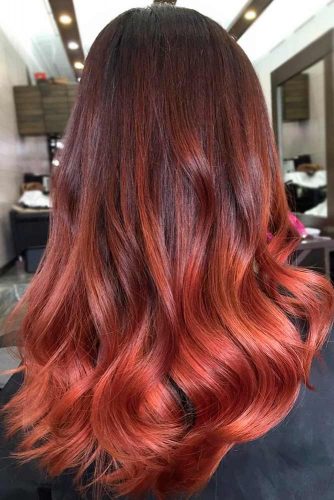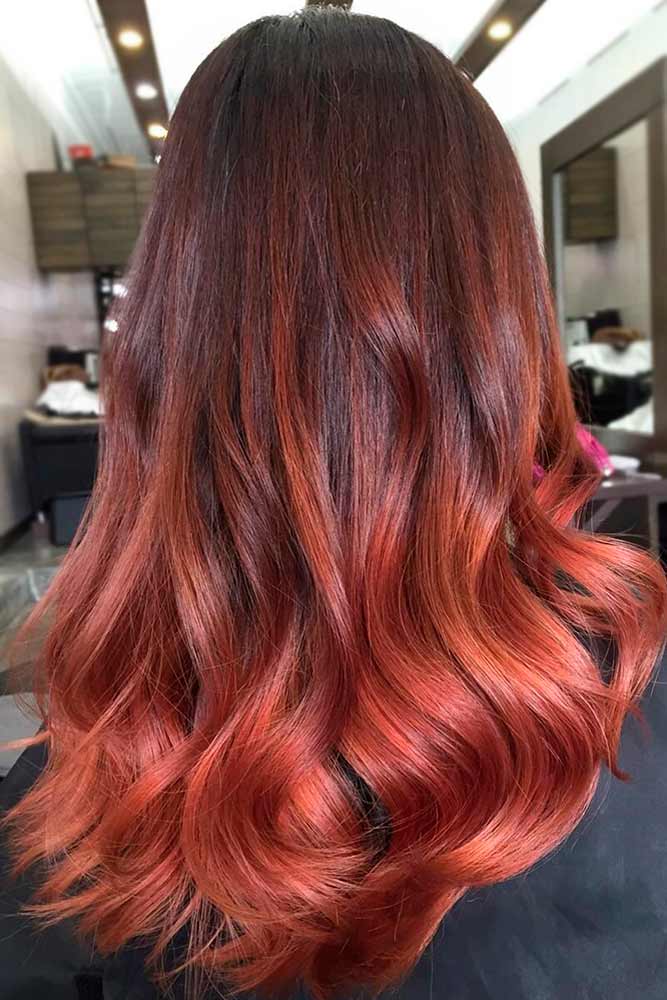 Source: number_76 via Instagram
The intense brown that fades into soft reddish tones is extremely charming. Besides, soft light waves will make sure that your look won't go unnoticed.

Burgundy to Blonde Copper Ombre
Source: hairbykaseyoh via Instagram
If you want to use the whole autumn palette, then this is what you have been searching for! Just look at this fabulous combination of fall hues! It would go perfect with icy-blue eyes!

Candy Beet
Source: evalam_ via Instagram
Look at this stunning hair shade! This shade works great for fair complexion and deep blue eyes.

Sparkling Ginger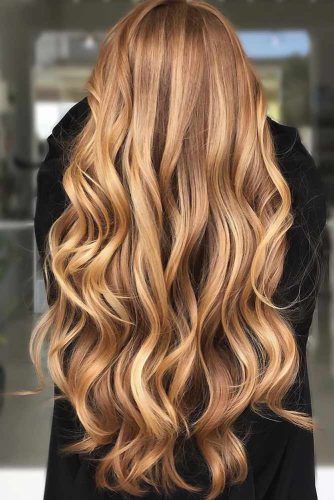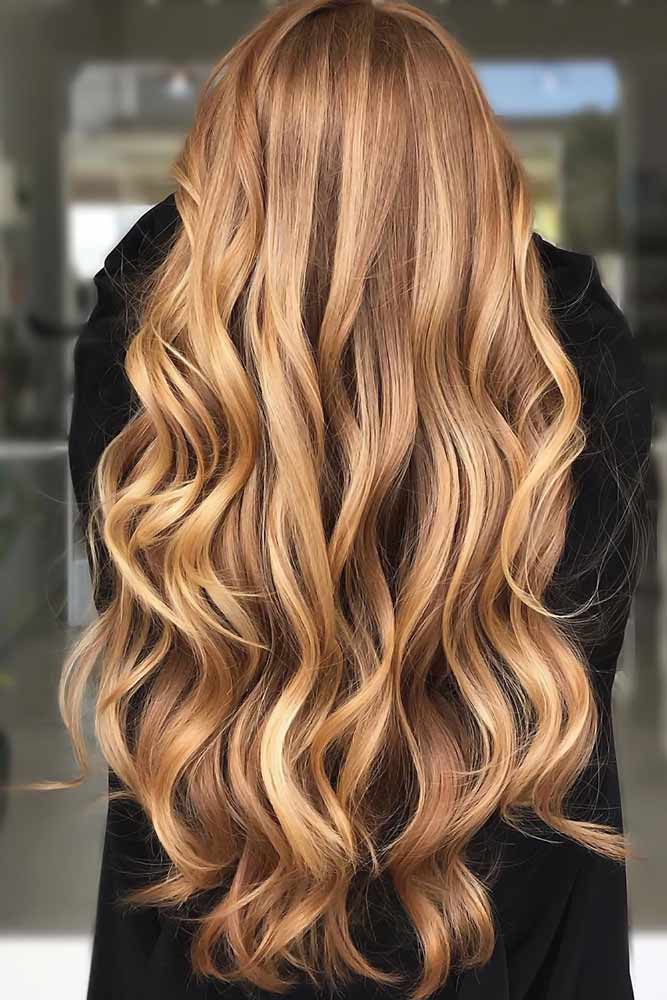 Source: suetyrrellstylist via Instagram
Remember the gentle and luxuriant hues melting in a glass of your favorite sparkling wine? Now, imagine what a beautiful shade of red hair you will get once you dip your locks into such a pleasant mixture of light and luscious colors? By the way, it's a perfect option for those who want to spice up their medium blonde or light brunette bases with a hint of reddish charm.
Glistening Auburn
Source: maxgourgues via Instagram
Auburn can be as different as you want it to be. Since it's a combination of warm red and deep brunette hair colors, you can always make one of the shades more or less intense, thus adjusting the temperature of your hair look. As for this glistening auburn, you can achieve it by adding a light red tint over your brunette base. Of course, the idea works best on fair complexions.
Rosy Copper
Source: maxgourgues via Instagram
If your skin has a peachy undertone, nothing will work better than a coppery shade with a rose undertone finishing the look. A properly chosen shade of red hair can balance out the way your hair goes with your skin, forming a totally harmonic look. Therefore, if you're about to add some reddish vibes to your locks, don't forget to mix it with some rose or pink hues.
Extreme Peach
Source: makeupbyfrances via Instagram
While most peachy color ideas feature something soft and subtle, you can move in the opposite direction and show another side of the popular idea. Such contrastive looks can't do without ombre, which, in its turn, should form a seamless blend with your roots. The best thing is, a dramatic shade like this will suit any complexion.
Source: makeupbyfrances via Instagram
Can't decide between two different colors? Don't step aside from the idea of standing out in the crowd and get them both, them! With the right color technique, even such opposite shades as blue and red will create a stunning single whole. Some hidden steaks of cold and deep color will give a totally different take at the enviable saturated ginger, putting you in the spotlight.
Orange-Red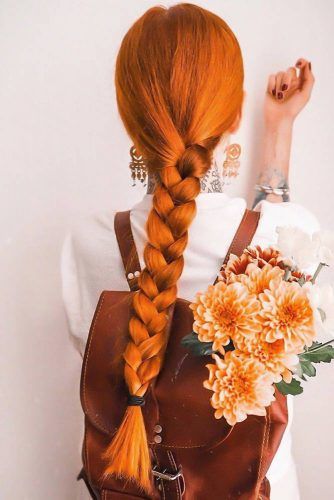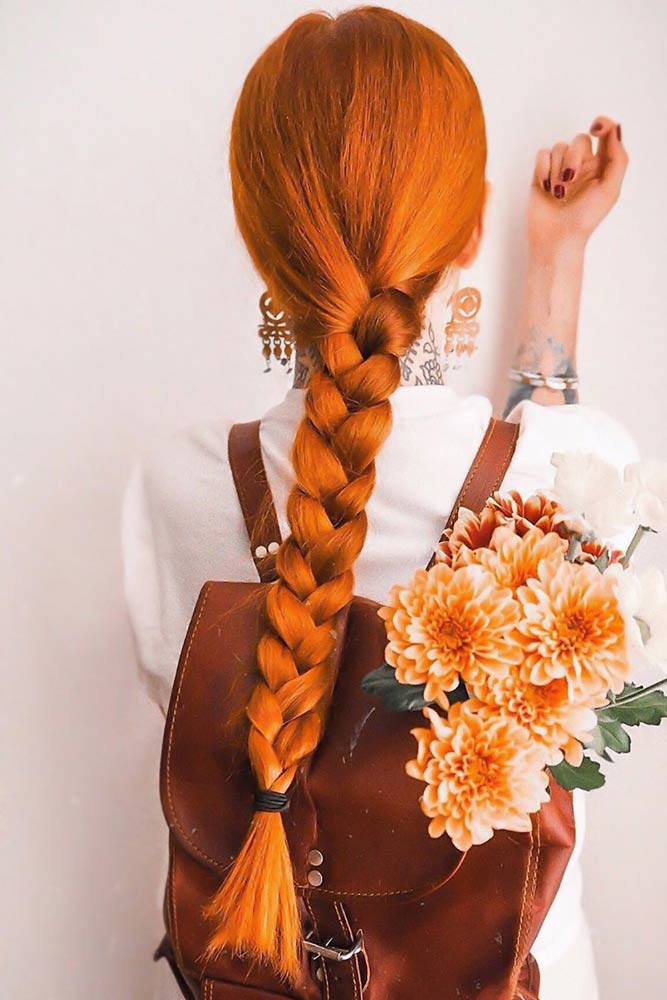 Source: viorosie via Instagram
Orange-red is probably the most desirable and effortless shade of red hair we could ever see. Although it's pretty rare, girls with pale skin tones can get perfectly authentic looks by mixing pure red hair color with bright orange primary.
Bright Crimson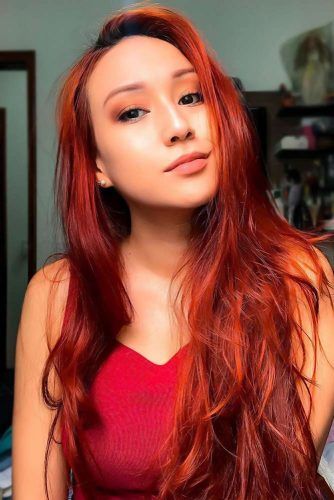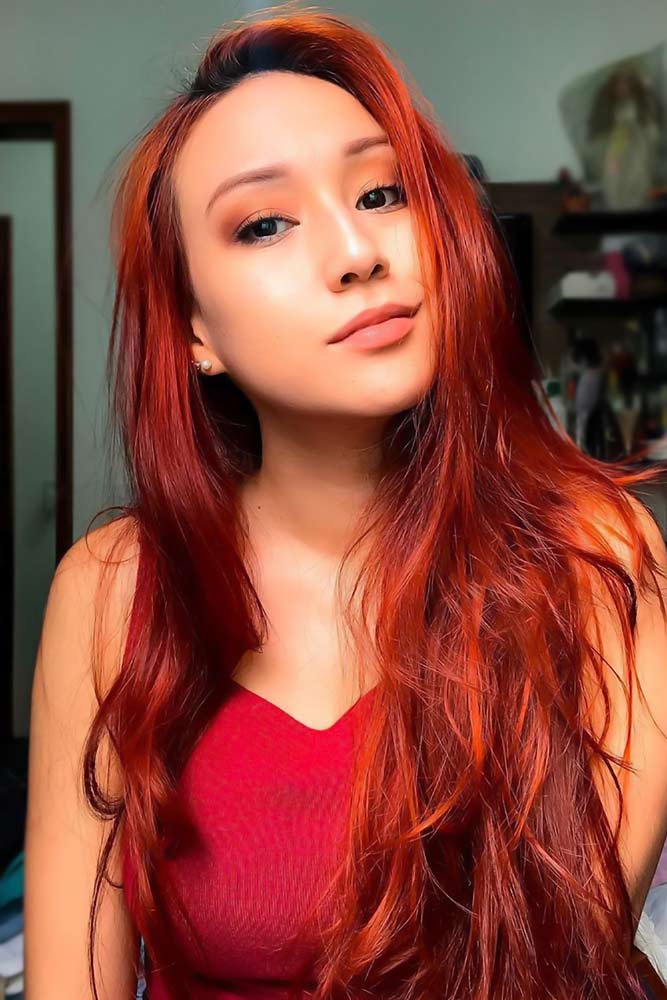 Source: nathyyuna via Instagram
There's a red shade for every mood. If you want to emphasize your light complexion, creating a noble mood for your daily look, light coppery tones are what you need. And if you're one of those who want to catch people's eyes with a bright and vibrant shade of red, this bright crimson will be a gorgeous start.
Gilded Russet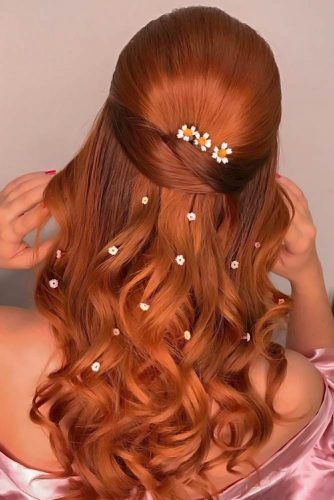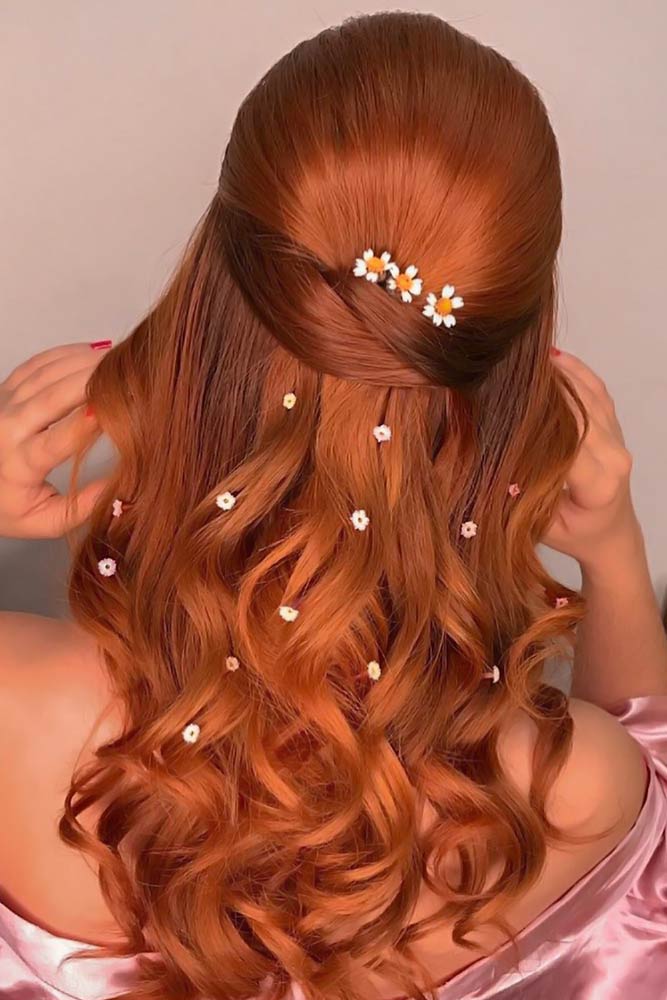 Source: anavilaar via Instagram
Another rich, illuminating, and lightweight red hair color that will leave everyone speechless. This shade will suit anything from light to medium complexions, giving a warm finish that will accentuate any outfits. Besides, if you start with a brunette base, you will have less damage, as this color consists of brown and golden-red shades.
Electric Orange
Source: makeupbyfrances via Instagram
When it feels like your gray life palette lacks bright colors, nothing can compare to a splash of electric colors on your hair! With such a spectacular shade, you will not only enliven your routine but also brighten up your days. To make it dimensional, ask your stylist to apply the dye as highlights, keeping the roots visible, yet well-blended.

Main photo by Daryna_barykina