Thinking about red ombre hair? Ombre is all the rage right now, from subtle ombre shades to vibrant blues and purples and even rainbow ombre.
If you are considering red ombre hair for your new look, you probably are ready for a bold new look. If you wish more something more tame and natural, opt for a blonde ombre.
Ombre hair in various shades of reds and other colors is extremely bold and daring. Red hair suits every color tone and is extremely flattering.
Light Red Colors Ombre For Your Hair
Light Burgundy Ombre
Red ombre doesn't always have to be candy apple red. This look with its subtle burgundy that slowly merges with gentle gold tones is absolutely stunning. It is great for long hair, dramatic make-up and funky jewelry.
Natural Ombre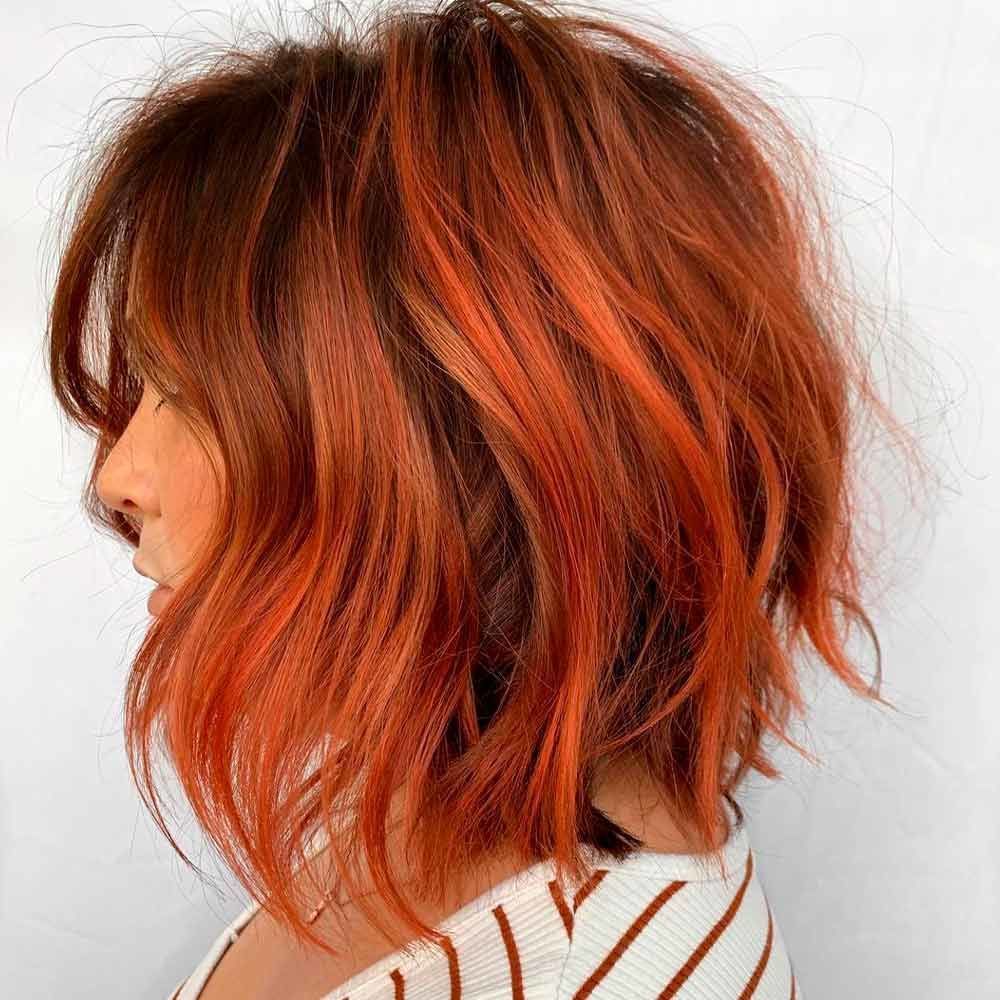 Credit photo: instagram.com/headrushdesigns
If you aren't a huge fan of red, why not try this honey colored hue that almost glows? This gorgeous color isn't as unusual as some ombre hairstyles and is still stunning and flattering.
Blunt Red Ombre
This blunt and choppy hairdo works great with burgundy that flows into a honey caramel ombre, or even better, a black to red ombre.
Peach Red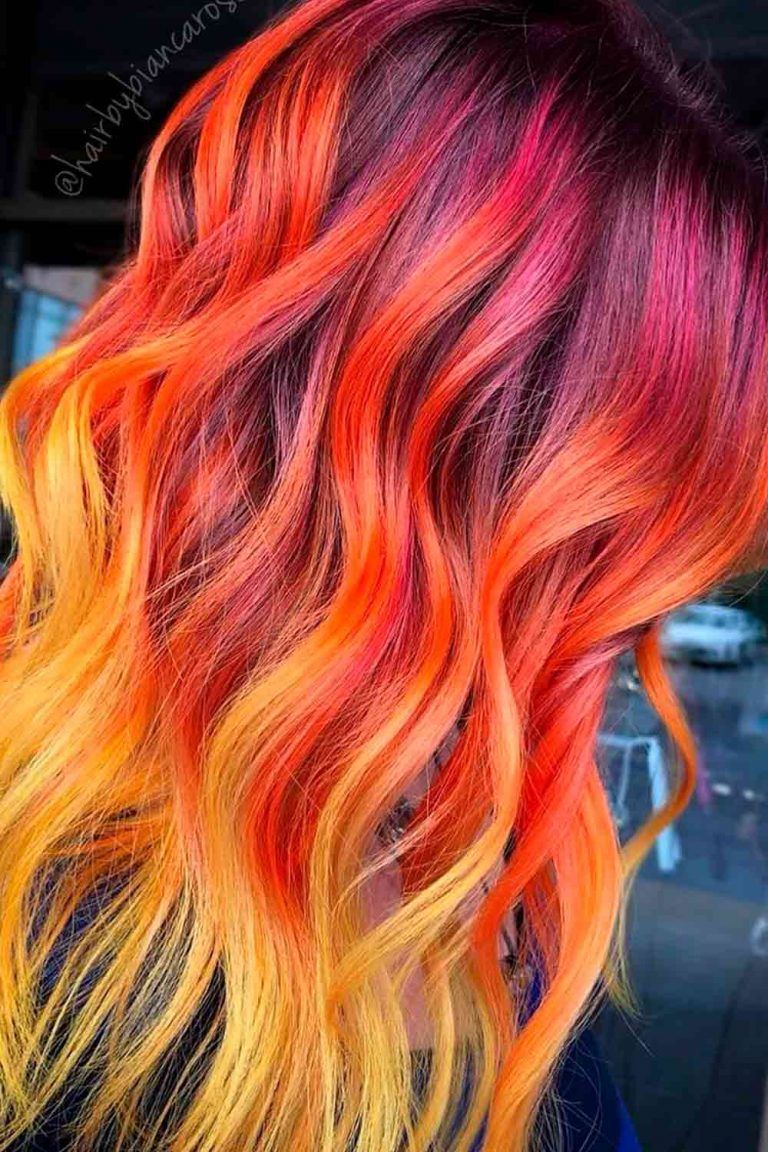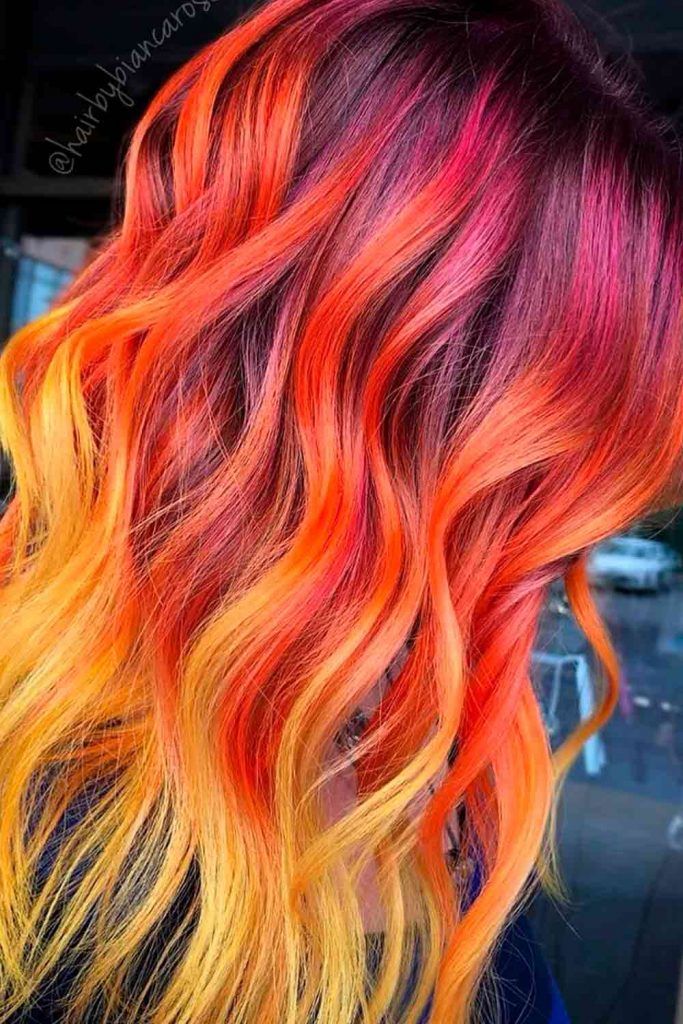 Credit photo: instagram.com/hairbybiancarose
Who says that peach red is boring hasn't seen this beauty! Just have a look at this mermaid hair! It looks so sweet and elegant that you can't help admiring it! And the longer the hair is, the prettier it will look! Do not hesitate!
Bright Peach Red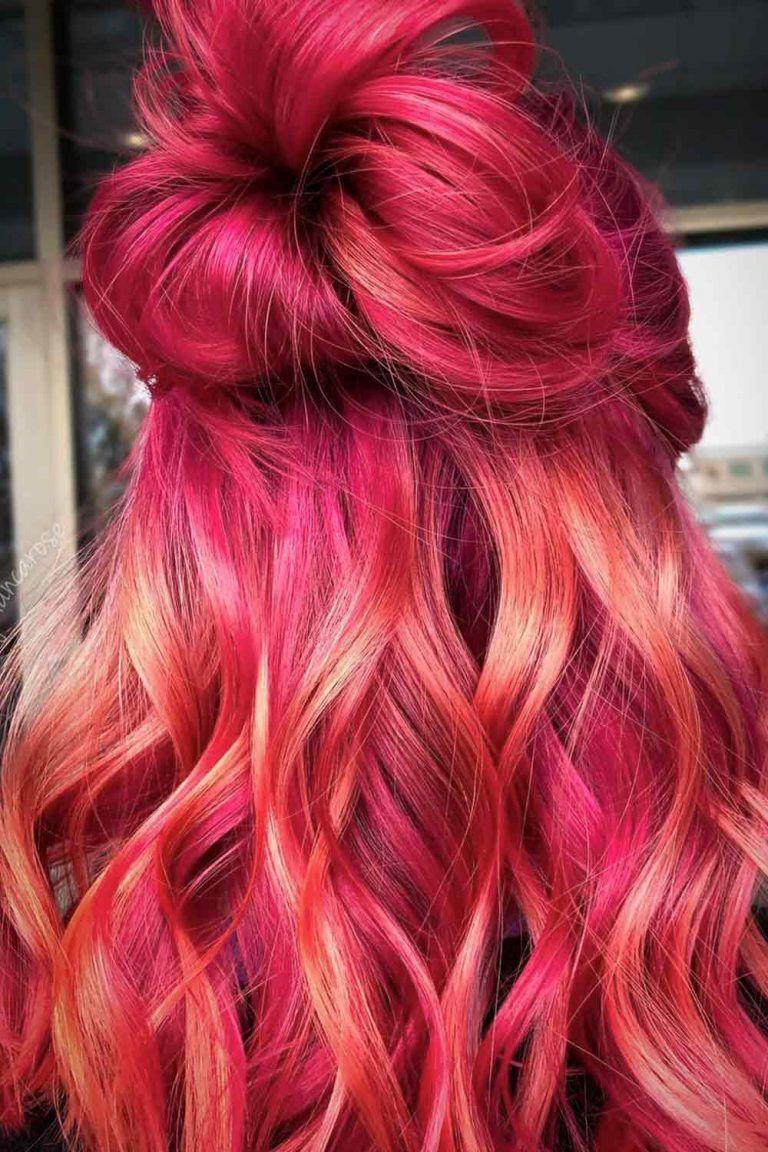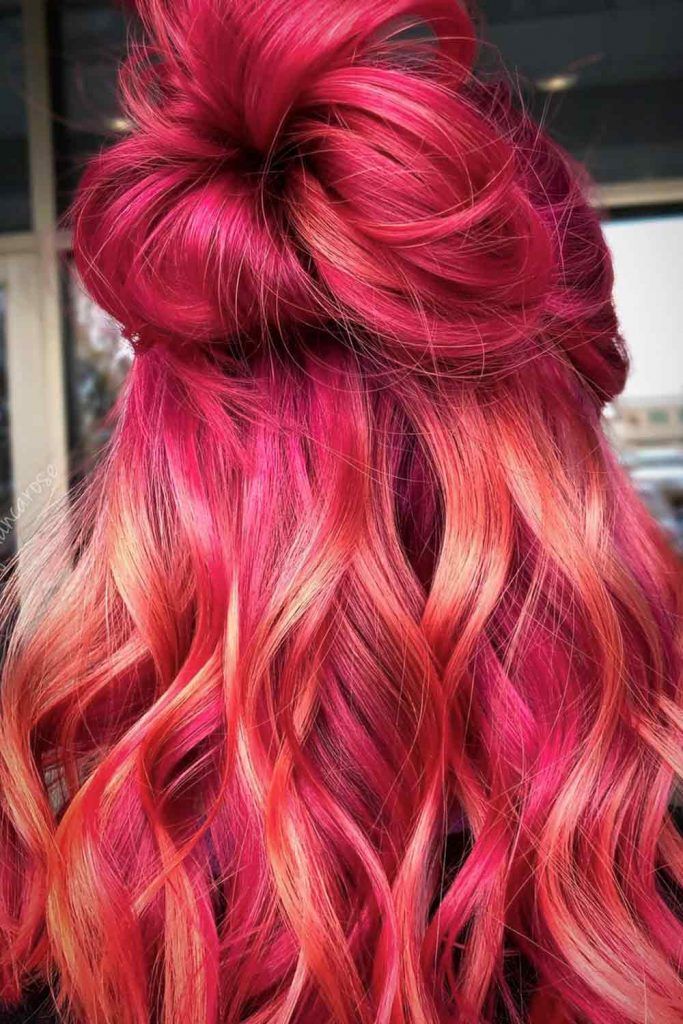 Credit photo: instagram.com/hairbybiancarose
You can truly combine any color with red. Light peach mixed with bright red is the proof. You can smell candy just looking at it!
Light Red Hair Ombre With Lilac Highlights
Dark Shades Red Ombre
Brunette and Red Ombre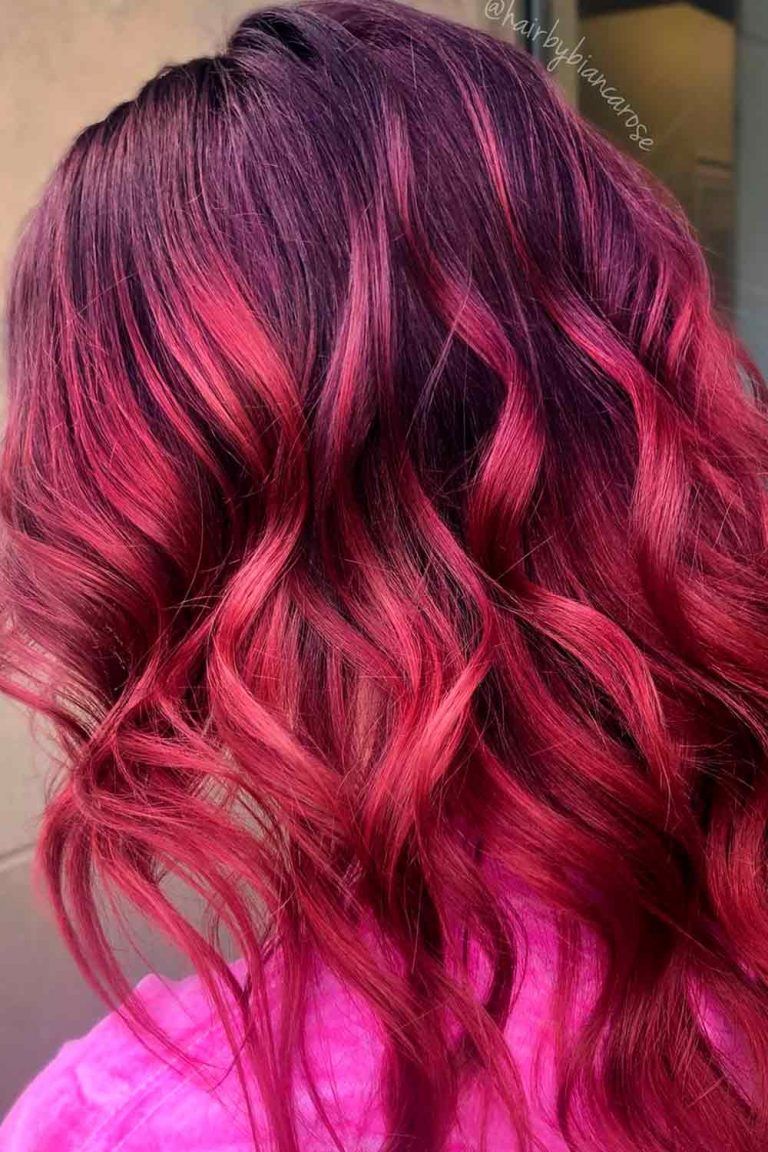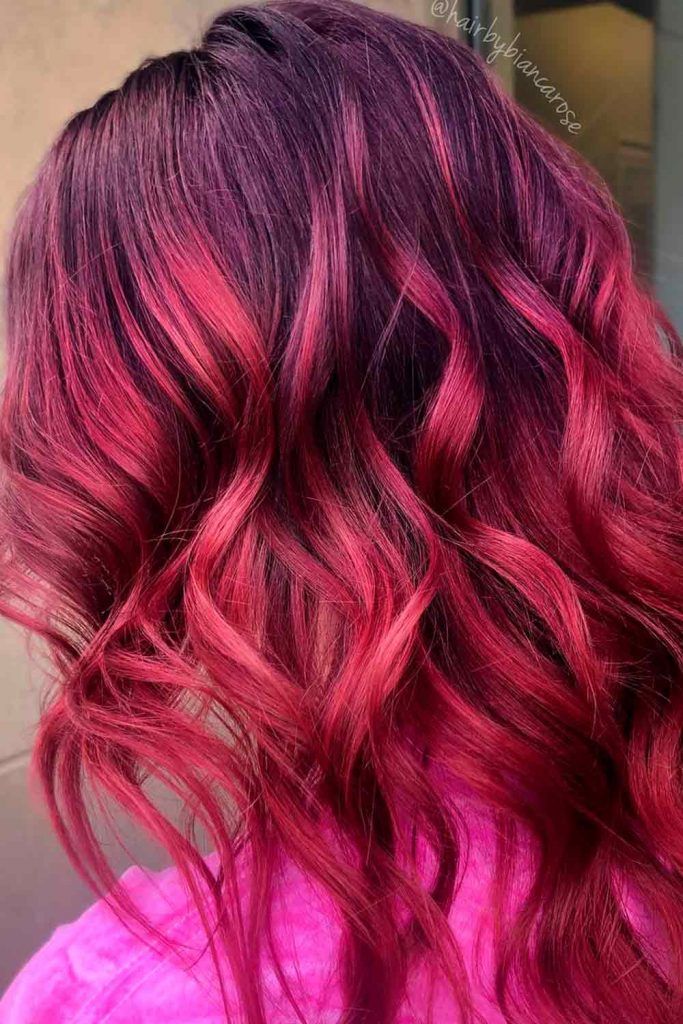 Credit photo: instagram.com/hairbybiancarose
If you want to save your gorgeous brunette locks, this look is perfect for you. With deep burgundy at the roots, fiery flames in the middle and gorgeous reddish blonde at the ends, this color blend is stunning.
Red Ombre for Natural Redheads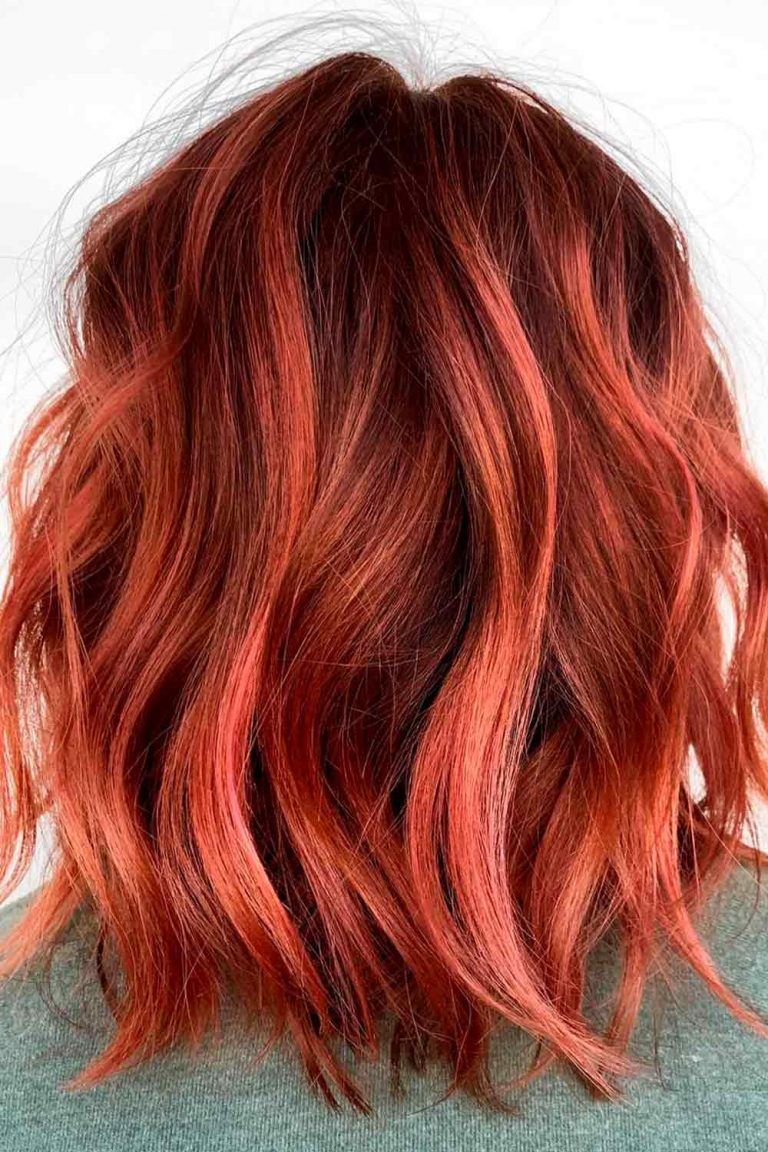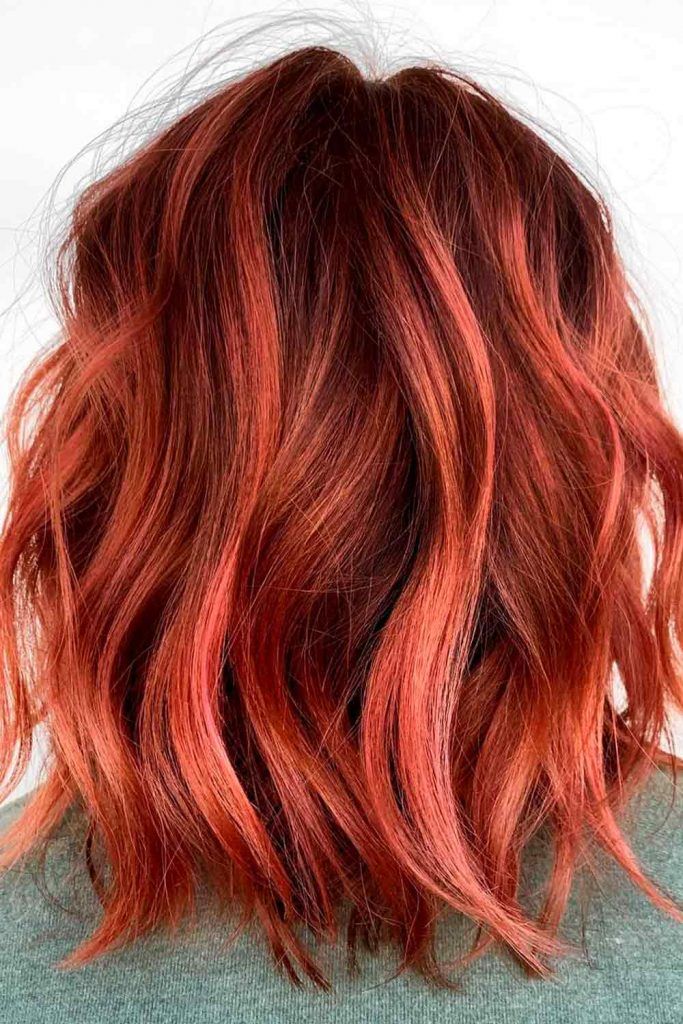 Credit photo: instagram.com/headrushdesigns
This look is perfect for those with naturally red hair. Simply maintain your natural color at the roots and then make it subtly lighter toward the ends. This way, you won't have to worry about getting touch-ups if you plan to grow out your hair. Also, it won't require as much maintenance as some of more intricate ombre styles.
Brilliant Bursts of Red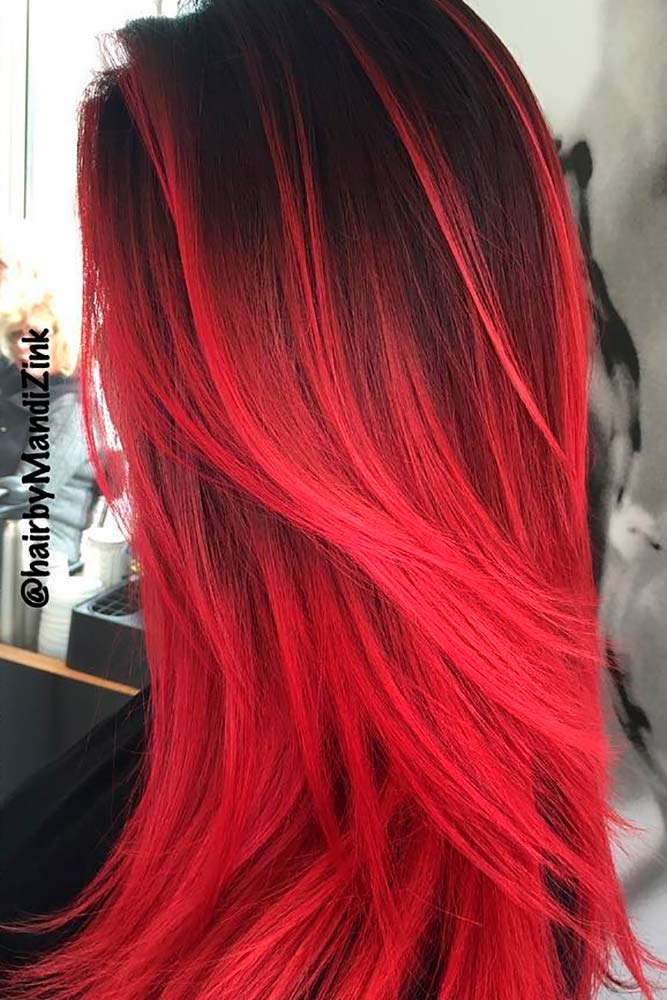 Credit photo: instagram.com/charleslemon
Red ombre looks great with random bursts of brilliant red against darker stands. If you are blessed with darker hair color such as black or deep brown, a burst of bright cherry red patterned into your hair will be positively breathtaking.
Brown and Burgundy Wavy Ombre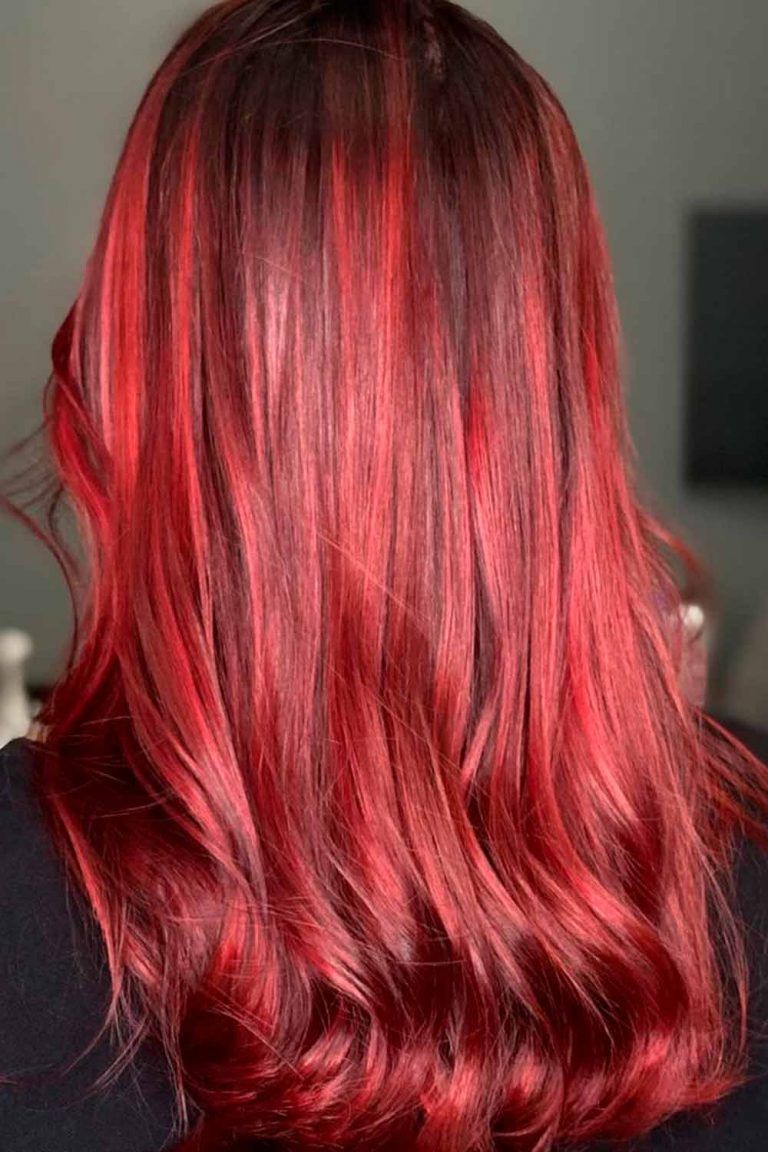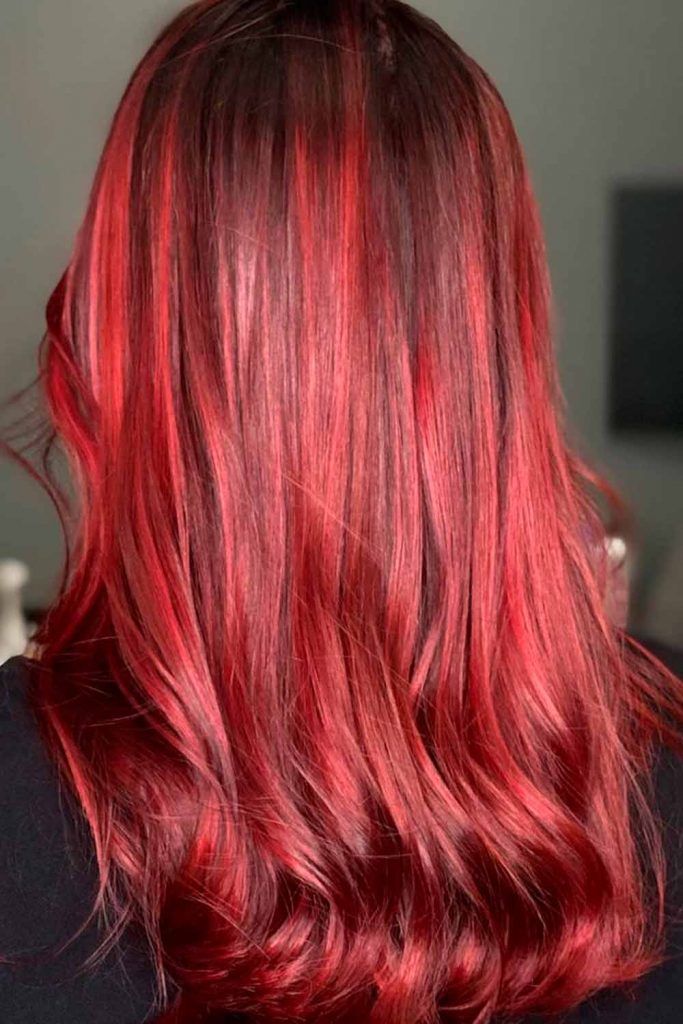 Credit photo: instagram.com/elonataki
For those who want a new style but are not quite ready to make a bold statement, this dark red hue on natural brown is subtle and sophisticated.
Red-Wine Ombre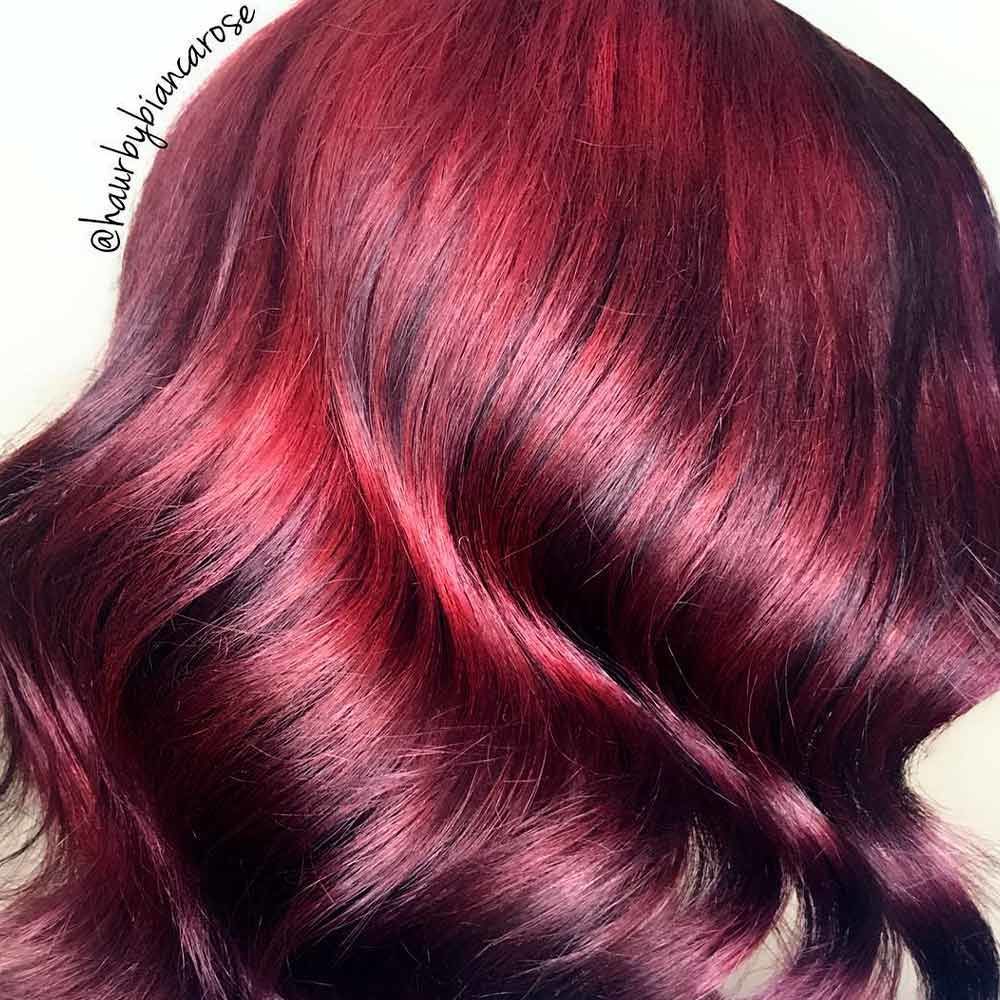 Credit photo: instagram.com/hairbybiancarose
In case you opt for a look that is more subtle, play up with two different shades of red rather than adding a completely different color to your hairstyle. For example, let it be burgundy at the roots and merge into wine-red at the ends.
Red Rose Ombre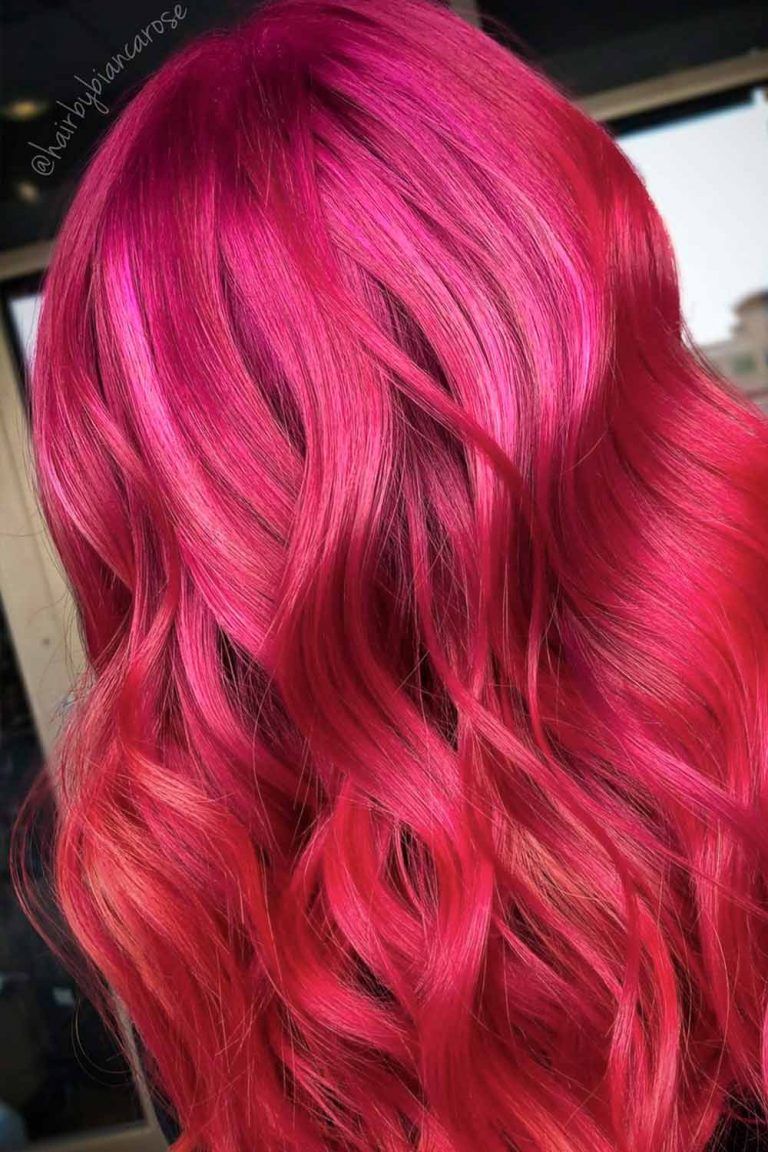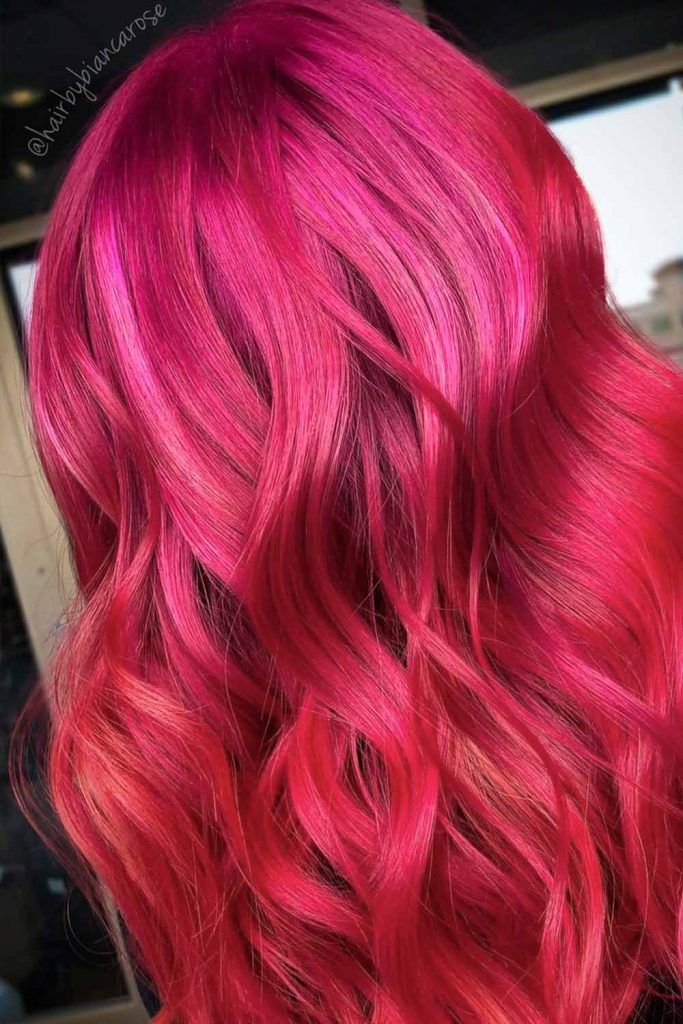 Credit photo: instagram.com/hairbybiancarose
No words in the world can't describe this amazing middle ground of red and brunette hair colors. It's almost impossible to see where brunette base ends and the red masterpiece begins: they've created a stunning single whole, giving a totally new take at the red ombre hair trend. To achieve this idea, ask your colorist to start the ombre close to the roots.
Dark to Red Ombre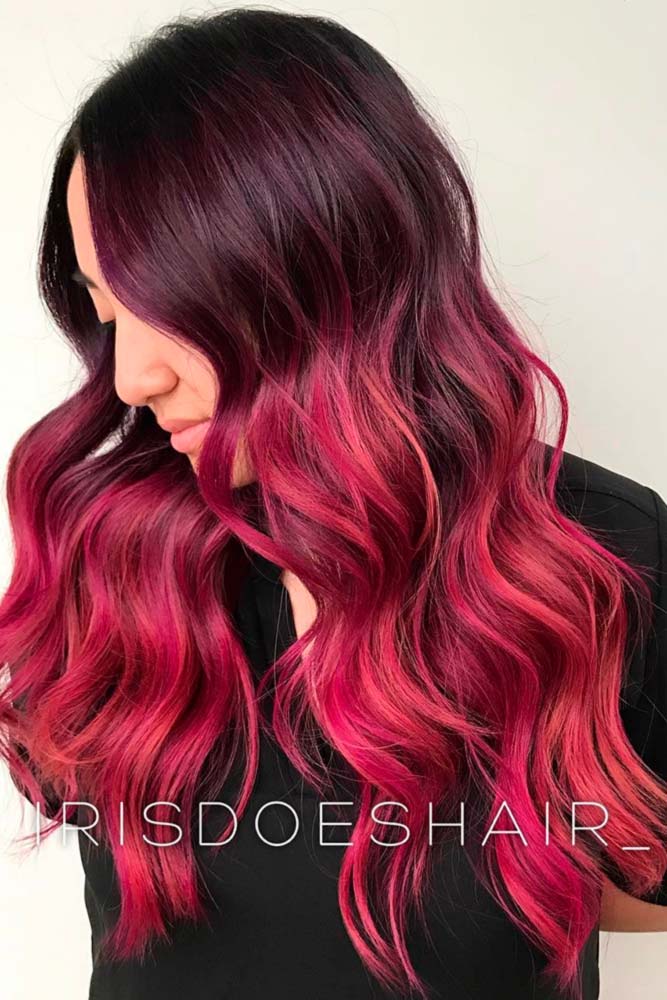 Credit photo: instagram.com/irisdoeshair
The mixture of darker and lighter shades of red will give you a chance to make your own statement with your hair. Dark burgundy slowly transferring into bright red looks fun and catchy! Do not be afraid to experiment!
Natural to Mahogany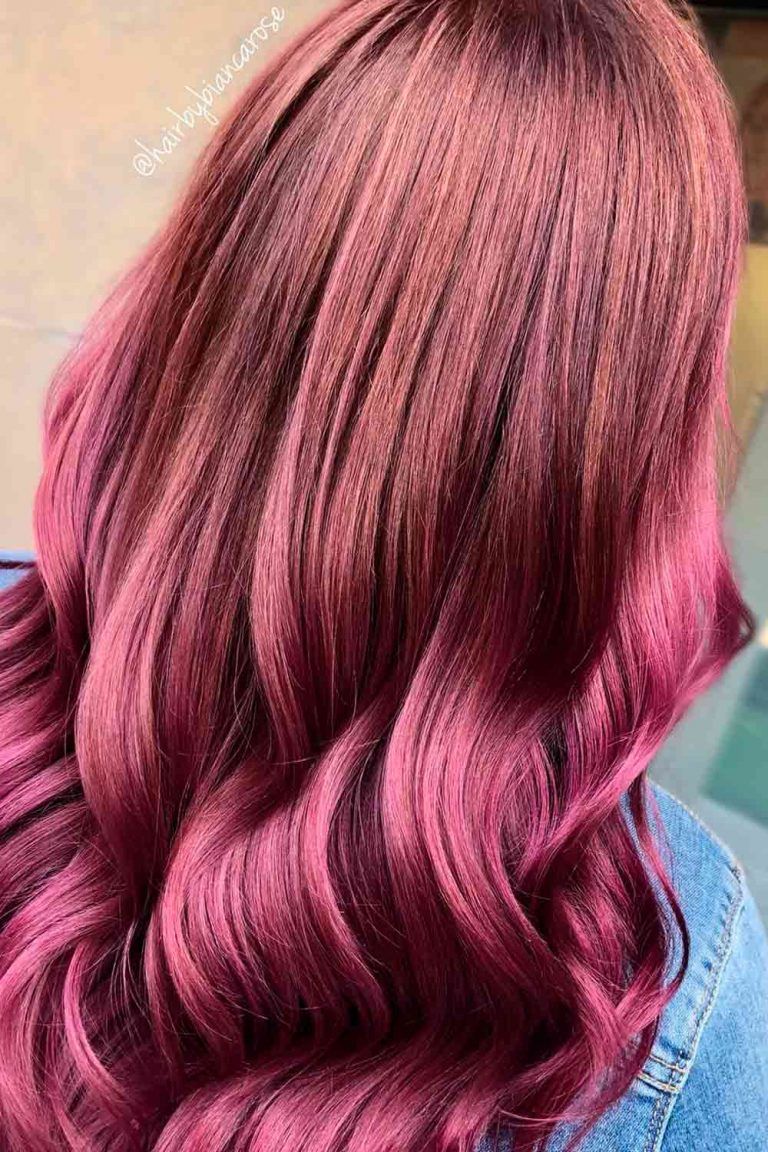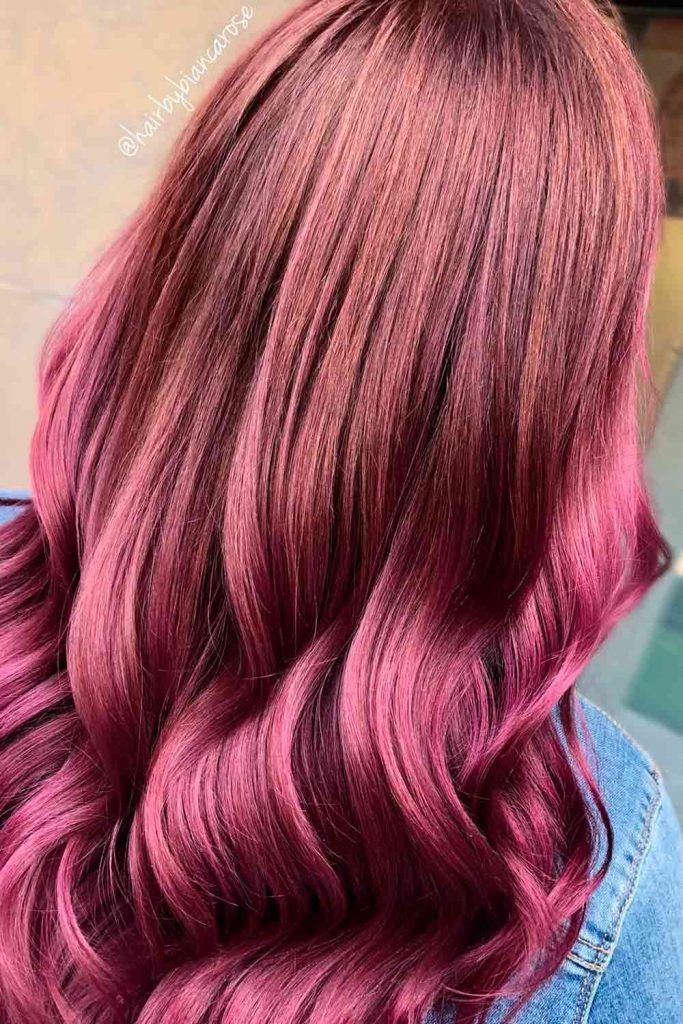 Credit photo: instagram.com/hairbybiancarose
Even the name of this color sounds exotic. It's something in-between brown and red, so the transition from naturally brown to bright mahogany looks breath-taking!
Beautifully Bright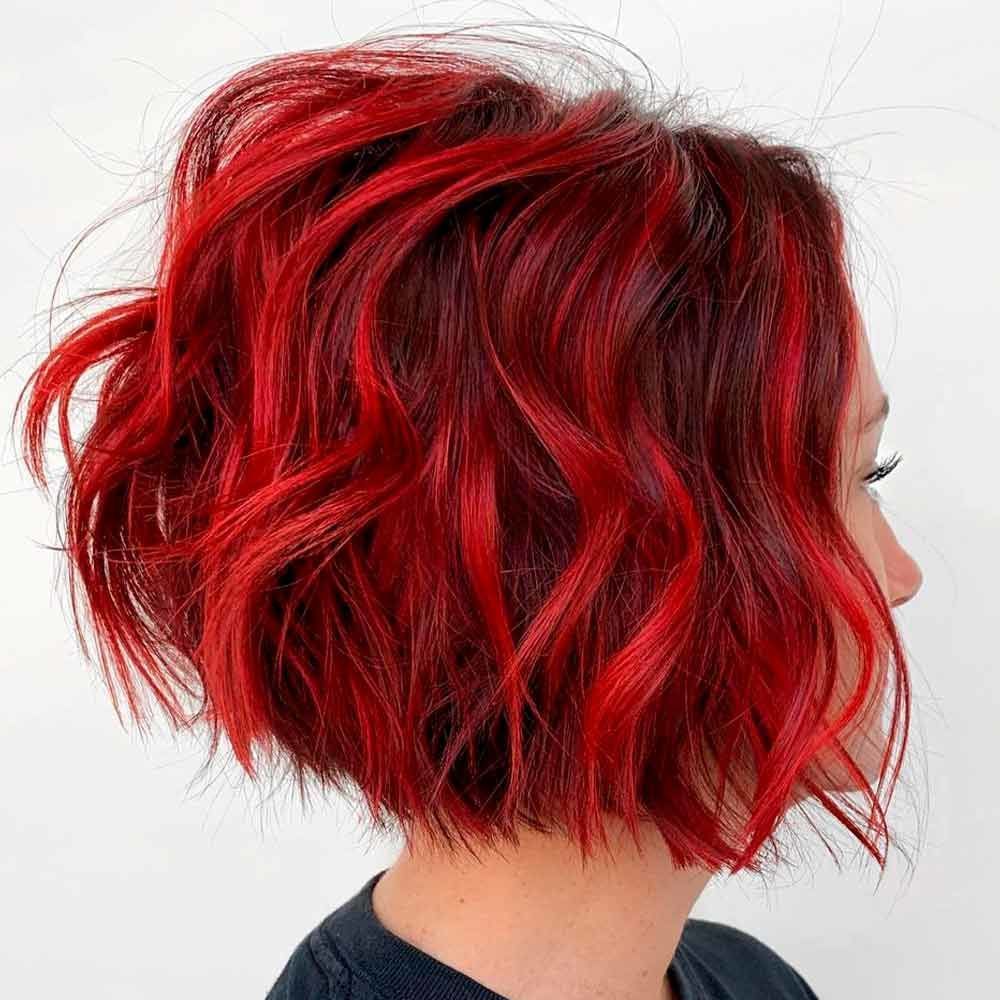 Credit photo: instagram.com/headrushdesigns
For those with naturally dark hair, a bright red addition will look super-stunning. Bright cherry red or deep burgundy will make a bold statement without looking too emo.
Smart Red
If you have to adhere to a dress code, you probably don't want to opt for bright colors. Try this natural red ombre with muted shades of red includes sun-kissed blonde highlights, which is both stylish and sophisticated.
Pink Red
This combination of natural brown and flamingo pink can't be anything but just sheer beauty. It seems that you can look at it forever. The addition of two side braids is advantageous, as well.
Burgundy to Bright Pink
When you're in the mood for adding some drama to your life, you can switch red color to a more purple temperature. Since this color is pretty flexible in terms of a variety of shades, you will always find something to your liking. As you know, red has common undertones with purple and pink, so they can make a good team in your ombre experiments.
Multi-Faceted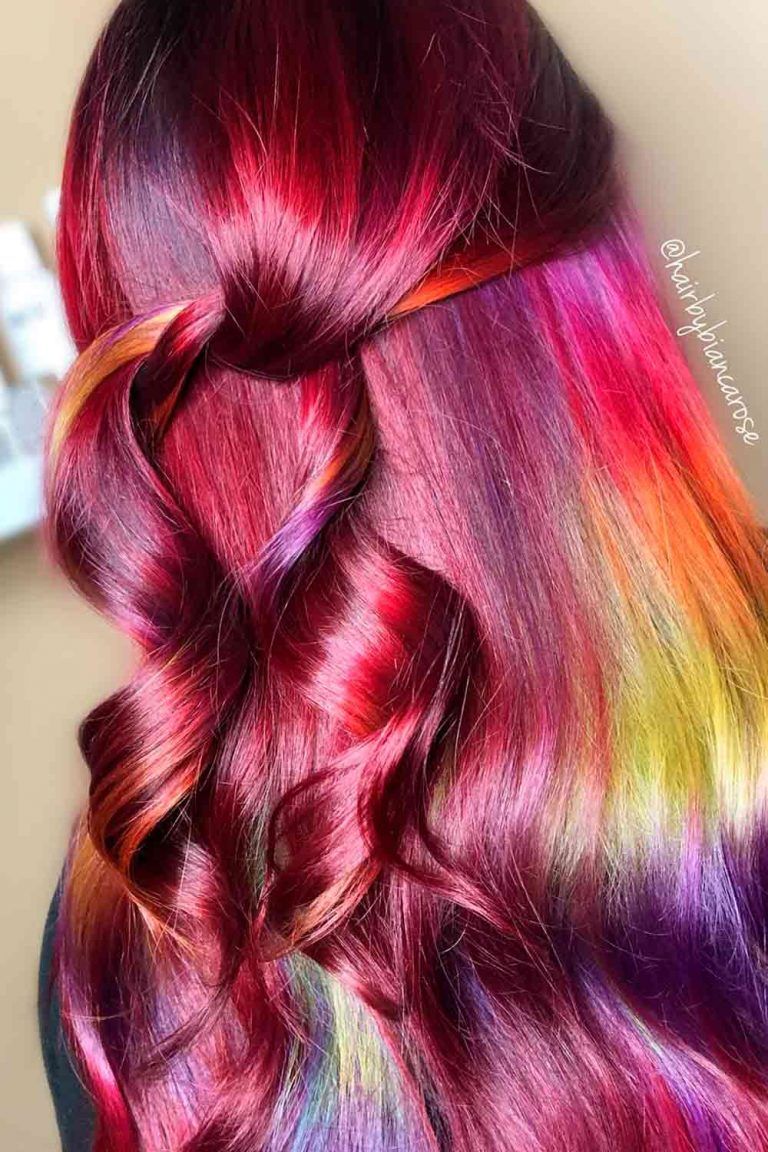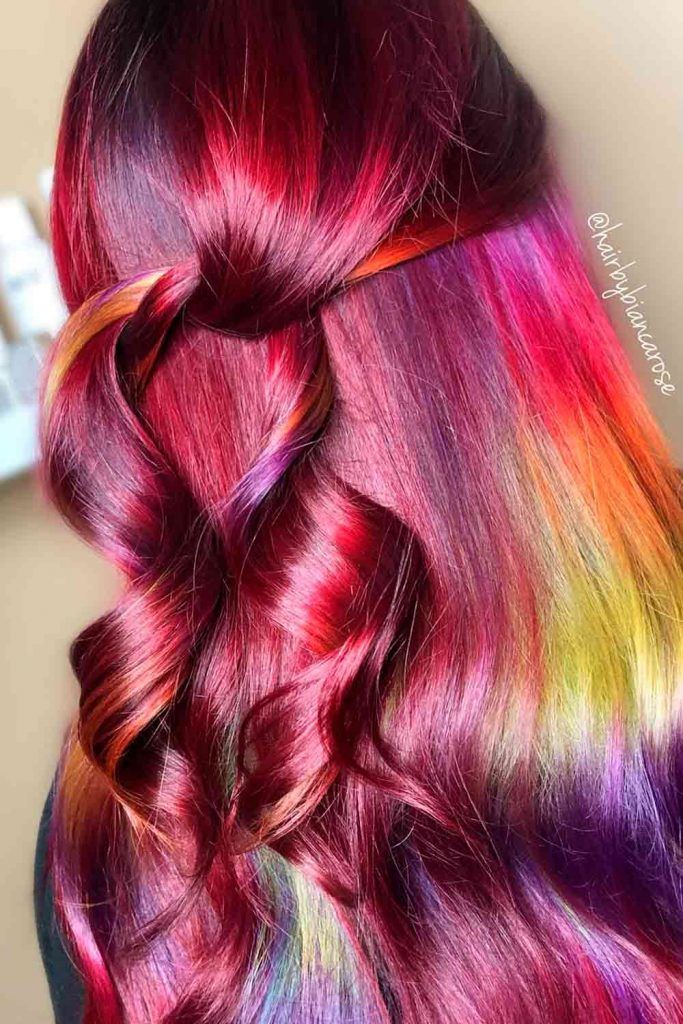 Credit photo: instagram.com/hairbybiancarose
If you want a multidimensional ombre effect, go for this bright red and dark burgundy option!
Red Violet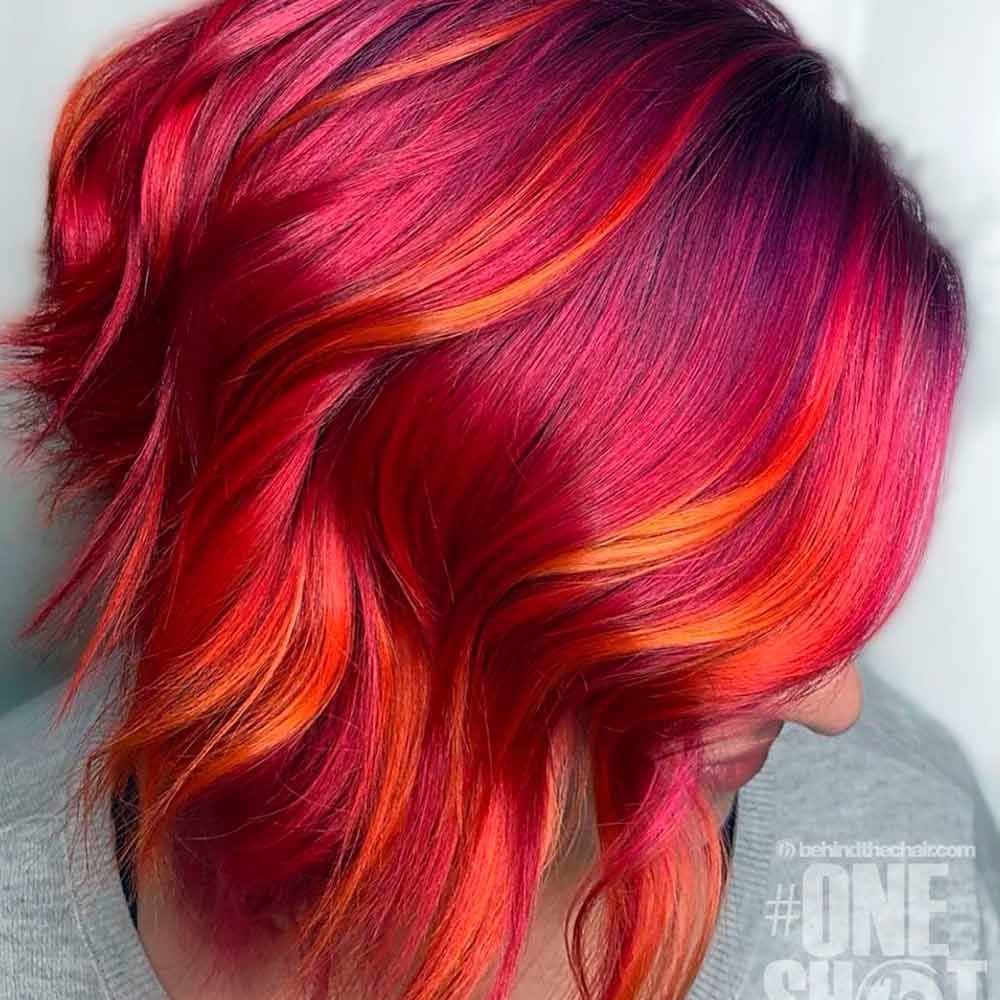 Credit photo: instagram.com/hairbybiancarose
The transition from black to violet red is breath-taking! These long and straight locks just make the hair look even more stunning. But if you would like some curls, you won't make a mistake, do not worry!
Black And Deep Mahogany Hair Combo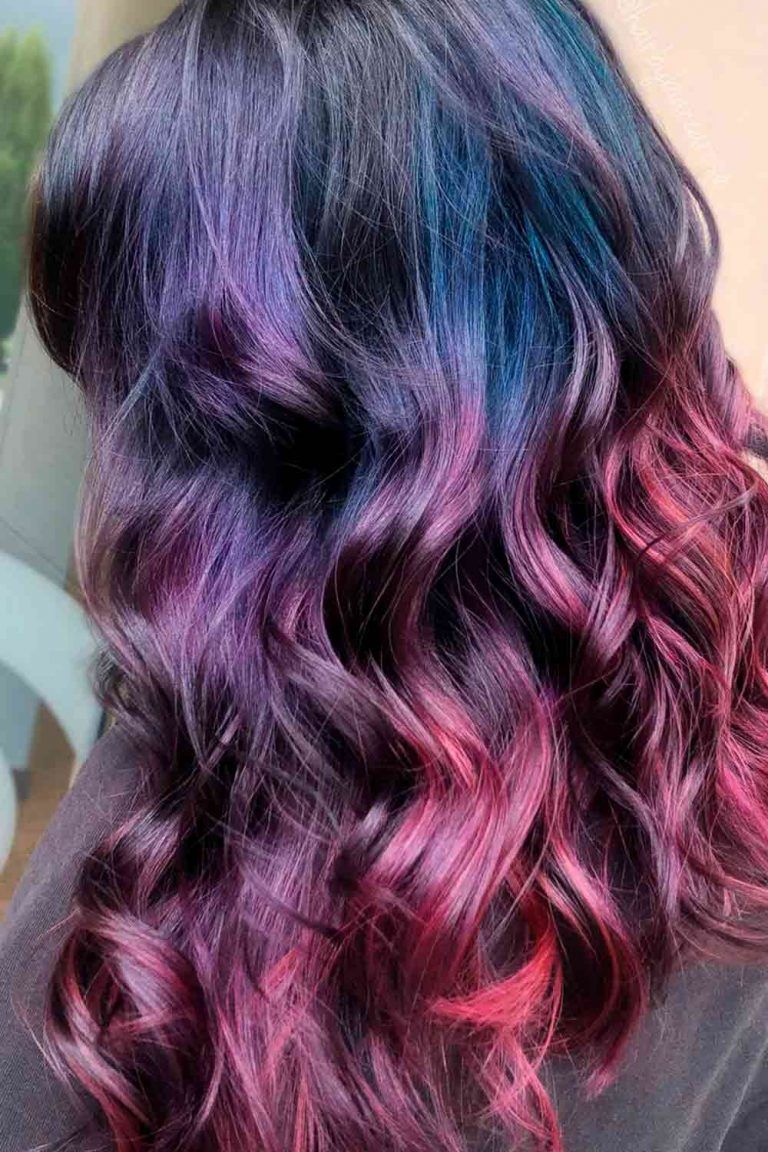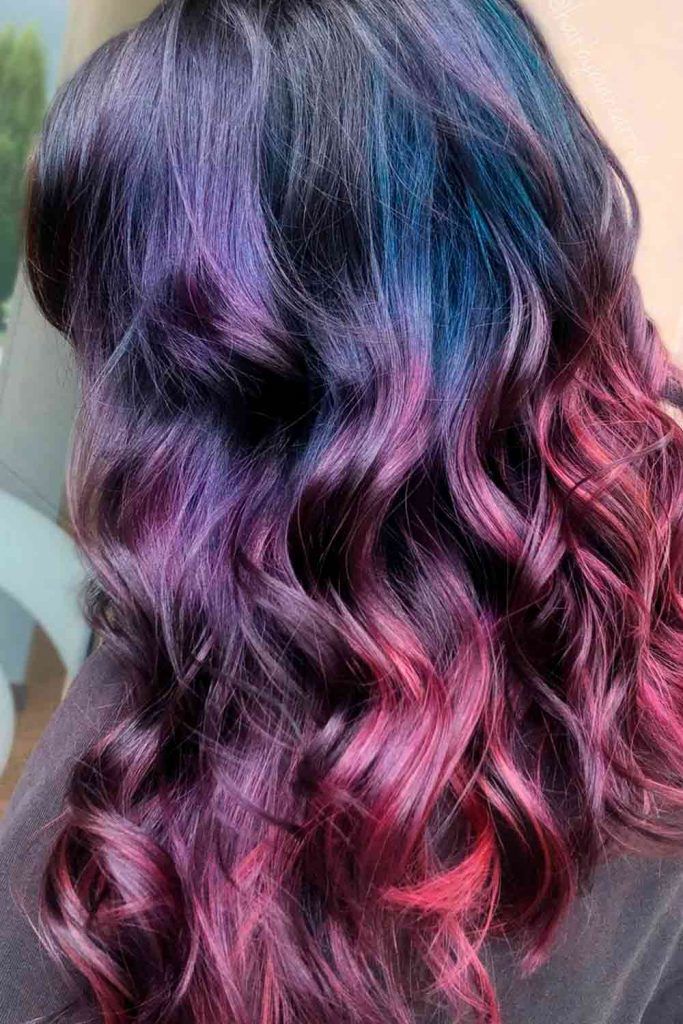 Credit photo: instagram.com/hairbybiancarose
Multi-Color Ombre Style
Sweetheart Red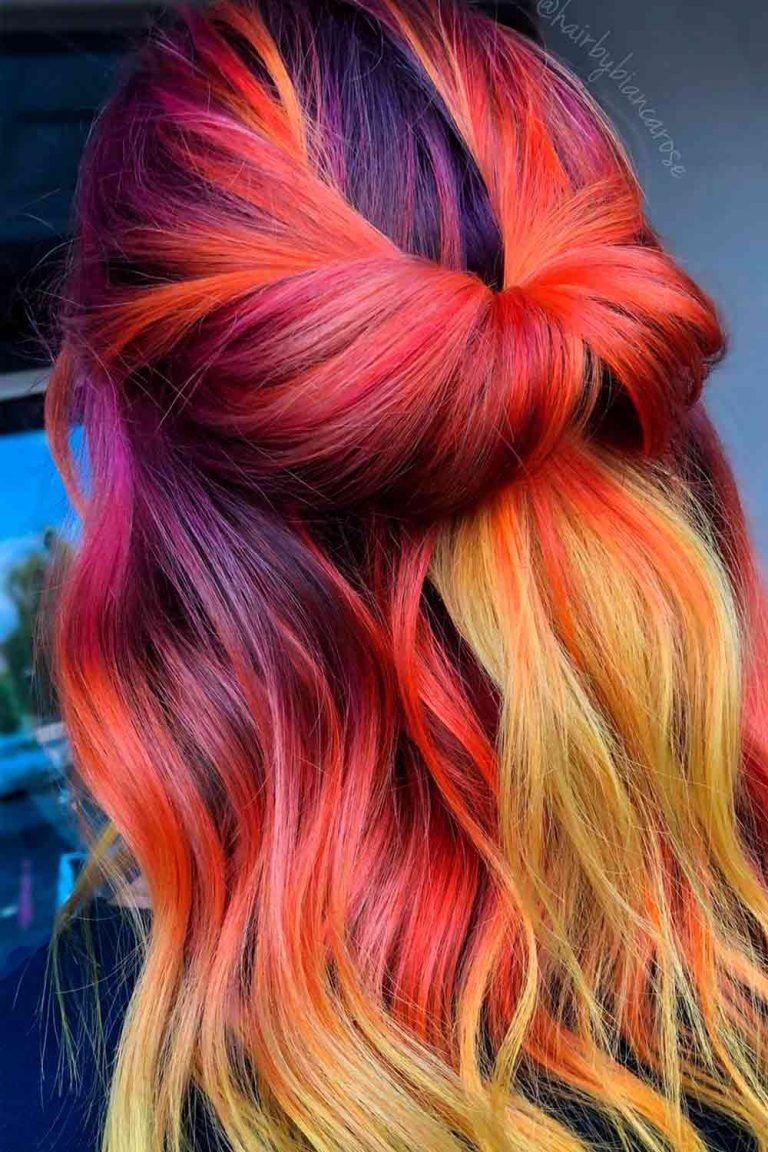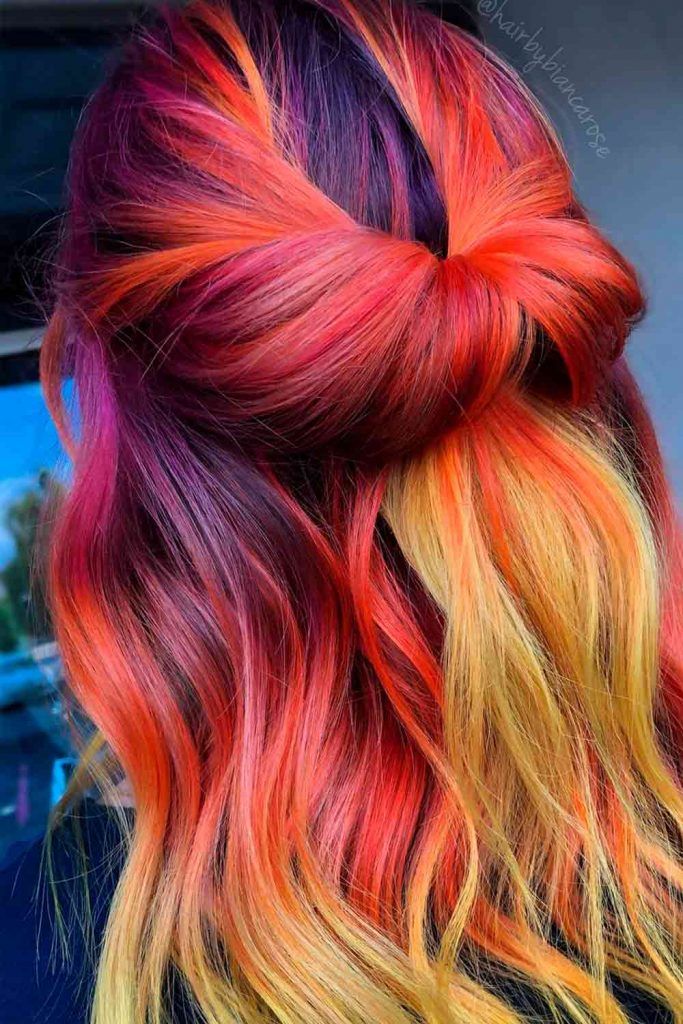 Credit photo: instagram.com/hairbybiancarose
This red ombre look is perfect for Valentine's Day or a big event. With its dramatic gold to bright bursts of red and pink, it works great with all hair types and ages. This fun look works best for layered hair to properly show off the layers of ombre.
Bright Red Curls
Brighter shades are always the most dramatic. So, if you have dark hair, swirl in some bright red and curl your hair in a fun, wavy style!
Grey And Red Coral
While classic red and salt-and-pepper hair colors don't seem to work out well, their muted, pastel variations can form an absolutely harmonic combination. Here, you can see how smooth soft grey hue can blend with a lightweight coral shade, proving that a little bit of creativity can create balance out of once unmatching colors.
Fading Red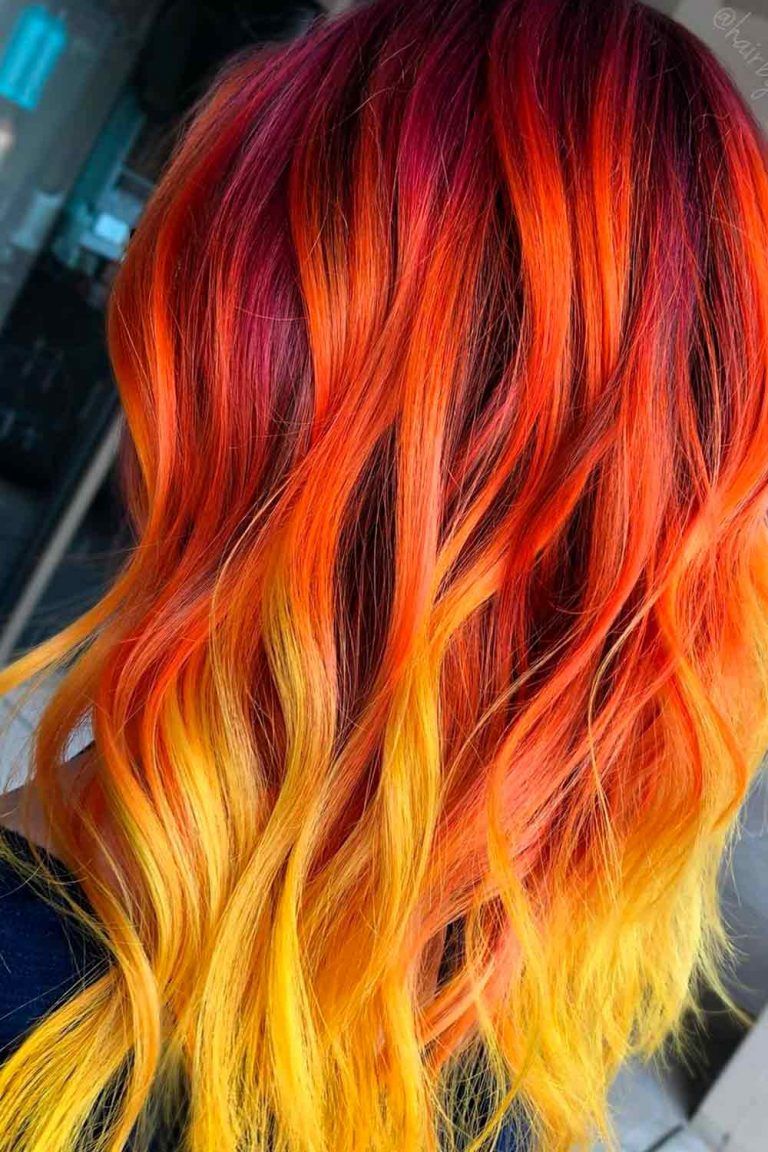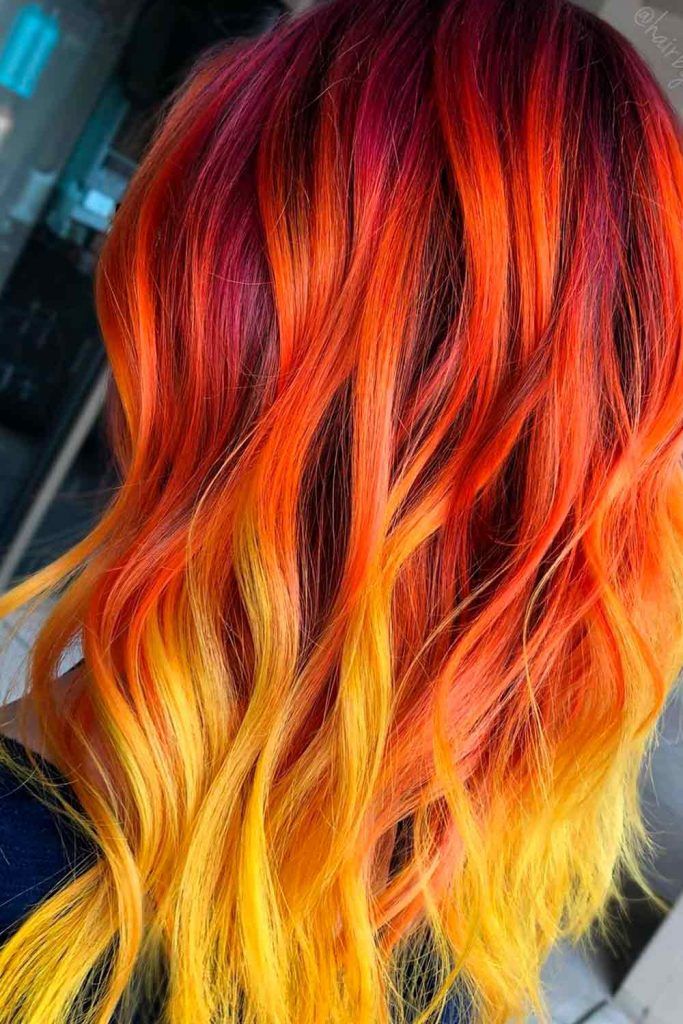 Credit photo: instagram.com/hairbybiancarose
The red color is not always all about bright and saturated shades that make people lose their minds with its vivid charm. But, even when it fades, it looks unbearably seductive. The best thing about this fading red shade is that it preserves its warm undertone without having a very bright or drastic finish. Also, you can combine this shade with anything from classic blonde and brunette to ravishing orange and purple tones.
Bombshell Blonde with Bright Red Accents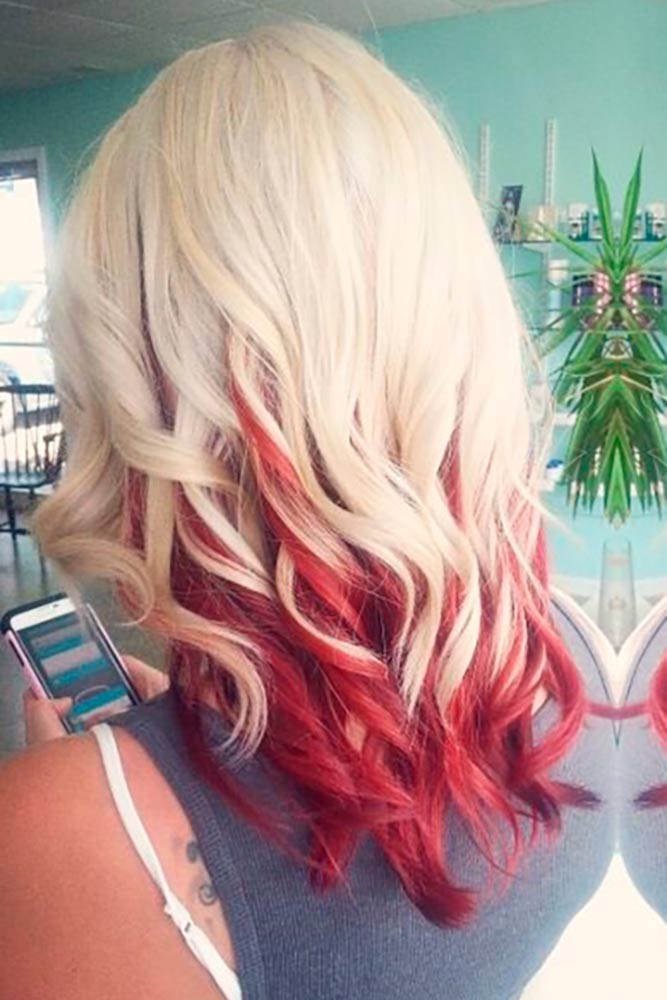 Credit photo: instagram.com/kaylakonn
Platinum blonde is always gorgeous. But when you add in bright red tones, you are only making the effect even more striking. The lighter the blonde, the better. And with red accents, that looks as though they have been artfully hand painted. This hairstyle will be sure to turn heads when you walk into a room.
Red Rainbows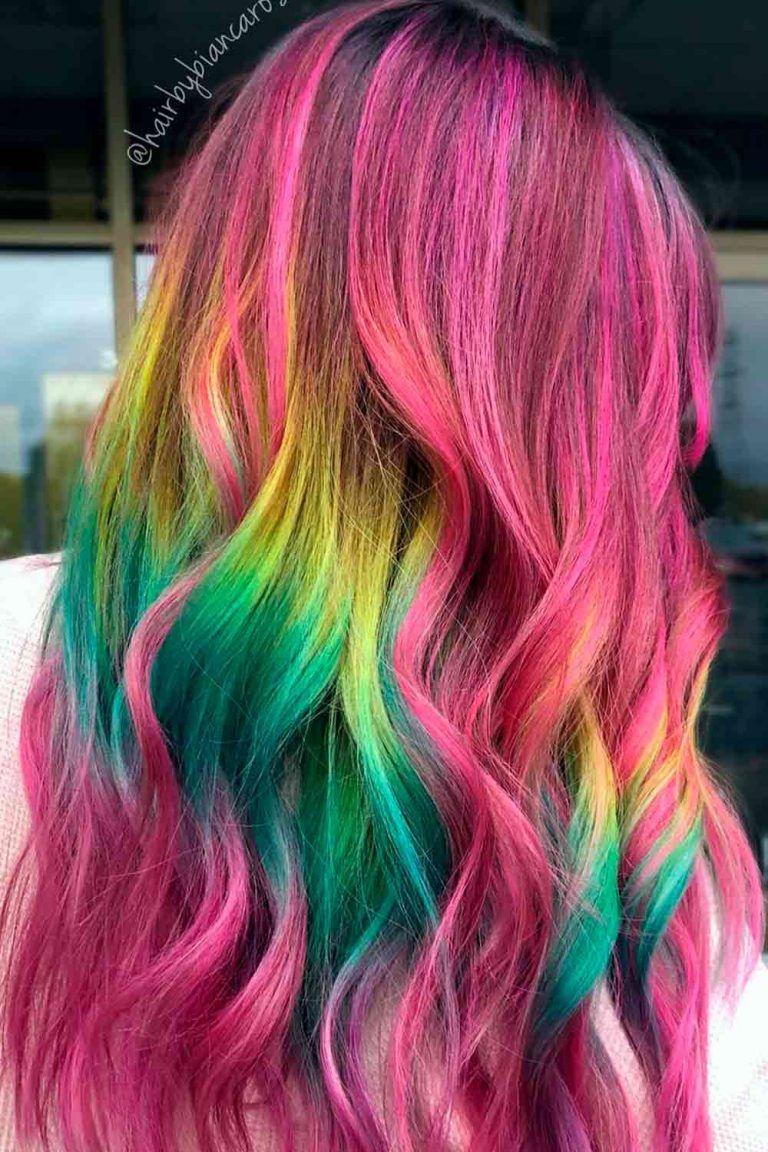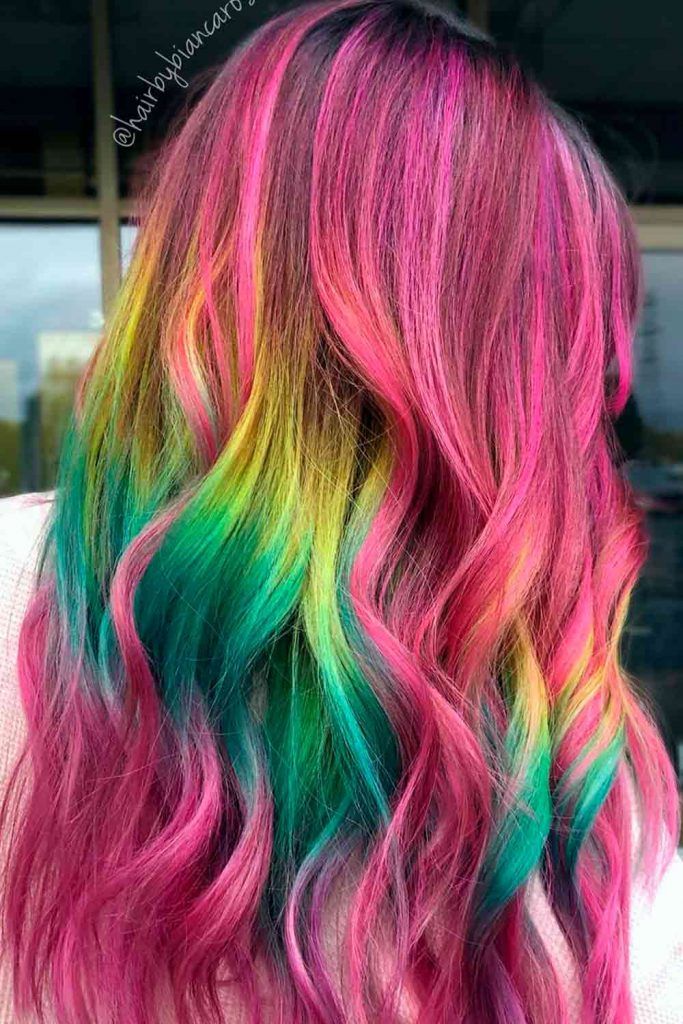 Credit photo: instagram.com/hairbybiancarose
This gorgeous red to gold ombre is a great way to express your inner goddess. Starting with brilliant red to stunning gold packs a powerful punch.
Ombre Hair Look With Brilliant Bursts of Red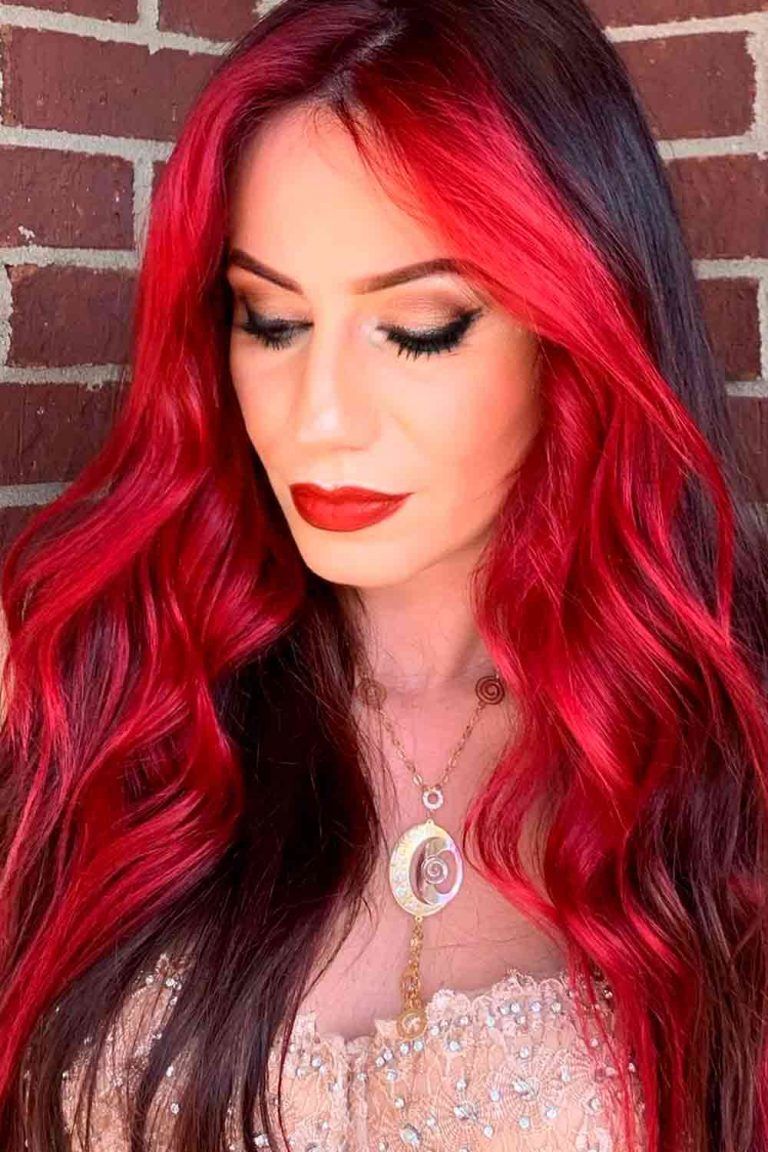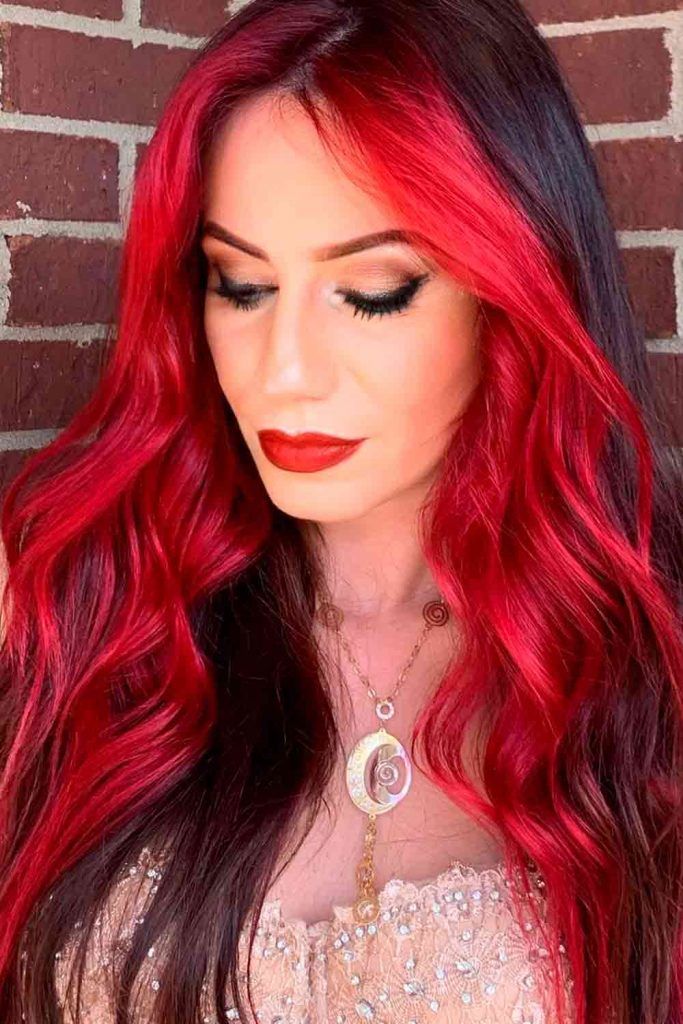 Credit photo: instagram.com/elonataki


REFERENCES:
Ombré is the blending of one color hue to another, usually moving tints and shades from light to dark. Source