Auburn hair color is always gorgeous, but choosing just the right shade and style of auburn can be a bit tricky. From bold cherry reds to subtle auburn tips, the options are endless!
*We may earn money from affiliate links on this page. Please check out our disclosure policy for more details.
Remember to take into consideration your complexion when choosing your new auburn hair color. You can easily find the shade that suits you best.
Darker shades of red hair will not flatter those with a paler complexion, so choose your hair color wisely. There are a ton of auburn shades and hues available – don't despair!
Remember, if you are going from a dark color to a softer shade, you should bleach your hair before coloring. Also, you should take caution to protect your hair when swimming or exposed to ultraviolet light. As well, make sure to use only products that are designed for color-treated hair to protect your auburn shade.
With auburn shades, you can also experiment with balayage and ombre tones as well as streaks and highlights. Really embrace the redhead goddess within and go wild!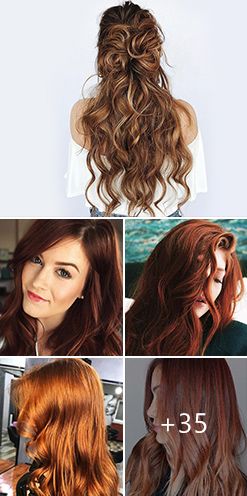 How To Color Your Hair Auburn At Home
What color is auburn hair? It's dark ginger or reddish-brown shade of red that has a variety of hues and tones to it. It has always been a stunning shade, but now it is growing in popularity.
If you wish to dye your hair auburn, your best bet is to see a stylist. But you can also color it at home as well if you follow this simple advice.
What You Need Before Coloring Your Hair At Home
First, make sure you have the following supplies:
1 or 2 boxes of hair color, depending on the length of your hair (choose a shade that suits your complexion best)
Old towels
Bowl
Hair dye/tinting brush
Rubber gloves
Shower cap
Comb
Conditioner (may come with the hair color)
Step-By-Step Directions:
Wash your hair 24 hours prior to coloring. Do not use any product after you shampoo.
Wear old clothes and/or put a towel on your shoulders. You may want to cover the floor as well.
Brush out any tangles/knots.
Section your hair into 4 sections.
Clip up all but one section.
Mix hair color according to package directions, after putting on the gloves.
Apply hair dye in ¼ inch pieces one section at a time
Use your fingers to work the dye thoroughly into your hair.
Cover your hair with a shower cap and allow the dye to sit on for the indicated time.
Wash the dye off your hair completely until water runs clear.
Condition your hair and allow it to dry.
Do not wash your hair for at least 24 hours after dying your hair. Auburn hair color will last longer if you take steps to preserve the color. Only wash your hair two times a week. Use dry shampoo between washings and condition your hair daily. Red hair color washes out with warm water so use cold water when you do wash your hair.
Auburn Hair Color Ideas To Be On Top
Auburn Streaks With Dark Roots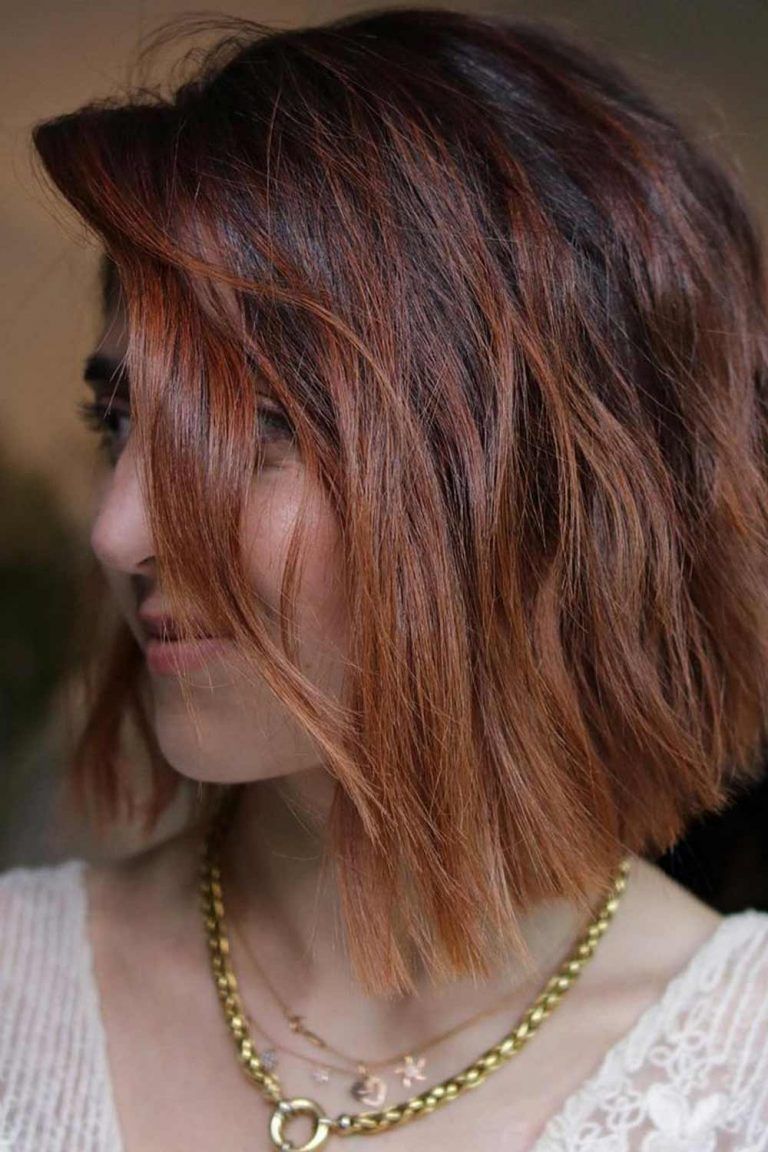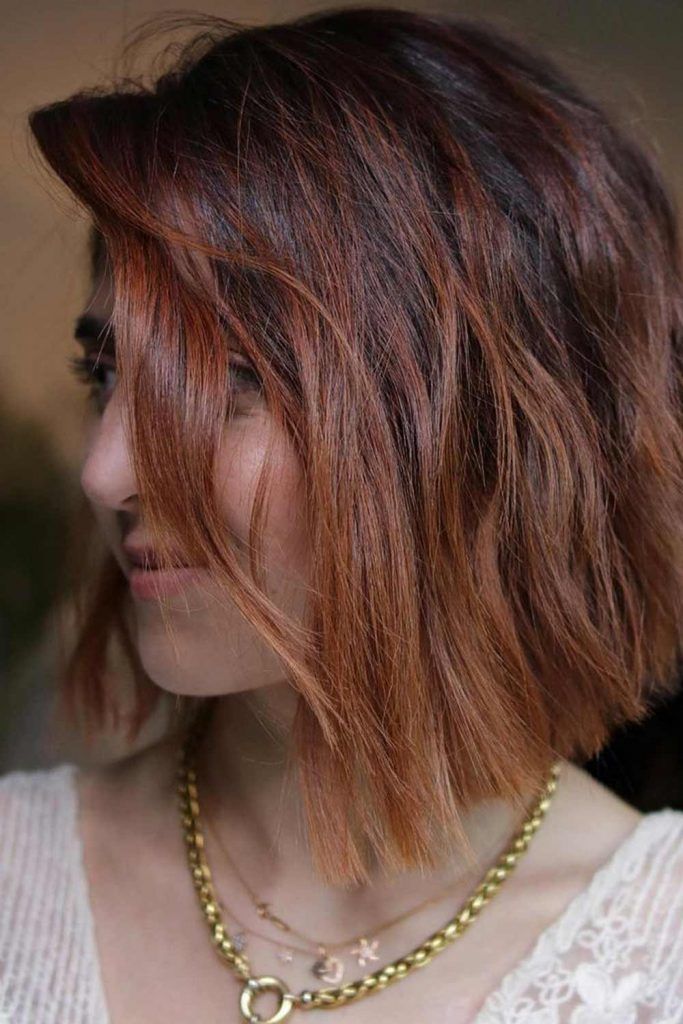 Credit photo: instagram.com/salsalhair
If you do not wish to dye the entire length of your hair auburn, you can use a gorgeous shade of bright auburn for a streaked effect. Start off with dark chocolate or deep chestnut brown base and use the tinting brush to apply auburn streaks throughout your hair. You can make the auburn streaks as thin or chunky as you like.
Auburn hair color highlights with dark brown roots will look especially stunning on wavy tresses as it adds depth and texture. As well, it will look ravishing when your hair is worn in an updo or half-updo hairstyles such as a braid, bun, top knot, ponytail or chignon.
Fiery Auburn Balayage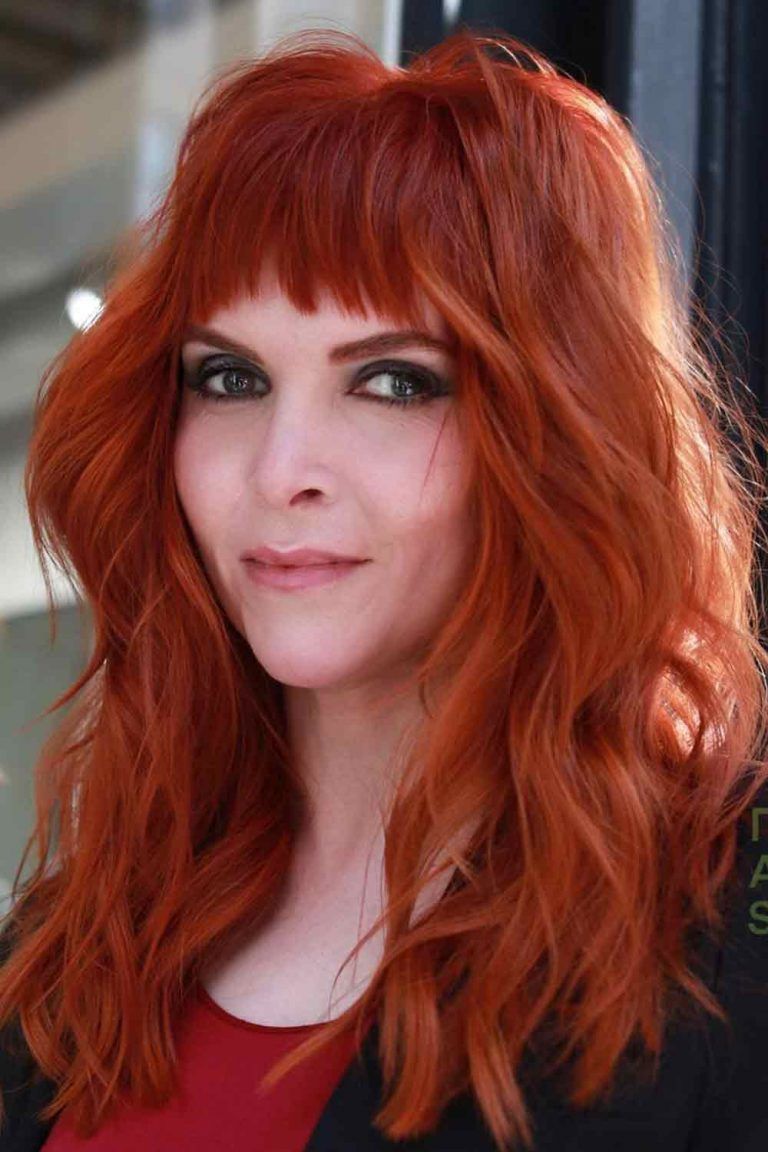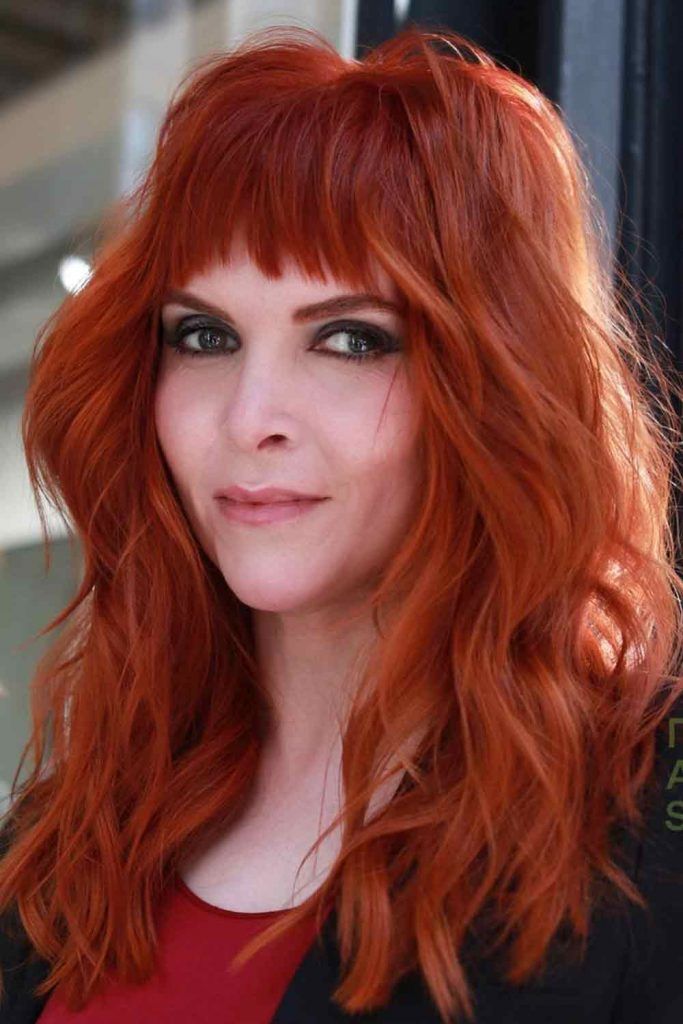 Credit photo: instagram.com/salsalhair
One of the best things about auburn hair color shades is that there are so many different hues you can choose from to add depth to your hair. This dark and light auburn balayage blend is perfect for fall with its fiery orange and deep auburn highlights.
Bright auburn hair color contrasts perfectly with a deep cherry red for a fiery red and orange blend that is reminiscent of a sunset. It looks even prettier on long hair with beachy waves.
Multidimensional Brown And Auburn Balayage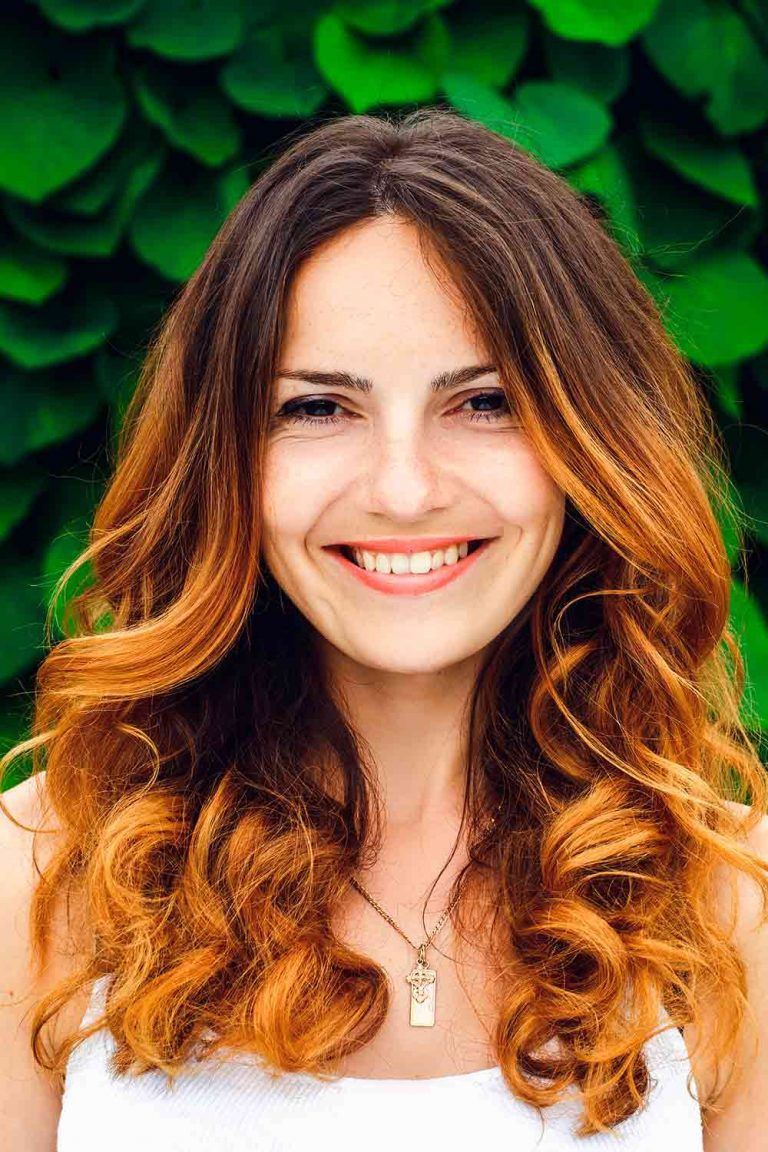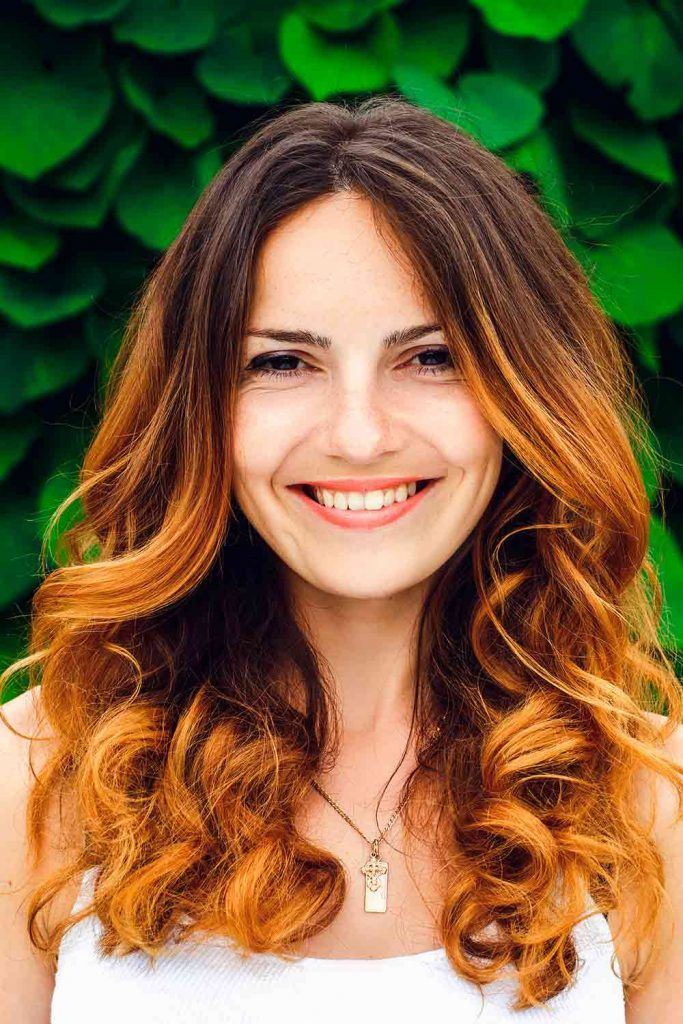 Credit photo: Shutterstock
If you can't decide which brilliant shade of auburn hair color to choose why not go for a fabulous multidimensional autumn balayage? Keep the base a chestnut brown and blend in varying shades of rich dark and vibrant light auburn tones for a magnificent auburn brunette hair color.
This glorious blend of red and brown hues looks fantastic in an updo or half updo such as the twisted ponytail shown here. The multi-tonal hues are full of depth and dimension.
Muted Auburn Waves
Credit photo: @cutyourhair
i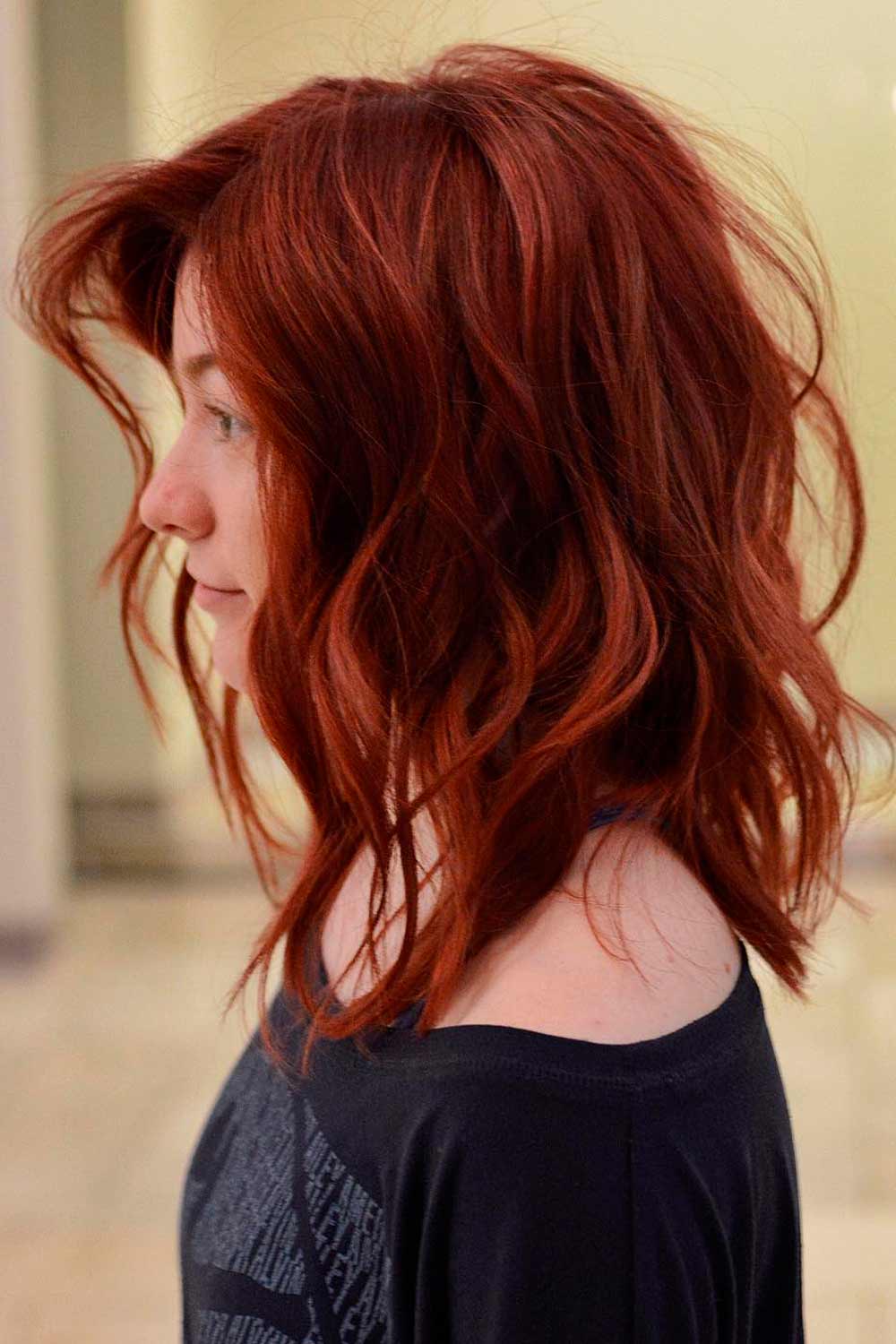 Credit photo: @salsalhair
i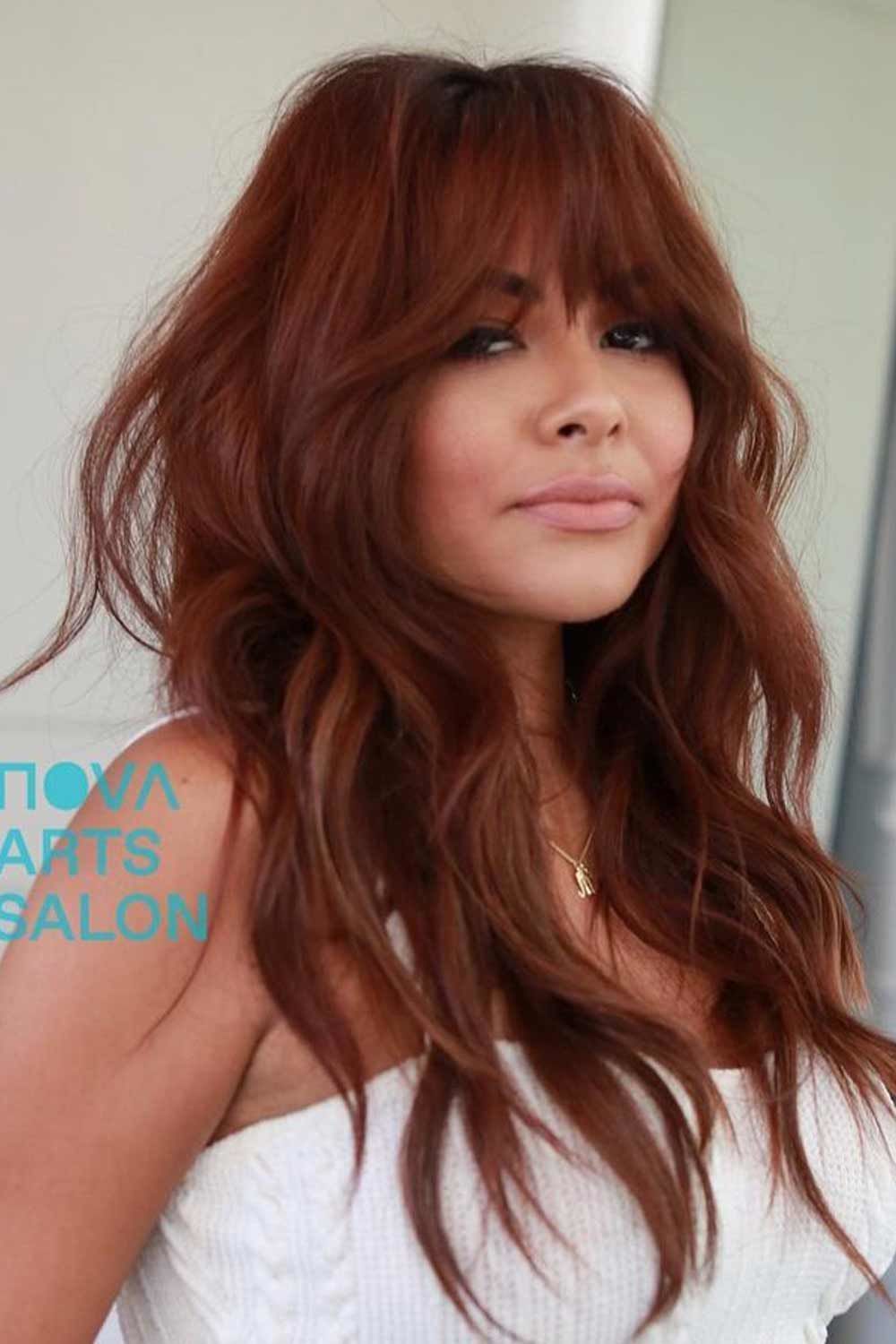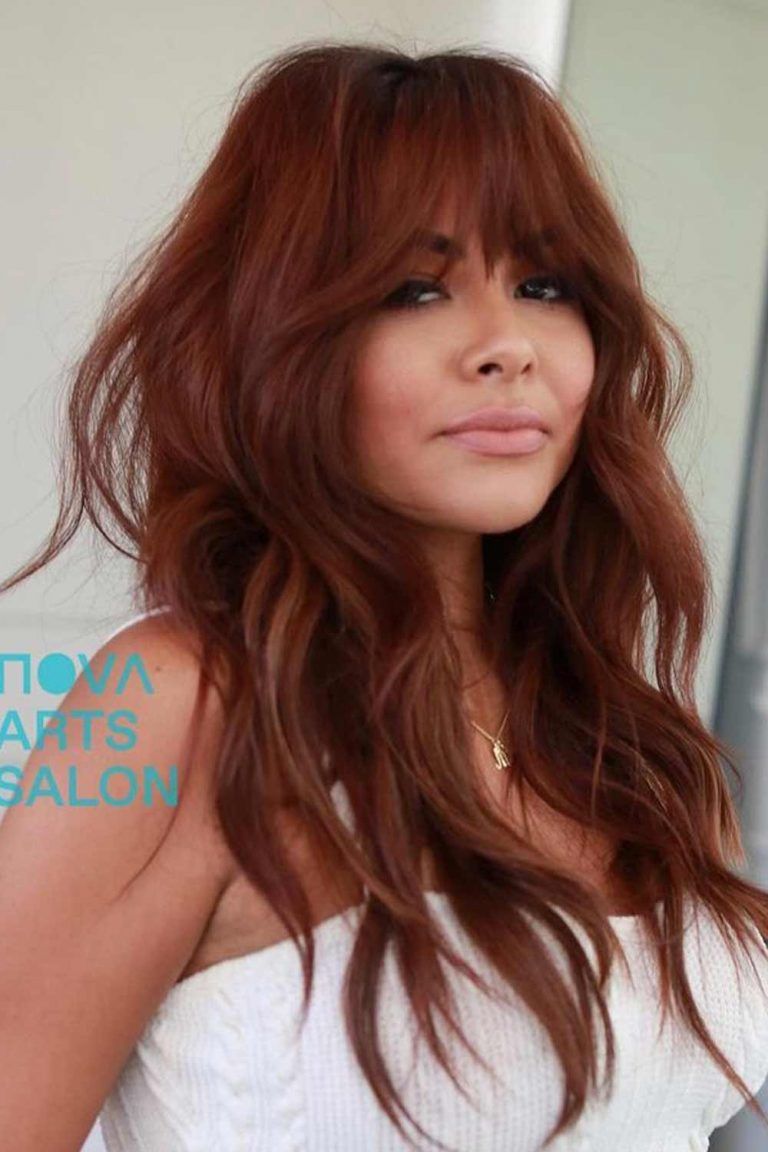 /
If you prefer dark auburn hair color, this muted dark auburn is very subtle. Not all shades of auburn have to be bold and vibrant. This dark auburn brown hair color is softer and warmer with its muted brown and black undertones.
Ask for chunky deep cherry red highlights for a look that is chic and sophisticated. Style your hair in ringlets to add a soft, romantic vibe to this glamorous dark auburn hair color.
Strawberry And Cream Auburn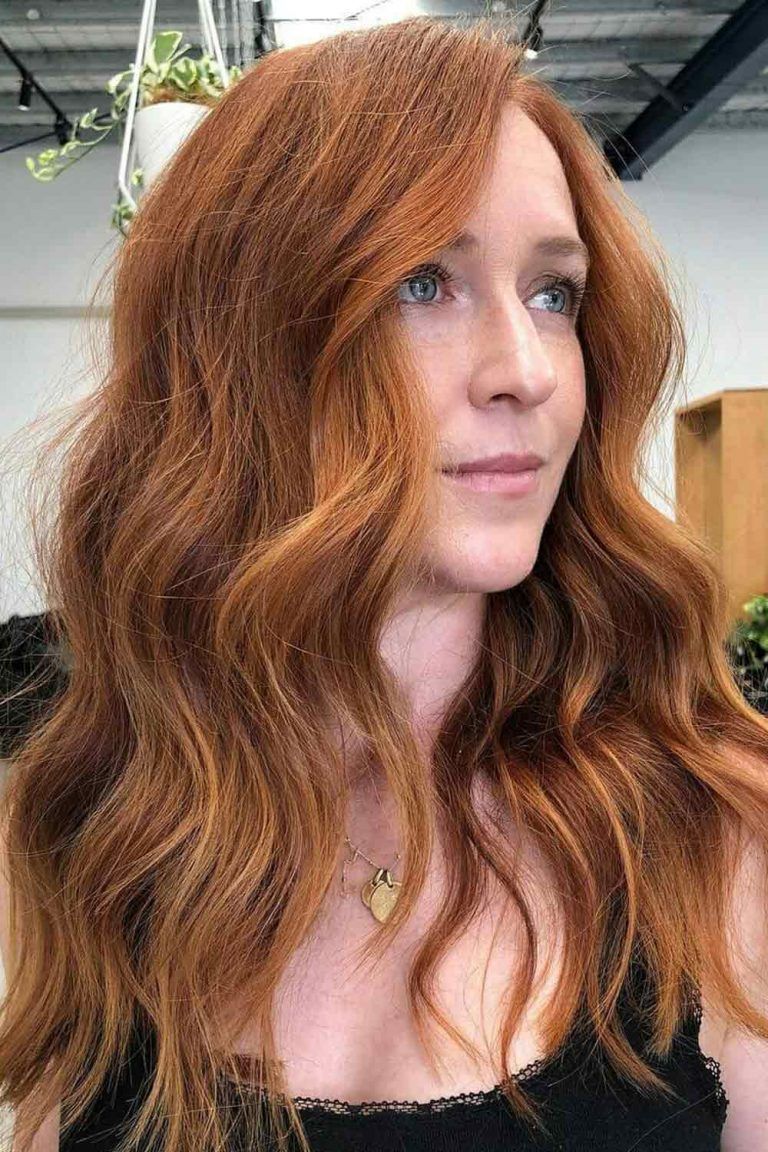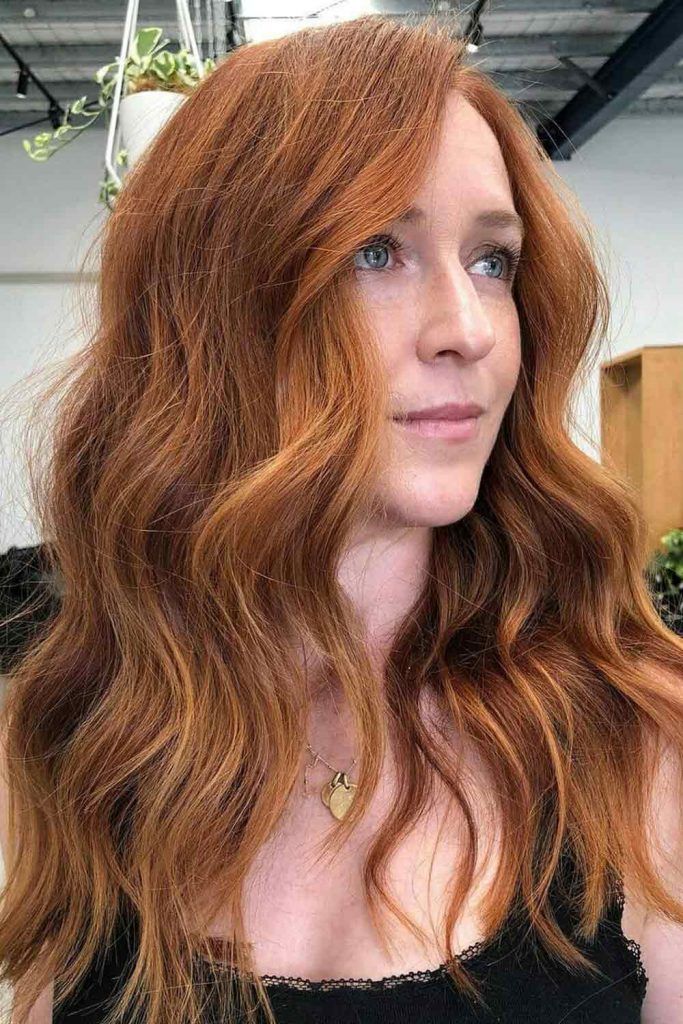 Credit photo: instagram.com/_edwardsandco
Do you want a brilliant shade of red that is very natural looking? This strawberry blonde shade is the perfect natural auburn hair color. Don't be afraid to color your hair all over with this pretty strawberry and cream shade of auburn hair color. On the other hand, you can leave some brown or blonde hues mixed within to add some depth.
Style your hair in long, luxurious waves to really rock this vibrant shade of Auburn. You will look and feel like a movie star when people stop and stare as you pass on the street.
Russet Auburn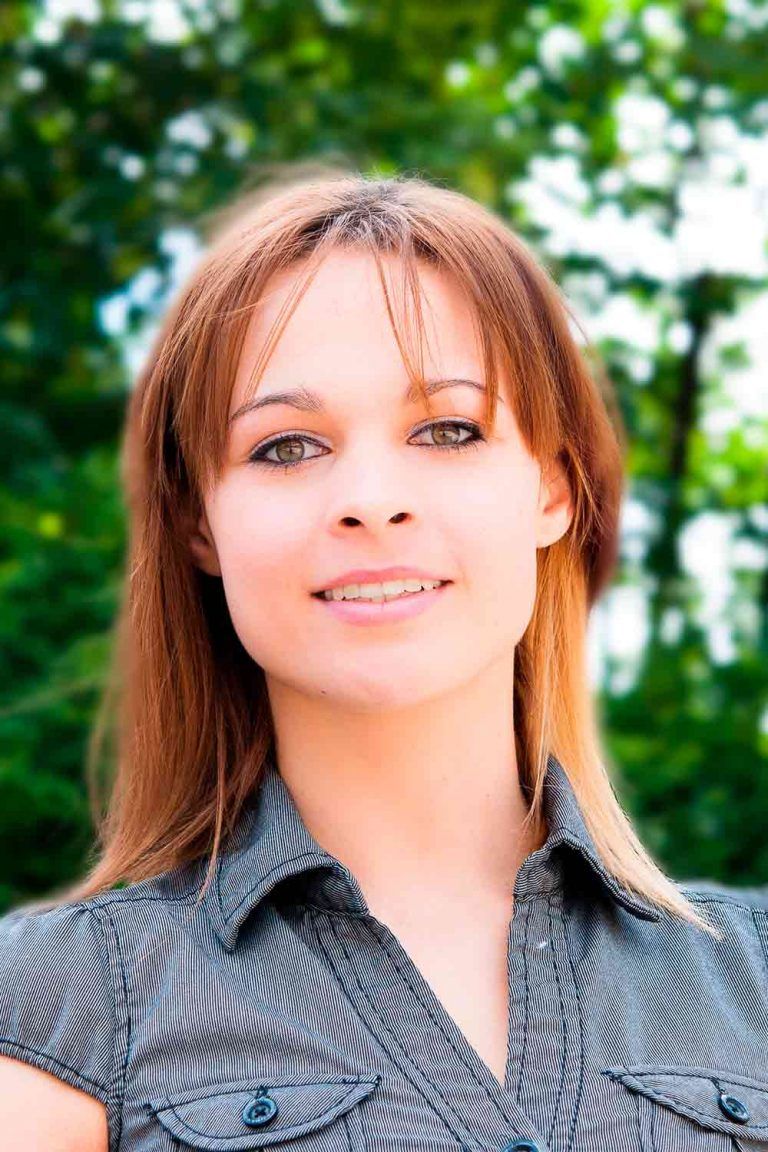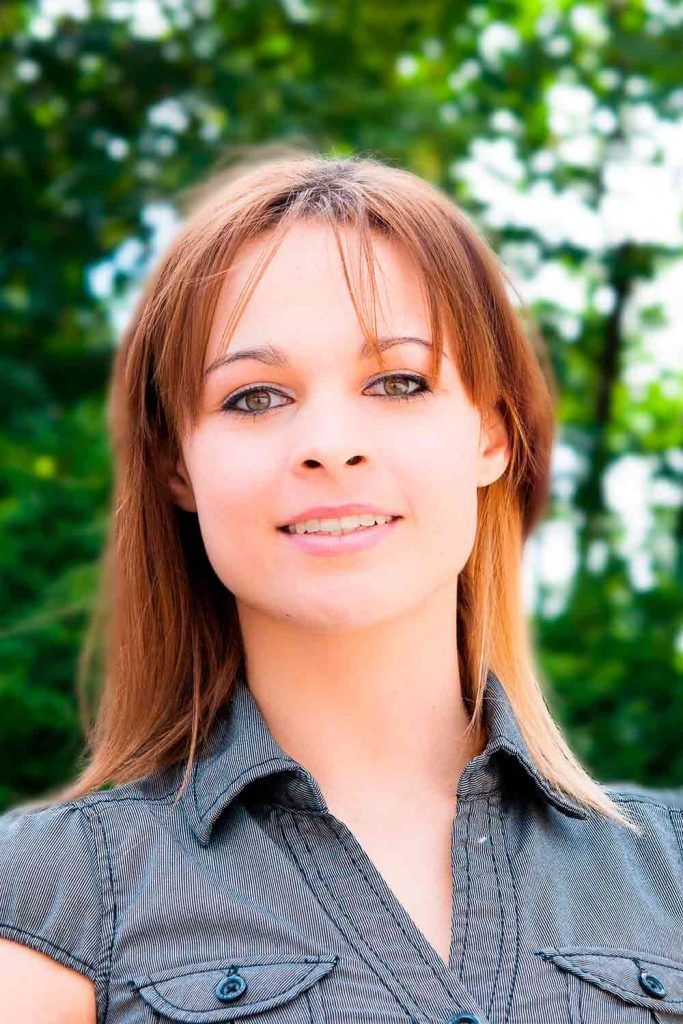 Credit photo: Shutterstock
Among the great natural auburn hair color ideas is this gorgeous russet auburn. With this dark ash brown base and fiery orange highlights, people will have to look twice to figure out the shade. They may think your hair's natural until they see the multi-tonal hues that glisten in the sunlight.
This color is very classy so it looks very pretty on a glamorous hairstyle like this long sleek one. Part your hair in the middle and blow it dry straight. Then, make slight waves a halfway down your hair to add some body.
Deep Auburn With Ginger Hues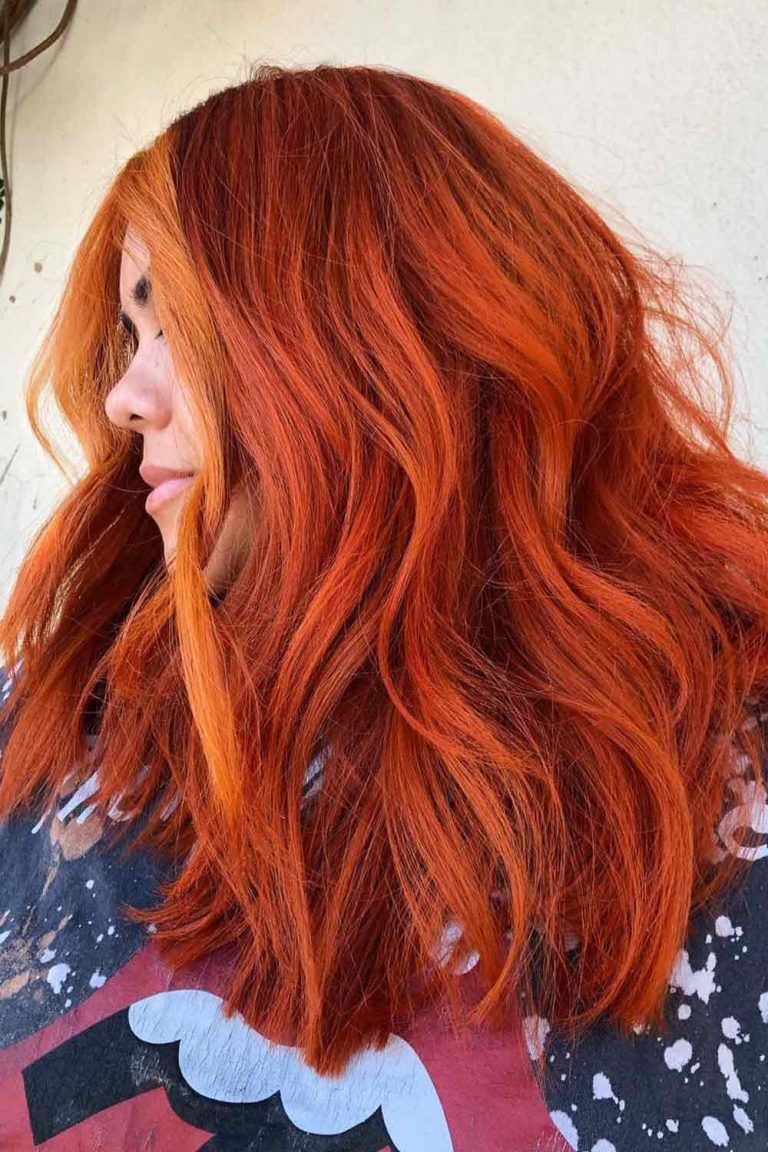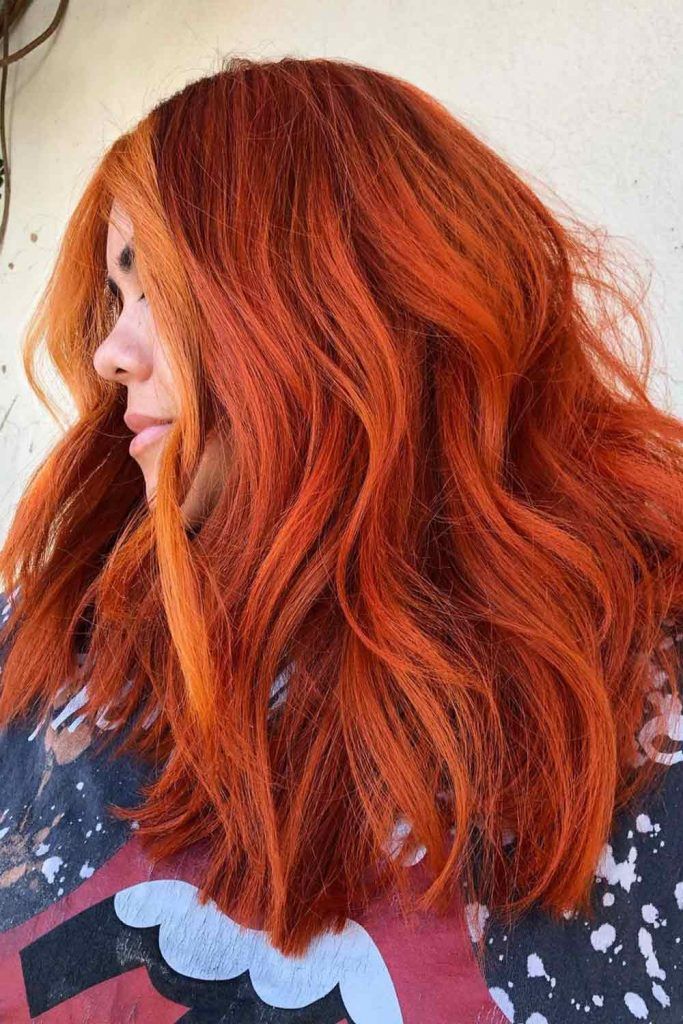 Credit photo: instagram.com/_heyhelena
Want a shade of auburn hair color that is red hot? This deep auburn hair color is reminiscent of a dark burgundy wine with hints of cherry red. Start off with a dark burgundy red and blend in a bright cherry red to add depth and dimension. The final effect will be a sexy, dark shade of auburn red hair color that is glamorous and chic.
Part your hair to one side and let it fall seductively over one eye. Style your hair in big loose waves. People will think you just walked off the red carpet. Don't be surprised if they ask you for your autograph!
Metallic Auburn With Copper Tones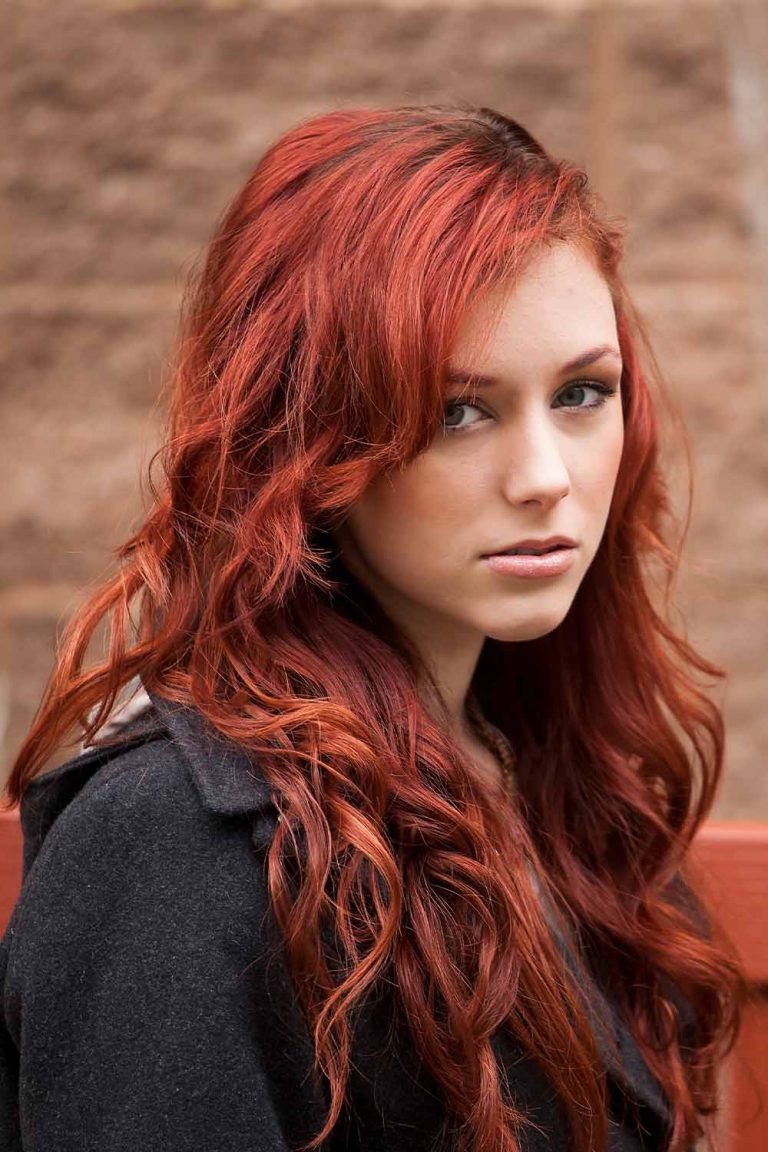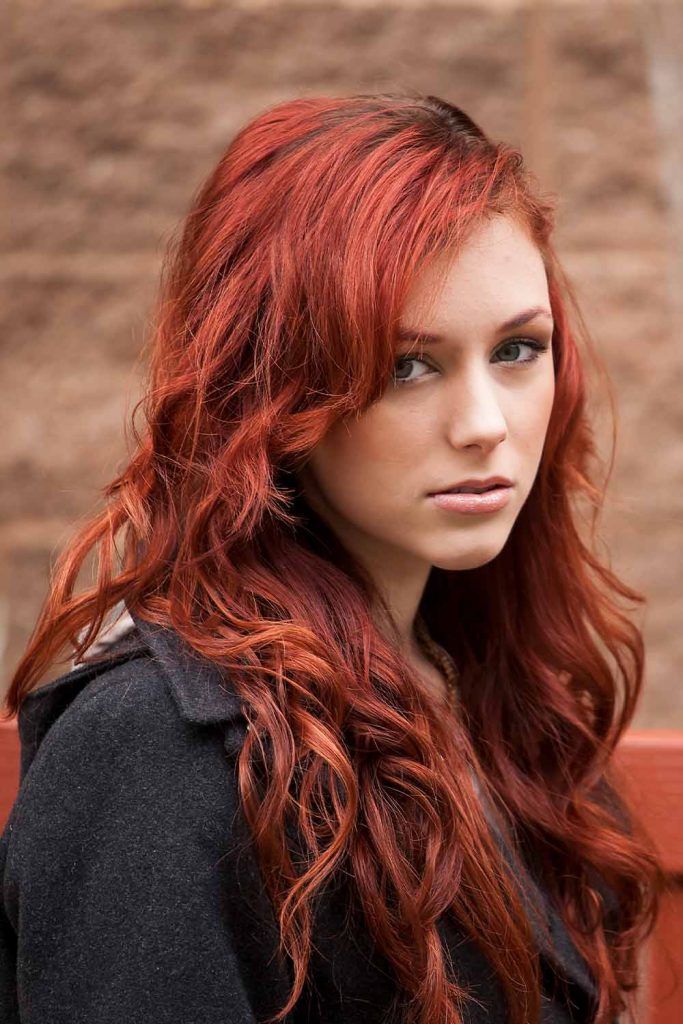 Credit photo: Shutterstock
How about a rich auburn hair color for a truly glamorous look that has a bit of an edge? This metallic auburn with copper highlights adds an edgy vibe to this otherwise natural-looking shade of auburn red. Ask for a deep auburn and then blend in metallic hues of copper for a multi-tonal effect to add texture. Style your hair in sexy loose waves for a casual look that is sultry and chic.
Multicolor Auburn Sorbet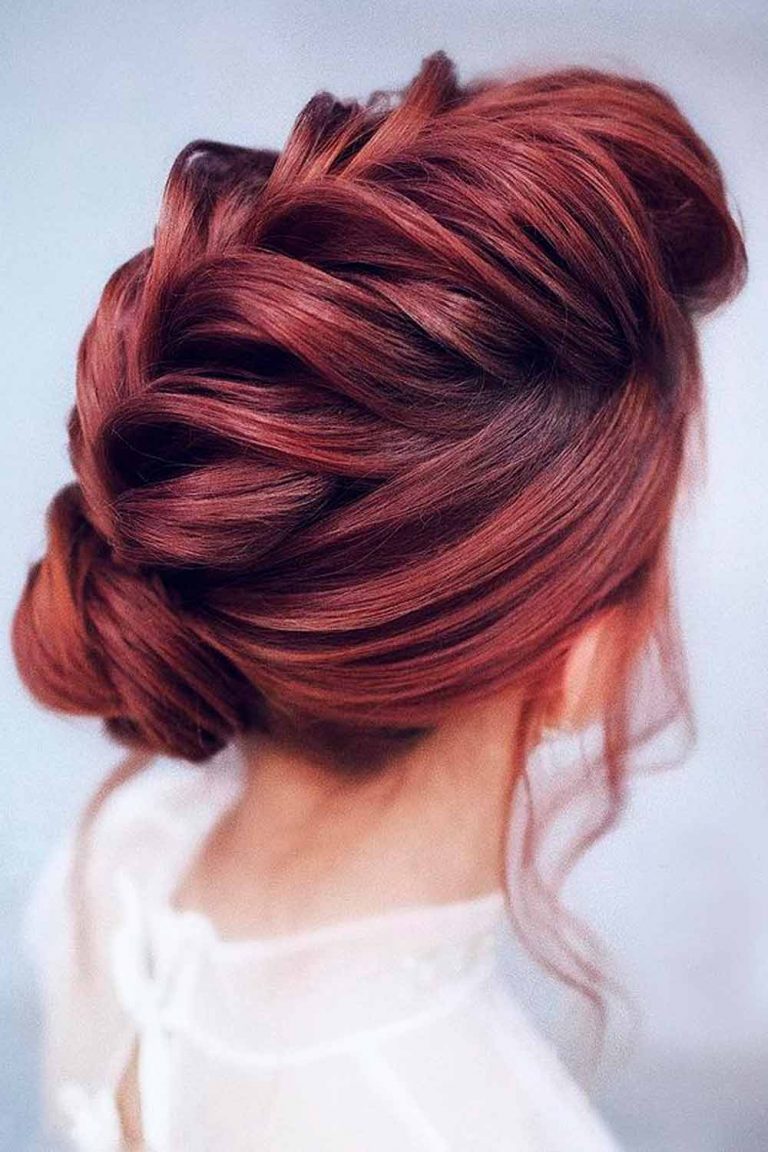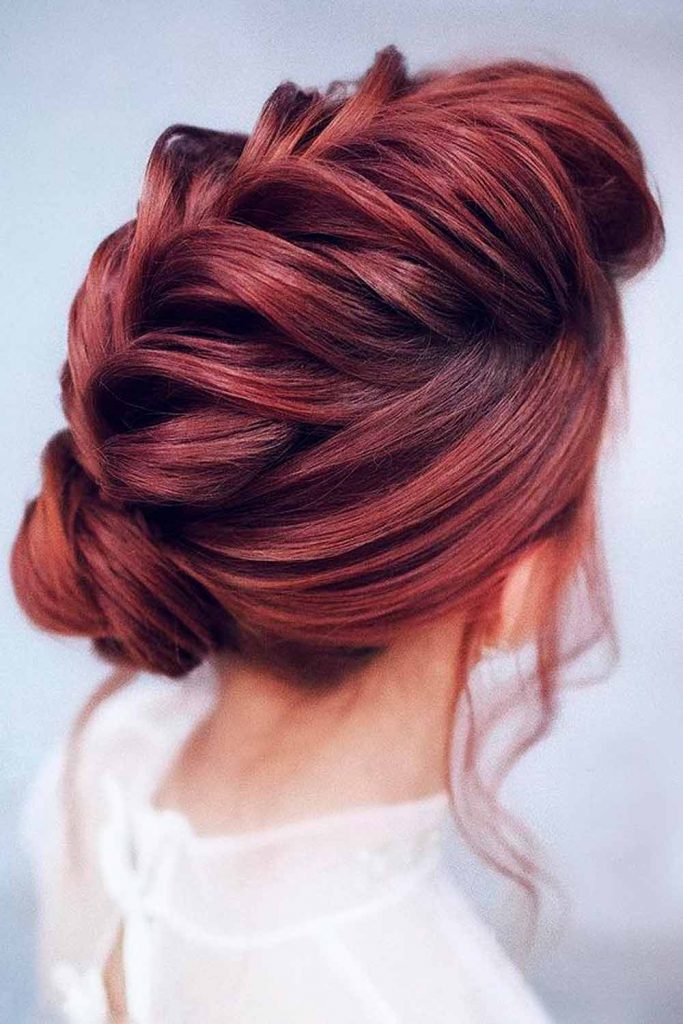 Credit photo: instagram.com/tonyastylist
If you really want to embrace a striking auburn hair color, try this sorbet blend. This bold but soft auburn hair color is not for the faint of heart.
Start off with light magenta roots and blend in soft hues of peach, cherry, and ginger. You can even go for an ombre fade and start off with the darker shades at the roots and slowly melt to a light auburn hair color at the tips. The final effect will look a richly painted sunset that is the perfect shade for autumn.
Auburn Hair Color With Grey Highlights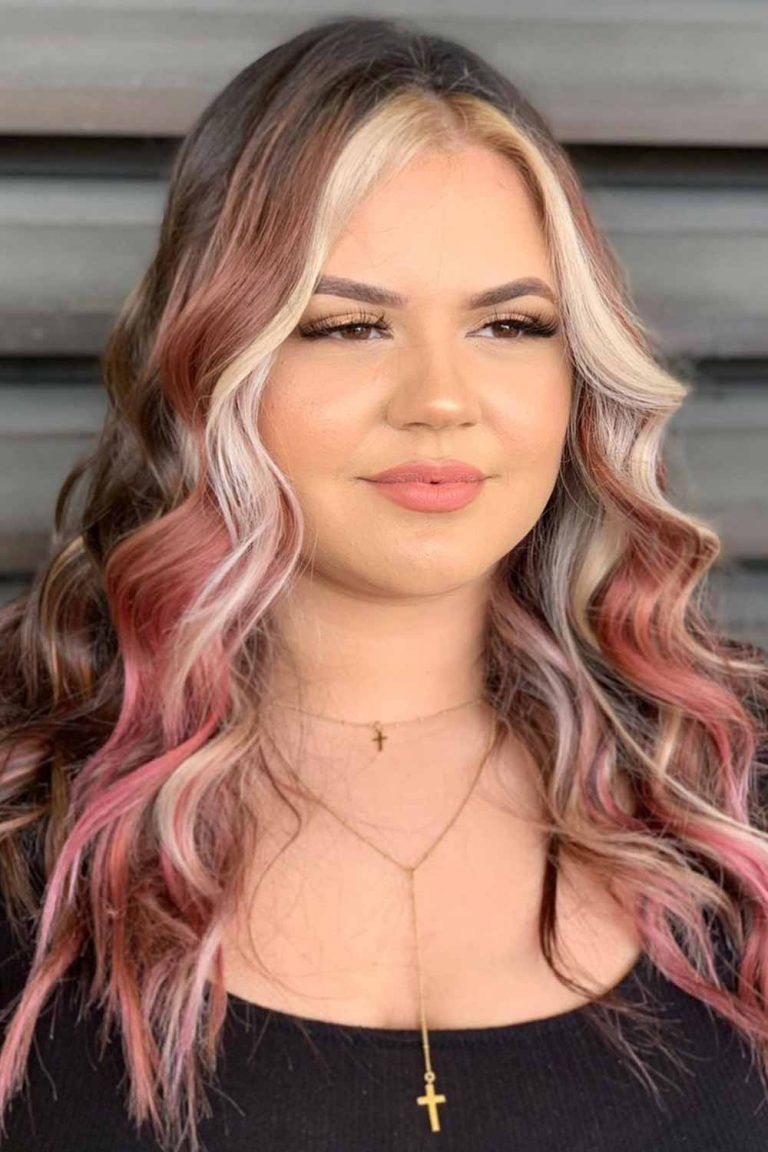 Credit photo: instagram.com/xostylistxo
Did you just notice a strand of gray hair amongst a sea of auburn? When you are in your mid-thirties, the one thing that you are concerned about is gray hairs. And when they finally poke through, you start to freak out. Well, there is no need for that anymore.
We actually have an idea to turn your grey hair into a fashion statement. Why not complement your auburn hair color with grey highlights?
This will not only solve your "grey hair" problem but is also one of the latest fashion trends.
And if you are a fiery redhead, we have a hair color idea for you which is too good to refuse. Gold streaks are old news; you need to try something new. Whether you are 16 or 60, your red hair with highlights will look amazing.
Auburn Hair With Highlights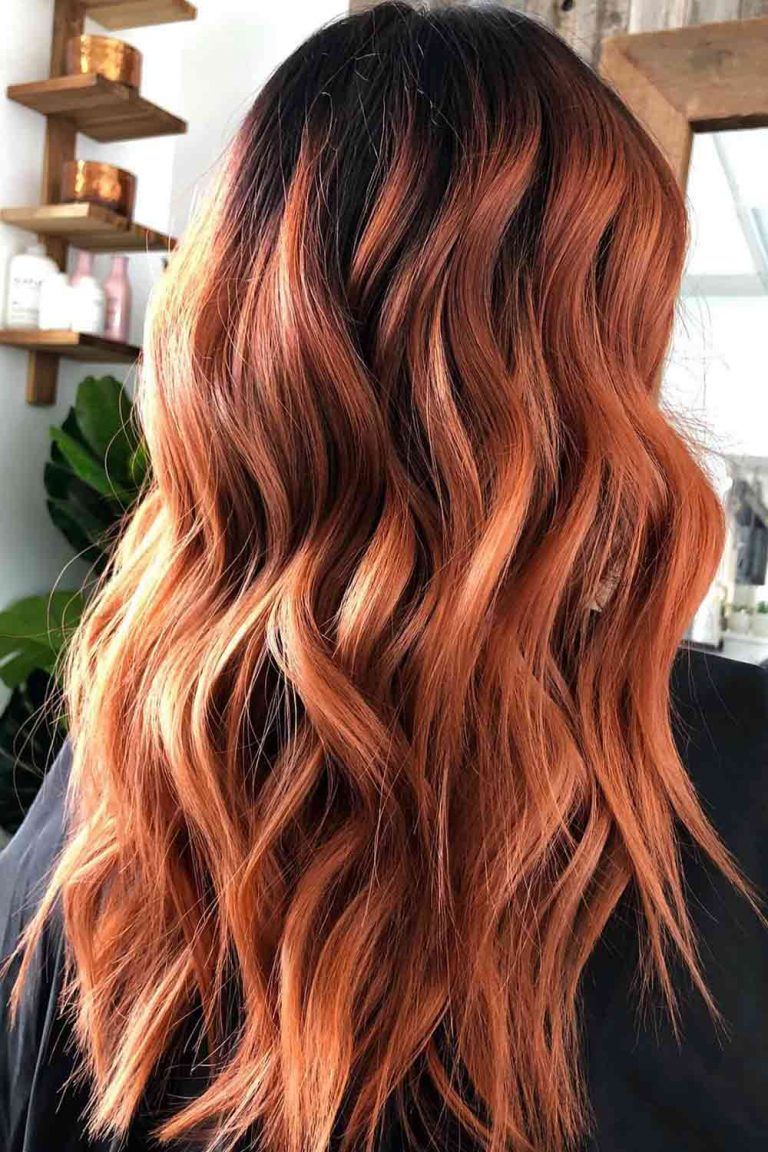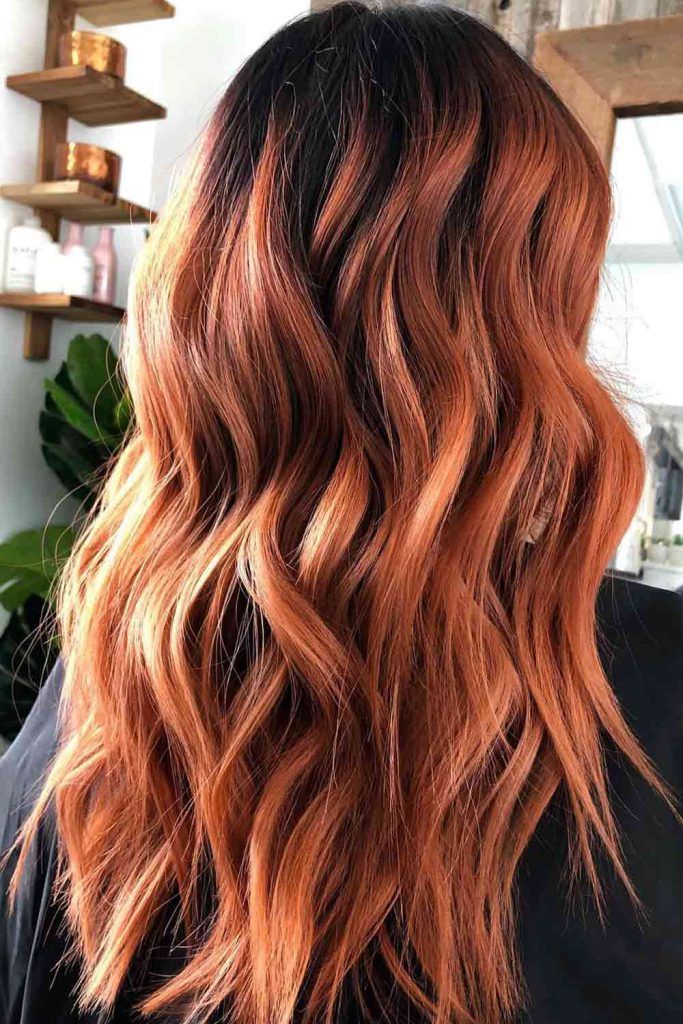 Credit photo: instagram.com/_heyhelena
Whether you have auburn hair color or reddish brown, when you get auburn hair color highlights, heads will be definitely turning towards you.
Having auburn colored hair is amazing, but adding highlights adds more charm to it.
And if you have brown or hazel eyes, this shade of highlights will be perfect for you. Not only this color of highlights makes your eyes pop, it also complements your face.
Dark Auburn Hair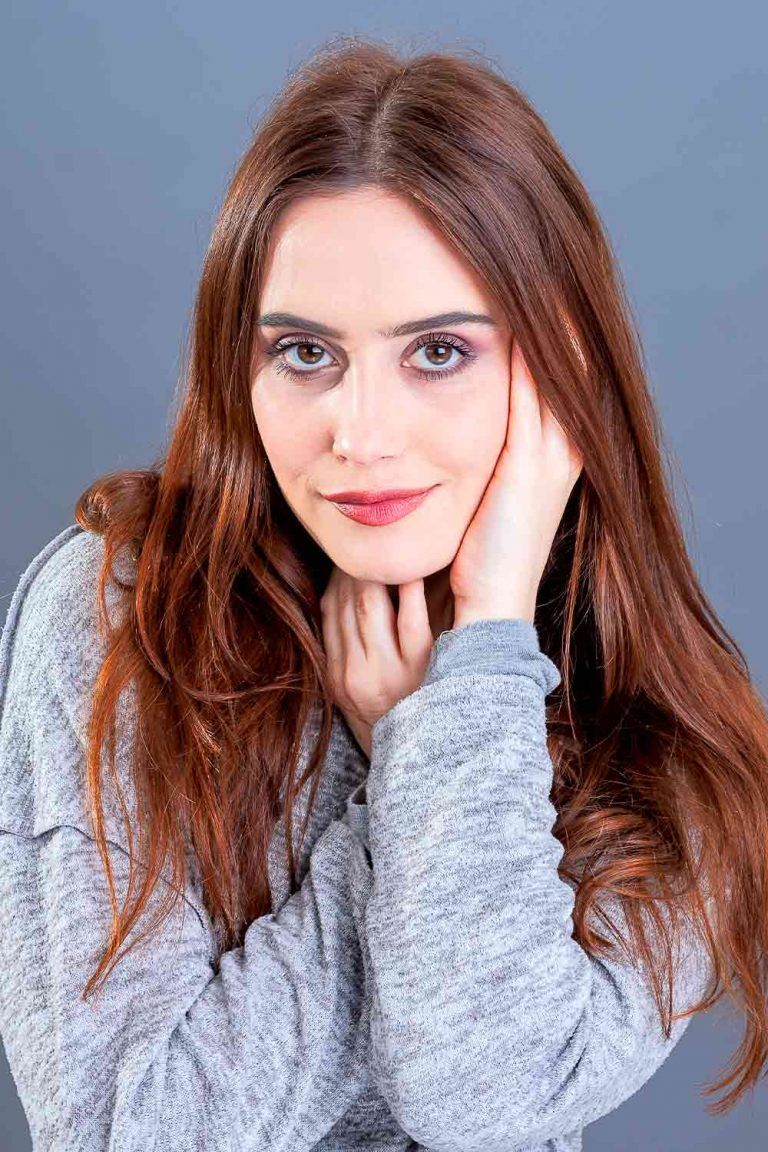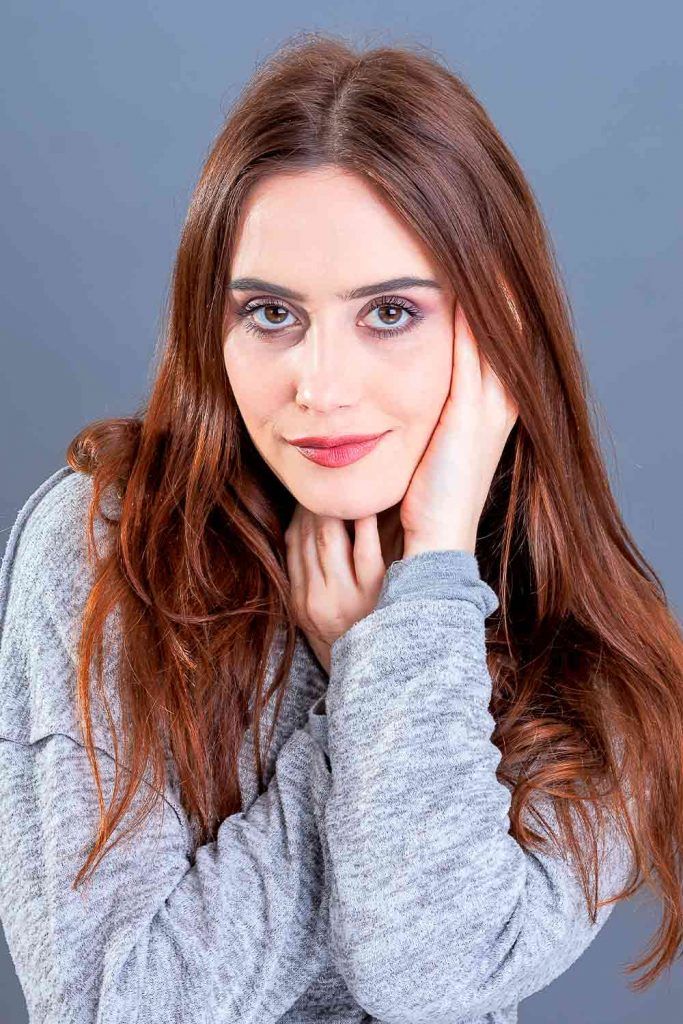 Credit photo: Shutterstock
If you have long, wavy dark auburn hair and looking for brown-red hair color ideas, we have a treat for you. This shade of reddish brown hair color is surely a head turner.
This color screams danger with a touch of softness, which makes it a perfect choice for you.
So wear a black dress and your hair down to the next party, and people will be drooling over it, figuratively!
Rich Auburn Hair Color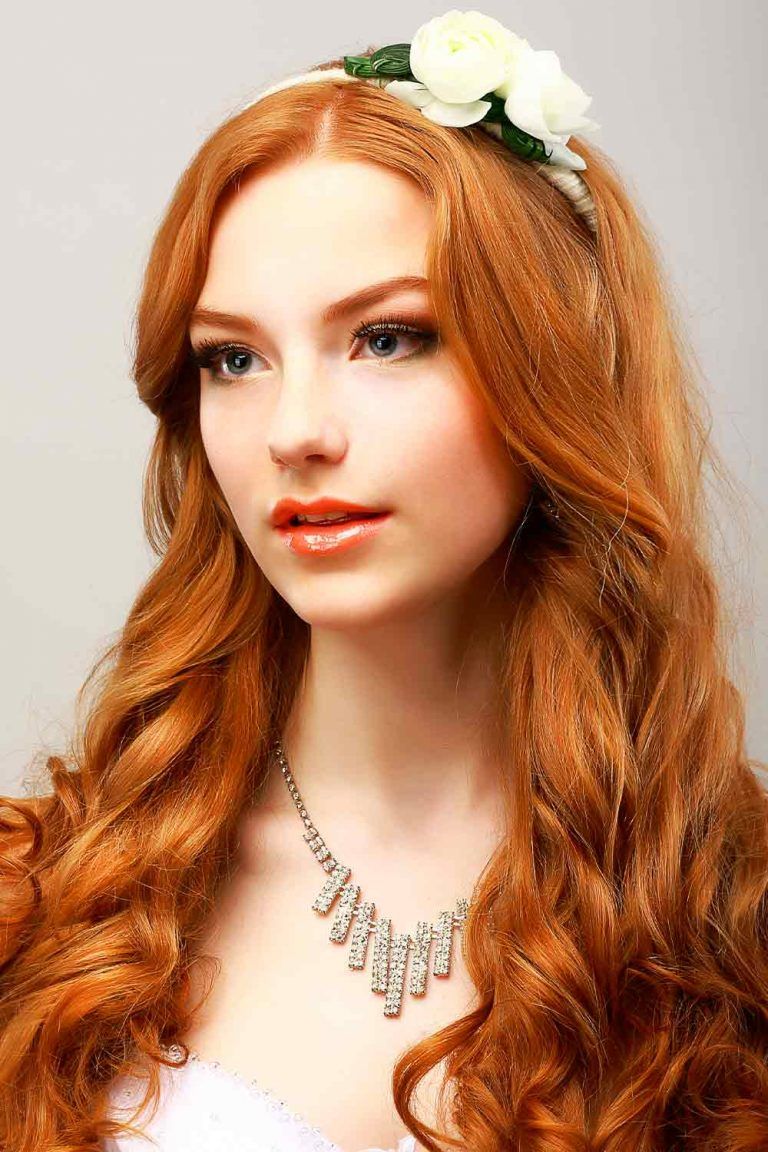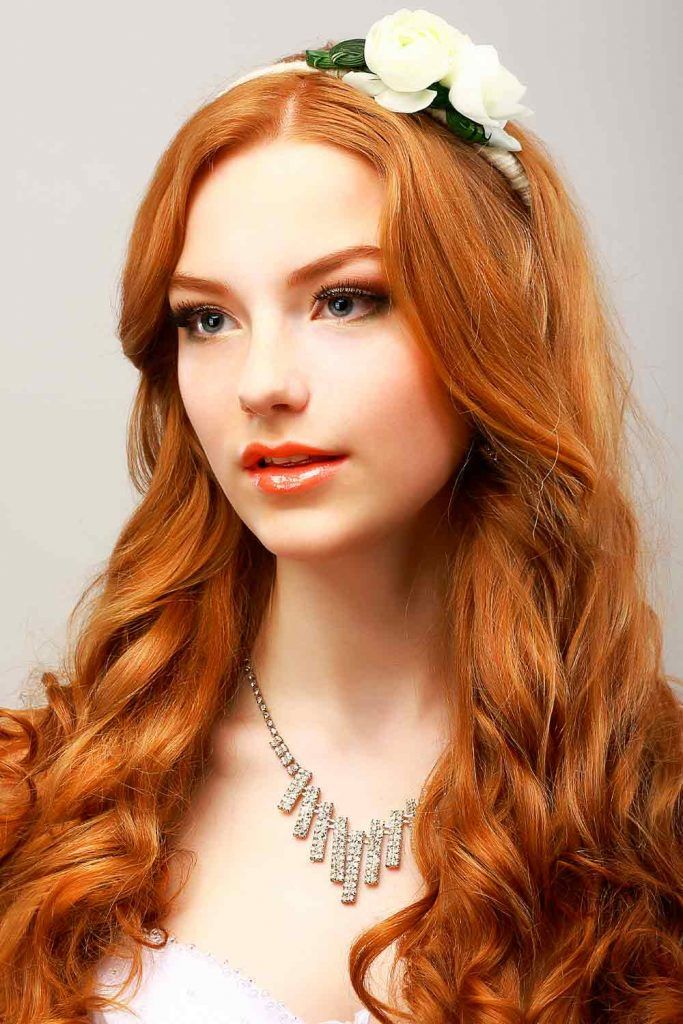 Credit photo: Shutterstock
This is a kind of color that just draws attention towards you. So, are you brave enough to try the reddish brown hair color?
Our advice is to go for it. What's a life without risks? And trust us, the end result will be worth it, you will look fetching!
A rich auburn hair color is intense and vivid. And if you have green eyes, you will look gorgeous with this hair.
With your wavy long red hair, people will be drawn towards you like a moth towards the flame.
Black To Auburn Hair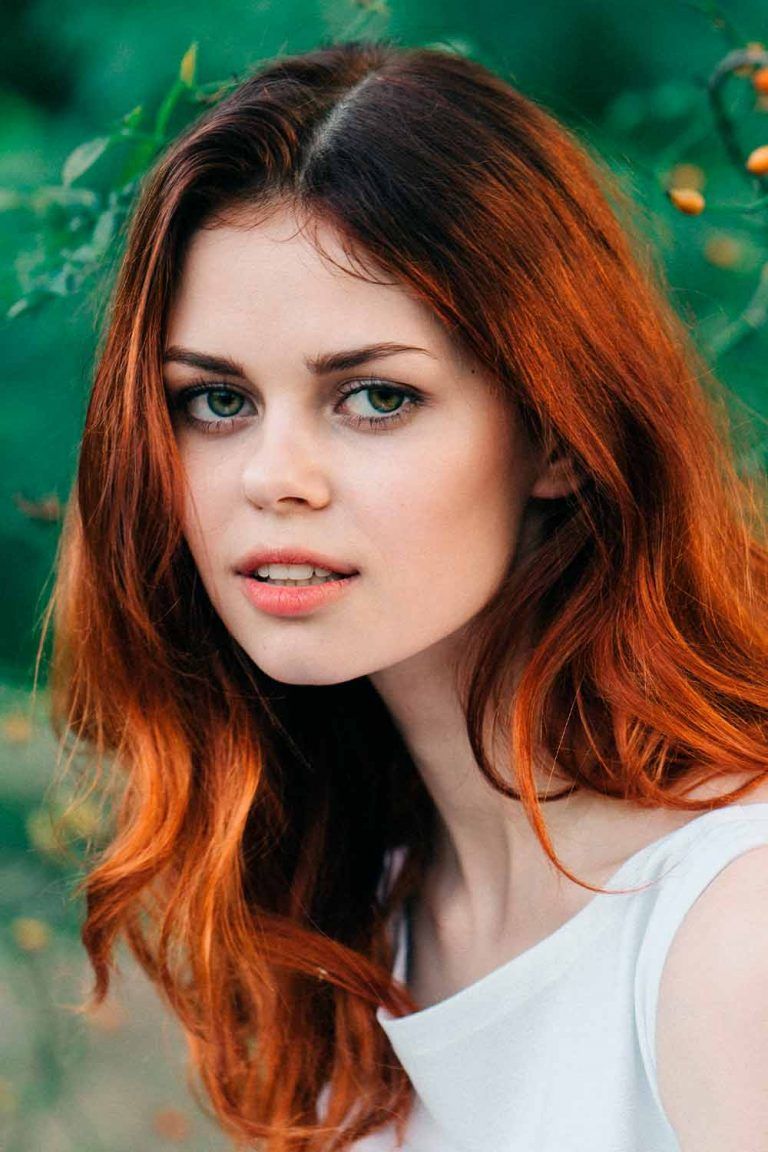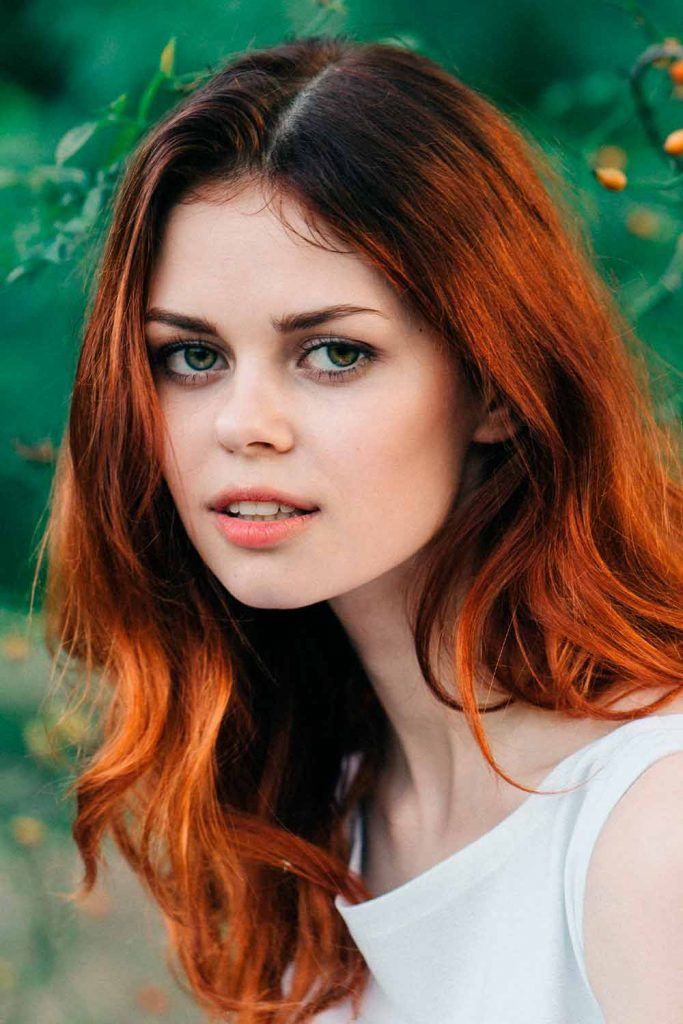 Credit photo: Shutterstock
Are you thinking of transitioning from black to auburn hair? Think no more. Just take the plunge! It is one of the most popular hair colors of 2020.
The transition from black to auburn hair is challenging but it is also liberating. And this color of auburn will not only give you a nice fresh look but will also make you look like a fierce queen.
Auburn Hair Color With Highlights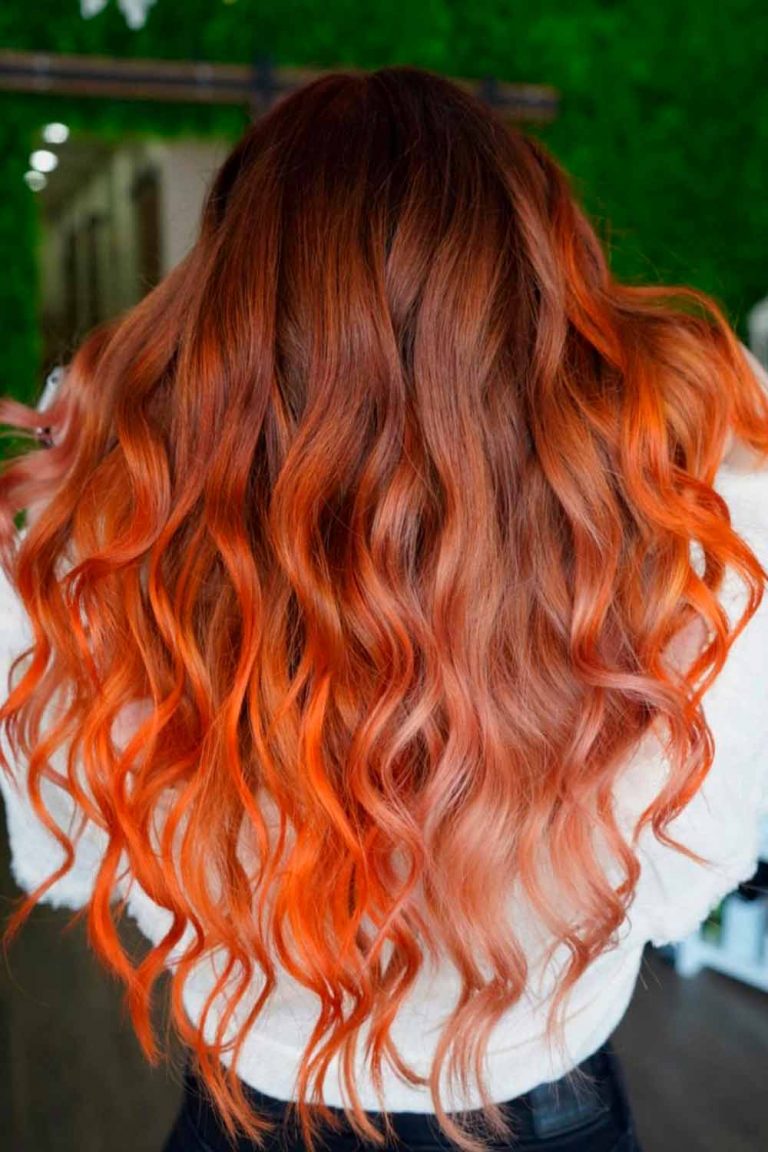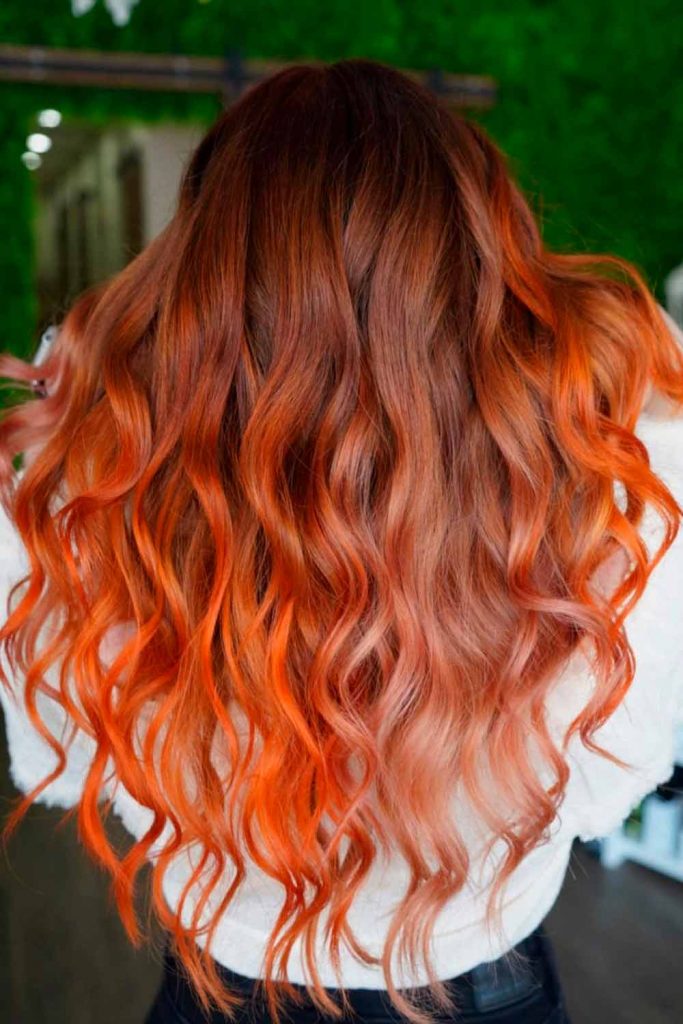 Credit photo: instagram.com/xostylistxo
No matter what skin tone you have, auburn hair color with highlights and red hair color with highlights looks amazing on every single one.
If you have short and wavy hair, then this style is ideal for you.
Wavy short hair with highlights? Yeah, people will be definitely gawking at your sheer beauty.
Now, looks like it is time for you to visit the salon and get these amazing highlights.
Bright Auburn On Natural Hair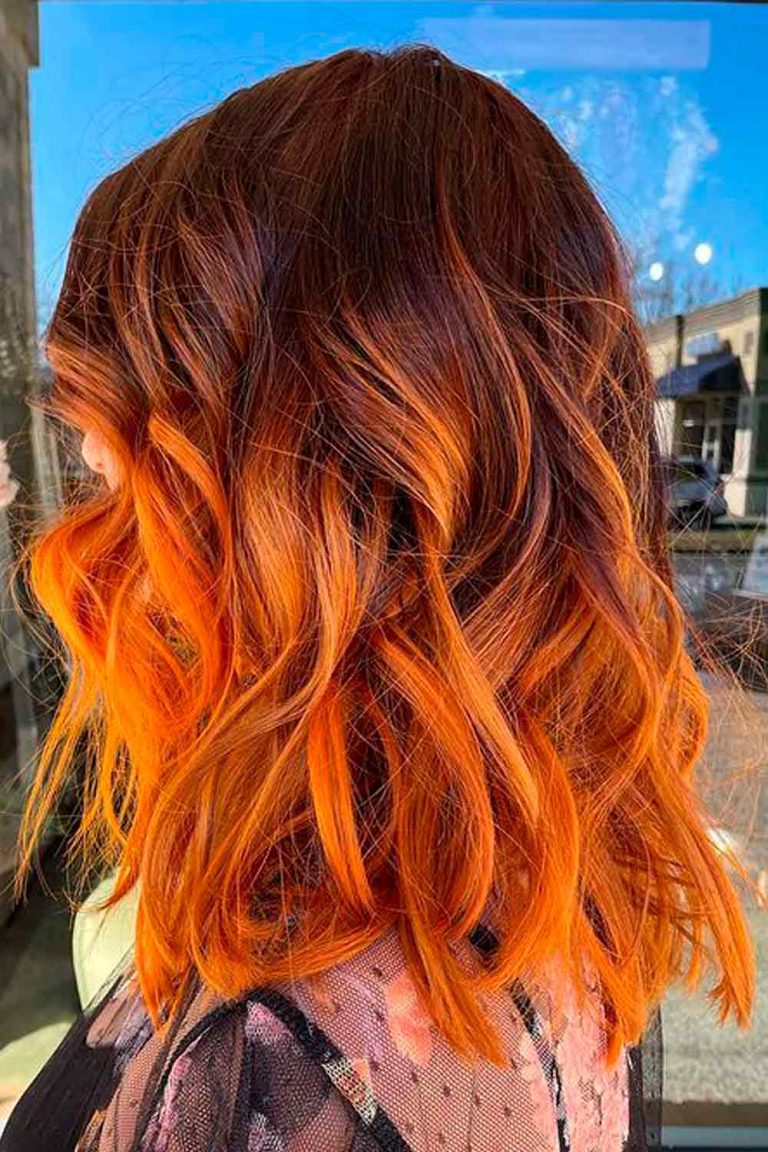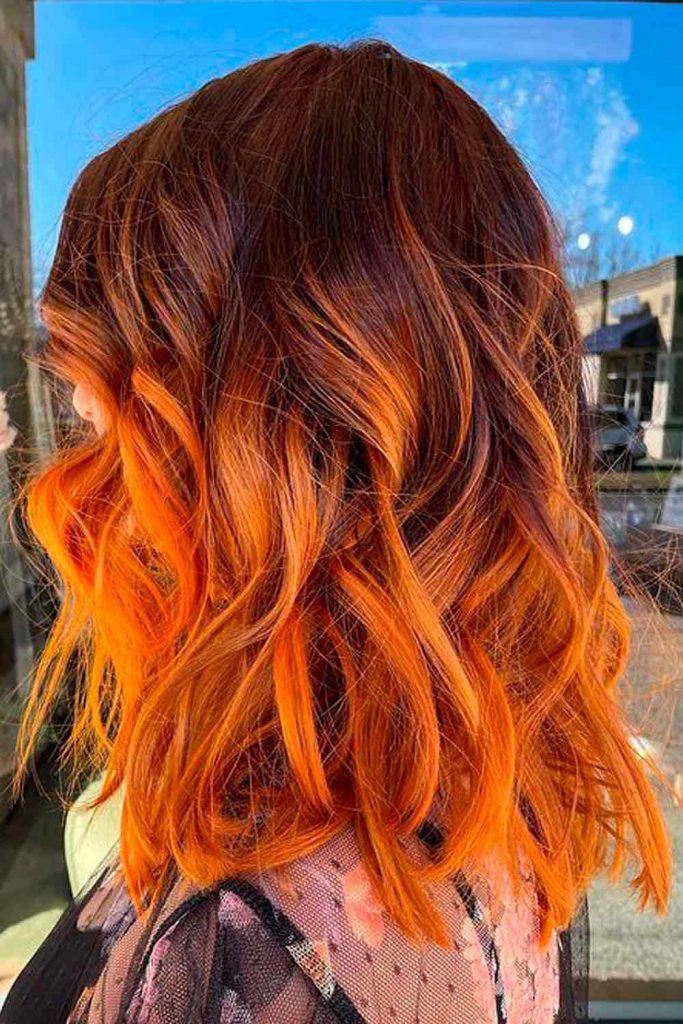 Credit photo: instagram.com/xostylistxo
Are you tired of seeing the same shade of hair color in the mirror every day? Are you ready to make a change?
If you are uncomfortable dying your entire hair, why not just dye it partially so as not to damage it? That will give you the change you are looking for along with a great look, as well as save your precious locks from damage.
You can go with a dark auburn hair color. That would be a welcome change from your natural hair color, after all.
An auburn or red hair color will make your hair stand out in the best possible way.
Auburn Hair With Caramel Highlights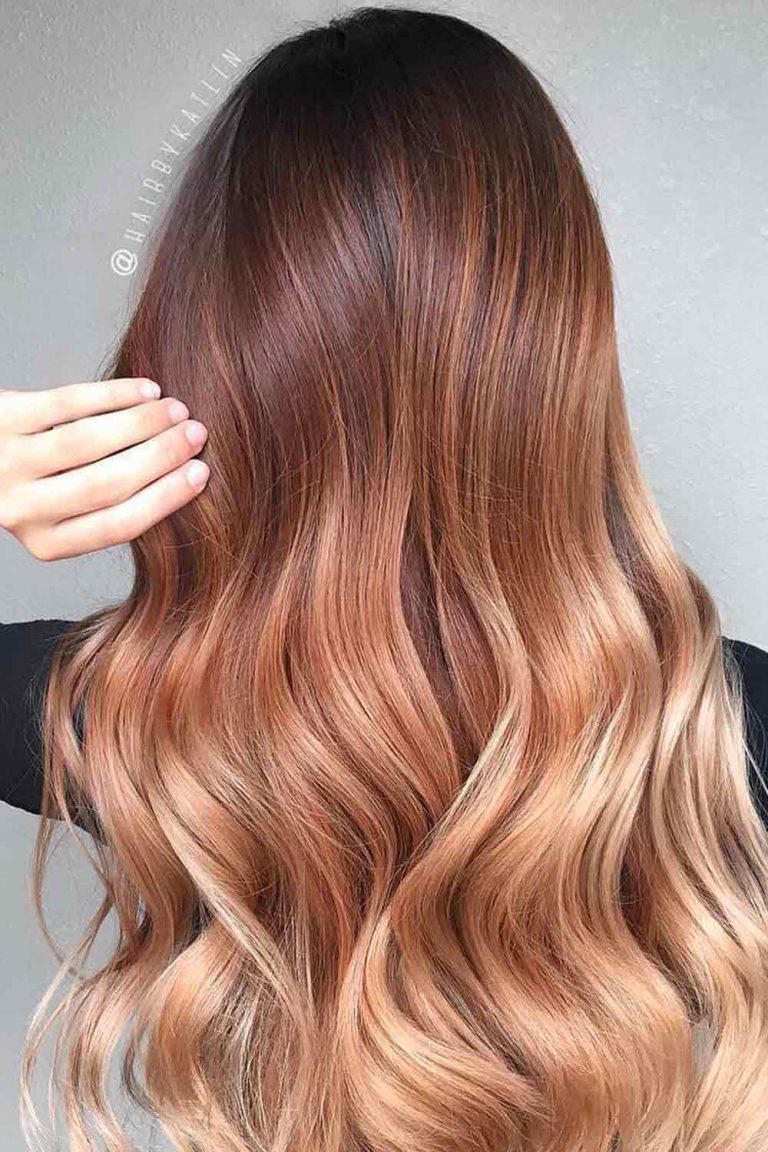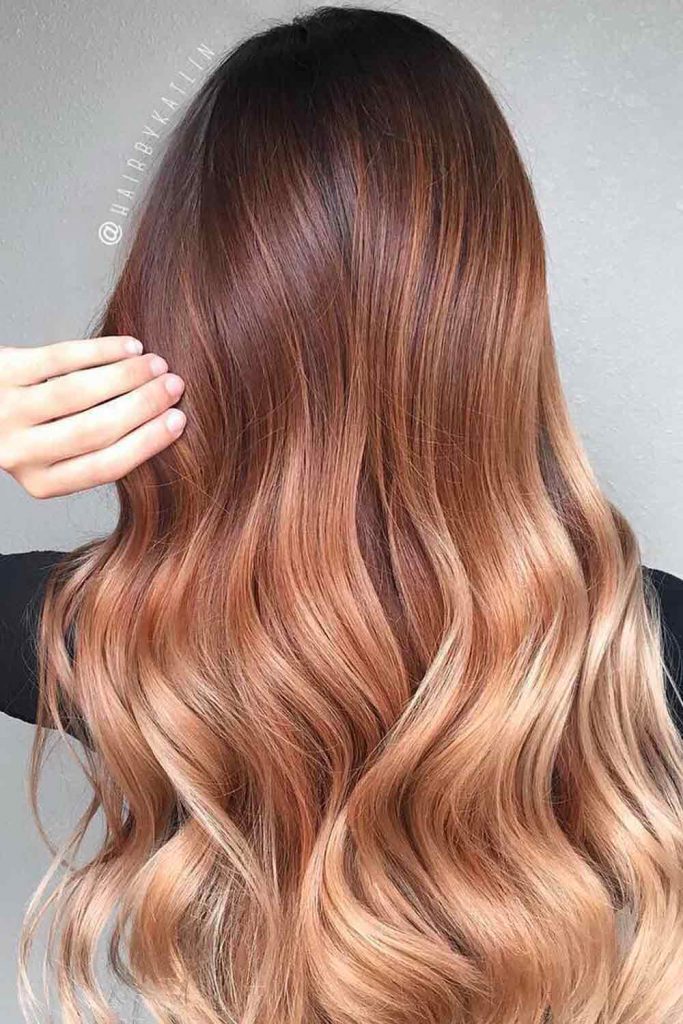 Credit photo: instagram.com/balayageombre
Do you have long, straight auburn hair? Do you know what will make it stand out more? Of course, getting some caramel highlights done on it.
Having auburn hair with caramel highlights will make you look fierce and gorgeous at once.
Undoubtedly, there is no way you will be overlooked when you have this hair color.
Natural Auburn Hair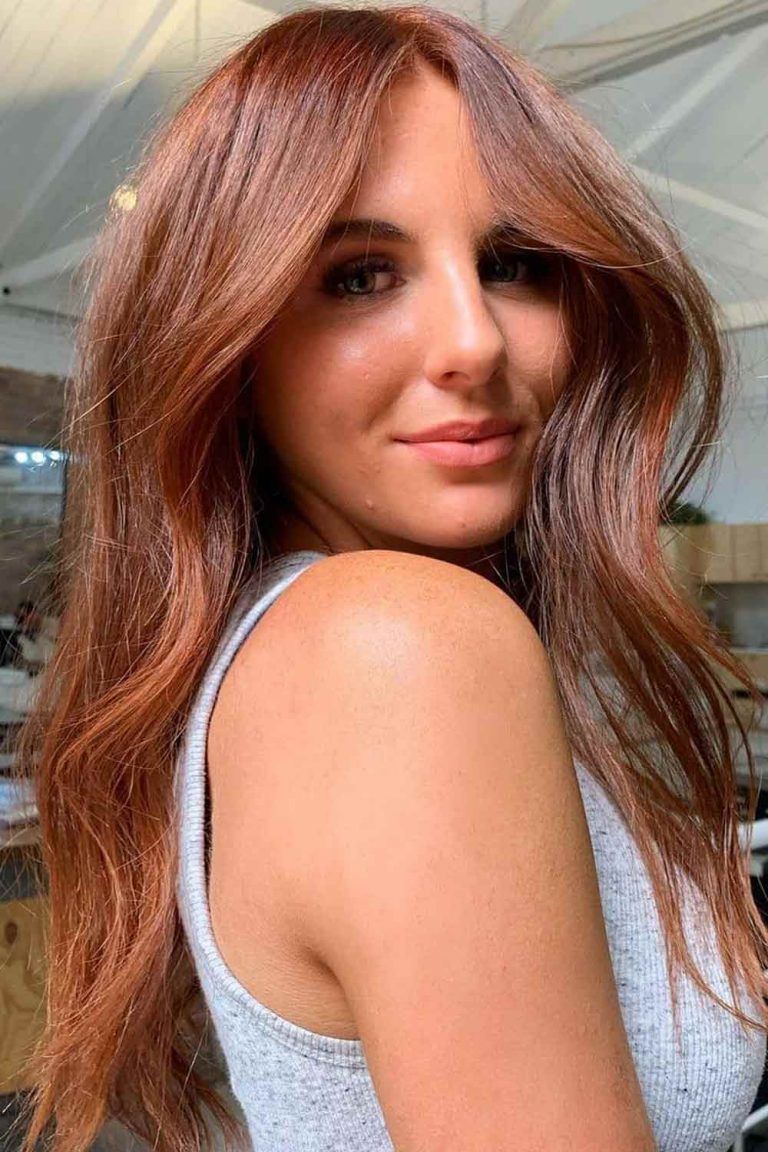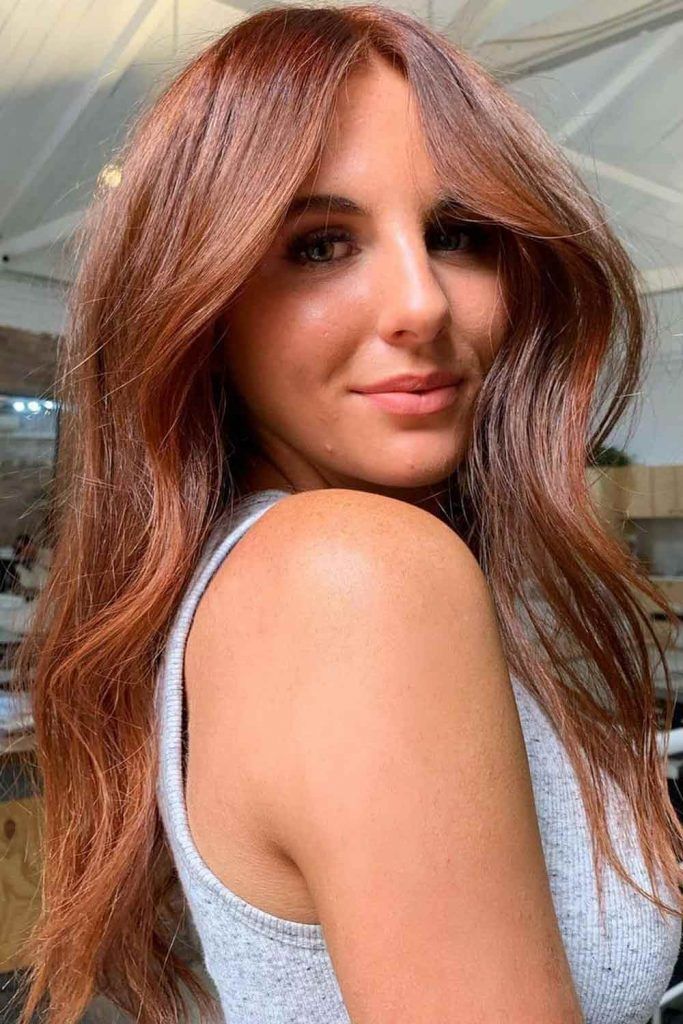 Credit photo: instagram.com/_edwardsandco
Having long and sexy red hair is what we all dream about. And when it is natural auburn hair, it really is a dream come true.
Everyone around you is totally jealous of you, girl! You have it naturally, whereas other people spend hundreds of dollars to get the look.
Once you style your amazing hair in a long straight look, you will be the talk of the own!
Brown Hair With Auburn Highlights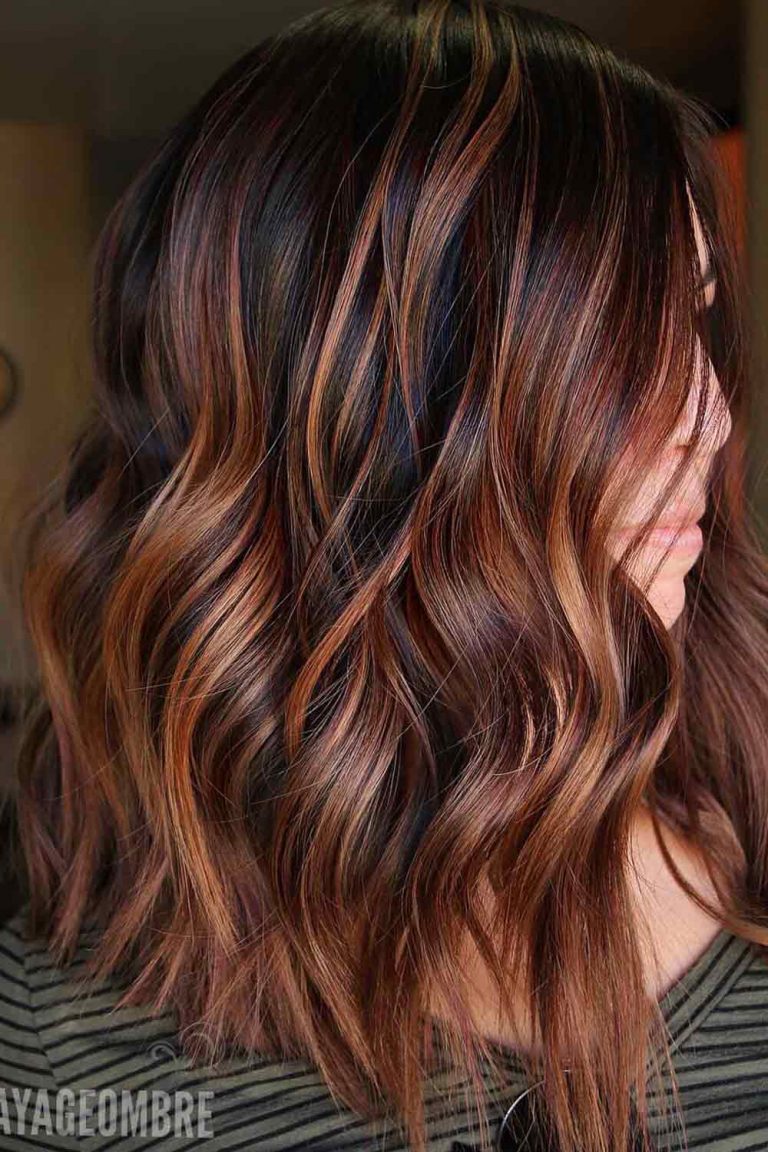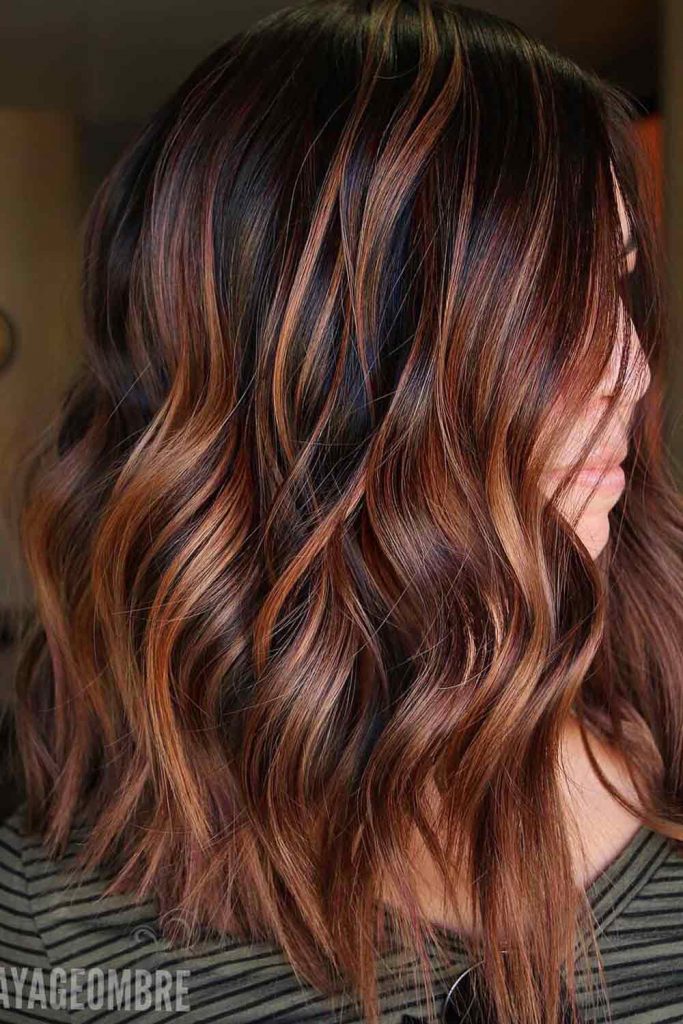 Credit photo: instagram.com/balayageombre
When you bored with your brown hair and want to change it into something sexier but don't want to go through the trouble of bleaching and coloring, this idea comes in.
What if we told you can get an amazing new look without going through that hassle?
In fact, all you have to do is get auburn highlights, and you will have a totally different look.
As a result, you will be known as the "hot brown haired girl with auburn highlights."
Auburn Locks For Brunettes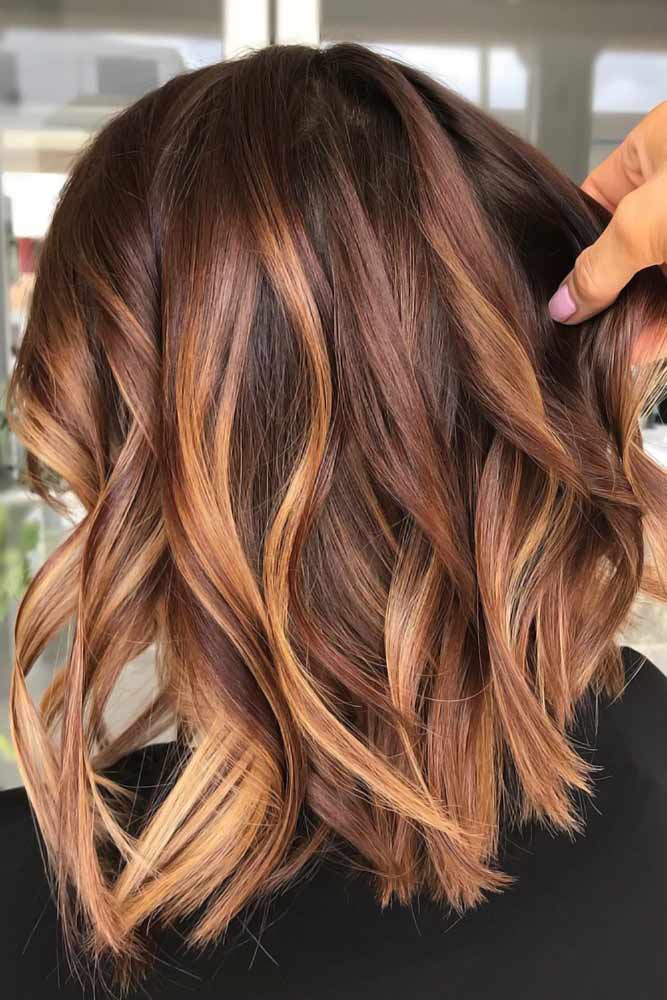 Credit photo: instagram.com/suetyrrellstylist
Auburn may come into your life in many different ways. It can be all-over color giving a totally new take at your brown or just a hint of a new shade accentuating your base. While you are the one to decide what your auburn hair color will be, your transformation won't let you down anyway. All in all, this color is a stunning match for all brunettes. This idea, for example, features just a soft shiny auburn accent running through the length. But, this is more than just enough to freshen up the natural color.
Auburn & Copper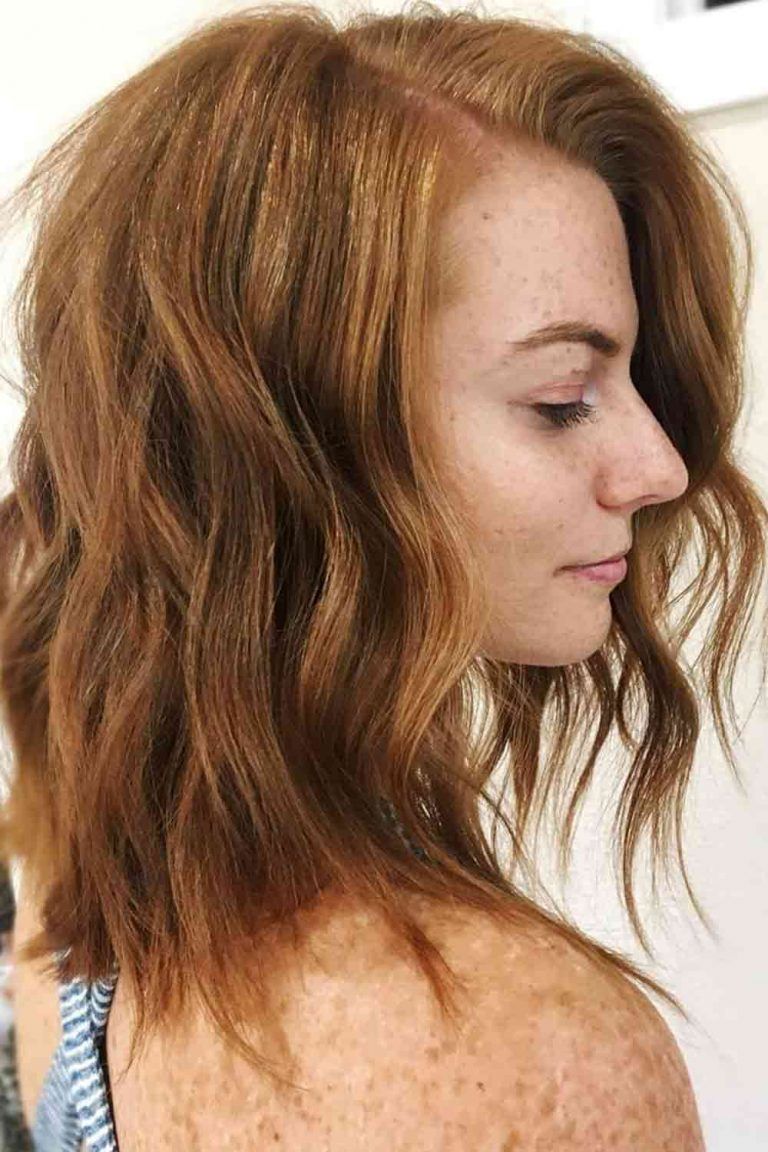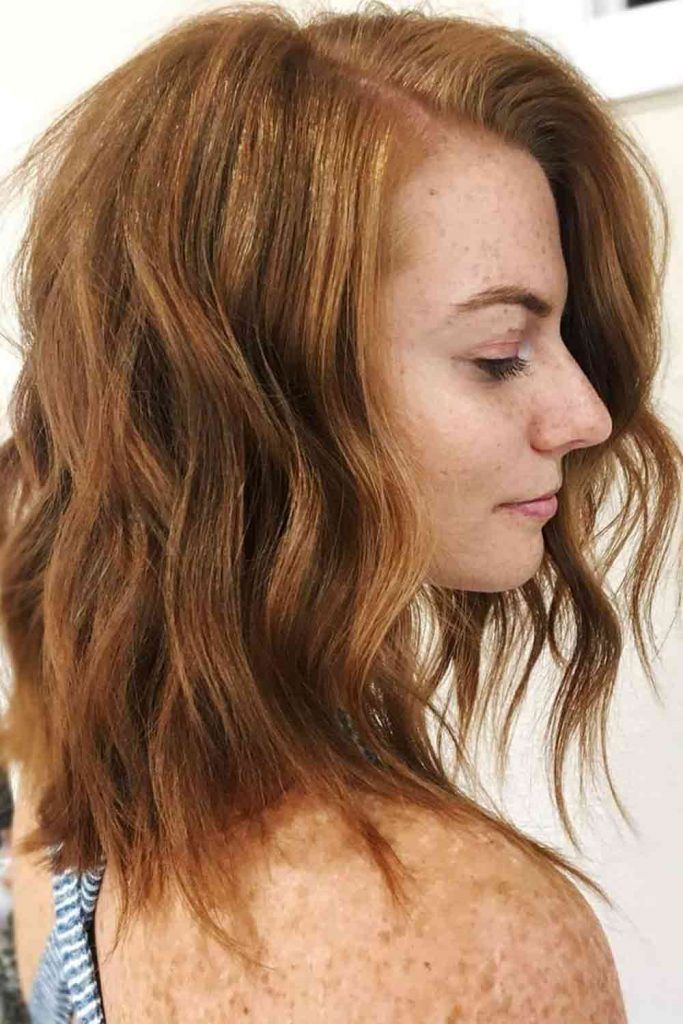 Credit photo: instagram.com/ashley.m.stylist
Coppery shades are usually achieved through mixing a brown shade with a reddish one. That is to say, since brunette shades take part in the creation of those all-the-rage color ideas, you can feel free to add some auburn vibes to the mix. In this way, you will make the hair color appear richer and a bit cooler: auburn will work for color depth while the coppery portion will give tons of natural shine.
Flame Ends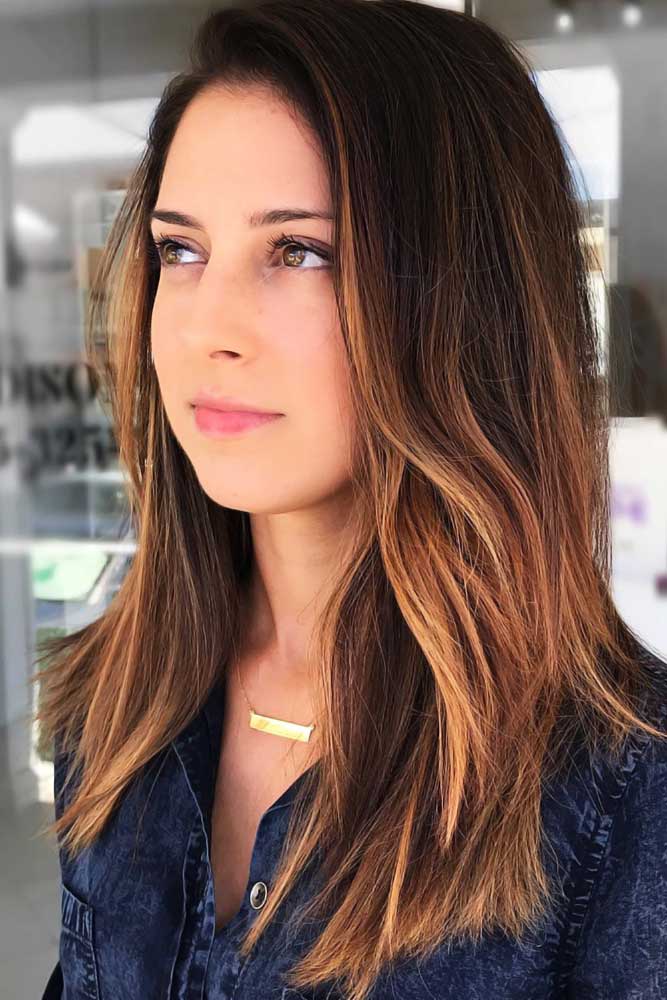 Credit photo: instagram.com/suetyrrellstylist
When a mane needs a fresh take, nothing works better than highlights. What makes them so special is that they can hit only the ends or the framing portion in order to freshen up the whole hair color or even haircut. Here, for example, you can see how just a slight accent of blonde amps up the auburn base. It improves the color by enhancing its beauty. For that reason, you can't go wrong with this color technique.
Auburn To Sunny Yellow Ombre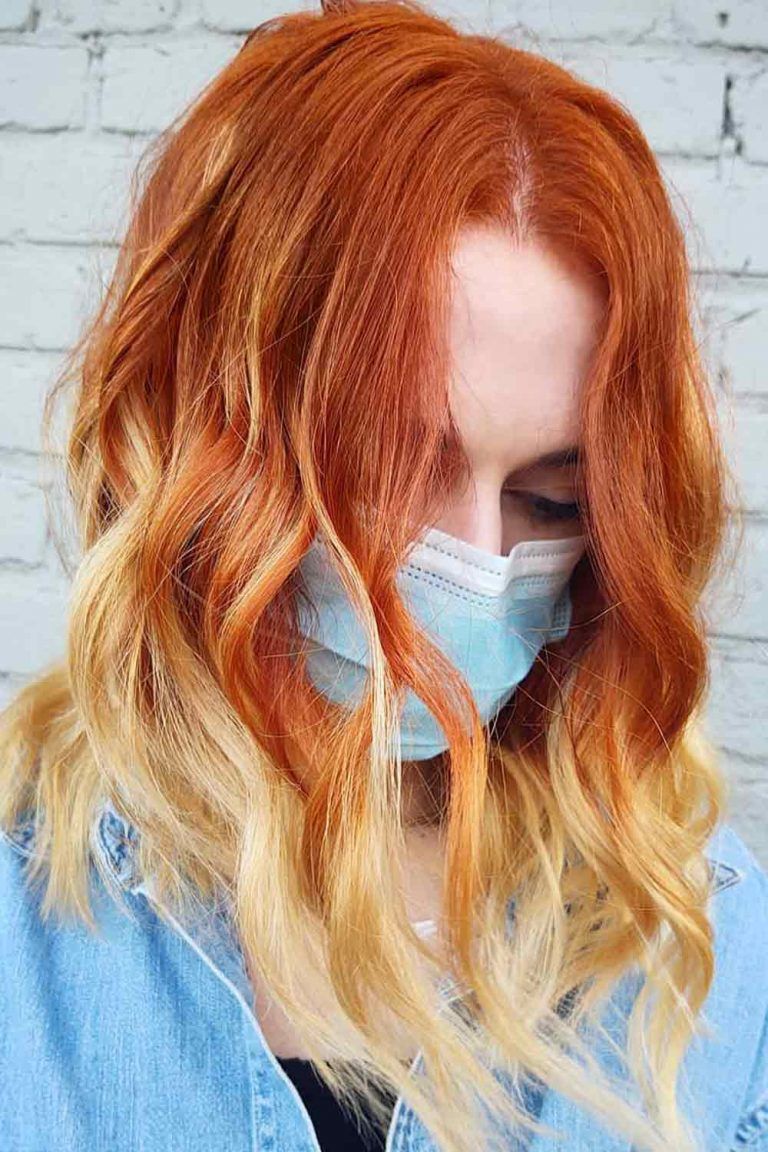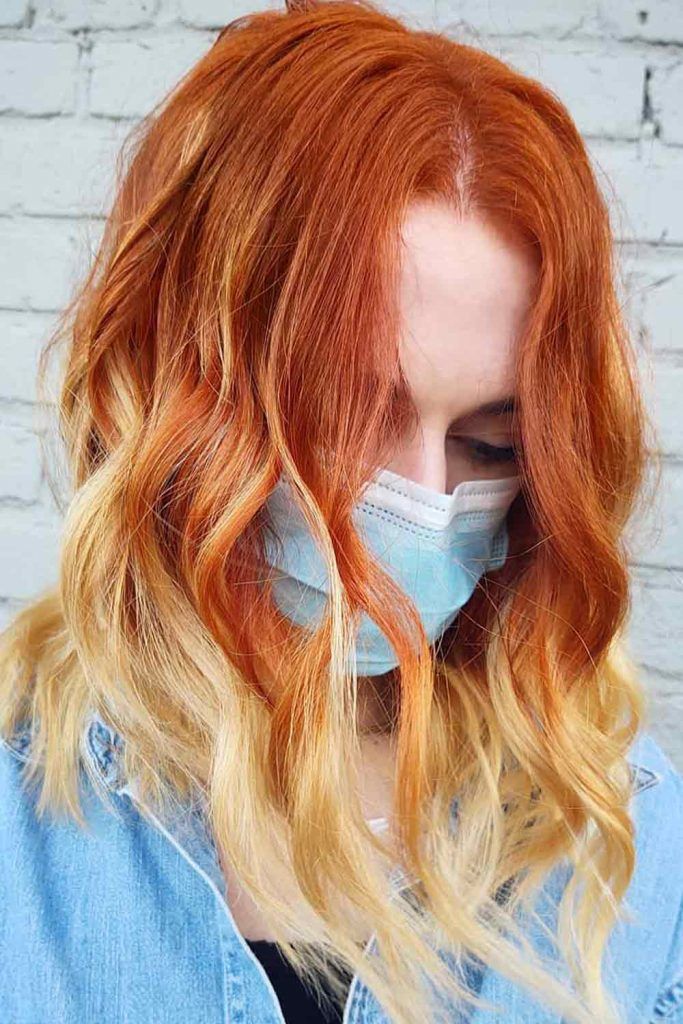 Credit photo: instagram.com/adlydesign
There's nothing impossible about auburn shades! Of course, they can't compare to those crazy rainbow or mermaid-inspired color jobs that rock during Coachella. But, it's still an irreplaceable shade for bright and vivid color combos, especially when it comes to working with blonde ideas. Once you coat your roots with auburn that smoothly transits to sunny blonde ombre, you will create an ombre to remember.
Brown With Auburn Balayage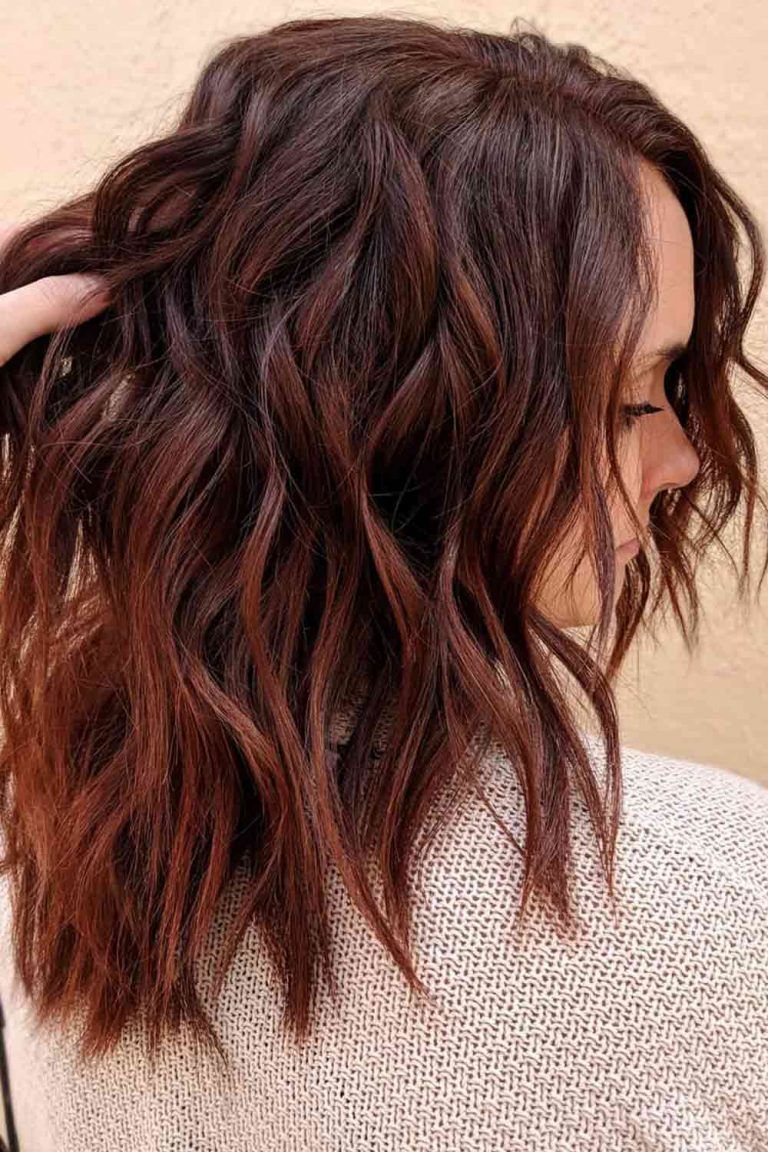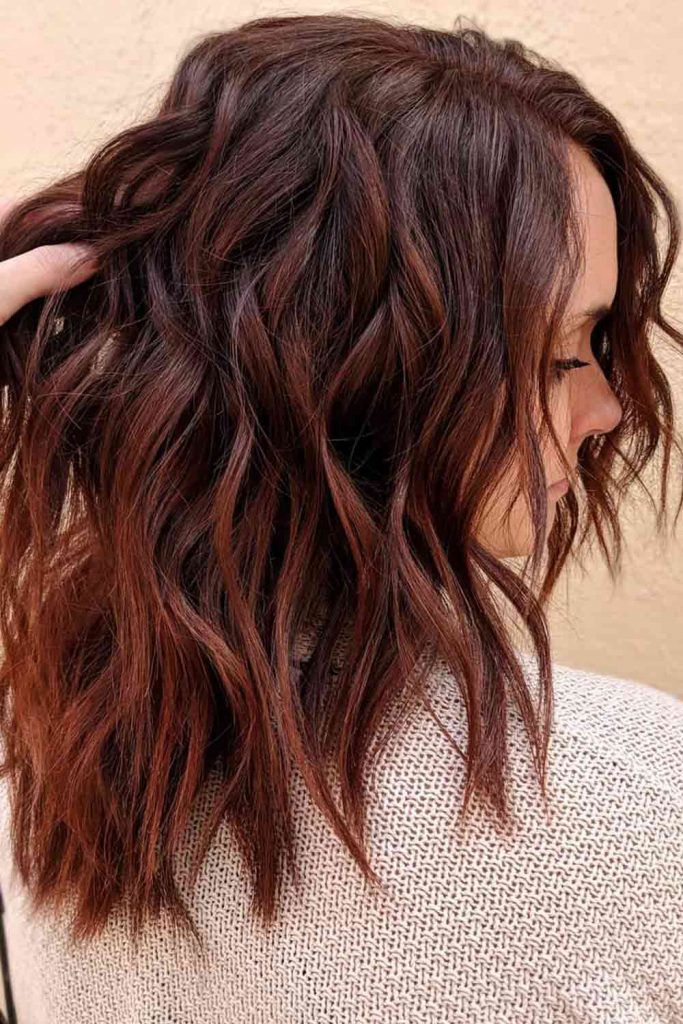 Credit photo: instagram.com/ashley.m.stylist
Our natural hair colors never come alone; they always consist of several similar shades blended with one another. Nevertheless, we can witness the dimensional variety of those colors only when the sun shines down on our manes. And what if we tell you, that you can make this naturalness stand out by default? Balayage is the key. For brown bases, auburn balayage will do the trick perfectly: it will provide a lot of shine while creating a very dimensional look.
Face Framing Auburn For Brunette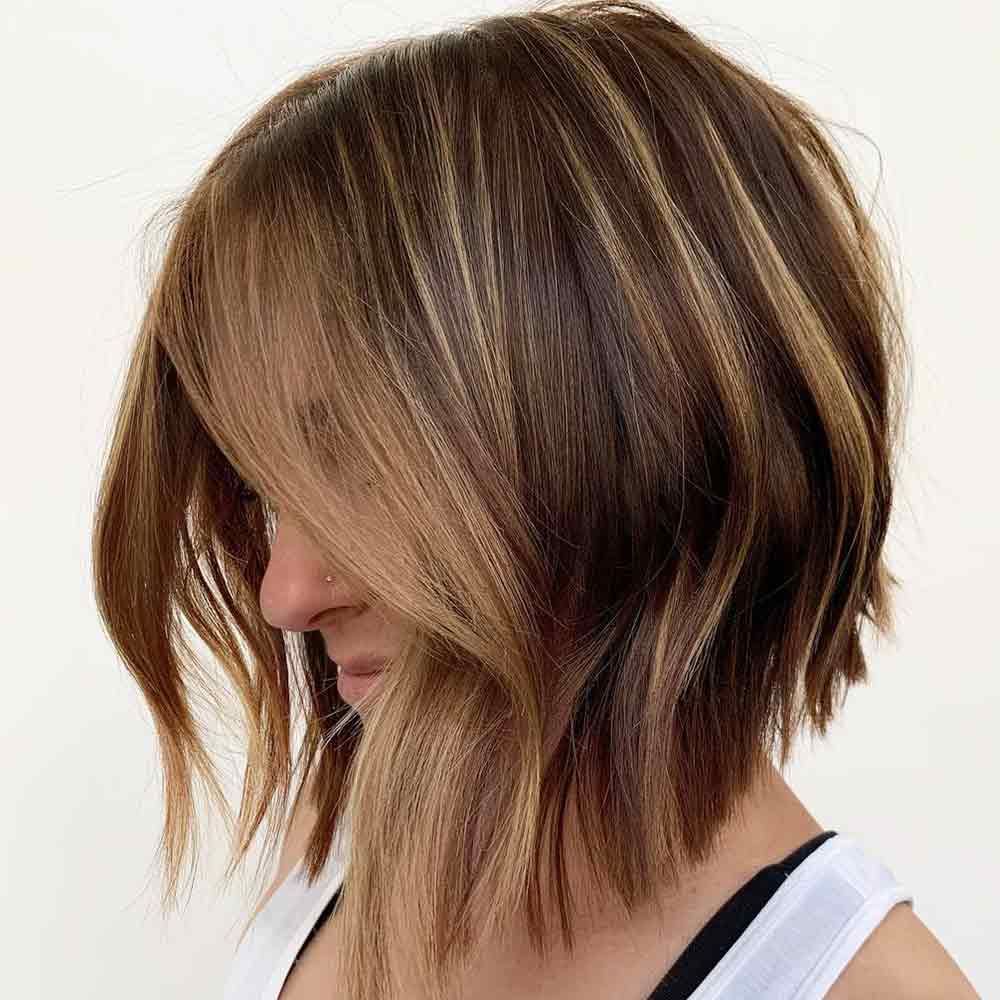 Credit photo: instagram.com/styled_by_carolynn
Since auburn hair color embraces brown and red shades, it can be a nice fresh take on your brunette mane. Apart from bringing some bright changes to your look, it can work on your face shape, making it even more attractive.
Choose a warm auburn shade that matches your brown base and stands out from it at once, and apply it as highlights to the front strands. Once your colorist brings this idea to life, you will see the beautifying power of aburn lights amping up your look.
Black, Auburn & Blonde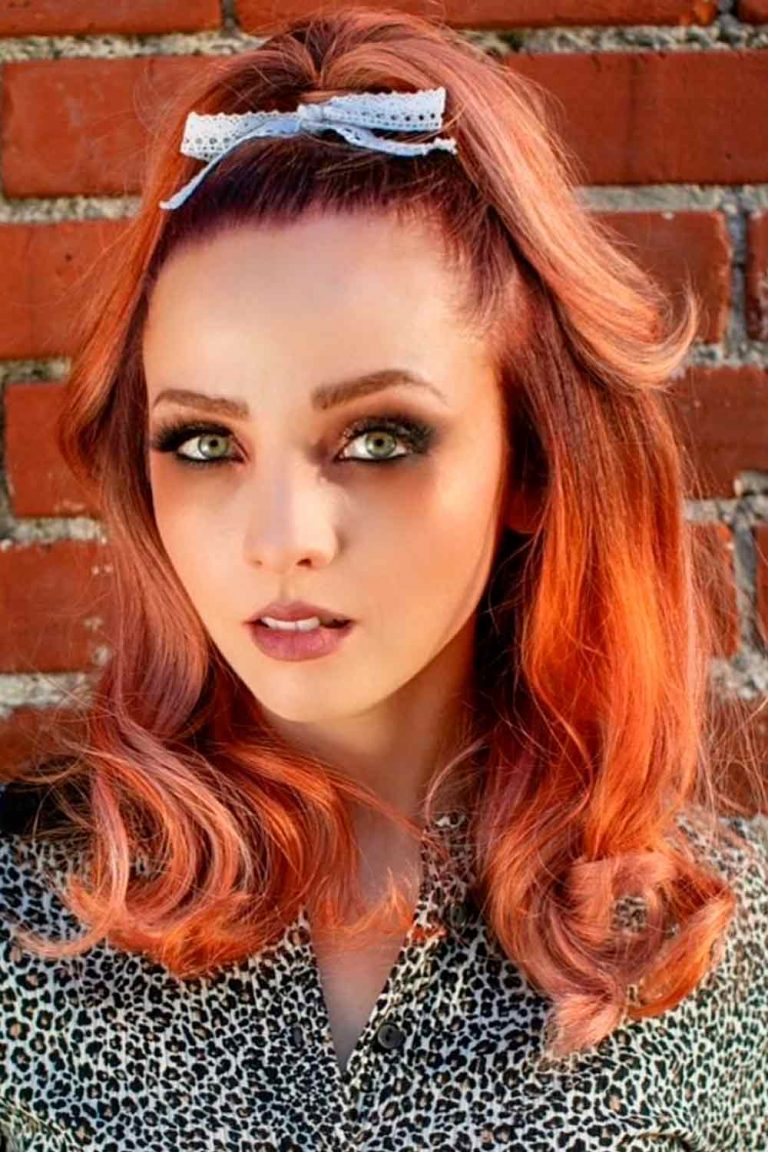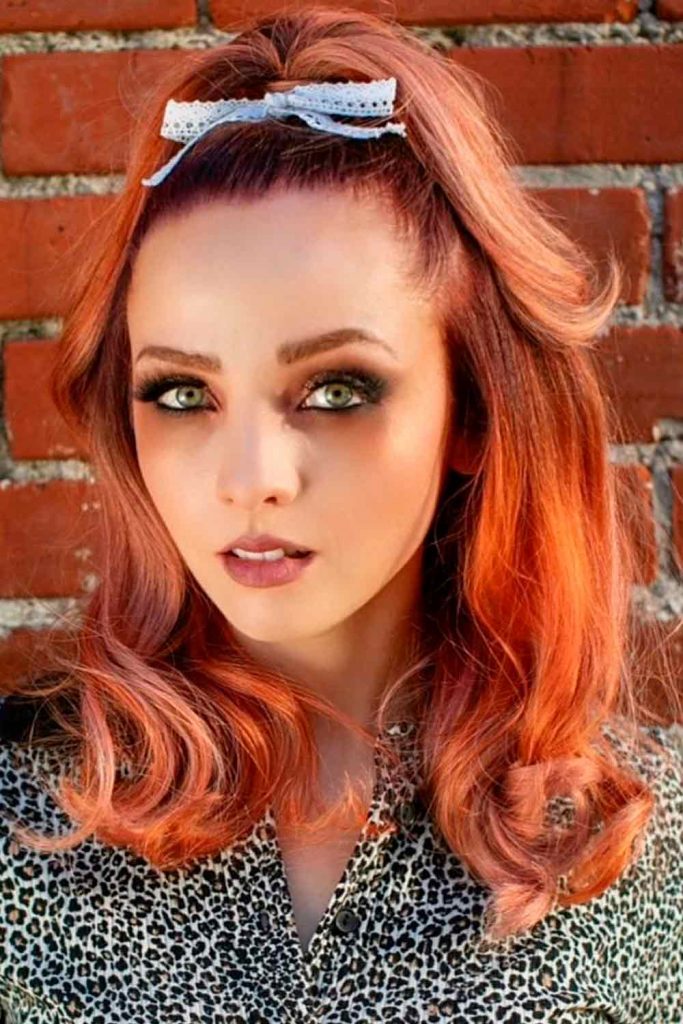 Credit photo: instagram.com/xostylistxo
Combining dark and light is an agelessly classic idea that will never go out for style because contrasts never die. But, how about you to diversify the good old look and add one more tone to the contrastive combo? With the right approach to the colors, as well as the right color technique, the auburn shade will nicely complement the black-to-blonde transition. Let the darker color sit at the roots and smoothly transit to auburn streaks that melt with blonde hues lock by lock.
Auburn With Light Ends
Credit photo: @sheffpavelstylist
i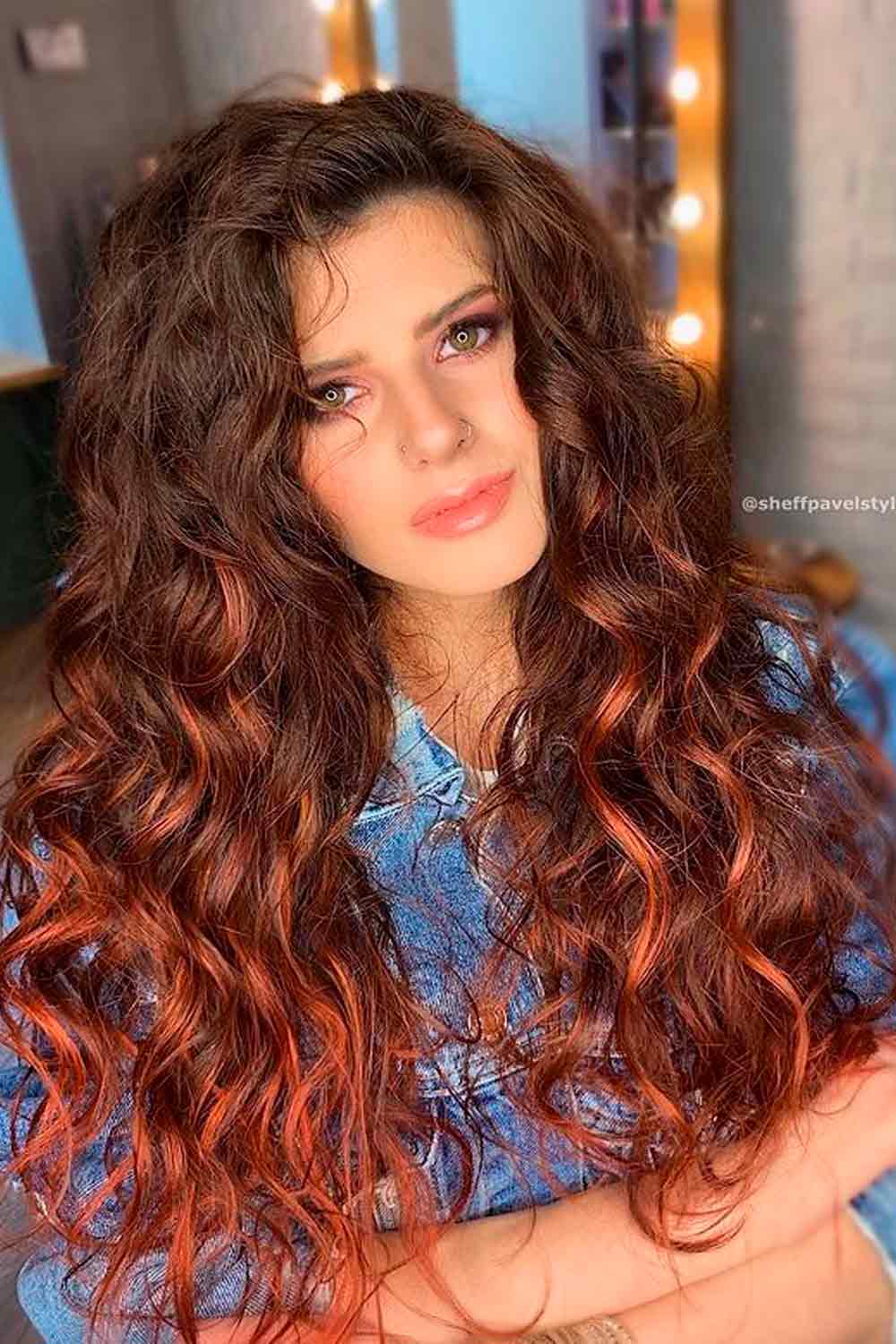 Credit photo: @hair_by_zolotaya
i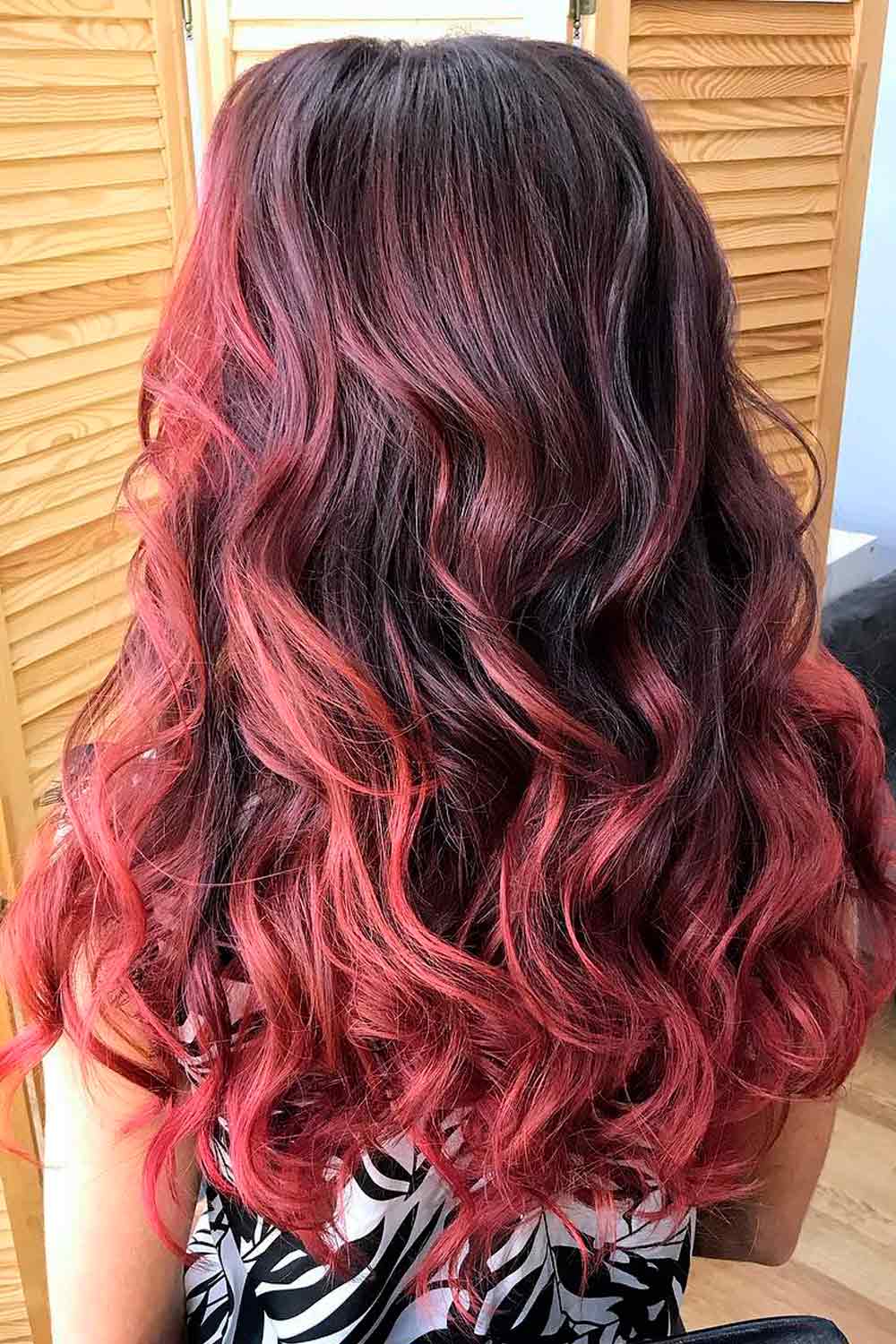 /
If you'd like to make auburn the highlight of your look, then don't forget to spice it up with at least a hint of a lighter shade. It will not only add some dynamics to your hair color but also will make it look even more balanced and harmonic. Here, you can see how a gorgeous shade of warm auburn ends with lighter ends, which, by the way, add character to the look.
Yellow Ends With Auburn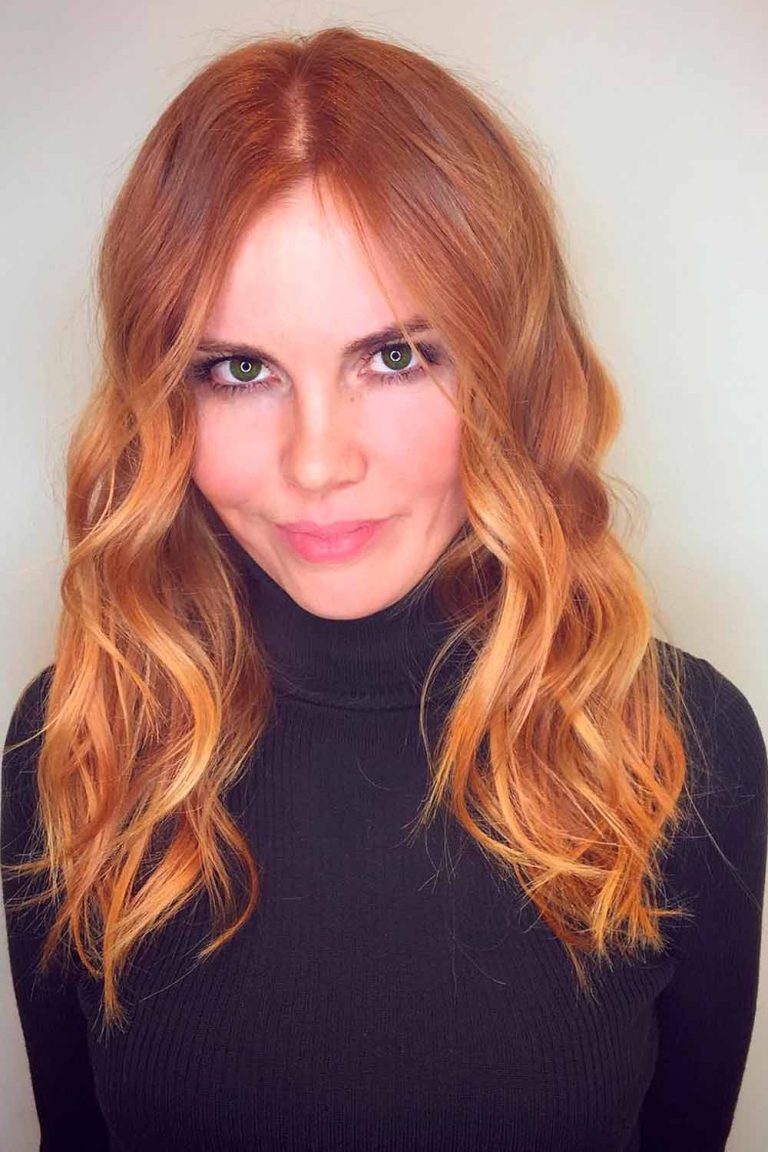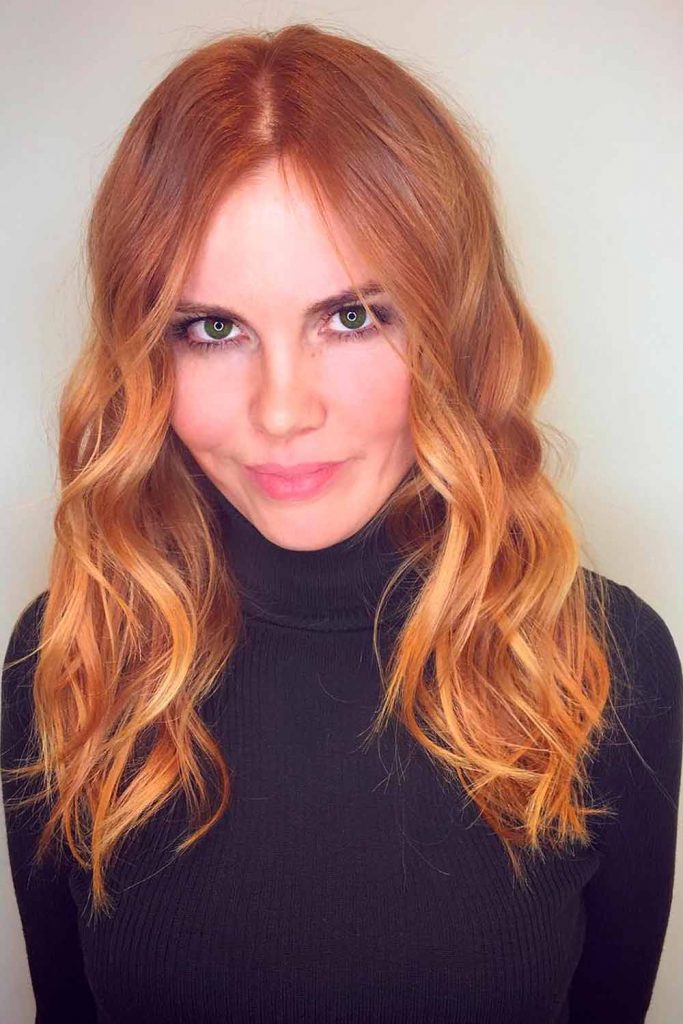 Credit photo: instagram.com/sheffpavelstylist
Another example of auburn as the main color and lighter shade as the exclamation point at the ends. But, this time, the lighter color belongs to the same color family. This yellow shade looks very harmonic with reddish auburn for one simple reason: it's applied subtly and blended very well. To avoid brassiness, don't make the yellow portion too bright or saturated.
All Over Warm Auburn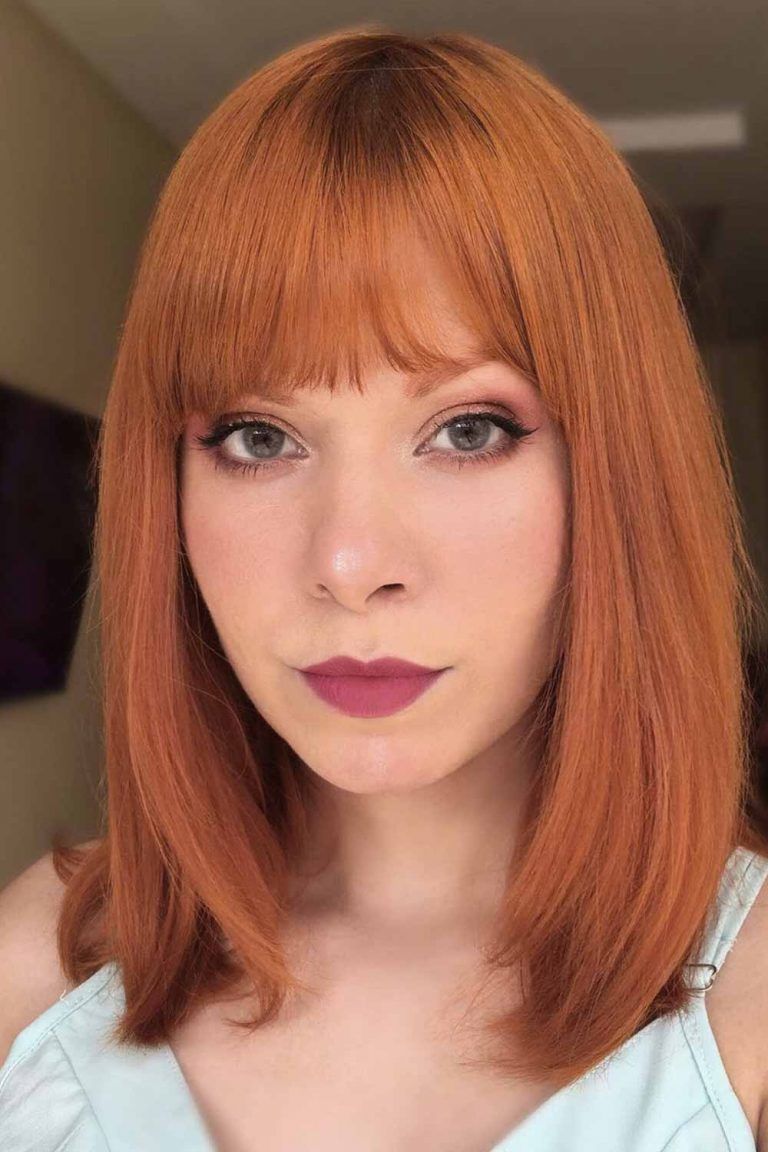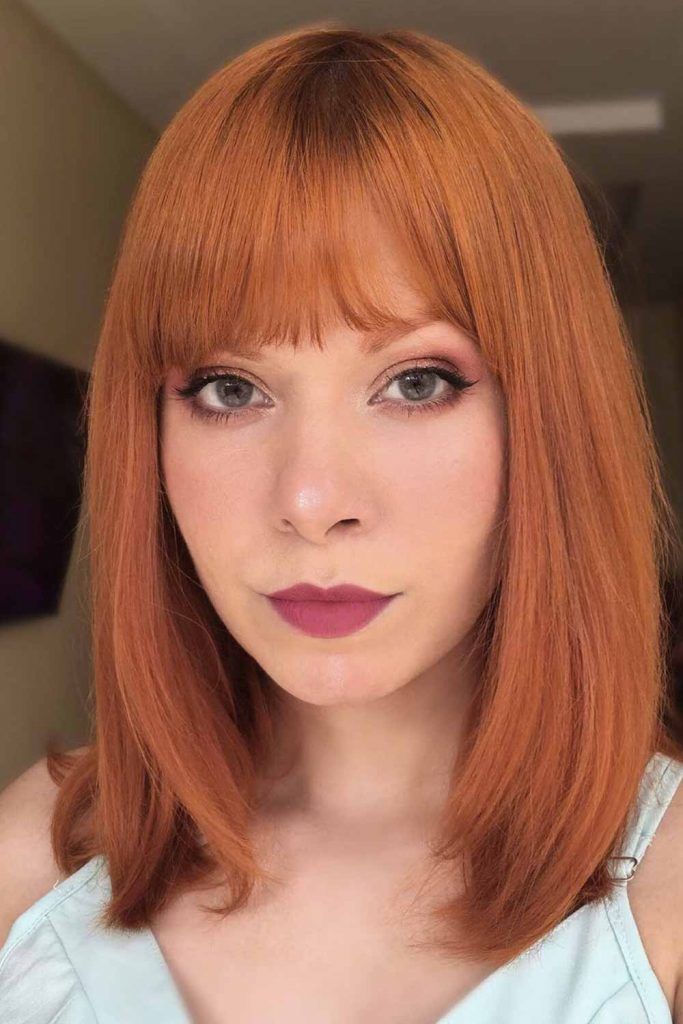 Credit photo: instagram.com/nessielv
You can always adjust the temperature of your auburn when it comes to creating a totally unique look. In fact, that's probably the best thing about this hair color: while being pretty versatile, it can be as different as you'd like. And here's a ginger-inspired, copper-scented warm auburn that has come to this world to express the beauty of fall colors with just one shade. If you have a light complexion, don't even dare to miss the idea.
Classic Auburn Hair Color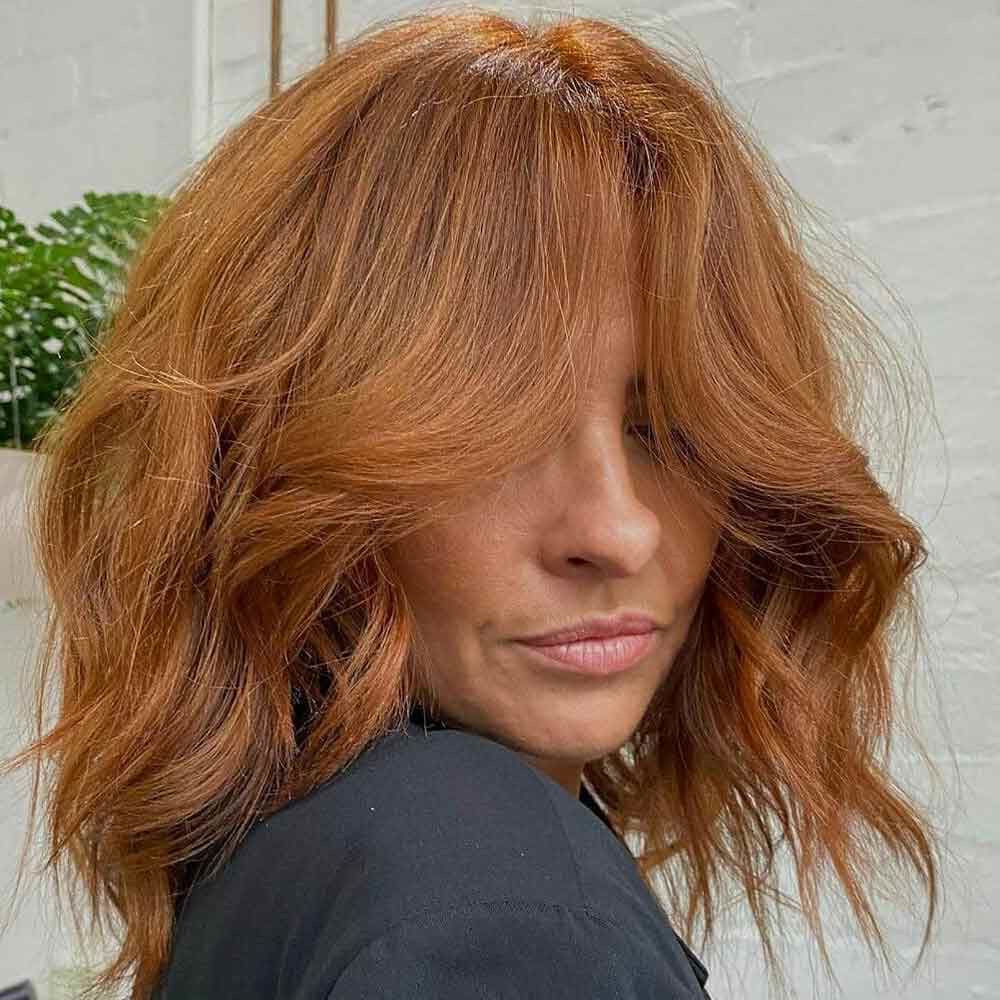 Credit photo: instagram.com/_edwardsandco
Among all shades of natural red hair, why go for auburn?
It is sophisticated brown-red. Ruddy hues grant much dimension to brown. As a matter of fact, such a combo is believed to complement complexions with warm as well as cool undertones.
This shade makes highlights truly stand out. The combo of a light auburn hair color with highlights is foolproof. Having both cool and warm tones, both light and dark auburn hair color are capable of flattering both ashes and golds at the same time.
Auburn red hair allows you to wear little to no makeup and still look gorgeous. Being quite vivid, auburn will warm up even the fairest complexion. All you need to add is a coat of mascara and some lip balm and voila, who is the queen now?
Also, auburn hair looks awesome when curled. Its lightness lets it show off all nuances in the texture, while its darkness can conceal any damage or dryness.
The auburn color will always make you stand out. Yes, even when you wear your dull casual clothes, your hair will stay eye-catching. Sold!
Auburn Balayage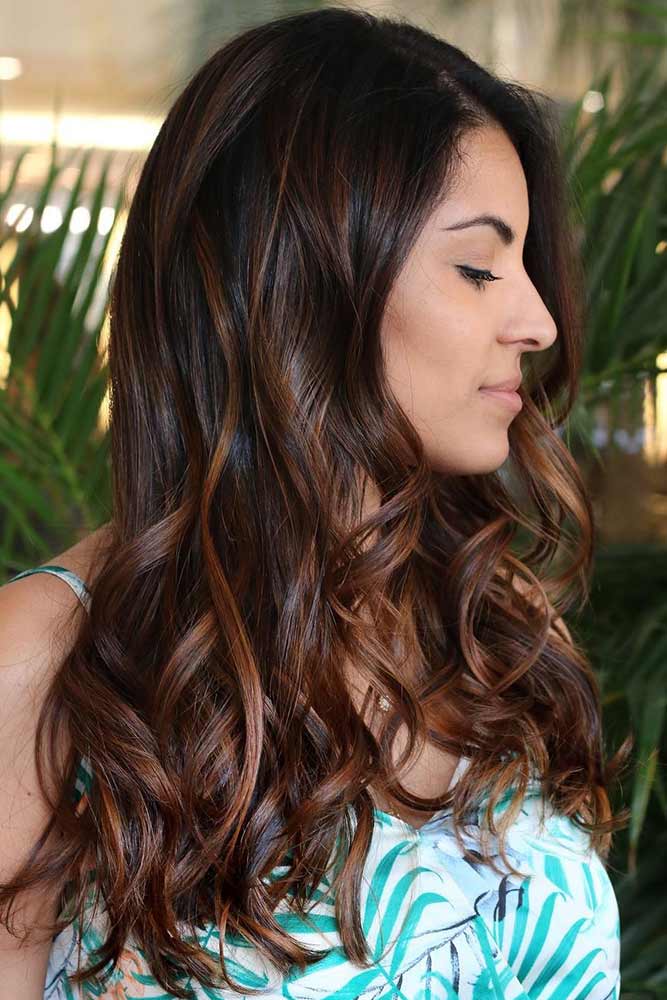 Credit photo: instagram.com/petermenezes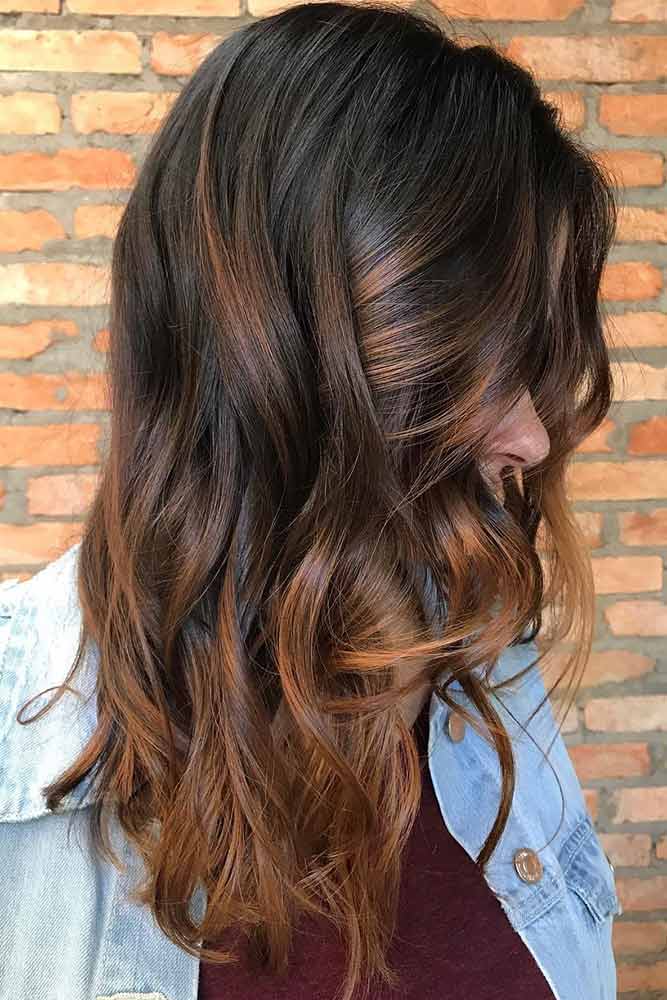 Credit photo: instagram.com/petermenezes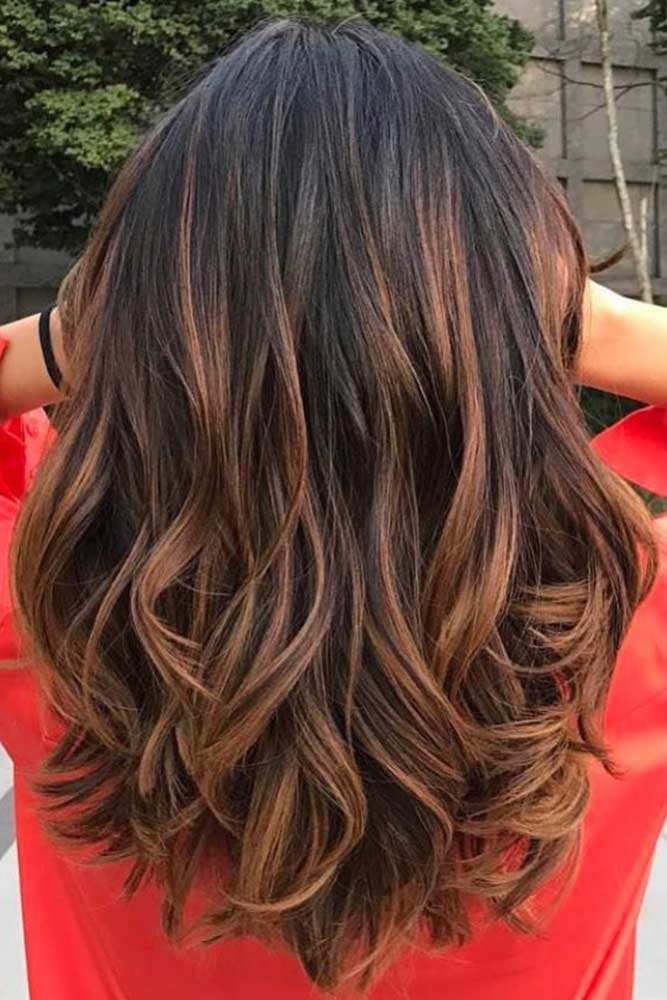 Credit photo: instagram.com/petermenezes
Auburn balayage is super versatile and can be rocked by women with practically any hair type and complexion. There may be several exceptions though. Afro hair or very curly hair won't work for auburn balayage. However, other techniques will easily introduce auburn to such texture.
Sun-Kissed Auburn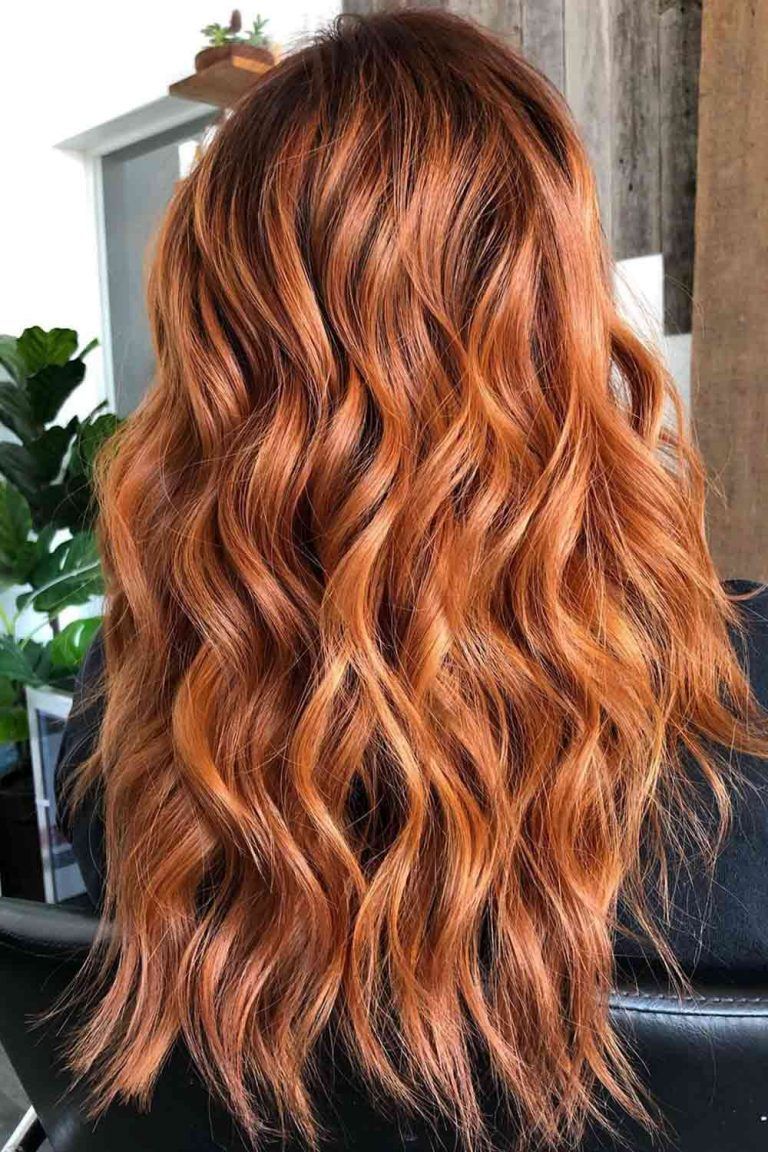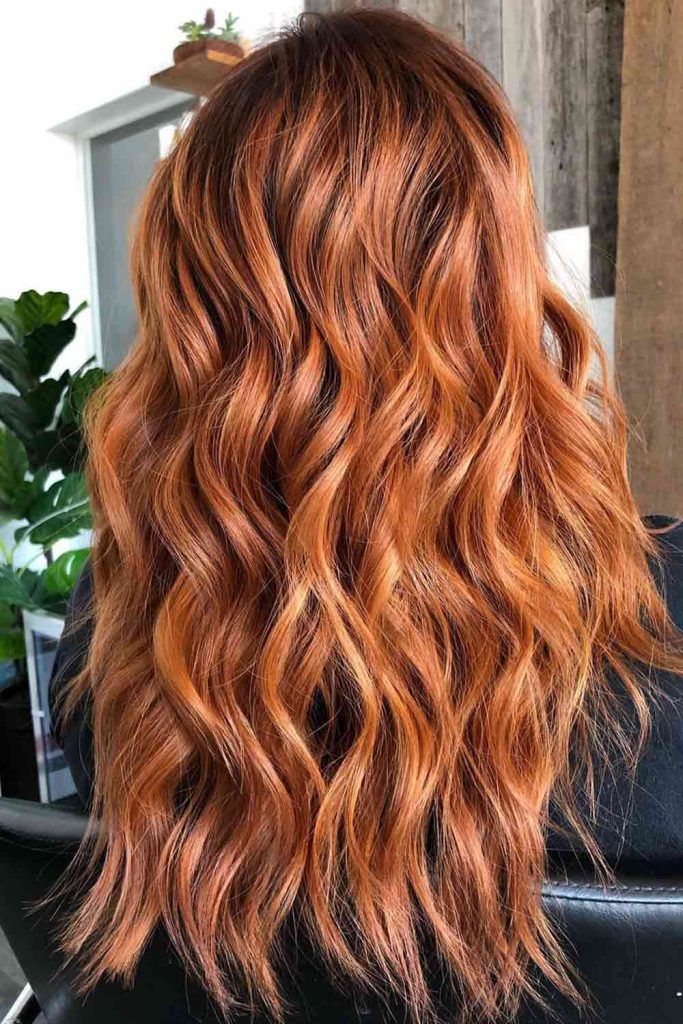 Credit photo: instagram.com/_heyhelena
Women with fair complexion will look best with copper red hair. In case this is about you, you can notice how such shade adds glow and warmth to your complexion. On top of that, your image will pop! And as for the hair type, there are no restrictions.
Warm Auburn Color
Credit photo: @chrisjones_hair
i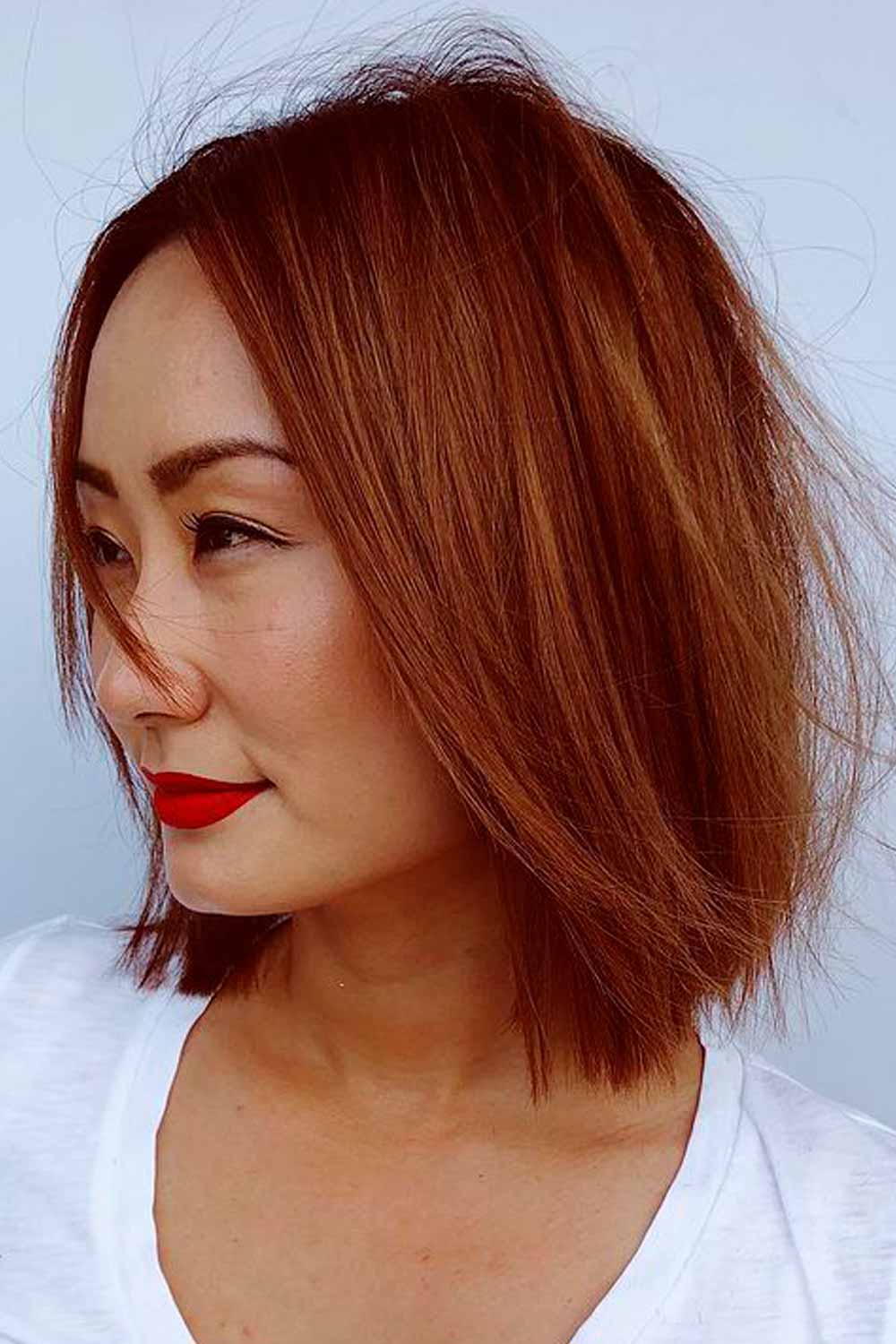 Credit photo: @cutyourhair
i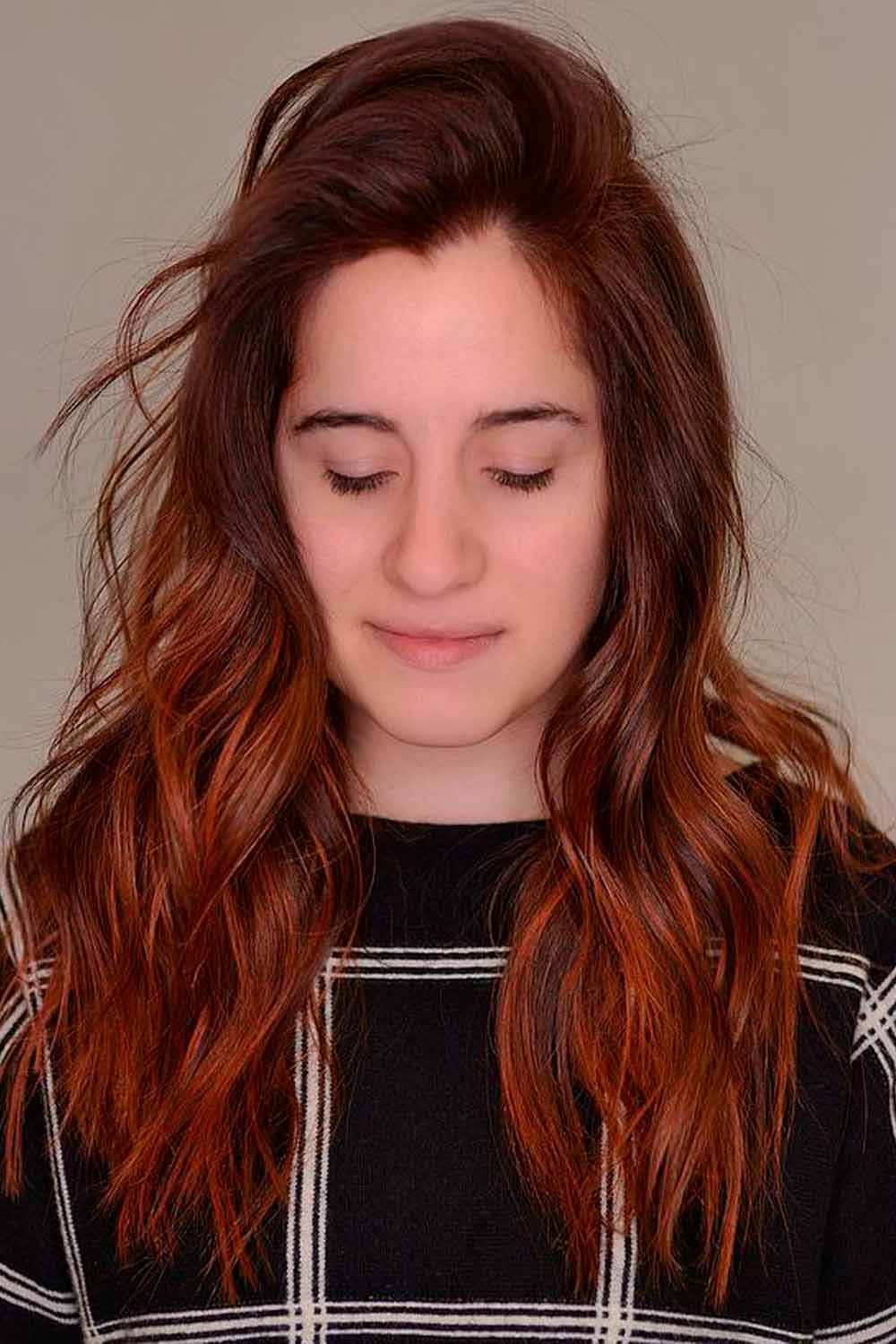 /
Warm auburn will look best against warm complexions, especially those with peachy undertones. Also, warm auburn will appear more winning in case your hair is thick rather than thin. And both wavy and straight tresses will work for this shade.
Copper Auburn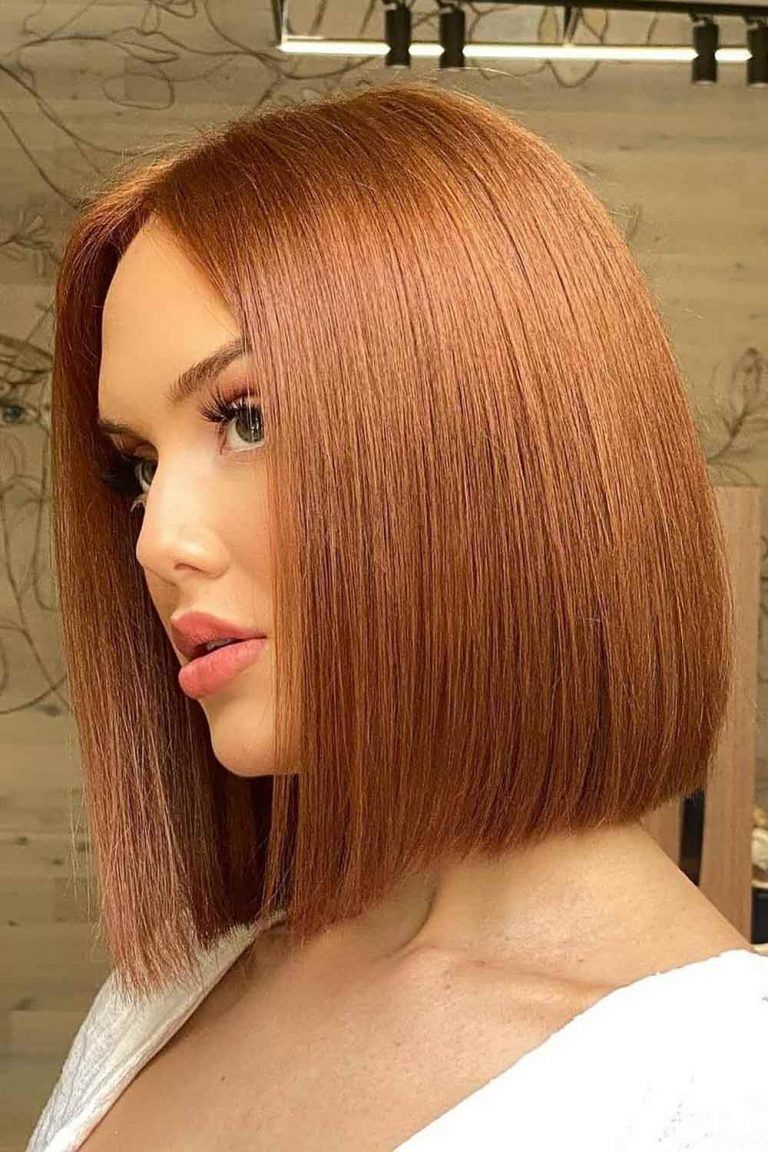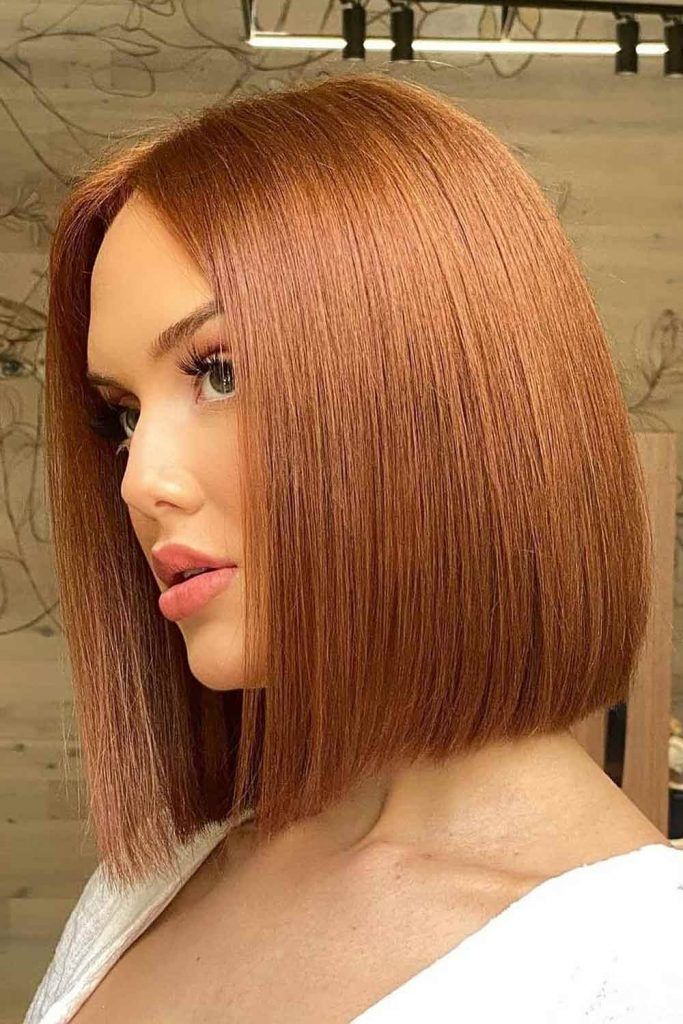 Credit photo: instagram.com/_edwardsandco
It's time to buy the best copper hair dye in case your complexion involves cool undertones. Basically, any hair type will suit for such shade. However, finer tresses will win the most when dyed copper auburn as the shade will add the visual volume to finer tresses.
Now when you are convinced that the hair dye color chart can offer you quite complimenting auburn hues, it's time to pick one and go get it!
Awesome Auburn Hair Color Amber Tint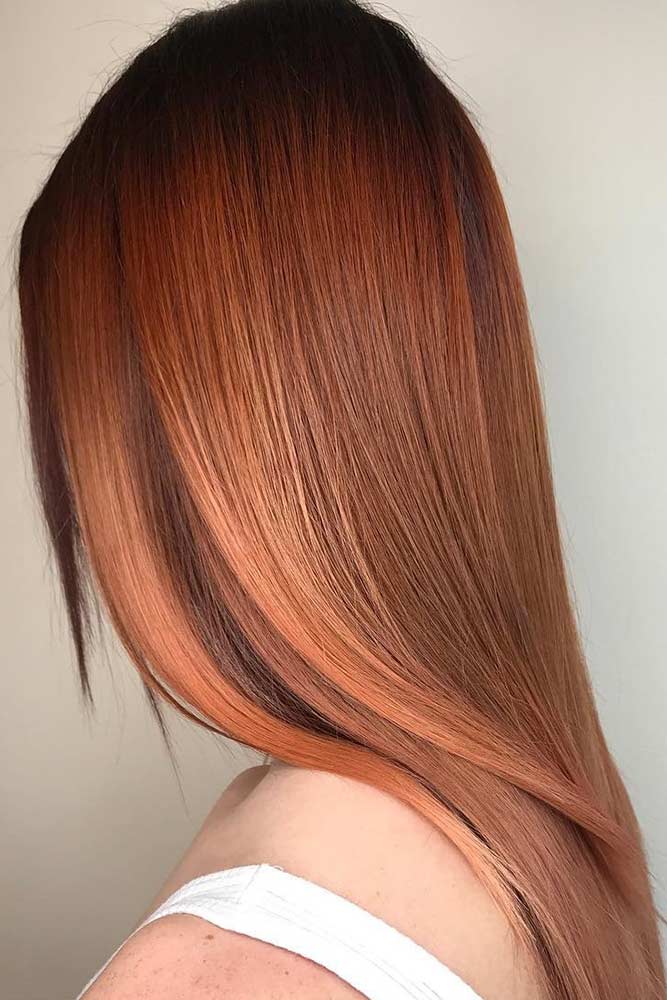 Credit photo: instagram.com/presleypoe
Despite being desirable by most women, this shade of red is suitable for those with paler skin tone. However, it's crucial to take care of this color with the help of safe shampoo and a conditioner to keep it gorgeous.
Auburn Hair Color With Red Tint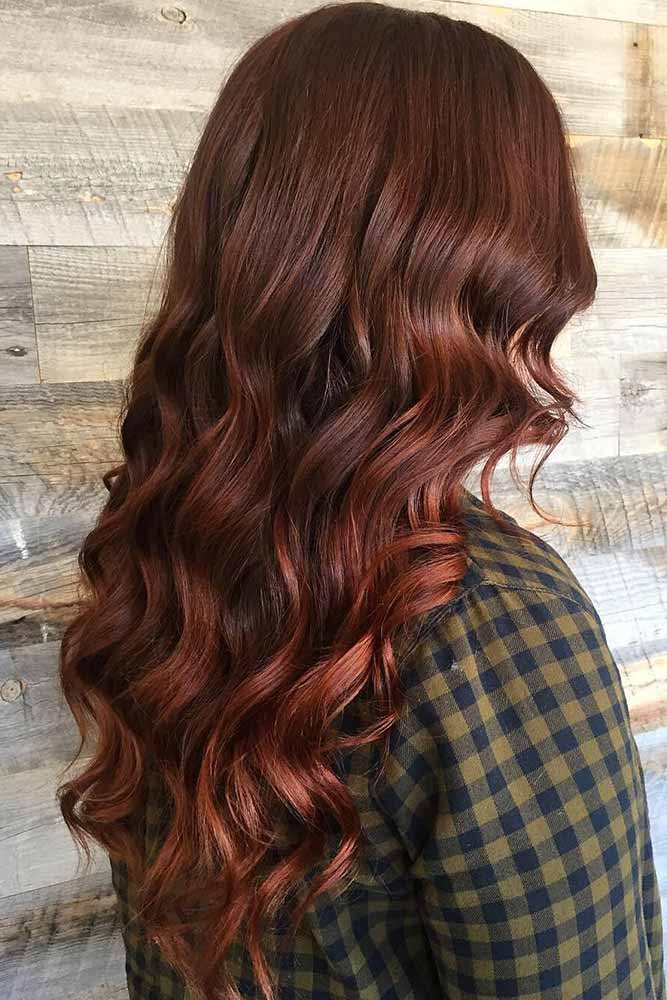 Credit photo: instagram.com/amandahillhair
If you have neutral and/or olive skin tone you should definitely choose the red-base auburn. Not only will it add some effulgence to your overall look but it will also look pretty natural against your base.
Bold Crimson Red Auburn
Credit photo: @xostylistxo
i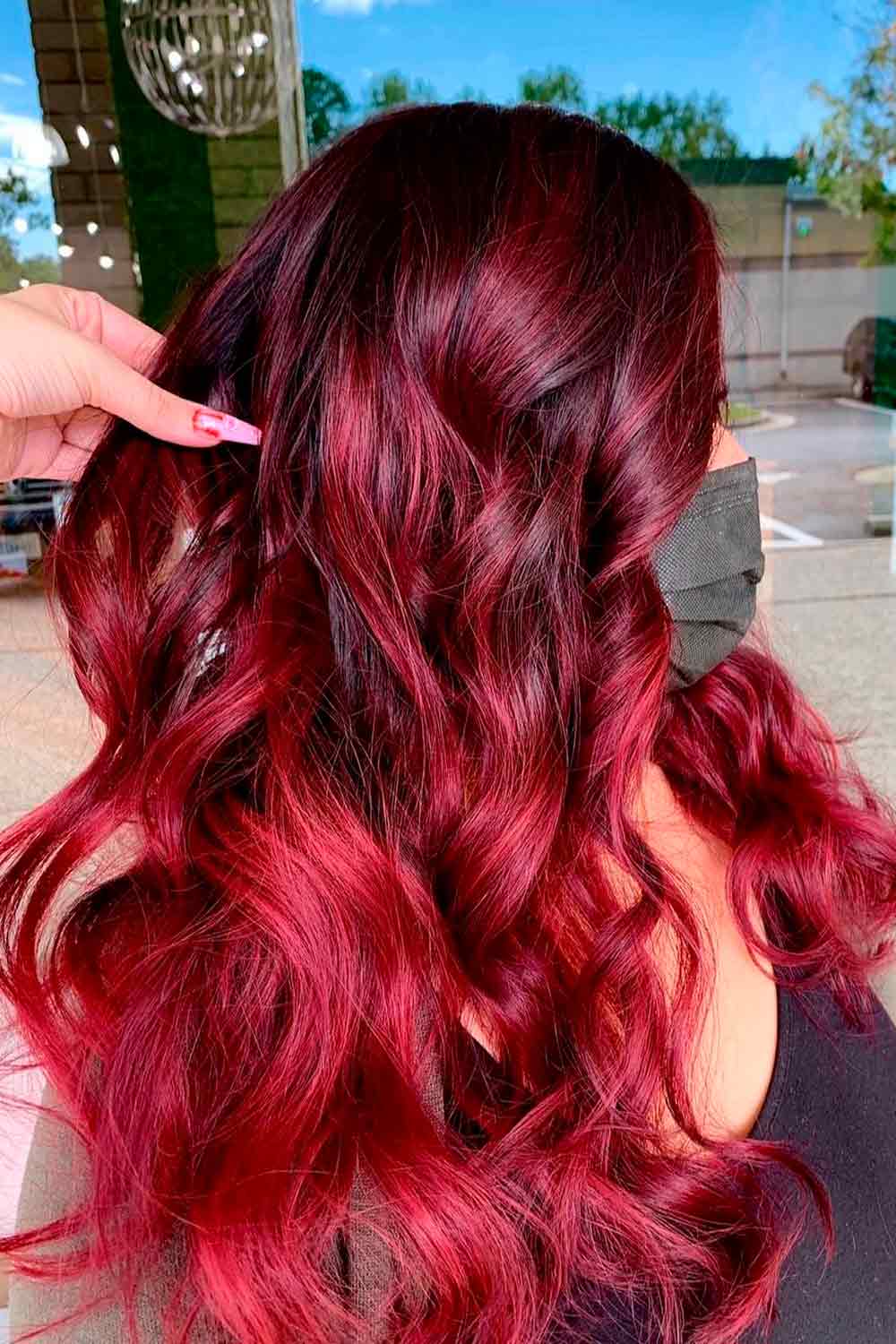 Credit photo: @xostylistxo
i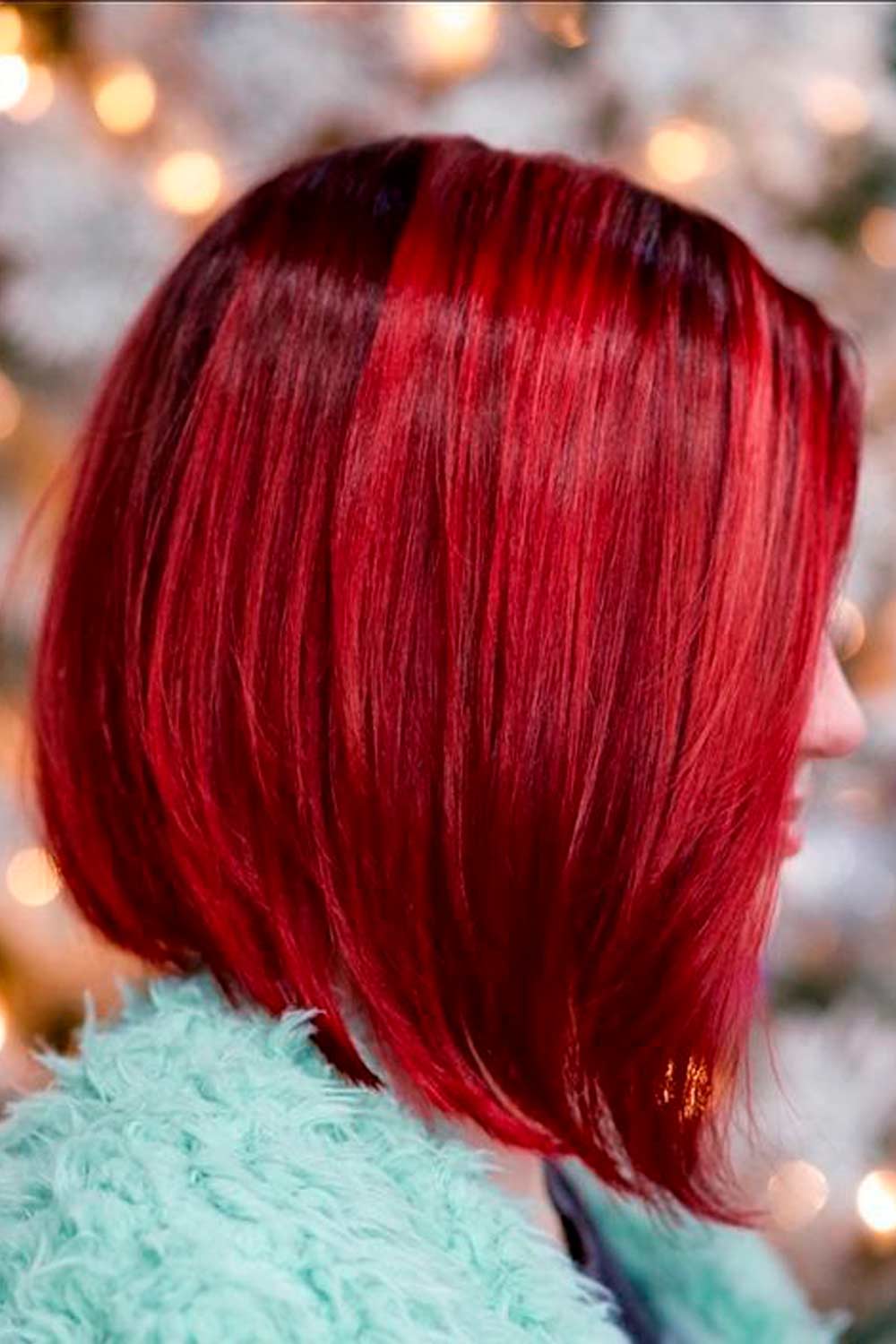 /
If you are not afraid to stand out in the crowd, then you can never go wrong with a crimson red auburn hair color. It is so bold and vivid that it cannot leave anyone indifferent. Keep in mind though that it should be accompanied by a bright make up look so that your facial features do not look faded against your flamboyant mane.
Auburn Waves With Yellow Face-Framing Highlights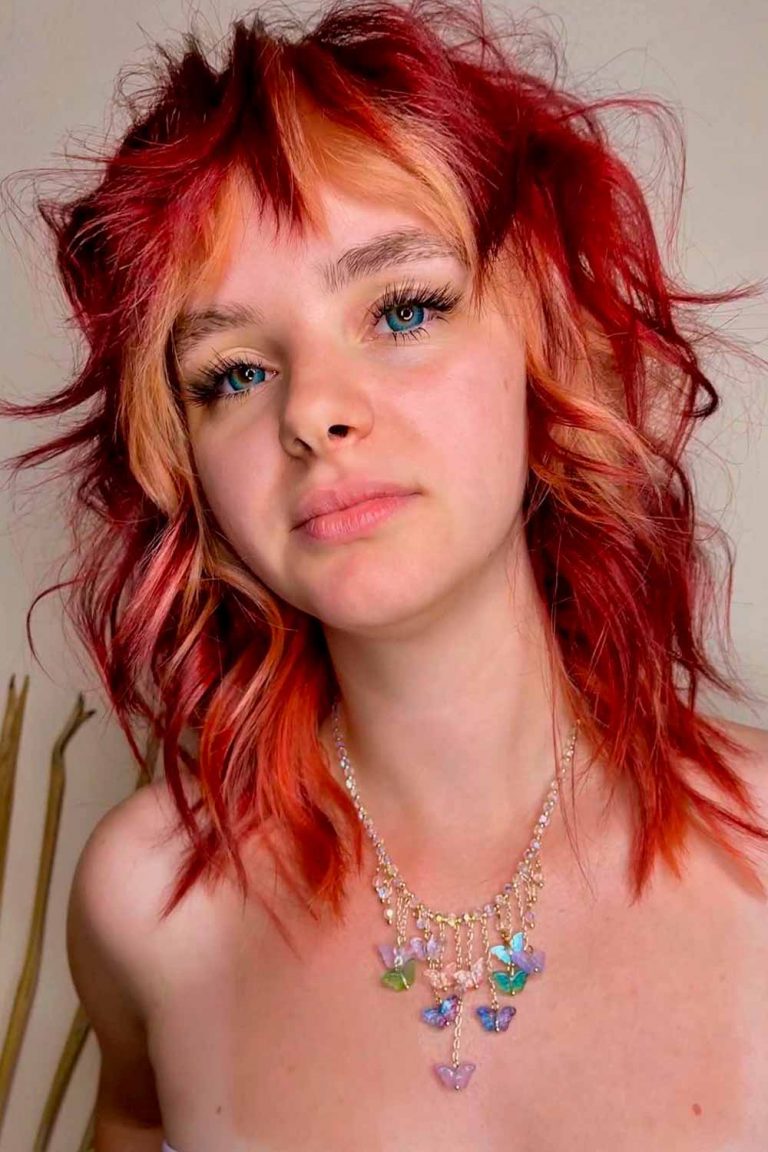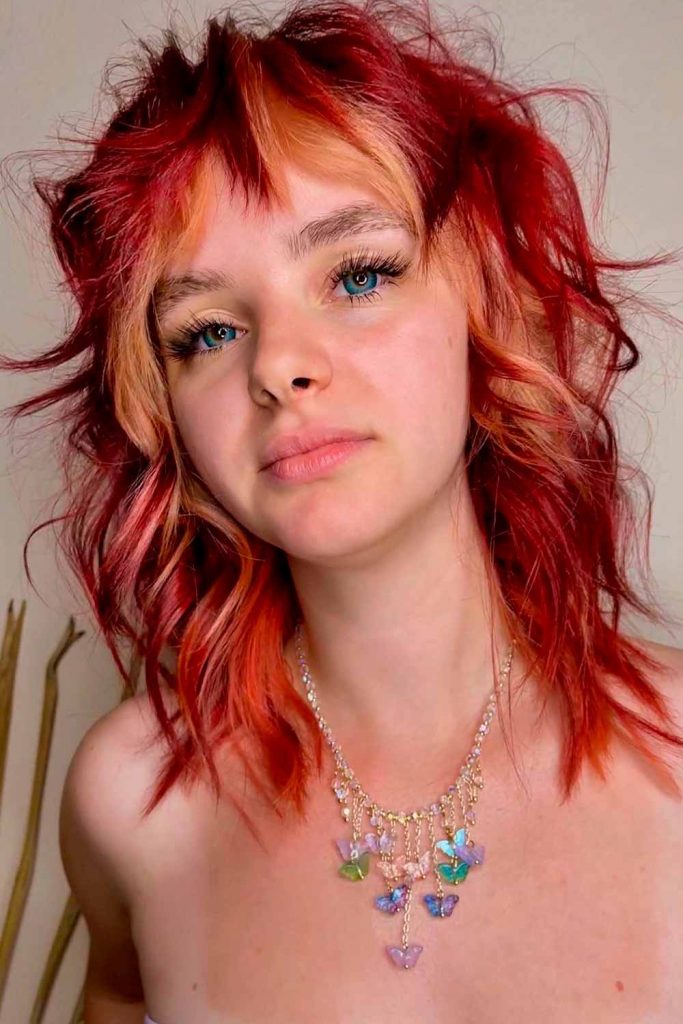 Credit photo: instagram.com/aliyousha
The auburn color looks stunning on structured hair, as it allows you to make every strand more pronounced and defined. As such, if you have wavy locks, dyeing them auburn is one of the best decisions for you. To frame your face and bring out its beautiful features, complement the look with yellow highlights in the front.
FAQ: Auburn Hair Color
What skin tone does auburn hair suit?
Bright auburn will complement pale neutral skin tints because it is actually a mixture of warm and cool tones. A mix of copper, ginger and strawberry blonde tones would perfectly compliment pale to medium skin tones that have a cool undertone.
Is auburn a natural hair color?
Yes, natural auburn or red hair is possible. Deep burgundy, auburn, bright copper, reddish-orange and strawberry blond are some of the common auburn shades. However, red or auburn hair is quite rare among people.
Is auburn hair red or brown?
Auburn hair is a type of red hair that is usually described as reddish-brown or dark ginger in hue. Auburn hair comes in a variety of colors, from light to dark. A wide range of skin tones and eye colors suit it.
REFERENCES:
Looking to dye your hair red. To choose the right red hair color for you, here are popular red hair color shades, along with tips for coloring your hair red. Source