Haircuts for heart shaped faces are so numerous and can be easily found. A heart-shaped face is the envy of many women. If you are blessed enough to have a heart-shaped face, you are running with some of the female greats such as Gwyneth Paltrow, Jennifer Love Hewitt, Michelle Pfeiffer and Claudia Schiffer. You are lucky enough to be blessed with killer cheekbones, a wide forehead and a tapered chin. And if you're one of the few, you also have a widow's peak, which allows a lot of sultry hairstyles for face shapes.
The best hairstyles for heart shaped faces will enhance your cheekbones and flatter your eyes and can include and/or incorporate the following options: side-swept bangs, high or lowlights, curls, waves and long flowing layers.
As opposed to haircuts for oval faces, you want to create extra volume at the bottom of your face with softer layers at the top to balance out your heart-shaped face.
If you're looking for a fun new style to enhance your heart shaped face and gorgeous eyes and cheekbones, check out the following list of popular haircuts for heart shaped faces.
Layered Pixie Hairstyle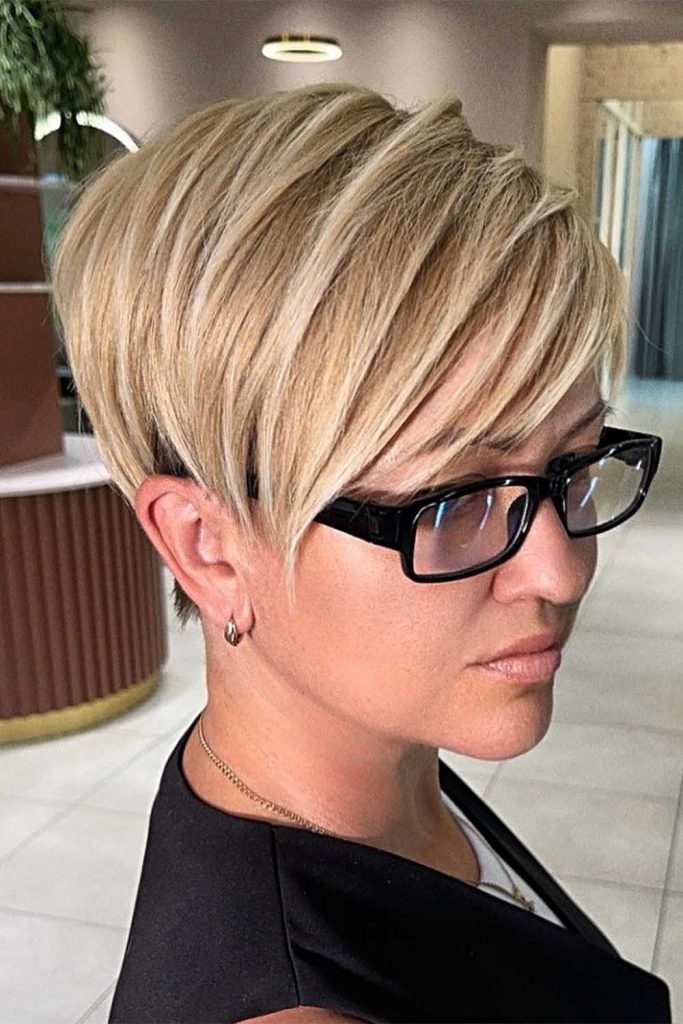 Source: mila_kryshchykhina via Instagram
Needless to say that pixie cuts in general are the best options for ladies with heart-shaped faces, not to mention that they are extraordinary trendy this season.
We couldn't simply pass by this awesome pixie with choppy layers and long bangs. That is exactly what you need to refresh your look and to be unforgettably gorgeous wherever you go!
Delicate Face-Framing Bob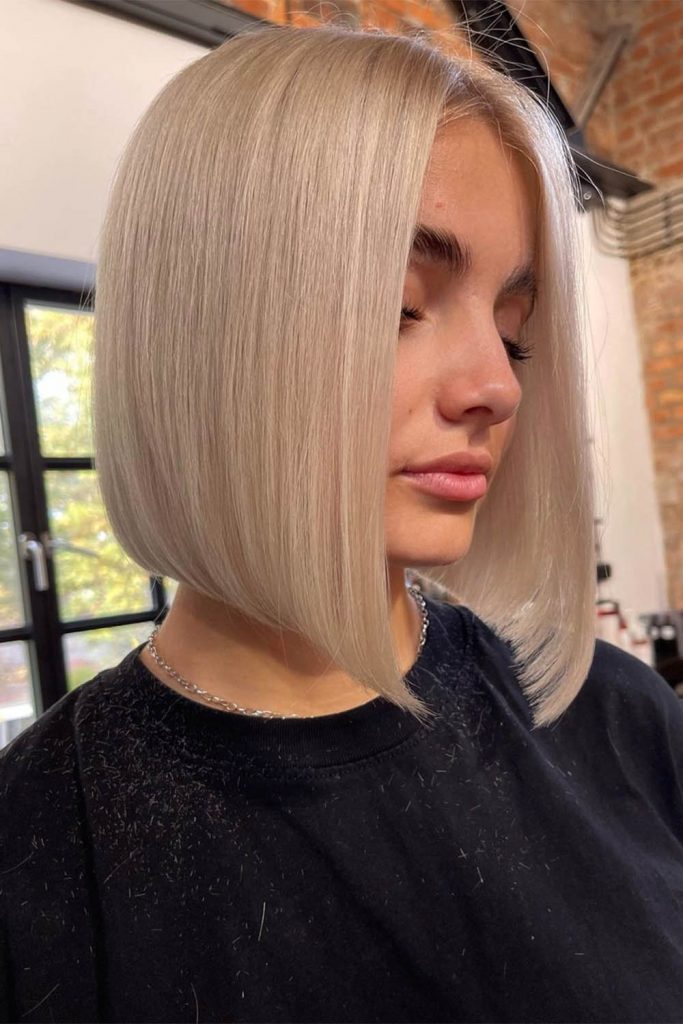 Source: sergeyshapochka via Instagram
This adorable bob ends right at your chin and perfectly frames your heart-shaped face. The slight angle gives it a contemporary feel. This cut will highlight your cheekbones without drawing attention to your chin.
While wet, apply your favorite styling product and then blow dry with a round brush. Apply a serum for shine and a styling product for added texture.
Flirty Flip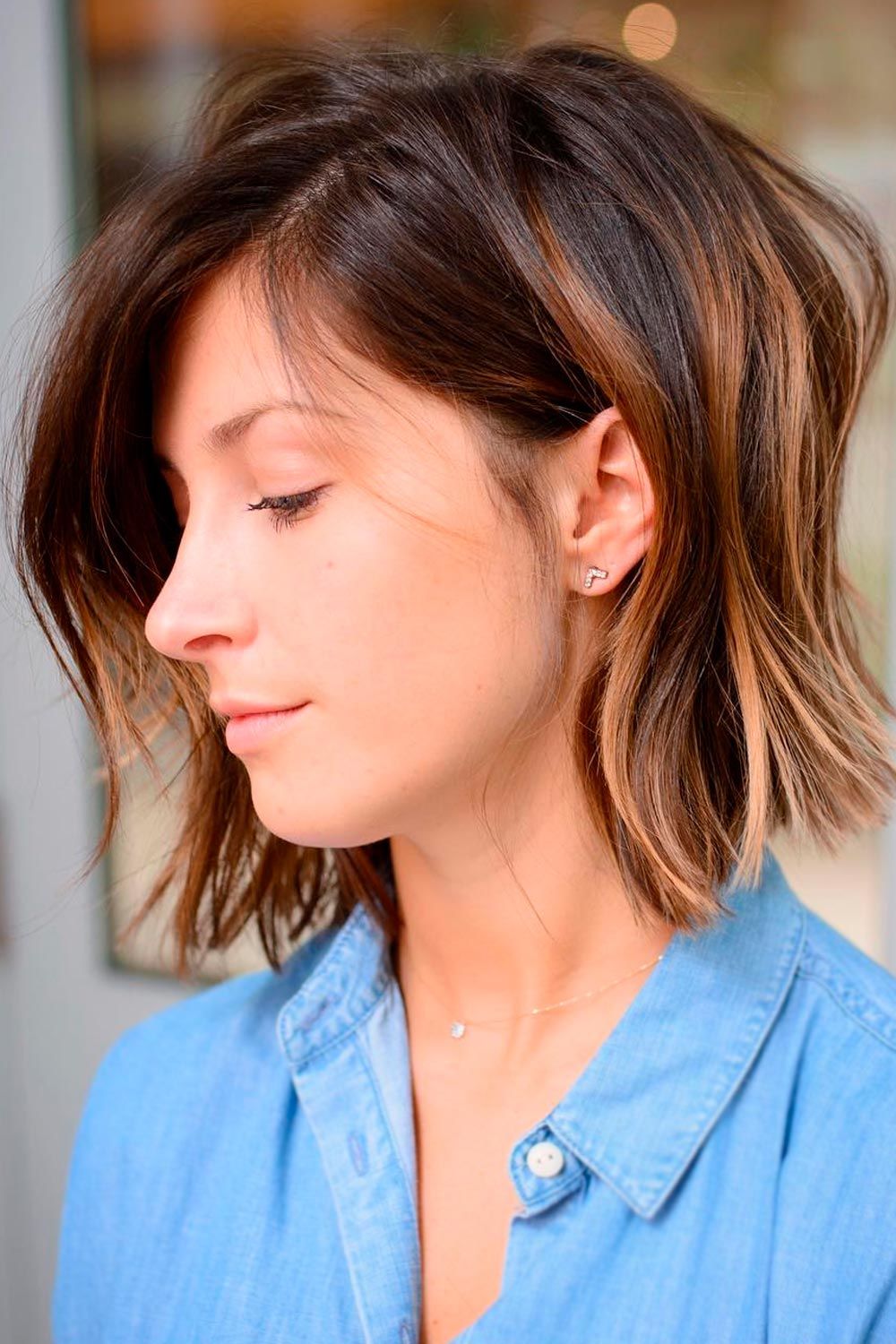 Source: cutyourhair via Instagram
This shoulder-length cut is one of the most popular haircuts for heart shaped faces. Its fun flip adds fullness to your face without taking away from your bone structure. The flip adds volume to the bottom of your face and the side part helps to narrow your forehead.
For this style, you will first apply a styling product to your wet hair and then blow it dry, using a large round brush to flip the ends out as you dry. This flirty flip is all-time and looks great with soft balayage tones.
Textured Bob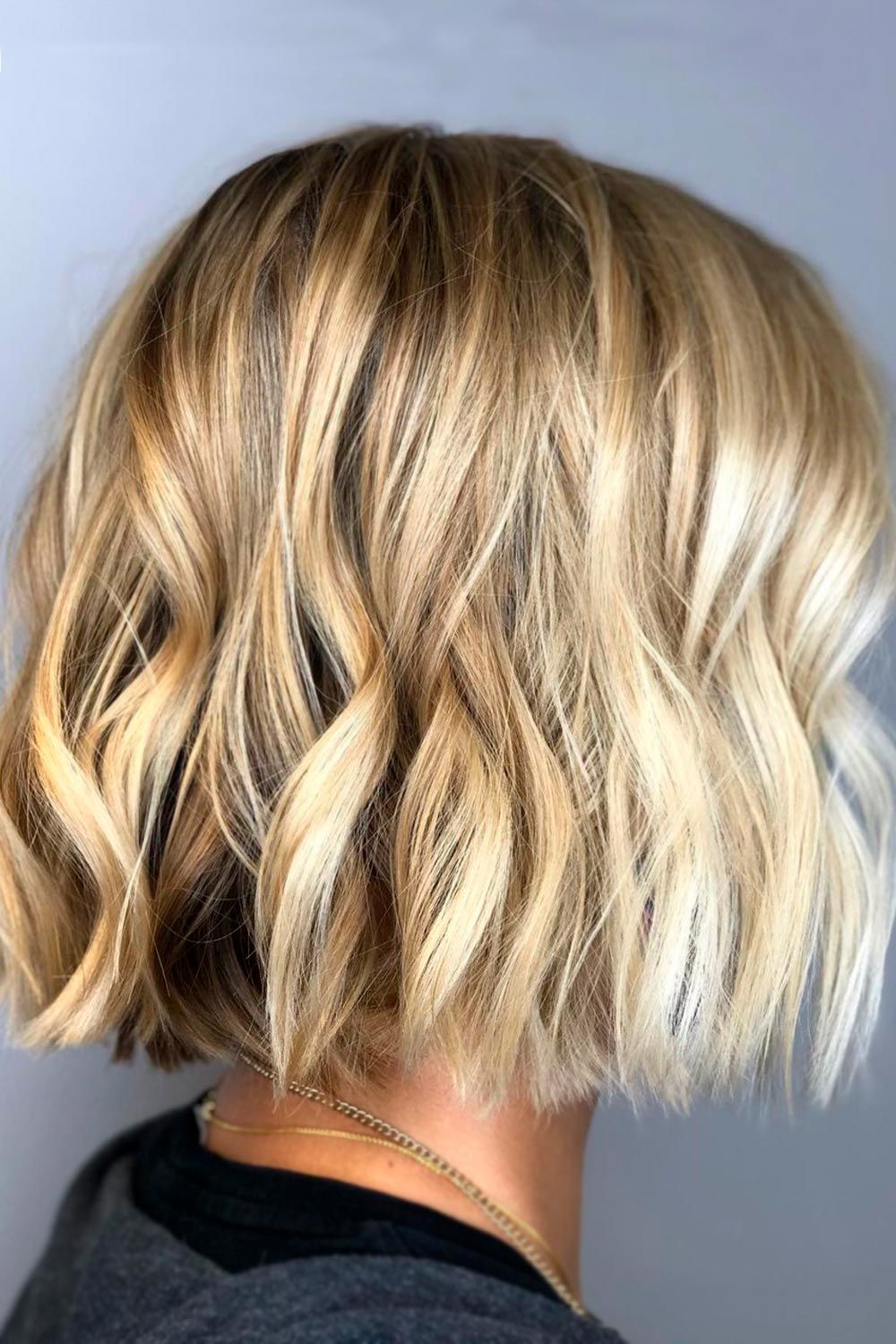 Source: laurslovelylocks via Instagram
With the right styling approach, you can make any bob haircut work for your face shape. To tell you the truth, bob haircuts are the most versatile and flexible ideas ever, so you can't go wrong with them.
And when you want a bob to show your heart-shaped face from a perfect angle, make sure to focus on the texture. Soft but distinctive waves that slightly fall on your face will give that desirable framing touch while highlighting your lovely pointed chin.
Shoulder Length Shag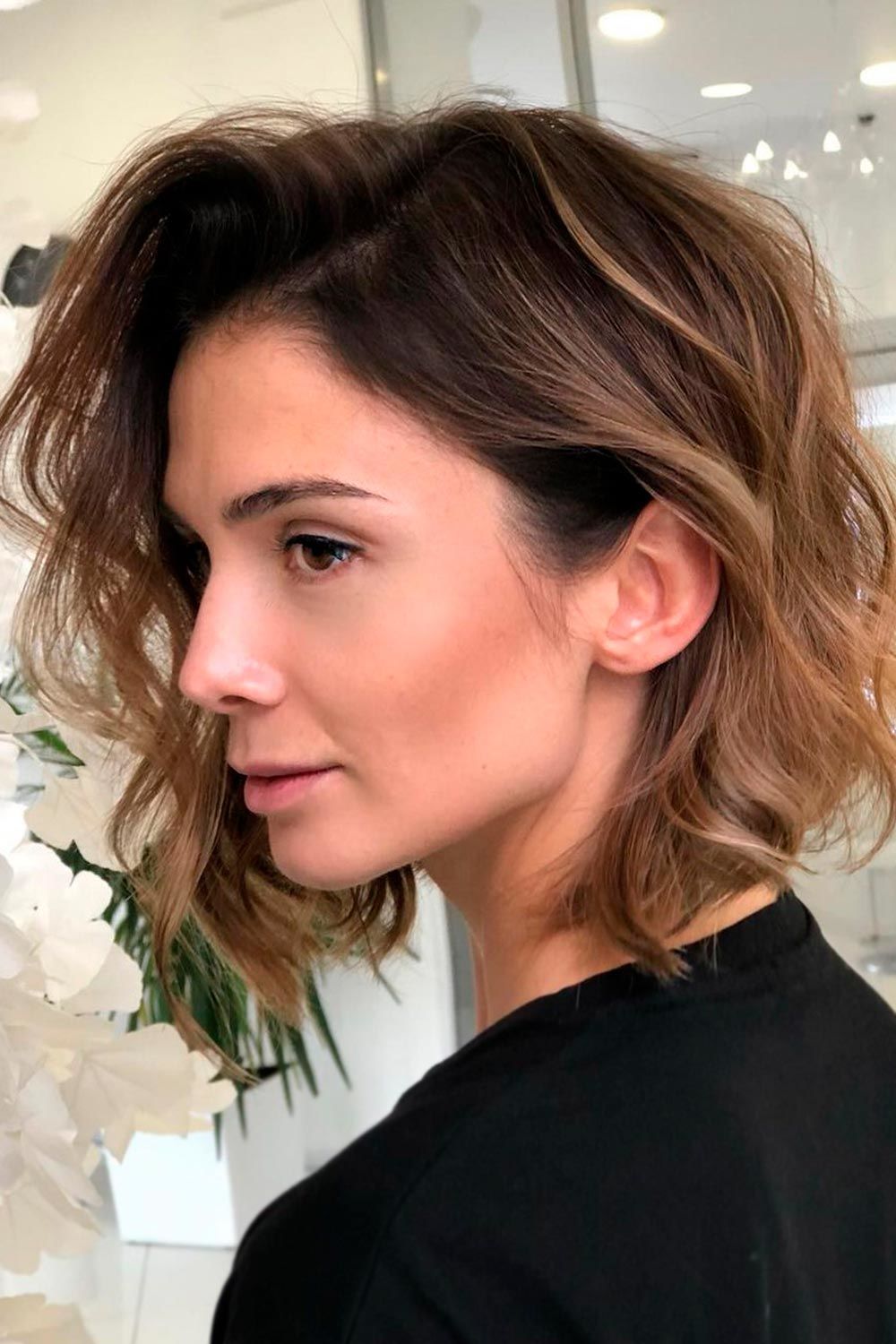 Source: mila_kryshchykhina via Instagram
Shoulder length hair is the golden ratio of all the lengths possible. Besides the great variety of hairstyles that you can try out, such length offers way more advantages. And the way it goes with layers is the crucial one.
By getting layers, you can lift up the whole mane, spicing it up with volume and organic movement. Now, imagine how many stunning face-framing tricks you can do with these beautifying cuties! Yes, layers are your magic wand.
Tousled Tendrils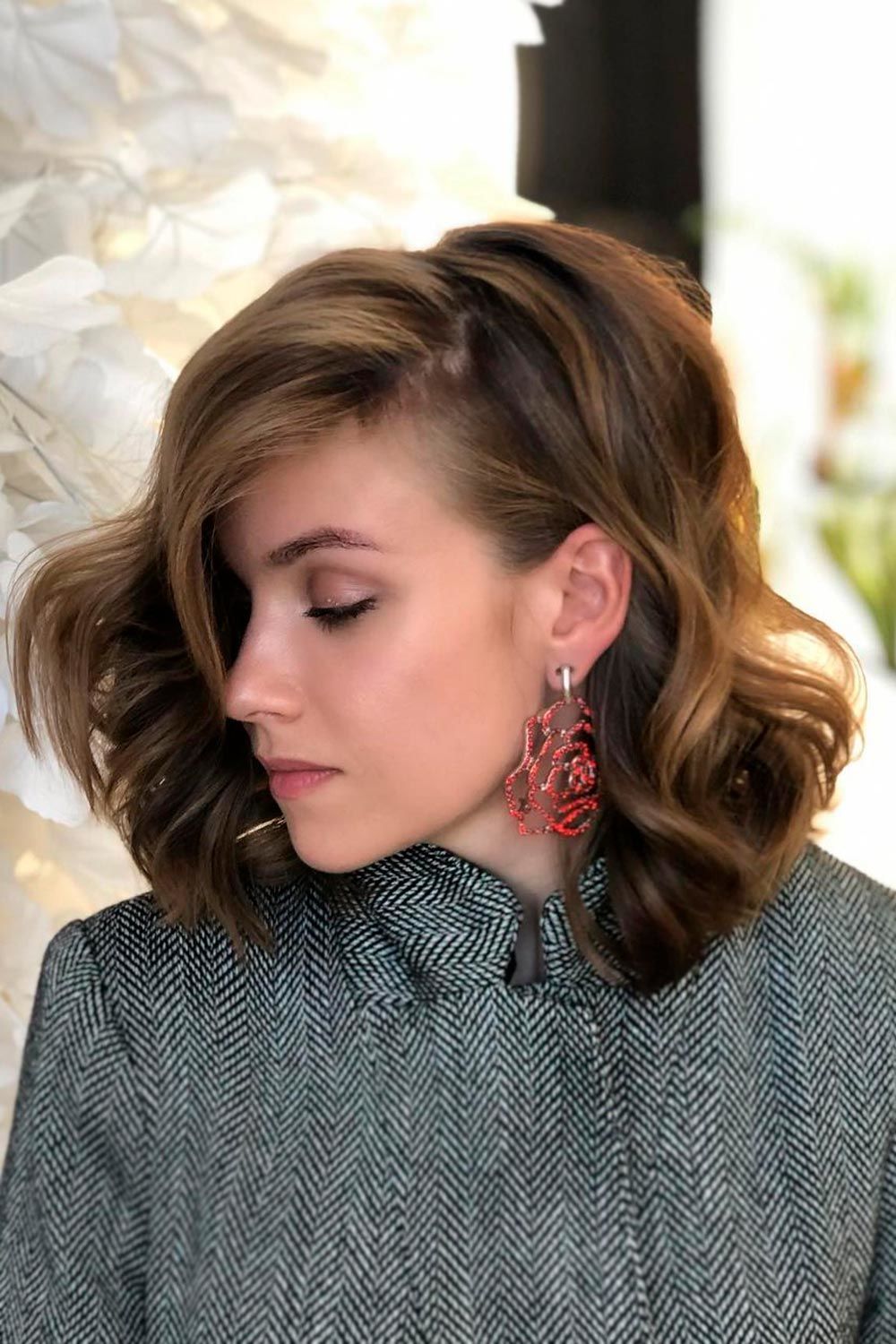 Source: mila_kryshchykhina via Instagram
It is one of the prettiest haircuts for heart shaped faces. Tousled curls not only add dimension but they look effortless, too. With its side swept bangs and full-bodied curls, this look is sexy and sophisticated.
To style, part your hair to one side and then blow out with a paddle or round brush until smooth. After drying, take the top section and bangs with a hair clip, then curl the rest of your hair with a 1-inch curling wand.
Spray with a light holding spray and use a small amount of serum to break up the curls, pulling them through gently till they hang loosely. Take out the hair clip and use a flat iron to smooth out that section, flipping it back and blending it in with the curls.
Wavy Medium Length Hair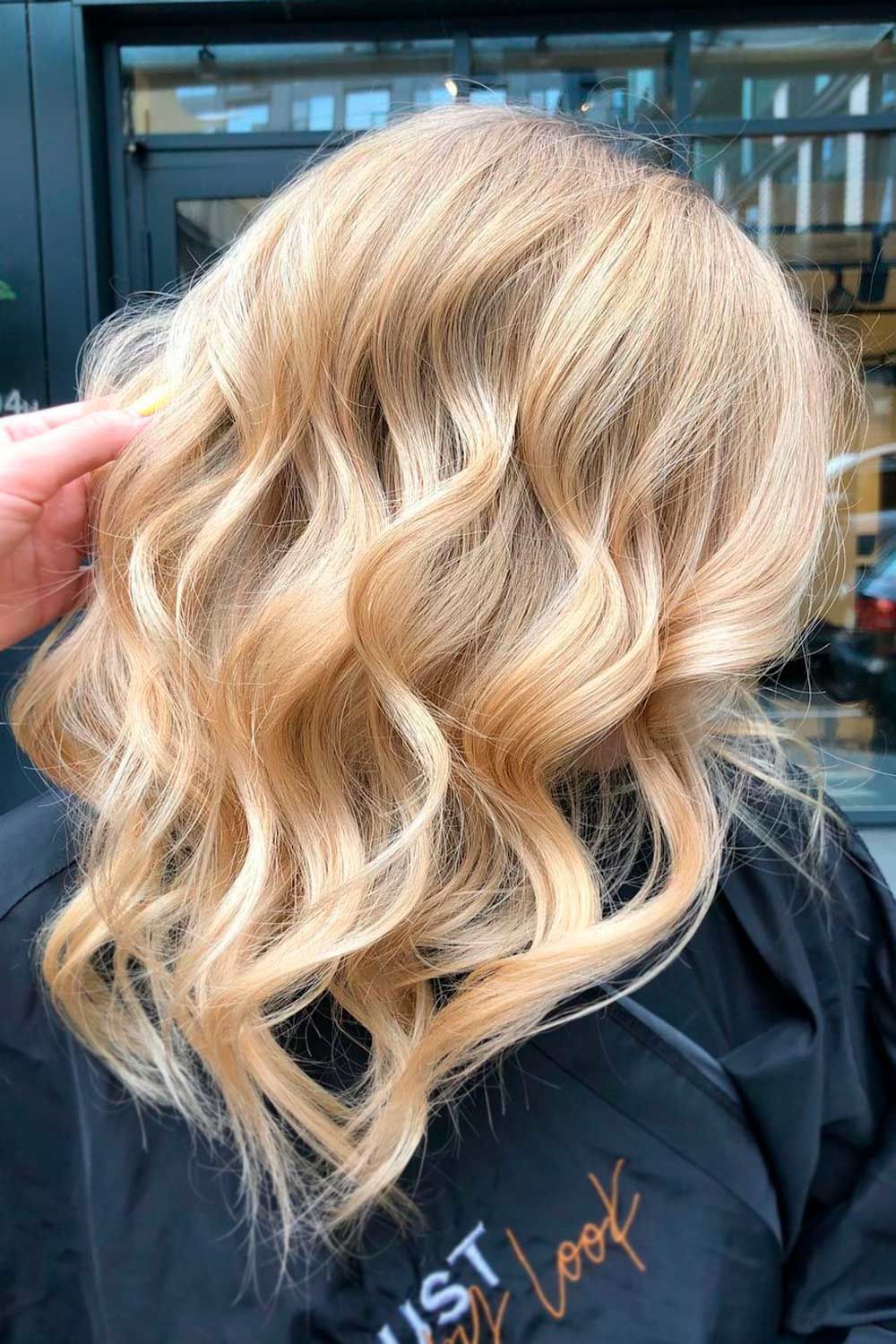 Source: valeria_haircolor via Instagram
The soft, voluminous curls of this look fall gracefully around your chin, gently framing your heart shaped face. This style looks even better with subtle highlights or a fun ombre color combo.
To style, smooth your hair while drying with a round or paddle brush. Once your hair is completely dry, curl medium-sized sections vertically with a 1 inch barreled curling iron, curling your hair back and away from your face. Spray immediately when finished. Try not to touch your hair or you will disturb the curls.
Chiseled Chic Layers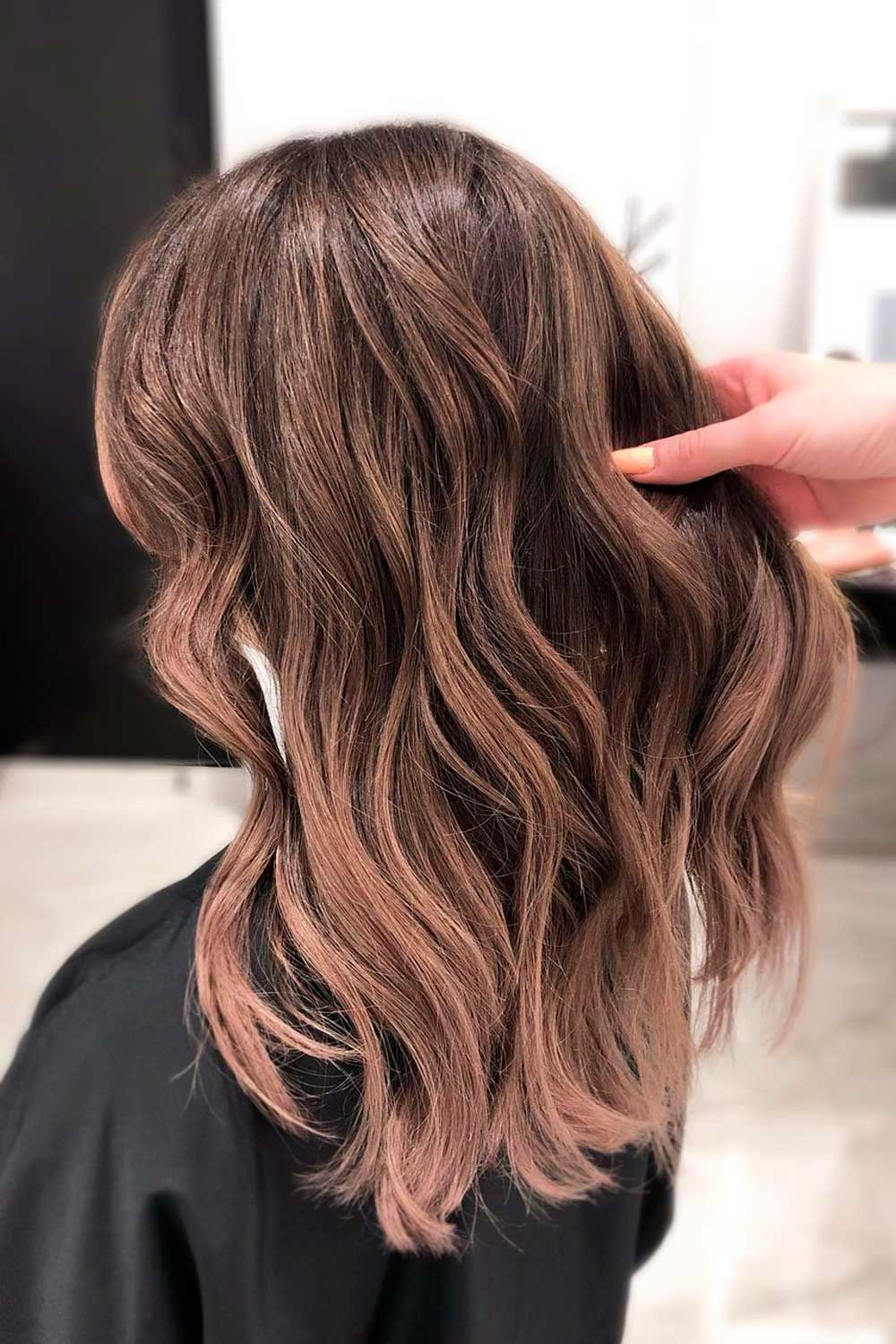 Source: valeria_haircolor via Instagram
With its chiseled front layers and longer layers throughout, this adorable cut will frame your face beautifully. A rich copper or darker color with subtle lowlights will create additional depth and movement.
To achieve this sleek style, blow dry your hair until almost dry, leaving only slightly damp and then starting at your nape, divide your hair into medium-sized sections.
Next, blow dry each section with a round brush, pulling your hair up and back as you near the top sections for even more volume. Then use a flat iron to smooth your bangs to the side.
Side Parted Sexy Lob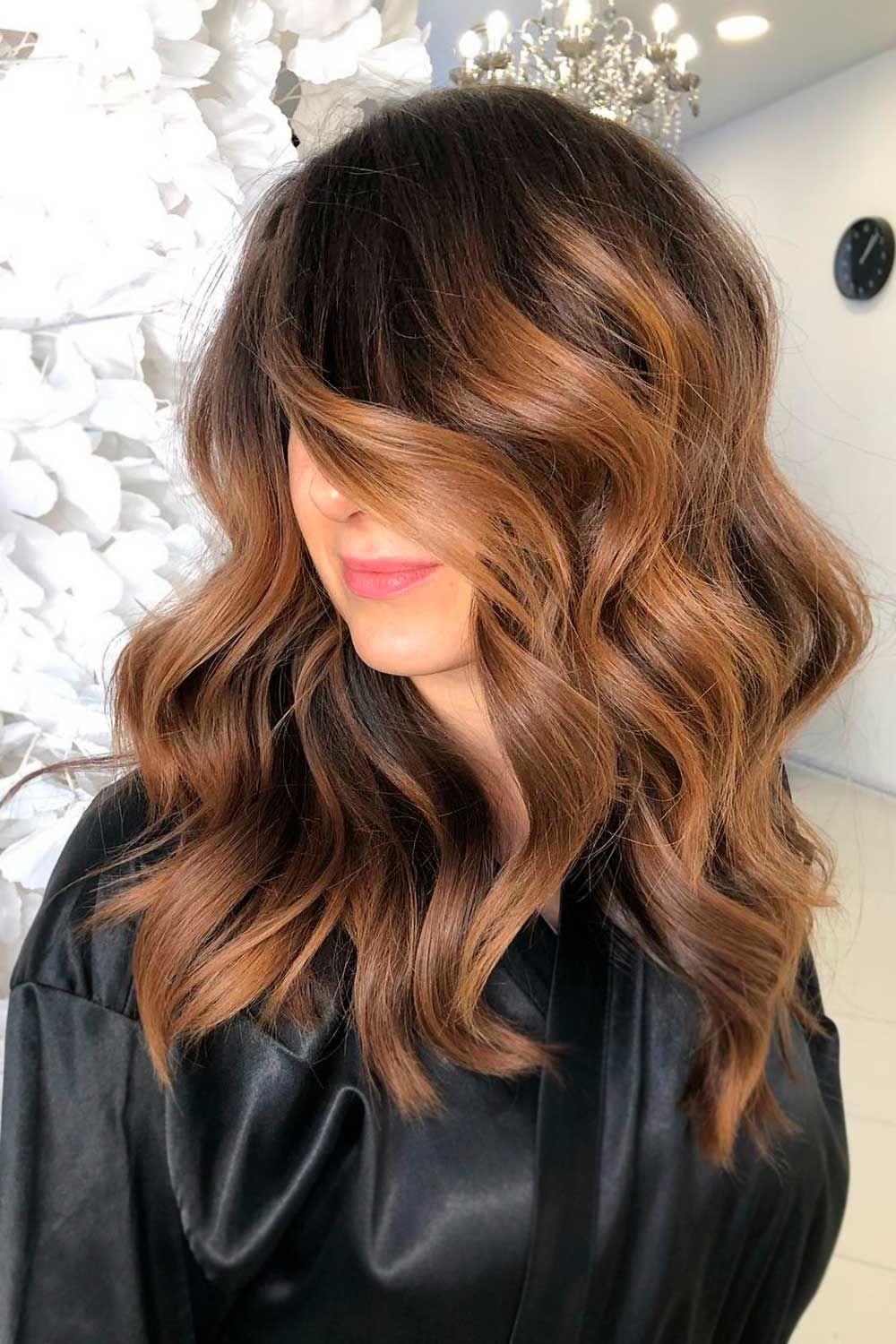 Source: mila_kryshchykhina via Instagram
A long lob, parted to the side, will narrow your forehead and soften your jaw line. To give this cut an edge, add some darker tones for a multi-dimensional effect.
To style, apply your favorite styling product to wet hair and then use a styling brush while blowing your hair dry, parting your hair dramatically to one side. Next, apply a thermal protectant and straighten your hair with a flat iron and finish with a shine serum.
Long Side-Swept Bangs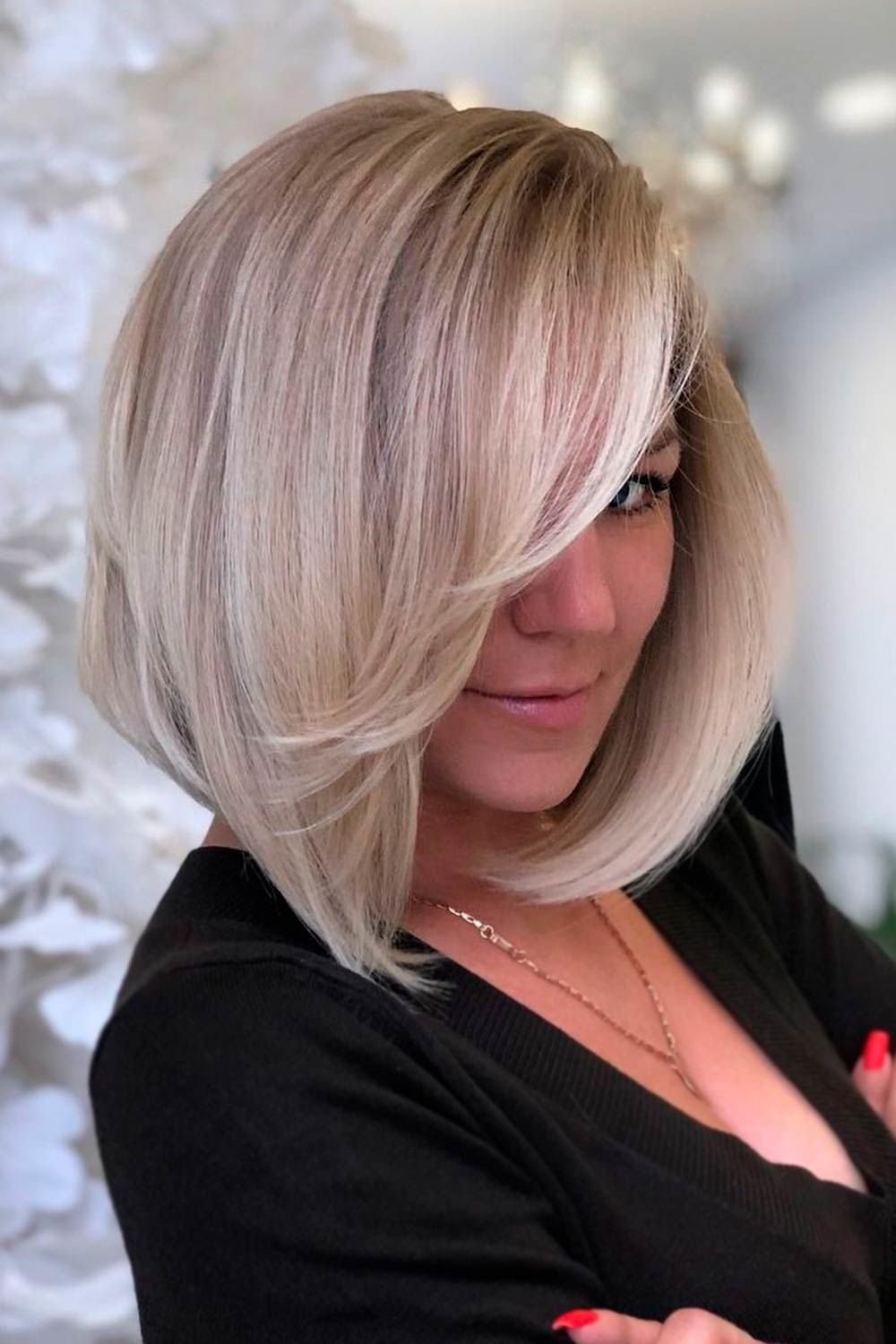 Source: mila_kryshchykhina via Instagram
It wouldn't be a secret to anyone that heart-shaped faces are wider at the top and that can make your look a bit heavy, but there is always a way out.
In fact, we can suggest you a perfect way out – long side-swept bangs come here to help you achieve the needed balance! The attention from the top is shifted now to your eyes and lower part of your face. The shorter pieces of your bangs should reach your eyebrows and the longest ones should reach beneath your eyes.
Center Parted Bangs For Long Hair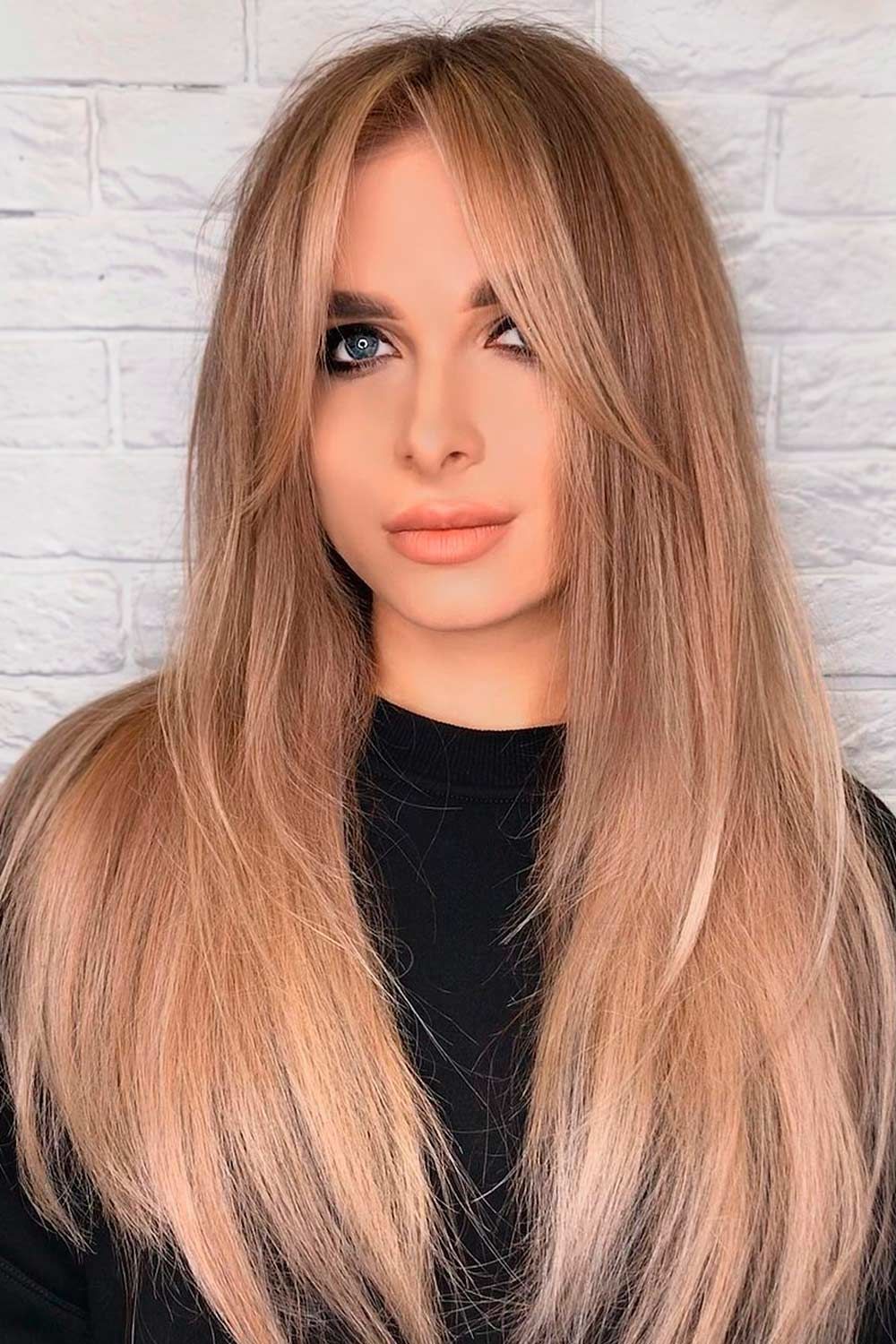 Source: sofiya.bravo via Instagram
It's no secret that, apart from giving a chic and youthful appearance, bangs can work on your forehead. Since heart-shaped faces have a very prominent, sharp chin, the forehead may appear too broad compared to it.
To sort things out, you can get yourself a stylish center-parted fringe that will bring the balance without fully overlapping your forehead. Plus, it will look gorgeous on long layered hair!
Long Straight Layers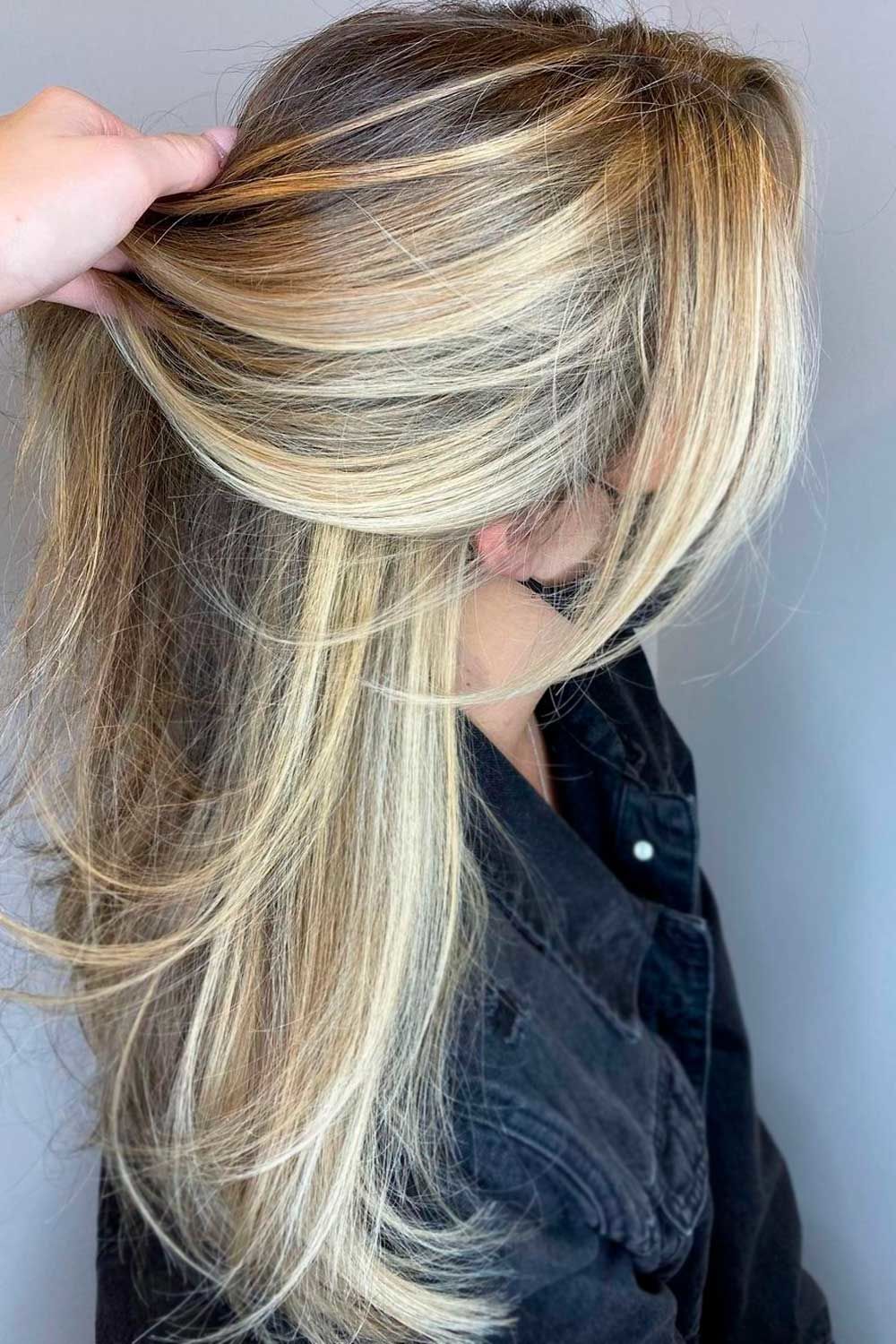 Source: laurslovelylocks via Instagram
Your hair type and texture are no obstacles to layers, as well as your face shape! So, in case you can't decide what haircuts for heart-shaped faces to have your eyes on, choose layers. They never let ladies down!
For example, long straight layers can create a not only voluminous but also dimensional body to your hair. As a result, the front layers will gently frame your face, smoothing out all the features.
Blunt Bangs And Messy Layers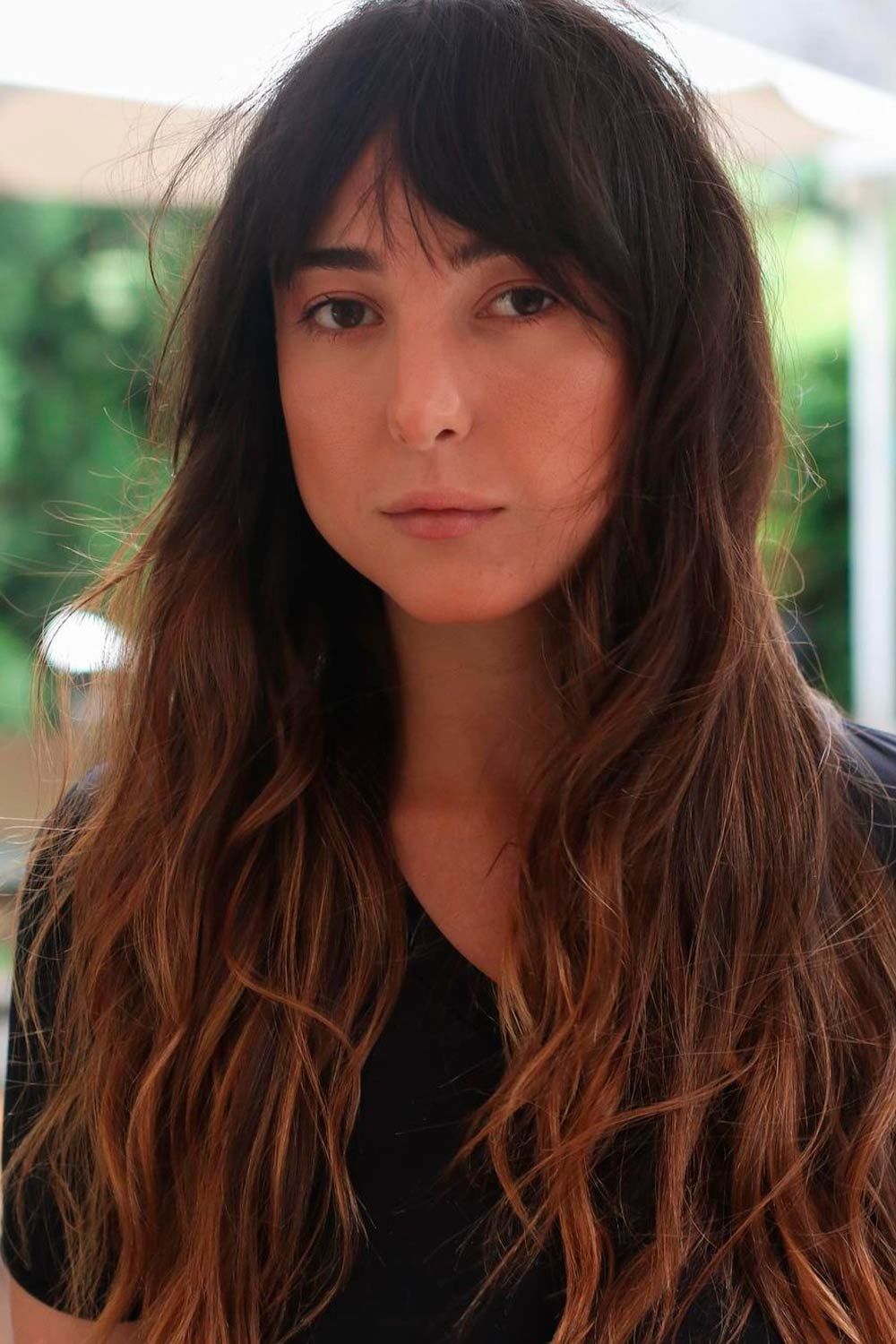 Source: g_deodato
Blunt bangs are a hair gift sent from above. Before you think that getting them is a commitment, let us tell you something. If you get it tapered, you will reveal the real styling potential of the fringe.
In fact, you can sweep it to the side, wear it straight or wavy, let it grow out and blend with your layers. And that's only the beginning. Oh, we almost forgot. Such a fringe can make you fall back in love with your face shape. So is that a commitment?
Middle Parted Wavy Hair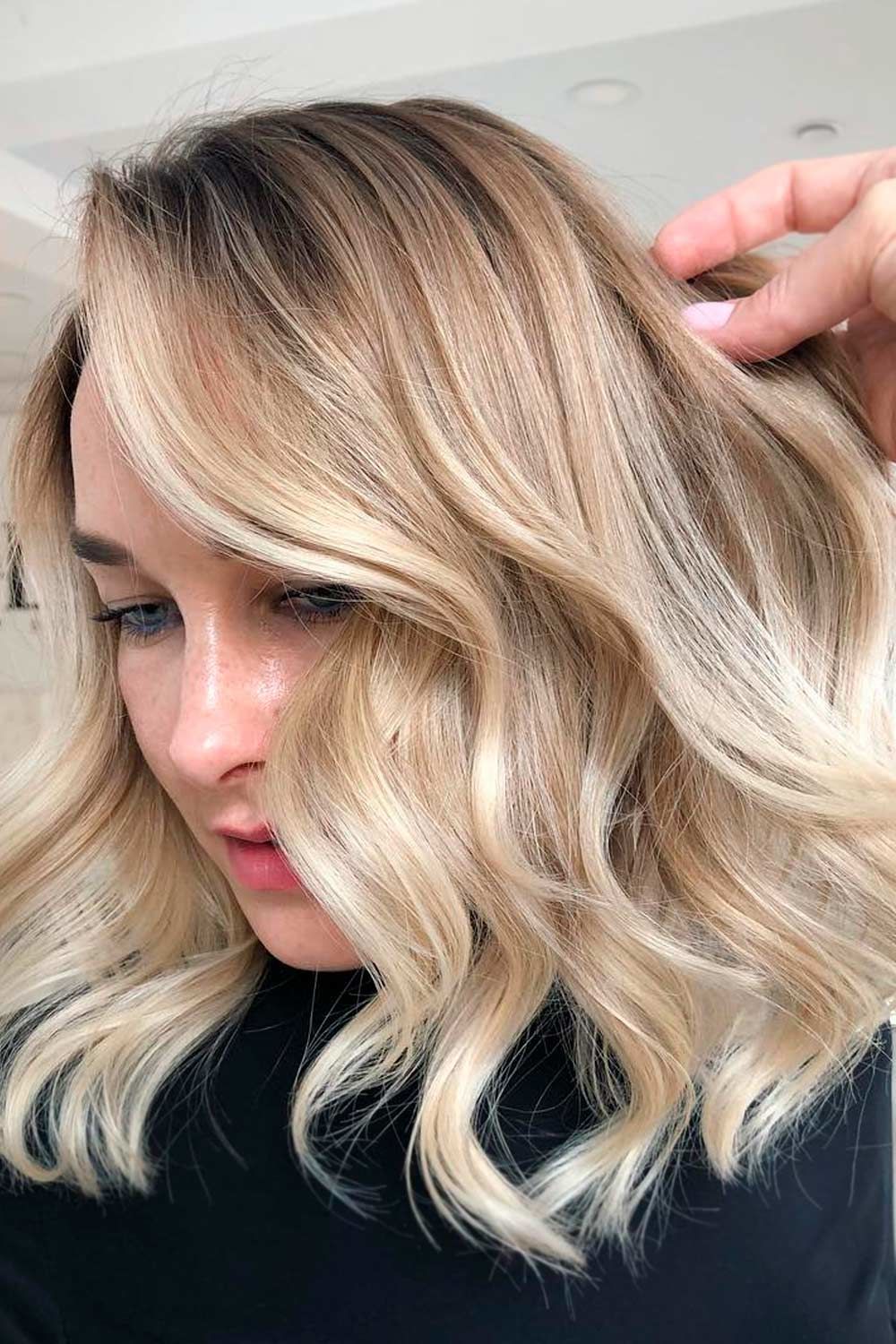 Source: mila_kryshchykhina via Instagram
These big, loose waves look great on longer hair and the side swept bangs will soften your face to enhance your gorgeous facial features. Use your favorite styling product after washing and conditioning your hair, then blow dry your hair with a large round brush.
Next, use a large-barrel curling wand to make loose vertical waves. Style your bangs seductively to one side and spray with a lightweight holding spray to keep the flow and movement of those luscious locks.
Half Up Hairstyle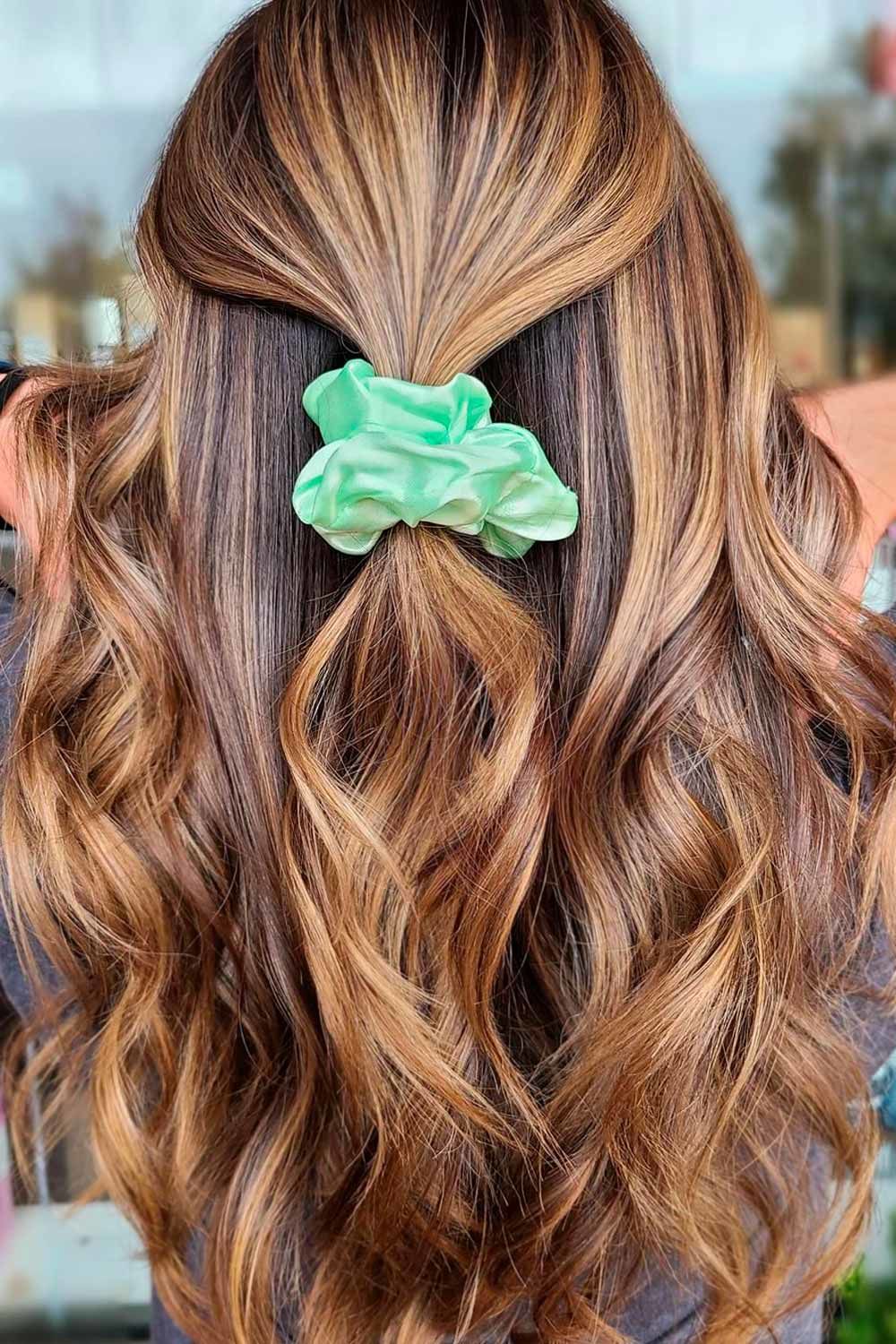 Source: arielledoesmyhair via Instagram
This is among the most glamorous haircuts for heart shaped faces. Its loose ringlets cascade gracefully around your face and make you feel totally feminine and chic.
To style, pull your hair up leaving a medium section hanging at the back of your neck. Next, take small pieces of the loose section and curl them with a medium to large curling iron.
Spray when finished and then remove small sections from the clip one at a time and style in the same fashion until complete. Flatten your bangs with a straight iron and then pull back the top section of your hair and secure with hair pins.
Straight Medium Bob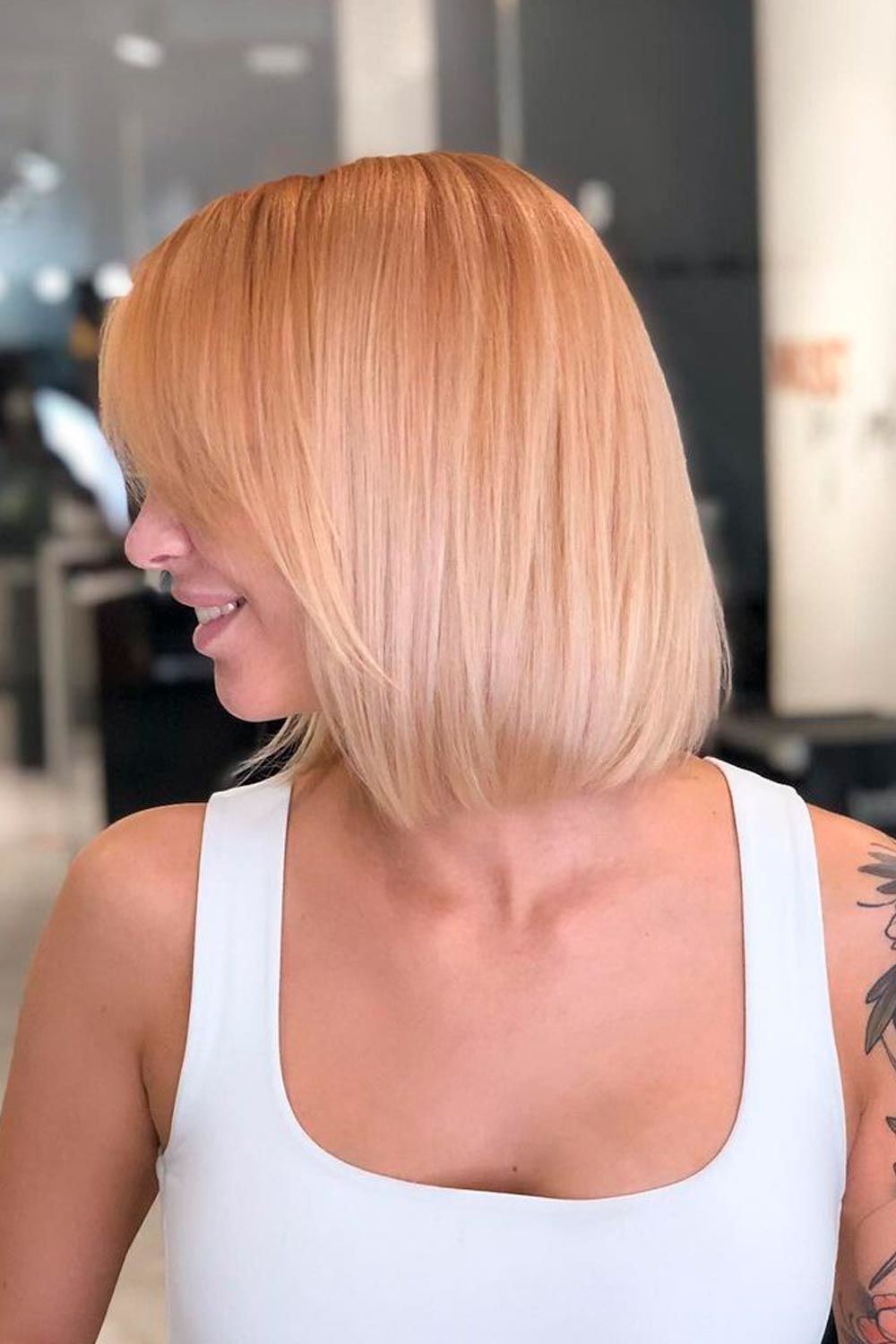 Source: valeria_haircolor via Instagram
Whatever face shape you have, this haircut will always be a timeless classic for building absolute balance in your look. Since it has a round silhouette, it allows for volumetric styling, which is perfect for those who want to achieve that pleasant framing touch. We recommend you to customize your bob by spicing it with layers; they will make the styling more accessible.
As we told you already, this haircut belongs to the world's hair classics, so all you need for styling it is classic tools like a round brush and a hairdryer.
Inverted Bob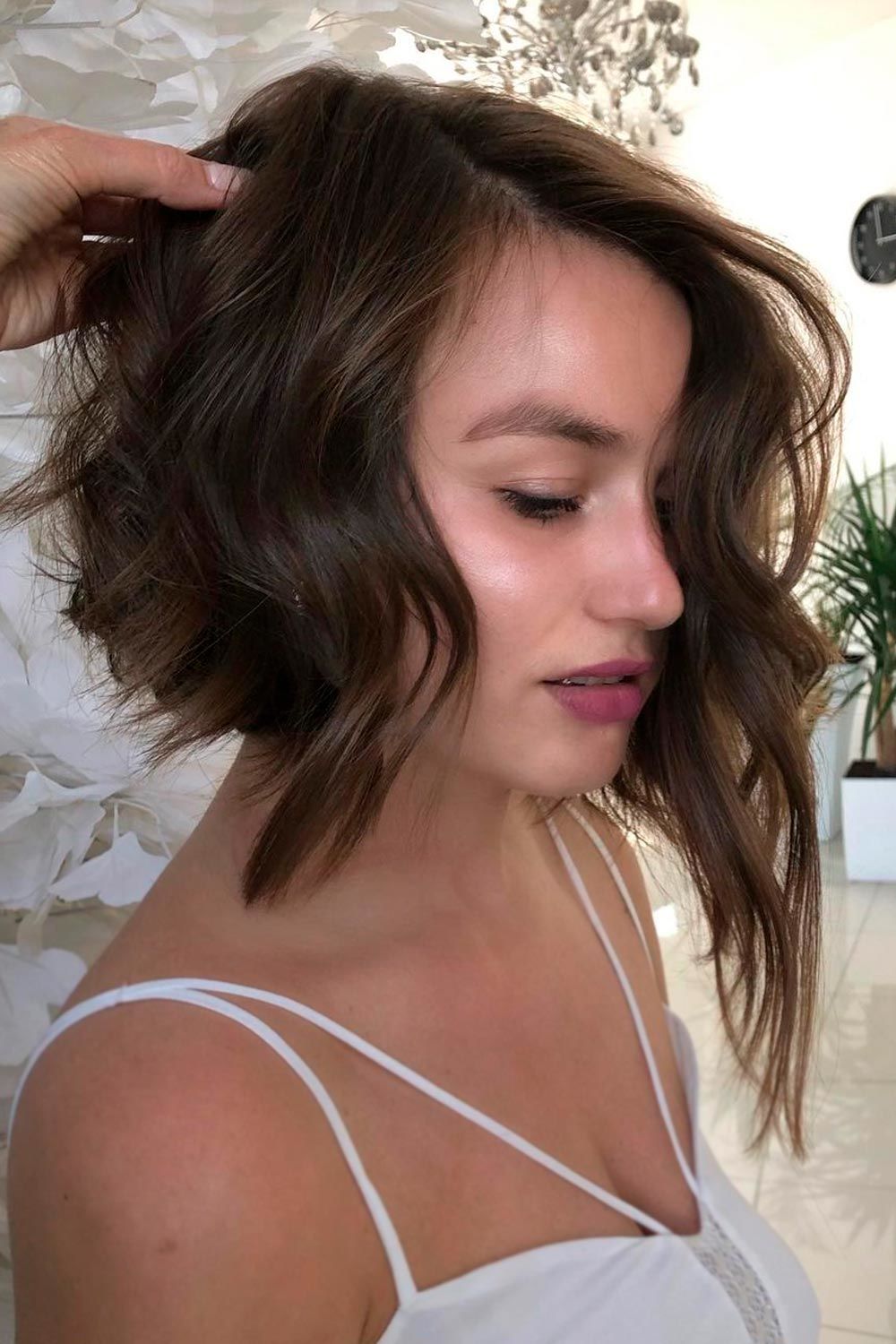 Source: mila_kryshchykhina via Instagram
The sharp layers and angles of an inverted bob is a fantastic weapon to build harmony for your facial features. There's no need to tell you that your heard-shaped face may appear too broad in the forehead, so you need to balance out the top. Of course, nothing will do better than the voluminous and edgy layers.
Adding a bit of messiness is the best way to style such haircuts. Start by applying some texturizing mousse to your damp edges. While working with a hairdryer, remember to dry only the crown for volume. As for the ends, tousle them until they're dry and coat the style with spray.
Black Long Waves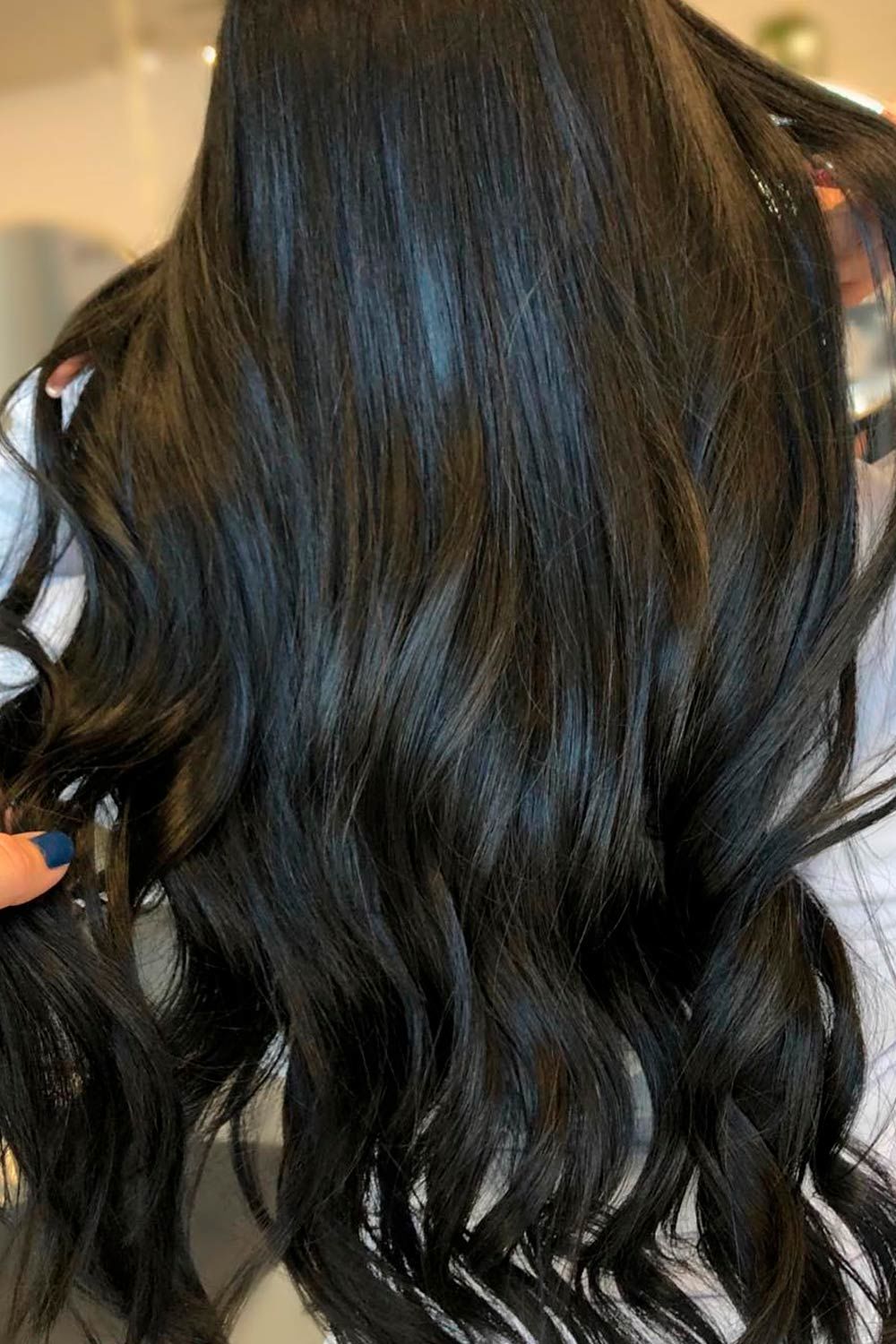 Source: mercedesdoeshair via Instagram
When it comes to long haircuts for heart-shaped faces, waves will be the most effective and stylish weapon. Not only do they add much movement and dynamics to the hair but they also can amp up the volume. Note that long hair looks best when it has some short layers on the crown that gradually cascade to longer layers at the bottom.
Creating waves is anything but hard. Just make sure to prep your hair with a softening conditioner. When styling, separate off the top from the bottom and wave these sections one by one.
Angled Straight Lob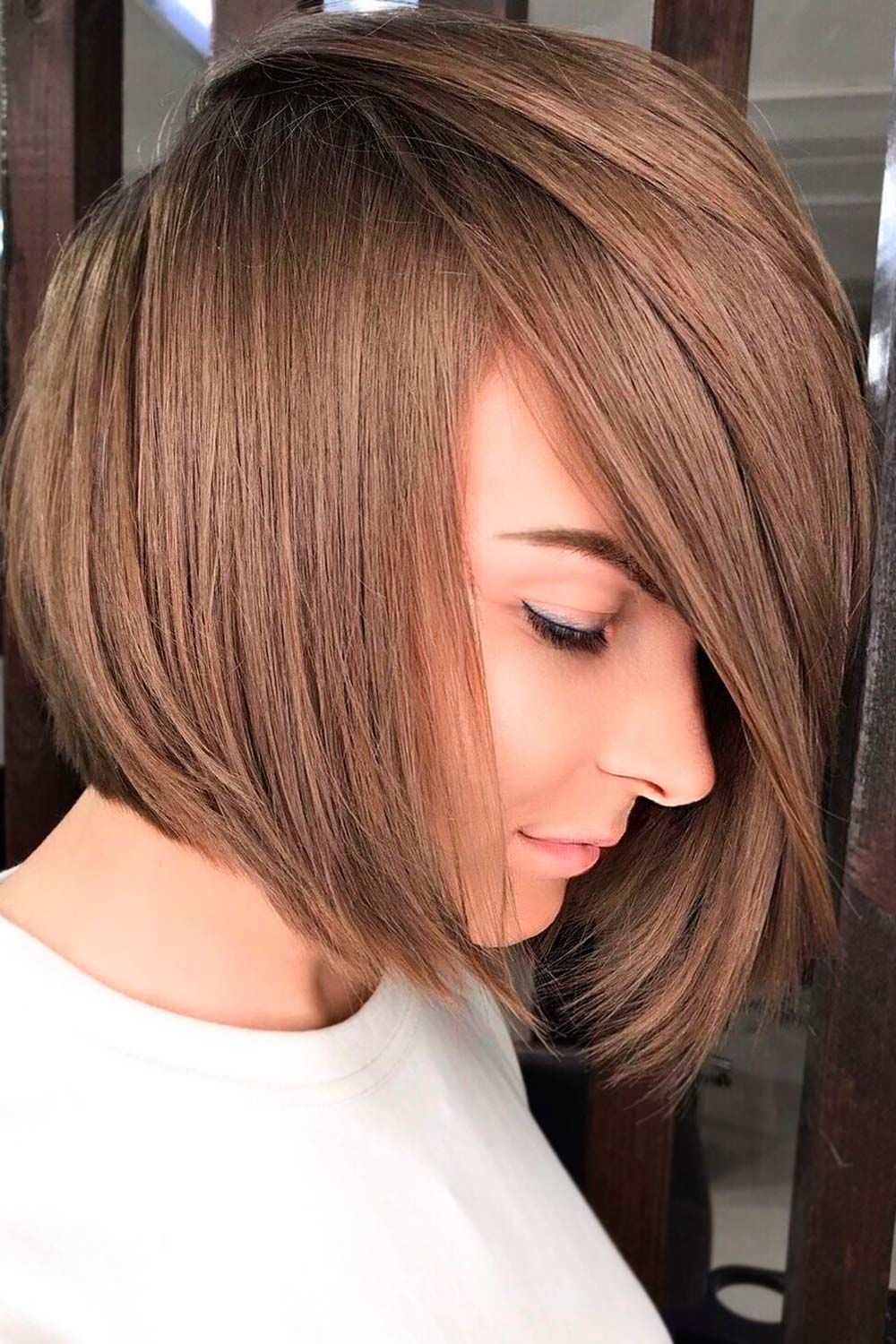 Source: sofiya.bravo via Instagram
If you take the right approach to your straight hair, it will never look flat or lifeless. By the approach, we mean a haircut, of course. In fact, angles are what can reveal the full potential of straight textures, finishing it with an edgy charm.
For angled haircuts, it's better to work with both a hairdryer and flat iron. The dryer, paired with a round brush, will help you shape and volumize your lob, while the flat iron will enhance the sharpness of the edges.
Asymmetrical Straight Bob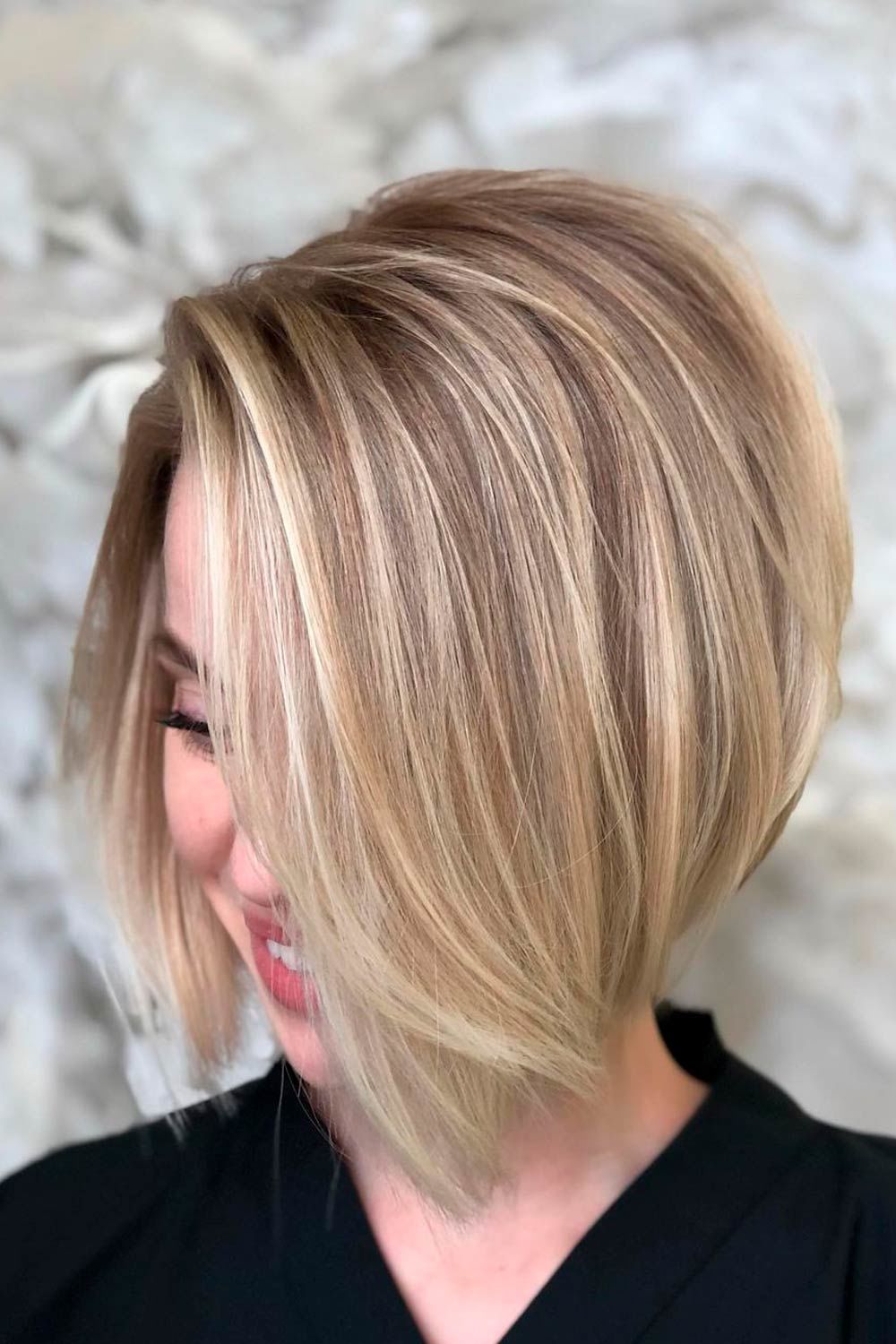 Source: mila_kryshchykhina via Instagram
While being perfectly-leveled, this haircut features a nice asymmetry that cascades from the back to the front. The longer front pieces allow for a face-framing finish, especially if you love to rock textured and well-defined hairstyles.
To get the most of such ideas, you need to find the most flattering parting for you. Most stylists prefer to wear asymmetrical haircuts with a side part to accentuate the longer side. As for styling, anything from straight and sleek to wavy and defined will work great. No matter what your choice is, don't forget about a heat protectant.
Shaggy Short Bob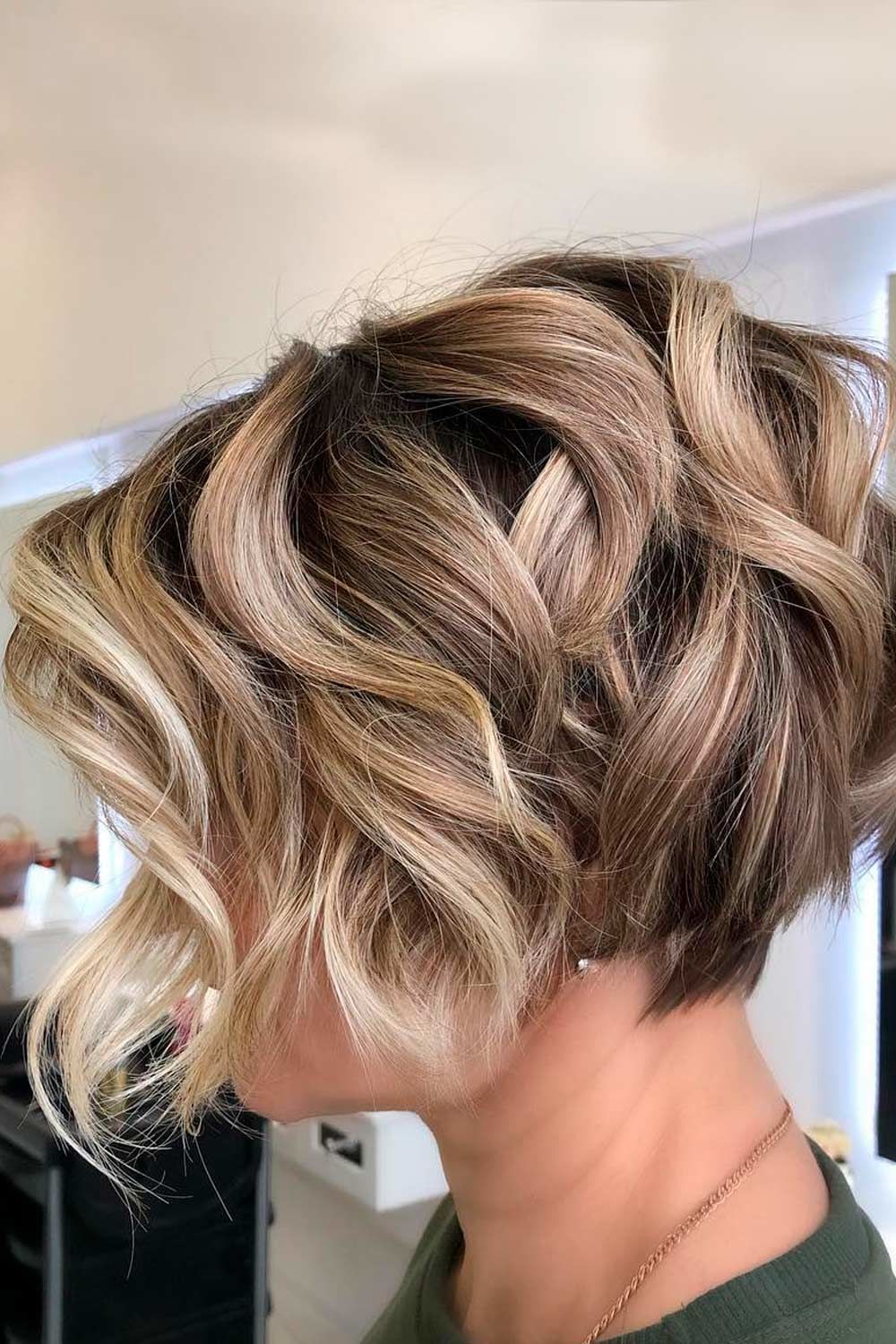 Source: mila_kryshchykhina via Instagram
Shag is all about crazy movement and endless freedom bursting from the locks! On different lengths, the cut looks differently, which means you can always make it work for you. For your face shape, it will be wise to go for one-length layers throughout the whole short bob. First off, such a structure is a magnet to volume. Second, it allows for dramatic carefree looks.
To achieve a perfect and long-lasting messy hairstyle for your short cut, make sure to stock on salt sprays and foams designed for adding definition. Apply the latter to the damp hair and use the former to lock the style in place, tousling your mane while drying it on the cool setting.
Auburn Layered Long Hair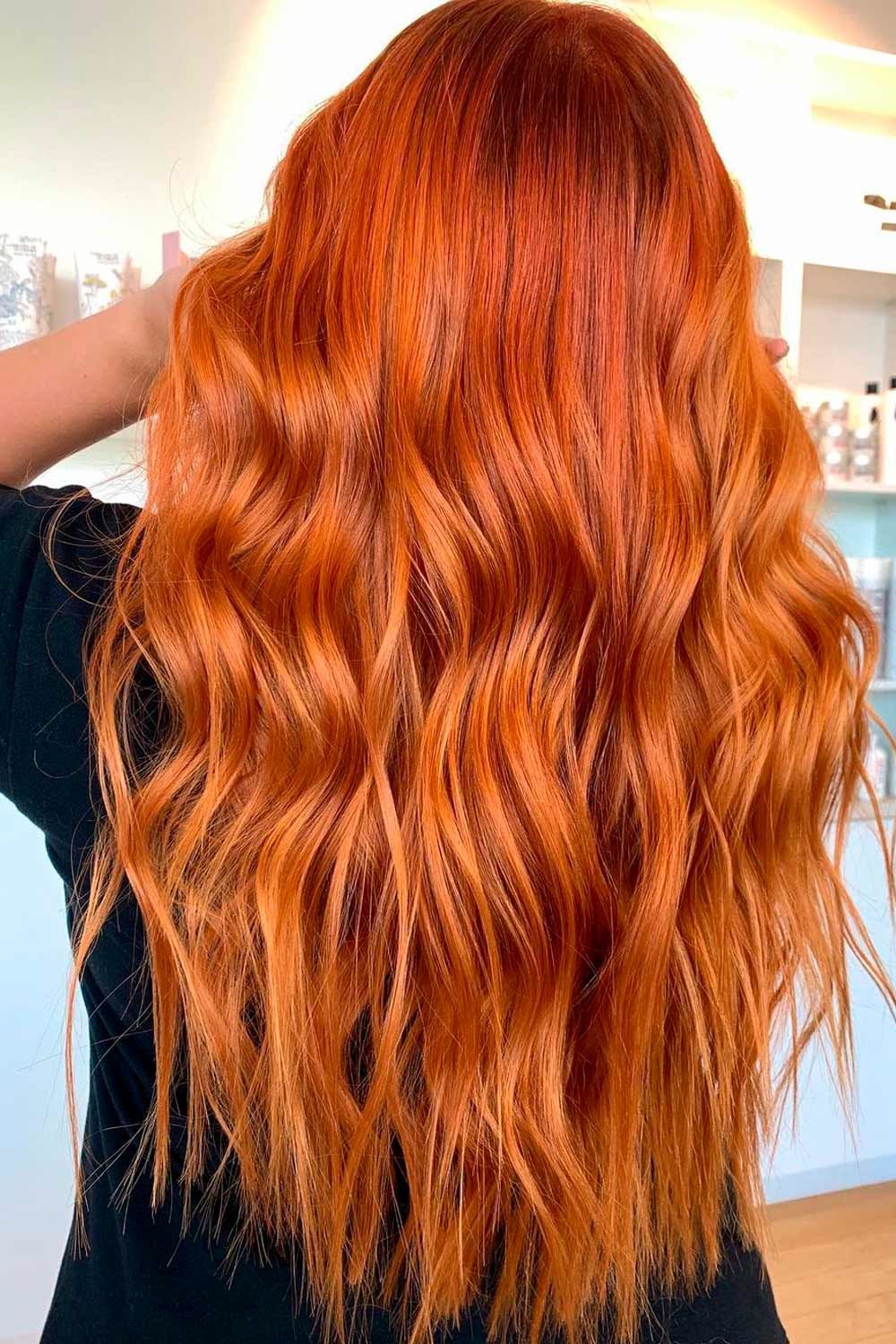 Source: mercedesdoeshair via Instagram
As your hair grows longer, it may lose its bounce due to the additional weight of the length. And instead of cutting your precious locks shorter, you can bless them with the magic of long layers. Besides, rocking a layered long mane is so much fun, as you can go for blowouts!
First off, ensure to use blowout-friendly products like moisturizing conditioners and finishing sprays. When drying your hair, use clips to work with individual sections and layers, securing them with hairspray straightaway. Also, don't limit yourself with one size round brush: it's better to use a small brush for the front layers and the big one for the back.
A-line Long Hairstyle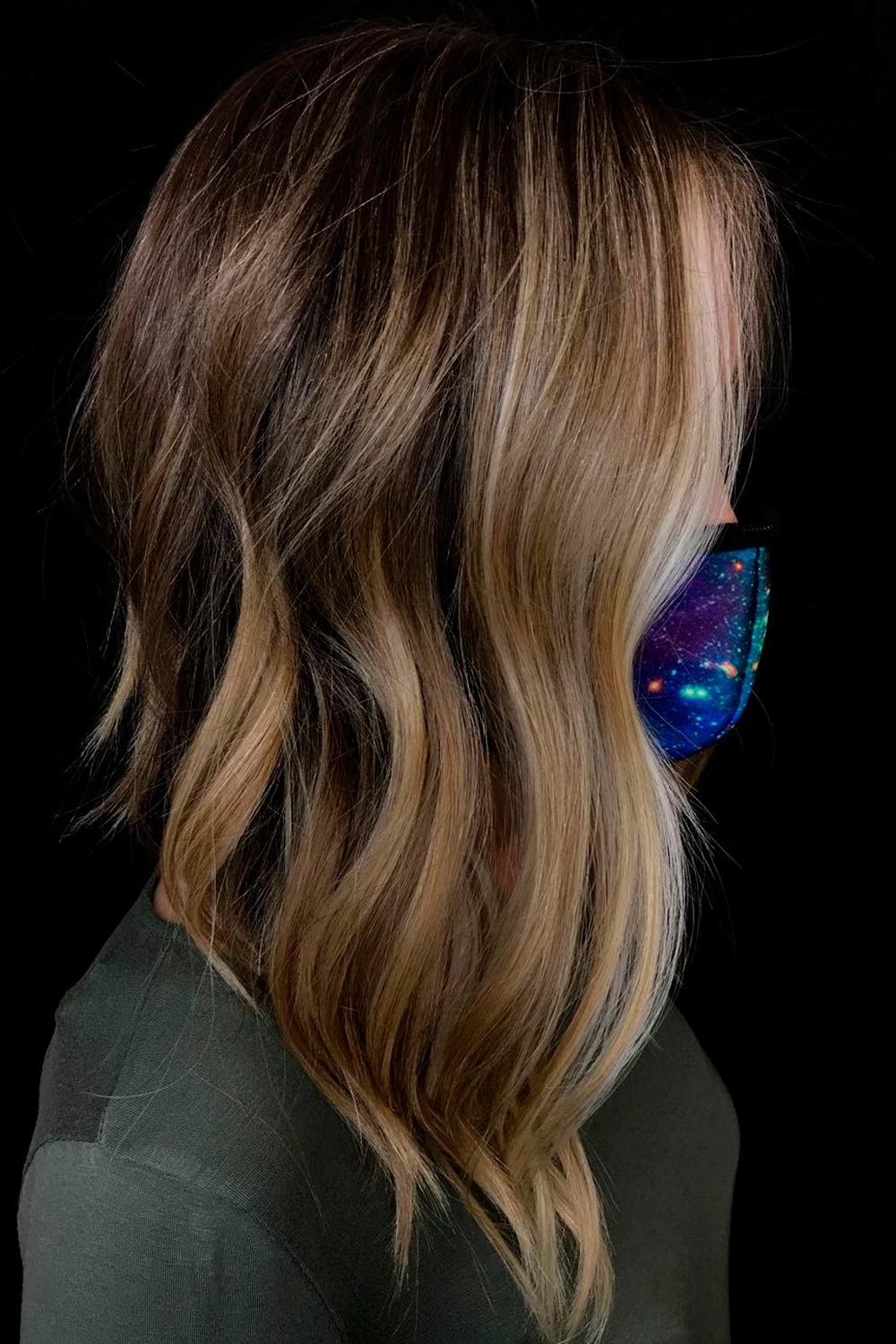 Source: isaac4mayor via Instagram
A-line silhouette is another amazing trick to add a sense of modernity and tons of lift to your long hair. Apart from an attractive gradual body, such haircuts usually feature soft texturizing at the ends, which removes the extra weight from the locks and provides more volume.
The good news is, this haircut is very flexible in terms of styling. If you'd like to work on your face shape, slight waves will be the best choice. Before styling the hair, condition it thoroughly, and then dry it. Next, spritz the locks with a heat-protectant and give it just a pass of a curling wand.
Short Curly Bob With Bangs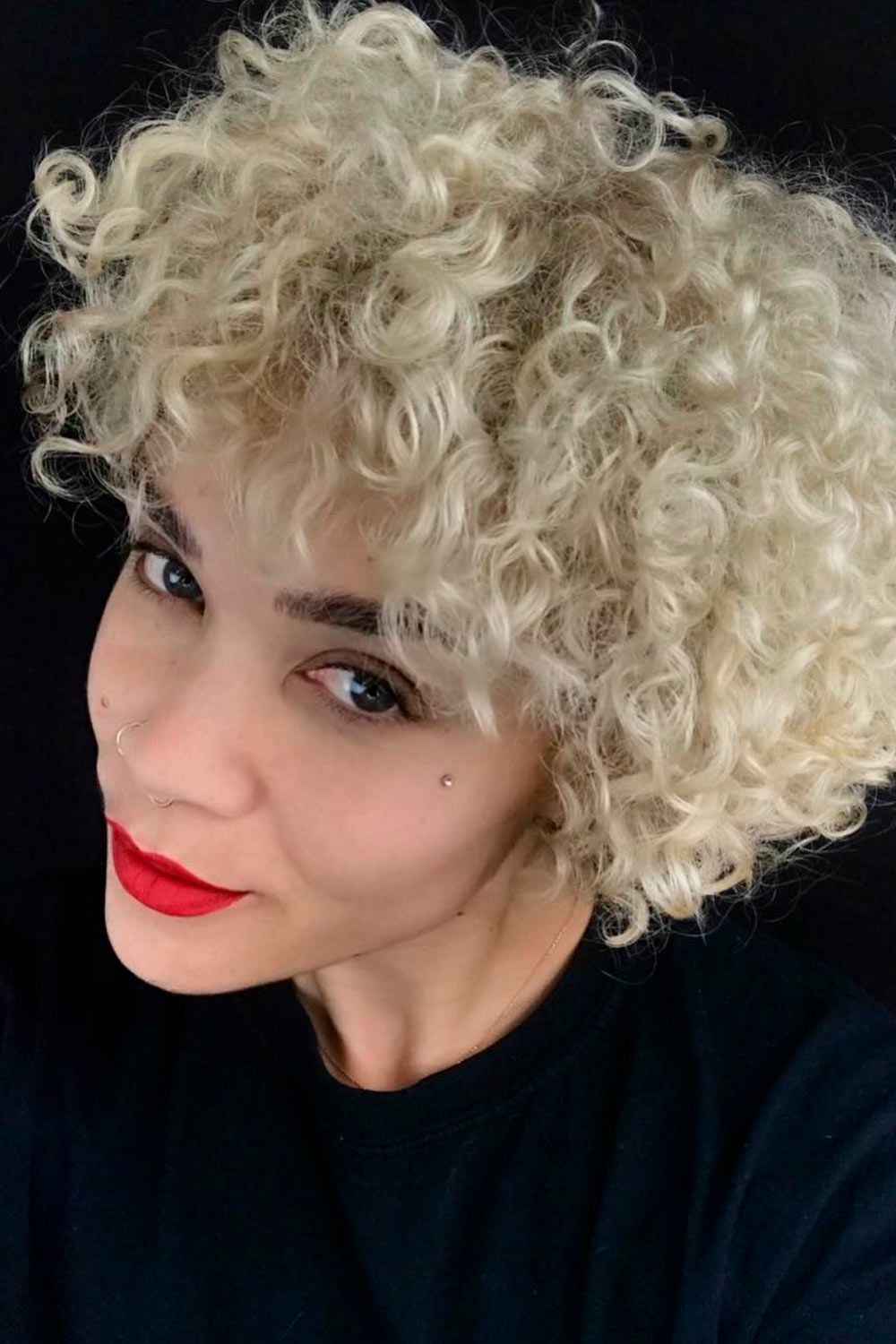 Source: isaac4mayor via Instagram
Oh, we can't help but envy when we see those curls! Though curly hair looks radiant at any length, curly bob is getting more and more viral each day. And the reason is pretty simple: this short haircut makes every single curl defined and distinctive. By the way, you can freshen it up with a fringe, which is a win for those who need to frame their foreheads.
Styling a curly bob requires you to have moisturizing conditioners, oily mousses, and leave-in gels designed for curly hair. The most important step is to dry your hair with a diffuser: this attachment is key to the perfect definition.
Long Shag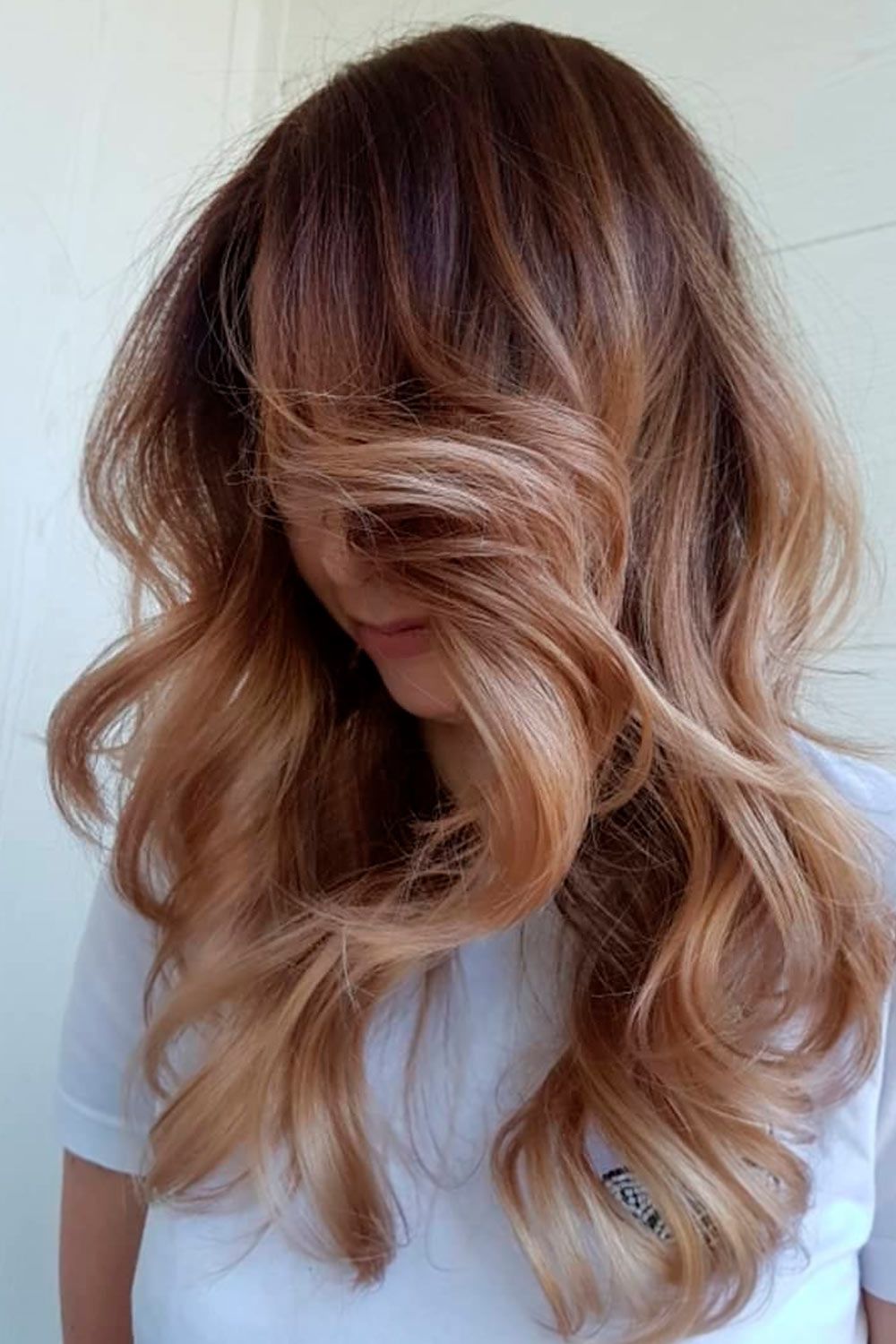 Source: mila_kryshchykhina via Instagram
A shag has come to our world to please all women, no matter what hair type and hair length they have. You've seen how wild and carefree it can be for those with short hair, and here's how sophisticated and balanced it can look on medium-to-long hair. Layers and proper styling routine will turn this cut into a masterpiece.
Waves will nicely accentuate the shaggy layers, adding even more dynamics to your cut. However, keep in mind that you need to wave only the midshafts, leaving the ends as they are. In this way, you will get an effortless, natural look.


FAQ: Haircuts For Heart Shaped Faces
Do bangs compliment a heart shaped face?
Heart-shaped faces, unlike many other face shapes, can wear straight-across bangs. However, the best solution is to wear them piecey and long. As a rule, long, winding layers elongate face and make the jawline look fuller, while the brow-skimming length makes eyes more expressive.
How should I part my hair for a heart shaped face?
A center part perfectly compliments a heart-shaped face if you have long hair. Try to stick to a lateral (side) part if your hair is on the shorter side. It will "lighten" your cheekbones and equate your more prominent features, like your chin or forehead, which will make the face look slimmer.
Is the heart-shaped face the most attractive?
Science has proven that the heart shape, sometimes known as a V-shaped face, is the most visually appealing of all facial shapes. For example, some faces with a heart shape, such as those of Hollywood actress Reese Witherspoon, are thought to be "mathematically" attractive.
Was this article helpful?