The Best Haircuts for Square Faces
Are you looking for haircuts for square faces? Females with square faces are truly blessed. With prominent cheekbones and a sculpted chin, square faces are truly photogenic and tend to lend well to aging. There are many flattering hairstyles for face shapes that will accentuate your features and enhance your natural charm.
Soft and smooth layered hairstyles for square faces are most flattering. If you have a square-shaped face, you are not alone. You are in the company of such gorgeous celebs as Sandra Bullock, Megan Fox, and Keira Knightley.
If you have a square face, you definitely do not want to opt for one of the hairstyles for round faces as these would not flatter your well-defined facial features. For your perusal, we have put together a list of some of the most flattering haircuts for square faces. You can add colors such as ombre tones, balayage and high or lowlights to enhance your style. Feel free to take a look and see what style works best for you!
1. Shoulder-length Layered Bob
Source: Riawnacapri via Instagram
Adding some long layers to your hair will add some movement to your hair without making your face look fuller. Towel dry your hair and work in some styling cream or serum (about the size of a nickel). Part your hair to one side and blow dry till it's almost dry. (Leave it slightly damp, about 75-80% dry). Wrap your hair slightly with a paddle brush to add movement and flow till your hair is completely dry and curl the ends under with a curling iron or straightener.
2. Twisty Twirls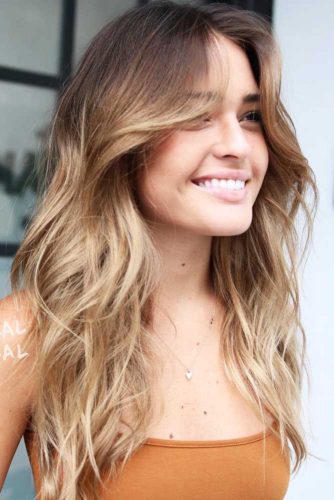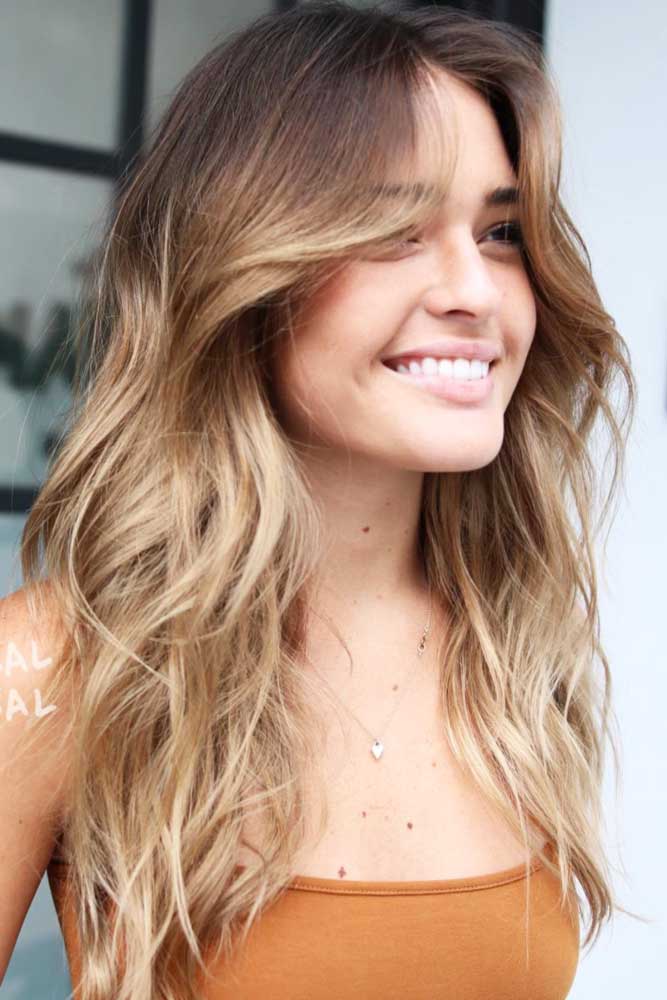 Source: Salsalhair via Instagram
This look is meant for those with naturally curly or wavy hair and is super-easy to achieve. Wash and condition your hair and wring any excess water out before parting your hair to one side. Blow dry your hair completely on low to medium, using a diffuser and your fingers to work your curls. Shake out your dry hair so it's wild and loose and apply a finishing spray. Twist your locks around your fingers for extra bouncy twirls.
3. Long Layered Pixie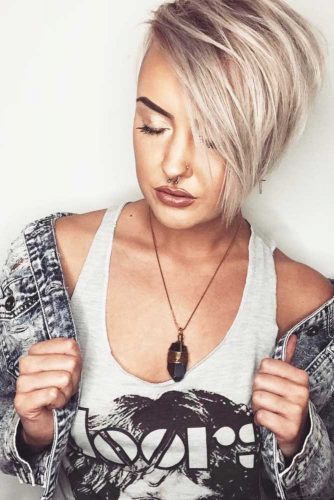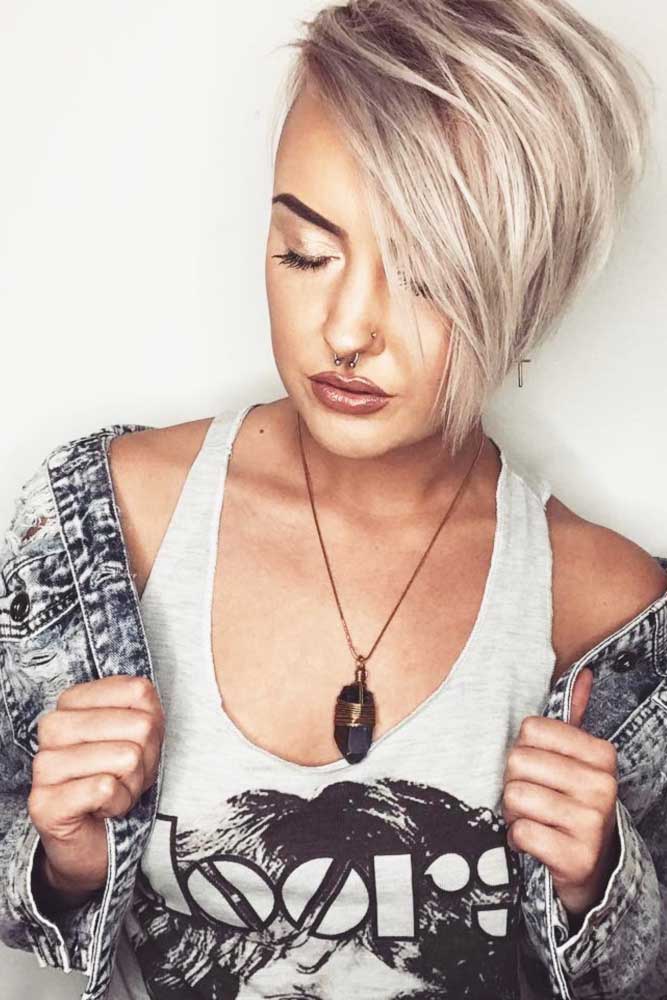 Source: Jacquelynmarieh via Instagram
Being one of the most flattering haircuts for square faces, this slightly longer-than-usual pixie cut is fun and playful and works great for all hair types. Towel dry your hair and then add a small amount of styling cream. Blow dry your hair using a paddle brush to wrap your hair around your head in order to create a slight movement. Once it is complete, dry piece out the ends with a texturizing wax.
4. Long, Luscious Locks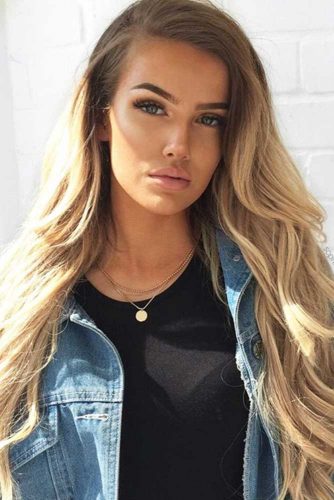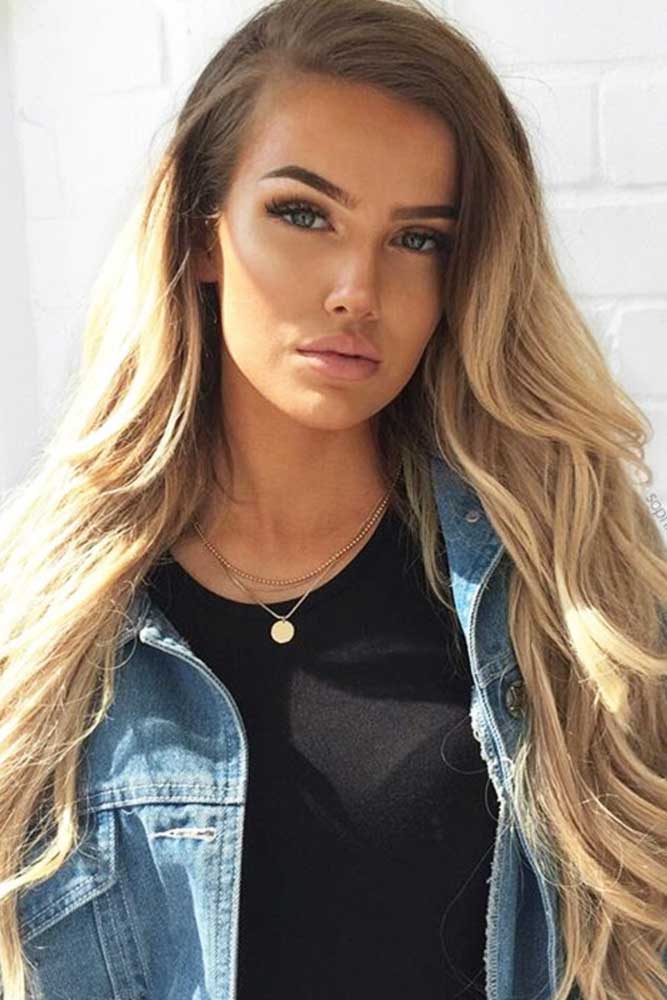 Source: Soph.mae via Instagram
This chic style works great for longer hair with its sexy, sophisticated curls. After parting your hair deeply to one side, apply a thermal protectant from the ends to about the mid-length. Using a 1-inch barrel iron, make tight curls or waves of small sections of your hair from the mid-length to the ends. Run your fingers through your hair and tousle it to break up the curls and achieve a carefree, tousled look.
5. Slightly Shaggy Mid-Length Bob
Source: Anhcotran via Instagram
This shoulder-length cut with slightly shaggy layers is dramatic and edgy and will accentuate your facial features. Towel dry your hair and then add a smoothing serum. Part your hair to one side and use a paddle brush to blow dry your hair until it is smooth and shiny. Use a flat iron if necessary. This style looks great with ombre tones or a funky two-toned color.
6. Short Angled Bob with Side-Swept Fringe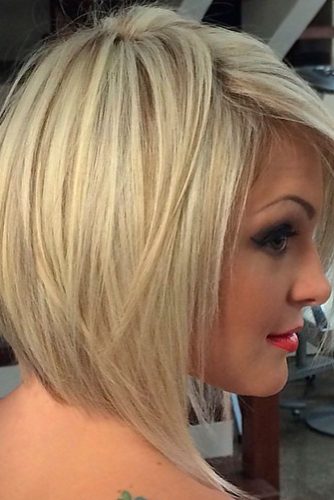 Source: Rafaelbertolucci1 via Instagram
This light, carefree cut is fun and stylish and won't weigh your hair down. Add some bold streaks throughout for a more daring edge. Add a small amount (about the size of a nickel) of shine serum and then blow dry straight using a paddle brush. Turn the ends under with a curling iron or straightener and style the bangs to one side.
7. Long, Wavy Layers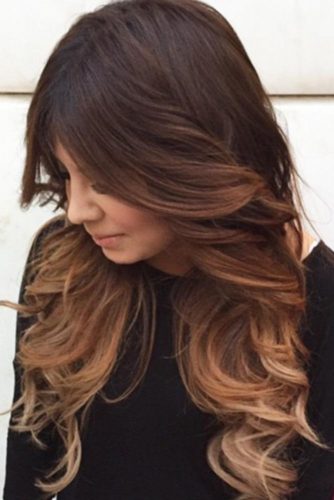 Source: Andoresalon via Instagram
This sophisticated look incorporates longer layers with sexy waves that will soften the angles of your face. Simply part your dried hair over to one side and tease hair near the roots and at the crown with a teasing brush. Add dry shampoo prior to this step if you want some extra lift. Curl small to medium sections of the ends only with a 1-inch curling iron. Run your fingers through the curls and spray to hold.
8. Bohemian Chic Shag
Source: Prettylittleombre via Instagram
Being one of the most elegant haircuts for square faces, this look will frame your face perfectly and is surprisingly soft and feminine with a hint of playfulness. Apply a volumizing spray and blow dry your hair using your fingers instead of a brush or styling tool. When your hair is almost totally dry, use a large round brush to smooth it out and add volume. Once your hair is completely dry, add some small random braids. If you want to go funky, add some ribbons or beads into your braids for a totally retro-chic look.
9. Sultry with Slight Waves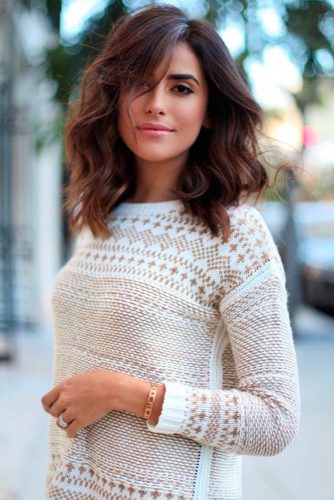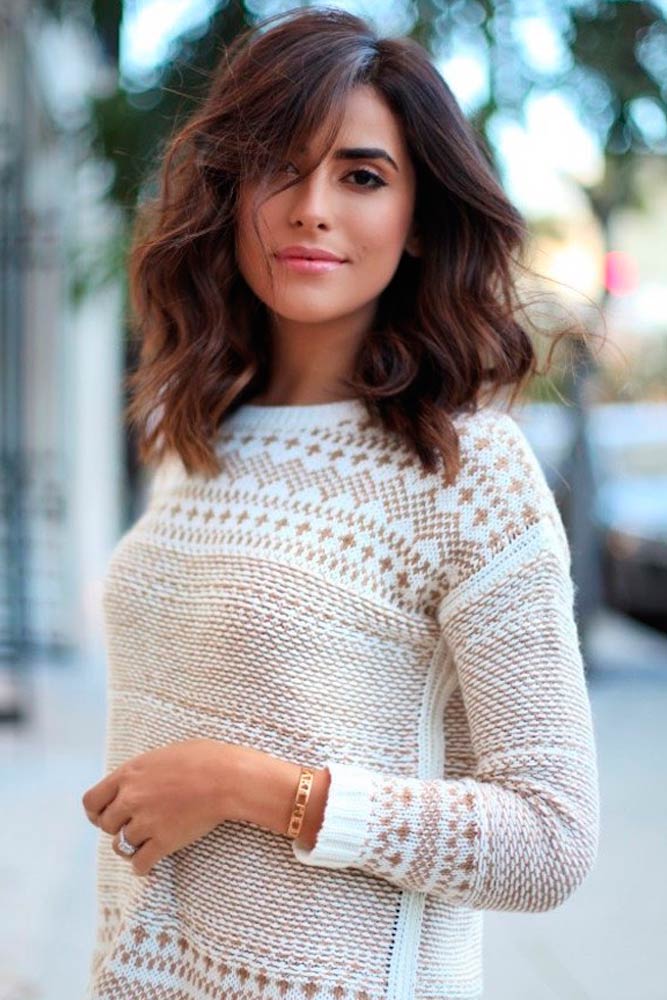 Source: Sazanhendrix via Instagram
This is another look for super-long hair and works great for those who don't want any layers. With its side swept bangs, and tapered layers that frame your face, you will achieve an all-time look that is both elegant and simple. Towel dry your hair and then add a lightweight styling mousse. Blow dry your bangs the way they naturally fall and then dry the rest of your hair until the majority of the moisture is out. Then dry the rest of the hair using a large round brush to give it a slight, smooth bend. Next, add a slight bend to the ends using a large barrel curling iron and curl your bangs to one side (always curl to the side which they naturally fall). Apply a lightweight finishing spray for hold while maintaining the flow and movement.
10. Long Hair Blowout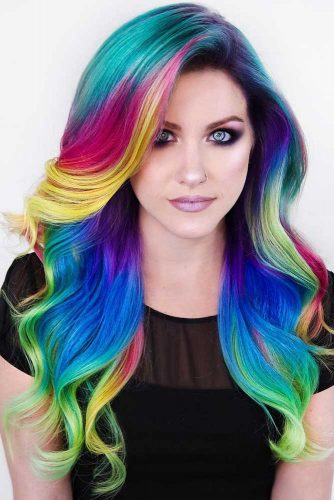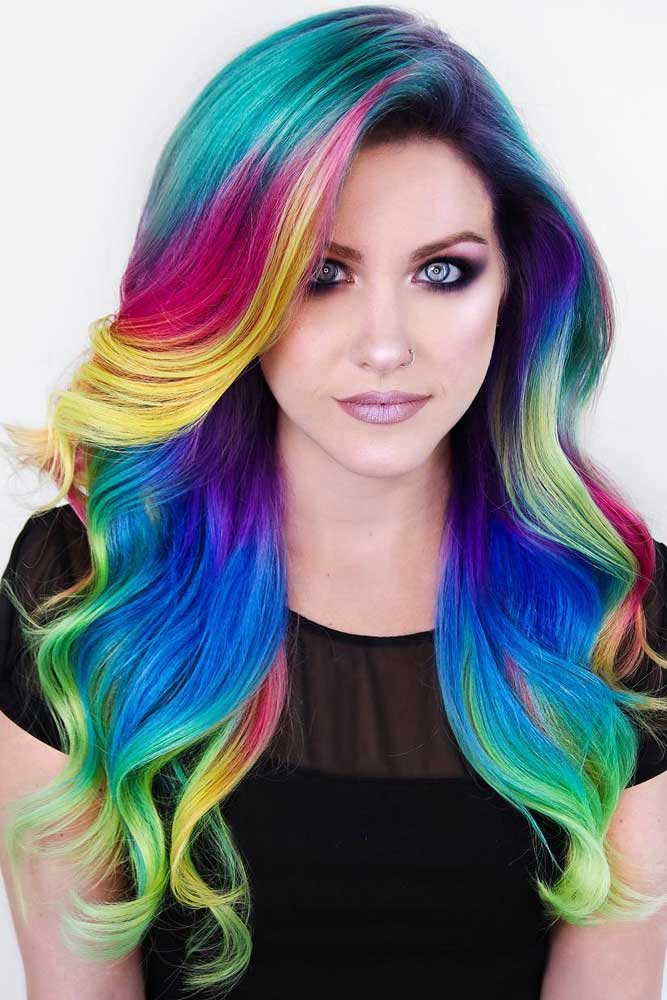 Source: Hairgod_zito via Instagram
Rainbow hair takes courage to pull off but on the other hand, it is so bright and cheerful, right? Besides, if you style it right, it will soften the features of square-shaped faces. It is double win!
11. Extra Long Haircut with Blunt Bang
Source: Hairbykaseyoh via Instagram
When choosing a new way to style your hair, take into consideration what goes well with what. For example, a blunt fringe is exactly what you need if your face is square-shaped. Besides, what can take away attention from the angles better than bold pastel-colored balayage?
12. Medium Layered Haircut with Blonde Balayage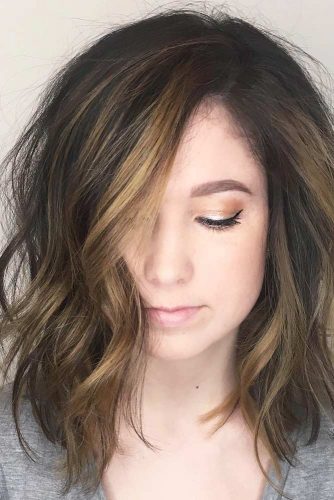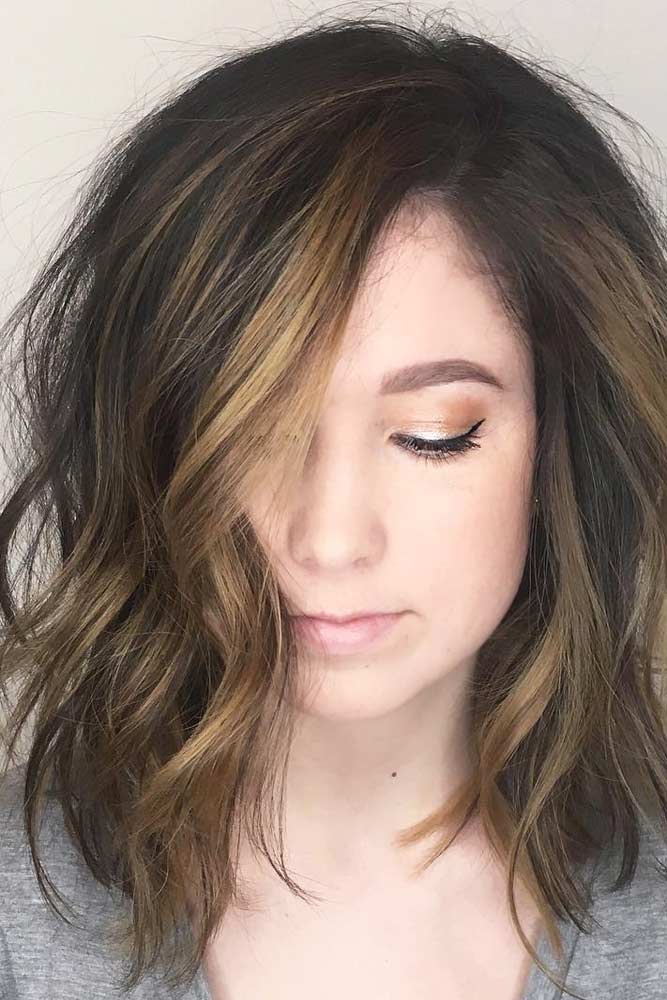 Source: Hair_by_olive_flip via Instagram
Layered haircuts attract more attention if there is more than just a cut there. That is where the blonde balayage steps in, especially if it is combined with a dark brown hair color.
Main photo by
Sofiajamora