It's no secret that Emma Watson hair has been using magic outside the school for many years now. Her stunning thick locks have changed lots of lengths and textures while still looking great after each transformation. It's hard to believe she does it without Hermione's wand, huh? As the little actress grew up, her looks and image aspired towards perfection. And now, we're proud to share the most inspiring and impressive hair ideas that literally exemplify pure balance, perfection, and harmony. See how she manages to be on point!
Updo With Baby Bangs
The actress loves to jump from one length to another. Still, when she has breaks between her experiments, she opts for the most versatile medium length. But she never seeks easy ways. In 2018, Emma Watson shoulder length hair didn't come alone. She decided to give more character to her simple medium updo by finishing it with trendy
baby bangs
. Not only did they add a sense of modernity to her looks but also balance out her forehead.
Source: DFree/Shutterstock
Swept Back Updo
While the majority of fans believe that Emma Watson Beauty and the Beast hair is the epitome of her femininity, this premiere look stays unfairly underrated. This gentle
swept back
updo keeps her hair tight but voluminous, thus opening up her beautiful face. Coupled with chic makeup, such an elegant updo brings those fairy-like movie vibes.
Source: JStone/Shutterstock
Low Pony Style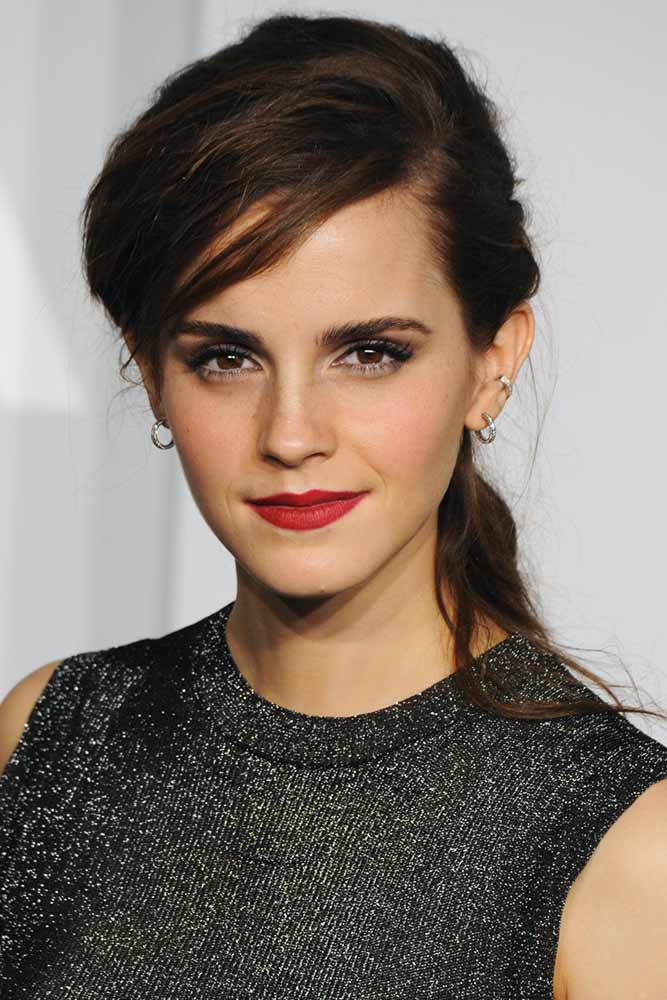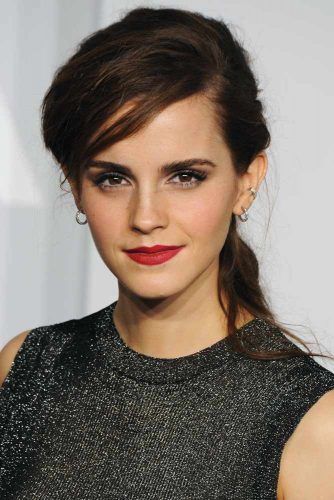 Emma Watson
medium length hairstyles
has had its own career. And, needless to say, not all the roles were about tales and magic worlds. The actress always loves to keep up with simplicity as she believes that's the only way to show off her natural beauty. Obviously, this ponytail is no exemption. Though it takes less than 10 minutes, the way it frames her face and suits her outfit is to die for.
Source: Featureflash Photo Agency/Shutterstock
High Bun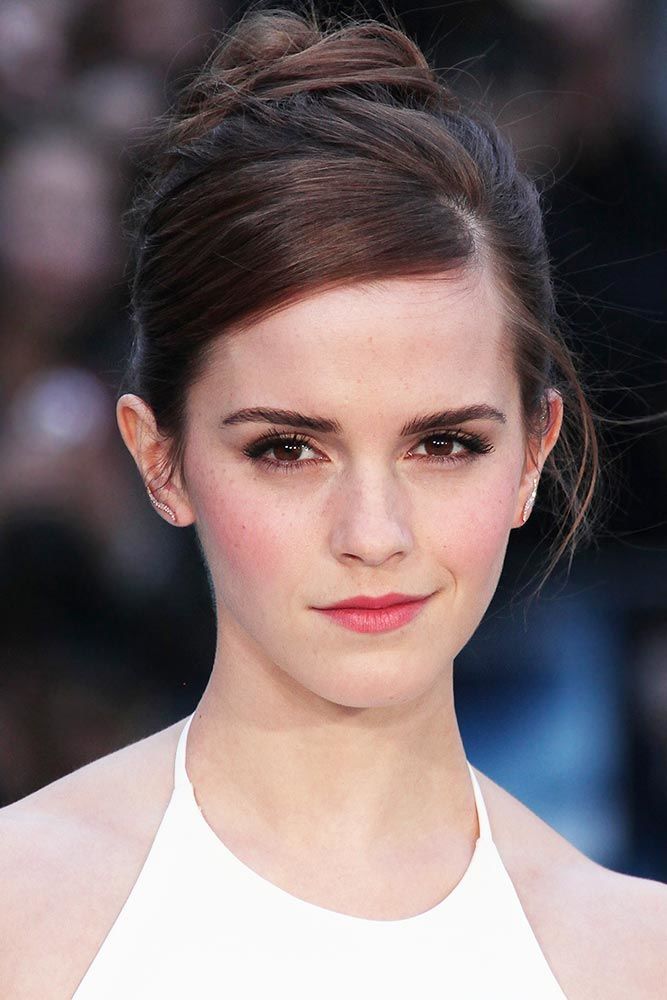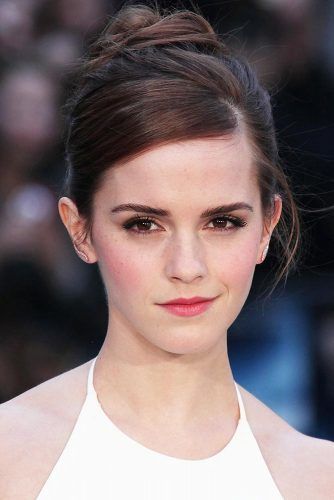 For some people, here Emma attends another movie premiere. For us, here she proves that rocking medium length hair is enough to wash away any styling limits. This distinctive high bun with a flattering side part nicely accentuates her girly outfit. As told by the actress, she loves keeping up with short-to-medium lengths. Yet, for some reason, fans still can't forget those Emma Watson long hair pics from a commercial photo shoot.
Source: BAKOUNINE/Shutterstock
Updo Headband Braid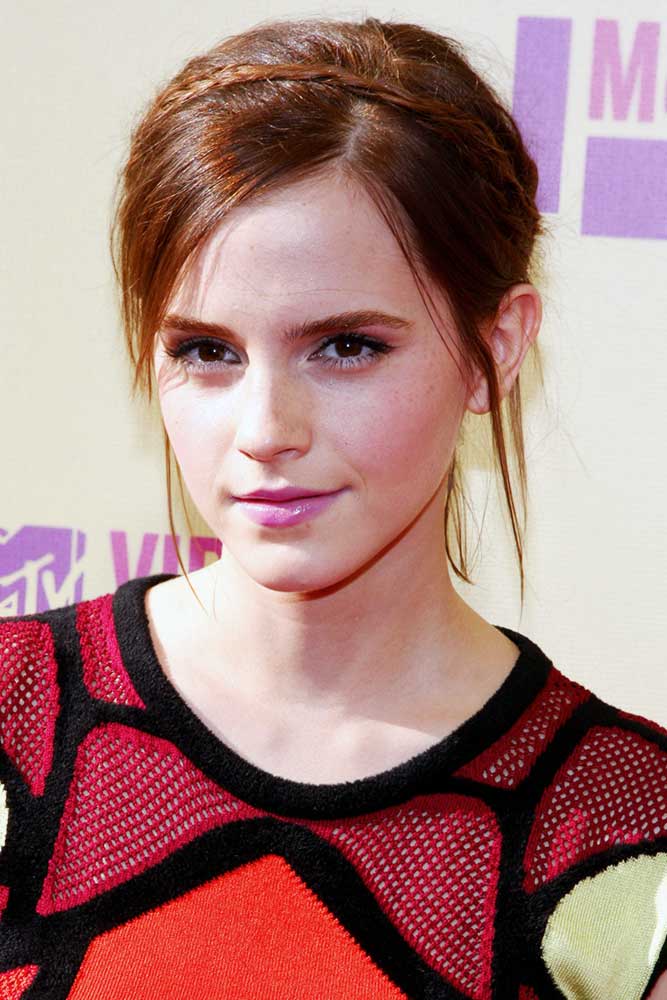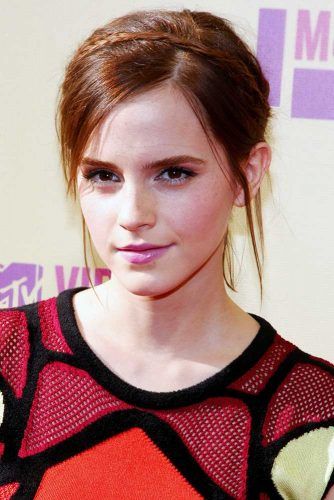 If you still don't believe in the versatility of braids, this headband updo is here to change your mind. While some ladies tend to spend hours on their hair to strike everyone for a special occasion, Emma gets braids for a red-carpet look. This time, it's a tiny braid that embellishes her cute updo. Isn't simplicity genius? Also, there's no need to mention that Emma Watson natural hair color never stands still. One day she goes reddish, and the other day is all about natural brown.
Source: Tinseltown/Shutterstock
Deep, Side-Parted Bob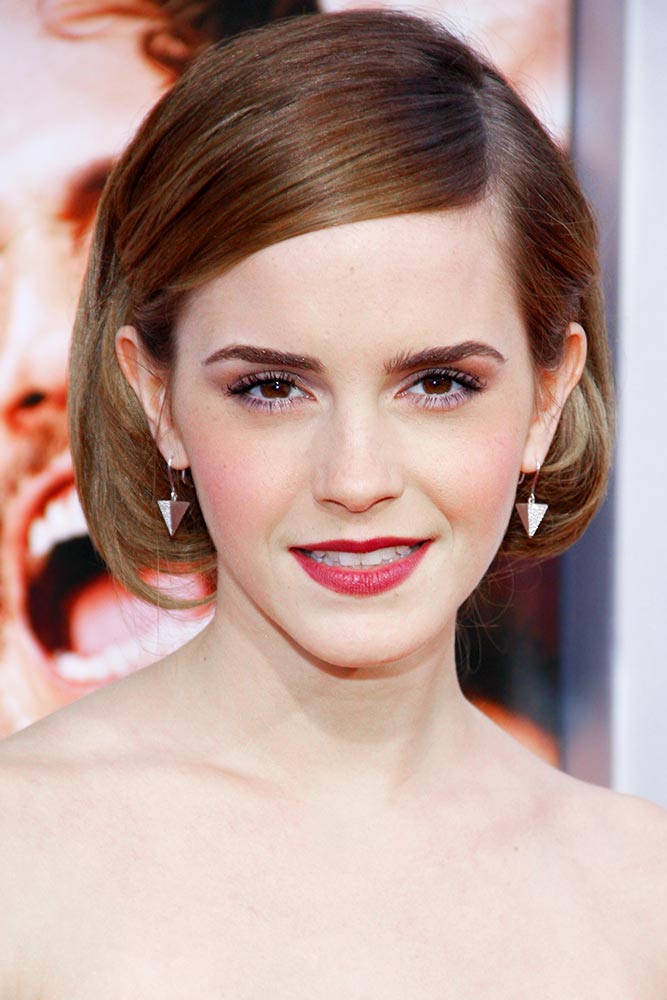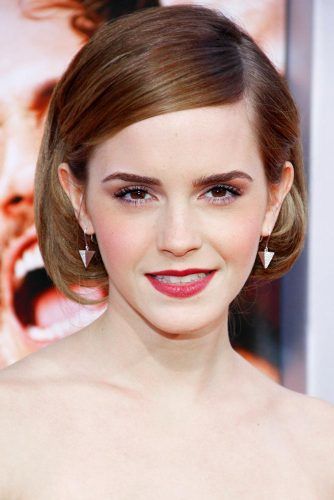 Seems like we've just found out when exactly the Emma Watson long hair vs short hair debate started. In 2013, she was rocking her favorite medium length until one day when she felt the need for changes. Instead of cutting her locks right away, she went for a faux bob, created with her hair folded inside. See? Experiments aren't always a commitment! But this premiere wasn't the first time we could see Emma Watson with short hair.
Source: Tinseltown/Shutterstock
Simple Half-Up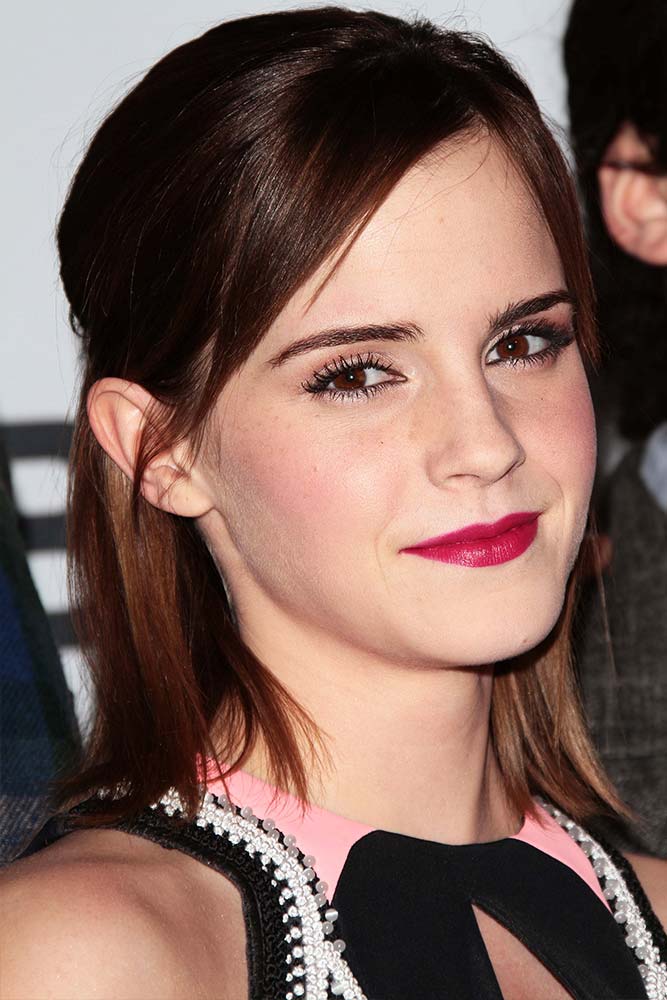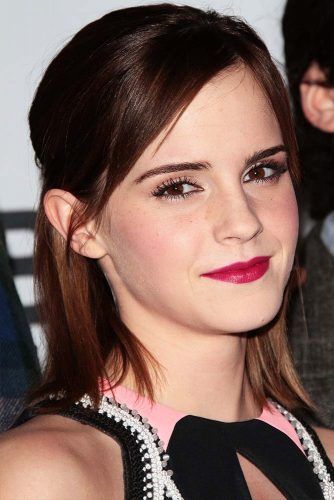 The look above is nothing but a straightforward half-up that we do to keep our hair away from the face. Well, again, Emma doesn't need to show up with a great, voluminous chevelure to hit people from a mile away. Her soft, tapered fringe does the framing job while the rest of her hair outlines her unpretentious but so natural makeup. Pay attention to Emma Watson hair color in the pic: 2013 was full of color plays.
Source: s_bukley/Shutterstock
French Twist With Free Locks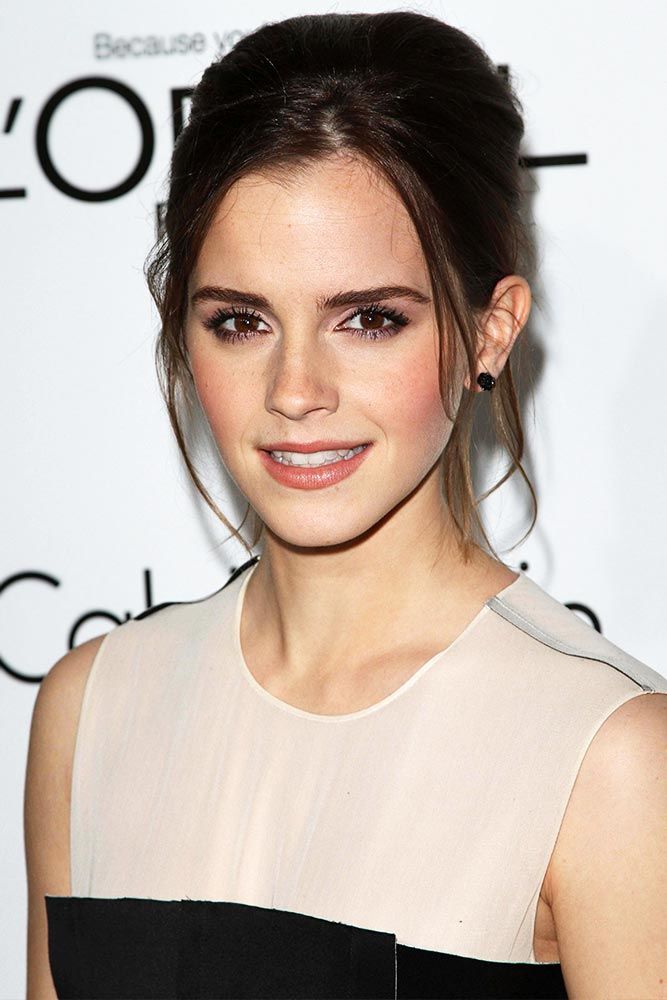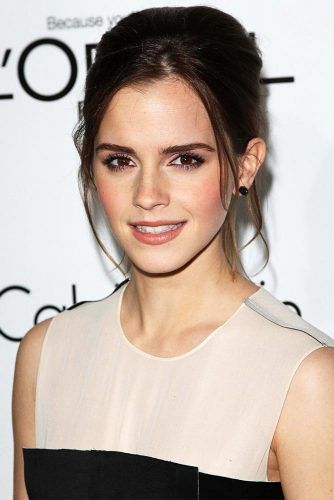 When we think of a French twist, the most feminine and elegant thoughts start running through our heads. And having seen the classy style on Emma, we couldn't help but share it with you. She's diversified the updo by leaving some front locks out of the style, therein adding some freedom to it. By the way, in case you got caught to that Emma Watson black hair hoax, let us remind you. She only spiced up her color and moved to a deeper brunette shade!
Source: s_bukley/Shutterstock
Sleek Pixie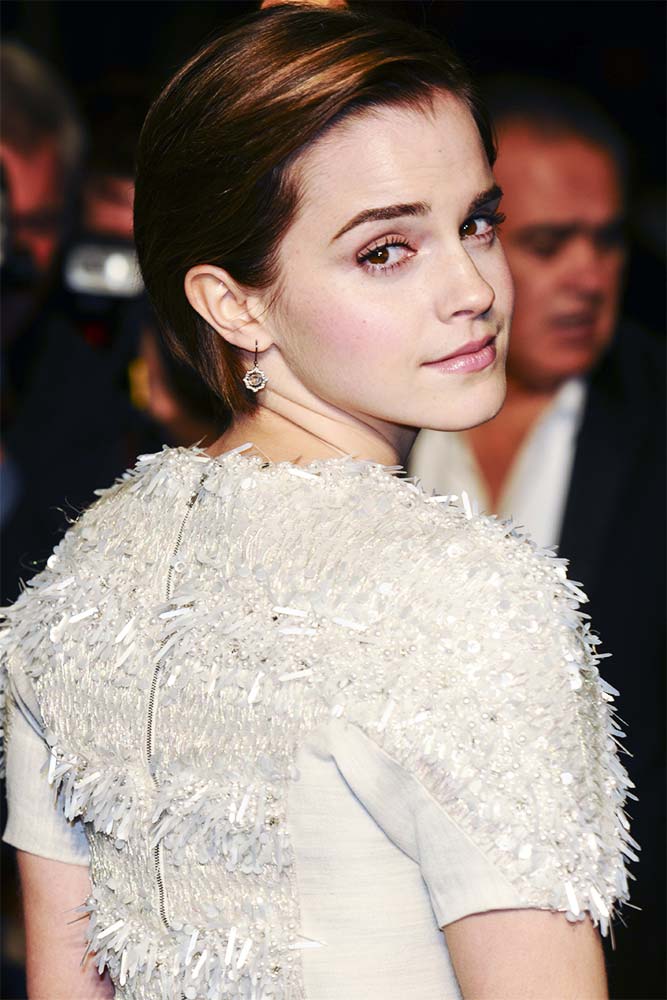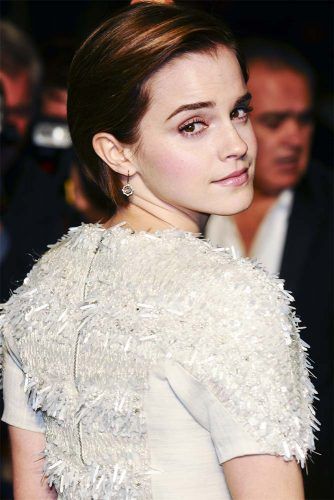 Today, everyone seems to be familiar with the scandalous Emma Watson short hair photoshoot for Vanity Fair. But does anyone remember her pixie debut in 2011? This pixie is another proof that femininity is not about the length; it's about your inner-self. The first Emma Watson short hair moment was sleek and backswept, which actually enhanced her lovely appearance.
Source: Featureflash Photo Agency/Shutterstock
Low Wavy Updo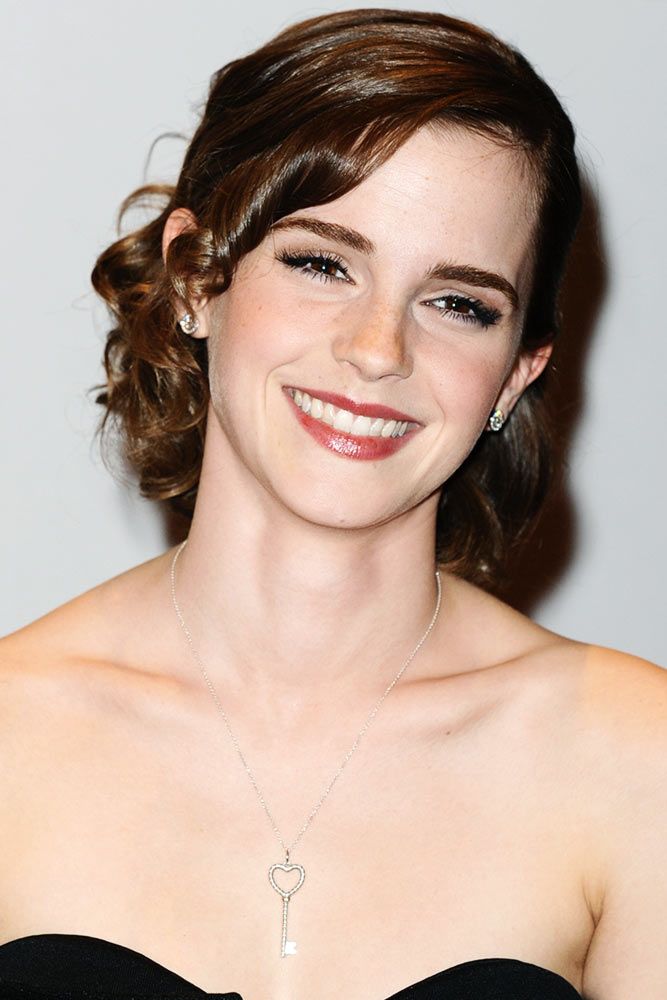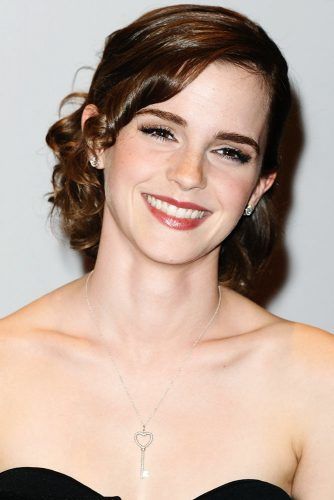 Believe it or not, watching Harry Potter isn't the only chance to see Emma Watson curly hair. The actress loves to embrace and accentuate her naturally wavy texture from time to time as it flatters her indeed. Soft, defined waves that twist into a low bun are so rich and restrained that it's hard to take eyes off them.
Source: Featureflash Photo Agency/Shutterstock
Even to a naked eye, Emma Watson natural hair texture and color revolution is a living role model for modern ladies. Everything that the actress touches turns either to trends or to masterpieces. And all the ideas you've seen today are the proofs! Bottom line? Follow her beauty path! Don't go too much with your hair and leave it all to simplicity: it can reveal your beauty at its best.
FAQ: Emma Watson Hair
Why did Emma Watson cut her hair so short?
Watson cut her hair into a pixie in 2010 and told that if it weren't for her job, she would have surely kept it. As Watson stated, she had to cut her hair for roles, but, be it her will, she would have kept it short for the rest of her life.
What is Emma Watson natural hair?
Watson's hair is naturally light brown. Her hair altered in each film, with the following examples: in Harry Potter and the Philosopher's Stone, her hair was medium brown; in the Ballet Shoes her hair was honey blond. Her natural hair is straight and bushy at the same time.
What face shape is Emma Watson?
Emma Watson has a somewhat longer face length than width, as well as a rounded forehead and chin. Her facial shape is oval. Emma Watson, Kate Middleton, and Beyoncé are some celebrity examples. When it comes to hairstyles, an oval face shape is one of the most versatile and sought.