Swept back wedding hairstyles are something that is on every bride's lips. You remember yourself a little girl, playing with dolls and dreaming that one day you will become a Barbie in a gorgeous wedding dress. And when this day is just around the corner, it feels like you're going through the seven circles of troubles. Despite all these troublesome wedding plannings, there's no way your long-awaited wedding won't be perfect. Let's make every single detail of your bride look ideal: your hairdo is about to make you the center of attention.
Relax, make some time for yourself and explore some amazing hair ideas. Let us take care of you: we've found the trendiest bridal hairstyles that will be your source of inspiration. See how you can become a bride to remember!
Messy Bun For Stunning Look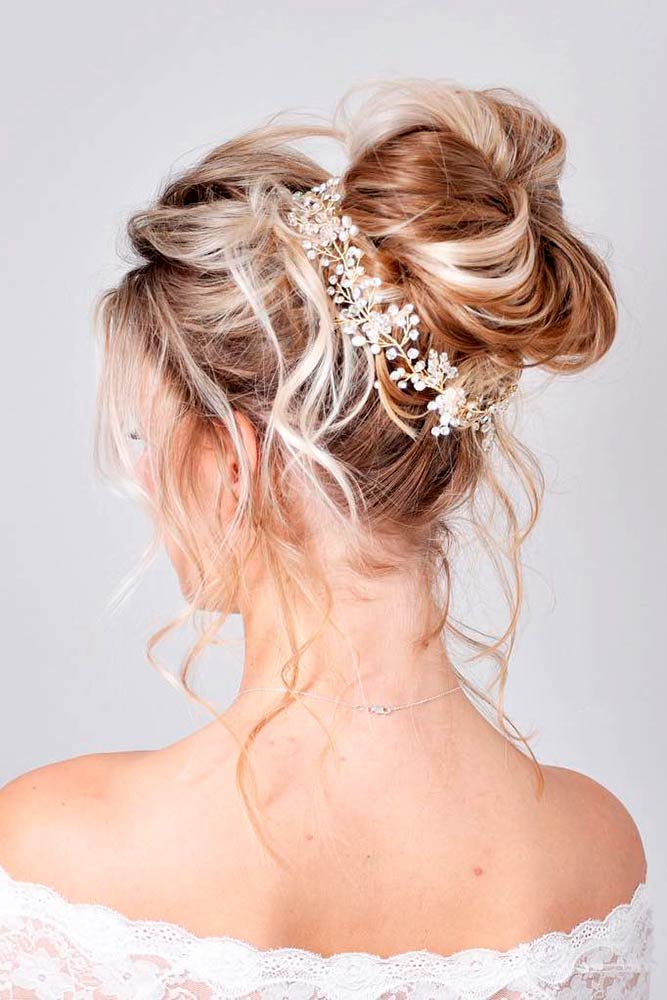 Source: instagram.com/nicoledrege
A mess is not always a bad thing, and this wonderful messy bun is about to prove it. Sometimes we need some messiness in our lives to accentuate its neatness. The same goes for your hairdo: the mess makes your hair look more alive, giving some liveliness and movement to it, while hair accessories around the base nicely complement your bride look. Your beautiful shoulders and clavicles are open to impress everyone, isn't that perfect?
Exquisite Wedding Curls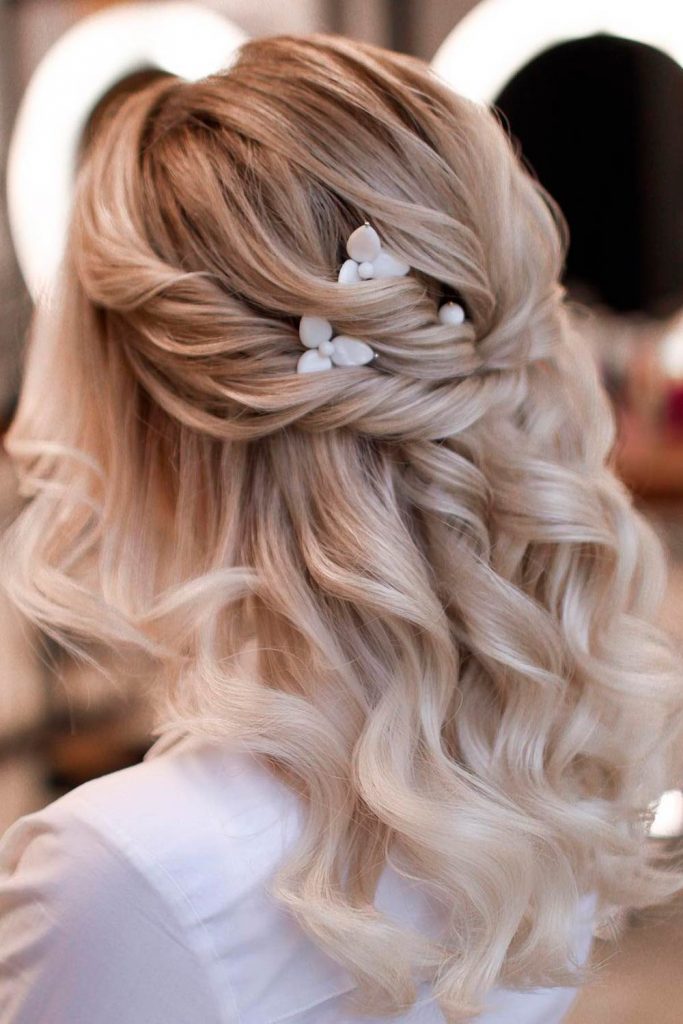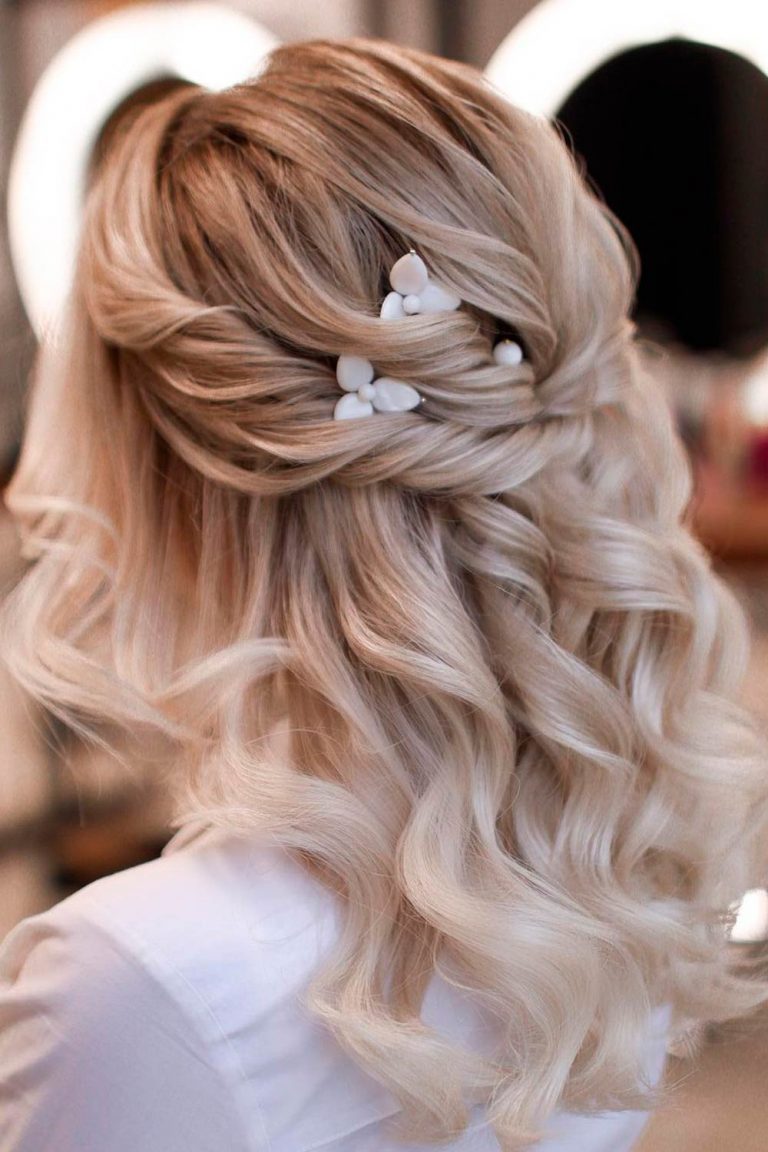 Source: instagram.com/xenia_stylist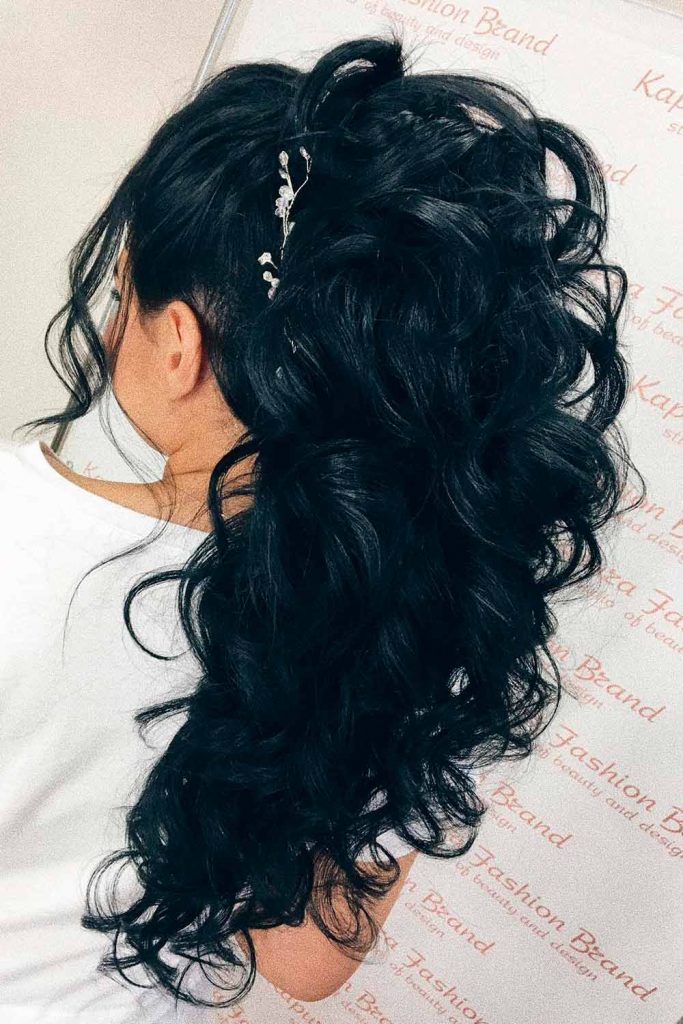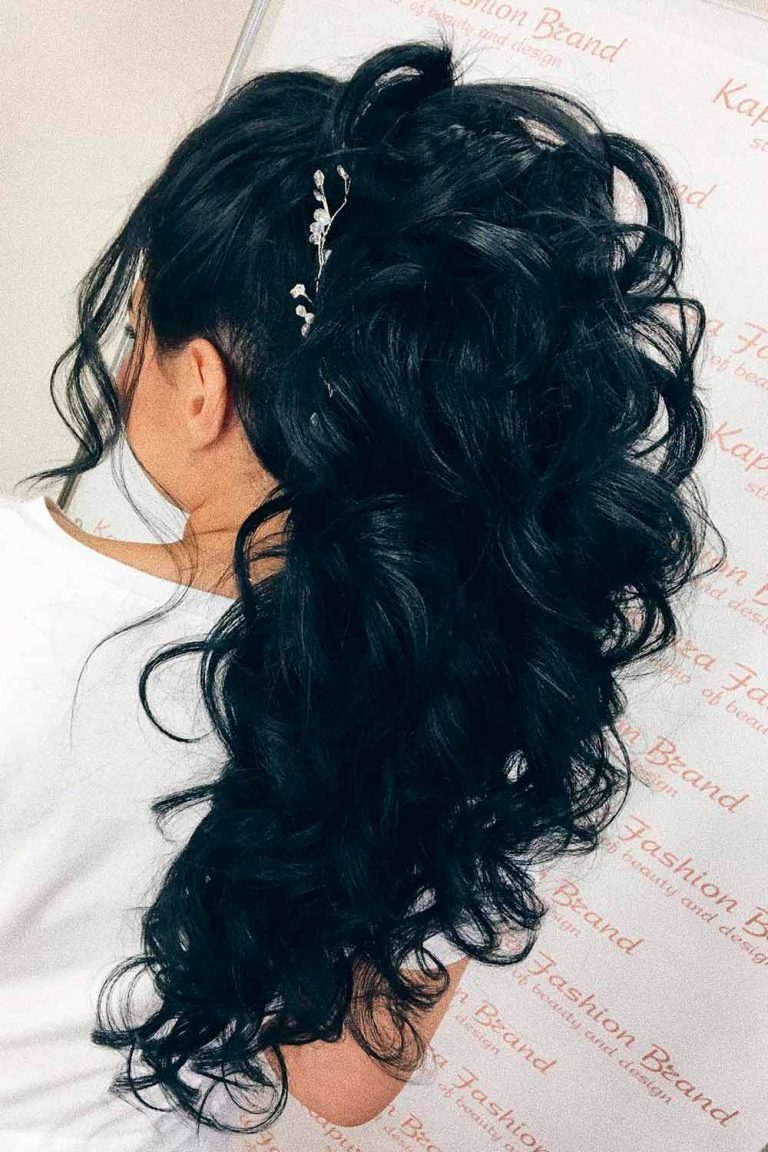 Source: instagram.com/xenia_stylist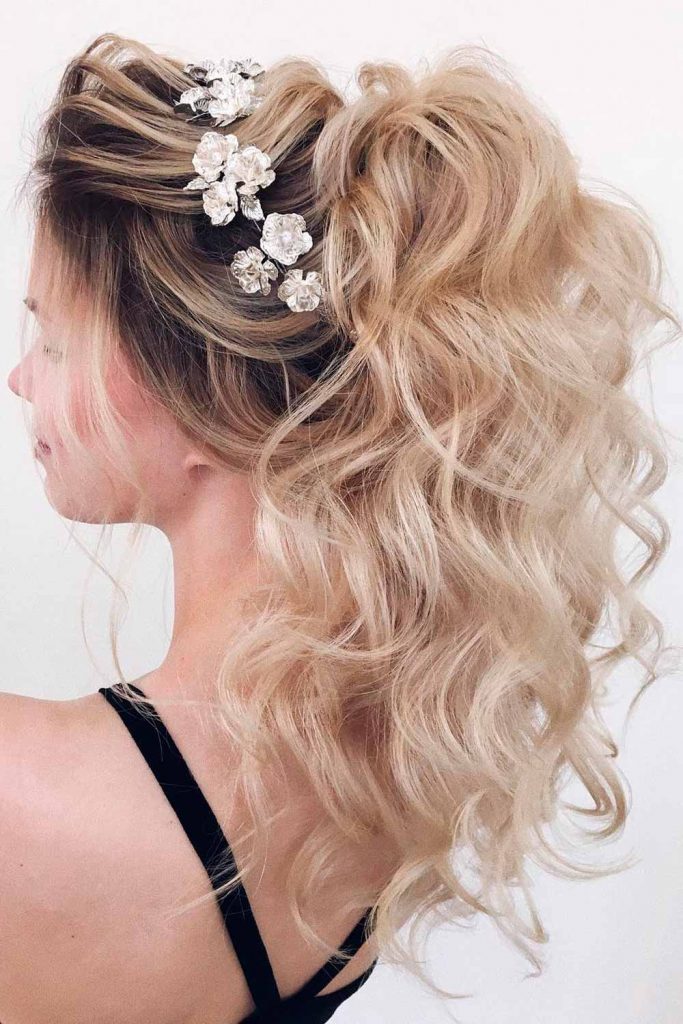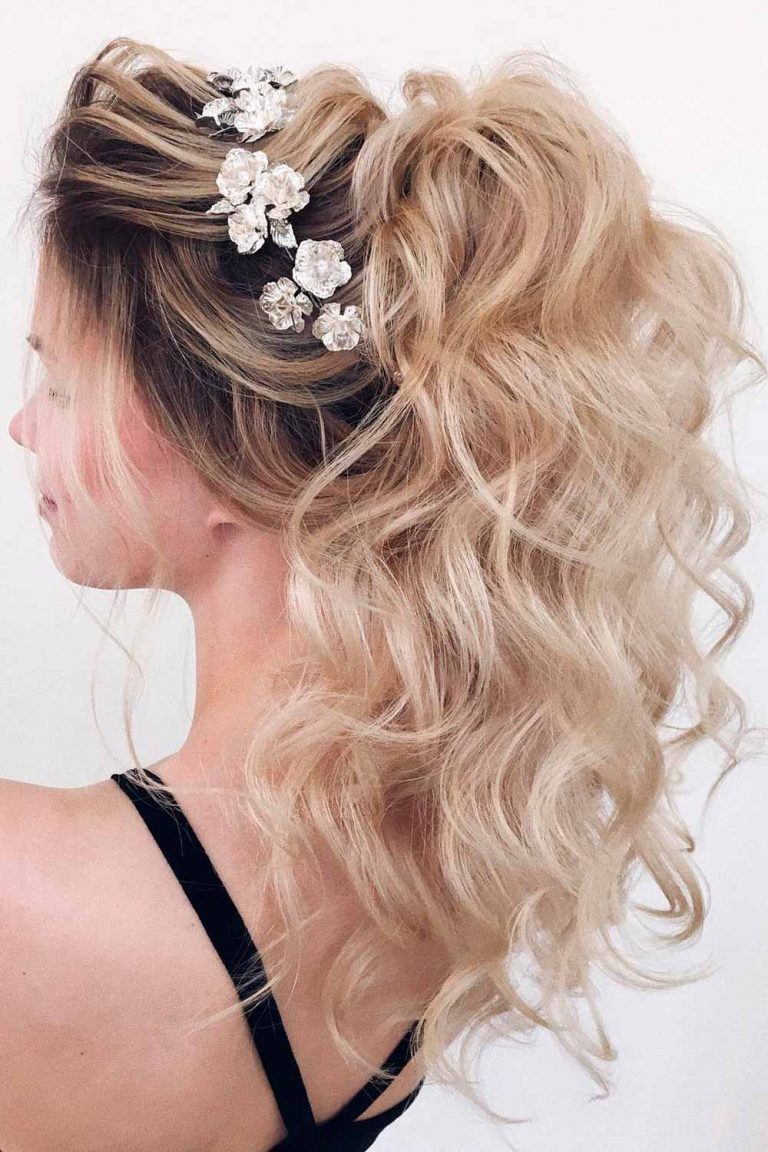 Source: instagram.com/xenia_stylist
Every bride is the queen of her wedding, as everyone is waiting for her to walk down the aisle and show her smile to every guest. Don't be shy to wear a tiny crown for this day: it's a day when you shouldn't hide your beauty. Such an exquisite updo with voluminous curls wouldn't look so sweet without a tiara on top. What else makes this hair accessory so beneficial is the fact that it suits basically all wedding hairstyles for medium hair, long and short.
Simple Braided Bun For Elegant Look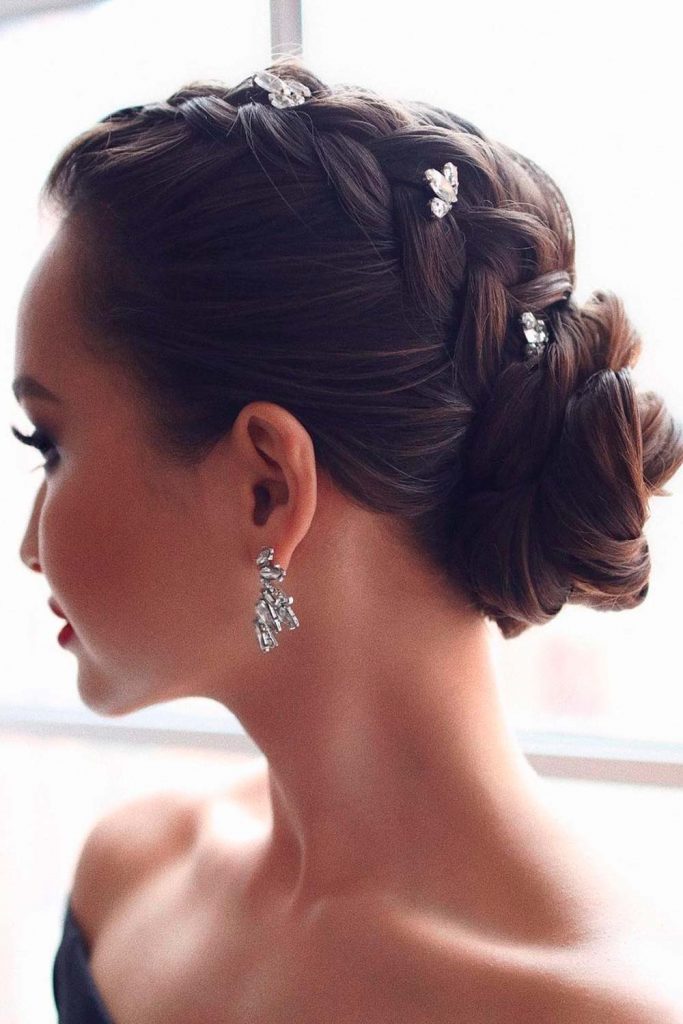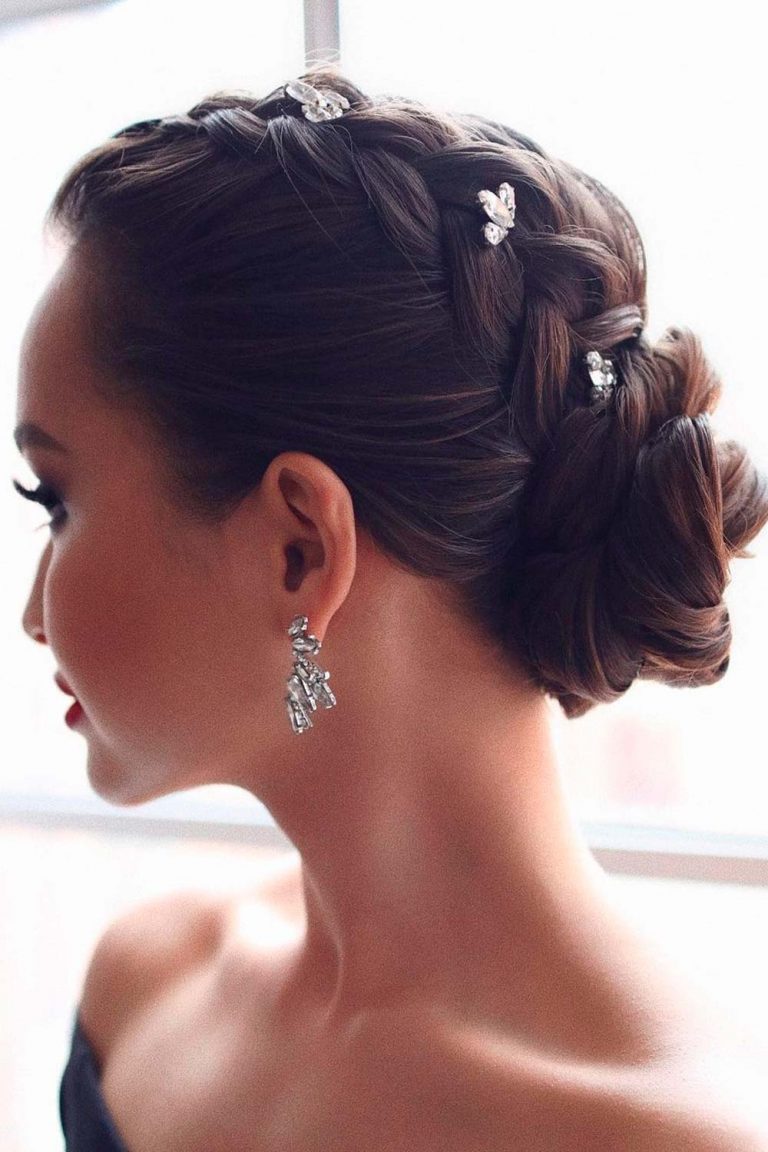 Source: instagram.com/tonyastylist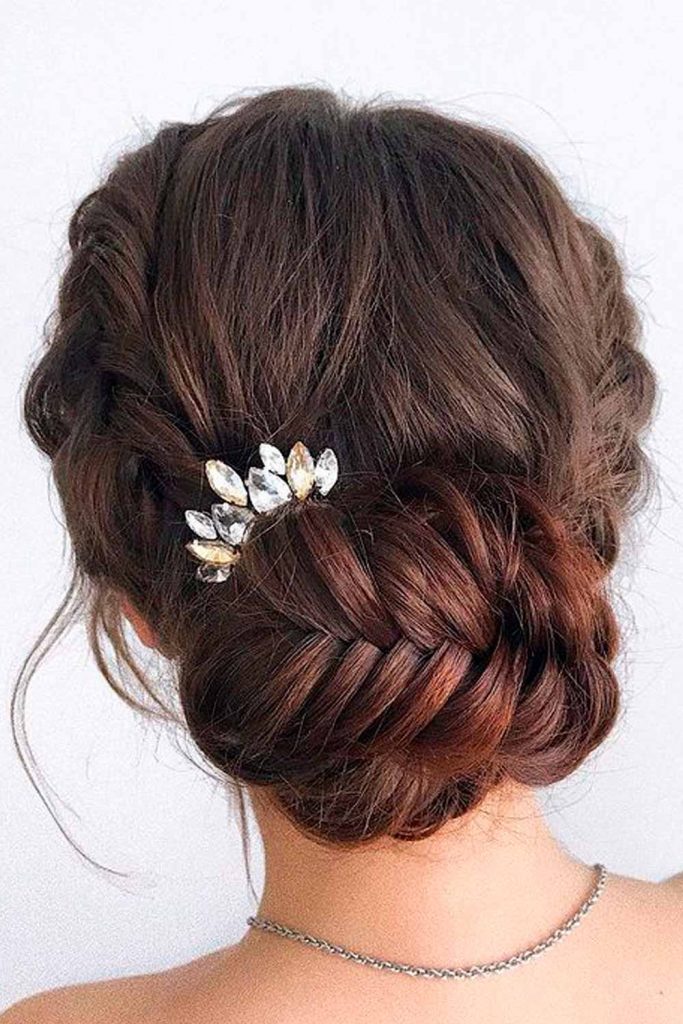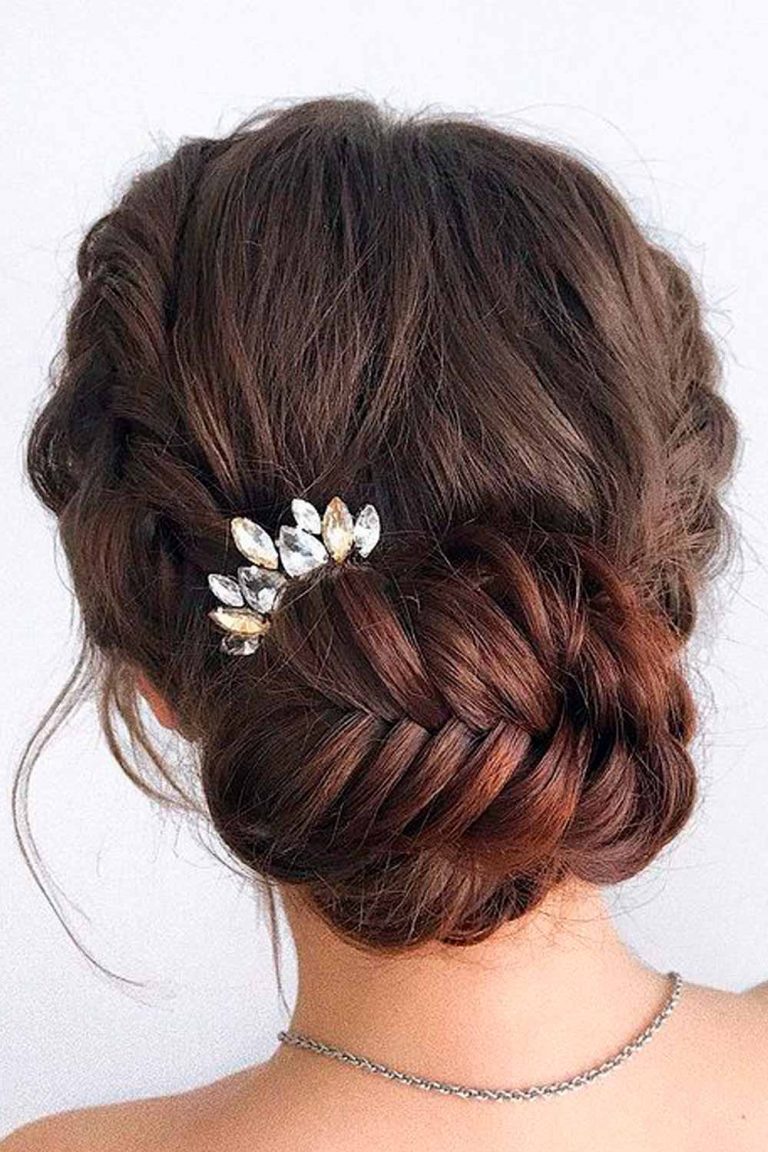 Source: instagram.com/samoylenko_makeup
When we prepare for weddings, time tends to slip through our fingers like sand. Everything must be on point, so we are ready to sacrifice to reach perfection. But let's don't forget about the power of simplicity: it can both save some time and give you an elegant look. This braided bun doesn't take hours to get it done, yet looks unbearably stunning and delicate. Embellish it with a tiny floral bobby pin, and you are ready to say this tempting "yes."
Extremely High Swept Back Wedding Hairstyle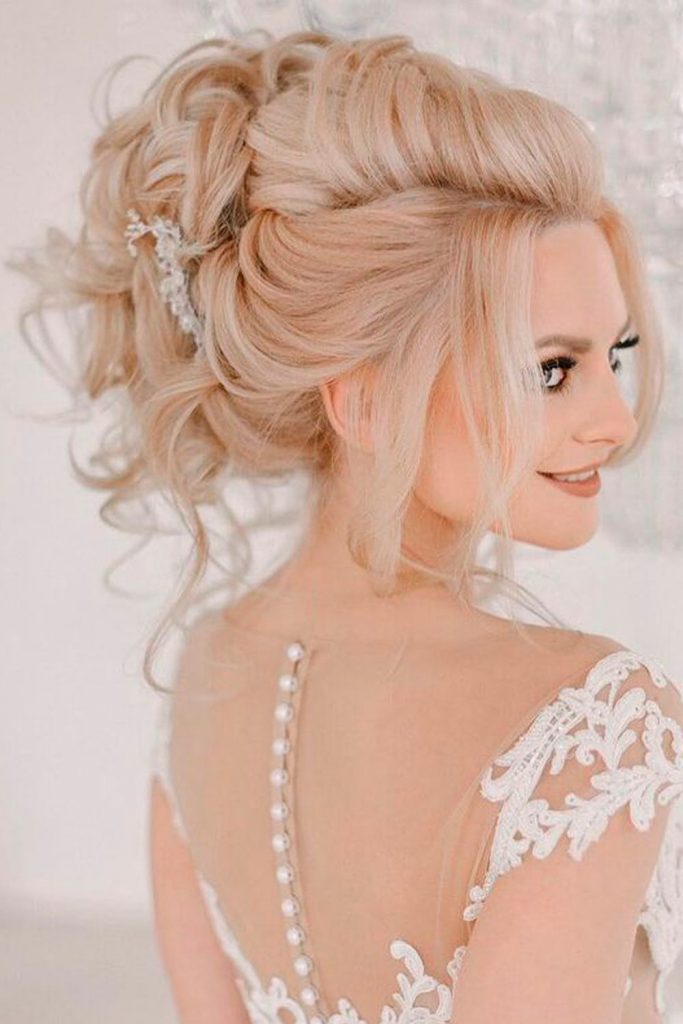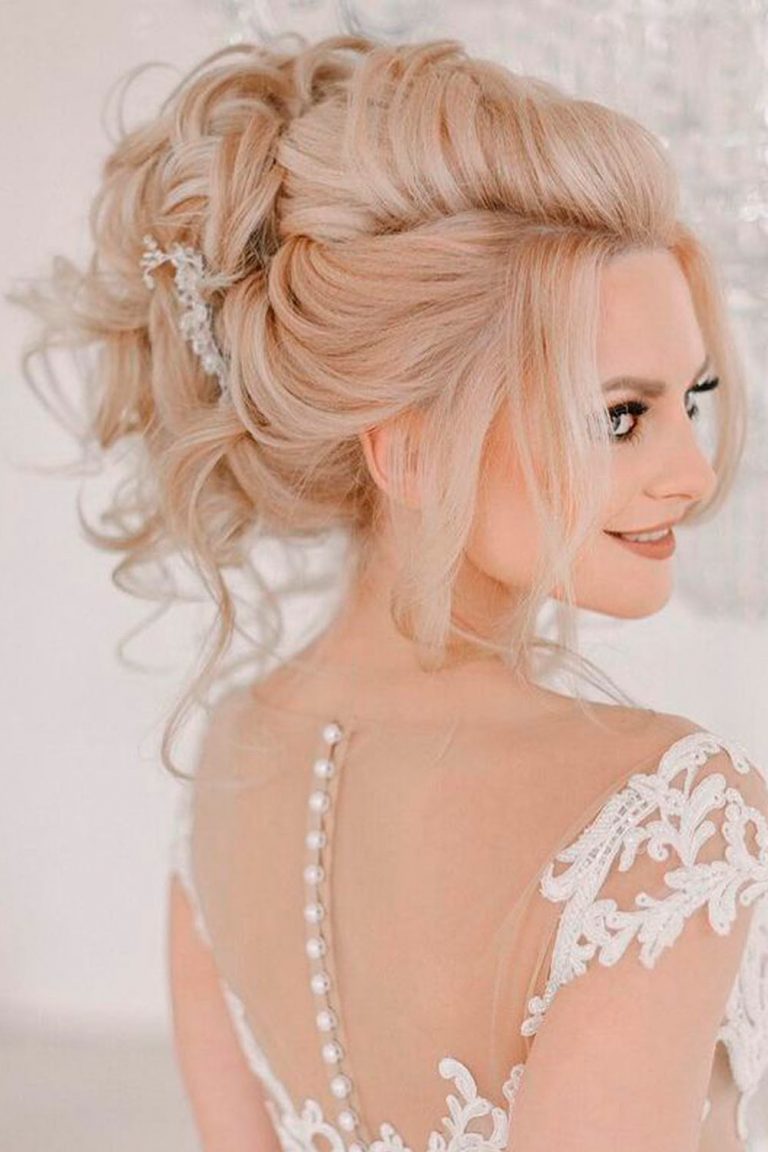 Source: instagram.com/eltrendy_wedding
No wedding hairstyles updo can compare to this unbelievably high, voluminous, and chic side-swept updo. Some women prefer to keep their hairstyle minimalistic to put a focus on their poofy dresses. There are also brides who would like to keep this balance in an exactly opposite way: your dress is simple, while your amazing full locks do the talking. What kind of braid are you?
Perfect Sleek Swept Back Half Up Half Down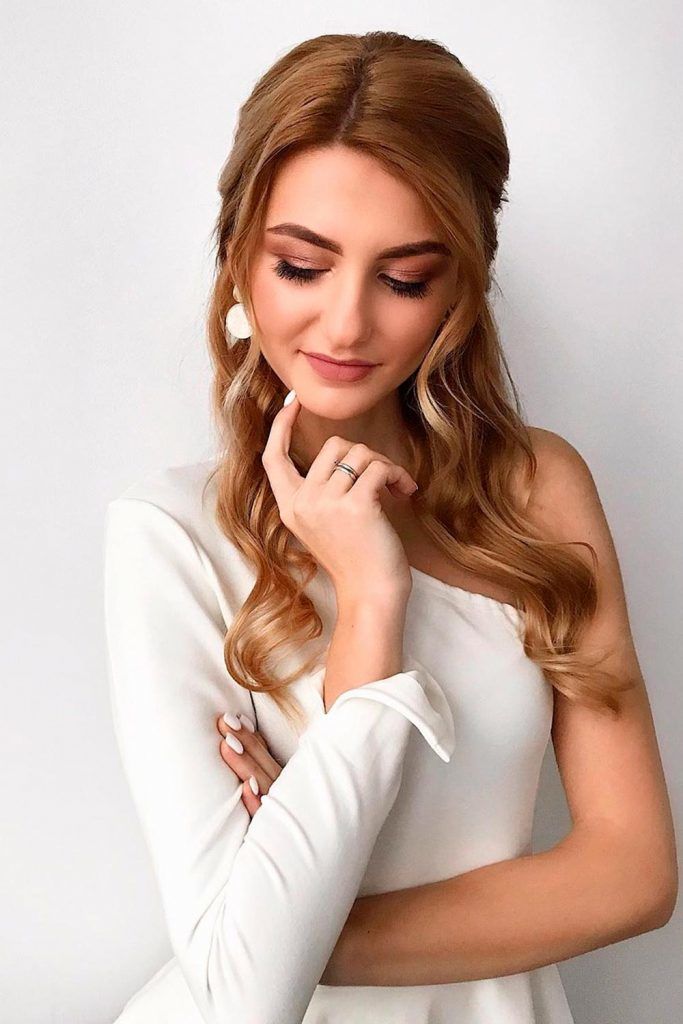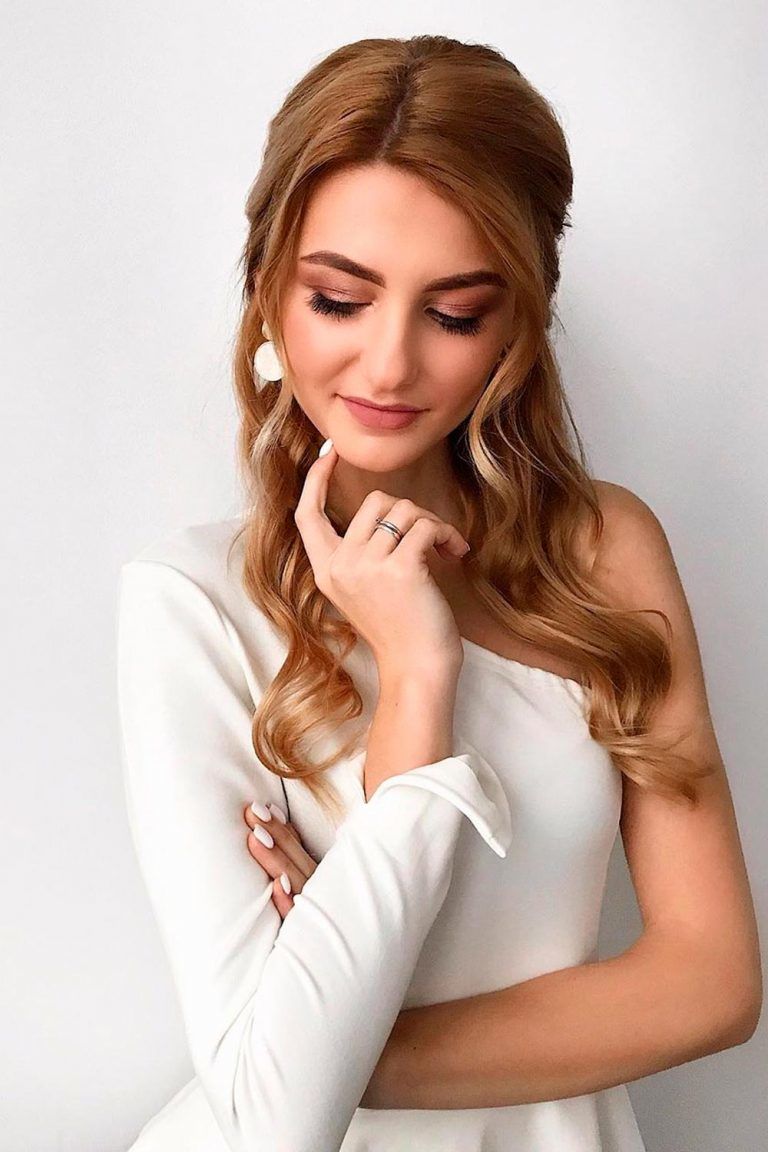 Source: instagram.com/samoylenko_makeup
Don't want to put all your hair up on your wedding day? If you're proud of your sumptuous long locks, you are free to flaunt with a half-up-half-down hairstyle. This immaculate, graceful hairdo shows off your best features: the sleek crown gives a volume, and a bit wavy swept back hair keeps your beautiful face open.
Fabulous Updo With Swept Back Bang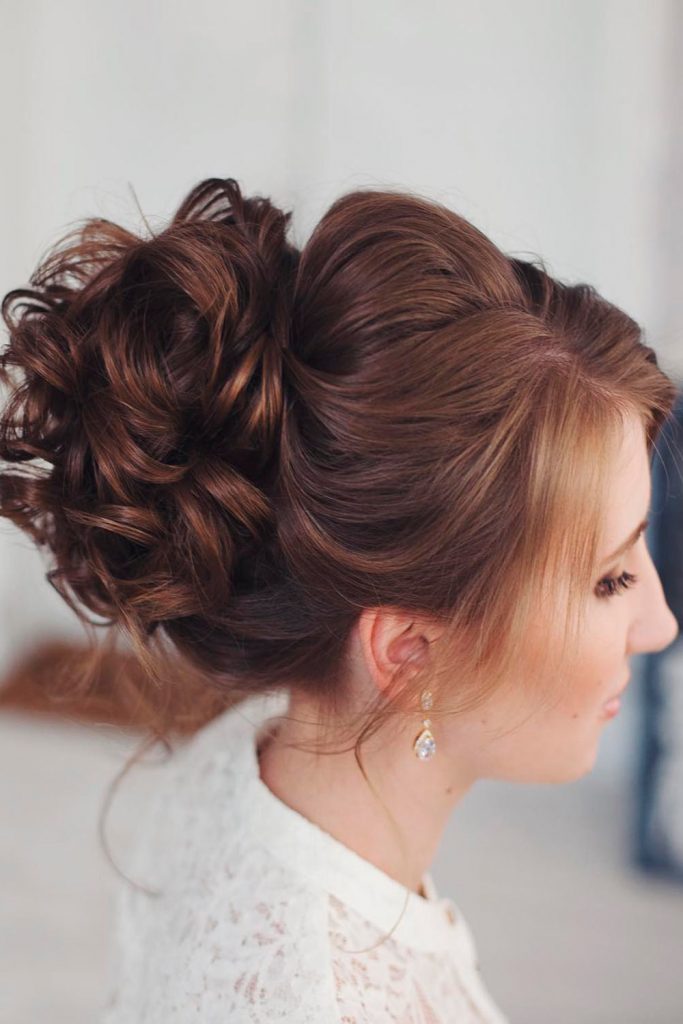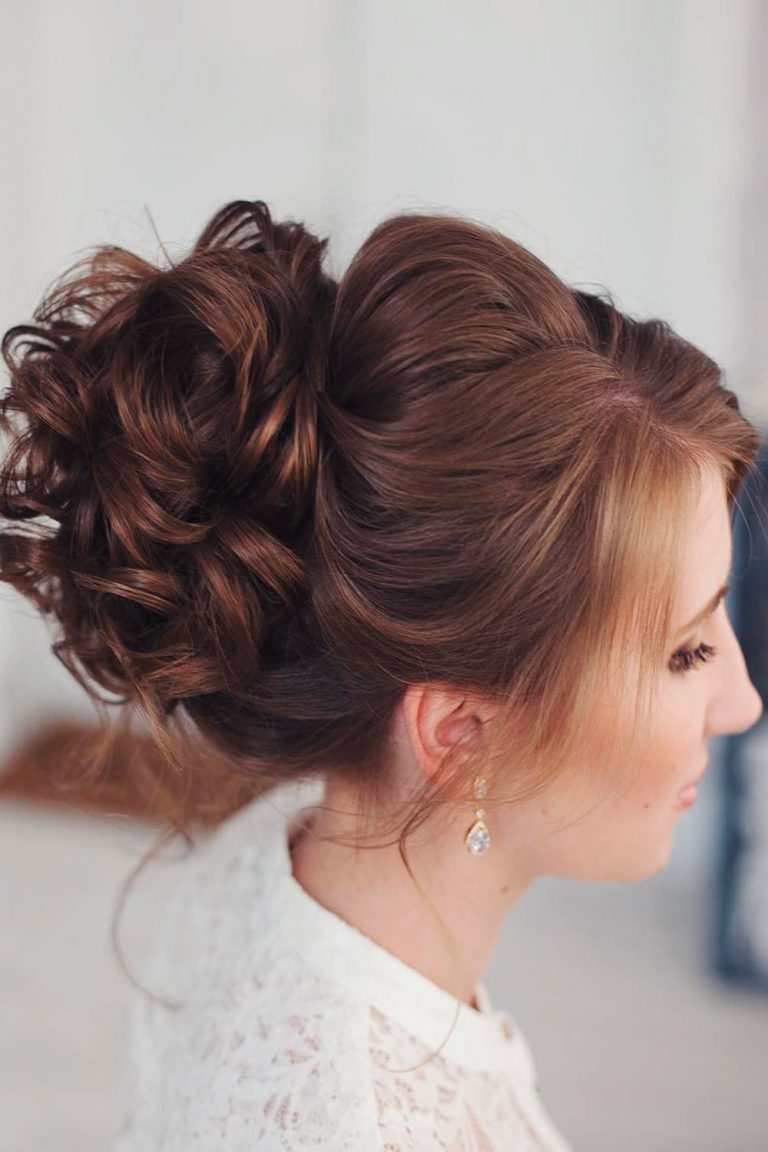 Source: instagram.com/tonyastylist
Bangs have always been women's best friends. And they won't leave your without their support this special day. The best way to wear a fabulous updo is to wear it with a bang. Swept back bangs create a bit asymmetric silhouette, framing your face with front hairs. Just look at this picture: this lovely updo with bangs, beautified with some flowers, is a look to steal.
Elegant Swept Back Low Hairdos For Short Hair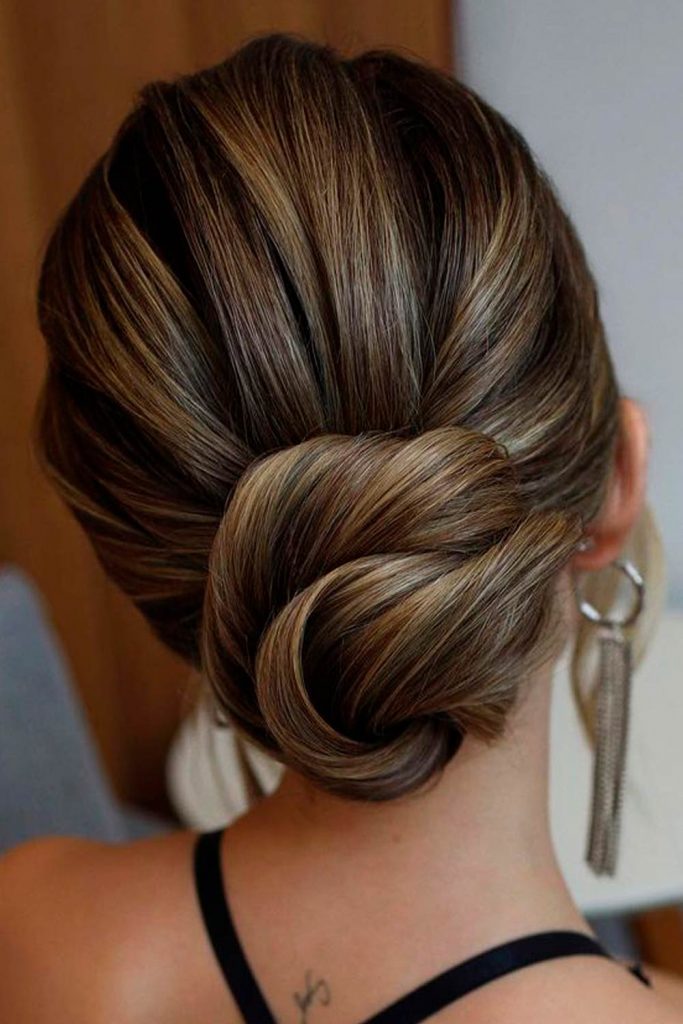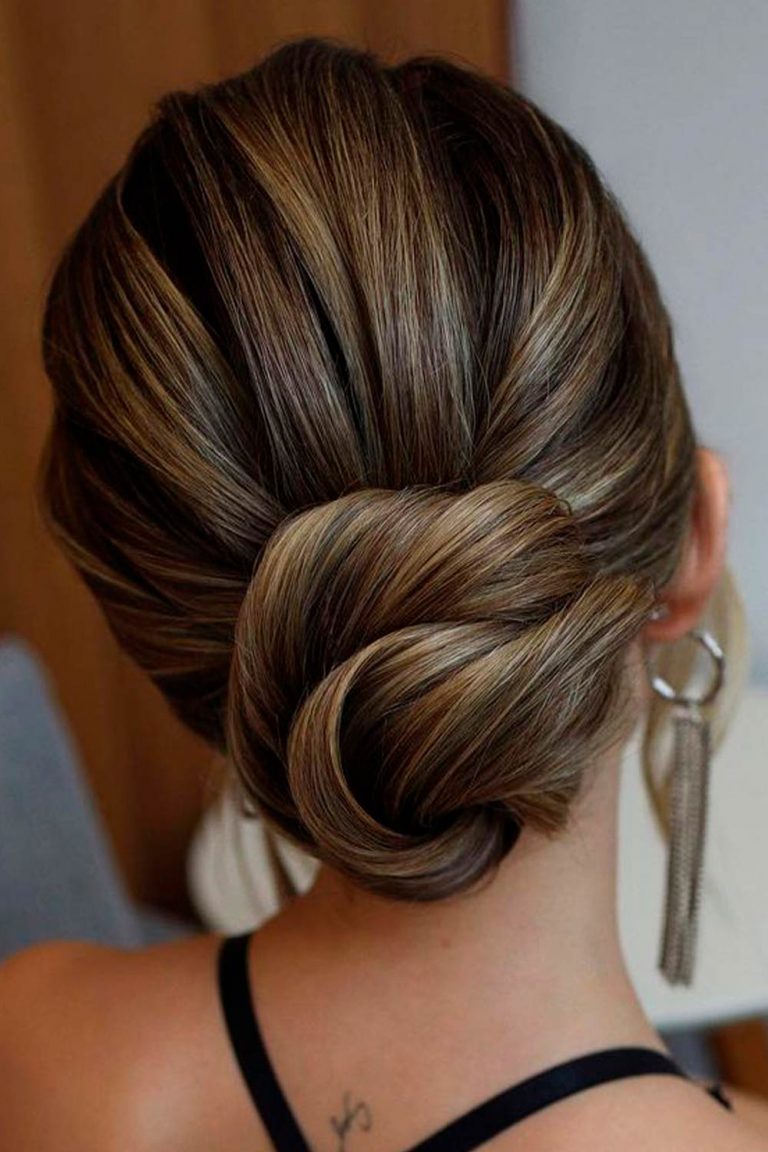 Source: instagram.com/tonyastylist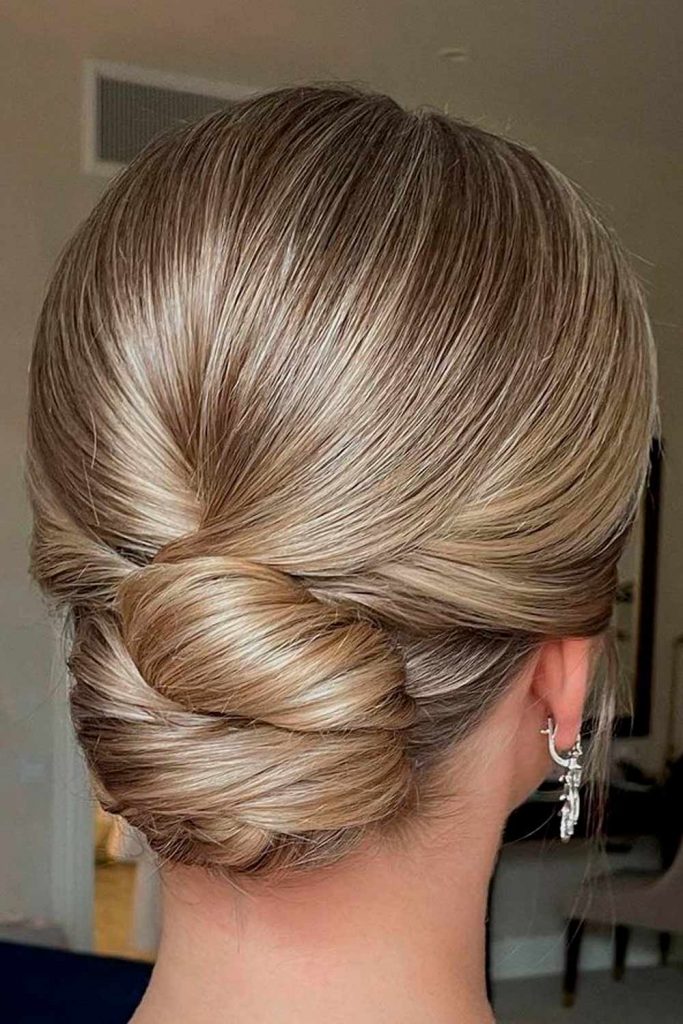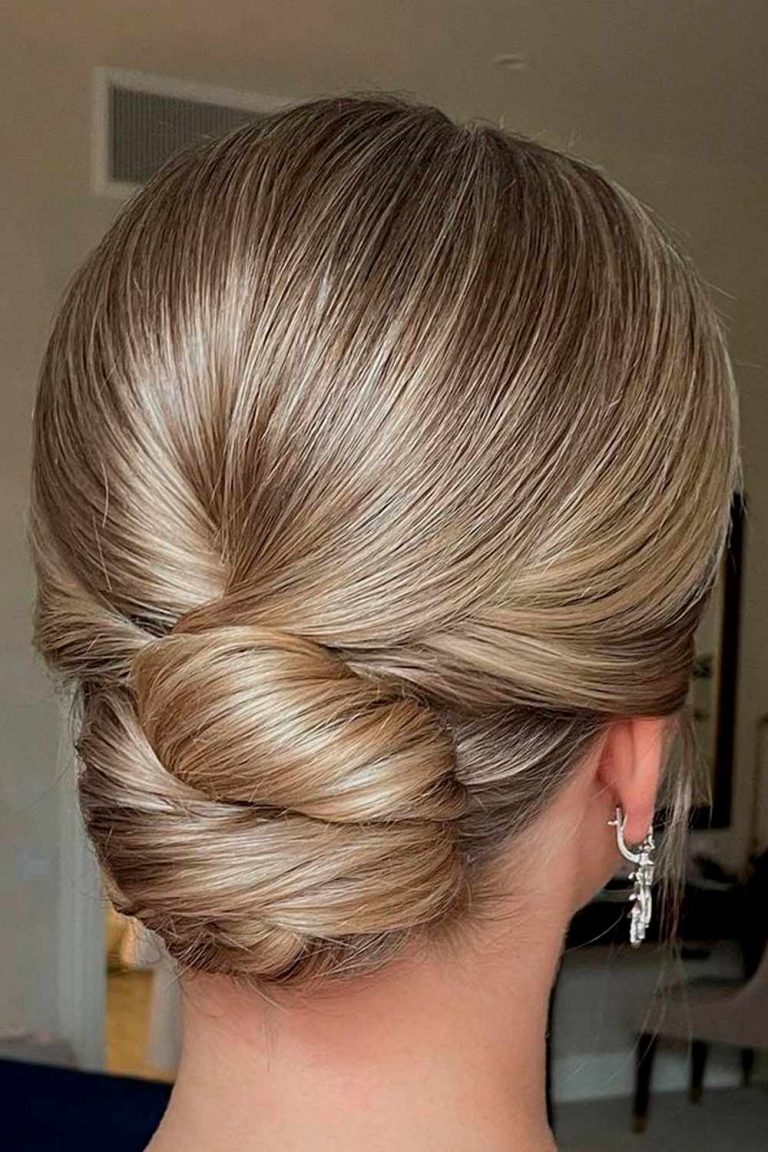 Source: instagram.com/xenia_stylist
It's no secret that the variety of wedding hairstyles for short hair is not so huge: you either curl it or twist it. But who says that such hairstyles can be as beautiful as those for long and medium hair? Remember that there are no limitations for elegant updos, so your short hair is not an obstacle at all. Just look at this romantic low swept back short hair style; still think that there's nothing to do with your short locks?
Royal Wedding Curls For Thick Hair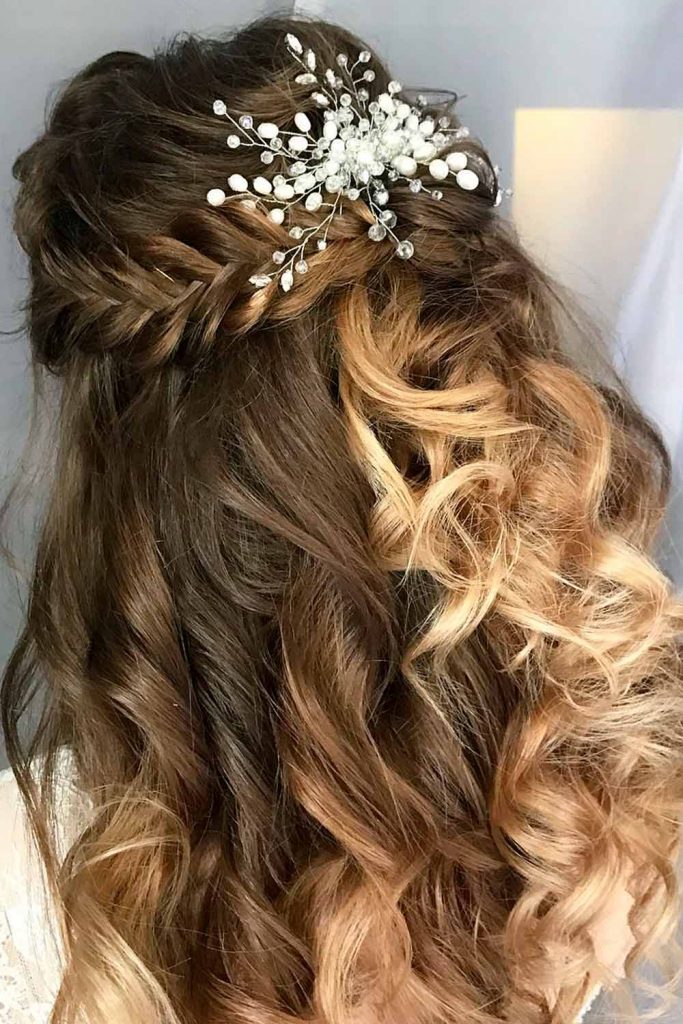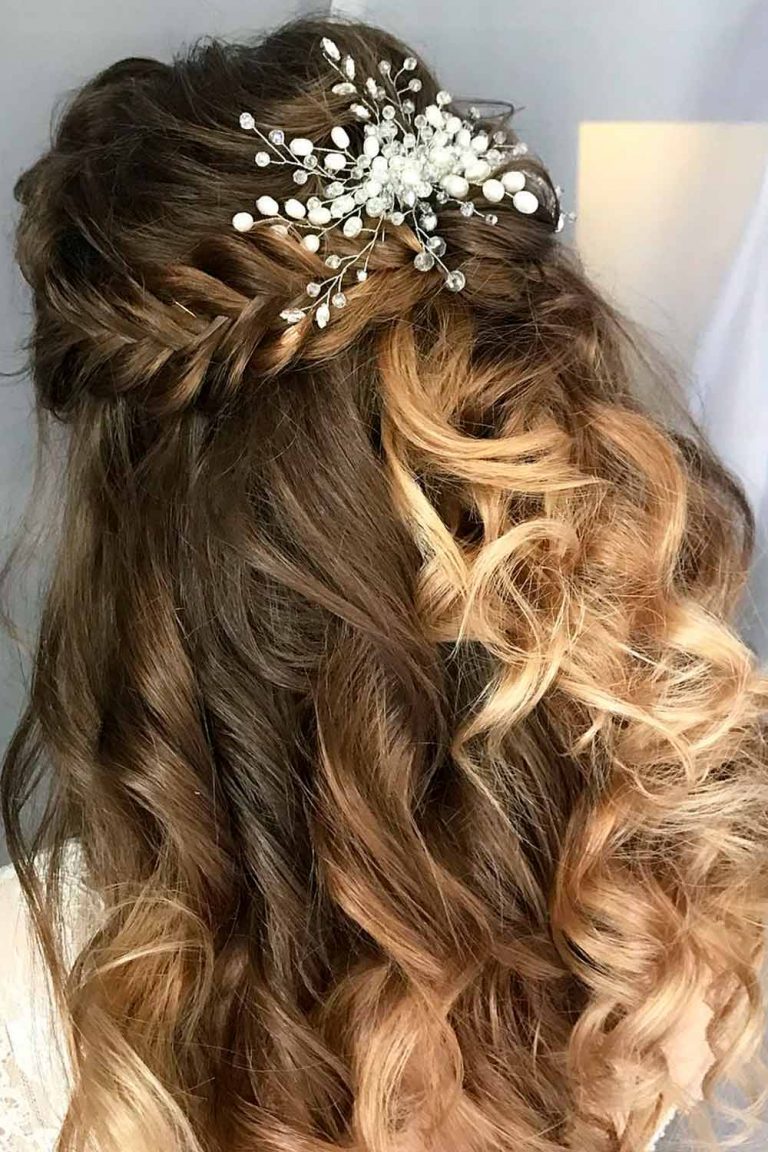 Source: instagram.com/samoylenko_makeup
It doesn't matter what hair type you have, it doesn't matter what kind of women you are, the only thing that counts is volume. We can't take our eyes off voluminous hairdos like this one: these great lush curls literally make us hallucinate. To make the best out of your thick hair, try to bring this idea to life. Nothing is more graceful than big curls with a voluminous crown, that's for sure.
Classic Hairstyle For Wedding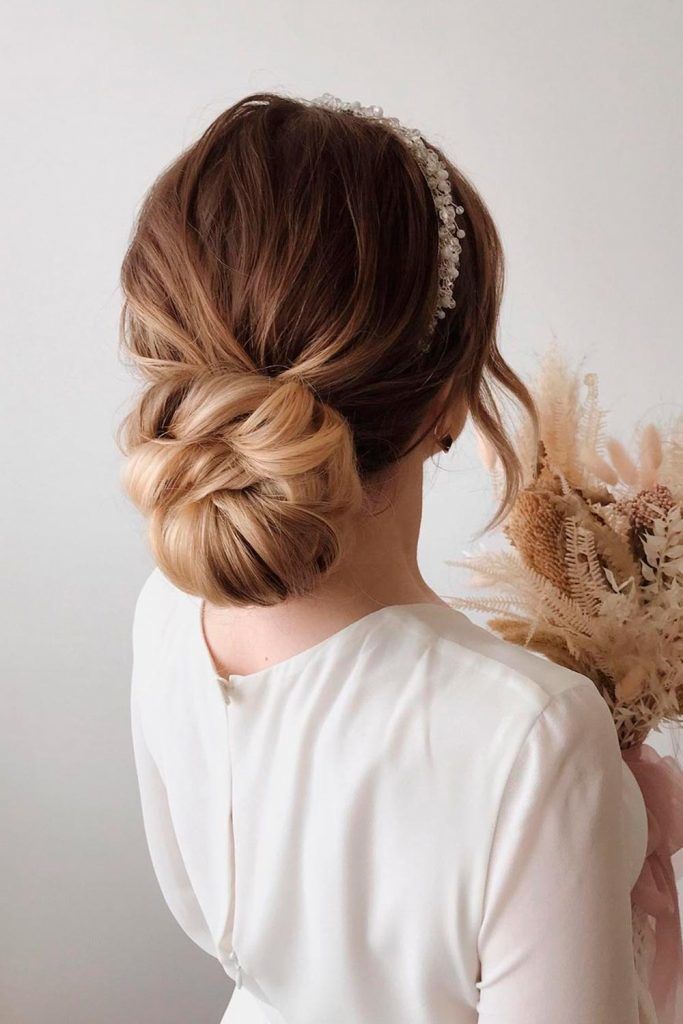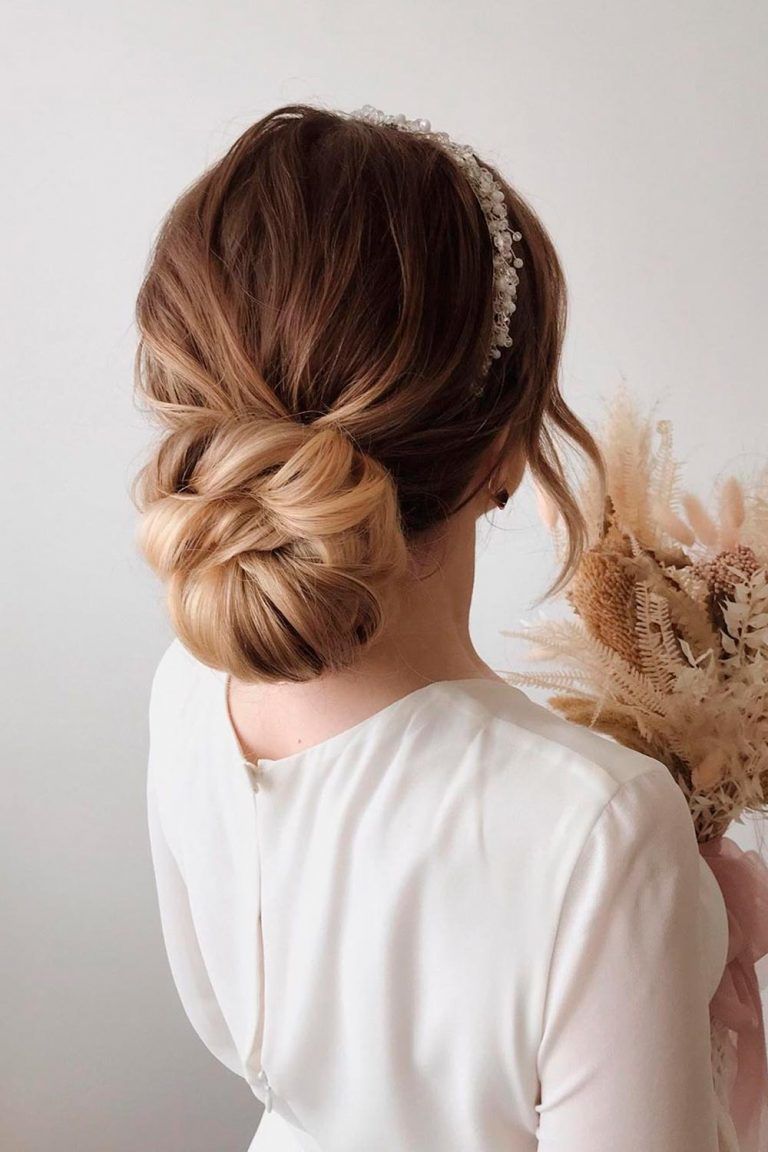 Source: instagram.com/samoylenko_makeup
You are going to celebrate your wedding, the celebration of true, eternal love. Some things are as ageless as the flame of love, and these things are called classic. Those who prefer classic hairstyles know how to show off their good taste; how about you to wear such a chic, classic updo under your veil? To spice up your subtle look, wave some front locks.
Wedding Updo With Pearls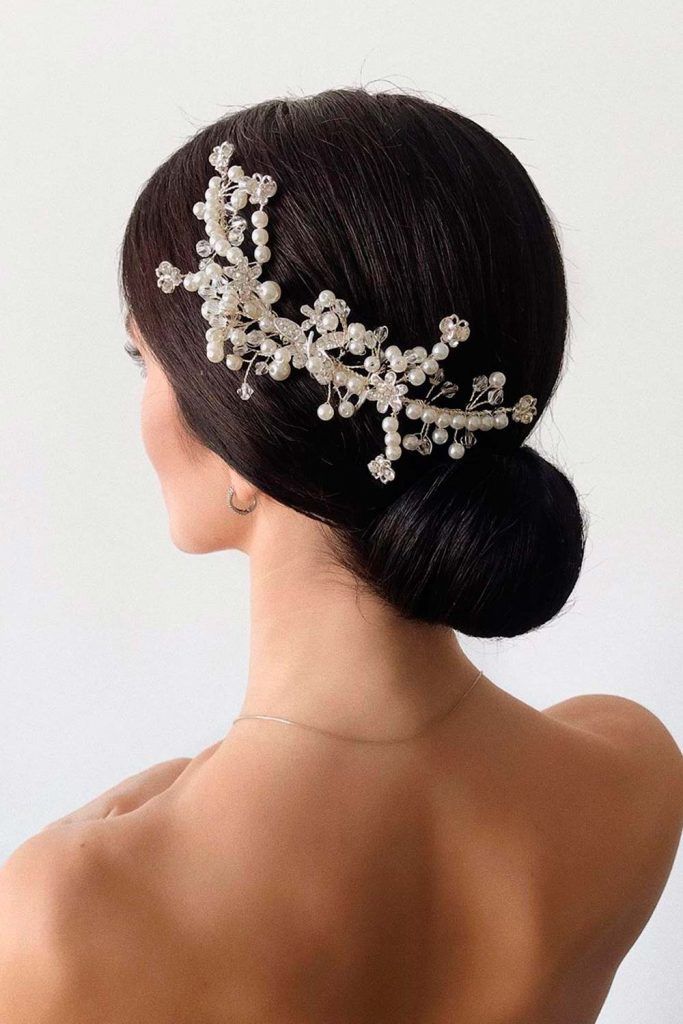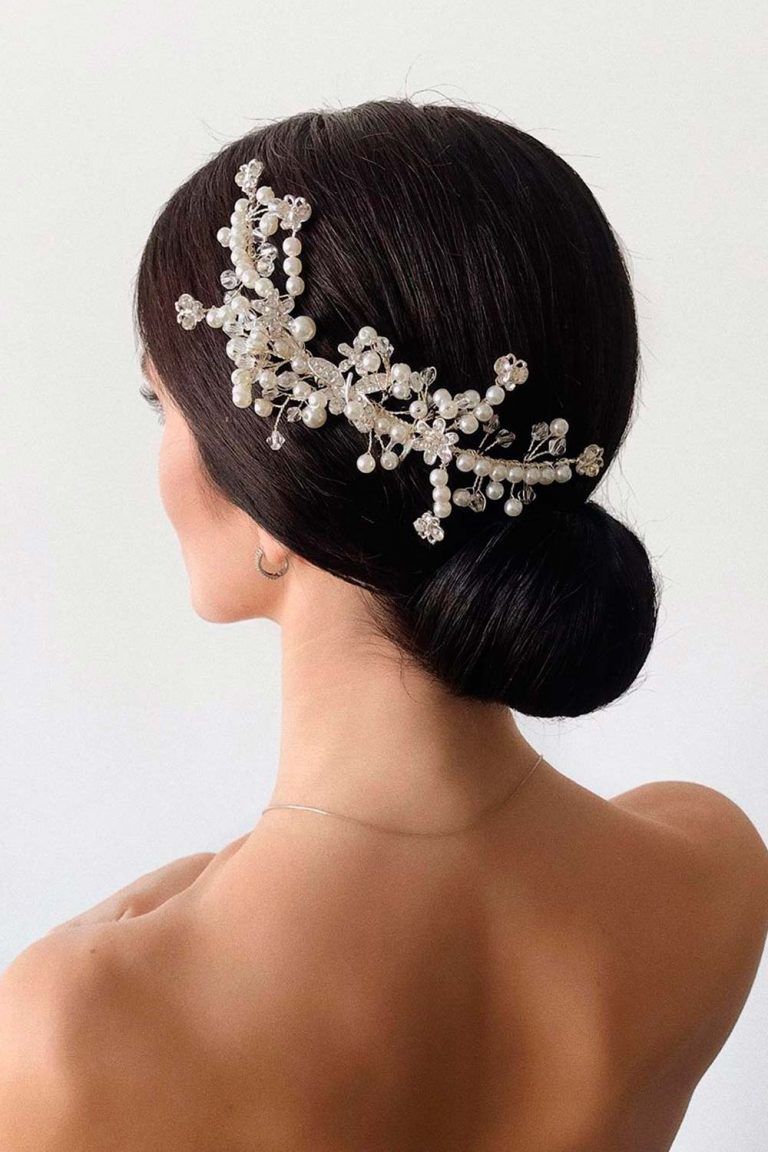 Source: instagram.com/samoylenko_makeup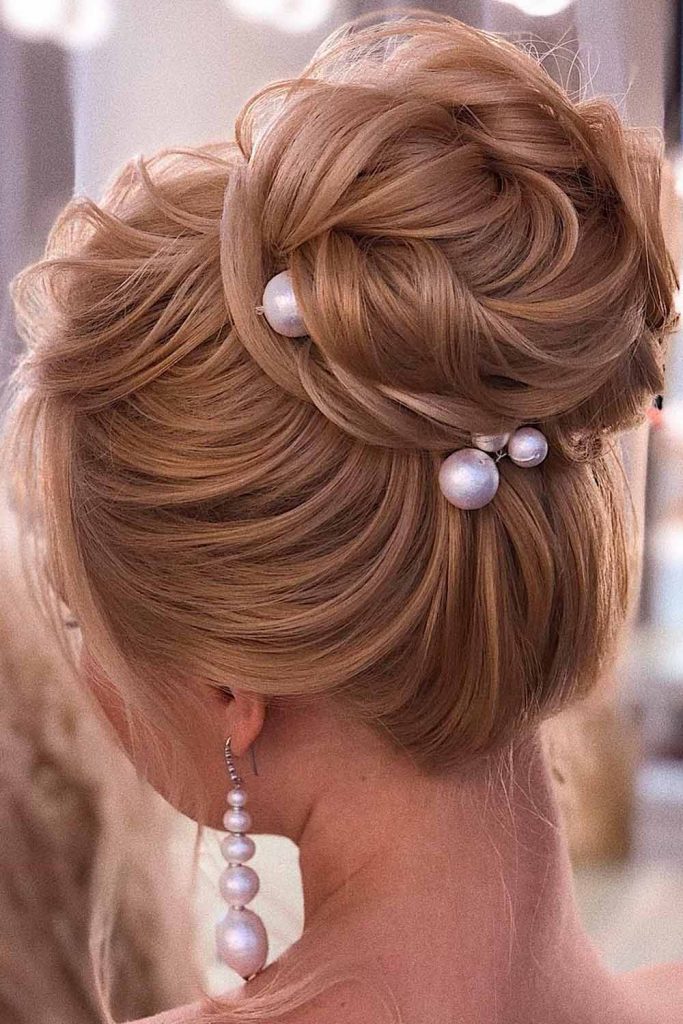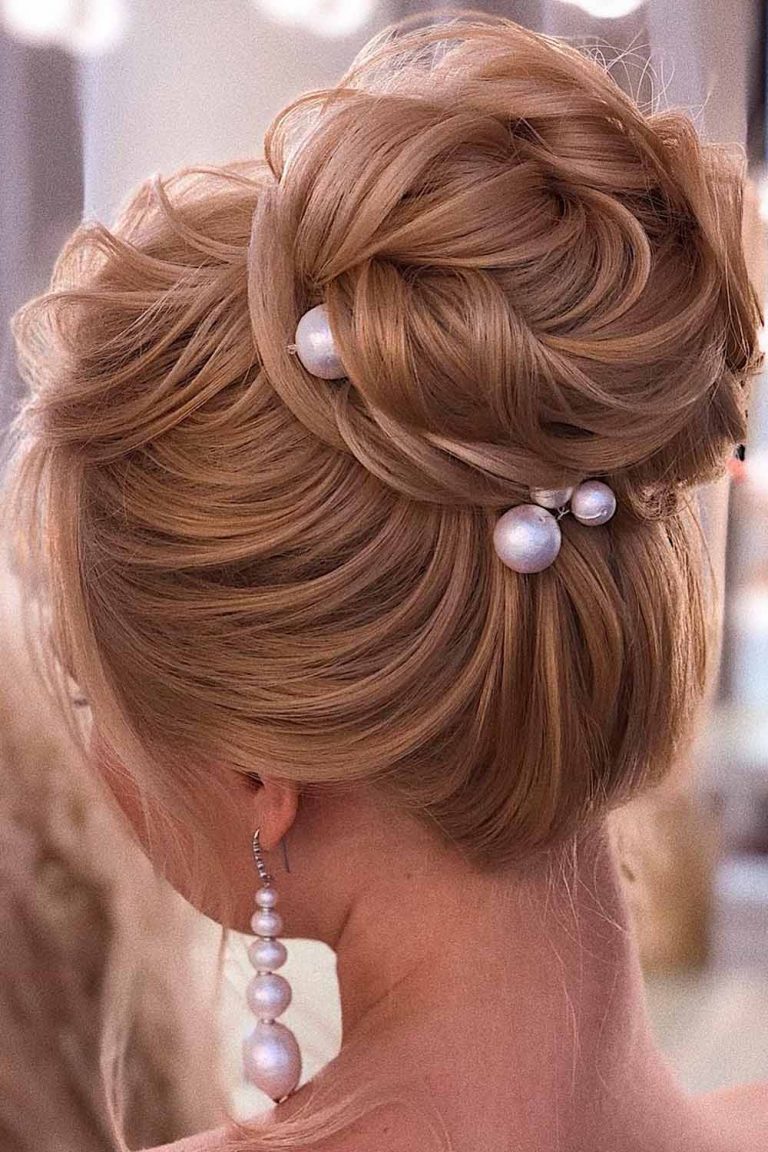 Source: instagram.com/xenia_stylist
Accessories in your hair should match the mood of your wedding look. If you follow the rule "beauty is in details," you will love these neat and graceful elements in your hair. Once you opt for a low bun, don't forget to liven it up with some pearly bobby pins or pearl hair accessories; they're the delicacy in its purest form.
Swept Back Half Up Half Down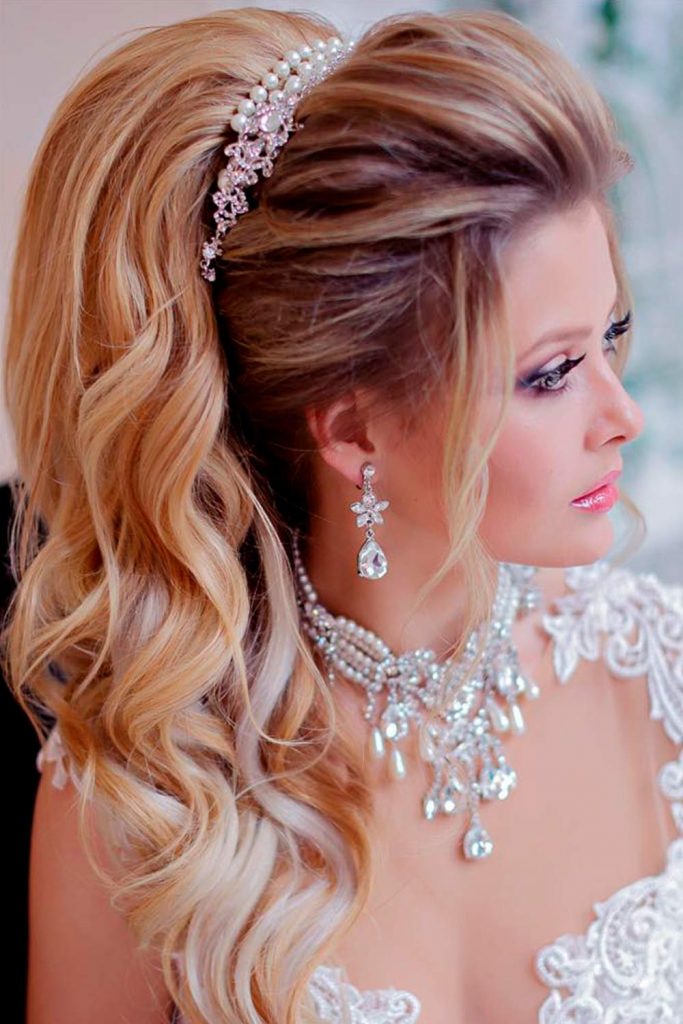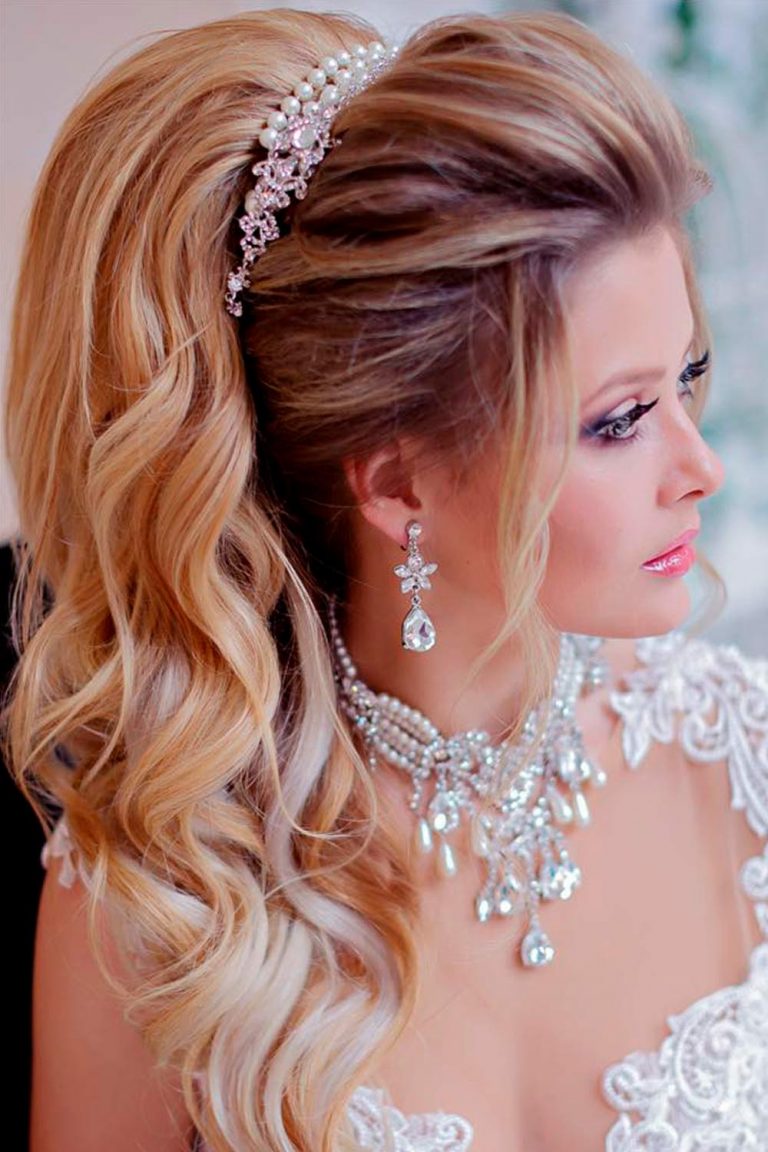 Source: instagram.com/komarova_websalon
This swept back wedding hairstyle is a reason to get married. We just want you to don't pass this idea, as it is something really worthwhile. We can't call it a ponytail, it would be a too simple name for this cutie, but this half-up-half-down hairdo actually starts with a swept back pony. The top of your head is combed back neatly, yet with a touch of volume, while your full favy ponytail hangs on your shoulders.
Hair Texture As The Main Detail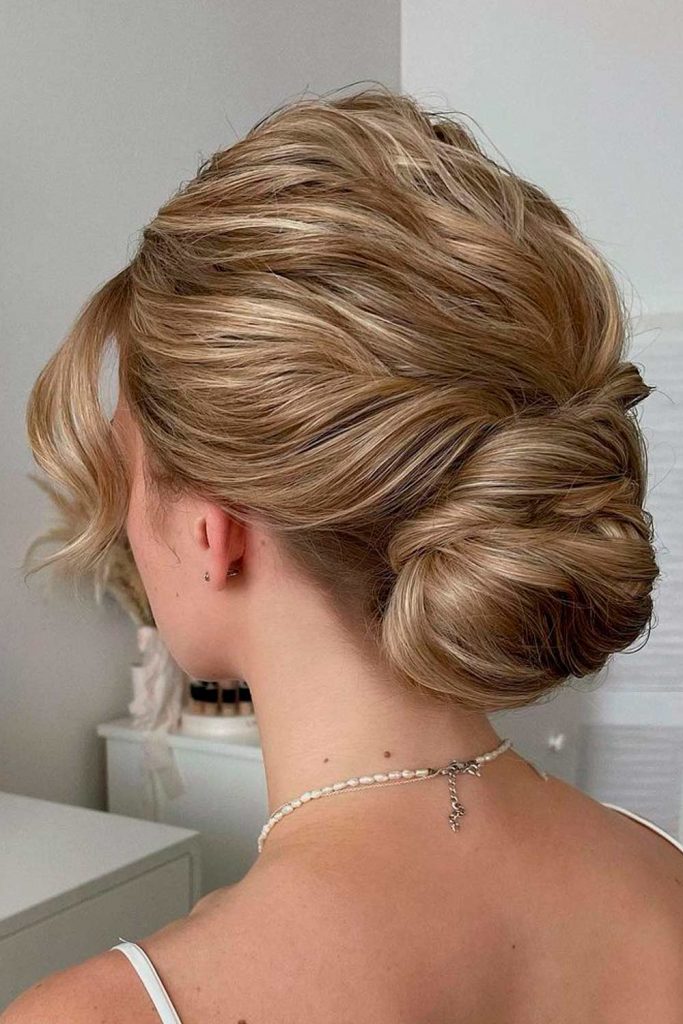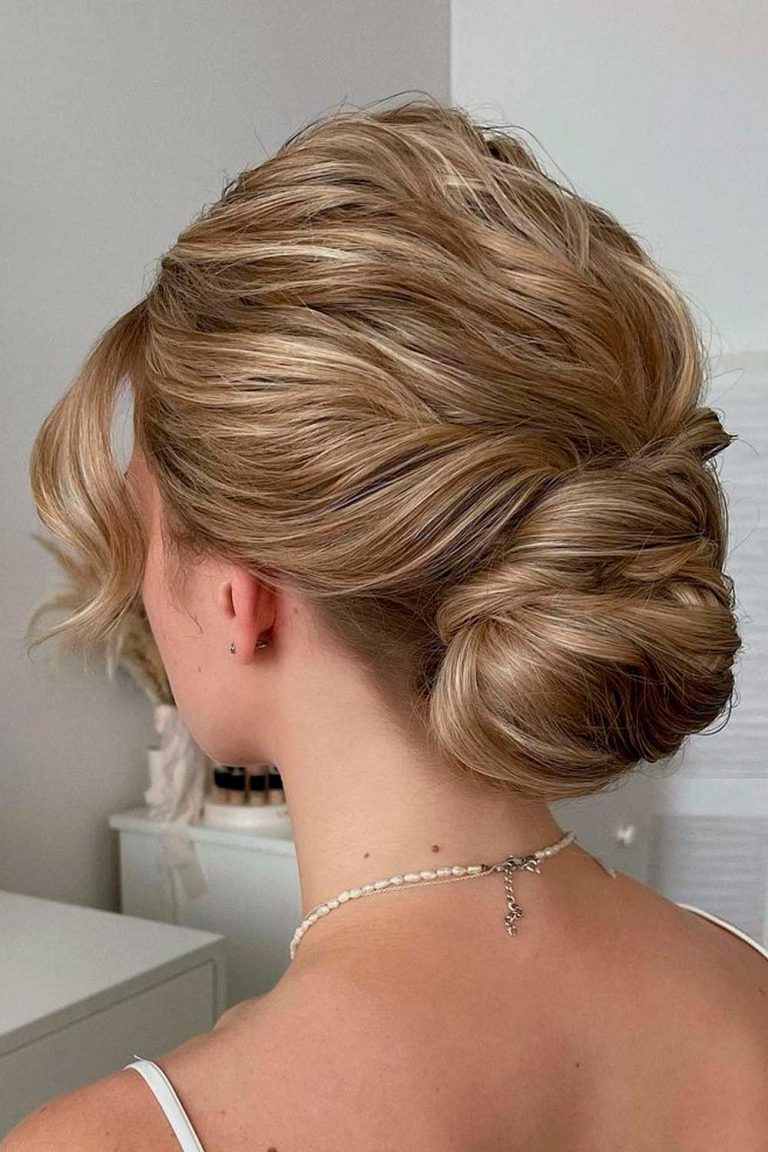 Source: instagram.com/samoylenko_makeup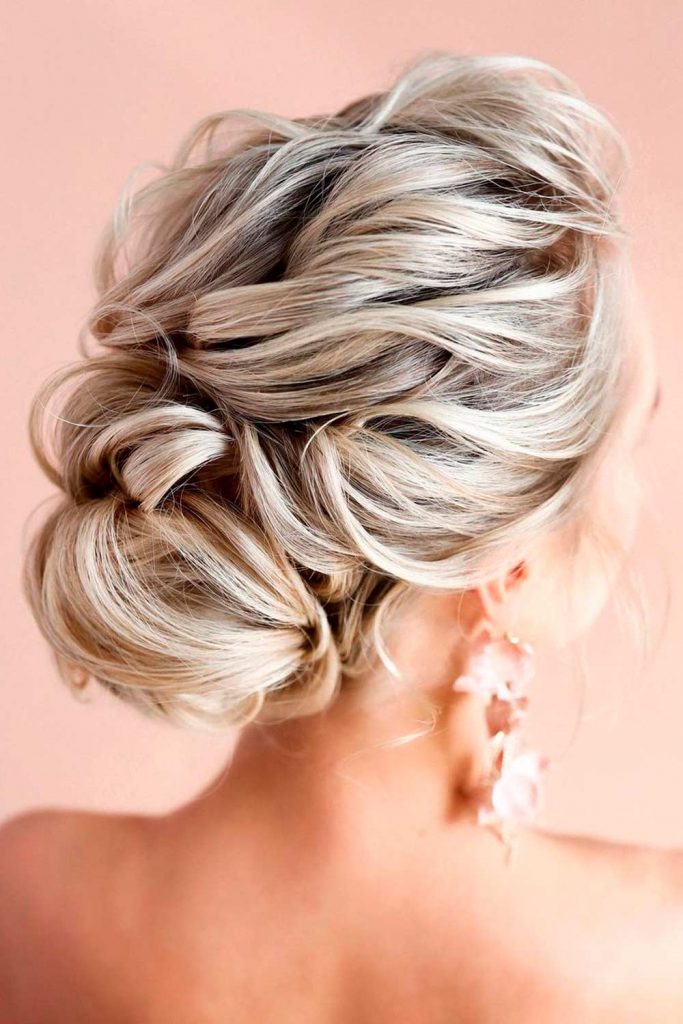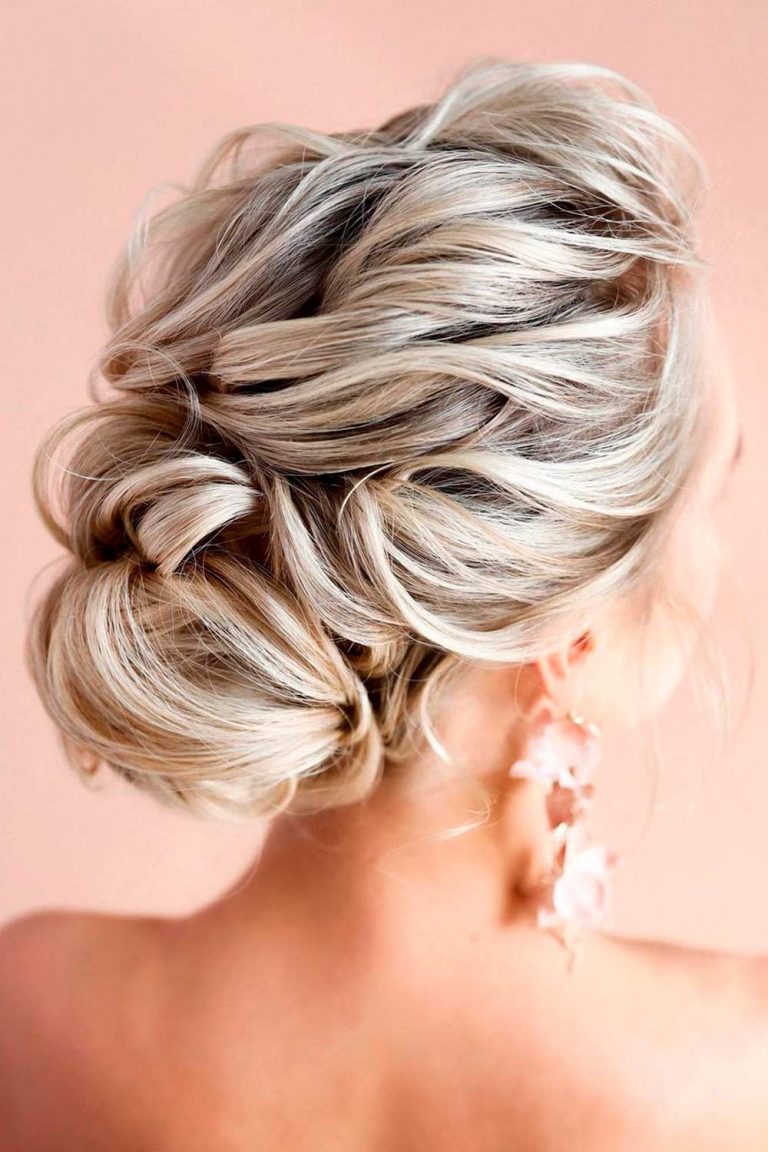 Source: instagram.com/tonyastylist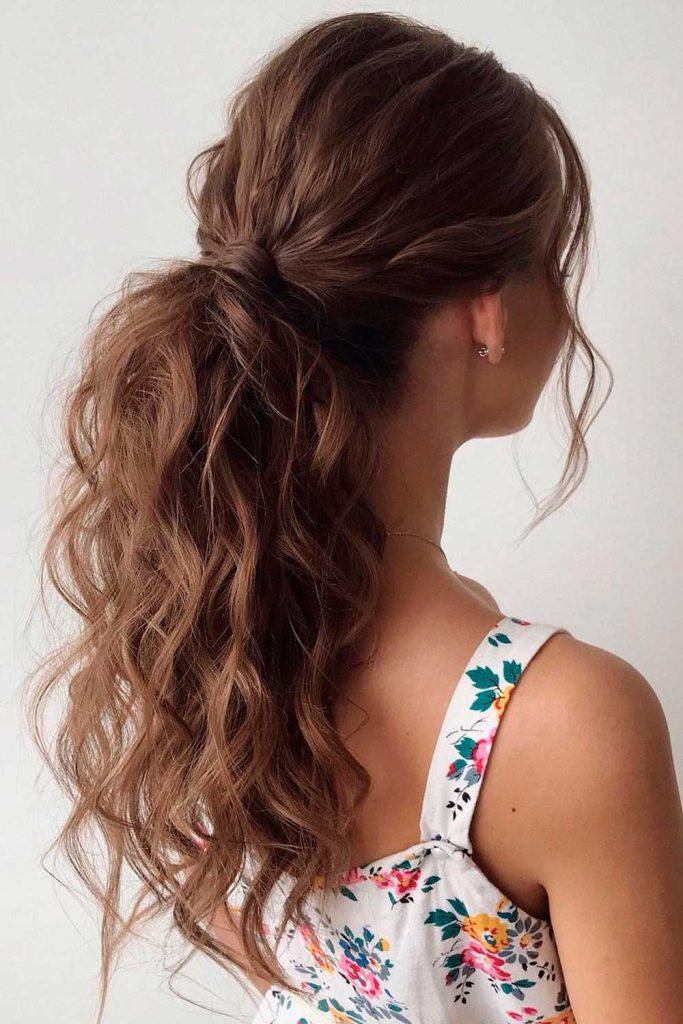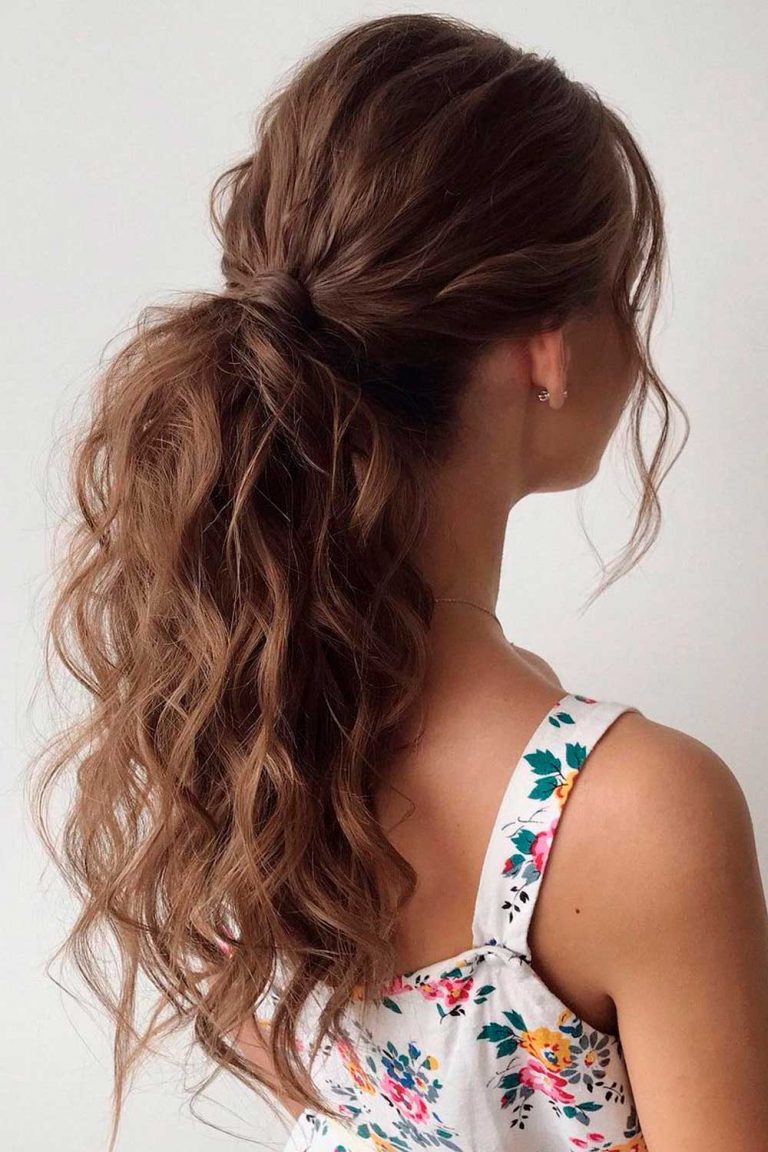 Source: instagram.com/samoylenko_makeup
One of the trendiest ways to emphasize the beauty of your wedding hairstyle is to put the focus on your hair texture. Though pulled strands are quite simple, they can create a magnificent look that will steal the show. Loose textured hairstyles are a must-try for brides who want to look as unique as never before.
Simple Swept Back Wedding Hairstyles With Bun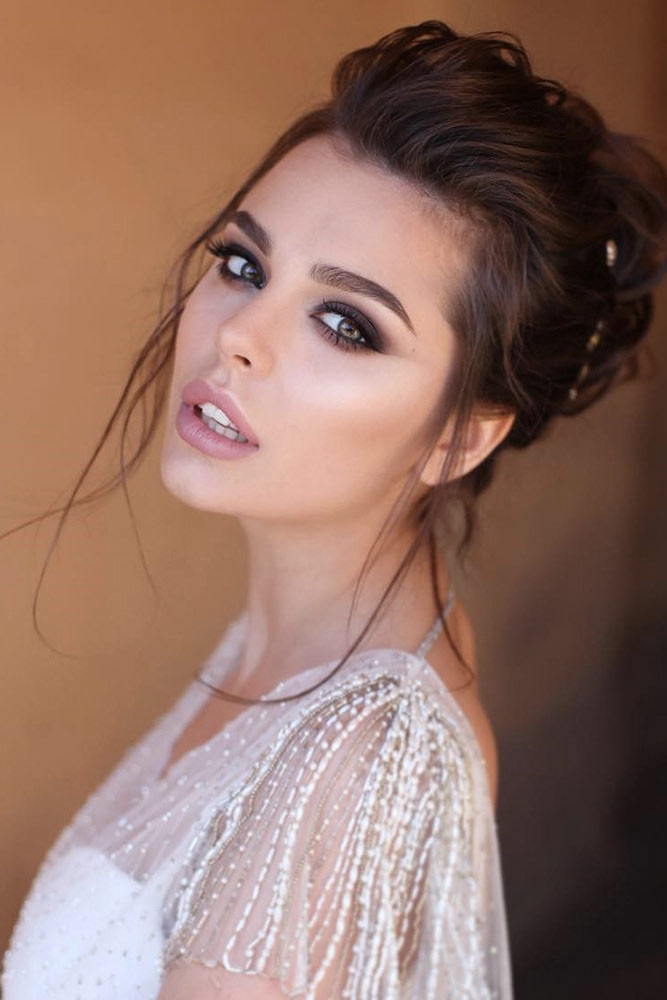 Source: instagram.com/nicoledrege
We can't even imagine what would we do without buns! Believe it or not, they can literally save your wedding. A furious bride who has no idea what hairstyle to choose for her big day is a disaster, and such hairdos are here to prevent it! You can simply comb your hair back and twist your hair in a high bun. Pull off some strands, secure with fancy pins: voila. Looking perfect isn't hard.
High Textured Updo For Your Big Day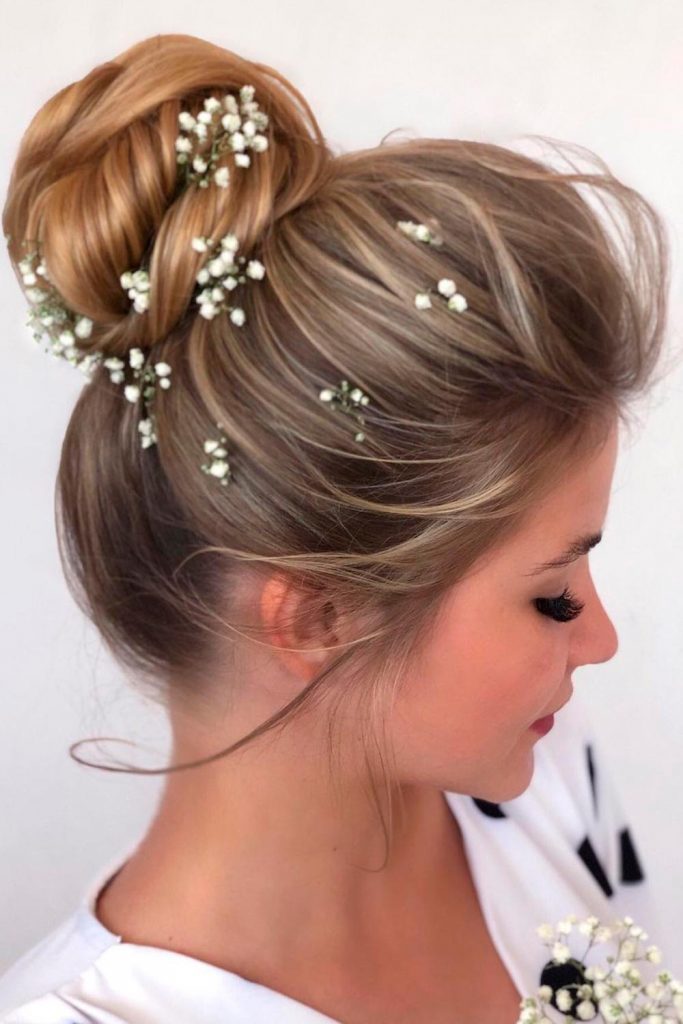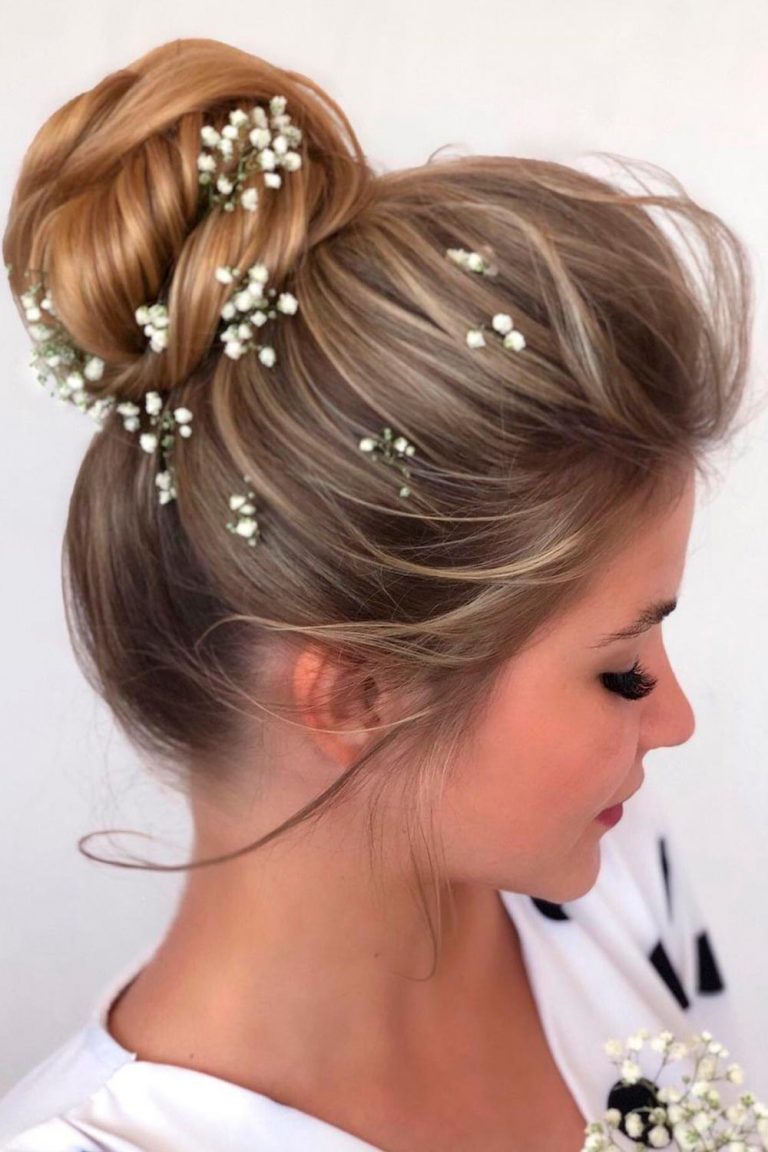 Source: instagram.com/xenia_stylist
The more texture, the better! This textured idea is the hairstyle of now: if you were looking for a 2020 trend, congratulations! Your wedding is the day you will always remember, and if you don't try this high messily styled updo, you will always regret it.
Swept Back Wedding Hairstyles With Long Curls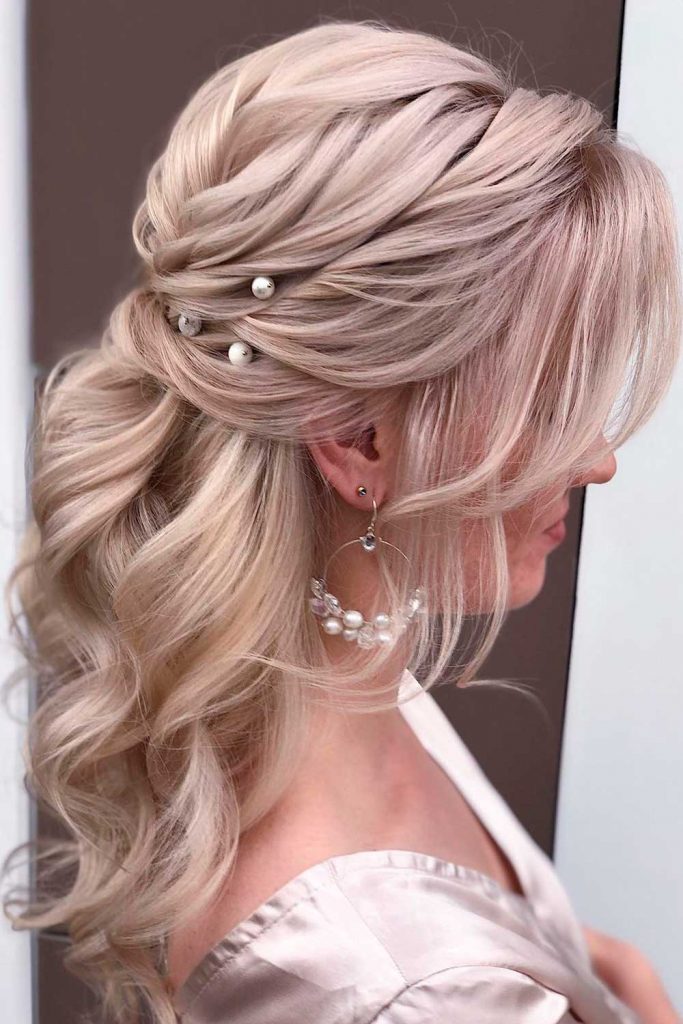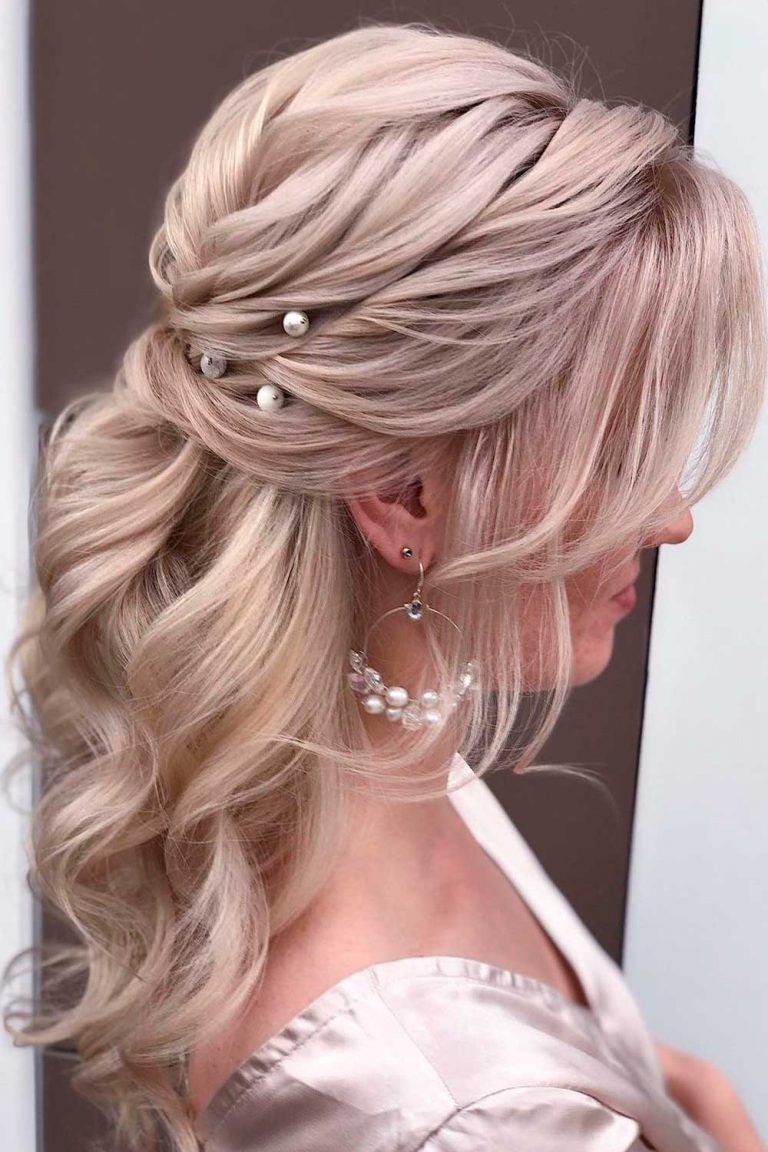 Source: instagram.com/xenia_stylist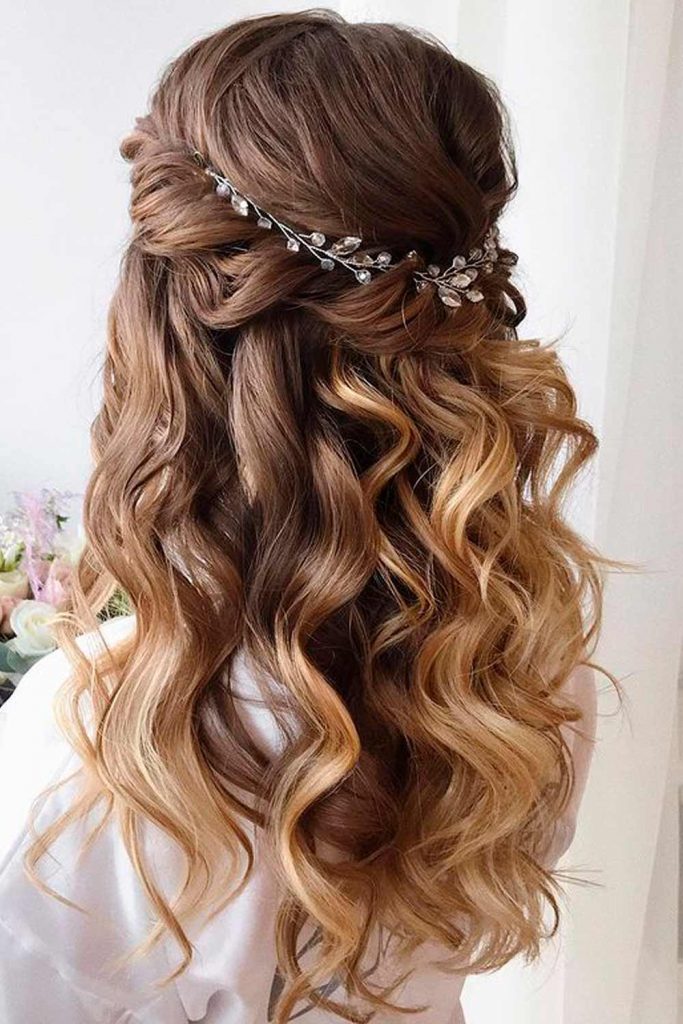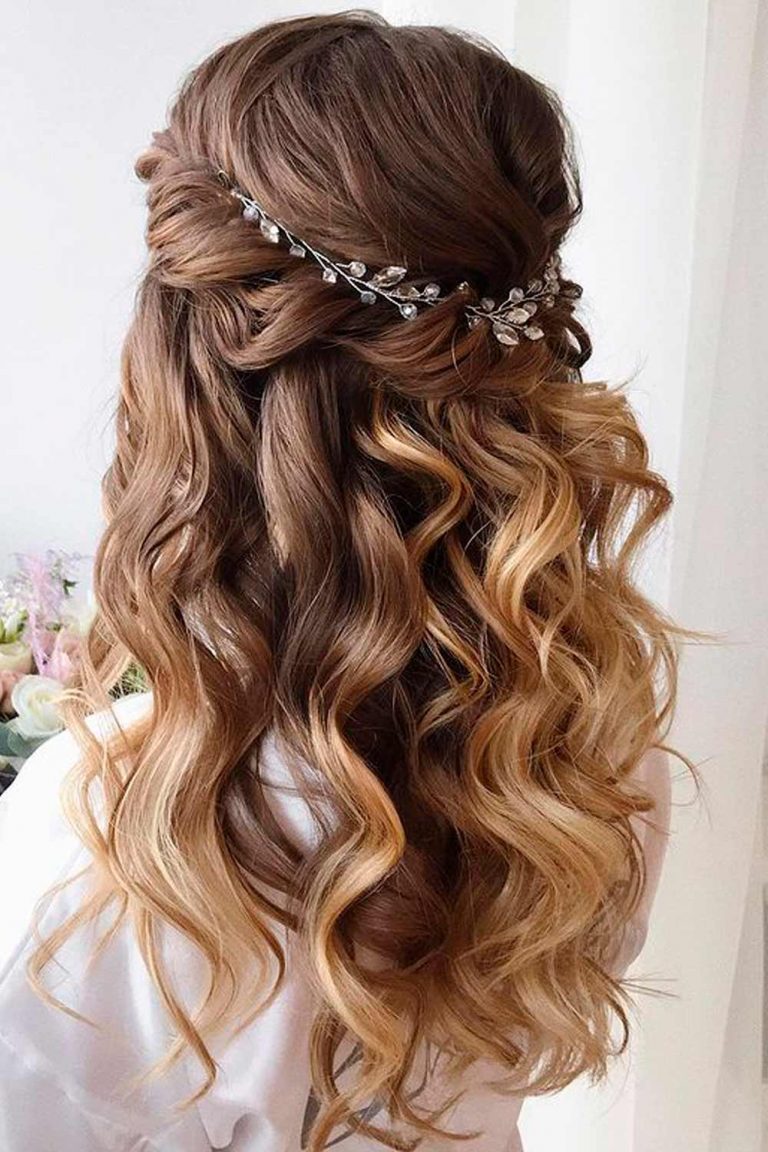 Source: instagram.com/samoylenko_makeup
No words in the world can describe how adorable curly hair is. And when long hair is curled, it creates an absolutely breathtaking look. Brides with long hair will fall in love with their reflection in the mirror once they try out this swept back half-up half-down: drama and elegance rolled into one form a perfect look.
Sweet Low Updo For Wedding Day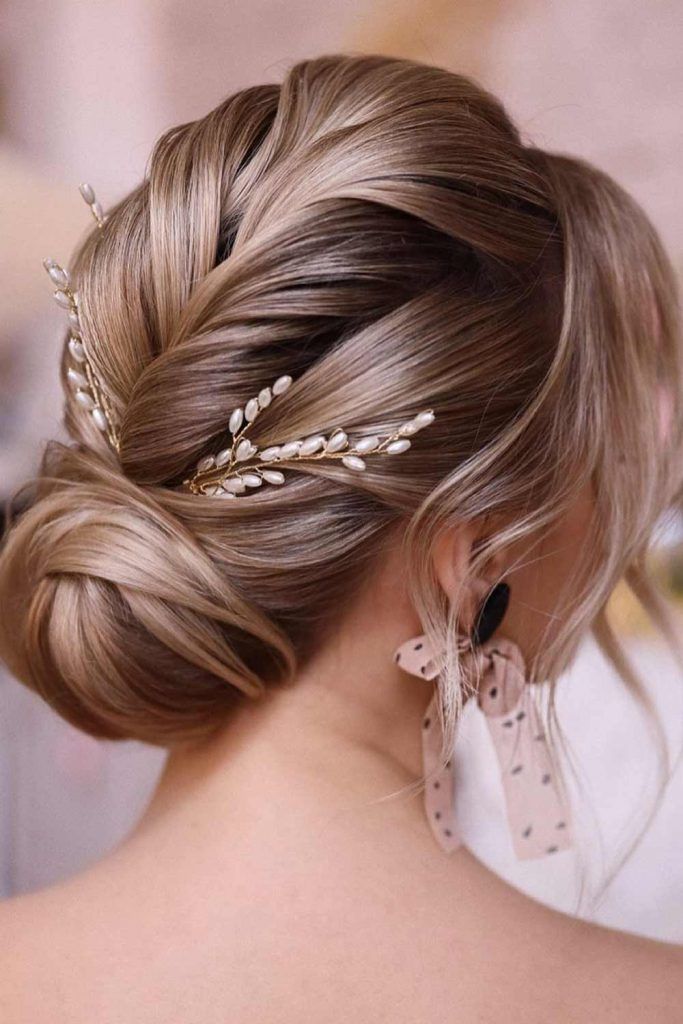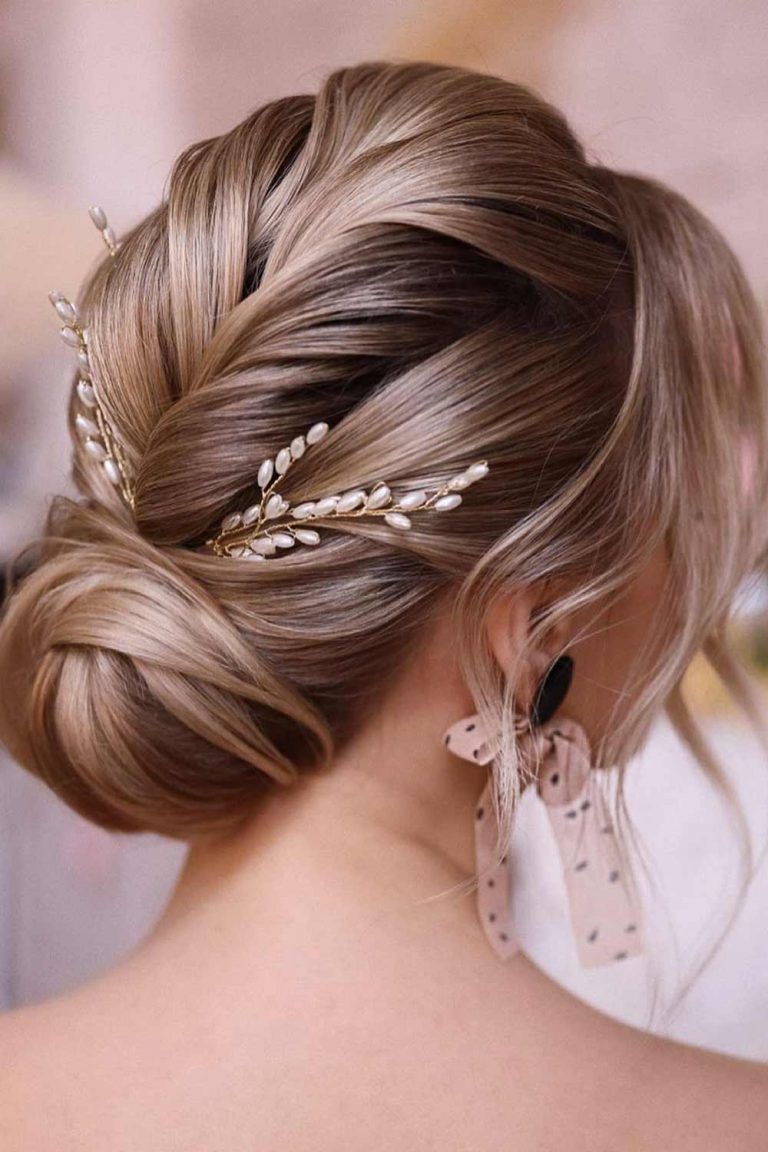 Source: instagram.com/tonyastylist
We can't have too much of flowers, so why don't add some to your hairstyle? The floral accessory in this low updo looks so cute and gentle that nobody will be able to resist such beauty. You can style your crown neatly, and add some contrast with such a lively twist on the back. To make it even more stylish, get yourself ombre for your ends.
Gentle Swept Back Hairstyle With Floral Accessory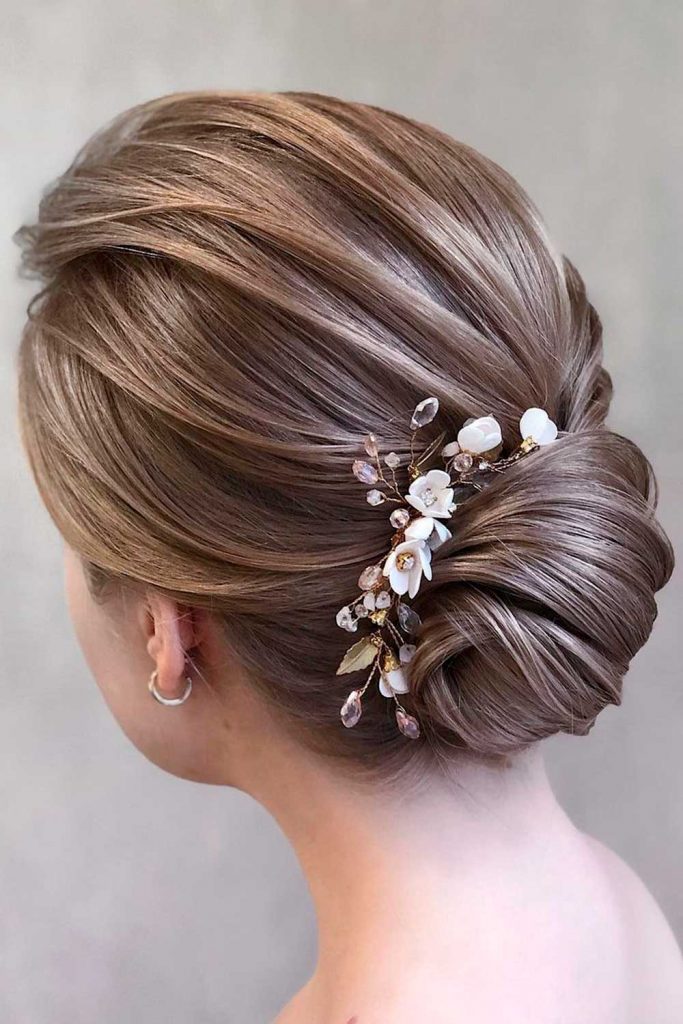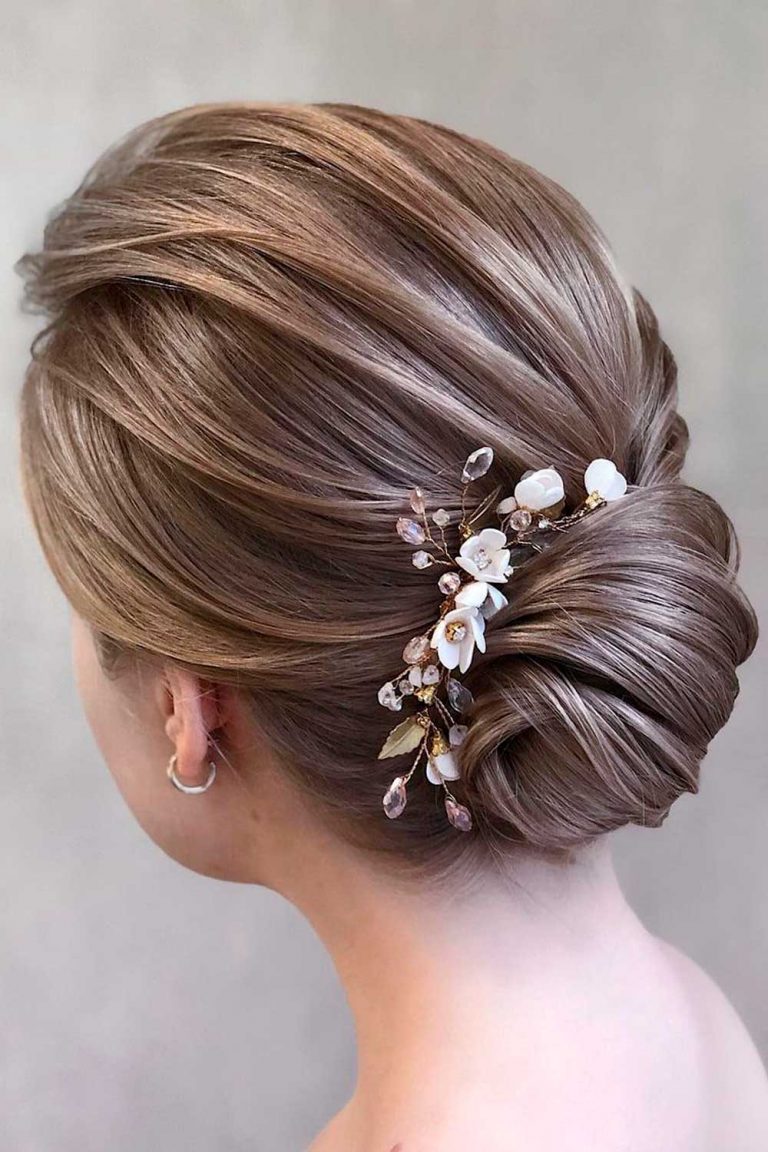 Source: instagram.com/xenia_stylist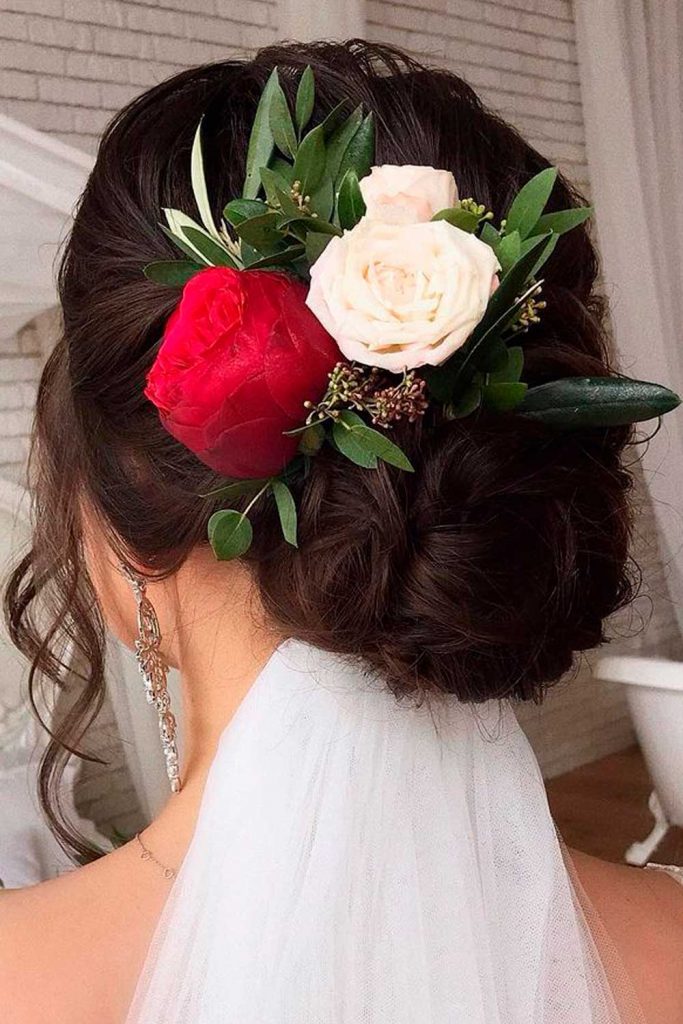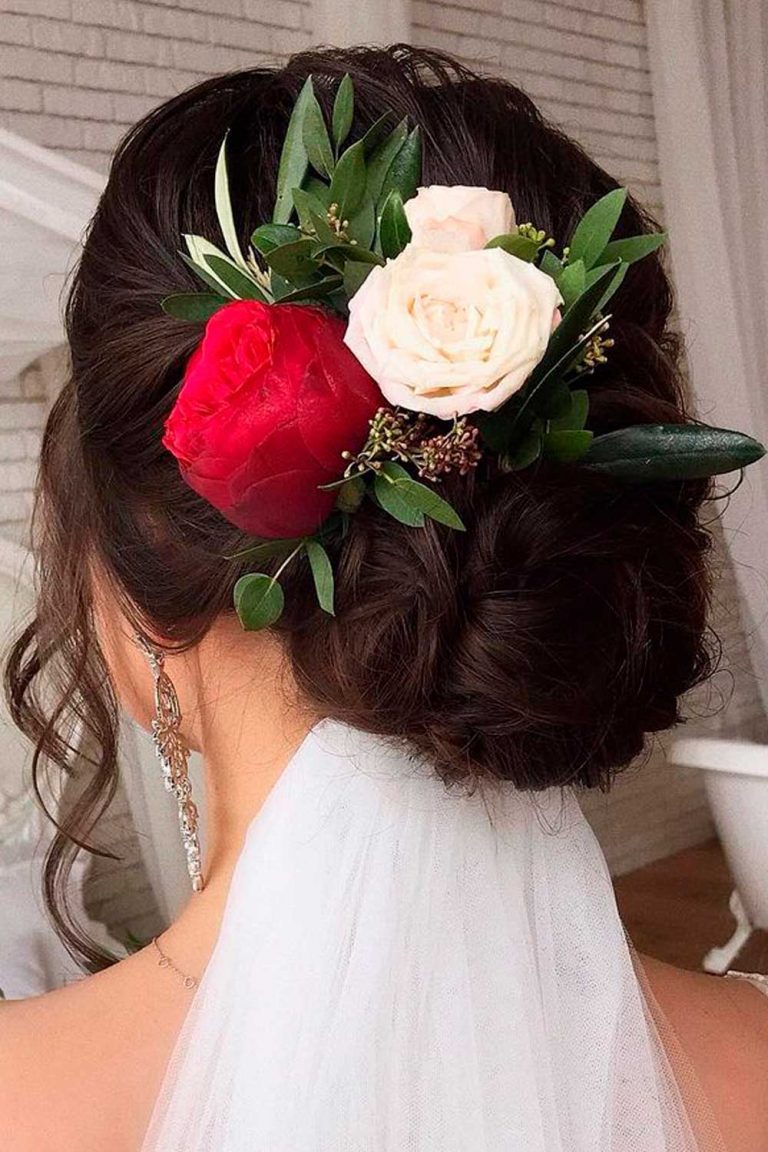 Source: instagram.com/samoylenko_makeup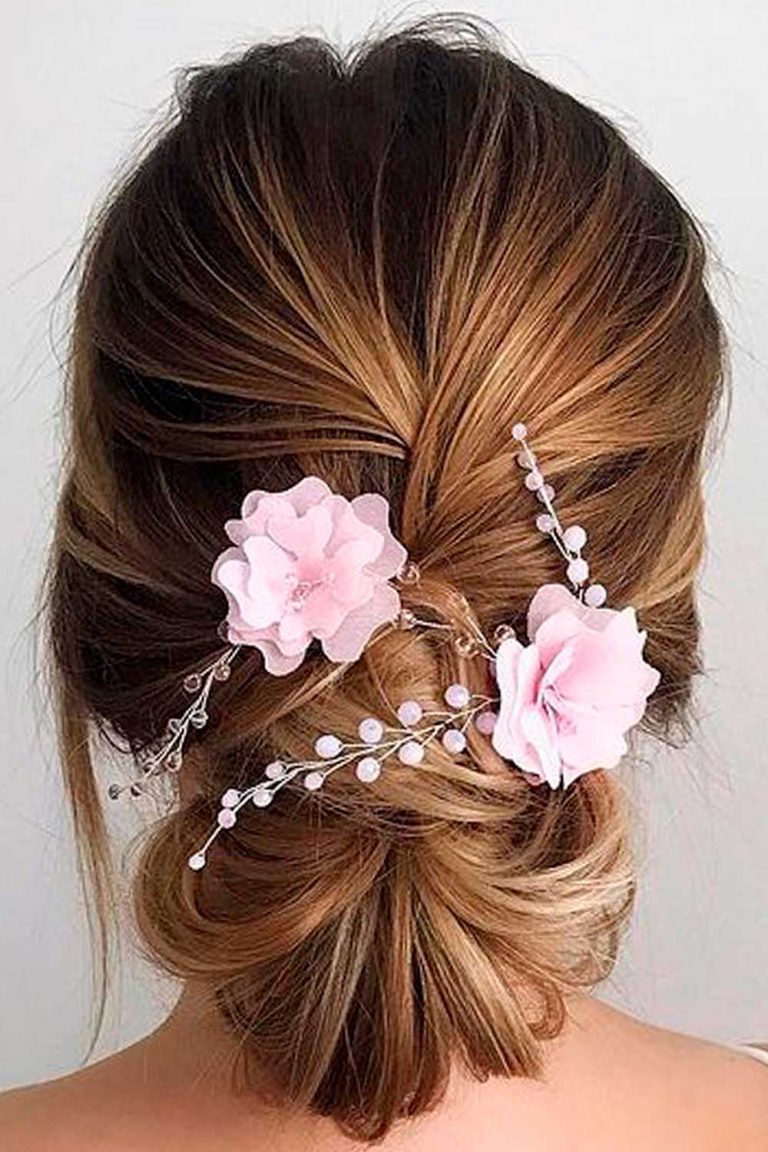 Source: instagram.com/samoylenko_makeup
Continuing the theme of flowers, we want to show you a swept-back wedding hairstyle that is a real floral masterpiece. It seems like this bride decided to combine the most attractive accessories in the world: her magical hair and these tiny cute flowers. How about you to impress your guests with such an unbelievable updo?
Gorgeous Updo With Accessories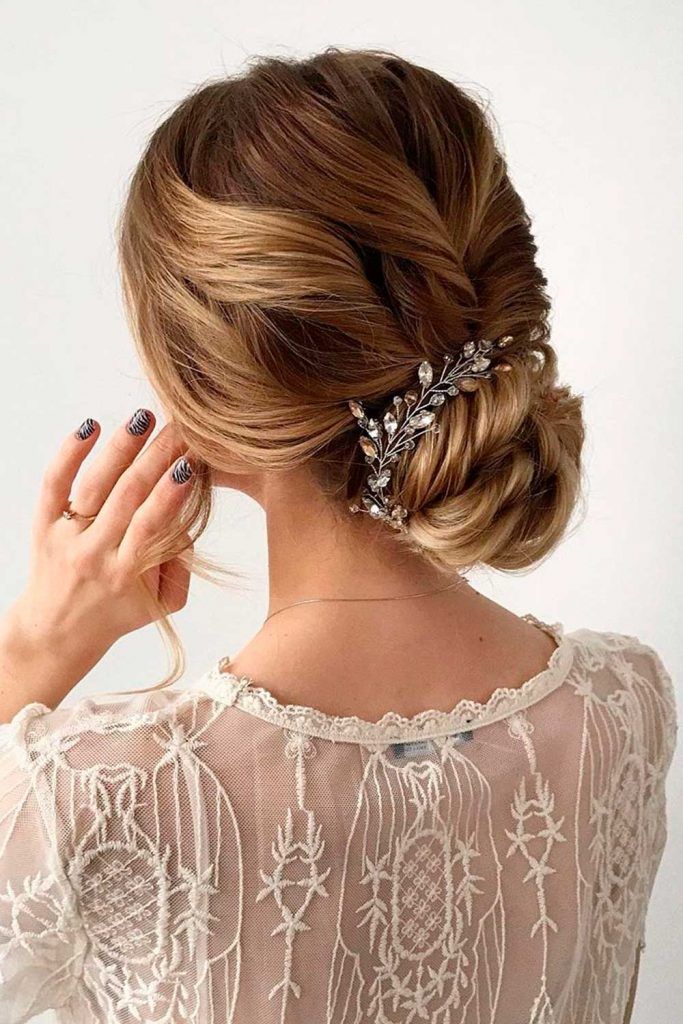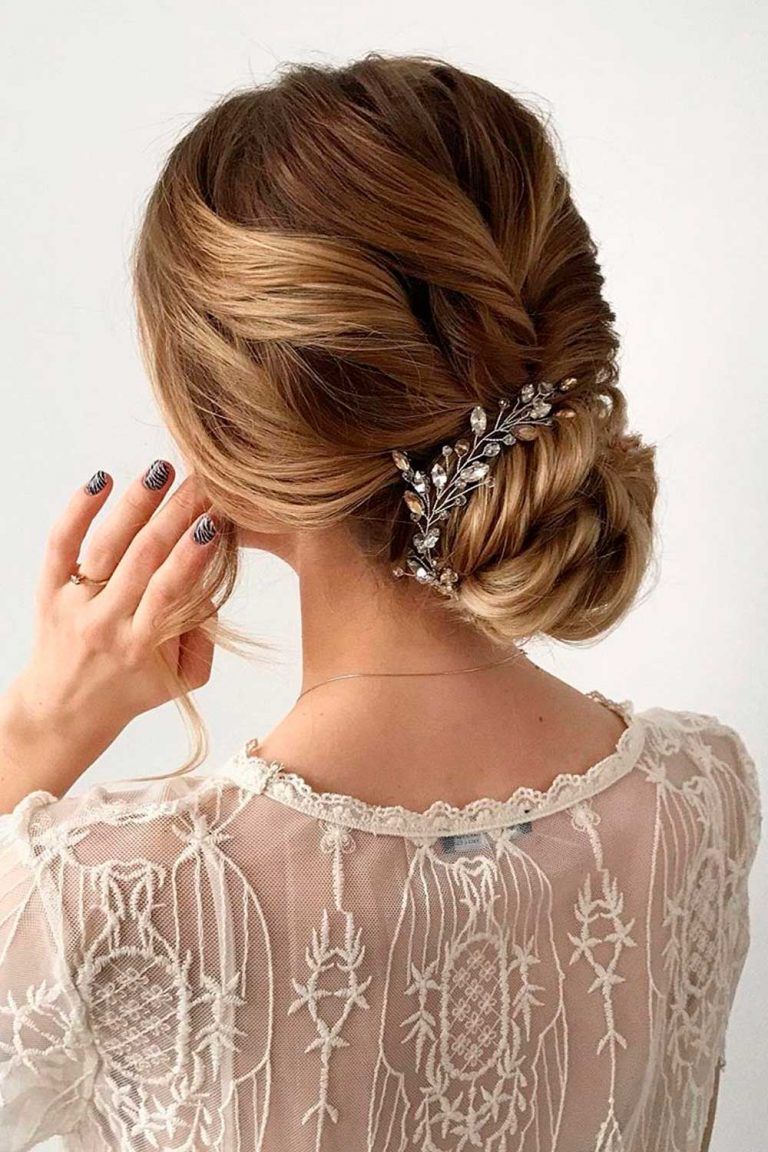 Source: instagram.com/samoylenko_makeup
Here comes another stylish option for brides who don't want to stay away from hair accessories. Some women think that their hair is good as it is, and wise women know that your hair is a whole composition which can't do without complementing details. Just imagine how you can finish a gorgeous low updo like this? It's so inspiring!
Long Braid With Hair Accessories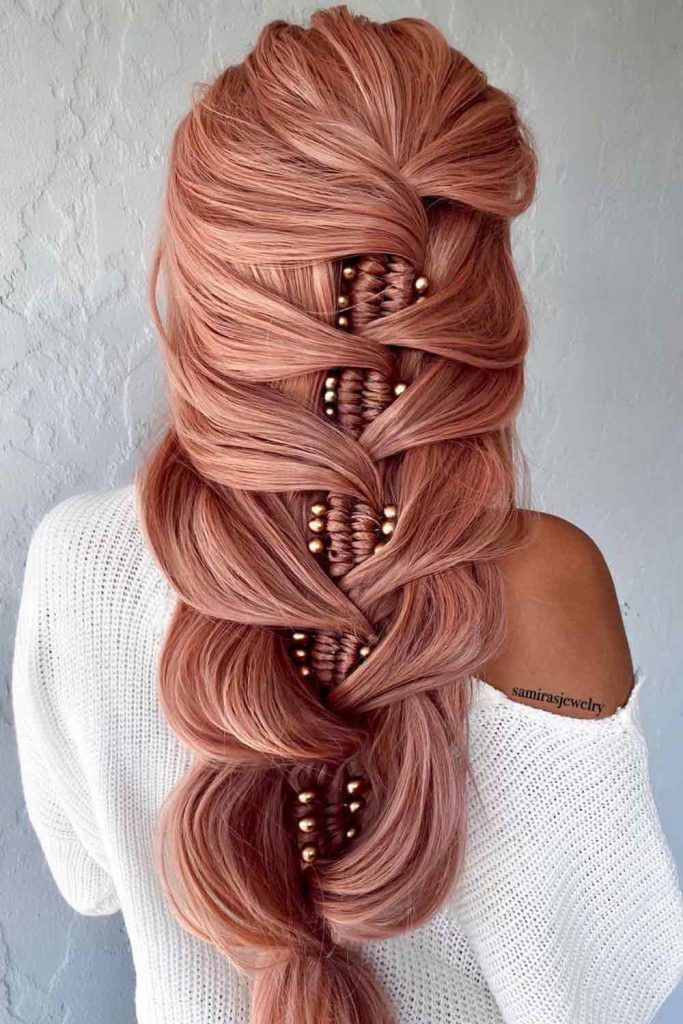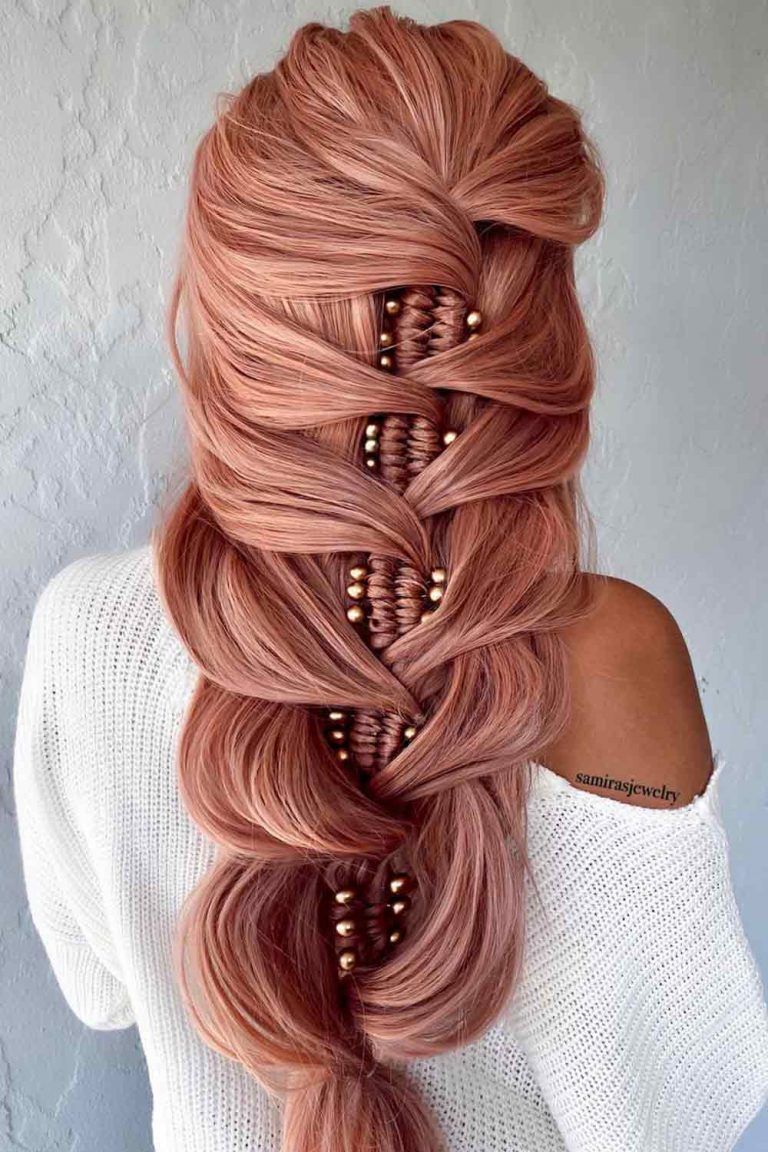 Source: instagram.com/samirasjewelry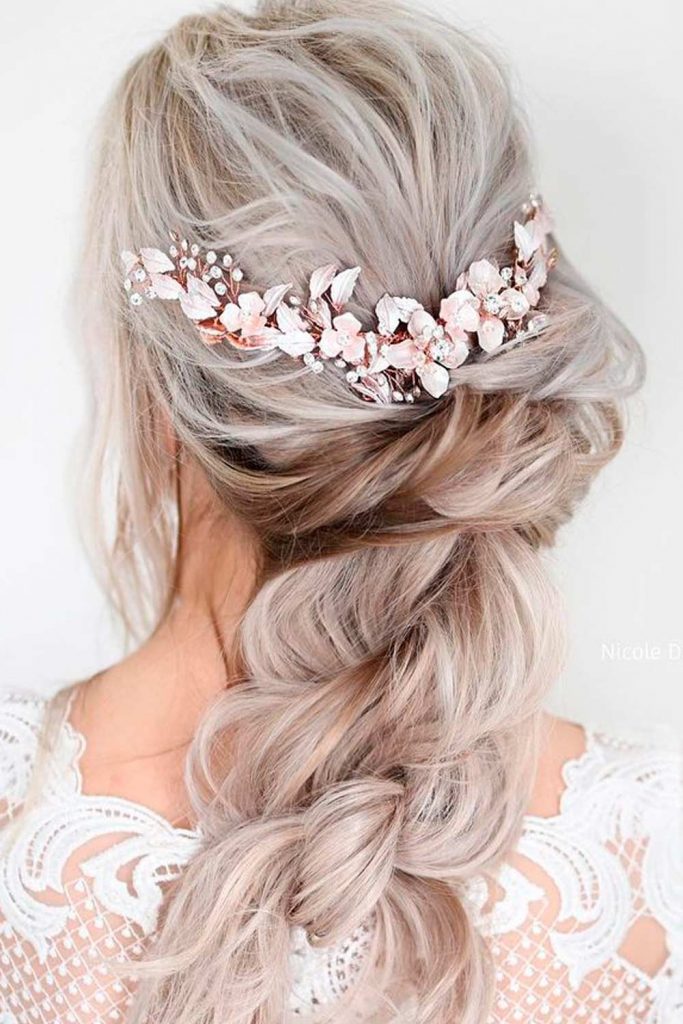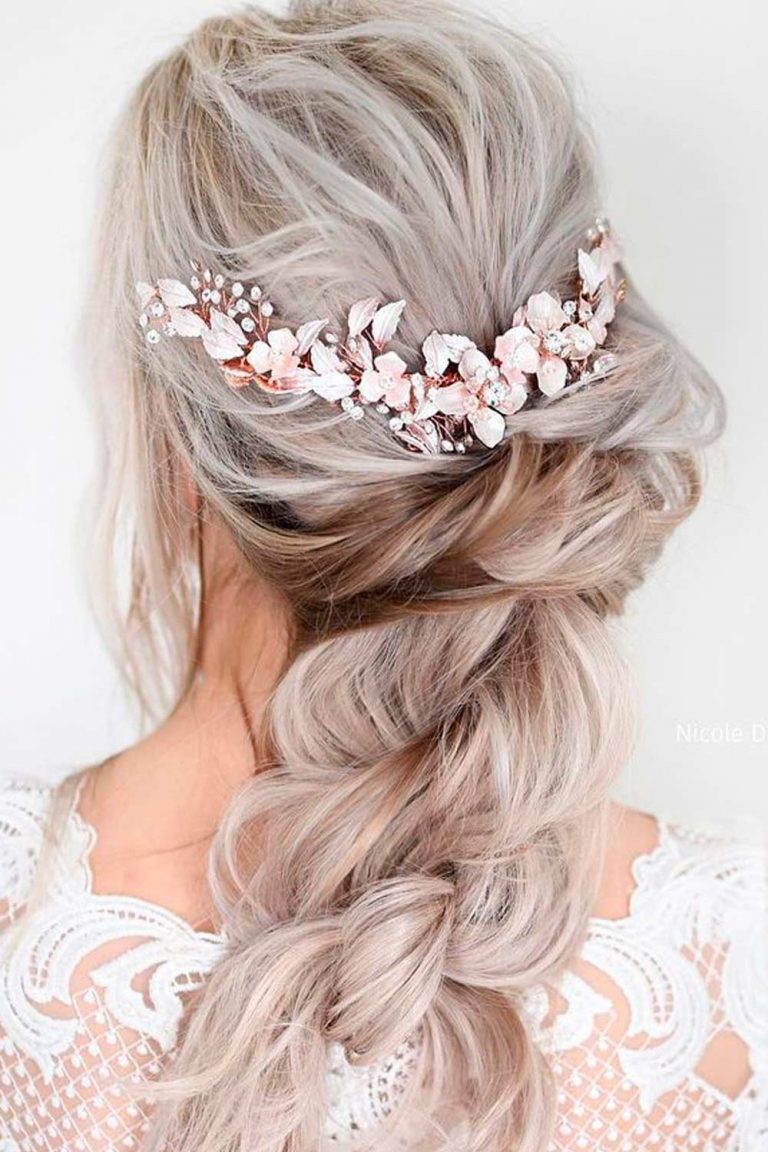 Source: instagram.com/nicoledrege
A special braid for your special wedding! This lush, voluminous, and full braid, embellished with rhinestones will perfectly match any wedding dress. Leave some front waves to flatter your face and pair this lovely hairdo with a floral hair accessory.
High Bun With Butterflies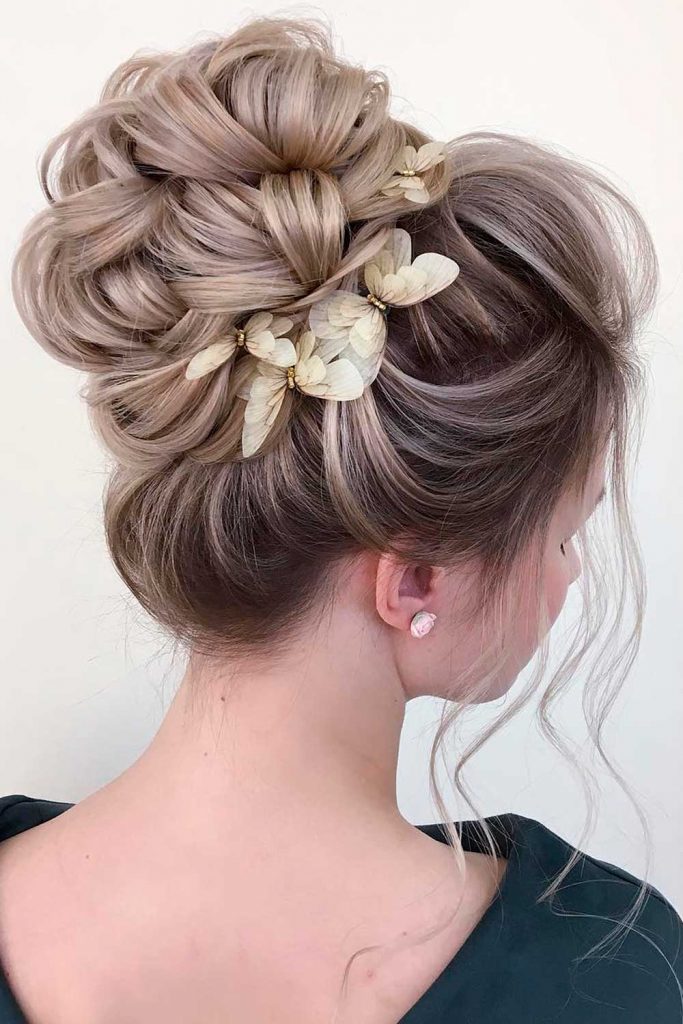 Source: instagram.com/xenia_stylist
Nowadays, many brides think that the simple hairstyles are the most exquisite ones. They're right, actually! When you wear minimalistic updos, you set the focus on your beautiful face and shoulders. Why don't make this full high bun with a lily a part of your wedding look?
Classic Low Bun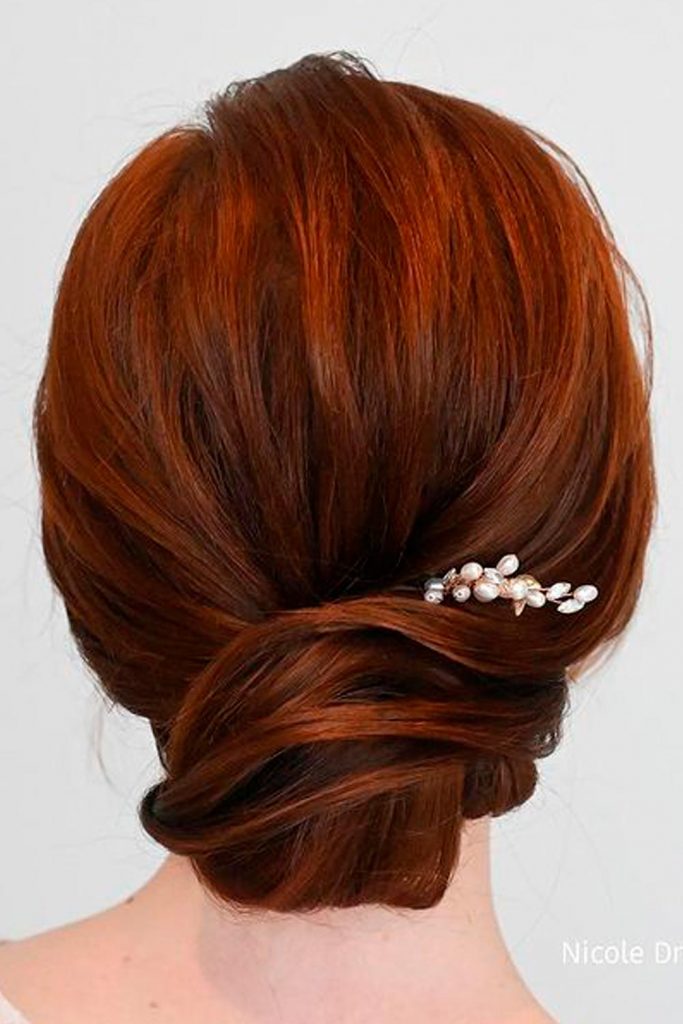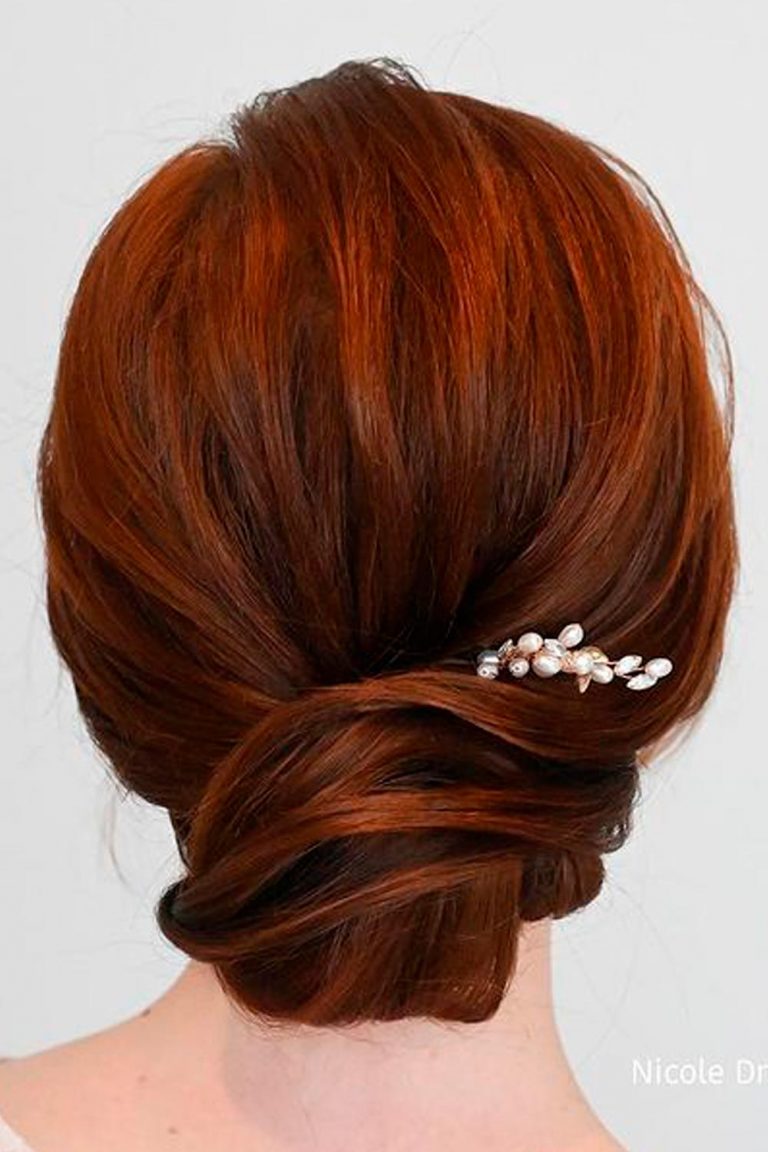 Source: instagram.com/nicoledrege
Low buns come in many different variations, and this one is something truly exceptional. This voluminous cutie doesn't outweigh the top, as the crown is pulled up, creating a fuller effect. To make this hairdo look even more sophisticated, accessorize it with tiny flowers.
Gorgeous Low Ponytail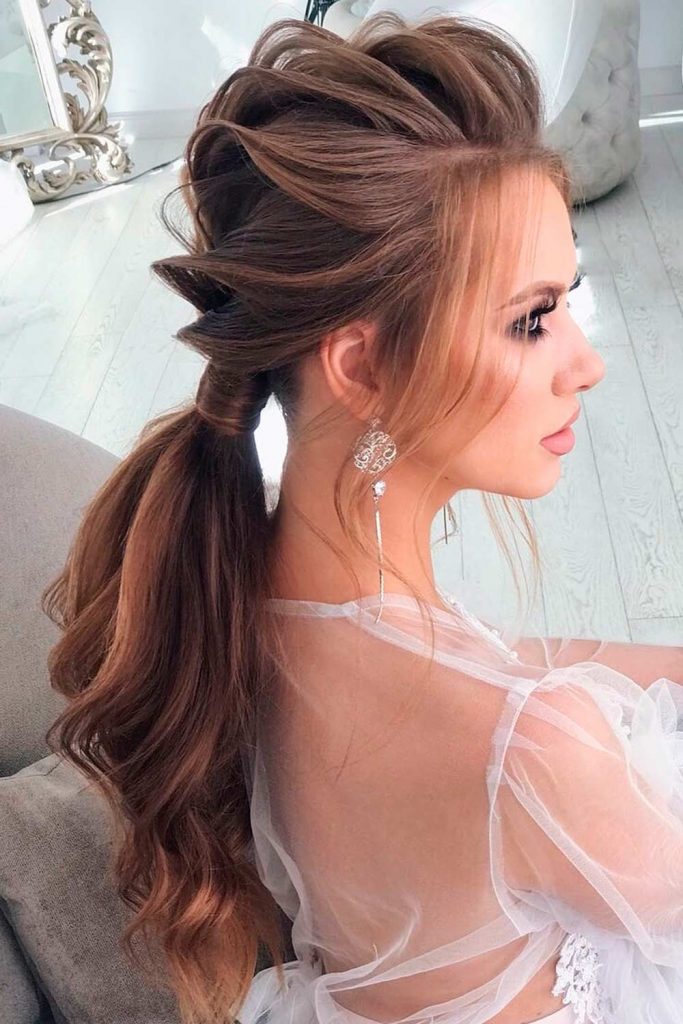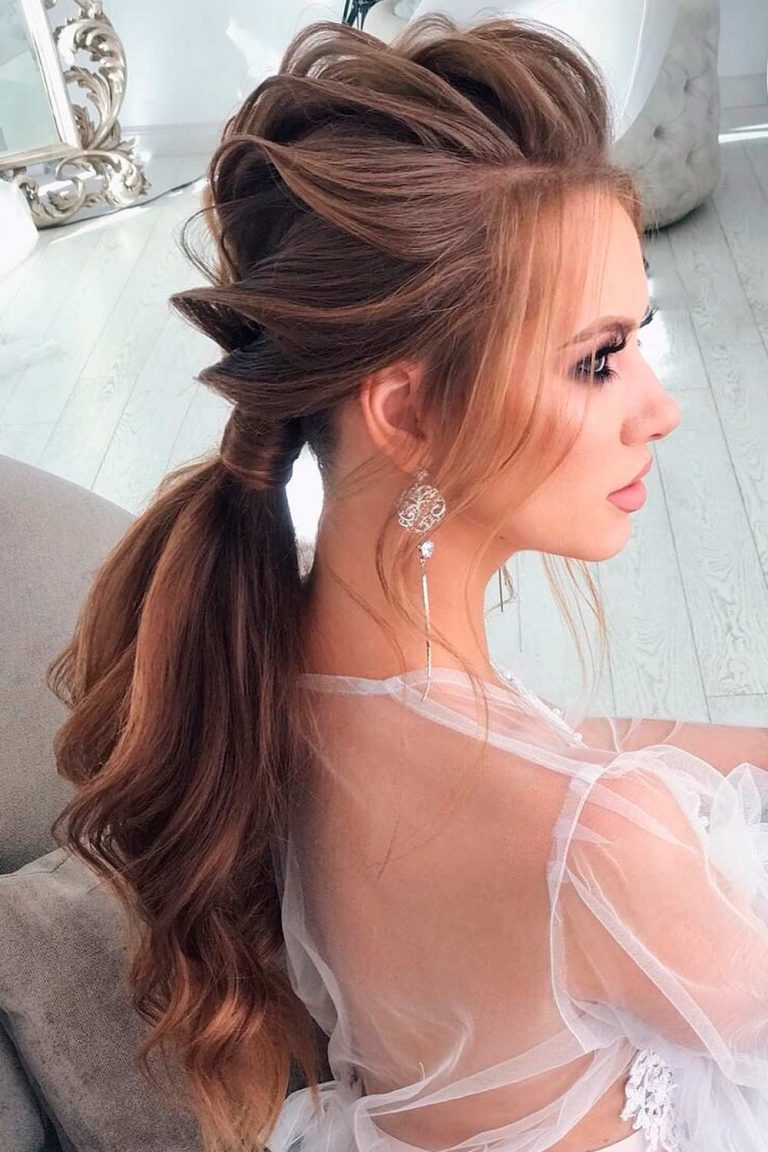 Source: instagram.com/eltrendy_wedding
This is how fascinating ponytails look like. Pulled up sections make your hair look like a real crown, which is great: you're the queen of your big day. This pic is the proof that ponytails aren't boring at all. It's festive, lush, and simply gorgeous.
Wavy Updo Hairstyle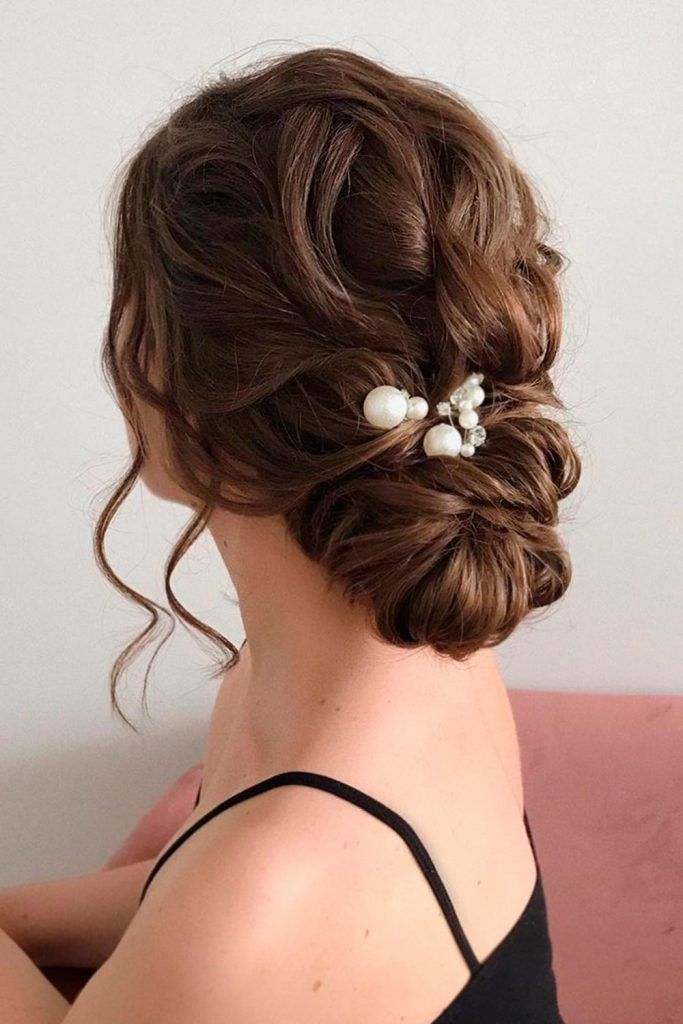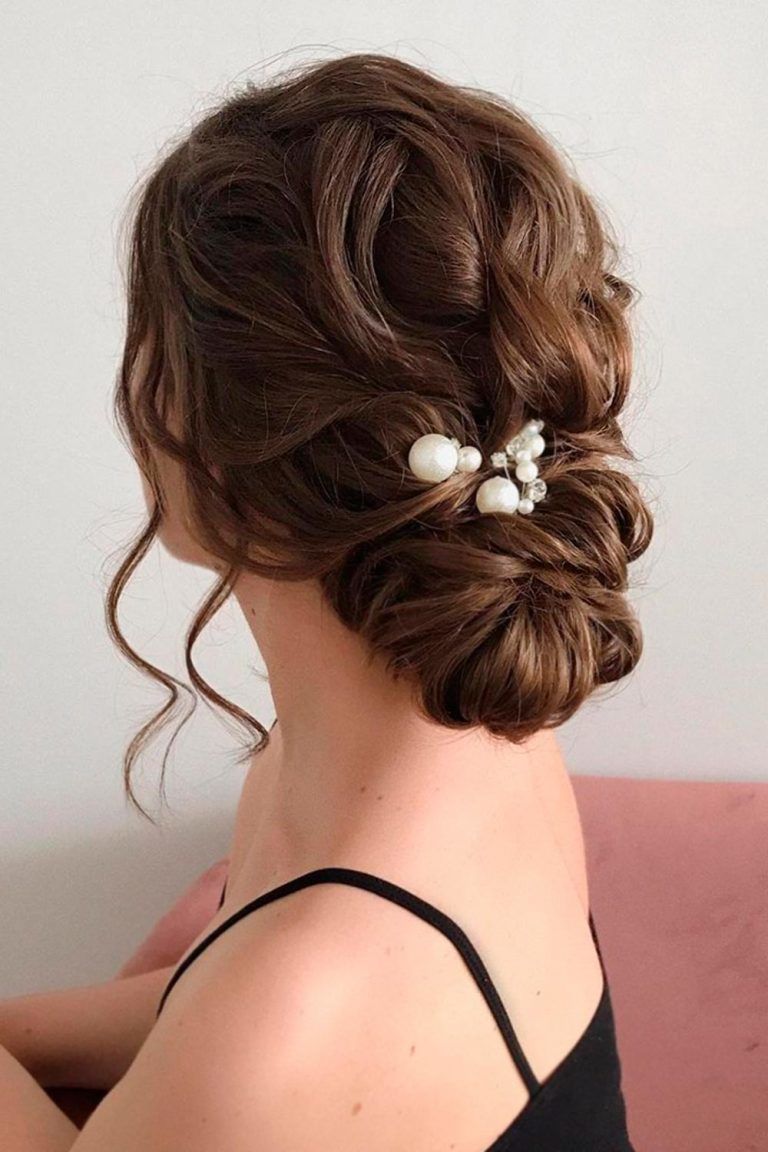 Source: instagram.com/samoylenko_makeup
What can be more elegant than waves that are twisted into a wedding updo? Only wavy updo, adorned with elegant accessories! This idea shows you how you can keep the volume in your hair and open up the most attractive parts of your body.
Beautiful French Twist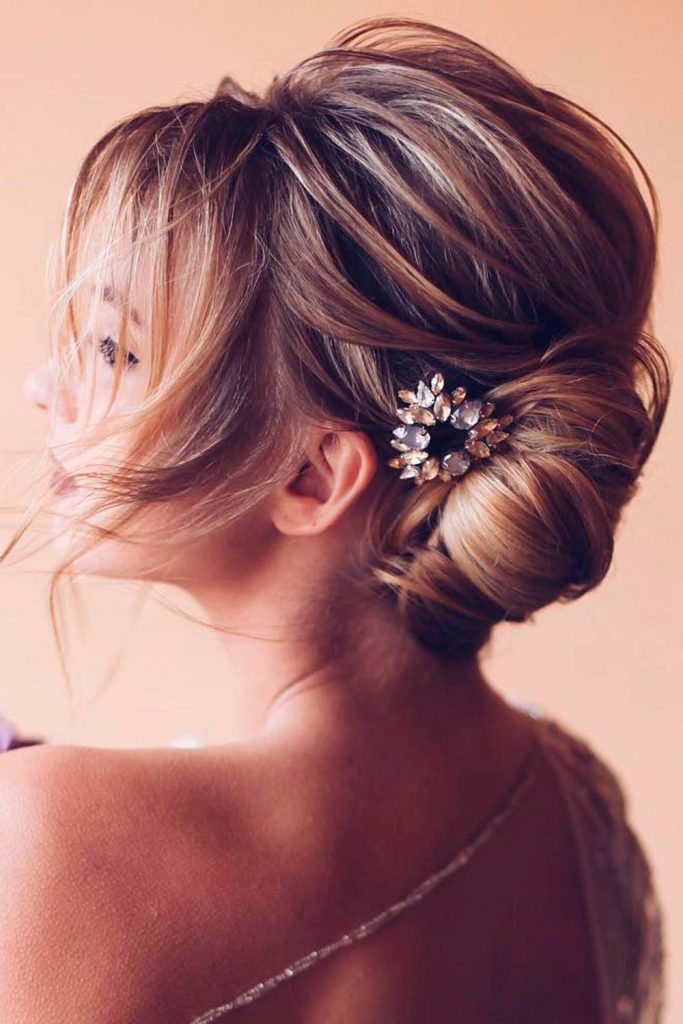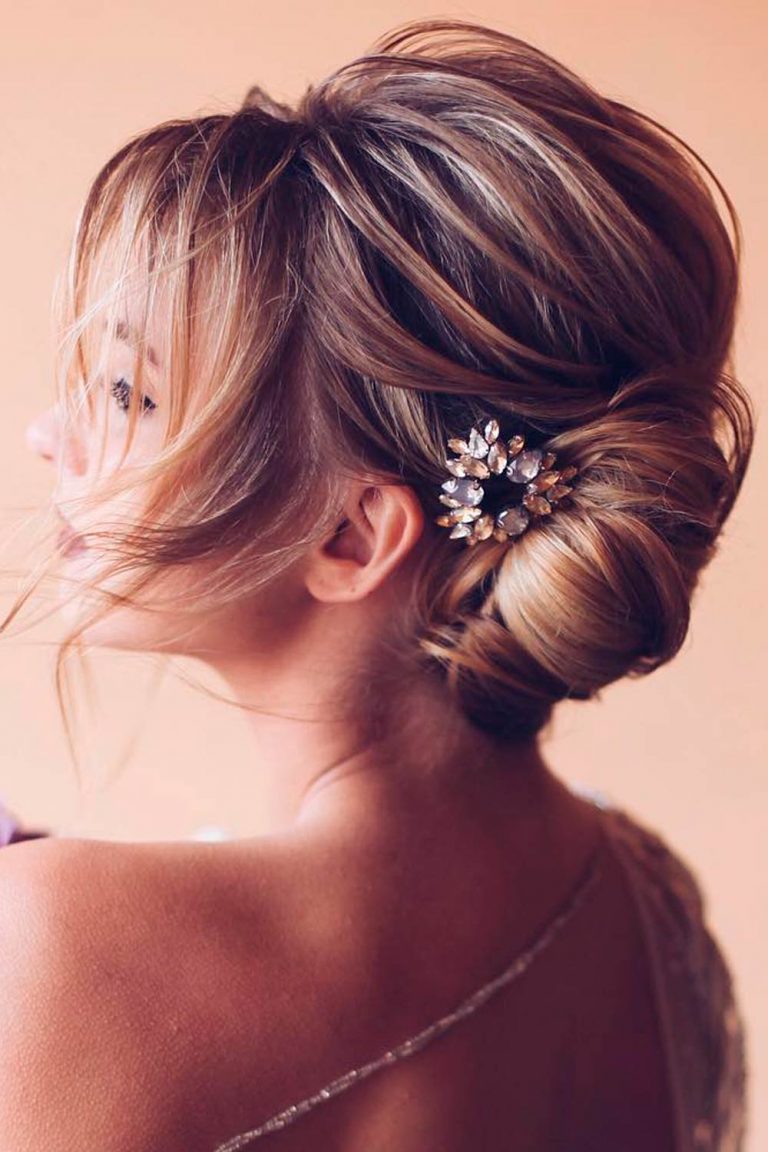 Source: instagram.com/tonyastylist
A French twist is meant for creative brides who don't feel like going too simple. Dramatic crown, side bangs, and beautiful twist with an exquisite bobby pin will make your groom fall back in love with you. Your guests will be impressed, too!
Twisted Hairstyle With Accessories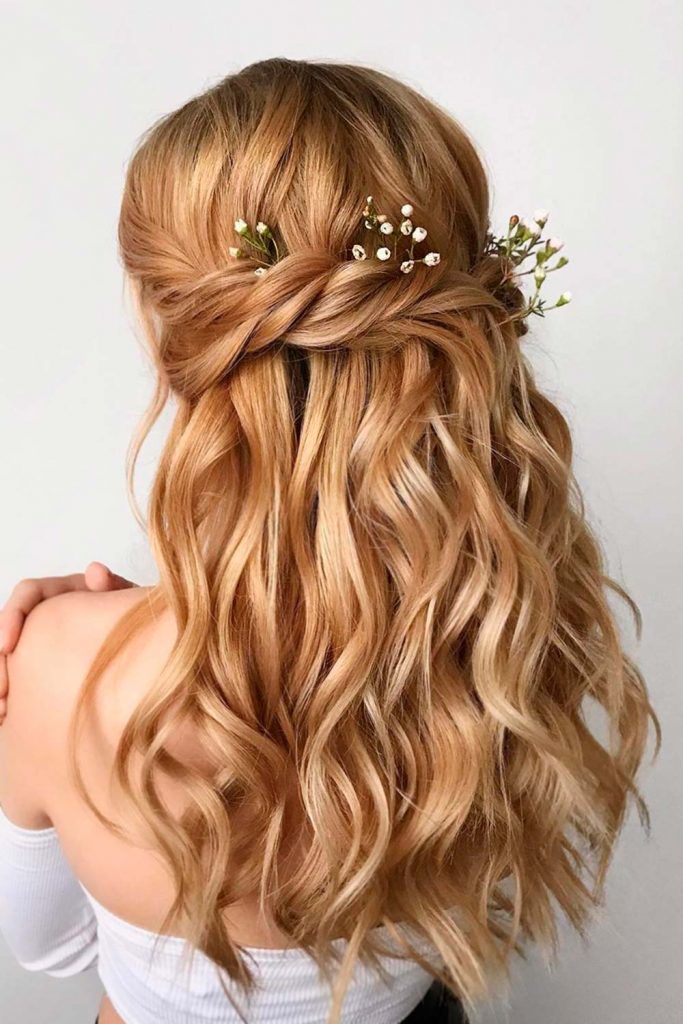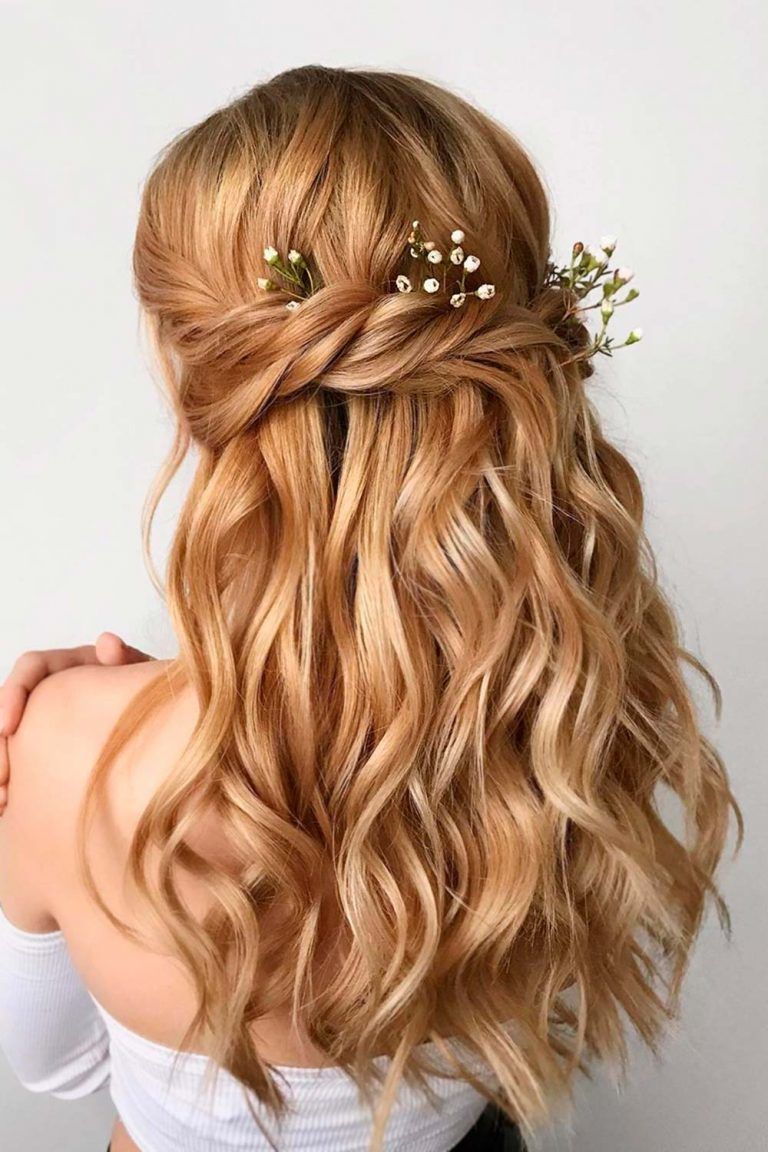 Source: instagram.com/samoylenko_makeup
Lots of subtle, tiny waves are brought together and twisted to the side. Have you ever seen something easier? Despite its simplicity, the volume and accessorized finish make the style unforgettable.
Wavy Half-Up Swept Back Hairstyle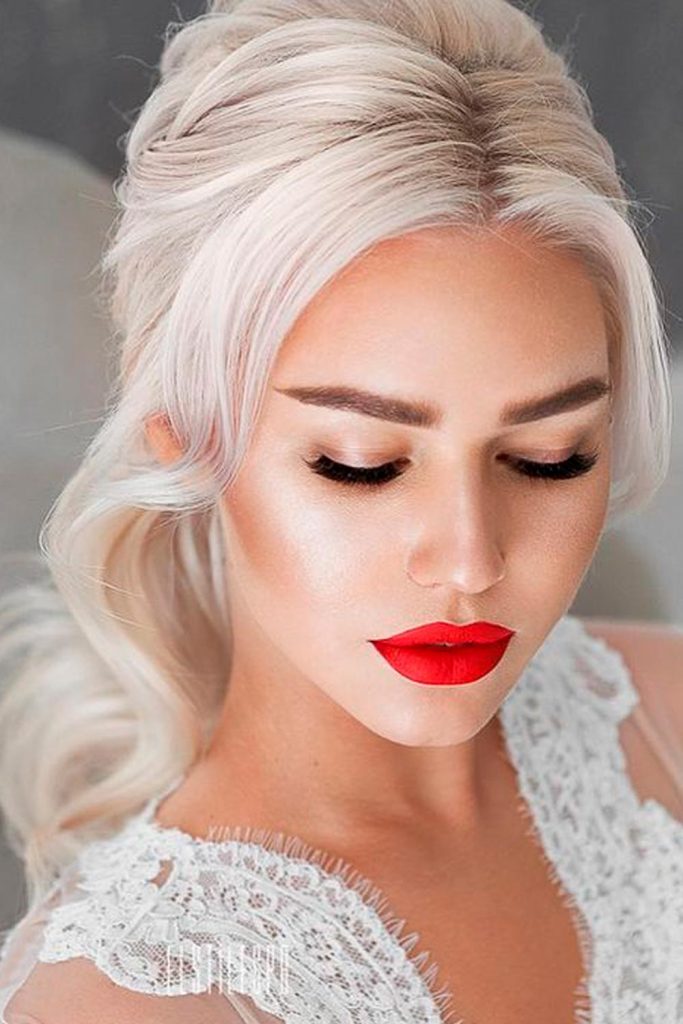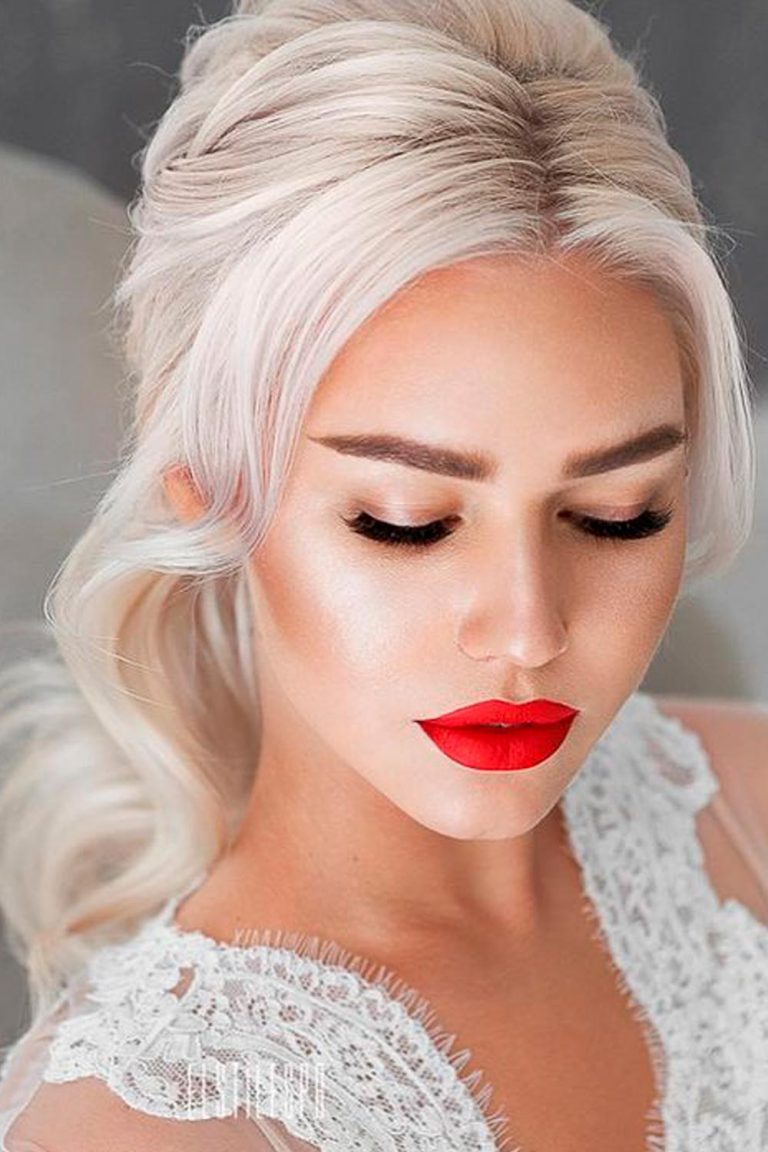 Source: instagram.com/eltrendy_wedding
Wedding half-ups have always been a good way to keep the volume on top while showing off the beauty of a bride's hair. Rich and big waves will help you to make this straightforward hairstyle fit the occasion.
Twisted Low Bun With Flowers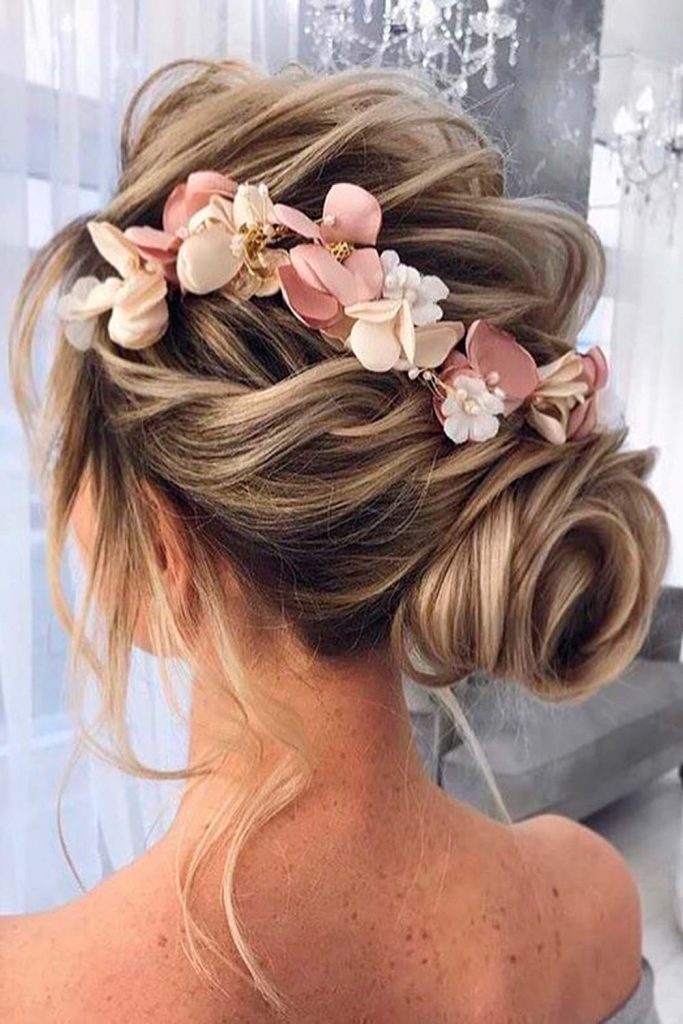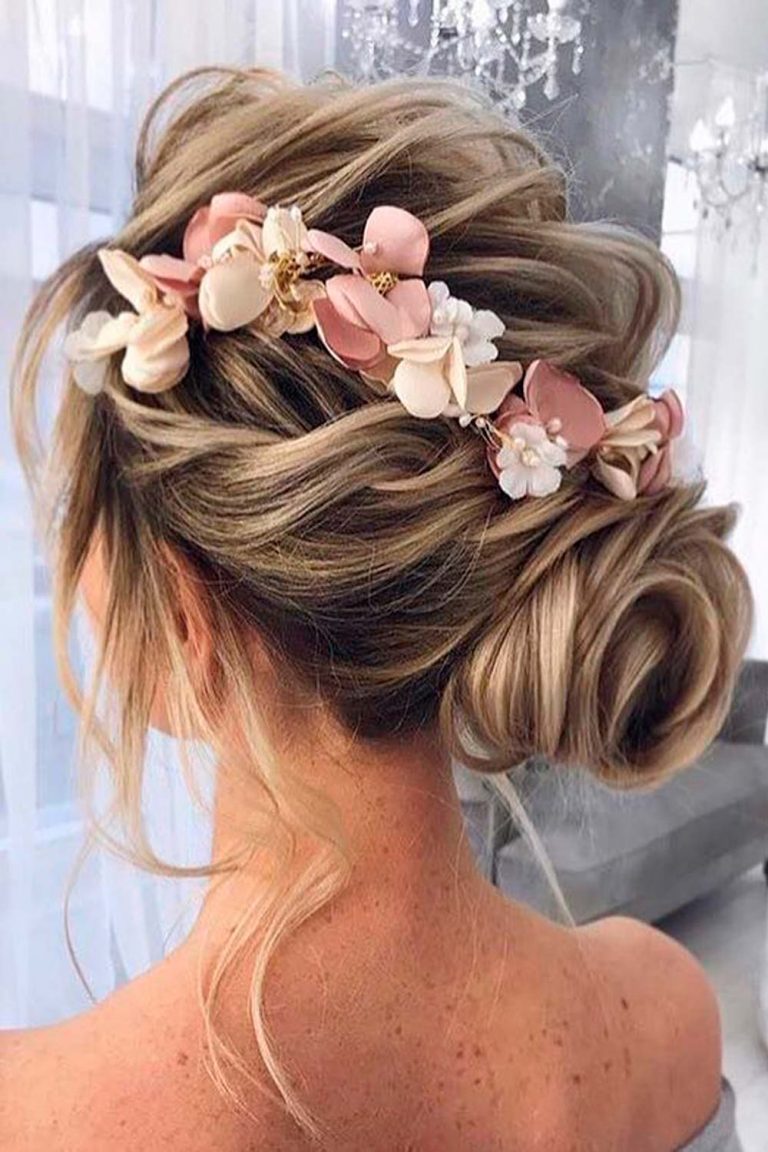 Source: instagram.com/eltrendy_wedding
Whatever wedding hairstyle you choose will look ravishing with flowers as a finish. Pick your favorite ones and individualize your hairdo with fresh and feminine vibes.
Voluminous Updo With Headband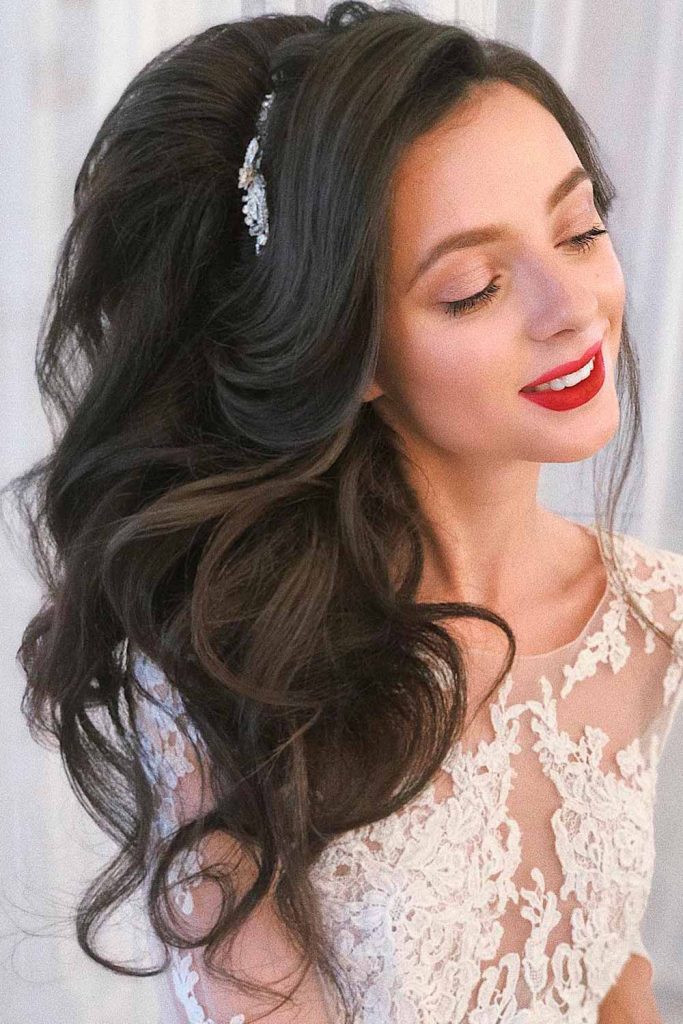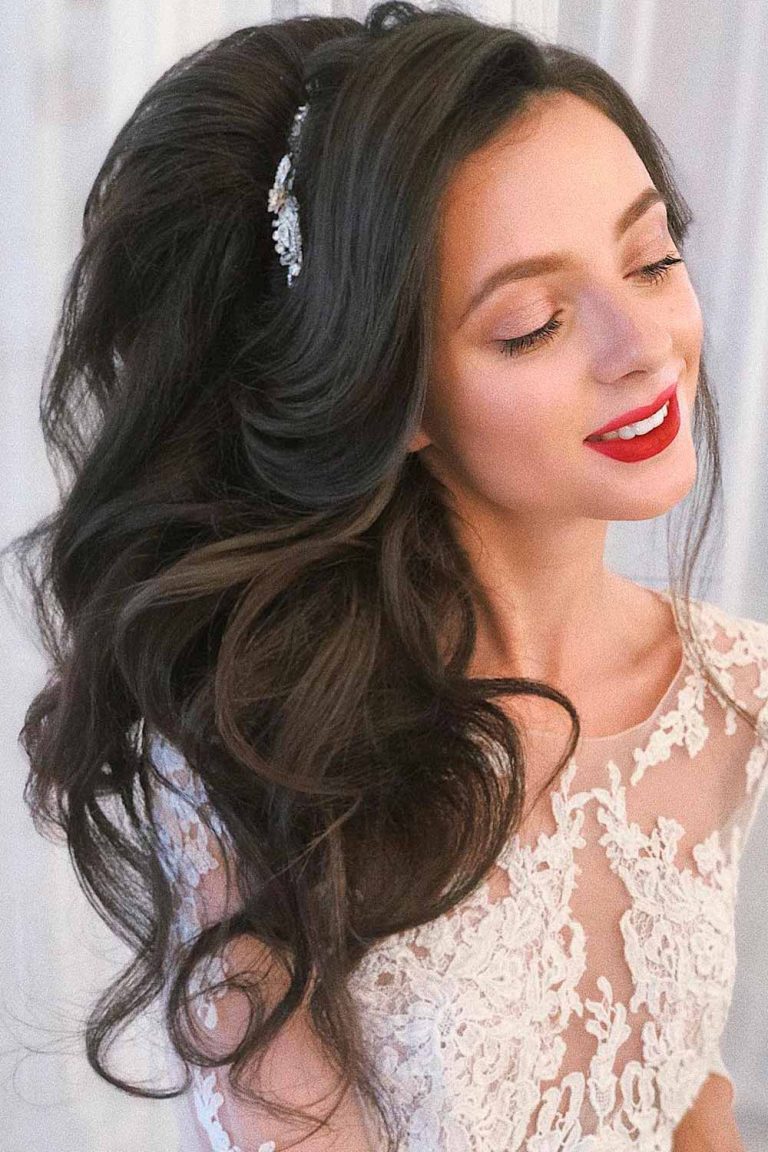 Source: instagram.com/komarova_websalon
If you want your wedding hairdo to be super distinctive and voluminous, this updo just needs to be copied. To keep up with the minimalist traditions of wedding looks, finish the style with a tiny headband.
Crown Braid With Bun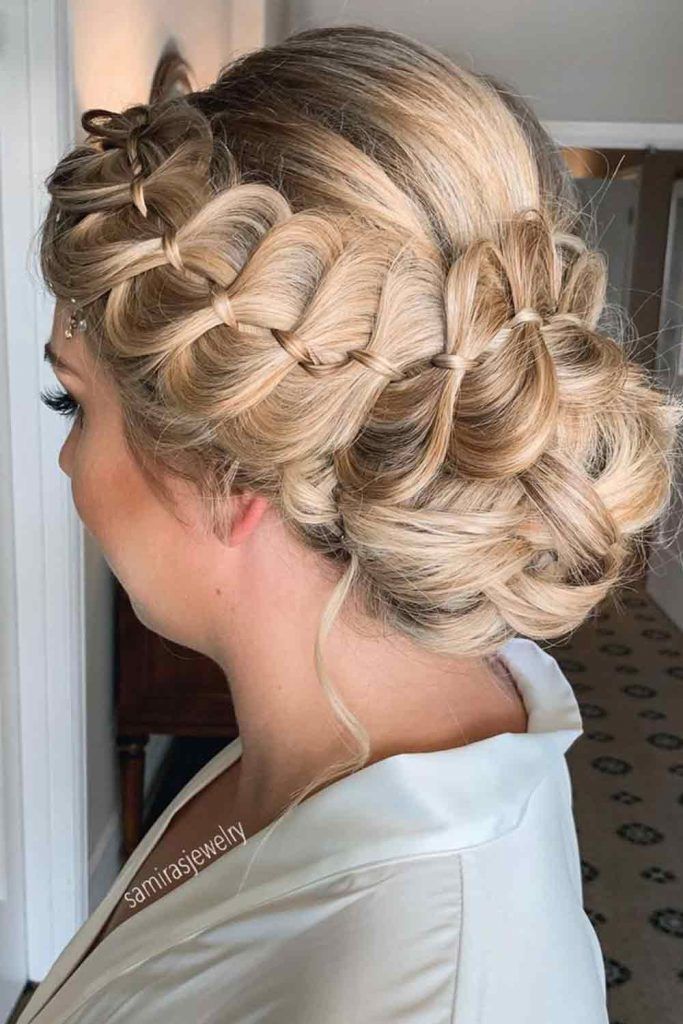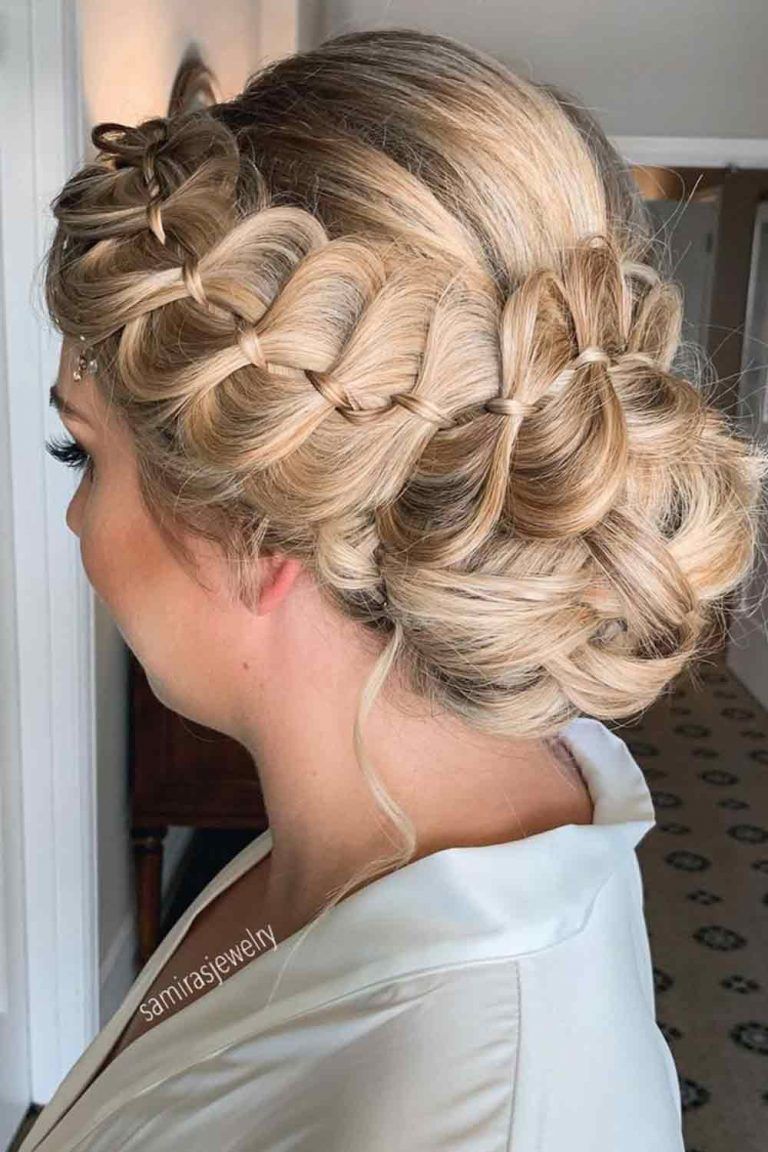 Source: instagram.com/samirasjewelry
Everyone is familiar with braids and buns. But once you enter the festive hall with this combination embellished with a tiara, you will show that the beauty of simplicity knows no limits.
French Headband Braid Updo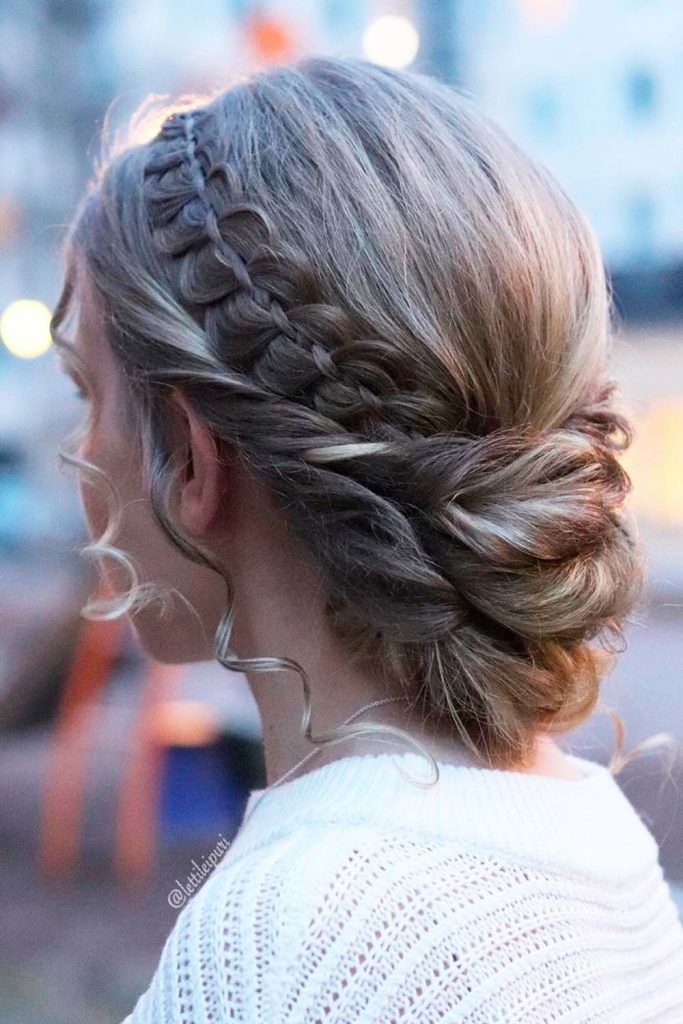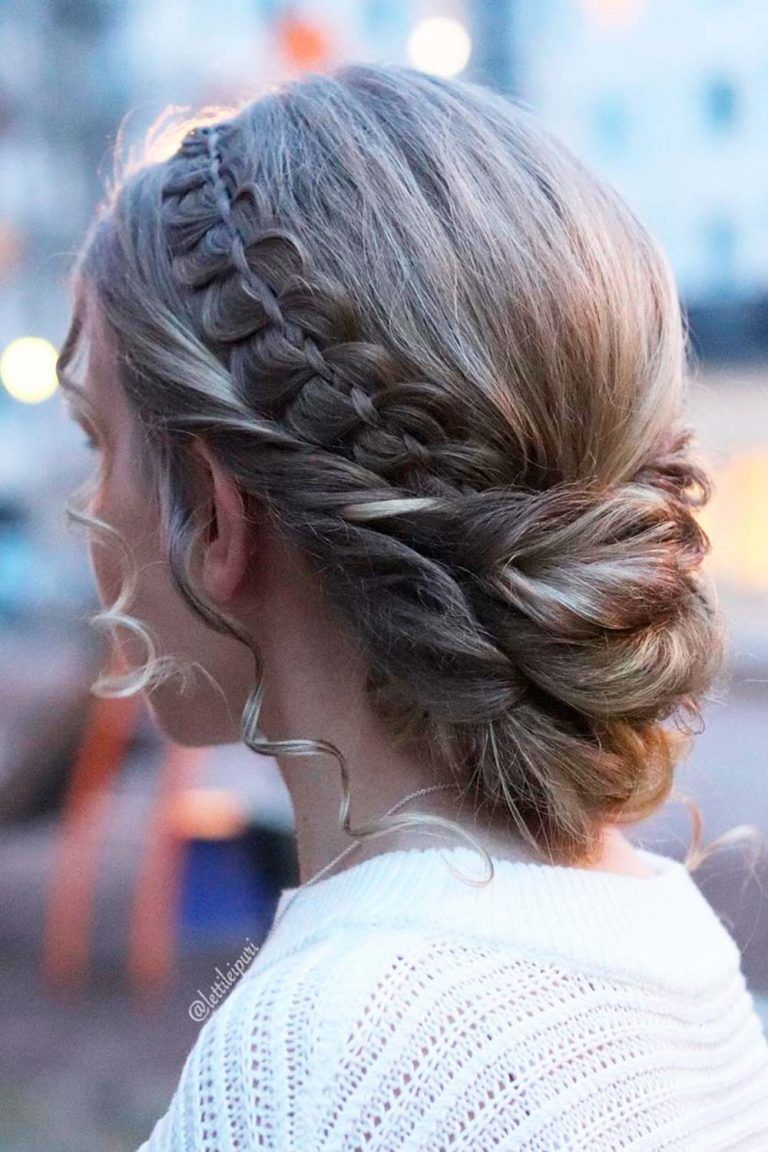 Source: instagram.com/lettileipuri
Simple but elegant, full but restrained, messy but feminine: this is how we can describe the lovely French headband braid updo. Everything is so alive and textured while being very simple, which is a win-win for minimalist wedding looks.
Low Rosette Bun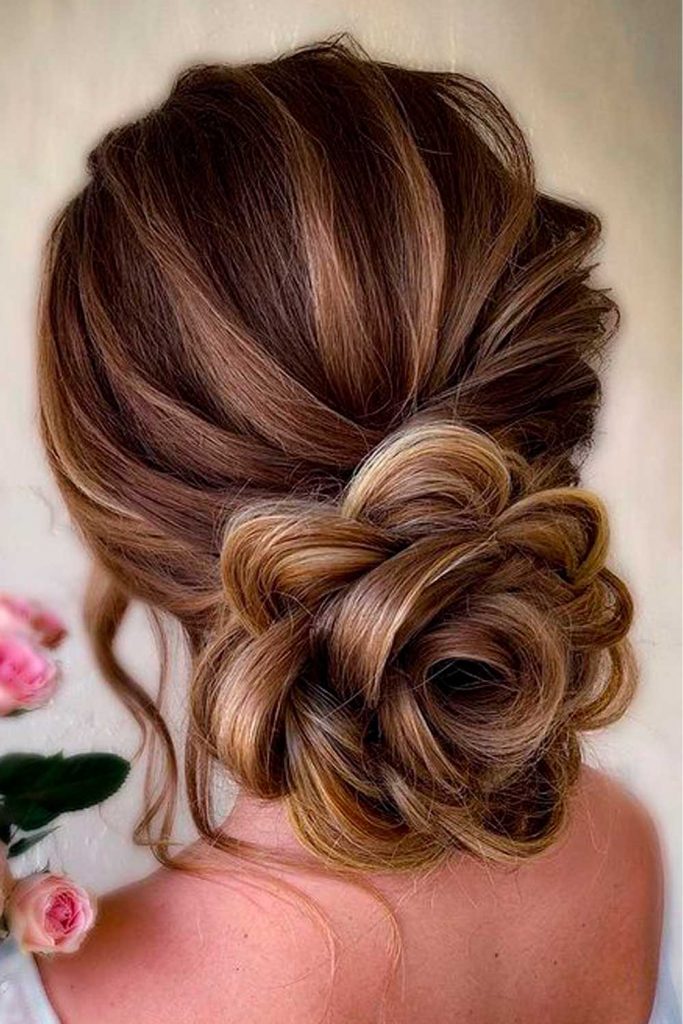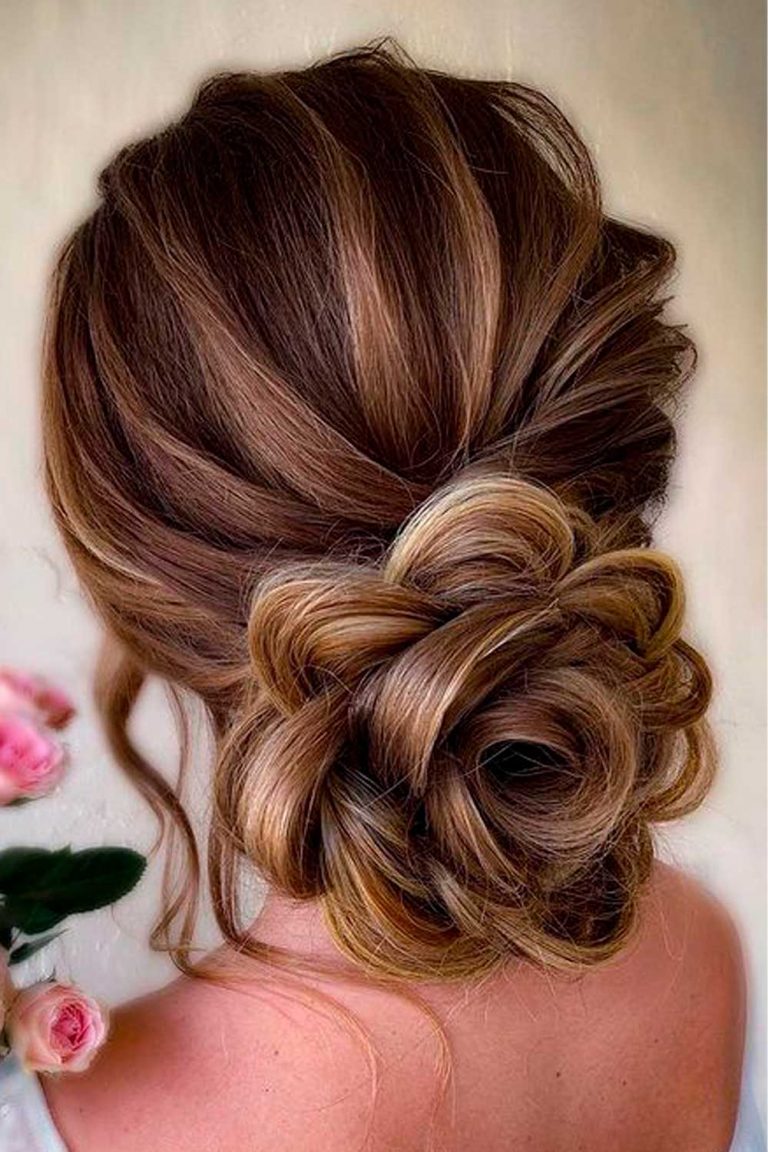 Source: instagram.com/samirasjewelry
We know that brides can spend hours choosing their significant and one-of-a-kind bridal bouquets. Instead of going crazy trying to select the most beautiful flowers to put together, why don't you make the highlight of your big-day bouquet out of your hair? A low rosette bun that gathers all your amazing hair in a defined and feminine piece of art will be the needed finishing touch to your spectacular aisle walk.
Sleek Swept Back & Low Bun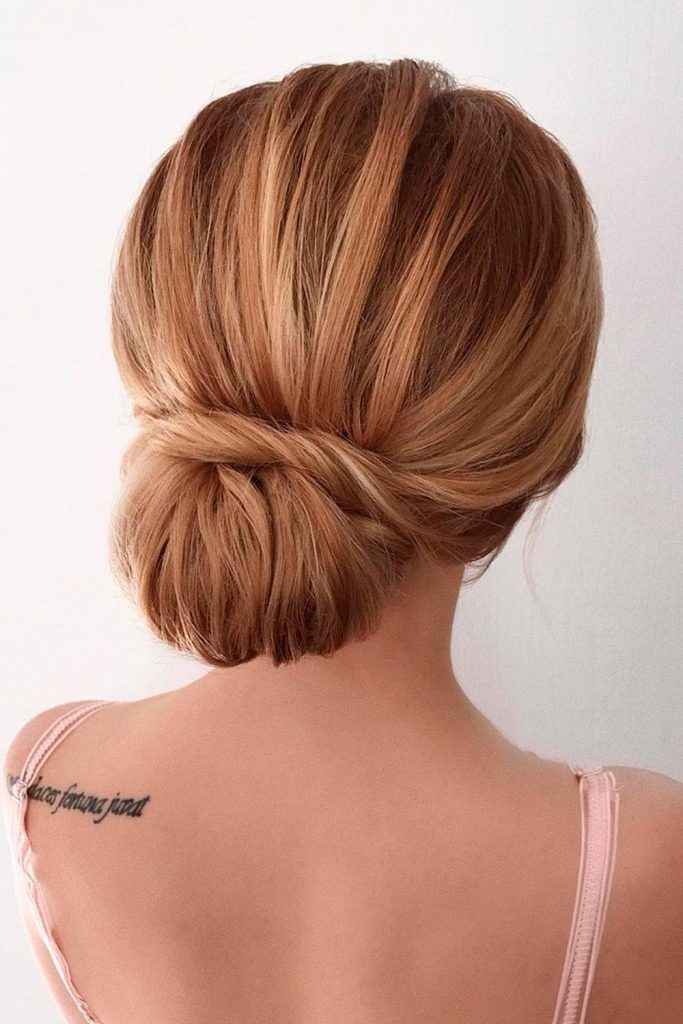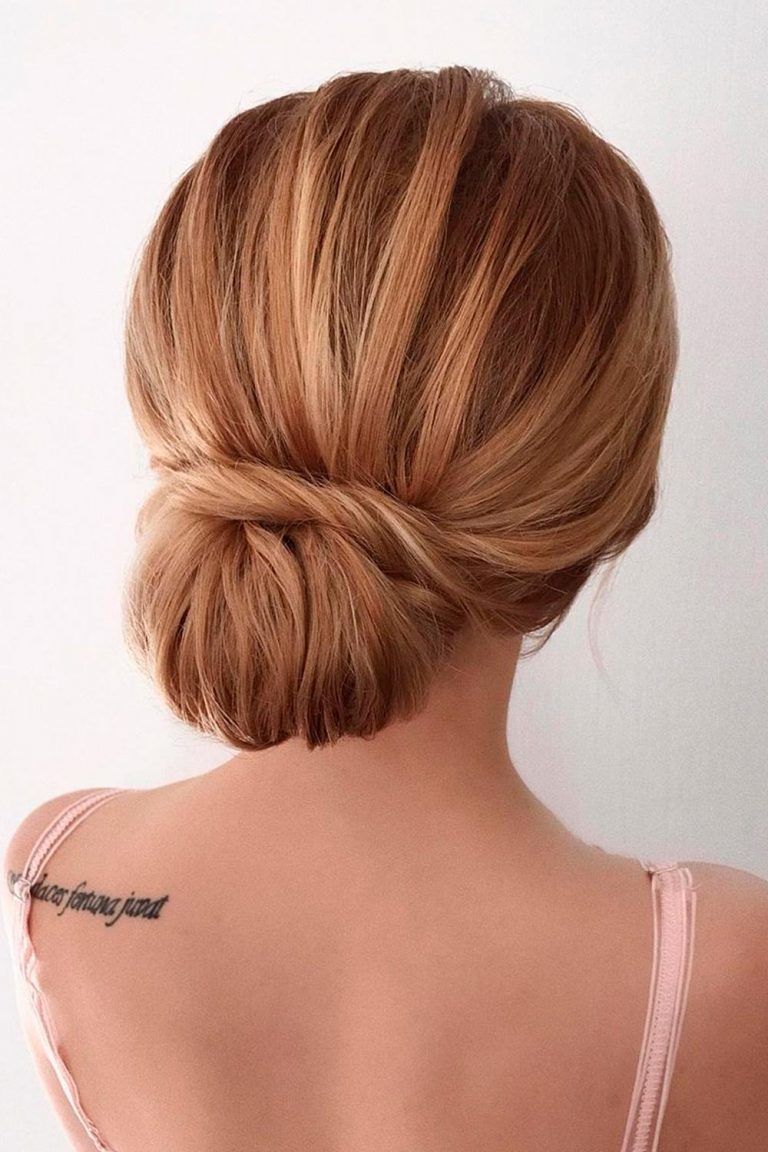 Source: instagram.com/samoylenko_makeup
If you plan a beach or boho-inspired outdoor wedding, comfortable shoes and well-secured, convenient styles are what should be considered in the first place. As for the style, nothing can compare to a sleek, tight, and low bun that sits high on the crown, creating a posh romantic silhouette. Apart from opening up your lovely face and showing off your bridal makeup, such a hairdo will keep your look on point regardless of any weather conditions.
Swept Back Updos With Face Framing Pieces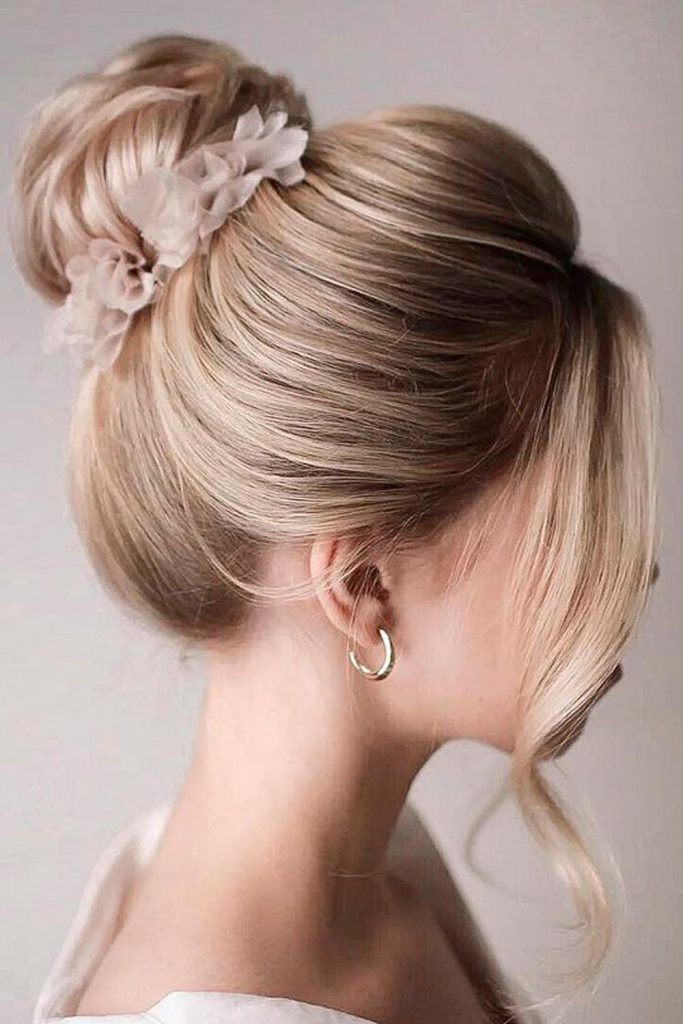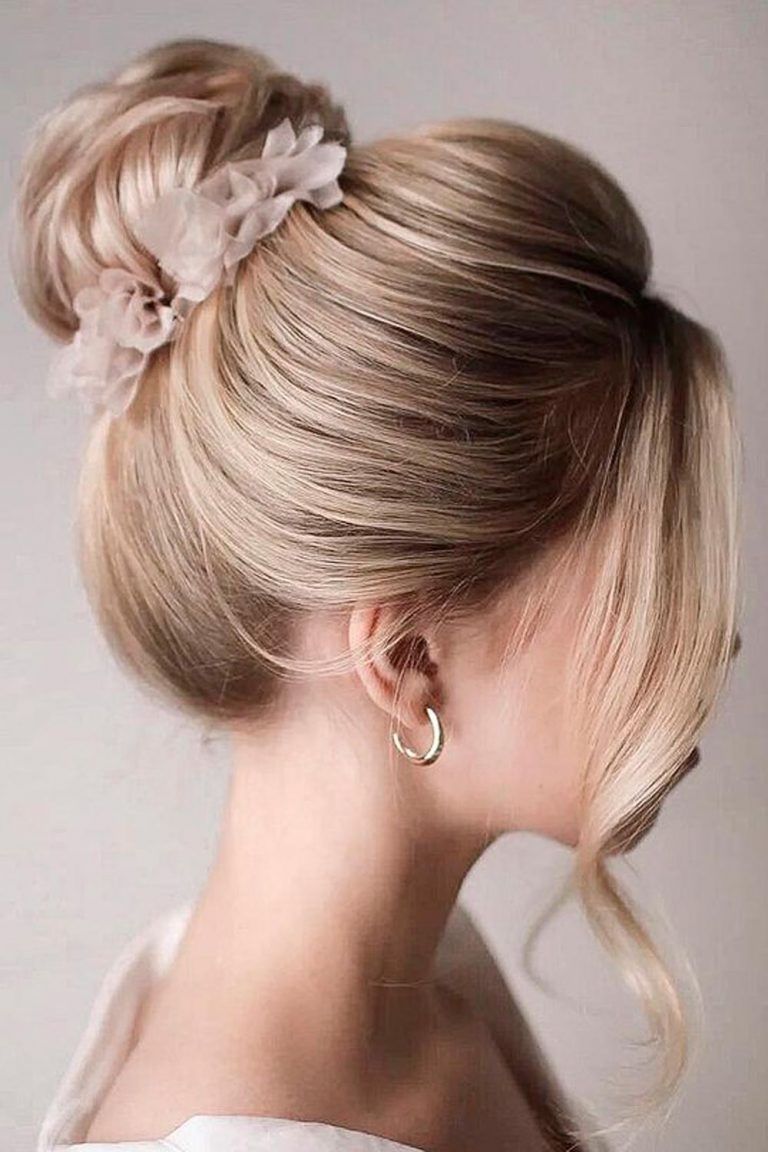 Source: instagram.com/xenia_stylist
A minimalist wedding gown with simple geometric details and the bodycon silhouette is the latest trend that modern brides can't resist. But there's one tricky moment: it's very important to reach harmony when it comes to minimalist bridal looks. Of course, there's no need for complicated and super detailed hairstyles. Some gentle twists or softly waved updo with some front left out pieces will be your best friends.
Swept Back Low Twist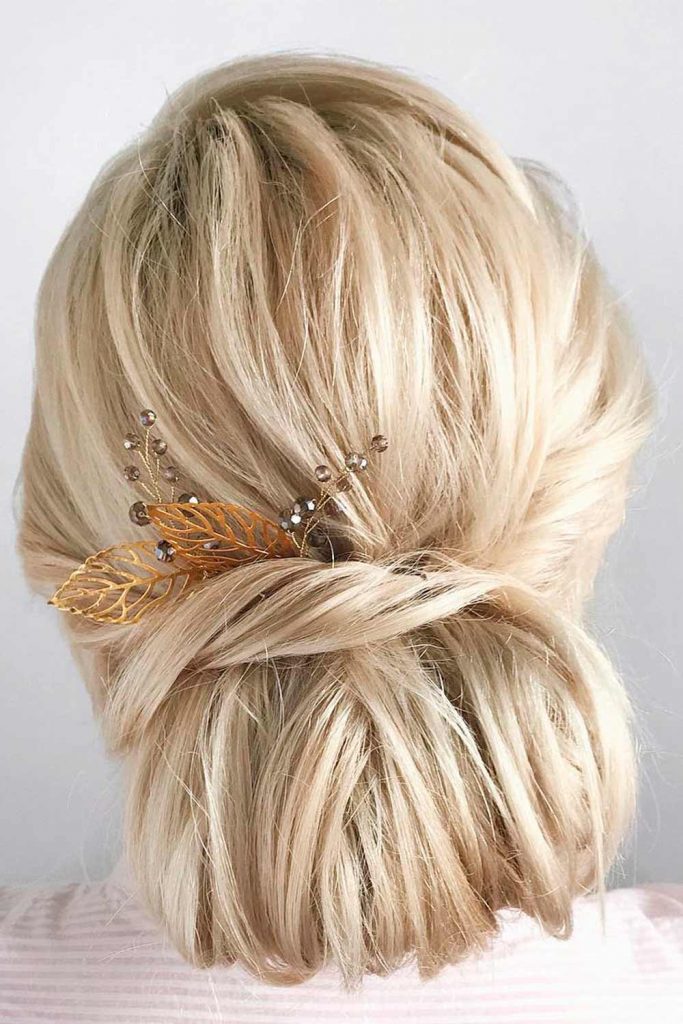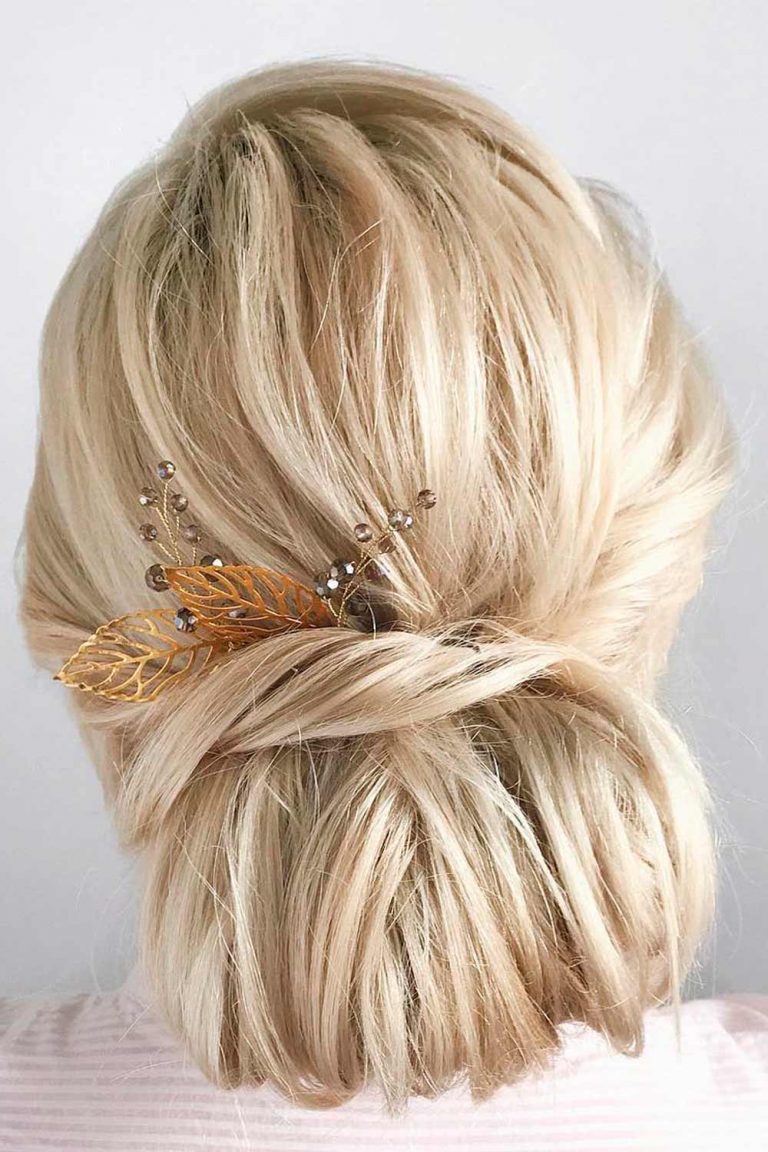 Source: instagram.com/samoylenko_makeup
As it turns out, even when you'd like to flaunt with a detailed dress with lots of patterns and tracery, low updos are still the best choices. They won't overlap your designer dress at the front and the back as well, forming a well-balanced silhouette. Modern fashionistas say that big and detailed dresses should be finished with upstyles and matching accessories so as not to make everything look too drastic.
Twisted Bumped Half-Up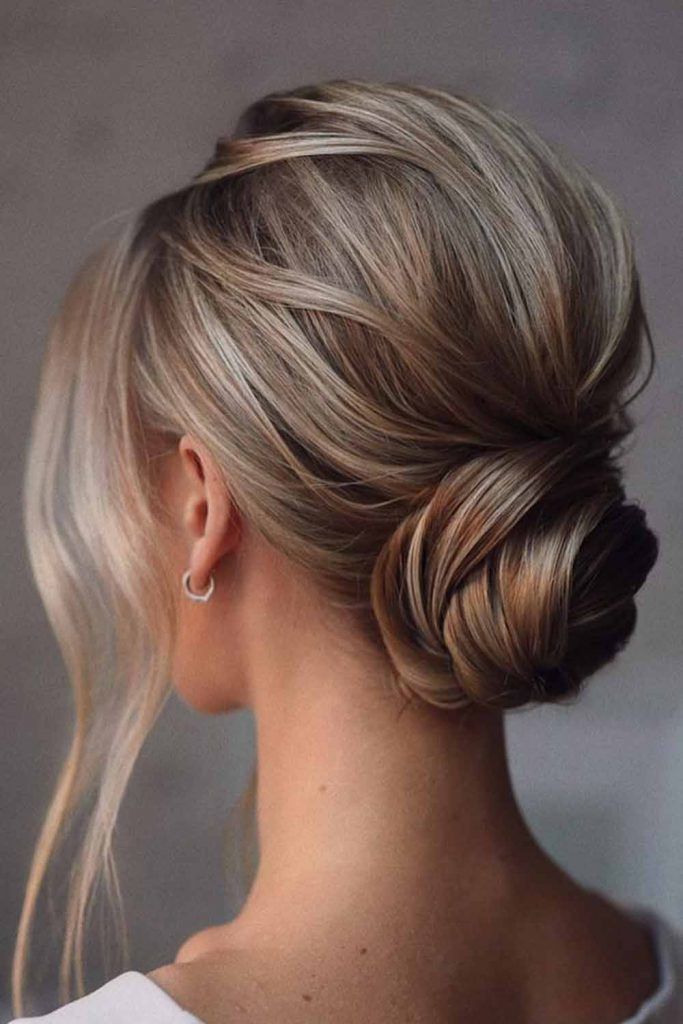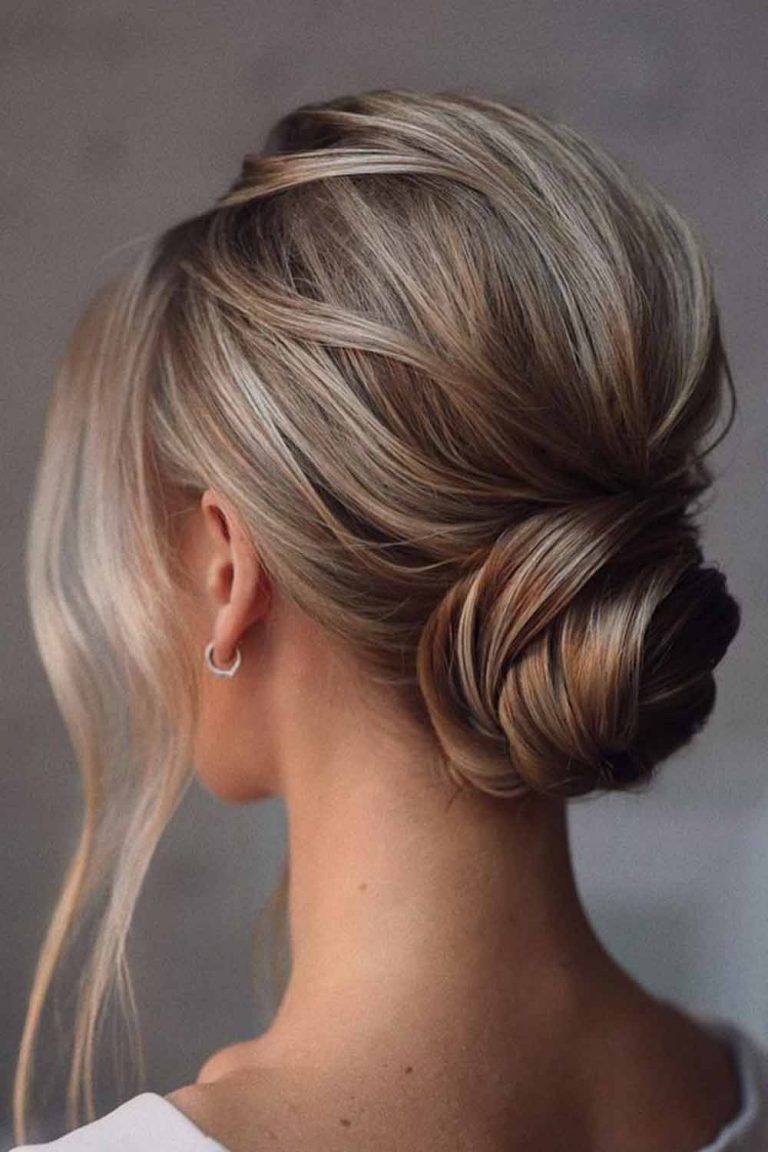 Source: instagram.com/tonyastylist
Long lively waves and open back wedding dresses are like cheese and wine: they reveal the best features of one another. While there's nothing complicated about waving long hair and pinning a hidden bump, this timeless idea never lets brides down. Don't forget to add some character to your 'do by placing a little tiara that matches your dress to make your wedding look worth a red carpet.
FAQ: Swept Back Wedding Hairstyles
Can you wear a veil with your hair down?
Most veils hold up well in updos, but there are 4 options that work really well if you want to wear your hair down: Back comb- raise the part of hair where you want the veil to be worn and back comb the part underneath. Set the veil into the pin curls once the pin curls are in place.
How long does hair have to be to slick back?
To get a slicked back haircut, make sure your hair is at least 5,5 inches long. This ensures that you can wear your slicked hair back without worrying about your strands falling out.
Was this article helpful?