While some people love fringes that are light and also shows their forehead, other don't. Rather, a substantial amount of people prefer to have thick and full bangs which are popularly known as Blunt bangs. They fall over their foreheads and completely cover them but the length could however differ depending on how you want it. Level up your hair game and stop settling for anything less than an amazing haircut. There are lots of ways to transform your look completely with these bangs and getting it done is easier than you think.
Blunt Bangs: What You Need To Know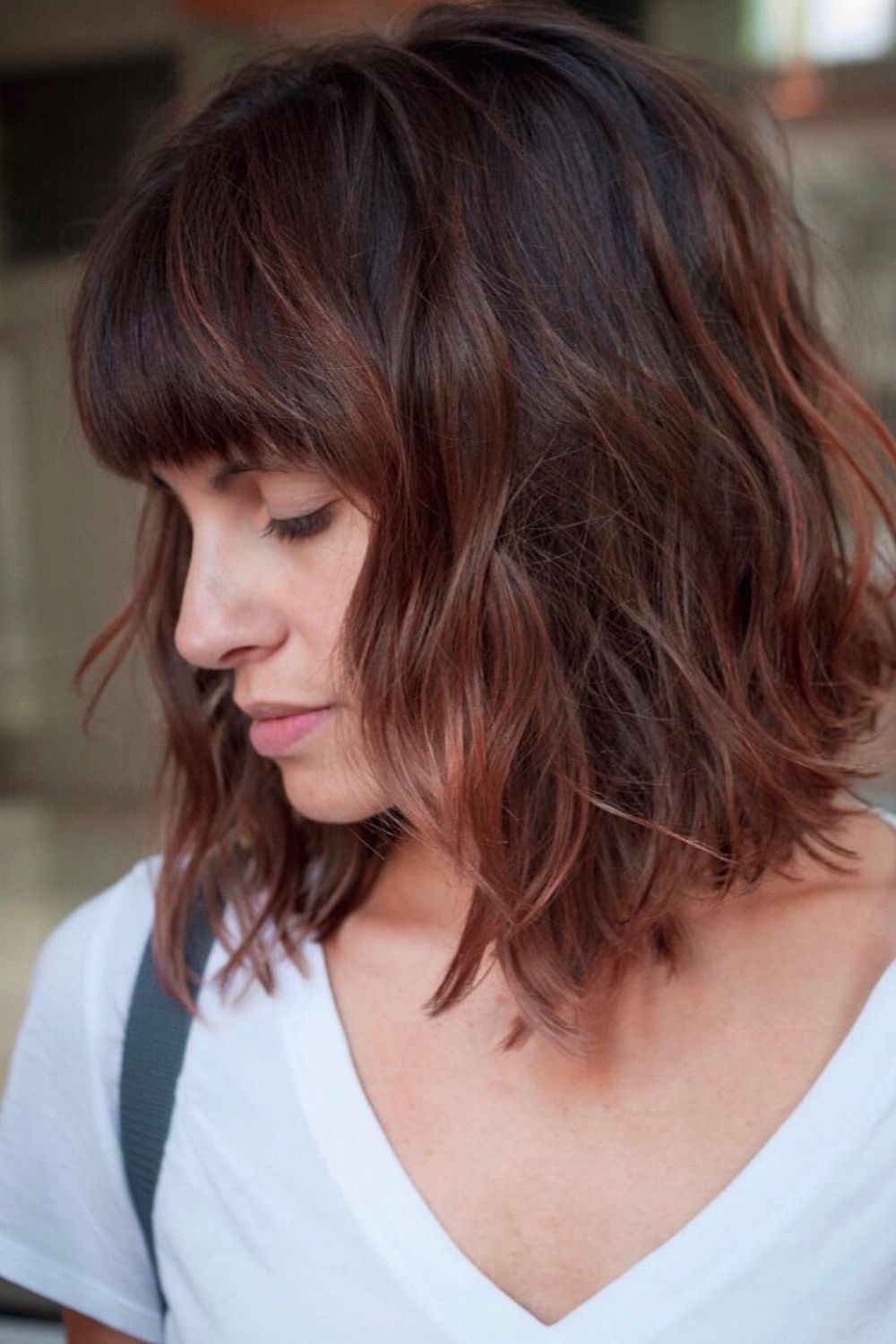 Credit photo: instagram.com/cutyourhair
Blunt bangs are usually cut in a straight line across your face. These bangs became popular during the 1920s and have been in the spotlight since then. It often has such a badass feel to it especially when worn by female characters in Anime series.
The key to making such bangs for oval face work is for you to take them in both directions and make sure to leave a few more layers around the face. Also, as you might already know, these bangs can be worn with almost any hairstyle but it is important to know that they also require high maintenance.
You have to pay close attention to blow-drying and brushing it out every day before stepping out of your house. Also because of its even length which is usually almost reaching the eyes, you have to get regular trims so as not to spoil the style. Note that long hair blunt bangs mean, more sweating on your forehead, especially during summer. They are very thick and full and so get greasy easily from oil and sweat on your face.
But one of the perks of these fringe is that they make women appear younger, so you can say it's worth the stress. If you're also someone with a large forehead, you can hide it behind blunt bangs for a round face and make your face shape appear smaller and more even.
How To Cut Your Blunt Bangs: Step By Step Instructions
Credit photo: shutterstock
If you want to learn how to cut your bangs, have ready three basic tools; a comb, precision scissors and an elastic band. If you have this ready, wash your hair, dry it then section it, separating your fringe from the rest of your hair. Ensure your bangs are sectioned in a triangular shape and use your elastic band to pack your back hair.
Comb out your fringe to untangle any knows then twist the hair, holding it between your middle and index fingers. After that, make a straight cut below your fingers then comb out your bangs once again. To round things up, hold the scissors up and make blunt cuts at the tip of your fringe.
Blunt Bangs For Different Hairstyles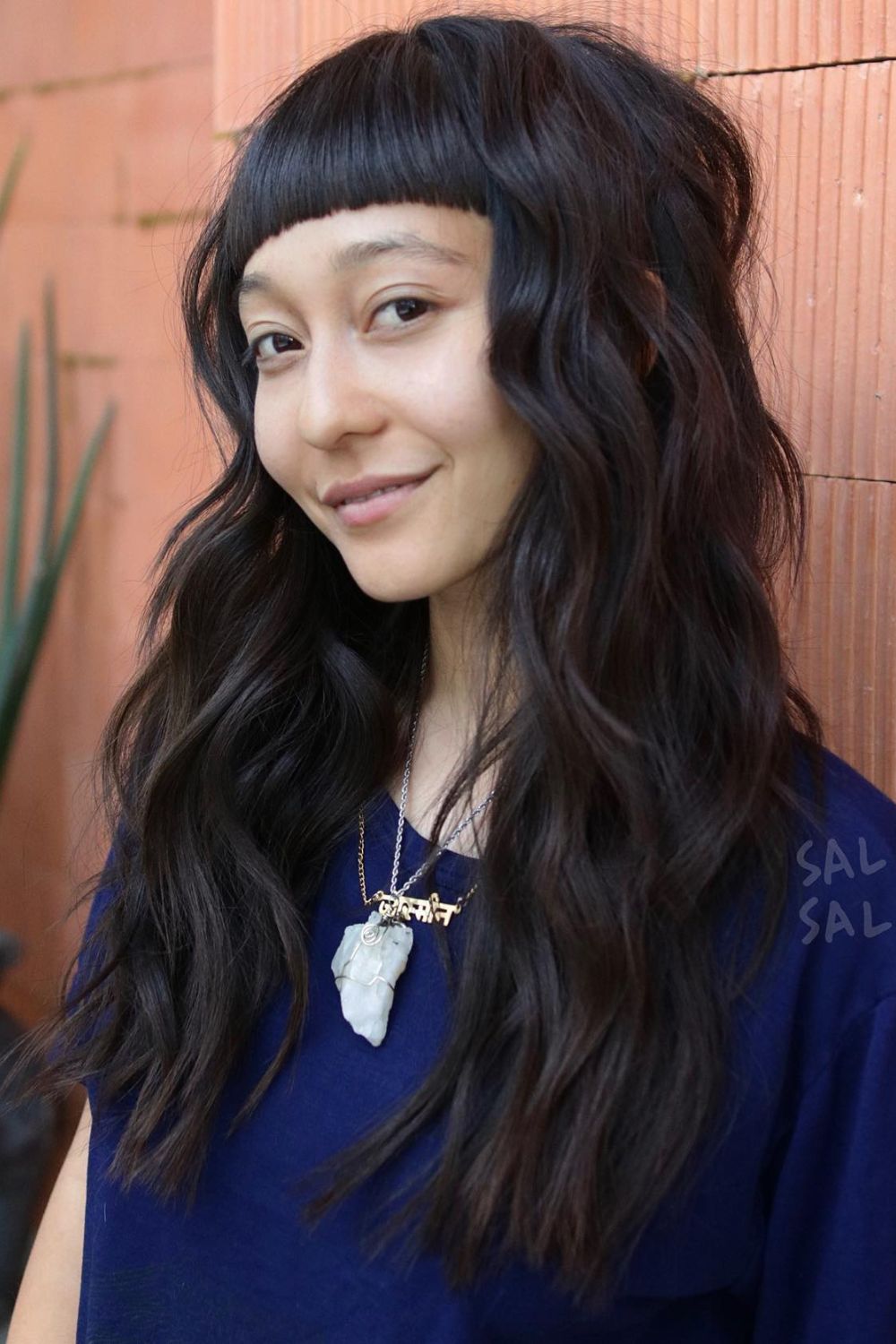 Credit photo: instagram.com/salsalhair
Just like how curtain bangs are very popular among the other types of bangs, blunt bangs are no exception and can be slayed with different hairstyles and hair lengths. Check them out below.
Blunt Bangs For Long Hair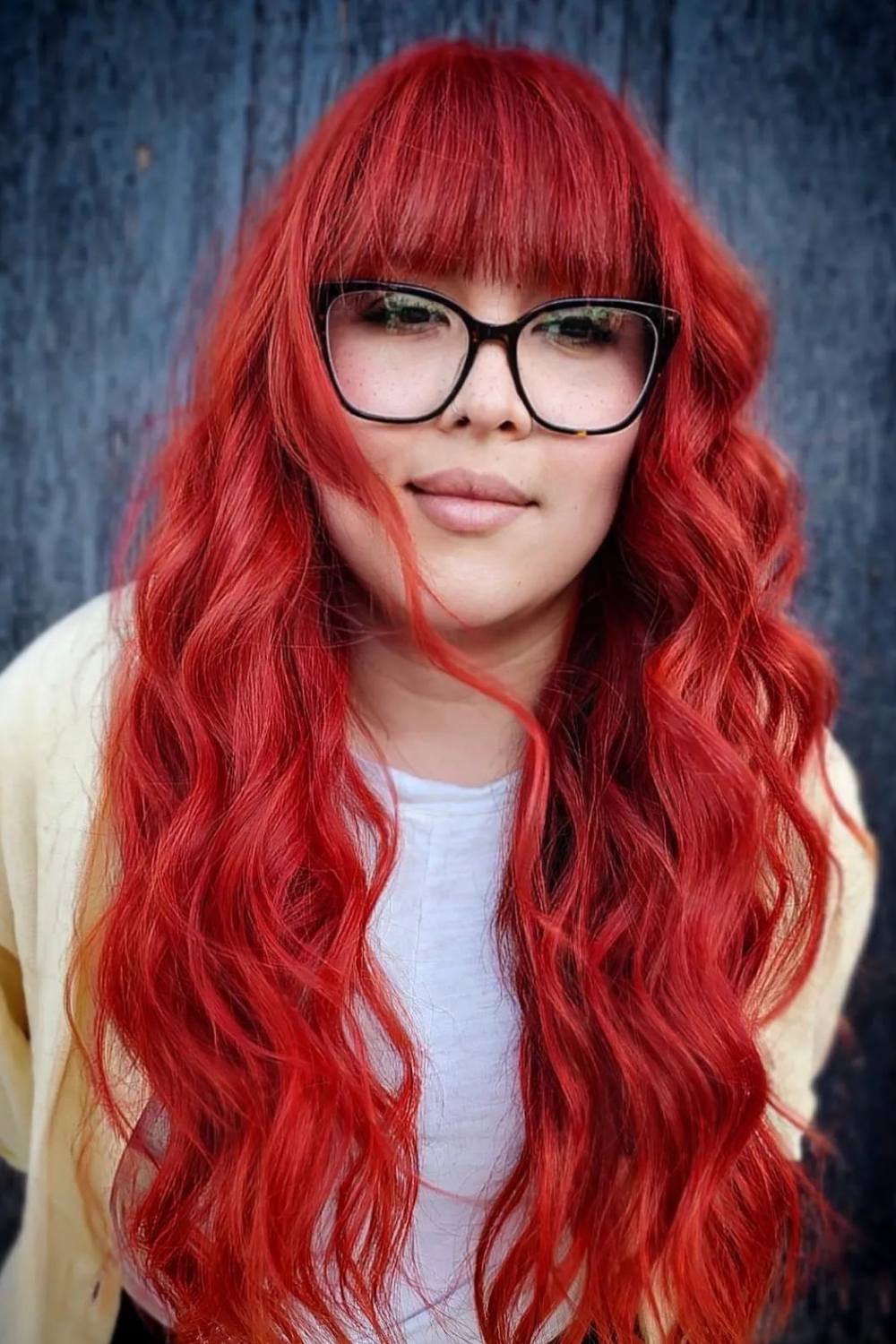 Credit photo: instagram.com/adlydesign
For blunt bangs long hair, the lower part of your face is well-highlighted, since your forehead has been fully covered. This style is quite common among women but doesn't stop them from having a chic look.
Сombine Blunt Cut Ponytail With Bangs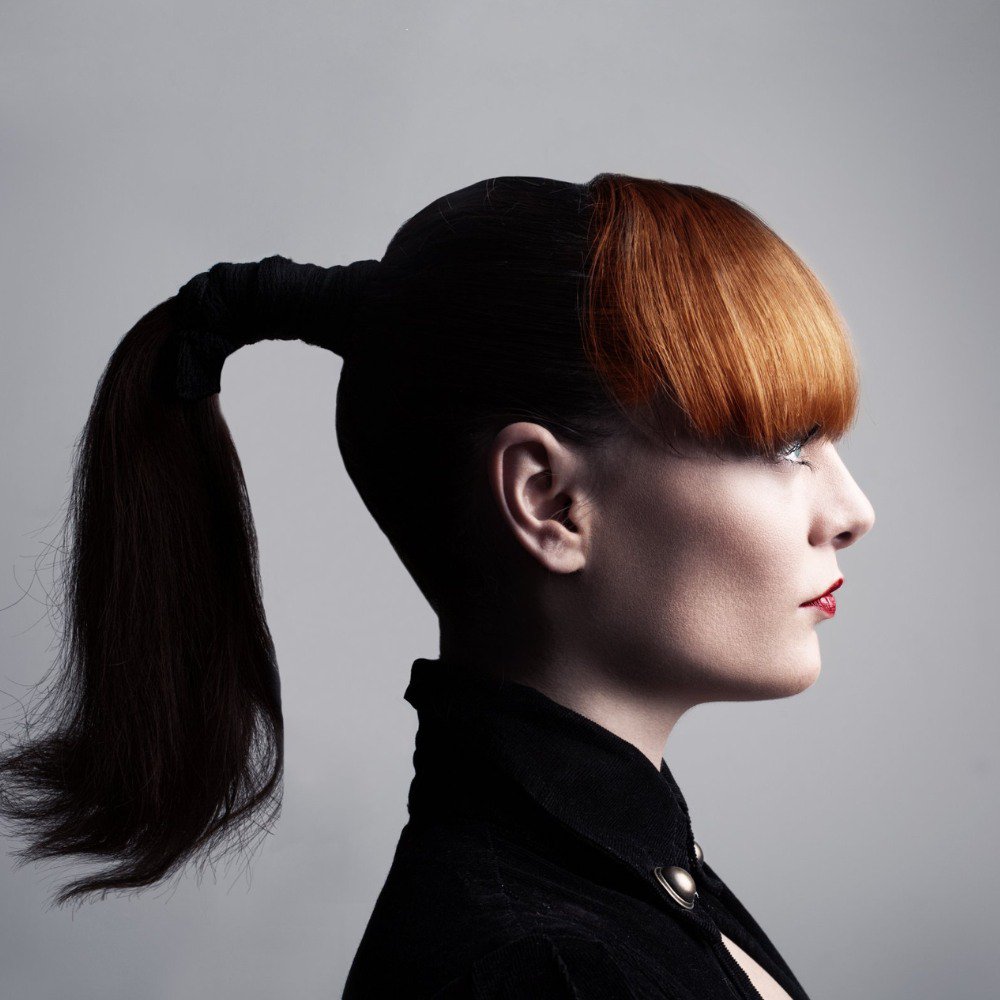 Credit photo: shutterstock
The same way you have a classy look when you combine french bangs with ponytails is also the result you get when you try a blunt cut ponytail with bangs. This style makes your fringe the main spotlight and also compliments your eyes really well, as there's no form of distraction on your face.
Try Bottleneck And Blunt Bangs Combo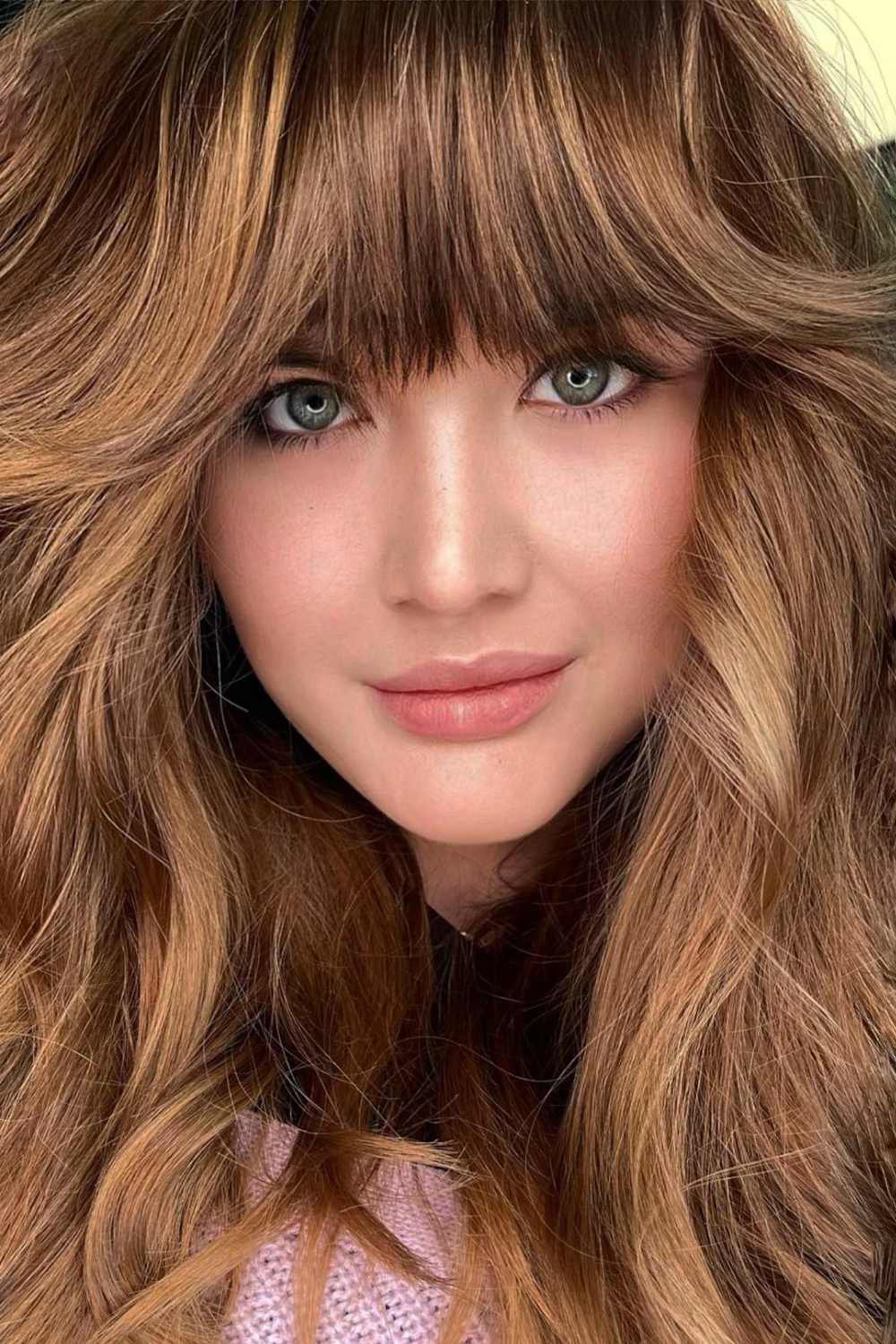 Credit photo: instagram.com/sofiya.bravo
Innovatively combine bottleneck bangs with a blunt-cut finish. This gives it a tip almost similar to feathered bangs but with more volume and texture. Your face looks smaller in this type of hairstyle and rather than people paying attention to your face, their focus will be more on your cheekbones.
Blunt Bob With Bangs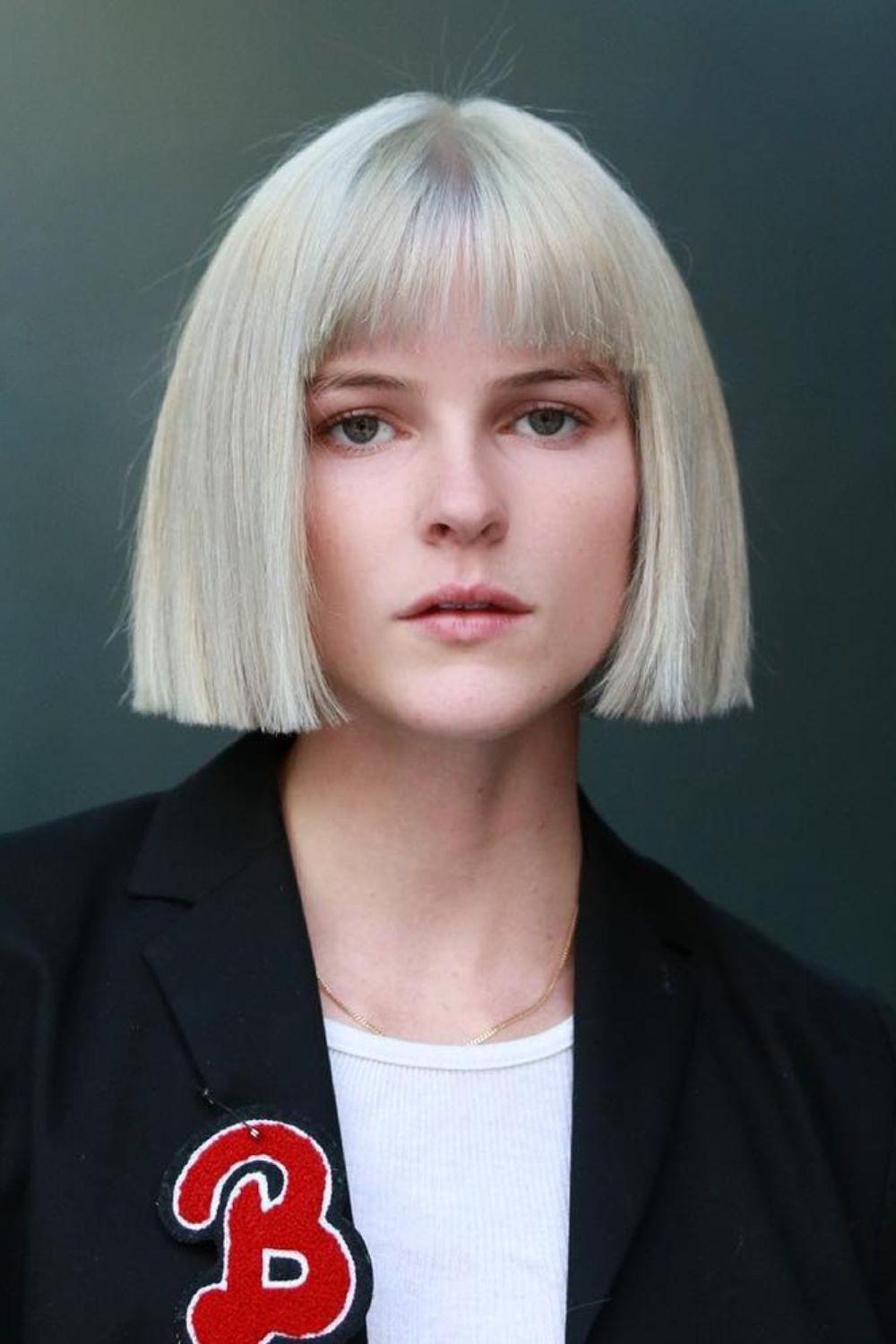 Credit photo: instagram.com/salsalhair
Blunt cut bob with bangs is perfect if you're going for a serious look. The tip of your bangs is just like the tip of your blunts making them a perfect match for each other. Blunt bob with bangs are quite popular for producing a sophisticated appearance and complimenting your jaw because of their chin length.
Very Short Bob With Bangs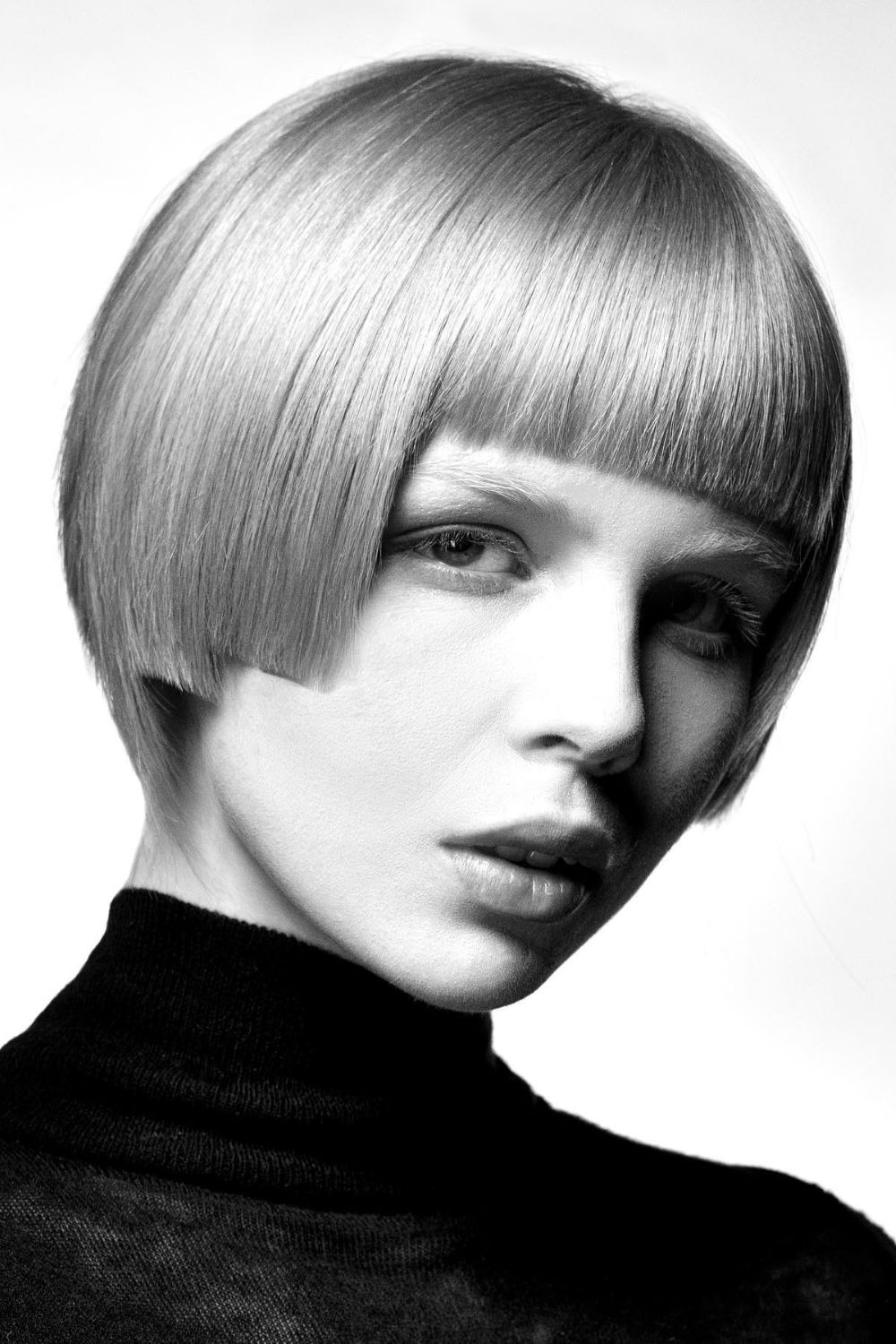 Credit photo: instagram.com/chrisjones_hair
If you want your hair above your chin and almost on the same level as your cheekbone, why not try a very short bob with bangs? It has an old-school feel to it but has been modernized with the type of fringe added to it. It's not pretty common and so has a very unique appeal.
Try Softened Blunt Bangs For a Gentle Look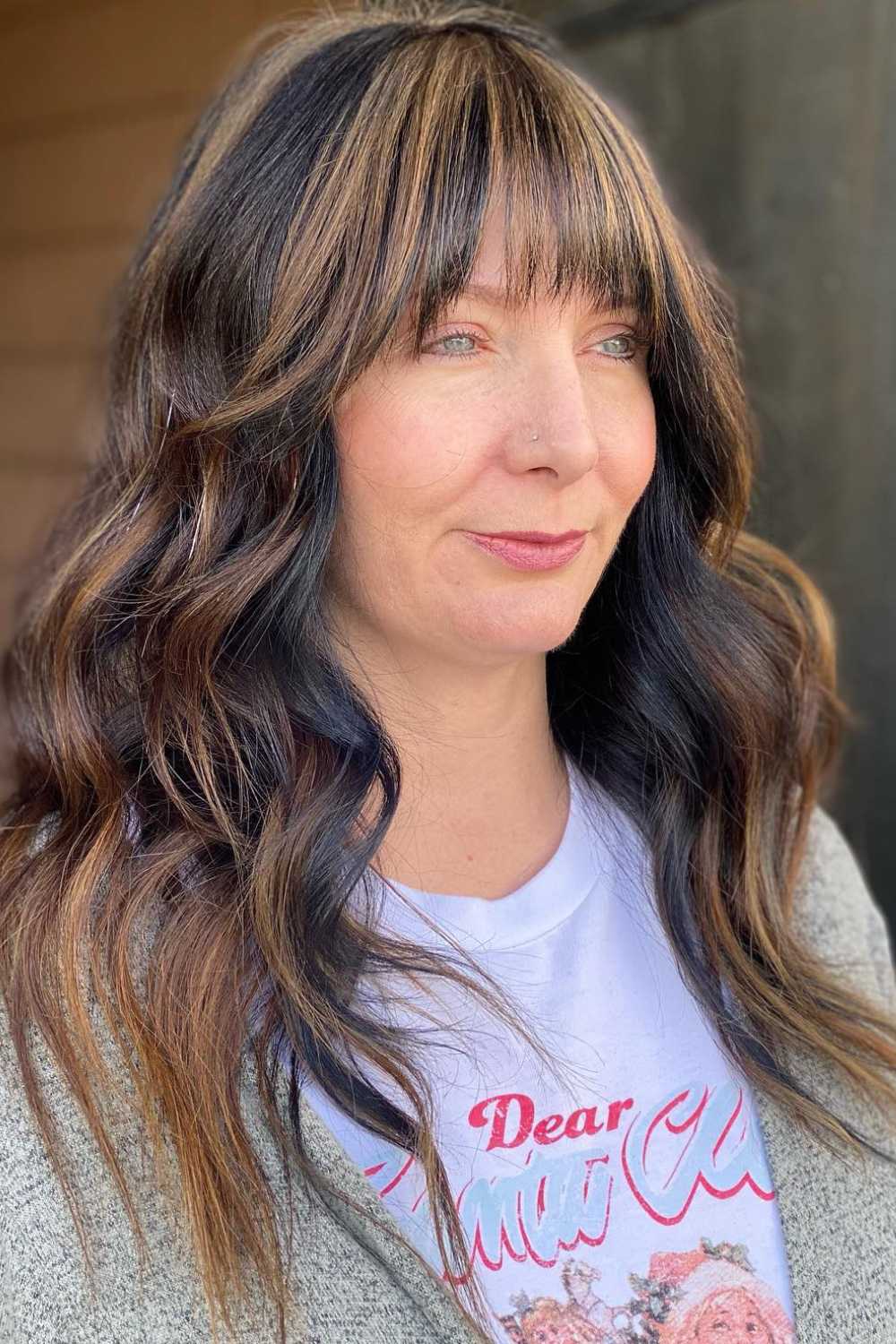 Credit photo: instagram.com/hairbyclairperez
Appear gentle and meek with softened blunt bangs. You can achieve an appearance that makes you look very youthful and definitely younger than your age with this hairstyle. What's more, is that it's almost like layered bangs and so falls from your eyebrows down to your eyes.
Short Blunt Bangs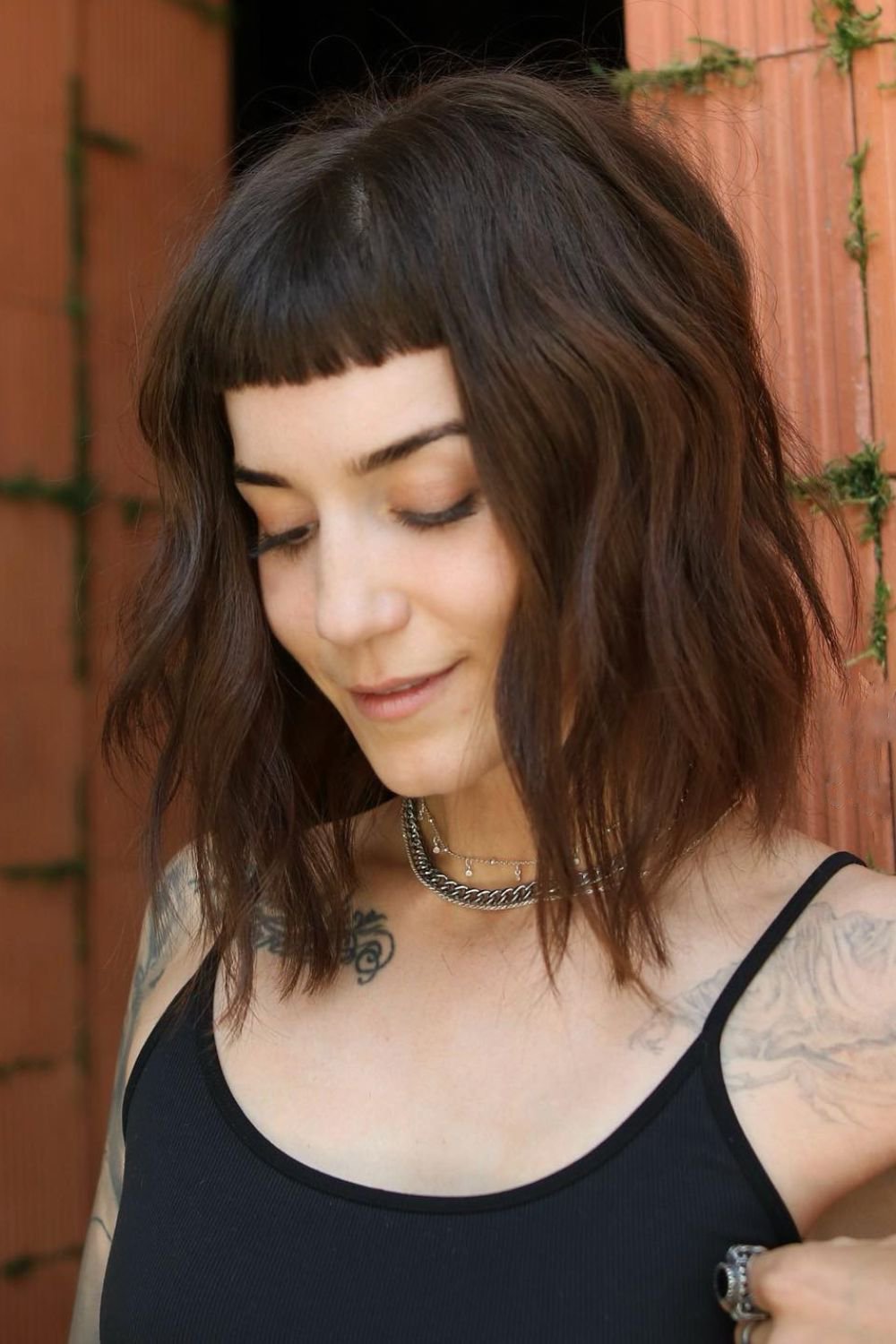 Credit photo: instagram.com/salsalhair
Do you want thick bangs but with less length and so less sweating? The best option is short blunt bangs. They are almost like baby bangs and stop quite a distance from your brows. It's a perfect choice for women who want bangs and still want to show off their foreheads.
More Ideas For Blunt Bangs Style: Wispy Bangs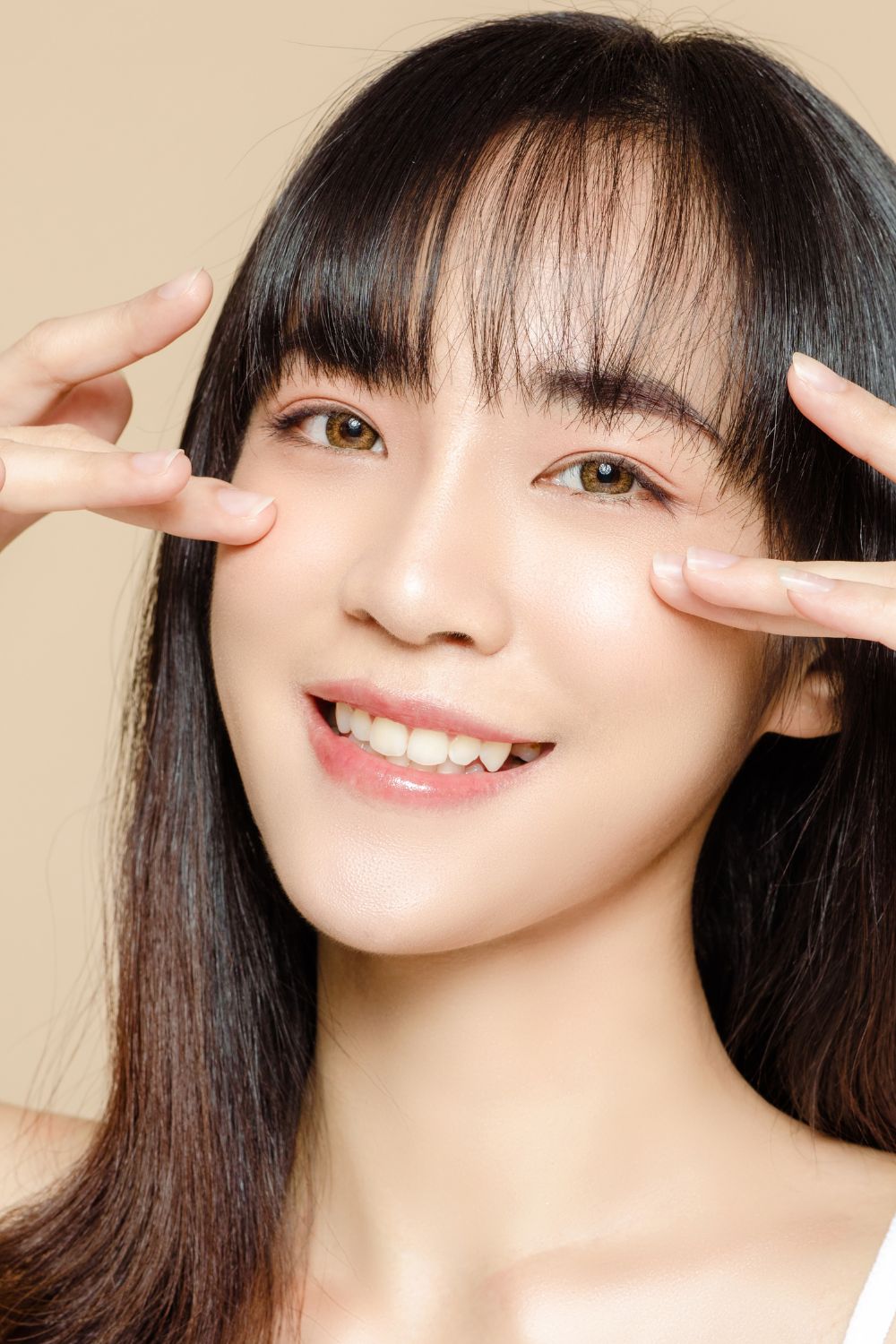 Credit photo: shutterstock
Who says you can't transform your blunt thick bangs into wispy blunt bangs? This means going for something with less volume as we all know wispy bangs don't have much volume with little strands of hair falling over your face. It softens your facial features while stopping right above your eyes.
How To Care For Bangs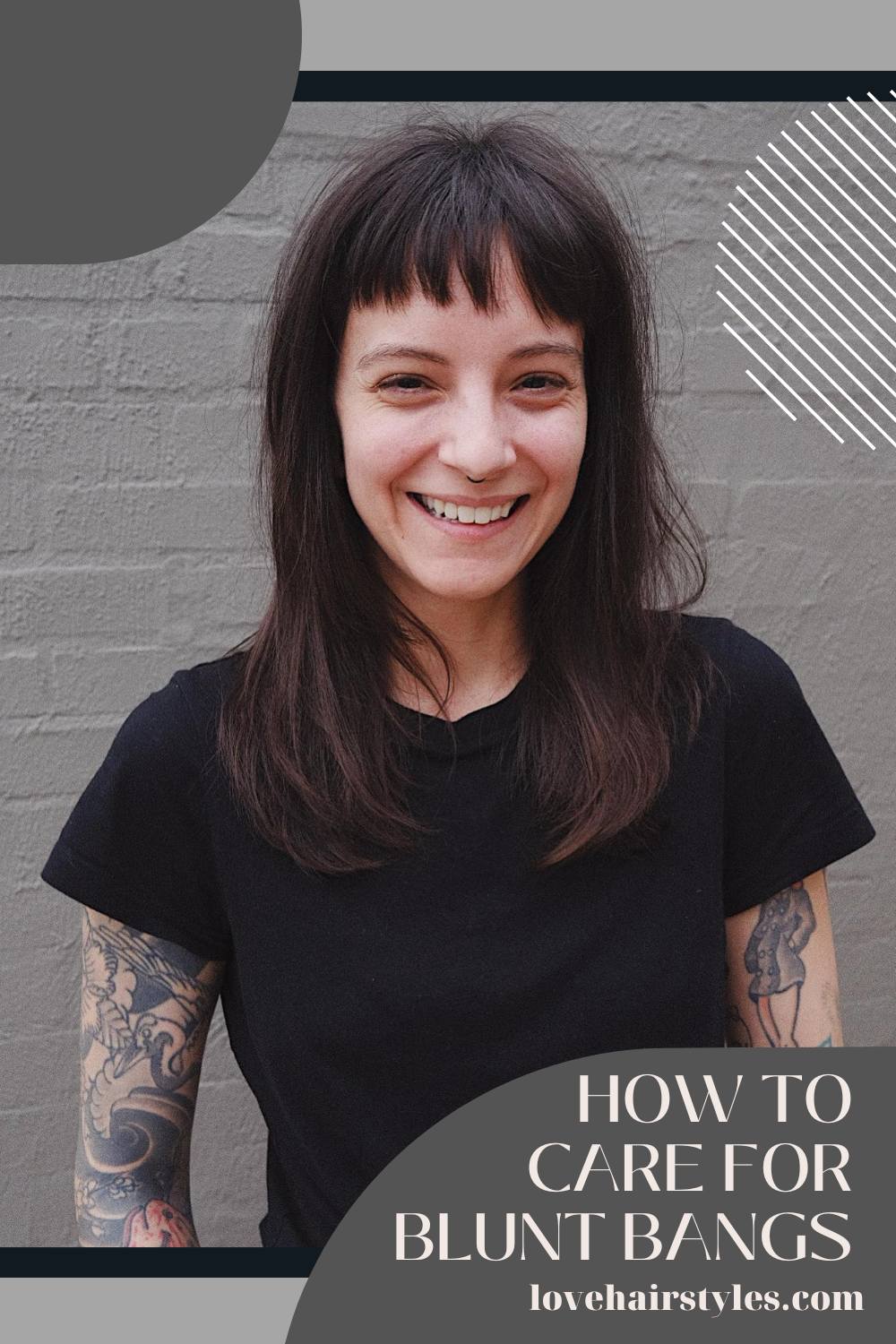 Credit photo: instagram.com/beaubollinger
There are two main things you have to do often if you have blunt bangs. The first is to wash your bangs every day. This is because its thickness causes you to sweat on your forehead and this makes your bangs get greasy. To maintain a fresh texture, wash off its greasiness as often as possible.
The second way to care for blunt bangs is by trimming uneven ends. It's normal that your bangs would grow out, so it's advisable to trim out the long ends in order to maintain the style and prevent them from entering your eyes.
How To Choose Comb for Blunt Bang?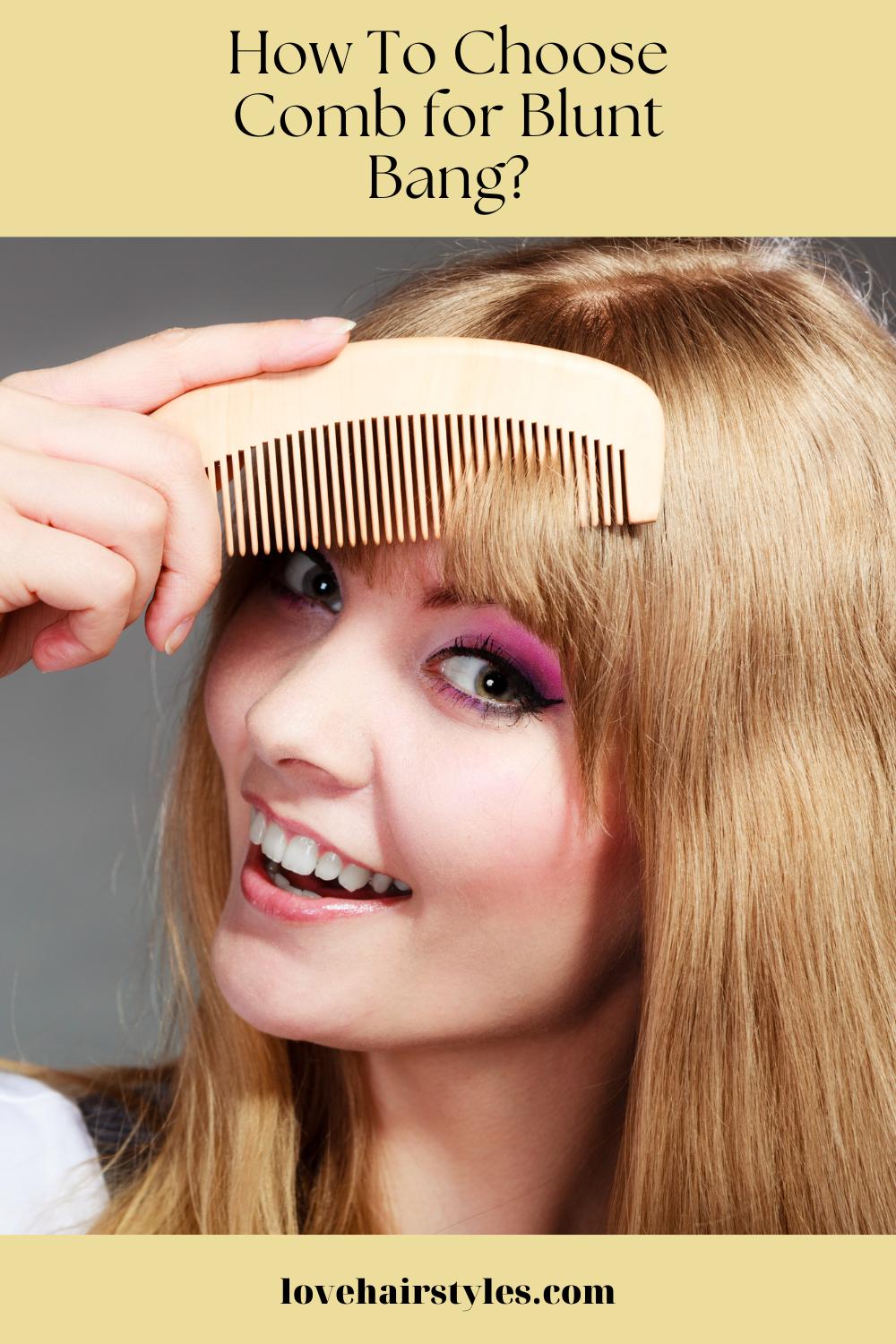 Considering the length and volume of your blunt haircut with bangs, the advisable comb for blunt bangs are small comb with little space in between the tooth. This way, it can untangle your bangs quickly, they are also very easy and comfortable to use and cause of their size, can be carried around in your bag.
Style Your Hair Using Flat Iron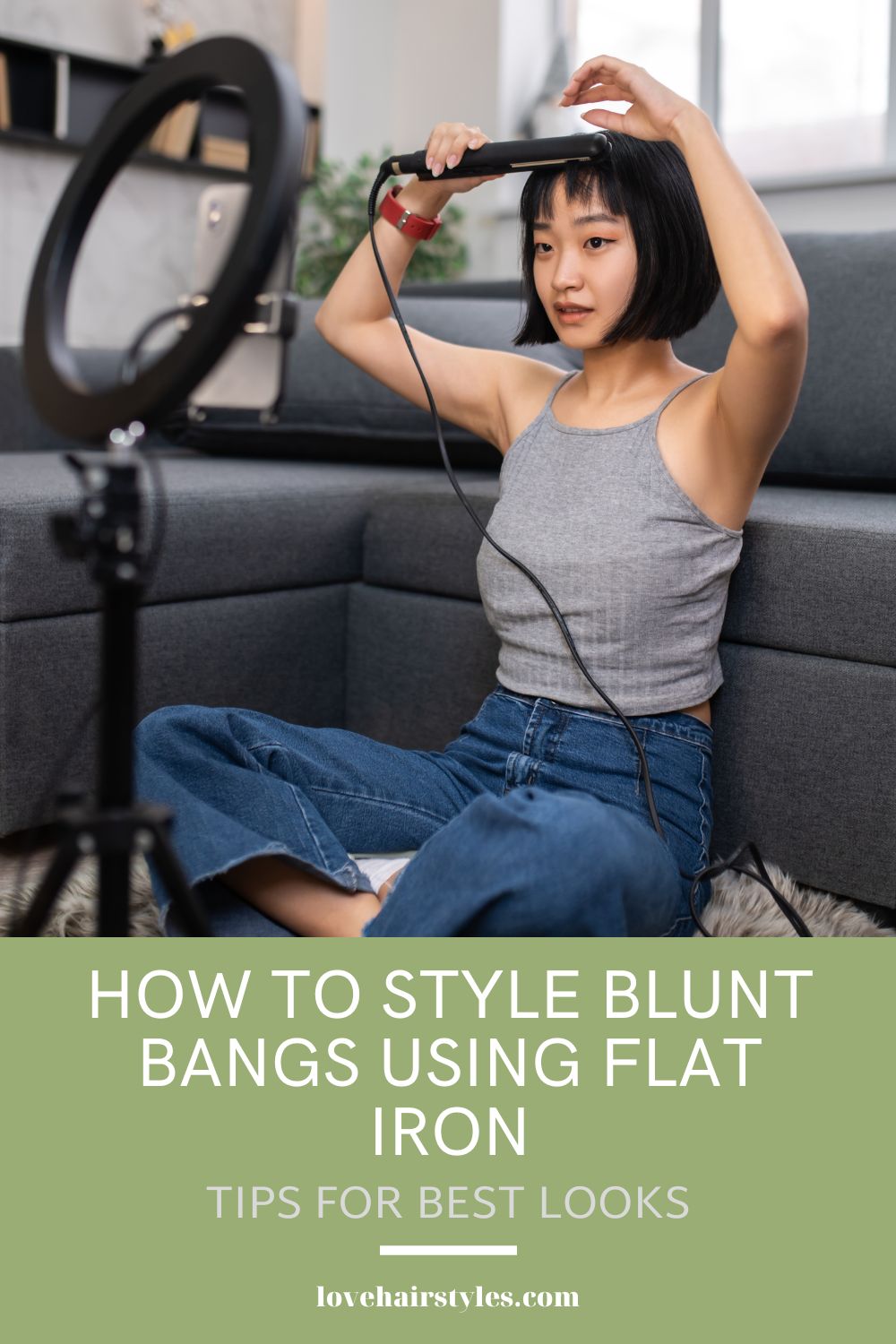 Credit photo: shutterstock
Flat irons have come in handy when people try to style blunt bangs. You can use it to control your bangs and how it falls over your forehead. When using it however, it is important to focus more on the tip and try to stay away from the root of your bangs, so that it doesn't appear flat. You can make it easier by using the flat iron in sections to produce a more natural result.
Shampoo and Care Products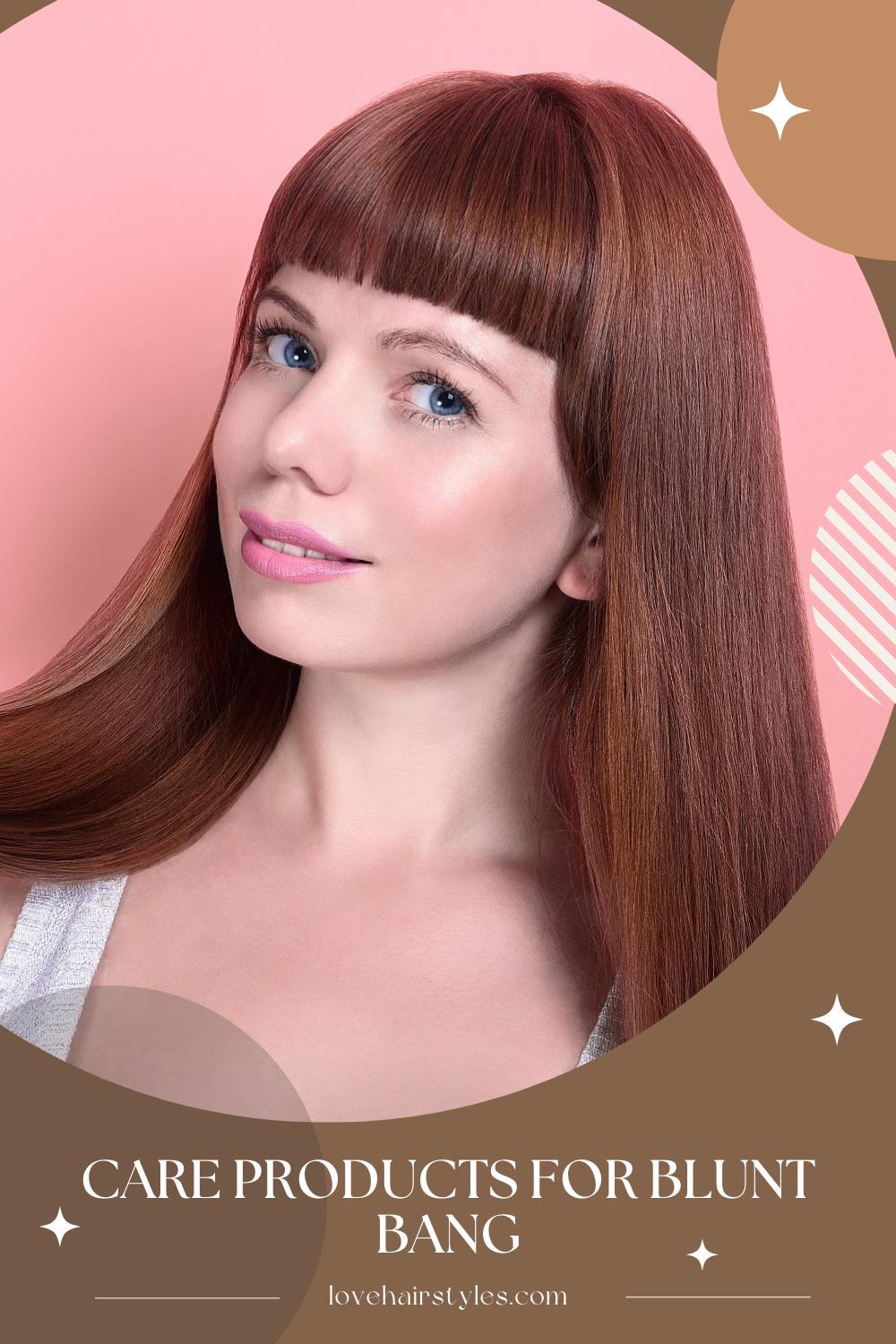 Credit photo: shutterstock
As you style blunt bangs, it is also important you maintain them using the right hair care products. Consider going for products that moisturize your hair and still try to maintain its volume. You should also opt for dry shampoo since they help to refresh the roots of your hair and also absorb excess moisture that might make your bangs feel heavy. Try out Dove Refresh+Care Volume & Fullness Dry Shampoo and also Dove Oxygen Moisture Shampoo for your bangs.
It's quite keen to note that if you want to get blunt bangs, you have to be ready to maintain them. These bangs are trendy and can be worn with different styles as listed out but also require special attention. It's not very difficult as everything needed to care for your bangs has been provided. If you follow all of our suggestions, you should have no problem rocking your bangs without worry.
REFERENCES:
Blunt Bangs Hairstyles. Source