Don't you think it is high time you compliment your cool outfits with bold hairstyles. This is because your hair often completes your dressing. And which is why you should try layered bangs, as they are extremely flattering and sure to keep your style on point!
*We may earn money from affiliate links on this page. Please check out our disclosure policy for more details.
What Exactly Are Layered Bangs?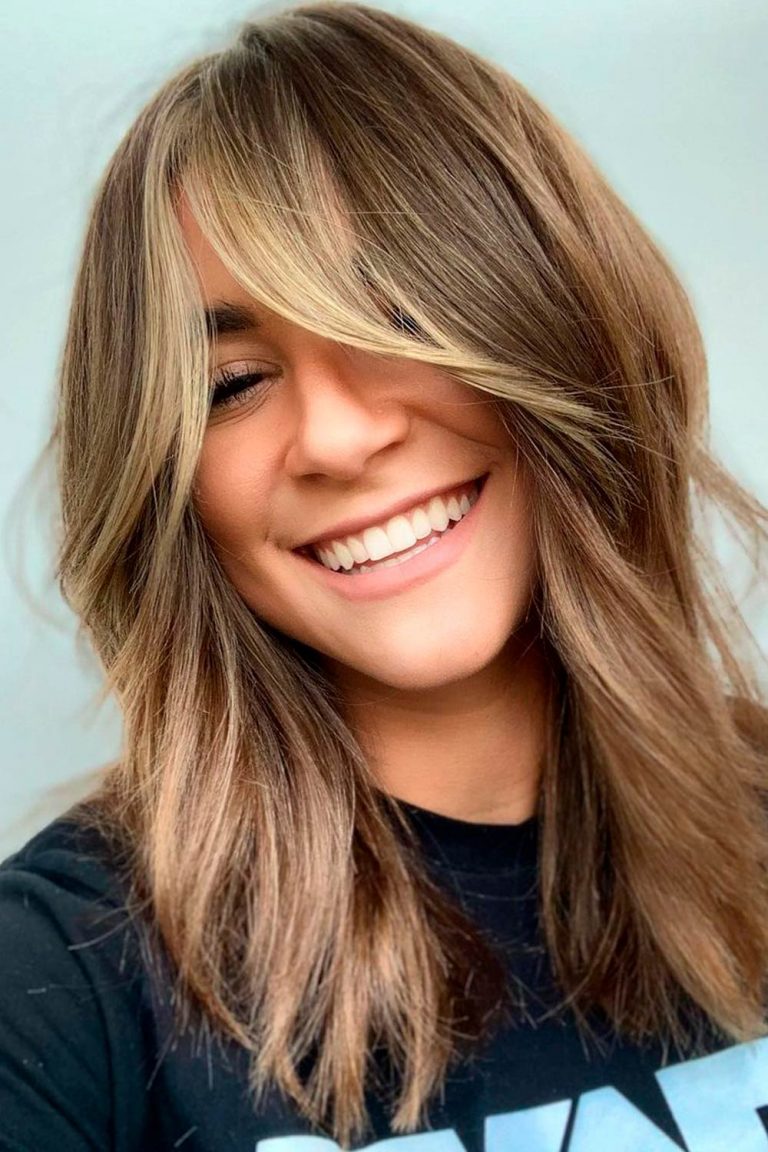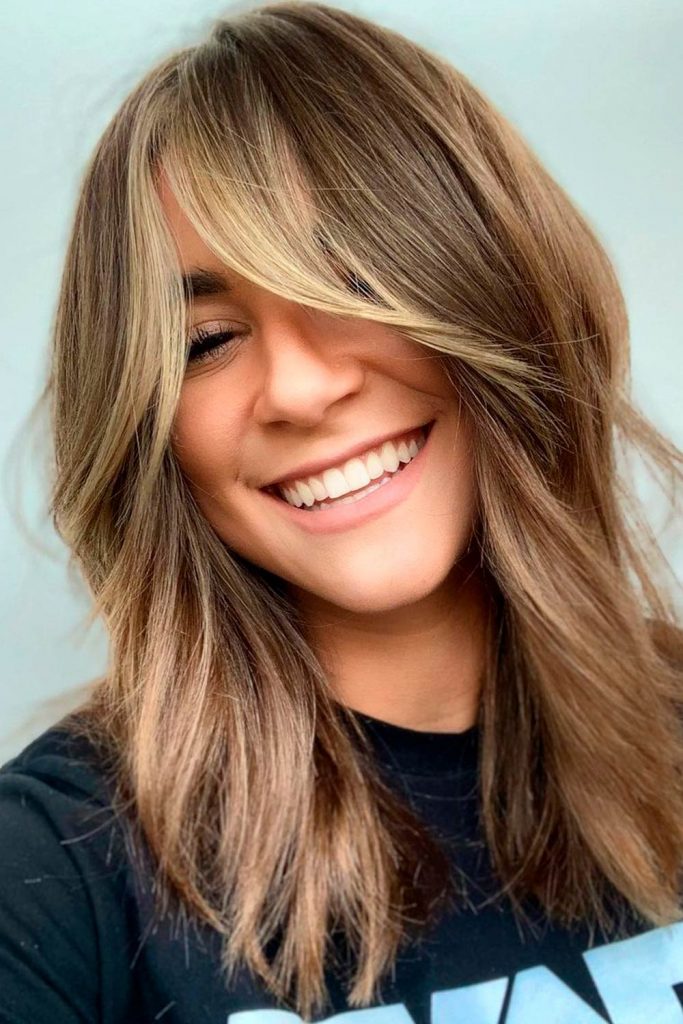 Credit photo: instagram.com/styled_by_carolynn
Layered bangs are a popular and simple hairstyle. These bangs are designed to be pushed to the side of the forehead. This is because they are not bluntly cut in a straight symmetrical line in the front of your face but rather have different lengths. They are intended to give your hairdo more texture and volume.
How Can You Cut Your Bangs in Layers?
If you do decide you want to get layered bangs, it's much more advisable to not do it yourself but rather engage the help of a friend or professional. If you however feel you're up to the task, then below are a few easy steps to take, to cut your bangs into pretty layers.
The first step to take is to wash and dry your hair. This is the basic step before styling or cutting your hair. Next thing is to sectionalize your hair by separating the part you want to use for fringe from the rest of your hair. Use hair clippers to clip the back of your hair so as not to cut more fringe than planned.
While one hand has the scissors in it, your free second hand should be used to hold a portion of your bangs firmly in between two fingers. Cut them so that they would fall over your face towards the desired angle.
While cutting, try to cut little amounts one at a time to be able to correct errors that may surface. Also, it is important to make vertical cuts given the nature of layered bangs and try to keep your scissors open when cutting your fringe.
Brush out your bangs while cutting to remove loosened strands. You can now style it, using a blow dryer and round brush to blow it out and add texture to it.
Various Ways to Wear your Hairstyle with Layered Bangs
Wondering what type of hairstyles you can rock with your layered side bangs? There's a whole list of options to choose from, depending on your preference and taste.
Full Layered Bangs with Messy Pixie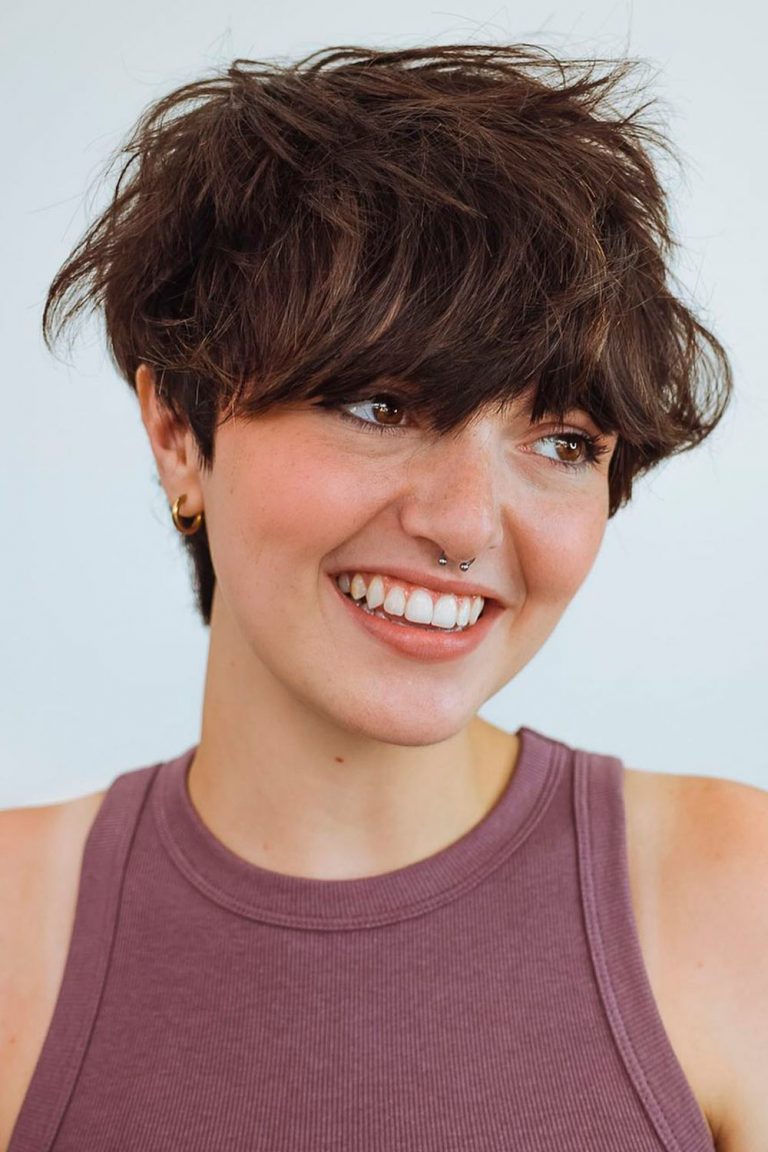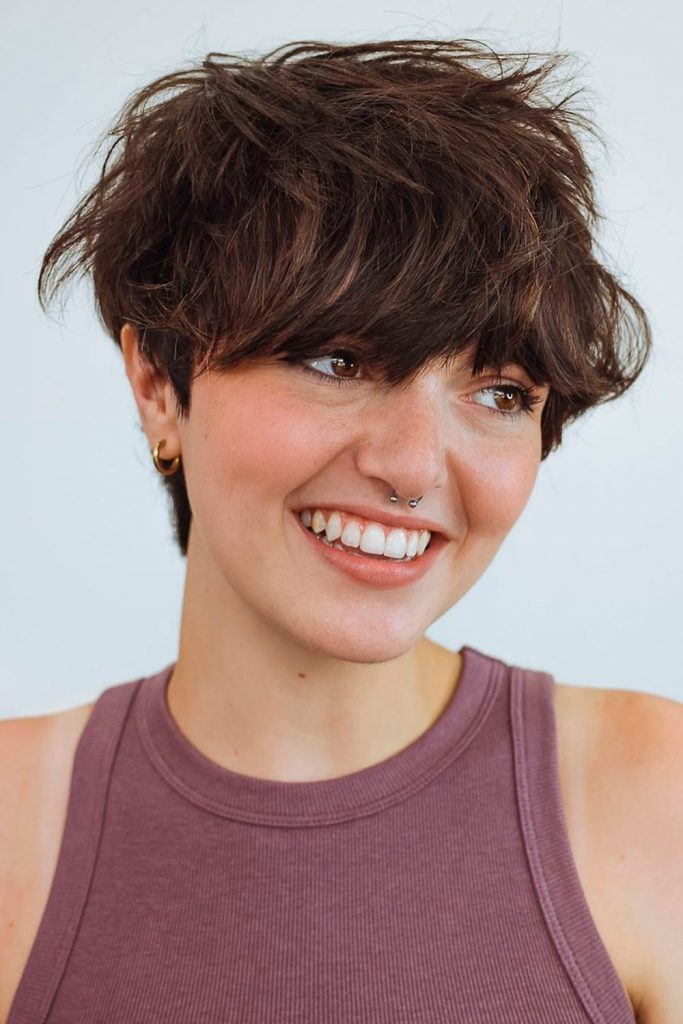 Credit photo: instagram.com/joeltorresstyle
Who doesn't love extremely short hair? They save you time with it comes to styling and giving the fact that the layered bangs look messy, just adds to the fun. These types of bangs add volume to your hair texture irrespective of the short length.
Short Pixie Bob with Layered Fringe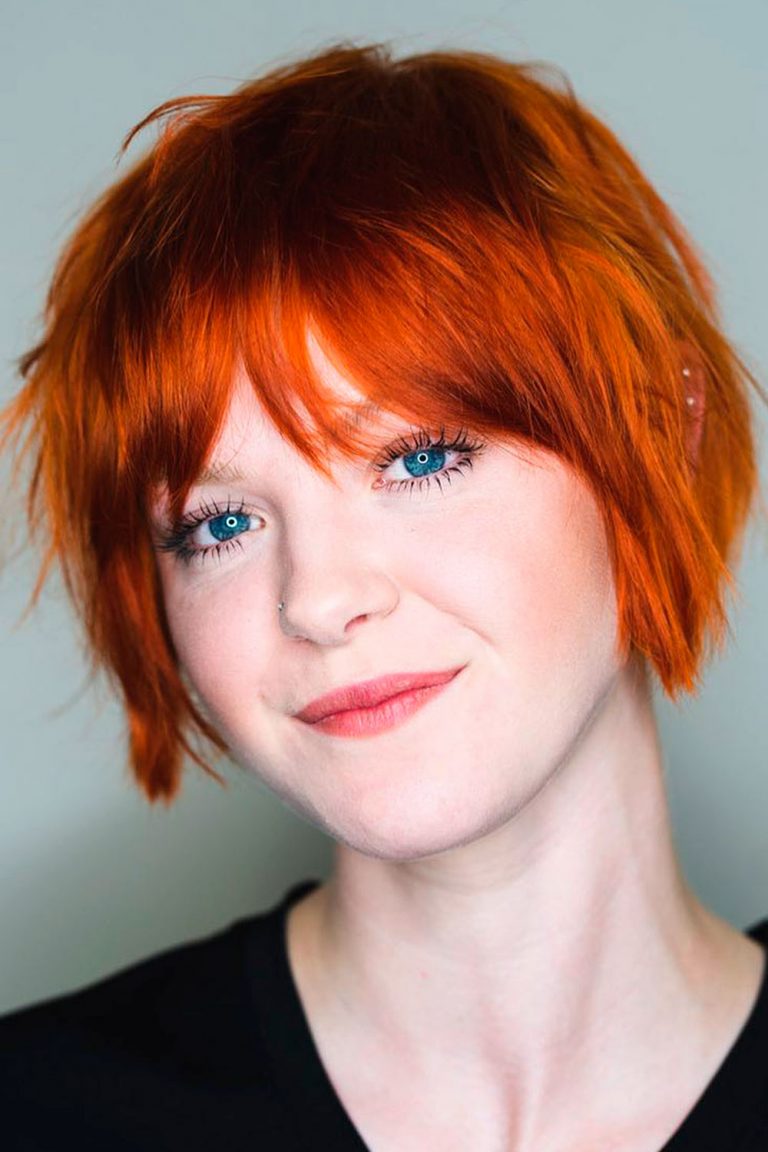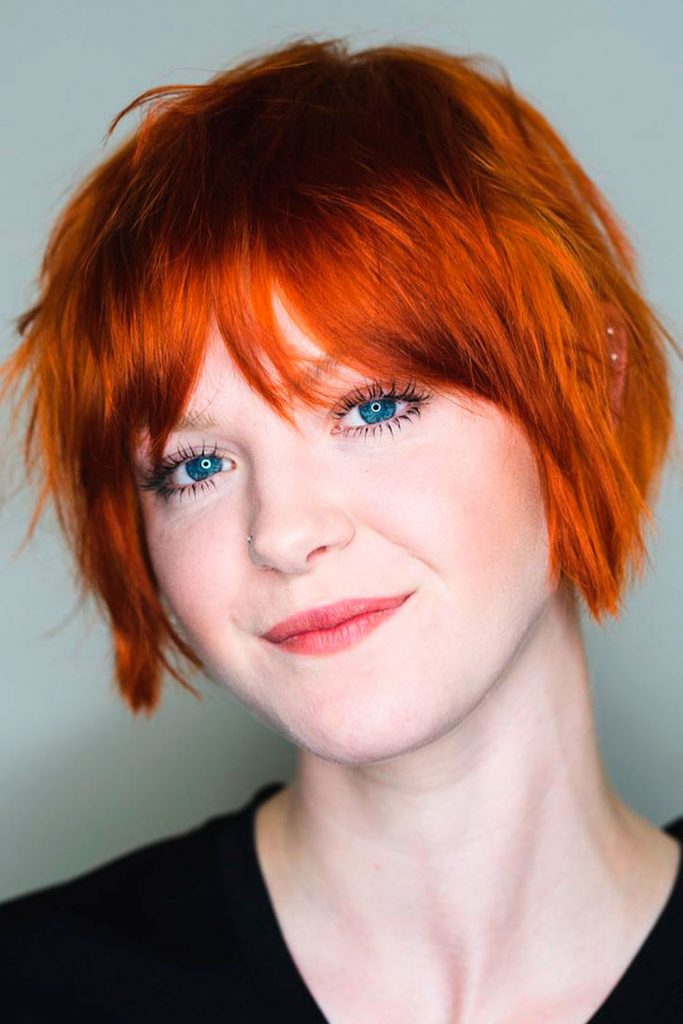 Credit photo: instagram.com/joeltorresstyle
If you want something with less volume but more length, then the short pixie bob is another great option. Other than your fringe, the whole hair is cut in layers but its length goes beyond the ear, making it longer than the messy pixie haircut.
Chin-Length Layered Bob and Bangs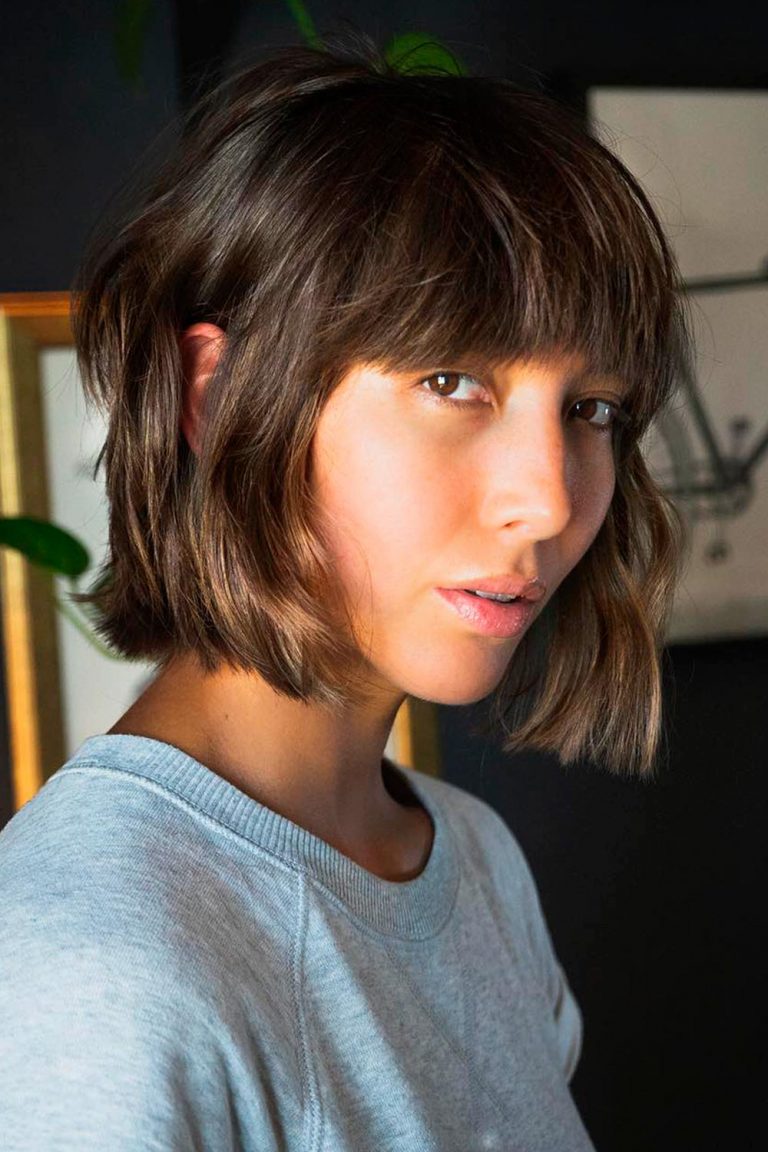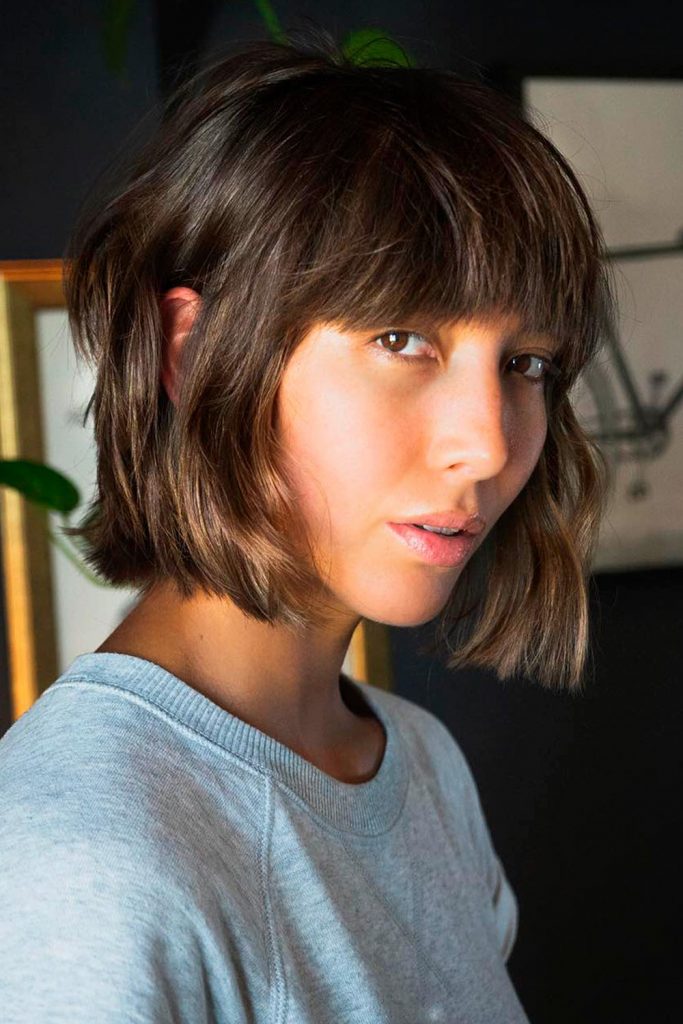 Credit photo: instagram.com/joeltorresstyle
While some people love short hair, they still want it cupping their face and this is where the chin-length layer bob comes in. It's like the usual medium layered haircut but with an undefined line. The fringe also combines blunt bangs together with layers which adds to the charm of this hairstyle.
Stacked Bob Haircut with Layered Thick Bang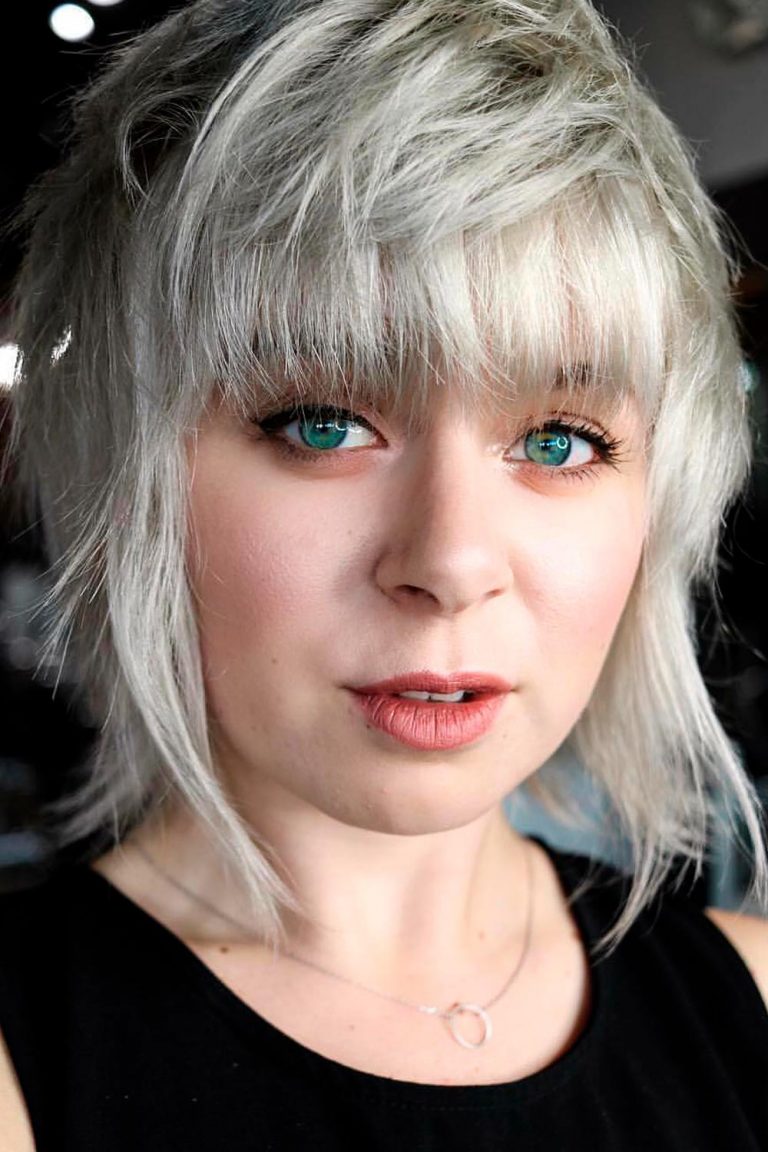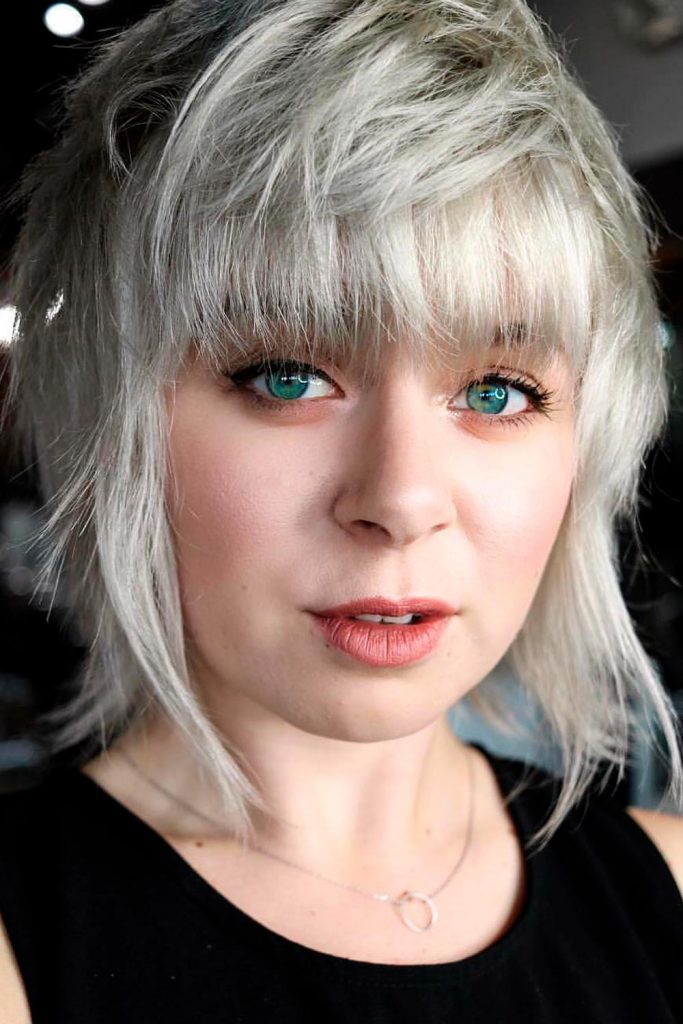 Credit photo: instagram.com/joeltorresstyle
Another innovative way to style your bangs is using the stacked bob haircut method. It's not exactly common as the top of the fringe is cut in different lengths and layers while the lower part of the fringe almost looks like wispy bangs.
Layered Face-Framing Bangs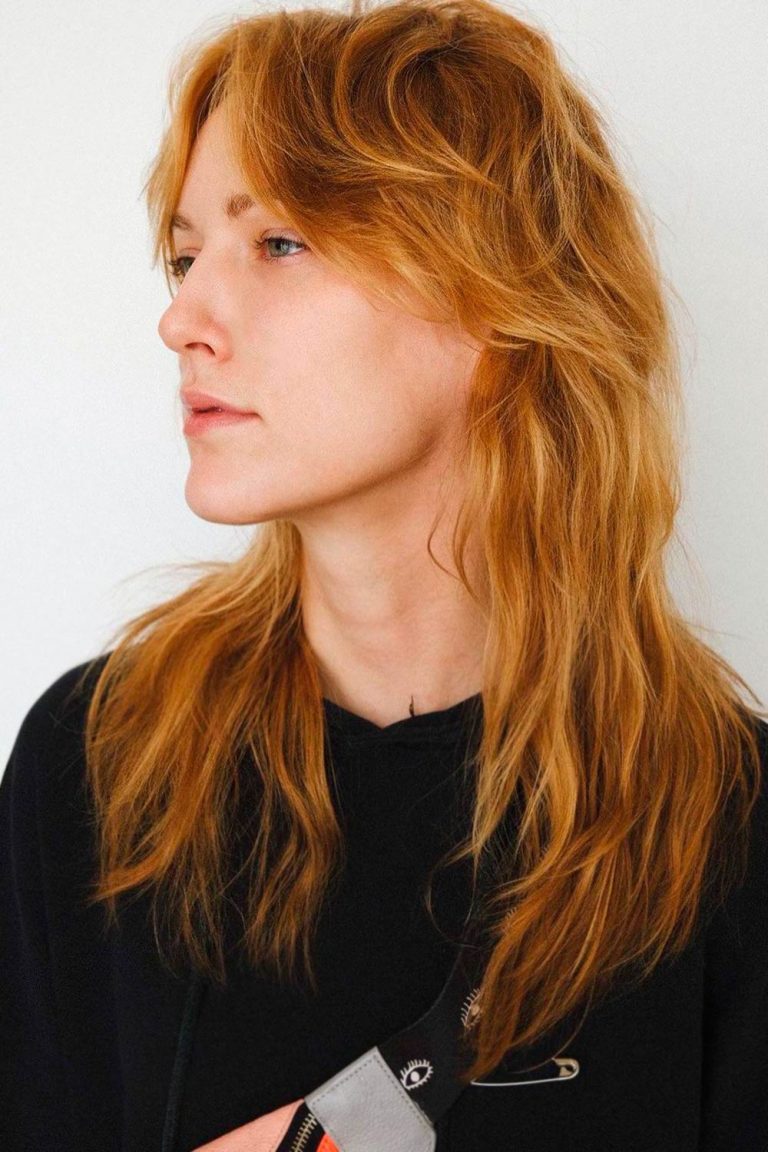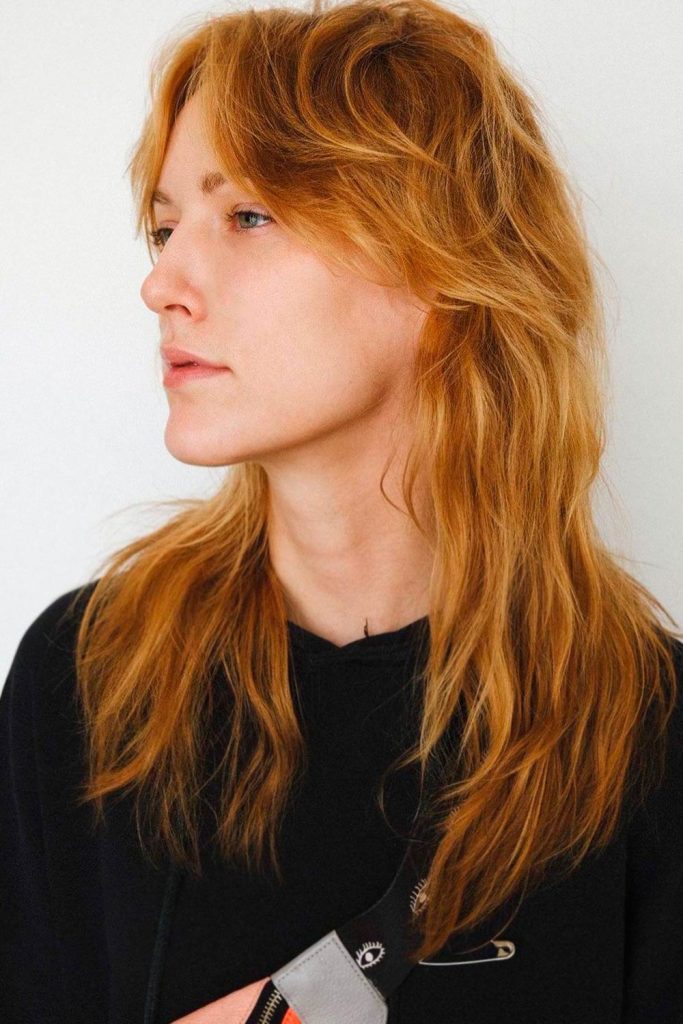 Credit photo: instagram.com/beaubollinger
These layered long bangs are quite similar to face-framing bangs and are best worn on long hair. Even as the hair frames your face and highlights your facial features, the uneven length and layered cuts can't be easily ignored. The tip of the hair especially doesn't have much volume and can make the hair feel light.
Long Shag Haircut with Layered Fringe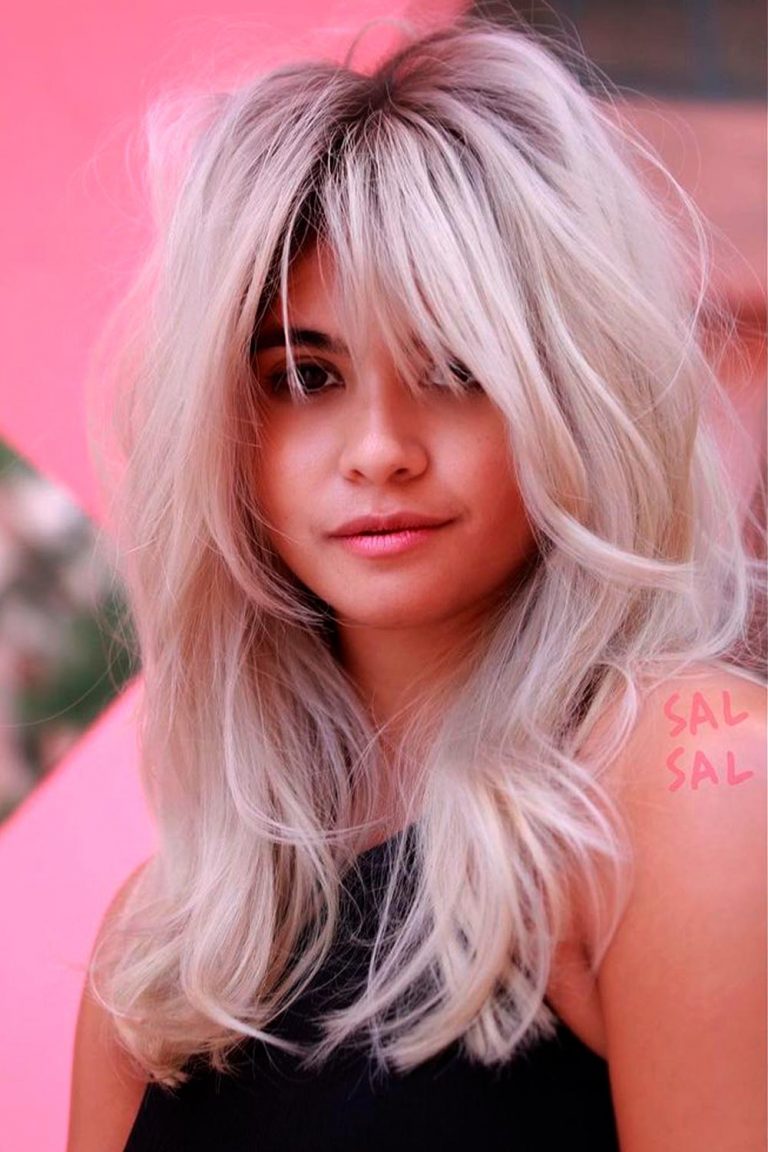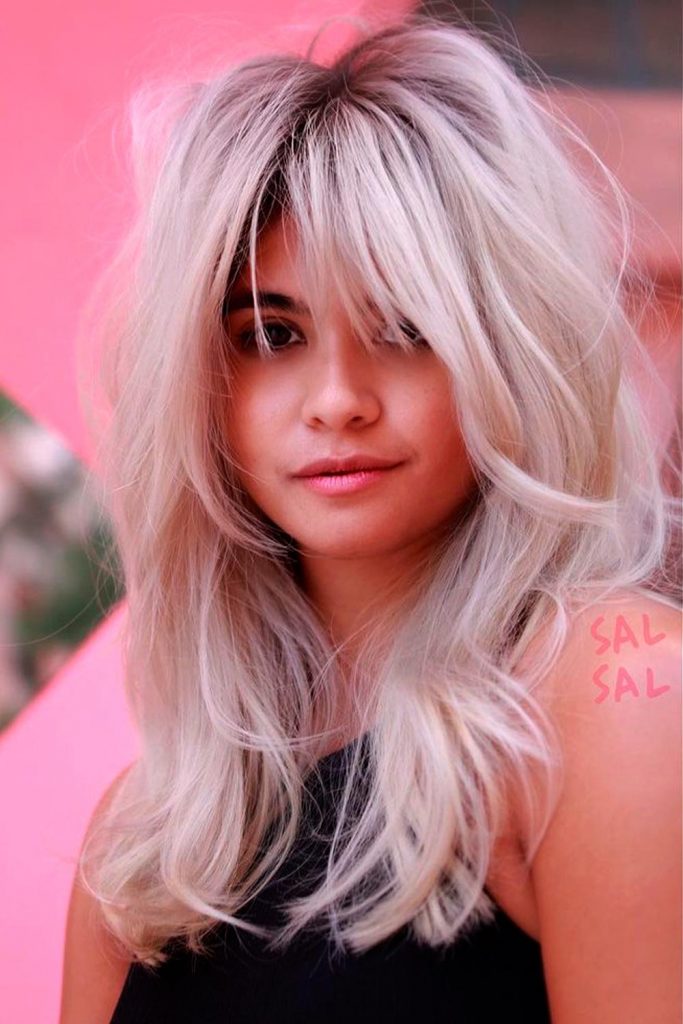 Credit photo: instagram.com/salsalhair
Are you opting for something similar to long layered hair? Then try out a long shag haircut but instead with a layered fringe. If you have thin hair, then this type of style adds texture and makes your hair look fuller than it originally is. It's quite classy and fits any occasion.
Mixie Haircut (Mullet+Pixie) with Layered Bang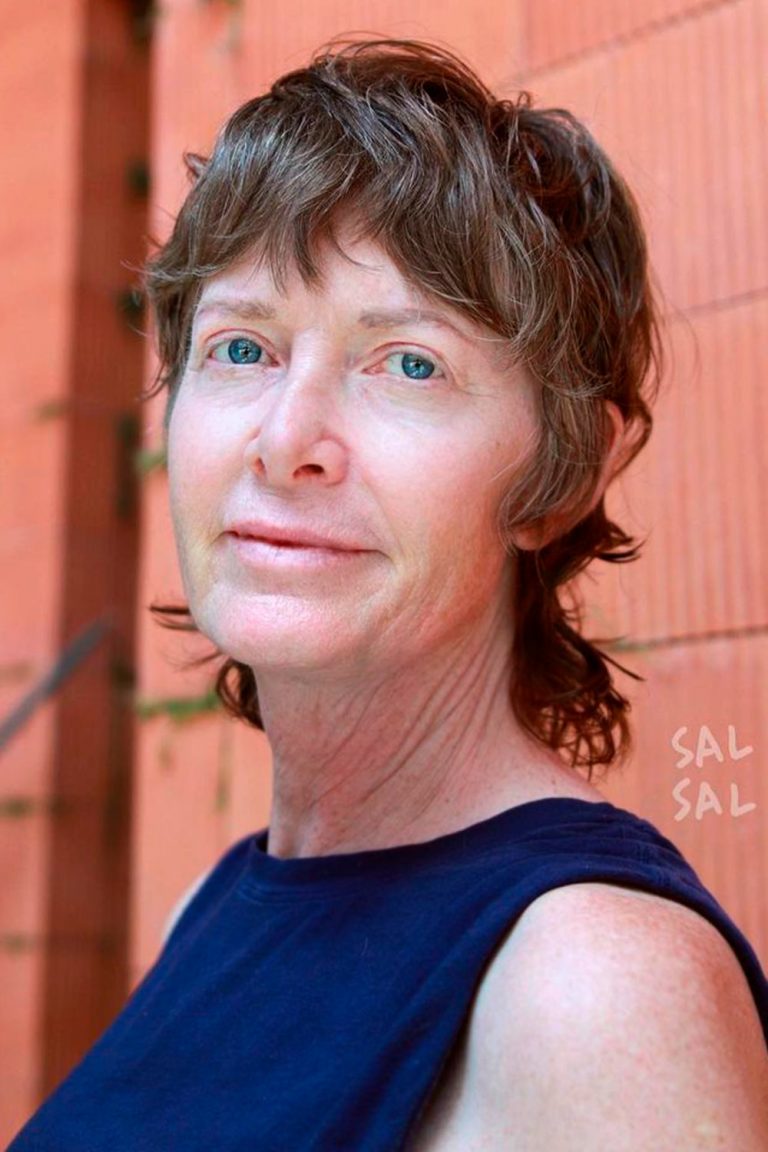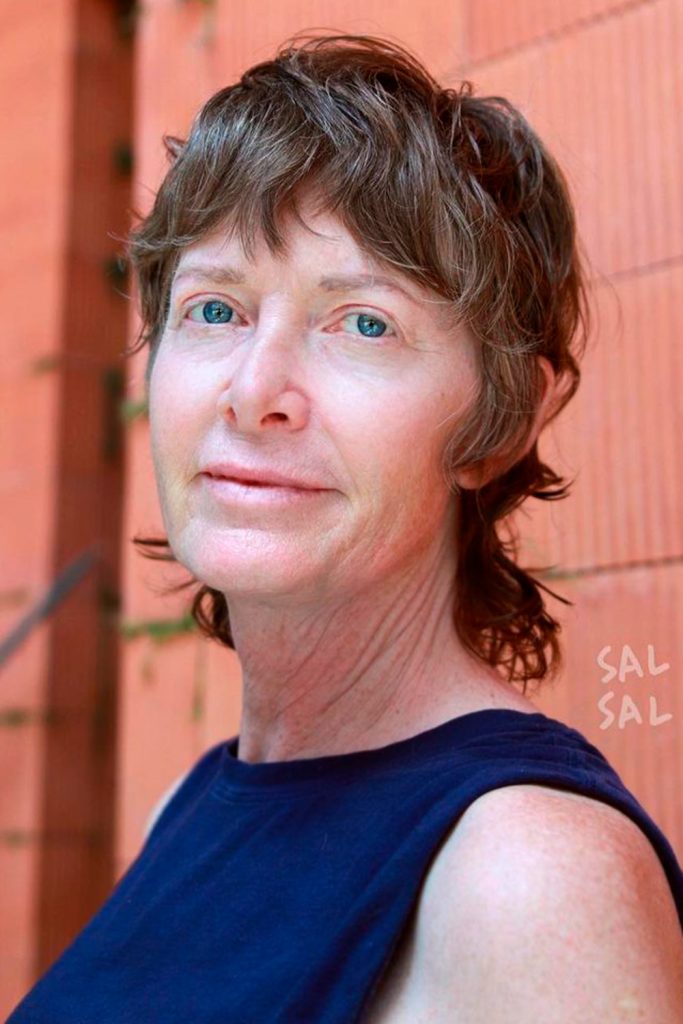 Credit photo: instagram.com/salsalhair
Combine mullet and pixie haircuts to create this wonderful and inspiring style. It's a style for people to look more youthful and draw attention to their eyes. What's more, is that the bangs aren't long and so don't get in the way of your vision but stick perfectly to your forehead.
Long Layered Curtain Bangs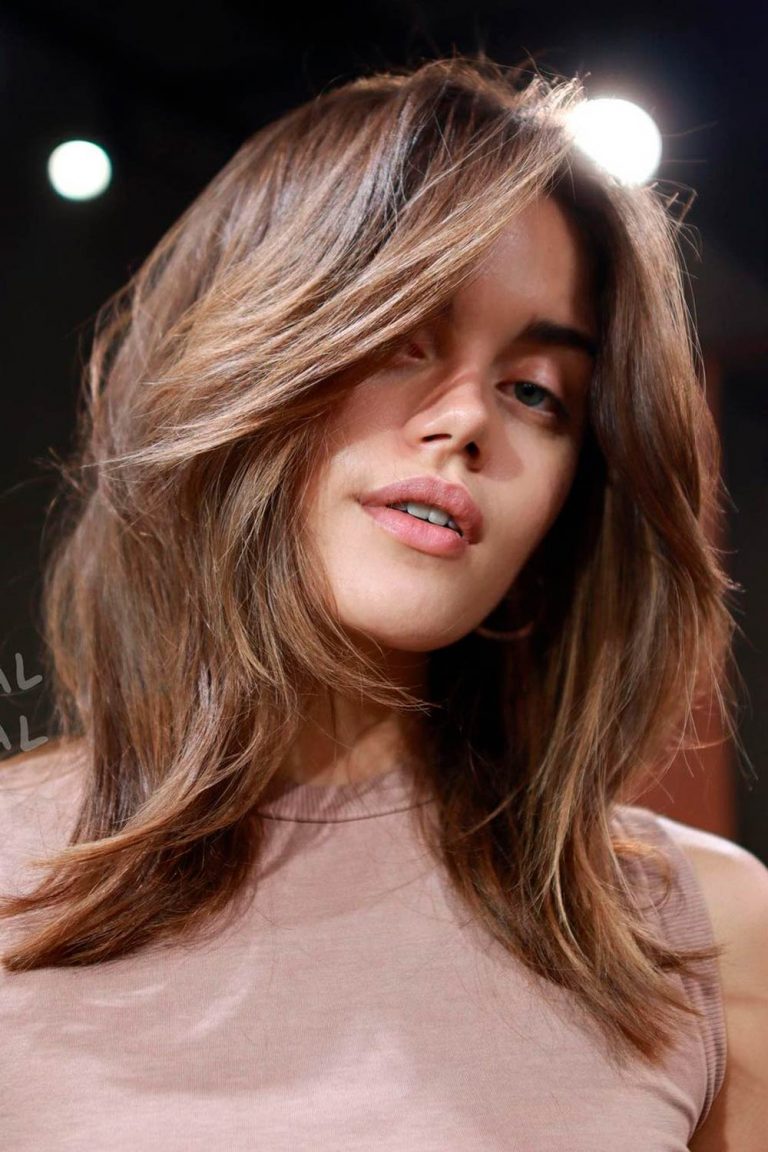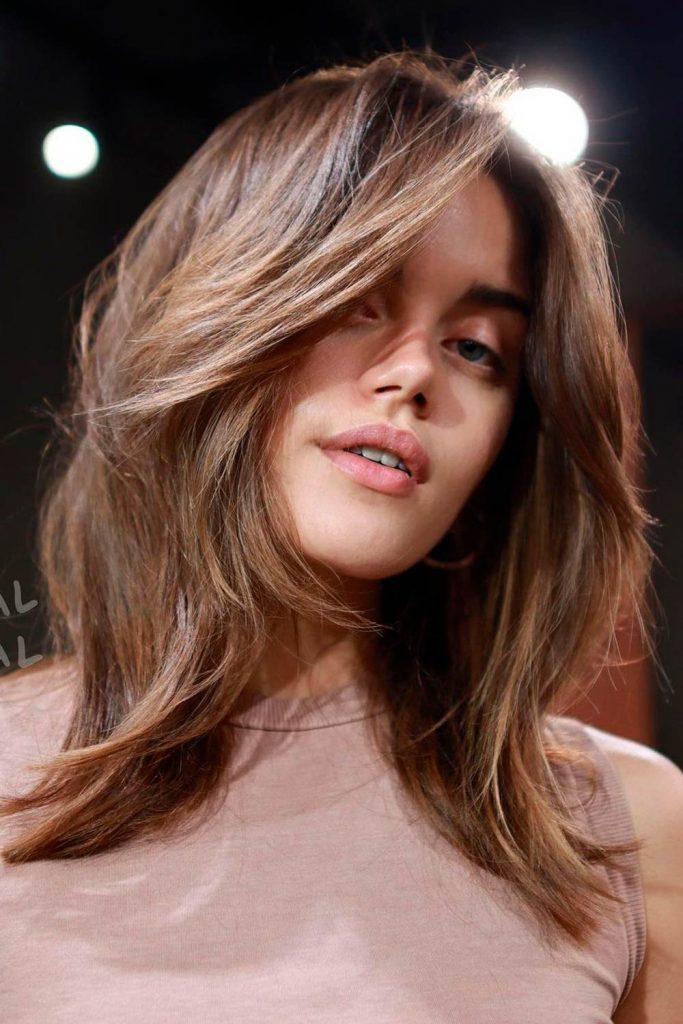 Credit photo: instagram.com/salsalhair
Go above and beyond by importing trendy curtain bangs into your hairstyle. With that, you have layered curtain bangs which is a perfect option for people who don't want their bangs cut short. It's very stylish and softens your facial expressions.
Side-Swept Layered Bangs with Medium Bob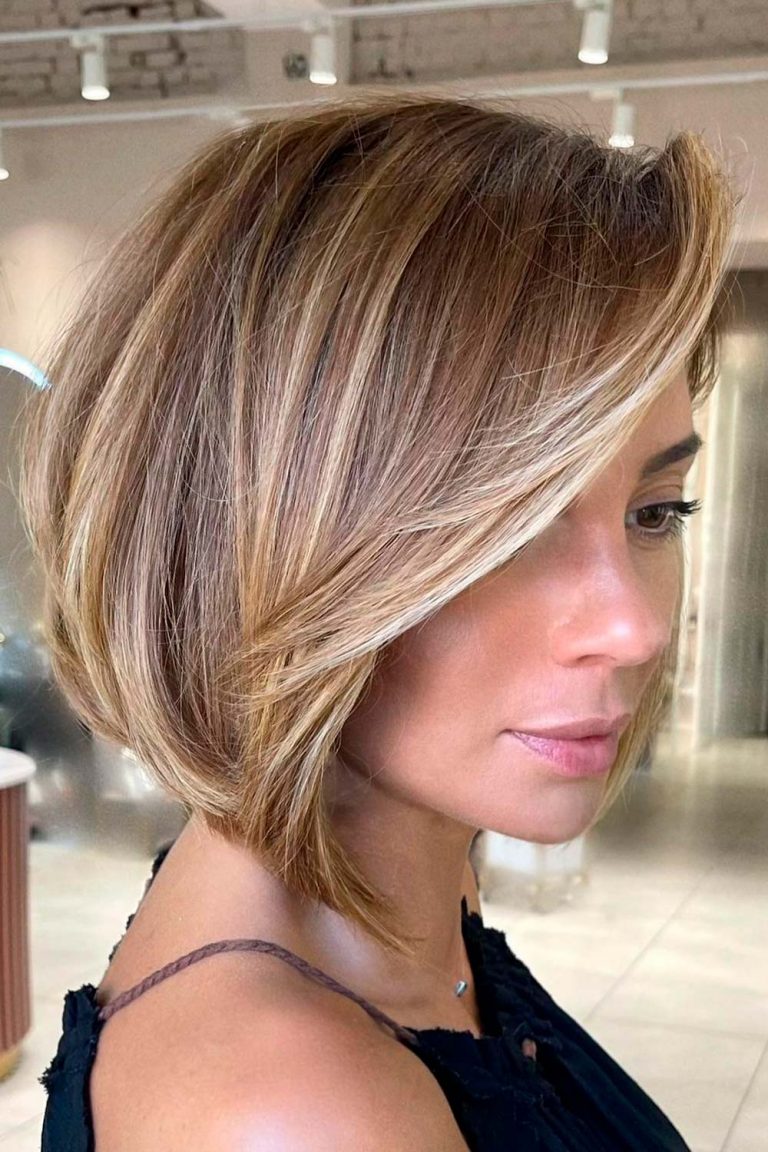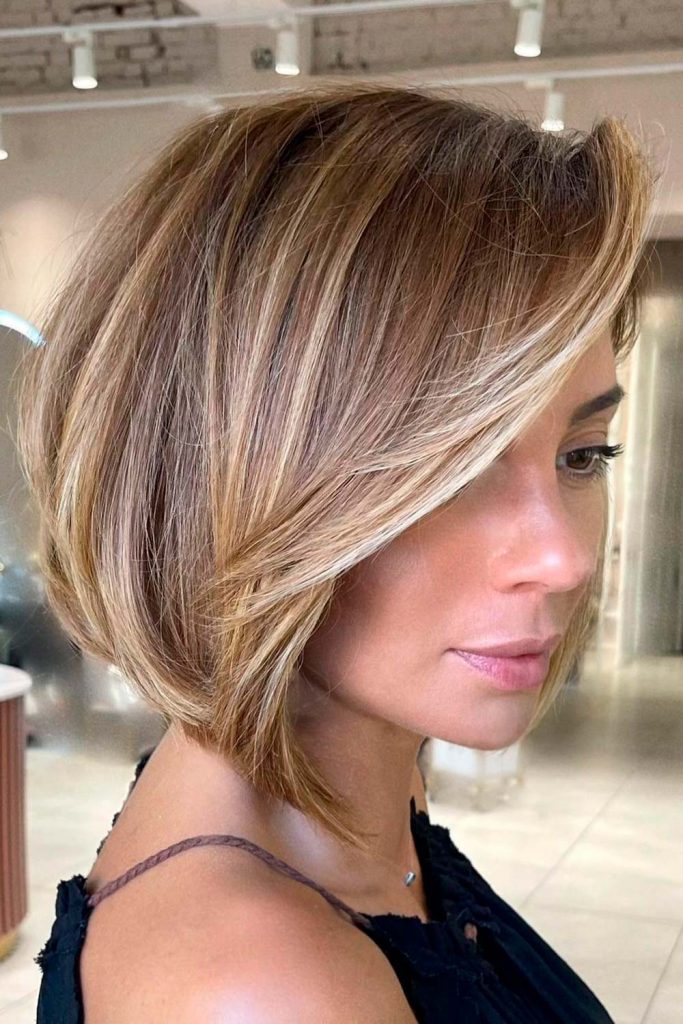 Credit photo: instagram.com/mila_kryshchykhina
Having your hair fall to a particular side of the face has its own charm. You can have your hair cut short, a little above your shoulder and part your bangs on the side. The good thing is your bangs aren't cut short but almost the same length as the rest of your hair and with layered tips. Show off the favourite side of your face with this hairstyle.
Side Layered Bang with Short Pixie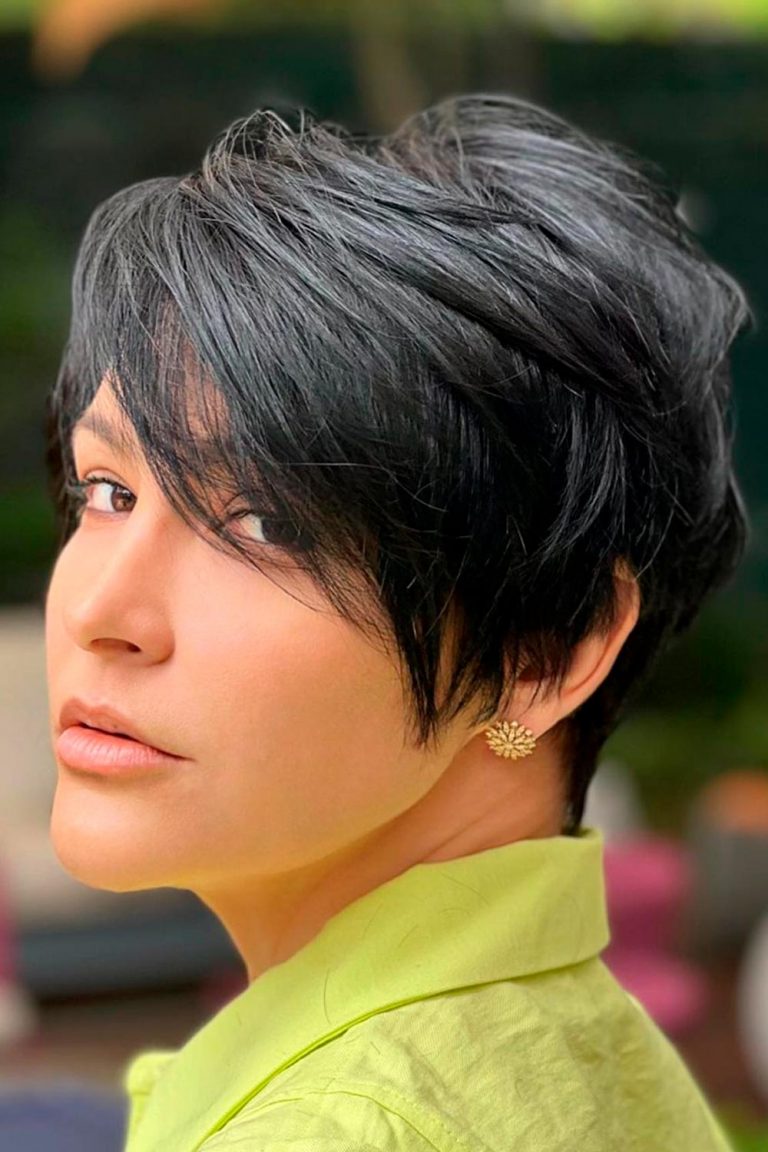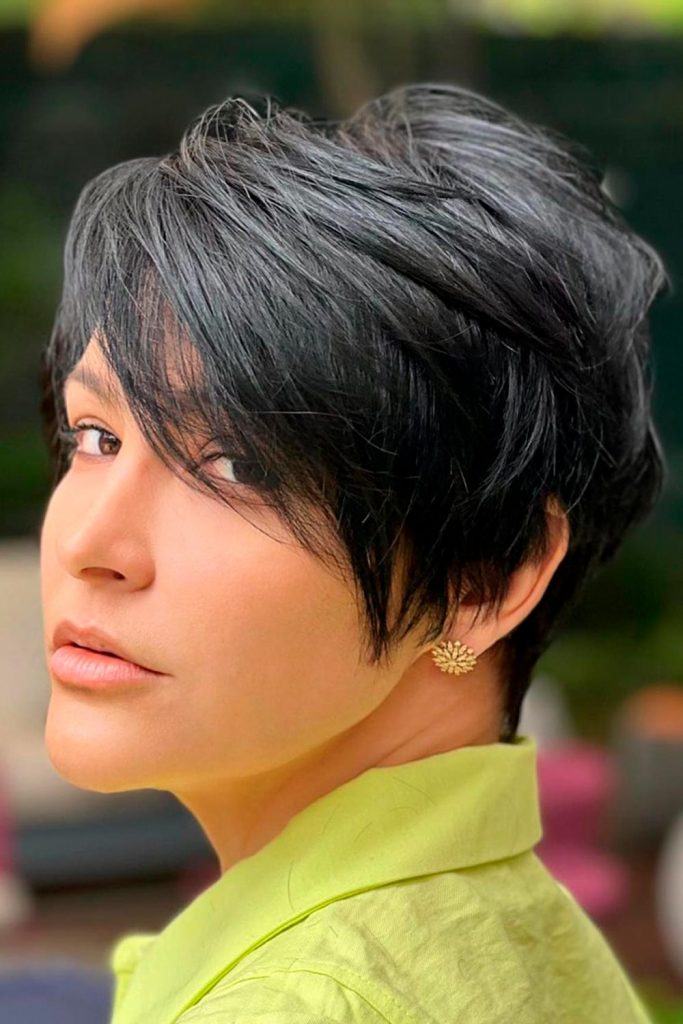 Credit photo: instagram.com/ro.hsiqueira
Well if guys can rock this style, who says girls can't slay it better? It'll be nice to give it a try if you want something extremely short with low maintenance but a lovely outcome. Most of your hair is cut to a particular side of your face and so could cover the brows and eyes of that side. It's very attractive and draws attention to your eyes.
Long Layered Haircut with Bangs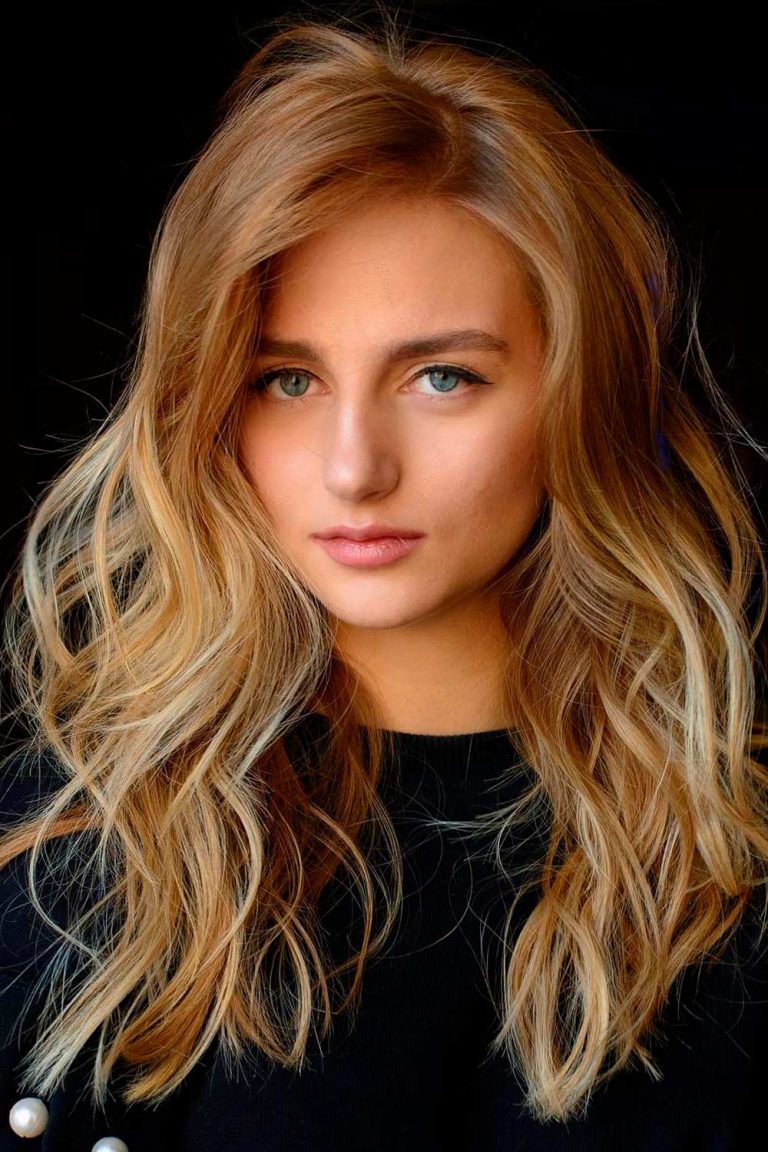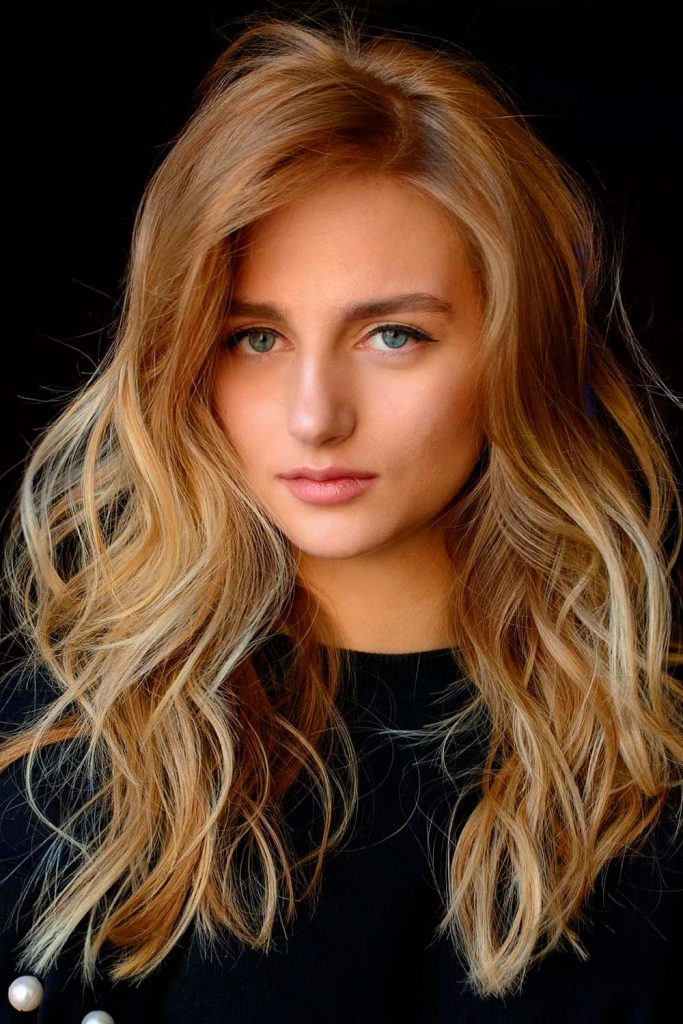 Credit photo: instagram.com/cutyourhair
If short hair is a big no for you, it doesn't stop you from joining the trend. You can have layered bangs long hair and still maintain your usual length. It always looks great with soft hair falling on both sides of your face.
Deep Side Part Long Layered Bangs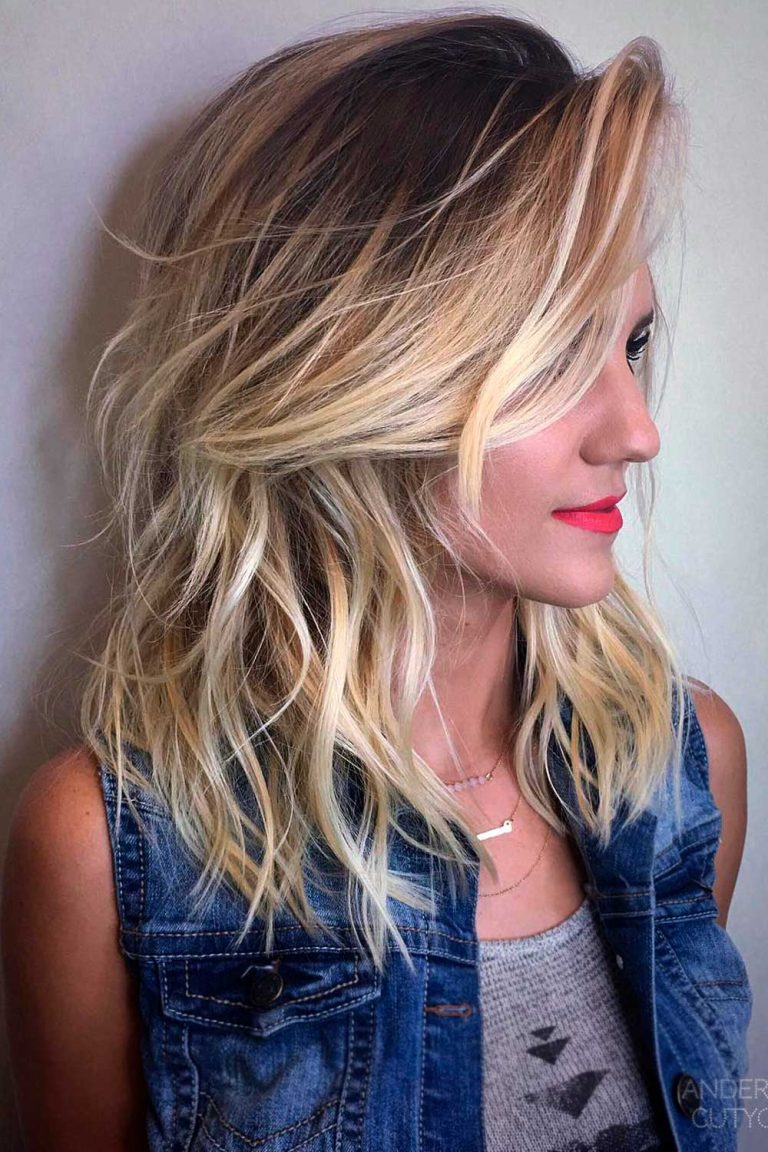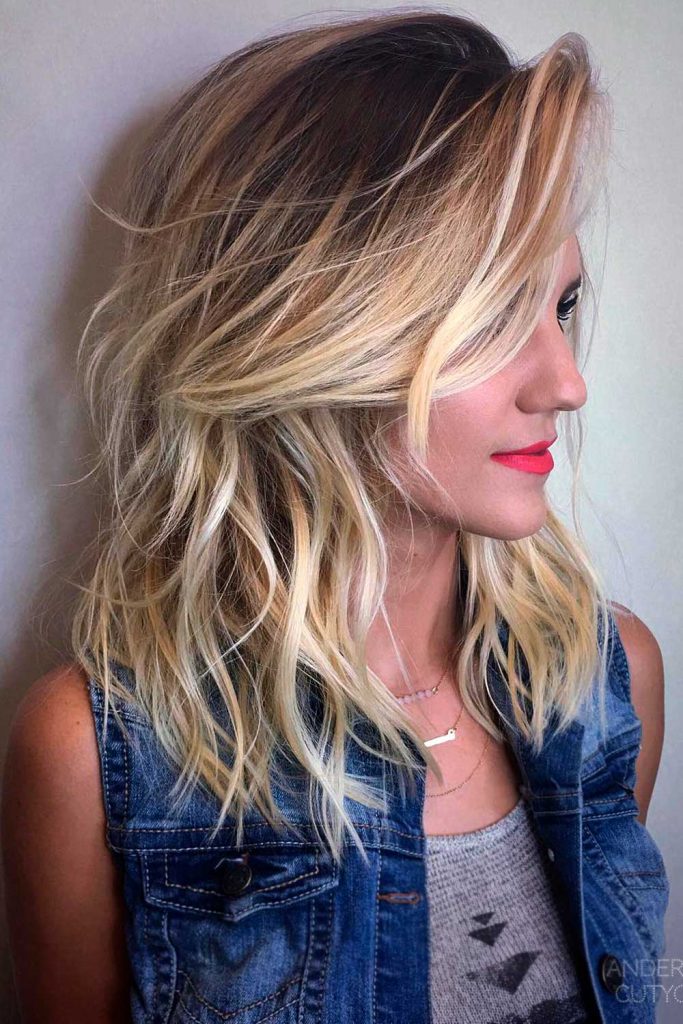 Credit photo: instagram.com/cutyourhair
Layered side bangs with long hair are the longer version of the side-swept bangs with a medium bob. Rather than having your bangs fall over your face directly, why not let them swerve towards a particular side? You get to have long bangs and still show off your pretty cheekbone on the other side of your face.
Wavy Short Bob with Side Layered Fringe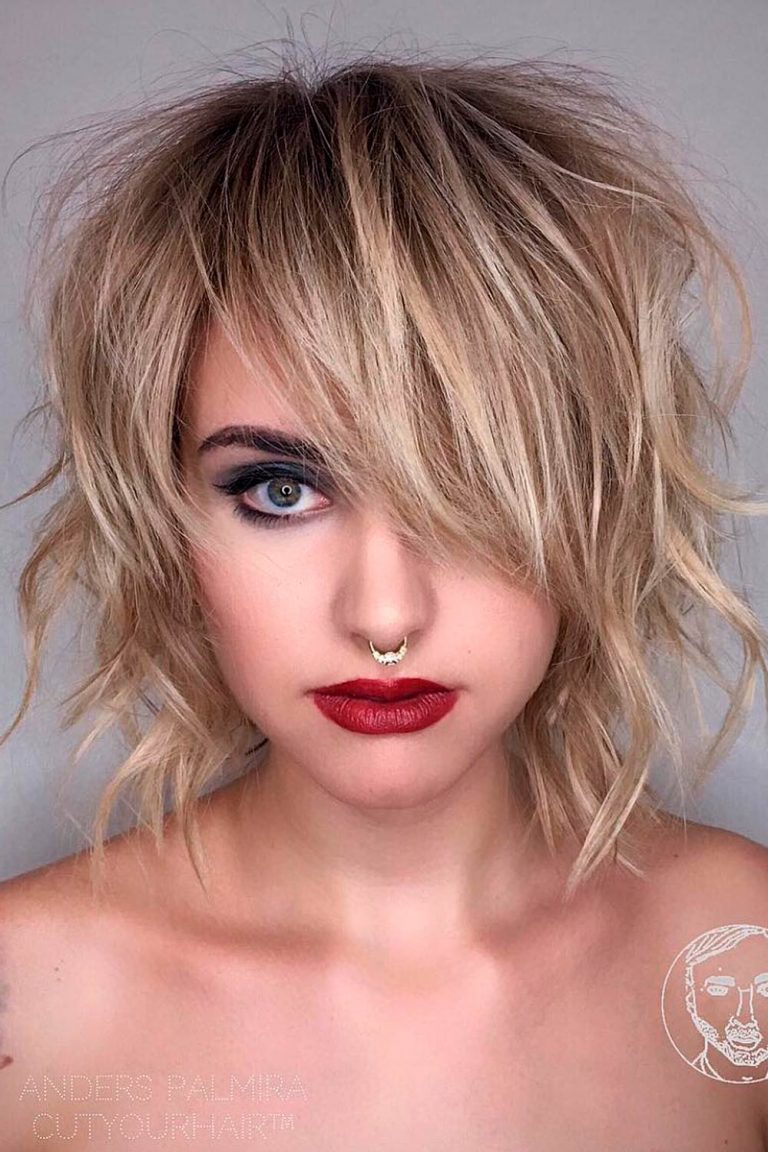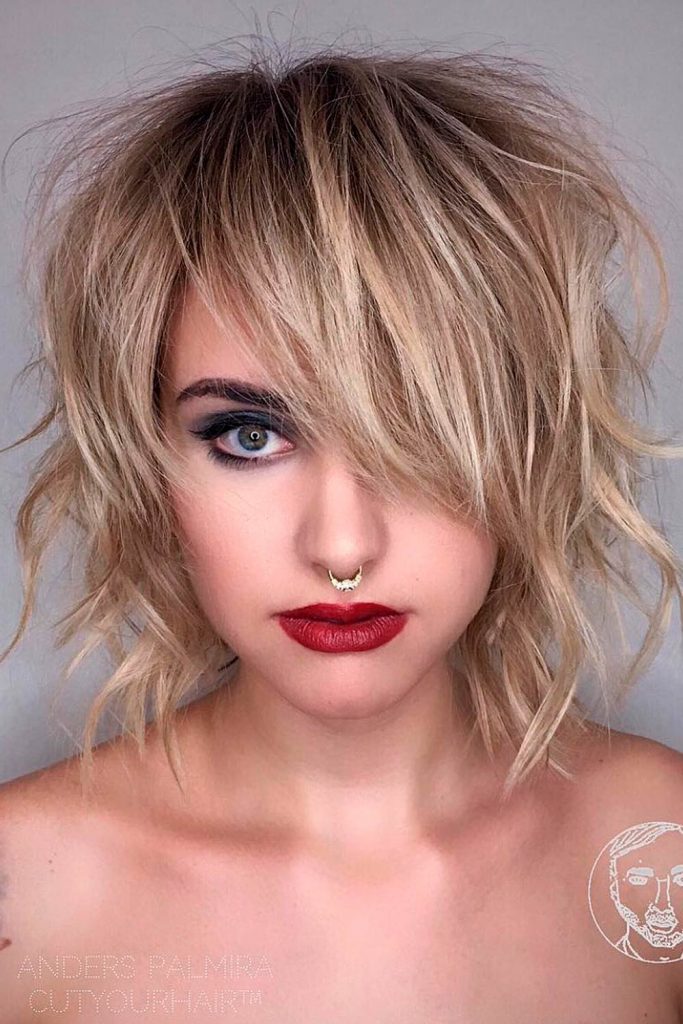 Credit photo: instagram.com/cutyourhair
Transform your straight short hair into loose waves at the tip. You can also style it in such a way that a large portion of your hair falls on a side of your face, completely covering your eyes but the tip stops before the start of your jawline. At first, it has a rough look but on closer look, it is very attractive and gives you an intense appearance.
Undercut & Side Swept Bang Combo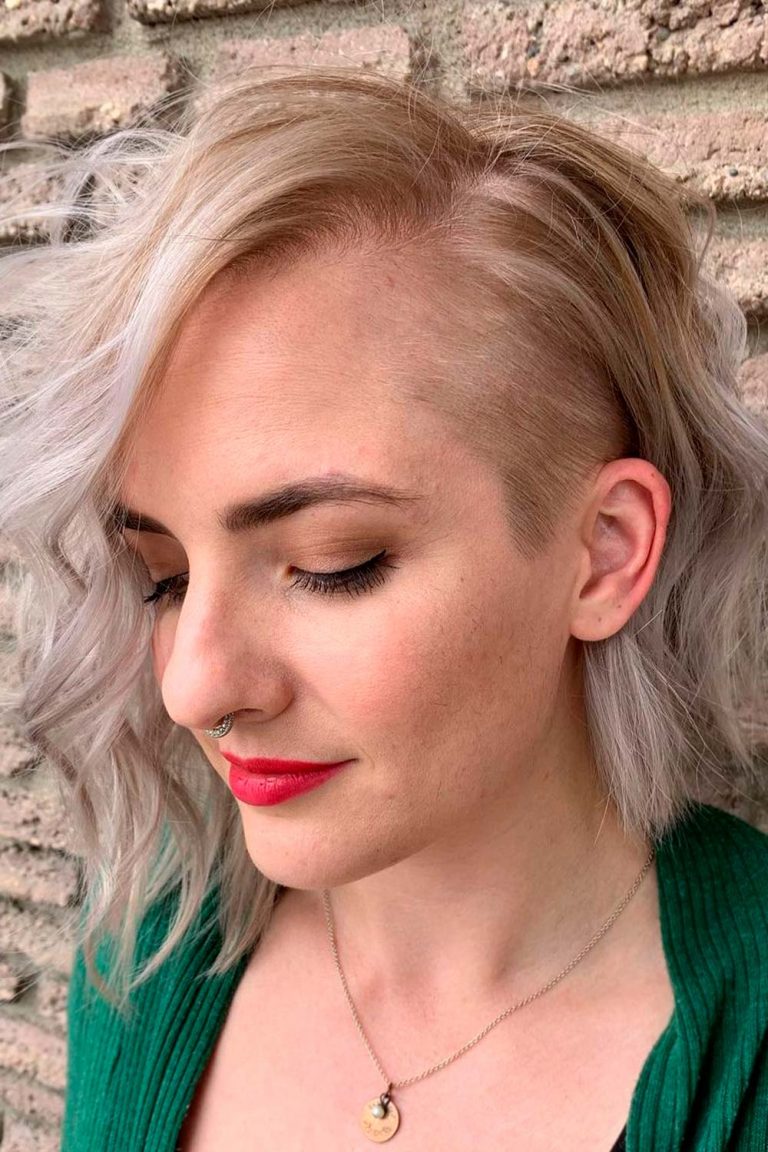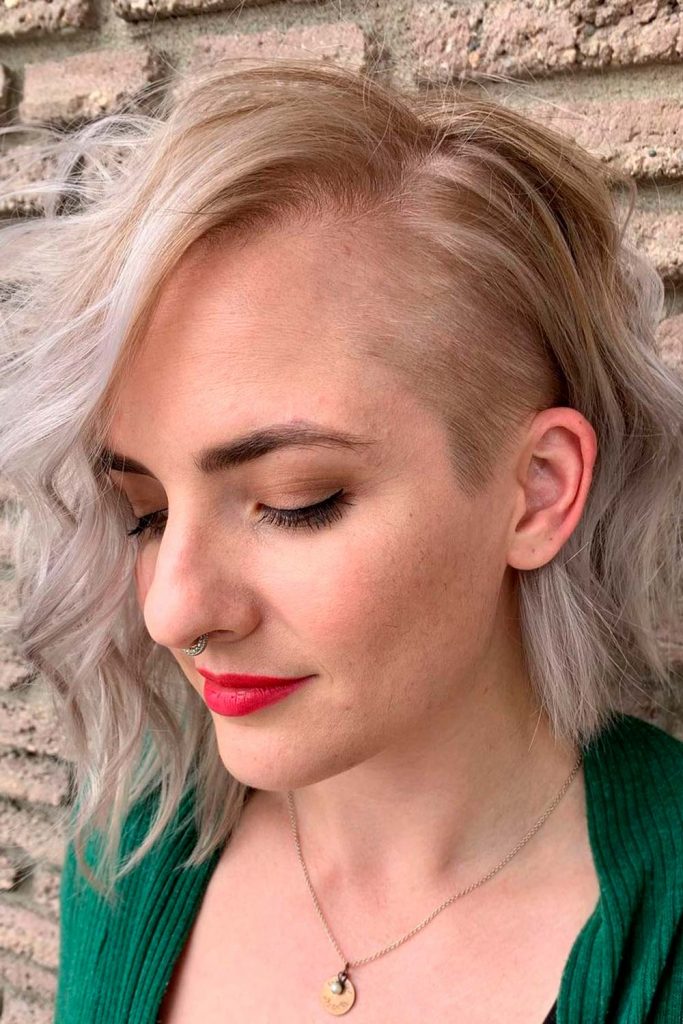 Credit photo: instagram.com/hairbyclairperez
This is another innovative way to style your layered side swept bangs. You can have a little undercut on one side of your face while tucking the rest of the hair on that side behind your ear. Have the hair on the other side fall over that side. It's almost like a curtain type of bang just that one side of the curtain is missing, which is the main fun.
Elongated Bangs with Layers for Straight Hair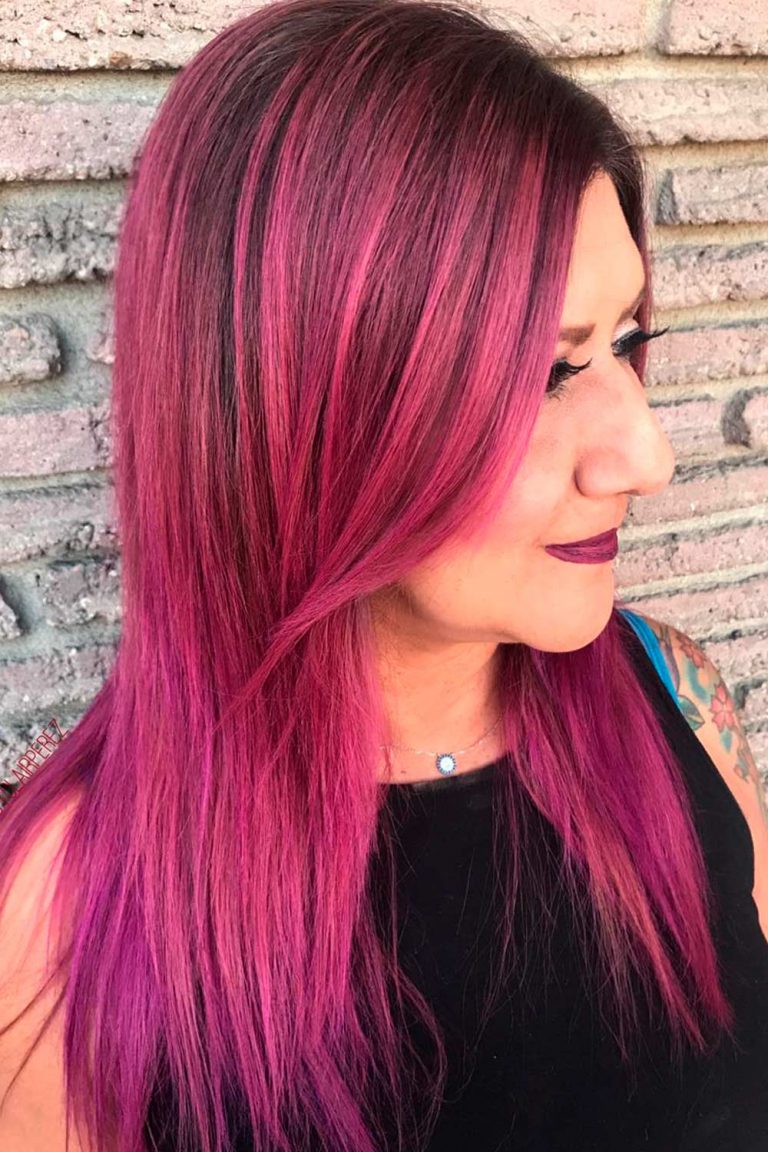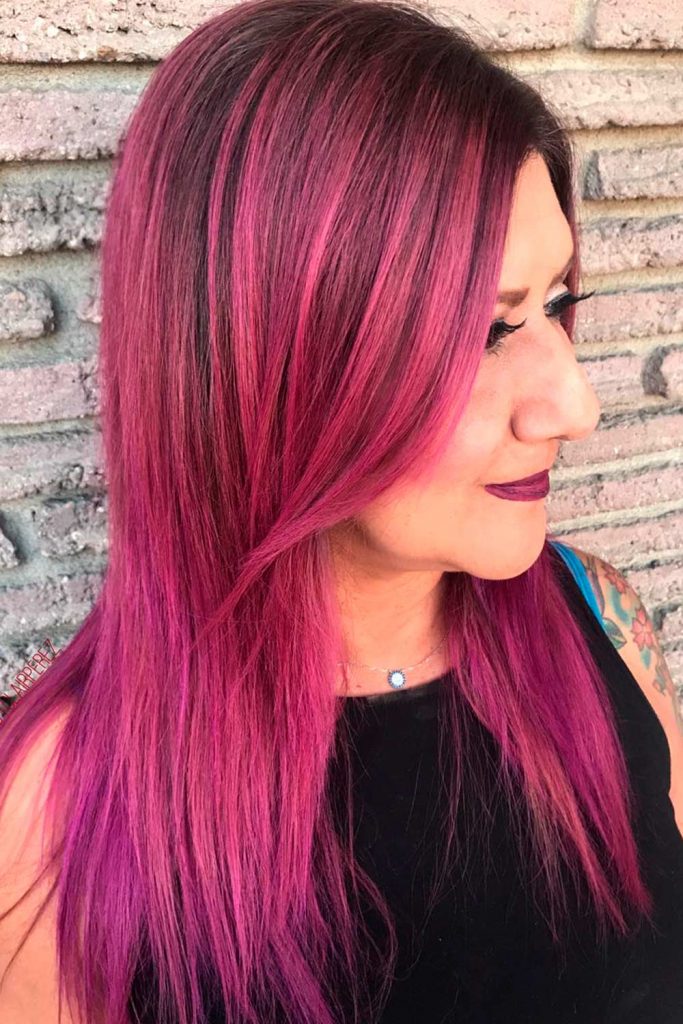 Credit photo: instagram.com/hairbyclairperez
If you want layered bangs for thin hair, you can try straightening your hair to highlight and show off your hair texture. You can part your bangs at the center or side but it just falls straight on both sides of the face. Very lit and chic if you don't want to have to put in lots of effort when styling.
Medium Wolf Shag with Bangs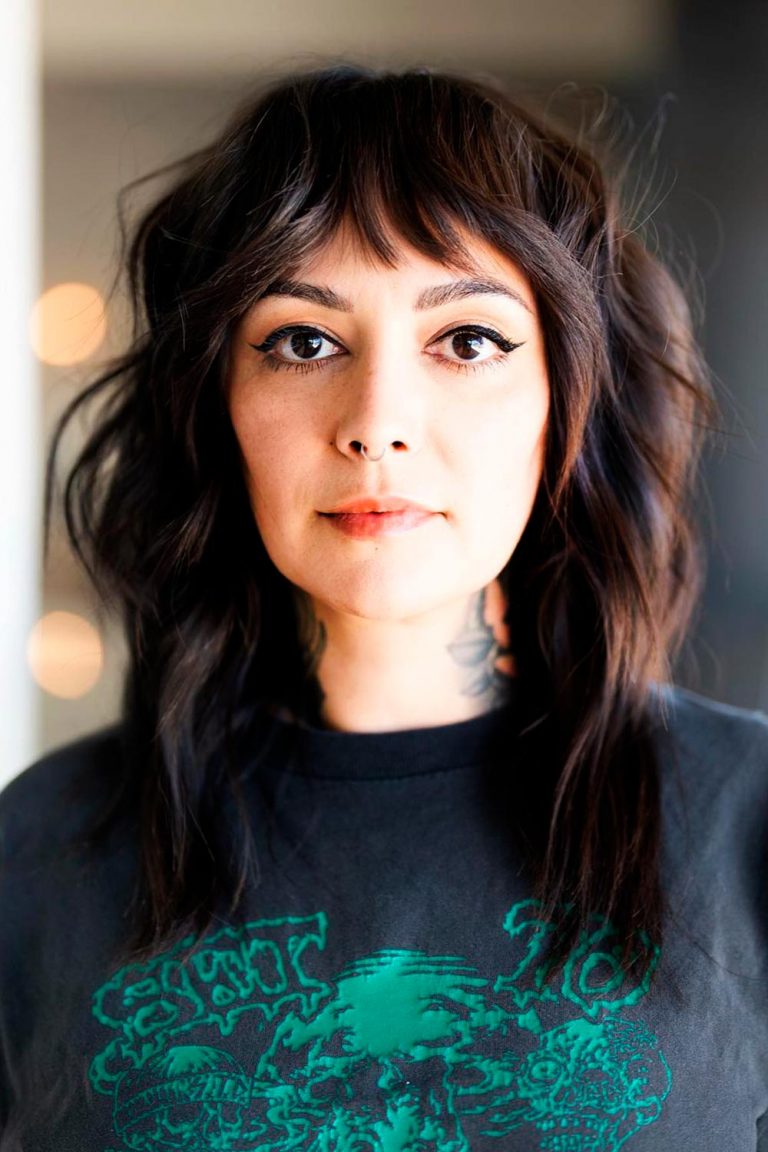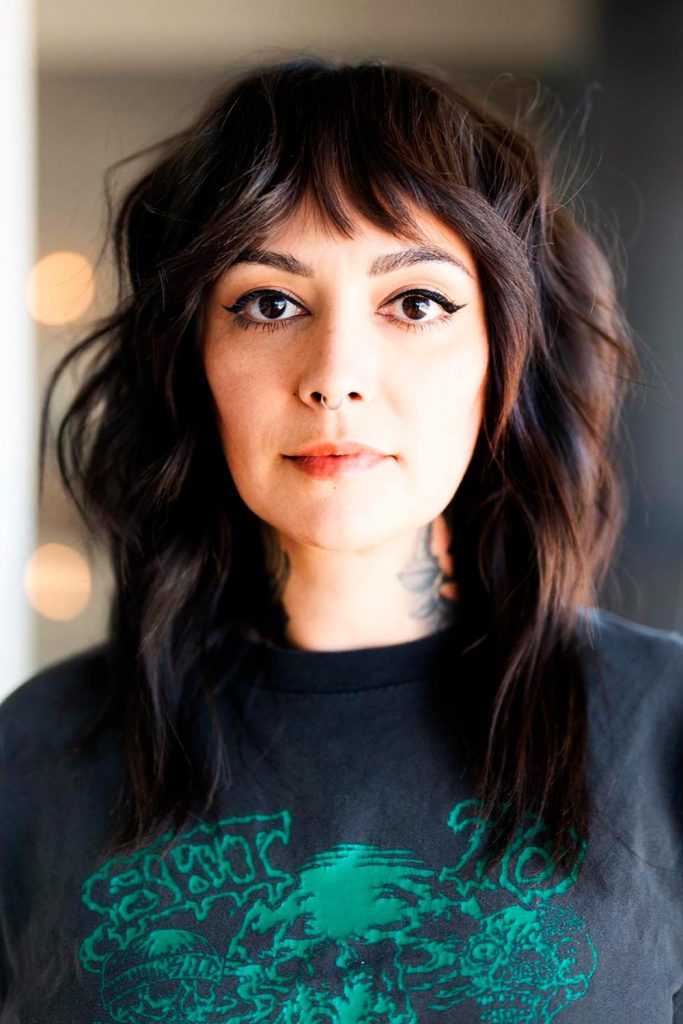 Credit photo: instagram.com/brianaguilarhair
When talking about haircuts that are meant to be paired together, layered bangs and a wolf cut would be among the first combos that come to our minds. With a wolf cut women got their hair layer cut all over and the bangs are no exception. This ensures your hair is seamlessly blended and perfectly defined.
Don't be behind on the trendy ways people are styling their hair with layered bangs. You can get creative with any of the hairstyles listed above and also explore new styles you've never tried out before. You wouldn't know what fits you at times until you try it out. So whether you're team long hair or short hair, you can still slay your layered cut bangs regardless.
REFERENCES: