Straight hair is not as simple as it may seem to be at first sight. In fact, many girls describe their hair types as straight without even knowing what kind of texture they have. As a result, they end up with the wrong products on their shelves, which leads to mistakes in hair care.
So, what hair type is straight hair? Hair technicians have divided all hair types into three categories, and straight hair is Type 1. As for textures, every hair type splits into three subcategories (a,b,c), where each one stands for a certain texture.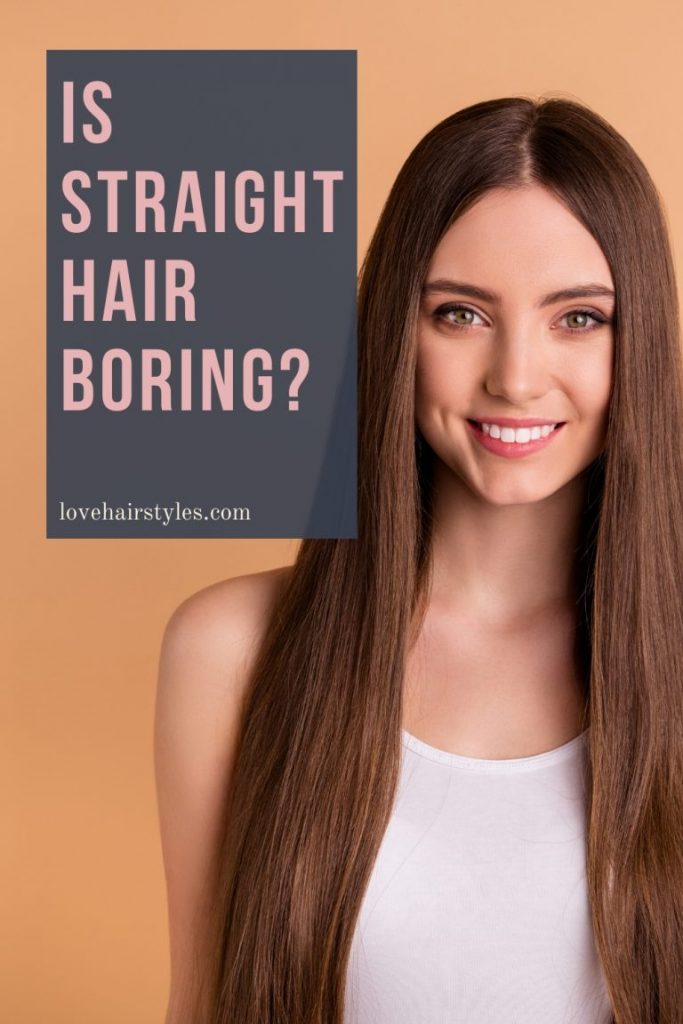 Though it may confuse you know, we're here to show you how easily you can navigate this topic. Once you discover the difference between straight hair textures, you will build the perfect hair routine for your locks, getting the most of them.
Pros & Cons of Straight hair
Every hair type has its best and worst sides, and you should discover all of them to know how to deal with your hair. Now, let's discuss the pros and cons of having a straight mane.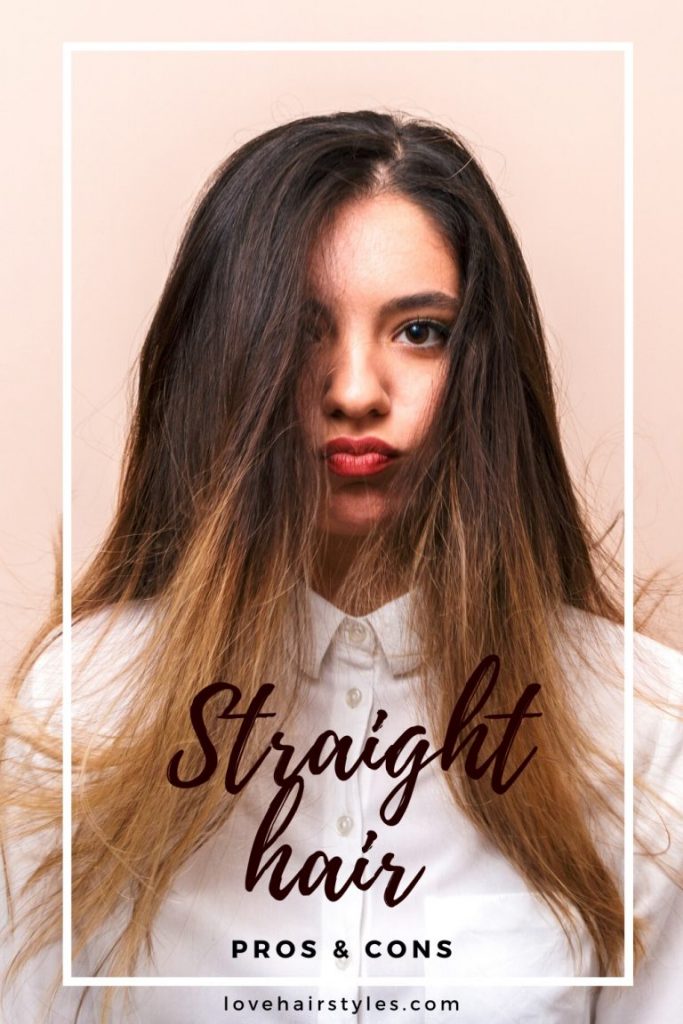 Pros:
It's tough enough for styling. In straight hair, natural oils travel from the scalp to the hair shaft easily, which keeps this hair type nourished and hence strong enough for brushing and styling.
Shine-reflecting locks. It's no secret that straight hair is like a mirror for light with its natural shine and gloss!
It grows out fast and easily. Since this hair type gets enough nourishment and hydration from sebum, it's less prone to breakage than other hair types. And this allows to grow out a long and strong mane pretty fast.
Cons:
The lack of body. Volume is the holy grail of girls with straight locks; it's indeed a struggle to keep this hair type voluminous.
It gets oily fast. Since the follicles are smooth, the sebum becomes visible pretty soon, making women want to wash their hair more often.
You may get bored with it. Is straight hair boring? While it's hard for women with wavy and curly hair to imagine that the attractive silky and resilient look can ever become boring, that's true among straight-haired girls. Straight hair has a lack of texture that requires hours to be tamed and manipulated.
Straight AKA Fine Hair: Type 1A
This type of straight hair is shiny and soft by nature, but it tends to fall flat throughout the day. When choosing hairstyles for fine hair, it's better to opt for side-swept looks with waves so you can easily lift the roots by tousling or sweeping your hair. Also, stylists recommend women with this hair type to cut their hair in layers. Such cutting techniques give a textured feel and make it easier to build volume in thin and wispy hair.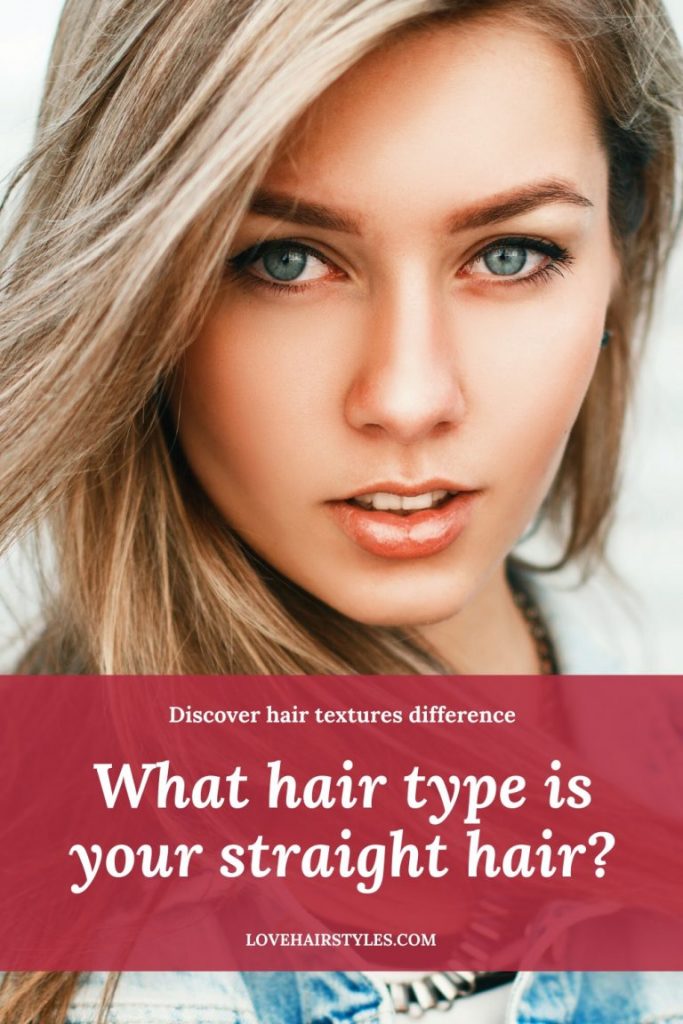 Straight hair: Type 1B
Type 1B is also called medium straight hair for its absolute balance of density and volume. Women who were blessed with this texture can pull off any straight hairstyles without fear of hair weigh down or become flat fast. This type of straight locks is thick and manageable enough for styling, so you can rock anything from a pony to an updo and still have a voluminous thick look.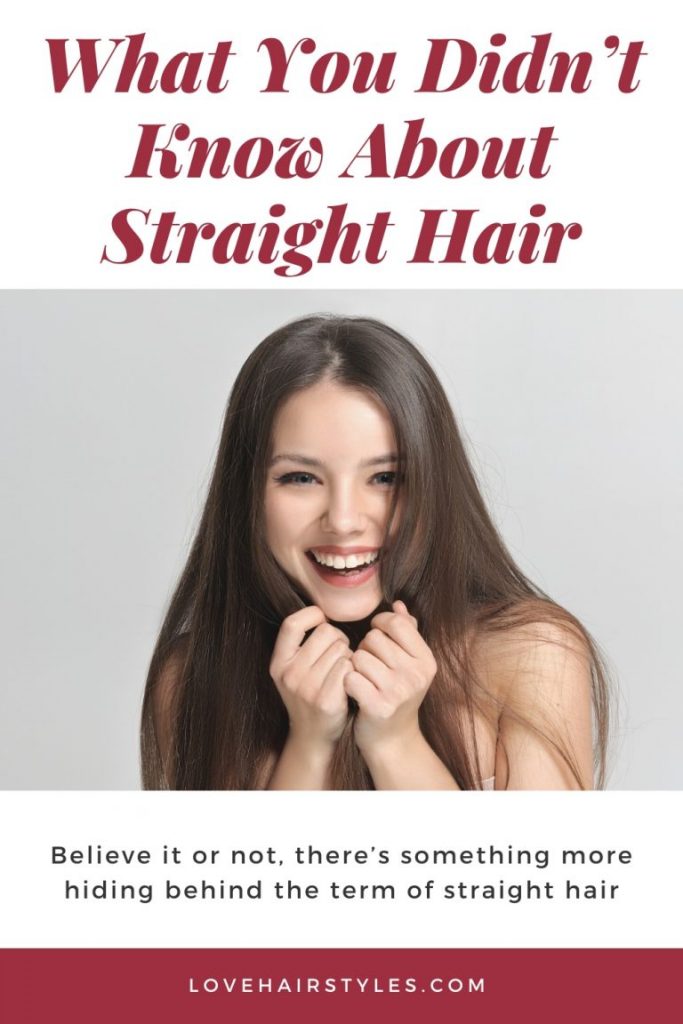 Straight hair: Type 1C
Once you find the right haircut for type 1C, where C is for coarse hair, you will reveal the texture you never knew you had. Initially, this hair type is stick-straight and hard to handle even with tons of styling products and tools. While having a straight look, it comes in with a soft visible wave that stylists recommend to fix through layering. When layered, this hair type reveals its incredibly full, elastic, and super shiny side that looks best with long and middle-parted styles.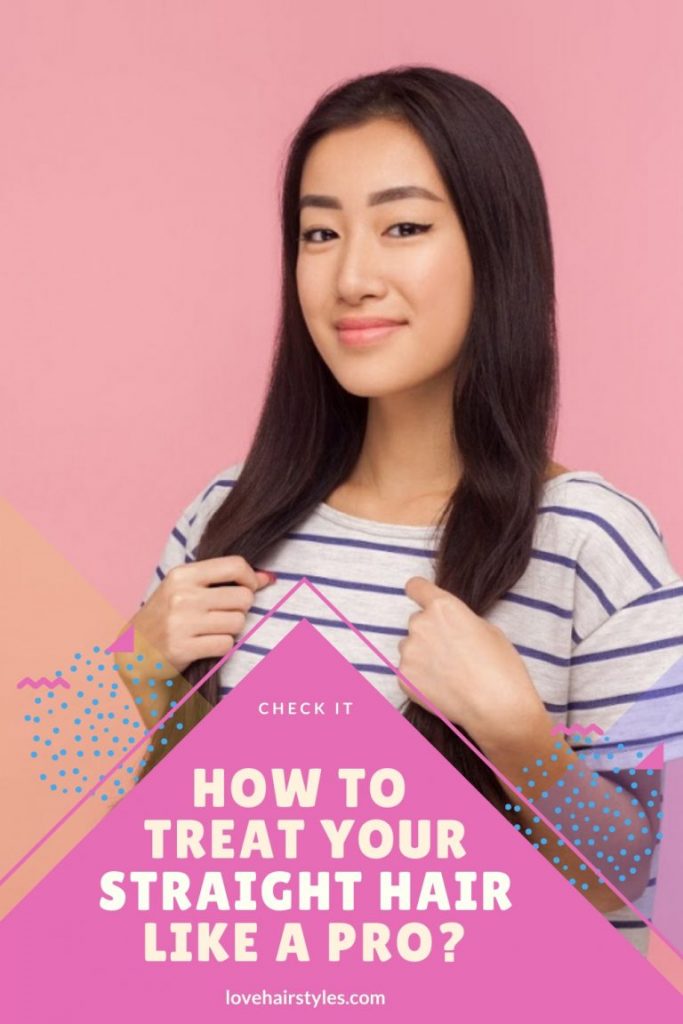 Q: Is straight hair rare?
A: It depends on what texture of type 1 hair you're talking about. In general, type 1A is the rarest hair type, whereas 1B is one of the most common types.
Straight Hair Tips
Now that you've found out which type of straight locks you have, it's time to learn the basics of taking care of it. Here are the fundamentals of how to get straight hair type in perfect shape and keep in on point.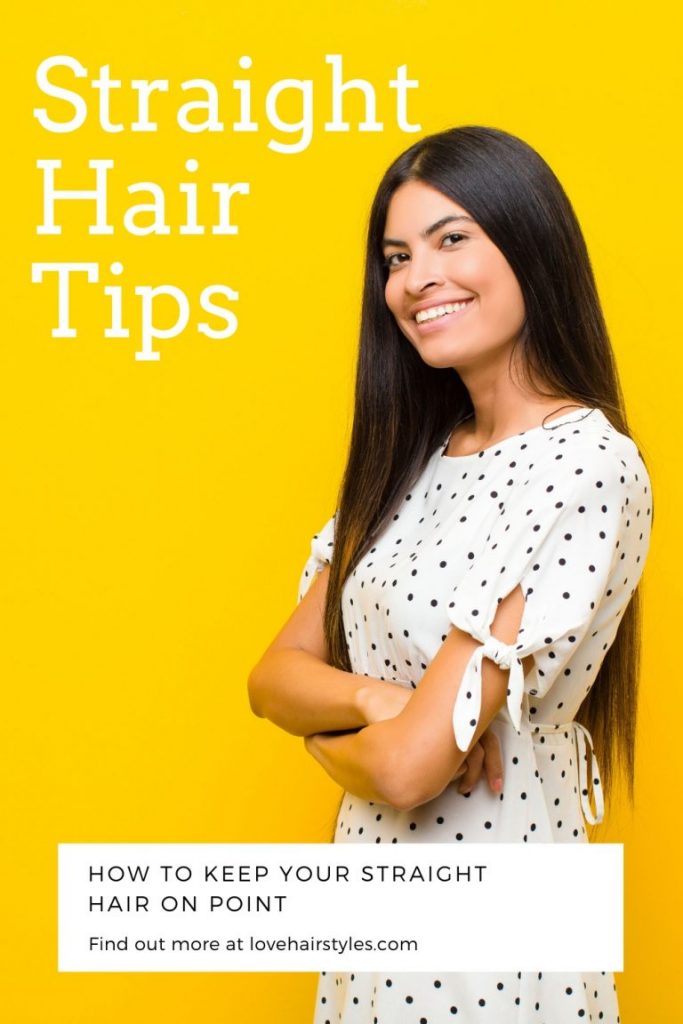 1A Hair:
Add some volume. Make sure to use volumizing foams and mousses on your wet hair to give it a lift when styling. The same goes for anything from your dry shampoo to conditioners.
Condition the ends only. Since your hair is pretty fine, a lot of conditioning may outweigh it, so applying it only to the bottom is the best solution.
Protect your hair. Fine hair is prone to damage during heat styling, so it needs a heat-protectant.
Wear it short. It's easier to build volume and shape on short haircuts.
1B Hair:
Opt for layered haircuts. Layers will enhance your slightly textured feel and add more movement to your medium-thick hair.
Avoid oil-based products. So as not to have a greasy look, stay away from moisturizers that contain oils.
Use dry shampoo. There's no need for an extra wash when you have dry shampoo.
1C Hair:
Deep-condition regularly. Your hair needs proper hydration to stay shiny and strong, remember?
Switch to air-drying. Since this texture is prone to dryness, it's better to avoid heat styling.
Use natural products for styling. Silicones and sulfates dry the hair, so you should find organic styling products.
Add layers. Layering is a must to give manageability to thick textures.
Awesome Ways To Style Straight Hair Easily
Straight And Cute Long Brown Pixie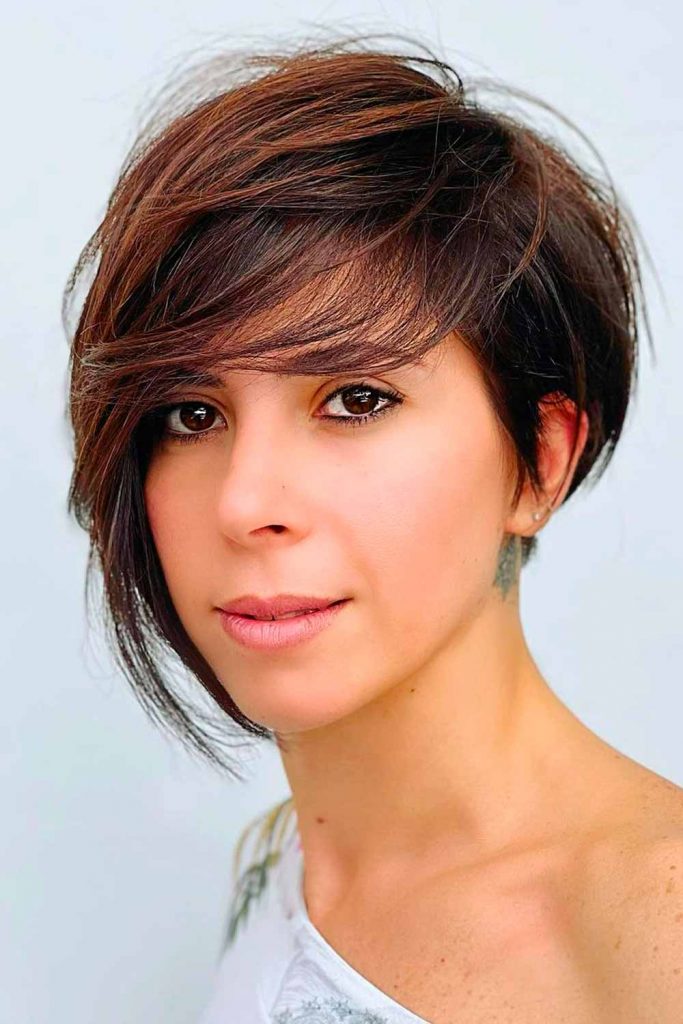 Credit photo: instagram.com/jeanclaudeelmoughayar
Though most straightening ways affect our hair in some measure, such a pixie can't do without a flat iron. When your hair is relatively short, you have fewer possibilities to straighten it without heat, especially when you want to get an immaculate look like this. Remember: don't grab huge locks when straightening. Otherwise, your hair will be too slick. Straighten your hair by layers, taking little sections one by one, and make sure that you softened it with a conditioner before starting.
Messily Styled Icy Blonde Pixie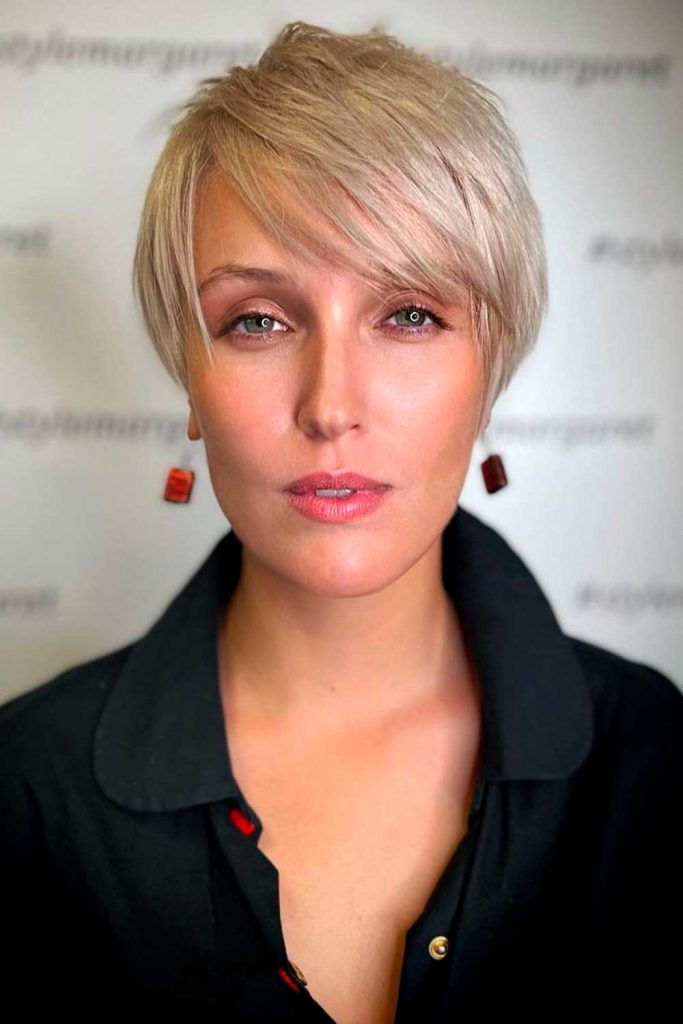 Credit photo: instagram.com/stylemargaret
Believe it or not, this messily styled pixie was created without any heat. In addition to giving your straight locks body and movement, it is a great way to disguise your cowlick hair imperfection. If you're about to create a bit messy silhouette and you don't need to style every lock as neatly as possible, you can even let it air dry. Once you washed your hair, rub your hair gently with a towel, and let it dry itself, brushing your locks every five minutes. When you see that it's almost dry, pull though your hair with your fingers and let it dry completely. Voila! It's straight, yet not flat.
Lively Rose Pixie For Thin Hair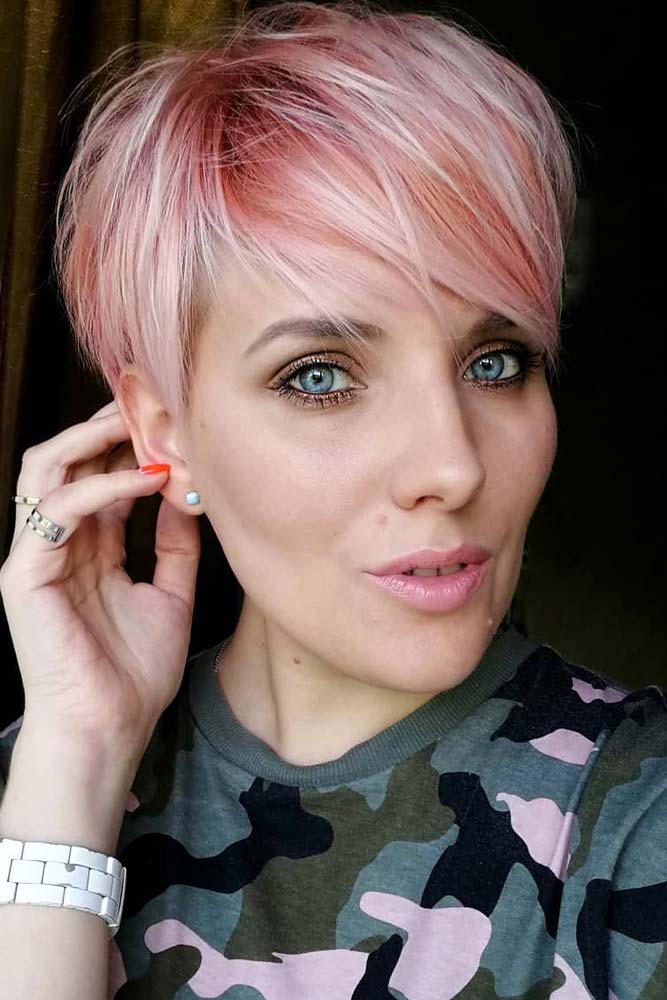 Credit photo: instagram.com/magenta_bubblegum
No wonder that ladies with thin hair stay away from flat iron. Most of all, it prevents a chance to get volume, plus thin locks are more sensitive to heat. Just look how lovely and effortless this soft rose pixie looks! It has a body, structure, and character, after all! The only thing you need is to dry hair with a towel, style it with a comb and let it air dry. Run your fingers through your hair and enjoy!
Cool Blonde Pixie With Dark Roots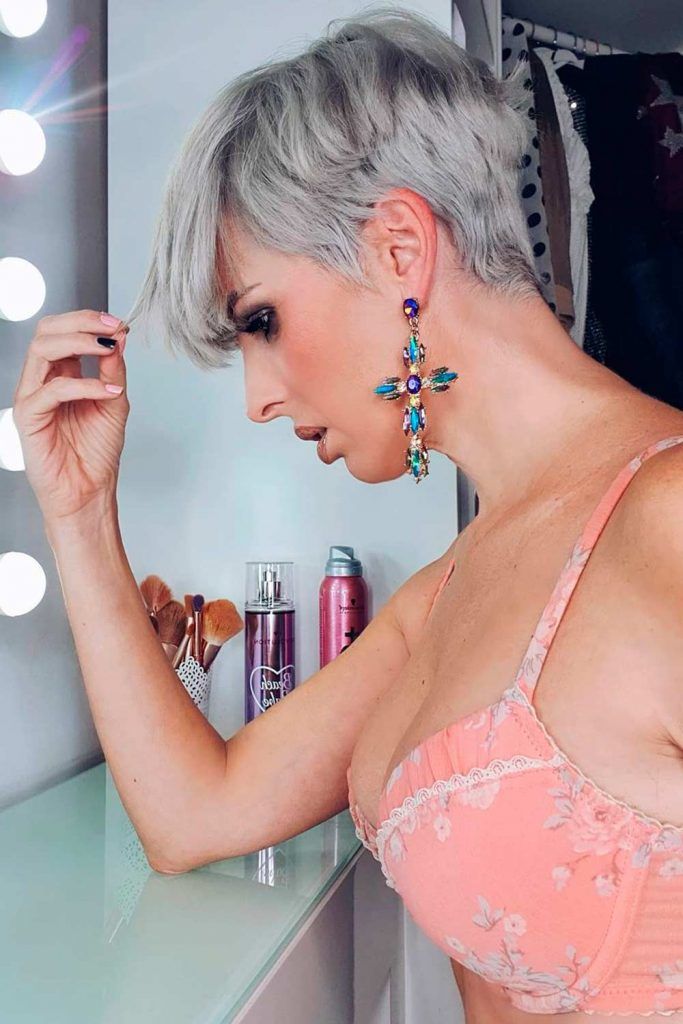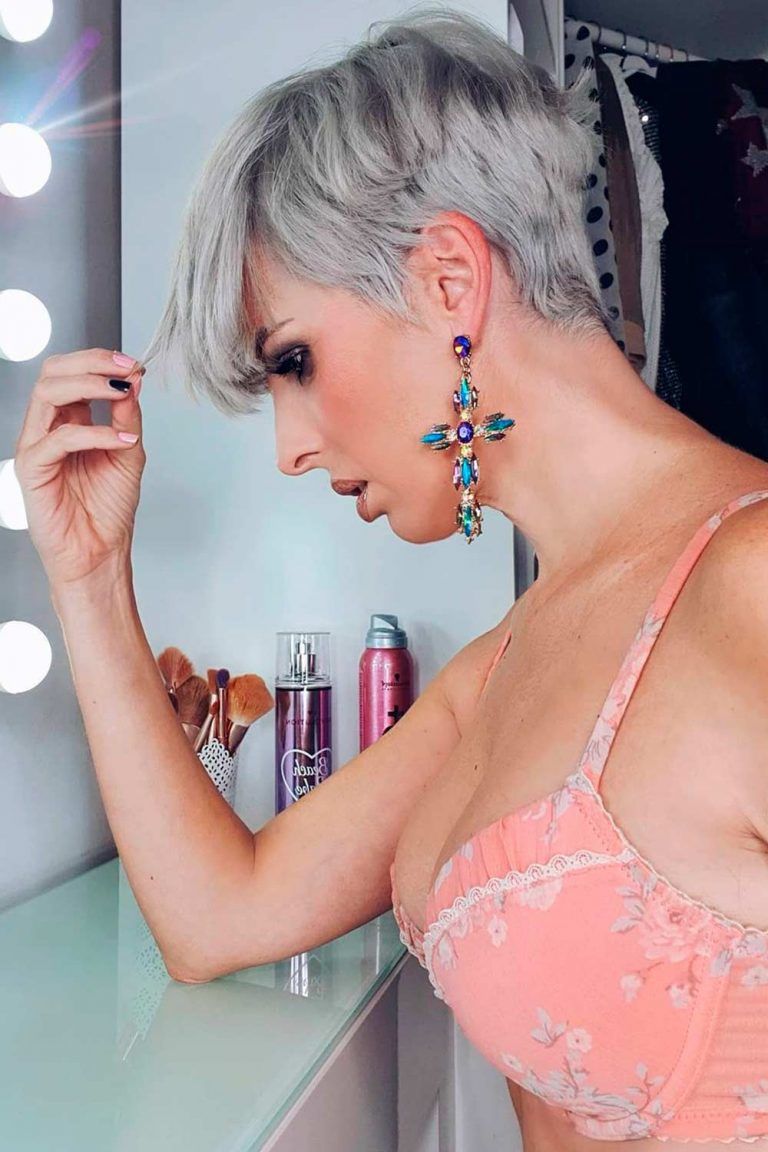 Credit photo: instagram.com/silviagullon
Now, it's time for some color inspiration. As you change the look of your hair, your hair color appears in a new light, too. This idea looks ravishing on perfectly straight hair, as each lock is calmed down cleanly, revealing the beauty of contrastive blonde and black color combination.
Long Blonde Voluminous Pixie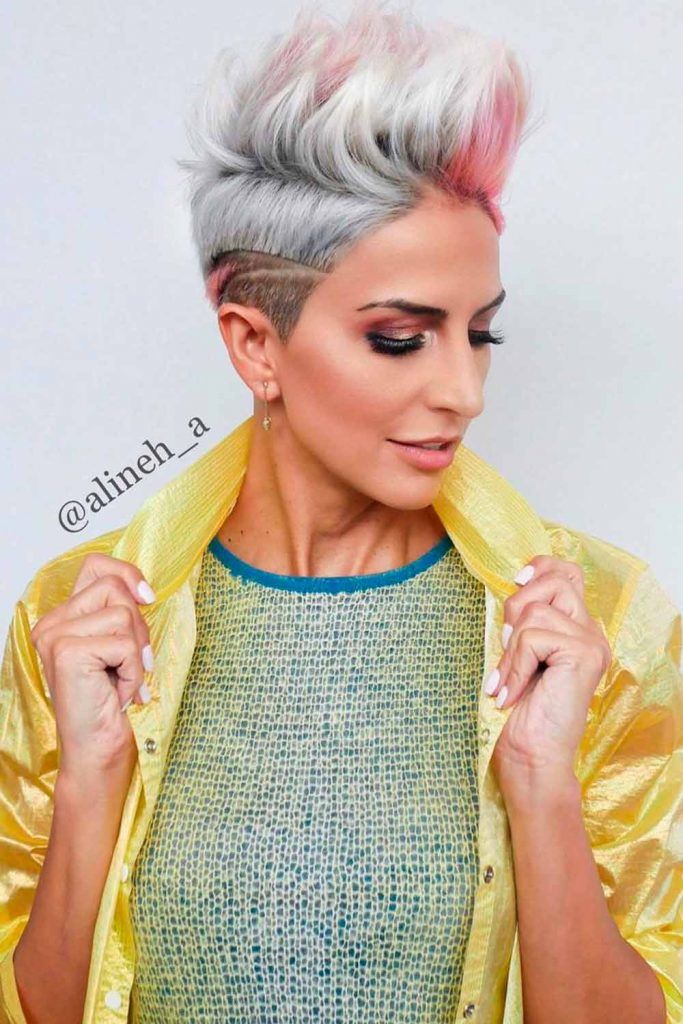 Credit photo: instagram.com/alineh_a
Ladies who decided to tie their lives to pixies are the ones who will always have an unbearable volume and edgy silhouette. This cut looks awesome on any hair textures, and if you want it to fit your straight hair, you will need to tame your cut by blow-drying it with a nozzle.
Straight And Full A-line Bob For Thick Hair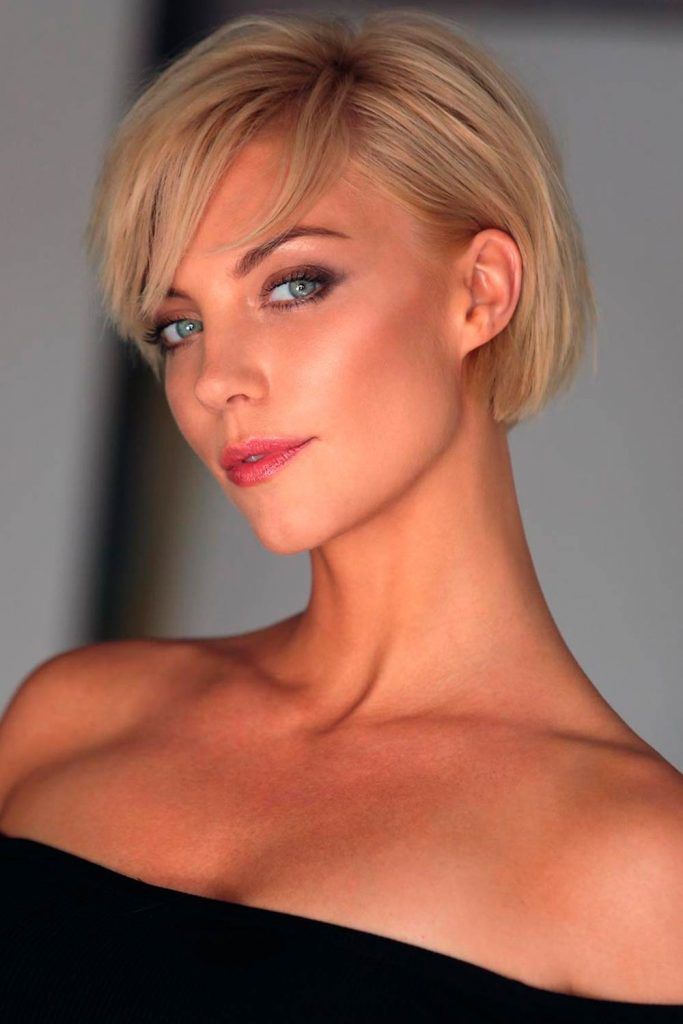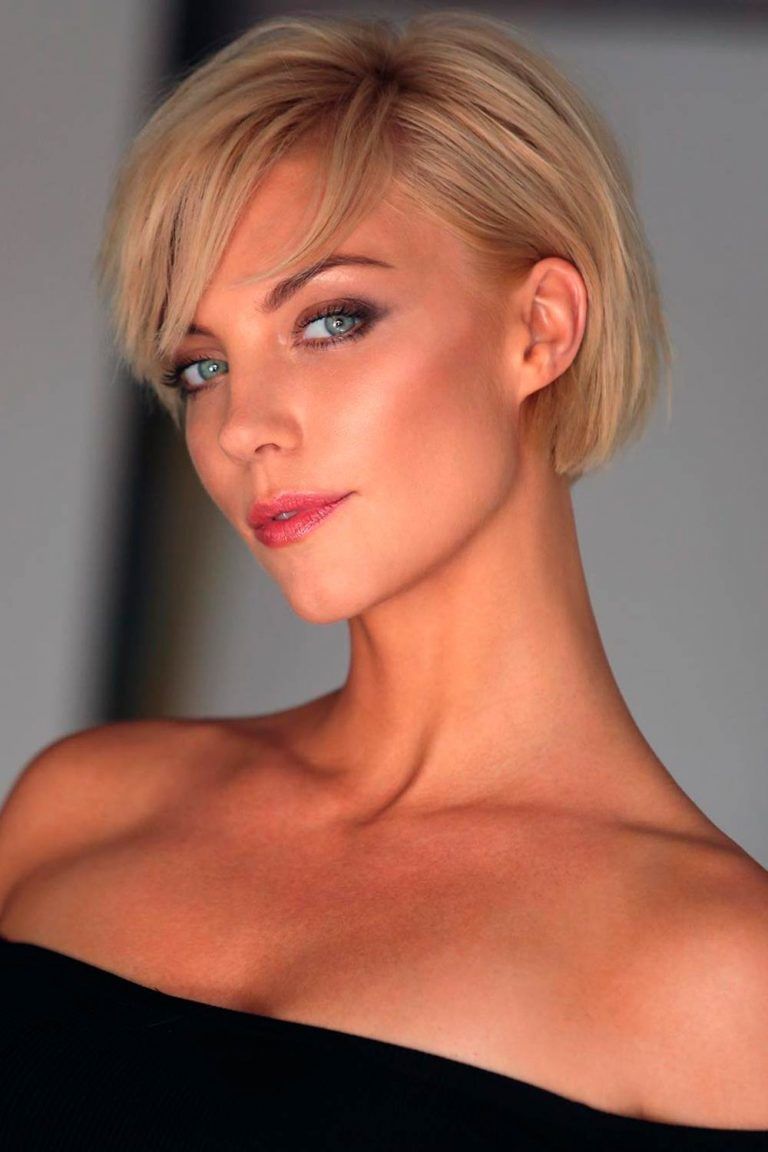 Credit photo: instagram.com/sissemarie
Naturally thick hair tends to misbehave, so no surprise that it outweighs and loses its volume when you try to straighten it with a flat iron. With an a-line bob, it's easier to deal with thick locks, but when your hair is wavy, blow dryer is crucial. To get this absolutely straight look, blow dry your hair, putting on a styling nozzer and using big round brush to add some volume.
Icy Blonde Blunt Bob Idea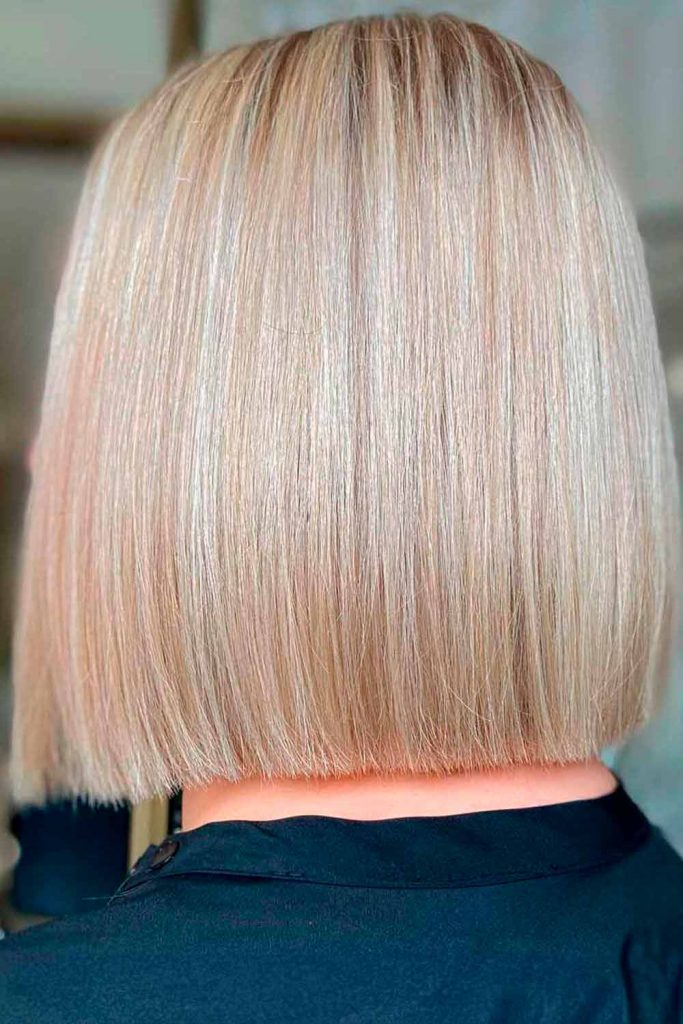 Credit photo: instagram.com/hairbyjaxx
Another trendy hair color idea is here to impress you. First of all, nothing makes a woman look more attractive, sophisticated, and statuesque than blunt lob. And when it's dyed in such a magnificent icy color, it reveals your exceptional taste. Keep in mind that this cut looks better on straight hair, which is a part of today's' inspiration.
Elegant Medium Blunt Bob For Any Hair Type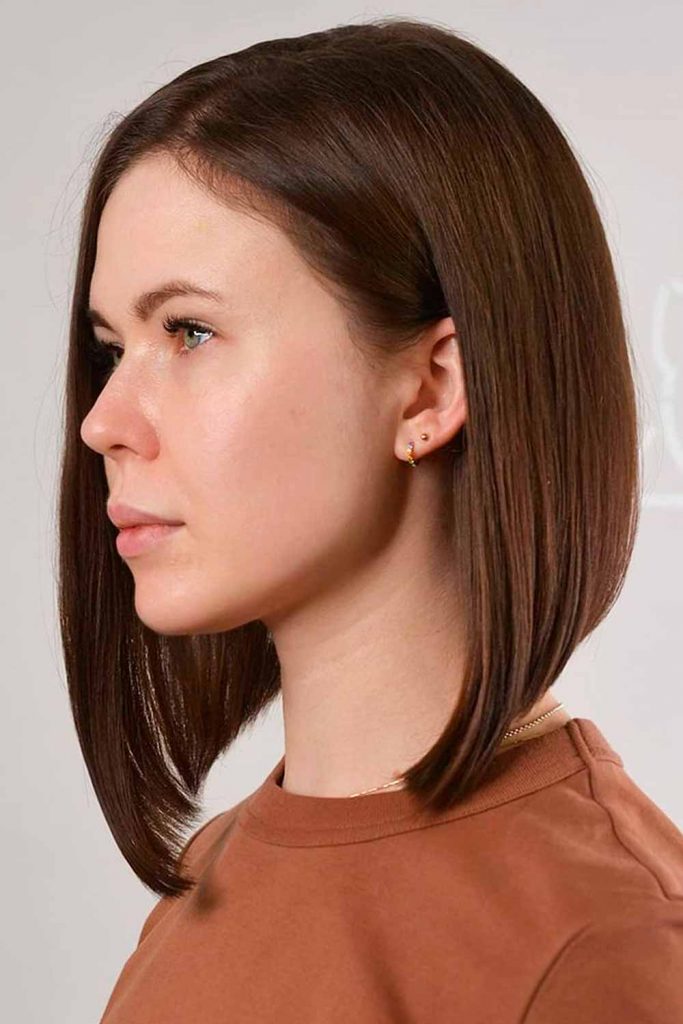 Credit photo: instagram.com/kawaicat_white
You're already familiar with the versatility of blunt bob. It's quite easy, it doesn't even have layers. And that's the point, as it suits any hair type. Thin hair will get the volumetri body, and fine locks will look clean and immaculate. Want to make this straight cutie stay all day long and avoid puffing? To tame your hair, apply some anti-frizz product before straightening.
Black Straight Short Bob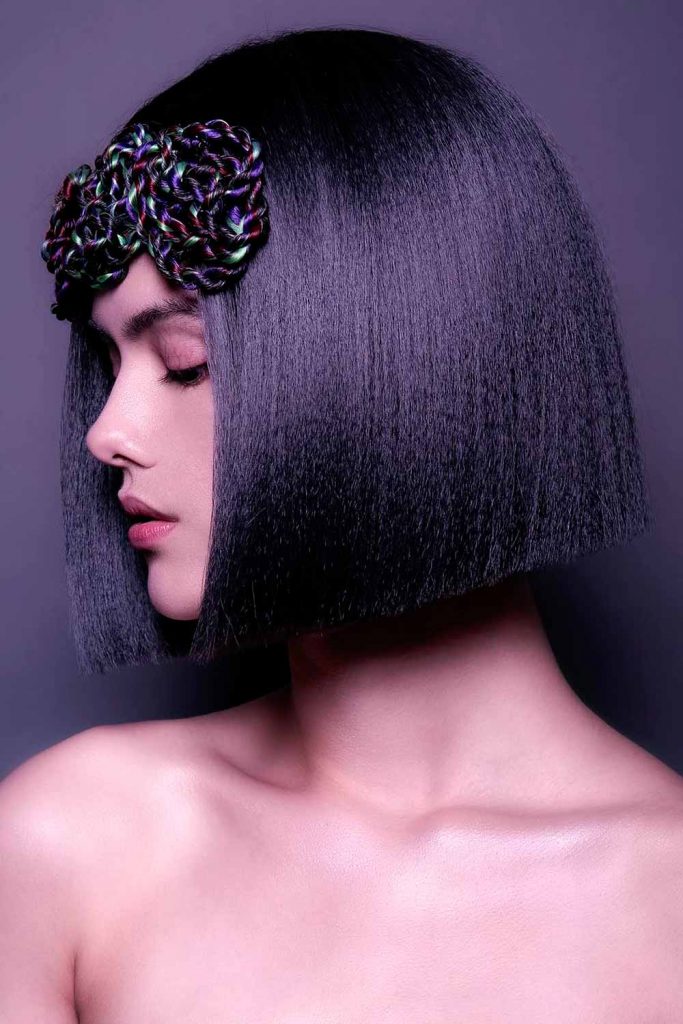 Credit photo: instagram.com/soraverly
A short bob haircut like this can't do without perfectly straight styling: it looks at its best only when every single detail is sleek and well-groomed. You can style it either with a flat iron or blow dryer: the main point is to style it layer by layer, avoiding any stick-outs.
Middle Parted Blonde Medium Bob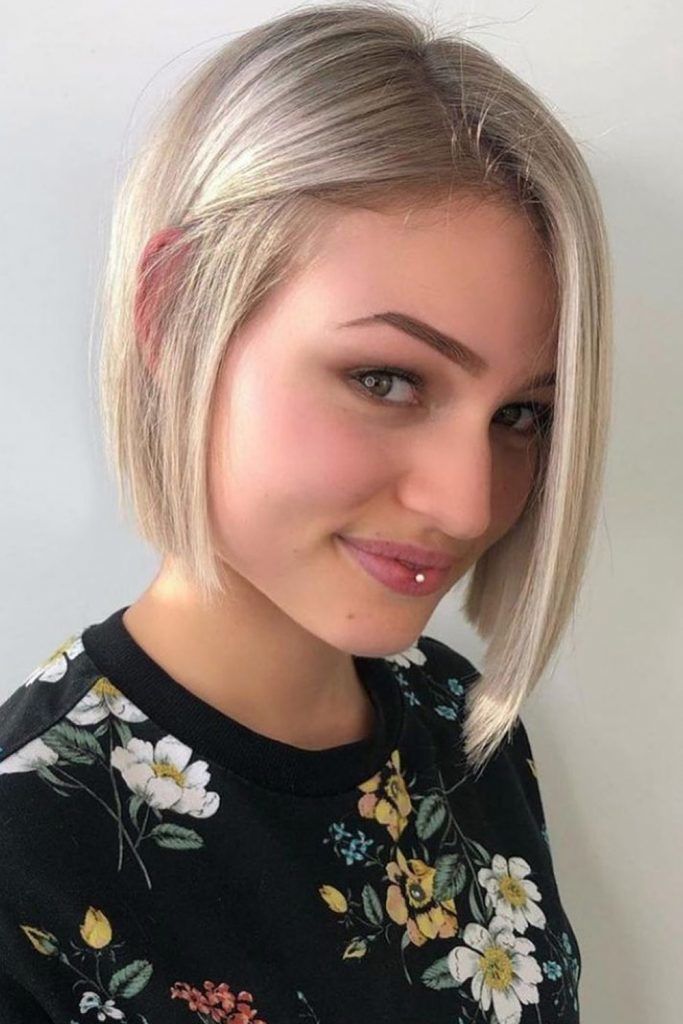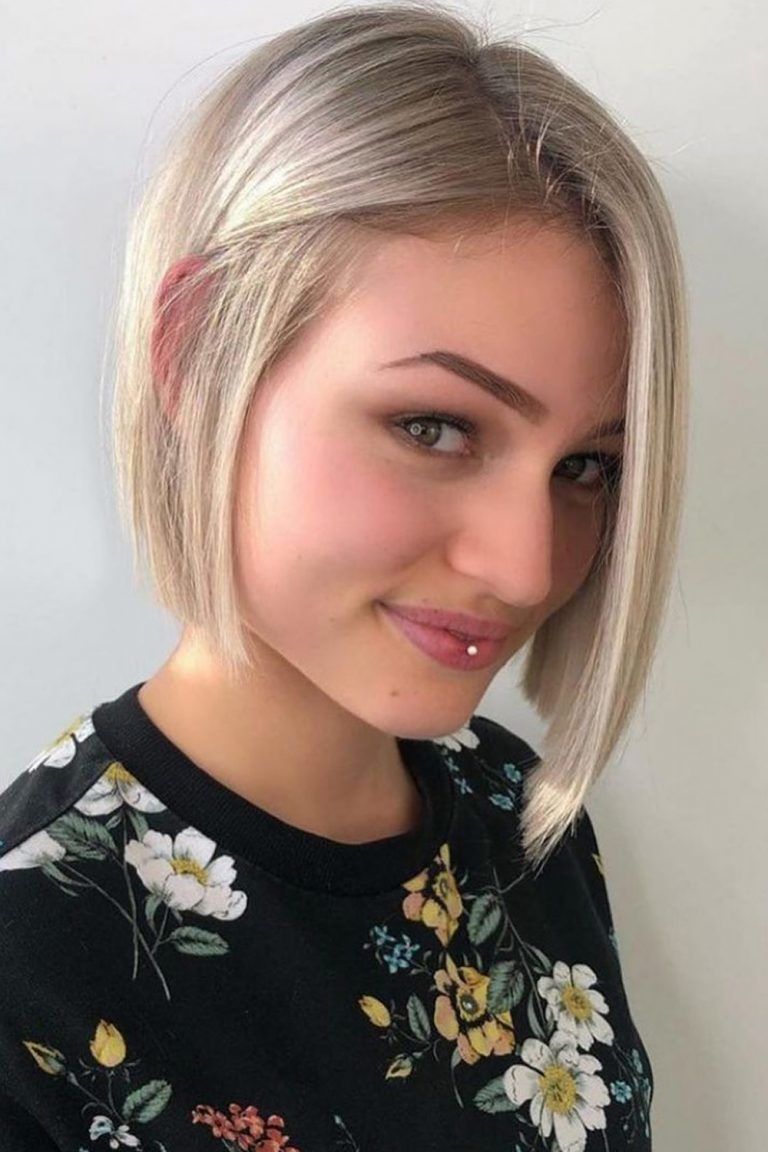 Credit photo: instagram.com/shorthair_love
Don't you forget that straight hair is a great canvas for color experiments: whatever new color you are going to coat yourself with, the new transition and play of shades will be precise and super seeable. For example, this super neat and pointed bob reveals its charming side with the magical movement of balayage.
Face Framing A-line Bob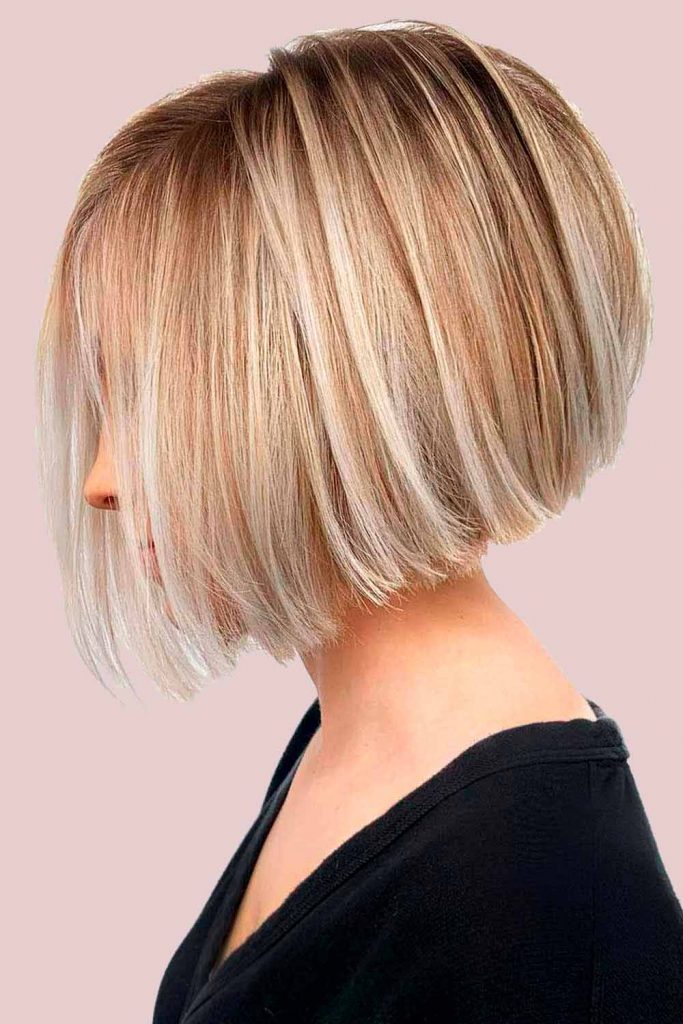 Credit photo: instagram.com/styled_by_carolynn
When it comes to styling face-framing haircuts, only blow dryer knows how to do that properly. So if you want to keep it straight and framing at the same time, prepare for some heat. It's very important to style your hair by layers, paying close attention to the front locks which should be a bit rounder at the ends.
Straight Hair With Blonde Balayage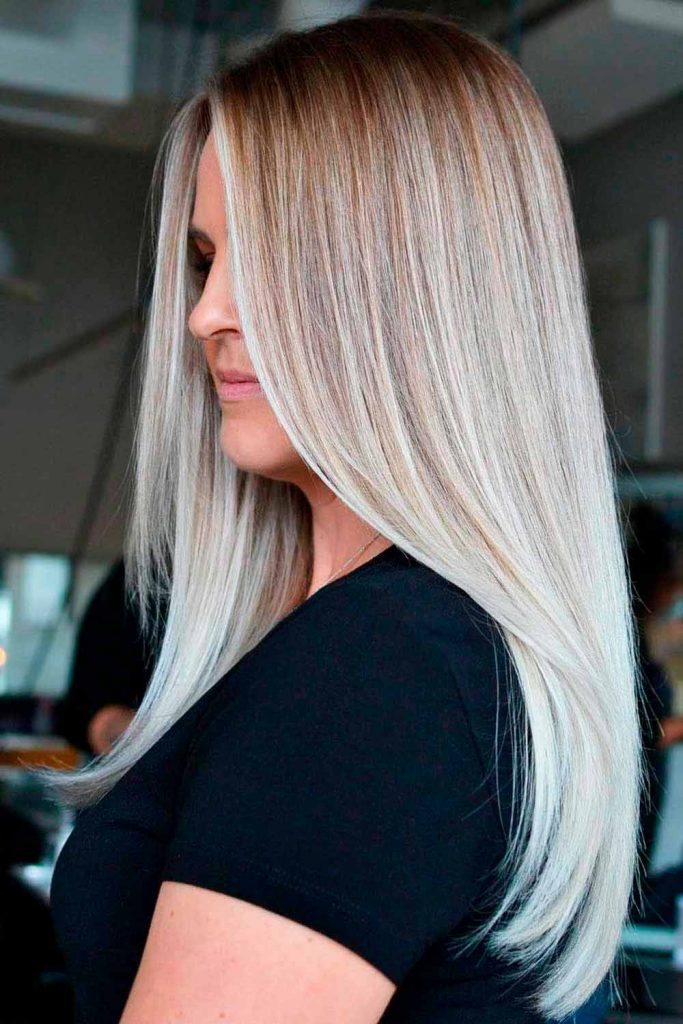 Credit photo: instagram.com/tressesbytress
Those who already have straight hair, but it's too sensitive to humidity and tends to wave at the ends, here is a decision for you. Consider using proper shampoo and conditioner for straight texture, don't use blow dryer too often as it causes static hair. Brush your hair until its dry, and if you followed all those steps, your hair will look like in the pic. By the way, blonde balayage is a good way to emphasize the beauty of your natural straight locks.
Voluminous Air Dried A-line Lob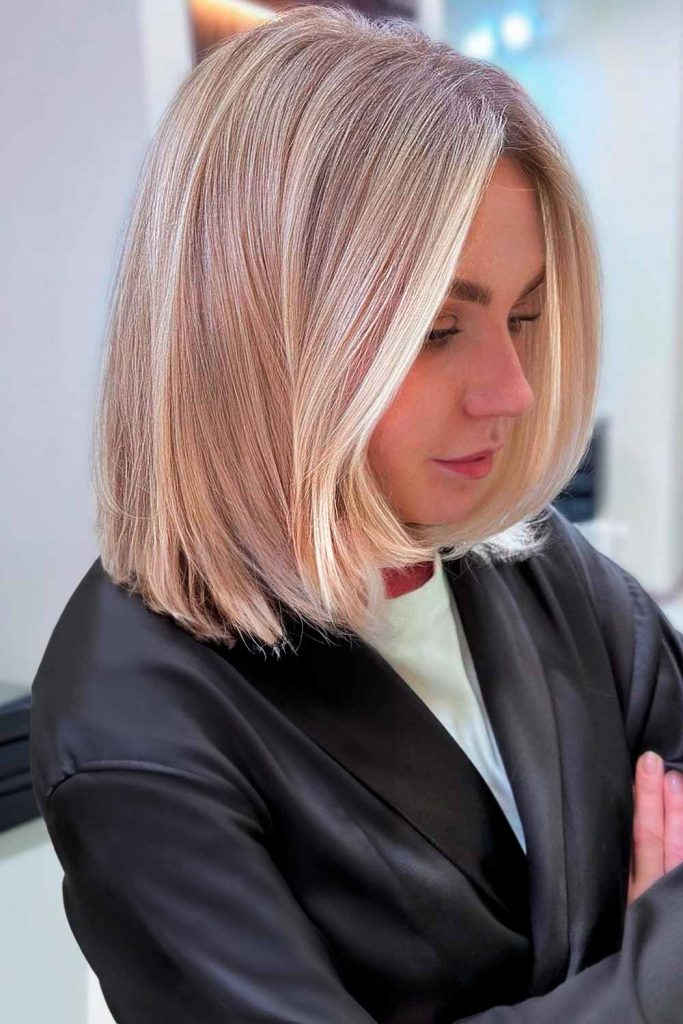 Credit photo: instagram.com/by_eve_gunina
This is how one of the most volumetric haircuts looks when it's dried without any heat. It's a sort of new level of naturalness, as even though it's not so neat, but it's straight enough and very attractive. If you want your sticky hair to look that awesome, just wash it, brush it smoothly, and let it air dry. Yes, the cut does the talking.
Side Parted Blonde Long Bob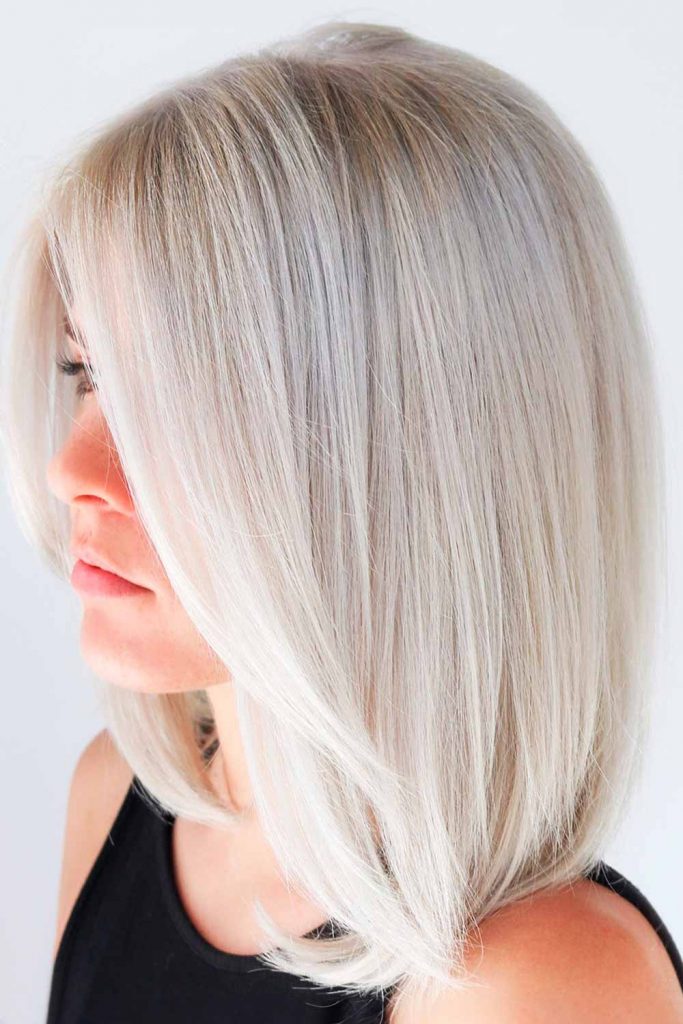 Credit photo: instagram.com/caroline.anythingbutbasic
While middle parting builds a well-balanced look, you can go for something unusual and create a bit outweighed silhouette, where one of the sides will have more volume and lift. We all know that the problem of straight locks is that it tends to fall flat. And this way of styling can save you from this unpleasant trouble, which is also a nice option for thin hair.
Icy Blonde Balayage With Deep Grey Roots For Long Hair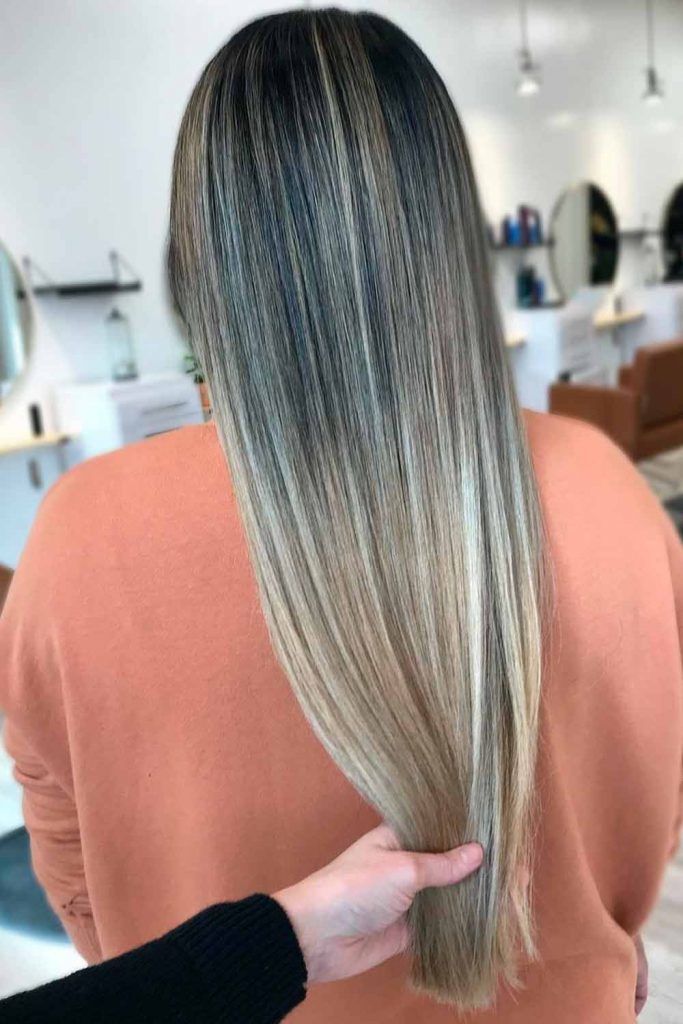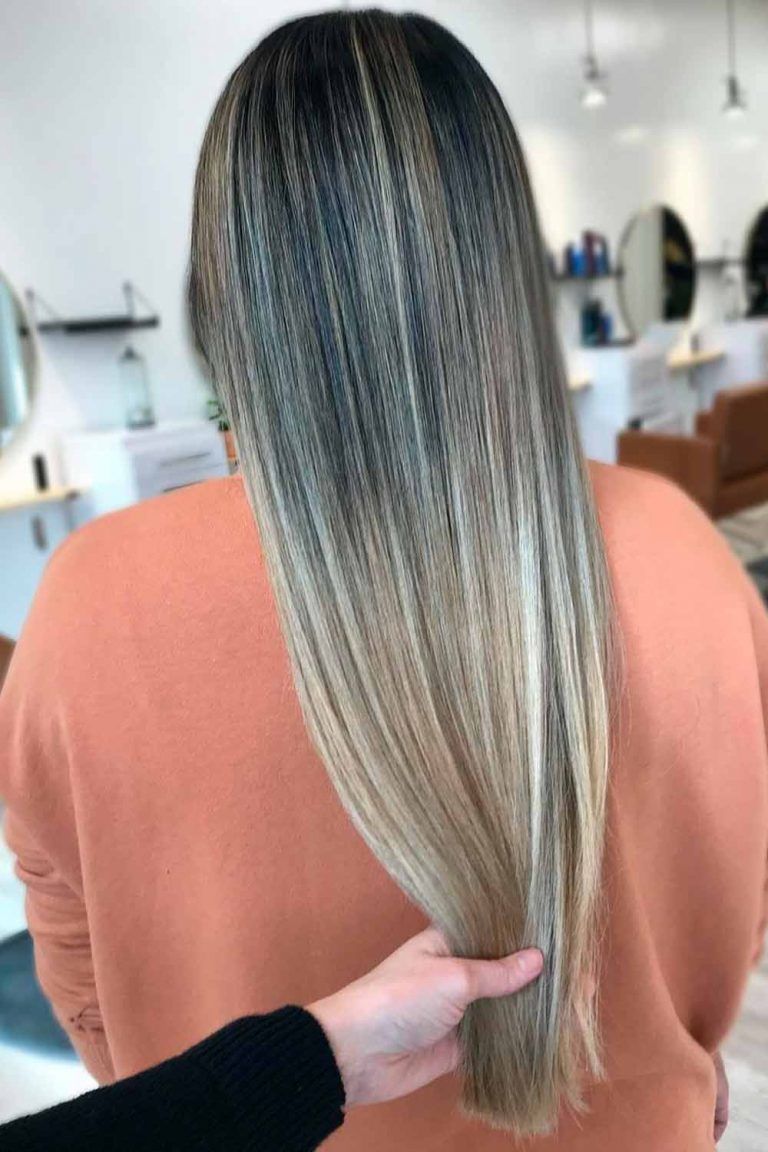 Credit photo: instagram.com/thevividbrunette
Even if you don't have naturally straight locks, sooner or later you will get bored of them. If you feel that this texture suits you best, you need to freshen it up somehow. Trendy hair color will come in handy for those who want to embellish their daily hair look: stunning deep grey roots that melt into icy blonde balayage is definitely a good idea.
Embellish Your Straight Hair With Bangs
Credit photo: instagram.com/julia.vorontsova.blond.expert
i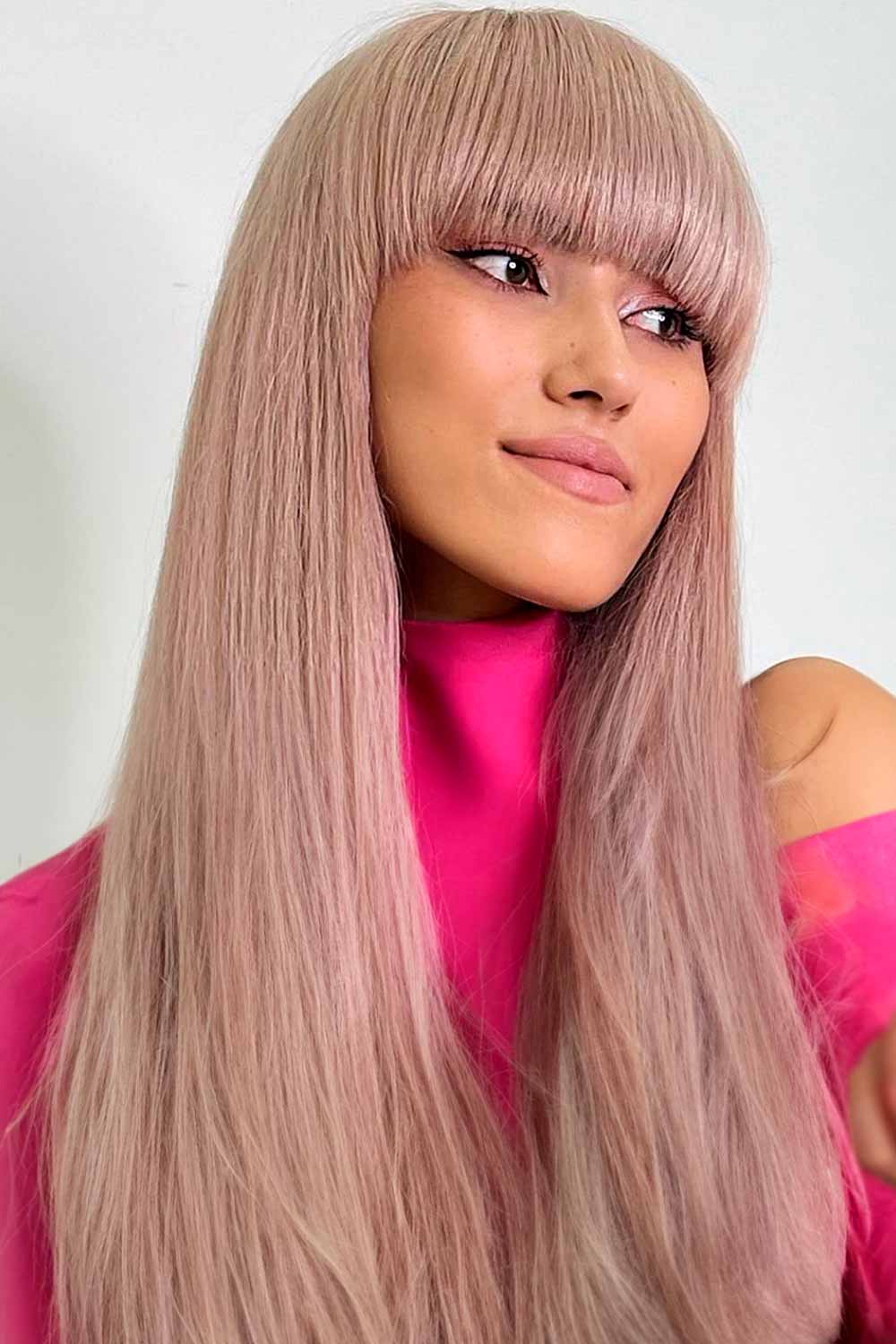 Credit photo: instagram.com/svetlana_dovnar_color
i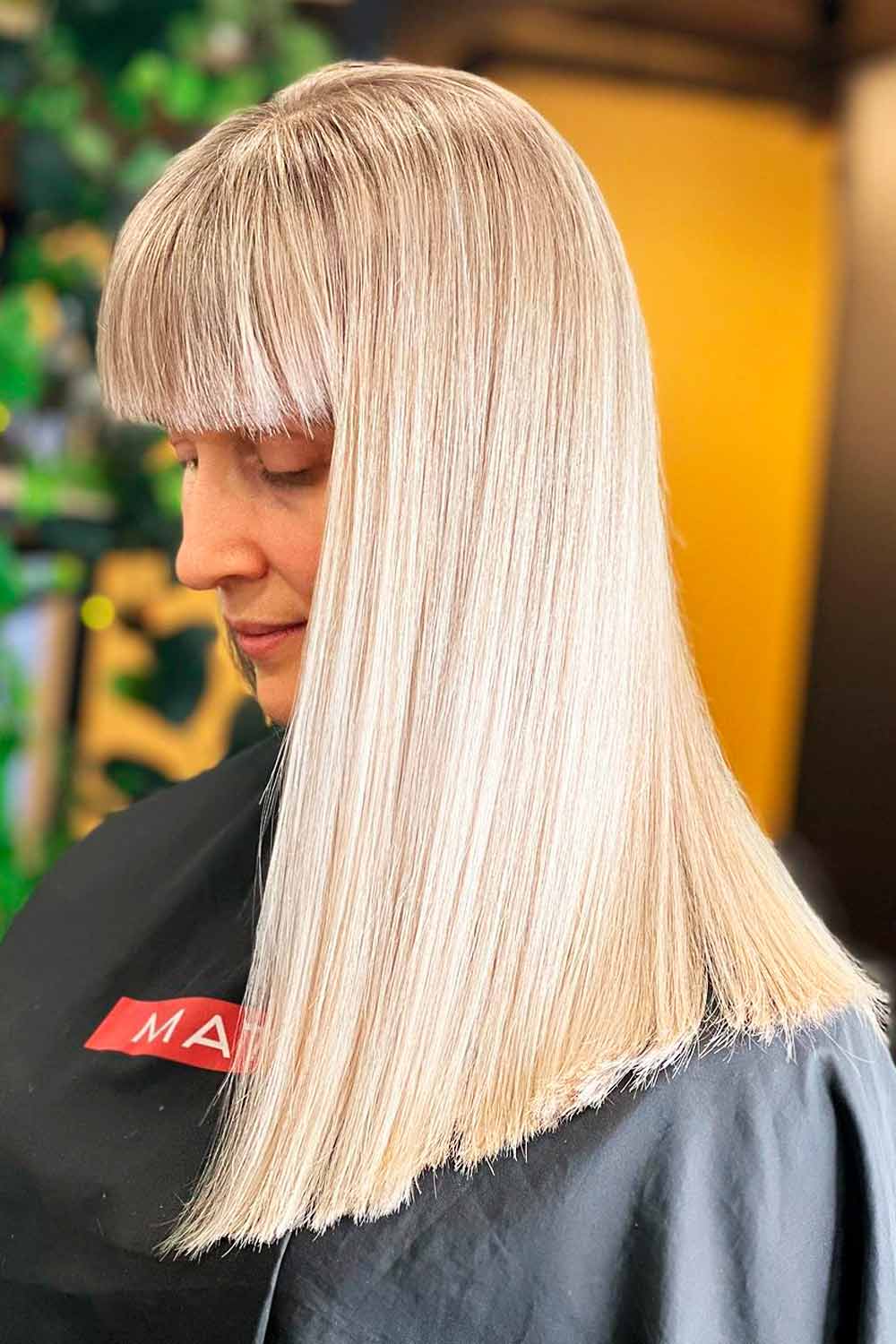 /
There are no hairstyles that bangs can't beautify. They don't care about your hair type, your face shape, and your age. They just make everything look well-balanced and simply awesome, so they will be a good complement to your straight hairstyle.
Lovely Long Straight Hairstyle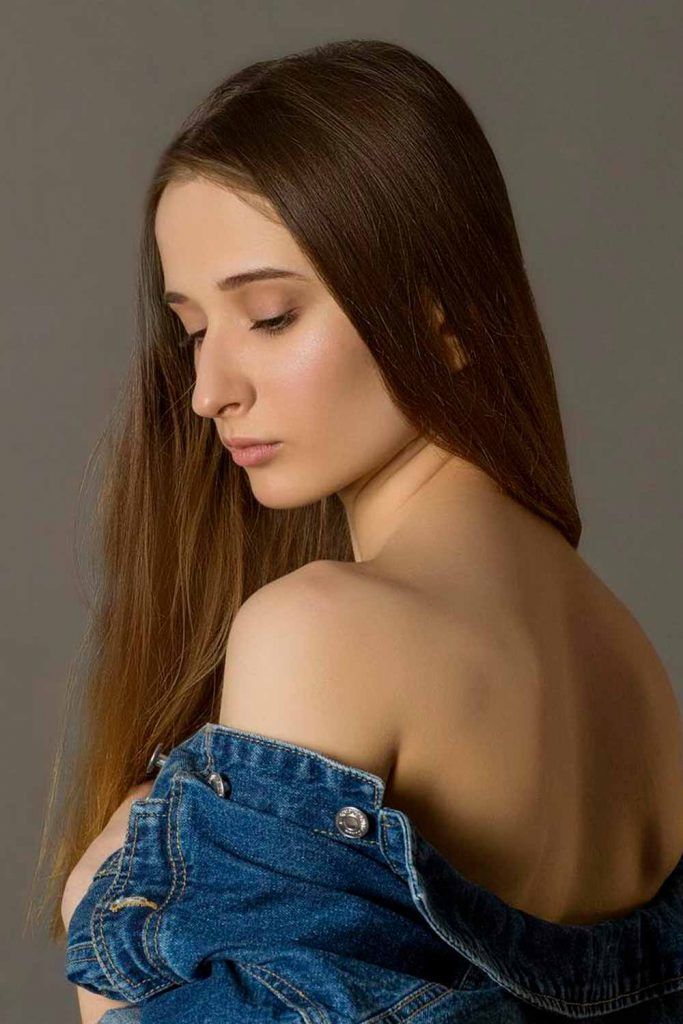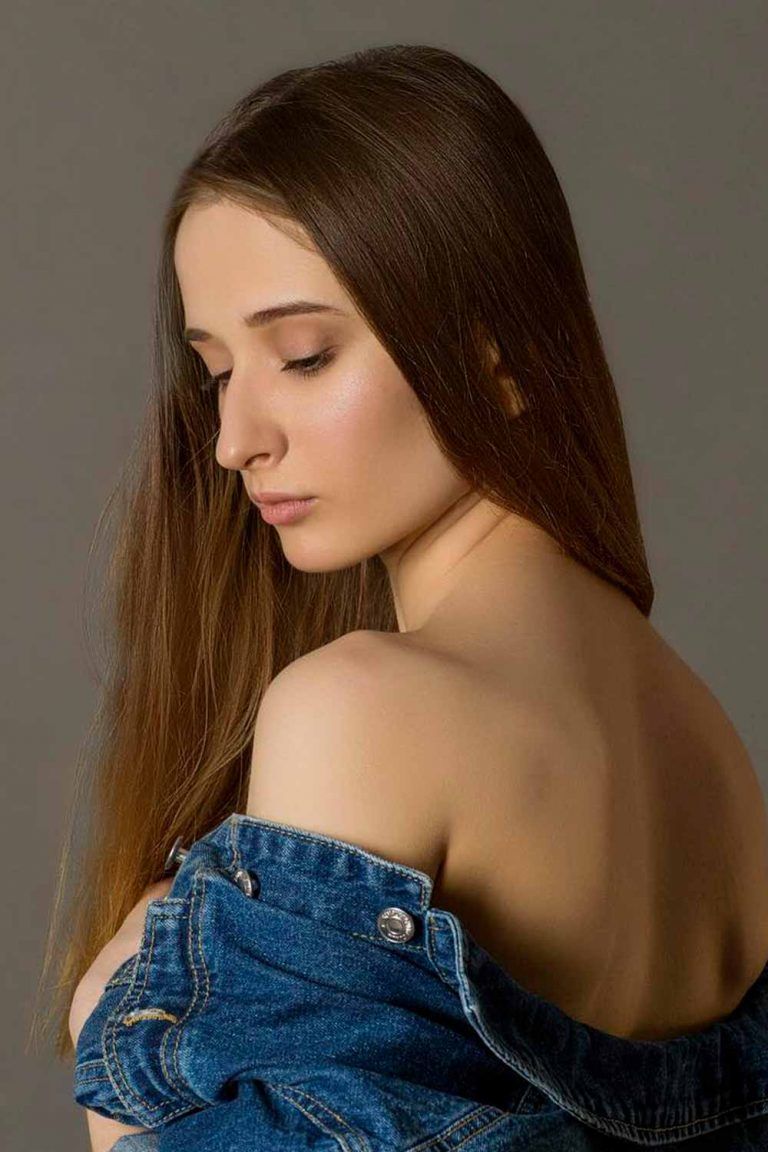 Credit photo: instagram.com/karinaupdo
There's an easy and quite interesting way to straighten long hair. Since you have more length, it's easier to manipulate with heatless styling. For example, this hairstyle can be created with hair rollers, where ends are wrapped up and over the rollers, going toward the scalp. Once it's completely dry, you just put the rollers off and brush your hair, having a really straight silhouette with chic ends.
Straight Hair With Blonde Ombre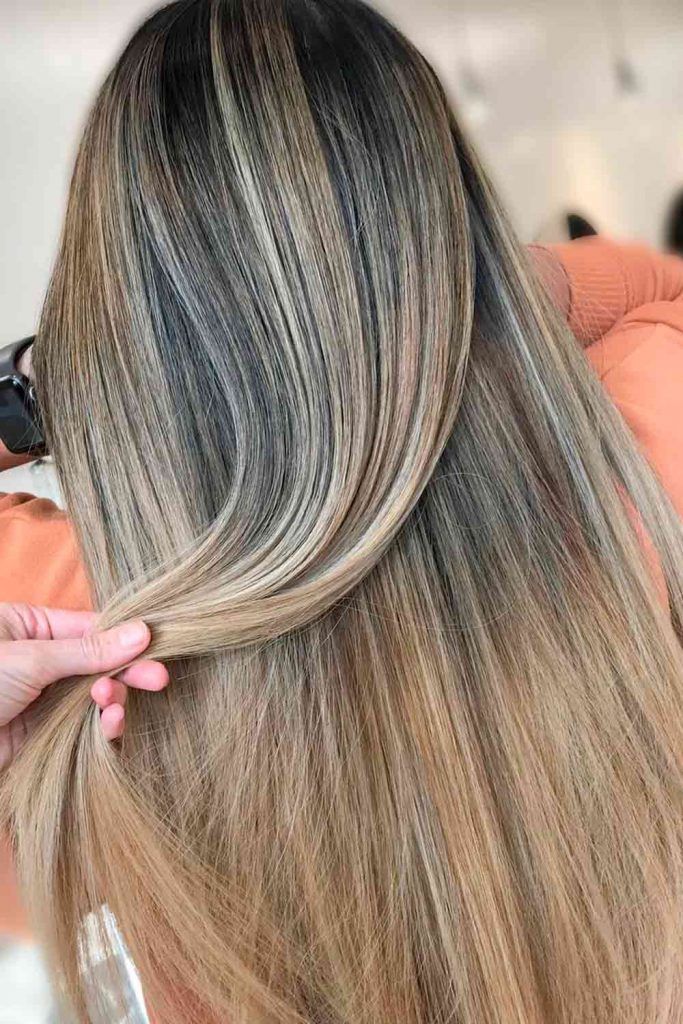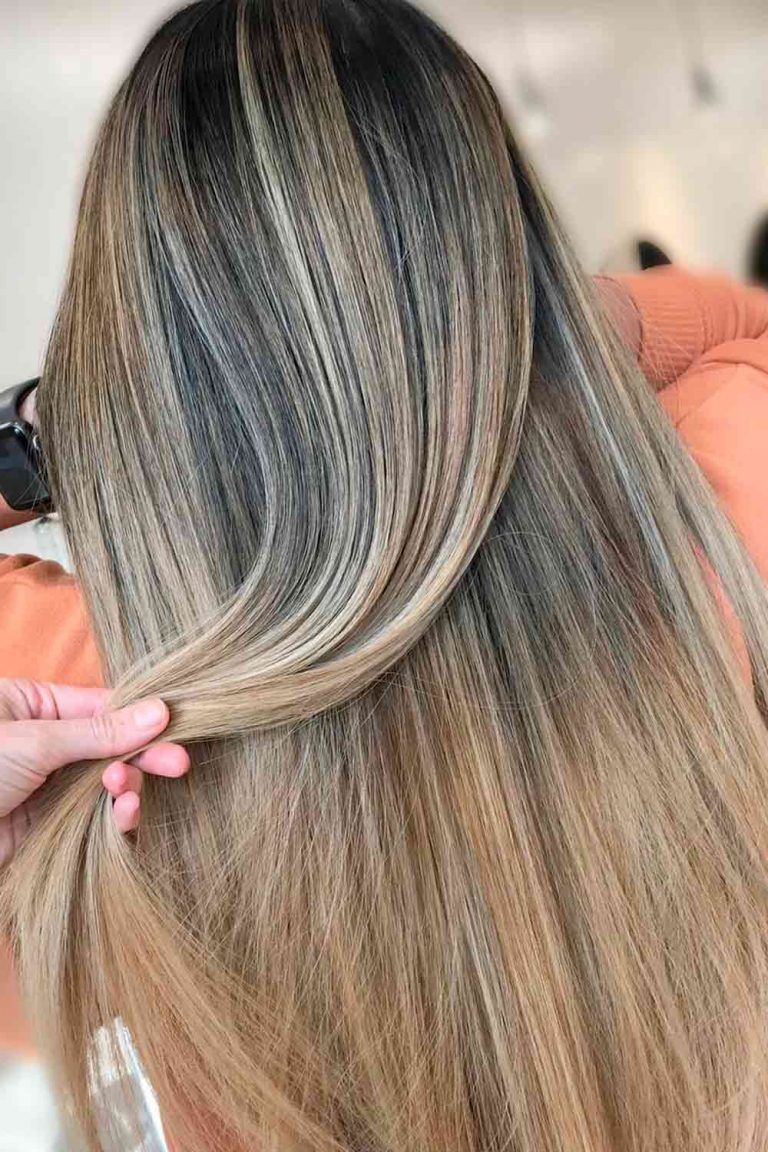 Credit photo: instagram.com/thevividbrunette
Ombre has always been a women's good friend. This coloring technique creates very pleasing contrast and color transition, making your hair look even more beautiful. One of the main advantages of straight hair is that it looks silky, and this blonde ombre accentuates this feature awesomely.
Silky And Enviable Icy Blue Hair Color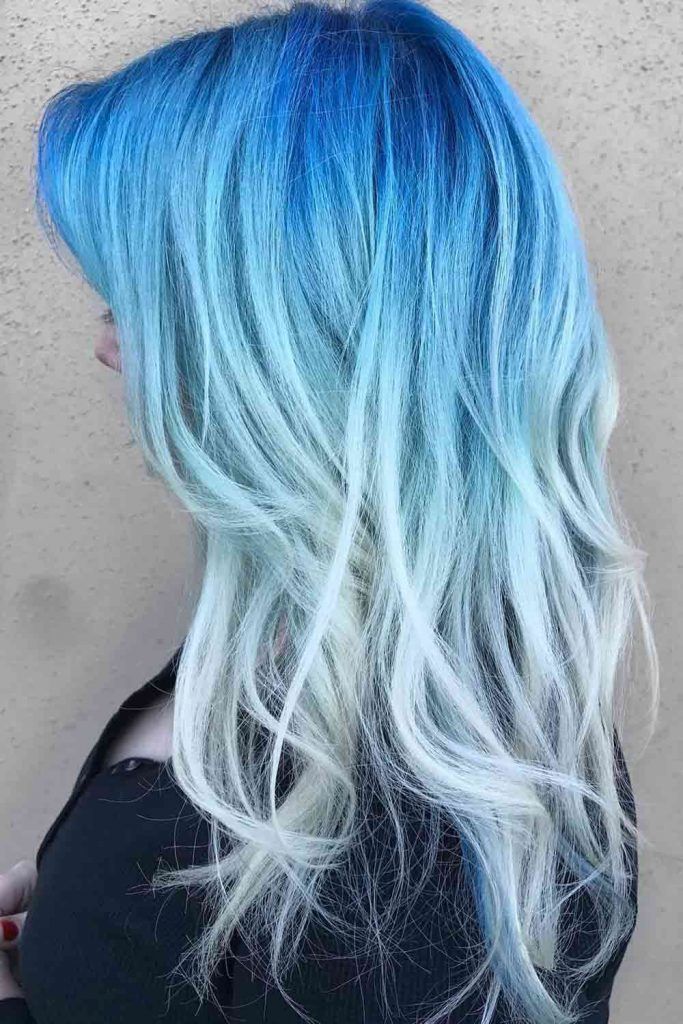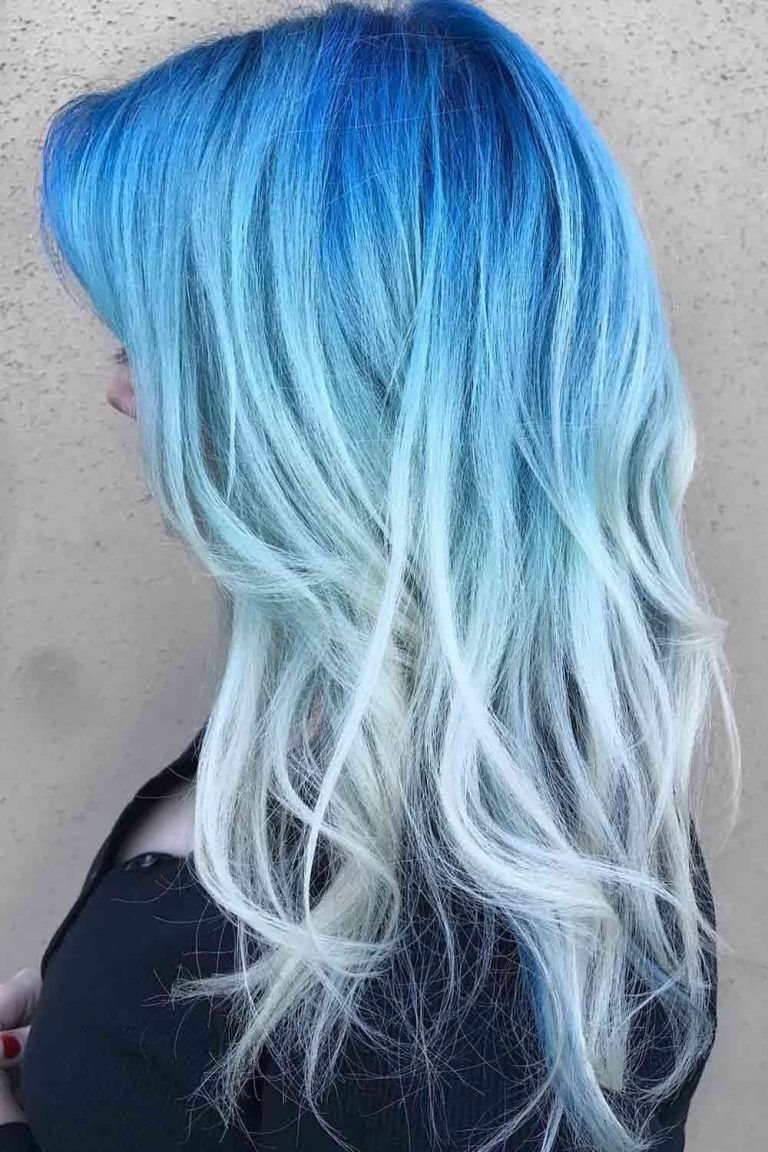 Credit photo: instagram.com/xostylistxo
Want people to envy about your silky straight locks and blow their minds with daring hair color? This cold, icy blue color won't leave you without attention, that's for sure. To make your hair look like real silk, mix some cool blue shades together.
Gorgeous Ombre For Long Hair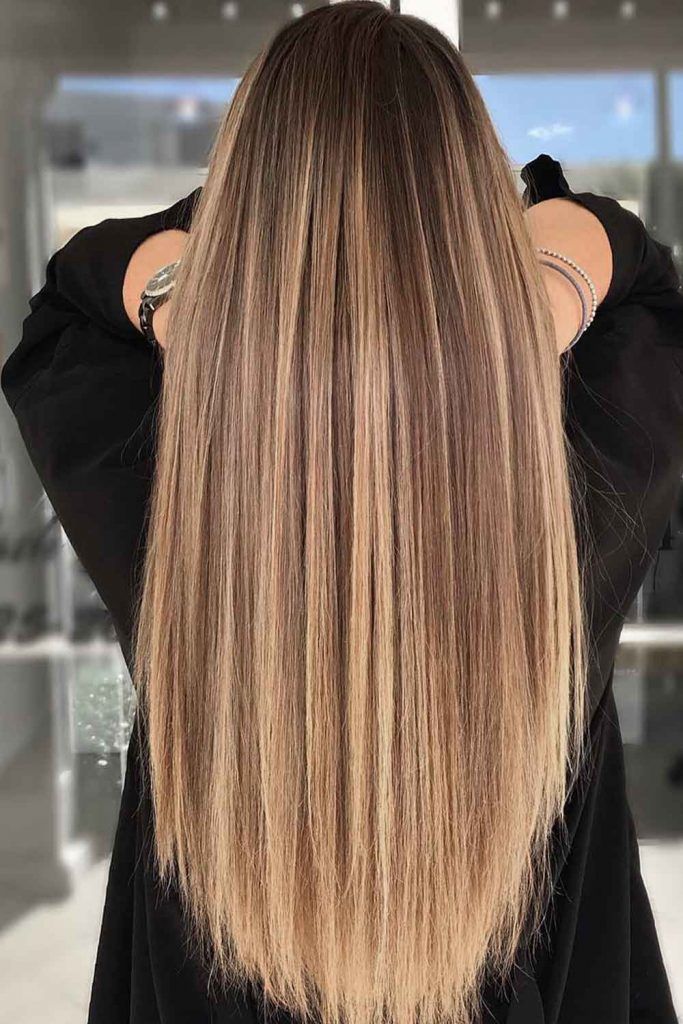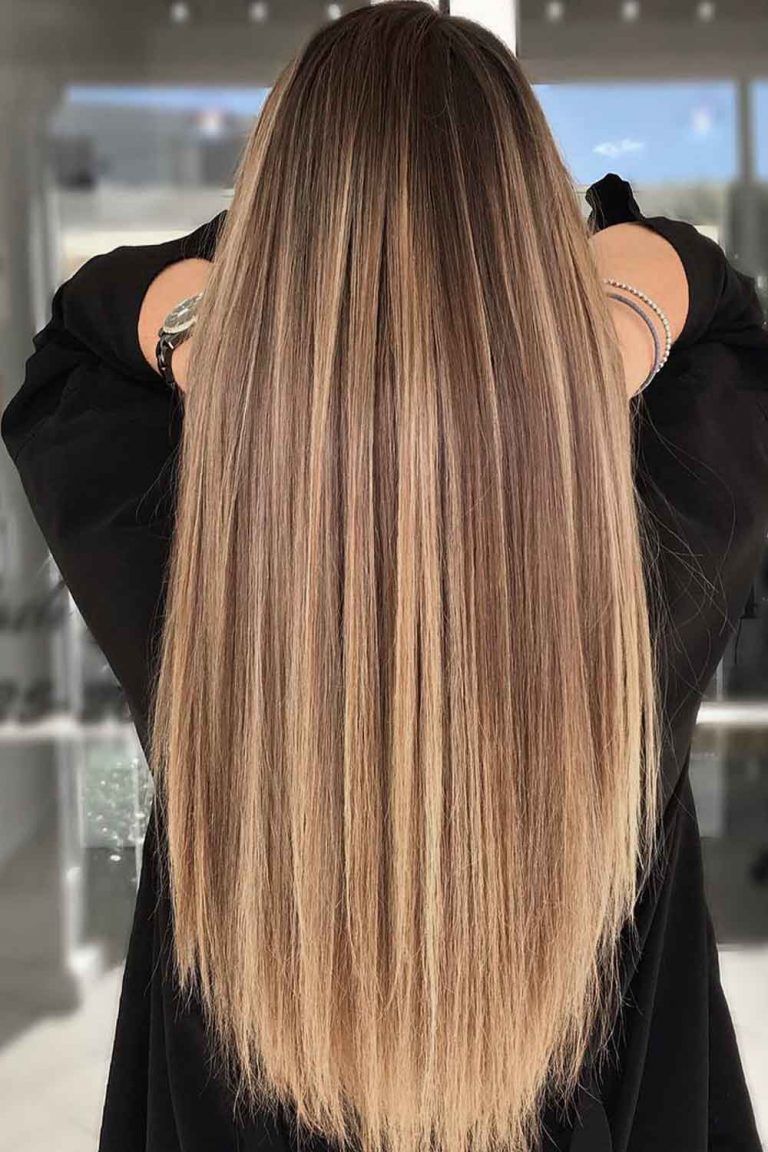 Credit photo: instagram.com/suetyrrellstylist
Ombre has never been so gorgeous! Another privilege of straight locks is that they clearly show where brown base transits to wheat blonde, creating a new, seductive hair color. Why don't steal this look?
Straight Blonde Long Hair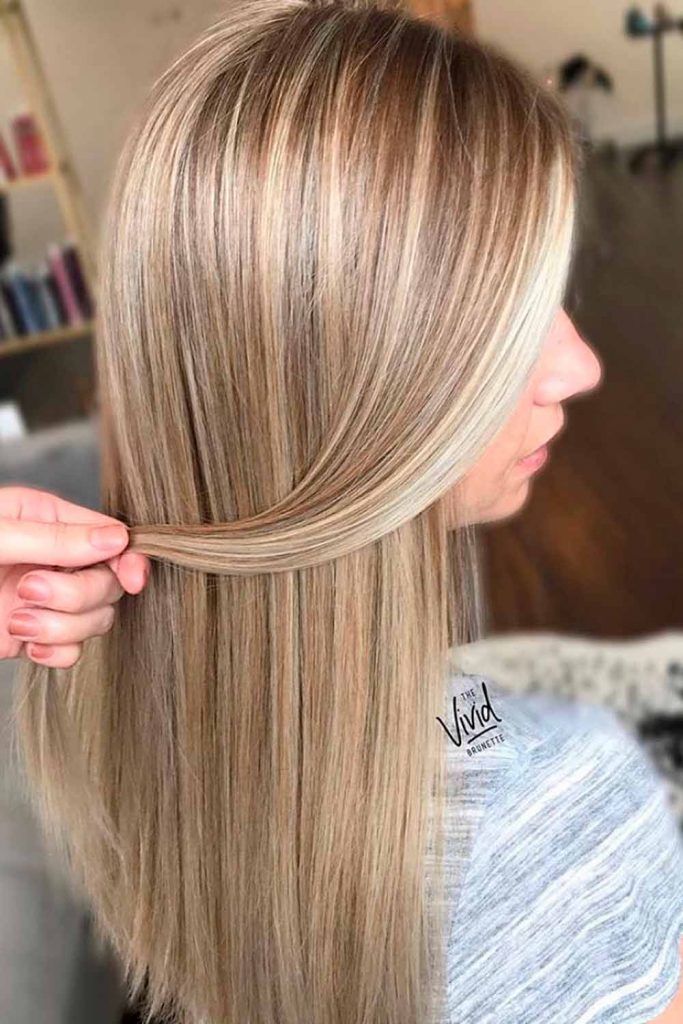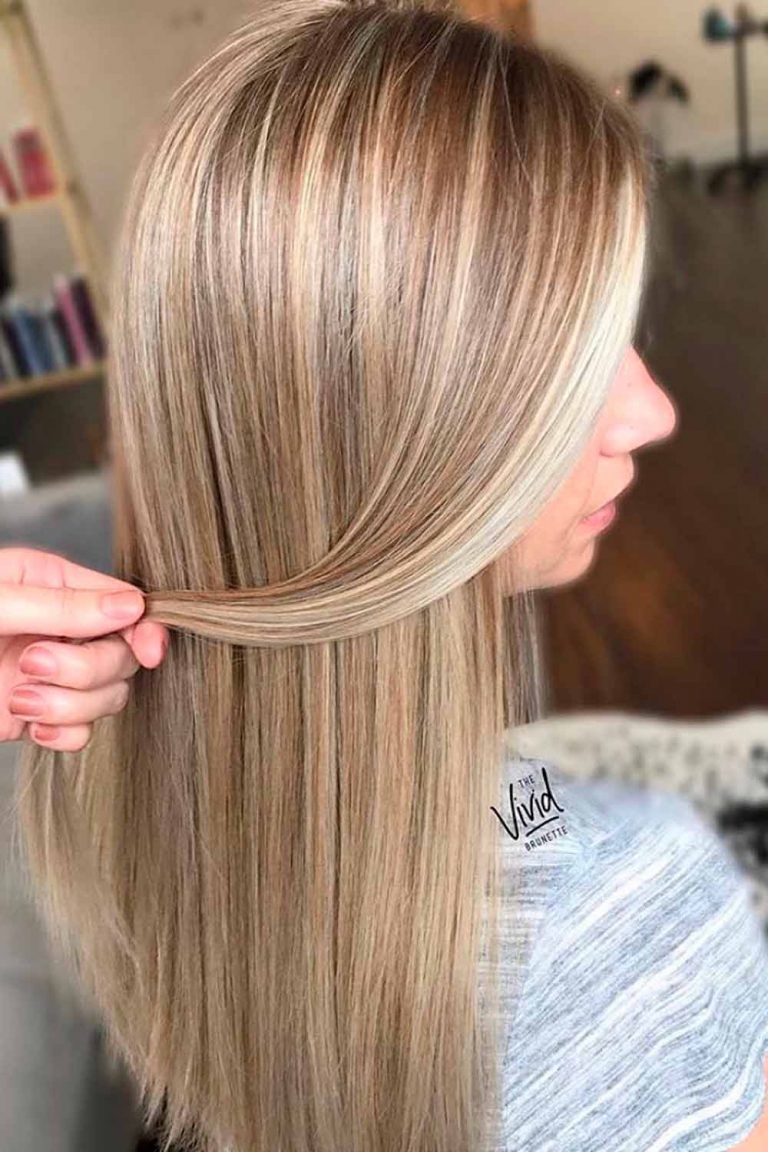 Credit photo: instagram.com/thevividbrunette
For longer lengths, straight styling can be a bit more challenging: the tresses are heavier, and working with layers gets harder. The most effective way to keep the volume in such chevelures is to blow dry hair with a round brush, paying attention to the roots. To enhance the beauty of your locks, spice it up with a dimensional color.
Copper Tones For Long Straight Hair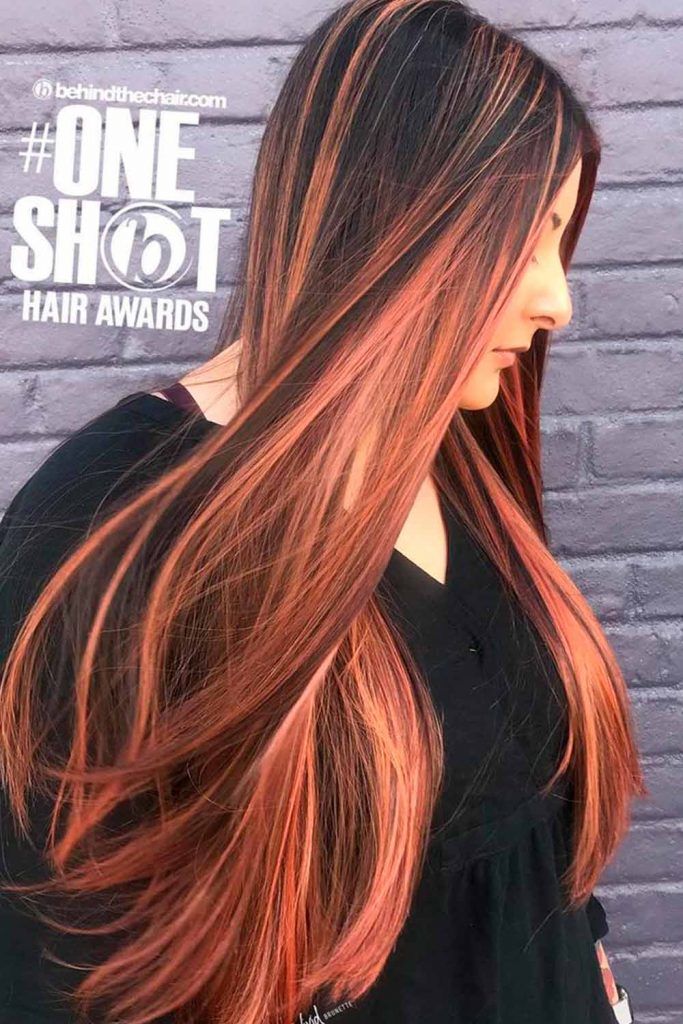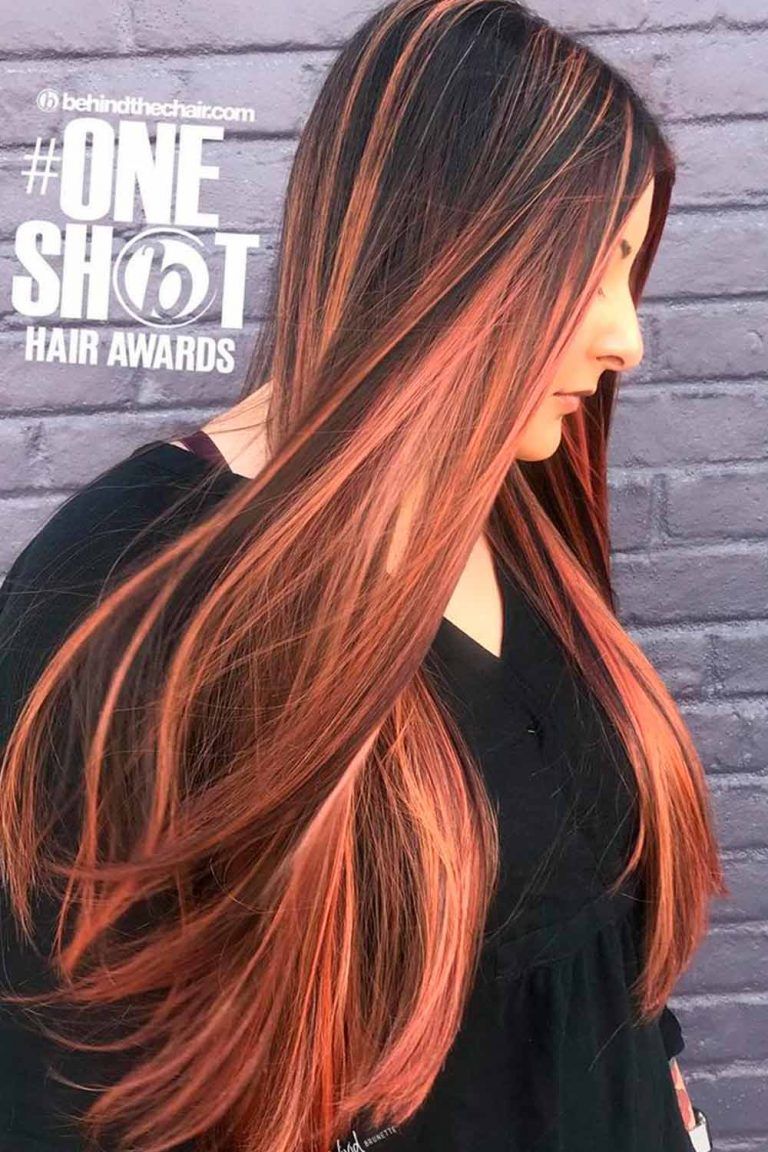 Credit photo: instagram.com/thevividbrunette
As we've mentioned before, sometimes the variety and movement of matching hues can be even more powerful than styling products and heating tools. Just look at how the combination of coppery tones added over the dark brunette base give a sense of sophistication to the hair. For an edgier look, you can finish it with some outstanding color on the ends.
Long Layers Straight Hair
Credit photo: instagram.com/tressesbytress
i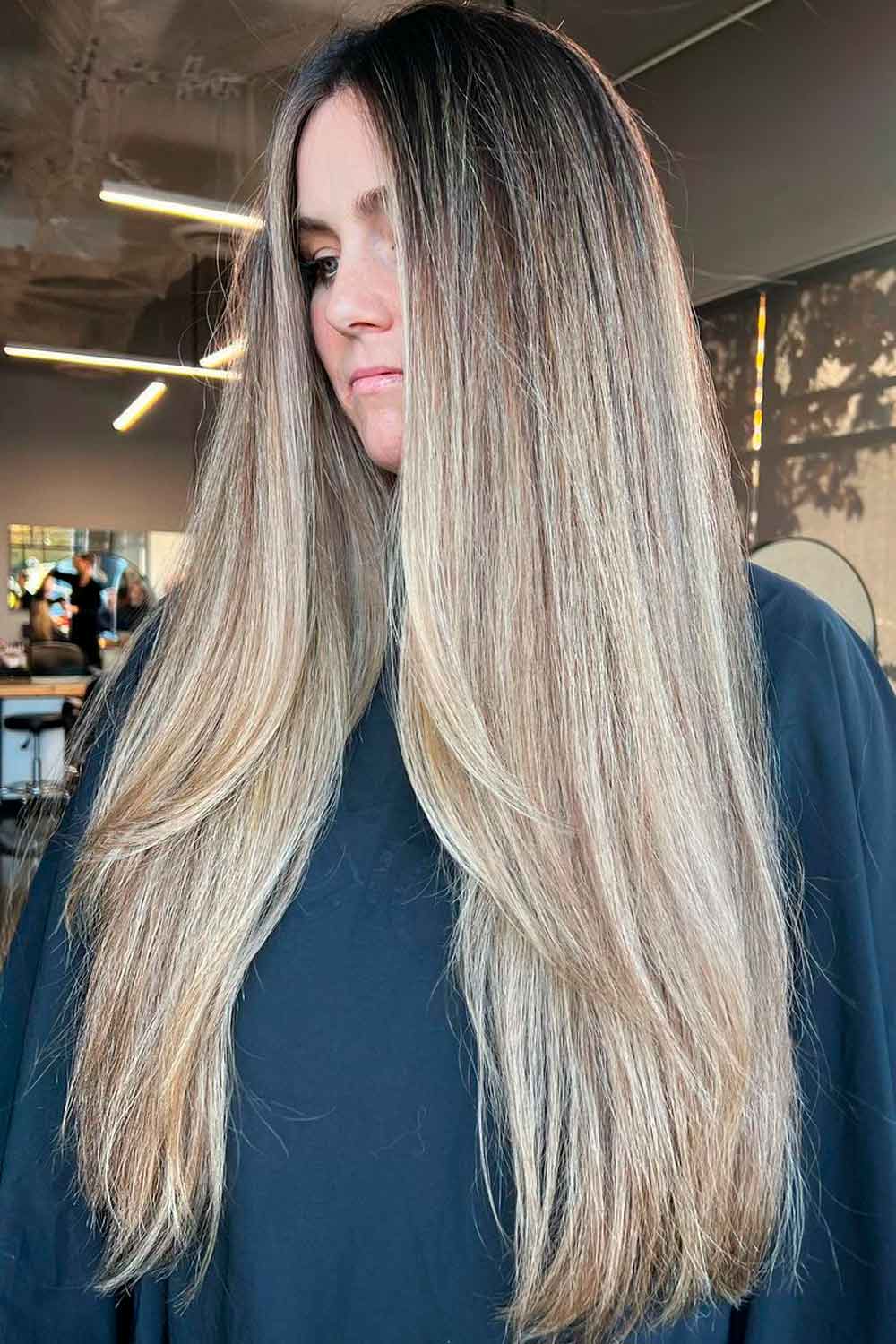 Credit photo: instagram.com/alyssawiener
i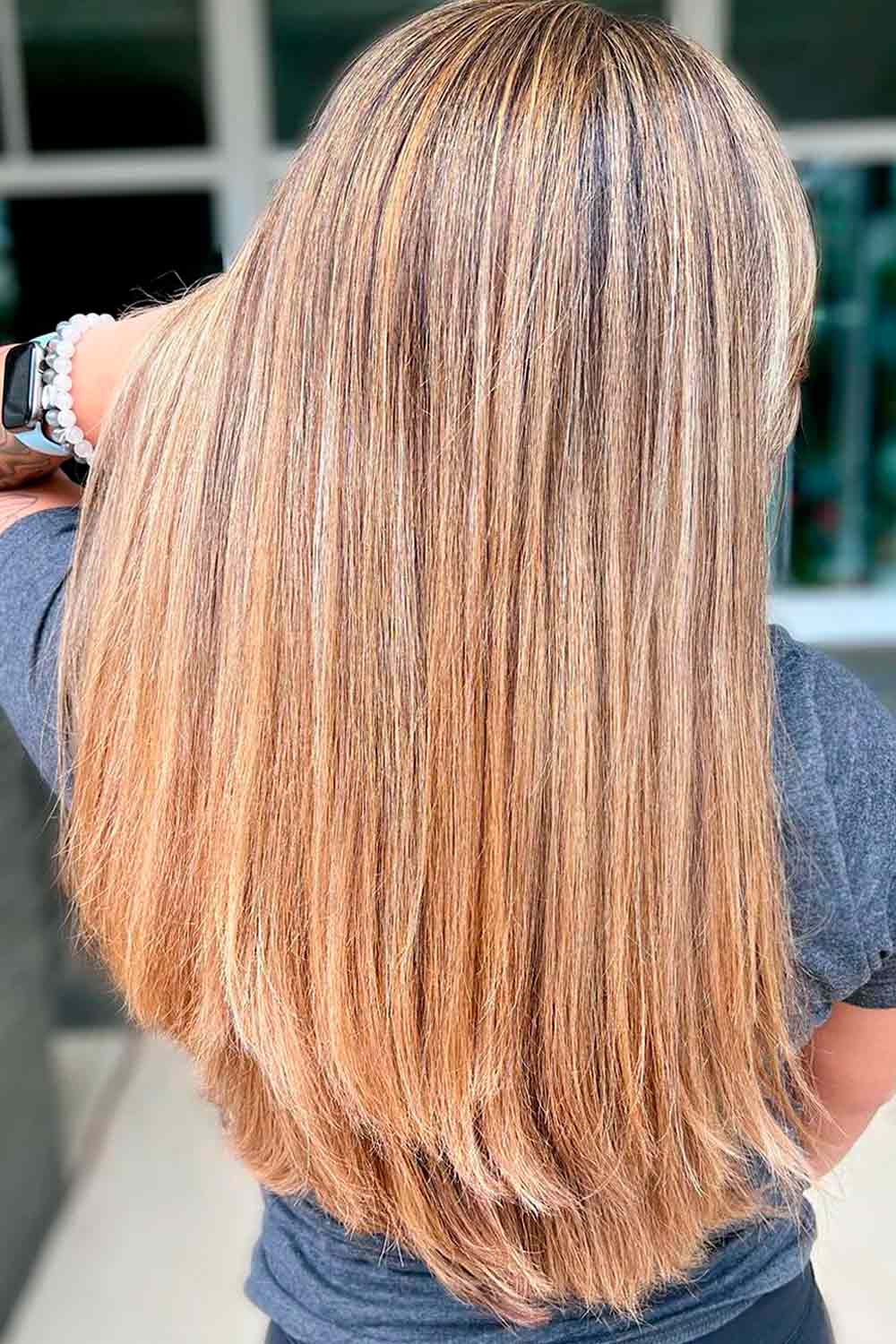 /
Curtain Bangs Straight Hair
Credit photo: instagram.com/centro_degrade_joelle
i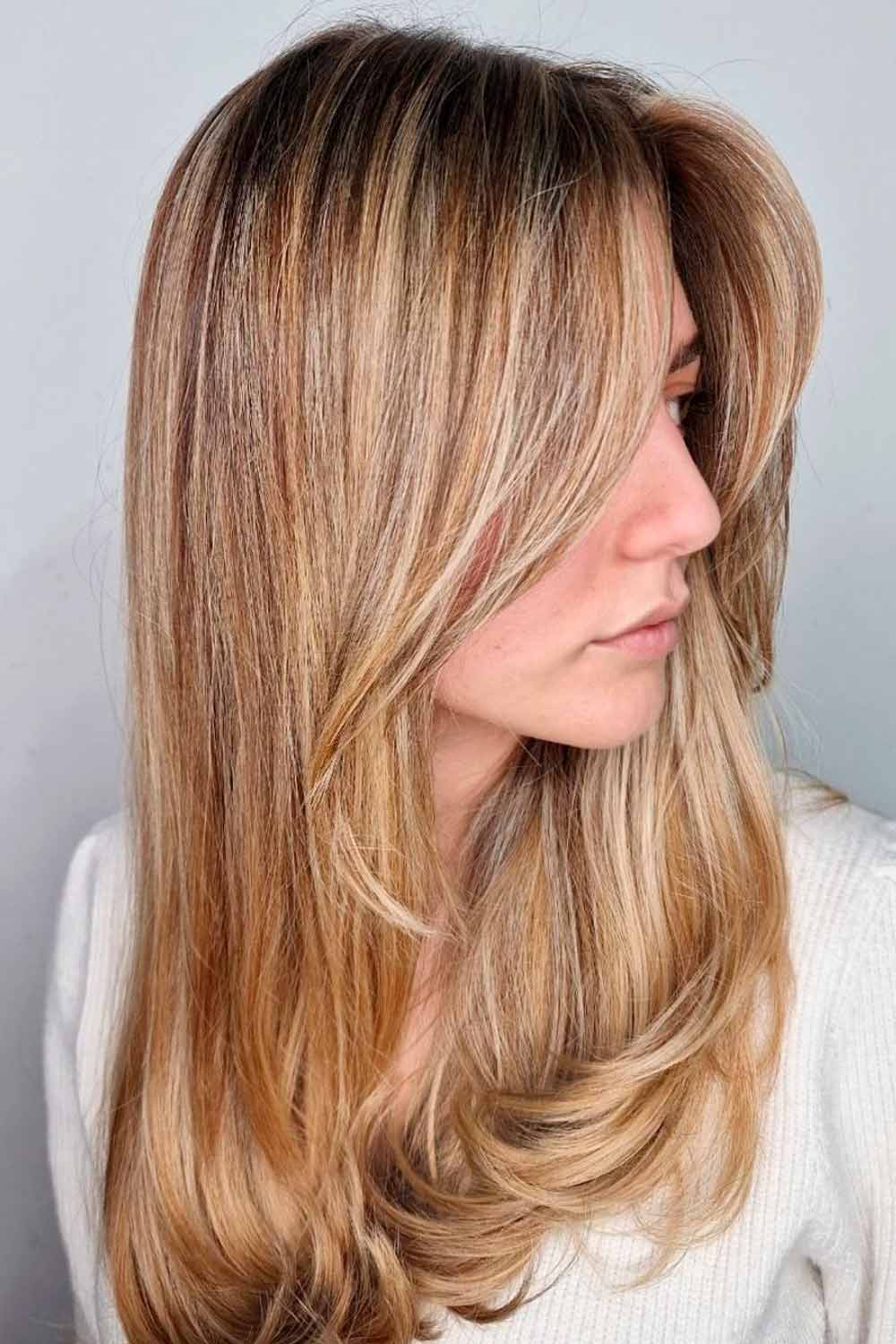 Credit photo: instagram.com/by_eve_gunina
i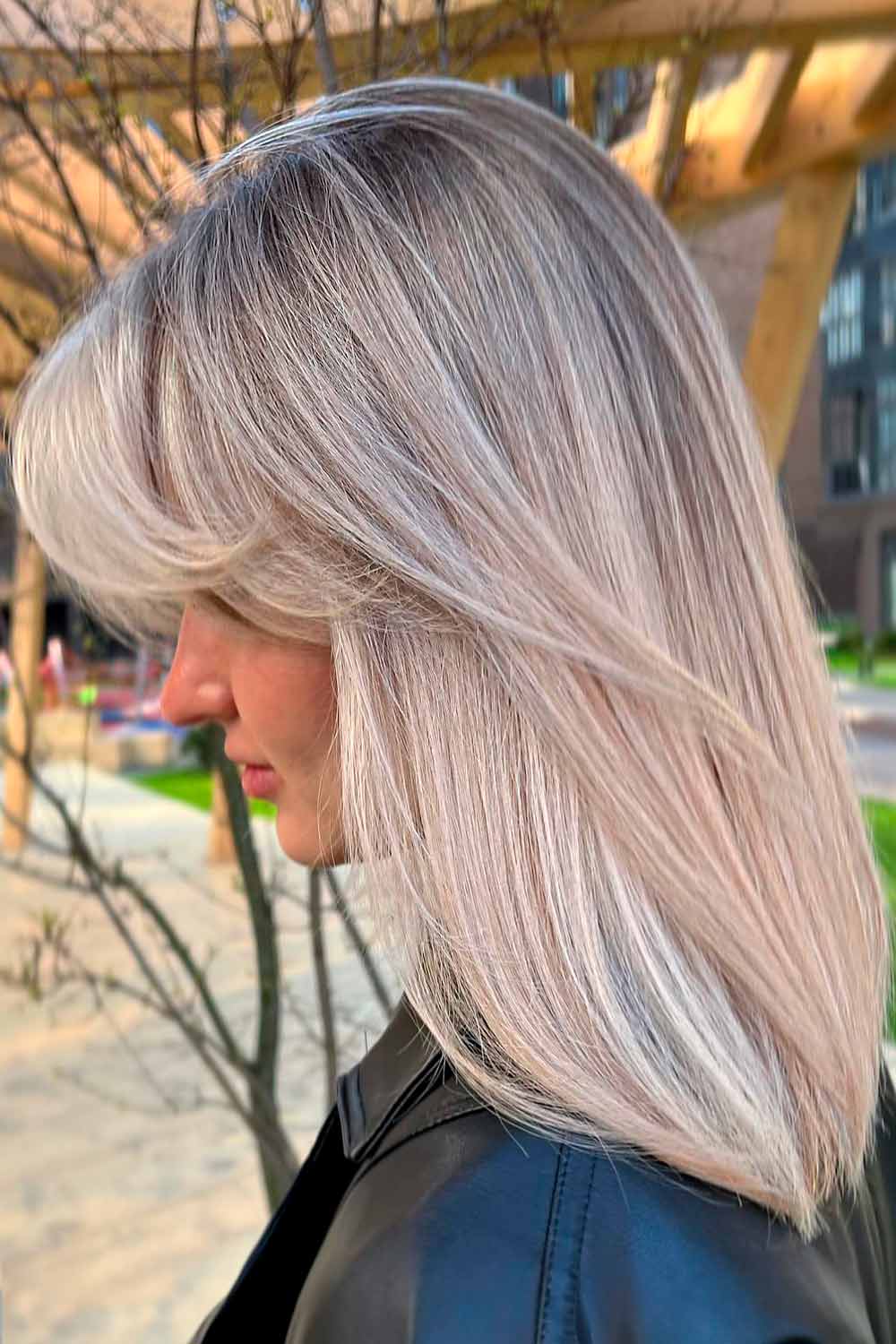 /
Straight Hair Mullet
Credit photo: instagram.com/coiffeurstory
i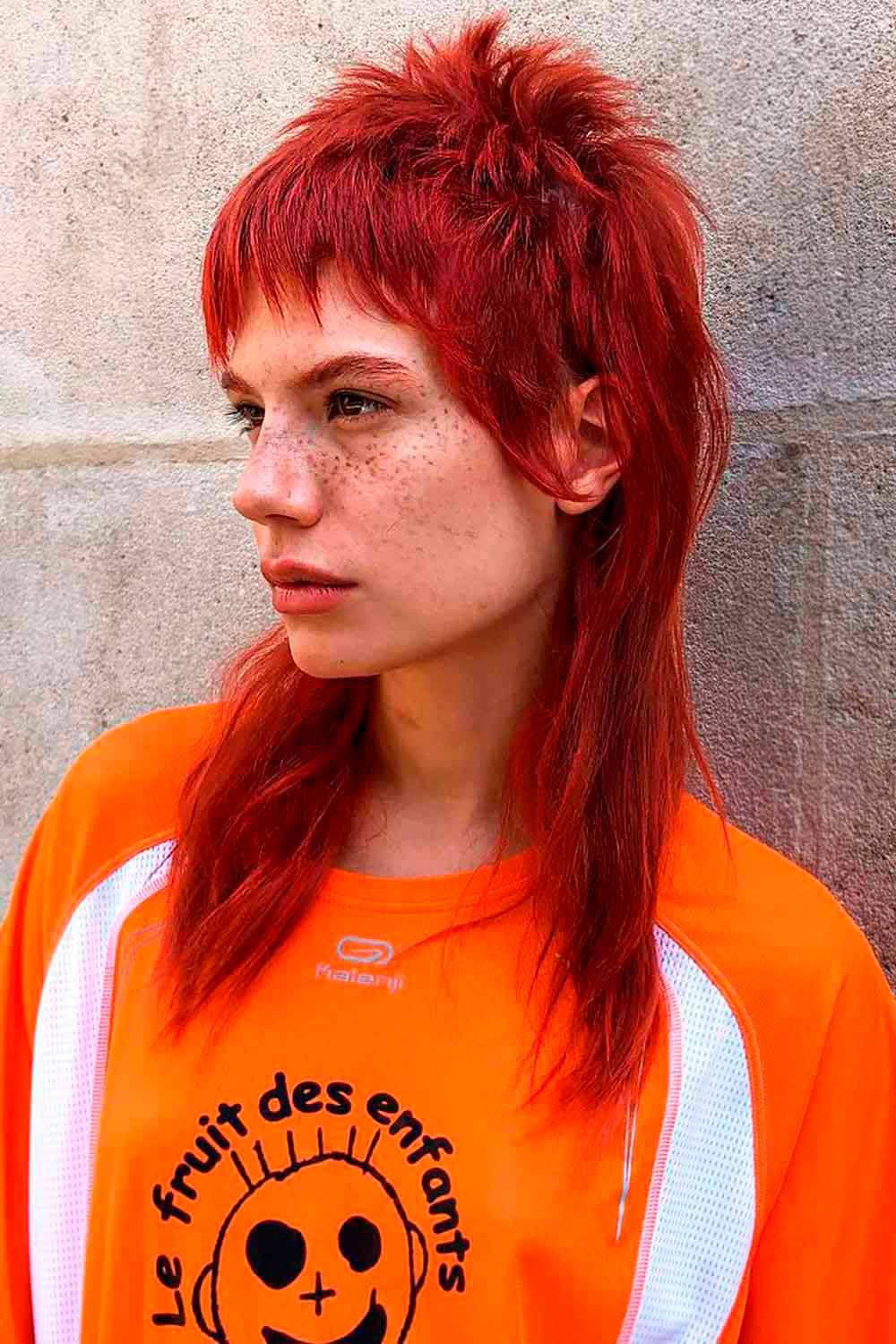 Credit photo: instagram.com/coiffeurstory
i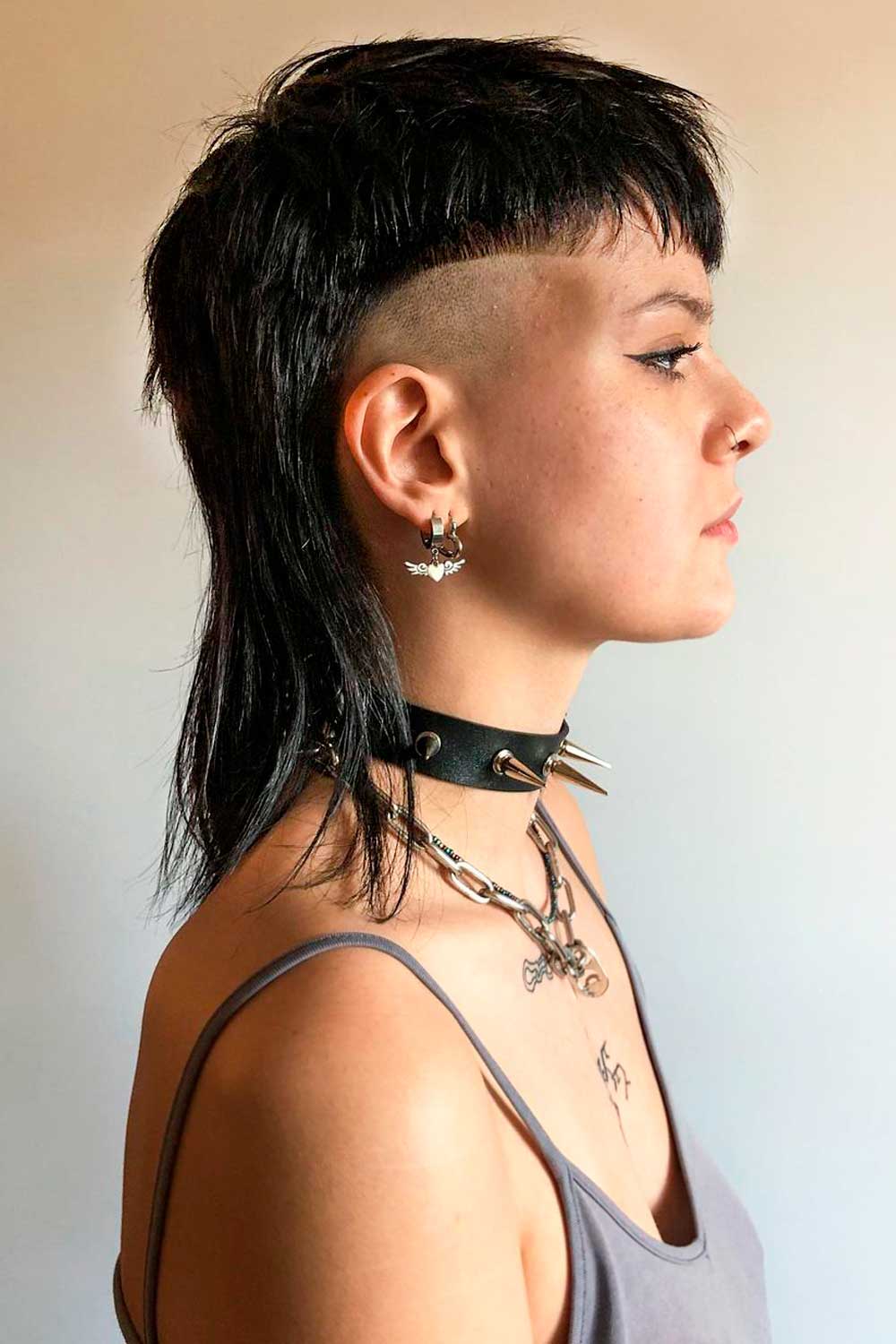 /
Wolf Cut Straight Hair
Credit photo: instagram.com/joeltorresstyle
i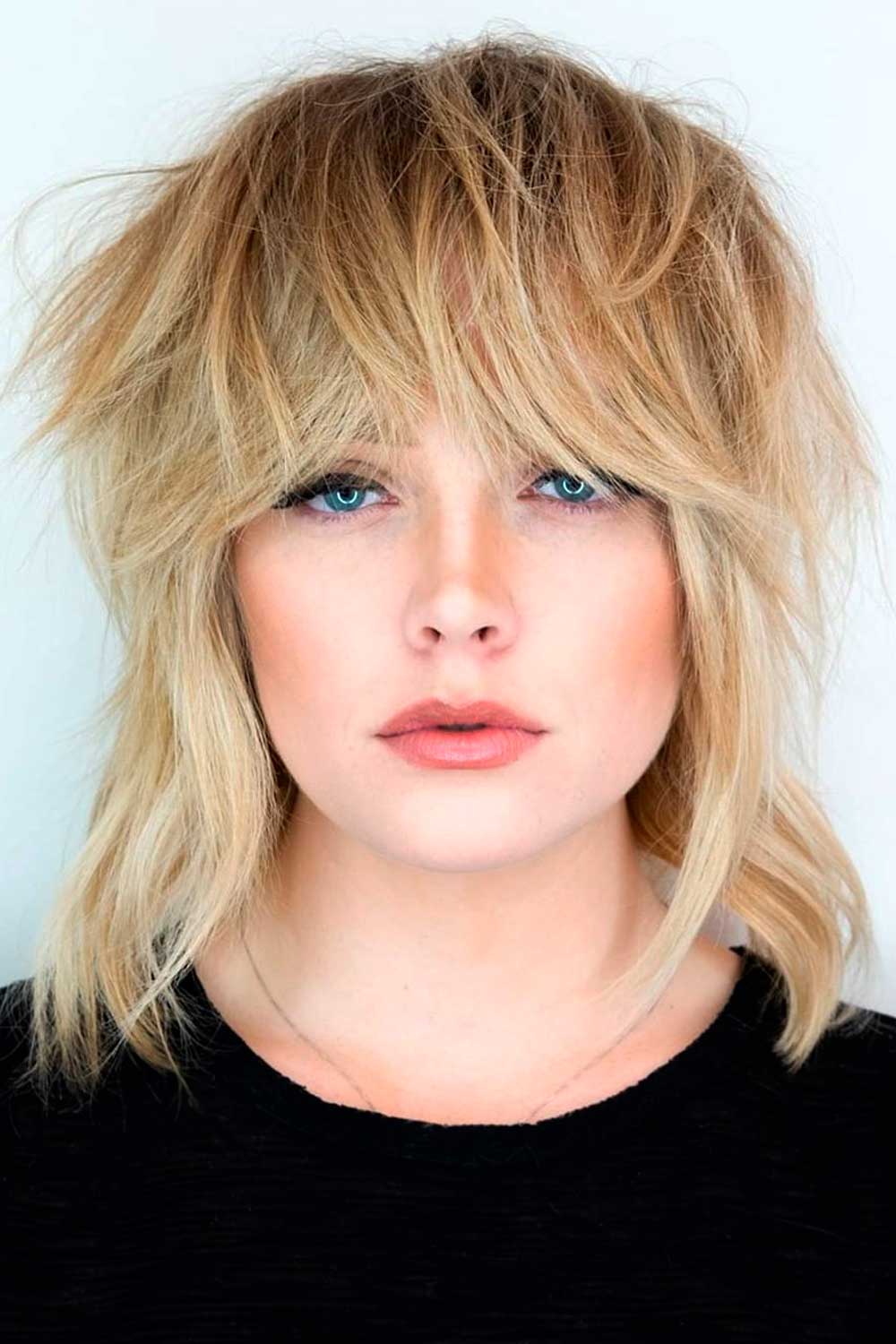 Credit photo: instagram.com/joeltorresstyle
i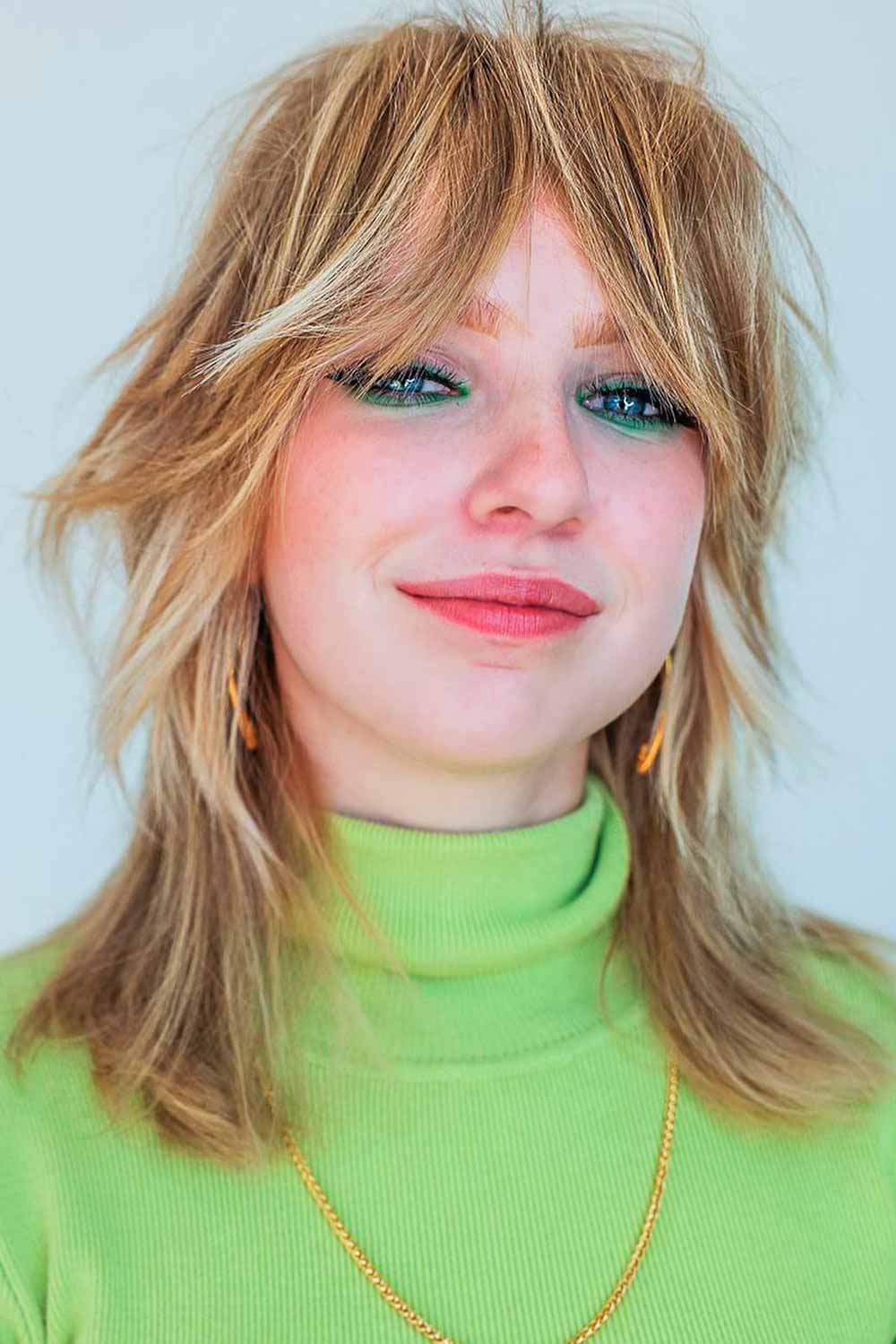 /
Short Straight Hair
Credit photo: instagram.com/by_eve_gunina
i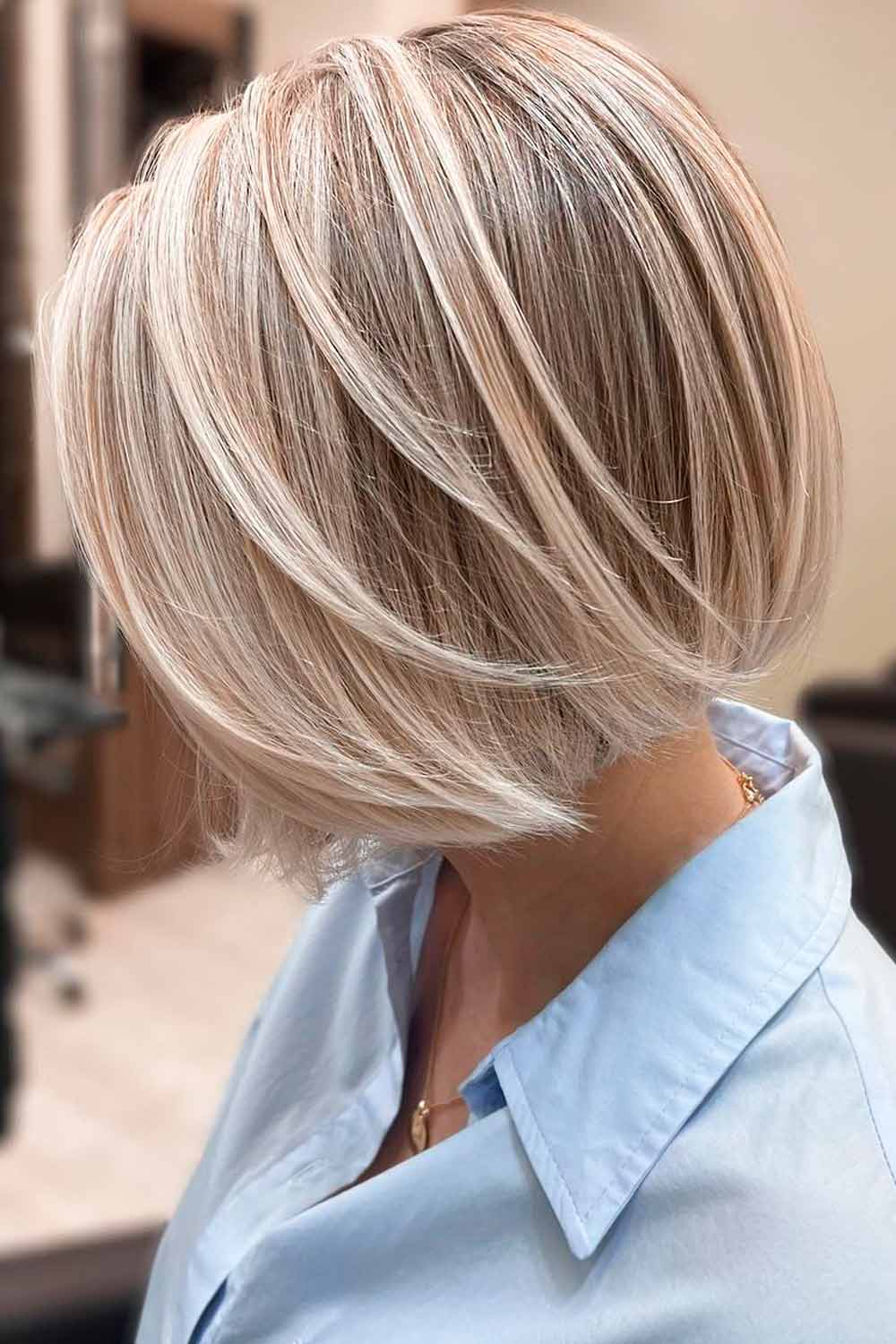 Credit photo: instagram.com/jeanclaudeelmoughayar
i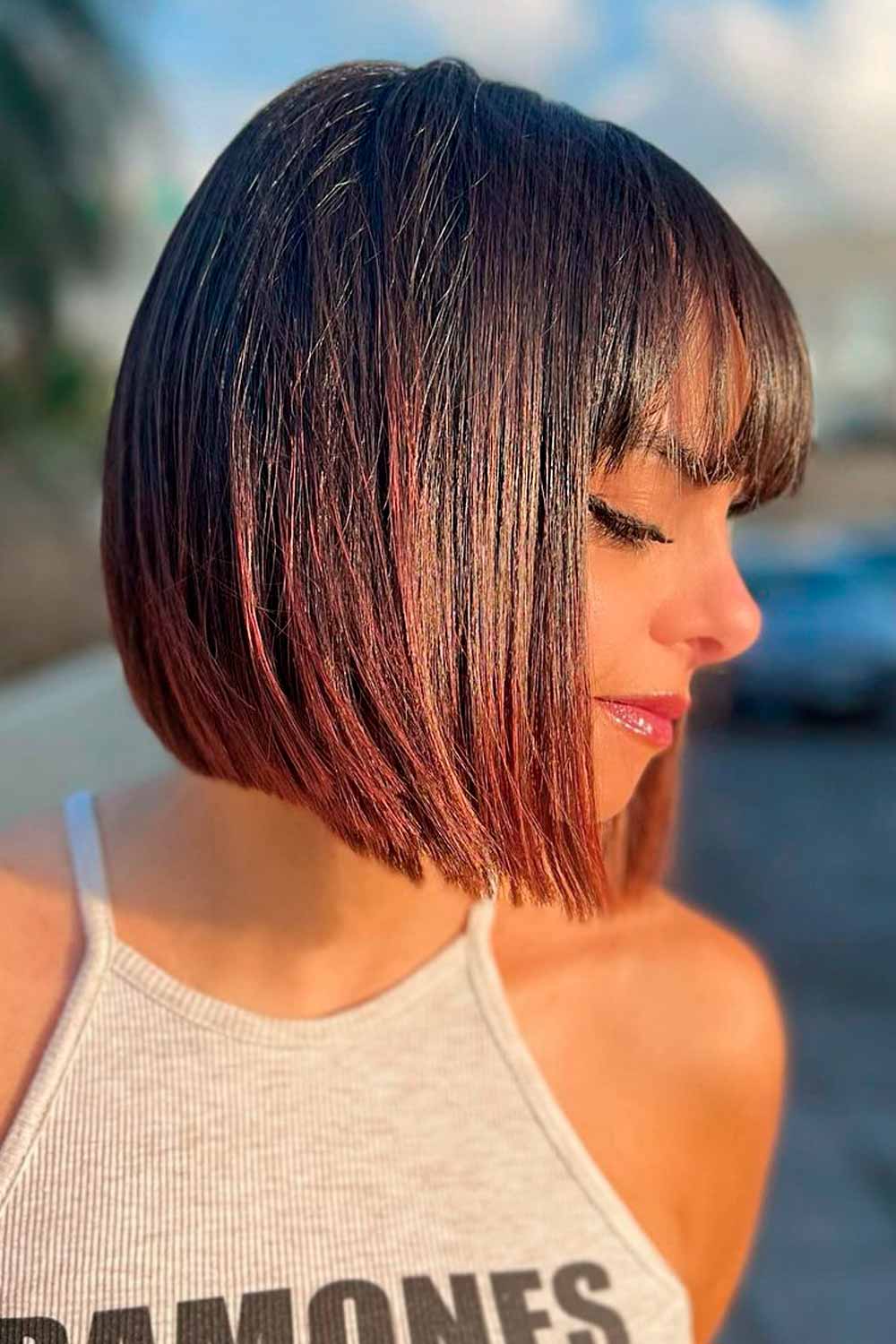 /
Medium Length Straight Hair
Credit photo: instagram.com/centro_degrade_joelle
i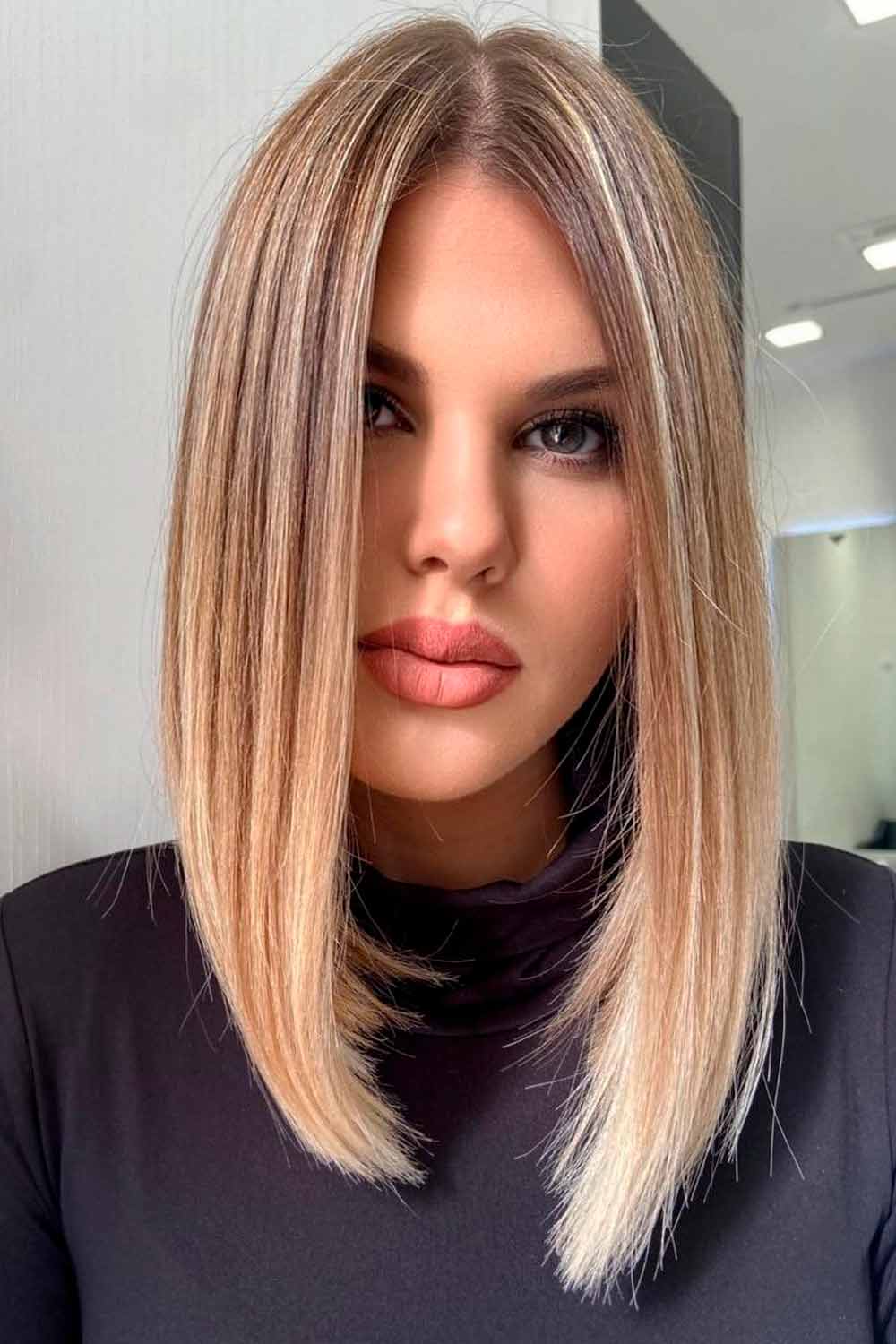 Credit photo: instagram.com/by_eve_gunina
i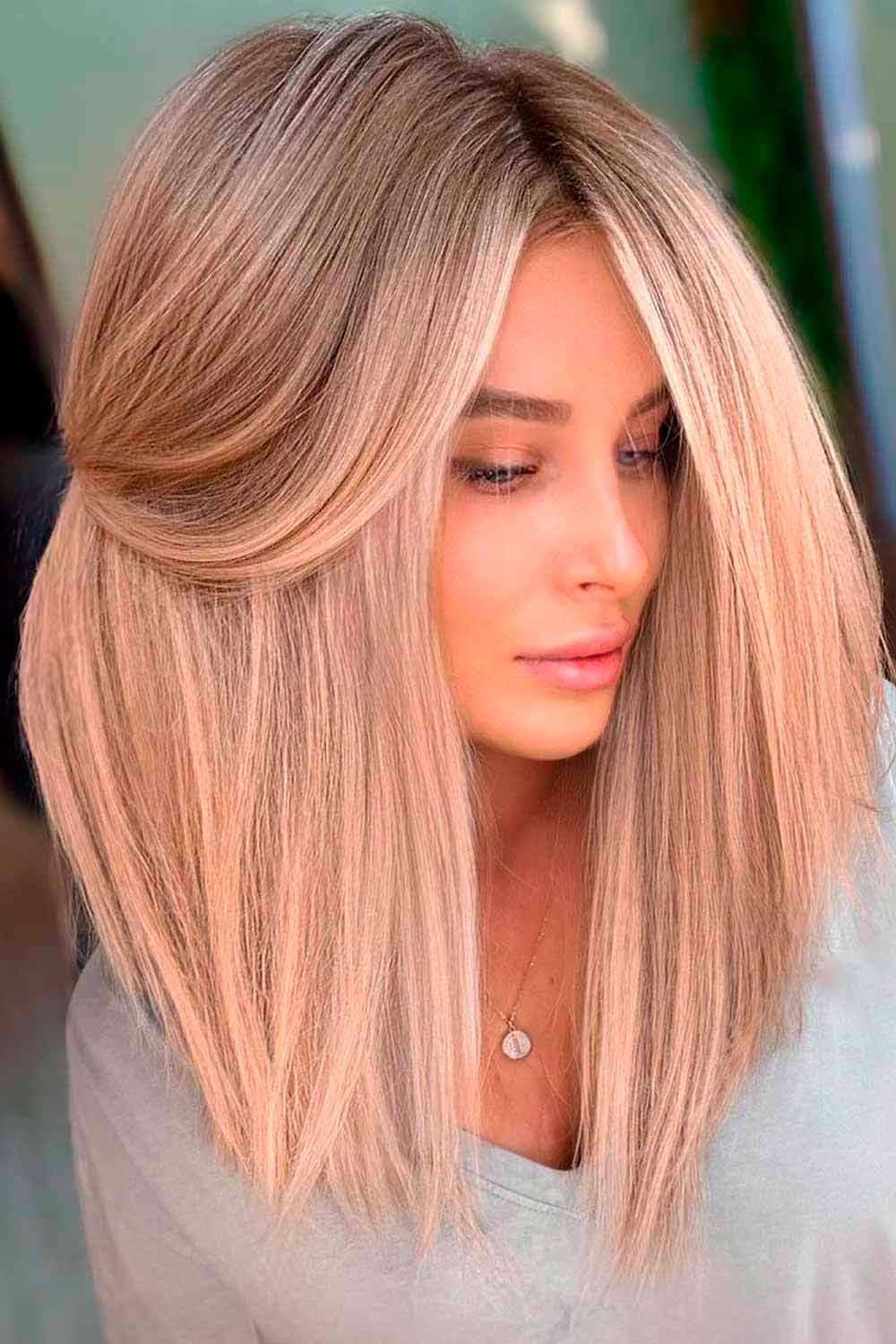 /
U Shaped Straight Hair
Credit photo: instagram.com/by_eve_gunina
i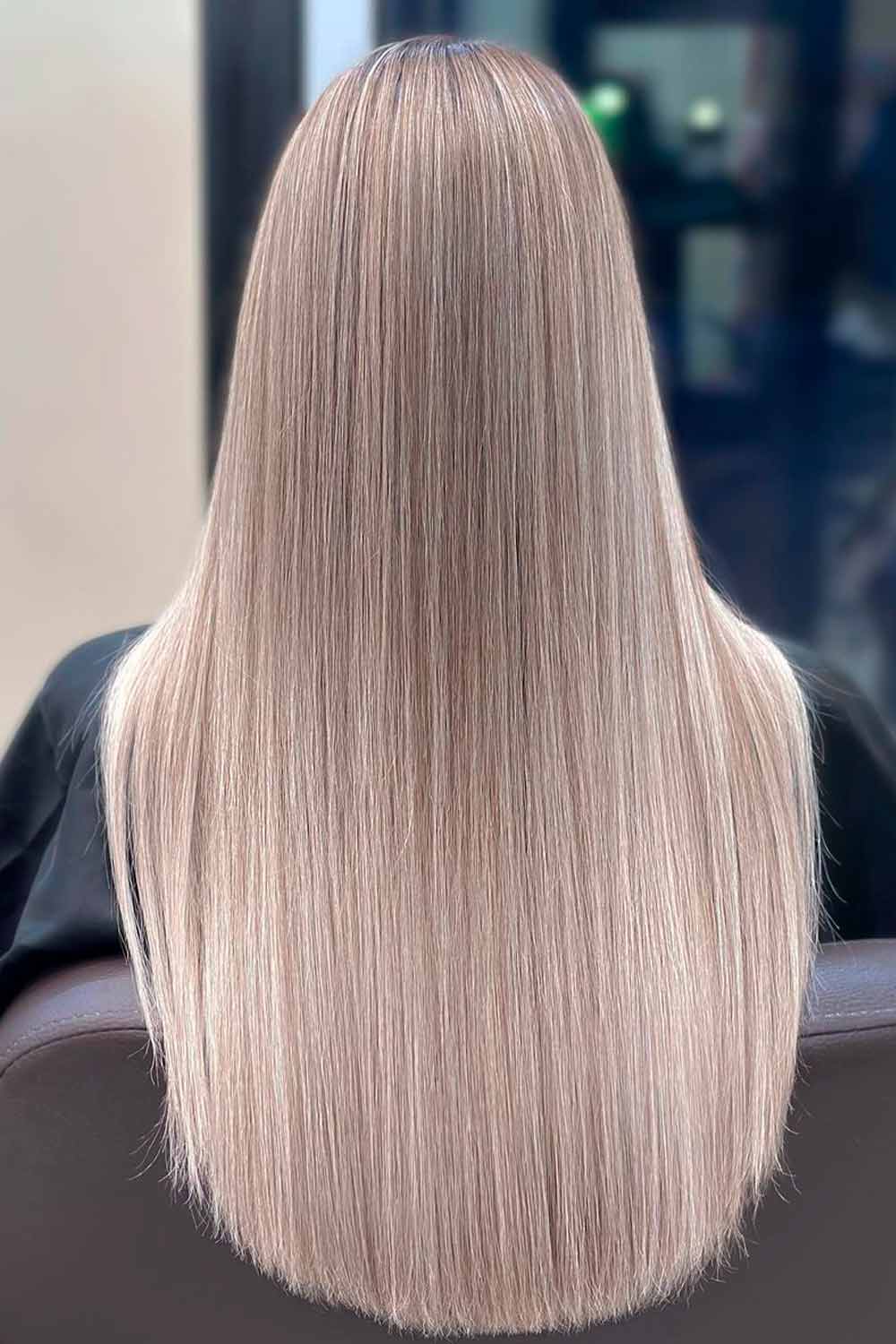 Credit photo: instagram.com/kawaicat_white
i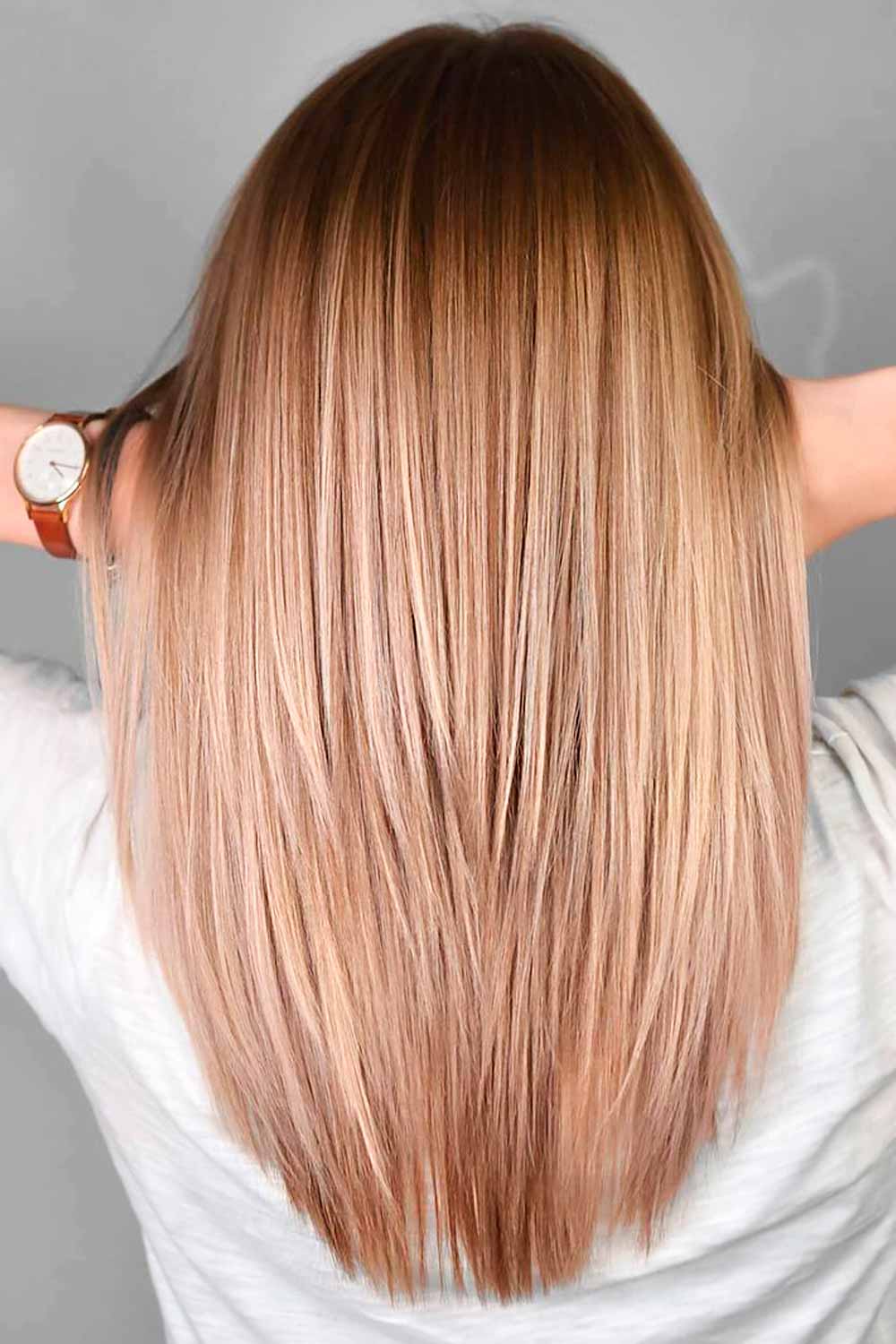 /
V-Cut for Straight Hair
Credit photo: instagram.com/by_eve_gunina
i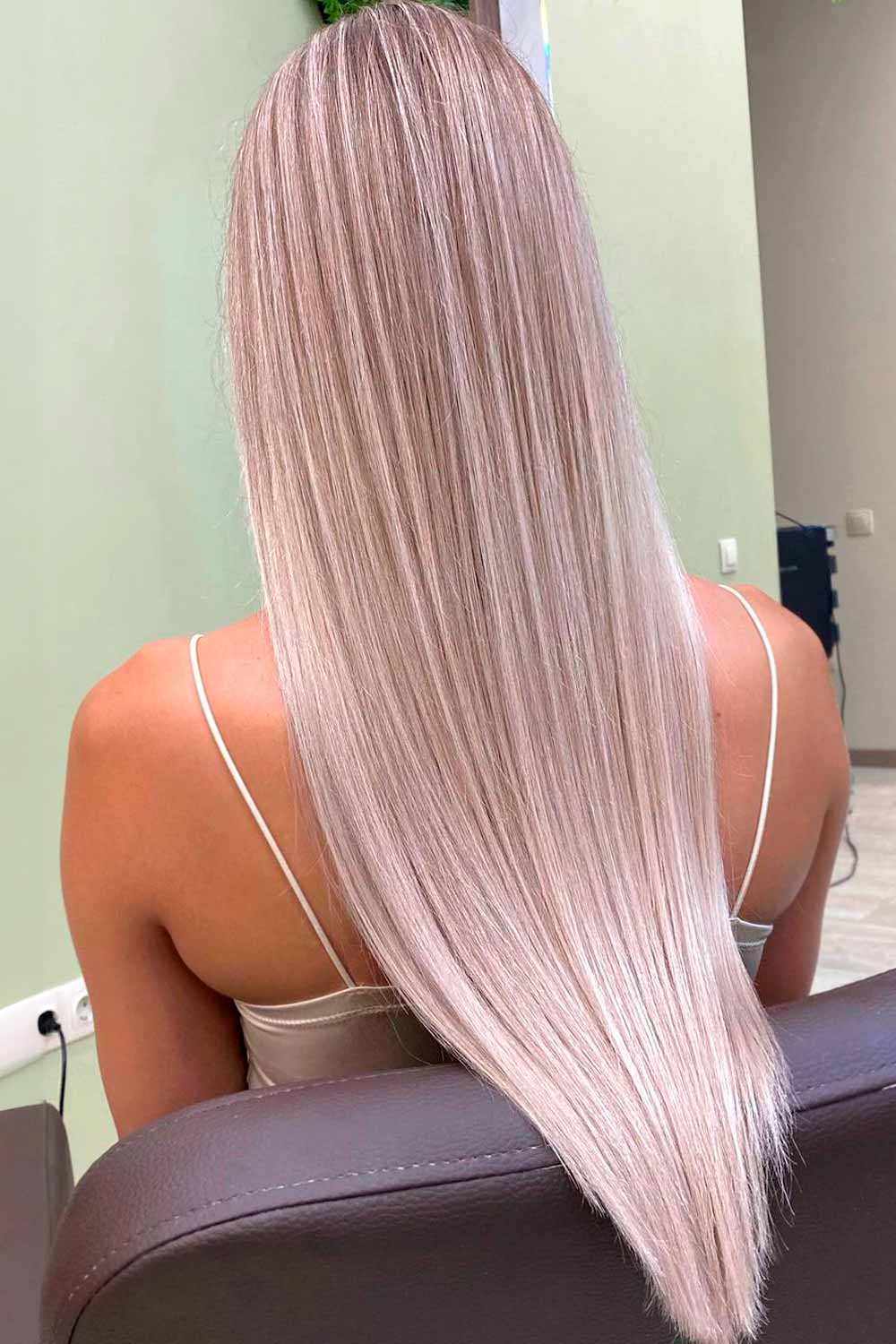 Credit photo: instagram.com/centro_degrade_joelle
i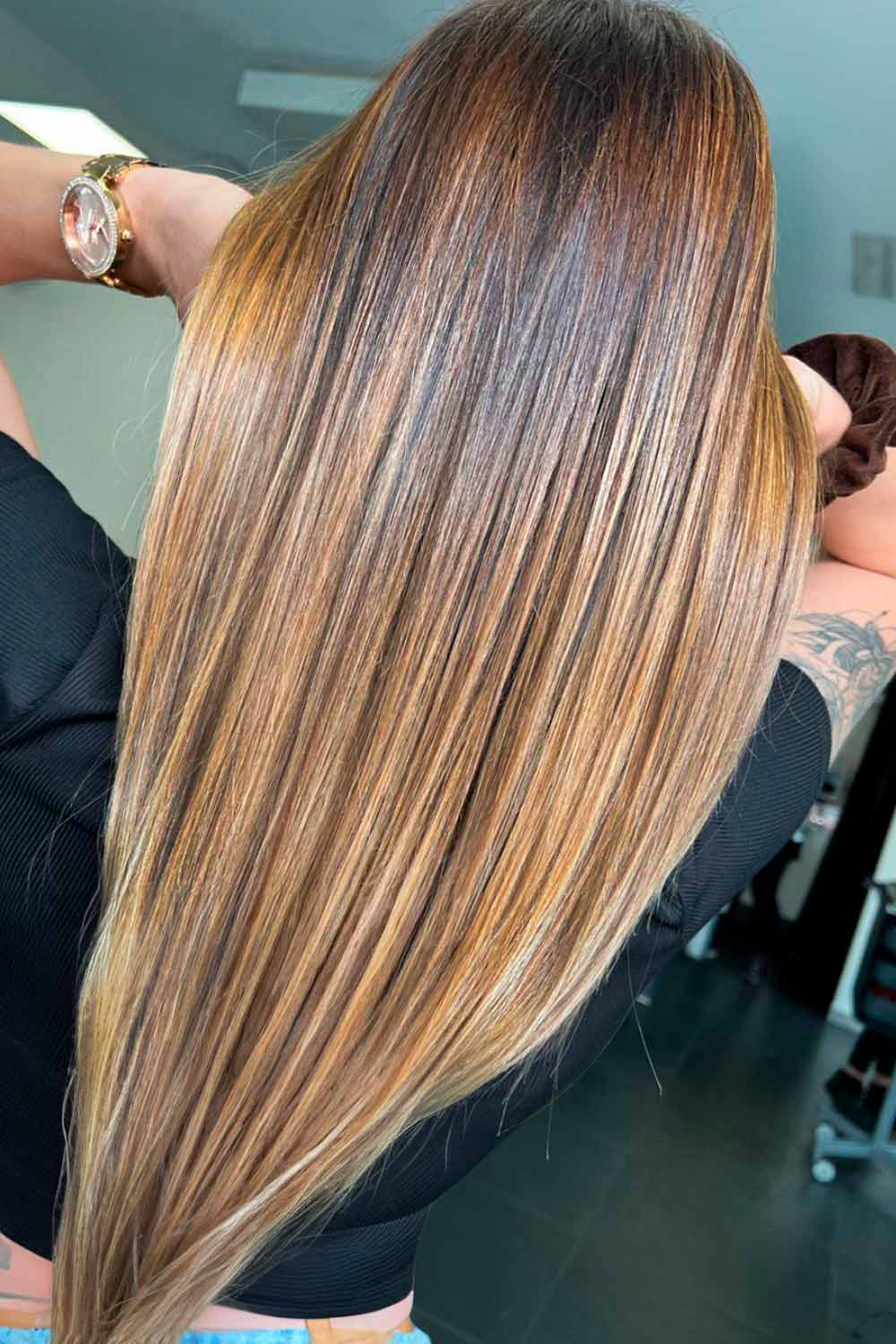 /
Just like any other hair type, straight hair can be both a blessing and a curse. However, it's a curse only when you don't know it well, as well as don't know its needs. Today, you've learned everything you should know to get the most of your locks, as knowing your hair type is what helps you to reach perfection in your hair routine.
FAQ: Straight Hair
Is straight hair rare?
As compared with other hair types, straight hair tends to grow more easily and quickly. This hair type is actually quite uncommon.
Is curly or straight hair sexier?
In 2019, the American Hair Academy experts discovered that 54 percent of men living in Florida felt that curlier hair is sexier and hotter. What they had to say was as follows: Steven (age 23): Lea Michele looks excellent with both curly and straight hair in my opinion, but something about her curls in this photo makes her look more appealing, and it's not just her eyes and smile…
Why is straight hair so bad?
The loss of volume in straight hair is its main drawback. Even if you cut it short, it still flattens out. You can tousle it and flip it upside down many times while blow drying it, but it will fall flat on your face 10 minutes later.
REFERENCES:
A hair blog about hair coloring at home from the hair color experts. Source
We re committed to being your source for expert health guidance Come to us in your pursuit of wellness. Source
Was this article helpful?