Those who say that getting hair bun for short hair is impossible are going to change their minds today! Besides our eternal beauty, women's creativity has no limits, too. So if some special occasion is just around the corner, don't worry: you don't need to have knee-length hair to create a lovely updo, and our ideas will prove that to you.
There are even more styling options for your short locks than you could ever imagine: casual low buns, messy evening updos, fascinating half-ups, chignon bun hairstyles and lots of inspiring ideas will introduce your short haircut in a new light.
High Bun For Short Hair
Fascinating Braided High Bun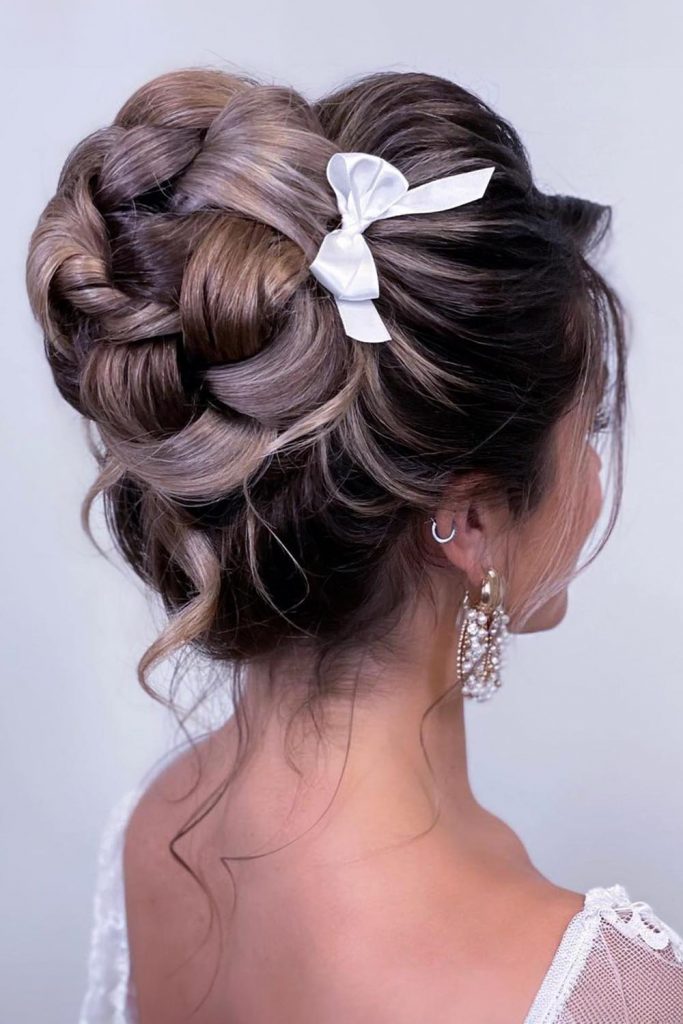 by @lalasupdos
There's one trick on how to make a high bun with short hair! If you want to reveal it, it's time to ask braids for help. Braided hair is more flexible for styling, and with right braiding technique, you can get the most out of your short locks, creating a special updo.
To get such an amazing braided high bun, the braids should go all over your head, crossing and twisting into a little bun on the top. Once you get this cutie, don't forget to give it a coat of hairspray, to make sure your braids won't fall down.
High Voluminous Bun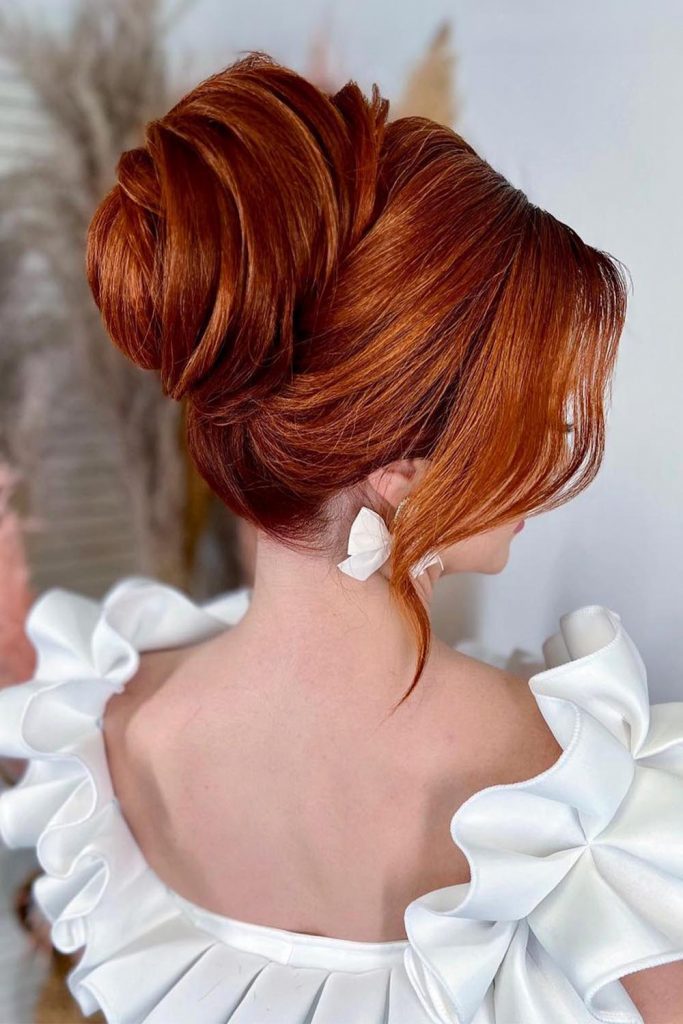 by @lalasupdos
Here comes probably the most gorgeous and striking idea that we, lazy bones, can have only in our dreams. Although it's something that we can't do before a walk with our friends; it's worth all the time and efforts. To create such a voluminous bun, you will need to get lots of little waves, twist them into a high bun, and then add definition by pulling the edges of every single lock. Time-consuming, yet so irresistible!
High Messy Bun With Stylish Accessory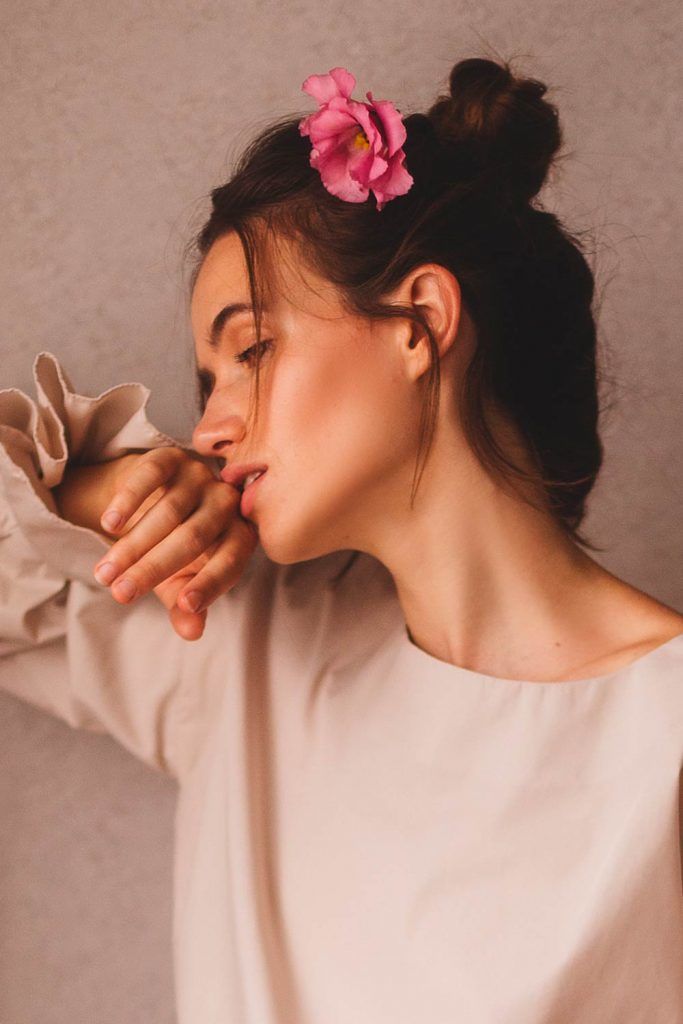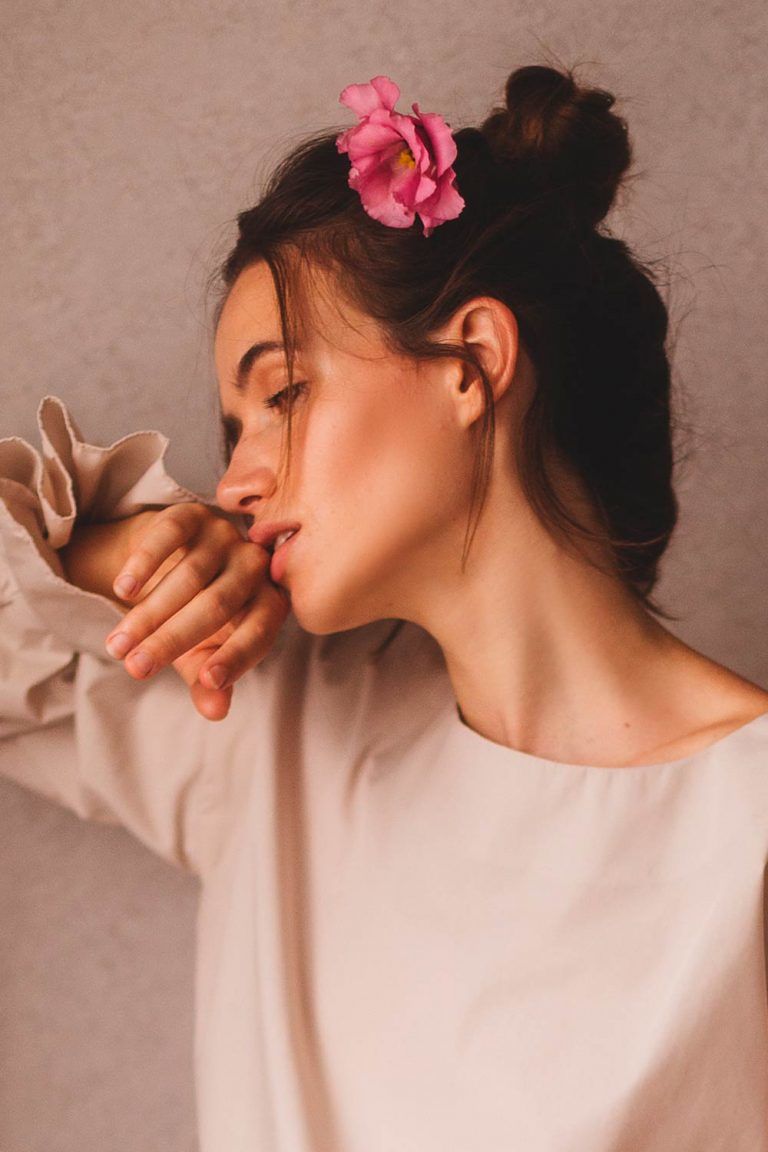 Ladies who don't feel like wearing super neat and clean hairdos will like this idea. It's simple, again, but it has something wonderful. Almost non-brushed hair is put in a high and messy bun, leaving some pieces of hair beyond the updo. The point is to give individuality to your hairstyle, and this pic shows how you can do that with a hair clip.
High Bun With Headscarf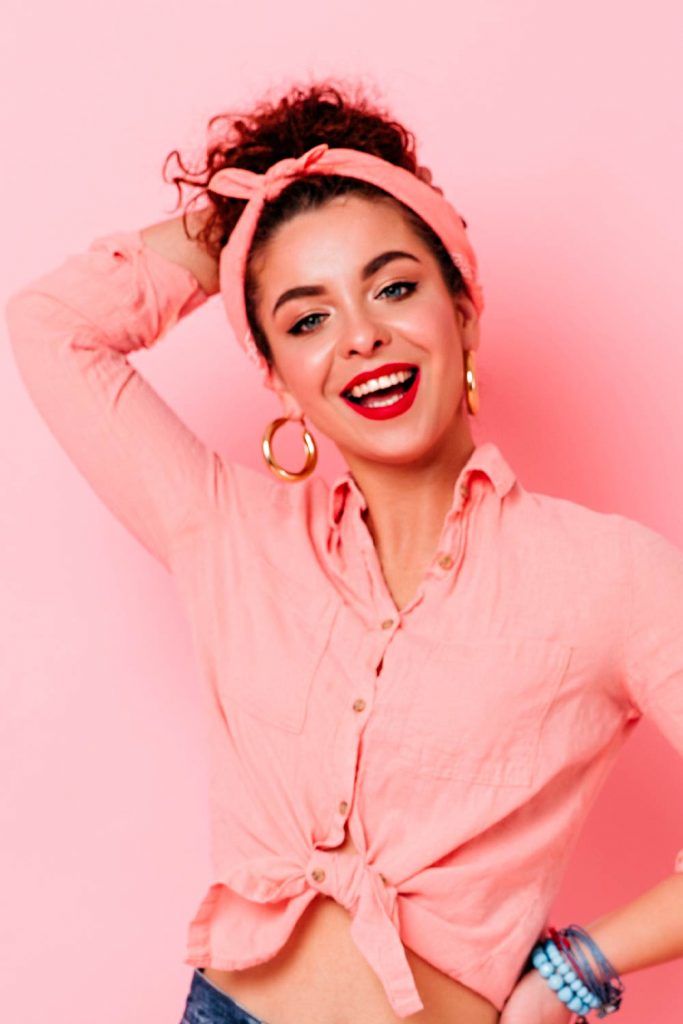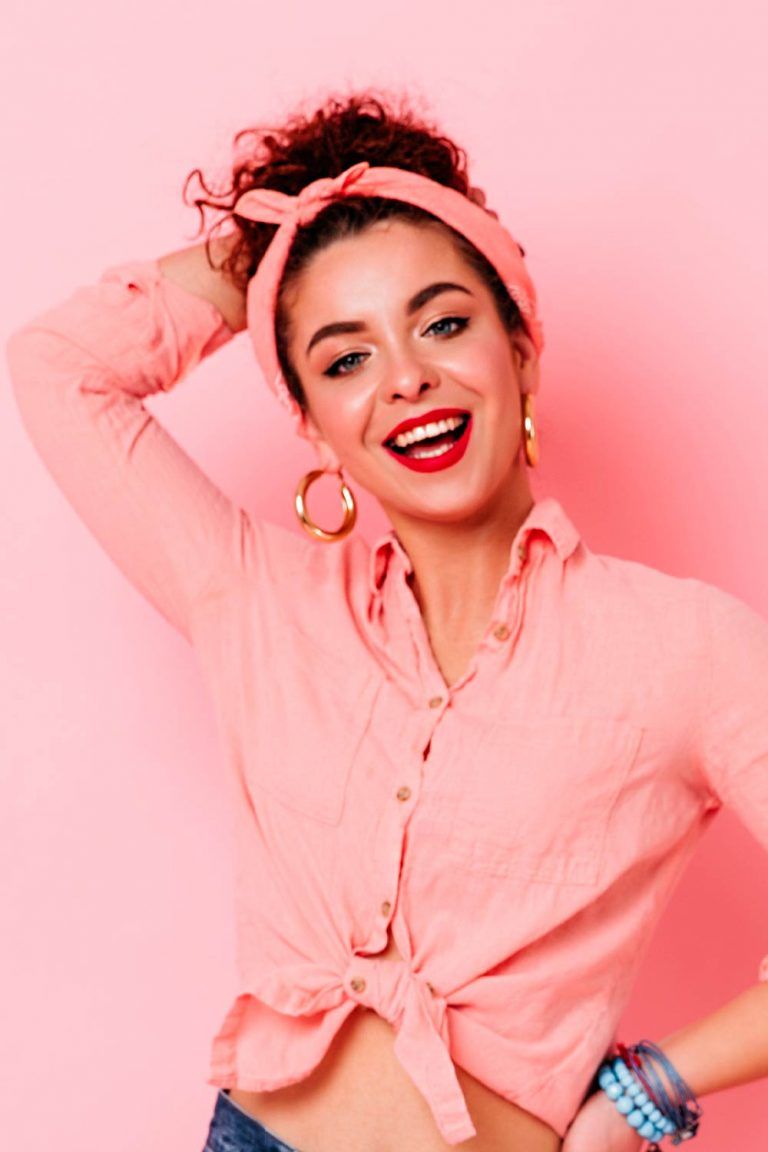 The familiar high bun won't look too simple if you add a touch of creativity to it. Some ladies don't even know that once they secure the hairdo with their favorite headscarf, they will get themselves a perfect and versatile hair bun hairstyle. With this accessory, you can pull the crown to add some volume, while keeping the top secure.
Cute Little Space Buns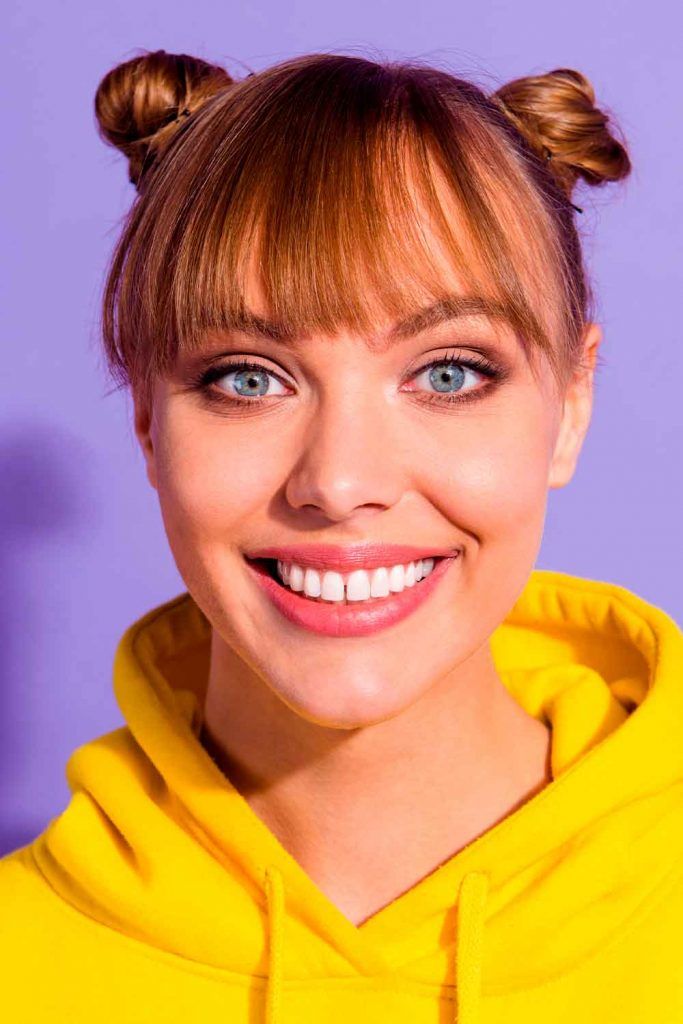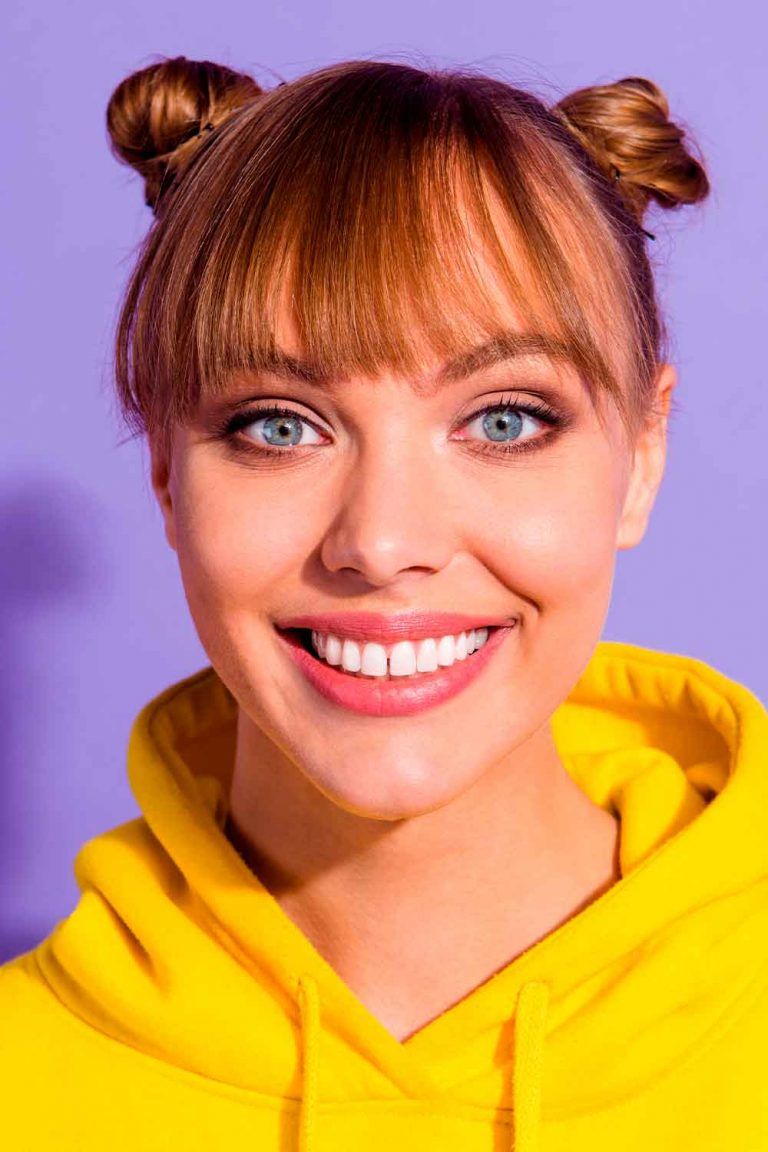 Just a pair of little twists on the sides can change the mood of your day for the better. Let your hair add some fun to your style: create two tiny space buns, setting them as high as possible. The best thing is, this girly hairdo can nicely finish any outfits.
Faux Hawk Buns With Hair Accessory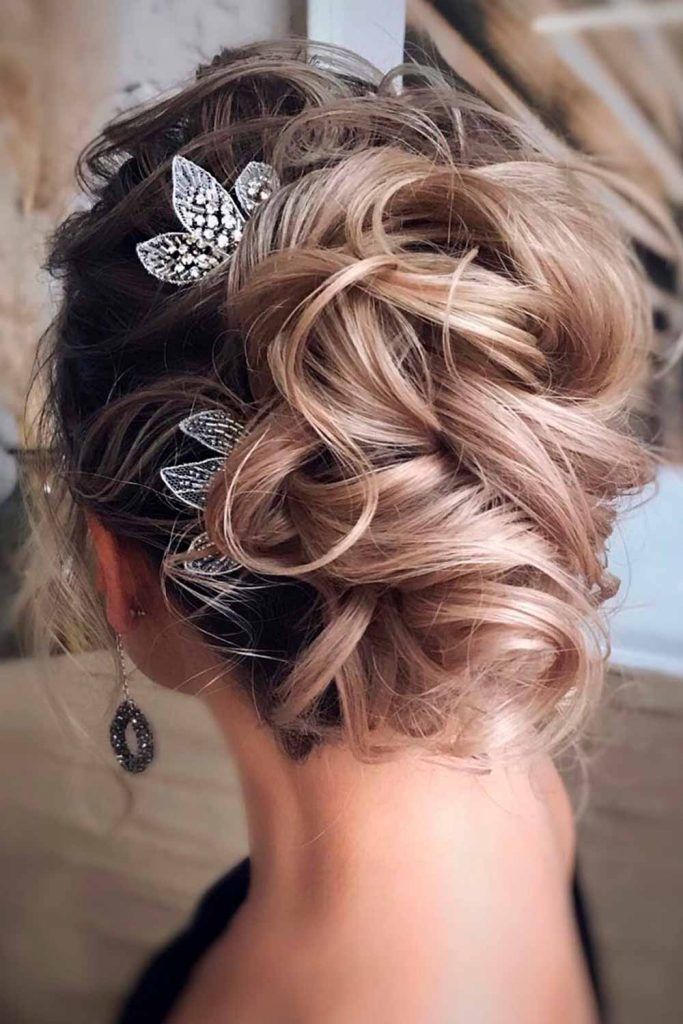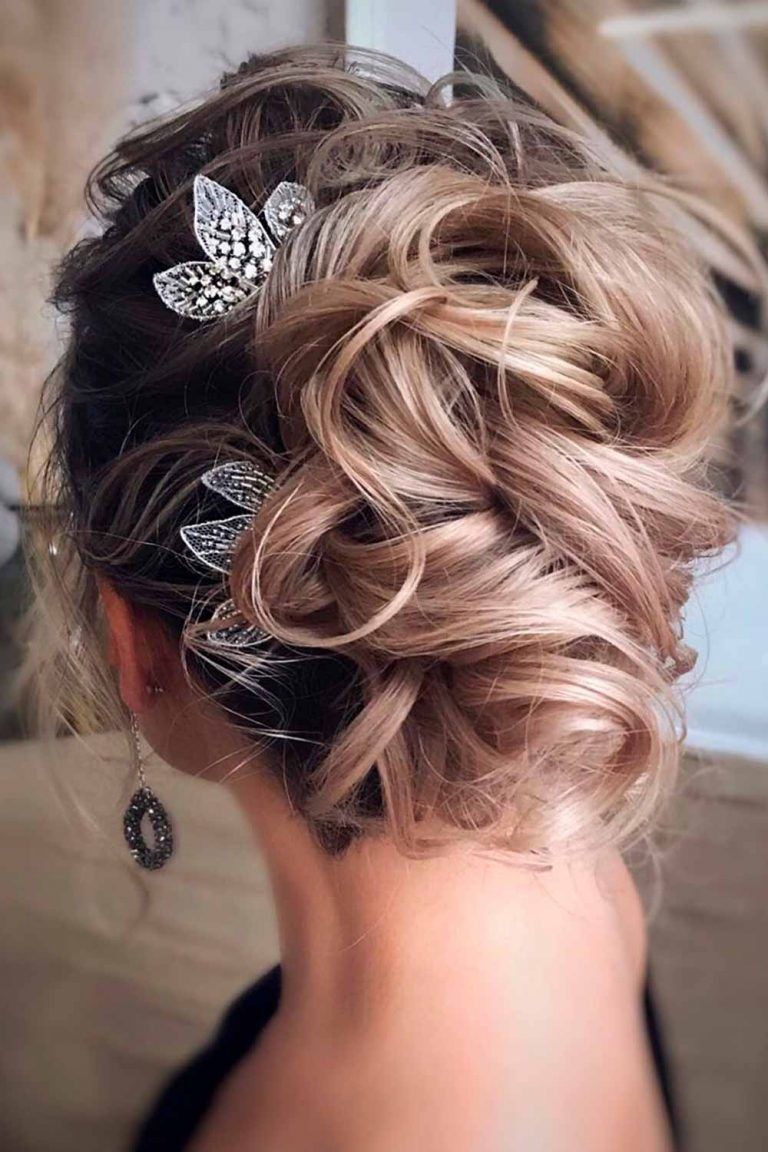 by @hair_vera
The faux hawk buns hairstyle is here to open up your beautiful face! The fascinating bubble top, embellished with a fashionable accessory, will keep all of your hair tight and your face open. Spice up the style with a pop makeup and be ready to captivate!
Twist Braids Into High Bun
Mixing different hairstyles is always fun and unique. And you know that braids are better than all the world's accessories. You can braid your short hair, starting from the sides and going towards the crown, and twist them into a high hair bun.
Messy Top Knot With Fringe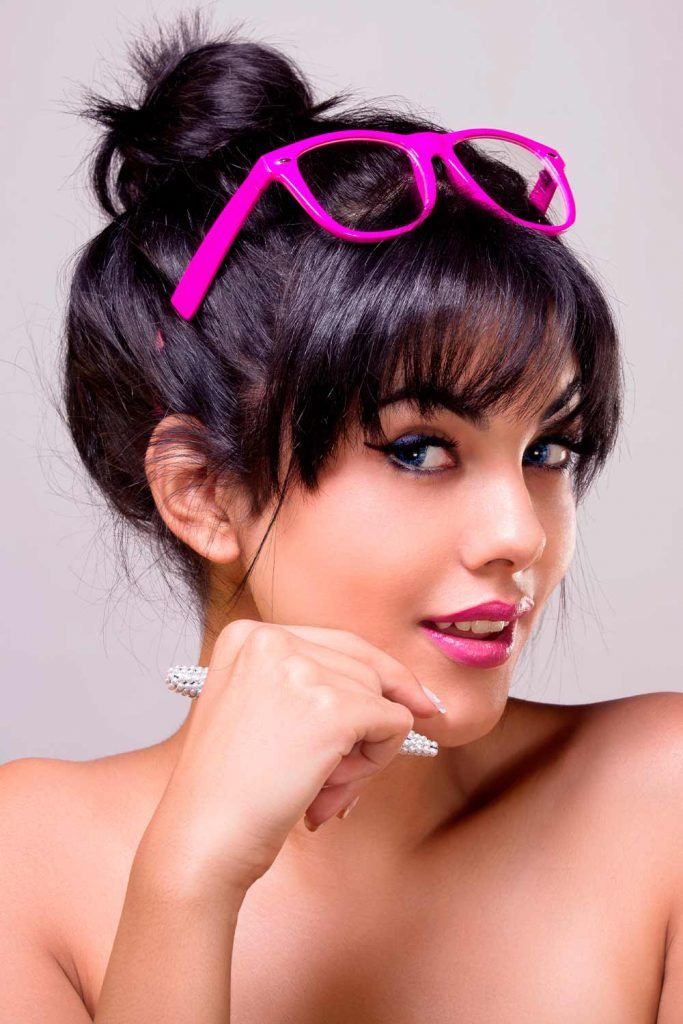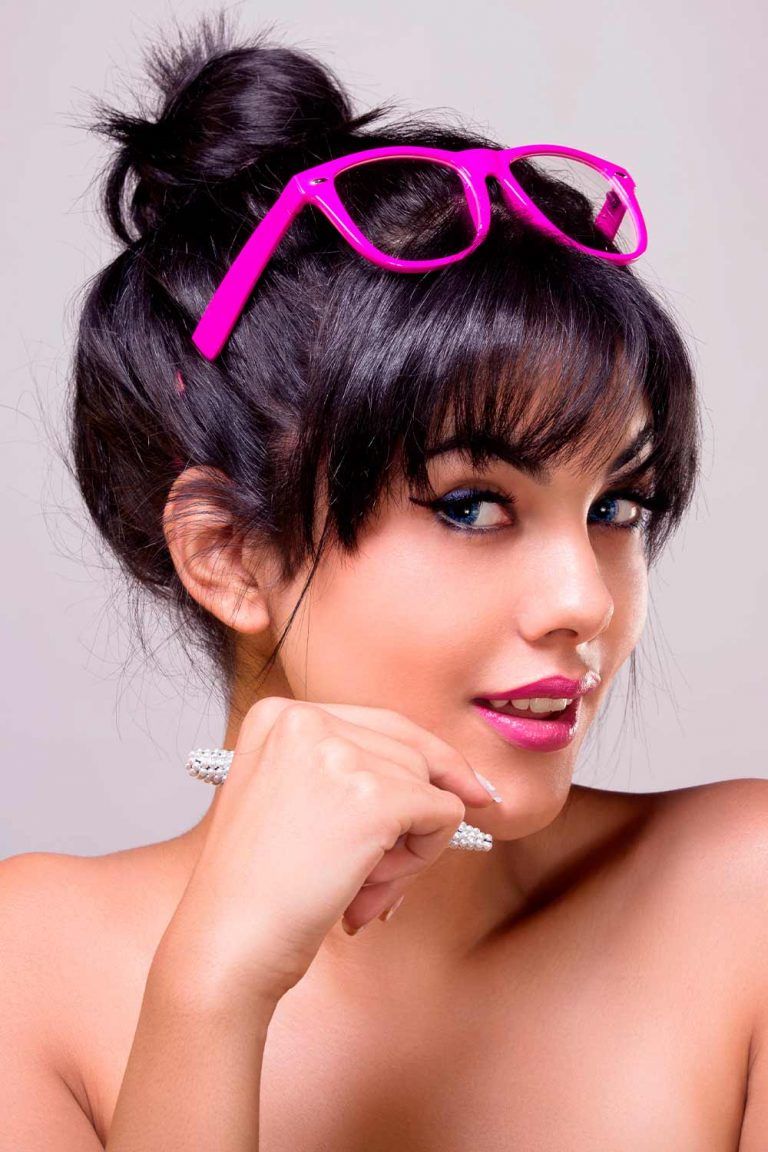 All of us have been in the situation when you need to get ready in a few minutes, and your hair is not that fresh to wear it loose. That is when a messy top knot comes as a true savior. Twist your mane in anything but a sleek top knot and leave the fringe out. Easy-going and modern 'do is ready!
High Messy Top Knot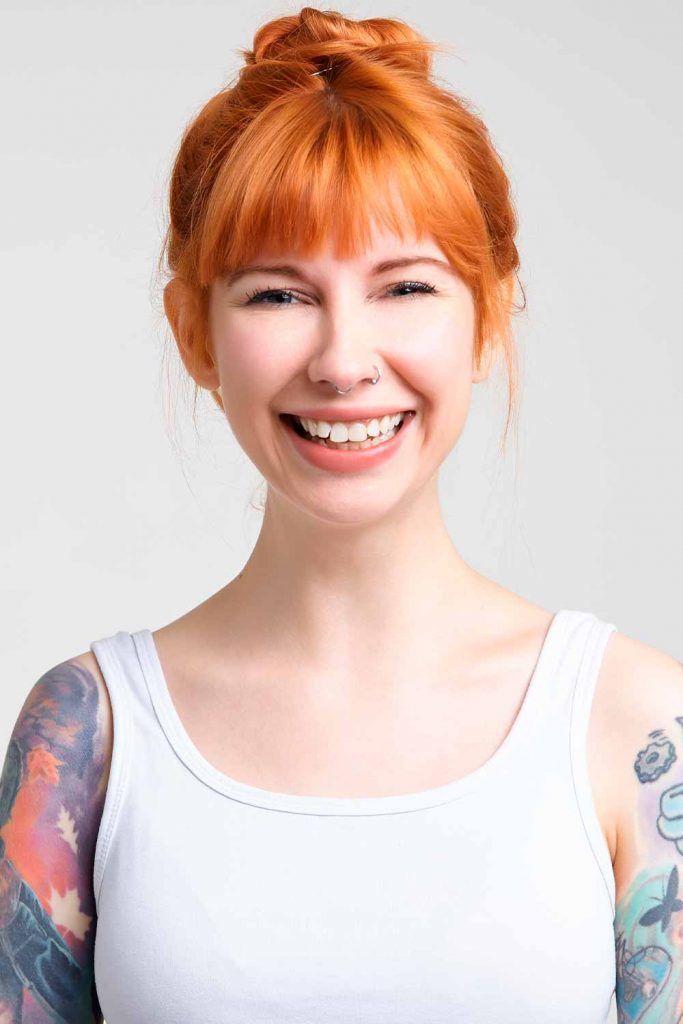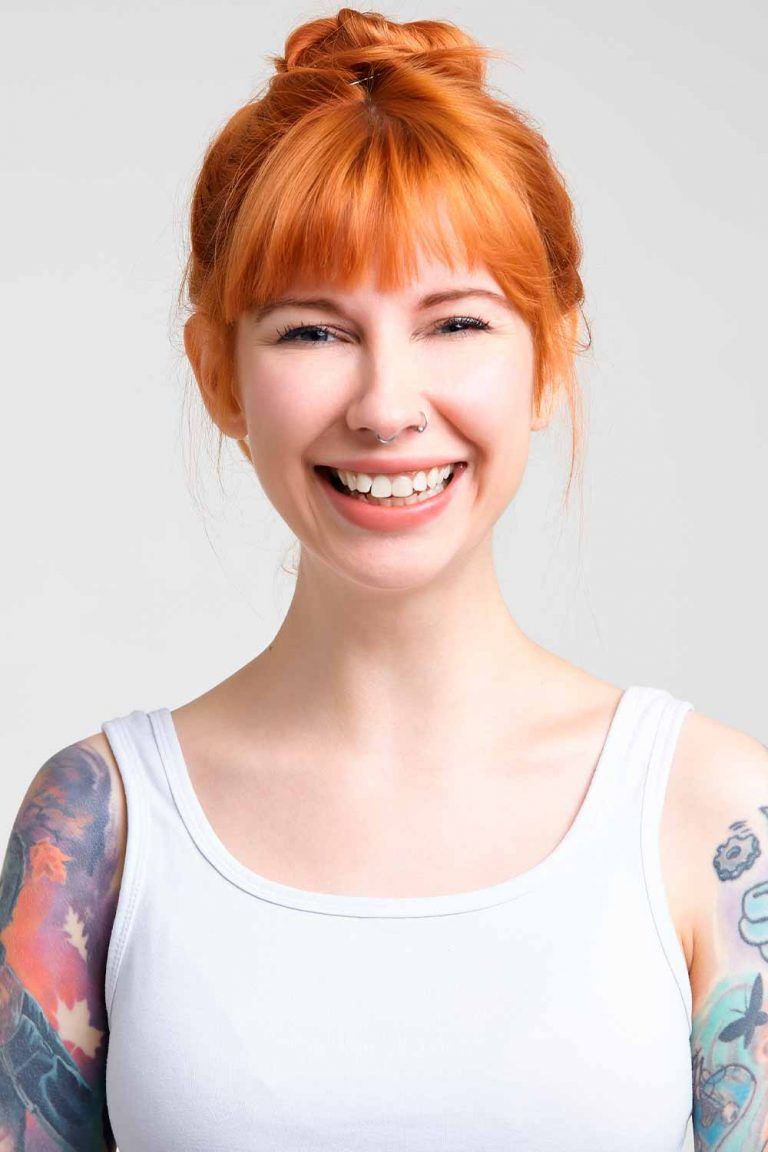 Some ladies do not wear a fringe, but that does not mean that a messy top knot would not work in their favor in times of need. All you need to do is to keep it all sleek in the front and leave out all the mess on the top. As simple as that!
Are all these ideas enough to prove you that hair bun for short hair does exist? Now you know that your short hair doesn't mean limitations. Moreover, you can make it look even sexier than hairstyles with long hair! Since you're inspired enough, it's time for experiments: go and give these 'dos a shot!
Low Bun For Short Hair
Delicate Messy Bun With Flowers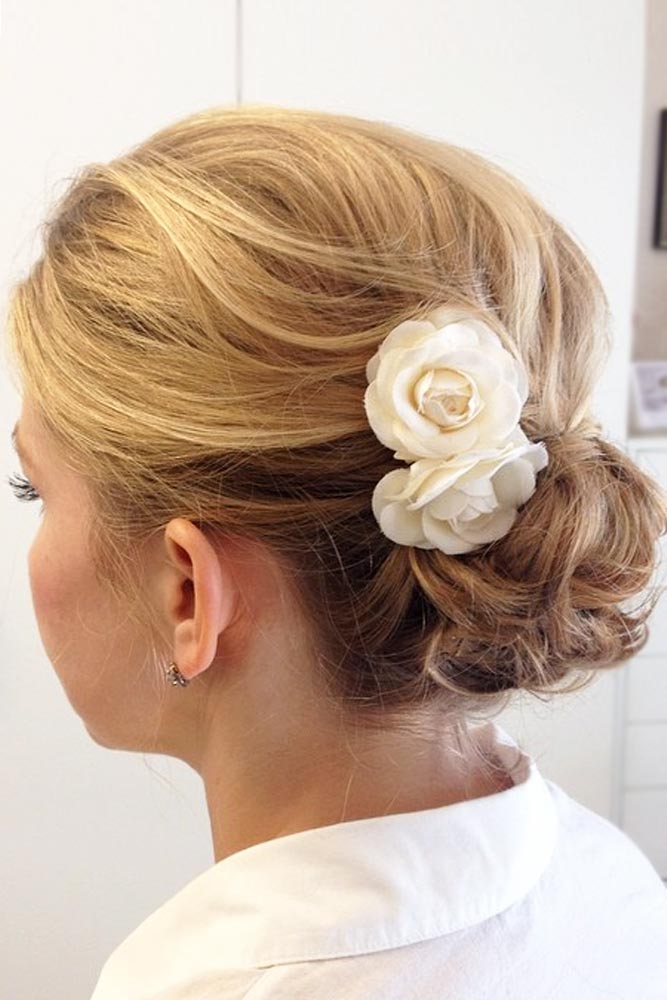 by @foxanddoll
Even though most women tend to think that getting an updo with short hair it's rather a struggle, they come in different ways. And the best thing is, they usually take minutes to get in done. In other words, you're even luckier than those who flaunt with long locks. This low messy bun with flowers looks so modern and classy that it's hard to believe how simple it is. A bit curly hair is twisted, and some strands are pulled off for a fuller effect. Voila!
Accessorized Low Bun For Special Occasions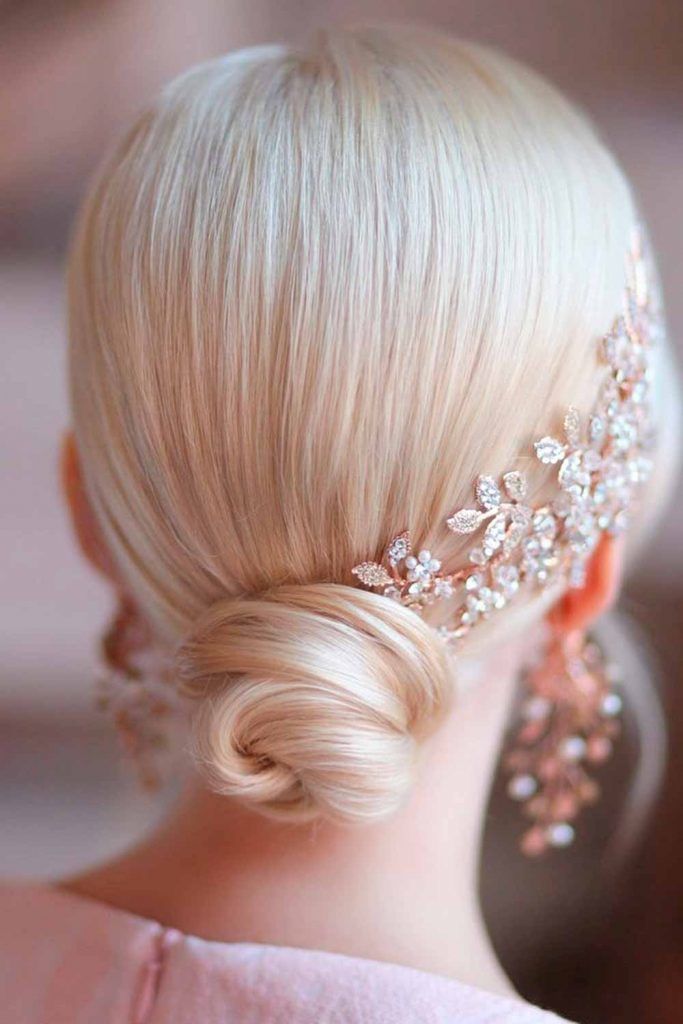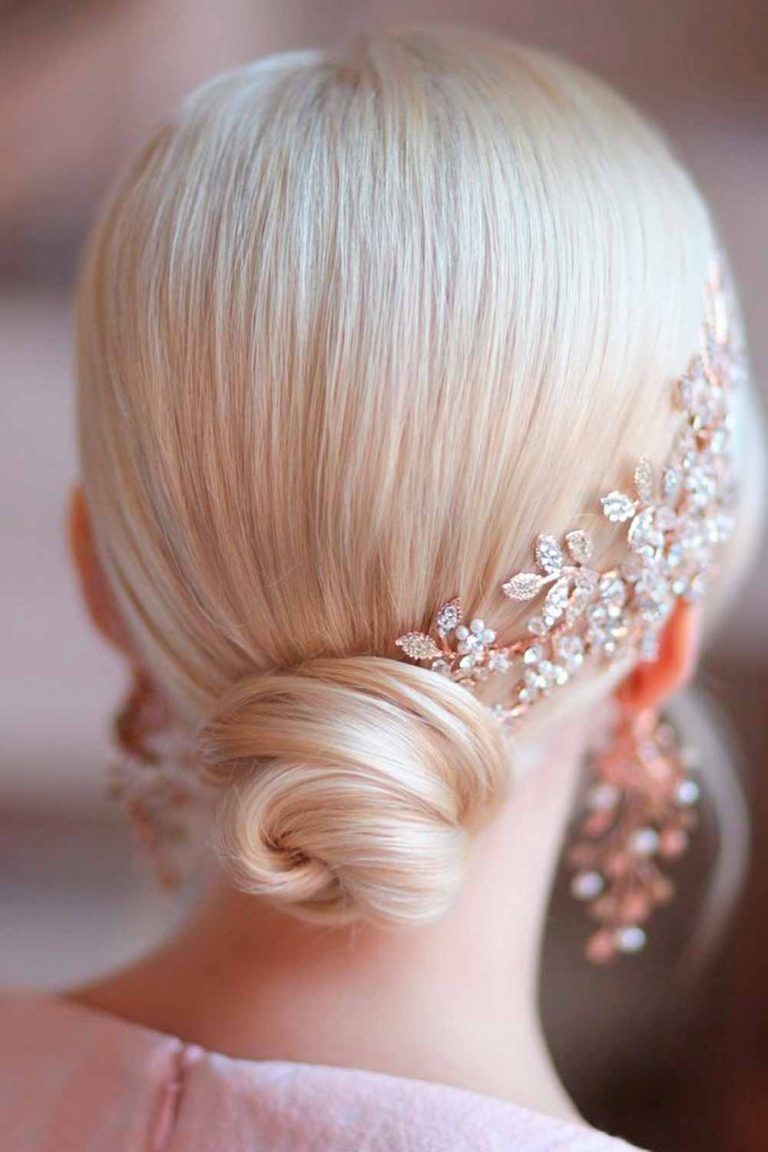 by @hair_vera
When your hair is short, make sure that you've got enough hair accessories. You need to be creative: if your length is not enough to put up all your hair together, some embellishments will come in handy. This subtle updo with wavy front hairs is worth a walk down the red carpet: the neatly accessorized side of your hairdo will make it even more unique.
Elegant Bun With Tiara For Brides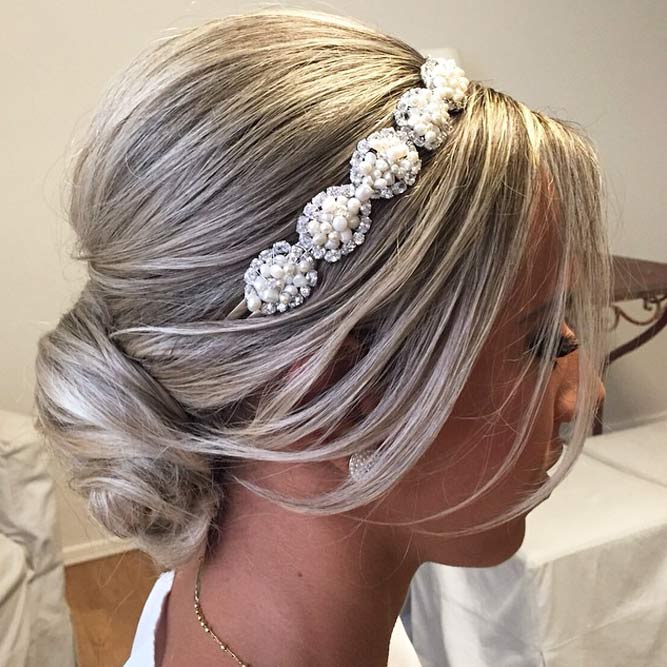 by @gabrielatannusjoias
Nothing can stop you from wearing everybody's favorite updo for your big day; your short hair is not an obstacle. Of course, it depends on length, but hair bun for short hair is usually styled low, to incorporate all the hair and be able to make your 'do immaculate.
A couple of minutes, beautiful tiara and several bobby pins are all you need to complete your bride look. For special occasions, it's better to play around with the crown, making it voluminous and dramatic. Don't forget to leave some lovely face-framing strands!
Girly Low Braided Bun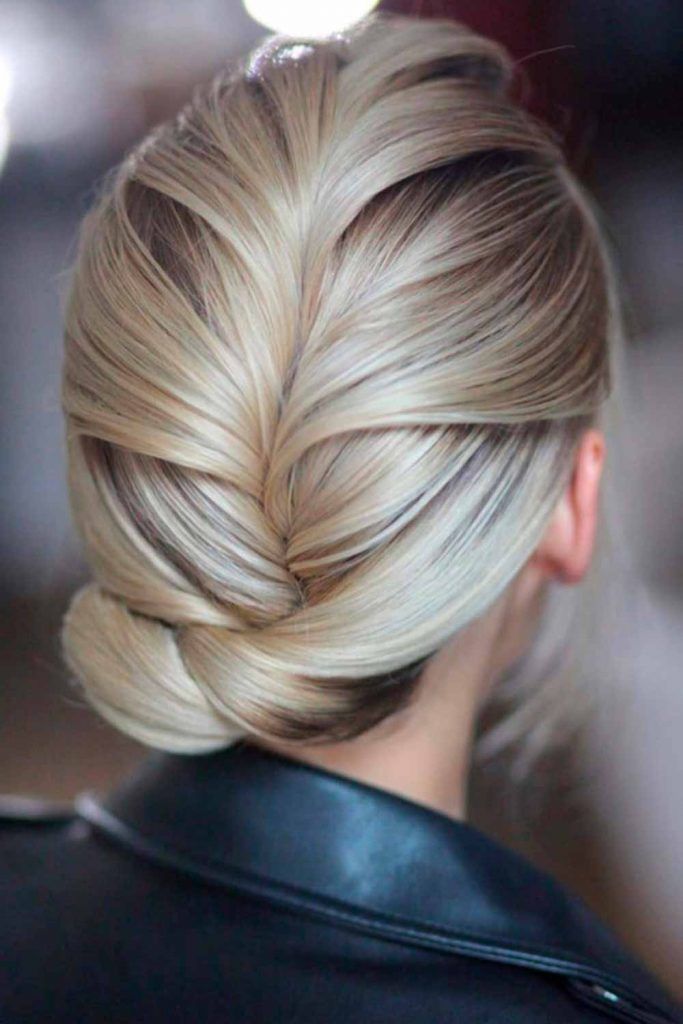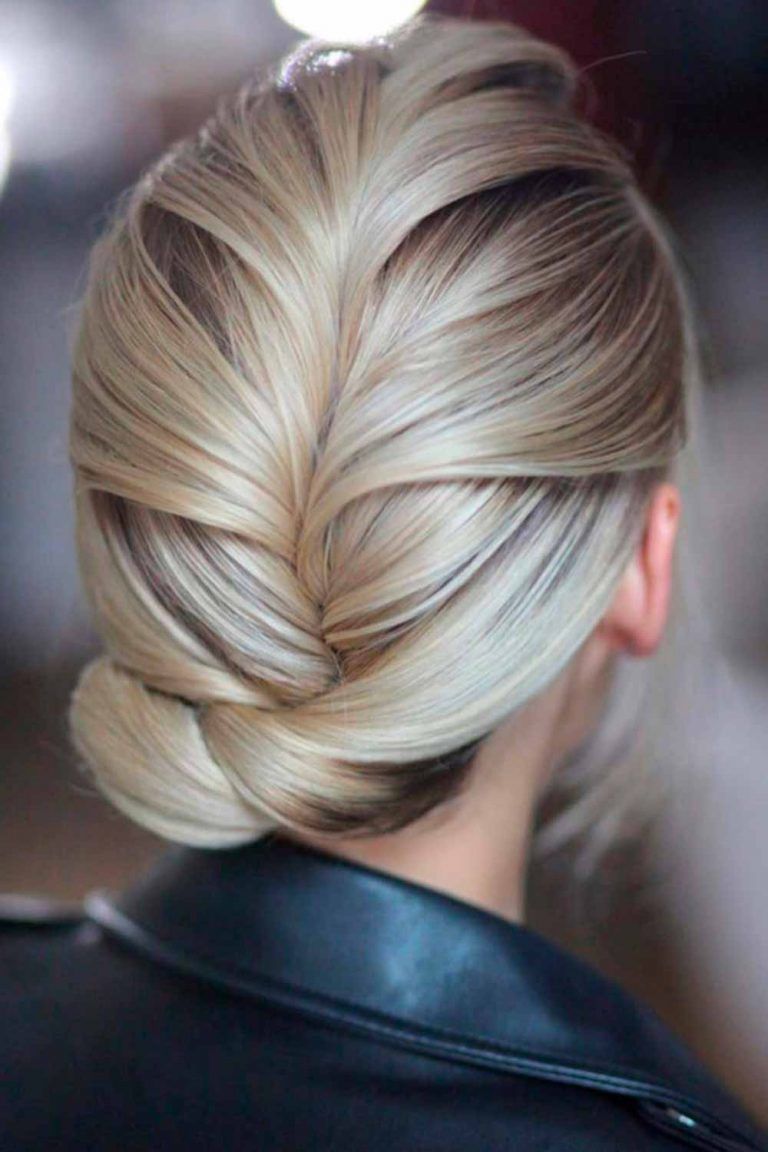 by @hair_vera
Braids make everything look lovelier and girlier. Isn't that the way ladies want to look this summer? Low braided bun will keep your beautiful face open, and your hair won't bother you in windy weather. Two side braids that meet each other around your neck and twist around the base to create a little bun are a look to steal. A little tip: for this hairdo, your hair shouldn't necessarily be fresh-dried; second-day hair, cleaned up with dry shampoo is enough.
Small Messy Low Bun For A Date Look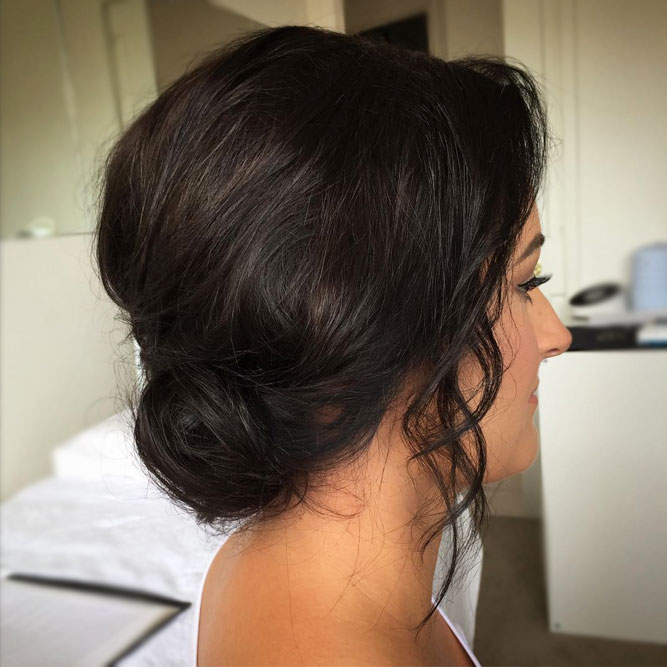 by @rachaelharris_hairmakeupbeauty
There's no way of how to put short hair in a messy bun better than this delicate idea: some wave mousse and a couple of pins are the keys to this loveliness. If you want to impress a man on your first date, this look is exactly what you need. Don't brush your wavy hair, pin the hair on top in the way it looks fuller, twist your lower hair into a little bun and pull some strands for a messier look. That's it!
Easy Low Bun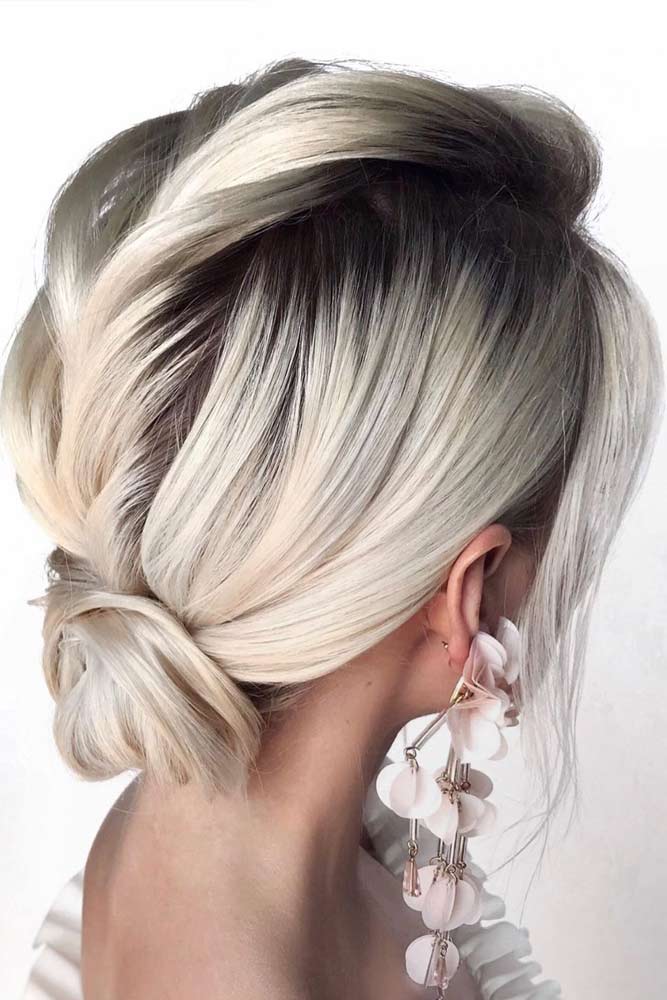 by @hair_vera
Even the simplest updo won't look ordinary with such an unbelievable hair color! Just imagine how lovely a regular twist will look if it's made out of silvery blonde locks that go back to fancy dark roots. You know how perfectly blonde and dark colors match: spice up your simple hairdo with some twisted locks on the top to enhance the dimension created by these two amazing shades.
Lovely Braided Low Bun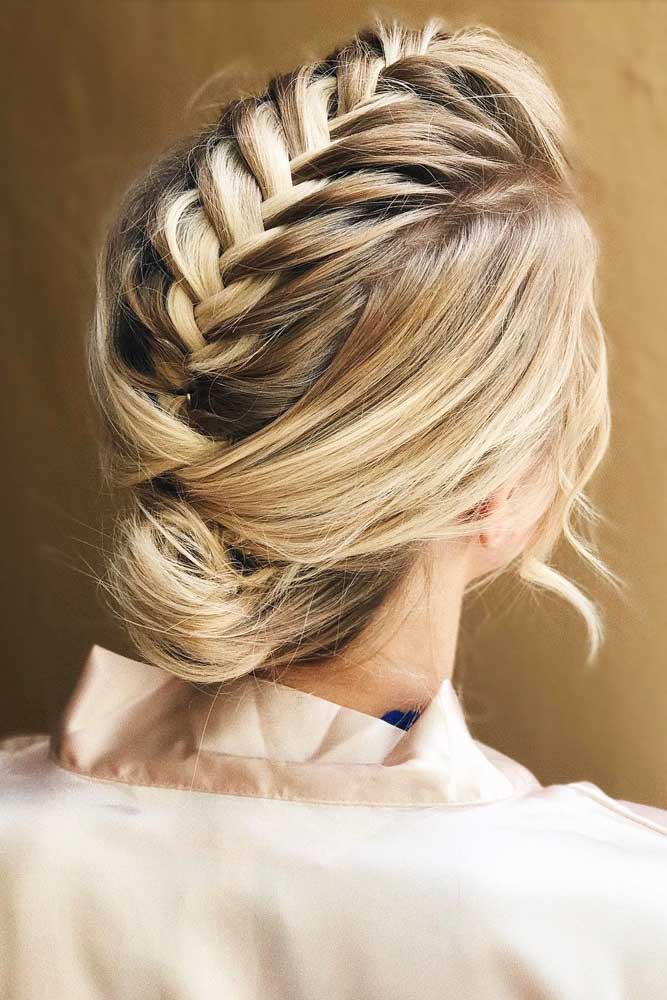 by @harleyannartistry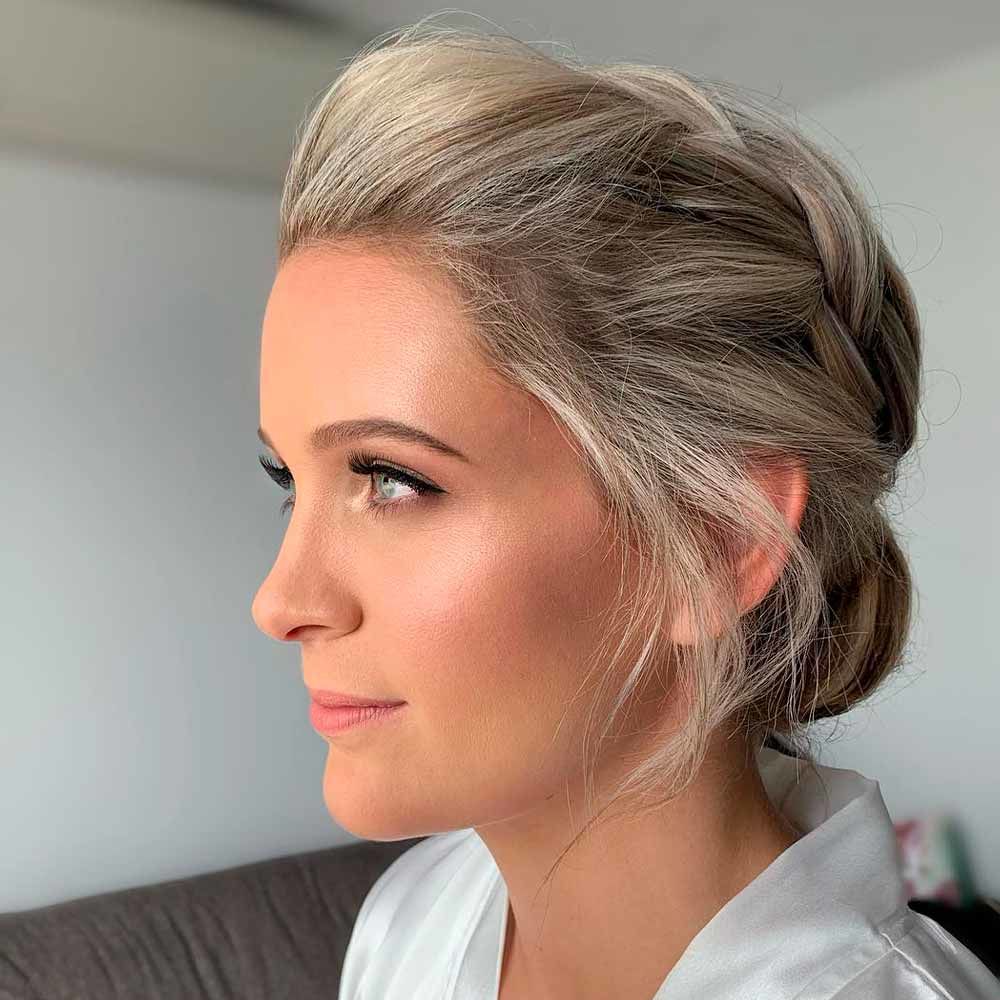 by @rachaelharris_hairmakeupbeauty
Once you embellish your little bun with braided elements, you won't be able to take eyes off your own hairdo. Braids are a fantastic complement to any hairstyle. This hair bun for short hair is quite versatile, so you can wear it for any occasion. The mohawk-like braided crown will add a lot of volume to your hair, and a little bun that sits under your braid will calm down the rest of your locks. To keep your hair in place, give it some coats of spray.
Accessorized Messy Low Bun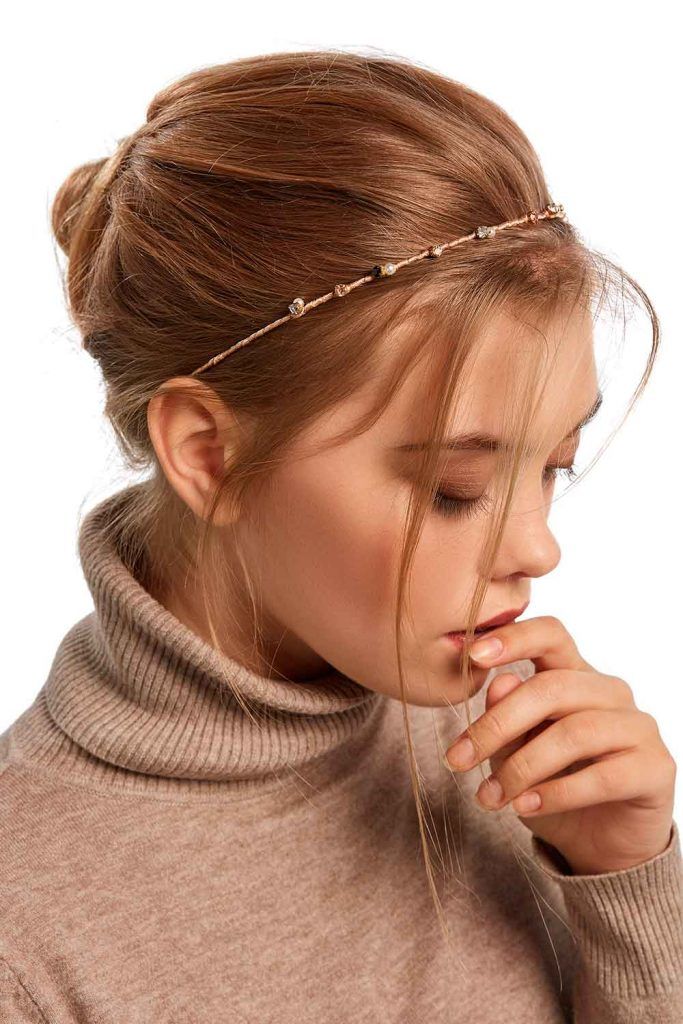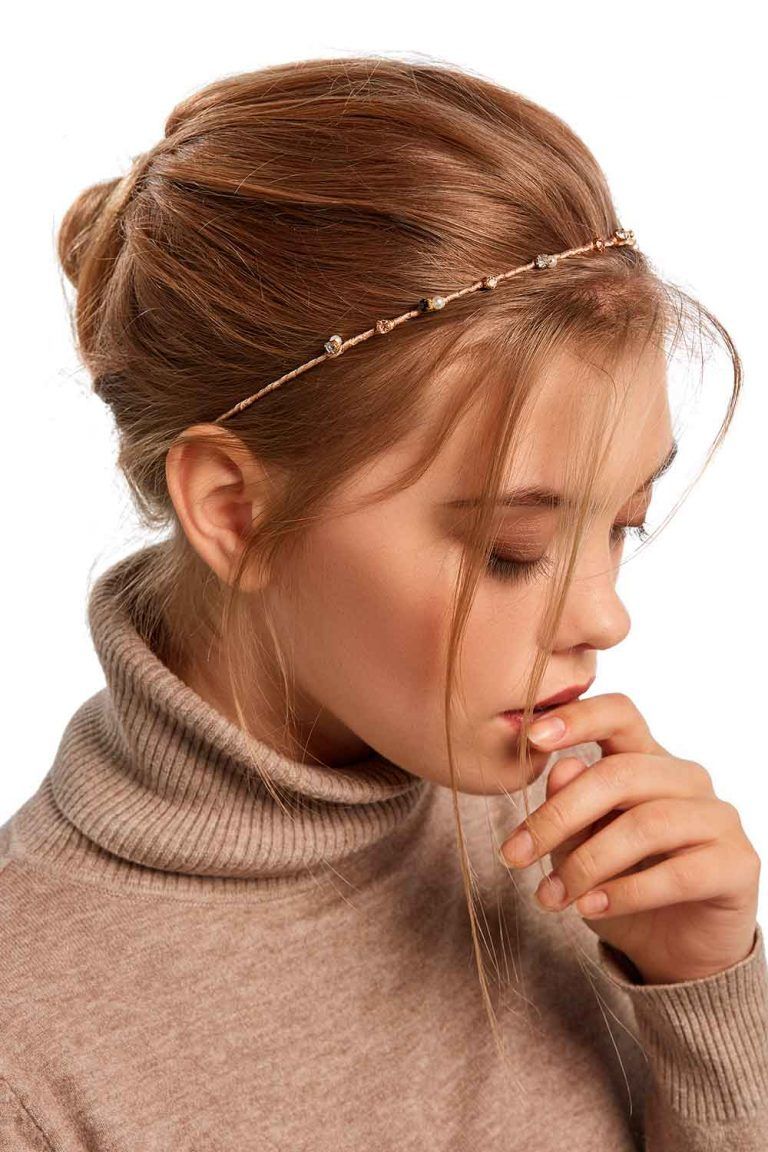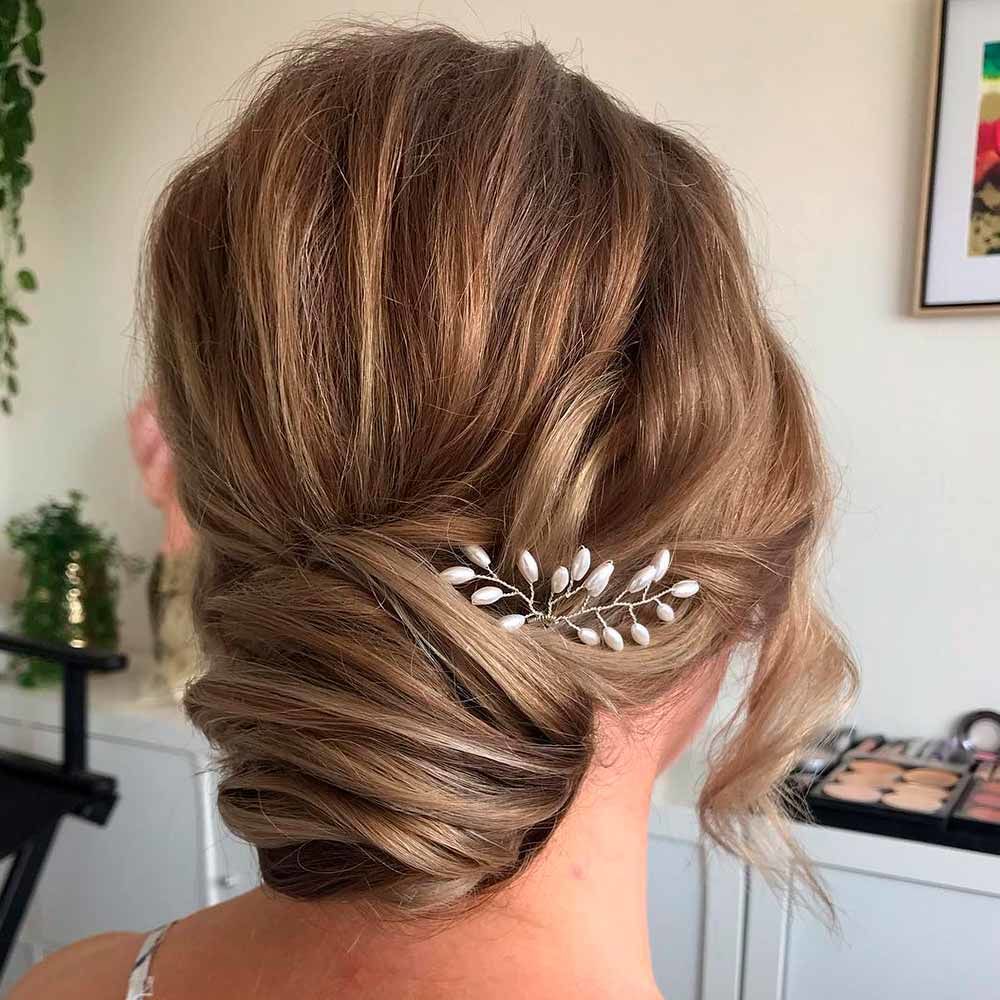 by @rachaelharris_hairmakeupbeauty
A hair bun for short hair that features floral accessories is a hairstyle to remember. The contrast of clean, volumizing crown and messily twisted bun creates a well-balanced look. And when it's adorned with flowers, it turns into a perfect evening updo that you should copy right now!
Sleek Low Bun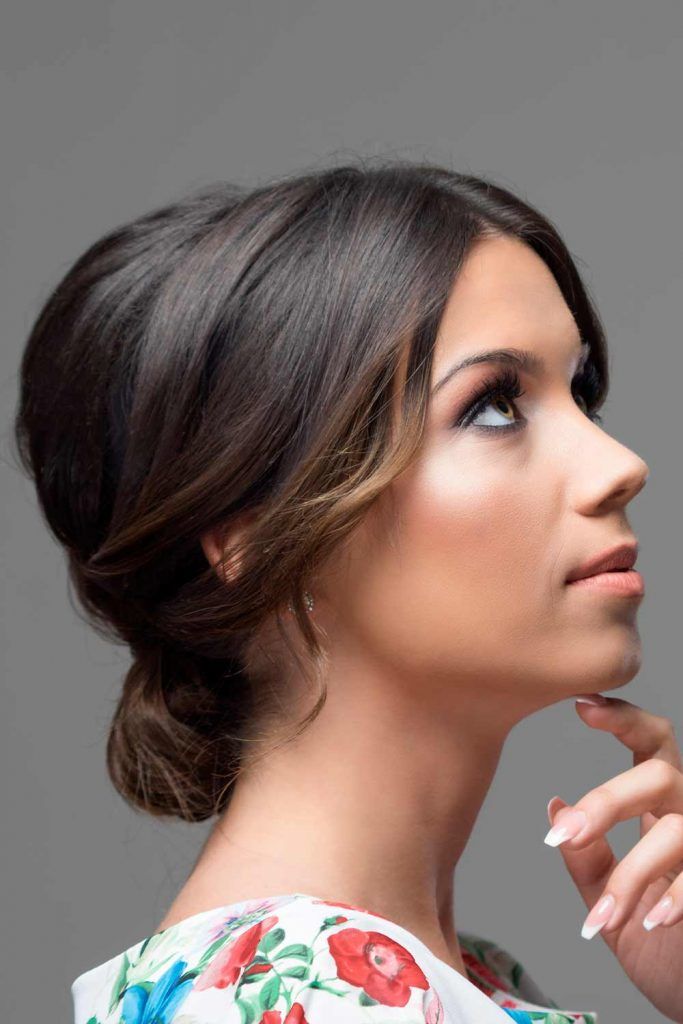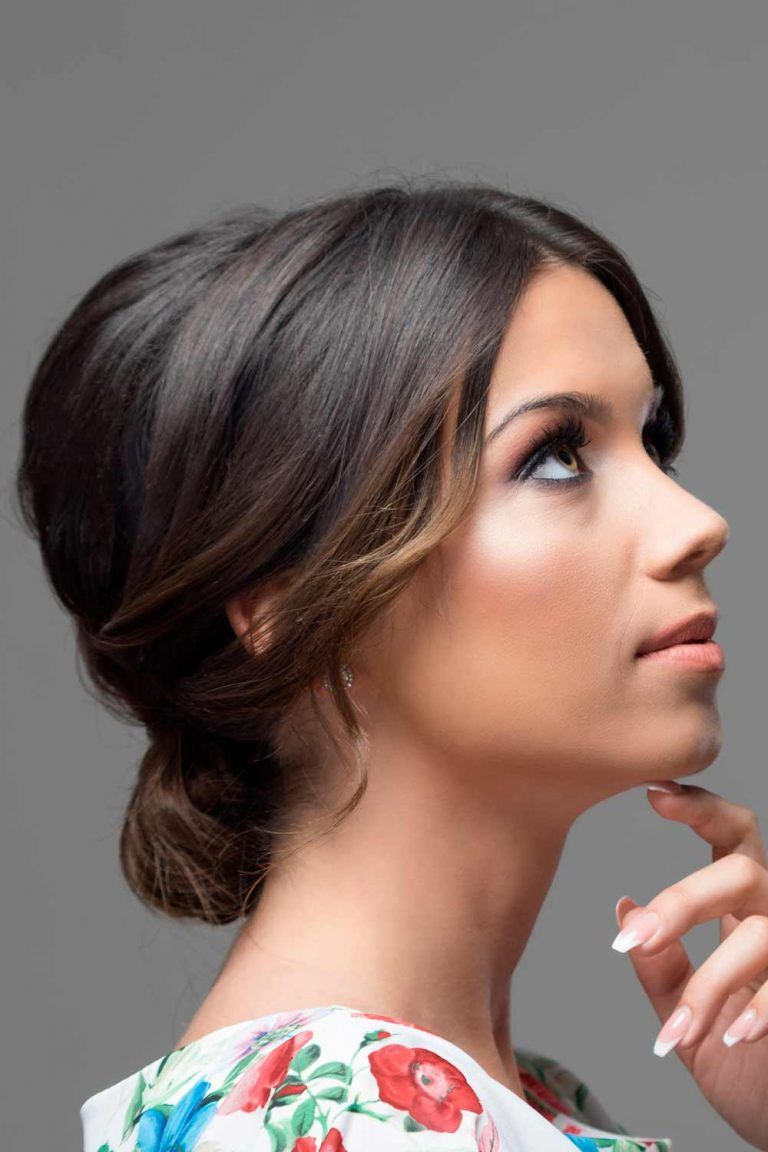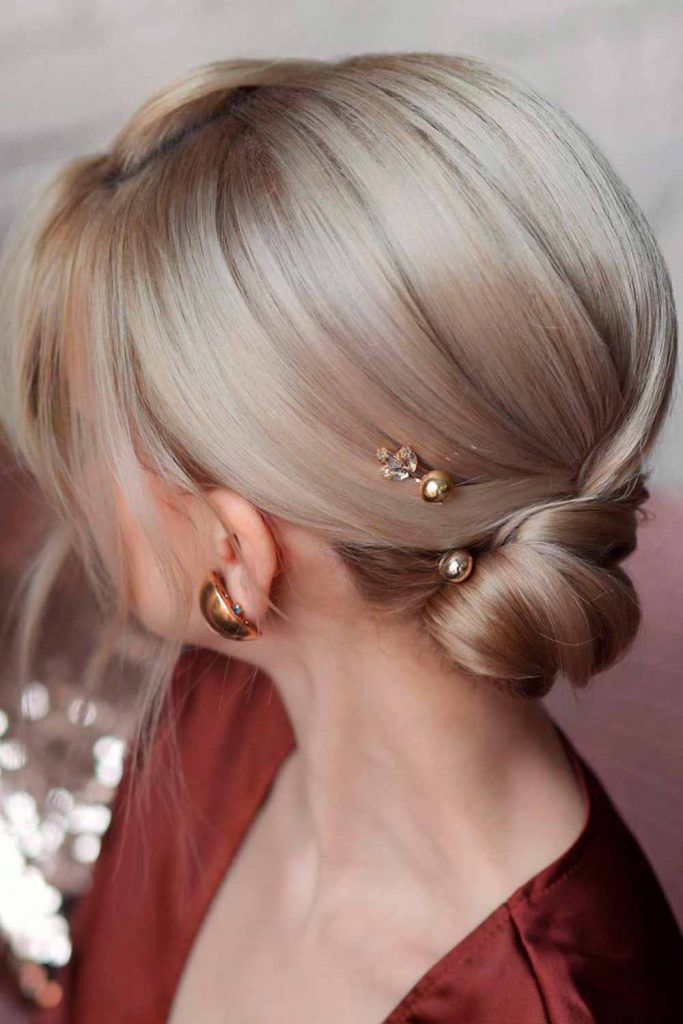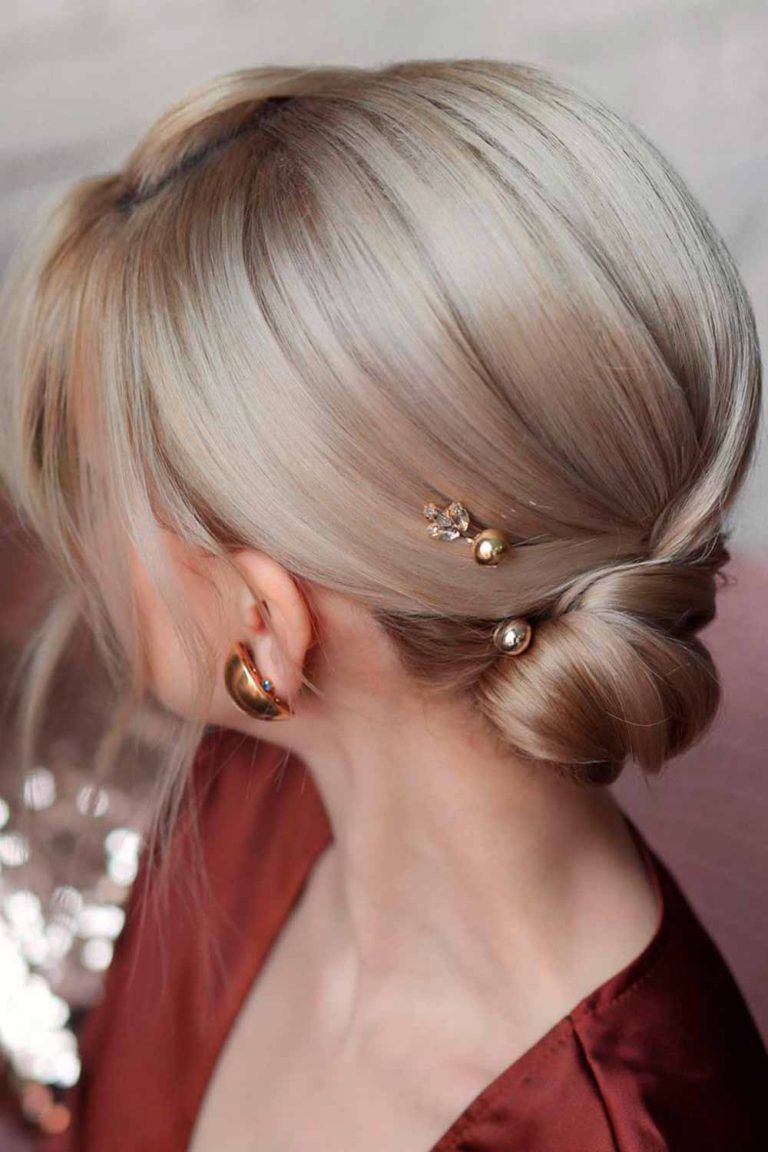 by @hair_vera
Minimalist hairstyles will never become outdated. How simple and neat styles can lose their popularity? They can be a wonderful finish for evening looks, as well as make you feel comfortable with your hair. Simplicity is priceless, isn't it?
Chic Ballerina Bun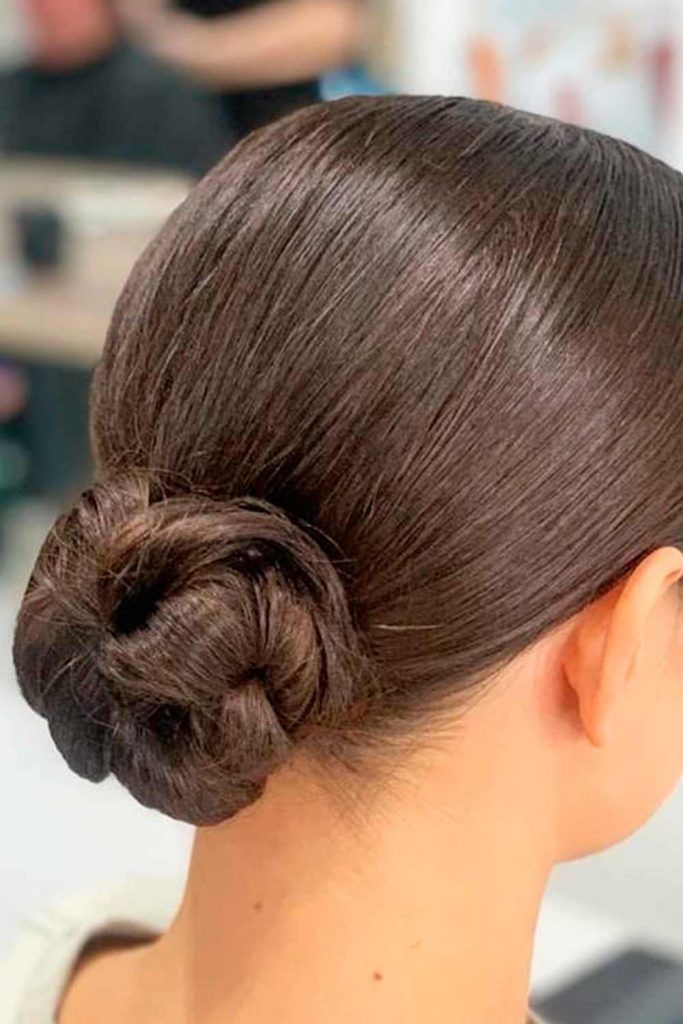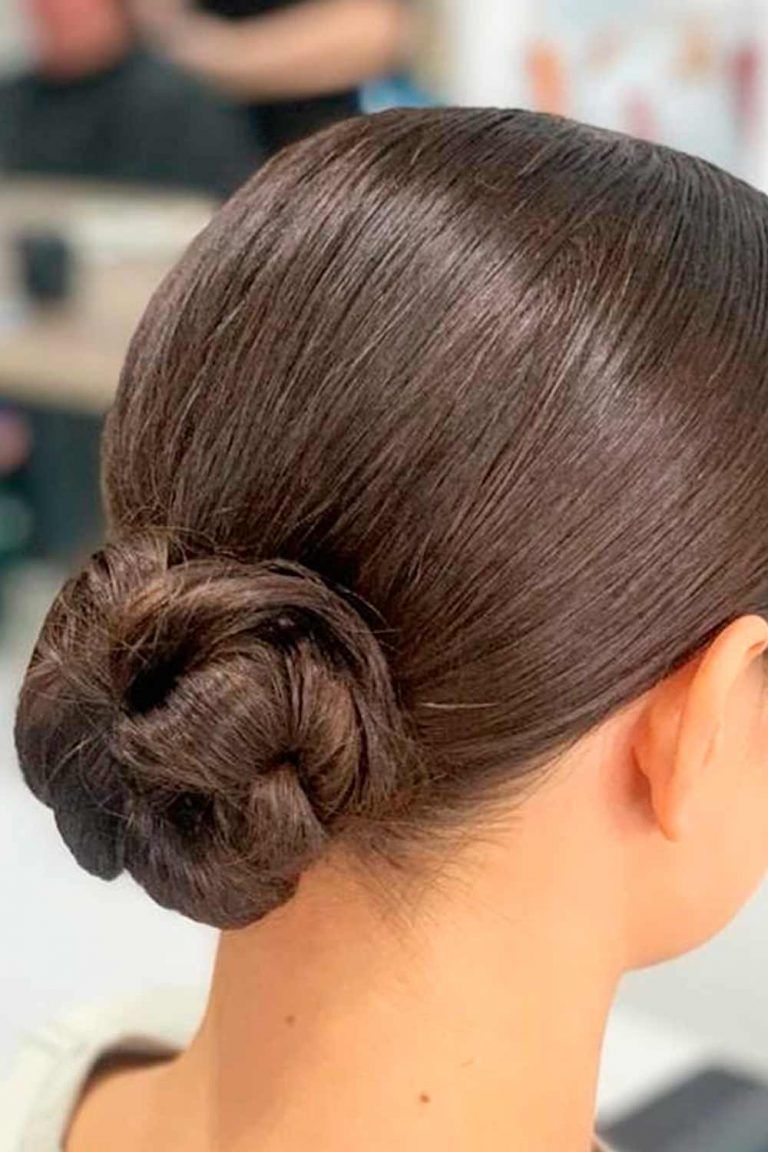 by @sharmaynecamilleri.hair
The ballerina bun is the classic in its purest form. This hairstyle is both graceful and comfortable to wear. Do you want your look to express the best side of simplicity? If the answer is yes, you need a donut. Another good thing about this hairdo is that it can be done on any length: just pull your short locks through the donut and see how easily you can get a refined look.
Wavy And Messy Twisted Updo
Evening updos like this can reflect your inner femininity and beauty. Once you put your hair up, your hairstyle will open up your beautiful face, shoulders, and clavicles. With this wavy, messily styled updo, you will be the brightest woman on the evening party. There's only one rule: twist your hair as messily as possible, pulling wavy strands to create a voluminous silhouette.
Messy Low Bun With Bobby Pins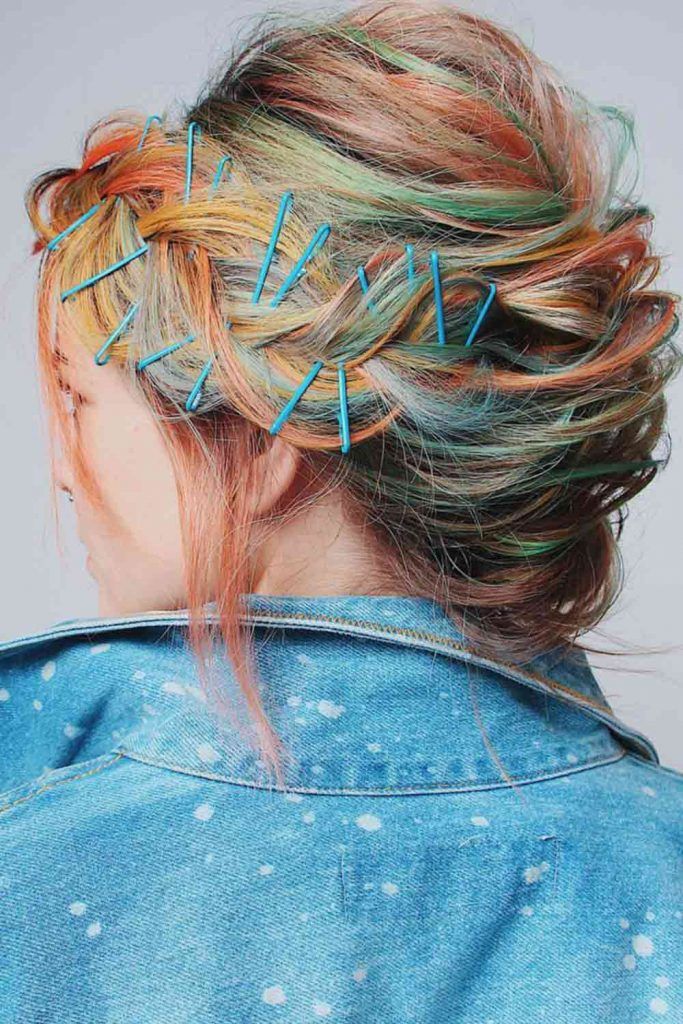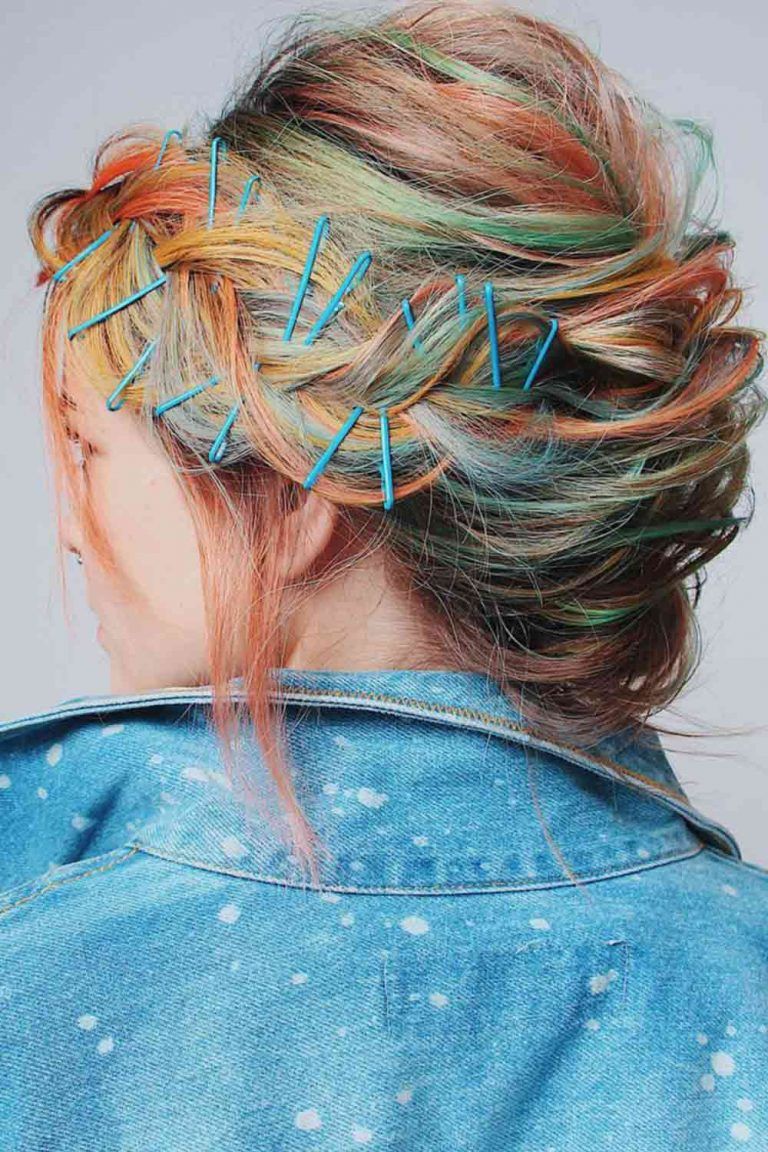 by @blushandmane
At times it seems that there is nothing more annoying than your stylish layered hair getting in the way when you are trying to pull off a messy bun. Well, there is one perfect and stylish way that you can deal with the issue. All you need to do is to gather around some ultra-trendy bobby pins and to catch all those stubborn strands that are trying to escape and ruin your look!
Messy Low Bun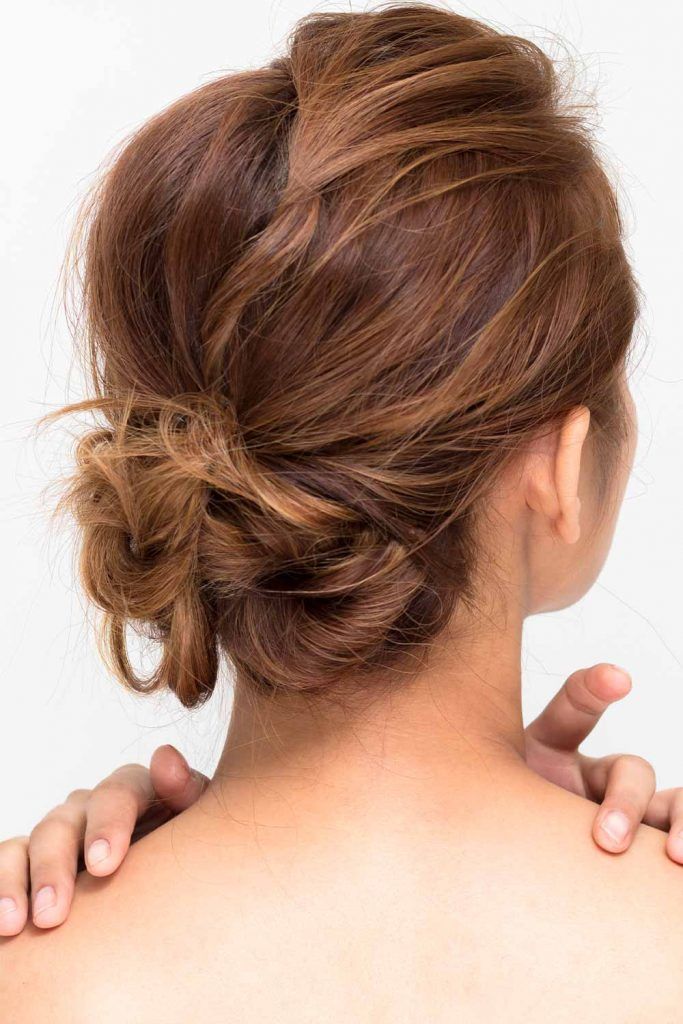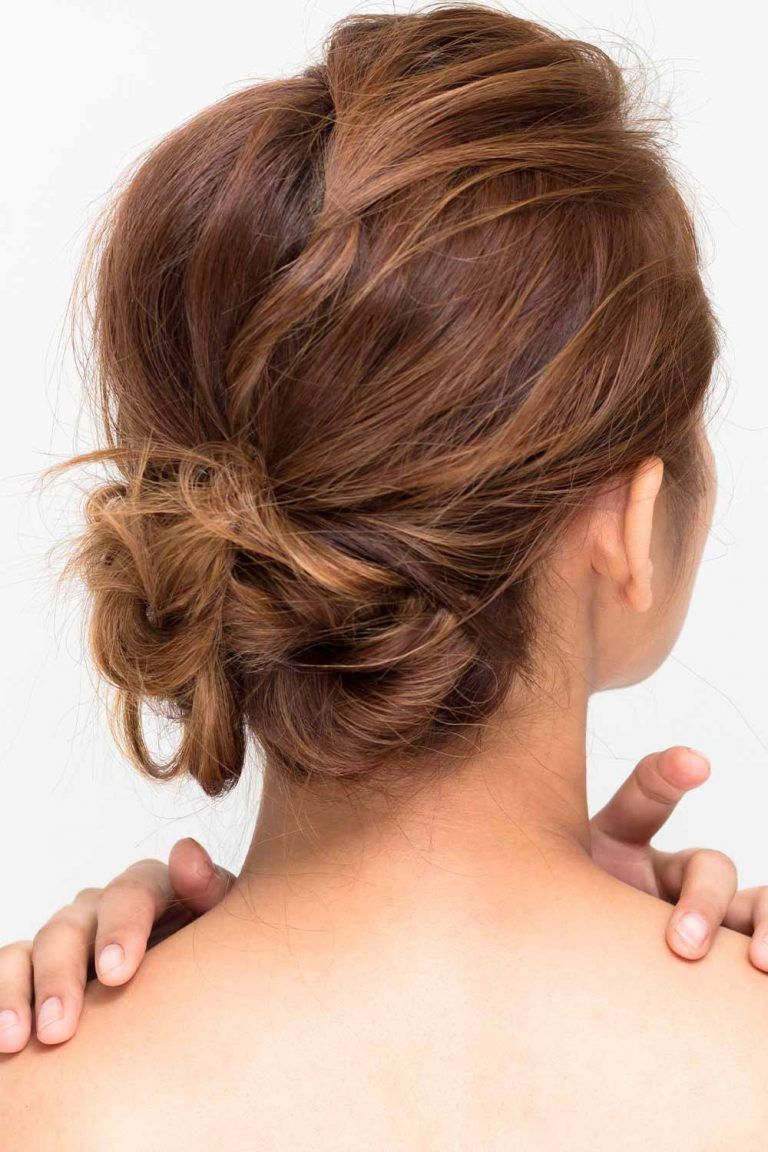 Some ladies indeed view it – the messier, the better. Can't say that we blame them. In fact, if your cut allows it, such a hairdo can appear like a true masterpiece just as easily as the one created at the salon. Messy low bun fits the intentions like nothing else, don't you think?
Low Bun For Wavy Hair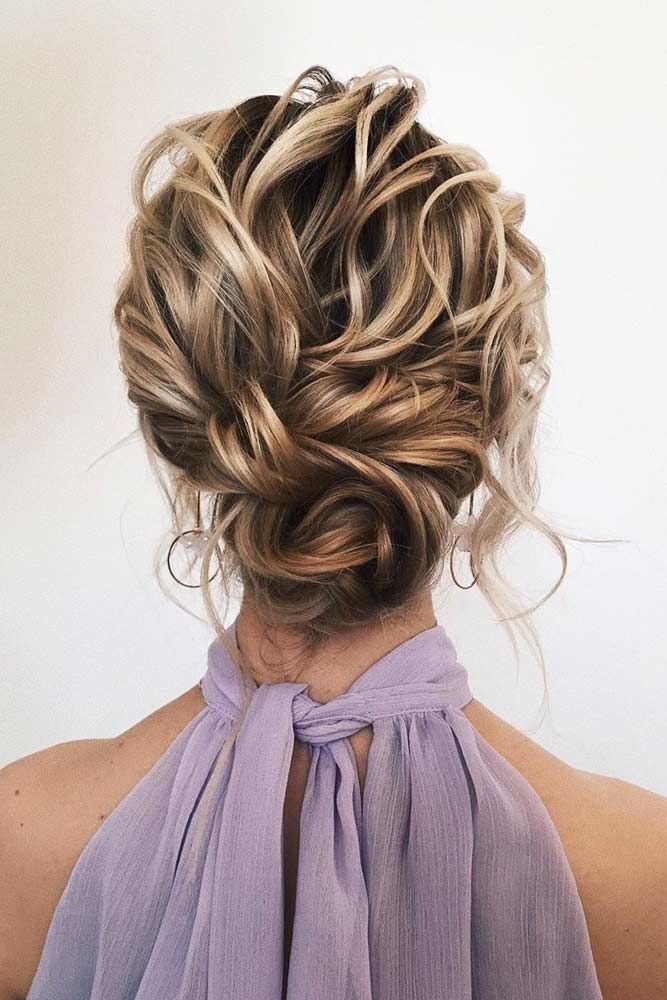 by @sasha__esenina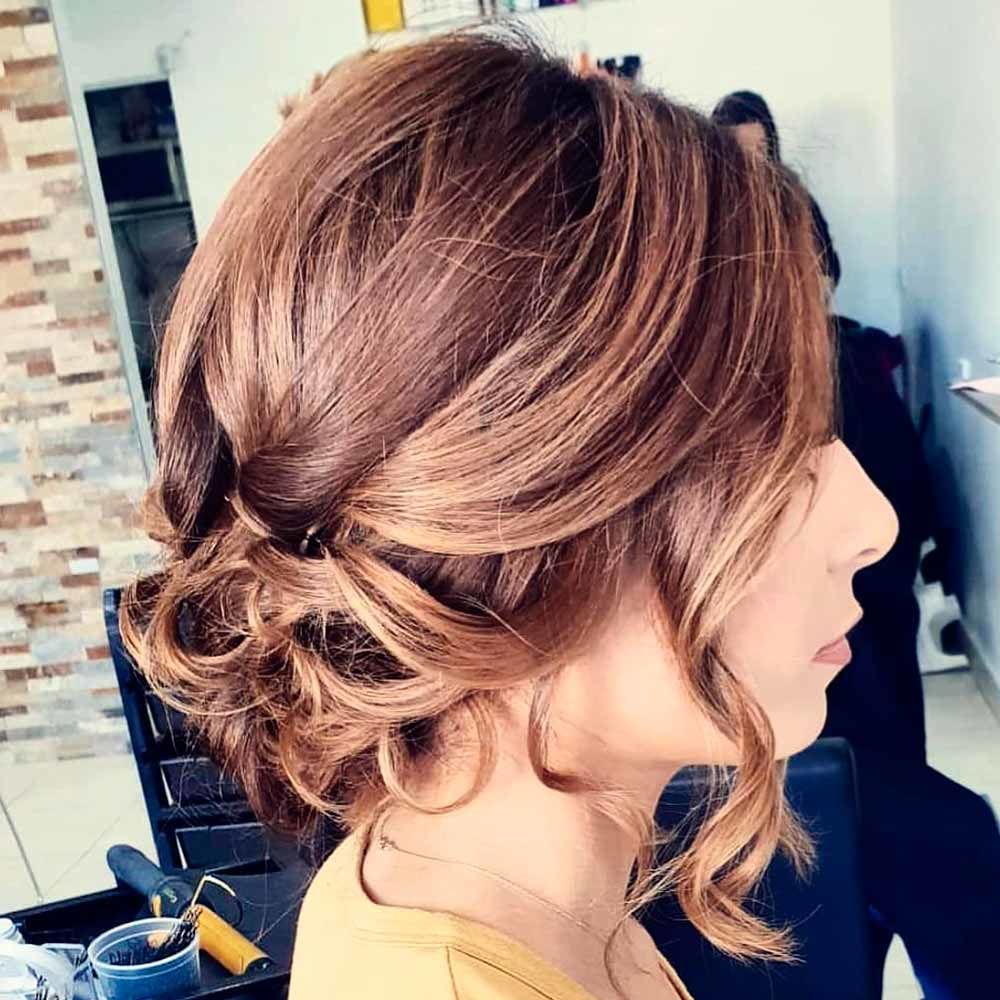 by @sharmaynecamilleri.hair
There is always something special and aethereal about a low bun that is made of wavy hair. It is true that the hairdo is basic in its core, but the texture and the shape will steal adoring glances no matter where you go. Besides, such a look will fit both formal and informal gatherings, we can tell you this much.
Half Bun For Short Hair
Braids Into Half Bun
This hair bun for short hair knows how to diversify your daily looks! A simple updo is a good way to add something new to your casual hairstyles. Let's set the focus to the top of your head. Why don't braid the crown and twist its top layer around, creating a stunning braided composition? As for the lower sections, you can either leave them as they are or get some waves.
Half Up Messy Bun
Women with exquisite taste know that significant hairdos aren't always complicated. The simpler it looks, the more elegant silhouette it gives to you. Besides, messiness in the new neatness, so you won't ever go wrong if you add a hint of it. One of the effective ways to tame your fine hair, giving it a modern and chic look, is to bring this idea to life.
Brush your hair and separate off the top layer. Then, twist it messily, securing the little messy bun with a hair elastic. Let the lower layer be neat and well-balanced and leave the top a bit tousled for total harmony.
Half Bun For Wavy Hair
Don't get desperate if you have uncontrollably thin and short hair. It's no secret that for short bob haircuts, putting all of your hair up can be a great deal, as it can simply come out uneven. So why don't you opt for a half-up? Look how nicely you can make a cool, cute bun out of the hair on top.
Secure the bun with a fashionable clip and be ready to rock your days like a queen. As for the thin-hair disaster, don't worry; waves are enough to bring the needed volume and fullness.
Little Half Bun For Short Wavy Hair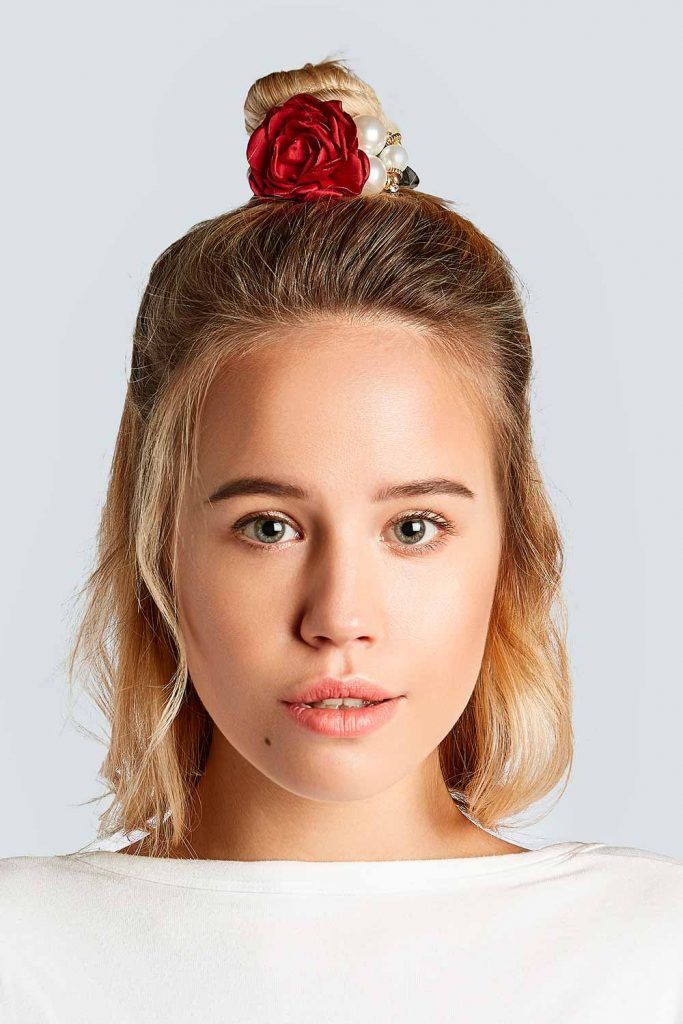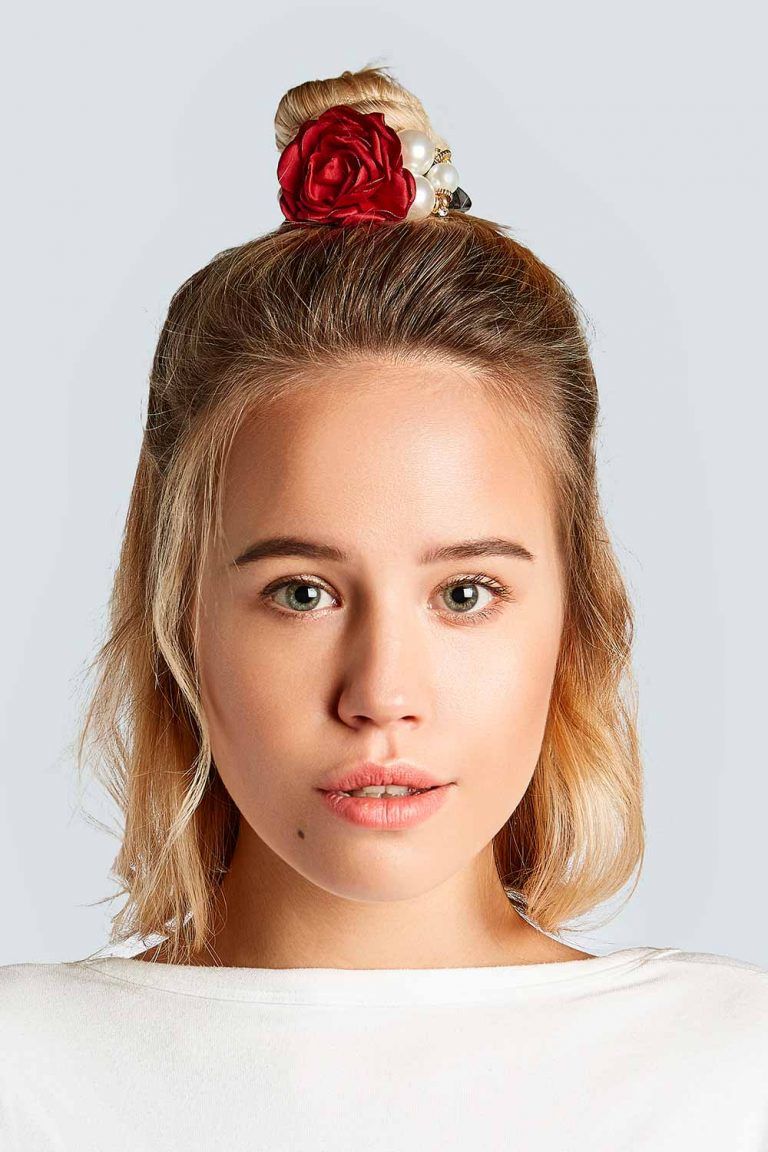 Waves are another good friends to women that make our hairstyles look gorgeous. How about you to combine lovely wavy locks with a high bun? Sounds awesome, right? You can section off the lower layers of your hair to wave it. With the top layer, create a high ponytail and wrap it over the elastic, pulling the hair to add body.
Double Space Buns For Short Hair
Two buns with short hair are better than one, that's for sure! Remember the idea of wavy half up with a high bun? Good things come in pairs, and this hairstyle is living proof. Those who keen on sporting youthful hairstyles will fall in love with these two cute space buns that sit on sweet wavy hair.
Half Up Bun With Bangs
Переглянути цей допис в Instagram
Bangs have always been a nice way to freshen up a casual look. So why don't combine them with the good-old hair bun? For very short hair, it can be a half-bun or half-knot. Make sure that the rest of your hair is styled neatly and that your bangs don't overlap your forehead fully. Voila! A simple, yet gorgeous look with a bun and bang is ready.
Half-Up Top Knot With Scrunchie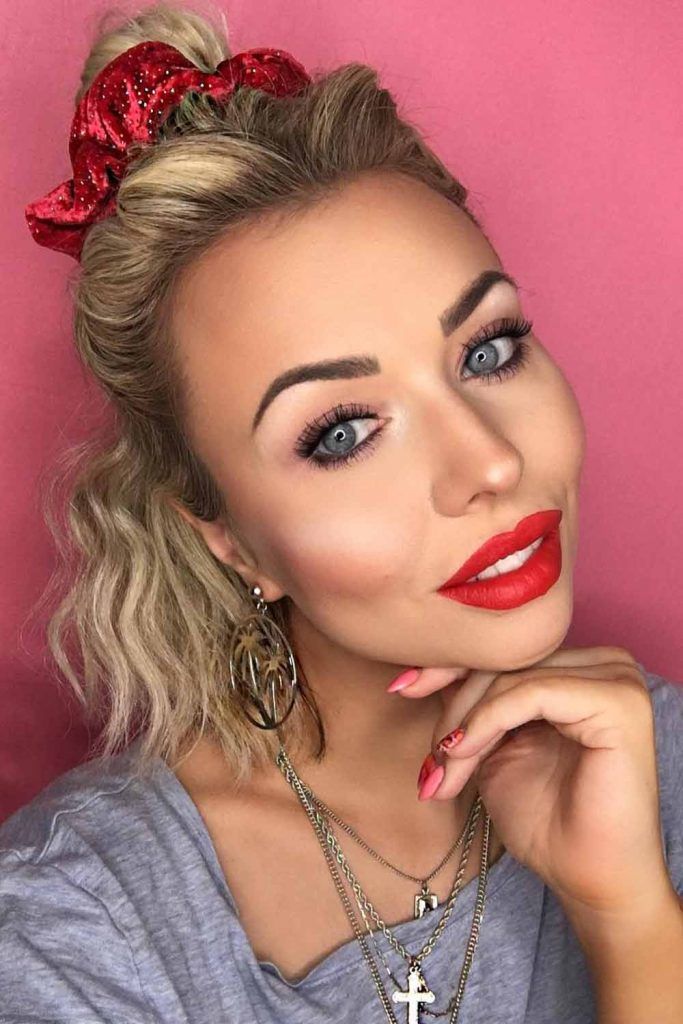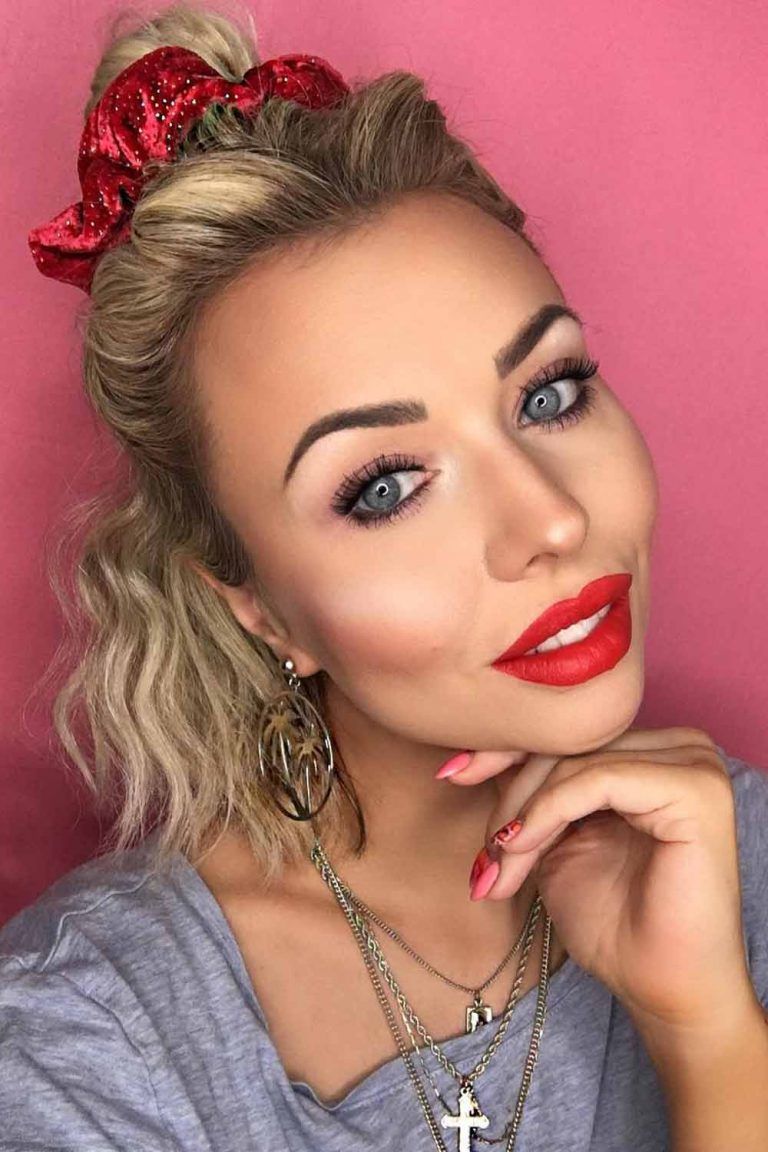 by @alicia_wunderbar
There is nothing worse than your hair making you sweat on a sunny day. Worry, not a cute top knot is there to save you! Even if you sport a chin-length bob, you can easily create a fashionable half-up 'do with the help of a simple scrunchie.
FAQ: Hair Bun For Short Hair
What are the best hairstyles for short hair?
Long Pixie Cut.
Layered and Tousled Bob.
Fine Hair Pixie-Bob.
Tapered Boyish Hairstyle.
Shaggy Graduated Bob.
Pretty Chin-Length Cut.
Angled Pixie Cut.
Fine Blonde Shattered Bob.
Layered Wavy Bob.
Short Wedge Haircut.
Does short hair make you look older or younger?
A bit of volume in hair can help you look younger. However, a short, spiky haircut is not the right option in this case: it can actually make you look even older than you are.
Why is a hair bun called a bun?
The hairstyle that implies a tight coil of hair on the top or back of the head is known as a bun. Buns are typically small and circular. The word comes from the French word buignete, which means a fritter and originally meant a skin swelling.
REFERENCES:
A bun is a type of hairstyle in which the hair is pulled back from the face, twisted or plaited, and wrapped in a circular coil around itself. Source
How to Make a Bun for Short Hair Source
Was this article helpful?