Once you would like to know how to put your hair in a bun, the variety of styling ways will literally blow your mind. Not all of them will be useful, but, still, the diversity of this lovely updo is just infinite. Well, that's why we are here. We know how it's important for women to find a hairstyle that will suit their appearance and match their preferences, so we've found the most helpful and versatile tutorials on how to create a lovely bun for everyone!
There's no need to tell you how popular buns are, as it's one of the most elegant hairdos that women from all over the world tend to sport. Braided, messy, neat, high, low: there are so many things to discover about buns. Are you ready to find some easy and effortless updos? It's time to enter the beautiful world of the most delicate hairstyle girls could ever see.
Classic Chignon Bun Tutorial

Source: Alex Gaboury via Youtube
Now, it's time for a handy chignon bun tutorial that will teach you how to make a simple bun. This variation of bun is perfect for any occasion. Follow these steps to rock your days with a cute updo:
Brush your hair with a comb, creating a smooth ponytail in the place where you want to do your bun.
Then, brush out a higher section of your ponytail and tight it with another band.
Take this section and do a low twist, putting the ends under the elastics.
Pull off two back strands from the twist and wrap them around the base so that they hide the bands.
Simple Braided Bun Tutorial

Source: Alex Gaboury via Youtube
There are no hairstyles lovelier than those that feature braids, that's for sure. And if you feel the same, you will love this tutorial. Meet the easiest way on how to make a hair bun with long hair:
Section off your crown, creating a ponytail.
Leave the front section for a future braid.
Start braiding your hair like a regular braid, leaving a little strand to curl it: divide your hair into three sections, crossing the right section over the middle one, and the left section over the middle.
Once your braid reaches your ears, incorporate it in the ponytail and tie it off with another band.
Twist the ponytail around the base and enjoy!
Low Knotted Bun Tutorial

Source: Alex Gaboury via Youtube
Low knotted buns are the elegance in its purest form. It's a versatile hairdo that can work for girls as great medium length hairstyles. Plus, it's so easy that you don't even need to part your hair. Looking delicate is not hard, just follow these steps:
Do a tight ponytail in the place you want your bun to sit.
Create a knot bun by wrapping your ponytail counter-clockwise around your head, holding the base with another hand.
When your hair is wrapped completely, pull the ends through the center, hiding them under the bun.
Secure your updo with some bobby pins, look in the mirror and smile!
Elegant Bun Hairstyle

Source: MakeupWearables Hairstyles
You won't believe it unless you give it a try! All those feminine hairstyles we see today look so voluminous and posh that we can't even imagine how quick they are to achieve. Follow these steps to save some time and look beautiful at once!
Prep your hair with hairspray or wax to add some texture to the hairstyle.
Start by parting your hair into four sections.
Secure the side sections with clippers so that they won't bother you.
Then, section off the crown and create a knot out of it.
Take the lower layer of your hair and do a low ponytail.
Before twisting your hair into a low bun, you can run your fingers through it to give it more movement and volume.
Twist your pony into a low bun, securing it with some pins.
Now, take the sides and twist them into the bun, wrapping them around the base.
With the top crown sections (the knot), repeat the same steps, pulling the edges and securing everything with bobby pins.
Your super easy updo is ready to be coated with hairspray!
Space Buns Hairstyle Tutorial

Source: Maryam Maquillage
Since we can't have too much of a good thing, why don't we double the beauty of the good old bun and try something new? Although space buns have been a huge trend for a while, this easy tutorial gives a fresh take on it.
Start by creating a neat center part with your perfectly brushed hair.
Clip one of the sides out of the way and raise it up, creating a ponytail wherever it looks best on your head.
Repeat the same step with the other side, making sure that your hair has no tangles or knots.
Now, the fun part: if you want to add some color to the buns, clip some ombre extensions over both ponytails.
Then, wrap a ponytail around the base to create a bun, securing it with bobby pins. Also, if you want a perfectly round shape for your buns, tame the bun with some more pins on top.
Repeat the same step with the other ponytail.
Coat the look with hairspray and enjoy the amazing look!
Useful Tips For Doing Hair Bun Like A Pro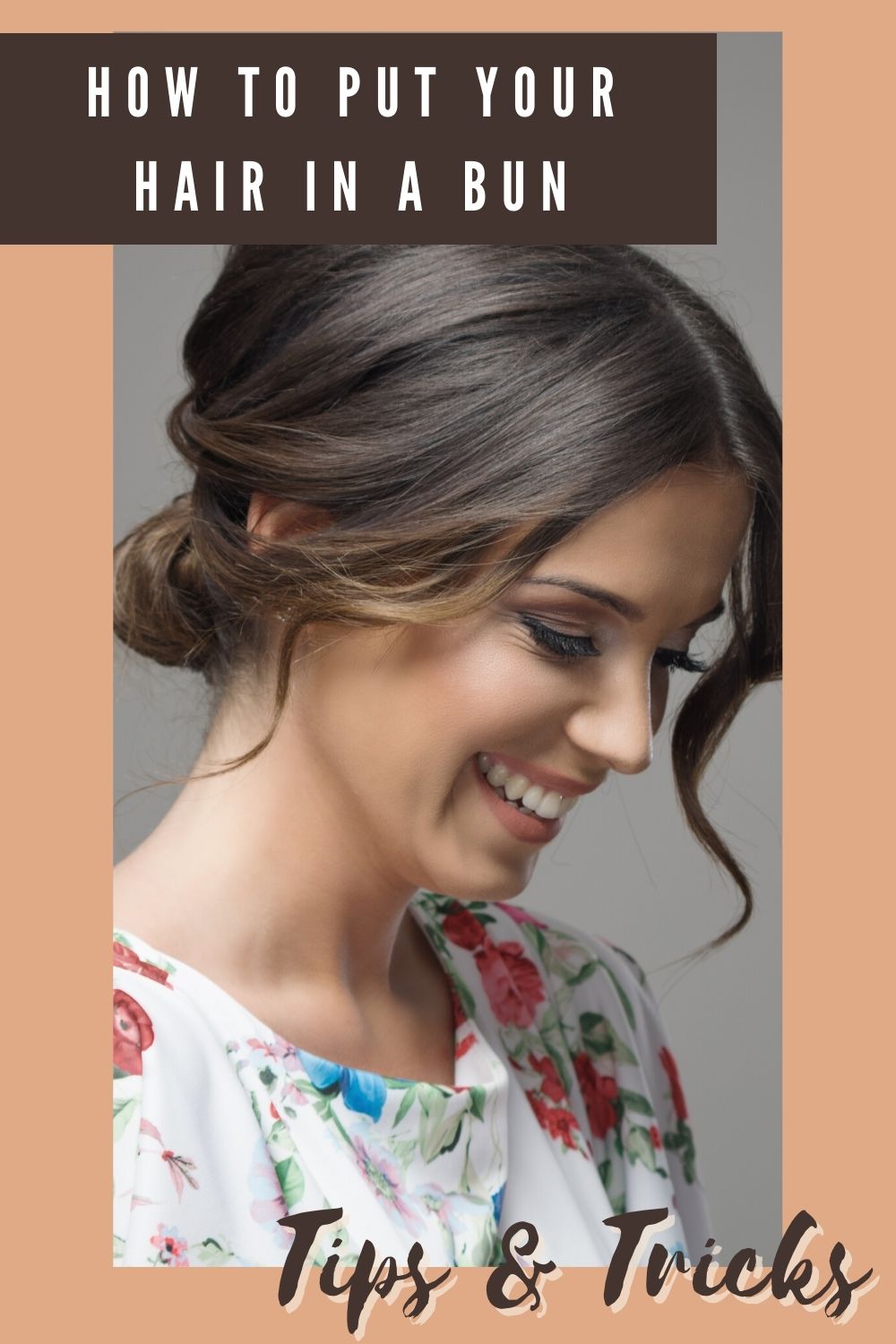 Dry Shampoo For Lovely Updos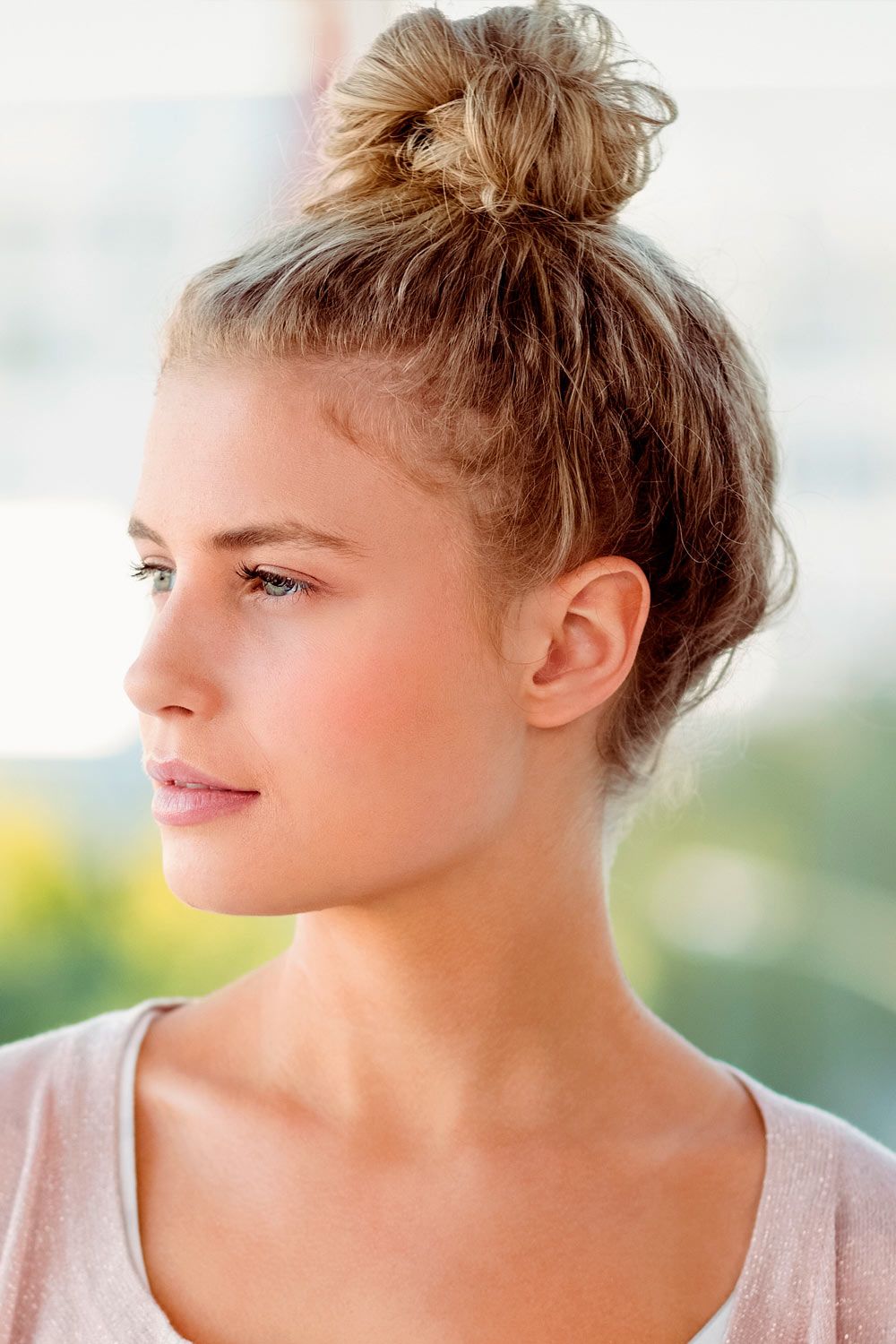 Some girls think that there's nothing to do with their second-day hair but to rewash it to get the needed volume. Not bad. But who says that they're right? Wise women who prefer stress-free mornings know that second-day hair is not a crime! Updos are also about to save your time: many updos are easier to create on not blow-dried hair, as your hair is more flexible. Dry shampoo is all you need to freshen up your locks. Just spray it, blend all over your hair and brush it. Then, put all your hair together, leaving some framing locks, and twist your hair on the back. See? It's easy, yet absolutely adorable.
Don't Forget About Hair Spray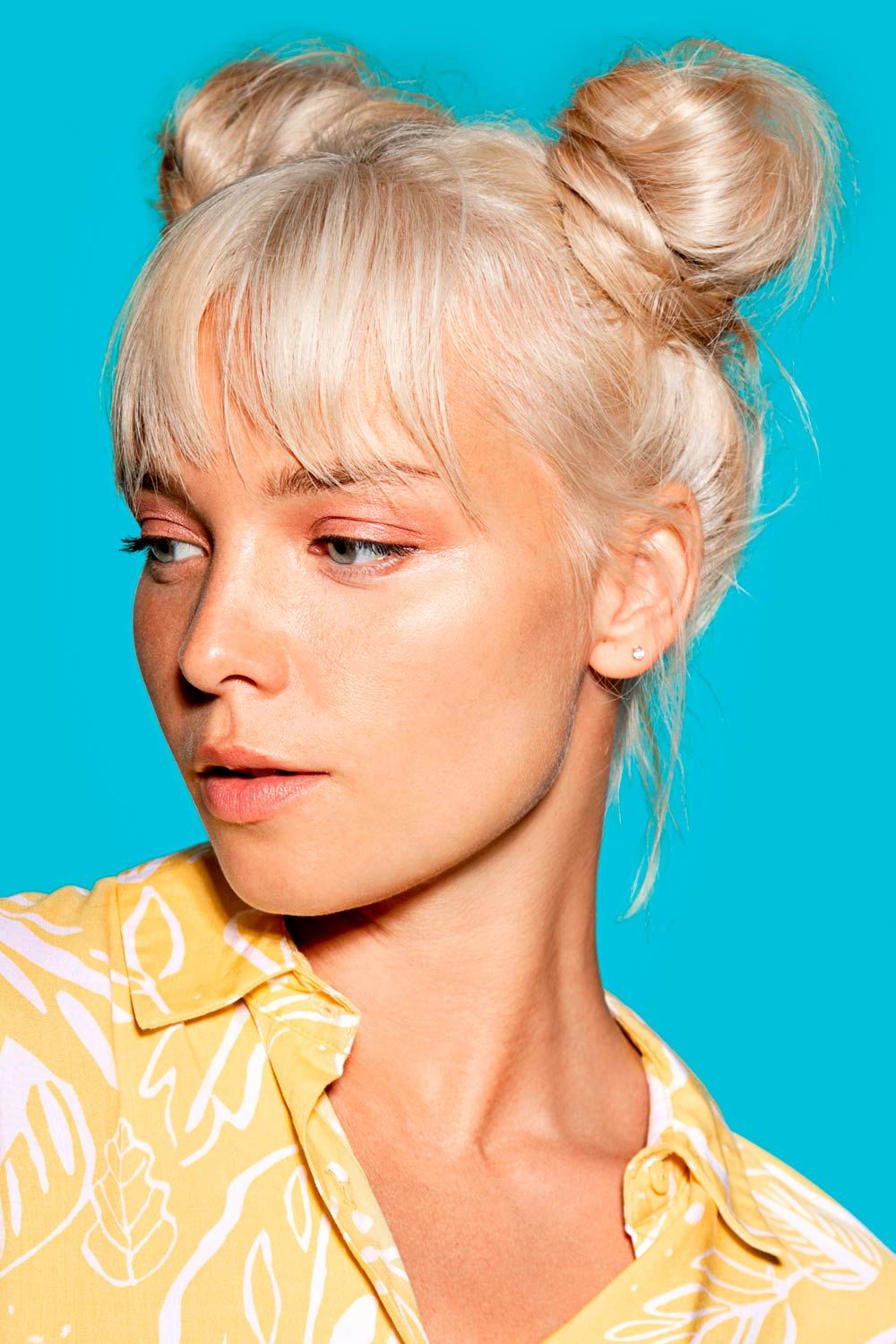 Another tip that every girl should know is to don't be shy with a hair spray. Yes, if you want to sport your updo to all day long, this is the only way to make it stay longer. We know why girls prefer to stay away from such products: they think that it makes their locks stick. That means that you have to use a medium-hold spray with an airy texture (without glitters) that won't bother you. Even such a simple side updo that you see in this pic should be secured with a spray. Otherwise, these messy locks will fall apart.
Bun With A Donut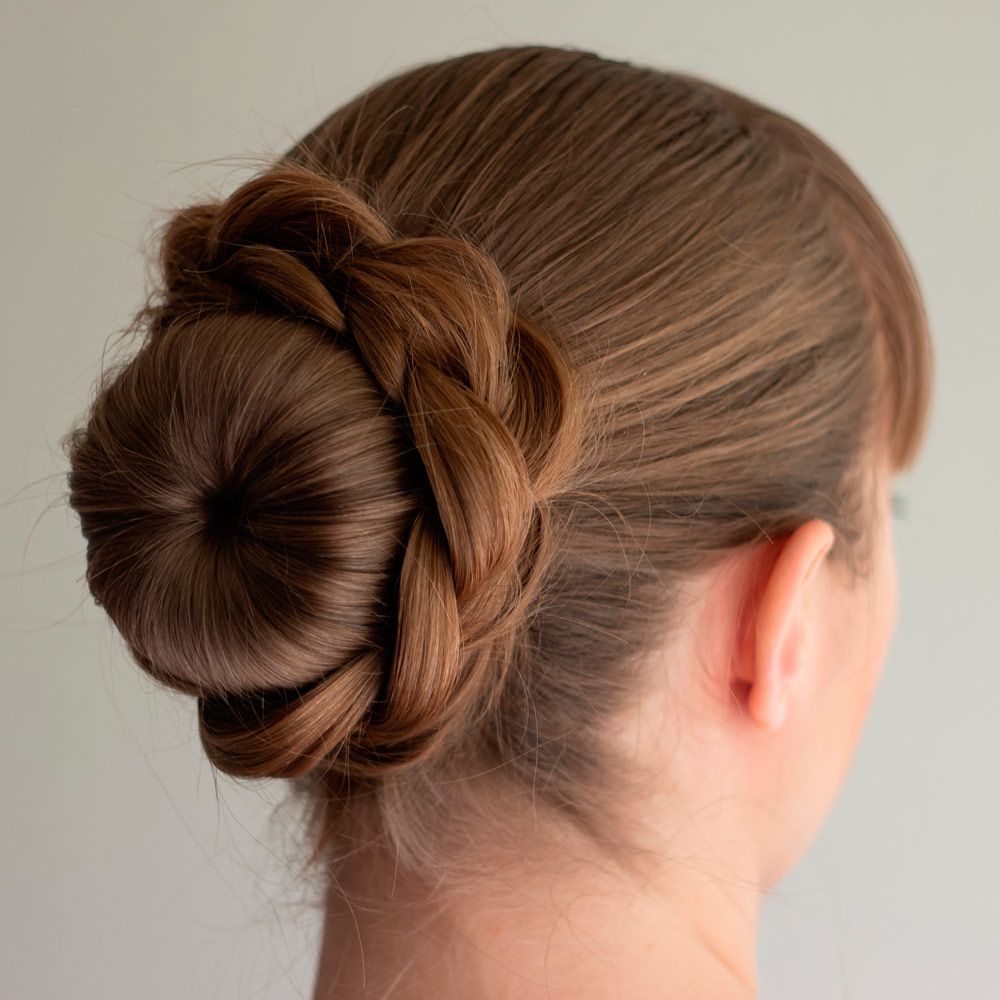 No wonder that so many girls want to learn how to do a bun with a donut: it looks very voluminous. If you're one of those, get yourself a bun donut, it will be the base of your hairdo. Now, it's very easy: do a ponytail, put a donut over the band and pull your ponytail through the donut. That's it! Secure this beauty with some pins and hairspray. Also, you can diversify this updo with some braided elements; it's all up to you.
Beauty Hack: Bun With A Sock
Your socks are even more useful than you think! Believe it or not, but this fantastic updo was created with the help of a sock. We want to share with you a secret of how to make a bun with a sock, get ready. Actually, you just need to cut the toe end off and roll the sock into a donut. Now, you have your self-made donut, and you are free to experiment!
Style Ideas With Hair Buns
Trendy Messy Bun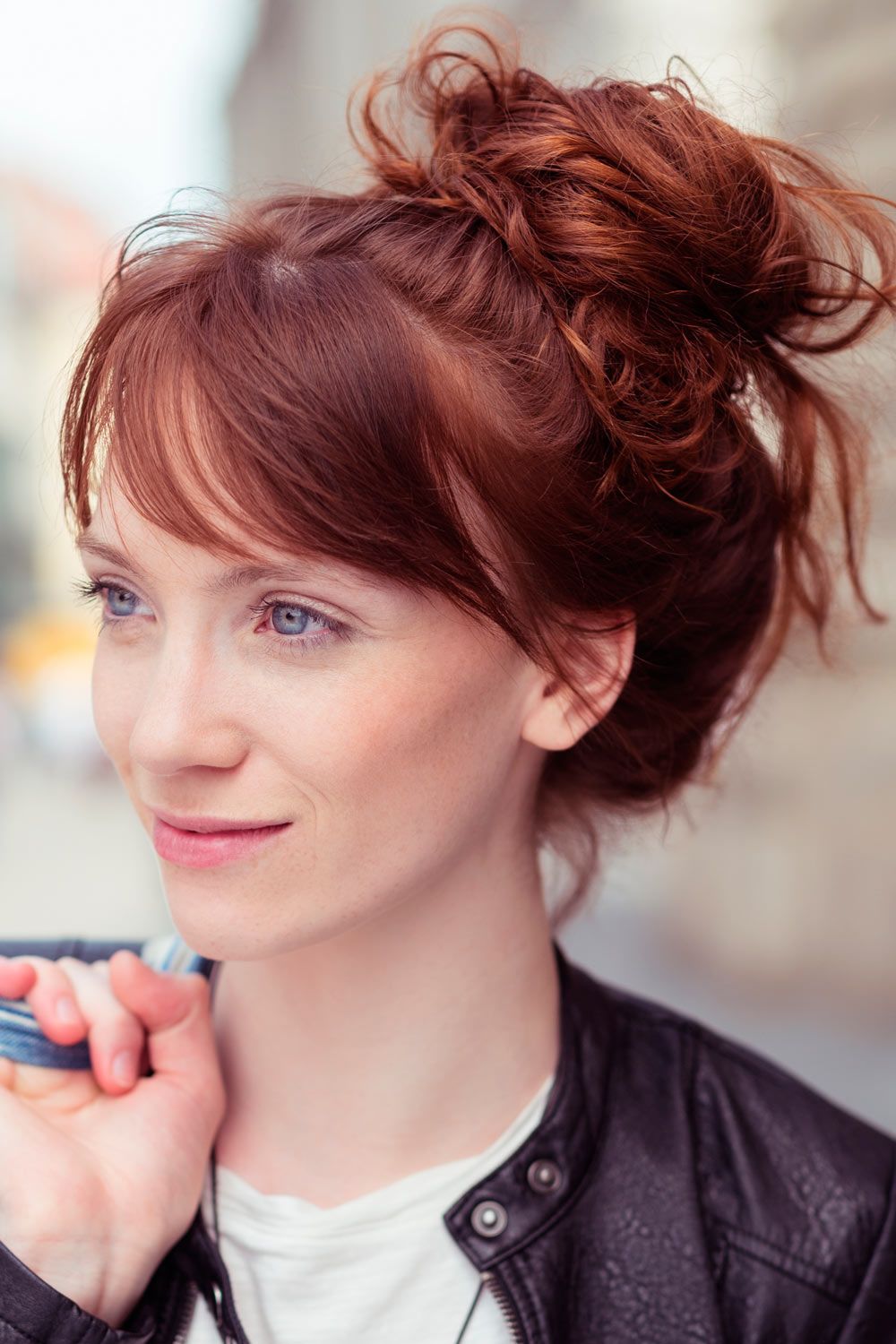 Messy bun seems to be one of the easiest, yet the hottest hairdos. When your hair is styled messily, it gives sort of I-don't-care look, which is very attractive. If you don't know how to put your hair in a messy bun, you're missing out on a complete life! Nothing is easier: don't brush your hair neatly, just put it together and do a high, a bit sided bun. Pull off some strands to add movement, and leave the front locks to get a messier silhouette.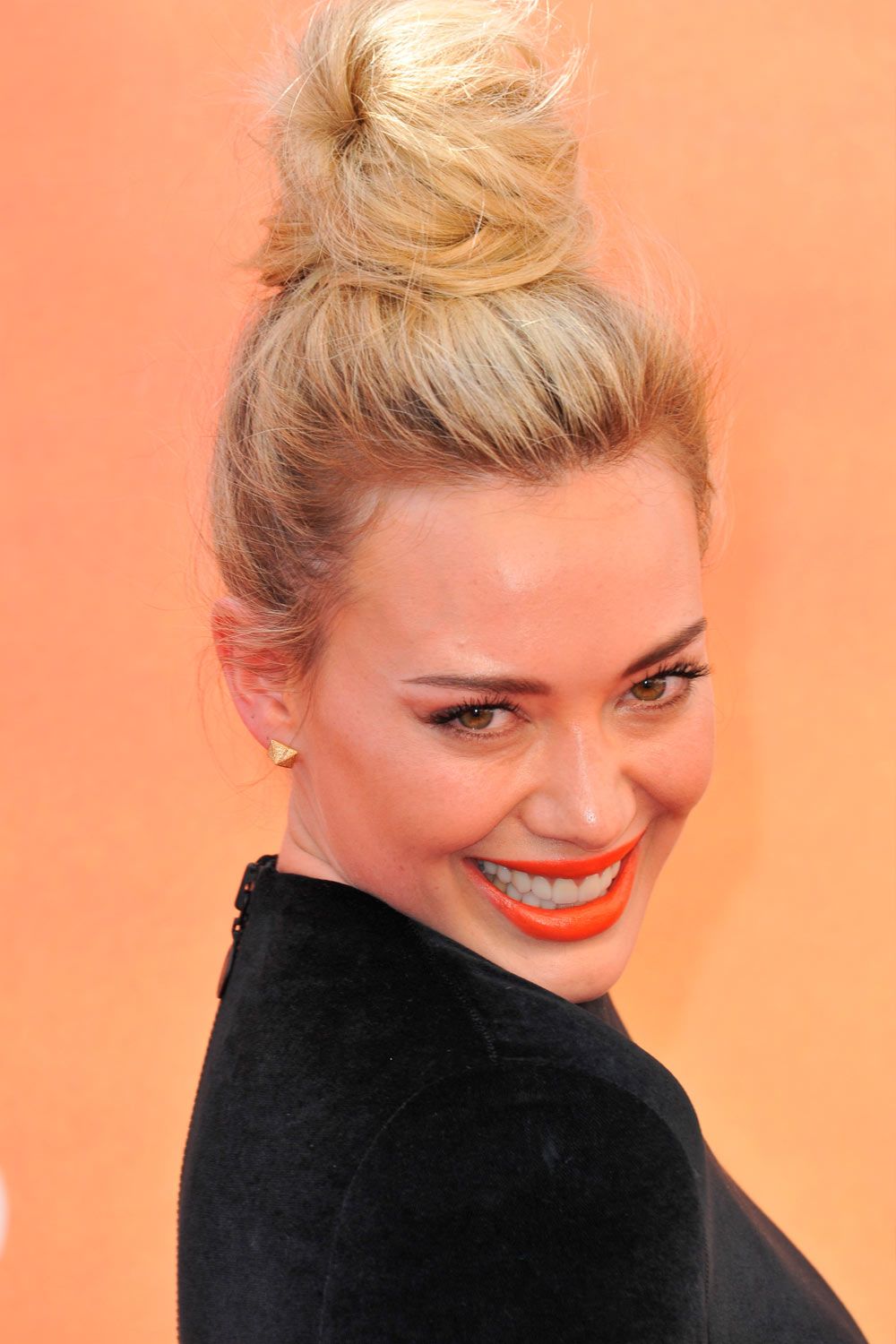 Bun With Hair Accessories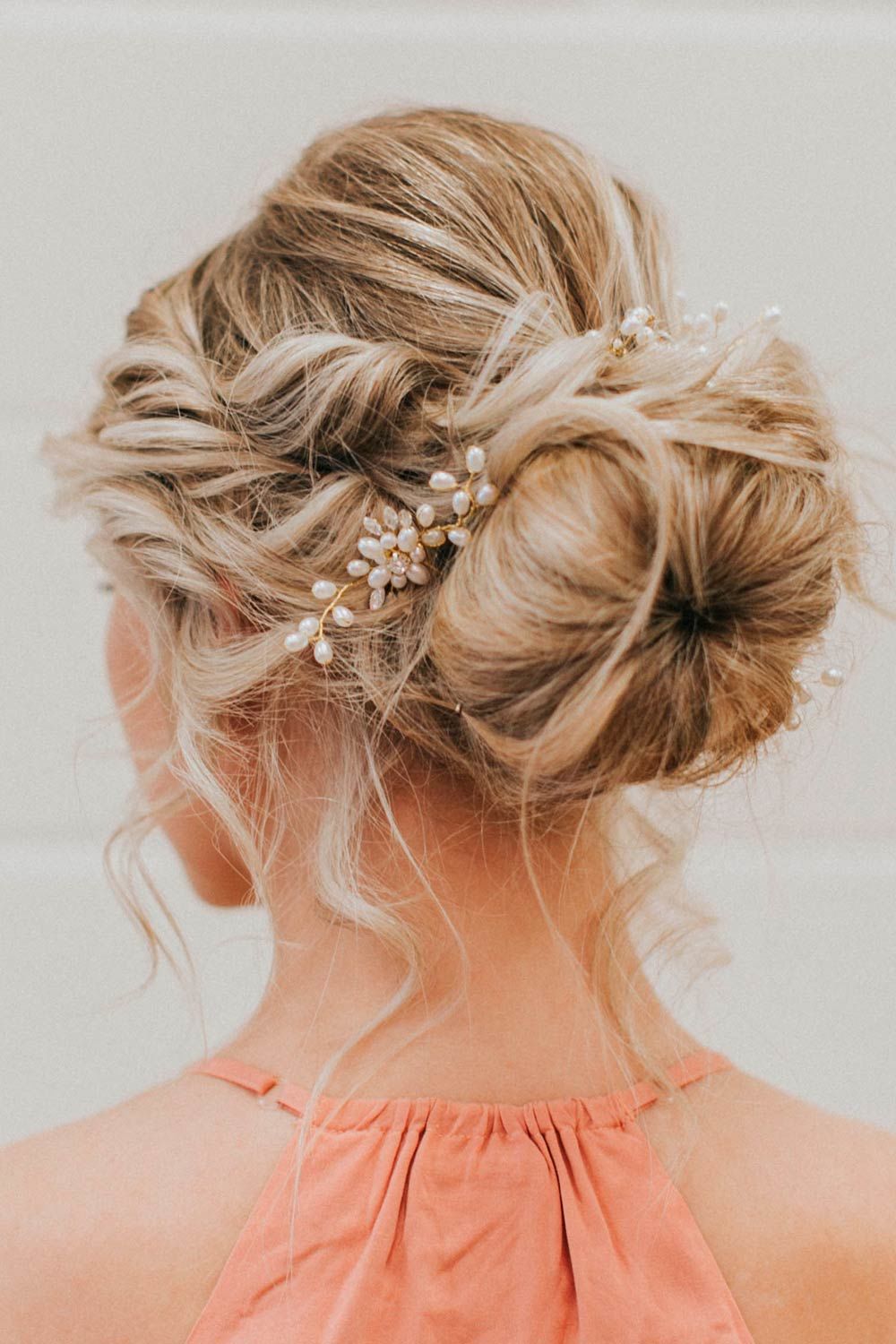 Though your hair is your best accessory, we can't have too much of a good thing! Some hair accessories can be a good idea to make your beautiful updo look even more unique. You can adorn your hot messy hairdo with hair wraps, pins or a tiny tiara on the top of your head.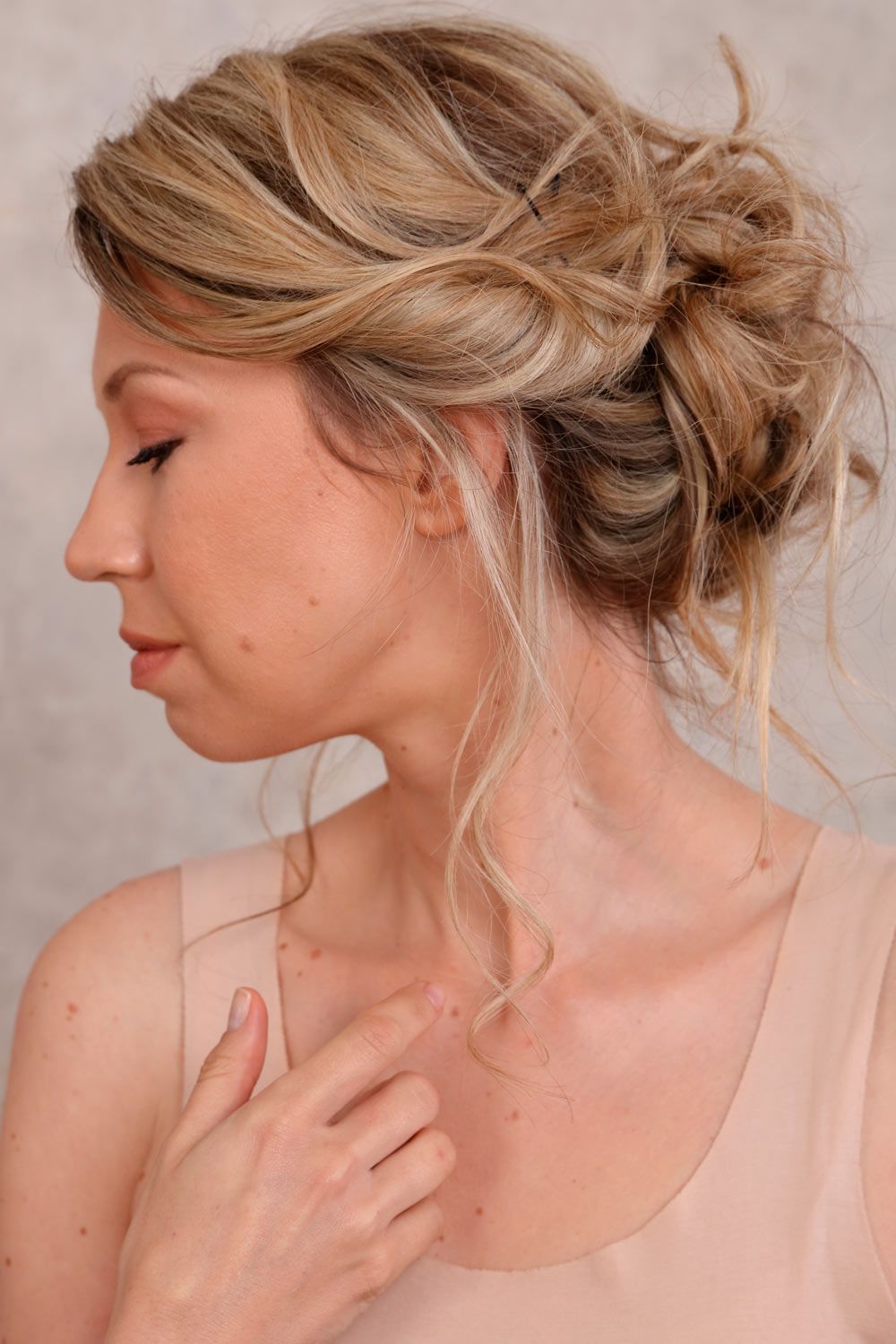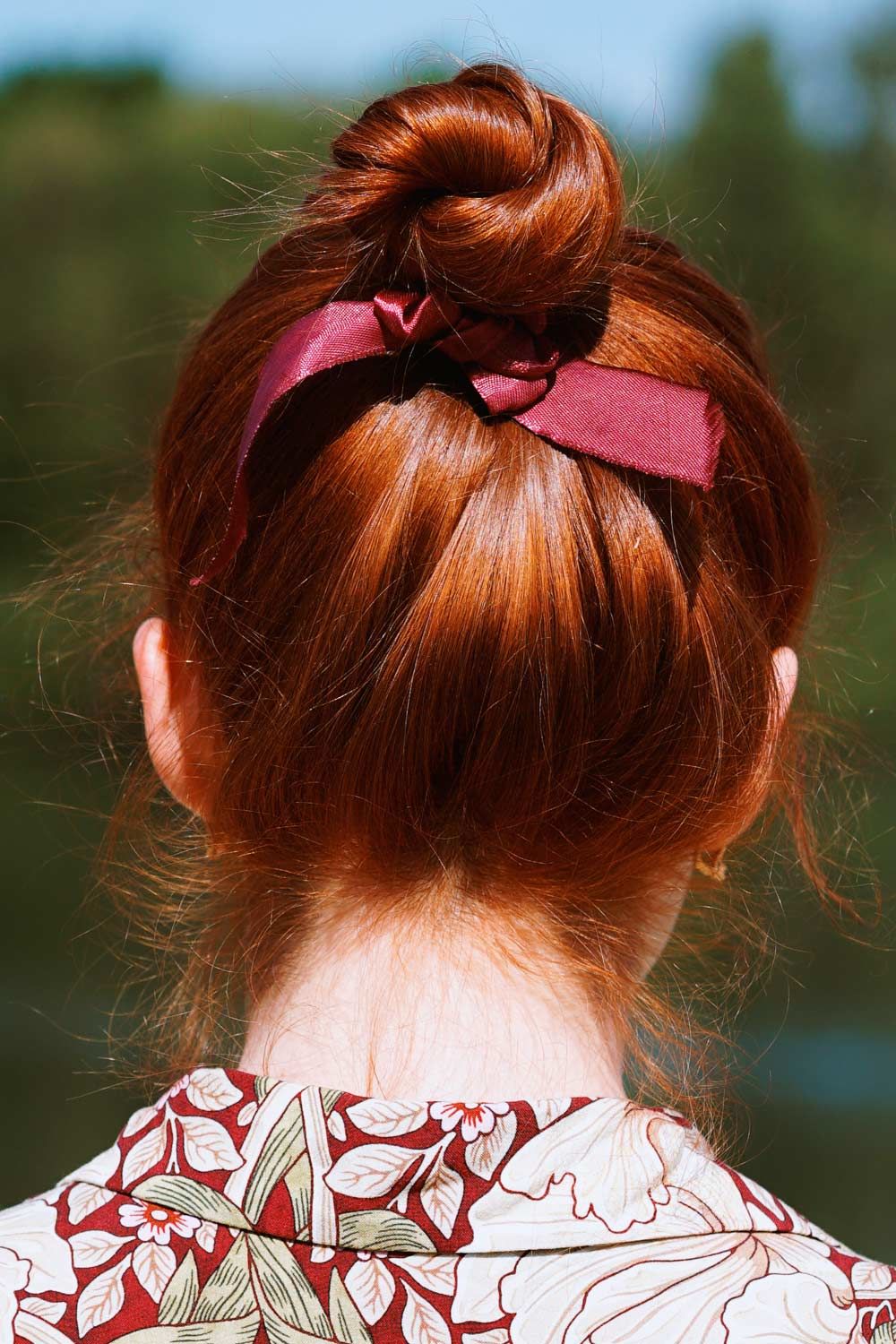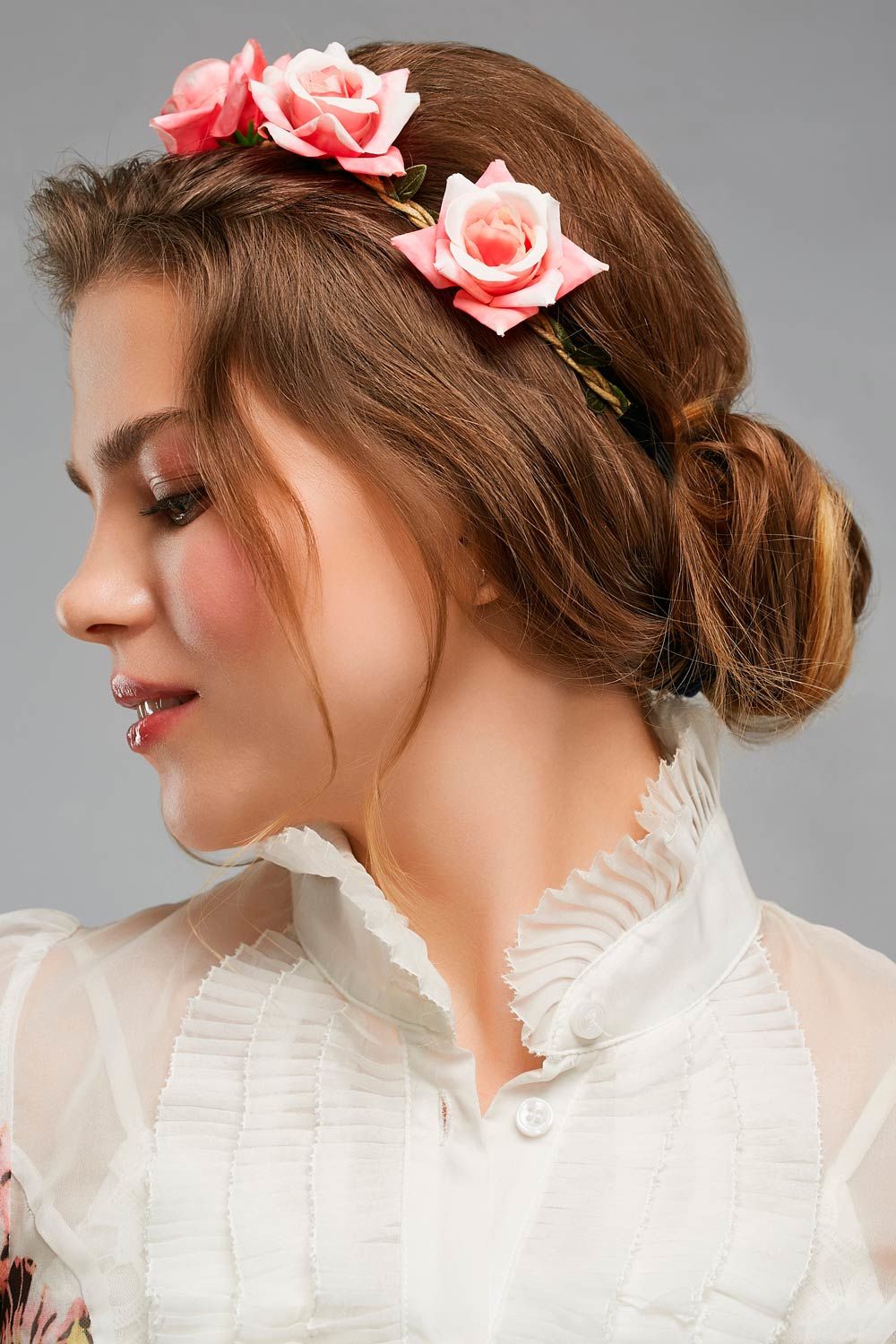 Effortless Updo With Head Scarf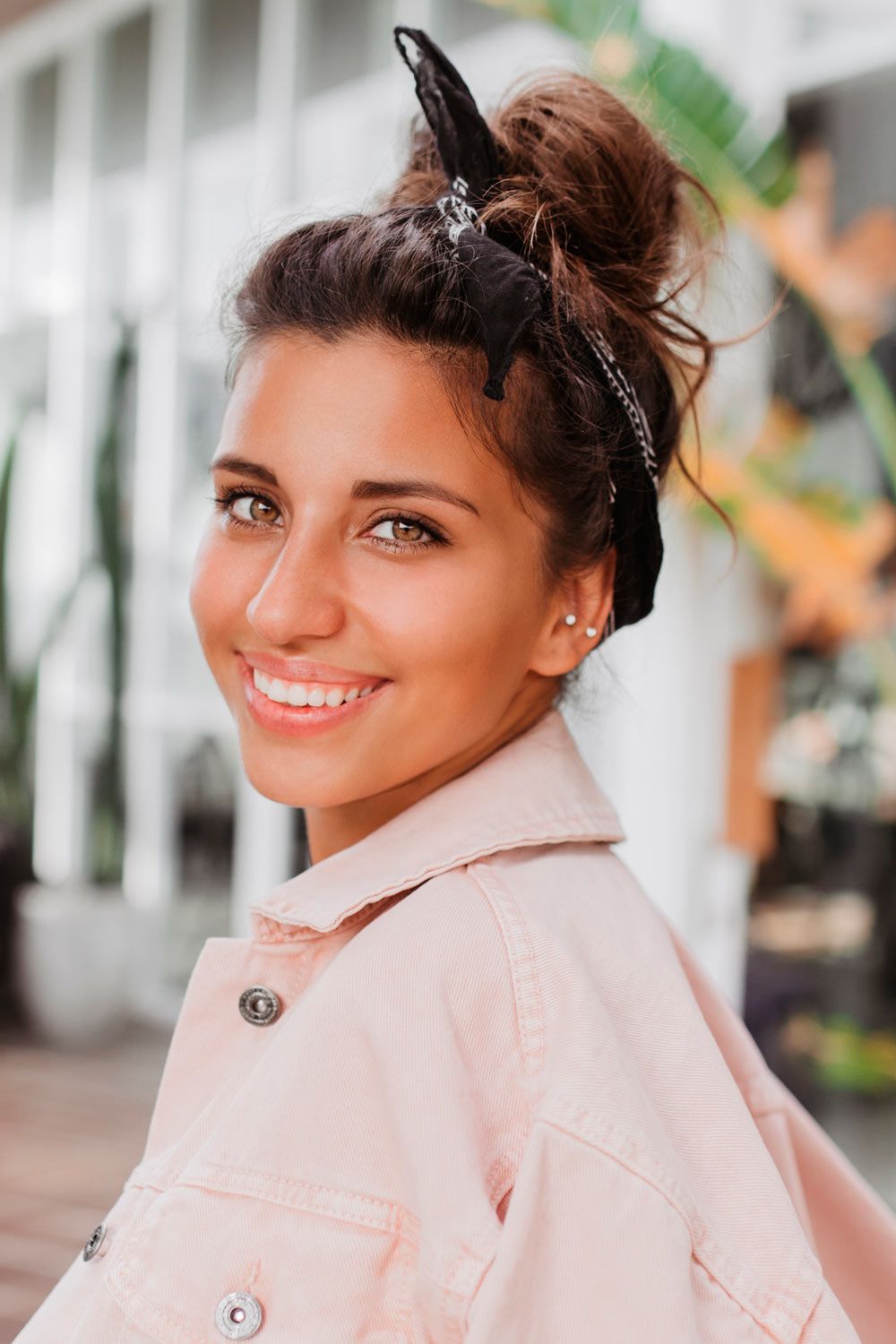 Do you know that you can put your hair into a ponytail and bun at the same time? Updos will never stop impressing us. This updo is not as complicated as it seems to be. Just twist the top layer on the back, secure your side bun with bobby pins and do a ponytail out of your low layer. To add some volume and texture, curl your ponytail and finish your look with tiny bows.
Decorate Your Bun With Bobby Pins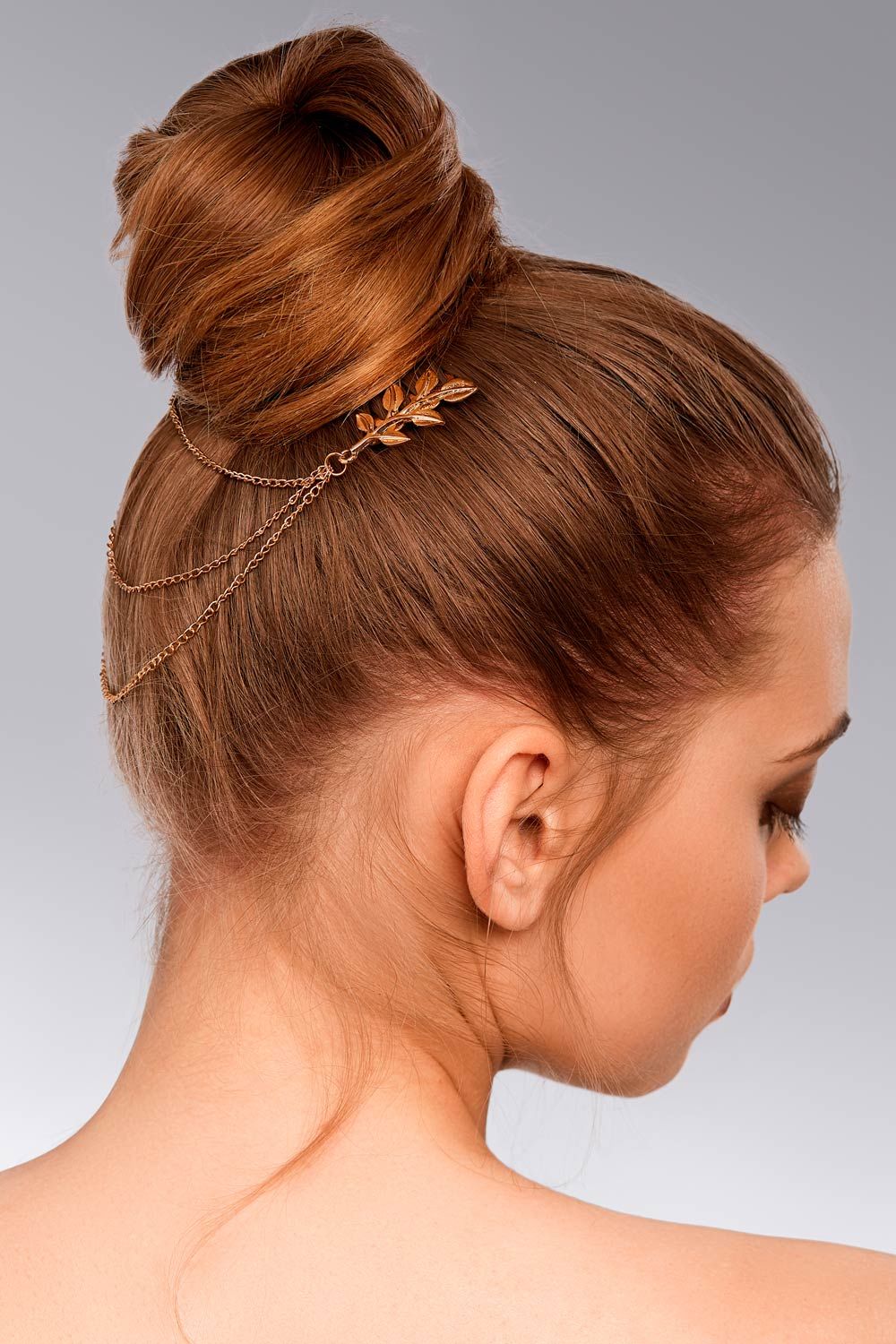 Bobby pins were made not only to secure your hairdo. Now you can use them as hair accessories! Once your updo is finished, you can use some extra bobby pins, crossing them in the way you want to create a fancy design. They say "secure with bobby pins", we say "decorate with bobby pins."
Chic Bun For Short Hair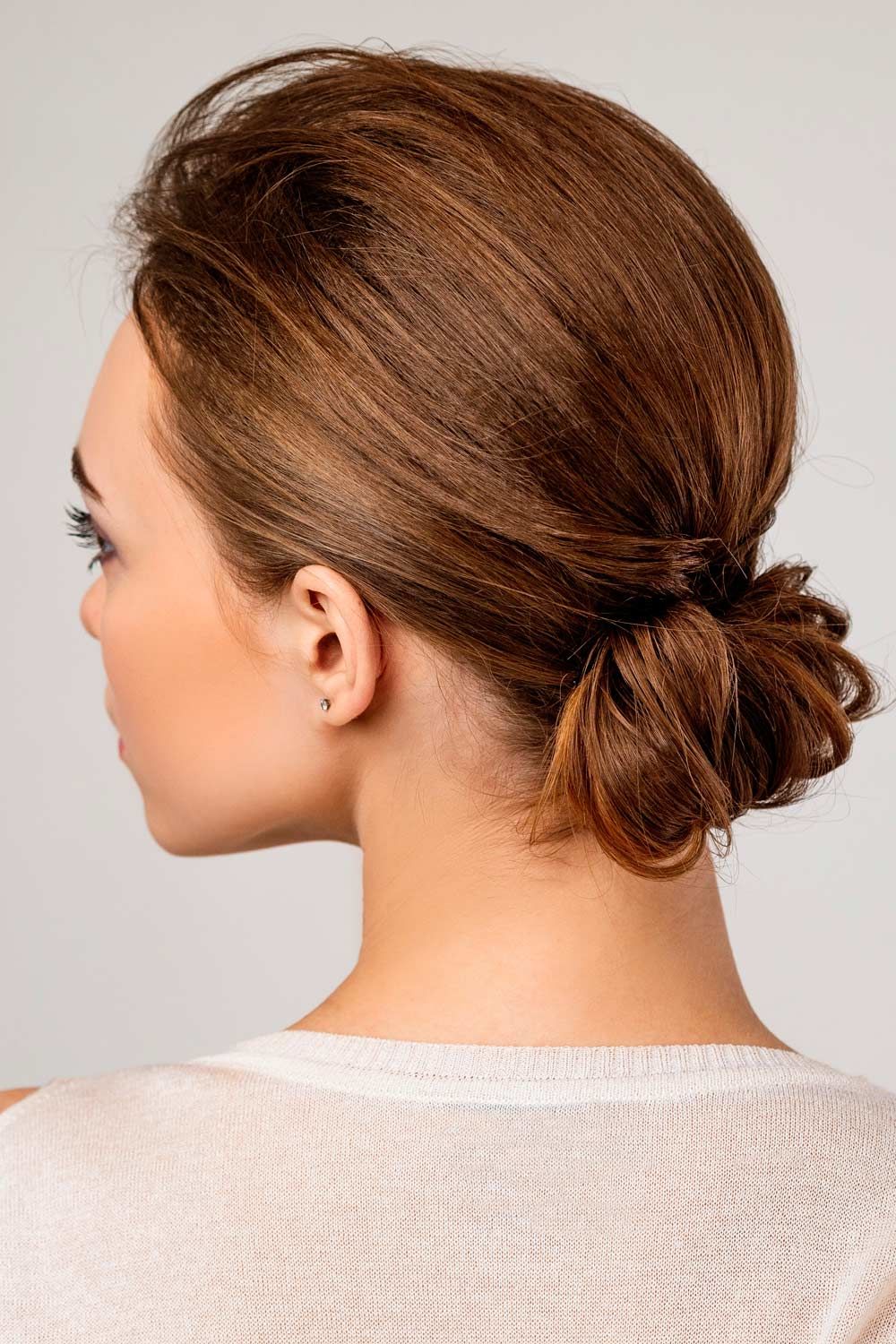 Have no idea how to tie a bun with short hair? Well, it's even easier than you can imagine. For short hair, it's better to do low messy buns, so that the short sticky strands look less noticeable. The rules are simple: tie your hair into a low ponytail, tease it a little with a comb, and pull the end into the band, securing at the base. That's all!
High Braided Bun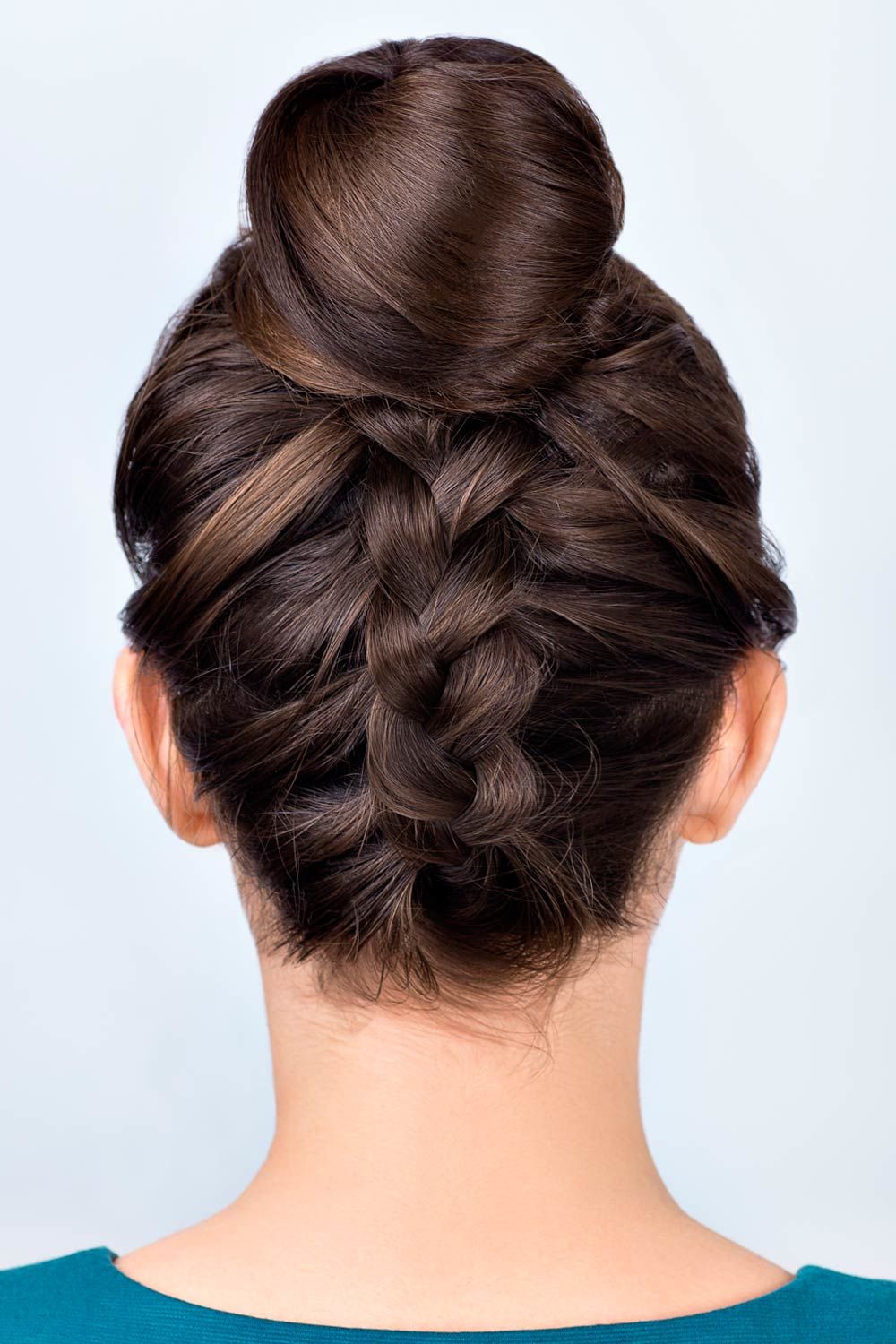 A high braided bun is the mixture of the most wonderful hairstyles for women: braids and buns form the best duo ever. Unlike many previous ideas, parting your hair is essential to get this bun, but don't worry, it's still easy. You just need to do three braids, braiding your hair up to the middle, and put them high into a ponytail, twisting the ends around the base.
Twisted Messy Low Bun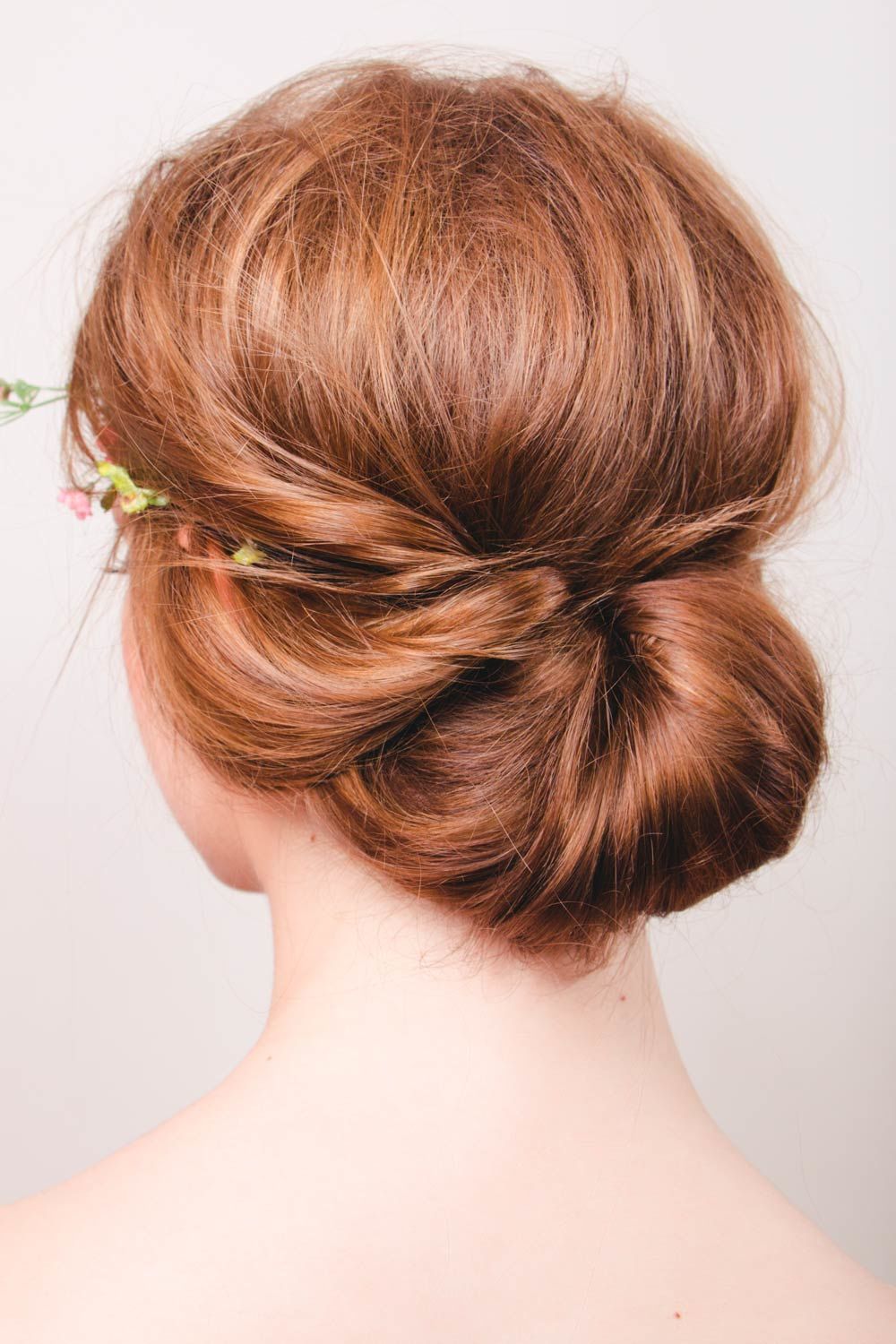 The charming and captivating look that a simple messy low bun can give to you is simply irresistible. When all of your hair is loosely twisted into such a minimalistic updo, your hair type and thickness just don't matter: it can get the most out of any texture. Remember to pull the edges, tucking strands and giving your hairdo a messy silhouette, and be ready to impress everyone with a full and elegant style.
High Bun And Side Bangs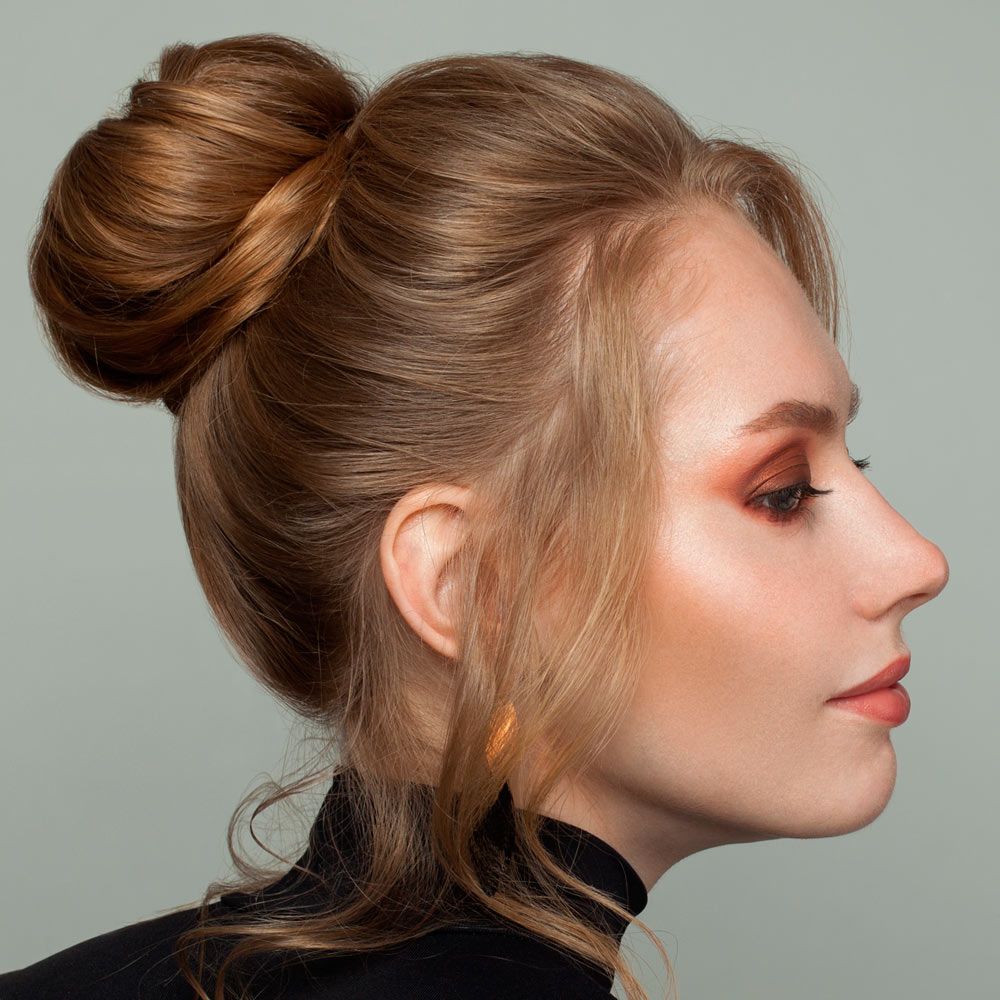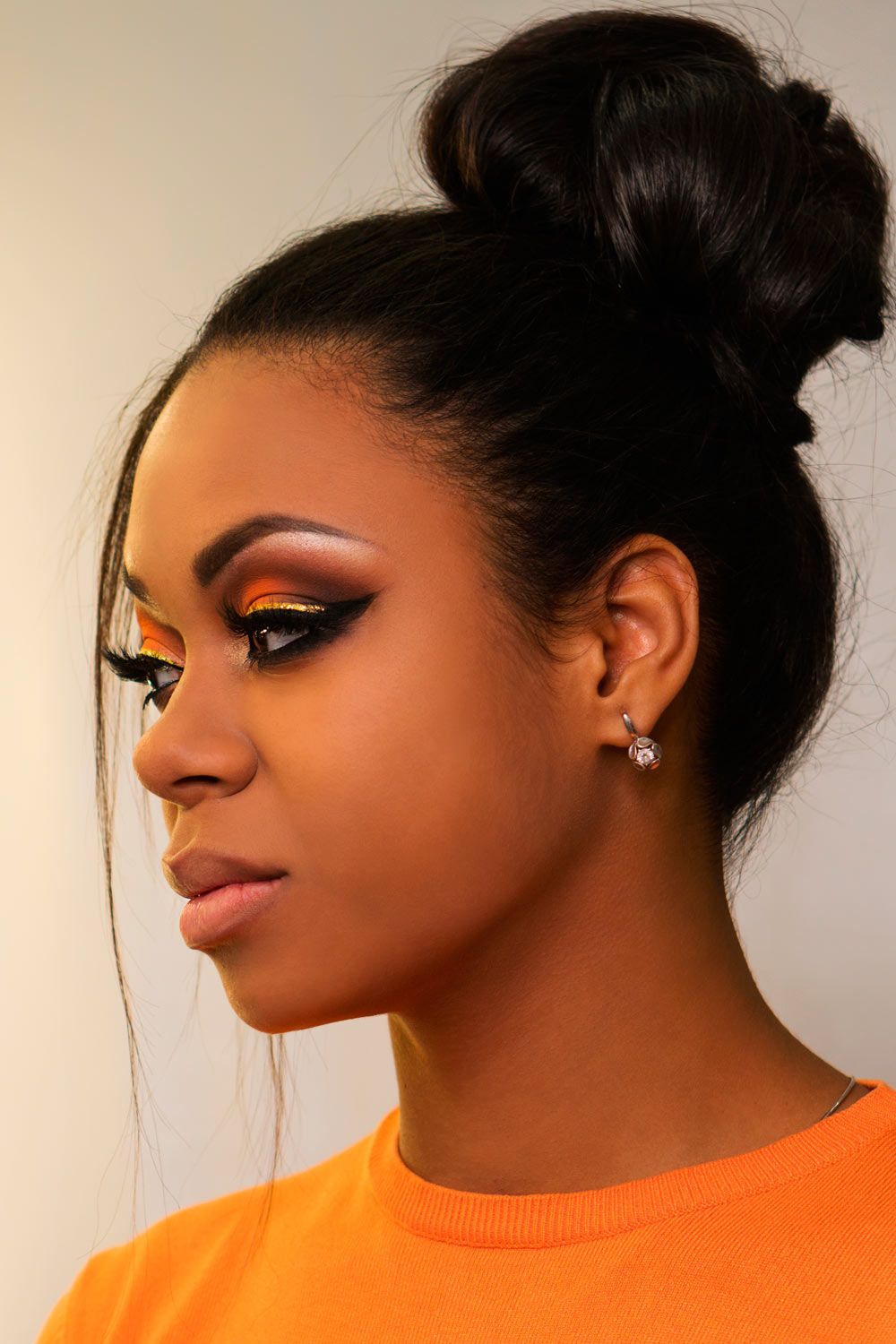 Nothing can compare to side bangs that finish the classic high bun look. This updo is quite voluminous and restrained, yet a little touch of airiness that thin, framing bangs give to it is worth a try. Some ladies go for accessories, while some accentuate their hairdos with bangs. What would you choose?
Accessorized High Bun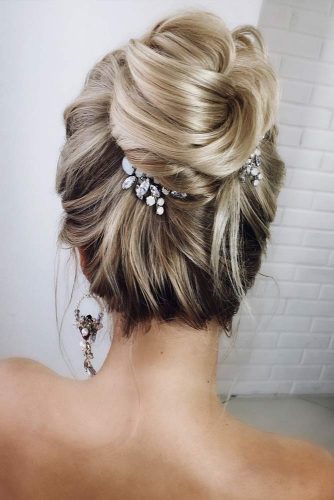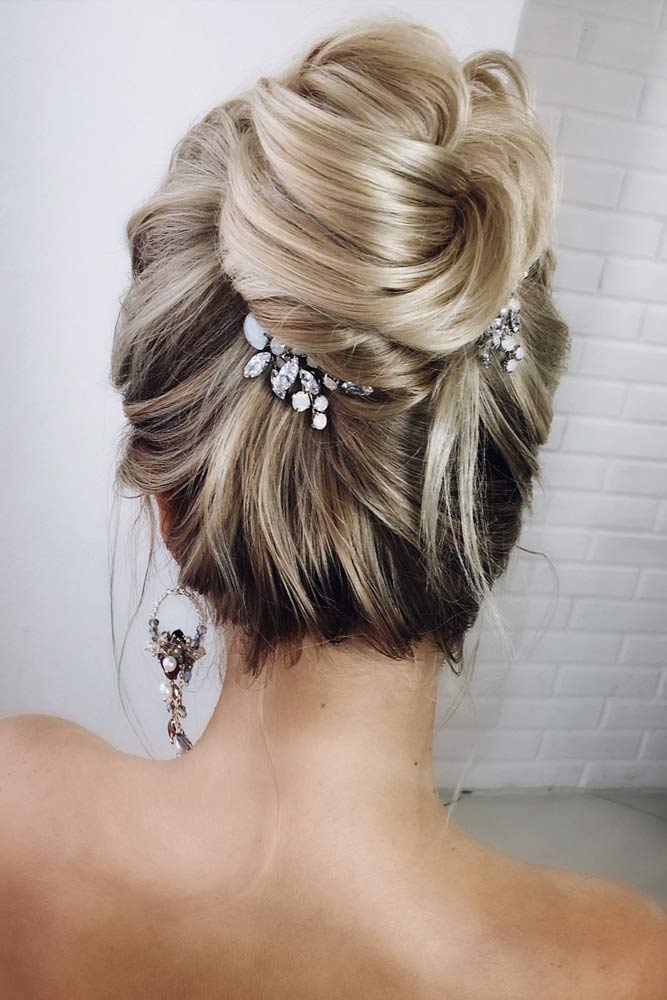 Source: lenabogucharskaya via Instagram
Wearing a classy, twisted high bun with feminine accessories that sit around the base of your updo is a style sophistication in its purest form. When we put our hair in an updo, we demonstrate our femininity at its best, so enhancing this effect with a lovely embellishment is definitely a wonderful idea.
FAQ: How To Put Your Hair In A Bun
How do I put my hair in a bun for sleeping?
Opt for a product such as Kérastase. Towel-dried or damp hair should be sprayed with Porter and gently twisted into a bun. Instead of using an elastic or a hair band to fix the loose bun, use 2-3 bobby pins.
Why is it bad to put your hair in a bun?
For many of us, ponytails and buns are our everyday hairstyles. Avoid wearing your hair in a ponytail or in a bun that is too tight, as this can harm the hairline and the bottom area of hair. All of these places are vulnerable to breakage.
Does sleeping in a bun curl your hair?
When you put your hair up in a sock bun before going to bed, you'll have gorgeous, wavy hair in the morning. Dampen your hair before putting it up so that it can dry in a curled shape overnight. Your hair will be naturally wavy when you take it down.
Was this article helpful?