The idea of feathered hair has created an unforgettable fashionable breakthrough in the fancy '70s, thus changing people's perception of haircuts once and for all. And, as it turns out, the volumetric effect that captivated our attention through the fascinating TV-shows isn't going to lean back. On the contrary, it's still has a lot of modern variations that you won't be able to resist.
The haircut from TV-screens and vintage magazines will never lose its popularity due to the beautifying power of layers. And today you will see how it works, as well as find out how you can wear and style it. Let's go!
What Is A Feather Cut?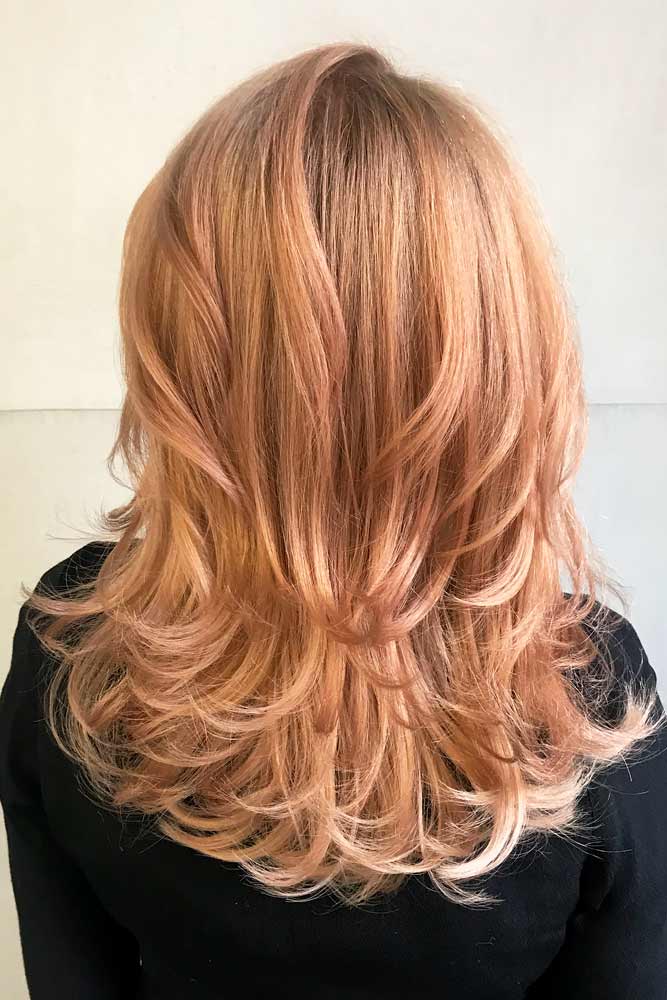 Credit photo: instagram.com/schulte_toni
Before moving to the inspo-part, let's answer the main today's question first: "What is feathered hair?". A feather cut was basically meant to resemble a bird's feather with its variety of layers and finely shaped ends that stick out, producing a voluminous, full look. It's achieved by cutting hair in a V-shape, creating shorter and lighter layers at the center of the head, and gradually longer ones to the sides.
What Is The Difference Between A Feathered Haircut And A Layered Haircut?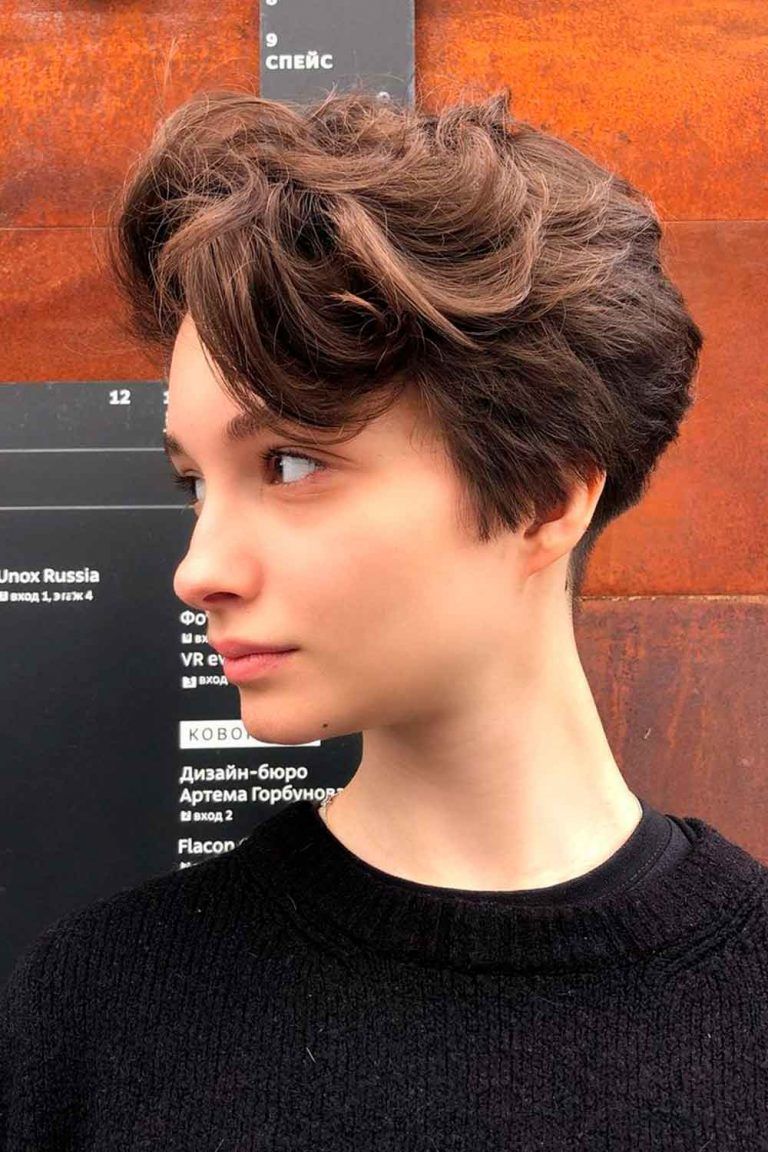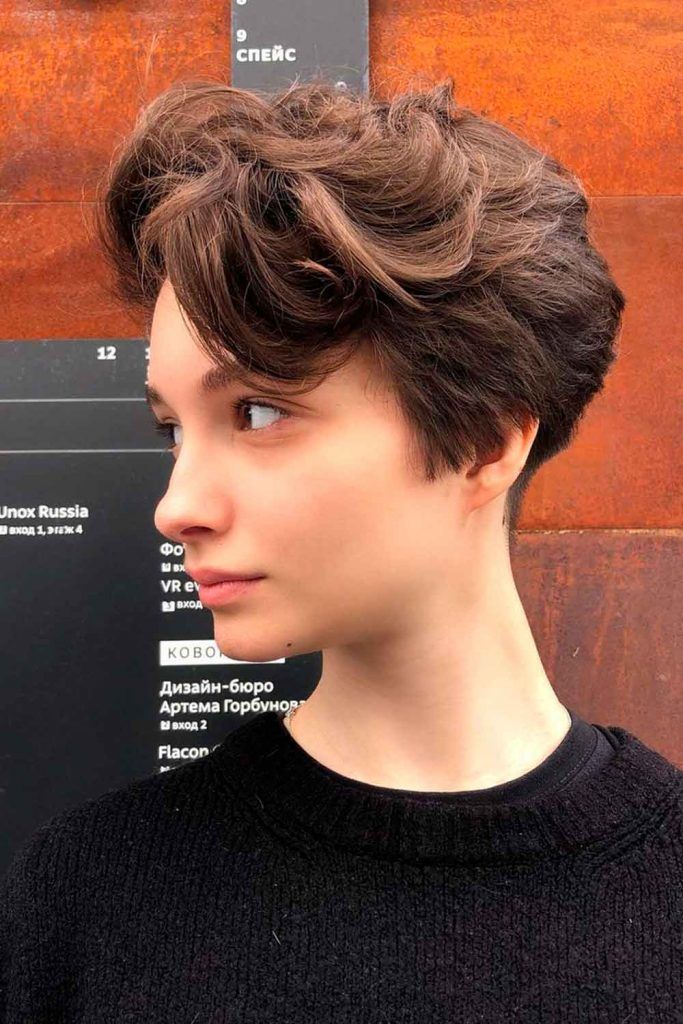 Credit photo: instagram.com/cut_and_color
Don't get confused if you find out that feathered hair cuts and layered cuts have a lot in common. In fact, a feather cut is a razored, more eminent variation of layered haircut as it involves shaping the ends in the way they are lighter than the overall look. And a layered cut consists of different lengths that seamlessly fall on one another all over the chevelure.
What Is The Difference Between A Feather Cut And A Step Cut?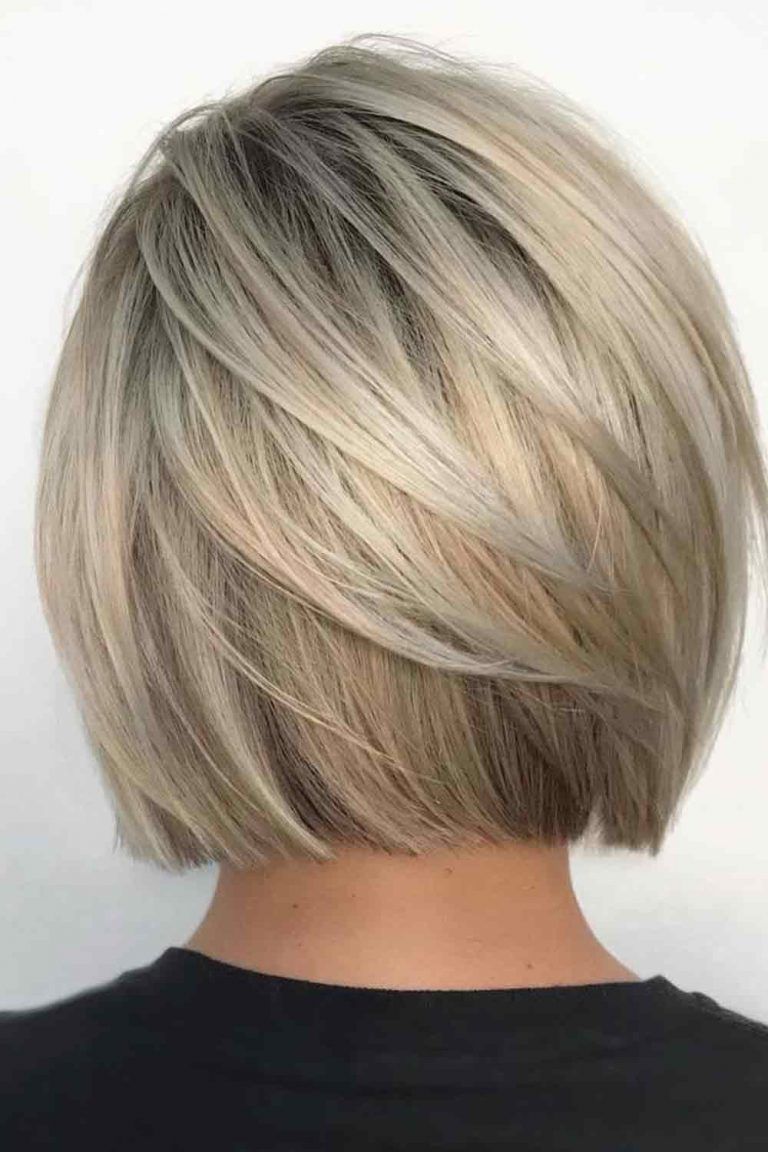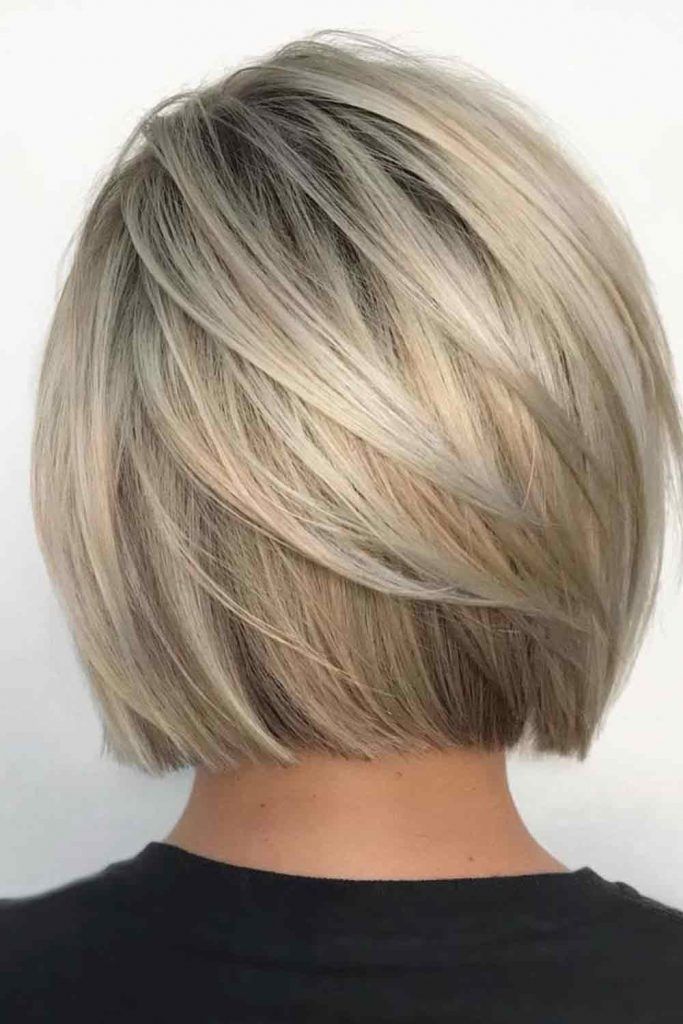 Credit photo: instagram.com/styled_by_carolynn
In the 70s and 80s feathered hair was the desired salvation that could put an end to thin hair troubles. Yet, a step cut was already onstage, so many people tended to mix up these two. Just keep in mind that step cuts feature choppier layers that involve lots of graduated visible steps of hair that are less smooth and blended compared to feathered cuts.
Short Feathered Haircuts
Luckily for ladies who like to rock their days with light and short cuts, there are no limitations for feathered hair. Short hair suits you best? Short feathered hair will be even better!
Messy Pixie Cut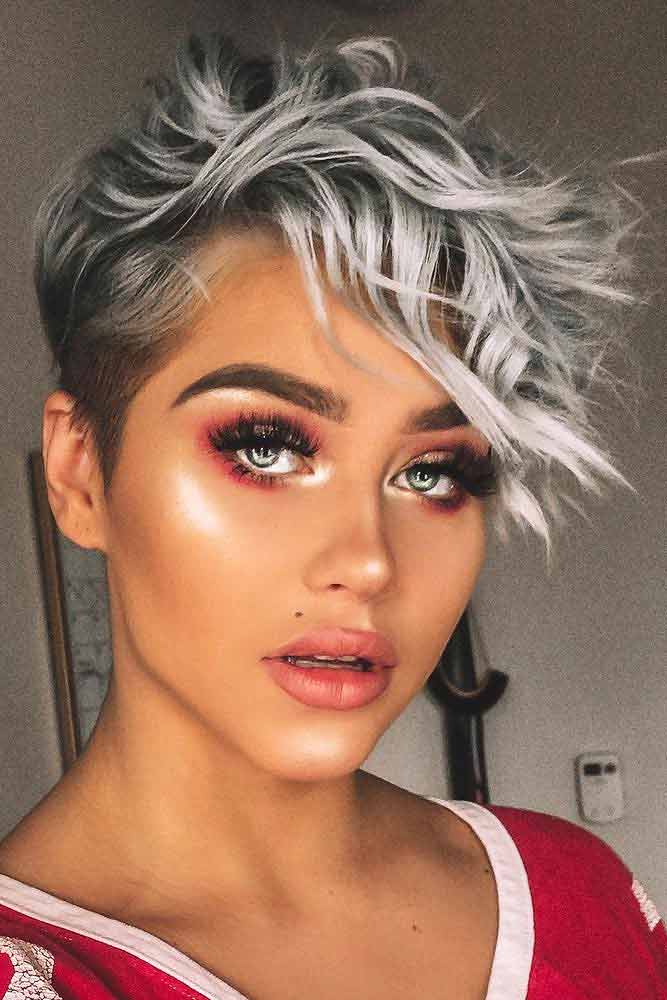 Credit photo: instagram.com/autumnhartt
When it comes to a feathered pixie, the feathering technique on short hair reveals its charm at its best. The prominent ends emphasize the airy structure of softly chopped layers, thus making a classic messy pixie look as voluminous as never before.
Wavy Pixie Cut With Undercut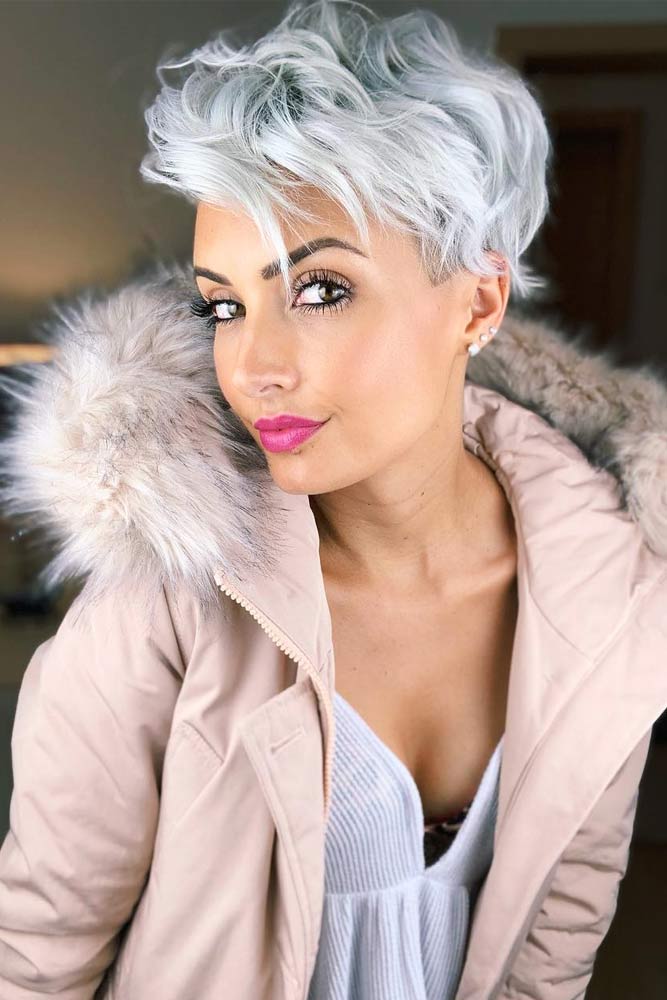 Credit photo: instagram.com/jejojejo87
Wavy hair has so many different hairstyle possibilities and we love that about it. Are you looking for interesting ways to experiment with it? Then choose a wavy pixie cut that goes so well with an undercut. Neat, refreshing and super stylish at once, it will make you look like a rock star.
Short Edgy Pixie Cut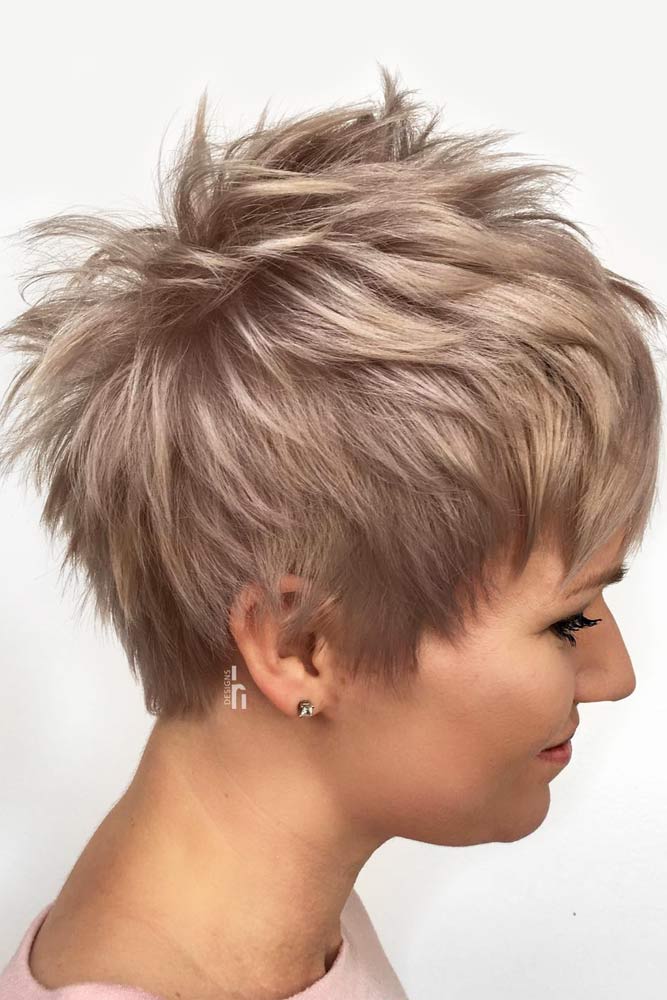 Credit photo: instagram.com/headrushdesigns
Would you like to stand out with your hair? Then this short and edgy pixie cut will serve you right. The messy hairstyle will bring so much effortlessness and easiness that you will always look like you have just left the hairdresser`s chair.
Brown Pixie Cut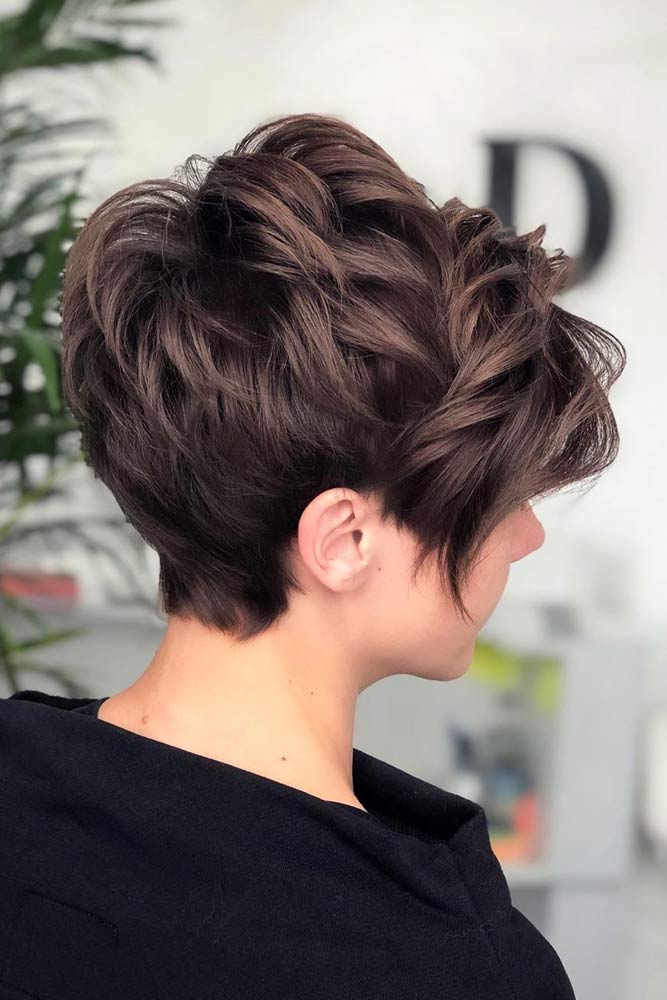 Credit photo: instagram.com/mila_kryshchykhina
While some women get rid of the extra weight from their tresses by going for extra short pixies, wise ones build perfect balance with feathers. When we look at this idea, we realize why this cutting technique is called this way: the way this thick mane stands out is nothing but a flight! With properly chopped feathers throughout your unruly thick locks, you can finally make your hair type your blessing. All in all, there's nothing like well-shaped thick hair. For a more contemporary finish, ask your hairstylist for shorter feathers at the back, and longer ones on the front. In this way, you will finally find out what stylish comfort is.
Voluminous Pixie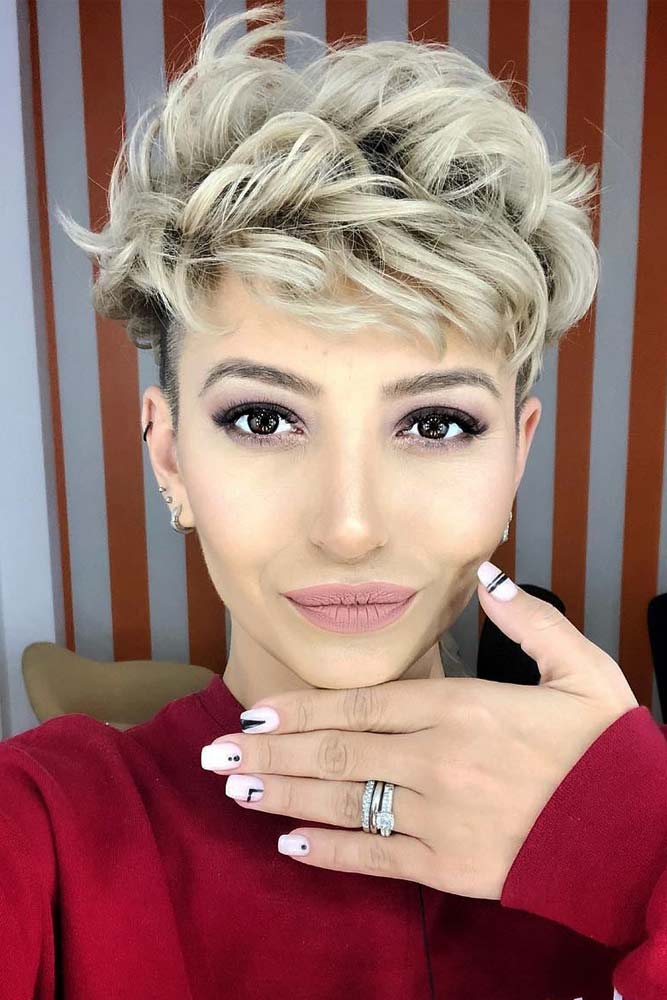 Credit photo: instagram.com/mygiulia
A voluminous pixie haircut is a great way to define the beautiful features of your face. Messy but in the right way it will bring a special vibe to your whole look, making you look and feel unforgettable. Is that what you are looking for in a hairstyle?
Side Parted Straight Pixie Haircut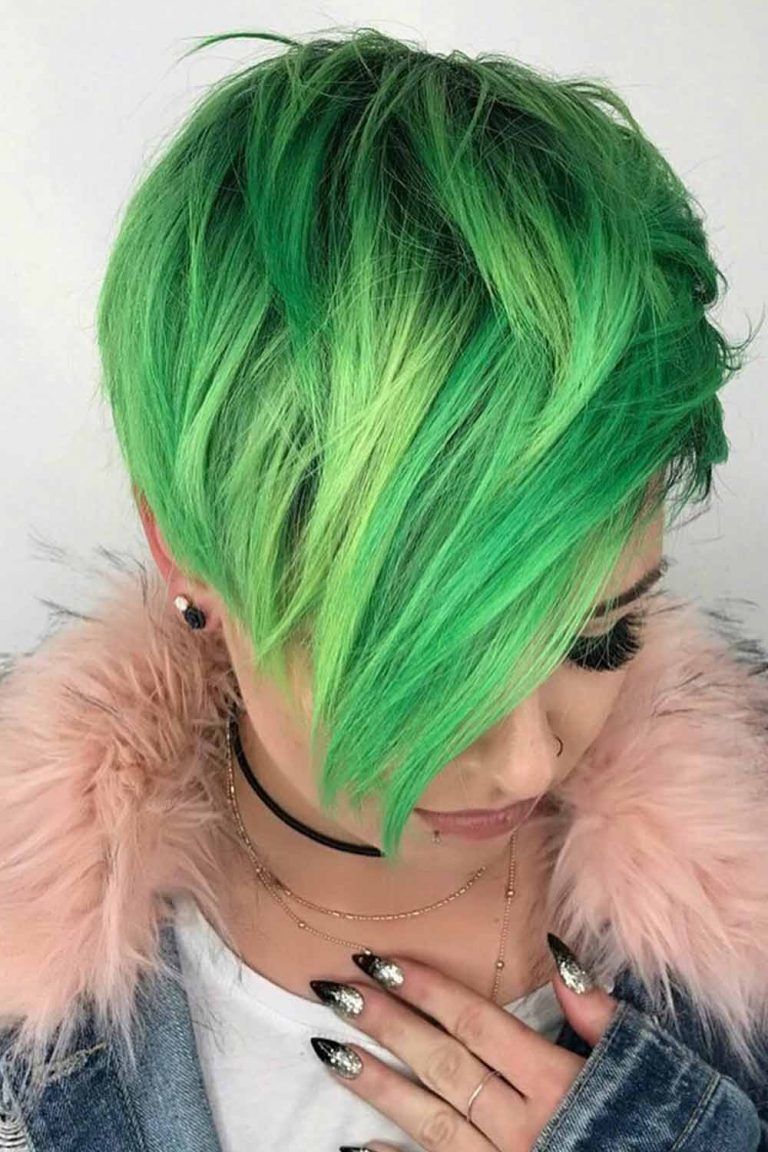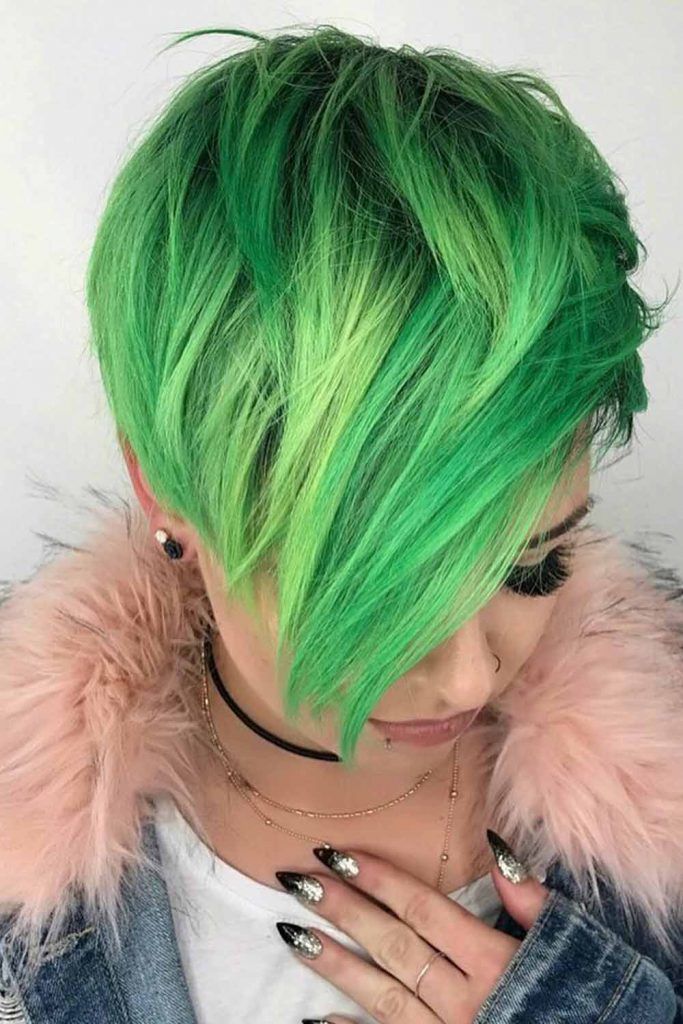 Credit photo: instagram.com/isaac4mayor
Not every girl is ready to give up parting her hair even when it comes to short hair styles. If you are one of them, then don`t worry, we have a pixie haircut that will suit your preference. A side parted straight pixie haircut with its sharp and edgy layers is what will make your hair look super voluminous and bouncy.
Short Rose Bob With Feathered Ends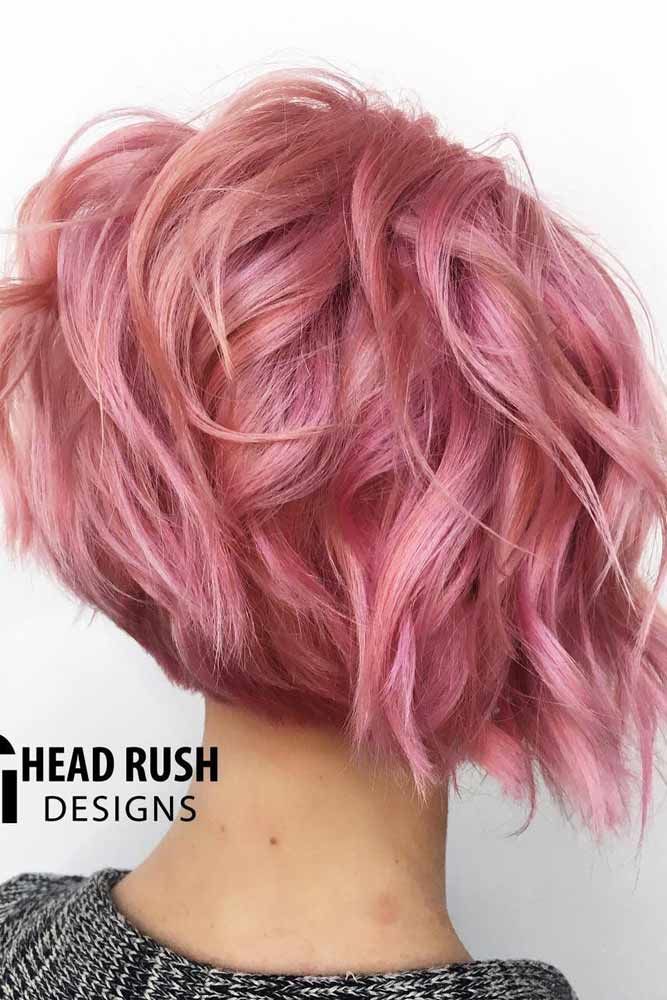 Credit photo: instagram.com/headrushdesigns
Side-Swept Feathered Messy Bob
Credit photo: instagram.com/inspiracao.divas
Short Inverted Bob With Feathered Ends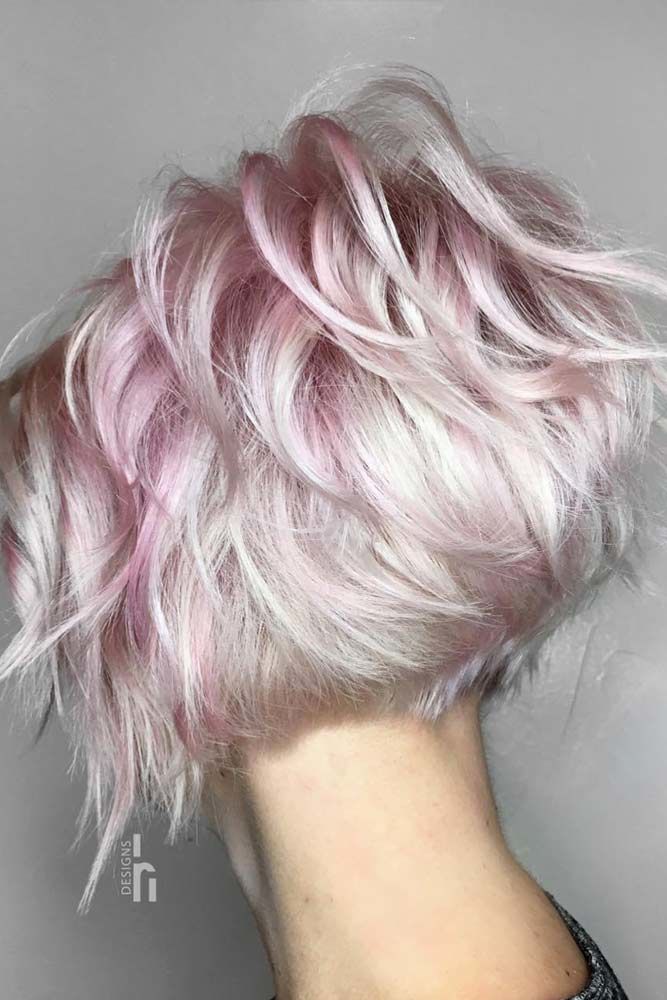 Credit photo: instagram.com/headrushdesigns
Soft Bob With Flipped Ends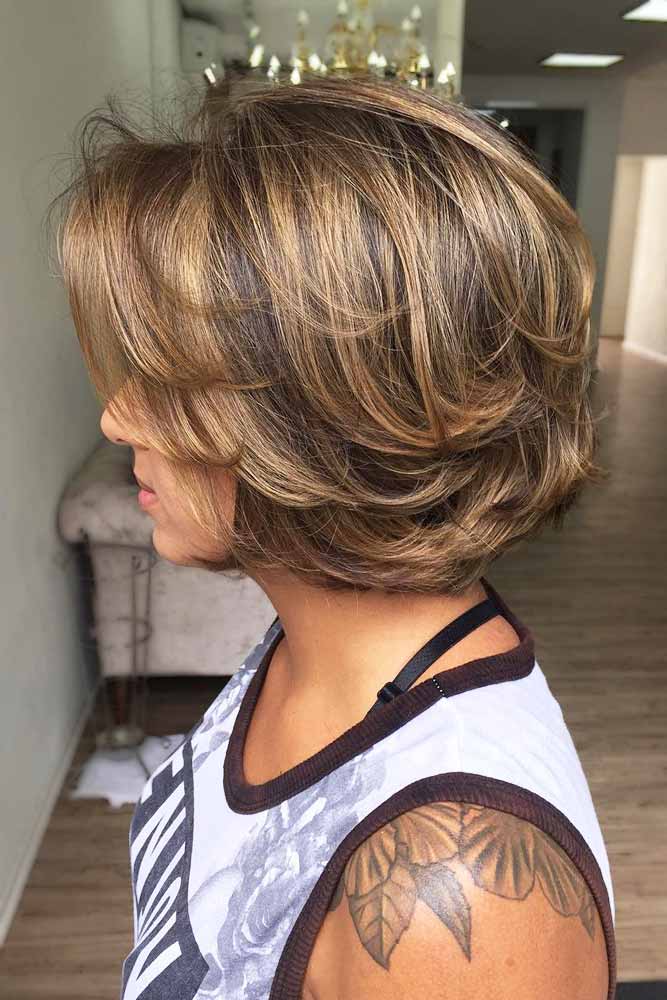 Credit photo: instagram.com/jeffersonbolina
When seeking a truly textured and detailed look, you should ask your stylist to flip your ends thoroughly. Short length bob is the best match for this technique as together they create lots of flirty, bouncy layers that can flatter any hair texture.
Stacked Short Bob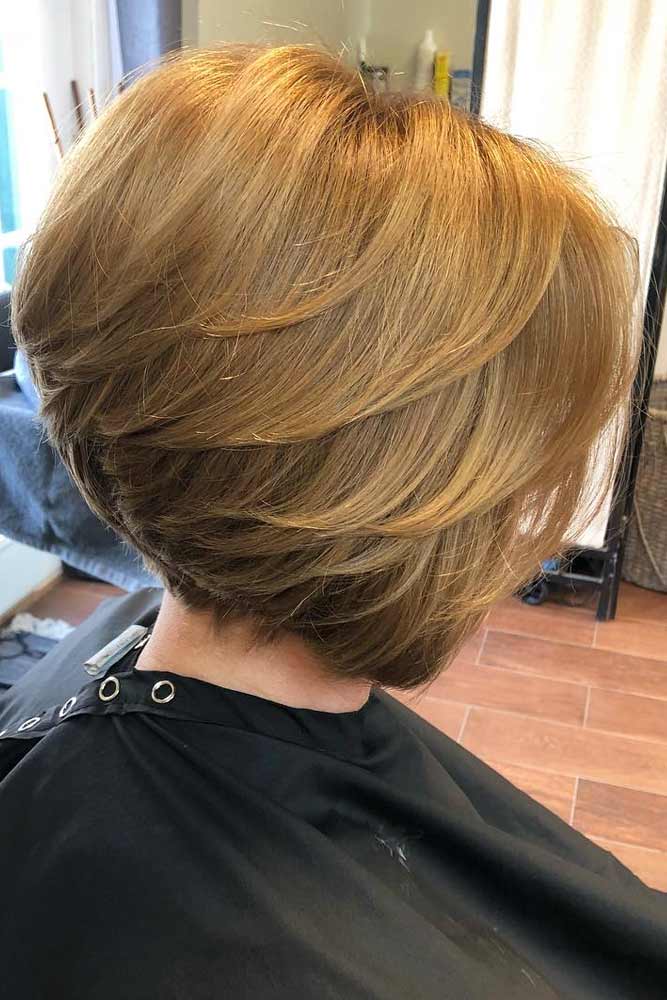 Credit photo: instagram.com/hairbellezzaaa
Although the number of layering techniques isn't too great, they look different on every haircut. Here, for example, you can see what a ravishing duo you can create with the crowd-pleasing stacked bob and graduating layers cascading down to the ends. Such a texture makes the whole look more alive and dynamic, adding even more volume to a full silhouette.
Two-Toned Feathered Hair Cut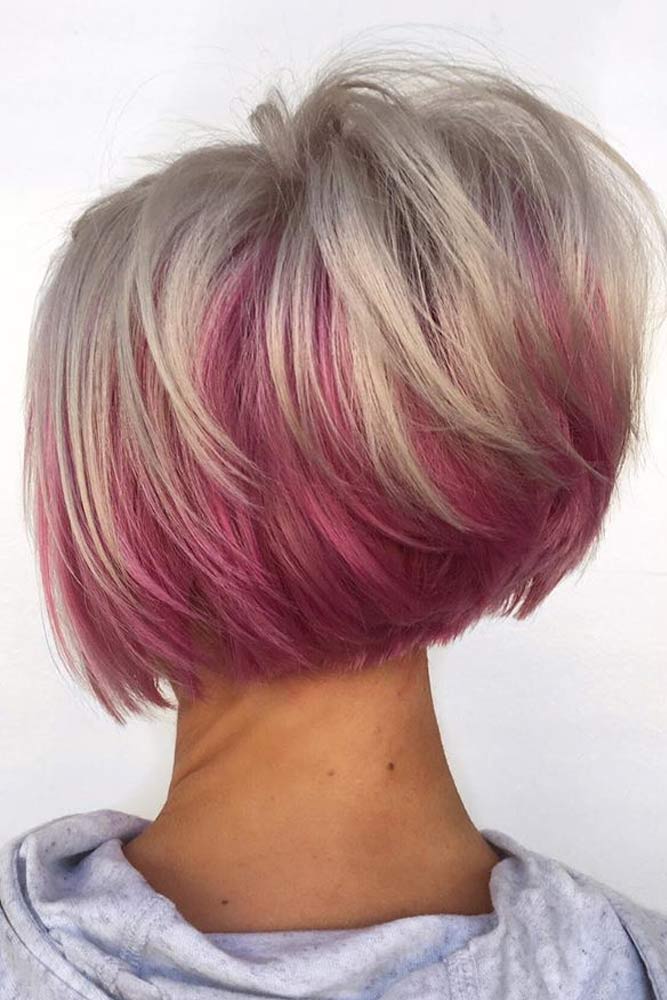 Credit photo: instagram.com/headrushdesigns
If you want your sharp and edgy layers to stand out, nothing can enhance it better than a creative color combination! Besides, those who love to jump from one trend to another will like the ide of two-toned that has recently taken over Instagram and Pinterest. Pick two colors you like, spread each one on the top and bottom layers, and be ready for countless compliments!
Side Parted Tousled Bob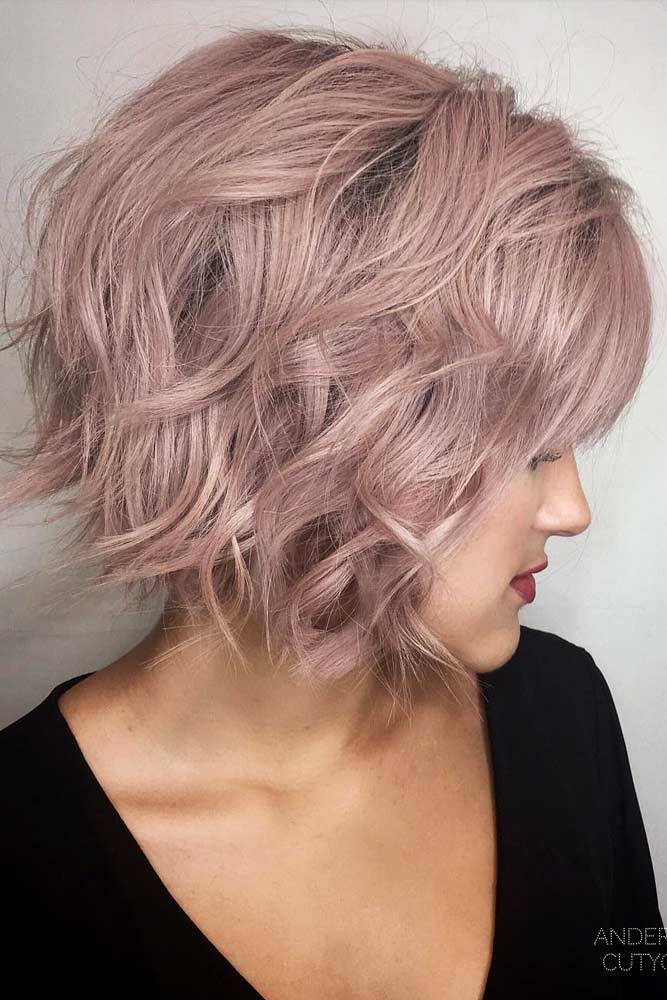 Credit photo: instagram.com/cutyourhair
Most feathered bob hair styles look better with a side part and a little touch of messiness. As a matter of fact, such a styling method enhances the beauty of feathers, taking the most out of them. Also, don't forget to experiment with coloring techniques. For example, balayage hair will be a nice choice to double the charm.
Stacked Pastel-Pink Bob with Feathered Locks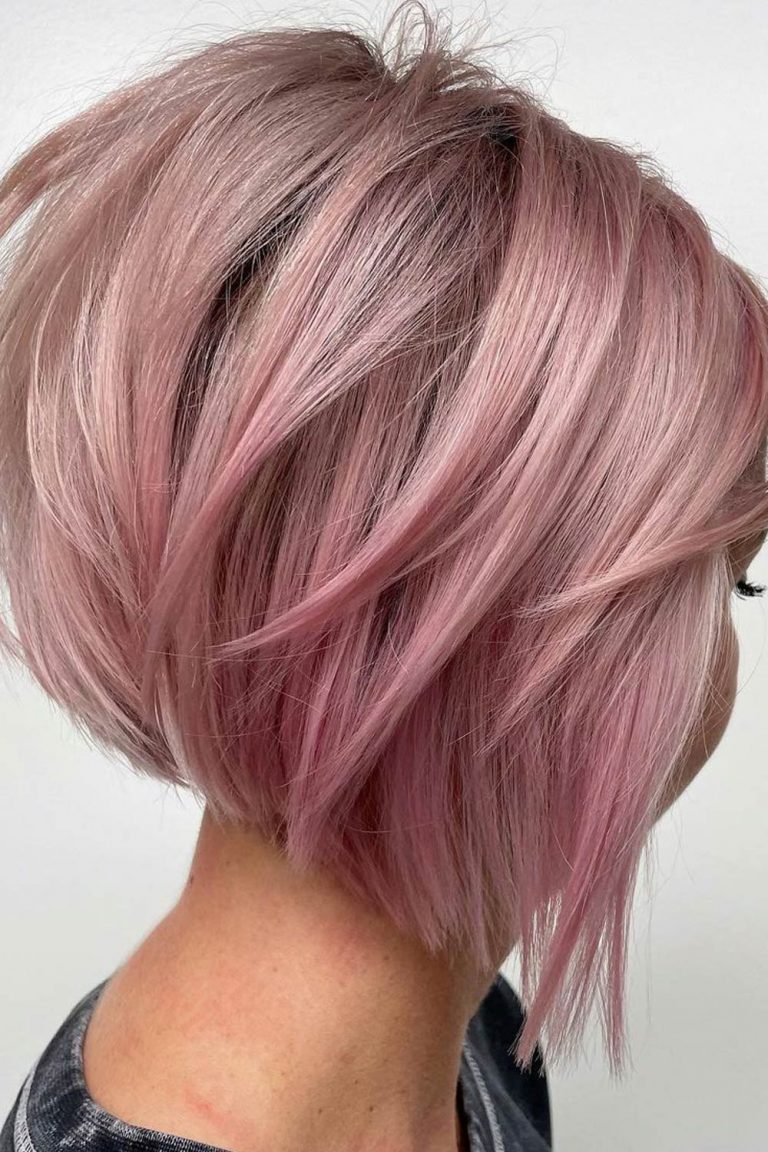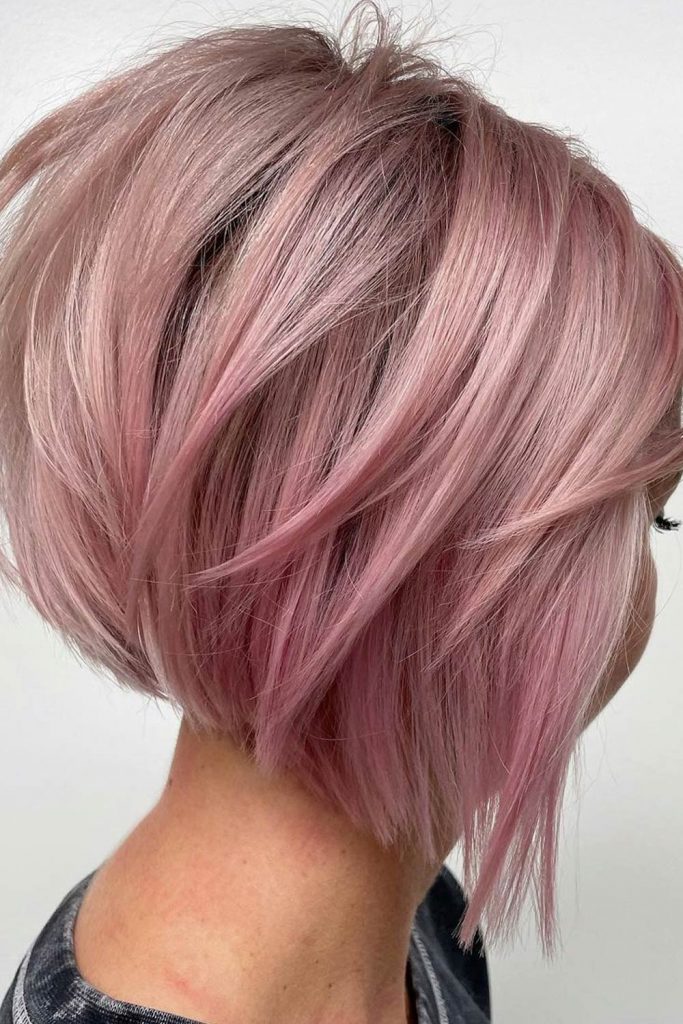 Credit photo: instagram.com/headrushdesigns
As a young woman, there's nothing more gratifying than finding new ways to express yourself through your style. This season, consider adding a stacked pastel-pink bob to your look! With feathered locks framing your face and a playful color gradient, this style will add personality and character to any outfit.
Deep Sided Blonde Bob with Face-Framing Feathers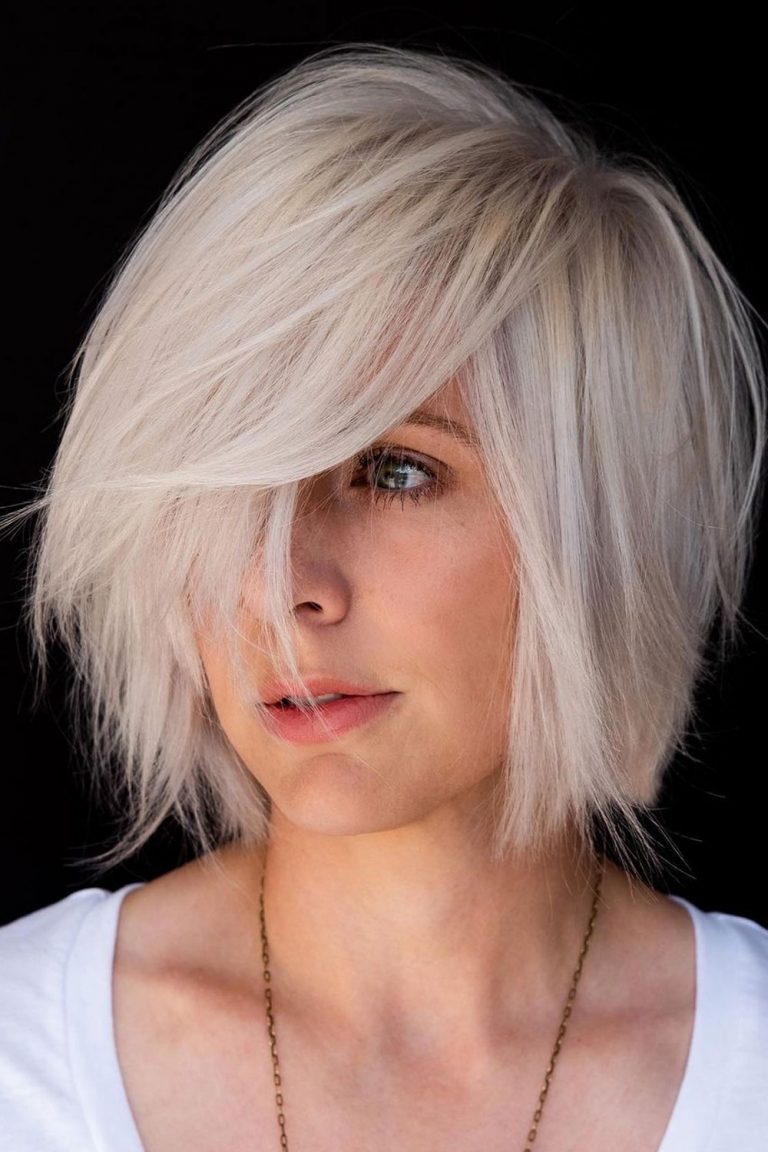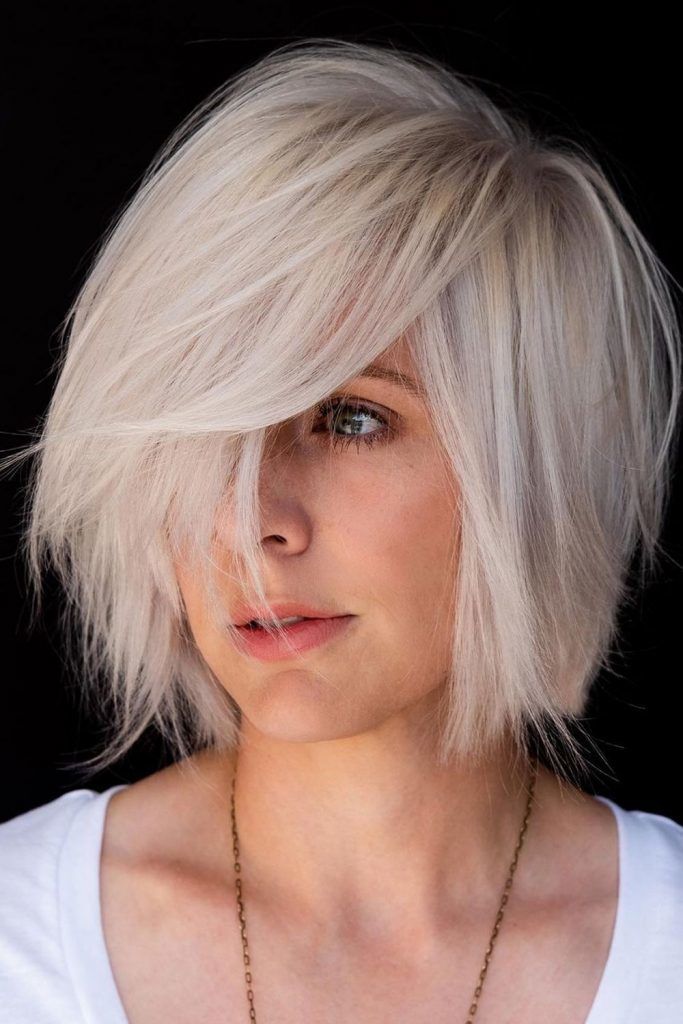 Credit photo: instagram.com/chrisjones_hair
As the weather starts to warm up, many women are looking for a new style to beat the heat. This blonde bob is perfect for summer, with face-framing feathers that add a fun and flirty touch. Whether you're hitting the beach or just running errands, this style will keep you looking cool and stylish all season long. So if you're looking to switch up your look, give this deep sided bob a try!
Short Black Bob with Dark Brown Highlights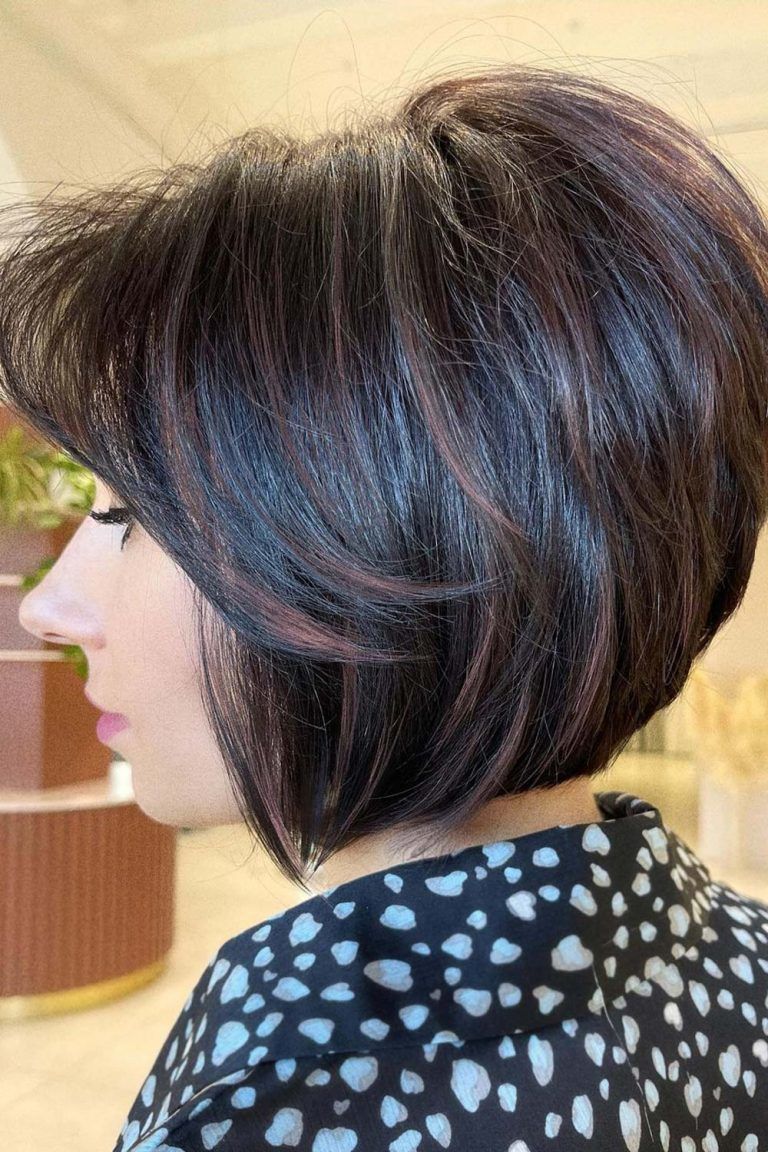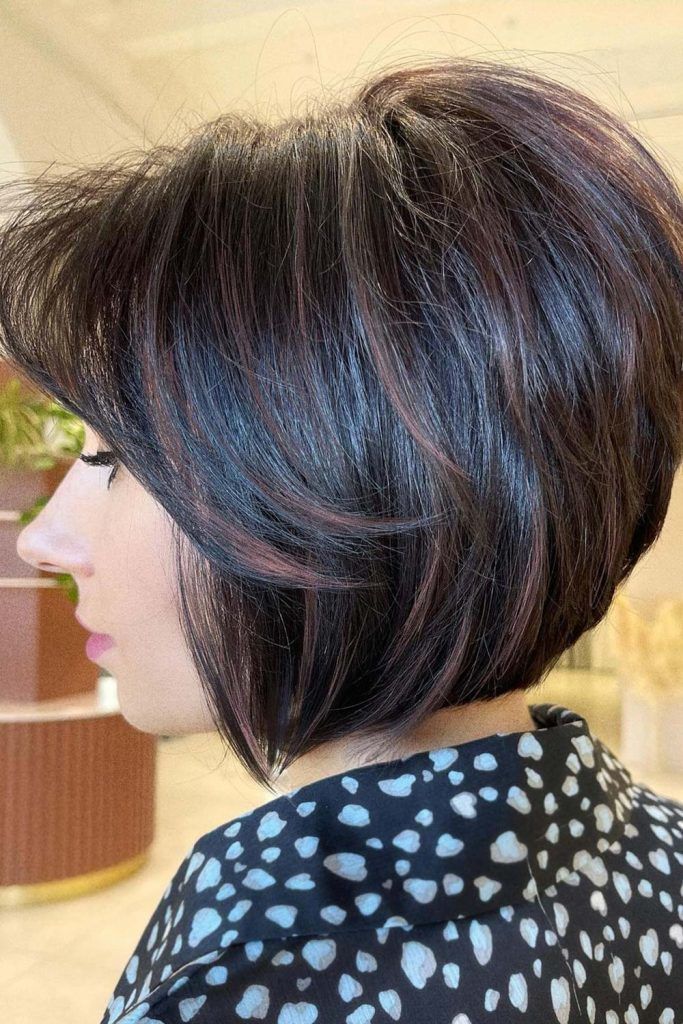 Credit photo: instagram.com/mila_kryshchykhina
This look is perfect for young women who want to experiment with their hair color and style. With this cut, you'll have plenty of styling options to choose from, and the dark brown highlights will add some depth and dimension to your hair.
Short Feathered Pixie Cut with Massive Bangs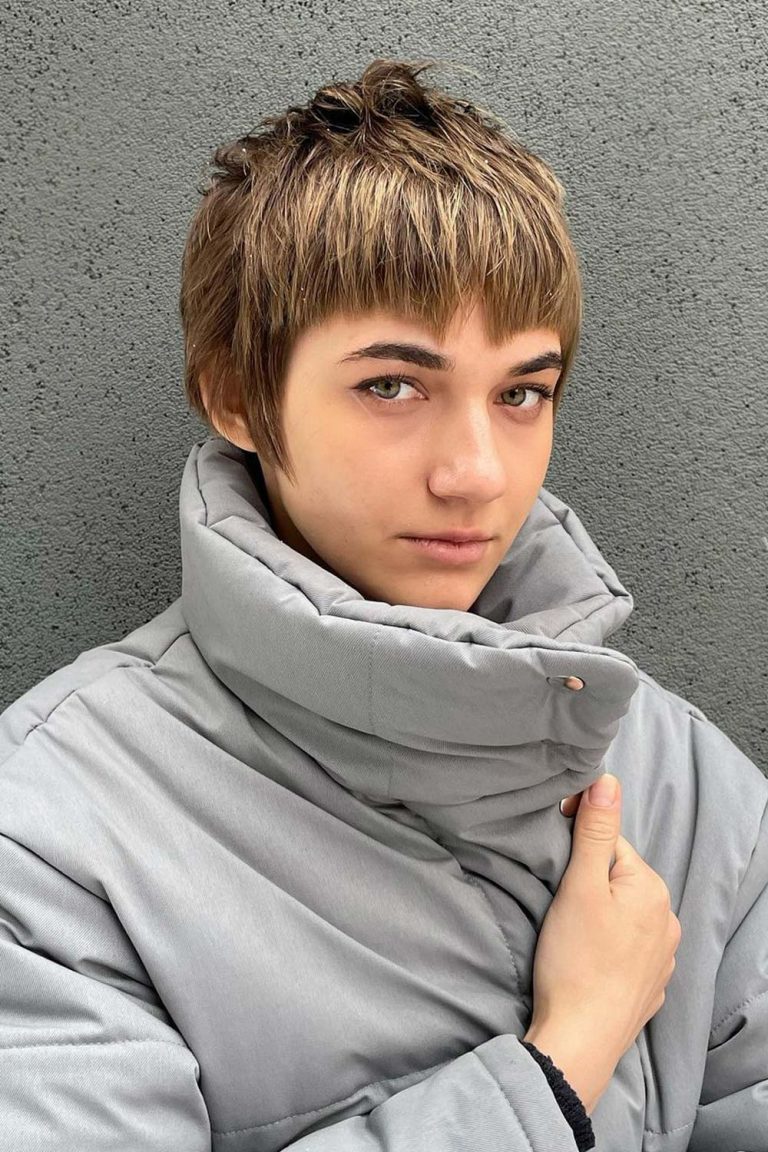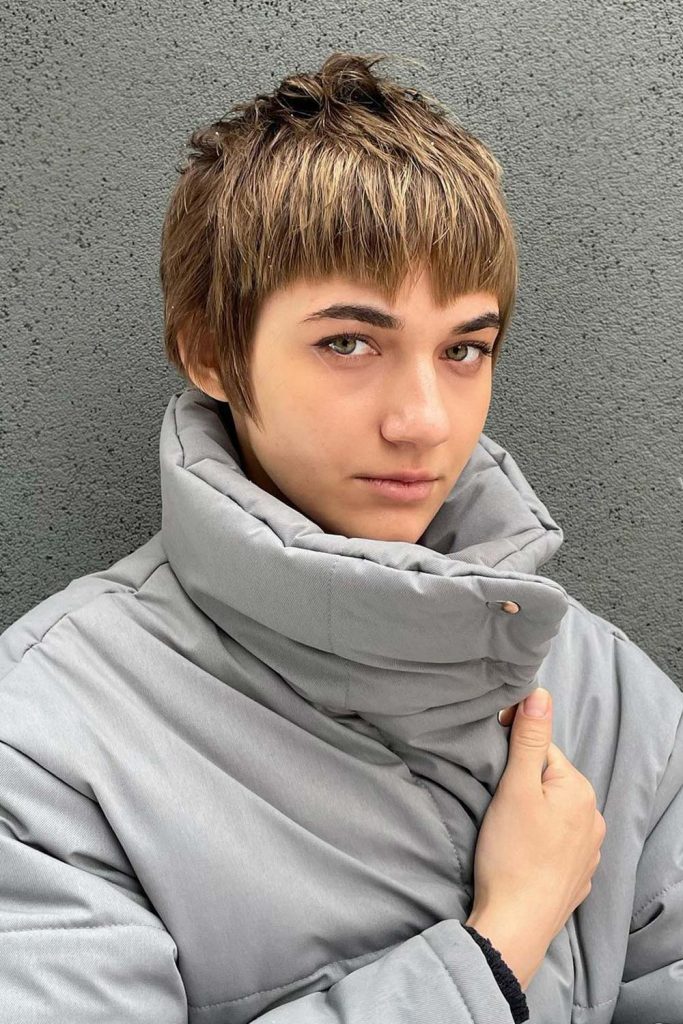 Credit photo: instagram.com/cut_and_color
This fun and trendy style is perfect for women of all ages. The addition of massive bangs makes this look even edgier. Plus, it's super easy to style and maintain – simply keep your bangs trimmed and your feathers spritzed with hairspray.
Medium Feathered Hair
Have no idea how to whip your medium hair into shape? Some awesome feathered hairstyles for medium length hair are about to take a fresh look at your image.
Blonde Shag With Feathered Ends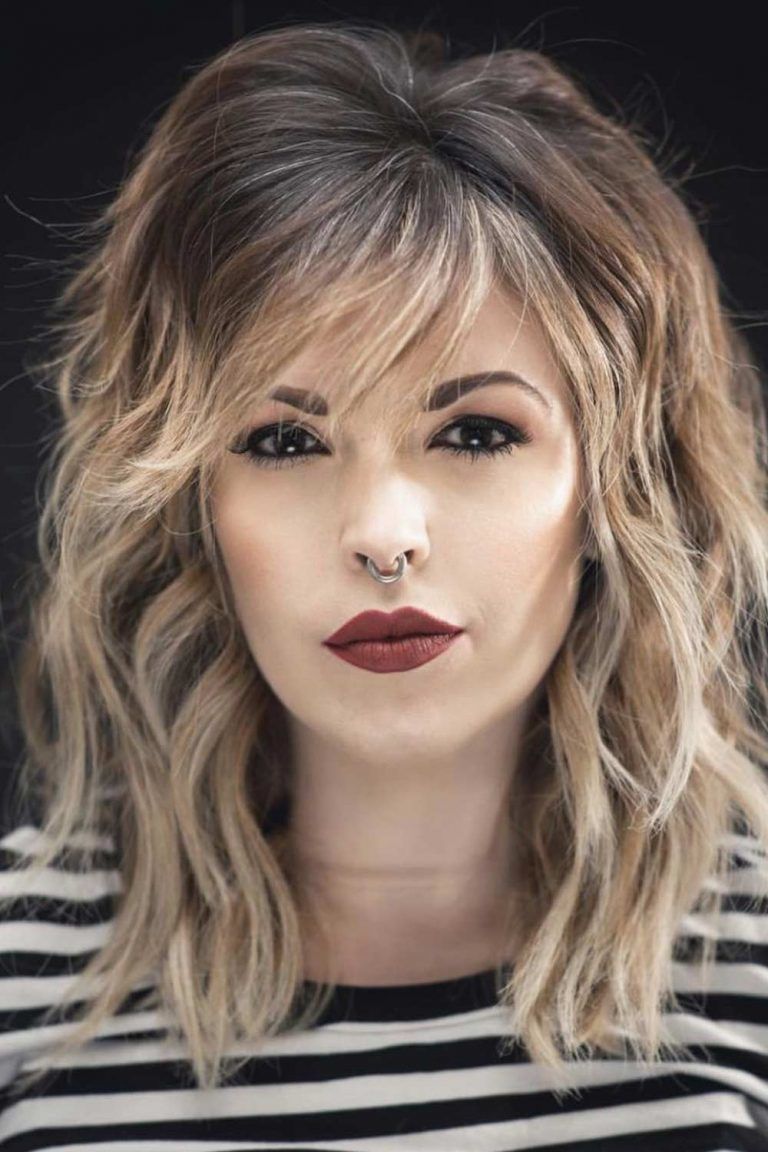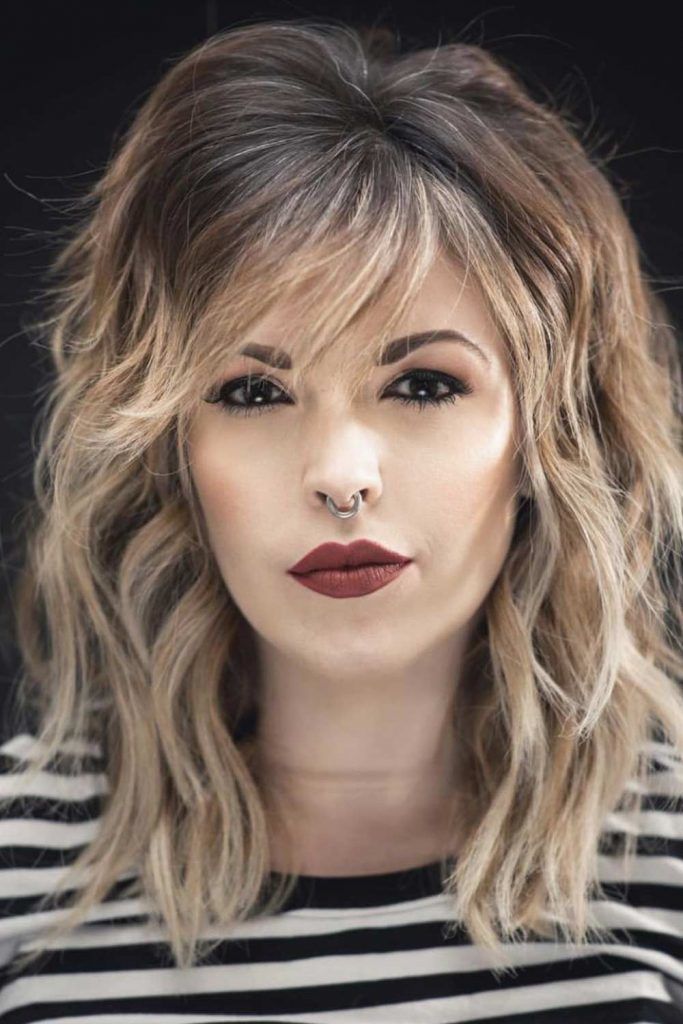 Credit photo: instagram.com/andrewdoeshair
We bet that if Jane Fonda saw this idea, she would feel envy! Even the iconic looks from the 80s' have no power to beat these sharp, well-defined, and accentuating feathers with their precise shape. Of course, the hairstyle is special not only for its amazingly tailored shape but also for the styling approach. To get the most of such volumetric features, we recommend you flipping the ends with the help of a round brush and blow dryer. What makes this look even bigger is the fringe that follows the same cutting pattern as the rest of the locks. Feathers are so versatile and diverse that you can create your own custom cut, so don't forget about details.
Side Swept Lob With Feathers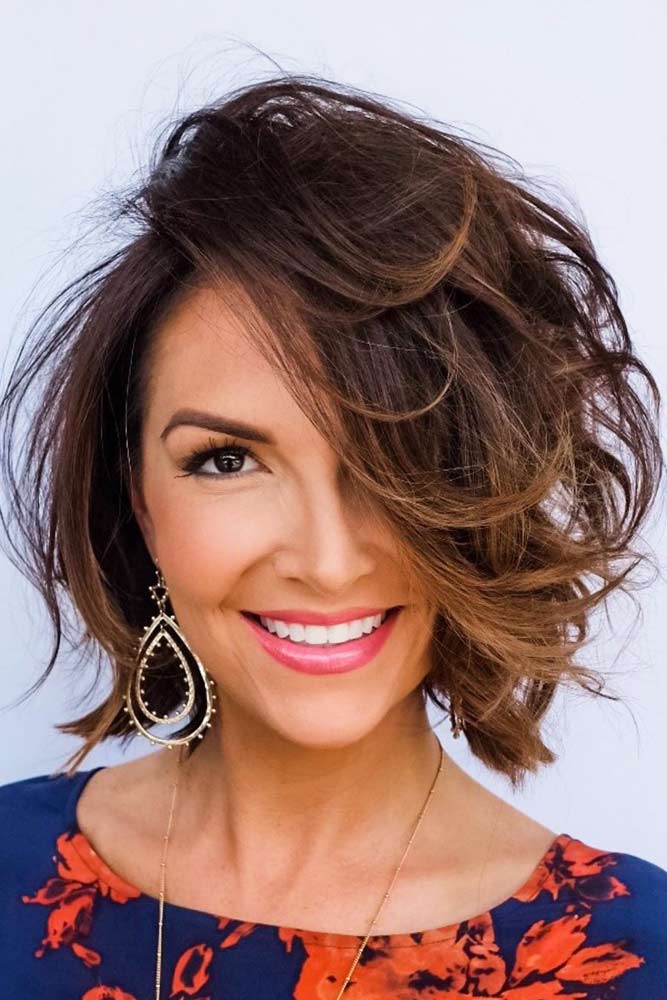 Credit photo: instagram.com/chrisjones_hair
Show this picture to everyone who thinks that such a simple one-length cut as lob is boring. Once you have a look at the latest trends, you will see dozens of different ways to amp up classic haircuts with a textured finish. As you might have guessed already, you won't go wrong by giving your lob a feathered boost. Not only does this haircut breathe new character and individuality to the look but it also provides exceptional volume to the body. To view your appearance from a new perspective, sweep one of the sides. Spoiler: you will love this modern twist!
Icy Silver Straight Lob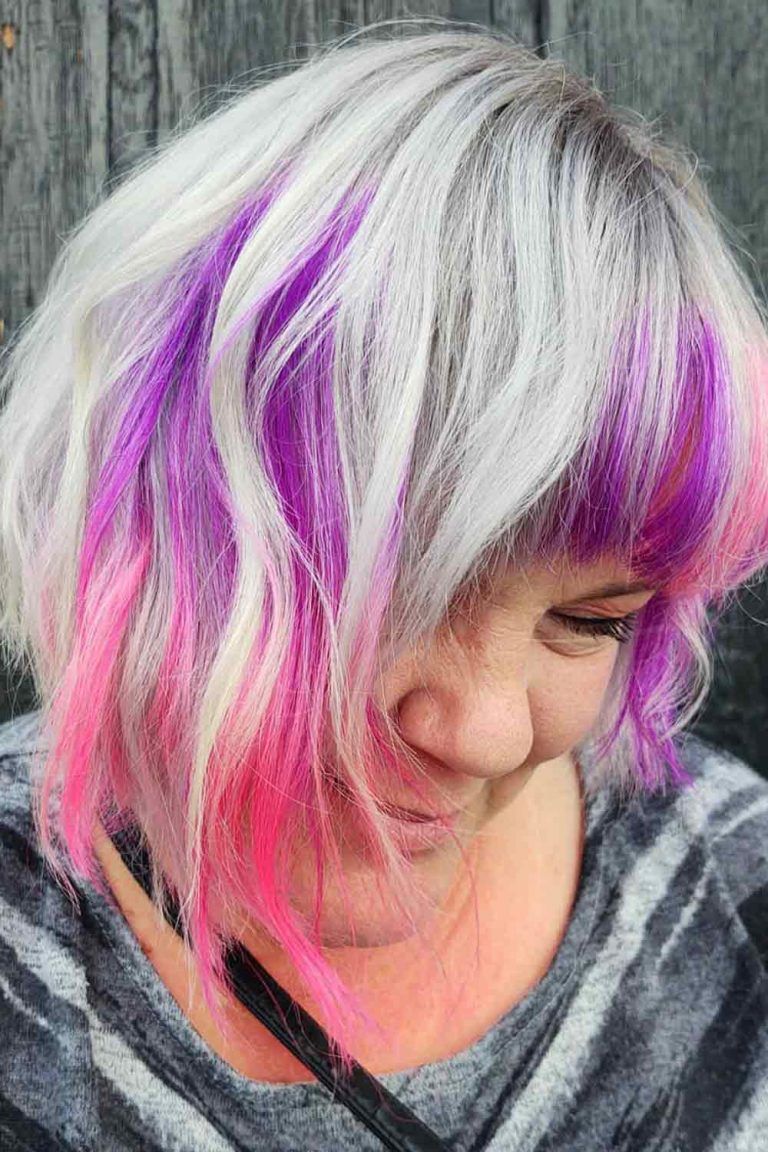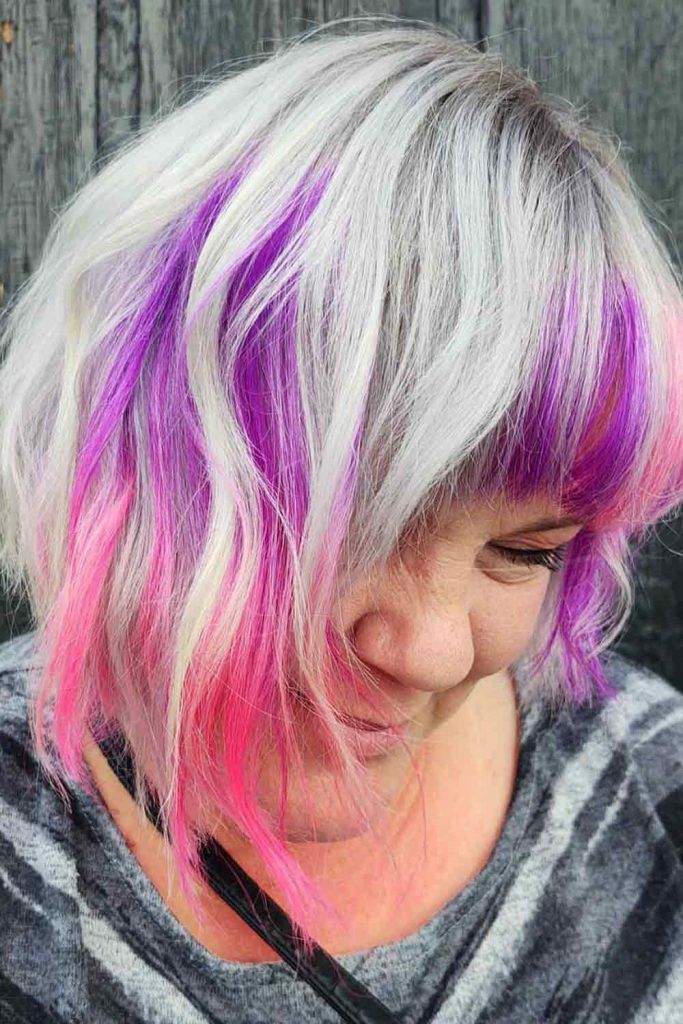 Credit photo: instagram.com/adlydesign
Your feathers don't need to be too drastic and dramatic to enhance the natural flow of your hair and give it a well-shaped body. A slight flip at the ends is what can amp up your look, providing you with an effortless, yet sophisticated finish for your hair. Note that such ideas look best on women with straight hair, giving their flat texture the needed lift and movement.
Wavy Stacked Medium Bob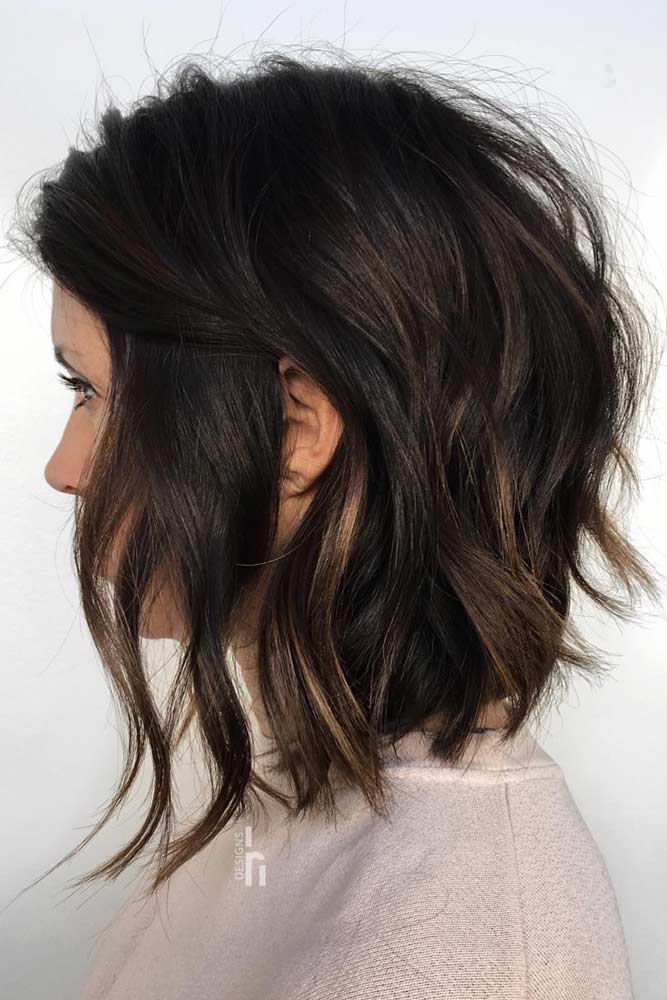 Credit photo: instagram.com/headrushdesigns
Medium bob cuts give more room for feathered layered hair to reach its full potential. First of all, the length is slightly longer than its classic variation, which means the silhouette will be more structured and bouncy. And, most importantly, it's a good way to make your bob unique.
Straight Long Bob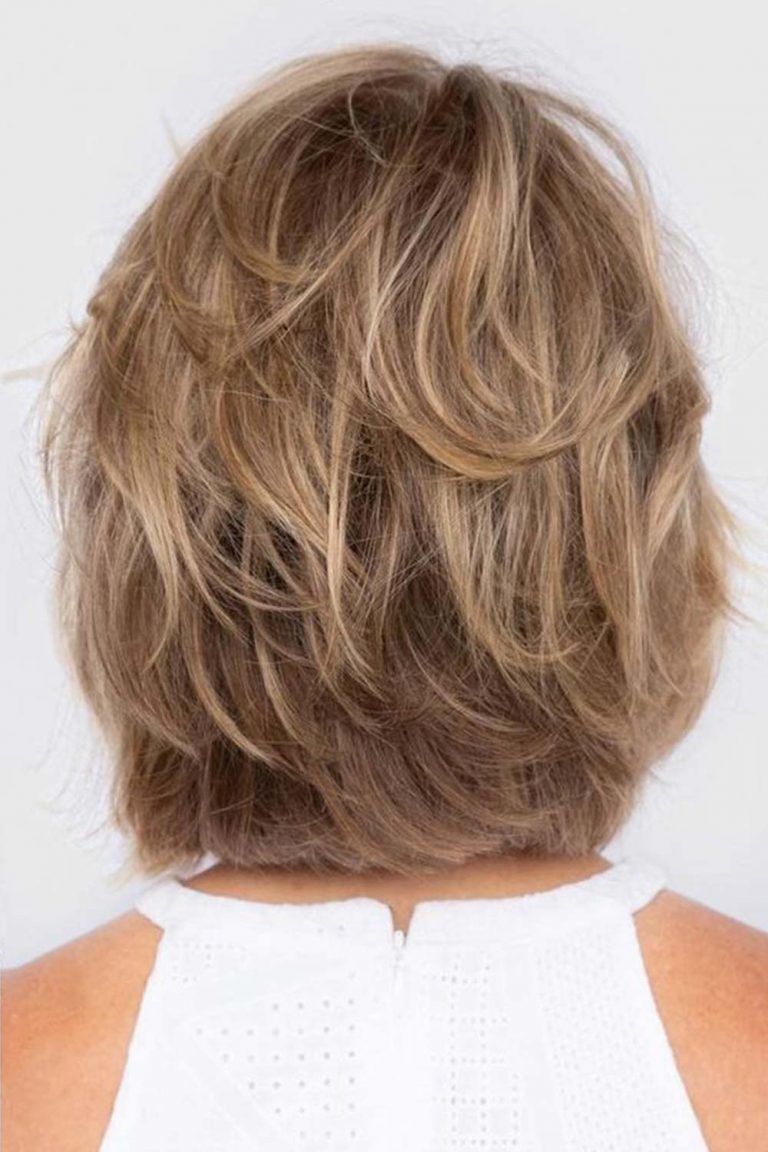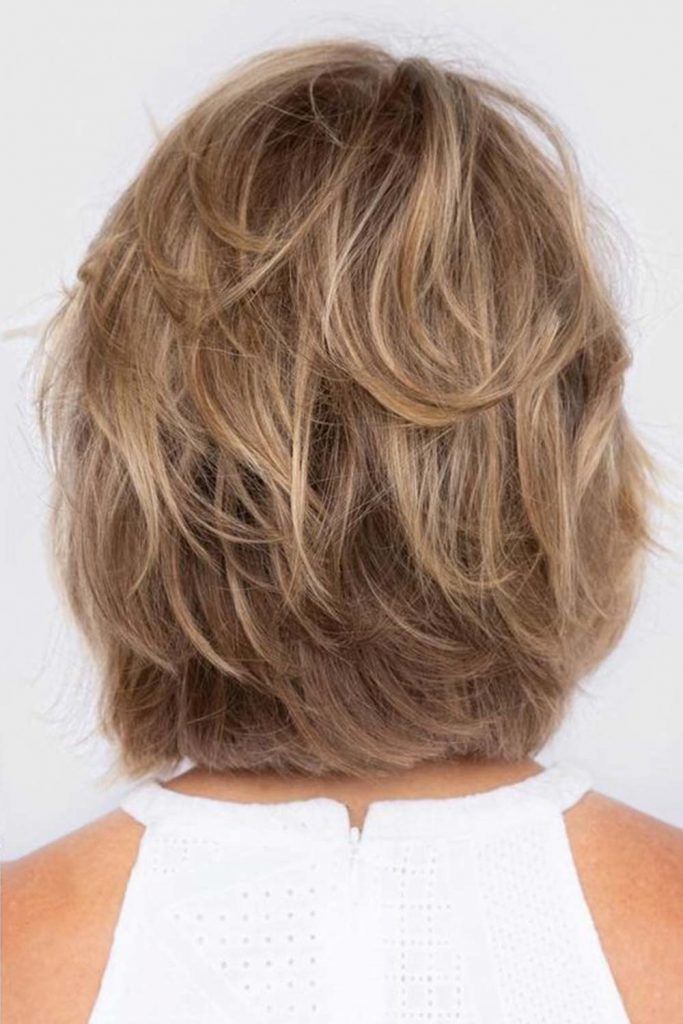 Credit photo: instagram.com/chrisjones_hair
Remember how edgy feathered short hair can be? Some ladies find feathering to be too drastic and eye-catching. If you want to go for something softer and pretty chic at once, a straight bob will get on well with slight medium feathered hair.
Side-Swept Bangs For Medium Length Hair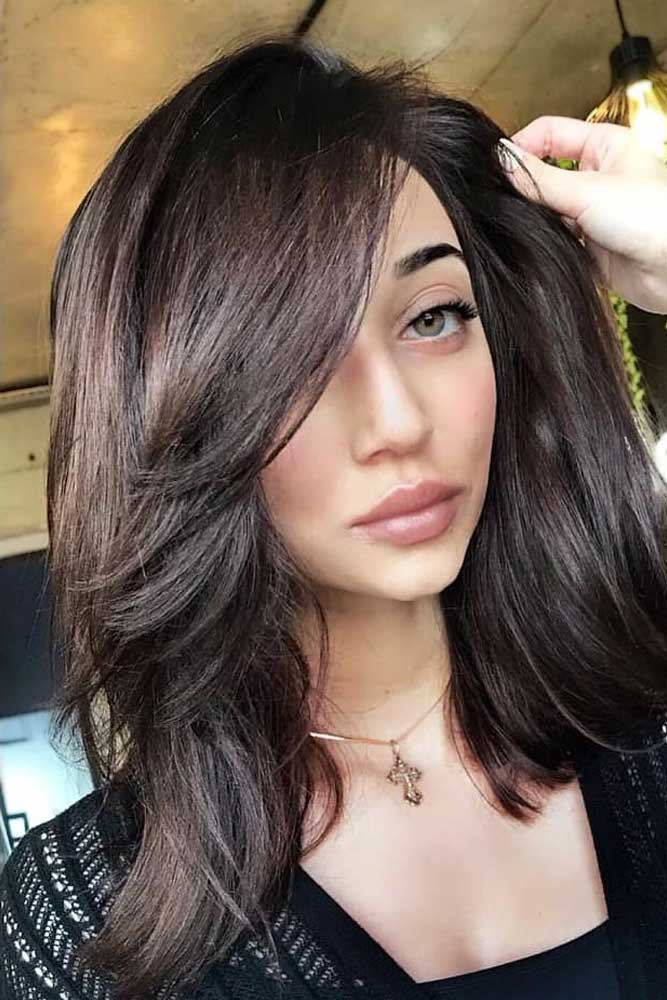 Credit photo: instagram.com/vlasova_elena_guru
The best thing about the variety of feathered cuts is that you don't need to get fully feathered to look classy. Instead, you can get yourself a side-swept fringe that will frame your face gloriously, asking for shaping the bangs only. Voila! This face-flattering volumetric touch is enough!
Layered Long Bob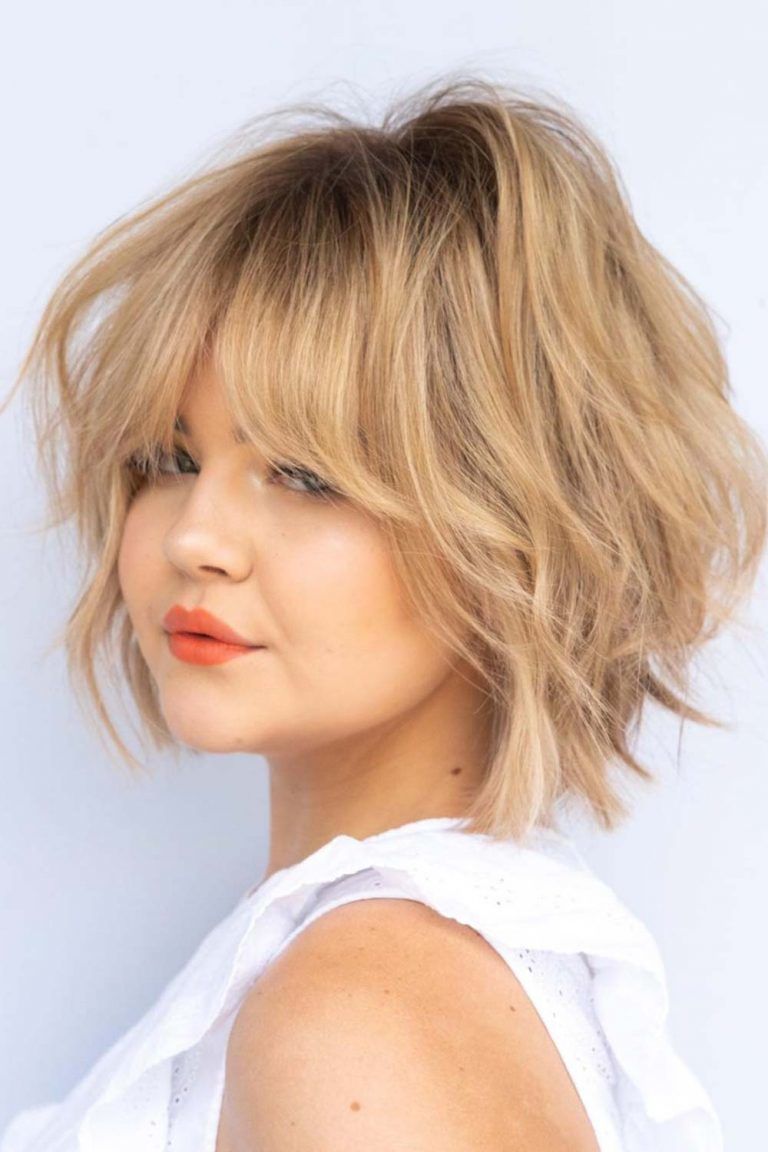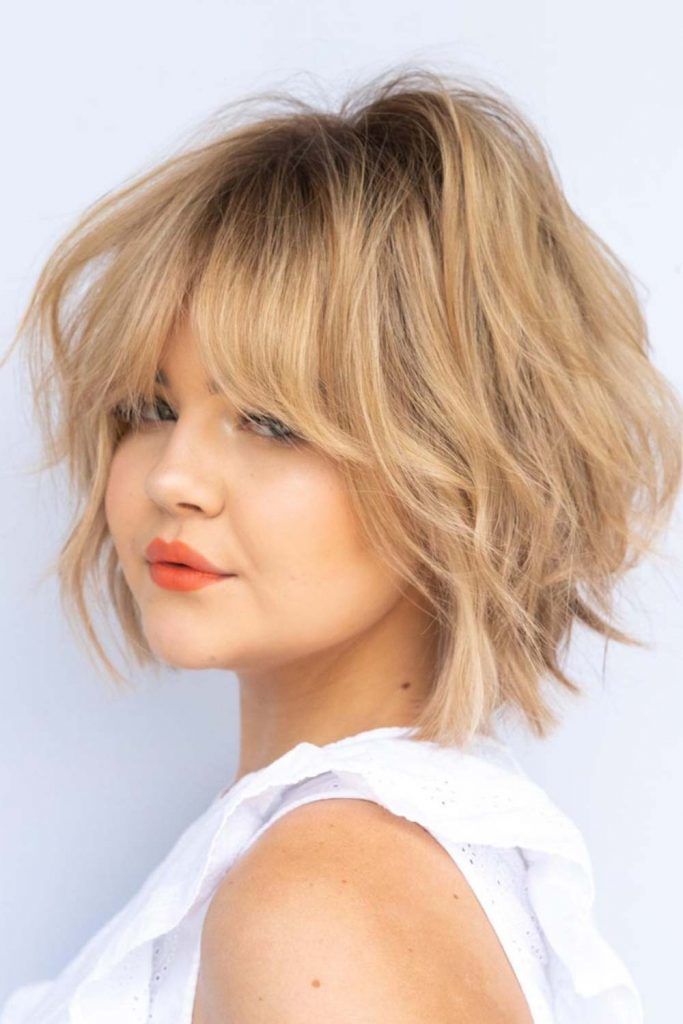 Credit photo: instagram.com/chrisjones_hair
A layered long bob is a true definition of style and easiness. We love how simple but beautiful this hairstyle is. A true classic that will never go out of style, indeed. For sure, it will make you look fresh and feel confident about your hair at any time.
Modern Shag With Bangs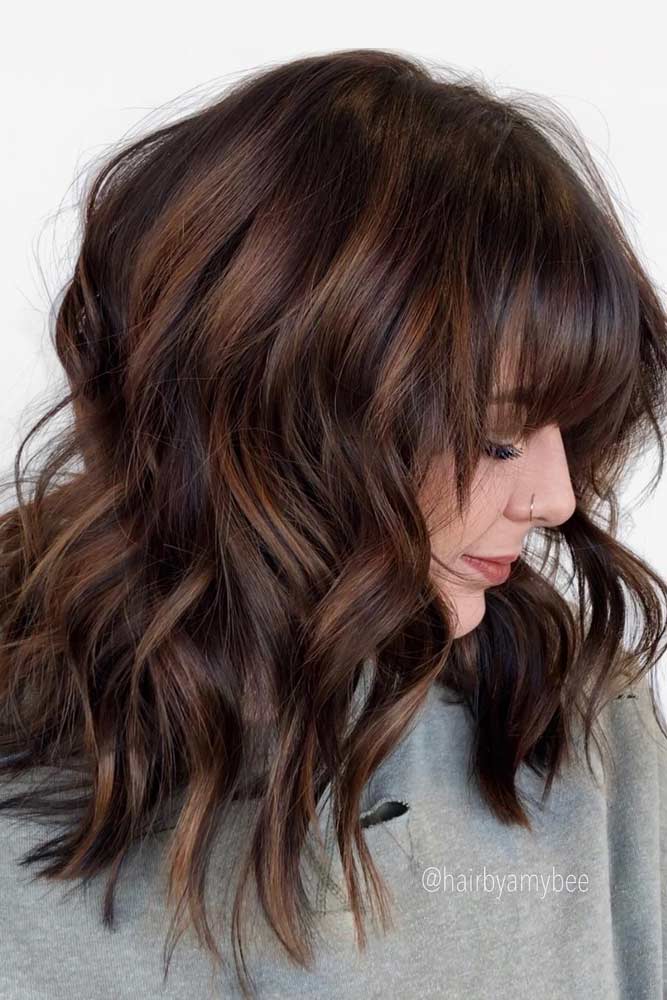 Credit photo: instagram.com/hairbyamybee
What hairstyle can you choose to define the modern hairstyle trend? Definitely, a shag with bangs. Look how stylish it is. Voluminous and soft it will bring so much definition to your face that you and others will definitely see the difference in the way you look.
Long Feathered Hair
When we think of feathered hair, long locks are the first thing that comes to our minds. Yes, long feathered layers are iconic not for nothing: let's see how variously you can add them to your life!
Long Feathered Locks with Trendy Fringe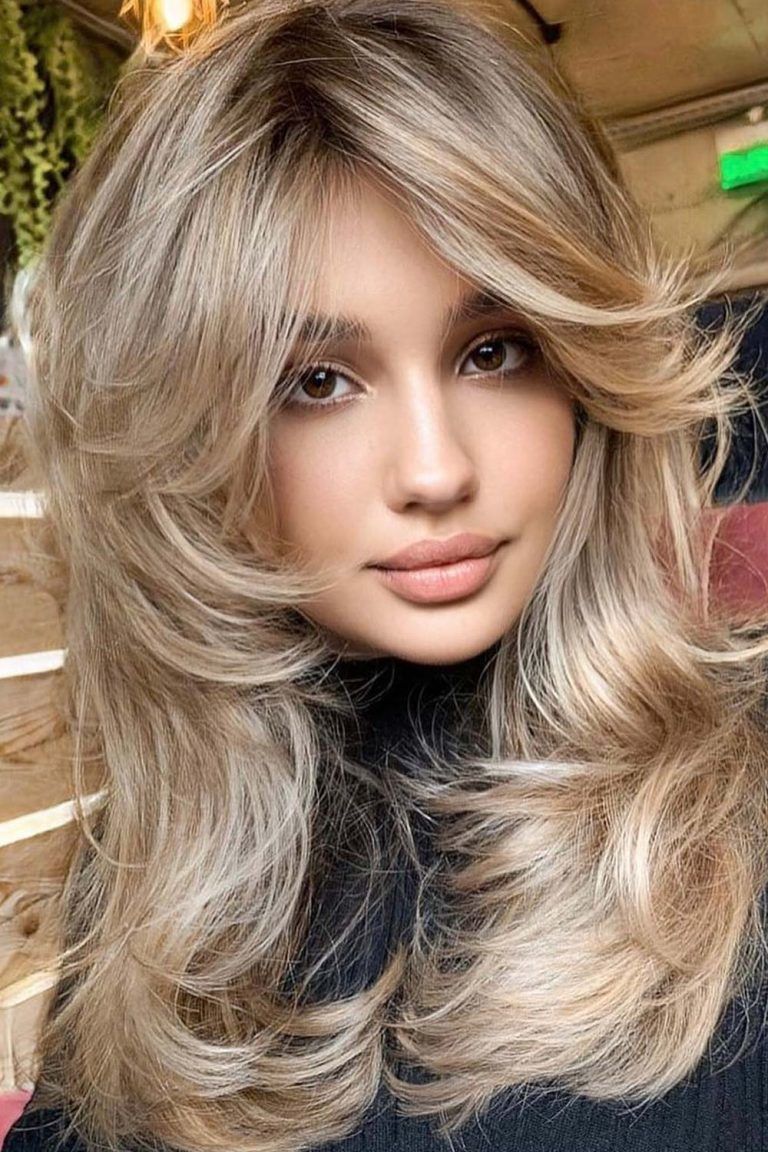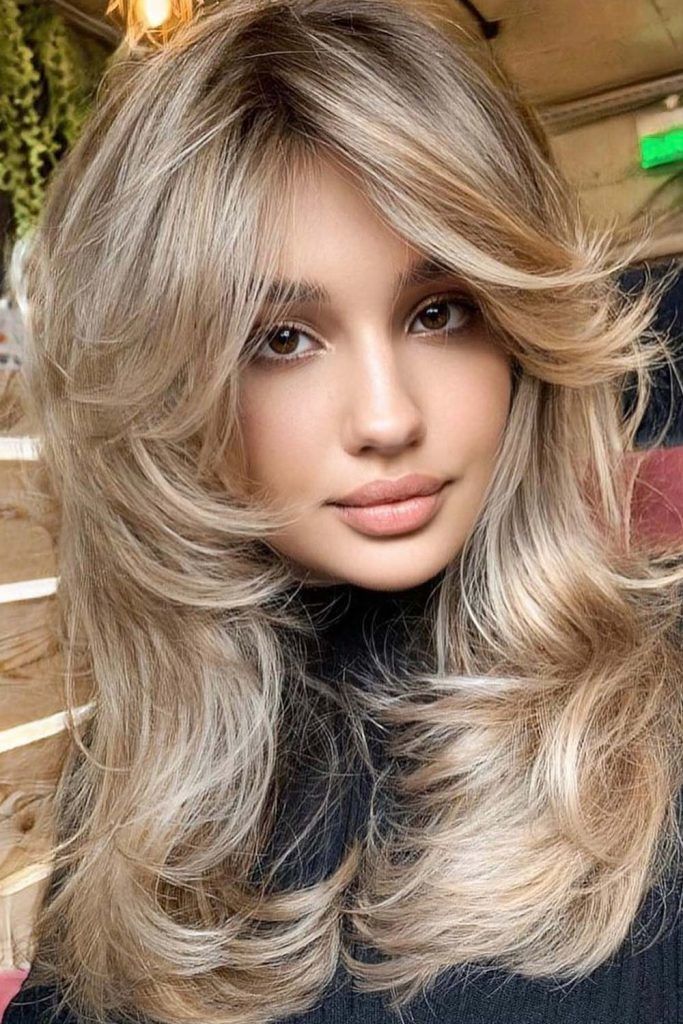 Credit photo: instagram.com/vlasova_elena_guru
Who doesn't love a good haircut? Getting your hair done can be so relaxing and it always feels good to have a new style. If you're looking for something trendy and stylish, why not try a feathered look with long fringe? It's perfect for young women who want to show off their playful side. Plus, it's easy to maintain and will keep you looking fashionable all year long.
Voluminous Layers For Long Hair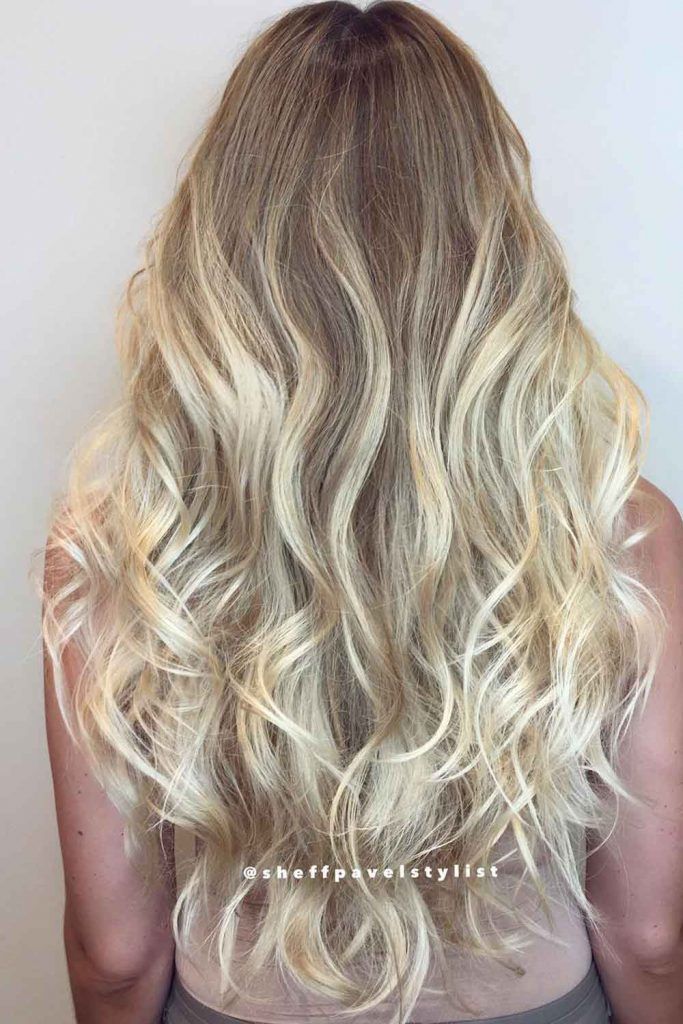 Credit photo: instagram.com/sheffpavelstylist
Want to get a voluminous, airy silhouette instead of outweighing, thick locks? Feathering always involves texturizing of the ends, so you can be sure that your fine hair is in good hands. It's definitely a transformation you deserve!
Vintage-Inspired Layered Haircut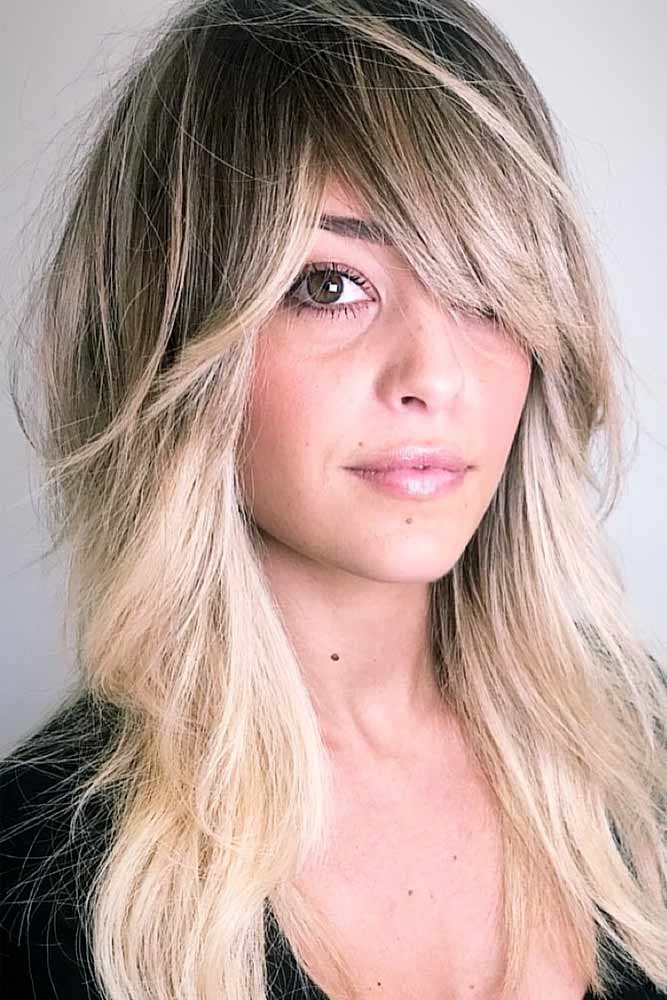 Credit photo: instagram.com/joeltorresstyle
During the era of trendsetters, also known as the '70-'80s, very thick hair with pointed whirly layers was a hype. Why don't you go for a layered comeback? Feathered hair with bangs and long layers can tame your hair, giving it a fresh and iconic look.
Middle Parted Haircut With Feathered Bangs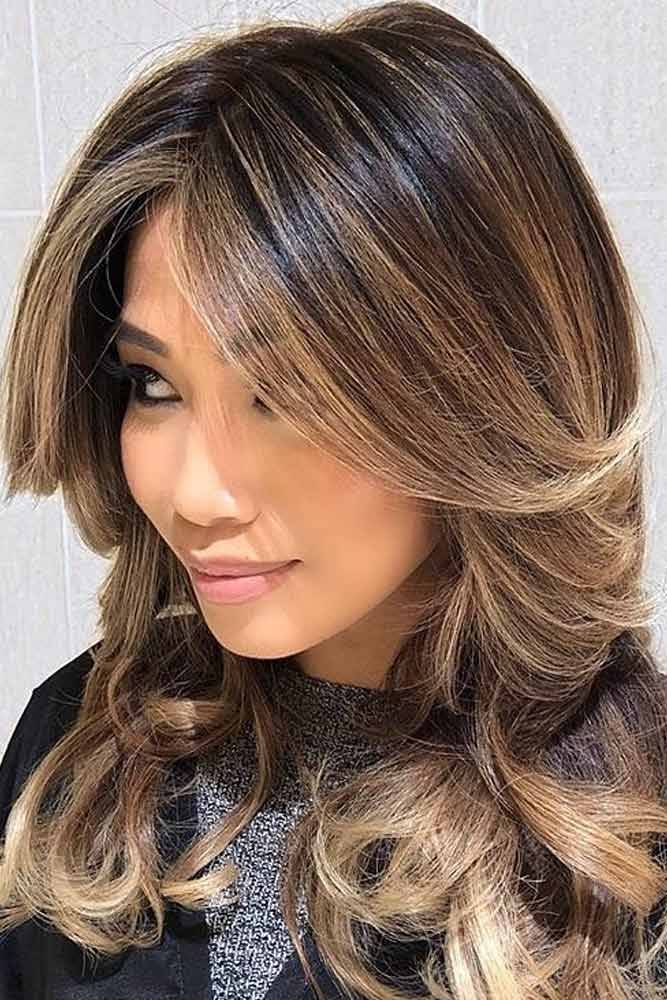 Credit photo: instagram.com/brondeandbeyond
Meet the minimalistic feathering idea that can let your imagination set the rules. Again, your bangs can deal with feathers, while the rest of your hair is totally up to you. Wave it, curl it, do whatever you please; fringe feathering will build the overall fullness.
Feathered Side Fringe With Long Hair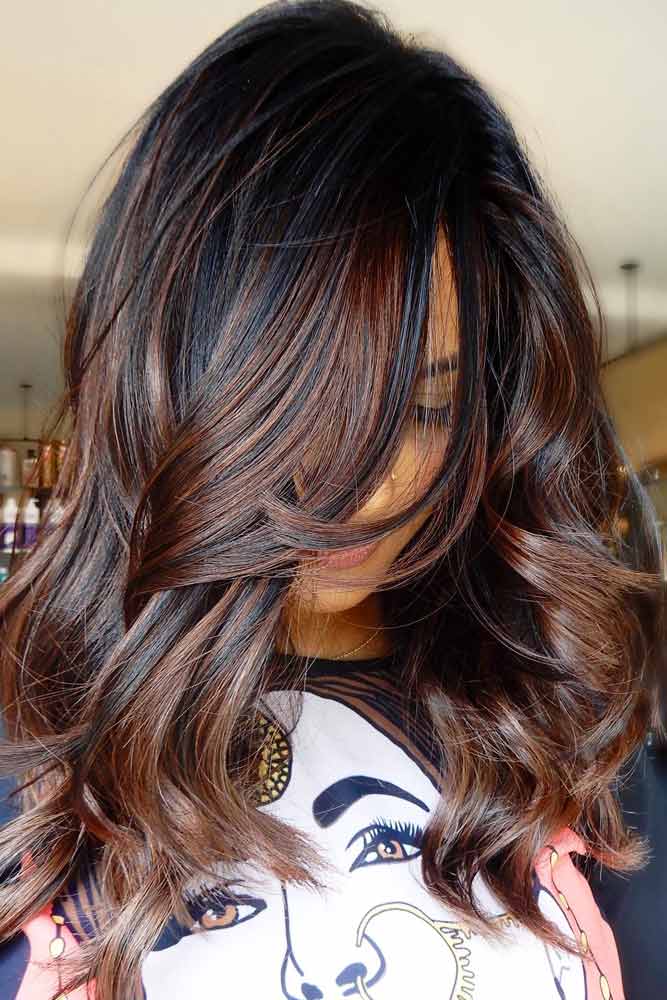 Credit photo: instagram.com/hairby_kimberlyy
Looking for a cut that will frame your face and look stylish at the same time? Don't look any further than a feathered side fringe! Without bangs, feathered haircuts for long hair usually open up your face. And if you're about to hide something, a feathered, edgy fringe knows how to conceal the roundness.
Remarkable Long Wavy Hairstyle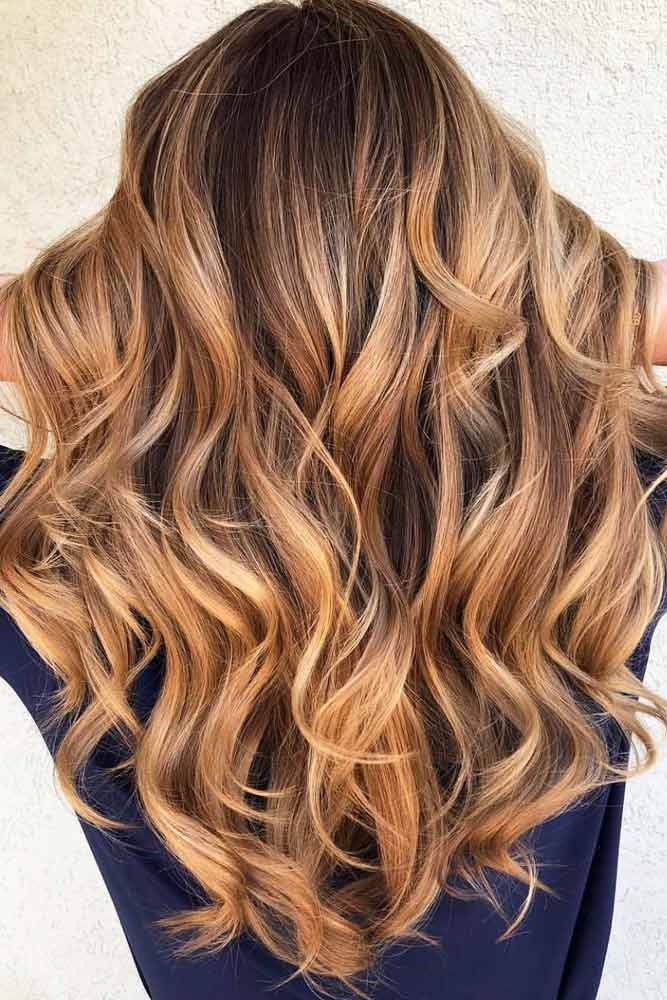 Credit photo: instagram.com/jessicascotthair
Can you imagine how your waves will look like once you get yourself feathered hair? Posh and big waves, just like in the stylish '70s, will fascinate you with the dimension of various lengths throughout your hair. Besides, for those who like wavy looks, long feathered hair is a must-try!
Feathered Hair With A Sweep-Away Fringe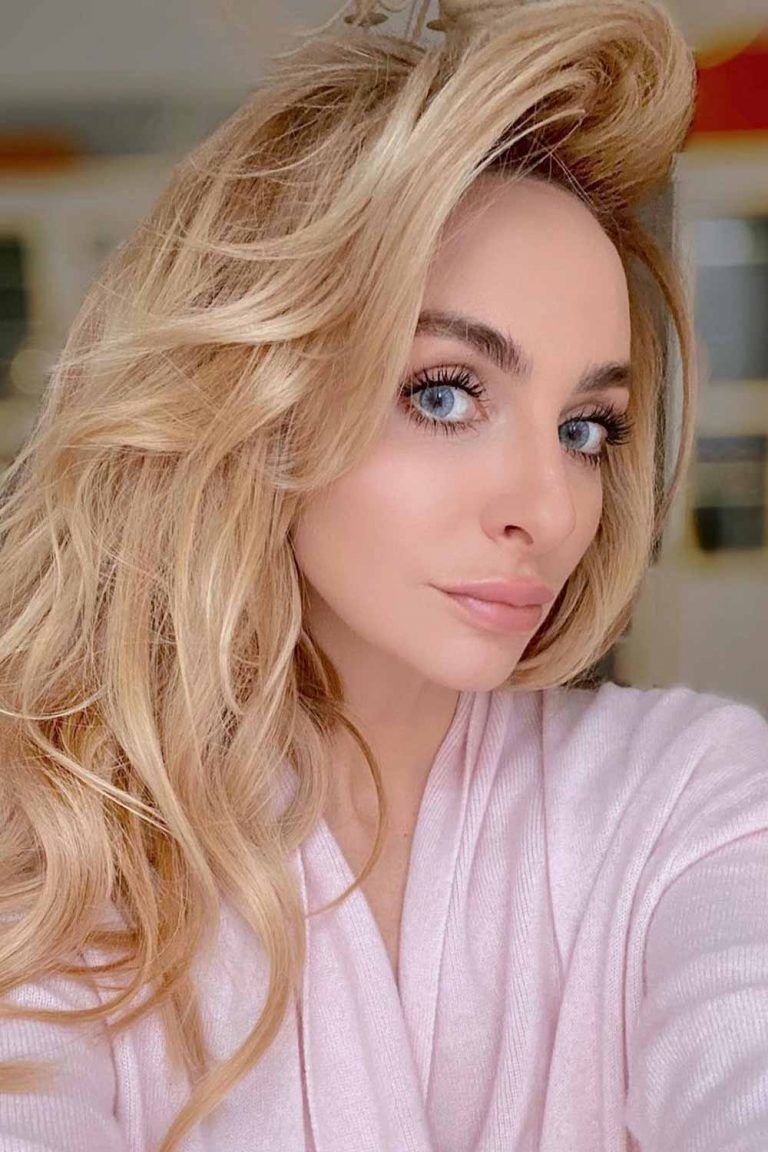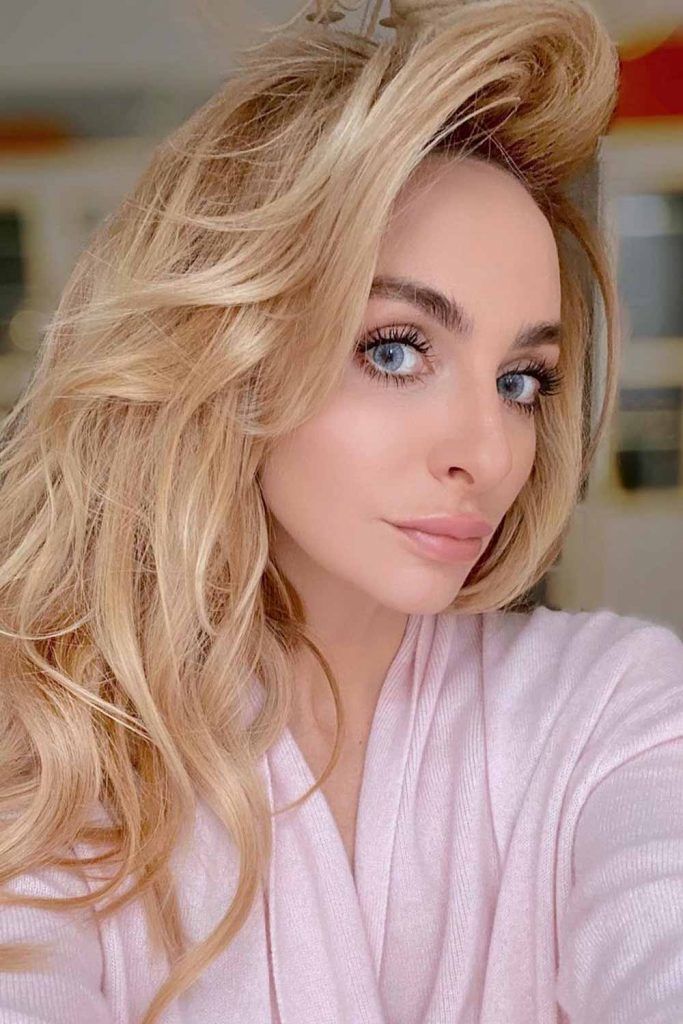 Credit photo: instagram.com/sheffpavelstylist
There's no better way to give your cut an attractive feather flair than to feather your fringe and sweep it away. You can also accentuate your feathered back hair that smoothly blends and falls on your shoulders with a sweep-away bang. It's voluminous, funky, and modern at the same time!
Natural Feathers For Long Hair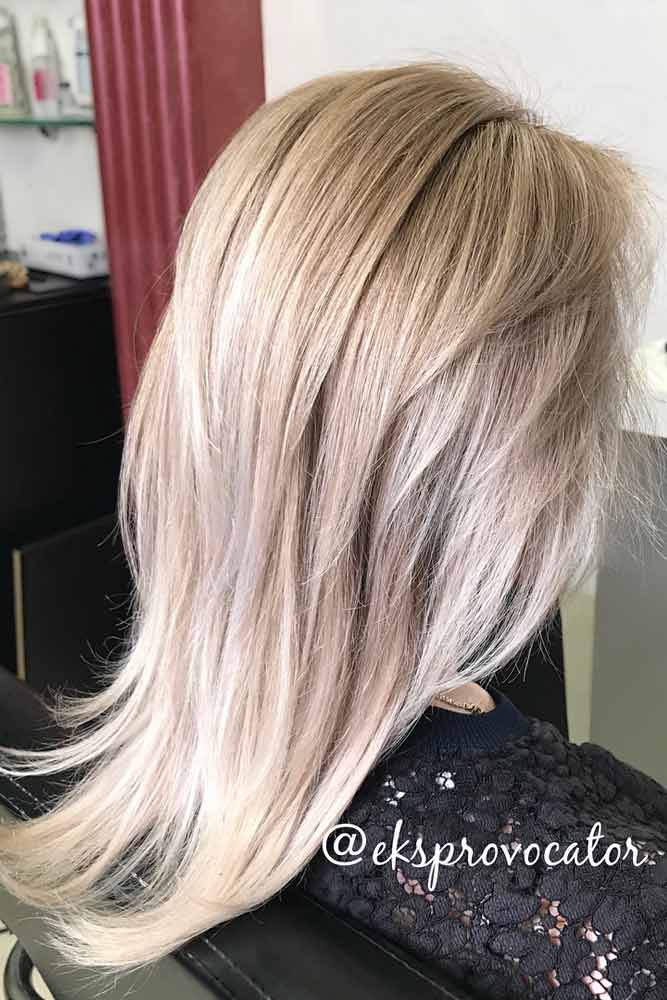 Credit photo: instagram.com/eksprovocator
Love looking natural? Effortless-looking feathers are irreplaceable if the balance and naturalness are what you seek. In this case, the tresses are shaped slightly, with a little bit rounder structure, which looks as if you've just air dried your hair.
Middle Parted Wavy Feathered Hair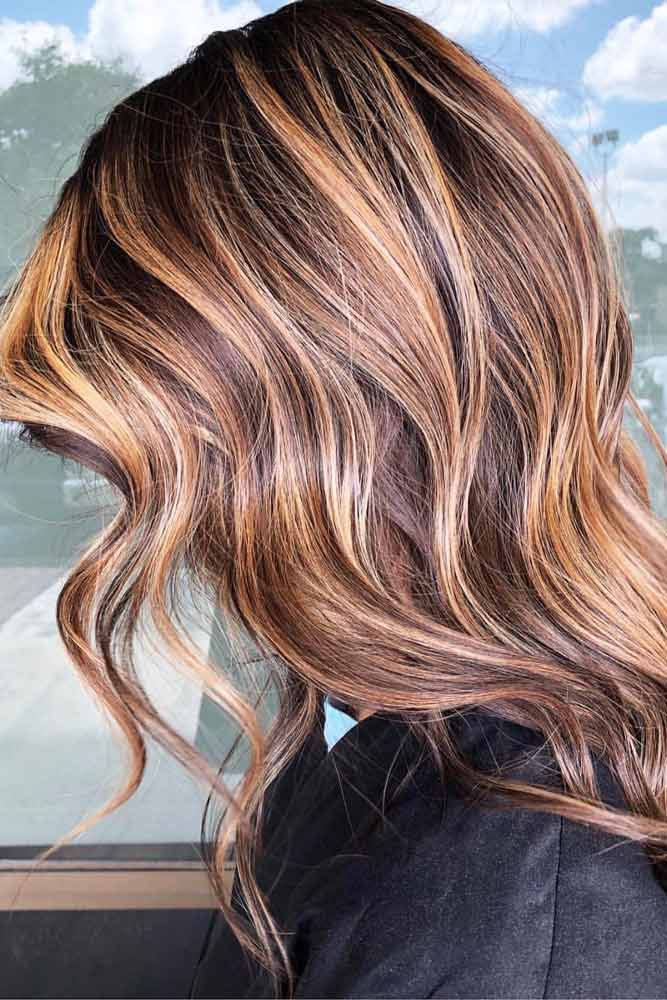 Credit photo: instagram.com/texasbalayage
Instead of trying to figure out how to cut feathered hair at home, you'd better think of something that you can really do yourself: the parting. When styling your hair, remember to part your hair in the way it suits your face shape. A middle part will not only set the whole balance for your feathers but also beautify your cheeks.
Side Parted Choppy Layers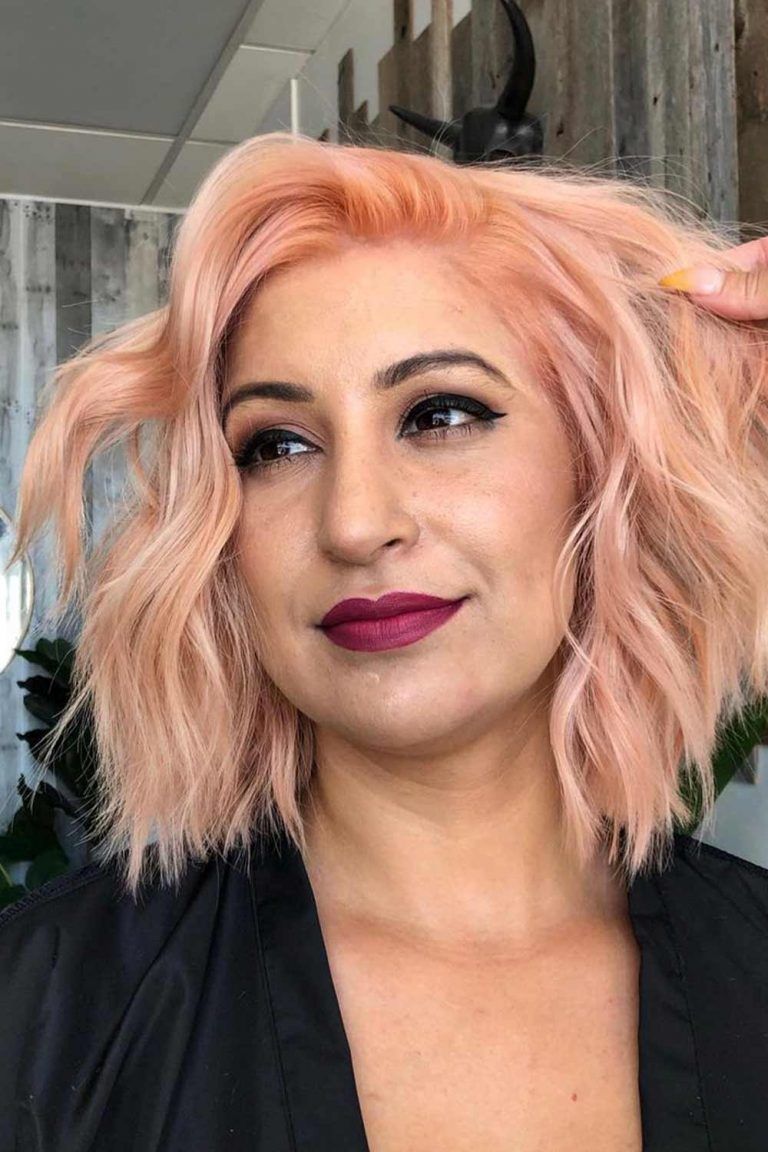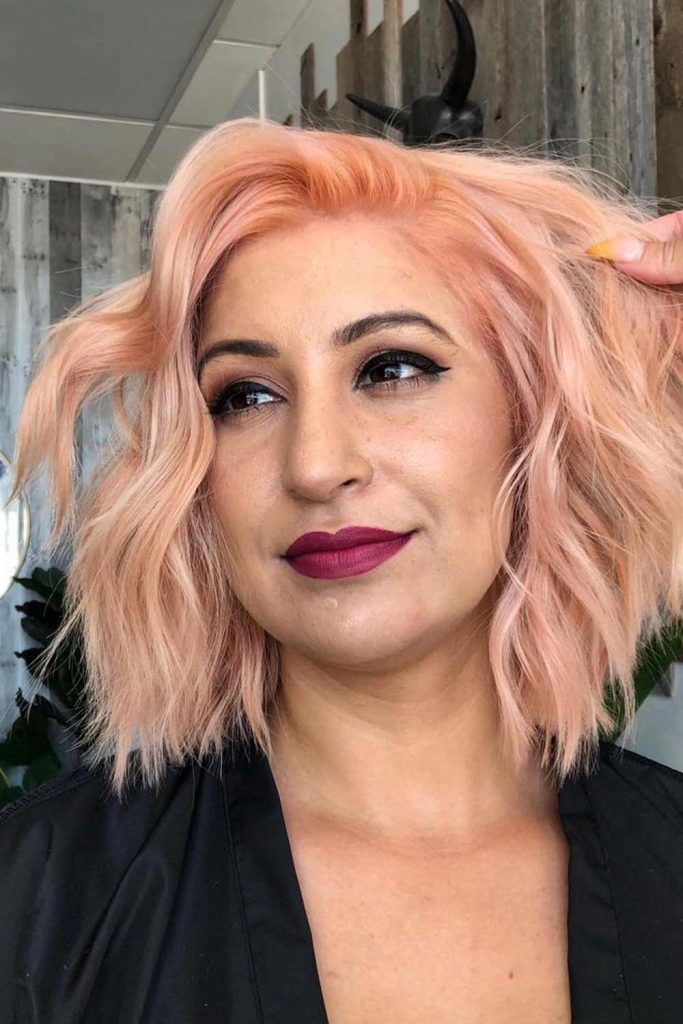 Credit photo: instagram.com/_heyhelena
Side part, which creates a bit outweighed, lifted silhouette, is something that you can do when you feel bored with your hair. Choppy layers, in their turn, will add a lot of movement and texture that will create an unbelievable effect of thickness.
You've just plunged into the inspiring gallery of feathered hair! Now you know that you can choose a feather cut based on your hair length, face shape, and preferences: it's time to call your stylist!
Angled Long Feathered Hairstyle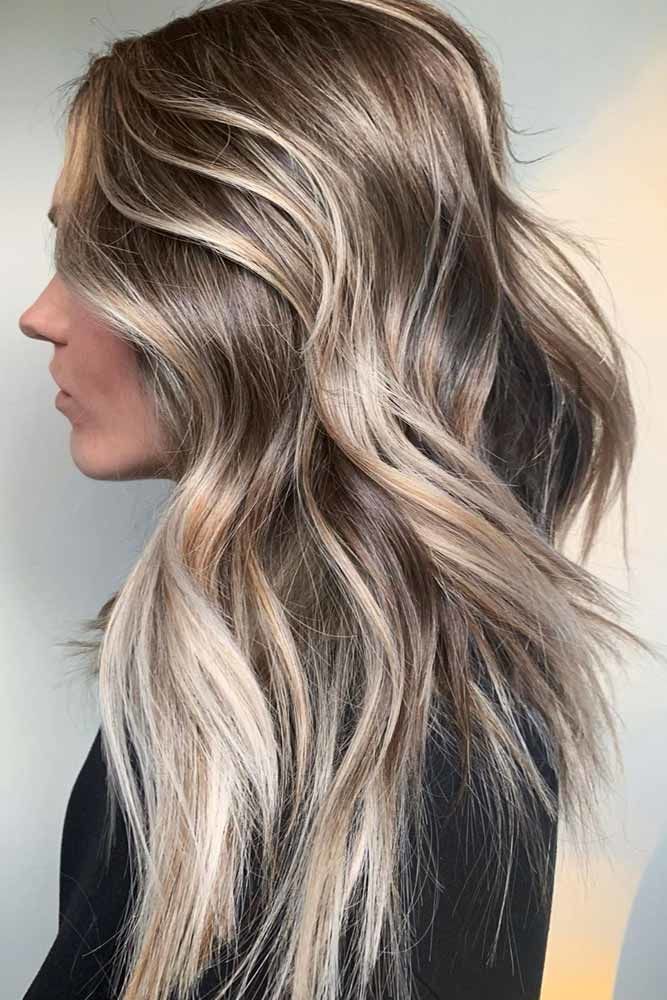 Credit photo: instagram.com/emilyboulinhair
Brown Long Feathered Hairstyle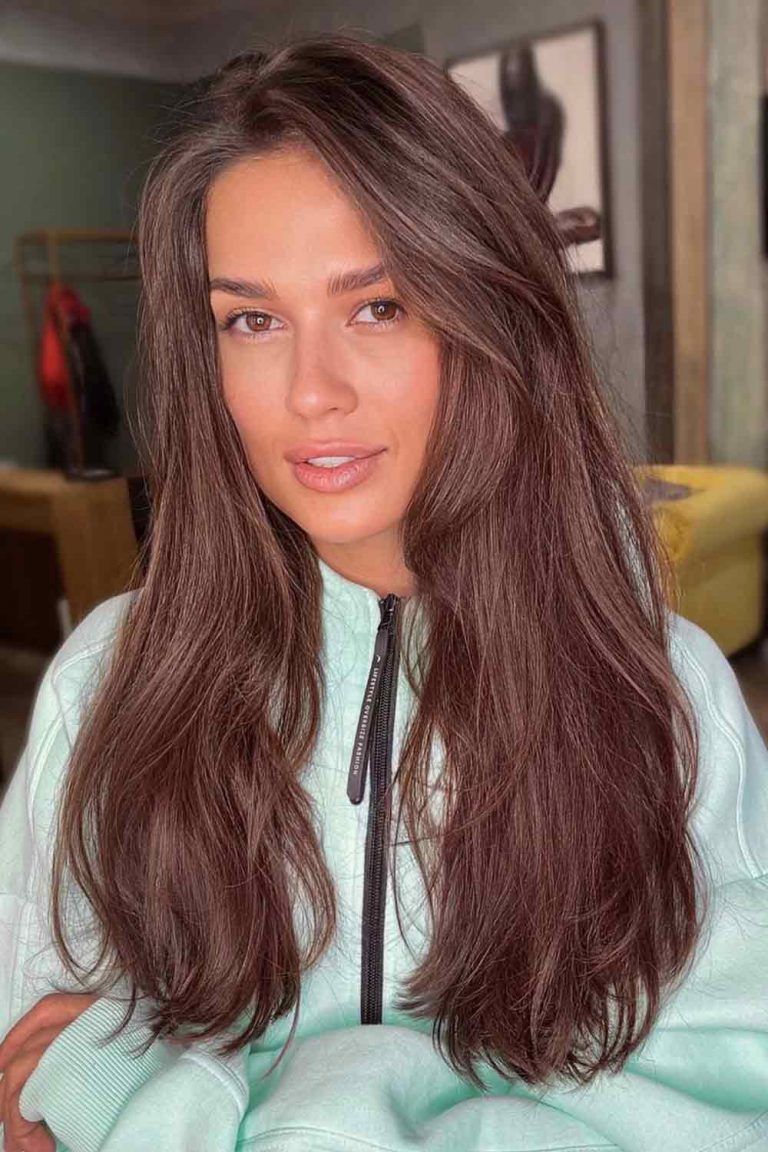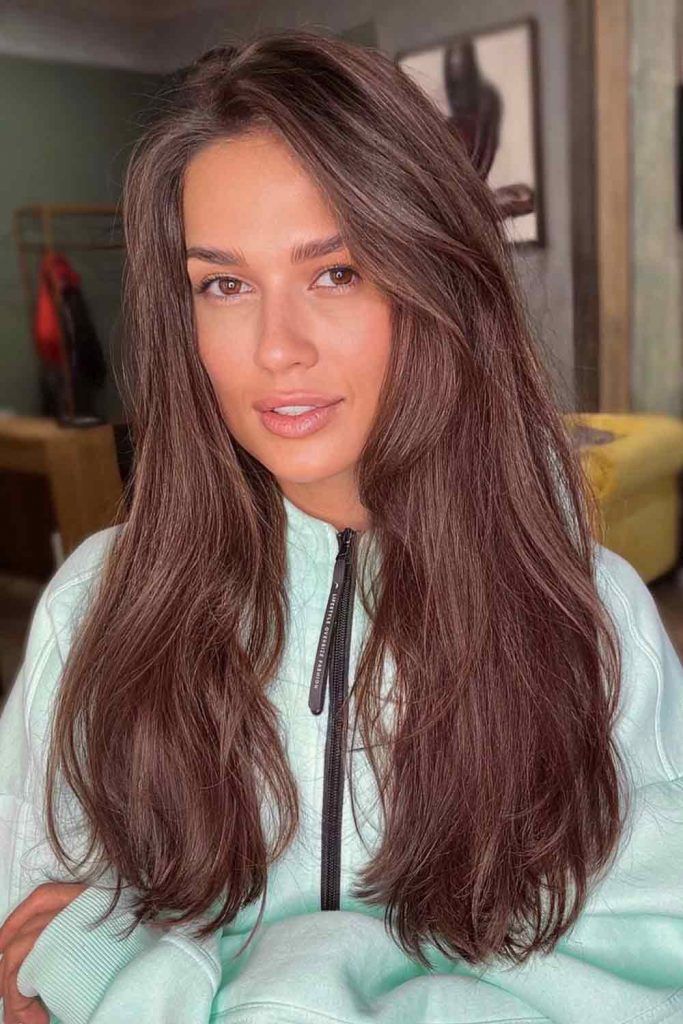 Credit photo: instagram.com/sheffpavelstylist
Timeless Ideas Of Feathered Hair Cuts From Celebrities
Lots of women can't resist the volumetric charm and beauty of feathered haircuts, and celebrities are no exception. And you know what? If you're looking for a fabulous look to steal, their red-carpet hairstyles are the best source of inspiration. See the iconic looks spotted on famous women!
Long Blonde Feathered Layers By Brittany Snow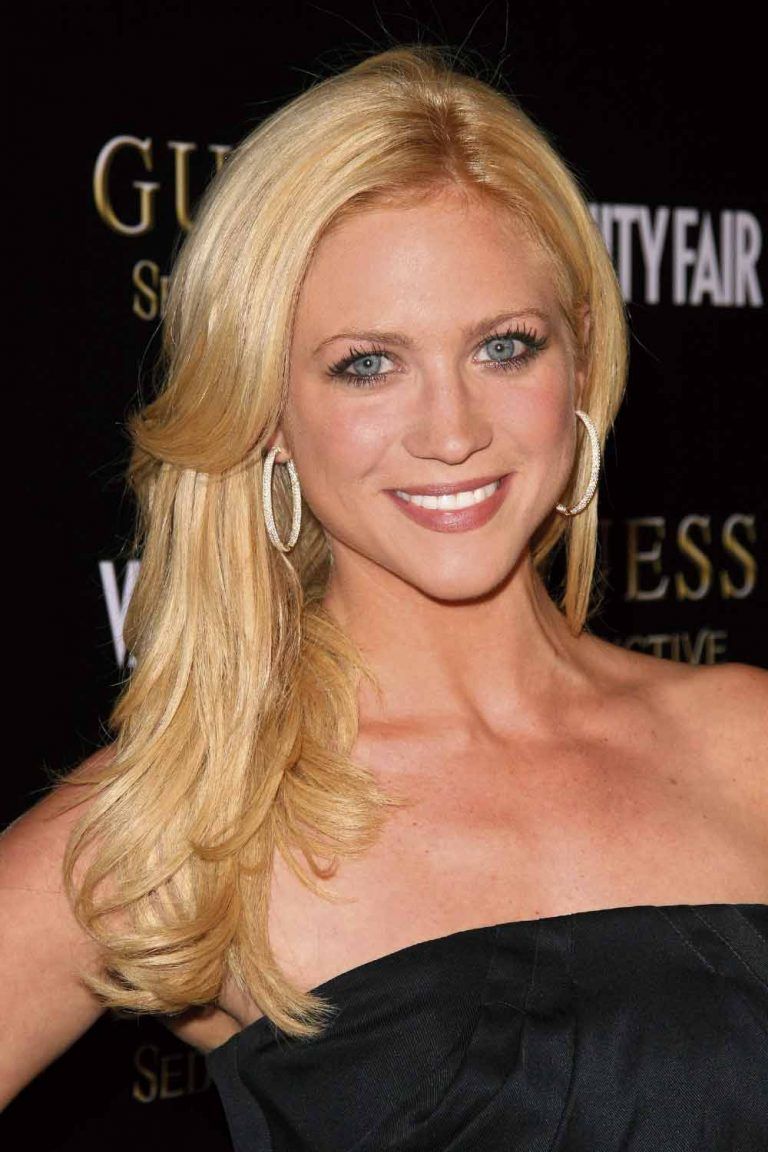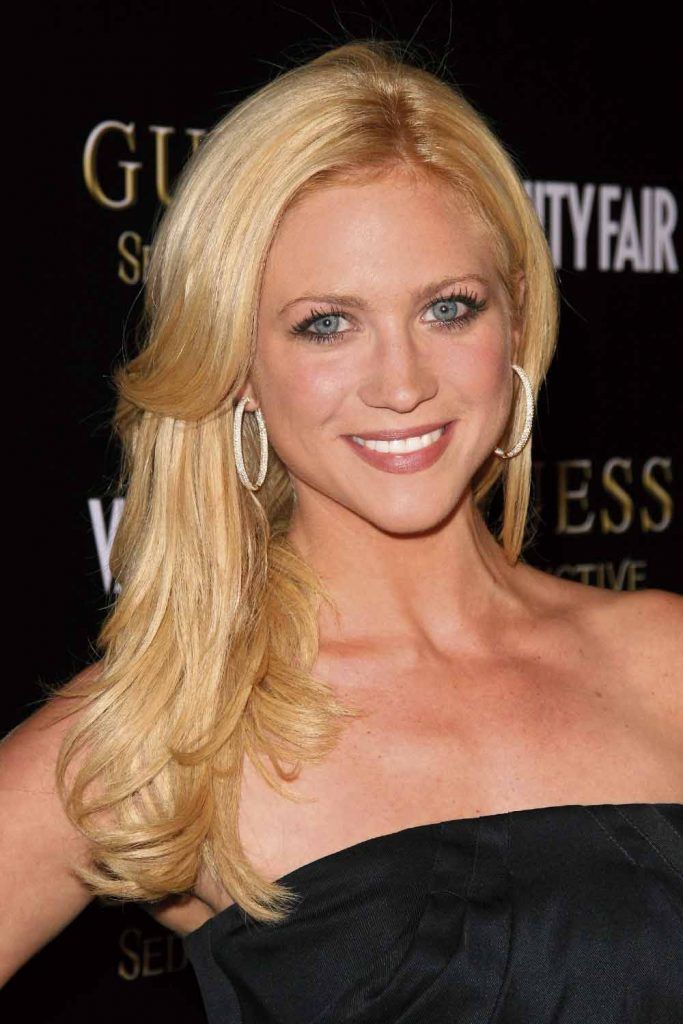 Credit photo: s_bukley/Shutterstock
Ellen Degeneres's Short Hairstyle With Feathered Layers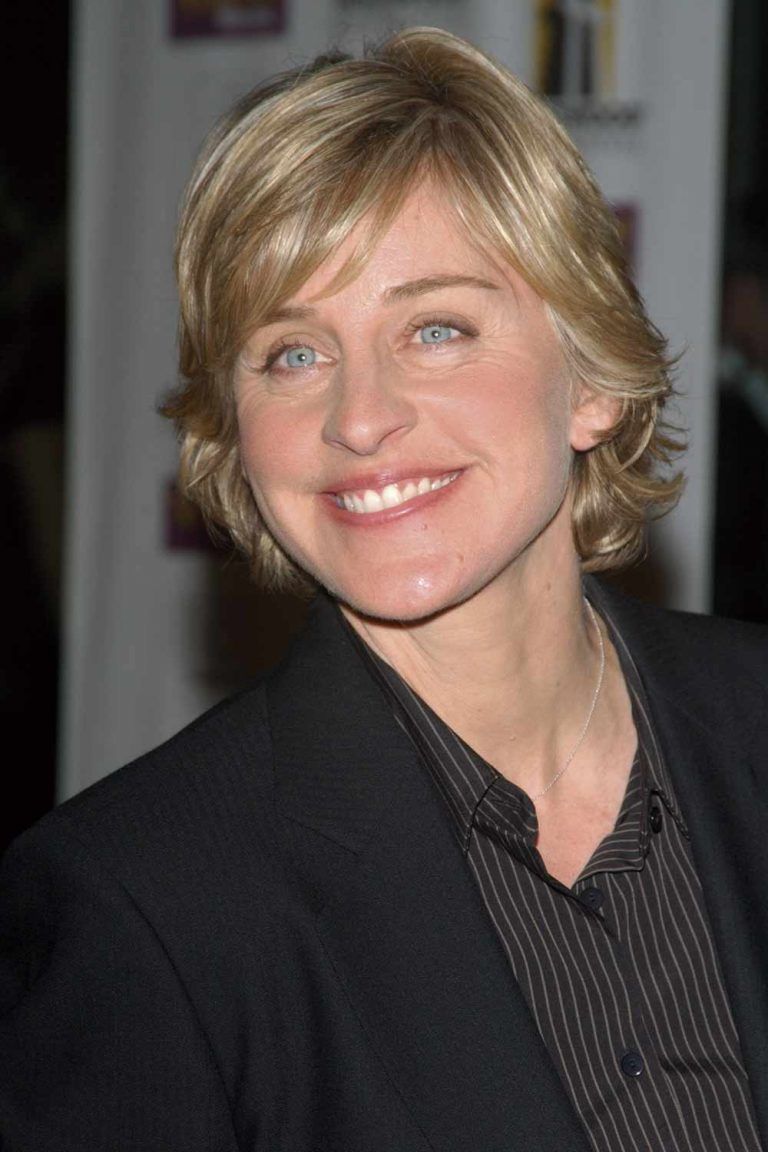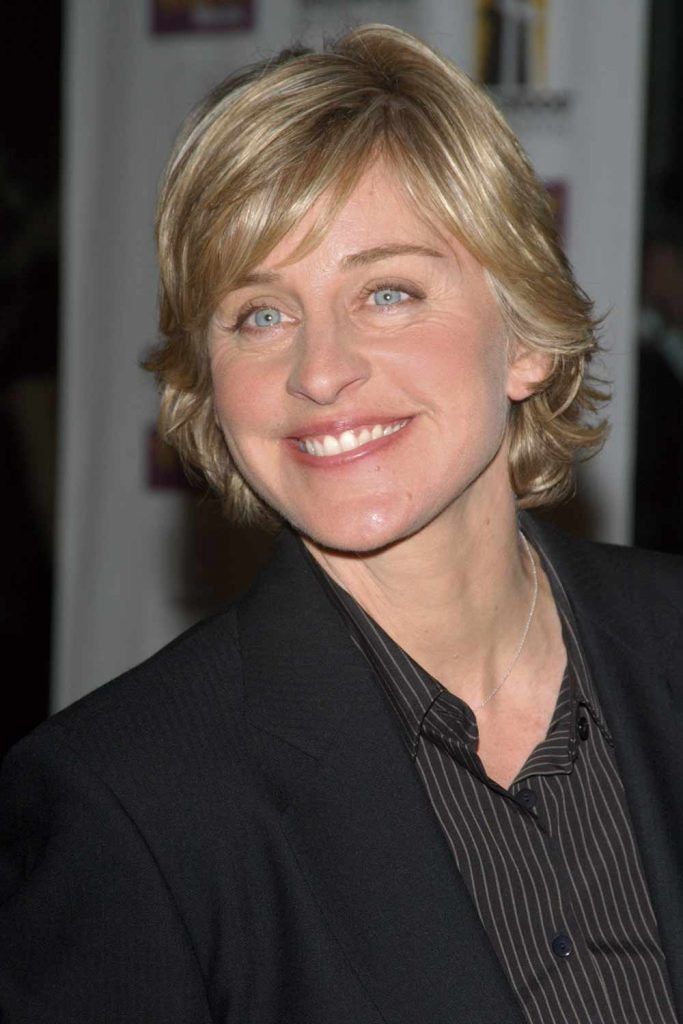 Credit photo: Featureflash Photo Agency/Shutterstock
Elegant Feathered Hair Cut Of Gail O'grady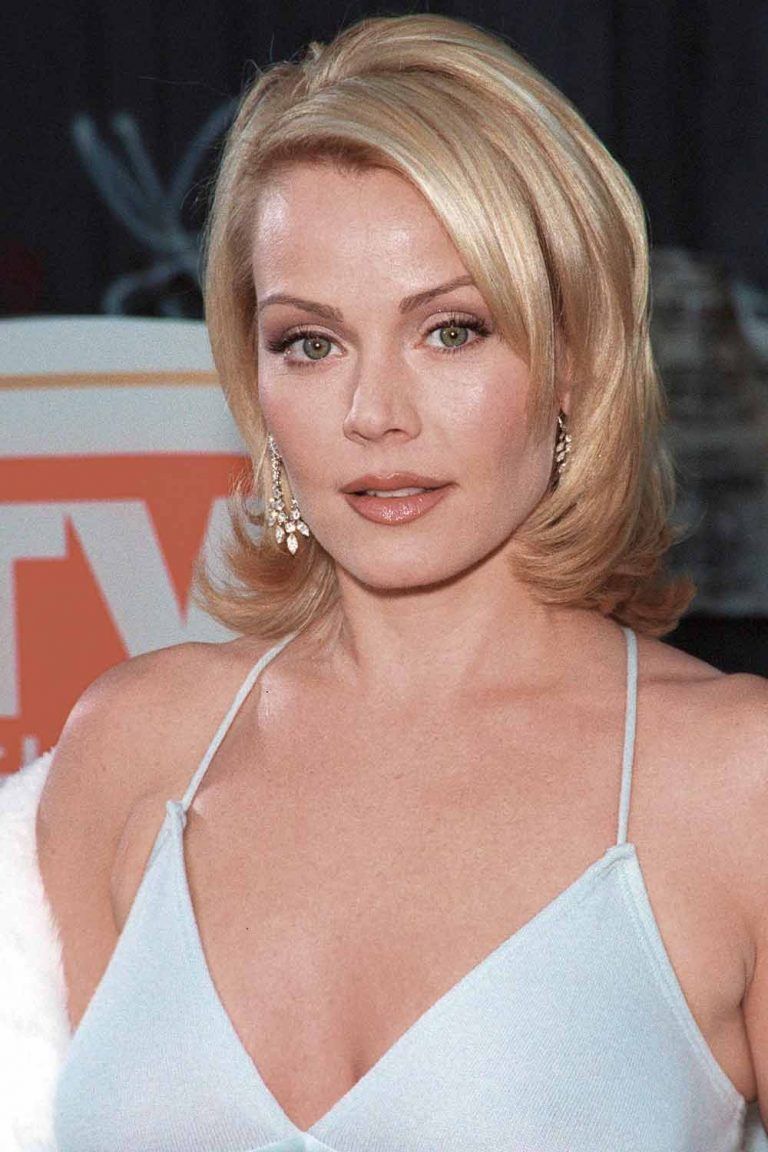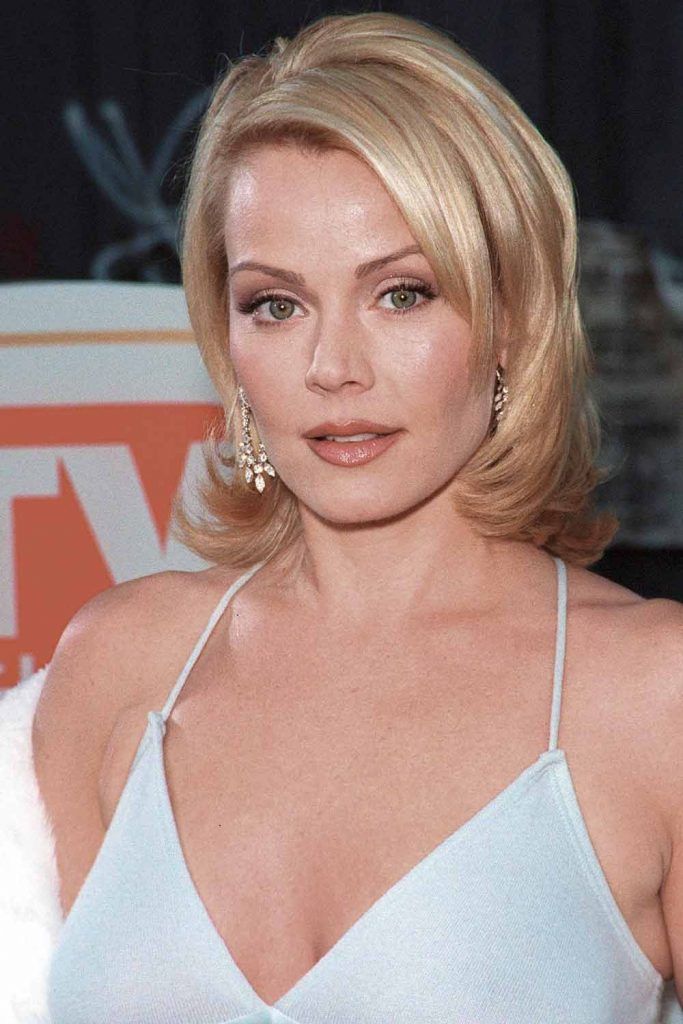 Credit photo: Featureflash Photo Agency/Shutterstock
Reddish Hair With Feathers By Laura Dern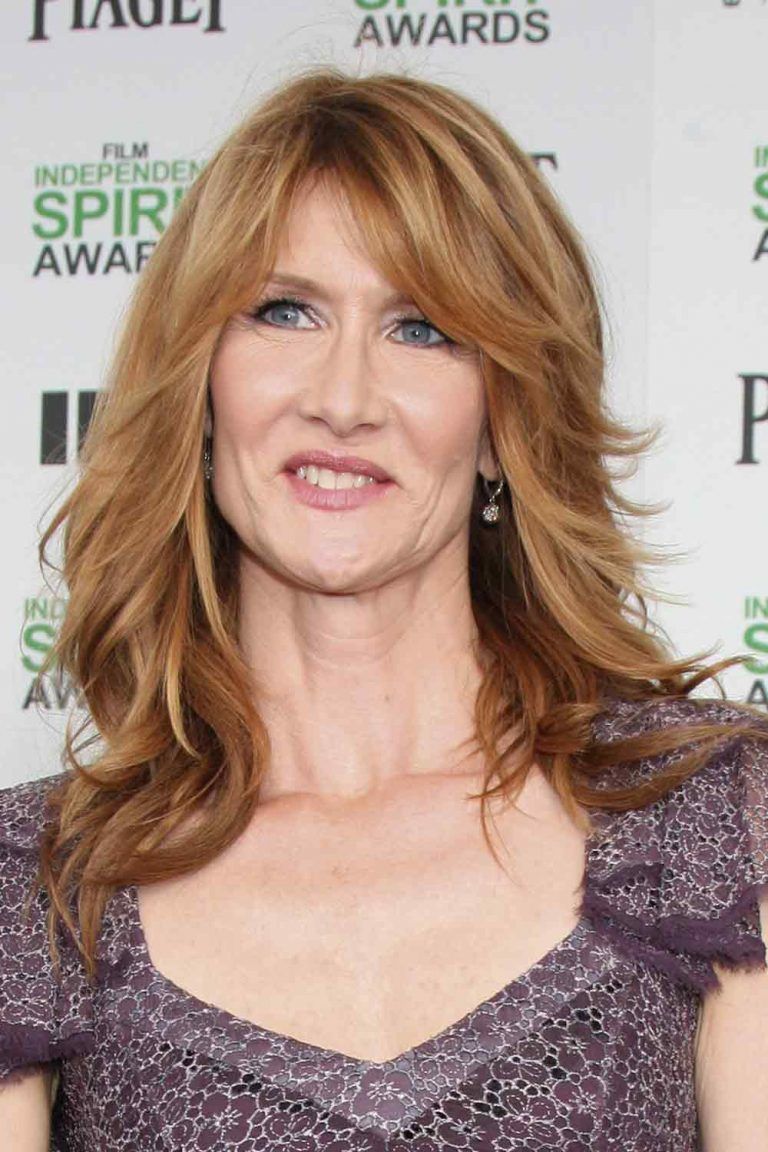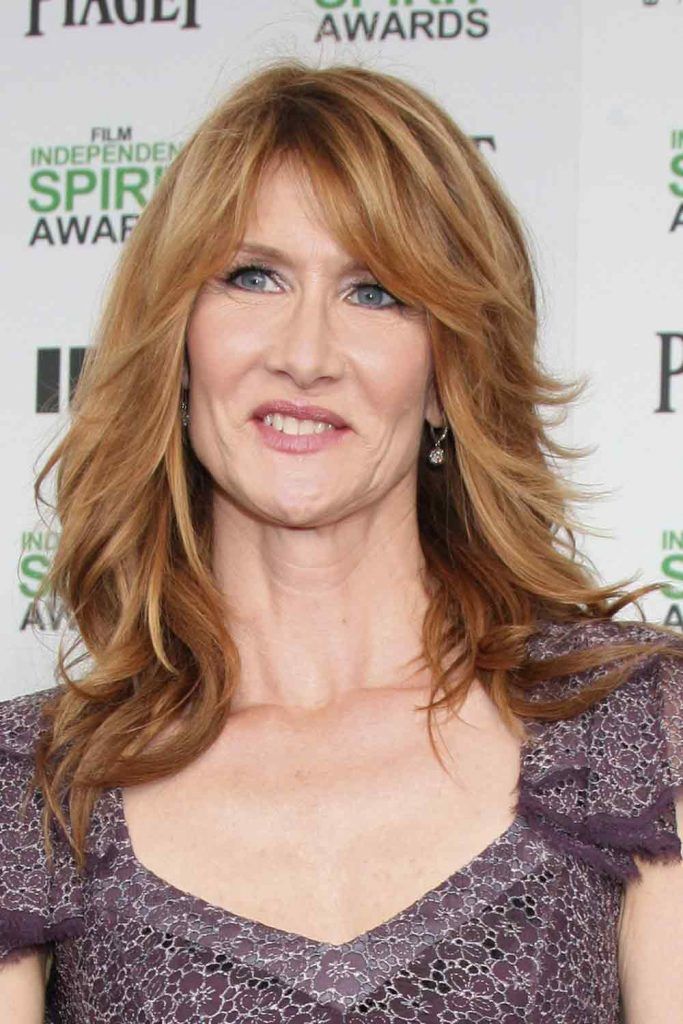 Credit photo: Kathy Hutchins/Shutterstock
Rachel McAdams's Loose Feathered Hairstyles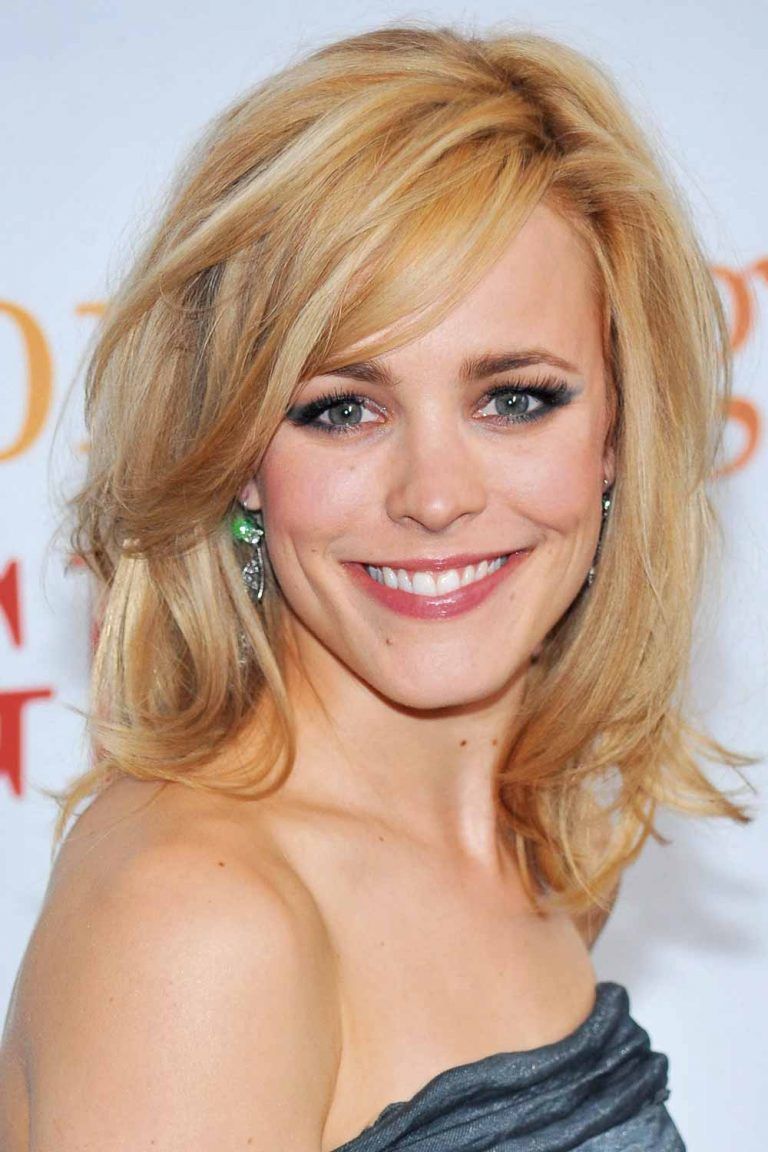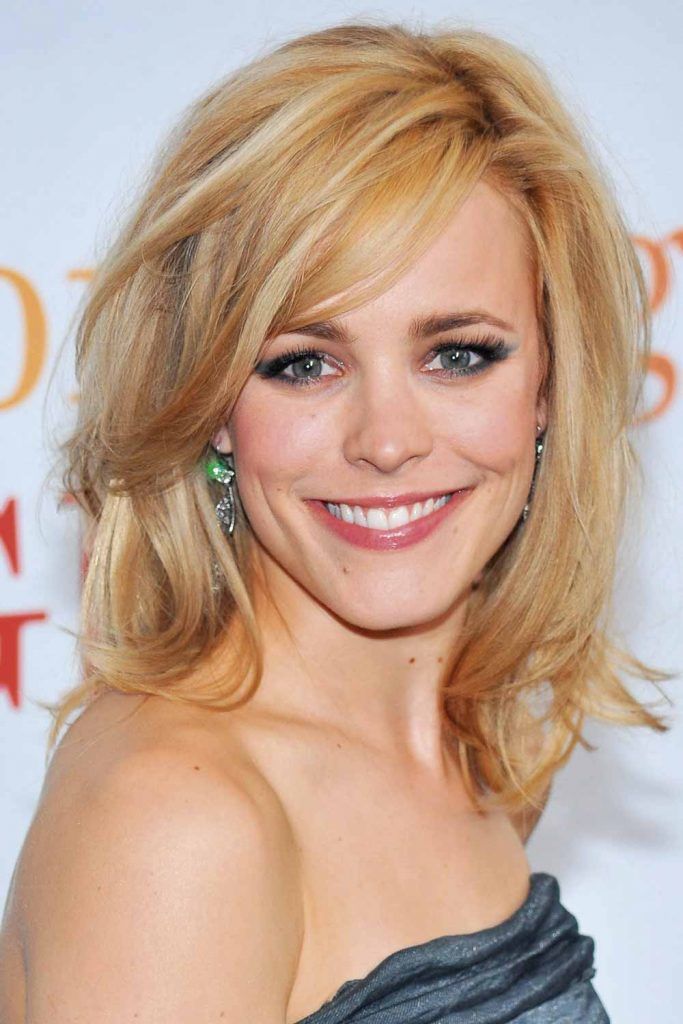 Credit photo: Everett Collection/Shutterstock
Judi Evan's Long Pixie Cut With Feathers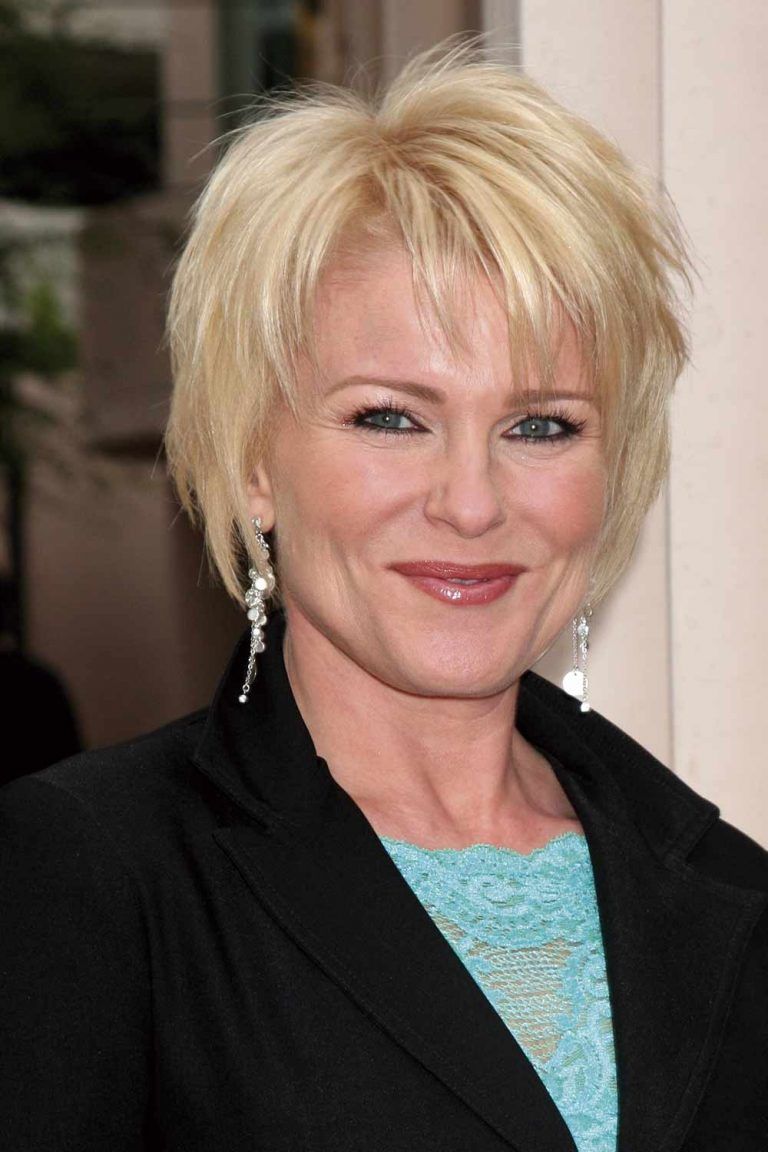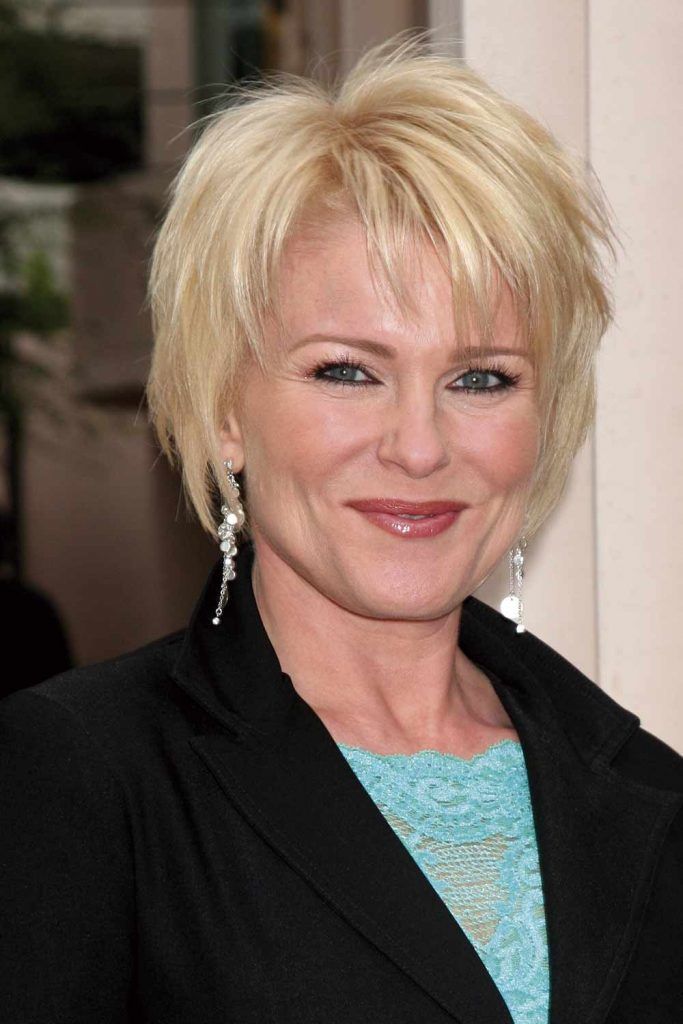 Credit photo:Kathy Hutchins/Shutterstock
Feathered Lob Of Emily Osment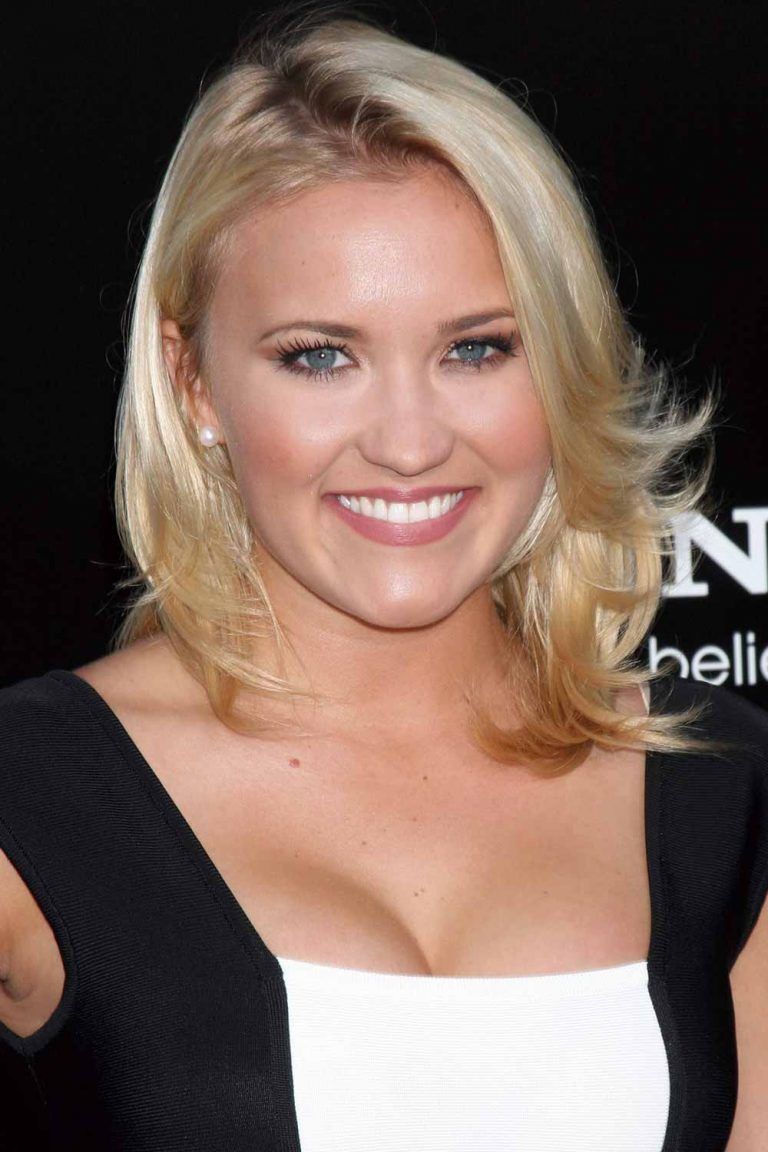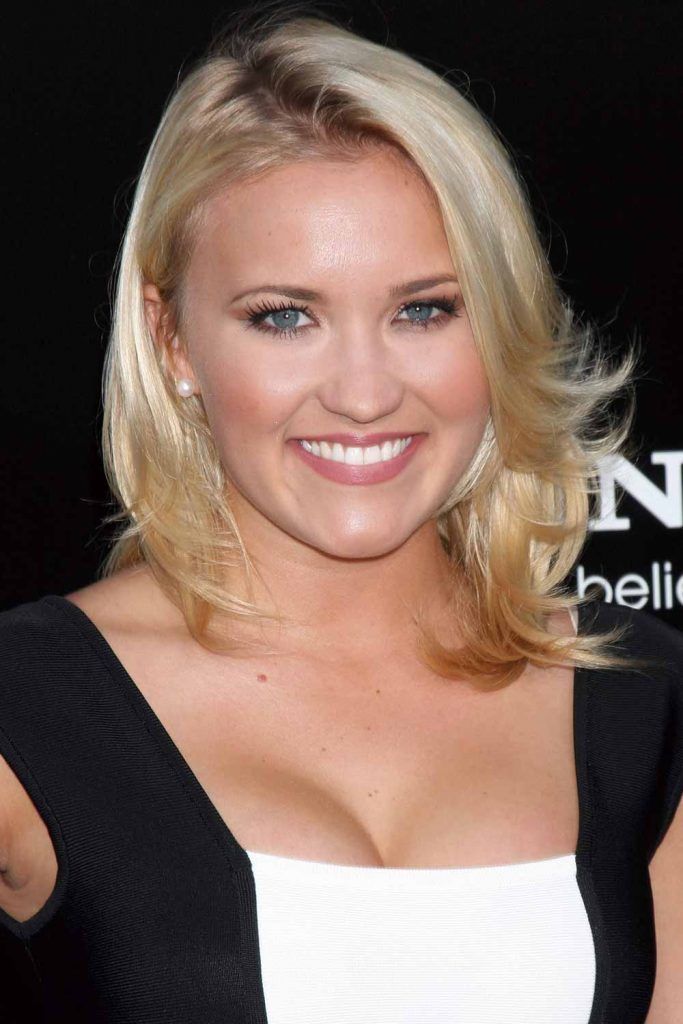 Credit photo: Kathy Hutchins/Shutterstock
Eva Longoria's Feathered Hairstyle With Highlights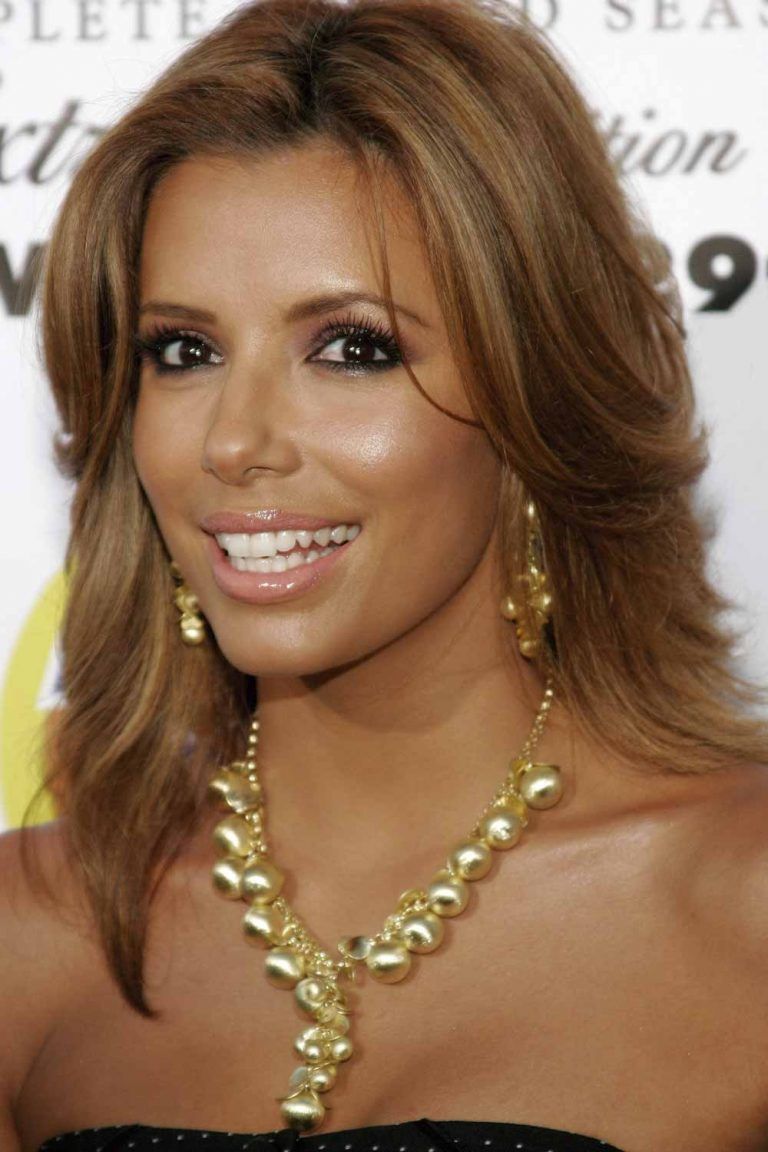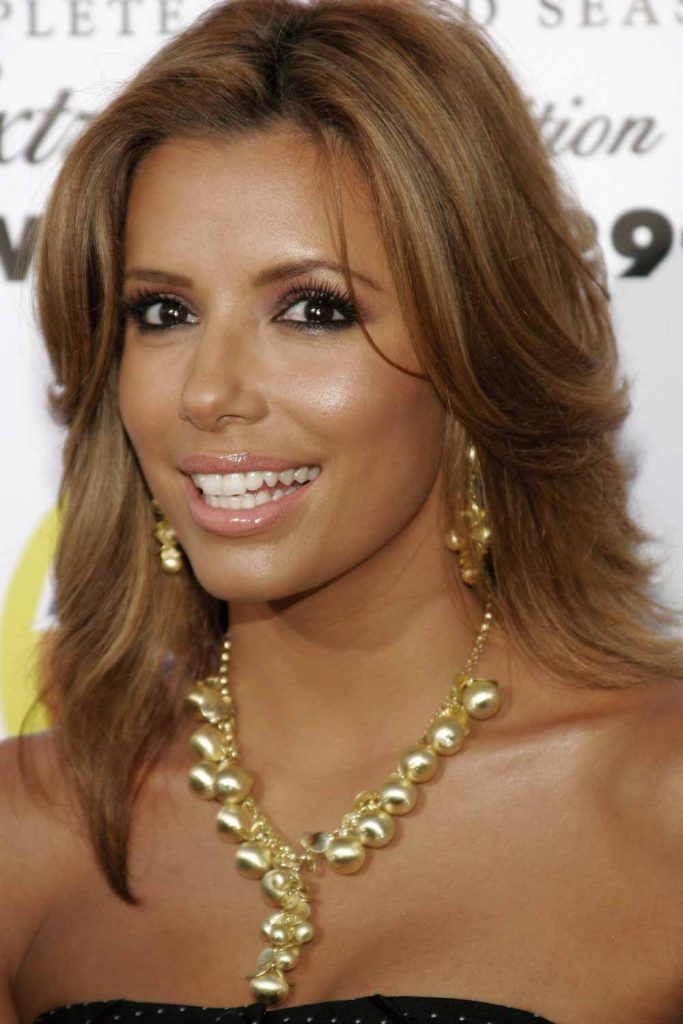 Credit photo: Tinseltown/Shutterstock
Blonde Feathered Hairstyles With Long Bang From Poppy Montgomery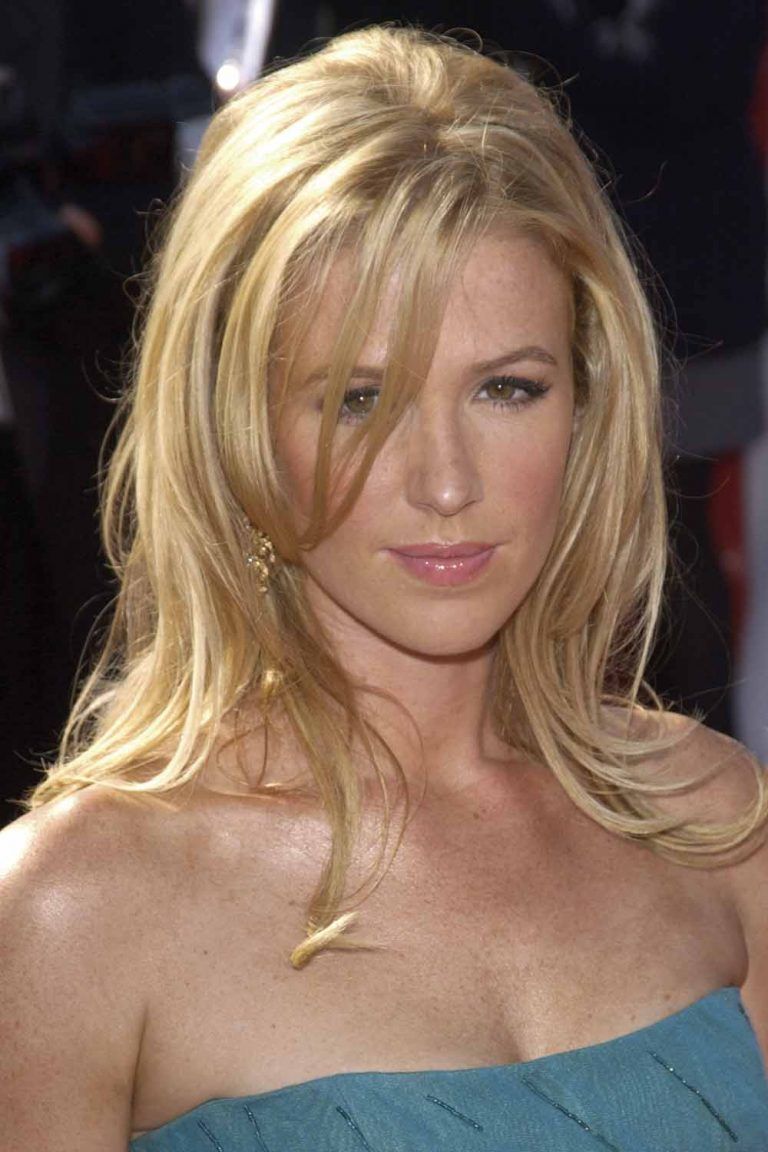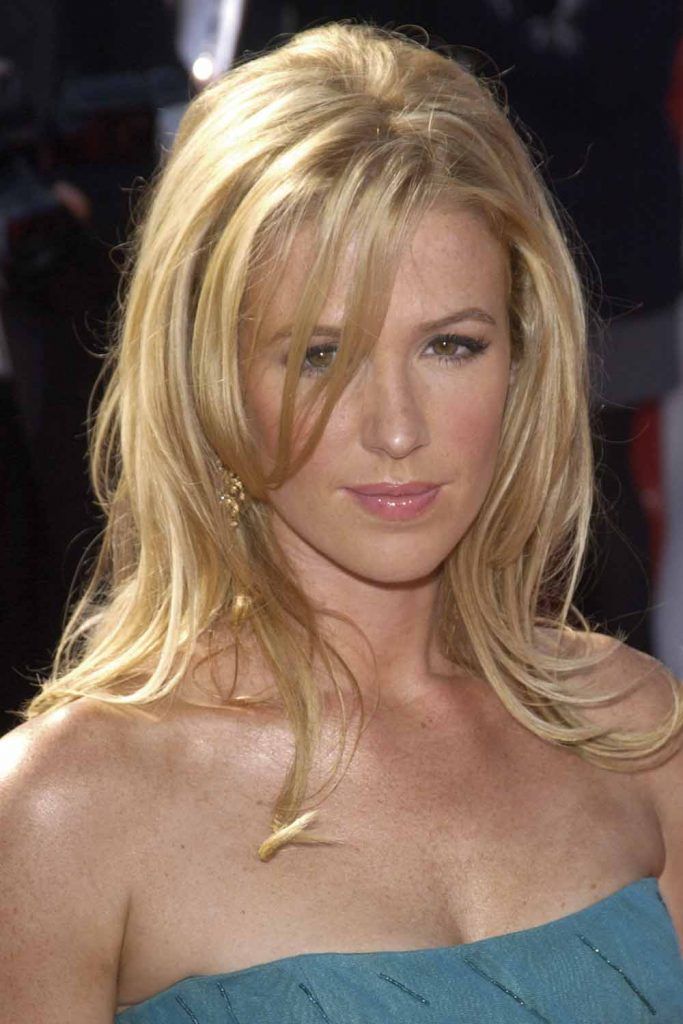 Credit photo: Featureflash Photo Agency/Shutterstock
Feathers Layered Hairstyle By Jane Fonda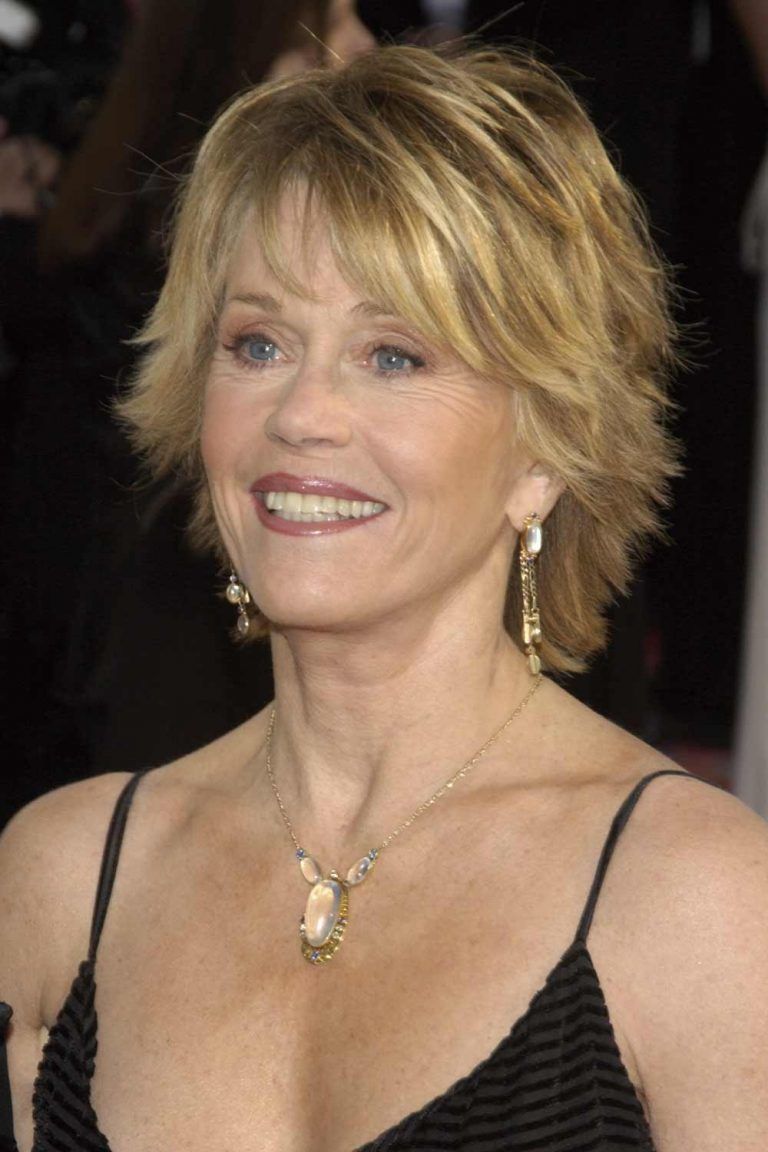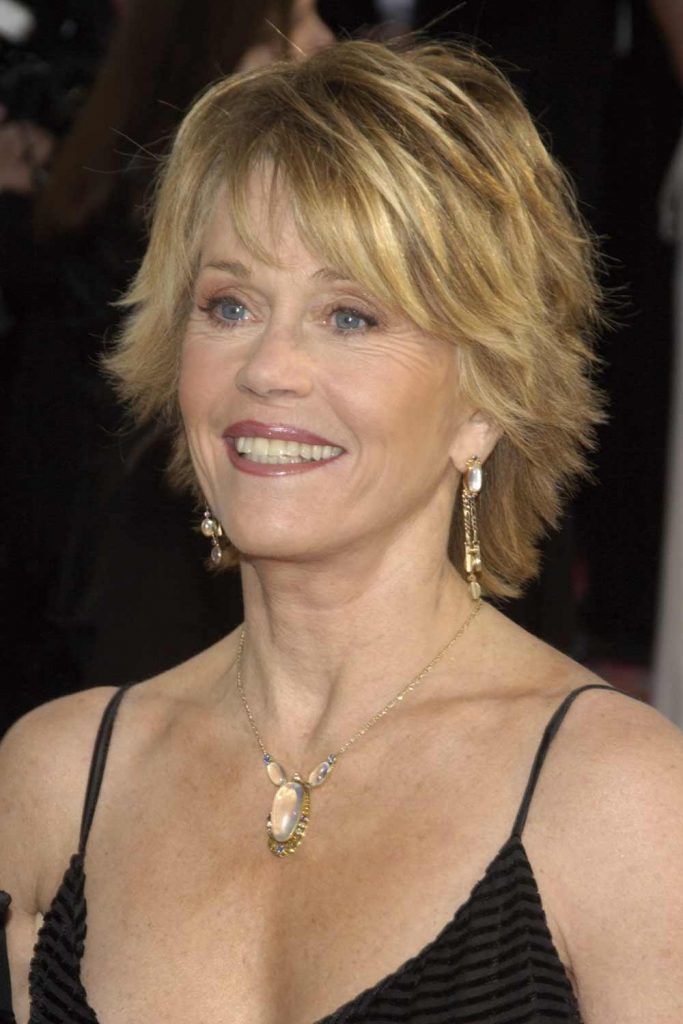 Credit photo: Featureflash Photo Agency/Shutterstock
FAQ: Feathered Cut
Which is better, feather cut or layered cut?
Depending upon the effect you are willing to achieve, you can select either feathered or layered cut. The main difference between the two lies in the fact of as much you are willing to show the layering of. Usually, layered cuts appear to be more subtle, while feathered styles show every single layer off to the fullest.
Does feather cut look good for thin hair?
The main issue that people with fine hair face is the lack of volume and texture. The beauty of feathered hair comes in the fact that it can grant you both. So, it's safe to say that feathered cuts are amazing for thin hair.
REFERENCES: