All Jane Fonda hair looks prove that her unbelievable body is not the only thing that has been inspiring women from all over the world. The iconic actress, model, and fitness guru knows how to look gorgeous from all sides and angles, and her hair transformations are something that deserves everyone's attention.
To bring oneself back to shape, nothing works better than Fonda's fitness programs. And if you want to whip your hair into shape, nothing can compare to her hair ideas. We've selected the most remarkable cuts and styles of Jane Seymour Fonda that you would like to recreate today!
The Latest Silver Pixie Style by Jane Fonda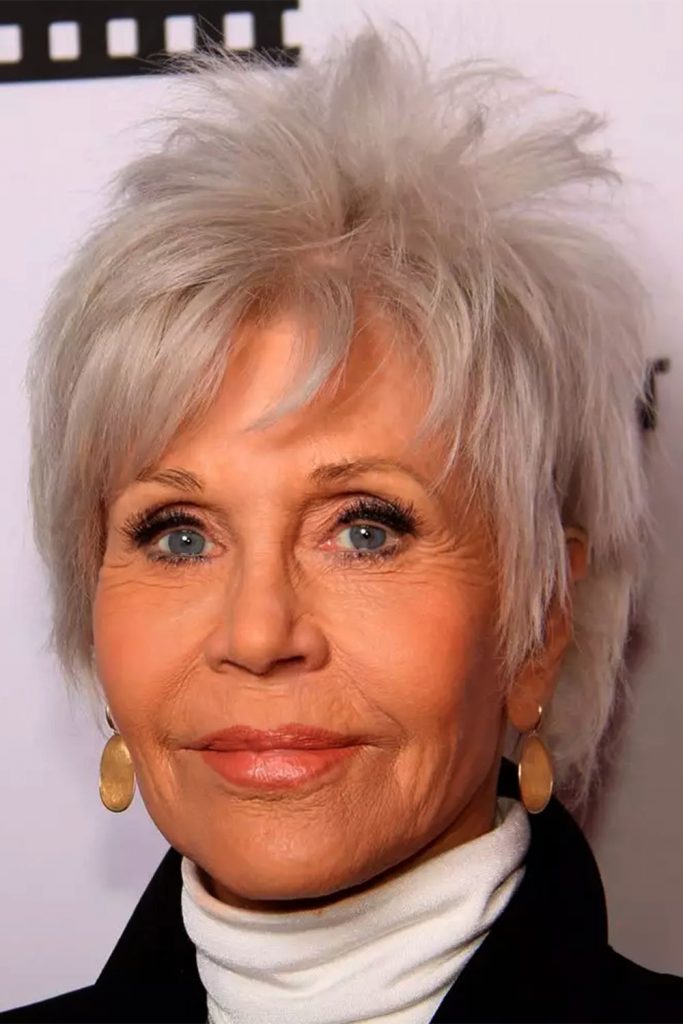 Source: Serge Rocco/Shutterstock
Jane Fonda has always known how to take a basic style up a notch and turn it into a trend. And even though pixies need no introduction, her version certainly stands out in the crowd of popular short hair looks. As much as she loved voluminous and full haircuts, she couldn't resist the practicality of the iconic pixie. Well, she didn't go wrong: the layers on the front allow her to style the hair up and spiky, creating a harmonic silhouette full of movement and sass. Some choppy layers on the front give a framing twist, nicely complementing her face shape. Needless to say, this color choice is another proof of her exceptional sense of fashion. Hands down, that's something you should stress on when looking for short haircuts for women over 60 with fine hair.
Center-Parted Curly Bob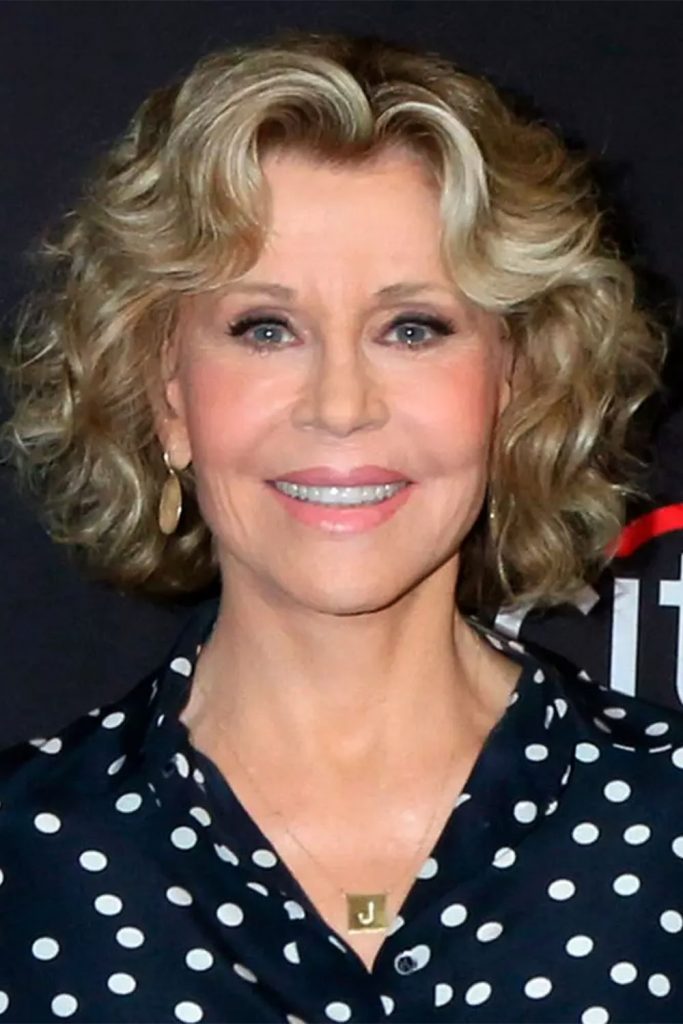 Source: Kathy Hutchins/Shutterstock
When she's about to go classic, she wears an elegant polka-dotted dress and finishes her look with a wonderful curly bob. We love Jane Fonda hair experiments, indeed. But the way she pulls off classic looks is just something worth seeing! On one hand, everything is pretty simple: she curls her chin-length bob and styles it to the center. On the other hand, it looks like one million dollars! So what's the secret? It's all about the signature twist on the front. Not only does it add tons of volume but it also makes the whole look more balanced. Plus, it frames the face in the most natural way!
Face-framing Highlighted Bob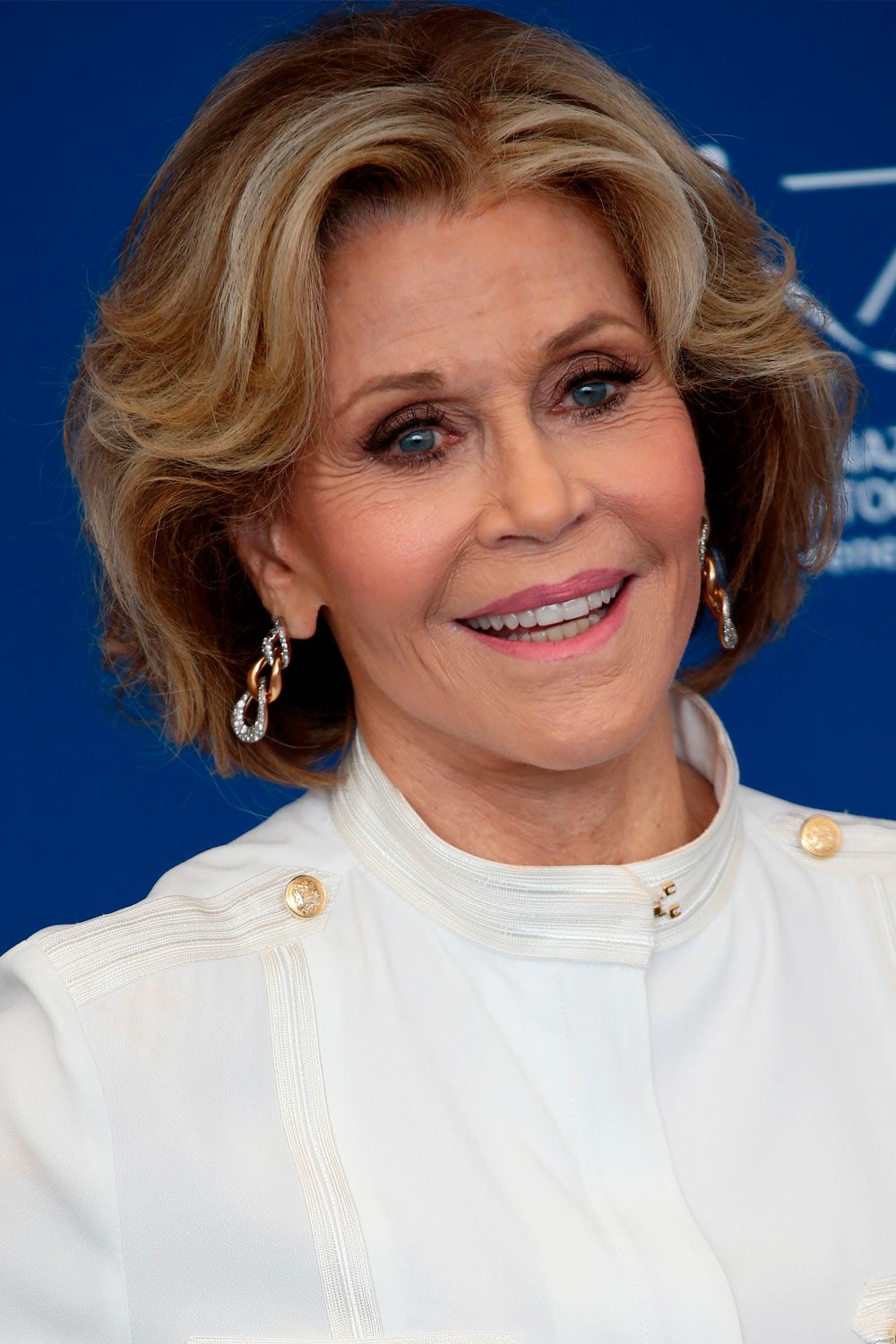 Source: Matteo Chinellato/Shutterstock
Apart from the power of the right haircut and styling tricks from Hollywood hairstylists, Jane Fonda uses one more magic in her hair looks - the magic of color. Here, she rocks a sophisticated bob with a soft framing twist adding a visual curve to her hair's silhouette. To enhance the framing touch of the middle part, she adds a bit of highlight to the front pieces. In this way, she's visually separated the hair on the front from, putting it in the spotlight and hence intensifying the face-flattering style. She has a fantastic approach to short hairstyles for women over 50, hasn't she?
Warm-Colored Medium Style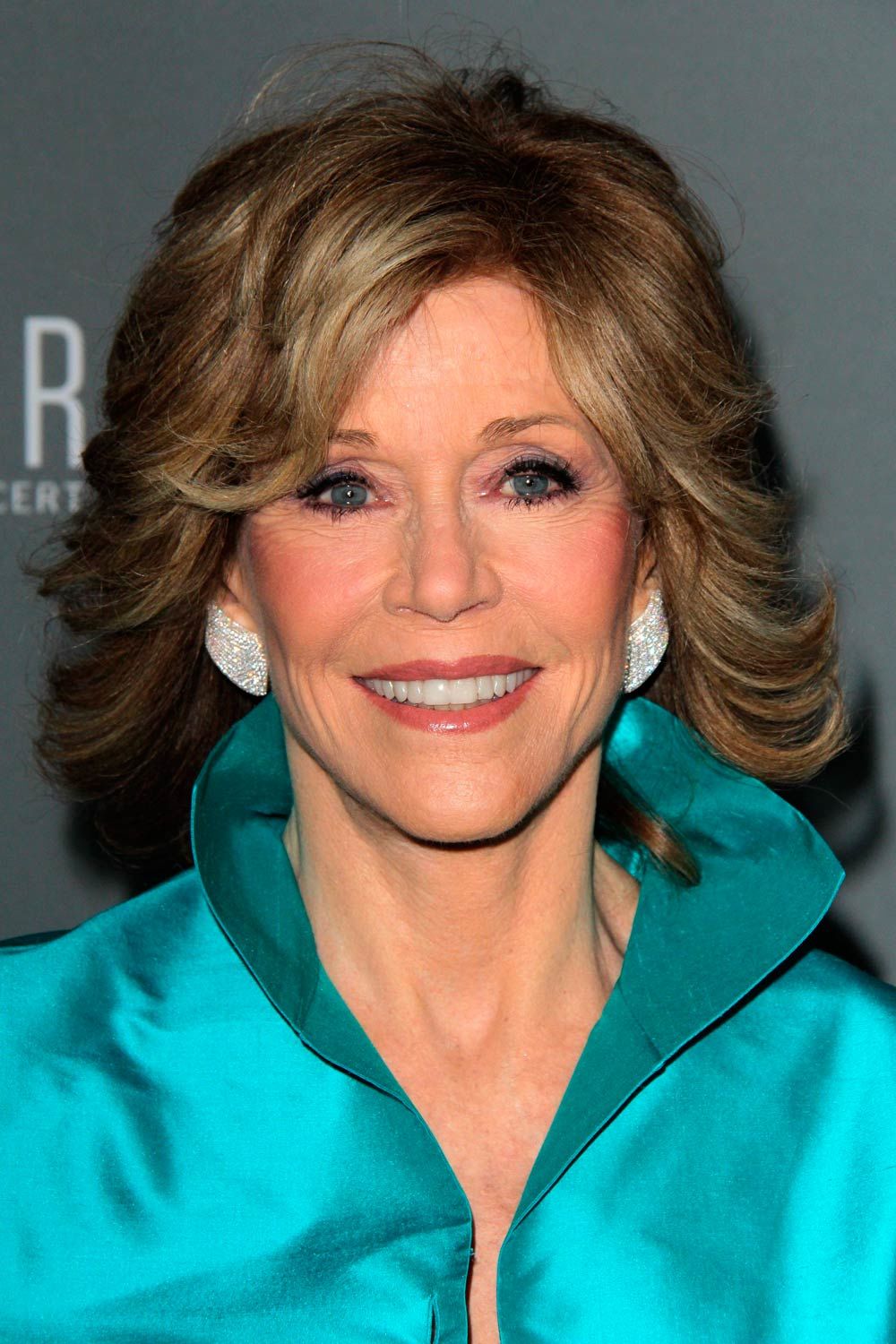 Source: s_bukley/Shutterstock
How about another color play nailed by the celebrity? Some people say that she is the keeper of the secrets of youth. But, in fact, she doesn't keep it secret. On the contrary, she shows it off every time she steps on the red carpet. As you might have guessed already, her hair is key. In this look, besides the gorgeous blowout on a lob, she hits cameras with an ashy brown hue. This color lies perfectly against her complexion, adding a moderate warm touch to her fair skin tone. Also, it brings the focus to the eyes, literally taking years off.
Bulky Messy Style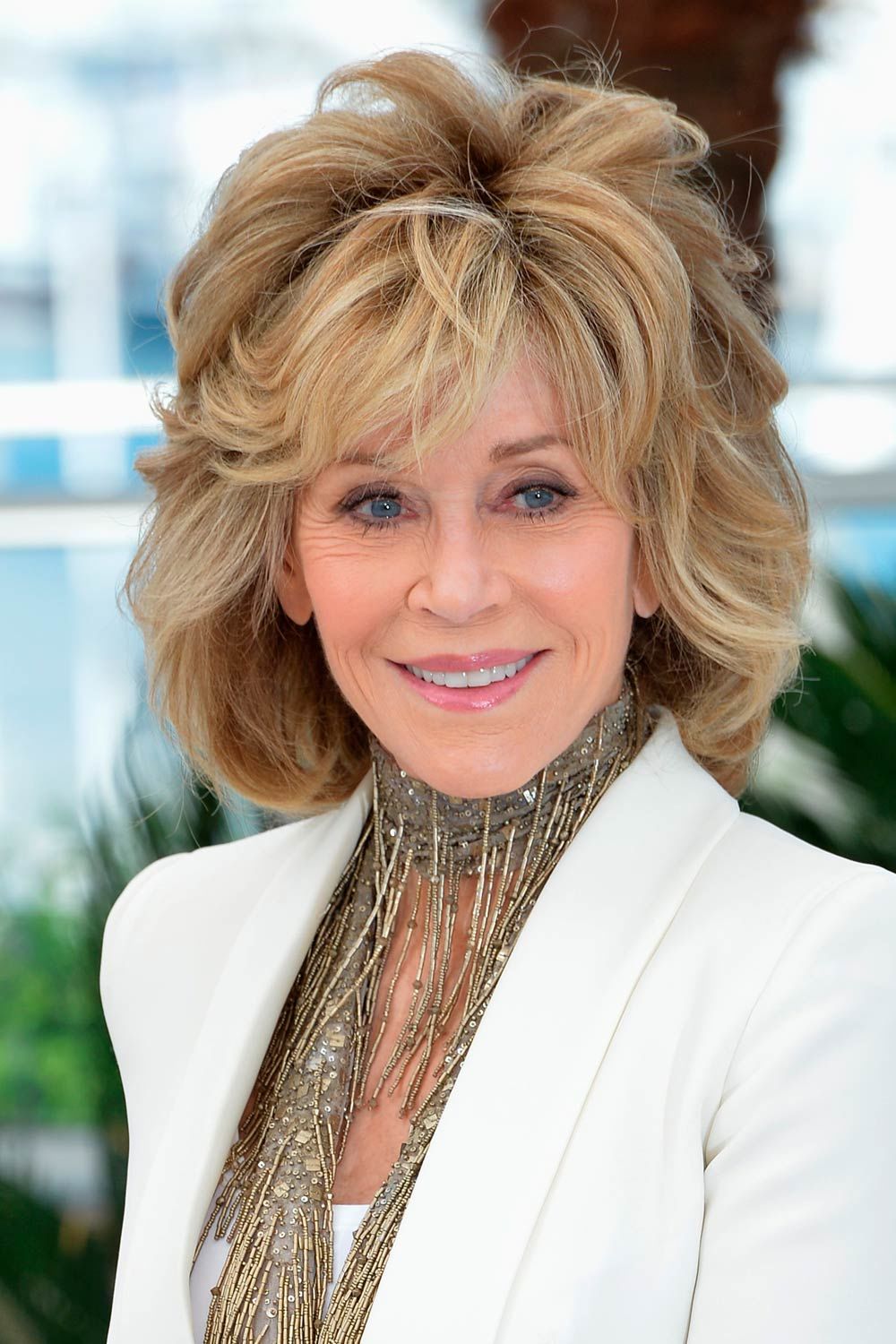 Source: Featureflash Photo Agency/Shutterstock
A dramatic, sexy, and absolutely timeless Jane Fonda hair look is here to show its brand new facet! At some point, hairstylists stepped out of super-voluminous shags for the sake of minimalistic hairstyles and cuts. And this is where Jane takes a modern approach to her iconic look: the layers are less dramatic and more consistent, and the overall silhouette is more balanced. Of course, a messy touch is what makes the difference: it makes the blowout lie more naturally, giving a soft and effortless look.
Curly Bob Hairstyle
Source: Tinseltown/Shutterstock
Though many people may remember her with a long and posh chevelure, at the beginning of her career, Jane Fonda rocked a chin length bob. And her recent look is a cool comeback of the practical and so much flattering haircut that emphasizes the richness of her thick hair.
Bob With Side Bangs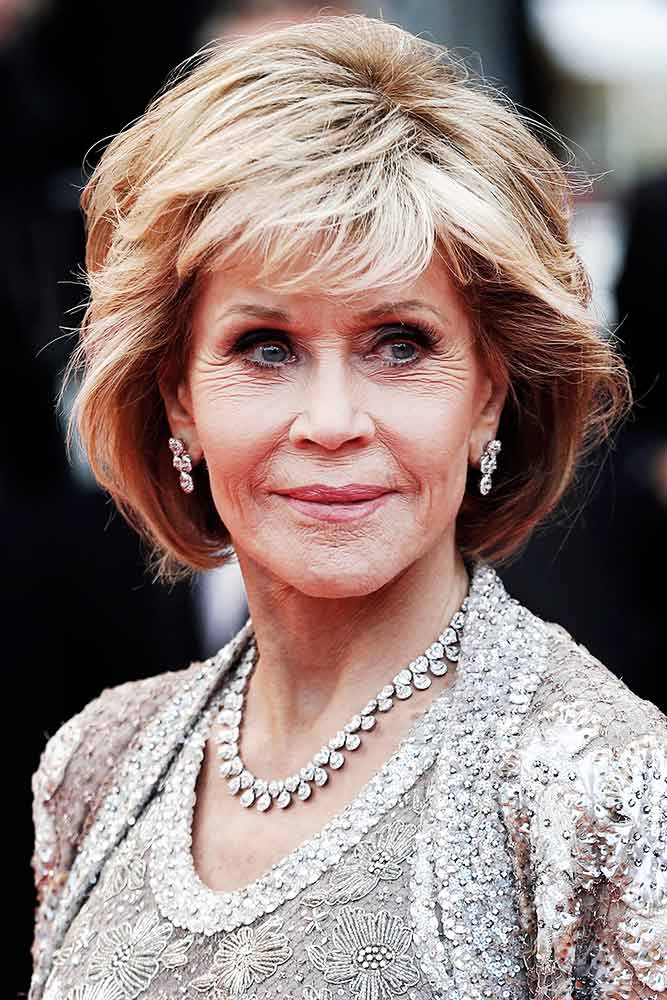 Source: Andrea Raffin/Shutterstock
If you're wondering how Jane Fonda hair 2018 looked like, this pic will satisfy your curiosity. Yes, it's still the good-old bob, but that time she opted for a rounder silhouette so that the edges framed her face. And a thin, gentle fringe nicely finished the full, well-groomed look. Obviously, Jane Fonda knows how flattering bang hairstyles for older women can be.
Swept Back Styling For Short Bob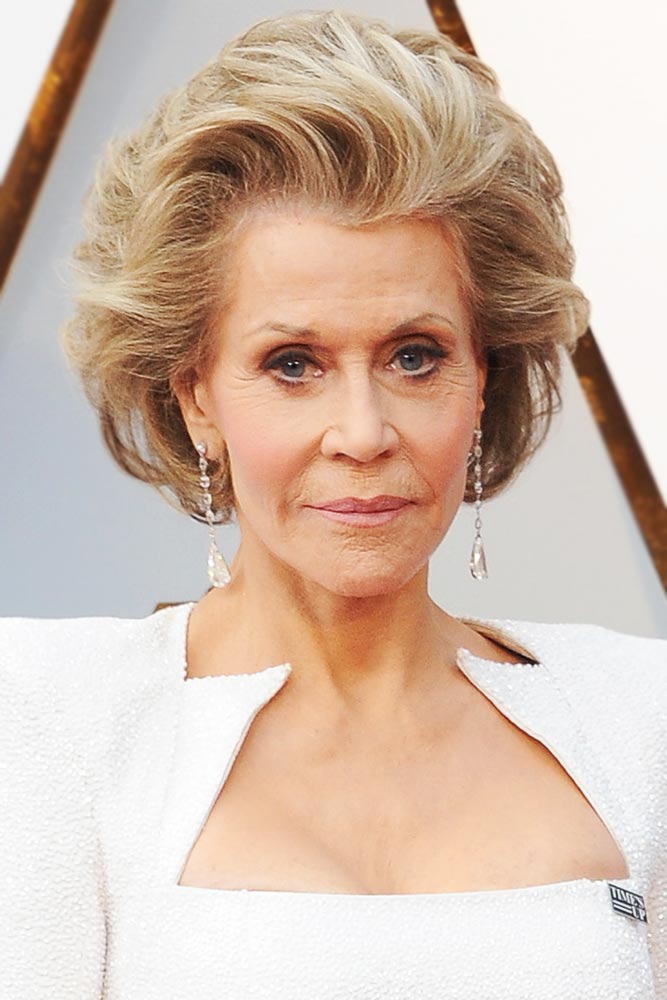 Source: Tinseltown/Shutterstock
All Jane Fonda short hair looks are all about taking years off! Here she decided to complement her restrained, elegant look with a modern minimalist hairstyle. She backcombed her thick hair to enhance the natural volume and add more youthful vibes to the look.
Shaggy Layered Bob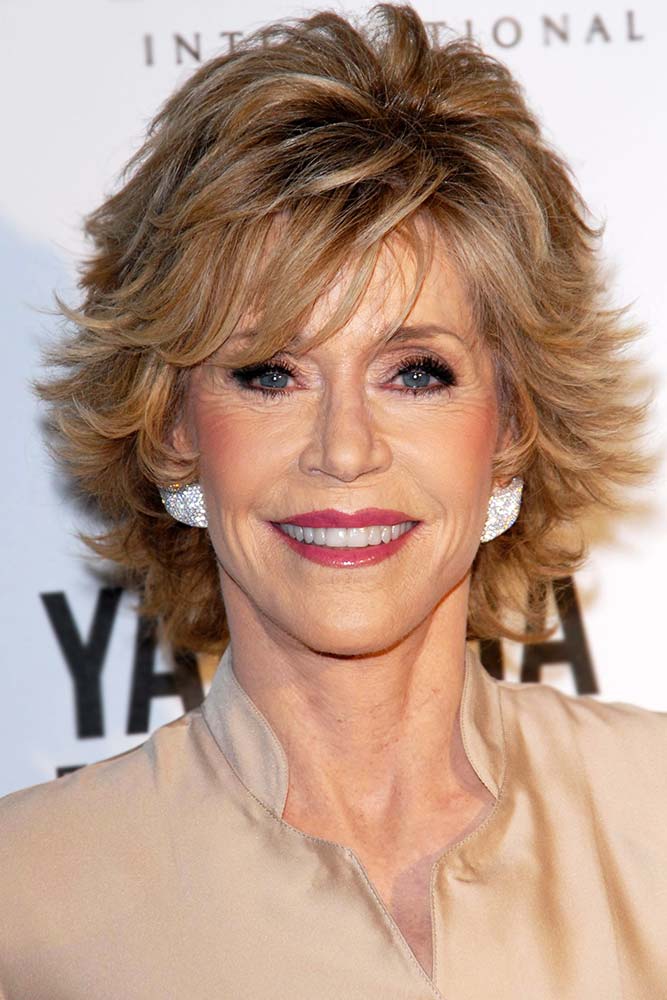 Source: s_bukley/Shutterstock
No wonder that you can come across lots of layered ideas among Jane Fonda hair cuts! Despite the enviable appearance of her hair texture, it's pretty tough to handle such a heavy mane. And when she's about to show up with a light, airy silhouette, she goes for shaggy layers over her bob. Indeed, she's perfected the beauty of short haircuts for women over 60.
Sleek High Pony With Bangs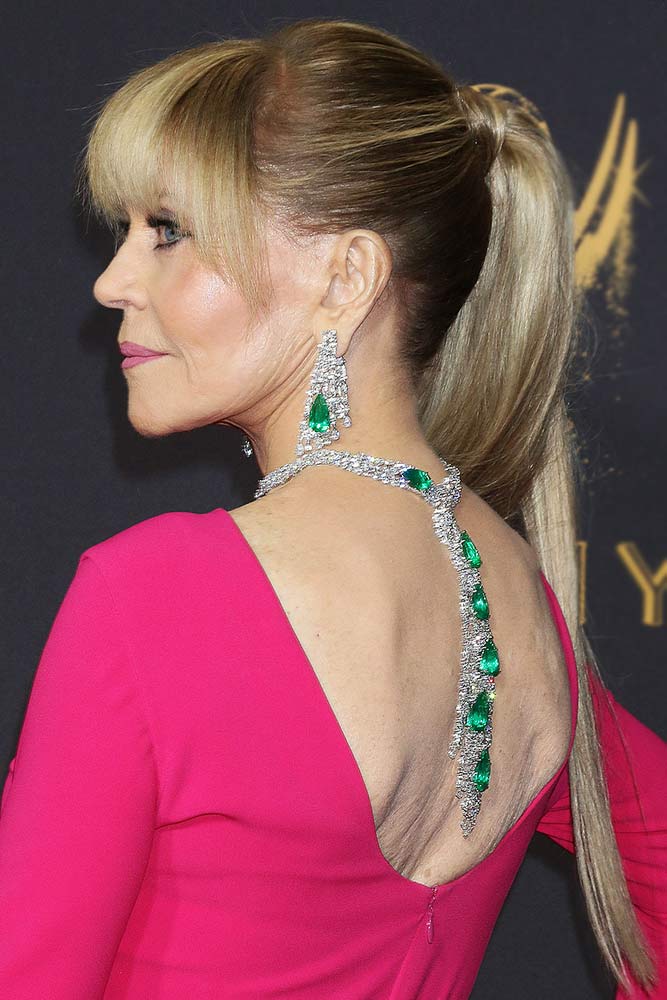 Source: Kathy Hutchins/Shutterstock
To please those who love longer Jane Fonda hair styles, we are sharing an amazing pic of her 2017 Emmy Awards Look. Not only does she prove that there's no age limit for wearing extensions but also look very fresh and chic with a simple fringe pony style.
Long Layered Pixie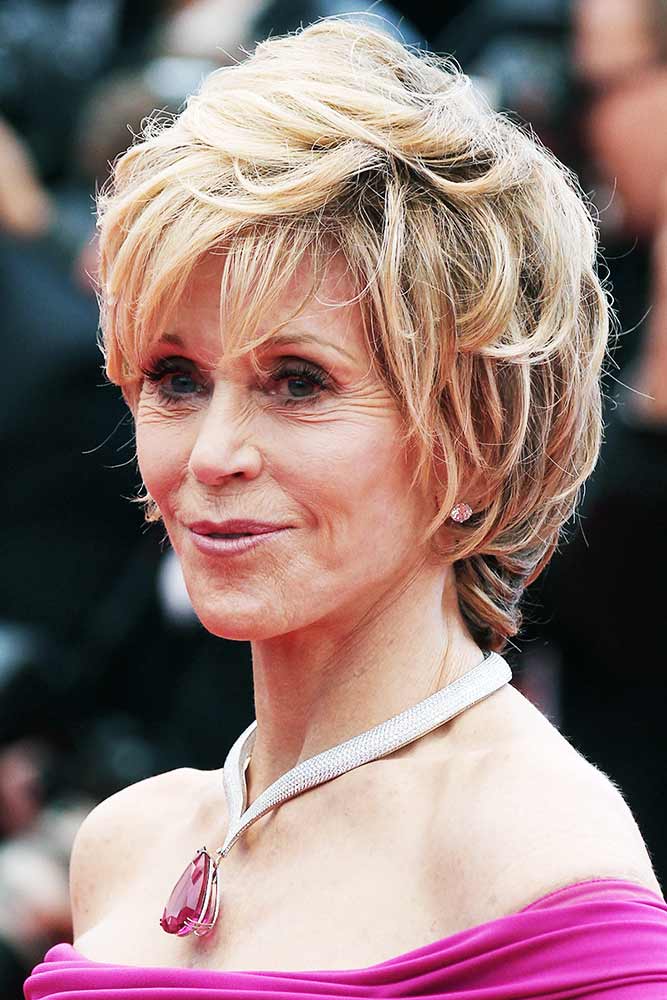 Source: Twocoms/Shutterstock
This pixie is officially the shortest Jane fonda hair cut ever! It's a longer version of the classic pixie that features various layers throughout the length. The cut perfectly frames up her face while keeping it pretty open. Yes, the magic of classy haircuts is to die for. When choosing short hairstyles for women over 50 with fine hair, don't miss this idea: the layers will do the volumetric trick.
Bob With Face Framing Layers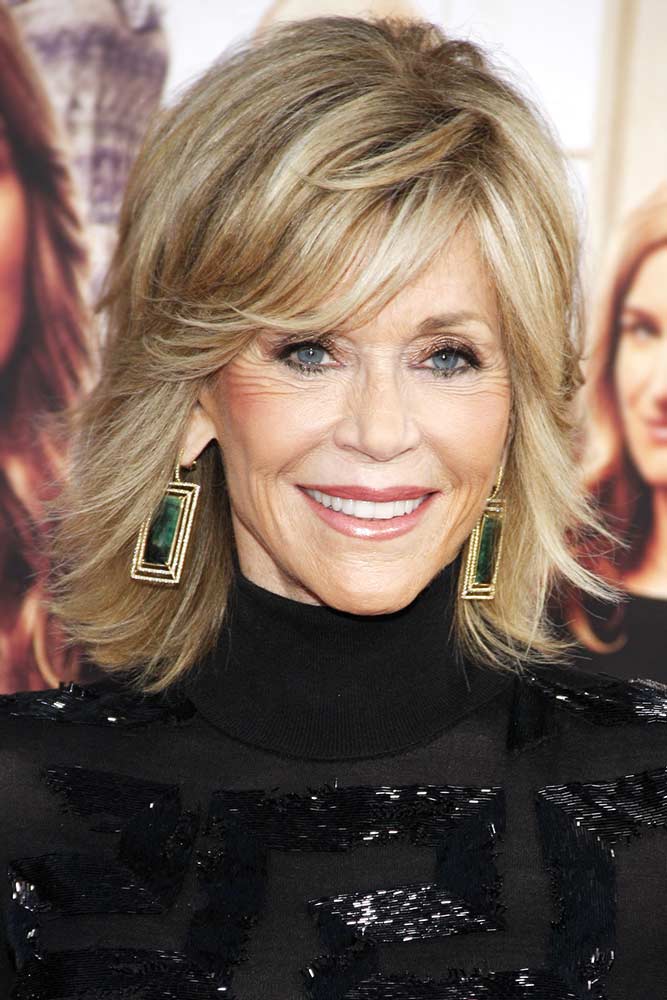 Source: Tinseltown/Shutterstock
Meet the Jane Fonda medium length hair style that was chosen as a highlight of her premiere look. Instead of showing up with a veil-long hairstyle with countless curls and waves, she decided to get the most out of the beautiful simplicity. The strategically cut layers fall on her face in a gentle framing way. Isn't that worth a red carpet look?
Feathered Pixie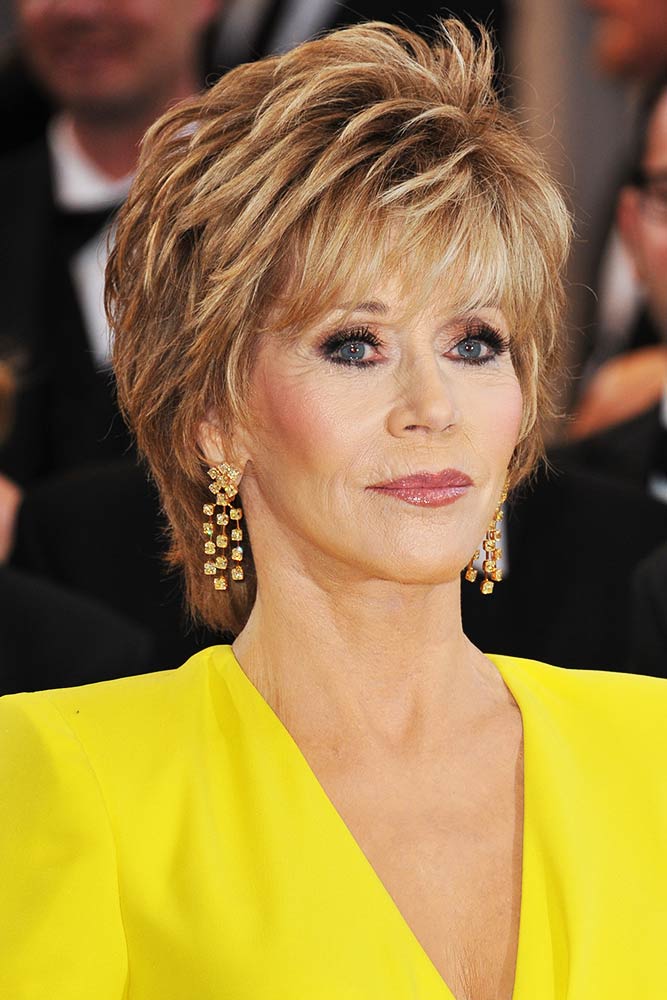 Source: Featureflash Photo Agency/Shutterstock
Jane Fonda natural hair color seems to be a history-long mystery to us. She went all the colors possible, but blonde has always been the closest shade to her soul. And here, she embraces the beauty of medium blonde, spicing it up with soft highlights that accentuate a feathered pixie.
Textured Layered Bob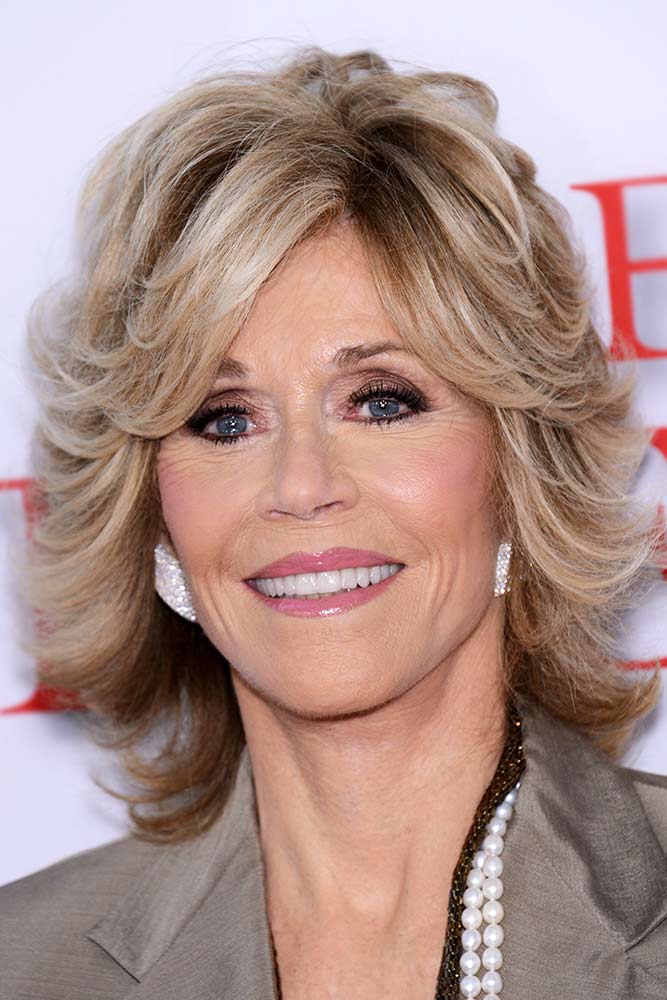 Source: DFree/Shutterstock
Her bob has shown lots of faces throughout her breathtaking career. This haircut is special because of the right approach to the celebrity's texture. The shorter layers do the framing job while the long, edgy layers make the whole cut stand out, amplifying the beauty of Jane Fonda hair color.
Half-Up Bob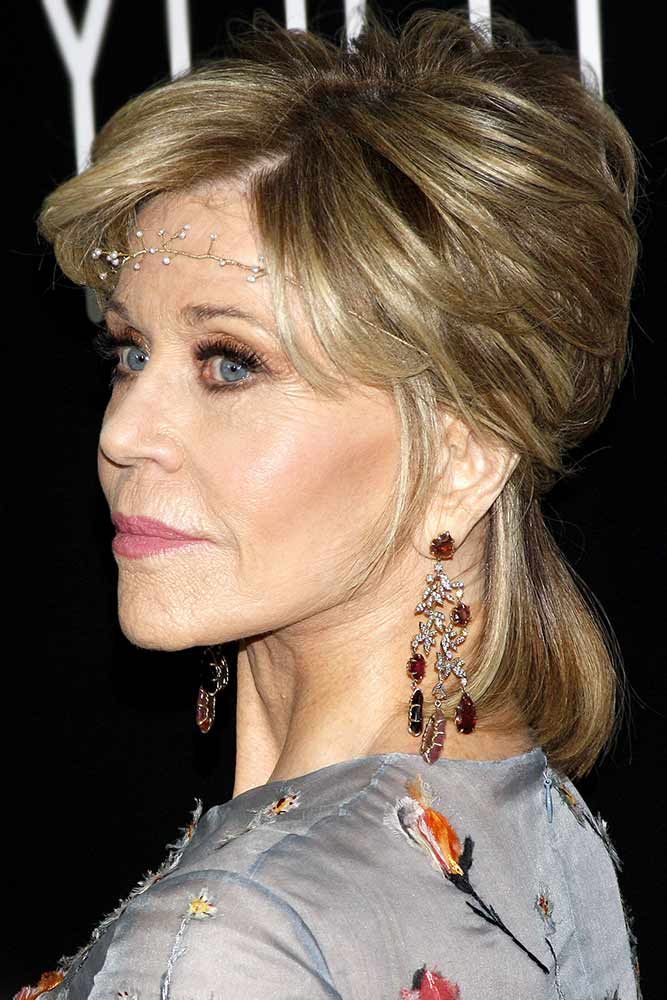 Source: Tinseltown/Shutterstock
Just like any other women, Jane Fonda loves wearing simple half ups. The point is to make sure that the cut matches the look and enhances the best features of her face. As you can see, the fringe works on her forehead, and the crown is totally voluminous. Easy but gold, huh?
Swept Back Updo With Bangs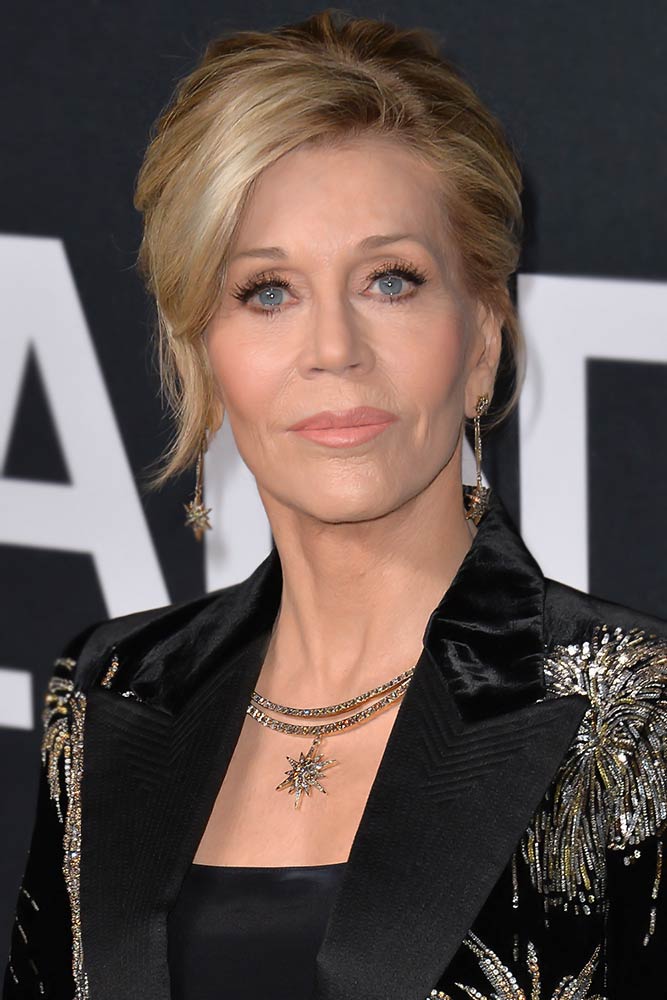 Source: Featureflash Photo Agency/Shutterstock
Another easy, yet wonder-working trick to get a decent and voluminous look in less than five minutes. There's no need to mention that Jane Fonda is one of those women who know the value of time, as well as the value of well-groomed appearance. That's why she rocks bangs: apart from giving her forehead a stunning framing touch, they nicely complement such simple styles as swept-back updos. Though this hairdo takes minutes to get it done, it looks unbearably sophisticated.
Side Bangs With Bob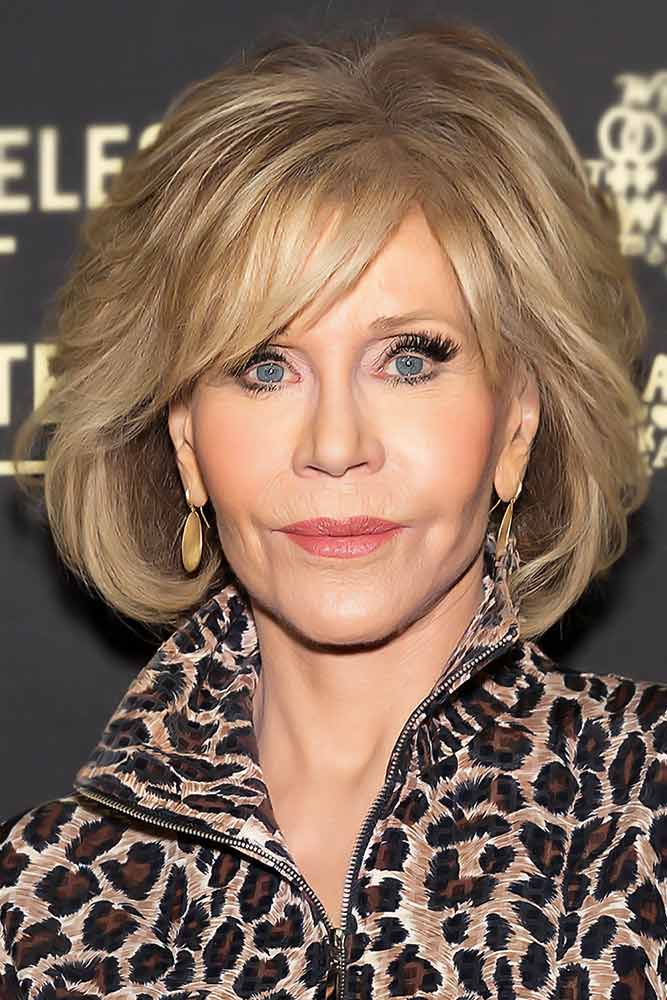 Source: Ovidiu Hrubaru/Shutterstock
Tons of volume throughout the whole cut, exceptional texture of each lock, and a flirty twist at the forehead - it seems like we've just found a recipe of an agelessly youthful look. Here, Jane shows up with layers again, and this time it's a totally new technique. She finished her curvy bob with long and sharp layers on the top portion to highlight the crown as much as she could. As a result, she got the style that takes years off.
Messy Voluminous Updo Style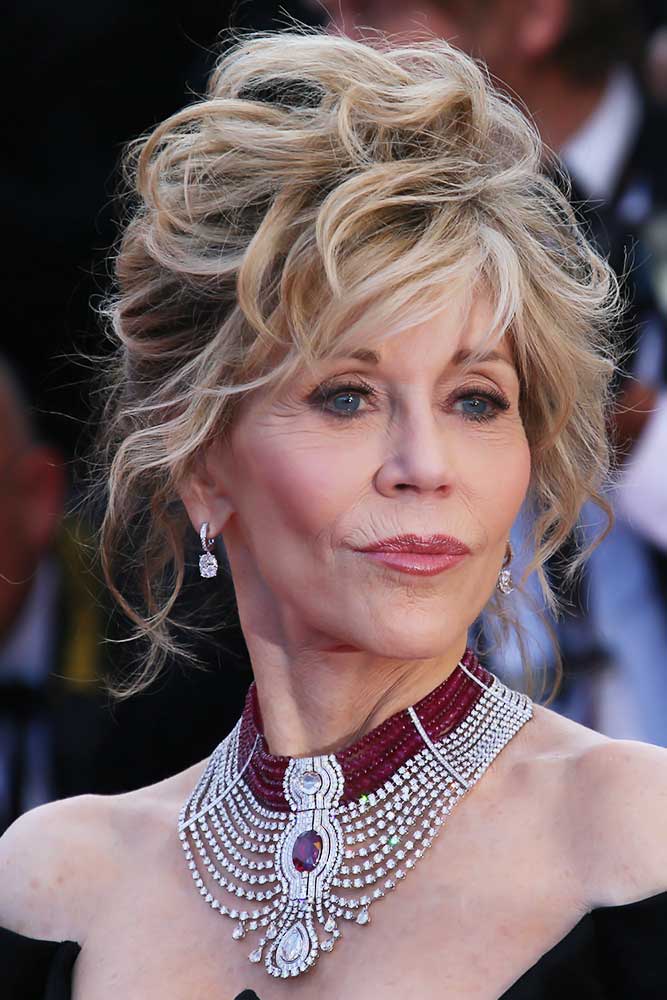 Source: Denis Makarenko/Shutterstock
Yes, it takes a lot of time to achieve the so much popular messy silhouette for women with thick hair. Still, it's always worth all the hours of layering and styling, as the result literally steals the show. To impress cameras with her variation of the trend, Jane went for short and thin layers first. Then, she defined them with some texturizing mousses. Some tousling and a little bun on the back of the head were the finishing steps to reach this new take on messy perfection.
Layered Thin Bangs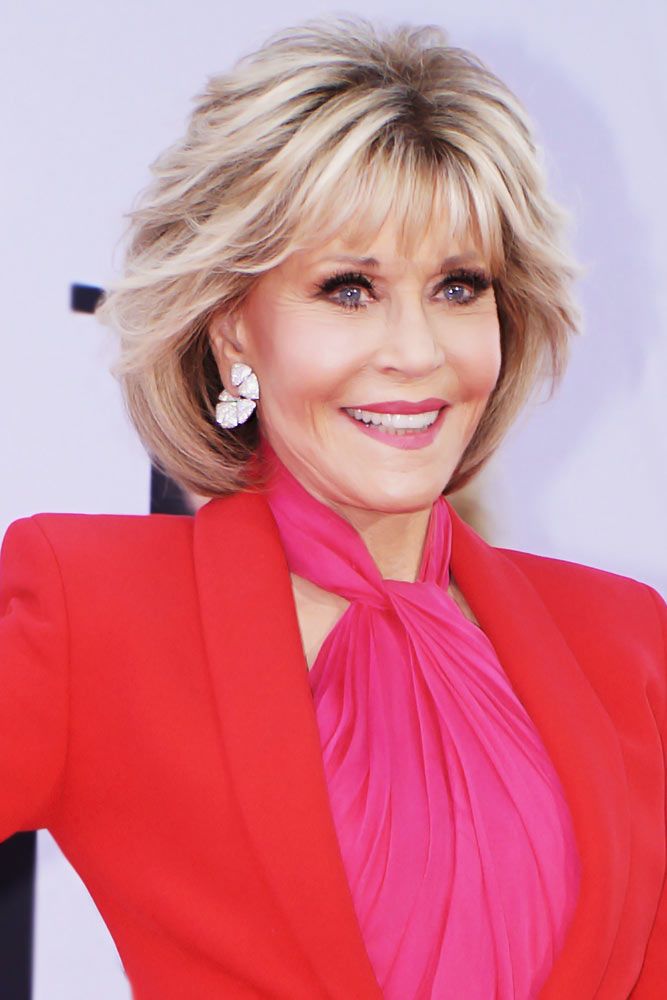 Source: Alex Millauer/Shutterstock
Bangs can drastically change the way a woman looks, and Jane Fonda, as one of the first trendsetters, knows that like no one else. Therefore, she never loses an opportunity to get this face-framing and beautifying finish for her short hair styles. As you can see, here she builds perfect harmony out of contrastive textures. Thin bangs give a sense of lightness, nicely complementing her dense and thick mane.
Updo Twist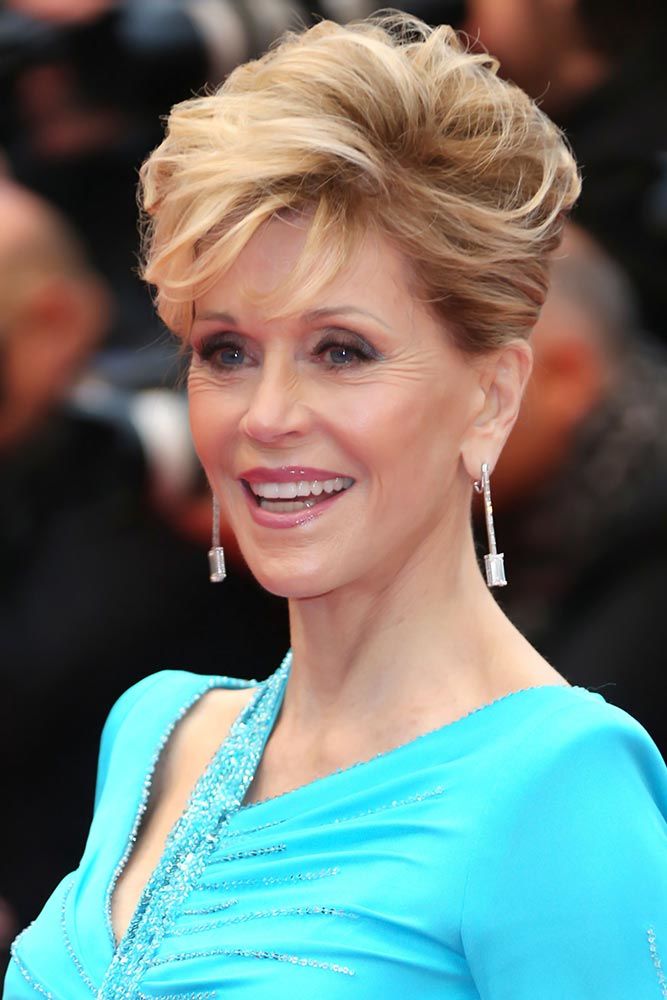 Source: Featureflash Photo Agency/Shutterstock
Since Jane Fonda has a very beautiful, pointed face shape with neat and gentle features, she loves to showcase her beauty with updos. This twisted style elongates her silhouette, enhancing her naturally slim and gorgeous face. As it turns out, a well-defined texture and softly brushed bangs are enough to bring out the best features of a woman.
Let's just admit it: having discovered these awesome Jane Fonda hair pictures, it's hard not to call your hairstylist. When you want to change something in your hair look, it's better to go a proven way. And the way Jane Fonda plays with her hair is really worth following!
FAQ: Jane Fonda Hair
What type of hair does Jane Fonda have?
Jane Fonda rocked a variety of long and medium-length hairstyles in her earlier years, surprising her fans with silky feminine locks or exquisite layered bob hairstyles. Jane now wears audacious shortly graded hairstyles which give her a younger, more active, and fashionable look.
What is Jane Fonda's natural hair color?
Jane once stated that she began to notice her grey hairs only a year ago, at the age of 82, implying that she had maintained her natural blonde hair for decades.
Was this article helpful?