Bang hairstyles for older women are not just ways of hair styling. They're all about the way you live, the way you enjoy your days, the way you express your inner self. These hairdos are here to make you remember once and for all: not wrinkles define your age; you and your style do. So let's see how you can reflect your inner beauty and make your style show it off: our age-flattering hairstyles with bangs can make it real.
We all know that "bangs" and "youth" are synonyms. So if you feel that your look needs something refreshing, nothing will work better than a fringe. Get ready for the age-defying hairspiration!
Long Wavy Hairstyle With Bang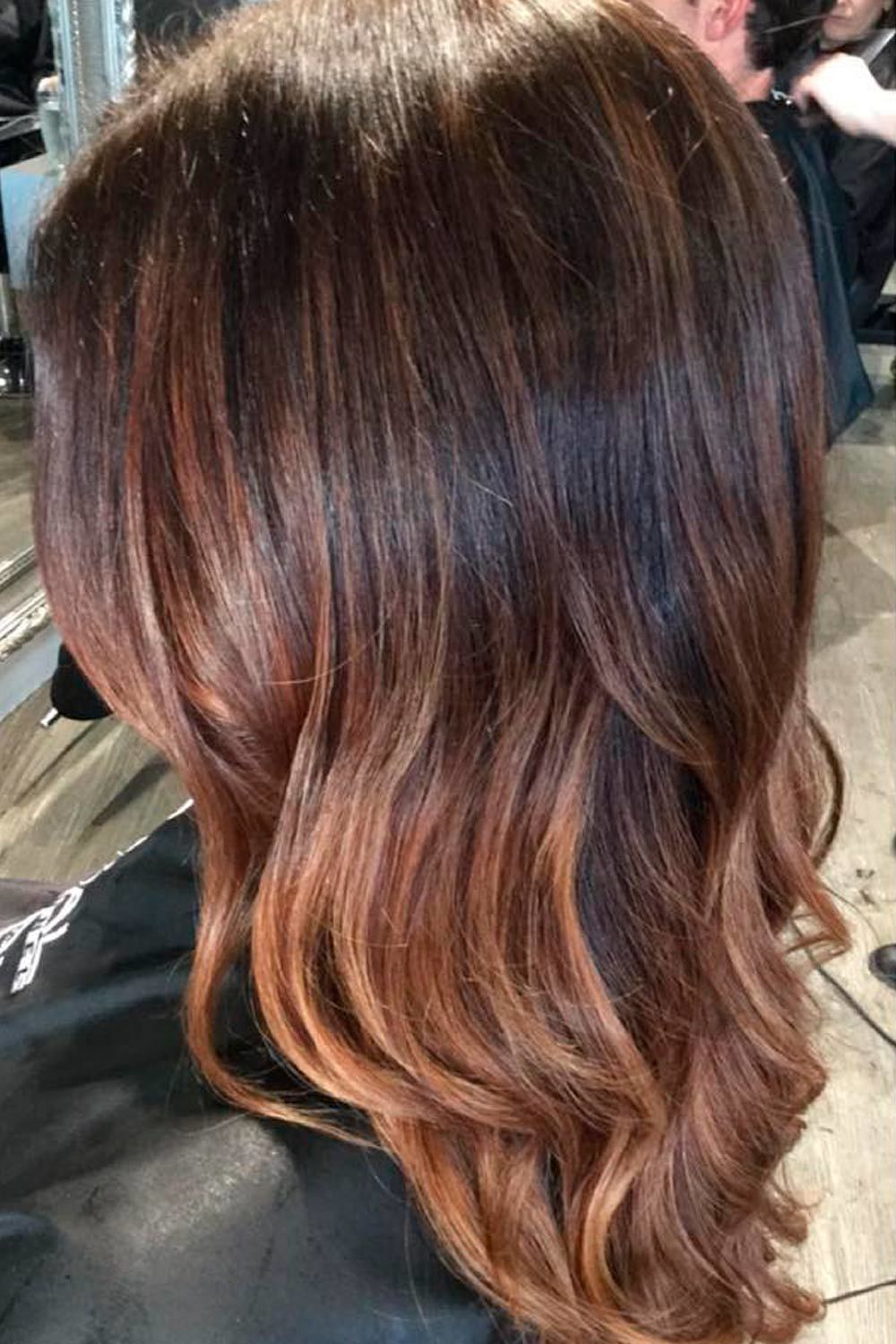 Credit photo: neveartofhair
As we become older, the rules about wearing hairstyles become stricter. We should not only depend on our preferences but also keep in mind that a haircut or hairdo we like must match our facial features. And the best thing is, bangs make everything smooth, taking long hairstyles for women over 50 to the next level. They can frame your face, hide your flaws, add fullness, so you are actually aren't limited in choice if you go for a fringe. And this pic shows how you can sport long hair and look fresh and effortless: bangs are magical.
Timeless Long Straight Bob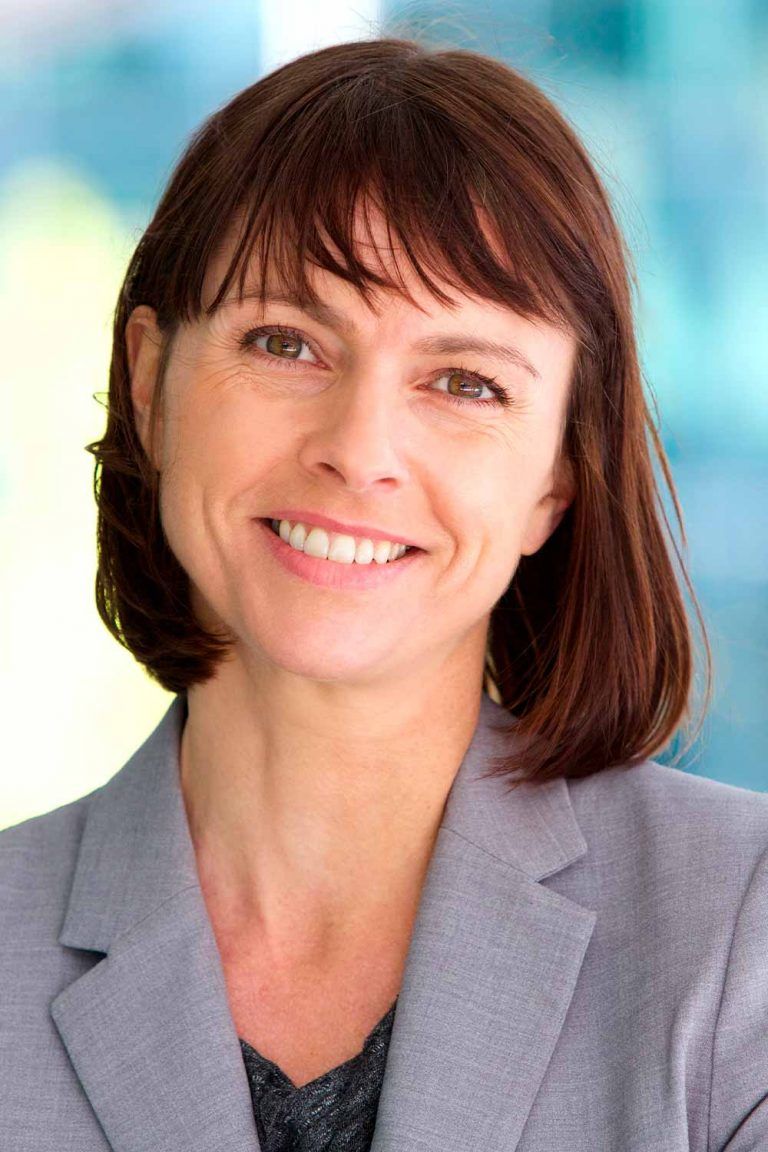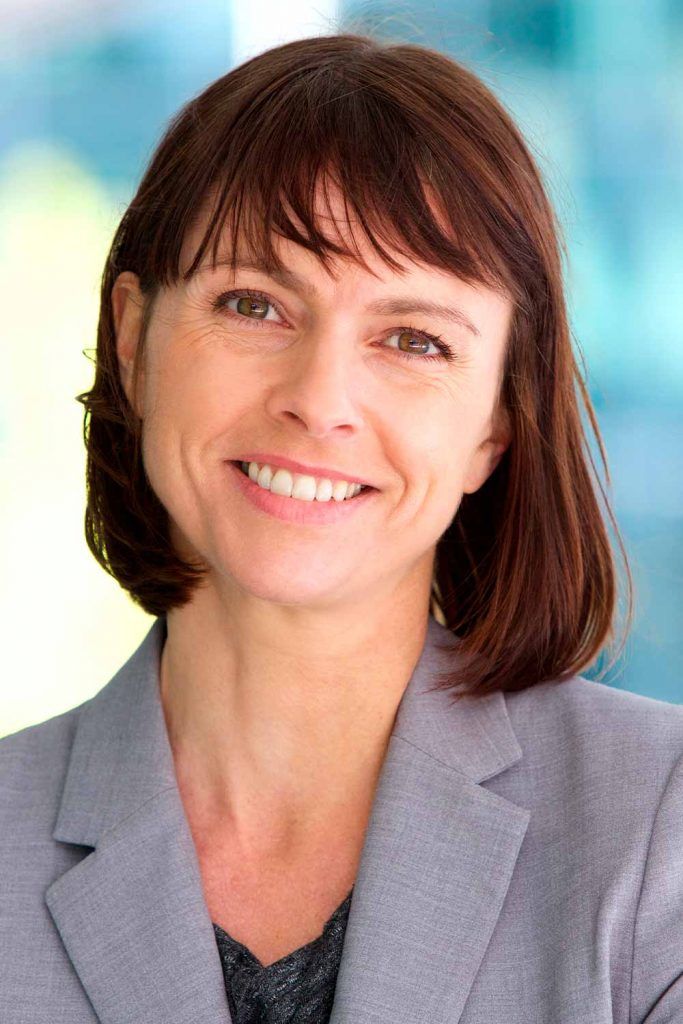 Credit photo: Shutterstock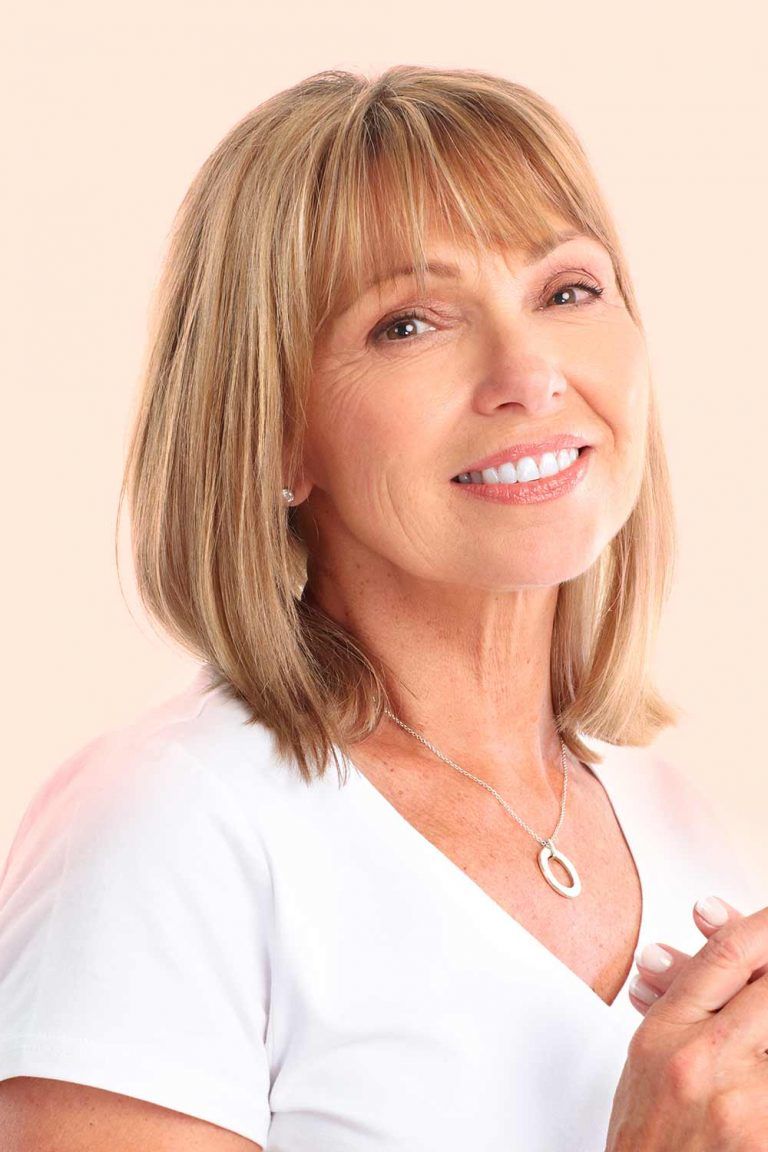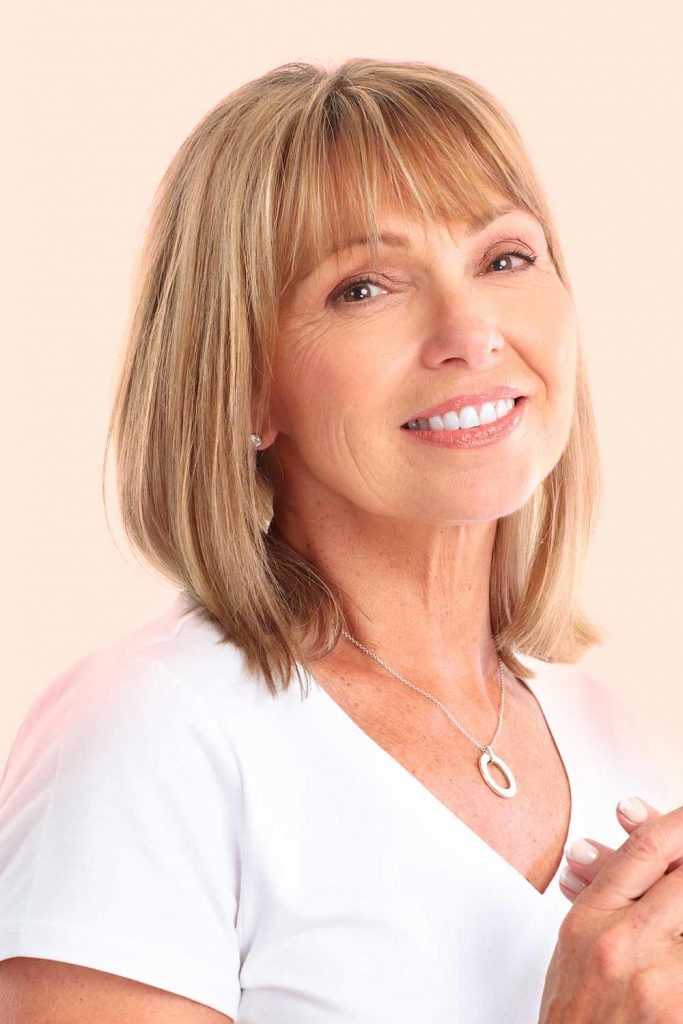 Credit photo: Shutterstock
When you suddenly realize that your face shape lets you down, don't blame your age! It can't take away your charming beauty, while a wrong hairstyle can obscure it. If you want your forehead wrinkles or a bit round cheeks look less visible, this classy long bob is for you. It gives a face-framing effect, adds volume, and hides your wrinkles without overlapping your brows. Bangs are what gives that age-defying magic here, and that's why so many short haircuts for women over 60 come with a fringe!
Layered Bob With Long Side Bang For Thick Hair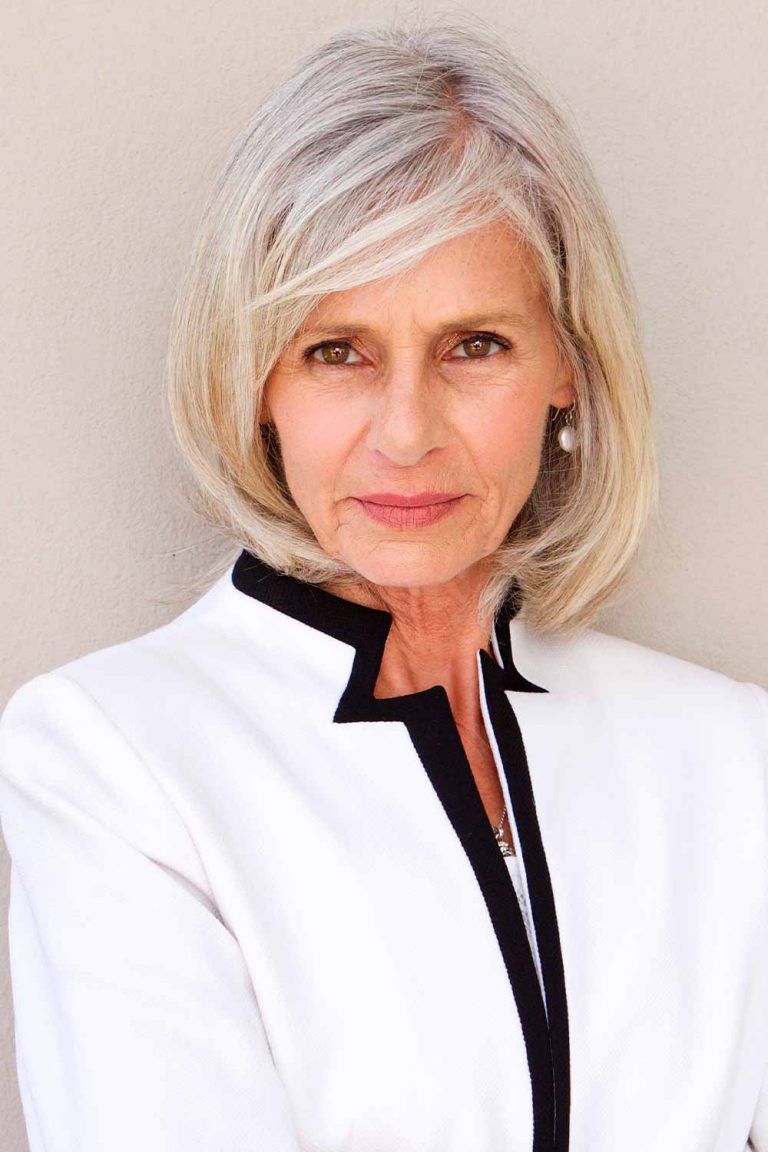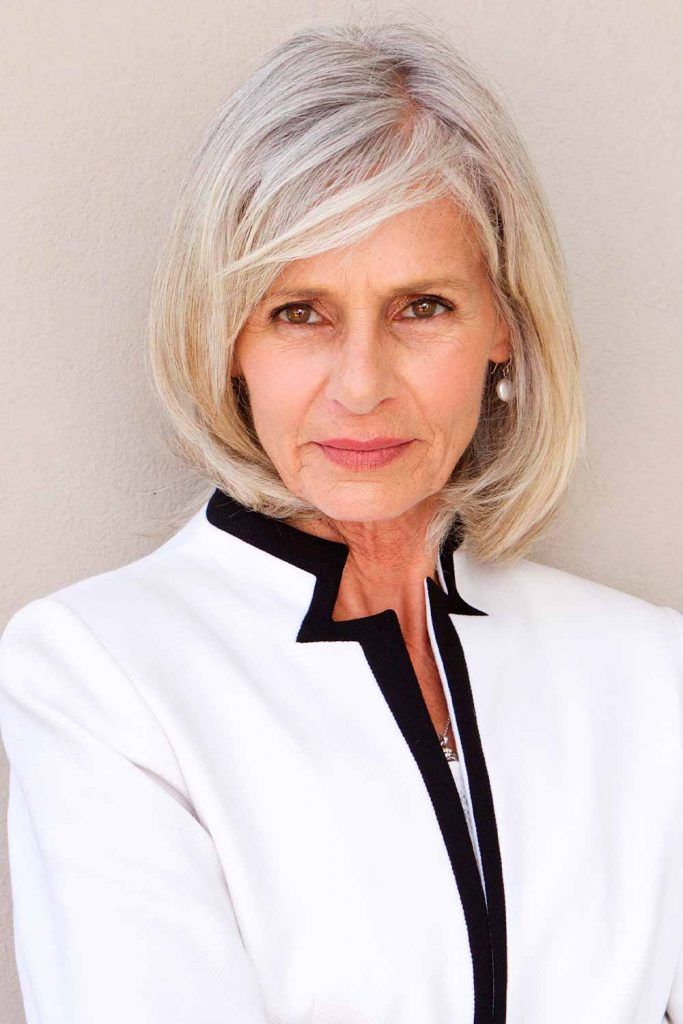 Credit photo: Shutterstock
Once you ask your hairstylist for some bang hairstyles for older women, you won't believe your eyes: the variety of the popular bob haircut seems to be infinite. And the stunning idea you see above is meant for ladies who want to tame their thick hair. Layers will make your hair more alive, adding volumetric body, while side bang will create a fascinating asymmetric silhouette to your locks.
Layered Chin Length Bob With Short Bangs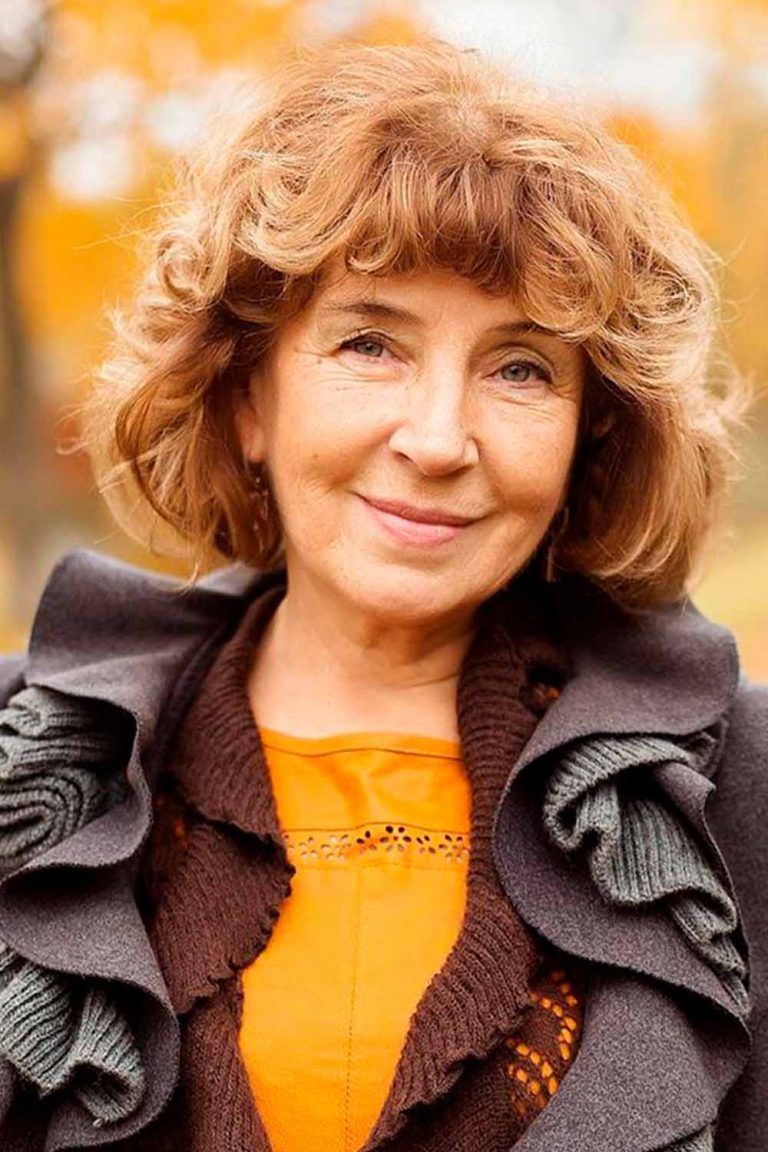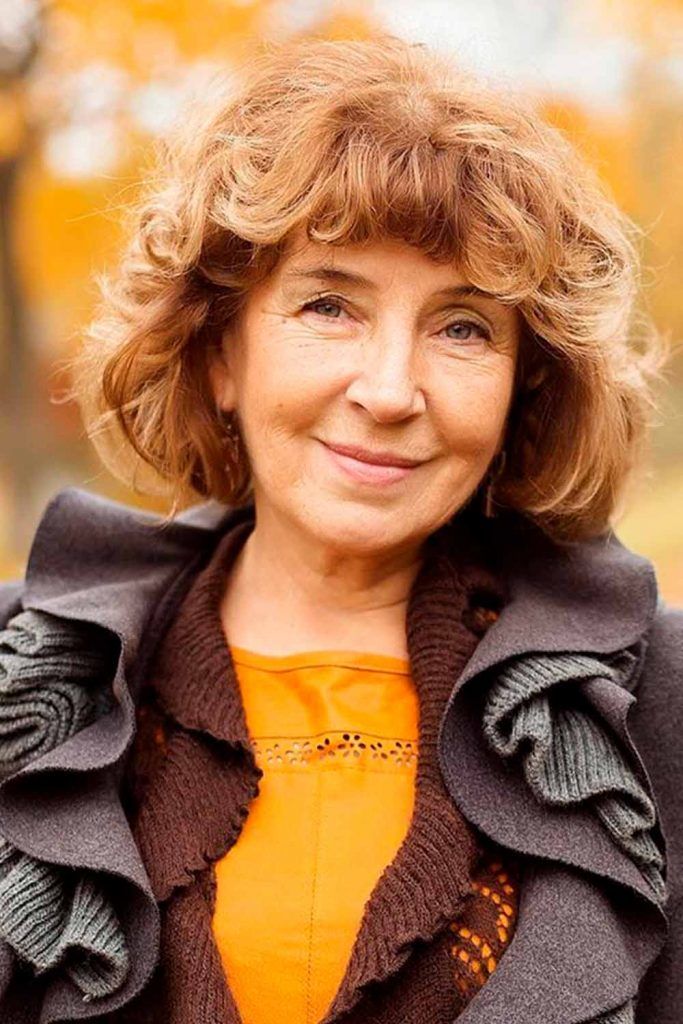 Credit photo: instagram.com/tanya.borisovskaya
After looking at this fancy idea, you will realize that hairstyles for women over 50 are even more stylish than ones for teens. Such a sophistication in its purest form can be found only on grown-up beauties! Remember that knowing your flaws is the key to the flawless look, so if you're one of those ladies who want to hide the big forehead, you should copy this look right now! Layered chin length bob keeps your hair full, and short bangs balance out everything.
Short Sleek Hairstyle With Thin Baby Bang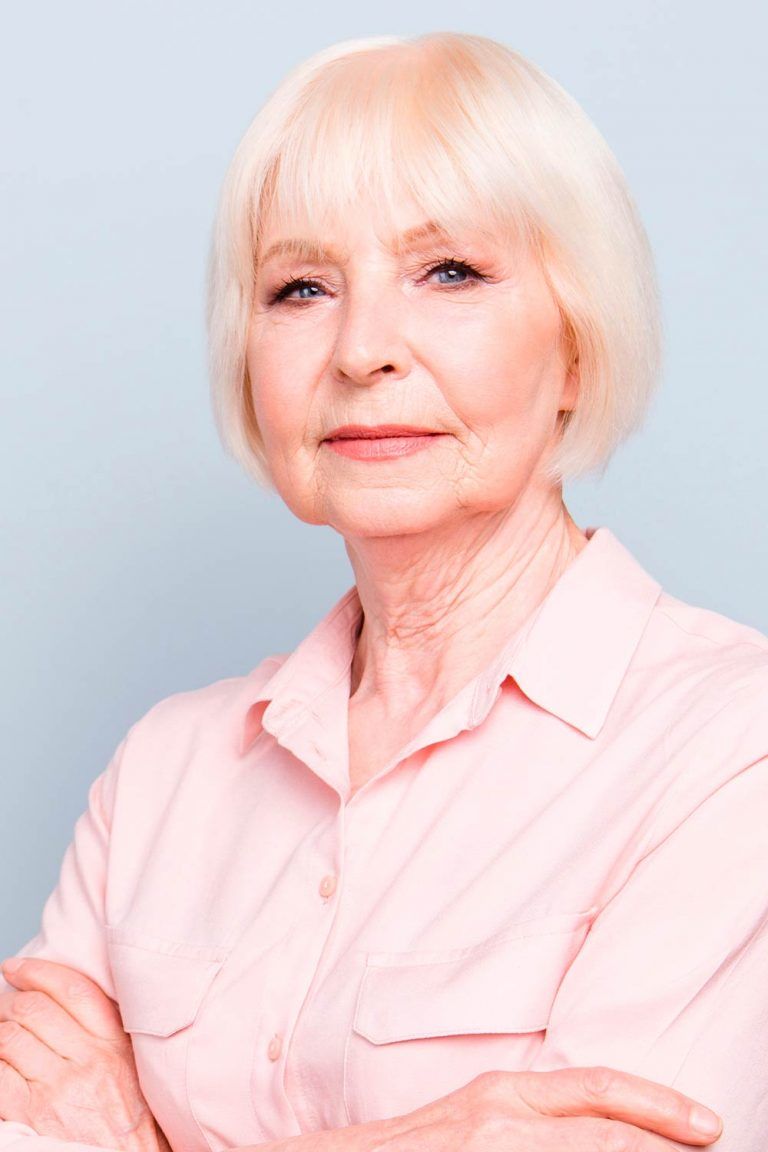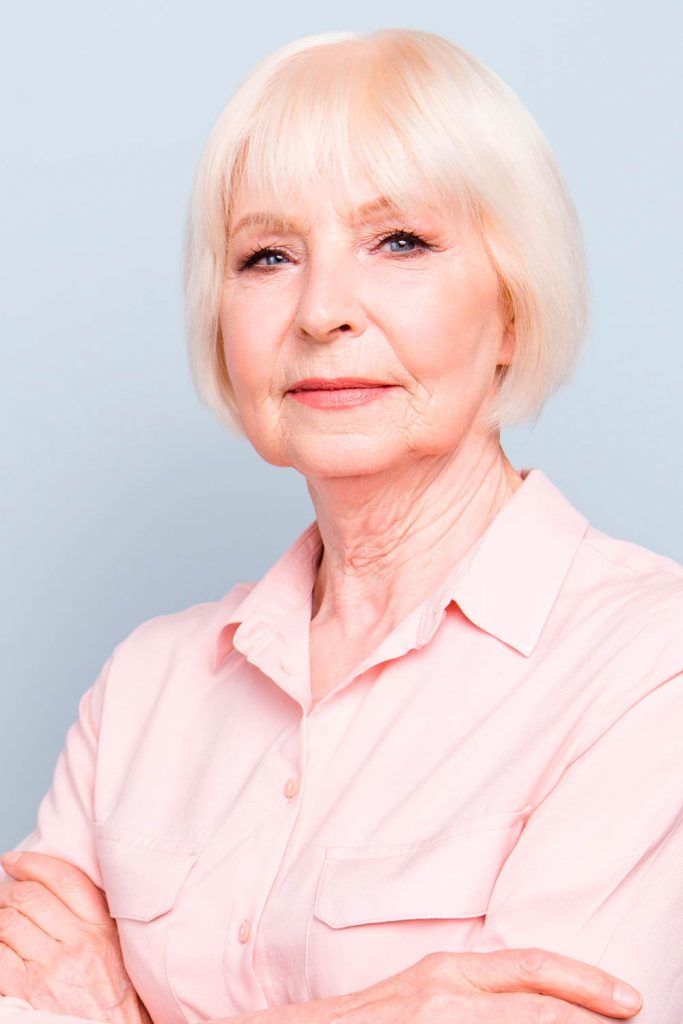 Credit photo: Shutterstock
How often do people say you look like a star that fell from the sky? Compliments are something that women of all ages want to hear. The look you see in the pic above is worth at least a million flattering words. If you want these words to describe you, don't miss one of the most dramatic short hairstyles for women over 50. The sleek bob, paired with above-brows choppy tiny fringe, creates a well-groomed and elegant look.
Side Parted Layered Medium Bob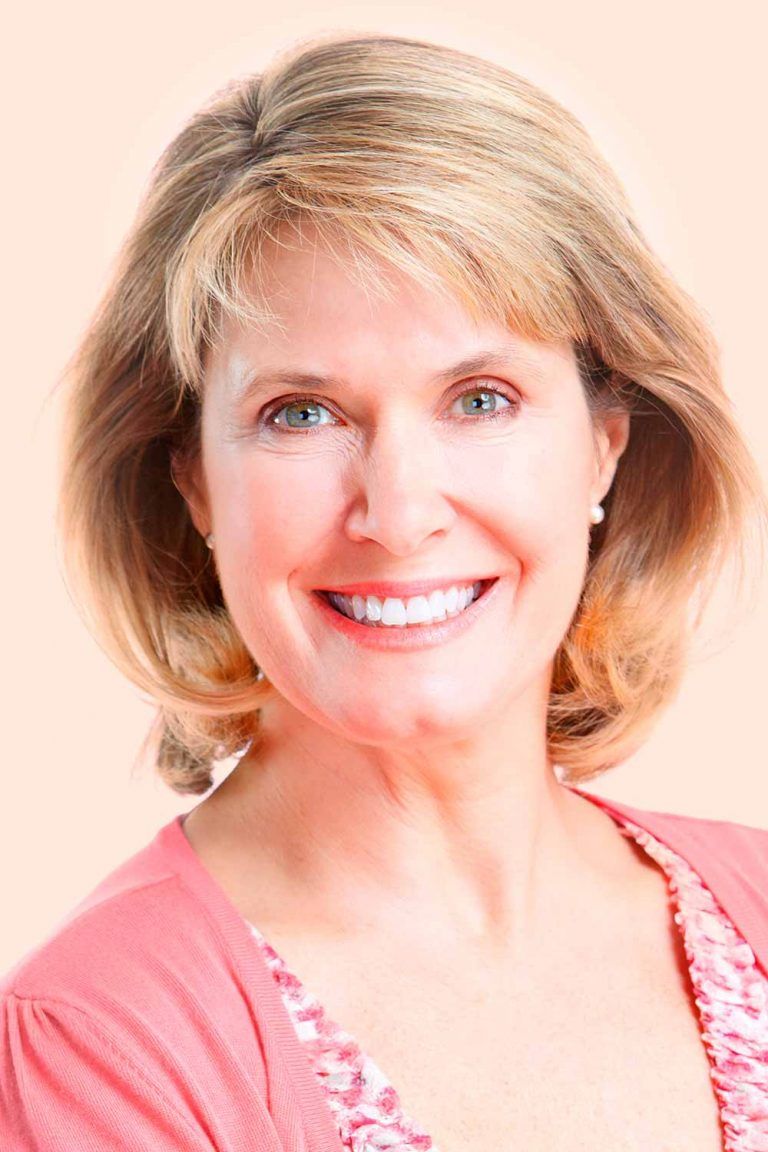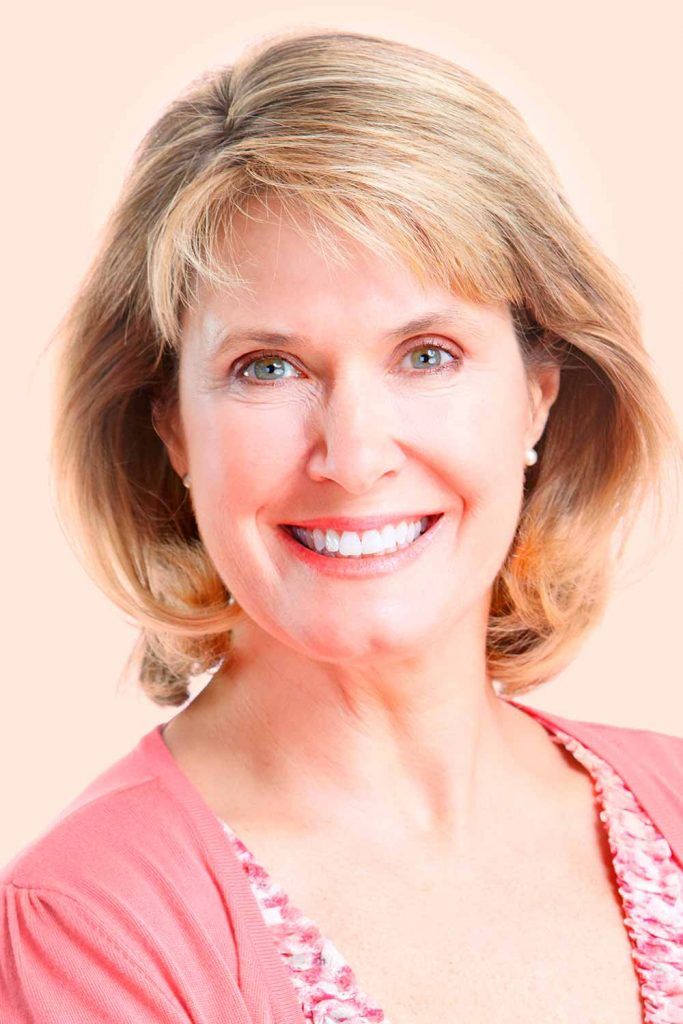 Credit photo: Shutterstock
Ladies who know the secret of side parting will take over the world! This styling trick can literally change the way your cut looks for women over 40. There's no need to tell you how gorgeous layered bobs are, but we want you to pay attention to this particular one. Side parted look, where one side is slightly outweighed by the other, makes you look absolutely fresh, drawing attention from your little flaws. No wonder that asymmetric bang hairstyles for older women are so in demand these days.
From Long To Medium Wavy Hairstyle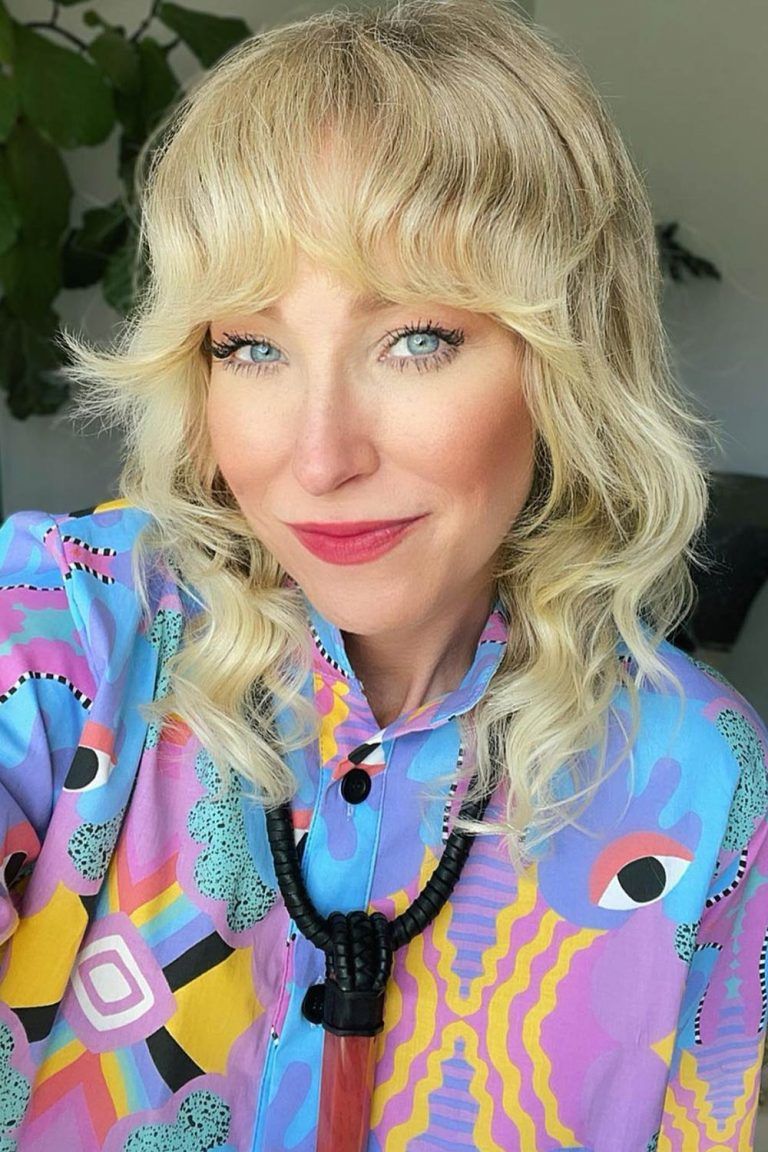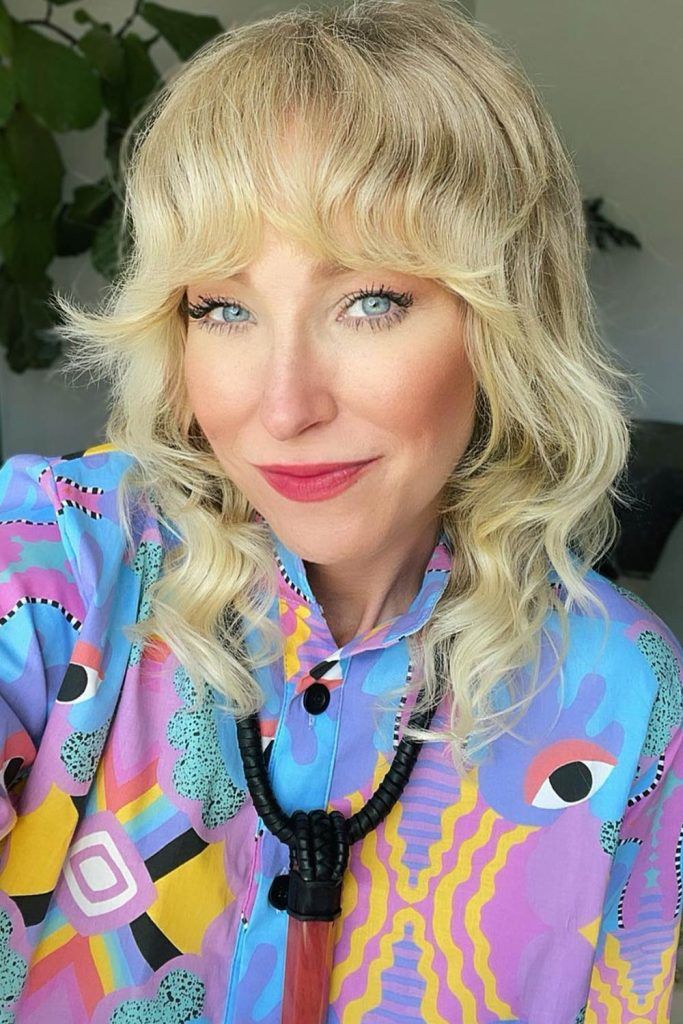 Credit photo: instagram.com/soraverly
This transformation is here for those who don't believe that haircuts can change life for the better. Many professional hairstylists say that medium length hairstyles for older women are a win-win, as this length is easier to style and maintain. Look at this awesome pic: besides her hair color, she's changed her long, untidy hair to well-groomed,age-defying, and voluminous cut with seamlessly framing bangs. Why don't you do the same?
Short And Sweet Layered Pixie For Fine Hair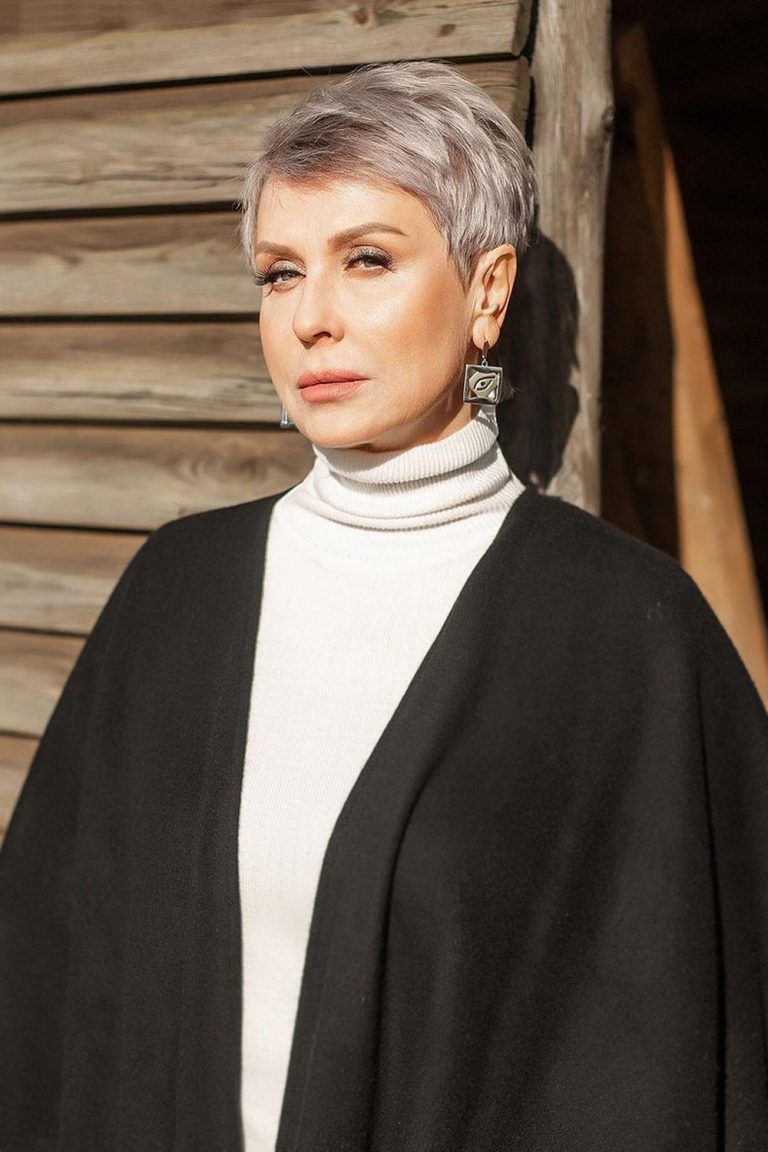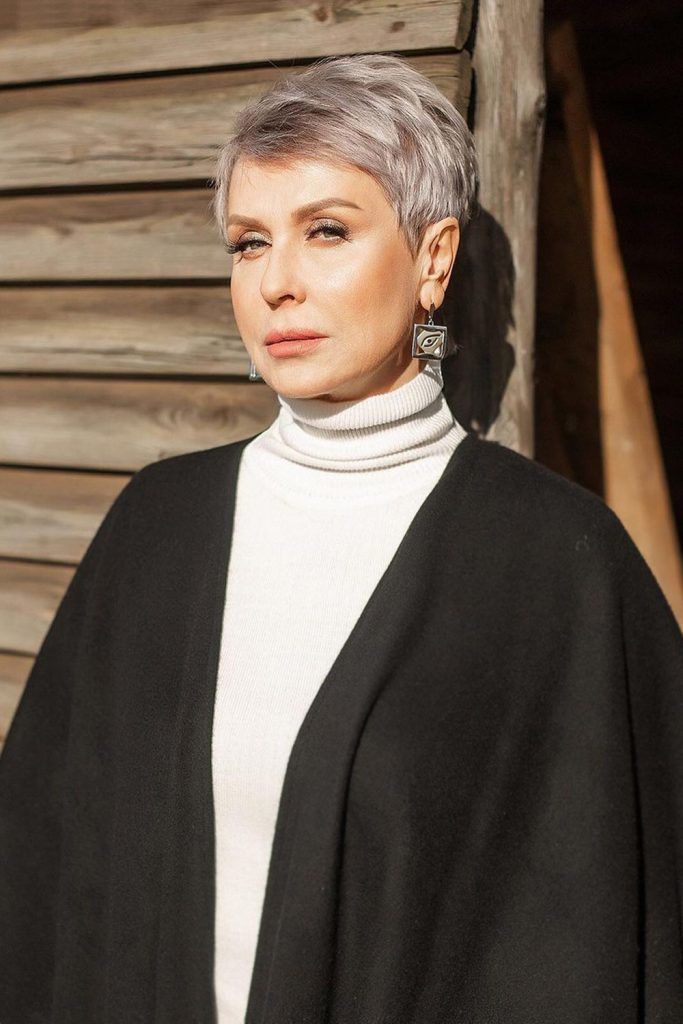 Credit photo: instagram.com/tanya.borisovskaya
Got tired of your troublesome fine hair styling routine? Well, this sweet layered pixie is an idea that can save the beauty of your fine locks and calm them down at the same time. Layers won't leave you without smooth movement in your hair, while bangs will hide some wrinkles, taking years off.
Modern Bowl Pixie Hairstyle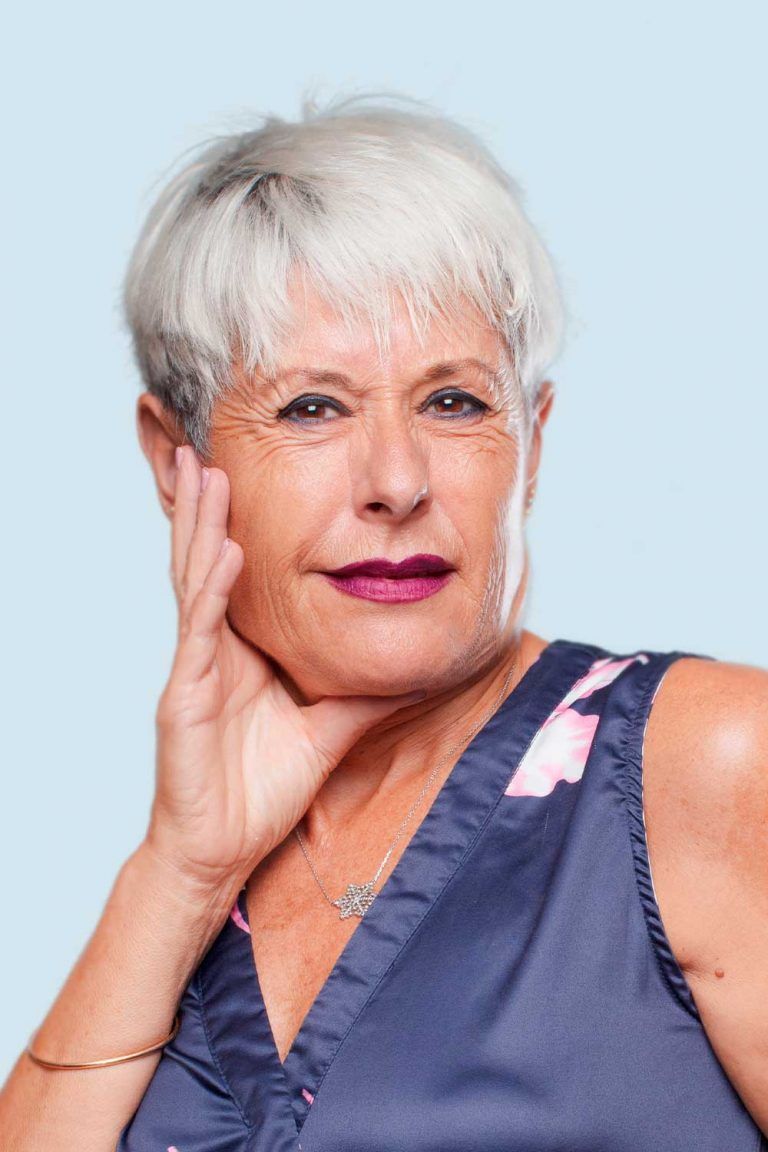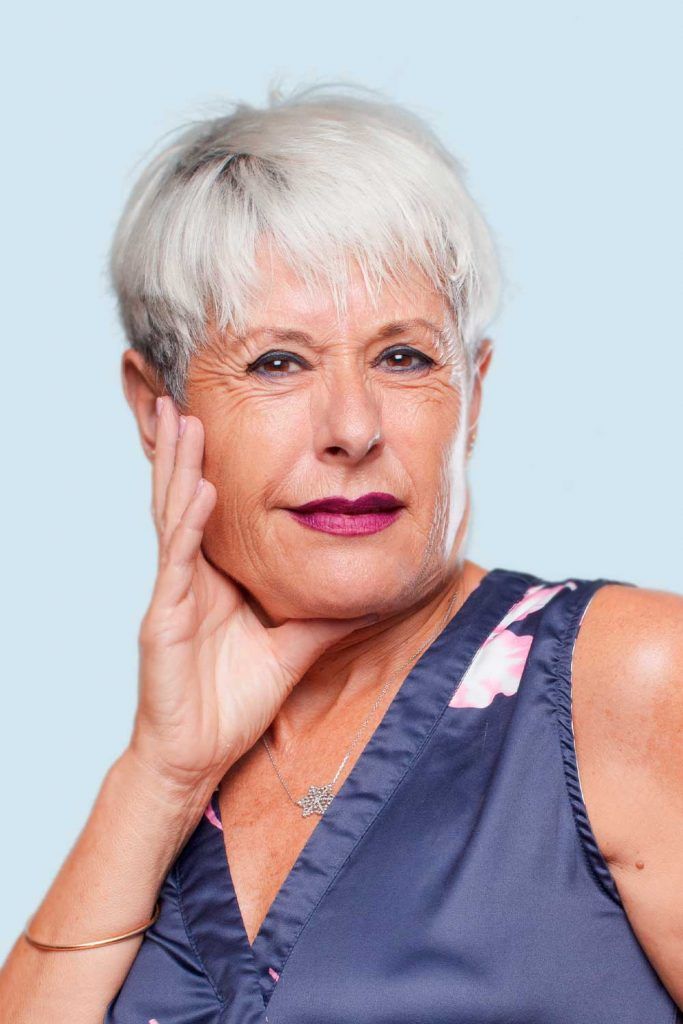 Credit photo: Shutterstock
Bowl pixie cut has a very definite fringe line; it seems like the whole haircut is a bang. If you're looking for short hairstyles for women over 50 that will perfectly match your grey or whitish hair, this idea is worth your attention. Almost every lady can give it a try, but this style looks ravishing on those with straight hair; the straighter your locks, the more immaculate look your bowl pixie has.
Light Auburn Blunt Bob With Thin Bangs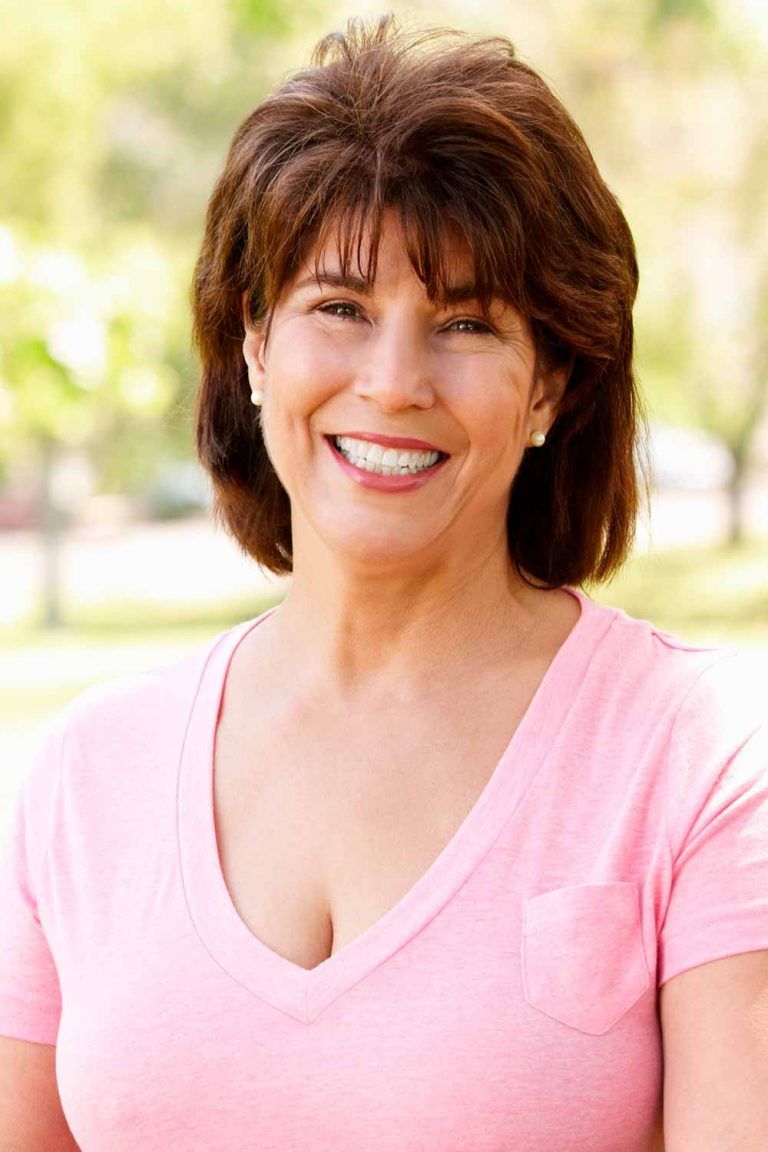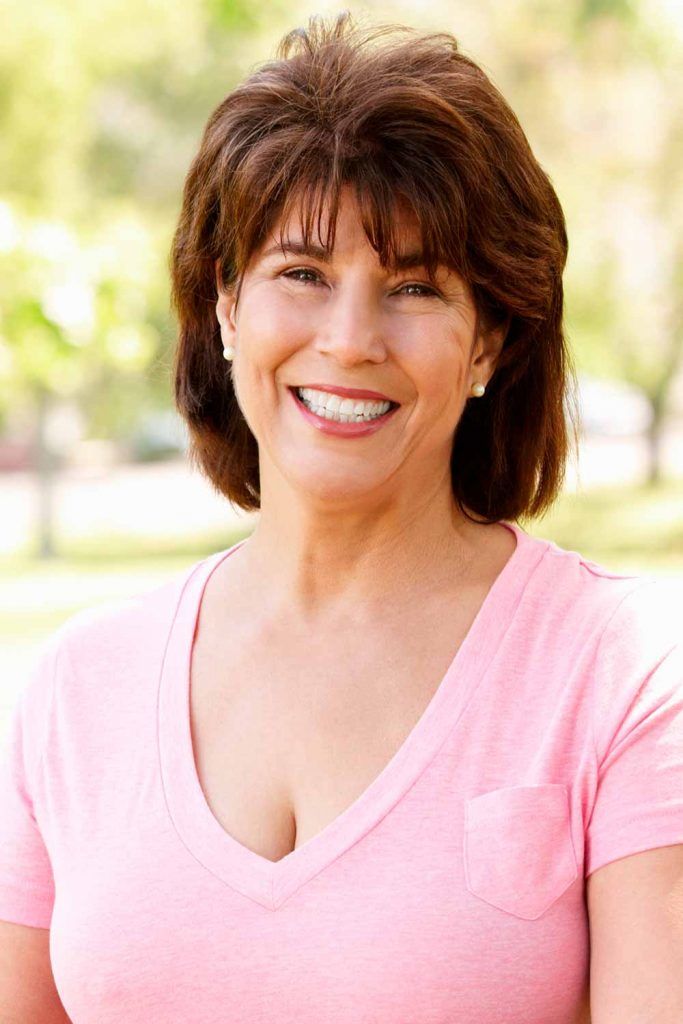 Credit photo: Shutterstock
Don't get surprised if most bang hairstyles for older women you see feature thin bangs. The truth is, when it comes to bangs, lushness isn't the main thing. The point is to keep the balance of the whole look. The blunt bob will give a well-conditioned look to your hair, and as for bangs: they will set the focus to your eyes, keeping your beautiful brows open.
Long Pixie With Layered Bang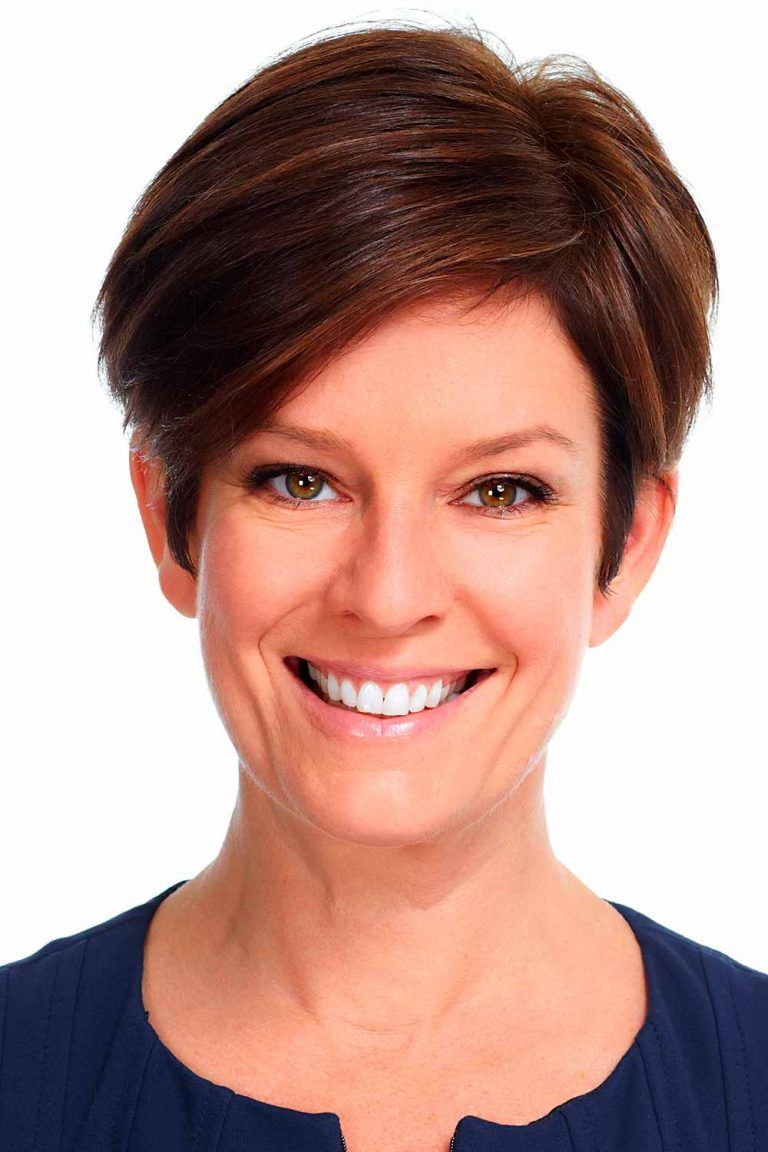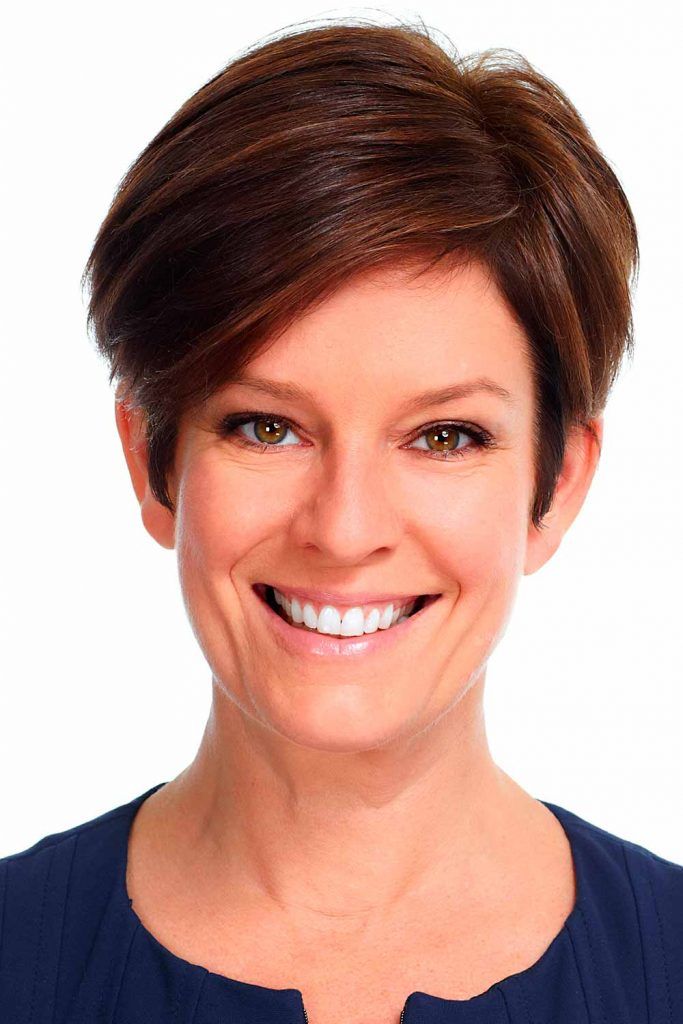 Credit photo: Shutterstock
Layered pixie is a haircut that has always been in the spotlight. It has no disadvantages, that's why women are in love with it. The longer layers frame your face, smoothing out the contrast between prominent forehead and slim chin, and short layers add liveliness. Isn't that a look to steal?
Messy Layered Bob For Thin Hair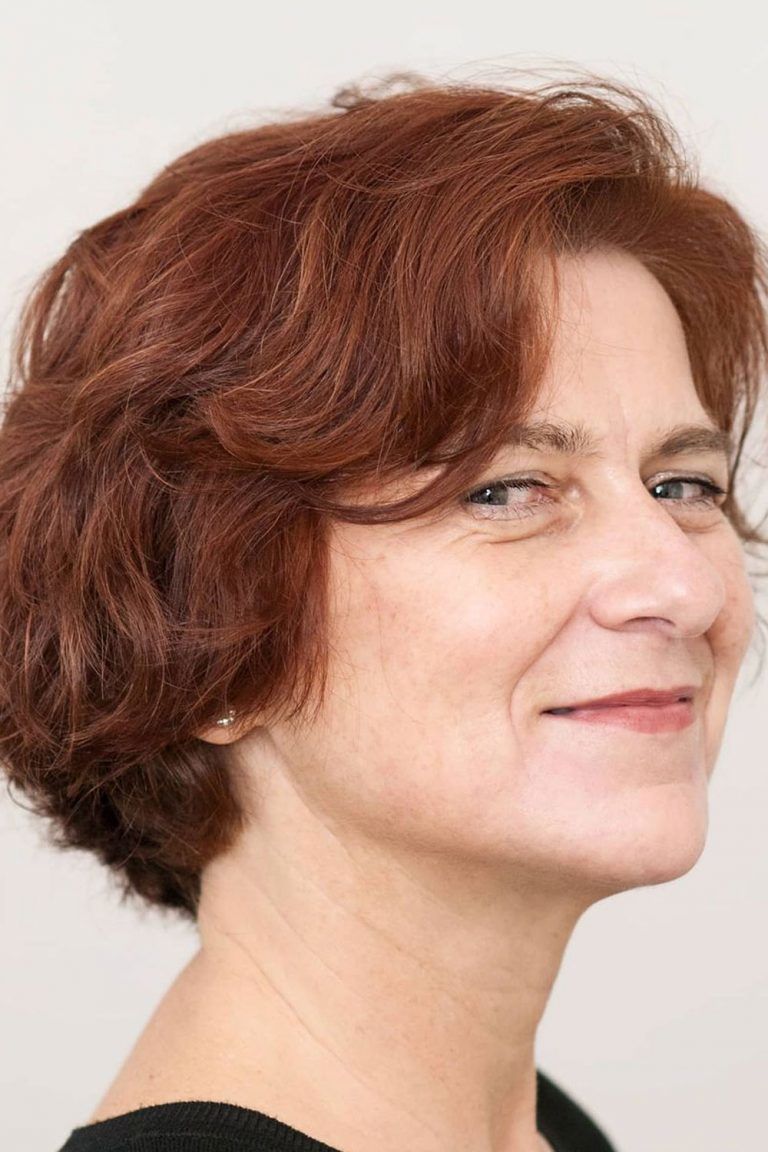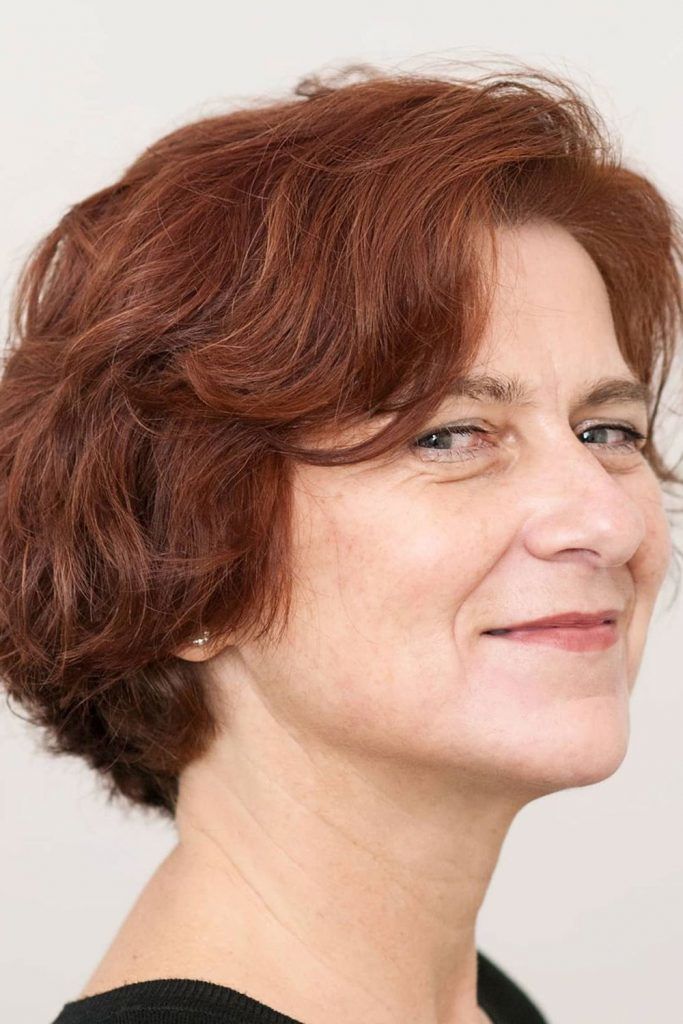 Credit photo: instagram.com/urednistvo.pricesk.robert
Yes, layered cuts don't stop impressing us. Since they can add body to your hair, your thin locks need some layers! Messy silhouette will hide the lack of fullness in your hair, and layered bangs will add some more texture and movement, making your thin hair look lush and voluminous.
Stylish And Volumetric Wavy Lob With Bangs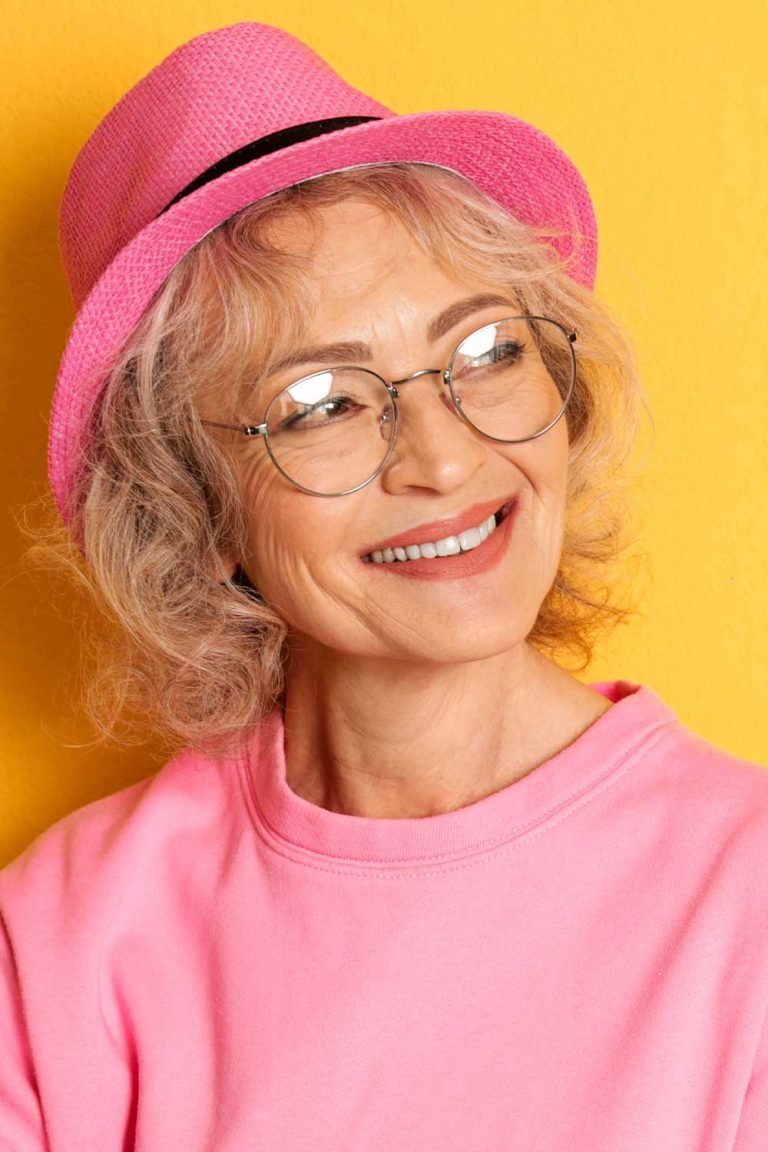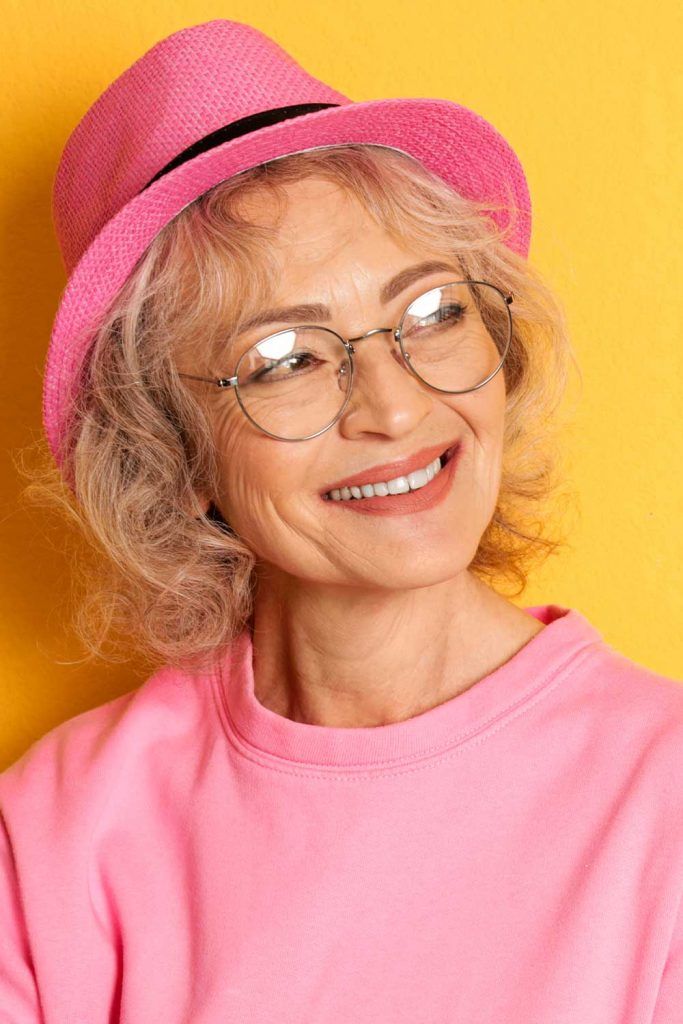 Credit photo: Shutterstock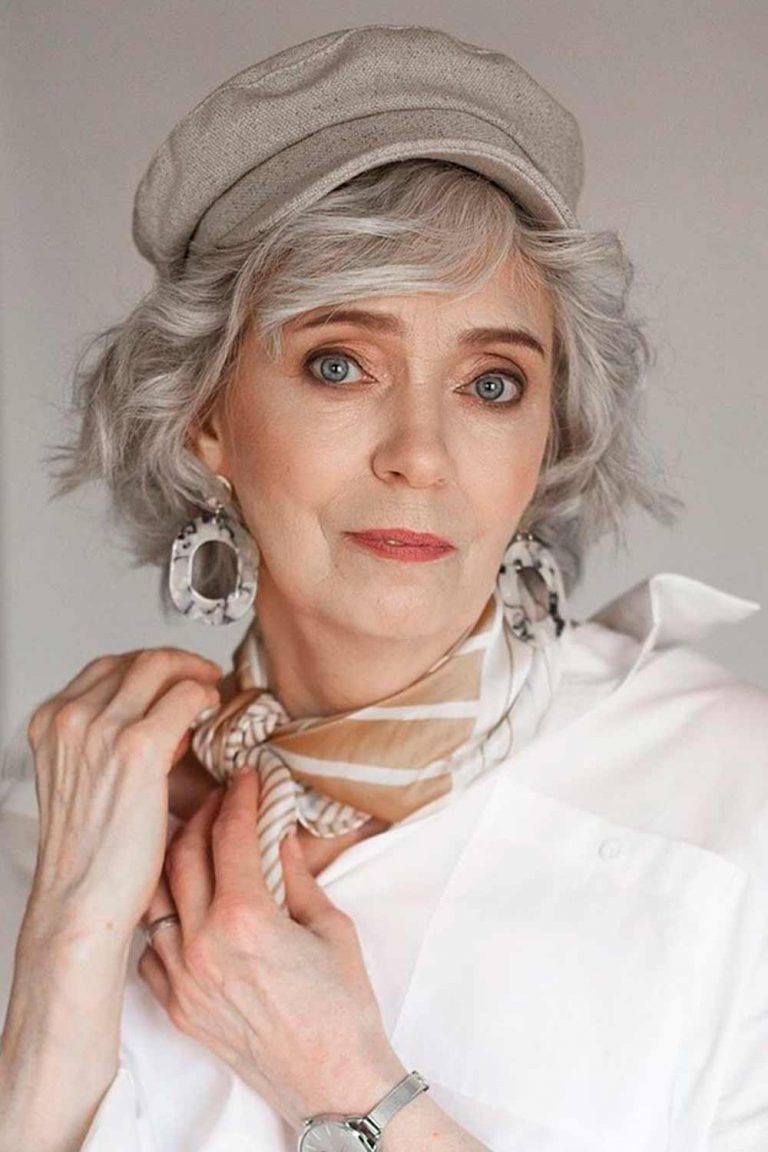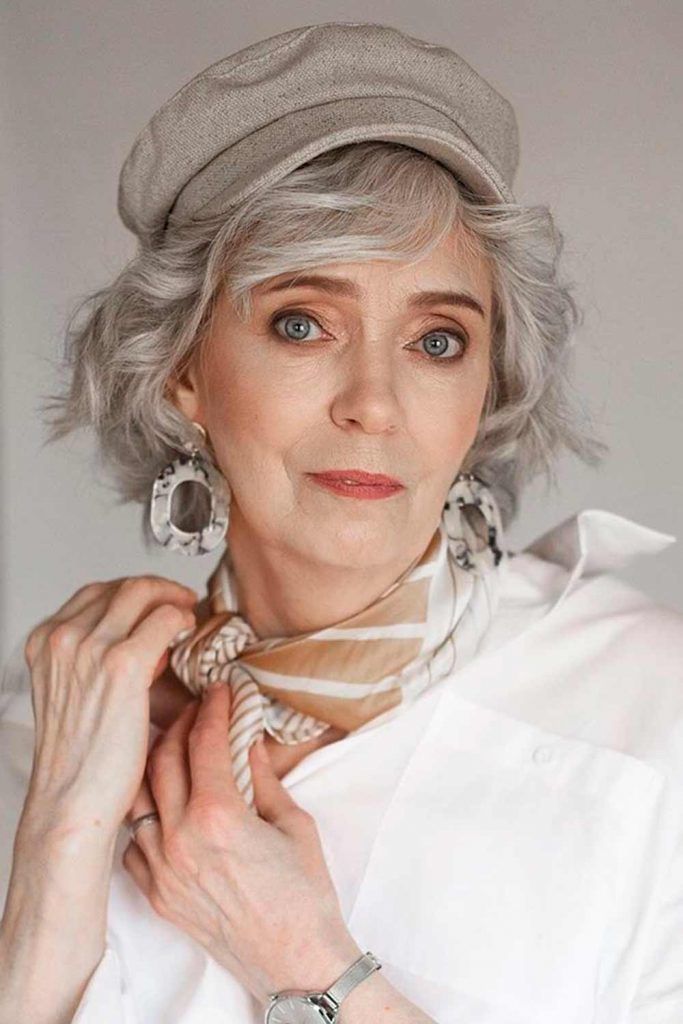 Credit photo: instagram.com/tanya.borisovskaya
We opt for lobs because of its versatility for daily looks, but let's take a moment to appreciate its gorgeous evening side. Wavy lob looks so stunning that it's hard to take eyes off this lush wavy hair, and when it's paired with cute bangs, it officially becomes the best idea among all the bang hairstyles for older women.
Short Pink Pixie With Layered Bang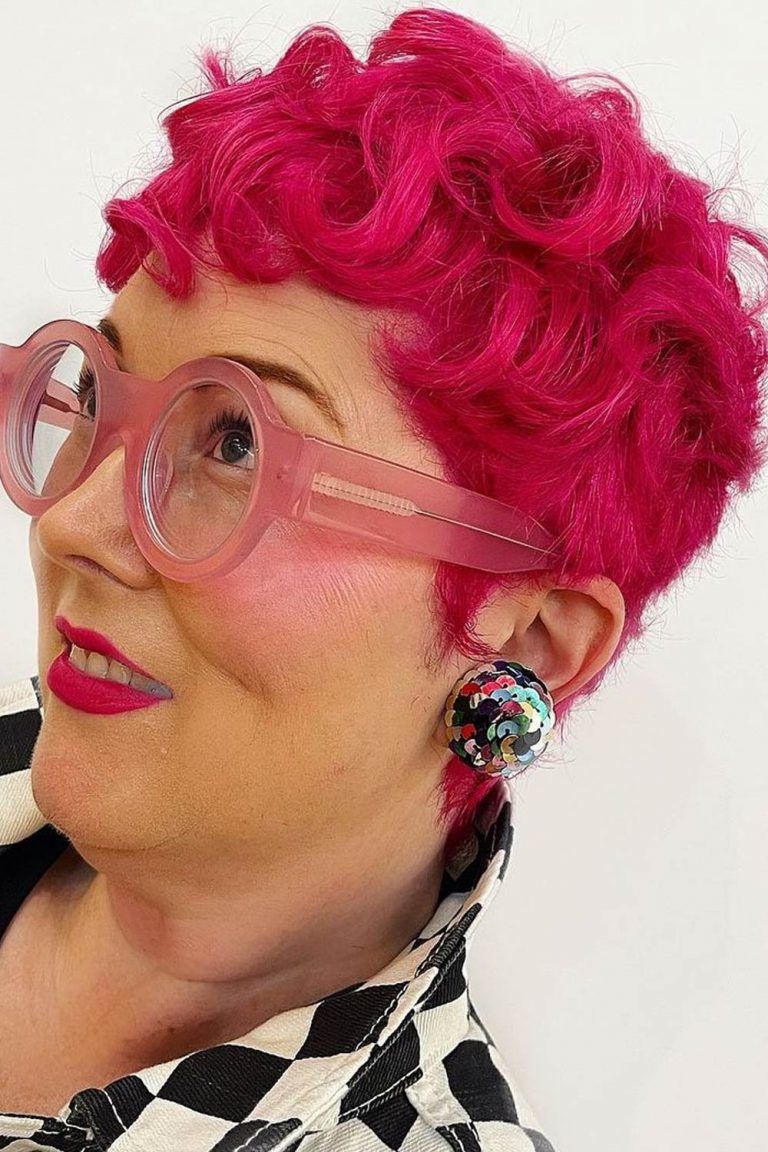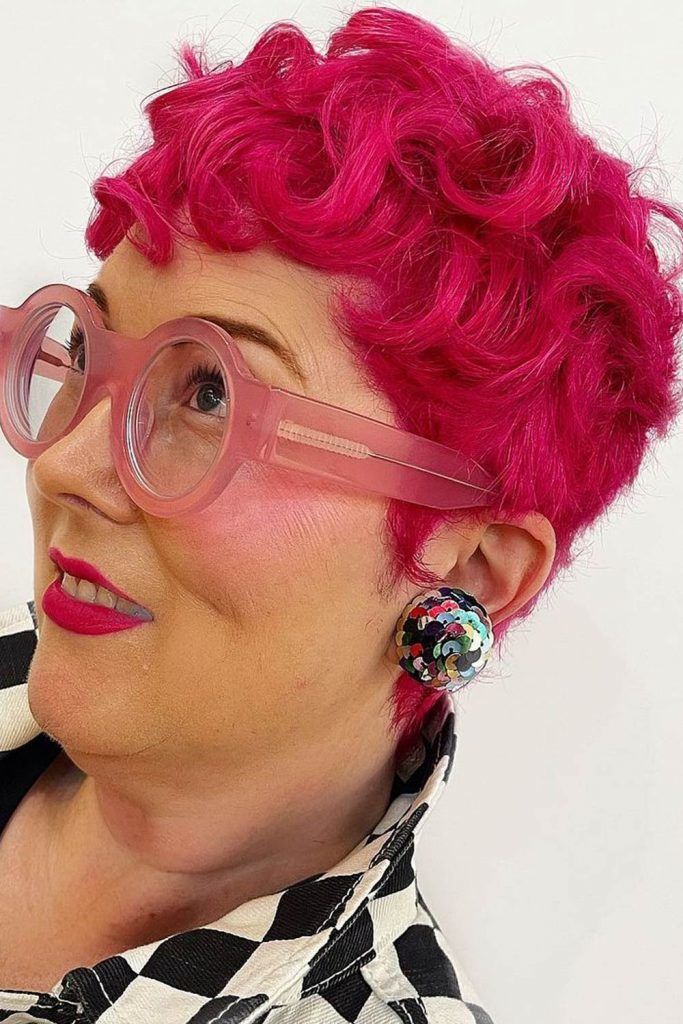 Credit photo: instagram.com/presleypoe
The best thing about short haircuts is that they're totally easy to maintain. Just imagine that your hairdo takes minutes to get it done, so you can dedicate your mornings to enjoying your life. Plus, pixies can make you look ten years younger, especially if your pixie is pink! Don't forget about layered bangs: some texture won't hurt!
Sleek Platinum Blonde Bob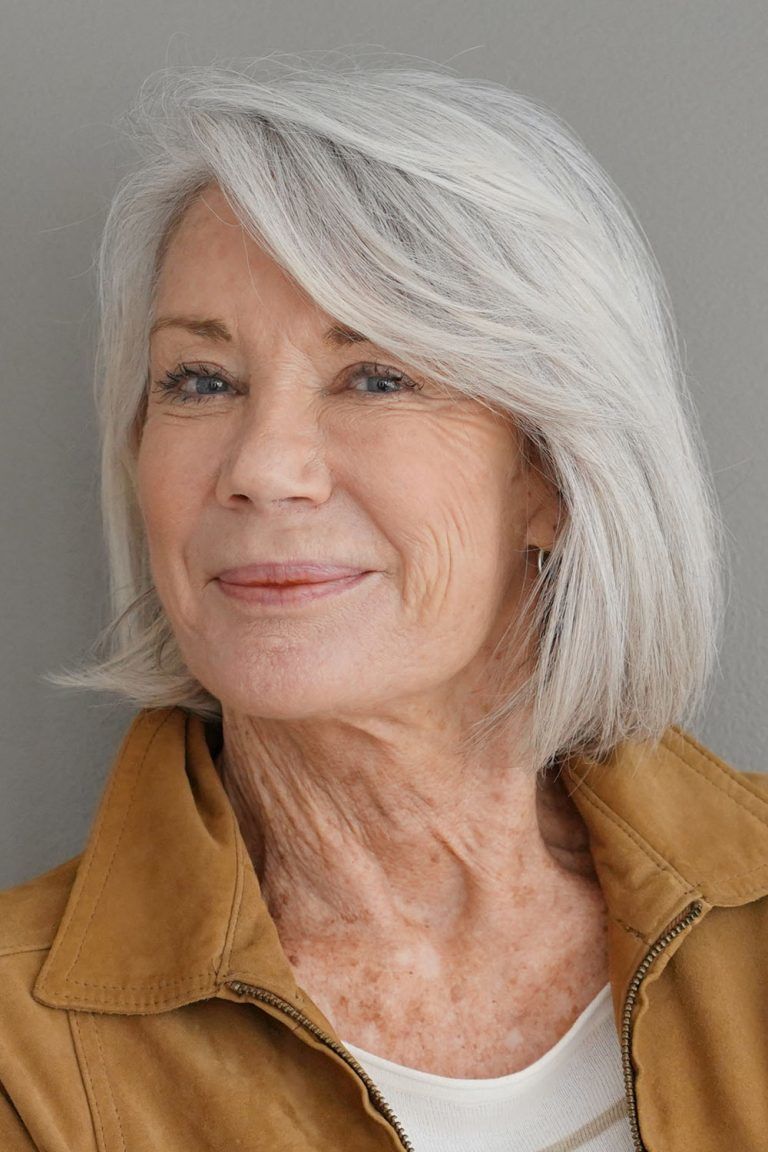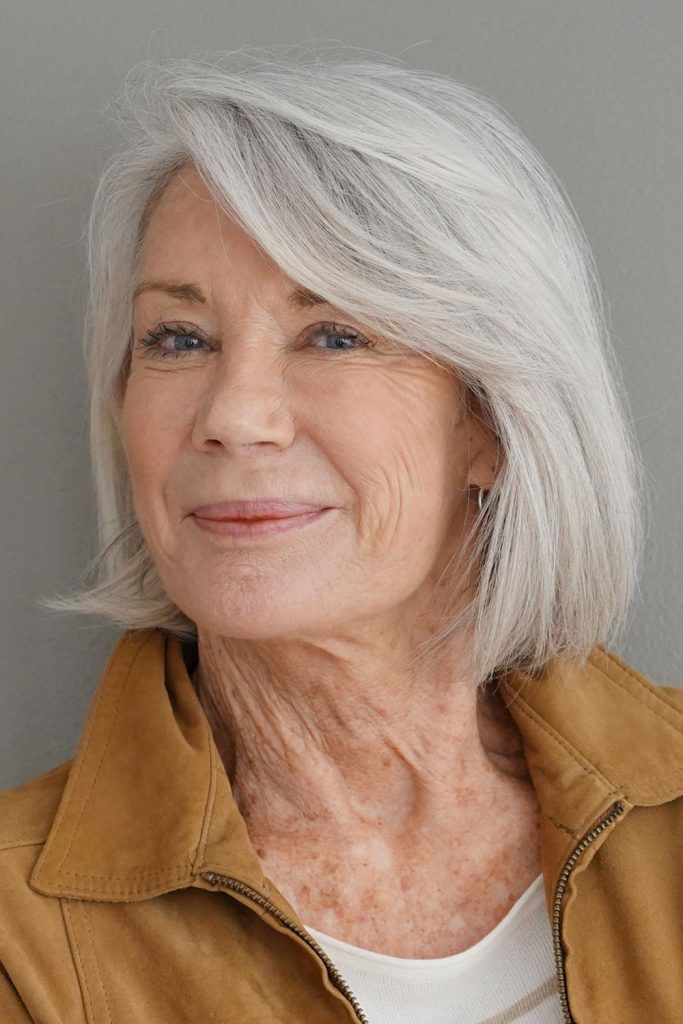 Credit photo: Shutterstock
Thanks to modern mods and trendsetters, white hair is not about aging. It's about the exceptional sense of style! And this sleek platinum bob with bangs is the pinnacle of stylishness. Your hair texture, no matter what it is, becomes weaker with age, so it needs a special approach. This bob is a perfect example of such an approach: your hair is tamed, calmed, and whipped into shape.
Layered Long Platinum Blonde Bang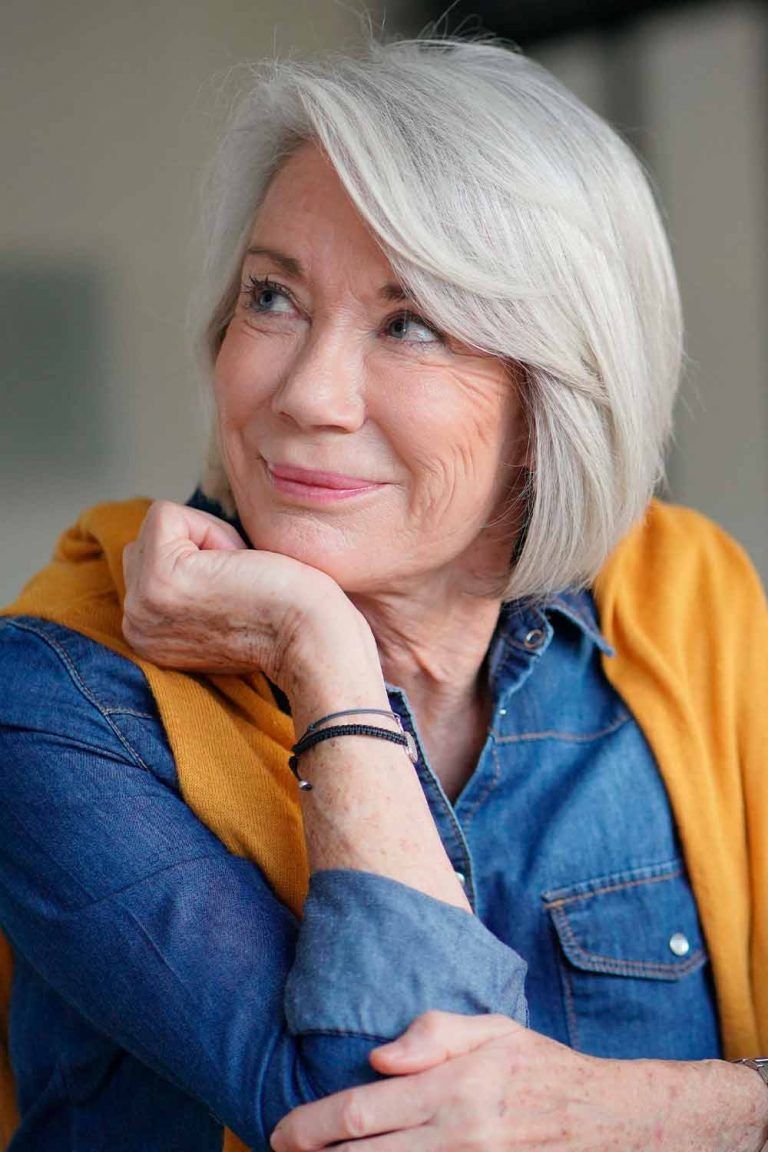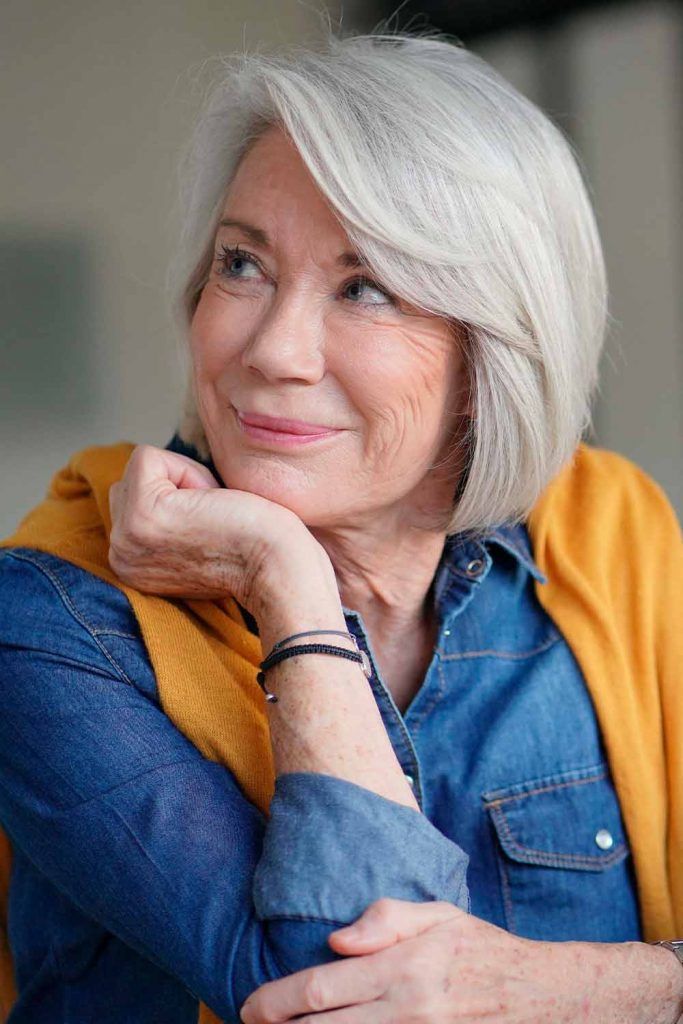 Credit photo: Shutterstock
Even though this platinum blonde idea is the opposite of the previous one, it has something to impress you. Bang hairstyles for older women have many faces, some of them are slick and clean, and some are messy and edgy. But they have one thing in common: they all flatter you stunningly. Messy styling makes this layered bob look even more youthful!
Medium Wavy Brunette Hairstyle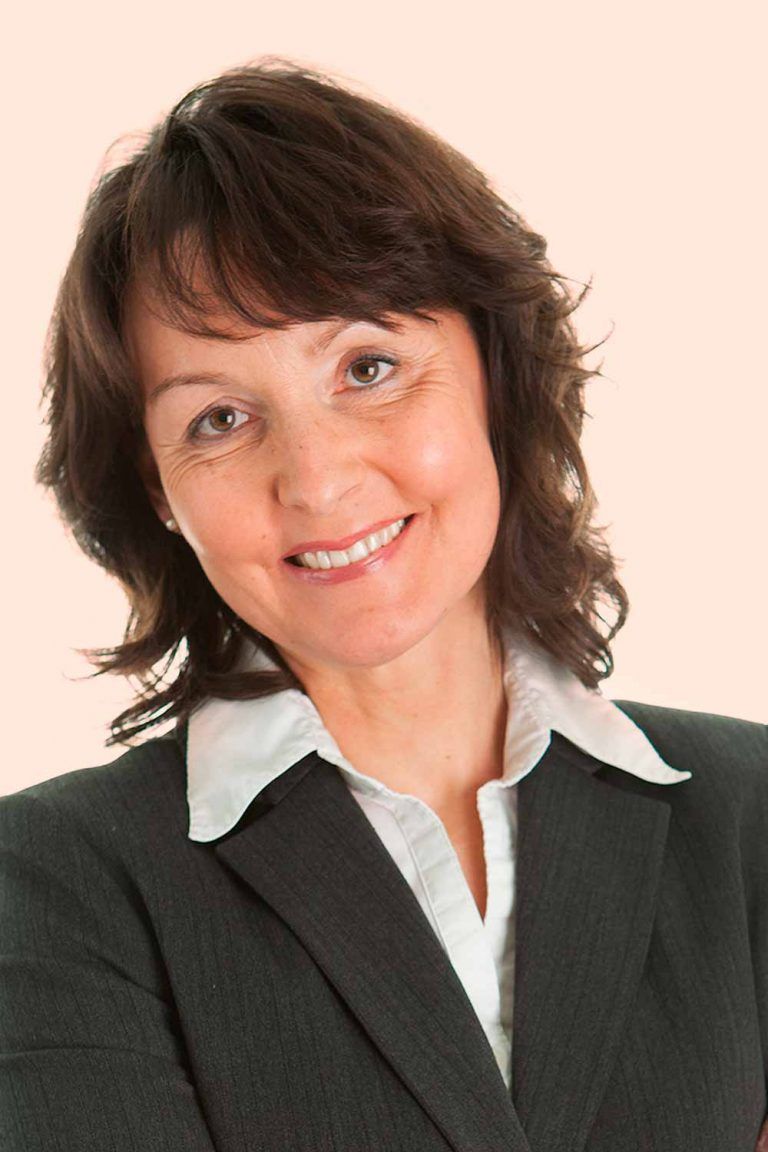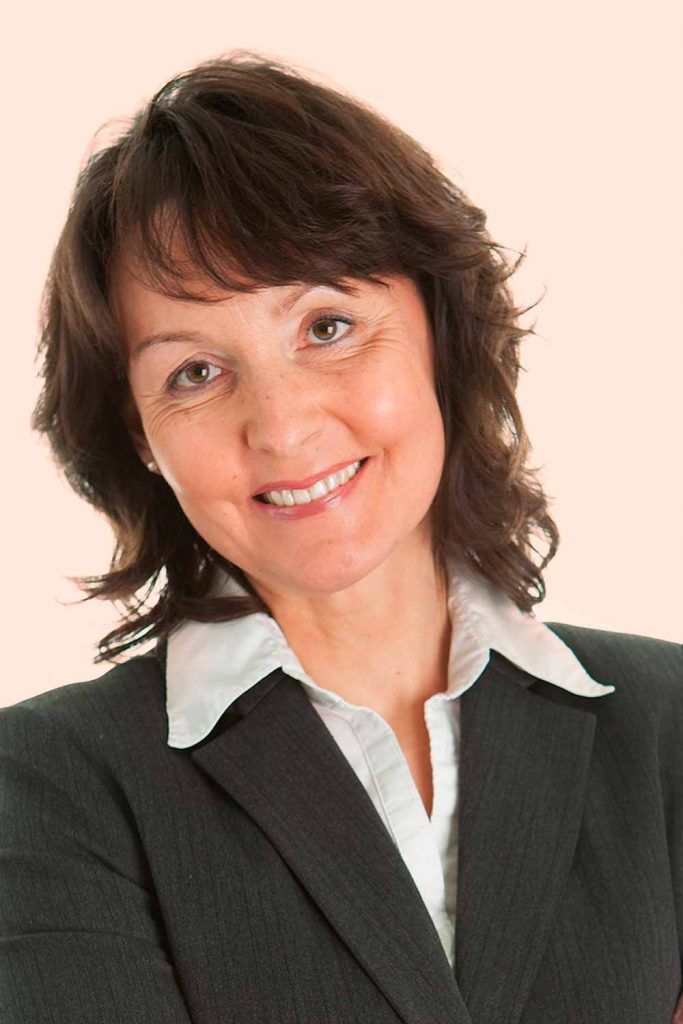 Credit photo: Shutterstock
If you have wavy hair type, finding right haircut is unbelievably important for you. Natural waves always need attention, and your haircut should properly emphasize its best sides. Our advice is to keep such hair on medium length to avoid flatness and volume up your locks. How do you like this awesome medium hairstyle with a fringe? This is how perfect wavy style looks like.
Sassy Undercut + Pink Pixie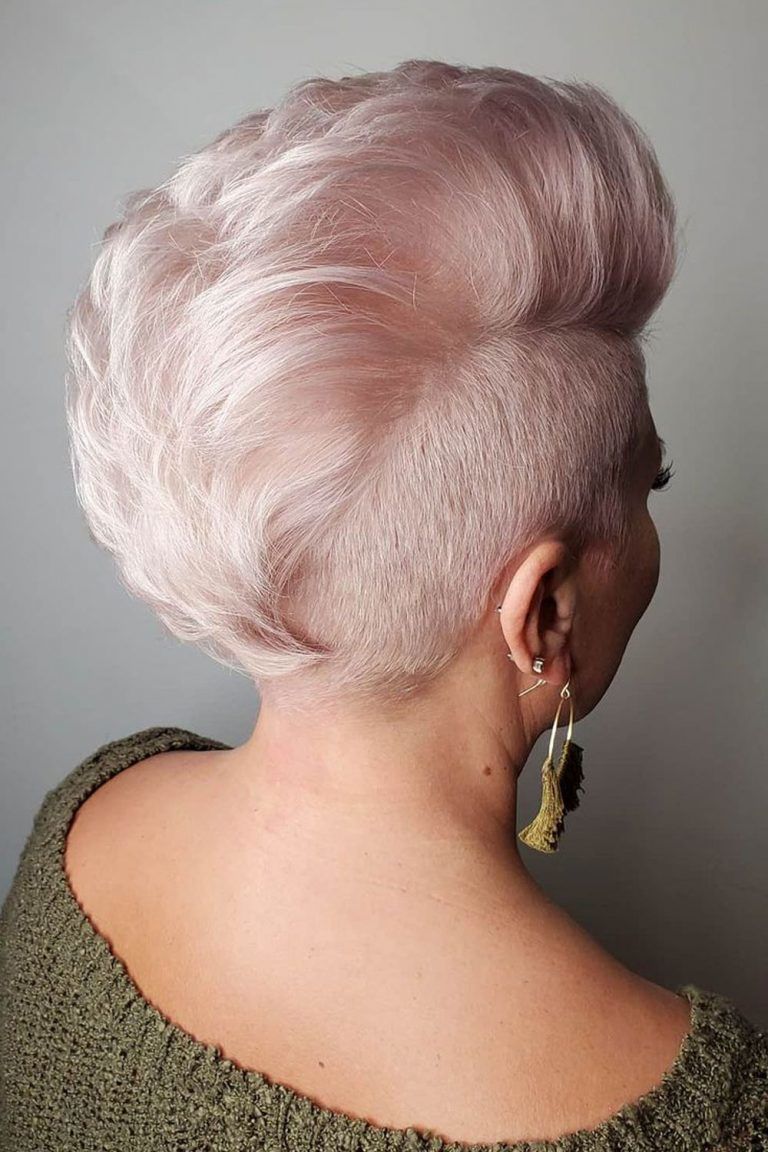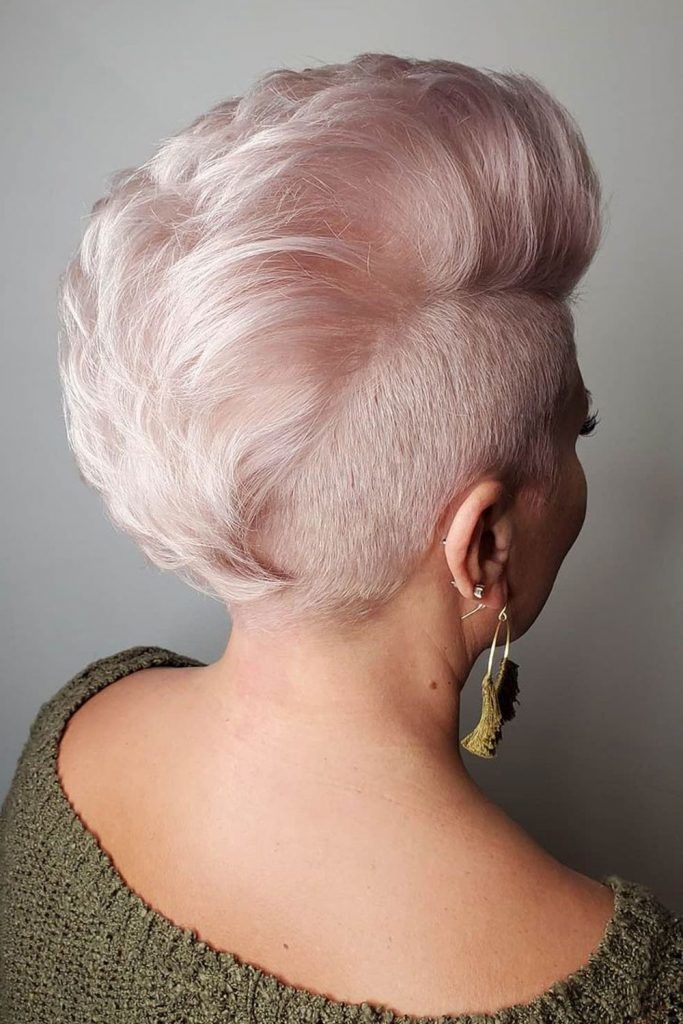 Credit photo: instagram.com/hair_by_marlo
We won't leave you without some badass, punky, and bold haircuts! Here comes an idea for bright personalities who want to express themselves in the most unusual way. The cool pink undercut that roughly graduates to the punky pixie cut! Will you join them?
Short Pixie-Bob With Long Side Bang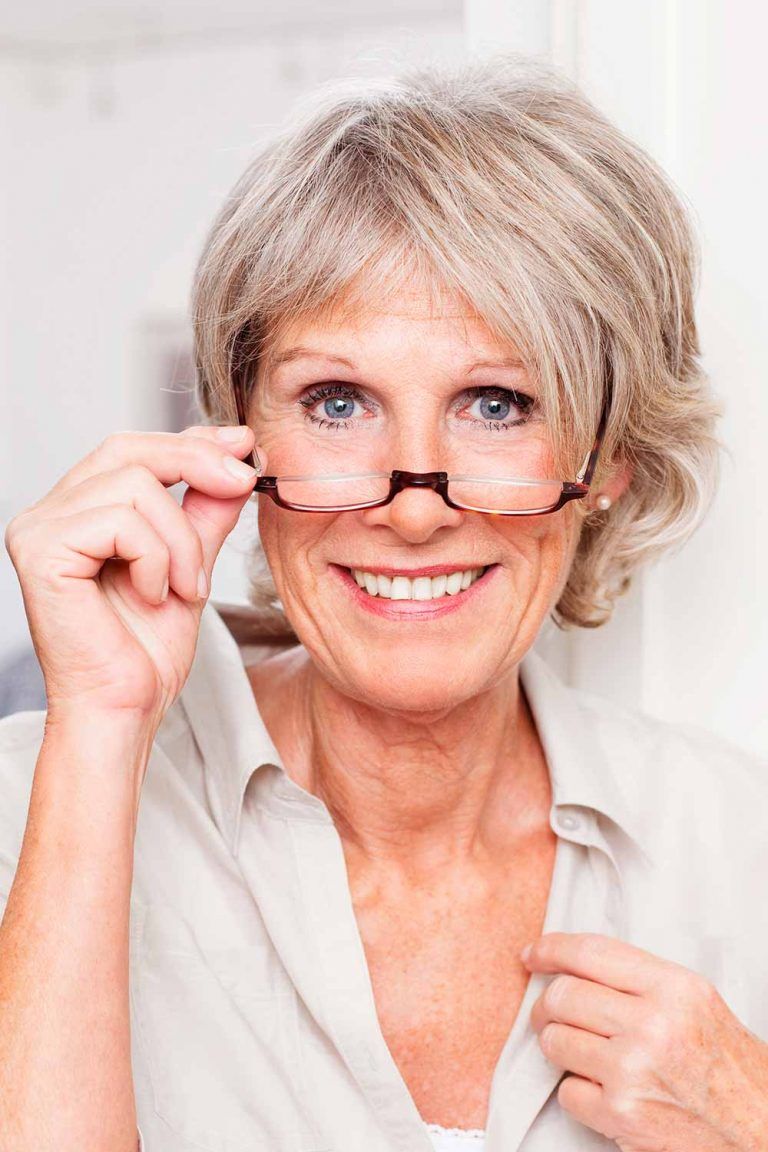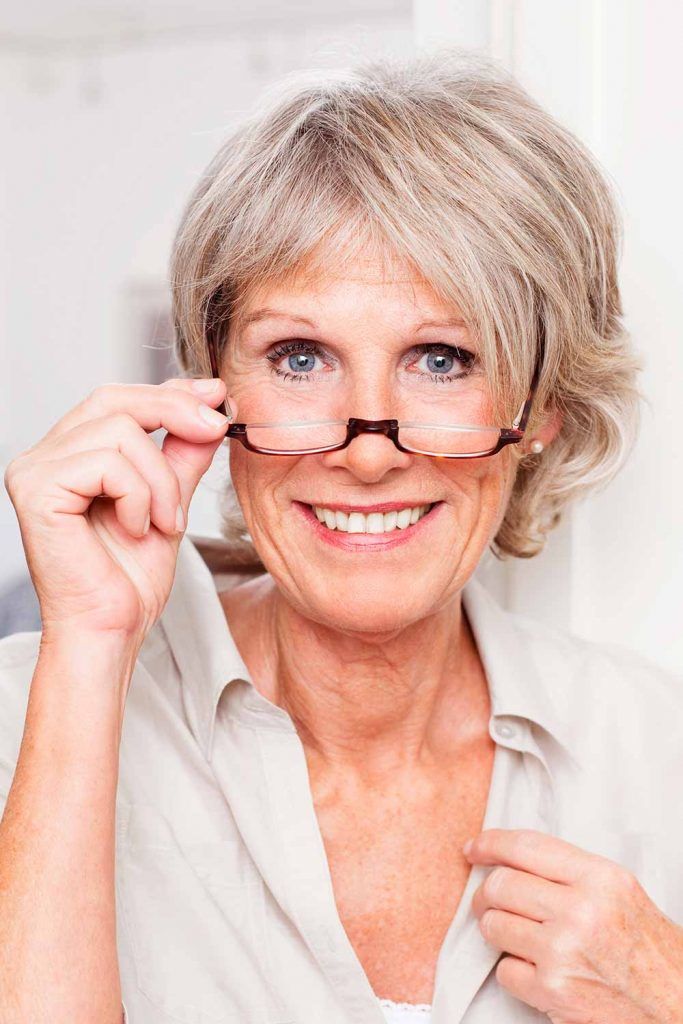 Credit photo: Shutterstock
If you want to add some more volume, spicing up your look with a sense of modernity, nothing will work better than pixie bob that blends with a long bang. Such a fringe gives more room for styling creativity and face-framing tricks, while the crown of pixie bob volumes up the body.
Undercut Short Pixie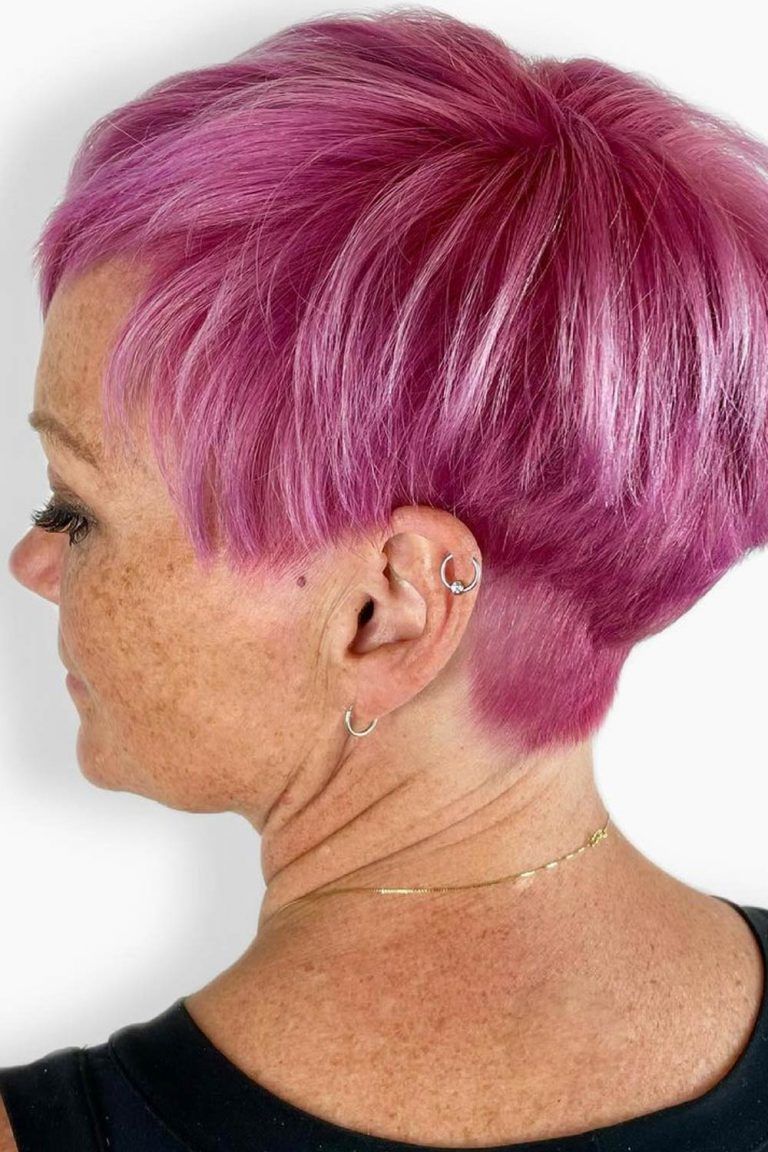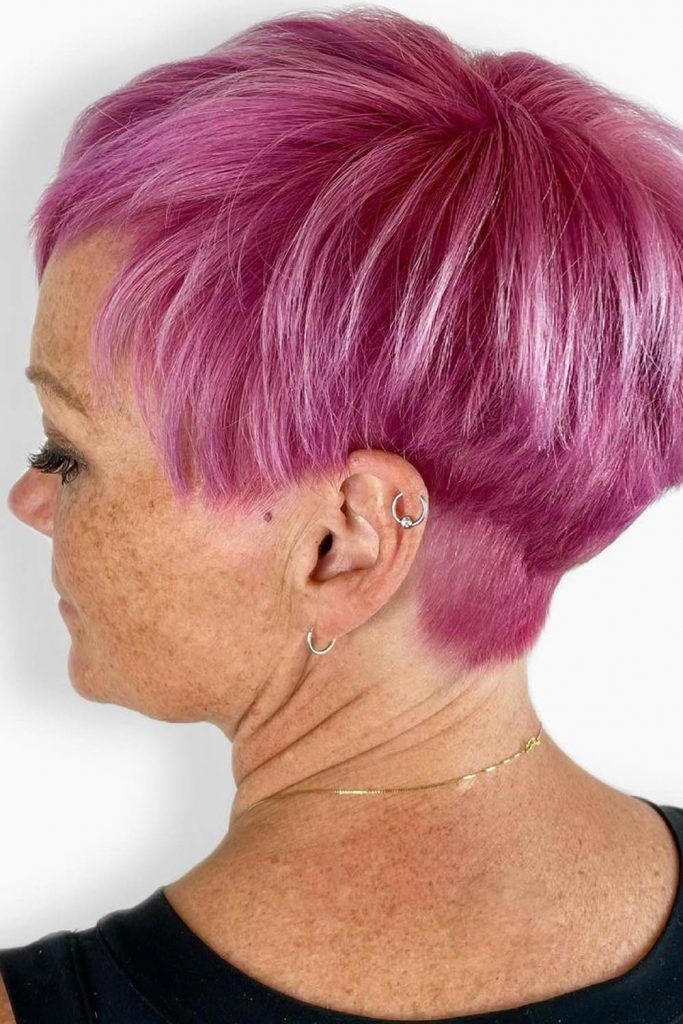 Credit photo: instagram.com/bleachedandblown
Of course, not every lady is bold enough to combine the classic pixie with a daring undercut, that's why those who show up with this duo look so unique. Ladies who feel that they are born to catch people's eyes will love the texture graduation and pink shade as a highlight of the look.
Shaggy Layered Bob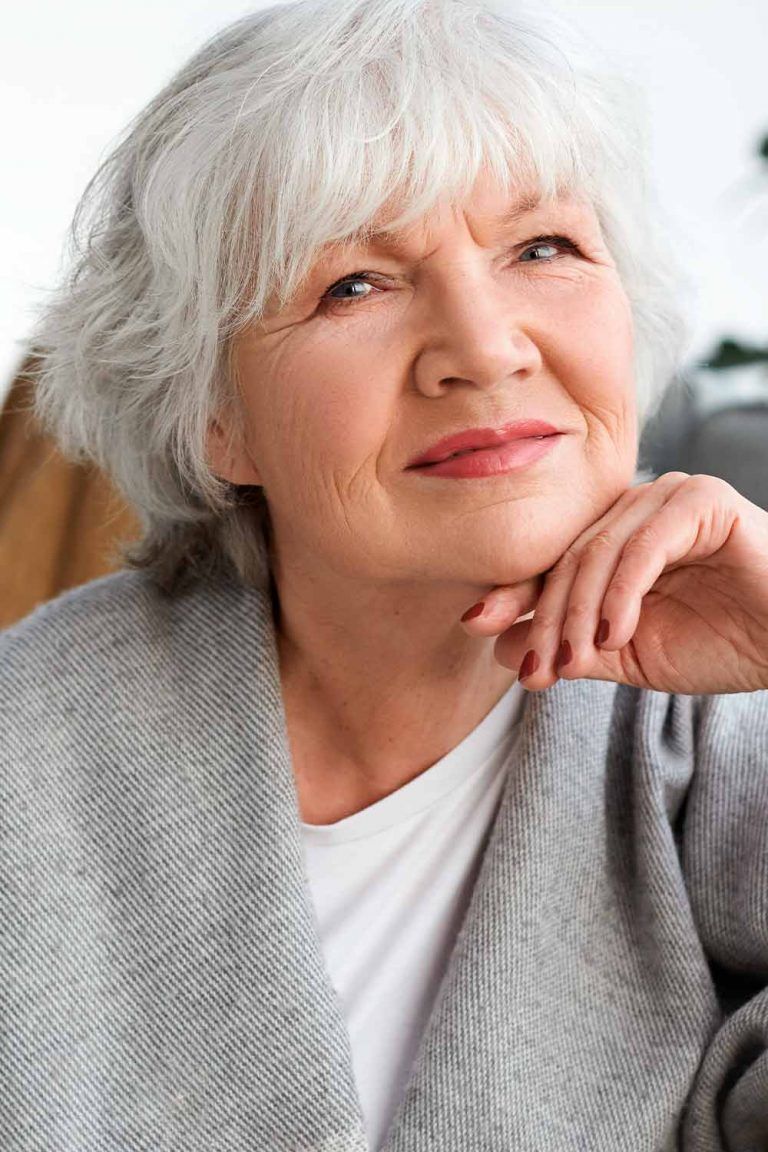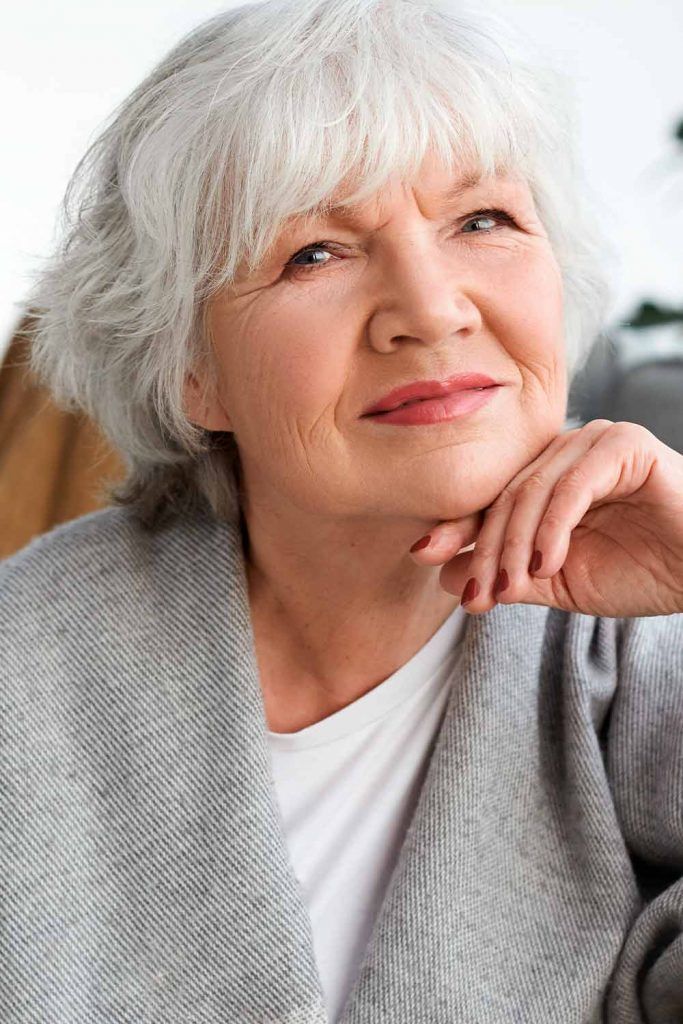 Credit photo: Shutterstock
Layers work ravishingly for any hair type, yet it comes as a huge advantage when dealing with thin hair. The texturizing will add more volume and movement to your medium cut, giving it a clean silhouette. Also, it will look awesome with a soft fringe that barely hits your brows.
Choppy Pixie With Long Side Bangs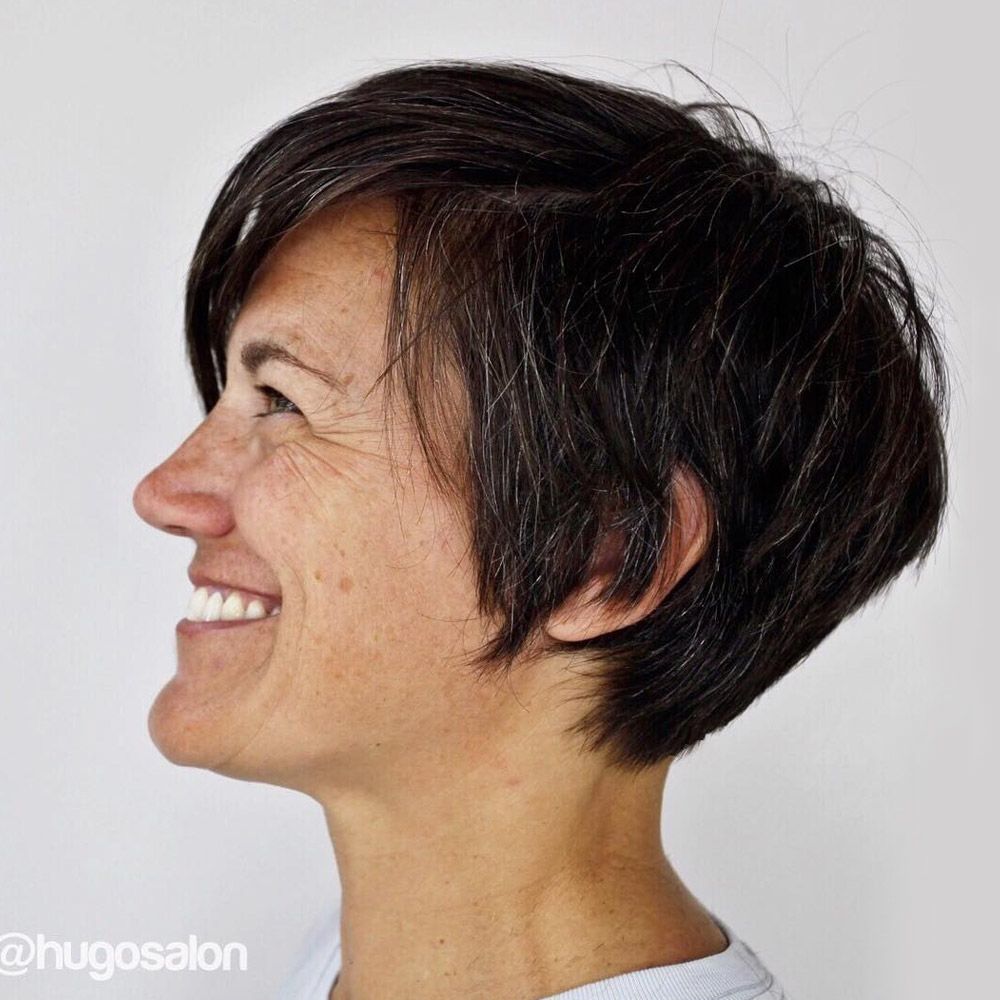 Credit photo: instagram.com/hugosalon
To get the most out of your look, don't forget to combine fresh hair colors with the right cutting techniques. Choppy pixie is all about precise and volumetric edges, which will always give you a dramatic, stylish look.
Simple & Edgy Cropped Pixie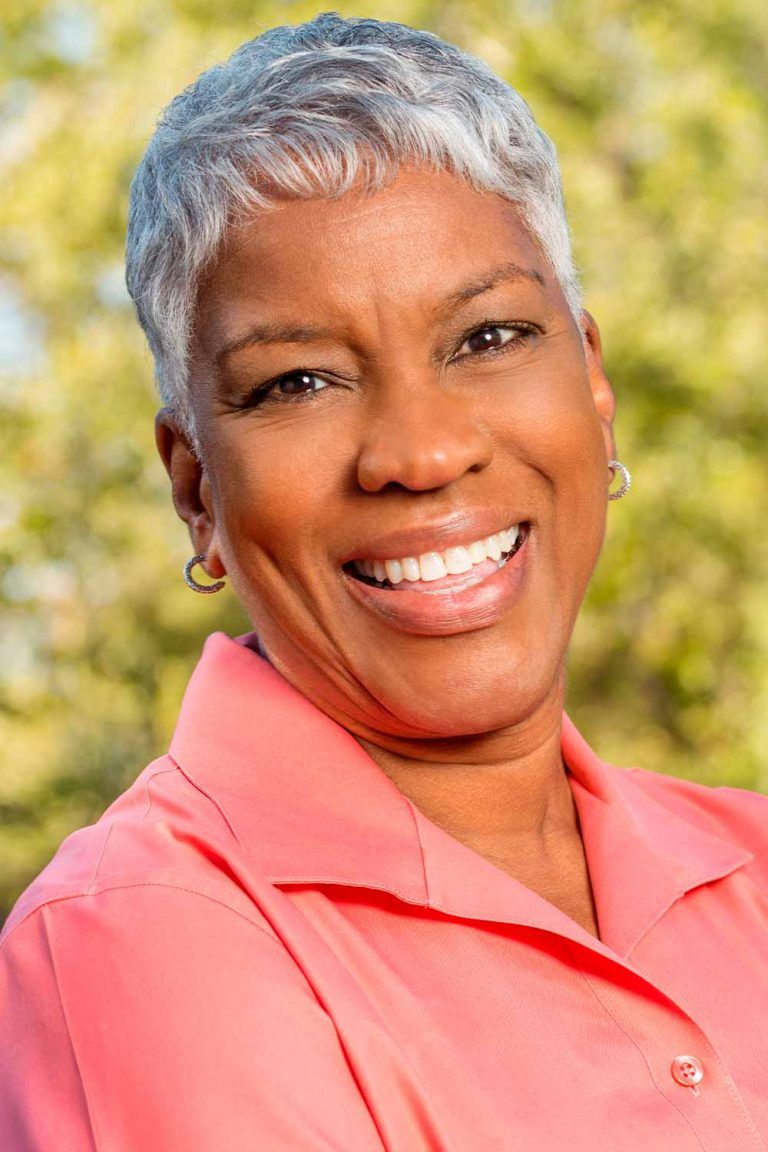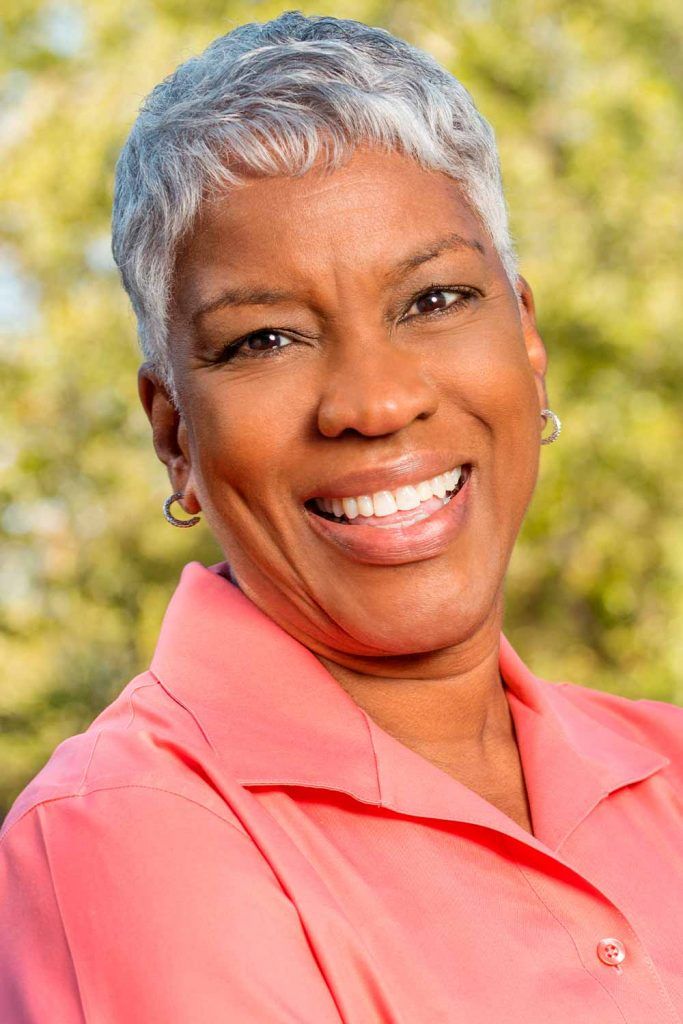 Credit photo: Shutterstock
Cropped pixie is a refined, simple cut that involves slight feathering at the ends, thus creating a very lovely movement in the hair. It works well for any texture, but you should make sure that it really suits your face, as this cut keeps it open.
Asymmetrical Pixie Bob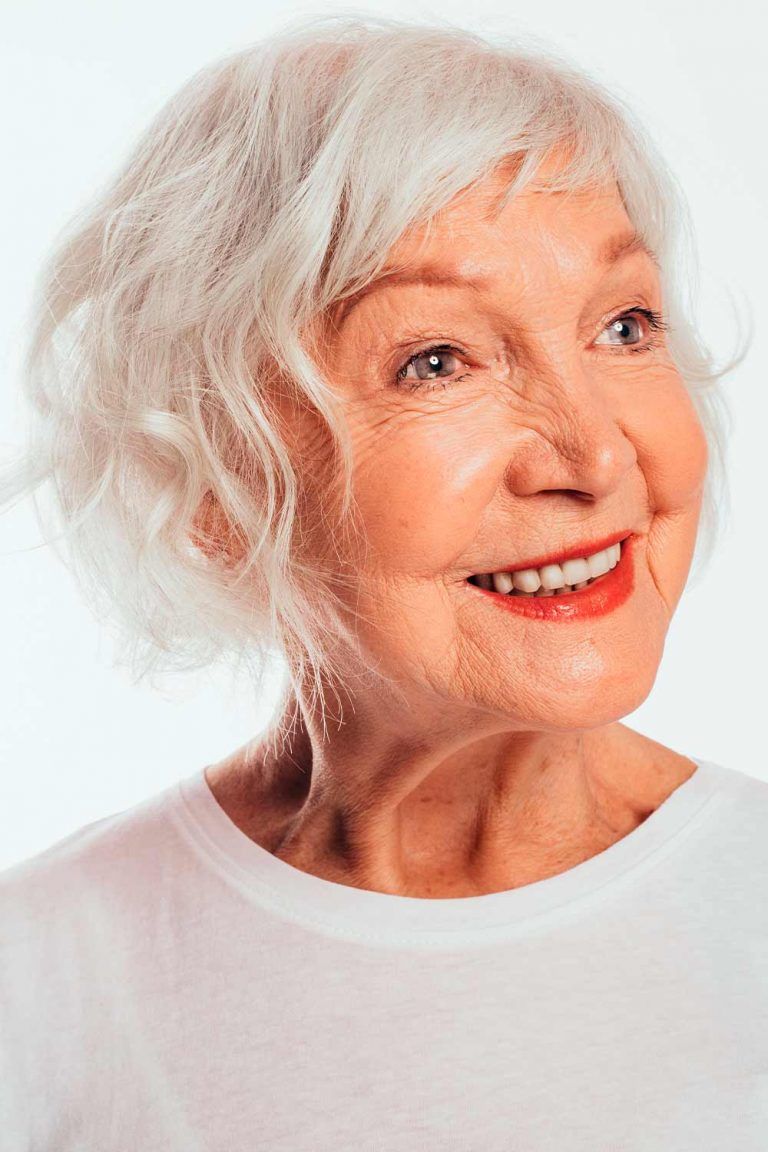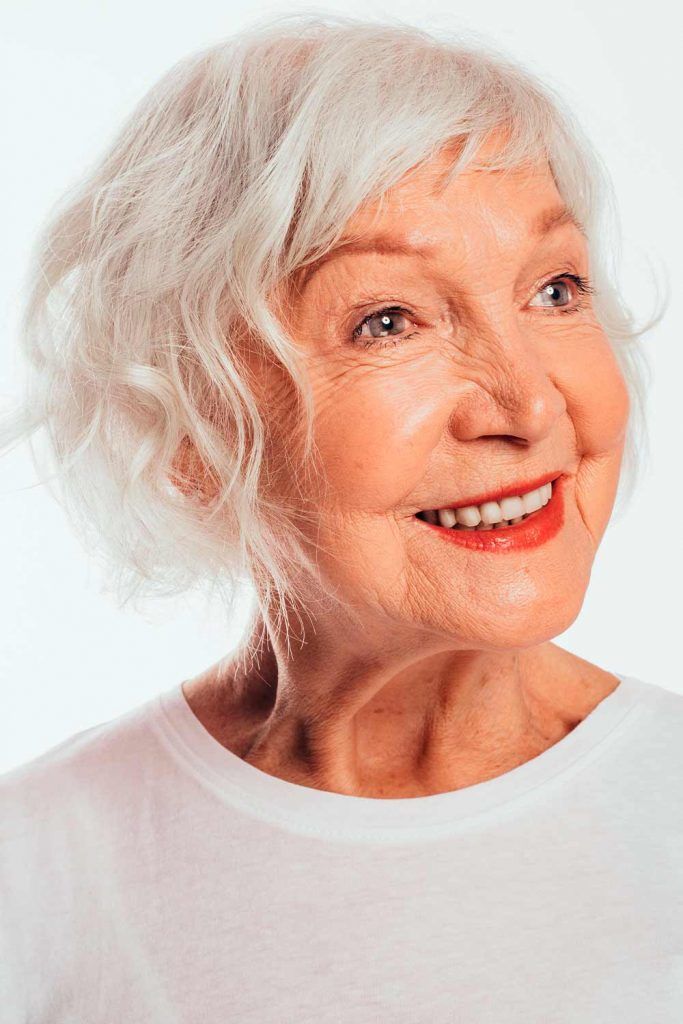 Credit photo: Shutterstock
Asymmetrical bang hairstyles for older women are the most requested ideas these days. Even if ladies don't know how such silhouettes work exactly, they just love the appearance. If you add a fringe to imbalanced pixie bob, you will provide your heavy part with a dramatic, full look that will nicely frame your face.
Bob With Center Parted Bangs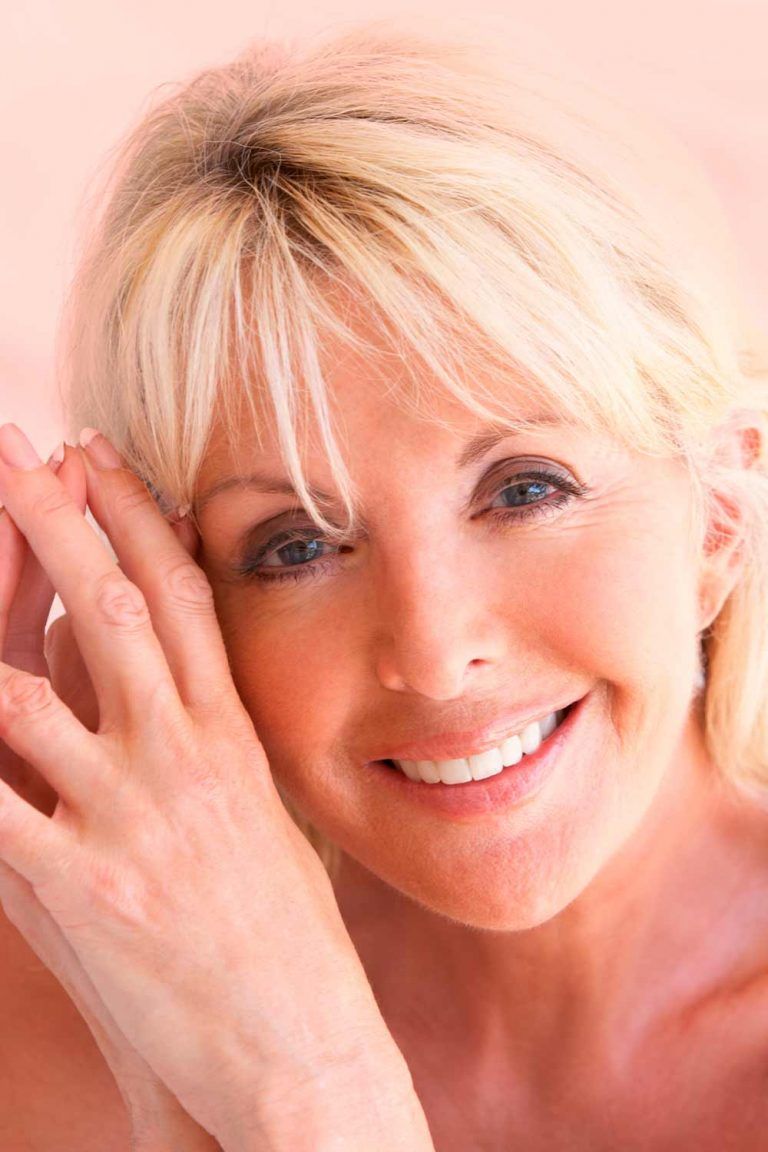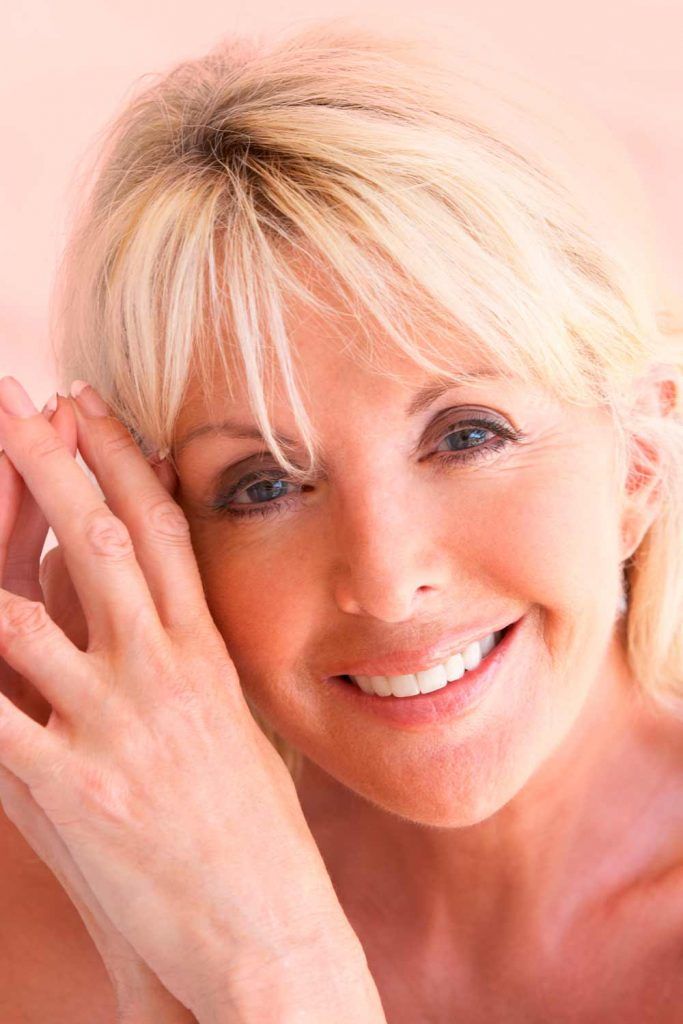 Credit photo: Shutterstock
Bangs that are of the same length as your haircut is another idea to create a harmonic, lively look. In fact, when getting such a fringe, you provide yourself with some more room for face-framing styling. You can also ask your hairstylist to run her or his scissors through the ends of the bangs, making them lighter. In this way, the flattering hair detail will blend evenly with the rest of your hair, creating an organic and presentable look.
Textured Pixie With Side Styling Fringe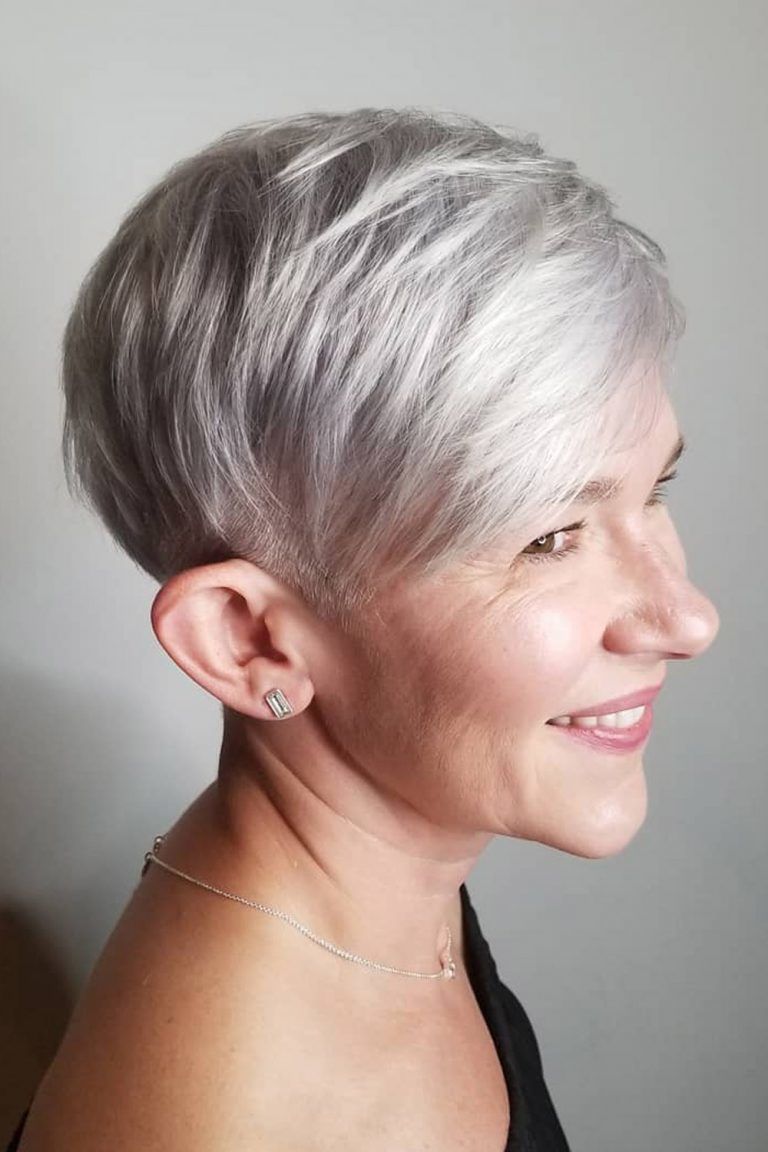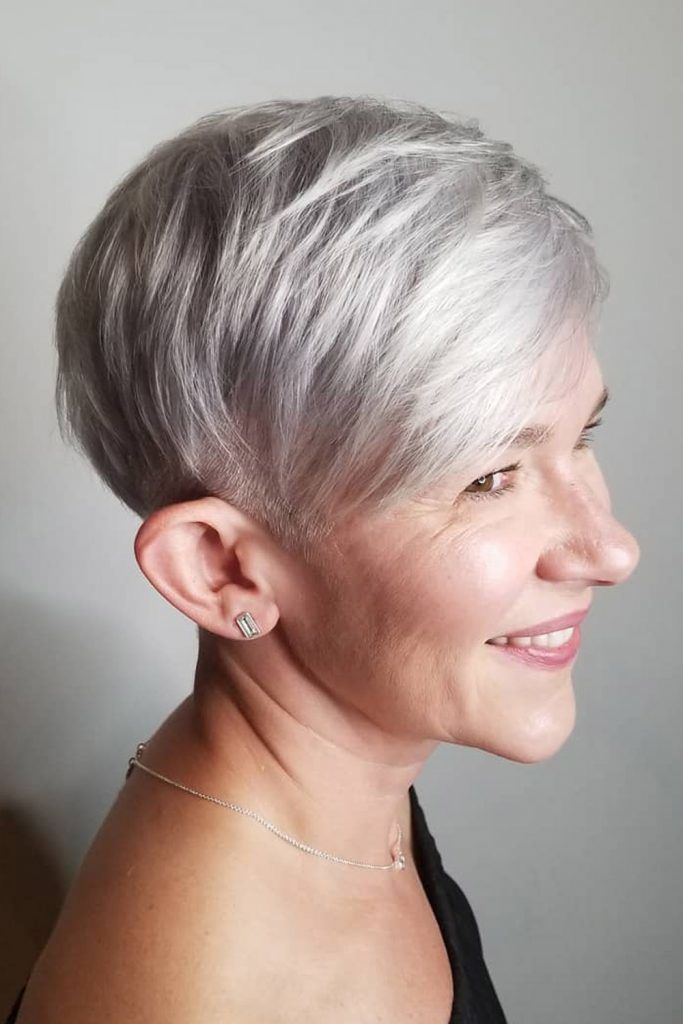 Credit photo: instagram.com/hair_by_marlo
If you notice your hair start getting thinner, make sure to get a haircut that will wash away this unpleasant weak look! And this pixie can be the cut you are looking for. First of all, it's spiced up with a volumetric and distinctive texture that makes the cut look dimensional and full. Secondly, such a short, side-swept silhouette is nothing but a perfect option for statement-makers.
Voluminous Bowl Haircut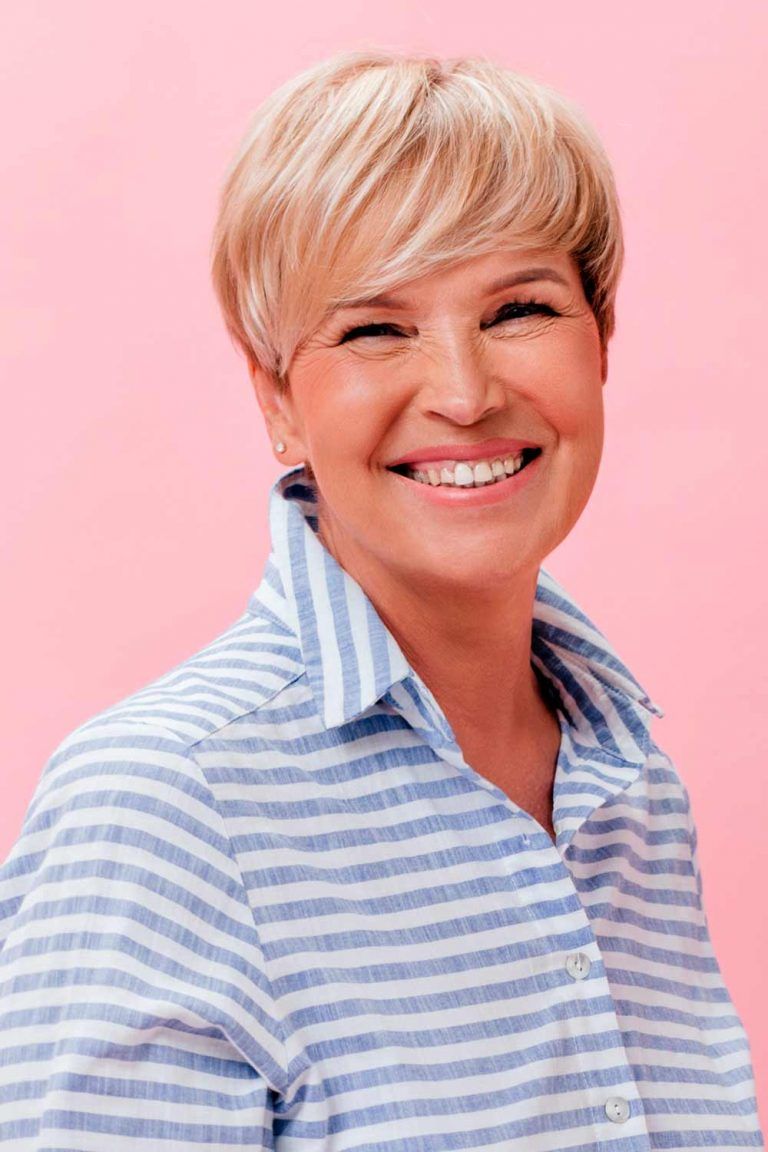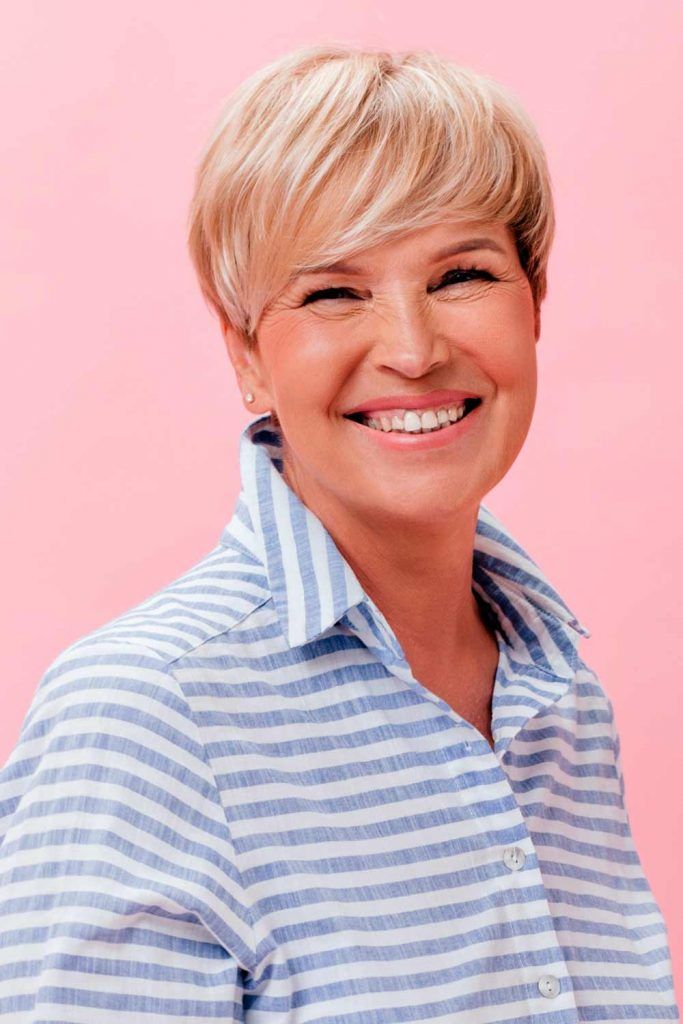 Credit photo: Shutterstock
While some ladies tend to stay away from bowl cuts for some reason, you can show up with a totally different and face-flattering look. A bowl haircut is back in town and has brought lots of modern variations that have nothing to do with the tasteless stereotype about the cut. This pic is proof! A wavy texture makes the bowl appear very youthful and fun while the fringe portion deals with a broad forehead. Also, it's a good idea for those with thick hair.
Layered Thin Bang For Shoulder Length Wavy Bob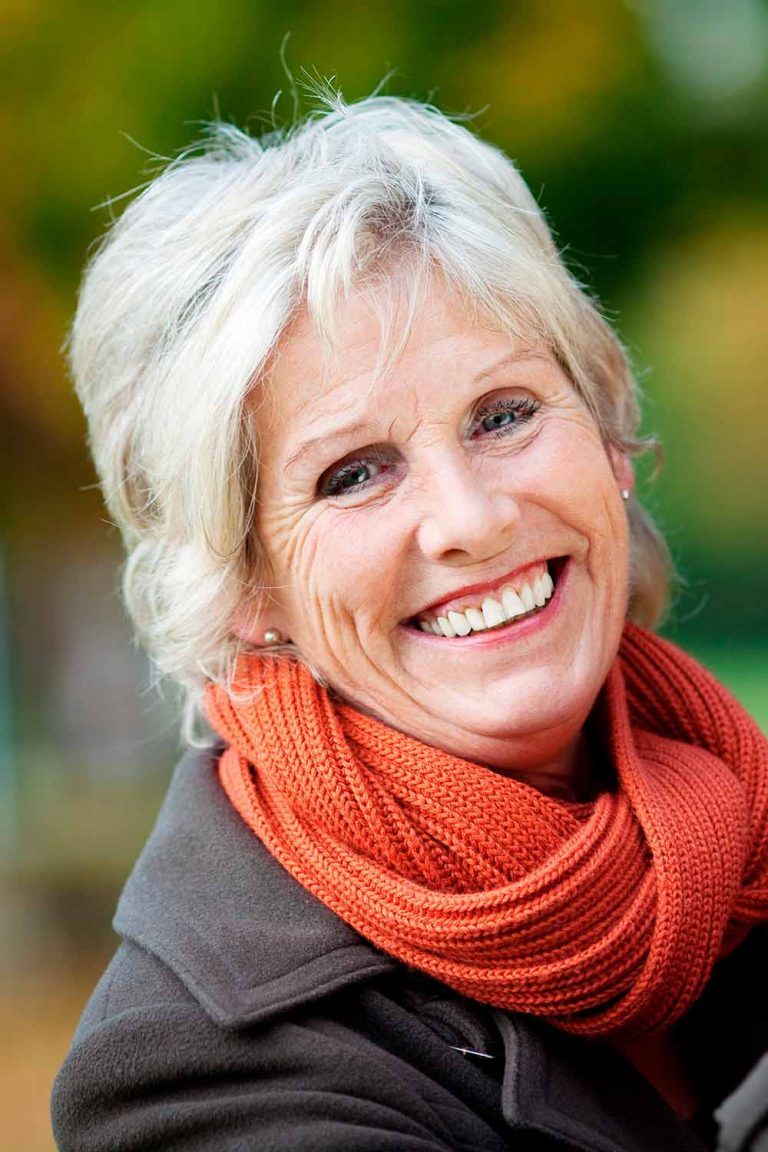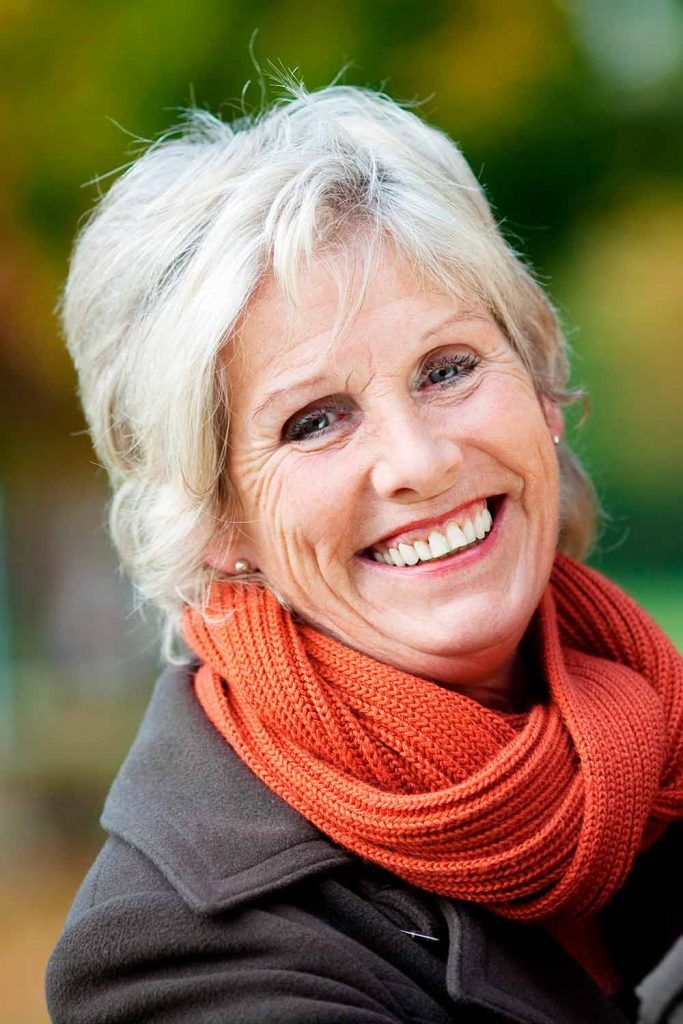 Credit photo: Shutterstock
If you want to focus on the fullness of your mane, thin bangs are the first thing to consider. Sounds a bit confusing? Well, you just need to create a contrast that will put the heavy portion of your hair in the spotlight. This shoulder-length bob nicely showcases how it works: a layered fringe falls softly on the forehead yet without overlapping the brows. And, of course, it makes the rest of the hair appear thicker. By the way, it's a nice idea if you have a fine hair texture, too: hairstylists recommend adding a wispy fringe short haircuts for women over 60 with fine hair, as it can make the hair look fuller with the help of contrast.
Inverted Bob With Layered Bang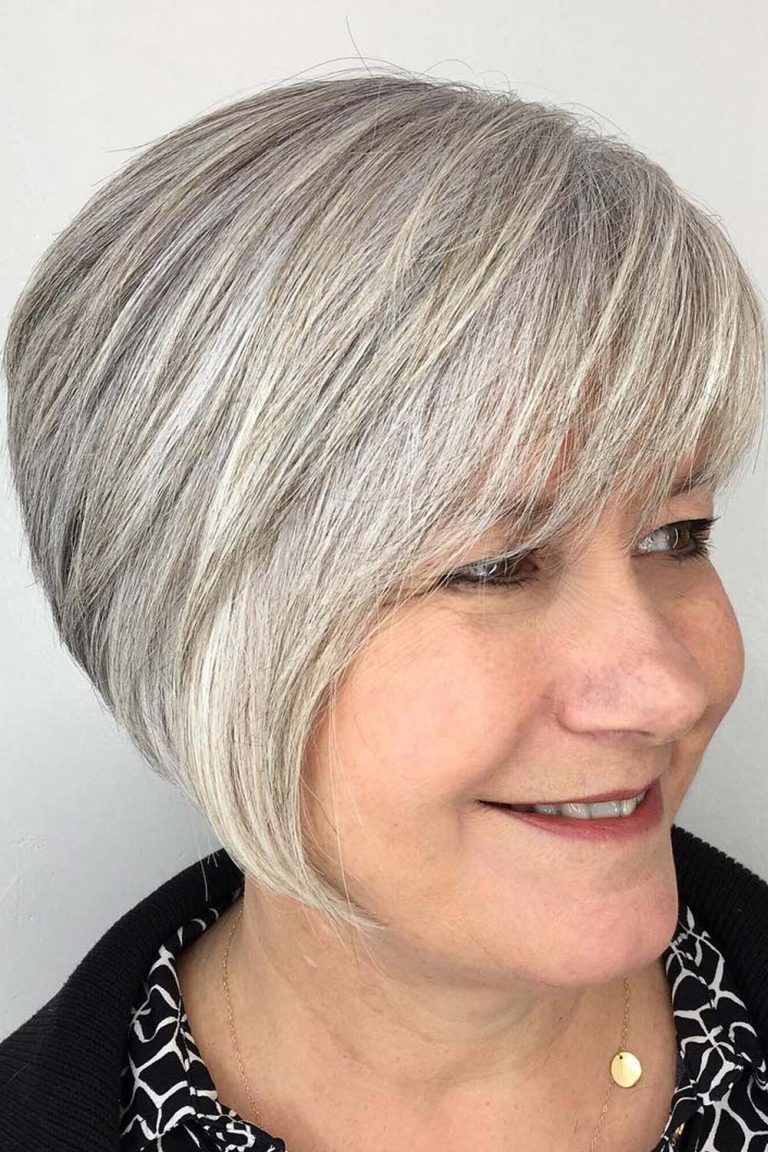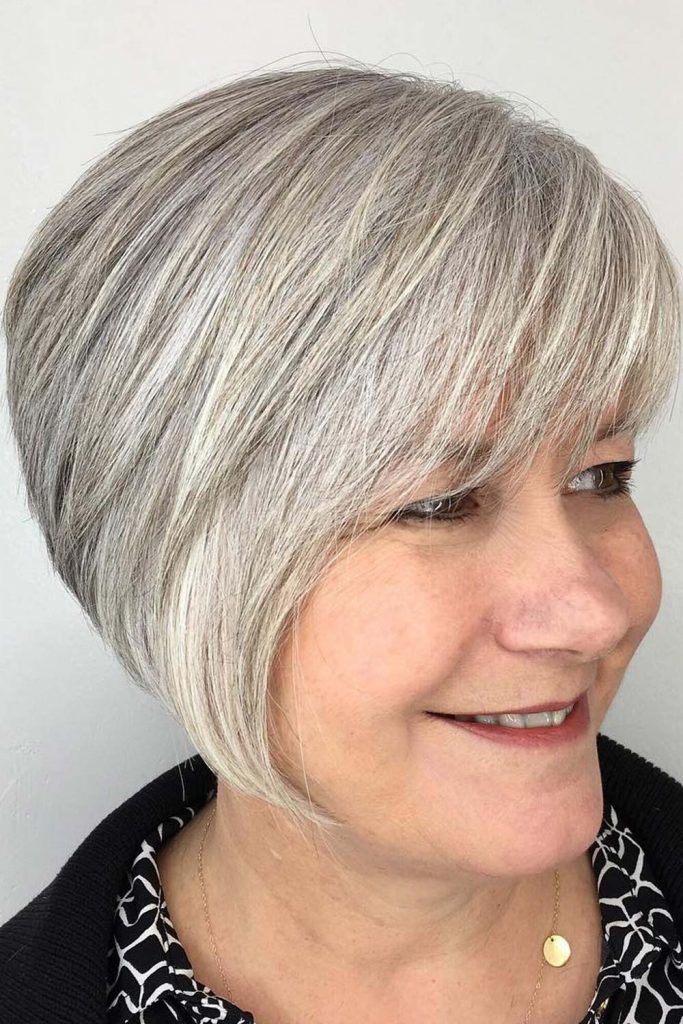 Credit photo: instagram.com/hugosalon
Inverted bang hairstyles for older women are nothing but the awesome combo of stylishness and practicality. It's very comfy to wear and easy to style. As for the stylish side, it gives a very modern and refined look to all who go for it. Isn't that the way you want to look? Bangs will be a good match for your inverted bob. And if you get layers, your life will turn into space of eternal compliments.
Long Angled Bob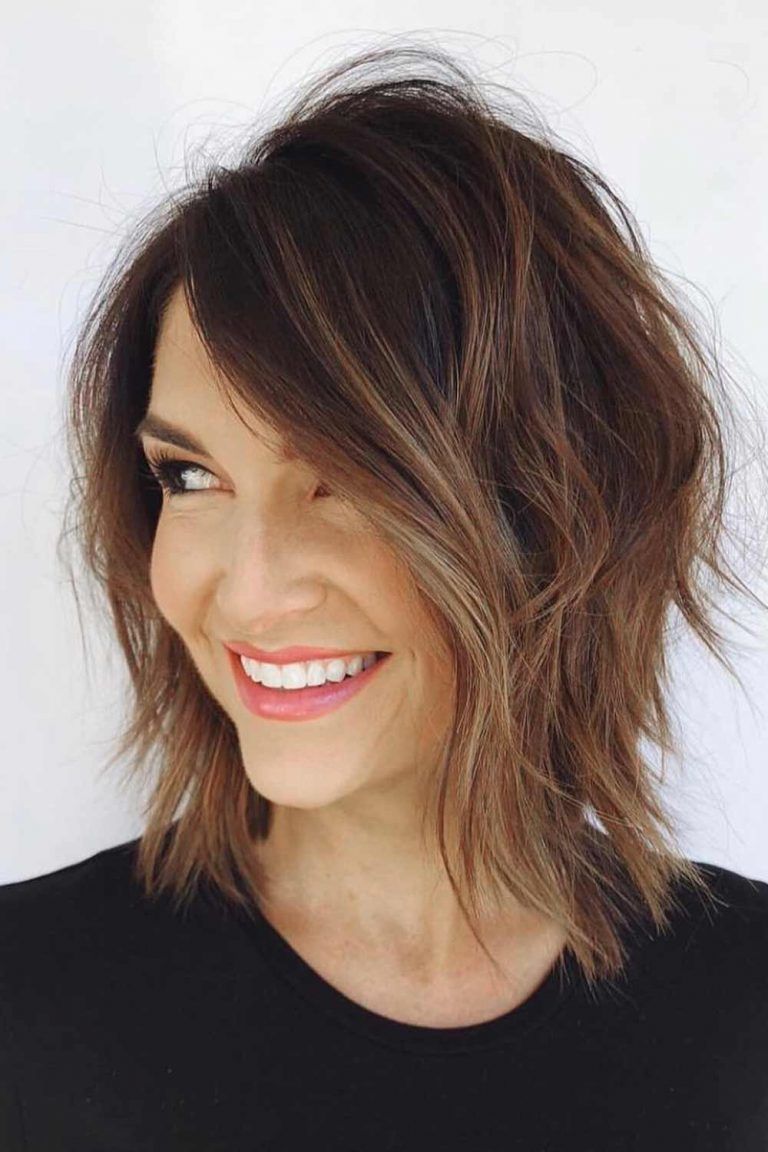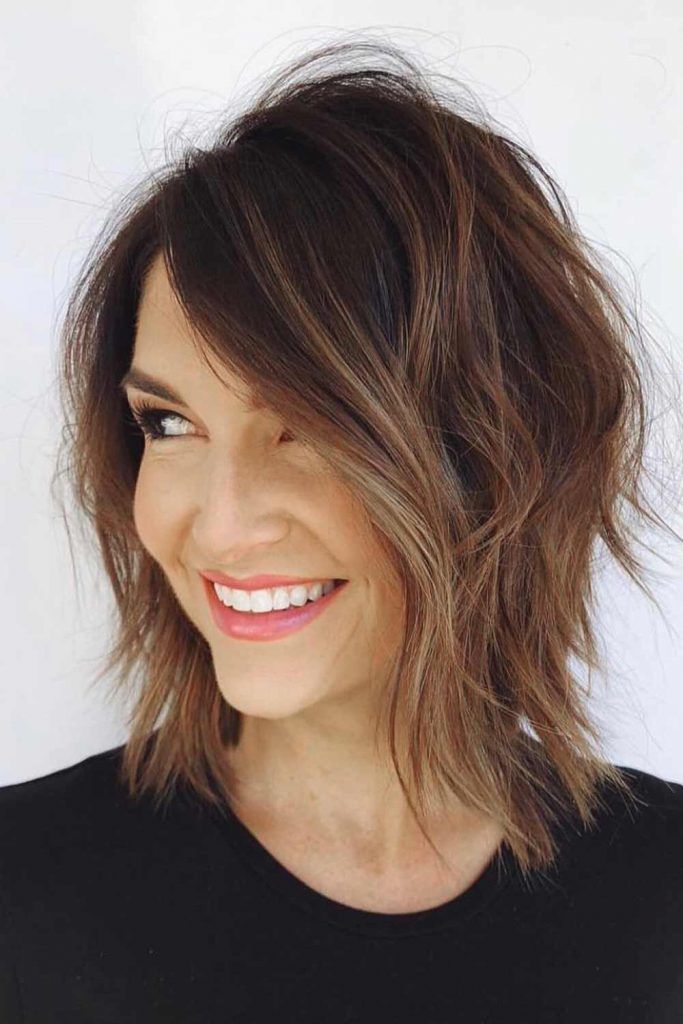 Credit photo: instagram.com/chrisjones_hair
This angled bob is designed for ladies who love edginess. Whether you have a round face and want to add some angles to its silhouette or you have very pointed facial features and would like to enhance them, this idea will work perfectly. To finish the accentuating and attention-grabbing look, don't forget about a hint of bangs. It just always makes things better!
Blunt Bob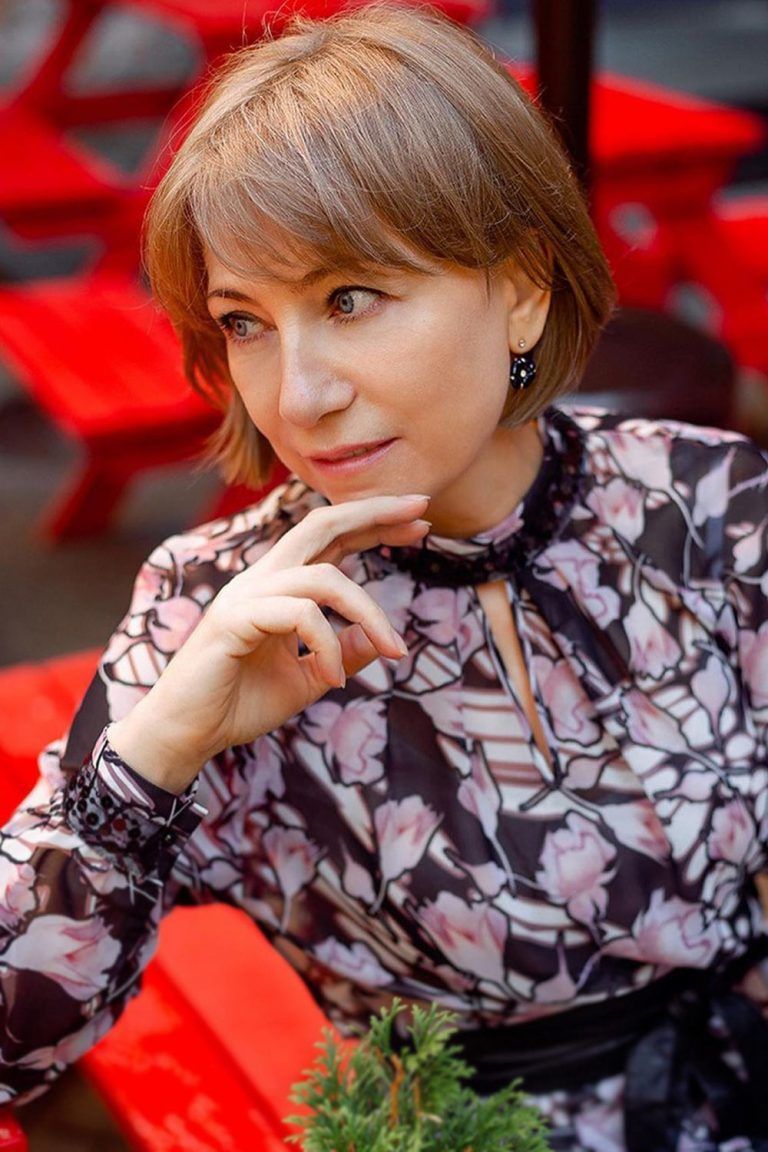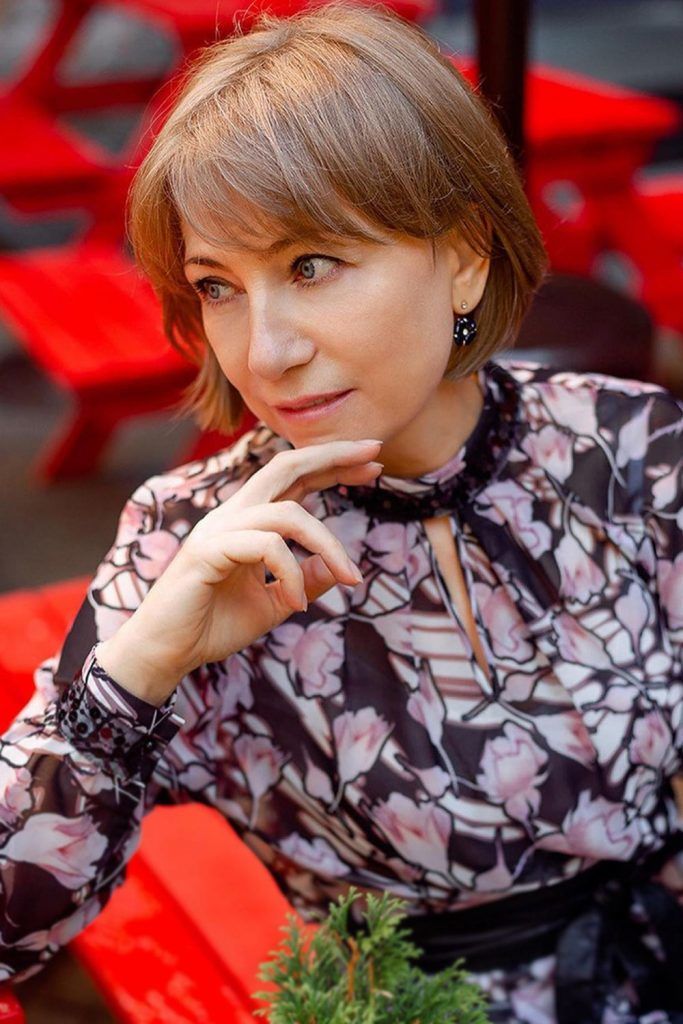 Credit photo: instagram.com/tanya.borisovskaya
Don't ever underestimate the good-old blunt bob! While a one-length cut may seem to be too simple for a modern lady, it's actually all you need to rock a sophisticated and youthful look. Style your bob with a deep side part so that the hair falls like a fringe. For a spectacular finish, ask your hairdresser for some sharp little layers at the edges.
Side Bangs Pixie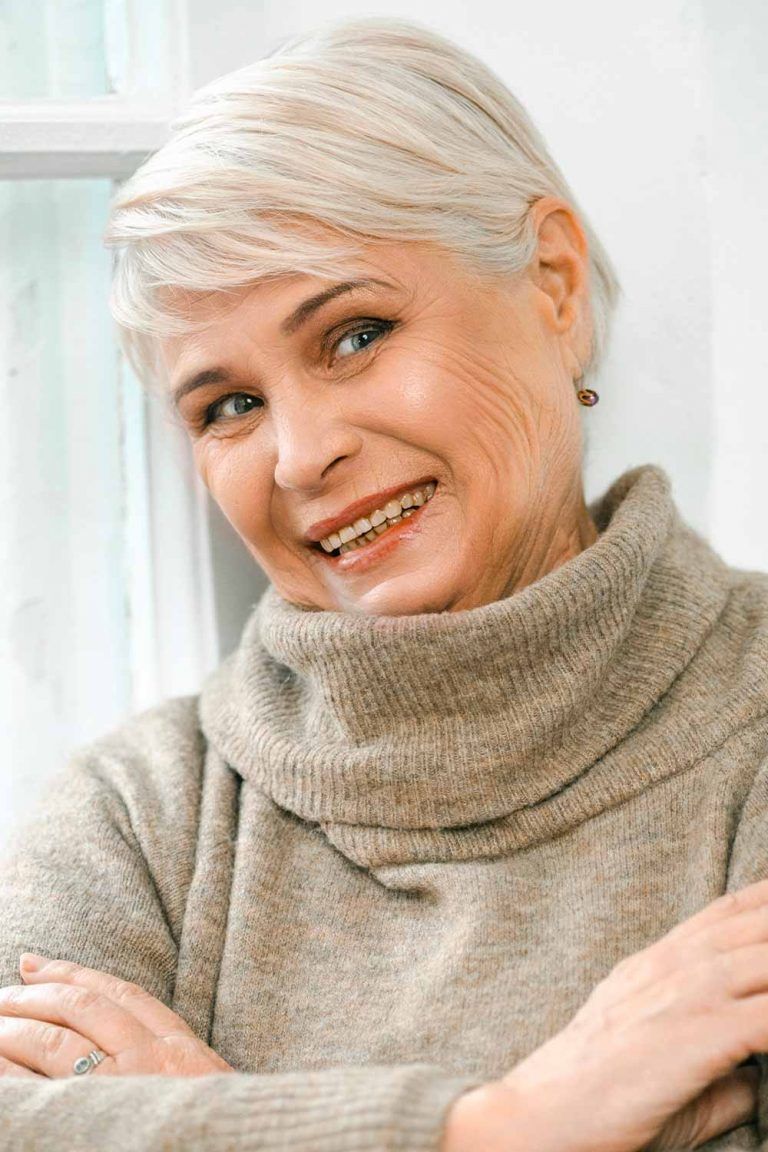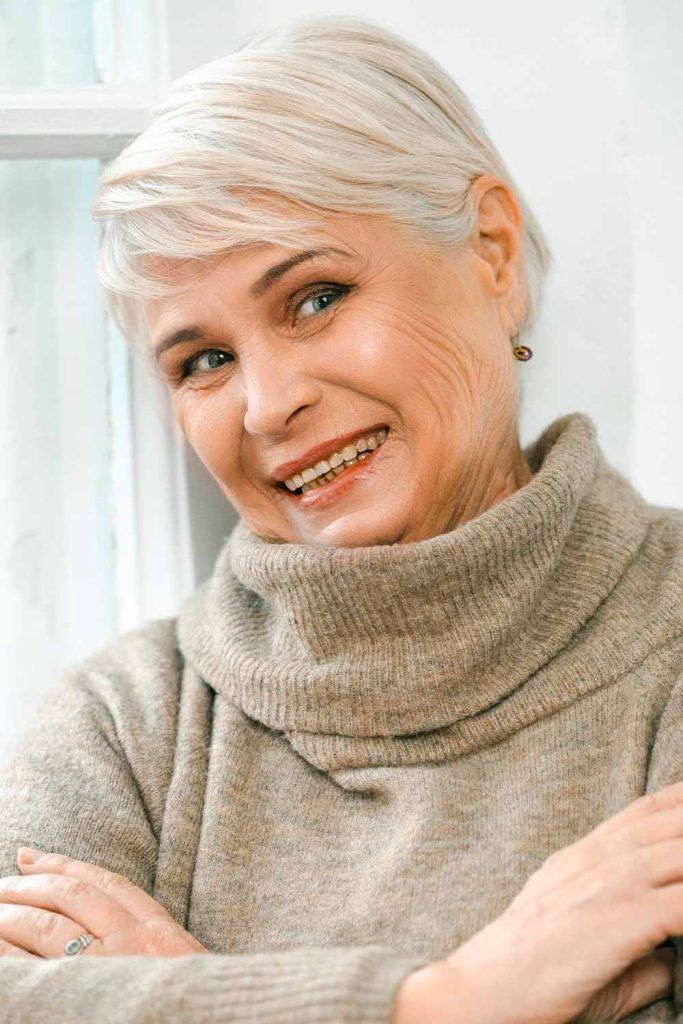 Credit photo: Shutterstock
Although pixies come as super short face-revealing haircuts, they still can give your forehead the needed framing touch. Apart from that, it will provide you with the easiest styling routine possible, where all you have to do is just to wash your hair. Get a pixie with an elongated front to style it like a fringe and thus framing up the face.
Wispy Bangs For Long Hair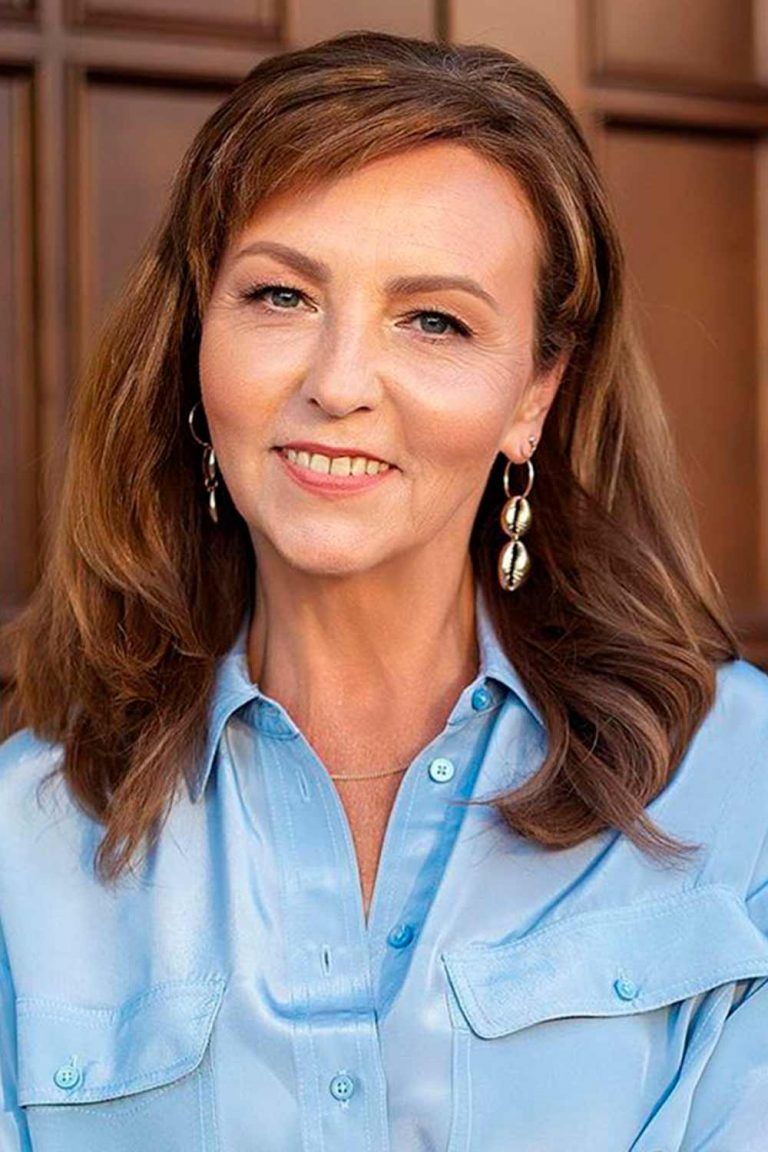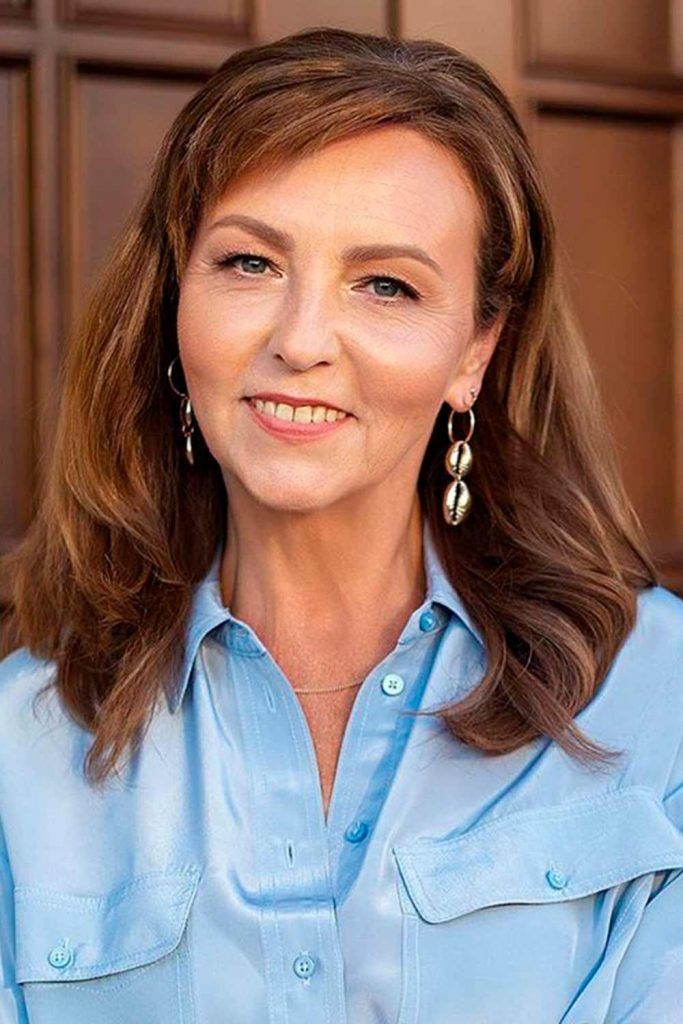 Credit photo: instagram.com/tanya.borisovskaya
Women who walk through their life with long hair falling down on their shoulders are real heroes as we get tired of the maintenance in most cases. With long locks, nothing goes better than wispy bangs. Not only does this type of fringe blend with the rest of your hair seamlessly but it also can frame up your face without overlapping your gorgeous brows. Besides, it's a nice way to make the silhouette of your hair fuller visually.
We hope that these bang hairstyles for older women have proven that age is just a number! A number to be proud of. We want you always to look gorgeous, no matter how old you are, and these ideas will help you to make it real.
FAQ: Bang Hairstyles For Older Women
Should a 60 year old woman wear bangs?
Long hair with bangs can help disguise forehead wrinkles and fine lines and lower the age of a lady over 60 by several years. If you have extremely fine, thin hair, it does make you look older. However, you can always pull it off if your hair is thick enough.
How do you know if you should have bangs?
The style of your bangs is simply determined by the shape of your face. Straight heavy bangs will usually suit you if you have an elongated face. If you have an oval face – don't get too hung up, almost any bang type will suit you perfectly!
How long does it take for bangs to grow 3 inches?
It takes approximately up to three or four months to grow out your bangs, depending on how long and thick your bangs already are. It also affected by the rate at which your hair grows, as well as by your chosen haircut.
What to do if you hate your bangs?
There are several things you can try to help yourself heal from the trauma:
Try some headbands.
Use your bobby pins.
Braids could make them look more attractive.
Do you still want some other bangs?
If everything else fails, consult your hairdresser.