You Need To See These Hairstyles For Women Over 40
Our collection of hairstyles for women over 40 is the best way to get inspired and create your personal and unique look. 40 is a huge milestone in the life of every woman. There is no doubt that your hairstyle should be upgraded right around this time. Bring some changes into your life starting with a new hairstyle!
Short hairstyles for women over 40 can definitely make you look a couple f years younger than you actually are. They give you these sassy and chic vibes. It is said that 40 brings confidence. This is why this age is not about trendy hairstyles and whatever is in, it is about expressing your inner personality.
Hairstyles for older women need to meet a list of some basic requirements. Firstly, your perfect hairstyle is supposed to be natural looking. Forget about all the bold colors. Thank God simplicity is a huge trend now. Moreover, your hairstyle should be chic and sophisticated with a light touch of sexiness.
Short Curly Bob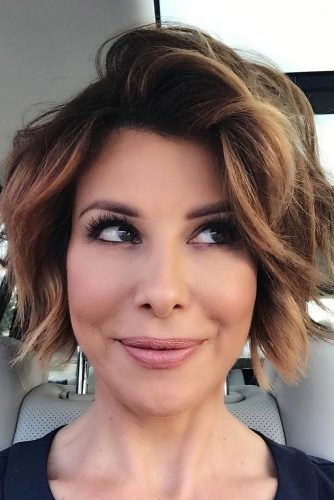 Source: dominiquesachse via Instagram
A short curly bob is super flirty! A secret about a bob is that it makes your jaw line look slimmer because of its length. But there is also a thing you should take into account if you go for this cut: layers are a necessary element in order to add movement.

Pink Highlights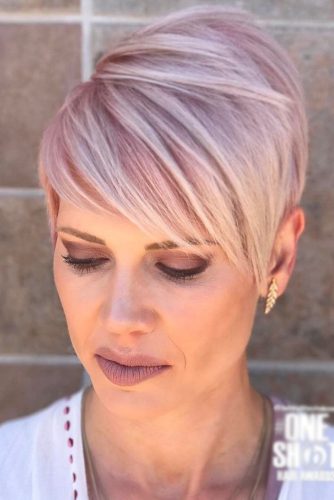 Source: emilyandersonstyling via Instagram
As for short haircuts for older women, there is a great tip. Lighter hair colors, especially with bright highlights, make them look better. As our skin loses its natural glow, even women with dark hair go for a shade brighter or add highlights.

Platinum Pixie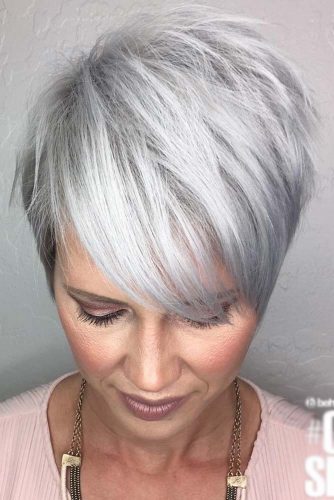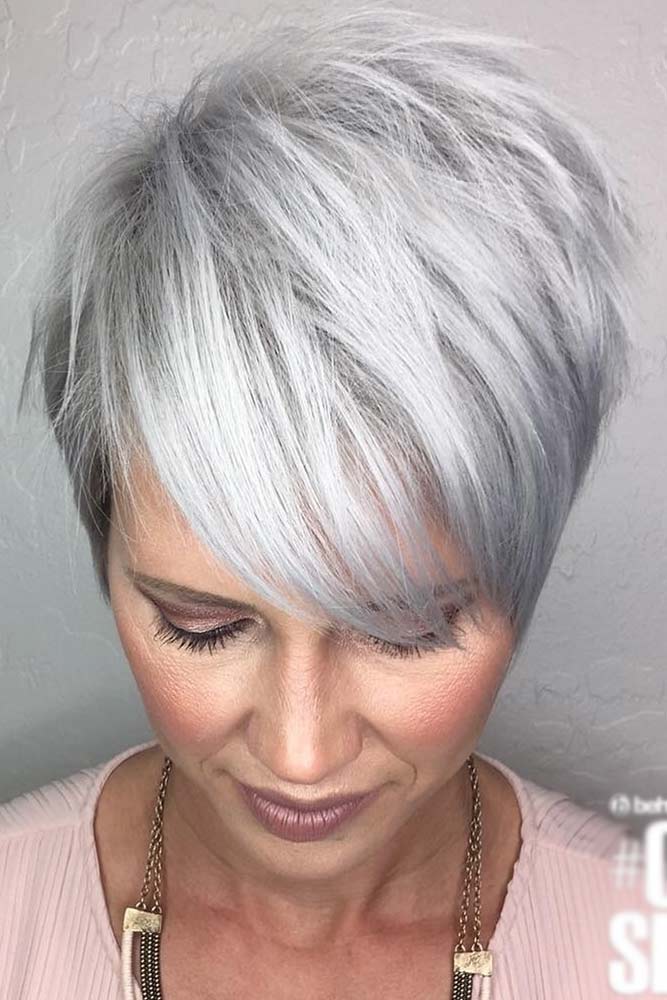 Source: emilyandersonstyling via Instagram
A platinum pixie look is so rock star. It will be the perfect option for women who want a short and not dull look. As for styling, grungy texture goes best with this color and cut.

Pixie With Long Bang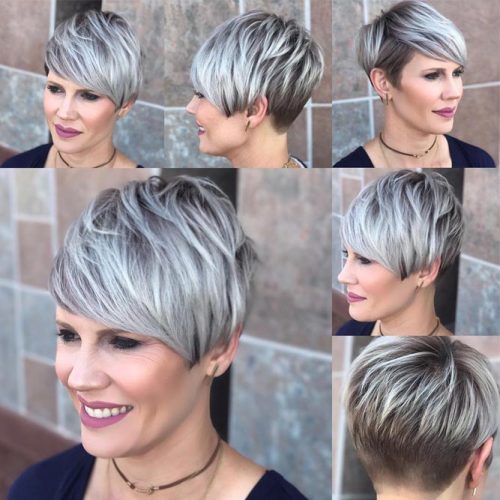 Source: emilyandersonstyling via Instagram
A pixie with slightly longer bangs would be a life saver for thin hair. This kind of a haircut will nicely add volume in the back of your head, blending short pieces and longer sassy bangs in the front.

Blonde Bob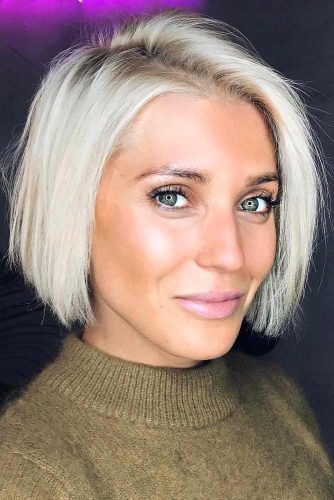 Source: ryabchik.moscow via Instagram
A blunt bob looks amazing. This hairstyle is really versatile. You may wear it straight or curly, with a middle or a side part. Blunt hair ends and platinum blonde are what makes you look younger.
Brunette Short Haircut With Bang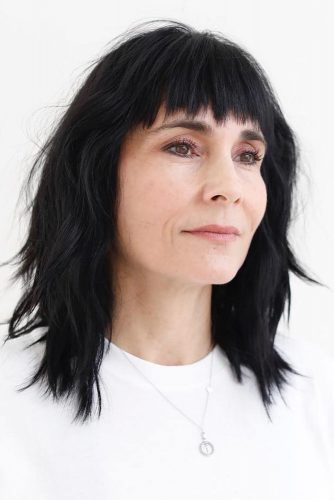 Source: anhcotran via Instagram
This brunette short haircut with bangs is drop dead gorgeous. These bangs with a slightly torn effect accentuate your facial features without making them way too strong. And the blunt ends are superb to style it into waves or curls.

Ash Grey Highlights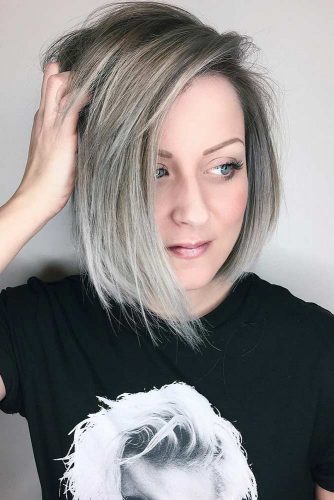 Source: chrisweberhair via Instagram
Not ready for a total grey look? Ash grey highlights will save you! This hairstyle with darker roots and perfectly blended ash grey highlights would be terrific for women over 40. Plus, it will accentuate blue or green eyes nicely.

Shoulder Length Hairstyle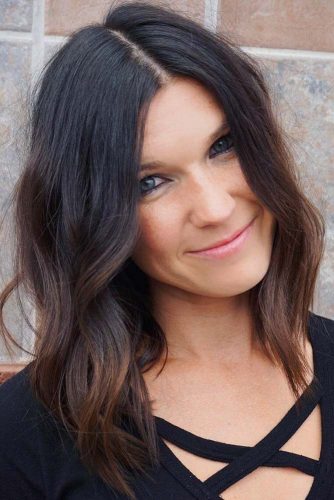 Source: emilyandersonstyling via Instagram
This kind of hairstyle is exactly what you need in case you want to make your hairstyle lighter and look younger. Adding subtle highlighting to your dark hair will make your look easy and relaxed.

Dark Brown Pixie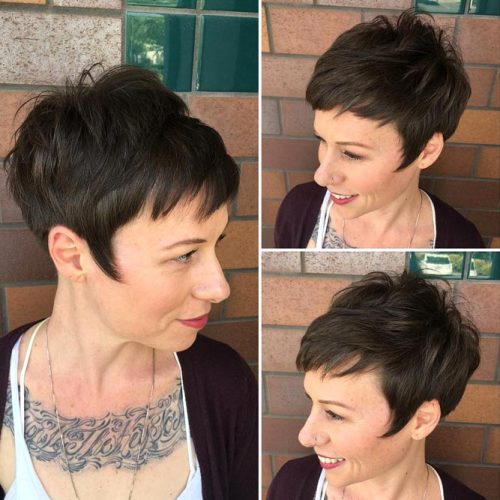 Source: katiezimbalisalon via Instagram
This dark brown pixie has pretty much the same length all over the head. But you need to be very careful with it because this kind of pixie is really revealing. So, you shouldn't go for it unless you have an oval face shape.

Natural Color for Bob Cut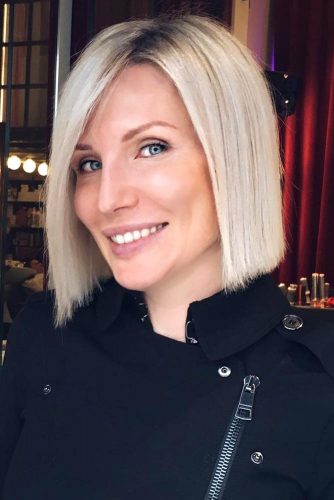 Source: ryabchik.moscow via Instagram
As we have mentioned previously, a natural hair color is in. Passing 40 doesn't necessarily presuppose that you should go for a short dyed cut, but if add a blonde tones to your hair it will make hair look natural and gorgeous!

Pink Ombre With Undercut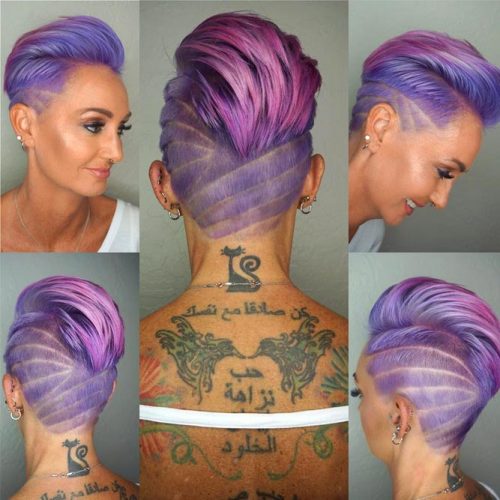 Source: emilyandersonstyling via Instagram
This pink hairstyle with undercut isn't simple if we look closely. This mind-blowing color is what makes it stand out. An undercut with tattoo and vivid color combo make this hairstyle not overly exaggerated, brave, and cute.

Layered Hairstyle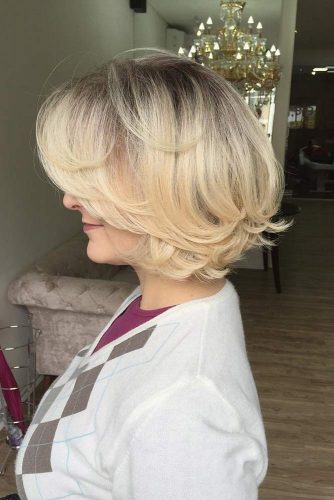 Source: jeffersonbolina via Instagram
Layers are always the answer. A bob with flirty layers is one of the most universal haircuts for women over 40. Longer side bangs add some sassiness. Style it nicely by blow drying with a large round brush, directing the ends to different sides.

Colorful Bob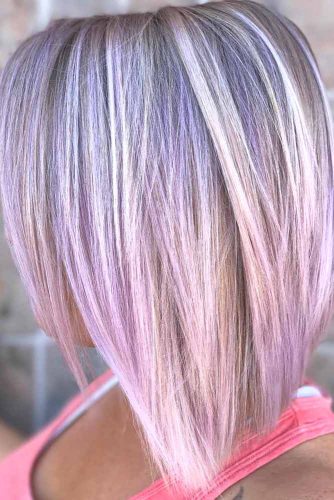 Source: emilyandersonstyling via Instagram
A colorful bob is not for everyone, of course. In case you wish to do something crazy and go gaga over your hair, go for this one. By the way, you may choose a gradient of one color family to soften the look.

Pixie With Blonde Bang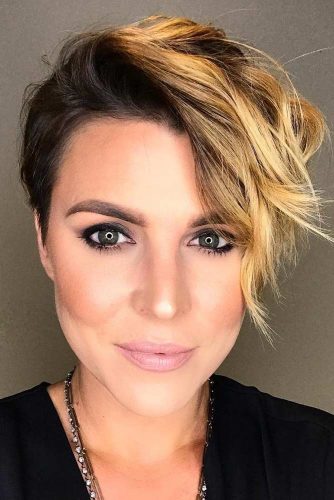 Source: crownbeautybar via Instagram
This pixie with blonde bangs is kind of more rock star or brave option. As for styling the bangs, you may blow dry them with a large round brush to add volume or curl with a curling iron.

Wavy Bob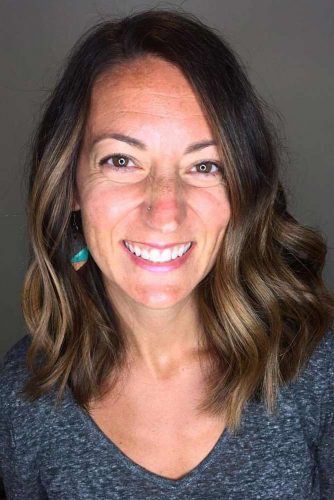 Source: crownbeautybar via Instagram
A long bob would be the best decision to make if you still need versatility. In order to add some lightness to this length, style your hair with waves, which looks super cute and elegant.

Bob With Bang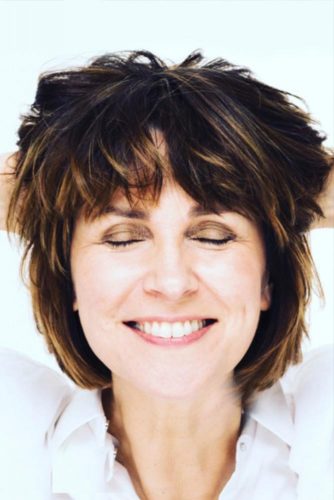 Source: suzannah_hicks via Instagram
This bob with bangs gives you some rocker vibes. The key to slaying this haircut is a lot of layers. Blonde color highlights add more dimension to the cut. A styling tip for this cut – create some messiness with a texturizing spray.

Bob With Highlights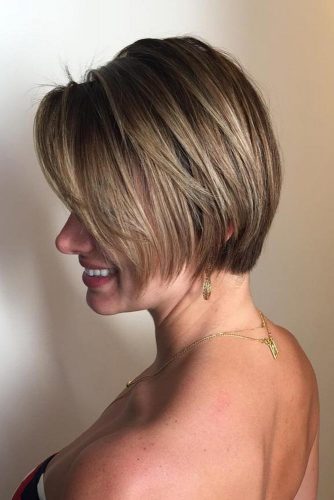 Source: jeffersonbolina via Instagram
When we talk about short haircuts for women over 40, one of the best choices to make would be a cropped bob. Slight highlights give some necessary dimension to this cut.

Short Hairstyle With Accessories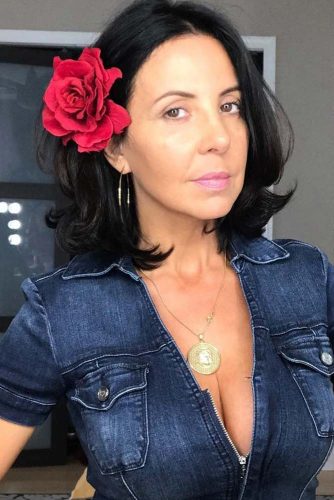 Source: goldberg.gloria via Instagram
Who said that hairstyles for women over 40 can't include hair accessories? Just have a look at this flower together with a long layered bob. A nice blow out with a round brush is a key to great looking hair.

Curls With Bang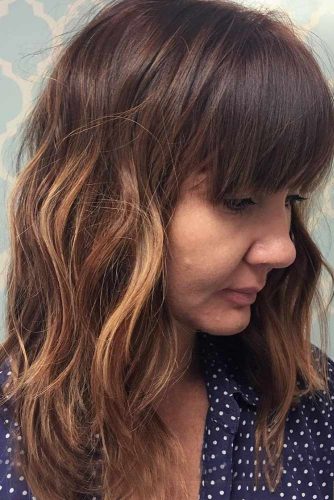 Source: shades.of.blonde via Instagram
Hairstyles with straight bangs seem to be not versatile. Curls make this one more airy and light. If you want to update your plain hairdo with bangs, blonde highlights are the answer.

Blonde Lob With Bang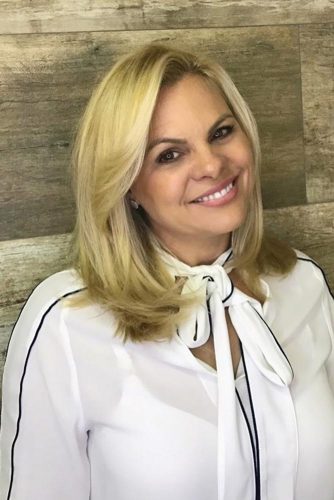 Source: jeffersonbolina via Instagram
Shoulder length haircuts, especially long bobs, tend to be more flattering for women over 40 than the longer ones. Play with a number of layers, length of bangs, and highlights to reach your perfect cut.

Straight Blonde Bob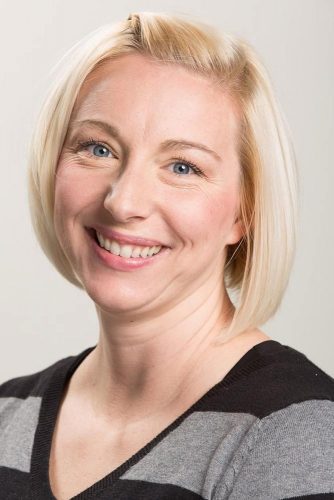 Source: crownbeautybar via Instagram
A straight blonde bob is the perfect frame for your facial features. Moreover, this haircut is very classy. Go for side swept bangs with this haircut. And platinum blonde will perfectly accentuate blue eyes.

Stylish Blonde Curls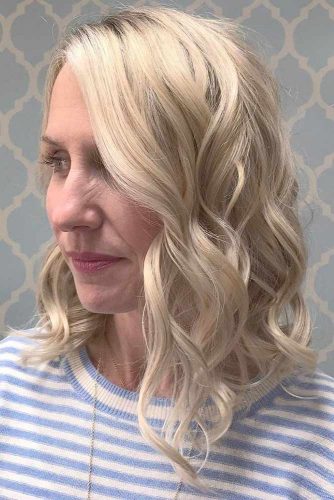 Source: shades.of.blonde via Instagram
Catching some inspo from the Internet to get the new haircut in your forties is not a crime! This hairstyle has been popular among younger generation for quite a time. But it is also a nice way for older women to add some volume and sense of style.

Cute Pixie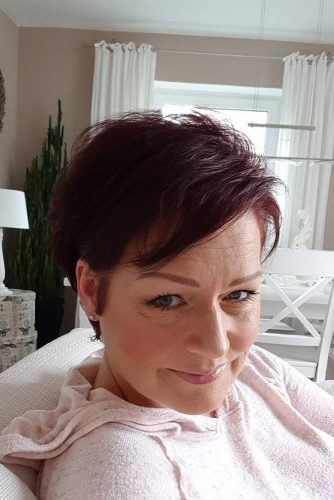 Source: katrin.lo69 via Instagram
This cute pixie is a life saver. It has volume on the top and side bangs that make your face look slimmer. Isn't it magic? Moreover, it is super low maintenance. A little bit of blowing and teasing, and you are ready to go.
Layered Blonde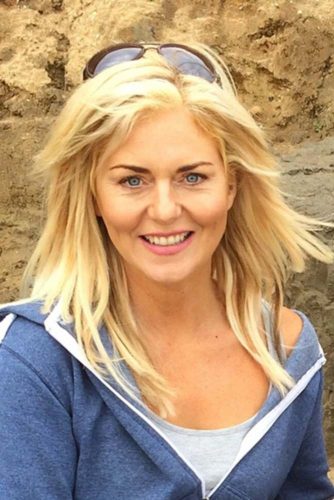 Source: jes.fish via Instagram
Shoulder length layered hair is probably the most versatile and universally flattering option for this age. It is very elegant and thus office appropriate. But you can also transform it easily into an evening hairstyle for a night out.
A-line Haircut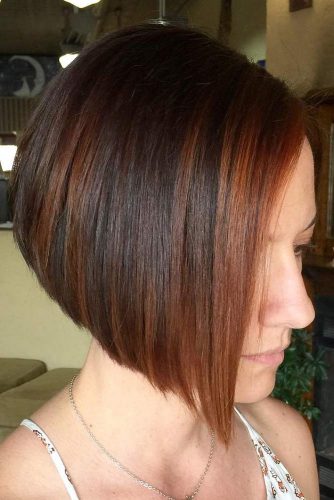 Source: courtgannhair via Instagram
An A-line haircut is a life saver for women with thin hair. Experiment with the length of a cut, and you will get a splendid look. If you need more fullness in your cut, choose highlights or layers.

Red Curly Hairstyle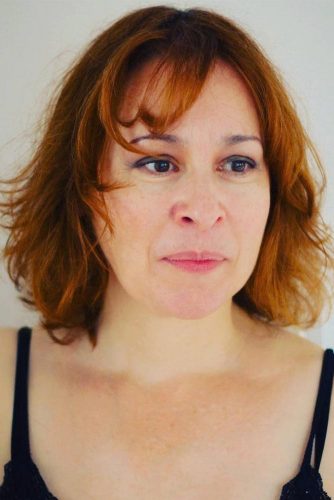 Source: vocalcoachkim via Instagram
Such red curly hairstyles for women over 40 are very cute. A tousled look has some anti-aging effect. This cut doesn't require a nice blow out. You can just curl the ends in different directions to get this tousled sexy look.
Caramel Bob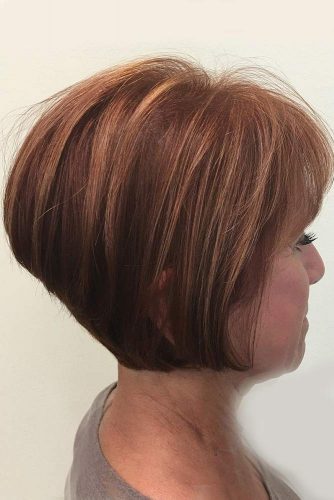 Source: shades.of.blonde via Instagram
This stacked bob is on fleek. And its amazing caramel color is impossible to miss. This color is your key to a unique and stylish look in case your skin tone is medium warm.

Pink Balayage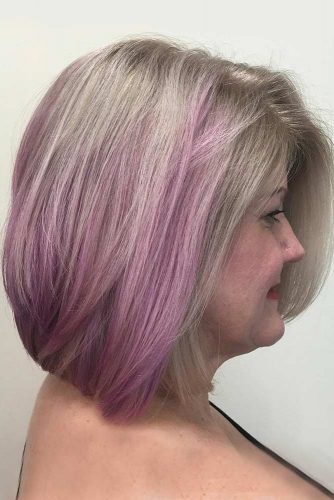 Source: shades.of.blonde via Instagram
Combination of ash grey hair and pink balayage is to die for. But it seems that this kind of look is everywhere. We know why and we will share this wisdom. This 'do flatters almost every skin tone and is not just plain vanilla grey.

Beautiful Updo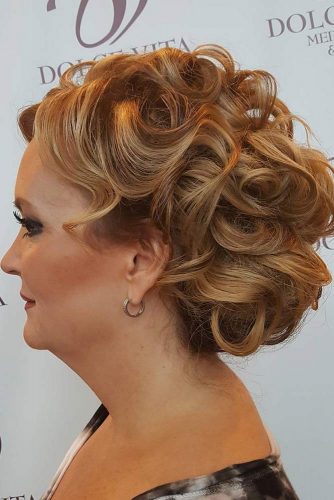 Source: dolcevitaspasalon via Instagram
There is a myth that short hair is not for an updo. It is truly a myth. Look at this gorgeous one. Tight curls laid in different directions will be a great solution for your short hair and will give you some 20s vibes.

Brunette Short Bob With Pink Highlights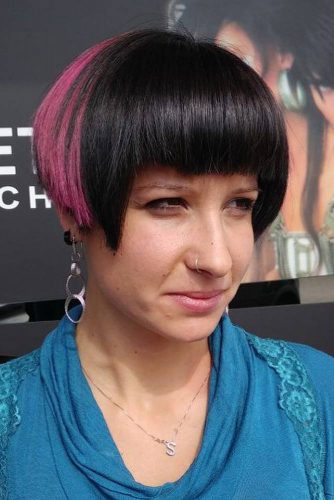 Source: ipolettoparrucchieri via Instagram
A brunette short bob with pink highlights totally reminds us of Rihanna back in the day. This is another great option for those who are not into something mellow and want to stand out.
We hope one of these popular short hairstyles for women over 40 will become your go-to once you get it.
Main photo Makeupdate.me