Medium length layered hair is always a great choice, as it is flattering for any woman. All, in all we all wish to look well-groomed and elegant, no matter how old we are. However, we have quite a busy life. So, besides being beautiful, we want our hairstyles to be practical, as well. And that is why shoulder-length layered haircuts are so popular in 2023 – they are universal.
For that reason, we have selected the hottest picks for women who know the value not only of time but also of stylishness. Whether you have thin hair that often lacks volume or you have trouble taming your coarse locks, our ideas have an approach to everyone! Dive in to see how you can get the most of your hair type with the help of layers.
Whom Do Layered Medium Haircuts Flatter?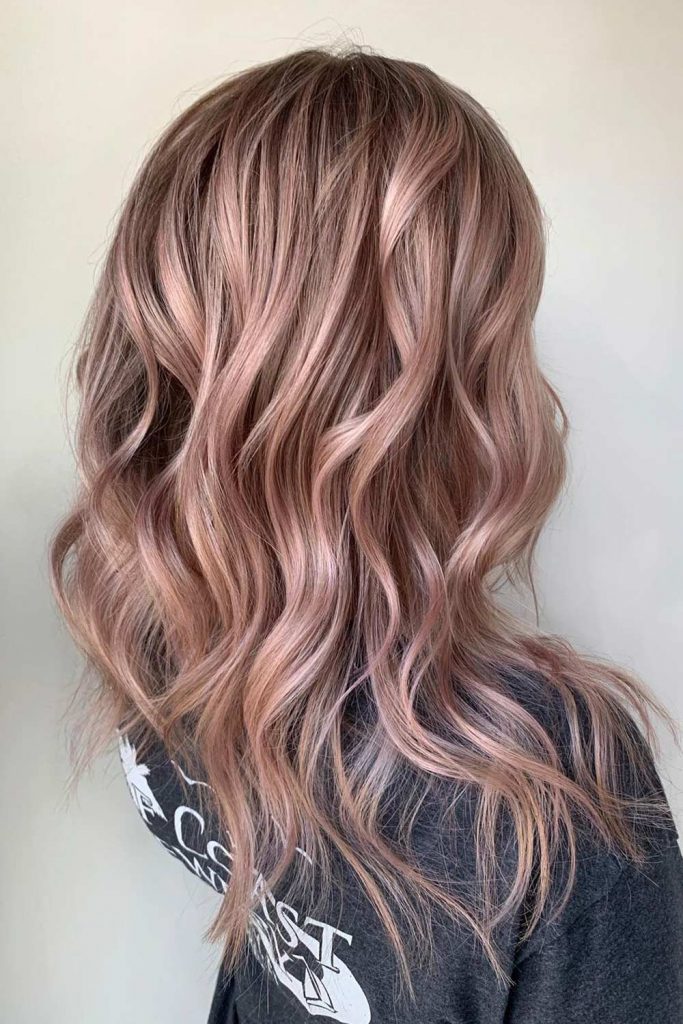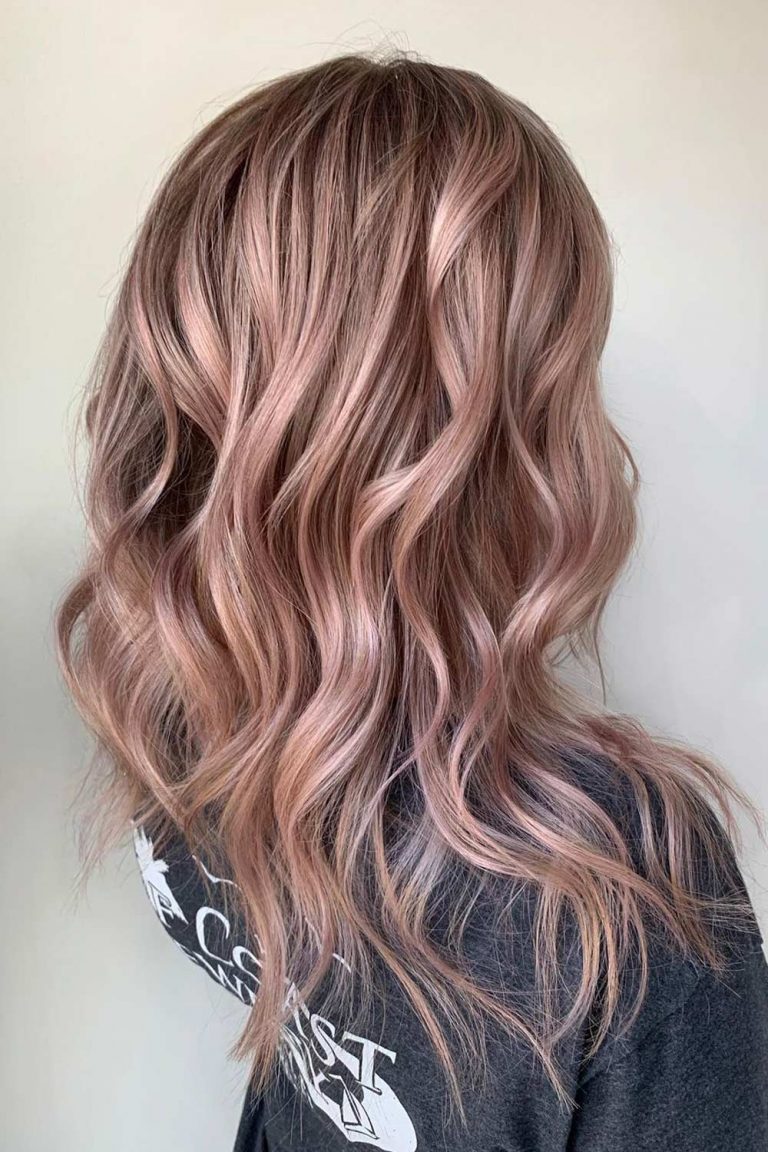 @karlavarleyhairartist
One of the main benefits of medium layered haircuts is that they are universally flattering and extremely versatile. As such, for those who have thick and dense hair, layering removes bulk from it, and makes the hairstyle breezy and lightweight. If you have fine and thin locks, medium-length layered hair will help you to create an illusion of a full head of hair. Curly women who have kinky tresses may easily tame them thanks to layering as well as accentuating the structure of their curls.
Layered Haircuts and Face Shapes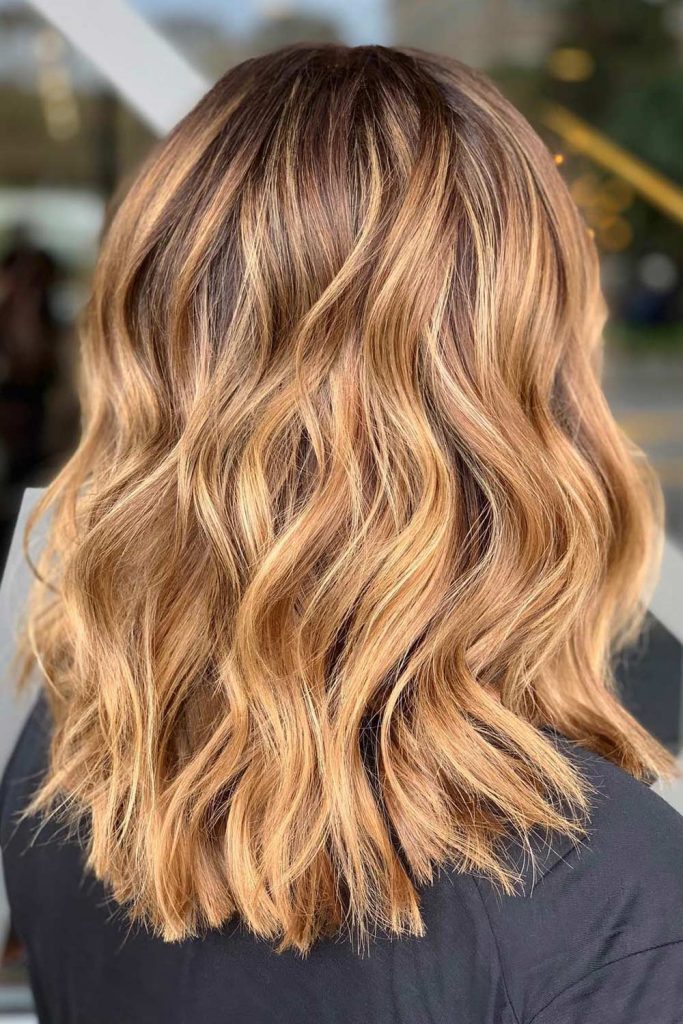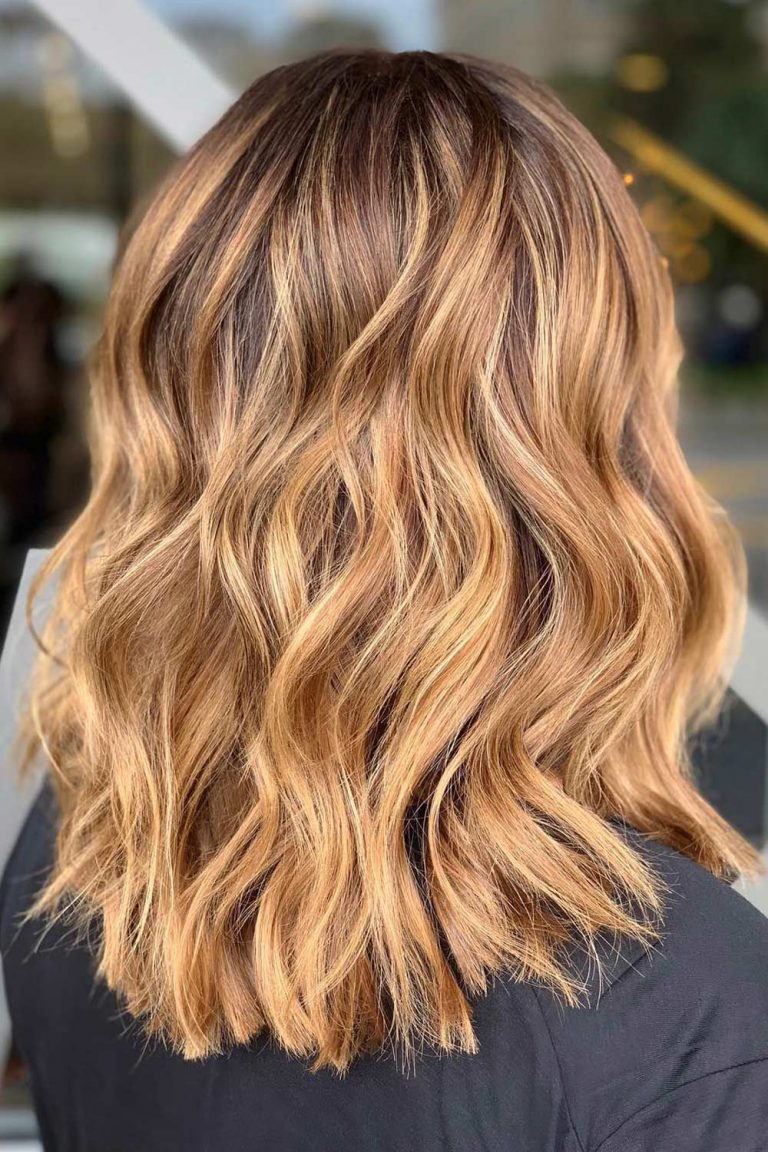 @karlavarleyhairartist
Another advantage of medium-length layered haircuts is that they can be adjusted to look complimentary for any face shape. Women with a round head shape should opt for layers that frame their face, thus making it appear longer, and a side bang. If you have an oblong face, consider a straight bang that finishes at your eye level and pairs with a layered shoulder-length hair cut featuring flicked ends. Those whose face is oval may feel free to go with any mid length layered cut that resonates with them.
Styling Tips for Layered Haircuts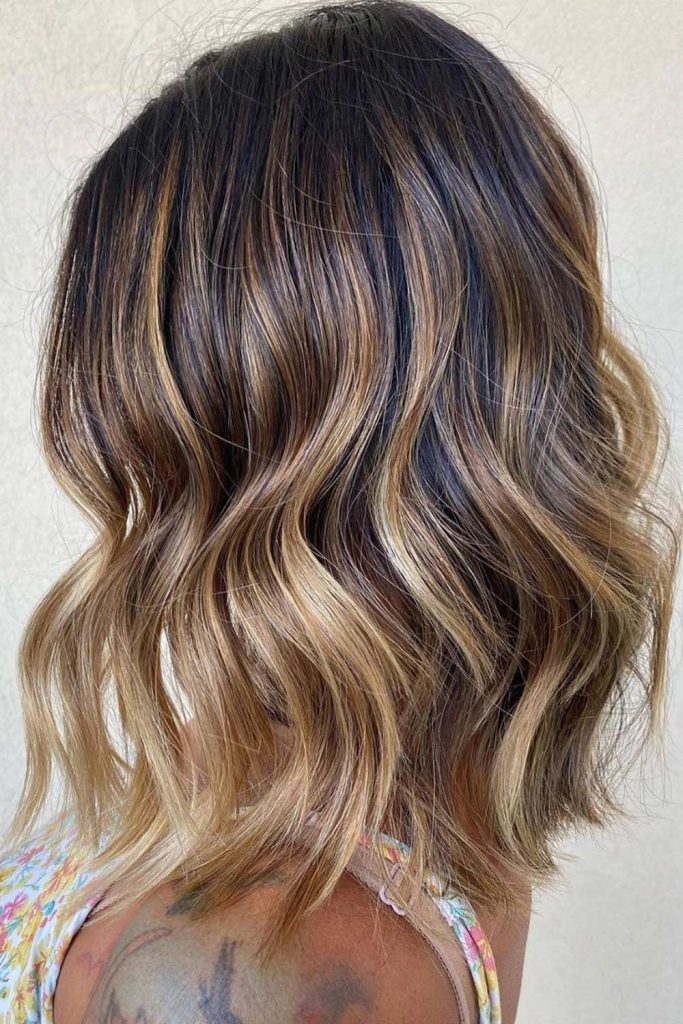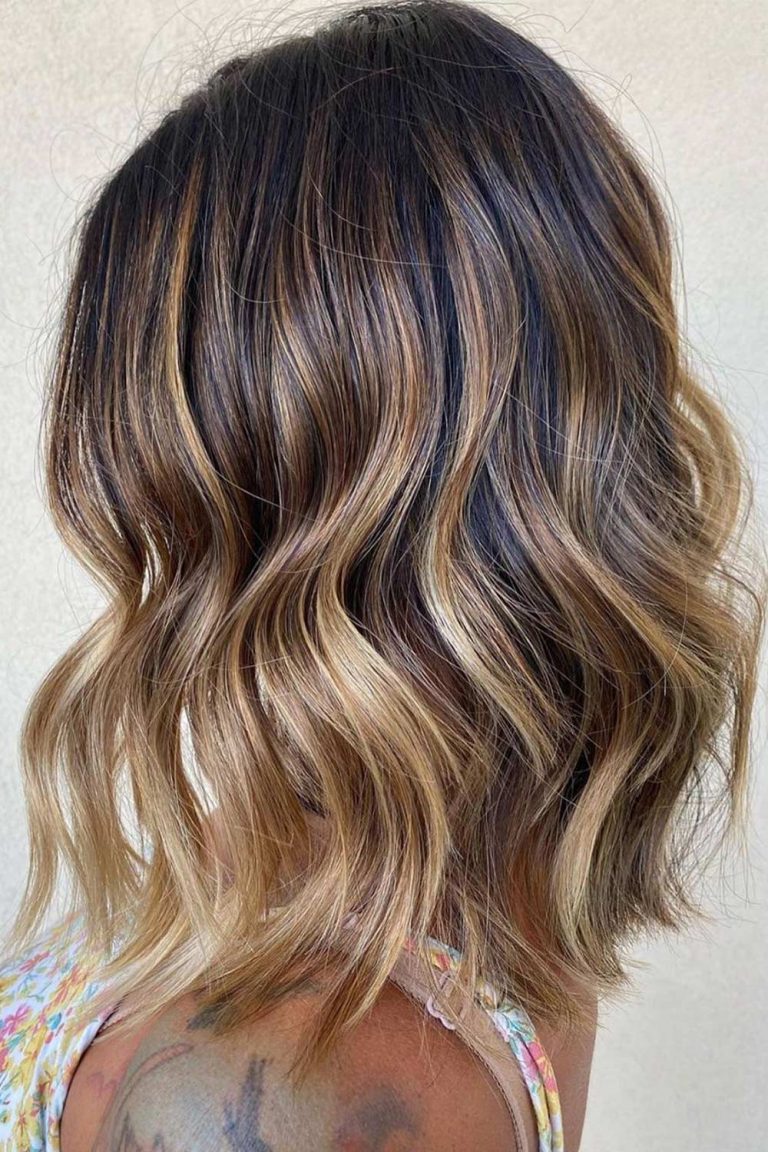 @lena_piccininni
Ease of styling is one of the main reasons that make medium length layered hair cuts so popular. This is not the case that your hair only looks good after the salon. You will be able to achieve the same result without the need to leave your house. For styling, enhance the ends of your tips by curling them using either a hair straightener or a curling wand. Also, it is a good idea to keep the focus on a voluminous top. So, arm yourself with a powerful hair dryer and a round brush. And when you need to spruce it up for a date night or a fancy event, simply fluff your locks up and secure them with a texturizing hair spray
A-line Medium Hairstyles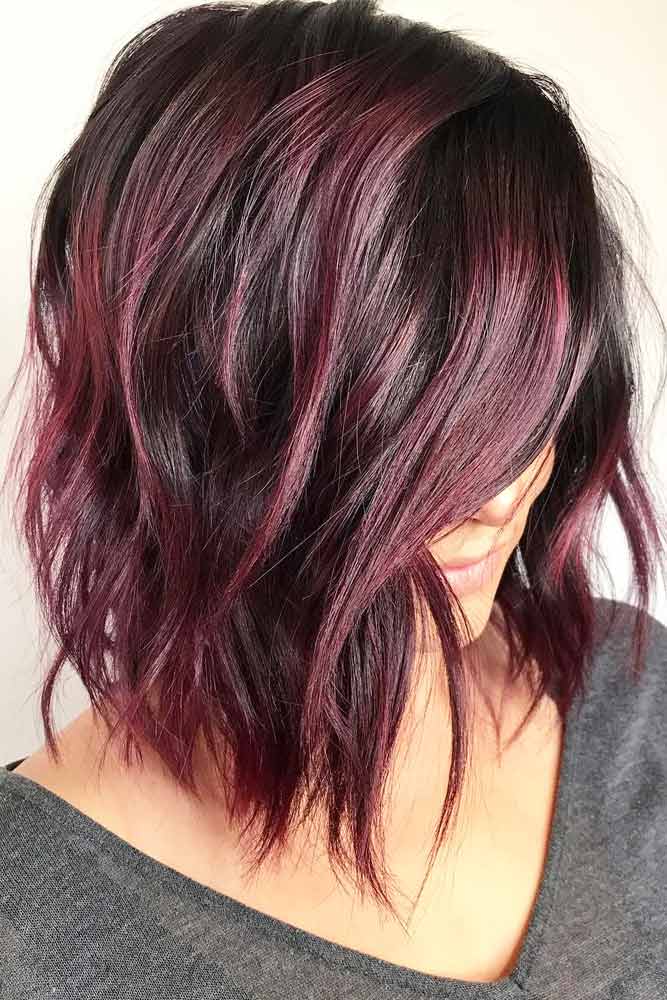 @styled_by_carolynn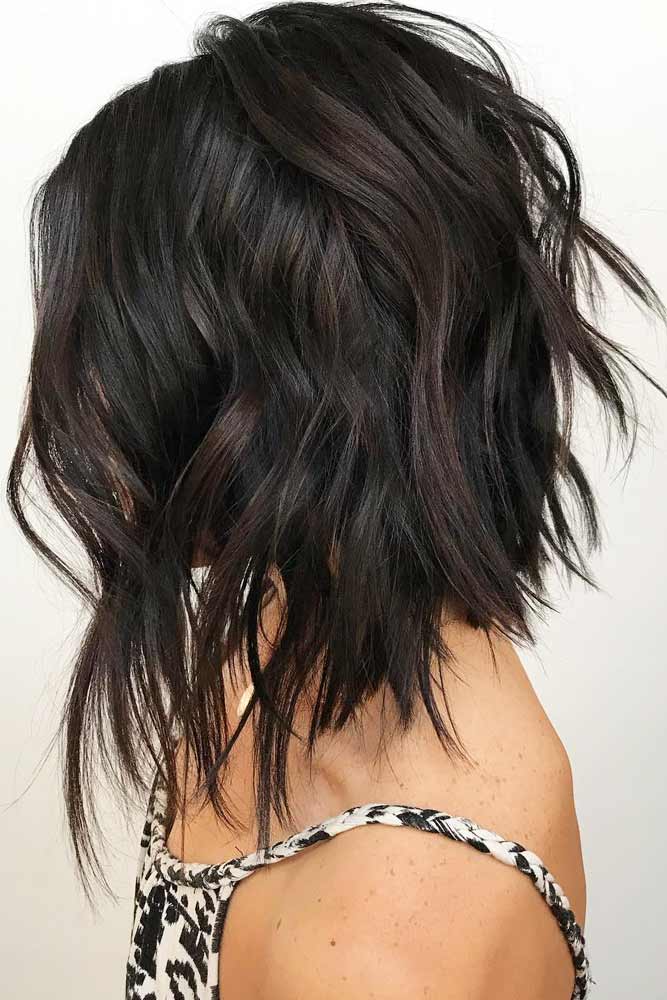 @styled_by_carolynn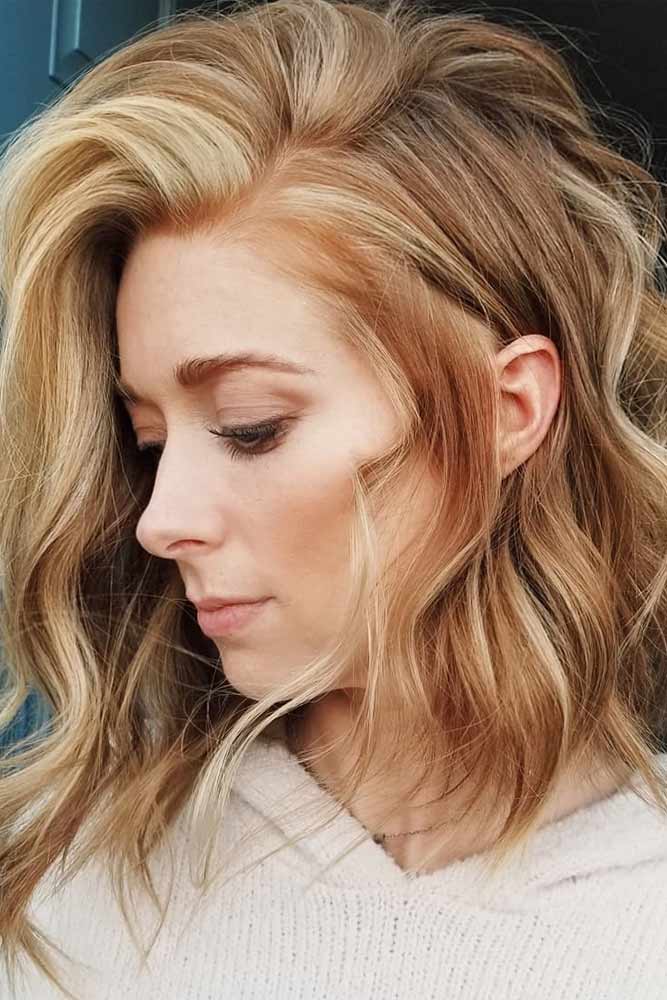 @artistrybyjennifer
If you sport haircuts with an edgy or pointed structure, you won't be mistaken in choice if you opt for layers. Not only will such haircuts accentuate the distinctive look of your cut but they will also enhance the natural movement in your hair. We love layered A-line haircuts for their amazing versatility. On fine hair, they give tons of volume and bounce with the help of waves. And when it comes to thick hair, they work wonders with their sleek body and curvy ends. Well, no wonder such cuts are so popular these days!
Medium Layered Hairstyles With Bangs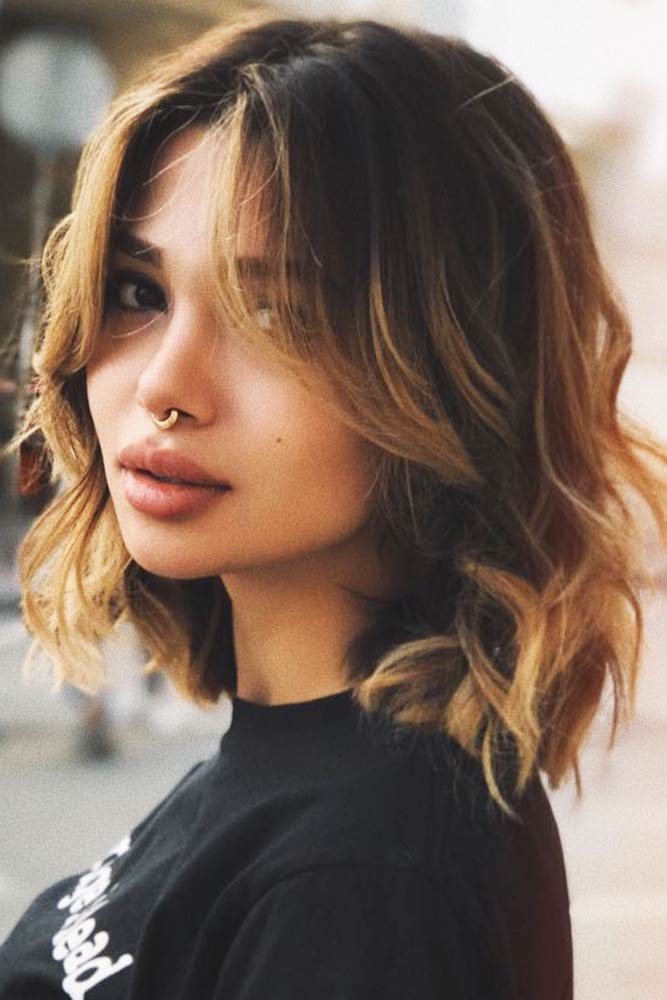 @taha_safari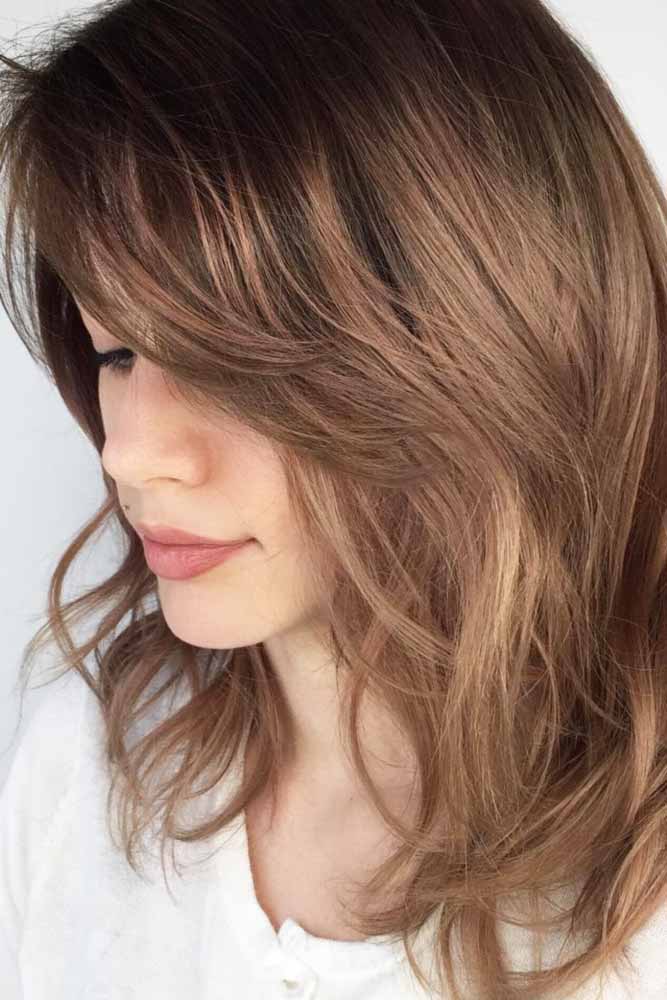 @hugosalon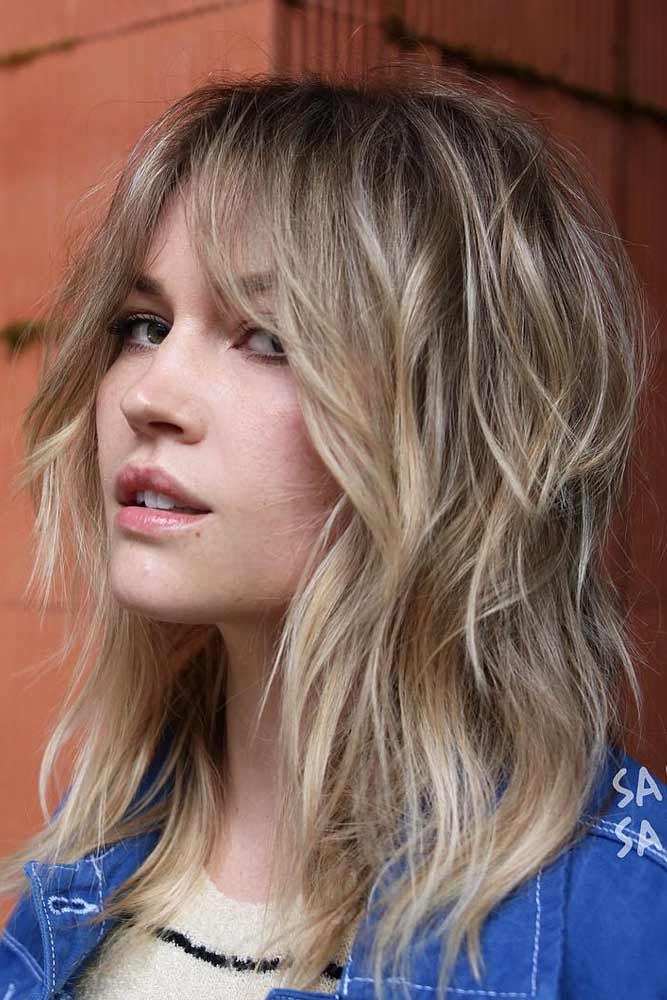 @salsalhair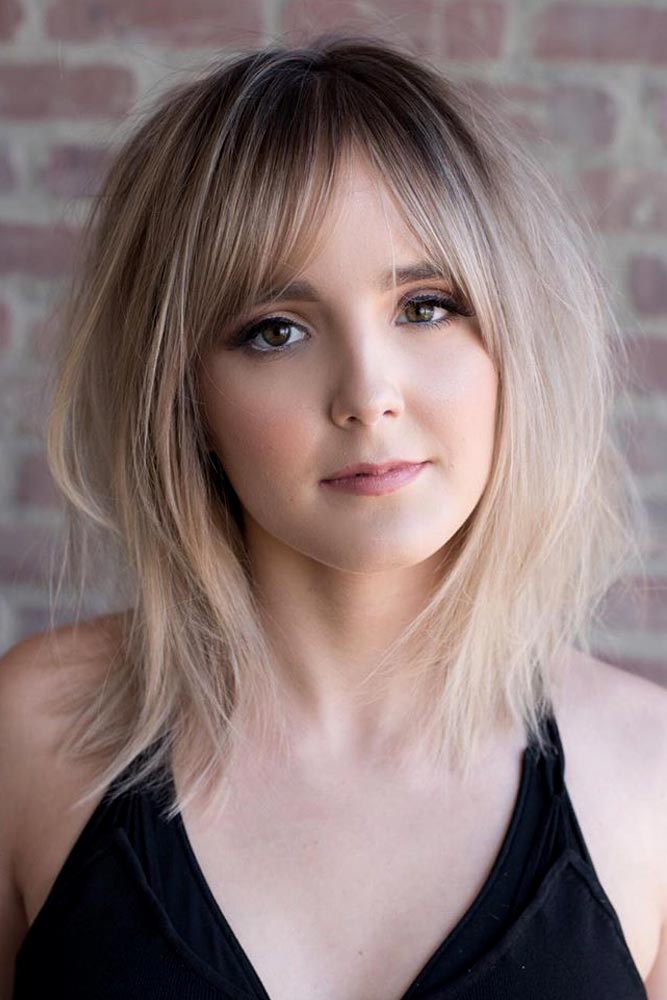 @ashleenormanhair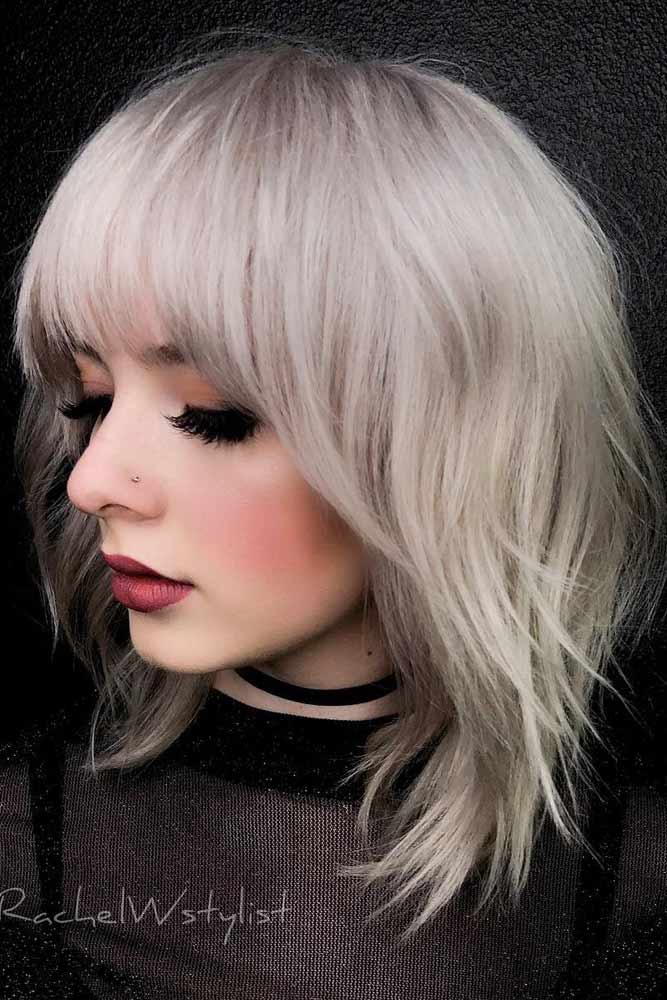 @rachelwstylist
Although not everyone is ready for commitment, chic bangs can be a perfect idea to style your medium hair in 2023. As for layering, it can take place wherever you want. Shoulder length layered hair gives you plenty of options. You can either leave your bangs as they are or get them layered, too. While layers go well with any type of bangs, you should pick yours based on your face shape. Whatever fringe you choose, it will look its best if you ask your stylist to blend it with the rest of the hair. Needless to say, there's no better way to work on your facial features than to get bangs.
Middle-Parted Medium Hairstyles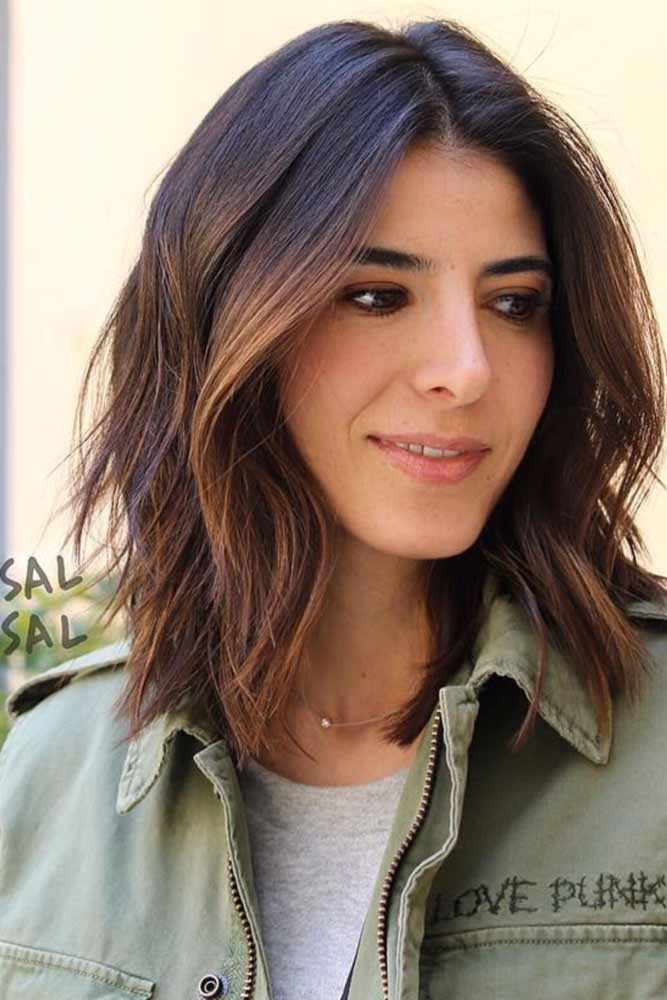 @salsalhair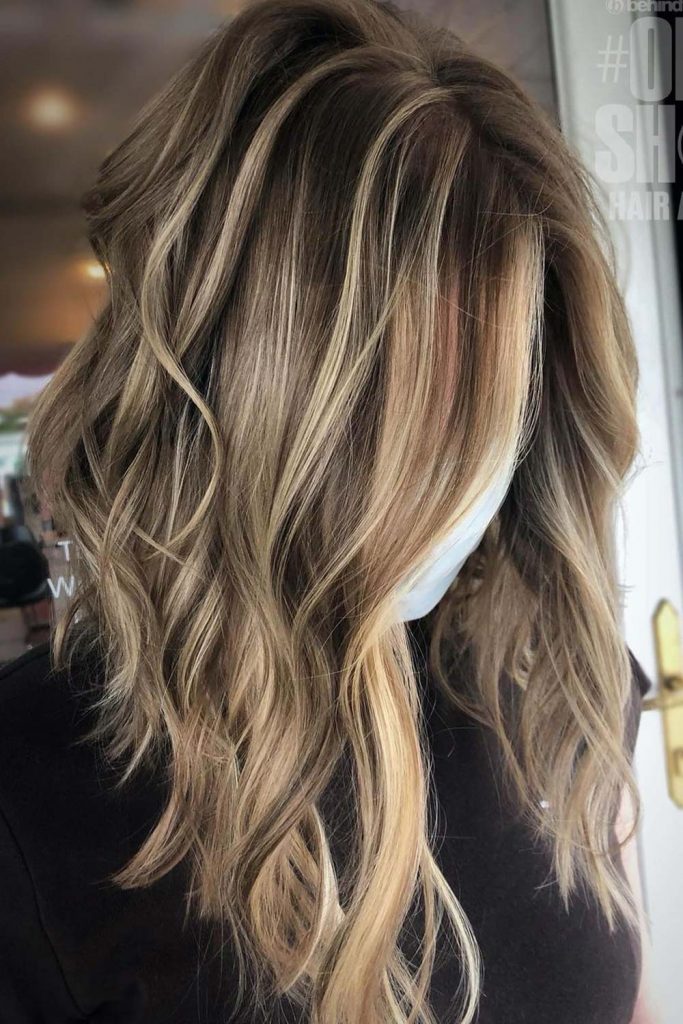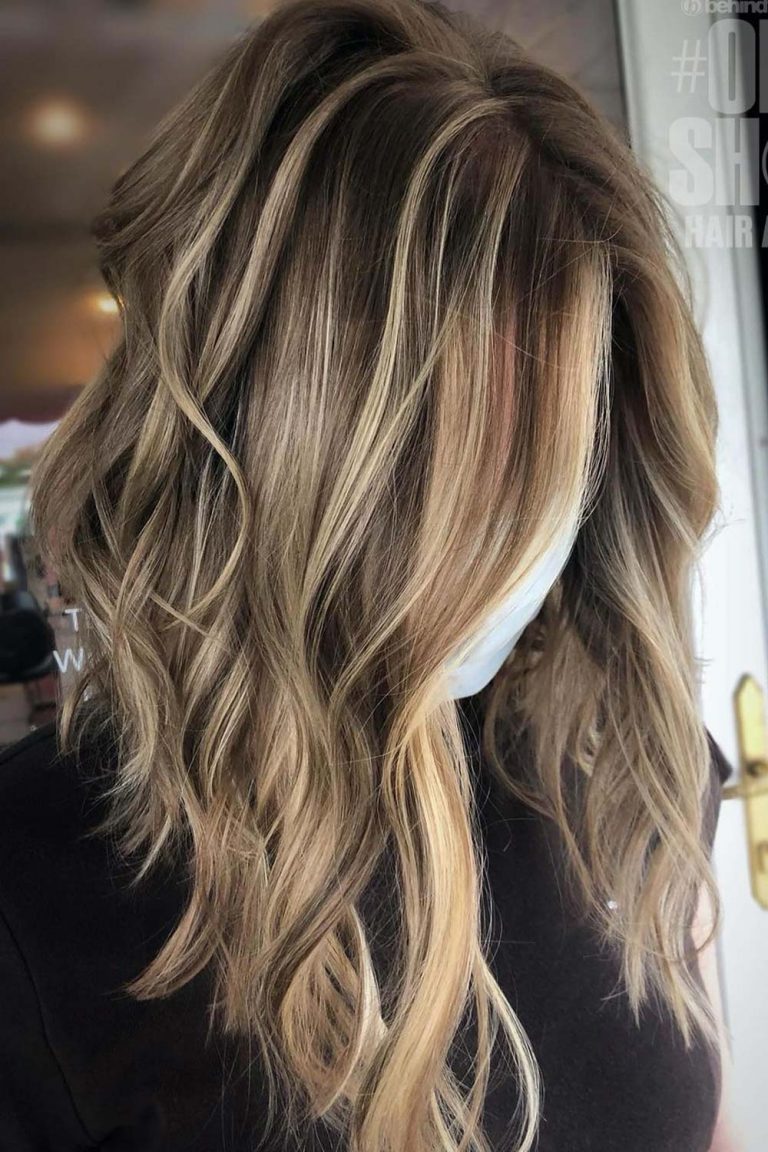 @hairbybiancarose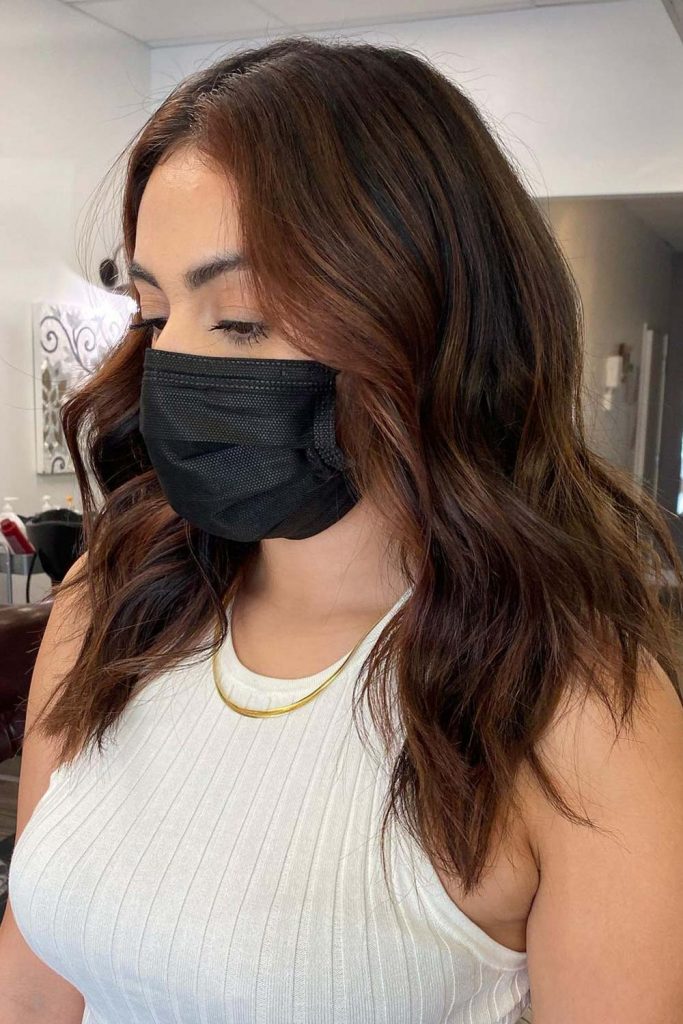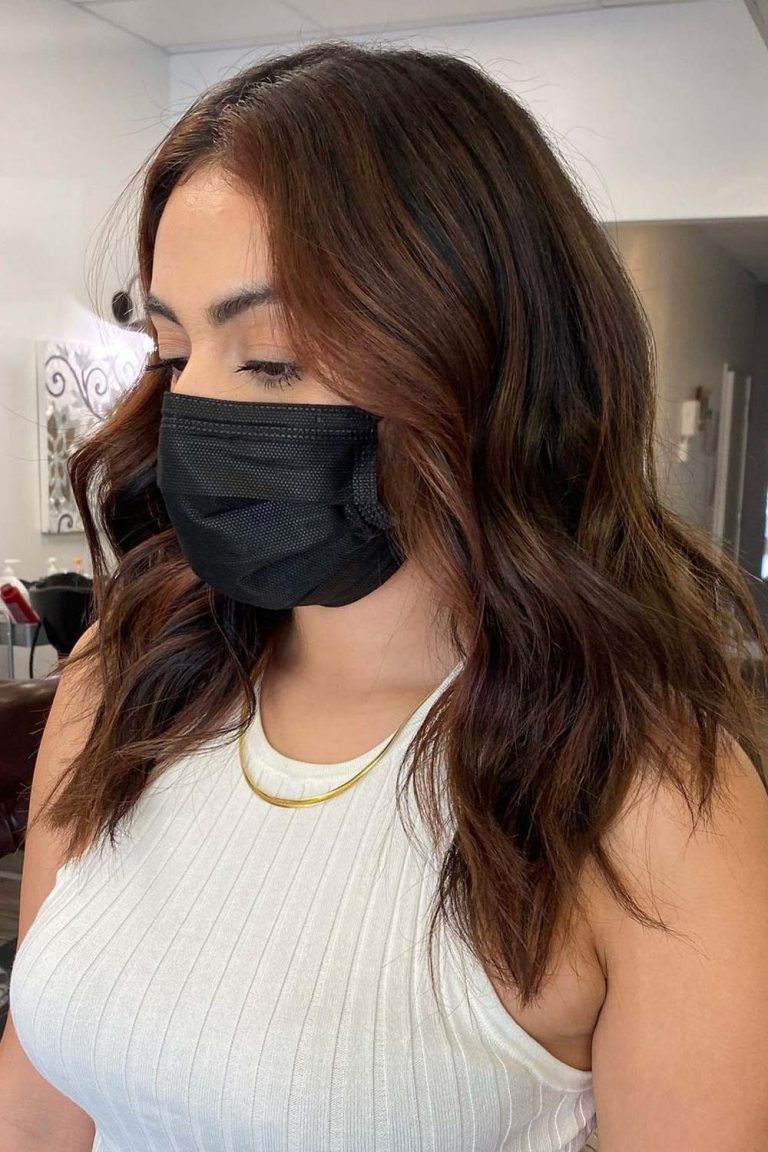 @shae_stylist
Medium length layered hair looks ravishing when it's middle-parted. Not only do such hairstyles get the most out of your texture but they also give a pleasant framing touch. In case you want to focus on its face-framing features, make sure to spread your hair evenly. The point is to create a nice and clean center part so that the hair falls evenly to the front. The front pieces, in their turn, will do the framing magic. Give them a pass of a flat iron so that they lye exactly when you need some framing. To finish the style with volume, apply some spray to the roots.
Side Parted Medium Hairstyles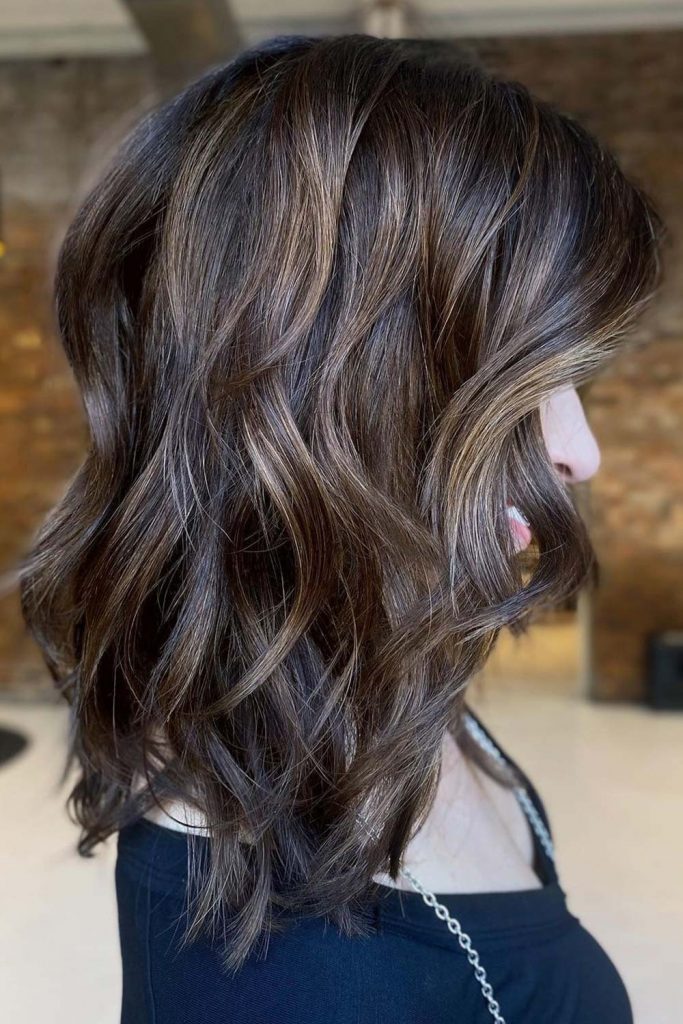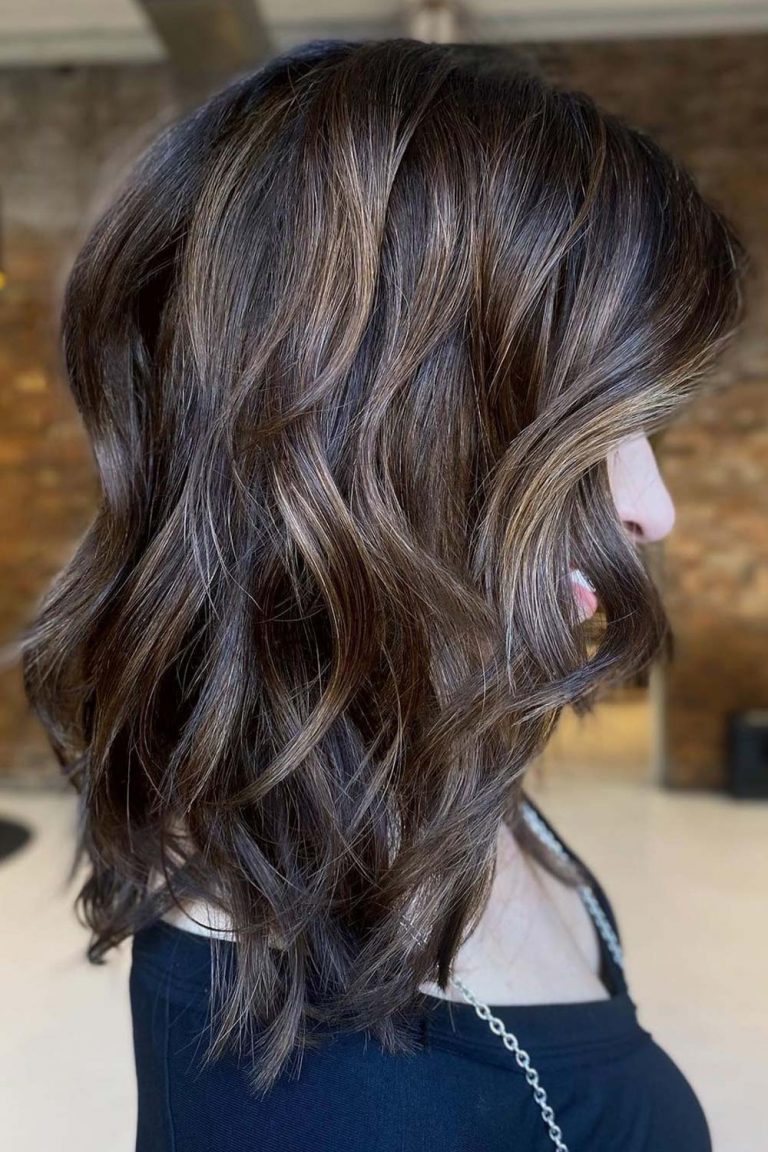 @karlavarleyhairartist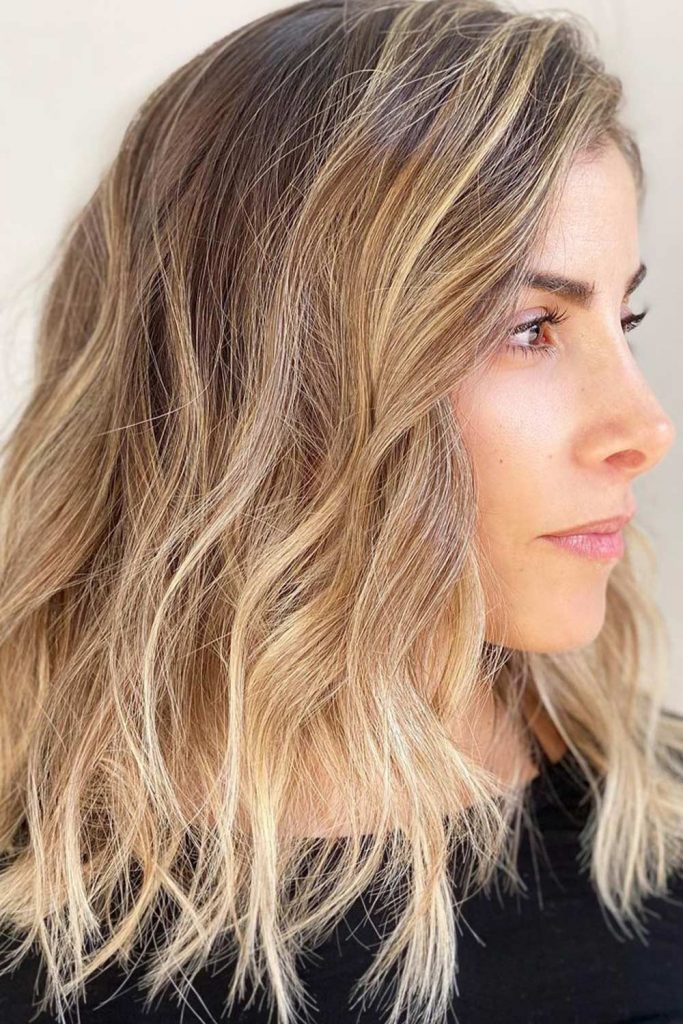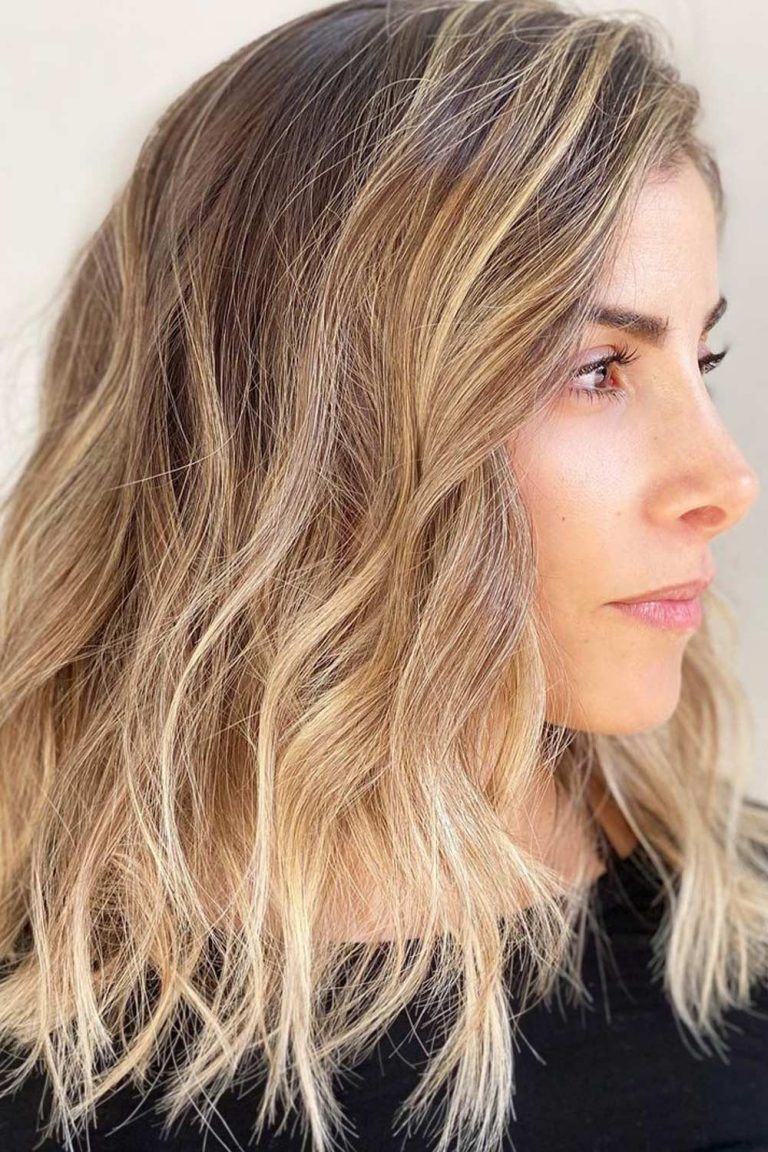 @styledbylizsustaita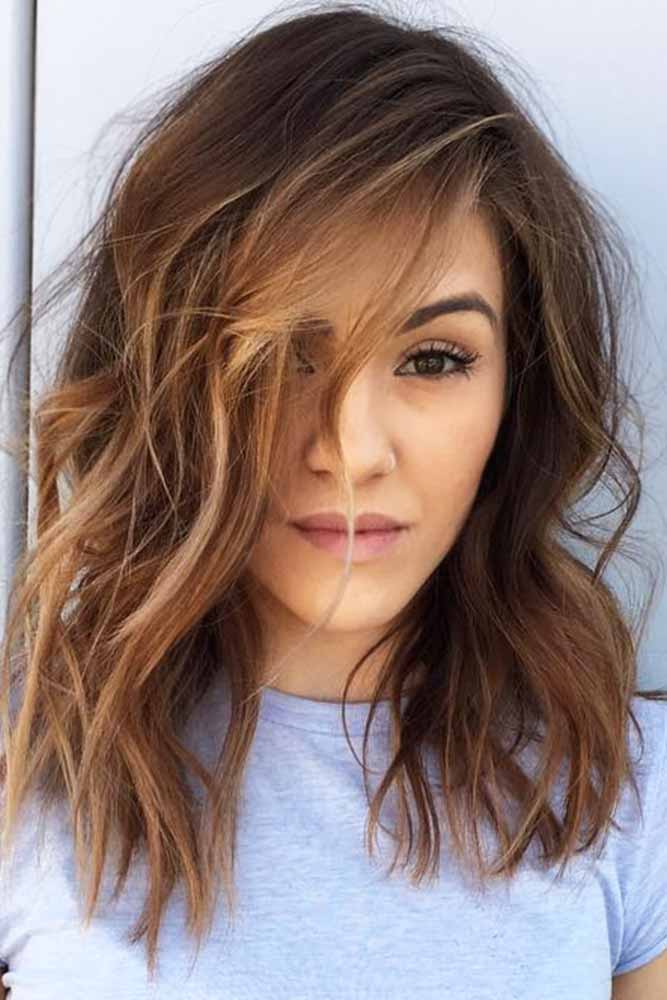 @richardatkuthaus
Parting your hair to the side is another nice way to add some volume to the crown. And since your layers are here to provide all of your hair with lift, you can get a cool outweighed silhouette where both sides are full and chic. Waves would be a fantastic finish, by the way. When waving your locks, make sure to change the direction of your curling wand. In this way, wavy layers will create an effortless flow. If you're afraid of damage, there's no need to wave all your locks. Instead, you can wave only the top layer of your hair. Trust us, this would be enough to amp up your hair with movement and volume.
Straight Medium Length Layered Hair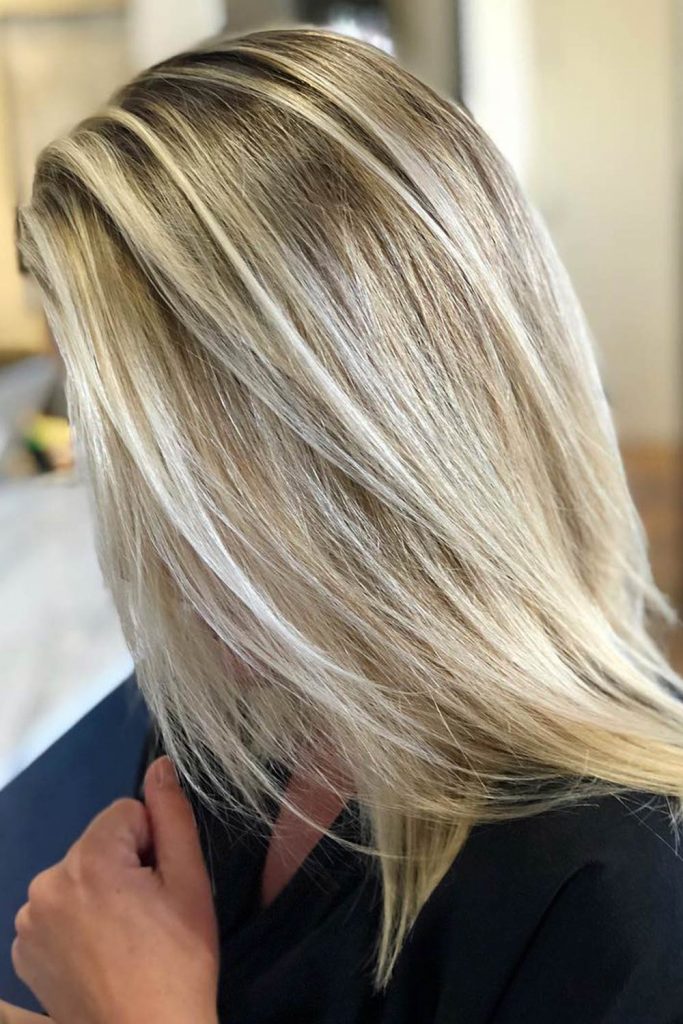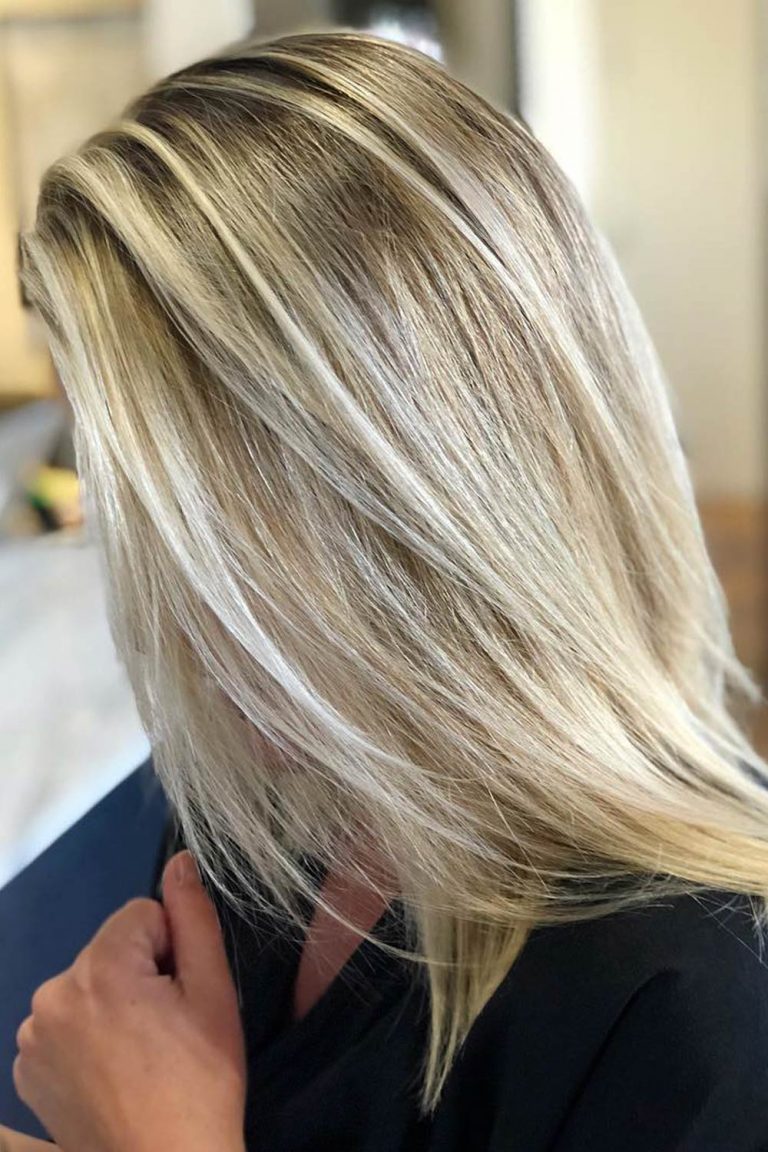 @drelefevre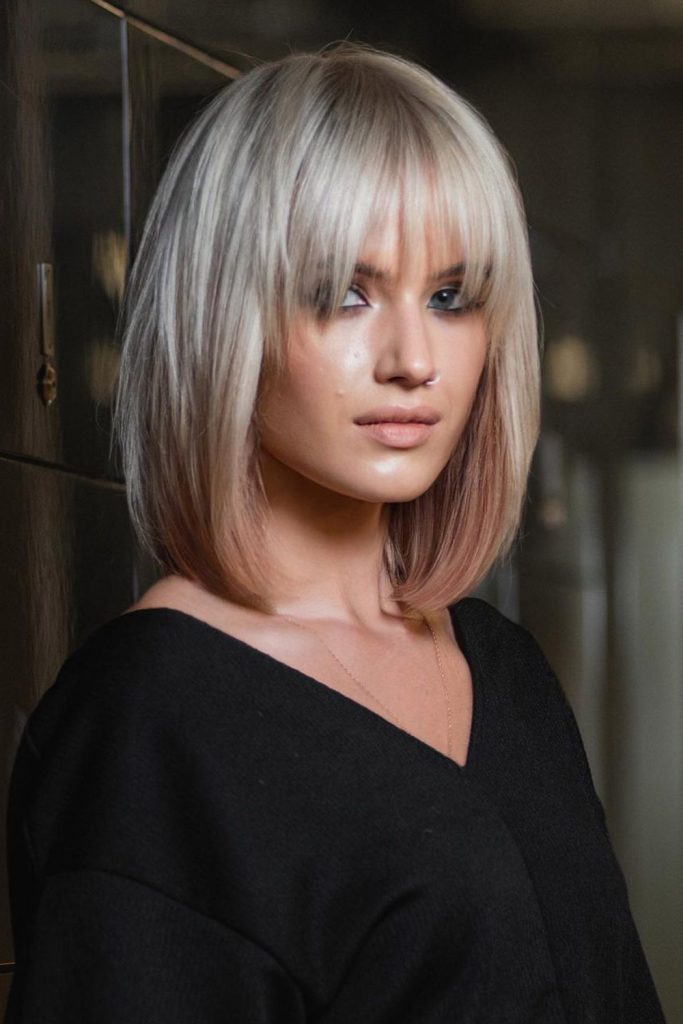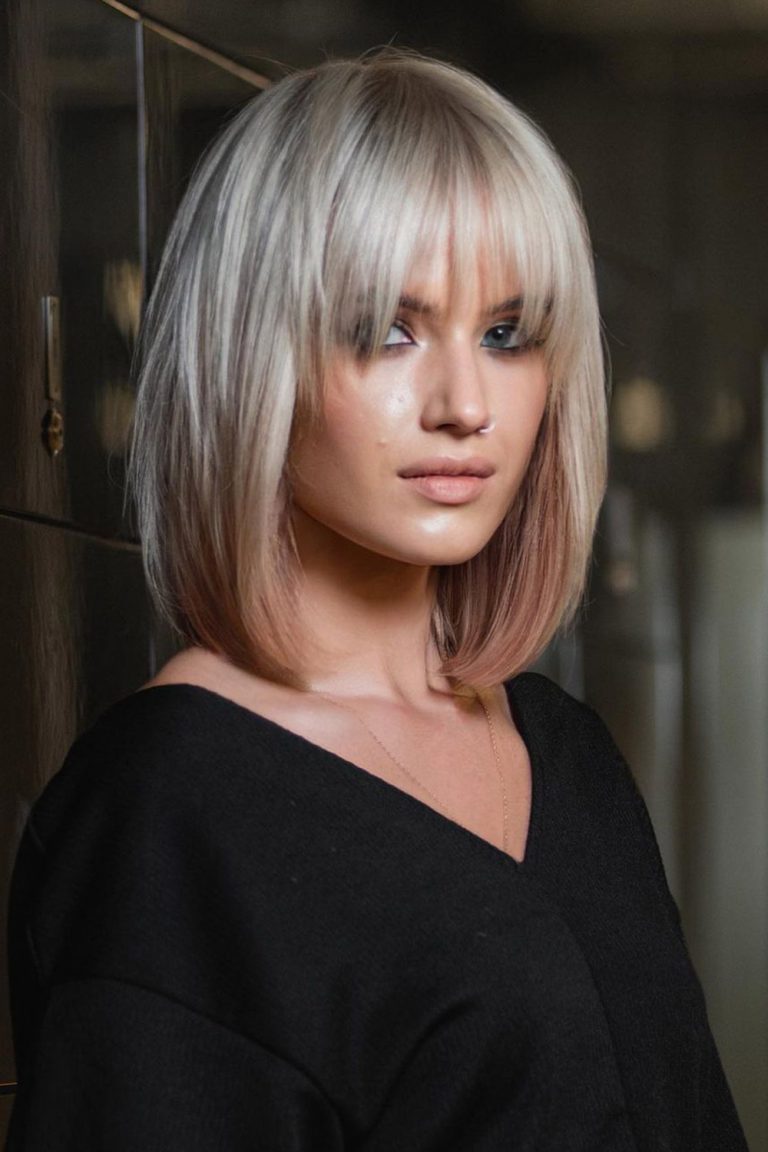 @sergeyshapochka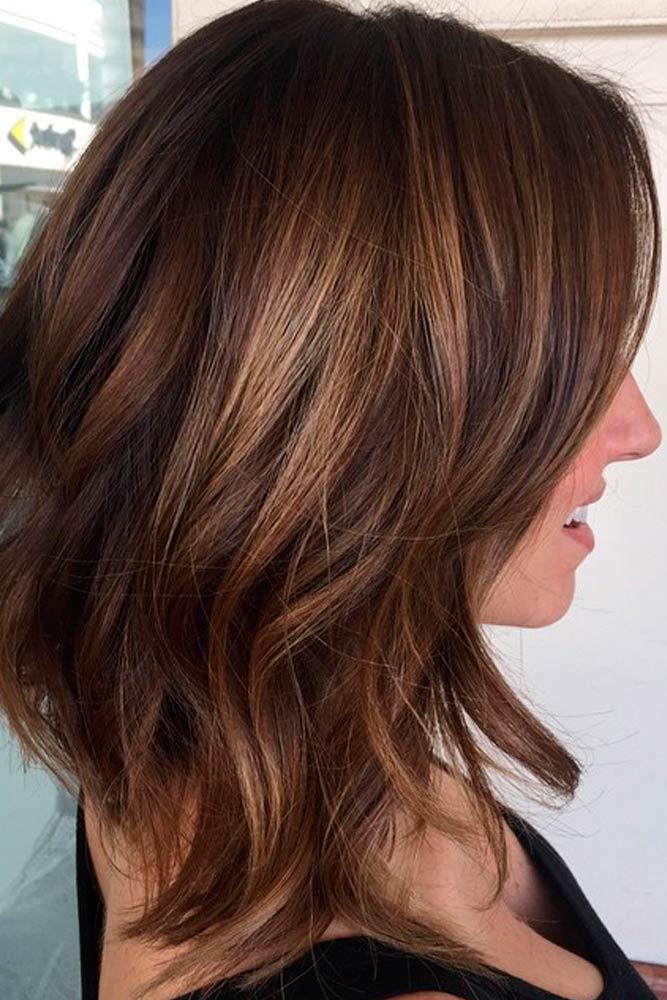 @hairluvbytiffany
Perfectly straight hair always looks neat and tidy, especially when it voluminous and balanced enough. Once you add a touch of layers, it will get a little bit twisty at the edges which will make it even more attractive. A rounder silhouette is indeed the best choice for straight styles. The best thing is, that a round brush is all you need for styling. For the best results, we recommend you getting choppy ends. It will lighten up the weight of your tips, thus making your hair more manageable. At the same time, choppy ends are what allow for everyone's favorite beach waves. Simply spritz your locks with some sea salt spray to get the look!
Q: What is considered medium-length hair?
A: Medium-length hair is the middle ground between long and short hair, and it's basically 12 inches long. In case you don't have a measurement tape at hand, you can define your length visually. Mid-length is also called shoulder-length hair, so if the ends of locks are longer than the chin line and cover the neck fully, they're medium length.
Wavy Medium Hairstyles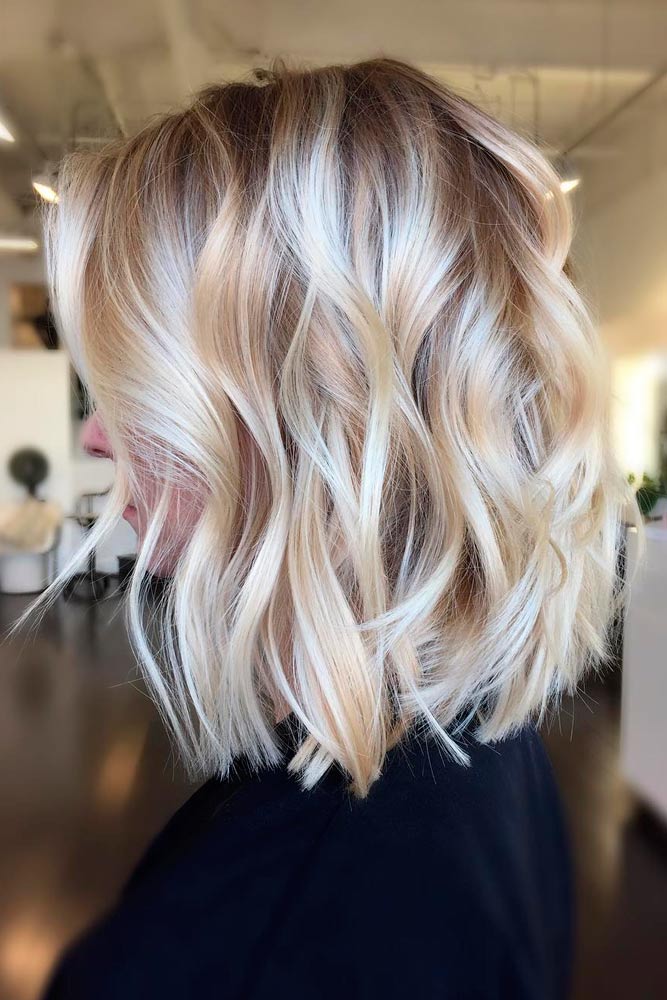 @colorbyashley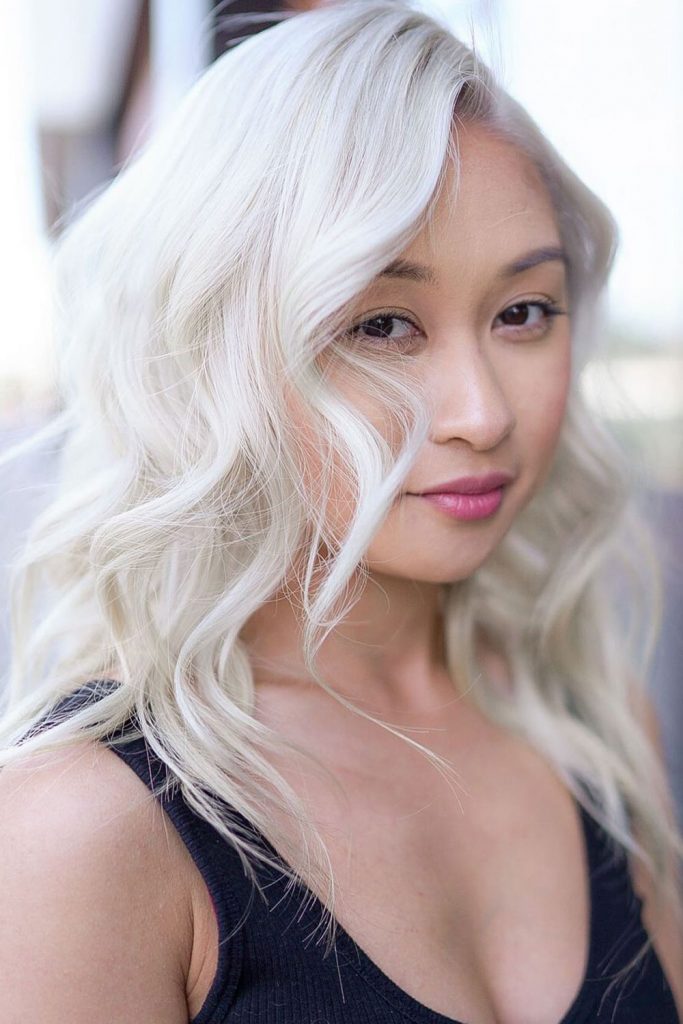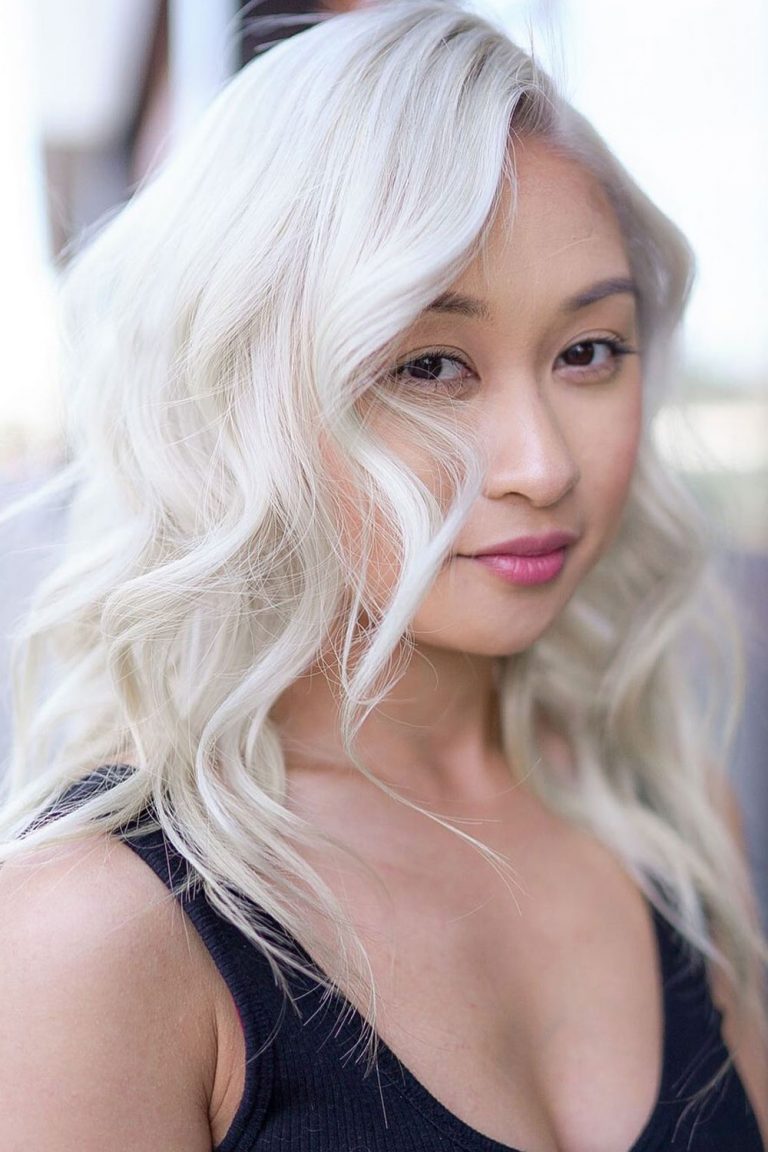 @theniksters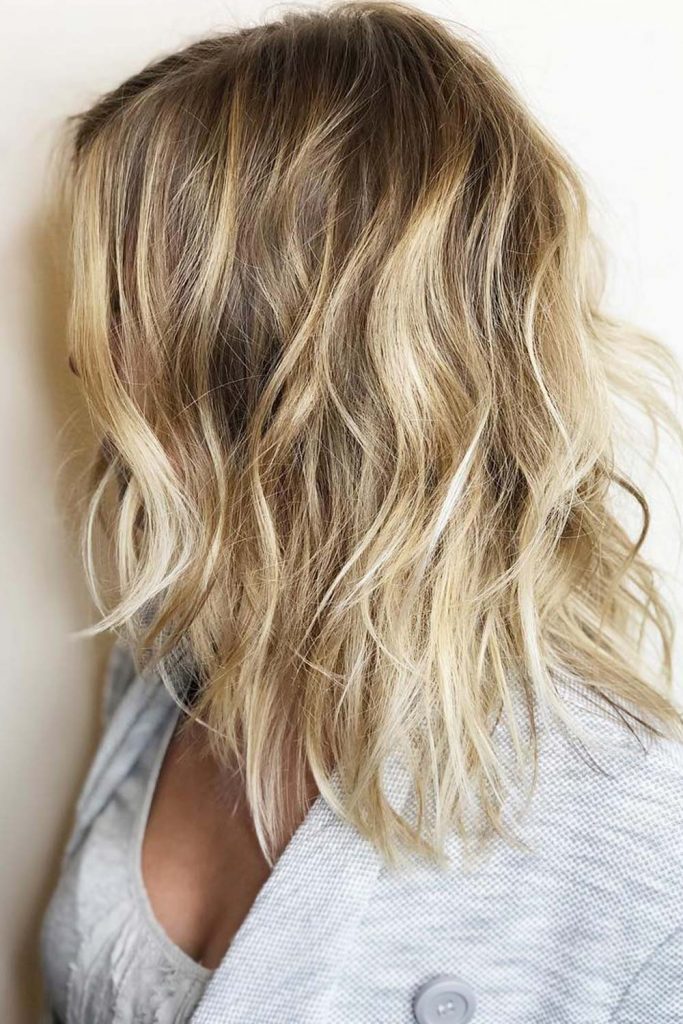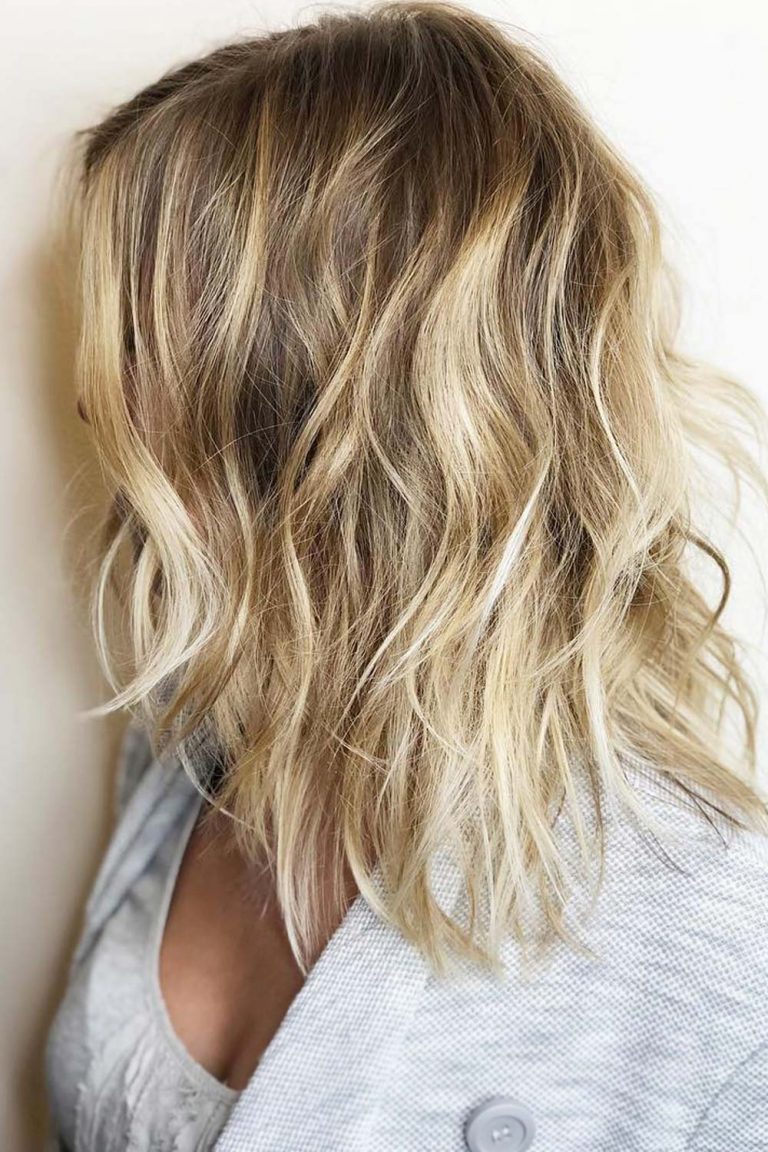 @drelefevre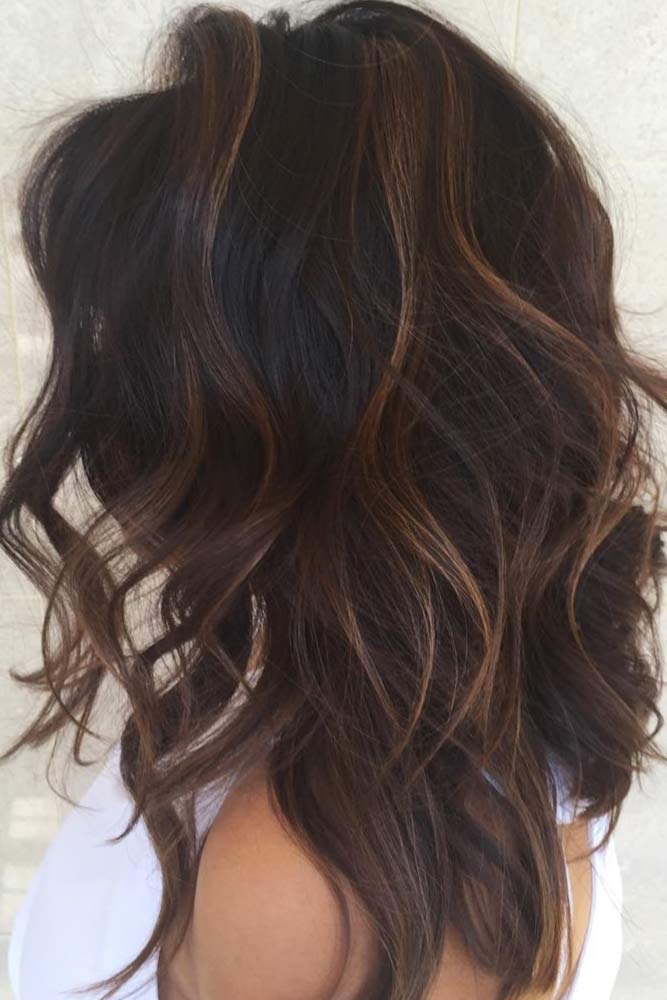 @hairluvbytiffany
In fact, by experimenting with the ways of trimming the ends and the number of layers, you can explore a surprisingly big number of stunning looks. On top of that, these haircuts work great for all hair textures. Just look at these pics! As you can see, 2022 layers look ravishing when they're wavy! Waves can be different, and your task is to style them so that they fit your hair type. For fine hair, little thin waves will be the best choice. And if you have thick locks, they will look best with bigger waves. You can also enhance the effect of wavy layers with a touch of highlights. As a result, your waves will look even more alive.
Q: Do layers make your hair look thicker?
A: Layers can make your hair look fuller rather than thicker by providing movement and volume to the texture. In general, for thicker-looking hair, you should use products designed for thickening the hair texture or go for salon treatments. Layers, however, may be a better alternative, as they can get the most of your locks naturally.
Messy Layered Hairstyles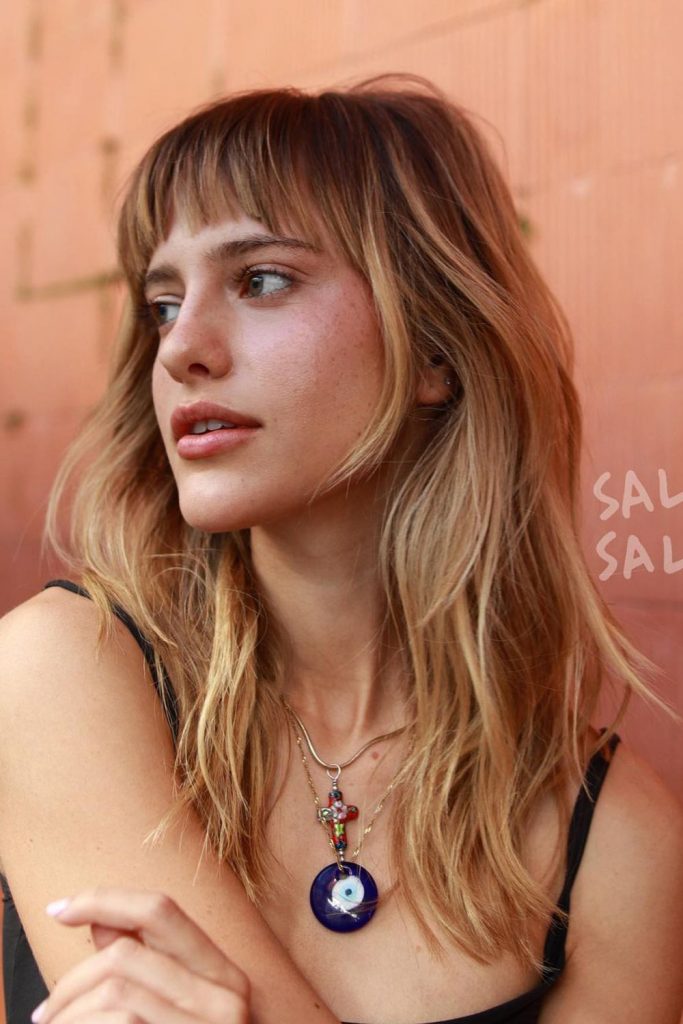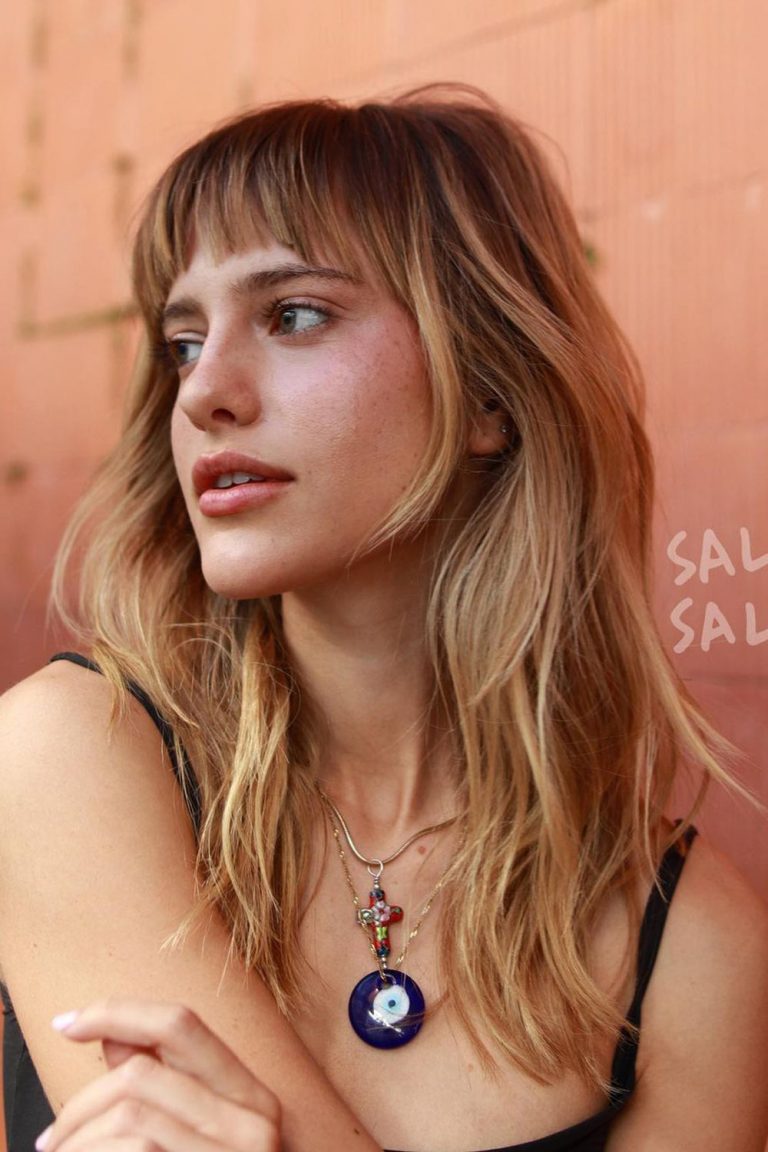 @salsalhair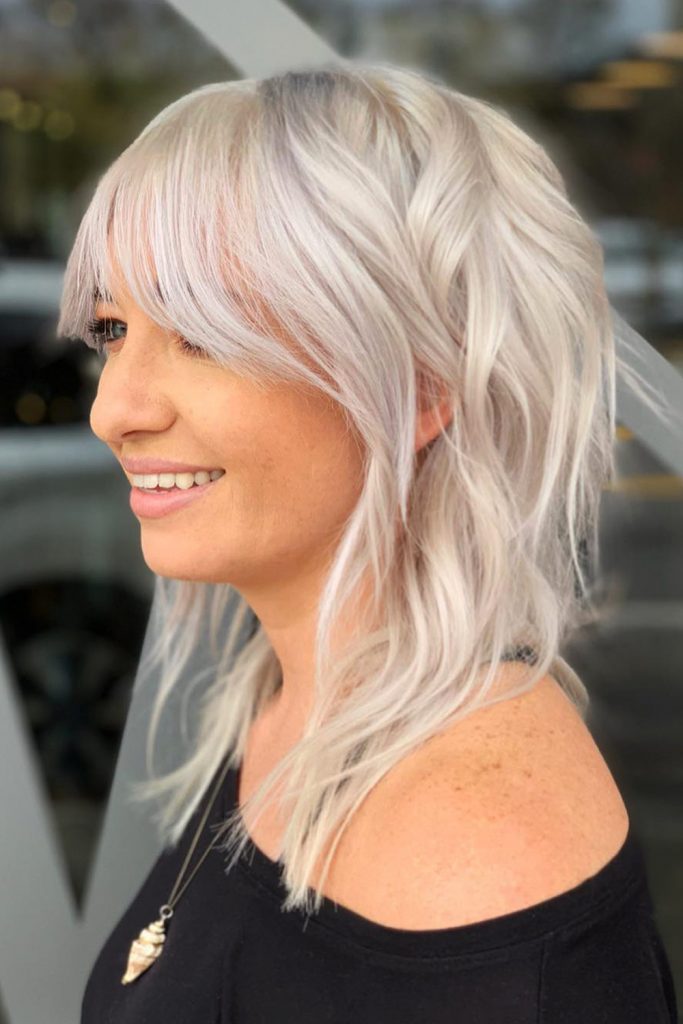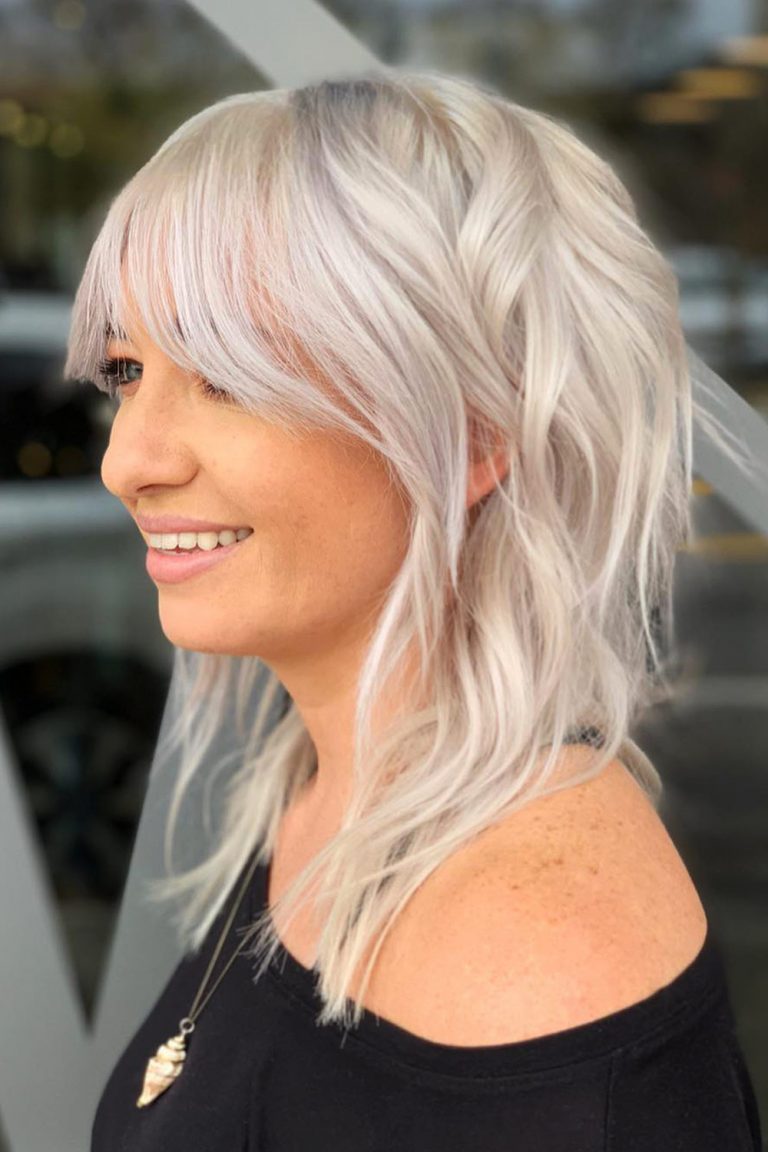 @karlavarleyhairartist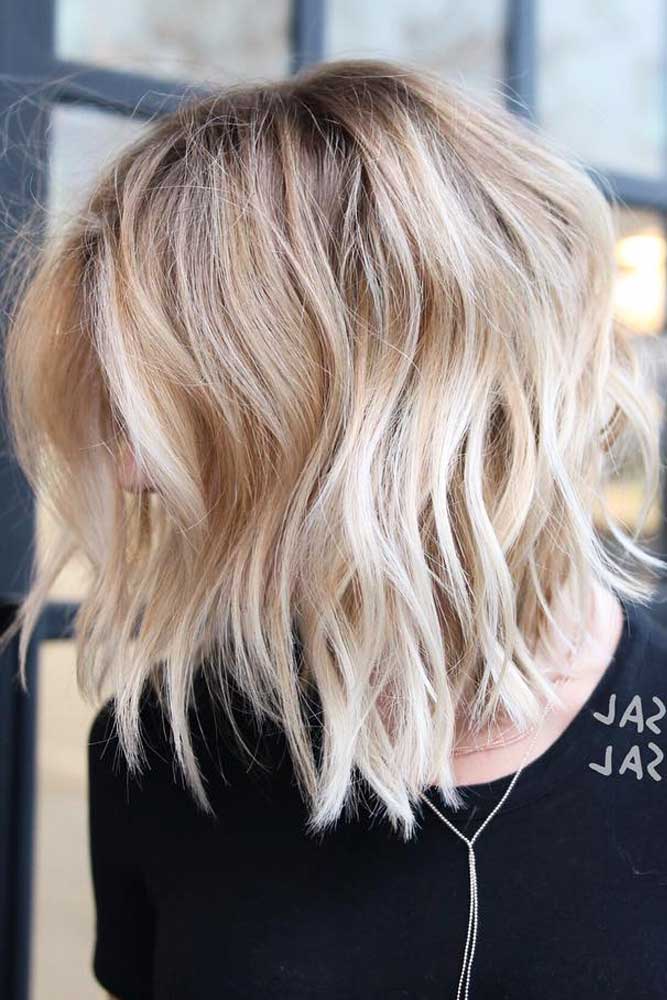 @salsalhair
Ladies who want their waves to be deep and dynamic at the same time just need to layer up their haircuts. When styling, a bit of slight texturing and a hint of tousled finish are enough to take your texture to the next level. Also, don't forget that you can play around with different types of layers. Your layers can be short and smooth, as well as long and edgy. Obviously, it's all up to your taste! Most layers are wash-and-go, so they will never take a lot of time for styling. For messy styling, a texturizer and tousling are all you need. Simple yet stylish, who could ask for more?
Choppy Medium Length Layered Hair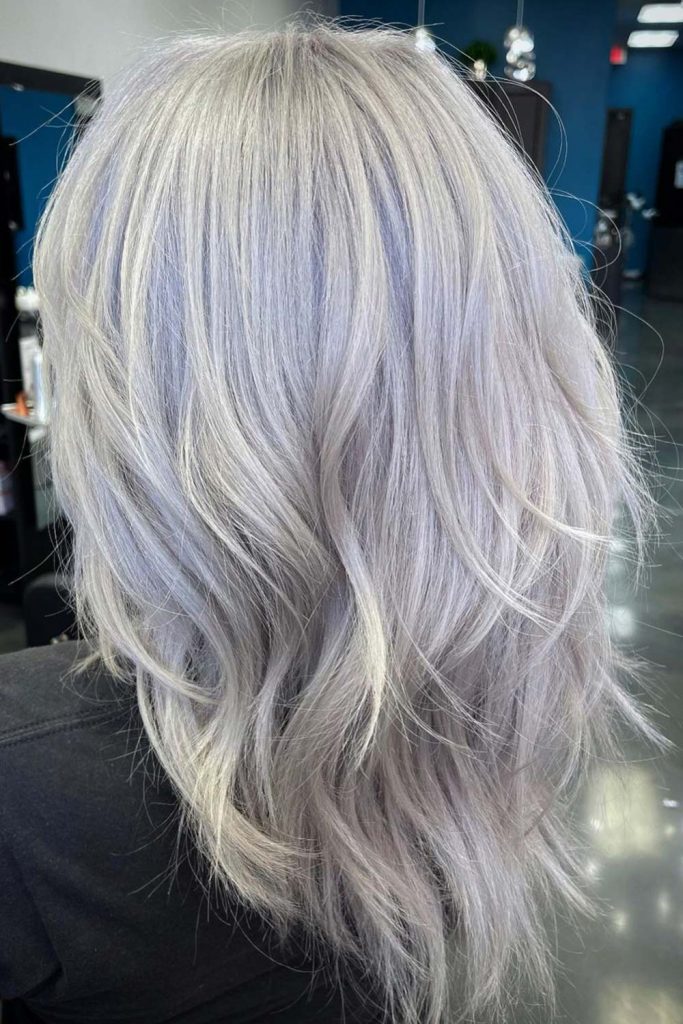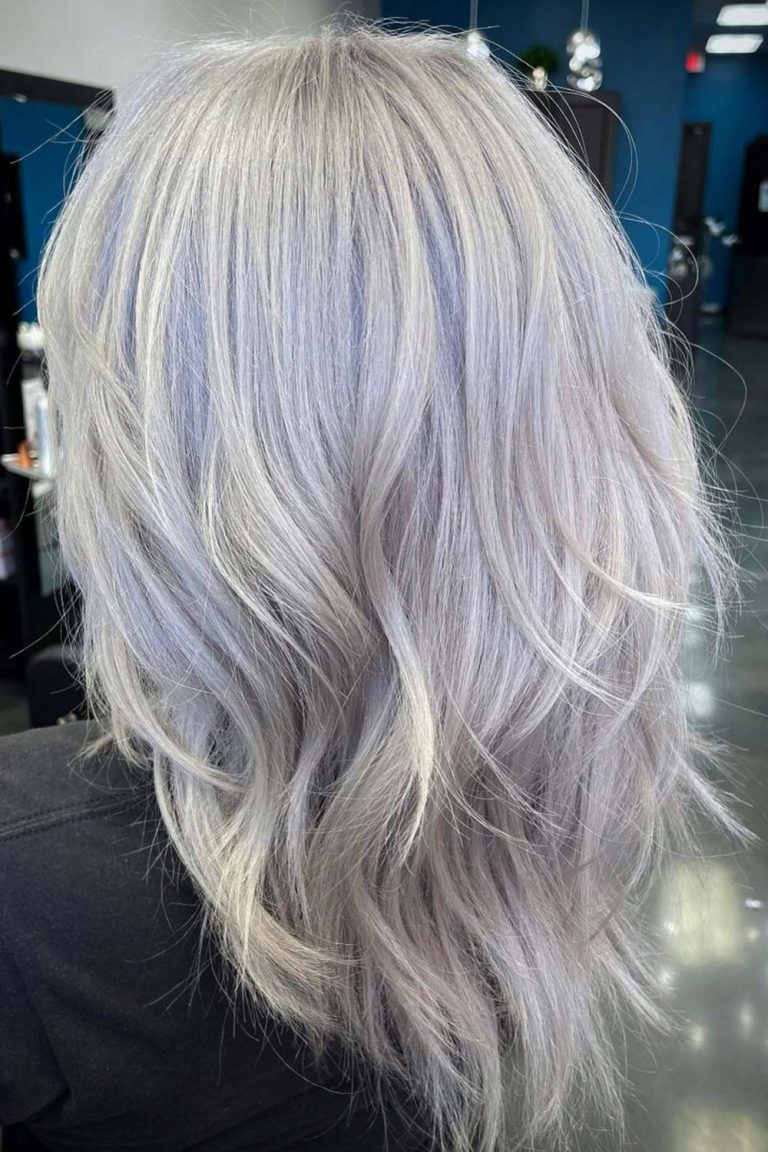 @hairbyfranco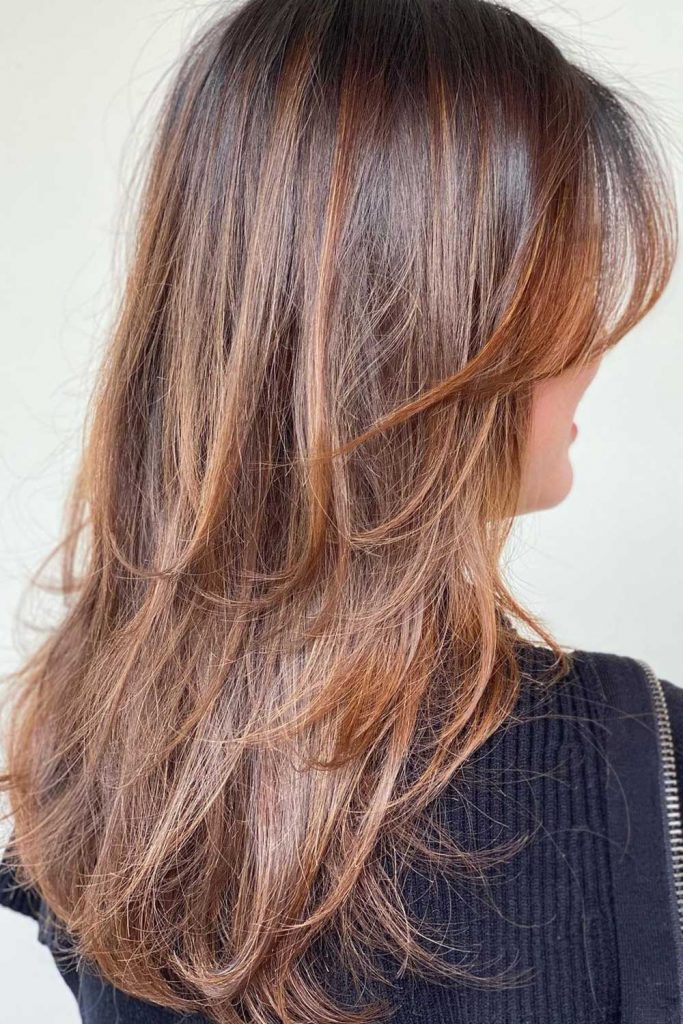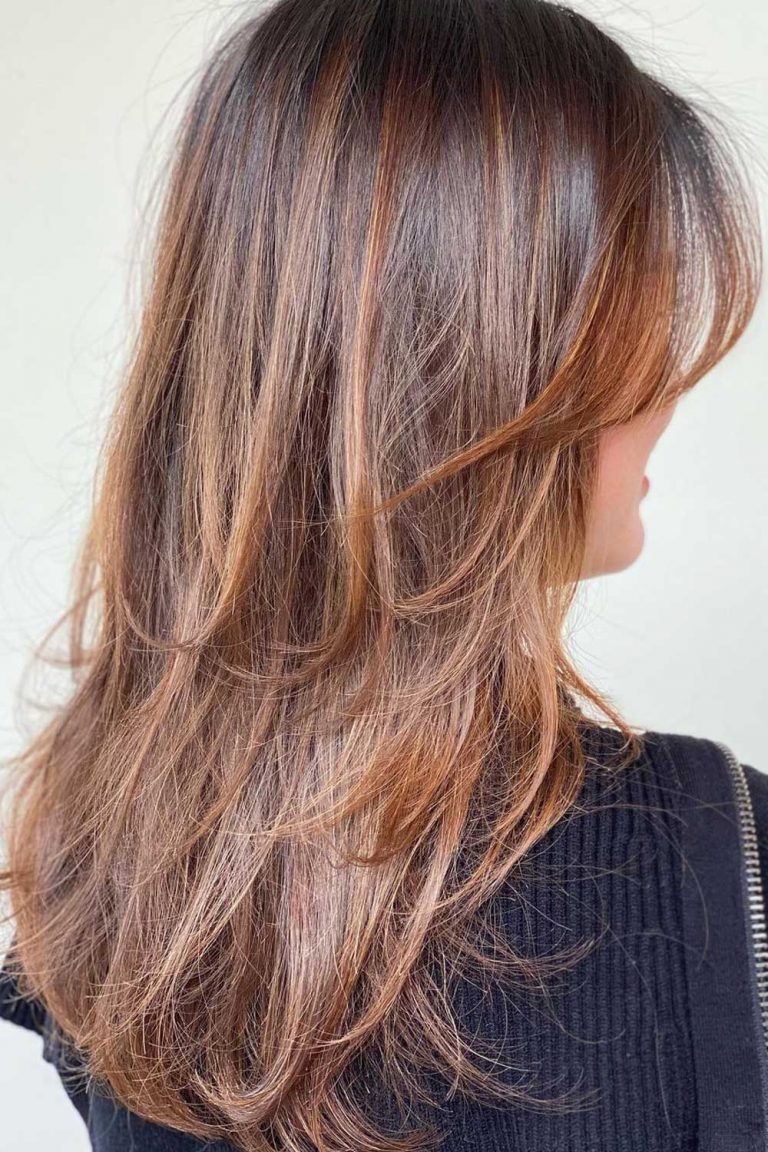 @cleencuts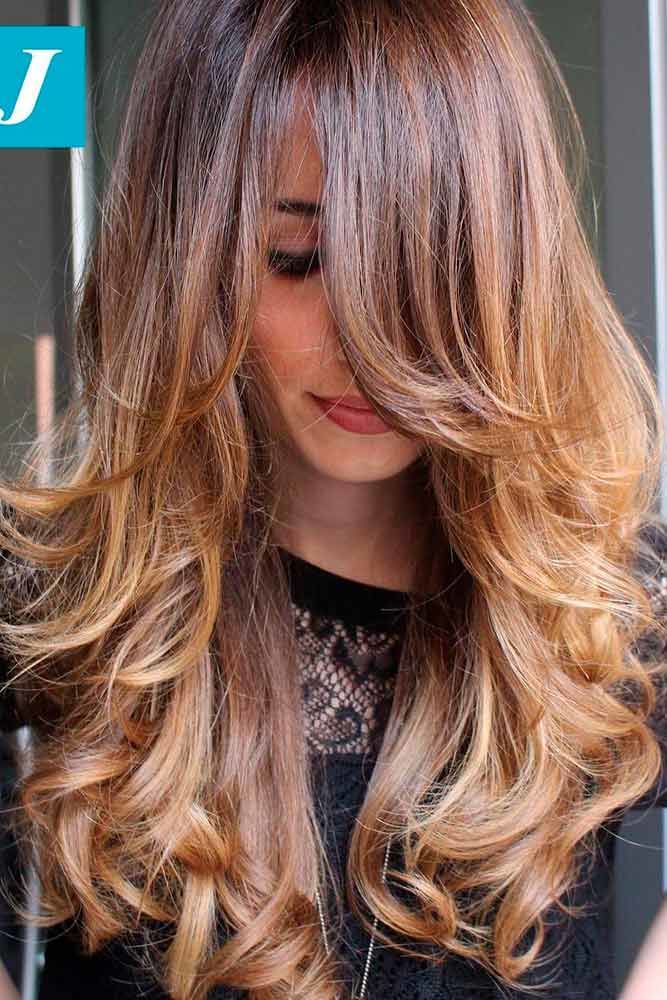 @centro_degrade
If you have long hair and do not want to chop it, you can make it a little bit shorter with a middle-length haircut instead. Basically, layers don't get rid of length. On the contrary, they cut off the extra weight from your tresses. Therefore, tell your stylist to start layering from the middle and slowly go down to the ends of your hair. For your everyday look, add a few curls with the help of a blow dryer in order to flip those ends! Or, apply some texturizing mousse to your wet hair. Yes, layers also look cool when air-dried.
Q: Is layered hair better than one length?
A: When it comes to choosing between layered and one-length hair, the choice pretty much depends on your hair type. For fine and thin hair, for example, one-length won't look its best, as this hair type requires more movement and volume of layered texture. As for thick hair, it goes well with both layers and one-length, so it depends on the look you want to achieve.
Shoulder Hair with Short Layers and Fringe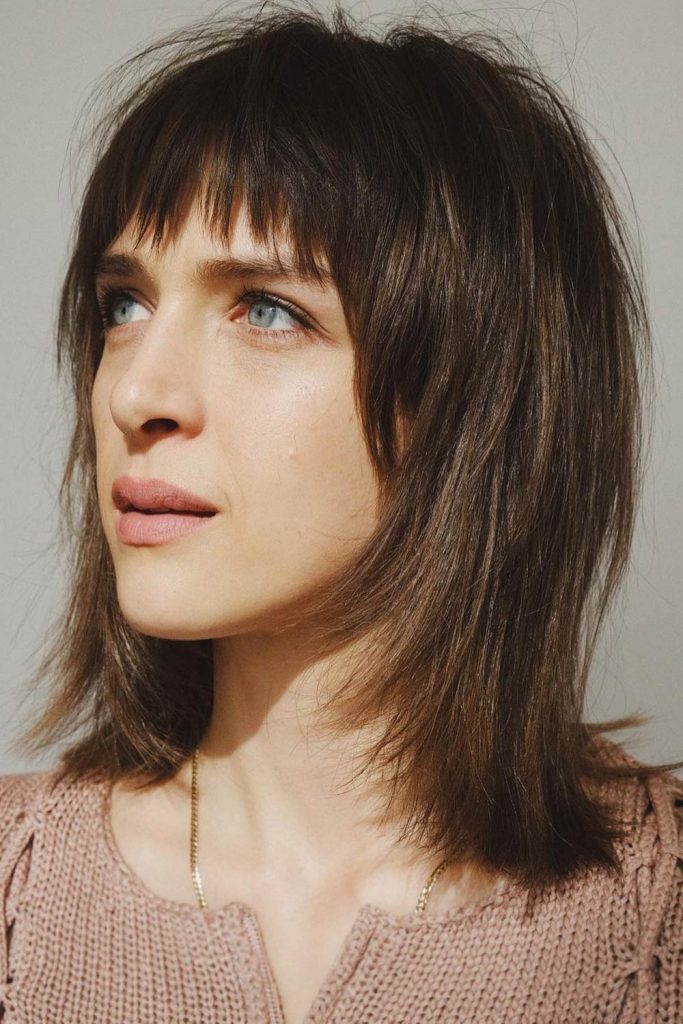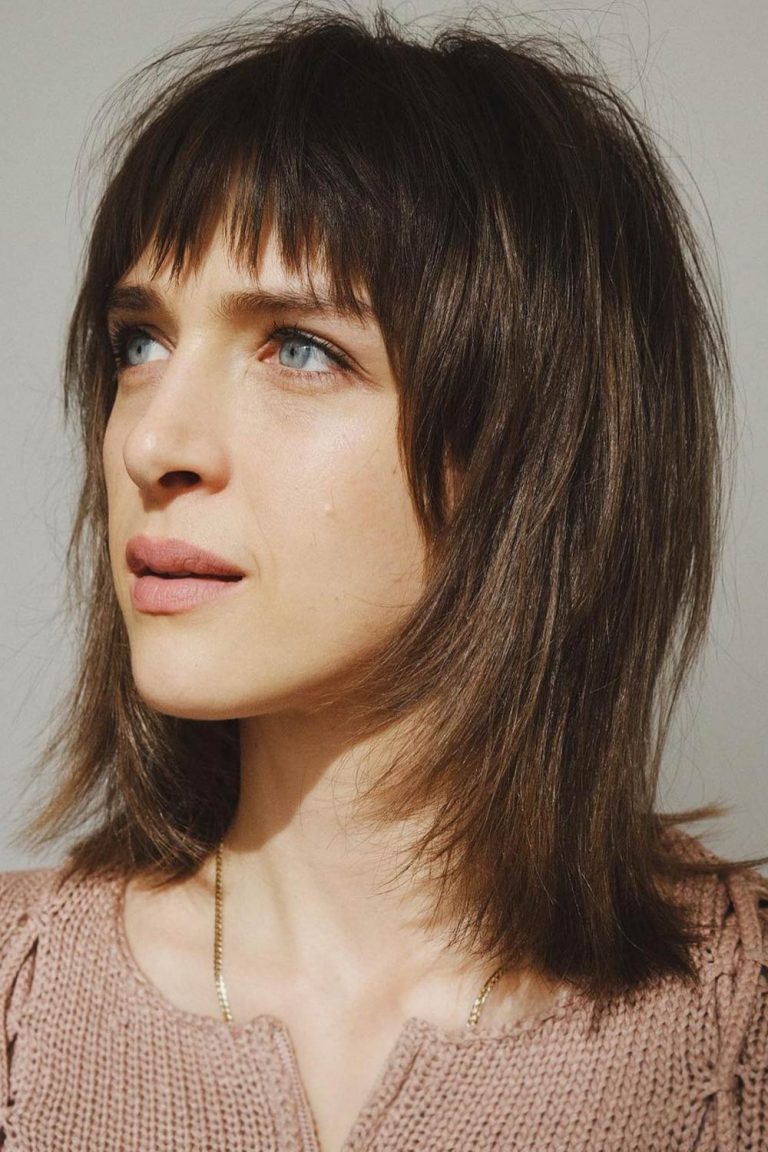 @beaubollinger
When you want a haircut that is easy to maintain while being tasteful and sophisticated, you can never go wrong with shoulder length hair with layers and a fringe. This is one of those "roll out of the bed and go" hairstyles that will save you those precious minutes in the morning on styling.
Wavy Shag Medium Haircut with Thick Bangs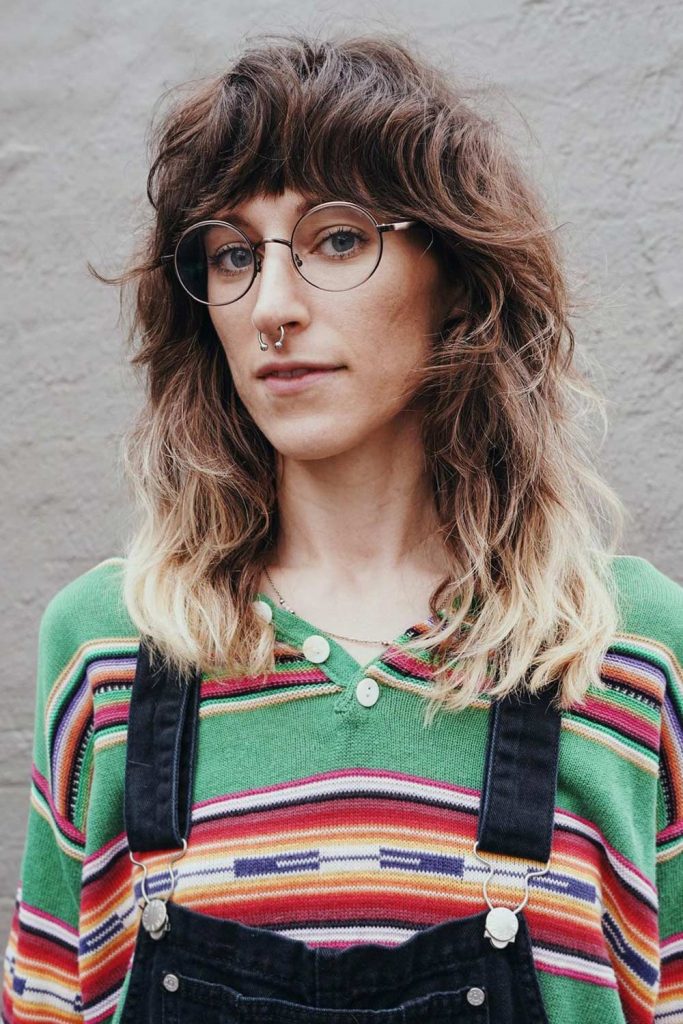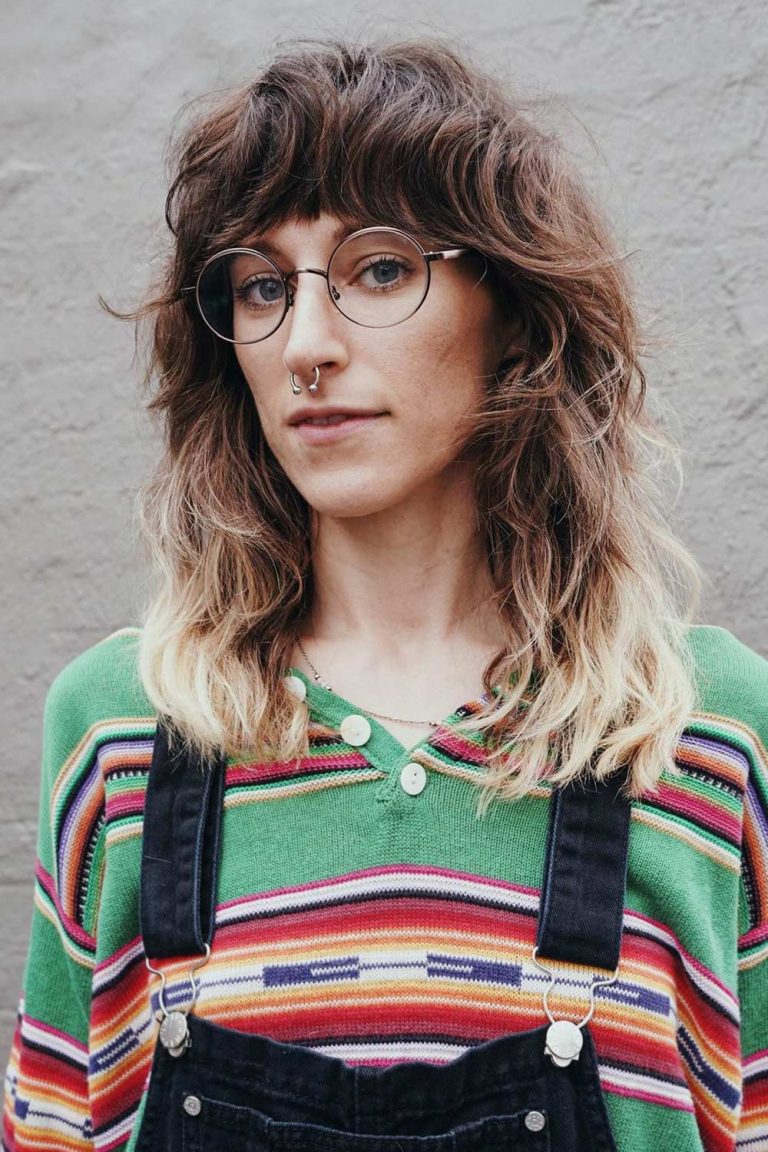 @beaubollinger
Shaggy hairstyles have taken over not only social media but everyday life as well. The easiest way to get the look is by styling your medium length locks wavy. In case you have straight hair, you may need to enlist the help of a styling tool. Girls with wavy locks may get away by applying a texturizing product of their choice. To pull the look together, consider getting thick bangs.
Medium Length Layered Curled Hair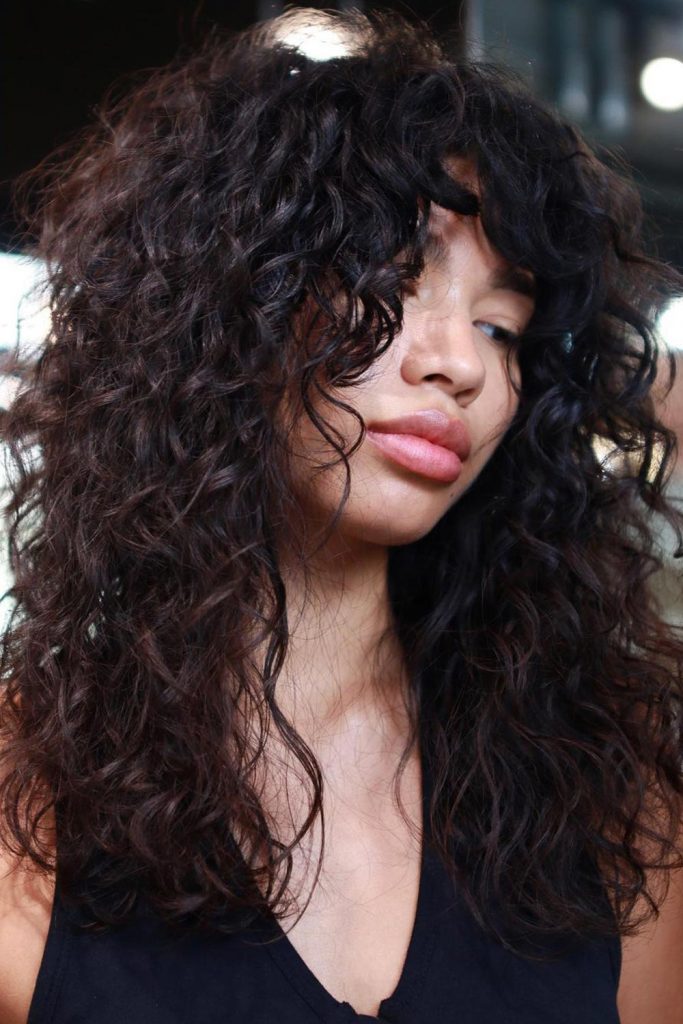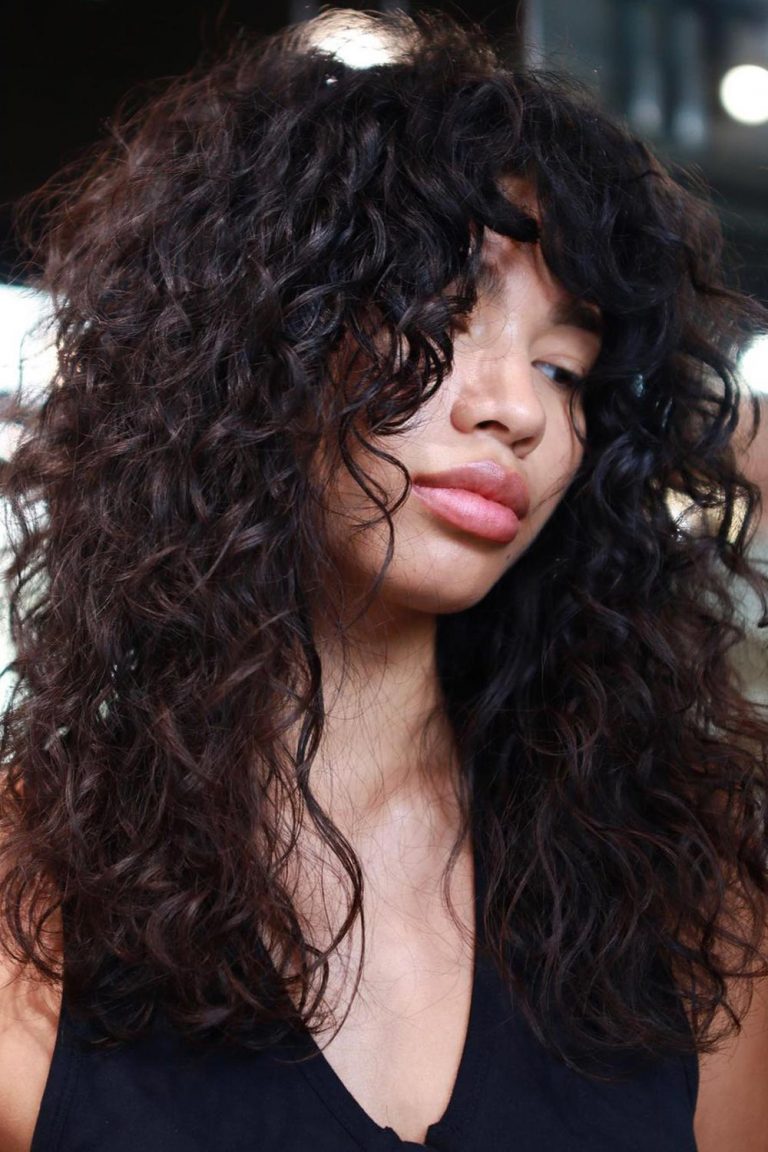 @salsalhair
For curly hair, layering is a real savior. If you were blessed with this pronounced hair texture, no one but you knows how exhausting it may be to style and maintain. But with a layered mid length haircut, this is a whole other story. As it chops off part of your hair, it takes away weight from it. So, it feels lighter and more manageable as a result.
A Barely Bang with Medium Shaggy Style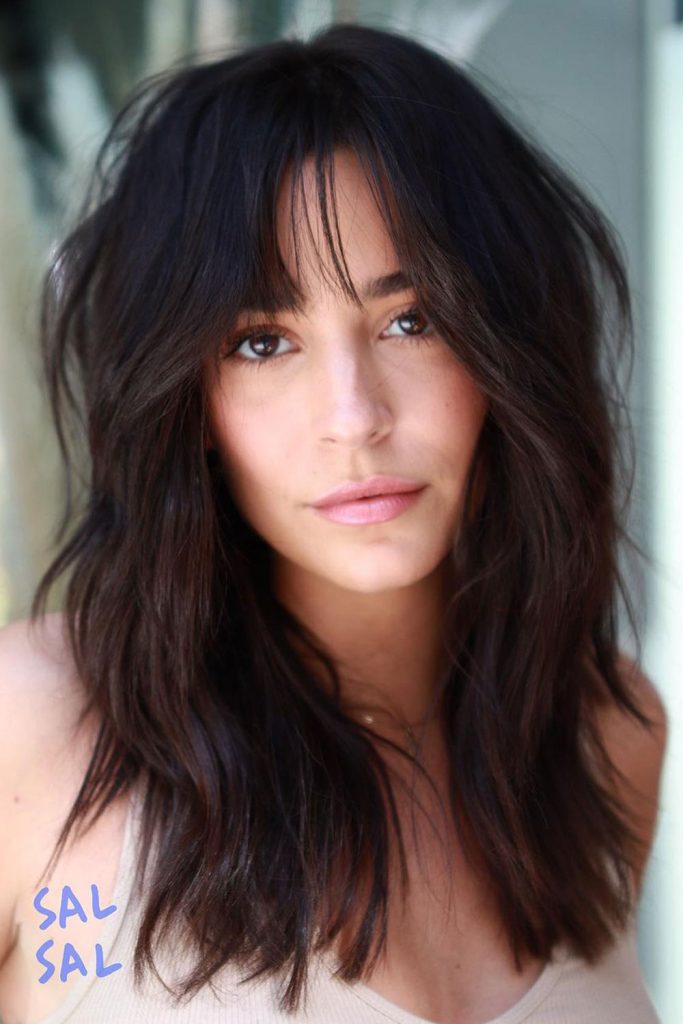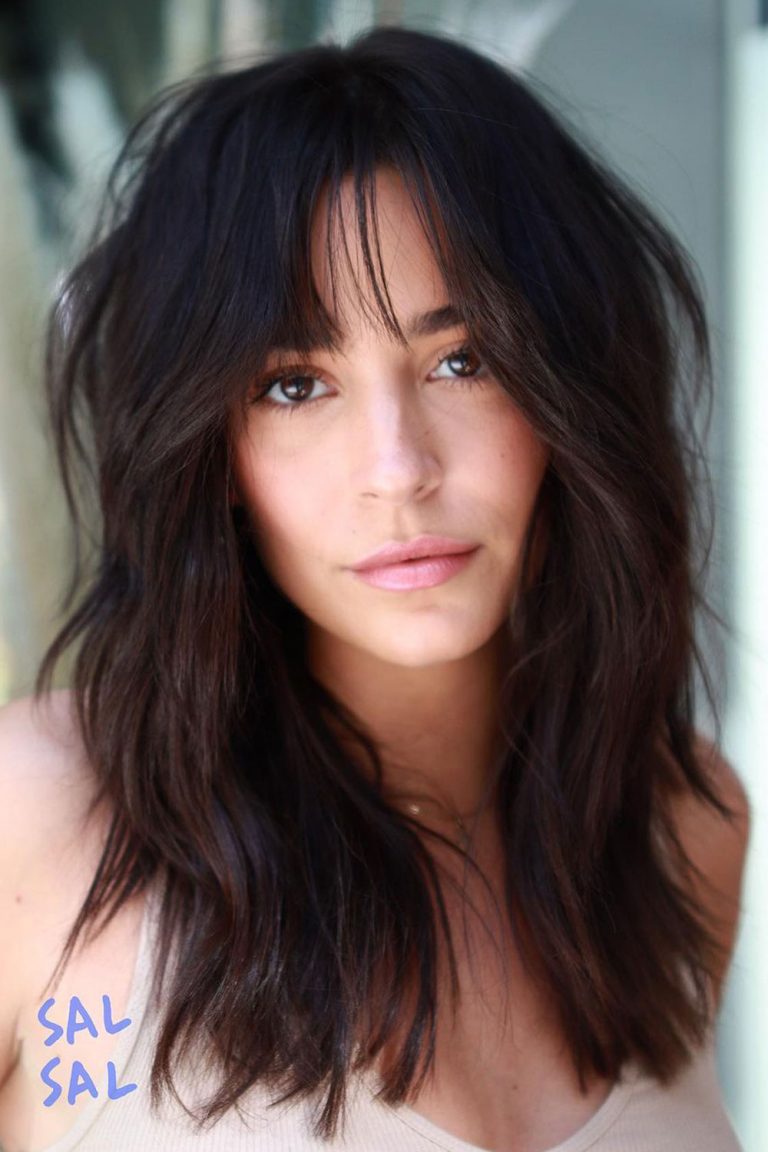 @salsalhair
Do you want your haircut to give off a carefree and relaxed vibe? In that case, a medium length shag is your way to go. To add interest to it, get a subtle bang cut so that it barely falls on your forehead. This hairstyle is guaranteed to look flawless in any ambiance.
Wild Textured Layered Medium Haircut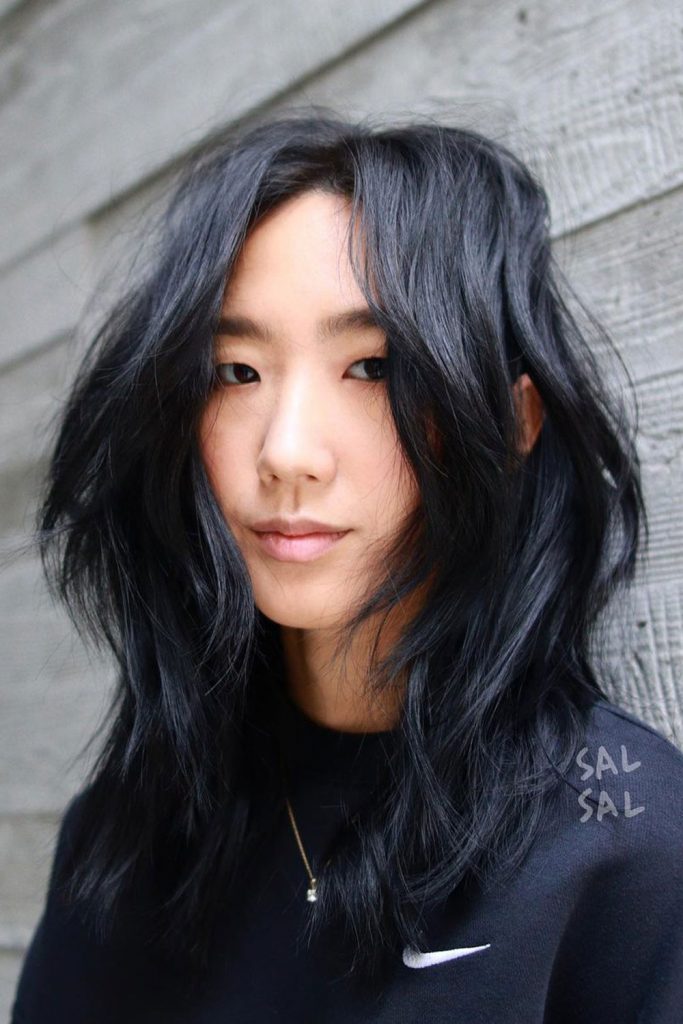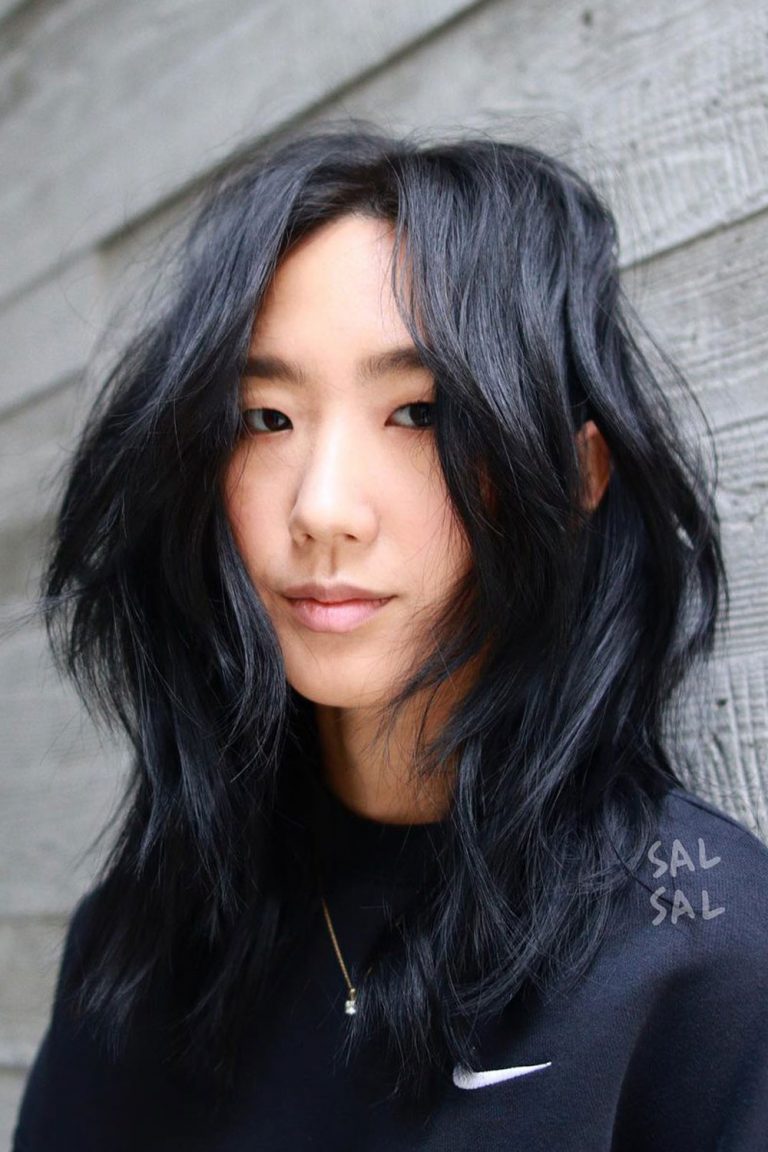 @salsalhair
Not sure how to style choppy medium layered hair? If you want to show off a savage side of your personality, then it is hard to think of a better option than a wild medium haircut with textured layers. There is no need to make it impeccable. Instead, the messier it looks, the better.
New Style for ''Rachel'' Cut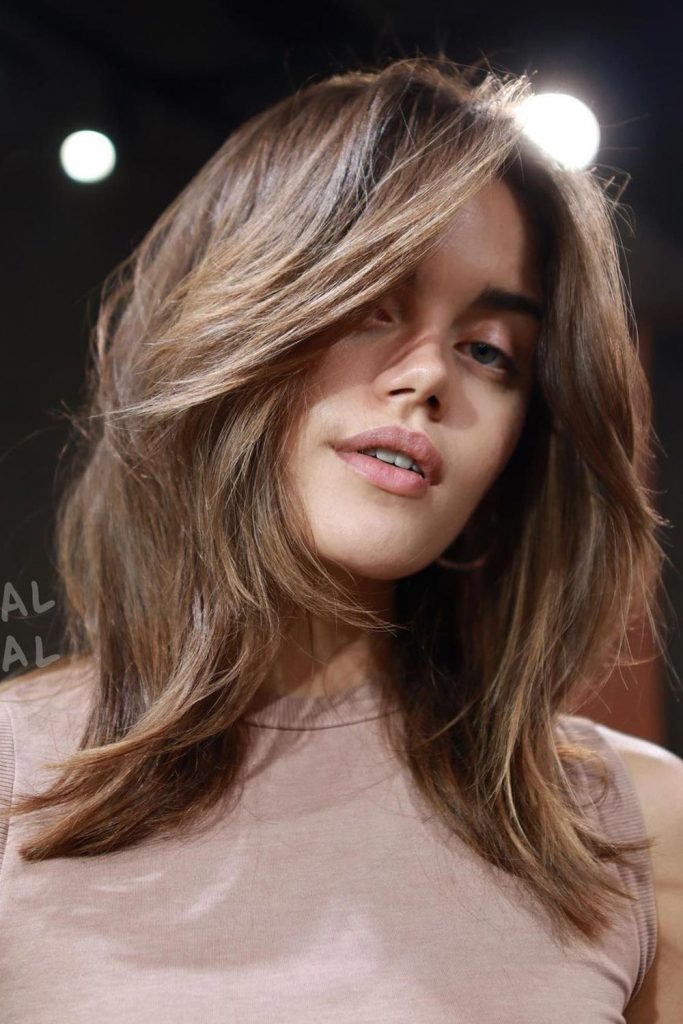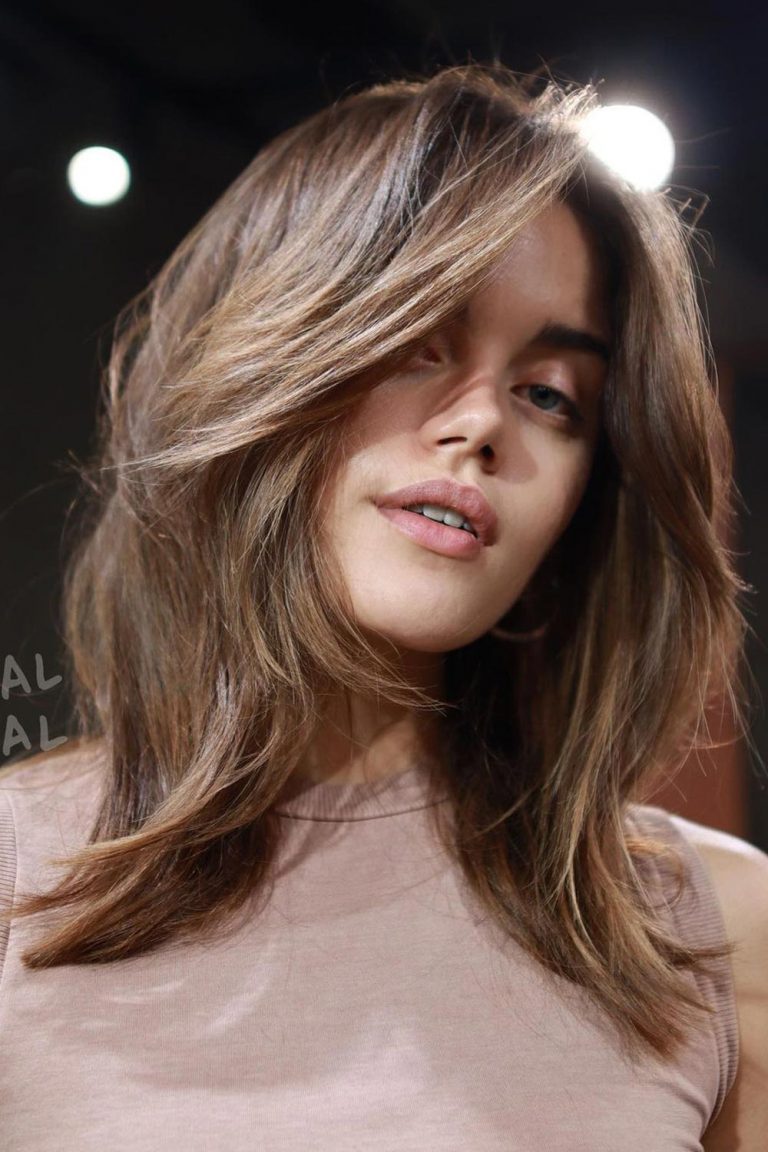 @salsalhair
The Rachel haircut, one of the most highly requested hair looks of the late 90s – early 2000, has made a huge comeback lately. Of course, it is not the exact same haircut as its iconic predecessor. Yet, it still incorporates face framing layered choppy shoulder length hair with plenty of volume. So, if you missed this hair trend back in the day, this is your golden hour.
Medium Octopus Haircut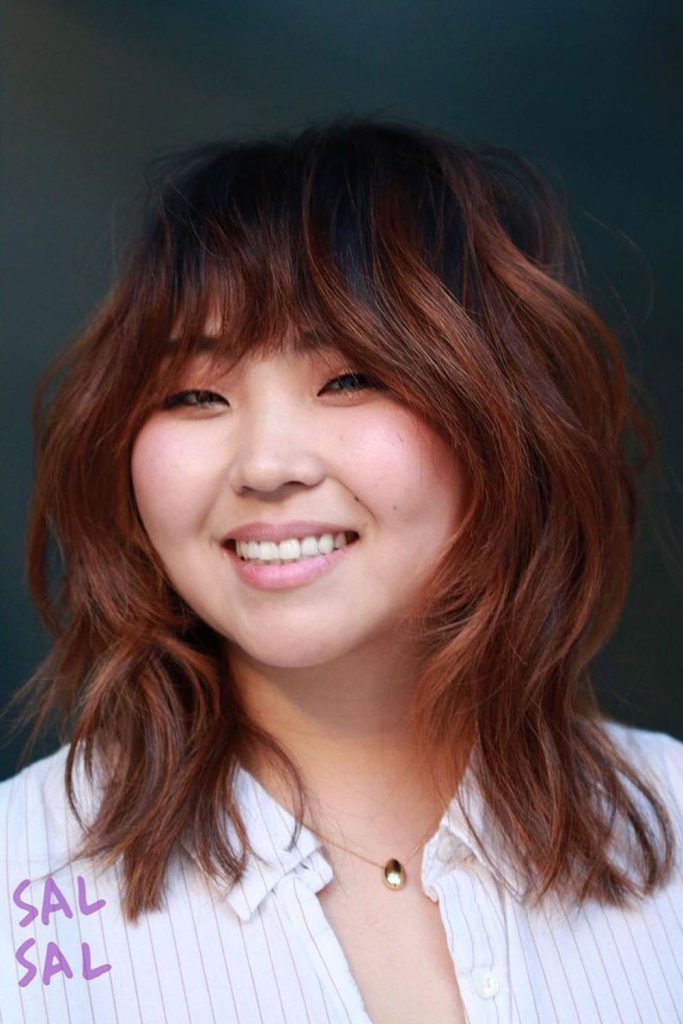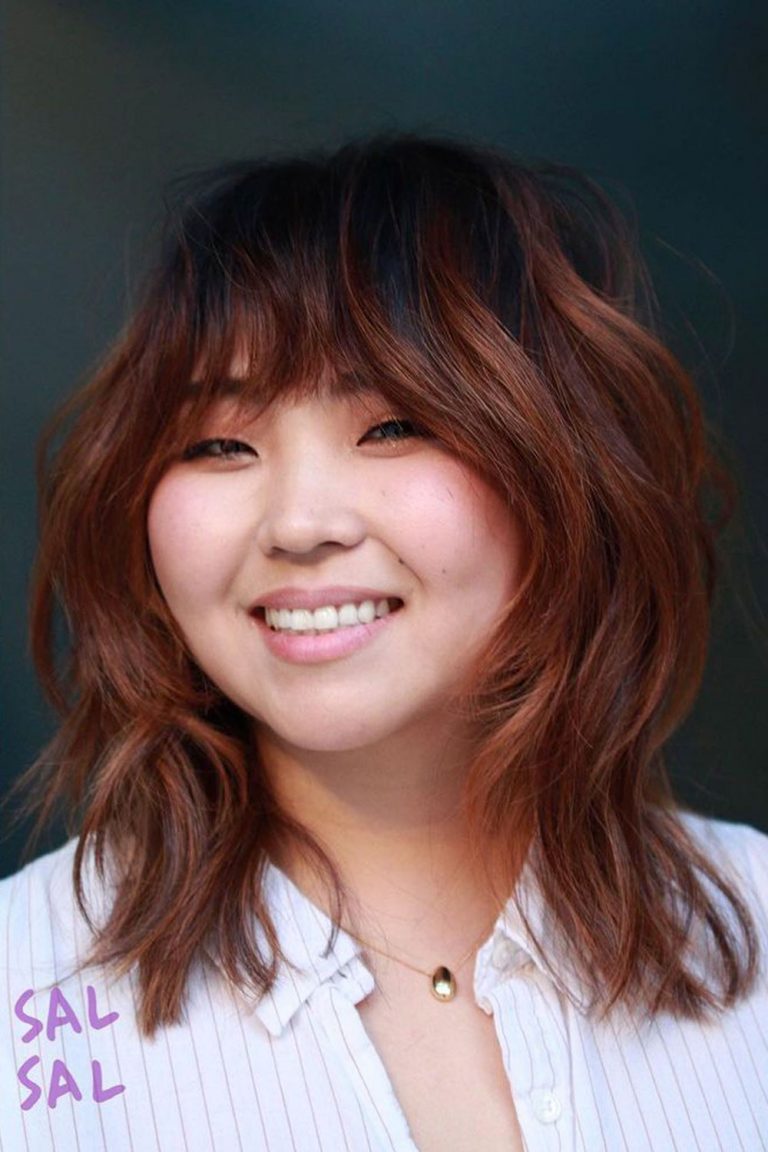 @salsalhair
An octopus haircut, which is in its essence shoulder length layered hair with a bang, is gaining a lot of popularity these days and no wonder. Along with being low maintenance and stylish, it works fine for almost any hair type and face shape. The style is rounded on the top with free falling mid length strands all across the head. Its silhouette reminds of the octopus, hence the name.
Super Volume at The Crown for Medium Layered Curls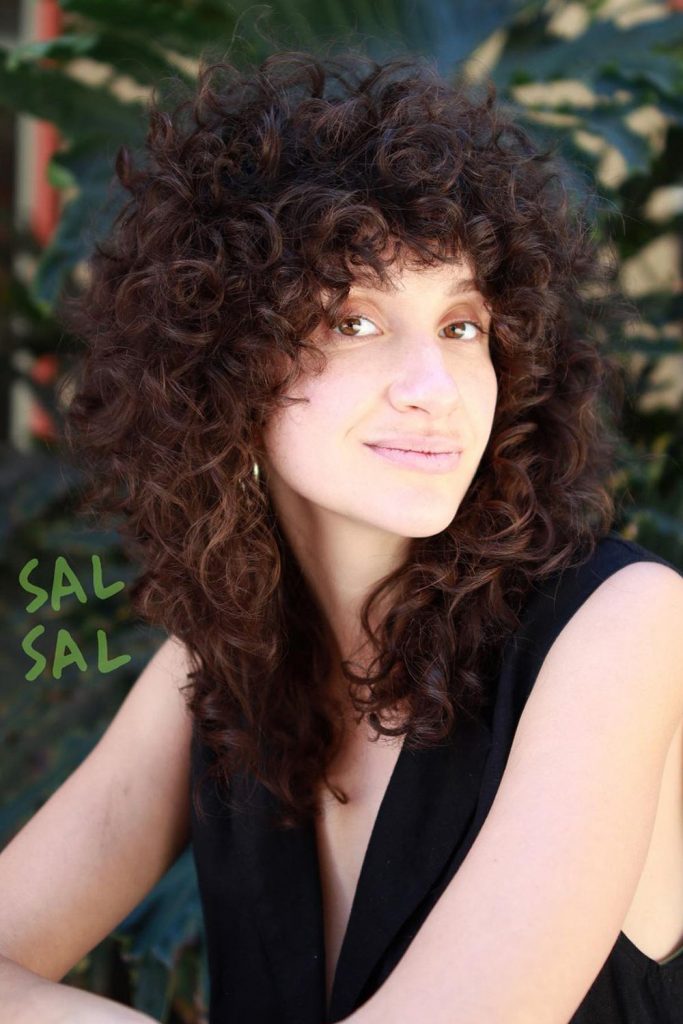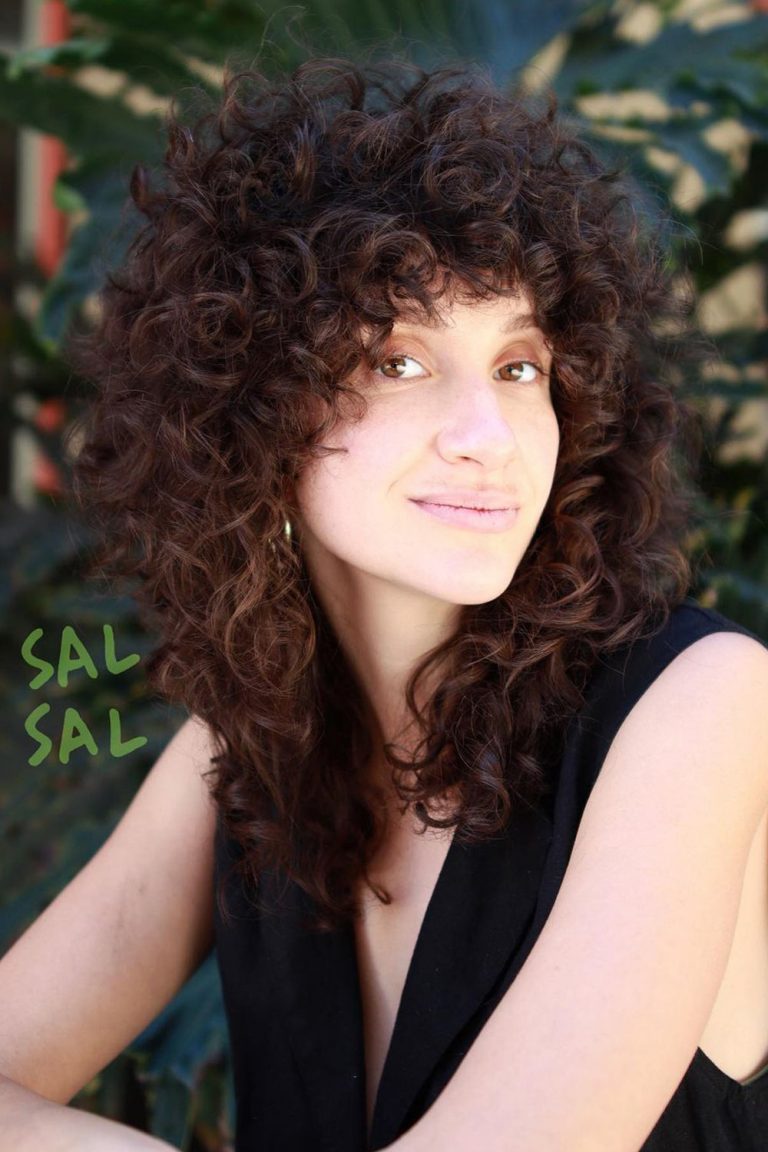 @salsalhair
Girls with curly and coily hair should not shy away from voluminous hairstyles. On the contrary, they are a surefire way to draw attention to your enviable hair texture. Yet, it is better to have only one focal point and the top of your head fits this role perfectly.
Airy Medium Layers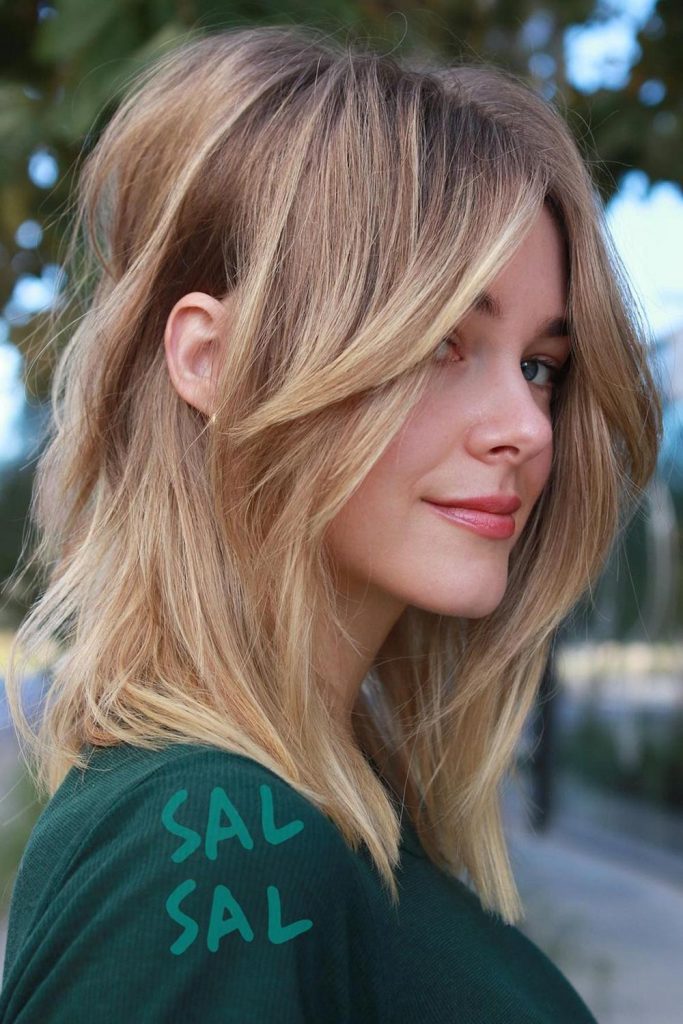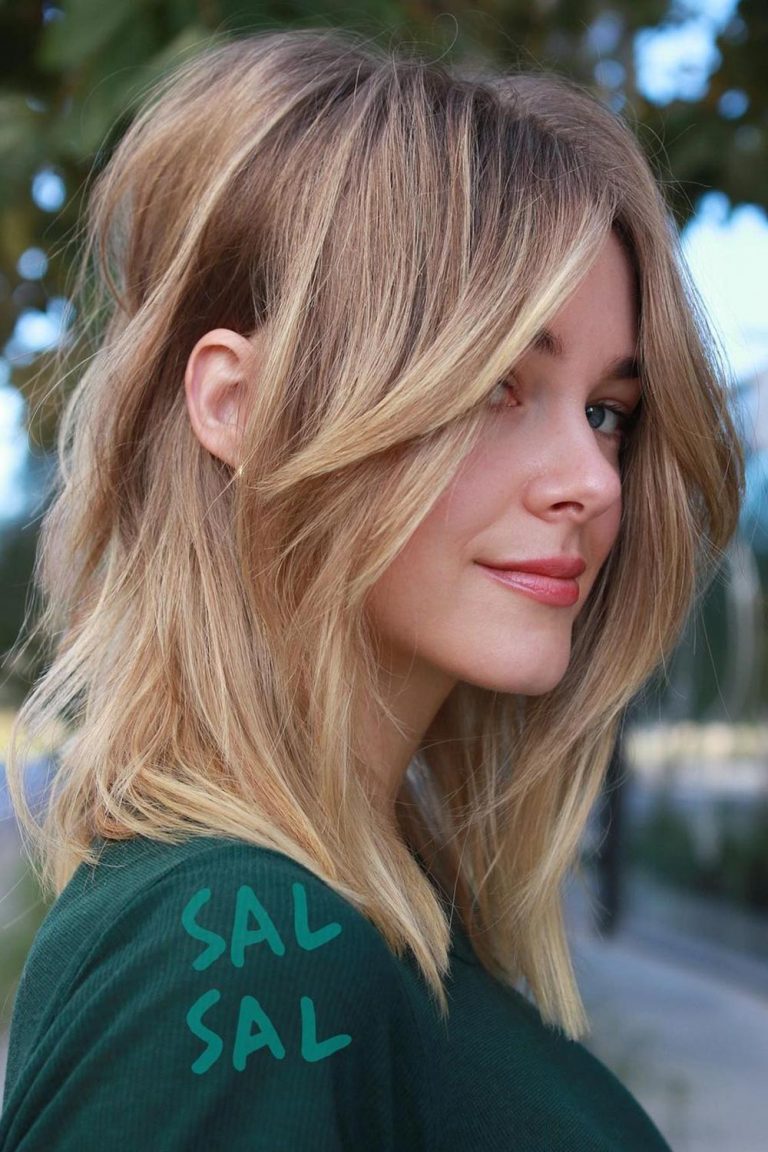 @salsalhair
One of the main features of layered low maintenance medium length hairstyles is an airy feel they have. What is worth to mention is that no matter whether you have straight tresses or curly, thick or thin, this hairstyle will look amazing on you. And to upgrade it, you can simply change the location of your parting from center to side and vice versa.
Internal Medium Layered Haircut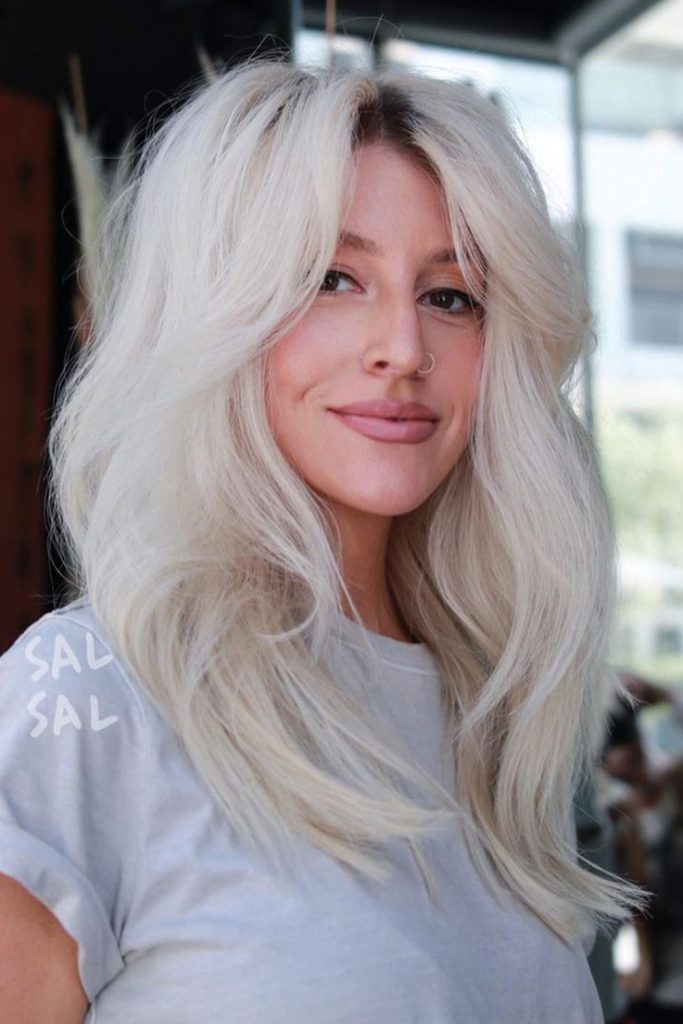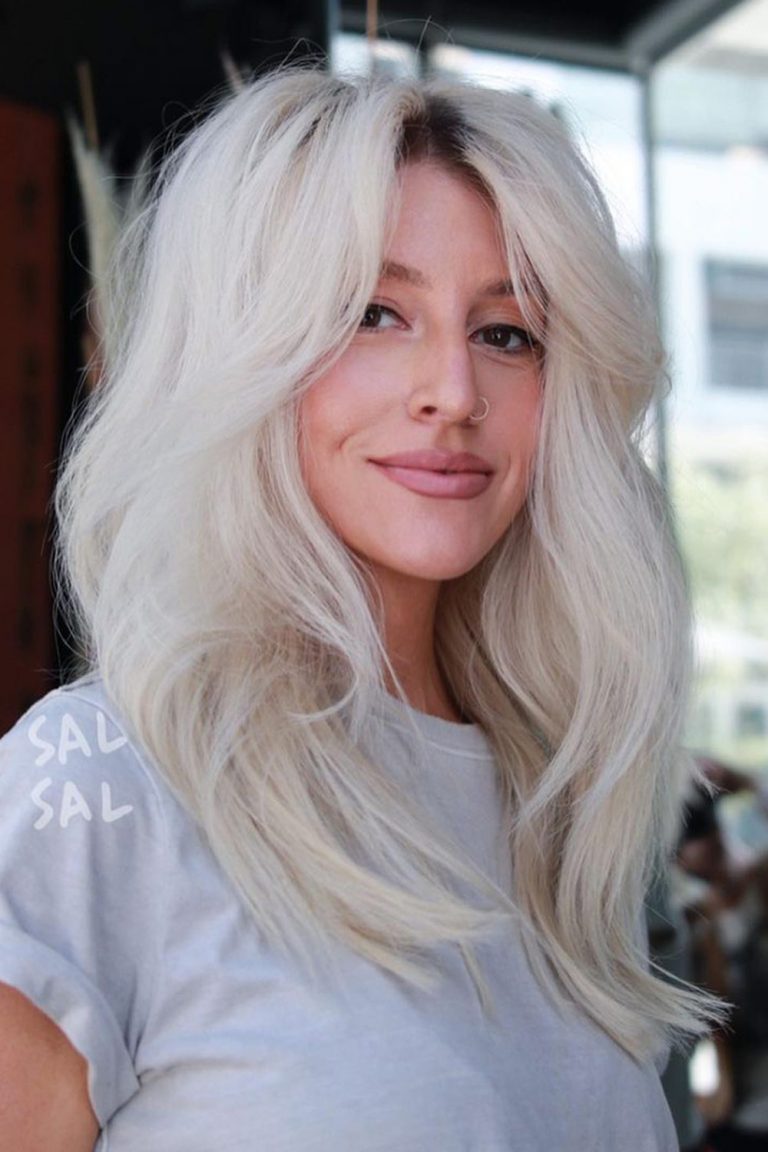 @salsalhair
Those who want to introduce some texture to their hairstyle without chopping too much hair should take a closer look at an inner layered haircut. As the layers are hidden, it is not obvious that you have them cut, whereas your mane looks much fuller and more structured.
Razor Wolf Cut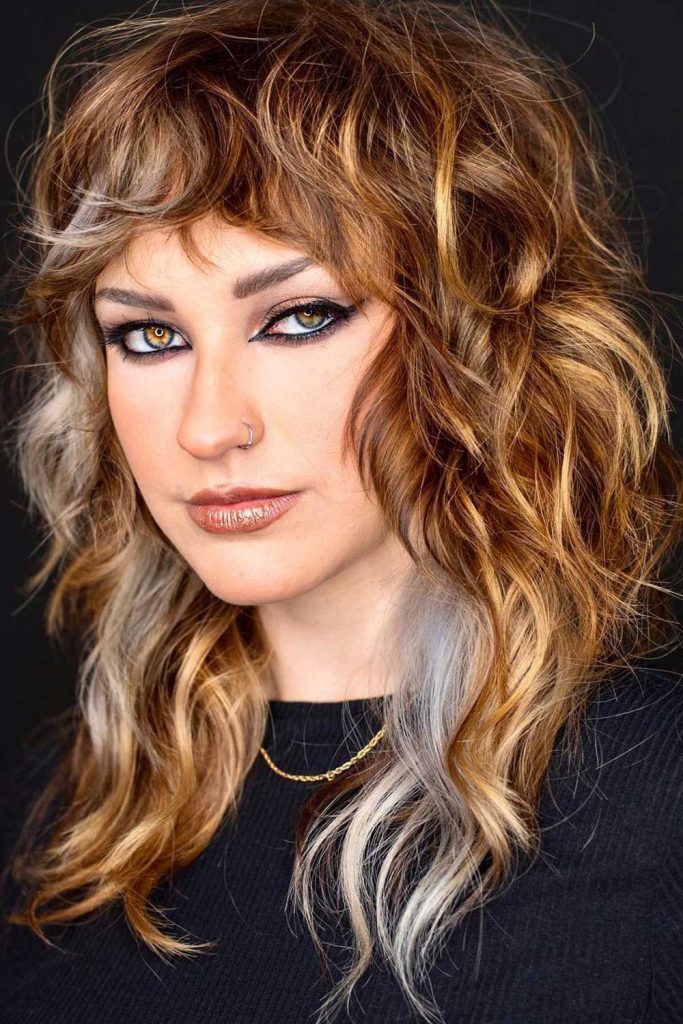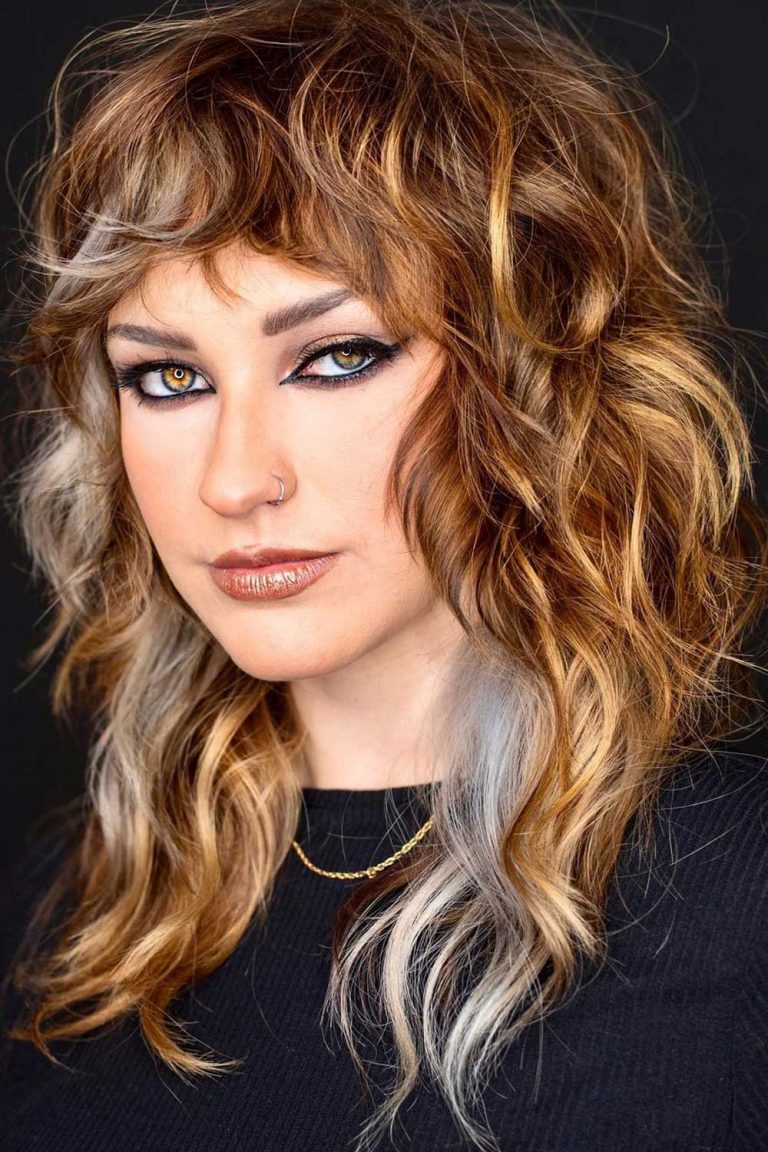 @ashleenormanhair
A wolf haircut is a modern take on a classic mullet. Although the business in the front, party in the back hairstyle is sometimes considered a little outdated or unattractive, its counterpart has not much in common with it in this sense. Thanks to defined texture and a more unified look, the wolf-styled cut looks chic and lovely.
Besides breathing a new life in your hair type, layers will also provide you with an easy styling routine. When your hair is layered, sometimes a texturizing product is all you need for a perfect hairstyle. And last but not least, nothing can compare to the beauty of layers when you want to have a chic yet low-maintenance routine. Now that you've seen the latest medium layered cuts, not recreating one would be a crime! Remember: you can't go wrong with layers!
FAQ: Medium Length Layered Hair
Should thick hair be layered?
Above the shoulders, thick hair looks best with movable layers. Your hairdresser can make a graduated or stacked style with layers on the sides to make hair less weighted. On thick hair, one-length bob hairstyles look great. How layers look also depends on texture, as well as on hair thickness.
Are layers bad for thick hair?
Layers fit well to thick hair if they are done with hair and length type in mind. Experts advise long layers with light ends. They won't give you the "hat" effect that you don't like.
Is layered hair easy to manage?
In fact, layered hair is a simple approach to get rid of weight and bulk, while also making extraordinarily thick hair more obedient. This is how you can make fine hair appear thicker and create more volume without affecting length. The hair that is layered is perkier and has more flexibility.
REFERENCES:
Hairstyles for medium length hair are having a major moment. Source
Medium length hair is more popular than ever. Source
Was this article helpful?