Fade haircut is one of the most popular short haircuts for modern men. Fade haircut gives you a touch of freshness and youthfulness. And it splits into many types, forming an endless variety where every stylish man can find a finishing detail for a polished look.
ADVERTISEMENT ‧ CONTINUE READING BELOW
A nicely done faded haircut works well on your facial features and hair type and makes you expressive with a unique cut.
What Is A Fade Haircut?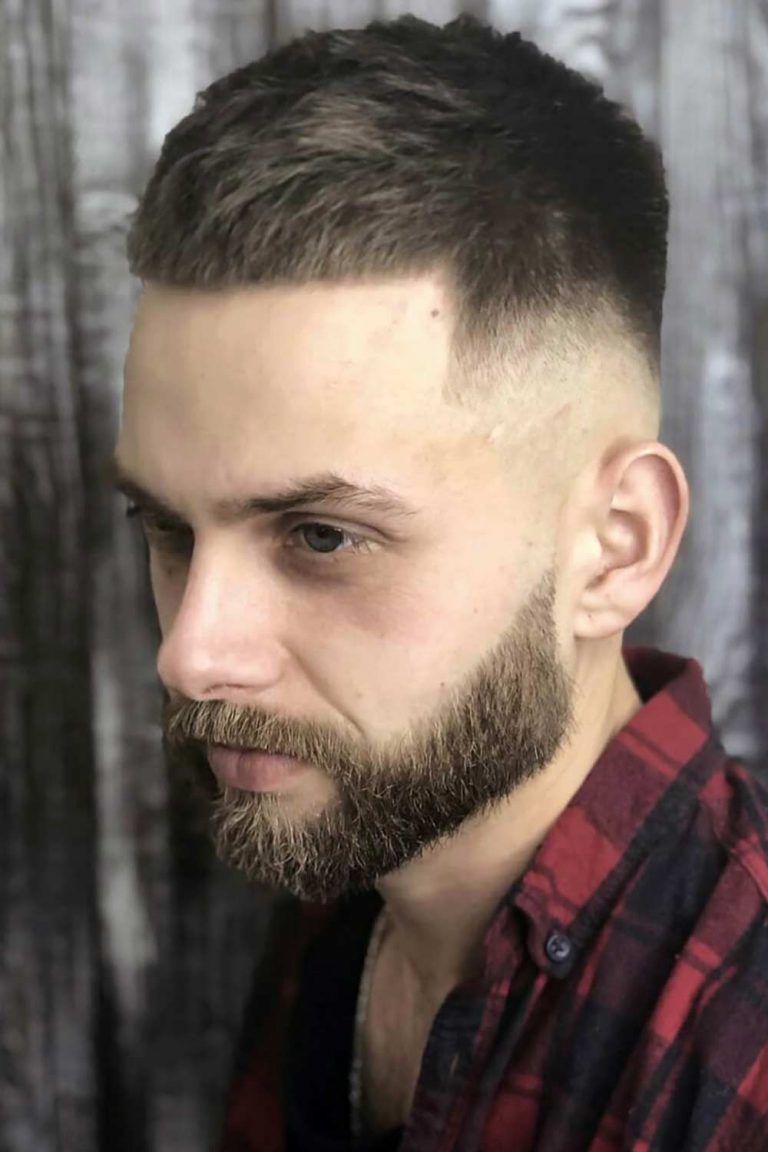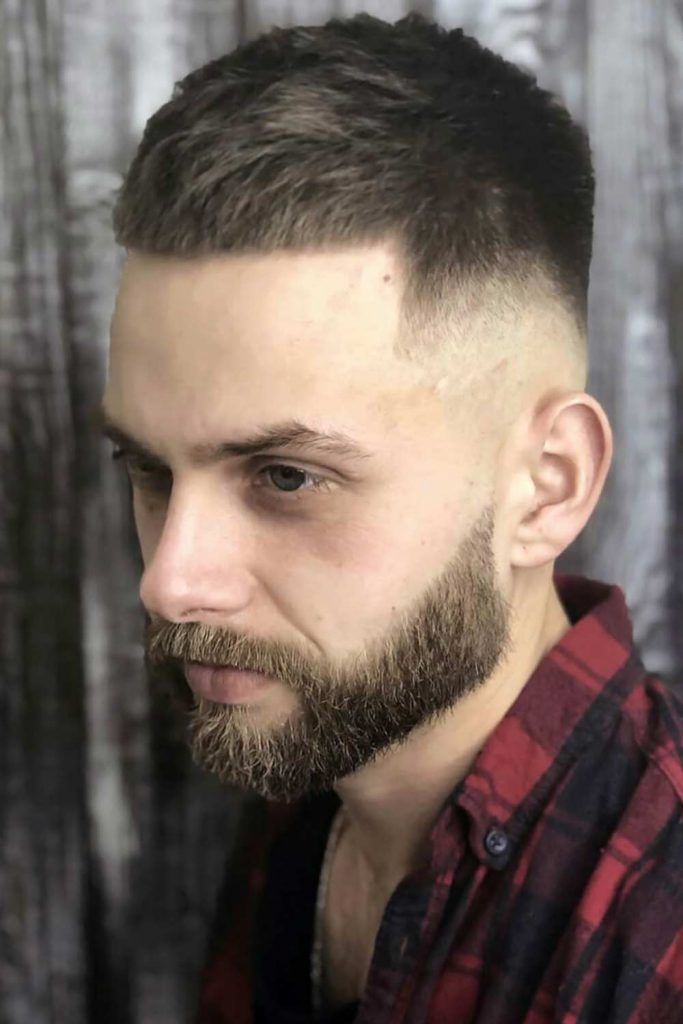 Credit photo: instagram.com/nata_grigorovich
Due to its popularity, you might have seen different fade haircut men rock, but you may not know their names. Quite a lot of people confuse mens fade haircuts for tapered haircuts. Fade haircuts aren't so different from tapered haircuts.
In general, a fade involves cutting the area on the sides close to the scalp, creating a shadowed length transition with smooth graduation to the thicker top. The faded portion is achieved with the help of hair clippers. Hair on the upper recession and sides is lowered to the nape of the neck. The lowered regions are left with little or no hair, while the top is lowered to your desired length.
ADVERTISEMENT ‧ CONTINUE READING BELOW
What Do I Tell My Barber For A Fade?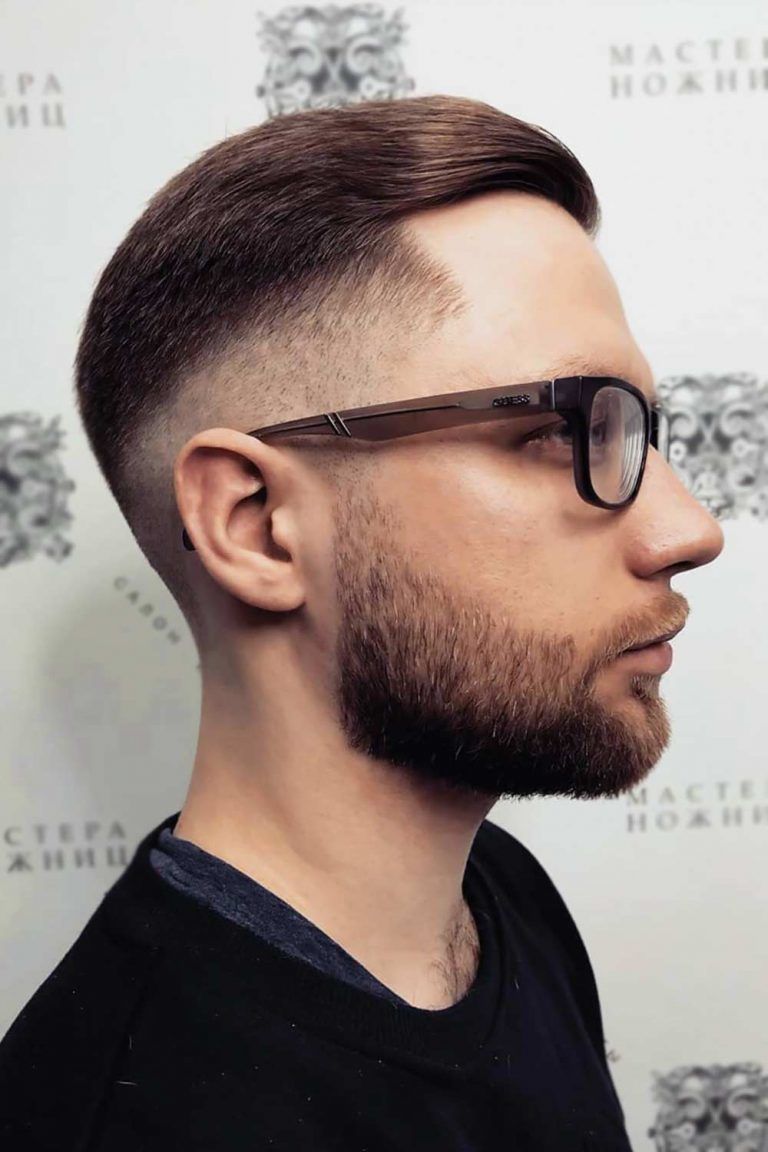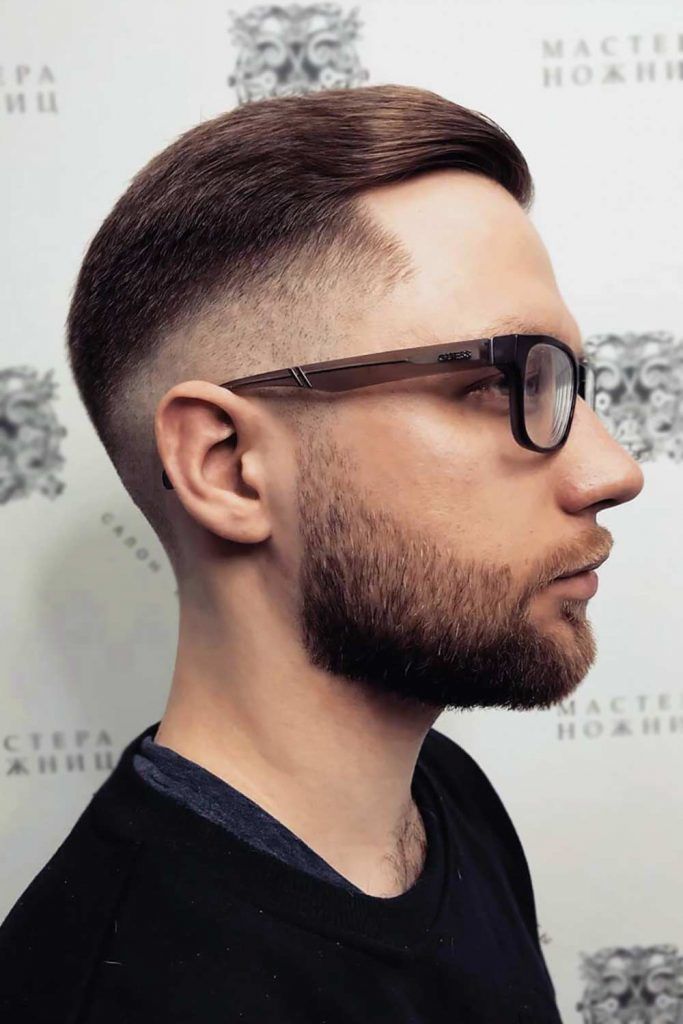 Credit photo: instagram.com/nata_grigorovich
Fades are common haircuts among men, so all you need to tell your barber is the type of fade you want. Do you want your sides and back very low or bald? Explain exactly what you want to your barber, or, go with a picture of what you want to explain better how you want the top to appear.
How To Do A Fade Cut Yourself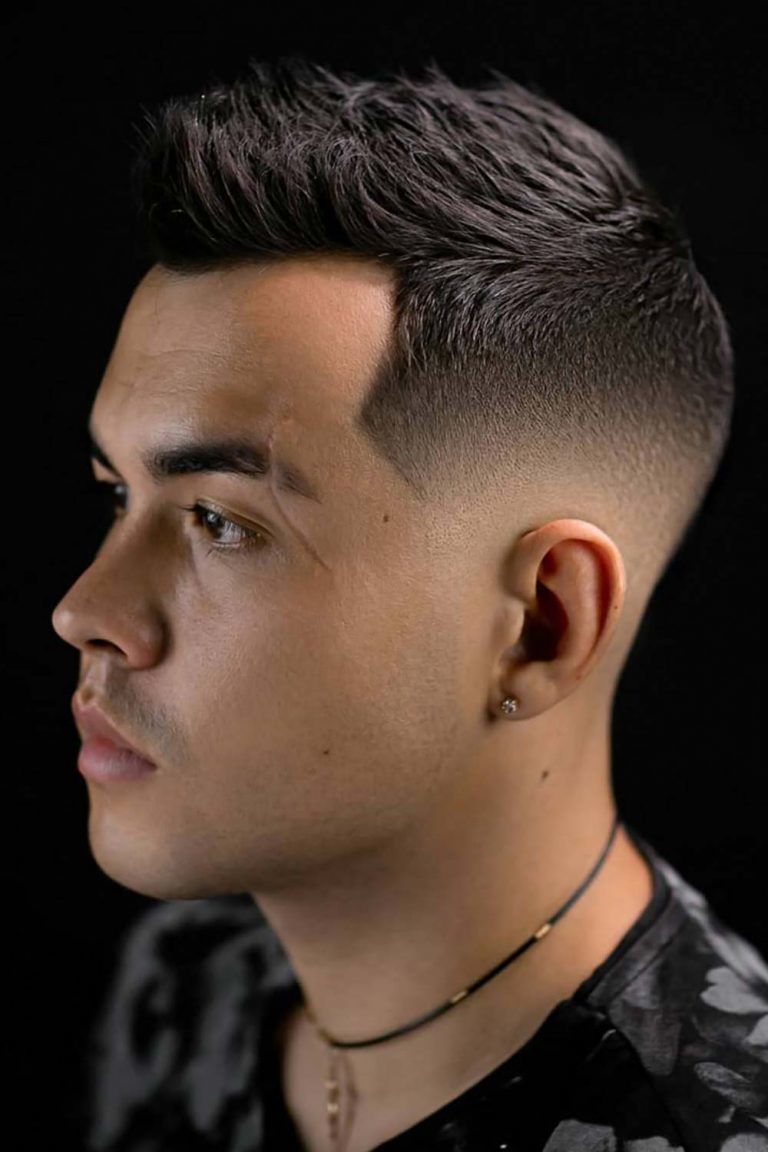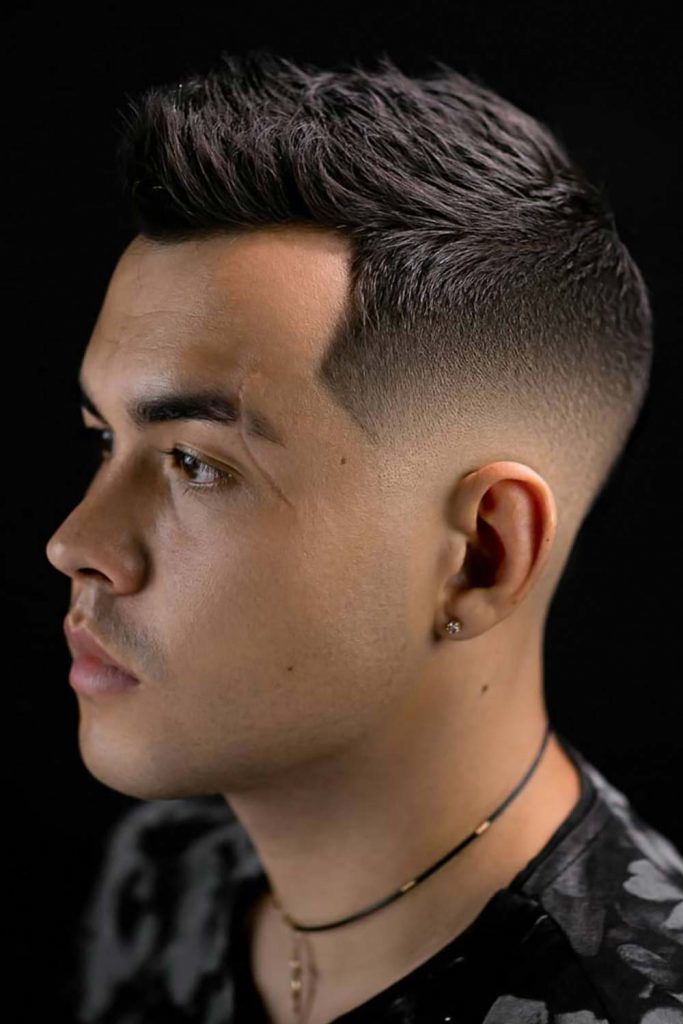 Credit photo: instagram.com/barberking_kh
If you're used to trimming your hair yourself, then it will be easy to give yourself a nice fade cut. Fades come out better when properly planned. This means you have to get your hair ready for it, depending on the type you're choosing. You'll need a mirror to cover all the angles, a brush/comb to help you comb/brush your hair as you trim with a clipper/scissors. It's always advised you talk it slowly so as not to ruin your hair. Brushing while you trim help you know the exact length of your hair.
ADVERTISEMENT ‧ CONTINUE READING BELOW
What Is The Best Fade Haircut?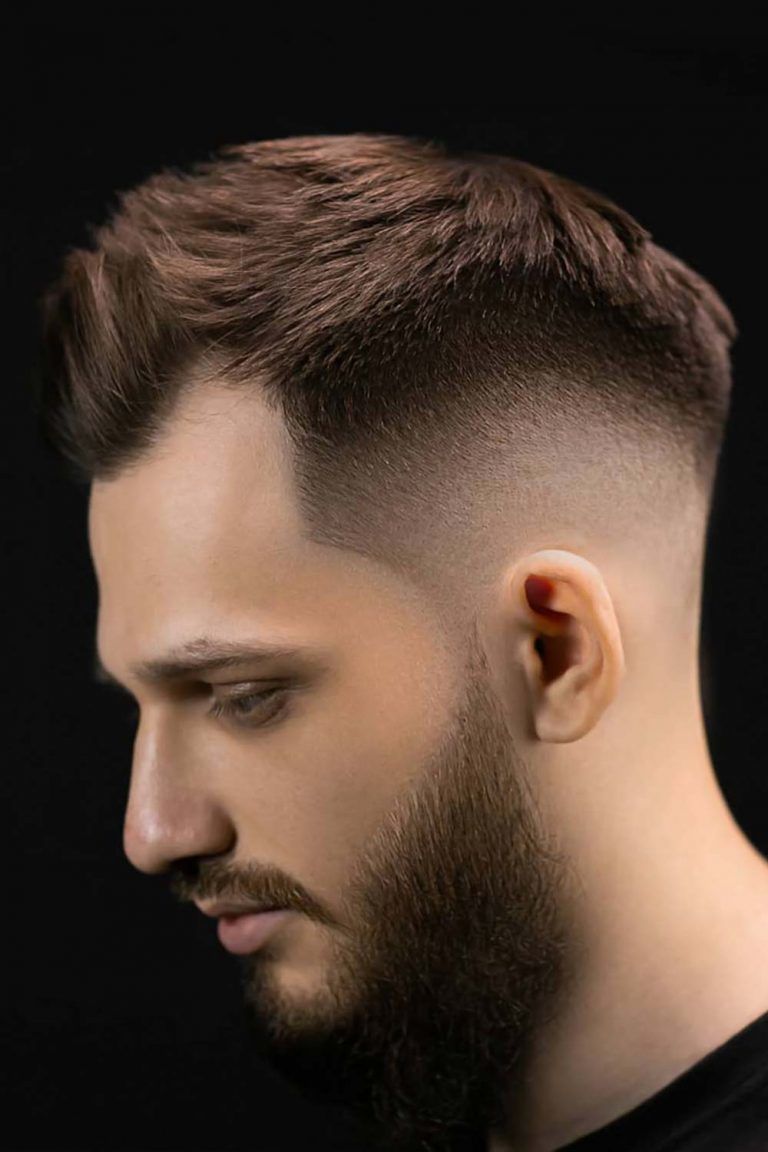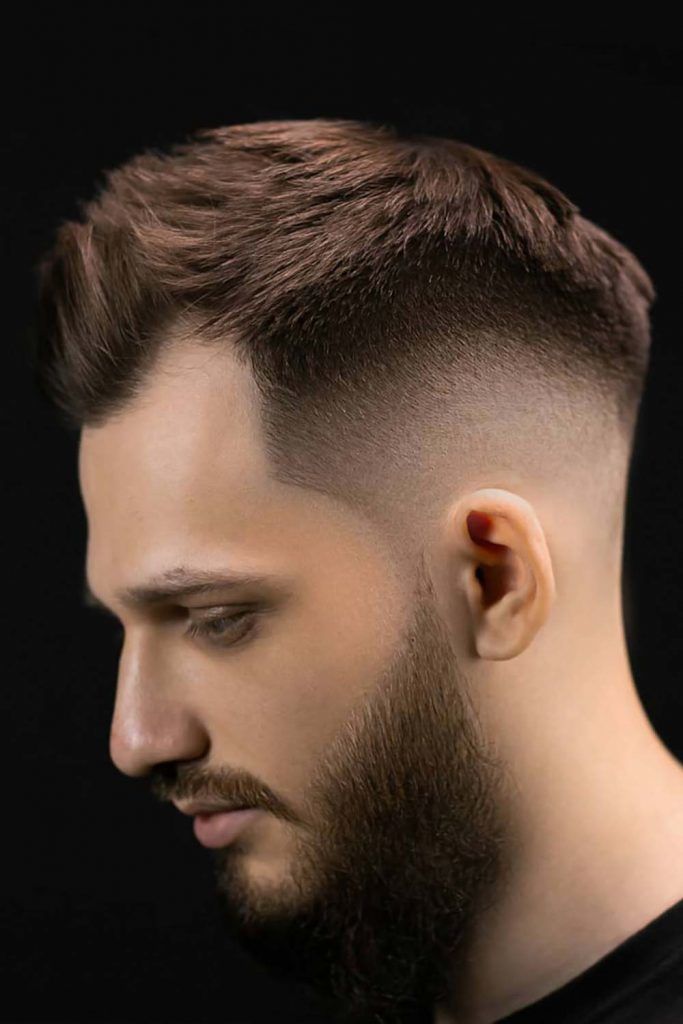 Credit photo: instagram.com/barberking_kh
The best fade haircut is that particular fade that makes your face stand out from the crowd while making a statement. Different fades are better on different shapes of head. Identify your shape of head and the style that will match your head and your face. There are different fade haircuts for men to choose from.
What Are The Types Of Fade Haircuts?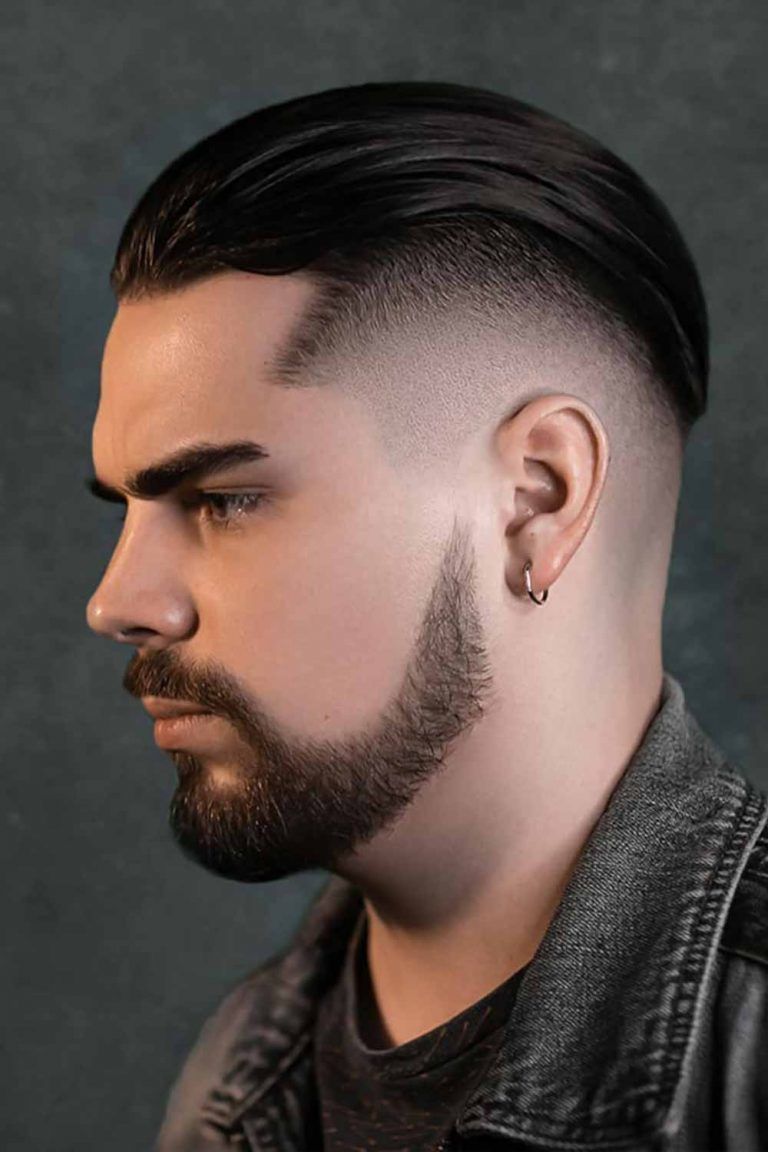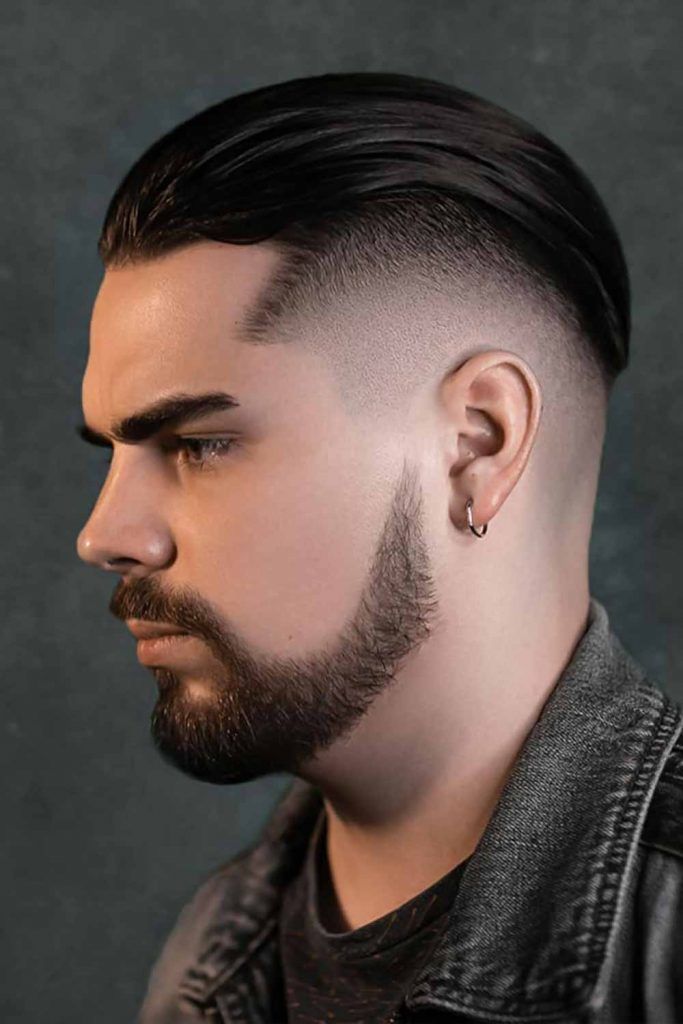 Credit photo: instagram.com/barberking_kh
While you can customize your cut and tell your barber how to do a fade haircut based on your preferences, there are three main types to start with: low, medium, and high fades. Below, we'll tell you the differences between each of the three, showing you their magnificent modern variations you can get at your next salon appointment.
ADVERTISEMENT ‧ CONTINUE READING BELOW
Low Fade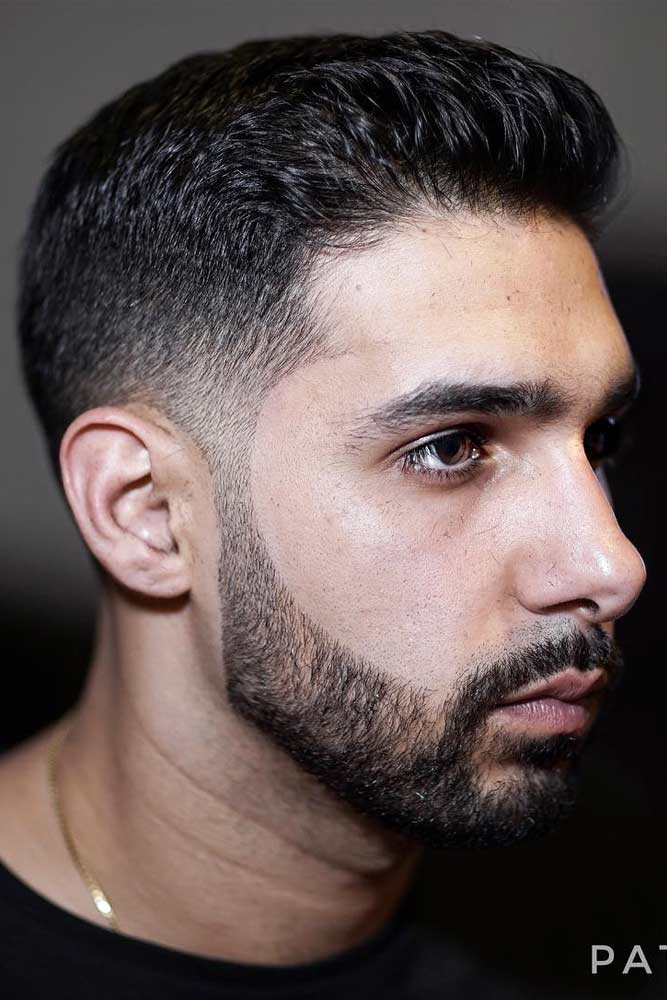 Credit photo: instagram.com/patty_cuts
Low fade haircut is the most balanced and natural option that offers you a tidy finish and a comfortable feel at the same time. The length transition in this type of fading takes place on the back of the head, increasing the length towards the top. As a result, the sides are clean, yet not bold, which is a nice way to get a neat, well-shaped short haircut. It's good on every shape of head, but looks better if you have a triangular or diamond shaped head.
Mid Fade Haircut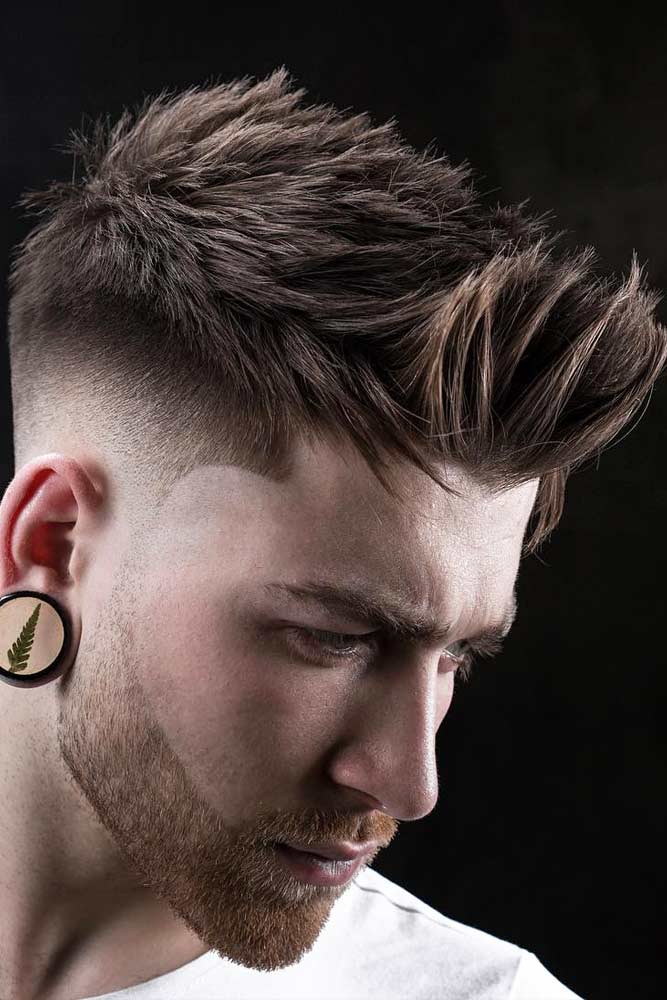 Credit photo: instagram.com/kvenzo.barber.cuts
Mid fade also known as medium fade haircut, hits the area above the ears, taking more length than a low fade. Medium fade offers a middle ground between the two extremes. While low fades are reserved and high fades are too dramatic, this fade type embraces the best features of the two. A lot of men prefer this haircut because it can serve as a classy base for either Quiffs or Pompadours, giving you a nicely shaped touch of modernity to the look.
If you want a touch of both low and high fades, this is for you.
High Fade Haircut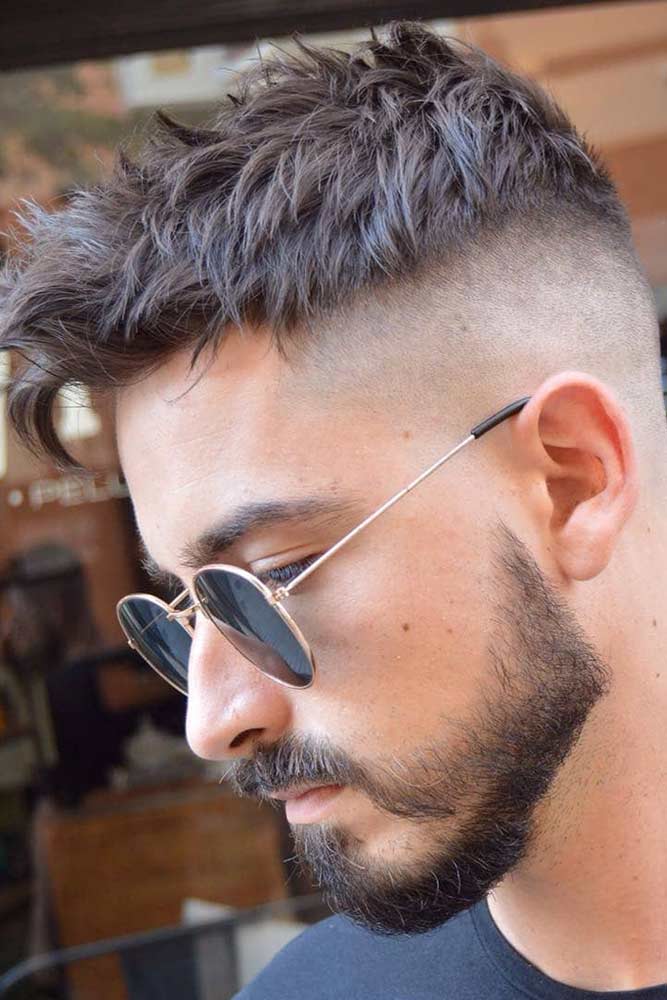 Credit photo: instagram.com/virogas
As a high-contrast style, high fade haircut involves cutting most of the hair on the sides and back close to the skin, creating a tight finish. It's surely meant to turn heads with its dramatic contrastive look. Apart from being attention-grabbing, this haircut is very versatile. You can pair it with a super short haircut, modern crew cut, medium afro, and even longer styles like elongated undercuts. People go for this style because it's also cheaper to maintain. The sides of your hair are lowered to your scalp, and the top can be as long as you want it.
ADVERTISEMENT ‧ CONTINUE READING BELOW
Skin Fade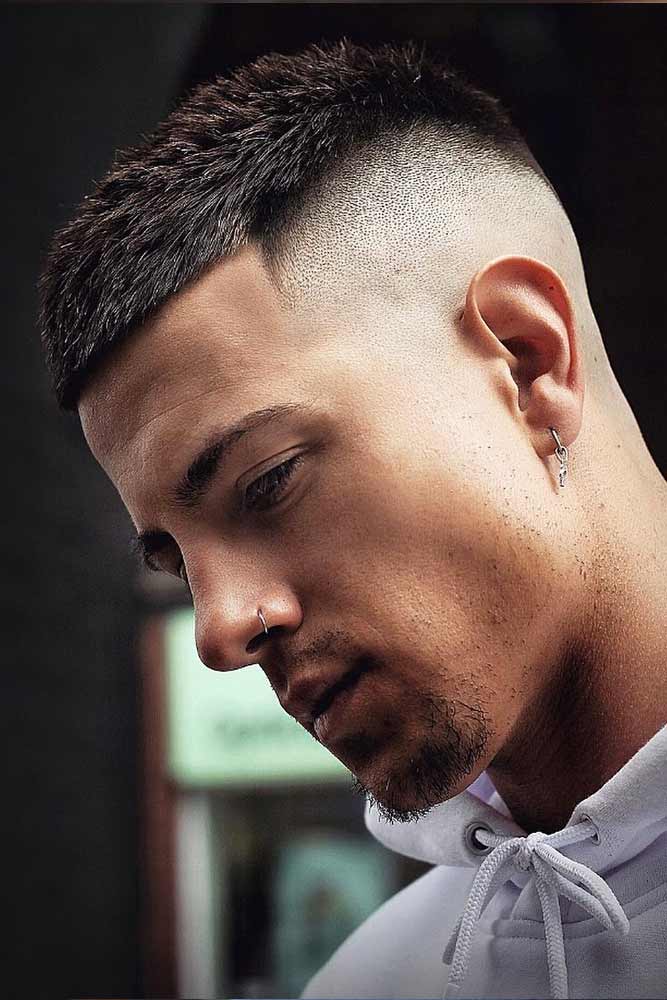 Credit photo: instagram.com/cal_newsome
Also known as the bald fade, the skin fade is a variation of the high fade. Before you jump to conclusions, it has nothing to do with baldness. We would say it's all about baldness that escapes from the top and graduates right down to the skin, leaving a transparent layer of contrast. What makes the bald fade cut different from the high fade is that this option can take place at any point you want.
Temple Fade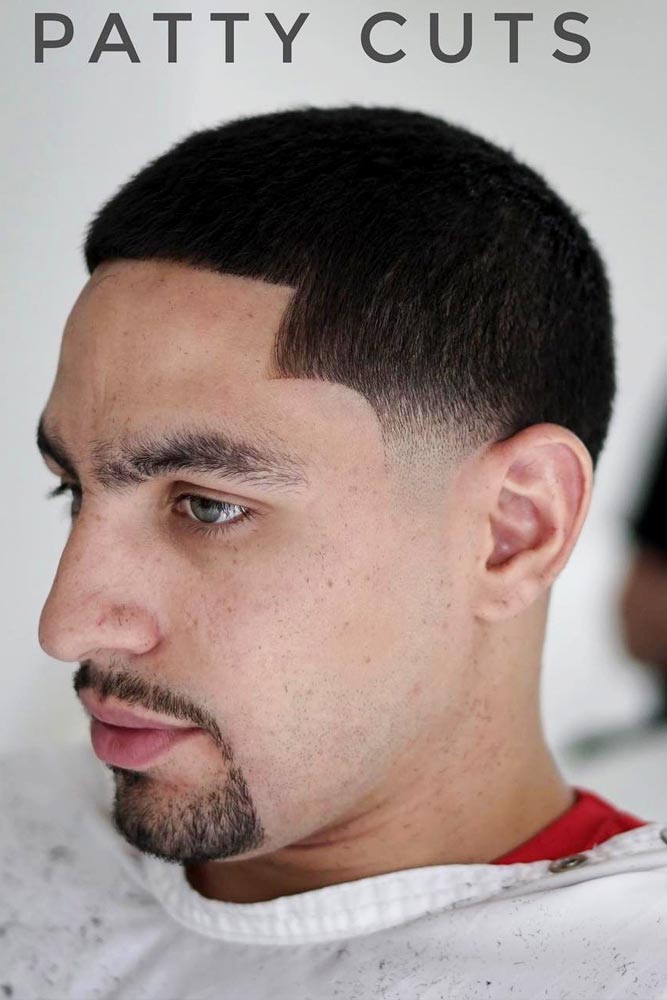 Credit photo: instagram.com/patty_cuts
Temple fade is a technique that can give a stylish modern twist to any fade haircut men would like to pick. It comes as a clear, well-structured, and outlined finish at the temple area that gives a very sharp and neat look for the haircut. Initially, it was popular with natural-haired men from the hip-hop community. Today, every man who loves to keep things defined can go for the look.
Scissor Fade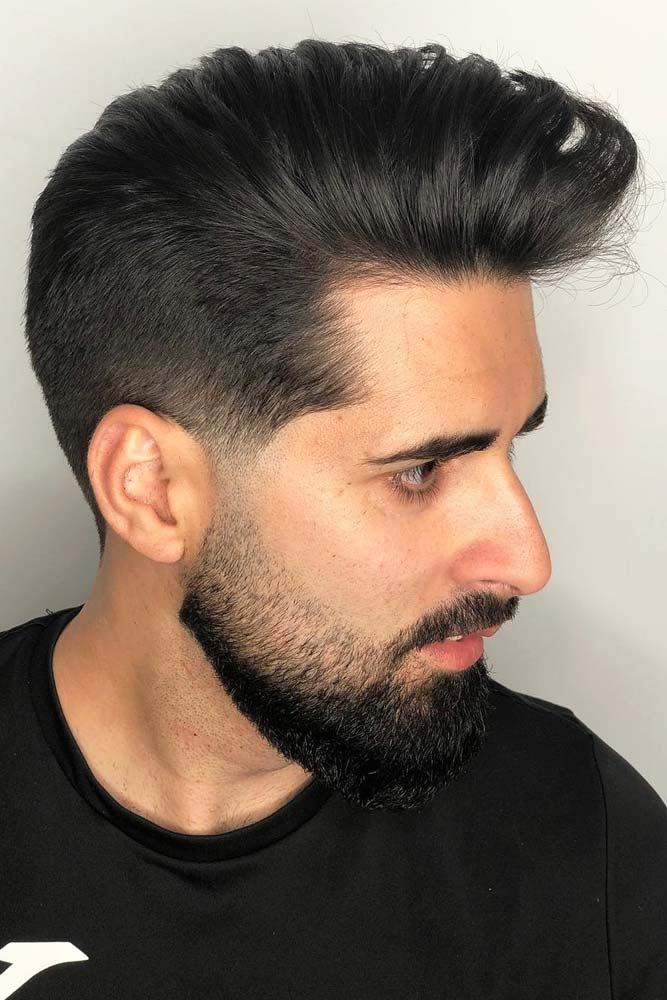 Credit photo: instagram.com/virogas
If you want a haircut that is tailored based on your individual features, look no further than a scissor fade. As the name suggests, this haircut fade is done using scissors instead of clippers, which implies a softer, more customized look. To achieve it, barbers run their scissors around the nape, using taper scissors through the length to get as close to the skin as possible.
ADVERTISEMENT ‧ CONTINUE READING BELOW
Drop Fade Haircut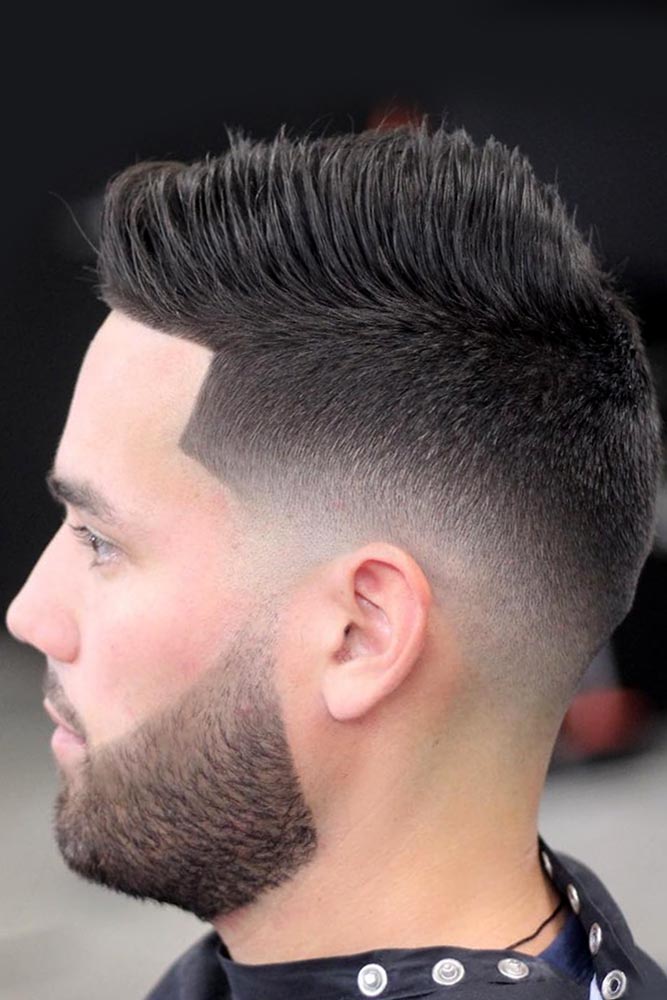 Credit photo: instagram.com/dbarber203_
A drop fade is more than just a haircut; it's rather a cool update for your regular haircut. There's no need to go deep in the details about its structure, as this cut speaks for itself: it drops behind the ear, forming an arc from the temples to the nape. The best thing is, you can combine it with other fades. In this way, you can have a high, medium or low drop fade.
Fade Haircut + Taper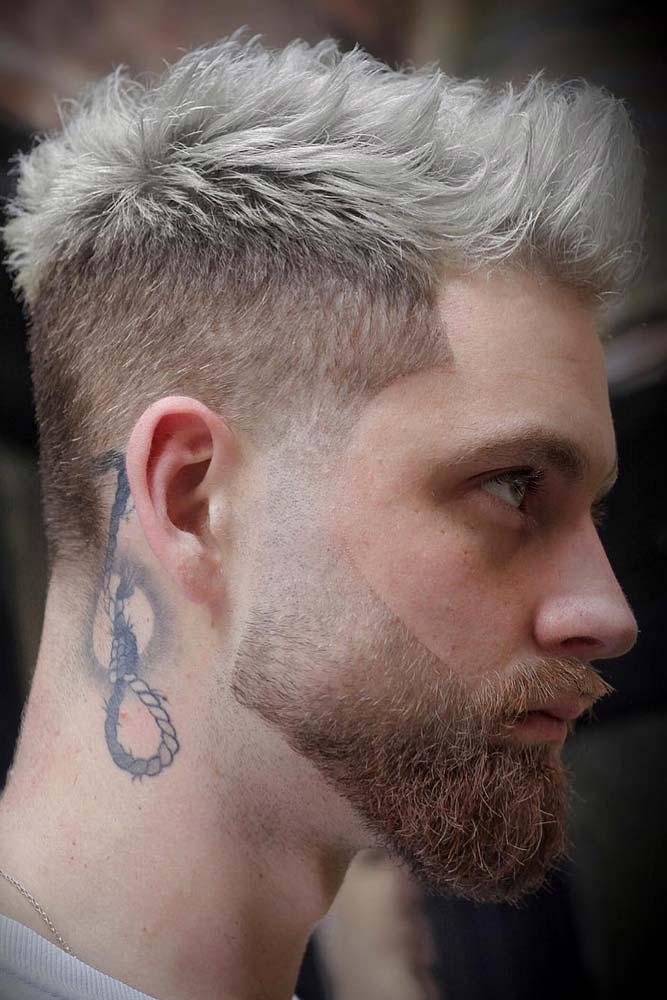 Credit photo: instagram.com/cal_newsome
Taper fade haircut is a combination of tapered hair and faded cut. It's a short fade haircut. Fading of hair on the sides and back won't be as low as other fades.
The scalp will be a bit invisible and the top will be lowered. It's one of the classiest fades to rock to any occasion.
Fade Haircut + Undercut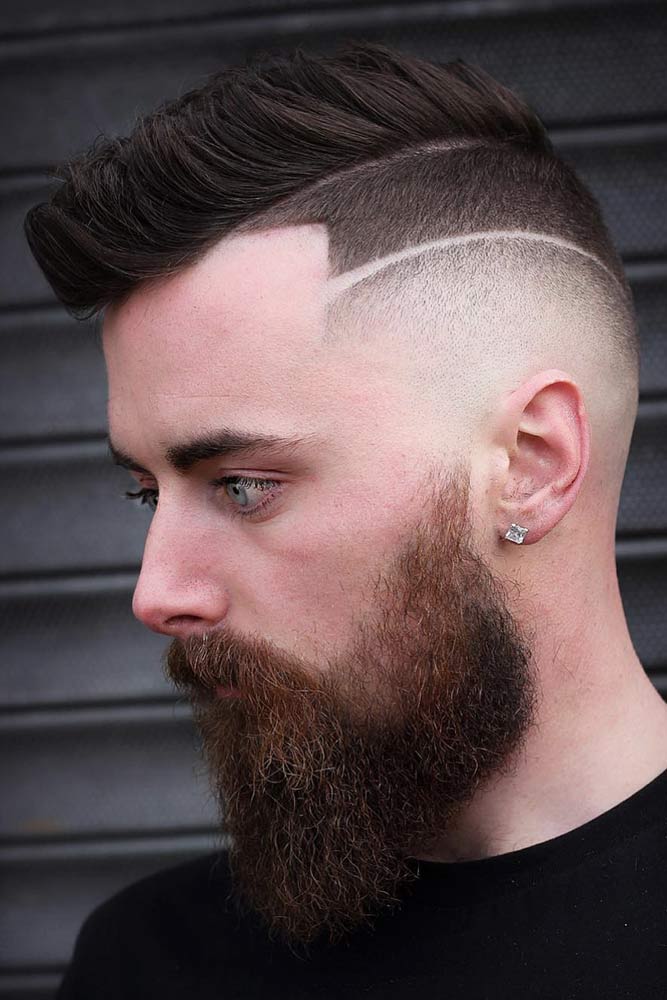 Credit photo: instagram.com/cal_newsome
A variation that was born when two trends met together. A fade undercut is a timeless combination of the most requested haircut and the most popular finish. Since the classic version of the undercut features short sides and long top, modern barbers decided to add more character to the lower portion. In fact, there are lots of ways to create men's undercut fade, as you can always switch between types of fades, diversifying your looks.
ADVERTISEMENT ‧ CONTINUE READING BELOW
Fade Haircut Styling Ideas For 2020
Now that you're familiar with the technical side of the fade haircut, it's time to see what happens when you let creativity and inspiration into your styling routine. The main reason why men ask their barbers for fades is that they can take their favorite hairstyles to the next level. Scroll down to see Mohawks, pompadours, undercuts, and quiffs in a totally new light.
Side Part Fade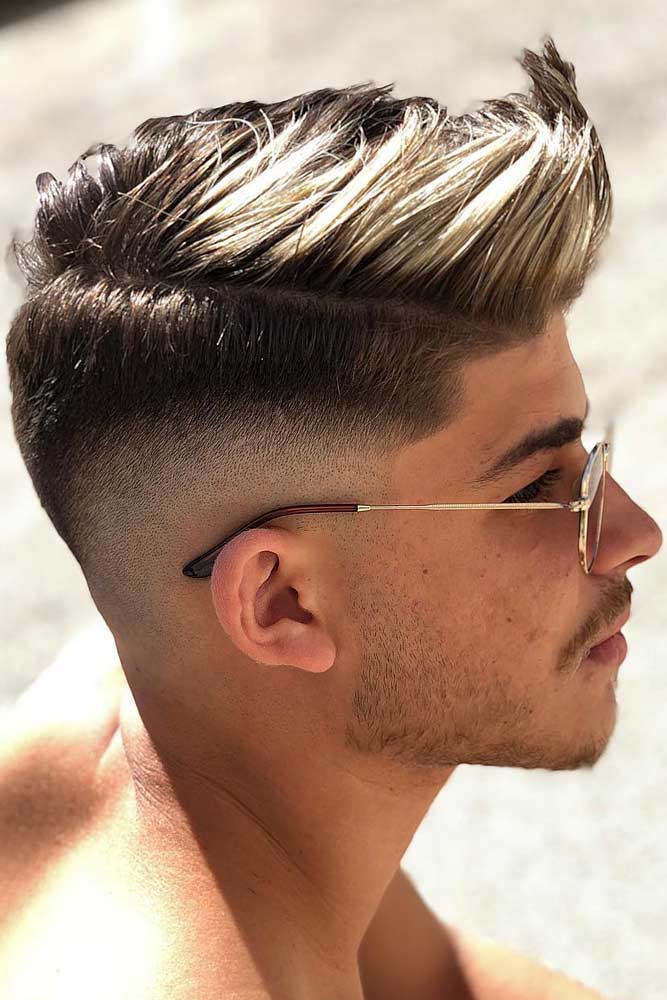 Credit photo: instagram.com/reamradai
Side-parted hairstyles are extremely popular not for no reason. While they're pretty easy to achieve, such styles are enough to make a man look sophisticated. As for side part fade hairstyles, they're better versions of the good-old look. Not only does this low taper fade add some precision and clean finish but it also turns a simple hairstyle into something fresh and brand new. Some wax or lightweight pomade will help you get the most of the style.
Fade Haircut + Hard Part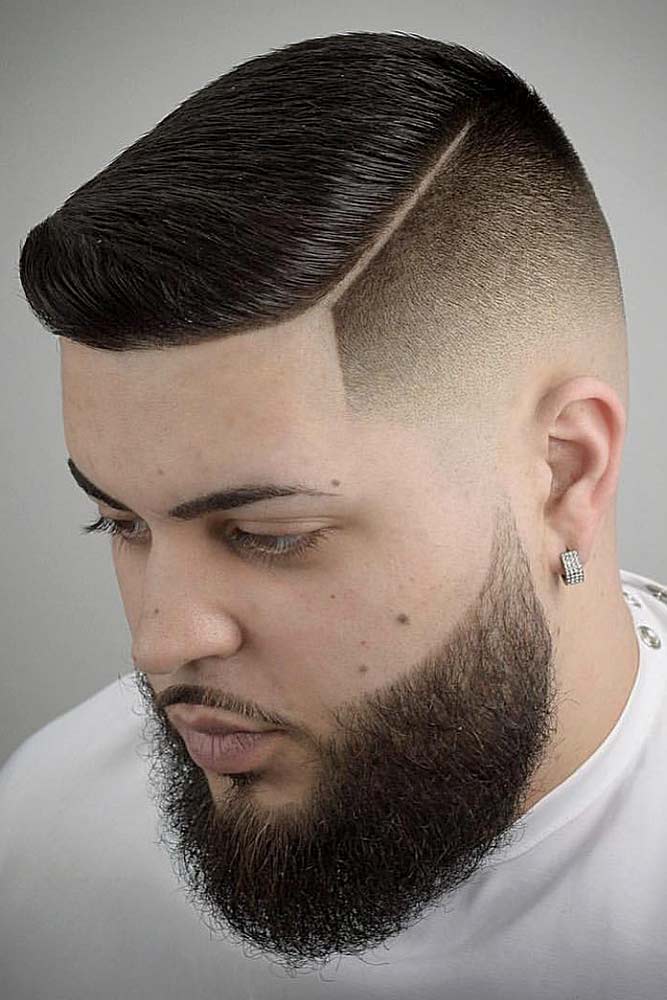 Credit photo: instagram.com/andyauthentic
Hard part fade is a sharp and edgy response to the overwhelming side-parted hairstyle that has a greater visual impact and a more detailed look. When it comes to details, we can't do without a bald fade haircut. Here, the distinctively separated top and sides look contrastive, yet harmonic. How? The blurred transition of the skin fade adds the needed neatness to the whole look, making the shaved part even more outstanding.
ADVERTISEMENT ‧ CONTINUE READING BELOW
Fade Haircut Into Mohawk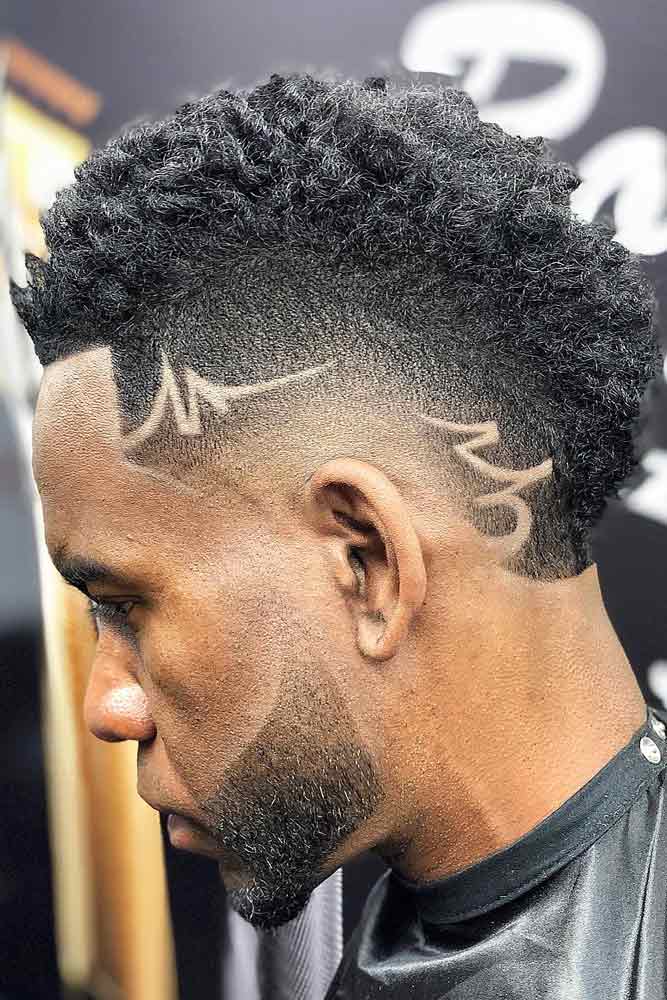 Credit photo: instagram.com/andyauthentic
Curly hair fade is a stylish and practical solution for those trying to tame their unruly natural texture. And this mid fade haircut is a perfect example of how you can give yourself an unforgettably awesome look and feel comfortable with your hair at once. The cleanly faded sides are what make the curly fade transform into a Mohawk, giving a hip look to the wearer.
Faux Hawk Fade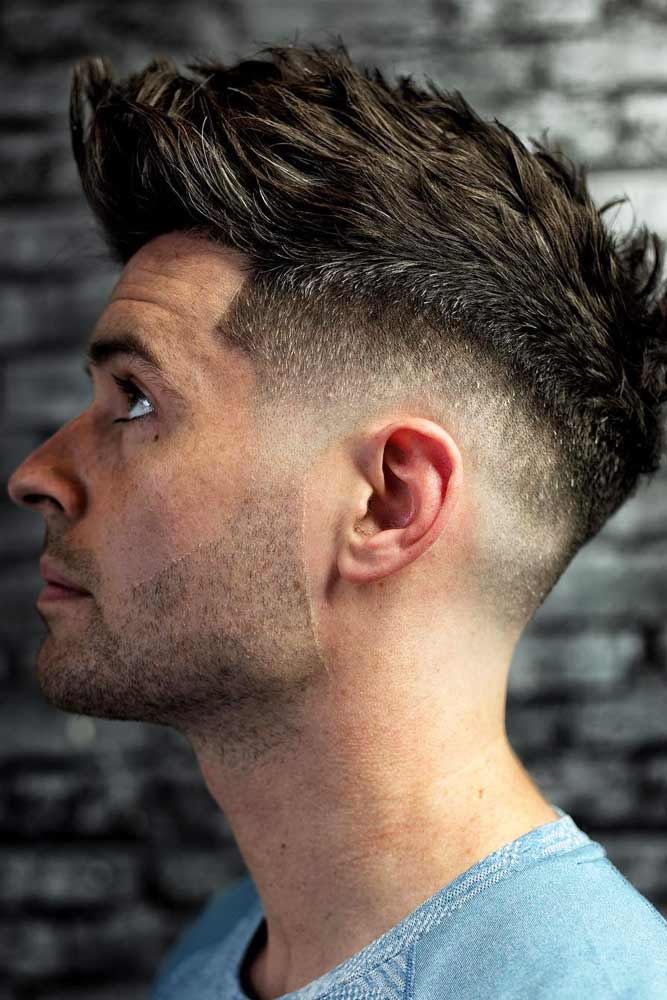 Credit photo: instagram.com/ryancullenhair
How about a subtle version of the dramatic Mohawk? Although a faux hawk fade is less drastic, it still looks striking and unique. Choose a type of fade depending on what look you want to achieve. If you want to put the top in the spotlight, nothing will work better than a high fade. And if well-balanced graduation is what you seek, medium or low skin fade will do.
Pompadour With Fade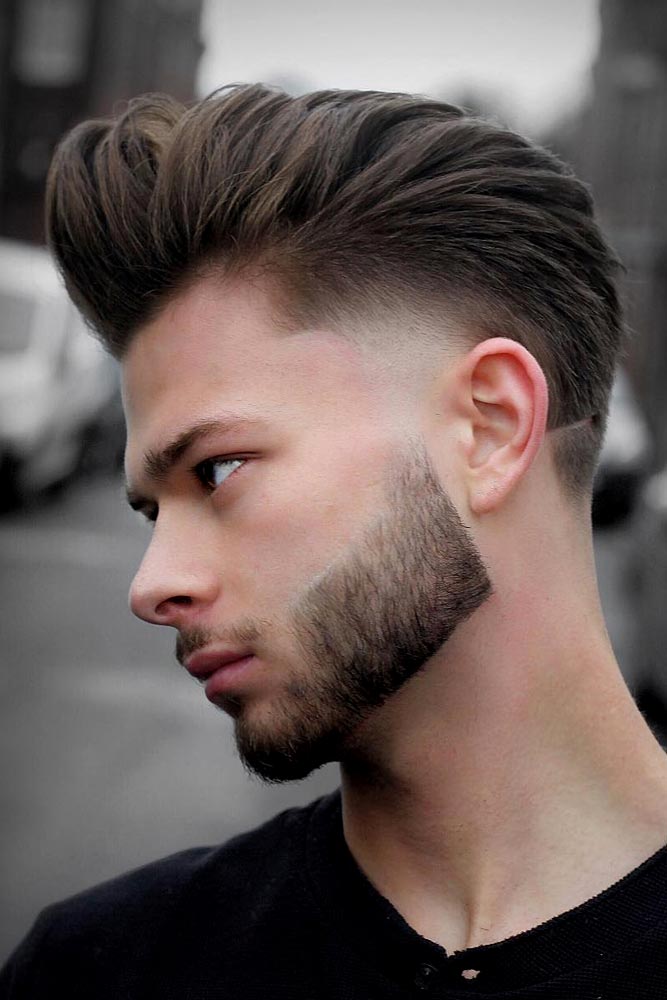 Credit photo: instagram.com/cal_newsome
Who says that Pompadour is good only for retro-themed parties? The rockabilly-inspired hairstyle isn't that one-sided, especially if you are familiar with the modernizing power of fade haircuts. This pompadour fade is a fresh new take on the classic version that makes the retro style fit the current men's image. By the way, if your hair isn't long enough to form a pomp, you can go for a slick back fade look. Just brush your well-gelled top toward the back!
ADVERTISEMENT ‧ CONTINUE READING BELOW
Fade Haircut + Curly Undercut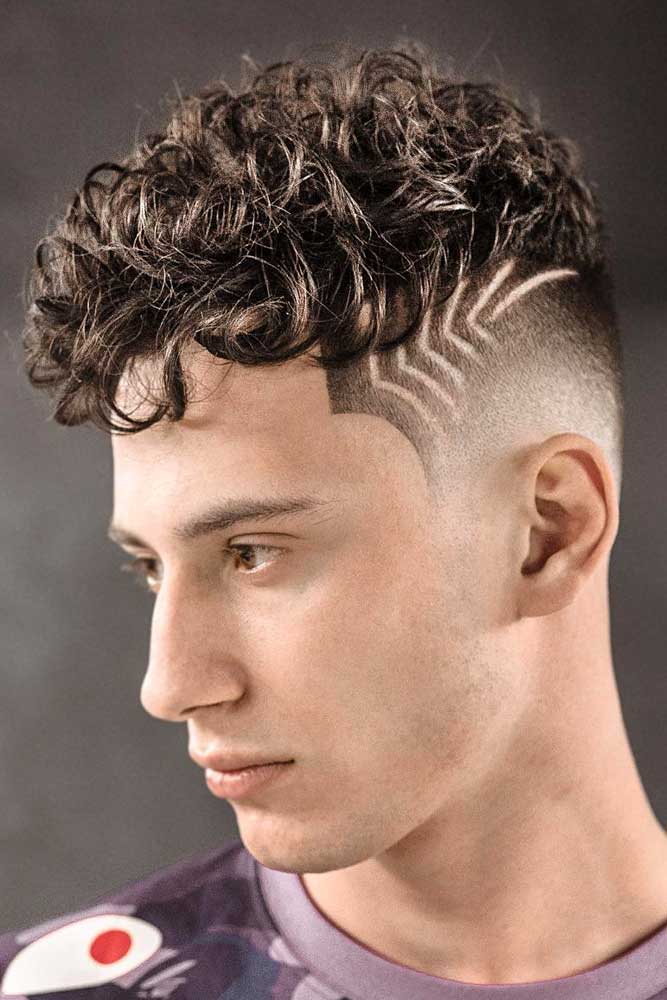 Credit photo: instagram.com/kvenzo.barber.cuts
Skin fade undercut can be as different as you want it to be. You can put a signature to your hairstyle by pairing the fade with a shaved design. To add more individuality to the look, you can play around with the top and wave or curl your hair, enhancing the contrast. You can do anything your soul pleases. And to make it right, don't forget about the accentuating fade!
High Top Fade Haircut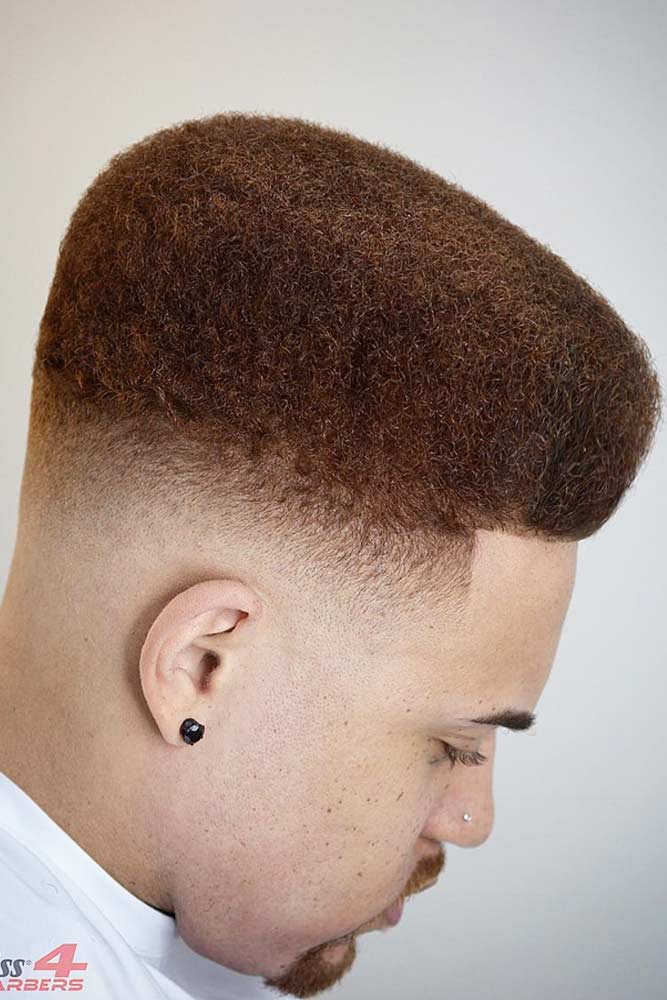 Credit photo: instagram.com/andyauthentic
Now, let's take a moment to appreciate the fade haircut black men build a whole culture with! Yes, that's the high top fade your favorite hip-hop bands can't do without. No wonder! The high top fade haircut looks extremely fly and non-boring while keeping the hair perfectly tamed. Needless to say, you will need to see your barber regularly to keep up with the look. But, it's worth that.
Quiff Fade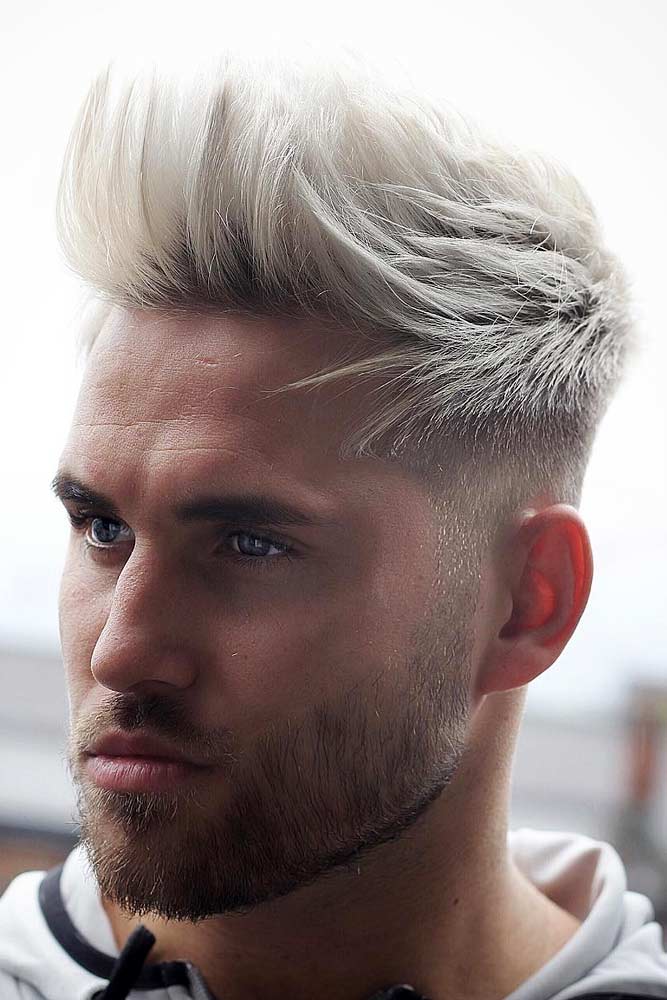 Credit photo: instagram.com/cal_newsome
And that's how you can change the common picture of the quiff, showing it from an even edgier perspective. The good news is, the faded sides will not only emphasize your messy textured top but also build the contrast that will make your hair look thicker visually.
ADVERTISEMENT ‧ CONTINUE READING BELOW
Fade Haircut + Buzz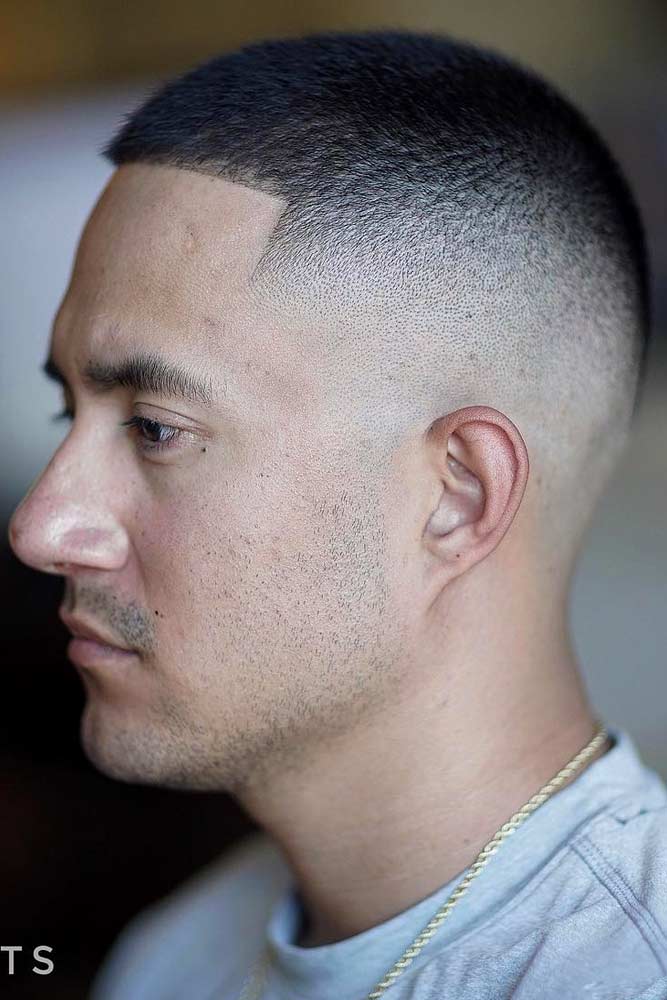 Credit photo: instagram.com/patty_cuts
Even the ageless minimalist buzz has its contemporary side! To unfold it, you need to let the fade do the talking. At first sight, it's just a short fade haircut. But if you look a little bit closer, you will notice the smooth graduation, outlined details, and stylishly leveled front. Besides, this cut is pretty simple in terms of structure, so you can even try getting it yourself with some tutorials on how to cut your own hair for men.
Long Top Short Sides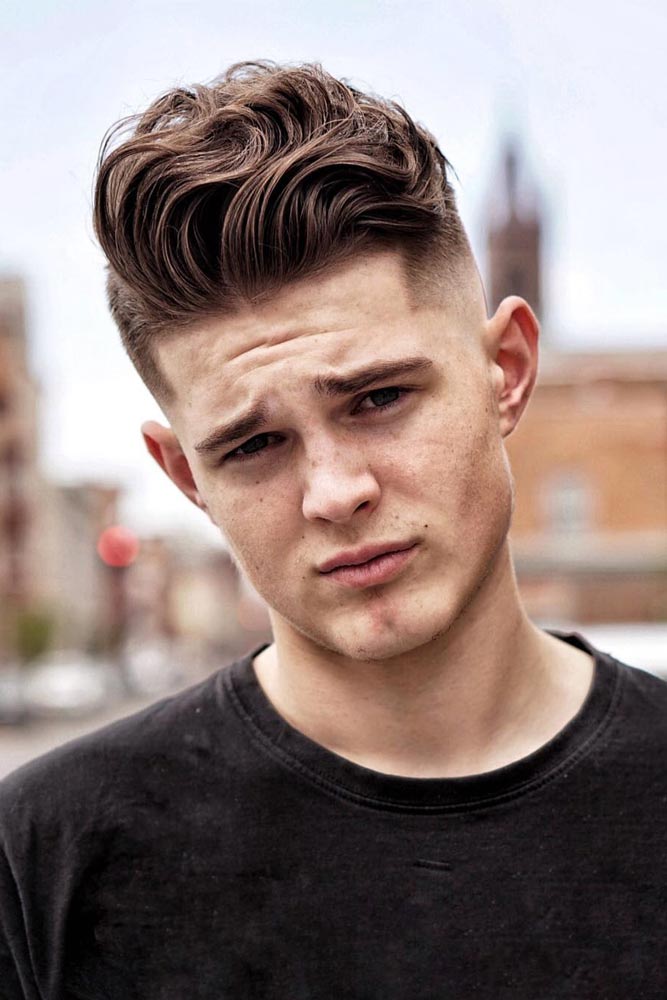 Credit photo: instagram.com/z_ramsey
While some men seek for something special for their looks, others prefer to go for classics, as they can't go wrong with them. The best thing about long-top-short-sides hairstyles is that they can be different despite the common pattern of longer top and tight sides. You can play around with the texture on the top as well as adjust its direction. Here, for example, the style looks ravishing due to a thorough approach to the top. To recreate it, apply some firm mousse to the top and shape it in the way you prefer.
Faded Crop Haircut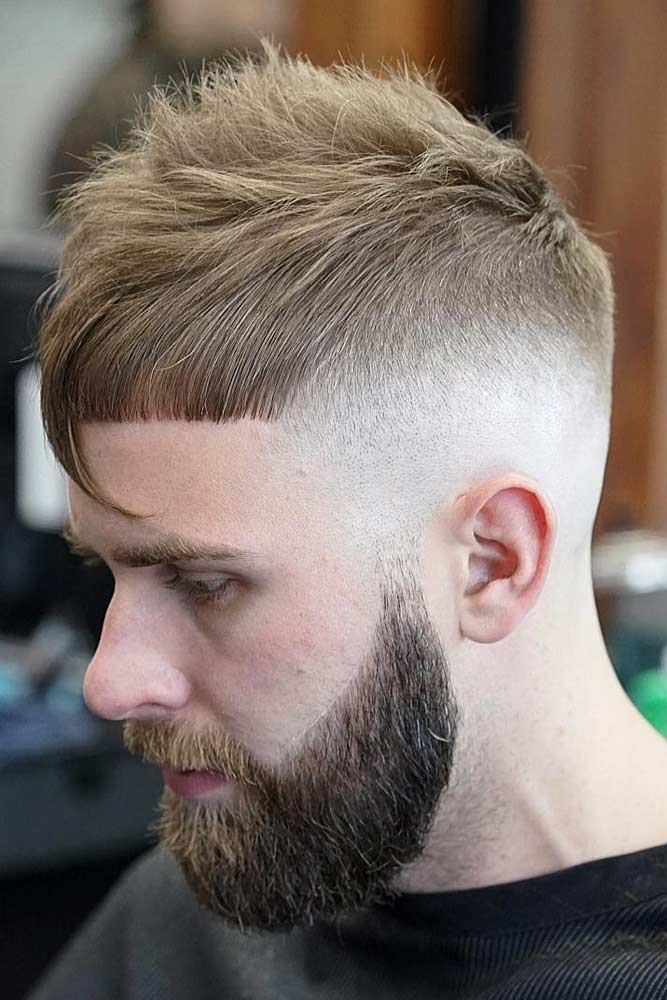 Credit photo: instagram.com/titan_barber
The modern variation of Caesar haircut offers a lot of room for creativity and unique looks. Paired with a fade, you can not only give your cut an outlined finish but also keep yourself comfortable with your hair. This idea is another example of how far you can go once you set your imagination into motion, designing your perfect haircut. It features a soft fringe that aligns all facial features and tousled finish that gives a carefree feel to the whole look.
ADVERTISEMENT ‧ CONTINUE READING BELOW
Fade Haircut + Comb Over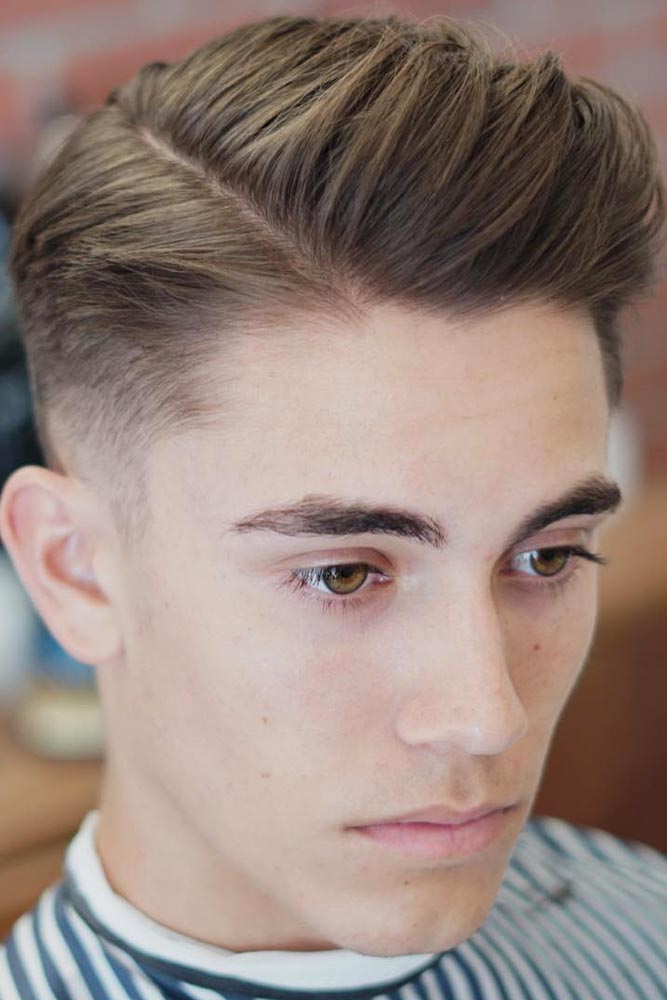 Credit photo: instagram.com/zeke_the_barber
If you happen to travel in time and would like to blend with society, a comb-over haircut will do the trick, whether you're going to the past or to the future. The truth is, such a precise and sophisticated silhouette is so versatile that it can adapt to any image and match any outfits possible. If you want to rock a rather classic version, you can ask for tapered sides. And if you want your look to express modernity, a fade will be your best weapon.
Fade Haircut With Shaved Line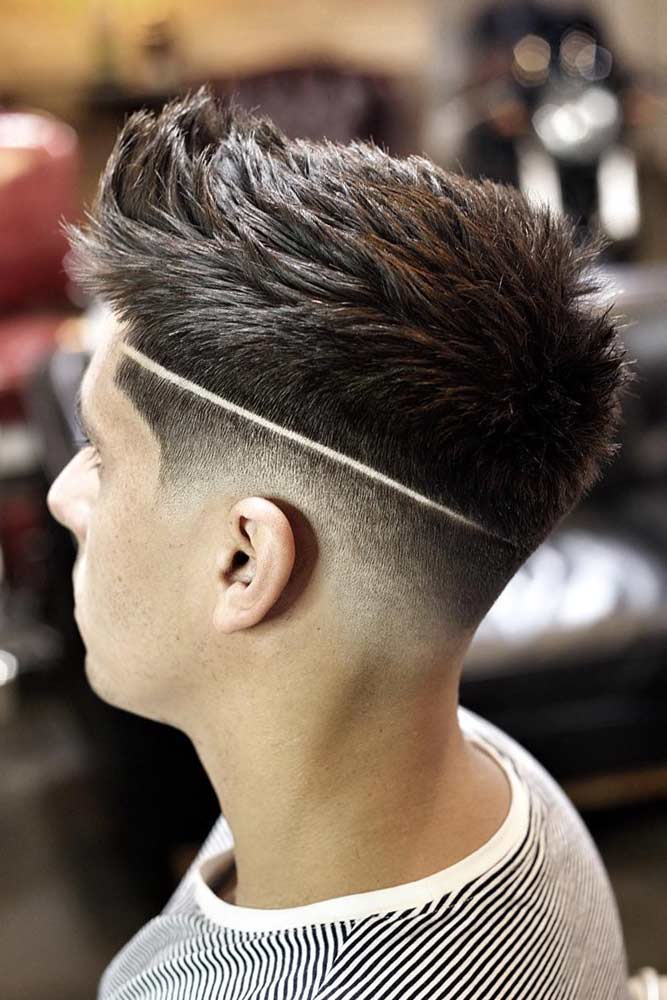 Credit photo: instagram.com/ryancullenhair
Every haircut needs an exclamation point that will define your character and show what kind of man you are. And here's one of the thousand ideas of how you can put your signature to your haircut with the help of a shaved tattoo. As it turns out, a simple line is enough to create a great visual impact and bring all attention to the top.
Spiky Faded Haircut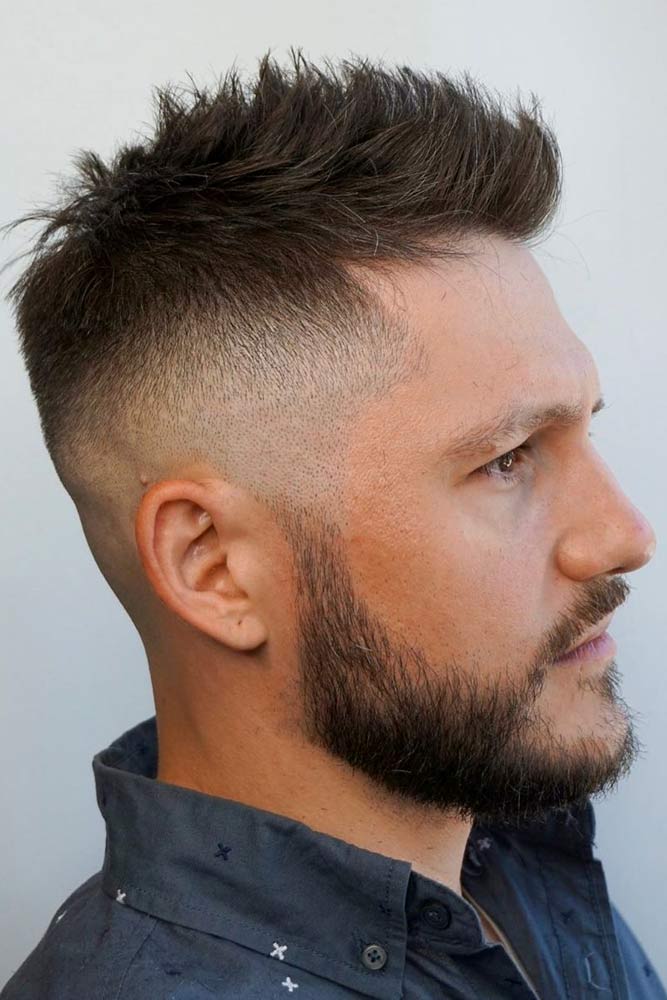 Credit photo: instagram.com/anthonythebarber916
Although spikes are mostly associated with messy, carefree hairstyles, a men's fade haircut can show its neat side. In this picture, you can see how the tight sides slowly graduate to textured top, finishing the look with a sense of neatness. In fact, it's a wonderful idea for men who always need to look immaculate and still want to show their daring nature.
ADVERTISEMENT ‧ CONTINUE READING BELOW
Shaved Line Fade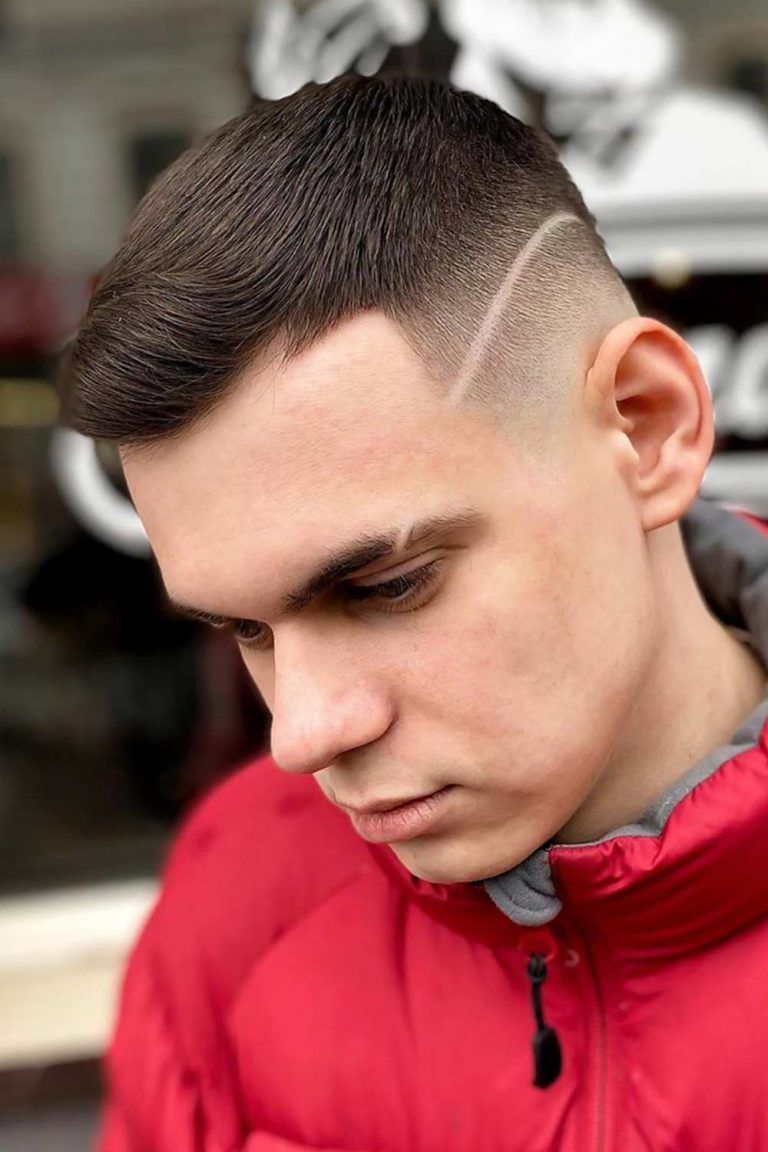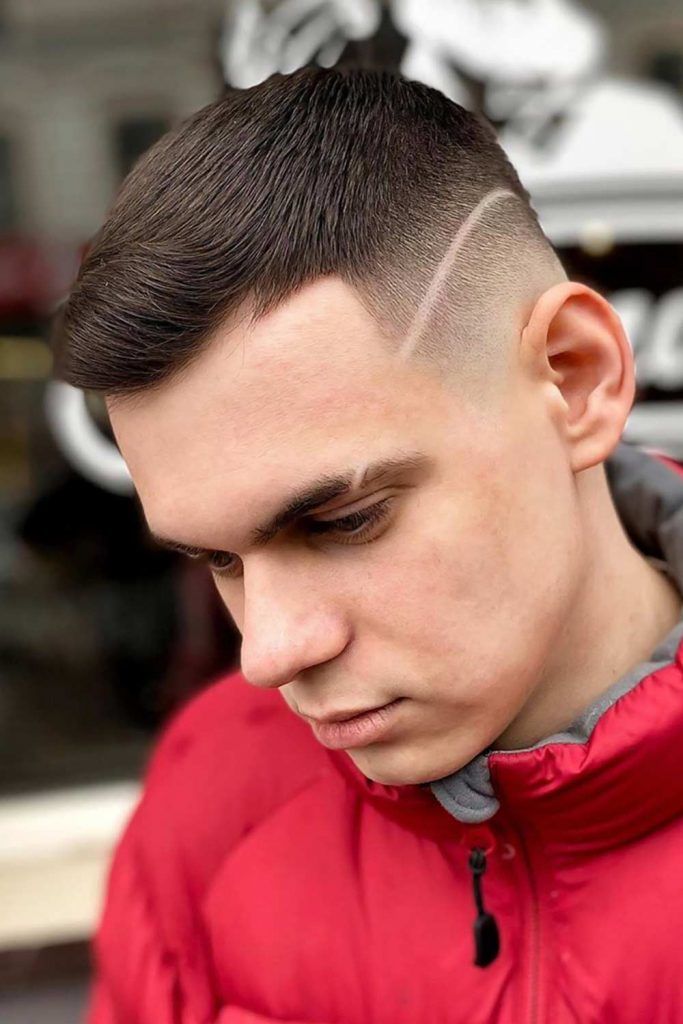 Credit photo: instagram.com/barber_bronson
Crop Fade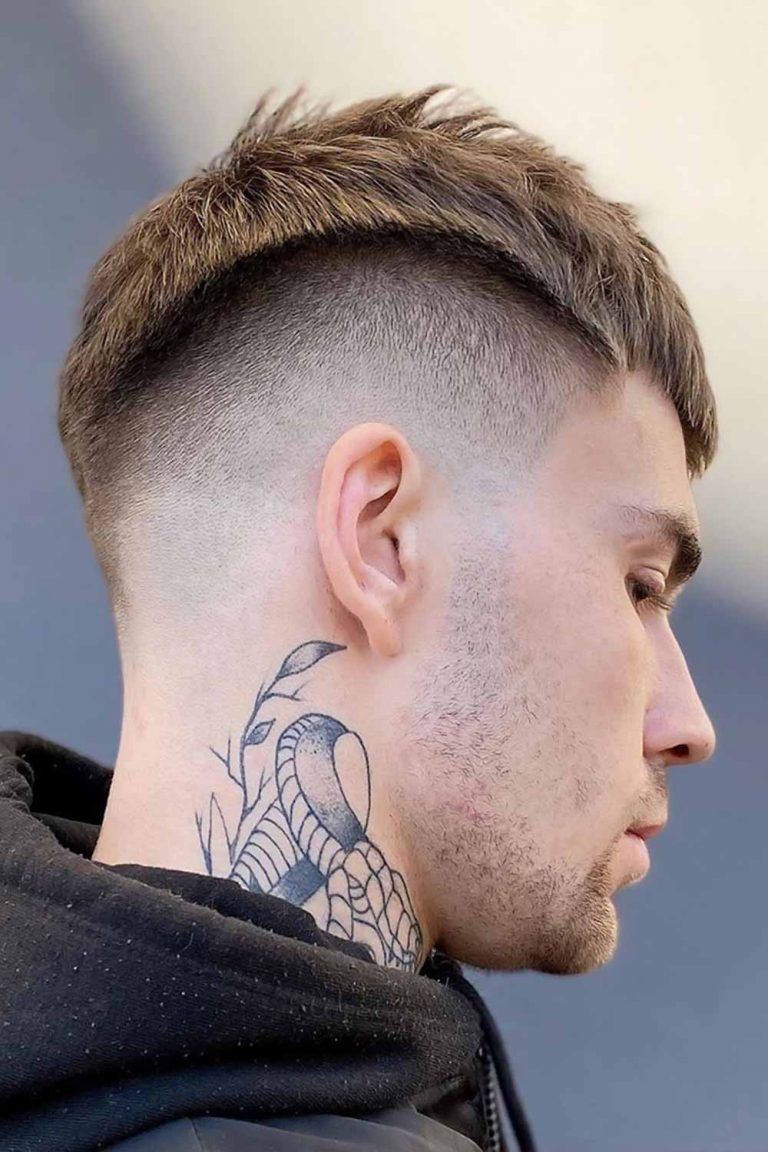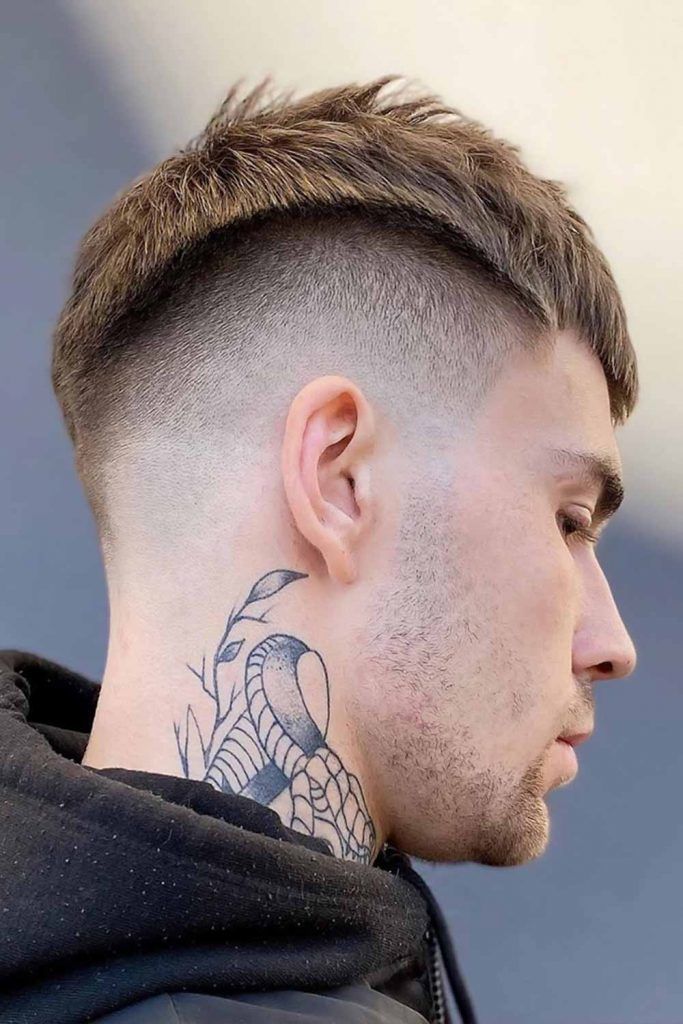 Credit photo: instagram.com/barber_bronson
A fade haircut is something that you can't go wrong with, as you can always make it work for your hair type, face shape, and style. The variety of faded options has a beginning but has no end: the gallery of trendy looks is constantly updating. So how about you to stay up to date with the latest ideas and rock the best look you could ever dream of? Just call your barber and ask for a fade.
Women's Fade Haircut Looks
Basically, women's variations feature the same principle of tapered hair, where hairdressers use a razor for the area around the back and sides. As they move upward, they taper this cut so that the hair becomes thicker and thicker towards the top. As a result, the look is 'faded.'
The popularity of this ultra-stylish haircut is on the rise and our special inspirational pictures will definitely end your quest for the perfect fade haircut for your hair type and face cut.
ADVERTISEMENT ‧ CONTINUE READING BELOW
Fade Haircut + Side Shave Pixie
Credit photo: instagram.com/sky_eyes_
An excellent variation of the women fade haircut is a pixie haircut that has the longer section of your hair ending just above your chin. Dirty blonde hair with dark roots looks amazing in this haircut. Keeping a side shaved section adds oomph and edginess to the look. Keep the shaved section to a bare minimum length and style the major part of your hair, which is of pixie length, in the form of a side-swept hairstyle. Add lowlights or highlights if you desire to add some more dimension to your hair.
Extra Short Haircut with Shaved Line
Credit photo: instagram.com/stepthebarber
Super short haircuts like the model's in the picture is definitely a bold decision to make. The fade haircut for women is kept high with the center section of hair having just a slightly longer length than the fade. To make a generic short hairstyle edgy and different, add a shaved line in between the shaved section and the top section of your hair. Such a hairstyle is stylish and at the same time, it can be a good break for your hair and scalp from all the treatments and straightening. It will also give your hair a chance to grow naturally and become more luscious!
Low Fade for Short Pixie Cut
Credit photo: instagram.com/foxblossom
This is a really easy low fade haircut for women to create and looks great not just on platinum hair like the picture but also on other hair colors. You can save you some money too when you get this haircut because you don't need a fancy hairstylist to create it. It is an easy maintenance short pixie cut as most of your hair is not longer than two to three inches in length. A simple low fade makes the haircut vogueish and chic. Such a haircut looks great even when it is growing out.
ADVERTISEMENT ‧ CONTINUE READING BELOW
Fade Haircut for Natural Curls
Credit photo: instagram.com/stepthebarber
Our busy schedules always work better if we have an easy to style haircut. This hairstyle is one of those easy care short haircuts for women that takes no more than 60 seconds to style. For women who want to flaunt their naturally curly hair, this fade haircut for black women is a great option. You can keep the sides shaved in a true fade haircut fashion. Their short length will be convenient during the hot, summer months. The small section of curly hair on the top of the head will need just a little bit of gel to style.
Side-Parted Pixie with Fade Undercut
Credit photo: instagram.com/sadbitch13
Of course, this option is not for the faint of heart. A short pixie that gets even shorter and edgier at the sides is a stylish, modern option that needs the courage to be pulled off. But the fact that it keeps your face open doesn't mean that the cut can't flatter your face. The nearly tapered sides can make the top appear fuller, and if you style it to the side, you will finish your daring cut with a touch of harmony.
Faded Buzz Haircut
Credit photo: instagram.com/stepthebarber
Fade cut for your hair means getting a considerable section of your hair cut into a super short length, usually with the help of a hair trimmer. But, taking another step ahead would be to get a buzz haircut with the high fade. This short fade haircut for women looks casual and fashionable for blonde hair and can put emphasis on your facial features. It is the easiest haircut to maintain and involves no styling whatsoever. You can simply get ready and step out of the house without having any worries if your hair is looking good or not.
ADVERTISEMENT ‧ CONTINUE READING BELOW
Fade Haircut + Pixie Bowl
Credit photo: instagram.com/meeshtheladybarber
A bowl cut has been in and out of fashion for many years now and this year, it has come back in fashion again. Let your spunky personality stand out even more by closely shaving the sides of your head and keeping the center hair from the forehead to a few inches above the nape of your neck long and luscious. The one-inch of hair around the center is trimmed to a short length and a surgical line is added to add emphasis on this section. Add color like the silver hair in this photo and look classically chic.
Super Short Bleached Fade
Credit photo: instagram.com/edouardclipperhand
While you may not be able to fancy hairstyles and braids with short hairstyles, their transformation over the years has made them a popular choice among women in the current day. If you have high cheekbones, then a fade haircut like this one can highlight them even more. Bleach the top section of your hair to a light grey like the model or a color you like. Two-toned versions of this hairstyle also look smart. To blend punk and sophistication, add an undercut design all around or just on one side.
Vivid Fade Haircut with Shaved Hair Design
Credit photo: instagram.com/trends.by.taylor
A hairstyle with shaved hair can be made interesting by adding offbeat designs at prominent locations on the head. The fade haircut for white women in this undercut design is low but the overall look almost resembles a buzz cut because of the minimum length of the hair everywhere. Extra short hair at the nape makes the hairstyle hassle-free. The wave pattern seen in the photo looks stylish and punky. For non-generic options, think of a design or pattern that signifies something and add it to your hairstyle by shaving the design into it.
ADVERTISEMENT ‧ CONTINUE READING BELOW
Creative Fade Haircut
Credit photo: instagram.com/stepthebarber
People often assume that short haircuts or fade haircuts do not leave many options when it comes to variations or creativity. Well, it is time to break the bubble because creativity can be as large as your imagination even with undercut hair. Take this picture for example – the side shaved hair goes high up and the hair in the center is also pretty short like a buzz haircut. But, the placement of the shaved line is what makes the hairstyle creative and sets it apart from the regular short hair you see often around you. Off-center placement of the line that starts right in the front is a bold choice and makes the hair look artistic.
Super Short Fade Haircut
Credit photo: instagram.com/dillahajhair
Opting for a super short fade haircut as a short hairstyle for women is a major decision, but it can make you look really attractive when done right. We do agree that this look with a fade on the sides and back of your head and a chunk of hair on the top is a bold look, but it is nevertheless one that should not be tried. Ask your hairstylist to keep the fade low and bare minimum and keep going longer is a smooth gradient that ends at the top of the head to get this easy-care short haircut for women.
Mid Fade Taper Haircut
Credit photo: instagram.com/fadedinc
The clean feeling that comes with one definitely attracts women who want minimum maintenance and maximum oomph. You can be an undercut girl with some color streaks or get your top softly tapered and colored pastel – any of these is definitely going to make you stand out. Keep the hair on the top of your head short and precise, styling it with firm waxes or lightweight pomades. Another great option would be to transform the look into a pixie cut with a fade or undercut by keeping the top hair up to a few inches long.
ADVERTISEMENT ‧ CONTINUE READING BELOW
High Fade Haircut
Credit photo: instagram.com/edouardclipperhand
Pairing a high fade haircut with a pixie is not everybody's preference. Nonetheless, it is definitely a hairstyle that will people stop and stare. It oozes confidence and coolness at the same time. All you need to do get the sides of the head trimmed as a high fade style and leave the hair on top for a pixie. How long you keep this center section is completely upon your preference. Curly hairstyles look the most marvelous for this part of your hair. It is important to understand that a high fade haircut like this is not easy maintenance, as you will need to get it trimmed regularly.
Fade Haircut Into Pompadour
Credit photo: instagram.com/zoechops
Well, a pompadour hairstyle for women is becoming as popular as it is for men. It might seem like going the extra step but with this haircut, you have the options of keeping the hair as long or as short at you want. Shorter length is best in a professional setting whereas longer hair in the pompadour is something that will make a statement for sure.
If you are wondering how to pompadour for women as the haircut does look a little daunting, worry not! All you need are three items – a hairbrush, hair spray, and a hair-dryer. Here is what you need to do:
Use a flat nozzle attachment for your hair-dryer and slowly comb through your center hair.
First, brush it towards one side and then switch to the opposite side to add volume.
Set the hair in place with a good hairspray.
Give it a try and you'll see that it is not as difficult as it looks.
Fade Haircut Pixie Style
Credit photo: instagram.com/natalieannehair
A pixie hairstyle with a fade has also become equally popular. For women looking for an edgy look but also something that they can easily carry off, such a hairstyle is apt. Add an undercut to a cute pixie cut for a sleek hairstyle. You can keep the length of your pixie cut short and add some trendy hair color (like the cool platinum in the picture) for an easy to maintain but still stylish look. Alternately, keep the front top section of hair long and style them like unsymmetrical bangs using a hair straightener to add a flirty touch to your haircut style.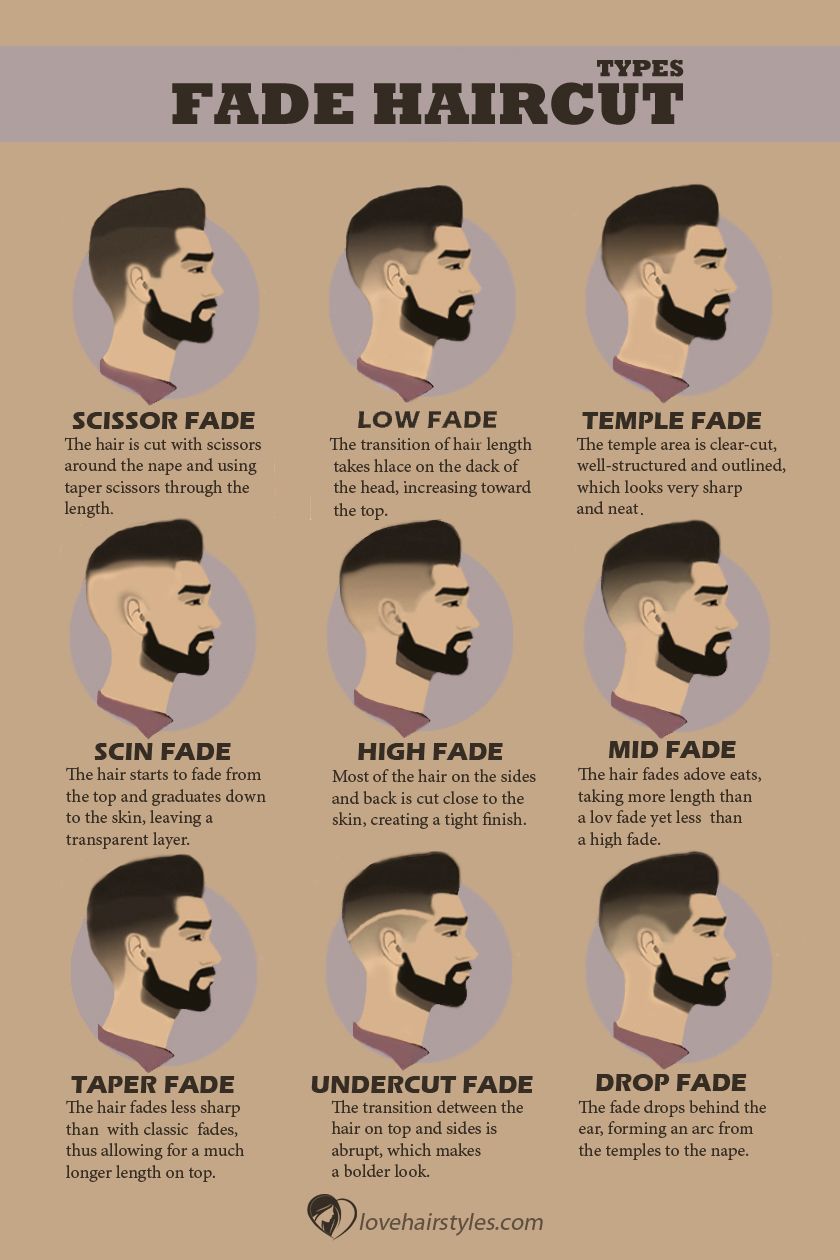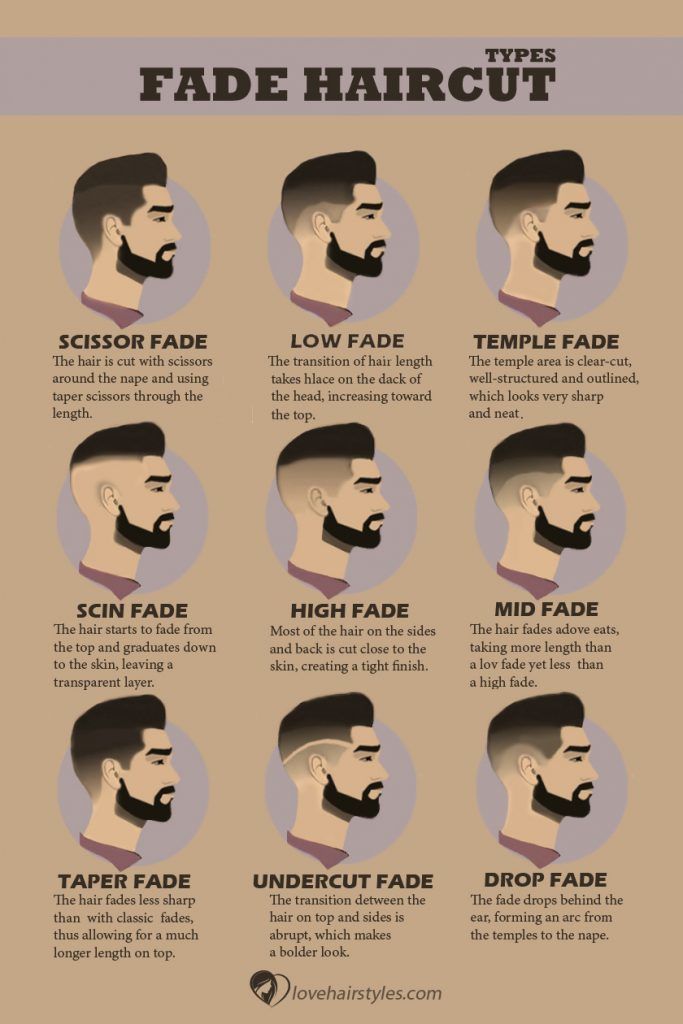 REFERENCES:
ADVERTISEMENT ‧ CONTINUE READING BELOW