We won't go into reasons why you can't visit a barbershop right now; instead, we will just share an ultimate tutorial on how to cut your own hair men can give a shot without special training. Of course, mens haircuts are not created equal: some preserve moderate looks with a crew cut, and others rock their days with faded undercuts.
But, even though there's no one-size-fits-all tutorial on how to cut your own hair for men, there are essentials and basics that work equally well for all textures and cuts. If you can't go to your hairdresser for some reason but still need to be well-groomed, this guide will help you out.
As you read on, you will get to know the main principles of at-home haircutting. Scroll down to learn how to trim your own hair, as well as how to fade your own hair and not catch a fade from your barber when you see him next time!
How Do You Cut Your Own Hair Step By Step?
Getting salon results without venturing out to the barbershop is actually possible. However, cutting your own hair is no joke; you need to be well-equipped. How can a man cut his own hair without the right tools, after all? Some patience and good tools are a crucial step on your way to learning how to cut hair men should keep in mind. In general, there are three ways how to cut men's hair: you can do it with electric clippers, cutting shears, or combine these two. The last one is the best choice, as by using different tools you can ensure better control over your hair. So, meet your new handbook on how to cut your own hair for men with scissors and clippers.
Wash Your Hair Before Cutting
It's always better to start with freshly cleaned, conditioned, and slightly wet hair because it gets more manageable for sectioning and cutting. When working with black men haircuts, barbers suggest prepping your hair with conditioning mousses, as such textures need more hydration to get tamed. Also, make sure that your hair is tangle-free.
Tip: Before you get to the cutting process, towel-dry your hair. It should be damp, not soaking wet, to have the same shape when it's completely dry.
Separate The Top From The Sides
Most men's haircuts consist of two parts, which are sides and top. To begin cutting your own hair men should separate them off from one another with a comb. First, run a comb back through the hair. Next, comb the hair down between your ear and the part. Section off both sides in this way.
Tip: If you want to learn how to cut mens long hair yourself, you will need to secure the sections with clips for the best results.
Work On The Sides
Credit photo: youtube.com/Mikeshake
Now, look at your hair clipper sizes and choose the right one. A small guard setting is ideal for shaping and trimming the hair on the sides and back, especially for beginners. Choose a setting between 1 and 2 to make moderate cuts when working with the sides. It's important to hold the clippers properly, as well as direct them the right way. For example, if you wonder how to give yourself a fade haircut or update your fade, this technique will come in handy.
Move the clippers up, starting at the bottom and finishing at the top, working with the blade's edge.
To make the graduation or fade blend evenly with the rest of the hair, tilt the blade at an angle as you work your way to the top.
For a cleaner cut, go against your hair's grain.
Repeat the same with the other side, ensuring you're giving it the same length transition on both sides.
Finally, grab a comb and run it through your hair to see if any stray hairs affect the smooth transition. If so, comb the uneven edges so that they slightly stick from your comb and use your clippers to blend them with the rest of your hair. In fact, that's the most essential part when learning how to taper your own hair.
Trim The Back Of Your Head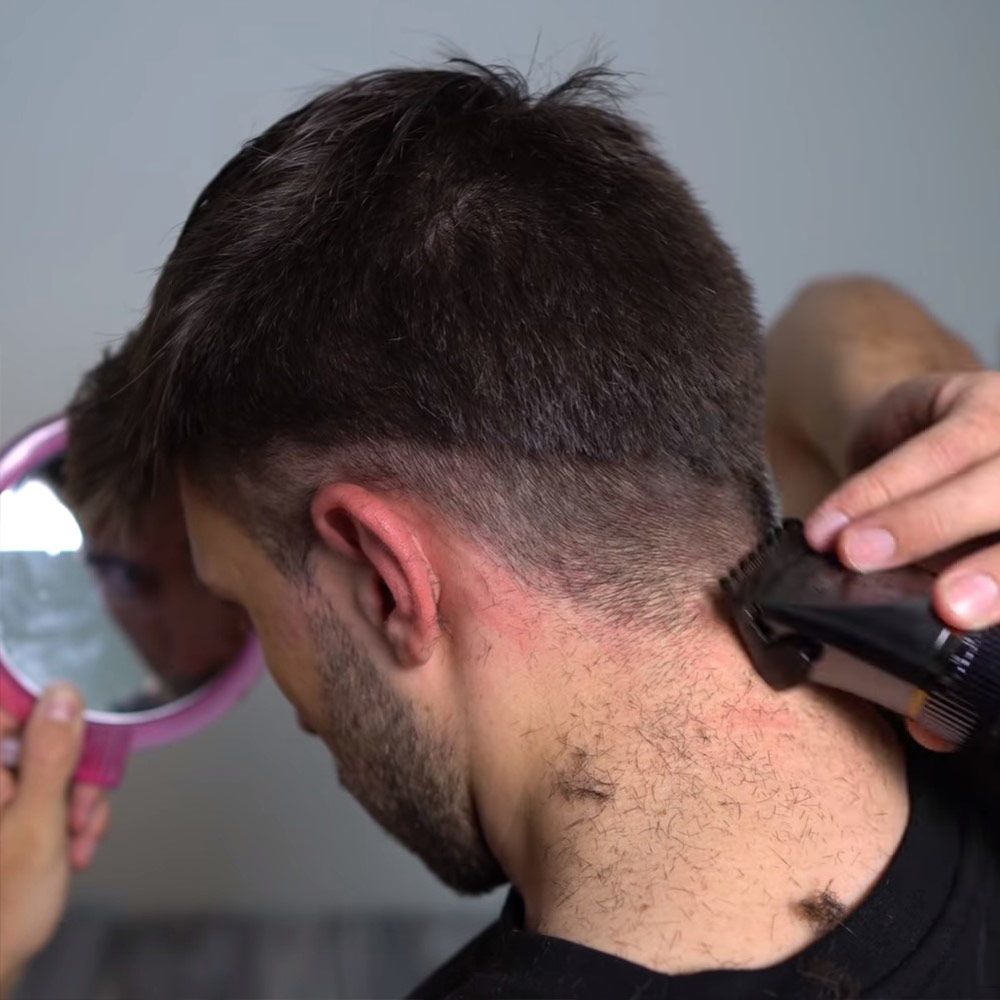 Credit photo: youtube.com/Mikeshake
When the sides are ready, move to the back and use your clippers in exactly the same way, going up from the bottom. Also, you should work with the same guard setting to connect the sides and back evenly. Once the back is done, smooth out any stray hairs as you did with the sides.
Tip: Your first experience of how to trim the hair on the back can be more successful if you put a mirror behind you to see how you work with the clippers.
Trim The Top In Sections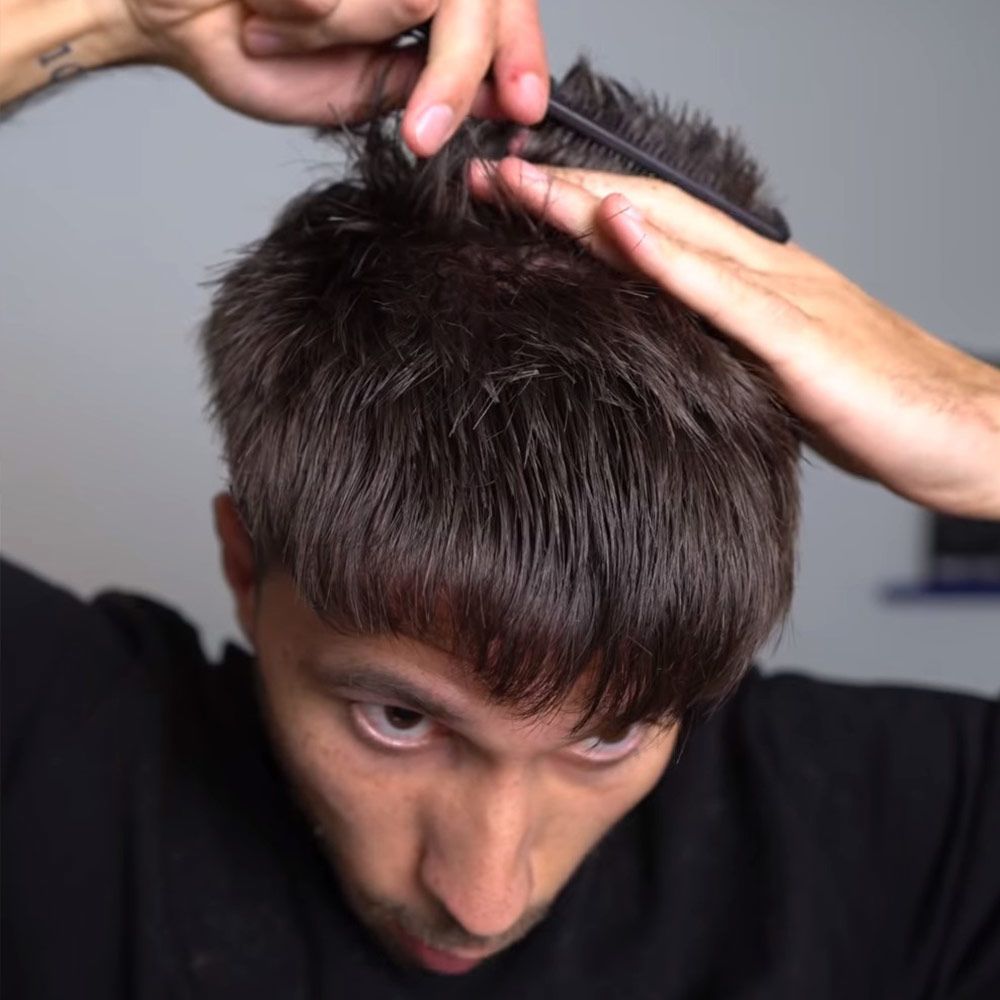 Credit photo: youtube.com/Mikeshake
Now, it's time to update your top, and this where scissors come in. This tool is more preferable than clippers because it gives sharper and more textured cuts that will accentuate your haircut. You should take a thorough approach to the top, as that's the most visible part.
Comb your hair with your fingers and hold a ¼ -inch section between them so that it's parallel to the hairline.
When you've cut the ends that you hold between your fingers, finish the cut with soft point cutting: hold the scissors vertically and slightly trim the edges.
Use the first cut as a guide for the rest of the cuts to trim your top evenly.
Tip: Don't even try to use household scissors. There are whole lotta tutorials on how to cut your own hair men can discover today, but none of them will work for you unless you work with styling scissors.
Trim Your Bangs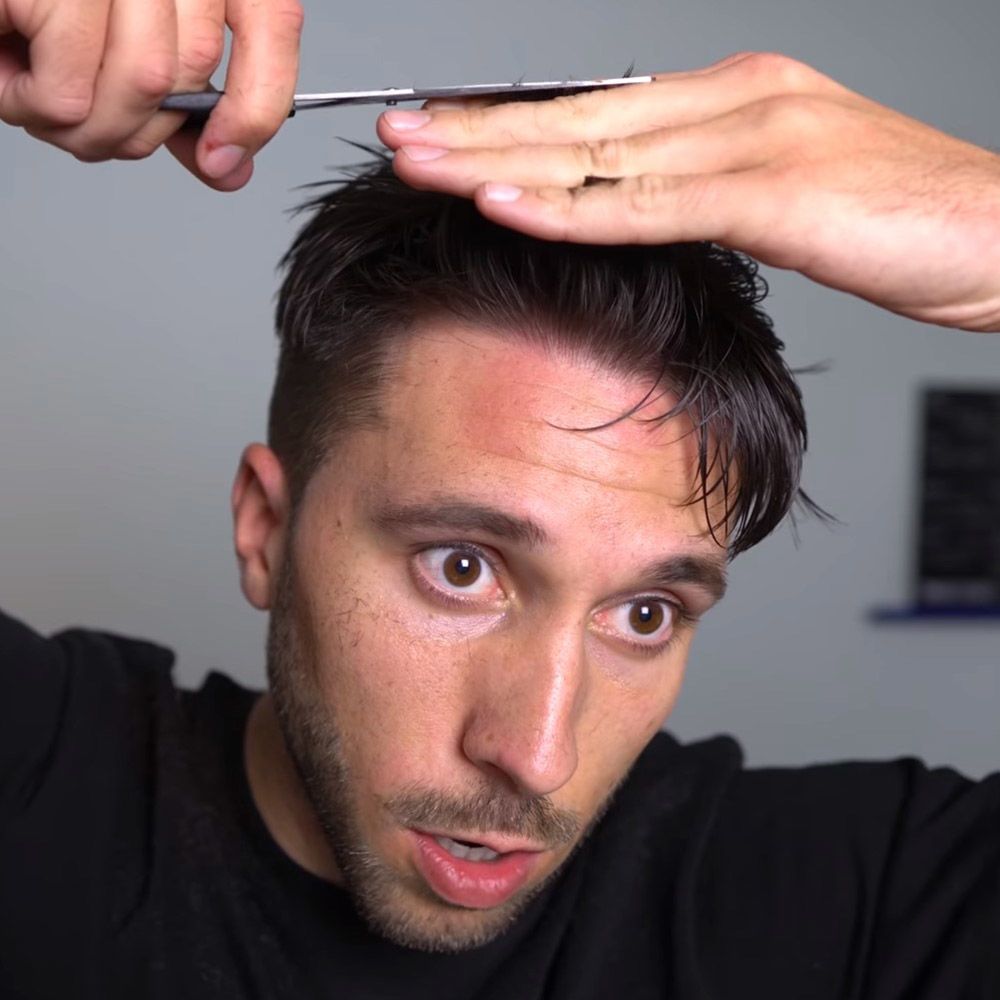 Credit photo: youtube.com/Mikeshake
If you have bangs, trim them too, using the same technique as with the top. By the way, you can hold the section with a comb too, if it's more comfortable for you.
Finishing Touches
Details are what make a man's look immaculate and neat, so don't forget to outline sideburns, the hair on the neckline, and around the ears. While there are lots of ways on how to trim sideburns, we recommend you stick to average styles. And finally, style your hair right after you cut it. Wash away any hairs, towel dry, and apply your favorite product to your freshly done self-cut.
Tips On How To Cut Your Own Hair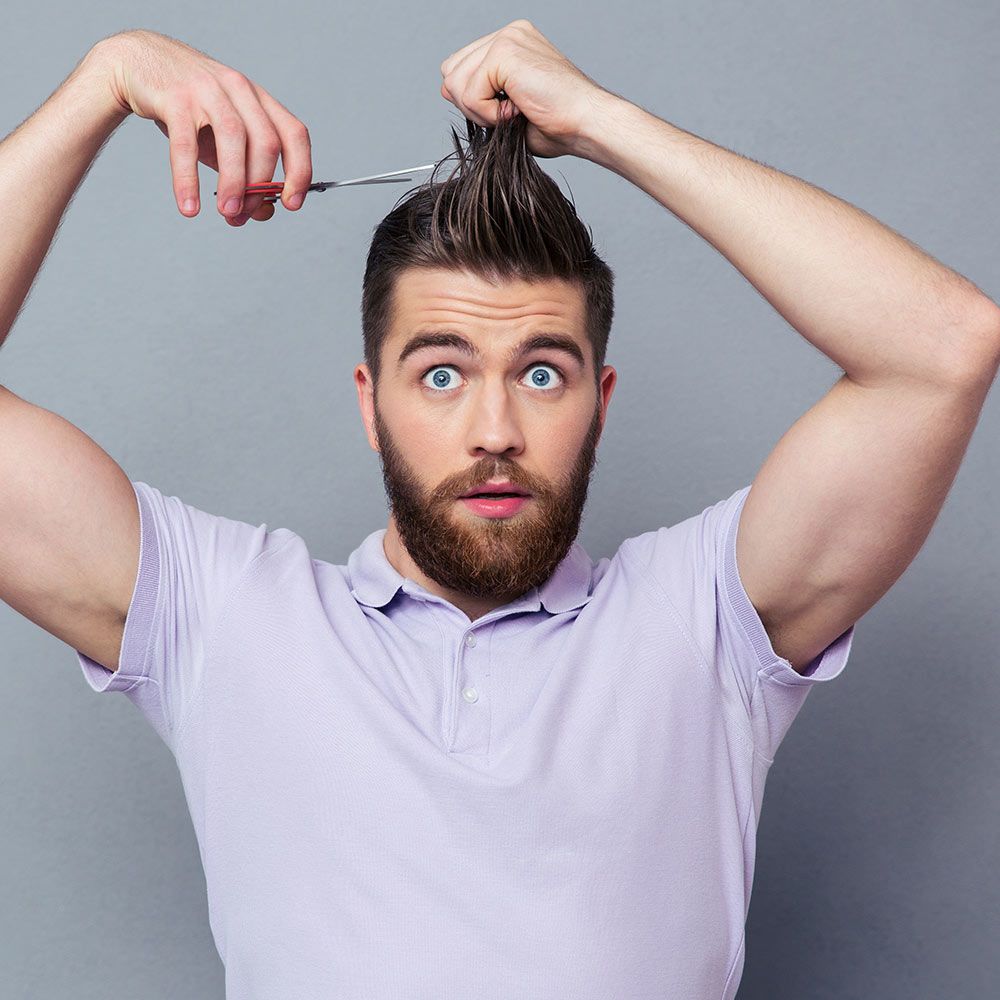 If you don't go out too often, messing up your haircut wouldn't be a disaster for you. And in case you want your hair to be safe and sound after your first at-home cutting session, these tips will keep you away from big mistakes.
Find the right clippers for your hair. If you don't have electric clippers yet, do a little research to find a tool that suits your cutting and styling needs, as well as works for your hair type. There are thick and dense textures like curly and kinky hair that may need a special set.
Work with a hand mirror. You should see what you're doing to your hair at the back and sides so as not to get yourself a blunt buzz, and a dual-mirror setup with a hand mirror behind you is irreplaceable here.
Consider your haircut. The first thing you should think of is how you want to cut your hair. Will it be a brand new cut or you just want to slightly trim what your barber gave to you? This will help you decide what tools you will need.
Set up your tools beforehand. Once you decide what your self-cut will look like, prepare everything you need. Set up the clippers at the preferable length and choose the guards that you will use while cutting. Just ensure everything is at hand before you cut your hair.
Cut your hair in the bathroom. Bathrooms usually have the best lighting, and you need a well-lit room for your experiments. Besides, it's easier to clean things up when you have a shower to rinse stray hairs within easy reach.
Undoubtedly, if you visit your barber for a haircut update, you will leave his chair with perfectly clean and well-tended trim. Nevertheless, it doesn't mean you can't give yourself a decent haircut at home, not to mention how much money you can save in this way. Today, you've gone through an ultimate guide on how to cut your own hair short men could ever find these days. Now that you know the basics, why don't you try skipping one appointment and see what your hands can do? Who knows, maybe you will make it a part of your routine.
FAQ: How To Cut Your Own Hair Men
Is it easy to cut your own hair male?
There is nothing complicated about cutting your own hair at home with the correct tools and a little practice. Working from the sides to the back and top of your head, trim your hair carefully with styling scissors or a pair of clippers. You'll be rocking a sleek and elegant "do in no time" hairstyle if you have patience and concentration.
Why you should never cut your hair?
Some hair experts believe that by not trimming your hair you are rather endangering its length instead of letting it grow. When those split ends move your hair up, they finally break it off higher, making your hair shorter.
REFERENCES:
Here are 7 tips you need to know to cut your own hair at home. Source