Crew Cut Hair Ideas For Self-Confident Men
A crew cut is a look that is sharp, clean, and all-time. This haircut was named after the crew from Ivy League. The members of rowing teams kept their hair off eyes this way.
ADVERTISEMENT ‧ CONTINUE READING BELOW
Such mens haircuts were also called short pompadour. Sometimes people confuse this haircut with a butch haircut, but they are a bit different.
The hit among mens hairstyles, a crew haircut is shorter around its back and sides, tapered or faded into a slightly longer top.
French Crop Crew Cut
Source: hayden_cassidy via Instagram, joeltorresstyle via Instagram, z_ramsey via Instagram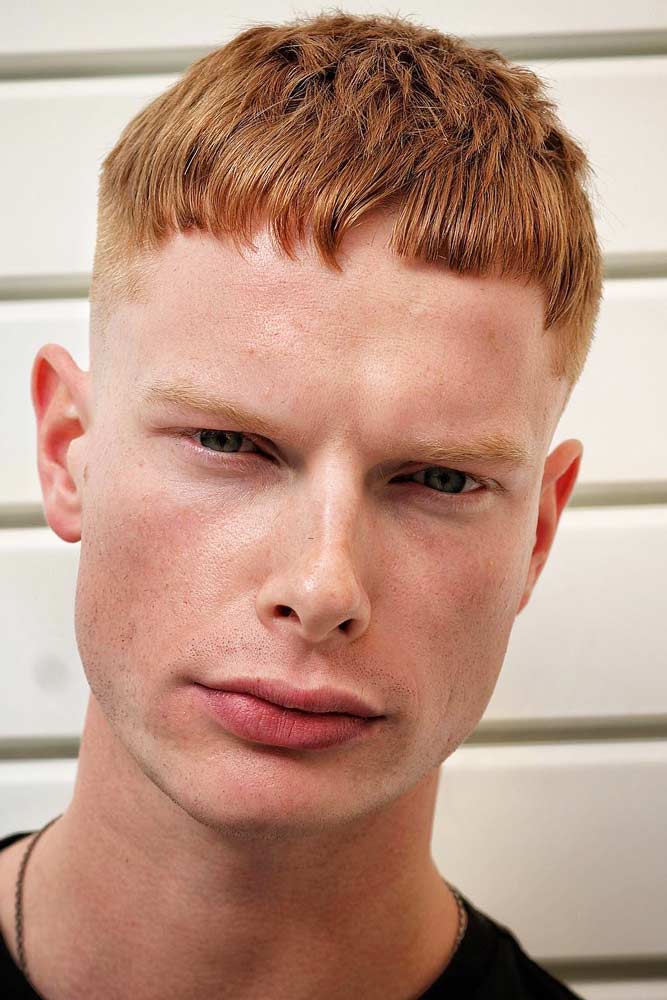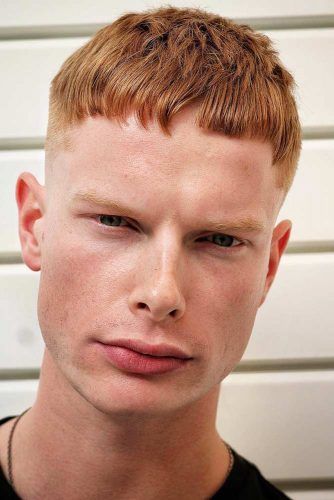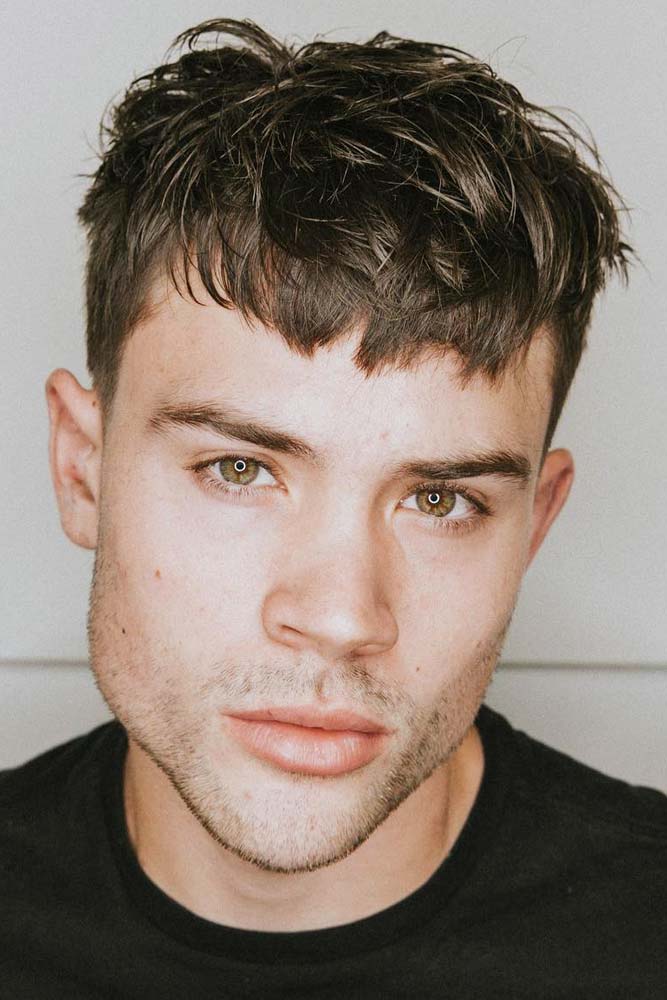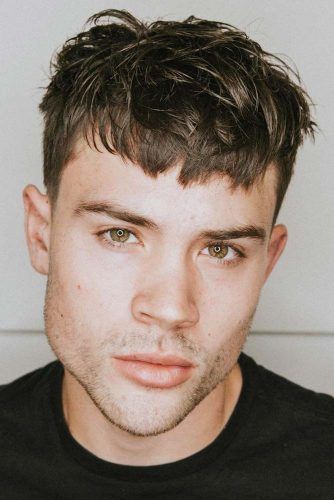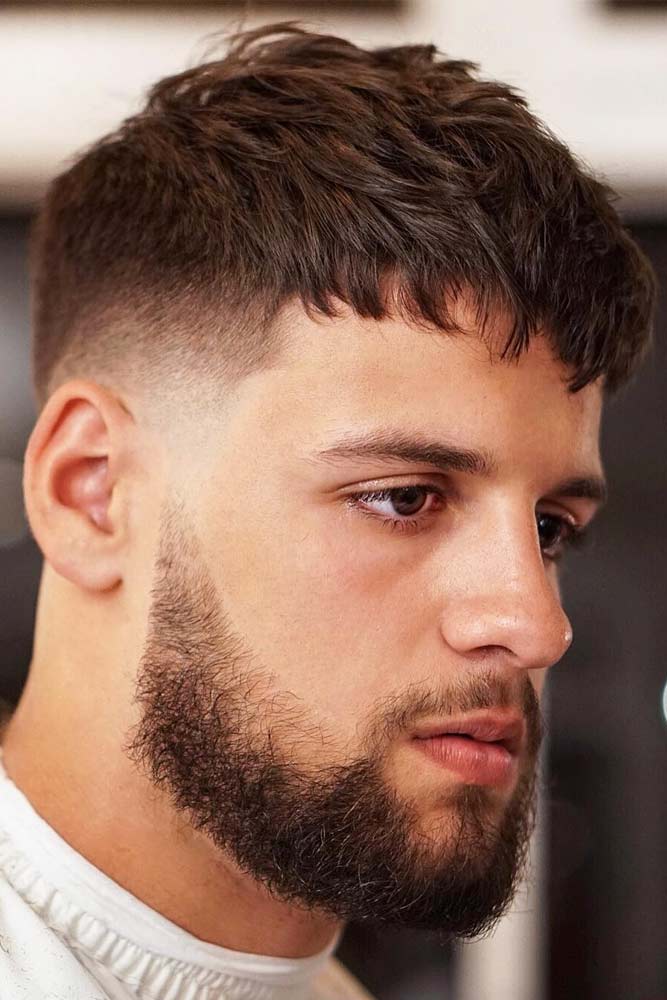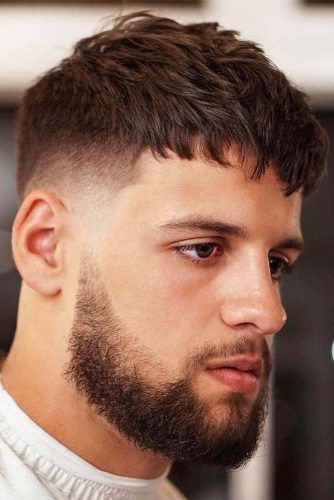 Technically, the haircuts you can observe here are French crop. By the way, the popularity of a French crop increases with every season. This look can be styled easily by experimenting with different textures and styling products. For example, one French crop can have various textured finishes, which means you will never get bored with it. Use a lightweight mousse if you want to create a carefree messy look and make sure to have good firm clays for styling spikes or creating sleek styles.
Apart from styling, you can customize the structure of the cut, enhancing the movement in hair with layers and feathers. Also, don't forget about a fade, as it's a nice finishing touch to all men's haircuts. Paired with a fade you like the most, your French crop crew cut will look its best.
ADVERTISEMENT ‧ CONTINUE READING BELOW
Brushed Up And Back Crew Cut
Source: z_ramsey via Instagram, napolesbarbershop via Instagram, iisakkinummi via Instagram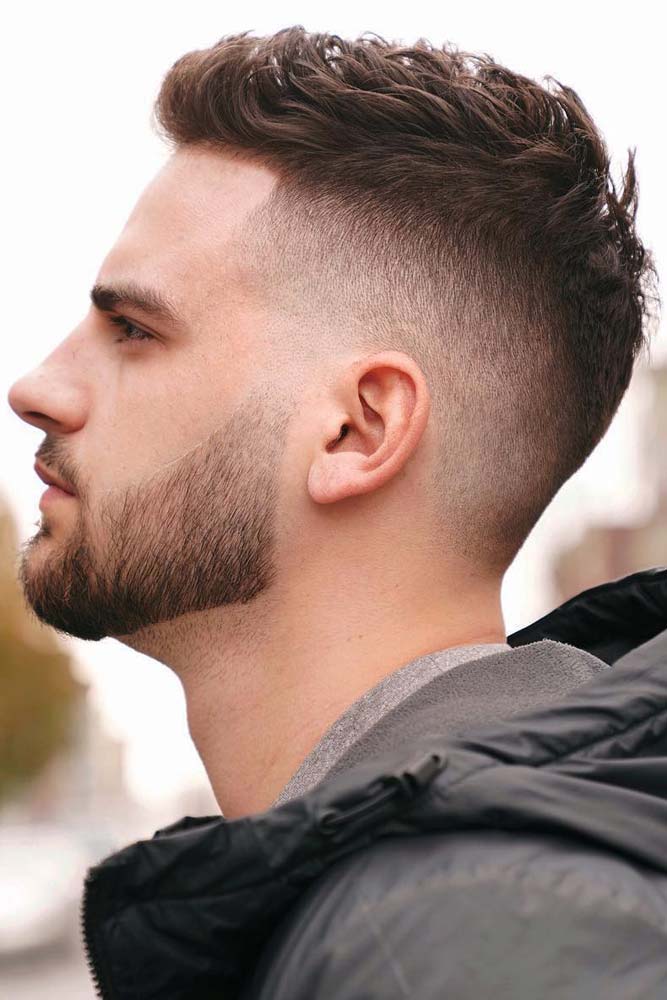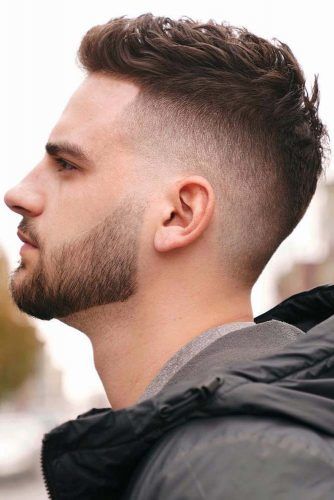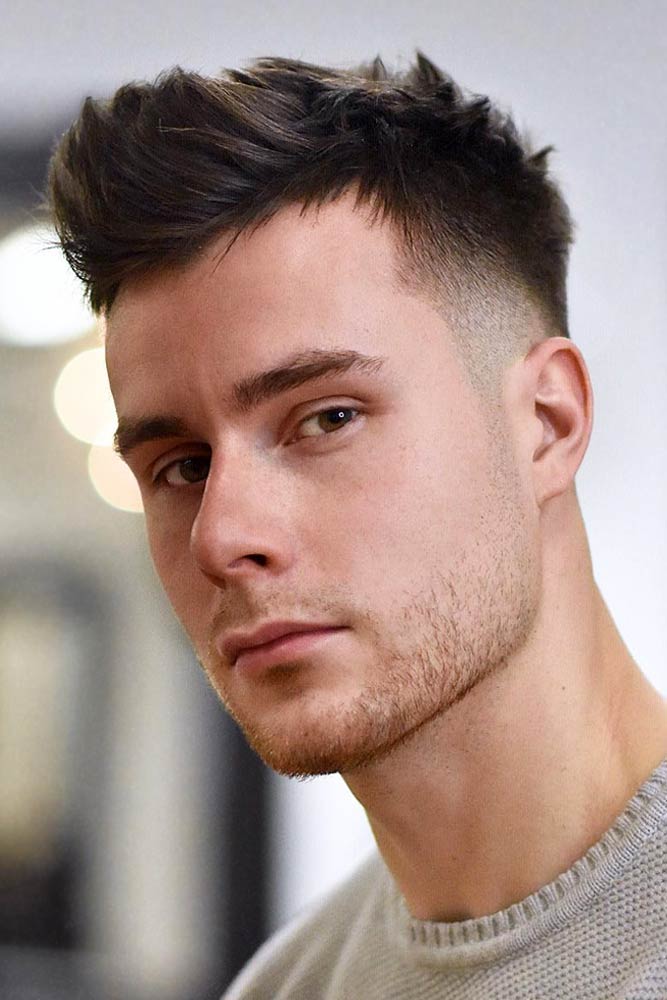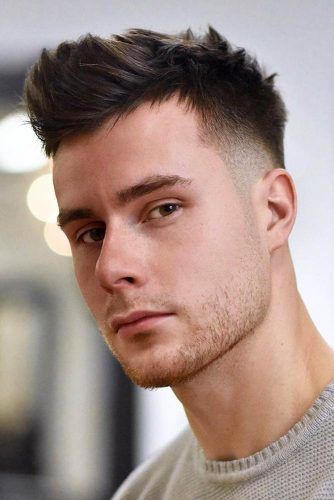 What is peculiar about this haircut is that this look always involves a beard. We love these looks because they are not difficult to maintain. Would you try one of these? Of course, if you're not into too much facial hair, you can rock this haircut as it is or finish it with a simple and outlined stubble. In fact, a brushed up silhouette is just a perfect match for those wearing beards, as it adds the needed height to create balance.
While there's nothing complicated about this hairstyle, you can take a creative approach to it and play with its variations. Depending on the product you work with, you can create a sleek, pointed, textured or disheveled finish for your brushed up look.
ADVERTISEMENT ‧ CONTINUE READING BELOW
Surgical Line Crew Haircut
Source: z_ramsey via Instagram, silvapeluquero via Instagram, javyloso via Instagram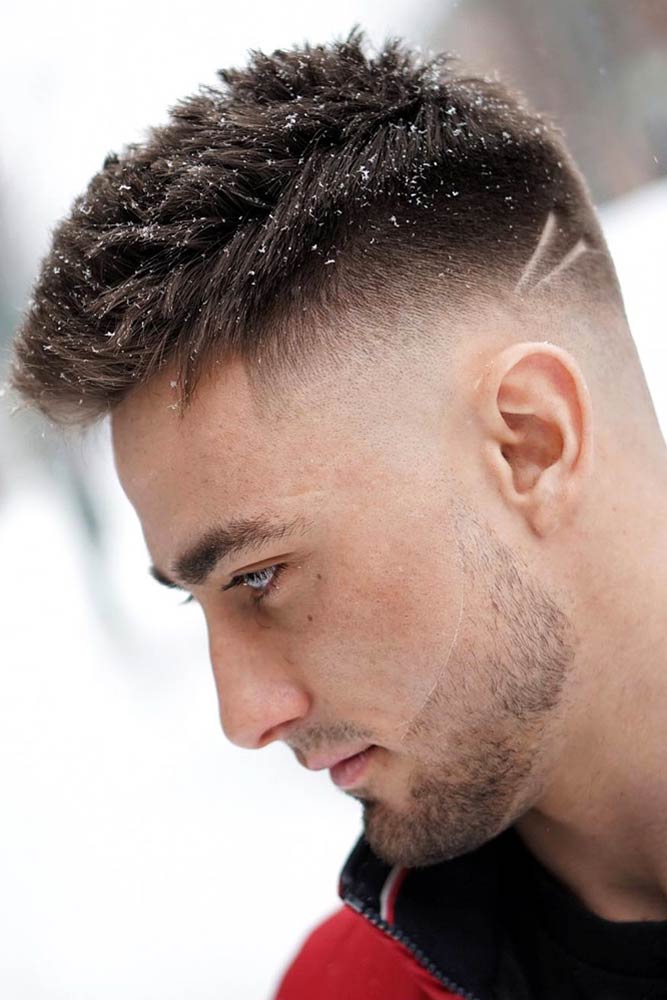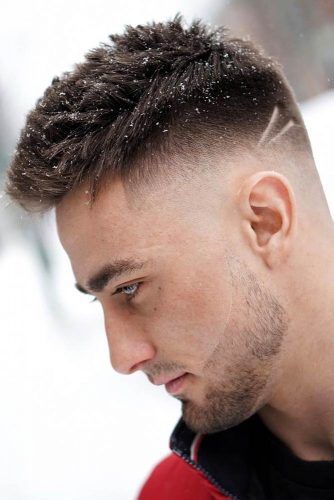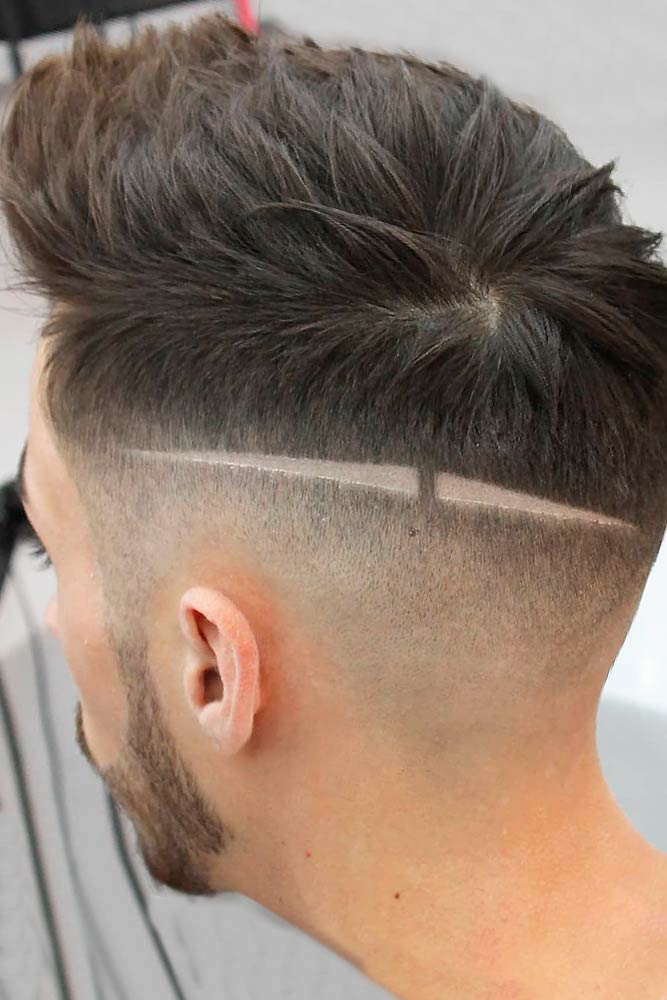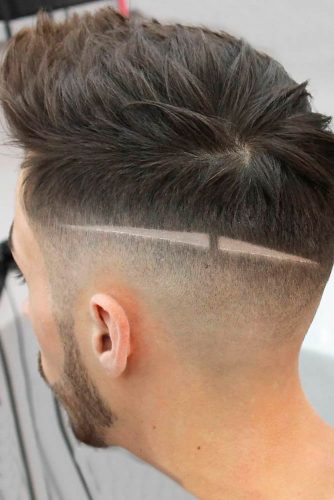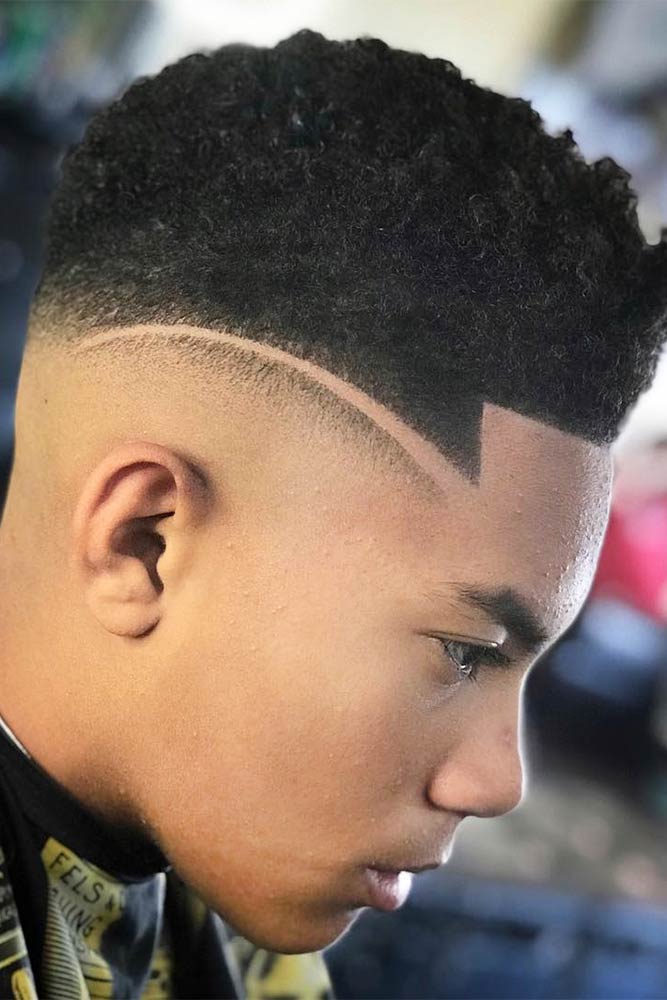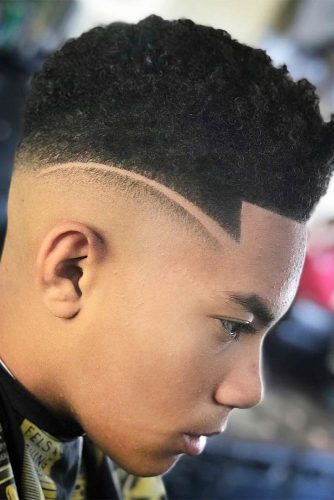 These haircuts are all trimmed and rather low. And it is quite interesting how these haircuts draw the attention towards the front. We also like that they look up-to-date. As a matter of fact, shaved lines are pretty simple, yet significant details that actually add a lot of character to a man's haircut. The best thing is, your crew hair look can feature this modern element wherever you want, from the sides to the temples.
If you have a very thick texture with an unmanageable hair pattern, you can feed two birds with one scone by getting a shaved line along your parting line. In this way, you will not only shave off a precise and sharp side part for your crew cut but also add more individuality to your look.
ADVERTISEMENT ‧ CONTINUE READING BELOW
Crew Cut With A Beard
Source: clipperkillah via Instagram, ericbandholz via Instagram, napolesbarbershop via Instagram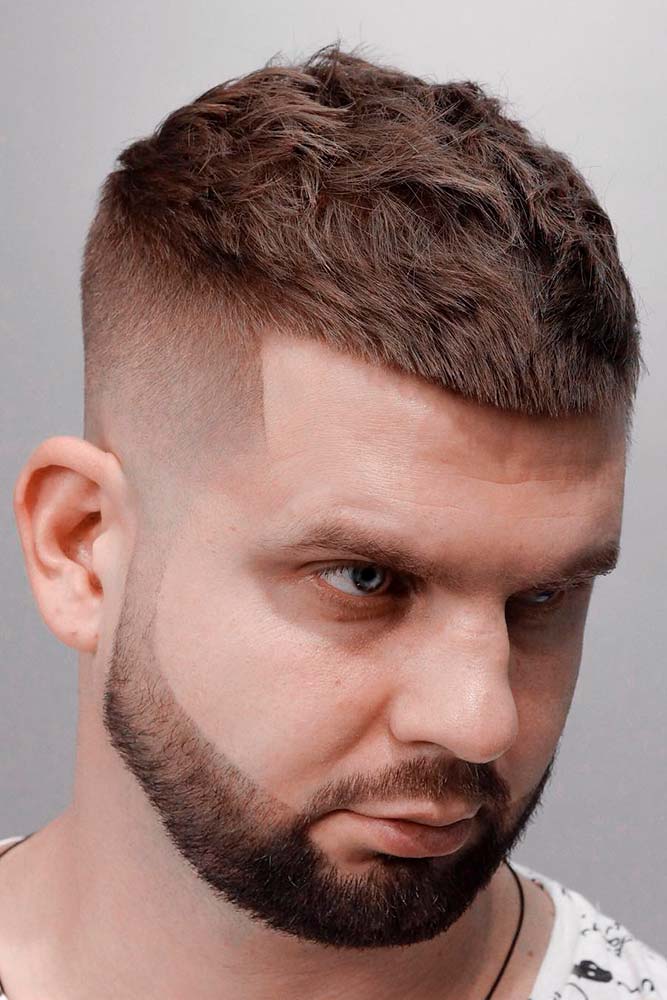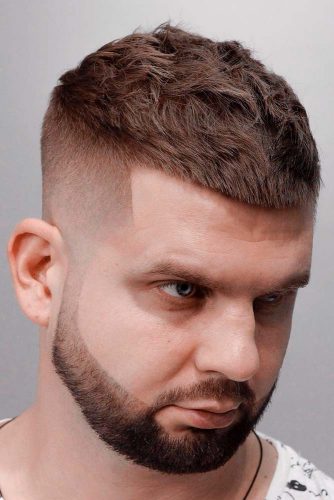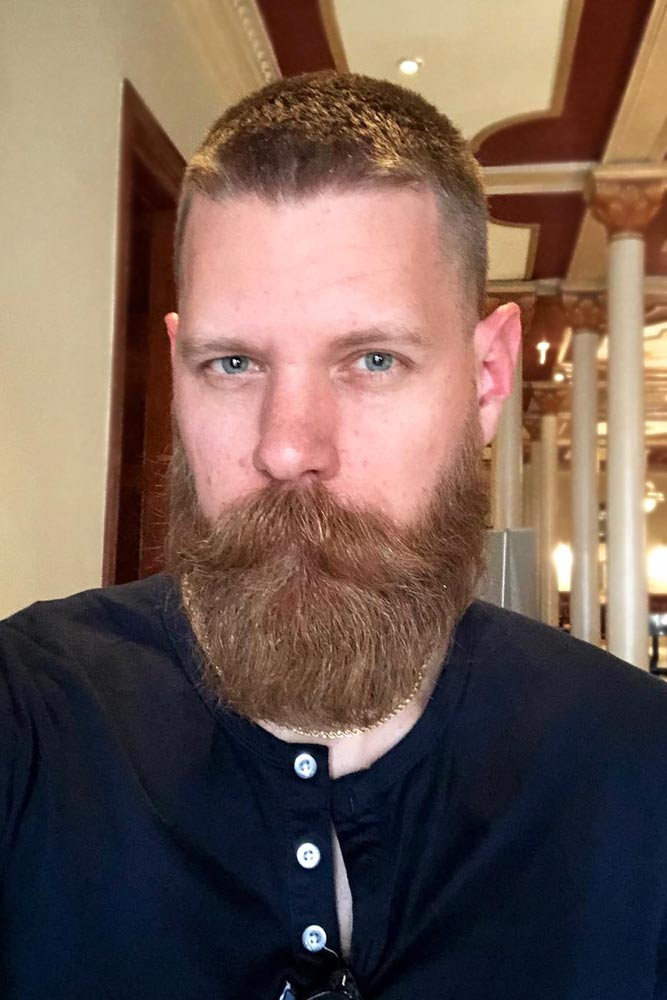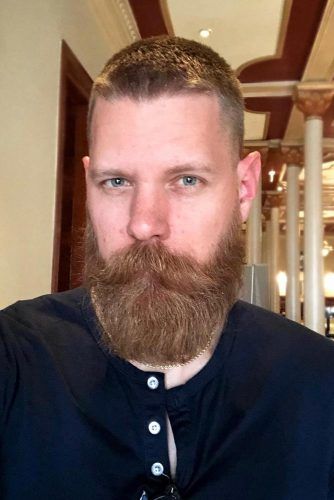 These crew haircuts are very versatile, in our opinion. Truly, you can style such a haircut in different ways, depending on your preferences. Wax and pomade will help you. There are so many awesome beards, as well as countless variations of crew cut, that that there's no way you won't find a look to your liking. Since the haircut is very straightforward, you can always amp it up with fades and tapers to connect it with your facial hair.
Whether you prefer big and bushy beards resembling the spirit of Vikings or you like to keep things as simple and smart as possible, you will find this cut a nice base for your beardo look. For the best results, make sure to keep up with the balance: with full beards, it's better to wear short, well-leveled cuts. And for medium beards or stubbles, add more height with the texture on top.
ADVERTISEMENT ‧ CONTINUE READING BELOW
Classic Crew Cut
Source: silvapeluquero via Instagram, z_ramsey via Instagram, birdcobarbers via Instagram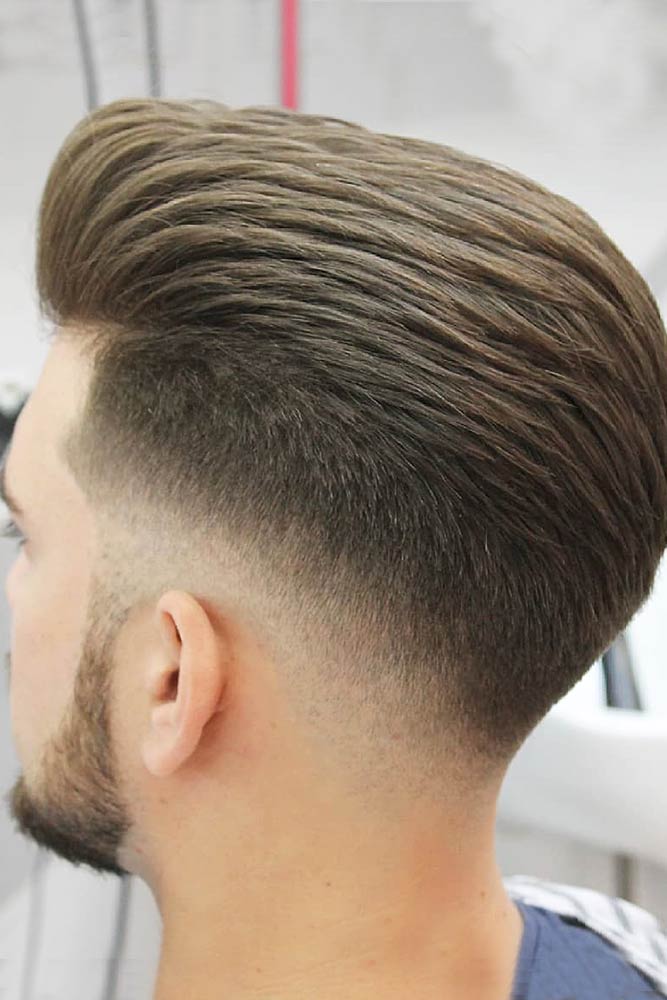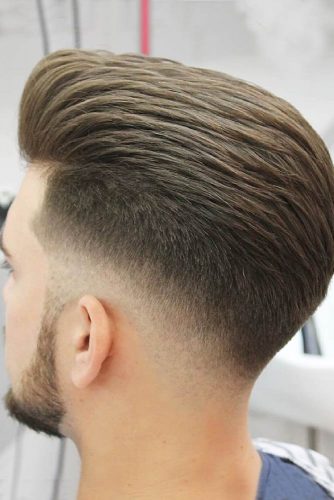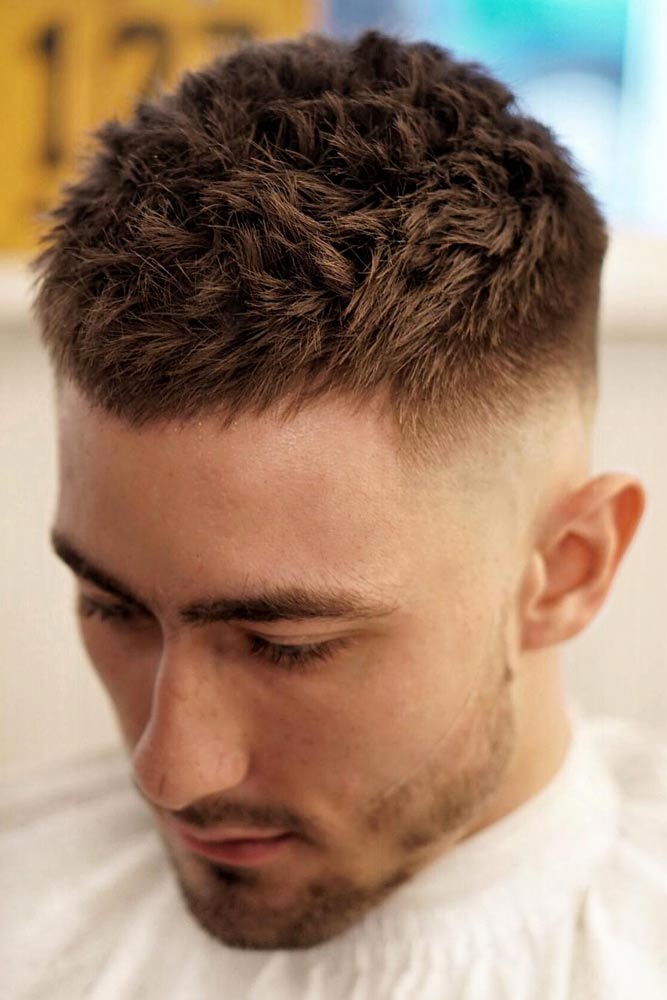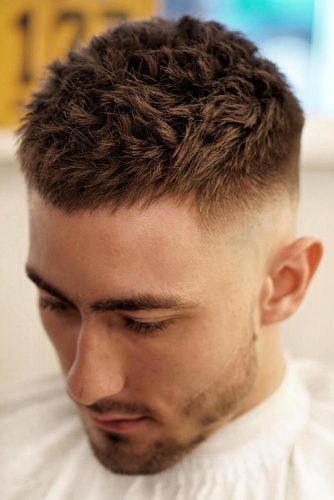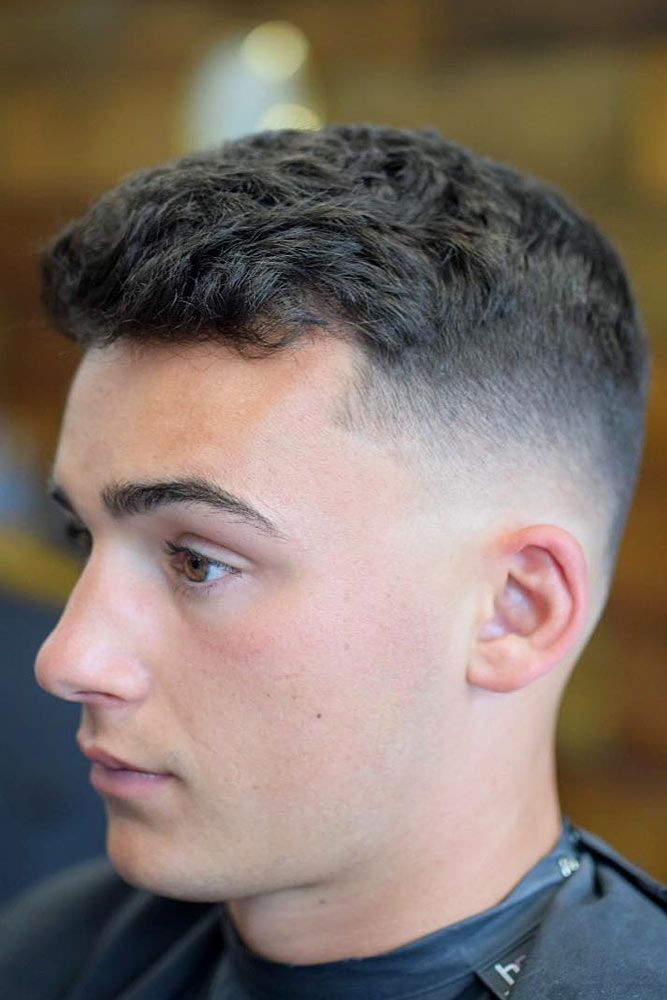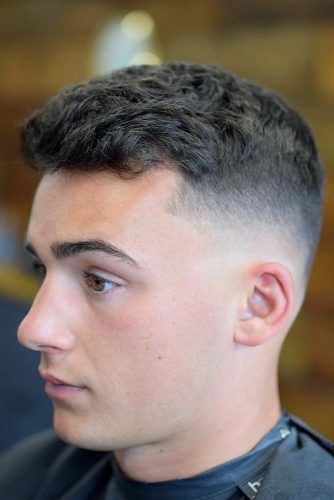 These crew haircuts are classic. We like that these haircuts are manageable and also appropriate for any occasion. If you are a professional, then such haircuts are for you! Not only do classic haircuts like these have an approach to all hair types but they also can fit any face shape. In other words, you won't ever go wrong picking one of them. Some crew cuts are short, clean, and edgy, whereas others are pretty full and voluminous. That means you can make this cut work for your personal style, as well as suit your individual features.
If you have a big forehead, you can draw attention from this feature by wearing a textured crop that falls as a fringe. Men with wide cheekbones can balance out their looks with the help of a well-tapered short pompadour. The list of options is endless: just be creative when it comes to crew cuts!
Mid-Fade Crew Cut
Source: b.gutier via Instagram, nickvoronin via Instagram, tonyxbarber via Instagram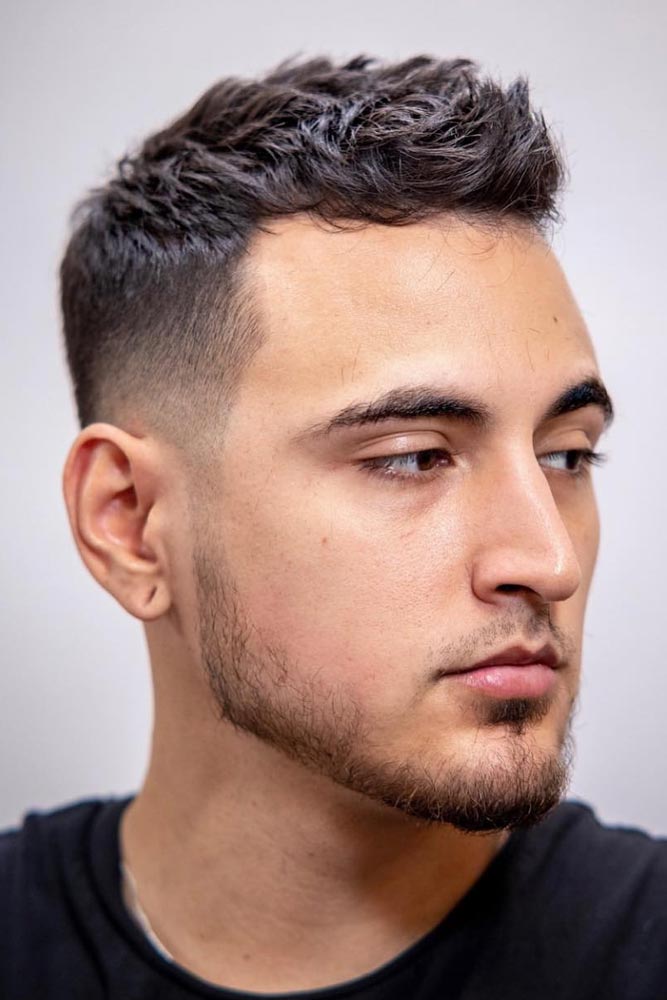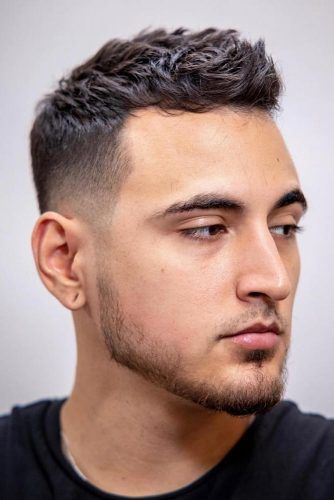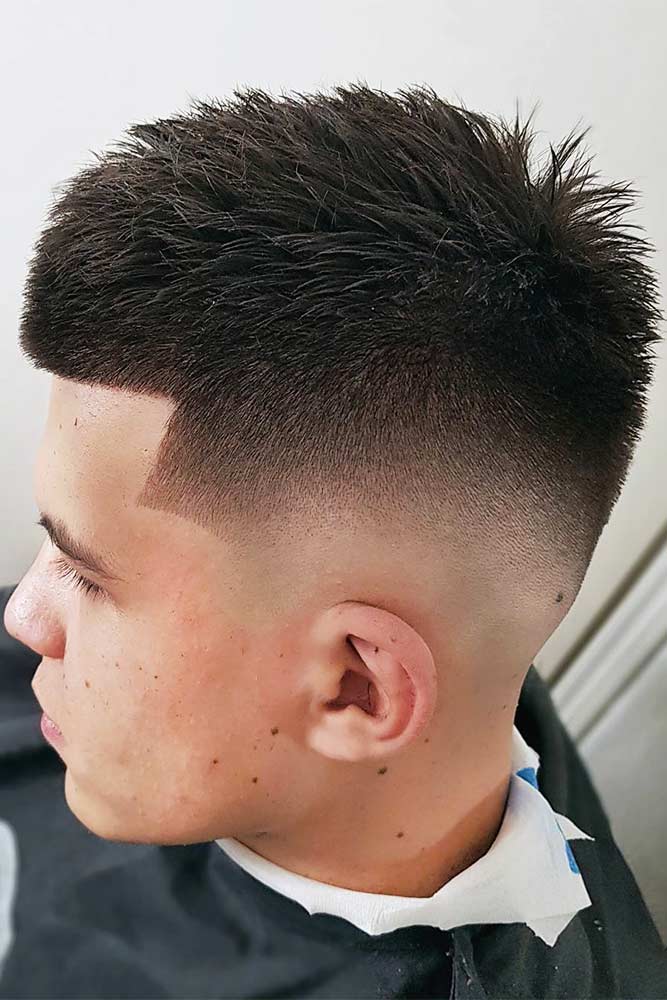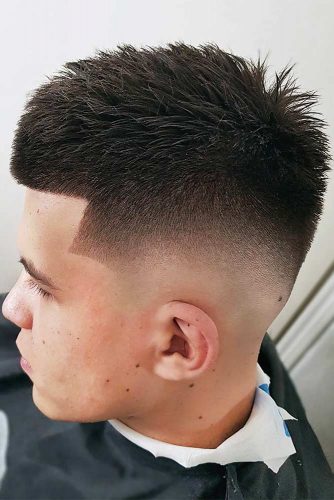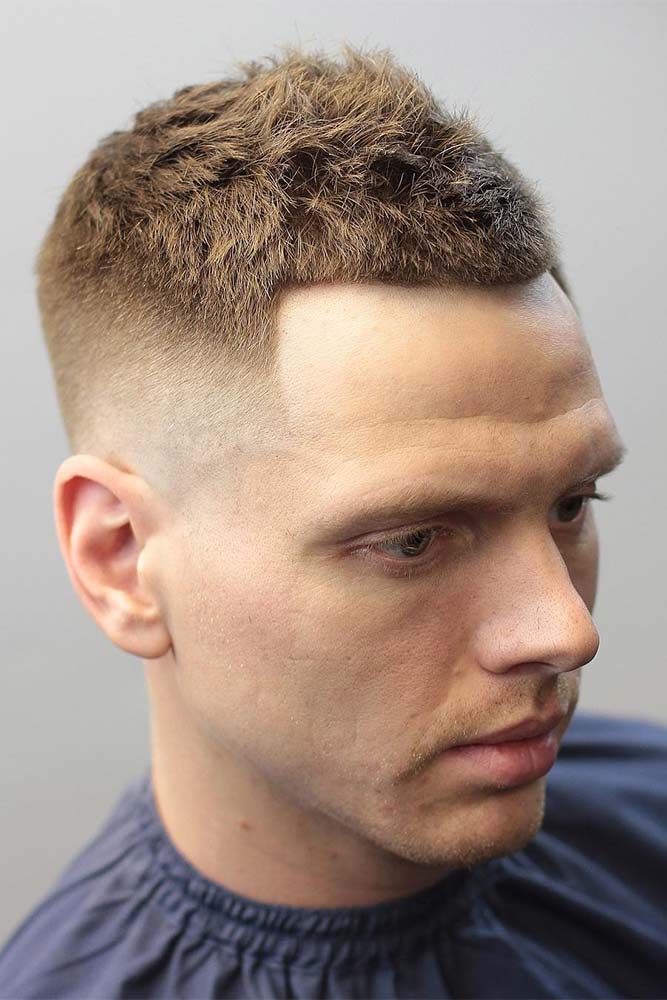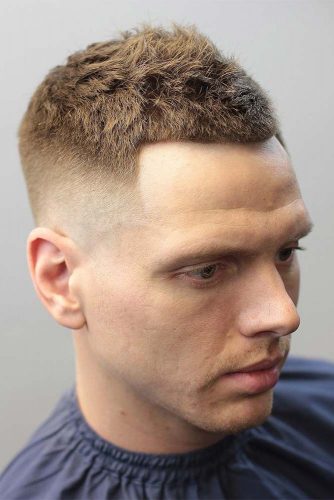 We find these looks super cool, and we can reassure you that anyone can pull them off. These haircuts can complement practically any head shape. Just ask your barber for this cut if you want to change your look for the better. A mid fade will keep your look neat and tidy, while the sharply chopped textured top will add a sense of modernity and masculinity to it. What makes these ideas so special is the perfectly outlined temples which make the look very clean and sophisticated.
No matter what hair type you have, this haircut can be done on anything from thin to super thick and curly hair. On top of that, men with thin hair can work on their hair type, balancing out the silhouette with lively and volumetric texture.
If you don't like to spend much time on styling your hair, you can ask your barber for a slightly textured finish that will show up once you dry your hair with a blow dryer or leave it air dry. As for men who love to keep control under their hair, a semi-shine gel is a must for everyday styling.
Side Swept Crew Cut
Source: napolesbarbershop via Instagram, lomas_thebarber via Instagram, lomas_thebarber via Instagram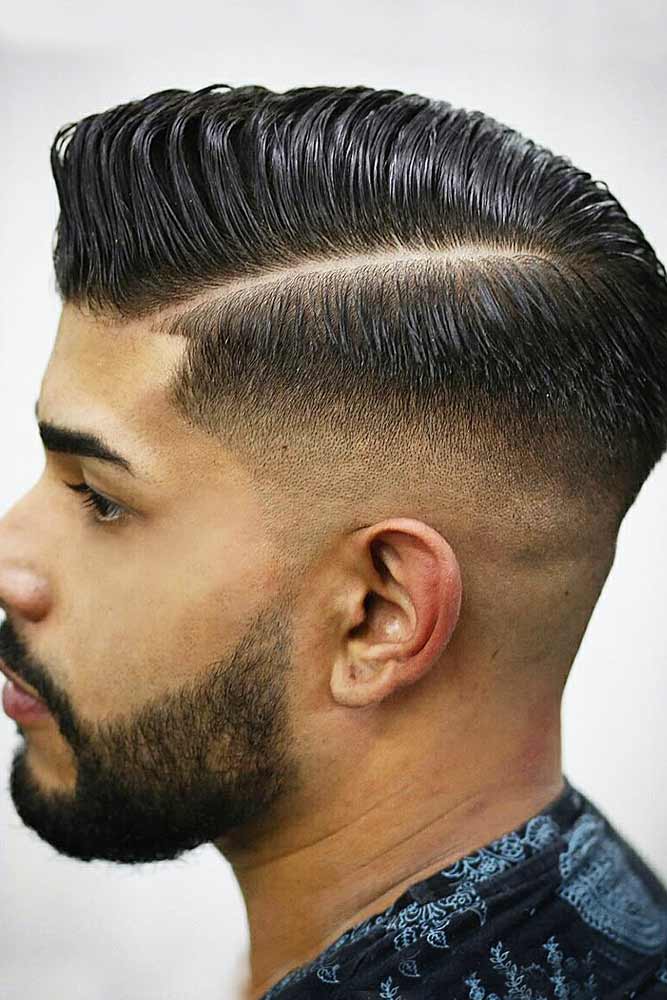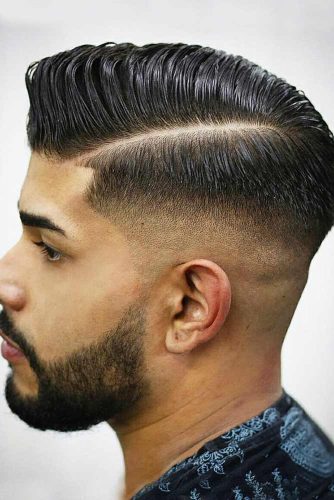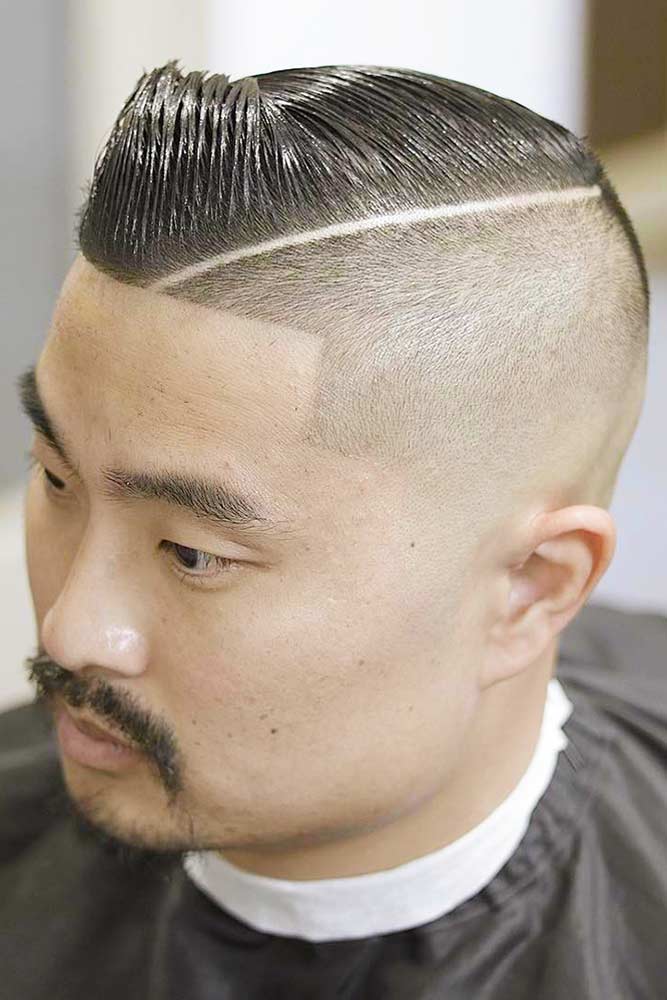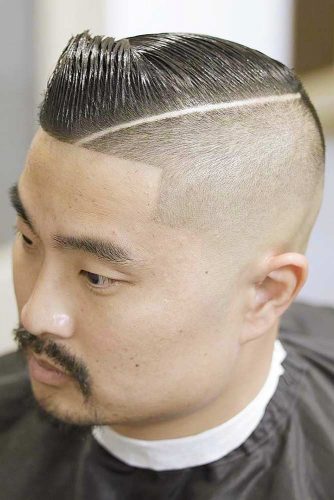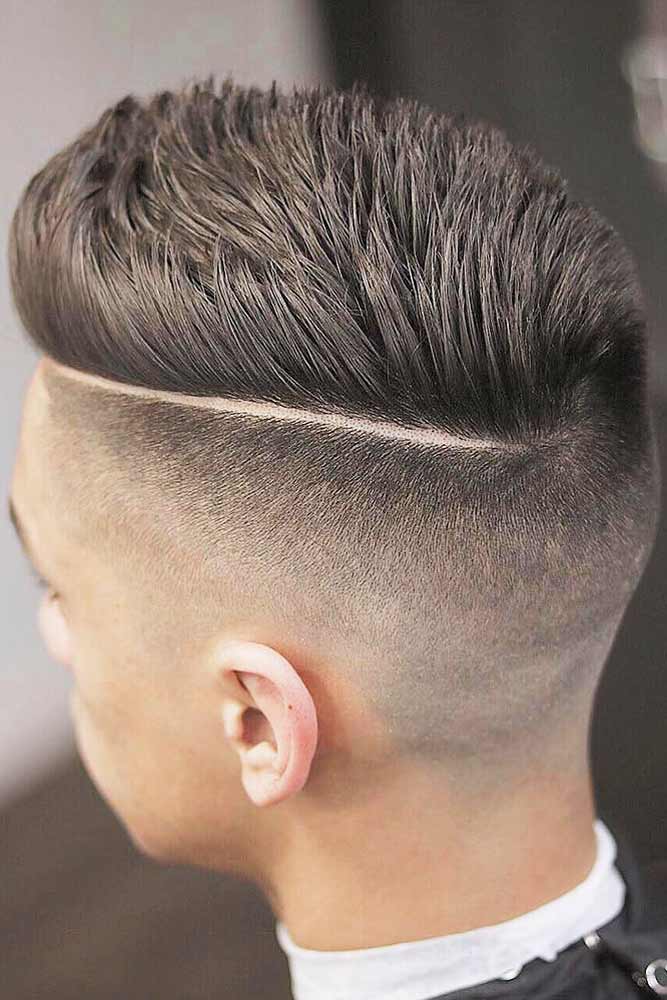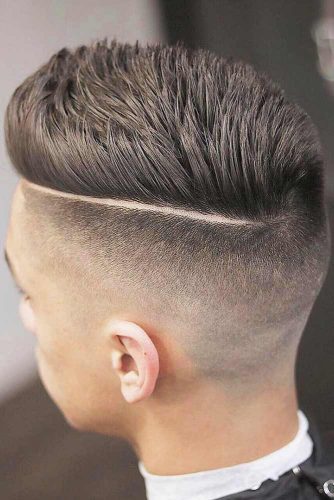 These haircuts will work great for men who are looking to add some casual and cool vibes to their image. They are low-maintenance and appropriate for all possible occasions. While side-swept and side-parted haircuts work well for both casual and official events, they offer a great canvas for styling creativity. Remember to ask your barber for a deep shaved side part so that your styling routine will be easy and comfortable.
When you have a shaved side part, you can easily turn your classy casual hairstyle into a red-carpet crowd-pleaser's look. Surely, it's all about the texture and the finish! For big events, nothing works better than shiny pomades that make the structure of your cut as precise as never before. As for regular daily styling, waxes will do the trick.
ADVERTISEMENT ‧ CONTINUE READING BELOW
Short Crew Cut
Source: envybarbers via Instagram, mattjbarbers via Instagram, kevinluchmun via Instagram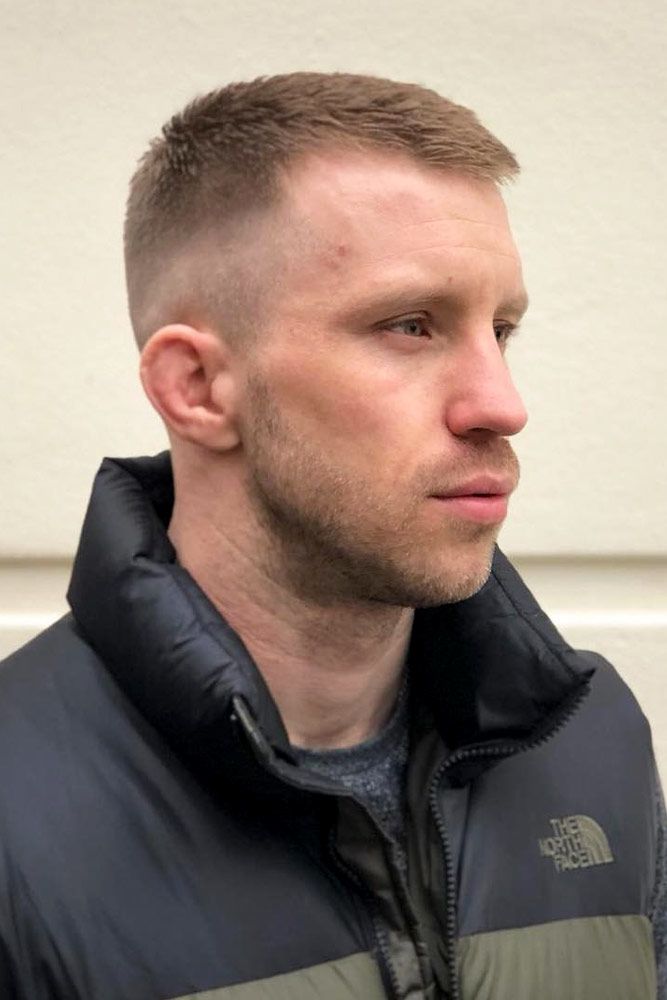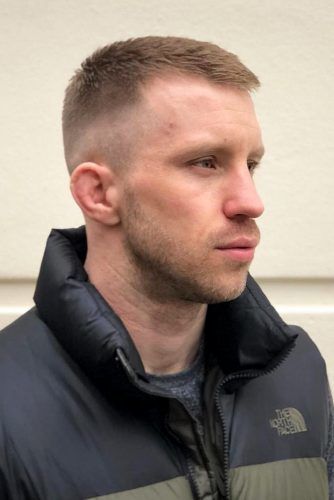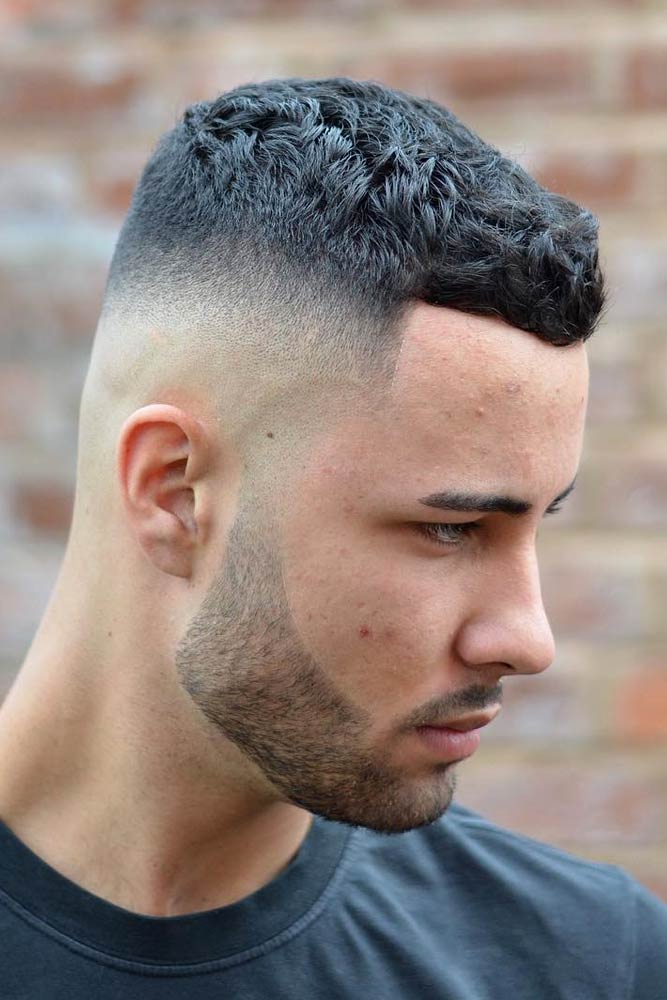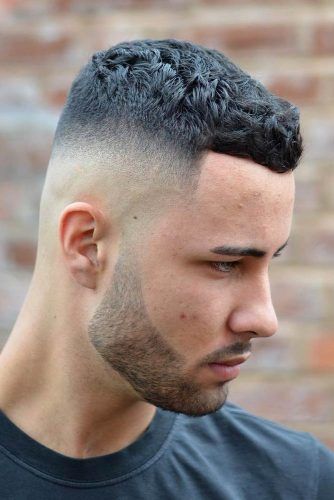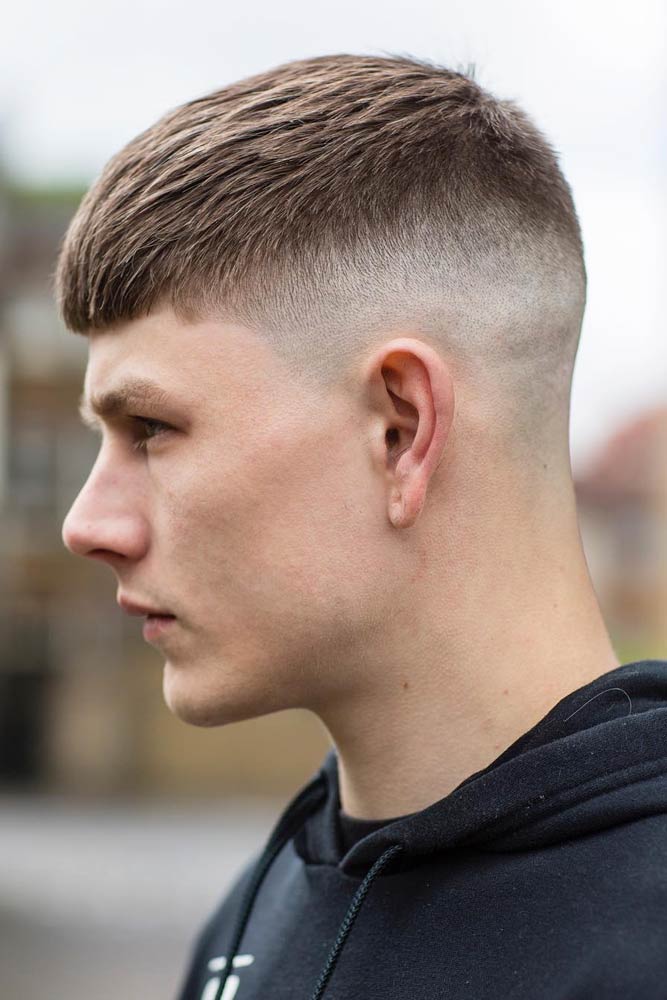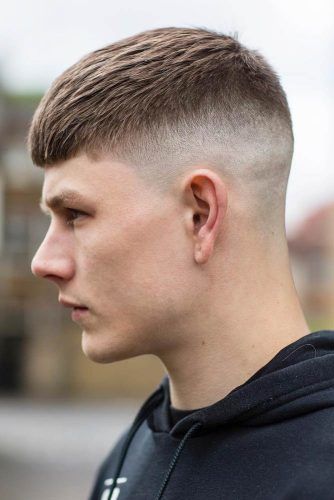 Some call it a short crew cut, and we call it striking simplicity in its purest form. It's simple because it's low-maintenance; it's striking for its unbelievable versatility. Such haircuts are meant to keep a wearer not only comfortable with his hair but also stylish and modern. They can adapt to any image, whether you're a businessman or a student. Plus, one can always make his short crew haircut unique and distinctive by choosing a fade that matches his face shape, hair type, and preferences.
Each crew cut you see here is an example of haircuts that have been tailored to men's individual needs. So if you ever think a crew is not for you, forget the moment when this thought crossed your mind, as you can always make this cut work for you.
By the way, you can bring a photo of the desired result and show it to your barber before he gets to cut your hair. In this way, you will create a clear picture of what you want to achieve and consult with your barber on how to make it absolutely suitable for you.
Tousled & Textured Crew Cut
Source: xbigwesx via Instagram, alan_beak via Instagram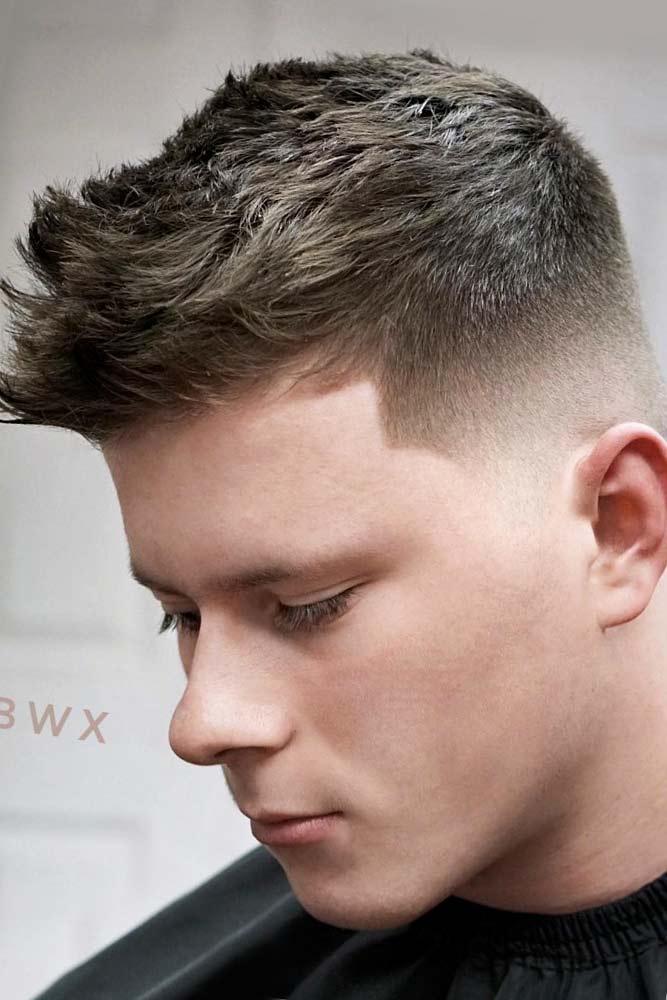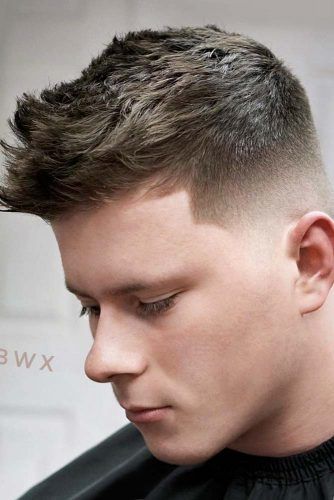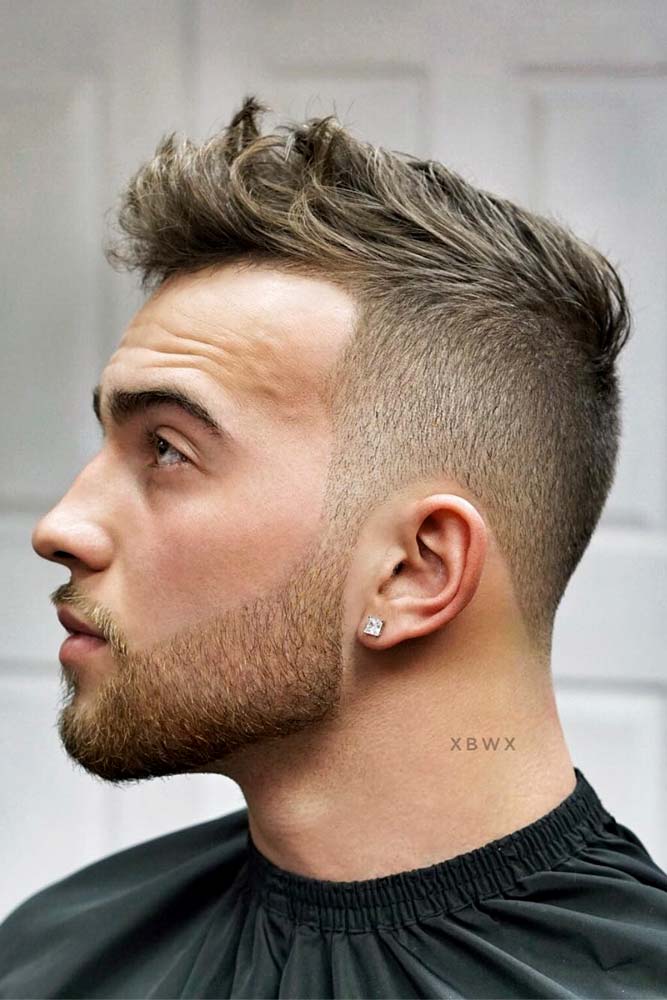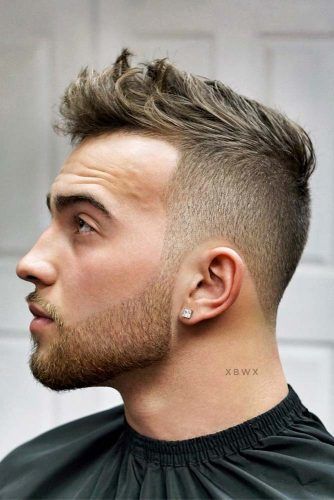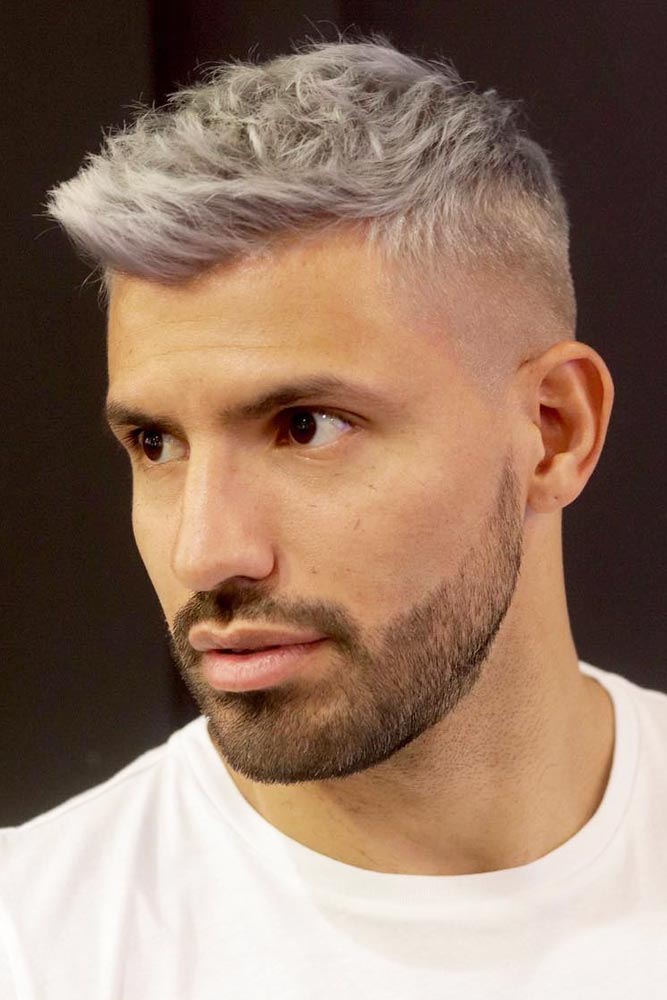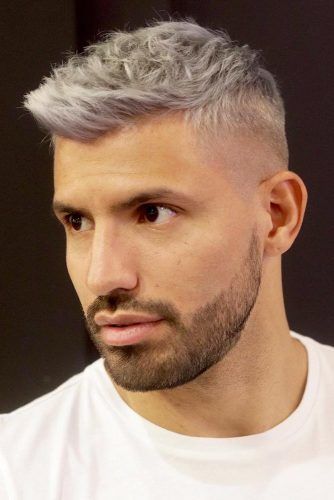 Although the good old crew cut may seem to be pretty restrained, it actually gives a lot of styling freedom at the top portion. While keeping the sides neat and clean, you can experiment with your top, playing around with textured and tousled finishes.
To make the popular messy styling easier, ask your barber for layers on the top. Layered hair is lightweight and manageable which allows for various styling ideas and holds the result in place all day long. You can get your edges layered for a slightly pointed spiky finish or spice up the whole mane with them for a more disheveled look.
The styling itself can be different, but there's one way you won't ever go wrong with: tousling with your fingers. Work the product into your mane and run your fingers through it until you achieve the desired shape. Whatever look you like the most, if you want it to stay with you through the day, don't forget to coat it with a finishing touch of a strong-hold product.
Curly Crew Cut
Source: alan_beak via Instagram, mattjbarbers via Instagram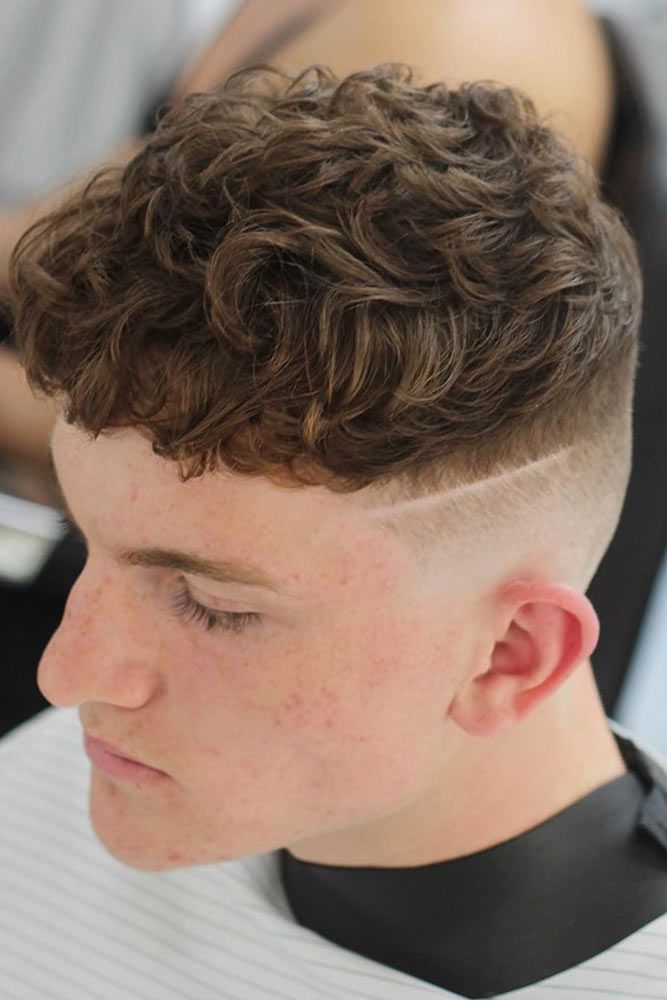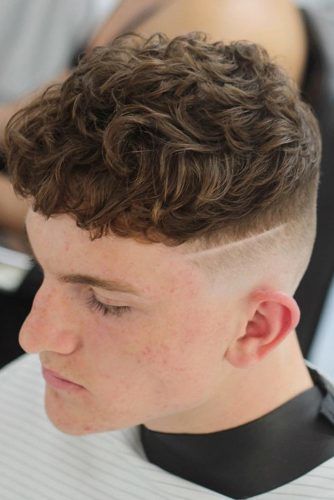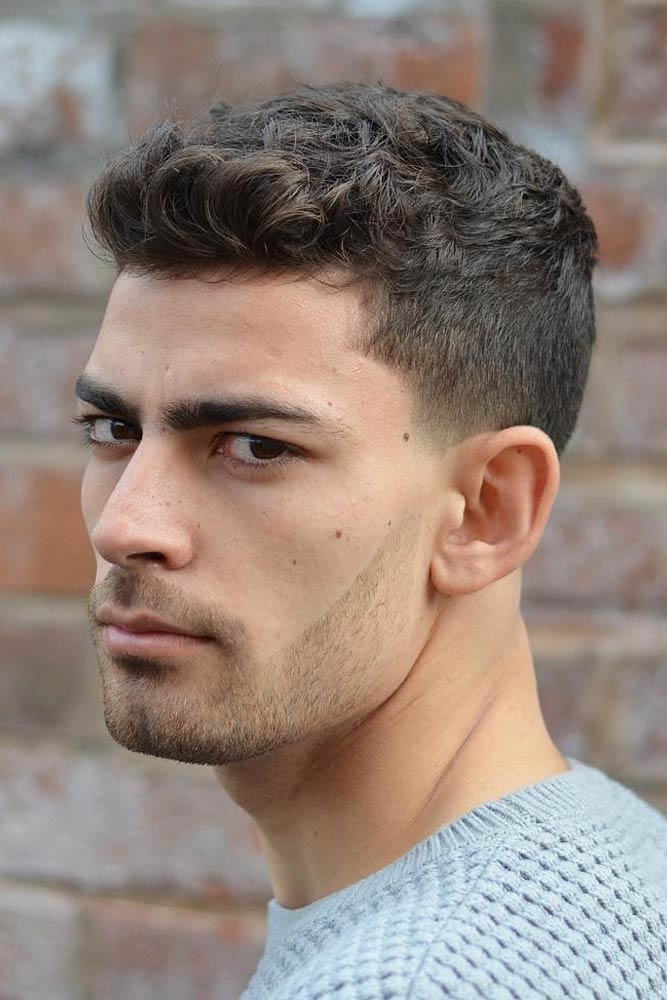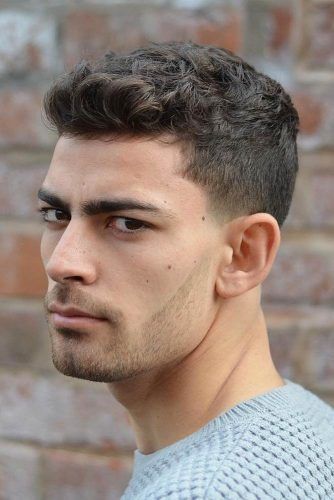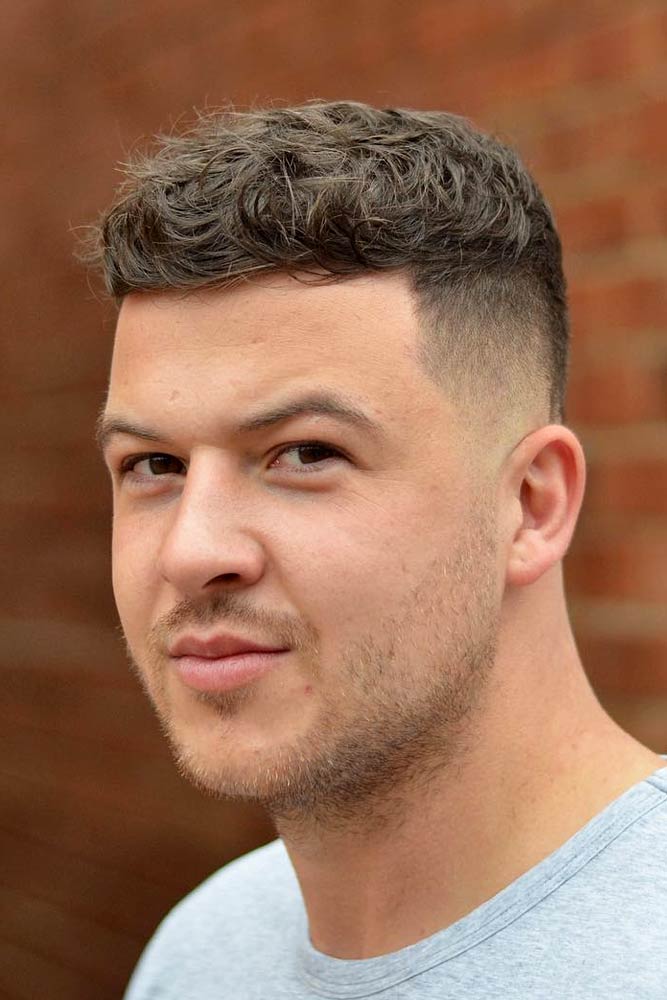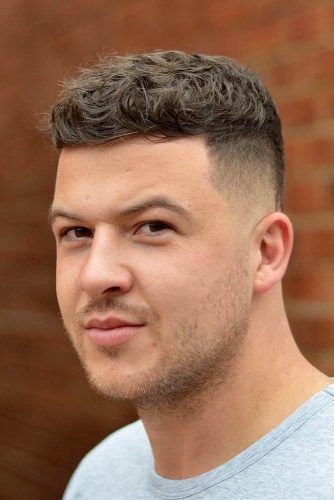 For men with curly hair, a crew cut is not just a stylish and modern haircut; it's their chance to tame those stubborn curls, whipping them into good shape. You can regulate the length of the top, as well as define your curls with various styling products to create a unique and striking look for your hair.
If your hair grows out fast, it's better to get the shortest variation of a crew cut to get the most of its low maintenance. Basically, the structure of this haircut keeps the curls away from the face even when they're long. So if you aim to have an authentic curly look, all you need to update is your taper or fade.
Also, if you feel that your curls are too heavy, you can go for layers throughout your curly mane. Besides giving you a lightweight texture, layers will make every single curl even more defined, revealing the curly pattern you never knew you had.
ADVERTISEMENT ‧ CONTINUE READING BELOW
Edgy Crew Cut
Source: alan_beak via Instagram, mattjbarbers via Instagram, z_ramsey via Instagram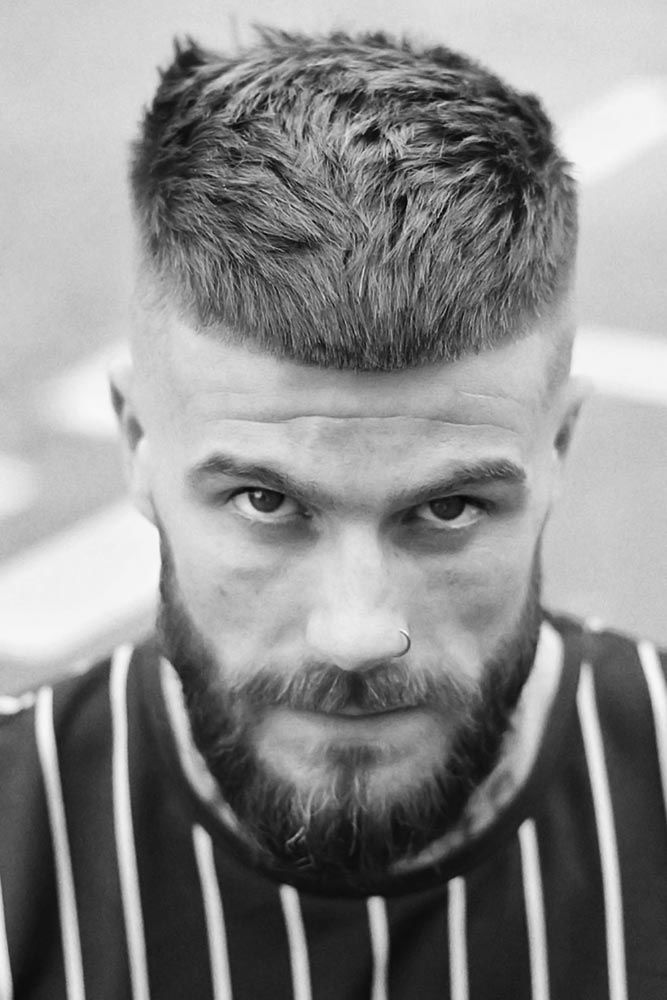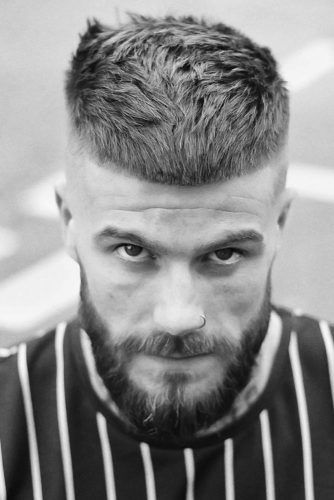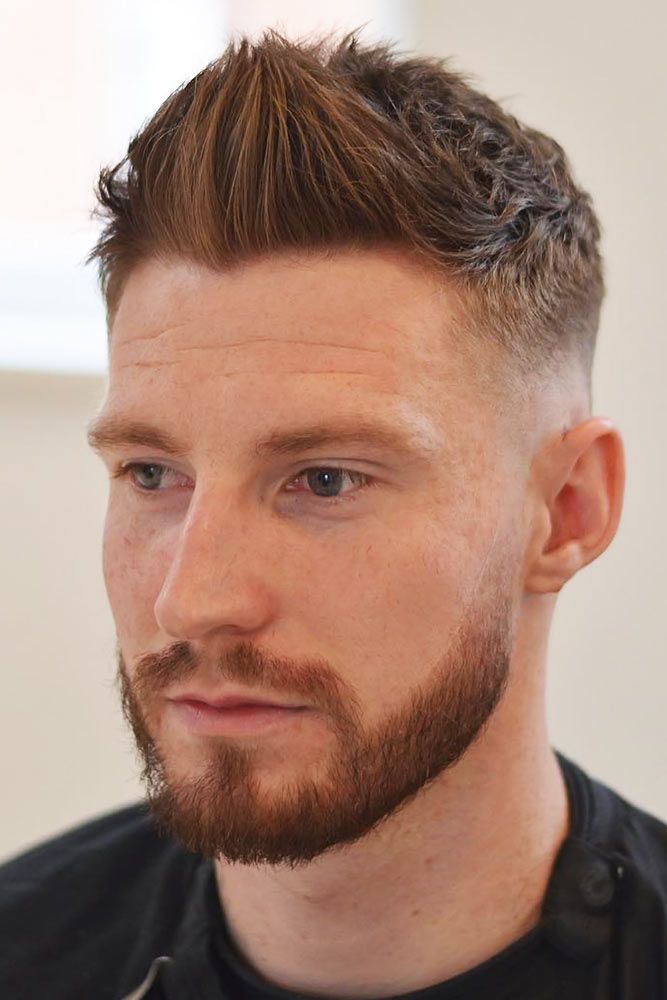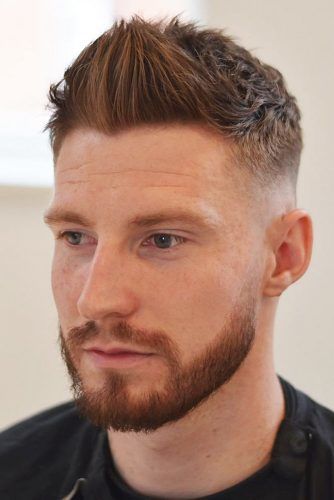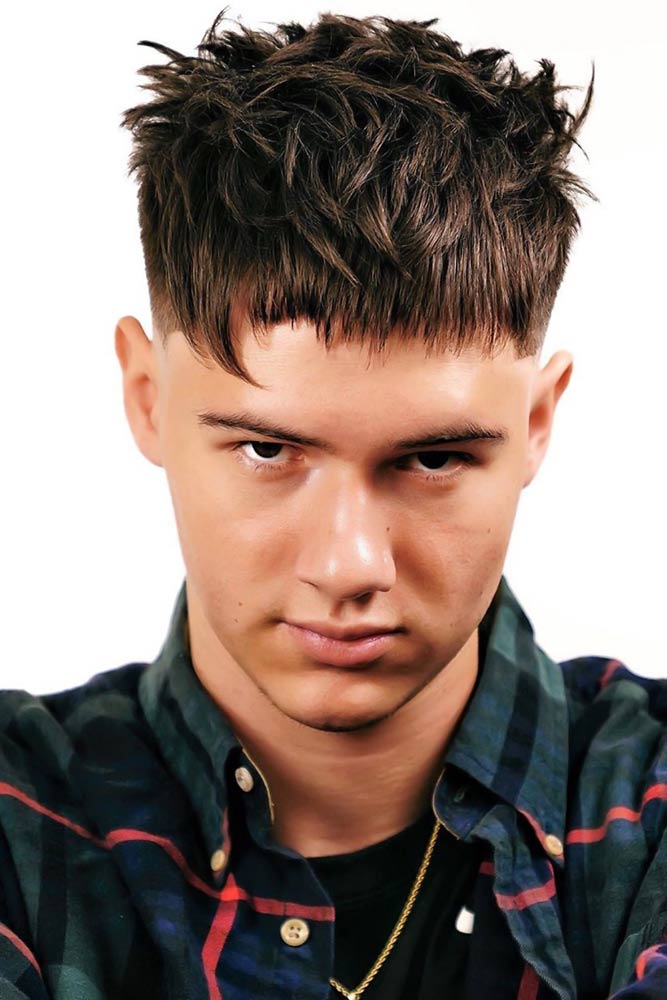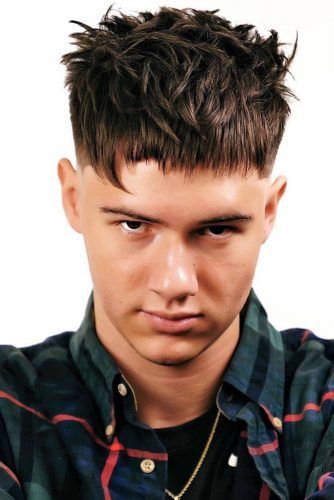 The crew haircut is as classic as it's edgy. We weren't joking when we told you that this haircut could be literally anything you want it to be. Needless to say, this facet of the good old crew cut is meant for men who want to showcase the rebelliousness bursting inside them. You can freshen up your look with a sense of freedom and still have a look that is appropriate for a modern man.
Of course, everything should start with a haircut. Tell your barber about the look you want to achieve so that he knows how to shape your texture. In general, sharp short layers and cropped feathers are the best way to add a bit of an edge to your hair. Once you get your cut, feel free to experiment with your styling products.
If you want every single layer to stand out, a firm clay or strong-hold pomade will be your best friend. For a relaxed, flowing look, anything from daily pomades to waxes will be just good.
Hard Parted Crew Cut
Source: alan_beak via Instagram, mattjbarbers via Instagram, napolesbarbershop via Instagram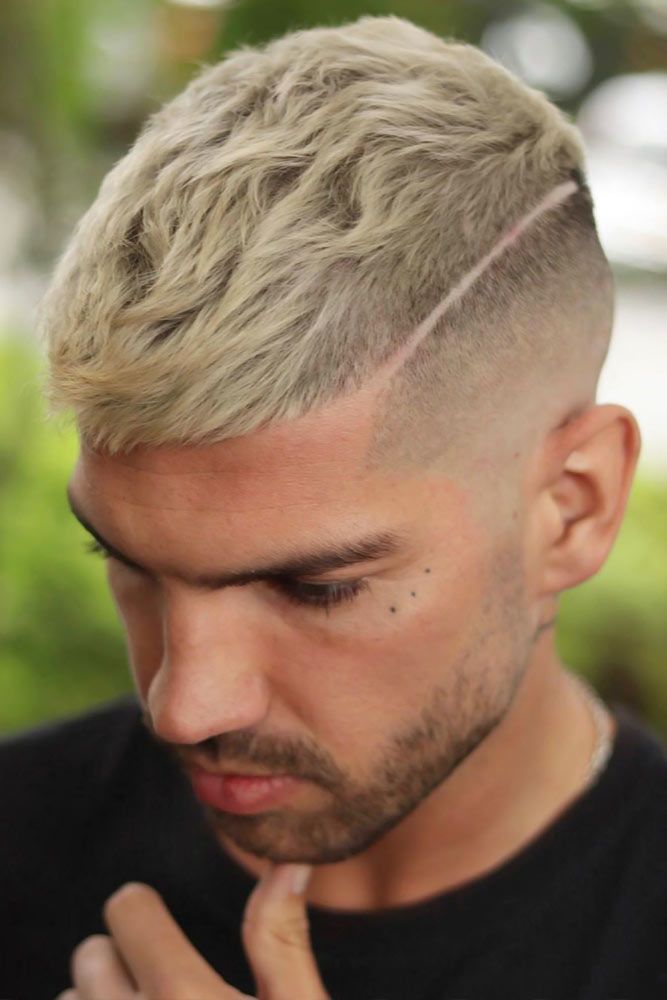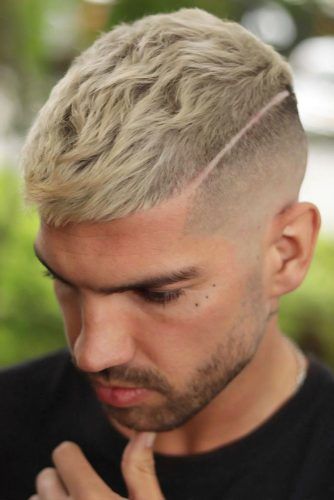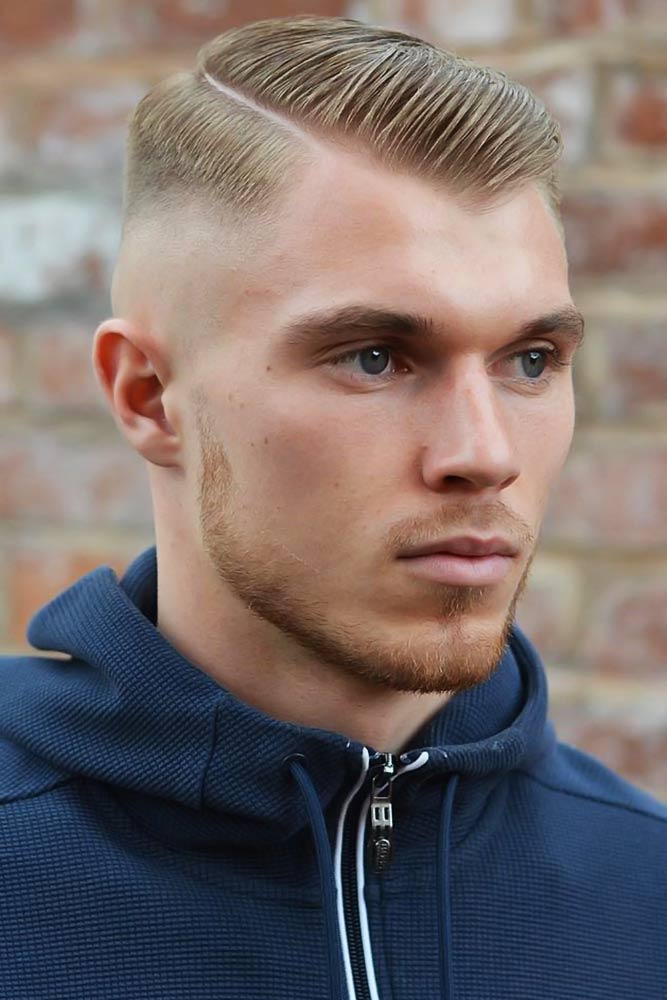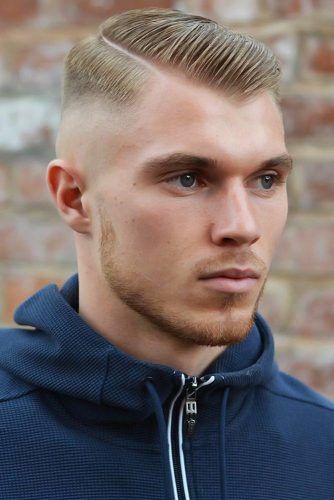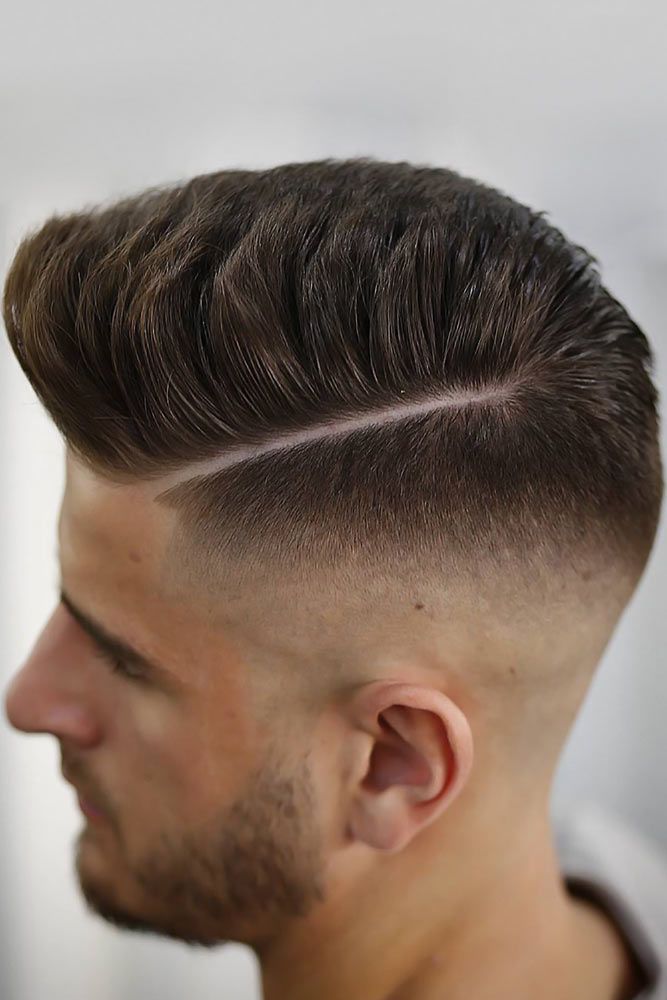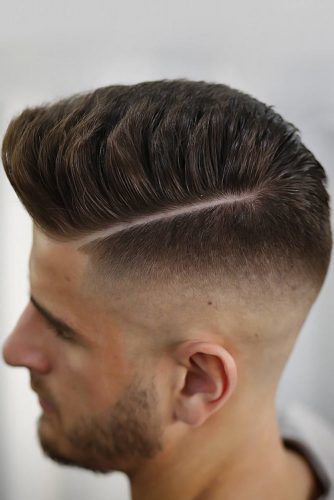 Another set of fantastic looks you can achieve with a hard part. Well, that's actually another reason for you to get it! Once you get a part shaved in the barbershop, you will forget about those torturous hours of trying to tame your stubborn hair into a decent part. It doesn't only shorten the styling time but it also gives a very outlined and clean finish to all hairstyles possible.
Be it a pompadour, brushed back crew cut, or a sophisticated side-parted look, a hard part is what will be the highlight of your hairstyle. Keep in mind that while adding a lot of ease to your styling routine, this element will need trimming on a regular basis.
Since you want the cut to keep its striking appearance, update it every time you notice hairs start growing out. To accentuate the super defined look of hard parted crew cuts, pair them with a fade that suits your style best and get it trimmed with the part.
ADVERTISEMENT ‧ CONTINUE READING BELOW