It's no secret that a big forehead may seem like a whole disaster for us, especially when we play around with new hairstyles for face shapes or take some selfies. In most situations, we end up crying about our broad foreheads and half-bald looks. But who says that such trouble will last forever?
Every face shape requires an individual approach, and those with prominent foreheads aren't left without a helping hand. We've prepared for you a stylish compilation of the right hairstyles and cuts that will make your forehead appear more attractive. It's time to get the most out of it!
Chic Side Bun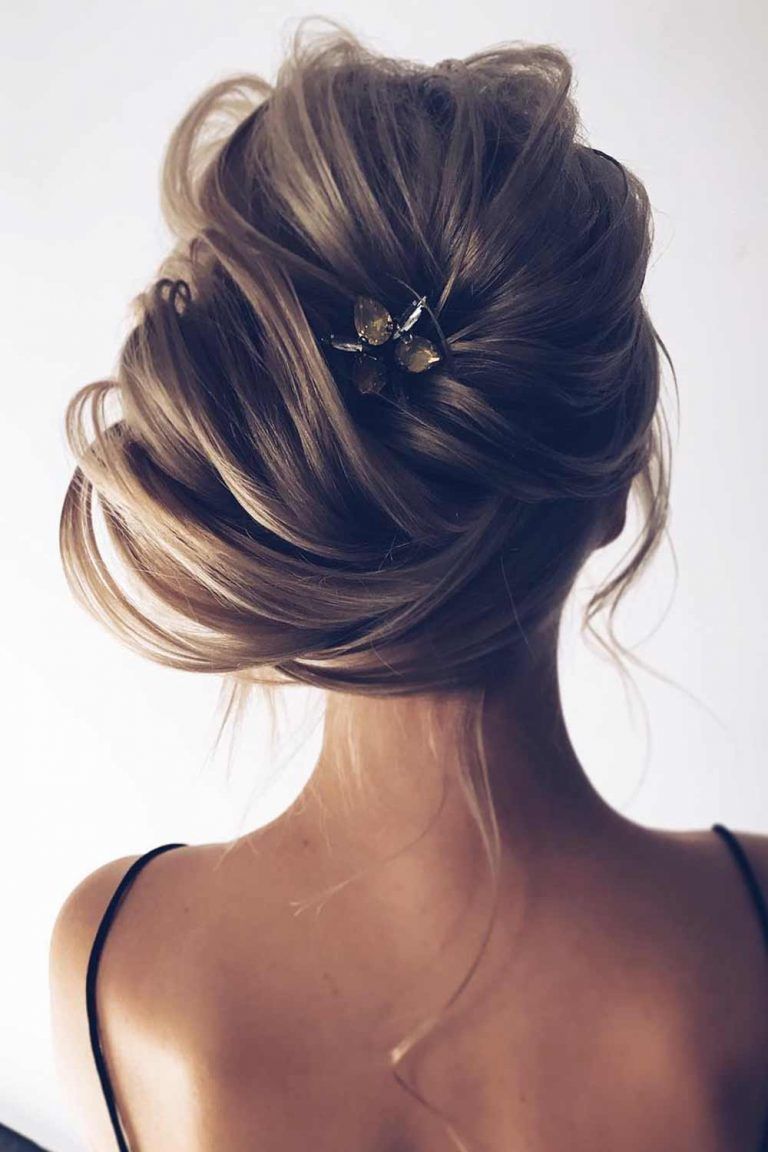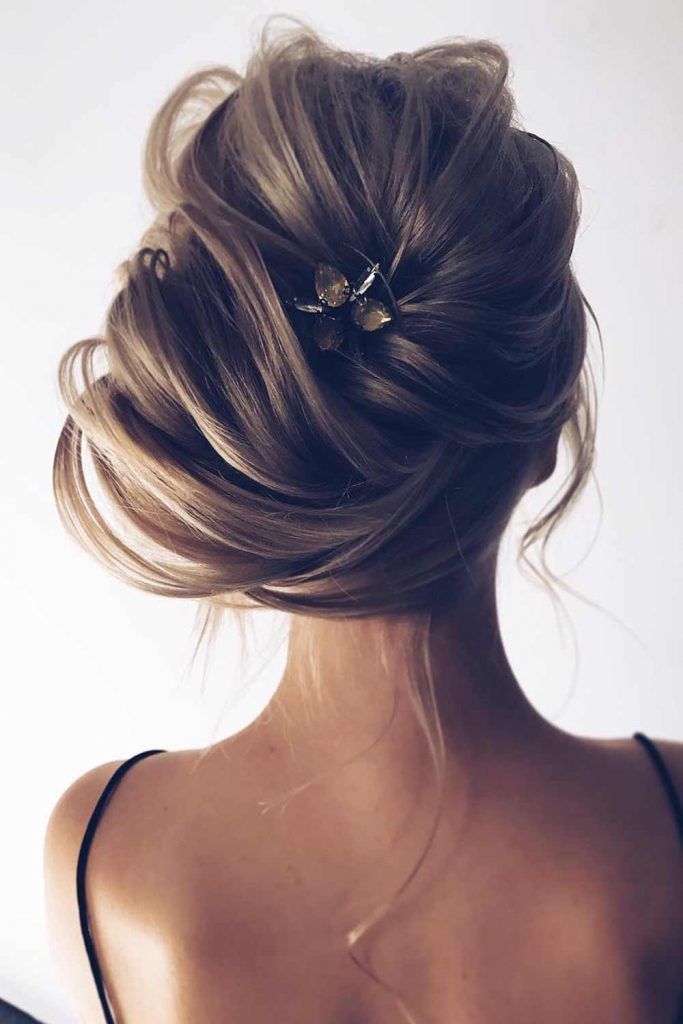 Source: tonyastylist via Instagram
Remember once and for all: there's one simple rule on how to hide your big forehead: side, asymmetrical, and outweighed styles can add the needed balance to your look, drawing attention from your broad features. And a messy side bun is a nice example!
Front Fishtail Headband Braid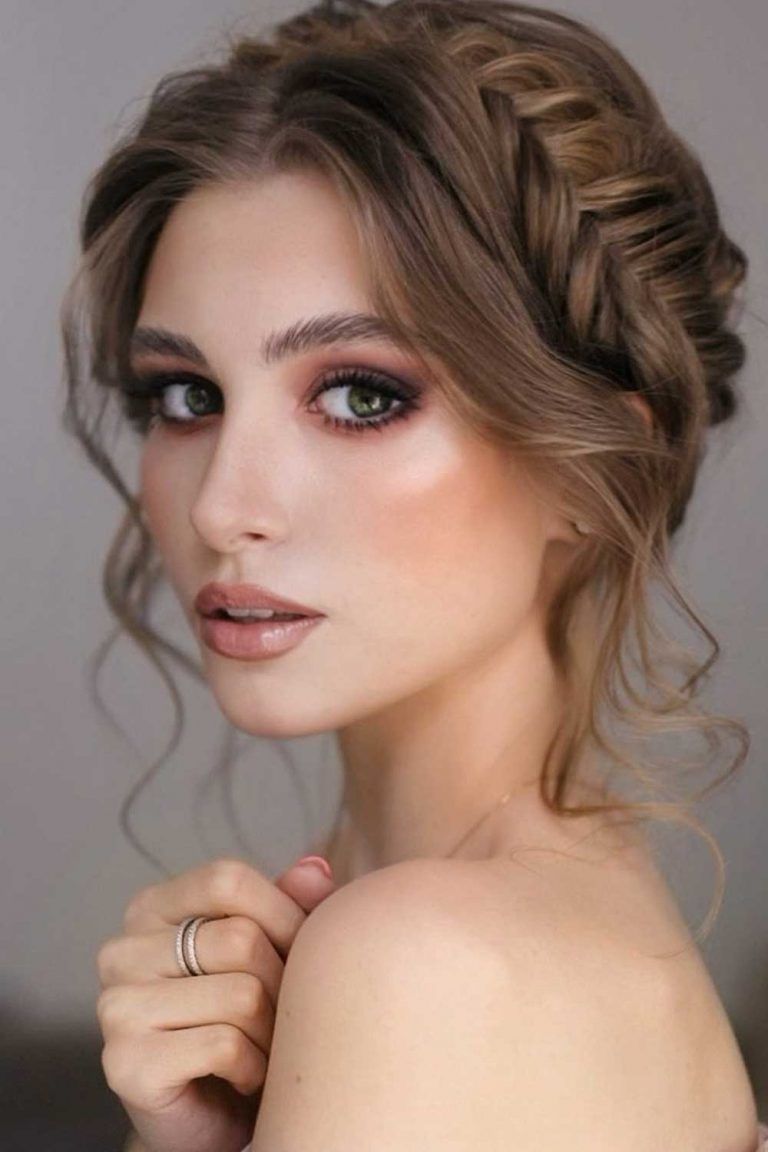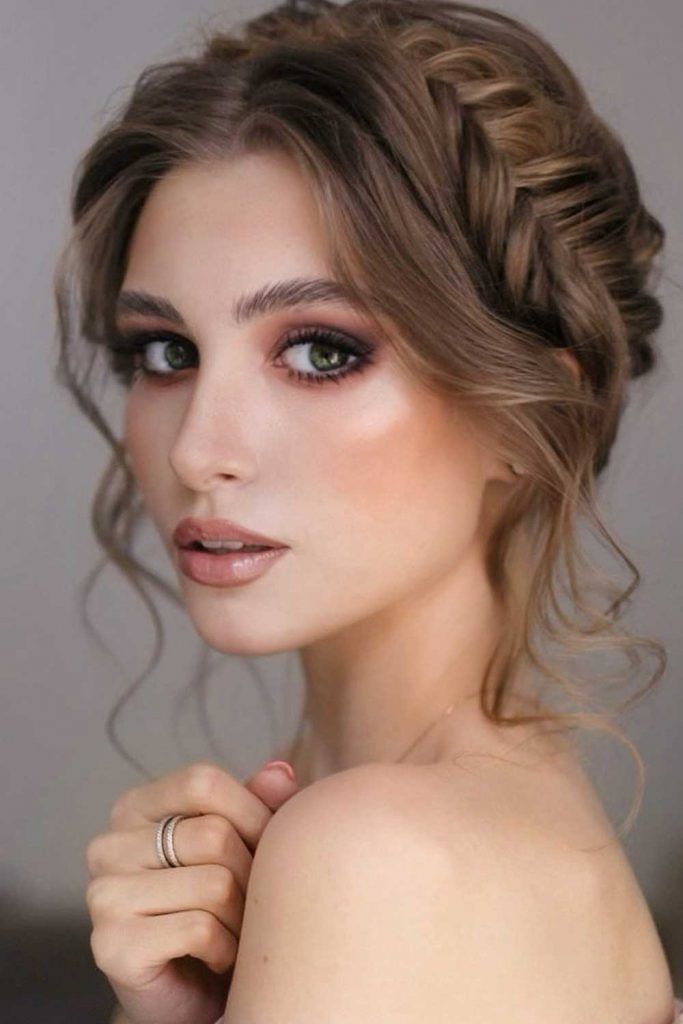 Source: lenabogucharskaya via Instagram
Since braids are something that has no restrictions and any girl can pull it off, you'd better hide your big forehead with a touch of eternal elegance. A front fishtail braid that overlaps your forehead a bit will not only give you a good casual look but also set a new, well-balanced silhouette.
Fake Bang Top Knot Hairstyle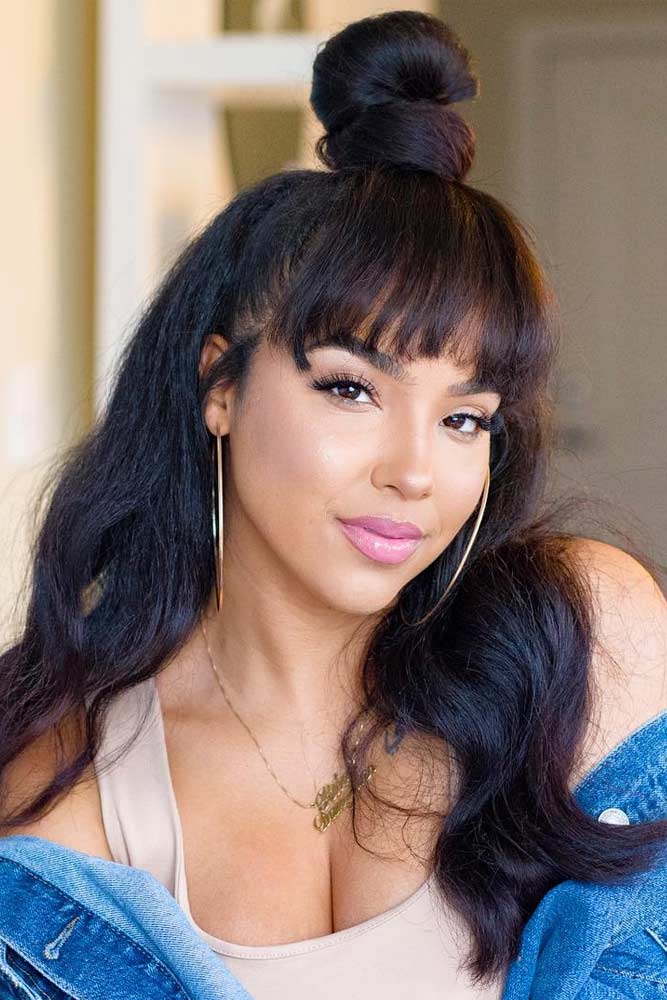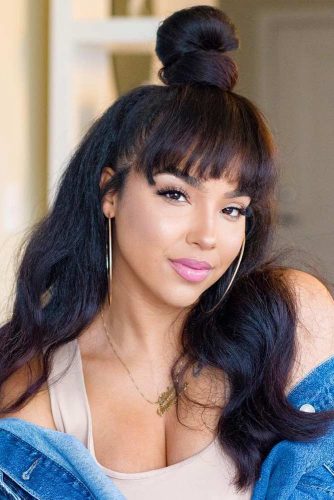 Source: lipstickncurls via Instagram
One of the best ways to succeed in masking the flaw is to hide big forehead with bangs. But not every lady is ready for such a regular cutting commitment. That's why creative ladies go for top-knots: you can set your hair high, creating a knot, and leave the ends lye on your forehead, just like bangs do.
Super Feminine Milkmaid Braids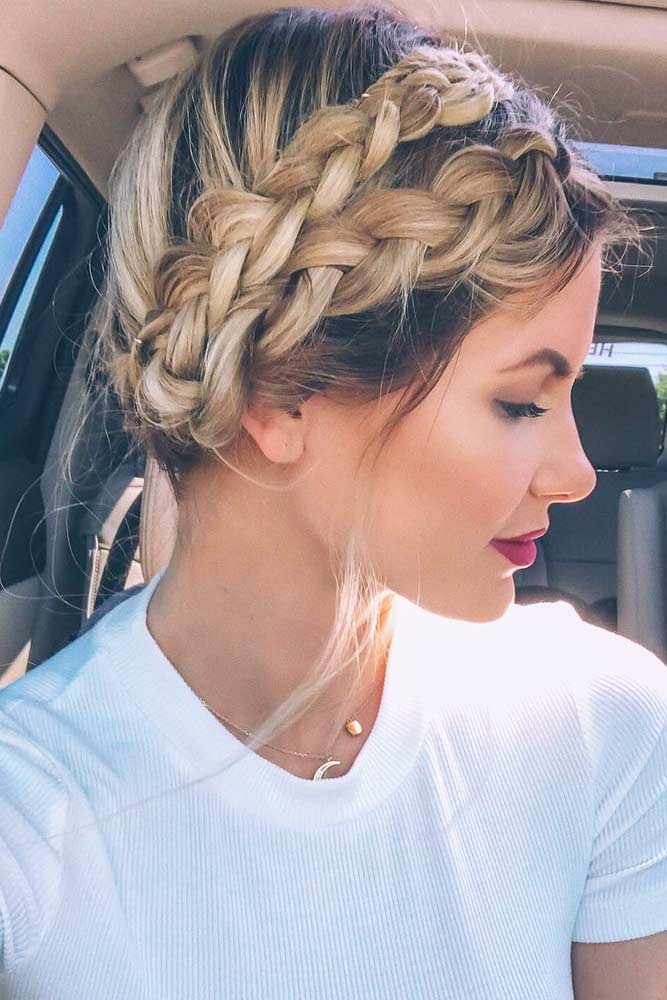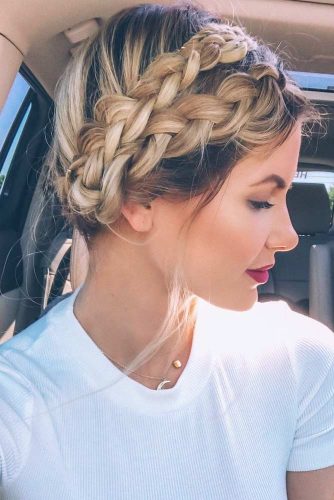 Source: amberfillerup via Instagram
Braids seem to have solutions for all girls with big foreheads. How about you to be proud of your face shape and look girly at the same time? A halo of milkmaid braids with some framing side strands styled neatly can smooth out your look, softening your forehead and volumizing your hair.
Effortless Side Ponytail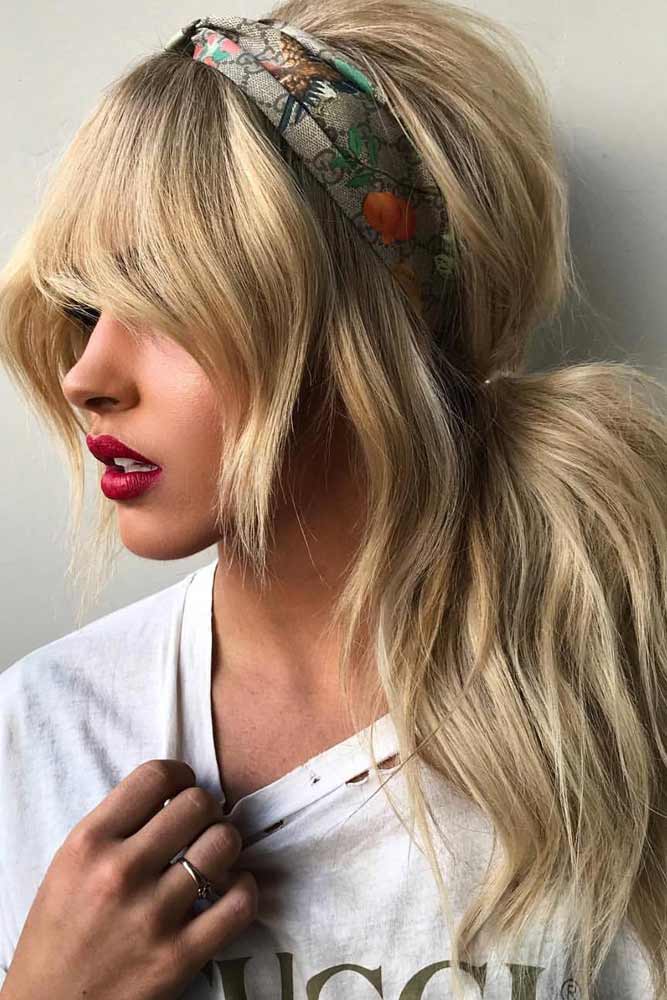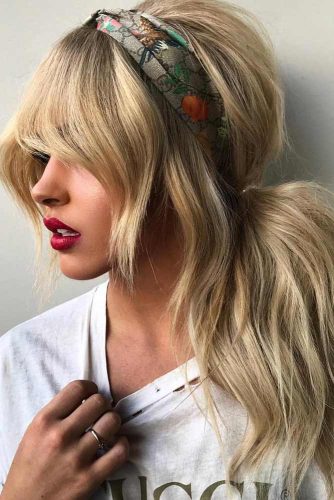 Source: adrianamarmino via Instagram
Side part hairstyles are probably the best hair parting for big forehead that hairstylists could ever make up. They create a lifted and slightly outweighed silhouette that washes away the forehead drawbacks. Once you style your ponytail to the side, tousle it a bit, and loosen the front locks, you will see the difference.
Classic Ballerina Bun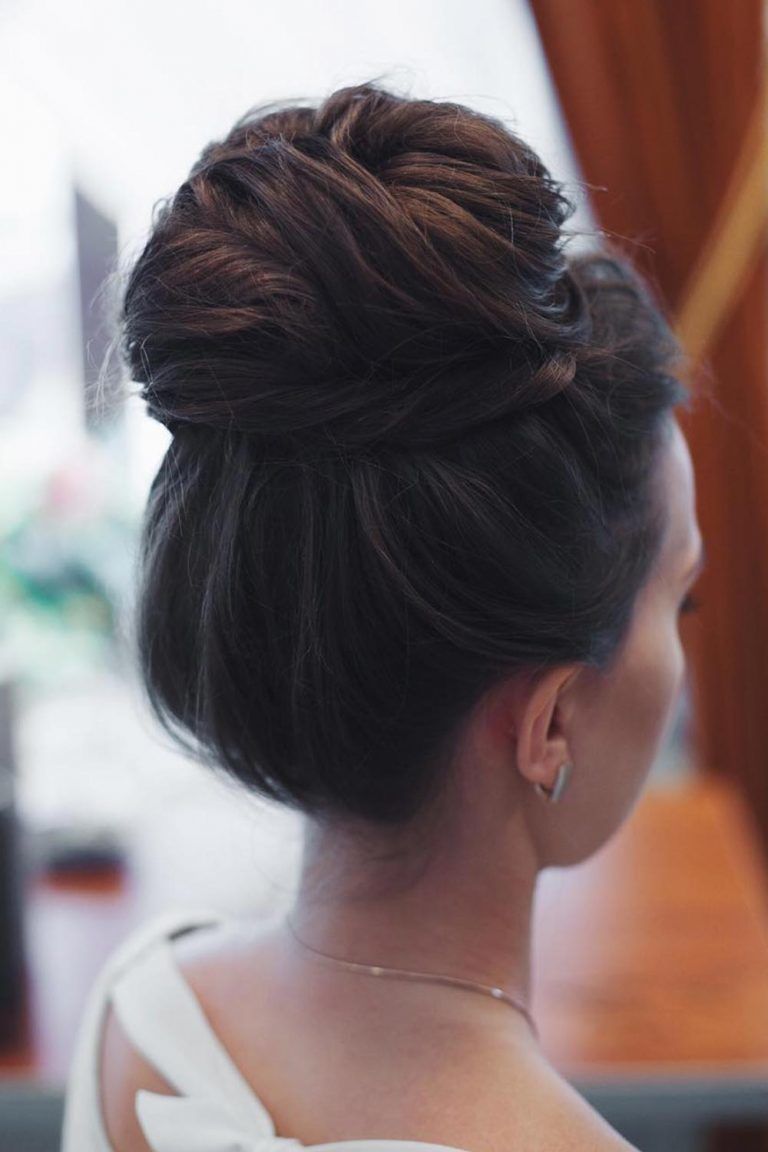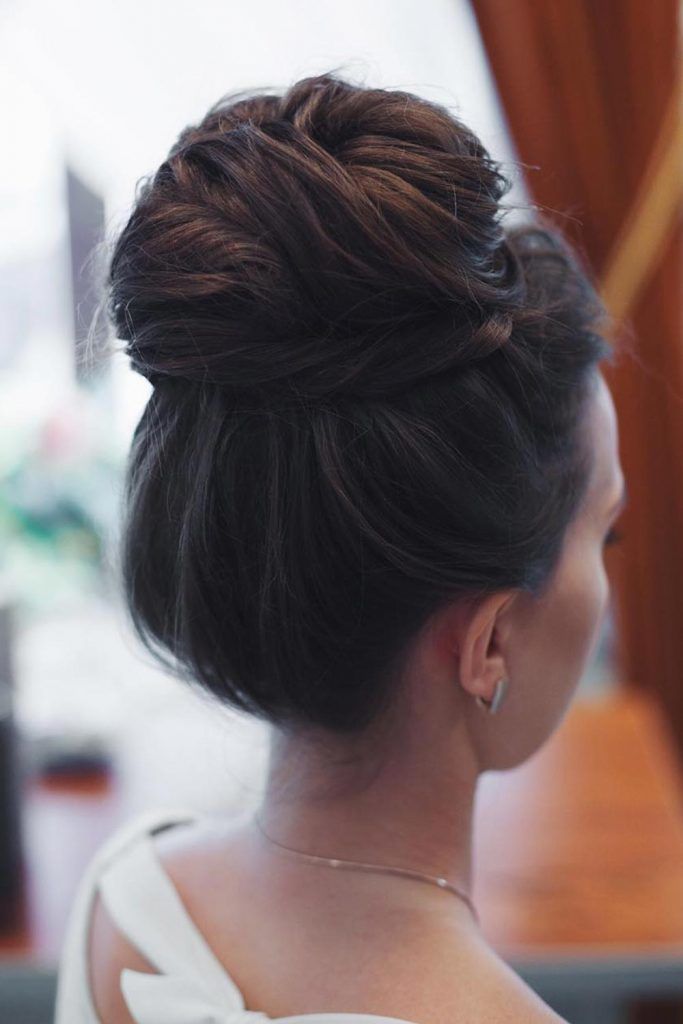 Source: tonyastylist via Instagram
The fact that you're not a ballerina doesn't mean that you can't look like one! One of the main advantages of such a classic look is that it perfectly conceals forehead flaws. So, if you are looking for the most flattering hairstyles for long faces, your search stops here.
Cute High Pony With Stylish Headscarf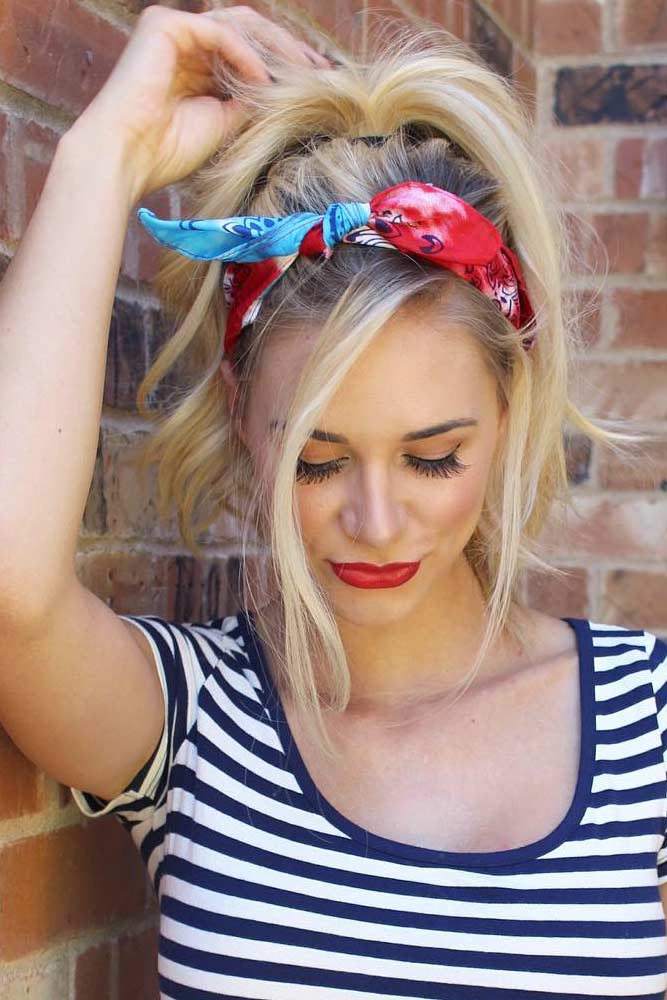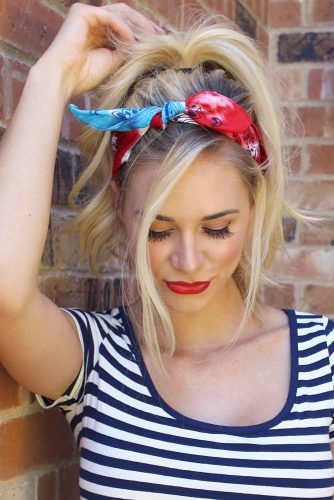 Source: savvysoles via Instagram
Involving hair accessories into your styling routine can kill two birds with one stone. To be more exact, to deal with your thin hair and broad forehead at once. But this time bangs are crucial! Keep in mind that side-swept variations are the best bangs for thin hair and big forehead, and when they're combined with a high ponytail, secured with a scarf, they form a flawless look.
Retro Inspired Pin Up Curly Bangs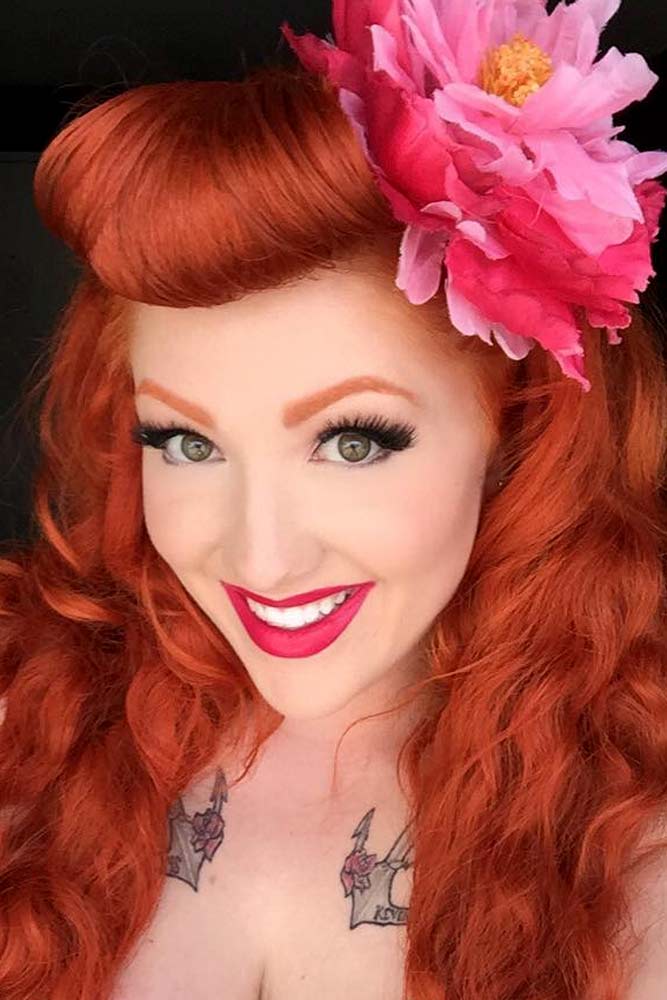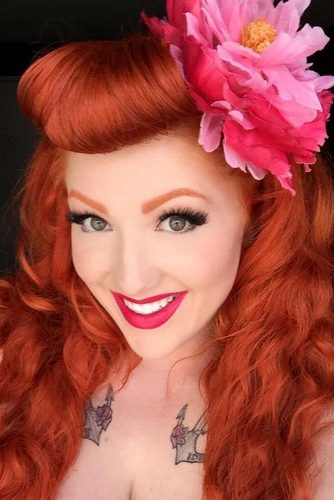 Source: missautumndevine via Instagram
Another good way on how to make your forehead look smaller comes from the inspirational pin-up era! The cute and dramatic curly bangs don't fully cover your forehead; though they cover only its top, it's enough to make it look better. Some whirls of a curling wand are all you need!
Side Messy Braid With Pulled Edges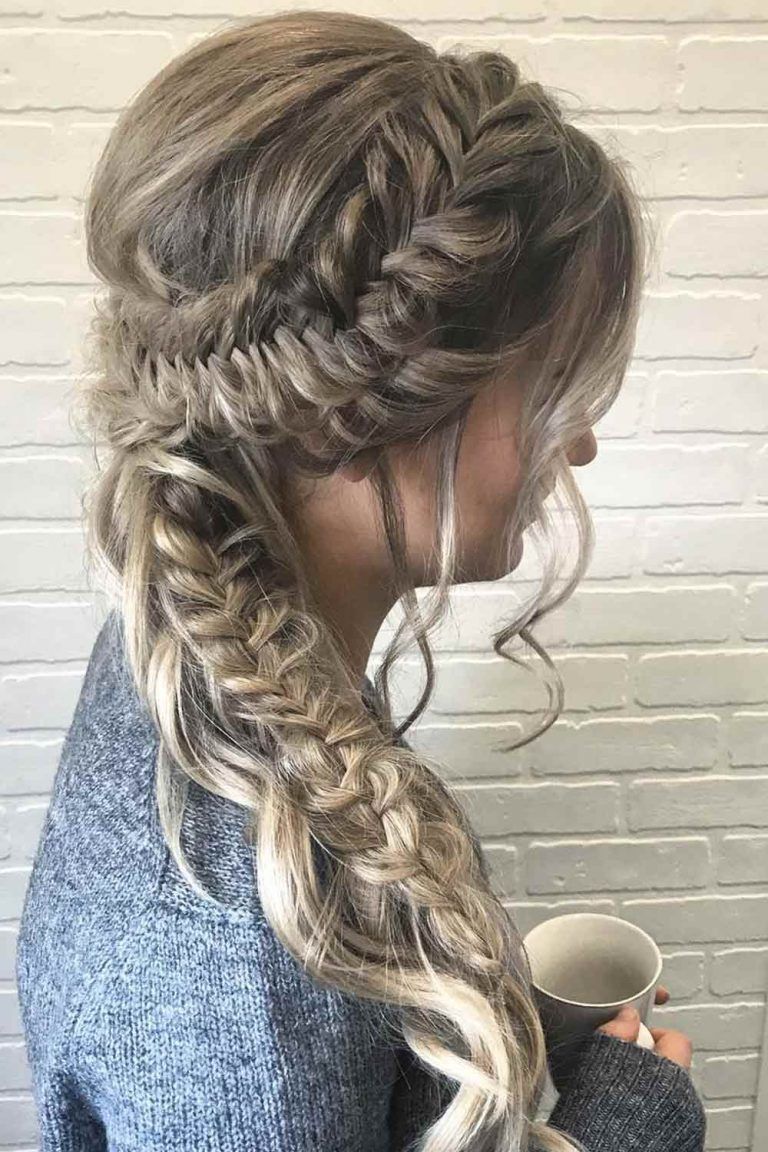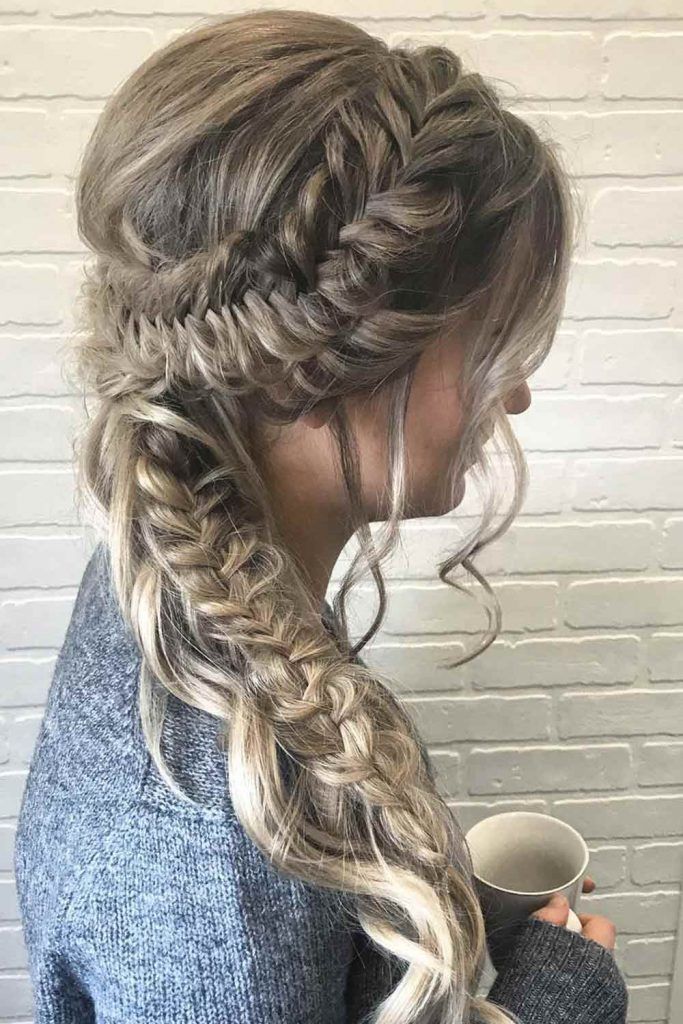 Source: _theparlour_ via Instagram
Adding some messiness is always easy. And advantageous, of course! Yes, an I-don't-care look can save your large forehead. Just create a braid, incorporating the strands messily, and pull some edges for a tousled, disheveled look.
Wavy Ponytail With Long Bangs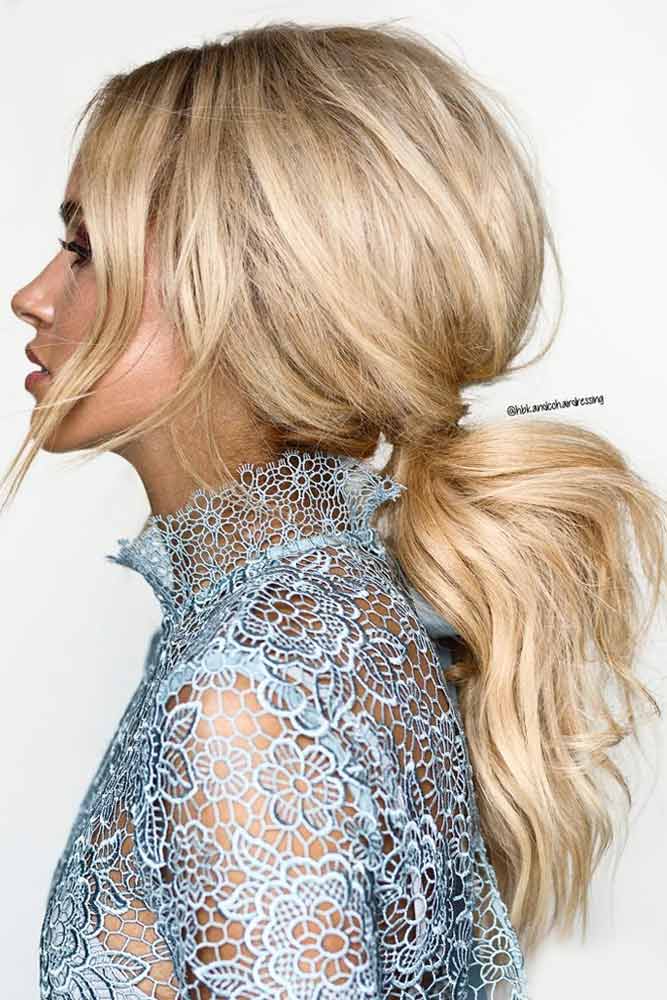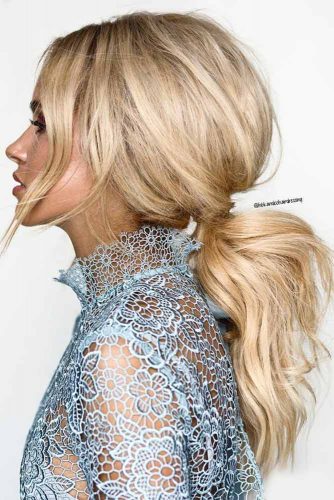 Source: hbkandcohairdressing via Instagram
Pairing a ponytail with big forehead is always a good idea. Yet, it can't do without the power of bangs! You can mix the today's trends, combining a voluminous wavy ponytail with long bangs that embellish the front and say goodbye to your large forehead.
Sleek Bangs Secured By Bobby Pins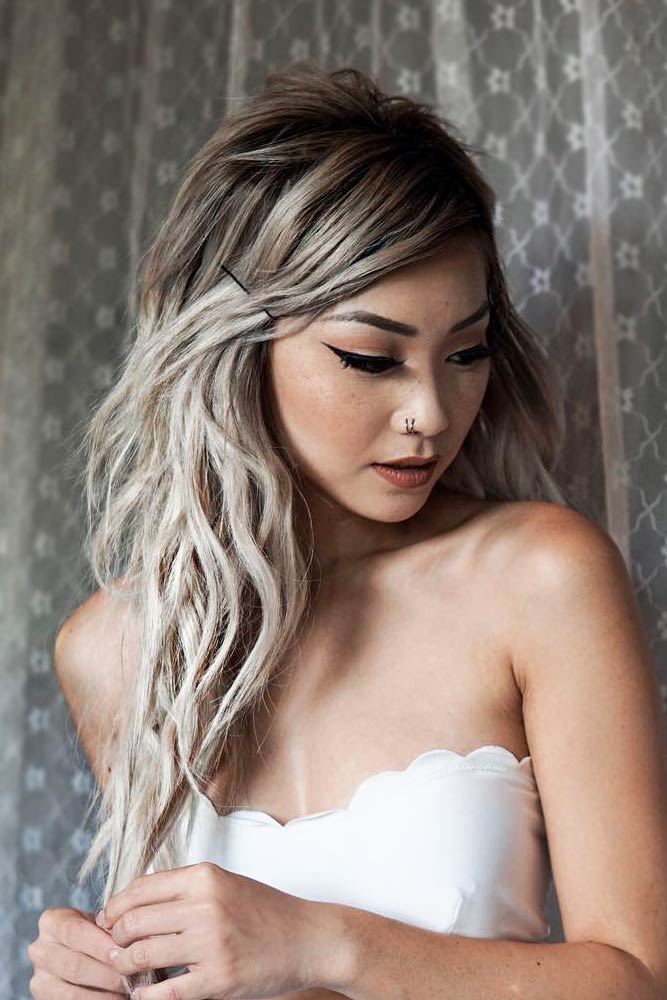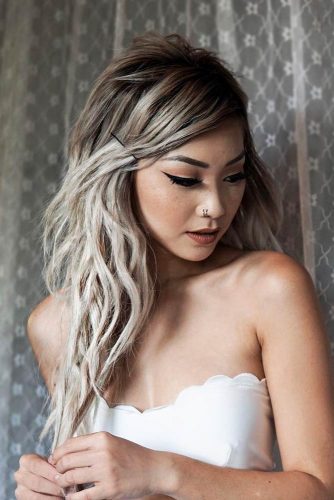 Source: flamcis via Instagram
Sometimes the easiest hairstyles for high forehead are the best ones. What if we tell you that you can create an effortlessly stylish look for your forehead with just a couple of bobby pins? That's not magic: sleek the front section under your hair, securing it with pins. That's it!
Layered Lob With Bangs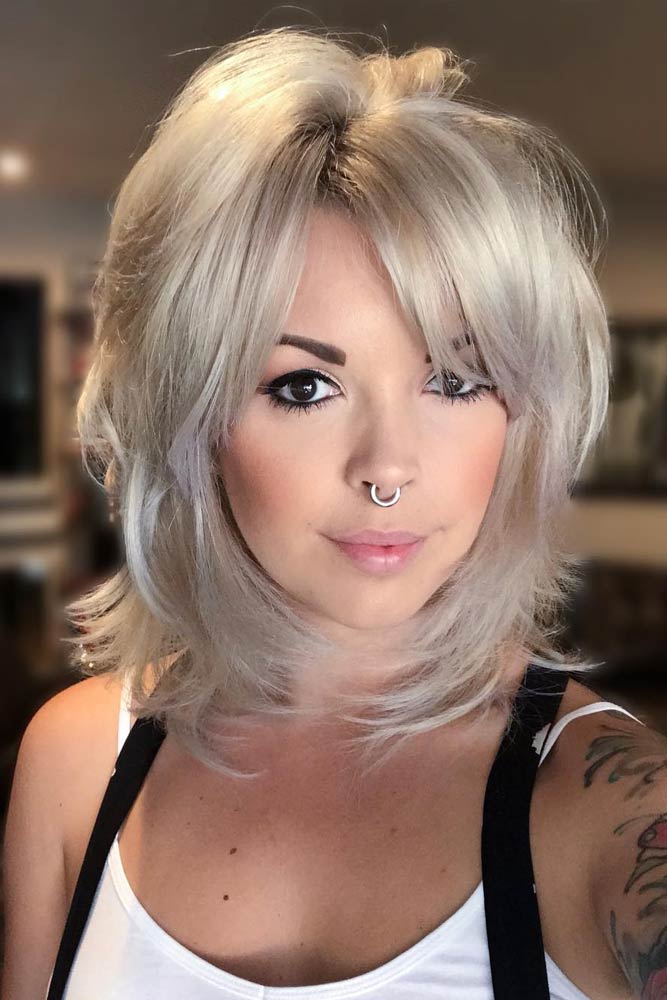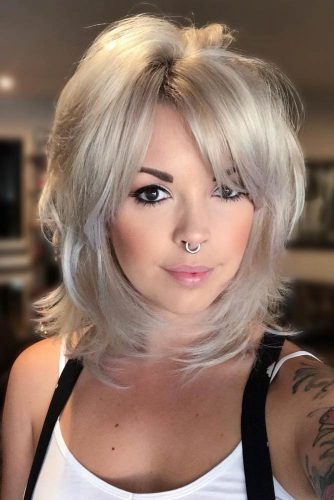 Source: alliedoeshair via Instagram
When searching for haircuts for big foreheads, don't look any further than layered cuts with bangs. First of all, the variety of layers can lay in the way they frame your face perfectly, while bangs work for its top features. All in all, it looks pretty!
Trendy Wavy Side Swept Bangs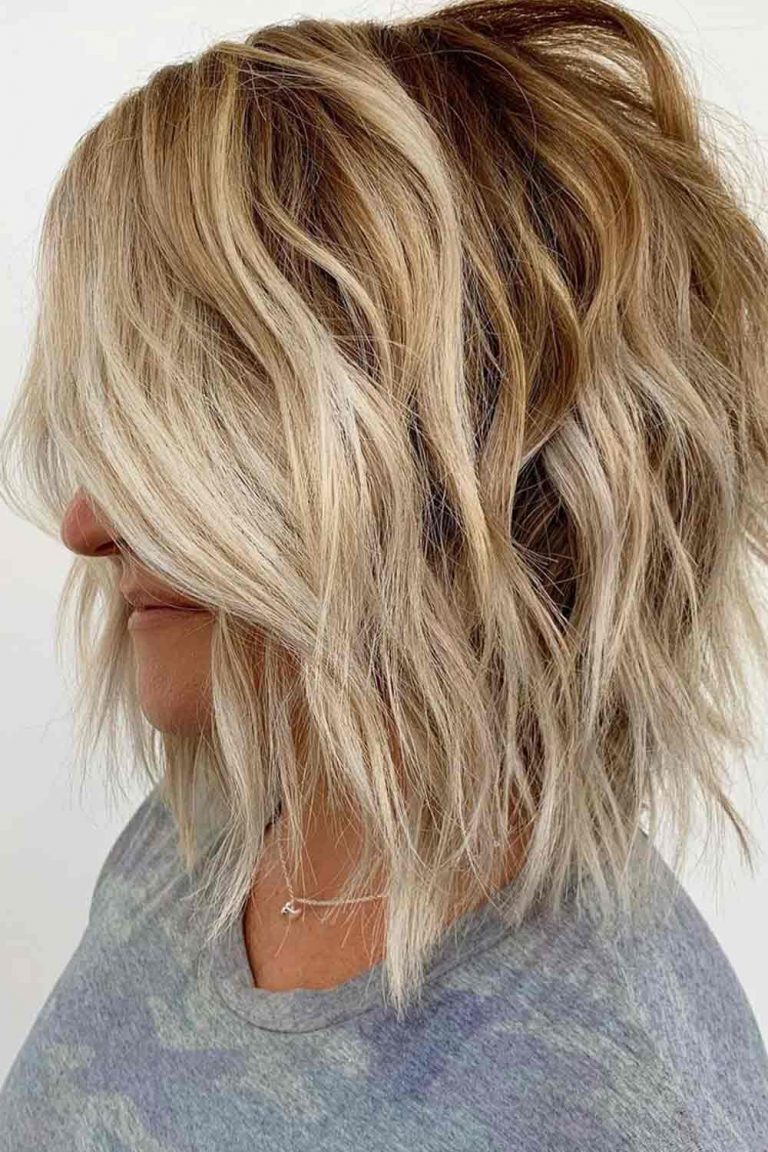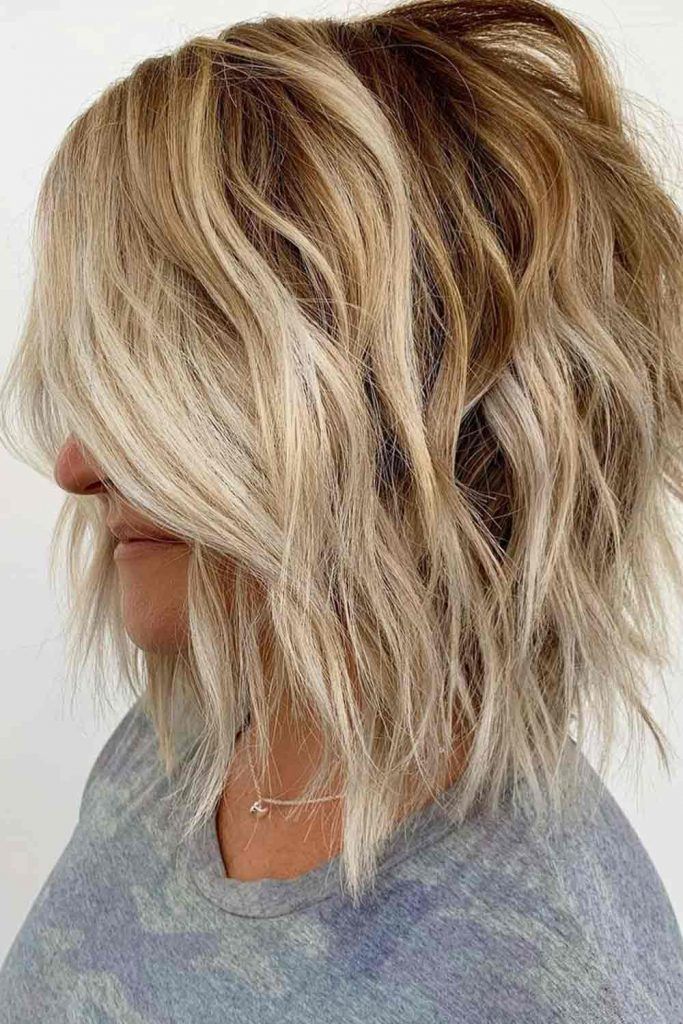 Source: styled_by_carolynn via Instagram
Some people with big foreheads take this feature as a curse. And we want you to perceive it as a blessing: there are so many good hairstyles to try. Wavy side bangs that partly hide your broad forehead is a chic and win-win decision you won't ever regret.
Shaggy Bob With Choppy Curtain Bangs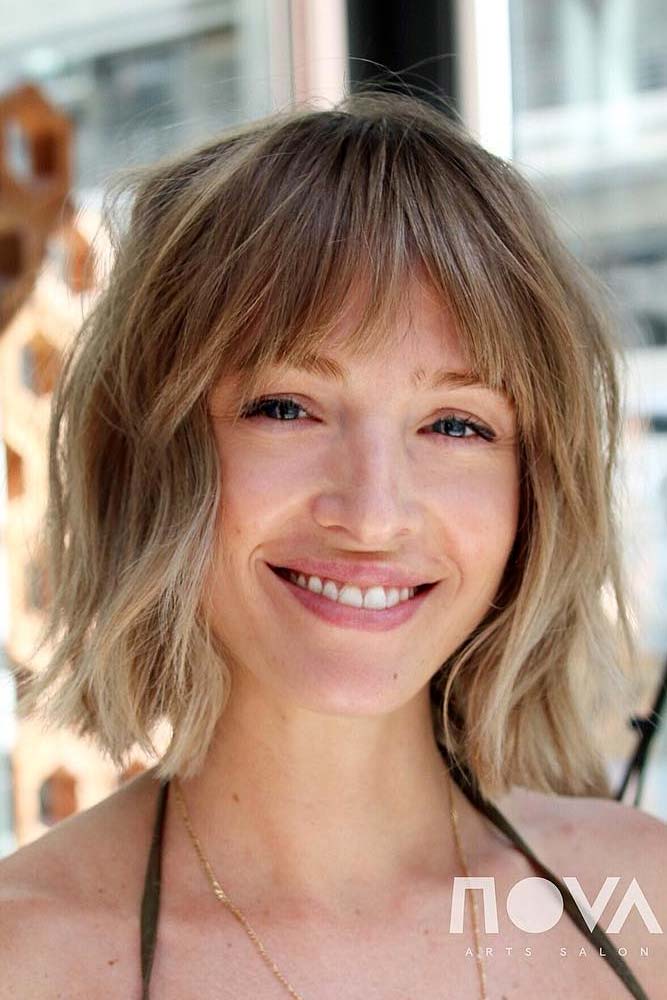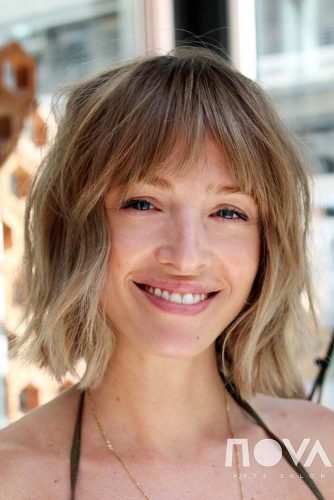 Source: salsalhair via Instagram
Edgy layers are so beneficial that we believe they can save the world! When talking about big forehead hairstyles, you know that bangs are everything to us. The cutest match for volumetric shags are definitely curtain bangs: they don't hide your brows, yet overlap your flaws.
Dense Blunt Bangs With Long Hair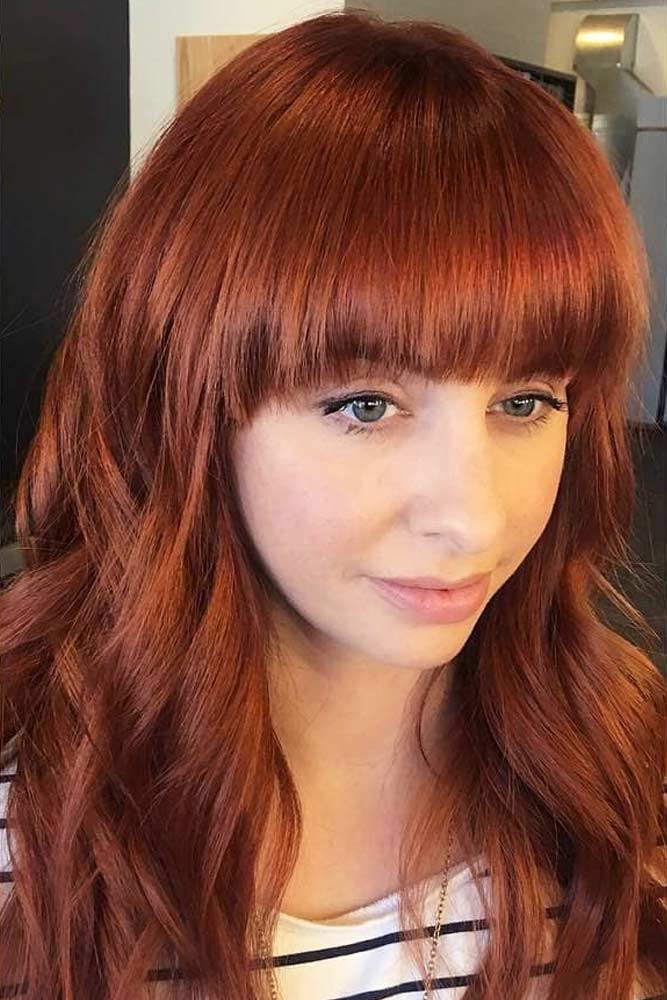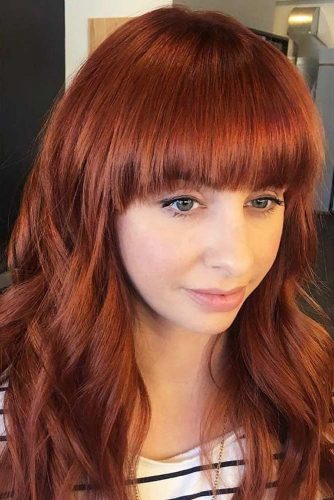 Source: sombounjune via Instagram
With dense blunt bangs and your beautiful long hair that hangs on your shoulders, you won't be ever called a big forehead girl! There's nothing complicated about this look, and that's the point: this is how you can style your hair every day to look fabulous.
Textured Side Parted Wavy Lob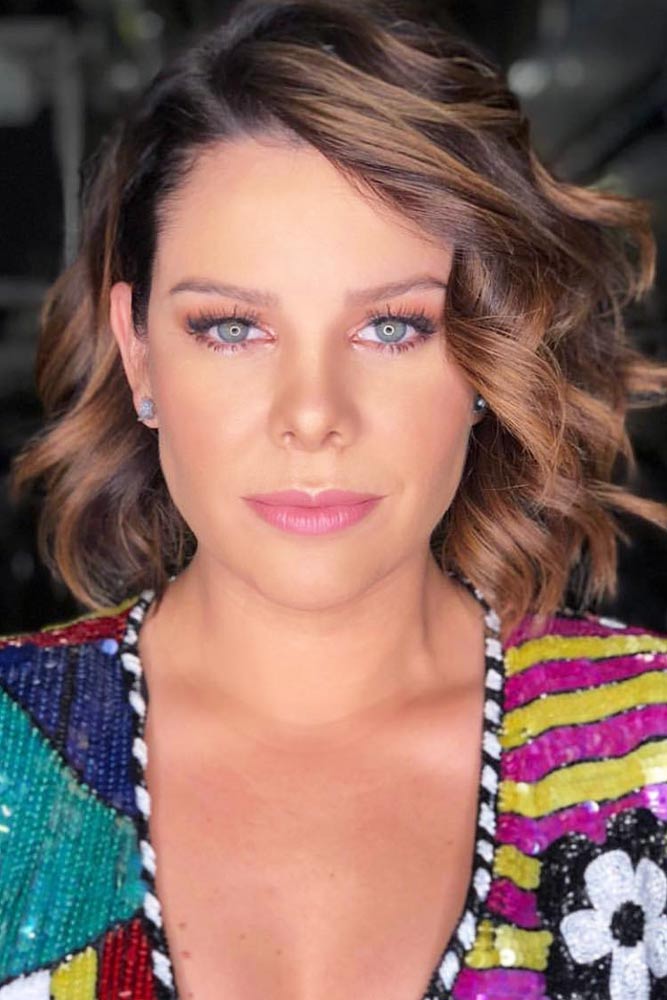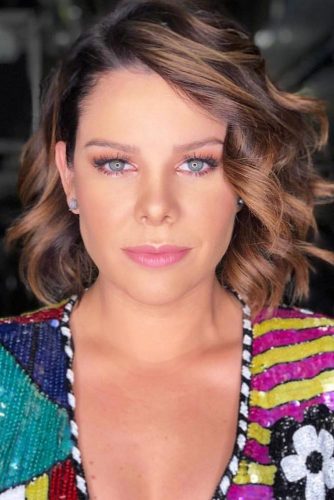 Source: aledesouza1970 via Instagram
The everybody's beloved lob is even more versatile than you think. In the day, they're just medium length cuts. And when a big forehead needs some help, lobs transform into irreplaceable and face-flattering solutions: waves and side part do the talking.
Middle Part Layered Hairstyle
Source: salsalhair via Instagram
Sometimes the only thing that changes the whole look is your parting. Some ladies with broad foreheads go for side part styles, while some prefer to part their hair in the middle. And it works awesome, especially for layered chevelures.
Wavy Hair With Straight Bangs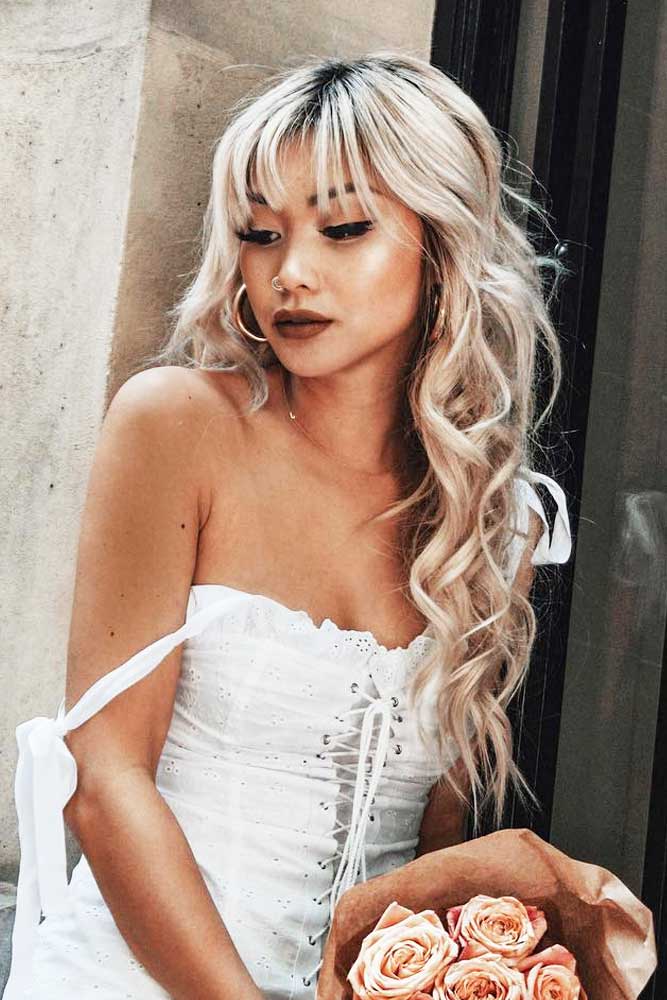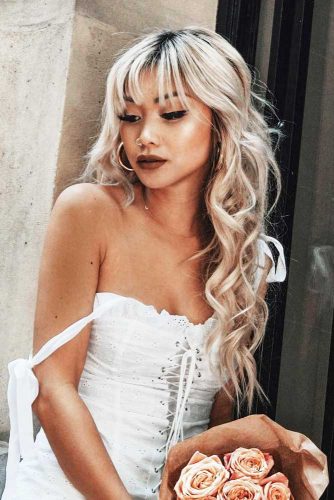 Source: flamcis via Instagram
What do you think about some texture contrasts in your next hairstyle? The beautifying bangs can be straight, and the rest of your hair can fascinate everyone with waves. Don't be shy to experiment and your forehead won't let you down.
Side Bang For Long Layered Hair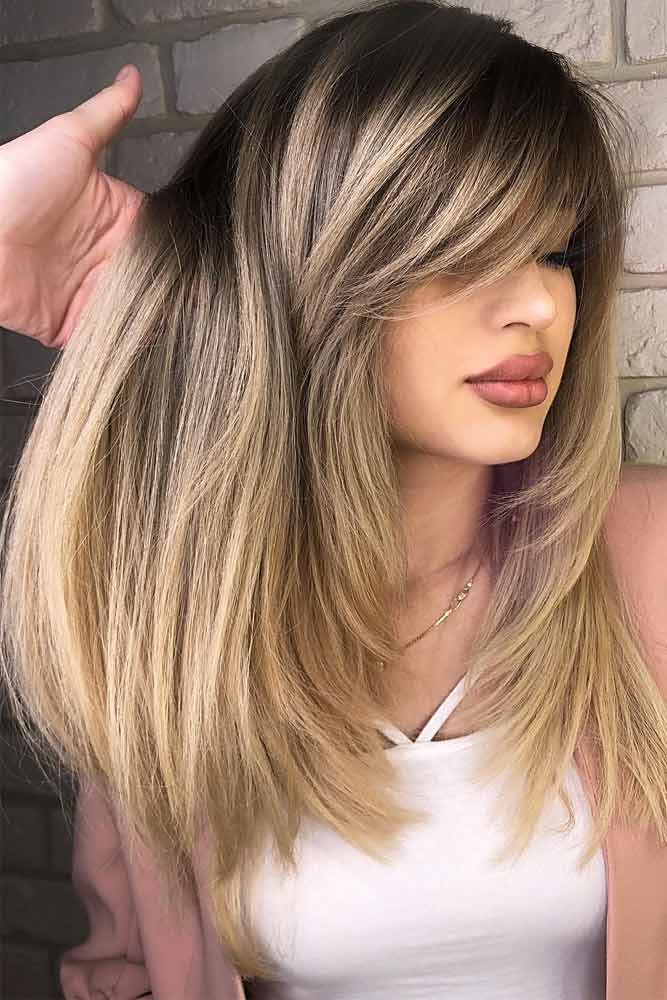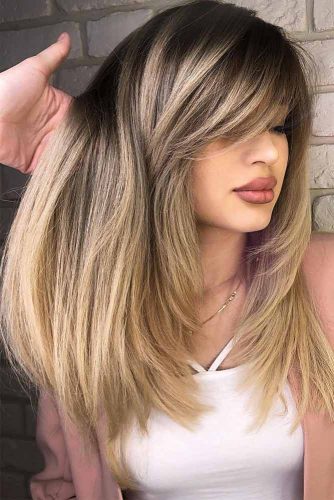 Source: stylistmadishka via Instagram
Nowadays, you can't find a woman who's not familiar with the beautifying power of layers. But not everyone knows how to enhance it. So here comes the long side bang - just what the doctor ordered. To hide your big forehead, you don't need to cover it fully; a swept touch of side fringe with full layers can also work on the balance.
Side Fishtail Braid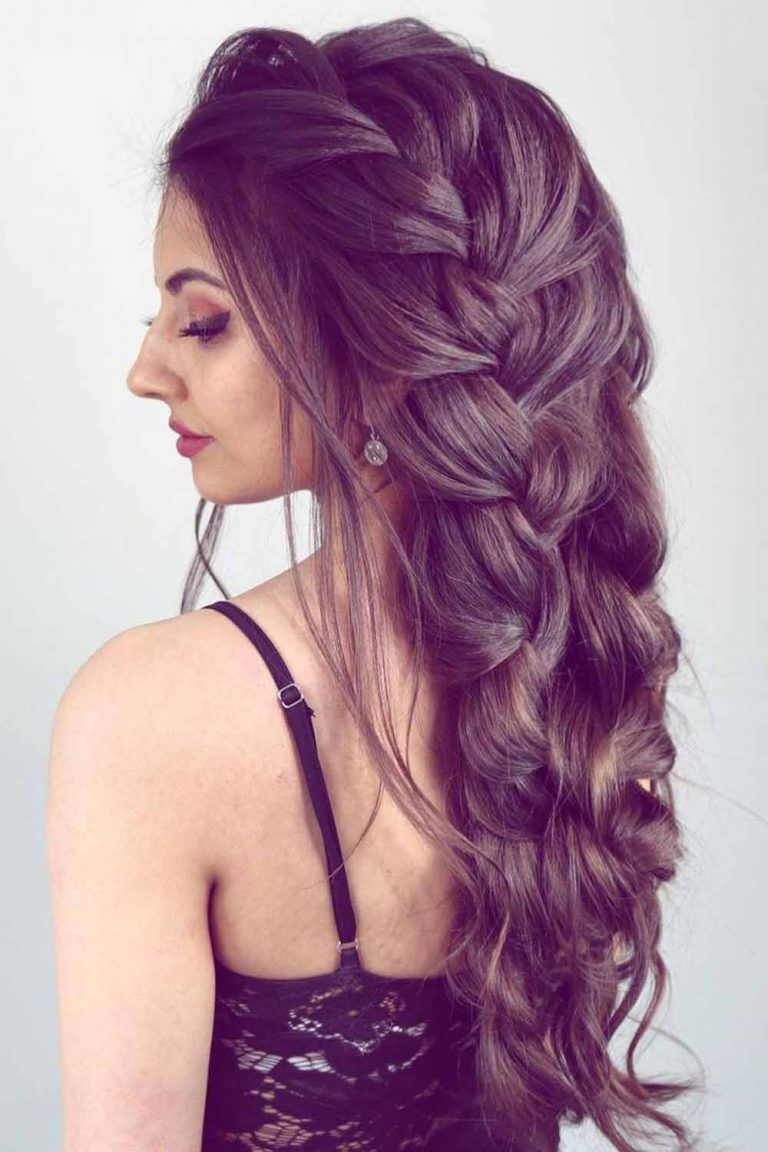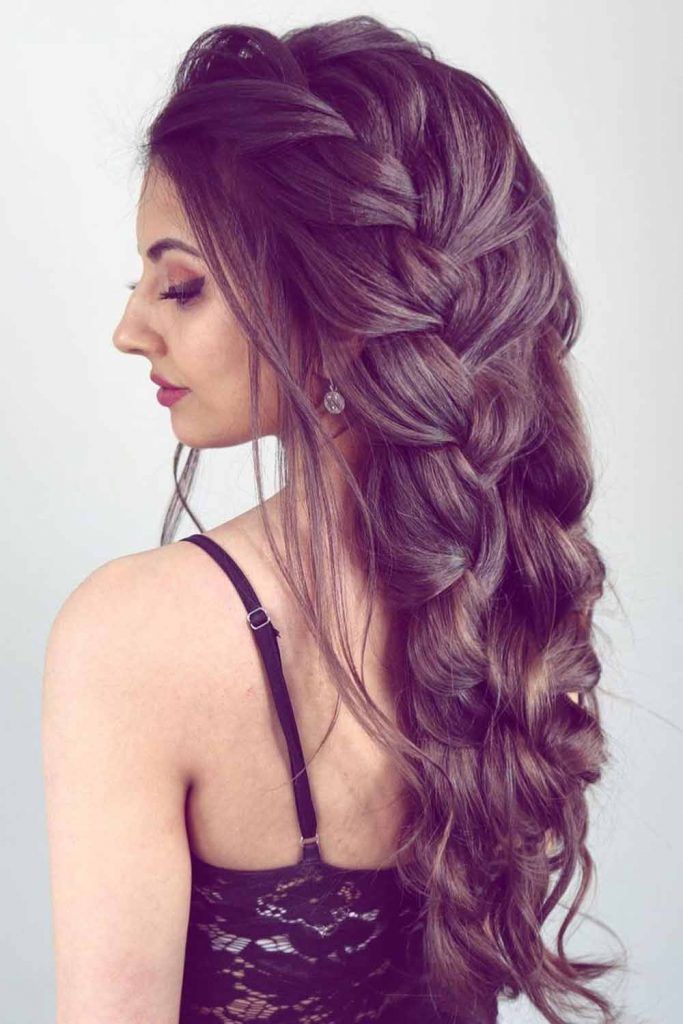 Source: sweethearts_hair via Instagram
A side fishtail braid, where your hair is swept to the side, creating sort of long bangs that gently hide your forehead partly and incorporate into the style is another easy and fabulous way to make your broad forehead look less noticeable. Braids are always on the top, and the same goes for such flattering ones.
Side Parted Sleek Updo Hairstyle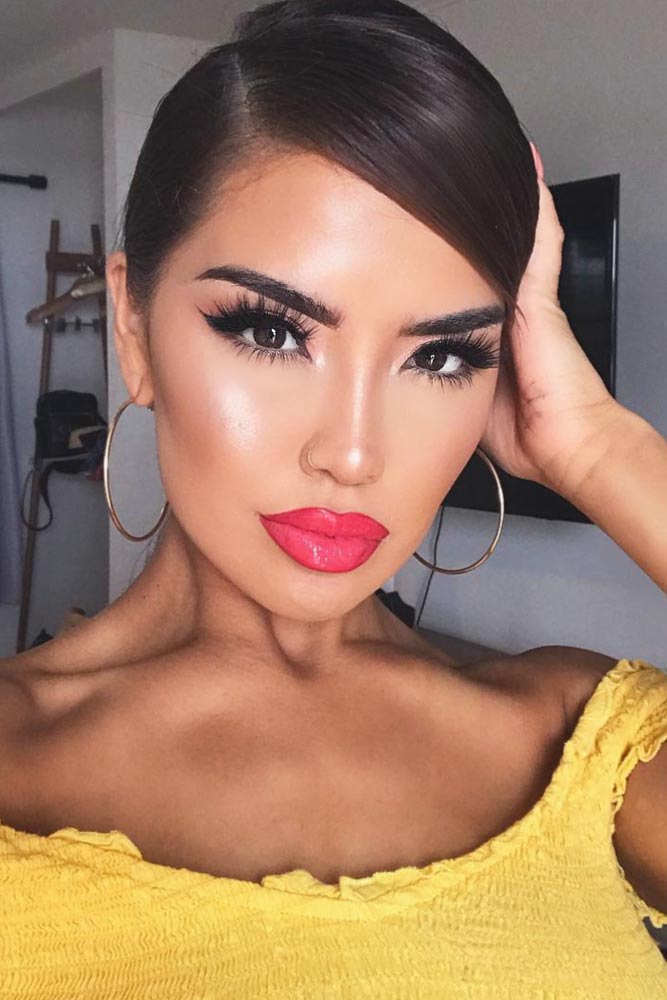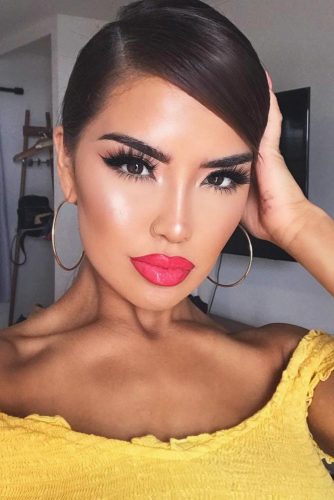 Source: iluvsarahii via Instagram
Some sleek silhouettes can also come in handy for ladies with big forehead: just make sure that it's done properly. All you need is to section off the top layer of your hair and create a deep side part, brushing the heavy side towards your ear and thus covering your forehead a little. It's very important to keep the balance, so try to avoid full overlapping. Just look at how awesomely such a minimalistic style works!
Messy High Bun With Long Bangs
Source: mane_ivy via Instagram
Going for long bangs is a good decision for a broad forehead, yet the fringe shouldn't always be styled to the side. Long curtain bangs with a middle part is also a stunning option that gets on well with such casual styles as messy buns, ponytails, and simple braids.
Twisted Low Ponytail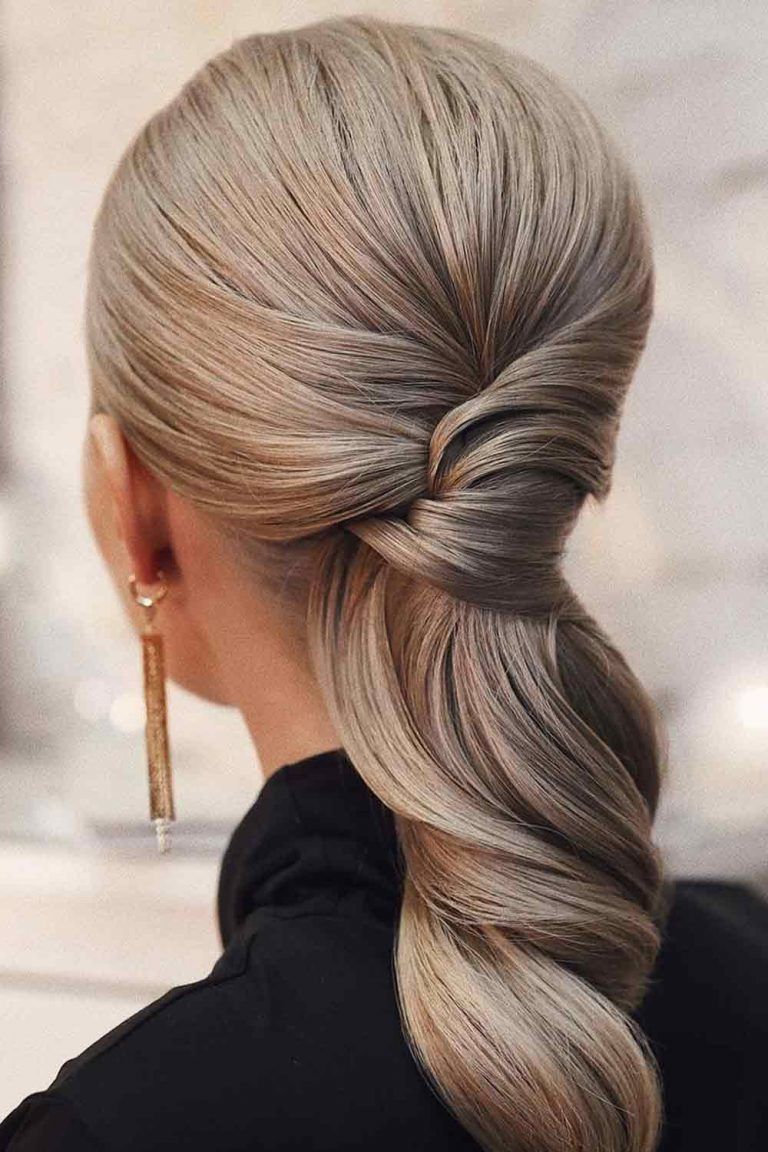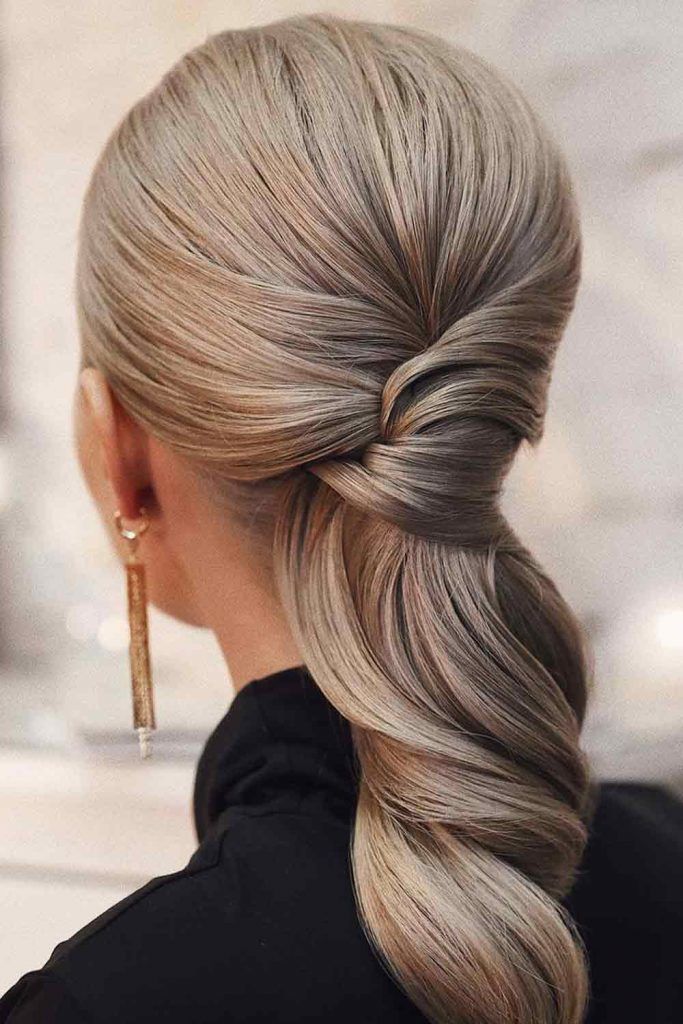 Source: tonyastylist via Instagram
A lot of volume and texture on the crown is enough to make you feel super confident with your look, from head to foot. The volumetric twist that goes along the heavy side of the style will build a full body that will grab all the attention, taking it away from your little flaw.
Side Parted Braided Pony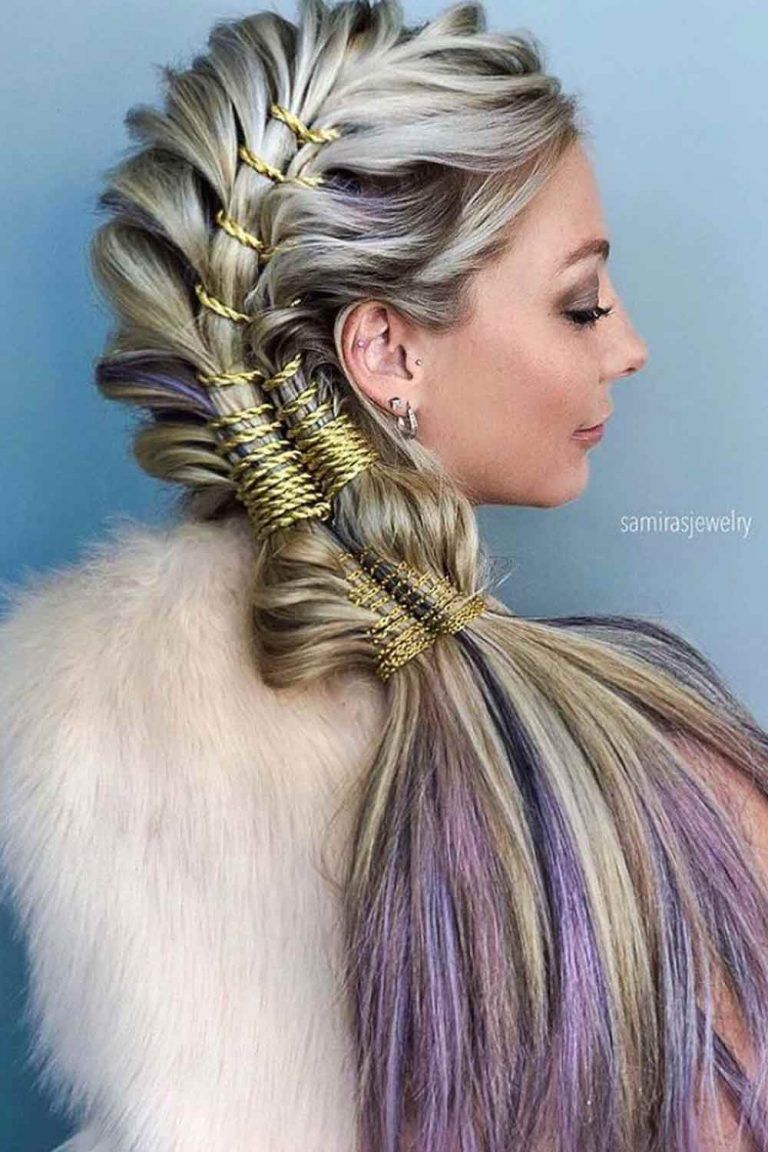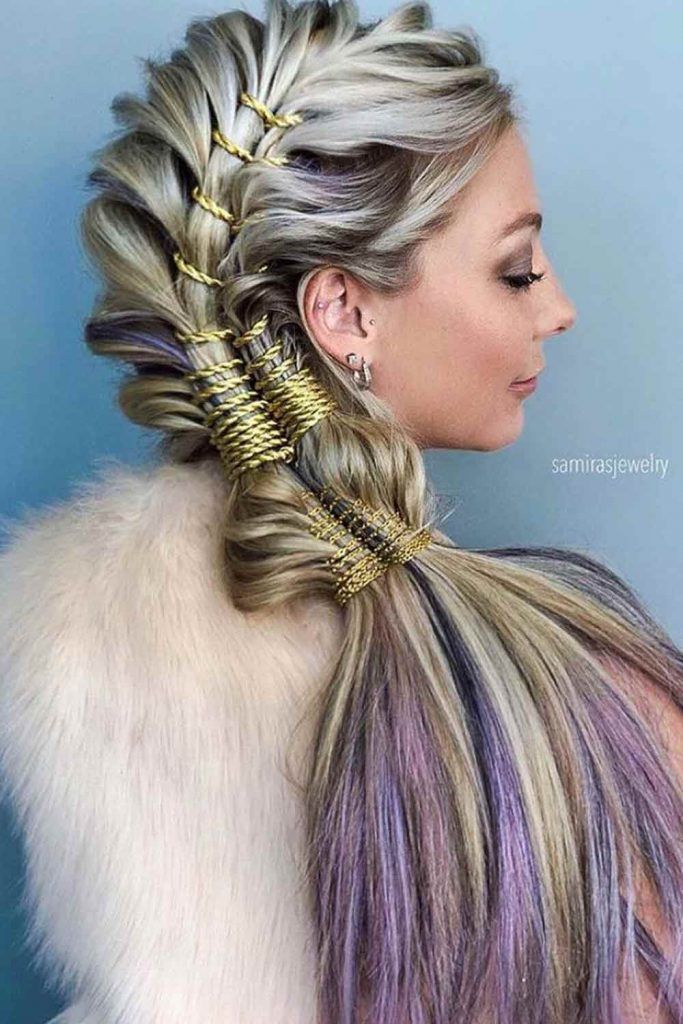 Source: samirasjewelry via Instagram
Meet another simple and practical combination of everybody's favorite hairstyles. Who would've thought that side parting could turn the straightforward braided pony into such a win-win 'do? Yes, it's worth giving a try.
Side Swept Pixie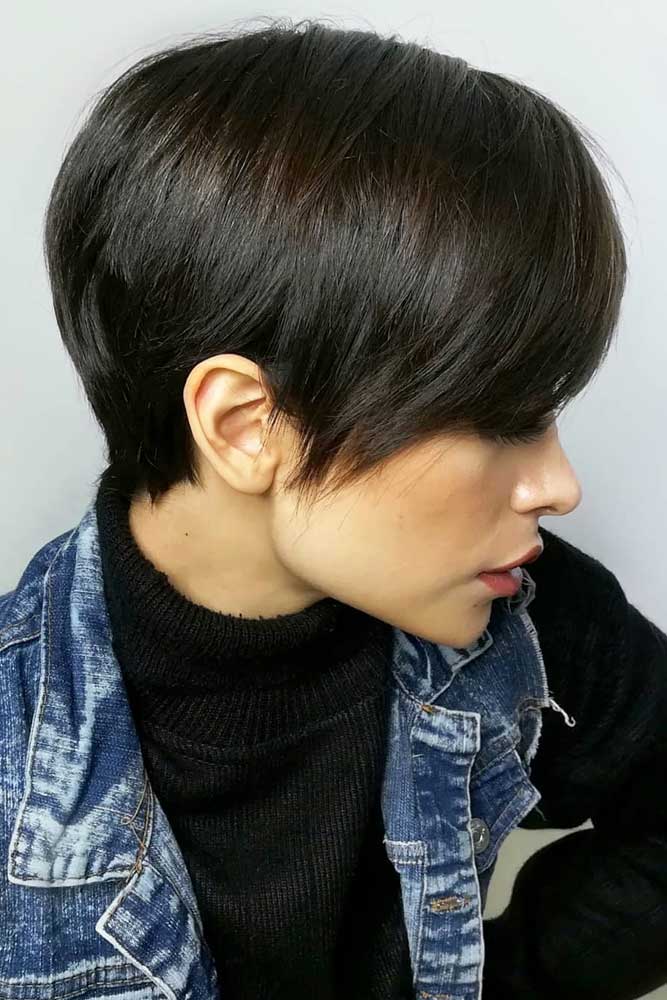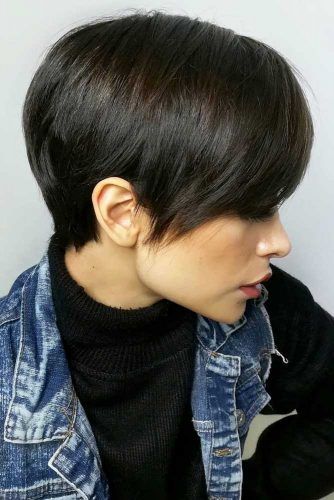 Source: sk.ardila via Instagram
There's nothing easier and fresher than a swept fringe pixie that gently cascades on your forehead, giving it the needed framing touch. Such a simple, yet daring hairstyle will not only keep your hair, whatever type you have, well-groomed and edgy but will also become your go-to for all events: it's just so easy to style.
Side Parted Straight Lob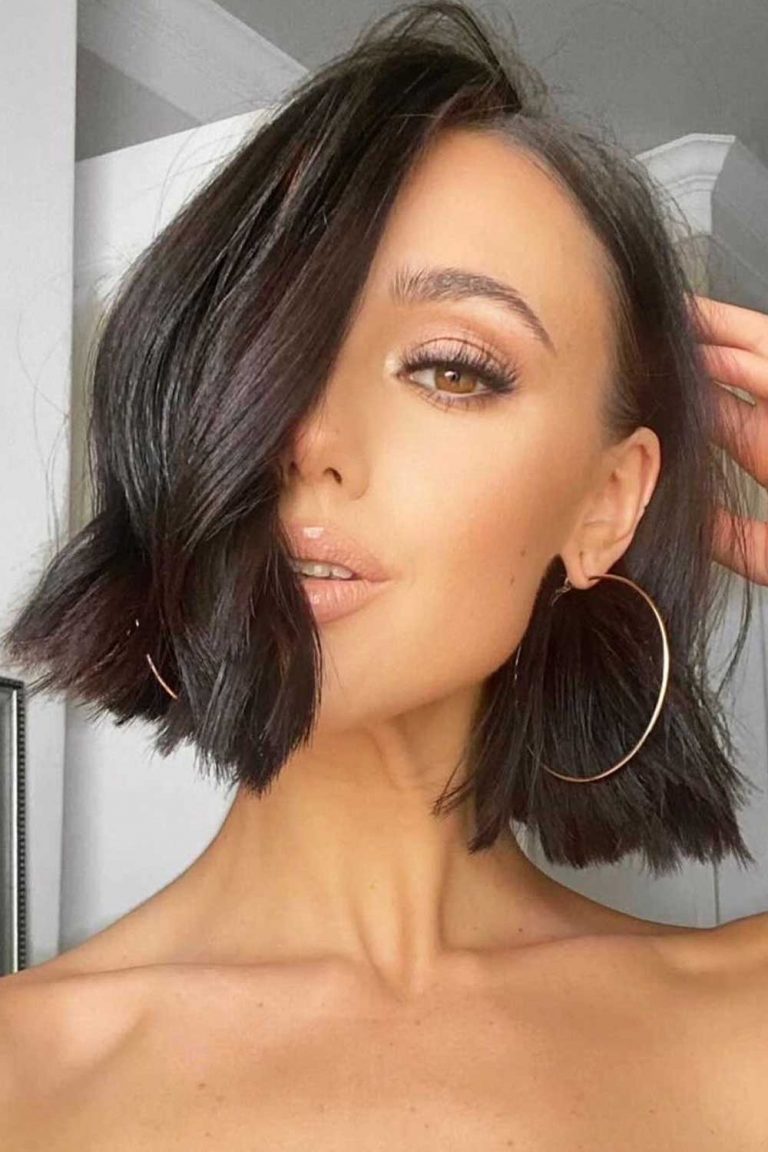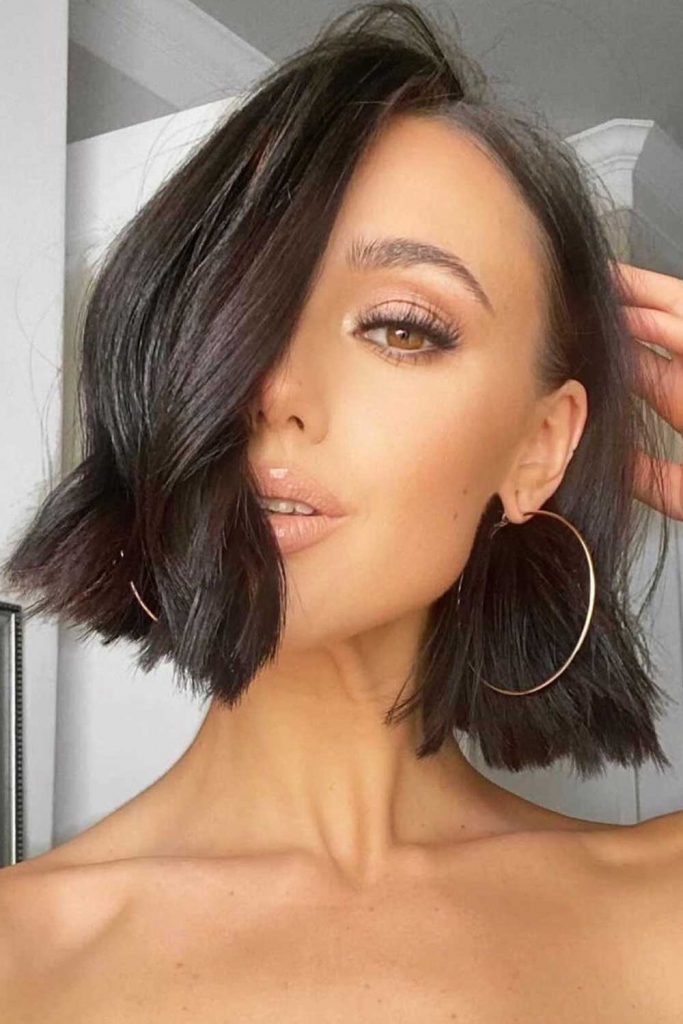 Source: chrisjones_hair via Instagram
If you still associate straight hair with dull and always-flat looks, you should become friends with layers! This cutting technique can lift up the body of your hair, no matter how thin and fine it is. Besides, layers show all the common and familiar hairstyles from a new perspective, adding tons of volume and dynamics to them. Now, look at this pic to see how they work on a side-parted lob. No traces of big forehead are left, and that's a win!
Rose Long Shaggy Hair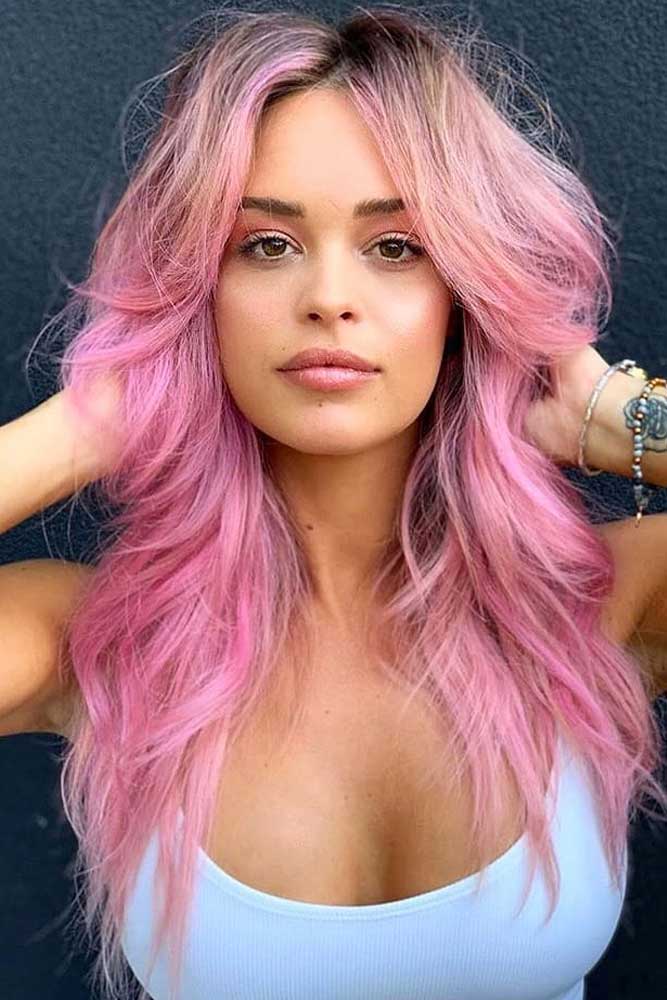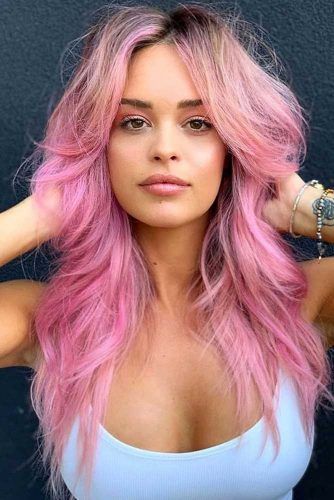 Source: joeltorresstyle via Instagram
Most shaggy haircuts feature cascading front layers which, if styled right, can work on all facial features. Should we mention that this idea is a real role model for big forehead hairstyles? The voluminous framing waves on the front create an absolutely harmonic and balanced silhouette while the trendy shade of rose follows the latest aesthetics of hair colors.
Now you know that your big forehead isn't something that can really spoil your look. You just need to find a proper style to beautify it, and each of our ideas is ready to be your stylish salvation: it's time to try them out!
FAQ: Big Forehead
What does it mean to have a big forehead?
People will most likely ask you for advice if you have a broad forehead, because they notice your knowledge and wisdom and would not mind to learn from it. Furthermore, your organizing abilities usually enable you to complete things quickly and accurately, indicating that you are a good leader.
Are big foreheads attractive?
You might wish for more symmetry in your face. However, many men do find large foreheads attractive, especially if they see that you carry it off well, with confidence. High foreheads were once thought to be a sign of beauty, and many women would clip the hair off their foreheads to make them look bigger.