Sideburns have always been a fearless symbol of masculinity that reflects a wearer's taste and lifestyle. No wonder that many prominent movie characters and iconic singers rock this detail: it's a perfect way to individualize your style. Remember Elvis and Hugh Jackman's Wolverine?
Besides distinctive appearance, this facial hairstyle has one more benefit: it can balance out one's facial features. The style has re-emerged to enhance modern gentlemen's looks, and, alongside various designs, you're going to discover the trimming basics that will help you to look on point.
The History Of Sideburns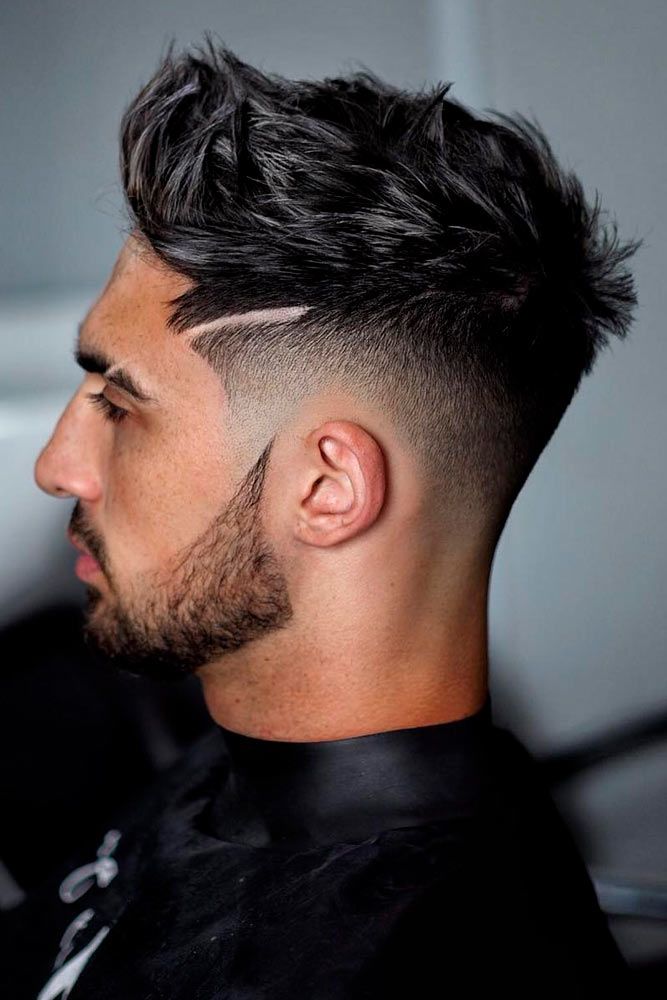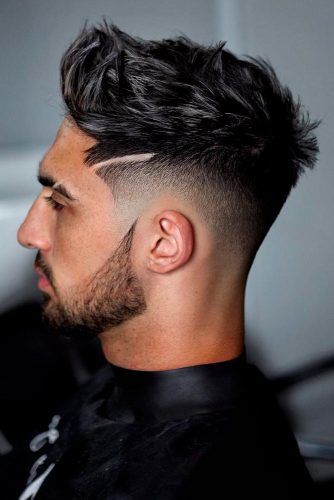 The history of sideburns is nothing but the proof for their remarkable individualizing power. The style took its name from a Civil War general named Ambrose Burnside. Even though he is known as a bad military officer, his facial hairstyle is still a style to remember. His luxuriant sideburn style, which was first called burnsides, featured thick strips of hair that grew down the cheeks and connected to a full mustache. In this way, unimpressive general contributed to history. To the hairstyle history! Now you know who made the beginning of the style that modern hipsters can wear with spiky hair and undercuts.
Source: ryancullenhair via Instagram
Modern Sideburns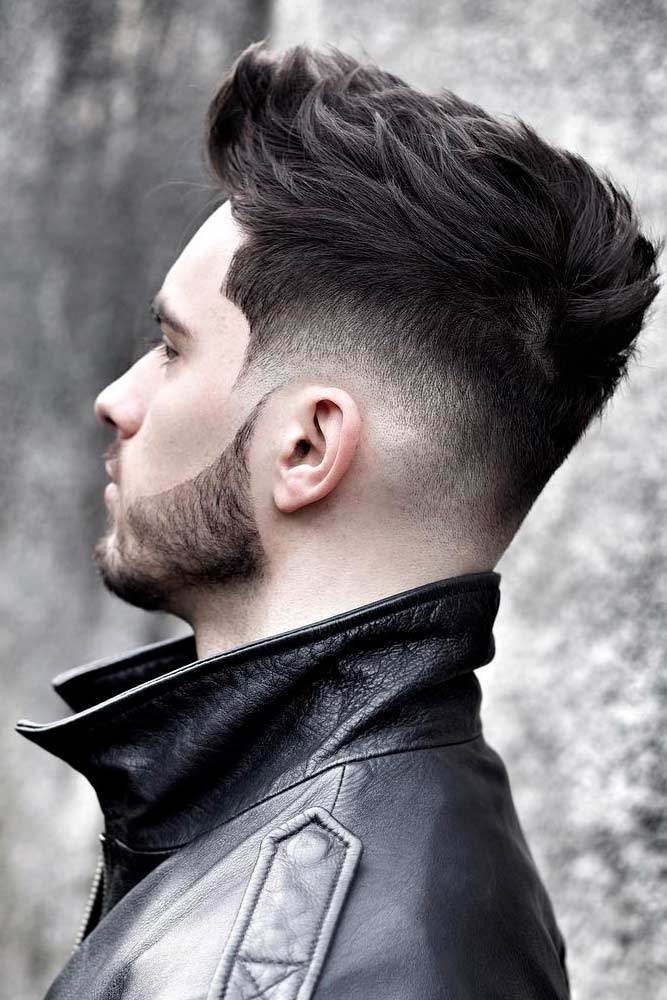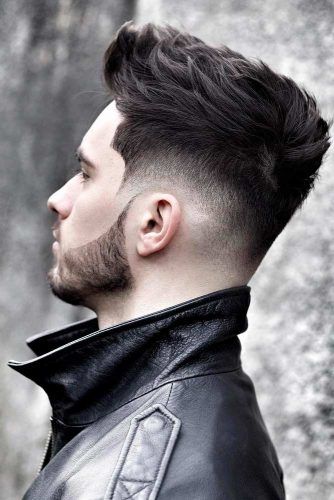 Nowadays, though side burns are not as huge and distinguishing as in the 19th century, they're still an irreplaceable detail of modern hairstyles. For example, those sporting a beard can't achieve the needed look without sideburns, as they create a balance between one's facial hair. As for clean-shaved, this facial hairstyle defines their temples, giving a wearer a well-groomed look. It doesn't matter whether you wear an undercut or a man's bun: to make your look complete, sideburns are a must. And the best thing is that you can play around with their types and designs. Based on your face shape, you can opt for anything from Ice Picks to Mutton Chops.
Source: ryancullenhair via Instagram
3 Reasons Why You Should Have Sideburns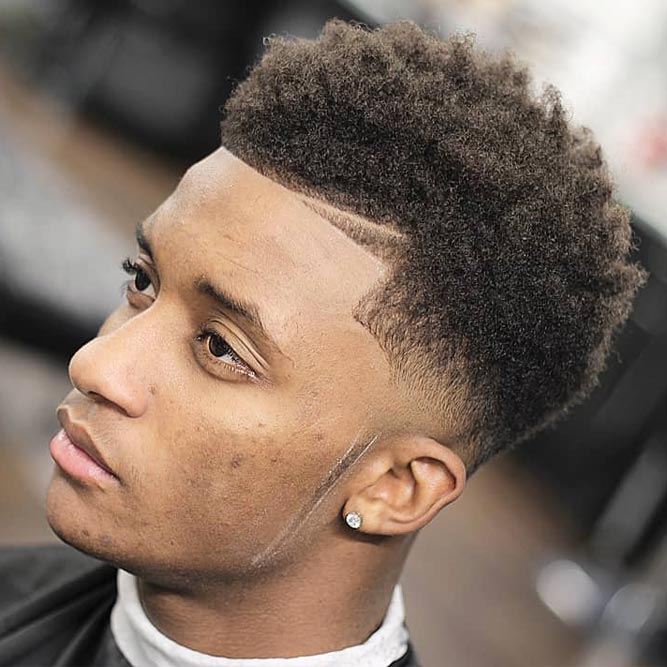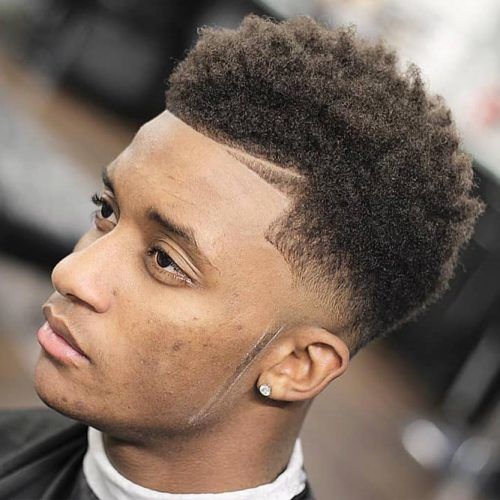 Do you know why no sideburns look is lame? Here are some explanations why you NEED to have them.
They frame your face, smoothing out your facial features, and building perfect balance.
With the right width and density of your facial style, any hairstyle and haircut will suit you, regardless of whether it fits your face shape or not.
They give an immaculate finish and bring a lot of masculine character to your look, which is a win-win for real men.
Source: d4ge via Instagram
How To Trim Your Sideburns
To keep up with your unique and attractive look, you should know how to trim sideburns. Just like we promised, here are the must-know basics!
Start with cleanly shaved and product-free facial hair.
Set your hair clippers to number 3 and trim your sideburns from the bottom up, continuing to the point where your hair aligns with the top of your ears.
Blend the hair around your temples to avoid rough thickness and length contrasts.
Set your clippers to number 2 and trim the bottom part to create smooth, faded graduation.
To carve out a perfectly sharp finish, wet the edges with some shaving oil and even out the style with a razor.
Comb the burns down to check if they've reached the desired look.
Sideburns Styles
Now, it's time to see how different this facial hairstyle can be. So many men, so many sideburn styles!
Long Sideburns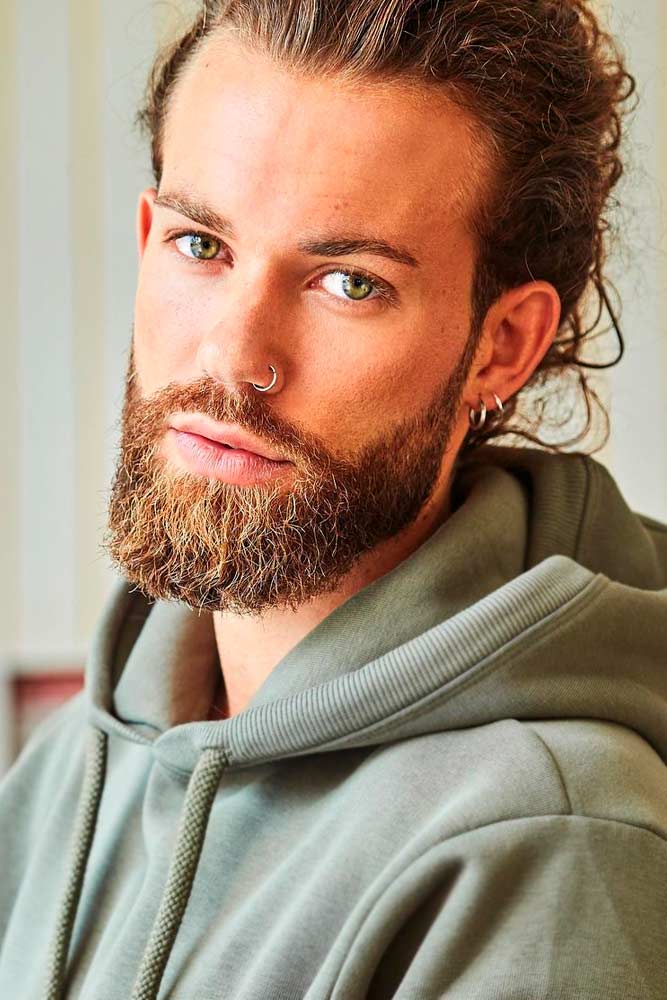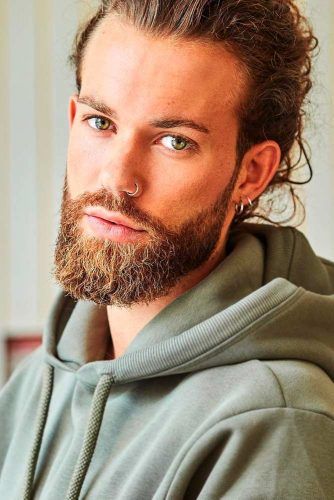 As we've mentioned before, beard styles only look decent when the burns accompany them. So here come long sideburns that softly connect a full beard, finishing the look with smooth graduation.
Source: hank_ge via Instagram
Short Sideburns
For curly hair, sideburns styles should be short and well-tapered. Not only do they give a nice finish but also set the balance for the thick texture, slowly mowing from short to long level.
Tapered Sideburns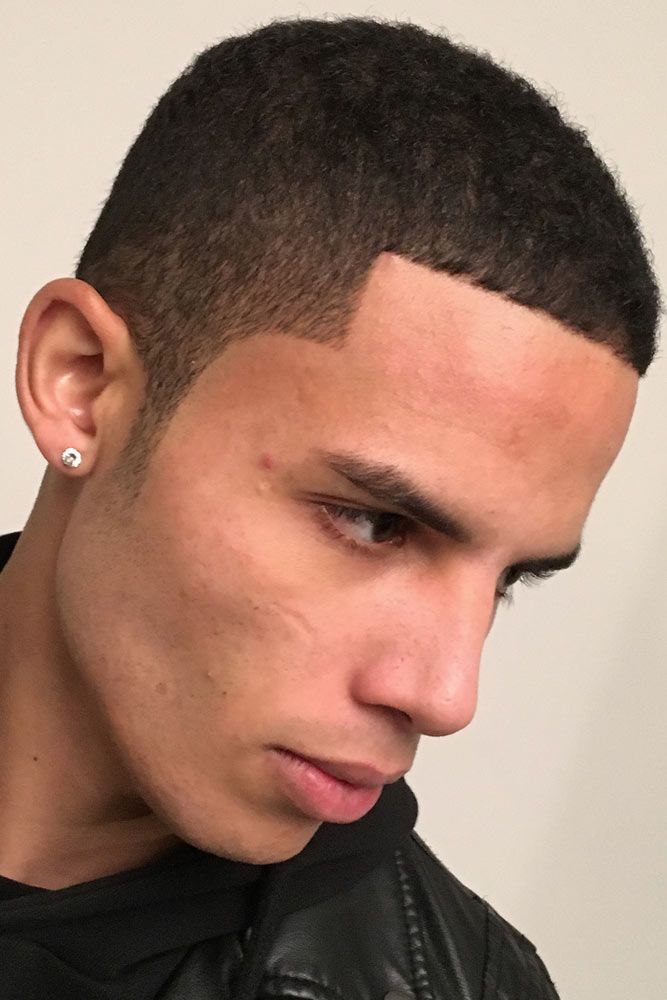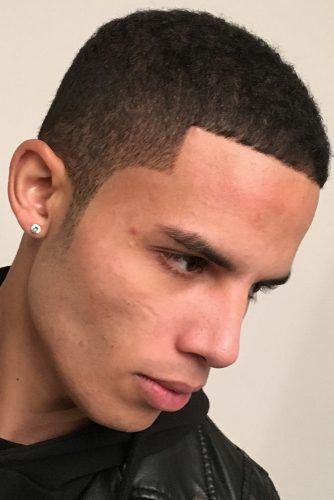 Here comes a variation of sideburns men with natural hair love to rock today. They're extremely light and closely tapered which makes them fit the popular fade haircuts.
Source: kevinluchmun via Instagram
Skinny Sideburns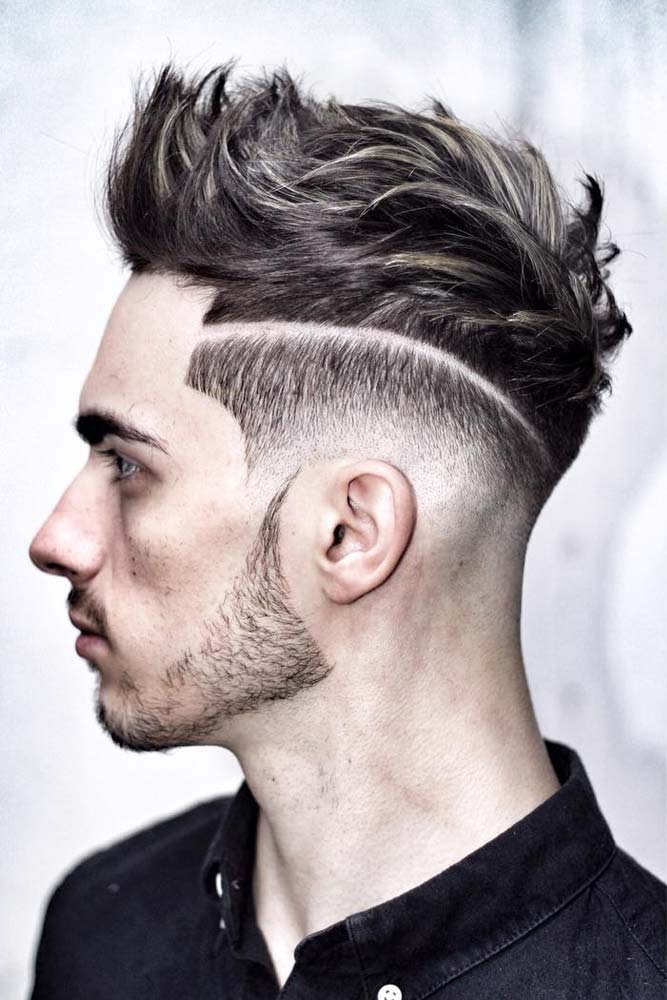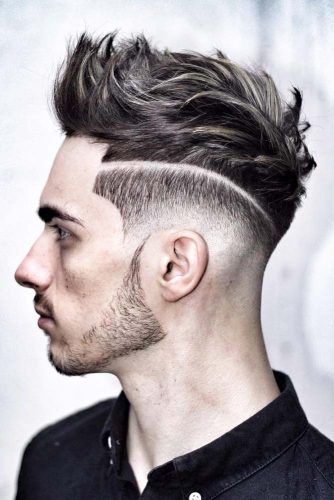 When you are about to go modern with your beard, go for a skinny beard and let polished skinny burns be the cherry on top. As you can see, it goes awesome with contemporary minimalist ideas.
Source: ryancullenhair via Instagram
Mutton Chops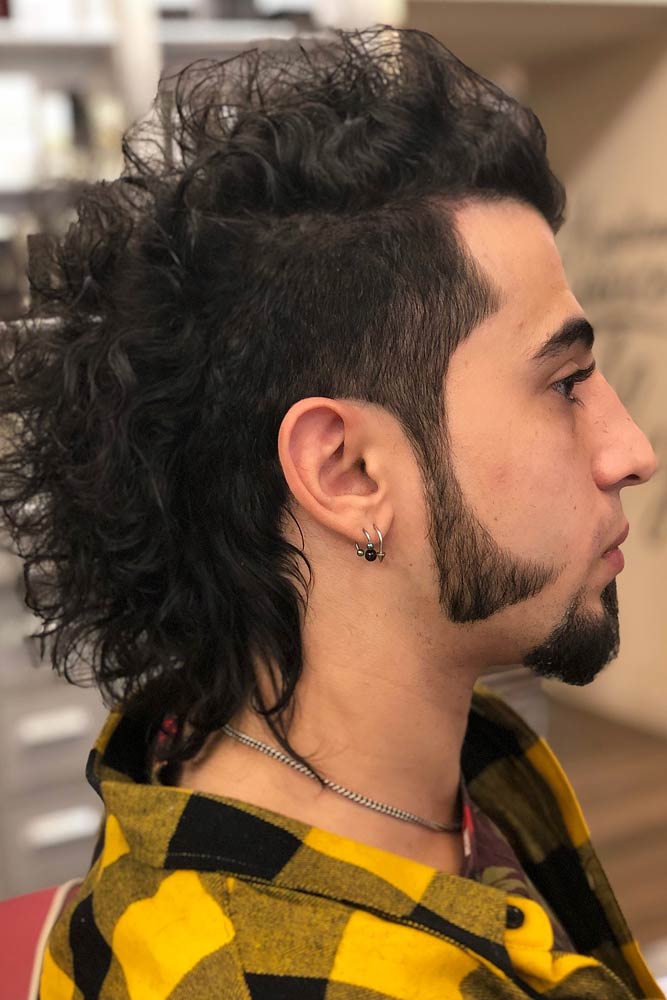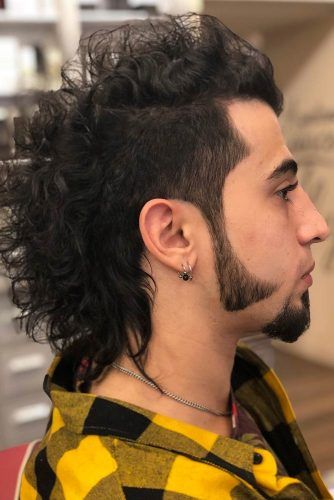 The Muttonchops idea is designed for men who want their style to express a rebellious attitude. Together with messy styled, thick, and voluminous chevelure, your Mutton Chops beard will be simply on point.
Source: mr.thyb via Instagram
Geometric Sideburn Designs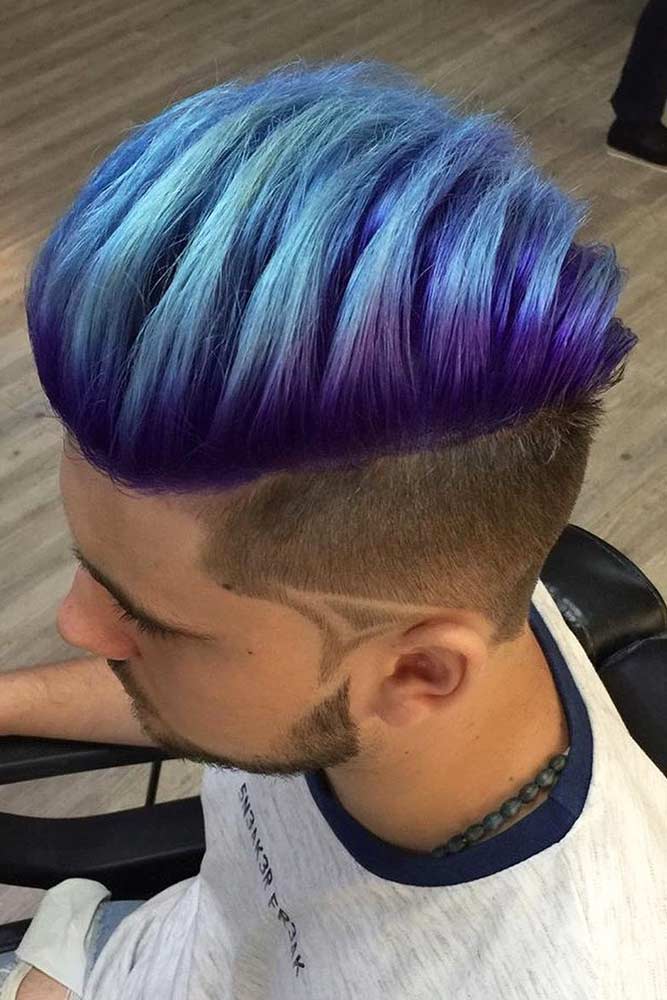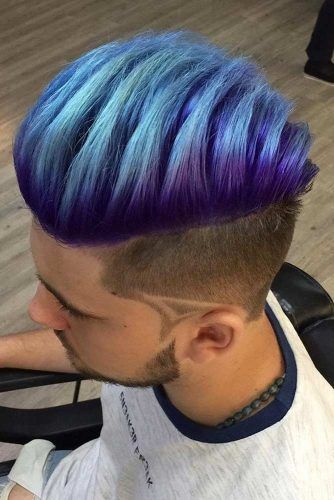 The magic of modern trimmers has no limits. Just like your imagination! Combine these two to rock a truly unique style.
Source: menshairlooks via Instagram
Short Sideburns + Beard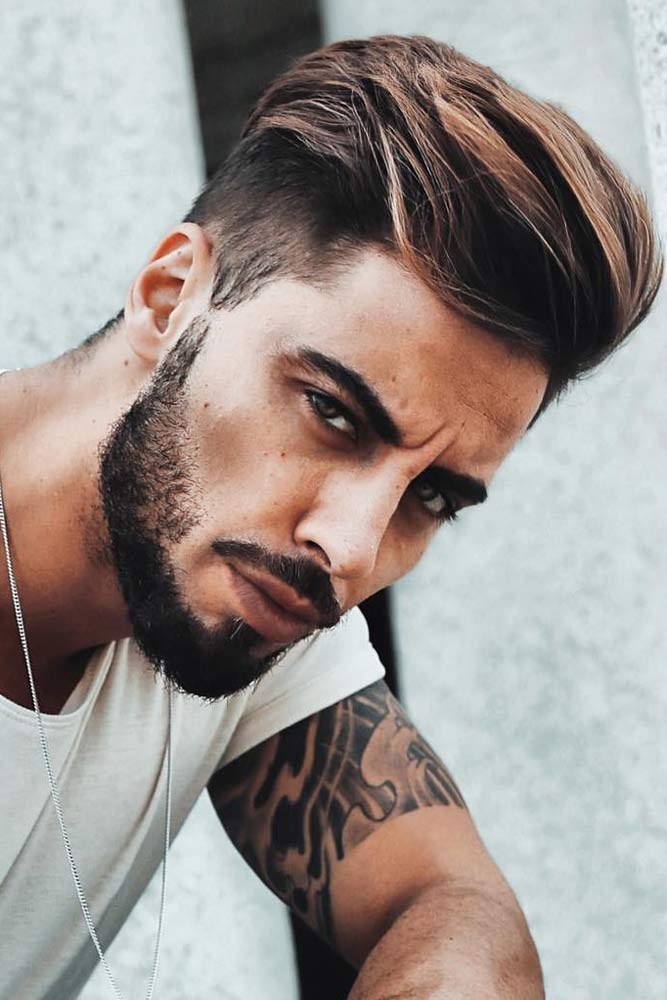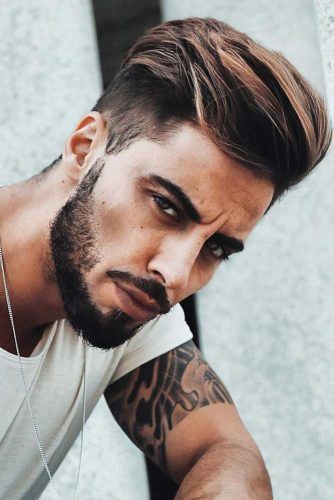 If you're more into brutal looks, look no further than a goatee that turns into a sparse stubble and roughly connects with your burns.
Source: giuse_laguardia via Instagram
Edgy Sideburn Designs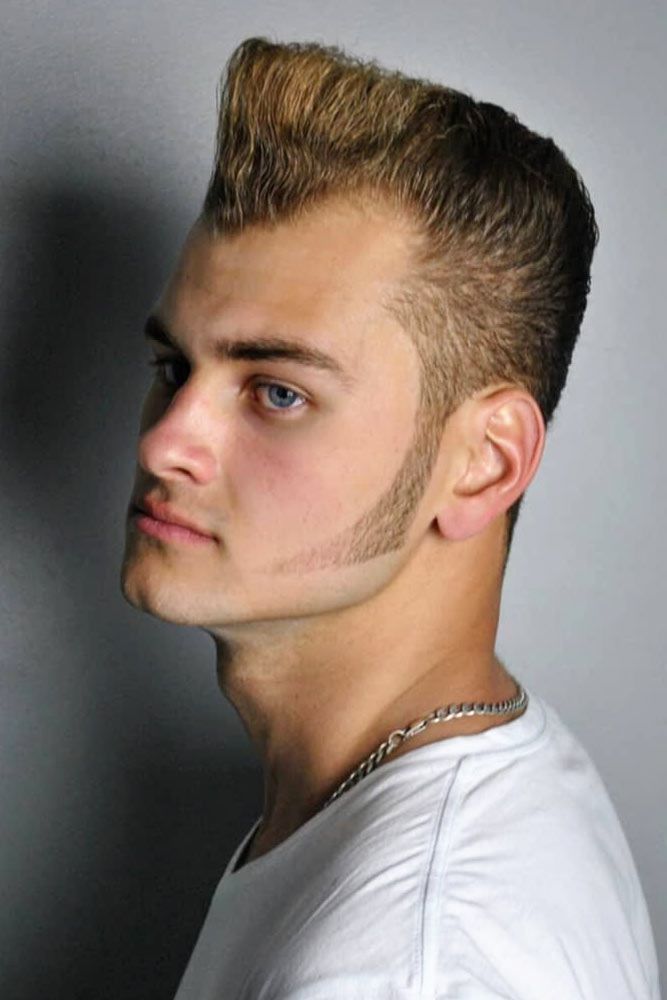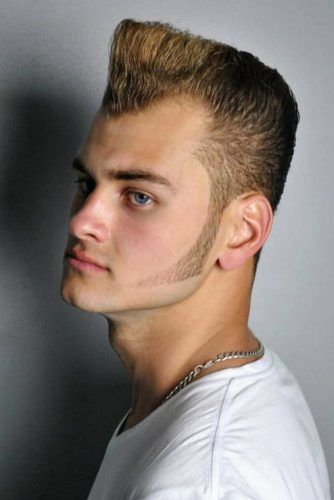 A sharp and outlined silhouette won't hurt, especially if you want to rock an edgy look. These sideburns are long, yet not drastic due to the close shave and smooth blend.
Source: dima_naiden via Instagram
70s-Inspired Sideburn Designs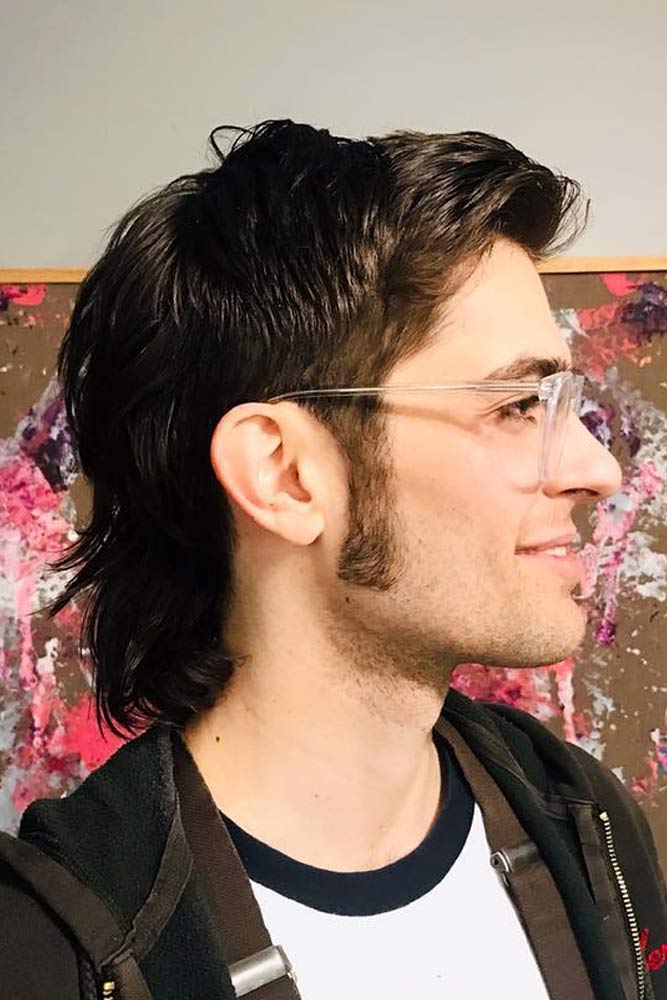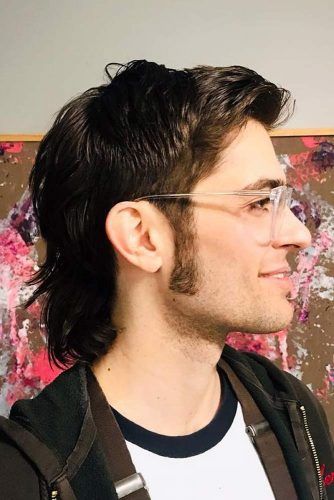 Long and frizzy burns were a canvas to men's imagination in the rock'n'rolling 70s'. Want to bring Woodstock back? Steal this look, then.
Source: hellcat828 via Instagram
Faded Sideburns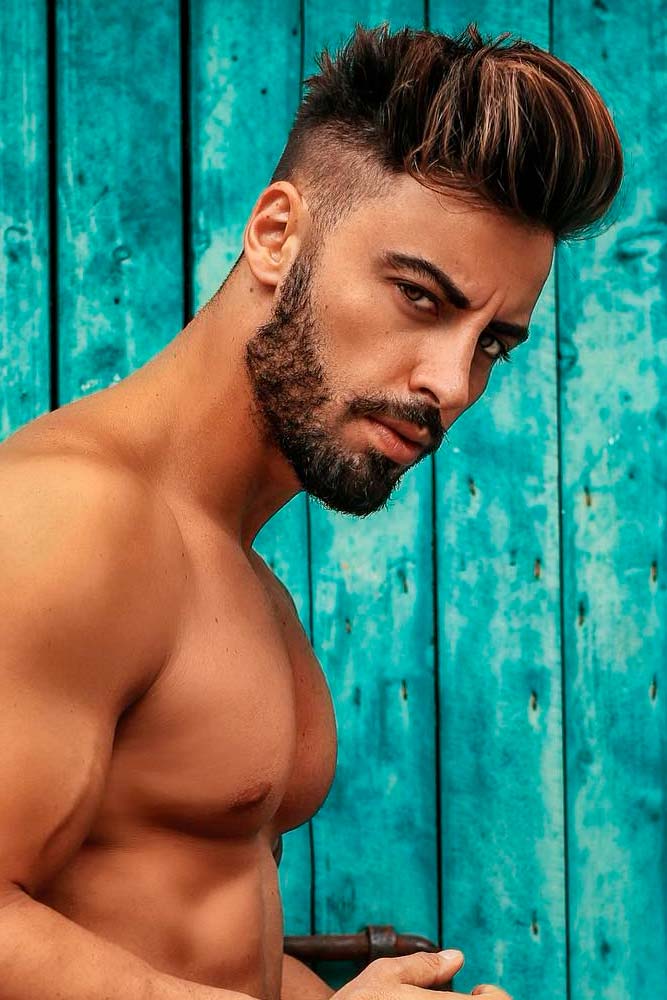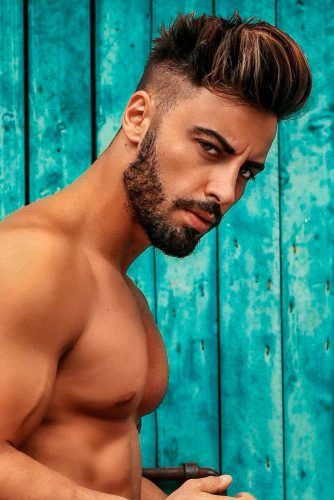 Why don't carve out your sideburns and make them melt with your fade? An immaculate beard, soft taper, and razored out burns: this is how awesome minimalist looks can be.
Source: giuse_laguardia via Instagram
Shaved Head With Sideburns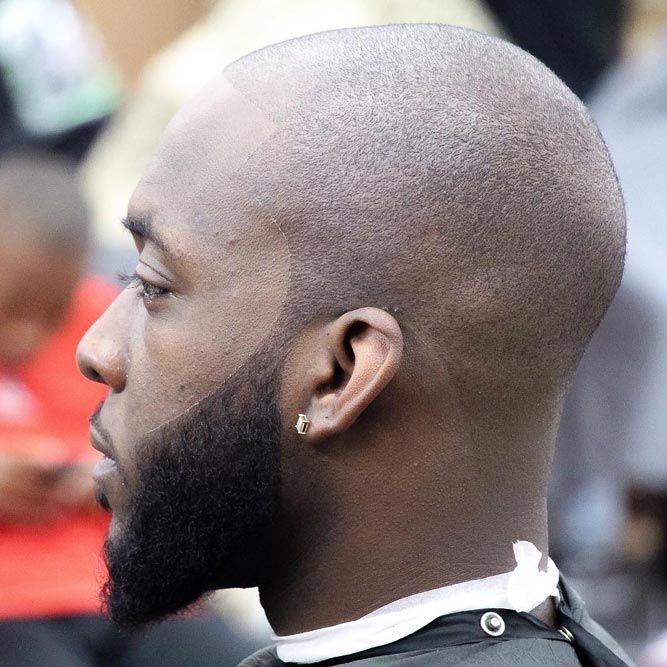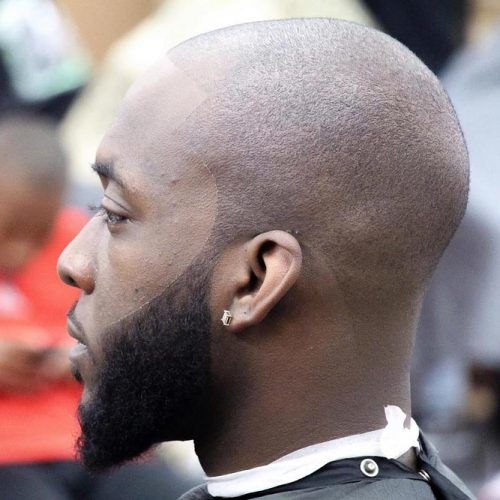 When you want to sport a shaved look with a beard, it's very important to keep up with the blend between your zero length and facial hairstyles. Well, you know what to do.
Source: nickthebarber via Instagram
Pointed Sideburns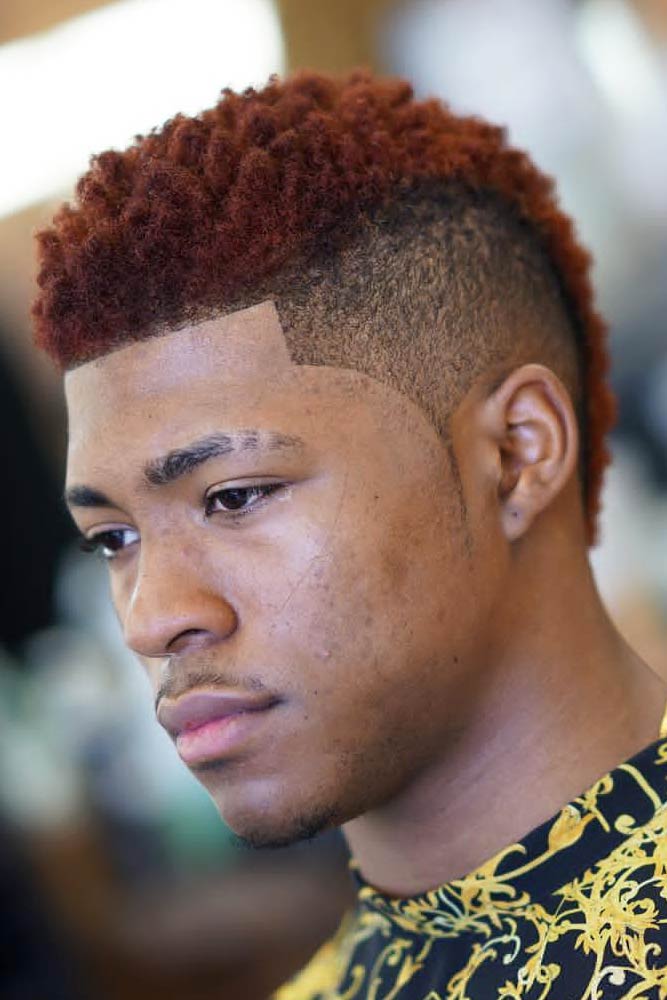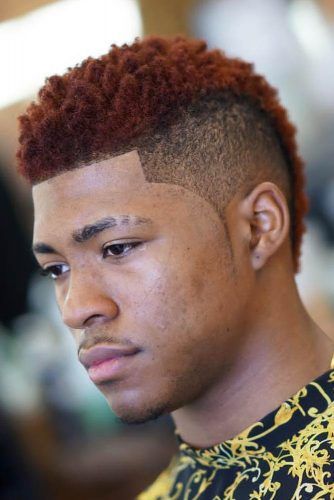 Don't forget that you can customize your burns in any way you want. This pointed, accentuating finish is a nice example of an individualized cut.
Source: nickthebarber via Instagram
Stretched Down Sideburns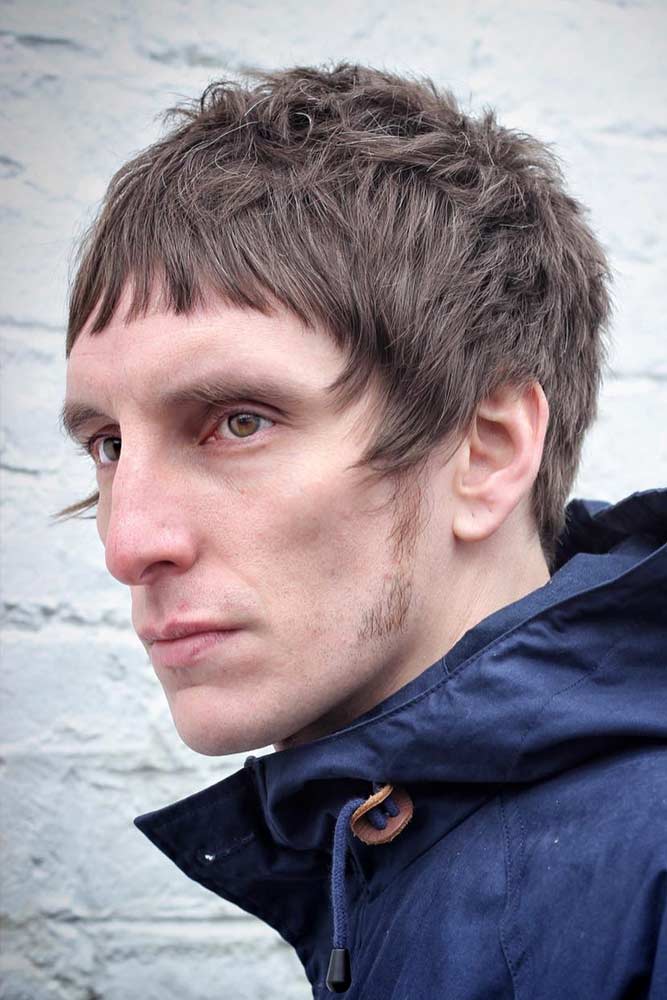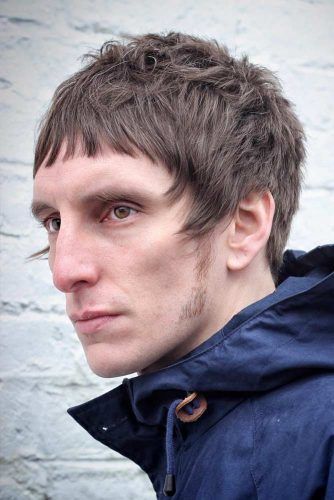 It's not a versatile option, yet, it can take your oblong face shape to the next level. These burns are long, thick, and dense, which helps to work on the long chin and wide forehead.
Source: cal_newsome via Instagram
Square Sideburns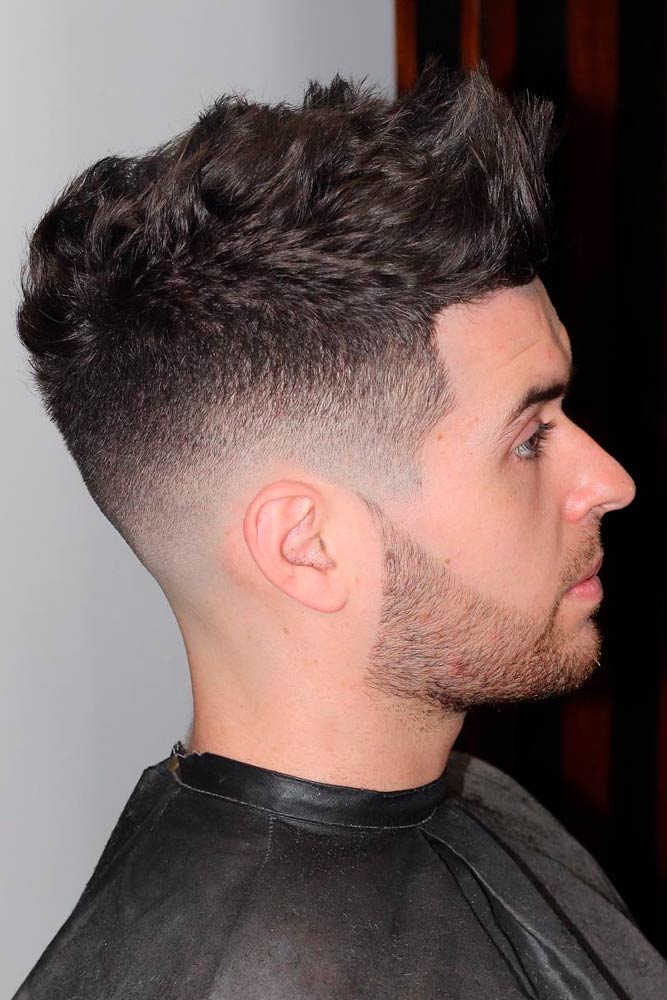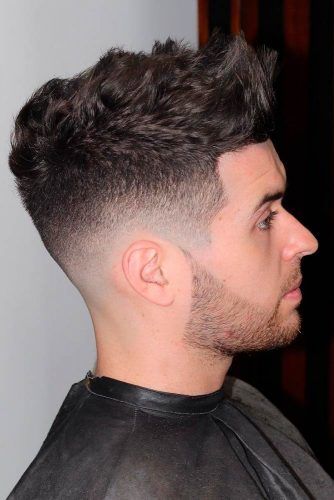 Square sideburns are probably the most popular idea. And the reason for that is that they can create an ideal look for men with any hair type and regardless of the occasion.
Source: ryancullenhair via Instagram
Sideburns have always been and will always be an ageless style finish. Now that you are familiar with their history and diversity you can call your barber and get your style complete. And, in case you'd like to go further customizing your look, you can try to give yourself a haircut with our fail-proof guide on how to cut your own hair for men!
FAQ: Sideburns
Are sideburns attractive?
Sideburns can make an average guy look quite gorgeous, and the greatest part is that they're instantly recognizable in any shape or form. The key goal is to keep the incisions as precise as possible so that the sideburn looks like it was made on purpose.
What is the purpose of sideburns?
Sideburns serve to frame your jaw line and create a smooth transition from your cheeks to your hairline. If you want to get an uninterrupted transition and to show off that sculpted jaw line, choose a style that complements your facial shape.
How long should sideburns be on a woman?
Women sideburns should be 0.25 to 0.5 inches long. Trim your sideburns with a pair of small scissors until all of the hair has the right length. Remember that any hairs shorter than 1/5-inch will most likely not be removed by the wax.
Can you get your sideburns lasered?
It takes about 10 minutes to complete each session. It is similar to the feeling of a rubber band slamming into the skin, followed by a refreshing sensation. At the beginning, all parts of the body require a minimum of five sessions. If you want to see 75 to 90 percent of hair reduction on the sideburns, you will need 5 to 12 sessions.