In men's fashion, a beard is nothing but a signature that a man puts to make his style complete. As a symbol of pure masculinity, this facial hairstyle has been popular with men of different lifestyles, evolving and getting more diverse with the time. In fact, there isn't a man who would look bad with a beard. On the contrary, there's a great variety of facial hairstyles to choose from so that every man can find his own unique style finish.
Whether you've already let your facial hair grow wild or are thinking about it, you will find today's ideas super inspiring. Besides spectacular long and edgy short styles, the most iconic facial styles spotted on famous men with beards are waiting for you. Dive in!
Facial Hair That Interferes With Respirators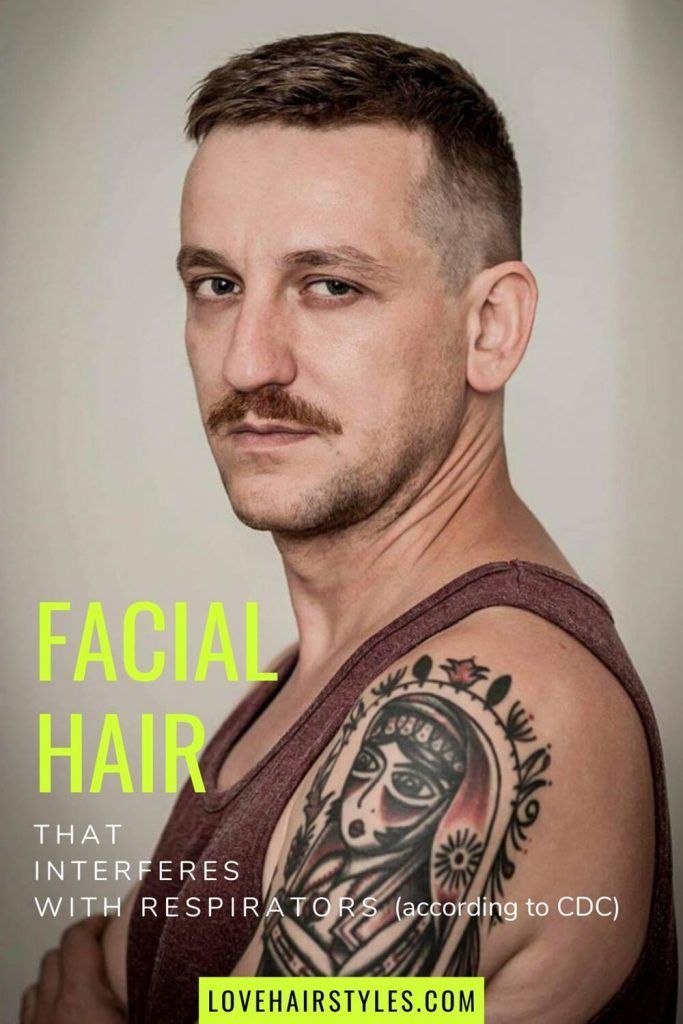 According to one of the safety infographics made by the Centers for Disease Control and Prevention, some facial hairstyles can make tight-fitting respirators less effective. In most countries, men who haven't got self-isolated or switched to working from home should get to the workplace with respirators on to prevent the spread of the virus. At this point, it's crucial to make sure that you wear the protective device the right way, and your facial hair has turned out to play a huge role here.
While respirators should lie close to the face to achieve maximum protection, some beards may come in contact with an exhalation valve, thus affecting the close fit. Therefore, if you're one of those bearded men who have to wear a respirator in the line of duty, you should re-consider your facial hairstyle until the end of the pandemic.
Note: CDC doesn't tell people to shave their beards off to avoid coronavirus. This infographic is a preventive recommendation for men with facial hair who are required to wear tight-fitting respirators.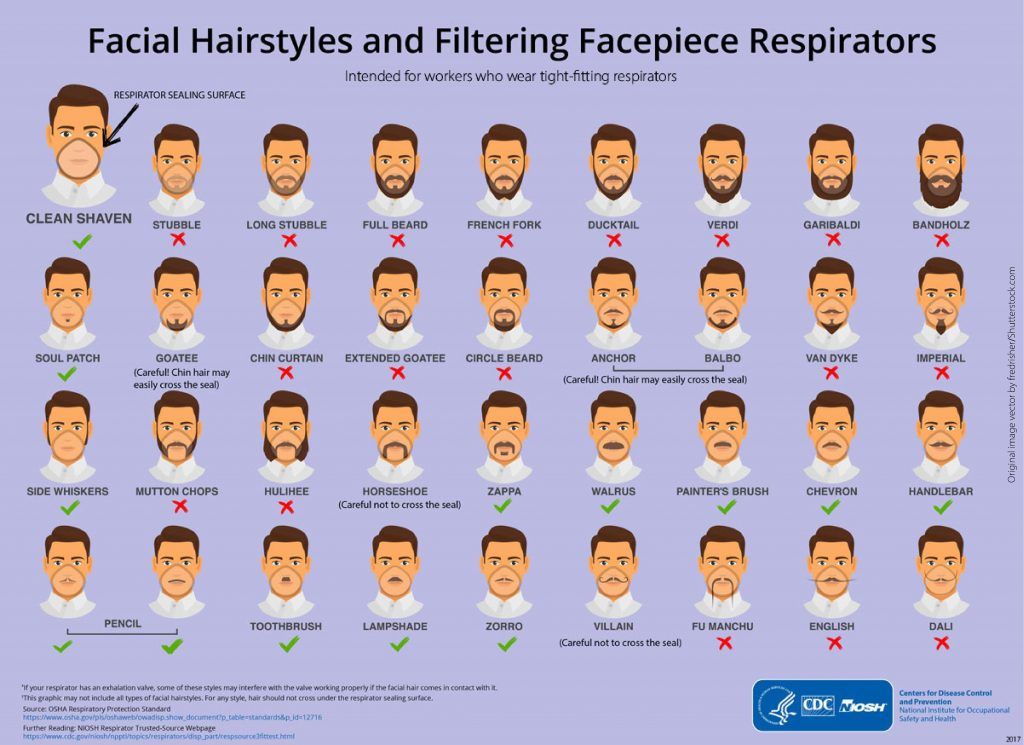 Beard styles that interfere with respirators
Any bushy and massive style featuring a full beard or long stubble
Beards that cover the sealing area of a respirator, including large sideburns
Long mustache and extended beards like circle beards, long goatees, and ducktails
Respirator-friendly beard styles
Petite facial styles like side-whiskers, soul patch, and minimalist mustache types
Balbo and anchor beards that don't cross the seal of the respirator
When Does A Beard Look Good?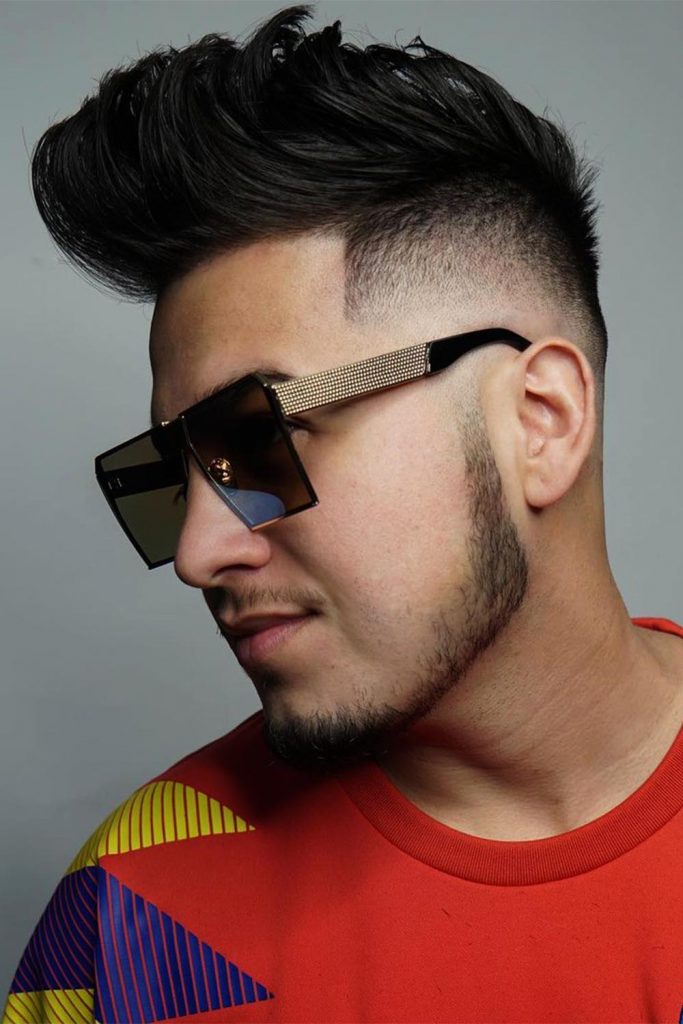 by @andyfadepro
To beard, or not to beard: that is the question. Although there's no way the facial hairstyle will ruin your look, there are still some restrictions about wearing it. The truth is, it's better to stop searching for hacks how to grow a beard if your hair grows too scarcely. Otherwise, you will end up disappointed about its texture.
Still, the beard growth process can be tricky, and some areas might be thicker than the others. For example, if the hair on chin and jawline is thick enough, you still can try some short beard styles like chin strap or goatee.
Don't give up if your hair grows thin and scarce. There are various options that can get the most out of your facial hair so you can wear a classy style.
The History Of Beard Styles
Beards, being the oldest style detail, have walked through many different places and epochs to become what we see and wear today.
In ancient times, when people couldn't even dream about a razor, men would pluck their facial hair with improvised sharp tools. In Egypt, facial hairstyles were a symbol of connection with gods, and the Royalty would wear a postiche, metallic beards.
As for Ancient Greece, beards were thought to be a sign of puberty. And, let's not forget that barbarians from Northern Europe, such as Vikings and Lombards had long beards, too.
Afterward, since the 18th century, the image of long beards has been associated with Russian culture.
Short Beard Styles
Short beards, whatever they are, are designed to give a neat and sophisticated finish to their wearers. While being pretty short facial styles, they give a lot of character and individuality. Once your hair is no longer than 2 inches down the chin, you are ready to give a shot to one of our awesome ideas.
Stubble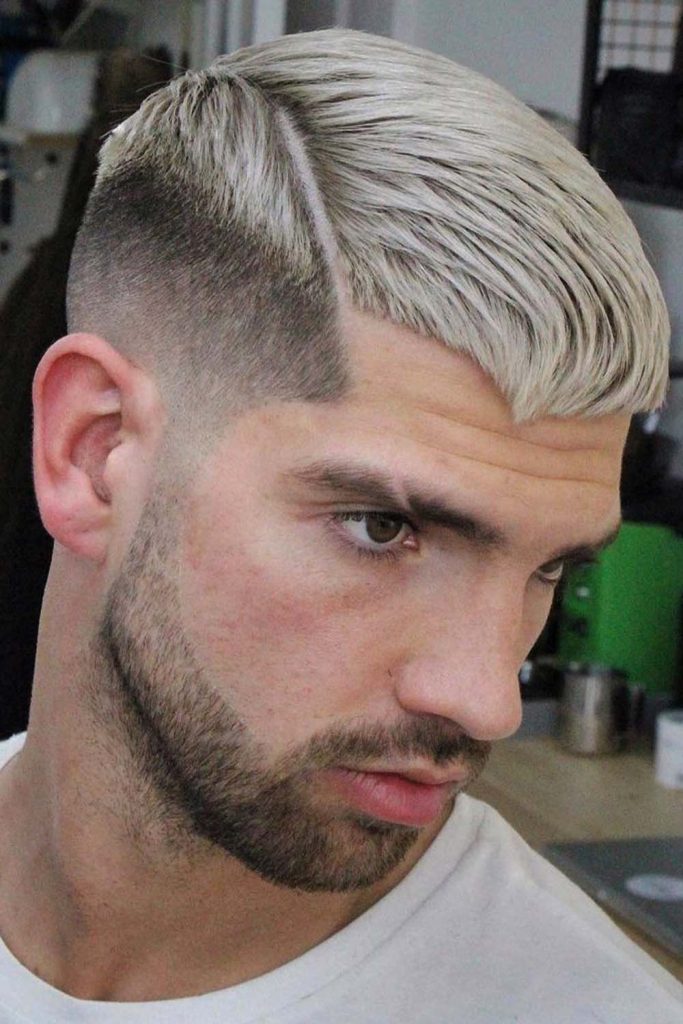 by @alan_beak
There's one thing all guys with beards walk through like one: the stubble. Moreover, some of them like to stay at the stage of distinctively grown stubble and don't make a step towards a beard. Similar to the facial style, a stubble is always a classy finish to all men.
Circle Beard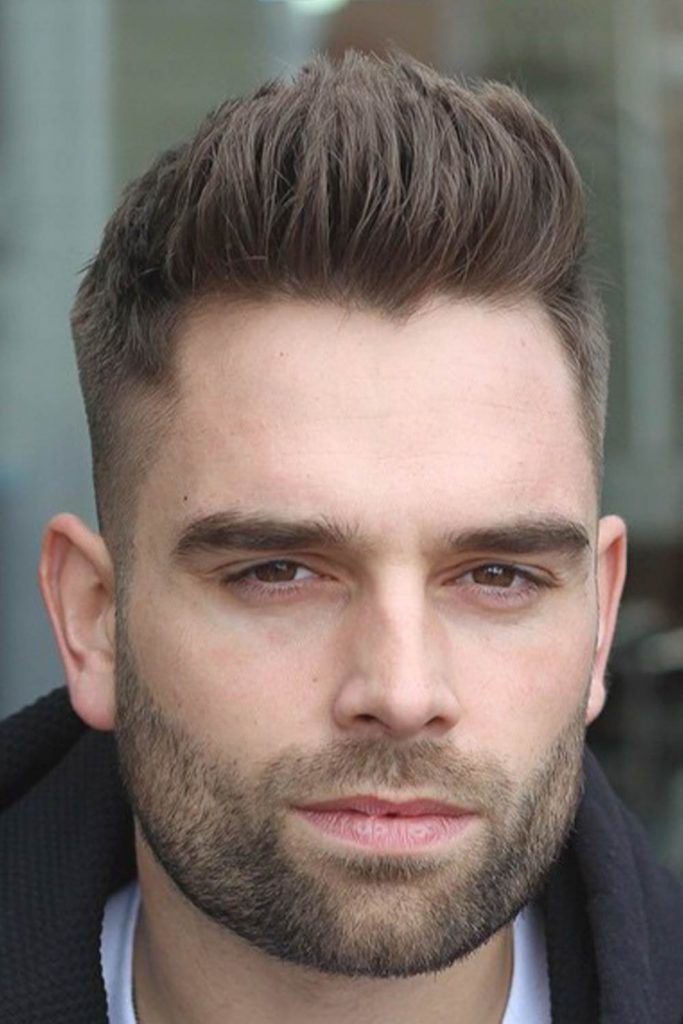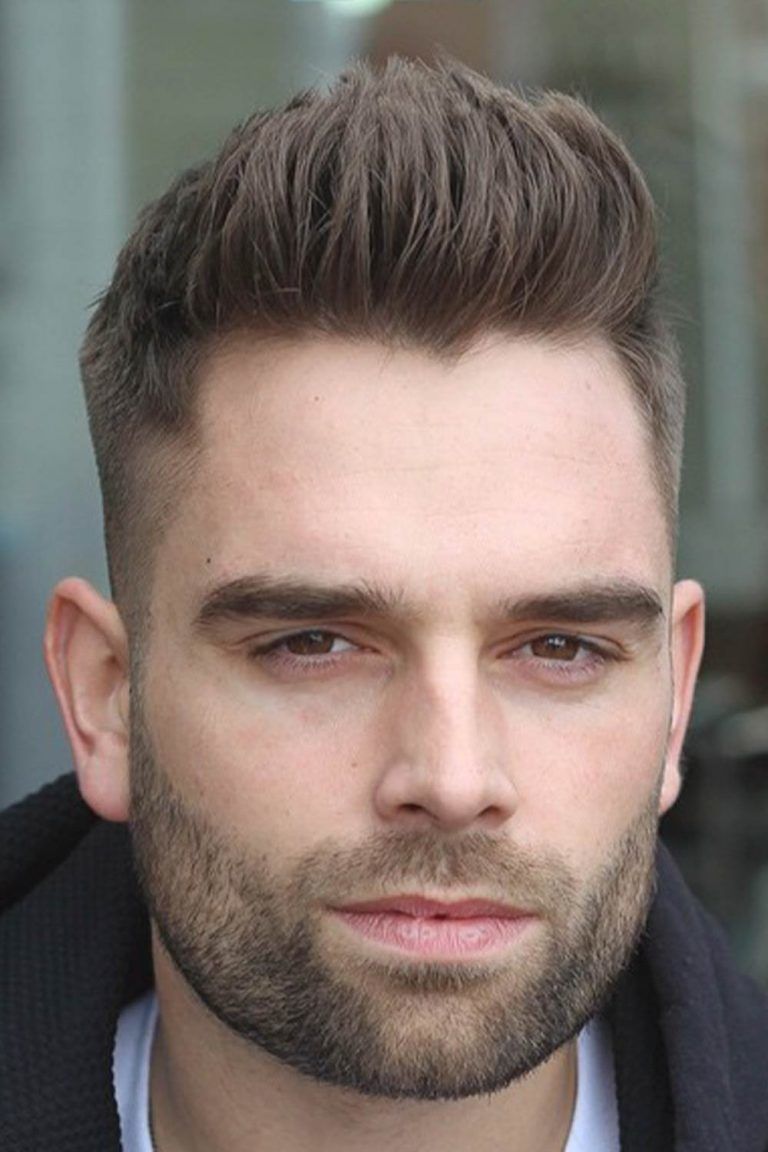 by @alan_beak
This idea is a combination of a chin patch and mustache that form a circle shape. The main reason to go for short types of beards lies in the way they accentuate a wearer's look with their striking simplicity. Obviously, this idea is no exception.
Goatee Beard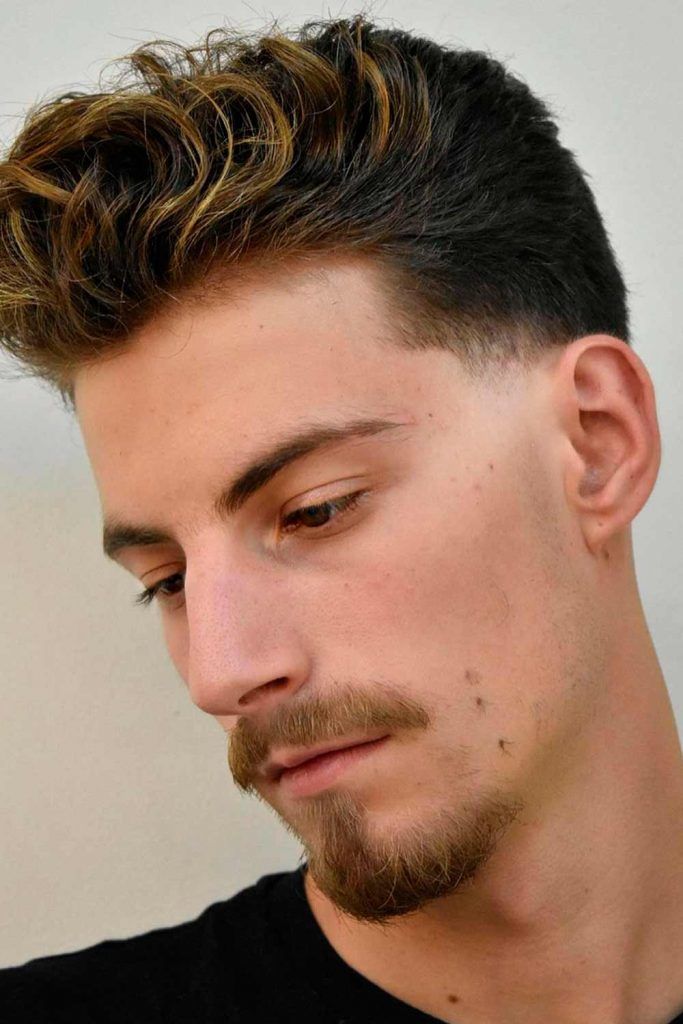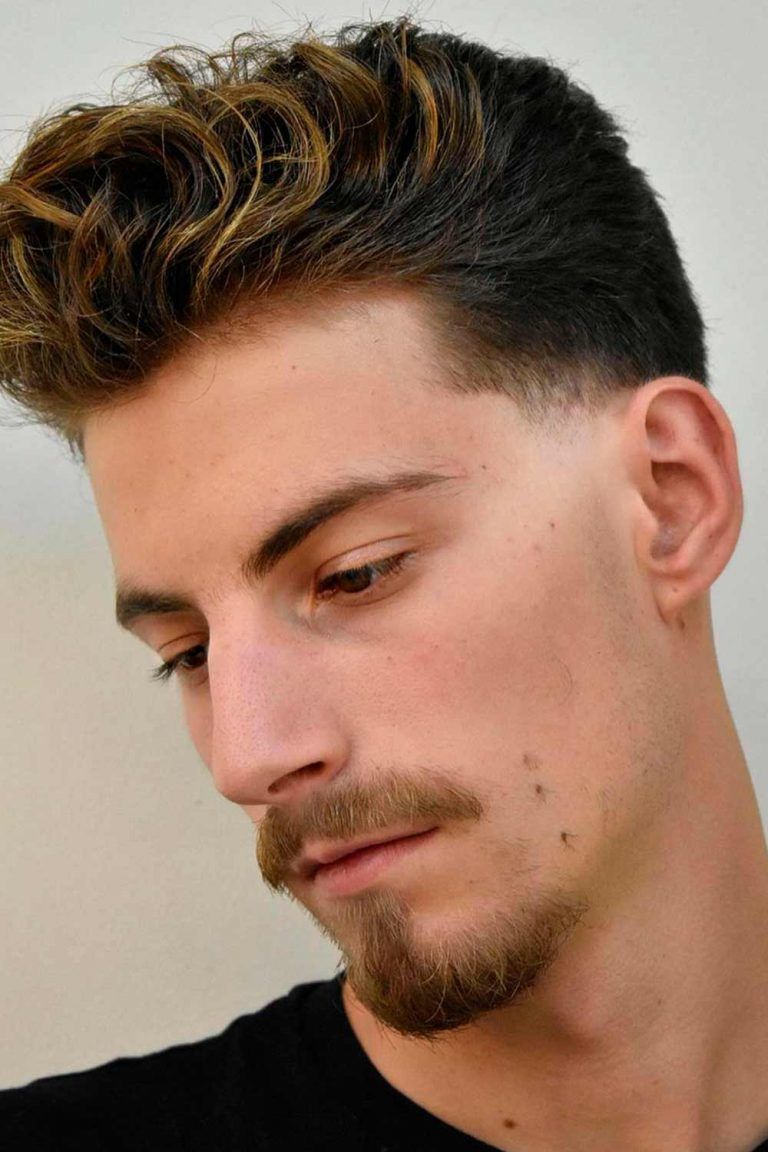 by @hayden_cassidy
For men with round faces, a goatee is the most beneficial choice among all beard styles. First of all, it elongates the chin, adding some edge to the rounder facial features. Second, it gives a smart, mature look.
Scruff Beard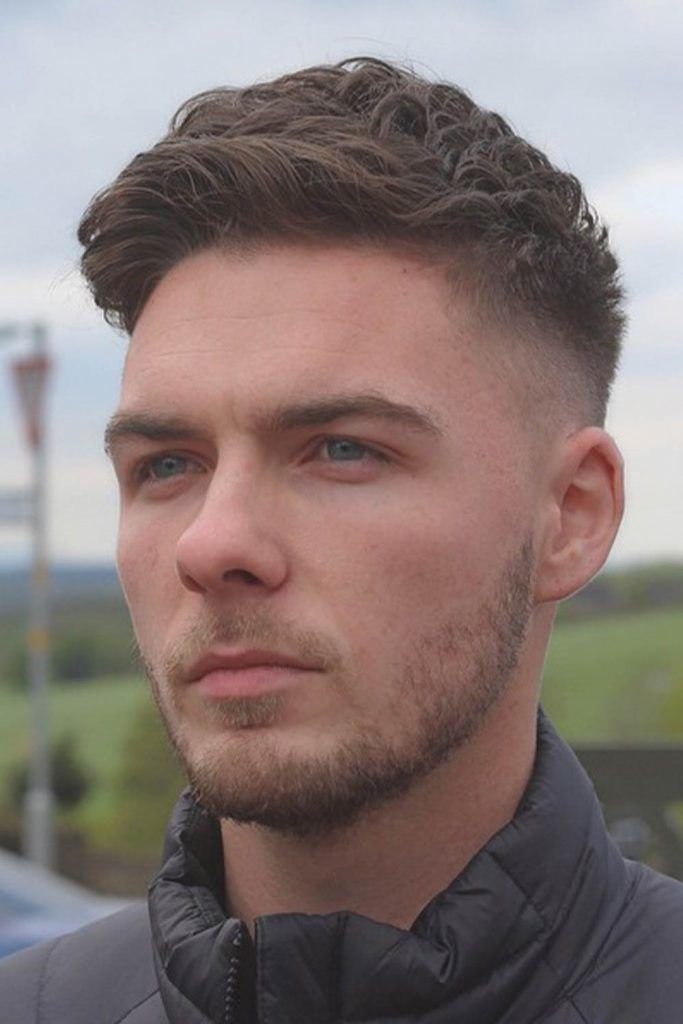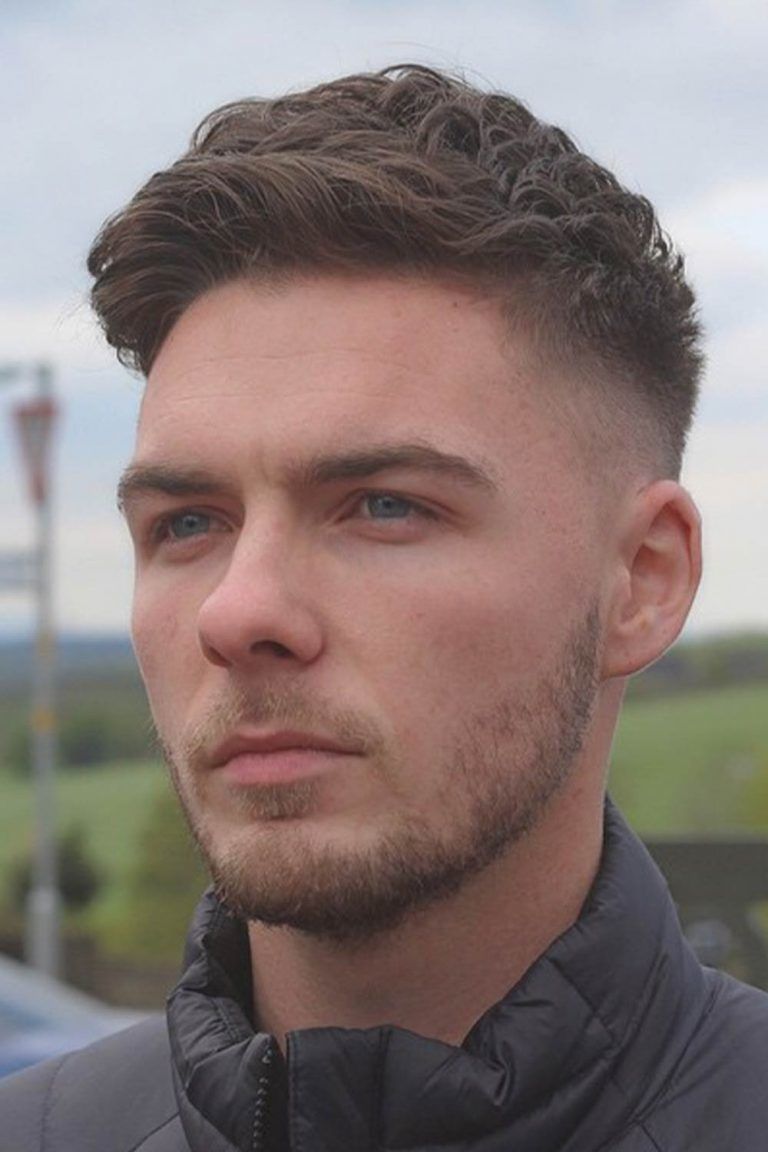 by @alan_beak
If you forget how to trim a beard for three days, you will get a scruff look. In other words, it's a three-day stubble that flows evenly, creating a sharp, masculine look with a hint of freedom.
Simple Yet Short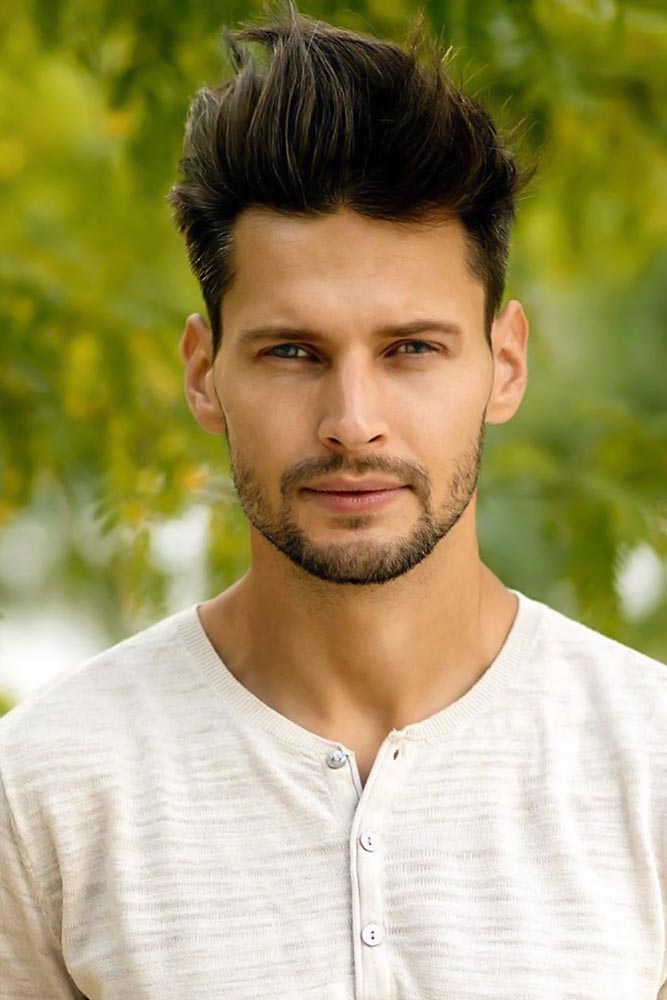 Credit photo: instagram.com/kamilnizinski
You don't need to grow a long and dense beard to show off your masculinity. A softly highlighted jawline with a well-shaped stubble transforming into a clean beard is enough to put the manly finish to your casual look. However, such a beard style requires regular upkeep, especially if your facial hair grows like crazy throughout the week.
Prominent Definition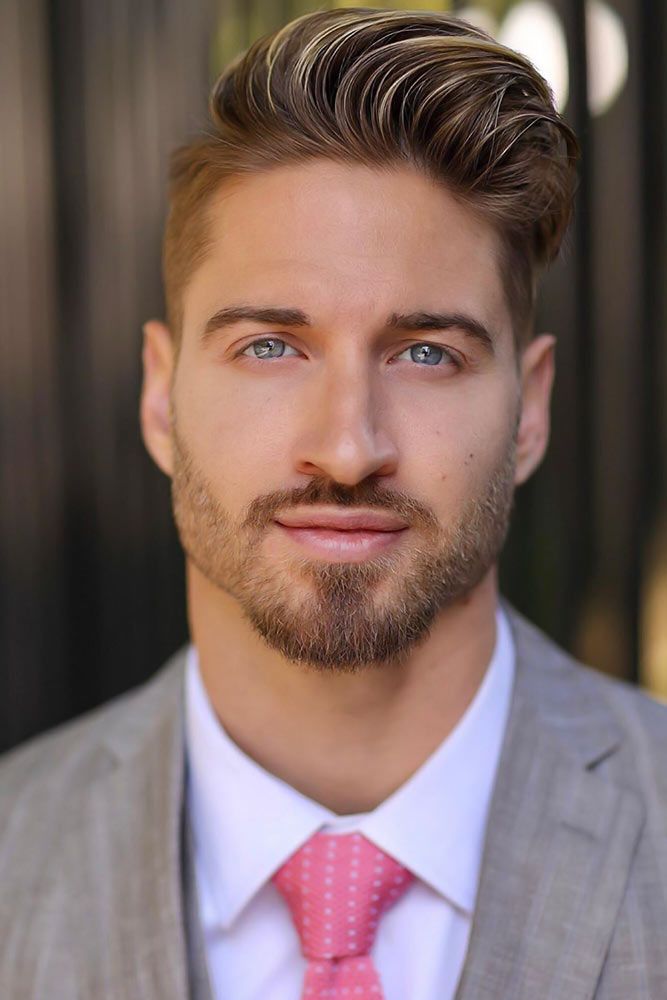 Credit photo: instagram.com/ travbeachboy
A properly chosen beard style can not only emphasize the best features of your face and smooth our some flaws but also become the exclamation point of your style. For example, if your lifestyle is all about sophisticated and presentable suits, your well-chosen beard can be the highlight of your refined image. This tapered and smoothly connected Balbo beard serves as a fantastic complement to a modern businessman's look. Besides, if you have a patchy beard, that's your chance to become a beardo.
Full Beard Styles
It's no secret that full beard styles are a huge commitment that requires patience and passion that go hand in hand. Needless to say, they're worth it.
Long Beard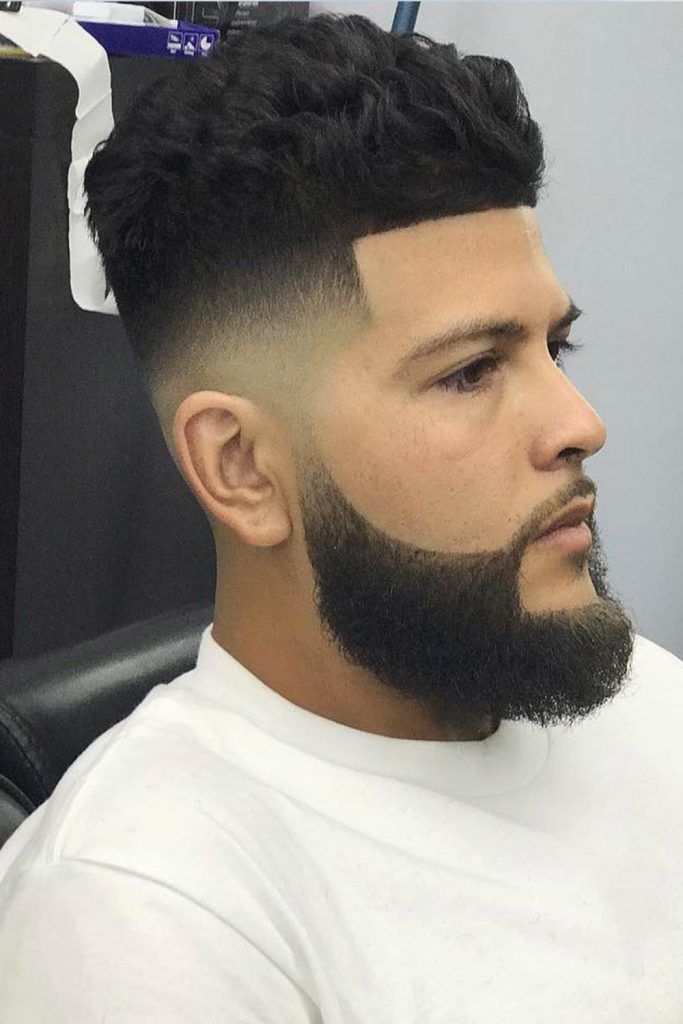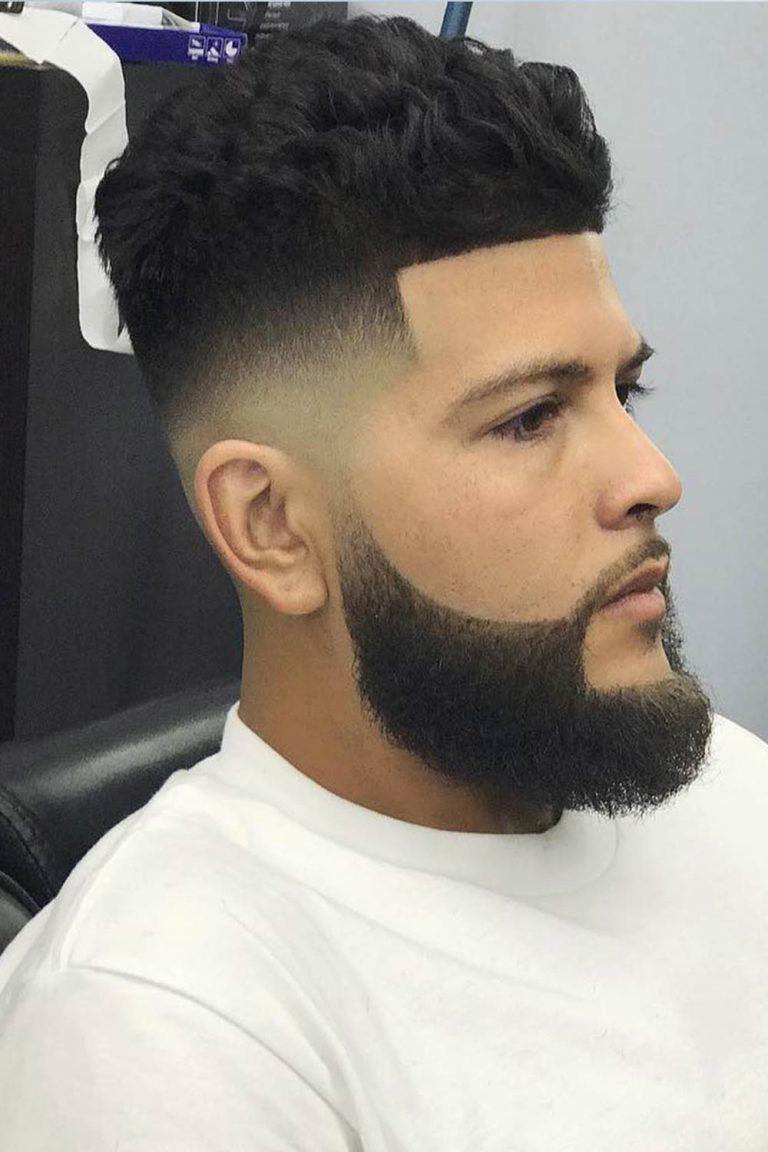 Credit photo: instagram.com/andyfadepro
Long beard styles were designed to make a man's look majestic and masculine at the same time. And this idea, apart from following the main purpose, builds a perfect balance to the whole look, complementing the voluminous hairstyle.
Trimmed Beard With Long Mustache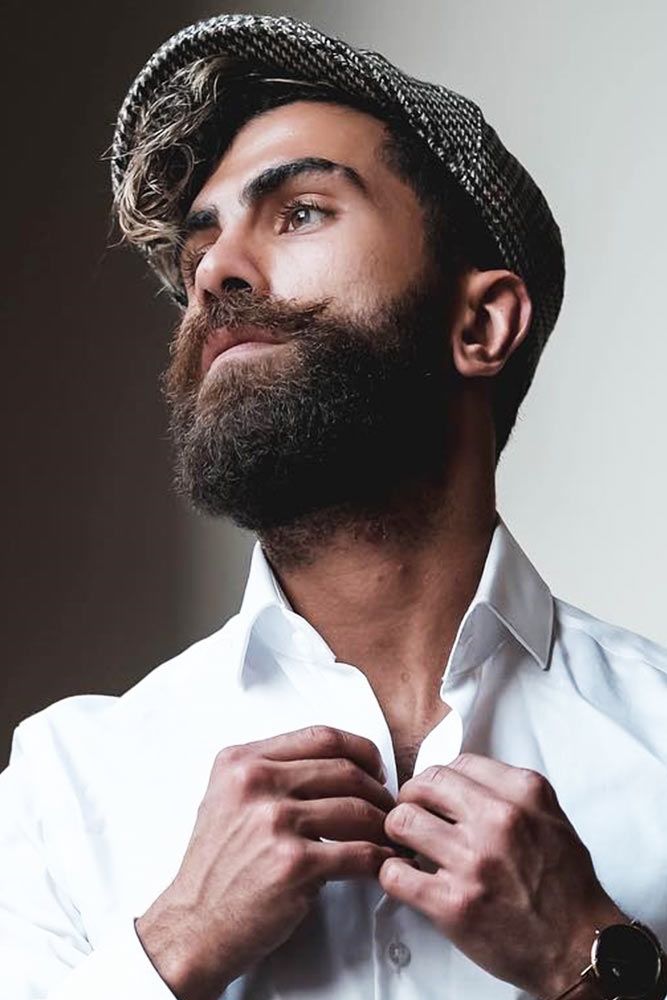 Credit photo: instagram.com/reza_jax
When it comes to creativity, beard trimming styles deserve an Oscar! You can not only experiment with the shape of your style but also pair it with such a facial hairstyle as a mustache. Of course, it can be as long or short as you want it to be.
Viking Beard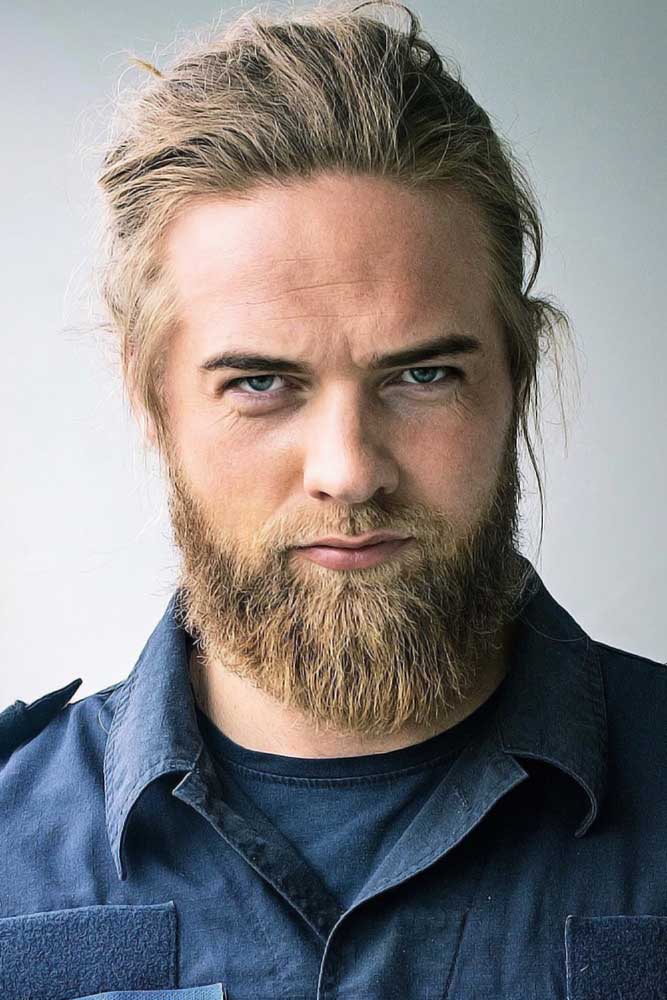 Credit photo: instagram.com/lasselom
The great, bushy, and messy Viking beard that usually starts as a neck beard is the purest form of virility. It goes without saying that with such a style works ravishingly for men whose inner warriors always call to action.
Red Beard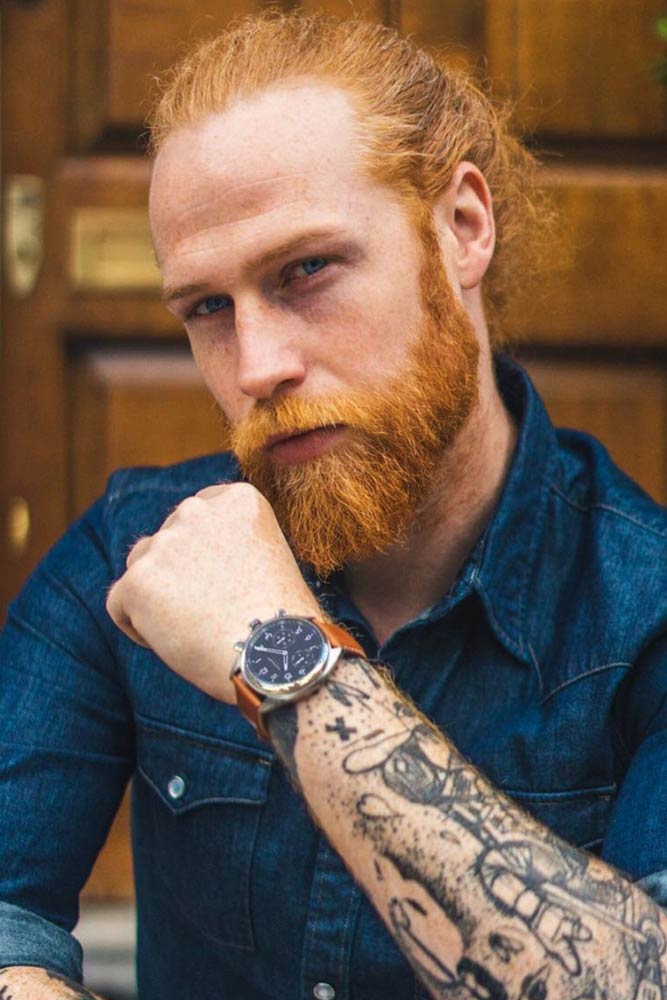 Credit photo:instagram.com/gwilymcpugh
Unlike black men beards, red beards usually come in a bit different color, rather than featuring the same shade as the top has. If you have ginger hair, becoming a beardo would be a beneficial decision as you will rock a distinctive and contrastive look at once.
Mustache + Medium Beard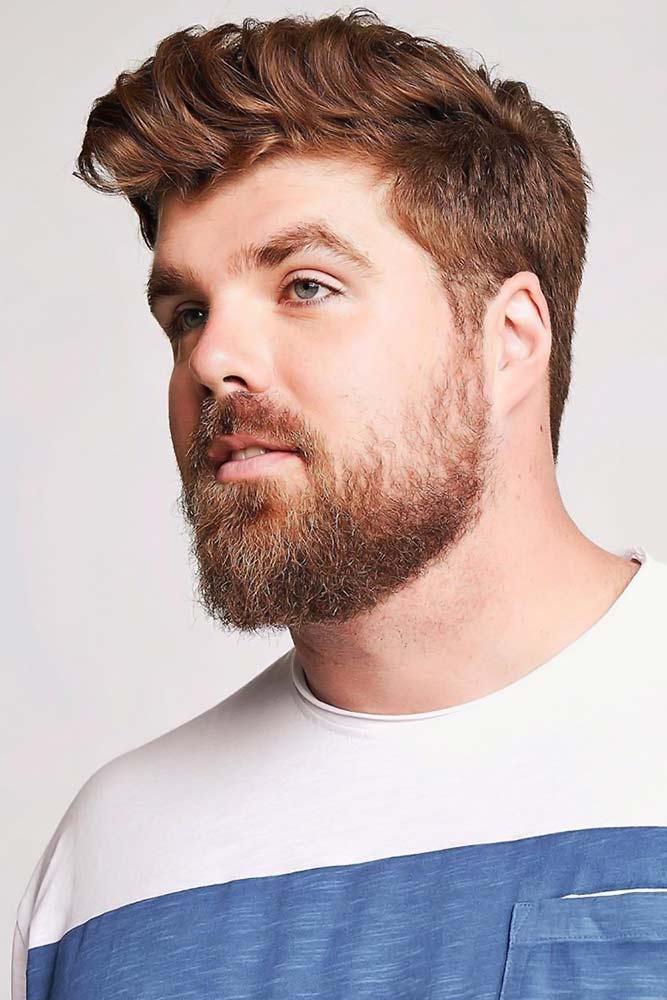 Credit photo: instagram.com/ajbuitendijk
On your way of growing our a dense beard, don't forget about the mustache, too. The truth is, such facial hairstyles look complete and balanced with a mustache, as it has always been a crucial part of a true beardo look. Plus, it makes all men look even more masculine.
Spiked Locks And Sexy Stubble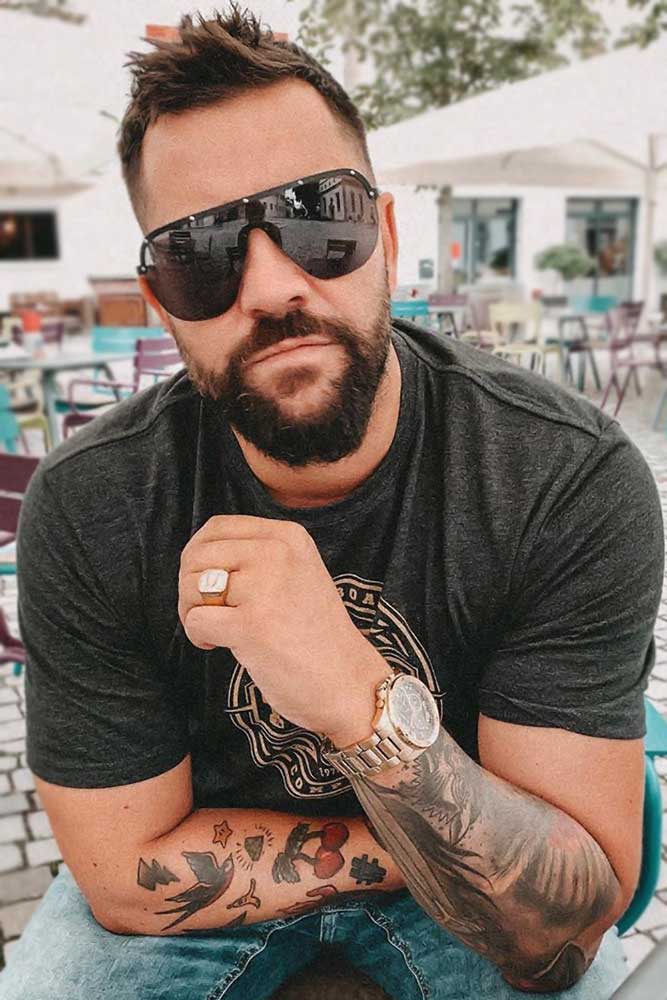 Credit photo: instagram.com/ onebenshow
When choosing a beard, remember that it should also match the hairstyles you wear. If you're into carefree and bold spikes crew cut, nothing will work better than a thick beard as a finish. Together, these two will create a sort of a virile look, emphasizing your manhood.
Short Textured Beard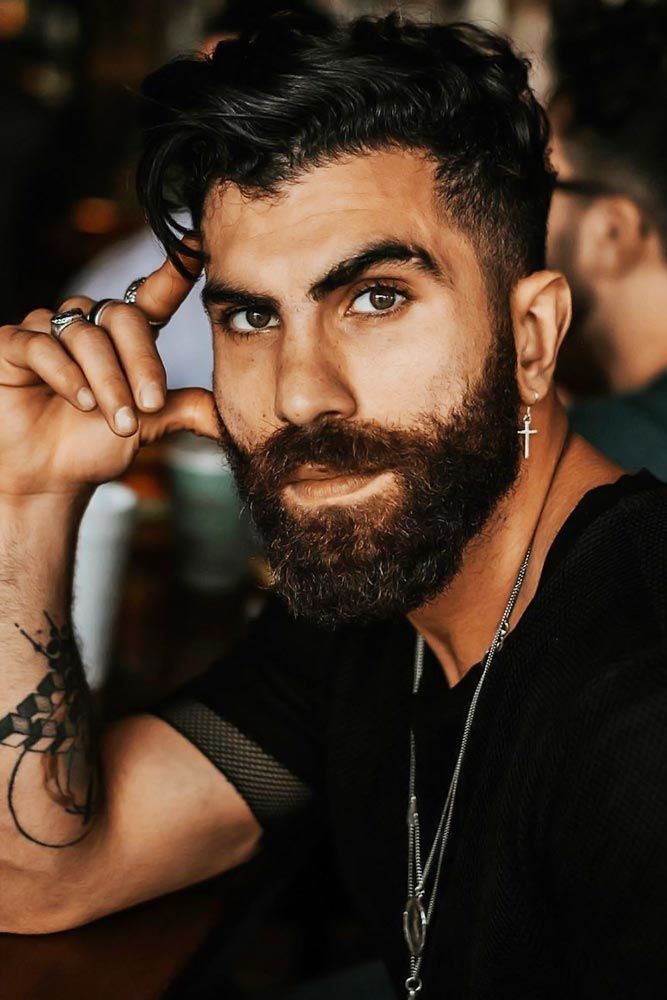 Credit photo: instagram.com/reza_jax
For a truly effortless and naturally-flowing beard look, sometimes you need to step aside from tapering and let your facial hair do its own thing. Guys with very thick and stubborn hair should taper it at least once a week to keep it well-groomed and polished. But how about you to go by a textured path? This short textured beard is your reason to go a little bit messy, though.
Beard Styles Ideas Rocked By Celebrities
What distinguishes actors with beards from actors without them? The great visual impact brought to their appearance, of course. This facial hairstyle can change one's life for the better, and male celebrities know that like no one else.
The Royale Beard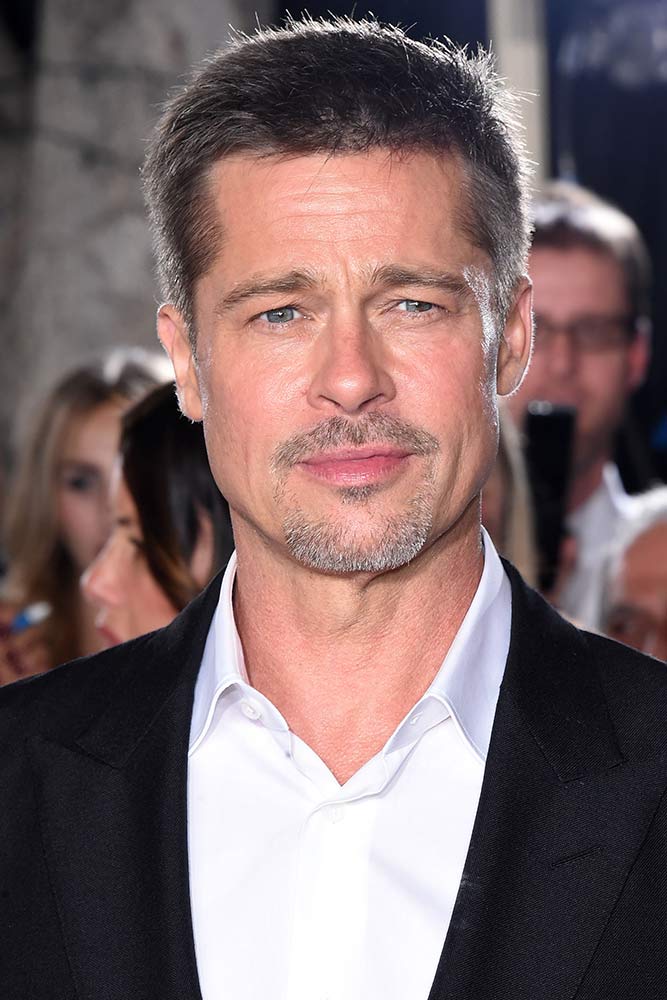 Brad Pitt knows that a chin strip anchoring his mustache is enough to emphasize his attractive square face shape.
Source: DFree/Shutterstock
Balbo Beard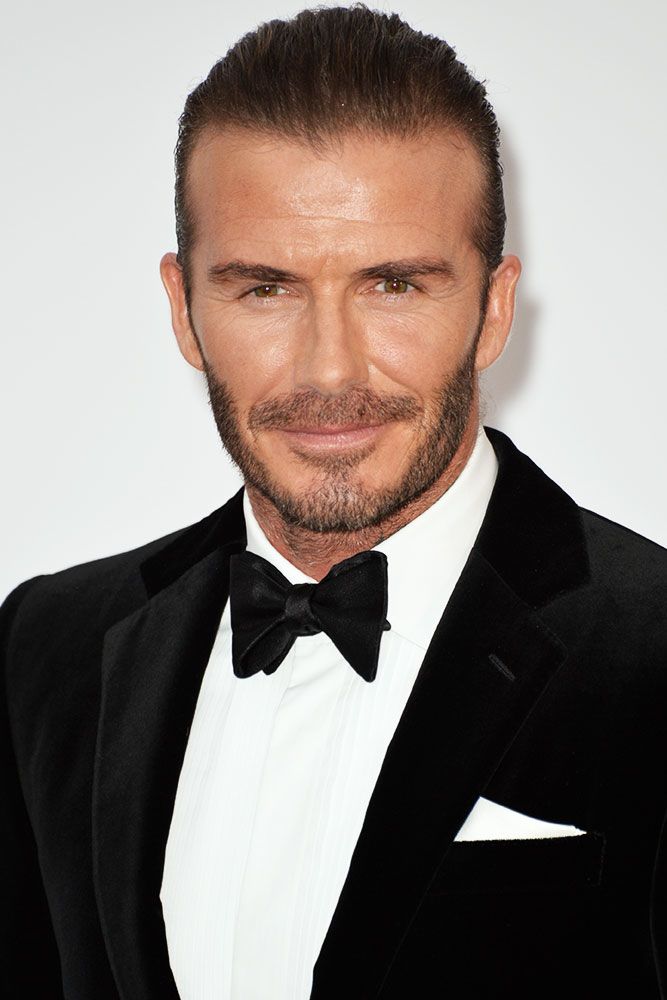 David Beckham seems to have personified the Balbo beard. The untrimmed sideburns, coupled with a floating carefree mustache make a statement while giving a light feel.
Source: Featureflash Photo Agency/Shutterstock
The Short Beard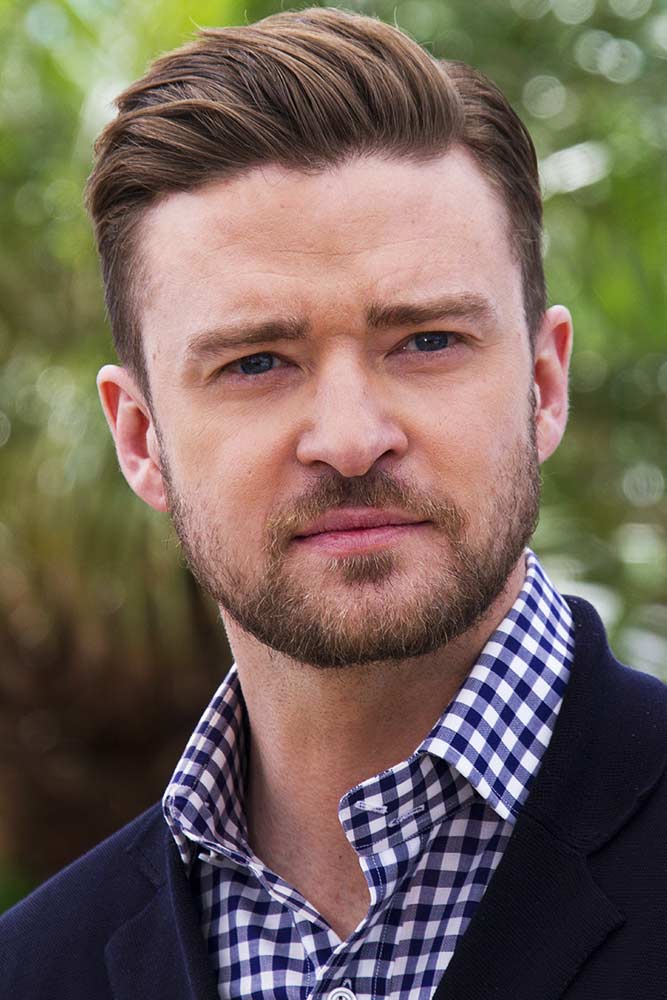 Instead of going for dramatic and sharp short styles like Van Dyke beard, Justin Timberlake decided to go simple but significant. In this way, his face is totally defined, yet without going too much with facial hair.
Source: Denis Makarenko/Shutterstock
The Beardstache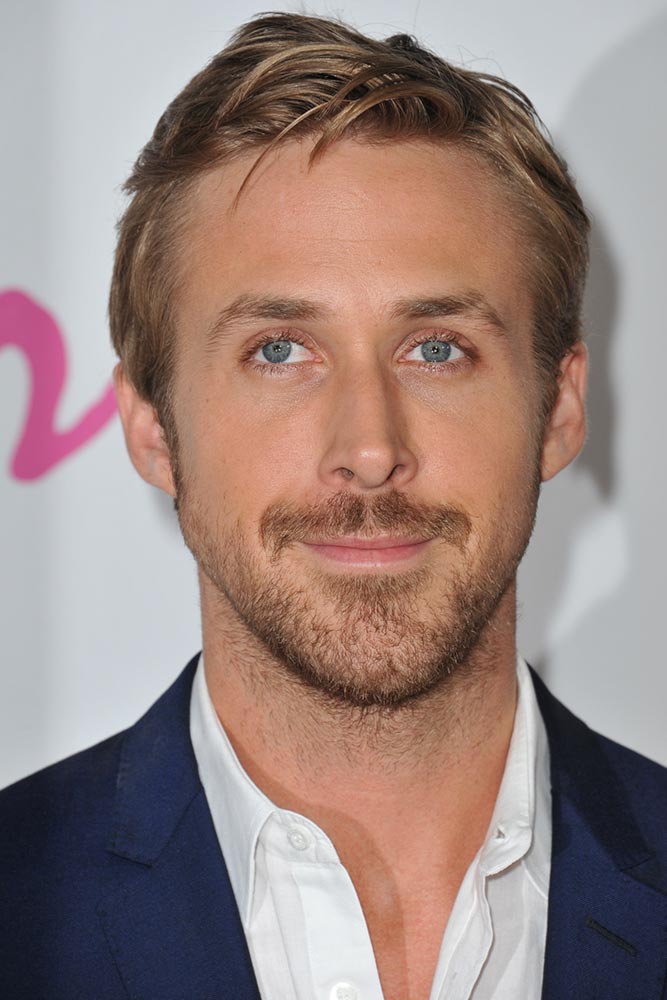 Those who wear the beardstache, including Ryan Gosling, say that it's one of the best beards ever. Why? It steps out of the comfort zone, featuring a heavy stubble finished with a neat mustache.
Source: Jaguar PS/Shutterstock
Full Stubble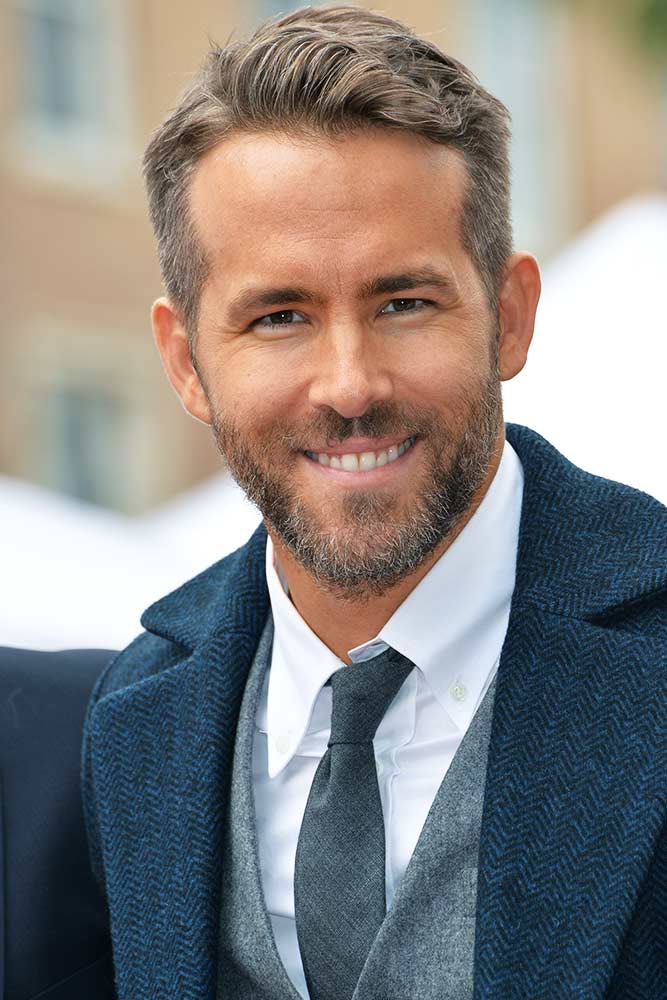 Not too bushy, yet not too shaved. This full stubble look is the happy medium between two extremes that results in a versatile and masculine finish for Ryan Reynolds' face shape.
Source: Featureflash Photo Agency/Shutterstock
The Short Boxed Beard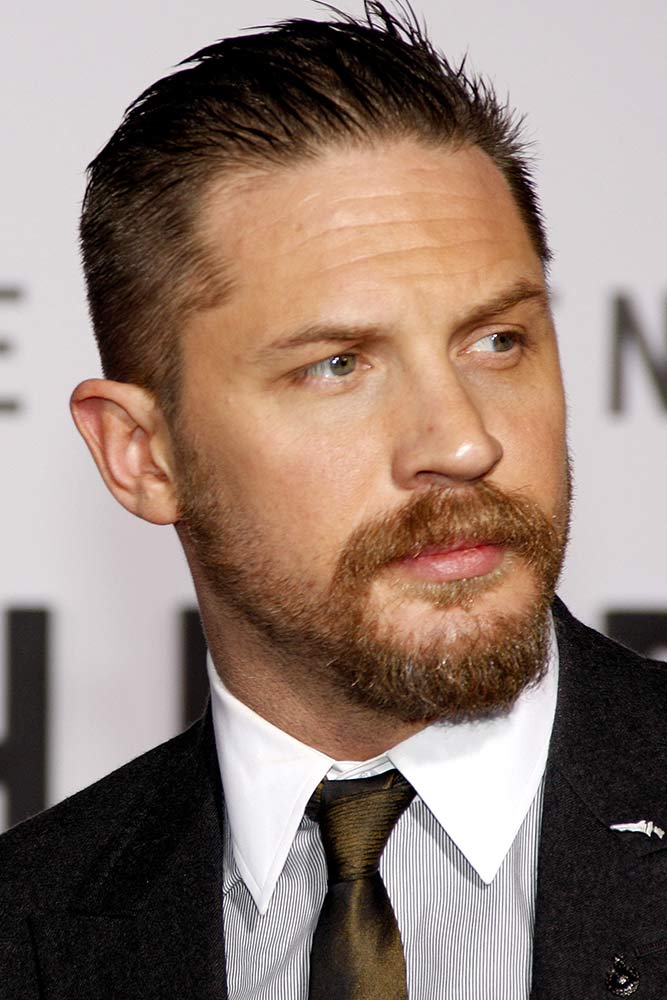 After following the trend of bald men with beards, Tom Hardy went for a more flattering style known as the short box. Do you notice how it enhances his appearance?
Source: Tinseltown/Shutterstock
The 3-Day Stubble Beard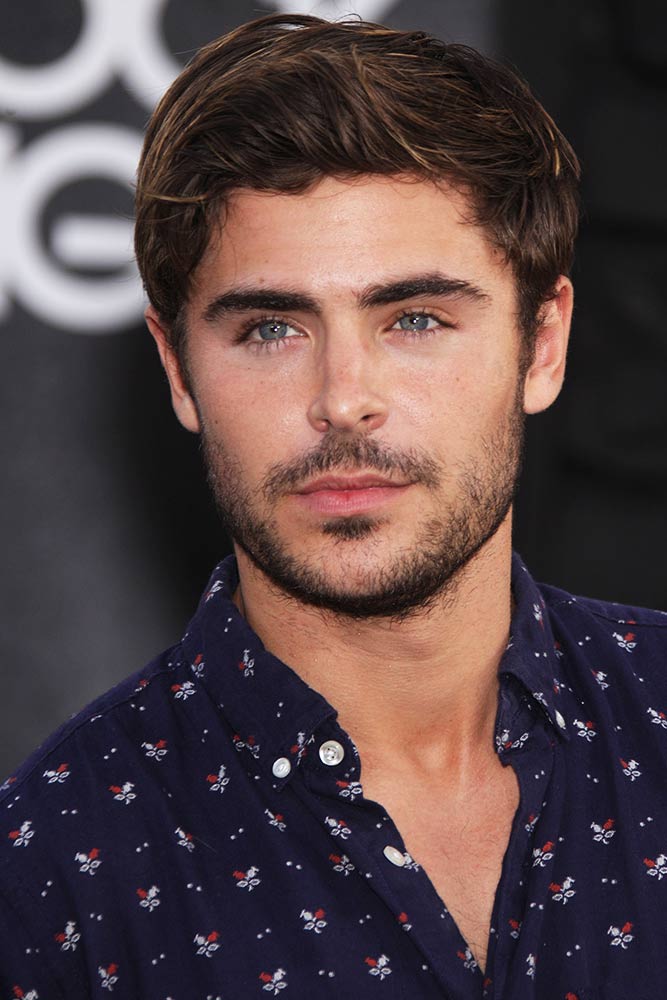 Some definition on the sides and a smooth blend of three-day stubble give Zac Efron the needed manly touch that makes us forget about his kiddo look from High School Musical.
Source: DFree/Shutterstock
Corporate Beard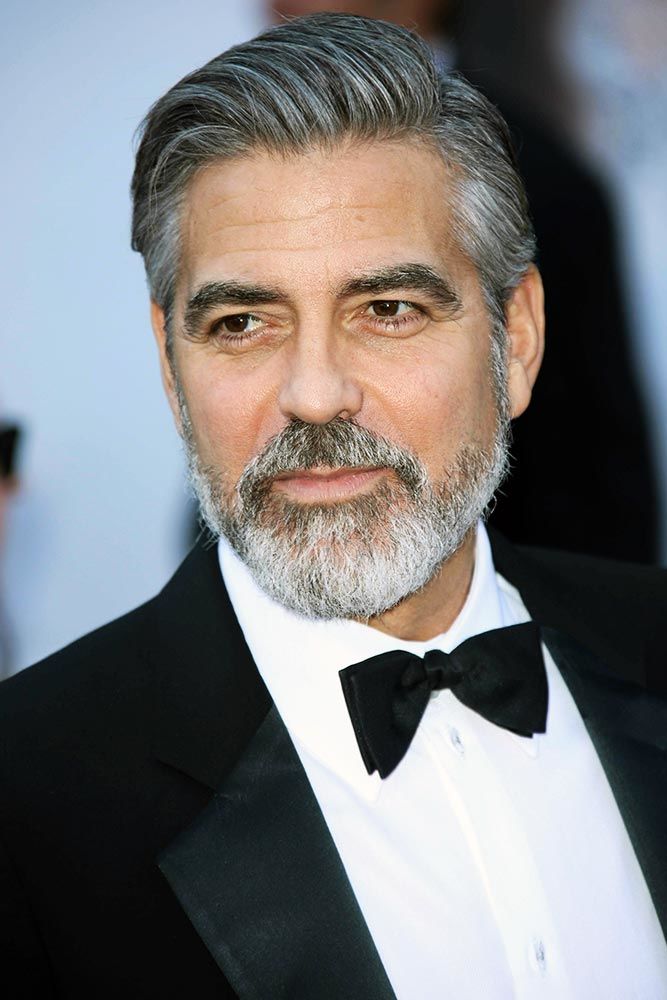 A well-shaped, full, and nicely trimmed corporate style looks exceptional on George Clooney who is famous for his sophisticated and refined image.
Source: s_bukley/Shutterstock
Bold And Thick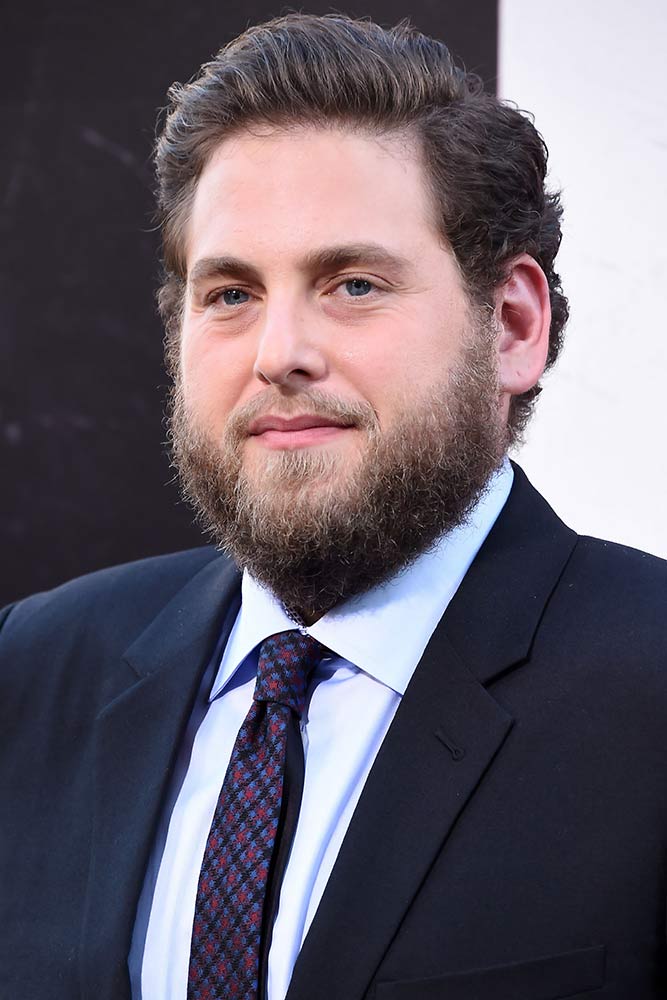 Source: DFree/Shutterstock
Even before Jonah Hill got his athletic sexy body, he still managed to look great and attractive. And his natural charm wasn't the only weapon: a thick, outstanding beard is what would make his image complete. As you can see, the beard hits all the prominent facial features, giving the needed framing hint to the look.
Prominent Goatee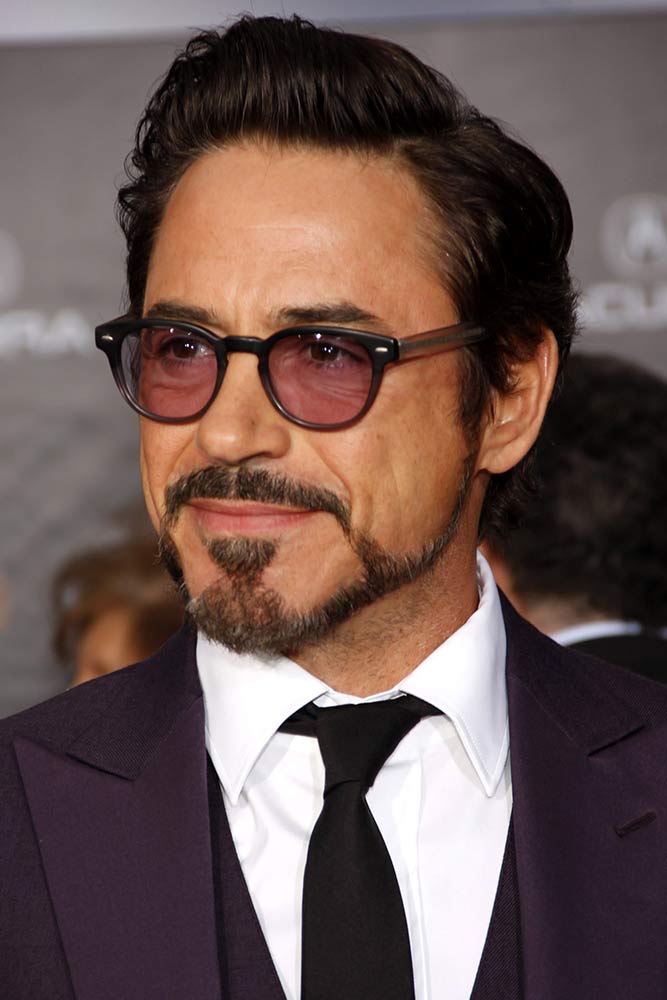 Source: Tinseltown/Shutterstock
Is there anyone who's still not familiar with the iconic Robert John Downey Jr.'s goatee? This actor is a living example of a man who has found the perfectly flattering beard style for his face shape, making it his signature look.
Heavy Eyebrows And Stubble Beard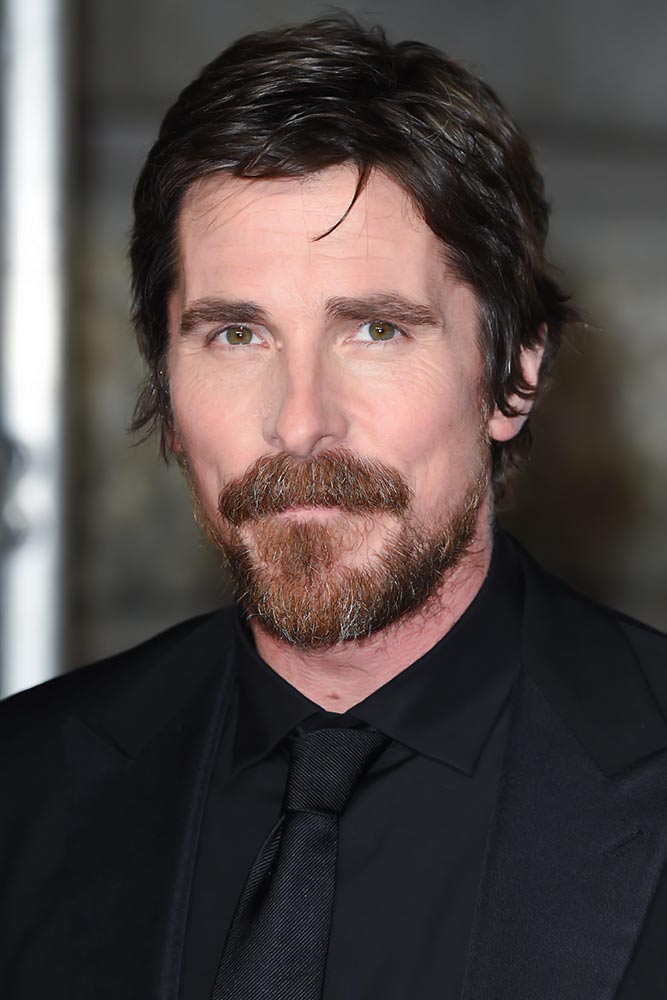 Source: Featureflash Photo Agency/Shutterstock
At first sight, this look of Christian Bale may seem to be too rough and unkempt. But if you have a closer look at it, you will see that his unpretentious, carefree beard follows his heavy eyebrows, forming a totally balanced look with a sense of pure masculinity.
Masculine And Simple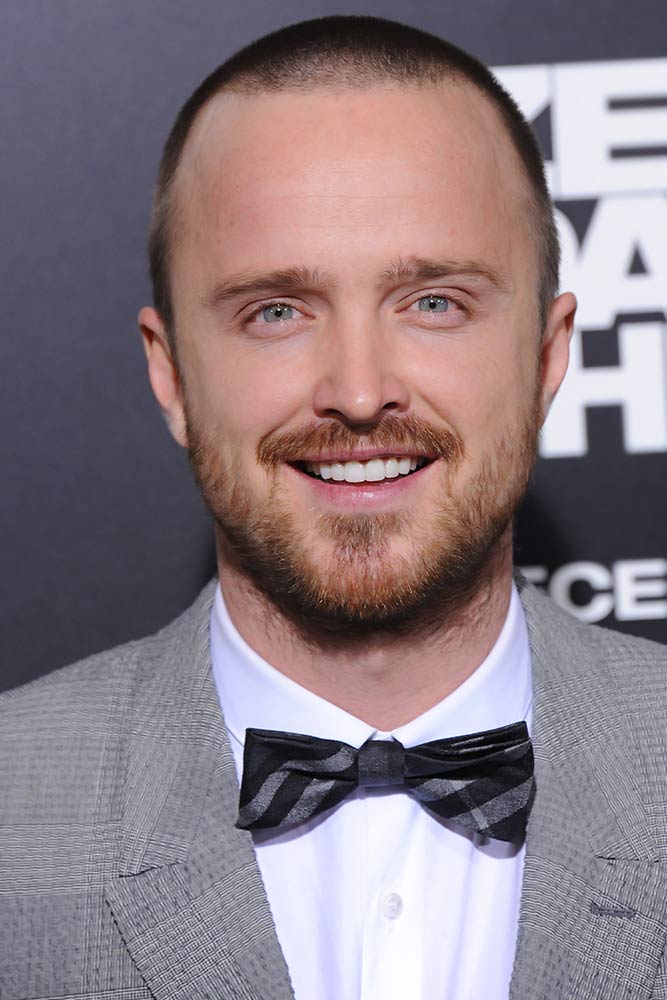 Source: DFree/Shutterstock
Aaron Paul is a man who prefers to keep things simple and restricted when it comes to his facial hair. His moderately shaped stubble beard nicely accentuates his oval face shape, adding some angles visually and thus creating a smart, mature look.
Naturally Full Fledged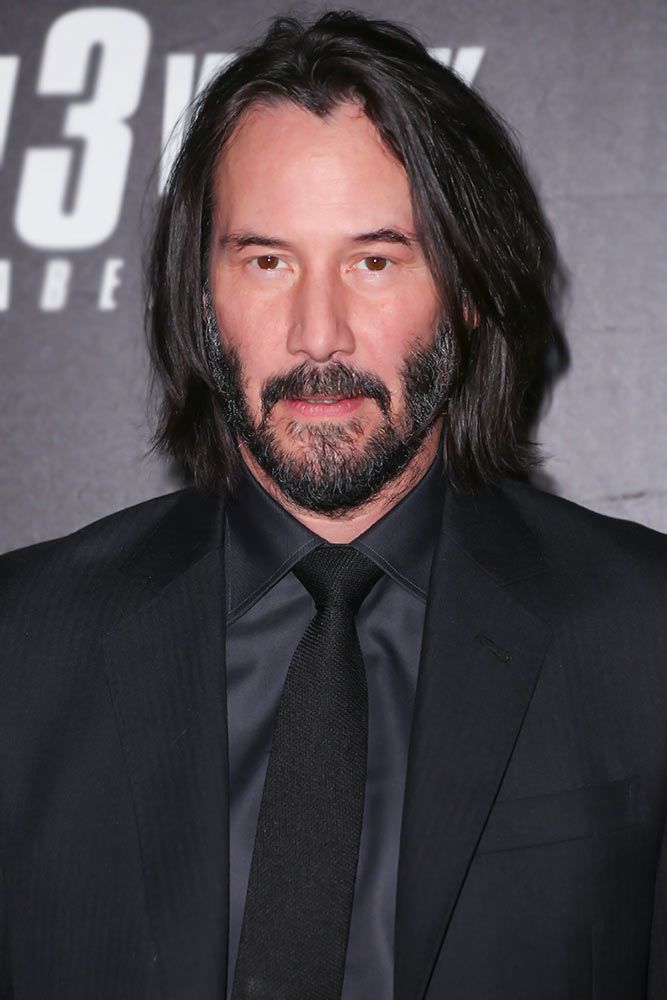 Source: lev radin/Shutterstock
The way Keanu Reeves wears facial hair is a piece of modern art that isn't hard to recreate. Still, you need to be Keany Reeves to look this bright with a bushy, absolutely untouched beard that knows not what control is. Paired with a messy hairstyle, you can try to pull off his latest hipster look.
Long Hair Short Beard
Source: DFree/Shutterstock
Even though most people are disappointed with the finale of Game of Thrones, there's one thing they will always love for sure: the legendary look of Jon Snow. In his most famous and prominent role, Kit Harington gets the most of his hair type, taming his curls with a bit of a product and keeping the beard at a minimalist clean point.
Full-Length Beard + Long Hair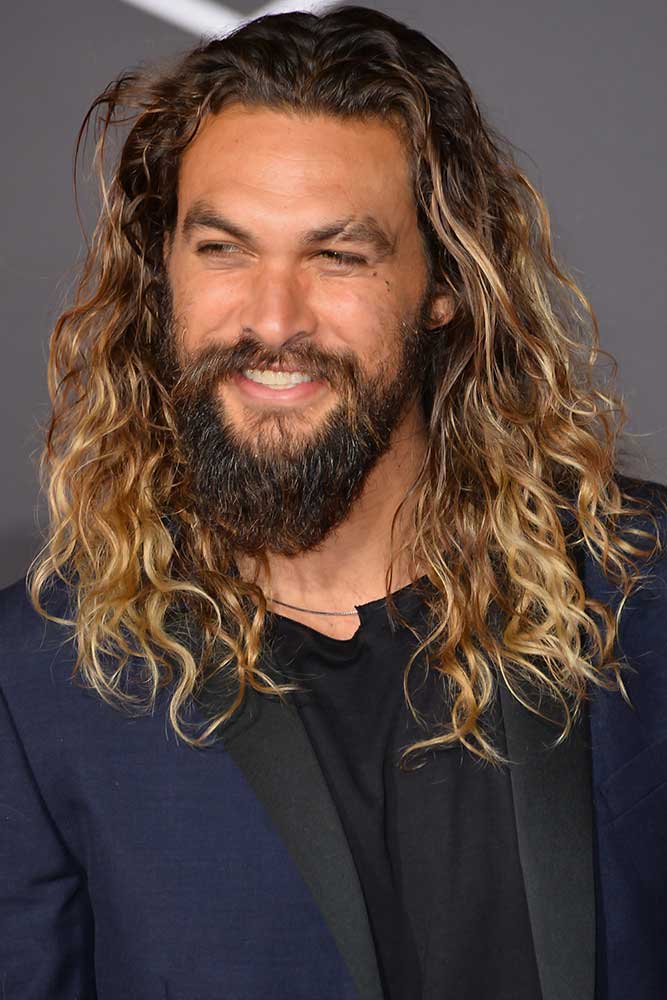 Source: Featureflash Photo Agency/Shutterstock
If you're as lucky with your hair growth pattern as Jason Momoa is, the best thing you can do with your hair is to let it grow long on both levels! As a result, you will get a timeless look that will be your best friend whether you're at a surfer party or formal ceremony.
Shadow Beard + Edgy Hairstyle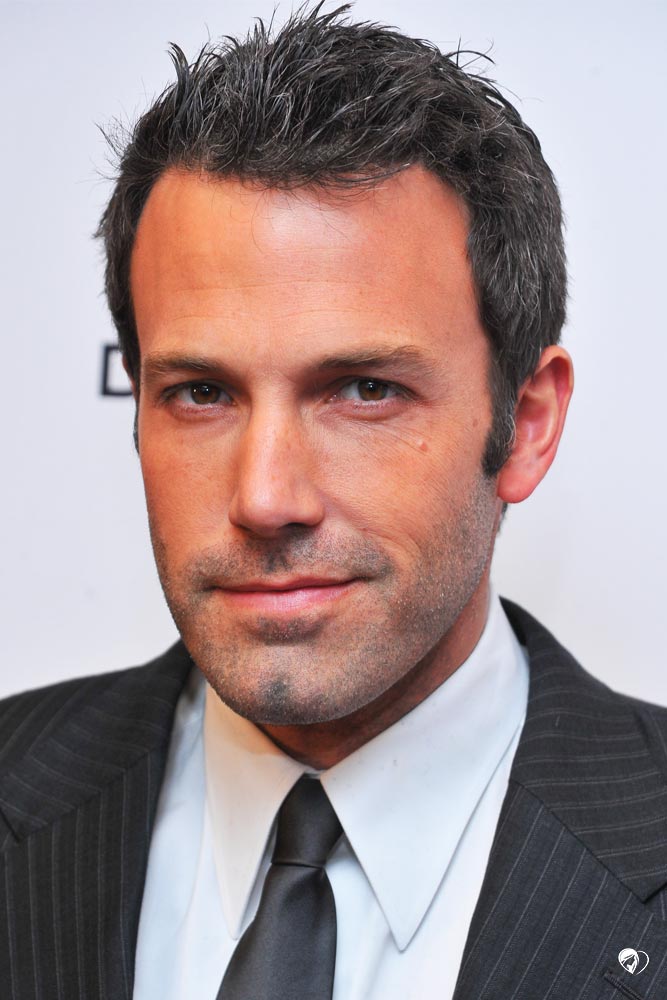 Source: Everett Collection/Shutterstock
Sometimes less is more, they say. Well, it certainly goes to stubble when you want to create a smart, and, most importantly, clean look. Here, Ben Affleck rocks a one-day stubble, which is super simple to maintain and absolutely hard to resist. White being pretty simple, this idea defines the actor's strong jawline, working like the icing on the cake.
Patchy Beard + Short Spikes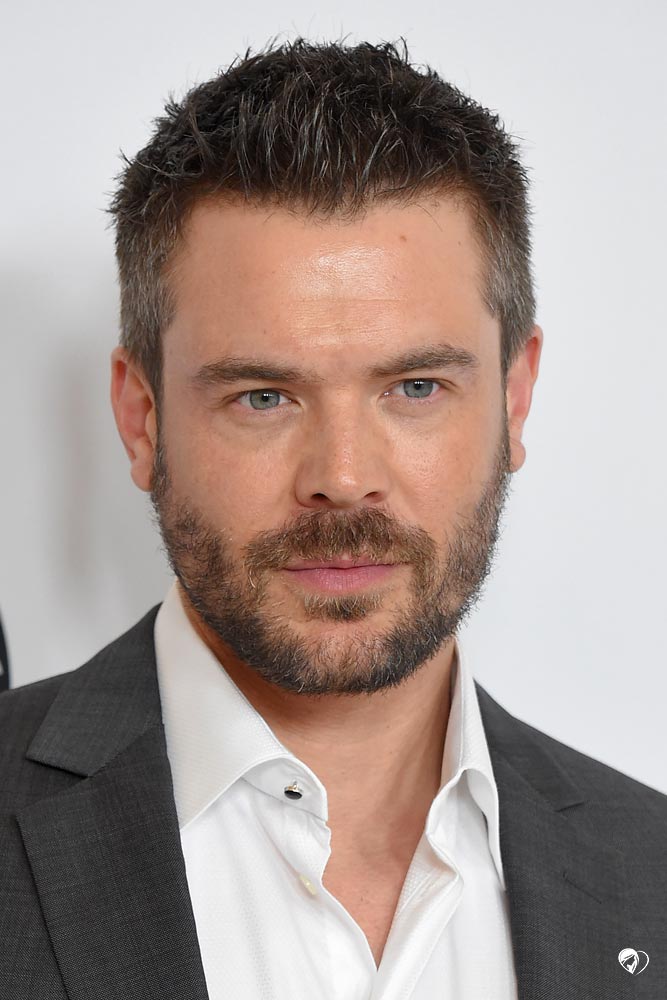 Source: DFree/Shutterstock
Believe it or not, Charlie Weber has to deal with patches from time to time. For some unknown reasons, men think that patches are a sign to give up the idea of having a beard. Well, let this great man prove otherwise to you. To keep the gaps in hair growth less visible, he keeps his beard at a moderate length, tapering it for a smoother finish. Also, his short spikes on the head follow the texture of his a bit messy beard, thus drawing attention from the little patches.
Gray Beard And Spiky Hairstyle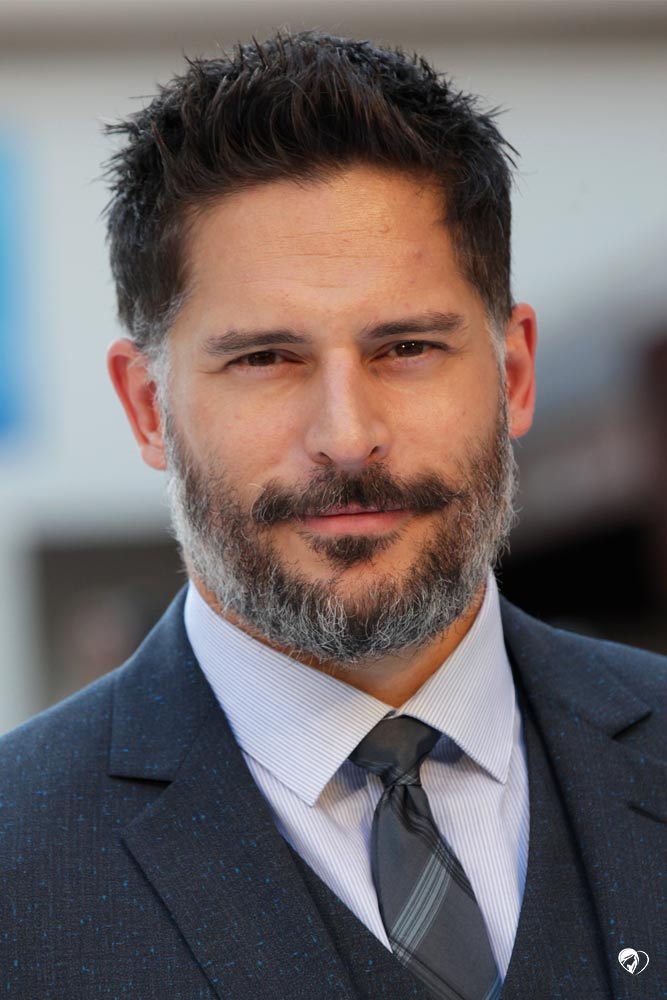 Source: Twocoms/Shutterstock
Joe Manganiello knows that age can't hide the real manly spirit running through his veins, so he lets his beard choose colors. In other words, he knows that some gray hair only makes a man look smarter and more attractive, especially when paired with the right hairstyle. As it turns out, spikes look radiant with a gradient-like gray beard, grayish sideburns, and pointed mustache.
Full Beard + Medium Wavy Hair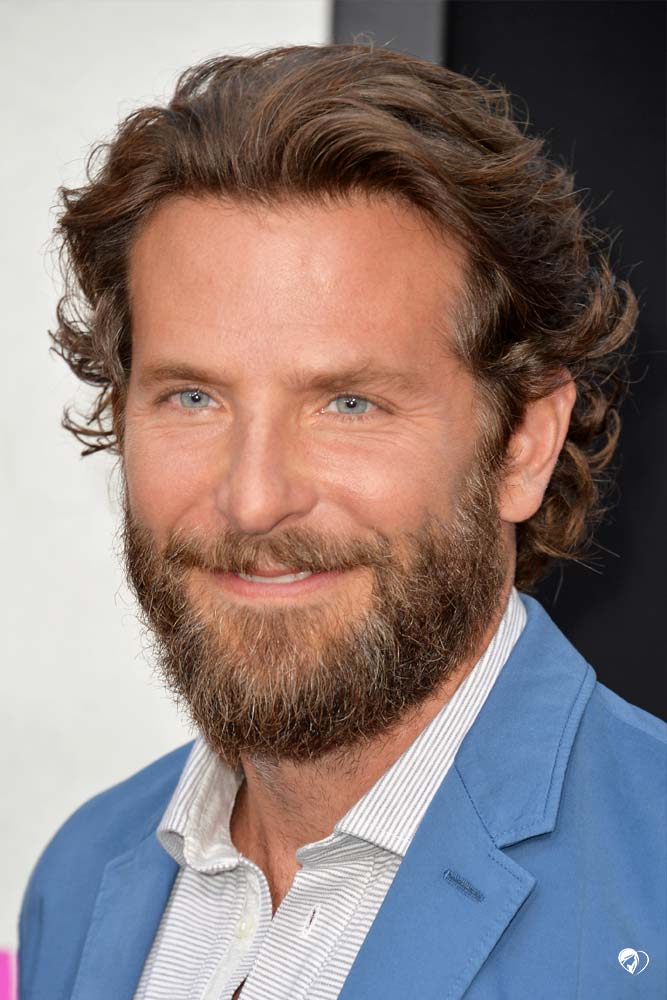 Source: Featureflash Photo Agency/Shutterstock
There's no need to be a beardo to know how drastically a beard can change the way a man looks. And Bradley Cooper, who looks like a totally different person with a full beard, has some proofs in the holes. Though this type of beard rather hides his masculine and sharp facial features, he still has a very harmonic and balanced duo with his medium wavy hairstyle.
Buzz Cut And Goatee Beard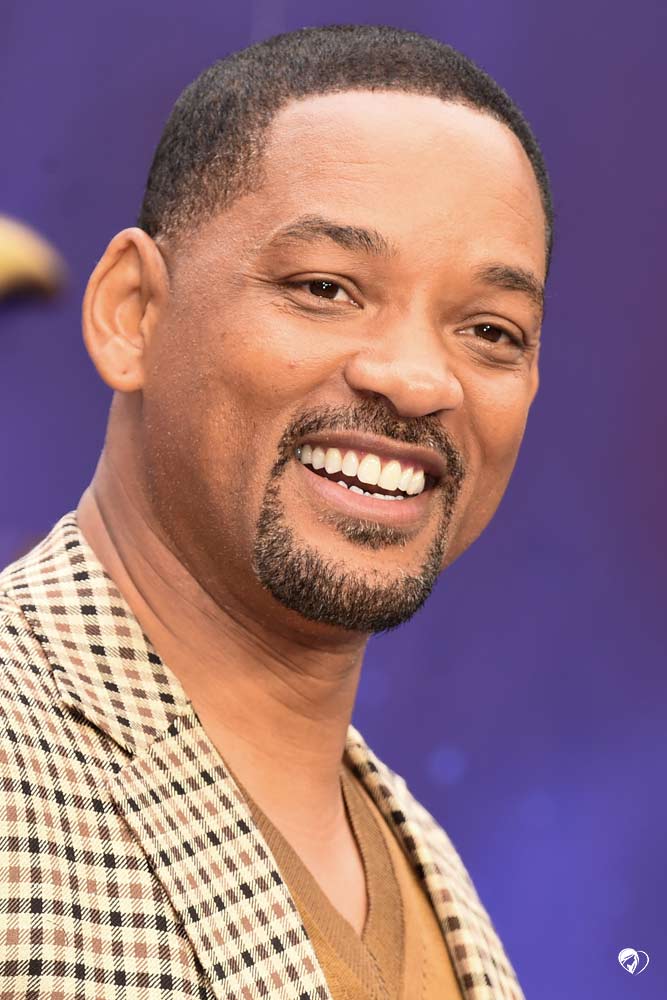 Source: Featureflash Photo Agency/Shutterstock
Will Smith is another fashionable guy who keeps things simple, yet significant. He doesn't go too much with his facial hair. But, every single curve he shapes with a razor emphasizes his face shape, adding a sense of manliness to it. That's what we call the right approach to one's facial hair, though!
Some call it facial hair, and we call it awesomeness that escapes through a man's face. Having seen our beard styles pictures, you've got to know the variety of options you can play around with. And if you still have doubts, lets us tell you something. Beards don't make a man smarter; smart men just grow them.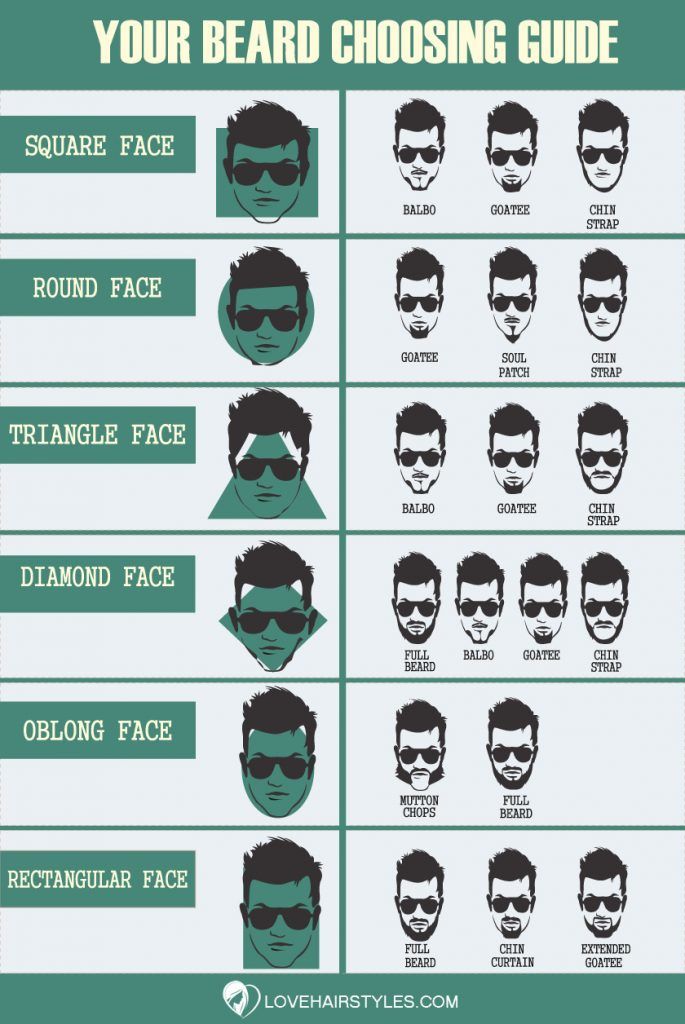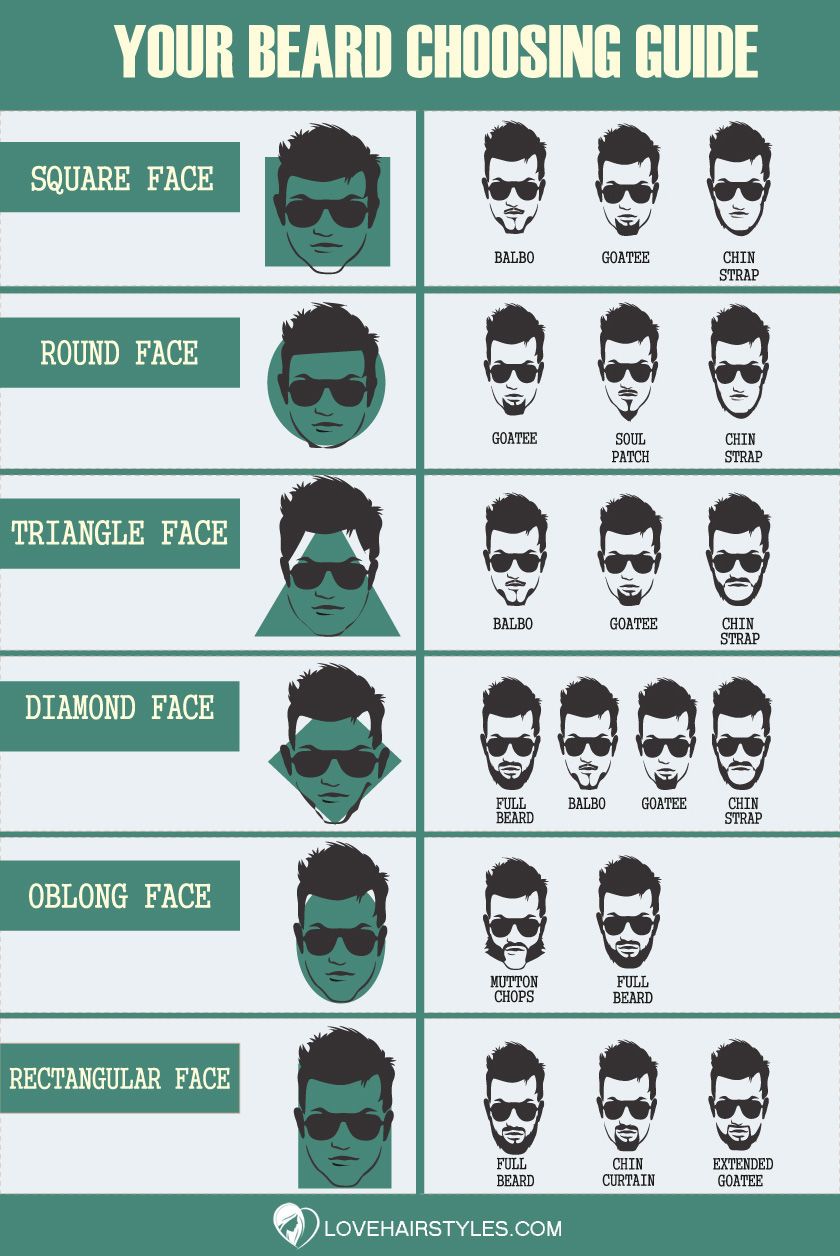 FAQ: Beard
What is beard hair?
Humans and some non-human animals have beards, which are hairs that grow on the jaw,
chin, neck and cheeks. In humans, beards are typically grown on the males who have reached puberty. Some women with hormonal issues characterized by excessive hairiness, also may grow a beard.
Why is my beard so thick?
Your genes play a significant role in how thick or thin your hair is. Men have hairs on their faces that are designed to respond to testosterone release. When they get that signal upon reaching puberty age, they start transitioning from fine to thicker hair. The hair thickness, however, is determined by genetics.
Why is beard hair so wiry?
Beard hair is generally wiry because it is curly, has a thick oval shaft in cross-section, and is easily tangled. Because of the nature of beard hair, it dries out very quickly, making it so wiry.
REFERENCES:
Bring your beard to the next level. Source
Was this article helpful?