The very first thought that comes to people's minds when they think of spiky hair is the beginning of the punky MTV era. It took this hairstyle less than a couple of days to become popular with men of all ages, so it moved from the scene to the world of everyday fashion.
And even though those spikes have a sassy, eye-catching character, not all its variations are all about rebellious style. To show you how different and versatile the men's hairstyle can be, we've prepared some modern ideas of spiked hair. Today, you can spike up your hair and still look pretty masculine and even presentable. See how to style and wear it right!
How To Spike Up Your Hair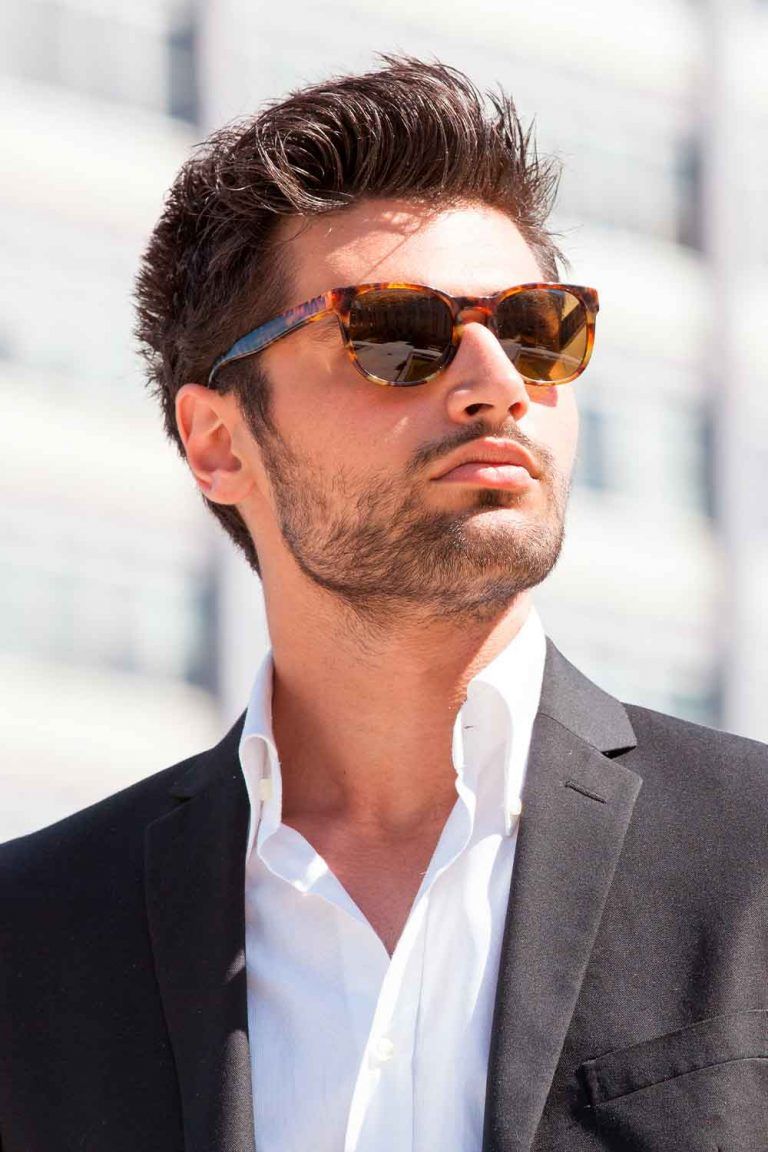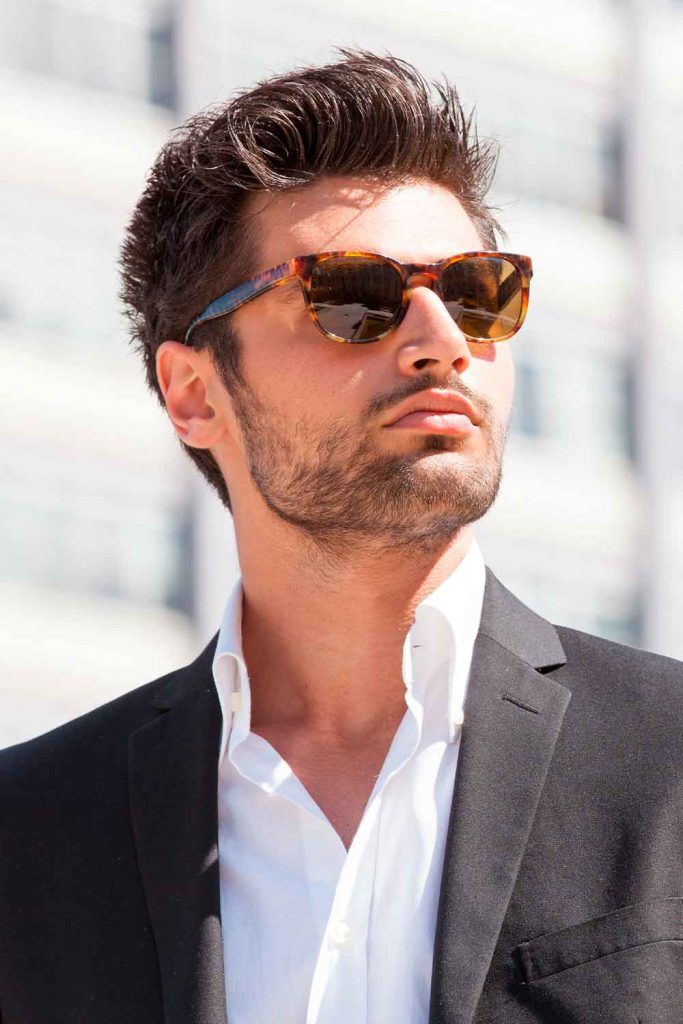 Believe it or not, there are lots of ways on how to spike hair. Each one gives a totally different look with its unique texture, and the key to mastering the styles lies in the right products. Remember to choose the styling product based on the look you want to achieve. As for the process of creating spikes, here are some basics that will help you to make everything right and nice:
Always start working with clean, a bit damp hair. Make sure that the previously used product is washed out completely. Those who have curly or wavy textures should straighten their locks before doing spikes.
It's always easier to work with short hair. First, you apply a product throughout your hair, distributing it evenly while moving front to back. Avoid using clues and gels if you want a relaxed, messy look: a soft wax or pomade will do.
When your hair is fully and evenly coated with the product, start pulling handfuls of your hair to create the spikes. Hold each one for about 20 seconds to secure its shape.
For men with longer manes, it's better to opt for stronghold products and finish everything by blow drying.
If your hair tends to get frizzy, you can finish the style with hairspray.
Best Spiky Styles And Cuts For Men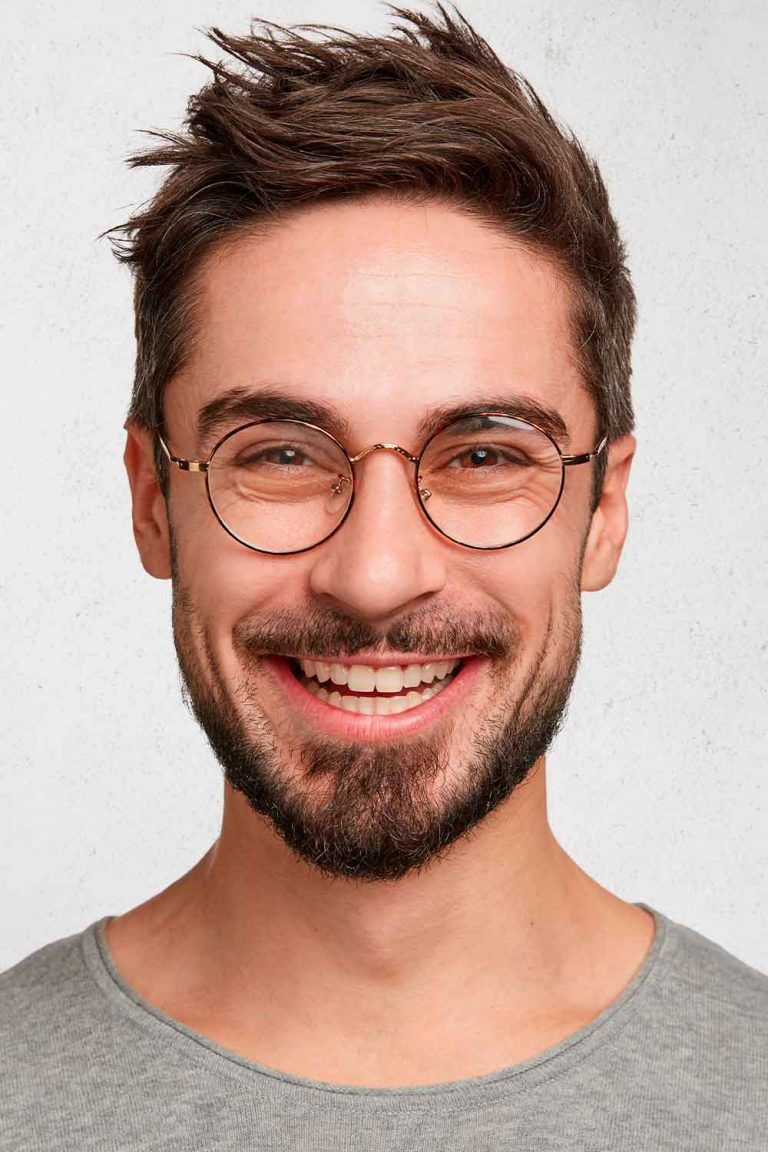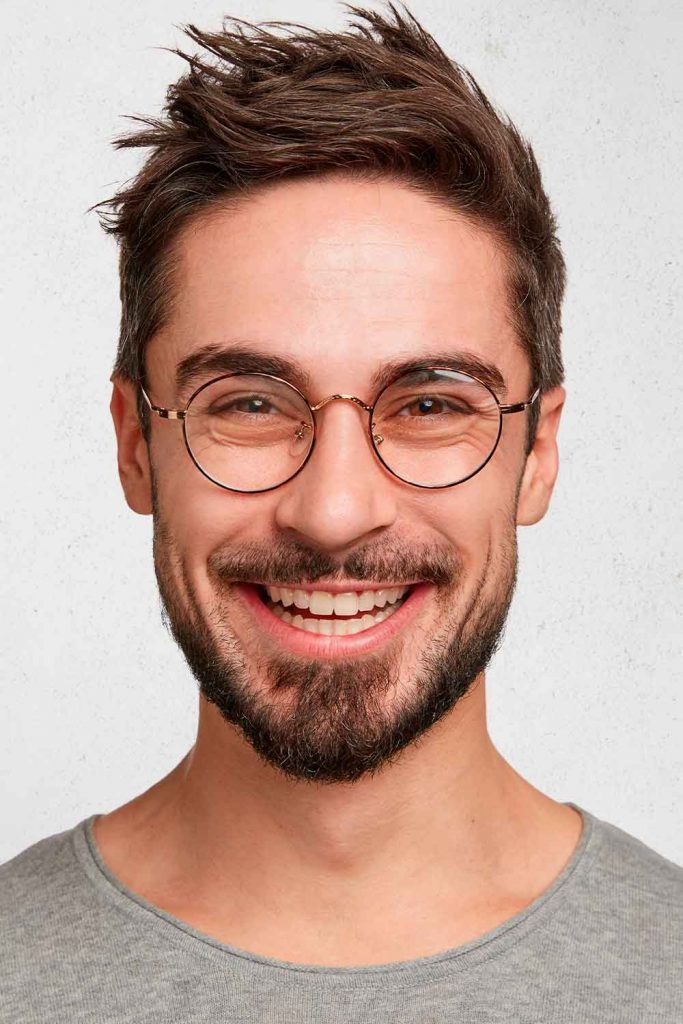 As we mentioned before, the variety of spiky haircuts and styles can leave one speechless, which makes it pretty tough to choose one. The good news is that you can customize this style in any way you want, finishing your favorite undercut with spikes or combine your spiky hair with well-defined fades.
Also, the choice usually depends on the hair type and texture of a wearer. Based on these characteristics you can find the perfect spiky style for you and the right product for it as well. Whatever spikes you're into, we've got ideas that will satisfy everyone: check them out!
Spiky Hair With Fade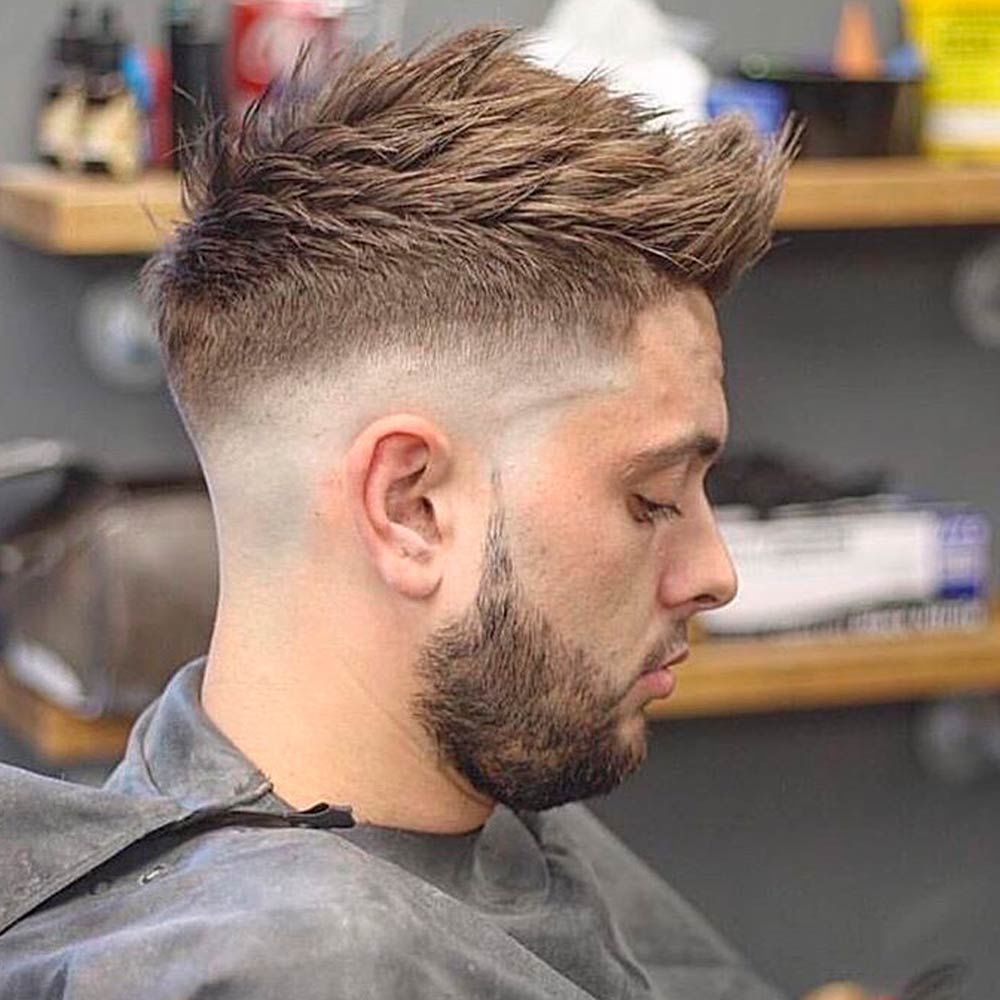 Credit photo: instagram.com/yesbeauty_boutique
You can call this style a way to either outline spiky hair or enhance the clean work of a fade haircut: the point is that these two go awesome together. The short, angular top with smooth spikes will nicely fit in any lifestyle, just make sure you've got good hair wax.
Spiky Faux Hawk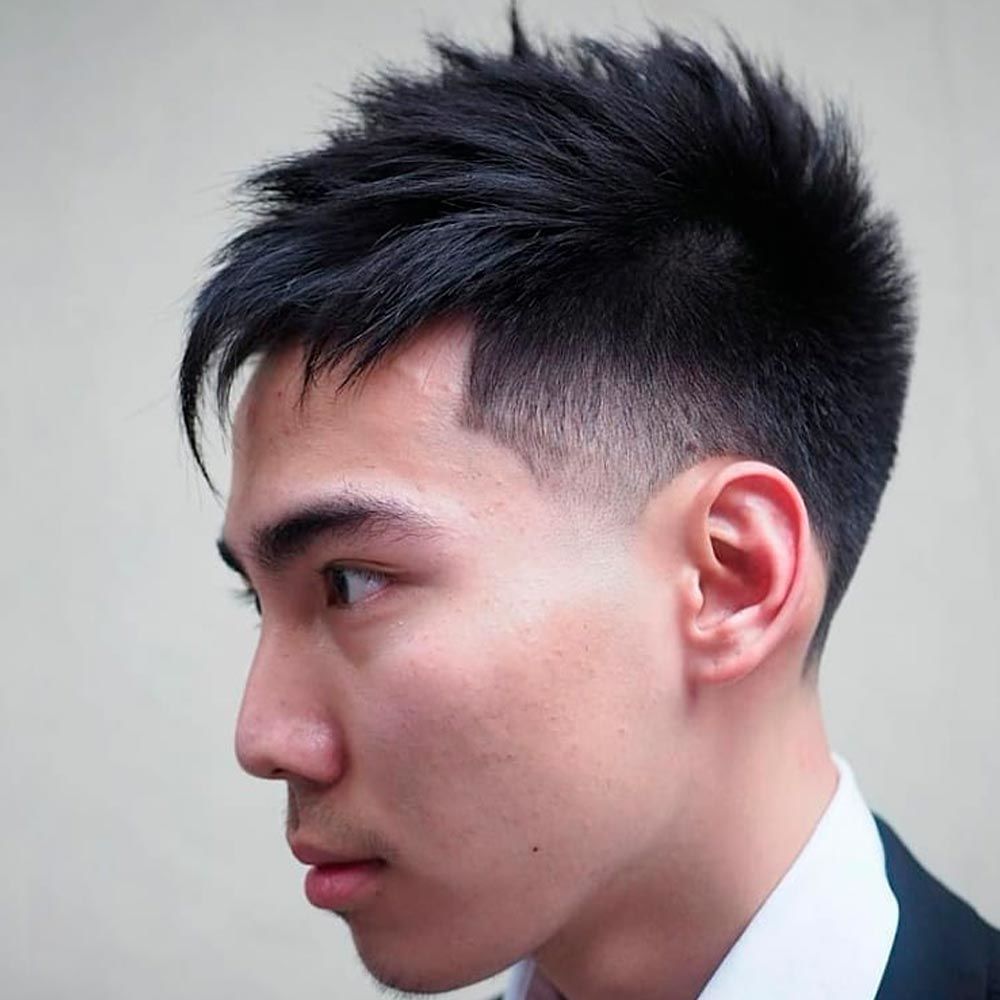 Credit photo: instagram.com/snegna_ola_
Faux hawk fade haircuts know how to stand out as they are, but how about making them even more dramatic? It's no secret that the faux hawk haircut is usually chosen by men who want to make a statement. And you know what? A light pomade for your top is enough to make it big.
Spiky Quiff + Light Taper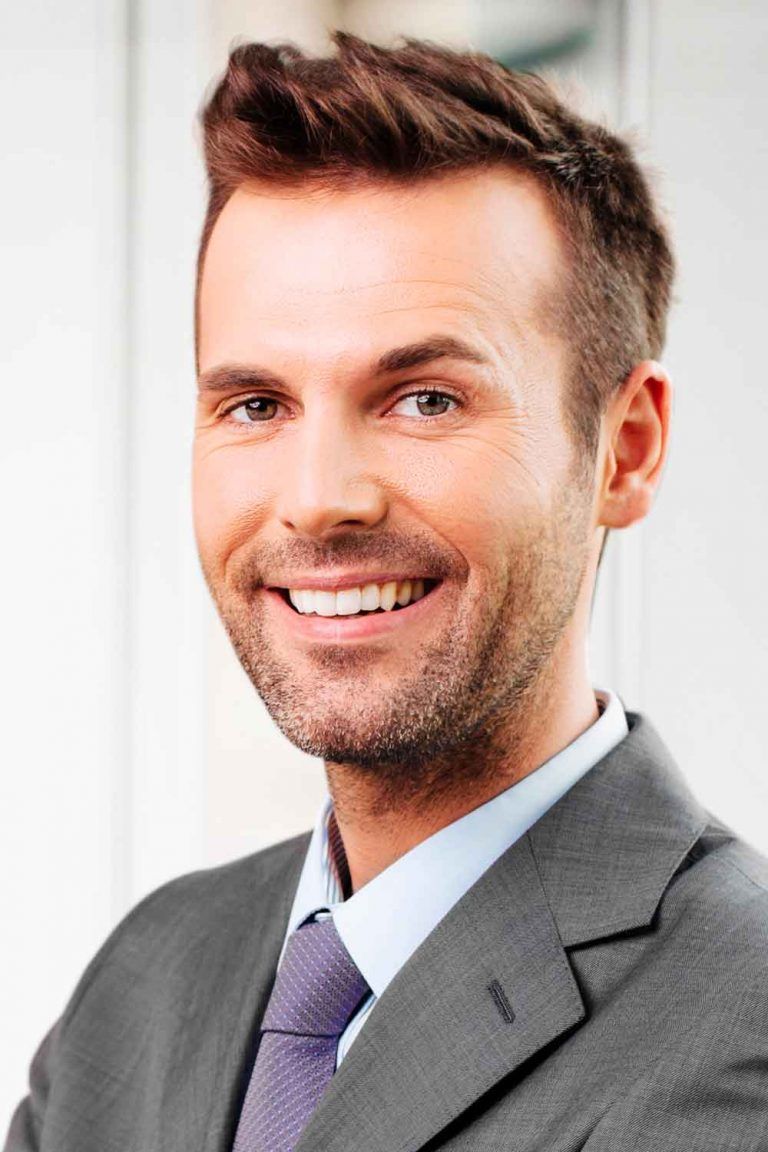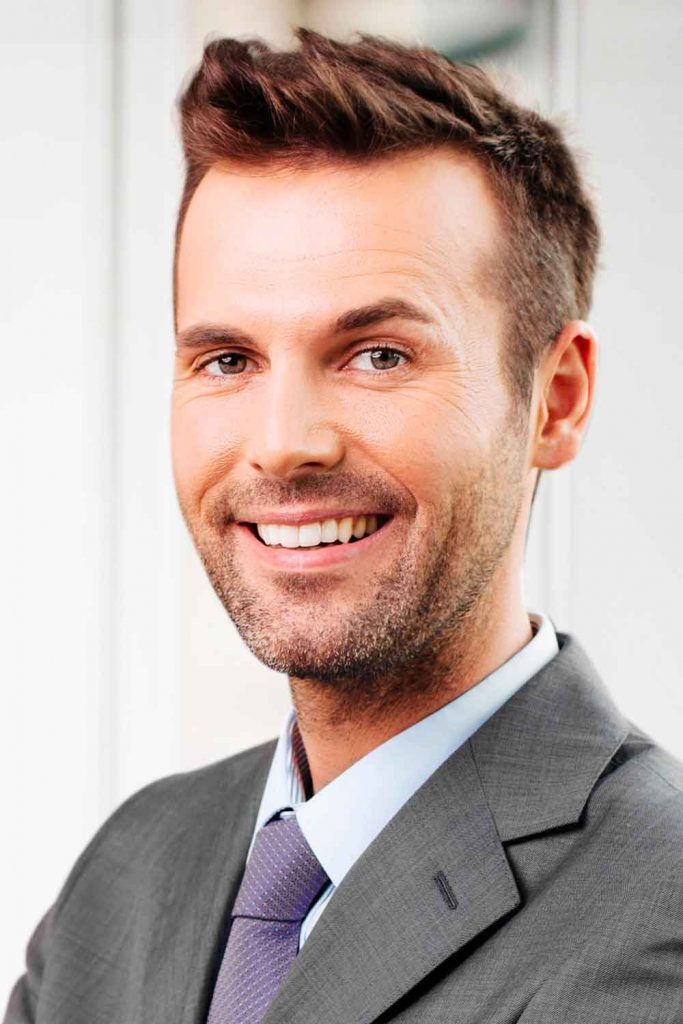 Those who can't imagine a spiky haircut that gives a sophisticated look just haven't seen it with a taper on the sides. Once you combine a soft taper haircut, slight stubble, and quiff hair, you'll get a style that will change your image of spikes once and for all.
Spiky Mohawk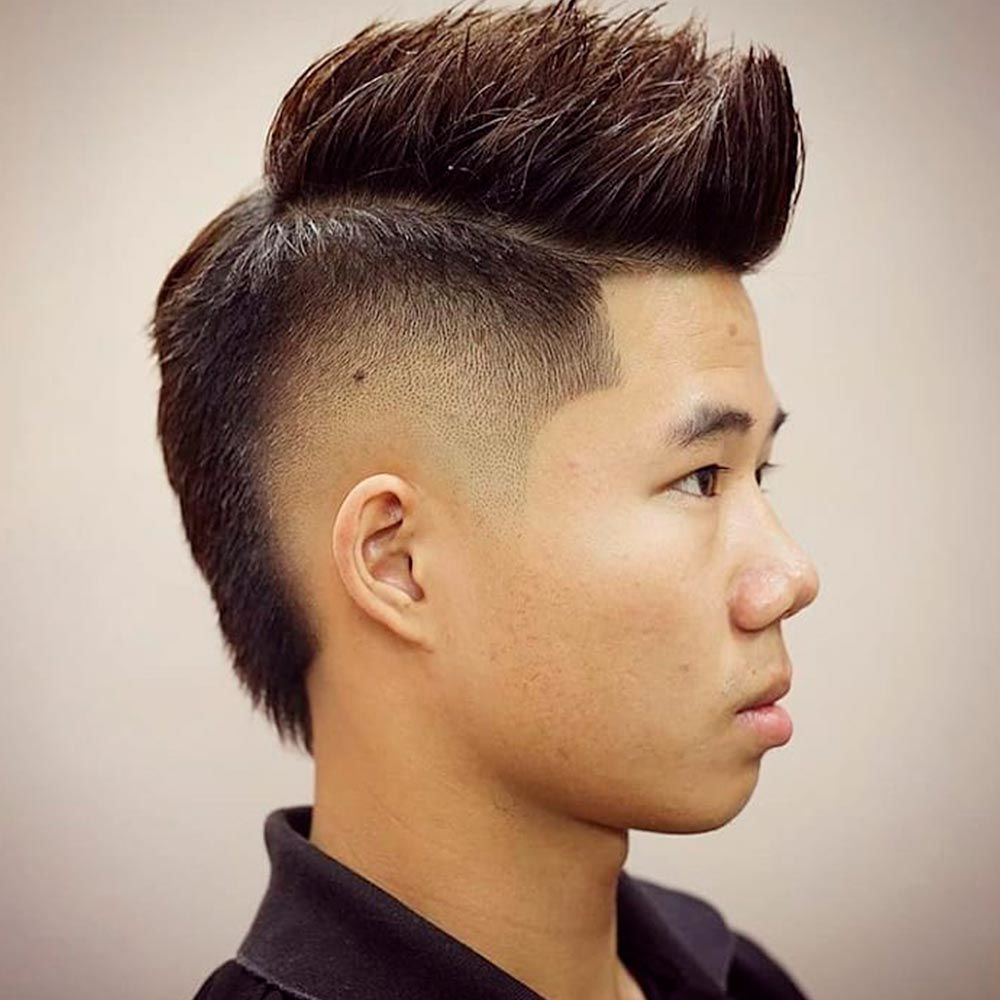 Credit photo: instagram.com/snegna_ola_
If you're daring enough to sport the classic Mohawk haircut instead of its light faux version, your look can't do without spiky hair. It's not just a good way to add more movement and volume to your hair; together with hair tattoos, it can individualize your style.
Spiked Top + Hard Part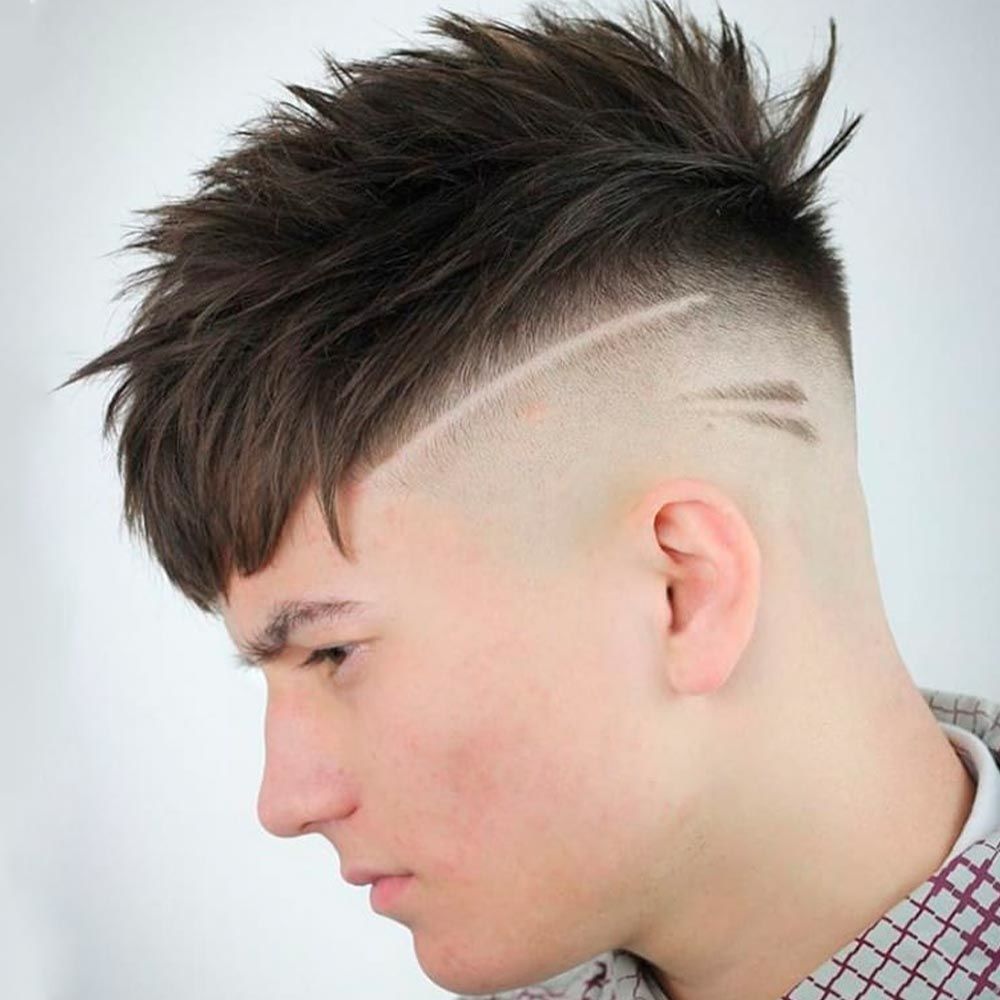 Credit photo: instagram.com/snegna_ola_
Don't forget that short spiky hair men find to be very drastic has many faces. It can be anything from exquisite and restrained looks to creative, eye-catching ideas. This hard part haircut shows how defined and neat your spiky style can be.
Side Parted Spiky Top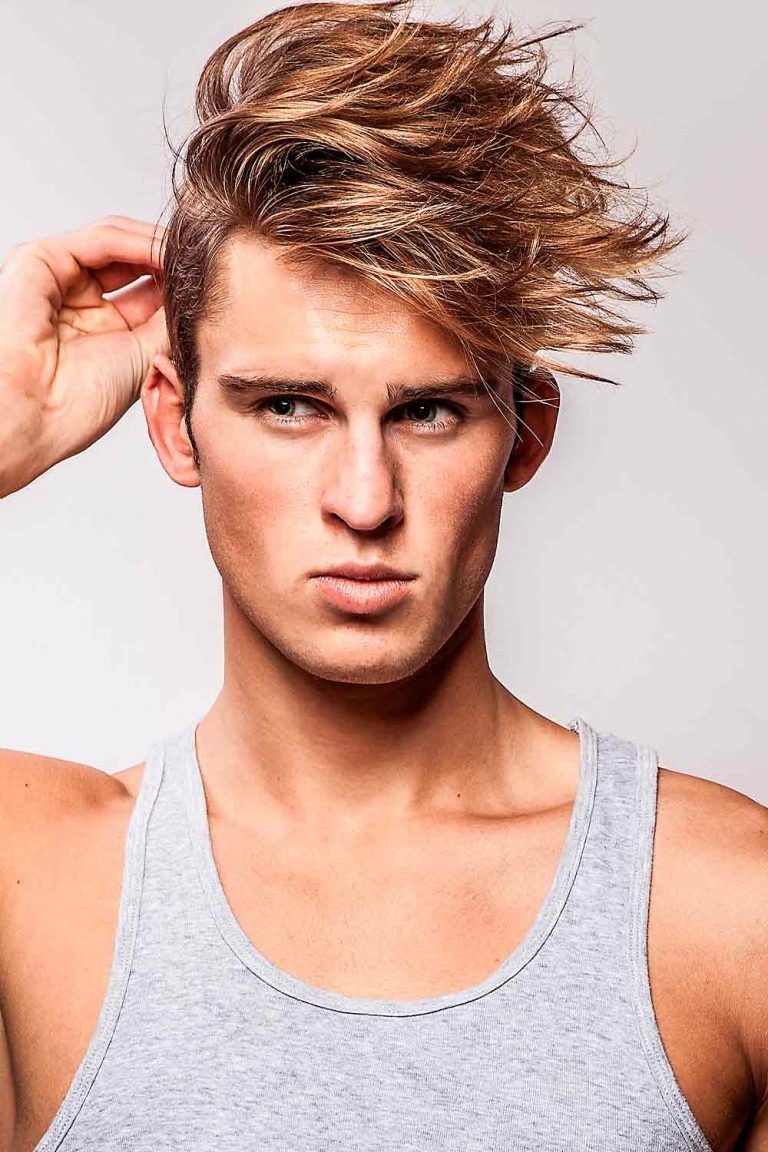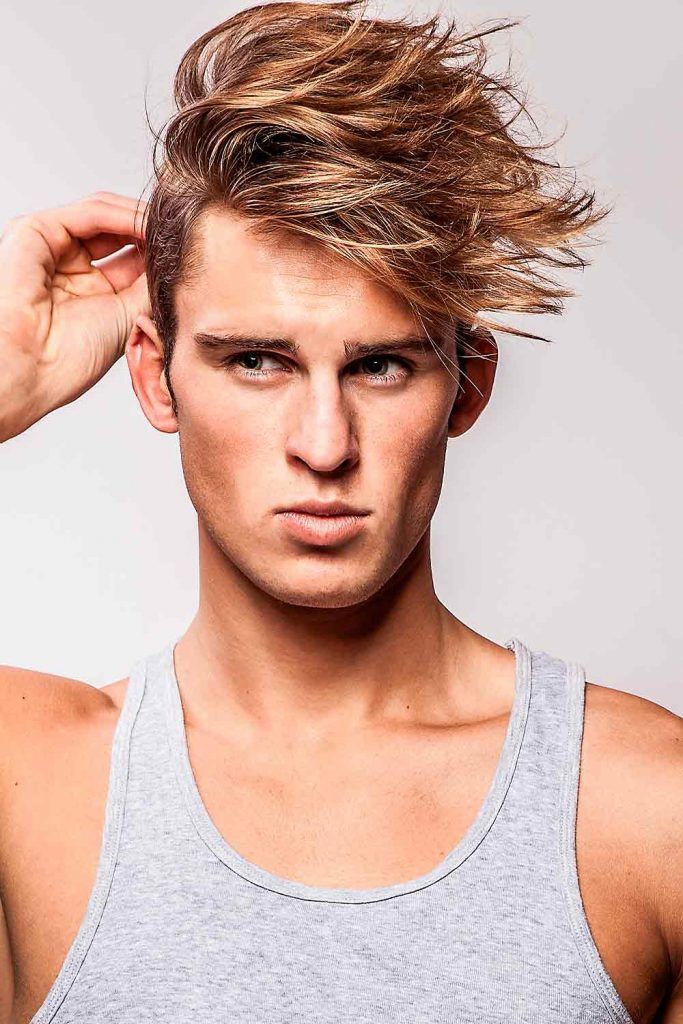 Spiky hair men like to brush to the back or simply wear it as it is also looks ravishing when it's parted to the side. Many guys love to rock a side part haircut, so why don't make it more textured? A soft, water-based pomade will nicely spike up the cut.
Pompadour With Spikes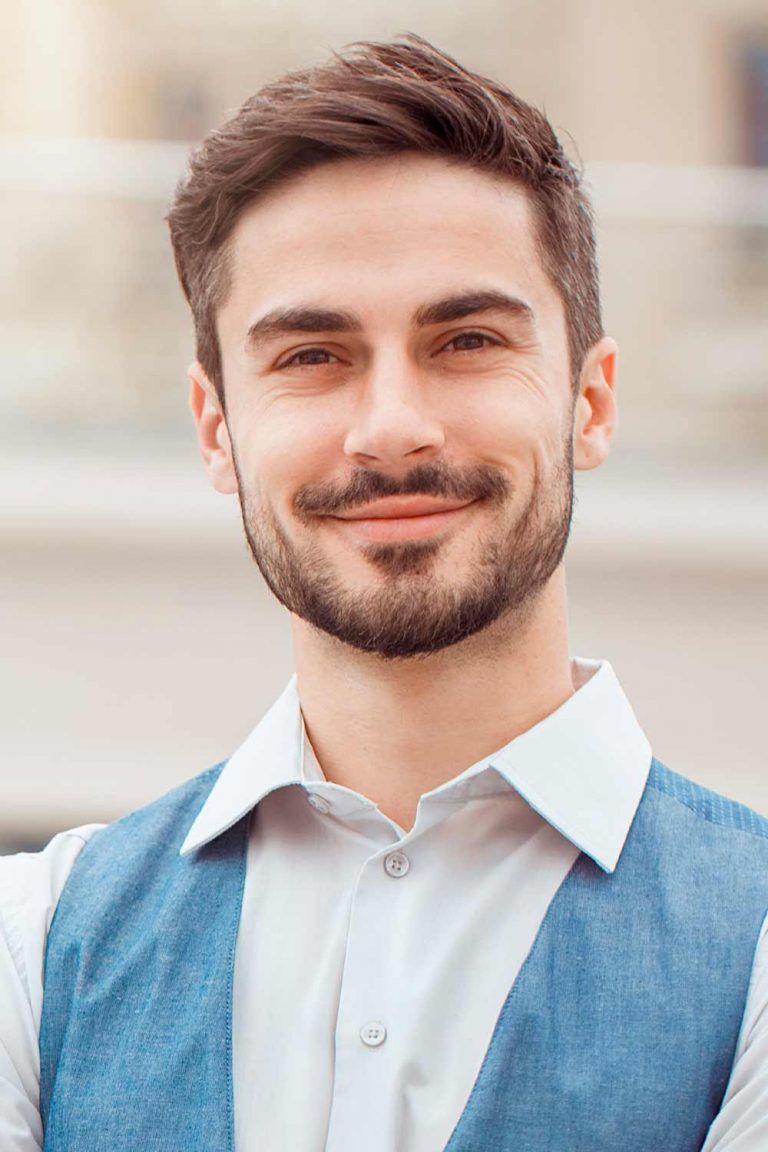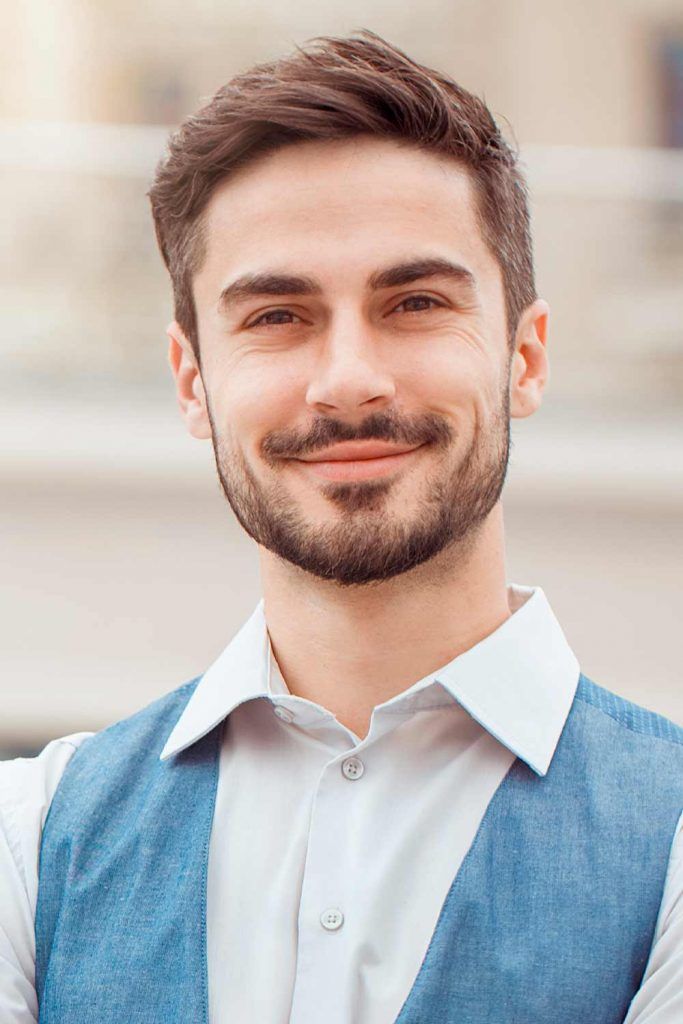 While the classic pompadour hairstyle features a posh, voluminous top brushed to the back, the modern idea of spiked hair leaves hair a bit thorny. Such a look will work for both casual and formal events and will look even better with outlined facial hair.
Spiky Style With Swept Back Top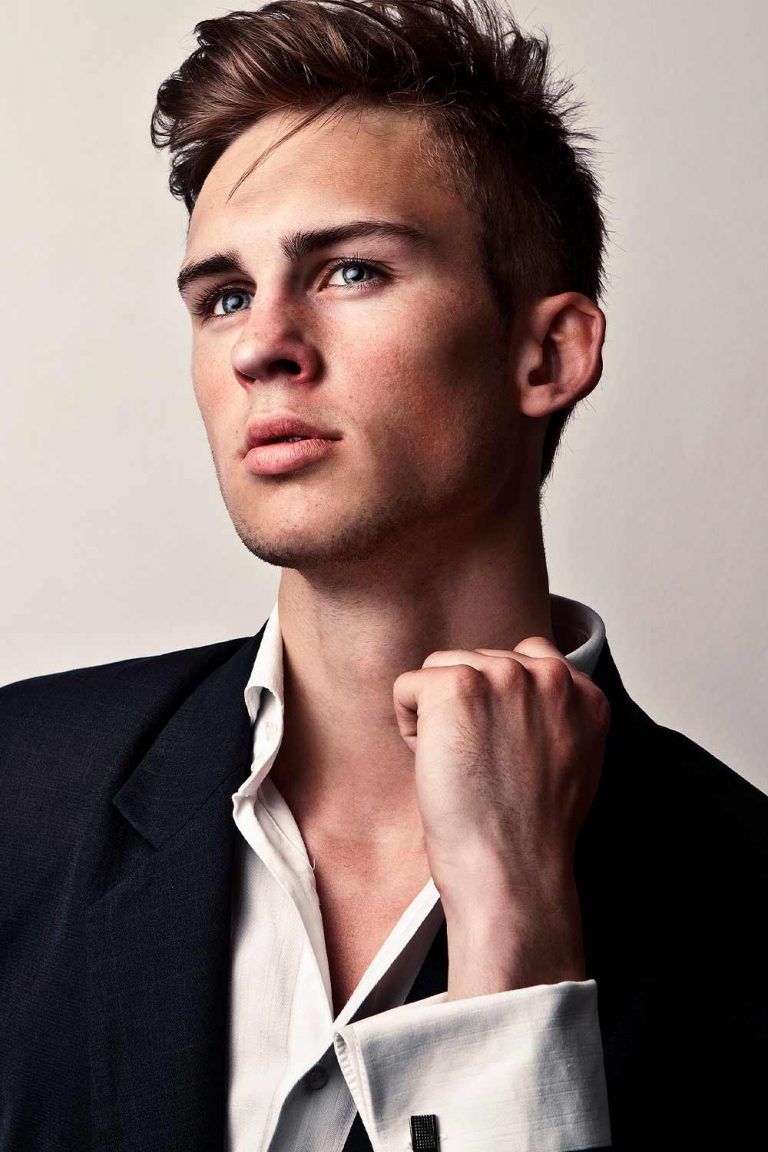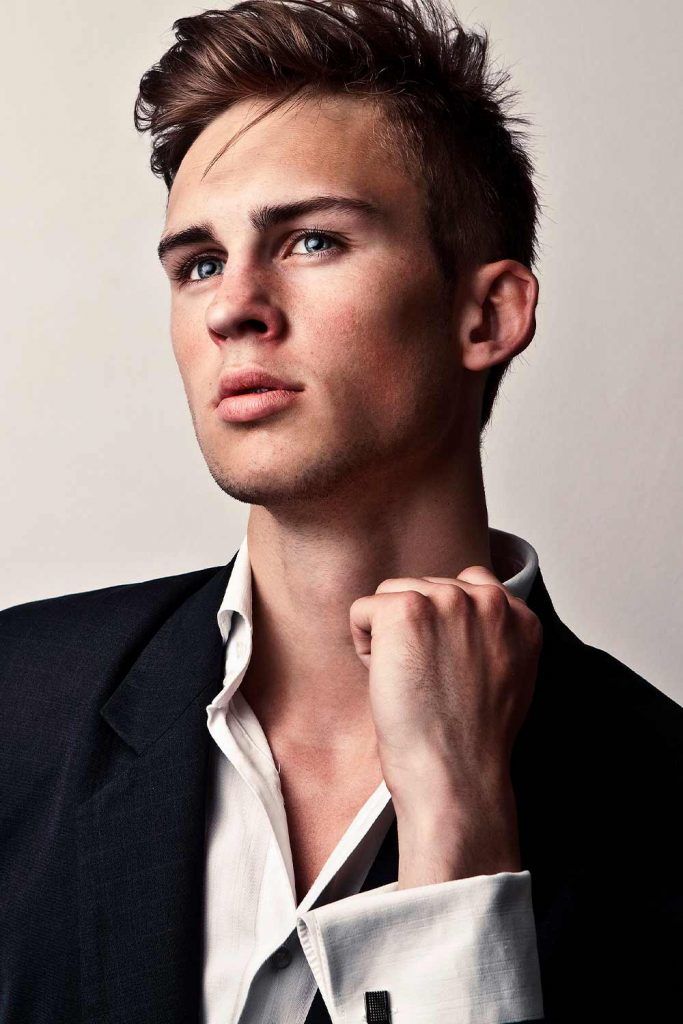 Have you ever seen such distinctive and defined swept back hair? Although the silhouette is a bit spiky, the overall look is very smooth and well-balanced. Moreover, getting the sides faded or undercut will result in a trendy hipster haircut. For the on-point look, apply pomade and thoroughly run your fingers through your hair.
Spiky Fringe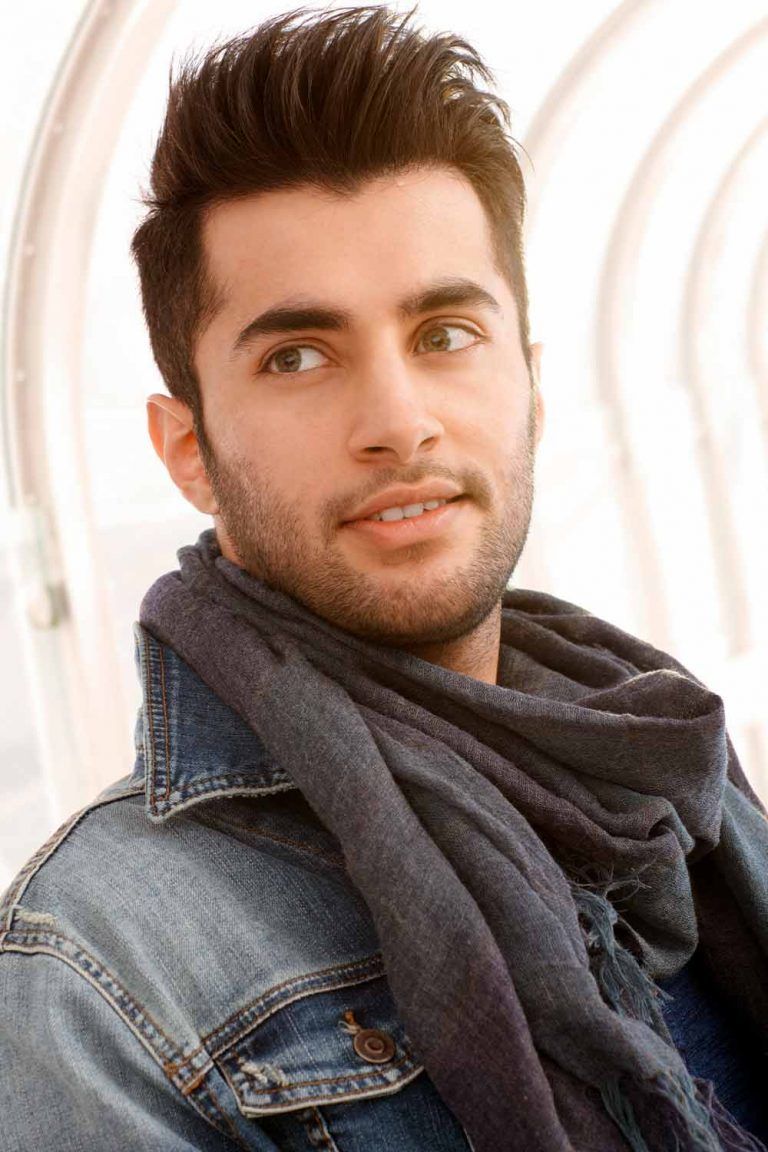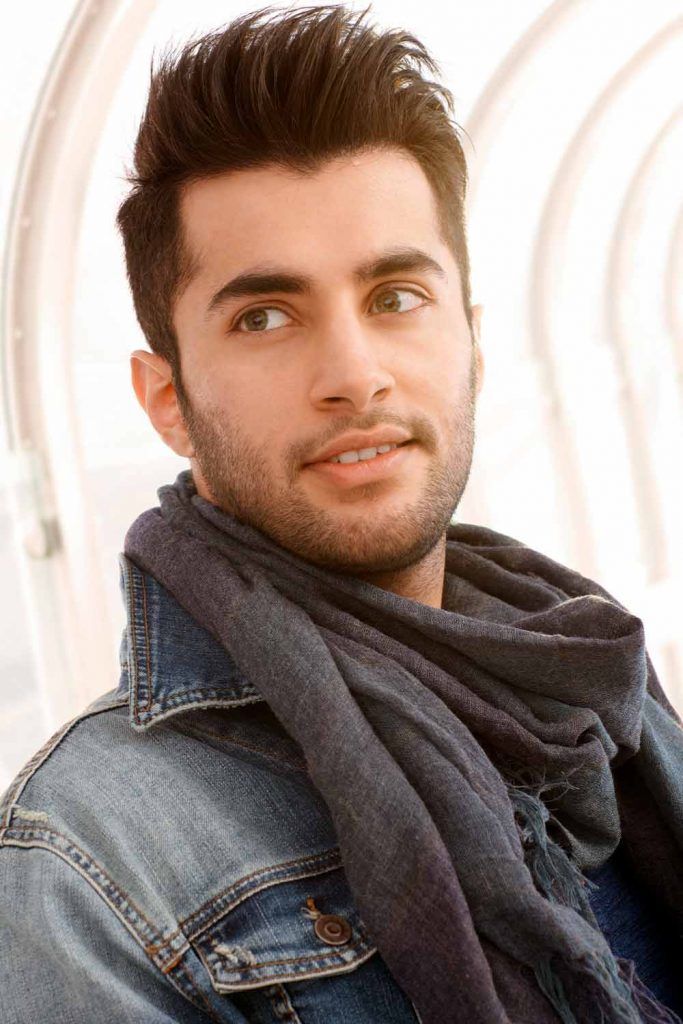 Here's a fresh view at the crew cut haircut men tend to avoid. Some guys just have no idea what to do with bangs. Well, spikes have some. Look how cool and fascinating the top appears with a thick, twisty spike on top!
Short Spikes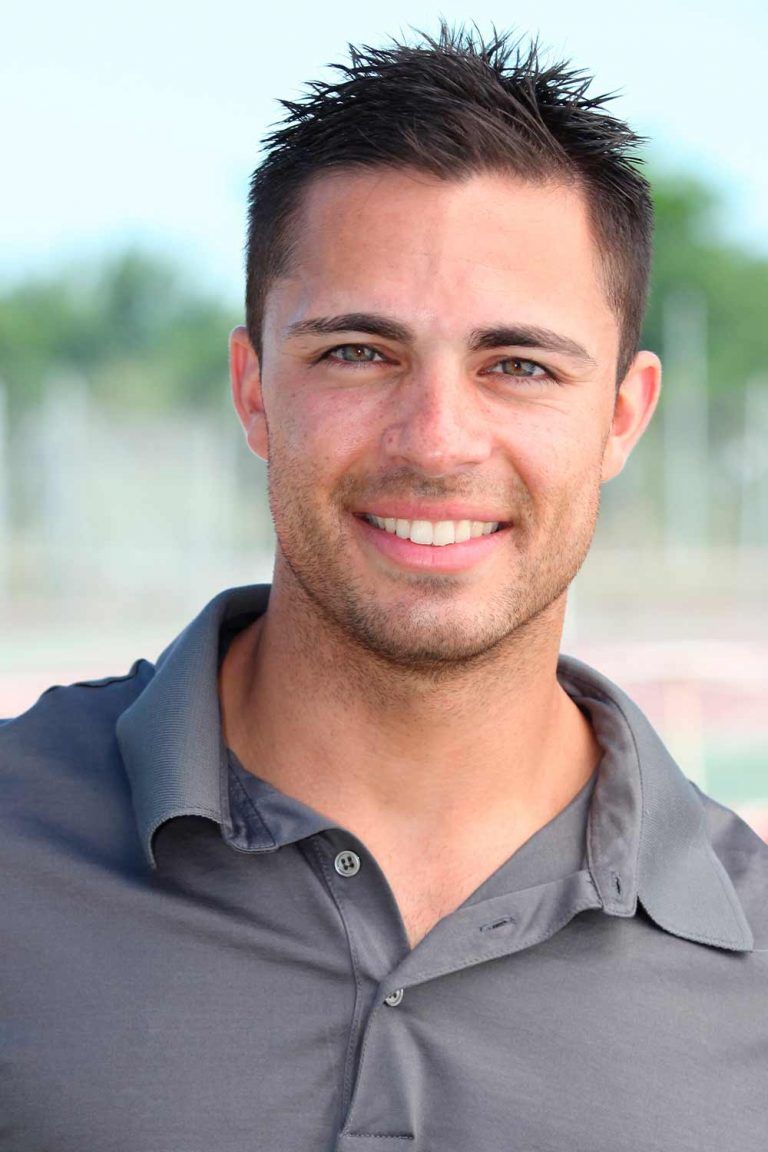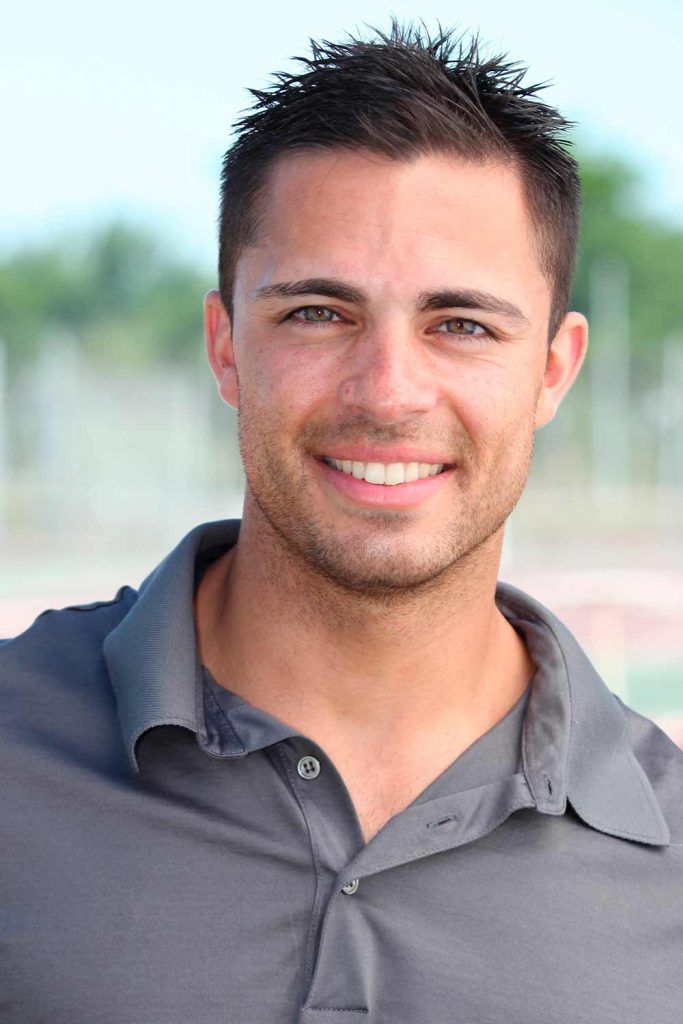 Most short hair styles for men can be transformed into spiky. Short spiky hair is the easiest idea ever not only because of the length: there are actually lots of short spiky haircuts that involve top texturizing, which, in its turn, turns your short hair into a field of little spikes. So if you love low-maintenance, yet unique looks, don't hesitate to steal this one.
Long Descending Spikes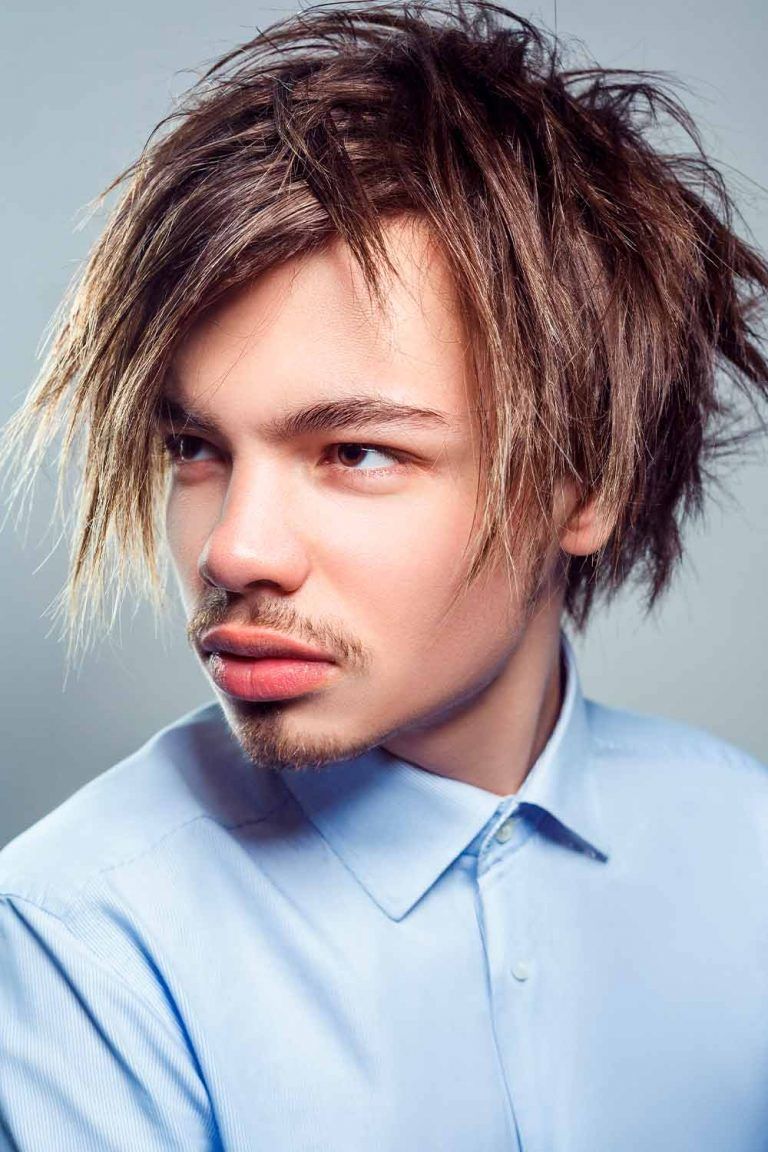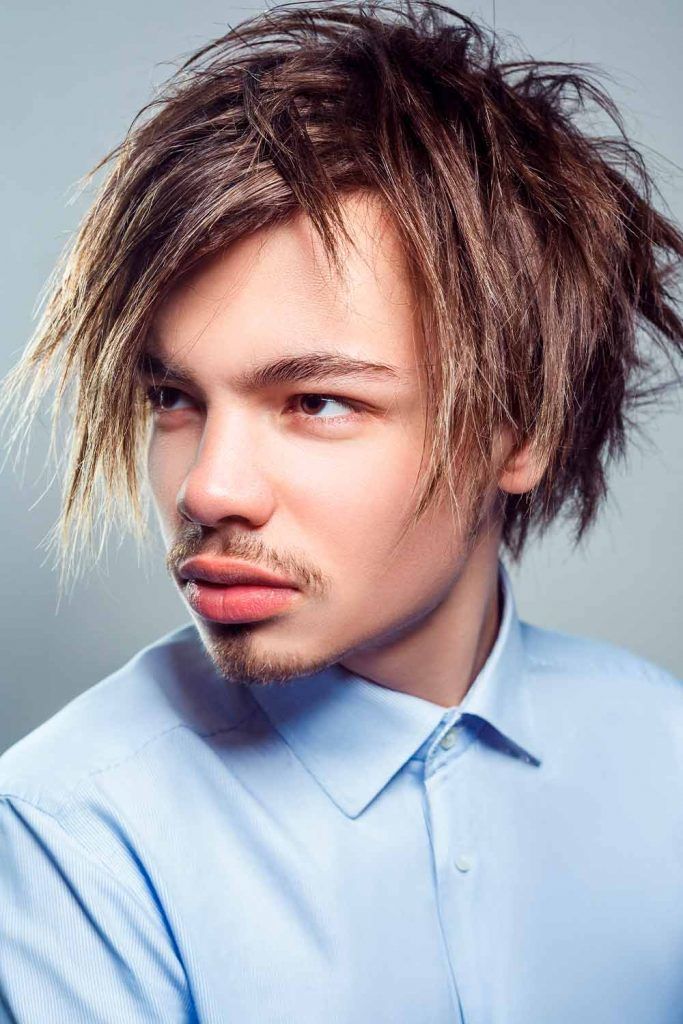 Long hair men spend hours on styling can also give you a spiky look in less than ten minutes. For example, the messy hair look above only needs a thick wax worked into your chevelure. So these simple, descending spikes can deal with your harsh stylish routine.
Spiky Hair For Wavy Hair
Of course, getting spikes for wavy hair will require more than just one product. Yet, it's still possible! First off, you need to brush your hair thoroughly so that it's manageable. Some styling powder will make your hair behave, and wax will give you the spikes. Set the style with stronghold hairspray to save your curls from falling.
Spiky Hair With Blonde Accents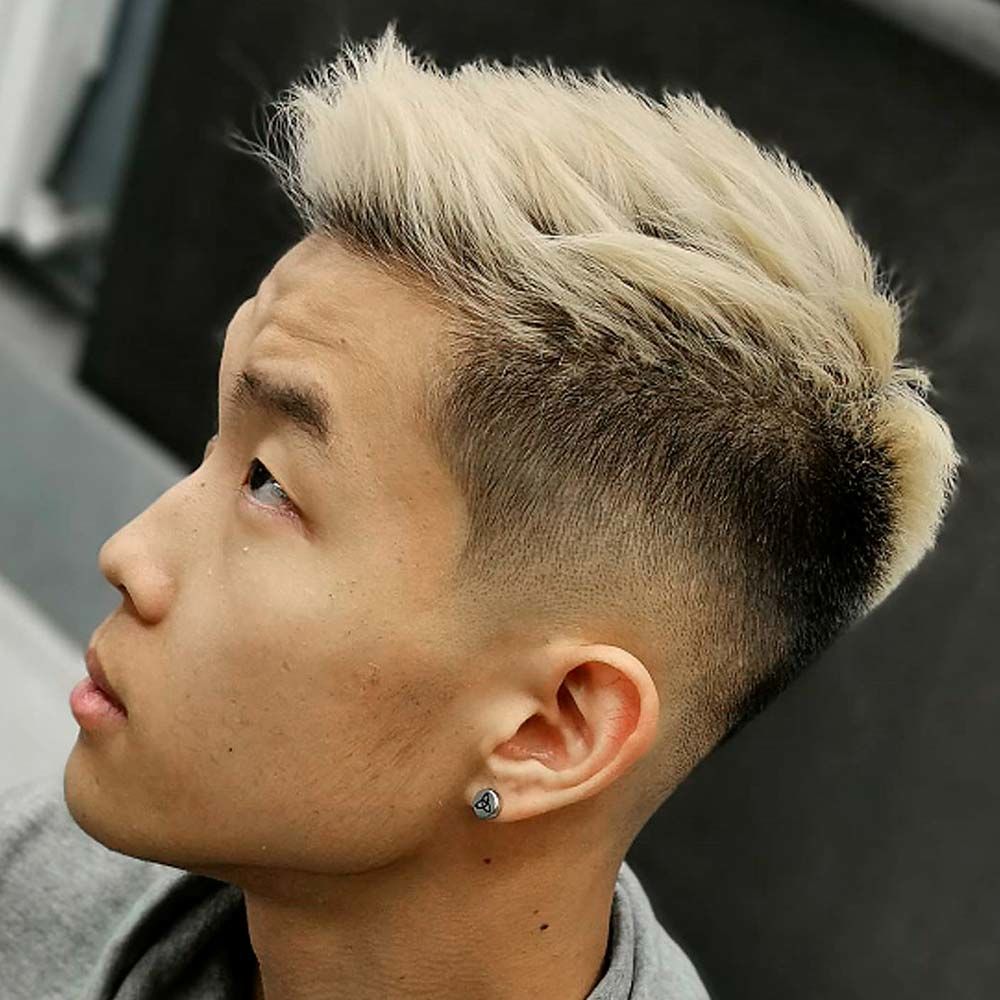 Credit photo: instagram.com/usatybarber
Who would've thought that blonde hair men with green and blue eyes sport proudly would form a cool duo with spikes? The soft blonde highlights added over the ashy blonde base emphasize the twisty spikes very gently.
Asian-Inspired Spiky Style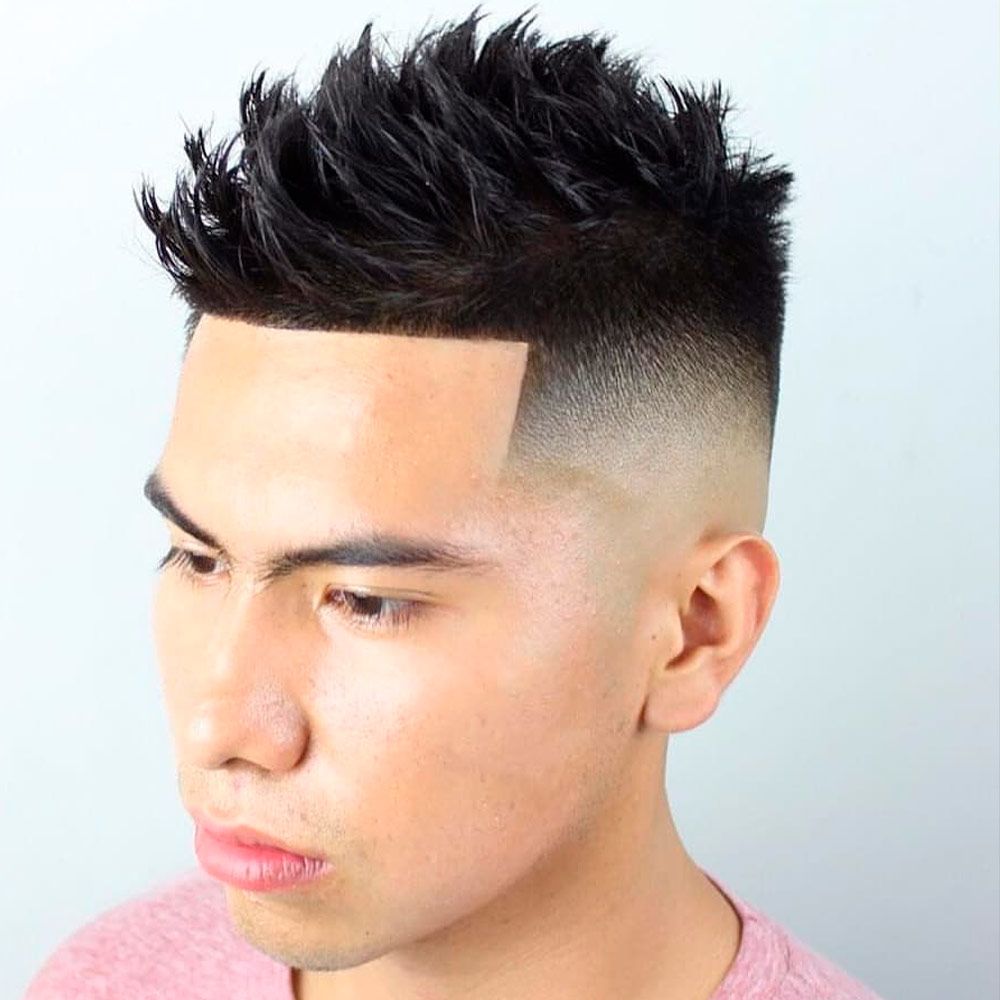 Credit photo: instagram.com/snegna_ola_
Following the trendsetters, let us show you one of the iconic Asian hairstyles men from all over the world love to copy. The top portion of hair is spiked up, and the lower layer is spiked down. The color also plays a crucial role in the 'do: the blonde hair men with good taste pull off makes the style slay.
Spiky Hairstyle For Thick Hair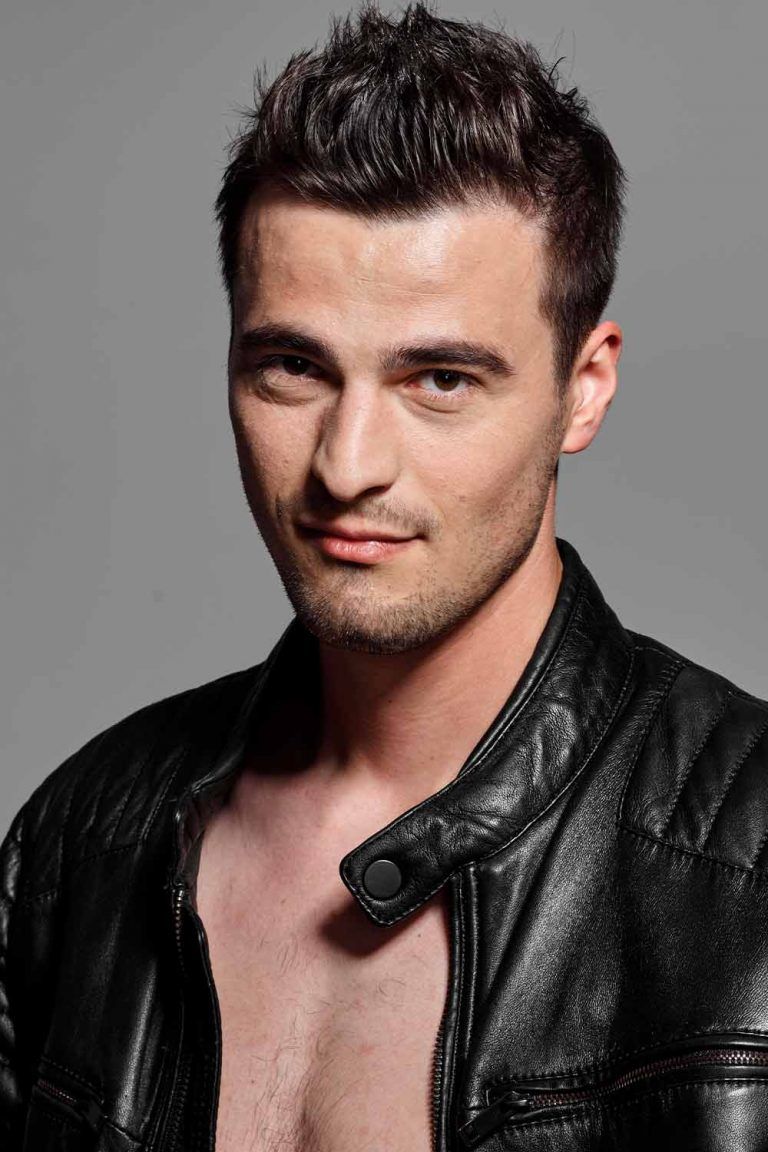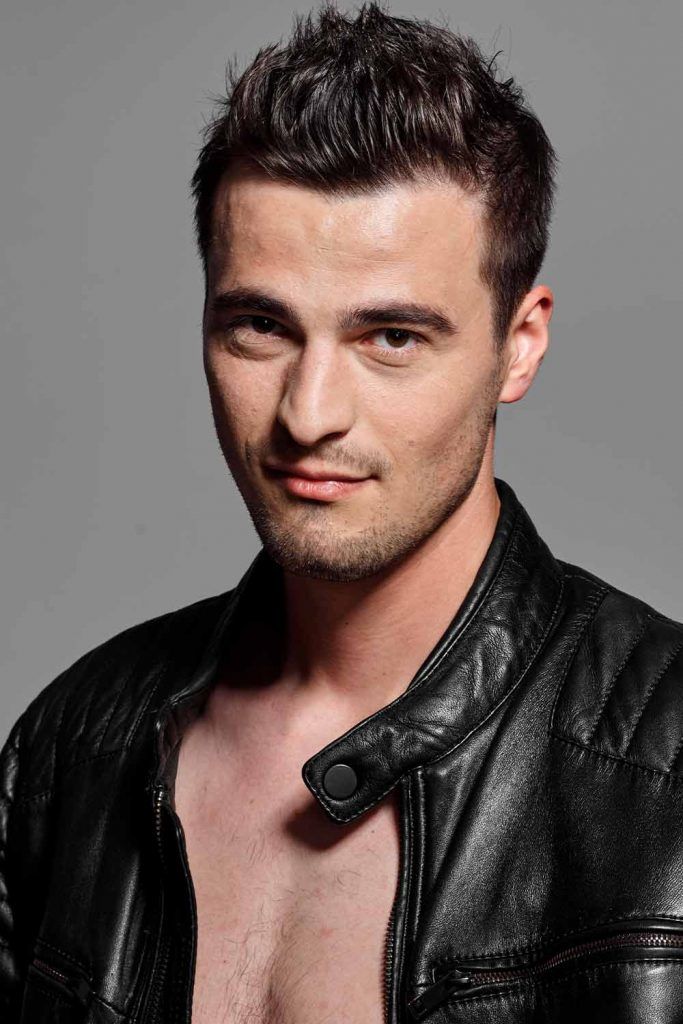 When it comes to hairstyles for men with thick hair, the most important thing is to make them stay as long as possible. To create spikes for thick hair men tame with difficulty, don't forget to soften your hair with conditioner and coat your style with the magic of hairspray.
Spikes For Fine Hair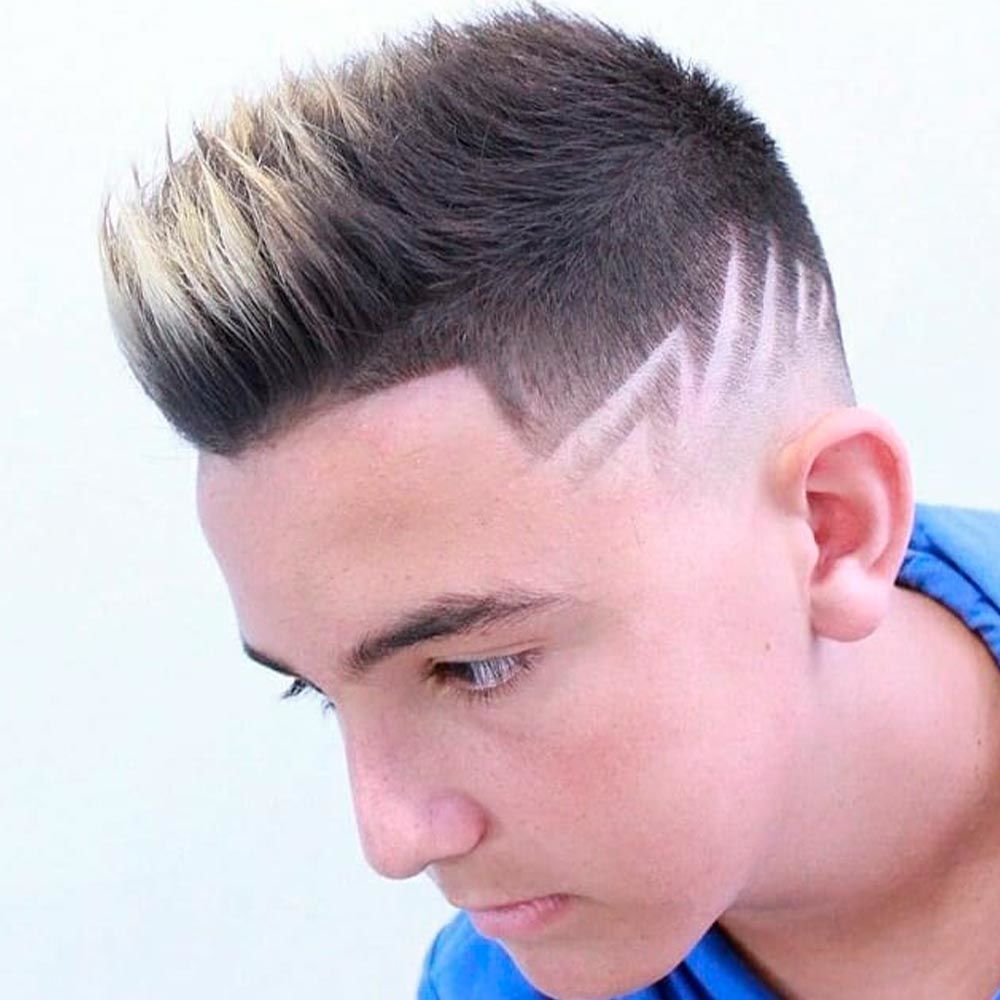 Credit photo: instagram.com/snegna_ola_
In terms of spiky texture, fine hair men take as a drawback is actually an advantage. It's very manageable, and if it's not that voluminous, it's pretty easy to lift up. Apply some thickening mousse or wax, tousle up the front spikes, and see your hair from the new, thick perspective.
Spiky Fine Hair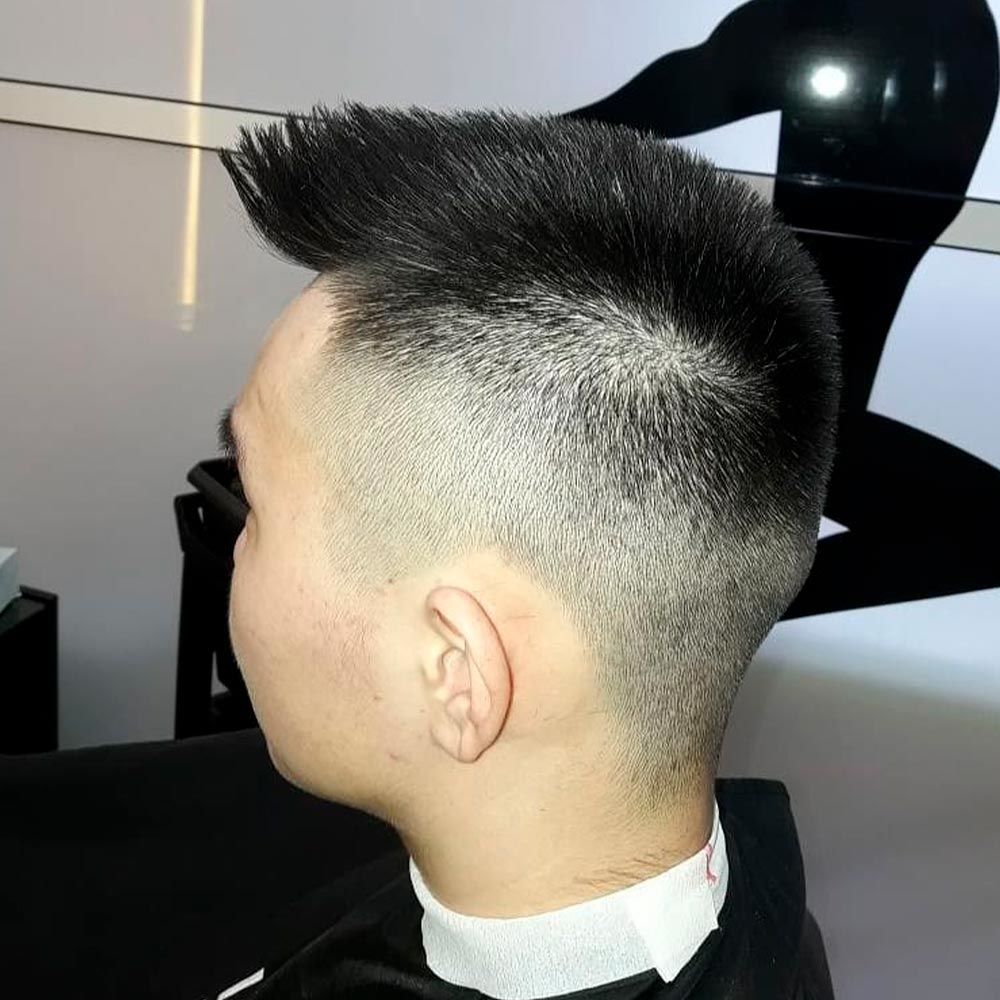 Credit photo: instagram.com/agatha_salon_ykt
The major problem of fine hair lies in the dullness of its texture that also transforms into flat looks on medium to long lengths. In other words, this hair type tends to lack dynamics and fullness, which may actually ruin the balance in a wearer's look. Luckily for you, you can put an end to this trouble by asking your barber for spiky layers: they will create a sharp texture that will volume up your mane. And don't forget about a fade; contrasts are keys to building the balance.
Windswept Spiky Hair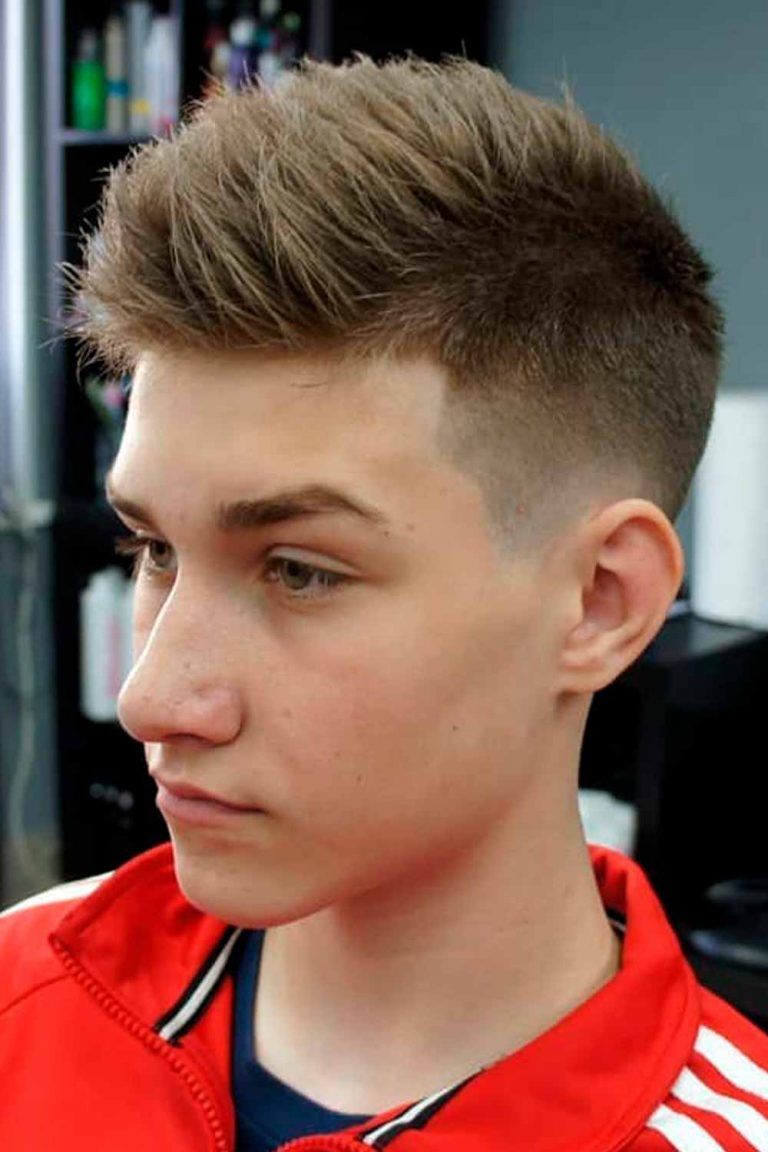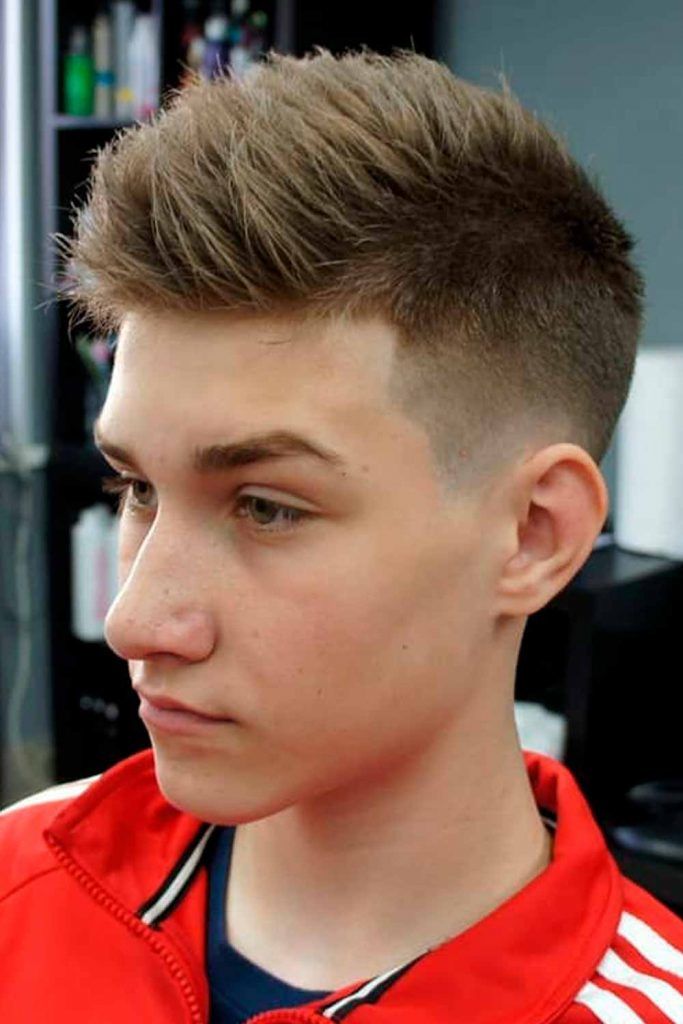 Credit photo: instagram.com/tokyo.salon
Although Mohawks are known to be impossible to tame, with the right approach, you can turn it real. A nicely chopped top where spiky layers get shorter as they run towards the back of the head and a drastic, accentuating high fade are your keys to diversifying the once punky hairstyle. To finish the look and keep it in place, work some firm pomade into the roots so that they won't lose the lift.
Wavy Spikes
What happens to spikes if you spruce them up with a bit of a curve? They will become waves! As a matter of fact, this idea will work just great for men with naturally wavy hair types, as they can embrace their texture while sporting a hip style. Go for short layers to make your waves more precise and style them with lightweight foams to achieve definition. Of course, the visual impact will be even more intense if you pair the wavy spiky hair with an outlined fade.
Comb Over Faded Spikes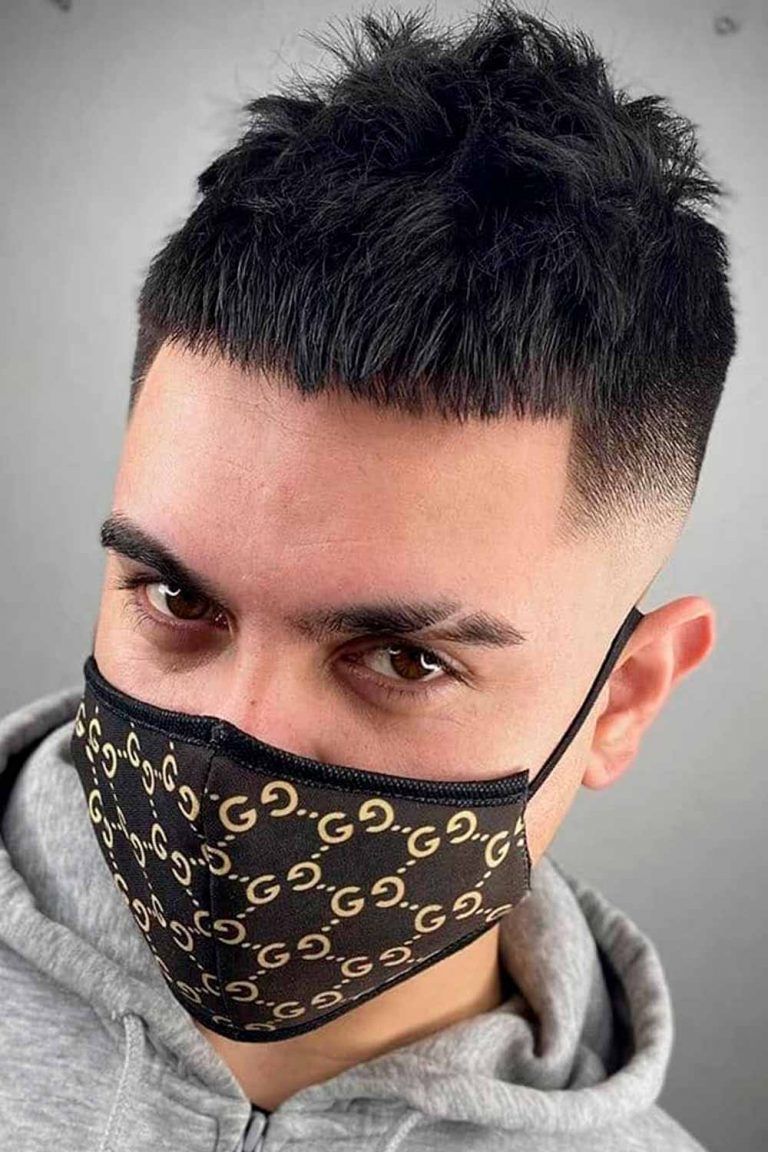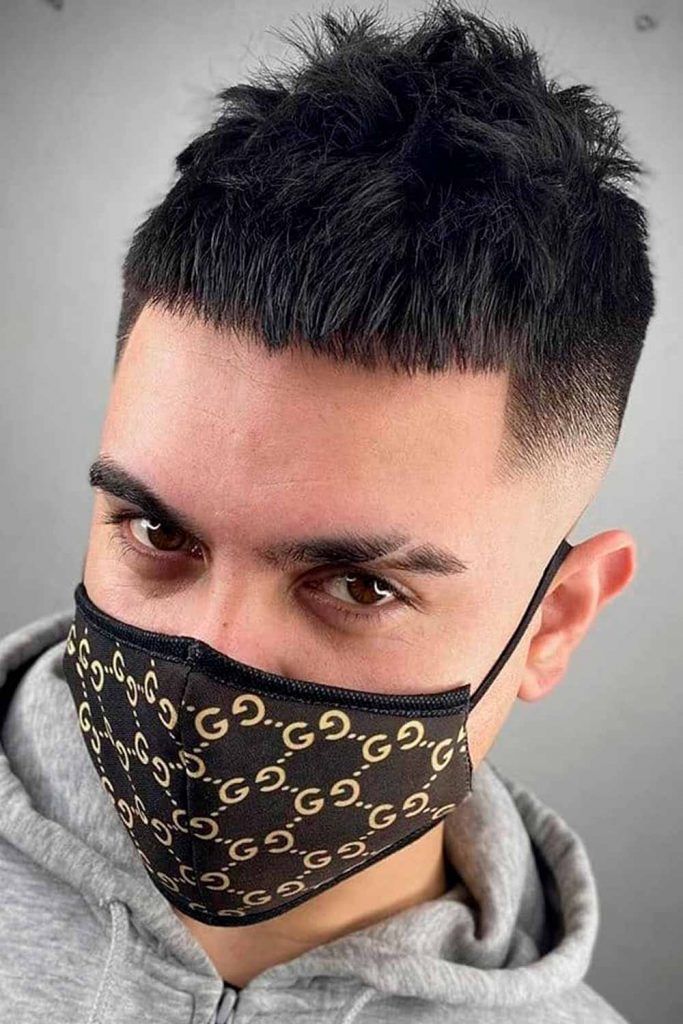 Credit photo: instagram.com/snegna_ola_
Another sophisticated and smart take at the spiky hair. And it goes without saying that such a detailed haircut will leave thick hair no choice but to become well-groomed. The gradual skin fade flows smoothly, forming an organic whole with a contrastive long top. What makes the look so different is the way the top is layered: the spikes are distinctive yet not sharp, which makes the cut appropriate for all occasions.
Spikes With Shaved Line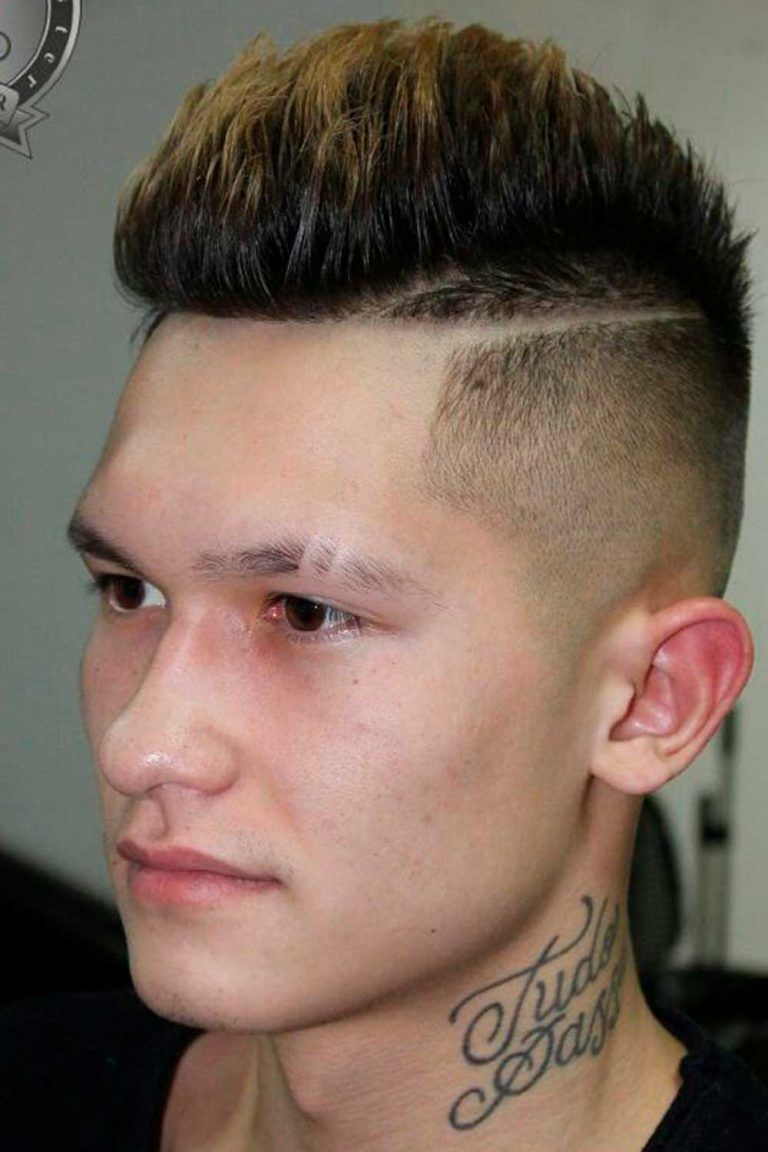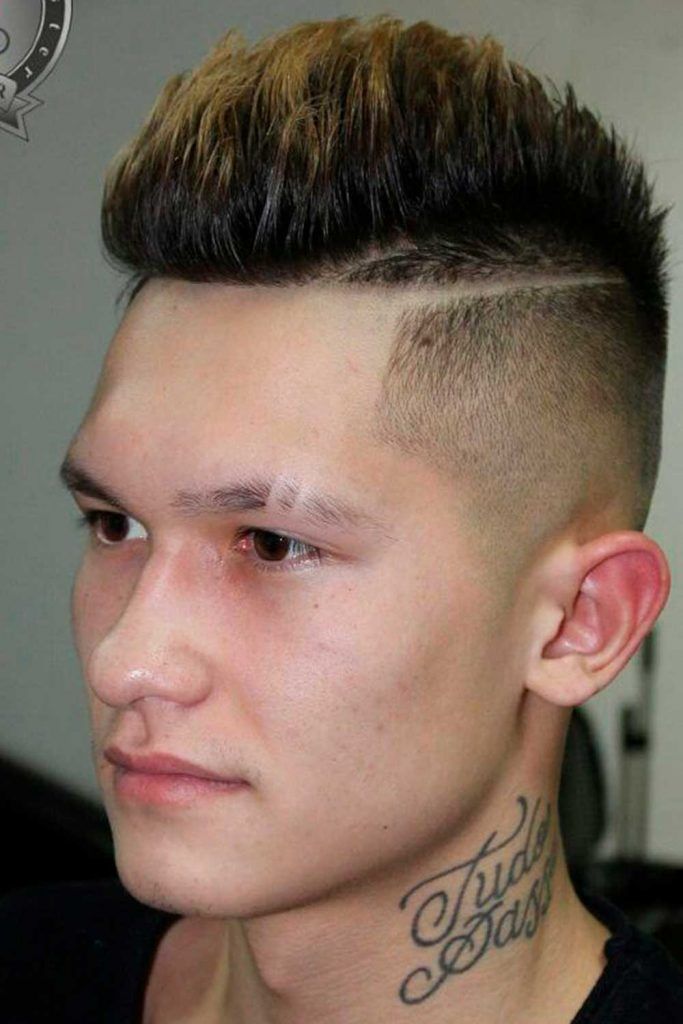 Credit photo: instagram.com/master_timur
Spikes are meant to express your inner wilderness. If that's not enough for your rebellious character, it's time for a shaved tattoo. In fact, even a simple stripe on your faded sides would be enough to add more character to your look, highlighting your crazy spiky top.
Faux Hawk Spiky Hair With Undercut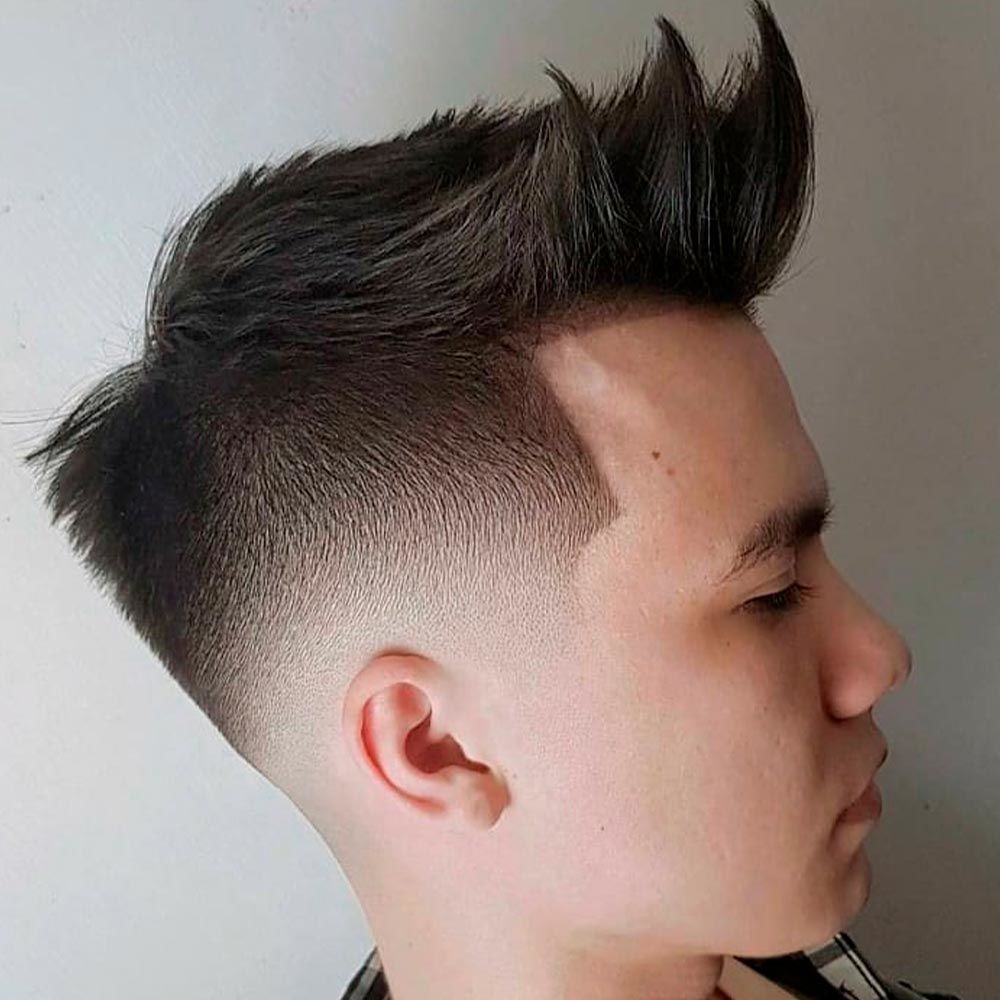 Credit photo: instagram.com/snegna_ola_
Undercuts are never boring, even if you rock the shorter variation possible. You can always put an exclamation point by finishing your fade with a striking tattoo expressing your individuality. Also, you can make your top fit your mood, styling it in any way you please. And when your soul desires the spotlight, nothing can beat a faux hawk made of spiky layers on an undercut.
Spiky hair can be as different as one pleases. It can come as a crazy-teen or an elegant-gentleman look. Now you know what ideas can fit your hair type, so it's time to choose an idea and bring it to life. All in all, everything you need is some wax!
FAQ: Spiky Hair
What do you call a spiky hairstyle?
When it comes to spiky haircuts, the faux hawk is a good compromise. It isn't the most daring look on the list, but it isn't the most old-fashioned either. One of the more adaptable spiky hairstyles is the faux hawk, because when it comes to styling the hair in the middle, you have a lot of alternatives.
Is spiked hair in style?
Spiky hair has long been a desirable look for guys, and while the rock-hard points of the past are no longer acceptable, this spicy hairstyle is still a great choice for gentlemen. Spikes are a great option if you're seeking for a new fashionable look.
Can Vaseline be used as hair gel?
Cradle cap in babies can be treated with petroleum jelly, according to the American Academy of Family Physicians reports. Others find that a small bit of Vaseline works well as a frizz-controlling styling gel, though it may be too dense for fine or weak hair.