Discover The Iconic Black Men Haircuts For All Hair Lengths
The variety of black men haircuts wasn't really impressive a decade ago. But now, its diversity seems to take over the world, thanks to modern trendsetters, musicians, and fashion influencers.
ADVERTISEMENT ‧ CONTINUE READING BELOW
Most haircuts for black men feature a fade, involving cleanly tapered sides and longer hair on the top. Alongside with going for the common idea, men can customize their cuts in the way they desire, making their coarse hair fit in the individual style and image.
Today you are going to discover the latest long, medium and short haircuts black men love to pull off these days. Whether you prefer to keep it textured and significant or you are more into clean and tight styles, our collection will satisfy your inner mod.
Short Haircuts For Black Men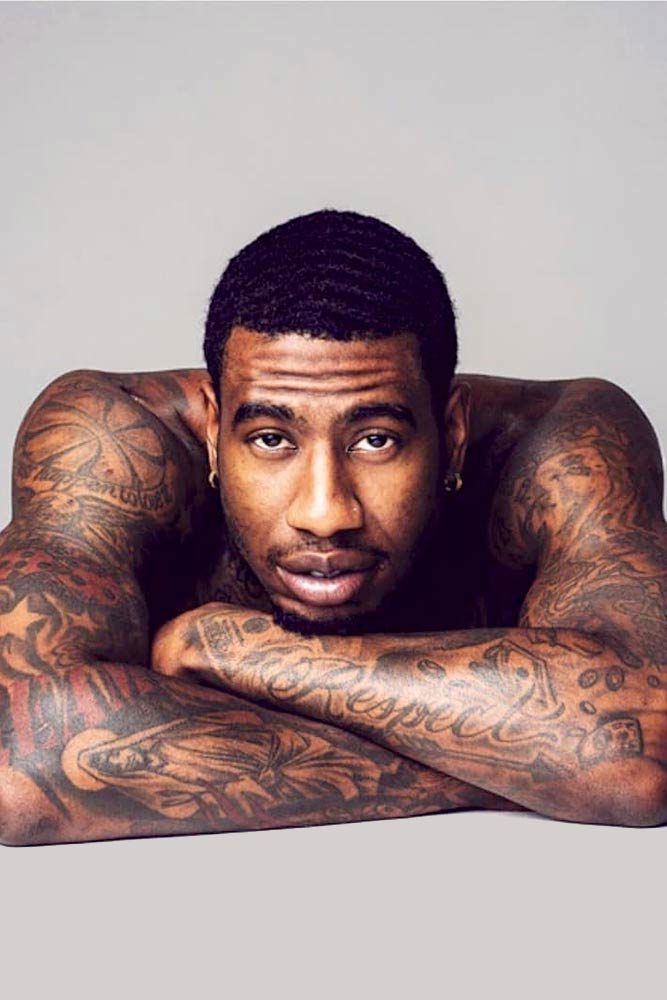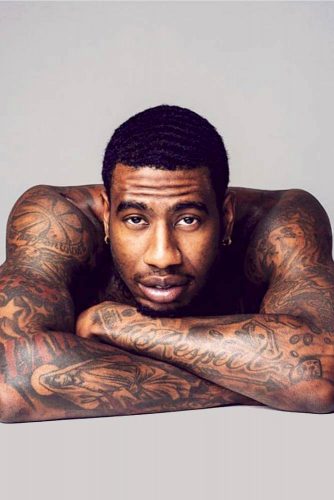 Credit photo: instagram.com/imanshumpert
Of course, we'd like to start with classics. If you're one of those guys who fight with curly, unruly hair every morning, you know why short haircuts for black men are considered as classic variants. The texture of afro hair men find to be almost impossible to style is the reason. Yet, out short cuts are not just about making you comfy with your hair; they're all about modernity!
The Buzz Cut With Surgical Line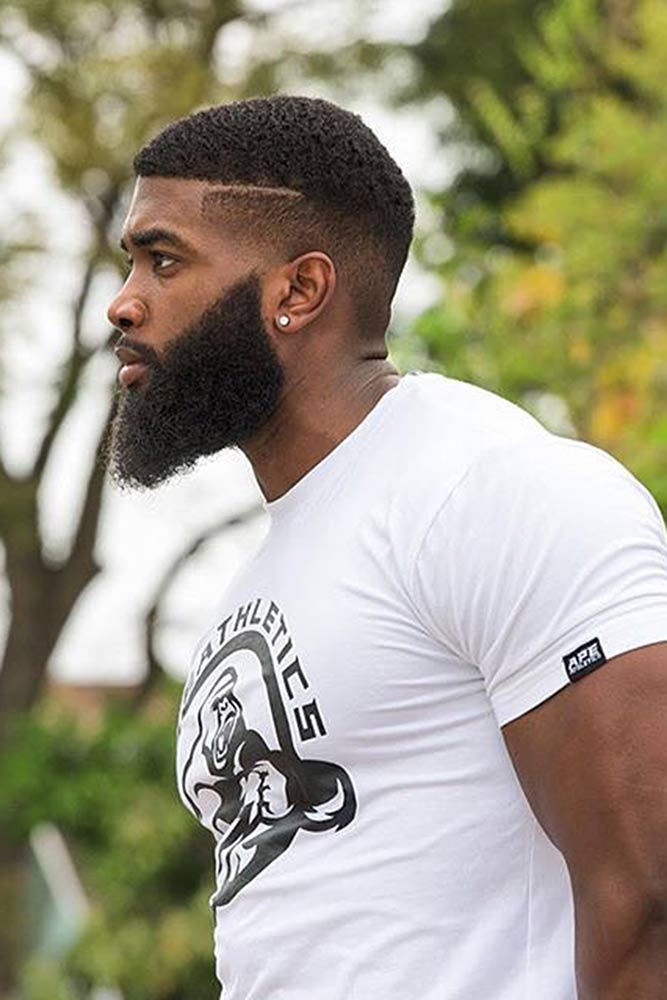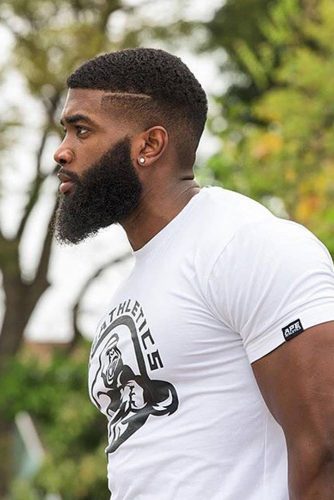 Credit photo: instagram.com/alphablackness
The first short haircut men look nice with is the good-old buzz cut. It just so happens that black men look awesome with short hair, and this classy idea isn't an exception. Just like many black men haircuts, this option features a mid fade, covered with smoothly textured, straight cropped top that is accentuated with a shaved line.
High Fade With Wavy Top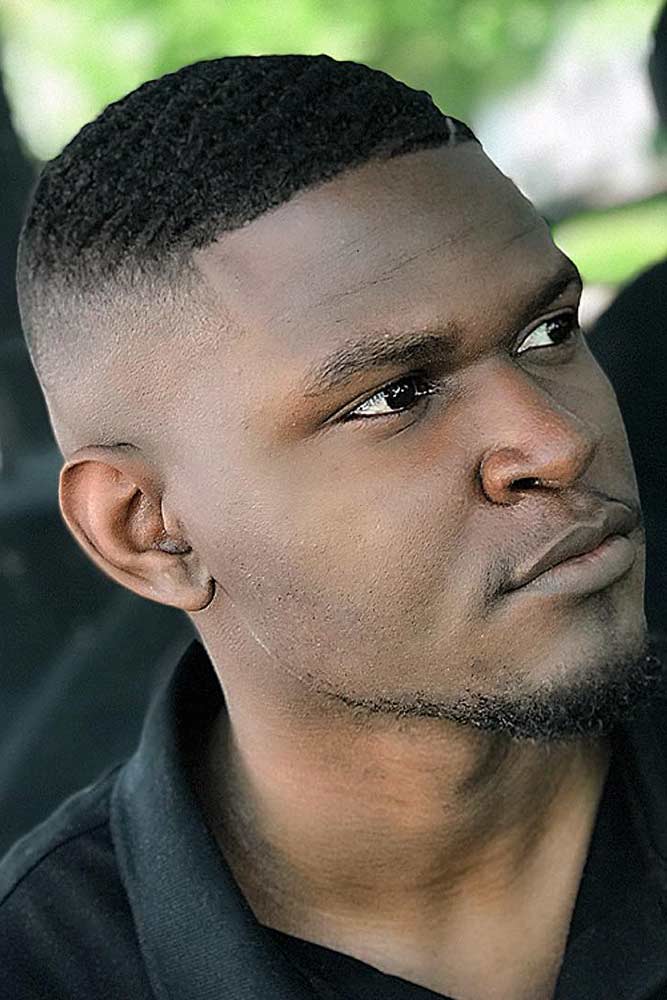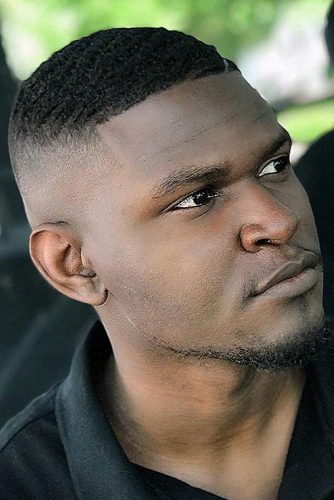 Credit photo: instagram.com/shecutsbarberstudio
Black male hairstyles that involve the contrast of thickness and texture are the probably the top afro hairstyles for today. This time, the short top preserves the natural texture of afro hair, gradually fading into bald sides. As for the design, the shaved zig zag is a nice way to add individuality.
Undercut With Pink Curls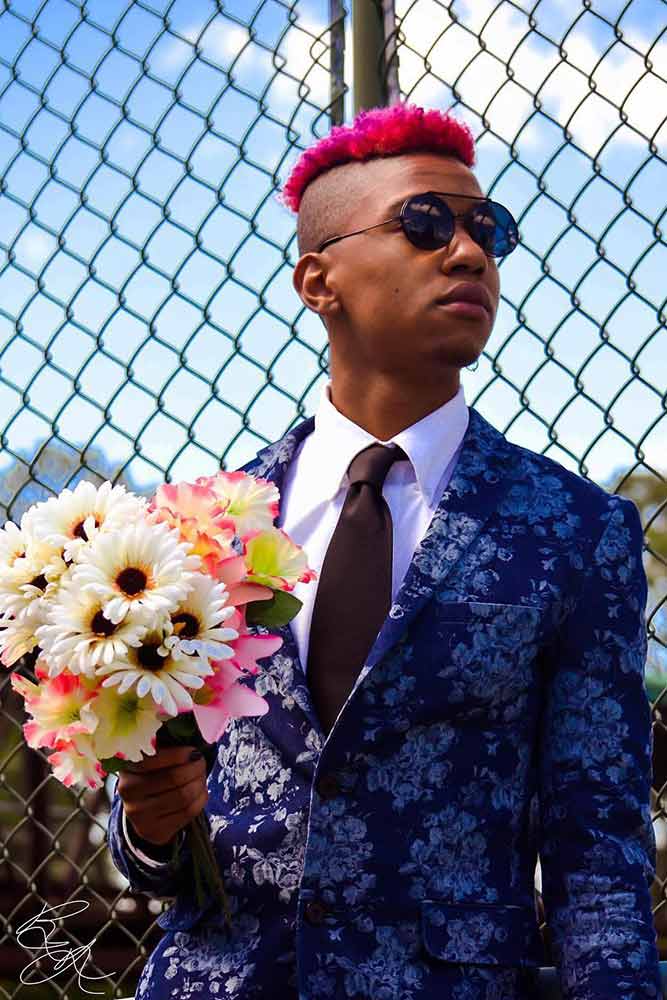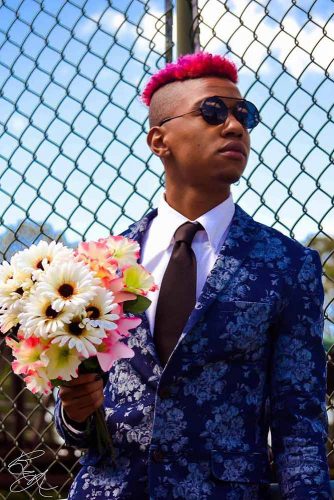 Credit photo: instagram.com/bjaiavenue
The undercut with a pink curly top is designed to cross the line of the popular "high and tight" ideas. Truly significant black short hairstyles are achieved with the exceptional sense of style and boldness, so here we are, showing the undercut in the new light: the sides are simply shaved, and the top pops.
Simple High Fade Top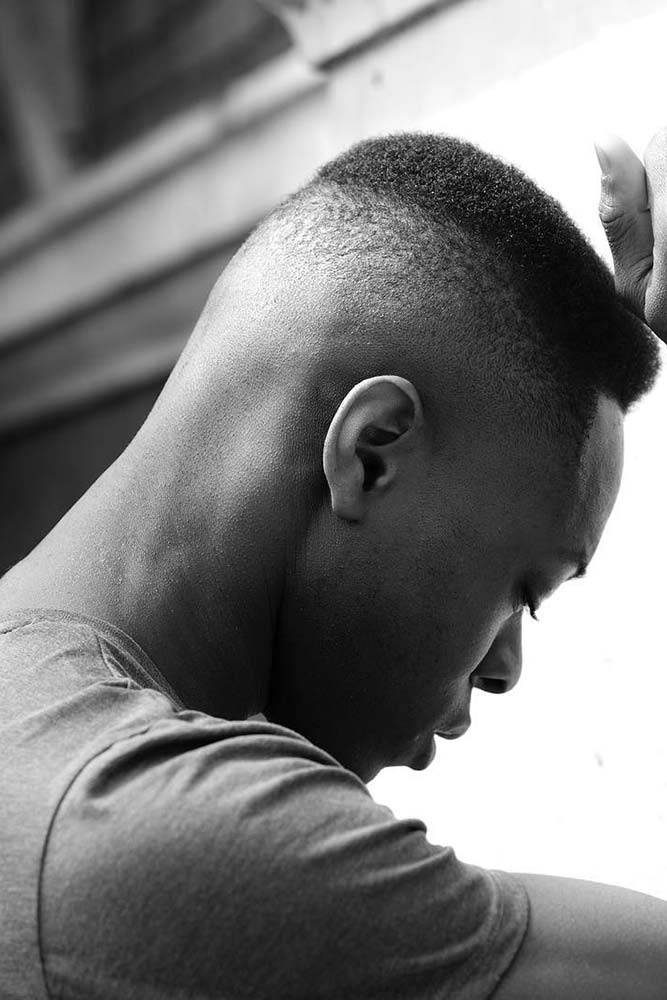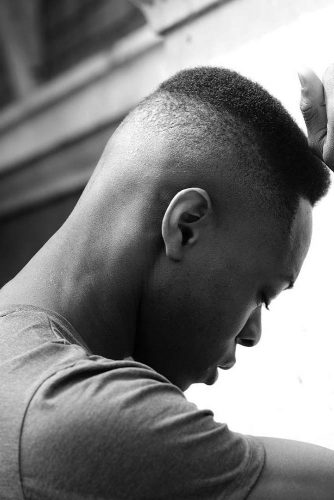 Credit photo: instagram.com/londonschoolofbarbering
Keeping black haircuts minimalistic is another way to master style sophistication. For example, if you spice up a simple marine haircut that keeps a wearer super comfy with his curls while showing off his natural texture, you'll get a straightforward and refined variation of trendy American haircuts.
Taper Fade With Textured Top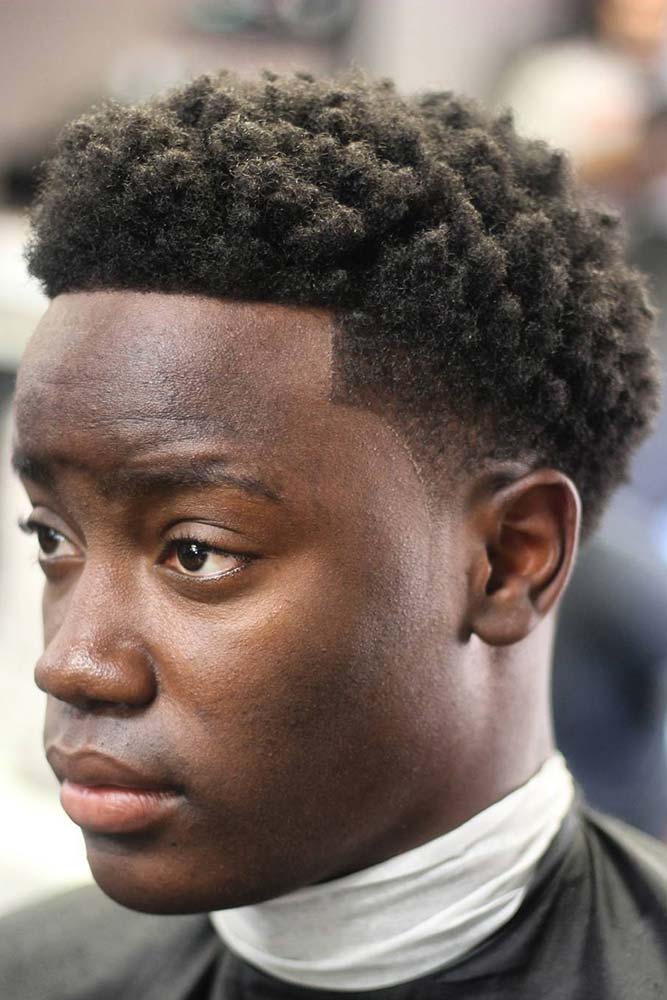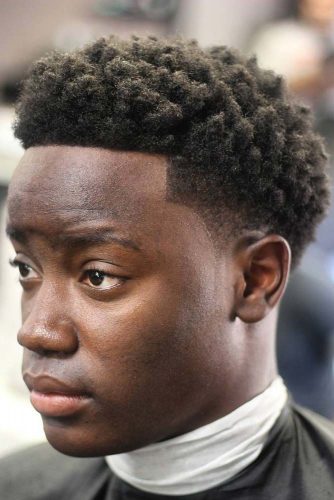 Credit photo: instagram.com/clippercrewbarbershop
Instead of going for a fade haircut black men wear every single day, you can try something more interesting and thick for your casual look. Since lots of black short haircuts are all about neatness, why don't you make your awesome textured mane show up at its best and let a soft taper haircut set the balance?
Structured Shape-Up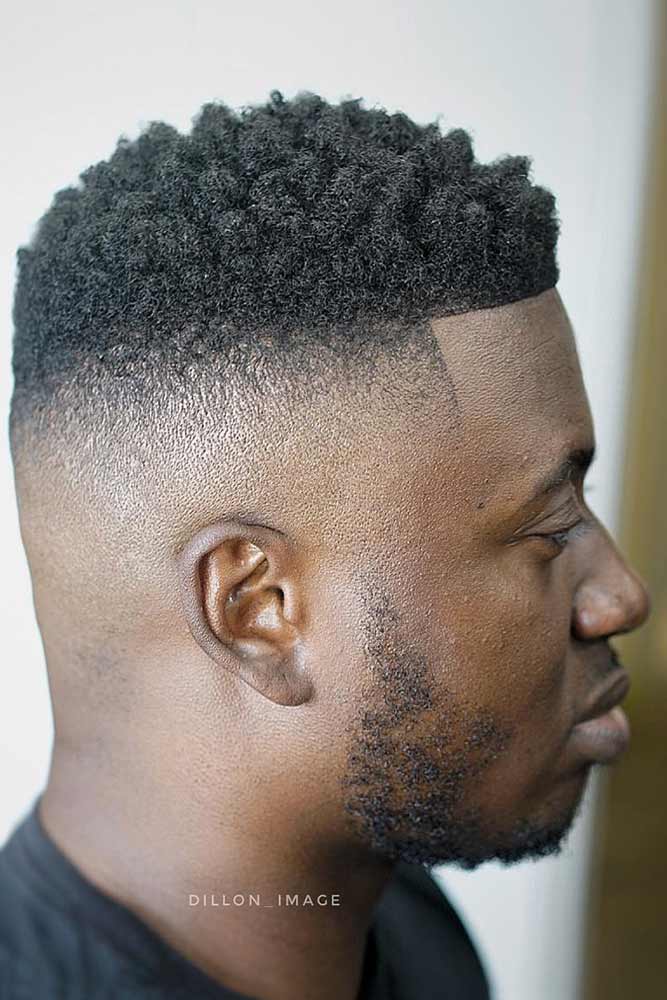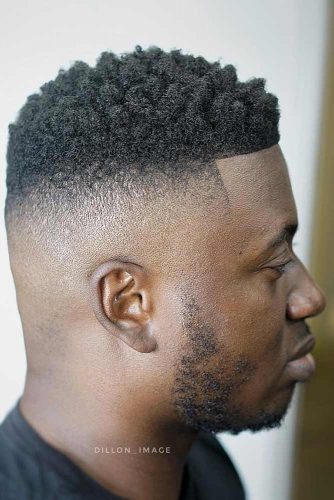 Credit photo: instagram.com/dillon_image
Men who are not into dramatic haircuts with defined accents can try out a short military haircut and finish it with a gentle taper on the sides and back. Make sure that your barber will do the precise shape-up because that's the thing that makes black men haircuts so neat and polished.
Sponge Twist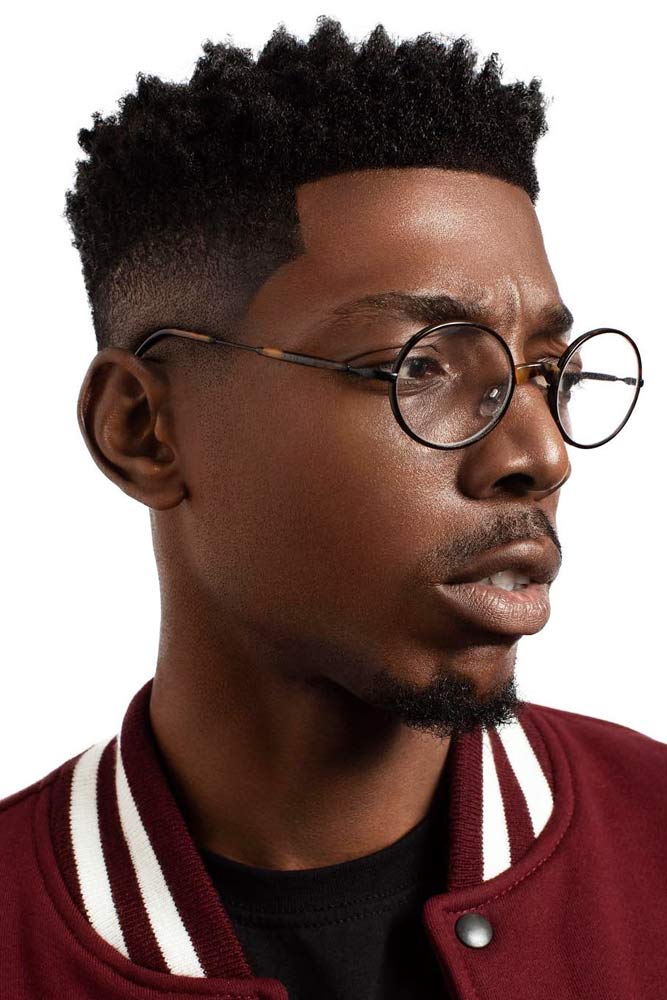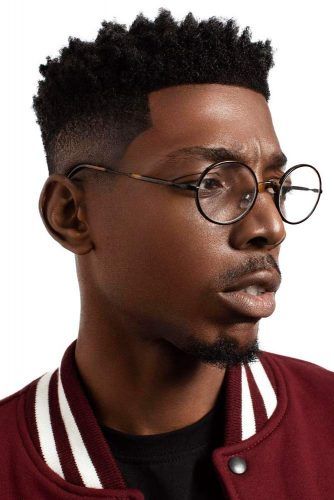 Credit photo: instagram.com/dexterdapper
Twisted hair looks extremely chic and sophisticated. That's because the sponge-like textured top is finished with a clean, enhancing fade. Anything from zero to high fade will look awesome, just make sure that the look suits your face shape.
Short Flat Top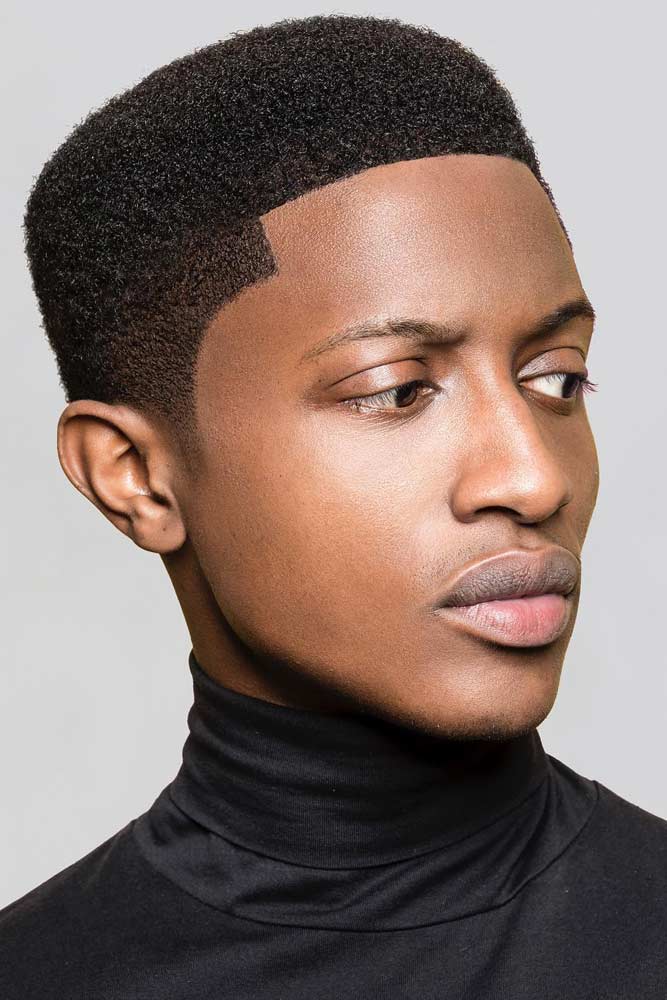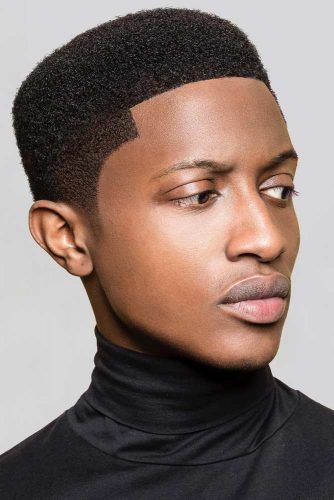 Credit photo: instagram.com/kevinluchmun
The classic idea of flat top haircut brings a lot of restless 90's vibes. But who says that it can't be modernized? This short flat top with a neat temple fade is another proof for the versatility of black men haircuts.
ADVERTISEMENT ‧ CONTINUE READING BELOW
Medium Length Haircuts For Black Men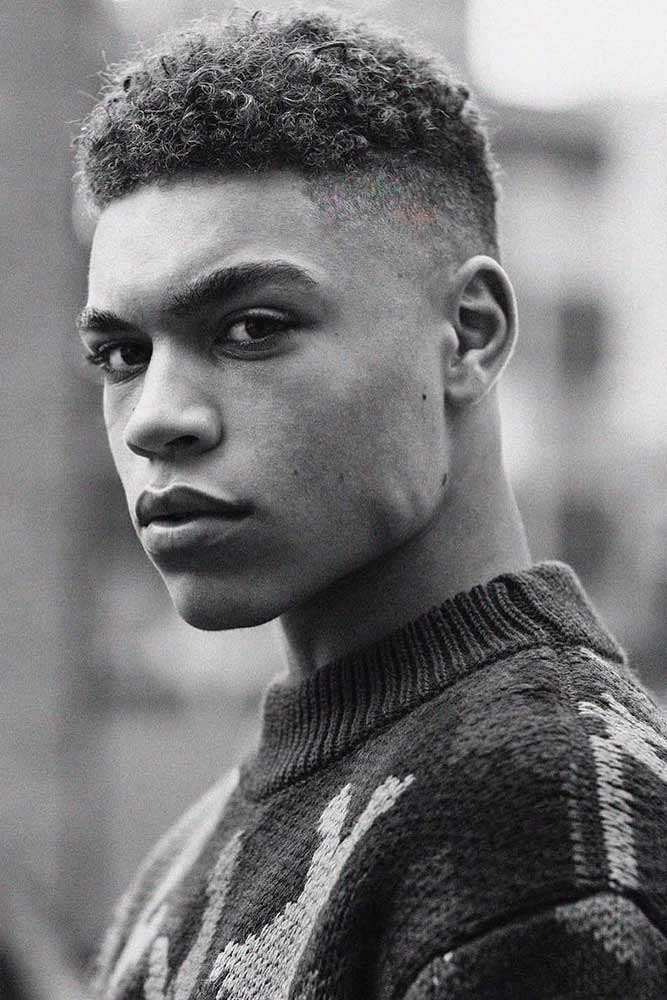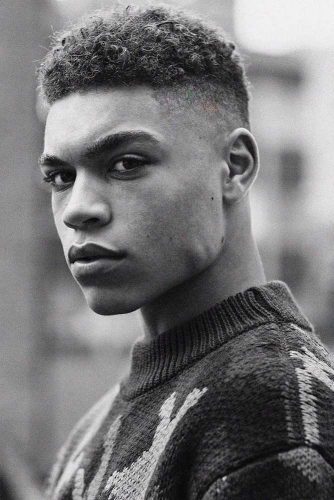 Credit photo: instagram.com/kevinluchmun
Medium afro hairstyles are very popular with black guys, not for nothing. First off, they offer a great choice of low-maintenance looks, which is crucial for thick, curly hair. Also, with such a length, your cut can feature many haircut designs that will show off your creativity. Don't want to go too short? See how to keep up with the happy medium.
Curly Bowl Cut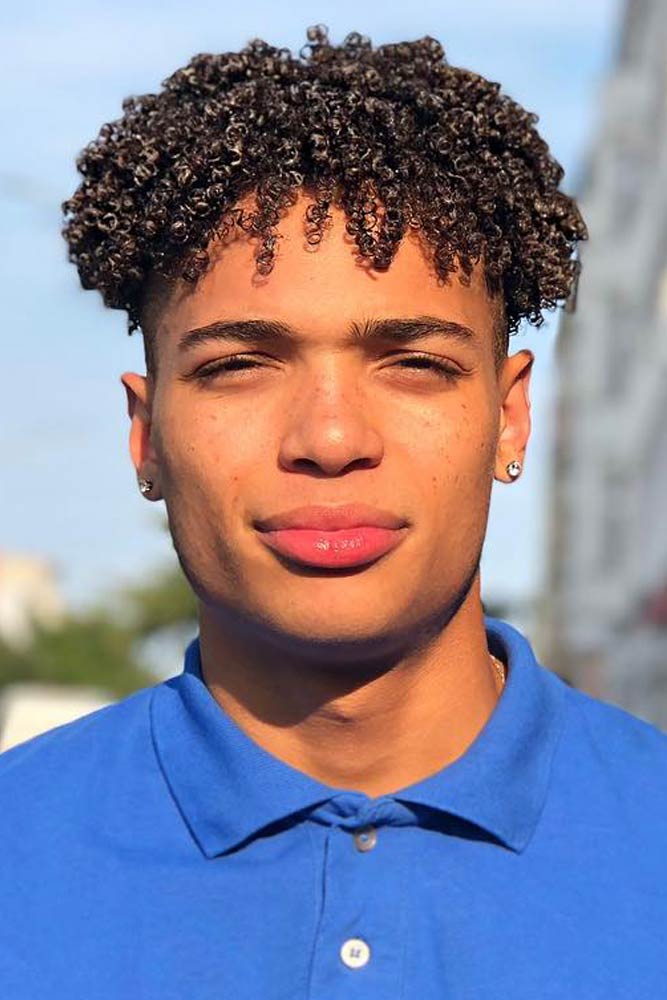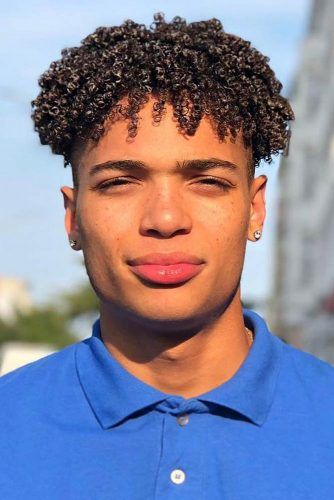 Credit photo: instagram.com/ebonyandivoryberlin
All your awesome curls fall on your head evenly: this is how your thick texture will act once you get bowl cut hair. Besides a classy modern look, there's one more advantage you will love - such cuts can tame unruly curly hair men find to be difficult to manage.
The Angular Flat Top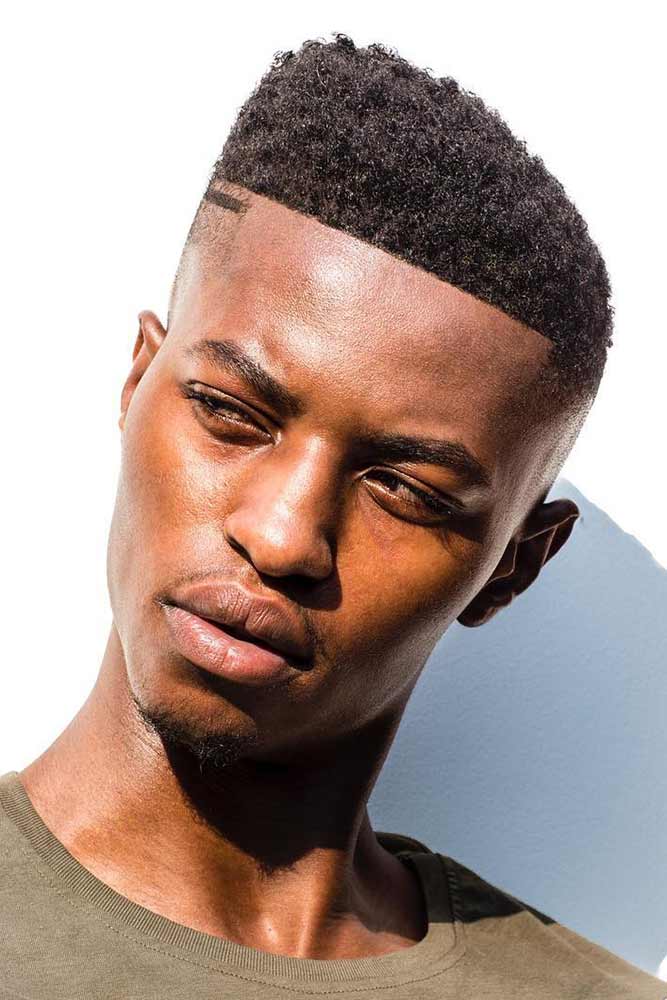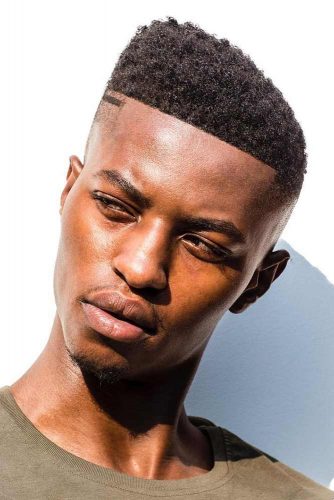 Credit photo: instagram.com/kevinluchmun
The military-cap silhouette of the flat top haircut is the simplicity that will capture people's attention. It's easy to wear and easy to style. And even though the cut looks pretty straightforward, only a skilled barber can create men's cuts with a neat, angular shape and keep your sides clean at the same time.
High Flat Top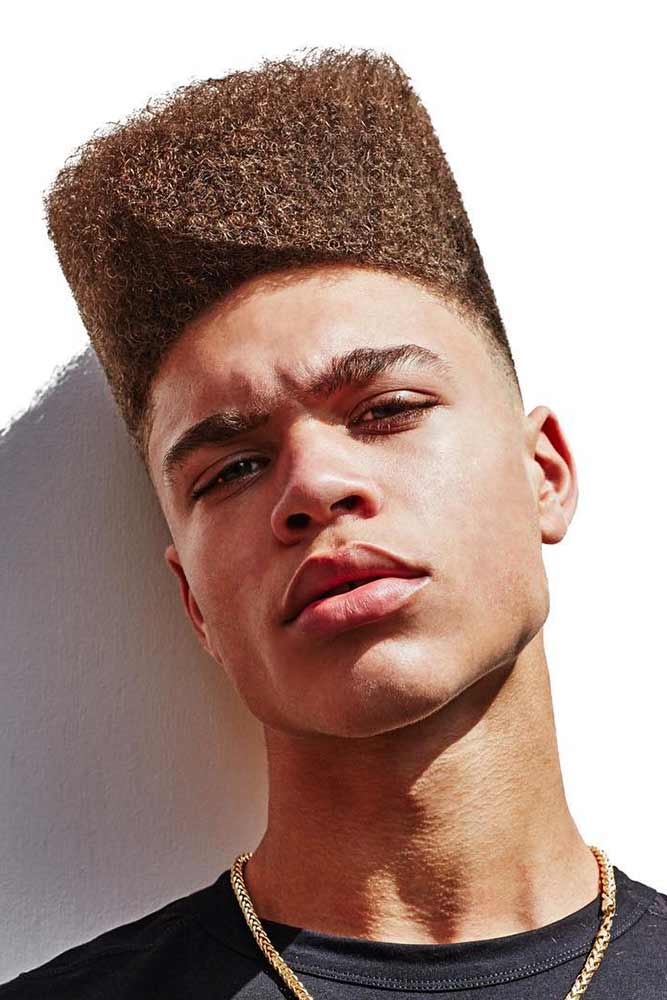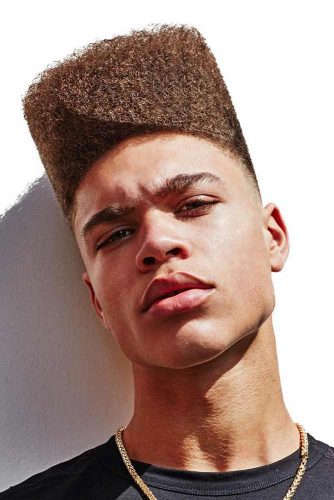 Credit photo: instagram.com/kevinluchmun
Black men haircuts also have some flaw-concealing approaches. The so much popular high top haircut isn't just an eye-catching style finish; it creates a perfect, well-balanced silhouette for men with smaller heads. If you want to pull it off, keep in mind that this cut requires a serious maintenance and styling routine. As for the finish, the taper fade black male above wears is a win-win.
Frohawk Fade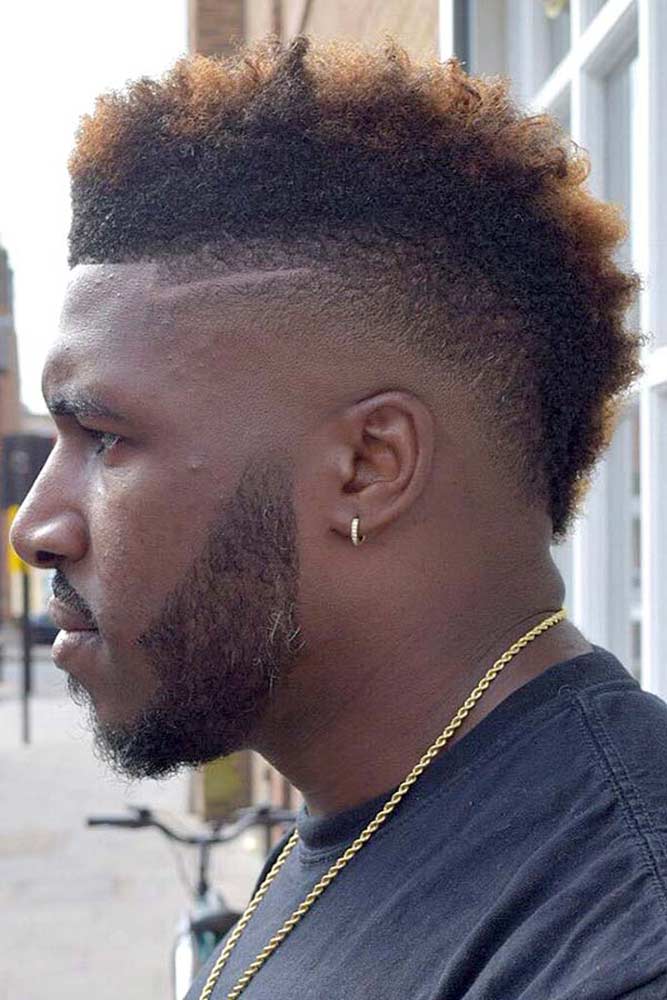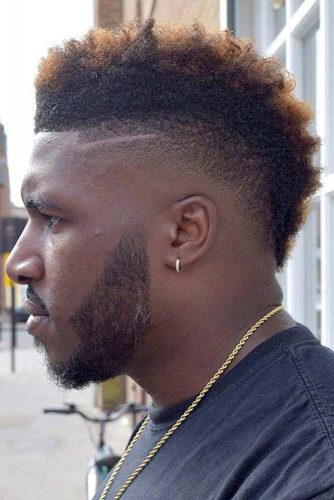 Credit photo: instagram.com/f4fade
The majority of the popular Mohawk variations usually feature a very drastic, daring look that requires complicated styling. And this faux hawk fade idea is about to give you a distinctive appearance and save your time at once. You can leave the top spiky and clean the sides with the help of one of the black man fades, thus going for a low-maintenance and cool style.
Blonde Frohawk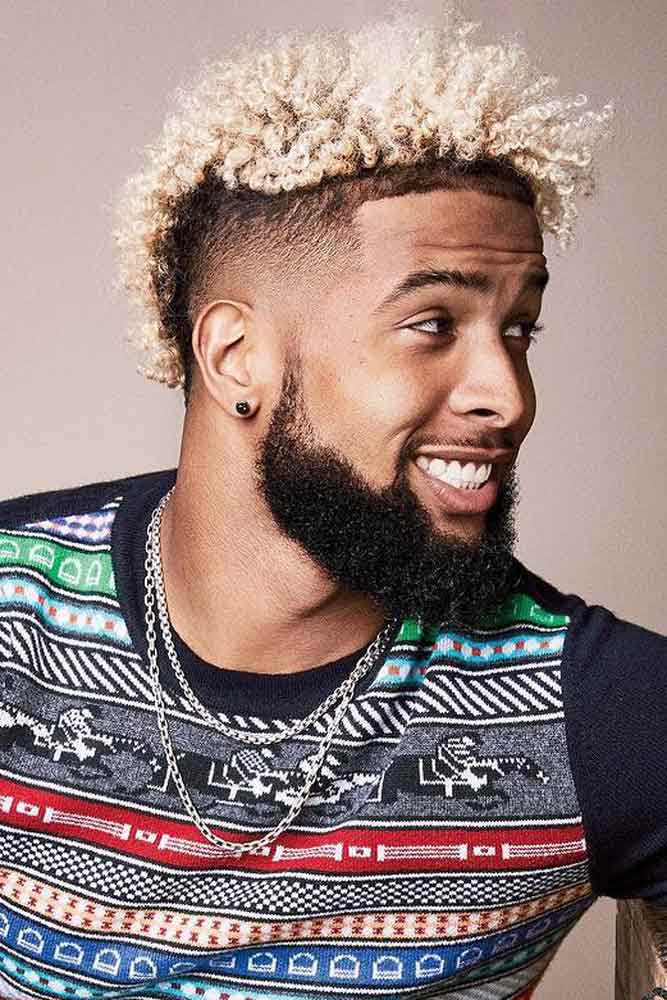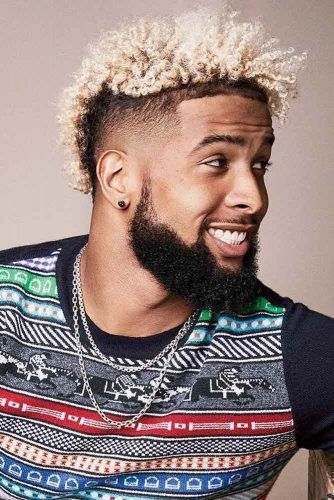 Credit photo: instagram.com/gq
When you feel the need for style changes, nothing works better than contrasts! Men with natural hair love to pull off dyed hair to accentuate their unique hairstyles. This Mohawk fade wouldn't look that outstanding without the distinctive top, don't you agree?
Short Sides + Dreads On Top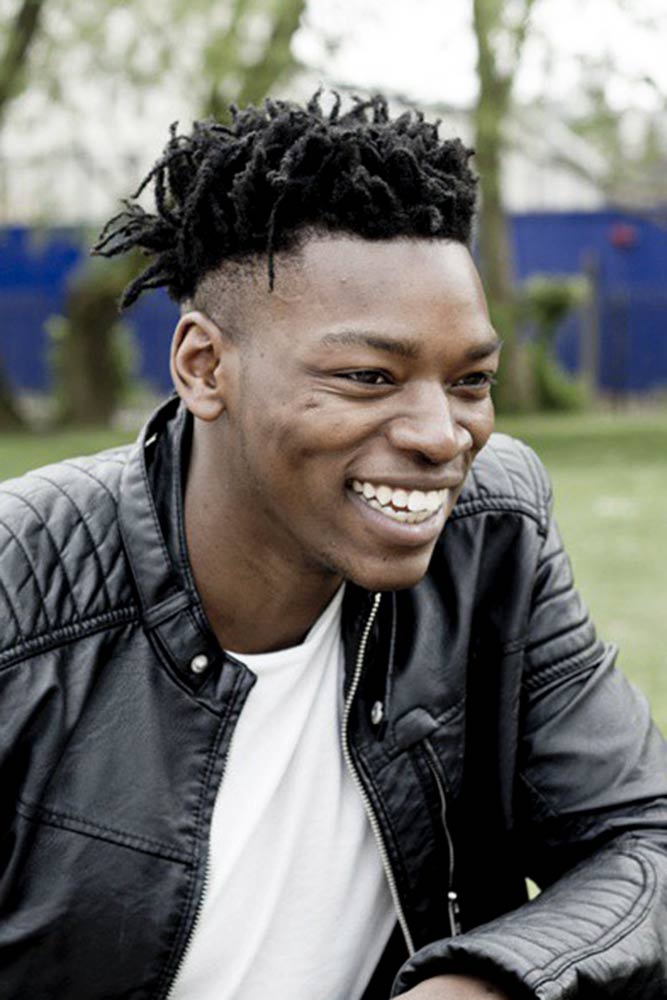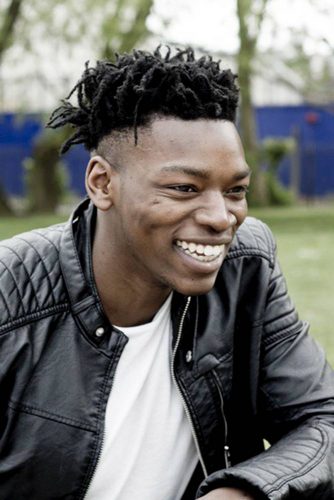 Credit photo: instagram.com/winnerbydefinition
Believe it or not, black men with dreads can look neat and presentable too! While classic ideas of dreadlocks are all about messiness, this short sides long top haircut keeps the style totally on point. To highlight medium dreads so that they look accurate, consider accentuating them with a zero fade.
Curls Over Undercut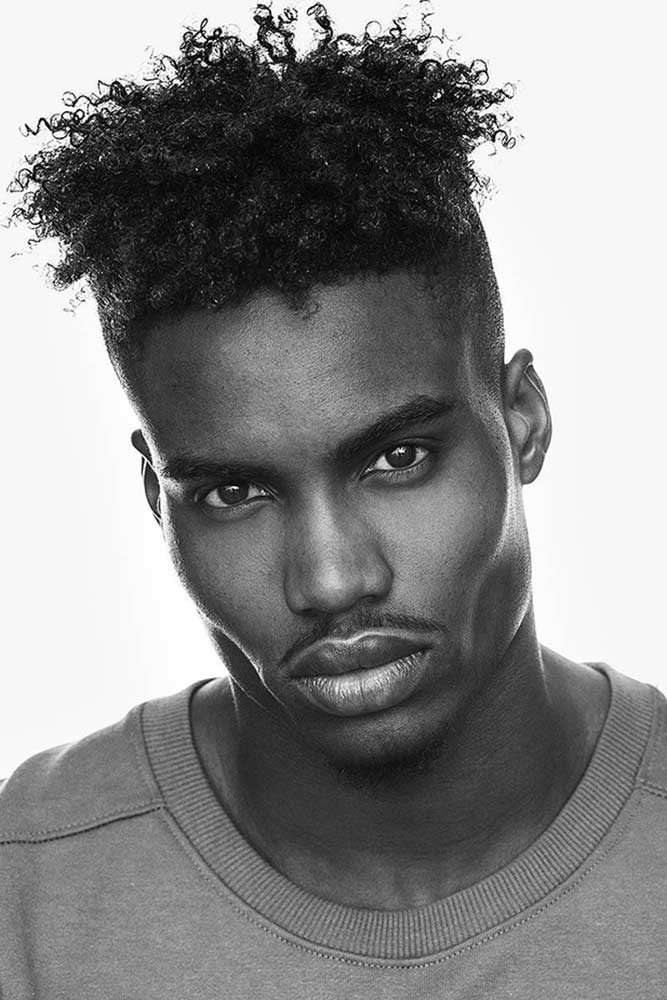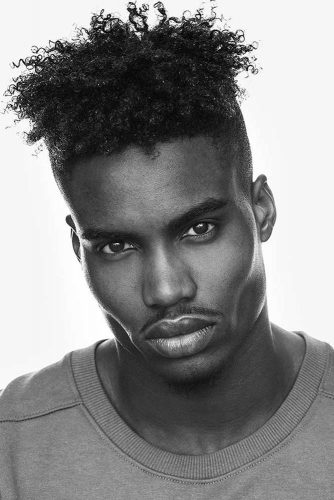 Credit photo: instagram.com/lanedorsey
Some black men prefer to rock their natural texture, and some like to keep it unnoticeable. If you are the first kind, you will like the haircuts for black men that feature curly top over the undercut sides. Simple, yet awesome!
ADVERTISEMENT ‧ CONTINUE READING BELOW
Long Black Men Haircuts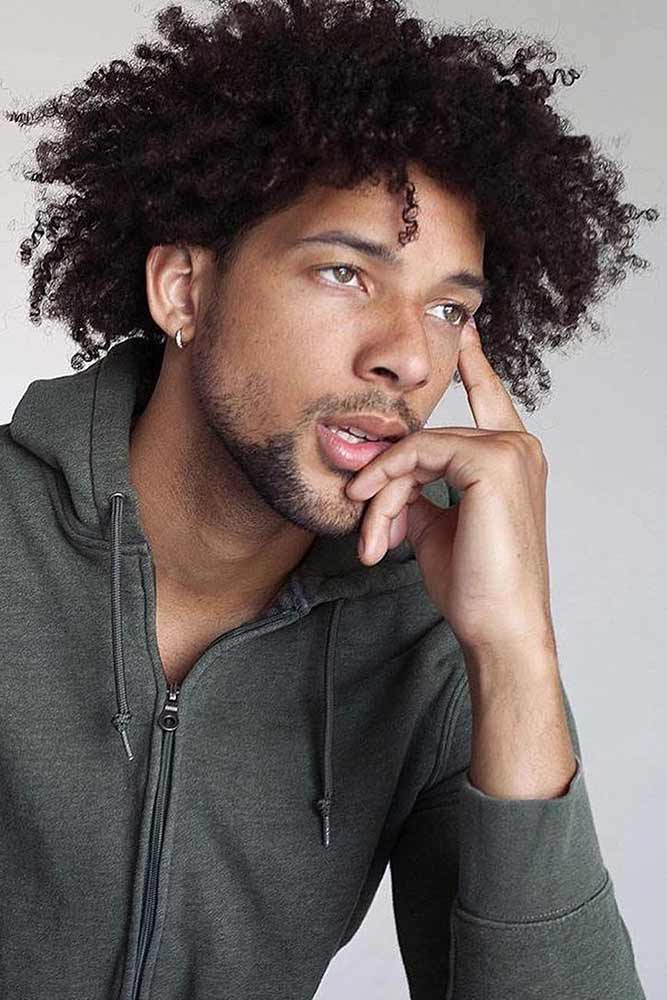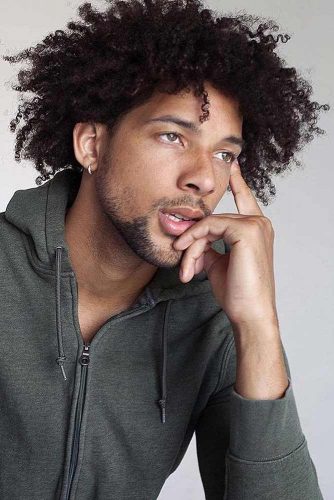 Credit photo: instagram.com/alphablackness
Here come the longest ideas of afro hairstyles for men who love effortless, messy, and kind of I-don't-care looks. There are lots of ways to wear your long natural hair, and now you'll meet the most stylish ones. Don't worry, the fade haircut black men love so much will be there too.
Medium Dreads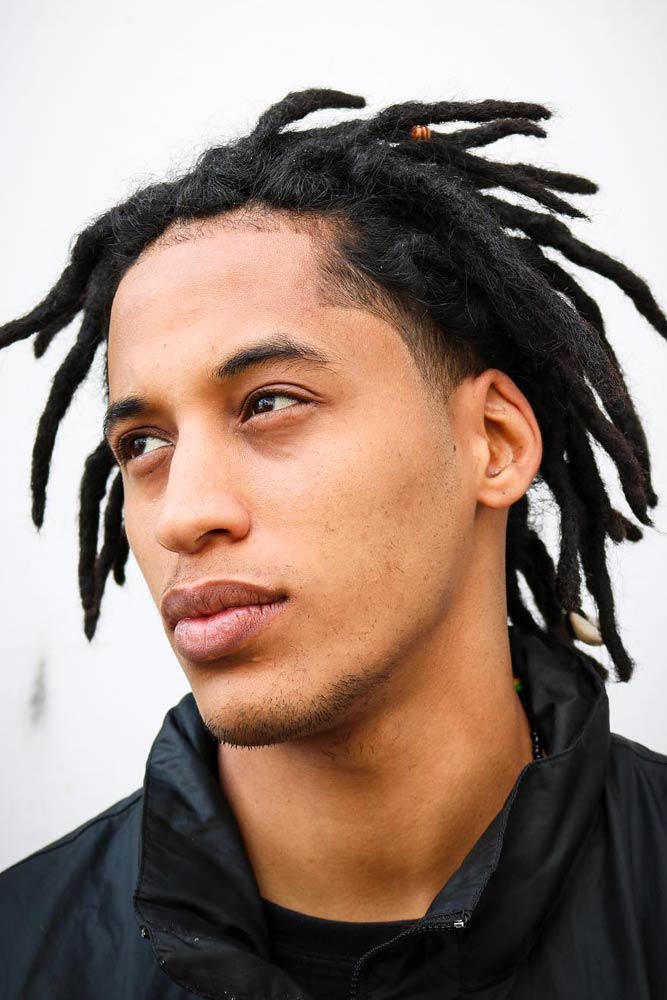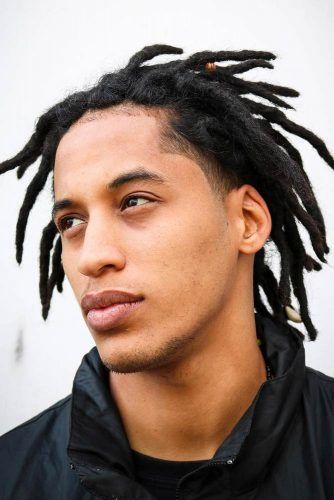 Credit photo: instagram.com/hayden_cassidy
Dreadlocks have always been a part of popular black men hairstyles. They give a different, sharp, and carefree look, which is a go-to for stylish teenagers and hip hop lovers. If you're one of them but want to fit a simple casual image, medium dreads are the thing.
Red Braids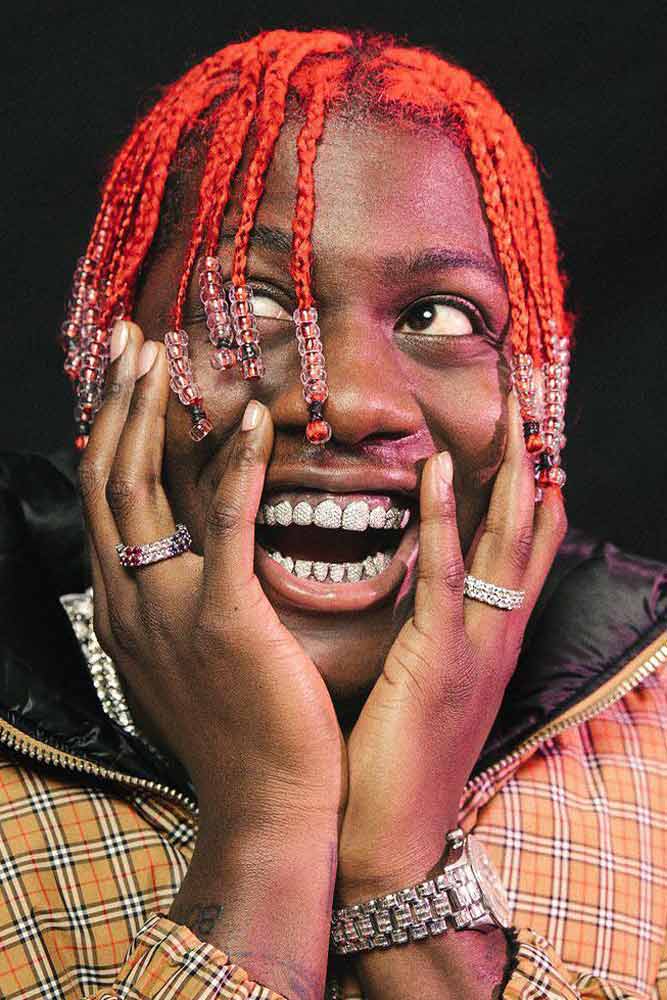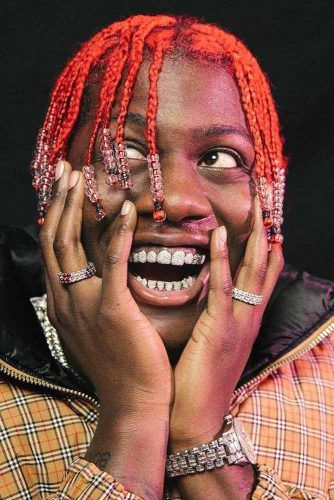 Credit photo: instagram.com/gq
Braids for men can be as different as you please! And this man braid hairstyle is a nice example of their diversity. If you want to go bright and funky, spice up your mane with pop color, braid it, and finish the style with some ethnic beads.
Textured Cut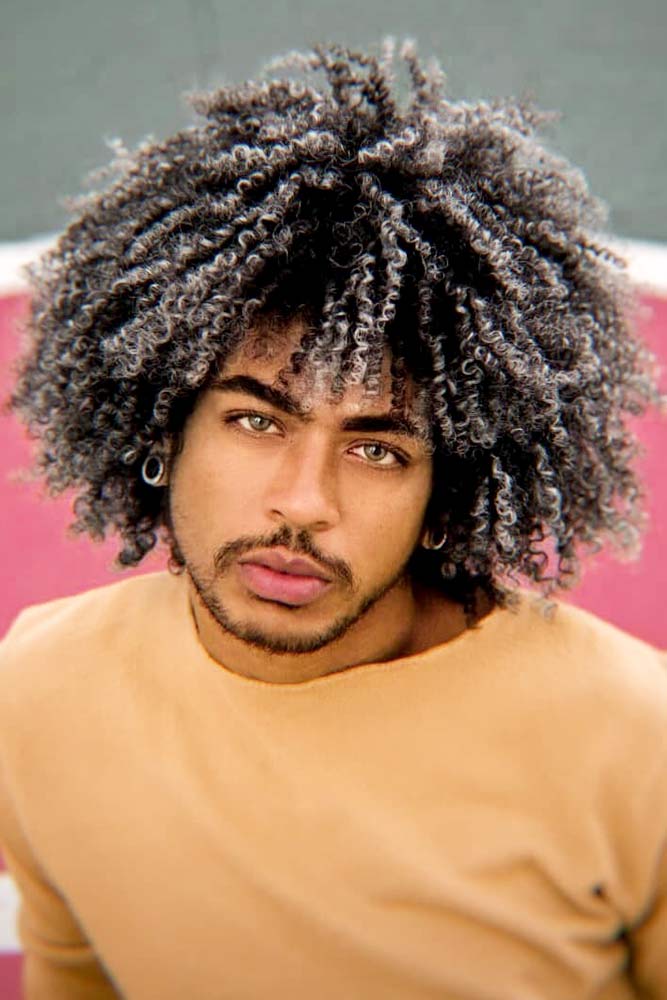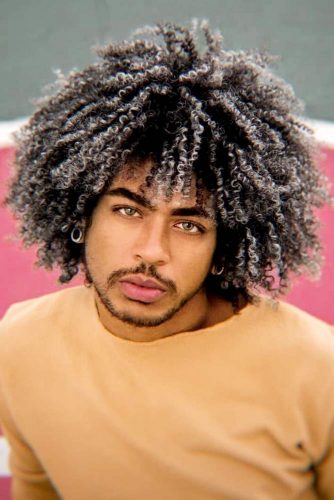 Credit photo: instagram.com/euosol
If you come across a black man with long hair, you will probably meet the most patient guy ever, as growing out a long natural mane is a great deal. And if you are the man we're talking about, you should see one the most authentic and carefree natural curly hairstyles: the puffy locks stick out randomly, creating a full, unique look to the chevelure.
Afro Style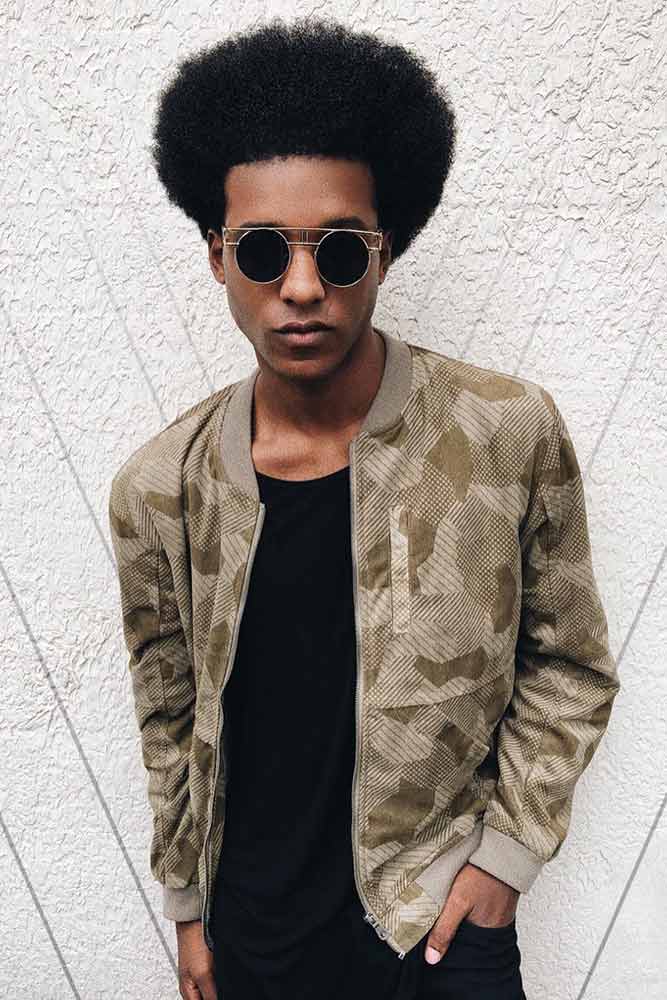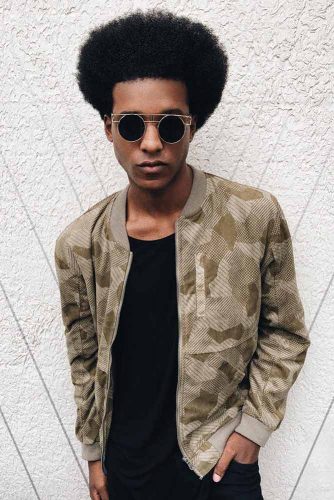 Credit photo: instagram.com/martte_
When you have long hair, the variety of African American hairstyles is infinite, so your task is to decide between modern and classic hairstyles for black men. Black men with curly hair who can call themselves afro-lovers can whip their curls into such a voluminous, iconic shape, providing themselves with a comfortable and eye-catching style.
Man Bun With Undercut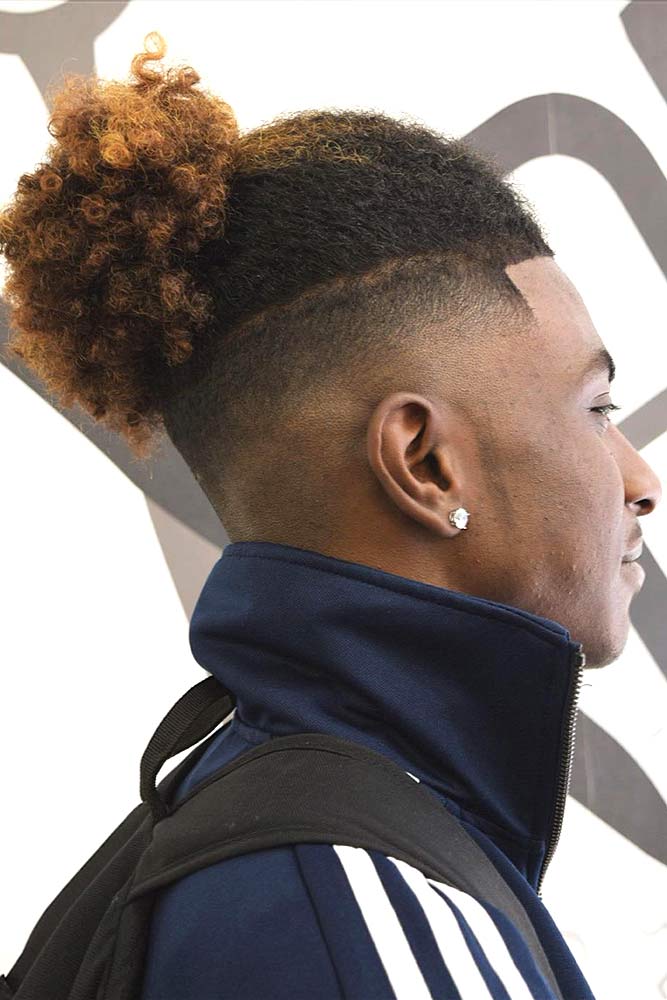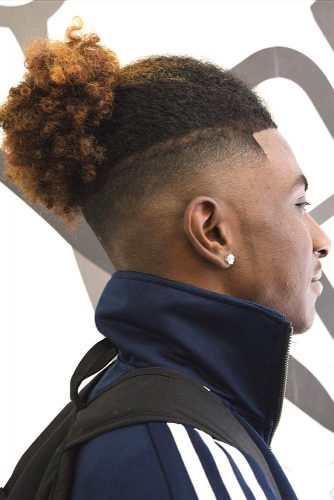 Credit photo: instagram.com/f4fade
No wonder that the black man bun stands among the most requested afro hair styles: it's easy to get and comfy to wear. The mid fade taper with a clean outline near the forehead is the black men's style privilege that takes the trendy bun to a completely new level.
Long Dreads With Bald Fade
Source: f4fade via Instagram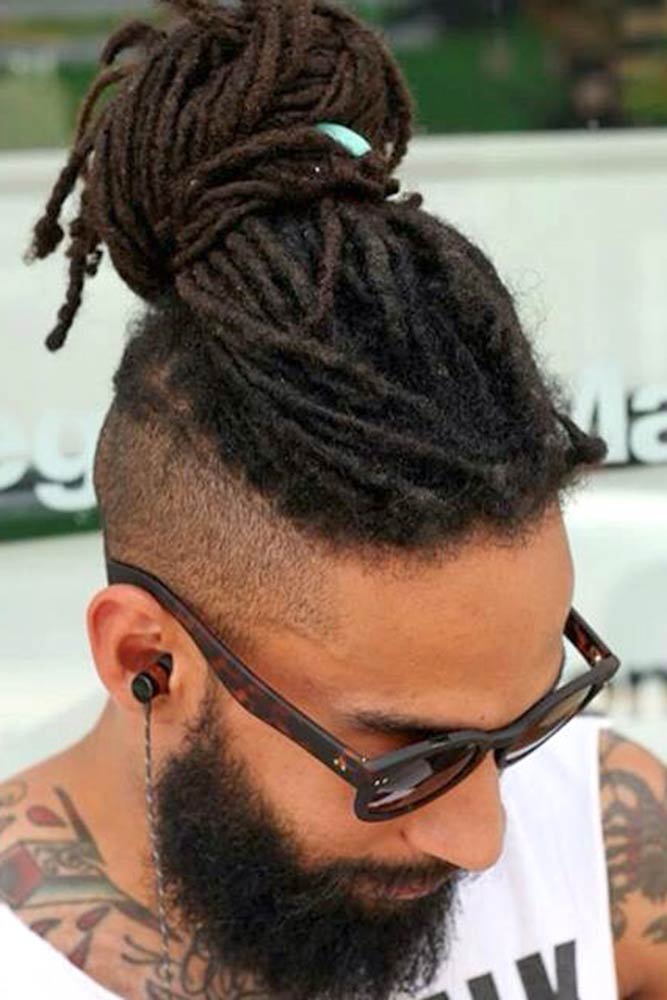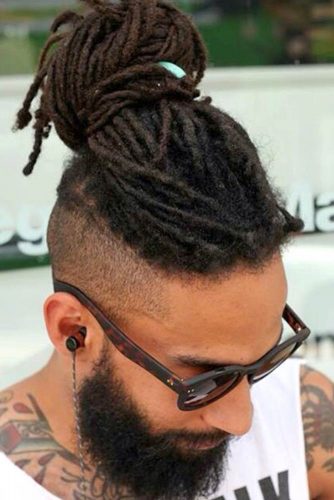 Credit photo: instagram.com/f4fade
Are you into bold looks? It's time to try the curly dreads men find to be very masculine. As you can see, nothing works better than undercut dreadlocks finished with shaved designs. This haircut is pretty versatile: you can wear your box dreadlocks in a ponytail, bun, or simply let them loose.
ADVERTISEMENT ‧ CONTINUE READING BELOW
Medium Wavy Haircut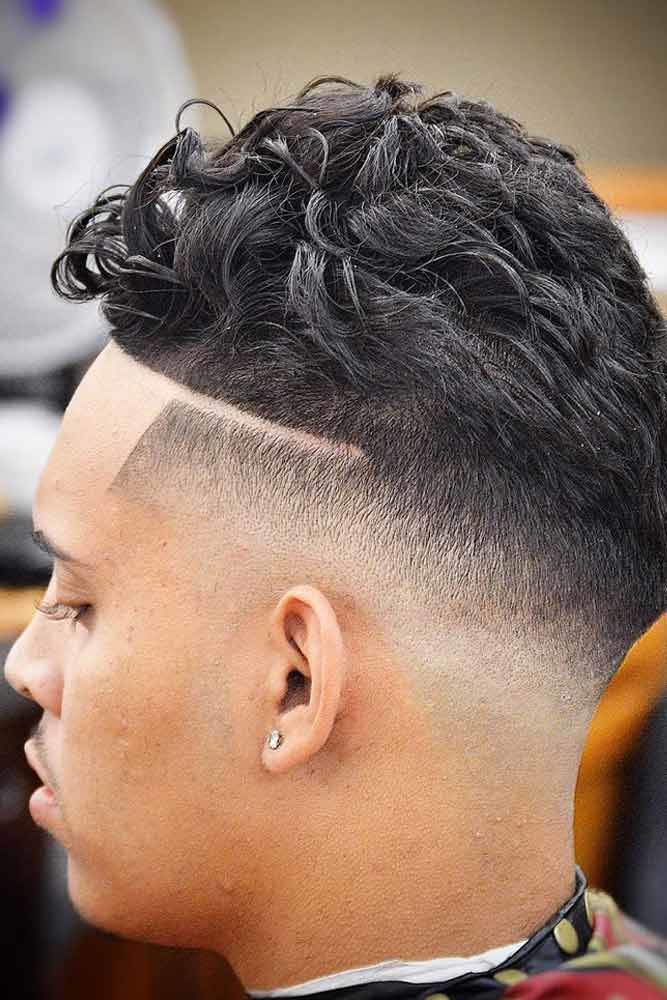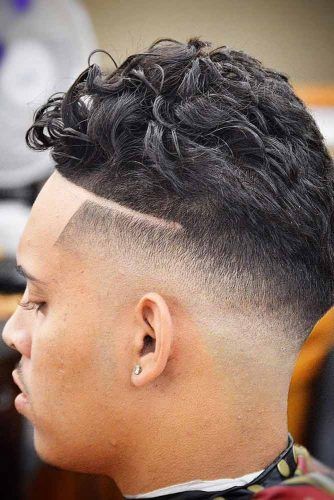 Credit photo: instagram.com/ezzy_el_barber
There's nothing like short hair when it comes to low-maintenance options, it's true. Still, with the right approach to your medium-length hair, you can provide yourself with easy styling routine and fantastic styling freedom. And this neat, clean, and defined wavy cut is only the beginning of how you can customize your mid-length texture. A distinctive part and nicely graduated fade are the hottest classics you can get now.
A neatly graduated fade on the sides and good quality styling wax are all you need to maintain your medium waves.
ADVERTISEMENT ‧ CONTINUE READING BELOW
Curls With Temple And Nape Fades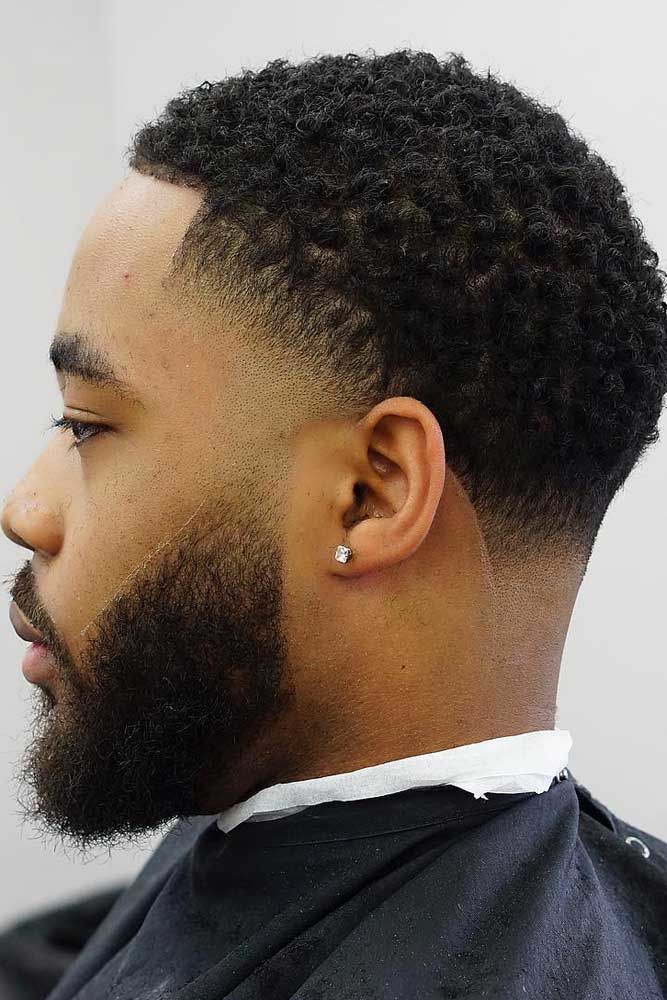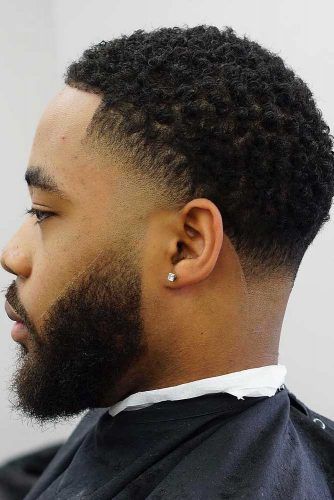 Credit photo: instagram.com/criztofferson
Fade is a number-one choice among men with natural hair for two simple reasons. First, it tames the unruly texture, making the wearer comfortable with his hair. Second, it looks hip and modern connecting the cleanly outlined haircut with facial hair. If you'd like to accentuate your short curls both at the top and the bottom, pair your main fade with a temp fade.
Short High Fade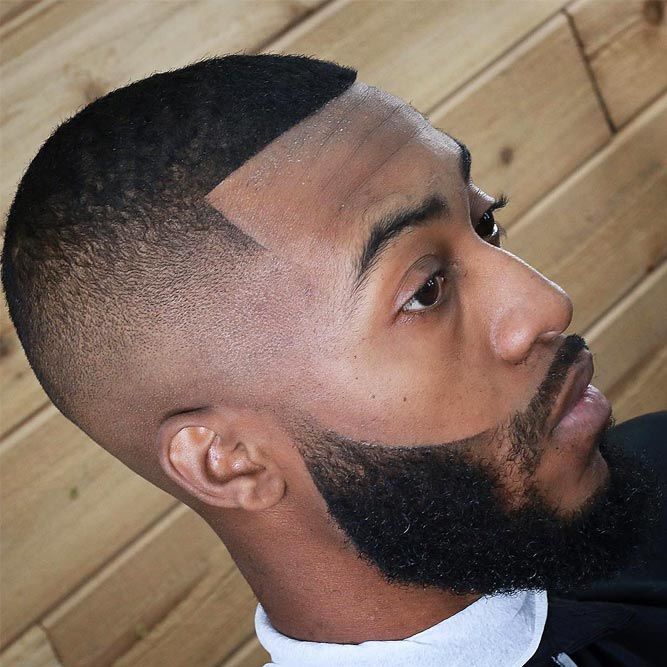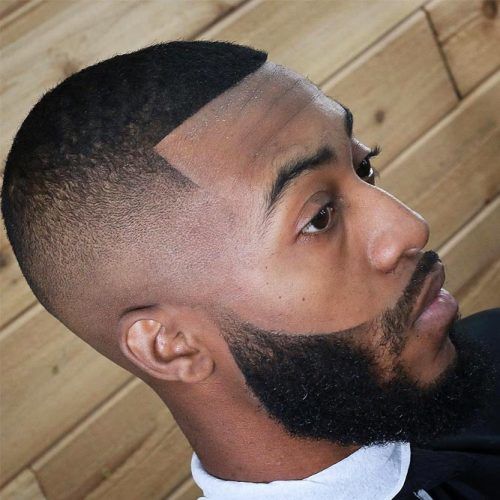 Credit photo: instagram.com/eddiefinestcutz
In fact, the main advantage of modern black men haircuts is that they embrace stylishness, comfort, and versatility. For example, if you live an active lifestyle and don't really want to spend a lot of time on your hair, a classic buzz will be there for you. At the same time, you can always breathe character into your simple look by finishing it with a fade to your liking.
It's all about simplicity and details: a fade and outlined edges are keys to making simplicity work for your style.
Short Sponge Curls + Hard Part Fade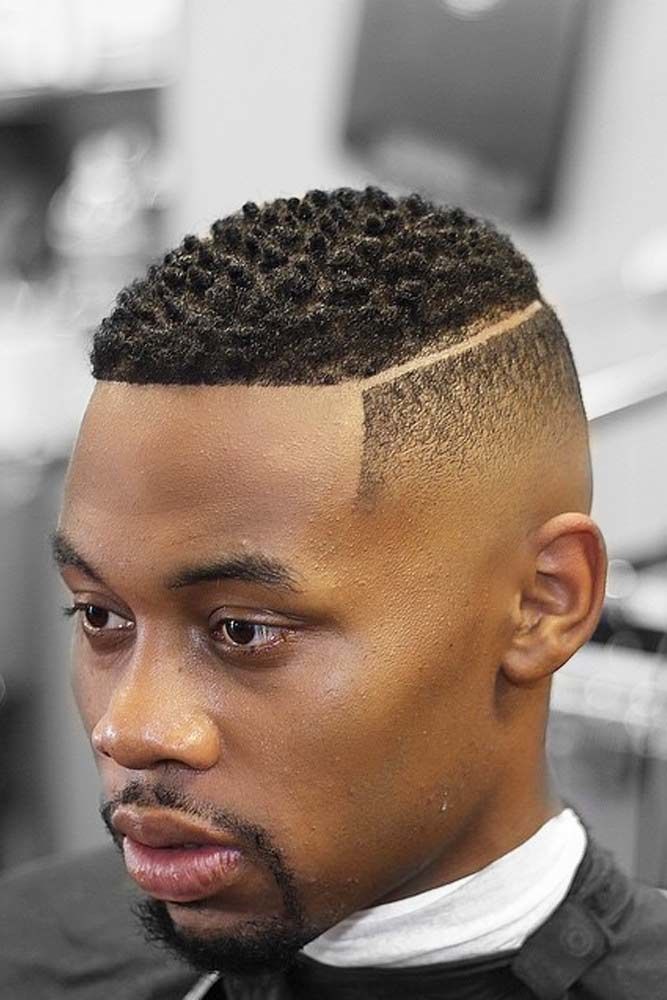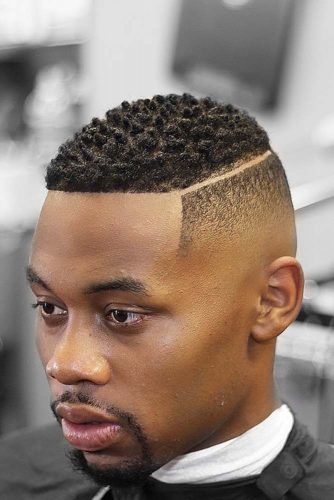 Credit photo: instagram.com//eddiefinestcutz
Another amazing way to show your texture who's boss is to embrace it. No, we're not telling you to let those kinks do their own thing. Instead, you can try one of the agelessly classic black men haircuts - sponge curls. You can regulate the shape of the sponges, as well as adjust the length you like. Also, don't forget to add individuality to your cut: a skin fade and hard part will do just great.
ADVERTISEMENT ‧ CONTINUE READING BELOW
Flat Top With Shaved Design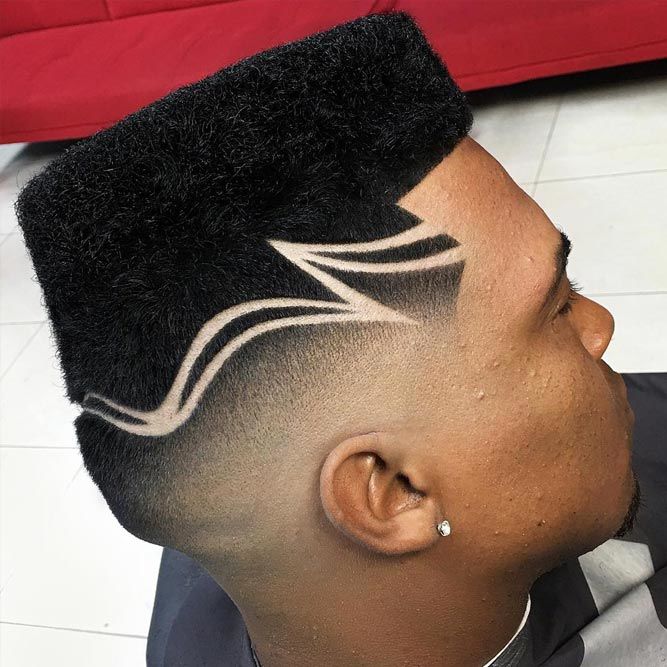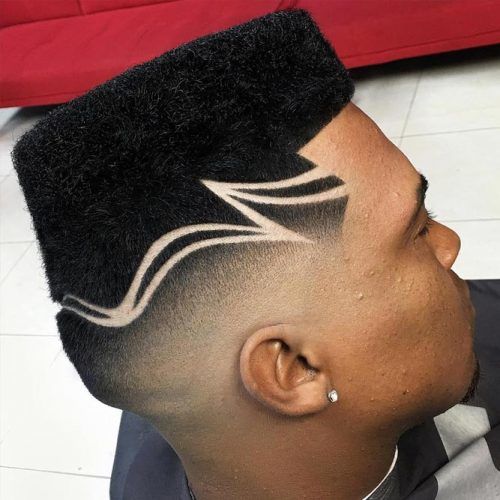 Credit photo: instagram.com/wester_barber
The iconic flat top has traveled through decades, changing lots of roles without losing its huge popularity. You may have seen this cut on American generals, as well as on your favorite hip-hoppers: its precise and manly appearance appeals to many different men. What about those with natural hair, they like to add some modern vibes to it with a creative shaved design.
Shaved designs are a ravishing way to put a signature on your look.
Angular High Top + Hard Part + Design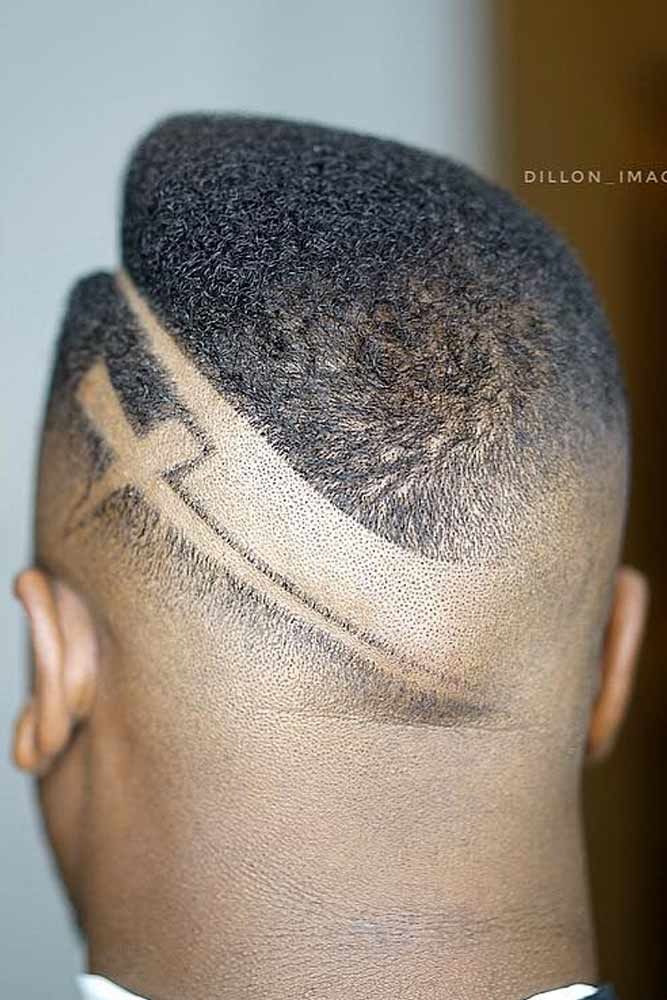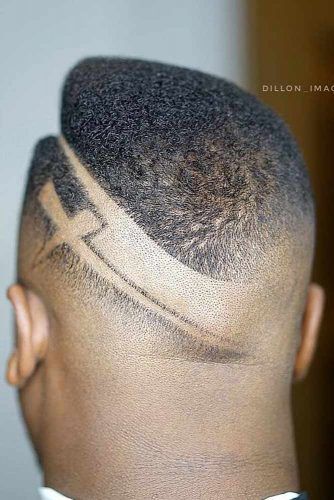 Credit photo: instagram.com/dillon_image
A decade ago, men with small heads would build the needed height with flat tops. Today, they do it with the help of creativity. Apart from creating a totally different silhouette and fascinating with an eye-catching design, this angular haircut can also balance out your features. By the way, a hard part doesn't have to always be in the same pattern: you can go as wild as you want.
High Top Mohawk + Undercut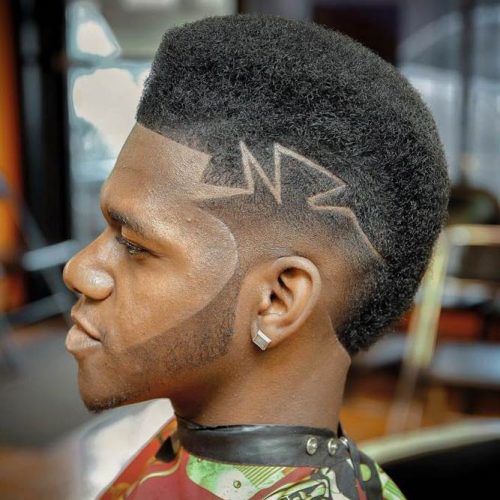 Credit photo: instagram.com/jmdabarber
You will take your afro hair as a blessing once you realize what a huge canvas for experiments it is. Here, you can see a mixture of at least three trends. Not every hair type can allow for such hair plays, huh? The classic high-top turns into a Mohawk, while a crazy hair design connects the fade with the facial hair. Yes, your hair can be the reflection of your bright personality.
Once you take a creative approach to your afro mane, you can express your unique personality at its best.
ADVERTISEMENT ‧ CONTINUE READING BELOW
Half Up + Dreads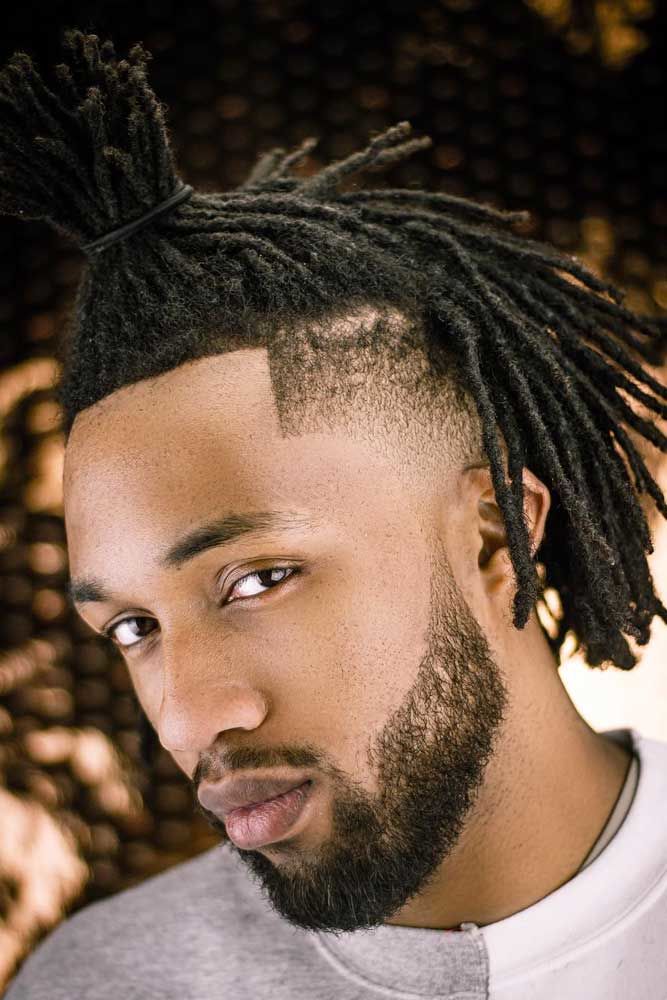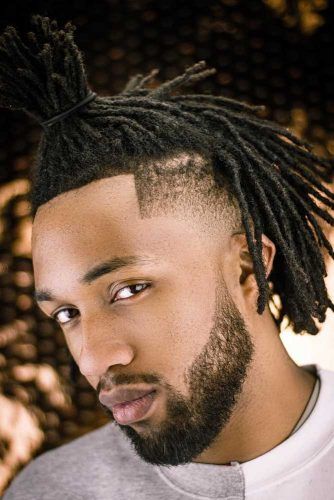 Credit photo: instagram.com/travisanthonyhair
Although there are some misconceptions about dreadlocks, nothing can compare to this hairstyle when it comes to natural hair. Not only do dreads protect the fragile texture but they also give it a constantly hip, contemporary look. Stock on some products designed for locks, and make sure to find a fade that complements them best.
Dreads are more practical than you think. Moreover, they can lead to an effortless hair routine.
Frohawk + Shaved Line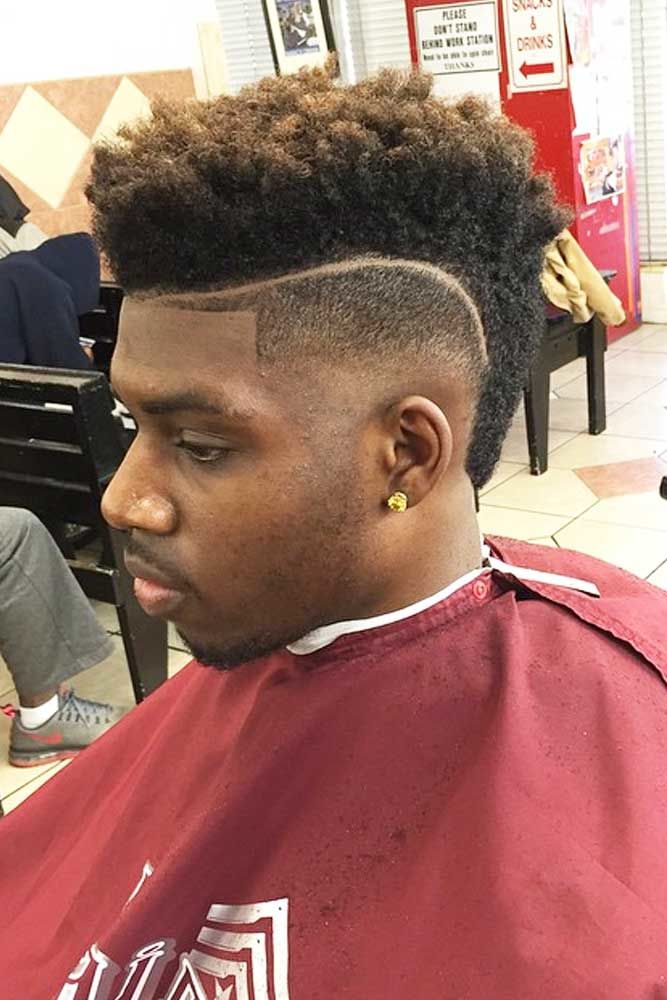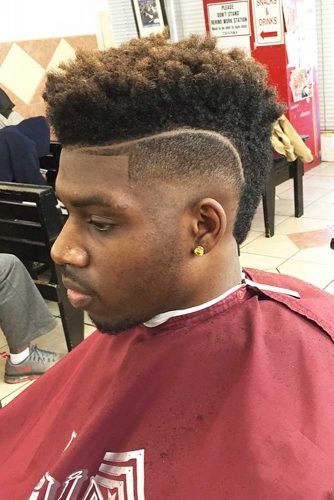 Credit photo: instagram.com/major_hairtrapper
When you have shaved sides, long hair on top is no longer a commitment. As it turns out, even the mighty Mohawk can be low-maintenance. Of course, you will need to update the fade on the sides. However, if you choose a skin fade, you can easily trim it at home. By the way, a temp fade will nicely finish such a punky-inspired haircut, making it more balanced and casual.
For easy at-home maintenance, ask your barber for a shaved line that goes along your top. In this way, you will see where you should stop trimming the sides.
Sponge Curls + Undercut Design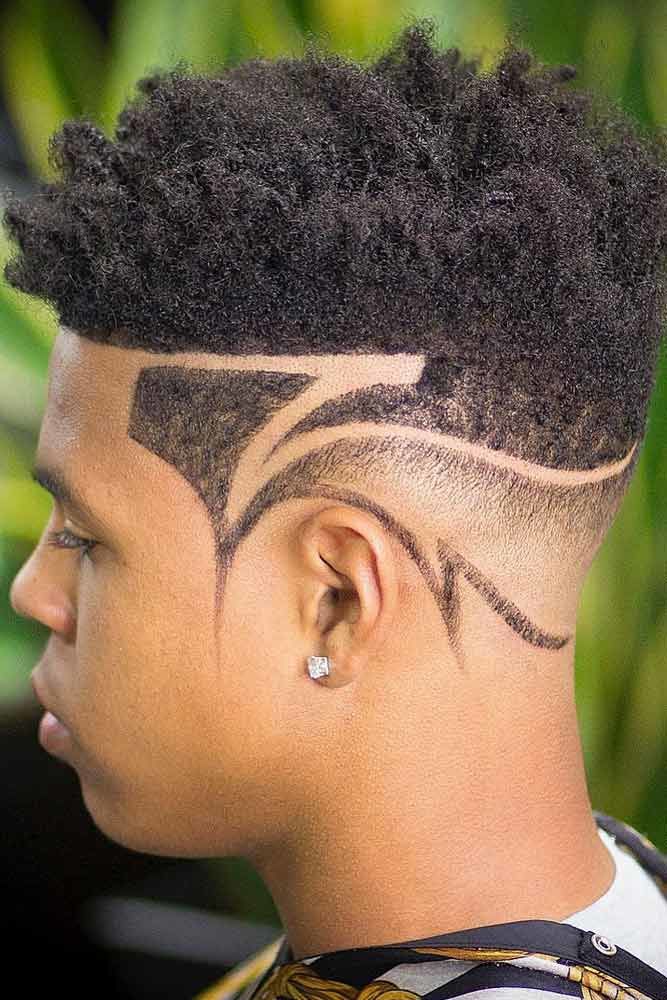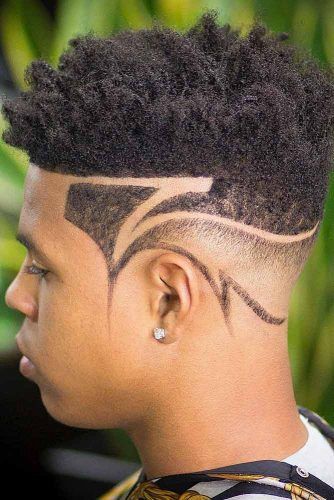 Credit photo: instagram.com/fade_master
One fact you should know about sponge curls is that they're anything but boring. Seriously, they can be anything you want it to be. If you want them to be restrained and minimalist, keep them at a shorter length. And if you'd like to make them the highlight of your look, a high mid-length sponge mane finished with a clean mid-fade and creative design would be a nice start.
ADVERTISEMENT ‧ CONTINUE READING BELOW
Textured Top + Shaved Lines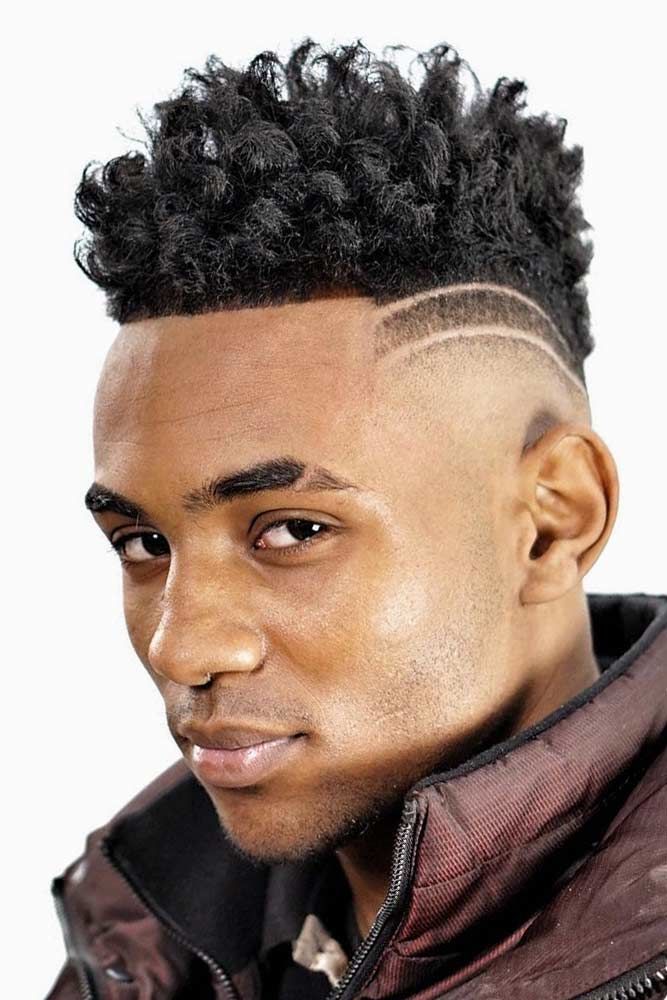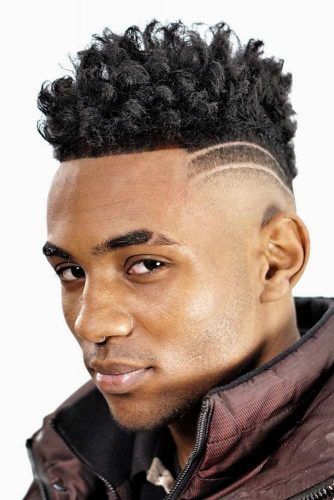 Credit photo: instagram.com/z_ramsey
If you want to focus on your top while rocking a moderate length, the power of contrasts will do the trick. First off, you can shave the sides completely, leaving just a bit of the length for a shaved part. Keeping the sides at zero-length will allow you to achieve a voluminous look even with a pretty short mane. Plus, a defined curly hairstyle will enhance the effect.
A properly chosen fade is what can keep the perfect balance of your look.
Two-Toned Mohawk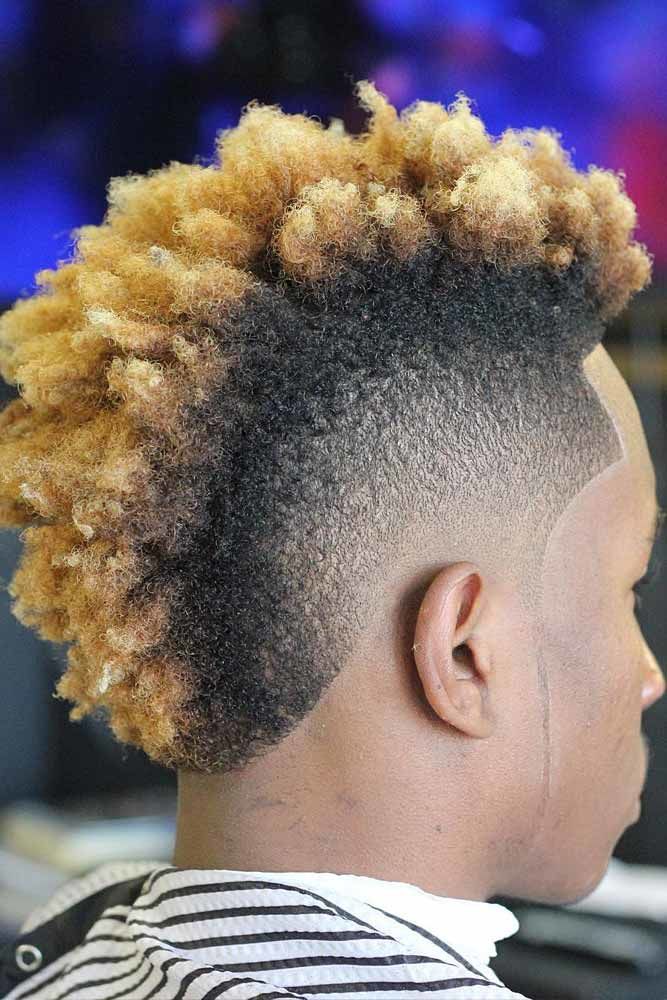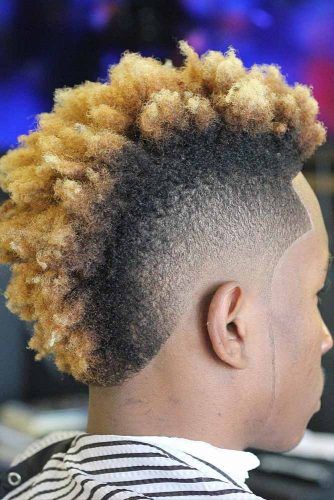 Credit photo: instagram.com/allenray_3
As seen on many African American trendsetters, a bit of bleach can turn on the modern mode of a kinky mane. Even though the texture of this hair type is too fragile for experiments, coloring the ends won't hurt your hair. Whether you rock a Mohawk, a flat-top or a grown-out buzz, such a simple color detail would be enough to freshen things up.
High And Tight Fade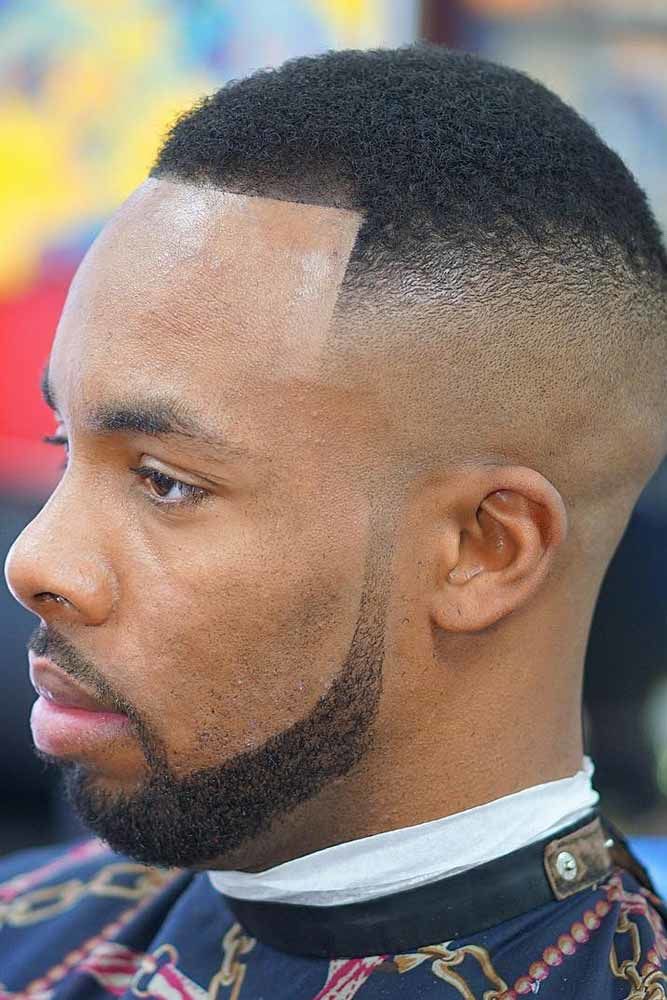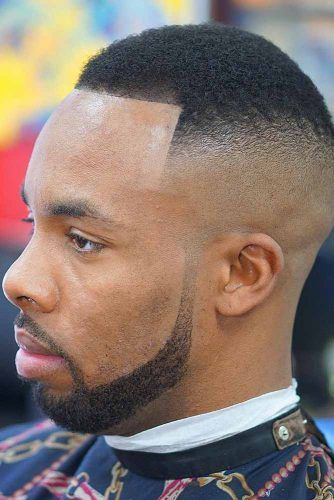 Credit photo: instagram.com/edwardklipperhands
Thanks to the military origin, the high and tight has a restrained and precise look. This kind of short black men haircuts are musts for men who appreciate simplicity in every way. Despite being pretty reserved, this cut can be customized in a variety of ways. A well-blended fade transition and outlined facial hair are the best matches for this idea.
ADVERTISEMENT ‧ CONTINUE READING BELOW
Tapered Short Waves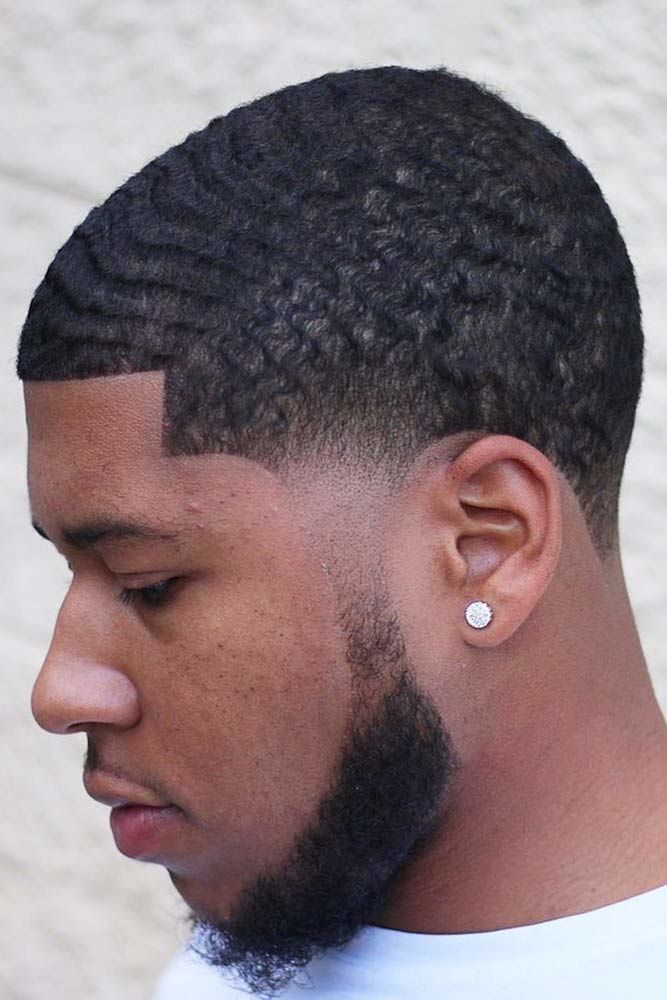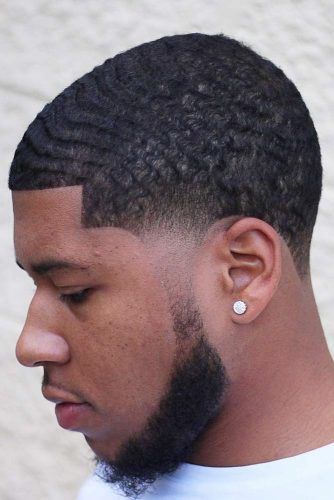 Credit photo: instagram.com/cool_cutz
Believe it or not, you don't need to rock an afro mane that hits eyes from a mile away to have a distinctive look. Curls brushed in a ripple-like pattern look best when styled with a shine gel and can be a fantastic match for any type of fade you like. Note that this hairstyle can't do without a temp fade, as it gives a visual angle to avoid a round-looking face.
Mid Drop Fade + Sponged Top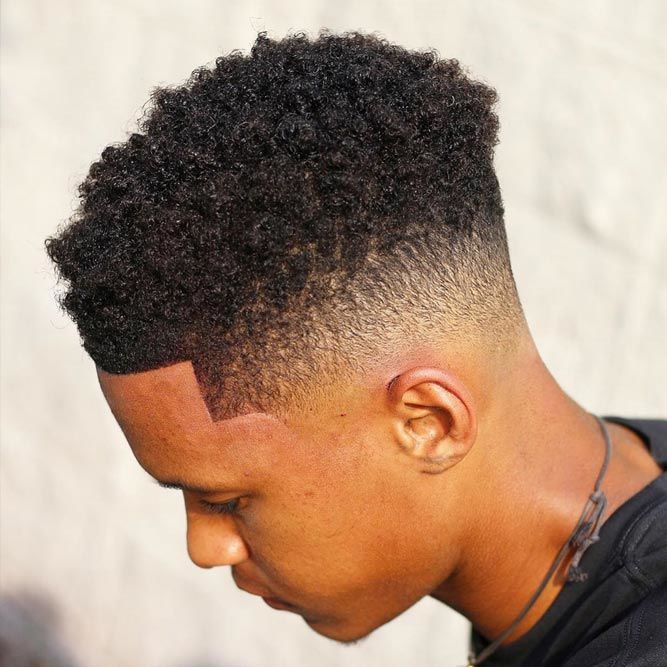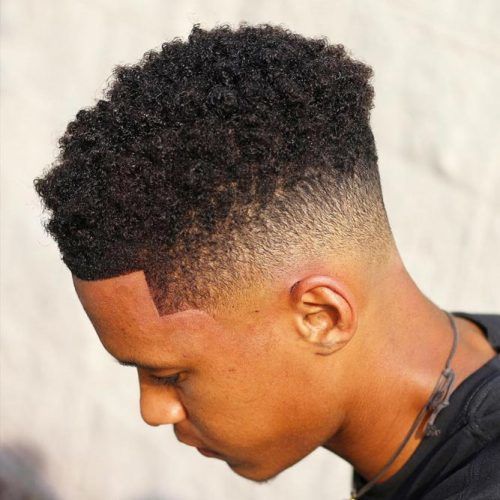 Credit photo: instagram.com/cool_cutz
The vast variety of fade haircuts is the reason why sponge curls look different on every man. Since you can always adjust every single detail of your fade, as well as find the most suitable idea for you, there are a plethora of ways to make some static hairstyles go dynamic. Here, a nicely cascading mid drop fade does the talking.
Sponge curls are a go-to of many dudes with natural hair not only for its low-maintenance but also for its distinctive appearance and shine-reflecting finish.
Low Fade On Nappy Top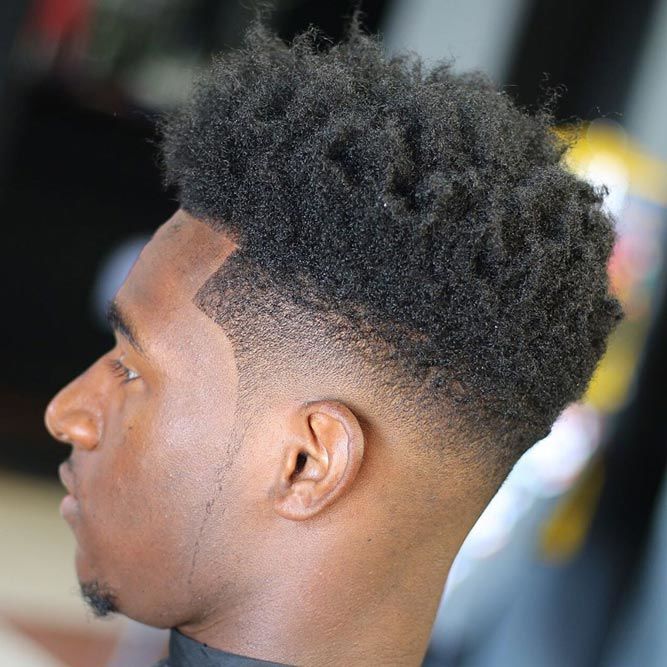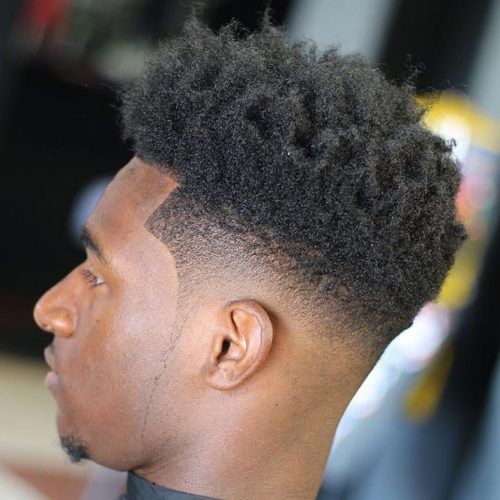 Credit photo: instagram.com/cool_cutz
Show this pic to everyone who says that men with afro texture can't rock the trendy messy hairstyles. Obviously, the afro version of this hair trend won't look like any of the popular ideas you see on the web. And that's the point, as you can give your own take at the hairstyle that brings the world to its knees. Who would've thought that a layered nappy texture over the curls could add such an awesome carefree vibe?
ADVERTISEMENT ‧ CONTINUE READING BELOW
Long Top Short Sides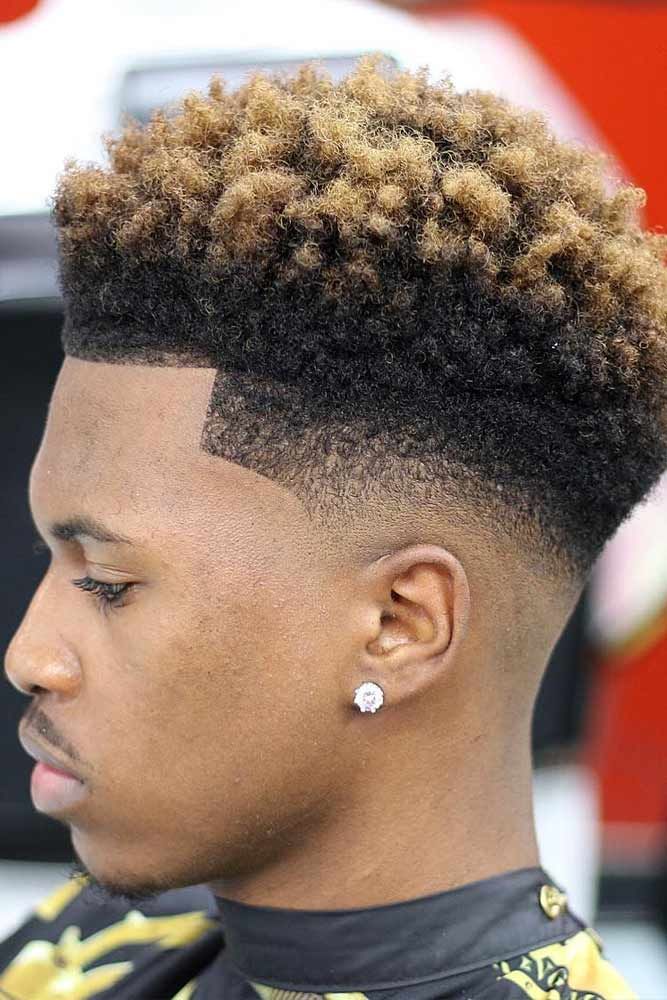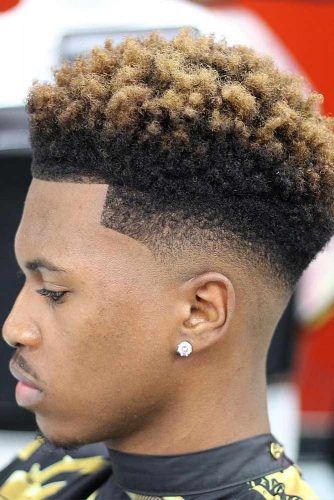 Credit photo: instagram.com/cool_cutz
Long top, short sides. Barbers from all over the world here these words every single day. But, somehow this haircut manages to look unique. As a matter of fact, it's the most flexible haircut of all time. Every man has his own picture of this cut, so what yours would be? The only limitation is your imagination.
When you think of a long-top-short-sides haircut, what comes to your mind? The good news is, whatever you've just imagined is true: this haircut can be anything you want it to be.
Natural Curls + Fringe Taper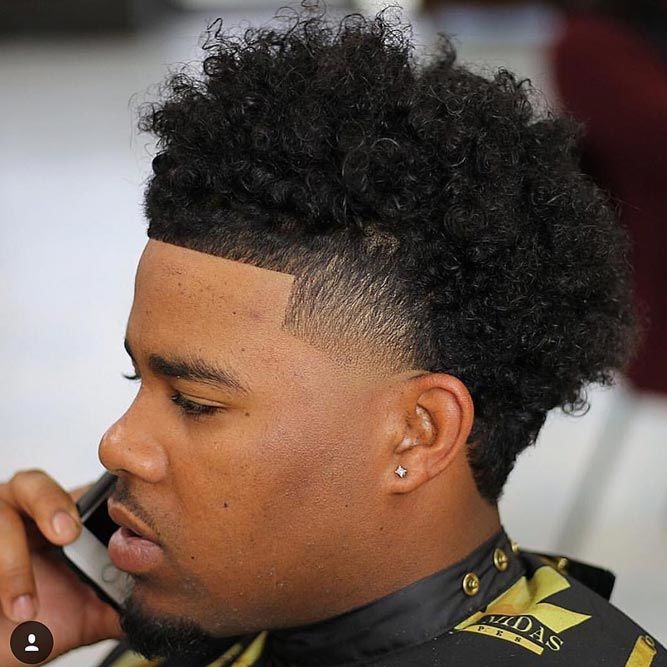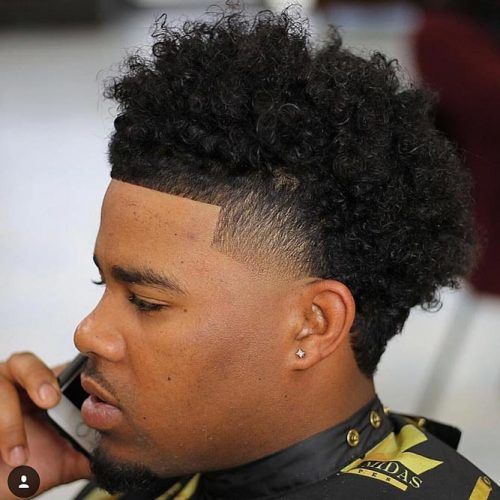 Credit photo: instagram.com/cool_cutz
How about a fringe? Or, let us introduce a taper that dispels the myth about bangs for natural hair. Some men think that it's impossible to turn their stubborn locks into a fringe that won't become a weekly commitment. Well, if you get a special taper that hits your temples and hair below the hairline, you will give your face the needed frame.
Short, Wavy & High Fade + Surgical Line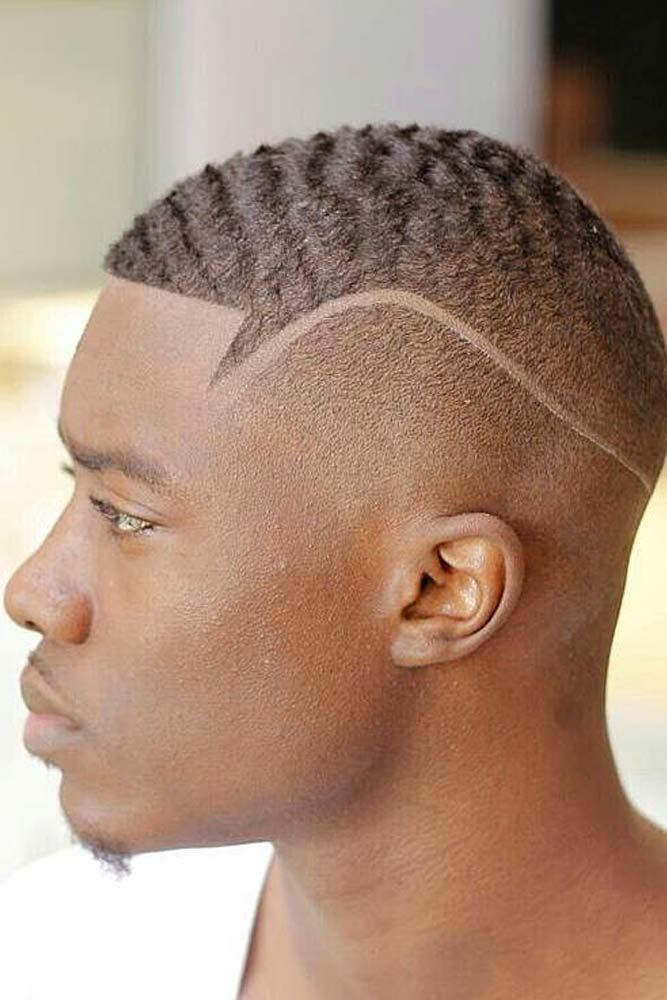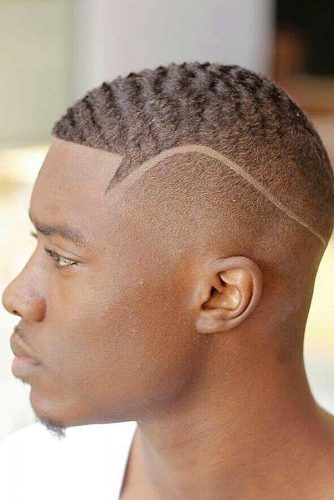 Credit photo: instagram.com/dillon_image
Who says that you can't play around with your texture if you have a short haircut? The magic of natural hair allows you to have a distinctive look no matter how short your hair is. A high fade will be a nice idea, as it will graduate into pressed waves making them appear even more voluminous. If you think that this look is too simple for you, a shaved line will sort things out.
Even a simple shaved line for your haircut is enough to add an exclamation point to your modern look.
ADVERTISEMENT ‧ CONTINUE READING BELOW
Braided Top + Undercut Design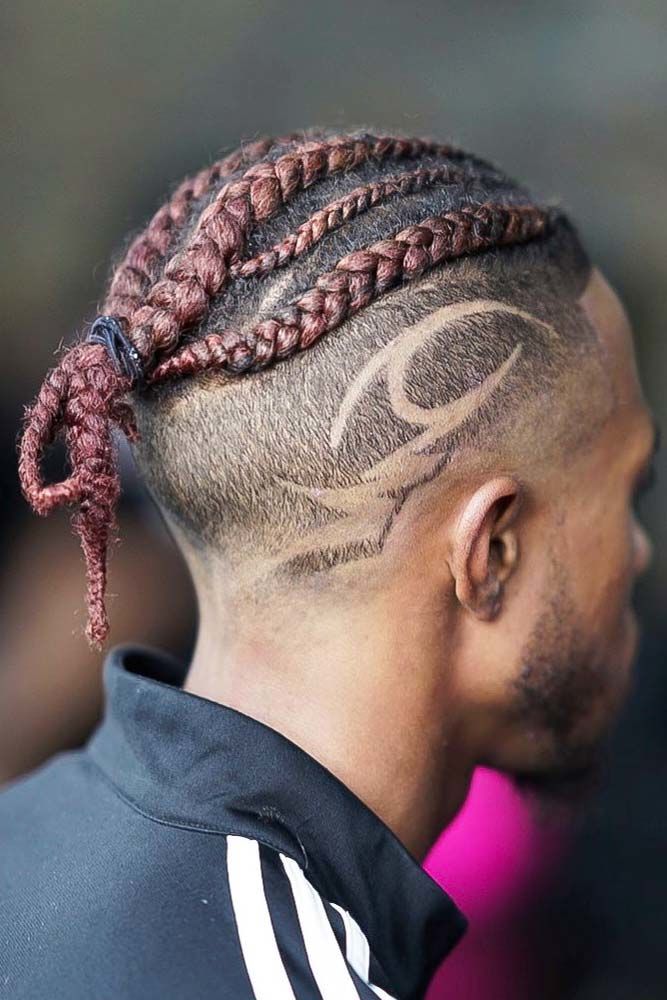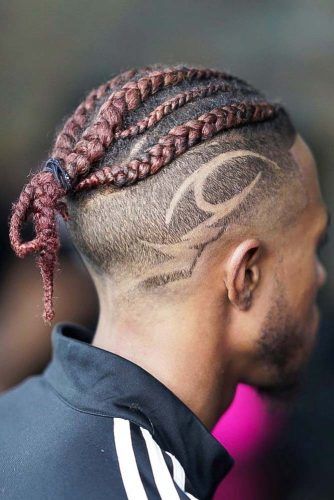 Credit photo: instagram.com/dillon_image
Braids have always been on the top of black men haircuts. All in all, this hairstyle has an ethnic background. Paired with a cleanly shaved undercut and some creative design on the sides, you will get a stylish and practical hairstyle for your long hair. All you need is a styling gel for manageability. Then, just braid those curls or kinks.
Mohawk + Hair Design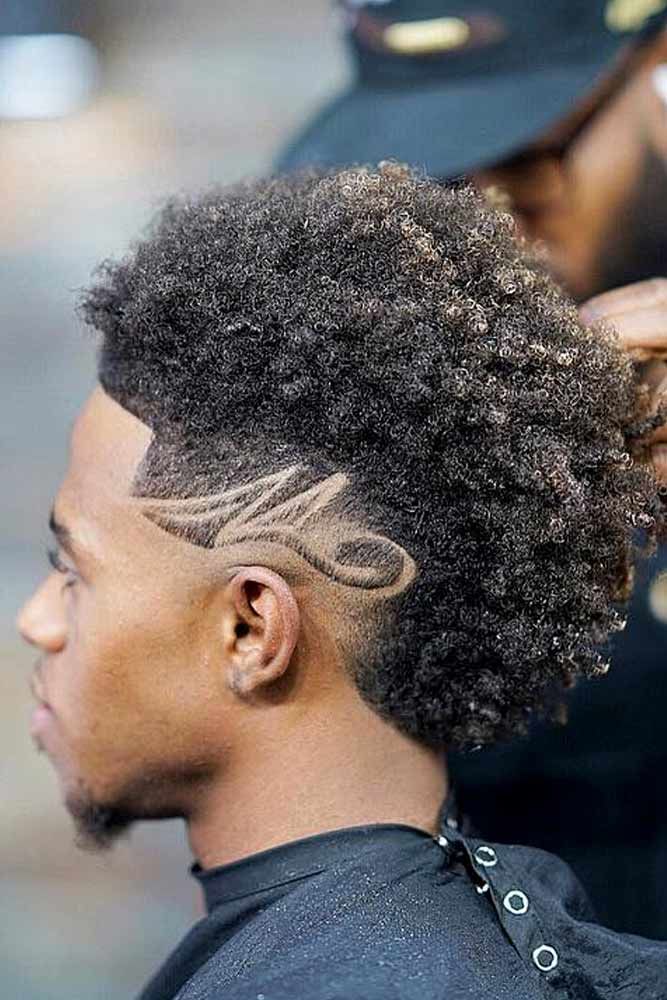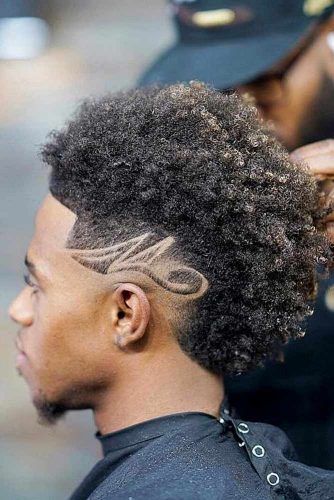 Credit photo: instagram.com/dillon_image
Another advantage of having afro hair is that you don't need to style your hair into a Mohawk; you need to slightly chop the sides. A temp fade that hits the sides and gets rid of extra weight above your ears will give you a Mohawk-shaped silhouette. There's no need for any styling products (except for moisturizing ones) to keep up with the look. The only thing you need is to maintain the sides regularly, especially if you rock some shaved design.
Instead of tons of styling products and barbershop appointments, those with afro hair can simply get a temple fade.
High Top + Hair Design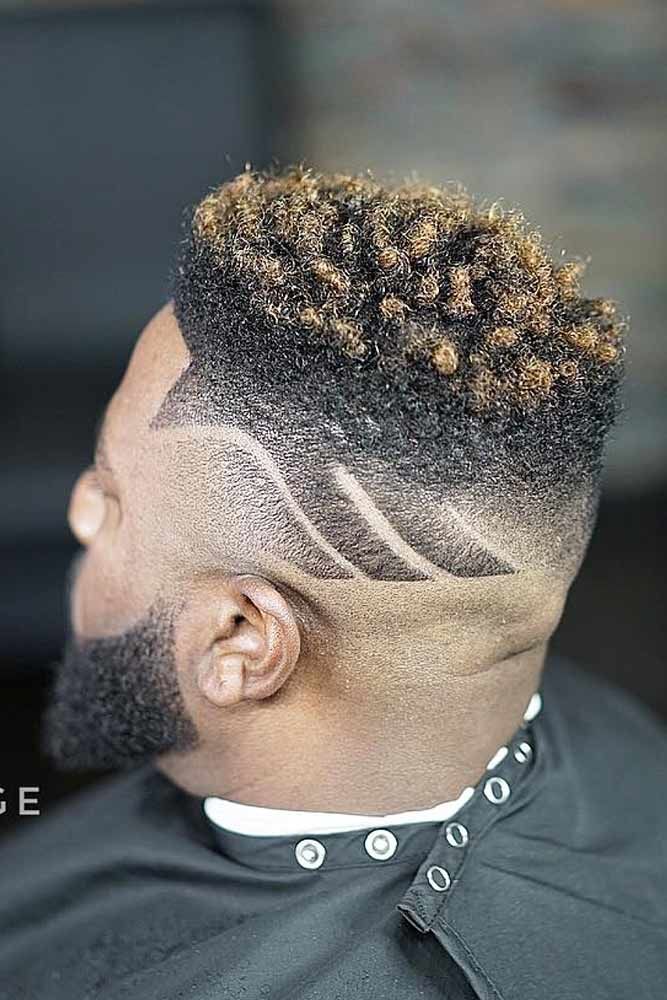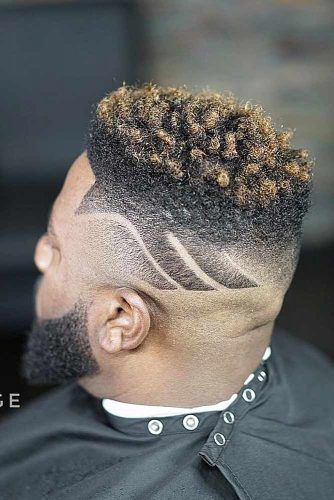 Credit photo: instagram.com/dillon_image
High top haircuts come in many different variations. Moreover, you can create your own version of this popular haircut for natural hair. Apart from adding some refreshing color, you can enhance its edges with a hair design. Ask your barber for a smooth transition between the fade and design: it will build balance for those wearing a beard.
ADVERTISEMENT ‧ CONTINUE READING BELOW
Short Mohawk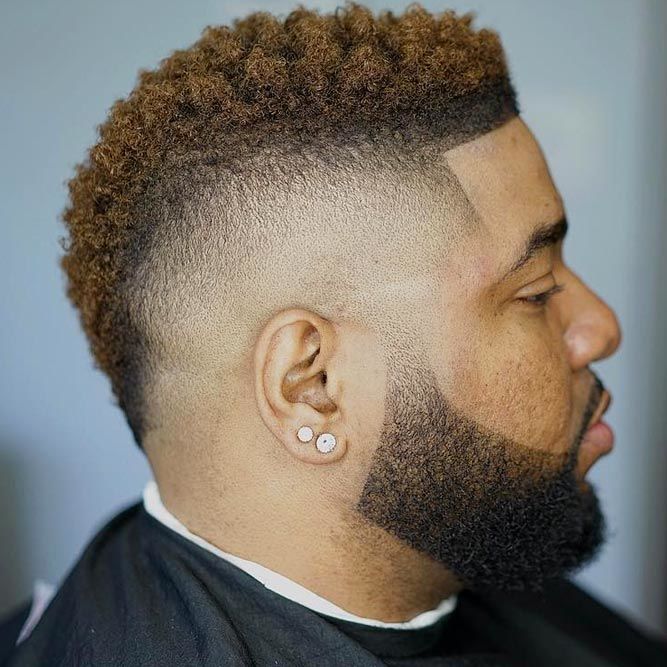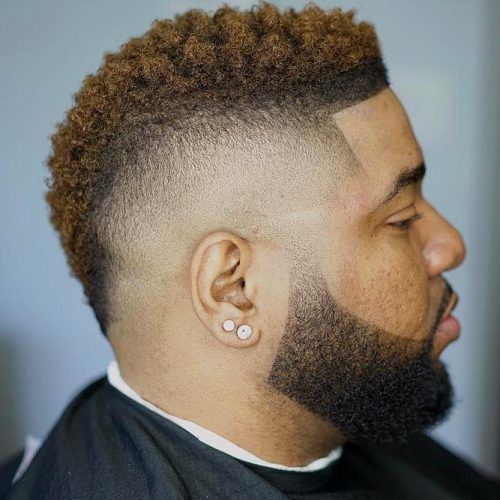 Credit photo: instagram.com/dillon_image
Despite the restless punky nature of Mohawks, they can actually adapt to your image. Here, the good old attention-grabbing haircut has nothing to do with a drastic or glaring appearance. The top is perfectly leveled and graduated with a fade, which makes this look appropriate for a modern man. At the same time, the hawk portion gives a huge visual impact, showing off a lot of character.
Natural Curls + Diagonal Fade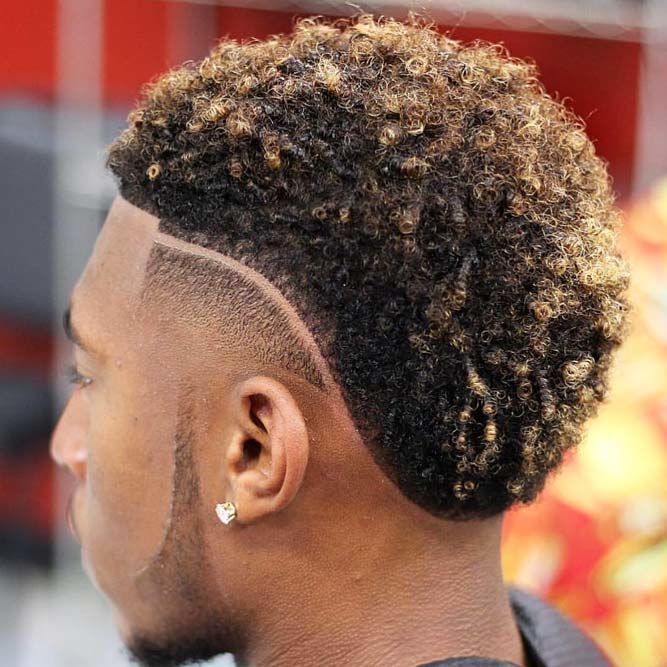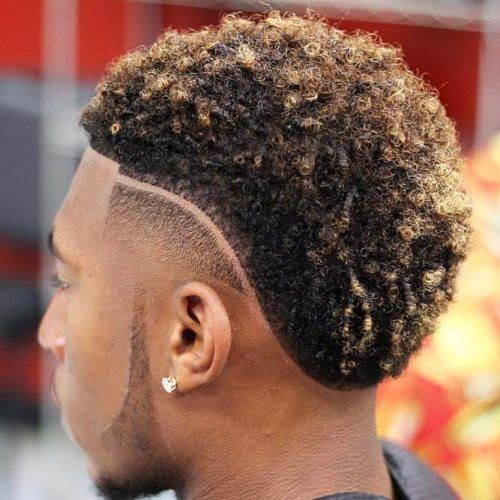 Credit photo: instagram.com/cool_cutz
There are so many types of fades that men can literally get lost choosing one. So why don't you take a shortcut and create your own fade? In this pic, you can see a tailored fade that goes beyond all classics. In fact, it's a high fade that hits only the lower part of the head, forming a diagonal shape. Needless to say, the cleanly shaved line is just the icing on the cake.
High Bun + Undercut Design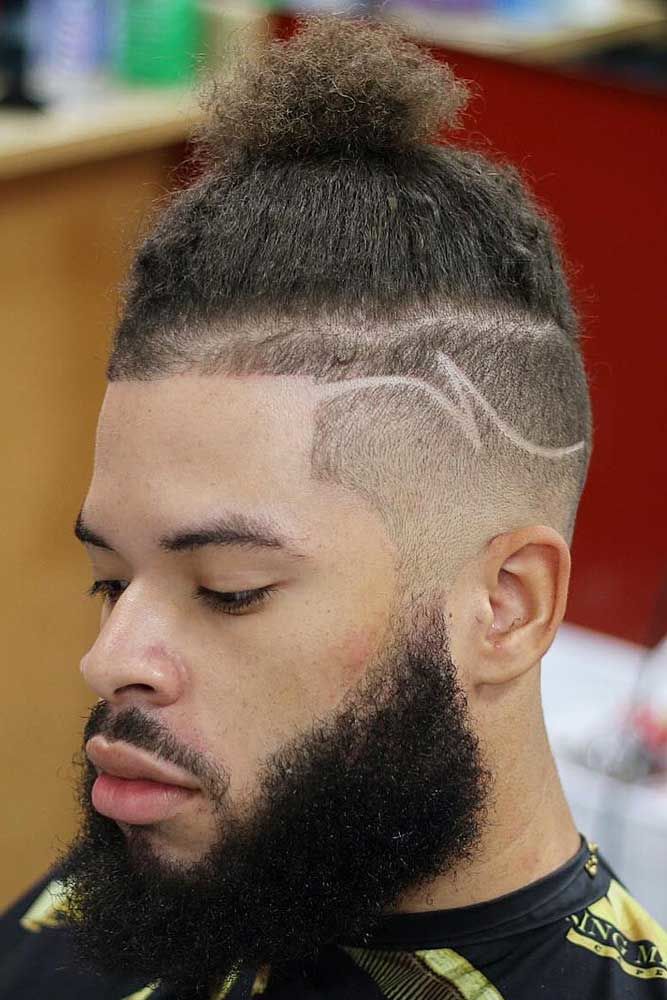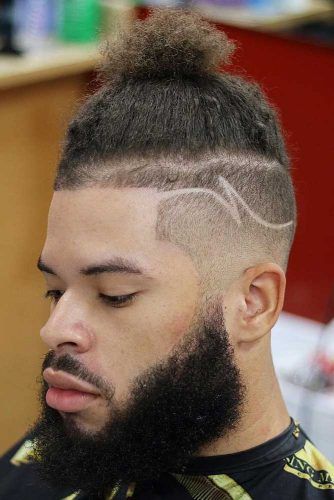 Credit photo: instagram.com/cool_cutz
On natural hair, even the biggest trends appear different. While the classic idea of a man bun features a ponytail styled into a bun or a half bun, its afro version can do with a simple ponytail tied high up. To get the most of this amazingly popular and comfortable to wear style, barbers recommend keeping the hair at a medium length, pairing it with a faded undercut.
Wearing an undercut is like giving the green light to dozens of stylish and practical hairstyles.
ADVERTISEMENT ‧ CONTINUE READING BELOW
Faded Mohawk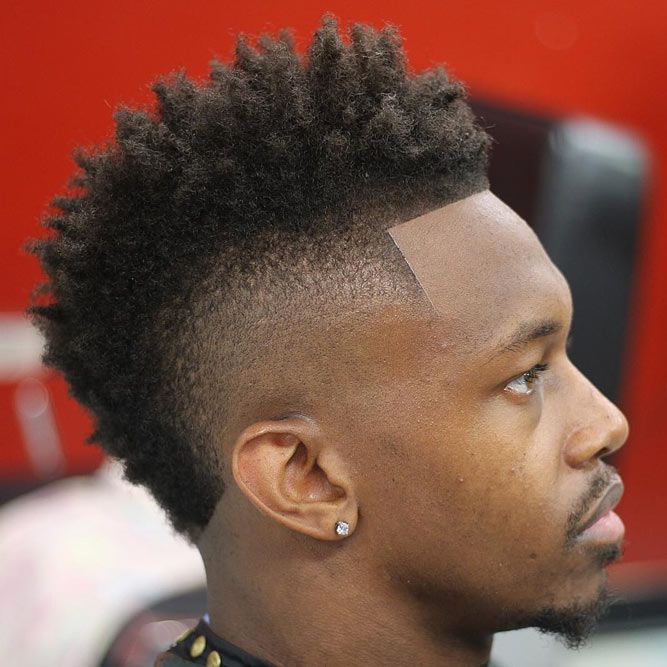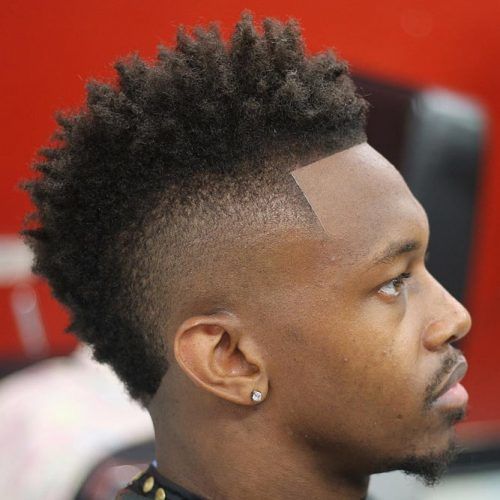 Credit photo: instagram.com/cool_cutz
If you'd like to keep the texture of your Mohawk perfectly defined rather than messy, sponge curls and a mid fade are the secret ingredients. Ask your barber to direct the fade so that it goes along the hawk portion to turn the sponges into a Mohawk. A nape fade would also be a good idea, by the way.
Short Natural Curls + Temple Fade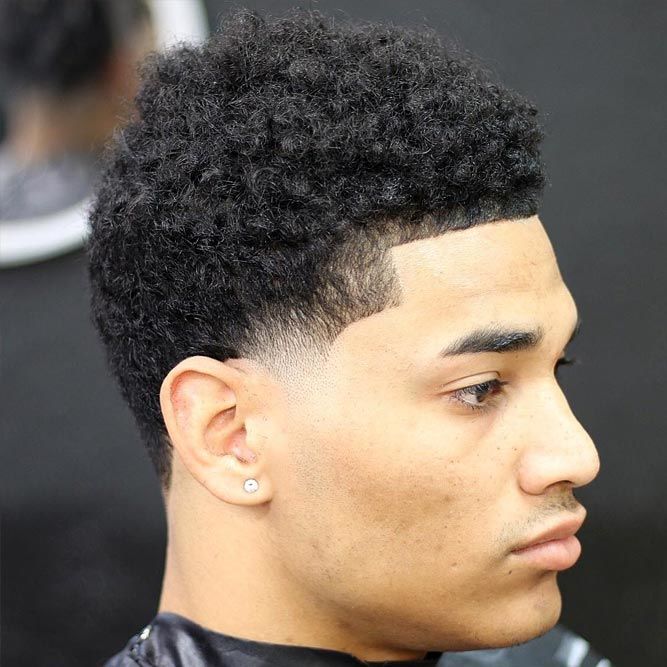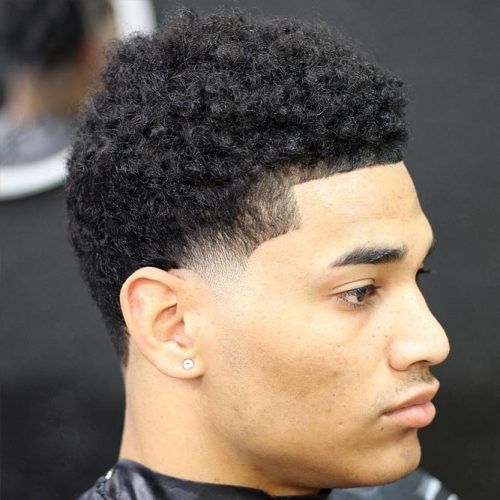 Credit photo: instagram.com/cool_cutz
The best way to truly enjoy your texture lies in finding the perfect balance between its length and density. A properly chosen fade will regulate the thickness of your sides, providing a seamless transition to your top. To find out what length suits you best, you can try layering your hair. Layers cut off the extra weight from your edges, allowing to adjust the most comfortable length for you.
Layers can be your saving grace if you want to keep it simple yet significant.
Braided Top + Skin Fade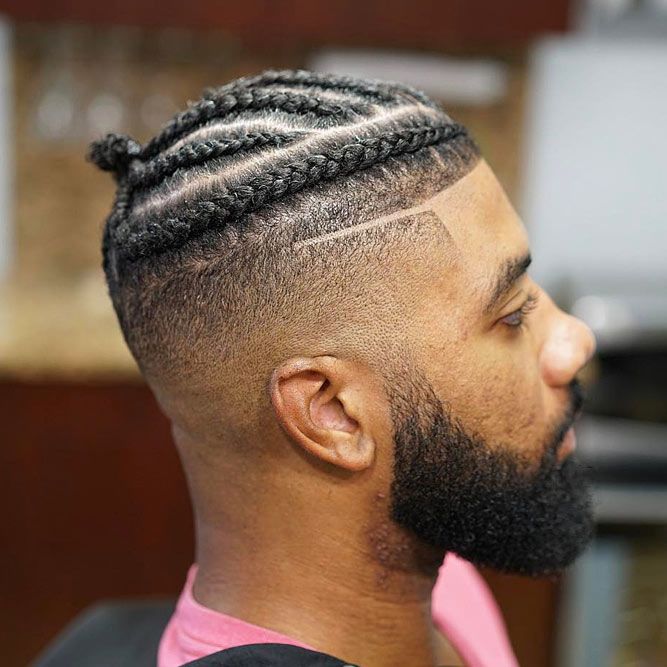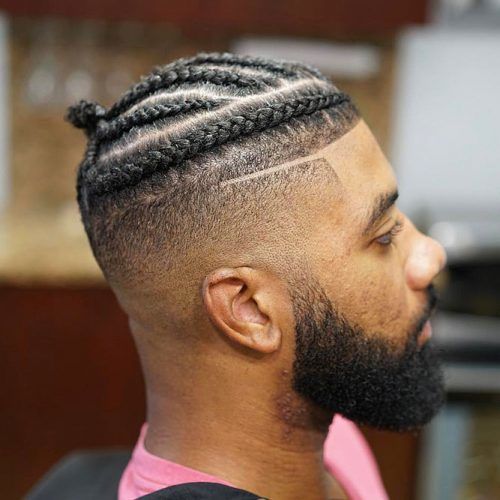 Credit photo: instagram.com/dillon_image
Men who have a lot of hair are free to experiment with various braided patterns. Basically, if your hair is long enough, you can recreate any braided design your creative soul desires. However, remember that braids should be in the spotlight, so a clean high or even bald fade is a must!
ADVERTISEMENT ‧ CONTINUE READING BELOW
Retro High Top Fade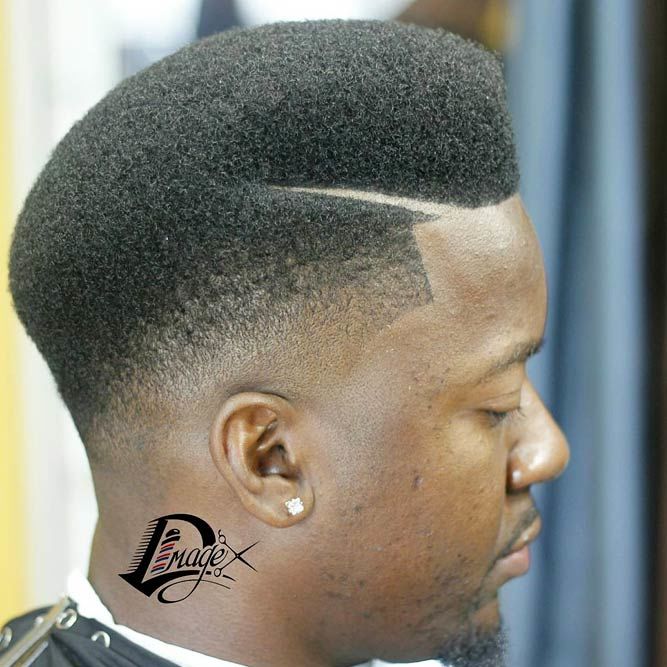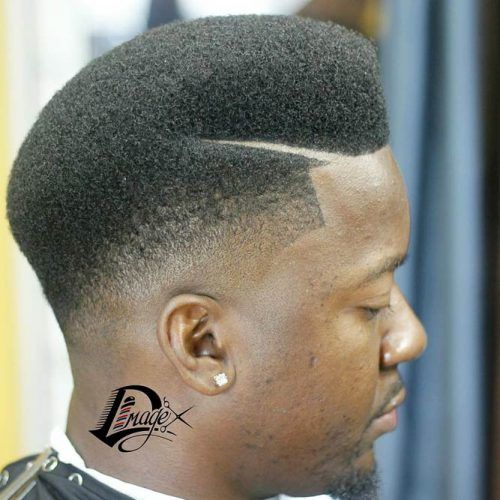 Credit photo: instagram.com/dillon_image
The art of black men haircuts and hairstyles has no bounds. Not only does its diversity lets men express themselves by rocking creative cuts and styles but it also never leaves even the most demanding men without a perfect option. This idea is a fantastic combination of modern and retro trends: it features a classic high top diversified with a modern faded touch.
Keep modern and retro trends in mind when choosing your cut, and you will never look ordinary.
Faux Hawk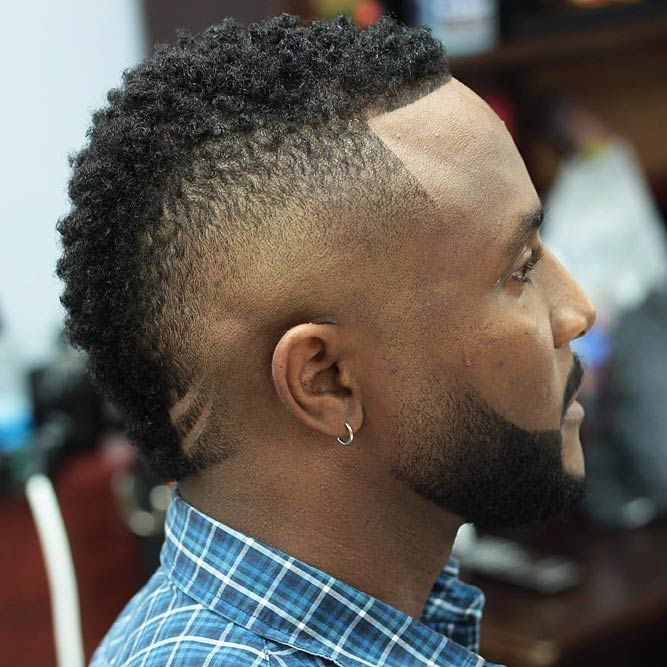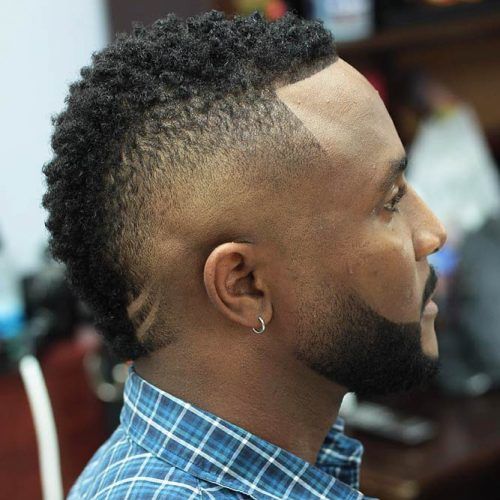 Credit photo: instagram.com/pjabreu
Not everyone can go for a classic Mohawk, as it may appear too casual. For that reason, barbers have created its muted version for men who want to look appropriate in their working environment while still showing their bold character. Yes, the once punky cut can look immaculate.
Long Cornrows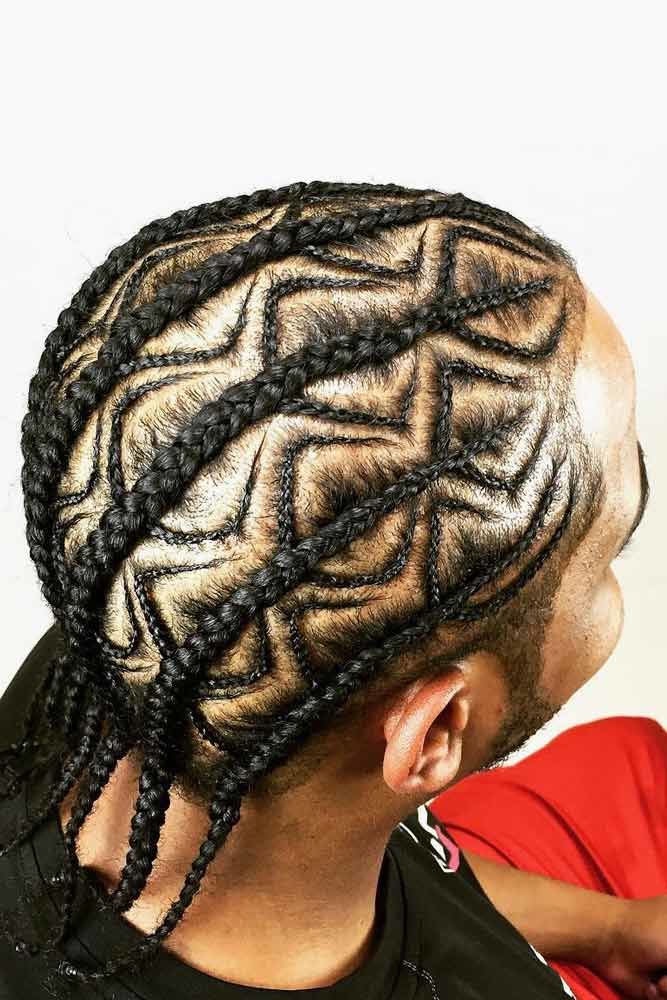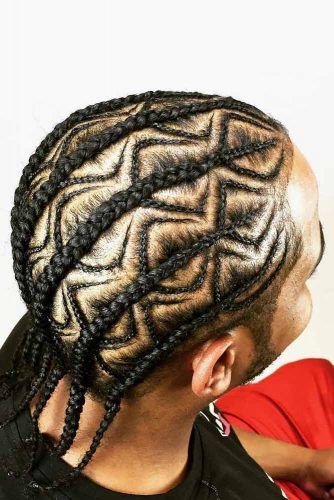 Credit photo: instagram.com/rareessenceacademy
Cornrows are growing in popularity so fast that they seem to hit the space soon. Well, no wonder: it's hard to imagine something that can beat this striking, creative, and neat hairstyle. Should we mention how comfortable this style is? In general, the style involves vertically braided rows of hair. But, if you want to step out of classics, you can ask your braider for a little creative magic between the rows.
With cornrows, you can forget about time-consuming styling and simply focus on your amazing sense of style.
Now that you are familiar with the latest black men haircuts, you know how to tame your curly mane, whip it into a decent shape, and look unique, after all. Choose the length based on your lifestyle and call your barber: it's time to freshen up your natural hair!
ADVERTISEMENT ‧ CONTINUE READING BELOW