Taking over the reins of the man bun, braids for men have become a rising star in men's fashion. Today, it's a great way to experiment with your look while having a modern but extraordinary hairstyle for all occasions.
In fact, a man braid has gone through a long way through the times of Vikings, samurais, and hip hopers to finally become a trend for everyone. From taper fades with custom braid designs to ideas to pair with beards, we've highlighted the most iconic ways to wear the new hair thing that you can't pass by.
FAQ: How To Braid Men's Hair
While you can try lots of different braids, there are two common techniques of braiding men with short and medium hair can rock. More and more modern guys are showing up with cornrows and Dutch braids, where one is more popular with natural-haired gents and the other works well for men with medium-thick textures.
Anyway, the more popular men braiding styles get, the more questions they raise in those who want to pull them off. And this is where we'd like to bring you closer to the process of styling, answering the most popular questions along the way.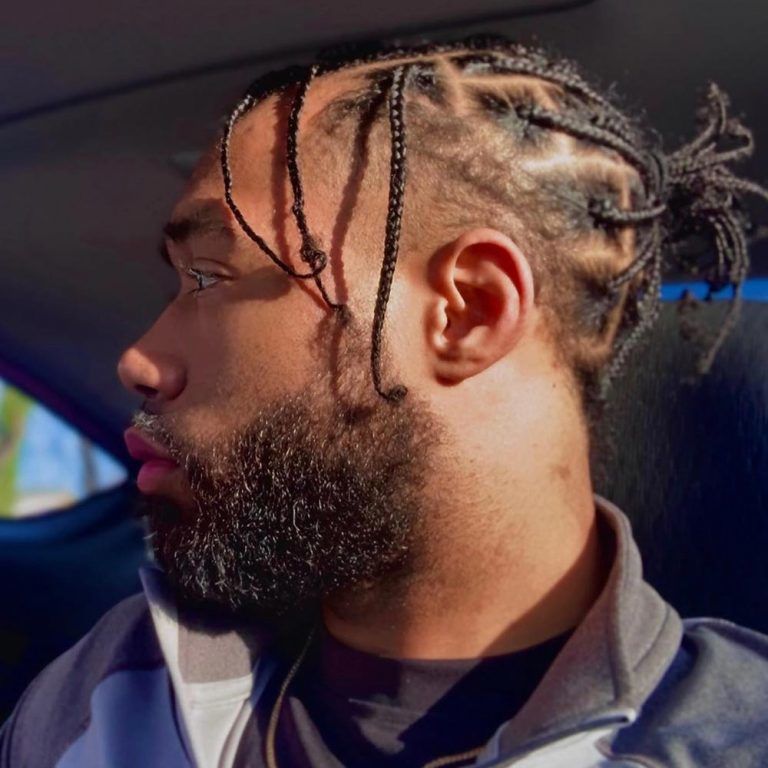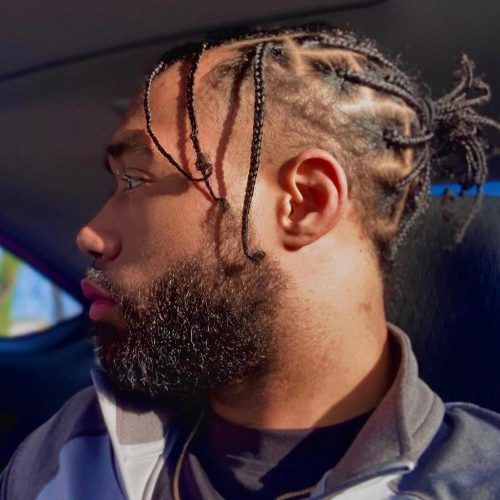 Credit photo: instagram.com/beautymorehair
How do guys get braids? - A Complete Tutorial
Preparation:
Start with clean, smooth, and brushed hair. Braids require a perfectly smooth and manageable texture, so make sure to wash and condition your hair before braiding. Conditioning will also help you get rid of knots, which are the worst enemies of male braids.
Create a perfect middle part. The right parting is fundamental, so run your comb across the hair so that it divides it into two perfect halves with a clean visible line.
Section off the hair. After you do the middle part, you need to create additional parallel parts. You should create as many parts as your hair allows you to, trying to make them equal, as this hair is what you will turn into braids.
Braiding:
Moisturize the sections. So that your sections for braids don't mix up, apply some oil-based moisturizing product that will keep those parts in place.
Clip the parts. Now that you've moisturized the sections, clip them all with a clip. After a couple of minutes, remove the clip - you will see your parts get more visible. Then, pin each one to separate them from one another.
Braid your hair. Once you choose a braiding style that works for your length, you are free to braid those pinned sections. If your hair is less than 1 inch, choose for a regular plait - there are no better braids for short hair. To braid, simply split each section into two. Then, cross the left strand under the middle, and the right strand under the middle. Finally, secure the style with a hair tie.
Top Questions Answered
Q: Can men braid their hair?

A: Being a universal hairstyle, braids don't have any gender restrictions. Moreover, men braids have a rich cultural background in many countries, so wearing braid hairstyles for men is natural. All you need to embrace the trend is to have at least a few inches of length.
Q: Can men with straight hair get braids?

A: You can wear man braids even if you're not blessed with afro texture. Just opt for tight and thick braids, and ensure that your hair is at least shoulder-length and has no layers, as they may result in uneven braids.
Q: How long does it take to braid short hair?

A:Though it depends on your skills, basic braid styles for men like we've just shown you take from 5 to 10 minutes. More complex designs, however, may take up to a couple of hours.
Modern Viking Style Recipes: Long Braids+Beard+Fade
Braids for men are not just another hairstyle that came to the fashion world from nowhere. It's a heritage that has been keeping the virile Vikings' spirit alive for ages. And now modern Vikings keep their style on point while paying tribute to their ancestors with massive beards, long single braids, and a fade as a touch of modernity. If you want to make this trend a part of your look and reveal your masculinity, this recipe will be your go-to.
Viking Twist Braid And Bold Sides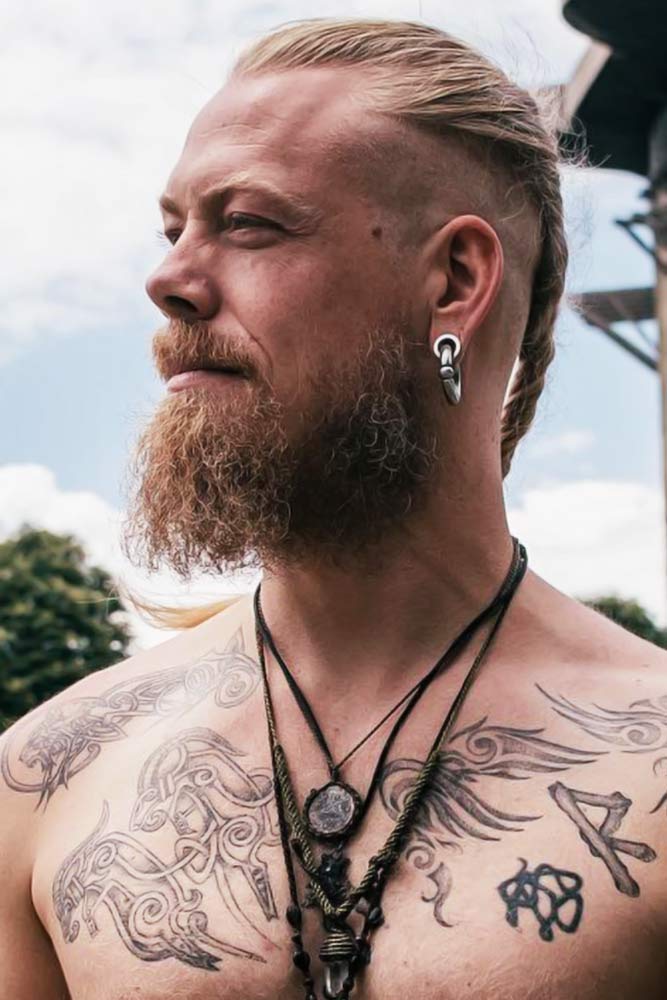 Credit photo: instagram.com/thegypsyviking
Viking braids are the most prominent options in the list of braids for men with long hair. Coupled with shaved sides and a mighty beard, a simple long plait can turn a modern guy into a valiant warrior. Still, the style can nicely adapt to formal business looks, especially if paired with the right outfit.
Triple Viking Braids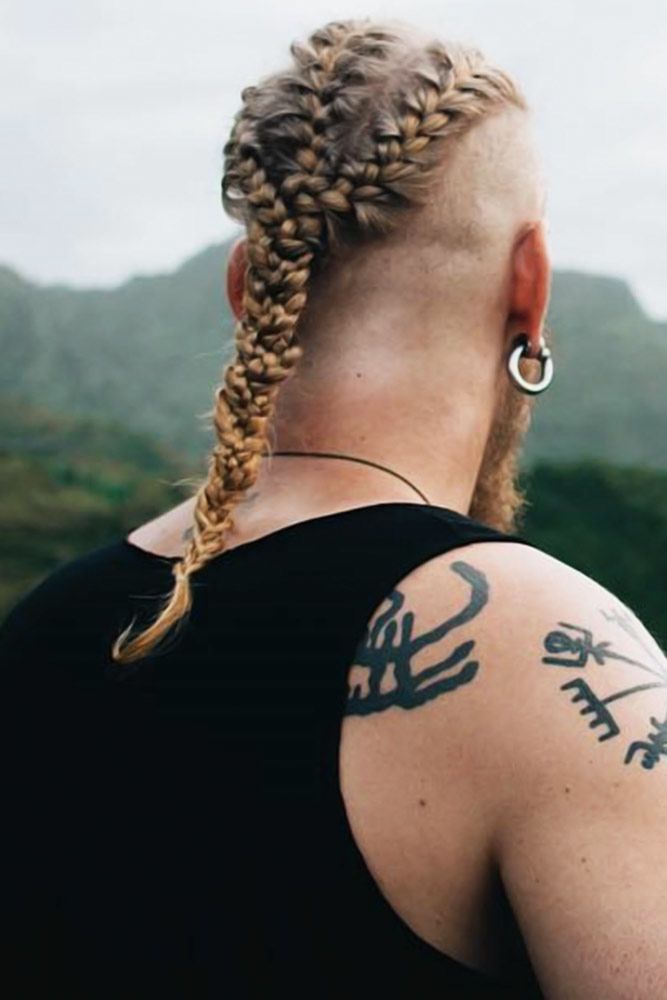 Credit photo: instagram.com/thegypsyviking
With the eternal variety of types of braids for men, you can always play around with different techniques and thus get an out-and-outer look. Apart from a classic one-plait Viking style, you can go for a more complicated and textured variation when you want to diversify your Viking hair routine.
Long Double Braids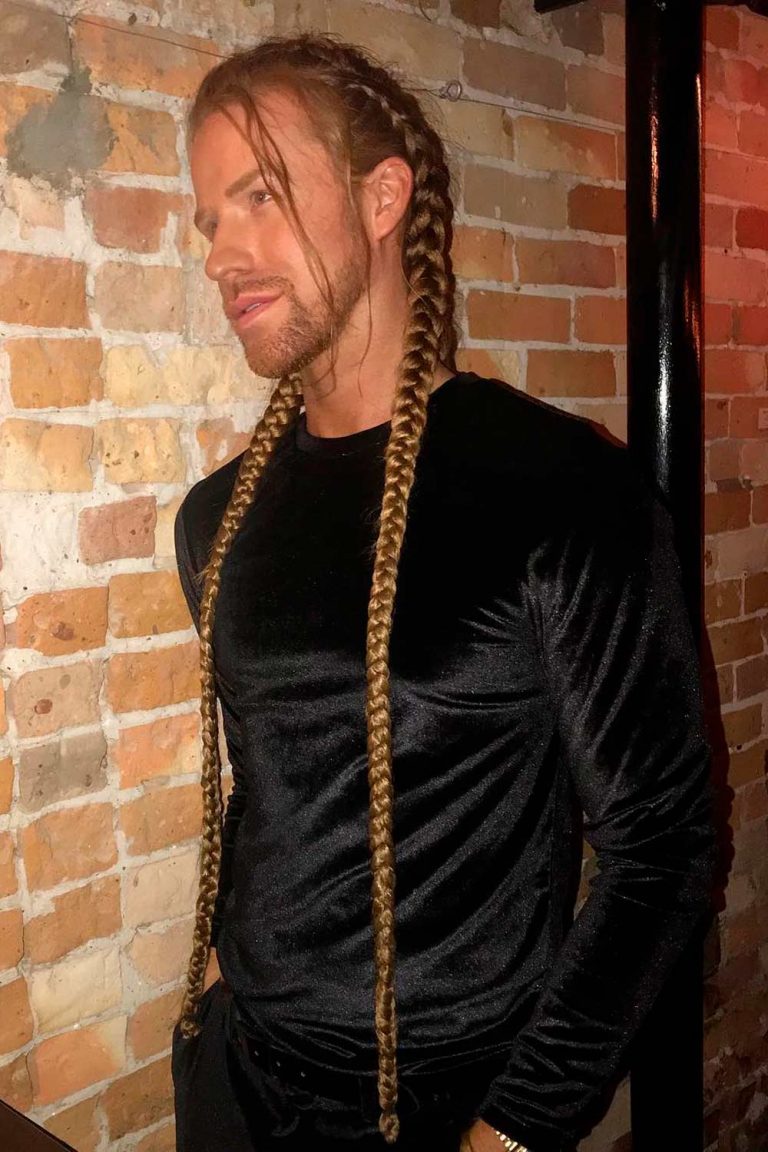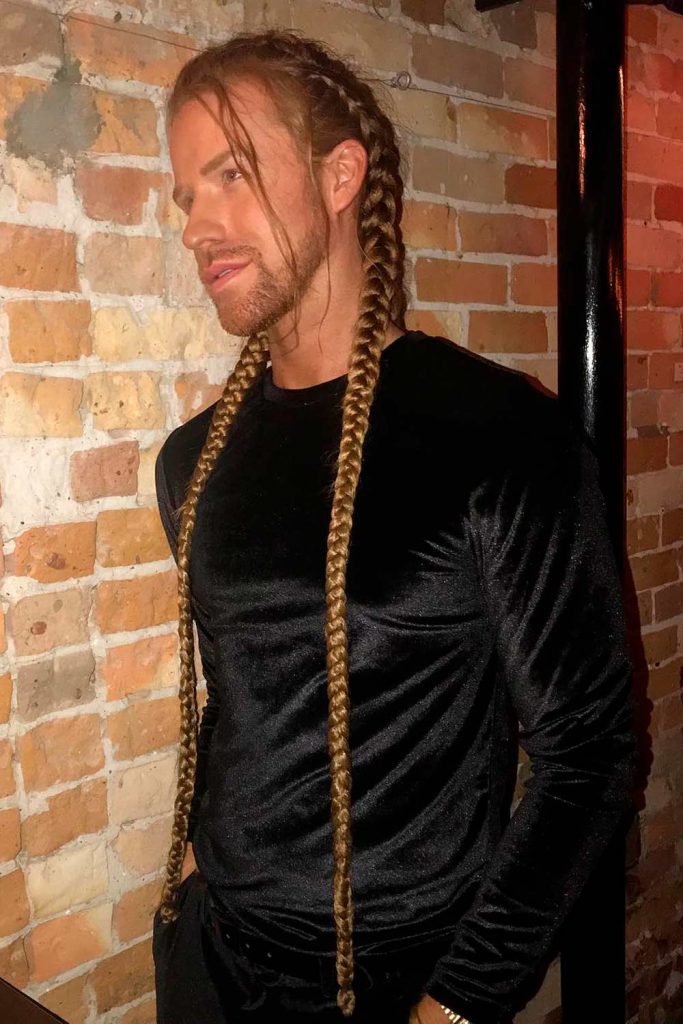 Credit photo: instagram.com/matthewmane
Old but new. Even though there's nothing complicated about styling 2 braids for men, the visual impact brought by the result looks like a brand new hairstyle. The best thing is, you will keep your mane safe and comfy while rocking the so much familiar yet so uncommon style at once. Feel the native vibes, huh?
Thin Twisted Braids For Short Hair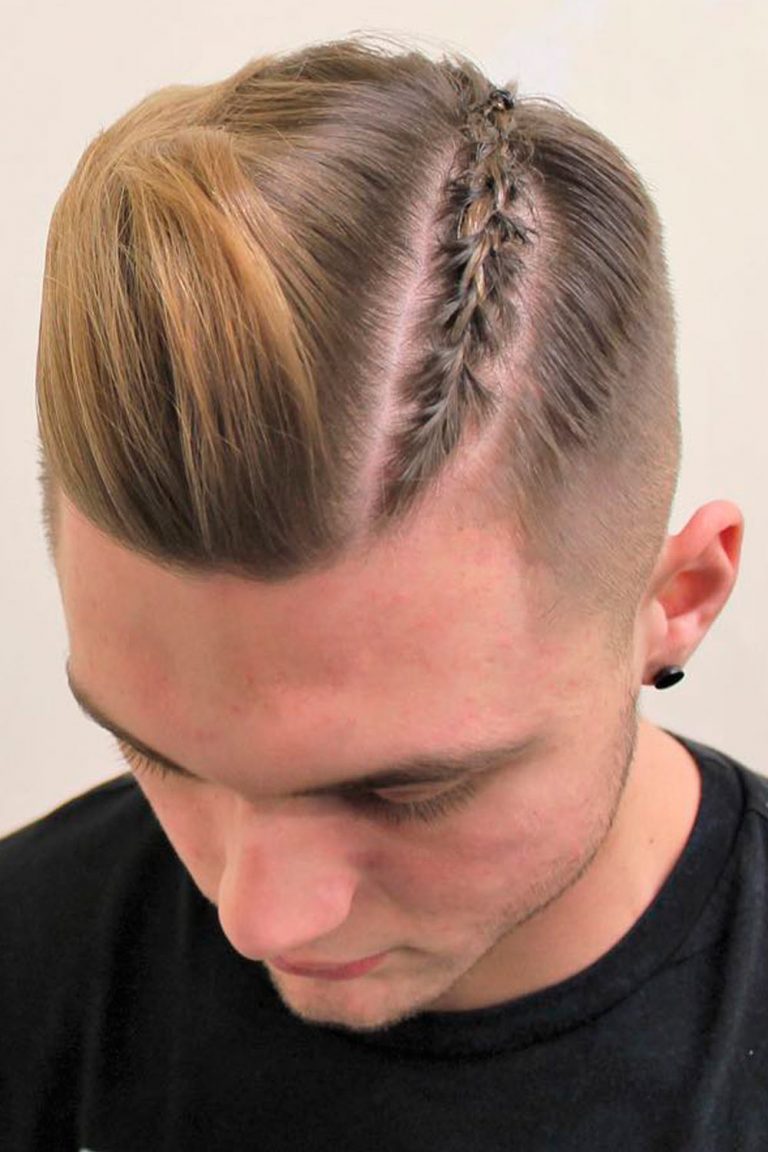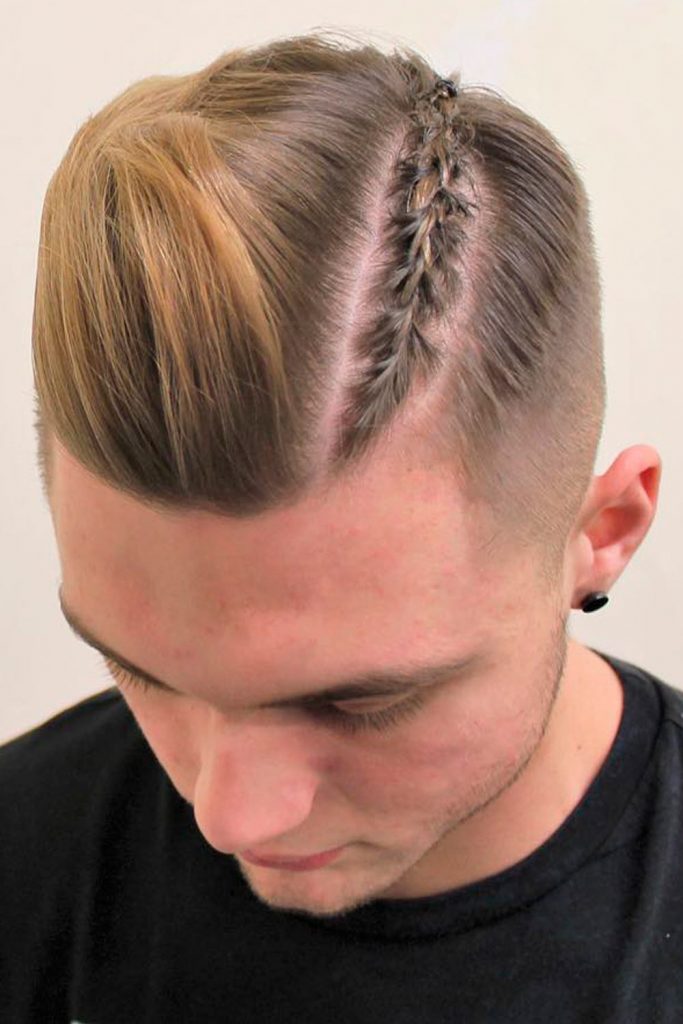 Credit photo: instagram.com/barbersofbt45
Another easy but staggering hairstyle inspired by Native American culture. A twisted braidstyle is enough to add some difference to common men's hairstyles.
Long French Braids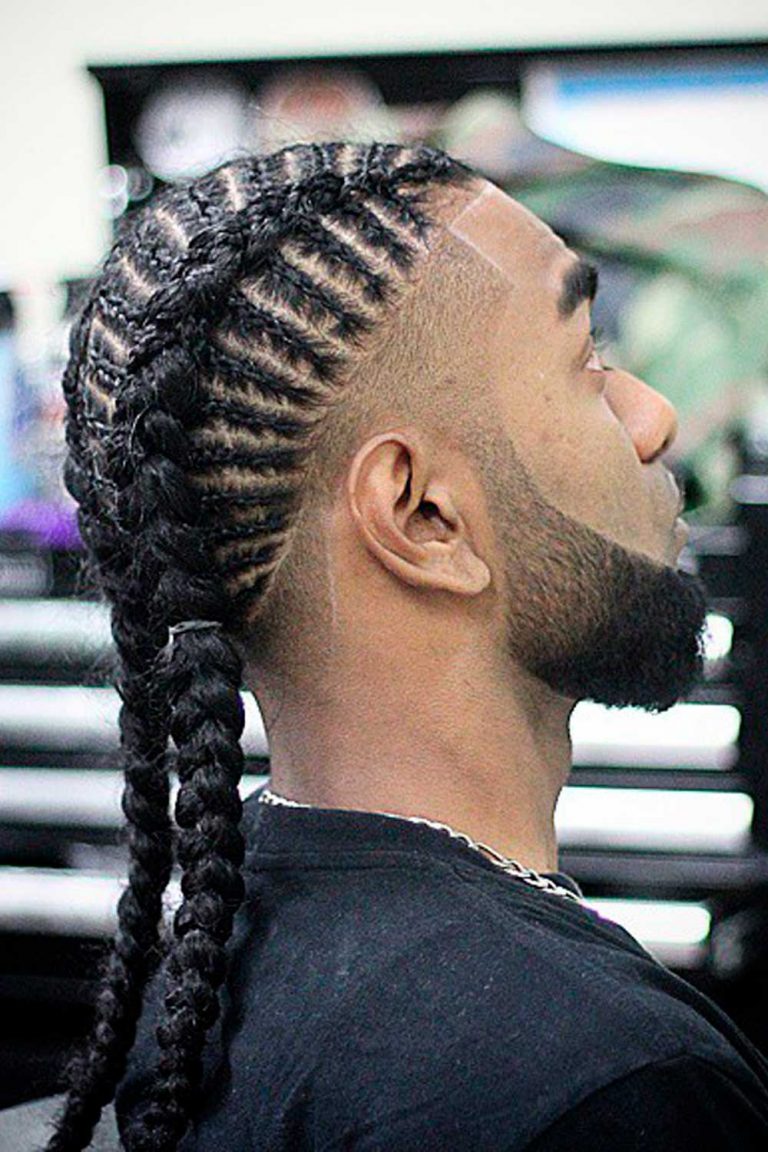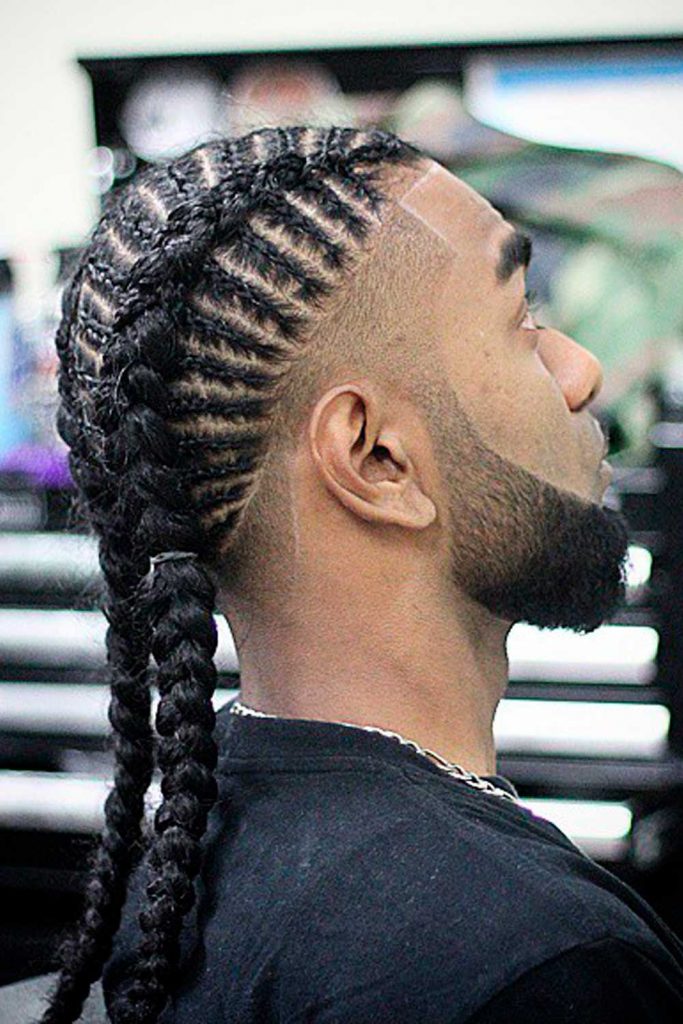 Credit photo: instagram.com/shawn_barbz
Classic in its purest. If you're one of those guys who prefer effortlessness and simplicity to commitment and smartness, then a long French braids is what you should add to your favorites.
Mohawk With Dutch Braid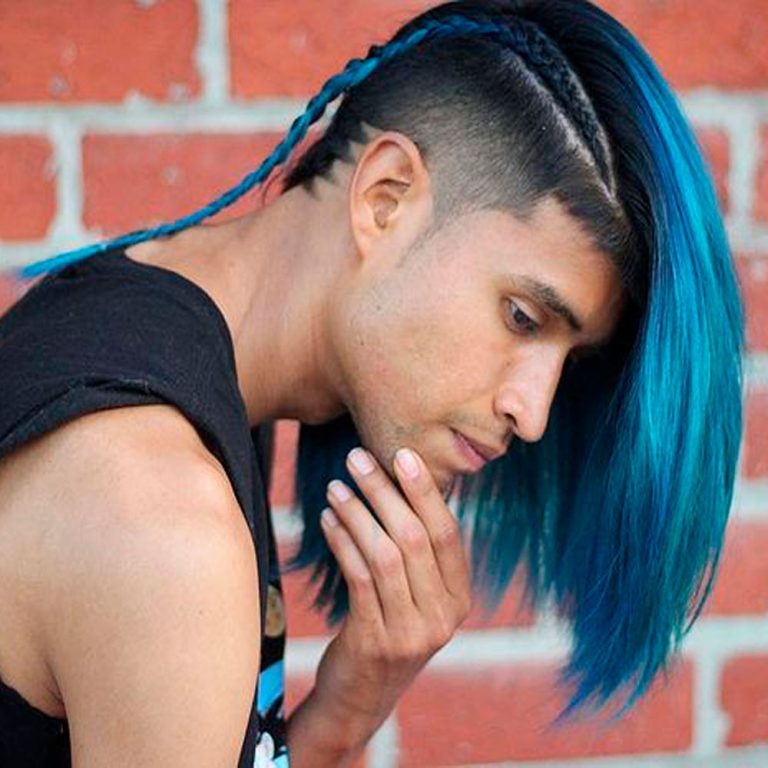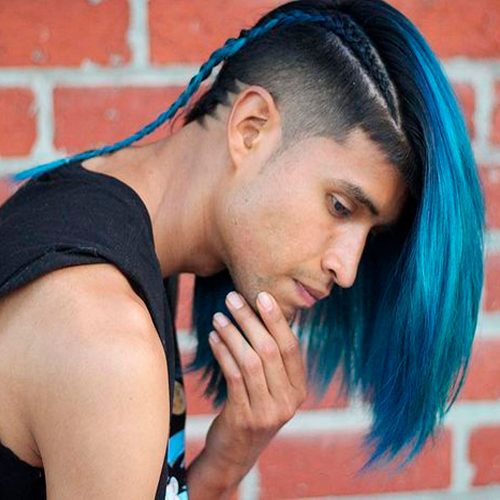 Credit photo: instagram.com/shrunknheads
There's no a hairstyle braids for men can spoil. On the contrary, they can give tons of definition and individuality to any style. Remember the overwhelming Mohawk? Here's a totally different take at the common image of the punky cut. Bright color, faded sides, and an exclamation point made by braid - that's how one of a kind hairstyles look like.
Faux Hawk + Side Cornrow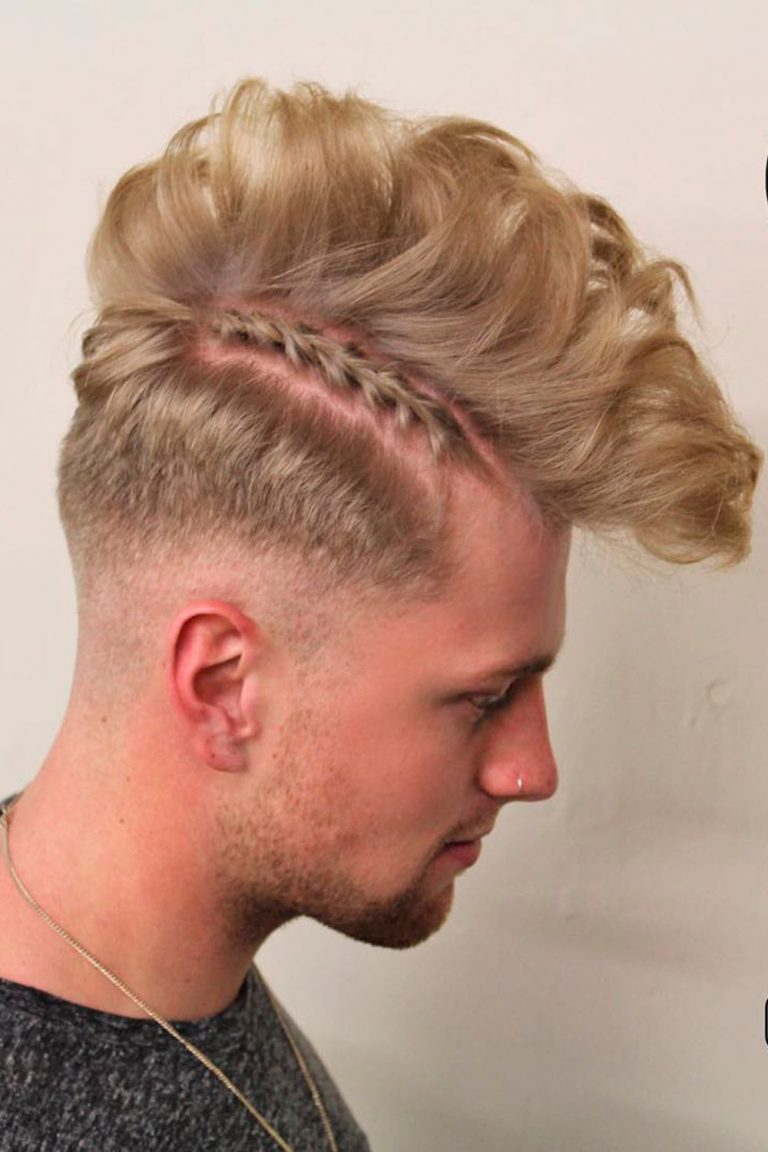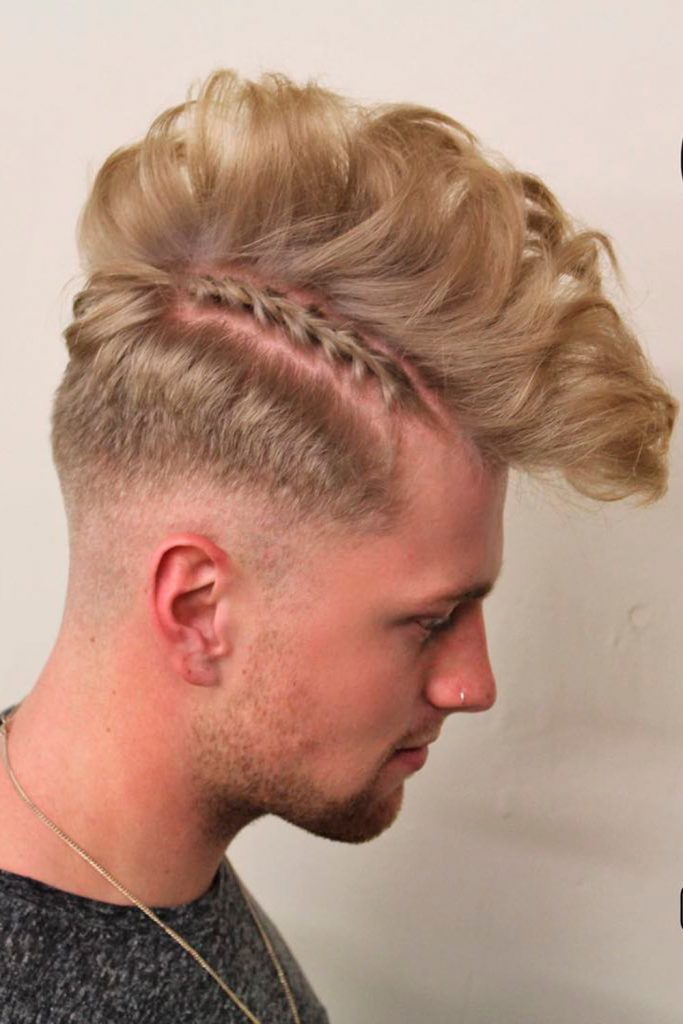 Credit photo: instagram.com/barbersofbt45
Cornrows on fine wavy hair? Possible! Obviously, you can't braid your whole mane as the texture won't even hold the shape of braids. But, it doesn't mean you can't add a hint of a braided trend to your swanky hairstyle. Getting a cornrow along the hairline will be a classy finish for a faux hawk, no doubts.
Box Braids for Men
Credit photo: instagram.com/ledanieljames
Here come the overwhelming box braids men with natural hair will never stop rocking. Their distinct feature is the boxy structure created by square hair sections that turn to braid. As for the visual side, every idea has an unrepeatable appearance.
Medium&Long Box Braids for Men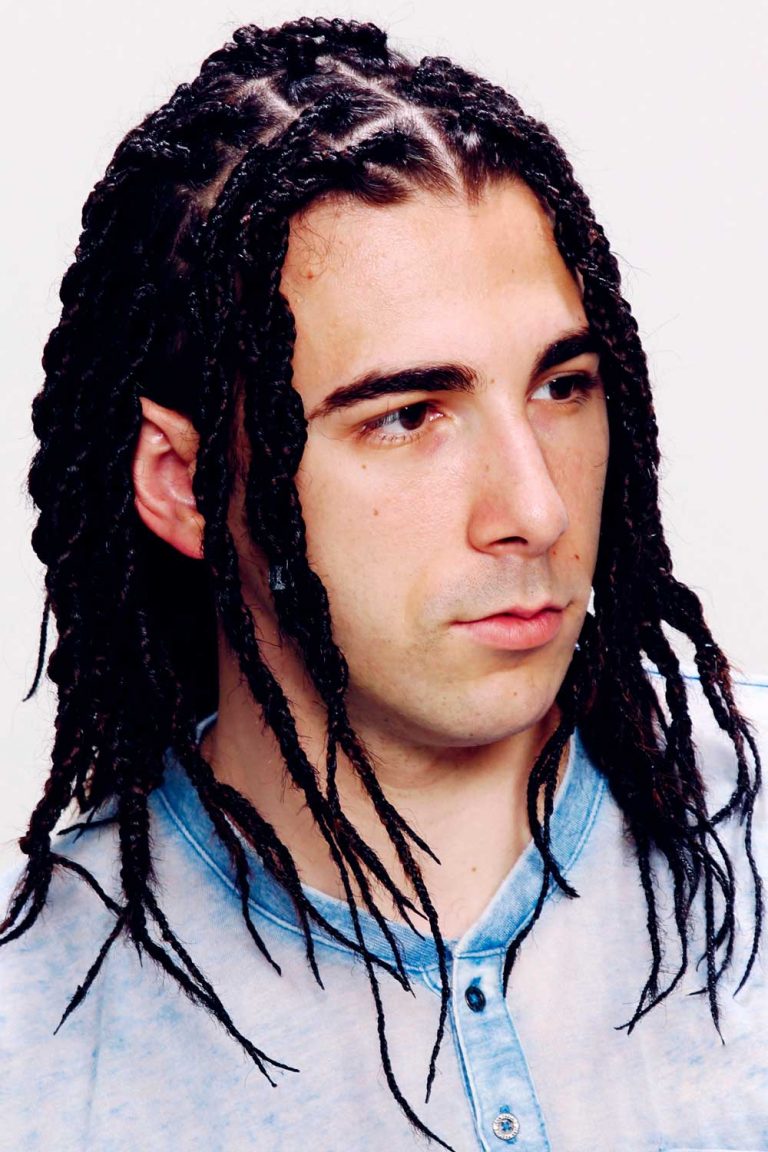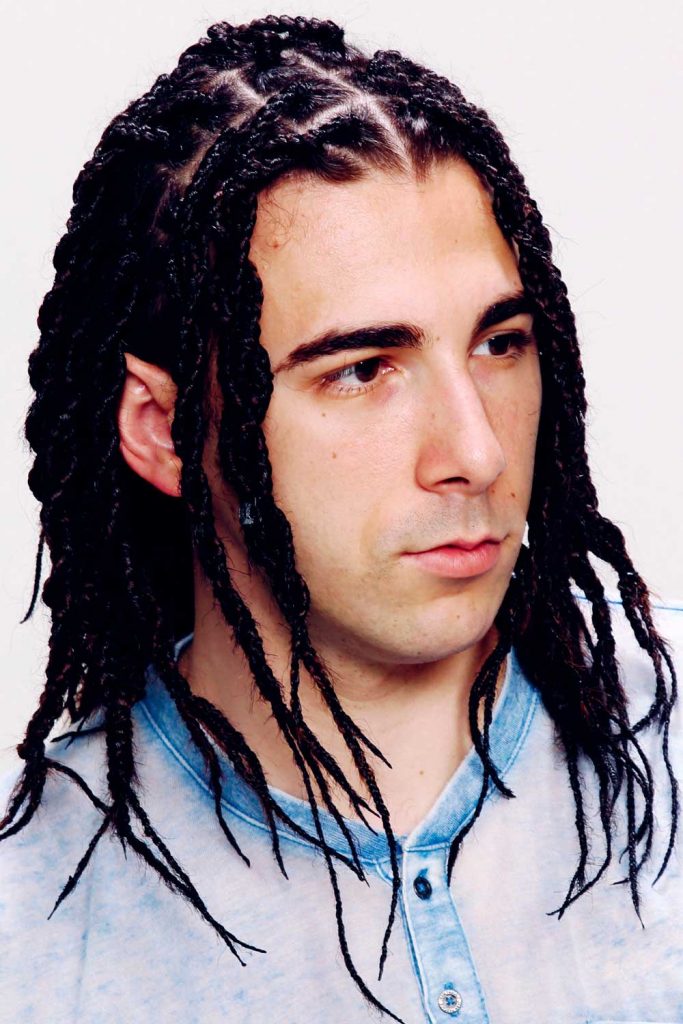 Credit photo: Shutterstock
Yes, long braids take whole lotta time to achieve, as growing out a long mane is not that simple. But, the variety of styles that you can wear to show your bright self are totally worth it, as well as striking looks of such styles.
Triangle Box Braids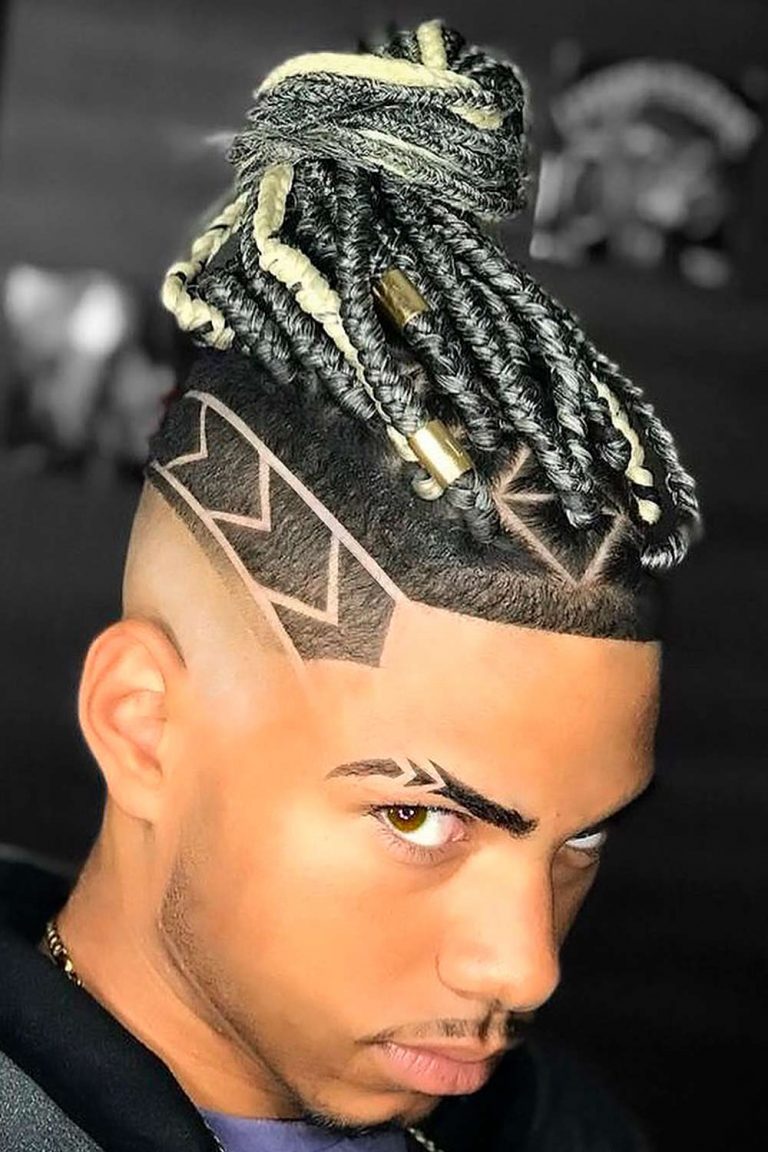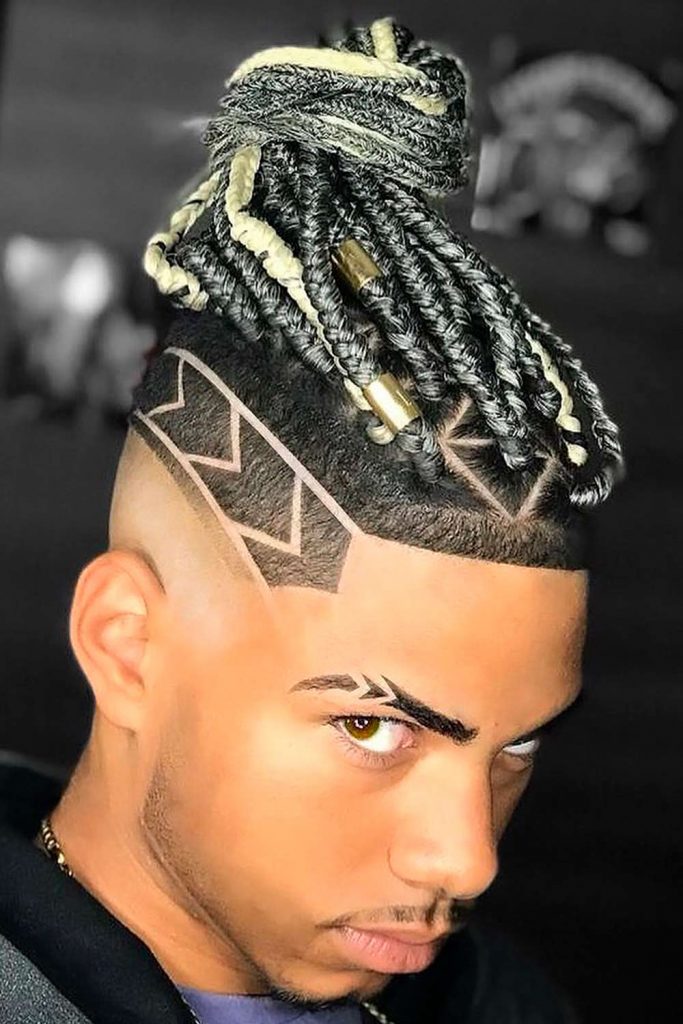 Credit photo: instagram.com/darlanrocha
Besides experimenting with braids placement and sectioning, you can customize your own man braid hairstyle with creative shaved designs, colorful extensions, and clean fades. Well, this guy certainly takes his hair as a canvas for experiments, taking the good old box braids to a whole new level.
Tied Up Dreads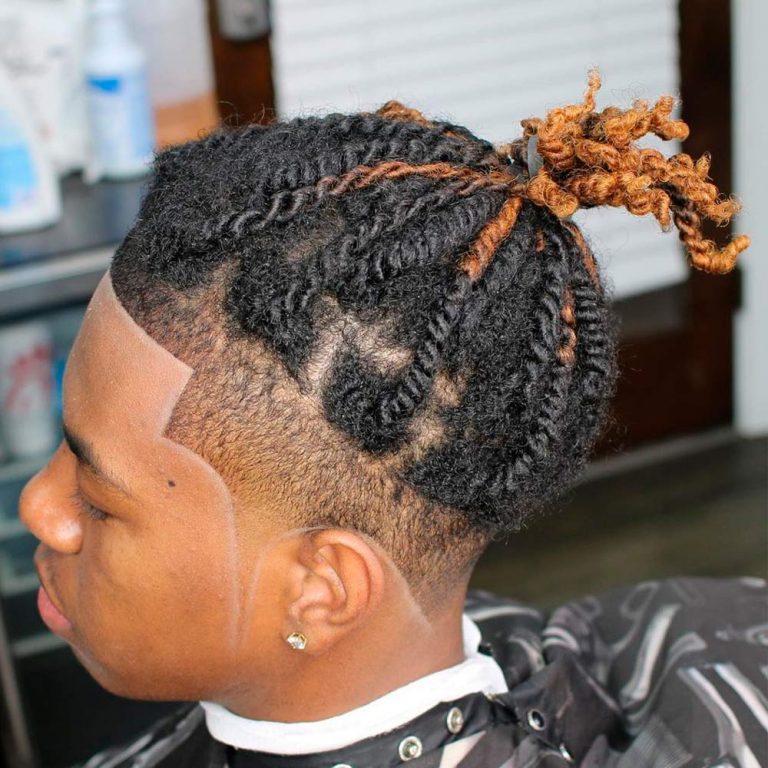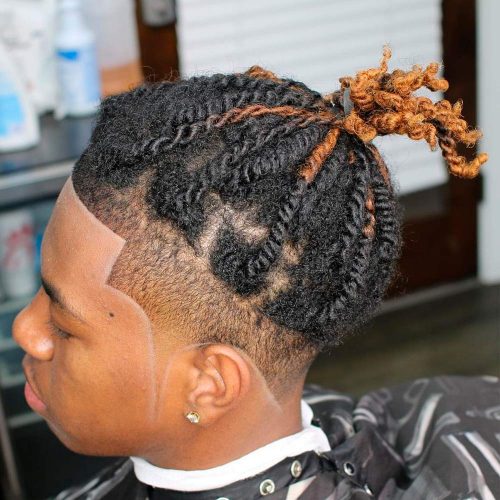 Credit photo: instagram.com/cool_cutz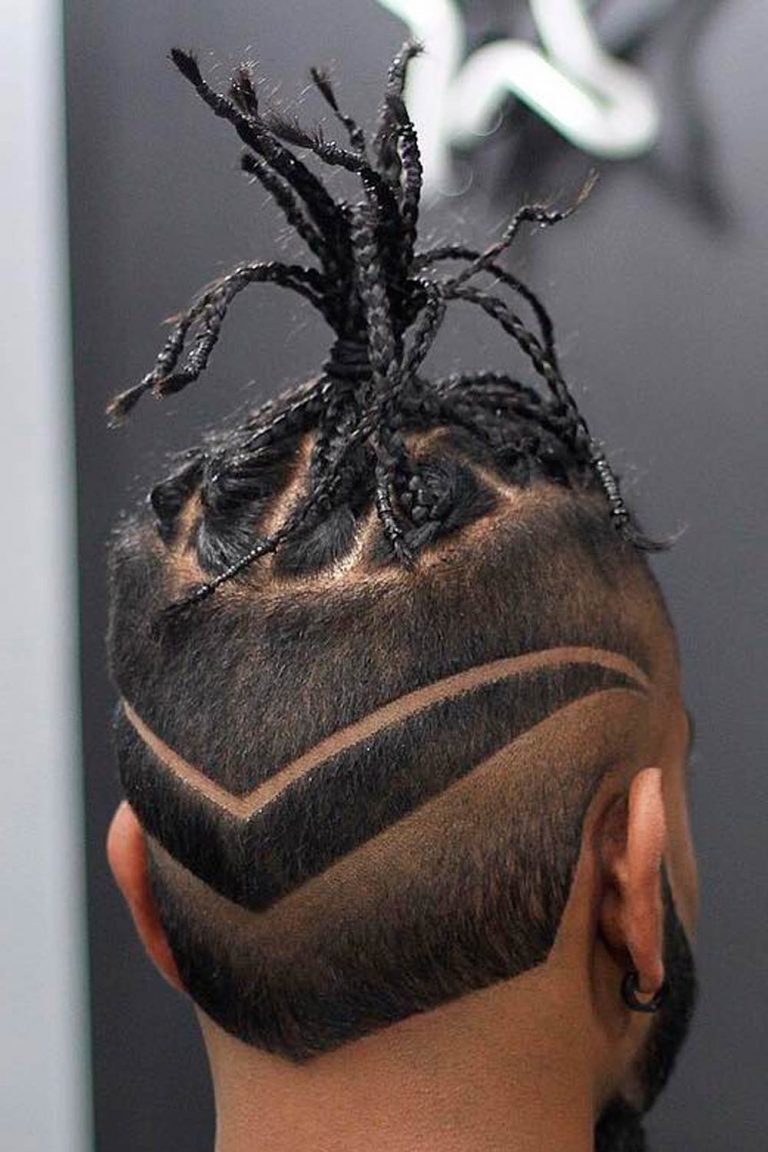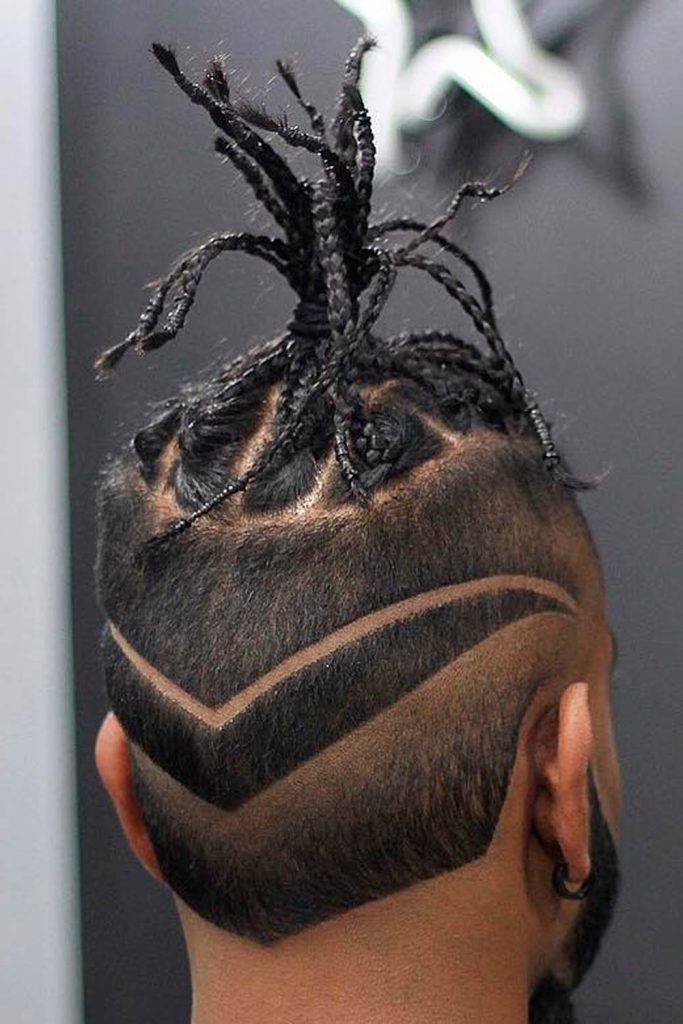 Credit photo: instagram.com/shawn_barbz
If you want to have ultimate control under your braids but don't want them to be too heavy, micro braids will do the trick. It's also a good option for thin and short hair, as you can create some visual fullness with little tight braids. Shave the sides and style man bun braids - trends always make good teams.
Box Braids And Cornrows Mix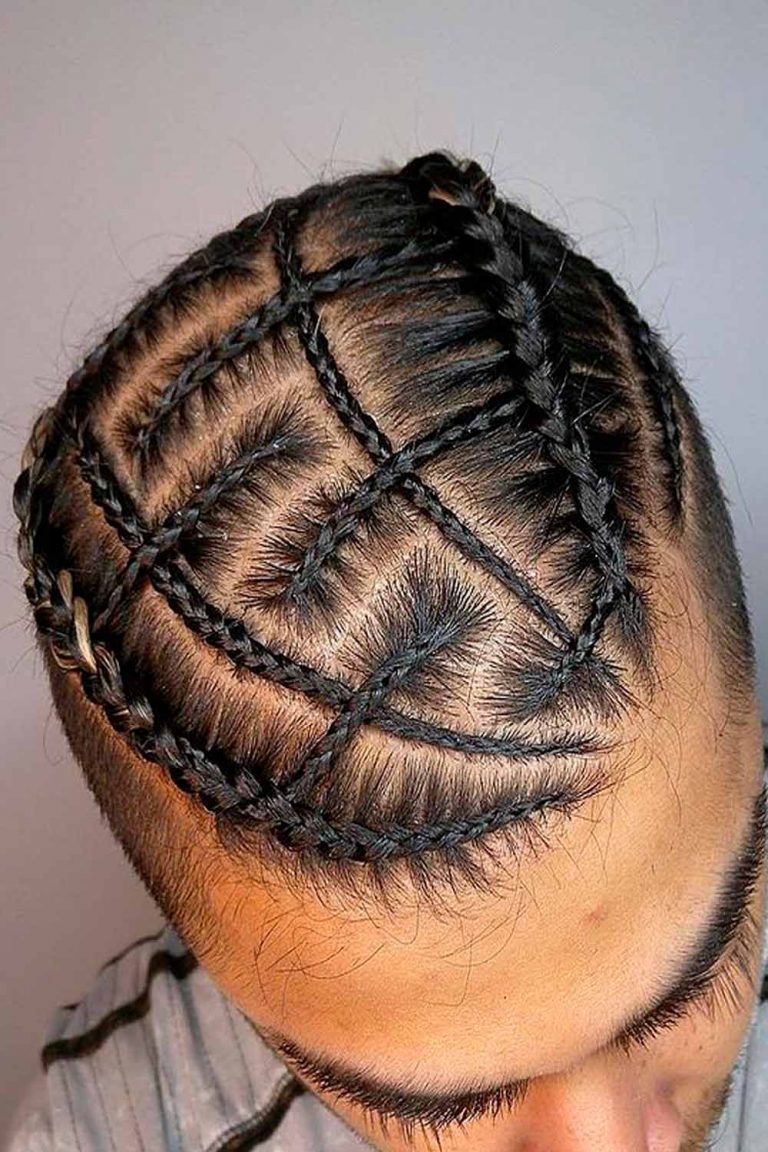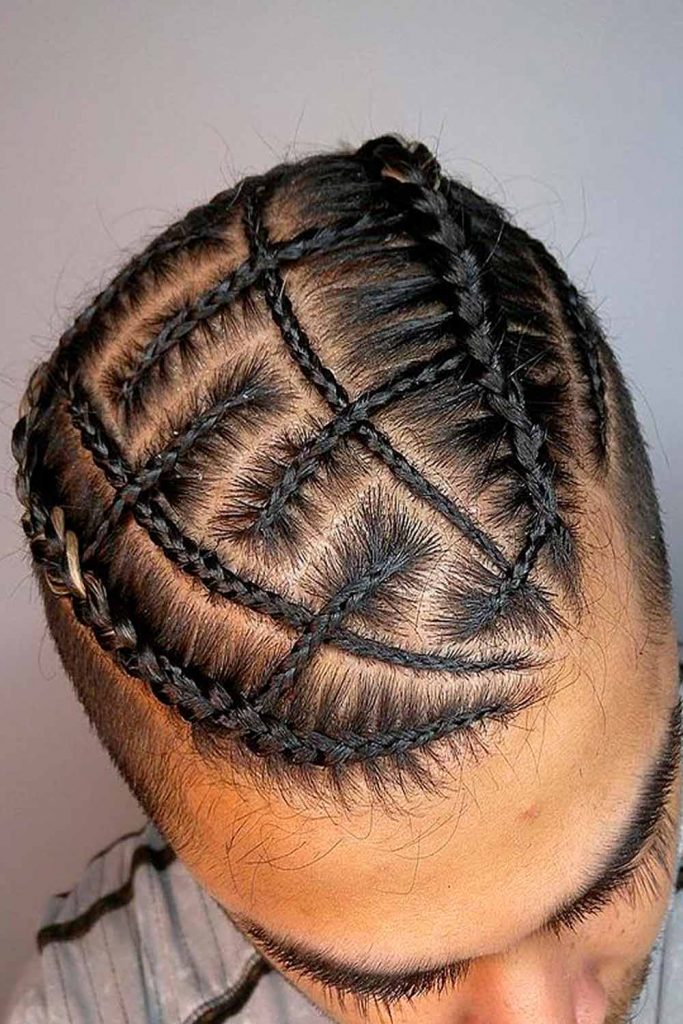 Credit photo: instagram.com/shawn_barbz
Why choose between two iconic styles for natural hair when you can mix them for a brand new look? For a fresh casual finish, you can even make this combo side-parted with one thick braid resembling the part. A fade is a must, too!
Cornrows Braids For Men: Ideas To Style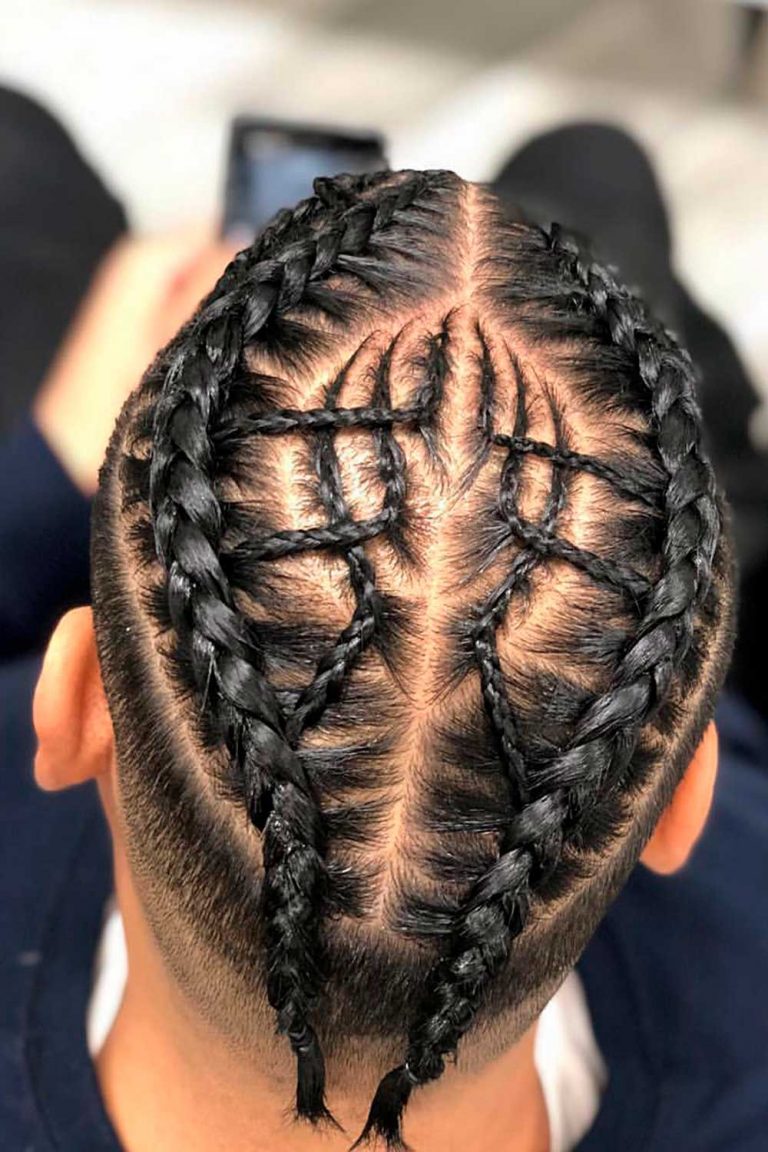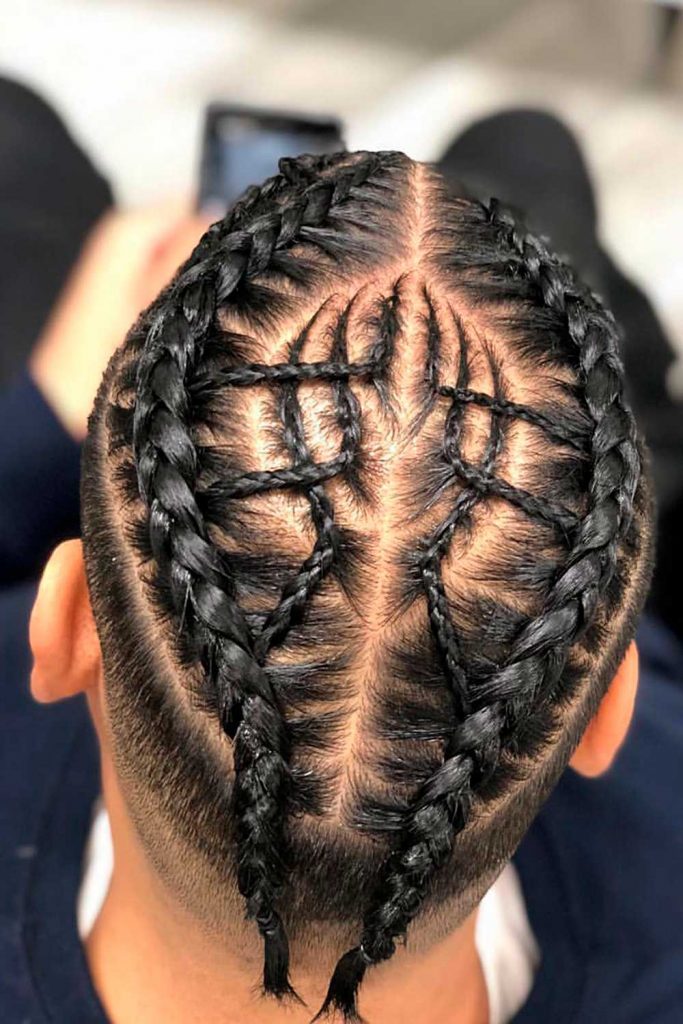 Credit photo: instagram.com/shawn_barbz
Cornrows are known as tight vertical braids for black men. Yep, this hairstyle plays a prominent role in African culture. Yet, today every guy whose hair is thick and long enough can go for the style. What makes the idea so amazing is that it instantly gives a man a very distinctive and hip look. Needless to say, it's a protective hairstyle: it's super comfortable.
Braids With Hair Rings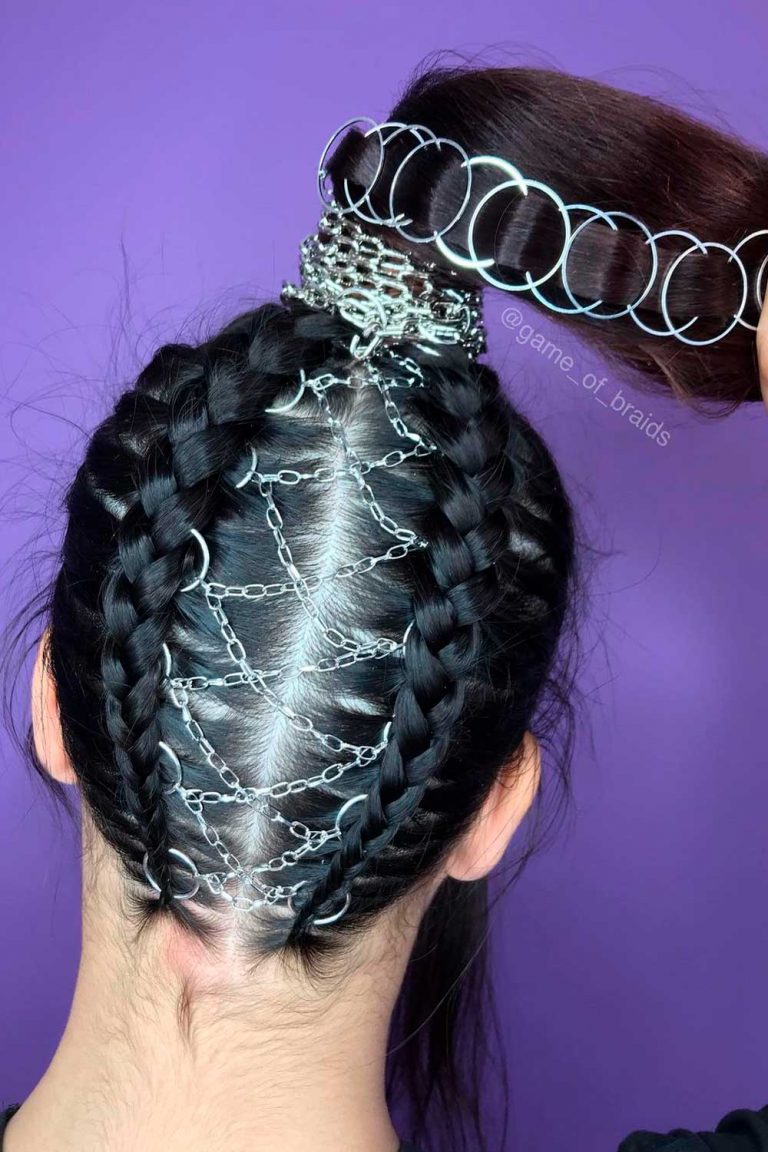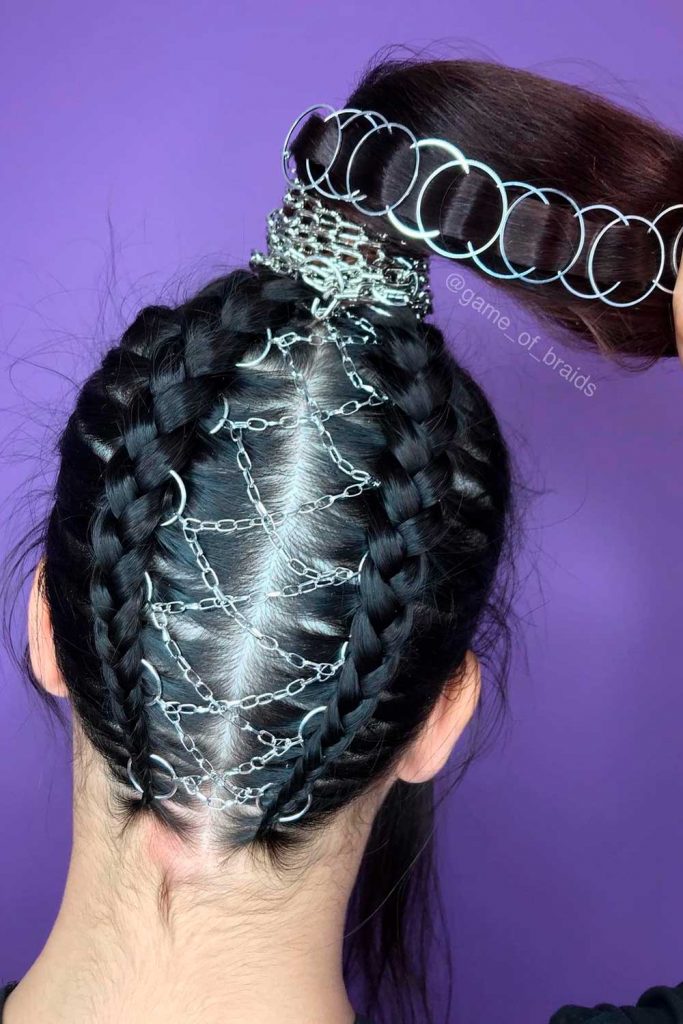 Credit photo: instagram.com/game_of_braids
First, you get a disconnected undercut with super clean, shaved sides. Then, you braid that crazy top. In the end, you turn the top into a knot. The icing on the cake? Finish the style with some hair rings which have become extremely popular with those sporting braids hairstyles for men.
Undercut + Purple Cornrows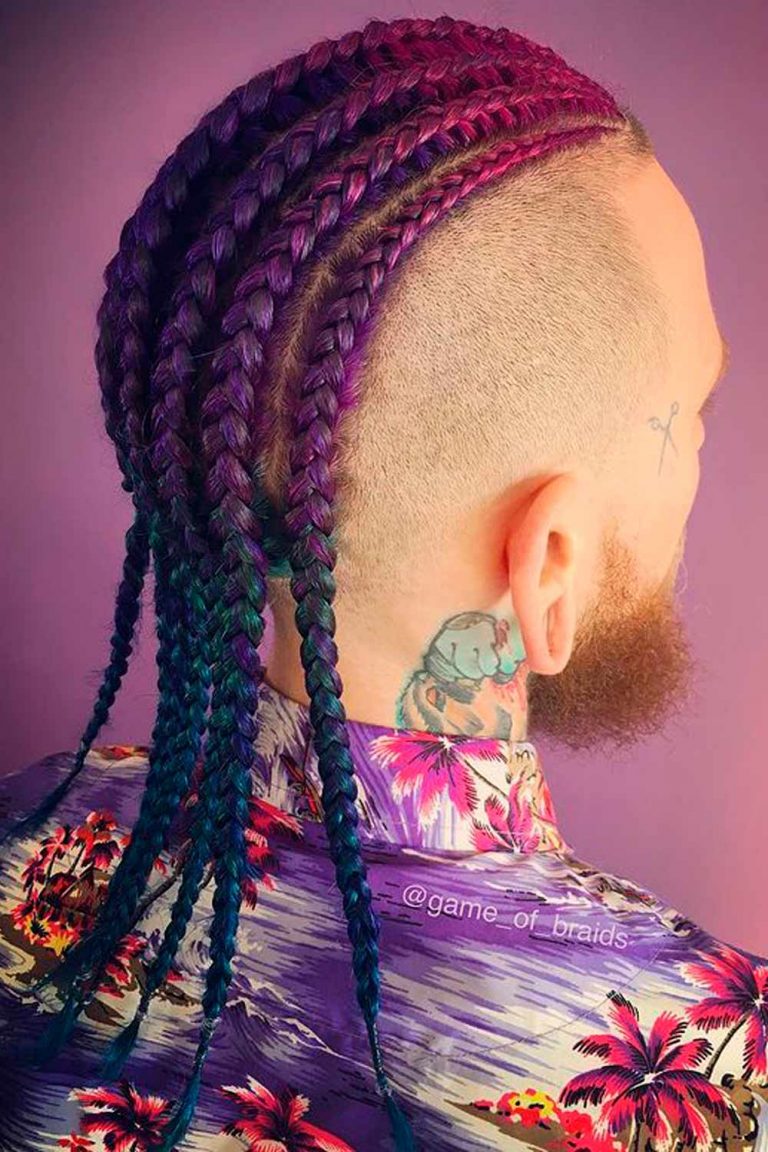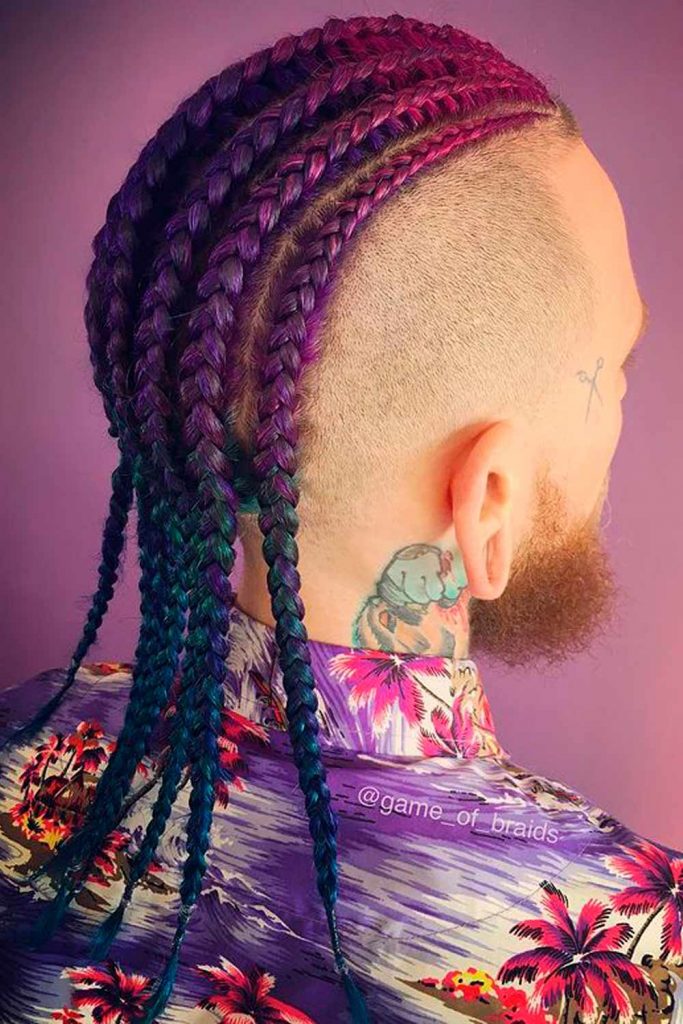 Credit photo: instagram.com/game_of_braids
Your barber wasn't joking when he told you how far you could go if you got yourself an undercut. In fact, it's a canvas for your style experiments: once you get bored with the long-top-short-sides look, you can transform it into something bigger. Let the top grow, get rid of those sides, and go bright with your cornrows. Besides, don't forget to show the result to natural-haired kings claiming braids for white men can't look good.
Fade Cut & Braids For Men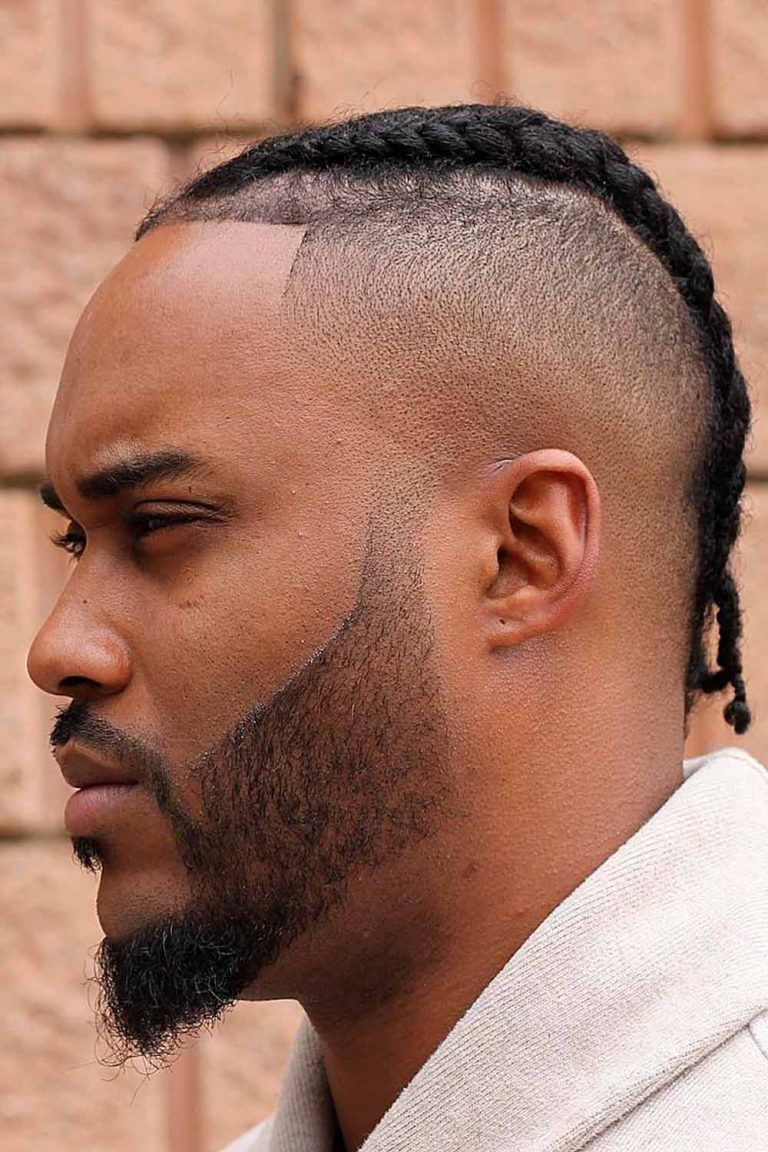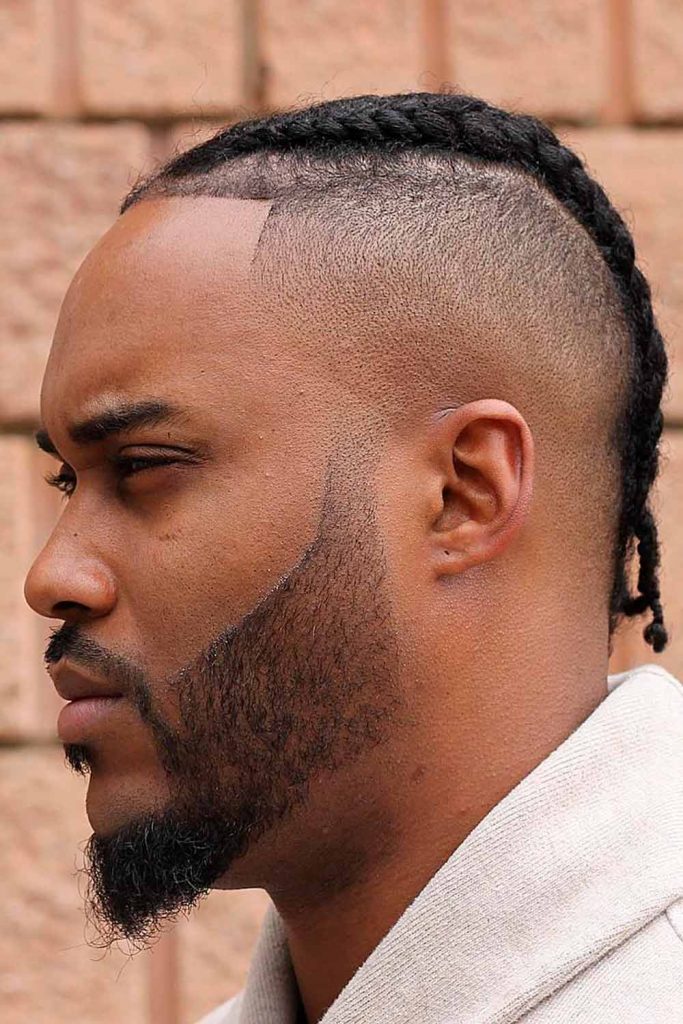 Credit photo: instagram.com/shawn_barbz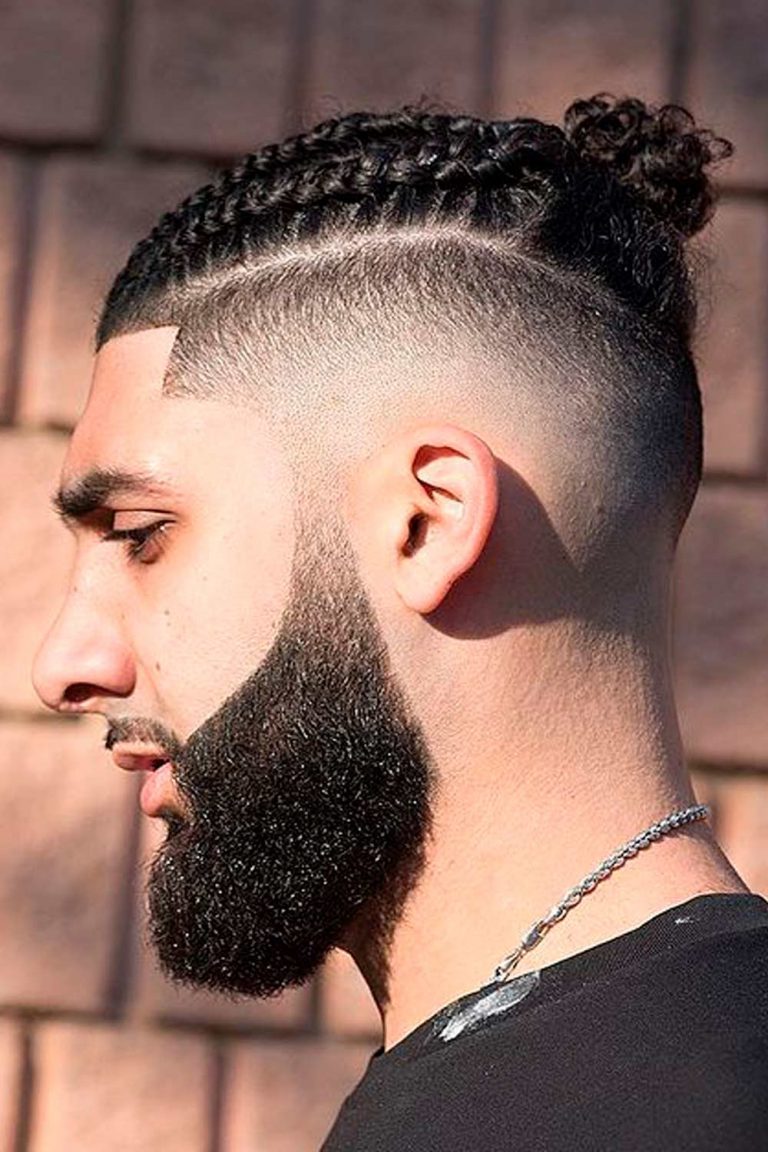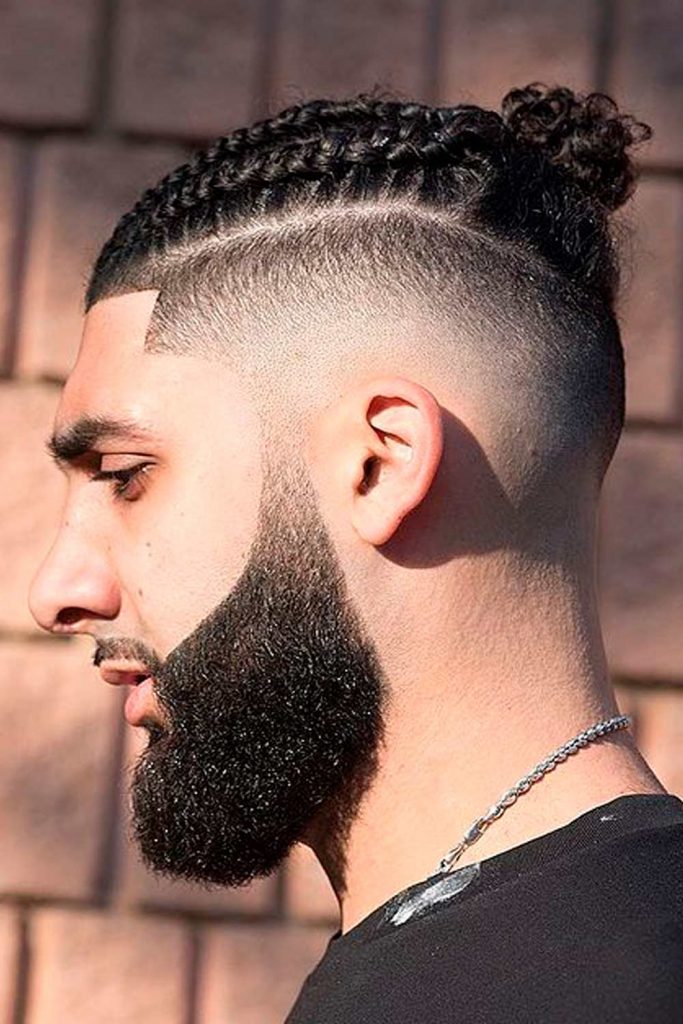 Credit photo: instagram.com/shawn_barbz
Black braided hairstyles, whether they're cornrows, feed-in or box braids for men, look their best when paired with a cleanly graduated fade. The choice depends on the look you'd like to achieve: a sharp finish, for example, requires a high fade.
Double Man Bun Braids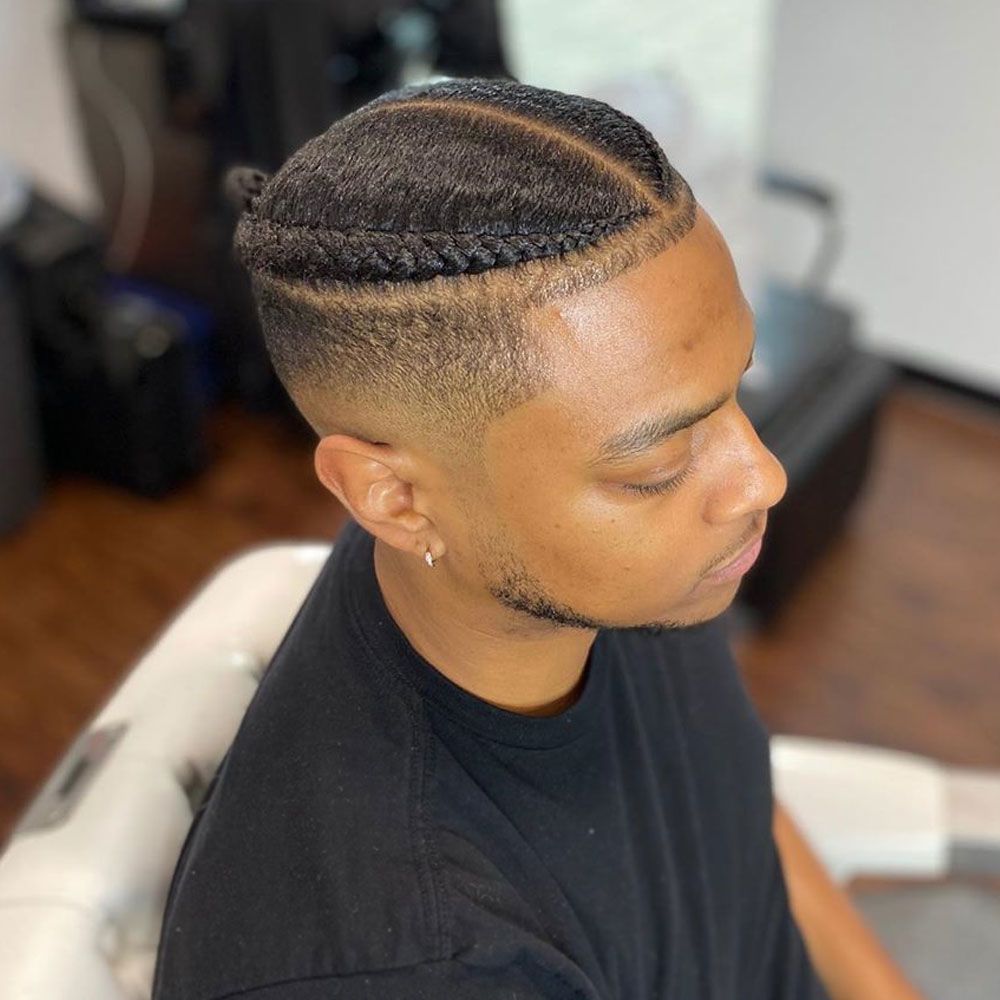 Credit photo: instagram.com/lovedbyloni
Neatness and comfort are what men with natural hair will always seek, and braiding a top is a fantastic way to achieve those hair goals. To keep up with a minimalist look, there's no need to braid all your hair into lots of little braids. A couple of framing side cornrows instead will do just great.
Feed-In Braids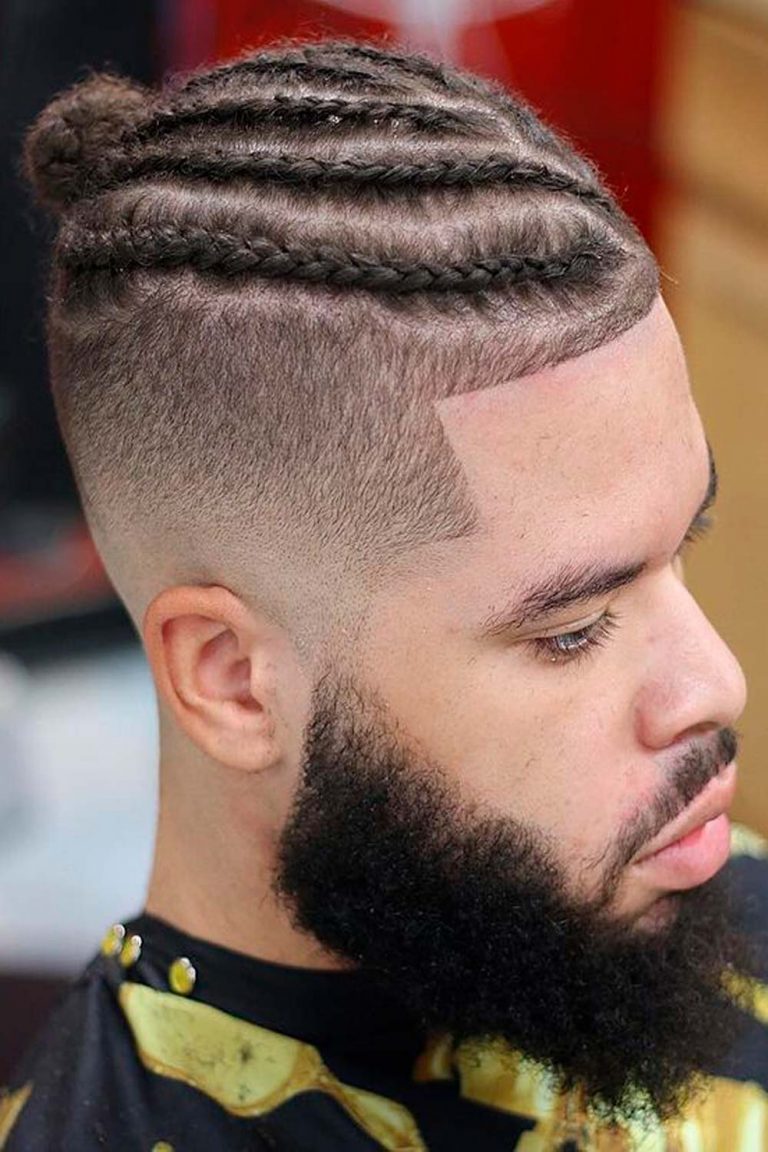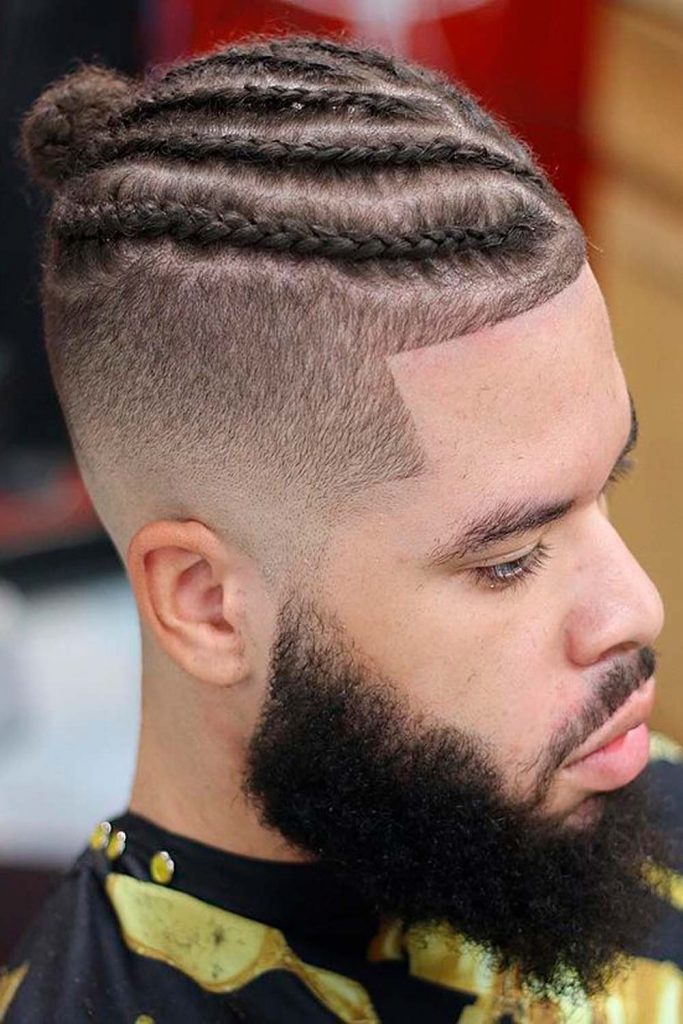 Credit photo: instagram.com/cool_cutz
Have you heard about feed-in hair braids for men? They are graduated braids that get wider as they move to the back of the head. Such a structure gives a well-shaped and well-balanced appearance to the whole look, so you won't go wrong choosing this technique.
Braids With Knots & Buns For Truly Stylish Guys
Braids do look awesome as they are, however, they can also be a stylish complement to popular styles like man buns and top knots. The variety of ways to wear those men's hairstyles is infinite, so here are the best picks for you to try.
Side French Braid Into Knot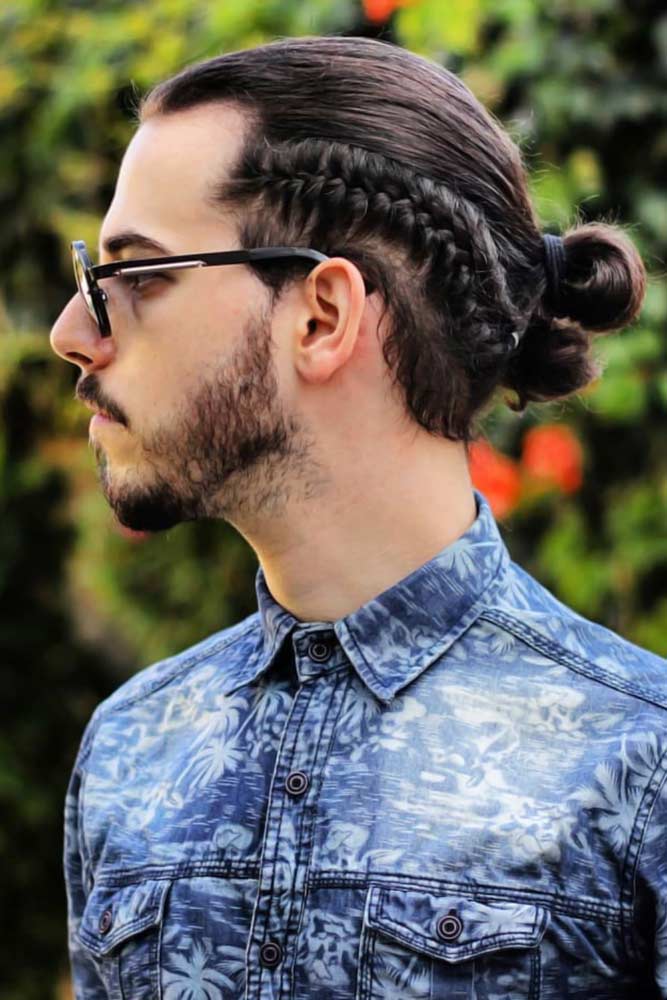 Credit photo: instagram.com/i.li.yan
The top knot re-thought. Instead of letting the good old knot take a backseat, you can brighten it up with a side French braid. The technique won't take long to master and will provide a plethora of cool ways to customize simple hairdos.
Braided Man Bun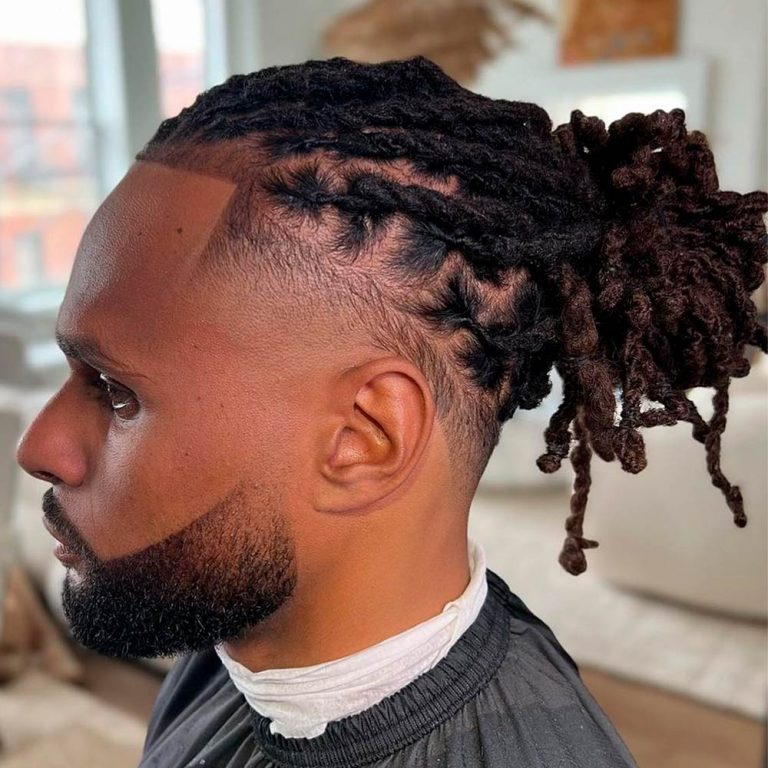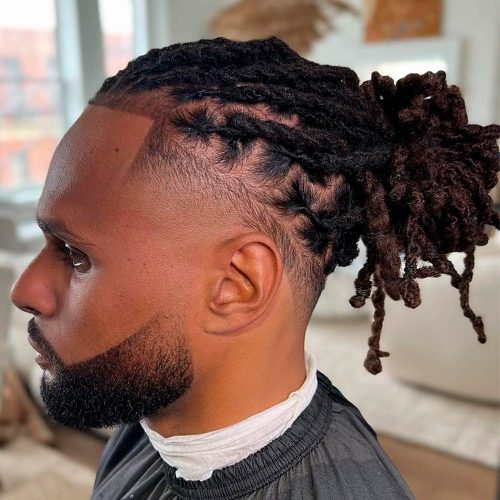 Credit photo: instagram.com/ledanieljames
Finally, the good old man bun from a new perspective. Buzzed sides give a sense of neatness to the whole look while the creatively braided top reveals the full versatility of the latest hairstyle for men.
Box Braids Into Ponytails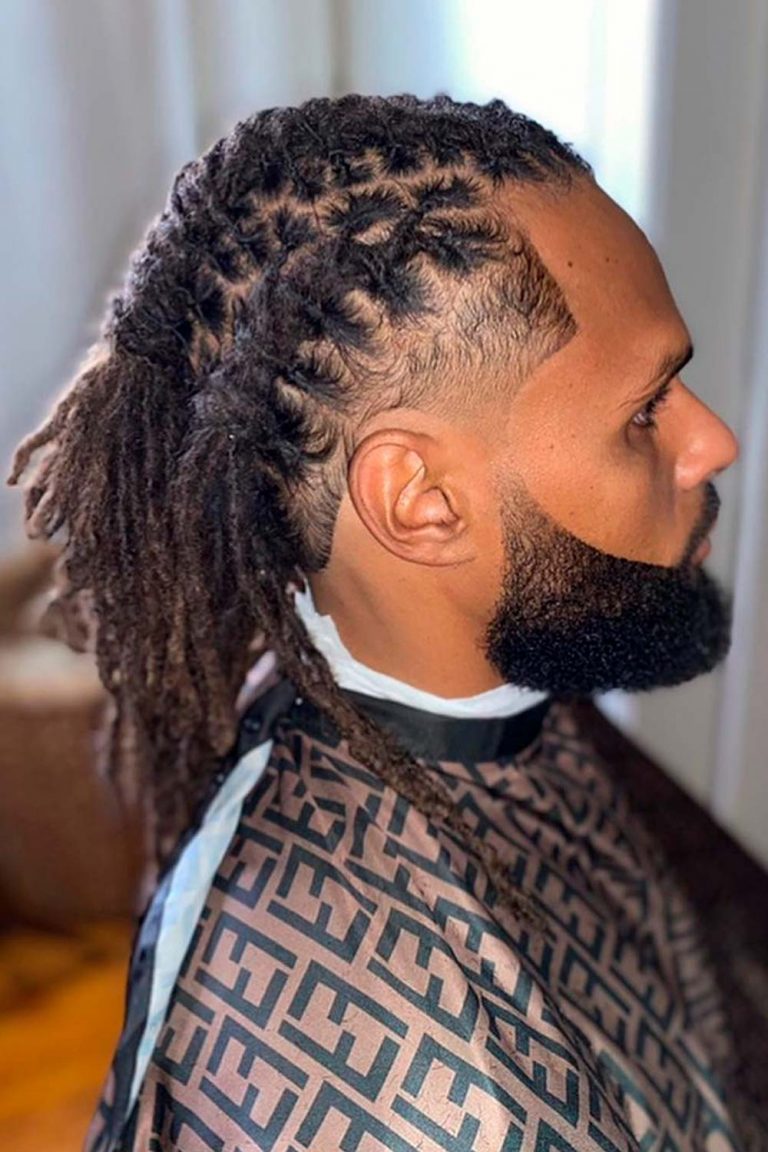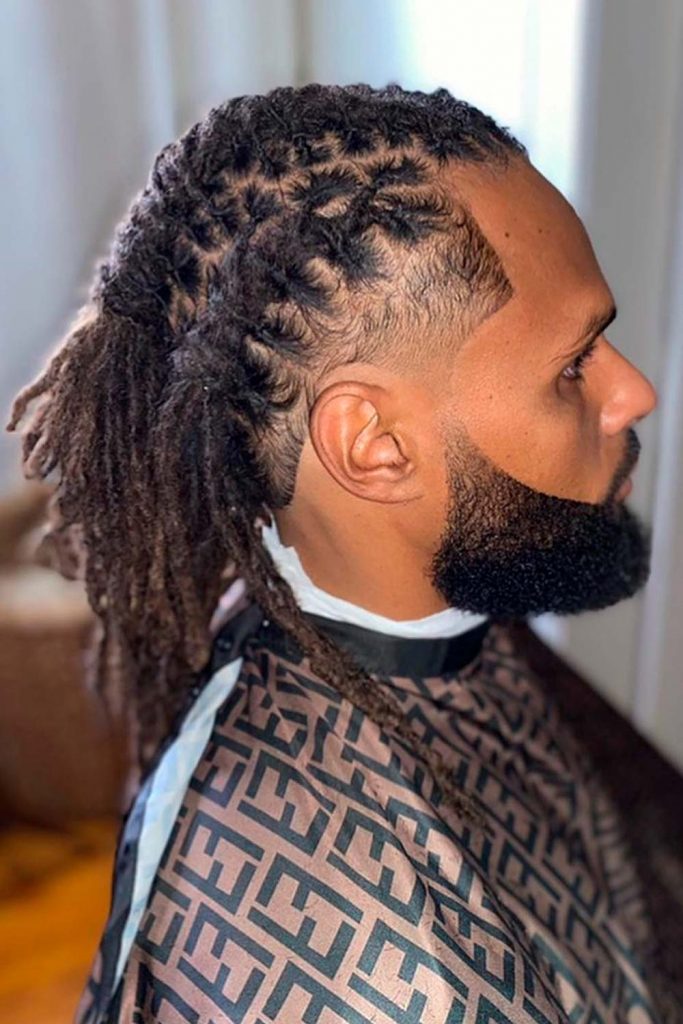 Credit photo: instagram.com/ledanieljames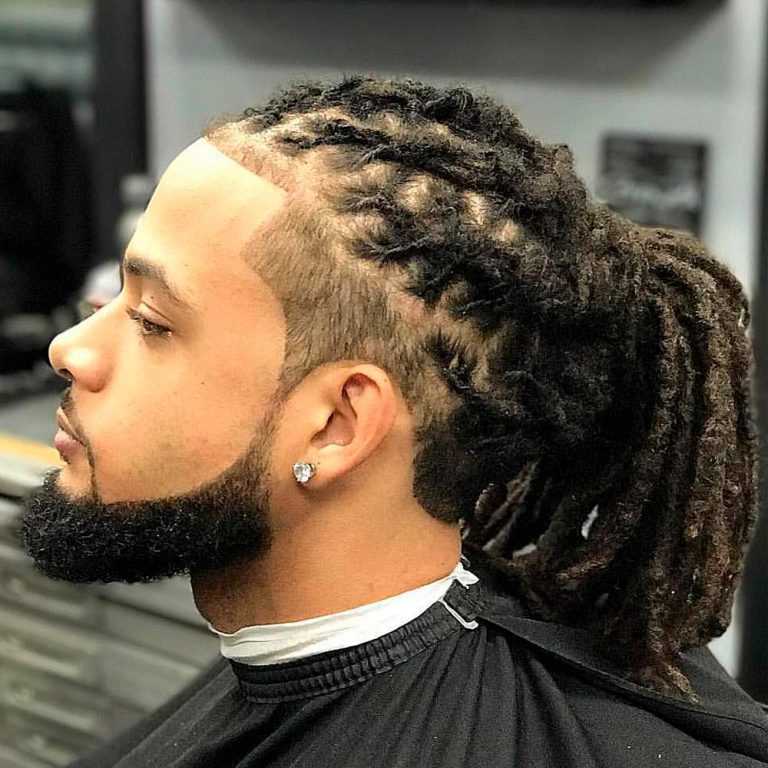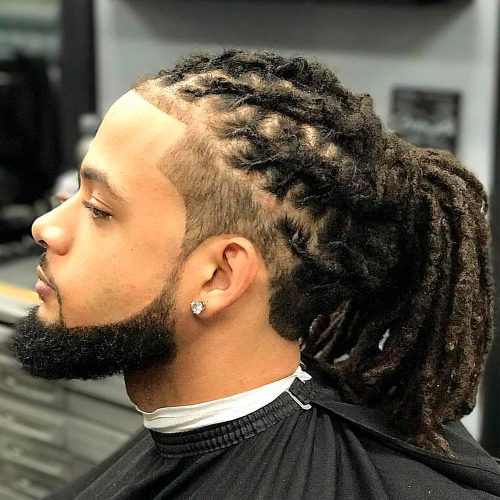 Credit photo: instagram.com/ledanieljames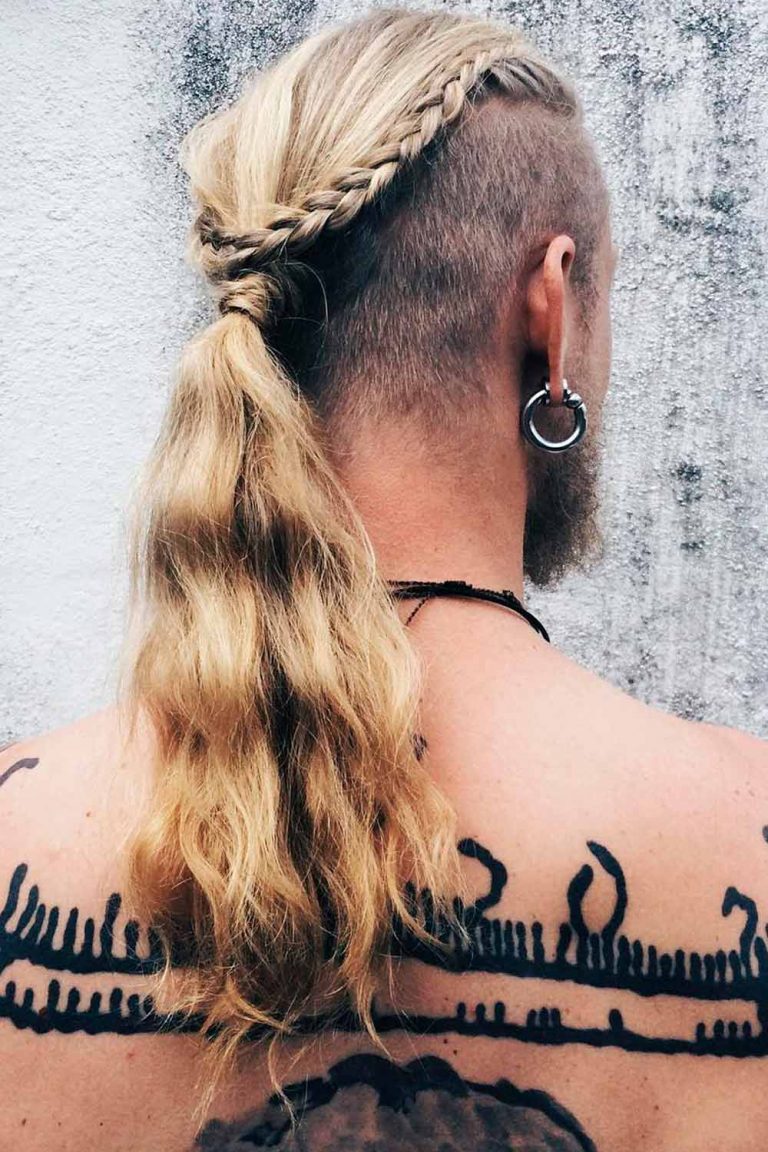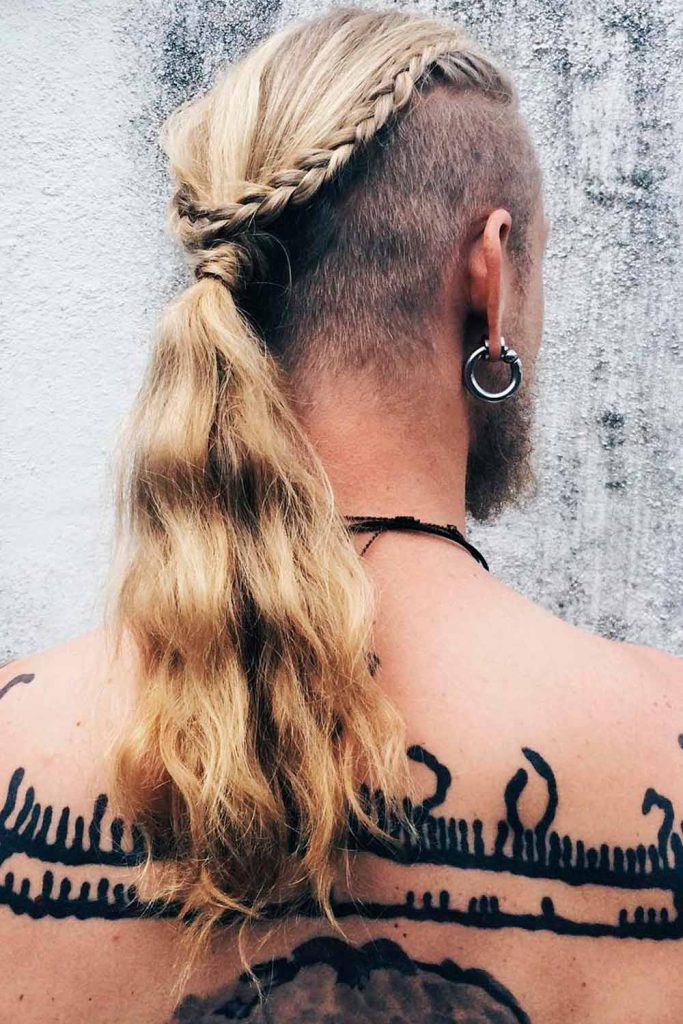 Credit photo: instagram.com/thegypsyviking
Getting braids for men with short hair may be quite a tricky task unless you are familiar with flexible braiding techniques. Box braids can adapt to most hair lengths. Of course, they won't come out right on a crew cut, but a slightly elongated undercut would be enough to start with.
Braids For Men + Top Knot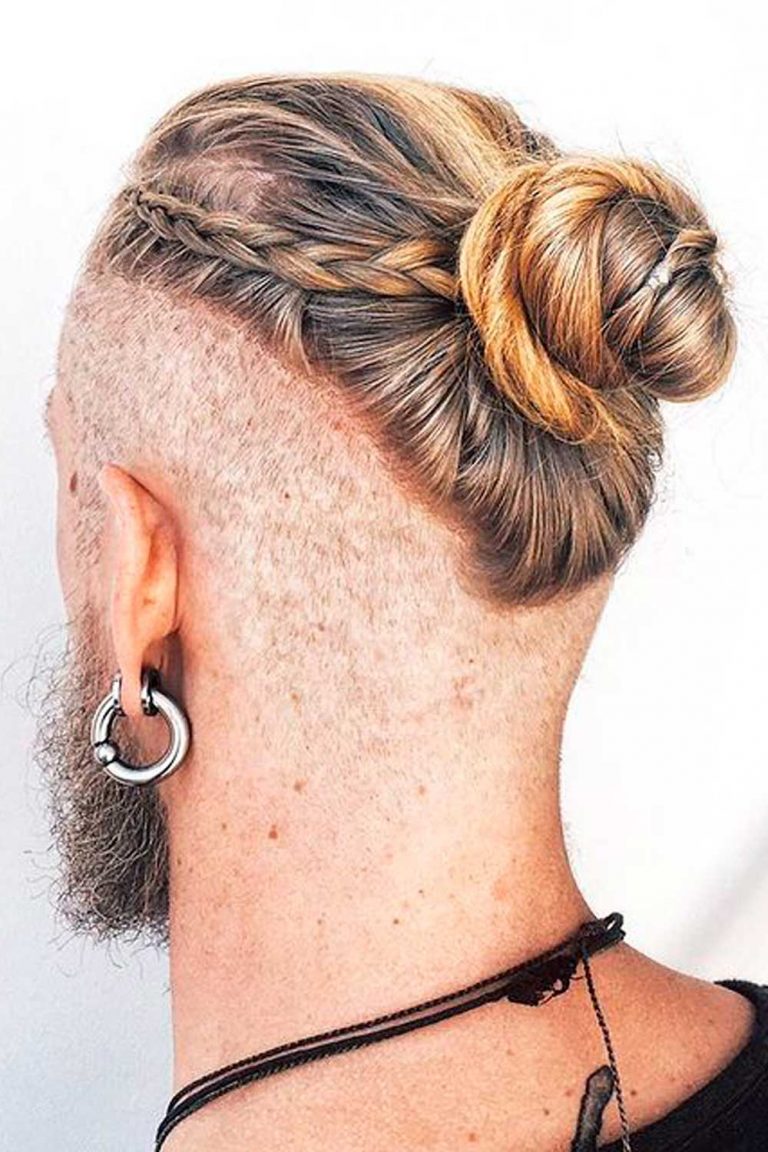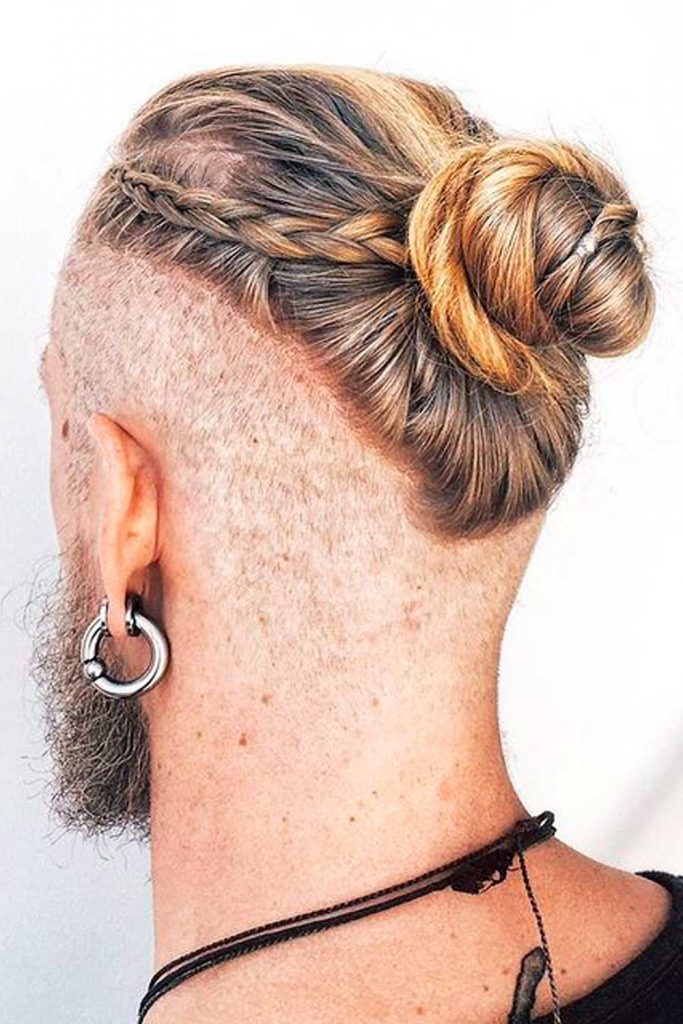 Credit photo: instagram.com/thegypsyviking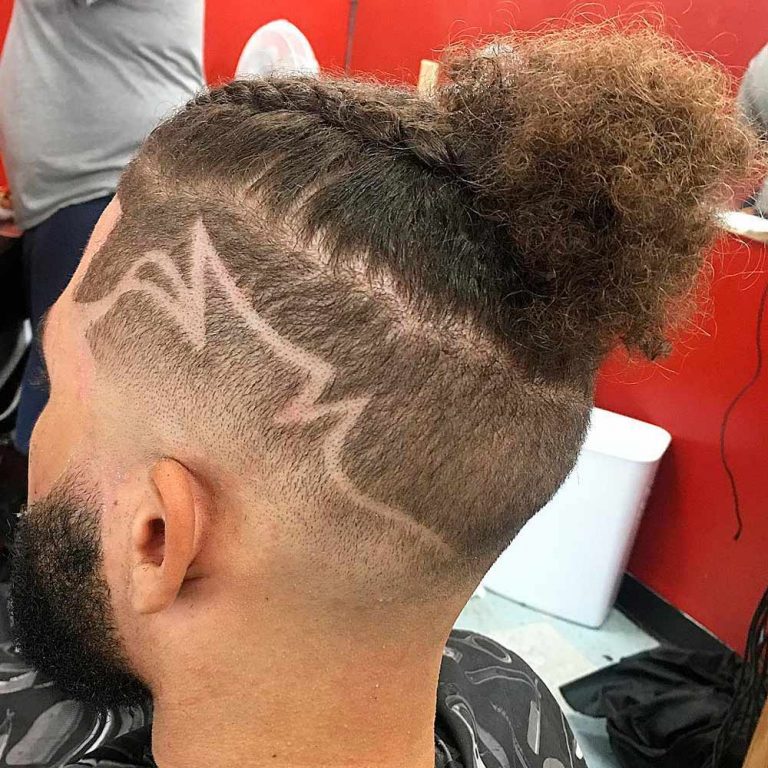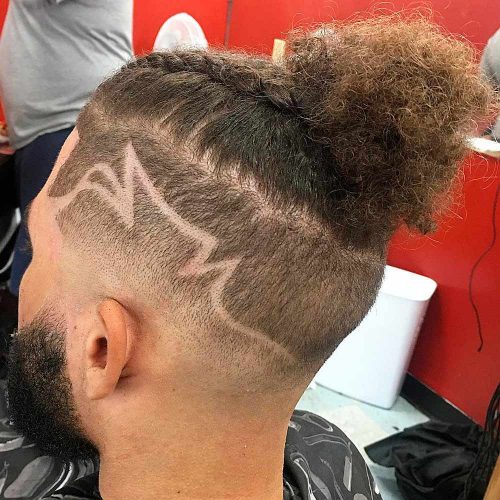 Credit photo: instagram.com/cool_cutz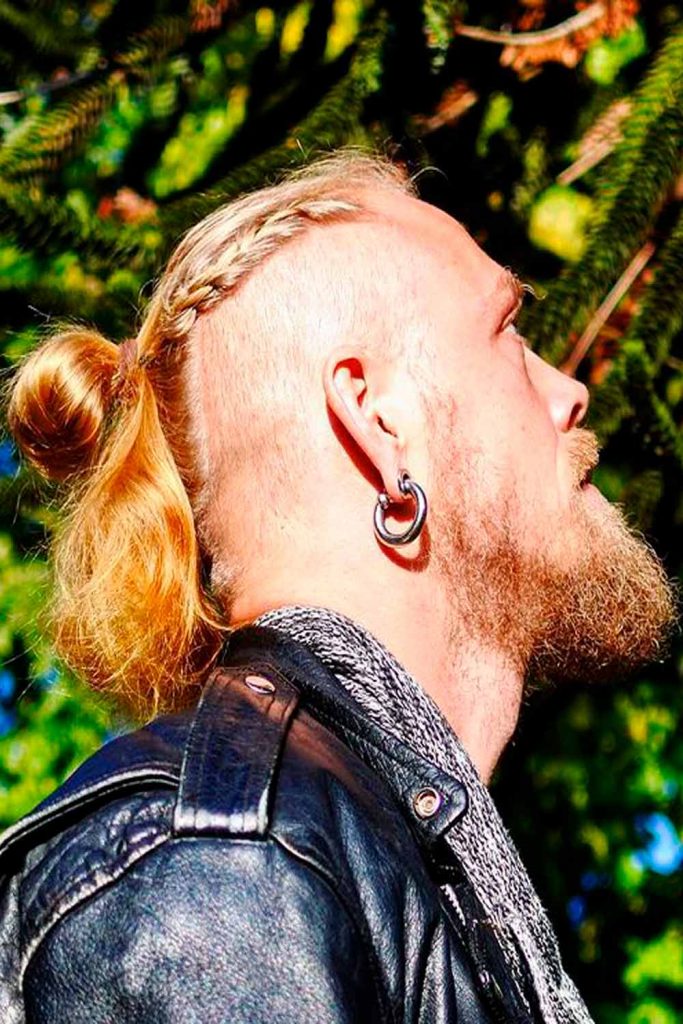 Credit photo: instagram.com/thegypsyviking
Are you into contrasts? Well, you don't need to get your mane colored to achieve an edgy contrastive look. As a matter of fact, you can get it with the help of a trimmer. Keep the sides as clean as possible, braid the top and twist it into a knot, and let your beard do the talking.
Creative Braids Design for Guys with Jewfro
The jewfro texture may seem to be a curse when taking care of it, but how about you to make it your blessing when styling it? Braids have an approach to many textures, and you're going to see the hottest ones for yours.
Zig Zag Braids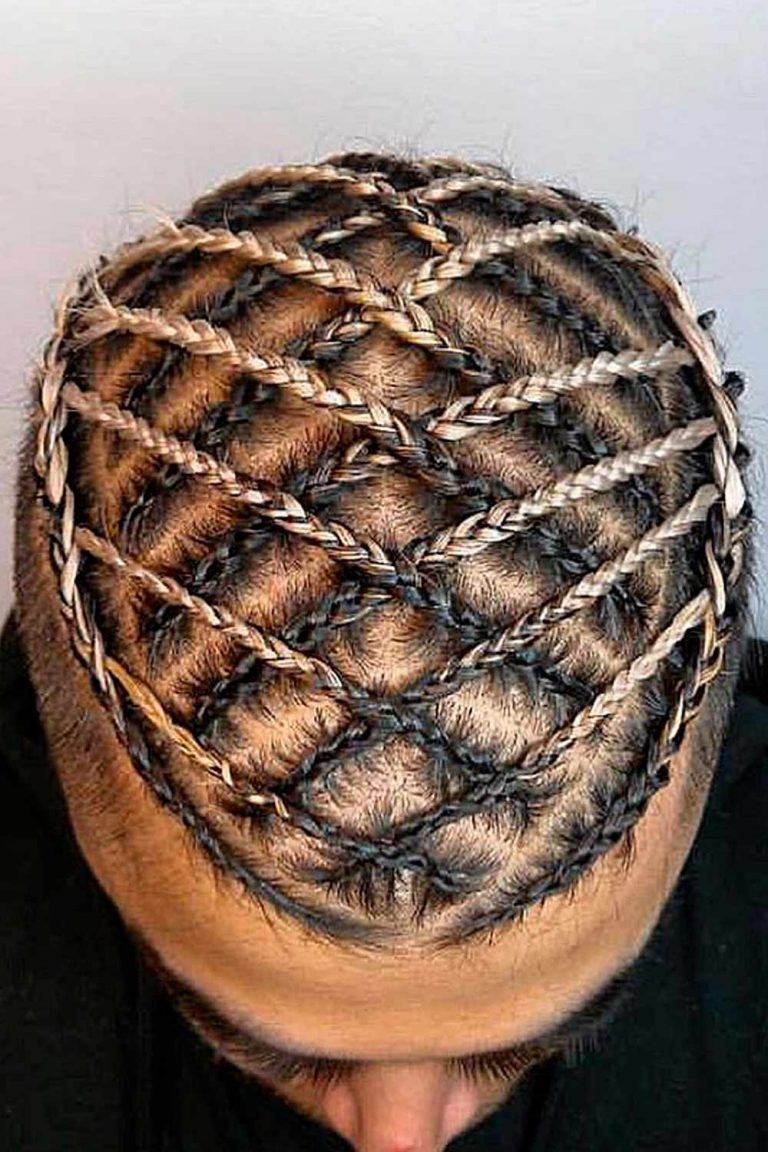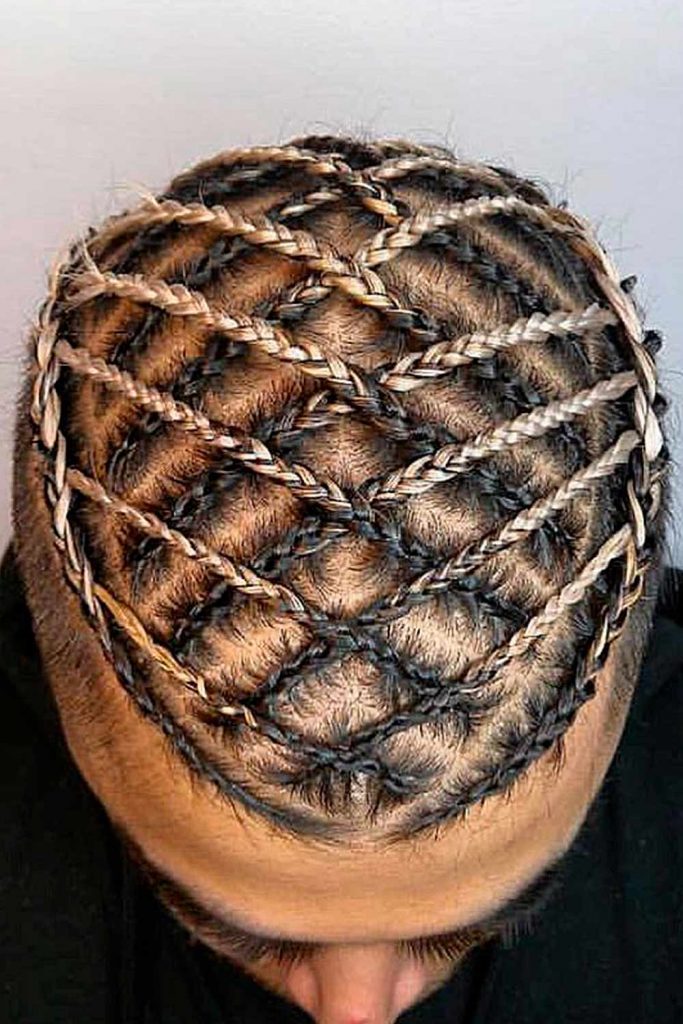 Credit photo: instagram.com/shawn_barbz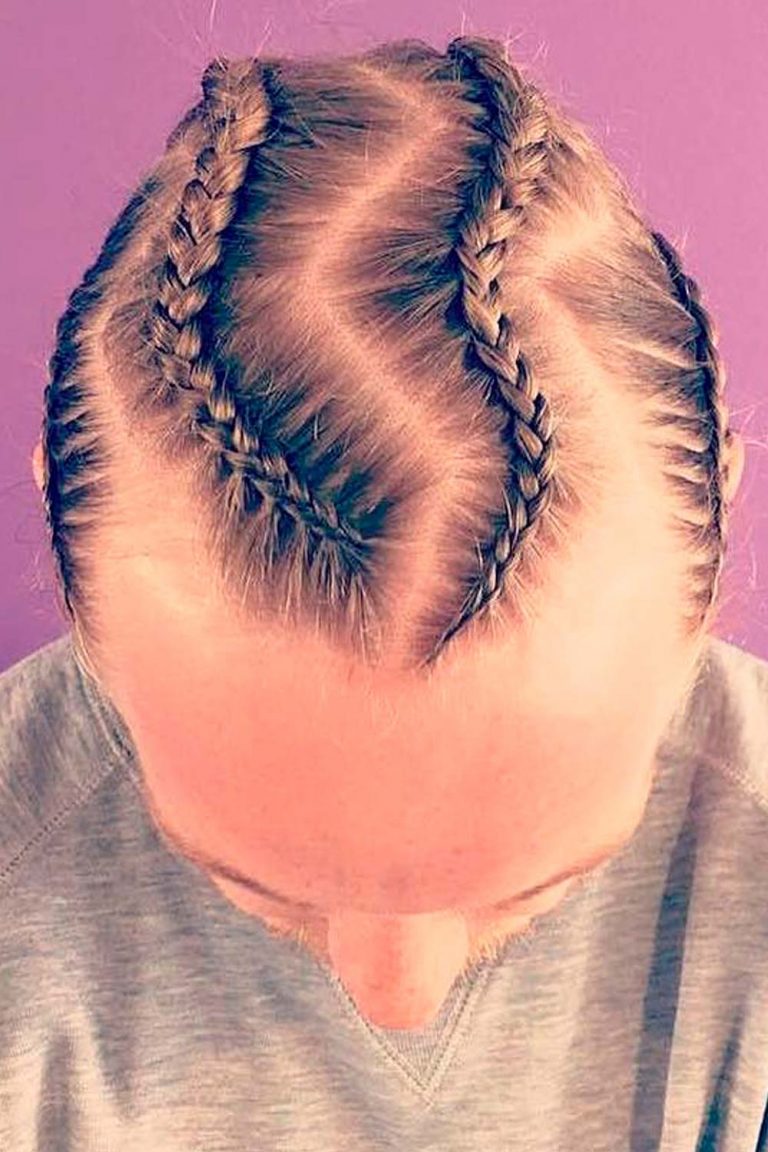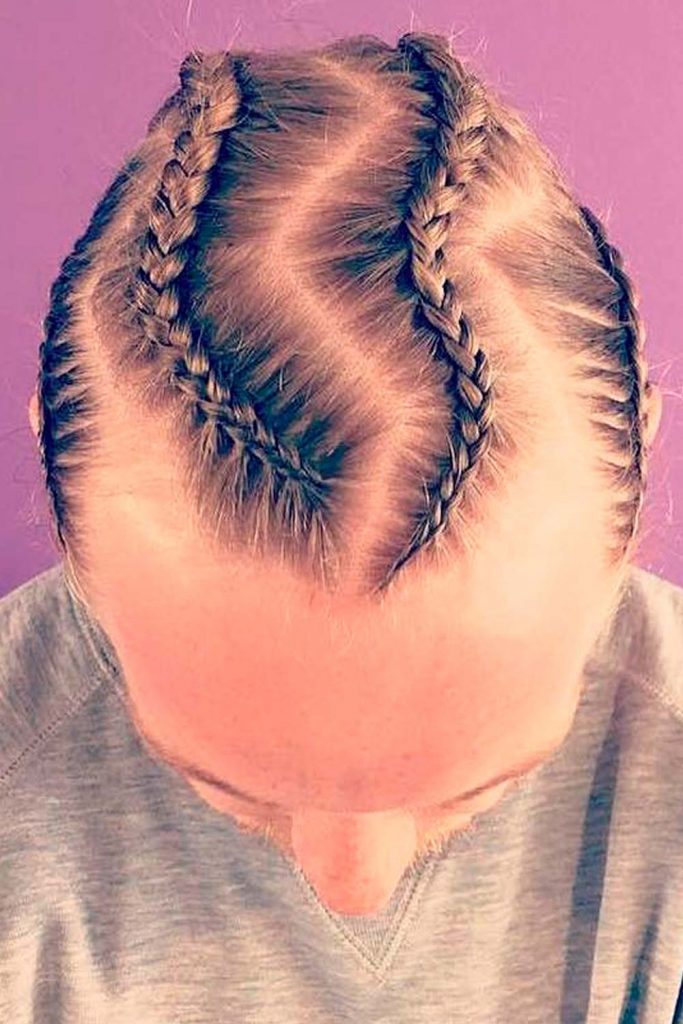 Credit photo: instagram.com/game_of_braids
Men with thicker hair, be they natural-haired guys or lads with Jewfro, have more styling freedom when it comes to creating unique braids design for men. Since their texture sits firmly when it's braided, it allows experimenting with the size, shape, density, and pattern of the braids. This awesome zig-zag design, for example, is only the beginning of what you can rock with your natural mane.
Creative Sunlights Design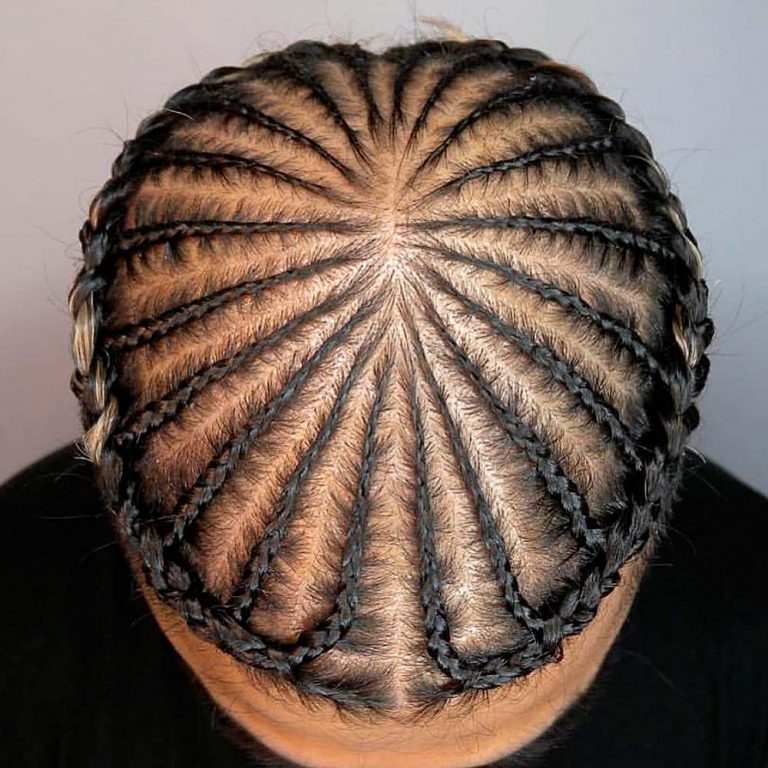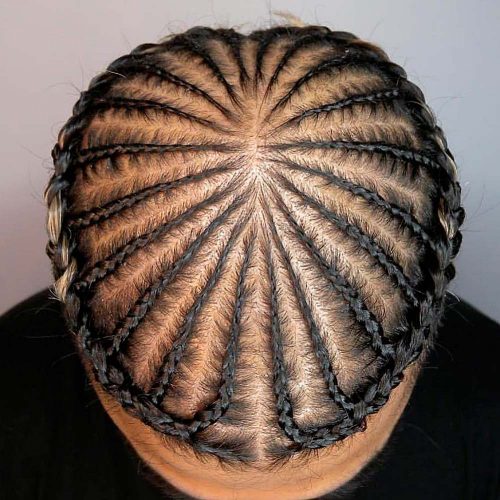 Credit photo: instagram.com/shawn_barbz
You never know what can inspire you for your next braid-appointment, and that's the best thing about it. It can be anything from geometric abstract design to creative symbols of nature - it's all about your imagination.
Designed Long Cornrows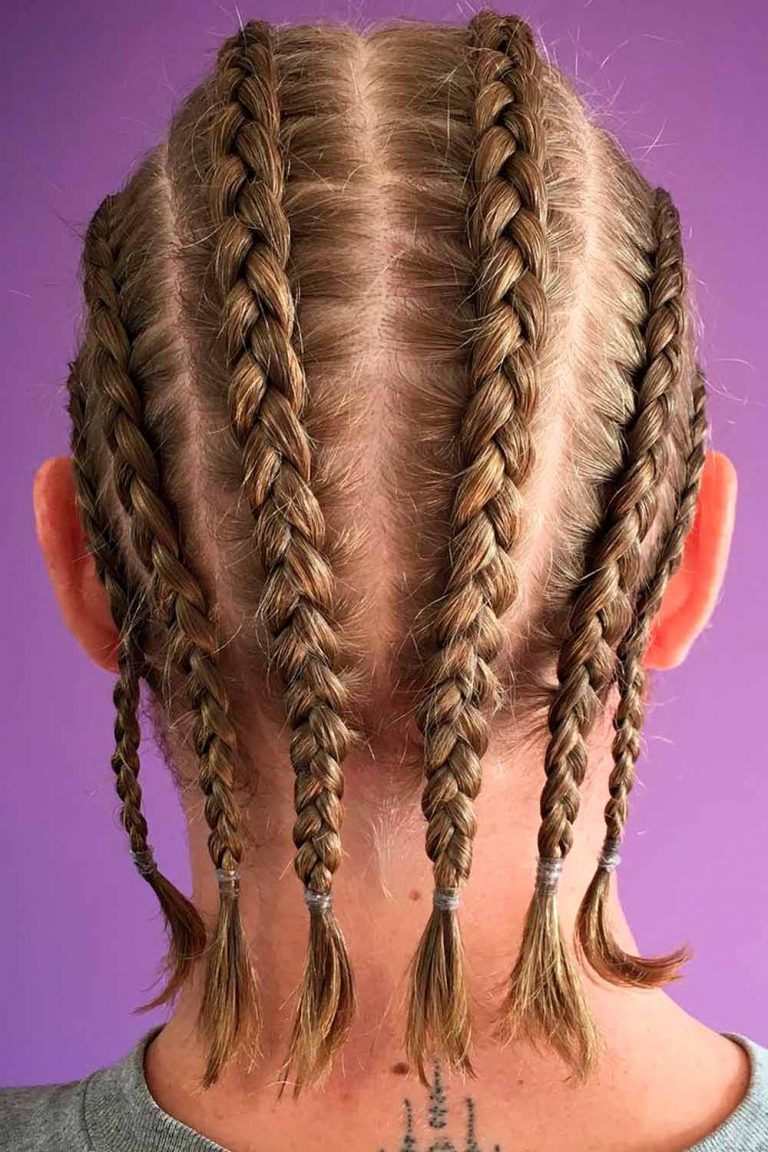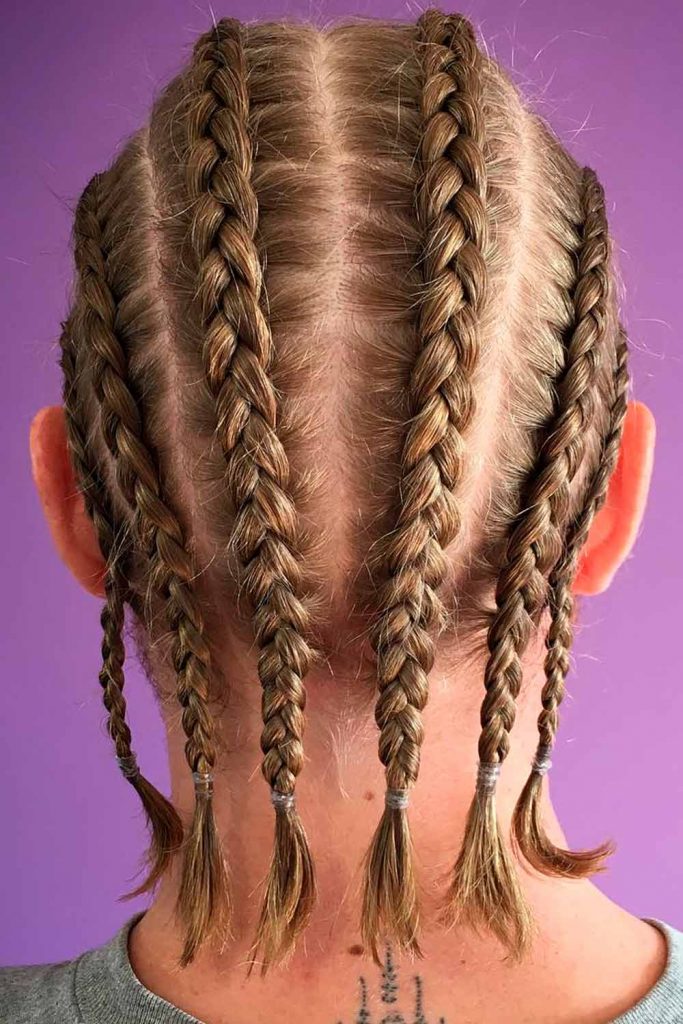 Credit photo: instagram.com/game_of_braids
How do you like this DNA-inspired long design? Seems like we've just spotted Kendrick Lamar's biggest fan. Jokes aside, such an impressive braided structure deserves respect, as it took a lot of time to grow and braid! Needless, it's totally worth the effort.
Stitch Braids Style
Credit photo: instagram.com/lovedbyloni
The classic idea of stitch braids usually involves straight parallels sections, but it doesn't mean you can't give it a little curve! We love the way these creative braids turn into a bun, giving a smart and sophisticated look.
Cornrows + Box Stripe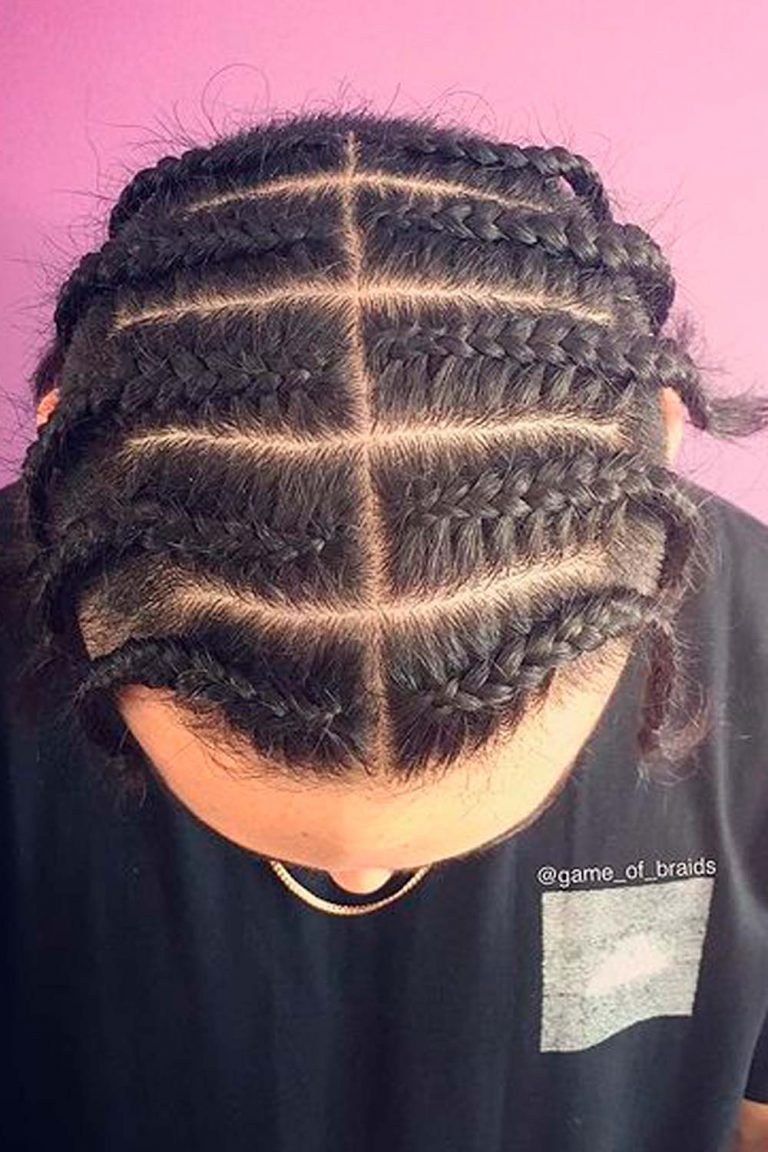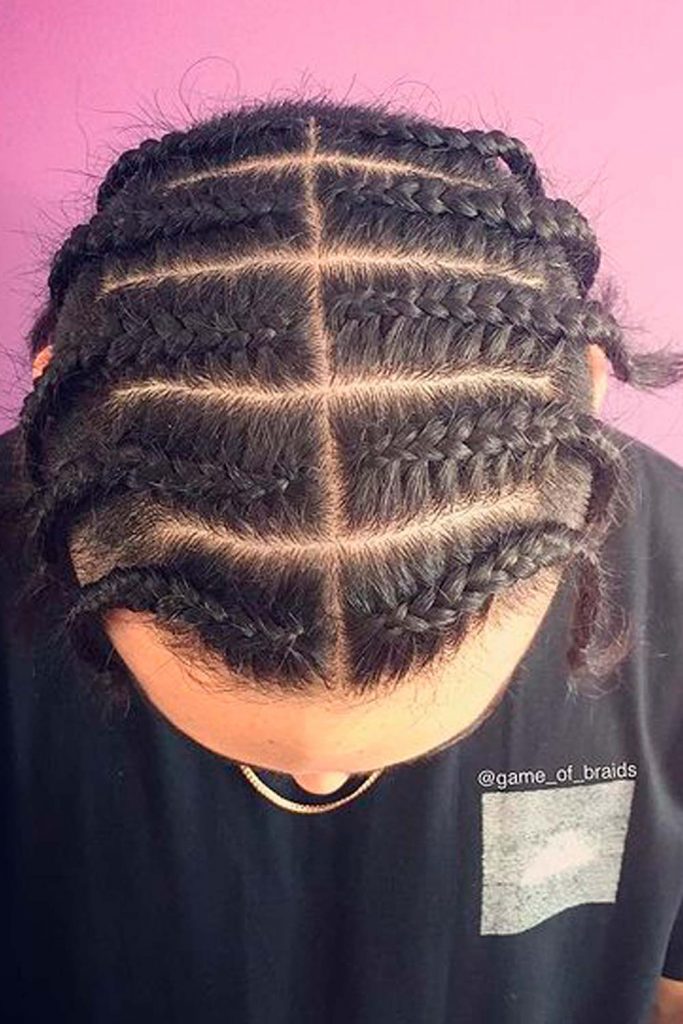 Credit photo: instagram.com/game_of_braids
Modern natural-haired guys like to pair their cornrows with Fulani elements, and here, things are getting way more interesting. Instead of a top cornrow moving along the head, there's a big box-like section that transits to lots of little braids. What a great highlight!
Tied Up Twist Braids For Men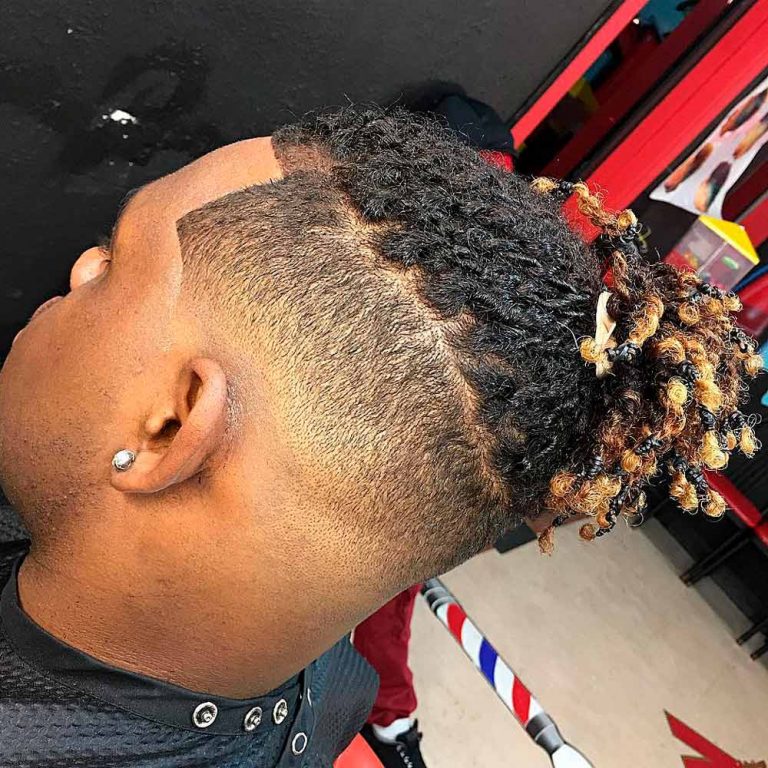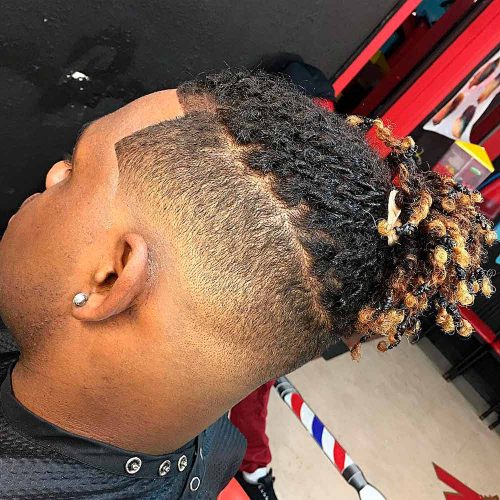 Credit photo: instagram.com/cool_cutz
Braids and two-strand twist men to sport these days go hand in hand with the ever-popular dreads. There are no limits to pairing them, so they give life to countless looks that literally stand out in the crowd of men's hairstyles. From hip colorful twisted dreads styled into a high bun and sharp twists covered with braided elements to braided Mohawk for men, there's no way you will ever look basic with such styles.
How To Take Care Of Men's Braids?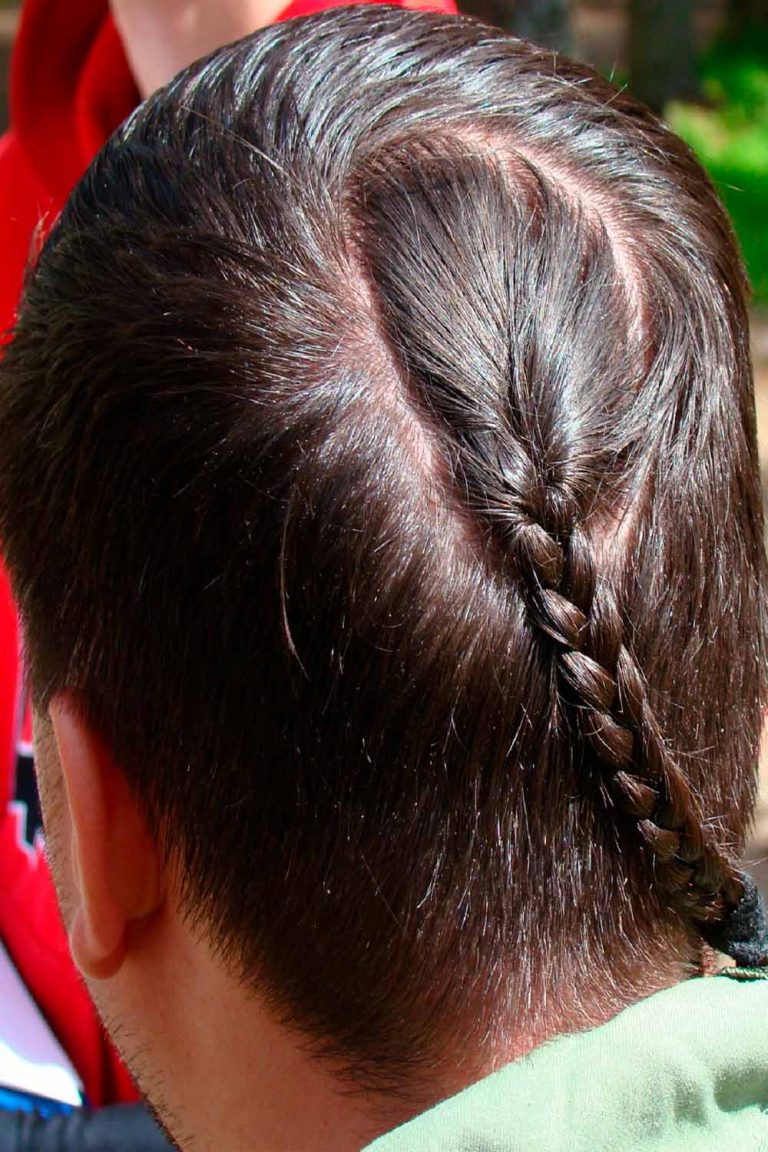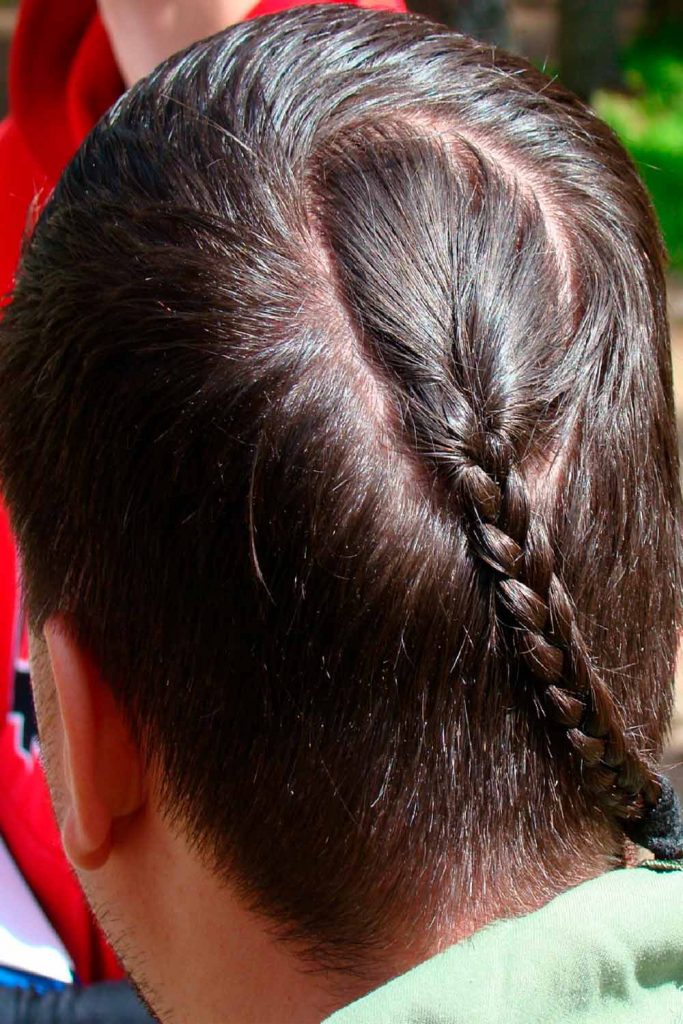 Credit photo: Shutterstock
The first reason why men with natural hair go for braids is that they're a protective style in the first place. However, getting this style is one thing, and maintaining it so that your hair is healthy and hip is another. And here's what you should do to keep your braids at their best.
Invest in a satin pillowcase to protect your hair from frizz and dryness at night.
Use leave-in conditioners at least twice a week to keep your scalp moist and hair hydrated.
Spritz your hair with water every morning and hydrate it with oil-based products.
Get rid of build-up and grease regularly by using dry shampoo or washing your hair with a warm dampened towel.
Don't wear your braids for over 8 weeks to protect your natural hair growth.
Braids have always had a special meaning in the hairstyling history. And today their significance has reached its highest. Now, men can express their personalities and look different by wearing braids, experimenting with their looks and styles. The ideas you've seen today are becoming even more popular each day, so starting by copying one of them would be a win.
Dragon Braid For True Men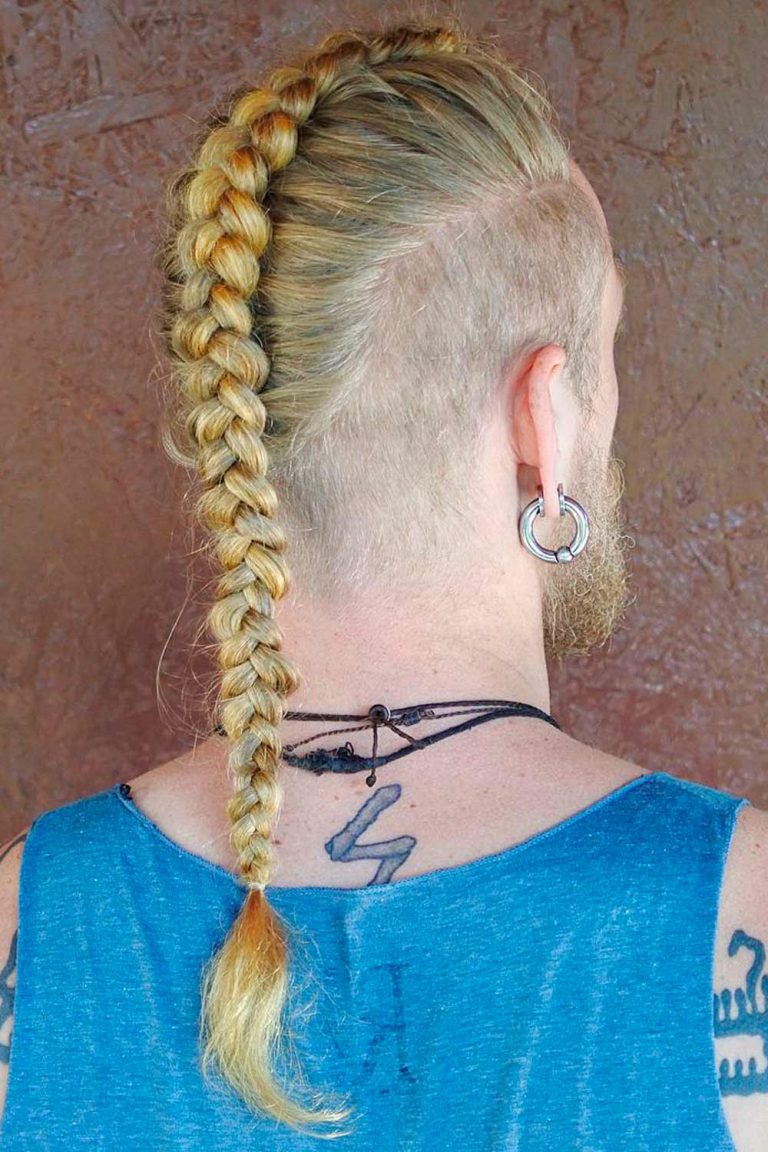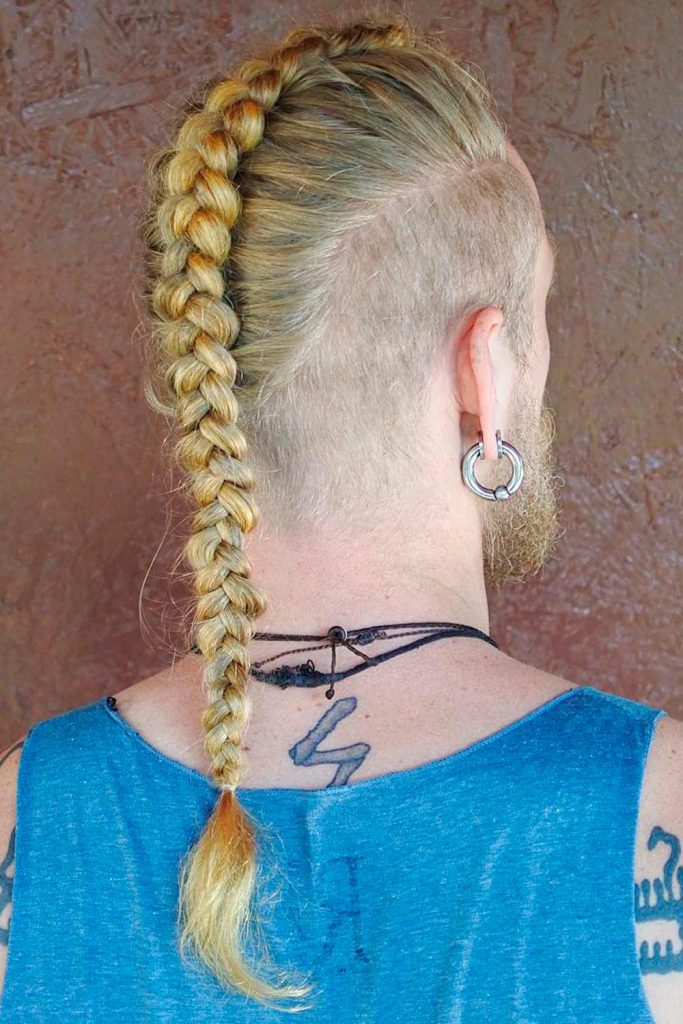 Credit photo: instagram.com/thegypsyviking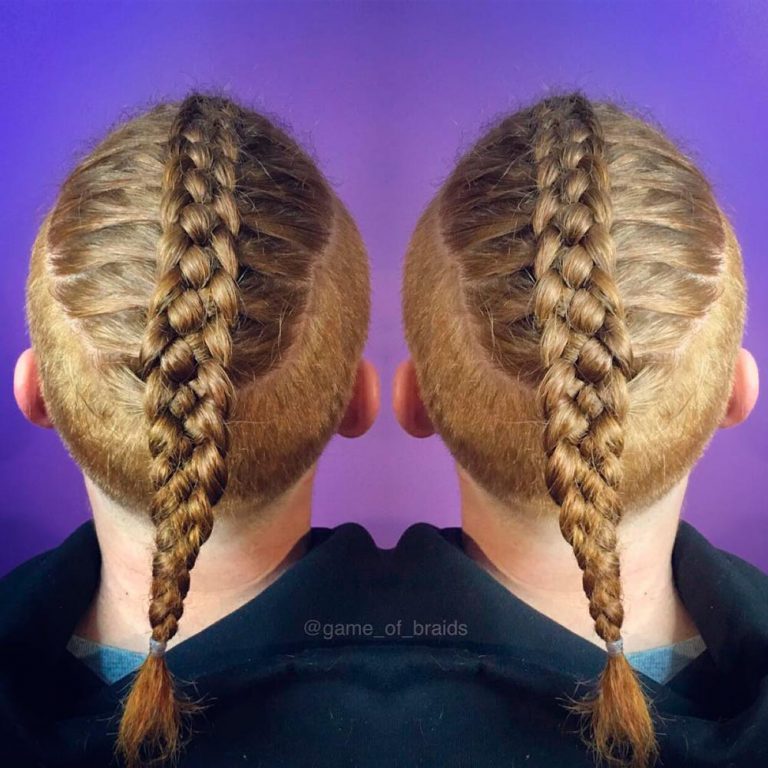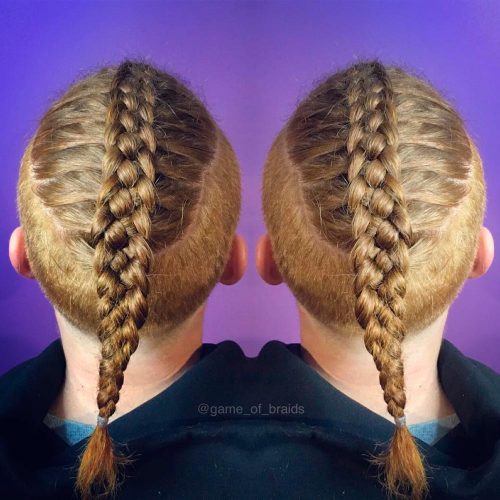 Credit photo: instagram.com/game_of_braids
Afro Dreads + Undercut
Afro Dreads With Star Patterned Undercut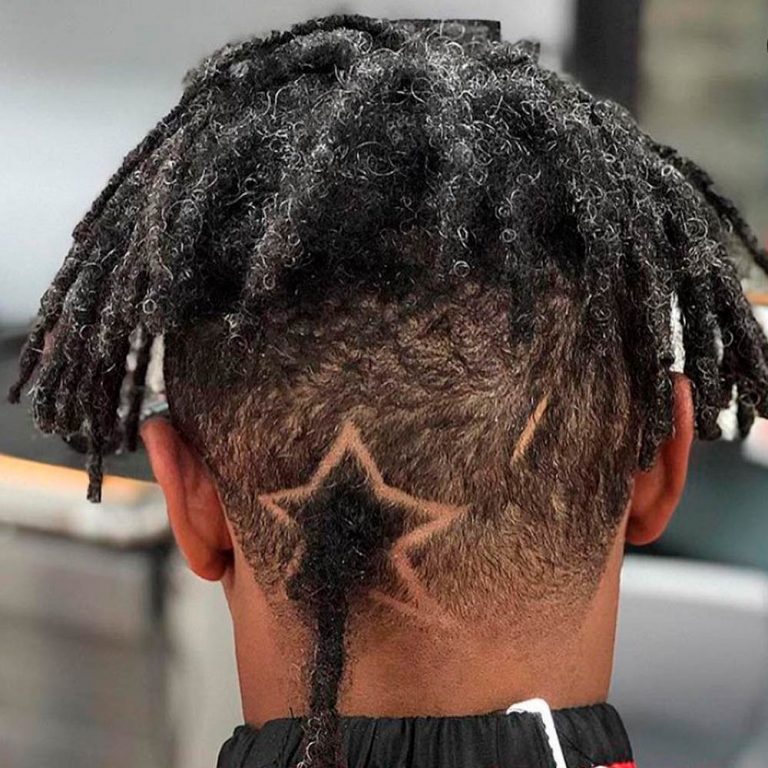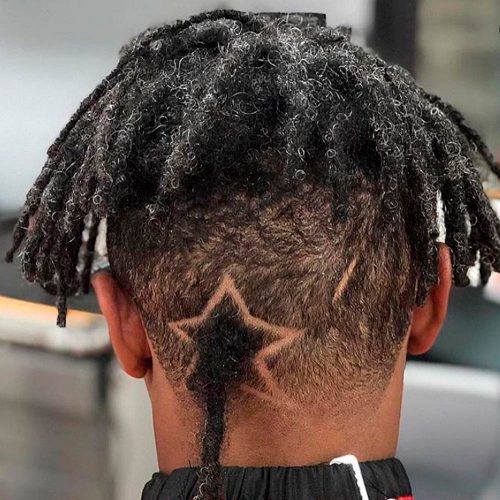 Credit photo: instagram.com/ledanieljames
Amazing Up Styled Dreads With Fade Undercut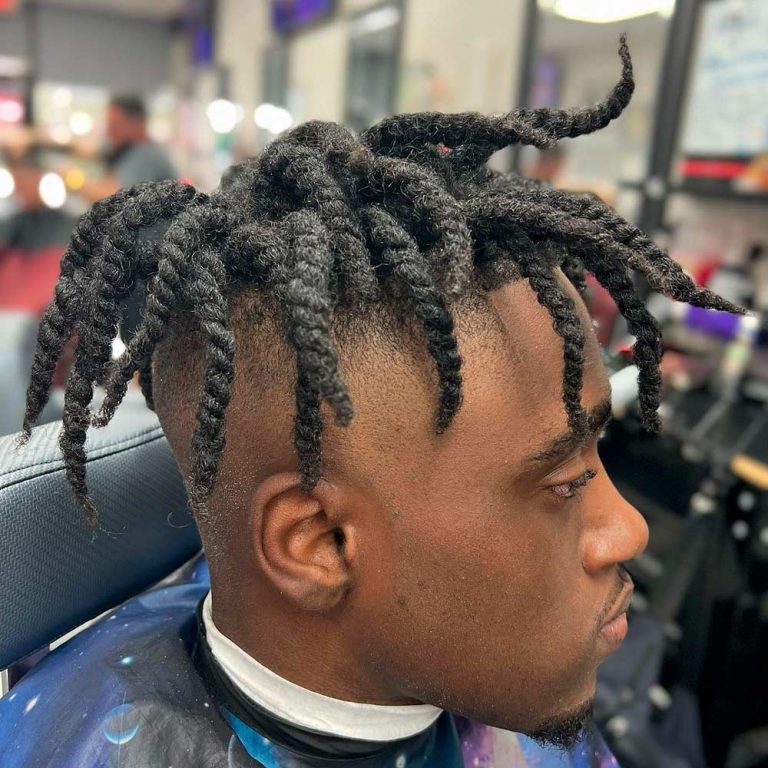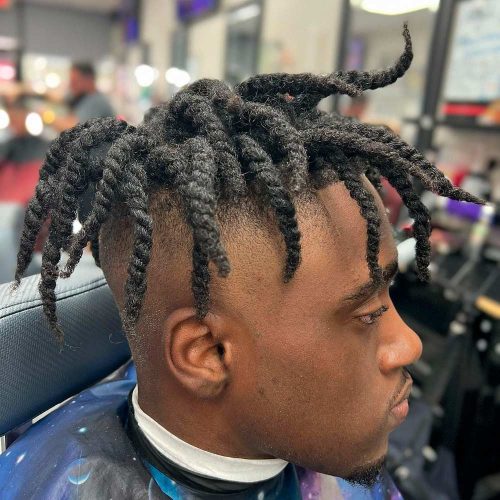 Credit photo: instagram.com/ledanieljames
Afro Dreads With Shaved Halloween Spiderweb Pattern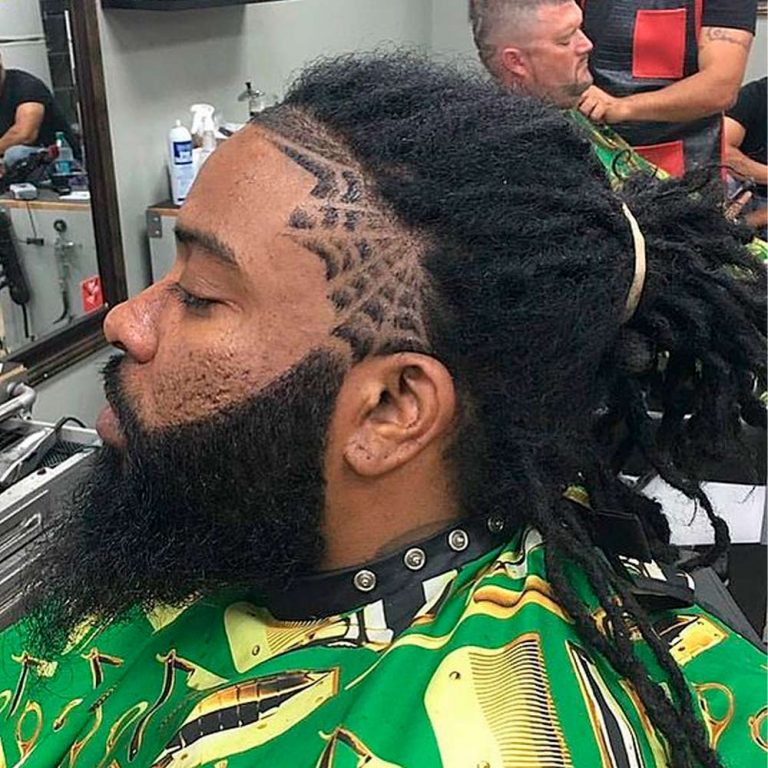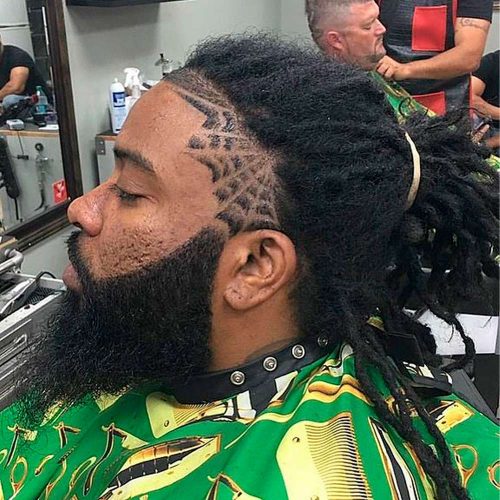 Credit photo: instagram.com/ledanieljames
Braided Beard Trend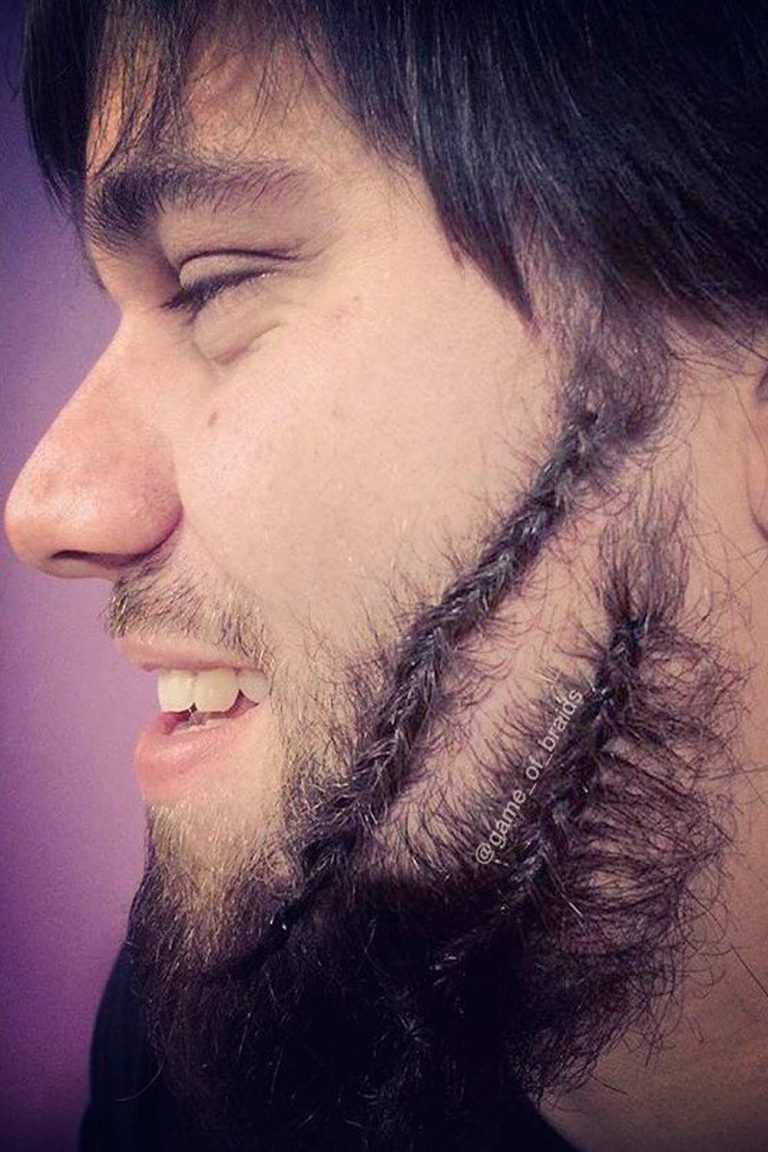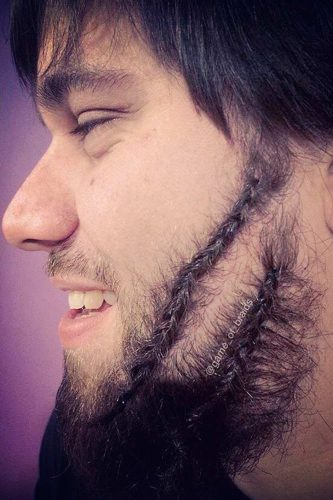 Credit photo: instagram.com/game_of_braids
FAQ: Braids For Men
How long do mens braids last?
If properly cared for and maintained, mens braids can last and appear good for two weeks up to a month. Because your hair grows and the braids sit close to head, the regrown hair might look messy and untidy, so you'll have to refresh this hairstyle pretty regularly.
How do guys keep their braids moisturized?
Apricot oil is a popular choice for sealing in moisture. It can be used to moisturize entire braid strands or the ends only. Fixed oils are excellent for the scalp care and maintaining moisture. Just opt for a leave-in conditioner with natural ingredients if you require a non-greasy moisturizer.
REFERENCES: