Braids For Men Are Your Musts, Whether You're A Viking or A Hiphoper
Although braids for men have always had a great cultural and social weight, the modern versions have changed their vectors to fashionability. They expressed the virility of Vikings, noblesse of Chinese imperial families, and rebelliousness of African American cultures.
ADVERTISEMENT ‧ CONTINUE READING BELOW
Today, they help modern gentlemen reveal their inner selves through the variety of great braided options that add tons of masculinity and character to the looks. If you feel that everyone's favorite man buns and top knots are starting to lose their hipness, you've come to the right place. Here, we've selected the most creative and edgy hairstyles that can not only take familiar styles to the next level but also help you to individualize your look. See them all!
Zig Zag Braids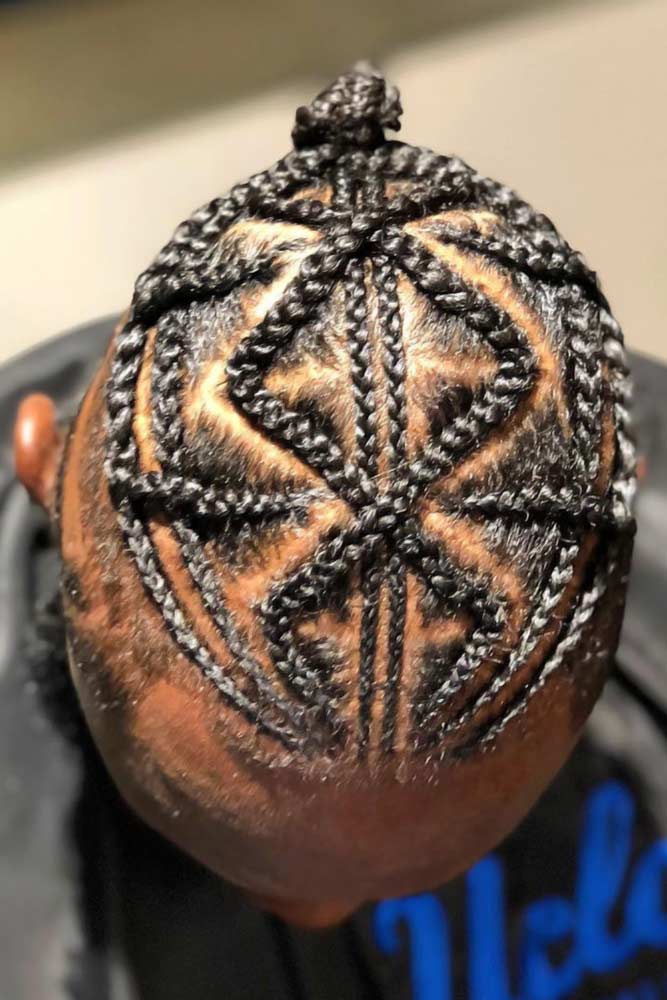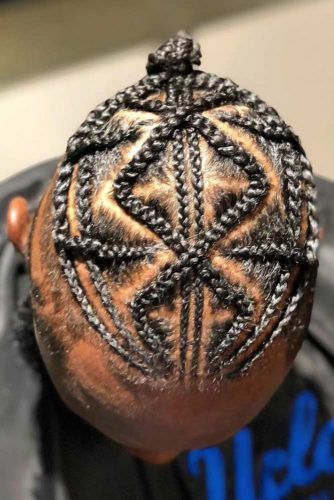 Men with thicker hair, be they natural-haired guys or lads with Jewfro, have more styling freedom when it comes to creating unique braids design for men. Since their texture sits firmly when it's braided, it allows experimenting with the size, shape, density, and pattern of the braids. This awesome zig-zag design, for example, is only the beginning of what you can rock with your natural mane.
Source: shes_hair_savvy via Instagram
ADVERTISEMENT ‧ CONTINUE READING BELOW
Classic Cornrows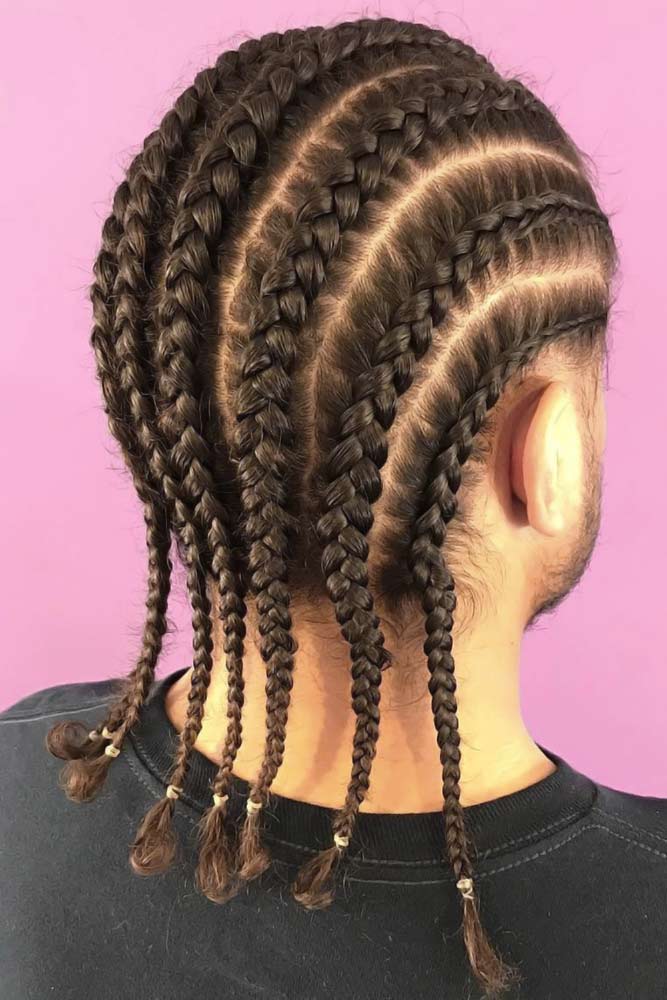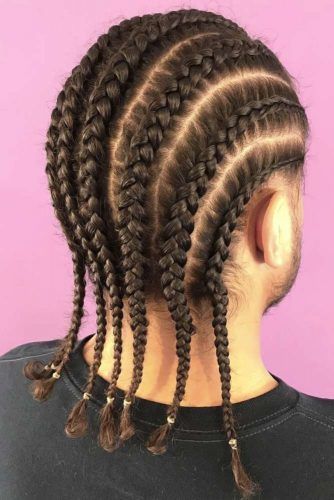 Cornrows are known as tight vertical braids for black men. Yep, this hairstyle plays a prominent role in African culture. Yet, today every guy whose hair is thick and long enough can go for the style. What makes the idea so amazing is that it instantly gives a man a very distinctive and hip look. Needless to say, it's a protective hairstyle: it's super comfortable.
Source: game_of_braids via Instagram
ADVERTISEMENT ‧ CONTINUE READING BELOW
Viking Braid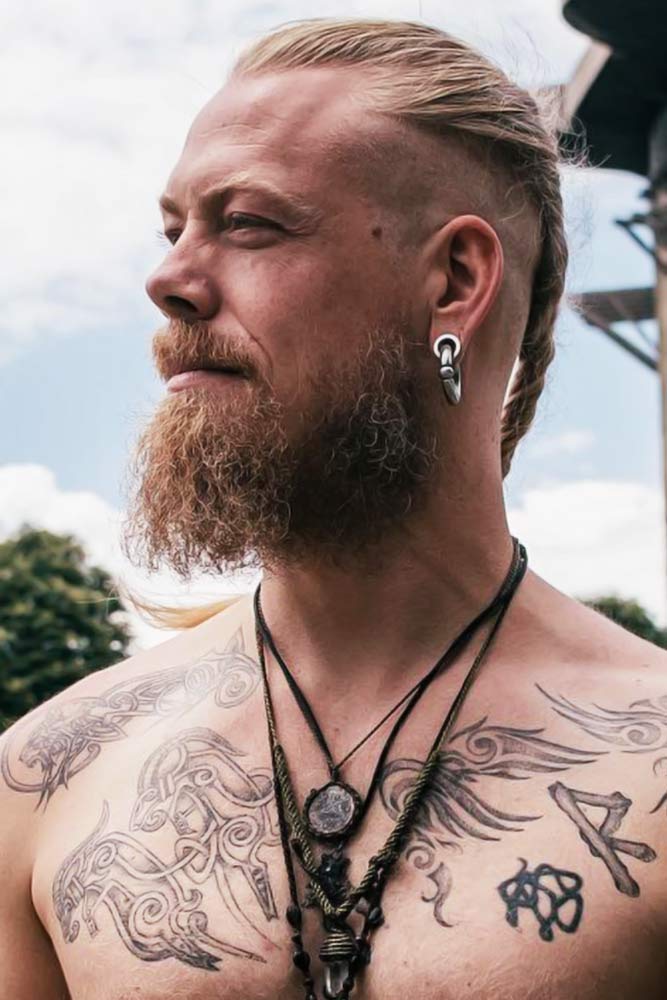 Viking braids are the most prominent options in the list of braids for men with long hair. Coupled with shaved sides and a mighty beard, a simple long plait can turn a modern guy into a valiant warrior. Still, the style can nicely adapt to formal business looks, especially if paired with the right outfit.
Source: thegypsyviking via Instagram
ADVERTISEMENT ‧ CONTINUE READING BELOW
Triple Viking Braids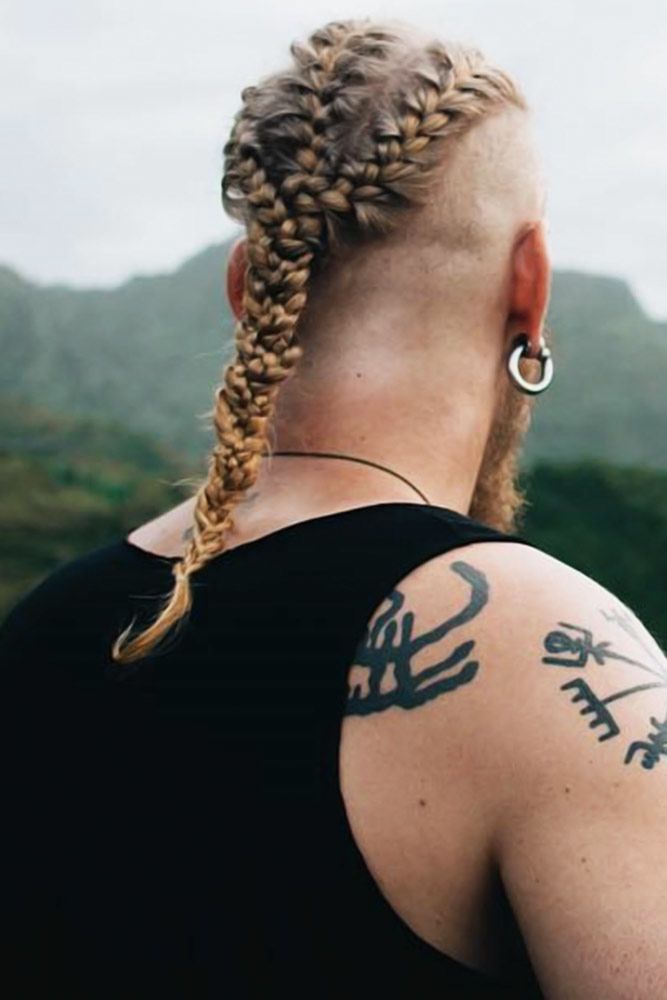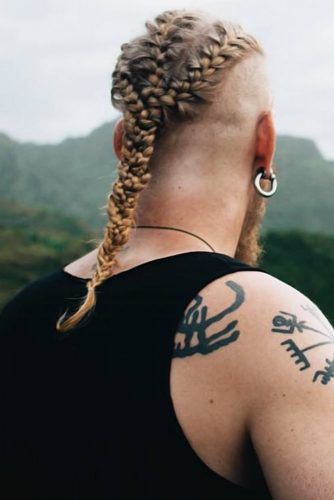 With the eternal variety of types of braids for men, you can always play around with different techniques and thus get an out-and-outer look. Apart from a classic one-plait Viking style, you can go for a more complicated and textured variation when you want to diversify your Viking hair routine.
Source: thegypsyviking via Instagram
ADVERTISEMENT ‧ CONTINUE READING BELOW
Side French Braid Into Knot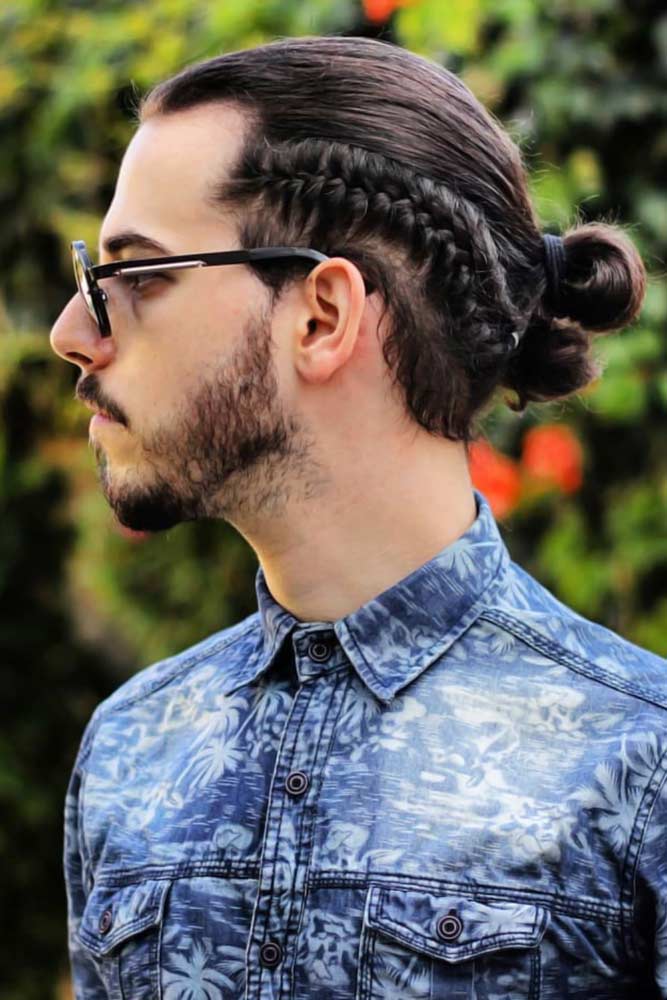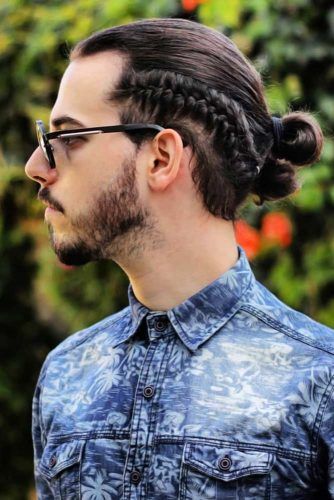 The top knot re-thought. Instead of letting the good old knot take a backseat, you can brighten it up with a side French braid. The technique won't take long to master and will provide a plethora of cool ways to customize simple hairdos.
Source: i.li.yan via Instagram
Long Double Braids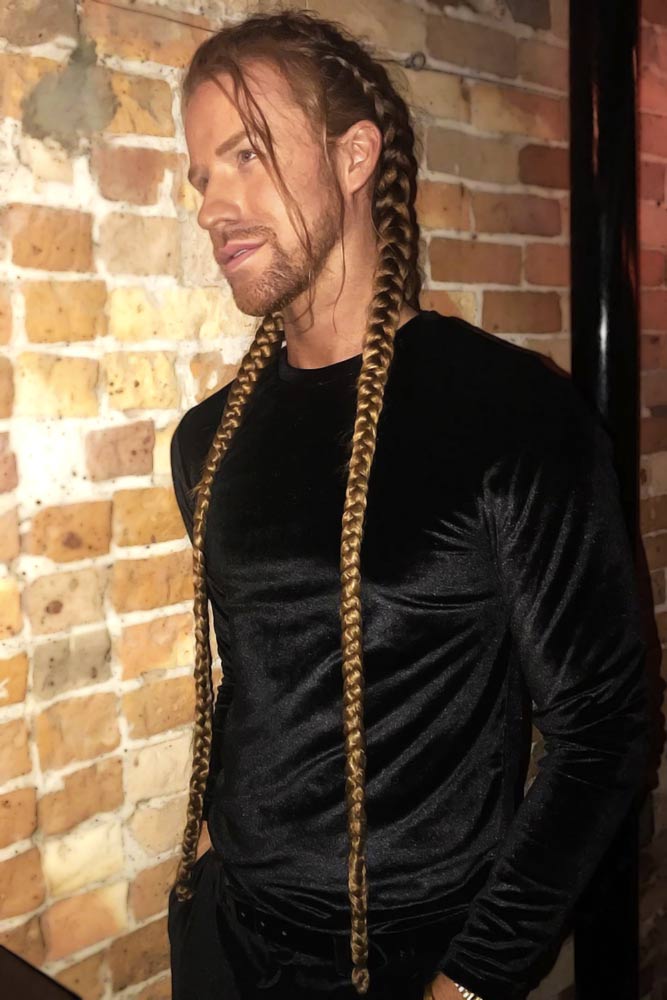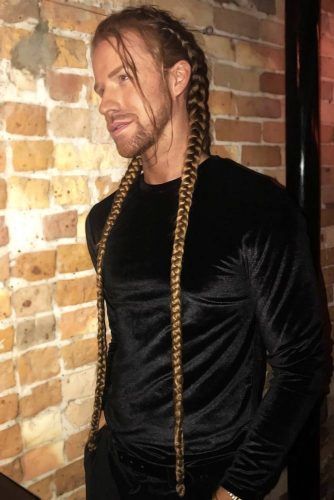 Old but new. Even though there's nothing complicated about styling 2 braids for men, the visual impact brought by the result looks like a brand new hairstyle. The best thing is, you will keep your mane safe and comfy while rocking the so much familiar yet so uncommon style at once. Feel the native vibes, huh?
Source: matthewmane via Instagram
Side Braid Half-Up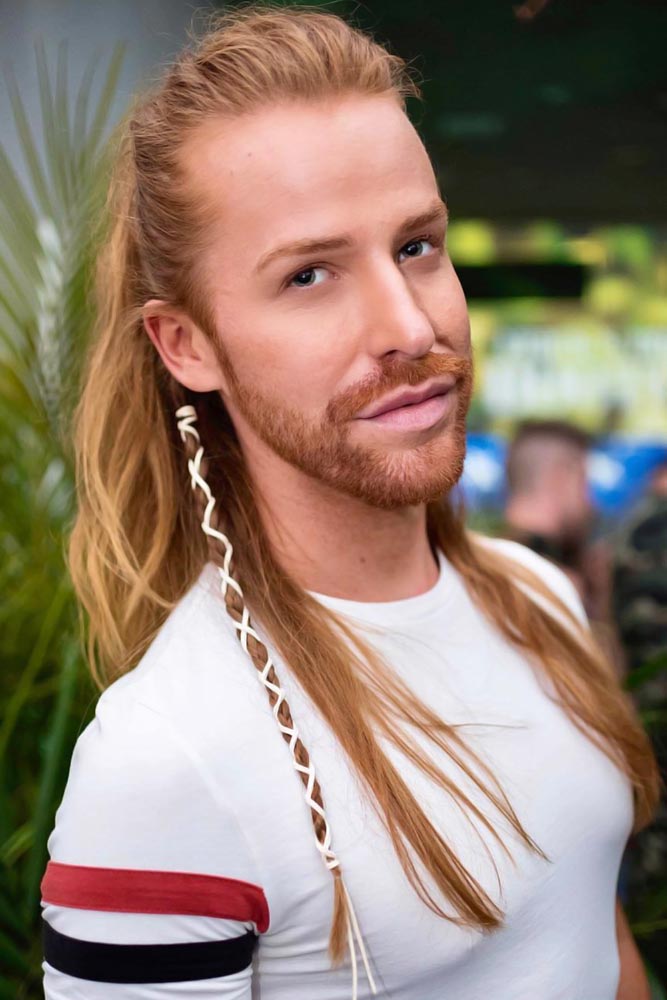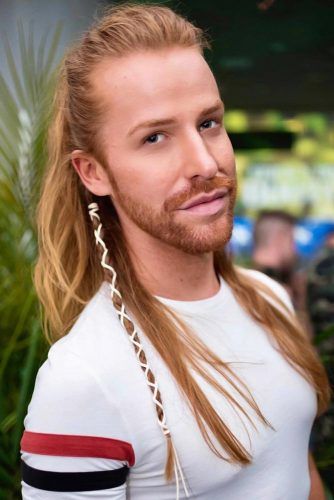 Another easy but staggering hairstyle inspired by Native American culture. A classic half-up, where the lower layer of hair falls on the chest partly and finishes with a thin side braid is enough to add some difference to common men's hairstyles.
Source: matthewmane via Instagram
ADVERTISEMENT ‧ CONTINUE READING BELOW
Box Braids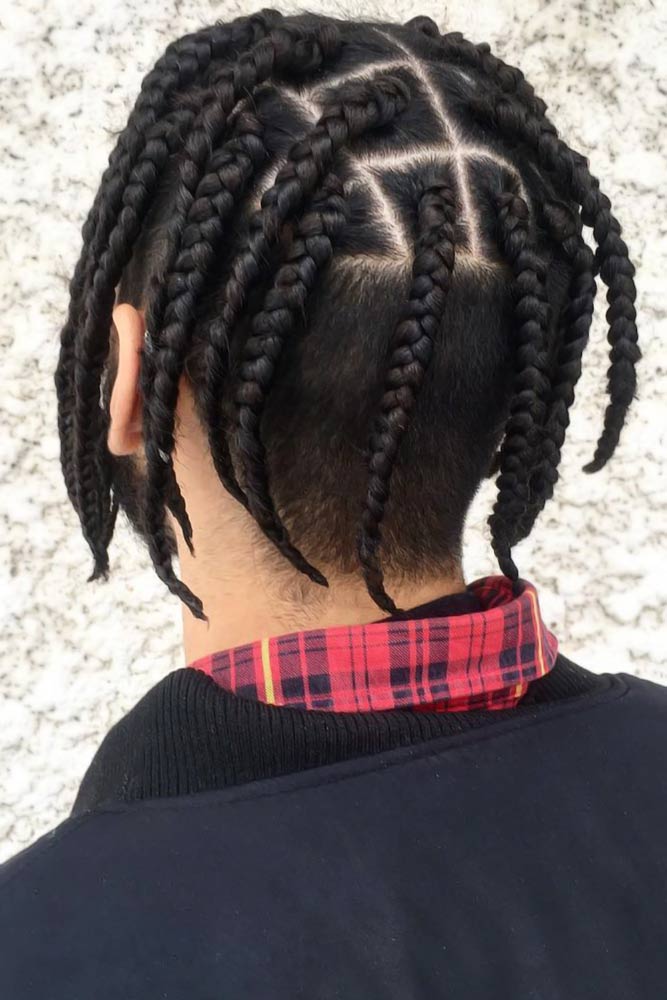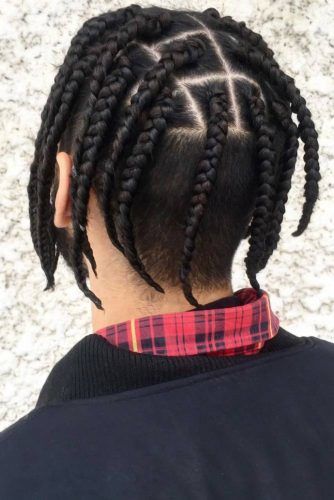 Here come the overwhelming box braids men with natural hair will never stop rocking. Their distinct feature is the boxy structure created by square hair sections that turn to braid. As for the visual side, every idea has an unrepeatable appearance.
Source: braid_slayy via Instagram
Braids With Hair Rings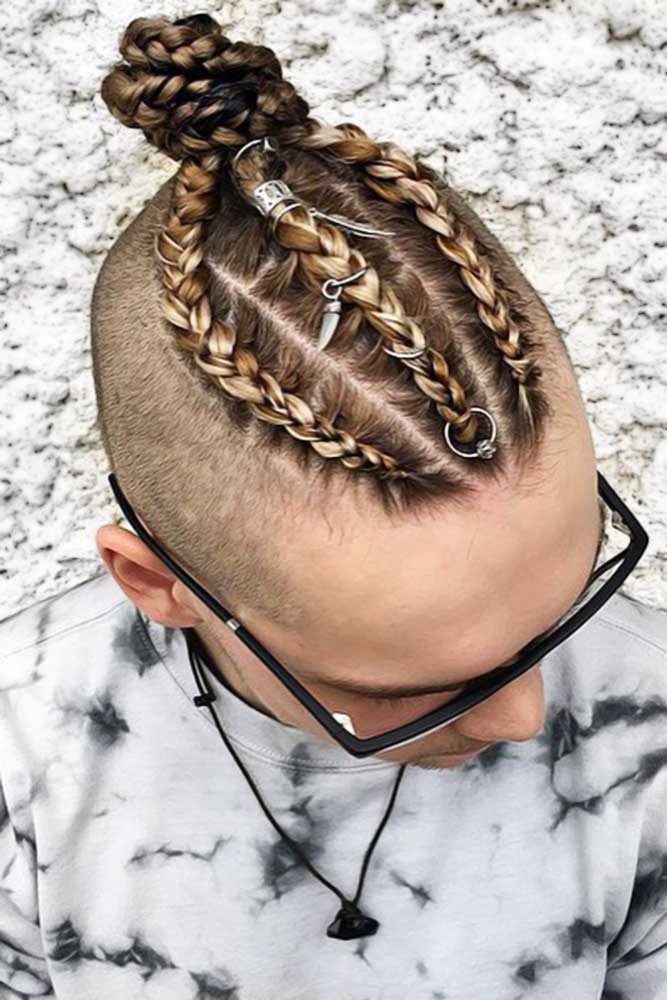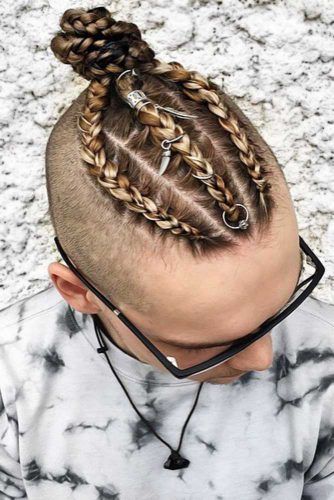 First, you get a disconnected undercut with super clean, shaved sides. Then, you braid that crazy top. In the end, you turn the top into a knot. The icing on the cake? Finish the style with some hair rings which have become extremely popular with those sporting braids hairstyles for men.
Source: braid_slayy via Instagram
Braided Man Bun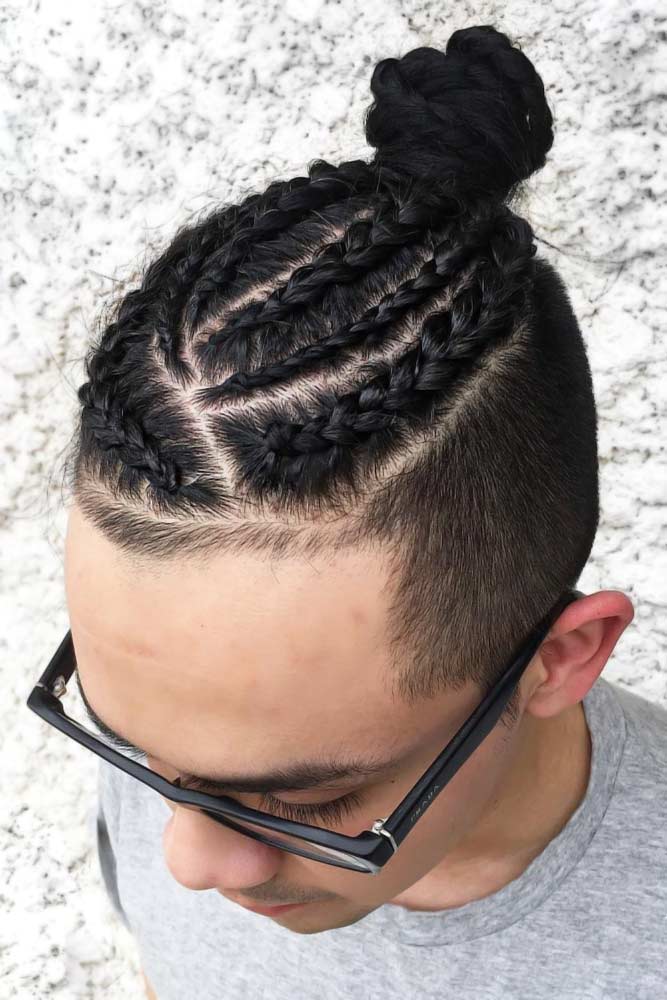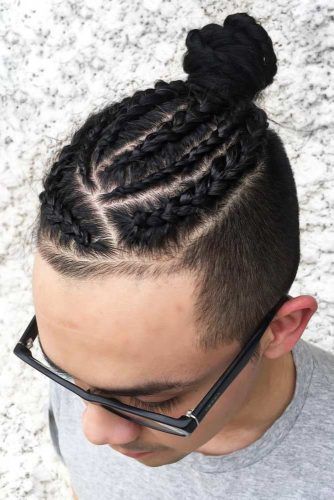 Finally, the good old man bun from a new perspective. Buzzed sides give a sense of neatness to the whole look while the creatively braided top reveals the full versatility of the latest hairstyle for men.
Source: braid_slayy via Instagram
ADVERTISEMENT ‧ CONTINUE READING BELOW
Undercut + Purple Cornrows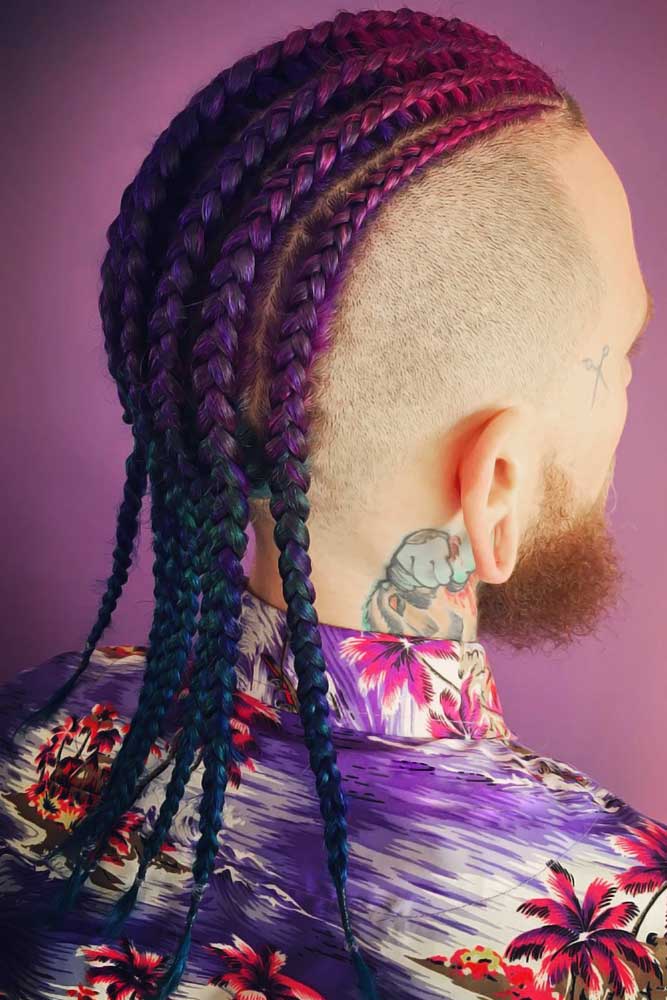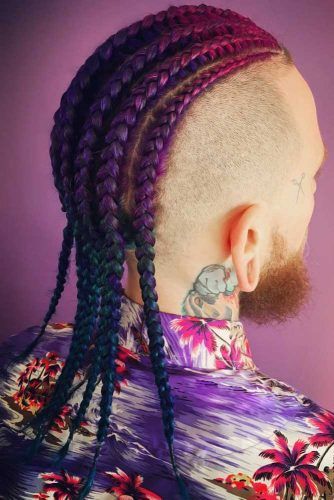 Your barber wasn't joking when he told you how far you could go if you got yourself an undercut. In fact, it's a canvas for your style experiments: once you get bored with the long-top-short-sides look, you can transform it into something bigger. Let the top grow, get rid of those sides, and go bright with your cornrows. Besides, don't forget to show the result to natural-haired kings claiming braids for white men can't look good.
Source: game_of_braids via Instagram
Double Dutch Braids Into Pony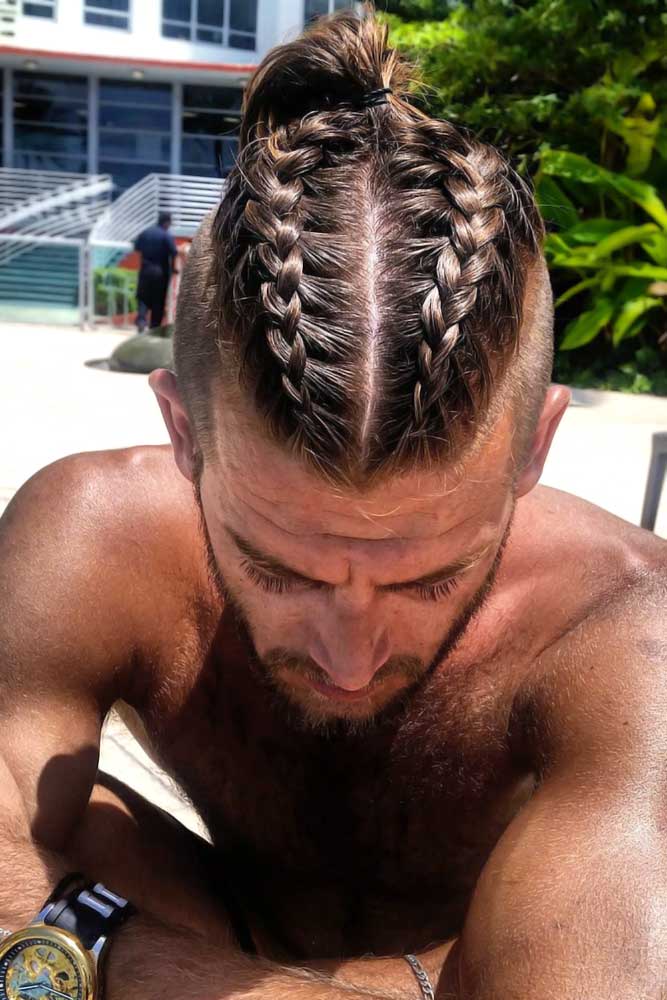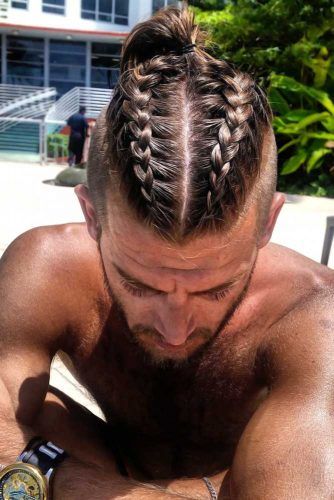 Getting braids for men with short hair may be quite a tricky task unless you are familiar with flexible braiding techniques. Dutch braids can adapt to most hair lengths. Of course, they won't come out right on a crew cut, but a slightly elongated undercut would be enough to start with.
Source: proflyboarder via Instagram
Feed-In Braids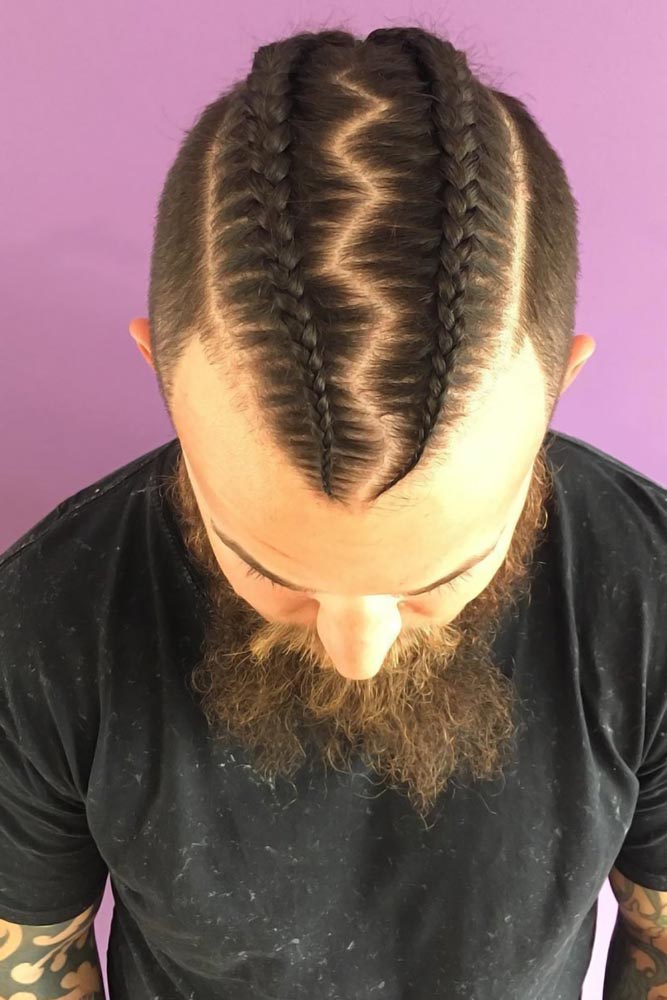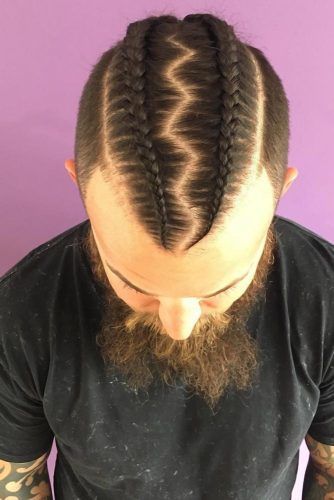 Have you heard about feed-in hair braids for men? They are graduated braids that get wider as they move to the back of the head. Such a structure gives a well-shaped and well-balanced appearance to the whole look, so you won't go wrong choosing this technique.
Source: game_of_braids via Instagram
ADVERTISEMENT ‧ CONTINUE READING BELOW
Mohawk With Dutch Braid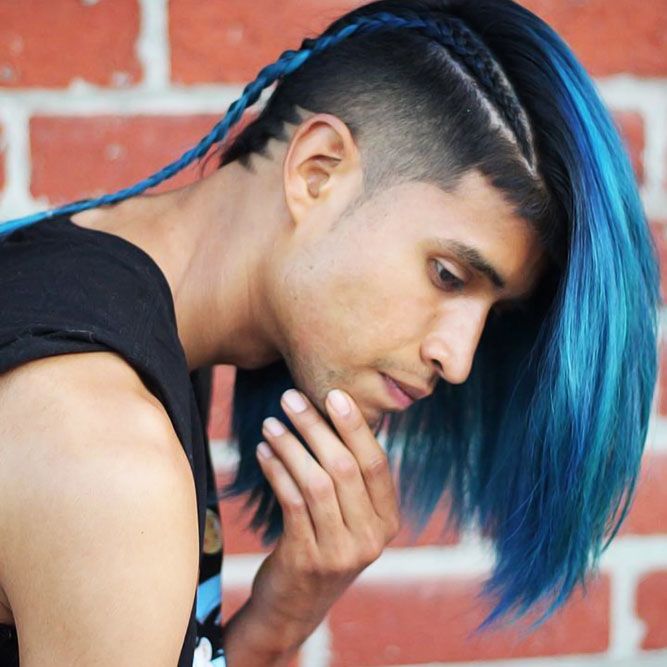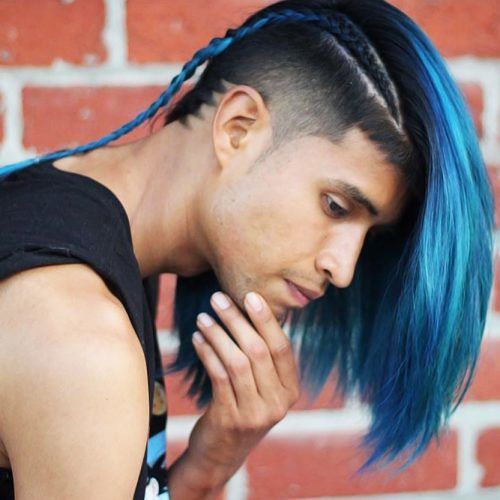 There's no a hairstyle braids for men can spoil. On the contrary, they can give tons of definition and individuality to any style. Remember the overwhelming Mohawk? Here's a totally different take at the common image of the punky cut. Bright color, faded sides, and an exclamation point made by braid - that's how one of a kind hairstyles look like.
Source: shrunknheads via Instagram
Faux Hawk + Side Cornrow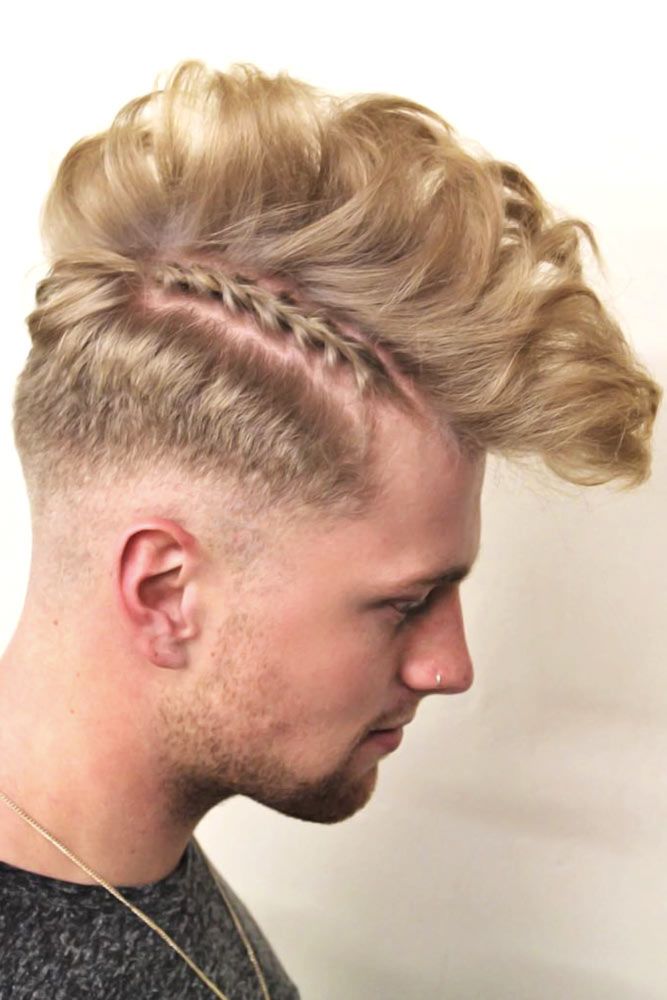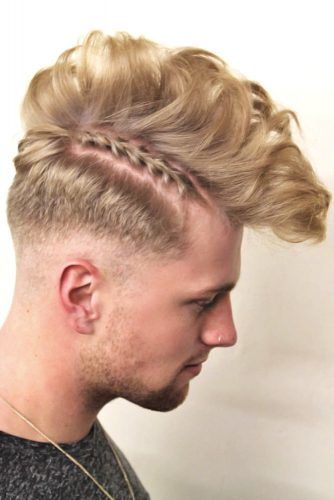 Cornrows on fine wavy hair? Possible! Obviously, you can't braid your whole mane as the texture won't even hold the shape of braids. But, it doesn't mean you can't add a hint of a braided trend to your swanky hairstyle. Getting a cornrow along the hairline will be a classy finish for a faux hawk, no doubts.
Source: barbersofbt45 via Instagram
Long French Braid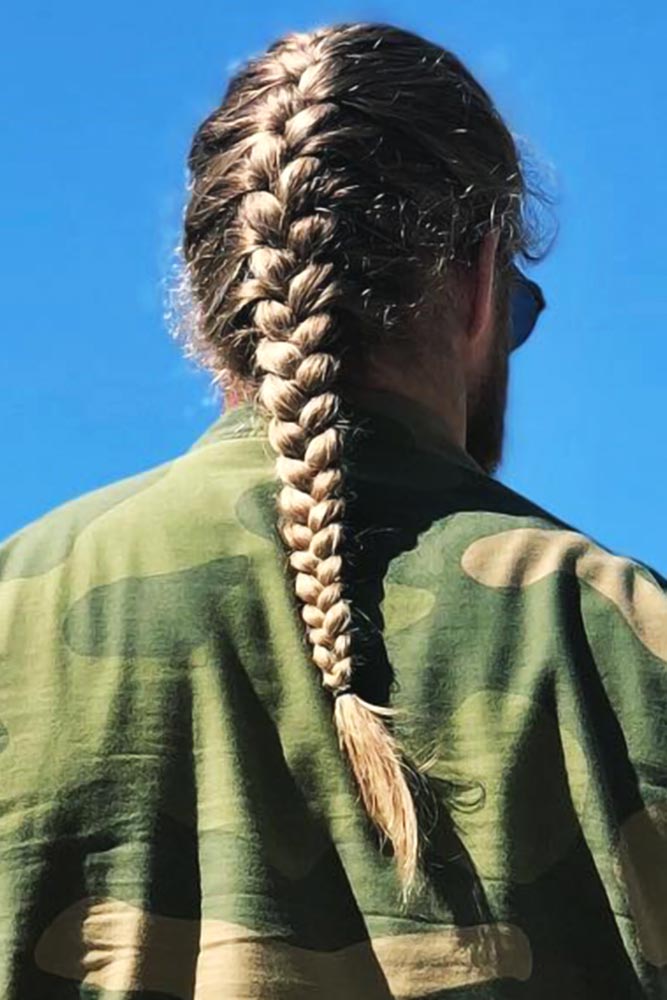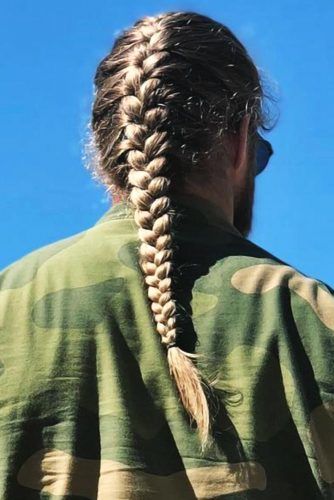 Classic in its purest. If you're one of those guys who prefer effortlessness and simplicity to commitment and smartness, then a long French braid is what you should add to your favorites.
Source: lasselom via Instagram
ADVERTISEMENT ‧ CONTINUE READING BELOW
Fade Cut & Braids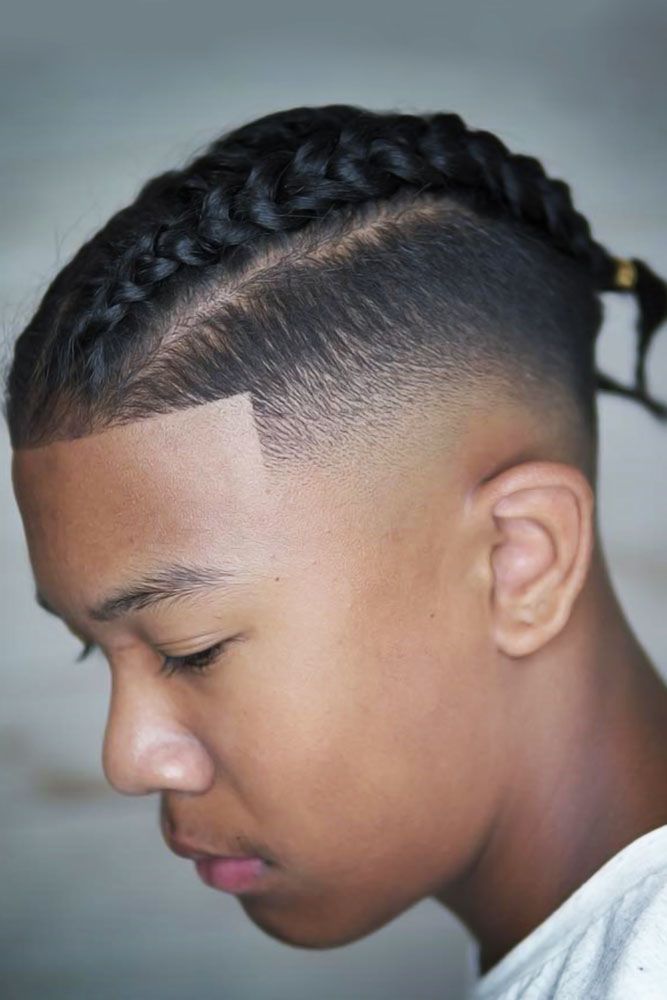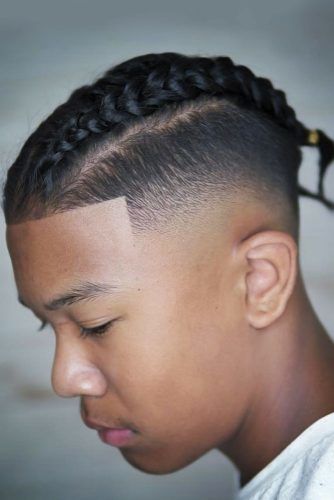 Black braided hairstyles, whether they're cornrows, feed-in or box braids for men, look their best when paired with a cleanly graduated fade. The choice depends on the look you'd like to achieve: a sharp finish, for example, requires a high fade.
Source: nickthebarber via Instagram
Braids + Top Knot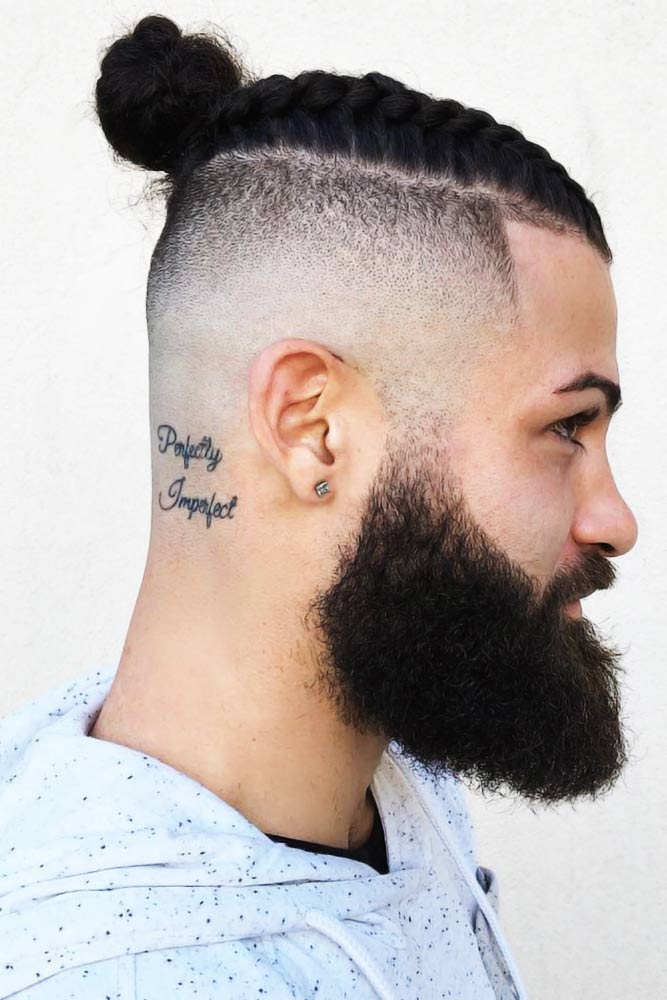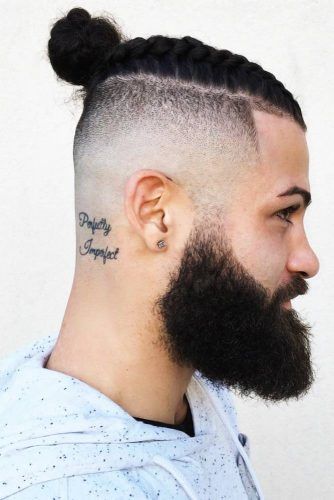 Are you into contrasts? Well, you don't need to get your mane colored to achieve an edgy contrastive look. As a matter of fact, you can get it with the help of a trimmer. Keep the sides as clean as possible, braid the top and twist it into a knot, and let your beard do the talking.
Source: lena_piccininni via Instagram
Braids have always had a special meaning in the hair styling history. And today their significance has reached its highest. Now, men can express their personalities and look different by wearing braids, experimenting with their looks and styles. The ideas you've seen today are becoming even more popular each day, so starting by copying one of them would be a win.
ADVERTISEMENT ‧ CONTINUE READING BELOW