It's long been one of fashion's hottest trends, everywhere from the catwalks to the heads of some of the world's biggest celebrities, but Is long hair still in style for guys in 2023?
In a word, yes. But when choosing the best men's long hairstyles for every day, there's a couple of important points to keep in mind; otherwise, all the work that went into that majestic mane will be wasted.
Firstly, like with most things related to hair, it's important to listen to your genes and base your choice around your natural hair type.
That means that if you were lucky enough to inherit really good hair, then you should opt for a layered hairstyle.
But how long should long hair be for guys?
Again, if you're lucky enough to have naturally healthy hair, then long hair looks great reaching down to the shoulders or a bit shorter. Or if you're going for the punk hair look, add to your layered ends some spiky edges style. And don't forget that it looks best on straight hair.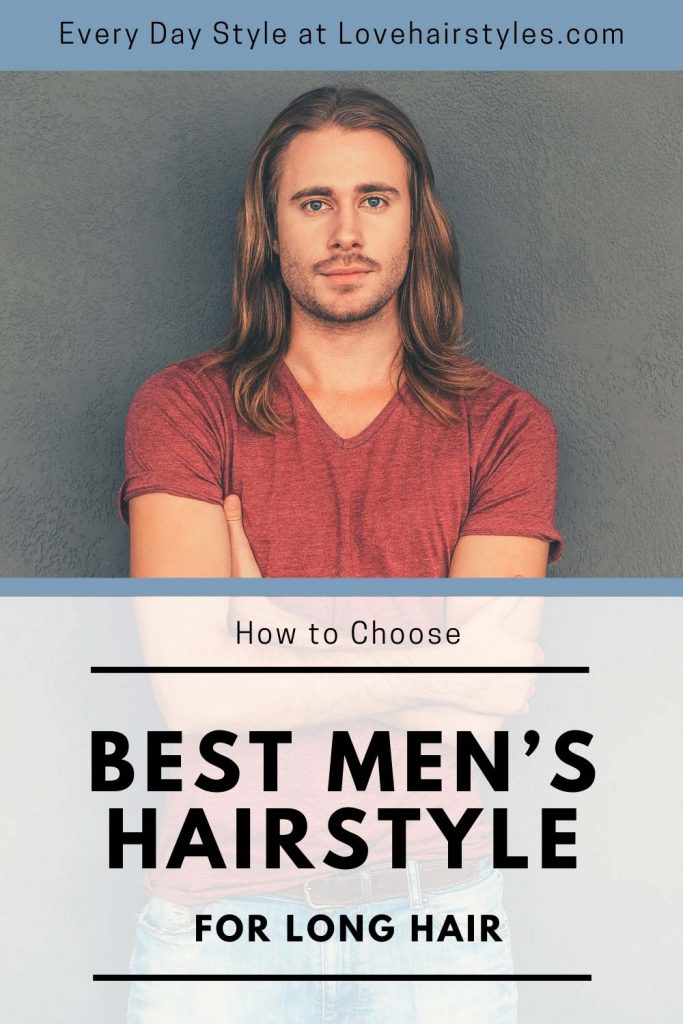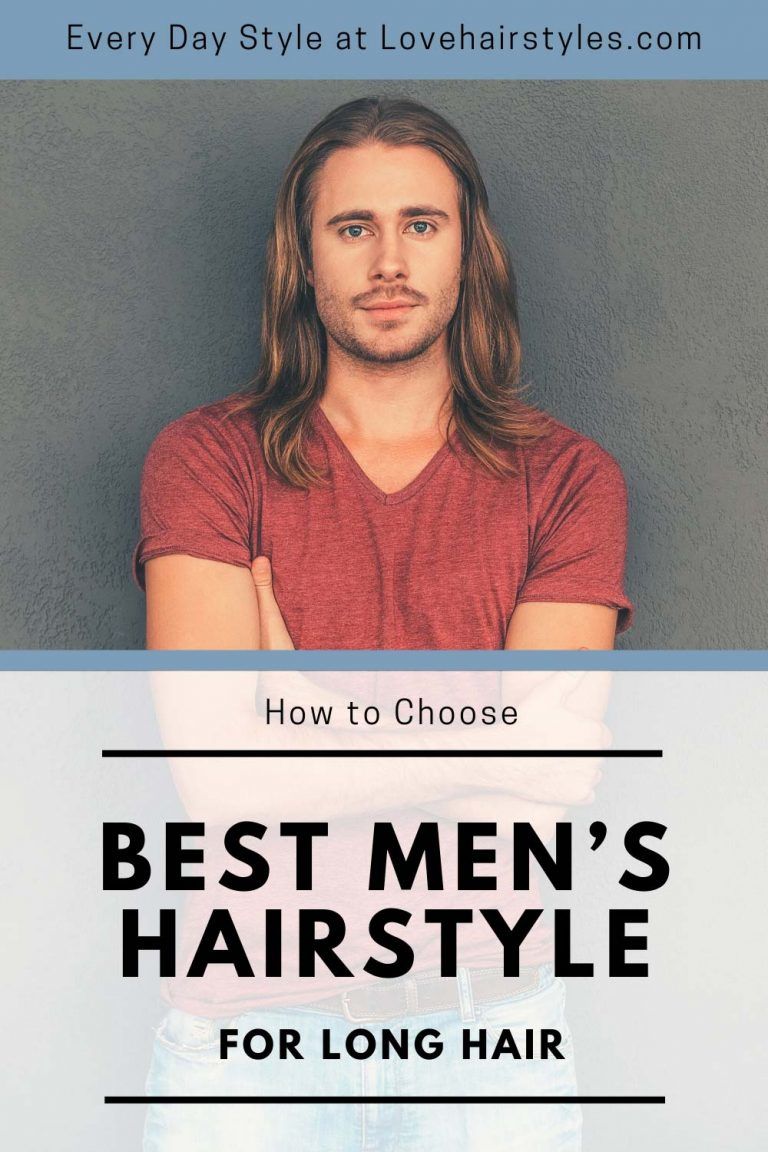 And one last thing to remember: don't overuse the styling products. They can weigh hair down, ruining the voluminous look you're going for.
How to Choose the Best Men's Hairstyle for Every Day
As a starting point, look at the natural texture of your own hair. If it is completely straight, or even slightly wavy, consider a longer style with few layers for a sleek look that will have plenty of volume at the roots.
For curlier hair types, think about more of a surfer look by embracing your natural curls and even adding definition with products like texturizer.
Man Bun
Man buns have been in for a while now, and they seem not to go anywhere any time soon. There is no wonder why in fact, the thing is that buns are universally flattering and easy to style among long hairstyles for men. Besides, there are many options to experiment with, and we will have a closer look at them right now.
High Man Bun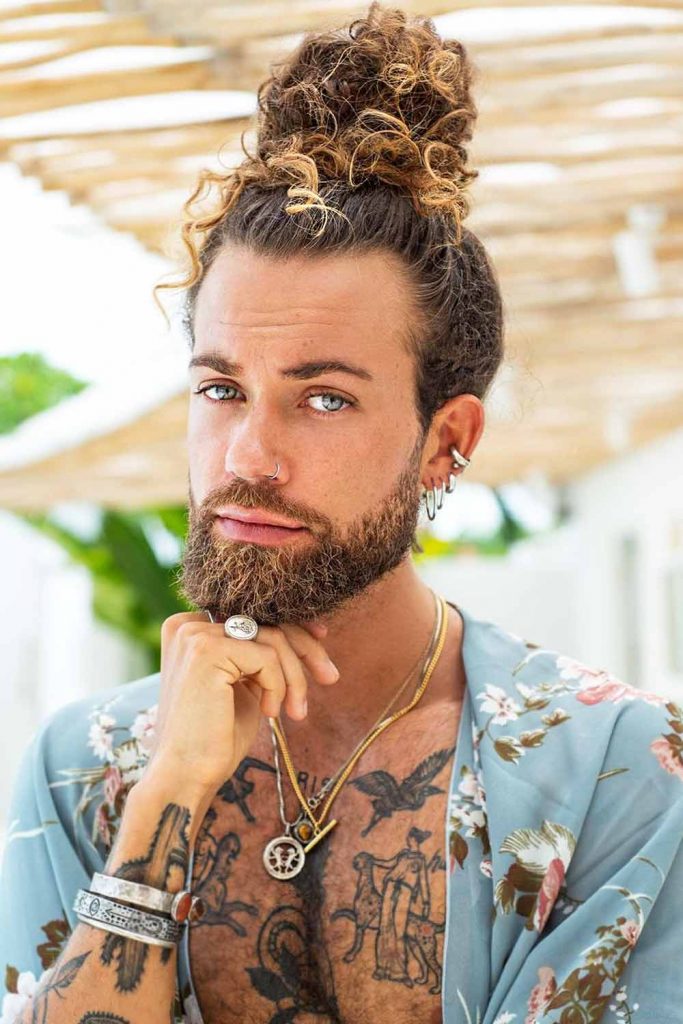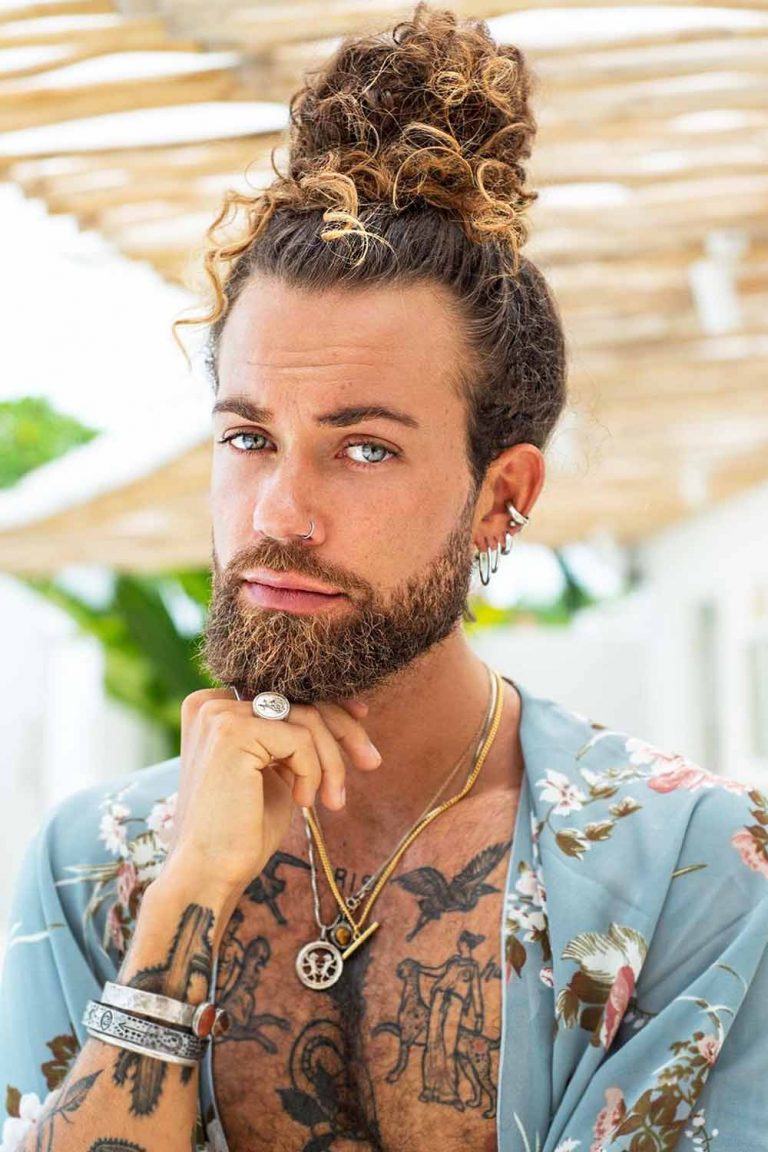 by @instagram_hank_ge
Your man bun will surely depend on the length of your hair, and the longer it is, the higher you should make the bun. As for how to do a man bun all you need to do is to gather up your hair, pull it through the hair tie and then secure it with it. It is safe to say that when it comes to the question of what is a man bun – it is the easiest way to deal with your long hair and to look super hot and stylish!
Low Messy Man Bun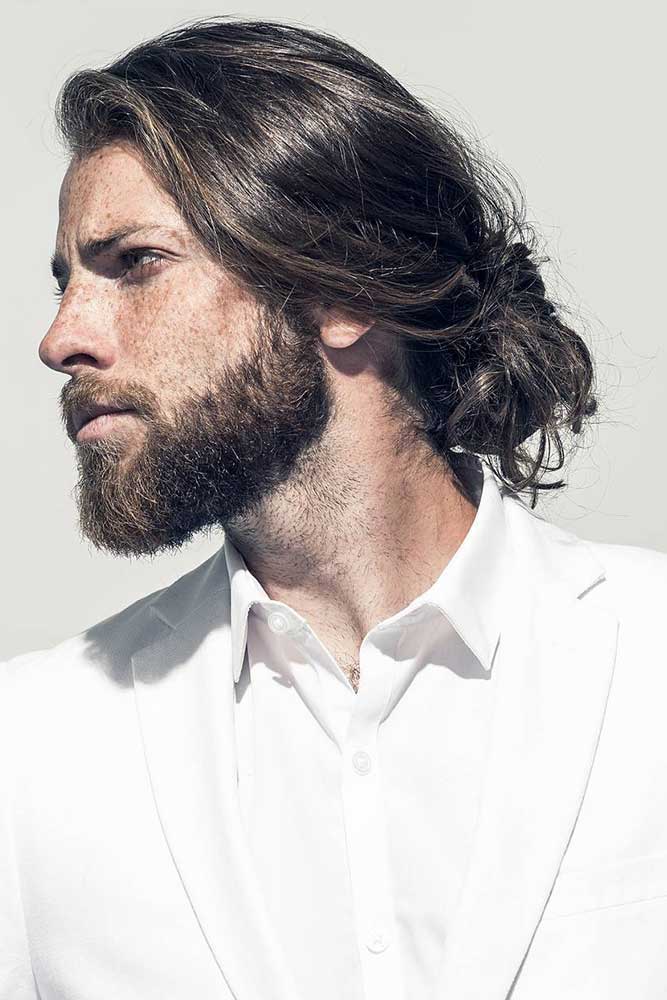 by @instagram_lanedorsey
To tell you the truth there are many man bun styles and it is up to you to choose which one to pull off today. When it comes to how to make a man bun you need to come up with how high you wish to take it. In case you are looking for an easy-going and a little messy look then low bun is the best option to go for. Besides man bun and beard look sassy as hell together!
Low Sleek Man Bun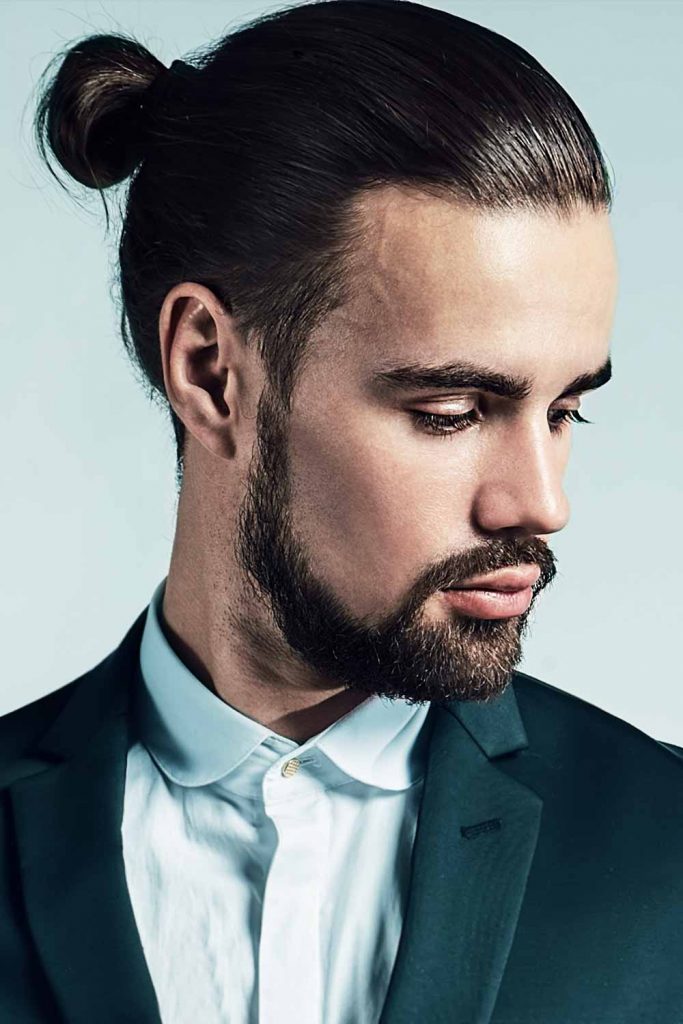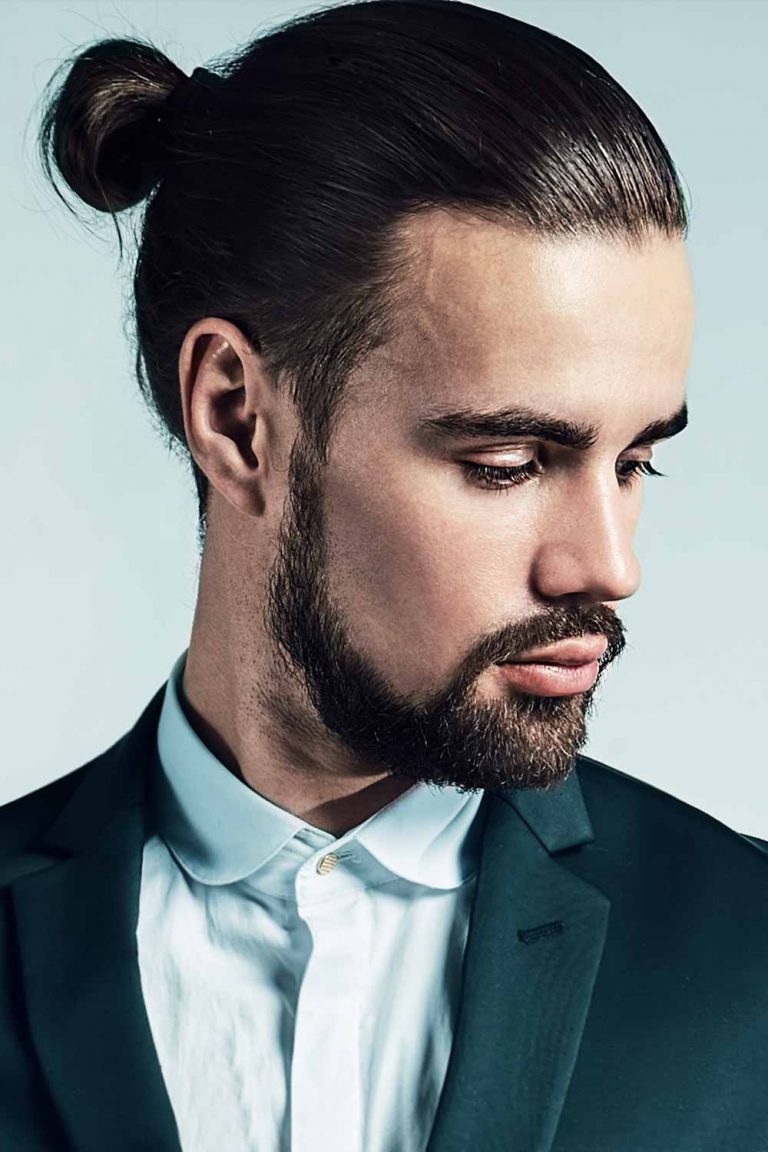 Credit photo: shutterstock
Many men with longer hair prefer straight hairstyles. In case that is all about you, we may have a perfect bun option for you! The thing is that sleek bun is the best one for a classy man bun guy! See for yourself one of the most elegant and stylish long hairstyles for men!
Updo Style For Wedding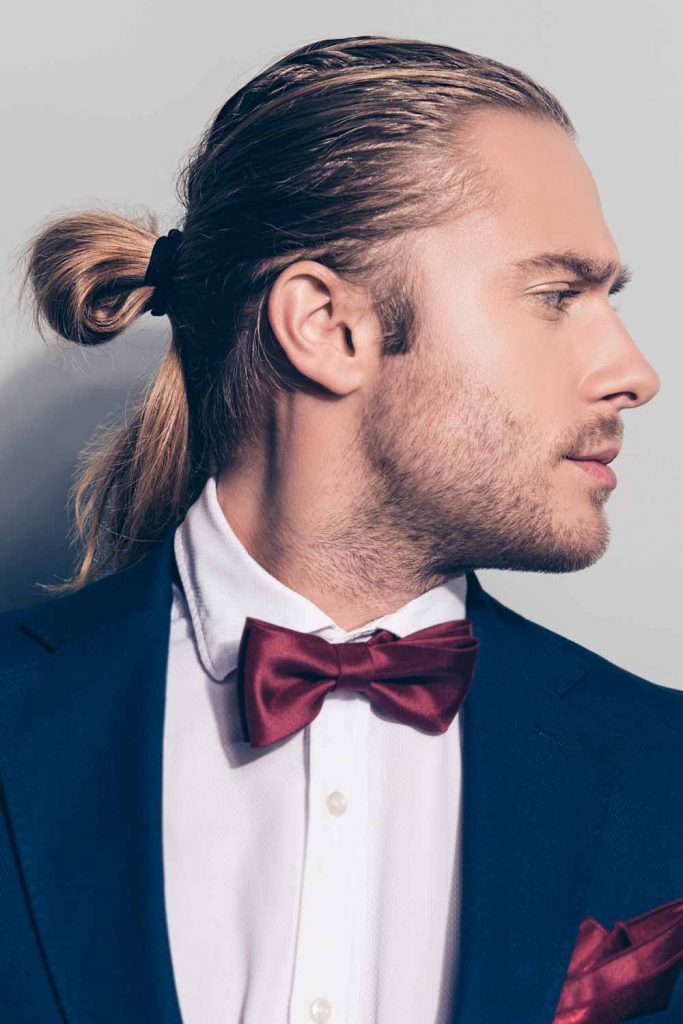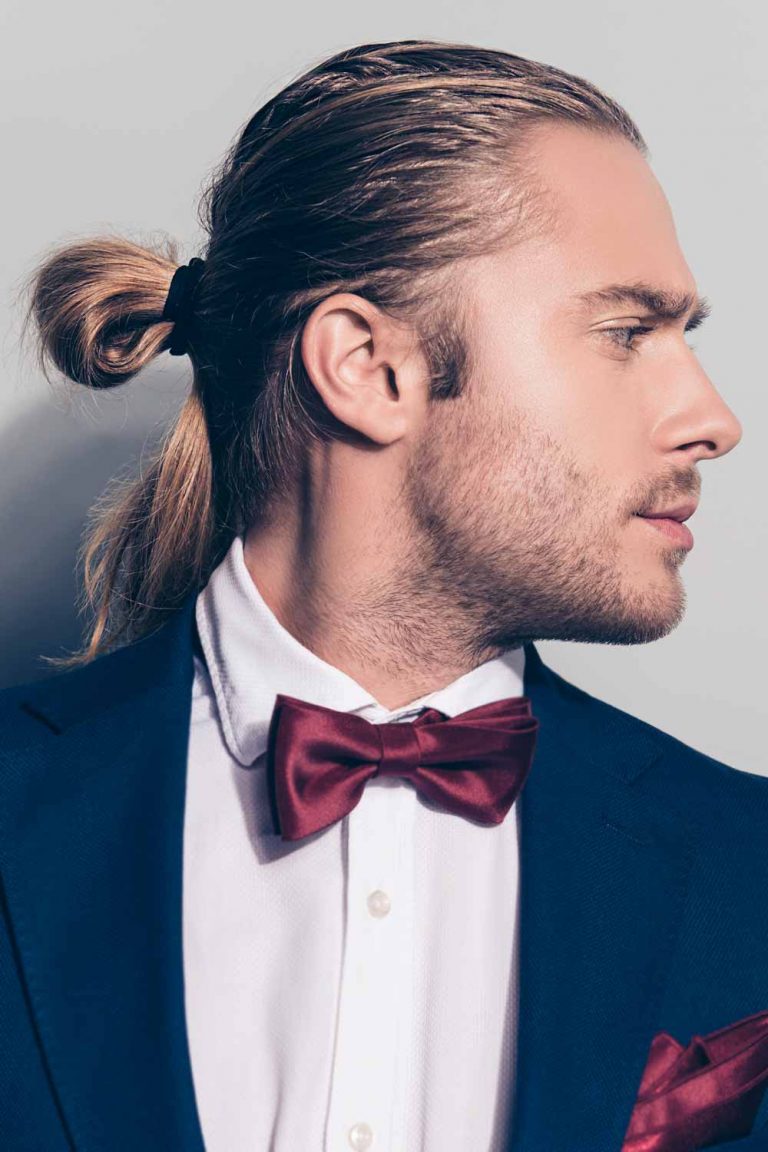 Credit photo: shutterstock
The wedding, even if it's your own, isn't the reason to get rid of your luxurious long mane, on which you have spent so much time and effort. You can style it in an elegant and sophisticated manner that perfectly suits the dressy ambiance of the event. Try to pull your hair in an updo with a couple of strands framing loosely your face for a breezy and carefree vibe of the look.
Low Bun With Cap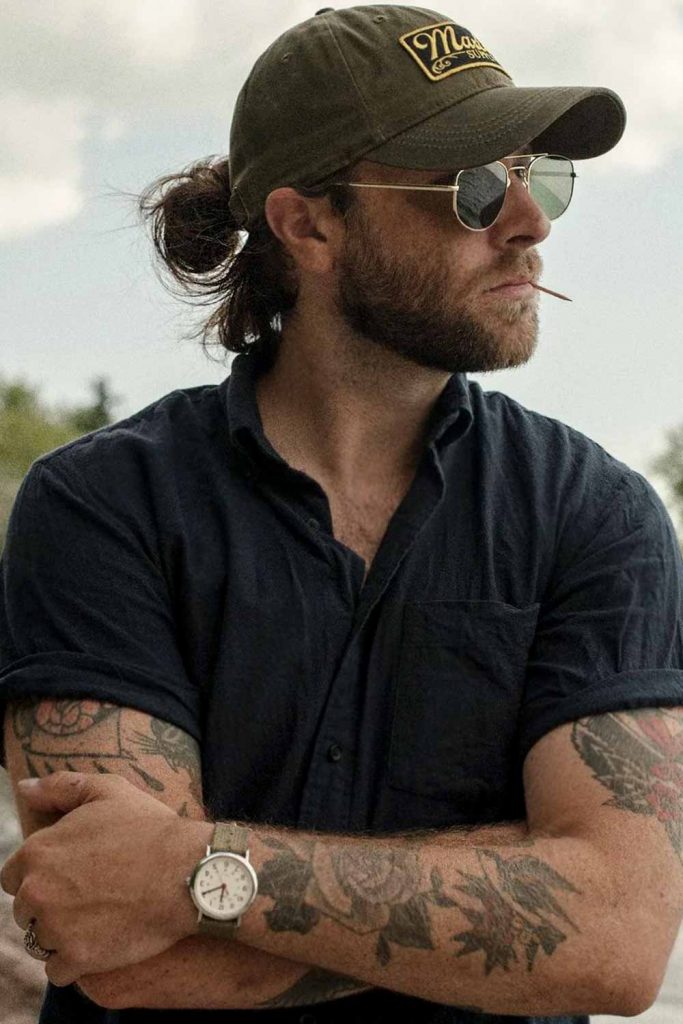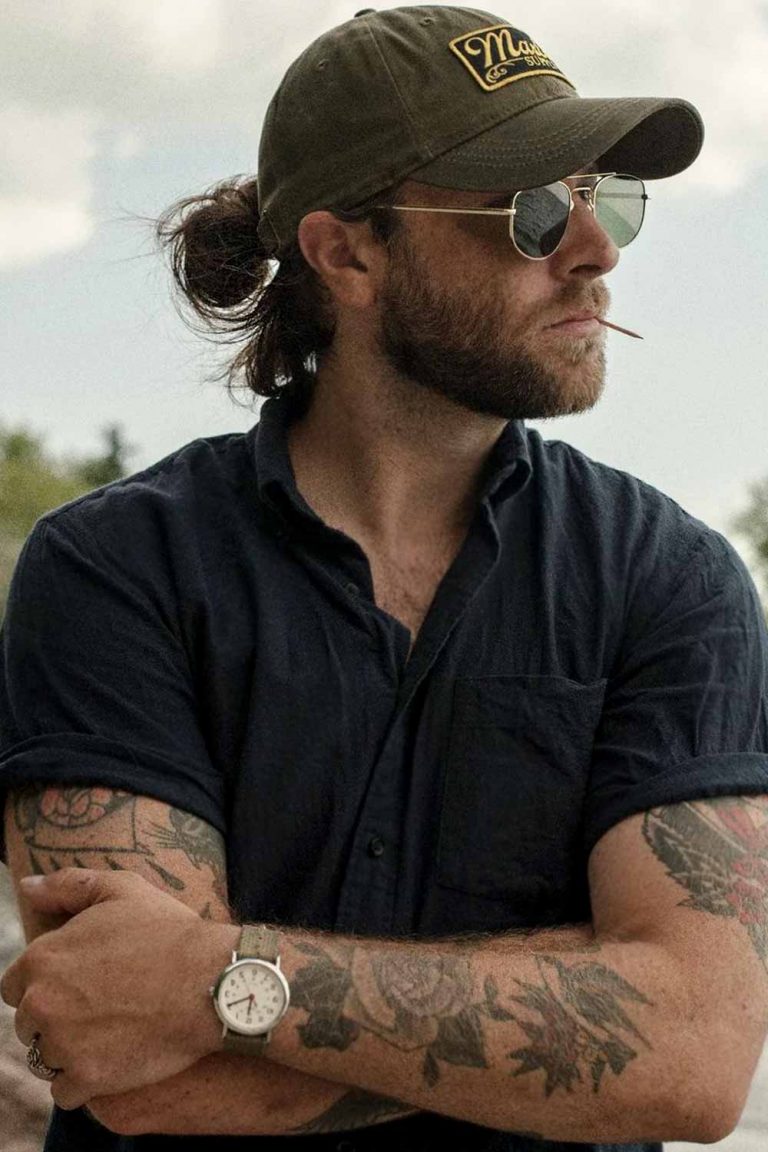 by @instagram_lanedorsey
Caps are so much on trend these days. But, what to do if you want to sport a cap but are reluctant to hide your long locks under it? Don't worry, you don't have to. You can wear them both without impeding each other. Tie your hair in a low men bun, and any cap or hat will sit flawlessly on your head.
Dreadlocks In A Bun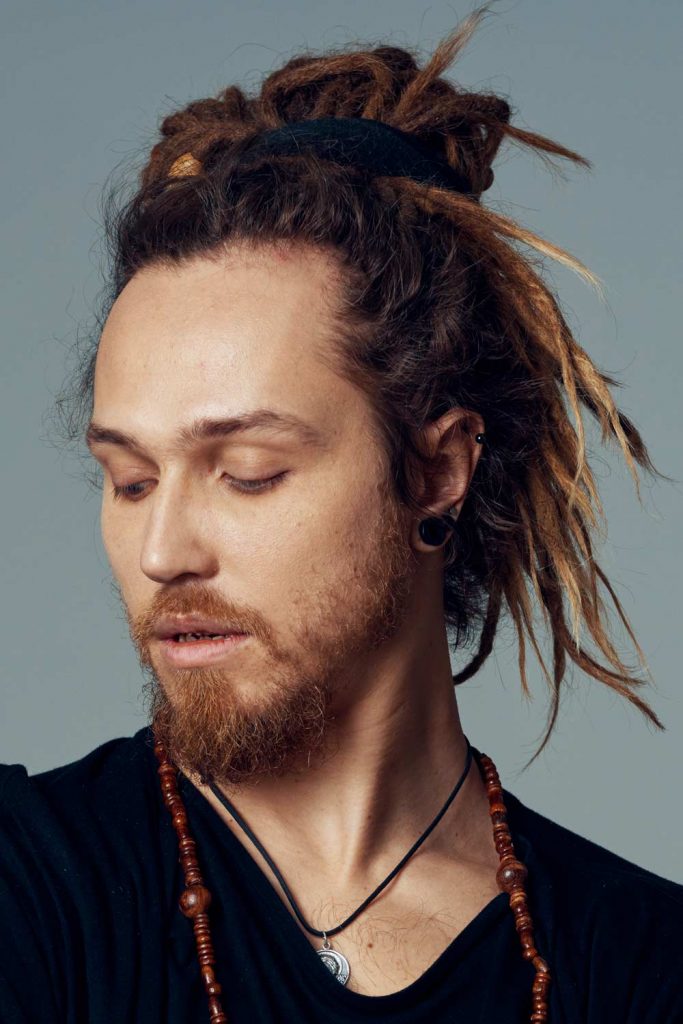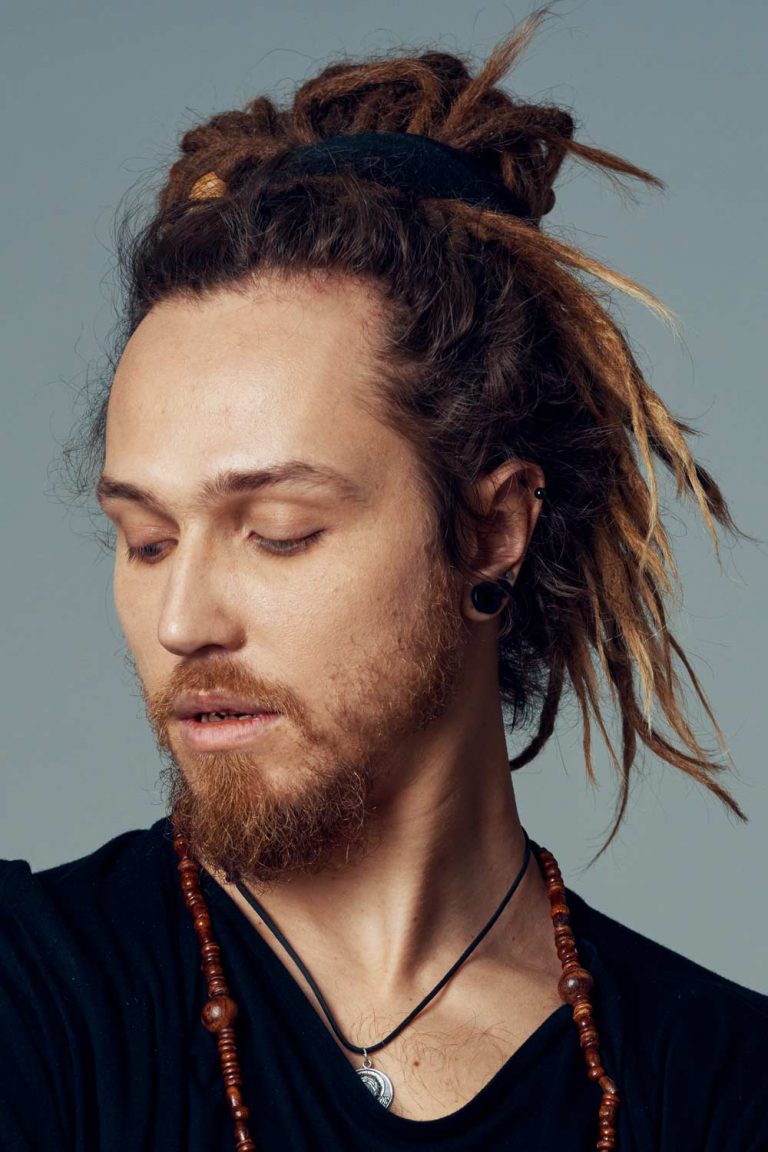 Credit photo: shutterstock
Another classic style which works for most hair types and requires very little styling. Again, pick your hair ties carefully so as not to snag fragile hair.
Ponytail
Very often it is said that there are some hairdos that are entitled to women only. Well, we are going to prove otherwise today!
High Ponytail
i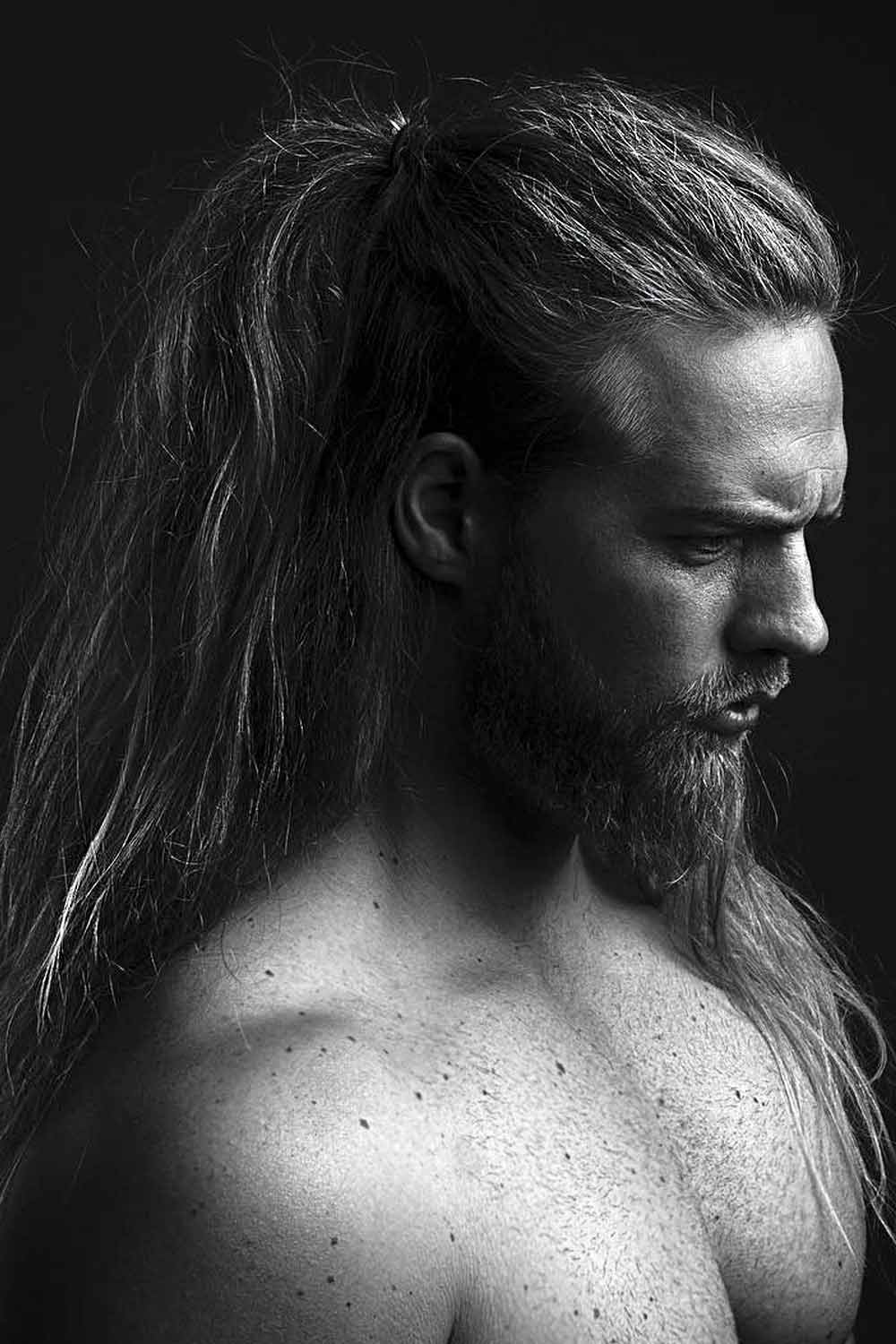 i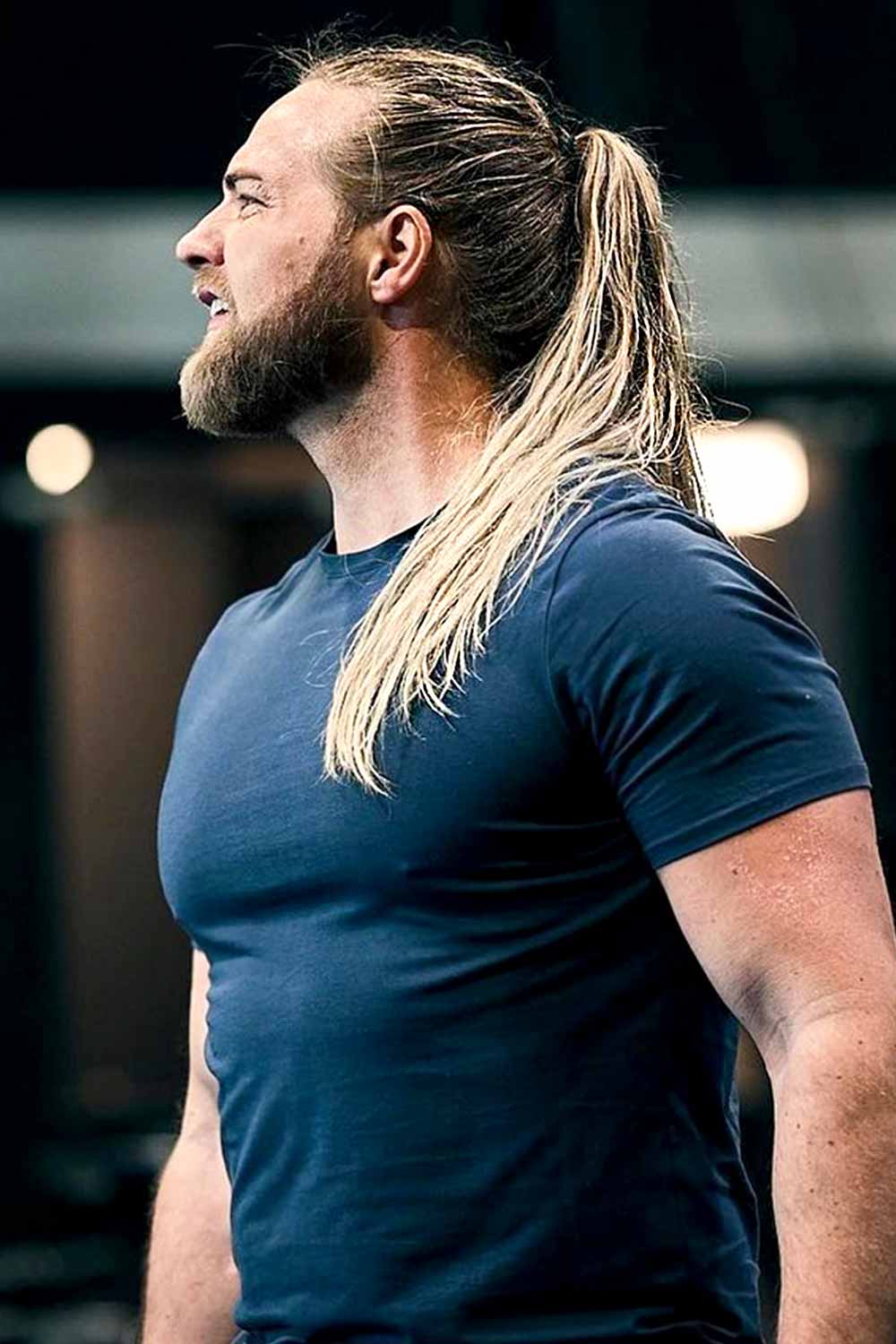 /
Men ponytail styles are somehow left out or incomplete without a high pony. However, not all the men will go as far as to pull it off. The thing is that high ponytail hairstyles are thought to be the women style only. One look at this high man ponytail may change your mind for.
Low Messy Ponytail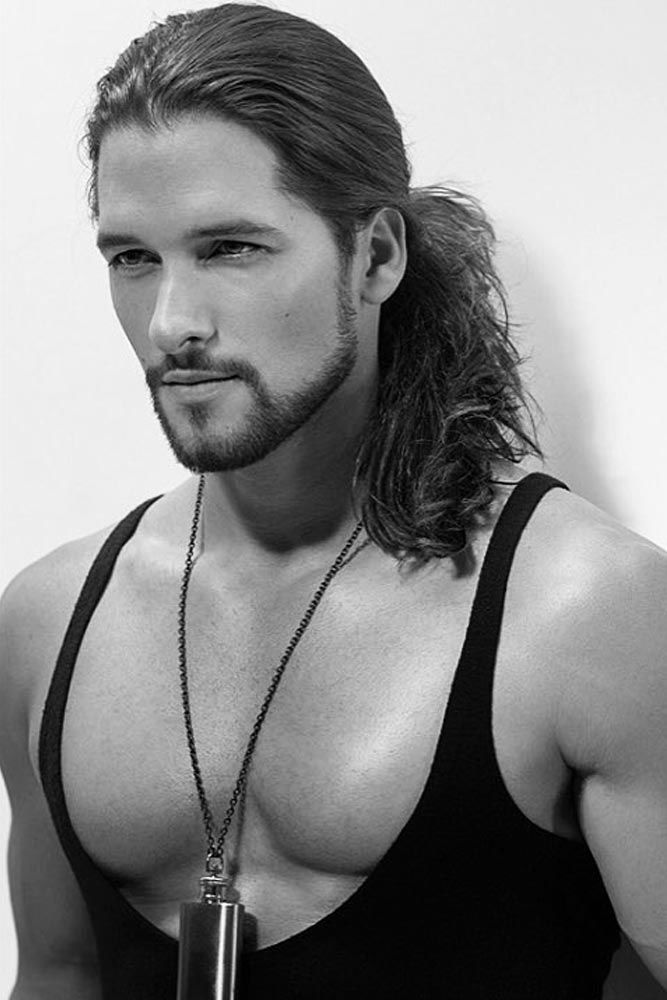 by @instagram_brandon_katz
When you browse through all the ponytail long hairstyles for men, it is easy to come to a conclusion that low ponytail is the one that is the most requested for. To tell you the truth there is no wonder why since such a style is easy to come up with not to mention the low-maintenance. Besides, when some messy vibe is introduced it looks hot and sexy. Try it out!
Braided Viking Style with Shaved Sides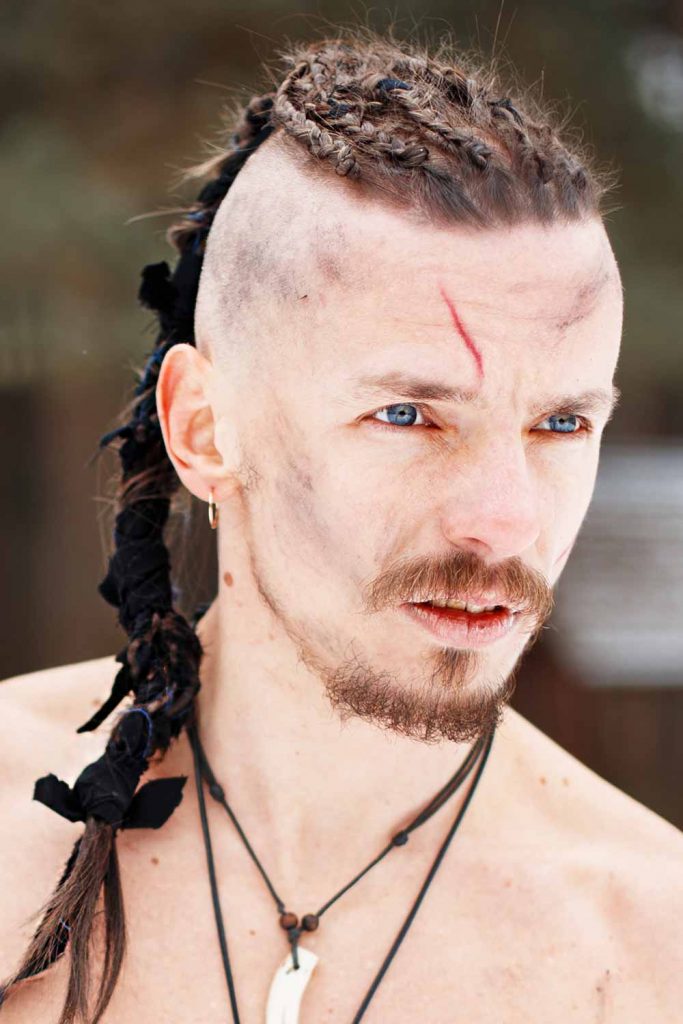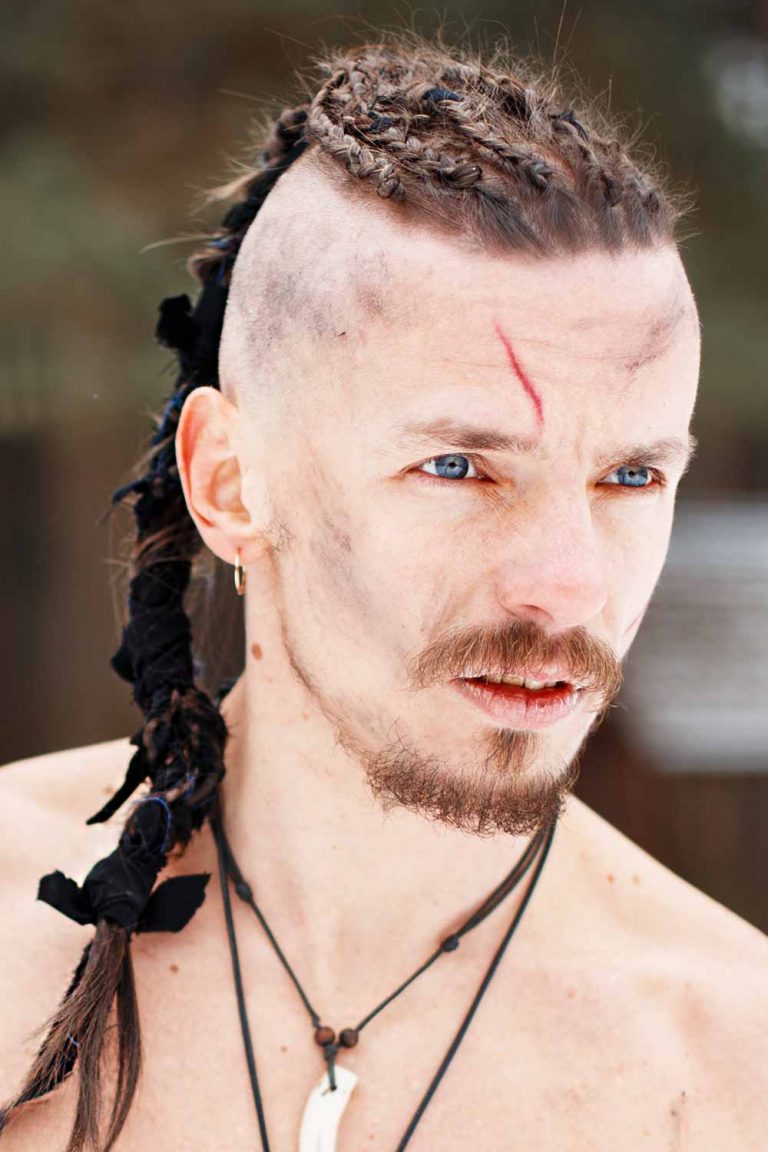 Credit photo: shutterstock
Half Updo Knot Styles
Credit photo: shutterstock
i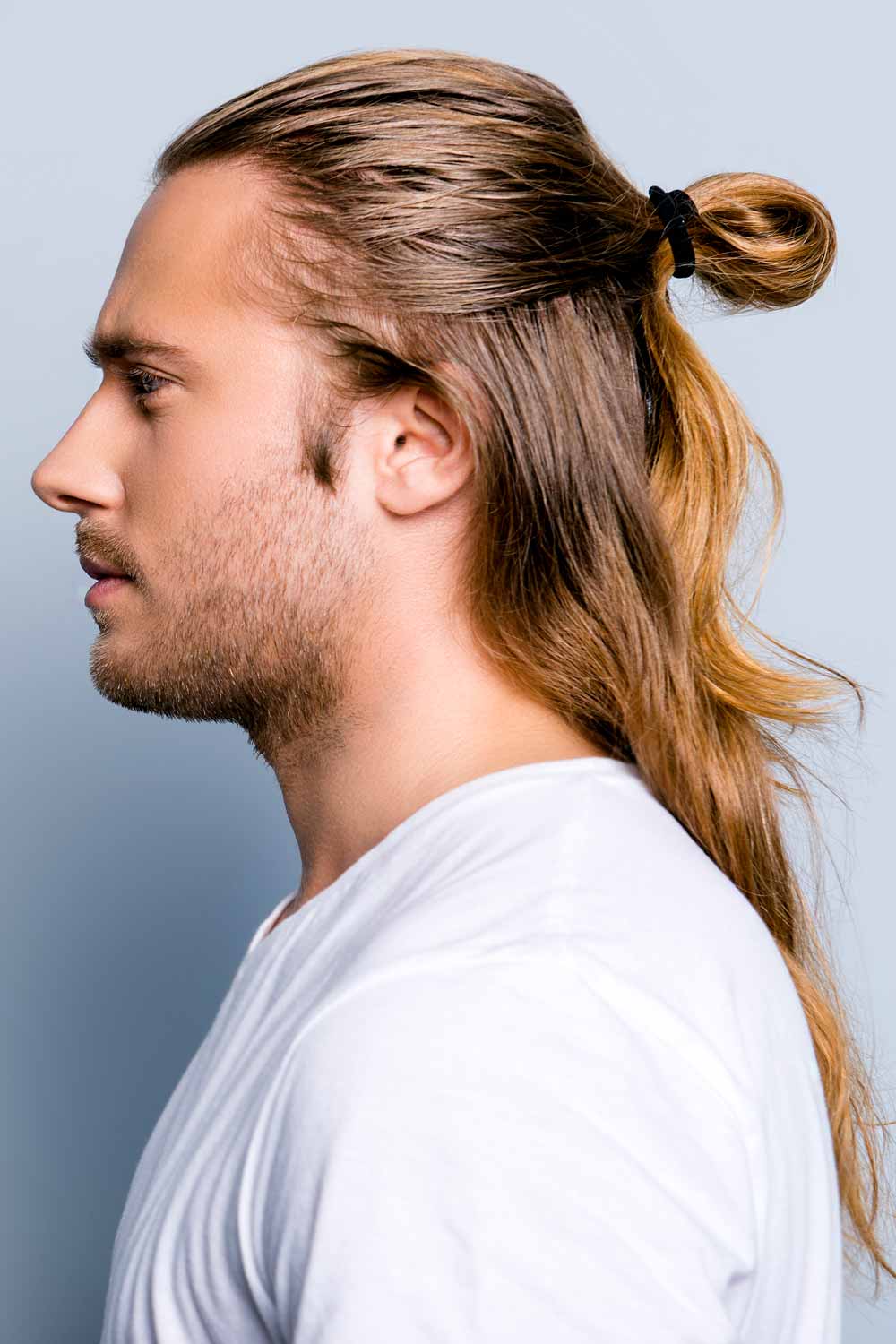 Credit photo: shutterstock
i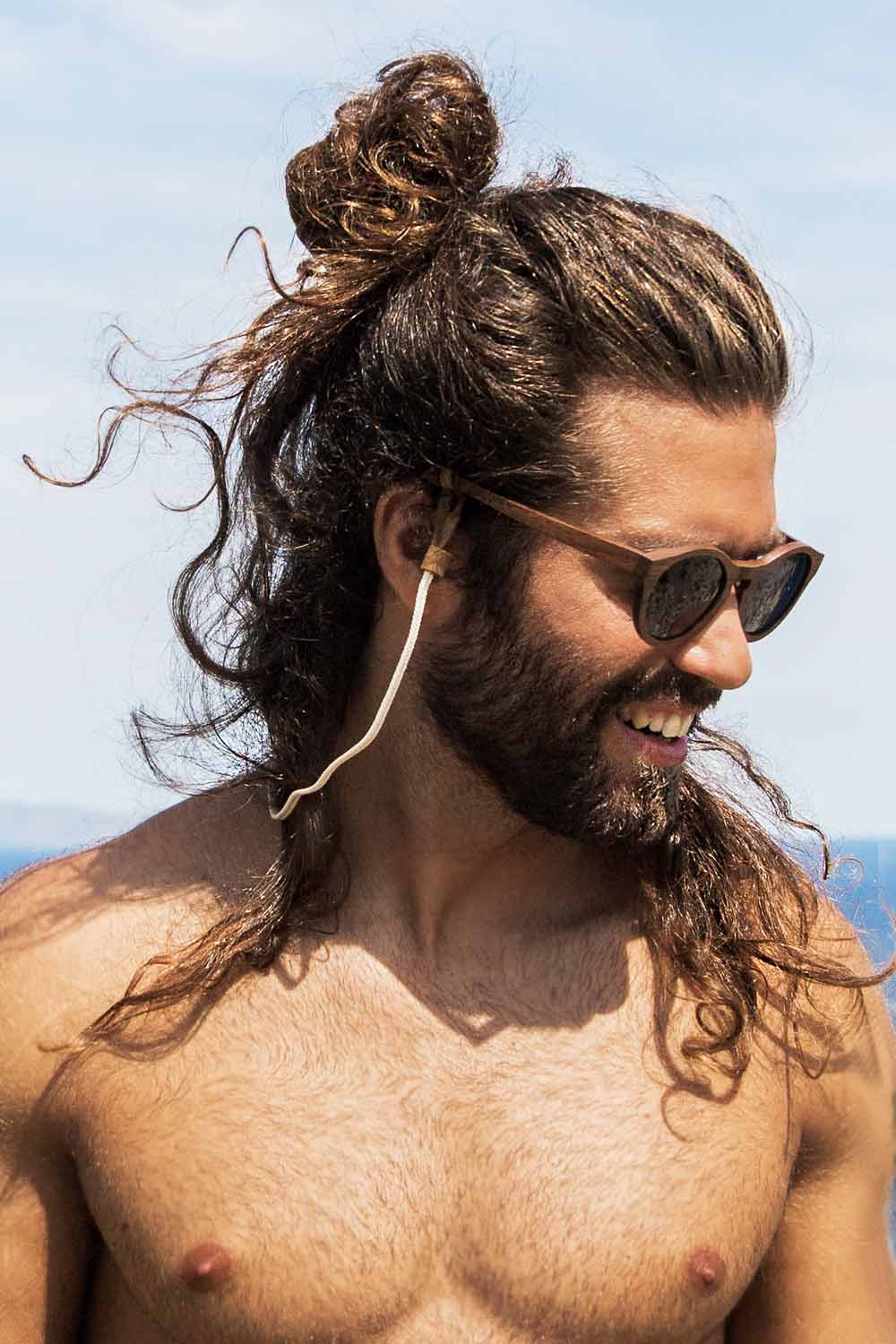 /
The top knot is the hairstyle that lies somewhere in-between man bun and an undercut, which makes it even more required for. With a top knot men can forget about all the troubles that long hair can come with!
Knots & Braids Faux Hawk Style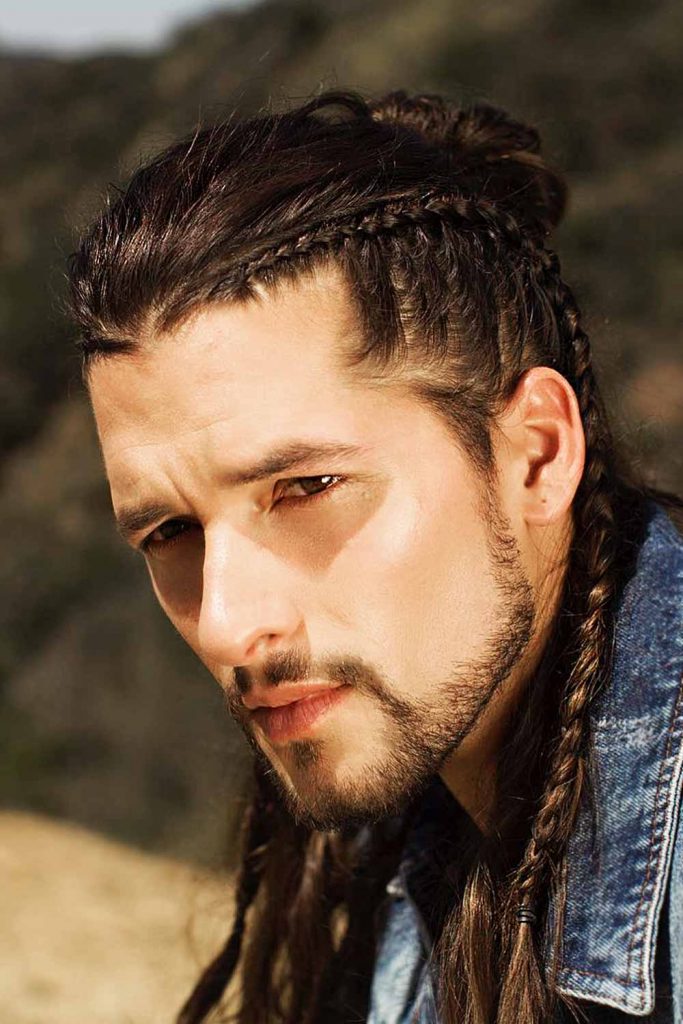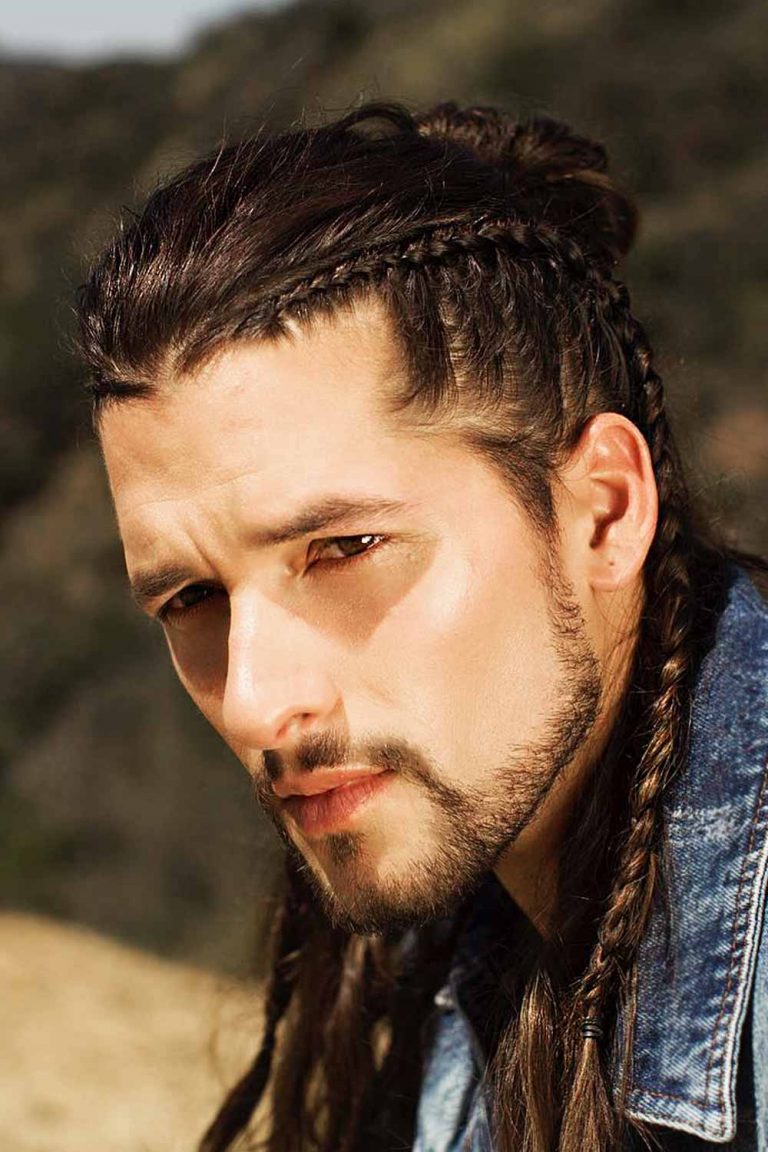 by @instagram_brandon_katz
There are dark times when you want to give it all up and go for a mohawk on your head. Don't be so reckless though. The times will pass by and you will be left with nothing but regrets. For these instances, turn to such a tonsorial ploy as knotting and braiding. With the help of these two techniques, you can achieve a hairstyle that pretty much resembles what is known as a faux hawk. Probably, the best thing about it is that you will not have any regrets afterward.
Updo Knot
Credit photo: shutterstock
i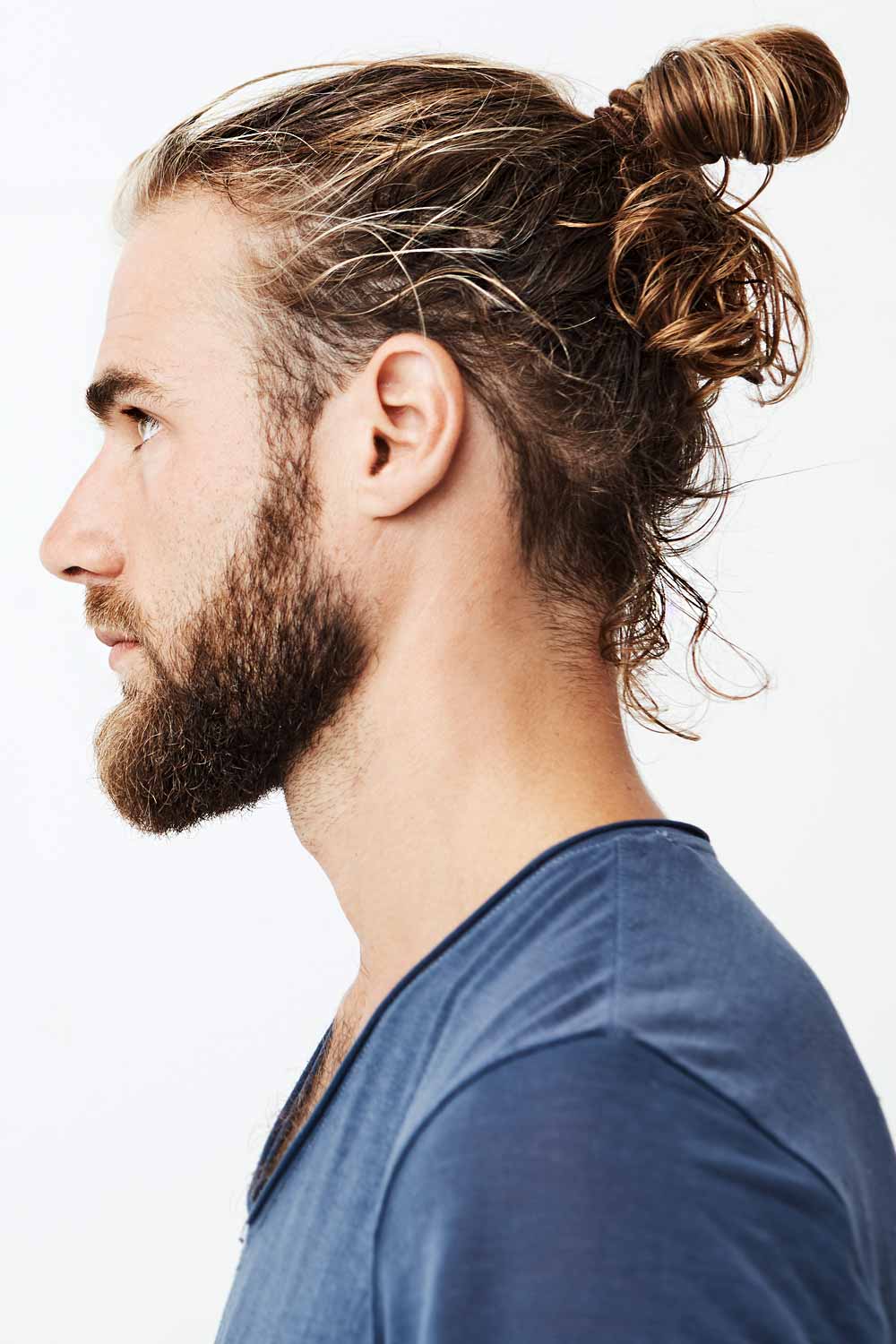 Credit photo: shutterstock
i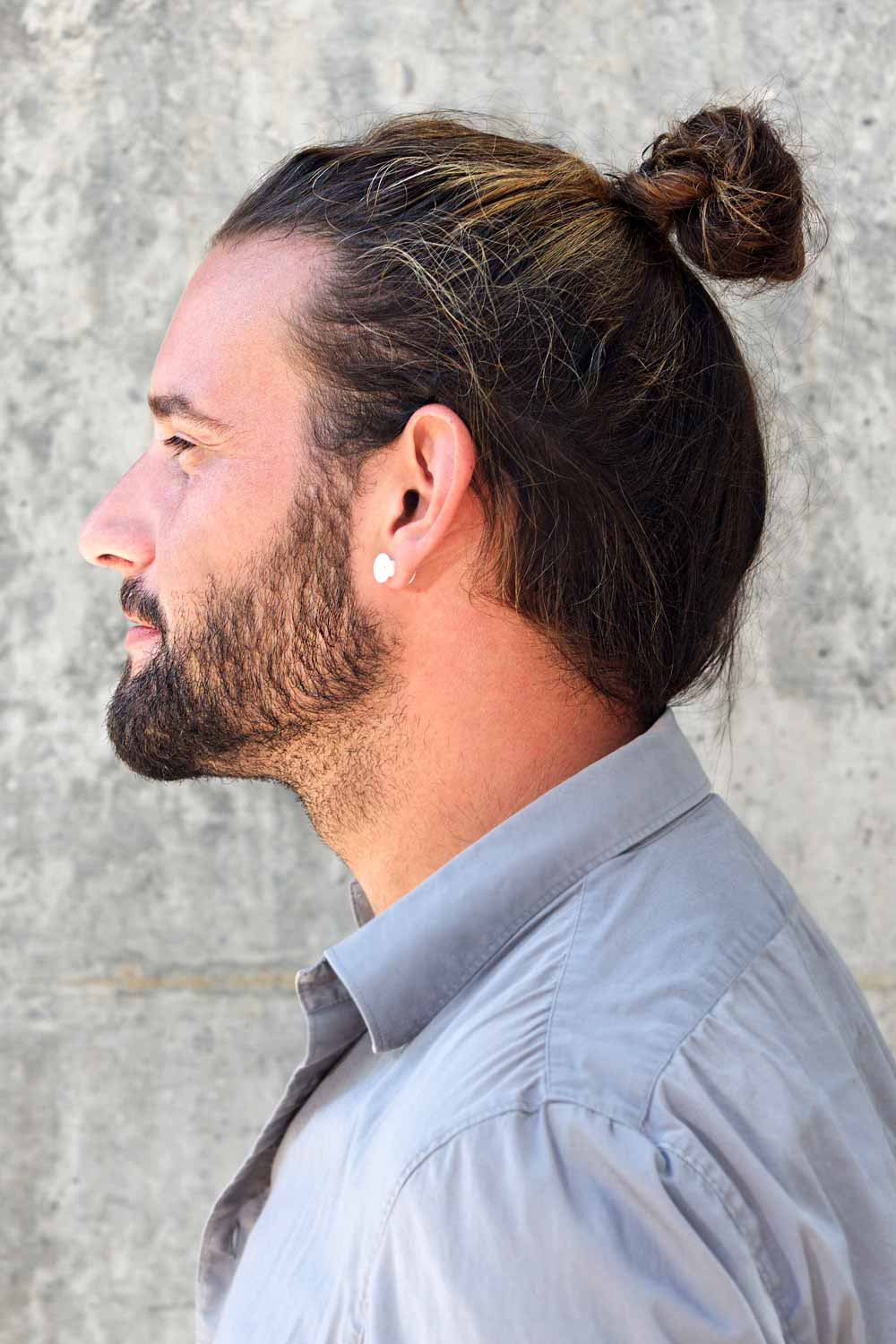 /
Whether you want to take your hair away from your face or pull off a trending look, such as a Samurai hair style, tie your hair in an updo knot. Although this hairstyle looks relaxed and laid-back, it doesn't mean you can't don it to a dressy event. Just switch your Hawaiian shirt to a well-tailored tuxedo, and you're good to go.
Massive Low Bun
i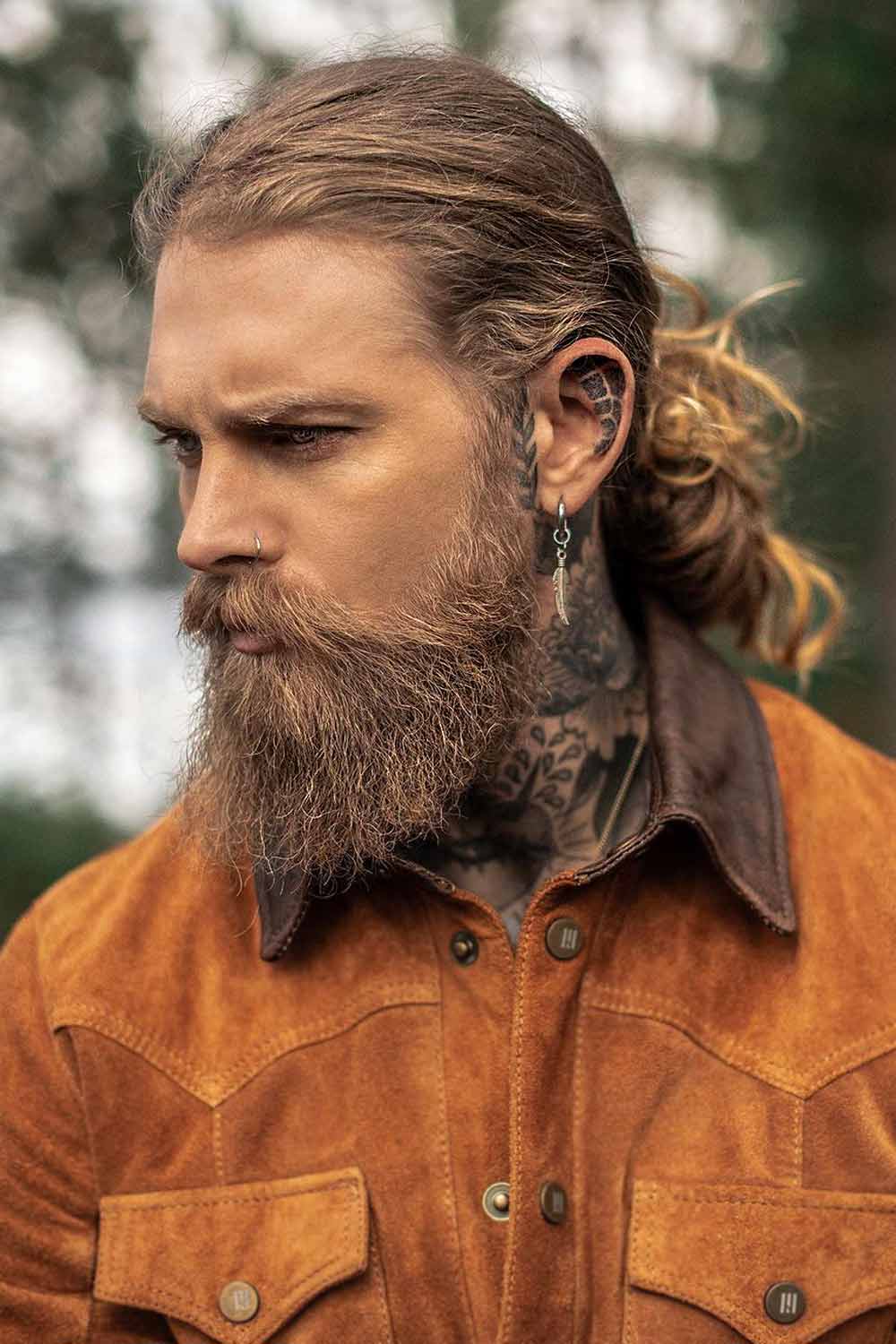 Credit photo: shutterstock
i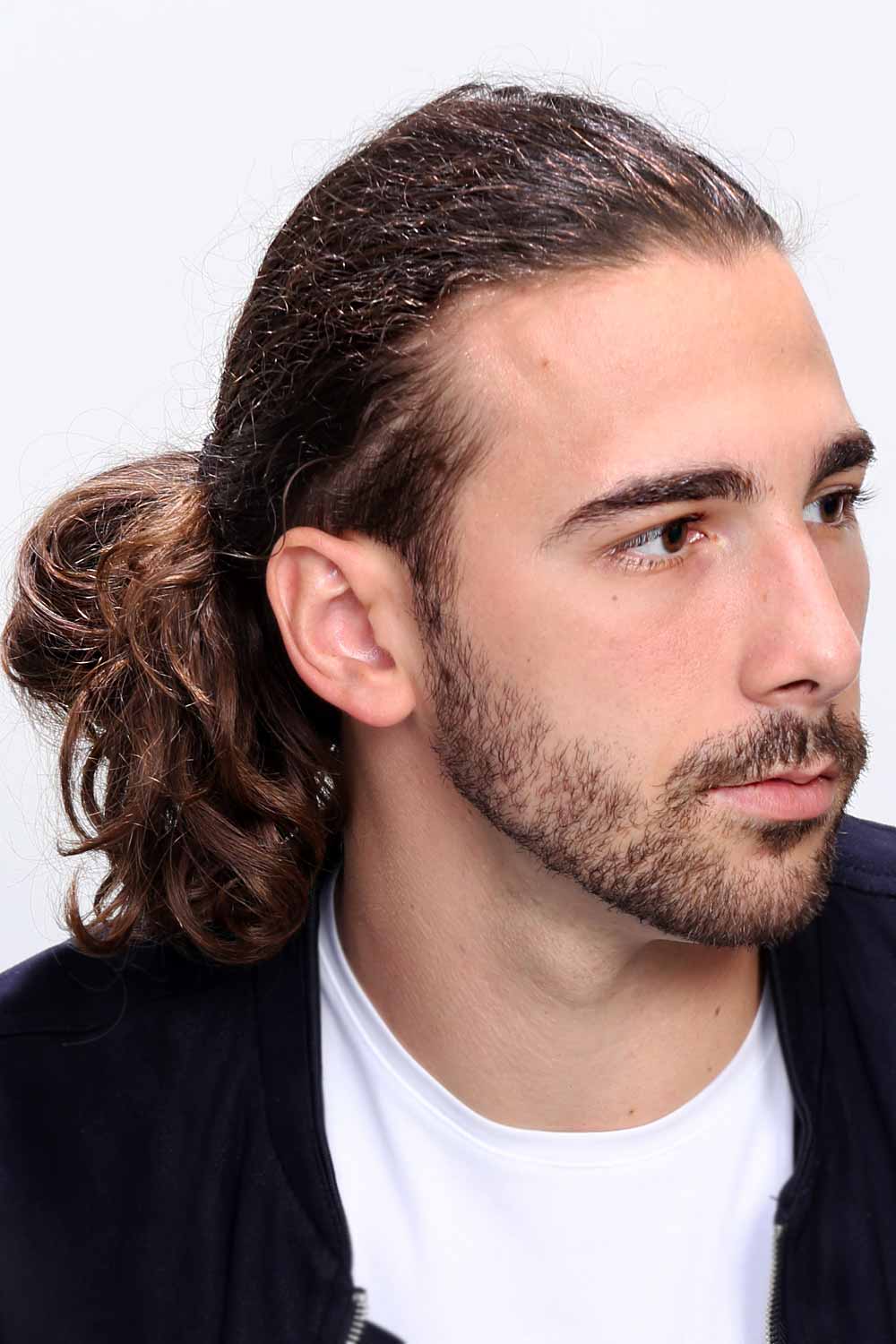 /
Man Braid
Man braids are very versatile, and the options are close to being unlimited, however not all the men are daring enough to pull such a hairstyle off. If you are bold and daring, then these hairstyle ideas with braids involved will surely come to your liking!
Dutch Braid With Man Bun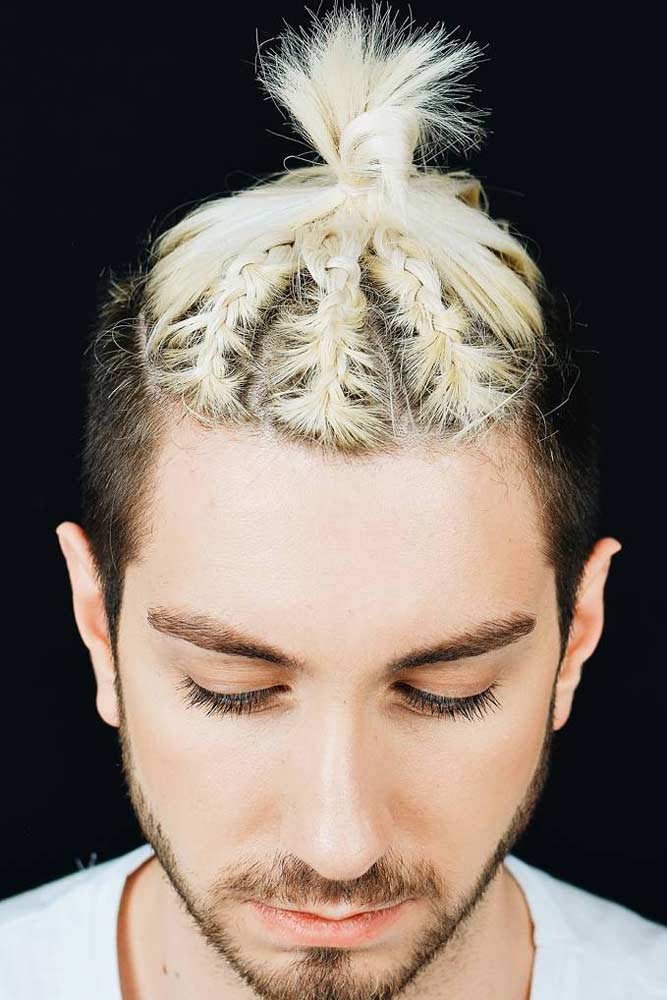 by @instagram_colinjae
Braided man bun is a perfect way to stand out from the crowd! It is true that man bun hairstyles are on the top these days, but a really unique personality has to be unique in every possible way. That is why we suggest you pay attention to this man braid and bun combination. Hopefully, you will get as inspired as we are!
French Braided Ponytail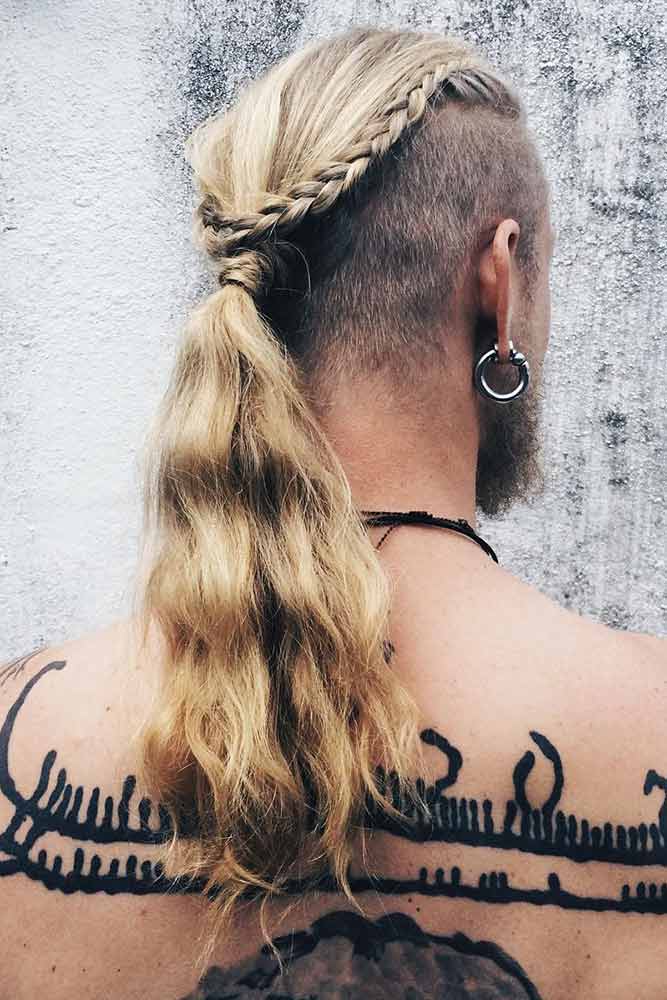 by @instagram_thegypsyviking
Braid styles for men can be both stylish and brutal at the same time. If you are one of those men inspired by Viking style, this French braid ponytail will steal your heart!
Braided Sides Faux Hawk For A Party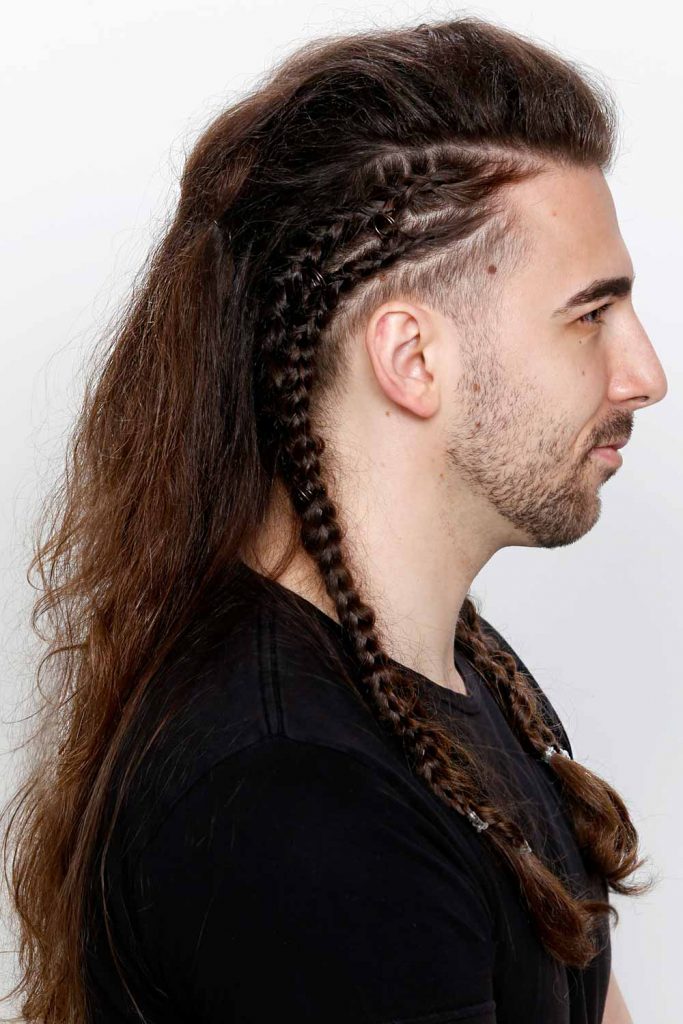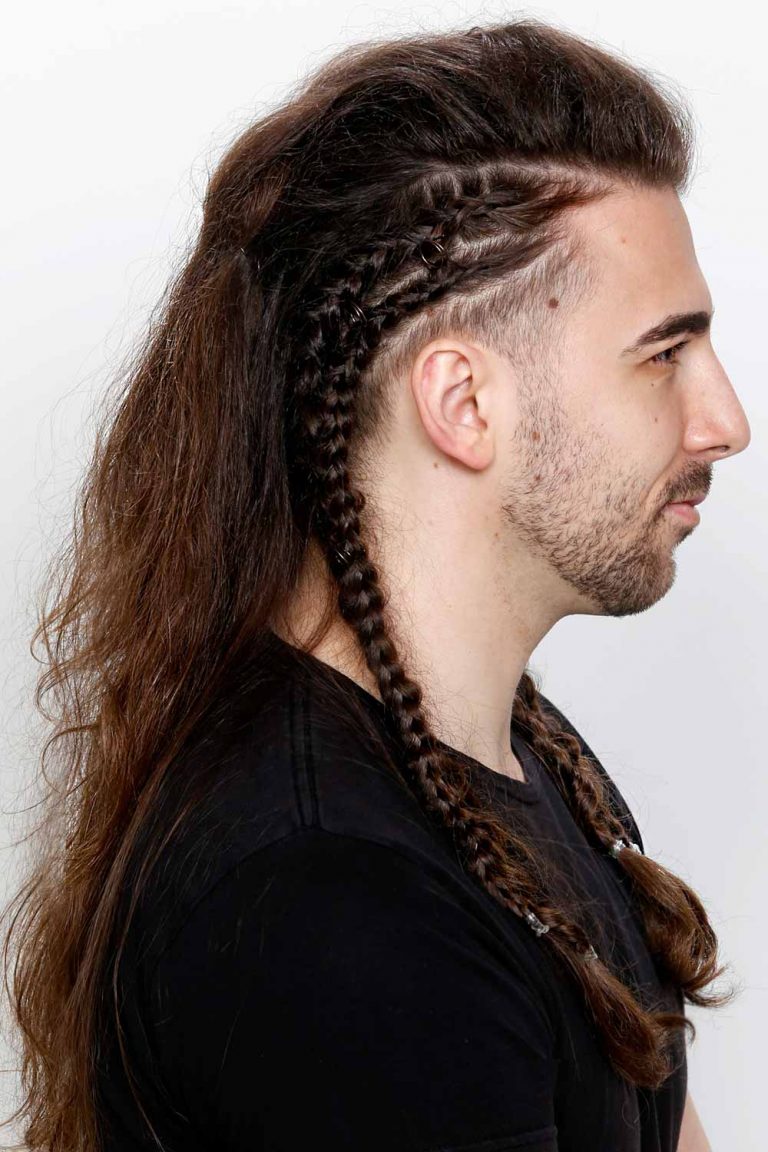 Credit photo: shutterstock
There are many simple updos for long hair for men, but when it comes to the party look, you are bound to look your absolute best. That is why this Faux hawk braid hairstyle may come in handy when you are in search for fancy and unique braided ideas!
Box Braids
Among simple updos for long hair should be mentioned box braids. With braids like that, you will kill two birds with one stone since it will become even easier to look after your hair and you will always look stylish and sleek no matter where you are headed!
Cornrows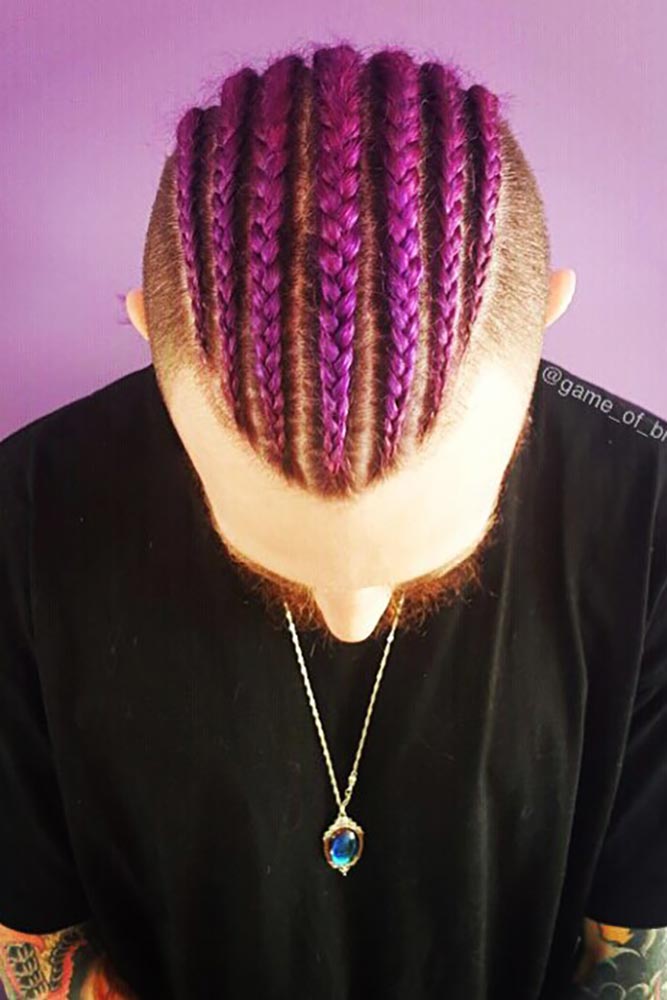 by @instagram_game_of_braids
Cornrow braids are another way to deal with your long hair once and for a while. Besides, you can also experiment with the coloring while wearing your cornrows.
Long Ombre Braids With Undercut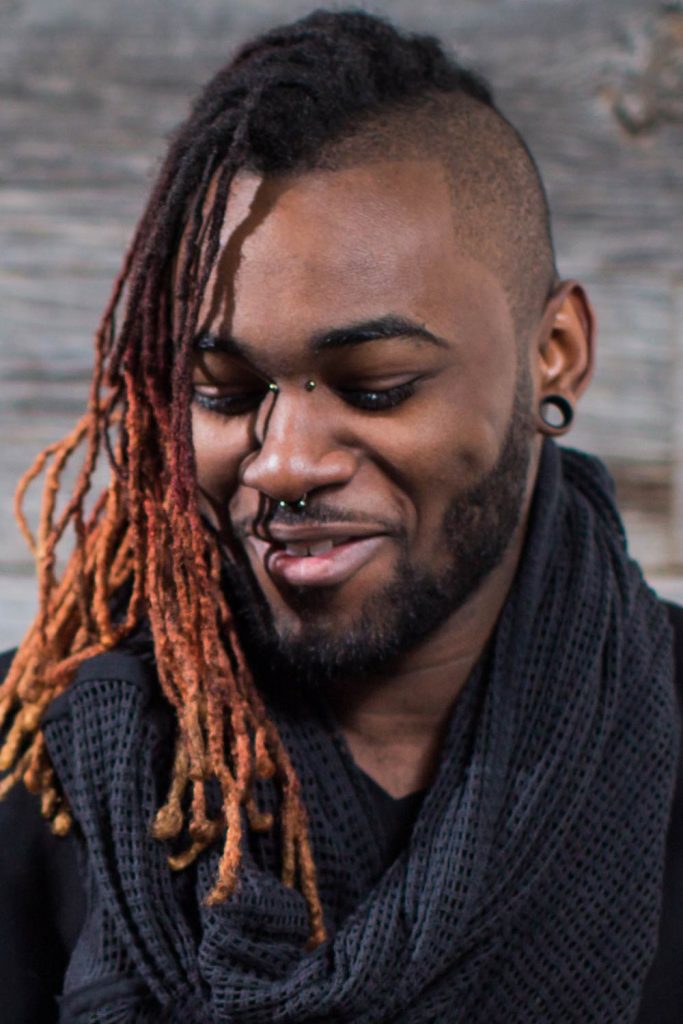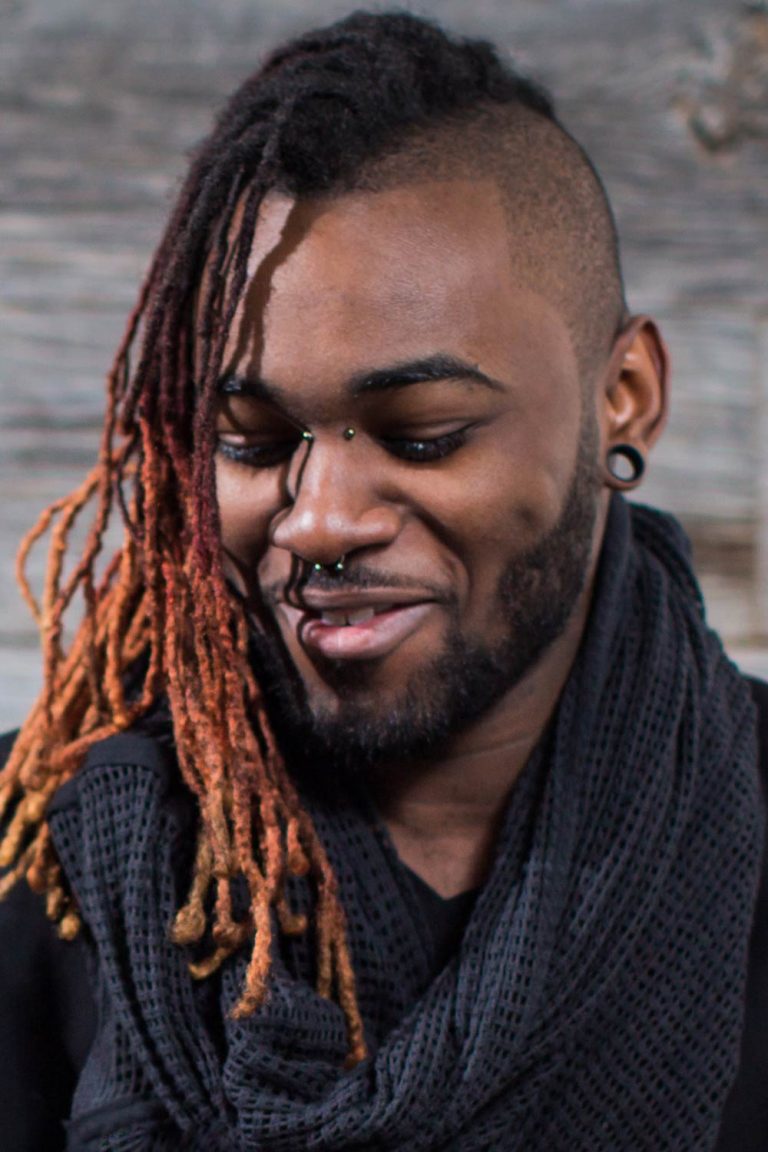 Credit photo: shutterstock
Regardless of your hair type, braids can give long hair structure while keeping styling time to a minimum. For a young, fun look stick to shades of deep orange ombre and remember to use a color-protecting shampoo and conditioner to keep your locks vivid.
Faux Hawk Braids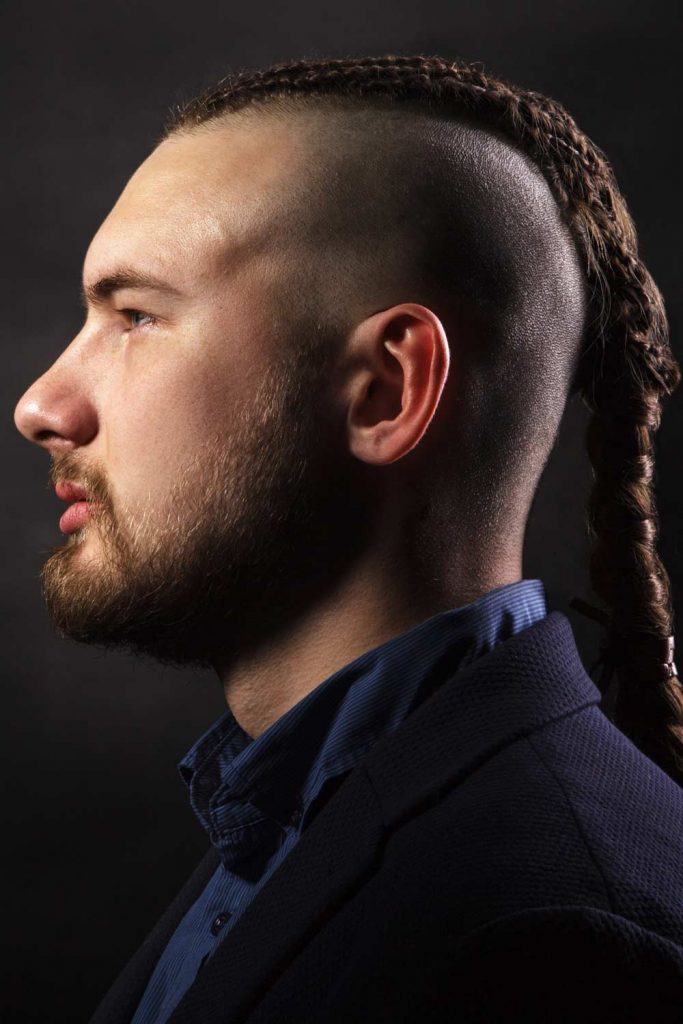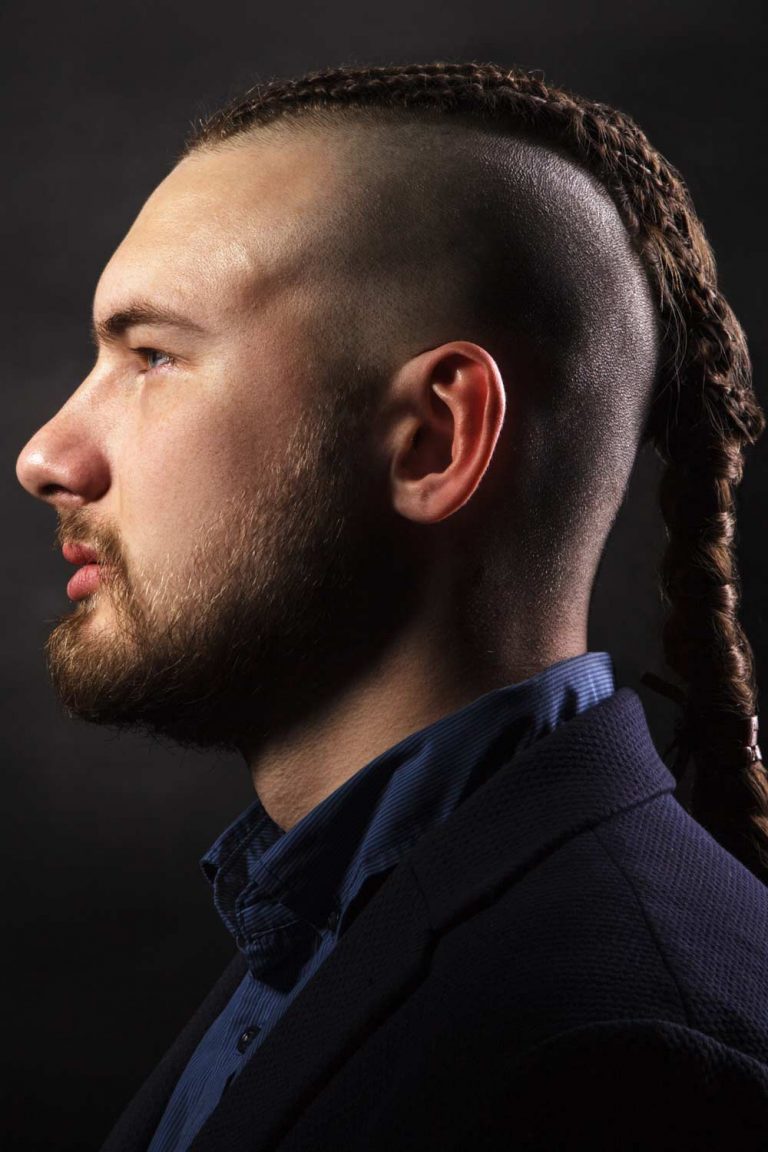 Credit photo: shutterstock
Edgy yet easily styled, hawk braids suit most hair types and once done can easily be left in for several weeks to cut down on maintaining hair.
Half-Up Braided Bun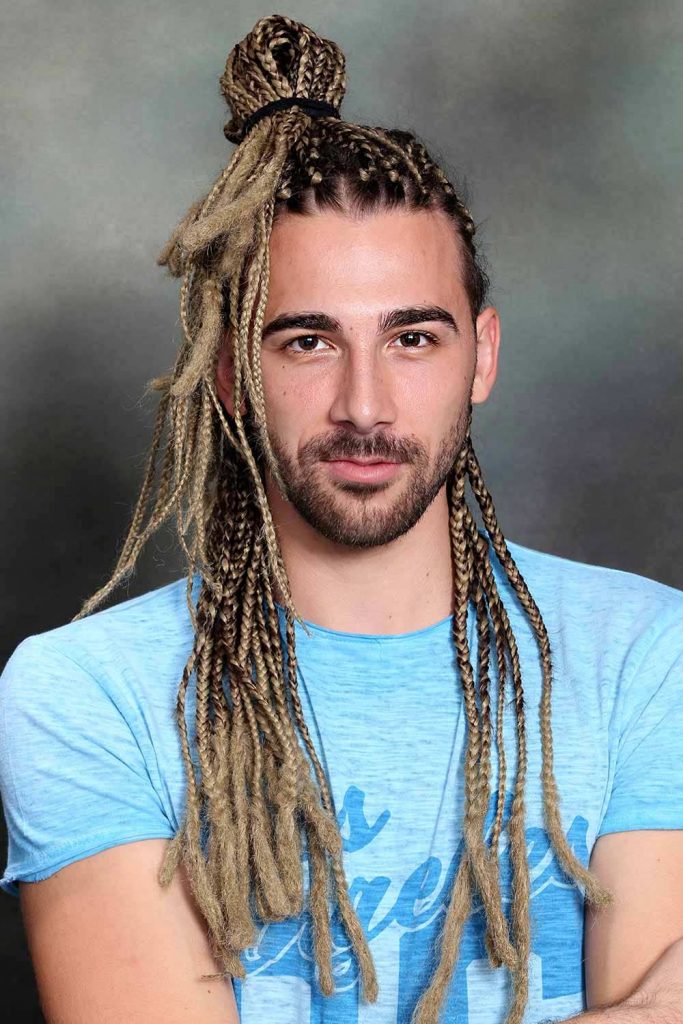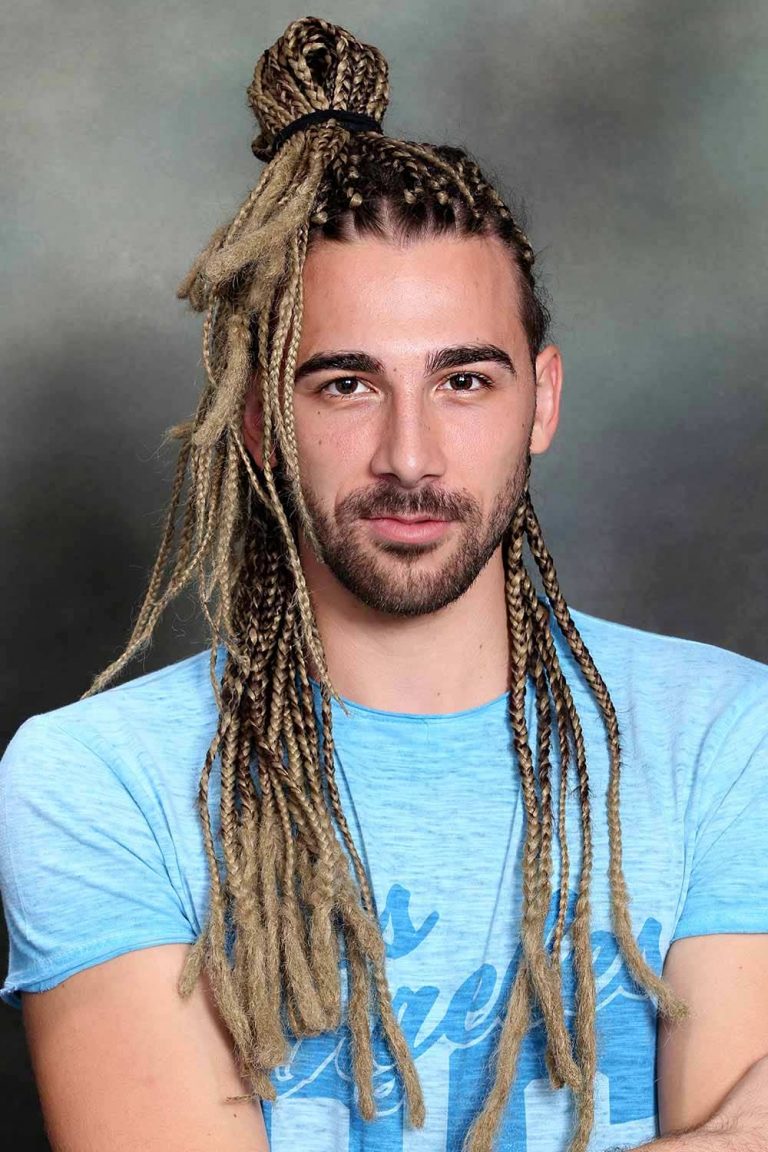 Credit photo: shutterstock
A low maintenance option for those with braided hair, this surfer-style look keeps hair off the face, making it practical for sporty types.
Dutch Braids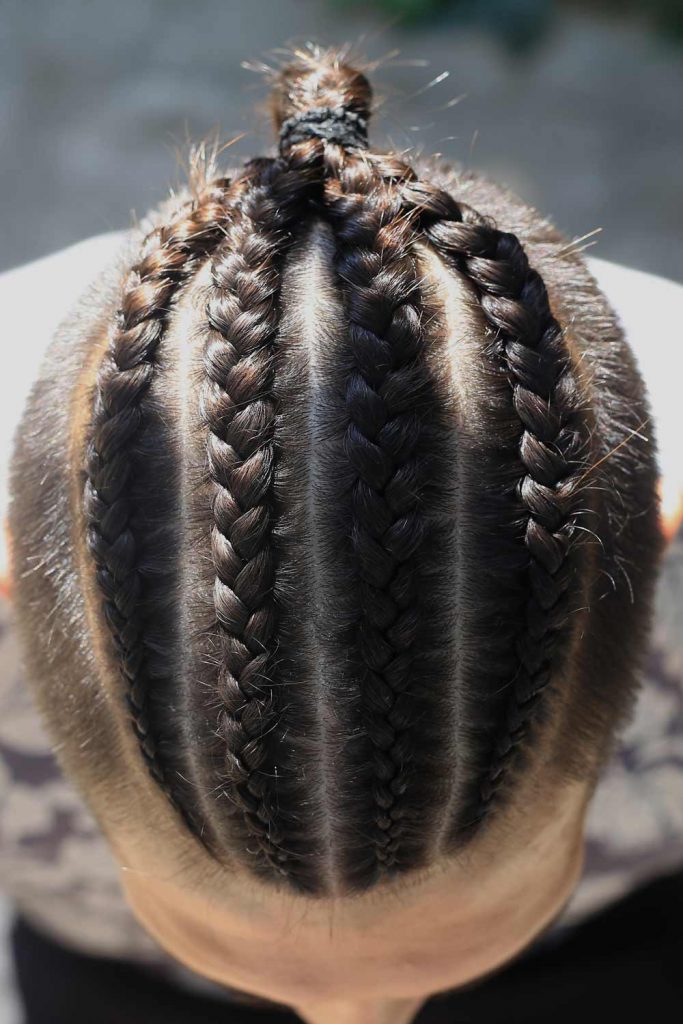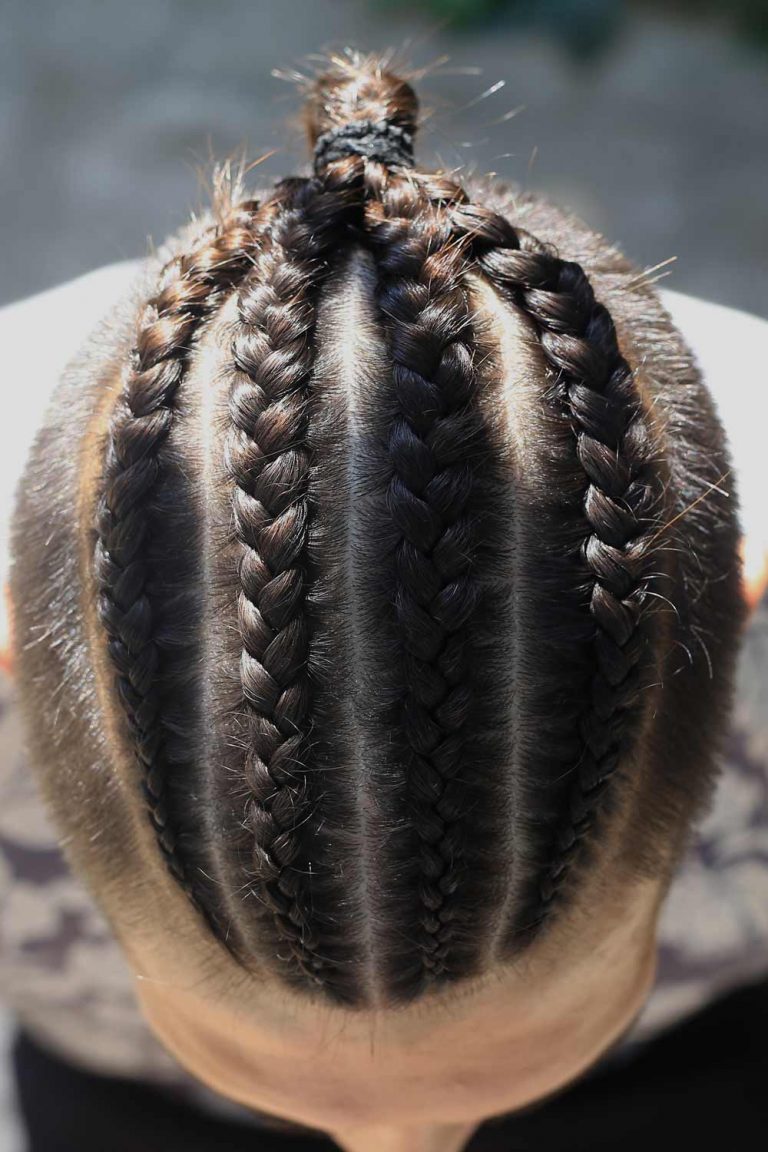 Credit photo: shutterstock
One of the more complicated style to replicate, Dutch braids are seriously sexy when done well, however. They are also suitable for most hair types and need very little maintenance once done.
Dreadlocks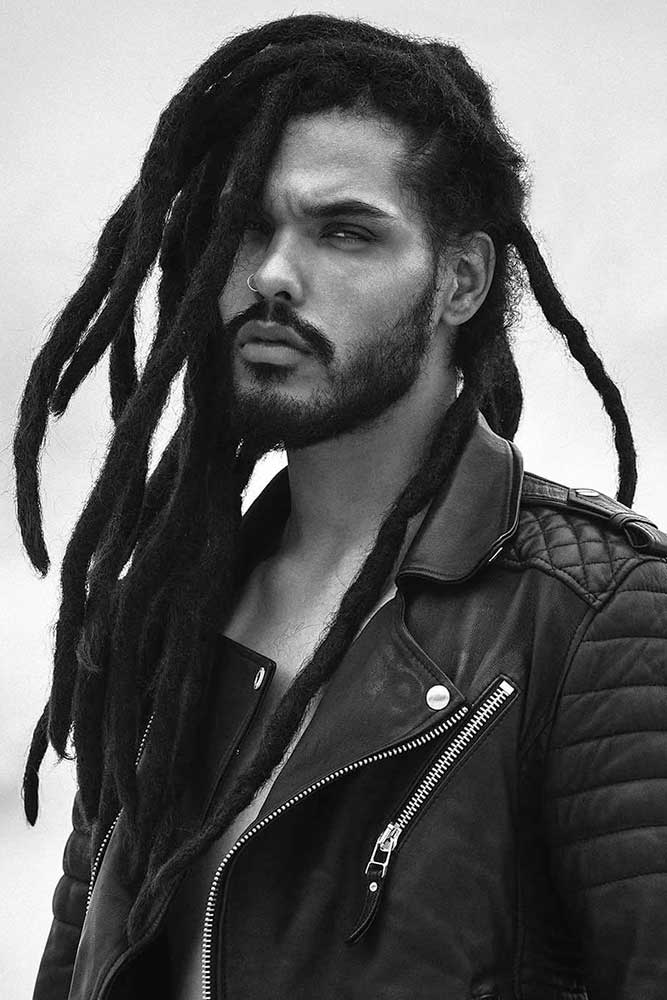 by @instagram_chezeus
Dreadlocks aren't precisely braids, but that does not make them any less stylish. What is more, it takes some courage to try this hairstyle out. In case you are feeling adventurous enough then this is something you should try out at least once!
Hair Down
When you are feeling like not styling your hair into any hairdo, it is time to wear your hair down. However, there is much more to this hairstyle option than it sounds and today we are going to prove it to you! Check out our lovely down long hairstyles for men!
Long Straight Hair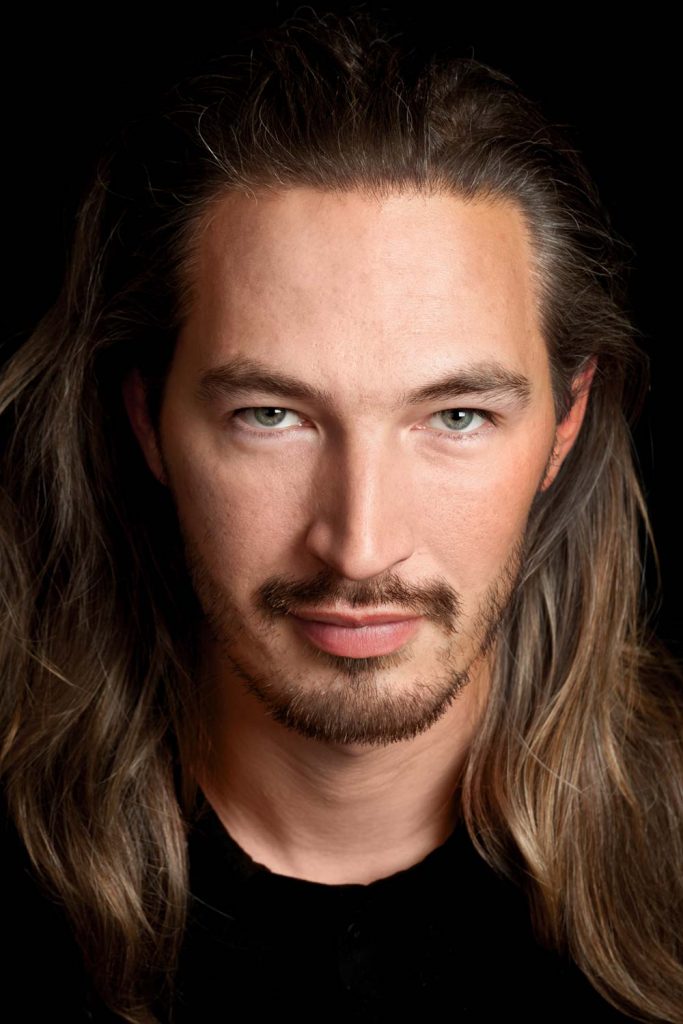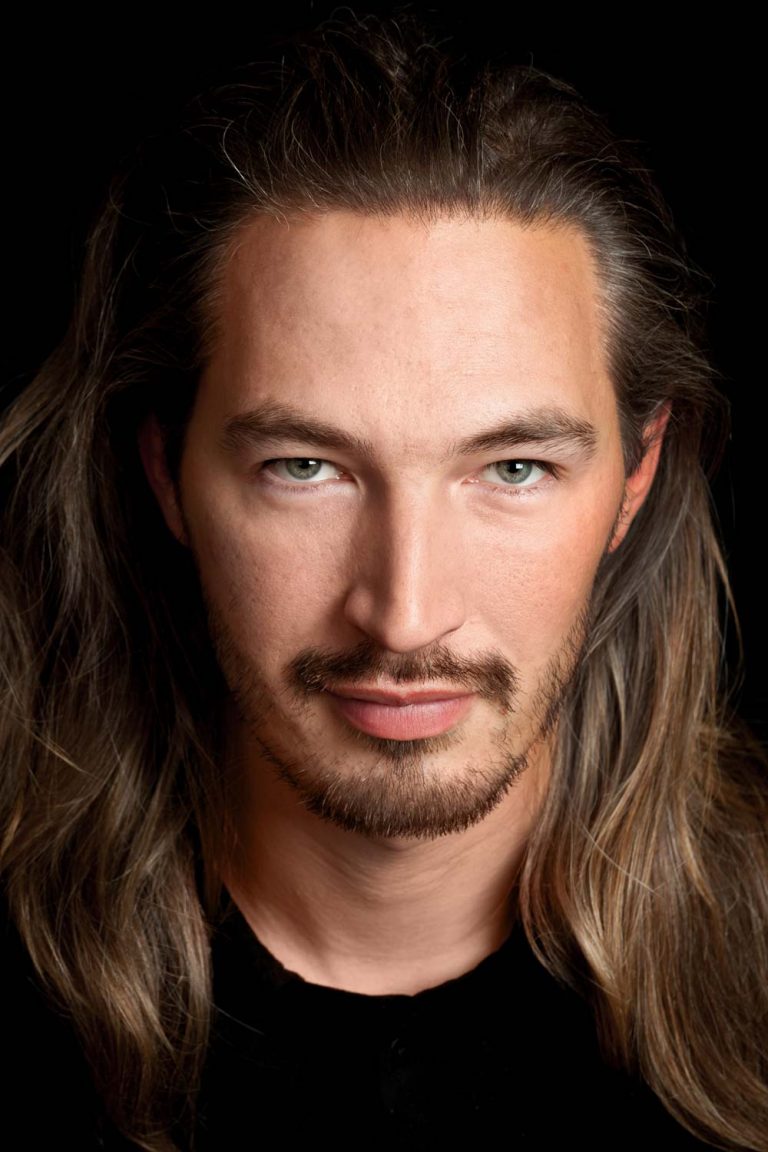 Credit photo: shutterstock
For those with naturally straight hair, this style is a classic one. Just make sure to use plenty of deep conditioners to keep your strands looking healthy.
Side Part Hairstyle
Credit photo: shutterstock
i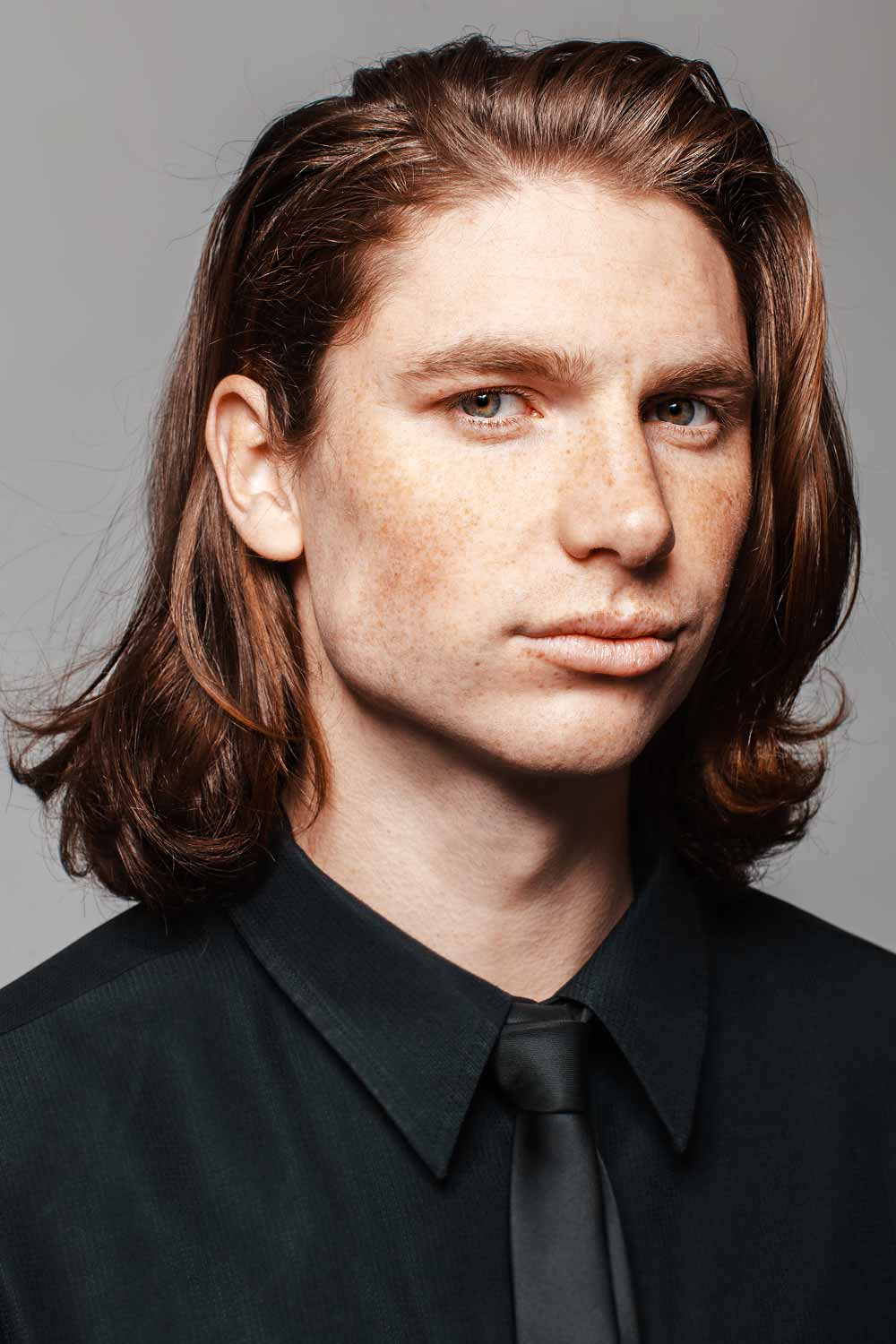 /
When you let your hair down, we suggest that you play around with the part a little. A side part will add some more charm and mystery to your look not to mention that sexy vibe that all the women around you will not dare to miss!
Slick Back Hair
Credit photo: shutterstock
i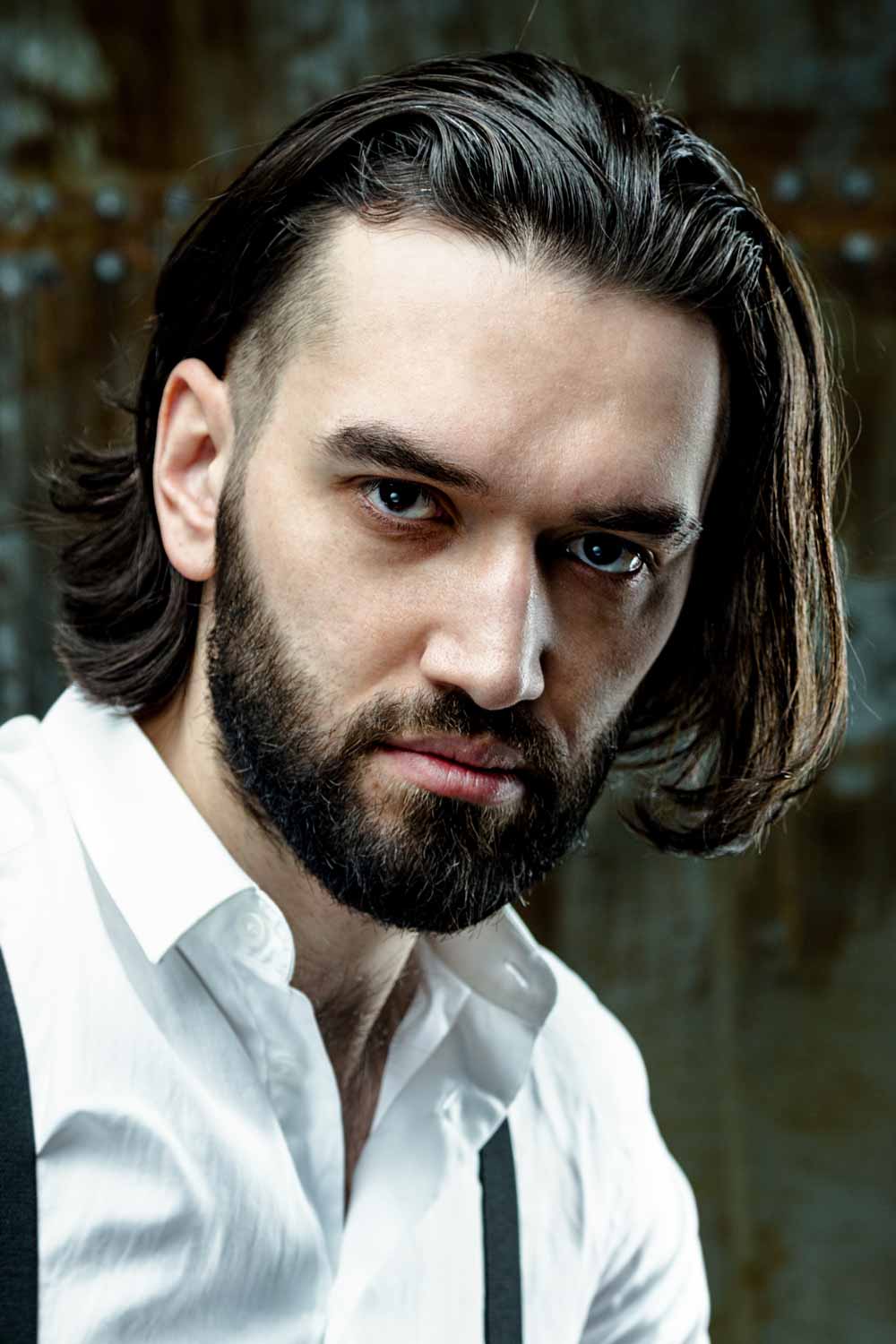 /
Slick back hair will suit those of you who are not that fond of your hair getting in your face. If you are wondering how to sleek back hair – it is easier than easy! All you need to do is to work some hair product in the front and leave all the party at the back. As simple as that!
Long Straight Hair With Middle Parting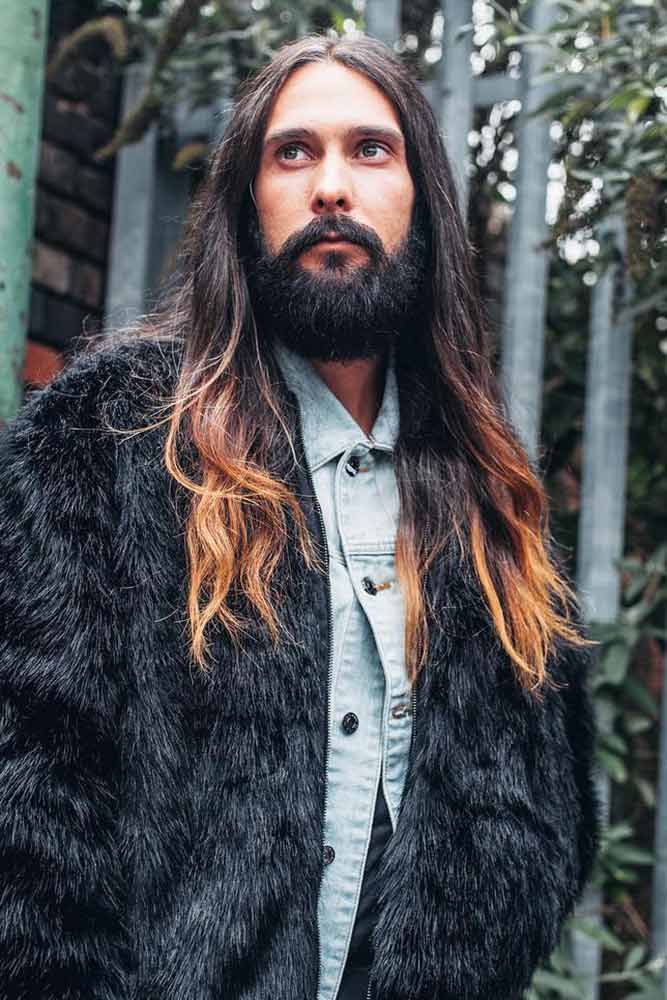 by @instagram_jimijimmi
There are many guys with long hair who like their hair down and straight. That is why we think that most of the straight hair men will appreciate the middle part option. So simple and so natural!
Shoulder Length Surfer Hair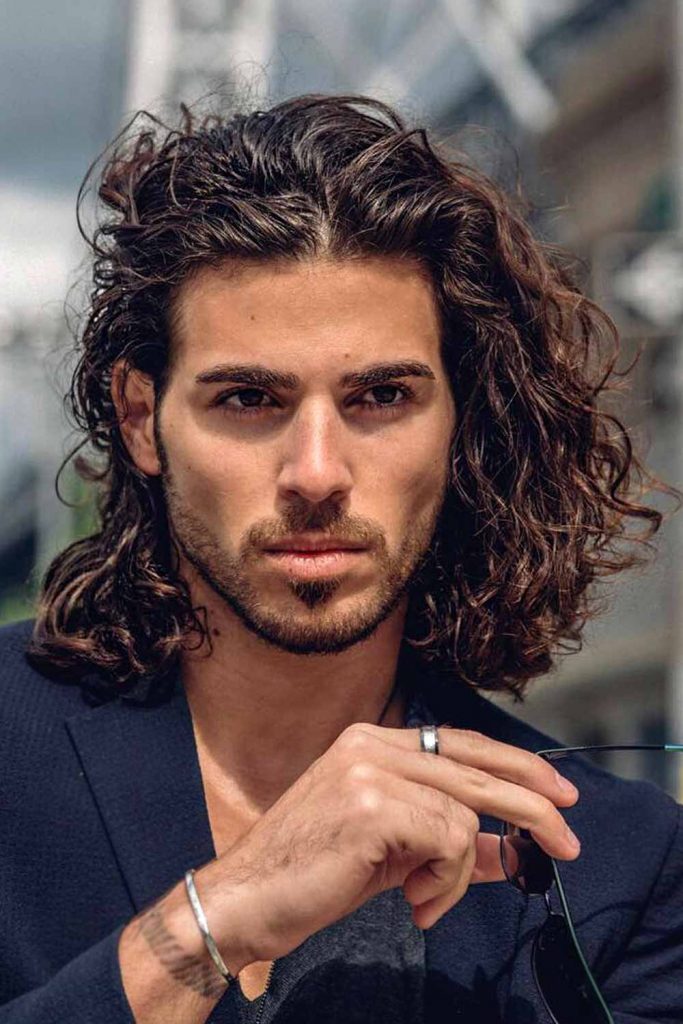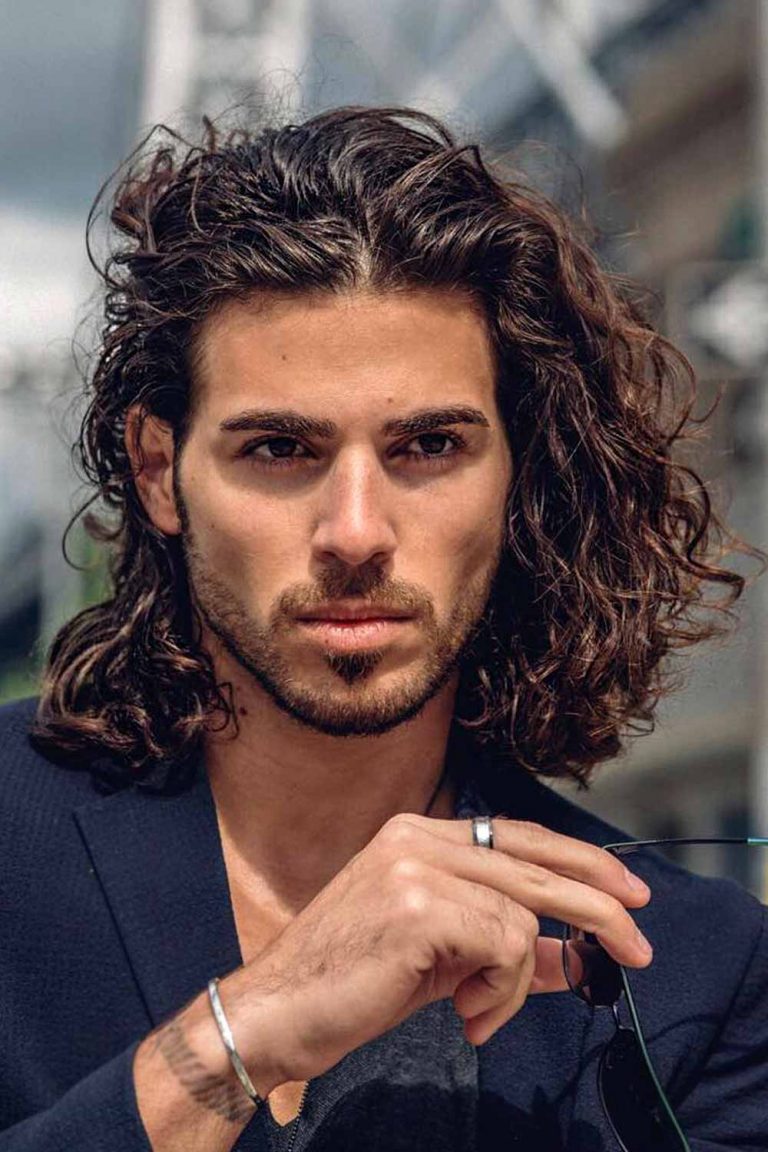 by @instagram_enrico.ravenna
Shoulder length hair may be a little too annoying to play around with since there is a high chance that it will get into your face too often. That is why we suggest you try out this surfer hair style, just a little bit of hair product will keep your hair in place while it will still look gorgeously messy and fun.
Long Curly Hair
i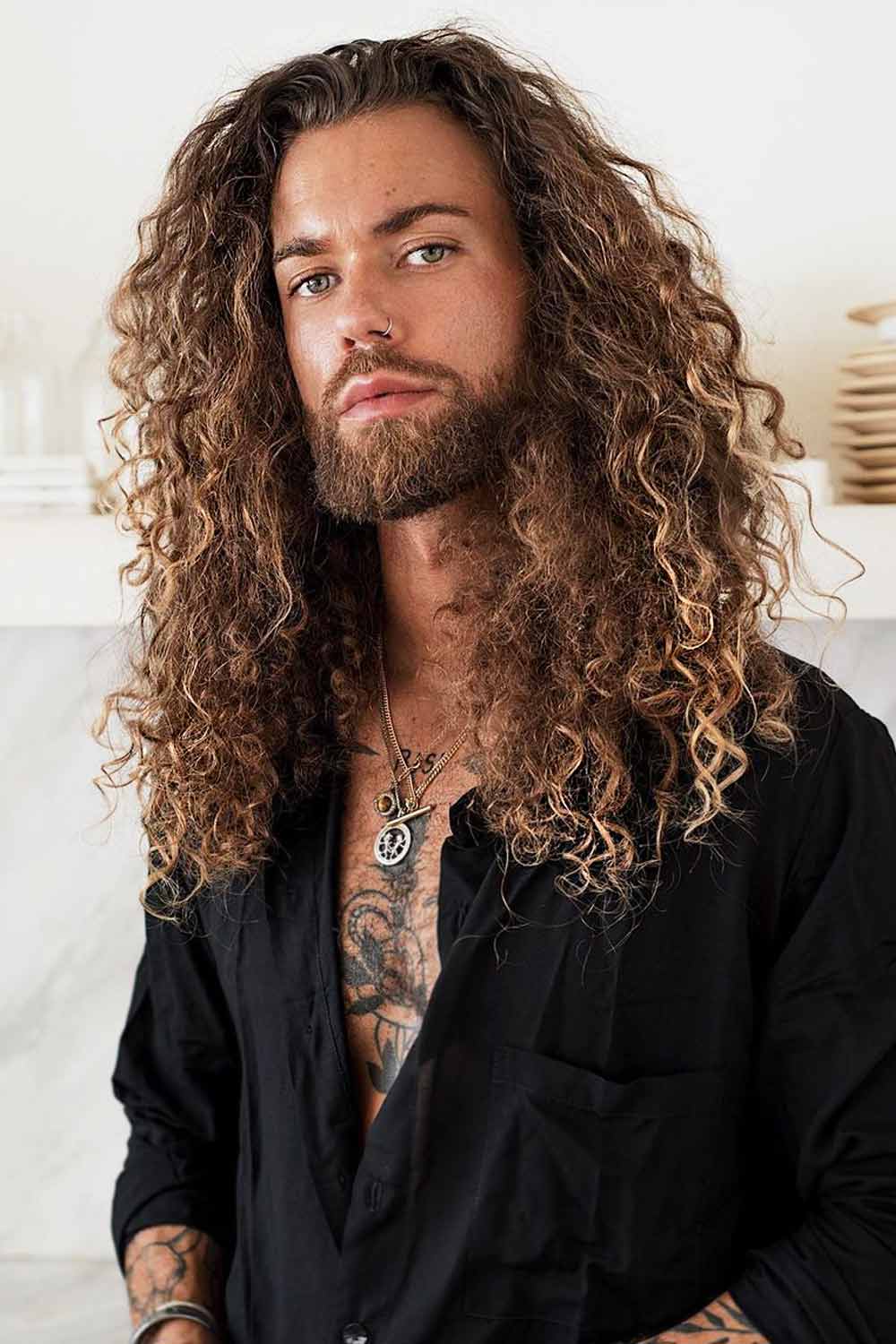 Credit photo: shutterstock
i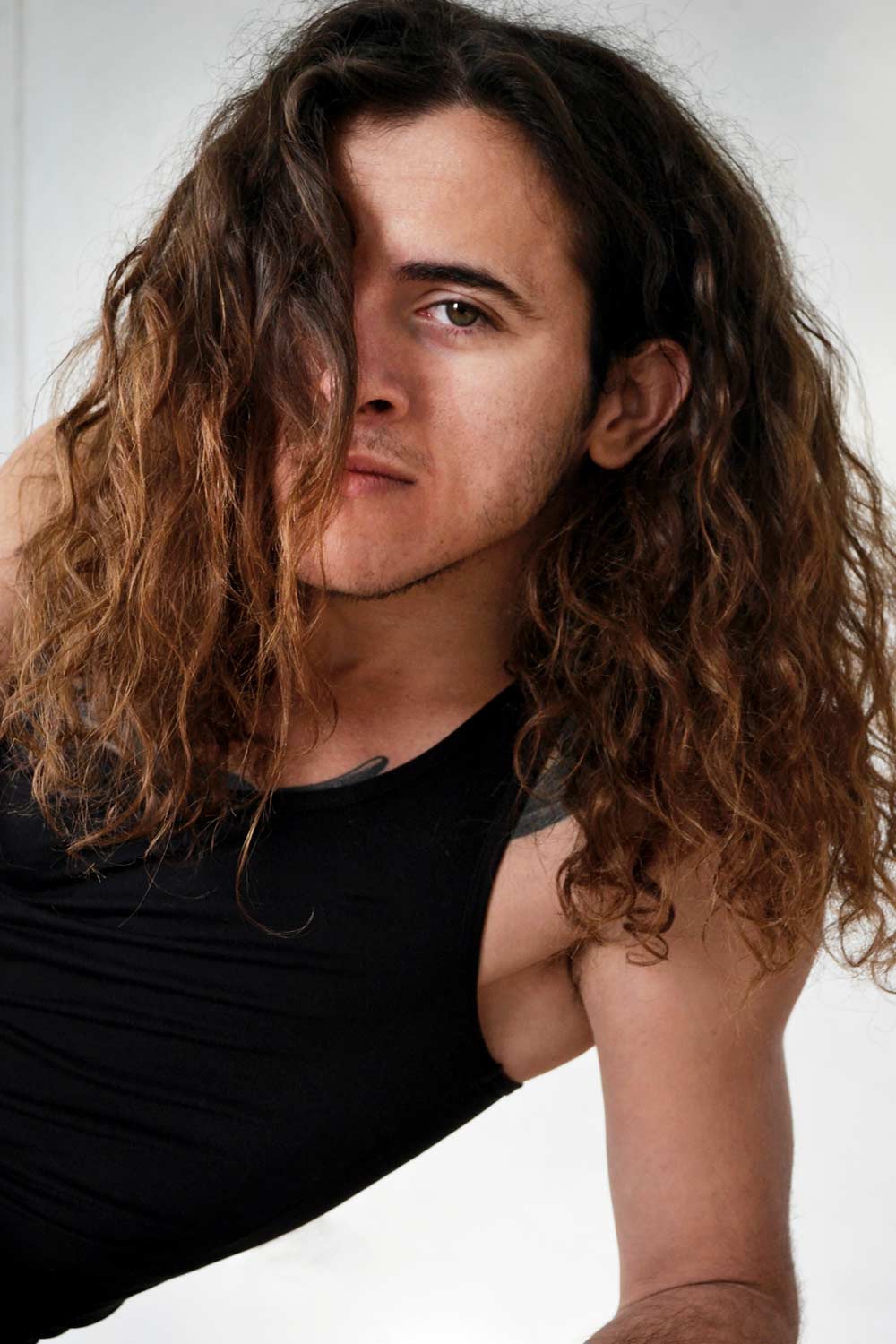 /
Long hairstyles for men with curly hair are many, but we think it is best if you wear your fabulous locks down. It is ok to experiment with curly hairstyles for men, but wavy hair that is loose has its unique charm.
Great for thick hair types, curly long hair has body and volume and looks great for most occasions. To style long men's hair, remember to keep locks healthy with regular conditioning and serums.
Curly Afro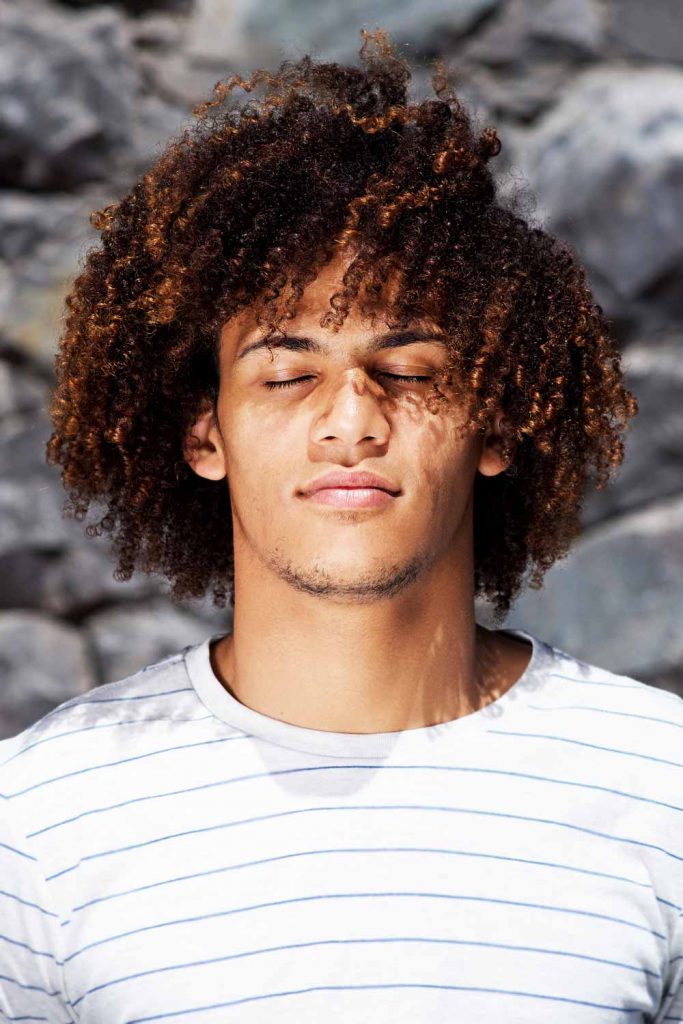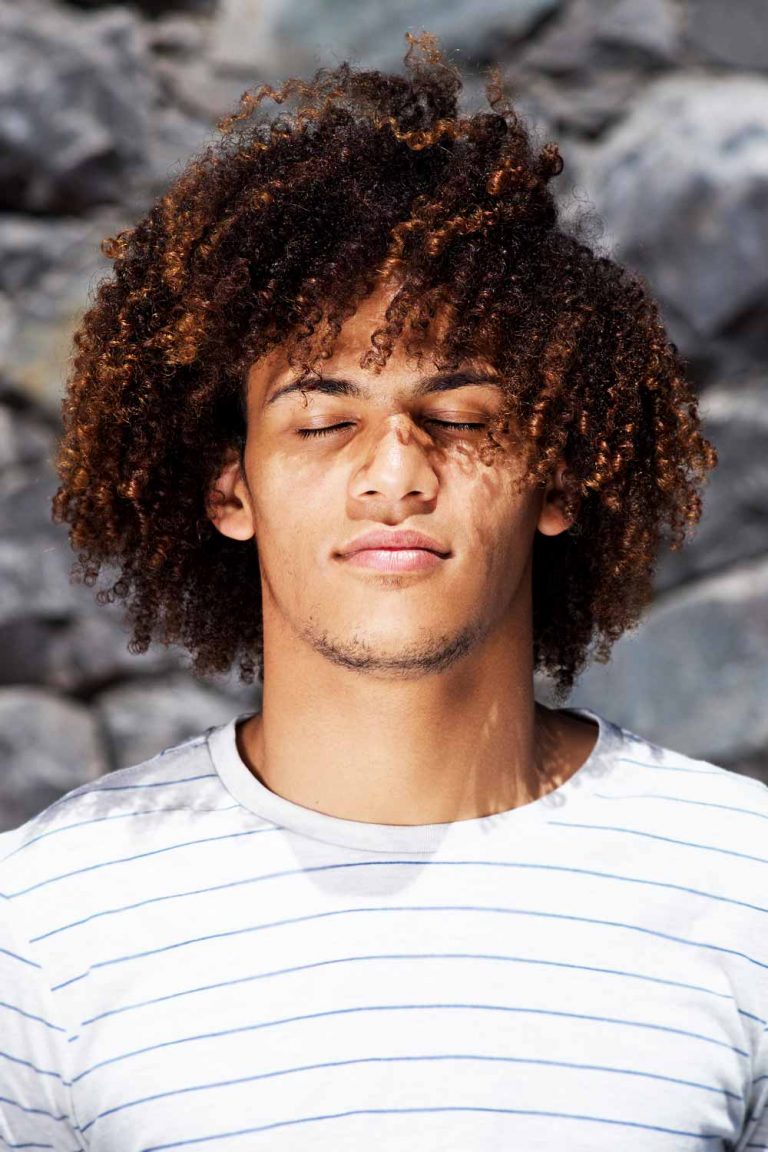 Credit photo: shutterstock
Among afro hairstyles for men curly ones prevail, and when you have a look at this photo, you will understand why. So elegant and stylish that it is hard to take the eyes off!
Side Styling For Special Occasion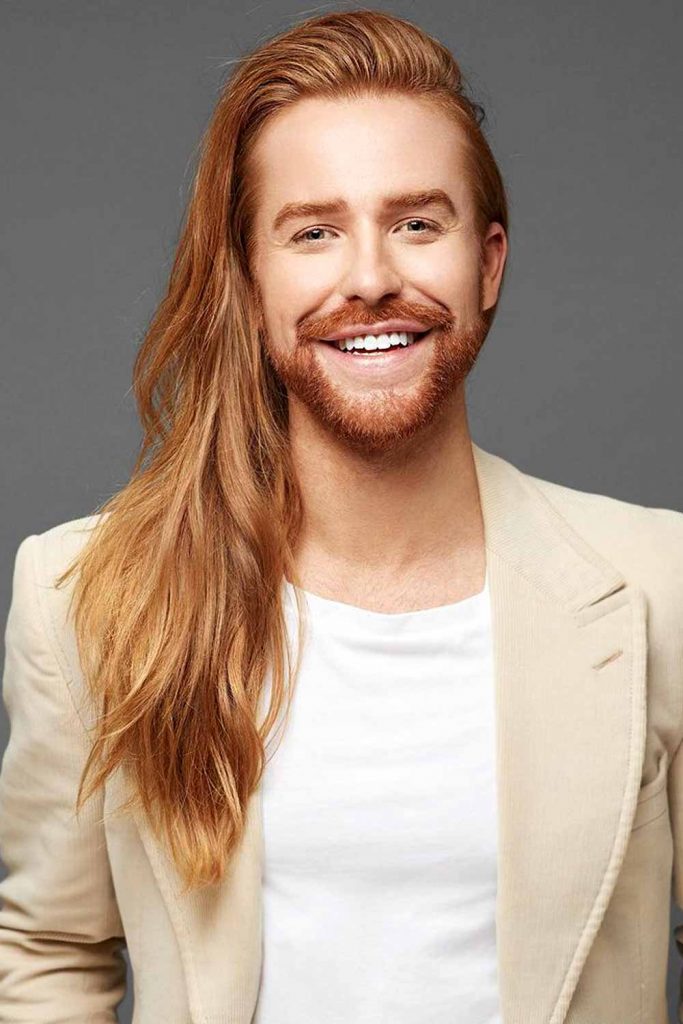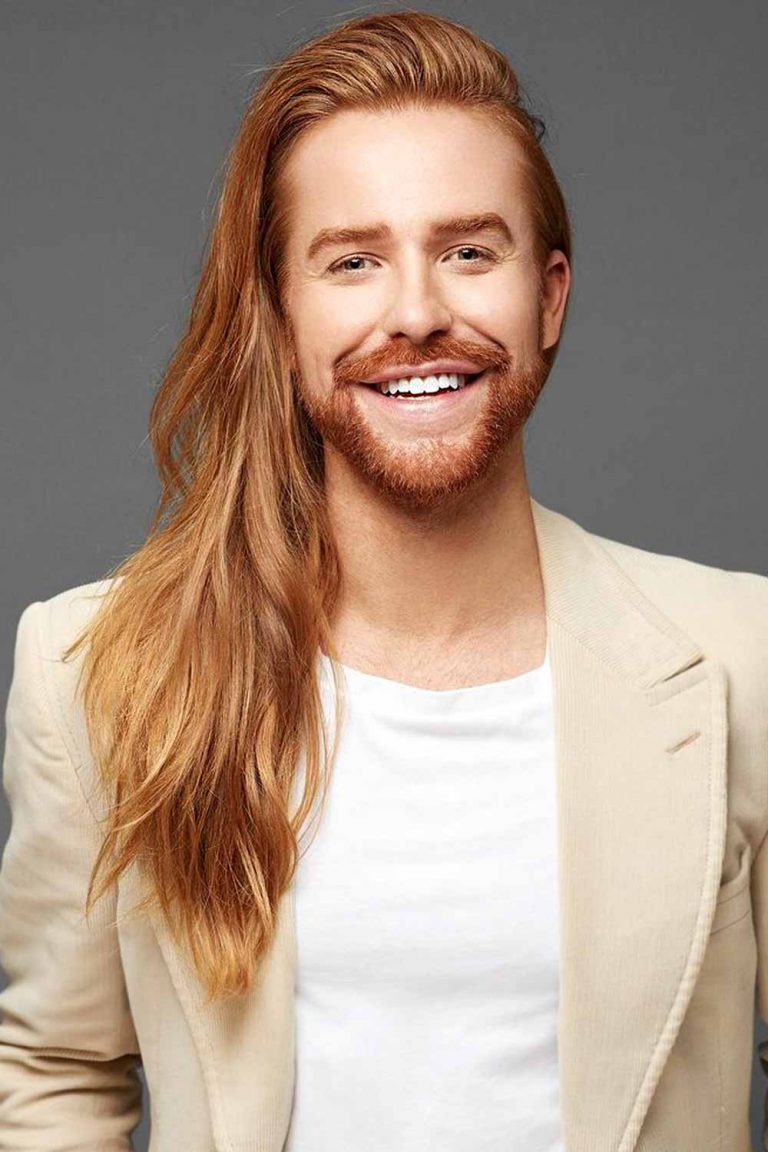 by @instagram_matthewmane
Apart from the wedding, there are a great many other fancy events in our lives when we need to look our absolute best. If you don't want to go for something overly elaborate, simply push all of your hair to the side. In addition to being unbelievably effortless, this hairstyle looks sophisticated and classy.
Slicked Back Long Curls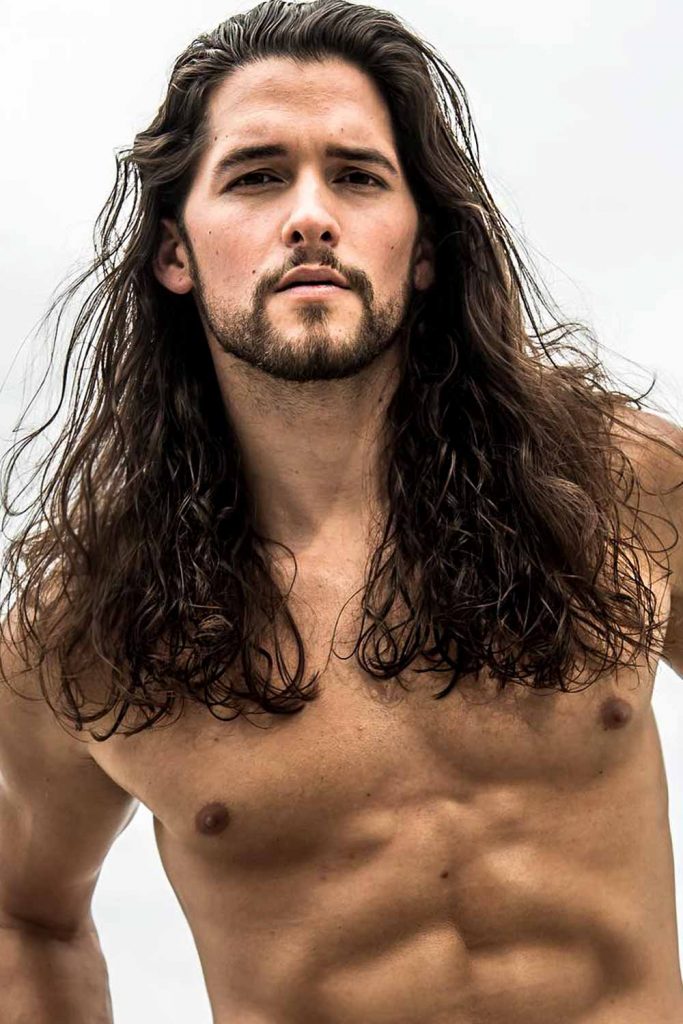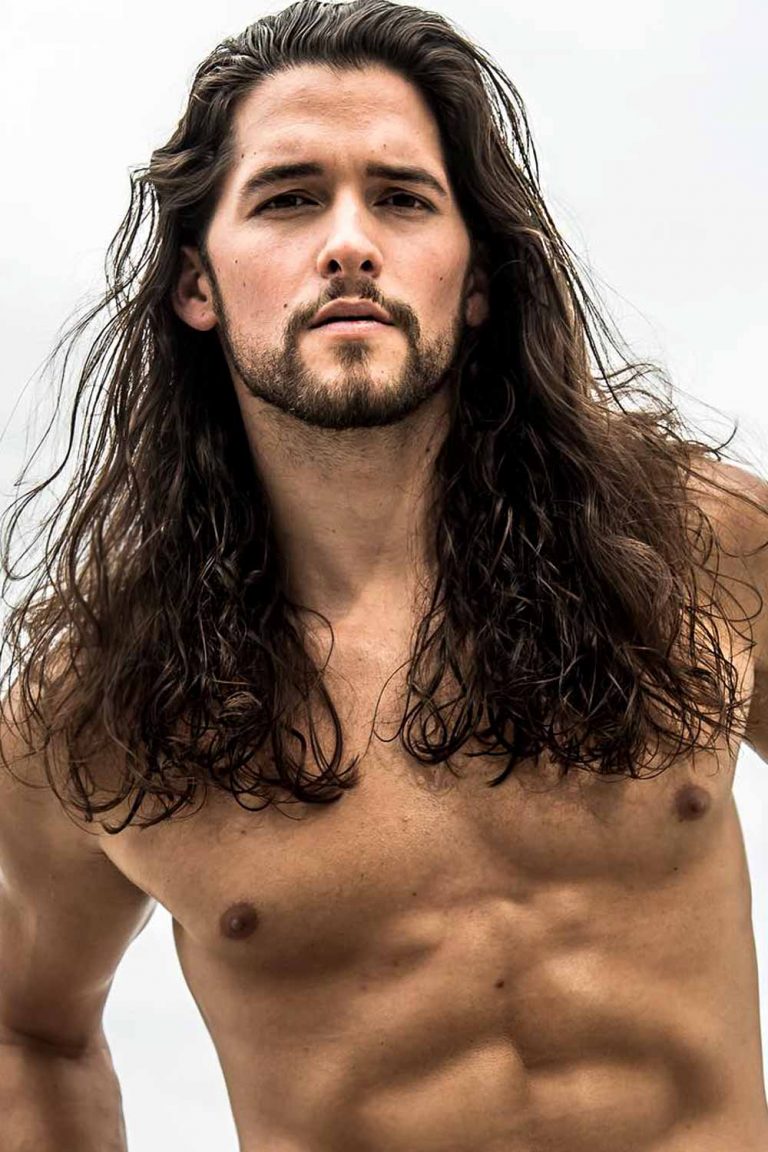 by @instagram_brandon_katz
If you are lucky enough to have naturally curly ringlets, then Mother Nature provided you with a multitude of styling options. To both emphasize your exquisite sense of style and accentuate the boldness of your hair texture, just slick back the locks with a generous amount of hair gel. Although this hairstyle is simple and effortless, it expresses your easy-going personality like no other.
Messy Side Styling With Long Beard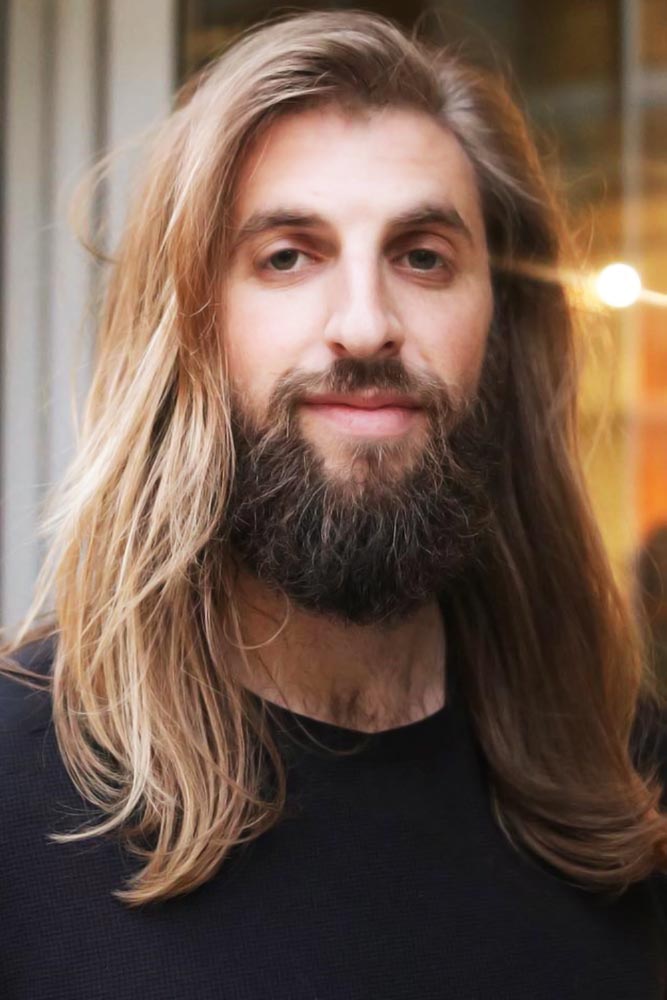 by @instagram_salsalhair
The majority of the most popular long hairstyles for men are messy and tousled. This is because in such a way your hair looks much more natural hence attractive than when slicked and polished. In case you're afraid that long locks impede your virility, pair them with another ongoing men trend – a long full beard.
Half-Up Hairstyle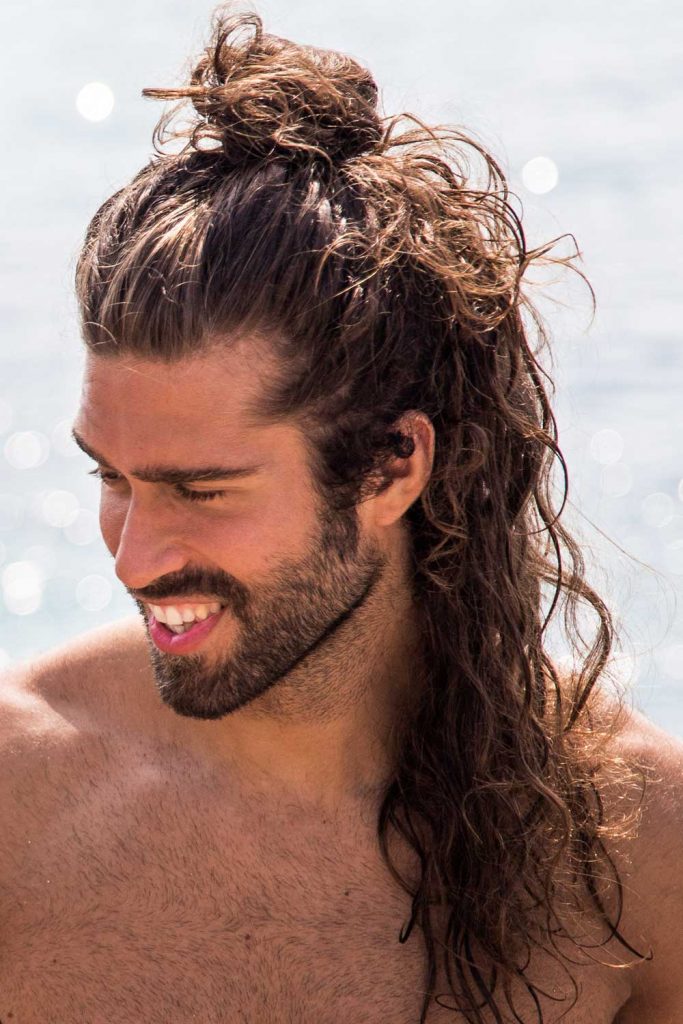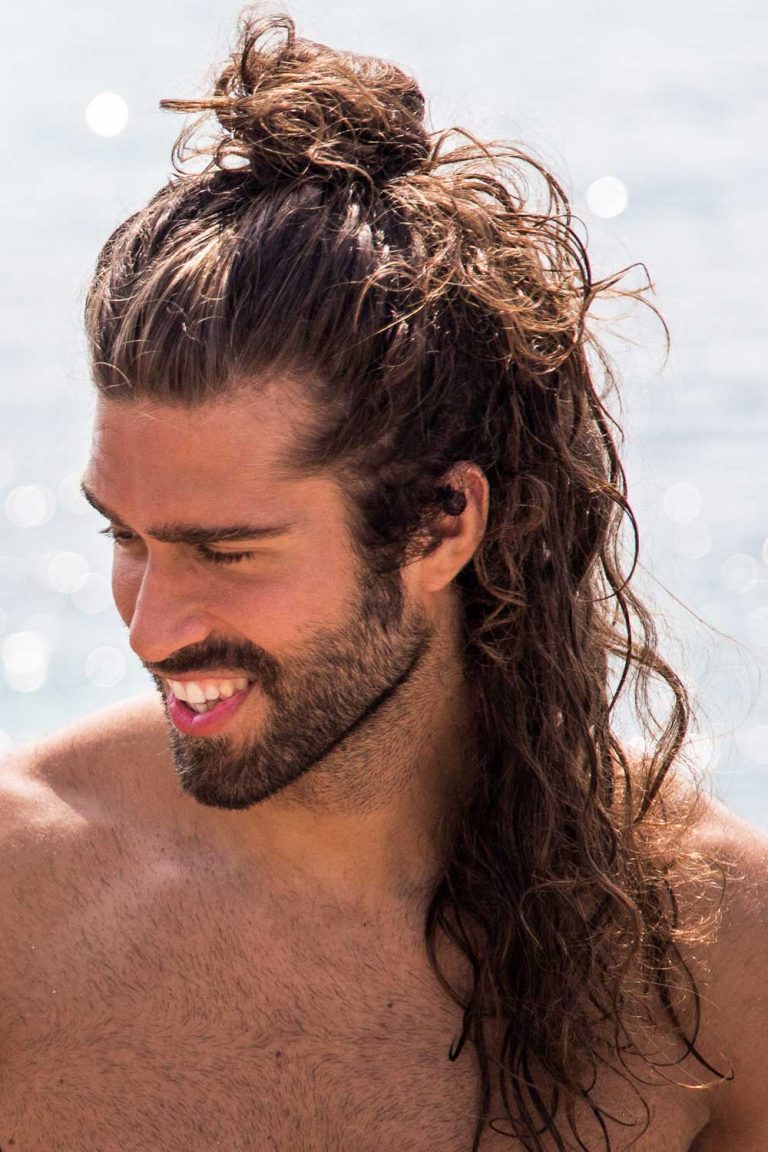 Credit photo: shutterstock
Whether your hair is straight or curly, all hair types can looks great in a half up-half down style. Keep the look casual opting for a hair tie that is a similar colour to your own hair. And remember to choose a non snag tie to avoid damaging those long strands.
Long Textured Waves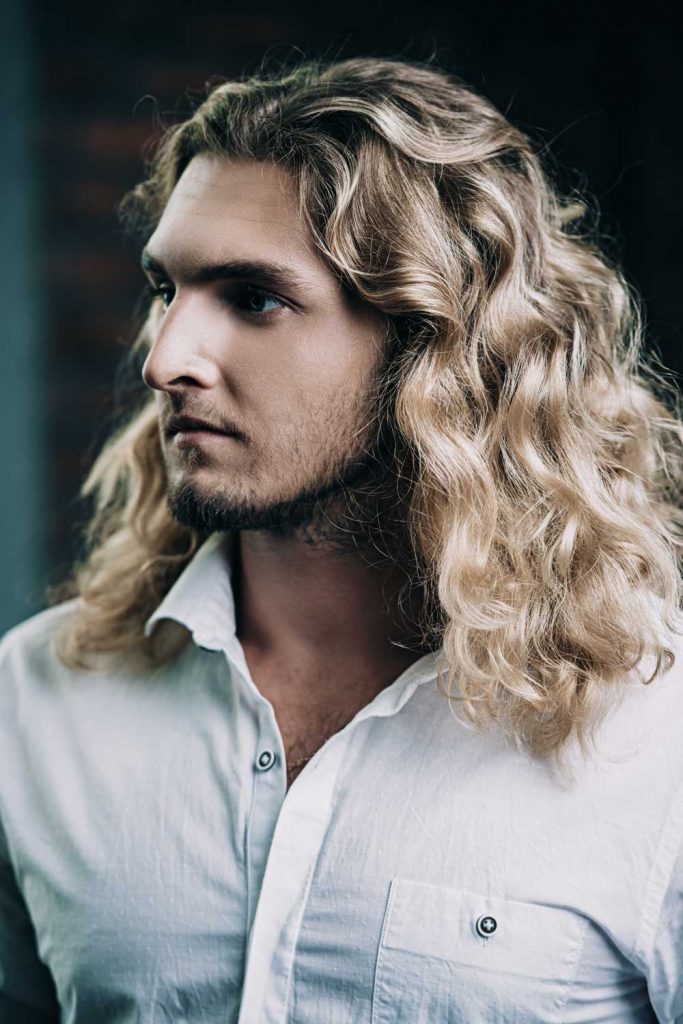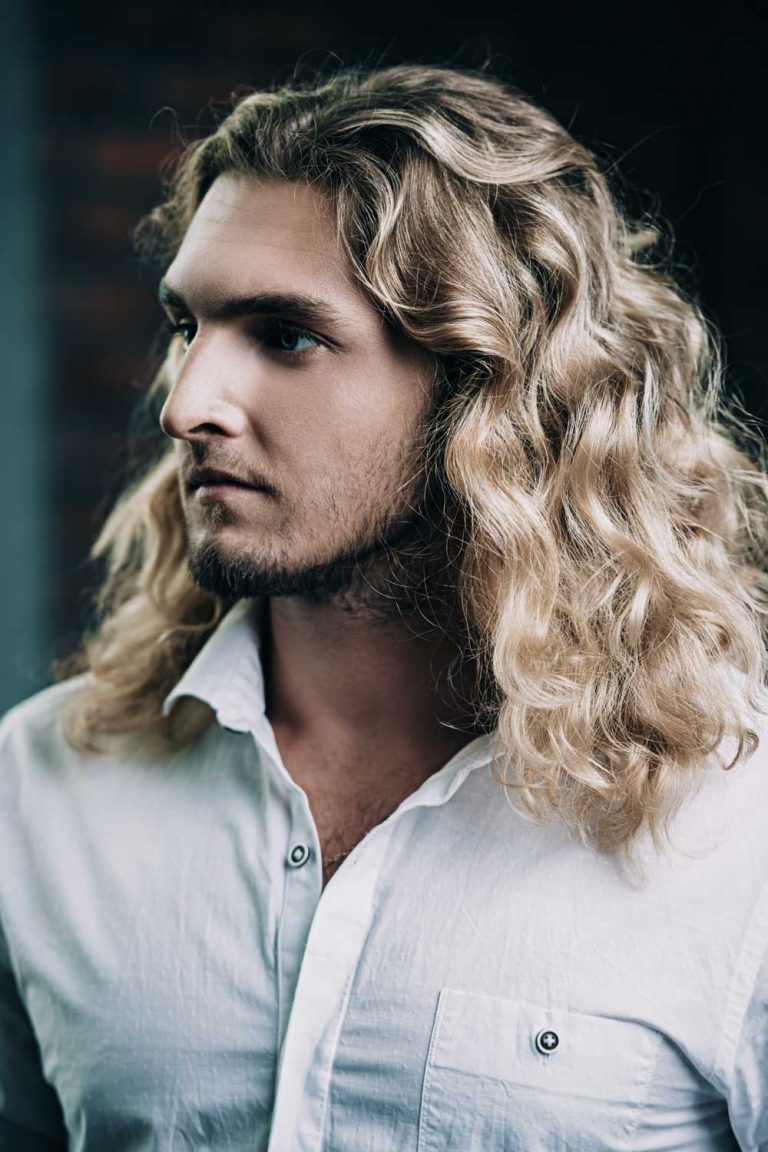 Credit photo: shutterstock
The ideal style for natural fuller, curlier hair, textured waves offer a chic yet summery look. Remember that curls will straighten the longer your hair is so for tight curls opt for a chin length style, while for looser waves keep hair shoulder length or longer.
Curly Bob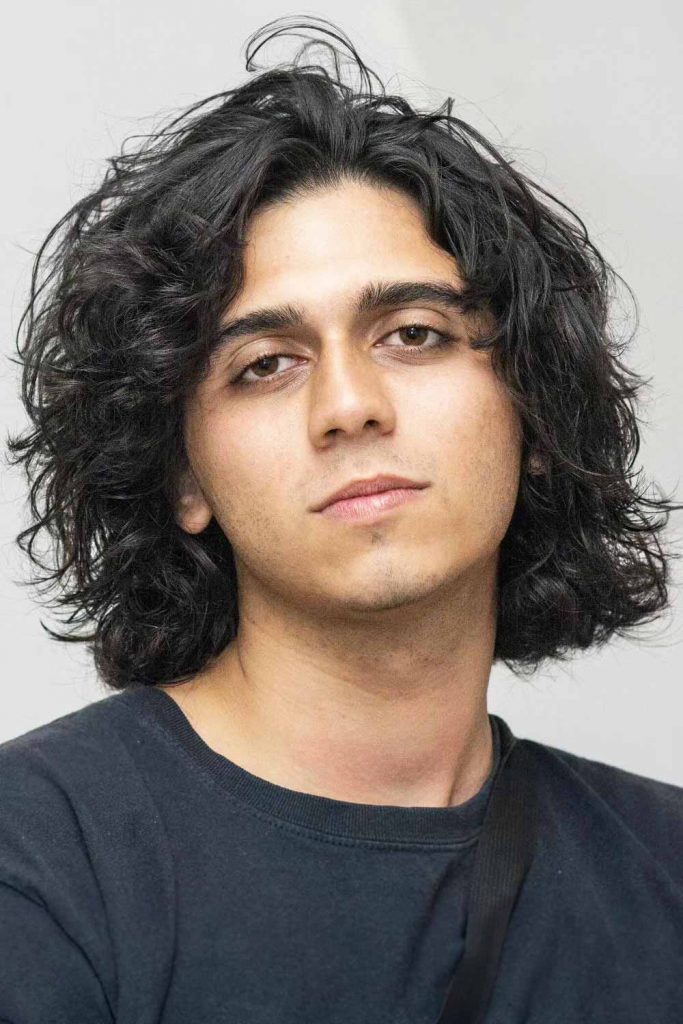 by @instagram_urednistvo.pricesk.robert
'70s-Inspired Shag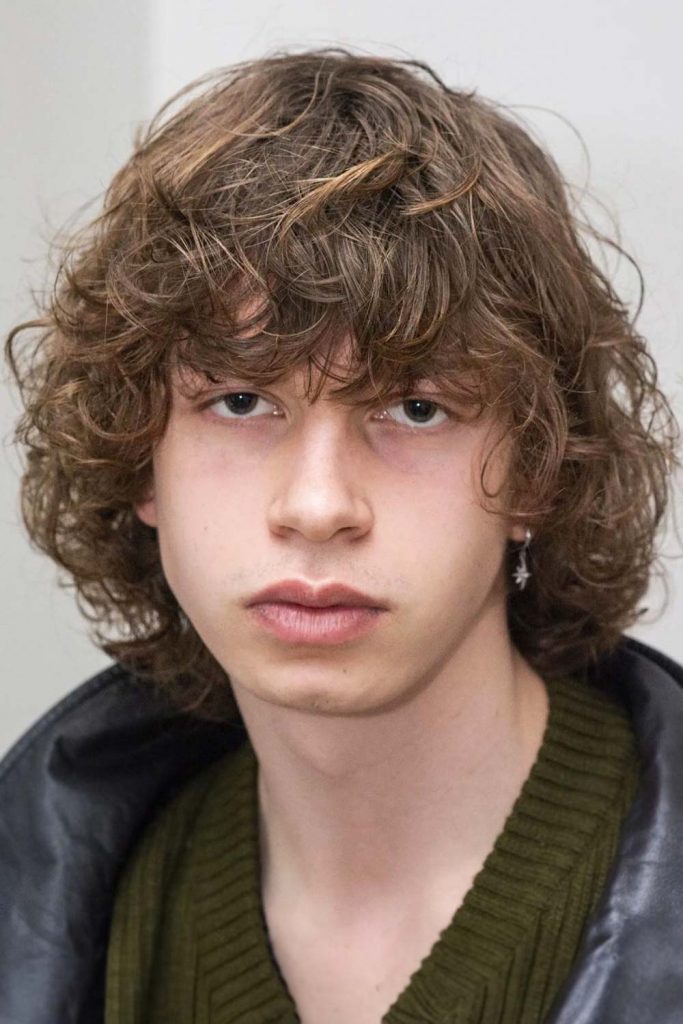 by @instagram_urednistvo.pricesk.robert
Surfer Hair Men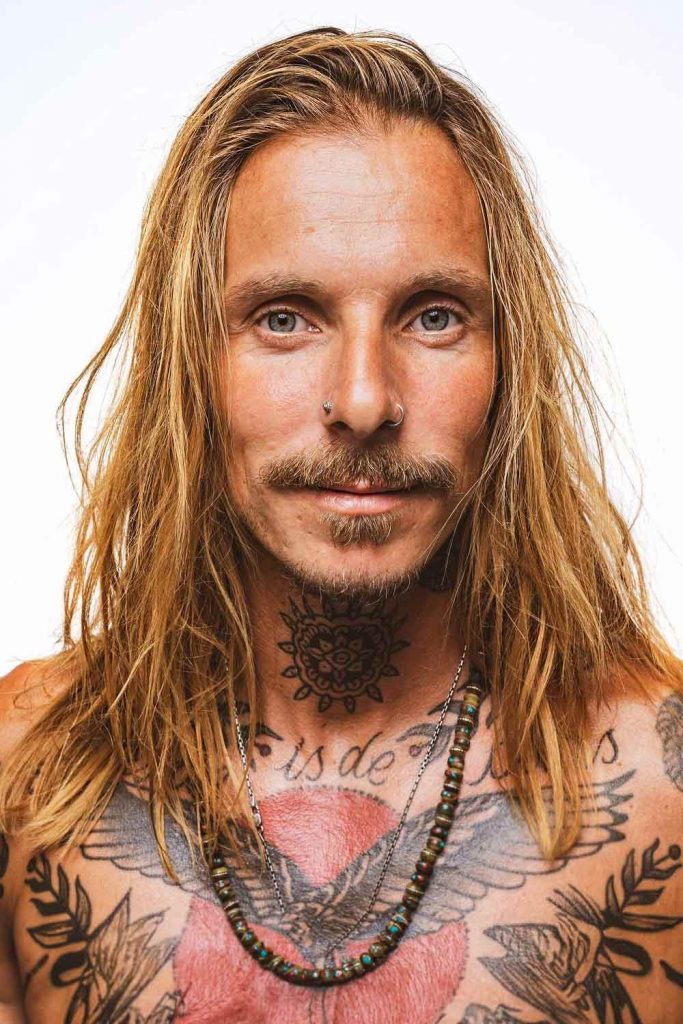 by @instagram_the_bloody_butcher
Rock 'n Roll Hair Men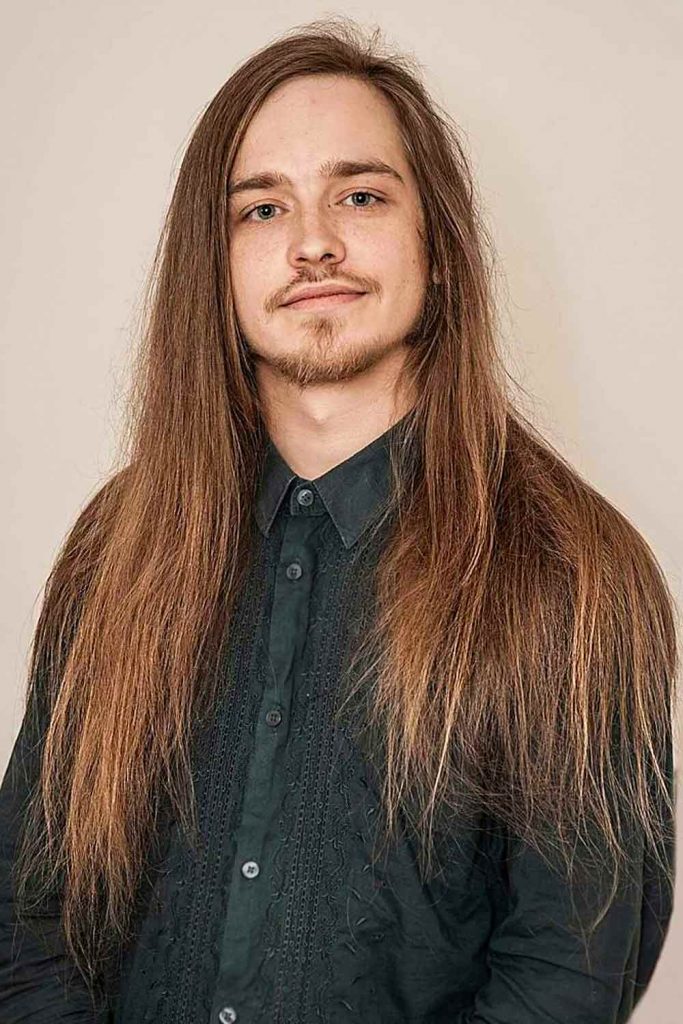 by @instagram_urednistvo.pricesk.robert
Layered Beach Waves Men's Style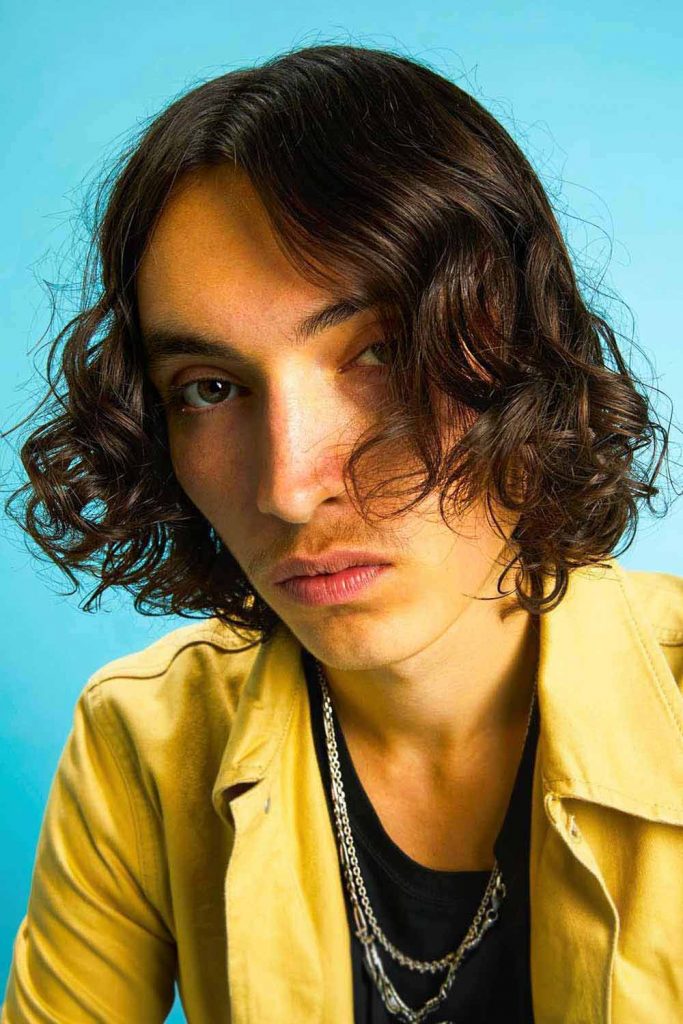 by @instagram_charliegray248
Long Wolf Cut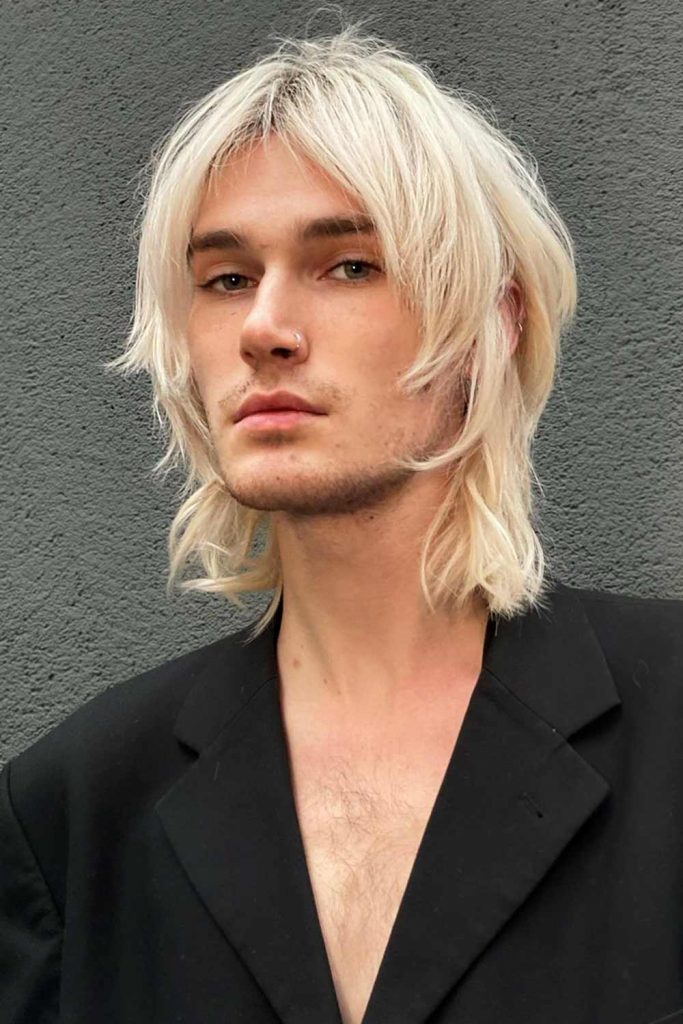 by @instagram_cut_and_color
We hope you fall in love in our collection of long hairstyles for men. Try out some of this sexy and stylish hairstyles and all attention be on you!
People Also Ask
Is long hair in style for guys?
What is the most attractive hair length for a man?
What do men do with semi long hair?
Was this article helpful?