The Man Bun Is The Classic Trend of Now, Not For Nothing!
The man bun that used to be the calling card of stylish hipsters has become a brand new classic hairstyle that appeals to men from all over the world. While some gents still have doubts about this simple 'do, most men of different ages and images have made it a part of their styling routine. And the key to such a success lies in the power of its simplicity and in the way the style enhances a wearer's masculinity.
For men who have always wanted to grow out a long mane or those who already rock long hair, we've prepared the iconic compilation of the hottest man bun styles. Besides the dose of inspiration, today you are going to see how to get and style the new men's trend. Your manbun-guide is waiting for you to make a step towards style sophistication!
What Is A Man Bun?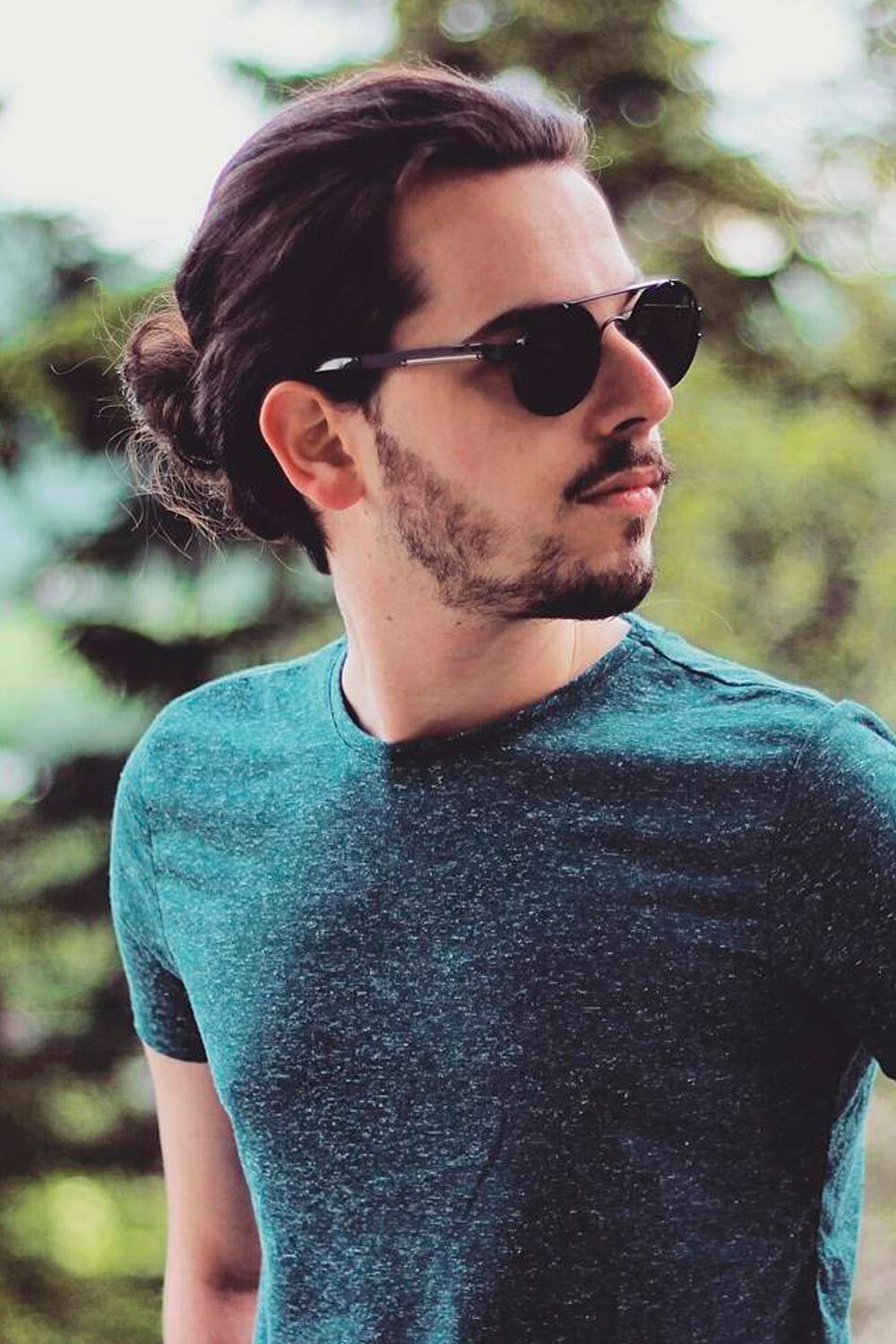 by @i.li.yan
It's pretty easy to confuse the man bun with top knot hairstyle: these two styles both gather up your long hair. But unlike the knot that simply loops up, getting the first style requires gathering your hair and tying it on the back of your head so that it forms a round bun shape. Alongside with styling simplicity, this hairstyle offers great styling variability for men with long hair.
How To Get It?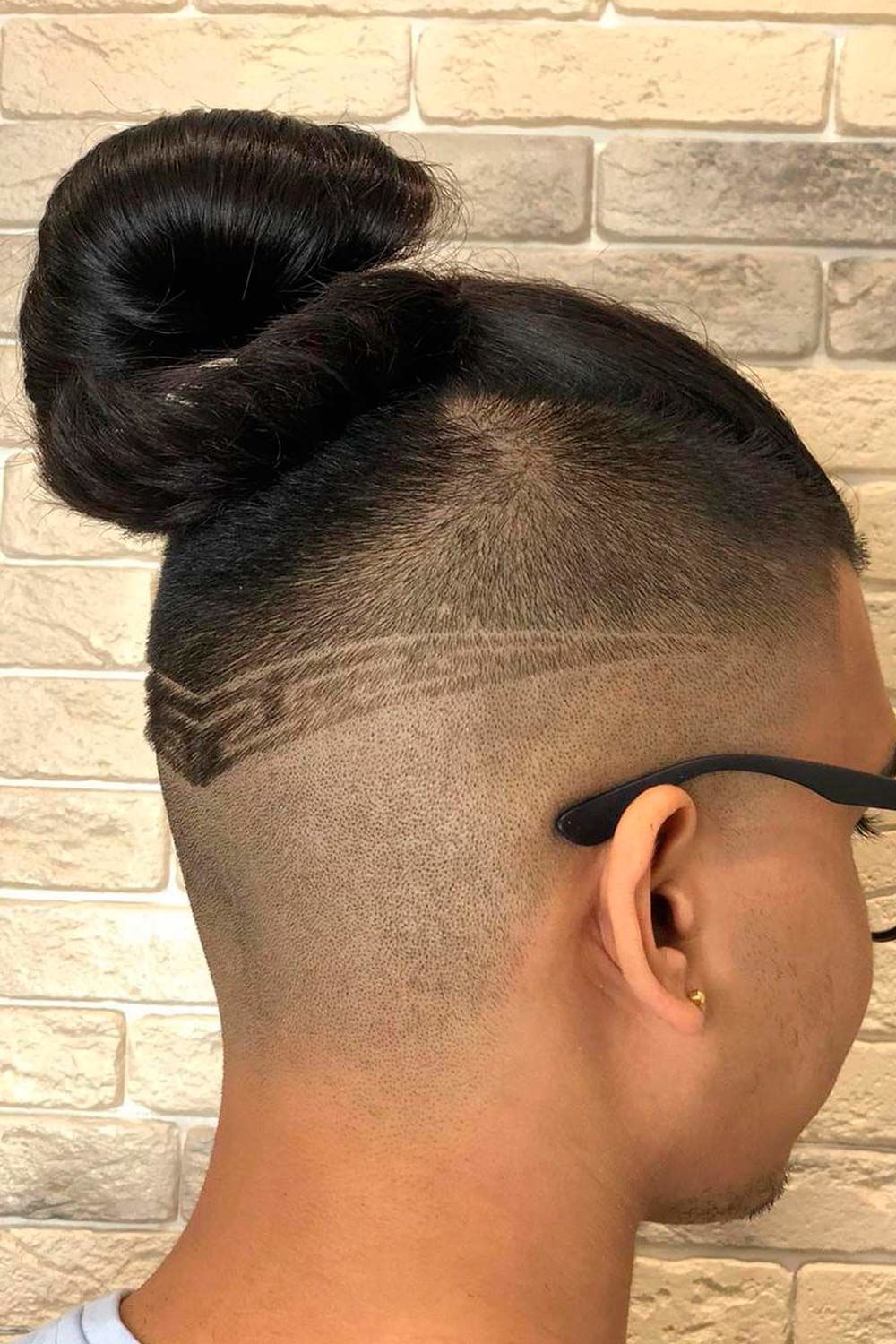 by @salonorange
Source: salonorange/Instagram
Since the style is easy to get, there's no need for how to man bun tutorials. Everything is pretty simple: no long mane, no man bun styles. For its longer version, you'll need to have hair that is 10 to 12 inches in length. As for the basic bun, anything that is more than 6 inches will do. A tip: while growing out your hair, you can go for a top knot until your length is ready for the bun.
How To Tie A Man Bun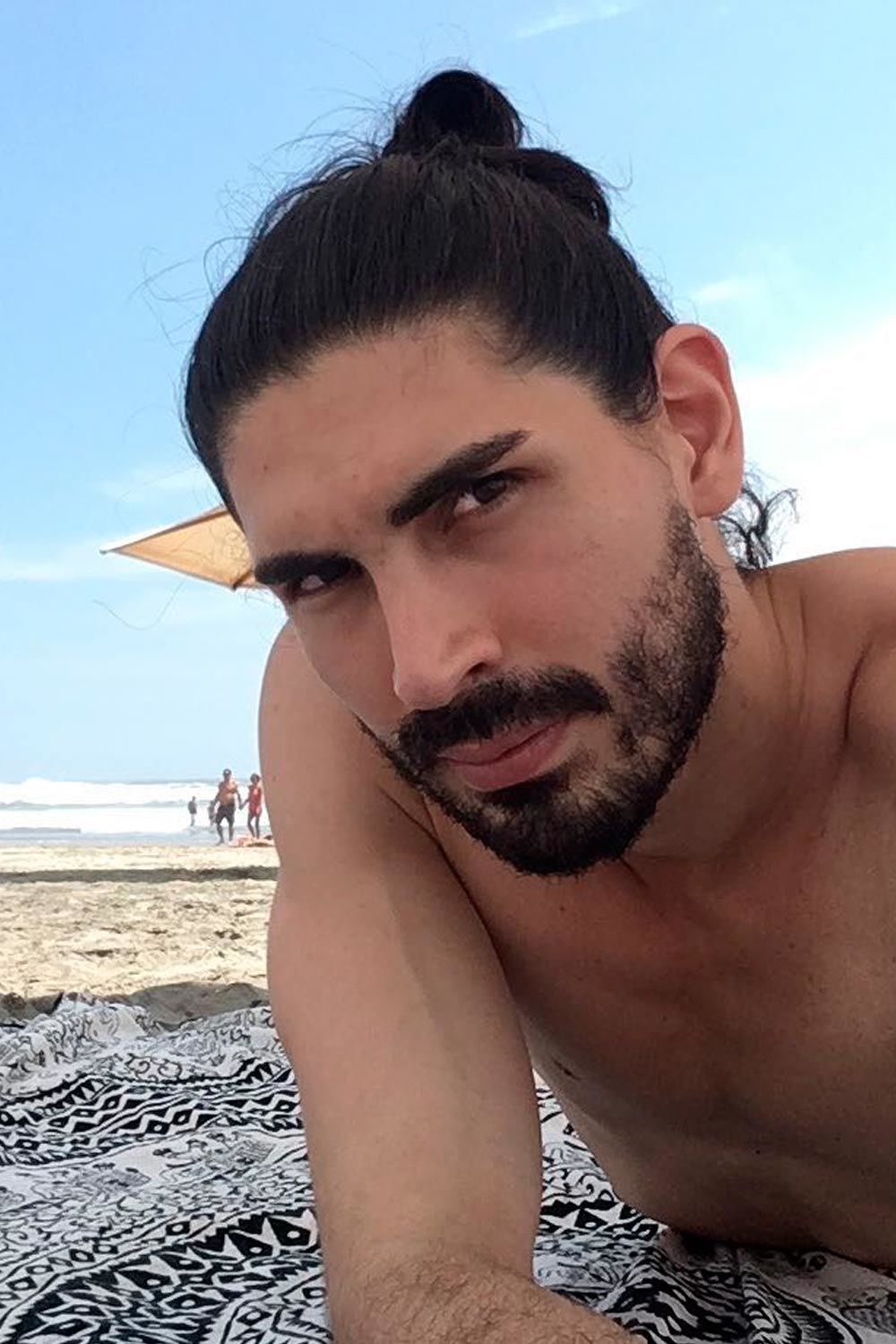 by @a_pazlopeza
As we mentioned before, this style is super straightforward. Yet, there are some basics that all newbies and pros should take into account to make it look presentable. So, you should always keep in mind these tips on how to tie a man bun!
Decide where you want the bun to sit and how high you want it to set before doing the parting.
To avoid sticking out hairs, brush your hair thoroughly, holding it with one hand and grabbing a tie with the other.
To tie the bun, pass a hair tie through your mane twice so that it's secure.
For convenient styling, make sure that you hold it close to the roots.
How To Maintain A Man Bun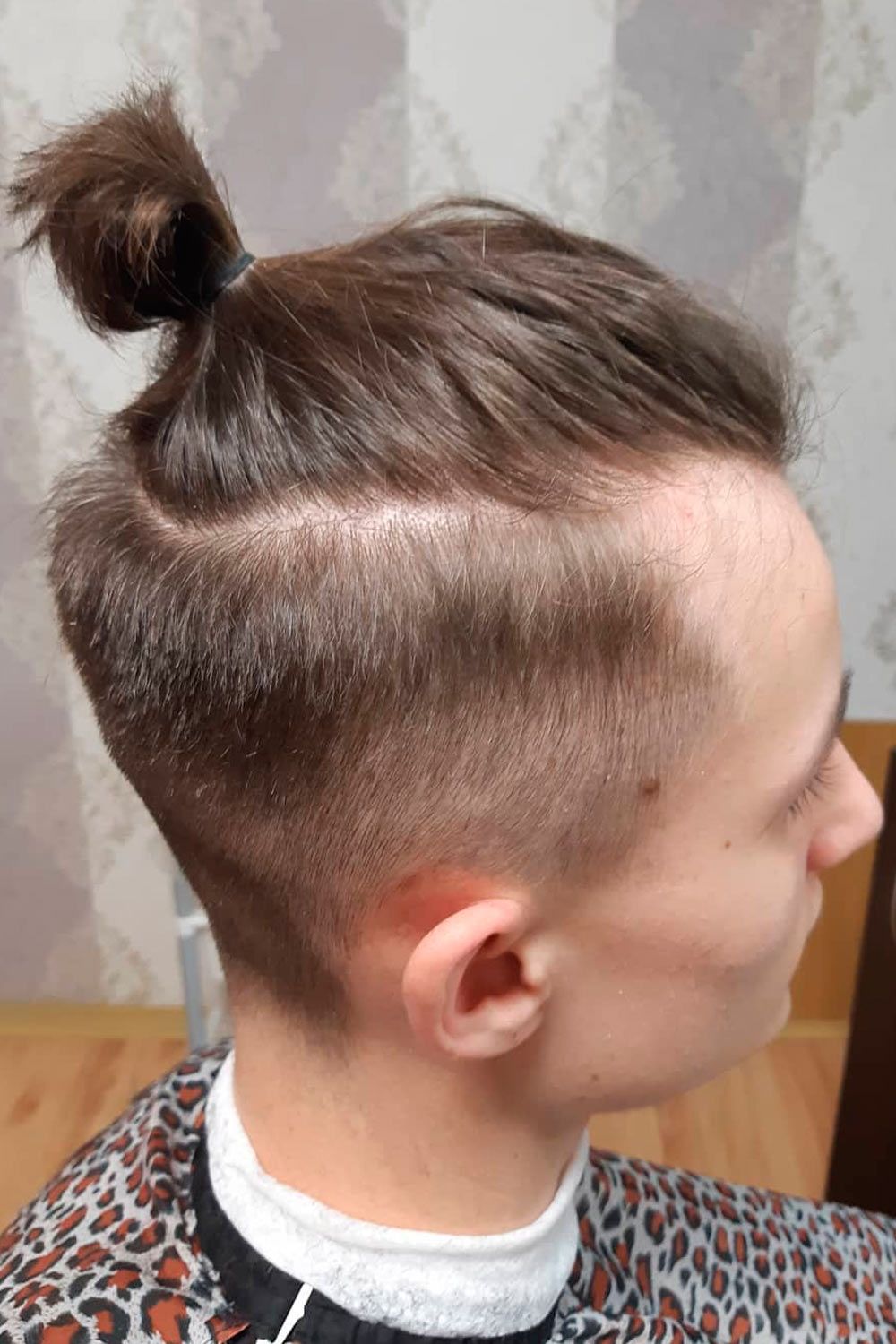 by @volos.nogti_sochi
At some point, you will realize that not everything about this style is so effortless. Maintenance is the crucial step of having man buns and keeping them well-groomed and decent. Here come some more useful tips; this time they're meant to help you keep up with the bun.
The longer your hair is, the quicker it gets greasy. That means you need to wash it regularly to keep it healthy. The best man bun hairstyles can't do without good hair care.
Those who have a dry scalp can alter their regular shampoos with dry ones, using them twice a week. It's needed to keep the balance of natural oils and shine of your hair.
Men with oily scalps should avoid over shampooing and always use softening conditioners.
To stay away from losing your hair, don't tie the bun very tightly.
Creative Man Bun Hairstyles
Finally, it's time to meet the diversity of man bun face to face. This style nicely goes with the everyone's favorite undercut and looks ravishing when it's paired with facial hair. In simple words, the bun can be different: as different as you please.
Bun With Shaved Lines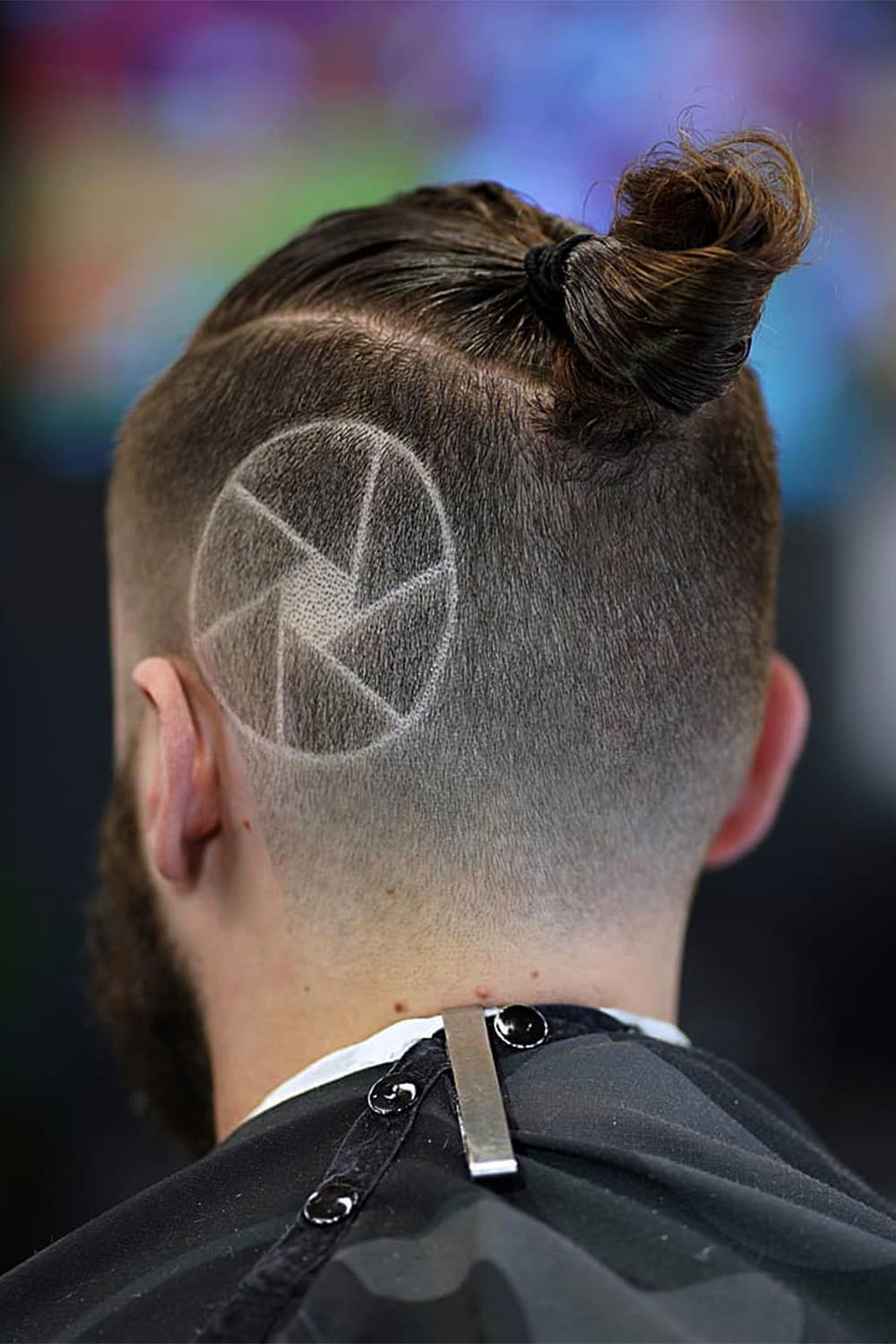 by @jubei_ma
Even when you wear a simple hairstyle, nothing stops you from making it big. Alongside with taper haircuts and faded masterpieces, there's one more way to individualize your look with a touch of simplicity. Shaved design, be it a geometric pattern or just a sharp line, is an amazing choice for those who'd like to give a fresh take at the man bun.
Small Bun With Cornrows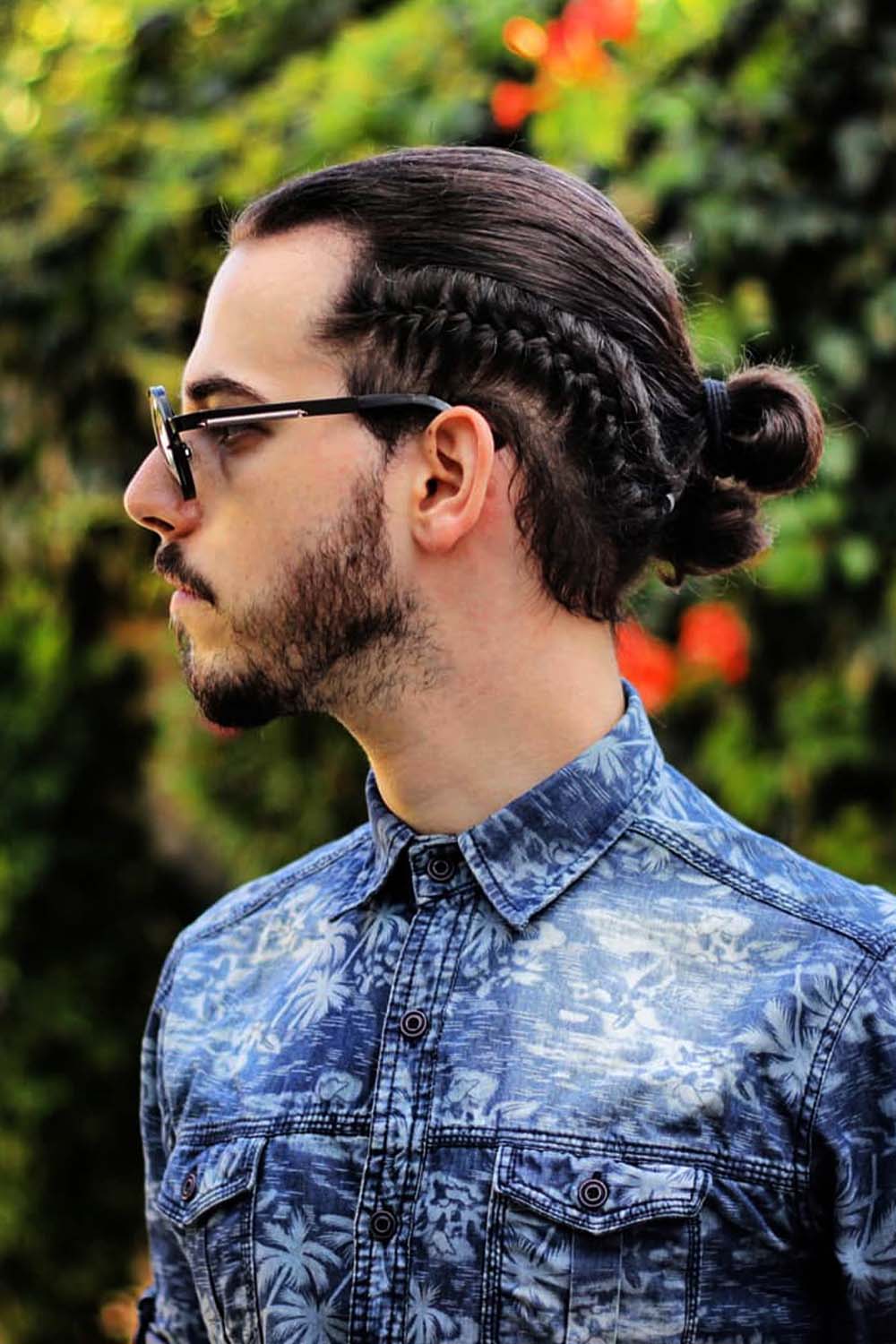 by @i.li.yan
The most popular man braid variation that all African American guys are familiar with is cornrow braids. And you know what? Your distinctive cornrows can become more eye-catching: just twist them a little!
Twisty Top Bun
Посмотреть эту публикацию в Instagram
by @brockohurn
Special for those who have stuck between the knot and the bun, there's a combo version: the twisty top bun. This top knot bun is set pretty high on the crown, and, following the features of the knot styles, it's loosely looped through the tie. The overall look is comfy and effortless, so while having long hair for men is a commitment, styling it can be easy and chic.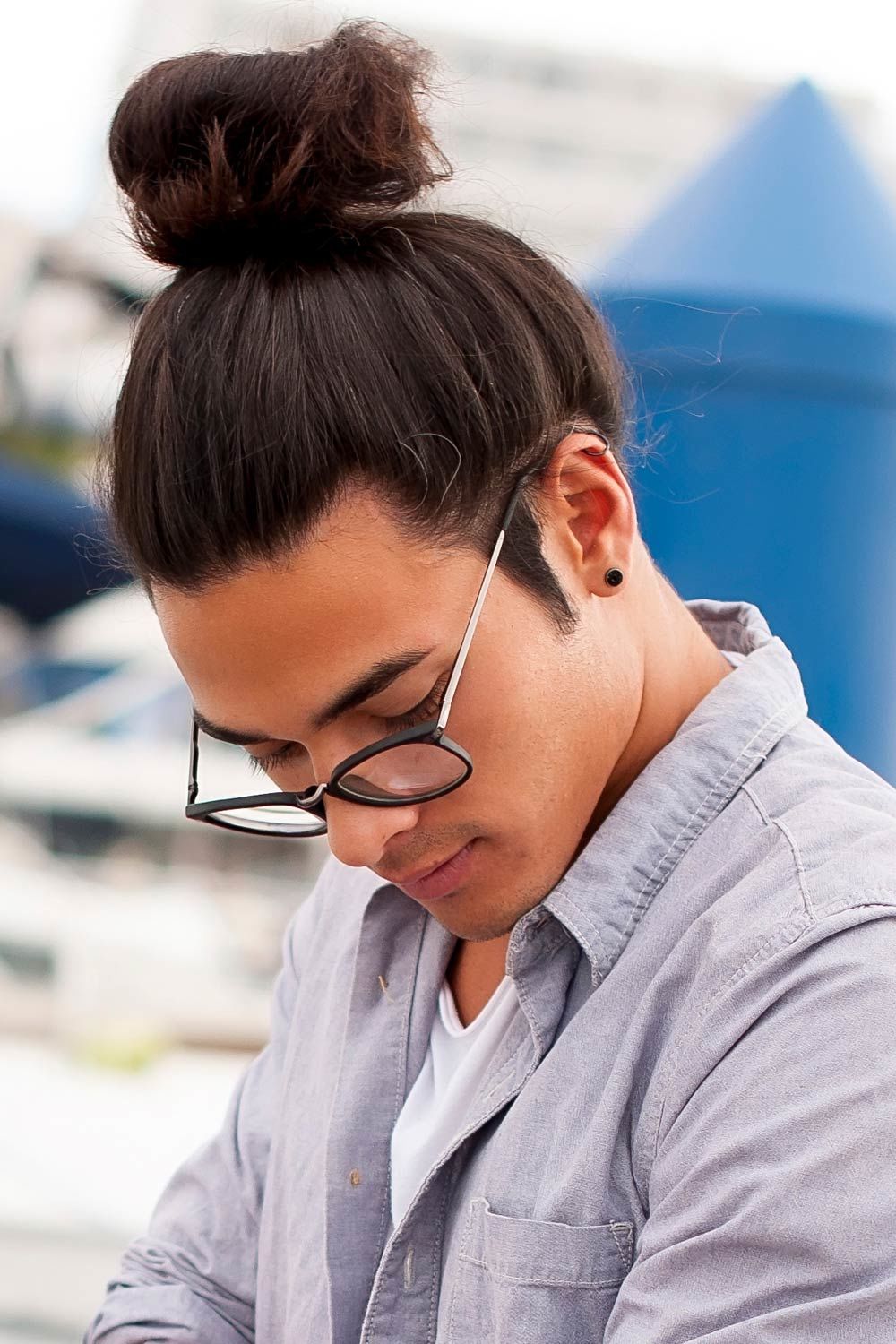 Source: Ninafotoart/Shutterstock
Elegant Low Bun
To reach a polished, elegant look, a simple low twist on the back is enough. Low bun hairstyles work well for any image and lifestyle, as they keep a wearer's hipster hair tight and neat.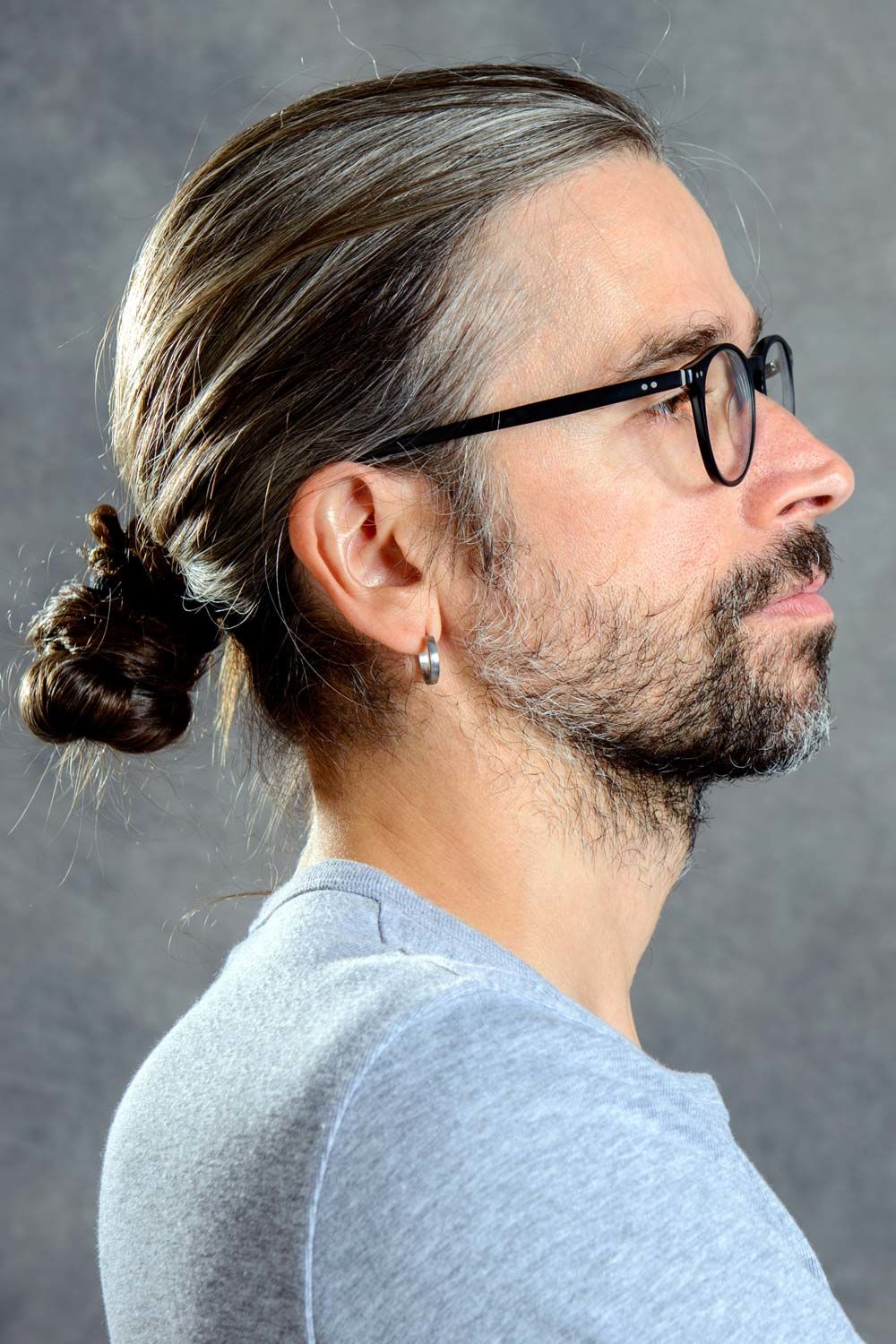 Source: Firma V/Shutterstock
Messy Man Bun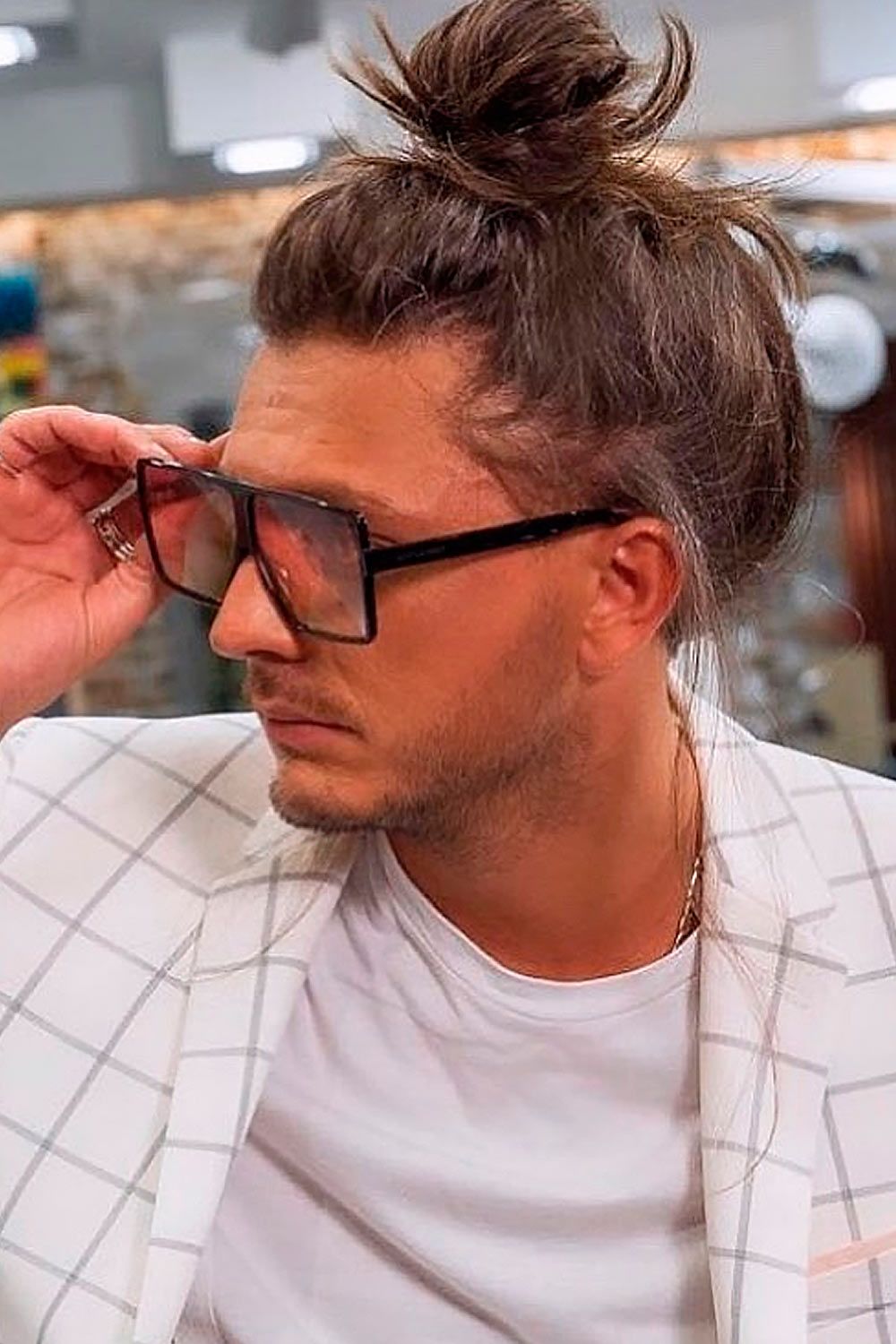 Source: irisbakhtina/Instagram
by @irisbakhtina
When everything in your style is super restrained, a bit of messiness will make it more alive. Tousle your bun a bit for an organic look. Also, modern gents love to combine such man buns with beards for a virile appearance.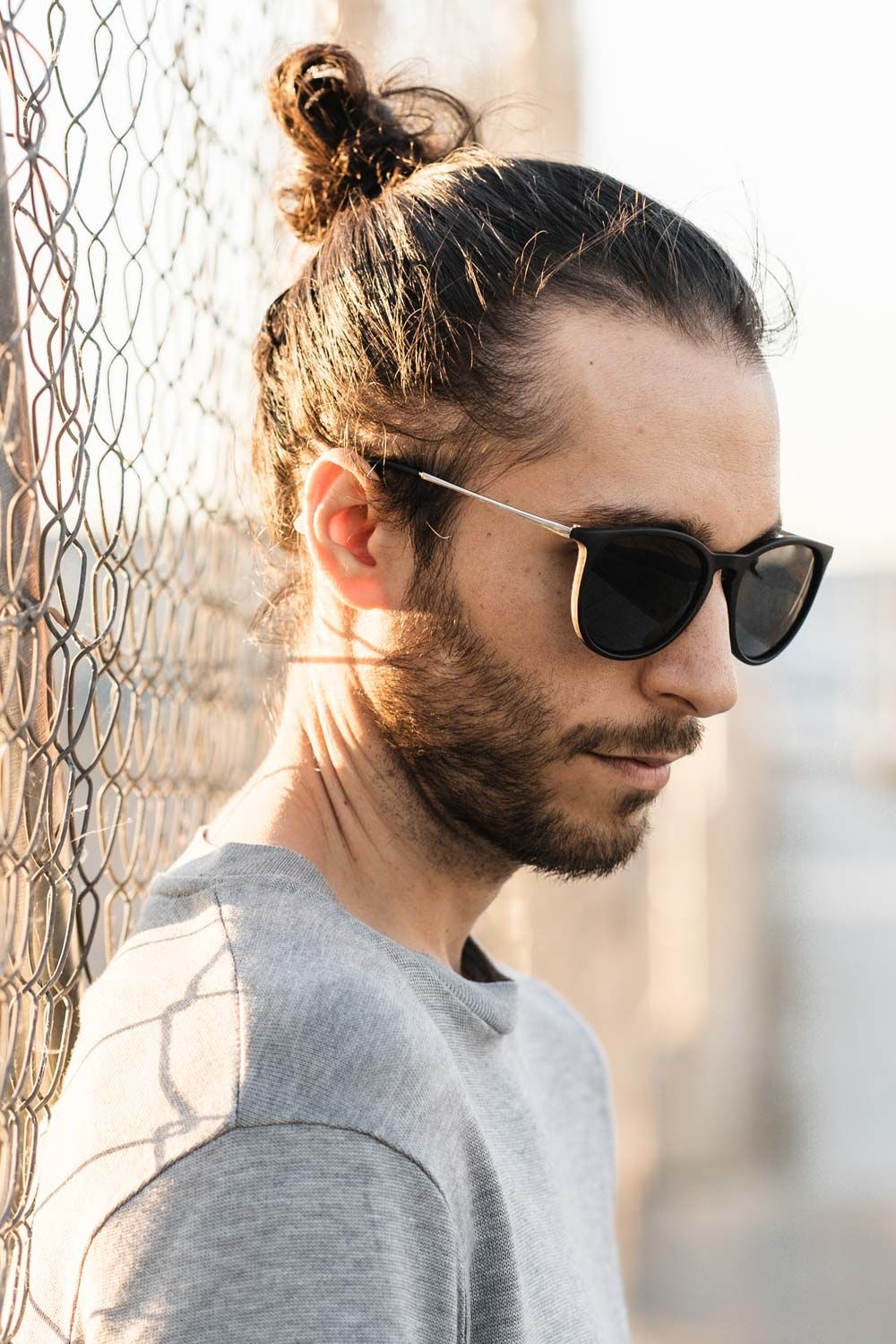 Source: Alex Visualnue/Shutterstock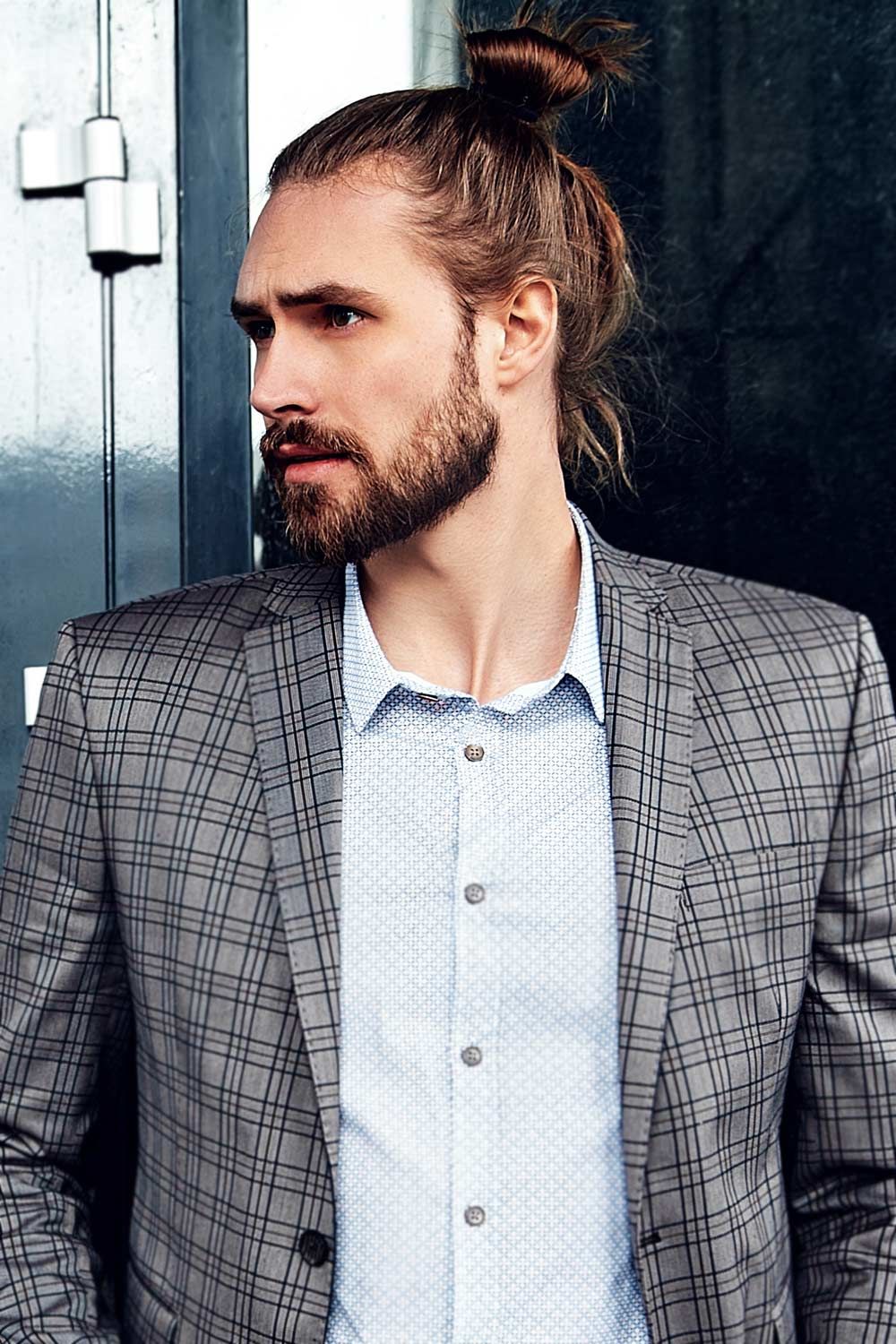 Source: Halay Alex/Shutterstock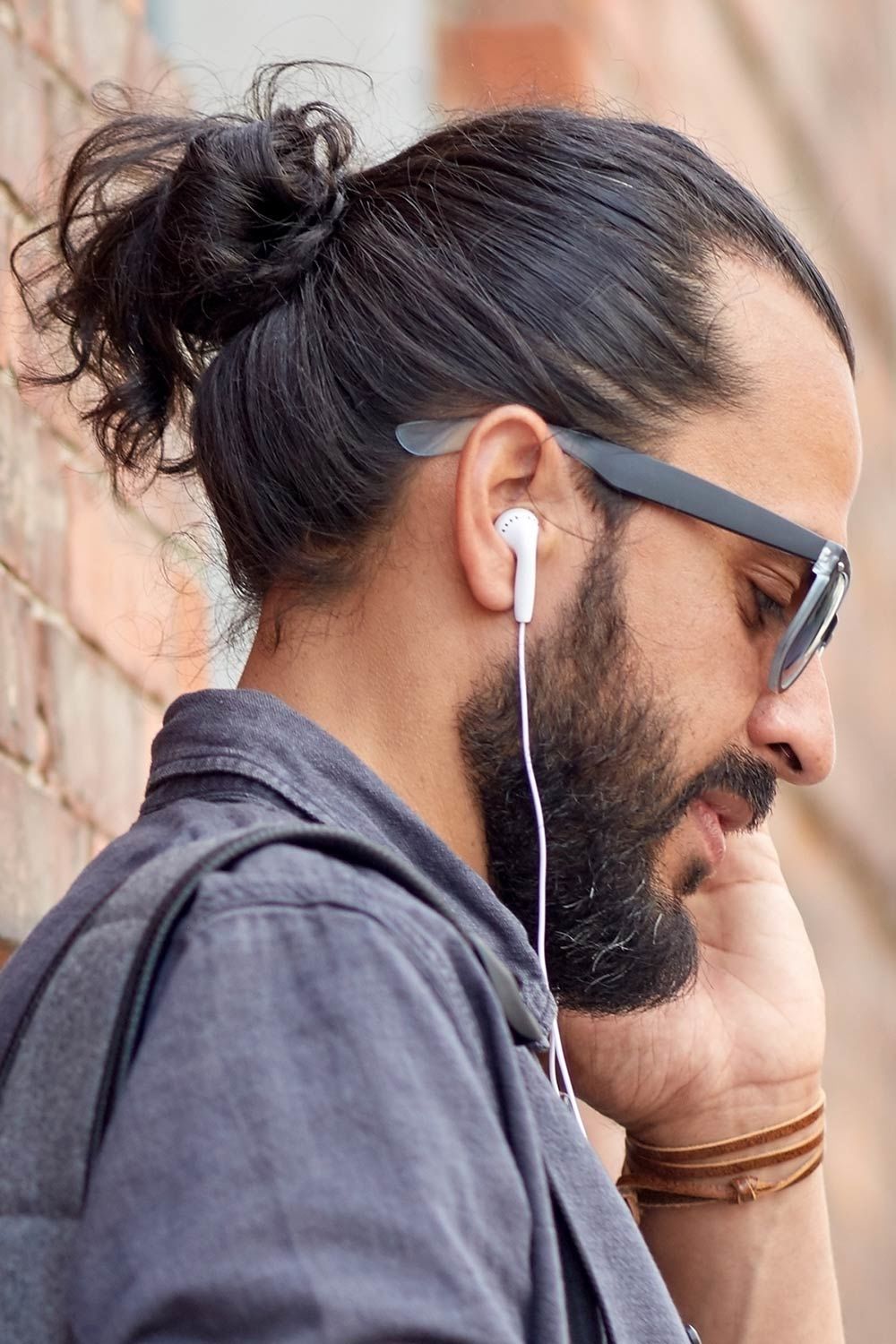 Source: Syda Productions/Shutterstock
Undercut Man Bun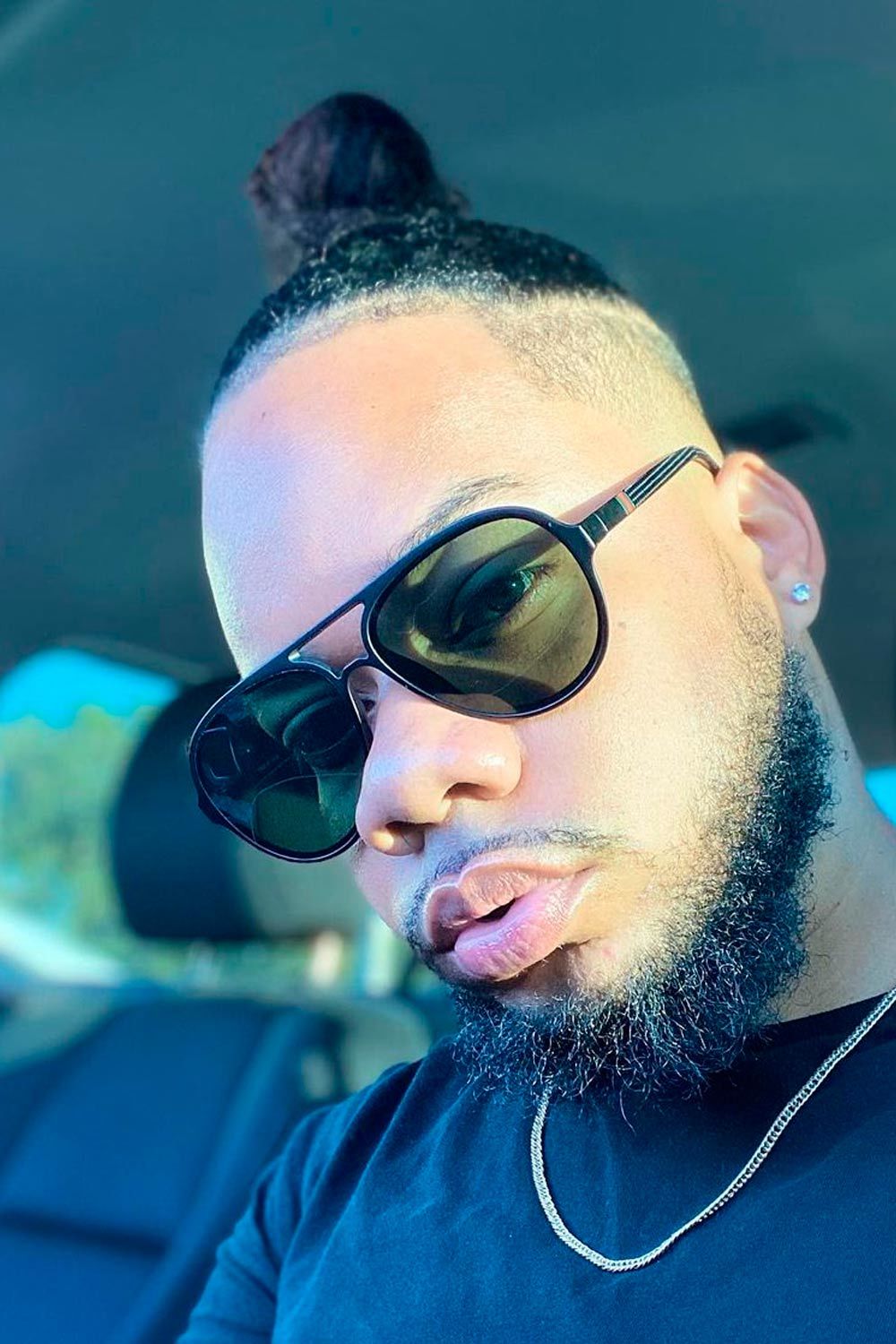 Source: stylish_curly_guy/Instagram
Man bun undercut is the mixture of two popular hairstyles that not only offers a totally stylish look but also comes as a very comfortable 'do. Being a modern take on a classic Samurai hair style, this man bun fade with a sleek top and perfectly trimmed sides of an undercut show that trends know no limits.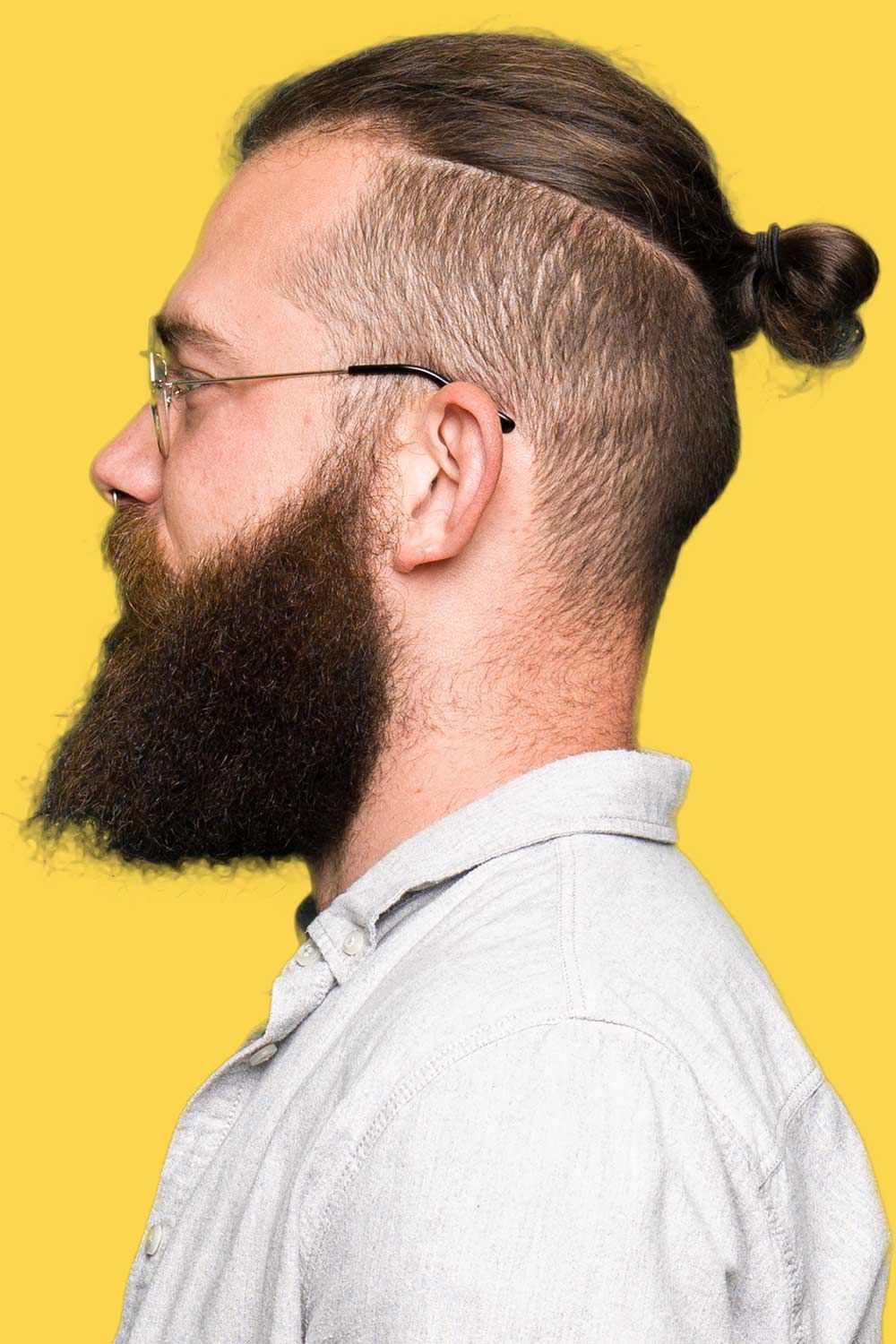 Source: Krakenimages.com/Shutterstock
Space Buns
Посмотреть эту публикацию в Instagram
No, they're not the rainbow-unicorn buns that girls from Tumblr can't stop wearing; these are two awesome side buns for manful, careless beardos. If you want to pair the man bun with beard differently, this idea is a must.
Half Up Man Bun Hairstyle
Посмотреть эту публикацию в Instagram
Source: giofilipinohair/Instagram
Guys with a really long chevelure can diversify their styling routine with half up half down bun hairstyles. For example, this braided man bun features two braided rows and a basic twist that looks pretty cool and fascinating.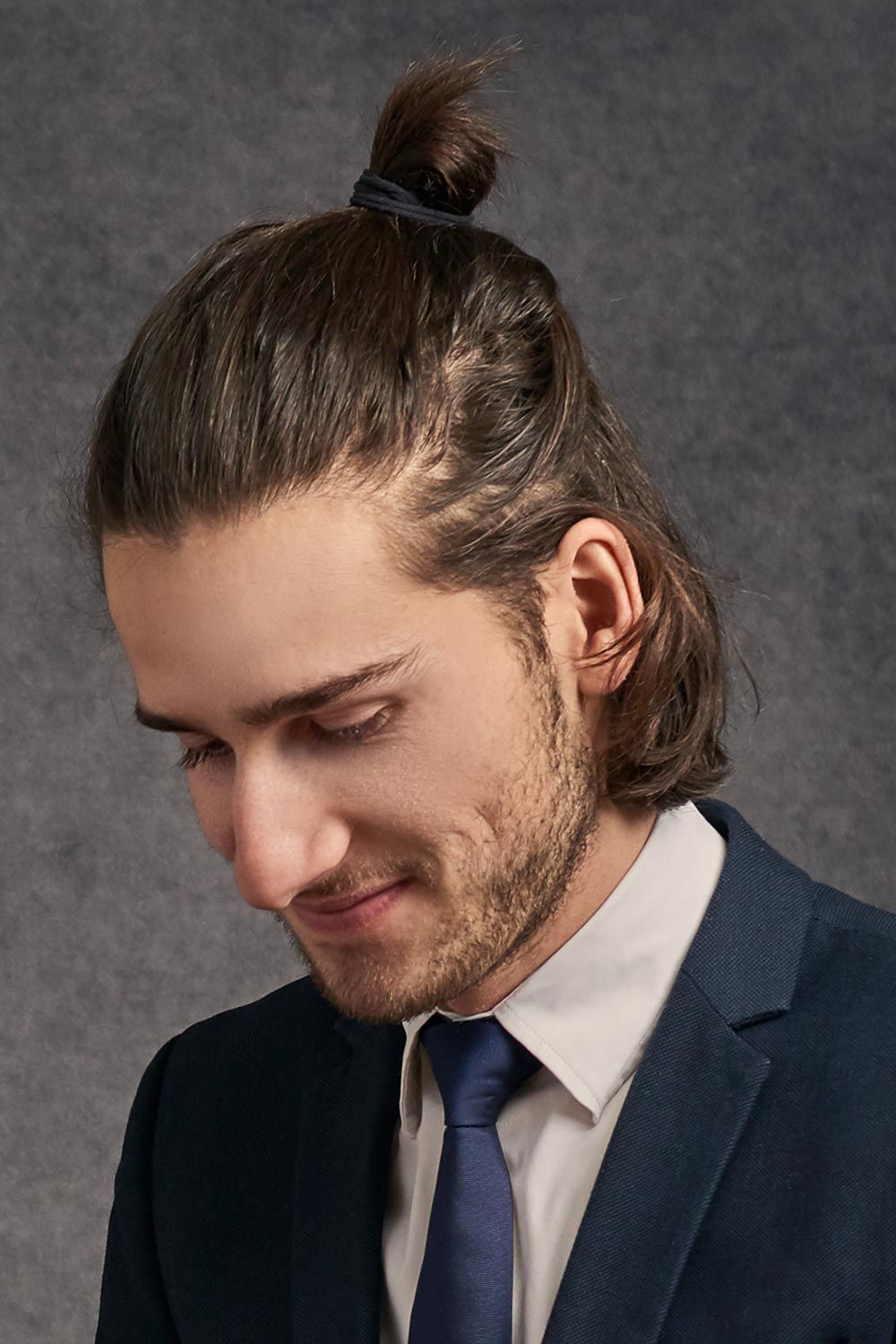 Source: LarsZ/Shutterstock
Men's Braids + Bun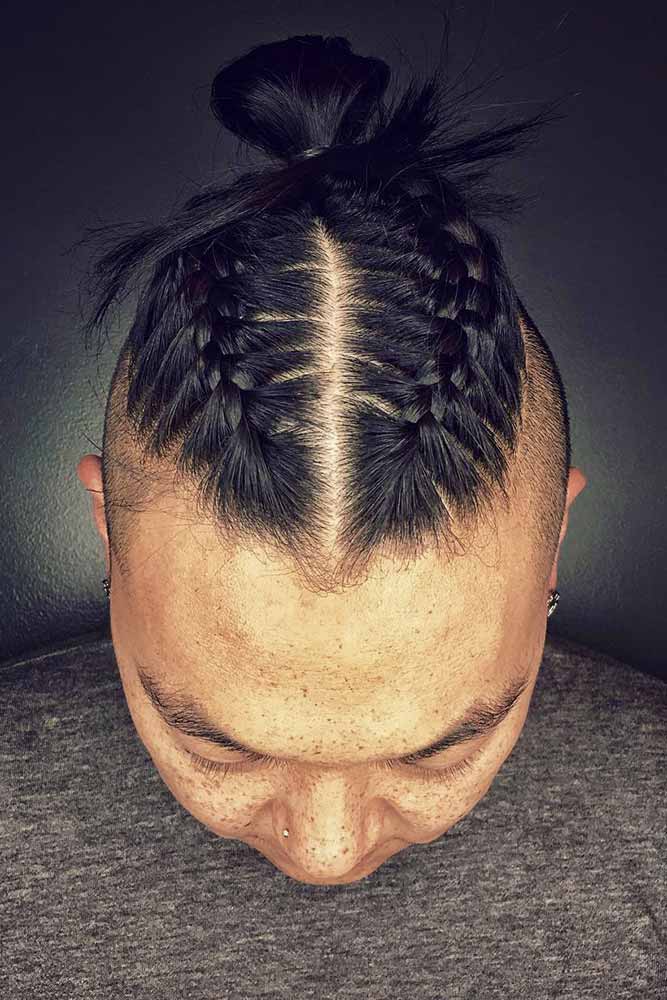 Source: beggarsnthieves/Instagram
Here's another braided man bun for gents who like playing around with texture. This hairstyle is an example of long undercut versatility. You can do a twist, spice up the man bun with braids, and thus take your style to the next level. Yes, man braid styles are fun.
Dreaded Man Bun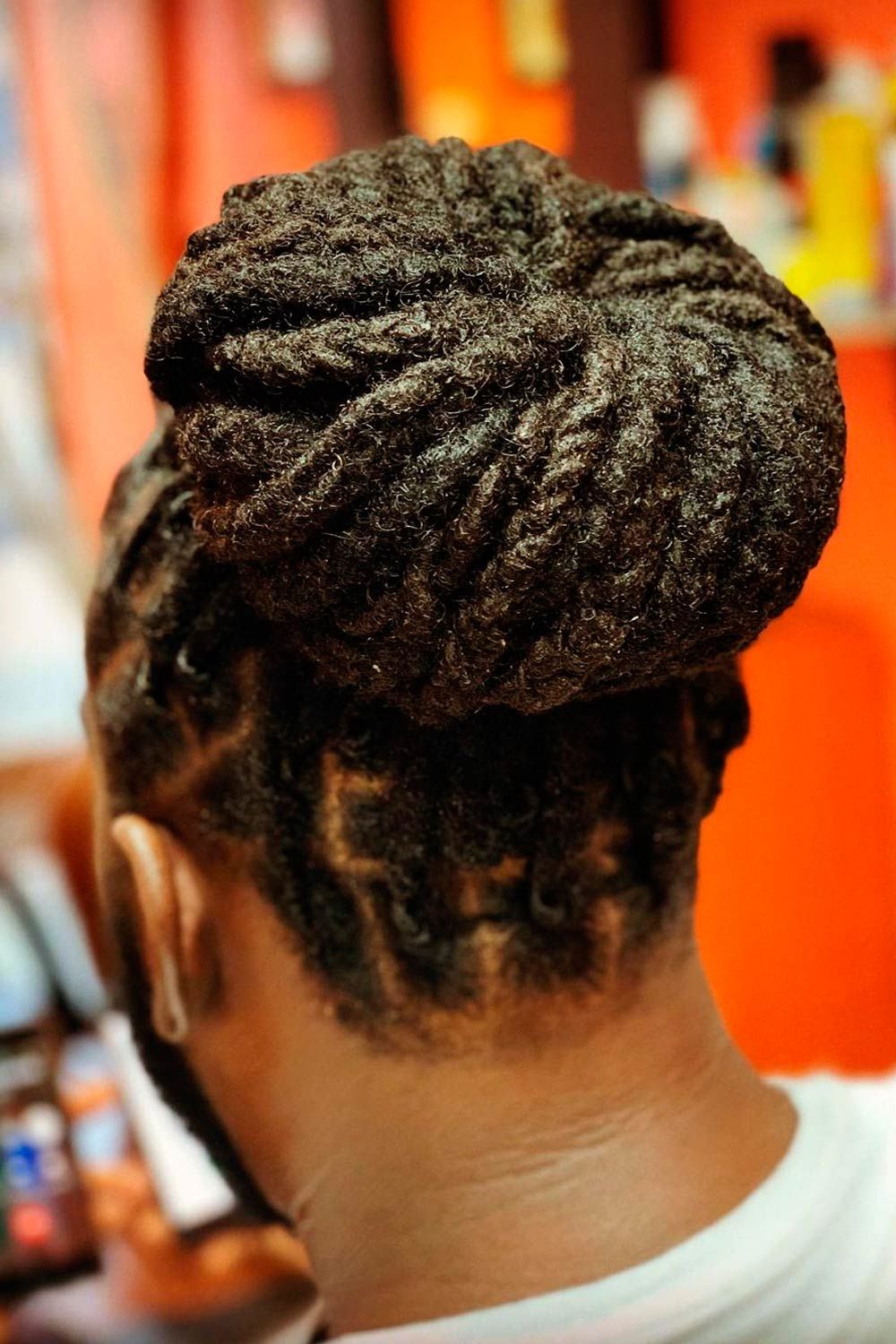 Source: kkellie_/Instagram
Once you got tired of wearing dreadlocks as they are, you can simply put them up and twist! Although bun with dreads isn't the classic we're used to, some freshness won't hurt.
Afro Hair Bun
Посмотреть эту публикацию в Instagram
Source: giofilipinohair/Instagram
Afro hairstyles are all about keeping a wearer absolutely comfortable with his thick, unruly hair. And if you're the hero who's got through afro tortures and grown out a long mane, the bun like this is the best salvation among all black men hairstyles.
Sleek And High Knot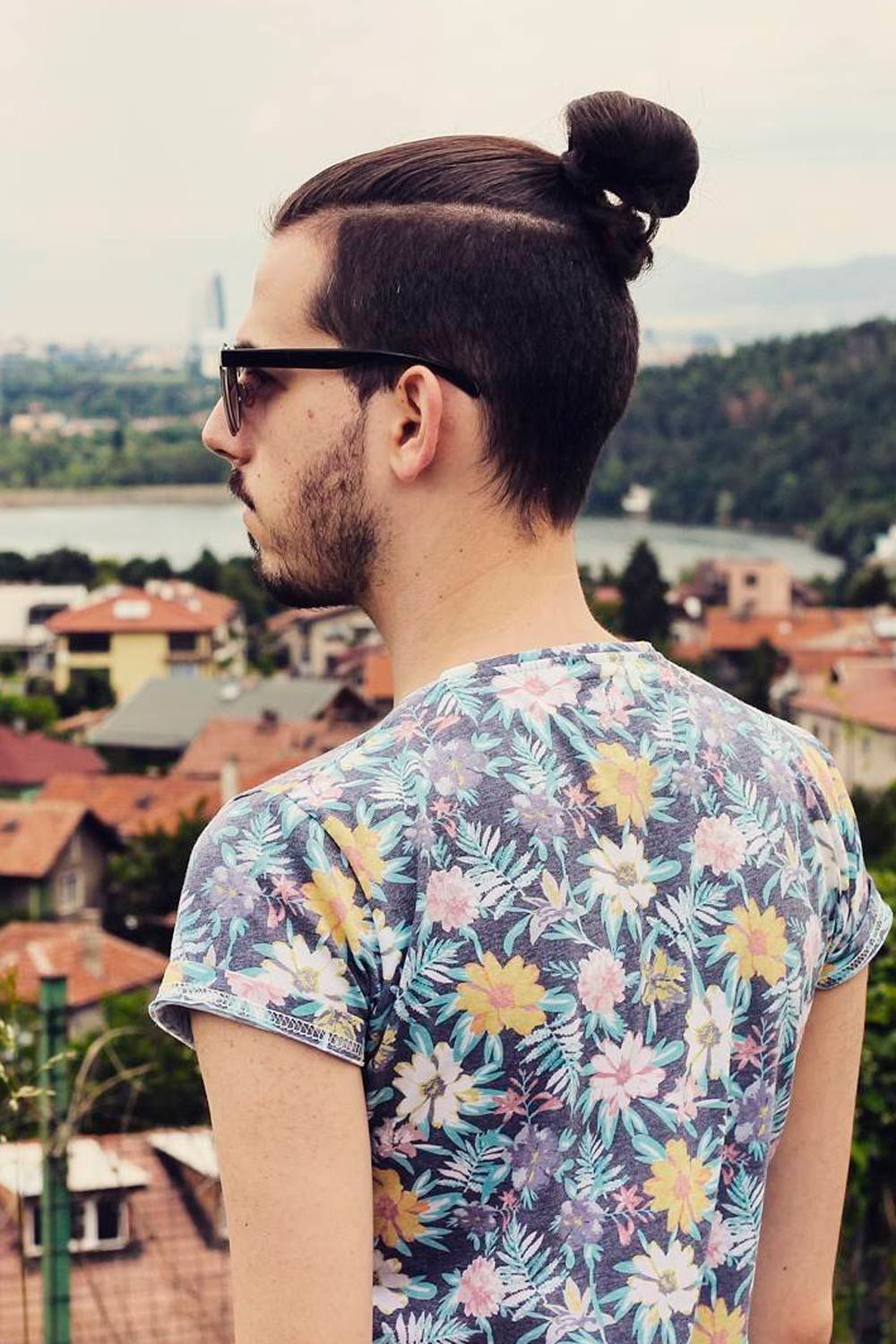 Source: i.li.yan/Instagram
If you have medium length hair, you can opt for the top knot men love to wear to complete their casual looks. This top knot style is very refined and minimalistic, which is a win-win for many modern gentlemen.
Tight & Clean Bro Knot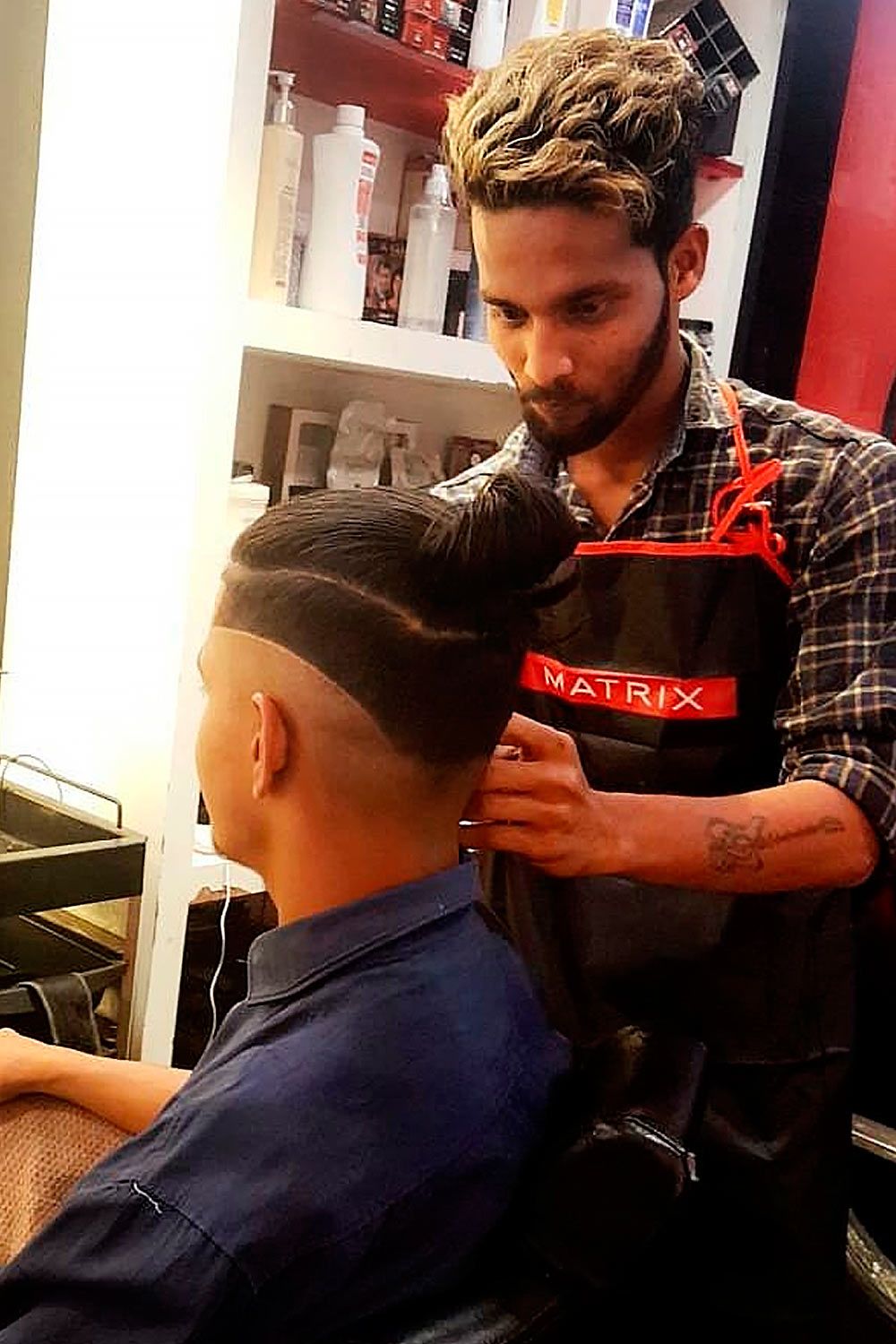 Source: _the_hair_maker/Instagram
If your long locks tend to be literally everywhere, you will love this hair bun. The aim of bro bun is to create a solid and well-polished silhouette, giving you a very tight style that whips your hair into decent shape.
Curly Half Up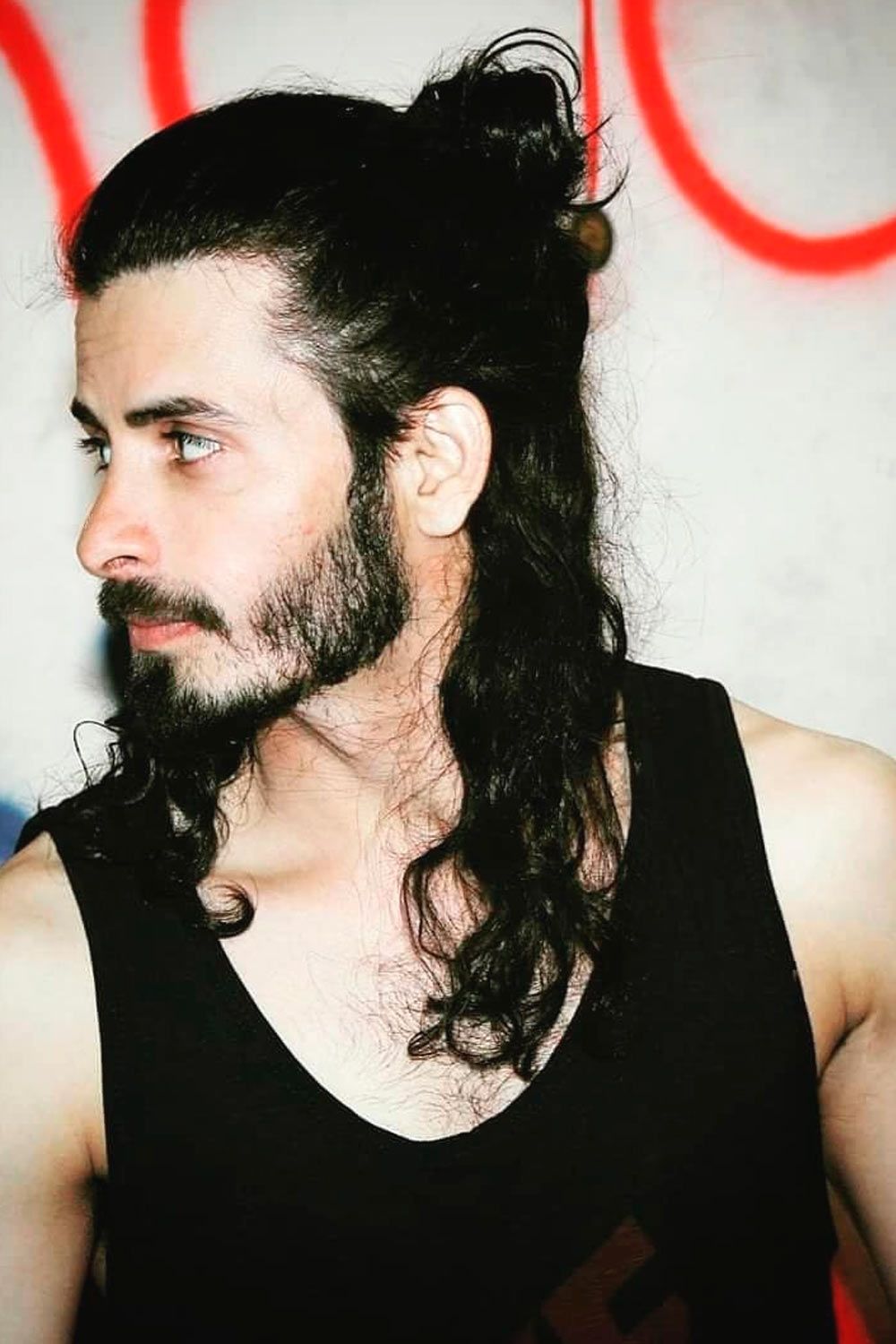 Source: modelrawal/Instagram
Believe it or not, wearing curly hair men usually style with difficulty can be less troublesome. Half up hairstyles, where the top layer is braided, twisted, or wrapped into a bun are a nice way to show off your awesome texture in a simple, but classy way.
Bun Style For Special Occasion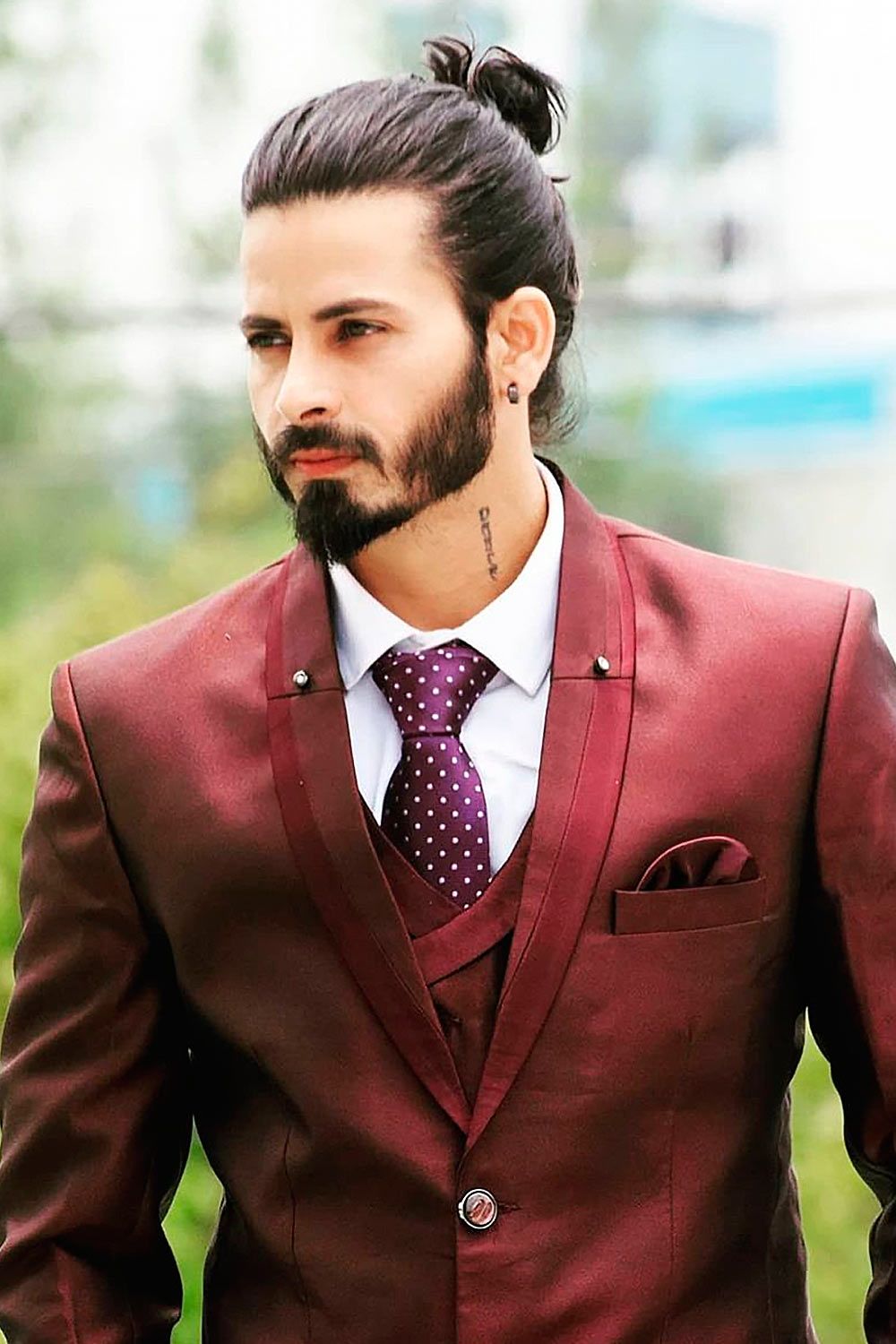 Source: modelrawal/Instagram
Special occasions require special approaches. Don't forget to work some wax through your hair before tying an elegant bun. Though it shouldn't necessarily be perfectly even on the back of the head, the front must be neat and polished so that your mane will reflect the lights.
Messy Bun With Long Beard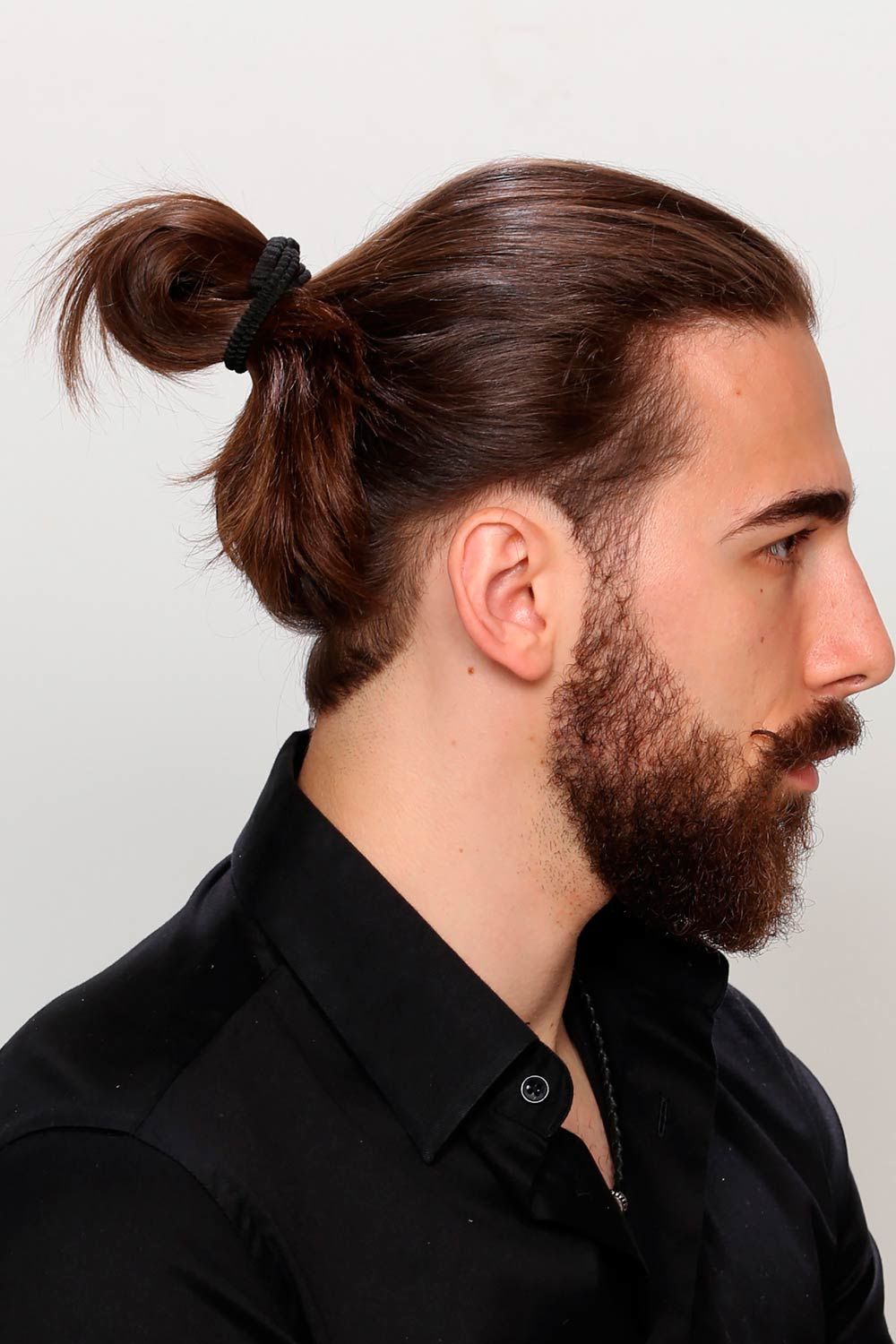 Source: Shutterstock
When your long, mighty beard is on point, the messy bun reaches the next level of awesomeness. This idea crosses the line between pure perfection and complete outrage: the well-shaped beard and disheveled bun have come to a harmonic agreement.
Half-Up Bun For Wavy Long Hair
Посмотреть эту публикацию в Instagram
Source: tiborpusch.official/Instagram
There's no time for styling when the Viking inside of you is about to take over your style! As a matter of fact, men who sport long, rock and rolling manes can simply do nothing with their hair; it looks virile as it is. Still, a half-up bun is not only a hip hairdo but also a comfy idea to keep those guys away from the face.
Bun With Two Braids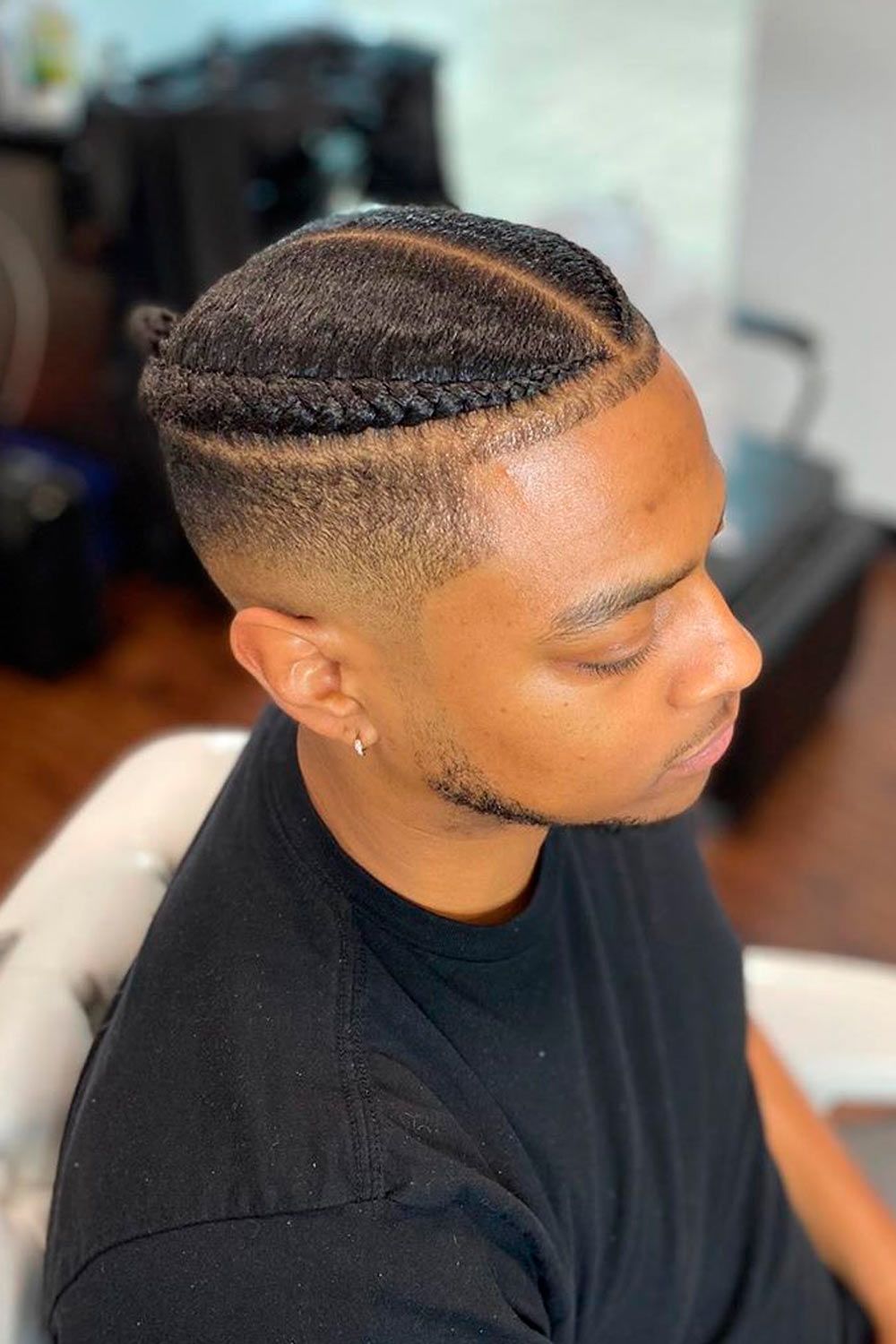 Source: lovedbyloni/Instagram
If you feel that something is missing, you can ask another overwhelming trend in men's fashion for help. Yep, we're talking about man braids.
Bun For Cap
Посмотреть эту публикацию в Instagram
Source: samfenton_/Instagram
A bun is never occasional; it's meant to fit any image and adapt to any lifestyle. And once you feel that its classic variation doesn't match your preferences or outfits, you can simply change the place where your bun sits. By styling it lower, you can pair the hairdo with a cap, for example. But that's only a part of its versatility, keep that in mind.
Messy High Bun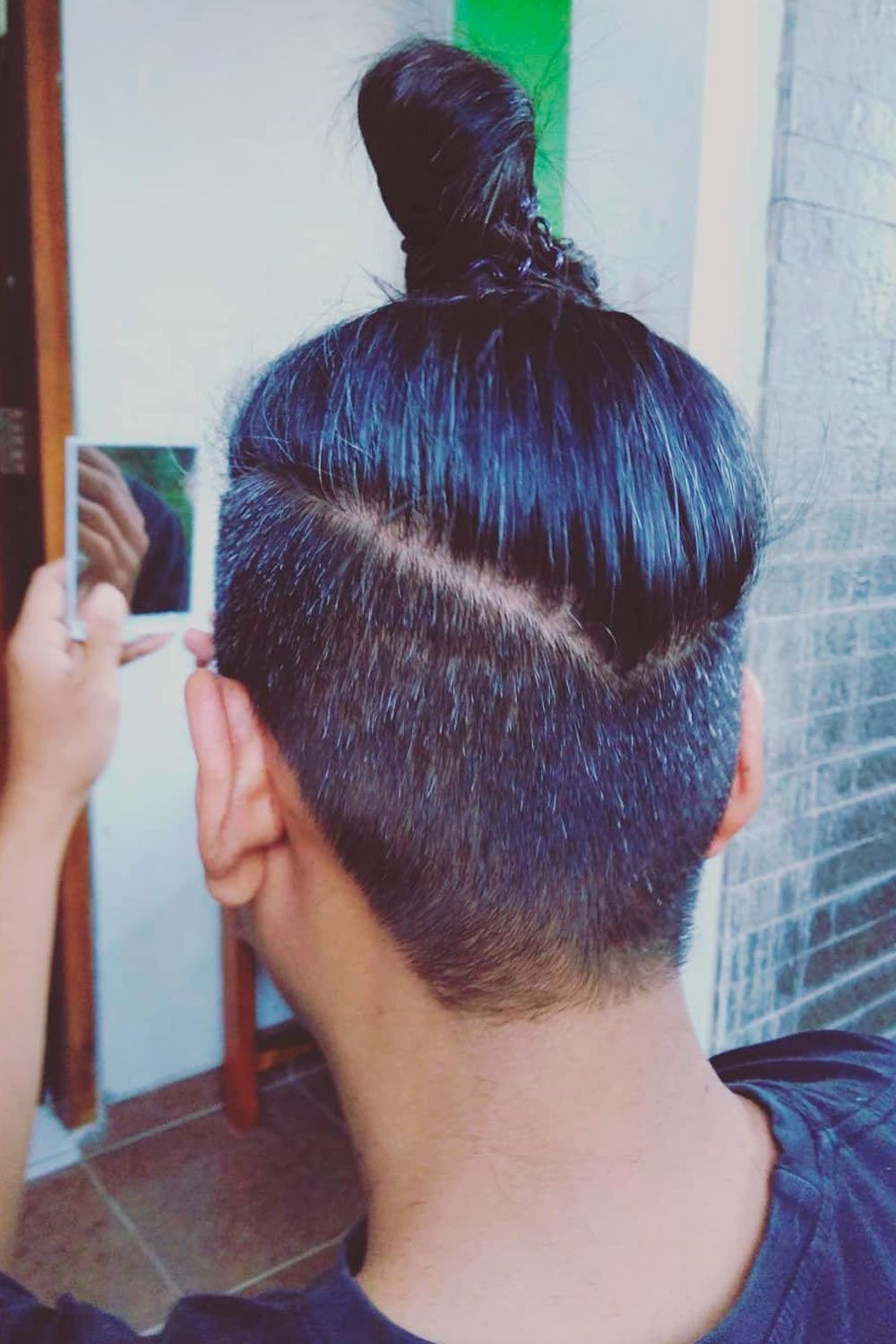 Source: hanaretnani/Instagram
What can be better than preserving the masculine vibe bursting inside you while keeping yourself comfortable with your medium hair? A messy high bun has become a trend for two simple reasons. First, a man doesn't need to spend whole lotta time on his hair to look hip. Second, it looks effortless and wild, which is good news for modern men. By the way, a messy bun looks its best when it's textured, so make sure to work some texturizing product into your mane before twisting the bun.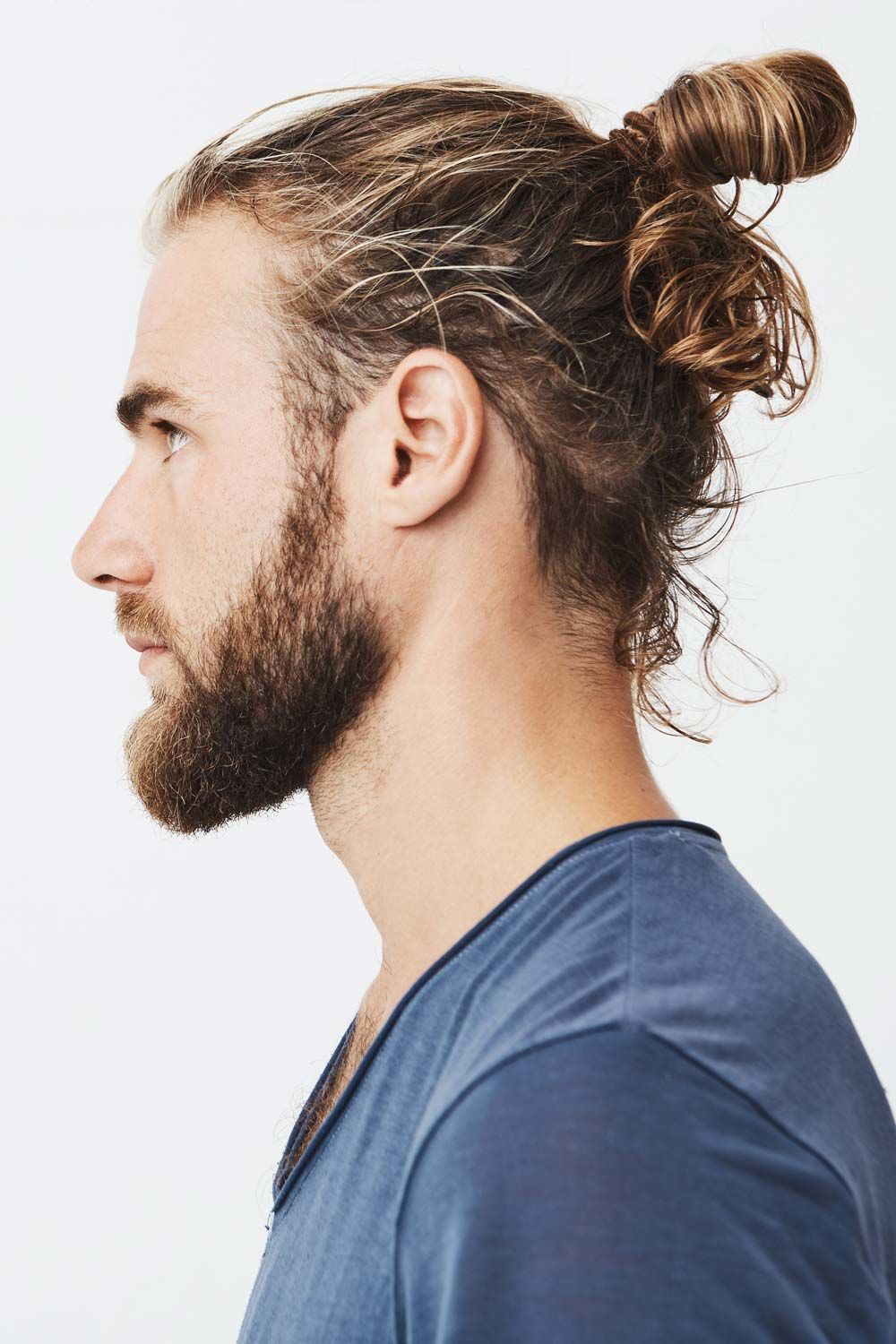 Source: Cookie Studio/Shutterstock
Curly Bun With Shaved Design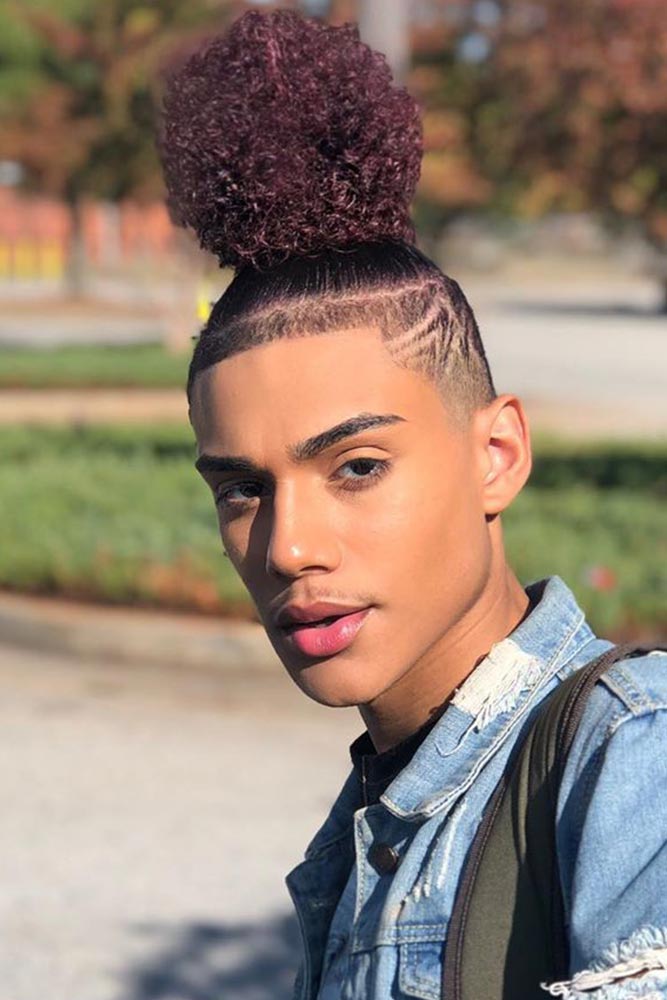 Source: noelferreira_/Instagram
Men with thick, curly, and afro hair can take a creative approach to their buns, spicing their looks up with various shaved designs and fades. In fact, everyone can get a fade cut and style the top into a bun, but it's more common with curly-haired guys. Here, the bun is pretty different for its perfectly round shape, high position, and shaved lines with a sleek finish. Now it gets absolutely clear that a man but is anything but boring.
Bun With Free Locks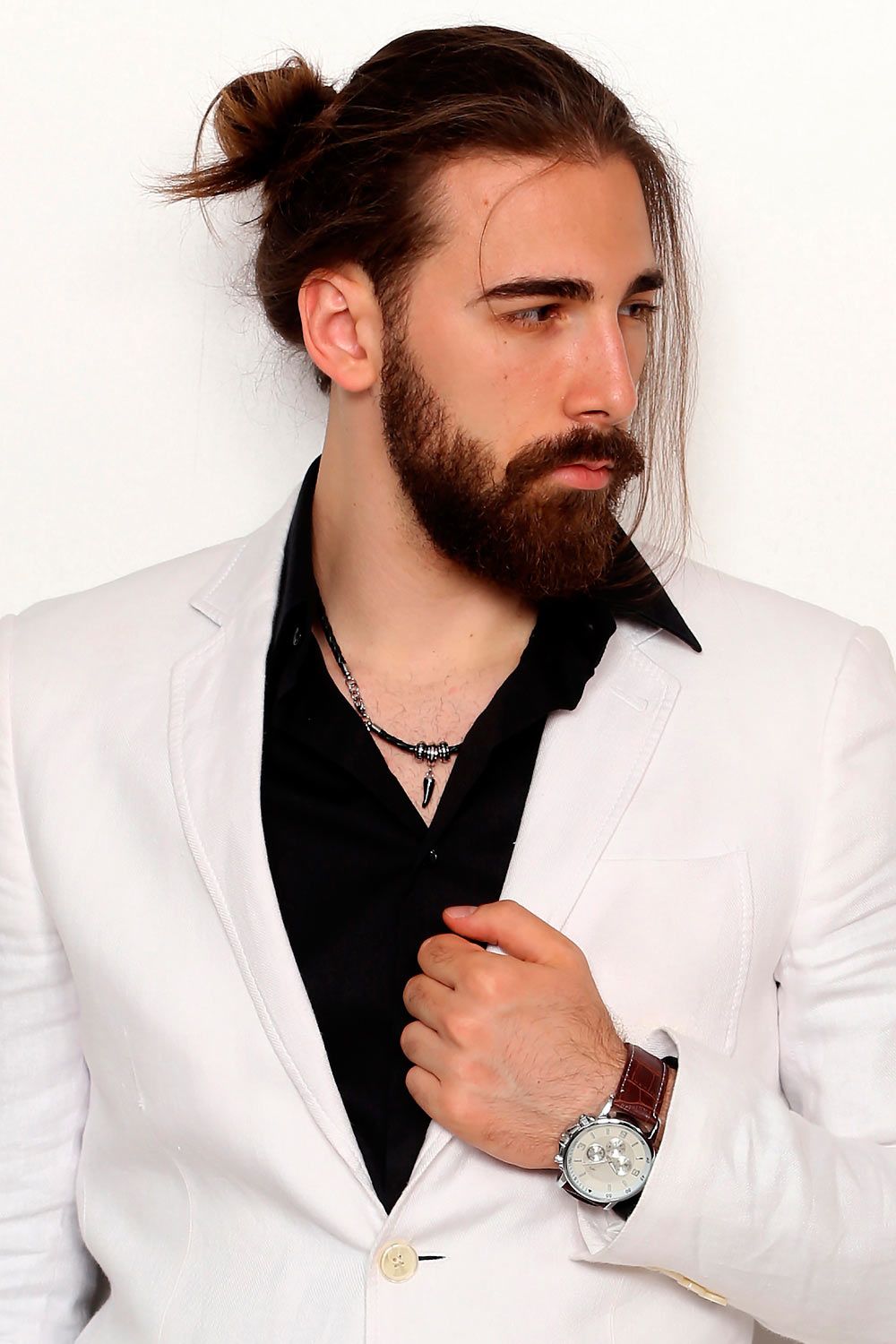 Source: Shutterstock
Some men stay away from the idea of wearing a man bun because this hairstyle keeps the face too open, drawing all the attention to it. Well, this hairstyle is also very flexible and versatile, so you can always tailor it based on your needs and appearance. And here's one of the countless ways to make the bun work for your face shape. Just leave as many locks as you need out of the bun and tousle them up so that fall freely and naturally. These locks can give you the needed face-framing effect.
Wavy Half-Up
Посмотреть эту публикацию в Instagram
Source: freizo_/Instagram
When your long wavy mane starts getting into your face and gets tangled too fast, a man bun half up comes in. It looks hip and convenient in seasons when you don't need to wear a hat. If you plan to rock this hairstyle on a daily basis, make sure to use some softening mousses that will make your hair flexible for everyday styling.
Faux Locks Into Bun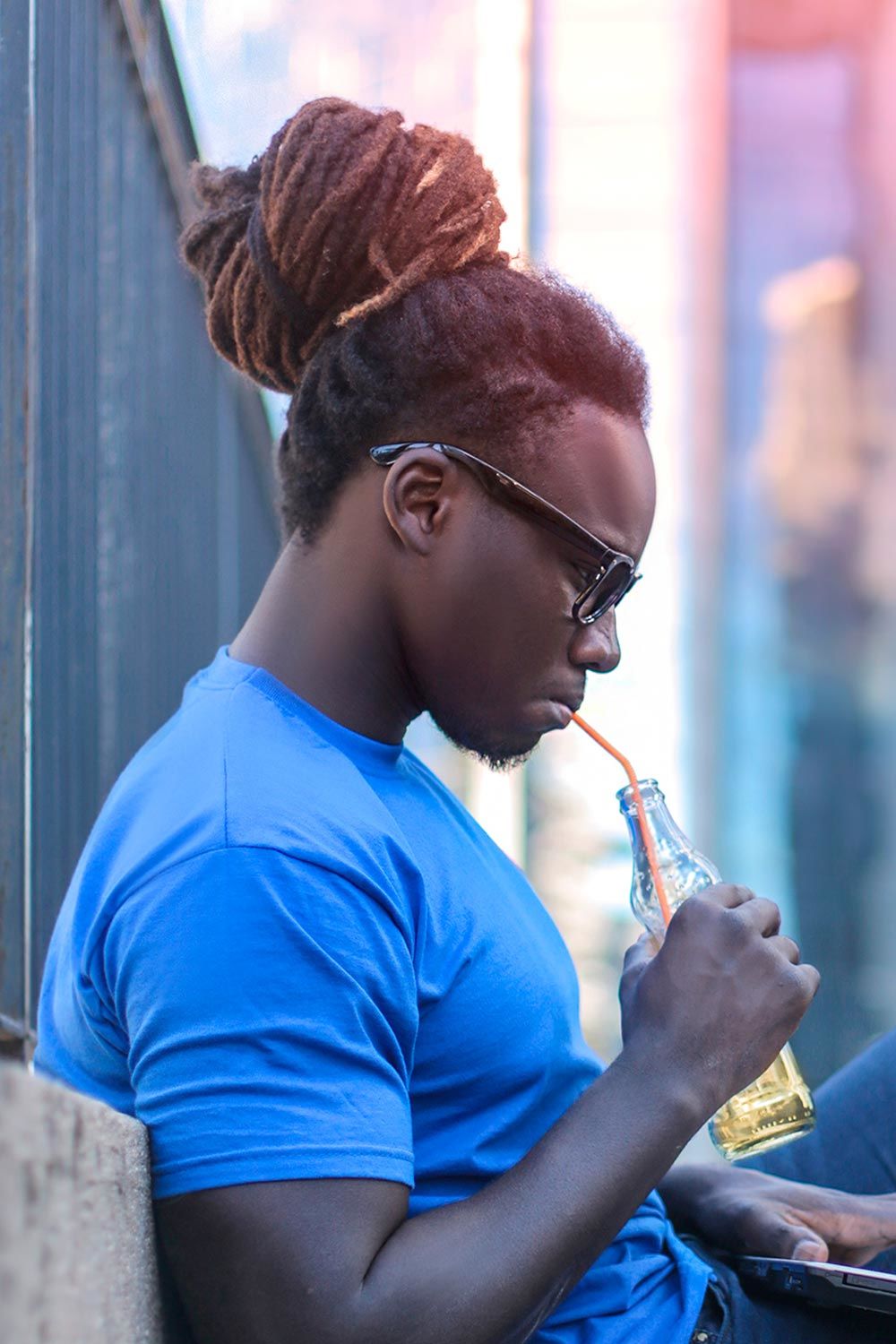 Source: Shutterstock
Why not protect your natural curls from damage and wear hair extensions? More and more men with afro patterns are switching to faux locks routine because it's very effective and versatile. You can regulate the shape and sizes, as well as the length of your faux locks to create a look that perfectly suits your image. And here's how a man bun would look on thick faux twists!
Cornrows Into Bun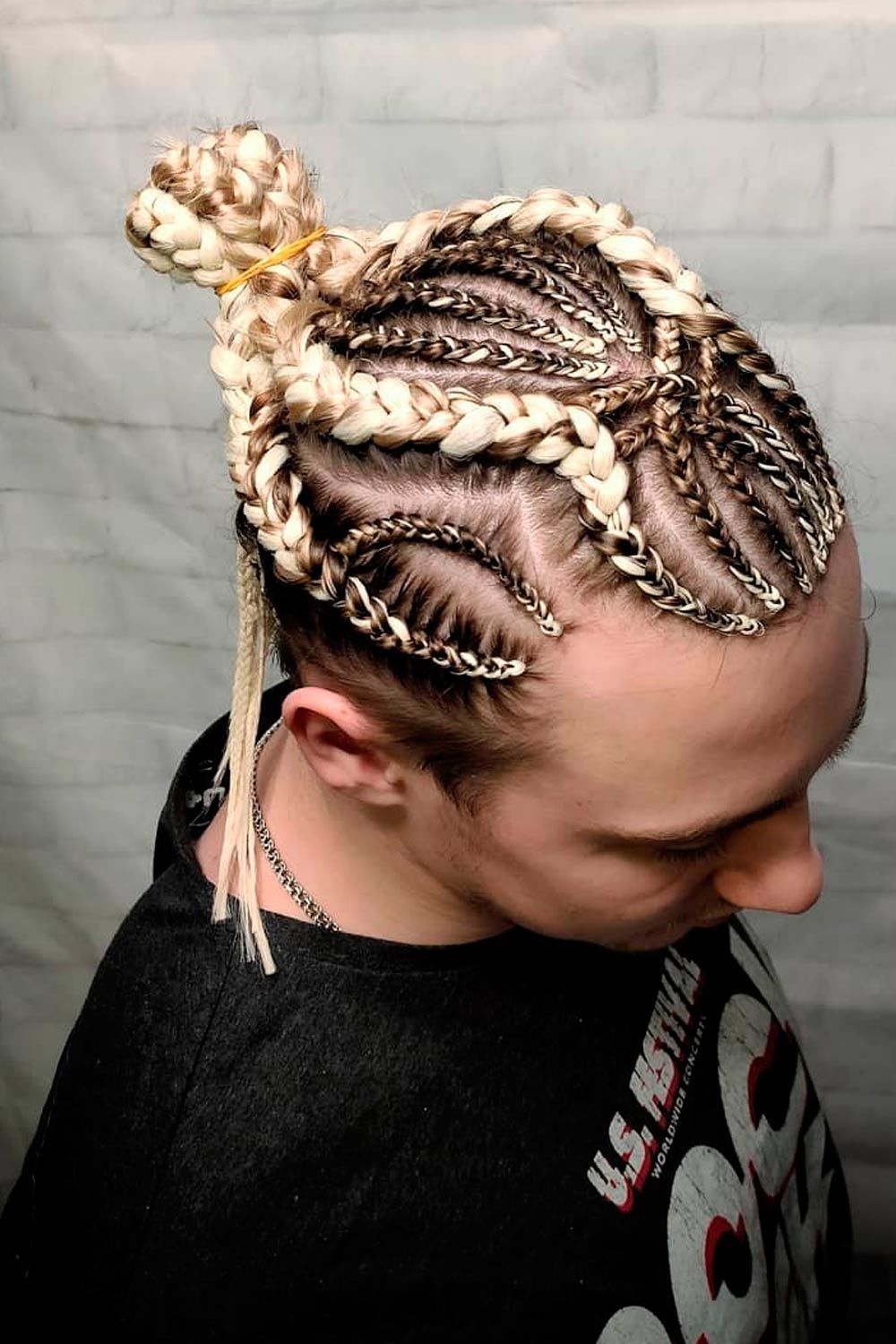 Source: afro_oliamkrtchian/Instagram
Who says that only men with curly hair can rock cornrows? While they won't look similar to those styles you see on guys with afro textures, you still can pull off the popular natural hair trend. On medium textures, cornrows are rather outlined braided sections separated into rows. However, they give a radiant finish to a man's look, especially if you finish it with a bun.
Messy Man Bun With Cap
Посмотреть эту публикацию в Instagram
Source: jeromathew/Instagram
There's no need to cut your amazing virile mane short when the hot season is knocking at the door. Instead, you can wear a bun under your cap. In this way, you will avoid excess sweat during the daytime and be able to rock your favorite length in summer nights. Just style your bun right in the area where you can put it through the cap so that the style sits well and doesn't tighten your scalp.
Braided Kanekalon Hair Into Bun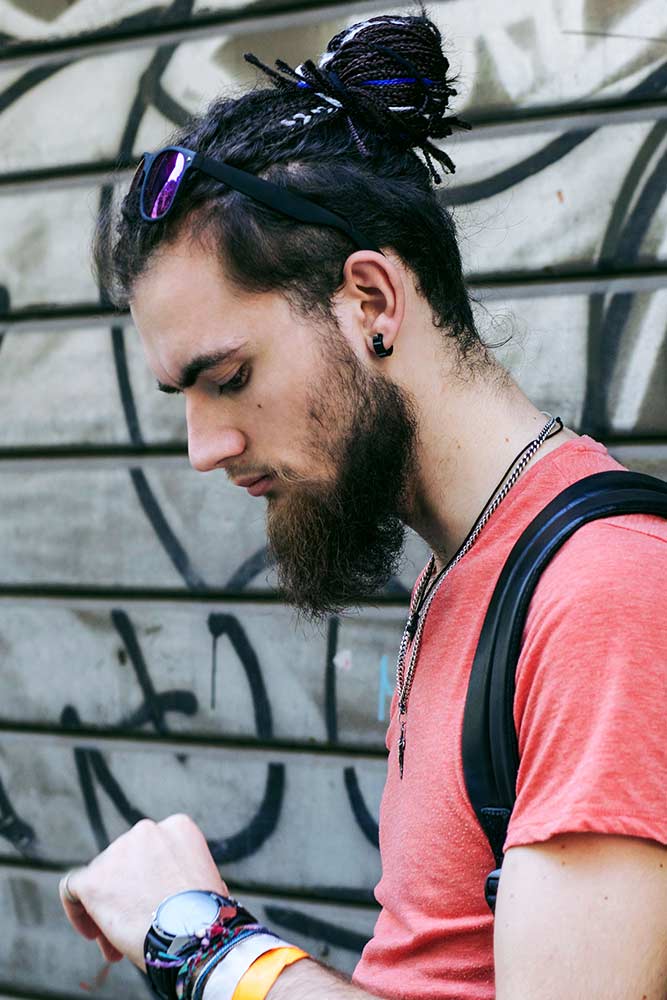 Source: dapunk/Shutterstock
Long hair is a huge canvas for your imagination. Every man has his own picture of how he expresses himself, and if you want to do it with the help of your hair, the medium-to-long length is key. When your hair is long enough, you can not only get everyone's favorite bun but also incorporate some braided bright textures. Get the sides shaved, braid the top, and add some colorful synthetic locks to tell the world what kind of man you are.
High Bun With Undercut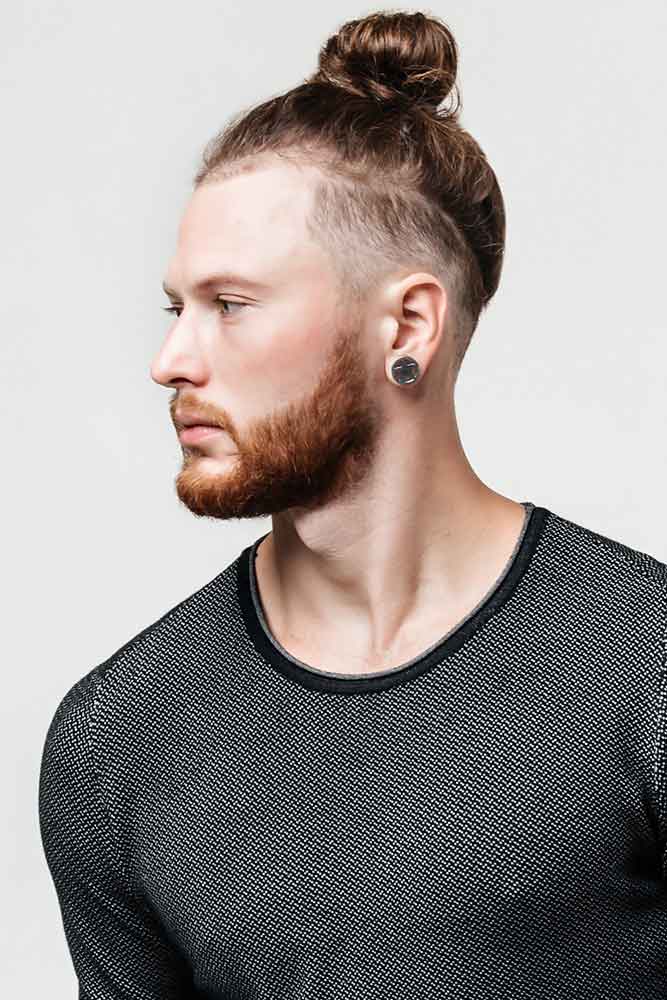 Source: Cookie Studio/Shutterstock
An ageless classic that will always be around. First, you get an elongated undercut. Then, you can your creativity into motion, playing around with the top as much as you can. Today, you can sport braids, center-parted styles, and sleek hair looks with medium-length hair. At the same time, you can put your hair up, show off the daring sides and create a high bun - a style with which you can't go wrong.
Curly Hair With Half Up Bun And Scarf
Посмотреть эту публикацию в Instagram
Source: hank_ge/Instagram
Man Bun With Headband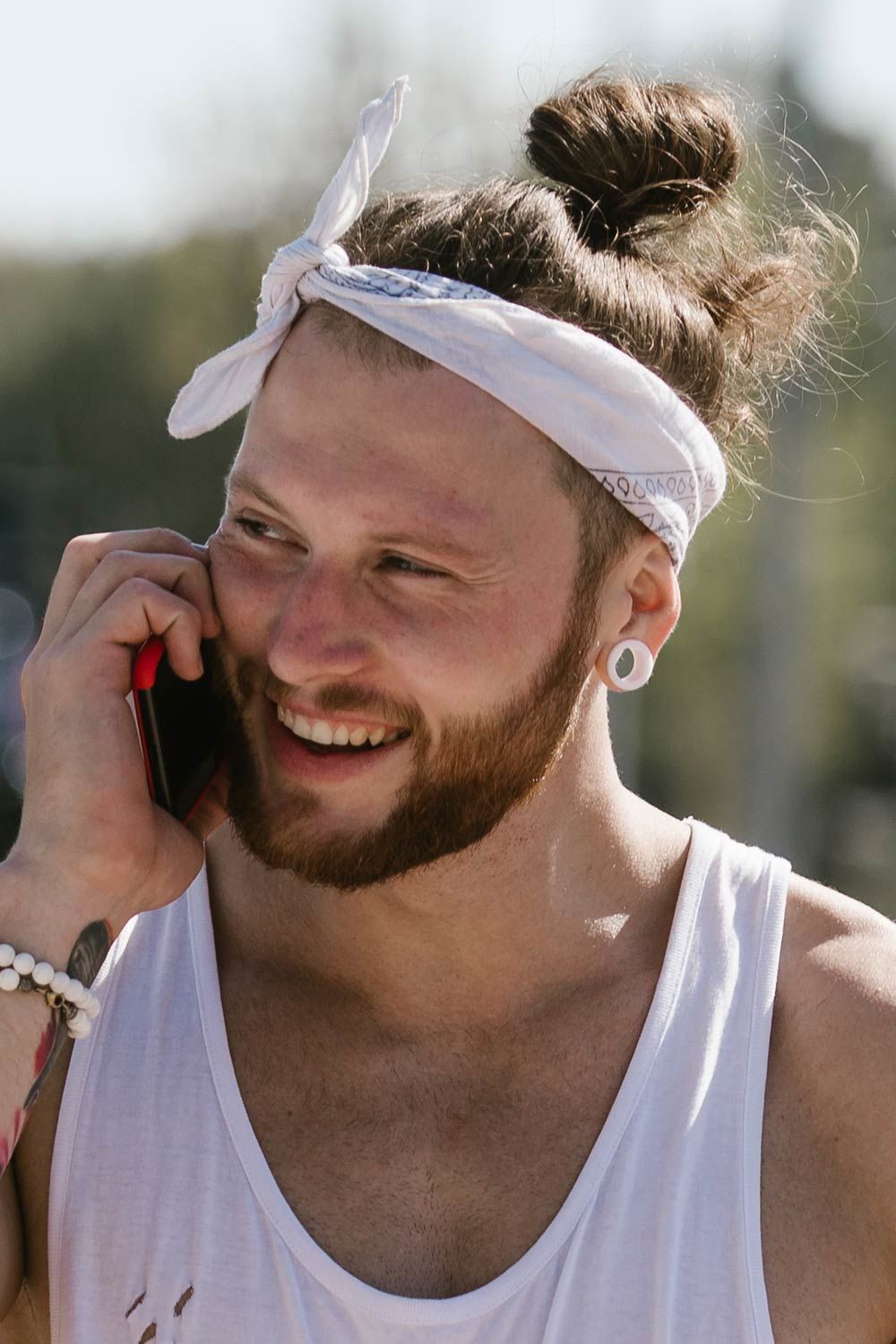 Source: Leika production/Shutterstock
Volume Curly Hair Man Bun
Посмотреть эту публикацию в Instagram
Source: hank_ge/Instagram
Now that you know how to wear, style, and rock the popular man bun, what are you waiting for? Whether you have long hair or plan to grow it out, this modern hairstyle is worth giving a try right now.
FAQ: Man Bun
What is the point of a man bun?
In an era when defying the status quo is more difficult than ever, the man bun is perhaps a symbol of something new and adventurous. Short, clean hair has been "in" since Mad Men reintroduced it, and the man bun is a new adventure.
Are man buns feminine?
Men are tying their hair on top of their heads or back behind their ears in a well-knotted or, more commonly, fashionably unkempt knot. While buns are still inherently feminine, the man bun, remains quite manly.
Do man buns cause hair loss?
A tight man-bun style could trigger Traction alopecia, or slow hair loss caused by a pulling force on your hairline. Those who wear really tight hairstyles on a daily basis are at a higher risk of harming their hair follicles.
REFERENCES:
See the latest men's hairstyles trends for 2023 and get professional men's haircut advice from leading industry experts and barbers. Source
Was this article helpful?